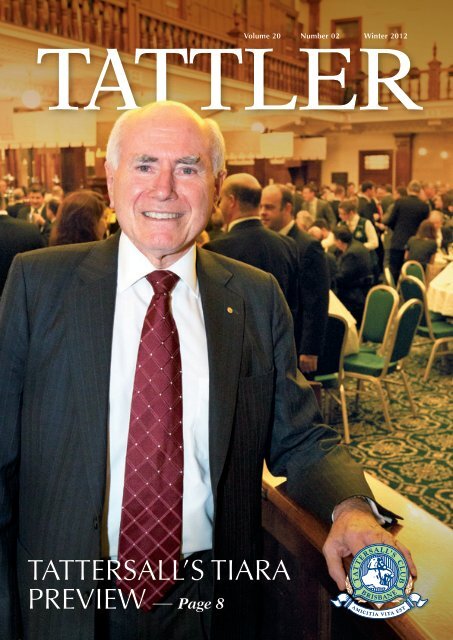 uPCOMING wINEMAkErs - Tattersalls Club
uPCOMING wINEMAkErs - Tattersalls Club
uPCOMING wINEMAkErs - Tattersalls Club
SHOW MORE
SHOW LESS
Create successful ePaper yourself
Turn your PDF publications into a flip-book with our unique Google optimized e-Paper software.
Volume 20 Number 02 Winter 2012

tattler

TaTTersall's Tiara

Preview — Page 8
---
oyster perpetual milgauss
---
OFFICIAL MAGAZINE OF TATTERSALL'S CLUB BRISBANE

From the President

May I start my report for this Winter

Edition of The Tattler with a few words

of thanks to John McCoy who, after three

very successful years, stepped down as

President at our Annual General Meeting

on 27 March 2012. I am sure I speak for

all Members in thanking John for his

tireless efforts during very challenging

times. His leadership and vision have

seen the Club achieve new heights and I

am fortunate indeed to have such a solid

foundation on which to build further. I

know we all wish John well in his future

endeavours and that we see him often in

the Club that he has been so instrumental

in shaping.

I think that it is also appropriate that

I recognize Des Whybird, our new Vice-

President along with Michael Cassidy,

Scott McAlpine and Stuart Fraser; all of

whom were returned as Office Bearers

in our recent election. I thank them for

agreeing to once again take up positions

on the Committee and welcome the

wisdom and commitment that they will

continue to bring to the Club. I am also

pleased to welcome Ernie Ward to the

Committee for the first time. He is already

a Member of the Racing Club Committee

and I know that we will all benefit from

his formidable business experience.

Finally, thank you, the Members, for

your confidence and trust in appointing

me as your new President. I am truly

honoured and will give my utmost to

ensure that Tatts continues to prosper

and grow.

Front Cover: Former Prime Minister,

The Honourable John Howard OM AC was

the special guest at a dinner in the Club on

9 May (see coverage on pages 12–14)

Contents

1 From the President

2 Calendar

2 Club Policies

2 New Members

2 Obituary

4 From the Club Committee

6 New Club President —

Bob Lette

Our second quarter this year has proved

memorable. Once again the Black Tie Boxing

Night saw a Club bursting at the seams

demonstrating its enduring popularity as

a signature Club Event. Importantly, this

fixture also promotes and benefits amateur

boxing in the State as raffle proceeds are

directed towards participating amateur

boxing clubs and the Queensland Amateur

Boxing Australia.

We were honoured to welcome Mr

Keith Payne, VC to our ANZAC Service and

near record attendance at the subsequent

luncheon was very pleasing to see. Lastly, our

'Evening with the Hon John Howard' was

also extremely well supported. My intention

is to ensure that we continue to enjoy that

unique appeal and entertainment offered by

Tattersall's and I am sure we all look forward

to the July Sportsman's' Grill featuring

Darren Lockyer as our guest speaker.

Your Committee has recently approved

an ambitious capital expenditure programme

over the next five years. Increased revenue

from the Arcade in 2013 will permit us to

undertake many of those tasks that we have

had to defer in the past.

Copies of this programme will be

displayed on the Club Notice Board for your

information and consideration. Many of the

projects identified are behind the scenes and

rather unglamorous but all are essential if

we are to maintain standards within the

Club and meet our landlord obligations to

our Arcade tenants. I know that some of

you will be disappointed that a number of

worthy projects have not been included in

the programme. Our Committee has had to

make some hard decisions on priorities but

8 Tattersall's Tiara Preview

10 Leukemia Foundation Pin

and Win Competition

12 John Howard's Bestseller

14 Former Prime Minister

Comes to Tatts

15 John McCoy's Farewell

Dinner

15 Younger Members'

Breakfast

16 Anzac Day

17 Guest Sports Columnist

18 Boxing Spectacular

20 Travel Talk from Travel

Associates

22 Kiwi Cue Capers

you will note that planned expenditure has

been pushed to record levels over the next

three years. We welcome your views on the

programme as well as suggestions you may

have to ensure that the Club offers 'value' to

all Members and all interests.

I am pleased to report that the Club

Sponsorship Agreement with Tattersall's

Racing Club Inc has now been implemented.

As of 24 April 2012, all Club Members are

also Members of the Racing Club. No fees or

subscriptions will be charged for this added

benefit. By now, you all should have received

your membership badges and guest passes

in the mail. I hope to see as many of you as

possible at future 'Tatts Days', particularly

our biggest day on 23 June 2012, at Eagle

Farm.

Financially, the Club is performing well

in times that are demanding for many of

us. We are well on track to meet our budget

projections for the year but I remain keen to

see more Members taking advantage of our

facilities and services on a regular basis. A

feature our membership of this great Club is

the family of Sub-Clubs, many of which are

featured in each edition of The Tattler. They

offer you the opportunity to engage with

other Members participating in like sports or

cultural pursuits. Please consider joining one

or more of these Sub-Clubs to further enrich

your membership benefits and enjoyment. I

urge you all to use your Club to maximum

benefit and I look forward to seeing you all as

often in the Club as possible.

Amicitia Vita Est

Bob Lette

President

23 Tatts Race Day

24 Cellarmaster's News

26 Health Centre News

28 Tattersall's Wedding

29 O'Duffy Library News

29 Find Yourself at Tatts

30 Sub-Club News

TATTERSALL'S RACING CLUB

• BRISBANE •

Tattler Winter 2012

TATTERSALL'S RACING CLUB

• BRISBANE •

1
---
Calendar

June 2012

Fri 1 Younger Members' BBQ, Beers

and Bubbles – Library Balcony

Fri 8 Stradbroke Calcutta –

Members' Bar

Mon 11 Public Holiday – Queen's

Birthday – Club Closed

Wed 13 Father and Son State of Origin

Night – Members' Bar

Fri 22 President's Winter Cocktail Party

Sat 23 Tattersall's Tiara Race Day – Eagle

Farm Racecourse

Fri 29 Jazz in the Bar – Members' Bar

July 2012

Fri 6 Younger Members' BBQ, Beer

and Bubbles – Library

Tue 10 Sportsman's Grill Night with

Darren Lockyer – Members' Bar

Fri 20 Christmas in July Dinner Dance –

Members' Dining Room

Sat 21 Tattersall's July Race Day –Eagle

Farm Racecourse

Fri 27 Jazz in the Bar – Members' Bar

August 2012

Fri 3 Younger Members' BBQ, Beer

and Bubbles – Library

Wed 8 Senior Members' Luncheon

Fri 10 Town and Country Drinks –

Members' Bar

Wed 15 Ekka Show Holiday – Club Closed

Thu 23 Life Members' Dinner –

Chandelier Room

Fri 24 Comedy Lunch

Fri 31 Jazz in the Bar – Members' Bar

2 Tattler Winter 2012

CLUB POLICIES

For information on the Club's Debt Policy

and Club policies on smoking, mobile phones

and electronic devices, cancellation of

bookings, children in the Club or use of the

Members' Bar, please refer to the Club website

www.tattersallsclub.com.

Membership Cards

The Committee wishes to remind all

Members that it is necessary to swipe their

Membership Cards when entering the Club.

Members are also required to swipe their

cards when utilising the Health Centre

facilities. Your co-operation is appreciated.

Important Phone Numbers

Accommodation Reception 3331 8820

Administration/Reception 3331 8888

Barber 3331 8857

Cellar 3331 8859

Functions Office 3331 8846

Health & Recreation Centre 3331 8877

NEw MEMBErs

Editor Tony Walsh

Advertising Coroneo and Co

Janelle Macdonald

Phone (07) 3252 4860

Email j.macdonald@coroneo.com.au

Design Breed Design

David Oberthur

Phone (07) 3868 3688

Email davido@breeddesign.com.au

Printing ipg print

Phone (07) 3817 6200

Email sales@ipgprint.com.au

Photography Rene Marcel

Phone (07) 3848 1262

Email rene@renemarcel.com.au

President Mr Robert Lette

Vice-President Mr Des Whybird

Hon. Treasurer Mr Michael Cassidy

Committee

Mr Michael Purcell

Mr Stuart Fraser

Mr Scott McAlpine

Mr Allan Paterson

Mr Rick Sivyer

Mr Michael Alcorn

Mr Ernie Ward

Chief Executive

Mr Ross Parrott CSC

Club Dress Code

• The Club Dress Code is promulgated by

Tattler and TattMail.

• Dress is jacket and tie with 'ladies equivalent'.

• 'Tatts Casual' is the dress code across the

Club in hotter months (generally Nov – Feb

inclusive) and is defined as long sleeve shirt

buttoned at the cuff and tucked into tailored

trousers. Enclosed shoes are required.

• Dress Code for Healy Room Weekend

Breakfast is Tatts Casual plus short sleeved

shirt, polo shirts and 'rugby tops' of a

standard commensurate with the Club.

• 'Tatts Casual' is the year round, standing

form of dress in the Healy Dining Room,

Library and for visiting Administration.

• Denim, bomber jackets, sporting shoes

and shorts are prohibited in the Club.

Healy Room 3331 8851

Librarian 3331 8847

Marketing 3331 8879

Members' Bar 3331 8850

Members' Dining Room 3331 8848

Membership 3331 8847

We are pleased to welcome the following members who were elected to Membership:

Mr Adam Cameron

Mr Troy Chaplin

Mr Michael Cosgrave

Mr Michael Cutajar

Mr Stephen Derbyshire

Mr Dominic Gallagher

Mr David Goodwin

OBITuAry

Mr Brett Jenkins

Mr Cameron Jorss

Mr Alan MacGillivray

Mr Daniel Mathers

Mr Michael McBryde

Mr Thomas McCarthy

Mr John Monteath

It is with deep regret that we record the following deaths:

Hon Robert J Bulley

Mr Leonard W Doggett OBE

Mr Denis J Flannery

Mr John A Herbert

Mr Dudley Kath

Mr Barry R Kelly

Judge John P Kimmins

Mr Ronald R Maxwell

Dr Ormonde Orford

Mr Timothy D Purcell

Mr Phil Nyssen

Mr Charles Perry

Mr Reuben Priestley

Dr Richard Seymour

Mr Ross Truskett

Mr Wesley Vasile

Mr Angus Woods

Mr Thomas Smith

Mr Liam J Walsh

Mr William J Warlow

Dr Fergus R Wilson

Contact Details

Phone (07) 3331 8888

Fax (07) 3221 3913

Email admin@tattersallsclub.com

Web www.tattersallsclub.com

Address 215 Queen Street,

Brisbane 4000

GPO Box 124,

Brisbane 4001

OFFICE HOURS

Monday – Friday 8.30 am – 5.30 pm

TRADING HOURS

Monday – Saturday 10 am – 12 am

Views and opinions expressed in

The Tattler are not necessarily those of

Tattersall's Club, its agents or advertisers.
---
We'll help you find the floor you've been searching for.

Having recently completed new flooring in the Members Bar and other areas throughout the club,

Tattersalls member John Sumegi and his wife Debbie invite you to visit their Fortitude Valley showroom

to find the floor you've been searching for.

Choices Fortitude Valley - 3257 3377

Centro on James, 46 James St

(entry and parking via Wandoo or Doggett St)

Carpet featured:
---
From the Club Committee

New Committeeman

A Member of Tattersall's Club since 1995 and a recent addition to the

Tattersall's Racing Club Committee, Ernie Ward has now been elected

to the Club Committee of Tattersall's Club.

Ernie also holds membership of the following Clubs: Brisbane

Racing Club, Victoria Racing Club — Melbourne, Auckland Racing

Club — NZ (Past Director), The Grand Golf Club and Italian Golf

Association of Qld.

He was responsible for the commencement of Mercedes-Benz

sponsorship of the Tattersall's Club in 1990.

His working career since 1966 has centred on the automotive

industry with Mercedes-Benz AG and DaimlerChrysler AG. From

1991–1998, he was General Manager of Mercedes-Benz Qld and

Northern NSW. In 1998, Ernie was appointed inaugural CEO and

Managing Director of DaimlerChrysler NZ. He retired from fulltime

work in March 2007. Then from August 2007 to the present time,

Ernie has been Chairman of Centenary Motor Group, Brisbane,

a major sponsor of the Tattersall's Club and also sponsor of Tattersall's

Golf Club.

Commenting on this new responsibility, Ernie said: "I am looking

forward to working with the other Members of Committee and the

new President, Bob Lette to do my best to build on the excellent work

already achieved, especially in ways that add value to the membership.

"Tatts is the best Private Members Club in Australia and its motto

fits in perfectly with my own general outlook on life. Although I am a

keen and active golfer, snooker player, snow skier, trout fisherman and

surfer, it is horse racing holds a special part of my life and the many

friends and acquaintances I have gained through horse racing as an

owner and sponsor and a Race Club Director (Auckland Racing Club

– NZ) have made this interest even more enjoyable.

"In addition to any duties and responsibilities required of me by

the President, I have a special interest in adding value to Members'

benefits and will have a keen focus in that area."

INNOVATIVE PRECISION TIMELESS

SUPERIOR BEAUTY PASSION BESPOKE

handcrafted with impeccable care and fine workmanship

4 Tattler Winter 2012

space, form and function... a true leader of furniture design

Timberart Bespoke Furniture

Ernie Ward

Timberart will design your bespoke piece of furniture, making a statement in your home! That tired old corner, a plain wall,

kids moved out of home, or a spare room... Matthew Crane will visit your home and put life into a lifeless area.

T: 5477 1460 | Showroom: 2/42 Enterprise St, Kunda Park Qld | www.timberartfurniture.com.au
---
Great Getaways at

RACV Queensland Resorts.

RACV Noosa Resort

RACV Royal Pines Resort

RACV Noosa Resort

Bed & Breakfast from just $170 * per night at RACV Noosa Resort

for RACQ members. Non member rates from $230 * per night.

Explore Hastings Street or simply enjoy the serenity of the resort's

secluded location. Relax by the pool, enjoy a sunset dinner or

indulge with a massage. Choose from a variety of accommodation

options including suites, 1, 2 and 3 bedroom apartments.

To book visit www.racv.com.au/noosa or call

RACV Noosa Resort 07 5341 6300

* Terms & Conditions: Offer available until 20/09/2012. Terms and conditions available at racv.com.au/resorts

RACV Royal Pines Resort

Mention

'Tattler'

to receive a

welcome gift!

RACV Royal Pines Resort

Bed & Breakfast from just $195 * per night at RACV Royal Pines

Resort for RACQ members. Non member rates from $250 * per night.

Set on a world-class golf course, RACV Royal Pines Resort offers

everything you need for a holiday on the Gold Coast. Enjoy a range

of accommodation options with expansive gold coast views,

along with a resort day spa, 5 restaurants and 2 bars.

To book visit www.racv.com.au/royalpines or call

RACV Royal Pines Resort on 07 5597 8700

Tattler Winter 2012

5
---
6 Tattler Winter 2012

New Club President

Bob Lette

For a man who describes his present circumstances as

"being retired from Practice", Tattersall's Club's new

President, Bob Lette ,who has been a Member since 1979,

is still incredibly busy as he takes the reins of Brisbane's

foremost Club for the next three years.

Finding time mid-morning recently before he headed out to the

Brisbane Golf Club for a game with Members of Tatts Golf Sub-Club,

Bob and I got together over a cup of coffee in the relaxed surrounds of

the O'Duffy Library where I began the interview by asking what his top

priorities were in his new role at Tatts.

"I look forward to this challenge. Of course, I have been left with a

big legacy by some extremely good recent presidents. John McCoy has

been outstanding. Jonathan Bloxsom was a different president in so

much as he was younger with a different perspective and he did very

good things especially with the younger Members.

"My primary concern is membership. I see a future problem for

the Club, and it isn't so much dwindling membership because we are

basically keeping pace with deaths and resignations. The problem

lies with the transition of age groupings from Ordinary Membership

to Long-Term and Senior Membership and the resultant dilution of

membership fees.

"If you look at the age groupings of the Club, I am in fact in one of

the younger Member groups, although I am definitely not young. Our

primary demographic target is what we call younger Members who are

in the 25-40 age group. They are the future life of the Club."

Bob says the Sub-Clubs are his next major task. "The Sub-Clubs are

strong through the people running them but those Sub-Clubs are what

Tatts is all about in a lot of respects, a major part of its culture and the

Sub-Clubs need to be bolstered through increased membership. Our

task internally is to convince Members of Tatts of the benefits to be had

by joining one or more of the Sub-Clubs of their choice.

"When I was involved in the administration of the Golf Sub-Club

in the mid 1980's, the membership was always around 400. It is now

much less than that. The same situation applies to the Bowls Sub-Club.

Membership of the Rowing Sub-Club is holding up well.

The Motorcycle Sub-Club is a new and expanding Club while the

Tennis Sub-Club is definitely constrained by the lack of suitable facilities

at a reasonable price."

To keep the focus on these two important issues for the Club, Bob

has obtained the support of the Club Committee to re-introduce two

separate Club Sub-Committees: "Several years ago when I first came

on to the Club Committee, there was a Sub-Committee for House and

a Sub-Committee for Membership. They were separate. Some years

ago they were combined but I intend to have two separate Club Sub-

Committees because I think it is important to have both membership

and house as a primary focus."

On the topic of membership I asked what it was that attracted Bob

to become a Member of Tatts.
---
He recalled the circumstances. "I can always remember when I was

an Articled Clerk, my master was a Member and on my 21st birthday he

said, 'Have you ever been to Tattersall's Club?' and I said 'No, I haven't'.

He replied 'We will go over and have morning tea'. Our office was nearby.

"When I came into the Club, I exclaimed, 'You are kidding! This is

sensational'. Then he said, 'None of my sons want to be a Member so I

am prepared to put you down on the waiting list'.

"I looked around the Members' Bar and thought I could never afford

to be a Member of this Club. I would just wait until I could."

As it happened, it was several years later before Bob had his name

inscribed on the Waiting List which then had a long time-line. Finally,

his membership was confirmed. In turn, each of Bob's three sons has

joined Tatts.

Bob's optimism for the Club's future is not diminished by the

challenges that must be faced as he explained: "Our biggest challenge to

be quite frank, apart from the two I have mentioned, is to continue to

achieve the profits that we make. That is not going to be easy.

"In fact, this year we have budgeted for a lesser profit than we have

been making due to the rental incentives we have given the new tenants

that are coming here on long-term leases. They are international tenants

so that really cements the rental base in the arcade on a long-term basis.

"This precinct is now the heart of the high-end retail section of

the city."

Because of his new role as President, Bob naturally expects to be

spending more time in the Club for various reasons and commitments.

It helps that his wife, Theresa, is also happy to be there as well. "She

has always been a supporter in relation to my Club duties while on

Committee.

"Indeed, Theresa is very much into the life of the Club and comes

in here independently of me on occasions. She loves the ability to be

able to do her own thing, have her own card, come to morning tea and

so forth. She will now head-up the Women's Committee and they have

done very well over the years with their charity events. The next one is

scheduled for September."

Before heading off to his much anticipated game of golf, Bob said,

"The Australian economy will eventually experience an up-turn and

the Club is strategically positioned to benefit on a number of fronts.

For example, we are currently looking at our makeup in relation to

corporate memberships and attracting younger Members through these

initiatives. We must think outside the square."

www.corindacompoundingchemist.com.au

661 Oxley Rd, Corinda 4075

P: 3379 2189 E: info@corindacompoundingchemist.com.au

by Tony Walsh

MAN OF ACHIEVEMENT

Bob Lette was born in Brisbane and attended St Joseph's College,

Gregory Terrace. He was admitted as a solicitor in December 1966

while working for the law firm, Morris Fletcher and Cross which was the

forerunner to Minter Ellison.

From there, he went to a family friend and solicitor, Tony Steindl for more

than 27 years and subsequently joined Mullins Lawyers in 1995 and

practiced there as a partner until June 2008 while now still retaining the

role as a consultant to the firm. In that time, Mullins Lawyers expanded

from 11 people to more than 100.

Bob's role with the firm included Business Development as well as

having a significant budget to manage. He moved into corporate

business in the mid 1990's and has been involved in Harness Racing for

many decades including the roles of Deputy Chairman Harness Racing

Australia, Chairman Harness Racing Queensland, Committeeman and

President of Albion Park Harness Club. He is also a Life Member of that

Club.

His period as Chairman of Harness Racing Queensland coincided with

the machinations brought on by the then Queensland Government's

enforced merger of the three codes. He was subsequently appointed to

the Board of Racing Queensland Limited; resigning in March because of

his elevation to President of Tattersall's Club.

Bob's commercial expertise includes his role for over 20 years as

Chairman of the major Queensland Superannuation Fund, Buss

(Queensland), Building Super.

He has held strong views for a long time that infrastructure and private

equity were the places for long-term investment for the superannuation

funds so about 12 years ago he started a separate Investment Trust, the

Private Capital Group, with Buss(Q), Sunsuper, Australian Catholic

Superannuation & Retirement Fund, Energy Super (formerly ESI Super)

and Suncorp as shareholders. That fund now has 17 major investors with

over $2billion in domestic and international assets and funds under

management of approximately $1billion.

One of those is a major share of Queensland Airports Limited

which owns Gold Coast, Townsville and Mt Isa Airports. The fund

also owns a stake in North Queensland Airports Group: Cairns and

Mackay Airport. Bob sits on both of these Boards and others as well,

including the major listed construction and civil and mining company,

Watpac Limited.

Senior Member takes his Pharmacy

back to its roots

Jack Andersen, a Senior Member of Tattersall's Club (1971), has

transformed his Pharmacy at Corinda with the introduction of an

exciting new state-of-the-art Compounding Laboratory. Using the

latest technology, their specially trained Pharmacists prepare

personalised medications to meet all of the special needs of their

customers. In conjunction with his partners: daughter, Jenny

McGarry and Annabel Cooke, they are bringing a new era in

pharmacy care to the community. Customers now have access to

compounded solutions using unique dosage forms such as a

troche (lozenge), capsule, oral liquid, topical cream, suppository or

pessary. Examples using compounding include Bio-identical Hormones,

Topical Pain management, Veterinarian, Paediatric and Autism solutions.

Tattersall's Club Members, on presentation of their club card with their

next compounded prescription, will receive a free sample of our own

compounded protective hand cream and Vitamin E lip balm to protect

against the winter cold. This offer is valid until 31st August 2012.

Tattler Winter 2012

7
---
tattersall's

preview

As this edition of The Tattler goes to print, an air of expectation is already palpable as the

calendar edges closer to 23 June for Tattersall's Tiara Race Day and an extravaganza of fun

and excitement. In this feature, The Courier-Mail racing journalist, Bart Sinclair gives his

views on the big race while Sky Racing, presenter, Alan Thomas tells how this event helps

to showcase the final Brisbane meeting on the Queensland Winter Racing Calendar.

Cream of the Crop

They say given the right

circumstances, the cream

will mostly rise to the top.

So it is with the

Tattersall's Tiara, the

weight-for-age Group 1

race for fillies and mares

which has become the flag

bearer for the Tattersall's

Racing Club Winter

Carnival feature race day

each June. The honour roll

for the Tattersall's Tiara,

previously known as the

Winter Stakes, boasts some

The Courier-Mail Racing

Journalist Bart Sinclair

mammoth names.

The overall quality of

the field has lifted since the

race attained Group 1 status in 2007. The best

field assembled was arguably in 2010 when

the first four placegetters were Melito, Wealth

Princess, Beaded and Culminate — all genuine

Group 1 performers.

The timing of the race is perfect for high

quality mares. The Tiara falls a fortnight after

the AAMI Stradbroke, run over the same 1400

metres at Eagle Farm.

8 Tattler Winter 2012

It's been interesting to observe the development of the Tiara since

the race was introduced in 1989. The concept from year one was to

introduce a race specifically for the fairer sex with a view to ultimately

attain Group standing.

Just three years after being programmed, the Winter Stakes was

granted Listed Race status by the Australian Pattern Committee. This

committee makes an evaluation of all the top races run in Australia and

sets the benchmark for each level of what is broadly called black type

racing. For breeding purposes, black type race form creates a higher

stud value for colts and fillies.

The upgrade of the Winter Stakes has been stunning. In 1996, it was

given a Group 3 ranking and became a Group 2 event in 2006.

Last year's winner was the Victorian-trained, Yosei who already was

a Group 1 winner in the Thousand Guineas at Caulfield at the 2010

Melbourne Spring Carnival. Yosei again displayed her ability to rise

to the big occasion in Sydney this autumn. Her form going into the

Doncaster Handicap was moderate but the mare lifted her performance

to finish third to the mighty mare More Joyous. A performance like that

can only enhance the reputation of the Tattersall's Tiara. And the quality

of Yosei's opposition in her 2011 win was first class with the runner-up

Beaded coming off a Doomben 10,000 win and a placing in the AAMI

Stradbroke.

The 2010 Tiara is the benchmark so far. The cream certainly did

come to the top that year.

Melito came to the winter carnival off excellent Group 1 form in

Sydney. She won the T J Smith and as runner-up in the All-Aged Stakes.
---
In Brisbane, she finished second in the BTC

Cup, third in the Doomben 10,000 and second

in the Stradbroke.

After five tough runs, there was a school

of thought the three-year-old filly might

be physically on the wane by the time she

arrived at the Tiara. But Melito continued

her amazing consistency and landed a muchdeserved

Group 1 success, scoring decisively

by just under a length.

The biggest name on the Tiara honour

board is Dane Ripper. In calendar year 1997,

she was the queen of the turf. Dane Ripper

began her march to glory in the Stradbroke.

She followed up in the Winter Stakes and

later in the year completed a stunning major

race treble by taking out Australasia's biggest

weight-for-age event, the Cox Plate.

You can bet it will be a very good racehorse to

become the latest addition to the Tattersall's

Tiara winners' list in 2012.

by Bart Sinclair

yosei wins the 2011 Tattersall's Tiara

Sky Racing Spotlight

Sky Racing Broadcaster

Alan Thomas

" They say given the

right circumstances,

the cream will mostly

rise to the top."

The Courier-Mail Racing Journalist Bart Sinclair

The Tattersall's Racing Club's premier race day

for 2012 will again be the focus of Sky Racing

according to its Brisbane broadcaster and

long-time sports commentator, Alan Thomas.

"I have been in this role since 1993 and

prior to that from 1980 to the end of 1992,

I worked for Channel 9 as a Sports Director.

During those years, I commentated on many

different sports, including 16 State of Origins,

Fenech's world title fights and Commonwealth

Games," Alan said.

"In recent times, Sky has added a few

extra channels including the premium racing

channels called Racing World. On that, you

get gallopers whereas on the other channels

you may get trots and dogs combined but Sky

Racing World is a premium Thoroughbred

channel. It allows an opportunity to showcase

the better races with more time. Sky Racing

World is a designated premium racing

channel to showcase Thoroughbred racing in

Australia to its highest capacity.

"The Tattersall's Tiara fits nicely into that

category. Paul Jones started this race off and

over time it has become a Group 1. It used to

(continued)

Tattler Winter 2012

9
---
(Sky racing spotlight continued)

be with set weights and penalties. It's now a

weight-for-age race and carries prize money of

$500,000. Because it is at the end of the racing

season and the beginning of the breeding

season it gives the owners and trainers of

fillies and mares a really good chance to win a

Group 1 race over 1400 metres to either boost

the horse's value or send the horse to stud with

a Group 1 behind it.

"The Tatts race day has always had a

buzz," says Alan who has attended many of

the meetings in his long career.

"Kensei won the Tatts Cup in 1987 before

he went on that year to win the Melbourne

Cup. Then Hay List won the Healey Stakes a

couple of years back. This horse came from

Perth, but this win really launched him on the

eastern state trail.

"The Winter Stakes is now called the

Tattersall's Tiara, which by the way is, I think,

a fantastic name. The programme is also a

great event; the Tiara is a Group 1, the Cup is

a Group 3, the Healey is a Group 3, Tatts Mile

is listed and the two-year-old is a listed race."

Alan says all this creates a lot of television

interest in Sky's coverage. "Sky Channel hosts

these big days over the Winter Carnival.

We have people on the ground. We do full

enclosure coverage and interviews and

everything else that goes with it.

"Tatts is a big day. It's promoted as a big

day and executed the same way."

10 Tattler Winter 2012

by Tony Walsh

wINTEr sTAkEs HONOur rOLL

(sky racing Tattersall's Tiara from 2011 onwards)

yEAr HOrsE 1sT PrIzE $ wHErE frOM

2011 Yosei $500,000 Victoria

2010 Melito $500,000 New South Wales

2009 Russeting $500,000 New South Wales

2008 Absolut Glam $500,000 New South Wales

2007 Nova Star $500,000 Queensland

2006 La Sizeranne $257,500 New Zealand

2005 Charmview $257,500 Sydney

2004 Miss Potential $261,500 New Zealand

2003 Mon Mekki $117,500 Gold Coast

2002 Heptonstall $117,500 Melbourne

2001 Porto Roca $117,500 Melbourne

2000 Bonanova $101,500 Sydney

1999 Bonanova $101,500 Sydney

1998 Razor Blade $ 81,500 Sydney

1997 Dane Ripper $ 85,000 Sydney

1996 Tripping $ 87,500 Sydney

1995 Mamzelle Pedrille $ 74,000 Sydney

1994 Zetoile $ 74,000 Sydney

1993 Rich Pageantry $ 76,000 Sydney

1992 Blushing Bijou $ 76,000 Melbourne

1991 Rose Road $ 67,000 Toowoomba

1990 Piper's Belle $ 48,000 Gold Coast

1989 La Posette $ 40,750 Gold Coast

LEukAEMIA fOuNDATION

PIN AND wIN COMPETITION

Channel 9 journalist, Davina

smith, with racing Heart

from robert Heathcote

racing share a photo.

Davina is the new face of this year's glamorous

race day on 23 June when she will help

promote the Leukaemia foundation's Pin & win

competition.

Punters on the day can enter the Pin & win

competition by buying a $5 pin which will put

them in the draw to win a trip for two to the

2013 Australian Open including return airfares,

two nights' accommodation and two tickets to an

Australian Open tennis session in the first week.

The prize is generously provided by PPG Australia.

The Leukaemia foundation of Queensland

receives no on-going government funding and

relies on the generosity of corporate supporters

such as Tattersall's racing Club and the general

public to allow it to continue providing

vital support services to patients and their

families living with blood cancers as well as its

involvement in medical research.
---
TaTTERSaLL'S

RaCE DaY

Saturday 23 June

EaGLE FaRM RacEcOuRSE

Group 1 Race — Sky Racing

Tattersall's Tiara

Over $1 MILLION in

racing prize money

Fashions on the Field

Live entertainment

Group hospitality bookings

available phone 3331 8866

www.tattsraces.com

SCP20005

Tattler Winter 2012

11
---
John Howard's

Bestseller

In appearance, John Howard OM AC has not changed when

compared with the image on the cover of his personal and

political autobiography, John Howard Lazarus Rising.

That was my first impression of the man when I met

him on the North Balcony of the Club prior to his muchanticipated

attendance at the dinner on 9 May.

Perhaps the retention of his firm features can be

somewhat credited to the fact that he no longer is an active

participant within the political beltway of Canberra and its

24 hour news cycle.

That is not to say of course that he has not continued

his busy schedule following his election defeat in December

2007. Far from it, his book has been one of his major

enterprises since then as he explained: "I always intended to

write a memoir and once I left politics I began to put the

material together in about August or September 2008. The

whole project took me 18 months to two years to write and it

was ultimately released on 26th October 2010."

Mr Howard said he had always had an interest in

writing and revealed he probably had more in common with

journalists than most members of the Canberra press gallery

would have thought. "In a way, I was a bit of a frustrated

journalist so I quite enjoyed writing the book even though it

was a big job."

Since its publication in October 2010, John Howard

Lazarus Rising has sold close to 100,000 copies and is

acknowledged as the bestselling political book ever in

Australia.

Asked with the benefit of hindsight did he regret including

some material, Mr Howard was firm in his reply: "I don't

have any regrets. I was quite deliberate about what I put in

and included everything that was necessary to complete the

narrative. I wanted it to be a book about Australian politics in

the period as well as a personal memoir so I have no regrets

about it at all."

Unlike some authors who claim that the promotion

stage of a book release can be a drudge, Mr Howard found

otherwise. "I found the book promotion tour quite enjoyable.

It was like being in the middle of a small election campaign

and I accepted it was part of the marketing. If you want to

sell it, then you have to go out and promote it.

12 Tattler Winter 2012

"I did go all around Australia. The most interesting thing I found

was that there were so many people I knew and people who were related

to people I know. I remember I was at the bookshop here in the Mall at

a signing and people queued up. Anna Bligh came wandering along to

say hello and I remember meeting the wife of an army Brigadier who

had been in charge of our forces in East Timor.

"It was just an interesting experience with people whom I'd had

contact in the course of my official duties as Prime Minister; so many of

them turned up with books or their wives or daughters turned up with

books as well. I had that experience all around Australia, not just in

Sydney where I knew more people as I had grown up there, but I found

it all around the country."

In the course of his long political career, Mr Howard nominated

the following as two of the most interesting he met. "They were The

President of China, Jiang Zemin and the Prime Minister of Japan,

Junichiro Koizumi.

"They were interesting personalities and we got on very well. They

were just two people who stood out; quite well briefed on Australia.

Maybe not having an understanding of Australia as the British Prime

Minister or the American President, but they were two people who I had

quite a bit to do with and who I enjoyed meeting."

Mr Howard recalled that he met Koizumi once after he was Prime

Minister and had also met Jiang Zemin as well.

"Though once you cease being in the job, you don't see people. The

only person I have seen on a regular basis since I have left politics has

been George W Bush because I have kept in touch and we go to Dallas

to see our son."

Looking back to a television interview that Mr Howard gave before

the 1996 election in which he said he wanted Australians to feel relaxed

and comfortable about their country, I asked if this was still the case.

"I felt we had gone through a period of too much negative introspection

about our country and wanted Australians to feel more positive about

their past.

"We had had a silly period where we were agonising and we had all

these cultural dieticians telling us what we should be. I felt we had had

enough of that. We just wanted to get on with life and feel the country

had achieved a fair bit which it has and done pretty well. We got a lot of

things wrong. We got more things right than wrong. The balance sheet

was a lot more positive."

Mr Howard added: "I think Australians continue to feel quite positive

about our past. We have left that period of negative introspection

behind and things are obviously a bit different now to what they were
---
"I don't have any regrets. I was quite deliberate about what I put in and included everything that was

necessary to complete the narrative. I wanted it to be a book about Australian politics in the period

as well as a personal memoir so I have no regrets about it at all."

The Tattler editor, Tony Walsh interviewing The Honourable John Howard OM AC

Servicing Greater Brisbane all hours

Supplying quarry and landscaping materials

RESIDENTIAL

COMMERCIAL

INDUSTRIAL

CALL US TODAY

3852 3320

Head Office: Bowen Hills

www.groundbreaker.net.au

a few years ago. But that period in the 1990's where we went

through a lot of negative introspection; I believe we have left

that behind."

One aspect that Mr and Mrs Howard have not given up

since his period as Prime Minister is travel, both in Australia

and overseas.

"We travel a bit. I am still on the international

speechmaking circuit, so doing that takes me abroad quite a

bit and my wife usually comes with me. We enjoy that. One

of our favourite places to visit is Dallas because our son lives

there so naturally we take every opportunity to visit when

we are in the United States or even if we are somewhere else

we come home through Dallas. I travelled a lot when I was

Prime Minister so travel now is different and more relaxed."

Of all the places he has visited since being elected in the

seat of Bennelong in 1974, Mr Howard also clearly recalls

visiting Tattersall's Club on a previous occasion. "I came

to speak at a lunch here at Tattersall's Club about seven or

eight years ago. I have never stayed overnight before but it

is very nice accommodation, very comfortable and the staff

members are very polite and helpful. It is extremely good."

Property

Valuations

Tattler Winter 2012

by Tony Walsh

Max Collins has 25 years Queensland valuation

experience and his reports are concise,

accurate, reliable and well-researched and

will satisfy all legal and statutory requirements.

Valuations for Family Law Matters, Building

Replacement Insurance, Stamp Duty Transfer,

Capital Gains Tax, Property Purchase, Estate

Settlement and Superannuation Purposes.

Telephone 0409 642469

Email collins@corplink.com.au

13
---
Former Prime Minister Comes to Tatts

(L to r) John McCoy, The Honourable John Howard OM AC,

Lex Heinemann and Club President Bob Lette

14 Tattler Winter 2012

(L to r) John, Jane and David Bertini, scott Cross, Trish

and Barry Dwyer and Dezi Bertini

robyn Clancy,

Marc robinson and

kathy stephens

It was necessary to utilise two dining areas in the

Club to cater for the large number of Members and

their guests who wished to attend this event on the

evening of 9 May. The Honourable John Howard OM

AC served as the 25th Prime Minister of Australia

from 11 March 1996 to 3 December 2007. He was

the second-longest serving Australian Prime Minister

after Sir Robert Menzies. As MC, John McCoy

entered into a lively and informative discussion with

Mr Howard as well as encouraging questions from

Members and guests.

(L to r) John and Diana wendt, Chris Bowstead,

Carol Marchant and simon Banks

Patsy Harcourt-Cooze

and Jason wilson
---
John McCoy's Farewell Dinner

John and Carmel McCoy

John McCoy and his wife, Carmel

were special guests at a farewell

dinner hosted by the President,

Bob Lette and the Club Committee

following the completion of his

presidential three-year term.

BEST RACES

BEST FACES

YOUNGER MEMBERS'

BREAKFAST

(L to R) Conor O'Brien, Committeeman, Stuart Fraser,

Guest Speaker, Bill Evans and Greg Crocombe

Sky RACing WORLD

Number 1 in

Thoroughbred Racing

Channel 521 on Foxtel

and Austar

www.skyracing.tv

WORLD

Tattler Winter 2012

15
---
ANZAC Day Remembrance

(L to R) Club Vice-President,

Des Whybird; Committeeman,

Scott McAlpine; State President,

Australian Army Training Team

Vietnam (AATTV), John Gibson;

Major General Rick Burr

DSC MVO; Honorary Consul

of the Republic of Turkey in

Brisbane for Queensland, Turget

Allahmanli; Club President, Bob

Lette; Committeeman, Michael

Purcell; Keith Payne VC OAM;

Group Captain Daniel White and

Commander Lachlan King

(L to R) Ken Chester, Australian Army Training Team

Vietnam (AATTV) 1968-69; Allen Edwards, AATTV

1970-71; Graham Buchan, AATTV 1970 and Des

Pryde AATTV 1970

16 Tattler Winter 2012

Town & CounTry

Drinks

Friday 10 augusT MeMbers' bar

Join Club President, Bob Lette

and Committeemen for

the 2012 Town & Country Drinks.

The Presidents shout from 5:30 –6:30pm

bookings Phone 3331 8850

(L to R) John Jeffcoat, 42 Railway Squadron; John Lakey, 6

RAR Vietnam; David Izatt, 3 Cav. Regiment Vietnam; Bob

Walker, 12 Squadron RAAF; Bruce Neal, 8 RAR Vietnam and

Don Gynther, 1 ARU Vietnam

President's

Winter

CoCktail

Party

One of the special guests at this year's

wreath laying ceremony and luncheon

was Keith Payne VC OAM who was born

in Ingham and was awarded his medal for

his valour during the Vietnam War. He is

the last living Australian recipient of the

original Imperial Victoria Cross. Also in

attendance were 25 former members of the

Australian Army Training Team who also

served in Vietnam. Military cadets from the

Anglican Church Grammar School formed

the Catafalque Party for the ceremony.

Please join us to celebrate the eve

of Tattersall's Tiara Race Day

Military cadets from the Anglican

Church Grammar School and Keith

Payne VC OAM

Friday 22 June MeMbers' bar 6:00pm – 7:30pm

Live Entertainment

$45 per person

Club members and racing industry guests welcome

bookings phone 3331 8864
---
Duncan Armstrong OAM became a household

name at 20 years of age with his upset win in the

200 freestyle at the Seoul Olympics in 1988. It

was Australia's 100th Olympic swimming medal.

Since retiring from international swimming,

Duncan has enjoyed careers in television and

radio, motivational speaking, endorsements and

corporate partnerships. Duncan has also received

many honours including the Young Australian of

the Year, a Centenary Medal and an Order of

Australia Medal. Here, he shares his thoughts on

what the forthcoming Olympic Games in London

have in store for the Australian Swimming Team.

Guest Sports Columnist

Duncan Armstrong OAM

The Australian swimming team is shaping up surprisingly

well. I didn't know what to expect especially in the men's

team after the last four years doing it tough.

There were a lot of comeback stories and a lot of hype

around Ian Thorpe and Michael Klim as well as Geoff

Huegill's continued comeback and that of Libby Trickett. The

talk was centred on come-back not about form.

Now, the team that is heading to London is full of

youngsters who have never been to the games before. Of

the 40 members of the Australian Swimming team, 27 are

first-time Olympians and six of those have never been on the

Australian team. This time it's all about renewal, all about

young people who have never made the team before.

We are going there with a good blend of experienced

swimmers including Leisel Jones now on her fourth Olympic

Games and indeed as the first Australian swimmer ever to go

to four Olympic Games.

In addition, there are also some other really fantastic

swimmers who are in wonderful form such as James

Magnussen, the 100m freestyle specialist and others like

Stephanie Rice who has returned to form just in time for

London.

Magnussen has earned the nickname, 'Missile'. He speaks

well. He looks good. He is tremendously fit and the style he

swims and professionalism he shows in the water is really

great.

He is a fairly late starter to swimming having only been on

the scene a couple of years, yet he has made such a dramatic

impact. He could have a 10 year career going forward. I like

his confidence which you need as a sprinter. It's all about

bravado, ego, skills and aggression and I think he is very

steady with how he talks and what he says. When he got

out of the pool at the Australian trials, he did an interview

and when asked if he had a message for his opposition when

he gets to London, all he said was, "Brace yourself." He

obviously believes there is a lot more left in the tank. I think

he is looking to go faster in London.

Duncan Armstrong OAM

With any Olympic Games, the talk about potential and this team

has wonderful potential but it has to fulfil that potential once it gets

to London. This team could possibly be a better team than we sent to

Beijing. The big question is how good is the opposition? Looking at the

other countries we are up against, England is definitely better than it

was in Beijing. The Americans are just as good as in Beijing and there

are a few Germans, French and Italians who are also in good form, so

I consider that this team has the potential to win more than in Beijing,

but only time will tell.

Leisel Jones, Libby Trickett, Alicia Coutts, Jessicah Schipper and

Stephanie Rice have returned to form in great fashion and shown

what they are capable of. Among the men, I think David McKeon,

Ryan Napoleon and Tommy Fraser-Homes who was sensational in the

freestyle event, are all new names that have never been on the radar

before. Importantly, they weren't scared of the comeback kings like

Klim and Thorpe and Huegill.

Many of them such as Chris Wright are Queenslanders which is

exciting. They are going to fill the team really well and take their place

alongside the former Olympians who they are following and really do

Australia proud. Their times are absolutely sensational.

Whoever hosts the Olympic Games, their Gold Medal count usually

goes up by around 300%. The English are pouring so much money, so

much support and so much energy into getting their swim team going,

that I am expecting them to come out all guns blazing in front of a home

crowd and they are going to be very hard to contain.

They will do times they only dreamt about so the Australians really

have their work cut out for them against the English. The home team

in London may even take on the Americans as the number one nation

and if we are lucky and swim really well, we may get in there for third.

by Duncan Armstrong OAM

Tattler Winter 2012

17
---
BOxING SPECTACULAR

Club President, Bob Lette

with rick Claton

18 Tattler Winter 2012

The 8th annual Black Tie Boxing Night on 13

April lived up to its reputation as an evening

of high excitement and great camaraderie.

Club President, Bob Lette told the nearly

500 Members and guests that this function

was now indeed the most popular event on

the men's social calendar with proceeds

going to support Qld Amateur Boxing.

"Tickets sold out within 20 minutes of the

opening of the reservations."

One of the two professional bouts on the

six-event programme, the 4 x 3 minute bout

in the Heavyweight Division featured Adam

Hollioake, who is 40 years-old-age, in his

first professional fight. His opponent was

Leigh Blacka. The fight was stopped by the

referee mid-way through the fourth round

with Hollioake being declared the winner.

Cricket followers will remember Adam

Hollioake as having played for England in a

Test match against the West Indies in 1998.

After his bout Hollioake said, "The atmosphere

during my fight here at Tatts this evening was

far superior to anything I ever experienced

playing cricket in the West Indies."
---
Brad sampson and Tony scoglio

(L to r) James and robert Gauld with Damien ross

(L to r) steve O'Brien, sean Anderson, warrick and Ben Harris,

James Mckeon, fraser Bax and sam Bromiley

(L to r) Justin Bond, John Martin, Charles slaughter, Andrew Bourke,

Toby roberts, Ben Hatcher and Ed Turley

(L to r) kev ryan, Mark welch and Gavin McInnes

A r t P r i z e

Program of events

3 – 7 September

Monday 3 SepteMber

Exhibition opens

tueSday 4 SepteMber

Curators' Tour 5:30pm – 7:00pm

• Escorted tours hosted by three guides including Art Prize Curator,

Bernie Hollett

• A la carte Healy Room dining available after the tour

Tour bookings phone 3331 8846

WedneSday 5 SepteMber

To make your dinner booking

during the week phone

FURLONGER, Joe

Wet Summer,

Darling Downs

Landscape Art Prize Awards Cocktail Party

Members' Bar 6:00-7:45pm

• Winner, Highly Commended and Members' Choice awards presented

on the evening

• Tickets: $45 per person

• Drinks and Canapés included

Bookings phone 3331 8846

thurSday 6 SepteMber

Art Prize High Tea

Healy Room 10am – 12noon

• $45 per person

• Escorted tour by Art Prize Curator, Bernie Hollett

Bookings phone 3331 8851

Friday 7 SepteMber

Enjoy jazz and meet local artists

Members' Bar 5:30pm – 7:30pm

3331 8851

Tattler Winter 2012

19
---
Travel Talk from Travel Associates

UniqUe

Destinations

YoUr WaY

Blending Luxury with

Authentic Travel

20 Tattler Winter 2012

There has never been a better time to

travel overseas. Many travellers are

looking for something different and to

experience something new and exciting,

but still want to do it in style. We used

to refer to a journey as "a trip of a

lifetime" but now with so many people

in Australia travelling, it has become a

way of life. While New York will always

be one of my favourite destinations,

these days, I want something more.

Buddha - sri Lanka
---
Imperial Morocco

yangon's schwedagon Pagoda, Myanmar (Burma)

Iconic destinations of the world are still popular and there is no doubt

most of us still want them on our itinerary, but today we are not

satisfied to just stop there. Travel specialist Peregrine has launched a

premium range of exceptional journeys that are unlike any other. The

new range is called Reserve by Peregrine and will be embraced by

adventurous souls who want to travel with substance and authenticity

but also enjoy the finer things in life. This product allows us to step off

the tourist trail and immerse ourselves in the heart of a destination

without sacrificing style or comfort.

They've hand-picked the best boutique accommodation and

dining experiences and created the perfect balance. With their

product you can enjoy the intimacy of travelling with no more than

12 people. Those who prefer not to have a group and instead go where

you want and on the dates you prefer, you can now choose to take

their itineraries as private journeys. This means you specify the dates

and the people that suit you.

With creative itineraries and engaging local leaders that really get

under the skin of a place, Reserve journeys let you set the pace and

give you every opportunity to immerse yourself in the local culture

rather than simply skimming the surface of the well-beaten tourist

path.

Some of the highlights of the Reserve range include staying in

Botswana's Elephant Camp, a luxurious camp where you can watch

baby elephants play from the privacy of your spa bath. Or you might

prefer to try the chef's tour in Fes, where you'll learn about the spices

and aromas which fill the air of Morocco. View the Taj Mahal from

a private vantage point or feel the wind in your hair on a boat ride

across Italy's great lakes.

If you want to do things your way, then private trips are all about

you. Want to see Machu Picchu from a private jet? Done. Want to see

Bagan one of the most remarkable sights in Asia? Why not see it best

from the air in a sunrise balloon ride. Leave the planning to the guides

or jump in and get your hands dirty. Either way private journeys allow

you to tailor make a trip that fits like a glove. The only limit is your

imagination, and the trip of a lifetime is at your fingertips.

Whatever you want to see, you can now do it your way and

discover the jewel' of the world in style. Just don't forget your camera!

Travel Associates is continuing its partnership with the

Tattersall's Club by providing our Members with its travel

services. If you would like Travel Associates to look after

your next holiday, contact Melanie Clout from Clout and

Turner Travel Associates on 1800 061 967.

Tattler Winter 2012

21
---
Kiwi

Cue Capers

A five man team of Tattersall's snooker players

ventured to 'The Land of the Long White

Cloud' in February to visit and test their skills

against like-minded snooker players in The

Hawke's Bay Club in Napier and The Northern

Club in Auckland.

The Hawke's Bay Club is a Tattersall's

reciprocal. The Club's snooker contingent

arranged a nine-match competition program

consisting of five singles and four doubles.

The singles matches fell Tattersall's way with

wins to Mal Waygood, Tim Woolley and

Wayne Duncan while Lance Baker and Ray

Garske suffered honourable defeats. Players

then adjourned to the very comfortable and

hospitable Members' Bar for an excellent

buffet meal.

On returning to the tables, at our hosts'

suggestion, two of the remaining doubles

matches were played in the novel Pins

Pool format; a version of snooker which

22 Tattler Winter 2012

Northern Club snooker captain,

Paul Dale receives a plaque

commemorating Tattersall's visit

incorporates (to the author's eye) some of the

elements of skittles.

Despite this unfamiliar format, Tattersall's

team somehow emerged the eventual overall

winner, five to three, with one match drawn.

Next day saw our players heading for

Auckland by various modes of travel, taking

with them warm memories of the wonderful

hospitality and ambience of The Hawke's Bay

Club.

The Northern Club is a fine establishment

conveniently located adjacent to Albert Park

and opposite Auckland University. Its facilities

include a number of function rooms while its

Bankside Restaurant offers excellent dining.

It has a number of superior accommodation

rooms which, combined with its location,

make the Club an ideal place to stay. Like the

Hawke's Bay Club, The Northern Club boasts

excellent snooker tables in a stylish setting

reminiscent of another era.

Tattersall's snooker travellers and Napier players in

Hawke's Bay Club's Bar

Tattersall's team got off to a faultless start

winning all of their five doubles matches

but came back to the field in the singles

matches which were played after partaking

of a delightful dinner organized by our

hosts. However, Tattersall's team held on for

a handsome seven to three overall win with

Ray Garske and Wayne Duncan winning all of

their matches.

Auckland is currently a blank on Tattersall's

Reciprocal Clubs List. The Auckland Club

vanished as a reciprocal club in recent years

when it merged its small membership with

The Northern Club increasing that club's

membership to almost 2000. Following

enquiries made by Tim Woolley during our

visit, it is understood that Tattersall's has

raised the possibility of reciprocity with The

Northern Club.

by Ray Garske
---
eExceptional

experiences with

Peregrine Reserve

Tatts Race Day

Occasional showers could not dampen the

spirits of those attending this race meeting

on 3 March. The photos are just a snapshot

of the activities enjoyed by all.

Mystical Myanmar

from $4995 *

Witness dawn over the temples at Bagan

from a hot air balloon and spend time

with a local family in a stilted village

above pristine Inle Lake. Watch the

sunset over the dazzling Shwedagon

Pagoda and enjoy your luxurious cruise

down the Irrawaddy River.

• 7 nights in 4 & 5-star boutique

accommodation plus 1 night in a

luxury floating hotel

• Domestic flights as per itinerary

• Breakfast daily, 7 lunches, 8 dinners

• Entrance/park fees and permits to all

sites listed in itinerary

• Quality transportation

HIGHLIGHTS: Yangon, Inle Lake,

Mandalay, Bagan.

Imperial Morocco

from $5159 *

Explore the UNESCO-listed Roman

ruins at Volubilis and discover the

extensive bazaars of Meknes. Join a

chef's tour collecting ingredients in Fes

medina followed by a cooking class and

exploring elegant palaces, bazaars and

vibrant square of Marrakech.

• 9 nights in 4 & 5-star boutique

accommodation

• Domestic flights as per itinerary

• Breakfast daily, 8 lunches, 8 dinners

with local beer and wine

• Entrance/park fees and permits to

all sites listed in itinerary

• Quality transportation

• Max group size of 12

HIGHLIGHTS: Casablanca, Meknes,

Fes, Rabat, Marrakech.

Our experience counts. www.travel-associates.com.au Call 1800 017 159

*Travel restrictions and conditions apply. Please ask us for further details. Prices and taxes correct at 29 Feb 2012 and are subject to change without notice. Prices quoted are on sale until 31 Aug 12 or sold out prior. Prices are per person, twin share and subject to availability.

Maximum group size is 12 people. Seasonal surcharges and blackout dates may apply depending on date of travel. Prices shown are fully inclusive of taxes, levies, government charges and other applicable fees. Airfare not included unless otherwise stated. Mystical Myanmar:

Valid for travel from 13 Oct 2012 until 14 Sep 2013. SKU 2276198. Imperial Morocco: Valid for travel from 7 Sep 2012 until 17 May 2013. SKU 2277205. Flight Centre Limited (ABN 25 003 377 188) trading as Travel Associates. Lic No. QLD TAG262. TAADV50888

Tattler Winter 2012

23
---
Cellarmaster's News

In this report, stacy Holmes promises,

"Wines and Winemakers

24 Tattler Winter 2012

to warm the Winter Chill"

There are exciting times ahead in the wine industry as

we approach halfway through the year. The Penfolds

and Henschke Icon Series release has taken place

and most of you are probably wondering why this

release incurred such a price increase. The answer

is simple; the 2007 vintage was a tough year with

production totals being 25% of the 2006 vintage.

This year, the new releases of the legendary 2009 Rhone Valley

wines; the 2011 Bordeaux En Primeur tasting is well underway

with a 30% price reduction on the previous two vintages and

the arrival of the 2010 Burgundy wines (the greatest Burgundy

to ever be shipped out of France).

Any Members interested in Old World wines should

contact me to discuss what is available or to purchase wines

En Primeur. The Club now boasts a small, but diverse selection

of Premier and Grand Cru White Burgundy, Premier Cru

Burgundy, 2nd Growth Bordeaux and Grand Cru Bordeaux,

Italy's Super Tuscan's and Spanish varietals that are available

at very affordable prices.

With that sentiment in mind, let's look at what's coming up

in the second half of the year for the Club Cellar.

2009 CHArLEs MELTON 'THE kIrCHE'

sHIrAz, BArOssA VALLEy sA $37.00

'The Kirche' in German means 'The Church' and in this case,

it refers to 'The Zum Kripplein Christi' Lutheran Church that

is located in the Charles Melton Vineyard and Winery in the

Barossa Valley. The wine itself has a sweet nose with a lovely

vanillin sweet Shiraz bouquet that seems to be indicative of

the Krondorf sub-region. Dusty oak overtones add a touch

of complexity. Full palate with a touch of savoury bacon like

toasted oak character, mingling with the natural fruit flavours.

2010 MOLLyDOOkEr 'THE BOxEr' sHIrAz,

BArOssA VALLEy sA $27.00

Mollydooker or Aussie for 'lefthander'. Sparky Marquis

produces this rare wine from the Barossa Valley under the

Mollydooker label. A lot of this wine ends up in the United

States and some of Sparky's wines attract a pretty penny or two.

The nose displays aromas of inky, ripe blackberry, dark plum,

liquorice allsorts and confectionary. Densely concentrated,

super rich and packed with opulent fruit in classic Mollydooker

style, the palate delivers an explosive flavour profile of super

ripe blackberry, liquorice, dark chocolate, toasty oak and a

spicy back palate. Very soft, velvet like tannin structure with

a voluptuous texture.
---
uPCOMING

wINEMAkErs'

EVENTs

Members of Tattersall's Club's wooloowin Old Boys (wOBs)

regularly dine in the Club. On this occasion, they selected

the wine room: (L to r) Nick Eden, John Daley, Mick Barry,

John sheldon and Graham Maynard.

Christmas

in July

Friday 20 July Members' Dining Room

Pre-dinner drinks from 7:00pm

Entertainment to include carolers and a band

A la carte Christmas menu

Bookings phone: 3331 8848

wednesday 20 June, 6.30pm Bruce Tyrrell – Tyrrells wines

Come and meet legendary Hunter Valley winemaker, Bruce Tyrrell. Bruce is a 4th

generation winemaker and an innovator of the Hunter Valley beginning with the

first Vat 1 Semillon in 1989 and continuing to today. This will be a three-course

dinner with wines provided by Tyrrells and Tattersall's Club. Bookings are essential.

wednesday 11 July, 6.30pm kevin Mitchell – kililkanoon wines

Kilikanoon, one of the Clare Valley's most prolific boutique wineries, will be

hosting a memorable dinner in the Club on Wednesday 11 July. It is a rising

star in the Clare Valley since its inception in 1997 for producing cool-climate

styles emulating those of the Rhone Valley's Hermitage region. Winemaker Kevin

Mitchell will be at the Club hosting this exclusive three-course dinner with wines

included. Bookings are essential.

Tuesday 7 August, 6.30pm Paul smith – wirra wirra wines

Iconic McLaren Vale producer, Wirra Wirra, comes to Tattersall's to showcase

its legendary wines. Established in 1894 by Robert Strangeways Wigley, this

iconic winery has grown to become one of Australia's most recognizable brands.

Winemaker, Paul Smith will be at the Club hosting this exclusive three-course

dinner with wines included. Bookings are essential.

To book for any of these events, contact Tattersall's Club Cellarmaster,

stacy Holmes on 3331 8859 or email cellar@tattersallsclub.com

"Tempest Bebende"

Tattler Winter 2012

25
---
Health Centre News

During the very successful swimming stage of his life, Kieren Perkins broke

12 world records and 40 Australian records and won five gold and two silver

medals in the process. His first major meet was at the 1990 Commonwealth

Games in Auckland. In 1993, his achievements were recognised with Young

Australian of the Year Award, and the Order of Australia Medal. Since his

retirement from competition, Kieren has been appointed to the board

of the Australian Sports Commission, become a corporate ambassador

and worked in the media. In January 2010, Kieren was appointed by the

National Australia Bank as Head of Business Development and Acquisitions

in Queensland and regularly attends the Tatts Health Centre. Here he lists

some of the benefits that can be yours by also working out there.

When posed the question that he must have spent considerable time in

gymnasiums during his swimming career, Kieren Perkins OAM flashed his

famous smile and simply replied, "You could say that!

"I started swimming when I was nine years-of-age and it was pretty low

key back then. We did some gym work with Mr Carew. It was just in the back

yard of his pool. There was no actual gym as it were. I probably didn't start

really going to gyms until I reached State level when we used the QAS and

AIS facilities. I made the Australian team before I made the Queensland target

squad so it was straight to the national level in Canberra."

Kieren recalled that swimming was a sport that never really knew how

to embrace gym work because while strengthening and conditioning was

in its infancy, it was really designed more around building size and strength

than actually creating usable strength without the size which in swimming is

important.

"You can't have big, bulky, heavy swimmers. They need to be light

and flexible. Throughout my career, the technique of swimming improved

dramatically. By the time I was in my last Olympic preparation, I was doing

gym all the time and the current swimmers will do gym work constantly.

"But again, gym work is very sport specific. It is not just get in there and

do heavy weights, it is about replicating the movements of your sport and

making sure what you are doing is very directed towards the strengthening

and conditioning you need," he stressed.

The highly-skilled team in the Tatts Health Centre can and does get the

desired results for Members and also cater for individuals and groups seeking

a multi-disciplinary facility including a lengthy swimming pool.

"There is nothing that you need to do that you couldn't do here," Kieren

says. "It has a really good cross section of equipment; all the cardio, strength

building and of course with the freeways added on top. Whatever the workout

you require, you could certainly get it done here. It's a very well equipped gym

in that regard.

"While I do not work out as regularly as I should, this is the gym that I use.

"I am a Member of Tatts Rowing Club as well and as I have increased

my engagement in rowing and doing the extra gym work to build the right

strengths, it has become a lot more important."

26 Tattler Winter 2012

kieren Perkins OAM

Referring to the training equipment being used by Kieren in this photo,

Tatts Health Centre Manager, Marcello Abbate describes it as a Ply-Metric

Cable Machine. "It's a multi-purpose training facility offering everything

for your chest and legs, cardio-vascular and muscle building as well

as correcting posture. We also utilise it for the most minor rehab right

through to most surgery recovery."

It's true that Members of Tatts who do not belong to the

Health Centre vary rarely come to the 5th floor, though the

invitation is always there and extended.

Kieren countered by saying this situation is a double-edged

sword. "Those of us that use the gym like the fact that it is

usually pretty quiet up here on the 5th floor. The more people

who get to know about it, the busier it will become.

"It's a great facility with absolutely everything you need

and with the trainers that are up here as well, if you have never

done gym work before they can help you with a program and

teach you how to use the equipment properly and make sure

you don't get yourself into strife unnecessarily.

Saturday 21 July EaGlE Farm racEcourSE

Gates open at 10:30am

Group Hospitality bookinGs available pHone 3331 8866

by Tony Walsh

Tatts July Race Day
---
Saturday 21 July

Eagle Farm Racecourse

Vice Regal Room

Located within the John Power

Stand — Members Reserve

Grandstand seating provides a view

of the Wining Post.

PackaGE incLudES:

• Entry to the racecourse and

Members' Car Park

• Betting facilities

• Race book

• Superb buffet dining

• Five hour beverage package

$149 per person

Tatts

July Race Day

entertainment package

Value worth

celebrating.

C-Class Edition 30.

C 200 BlueEFFICIENCY with Edition 30 package*

From

$67,900 Drive Away

• 17″ 5-spoke alloy wheels

• Glass sunroof

• COMAND APS with single disc CD/DVD player

• Reversing camera

*Available on the C 200 BlueEFFICIENCY and C 200 CDI BlueEFFICIENCY.

The Mercedes-Benz C-Class has always represented outstanding value. And with the

C-Class celebrating its 30th year of production, we're going one better with a special

anniversary package which includes over $4,500 extra value. So visit Centenary Classic

and see for yourself what makes the Mercedes-Benz C-Class Edition 30 even better.

Cnr Moggill & Harrys Rd, Taringa Tel: 3870 4500 www.mbcentenary.com.au

Tattler Winter 2012

MBC486

27
---
Craig Patterson and Brooke Bonnett

28 Tattler Winter 2012

Tatts Wedding

Choose Tattersall's Club for your wedding reception and you can

expect the ultimate in atmosphere, style and service. Tattersall's

Club function rooms cater for wedding receptions up to 275 guests.

The Club also offers the Members' Bar (160 guests), Members'

Dining Room (120 guests), Chandelier Room (20 guests) and

Healy Room (60 guests) suitable for both ceremony and reception.

For personal service, contact the Wedding Coordinator, Claire

Dean on 3331 8866. Email weddings@tattersallsclub.com or visit

our website www.tattersallsclub.com
---
O'Duffy Library News

rECENT ADDITIONs:

Non-fiction:

Tim Flannery Among the islands: adventures in the Pacific

Lisa Hilton The Horror of Love: Nancy Mitford and

Gaston Palewski in Paris and London

Jonah Lehrer Imagine: the science of creativity

Brenda Niall True North: the story of Mary and

Elizabeth Durack

by Monica Phillips

BOOk rECOMMENDATION:

Lisa Hilton brings to life the world of postwar France as she relates the story of Nancy Mitford and Free

French commander, Gaston Palewski and their lives on which The Pursuit of Love was based. Mitford was

one of the twentieth century's most glamorous and popular authors. He was one of Europe's influential

politicians of the period. Their years were spent amongst 'the exciting, powerful and controversial figures

in the reawakening Europe'.

fiction:

Parker Bilal The Golden Scales

William Boyd Waiting for sunrise

Kevin Brophy The Berlin Crossing

Lindsey Davis Master and God

Charlotte Link The Other Child

Deborah Moggach The Best Exotic Marigold Hotel

Olen Steinhauer An American Spy

Kirsten Tranter A Common Loss

Patrick White The Hanging Garden

These titles and other new editions are available on request. Please contact Monica

3331 8847 or email monica.phillips@tattersallsclub.com.au

Find Yourself at Tatts Club Scene Pictorial

Tattler Winter 2012

29
---
Sub-Club News

30 Tattler Winter 2012

Walkers Club

by Alan Ernst

Saturday 28 April was wet but four walkers: Lex, Steve, Jan and I did

the Slaughter Falls track. We shared it with a few others training for

walks further afield.

The Summit Cafe was almost deserted as we looked into the mist

to an invisible Brisbane. However, there were no leeches unlike a few

weeks before on the Manorina Track at Mt Glorious where we fed them

well. After that experience, we went to Binna Burra well prepared.

Binna Burra proved to be a perfect weekend for 24 Members. On

Friday, a group met at Canungra for lunch and late that afternoon did a

short rainforest walk in inclement weather. Saturday was a perfect day

and the leeches left most of us alone. One group did the 12 km Dave's

Creek circuit returning by lunch, while the other group completed

the Coomera Circuit with a detour to Dacelo Lookout on the border

wall. After that, it was a 10 km walk back to the lodge. All up, it was

accomplished in eight hours for 23 km of walking.

On Sunday, a few chose to do the Caves Circuit while others were

happy to depart for home. Both nights saw much eating and socialising

in the excellent facilities at the Lodge.

In the last issue, Steve Mill provided a mystery photo. Here is what

urban trekker Steve had to say about Hiking the Catskill Mountains,

New York State.

"Jan and I arrived in New York in September to see son, Glen and

very recent fiancée, Kathleen.

"The first week of urban trekking near killed me; the smell of burning

plastic, weightlifting shopping bags, hundreds of NYC taxis, thousands

of square feet of retail space, commission-hungry shop assistants!

"But the second week was fantastic; off to Boston to meet Kathleen's

dad and family via the Catskill Mountains for some real hiking. The

Catskills, located 100 miles NNW of NYC, covers 700,000 acres of green,

rugged mountains with many hiking trails.

"Our timing wasn't perfect as Hurricane Irene had hit on 28 August

causing much flooding. Some trails only reopened the week before our

visit. Our first two hikes had to be abandoned with trees down, paths

washed out and creeks still flooded.

"Walking in an American park named Catskill makes you think twice!

Being on alert for cougars and black bear is not quite the same as being

on alert to see a koala in an old gum tree, but the orange salamanders

were more pleasant to encounter than Binna Burra's leeches.

"Staying in cabins near Phoenicia, population 309, we settled on

the short Mount Tremper walk near town. Short but spectacular (see

last Tattler).

"A short walk built a large appetite. I ordered the large cheese pizza

at Brio's Pizzeria. Then a small flying saucer arrived that required its

own foldout trestle placed beside our table for support.

"Hurricane Irene was the third flood in less than a year for

Phoenicia. People were surprisingly positive and knew all about SEQ

and Brisbane's floods: Grantham, Goodna houses, Rosalie, Wivenhoe

Dam and boat pontoons careering down the Brisbane River. We

swapped yarns.

"All's big in America particularly the Phoenician friendship, from

people who, like Brisbanites, were recovering. Google: Hurricane

Irene's wrath on Phoenicia."

This winter promises further great walks in the mountains, the

suburbs, the city and along the coast.

A Catskill

Mountains orange

salamander.

One of the many creek crossings on the

Coomera Circuit at Binna Burra.

City walk along the restored

Brisbane River walk and bike way.

Coffee at Mt Gravatt

The small town of Phoenicia in the Catskill Mountains.
---
Golf Club

by Peter Skirving

The 2012 golfing season for the Tattersall's Golf Club teed off at The

Glades on 9 February, after the initial scheduled game for the previous

Thursday was cancelled due to many days of heavy rain.

The conditions were still not first class after further wet weather

bunkers out of play, carts not to be used on fairways etc. Unfortunately,

this made it a long round for most. However, Warren Patterson (36)

& Ian Shannon (22) won the 4BBB Event with 49 Points. Runnersup

were Kieran McCormack (28) and Baz Tansey (25) — Gold Coast

residents with plenty of local knowledge — with their 48 Points just

being taken out.

The Single Stableford Event was picked up by Geoff (Grumpy)

Edwards (15) with 39 Points. Warwick Oxenford (1) was the runnerup

in the Single Event with 38 Points. The Honour Board Event, The

Woodrow Cup, was played for this day and won by Kieran McCormack.

On 16 February, Royal Queensland Golf Club was the magnificent

setting for the TGC game. Winners of the 4BBB Event were Patrick

McElligott (28) & Bill Mallan (14) with 47 Points. Bob Lette (10) and

Neil Harvey (17) — a new TGC Member in 2012 — came in second with

their 43 Points. The Single Stableford was won by TGC Captain, Peter

Symons (17) with a solid 38 Points on a 'count-back' which were also

good enough for Peter to walk away with the February Monthly Mug.

The runner-up in the Single Event, as in the previous TGC game, was

Warwick Oxenford (1) with 38 Points.

At Indooroopilly Golf Club on 1 March, the Qualifying Round of

the Bob Templeton Memorial Shield was part of the day with the best

sixteen pairs moving on to contest this knockout competition. After an

initial Knockout Round, followed by Quarter-Finals and Semi-Finals,

the Final is to be played at The Glades on 29 November 2012. John

Conroy (21) and Warwick Oxenford (Scratch) — no longer a 'bridesmaid'

—came in with 42 Points to grab the 4BBB Event at Indooroopilly from

Barry Warden (18) & Warren Vause (20) with a card of 41 Points. Paul

Bennett (14) was the winner of the Single Stableford Event with 37

Points. David Brett (16) — another new TGC Member for 2012 — was

the runner-up in the Single Event with 35 Points. John Conroy collected

the March Monthly Mug.

It was back to the very pleasant (often challenging) resort course of

Links Hope Island on 15 March where our 4BBB Event winners were

Warren Patterson and Ian Shannon with 45.5 Points closely followed

by John Conroy and Vince De Pasquale with 45 Points. Vern Raaschou

won the Single Stableford Event with 38 Points. The runner-up in the

Single Event was Ray Nalder with a score of 36 Points.

TGC played Virginia Golf Club on 29 March where Robert Gauld

(19) and Jack Rayner (13) 'cuffed' the field to win the 4BBB Event with

46 Points. Runners-up were Peter Symons (16) and Holger Herlie (29)

with a score of 44 Points. The winner of the Single Stableford Event was

Russell Walters (26) with a card of 39 Points, John Conroy (20) was the

runner-up in the Single Event, carding 38 Points.

Bribie Island Golf Club on 26 April was the popular location for the

TGC game. A score of 44 Points won the 4BBB Event for Peter Hyland

(27) and Kevin O'Keefe (20). Runners-up at Bribie were Brock Miller

(22) and Xavier Kelly (28) with their score of 43 Points. The Single

Stableford Event was taken out by Maurie Miller (29) with 38 Points

which also gained the April Monthly Mug for him. Second place in the

Single event went to Peter Harding (20) with 36 Points.

TGC will be playing the following courses during the balance of

2012: Club Pelican, Redland Bay, Oxley (twice), Royal Pines, Brookwater,

Gailes, Redcliffe, Indooroopilly, Royal Queensland, Carbrook, Hope

Island, Lakelands, Sanctuary Cove (the new Palms Course), The Glades

and Brisbane.

Of course, the 'Northern Safar' for a week to Port Douglas is, at

time of writing, attracting what may be a record attendance — with

Sub-Club News

From top left to right: "Baby Ox" shouldn't be practicing off +2! Brian Dittman

through to the next round of the Bob Templeton Cup. Eric Oxenford (Club

Handicapper) plays golf, while the rest of us clean his car, mow his lawn and buy him

a round or two! John Young (1st on the left) & Brian Dittman (3rd from the left) take

on the brothers Wrigley – Peter & David Paul McLaughlin – Tattersall's Golf Club's

2012 President.

40 players already registered. During this strenuous section of the TGC

Calendar, competition starts on Monday 30 July at Paradise Palms

(where most participants will have stayed overnight — after jetting up

to Cairns from Brisbane on the Sunday). Sea Temple, a beautiful setup,

is the venue for Tuesday's game. A 'rest day' occurs on the Wednesday

with many punters trying their luck at the local TAB — while many

(real) avid golfers stick with their game at a course still to be chosen by

the Tour Handicapper, Eric Oxenford.

On the Thursday, the course to be played this year is the lovely

country format offered by Mossman Golf Club which has previously

been the spot for those keen golfers that play (golf) on the 'rest day'. The

final game of the tour is always a major challenge, as it is back at Sea

Temple, but, this time – OFF THE BLUE TEES! That event is followed

by the prize presentations at a sumptuous feast of seafood and barbeque

favourites accompanied with suitable refreshments. On Saturday 4

August, the majority of our weary warriors wing it back to Brisbane and

the Gold Coast for a deserved 'rest'.

More information on the Tattersall's Golf Club can be found at

the club's website: http://www.tattersallsclubevents.com/golf/

New Member enquiries can be directed to the TGC Secretary,

Peter Skirving 0419 785 125.

Tattler Winter 2012

31
---
Sub-Club News

With great fondness and pride, I vividly

remember what it was like, way back in 2004,

to have been a Member of the first men's crew

to compete in the Tatts colours.

Brisbane's Regatta-Fest had been selected

as the vehicle from which we would launch our

claim for fame and glory. Resplendent in our

new zoot suits, we eagerly took to the water in

our borrowed racing Eight and set out to do

ourselves, our vocal band of supporters and our

Club, proud.

I remember hearing the commentator's

remarks, following our first race, "… and

the gentlemen of Tatts have certainly cut a fine

image in their dark navy suits!" Evidently, this

was the only positive he could muster, having

just observed our valiant, but tragically poor

performance.

How things have changed and all for the

better!

Robbed of much of last year's racing

program, following the floods we needn't

32 Tattler Winter 2012

Rowing Club

by David O'Brien

Racqueteers Club

by Adrian Symons

Among the various activities with which the

Racqueteers busy themselves, occasion is

found from time to time to actually engage in

the fine sport of tennis, so we find ourselves

in the midst of the Ron Hambleton Handicap

Singles Championship, where the challenge

facing the handicappers is to construct

a formula whereby Rick Rylands is not

automatically assured of yet another trophy.

While not begrudging him his success in

the slightest, it does become a little tiresome for

those tasked with selecting trophies to unearth

some bauble he has not already received. This

same dilemma has familiar overtones from

the many years when Ron Hambleton was an

entrant in this competition, rather than merely

bestowing his name upon the trophy. More

often than not our efforts in devising a strategy

to level the field have been thwarted, leaving us

scratching our heads to find a novel reward for

the perennial victor.

Not that the handicapping has been inept,

for Don Griffin and Bob Ward were locked in

a herculean struggle in the first round before

Don emerged the winner of an 11-9 ordeal, and

Nick Zappulla dithered around for 10 games

have had, rowers from the Eric Freeman Boat

Shed at St Lucia have returned to the cut and

thrust of regatta-competition in 2012, with a

vengeance.

The racing season opened in February with

the Pine Rivers' Regatta featuring events for

Single Scull, Double Scull and Pairs only. Bill

Hatfield stole the show winning the prestigious

Men's single scull by a comfortable margin.

The Brisbane and GPS Regatta followed in

March. Strong medal-winning performances

were posted by Nicky Hughes in the single

scull; Katherine Lambros and Bill Hatfield in

the double scull; Scott Lawes, Guy Edgecombe,

Andrew van Benekom and Dr David King in

the men's quad scull; and Nicky Hughes, Kim

Forrest-Winchester, Tamara Ruhle and Peta

Thomson in the women's quad scull. Our

Mixed Eight was also in the medal hunt, taking

a well-earned Bronze.

before finally administering a well justified

coup de grace to Adrian Symons in a prolonged

10-8 result. Unfortunately Nick was required

to forfeit the next round to a grateful Eddie

Burke, who disposed of a doggedly persistent

Kos Psaltis 7–4 to enter the final, where he is

likely to meet one of the protagonists in most

of the recent Regis Cup Open Championship

finals, Gary Tupicoff and Rick whatsiname.

But enough of tennis, for Churchie ancient

boys John Rogers and Darby Munro, who

schooled together before decimal currency

and probably before the demise of the guinea

and the farthing, have assumed the mantle

of organisers of the Friday Long Lunch, a

concept devised by Brad Grinstead with the

assistance of his wife Bev, who soldiered

on for many outings before the weight of

attempting to discipline the ungovernable

finally overwhelmed them.

Darby has sought to avoid a similar fate

by adopting a policy of benign neglect in their

organizing, whereby things seem to happen

smoothly with minimal input from them, and

in doing so they have managed to pull off a

resounding success with their latest foray to

Peter Camphin,

Greg Clarke,

John McCafferty,

Bill Bridgeford

and Peter Rose

preparing to

do battle in the

Men's Eight

The Queensland Masters Regatta was held

over the weekend of 14-15 April. Although

marred by torrential rain and fierce crosswinds,

our rowers showed total disregard for the less

than ideal conditions and combined with our

great friends at UQBC dominated the blueribbon

event with a combined haul of 67

medals.

Full credit must go to our coaches: Bill

O'Chee, Sam Conrad and Kathy Philips for

preparing our crews so well during the many

months leading into this regatta. Again,

Bill Hatfield showed what an extraordinary

competitor he is. Special mention must also

go to our Gold Medal-winning Mixed D Eight;

beautifully stroked by club stalwart, Kaye

Pulsford.

On reflection, who would have thought

this success possible? Certainly not the Tatts

supporters from that first inauspicious day way

back in 2004!

Cynthia Knapp and

Alan Beconsall

turn their back on

carbohydrate loading

at Bellevue Homestead

the Cormorant Bay Cafe on the shores of Lake

Wivenhoe, following a visit to the historic

Bellevue Homestead. While most arrived by

bus, but a few chose to arrive by car, and the

venerable Frank Walters sought to engage

in friendly conversation with one of these

arrivals, enquiring from whence he came. On

being informed that he had driven directly

from Flaxton, Frank then enquired: "Oh, do

you know Paddy Knapp then?" to be met by the

quizzical rejoinder, "But I AM Paddy Knapp!"

After spending 88 years on the planet one can

be forgiven some minor lapses.

The indulgence and dissipation in which

the Racqueteers happily wallow has inspired

a suggestion that our Christmas trip to

Sanctuary Cove, and latterly to Runaway Bay,

should not be confined to an annual event, so

the prevailing wisdom is that, with only an

allotted lifespan which is ever diminishing, we

should maximize the number of times that our

hedonistic tendencies can find outlet.

Thus it has come to pass that The

Superannuated Schoolies will again assault

the Coast, but this time in July, when cooler

climes might abate the appetite for alcohol, but

this may be a forlorn hope.
---
The winning team

Bowls Club

by Brian Bennetts

The Tattersall's Bowls Club Annual General Meeting was held at

Tattersall's Club with nothing untoward happening. The same

Committee was re-elected with no opposition. A very pleasant lunch in

the Healy Room rounded off the day.

Our first social bowls day of the year was held at the St Lucia Bowls

Club. A good day of bowls was enjoyed playing social bowls. I arranged

with the Club selectors to get their top team of fours to play against one of

our teams going to Sydney to compete for the Turf Bowlers Trophy. The

game was close, but Tattersall's lost by a small margin; good practice for

Sydney.

First day of the Carnival started off well with wins over Newcastle

75/18 and 6 points. Then a win over arch rivals, City Tattersall's, on two

rinks 42/27 and 5 points. The final game of the day was against Singapore.

They don't play in the competition so we don't get points. We used to have

a bye but Singapore comes down to play social bowls instead of having a

bye.

Day 2 began disastrously. We were beaten by Adelaide in a very tight

game 33/37 and gained only 1½ points. Going into the second game of

the day against Perth that is the team with the most wins in recent years,

we were feeling very nervous. The boys played magnificently and were

victorious getting 5½ points. Bowls is an amazing game and you never

know what can happen. Our final game of Day 2 was against Canberra.

It had earlier beaten Adelaide. Well, we beat them on all rinks and got the

maximum 6 points.

Wednesday was a rest day when most of the players went to the races.

Craig Francis and I attended the delegates meeting then afterwards we

went with some of the guys and spent a very pleasant day on the Harbour,

lunching at Manly. All in all it was a very pleasant day.

At the delegates meeting, it was disclosed that the next Carnival will

be held in Canberra. It coincides with the centenary of Canberra as the

capital of Australia and we will have to book early as accommodation will

be at a premium.

2016 will be our turn again, so here's hoping we are all fit and able.

Hell, I will have the OBE (Over Bloody Eighty) award by then.

COMMITTEE CONTACTs:

Sub-Club News

The third day of the carnival dawned a lovely fine day after

showers overnight. The greens already slow would be even

slower and more difficult with City Tattersall's in the lead with

28½ points. They could only get another 12 points as they had

yet to play the bye against Singapore. We, on the other hand, to

win the trophy, had to win all three of our games. We needed 18

points. The first game was won easily getting the full 6 points,

but the second game was against Victoria that put us out of the

competition last year after a very hard fought battle. We had a

small win on all three rinks and got the maximum 6 points. The

last game was won easily with three big wins and the last 6 points

we needed.

The Tattersall's Turf Bowlers Trophy was ours for only the

second time in 33 years. Whoopee!!

At the presentation night, it was also revealed that we had

also won the trophy for the highest winning margin against

Singapore, quite an achievement. Thanks once again to Jack

Hansen who skilfully selected the teams with few changes over

the three days.

Sadly, President Ern Wood was unable to attend the Carnival

as he was recovering from surgery. He was overjoyed with

the result.

Ern Wood (President & Treasurer):

3831 9886 (h)

Brian Bennetts (Selector): 3366 1279 (h)

Craig Francis (Secretary): 3236 1245 (w)

Bernie Carroll (Committee): 3262 3505 (h)

Mort Howes (Committee): 3720 1762 (h)

Peter London (Committee): 3890 5818 (h)

Tattler Winter 2012

Singapore

Lady Bowlers

Lim Peck Tee,

Jennifer Chew

and Philomena

Goh with

Brian Bennetts

Craig Francis

delivering the

perfect bowl

33
---
Sub-Club News

Tattersall's Motorcycle Club continues to grow

as we warmly welcome our new Members who

have joined us over the past few months.

This edition of our Tattler serves as a tribute

to Tattersall's Club and TMC Foundation

Member the late Mr. John Herbert. John left

us in body early in March of this year after his

courageous battle with cancer.

"Herbs" as he was so fondly known to most,

carried his spirited love of life right through

to his passing… passionately talking of his

family, friends and his beloved motorcycles

on the night before his passing. Hard work,

dedication and integrity were the foundations

in John's life and his achievements served as

an inspiration to all who had the privilege of

knowing him well.

John's passion for life saw him exploring

rather than just traveling the world;

discovering sort-after vintage motorcycles and

sending them back to Australia to add to his

collection.

In his later years, John's prized collection

grew to 10 motorcycles dating back to a 1953

AJS, 1959, 62 and 71 Triumphs, through to

the latest Ducati race bikes. John's skills and

eye for perfection saw him restore by hand

many of the bikes in his collection back to

showroom condition.

John's colourful spirit for life was reflected

in our Tattersall's Club motto: Amicitia Vita

Est – Friendship is Life.

TMC held a Friendship is Life Dinner for

John in the Wine Cellar room at Tatts where

John's love of fine red was well catered for in a

selection by Cellarmaster, Stacy Holmes.

Herbs, our friend and mate, cheers, your

Spirit at TMC will always continue to shine.

While Brisbane's wet weather seems to be

the norm again this year, we have managed

to take advantage of the odd, fine weekend

and escape on two wheels and four. Our rides

have taken us north heading to the hinterland

regions of Maleny for brunch at the Rainforest

Café at Mary Cairncross Park, and south-west

to the country areas of Boonah, Mt Tamborine,

the Lockyer Valley townships and Wivenhoe

Dam.

A memorial ride for John was crafted

by TMC taking us on a route he had longed

to do. We headed out through the D'Aguilar

Ranges to Maleny on through the Mary Valley

to Kenilworth, up over the Obi Obi Range and

into Mapleton for lunch on the verandah of

the Mapleton Hotel. John's two magnificent

Harley Davidson motorcycles were ridden by

TMC Members in remembrance.

34 Tattler Winter 2012

Motorcycle Club

by Edward Profke

Tattersall's Club and TMC Members,

Shane Lockland and Adam Cameron are about

to compete in the Tatts Finke Desert Race:

http://finkedesertrace.com.au/ This will take

them from Alice Springs 226 kms to the town

of Finke and back again on specially-prepared

Dirt Bikes capable of reaching speeds of over

150kph. With entrants of over 500 bikes and

80 V8 buggies, Shane and Adam have been

in training and preparation since visiting the

race last year.

On the return leg, their expedition will

see them crossing the Simpson Desert and

over the famous "Big Red" sand dune. This

will be incredibly challenging in their fullyladen

4WD with the loaded bike trailer in

tow. A well earned beer will be enjoyed at the

Birdsville Hotel before continuing back home

through Roma. For a brief insight: http://

www.youtube.com/watch?feature=player_

embedded&v=v0gD7LwKBvA

Our social gatherings off two-wheels

have always remained centered on Tattersall's

Club being the pivotal point for new friend

and business networks. TMC always holds a

standing booking for Sportsman's Grill Nights

and special-event evenings with TMC taking 27

seats for the premier Black Tie Boxing Night.

Our Guest and Affiliates list continues to grow

and this has led to the signing of several new

Tattersall's Club Members.

TMC would like to take this opportunity

to thank all Tattersall's Club staff for their

exemplary service and attention to detail at all

times. We look forward to the year ahead with a

John Herbert with his

1953 Matchless race bike

that he had fully restored

John Herbert aboard

the 1971 restored

Triumph Trophy

TMC Members and

guests at Mapleton

on the John Herbert

Memorial Ride with

John's two prized

Harley Davidson

motorcycles featured

in the foreground

TMC President, Casey Stringfellow and TMC Events

Manager, Edward Profke at the Black Tie Boxing Night

with former World Champion, Tony Mundine

host of great outings and social events planned

for each month. Our TMC rides are calendared

for the third Sunday of the month and all are

welcome, be it on two wheels or four.

For further details regarding Tattersall's

Motorcycle Club, contact Tattersall's

Club on 3331 8888 or

http://groups.google.com.au/group/

tattersalls-motorcycle-club

President

Casey Stringfellow: 0438 776 090

casey@stringfellow.com.au

Events Manager/secretary

Edward Profke: 0418 155 873

edward@egpmanagement.com

Committee:

Bernie Orrock: 0407 640 577

bernie@taskgroup.com.au

Mike Wilson: 0419 670 537

mike@wilsonaccountantants.com.au
---
Wine Club

by Ian McLeod

This Tattler article, which is a regular inclusion

in our Club magazine, is our opportunity

to communicate with not only Wine Club

Members but the wider Tattersall's Club

community.

Of the many thousands of Tattersall's

Members, the Tattersall's Wine Club has a

membership of around 260. This number

has been growing over recent years and the

Wine Club Committee is very proud that we

are actively involving so many Members.

We do however encourage other Members

of Tattersall's Club to consider joining our

numbers or at least attending an event from

time to time.

It would be fair to say that the Wine Sub-

Club makes every effort to embrace our Club

motto Amicitia vita est - Friendship is life. At

Wine Club functions, we would feel that we

have achieved great success if people have

enjoyed interacting with other Members and

guests and had an opportunity to hear from

a winemaker or winery owner and learn

something of their activities and plans.

In addition, we aim to provide excellent

examples of Australia's wines and, on occasion,

wines from other places. On occasions, we will

have options games for Members' enjoyment.

Some might think that seeking to have people

identify wines in this manner is just a guessing

game, but it is well known that there are those

who have the skill to excel, not that they always

do! However, it's amazing how often our wives

or partners win. In summary, we invite any

Tatts Members who care to sample our good

will and company to consider attending one of

our coming events and join in the fun.

In early February, the Wine Club

conducted its annual meeting and I am very

pleased to report that all Committee Members

were re-elected unopposed and our reports

were well received.

Thus our Committee remains:

Ian McLeod – President

Peter Dittmer – Vice-President

James Noble – Secretary

Lou Carter – Treasurer

Roland Muster – Cellarmaster

Hal Davis

Chris Elliott

Mark Hogan

Geoff Veal

John Woodhouse

The few Members who did attend this

necessary gathering enjoyed generous

conviviality with Committee Members

following the meeting which was not very

long and then various Members enjoyed the

hospitality of the Healy Room.

Scotchman's Hill wines from the Bellarine

Peninsula featured in our February luncheon.

One of the longer-established enterprises in

this region, Scotchman's Hill has extensive

vineyards or contracted vineyards around the

Geelong area, Bellarine and the Mornington

Peninsula. CEO and Chief Winemaker,

Robin Brockett regaled us with anecdotes

and information about their winemaking

challenges. The Company has numerous

labels and makes wines from grapes sourced

from many regions in Australasia. One of

their quirkier labels is their Ferryman range of

three wines which are made from Mornington

Peninsula grapes that are picked and ferried

across Port Phillip Bay on the vehicular ferry;

thus the name Ferryman Wines. As I write

this, I can well recall a glass of the Ferryman

Chardonnay which I enjoyed so well.

The month of March for Wine Club

functions is always a challenging time of year.

Wineries are either already heavily involved in

vintage or expecting to be so at any moment.

Given that we always prefer to have someone

from Head Office, a winemaker or winery

decisive, it was an easy decision to consider an

early start to our Members' Black Tie Dinner

program.

Thus in March this year, we held the first of

our, hopefully, two Black Tie Dinner functions.

An exciting and delightful menu of scallops,

lamb and crepes Suzette was matched to an

outstanding array of wines. On arrival, thanks

to the creative suggestions of our Life Member,

Hal Davis, we had Kir Royale – a combination

of Crème de Cassis and sparkling wine. With

this was served Rubis Liqueur infused Pate de

Poulet Strawberry and Currant Compote.

An outstanding Yarra Valley maker

presented wines in April. Our April dinner

featured Oakridge Wines and Chief Winemaker,

David Bicknell. Another one of Halliday's

stratospheric-rated wineries, Oakridge has

outstandingly been awarded by the very-much

respected Age and Sydney Morning Herald

Good Wine Guide as their Winery of the Year,

David Bicknell as Winemaker of the Year

and their 2010 864 Chardonnay as Wine of

the Year; a truly outstanding result. We have

to advise that, "yes" we did try the wine of

the year.

Sub-Club News

Barry Aaskov and

Christine Dittmer

at the Black Tie Fine

Wine function

Ric James and David

Bicknell at the

Oakridge dinner

John Jeffcoat and

Margaret Thew at

the Black Tie Fine

Wine evening

Robin Brockett

and Geoff Veal at

the Scotchman's

Hill luncheon

It may be appropriate to give the Club a

plug at this stage and mention that we have

arranged with our Club to accommodate

visiting winemakers from time to time.

One might presume that all Members are

aware that the Club has very superior

accommodation available for visitors and

Members at most attractive prices. It would

be remiss of us not to express our thanks for

the assistance of the Club and to mention to

Members that the accommodation is there for

all to take advantage of.

In the coming months, we are hosting

Gary Crittenden originally from Dromana

Estate on the Mornington Peninsula and a

return visit from Mark Lloyd of Coriole fame.

A special aspect of the Mark Lloyd event is

that we have well-advanced plans to conduct

this event at the Downs Club in Toowoomba.

Our intention is to interact with our kindred

spirits from the Downs Club and invite as

many of Tatts Country Members in the region

who may be able to join us there in July.

As always, we are pleased to remind Club

Members that joining Tattersall's Wine Club

is easily arranged. Please contact the Club

Office or Secretary, James Noble [3255 3200]

or President, Ian McLeod [3878 5555].

Tattler Winter 2012

35
---
Sub-Club News

36 Tattler Winter 2012

Snooker Club

by Tim Woolley

I cannot begin my first contribution on behalf of the Snooker

Club without paying tribute to Leo Thomsen who has faithfully

recorded events in this column for the last 19 years; indeed, since

The Tattler was first published in this form. His informative,

witty and often scholarly articles make him a hard act to follow

and we are extremely grateful for his contribution, in addition to

his sterling work as Snooker Club Handicapper, in which role,

we hope he will continue for many years.

In the last issue, Leo mentioned the Snooker Club tour

to New Zealand in February. This is covered at greater length

elsewhere in this issue by Ray Garske. It was a great success and

thoroughly enjoyed by those who took part.

In March, we were delighted to host a visit by the Singapore

Cricket Club snooker team that fielded eight players including

their Club President, Manu Bhojwani. Interest among our

Members was such that we had a turnout of 13 players which

stretched Ray Garske's organisational abilities to their limit in

making sure everyone had a game.

This resulted in a match of 18 games with Tatts ending as

the victors narrowly by 10 – 8. In all, it was an excellent social

evening of friendly rivalry which allowed us to renew old

friendships and I believe further cemented the close relations

between our two clubs. We hope to visit them next year with

more information below.

Tattersall's Snooker Club became affiliated earlier this year to

the Queensland Billiards and Snooker Association and entered

Grade C of the annual Brisbane District Snooker Pennant

Competition involving a team of four playing every Wednesday

evening, alternating home and away against seven other clubs

over a period of 14 weeks.

The principal team comprises Neville Veal, Anthony Martin,

Michael Needham and Wayne Duncan as well as myself with

reserves: Ray Garske, Robert Day, Lance Baker and Barry

Rutherford. We started well with a win at home against the

Redcliffe Warriors but had only modest success after that with

two more wins and three draws and the others closely-fought

games.

At the time of writing, there is still one more match to play.

It has been useful however in forming links with other clubs and

introducing Tattersall's to many who have never been here before

and are suitably impressed with our magnificent facilities.

In addition to this, we are commencing in May a regular

round robin series of friendly matches with the Queensland

Club and the Brisbane Club that will hopefully encourage more

players to make use of their billiard rooms and form closer

relationships between the city clubs.

Our first 9 Ball competition of the year was held on 9 April

with Robert Gauld, a regular winner at these events, overcoming

Lance Baker in a tense final to take first prize. The runners-up

were Wayne Duncan and Robert Day with Ray Garske and Barry

Rutherford completing the prize winners.

WILLIS GROUP AUSTRALIA

INSURANCE BROKERS

Level 1, 10 Eagle Street

BRISBANE QLD 4000

Stephen MacDermott

t: 07 3167 8545

macdermotts@willis.com

Brian Buckley and Neville Veal

enjoying the evening with Ong Chin

Leong and Kwek Chock Ming of the

Singapore Cricket Club

The Singapore Cricket Club

President, Manu Bhojwani receives

a souvenir of the occasion

The first of our major annual tournaments, the Snooker Singles

Handicap, started in March with all the first round matches played by

the middle of April. As ever, the results produced one or two surprising

outcomes with Brian Buckley defeating one of our star players, Michael

Needham. Michael Browning defeated last year's winner, Mitch Acres

while Leo Thomsen overcame last year's runner-up, Ernie Ward. Lance

Baker only succumbed to our top player, Jim Wicks on the black ball in

the last frame. Final results will be revealed in the next Tattler.

Our second overseas trip this year will be again to Hong Kong from

8 to 13 October. Considerable interest has already been shown by a

number of Members and I have no doubt we will be able to put a good

team together. There is still room for more if anyone would like to join

us in what promises to be another memorable trip.

Next year, we hope to take up a suggestion of the Singapore Cricket

Club's President and visit India and in particular Mumbai (which we

used to know as Bombay). There, the Indian Cricket Club and the

Gymkhana Club have enthusiastic snooker teams. It is possible that

this could be combined with a visit to Singapore including a visit to our

reciprocal clubs there. We have to pass through Singapore on our way

to India. Early expressions of interest are invited.

Paul MacDermott

t: 07 3167 8535

macdermottp@willis.com
---
Real sisal

unrivalled texture, quality

and style

custom made floor rugs

and wall to wall installations

Contact us

For samples or information brochures on this

fantastic product, contact our showrooms:

SYDNEY MELBOURNE

BRISBANE GOLD COAST

1800 339 379

www.interfloors.com.au

M A Y A N J A C Q U A R D S I S A L S
---
DUNE OUTDOOR LUXURIES

An extensive range of premium

outdoor furniture

Exotic fans from Fan Galleries

Outdoor accessories, rugs and wall art

Custom recovering

Free consultation

Commercial packages

Bay Creek Dining

BRISBANE Shop 3/3 Montepelier & Breakfast Creek Roads

FORTITUDE VALLEY +61 7 3257 3707

Bay Creek Deep Seating

The Bay Creek collection by

Brown Jordan offers a fresh take

on traditional garden furniture.

Its tightly woven construction

creates a tailored, fitted sheath

over a structurally sound,

powder coated aluminium

frame. The herringbone weave

pattern is achieved with

alternating wide and narrow

strands. A tapered skirt, gently

arching arm, and sassy kick to

the legs create a romantic and

sophisticated design for indoor

and outdoor use. Choose from

the Brown Jordan fabric range,

all produced by Sunbrella, to

create your own individual

colorway and style.

Timeless Elegant Essential

GOLD COAST Shop 3 The Brick works Centre 9 Brolga Avenue

SOUTHPORT +61 7 5531 0032

DUNE OUTDOOR LUXURIES OpEN 7 DAyS Mon–Fri 9am-5pm & Sat–Sun 10am-4pm

www.duneoutdoorluxuries.com.au www.brownjordan.com