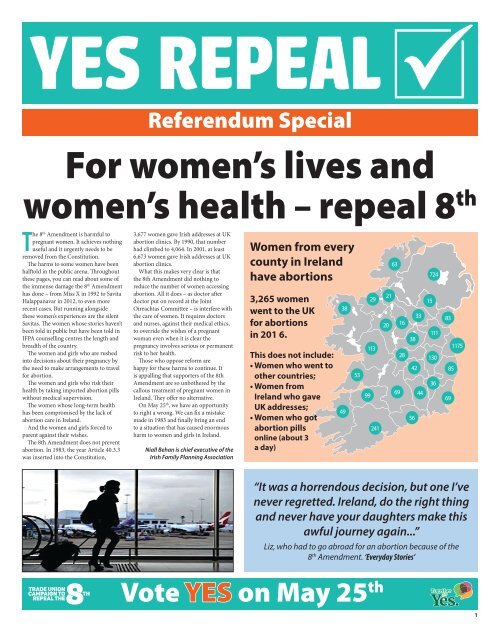 YesRepealReferendumSpecial
You also want an ePaper? Increase the reach of your titles
YUMPU automatically turns print PDFs into web optimized ePapers that Google loves.
Referendum Special

For women's lives and

women's health – repeal 8 th

The 8 th Amendment is harmful to

pregnant women. It achieves nothing

useful and it urgently needs to be

removed from the Constitution.

The harms to some women have been

halftold in the public arena. Throughout

these pages, you can read about some of

the immense damage the 8 th Amendment

has done – from Miss X in 1992 to Savita

Halappanavar in 2012, to even more

recent cases. But running alongside

these women's experiences are the silent

Savitas. The women whose stories haven't

been told in public but have been told in

IFPA counselling centres the length and

breadth of the country.

The women and girls who are rushed

into decisions about their pregnancy by

the need to make arrangements to travel

for abortion.

The women and girls who risk their

health by taking imported abortion pills

without medical supervision.

The women whose long-term health

has been compromised by the lack of

abortion care in Ireland.

And the women and girls forced to

parent against their wishes.

The 8th Amendment does not prevent

abortion. In 1983, the year Article 40.3.3

was inserted into the Constitution,

3,677 women gave Irish addresses at UK

abortion clinics. By 1990, that number

had climbed to 4,064. In 2001, at least

6,673 women gave Irish addresses at UK

abortion clinics.

What this makes very clear is that

the 8th Amendment did nothing to

reduce the number of women accessing

abortion. All it does – as doctor after

doctor put on record at the Joint

Oireachtas Committee – is interfere with

the care of women. It requires doctors

and nurses, against their medical ethics,

to override the wishes of a pregnant

woman even when it is clear the

pregnancy involves serious or permanent

risk to her health.

Those who oppose reform are

happy for these harms to continue. It

is appalling that supporters of the 8th

Amendment are so unbothered by the

callous treatment of pregnant women in

Ireland. They offer no alternative.

On May 25 th , we have an opportunity

to right a wrong. We can fix a mistake

made in 1983 and finally bring an end

to a situation that has caused enormous

harm to women and girls in Ireland.

1175

This does not include:

• Women who went to

other countries;

• Women from

Ireland who gave

UK addresses;

• Women who got

abortion pills

online (about 3

a day)

Liz, who had to go abroad for an abortion because of the

8 th Amendment. 'Everyday Stories'

Vote YES on May 25 th

Niall Behan is chief executive of the

Irish Family Planning Association

Women from every

county in Ireland

have abortions

3,265 women

went to the UK

for abortions

in 201 6.

38

49

53

"It was a horrendous decision, but one I've

never regretted. Ireland, do the right thing

and never have your daughters make this

awful journey again..."

29

113

99

241

21

20

63

69

16

28

38

42

56

33

44

15

724

111

130

36

83

69

85

1
---
Prof Sabaratnam Arulkumuran: "Five-and-a-half years after Savita

Halappanavar's death, people in Ireland have the opportunity to

change the harmful law that cost her life." Photo Derek Spiers

Never Again!

On the morning of

October 21, 2012 Savita

Halappanavar, a 31-year-old

dentist, in her first pregnancy

attended the University Hospital

Galway with a backache and

lower abdominal pain at 17

weeks of her pregnancy. Later

that day she was admitted to

the hospital for management

of inevitable miscarriage. Her

membranes spontaneously

ruptured on October 22. As the

fetal heartbeat was present, the

consultant continued to observe

her condition and delayed

terminating the pregnancy.

The patient's condition rapidly

deteriorated and she went into

septic shock followed by multiorgan

failure, and died on

Sunday, October 28, 2012.

The investigation into Ms

Halappanavar's death, which I

chaired, found an over-emphasis

on the need not to intervene

until the fetal heart stopped

"... if a termination had been carried out

when Savita and her husband requested, she

would not have had sepsis and she would be

alive today."

together with an under-emphasis

on the need to monitor and

manage the risk of infection and

sepsis in the patient. In other

words, the reason for the delay

in terminating the pregnancy

despite threat of severe illness and

possible death – and the hopeless

situation of the fetus – was the

presence of the fetal heartbeat.

We considered the

interpretation of the law

related to lawful termination in

Ireland to have been a material

contributory factor in this

regard. It was clear that the legal

issue delayed the doctors from

intervening to terminate, as any

doctor in another country would

have advised.

I was pleased to be invited

to address the Joint Oireachtas

Committee on the 8 th

Amendment and clarify that if

a termination had been carried

out when Savita and her husband

requested, she would not have

had sepsis and she would be alive

today.

Best medical practice is to

terminate the pregnancy if an

infection is found to be present.

From a purely medical point

of view, infection represents a

major risk to the health of the

woman and her health could be

jeopardised by delay in treatment.

If Savita had survived, the delay

in intervention could have

resulted in serious health issues,

including pelvic inflammatory

disease, tubal blockage and

subfertility.

Infections can escalate rapidly,

particularly in pregnancy: one

moment, there can be no threat

to life, but the patient can take a

bad turn within an hour. Medical

decisions should be made based

on medical need to save lives

and promote health. Requiring

doctors to wait until a risk to the

health of a pregnant woman has

unequivocally deteriorated to a

point where her life is at risk is

clinically unworkable. It is poor

patient care and ethically wrong.

It is a violation of the right of the

pregnant woman to the highest

attainable standard of health.

Five-and-a-half years after

Savita Halappanavar's death,

people in Ireland have the

opportunity to change the

harmful law that cost her life. By

repealing the 8th Amendment,

you have an opportunity to

uphold women's basic human

rights. There is an urgent need to

do so and to begin to provide all

"I hope the people

of Ireland will vote

yes for abortion...

my daughter,

[Savita] she lost

her life because of

this abortion law,

because of the

diagnosis, and she

could not have an

abortion. She died".

Andanappa Yalagi,

Savita Halappanavar's

father.

possible care to preserve women's

health and protect their lives in

pregnancy.

Prof Sabaratnam Arulkumaran,

who chaired the HSE Inquiry

into the death of Savita

Halappanavar, is the former

President of the International

Federation of Obstetrics &

Gynaecology 2012-15; and of

the British Medical Association

(2013-14)

2
---
Why do experts

say 12 weeks?

Public support right of women and girls to

have abortions if pregnant due to rape

Firstly it was clear from the

expert legal and medical

testimony given at the Joint

Oireachtas Committee, along with

evidence provided to the Citizens'

Assembly, that significant change

is needed to modernise healthcare

for women in Ireland and make

their needs central to any policy.

There is a practical reality

we can no longer ignore: Irish

women access abortion everyday.

And while the state continues

to deny access, we continue

to be in breach of human

rights obligations under the

International Covenant on Civil

and Human Rights.

Both the Citizens' Assembly

and the Oireachtas Committee,

along with public opinion,

support the right of women and

girls to access abortion in cases of

rape and incest. In discussing the

practicalities of such a provision

the committee heard from expert

legal witnesses including An

Garda Síochána and the Rape

Crisis Centre.

Given the complexities and

trauma surrounding such a

physical attack it was deemed

inappropriate to ask a woman

to provide proof, or any other

preconditions, that would

deny her immediate access to

a termination. In other words

abortion on rape grounds presents

legal difficulties that can cause

undue delay to access to abortion

and can have the effect of retraumatising

a rape victim.

The most appropriate way

of dealing with such a horrific

scenario is to allow termination

Clare Daly TD, Independents for Change: "12 weeks is common practice in

most EU countries and most abortions are carried out safely and legally in the

first 12 weeks."

with no restriction as to reason

up to 12 weeks. This is in fact

common practice in most EU

countries and indeed most

abortions are carried out safely

and legally within the first 12

weeks.

This should be the case too in

Ireland so that all women who

need to terminate a pregnancy

are given the choice to do so in

a medical context, without the

interference of courts or solicitors

or gardaí; it is a decision for the

woman with the support of her

doctor.

Clare Daly TD,

Independents4Change

Abortion pills a safe option up

to 12

weeks

Every day up to five people

are ordering abortion pills

online, in addition to the

nearly 10 women giving Irish

addresses in UK abortion clinics.

Websites like womenonweb.

org and womenhelp.org work to

ensure access to safe abortion

pills for use in the first 12 weeks

to women in countries where

abortion is illegal. The law under

the 8th Amendment makes it

illegal for a doctor in Ireland to

prescribe these pills for use in

an abortion so women are left

to email doctors abroad for that

basic support.

The abortion pills mifepristone

and misoprostol are on the

World Health Organisation's

list of essential medicines.

Using them in early pregnancy

causes an abortion that is like a

spontaneous miscarriage. Most

women in need of early abortion

Rita Harrold, (centre): "Women facing crisis pregnancies deserve better."

in the UK are now using pills to

have a medical abortion rather

than having a surgical procedure.

The proposed legislation

to provide abortion if the 8th

Amendment is repealed would

allow GPs to prescribe abortion

pills in Ireland up to 12 weeks.

Using the pills is very safe and

women would be able to have

their abortions at home with

support from their GPs under

this proposal. Complications

are rare and require identical

treatment to the care Irish

hospitals already provide for

women with miscarriages.

Under the 8th Amendment

women who cannot travel for a

legal abortion abroad are forced

to use these pills in secret and

have pills posted to Northern

Ireland as Irish customs would

seize them otherwise.

"I think the safety

and security of

your own home

when you're going

through something

like that is just

preferable."

Tanya (28) who used

abortion pills in

Ireland.

Women facing crisis

pregnancies deserve better. Like

any medical treatment, it is

better to have medical support

when using abortion pills – for

example if a woman is using

other medication or has had a

caesarean section.

Voting Yes on May 25th would

allow for legislation so women

could go for pills to their own

GP's, without fear of a possible

14-year prison sentence the

current law threatens.

Rita Harrold is a ROSA

activist

3
---
Compelling

case for repeal

Some 35 years after the

introduction of the 8 th

Amendment, access to

abortion is now being discussed

in the rightful realm of women's

health care. This was a central

feature of the work of the Joint

Oireachtas Committee. From our

first meeting we were clear that

we wanted to hear evidence – not

opinions – from experts both

national and international.

We started with Justice

Laffoy, the impartial Chair

of the Citizens' Assembly,

so we could understand its

recommendations in full. We

heard other experts such as Dr

Rhona Mahony and Prof. Fergal

Malone (Masters of The National

and Rotunda hospitals) as well

as Dr Peter Boylan (chair of

"The business of the State should be to ensure

women have access to proper health care

services if they need them and if they choose to

avail of them...

... Or are the attitudes from the time of the

industrial schools, the Magdalene laundries,

and the Mother and Baby Homes, are those

attitudes to prevail when women were treated

as chattels, with no rights or protections."

Gerry Adams TD, Sinn Féin,

Dáil speech

the Institute of Obstetrics and

Gynecology); from the World

Health Organisation and Rape

Crisis Centre; and from Prof. Sir

Sabaratnam Arulkumaran (Chair

of the International Federation of

Obstetrics and Gynecology and

author of the HSE report into the

death of Savita Halappanavar).

What he said put the impact

of the 8 th Amendment into sharp

focus: '...if she (Savita) had a

termination in the first days as

requested, she would not have

had sepsis. We would never have

heard of her and she would be

alive today.'

The evidence from

Terminations or Medical

Reasons speakers was difficult to

hear. Their personal stories make

a compelling case for repeal of the

8th and it is a pity that the three

men who were the most vocal

supporters of the Amendment

did not stay to hear their heart

breaking testimony.

The medical professionals were

in agreement: the 8 th Amendment

means that they are prevented

from delivering a full range of

Evidence informed our conclusions

healthcare services to women.

Fact-based information

brought the committee to the

conclusion that change must

happen for the sake of women's

health and healthcare.

It is time to trust women, to

trust doctors and to remove this

serious barrier to the delivery of

healthcare for women out of the

Constitution – where it should

never have been in the first place.

Louise O'Reilly TD,

Sinn Féin

Healthcare path broken again and again

The law stops doctors from helping women to arrange abortions abroad,

writes Dr Caitriona Henchion

Dr Caitriona Henchion

Since 1983, at least 170,000

women have travelled from

Ireland to the UK for abortion

care. Another 3,000 will make the

journey this year.

These women are abandoned by

the Irish healthcare system.

Doctors in Ireland are

prohibited by law from helping

women to make arrangements

for termination overseas. This

is the case even where there is

a complex medical history, or

where travelling after a procedure

involves increased risks because

of a health condition.

So women must organise care

in an unfamiliar city themselves.

In many cases, they must relay

complex medical information to

healthcare staff in another state.

This puts an extra burden on

patients during a vulnerable time.

We know from our services that it

causes women additional distress,

anxiety, financial cost and risks to

their health.

The burden is even greater for

women who are disadvantaged, or

women in rural areas who have to

endure many hours of travel.

After the procedure, they face

another journey home - another

flight, another long bus journey -

while still recovering.

Once they return to Ireland,

the care path is broken again. If

a woman has a concern, she may

not want to go to her own GP or

even know that post-abortion

care is available in Ireland.

"These women are

abandoned by the

Irish healthcare

system"

And she is likely to miss out

on post-abortion contraceptive

counselling.

Women who access illegal

abortions through pills ordered

online get an even lower standard

of care. And there is evidence that

this trend is increasing rapidly.

As medical director of the Irish

Family Planning Association, I

can categorically state that the

experience of women and girls

in Ireland who need abortion

care does not meet international

standards.

This failure of care is a direct

result of the 8 th Amendment. We

must repeal it and provide proper

care here in Ireland.

Dr Caitriona Henchion is

medical director with the Irish

Family Planning Association

4
---
Five

Tara Flynn: Yes Repeal

reasons to

vote YES!

She could be your sister, your daughter,

your workmate, your friend ... You?

The 8 th doesn't stop abortion

it makes women's lives harder

Every day at least nine women go abroad for

abortions; more take pills at home. Since 1983,

over 170,000 have left for medical care they should

be able to get in Ireland.

Most are in relationships and already have

children.

The 8th does not stop Irish women having

abortions: it forces them abroad and adds to their

hardship.

Remove the obstacles to

abortion for women without

money or who are physically

unable to travel

The 8 th creates huge difficulties for women with

disabilities, for younger women and those who

must get off work to travel - and it could cost over

€2000.

Because many women want to keep their reason

for going abroad a secret, they fear asking for

aftercare.

Support survivors of rape

Make abortion pills safer

Allow abortion up to 12 weeks

The Joint Oireachtas Committee has proposed

that abortion should be made available without

restriction up to 12 weeks, for two main reasons:

In Ireland today the law won't let a woman or

girl who is pregnant by rape have an abortion here.

There is no medical test to prove rape. Only

the courts can do that, but it takes on average

21 months to go to court. This is too late - and it

traumatises women.

The committee agreed that forcing a survivor

to prove rape so that she can have an abortion is

unworkable.

Despite the ban on abortion pills, women buy them

on the internet and use them without medical support.

The way to make them safer and legally available,

to any woman, is to have them prescribed by a GP

without restriction up to 12 weeks.

Remove the ban on abortion in

cases of fatal foetal anomaly

In 2011 in the 21 st week of her pregnancy, Amanda

Mellet found the foetus she was carrying had Edwards

syndrome - where the foetus is fatally impaired.

She wanted a termination. But she and her husband

had to go to Liverpool Women's Hospital to get one.

Twelve hours after it, they returned home because

it cost them €2000 and they couldn't afford to stay

longer.

They had to leave the foetus's remains behind and

the ashes were delivered three weeks later by courier.

The UN Human Rights Committee called for change

to our laws and Constitution, to ensure nobody was

forced to endure such an ordeal again.

Respect women's medical

choices

Once a woman is pregnant, she can no longer decide

on her medical treatment. The 8 th requires hospitals to

avoid any medical procedure, including some cancer

treatments, that might lead to a termination or risk to

a foetus. So a hospital can ignore a woman's wishes.

All this must change

Repeal of the 8 th is the first step

Photo: Ruth Connolly

"My reasons for voting Yes aren't

personal. I know Ireland is a

compassionate country where people

don't want to impose their will and

beliefs on others when they find

themselves in crisis, let alone force them

to do something with which they can't

cope. The 8 th affects every pregnancy,

including those who choose to continue.

We need to keep people safe,

here at home."

The Trade Union Campaign to Repeal

the 8 th Amendment recognises that

not everyone who needs an abortion

identifies as a woman. We support access

to abortion for all who need it be they

cis, trans or gender fluid.

5
---
Those with least

suffer most

We must end the lie that abortion

is not an issue for women living

here, writes Bríd Smith

A

woman's right to choose,

to control her own body,

is a fundamental issue

of women's rights and a key

prerequisite of gender equality.

But it is, and always has been, also

a class issue.

The truth is, women of the

upper classes, women with

the money, could always get

abortions.

This is of enormous importance

in this referendum campaign and

we cannot lose sight of it. We

should never forget that every

restriction, every obstacle, put

in the way of accessing abortion

has a disproportionate effect on

women who are working class, in

poverty or marginalised. It also

leads to later abortions because

the procedure is not accessible

through the health service.

If you have to travel to the UK

or elsewhere it is so much easier

if you are well off and have the

money and connections. If you

are a terrified young working

class girl, or a migrant worker, or

in direct provision it's much more

difficult – or impossible.

In my own experience being

exiled out of one's own country

to access abortion carries with

it stigma and loneliness that

no woman should have to go

through. We must end the lie

that abortion is not an issue for

women living here. It absolutely

is. Just not in Ireland because we

exile our women or we hold the

threat of criminalisation and a

14-year sentence for those who

procure the abortion pill here.

Winning repeal on May 25 th is

an absolute necessity and I appeal

to every voter to do their best at

work and in their communities

to get out the Yes vote. But it is

also a staging post in the overall

struggle for choice, for a new

Ireland where every child is

a wanted child with a decent

chance in life.

Bríd Smith, TD, People Before Profit:

"In my own experience being exiled

out of one's own country to access

abortion carries with it stigma and

loneliness that no woman should

have to go through."

Contraception and sex education

Cost is a barrier

to contraception,

writes Niall Behan

Satistics from other countries

tell us that when abortion is

legalised, the rate of abortion

comes down.

Why? It's because legal abortion

care is combined with improved

access to contraception and sexual

health education.

The effects of better access

to contraception in Ireland are

clear. In the 20 years after the

8th Amendment was added to

the Constitution, the number of

women travelling to the UK for

abortion care doubled. But with

the establishment of the Crisis

Pregnancy Programme and better

access to contraception, the rate

began to fall – and kept falling.

At the same time the teenage

Photo GCN

pregnancy rate plummeted.

But we need to do much

more. Sexuality education is far

from ideal in Irish schools. Some

schools, usually because of religious

ethos, are failing young people

and providing sexuality education

that is neither comprehensive nor

evidence based.

And cost is still a barrier to

access to contraception. Many

women simply cannot afford the

most effective method, especially

after paying for an abortion

abroad.

If we want to ensure a low

rate of abortion, we must learn

from other countries. We

must provide women with free

contraception integrated into safe

and legal abortion care and give

young people quality sexuality

education.

Niall Behan is chief executive

of the IFPA

Impact of 8 th

on women

Miss X

In 1992 a 14-year-old girl was

raped and sexually abused by

a man known to her and her

family. When she found she

was pregnant she became

suicidal. She and her parents

decided to travel to England

to end the pregnancy. After

they informed the Gardaí of

the trip and asked if foetal

tissue could be used as

evidence against the abuser,

the State got a temporary

court order to prevent the

girl from having the abortion.

The family returned from

England. In a court hearing, a

psychologist concluded that

the girl's mental health would

be seriously damaged if she

was forced to continue with

her pregnancy and that she

could commit suicide. The

judge ruled that the risk to

her life from suicide was less

than the risk to the life of her

unborn child if she ended

the pregnancy. He ordered

that she be prevented from

leaving the country for nine

months. The Supreme Court

overturned this decision

on appeal, citing the girl's

own right to life, and she

was permitted to travel for

an abortion. She later had a

miscarriage while in England.

In 2012 Aisha Chithira, a

32-year-old mother-of-one

living in Ireland, became

pregnant for the second time.

She had uterine fibroids – a

serious condition that led

to difficulties in her first

pregnancy. At eight weeks

she presented at a maternity

hospital in Dublin to safely

end her pregnancy. She was

told this was illegal in Ireland.

As she then had to raise

money to travel abroad, she

did not access the procedure

in England until 22 weeks,

meaning the medical risks

were much higher. She had

to immediately travel back to

Ireland after her procedure in

London and was unable stay

in the clinic under observation

as medically advised. She

left early and suffered major

internal bleeding, dying of a

heart attack in a taxi.

6
---
'I was told my baby would

never be born alive'

Despite a serious risk to my health the doctors said there was still a foetal

heartbeat and they couldn't induce labour, writes Amy Walsh

When I found out in

September 2014 I was

going to be a mother, I was

overcome with joy. While my early

pregnancy was like any normal

pregnancy, at 14 weeks a midwife

told us our baby would never be

born alive. I was told a miscarriage

was probably imminent but they

would have to do further genetic

tests to figure out the condition

my baby had. We later learned

she had stopped growing due to a

very rare chromosomal condition

called Triploidy. She had 23 extra

chromosomes and no intervention

could save her. Our daughter had

what is medically termed a fatal

foetal abnormality (FFA).

Our medical team explained

that because of the 8 th

Amendment if we wished to stay

in the Irish hospital system and

under its care, the only maternity

option available to us was for me

Amy Walsh and her husband, Yousef, with baby Rose

to remain pregnant and to wait

for our daughter to pass away

naturally. If we wanted a different

care path, we would have to

leave our home, our families, our

support network and our country.

I wanted my daughter to be born

at home, to meet her grandparents

and family, so we decided to

continue our pregnancy and wait

for her to pass away naturally.

But as time passed, my physical

and mental health began to

suffer. My blood pressure rose

and I showed signs of early

pre-eclampsia, a complication

associated with triploid

pregnancies that continue into

the third trimester. The condition

could develop very rapidly and,

depending on its severity, even

be life threatening. There was

a serious risk to my health but

the medical team said that even

though my daughter would never

be born alive, the 8th Amendment

meant that as long as her heart

was still beating they could not

induce my labour until my life was

at risk.

We found ourselves making the

decision to travel to Liverpool

Women's Hospital where after a

compassionate induction of labour

my daughter, Rose, was stillborn.

We had wanted to bring her home

with us so she could meet our

families but as she was so tiny

and fragile we were advised not

to do this. Leaving Liverpool and

returning to Ireland without Rose

was one of the hardest parts of the

worst and saddest time in my life.

The 8th Amendment meant we

could not be looked after at home

when we were most in need.

Amy Walsh of Terminations for

Medical Reasons gave evidence

to the Citizens' Assembly

A midwife's testimony

I am a qualified midwife and I

work for an abortion provider.

I'm fortunate enough to have

never been faced with the

decision to end a pregnancy. But

even if I did, by the good fortune

of where I live, I have a choice. I

do not have a story to tell, but I

have many.

I am responsible for providing

care for the girls and women who

take the flight to the UK to end

a pregnancy. I hold the hands of

the frightened and stunned, the

women who find themselves in a

foreign city with foreign accents,

filled with the yearning of

wanting to be at home and safe.

I hug the Irish girls who have

never had a passport before,

never left their small rural town

before and are all alone because

they had nowhere to turn in their

own country. I have discharged

the sophisticated business woman

who flew to England in a day to

end a pregnancy that was the

result of a bad relationship.

I have watched these brave

women walk away from my clinic,

knowing they have lied when they

said they have a responsible adult

to care for them when they leave

but having to accept their word

because they have a flight to catch

and can't afford an overnight stay.

I have administered pills to

women, knowing that within 20

minutes there may be an effect

and she will start to bleed and

cramp as the pregnancy passes.

Wondering will she have anyone

to hold her hand? Or will she be

curled up in an airport toilet with

no privacy and dignity in this

most vulnerable time in her life?

Will other passengers stare? In

sympathy or judgement? Will she

be ok?

I have pleaded with these

women to get some counselling

and help when they get home

when I know there is no help for

them when they get there.

I come home from work every

day and I think of them.

My sisters. Your sisters.

Did I do enough to make it

easier? Did they know that I

genuinely cared?

I hope there is a modicum of

comfort to be taken from that

before they return to an Ireland

that doesn't want to know about

it, wants them to keep their

secrets as if it is a personal shame.

It isn't.

I don't ask them why they

are here. I do not ask them to

prove their worthiness to end a

pregnancy. Nor should you.

Abortion is not easy. So for

our sisters, our daughters, our

cousins, our friends, repeal the

8th and show some humanity.

Taken with author's permission

from ARC submission to the Citizens

Assembly, p51

Liverpool Women's Hospital recently

limited services to women from Ireland

whose babies have been diagnosed with

having a chromosome abnormality. So

the safety net for women carrying a foetus

with a fatal anomaly is being reduced. For

women in these situations, services must

be made available in Ireland for those

who wish to terminate the pregnancy. This

requires repeal of the 8 th Amendment.

7
---
Will repeal open floodgates?

When the Protection of

Life During Pregnancy

Act was passed in 2013,

anti-repeal campaigners claimed

it would lead to an 'opening

of the floodgates'. This has not

happened.

In 2016, only 26 procedures

were carried out under the Act;

and 25 in 2017.

All reliable research shows that

highly restrictive laws do not

lead to significantly lower rates

of abortion than laws that allow a

woman to access abortion when

needed.

The statistics from other

countries tell us that when

abortion is legalised, the rate of

abortion comes down.

• France legalised in 1975 and

the rate dropped by about

five per 1,000 women.

• West Germany legalised in

1996 and the rate dropped by

three per 1,000 women and is

still dropping, from 130,000

recorded abortions a year in

1996 to just under 99,000 in

2016.

• Finland, which legalised

abortion in 1970,

experienced a drop from

about 20 abortions per 1,000

women in 1972 to just 8.2 in

2016.

Countries which have legalised

more recently – Switzerland

in 2002, Portugal in 2007 and

Spain in 2010 – have all had a

decline in the abortion rate. These

declines occur because the states

have prioritised better access

to contraception and sexuality

education.

In Portugal for example, 95%

of women leave a clinic following

an abortion with a contraceptive

method. So the abortion rate

has dropped from 20,000 a year

to 15,000 a year since 2007.

In Finland, revised sexuality

education led to a dramatic fall in

teenage pregnancy.

Figures from the UK

Department of Health show

that the number of women from

Ireland having an abortion in UK

clinics began to decline in 2002,

The number of women from Ireland having an abortion in UK clinics began to

decline in 2002

in parallel with the establishment

of the Crisis Pregnancy

Agency and better access to

contraception.

There is no evidence that

repeal of the 8 th Amendment will

lead to more abortions. Instead,

legalisation will make it safer for

women who want abortions.

Dr Caitriona Henchion is

medical director with the Irish

Family Planning Association

Threats, coercions and

forced procedures

Consent is a fundamental

cornerstone of modern day

healthcare and maternity

care is no exception. During a

pregnancy a woman will have a

multitude of tests, procedures and

treatments, and each one should

require her informed consent.

A pregnant woman needs to

know these procedures are in her

best interests. To make such an

evaluation she should know the

benefits, the potential risks, the

alternative and the success rates.

She can then weigh them up

against not doing anything at all

or doing something else. Consent

must be informed, and once given

it can still be withdrawn and

there should always be an option

for it to be withheld, declined or

refused.

Women report that in the Irish

maternity service, informed

consent and informed refusal are

often not an option. In a survey

carried out by AIMS Ireland with

nearly 3,000 respondents in 2014-

15 we found only 49% received

the opportunity to decline a

treatment test or procedure

during pregnancy and only 50%

had this opportunity during

labour and birth.

Why are the figures so low?

In Ireland, the minute a woman

Krysia Lynch, chairperson, AIMS Ireland: "In Ireland, the minute a woman becomes pregnant her body is subject to constitutional law."

becomes pregnant her body is

subject to constitutional law.

Consent in pregnancy is guided

by the National Consent Policy

which is in turn informed by

the 8 th Amendment to the Irish

Constitution.

The policy questions the

rights of a pregnant woman

to make an informed refusal

and decline a medical procedure

outside of recommendations of

medical professionals. It enables

and encourages health care

professionals to seek legal advice

and to make an application to the

High Court with the intention of

forcing a woman to submit.

The policy enables medical

professionals to practise in a

certain way and the realisation

that this behaviour is permissible

often leaves women terrified

and violated on the threshold

of motherhood. Until the 8 th

Amendment is removed pregnant

women in Ireland will be subject

to these threats, coercions

and forced procedures during

pregnancy, labour and birth.

Krysia Lynch is chairperson of

AIMS Ireland

8
---
'Like Mary Robinson and

Michael D Higgins, I opposed the

8 th Amendment'

Catherine McGuinness is a former Supreme Court Judge

I

was there in 1983. I was a

member of Seanad Eireann.

Like other senators at that time,

including Mary Robinson and

Michael D Higgins, I opposed

the introduction of the 8 th

Amendment and campaigned

against it. We argued that it was

wrong for legal and social reasons.

This was despite the no doubt

sincere beliefs of its advocates.

The amendment would not

achieve its own aims. It would

in fact become an instrument

of oppression of women and of

uncertainty and difficulty for the

medical profession. Legislation

through the normal processes of

the Oireachtas was the place to

regulate termination of pregnancy,

as was the case with other medical

and health matters.

All that has happened since 1983

has not made me change my mind.

Indeed the sad trail of the cases

that have unfolded over the past

30 years since the X case has only

strengthened and confirmed my

original beliefs. We seem to have

forgotten that the dire outcomes

of the 8 th meant we had to enact

the 13th and 14th amendments on

freedom of travel and access to

even limited information. We are

still trying to retain an oppressive

version of "an Irish solution of an

Irish probIem" – to use a rightly

discredited phrase.

I have indeed not changed my

mind. I give my full support to the

Yes campaign.

We need to accept the reality

that there is abortion in Ireland.

Technically it may take place

in Britain, or perhaps in the

Netherlands. It takes place here at

home through the administration

of pills obtained through the

internet and taken without

medical advice or supervision. The

numbers we know from British

sources are understated as many

women do not give Irish addresses.

We have little idea how many

women have used pills they found

online, and no way of measuring

this. Making abortion secretive

and hard to talk about does not

mean it does not happen. It is part

of the history of many families in

this country. It is rank hypocrisy

to pretend that this is not so.

The repeal of the 8th

Amendment will allow for

the introduction of a properly

regulated, properly limited

medical service governed by

legislation. It will allow for the

support of women in crisis

situations and of their families,

without the need for them to flee

the country like refugees, without

the need for them to take poorly

identified drugs without medical

help.

The argument is being made

that repeal will mean Ireland will

follow the English model – the old

familiar "floodgates" argument.

This is the same argument made

at the time of the referendum on

divorce. In the marriage equality

referendum we were told (by the

same people) that this would be

the end of marriage. It did not

happen. The floodgates did not

open. The time has come for us

to accept the world of 2018 and

to vote Yes for repeal of the 8th

Amendment.

Catherine McGuinness: "Making abortion secretive and hard to talk about

does not mean it does not happen. It is part of the history of many families in

this country." Photo Derek Spiers

Amanda Mellet was 21 weeks pregnant in

November 2011 when she was told her baby

had a fatal diagnosis of Edward's Syndrome.

After three weeks of anxiety she and her

husband travelled to Liverpool Women's

Hospital for a termination. After a 36-hour

labour she delivered a stillborn baby girl.

She had to fly home 12 hours later as the

couple couldn't afford to stay any longer.

They had to leave the foetal remains behind

and received the ashes three weeks later by

courier. The UN Human Rights Committee

found Ireland's ban on abortion violated

Ms Mellet's right to freedom from cruel,

inhuman or degrading treatment.

Ours was an average tragedy but it

utterly devastated us

I

was 14 when I heard about the

X Case. I was living at home

with my family, just outside a

large country town, surrounded

by a staunchly conservative rural

heartland. I didn't believe in

those values so when I read about

the young girl's tragedy, I was

horrified.

The X Case made me more

aware of the serious social issues

that affect our society. How the

state that I live in, could force a

14-year-old rape victim to be put

through such torture was beyond

my comprehension.

I had never heard of the 8th

Amendment. I had no idea why

there were no reproductive rights

for Irish women. I

probably had no idea

what reproductive

rights were. But I did

know that if a woman

needed an abortion, under

no circumstance should she be

disallowed from seeking it safely

and legally in her own country.

And she should never be ashamed.

Unfortunately, I now know

the awful history of the 1983

amendment, that it was one of the

most tragic and cruel mistakes of

our past. The pain it has caused

will take many years to heal.

Six years ago the 8th

Amendment affected me and my

wife personally and I

have never been the

same since. Ours was

an average tragedy in

the larger scheme of

things. To us it was

utter devastation. But

deep down you know

somebody else has had

an even worse experience.

You know, because you know

of the X Case. You know because

of the personal stories of the

hundreds of testimonies now

bravely shared in public forums.

You know because thankfully we

don't live in such a secretive and

judgmental society any more.

Repealing the 8th Amendment and

allowing reproductive rights will

help continue the healing of our

society.

9
---
Doctors say repeal 8 th

'I've never met a woman who wanted a termination'

Prof Louise Kenny:

"The 8th Amendment casts

a shadow over the care

of every woman of

reproductive age with

complex medical needs

in this State."

I've worked as an obstetrician

for 25 years, in the UK where

I trained and for the last 12

years in Ireland, as a specialist

in the management of high risk

pregnancy.

In all that time, I have never

met a woman who wanted a

termination. I've met many who

desperately needed one.

I've looked after women

with complex medical

conditions whose health,

and on occasion their very

life, has been threatened

by pregnancy. Under

the 8th Amendment, doctors

like me have to wait until the

threat to life is "immediate

and substantial" - neither of

which has a legal or a medical

definition - before we can

perform a termination.

The 8 th Amendment casts a

shadow over the care of every

woman of reproductive age with

complex medical needs in this

State.

When we see a woman with

an underlying serious medical

condition, we have to make

decisions in a legal rather than

a medical framework and

under the threat of a custodial

sentence. This absolutely results

in poor outcomes.

We can no longer support

a system where the health

and long-term wellbeing of

women is ignored. We can

no longer export some of

most vulnerable citizens for

medical treatment in the UK.

This is human rights issue.

We must repeal the 8 th .

Prof Louise Kenny is a

consultant obstetrician and

gynaecologist

No distinction between

medical and mental heath

Since the 8th Amendment

there have been two other

"abortion" referendums, and

one piece of legislation, Protection

of Life During Pregnancy Act

2013. All followed from the mess

created by the 8th referendum and

all involved mental health issues.

In the first post - 8 th

Amendement referendum, in

1992, the Irish public voted to

include suicide as a reason for a

life-saving abortion. This followed

the case of Miss X, who was

suicidal because of an unwanted

pregnancy. The public were

asked this same question again

in the 2002 referendum, and for

a second time voted to include

a suicide clause. In the debate

leading up to the Protection of

Life During Pregnancy Act 2013

suicide again became the central

issue.

While there was little, if any,

vocal opposition to abortion

being made available for women

with life-threatening obstetric

or medical conditions, the issue

of whether a suicidal pregnant

women could theoretically have

an abortion was debated with

some intensity. Much of the

debate centred around whether

women could be believed and

whether the suicide clause would

"open the floodgates" for women

to have abortions.

Dr Veronica O'Keane. Photo: Derek Speirs

Since then a total of seven

women have been registered as

having had an abortion to prevent

suicide: three in 2014, three in

2015 and one in 2016. These

statistics fly in the face of the

"floodgates" scare.

Last year the Citizen's Assembly

reinforced my faith in the Irish

public's understanding of mental

health when they recommended

that there should be no distinction

between medical and mental

heath. This was reiterated by

the Joint Oireachtas Committee

this year. I gave evidence at both

forums and was struck by how

sensitive the members were to

mental health issues. Perhaps

this is why mental health has not

featured hugely in the current

debate as a reason to prevent the

introduction of legislation should

the 8th be repealed. But mental

health remains a central issue

in repeal of the 8 th and in the

proposed legislation agreed by the

Oireachtas.

"Mental health" is at the core

of the decisions that women make

during crisis pregnancies and it

encompasses everything from

being acutely suicidal to knowing

that you can't become an adequate

mother to a child, usually another

child. It is no surprise that mental

health is the most common reason

cited for having an abortion,

because our lives depend on our

mental health.

"Mental health" means a

woman is protecting herself,

her family and a possible

baby from unbearable stress.

Women are very vulnerable

during pregnancy to depression

and anxiety disorders. In fact,

during pregnancy women are at

the greatest risk of developing

depression than at any other point

in the female life cycle. This risk is

increased by 50% if women have

an unwanted pregnancy.

We cannot talk about mental

health without talking about

stigma: the stigma that "women

who travel" feel and are made to

feel. We have heard much about

the loneliness, the isolation,

the lack of support, the fear to

seek medical help, that women

who travel or who take the

illegal abortion pills in Ireland

experience. This makes what

would normally be a sad and

difficult time into a traumatic

lonely experience.

The most in-depth report on

mental health and abortion was

written by the Academy of Royal

Colleges, UK in 2016. It reported

that stigma about abortion, but

not abortion itself, led to mental

health problems.

"The Academy of

Royal Colleges

UK has reported

that stigma about

abortion, but not

abortion itself, leads

to mental health

problems."

We cannot have good mental

health without having adequate

reproductive healthcare. People

in Ireland have demonstrated that

attitudes to trusting women and

to mental health have changed:

I am hopeful that they will vote

"yes" for change, for repeal of the

8th, and for the introduction of

safe medical care for women in

this referendum.

Veronica O'Keane,

professor in psychiatry,

TCD and Tallaght Hospital

10
---
Amendment – Vote Yes!

Time for us

to deal with

abortion in

Ireland

It is ignoring reality to say we do not have

abortion here, writes Peter Boylan

Dr Peter Boylan: "The Constitution is no place for regulating the complexities

of medical care." Photo: Derek Speirs

The 8th Amendment gives rise

to significant difficulties for

doctors practising obstetrics

in Ireland, and has caused grave

harm to many women in Ireland,

including death.

In 1983, the Institute of

Obstetricians and Gynaecologists

did not have an official position

on the 8th Amendment. Thirtyfive

years later, having seen at first

hand the unintended, unforeseen

and damaging consequences,

the institute has an agreed

position – we want to see the 8th

Amendment repealed for the

good of Irish women today and

into the future.

As long as the 8th Amendment

is in the Constitution, women

who are pregnant because of

rape cannot terminate their

pregnancy unless they travel

to another country. Women

who know their baby will die

at or shortly after birth cannot

deliver the baby early if that is

their wish. Women who have

cancer can be denied treatment

if they are pregnant, sometimes

with fatal consequences. As my

colleague Prof Louise Kenny has

made clear: "It is a fact that the

8th Amendment casts a shadow

over the care of every woman of

reproductive age with complex

medical needs in this state."

The Constitution is no place

for regulating the complexities of

medical care.

It is ignoring reality to say

that we do not have abortion

in Ireland today. Women are

increasingly accessing abortion

pills online, illegally and with no

certainty as to their quality. These

pills are safe and effective when

taken under medical supervision

as is the case in virtually every

other country in Europe. When

they are taken without medical

supervision, however, there are

significant risks. Doctors worry

about this.

Abortion is a difficult issue

for many. However, the time

has come for us to deal with it

ourselves in Ireland. Every other

European country has found a

solution which works for them.

As a mature nation, it is time for

us take responsibility ourselves

and repeal the 8th Amendment.

We need an Irish solution to an

Irish problem.

Dr Peter Boylan chairs the

Institute of Obstetricians and

Gynaecologists

GP-led abortion

services

without stigma

After repeal, legislation will be introduced that includes the

provision of termination of pregnancy up to 12 weeks of

pregnancy. In this circumstance abortion will be restricted

in terms of being provided only by a registered doctor, most

probably a general practitioner, by consultation, examination and

prescription of medication, and with a probable mandatory threeday

waiting period.

Dr Mary Favier: " 12-week proposal will prioritise women's health and

ensure safe effective reproductive healthcare for women in Ireland"

Access will not be restricted in terms of what reason a woman

must give when requesting a termination of pregnancy. The

advantages of this proposed service is that it will be safe, it will be

accessible to women near them in their communities and will be

provided in a doctor's surgery that is not associated with the stigma

of clinics.

It will be inexpensive to the health service, and the training and

support required can be easily undertaken by general practitioners

and other healthcare providers involved.

Before nine weeks of gestation it will not usually be necessary for

a woman to have an ultrasound scan and the necessary consultation

can be completed entirely with her general practitioner.

Between nine and 12 weeks an ultrasound scan may be needed

to confirm the pregnancy dates; how this will be arranged remains

to be worked out. General practitioners will work closely with their

gynaecologist colleagues to ensure the service provided to women is

safe and effective and some early discussion has taken place to this

end.

The service can be deemed a success when it results in Irish

women no longer having to travel outside of the state to access

their healthcare. After 12 weeks, abortion access will be only for

substantive risk to health and will be hospital based and will require

the signature of two doctors.

General practitioners welcome these proposals as they prioritise

women's health and ensure safe effective reproductive health care

for women in Ireland.

Cork GP Dr Mary Favier is on the GP Committee of the

Irish Medical Organisation and on the Council of the

Irish College of General Practitioners

11
---
Women's experience at

heart of Yes campaign

Together For Yes is the national

civil society campaign to

remove the 8th Amendment

from the Constitution. We are the

broadest platform ever assembled

to create a more compassionate

Ireland that cares for its women

by providing abortion services

to those who need them. From

day one, this movement has been

built on the work and dedication

of volunteers, and winning this

referendum will be no different.

It will be a broad, welcoming,

inclusive, and fact-based

campaign, always respectful of

people's positions and views.

The campaign is co-led by the

National Women's Council of

Ireland, the Coalition to Repeal the

8th Amendment, and the Abortion

Rights Campaign. Together, with

Support

dozens of organisations, including

the Irish Family Planning

Association, Rape Crisis Network

Ireland, Women's Aid, Parents for

Choice, the Union of Students of

Ireland, One Family, Doctors for

Choice, trade unions and many

more, we are focused on achieving

laws and services that respond to

women's needs and best medical

practice.

We have support in every

village and town in Ireland, and

this is indicative of the fact that

the overwhelming majority of

Irish people want to change our

abortion laws because they are too

restrictive, and they harm women.

At the heart of our campaign are

the experiences of women and

their families.

Extensive evidence given at

the Citizens' Assembly and the

Joint Oireachtas Committee was

unequivocal: the 8th Amendment

harms women and their access

to healthcare. On rare occasions,

it has caused death, as evidenced

by the tragic case of Savita

Halappanavar in 2012. Together

the campaign.

Donate today.

togetherforyes.ie/donate

Vote Yes on 25 May

#Together4Yes

Orla O'Connor Photo: Derek Speirs

For Yes represents people

who believe that Ireland is a

compassionate and contemporary

country, and that our laws should

support, respect and protect

women in their time of greatest

need.

Removing the 8th Amendment

will mean victims of rape who

are pregnant, women who learn

their pregnancy involves a fatal

foetal abnormality, or women

whose health is at risk due to their

pregnancy will have the choice to

access abortion services in their

home country. We want to enable

women who need abortions to

receive compassionate care in

appropriate healthcare settings

with proper regulation and

guidance and without shame,

secrecy or stigma. Furthermore,

it is important that doctors are

able to provide the best care

and support possible to women,

without fear of prosecution.

We understand that this is

a complex and sensitive issue,

and we know that talking about

abortion can be a tough challenge,

that a lot of people still have

worries and fears. But we also

know, from talking with our own

families, friends and neighbours,

as well as from the research, that

people want to put an end to the

suffering and distress.

They want to end the lonely

journeys women have to make

to England, and the bleakness

of women taking unregulated

abortion pills on their own,

without medical supervision,

because they can't get the care they

need here in Ireland. People want

to put an end to the harm and

Ailbhe Smyth

Photo: Derek Speirs

cruelty of the 8th Amendment,

and to ensure that women have the

compassionate care and support

they need, including regulated

access to abortion, here at home in

Ireland.

This referendum matters to all

of us, men and women. We want

a fairer, kinder Ireland, a place

where women's lives and health are

truly respected and protected; an

Ireland which is a country where

we are proud to live, and a good

place to raise our children and our

grandchildren.

Sometimes a personal and

private matter needs public

support. Life is not black

and white, it is much more

complex, and we believe that the

constitution is not the place to

address the complexities of a crisis

pregnancy.

We believe this decision is a

personal, private one that a woman

should be allowed to make under

the care and support of her doctor,

and her family. We can, and must,

respond with compassion to the

reality of women's lives. Abortions

happen here – that is a fact, and

we must put laws and services in

place to respond compassionately

to women's real-life needs.

This referendum is a critical

juncture for Ireland and we invite

everyone who wishes to create

a compassionate environment

for women who need abortions

in Ireland to join with us in this

campaign. Together we can make a

real difference to women's lives, by

removing the 8th Amendment we

can bring an end to the pain and

distress of women shut out by their

own country.

Orla O'Connor and Ailbhe

Smyth are co-directors of

Together for Yes

12
---
We love our

children

Parents Together for Yes want healthcare at home

One in every two of those

who need access to

abortion care already has

children. As parents, we want to

be able to do what's best for our

families.

When we need abortion care,

we want to be able to access

it at home in Ireland with

medical support, surrounded

by our families. Right now, we

can't. Instead, we must travel

abroad, away from our children,

to access what is a basic part

of reproductive healthcare in

almost every other EU country.

Or else, we must take pills

illegally, in secret, without the

support of our doctors. We don't

think this is right.

Why do parents need

abortion care?

There are many reasons why

parents might need abortion

care. If we have children with

additional needs, we might

not feel capable of parenting

more children. The situation

of someone in an abusive

relationship is likely to worsen

in pregnancy. A wanted and

longed-for pregnancy could be

diagnosed with a fatal foetal

abnormality.

Some parents are already

struggling and simply can't

afford another child. Some have

suffered health complications

in previous pregnancies

and don't want to take the

risk of another pregnancy

endangering their health and

their ability to parent their

existing children.

We love our children

We know all about the reality

of parenting in Ireland. We

know that it is one of the most

important jobs in the world,

but sometimes also the hardest.

It's not something we would

put on someone who isn't

ready.

We want to be able to make

the decisions we know are

in the best interests of our

children, and we want the same

for them when they group up.

Our vision for Ireland is one of

a compassionate, equal Ireland;

one where every parent is a

willing parent, and every child

a wanted child.

Parents Together for Yes

Commitment to dignity of women

Human rights provide

important legal protections

to everyone, including

women in Ireland. Human

rights enjoy the force of law

because Ireland has signed up

to international human rights

agreements.

At the very core of all human

rights protections, regardless of

the strength of their legal status,

is their roots in dignity.

"All human beings

are born free and

equal in dignity and

rights"

Universal Declaration of

Human Rights (UDHR).

It is this commitment to the

dignity of women in Ireland

to decide the most appropriate

healthcare pathway for her and

her family, which lies at the

heart of the Together for Yes

campaign. Our campaign believes

that women in Ireland deserve

compassionate healthcare and

that the 8th Amendment should

be removed to prevent the

ongoing harms to women.

In the vast majority of

countries in the world, access to

abortion services is a normal,

accepted, de-stigmatised part of

a functioning health care system.

The legal restrictions imposed by

the 8th Amendment have huge

consequences for women and

families in Ireland, including

grave harm to health and even

death.

The absolute rigidity of the

law, which criminalises women

and doctors if equal rights are

not given to woman and foetus

within all clinical decisions, has

been found consistently to violate

women's human rights, including

by the European Court of Human

Rights (A, B, C v. Ireland, 2010).

Several international human

rights bodies have called upon

the State to take the necessary

steps towards constitutional

reform and decriminalization

of women and doctors,

including the UN Human Rights

Committee (2014), the UN

Deirdre Duffy: "In the vast majority of countries, abortion is a normal,

accepted, de-stigmatised part of healthcare."

Committee against Torture, the

UN Committee on Economic

Social and Cultural Rights (2015)

and the UN Committee for the

Elimination of Discrimination

against Women (2017) and the

UN Committee on the Rights of

the Child (2016).

In the last two years, the

Irish government has accepted

liability for failure to protect

the human rights of two Irish

women forced to travel to the

UK for abortions, who took

their cases to the UN Human

Rights Committee (Mellet v

Ireland (2016); Whelan v Ireland

(2017)).

The good news is that Ireland

can develop a best practice

medical framework which

protects women's human rights

to access reproductive healthcare

if the people vote to remove

the 8th Amendment to the

Constitution. Any laws which

follow should ensure that all

women are entitled to equal

treatment under the law and no

one should be discriminated

against in relation to the type of

medical service which she needs

to access. A YES vote on the

25th May will mean dignity and

compassion for Irish women.

Deirdre Duffy is a specialist

lawyer in human rights and

Together for Yes campaign

manager

13
---
Catholic women have

abortions the same

as other women

Ireland is undertaking a historic

debate on abortion and the

8th Amendment. A prominent

voice in this debate will be the

Catholic hierarchy. Recently the

Catholic Primate Archbishop

Eamon Martin argued that even

in instances of rape, the Catholic

position would be to deny a

woman her right to end the

pregnancy. He also called for the

voices of Catholics to be heard.

On that I agree with him –

Catholics must be respected, and

their views on the 8th Amendment

should be heard. Where we

disagree is on what Catholics

might have to say.

The truth is that for years

now the majority of Catholics

have disagreed with the Church

hierarchy on reproductive rights

and the health of women, as well

as on the role of the secular state.

There are Catholics who strongly

reject what the hierarchy claims as

truth.

The majority of Catholics trust

women to grapple with tough

moral questions about when and

whether to continue a pregnancy,

and to make those decisions for

themselves. They will not be fooled

again with the false equivalencies

that ushered in the passage of the

8th Amendment in 1983.

For more than three decades

Catholics have seen how this

draconian law has punished and

shunned Irish women – how it

has forced those with the means

to travel abroad for the healthcare

they needed.

They have witnessed its very

real consequences for the lives

of women, including Savita

Halappanavar, and know there

cannot continue to be more deaths

like Savita's. They feel they must

speak out against the immorality

of this law.

Archbishop Martin says we

should journey with women

and support them with what we

know is often a tough decision to

continue a pregnancy. But to be

truly compassionate we must be

there for women irrespective of

what choice they decide is ethical

and right for them.

The state and our local

communities should stand ready

to support a woman who decides

to continue a pregnancy even if she

does not have all the answers about

how she will provide for that child.

But we should also support the

woman who decides she cannot

continue a pregnancy and respect

her privacy to make that decision

responsibly and safely in her own

community among her friends and

family.

The hierarchy may try to sway

Catholic voters into believing that

a vote for women's conscience is

wrong. But many good Catholics

support a woman's right to choose

because of their faith, not in spite

of it.

As reflected in the teachings

of St Thomas Aquinas, Catholic

teaching puts primacy on

developing a good conscience and

following it in moral decisionmaking,

even if that means

disagreeing with the Church

hierarchy.

Many of the hierarchy's

teachings on reproductive rights

have not been received by the

faithful. For instance, the majority

of Catholic women have made

conscience-based decisions to use

contraception responsibly; and

Catholic women have abortions

at the same rate as other women.

They understand these can be

ethical choices.

Armed with the knowledge that

conscience is not about imposing

beliefs that are out of sync with

people's lives but that it is about

allowing the faithful to formulate

their own moral positions, Irish

Jon O'Brien: "Many good Catholics support a woman's right to choose

because of their faith, not in spite of it."

Catholics have evolved in their

thinking about abortion. They can

reconcile the complexities of these

weighty matters.

They know you can be a woman

who believes she would not have

an abortion in any circumstances,

but yet can support the right of

other women to do so. Or that

you have had an abortion and do

not want other women to face the

restrictions you faced; or that as a

man you respect the right of every

woman to make her own decision

and be author of her own life.

Irish society has evolved greatly

in 35 years. A secular society

is one that respects freedom of

religion and respects freedom

from religion. It upholds the right

to decide and follow your own

beliefs, making your own moral

decisions.

Irish Catholics stand by women

and trust them to be moral agents

of their own lives. It is important

that Catholic voices be heard –

because so many of us know in

our hearts that repealing the 8th

Amendment is the right thing to

do.

Jon O'Brien is president

of Catholics for Choice,

based in Washington DC

What will happen after repeal?

Máiréad Enright Photo: Derek Speirs

The May 25th referendum will ask you

whether you want to remove the 8th

Amendment from the Constitution

and replace it with the 36th Amendment,

confirming that the Oireachtas can pass

legislation permitting abortion in Ireland.

The Supreme Court has held that the 8th

Amendment forbids abortion in Ireland

except as a last resort, where it is necessary

to save a woman's or a girl's life.

Our current abortion legislation, the

Protection of Life During Pregnancy Act,

only permits life-saving abortion. The 8th

means the Oireachtas cannot legislate to

allow women to access abortions in any

other circumstances.

The Constitution is no ordinary

legislation. It is the most important

source of Irish law. Any Act passed by

the Oireachtas must meet constitutional

standards. If it does not, the Supreme

Court can 'strike it down' so that it is no

longer law.

That is why the government is not trying

to pass a new abortion Act while the 8th

Amendment remains in the Constitution.

In March it published a detailed draft of

the Act it would support, if the referendum

succeeds.

It proposes that women in Ireland should

be able to access abortions on request until

12 weeks' pregnancy. After 12 weeks, a

woman could not access abortion unless

her life was at risk, her health was at risk of

serious harm or her foetus was diagnosed

with a fatal anomaly.

Except in emergencies, a viable foetus

would always be delivered early. The draft

is based on the recommendations of the

Citizens' Assembly and the Joint Oireachtas

Committee on the 8th Amendment.

If the referendum passes, Irish abortion

law will not change immediately. The

Protection of Life During Pregnancy

Act 2013 will remain law at first. But a

successful case could come before the

Supreme Court to strike it down as it

would not longer be constitutional.

So the government will need to pass

replacement legislation as soon as possible.

As always, this legislation would need

politicians' support in both Houses of the

Oireachtas. The government's current draft

might be amended during that process.

Máiréad Enright,

senior lecturer in law,

Brimingham Law School.

14
---
A YES vote

is a vote for

choice

"To provide abortion services in the

Republic of Ireland will not change

the moral basis on which a decision to

continue or not with a pregnancy is made.

It will simply allow women the choice to

safely access a medical procedure which is

available to millions of women elsewhere

around the world."

The Communications

Workers' Union, at its

Biennial Conference

in 2016, passed a motion

proposing support for the

Trade Union Campaign to Repeal

the 8th Amendment, which was

at that time actively campaigning

for a referendum to be held

on the issue. The motion was

carried almost unanimously and

interestingly, by a union whose

members are predominantly male

(77%) and where the median

age of membership is 47. The

debate on the motion indicated a

clear understanding by delegates

present of how women in Ireland

continue to be oppressed by an

entrenched church/state system

which denies them bodily

autonomy, with reference made to

the case of Savita Halappanavar.

Trade unions have historically

been supportive of various civil

society movements, such as the

anti-apartheid campaign in

South Africa, the Palestinian

BDS movement, the Irish

anti-austerity campaign, etc.

But it was undoubtedly

the success of the

Right2Water campaign

that emboldened unions

to shift focus away from the

conventional industrial relations

issues which have heretofore

dominated the business of trade

union conferences, towards a

broader range of social issues

which affect their members.

It can't be denied that the

issue of the 8th Amendment is

highly emotive and has at times

brought out the worst on both

sides of the debate and there

has been no shortage of vitriol

in the arguments directed at the

opposition, from the various Yes

and No camps. Nonetheless,

the fact remains that failure

to address the issue

simply reinforces

the system of

oppression

in Ireland and exports the

problem to the UK.

The CWU's support for a Yes

vote on May 25th is based on

recognising the need for access

to a safe medical procedure

for all women in Ireland and

is reinforced by the acceptance

of a multitude of reasons why

a woman may need access to

abortion services.

The nuances involved in

deciding to end a pregnancy are,

like the issue being voted on, very

personal and informed by the

individual's own circumstances.

This is the crux of the matter: to

say pro-choice is pro-abortion is

untrue.

To deny every woman in

Ireland the choice to access a

medical procedure that may in

fact be a life-saving intervention,

is a derogation of their human

rights.

To provide abortion services in

the Republic of Ireland will not

change the moral basis on which a

decision to continue or not with a

pregnancy is made. It will simply

allow women the choice to safely

access a medical procedure which

is available to millions of women

elsewhere around the world.

If possible, one should try to

approach the issue in a rational

manner and with an open mind.

We must each consider the

impact that our vote will have on

more than just our own lives; it

will have a very real impact on

someone's life and their ability

to access medical care in the

Republic of Ireland.

A Yes vote is a vote for choice

and a step away from the history

of abuse that women have suffered

at the hands of the church and

state. A Yes vote is a vote to trust

women.

Steve Fitzpatrick,

General Secretary, CWU Ireland

Over 3,000 artists call for repeal

Statement by the Artists

Campaign to Repeal the

8 th Amendment

The 8th Amendment of the

constitution of Ireland,

article 40.3.3 inserted

in 1983, has prevented our

doctors and our legislators from

providing proper care to women

in Ireland. The resulting physical

and emotional trauma inflicted

on women is inexcusable and an

ongoing shame for Irish citizens.

The 8th Amendment

undermines the status of the

Irish constitution. It is a key

source of Ireland's failure to

reach international human

rights standards and of the

state's failure to meet its

obligations to vindicate women's

human rights.

We, along with over 3,000

other artists, call for the repeal of

the 8th Amendment to the Irish

constitution and for action by

our elected legislators to provide

women in Ireland with modern

reproductive health services in

line with best medical practice

and international human rights

norms.

Edna O'Brien, Cillian Murphy,

Anne Enright, John Banville,

Christy Moore – amongst many

others

15
---
Unions say YES!

Denmark,

Iceland

- the facts

The Danish

and Icelandic

Ambassadors have

written to the Dáil to

correct claims about their

governments' approach to

Down's syndrome.

Ambassador Sondergaard

from Denmark said it is

not his Government's

policy to eradicate Down's

syndrome and that

children with Down's are

born in Denmark every

year.

Congress opposed 8 th

Amendment in 1983

– says repeal now!

Congress opposed the 8 th

Amendment to the Constitution

back in 1983 and our position

remains unchanged – we are

supporting repeal of the 8 th in

the forthcoming referendum. We

believe that repeal is necessary

in order to achieve a more

compassionate Ireland, one in

which restrictions on women's

healthcare are removed from

the Constitution. It would then

be a matter for our elected

representatives in the Oireachtas

to legislate for the introduction of

a regulated, comprehensive and

quality healthcare service that is

safe for women and girls, in line

with international norms. It is

our view that the 8th Amendment

prevents this from happening and

should now be repealed.

Members of the Irish Congress of Trade Unions' executive council and staff show their support for a Yes vote

Provide a choice

In November last year a

resolution supporting repeal

of the 8th Amendment was

unanimously passed by

Connect trade union's national

executive. The primary

concern expressed in the

debate was the according of

dignity to women in relation

to control of their reproductive

functions.

Allied to this, was a

conviction that decisions in

this regard be taken by women

and that in supporting Repeal,

we were not compelling any

woman to adopt a particular

course of action but were

providing her with a choice.

We believe that our decision

supports the case for properly

resourced and supported care

in our own country for women

who require an abortion.

Abortion a trade

union and class issue

The Dublin Council of Trade

Unions was among the first

trade union bodies to affiliate

to the Trade Union Campaign

to Repeal the 8th Amendment.

Abortion is a trade union

and class issue. The necessity

to travel adds expense, time

and the hassle of securing

time-off to crisis pregnancies

for working women. The

imposition of one particular

ideology goes against the

separation of Church and State.

There is hardly a more material

issue for a working woman,

as real as wages and working

conditions and sometimes more

urgent, than control over her

own body. The DCTU calls for

a resounding Yes to Repeal on

May 25th.

Photo: Photocall

Women's

Committee,

Trades Union

Congress, Britain

The TUC Women's

Committee stands shoulder

to shoulder in solidarity

with our trade union

sisters in Ireland who have

fought for a woman's right

to abortion for so long.

Abortion is and has always

been a human rights issue,

a workplace issue, and a

trade union issue. To deny

women the right to end

an unwanted pregnancy is

to deny her human rights.

The fact that a referendum

on the 8th Amendment is

imminent is a testament to

the tenacity and strength of

the women of Ireland who

have never given up.

As to prenatal testing

for Down's and other

conditions, the National

Board of Health in

Denmark says: "The

purpose of prenatal

diagnosis is, within the

framework of Danish

legislation, to assist a

pregnant woman wishing

for such assistance to

make her own choice"

Ambassador Carsten

from Iceland said: "It is a

core principle of Icelandic

society to respect people

with disabilities as part

of human diversity. The

full human rights of

disabled persons will be

strengthened, protected

and ensured on equal

terms with others, and

conditions created

enabling the disabled to

live an independent life on

their own premises."

The TUCR agrees with this

approach, which supports

both women and people

with disabilities.

16
---
Dealing with abortion at work

All-Ireland workplace survey: 80% of 3,000 surveyed want change in abortion law to make women's health the priority

Unite the Union represents

working people across the

economy. Our women

members may be archaeologists

or accountants; they may be

delivering care in a nursing

home or answering the phone at

a call centre. Since they are in

the workforce, union members

are obviously more likely to be

of childbearing age than the

population as a whole.

Unite's policy is determined by

our members, and our pro-choice

stance goes back many years.

In 2015, delegates to our Irish

Policy Conference called for decriminalisation

of abortion in line

with international human rights

standards through the island of

Ireland – a move which would

necessarily entail repeal of the 8th

Amendment in the Republic.

We have long argued that

abortion is a workplace issue – a

view confirmed by the ground-

breaking research into Abortion

As a Workplace Issue, which

Unite helped sponsor.

We view abortion as an issue

not just of gender equality, but

also of economic equality.

At a time when, despite the

economic recovery, the Republic

is facing a low pay crisis, women

are disproportionately likely to

be low-paid and/or in precarious

work.

Low-paid women and trans

workers, those dependent on

Social Protection, or those in

relationships where they do

not enjoy financial autonomy,

are particularly disadvantaged

since the cost of procuring

a termination outside the

jurisdiction may be prohibitive.

Depending on how far advanced

"We view abortion as an issue not

just of gender equality, but also of

economic equality."

the pregnancy is and the type

of procedure required, the cost

can be up to €2000 – and that

does not include travel and

accommodation expenses.

In addition, many women

or trans people needing to

travel for a termination face

childcare issues which may be

both practically and financially

insurmountable. They may

be forced to access essential

savings, take out a credit union

loan or even have recourse to

moneylenders in order to fund

a termination. For many others,

access to an essential healthcare

procedure is simply beyond their

financial reach.

And that does not take account

of those who are unable to travel

for medical reasons, who are

living in Direct Provision, or

whose immigration status makes

it impossible for them to travel.

Financial constraints are not

the only obstacles facing working

women or trans people seeking a

termination: they also face issues

as workers.

In a situation where access to

abortion is largely unavailable

in this jurisdiction, and a

termination is not viewed as a

normal healthcare procedure,

pregnant workers are faced with a

range of workplace issues which,

in practical terms, further restrict

their access to a termination

and to essential post-abortion

healthcare.

At the most basic level, they

may be unable to obtain leave

of absence at short notice and

without explaining the situation

to their line manager.

Upon return, they may find

it difficult to take the time

necessary for post-abortion

check-ups, or to take time of

work for any health or wellbeing

issues connected with the

abortion.

Union members – Unite

members – need access to

abortion. They need Repeal of

the 8th Amendment. And that is

why Unite says – Yes Repeal!

Taryn Trainor,

Regional Women's & Equalities

Officer, Unite the Union

17
---
No second

chance to

vote Yes

A

Yes vote on May 25 th is

crucially important for the

wellbeing of all women in

Ireland, but particularly for low

paid and vulnerable women.

There will be no second chance.

Mandate Trade Union

represents almost 40,000

workers in the bar and retail

sectors across Ireland (think

Dunnes Stores, Tesco). Most

are low paid – 70% are women,

many of childbearing age who

are particularly affected by the

State's almost complete ban on

abortion.

In 2014 our members across

the State elected an executive

committee that looked at what

was happening in Ireland and

decided to campaign for repeal

of the 8th Amendment. They did

so for a number of reasons.

While almost every year

4,000 women and girls living

here avail of their human right

to travel and seek an abortion

overseas, many on low or welfare

dependent incomes who have a

crisis pregnancy do not have the

same options as women from

more affluent backgrounds.

In some instances women with

no money may resort to induced

miscarriage at home without any

medical assistance. This added

trauma is extremely detrimental

to their mental and physical

health.

Opinion polls show a majority

in Ireland support a Yes – but we

must make sure we all vote.

In a recent poll carried out by

Behaviour & Attitudes, 64% said

they supported removing the

8th Amendment, while 36% said

they did not, excluding "don't

knows".

The Citizens' Assembly was

set up by government with

randomly selected members of

the public of whom:

• 89% supported abortion

where pregnancy is a result

of rape.

• 89% supported abortion

where the unborn child

has a foetal anomaly likely

to result in death before or

shortly after birth.

• 78% supported abortion

when there is a risk to the

woman's physical or mental

health.

A cross-party Joint

Oireachtas Committee of

elected representatives spent

weeks listening to experts from

John Douglas, General Secretary, MANDATE

both sides of the debate and

eventually recommended repeal

of the 8th by a margin of 70% in

favour, 30% against.

They also recommended

legislation to allow a termination

up to 12 weeks – the norm

across the developed world.

A No vote will prevent women

who have been raped from

availing of a termination in all

circumstances.

A No vote will force women

carrying a foetus with a fatal

anomaly to continue their

pregnancy to full term.

A No vote could prevent

cancer victims from accessing

life-saving healthcare services

should they need them.

The removal of the 8th

Amendment is the only

compassionate way to ensure

women can get the care they

desperately need during a crisis

pregnancy.

Whatever your opinion about

the circumstances when access

to abortion should be available,

the Irish Constitution should not

be used to regulate and control

women's bodies.

Have confidence in yourself

and vote Yes. Trust your

mothers, wives, daughters,

sisters and all of the other

women in your life to make the

right decision about their own

bodies.

A Yes vote is not a vote for

abortion, it's a vote for choice.

Vote Yes and let's bring Ireland

into the 21st century.

David Gibney,

Communications Officer,

MANDATE

18
---
Balancing

beliefs and

duty of care

There are ways to balance the rights of

staff with the rights of women to access

abortion services. Staff must however

inform their employer of any conscientious

objection so that services can be planned

and delivered to accommodate both the

rights of workers and the right of a woman

to access healthcare services.

Asserting a right to conscientious

objection may be seen as a religious or

even a moral right. However the Royal

College of Midwives sees it as a workplace

right. Most of our members are women

– all of whom have their own individual

story – and we must ensure they are not

forced into participation in a procedure

Breedagh Hughes: Balance rights of workers

and rights of women to healthcare"

that for some of them would have deeply

personal and painful ramifications. Some

of these women have suffered recurrent

miscarriages; some may be undergoing

fertility treatment or have a history of a

previous stillbirth or a neonatal death.

The right to conscientious objection

cannot however remove the professional

duty for nurses, midwives and medics to

participate in any emergency treatment

which is necessary to save the life, or

prevent grave, permanent injury to the

physical or mental health of a pregnant

woman.

The RCM has had a position on

conscientious objection for over 30

years. Healthcare staff employed in

Britain have a statutory right, contained

within the 1967 Abortion Act "not to

participate in any treatment… to which

he has a conscientious objection". The UK

Supreme Court has defined 'treatment'

as participation in the actual act of

terminating a pregnancy. It does not have

a provision to avoid caring for a woman

before or after an abortion. As the Act

does not apply in Northern Ireland, there

is no such right for healthcare staff there.

But the RCM believes this right should be

extended to all healthcare workers.

Breedagh Hughes,

Royal College of Midwives

Show solidarity

SIPTU supports repeal of

the 8th Amendment and is

actively calling on its members

to vote Yes for repeal in the

forthcoming referendum.

SIPTU's decision to become

involved in the campaign for

repeal was arrived at through

an informed and respectful

debate at our Biennial Delegate

Conference. Delegates debated

the issues involved and voted

overwhelmingly in favour of a

referendum to repeal the 8th.

On foot of this vote, SIPTU's

National Executive Council has

been directing a campaign to

give expression to the conference

decision.

SIPTU believes the 8th

Amendment is a barrier to women

accessing all of their maternal and

reproductive healthcare needs in

this country.

We recognise the reality that

over 5,000 women in Ireland have

terminations each year: either

legally, by way of travel to Britain

and, to a lesser extent, other

countries; or illegally, by getting

abortion pills online.

Unknown to many of us, our

family members, work colleagues,

friends and neighbours are

terminating pregnancies.

We believe the 8th Amendment

prevents appropriate medical care

for women when their lives or

health in pregnancy are at risk and

it has given rise to unsafe practices,

further putting the lives of women

in pregnancy at risk.

We know that for many union

members, this may not be the most

important issue for them and their

families right now. We are also

conscious that for some members,

it may never be a consideration

regardless of the circumstances.

However, we respectfully ask

members to show solidarity with

the thousands of women who

cannot access healthcare services

here in Ireland and travel abroad

or depend on the internet. We

ask that members not stand in the

way of affording women access to

timely, affordable and accessible

care in a safe setting in the health

service of their own country.

As the largest union of

healthcare workers in Ireland,

SIPTU wants to ensure that our

members who work in front line

healthcare services are protected

and supported. This is why we

are in favour of the provision

of conscientious objection for

medical and healthcare workers.

SIPTU

19
---
"Lying to your

employer,

taking sick

leave, having

to make travel

arrangements

while worrying if

you get 'caught'

how will you

explain yourself."

Trade union survey

Photo: Rose Comiskey

Is abortion a workplace issue?

Upon posing the question 'is

abortion a workplace issue?'

the response is usually one

of a puzzlement – the reactions

include 'why would it be', 'it's not

something I have ever thought of '.

A ground-breaking study,

funded by UNITE the Union,

Unison, Mandate Trade Union,

the CWU Ireland and the GMB

set out to explore if abortion was

indeed a workplace issue. The

study, led by these unions and

activist groups the Trade Union

Campaign to Repeal the 8th and

Alliance for Choice, also sought to

gather union members' views on

legislative reform in the Republic

of Ireland and Northern Ireland.

Over 3000 trade union

members took part in the study,

which was carried out by a team

of researchers at Ulster University.

Participants indicated broad

support for legal reform, with

80% supporting the view that

women's health should be the

priority in any legal reform. The

vast majority, 87%, believed that

a woman who had an abortion

should not be criminalised.

Of those surveyed, 20% had

"It would be three weeks before I made

my journey. I had to work my ass off doing

extra shifts and trying to care for the baby I

already had. Also trying to keep on top of lies

I had created so that no one knew what was

happening. I was numb and robotic for those

three weeks..."

Lisa 'Everyday Stories'

direct experience

of abortion as

workplace issue.

This included

cases such as

women unable to

get time off due

to precarious

employment,

stigma in the

workplace,

and a lack of

support from

employers.

"…my case

was very

complicated due to fatal

foetal abnormality…I just told

management I lost my baby when

I was put under a lot of pressure

to return to work...their response

was what I expected. They told

me they would get help and

support for me but nobody to this

day ever contacted me."

An online discussion forum

that formed part of the study

allowed participants to discuss

their views and share their

Vote YES on May 25 th

experiences.

Hostile views

on abortion

were expressed

by some

participants,

however after

engaging with

those with direct

experience,

changes were

evident.

"Personally…

although I abhor

abortion itself, I

think the woman

worker is entitled

to full union protection after she

has finished her deed. There is no

point in compounding a difficult

scenario."

This perspective, highlights

how recognition that abortion

was a workplace issue led to the

conclusion that unions had a role

to play in providing policies to

support workers who have taken

the decision to have an abortion.

The study, the first of its kind in

the world, provides clear evidence

that unions can play a pivotal role

in campaigning for reform and

can lead the way in supporting

those directly affected.

Dr. Fiona Bloomer, Ulster

University, is author of Abortion

as a Trade Union Issue.

"Trying to

co-ordinate my

flights, the clinic

appointment as well

as childcare was

difficult. The only

clinic I could attend

was near Heathrow

which meant that

flights were super

expensive. I had no

option but to travel

alone..."

Susie 'Everyday Stories'

20

The articles in this paper express the views of the individual authors and not those of the other contributors or the Trade Union Campaign to Repeal the 8th Amendment. Yes Repeal is published by the Trade Union Campaign to

Repeal the 8th Amendment; printed by The Irish Times, City West, Dublin. Design by: ICON Graphic Services, email: con@icongraphics.ie. Edited by Therese Caherty and Brendan Young. email: info@tradeunions4repeal.ie