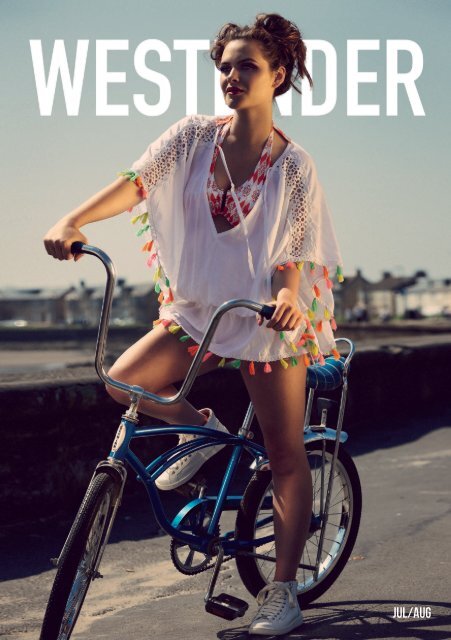 WebJulAug2018
shopping, lifestyle, Glasgow west end, business, gift, going out, restaurant reviews, bar reviews, author interviews, artist interviews, local, what's on listing
shopping, lifestyle, Glasgow west end, business, gift, going out, restaurant reviews, bar reviews, author interviews, artist interviews, local, what's on listing
SHOW MORE
SHOW LESS
You also want an ePaper? Increase the reach of your titles
YUMPU automatically turns print PDFs into web optimized ePapers that Google loves.
www.westendermagazine.com | 1

jul/aug
---
2 | www.westendermagazine.com

BROOMHILL LAUNDRETTE

& DRY CLEANERS
---
www.westendermagazine.com | 3

Contents

Regulars

4 Editor's Letter

51 Mum's Notebook

48 Community feature:

Back Garden G3 Growers

Fashion, beauty & health

8 Sun, Sea & Sexy

Swimwear

36 WIN! At Rainbow

Room International

52 Health Matters

Going out

16 West End Live

with Greg Kane

18 Top Things

Art & culture

22 Writers Reveal

meets Helen McClory

26 Cover to Cover

38 Meet the artist:

Victoria Cassidy

Food & drink

32 Sweet Liberty

35 Restaurant review:

El Perro Negro

37 Bar review:

The Left Bank

Westender business

42 Going green

Westender living

54 Playful Pastels

59 Summer Scentsations

61 Talking Texture

COVER IMAGE Bikini & cover up,

Silks. Trainers, Daniels Footwear
---
4 | www.westendermagazine.com

Editor's

Letter

W

ho needs an excuse to get outdoors

when we're only 30 minutes drive to

Loch Lomond & The Trossochs

National Park to the north and a short hour

from the stunning Ayrshire coast to the

south? We lucked out with the weather on our

latest swimsuit fashion shoot (see P.8) down

at Troon – or Costa Del Troon as it is now

know at Westender HQ! What a great day out

we had, I mean what a hard shift we all put in

to make the images the very best they could

be, ahem.

However there's a lot to keep us closer

to home over the next couple of months –

the West End's out and about scene just

keeps giving! Read Greg Kane's round up of

great gigs from The Doghouse Roses at The

Doublet to Paul Simon at The Hydro (P.16),

and our Tracy's fave picks from the Pride

Glasgow march in mid-July to the European

Championships the first two weeks of August

on pages 18 and 19. And as always with the

long school summer holidays in full swing,

Michele Gordon of The Language Hub, has

plenty of ideas to keep your wee cherubs

entertained on page 21, or just a break from

killing each other and muttering the B word

as it's known in my house (yes, I do mean

'Boring'!).

Above: Suzanne Martin, Westender editor.

Below: On location in tropical Troon for the

summer 2018 swimwear shoot with model

Katie Lapping from Superior Model Management.

Living in such a beautiful country with

some of the best produce to be found in

the world and the most dramatic scenery,

it falls to us to live as lightly on this earth as

is humanly possible – a theme writer Loraine

Patrick picks up with this edition's business

article on Page 42. Three local companies

are tackling plastic waste, congestions and

pollution, and standardised business models,

in light of a desire to do better for the planet

today.

And Mother Earth and her bounty gets a

community together on Page 50 – and we're

all invited! New members are being actively

sought for The Back Garden G3 Growers

and you don't need to have green fingers

– yet, that will come. Help is needed to bring

in the harvest and it's all hands on deck in

this wee hidden gem in Finnieston. It's a

fantastic way to get the kids outside, off the

Xbox and learning where their food comes

from whist making new friends. Let's face it,

the nights will be drawing in soon enough –

so head out and about in our glorious West

End and enjoy it, fingers crossed, in a bit of

sun!

Suzanne Martin
---
www.westendermagazine.com | 5
---
6 | www.westendermagazine.com

EDITOR

SUZANNE MARTIN

PHOTOGRAPHER

GREGOR REID

CONTRIBUTING WRITERS

EMILY DONOHO,

MICHELE GORDON, GREG KANE,

PAMELA LEGGATE, NICOLA MAULE,

TRACY MUKHERJEE,

ROBERTO PARRUCCI,

LORAINE PATRICK,

SUSAN ROBERTSON, BRIAN TOAL,

LIBERTY VITTERT,

HANNAH WESTWATER

HAIR & MUA

TERRI CRAIG

STYLIST

JACKI CLARK

WESTENDERMAGAZINE.COM

INFO@WESTENDERMAGAZINE.COM

07905 897238

WESTENDER MAGAZINE IS ON

FACEBOOK, TWITTER

& INSTAGRAM

Publisher: Westender Magazine

Whilst every care has been taken to ensure that the data in this publication is accurate, neither the publisher nor its editorial

contributors can accept, and hereby disclaim, any liability to any party to loss or damage caused by errors or omissions

resulting from negligence, accident or any other cause.

Westender Magazine does not officially endorse any advertising material included within this publication.

No part of this publication may be reproduced, stored in any retrieval system, or transmitted in any form – electronic,

mechanical, photocopying, recording or otherwise – without prior permission of the publisher.
---
www.westendermagazine.com | 7

ADVERTISE YOUR BUSINESS IN WESTENDER

Book advertising space in the Sep/Oct 2018

Westender by Friday 3rd August.

OUT IN WEST END LOCATIONS FROM MONDAY 27TH AUGUST

// 10 Years in the West End

// Glasgow's brilliant FREE bi-monthly magazine

// Great editorial features: fashion, dining out, health & beauty,

what's on, local authors & artists, interiors & more

// Massive potential business audience

// 12,000 copies per edition

// Handy handbag size

// FREE to pick up around the West End

// Online presence with digital magazine

westendermagazine.com

For more info or to advertise

email: suzanne@westendermagazine.com

for a media flyer, or call: 07905 897238
---
8 | www.westendermagazine.com

6 | www.westendermagazine.com

life's a

beach

sun, sea & sexy

swimwear

images gregor reid

stylist jacki clark
---
www.westendermagazine.com | 97
---
10 8 | | www.westendermagazine.com
---
www.westendermagazine.com | 11 9

BIKINI, Silks

SUNGLASSES, IOLLA

opposite page

Bikini, FAT FACE

SUnglasses, iolla

Previous page

tankini, silks
---
12 | www.westendermagazine.com

10 | www.westendermagazine.com
---
www.westendermagazine.com | | 13 11

FRONT COVER &

CONTENTS PAGE

jacket – Glasgow Vintage Co

sweater – Hobbs @ HOF*

skirt – Miss Selfridge @ HOF

shoes – Daniel Footwear

earrings, multi stone ring,

bracelet – Cassiopeia

necklace, green ring - Owen Bisset

TITLE PAGE

Male Model

biker jacket – Glasgow Vintage Co

jacket – Minted

jeans – Diesel @ HOF

t-shirt – Barbour @ HOF

Female Model

jumpsuit, jumper – Just For You

belt, bag – Mango at HOF

bracelets, earrings, black ring, blue

ring – Owen Bisset

necklace – Cassiopeia

shoes – Daniel Footwear

PAGE 8

jacket – Minted

jeans – Diesel @ HOF

PAGE 9

Male Model

jumper, shirt – Fat face

jacket – Glasgow Vintage Co

shoes – CCW

Female Model

shirt – Ralph Lauren @ HOF

skirt – Just For You

boots – CCW

black ring, pink ring,

earrings – Owen Bisset

necklace – Cassiopeia

OPPOSITE PAGE

t-shirt – Mango @ HOF

skirt – Fat Face

socks, bracelet – Cassiopeia

earring, orange ring – Owen Bisset

THIS PAGE

shirt – House of Fraser

jacket – Minted

jeans – Diesel @ HOF

shoes – CCW

*HOF – House Of Fraser

CREDITS

Photographer Gregor Reid

gregorreidphotography.com Stylist

Vivienne Masters viviennemasters.

co.uk Hair & Make-up Terri Craig

terricraig.co.uk Models Kerr

Cochrane, Niamh McNamara@

colours agency.com

Bikini, Silks. necklace, nancy smilie

opposite page - Bikini, silks
---
14 12 | www.westendermagazine.com

swimsuit, silks. shorts, primark. socks, osiris. necklace, nancy smilie
---
www.westendermagazine.com | 13 15

COVER up, SILKS

Sunglasses, cassieopia

model KATIE LAPPING @ superior model management

MUA terri craig, terricraig.co.uk

stylist jacki clark, jackiclark-stylist.co.uk

photography gregor reid, gregorreidphotography.com
---
16 | www.westendermagazine.com

LIVE

July

Paul Simon

Wednesday 11th July 6.30pm

SSE Hydro, thessehydro.com

Where do you start when previewing

a Paul Simon gig? His seven decade

career, over 100 million albums

sold, the sixteen Grammys, his 1987

ground breaking album 'Graceland'?

Quite a legacy to leave behind and

by all accounts this is his final ever

tour (He's 77 years old now), so if

he's on your bucket list then you kind

of have to go to this one.

I've always had a soft spot for

Paul Simon, his sense of melody/

rhythm and guitar playing are just

so compelling to me. As a 20 year

old in the mid 80s I found myself

working in the same recording studio

in New York where they were piecing

together his album 'Graceland'. Every

morning I would turn up at the studio

and hear all these incredible African

rhythms, harmonies and melodies

emanating from the other side of the

door at Studio One at Sigma Sound on

Broadway. Made quite an impression

on me. His standards have never

slipped either with his 2016 album

'Stranger To Stranger' regularly

playing in my kitchen. I'll be going.

Choice Tracks:

Paul Simon 'Wristband'

Fazerdaze

Sunday 22nd July 7.30pm

The Hug & Pint, thehugandpint.com

If you like your Indie pop soft and

dreamy then Fazerdaze is definitely

for you. Cure and Pixies fans

will also find something here to

like. Fazerdaze is the project of

Amelia Murray, a 25 year old indie

songwriter from Wellington, New

Zealand who mostly sings about

young life's transitional moments.

She released her debut self-titled

EP in October 2014, recording it

entirely in her bedroom studio in

Auckland for the legendary Kiwi pop

label Flying Nun Records.

She's out with her four piece band

on a world tour promoting her 2017

album 'Morningside'. Go see her if

you dare to dream.

Choice track: Fazerdaze 'Lucky Girl'

Doghouse Roses

Wednesday 25th July 8pm

The Doublet, @thedoubletbar

I really like Doghouse Roses. This

alt-folk duo from Glasgow are Paul

Tasker and Iona MacDonald who both

sing and play guitar. They formed in

2006 through a shared love of all

things Gillian Welch, Pentangle &

Airport Convention with smatterings

of Trad and Americana thrown in for

good measure too. Iona MacDonald

takes on the roll of lead vocalist

with Tasker singing the lower

harmony when required. She really

has such an engagingly beautiful

voice and coupled with Tasker's skill

and dexterity on guitar they fully

deserve the tag '… Glasgow's version

of Gillian Welch & David Rawlings …'

(I personally think MacDonald has a

much nicer voice than Welch)

They're playing upstairs at The

Doublet, a little gem of a place

hidden between GWR and Kelvingrove

Park. You'll need to make sure you go

early though if you want a seat.

Choice Track: Doghouse Roses

'To Decide'
---
www.westendermagazine.com | 17

by Greg Kane

August

John McCusker & Roddy Woomble

Thursday 2nd August 7.30pm

Milngavie Town Hall, ents24.com

John McCusker is the Bellshill born,

much lauded fiddler/composer/record

producer and Roddy Woomble is the

front man for the band Idlewild and a

much respected writer and journalist.

These two have worked on many

projects together most notably on the

collaborative studio album between

Scottish writers and musicians entitled

'Ballads Of The Book' in 2007.

But recently they released the

album 'Before The Ruin', another

collaboration, but this time featuring

the multi award winning singer/

guitarist Kris Drever too.

Choice track: John McCusker,

Kris Drever, Roddy Woomble

'The Poorest Company'

Dean Friedman

Friday 3rd August 8pm

Òran Mór, oran-mor.co.uk

'Do you still love me?, Yes I still

love you … you mean your not just

being nice?, No I'm not just being nice

…' Recognise these lyrics? Are you

laughing yet? … how about now?

Having just gone through quite a

painful break up, this song resonates

more than ever with me nowadays. Dean

Friedman, who penned these immortal

words is an American singer songwriter

from upstate New York who hit his

peak in the late 70s with the iconic

hit records 'Ariel' and 'Lucky Stars'.

The success of these two songs has

allowed Friedman to sustain a 40 year

career as a professional musician

touring all over the world year after

year playing to dedicated crowds.

He was one of the first musicians to

crowd source the funding of an album

such is the affection of his fans,

releasing said album 'The Treehouse

Journals' in 2002.

Choice Track: Dean Friedman

'Lucky Stars'

Stella Donnelly

Wednesday 22nd August 7.30pm

The Hug & Pint, thehugandpint.com

I was going to preview the Britney

Spears gig at the Hydro later this

month but Stella Donnelly's song 'Boys

Will Be Boys' just stopped me in my

tracks. Stella Donnelly is a 25 year

old musician born in Wales but raised

in Fremantle, Western Australia.

She began popping up on people's

radar due the fact that one week before

Harvey Weinstein and the #MeToo

hashtag started trending, she released

her slow-burning breakthrough song

'Boys Will Be Boys'. It really is such

a powerful piece of music. Her recent

2018 EP 'Thrush Metal' confirms that she

is definitely not a one trick pony, with

strong songwriting, singing and guitar

playing on display. Stella Donnelly is a

real find.

Choice track: Stella Donnelly

'Boys Will Be Boys'

Want to hear more? Go to the West End Live Playlist on Spotify –

open.spotify.com/user/kudzu/

playlist/1cJ92QKzyxrEvJZctS8iqX?si=nSN8tMATQJW3haJ0yedTvg
---
18 | www.westendermagazine.com

Top Things To Do

in the West End

by Tracy Mukherjee

Top for Being There For You

Friendsfest was a sell out last year when

it toured the UK. With 'Friends' continued

popularity unwavering, the 90s comedy

sensation turns Victoria Park into NYC's Soho

this coming July. With Monica, Joey and Ross's

apartments all on show as well as a Las Vegas

Little White Chapel, you'll need that coffee in

Central Perk. There is an opportunity to buy

memorabilia in the Friendsfest shop and pose

for an 80s style High School prom photo. Could

there BE a more fun event this July?

Comedy Central presents Friendsfest,

6-15th July, Victoria Park.

friendsfest.co.uk

Top for Celebrating Diversity

On Saturday 14th July the annual two day Pride

celebration takes place in Kelvingrove Park.

Starting with the parade through the city streets

to Kelvingrove where the main event is being

held. The festival itself is packed with fun for

young and old over the Saturday and Sunday.

The music stage features the likes of Mel C and

the Sundaes. With a fairground, food village and

of course super popular dog show, it's a day that

celebrates diversity, inclusivity and above all,

downright fun!

Pride Glasgow 14-15th July,

Kelvingrove Park.

festival.pride.scot/tickets

Top for Luvvies

Can you believe that since their 1st festival,

Bard in the Botanics have staged more than 50

productions, entertaining more than 70,000

audience members? Up until July 28th there is

still a chance to brush up on your Shakespeare.

The 'Star Crossed Lovers' season continues with

Romeo and Juliet and Anthony and Cleopatra

until July 7th. With Much Ado About Nothing

and Edward II still enthralling audiences until

July 28th, there is still ample time to immerse

yourself into ye olde world of the Bard.

Bard in the Botanics, Botanic Gardens

bardinthebotanics.co.uk

Top for…Summer

Shenanigans

With school holidays in full swing, our little

munchkins needn't be clinging to the nearest

Nintendo, whining into their cereal that they

are bored by July 1st. Instead why not consider

some healthy outdoor fun, courtesy of the West

End Adventure Group? Registered with the

Adventurous Activities Licensing Service, the

group enjoy activities such as kayaking, rock

climbing, archery and bushcraft. The adventure

weeks run throughout the summer holidays and

are suitable for children of 8 years and over.

West End Adventure Group

westendadventure.co.uk

Top for Top Dogs

For further summer entertainment for the kids

but more especially for your four legged friends,

why not visit Pet Fete at the Riverside Museum

this August? This family and dog friendly festival

is a great day out. A petting zoo, wildlife rescue,

birds of prey and the ever popular dancing dogs

– heelwork to music – will all be there at the

Riverside. There is also a fun dog show, fastest

recall and 'have a go' agility. With information

and advice on other pets including rabbits and

cats, it's a lovely day out for the family with an

added bonus on raising awareness of animal

welfare causes.

Pet Fete Scotland, Saturday 11th

August, Riverside Museum, Glasgow.

petfete.co.uk
---
www.westendermagazine.com | 19

Top Things To Do

in the West End

Top for A Stretch of the Legs

As we make the most of the summer months,

there is nothing better than a good old walk

whilst learning a little history to boot. Glasgow

Historic Walks have a great range of guided

walks organised this summer. The weekend

walks in particular are worth a look. Did you

know for example that St Patrick was raised

on the river Clyde in Old Kilpatrick? Or that

the remains of Robert the Bruce are in a tiny

churchyard in Dumbarton? Through a series of

fascinating walks through Glasgow and beyond,

Glasgow Historic Walks will guide you through

the history right under our feet, whilst exposing

the truly wondrous sights right on our doorstep.

glasgowhistoricwalks.com

Top for Sport

With many a public house showing the World

Cup throughout June and July, you'd be forgiven

for thinking this is THE sporting event of the

Summer. But, my friends, you would be wrong.

For in August, Glasgow and Berlin co-host the

inaugural European Championships. Given that

Glasgow has hosted a number of world class

sporting events in the past few years, it is no

surprise that the city proudly sits in the top

five cities in the world to host sporting events.

A multi sports championship, Glasgow will be

host to aquatic, cycling, golf, gymnastics, rowing

and triathlon events. Venues include Scotstoun

Sports Campus, Glasgow City Centre, Loch

Lomond, Knightswood Park and the SSE, as well

as the Emirates Arena, Strathclyde Park and

Tollcross International Swimming Centre.

European Championships Glasgow

2-12th August, various venues.

europeanchampionships.com

To celebrate this fabulous sporting event,

Festival 2018 will be running concurrently over

the 11 days of the Championships. With the best

in music, art, dance and theatre, Festival 2018 is

a cultural festival bringing communities across

Scotland together during the summer. Many of

the main events will be held in George Square,

with free events for all. There will also be a big

screen to allow Glaswegians to catch up on the

days sporting events from Glasgow and Berlin.

An added bonus is that right around the corner

Merchant City Festival takes off with art, design,

film comedy and a carnival. After all this, you

might feel just as exhausted as the athletes!

glasgow2018.com/festival-2018

Merchant City Festival, 2nd-12th Aug

merchantcityfestival.com

Top for Summer Music

The Fiesta and Fold festival takes residence

in Kelvingrove Park on Sat 30th – Sun 1st July

with a quite spectacular line-up of iconic acts.

Along with Nile Rodgers and Chic are Earth Wind

and Fire who played up a storm (if you'll pardon

the pun) at Glastonbury last year, Emeli Sande

and Morcheeba to name but a few. The two day

festival promises a boogie wonderland in the

park where the heat just might lead to a disco

inferno! Ahem, sorry.

And the music doesn't stop there. All of this is

a pre-cursor to the annual Summer Nights at

the Bandstand in July and August. A sublime

line up of new kids on the block and legendary

stars will dazzle on the bandstand this summer.

From Bryan Ferry to The Fratellis, OMD to Imelda

May, it's certainly an eclectic mix. This summer

we really are spoiled for musical choice.

Fiesta and Fold, Sat 30th June

& Sun 1st July, Kelvingrove Park.

westendfiesta.co.uk

Summer Nights at the Bandstand,

July and August, Kelvingrove

Bandstand and Amphitheatre.

ticketmaster.co.uk/Summer-Nightstickets
---
20 | www.westendermagazine.com

'Learning Through Play'

Places available.

To book your visit call Maureen on 0141 357 0231

www.derbystreetnursery.co.uk

maureen@derbystreetnursery.co.uk

1 Parkgrove Terrace, Glasgow G3 7SD

THERAPEUTIC

MASSAGE

with integrated myofascial release

Qualied masseuse,

counsellor and stress

management therapist.

A mind/body therapeutic approach

that is safe and highly eective in

alleviating pain and restoring optimal

function, relieving symptoms of stress

and enhancing wellbeing.

PI ATES

*Flexi-Class passes available * One-to-ones

* Relaxing *Suitable for Beginners & Advanced

Great for Runners, Cyclists, Golfers, Desk Workers..

*Post Natal * Botanic Gardens, Partick & Hyndland

www.pilatesglasgow.com 0787 647 3381

kerrystewart07@hotmail.com

Kay - 07790 331227

Six Rooms, 6 Highburgh Road G12 9YD
---
www.westendermagazine.com | 21

Endmum's

West

notebook

by Michele Gordon thelanguagehub.co.uk

Is it just me or has summer come early this

year? Whatever the weather, the summer

school holidays are upon us. Yes, that

time of year when you wonder how you

can cover all your kids time off with your

two weeks annual leave. Lock them in the

wardrobe for the remaining five weeks?

Call in sick and hope no one will find out?

Or play the lottery and hope to win on time to

afford at least part-time child care. Decisions

decisions!

For working parents summer holidays

can create serious child care problems.

We are quite lucky as I can take Ruby and

Leon with me to The Hub while working.

However, if you don't have child care issues

the kids will drive you up the wall within a

short period of time because you've run

out of ideas about what to do with them.

But there is help at hand! Although most

regular children's activities stop over the

summer, there are many providers who run

special summer activities to offer plenty

of entertainment. There are many camps

which focus on sporty things and quite a few

organisations are spread across the West

End so no need to travel far.

Glasgow Life run a holiday activity

programme during the Easter and summer

school holidays each year (glasgowlife.org.

uk) for 5-11 year-olds which is a mix of play,

sport and arts & crafts; places for these sell

fast as they are very reasonably priced.

There are other organisations like

Summer-In-The-City (summer-in-the-city.

co.uk) for 5-16 year olds which use Jordanhill

Campus as their base in the West End. Daily

rates are £25 per child or £125 per child per

week, or £65 per child per week for half days.

The advantage here is that your child can be

cared for from 8am-6pm if need be.

Another popular one is Camp Indy

(campindy.co.uk) based at Kelvinside

Academy which is open to ages 5-14.

If you have set yourself a smaller budget

and are just looking for the occasional activity

then look up Glasgow Life's website again

as you will find anything from indoor bounce

and rhyme sessions to story book readings,

arts and crafts to outdoor sports activities in

various parks, all of which are free.

Or alternatively, check out one of the

sessions at The Hub. We run weekday

activities for children and adults. Some are

language immersion classes, some are arts

and crafts based and others learning about

different countries and cultures.

This way you still have some cash left to

treat yourself and the kids along the way with

some yummy food for example. We like The

Big Mouth Coffee cafe on Dumbarton Road

(bigmouthcoffeecompany.com), they have a

very reasonably priced basic children's menu

and staff are very friendly too.

If they fancy more of a 'restaurant

atmosphere', as they call it, Ruby and Leon

will chose Tony Macaroni on Byres Road

(tonymacaroni.co.uk). But our personal find

of the year so far, which we only discovered a

few weeks ago, is definitely 1010 on Radnor

Street (1010glasgow.com). They serve

very tasty burgers and children aged 10 or

younger eat for free! This only leaves me to

wish you all a great summer and lots of fun

whatever you do. Einen schönen Sommer

Euch allen und bis bald!
---
22 | www.westendermagazine.com

© Sinead Grainger

Writer's Reveal

meets Helen McClory

WORDS LORAINE PATRICK
---
www.westendermagazine.com | 23

It is said there is no better way to spark

the creative genius than to pack up and

travel. Ernest Hemingway had a bolt-hole

in the Florida Keys, F. Scott Fitzgerald loved

to escape to the French Riviera and Virginia

Woolf spent seaside summers in Cornwall.

Closer to home one of Scotland's up and

coming authors is spending her summer on a

writing retreat in Portugal. Helen McClory is a

name you may recognize. She won the Saltire

First Book Award for her short fiction in 2015

and her second collection came out earlier

this year. Mayhem & Death is published by

Scottish independent publishing house 404

Ink who champion alternative writing. Helen

took time out from her break to tell us more.

Firstly thank you for interrupting your

summer travels to talk to us – you are

midway through your time in Portugal.

What has taken you there?

It is no problem at all. I am here volunteering

on a small farm. I get room and board, and

time to write. It's basically a self-arranged

residency for me. It's wildflower season right

now and everything's gorgeous.

What kind of writer are you – do you use

trips like this to inspire and put pen to

paper or are you a disciplined sit down at

a desk kind of writer?

I use trips all the time to inspire me, and to

try to get an understanding of a new culture

and landscape. I think you can only write

about somewhere if you've really immersed

yourself. But then, I also try to write little and

often. Desks are a no – I write lying down on

my bed. It's surprisingly comfy.

Your new book Mayhem & Death was

published earlier this year, can you give

our readers a flavour of what to expect?

It's short stories, flash fictions, and a novella

– they are all connected (in ways I won't

spoil here – the reader can guess!) and they

are all about loneliness, loss, moments of

connection and strangeness in the everyday.

You have won awards for your flash

fiction. What is it about this style of

writing that appeals?

I love writing flash – it's a disciplined thing. Sit

down with an idea, a line, or even a title. Write

until it's done, until the story unpacks itself

into its tiny space. Set it to rest, and edit, then

understand what you have. I hope the reader

sees the concentration of the language –

a flash fiction isn't just a paragraph of text

but almost like making something physical. It

usually has to be read a few times to let it sink

in. I love reading flash too. When it's good, it

lives up to the name – bottled lightning.

Can you explain the differences between

Flash fiction, short stories and novellas?

Are there specific word limits you need to

adhere to?

Flash fiction is broadly anything under 1000

words, short stories anything above, right up

until it becomes a novella – which is anything

over 18,000 (more or less). I just write with

the idea that everything I'm going to make

will be short, but if it needs to be longer, I let

it breathe. The form chooses itself, based on

the ideas as they come.

One reviewer describes Mayhem & Death

as being a 'delicious anecdote to the

up-lit' that is around. Are you looking for

readers to challenge fears rather than

provide escapism?

I love the idea of my writing being an

anecdote to something – though it doesn't

have to be against anything else. I wrote

this book for the lonely – to build something

that would speak to them, acknowledge

them. It's a steely kindness, I hope. No point

in shying away from how difficult life is, even

as we're saying, we're here, together, now,

in it.

In reviews of the book The Romantic

Comedy, Automaton Town and Take Care I

Love You are all singled out for particular

praise, do you have a favourite tale?

Can you single one story out and give us

a flavour?

I really enjoy Take Care, I Love You, because

I got to experiment with that one a little.

I used a little of the contents page from

the Wikipedia page for the Fermi Paradox,

which is about why, given how many planets

there are in the universe, we haven't been

contacted by aliens yet, and put this together

with a kind of narrative about a very lonely

person. It's a poem more than a story, but it

could be either. That's how I hope my work is,

hard to classify, but still with heart.
---
24 | www.westendermagazine.com

The book finishes with a novella

(Powdered Milk) revisiting characters

from the opening story – do you have

plans to revisit any other characters or

stories at a later date in perhaps longer

form?

I have no plans as yet. But I won't rule it

out. It might be in a shorter form, too, if it

happens.

You describe yourself as a writer with a

'moor and a cold sea in your heart' what

do you mean by this?

It refers to where I grew up – the landscape

of Skye is still there, still coming through my

work, I think.

Although you spent your early years in

Skye, you are now settled in Edinburgh –

via Glasgow where you studied literature

– where feels most like home?

I love Glasgow, and would love to live there

again. However, home is a moveable feast.

My student days were a hard-working period.

All I did was work and hang out with writers.

I would like to live in Glasgow when I'm not

up to my eyes in essay deadlines!

I thoroughly enjoy your observations

on twitter (@HelenMcClory) you really

seem to engage with your followers. How

important is it for you to have a social

media presence?

I think Twitter has helped me connect with so

many cool people, and find opportunities all

over the place – I love it, even though it can

be stressful (and a distraction). I think it keeps

my finger on the pulse and also inspires me.

Once I wrote a day of flash fiction to prompts

people gave me there, and it was intense but

really rewarding. I can't say how important it

is, but it's a big part of my life.

Competition!

We have two signed

copies of Mayhem &

Death to give away. Visit

westendermagazine.com and

click on competitions by the

31st of August 2018.

You are appearing at the Edinburgh Book

Festival on 24 August, what can you tell us

about your event?

I'll be appearing with the excellent Canadian

writer Camilla Grudova, who also happens

to love the weird and dark in fiction, and is a

new friend of mine, so the craic's going to be

good. During festival time the city pulls on all

its fancy clothes, dances about with people.

Don't listen to the moaners – it's never better

than in August.

Who are you looking forward to seeing?

I don't have the catalogue yet! But I will be

happy to see Camilla!

We are looking forward to seeing you

at the Festival; can you sum up why our

readers should buy your book?

I think they should buy it for two reasons

– one, it's been put out by two amazing

Scottish women who are running their own

publishing house out of a spare room (and

wouldn't you want to support that?) and two,

because the stories in the book are written

for you. They're just waiting right there, for

you to get stuck in.

Check out the full programme of

events and book tickets for the

Edinburgh International Book festival at

edbookfest.co.uk

Mayhem &

Death

£2

OFF

*

RRP £8.99

*Exclusive offer for WESTENDER readers

at Waterstones 351-355 Byres Road

branch only, by 31st August 2018.
---
www.westendermagazine.com | 25
---
26 | www.westendermagazine.com

1

BY BRIAN TOAL

WESTENDER's

COVER TO COVER

Summer is approaching, so it's time to get your

beach novels packed. If you haven't yet read 'Eleanor

Oliphant is Completely Fine', get it in your suitcase.

It has been winning awards as far back as 2014.

Eleanor

Oliphant is

Completely Fine

by Gail Honeyman

If that's not enough of an incentive

to buy the book, Honeyman is

based in Glasgow and much of

the novel is set in our beloved

West End, although there is an

occasional foray to the South

Side. However, you'll be pleased to

know that the protagonist is fairly

disparaging of what the South

Side has to offer.

Eleanor Oliphant is one of

the most intriguing protagonists

you'll ever meet – eating the

same Tesco meal deal every day,

drinking two litres of vodka every

weekend and cooking pasta with

pesto every night. She's a woman

of routine, lives alone, has a fairly

mundane job and doesn't have any

friends. As the plot unravels and

elements of her past are gradually

revealed, we begin to understand

how damaged she is, why she is

damaged and who caused the

damage. She is terribly naïve

with very little experience of the

everyday trivialities of our culture,

so any discussions about television

programmes or celebrity gossip

leave her mystified.

She is also a fantasist, which

is not surprising given her

traumatic childhood, but these

fantasies eventually lead to crisis,

then epiphany, then finally into

the denouement of the novel,

which I won't mention here,

of course.

Her mother features on a regular basis, calling once a week

and veering between intrusive questions and pure vitriol. Eleanor

is left reeling from these sessions and often it's only the thought

of the weekend vodka which sees her through the next few days.

Raymond – a scruffy IT chap from the same building – befriends

her and they soon meet for lunch and coffee regularly. She begins

to learn about social conventions and is introduced to more and

more people, gradually finding that she can almost function as a

regular member of society. It's all starting to go so well, but don't

be fooled. This isn't a romance, and if there is a happier ending

than the bleak beginning, it's anything but a 'happily ever after'.

We've got to know Eleanor so well by this point that we can't be

sure that her recent progress will be maintained or that she won't

press the self-destruct button again.

This novel is hilarious and terribly sad. This novel is about how

the past can damage you, how your parents can damage you,

how society is largely oblivious to the damaged individuals who

walk amongst us. They often seem to be completely fine.
---
www.westendermagazine.com | 27

Ready Player

One

by Ernest Cline

2

For summer reading you

can't do much better than

this. Ernest Cline has created

an action-packed futuristic

adventure romp which takes

place in the 'real' world and

in the virtual world of the

OASIS, a world created by an

eccentric multibillionaire gamer

Halliday.

The main protagonist,

Wade, along with millions of

other gamers, are captivated

by Halliday's legacy – all of

his vast wealth for the one

who finds his 'Easter Egg',

a term used to describe a

prize hidden deep within a

game. The ranks of the 'sixers'

who work for IOI (basically

the Evil Empire / Google /

Amazon) are essentially the

storm troopers who are out to

prevent Halliday's wealth going

anywhere but into their gaping

maw.

Cline was a teenager in the

Eighties, so the book is packed

with arcade games, songs

and film references which will

amuse and delight anyone the

wrong side of forty, like the

writer (of the novel and this

review).

Teens and adults alike

should find much to delight

them in this engrossing

thriller with more twists and

turns than the Stockiemuir

Road. It's now a Spielberg

blockbuster, but I'd recommend

reading the book first as the

attention to detail is breathtaking

and watching the

film in the summer holidays

will be more rewarding.

The list of acknowledgements

is testament to the amount

of gaming research Cline has

done to ensure authenticity.

And finally, one for the little

'uns. The fifth instalment in

the hilarious series about a

family of hyenas masquerading

as humans will provide a lot

of fun for the kids as well as

some subtle and not so subtle

double entendres for the

adults to enjoy.

The Bolds already have

their hands – or paws – full

training up their students to

integrate into human society:

Craig the wild boar, Snappy

the goose and Miss Paulina,

an otter with ambitions to

become a nun. However, life

is about to get much more

complicated when a thieving,

rude and ravenous fox begins

to steal from the houses on

Fairfield Road.

The inevitable

neighbourhood watch meeting

takes place with many

of the overreactions and

pettiness which many of us

will recognise, and the Bolds

find themselves the only ones

sticking up for the rights of the

foxes. The hosts of the meeting

– Richard and Zoe Bingham

– are hilarious caricatures

as we've all got neighbours

like this.

When Mossy the fox, the

thief in question, is caught in a

trap in the Bingham's garden,

the Bolds and their friends

swing into action in a bold

and ingenious rescue attempt.

I'll say no more at this point

in order to maintain the high

octane tension!

Suitable for P4-P7, your

kids will love the jokes and

clever word play, as will any

adult reader fortunate enough

to read this to their charges.

Julian Clary is a genius.

The Bolds Are

In Trouble

by Julian Clary

3
---
28 | www.westendermagazine.com

The trademarks Ovo and Cirque du Soleil are owned by Cirque du Soleil and used under license. Design: Bob King Creative Ltd.

'A SPECTACULAR SHOW

OVO IS THE COMPANY'S FINEST FAMILY FUN YET'

EXPRESS

H H H H

'...WITH OVO THEY'VE CRACKED IT.'

METRO

H H H H

'...PHYSICAL FEATS DEFY GRAVITY.'

TELEGRAPH

H H H H

'EYE POPPING.'

TIMES

05-09 SEPTEMBER 2018

THE SSE HYDRO

GLASGOW

CIRQUEDUSOLEIL.COM/OVO | LIVENATION.CO.UK

OFFICIAL PARTNER

A LIVE NATION PRESENTATION
---
Westender www.westendermagazine.com Magazine Promotion | 29

Images I Gregor Reid

summer sushirrito

There's a new portable lunch craze on

the scene – the fresh and tasty sushirrito

at Wudon! Situated half-way between

the Botanics and Kelvingrove Park, Wudon

is the perfect summer lunch pick up spot for

a healthy bite to eat while topping up your

vitamin D levels in a West End park.

With three fish and meat combos to try the

Wudon sushirrito is a hand held sushi burrito

to be eaten on the go. If time's an issue

simply call ahead and your made-to-order

lunch will be ready to go when you are.

A generous sushi maki, Wudon's sushirrito

is made with your choice of filling rolled

in seaweed and rice. And the fillings? A

pan Asian taste sensation of peppery beef

with crispy shallots in a sweet and savoury

teriyaki dressing makes up the Beefy Sumo.

This option can also be made with

tofu (£6.95).

Or why not try the fragrant Panko Mango,

or fresh Sake Salmon sushi burritos? I loved

the Panko Mango for the succulent coconut

coated chicken in crispy Panko breadcrumbs

wrapped in fresh fruit mango salad, the

tastes all so clean and fresh for a light

summer's day lunch.

@

WUDON

The healthy Sake Salmon sushirrito option

is just the choice to opt for pre-holiday. Fresh

raw slices of salmon and cucumber are rolled

in a kimchi dressing – taste buds tingling yet?

Whether it's a snack on the run or a quick

lunch time treat en-route to the Botanics,

Wudon's sushirritos are a fresh, tasty and

portable option.

Sushirritos are available for a limited time

only and at just £7.95 each they're tantalising

on the palate yet light on the wallet. For even

more value pick up the new Sushiritto Loyalty

Card and pick up every fourth sushi burrito

for FREE!

Collect a stamp every time you buy a Sushiritto

and get your 4th one free!

1 2 3 4 free

on 4th

visit

One stamp per table or per takeaway

This card must be presented at time of payment

Offer expires 31/08/18

Wudon

535 Great Western Road

0141 357 3033

wudon-noodlebar.co.uk
---
30 | www.westendermagazine.com

THERE

ARE SO

MANY

WAYS TO

LOVE

JOIN // HOST // SHOP

For more information:

www.stelladot.co.uk/lorainepatrick

lorainepatrick1@me.com
---
Westender www.westendermagazine.com Magazine Promotion | 31

Images I Gregor Reid

artisan bread

coffee & plants at

Artisan bread from Freedom Bakery and

freshly ground Oven Bird coffee, two

of many great local food producers to

be found on the menu, and for sale, at new

Thornwood café Tulipané.

Tulipané owner, Lesley, is a well kent

face in these parts, 'Thornwood is a

neighbourhood I know and love. When I

met Joe Molinari and saw what a lovely

job he was doing with number 682 it felt

like a perfect fit, I wanted to be part of the

regeneration of a neighbourhood full of real

characters. The inspiration for Tulipané came

from café culture in Italy and it seemed a real

organic pairing presenting in season plants

for sale, and flowers for order too.

'We open at 7.30am as we're at the main

bus stop for the new hospital so knew coffee

on the go and takeaway food would be big for

us. We're not just a café.'

Lesley is passionate about using local

seasonal ingredients and suppliers, 'my

suppliers are all local with a strong ethical

attitude to the environment. I love their

personal service and enthusiasm for what

I'm doing and how proud they are to see their

produce prepared and served with passion.

Luckily I have great staff who are very

welcoming and fantastic with our customers.'

Freedom Bakery and Bavarian Bakehouse

supply a range of fresh breads, rolls

and ciabattas Tulipané fill with delicious

combinations of ingredients. All salad, veg

and dairy produce comes from Seasonal

Produce 'a supplier of old who became a

friend,' says Lesley. Tulipanes breakfast

menu is served all day with eggs supplied

from Corrie Mains Farm – you just can't beat

them!

With an extensive breakfast and lunch

menu with options for vegans, vegetarians,

the gluten intolerant (gluten free and vegan

cakes, bread and pastries are from Wild

Flour Bakery), Lesley is bringing something

fresh to the area and locals are loving their

new stylish café. Helped along by the secret

carrot cake recipe from Huckleberry Bakers

…shhh.

Tulipané

682 Dumbarton Road G11 6RB

0141 339 2223

tulipane.co.uk
---
32 | www.westendermagazine.com

Nice, or a bit naughty?

The choice is yours!

Guilty Pleasures from

Westender's American

in Glasgow

Image I Gregor Reid
---
www.westendermagazine.com | 33

Cherry chocolate

coconut popsicles

by Liberty Vittert

K

Shopping List

350g pitted cherries

480mL unsweetened

almond milk

400mL coconut milk

200mL coconut cream

1/2 tsp salt

1 tsp vanilla

100g shredded coconut,

75g ground almonds

100g chopped dark

chocolate

or

for an adult version

substitute 400ml coconut

milk for 400ml Baileys!

L

Bikini bodies suck, but I get it (don't have one

obviously, but understand their usefulness).

And of course along with bikini bodies comes the

bikini diet. Oy vay.

Now I make bikini diet food (sometimes) but

hand to God I just can't really get into it. Nothing

ever tastes quite as good as the 'real thing'.

But a few weeks ago, my brother was visiting and

he is lactose intolerant (he doesn't seem lactose

intolerant when I slip a couple slabs of butter in the

scrambled eggs I make for breakfast, but whatever).

So, as the dutiful sister, I pulled out all the stops,

and whipped up these Cherry Chocolate Coconut

Popsicles that are actually lactose free, have no

added sugar, and are vegan to boot (depending on

your choice of chocolate).

I have to say, I even surprised

myself (I ate three in one sitting).

As a firm hater of healthy food,

I can personally attest that these

are pretty darn good. Or if you

just can't help it and need to be a

little bit naughty there is an adult

twist on this delicious ice too!

Method

1. Blend everything well, except the

chocolate.

2. Stir in the chocolate.

3. Pour the mixture into paper cups

(or fancy moulds).

4. Let the moulds freeze for 20 minutes

before putting the stick in.

5. Let the whole thing freeze overnight.

6. Enjoy your healthiness!

PAPYRUS

SPECIAL

OFFER

FREE*

Lolly moulds

worth £4 when

you spend over

£20 in Papyrus

Cookshop

*Exclusive offer for

WESTENDER readers

at Papyrus,

374 Byres Road
---
34 | www.westendermagazine.com

Summer stunners

www.nancysmillieshop.com

53 Cresswell St. Glasgow, G12 8AE t:0141 334 4240 425 Grt. Western Rd. Glasgow, G4 9JA t:0141 334 0055
---
@

El Perro

Negro

www.westendermagazine.com | 35

Image I Gregor Reid

Reviewed by

Roberto Parrucci

Its name immediately brought up memories

of my time in Spain, when in Cordoba

I used to eat at the 'Rey de los perritos

calientes' (the king of hot dogs) caressed by

the Andalusian sun, a fresh beer in hand.

These days of incredible summer weather

in Glasgow can trick the mind indeed.

But, a glance at the window and a chat with

the staff bring me quickly back to Glasgow's

foodie paradise, Finnieston. Hungry after a

busy day's exertions, we decided to stop by

El Perro Negro. Here, at number 966 Argyle

Street the most rarefied burgers in town are

rumoured to be found.

The location is intentionally minimal

– no frills to distract you. The focus is solely

on the burger, the handsome protagonist of

your meal.

The selection will please both classic

burger lovers and those striving for more

unconventional combinations. The classic

burger definitely stands out for the quality

of the meat, yet it's the more contemporary

additions that make this place an absolute

must go.

Advised by the knowledgeable staff at

the counter, I plumped for Korean gochujang

chicken wings as a starter followed by a deep

fried tofu burger, as I felt these would be the

real standout – and I was right! My mouth

was blessed by an explosion of flavour.

The starter of chicken wings was simply

delicious. So much so I tore them to the

bone; following the primordial advice of my

empty stomach. The tender and juicy chicken

meat contrasted with the crispy sesame

coating. All topped with fresh spring onion

and battered in the now famous gochujang

spice, I felt I should have ordered more.

But alas, the tofu burger was waiting for me.

It looked delicious and cute. The orangeshaded

tofu slice was topped with the cutest

strips of carrots ever seen. I'm not usually

a fan of tofu but this burger really made me

reconsider. All tastes were well balanced

and complemented each other – the wee

spicy bit deliciously beefing up the taste. But,

if spice is not your thing, perhaps opt for

milder choices.

Last but not least, we decided to taste the

buffalo and blue cheese fries. If gochujang

doesn't give you enough inner heat, add

these fries and your mouth will start to swell.

Dip them in truffle mayo (courtesy of the staff

to us!) to add another distinctive flavour to

your meal.

All this burning made you thirsty?

Unfortunately, El Perro has no alcohol

licence, but, and here comes the kicker: the

venue has partnered up with neighbour The

Brass Monkey, which means you can enjoy

'the best burger in town' while sipping a crisp

pint in arguably one of the hippest bars in the

West End. Isn't that just a treat?

El Perro Negro

966 Argyle Street G3 8LU

el-perro-negro.com
---
36 | Westender www.westendermagazine.com

Magazine Promotion

RRI

I

by John Parker

t's a time of celebration for us at Rainbow

Room International Great Western Road

as our salon has just turned an incredible

20 years old! Our opening date was the 1st

of June 1998, so we celebrated over the

weekend with cakes, balloons and fizz shared

with our clients. We are also celebrating this

occasion by taking our staff for a day out to

Blackpool Pleasure Beach in the summer, we

wouldn't be where we are today without our

team and we love to award and treat them for

all their hard work.

For the second year in a row some of

our Rainbow Room International team also

helped style the artists hair at TRSNMT

Festival, where we hosted a pop-up salon

backstage, providing haircuts and hairstyles

to the artists at the festival. Our Rainbow

Room International team have previously

styled hair backstage at many high profile

events including the MOBOs, the Scottish

BAFTAs, The Scottish Style Awards and

also T in the Park, where we were resident

hairdressers to the stars for eleven years!

Struggling with

weight loss?

Try Hypnosis…

Would you like to lose weight long

term but have tried every diet

under the sun? Why not consider

hypnosis? Virtual Gastric Band hypnosis

is where the subconscious mind is

reprogrammed to feel full with less food as

if you have had a gastric band fitted – plus,

no major surgery involved! At Lyn Lyons

Hypnosis clients are also offered Lyn's Mind

Detox to get off junk food for good.

Head to lynlyonshypnosis.com to read a

case study on how hypnosis helped Jacqui to

lose ten stone. Lyn has been helping clients

with weight loss for over 17 years – plus many

other issues including smoking cessation,

stress, panic attacks, and depression.

OFFER! For a FREE

consultation call Lyn on:

07887 578 035

follow – Rainbow Room GWR

Rainbow Room International

607 Great Western Road G12 8HX

0141 337 3370

rainbowroominternational.com

WIN! Rainbow Room International

are offering one lucky reader a hair

makeover in their Great Western Rd

salon. For your chance to win go to

westendermagazine.com and click

on competitions by the 31st Aug'18.

Lyn Lyons Hypnosis, Regus Offices

21 Woodside Place G3 7QF

0141 582 1400

lynlyonshypnosis.com
---
www.westendermagazine.com | 37

@

The

Left Bank

Reviewed by

Emily Donoho

The Left Bank, now a Gibson Street

institution, opened in 2006 to awards and

shiny reviews for its luscious, innovative

take on Scottish cuisine. Since then it

has drawn a steady crowd of students,

academics, and locals. It was a hotspot of the

Glasgow University geography department,

the gathering point for celebrations whenever

someone completed their PhD, and during

graduation, don't expect to get in.

While it's famous and frequently reviewed

for its excellent food, I visited at 9pm to

have a couple of drinks. The interior hasn't

changed since it opened in 2006, or since

I was last there in 2012, with its distinctive

split-level architecture, tables and comfy

sofas (they are incredibly comfy) hidden

around corners or up the stairs on the

mezzanine level. The mix of glass panels,

brick, and wood is fashionable, the exposed

brick combined with modern materials

seemingly a thing in a lot of bars and

restaurants these days aiming for that look

that is both 'retro' and postmodern. At least

the Left Bank wears it easily, like it's not

trying too hard to be cool. It just is.

If you want a quiet drink midweek and

don't want to fight the crowds or overly loud

music in a busy venue, I recommend it.

The atmosphere is friendly and relaxed;

you can have a conversation with your mates

without shouting, something I always look for

in a bar. It's unsurprisingly busy at meal times

but seems to clear out around 9 – at least on

a Wednesday – so you can find a seat and be

very chilled out about the whole experience.

The bar has a small selection of beers

on draught, but they have been chosen by

someone who knows they don't have many

pumps and selected their beer with care:

Tennent's, Staropramen, Drygate Pilsner,

Joker IPA, and a rotating craft beer, which

was Fraoch the night I was there, as well

as bottles from the Williams Brothers'

brewery. Unfortunately, the Fraoch was off

that evening, but Joker is always a reliable

favourite for the microbrew enthusiast.

For whisky lovers, there is a reasonable

selection, about a dozen malts, some of them

pretty rare like a 41 year Ardmore. It's mainly

a restaurant, so it carries the extensive wine

list you'd expect from a good restaurant.

But where it prides itself are its cocktails, of

which there are a wide array, from classics

like Martinis, Margaritas, and Manhattans,

to their own concoctions with names like

Highand Rose or the Symphony. I'm not a

frequent cocktail drinker nor a particularly

discerning one, but in James Bond style I

tried a Martini and all I can really say is that it

was an excellent Martini.

The only real downside is that it's relatively

expensive. A pint cost nearly £5 and cocktails

are more than £7. Nonetheless, for a relaxed

night out or for boldly trying inventive

cocktails, it's a delightful little bar.

The Left Bank

33-35 Gibson Street G12 8NU

0141 339 5969

theleftbank.co.uk

Image I Gregor Reid
---
38 | www.westendermagazine.com

Power of Paper

& Victoria Cassidy

WORDS NICOLA MAULE MAIN IMAGE GREGOR REID

Shifting her 9 to 5 from artist to curator

was for Victoria Cassidy a pretty

straightforward move. 'Running

a gallery has always seemed like a very

natural thing to me, having been involved

in the arts since my teens.' Encouragement

was pressed earlier in life on learning 'the

more academic subjects of maths, physics

and chemistry – art was frowned on and

regarded as a "hobby" rather than a career,'

she adds. Cassidy followed expectation until,

'I realised that I wasn't actually happy on that

path - so, in my final year of school I sat my

Higher Art and was accepted to Glasgow

School of Art.'

Choosing Printmaking as her speciality

she reflects on this way, 'Perhaps the

sciences I studied at school drew me to it?

The technical processes and the chemistry of

it suited my methodical approach to making

images and even now this early training

informs the way I paint. I always claim that I

paint like a printmaker.'

Mansfield Park Gallery is a permanent

high street space which launched in 2006,

an established fixture in Glasgow's West End

retail landscape. The gallery is traditional in

name, offering and therefore expectation but

it's the artist understanding and view which

I would argue enhances its value – offering

a unique position among many other high

street galleries. 'I have developed a great

network of artist friends who are happy to

deal with someone who knows first-hand

what it's like to be an artist herself. I also

hope that my experience will be useful to

anyone interested in buying art for the first

time, I don't hang anything on the gallery

walls that I wouldn't hang in my own home

– and I set that bar high,' she tells me.

Cassidy holds a rich collection of works

on the walls and in the sleeves. 'Scotland has
---
www.westendermagazine.com | 39

a tradition of producing great artists and as

a nation we should be proud and supportive

of that – it's not all about highland cows

and wee white cottages, there is so much

more interesting and challenging work being

produced and that's what excites me and

makes me feel privileged to be a part of it all,'

she adds.

Her own work is also represented but

with modest self-promotion. When browsing

through the range of artists on the gallery

website I was quite struck by her pieces

– initially drawn to the wonderful pattern and

balance of elements in her early pictures,

the use of Egyptian hieroglyphics and

symbolism. It was only after a little further

research I understood that the artist was

also the gallery owner and this made it all the

more interesting.

Holding a deep interest in the power of

paper as a carrier of history she explains,

'I'm fascinated with the idea of ancient,

foreign civilisations whose culture is revealed

to us through the discovery and deciphering

of fragile paper documents, scrolls, old

maps and decaying texts,' and is 'equally

fascinated by the contrast between these

ancient civilisations and the new cultures

that have replaced them. 'Compare the

hieroglyphs of ancient Egypt to the work of

the later Muslim artists who, being forbidden

to represent animal or human forms

used their creativity to produce the most

beautifully, decorative and mathematically

precise pattern work,' she adds.

I would also extend this to a sympathy

in Cassidy's pictures not only towards the

beauty of these ancient references but she

evokes, through her choice of subject matter

the value of these cultures – and something

else – the practise of artists and makers

consciously acknowledging their view of the

human position within their pieces. Islamic

art for example is not only beautiful in its

decorative aesthetic for the reasons Cassidy

Only Through Tears & Diminished

© Victoria Cassidy
---
40 | www.westendermagazine.com

Navigating by the Stars © Victoria Cassidy

notes but there will often be a deliberate

break with precision in the logic of pattern

by the artist – a sign or offering of humility,

of our humanness, the premise that only God

is perfect. This practice of the intentional flaw

is recognised throughout the world within

many cultures and religions. The Navajo

Indians for example would weave rugs,

offering a different colour thread through

the pattern as a way for part of the spirit

of the weaver to escape and to show their

imperfection in contrast to the creator, again

considered perfect in comparison.

It also reminds me of that piece of ancient

wisdom which in Japan is known as 'wabisabi.'

A difficult view to explain, but this story

is often used to demonstrate the beauty of

its sentiment – In the height of the Japanese

autumn, in one of Kyoto's majestic gardens,

a tea master asked his disciple to prepare for

tea ceremony. The young man trimmed the

hedges, raked the gravel, picked the dried

leaves from the stones, cleared the moss

path of twigs. The garden looked immaculate:

not a blade of grass out of place. The

master inspected the garden quietly. Then,

he reached at a branch of a maple tree and

shook it, watching the auburn leaves fall with

haphazard grace on tidied earth. There it was

now, the magic of imperfection. There it was,

the order of nature, never far from the hands

of humans. There it was, wabi-sabi, thought

master Rikyu – the father of Japanese tea

ceremony. (1)

Cassidy's most recent work are all

mixed media (acrylic/ watercolour/ ink/ gold

leaf) and influenced by Japanese prints

and culture, deconstructing images from

Japanese masters and combining them with

modern European poetry and song lyrics.

Fall © Victoria Cassidy

'I have never been to Japan, but I am

planning to travel there next year and hope to

explore the difference between modern hightech

Japan and the old culture of geishas and

tea ceremony. This should form the basis of a

new body of work,' she tells me.

It is the practising artists approach to

running a gallery that I find wonderfully

refreshing – enriching the customer

experience through that empathetic

connection between the artist, their work and

the buyer. 'I would hate for anyone to feel

awkward about coming into my gallery, when

I'm sitting behind the desk I'm here to help

(even if you're not ready to make a purchase)

I will still be happy to answer your questions

and chat to you about the work on display.

So, don't be shy,' she adds.

Make sure when you do visit you look

out for Cassidy's own pictures – the gallery

experience will bridge the gap between

artist-curator and buyer in a much more

direct way. I'm very much looking forward to

viewing the new body of Japanese work that

her upcoming trip may inspire.

(1) psychologytoday.com/us/blog/betweencultures/201701/the-beauty-imperfection

mansfieldparkgallery.com
---
Jun/Jul 2016

Free

Aug/Sep 2016

Free

www.westendermagazine.com | 1

www.westendermagazine.com | 1

GRAPHIC ARTS &

FINE STATIONERY

DRAW

www.westendermagazine.com | 41

SPiRiTO

BOTANIC

GARDENS

BYRES ROAD

GREAT WESTERN ROAD

CRESSWELL LANE

DE COURCY'S

✎

ARCADE

✎

DRAW art store

drawartstore.com

drawartstore

DE COURCY'S ARCADE

FIRST FLOOR

CRESSWELL LANE

GLASGOW G12 8AA

HILLHEAD

SUBWAY

Image I Gregor Reid

ADVERTISE WITH US

// Glasgow's best FREE bi-monthly mag

// Great editorial features: fashion, dining out,

health & beauty, what's on, local authors

& artists, interiors & more

// Massive potential business audience

// 12,000 copies per edition

Image I Gregor Reid

For more info or to advertise

call: suzanne@westendermagazine.com

for a media flyer, or call 07905 897238

westendermagazine.com

Win a Pilgrim pendant, earrings

and bracelet set for each of your

three bridesmaids, worth over

£200 in total from SPiRiTO!

This jewellery is part of the brand

new range from Danish company

Pilgrim, launching soon in SPiRiTO.

To be in with a chance of winning

this amazing prize, simply get your

free raffle ticket in store with any

purchase between 1st July and 1st

August 2018. SPiRiTO has a lovely

range of gifts and greeting cards for

all those special occasions.

317 - 319 Crow Road, G11 7BU

0141 337 3307

www.spiritogifts.com

Photography: @TheGibsonsPhotography

Hair: @NickyKerrHair

MUA: @LesleyNeilmakeupartist
---
42 | www.westendermagazine.com

Excess packaging,

single use plastic,

toxic manufacturing

processes – every

purchase or service we use

has an environmental impact.

Loraine Patrick meets three

West End companies building

businesses around caring for and

appreciating our environment.

Caroline Thompson-Noble hopes her

new venture makes environmentally

friendly products more accessible.

The Green Place on Dumbarton Road is a

one-stop shop for green home and lifestyle

items. From sustainable paint brands to

locally manufactured cleaning products and

natural skin care, she has an alternative to

many mainstream products.

Describing her carefully thought out

stock selection is a real lesson on how to

make informed buying choices. She explains

the background to her ecologically friendly

paint. It's recycled from unwanted emulsion

she says, so it reduces the amount that

goes to landfill. 'The paint goes through a

reprocessing process where it is filtered,

blended and then has natural pigments

added to it. It has a lovely quality to work

with and is slightly thicker than trade paint.'

The green on the interior shop wall is one of

the 28 shades in the range and reflects the

beautiful depth of colour the emulsion can

achieve. Caroline estimates around 55 million

litres of unwanted paint is thrown out every

year and many of us don't realise how toxic it

is. 'If it gets into water courses it can pollute,'

she warns.

It is not just the environment that benefits

from going green our health does too.

Another brand of paint in store is made

entirely from plant derivatives and natural

minerals and is safe enough for customers

with allergies or respiratory conditions.

Caroline explains 'People often tell you not

to paint when you are pregnant; and there

is a good reason for that. It was only when I

got my own house and started doing it up I

realised there are so many chemicals you can

be exposed to.'

Cutting down on plastic waste has

become a public priority particularly since

the impact on the world's oceans was

highlighted in the BBC series Blue Planet

2. The Green Place offers refills on around

a dozen household and beauty products.

'I had a lady in yesterday who filled up five

bottles, it maybe took 10 minutes out of her

day but I think the amount we are taking out

of the earth is too much. It is not sustainable.

Business models have to change.'
---
www.westendermagazine.com | 43

Dear Green

Place

WORDS LORAINE PATRICK IMAGES GREGOR REID
---
44 | www.westendermagazine.com

Garden office, guest room, art/music studio or

teenage space, the list of uses for our Garden

Rooms goes on. Designed and built in Glasgow,

www.outsideingardenrooms.co.uk

0141 370 6102 / info@outsideingardenrooms.co.uk

our highly-insulated Rooms are fully-finished

and don't need planning permission. Outside or

in, they're the perfect addition to your home.

outsideingardenrooms

outsideingardenrooms
---
www.westendermagazine.com | 45

Charlie Mulholland from Zedify the

cargo bike delivery service (formerly called

Outspoken Delivery) couldn't agree more.

When he started up as a bike courier

in Cambridge his aim was to enjoy the

outdoors, now he hopes his expanding zero

emission delivery service has a positive

impact on Glasgow's congested streets.

Explaining how his company works he

says, 'our aim is to do the least number of

miles possible. One of our biggest clients is

TNT (a worldwide shipping company) and we

are helping them take vans off the road by

doing many of their last mile deliveries.

'We try to do everything with a moral

and ethical outlook,' he continues. 'We do

not put fumes into the city centre and all my

employees are paid a living wage. Barring

the occasional horizontal hail shower our

cyclists are happy. We strategically use an

electric van to maximise the use of our cargo

bikes, which I appreciate does not solve the

congestion problem but it does mean we can

deliver bigger loads.'

Zedify have won funding to trial a pilot

delivery scheme in Edinburgh to help

independent shops. A similar scheme ran

in London over Christmas. '10 retailers

signed up to offer free delivery to customers

living within half a mile and it proved hugely

successful.'

The aim ultimately is to replicate the

scheme in the West End of Glasgow. 'Imagine

being able to buy your favourite cheese from

IJ Mellis, your bread from Cottonrake Bakery

and your pick of fruit and veg from Roots and

Fruits and we could deliver all three for free

to your home. That's the absolute dream,'

he laughs.

Whist the Zedify couriers are out in all

weather – come rain, sleet or driving winds

(yes even in the summer months) local mum

Mel Russell's new company aims to help us

enjoy the outdoors whatever the weather.

The highly insulated environmentally

sustainable garden rooms she is

manufacturing are designed to give you the

space you need – whether that's for growing
---
46 | www.westendermagazine.com

teenagers, a place to work from home or

simply a room to relax and enjoy the garden.

The high spec rooms are built from Mel's

Anniesland workshop. 'They are a step up

from conservatories,' she says, 'cheaper than

a house extension and a million times more

solid in construction than a summerhouse or

garden shed.' In Scotland it has mainly been

joinery firms who have built these types of

rooms but by focusing solely on her flat pack

design Mel is able to keep costs down and is

able to design, build and install for around a

third cheaper than other manufacturers.

Sitting in the office-cum-spare bedroom

in her back garden in Jordanhill it is easy to

appreciate the appeal. The birds are singing,

it is warm and cosy, and we are surrounded

by greenery. You feel a million miles away

from the busy residential streets of the West

End but it has all the comforts of home.

Surprisingly you don't need a big garden

to make these rooms work and in most

cases you don't need planning permission.

There are numerous health and wellbeing

advantages to being able to enjoy an

outdoor space year round and Mel is

putting proposals together for a wheelchair

accessible room after an enquiry from a local

old folks home. 'It is such a safe and warm

space,' she says, 'and a great way to enjoy a

garden whatever the weather.'

Outside In Garden Rooms marks a new

direction for Mel who was formerly a director

in a web design business. 'I think businesses

are becoming more and more aware of their

responsibilities to the environment,' she says.

'It is important for me to deliver a product

that is as sustainable as possible within a

budget range. These rooms should last for 30

years. In house building people are becoming

acutely aware of their moral and ethical

responsibilities. Our rooms have to deliver

now but also have longevity.'

Caroline from The Green Place sums up

the mood, 'There are lots of great producers

here who are thinking both about their

livelihood and the environment. It is great not

only to buy local, but to demonstrate there

are alternative business models out there that

aren't just about making lots of money.'

thegreenplaceshop.co.uk

zedify.co.uk

outsideingardenrooms.co.uk
---
www.westendermagazine.com | 47

SMALLCHANGE

BIGDIFFERENCE

ENVIRONMENTALLYRESPONSIBLEHOME&LIFESTYLE

PAINTS CLEANING SKINCARE

• Visit our Refill Station

instore (for cleaning

products & toiletries)

• We're proud to stock

Scottish brands like

Caurnie, Humblestuff,

Whitsons & Lucky Cloud

• We're the only Scottish

stockist of Auro Paints.

We stock Auro, Reborn

and Whitson's paints.

Brands leading the way in

producing truly eco-friendly

paints. Whether ecological

(paint not plastic) or

reprocessed both keep

toxic waste out of landfill.

Currently only Scottish

stockist of Auro paints.

We stock Bio-D, Ecoleaf

and Humblestuff.

Our products are free

from harsh petrochemicals,

synthetic fragrance &

chlorine-based compounds

that can react to form

persistent environmental

contaminants.

We stock Caurnie, Lucky

Cloud and Lile Blue

Hen soaps, shampoos and

skincare products.

From truth-paste to natural

deodorants, many of our

ranges come in glass or tins

making them great zerowaste

options.

1249 Dumbarton Road, Whiteinch (Near Victoria Pk), G14 9UU t: 0141 611 7234 w: thegreenplaceshop.co.uk

BRANDNEW AUROORGANICNATURALPAINTCOLOURCHARTNOWAVAILABLE

Green Place_halfpage_westender.indd 1 08/06/2018 17:23

ADVERTISE

FOR AS LITTLE AS

£75

email: suzanne@westendermagazine.com

for a media flyer, or call: 07905 897238

westendermagazine.com

GY COMPUTING

Microsoft Specialist

Evenings and Weekends

Home Visits

Competitive Rates

Fully Insured

No Call Out Charges

20%

off computer repairs when

you quote 'Westender18'

Check out my reviews on

Gregor Young | 07398 715157

hello@gycomputing.co.uk

www.gycomputing.co.uk
---
48 | www.westendermagazine.com

gregorreidphotography.com

PORTRAITS CORPORATE

FASHION
---
Westender www.westendermagazine.com Magazine Promotion | 49

Accountancy

Matters

by Bruce Wilson & Simon Murrison

Contractors: employed or selfemployed?

That is the question.

This is a question currently plaguing

employers and contractors within the

public sector. A question connected to

employment status under HMRC's notorious

IR35 rules applied to contractors.

Now HMRC is looking to extend the

reforms to the Private Sector as early as

spring 2019. This will have ramifications for

the flexible working economy that is fast

becoming the back bone of UK business.

What is IR35?

IR35 is an 'intermediary tax' rule that applies

to contractors providing a professional

service as a partnership or limited company.

Why does IR35 exist?

Designed by HMRC to capture people falling

between the cracks of being employed and

self-employed contractors. HMRC argues

contractors working through a genuine

partnership or limited company are often

'disguised employees' avoiding paying the

correct tax.

How to check contract status?

You should determine if your status is

different from the employees working

beside you. Consider where you fit in with

the organisation, the pay and benefits you

receive, the level of risk and rights you have.

Have your say

HMRC launched a consultation to extend the

reforms into the private sector. The deadline

to have your say is 10th August 2018, you can

do this by visiting www.gov.uk/government/

consultations/off-payroll-working-in-theprivate-sector

Need help?

The IR35 rules are complex but so are

individuals' unique tax circumstances.

Murrison & Wilson are helping both business

owners hiring and contractors supplying

services. If you have any concerns with IR35

get in touch today.

For a free consultation, plus fixed and

competitive fees, get in touch now on

0141 290 0262, email info@muwca.

co.uk, or visit muwca.co.uk for our

free tax guides.

Murrison & Wilson Chartered Accountants

10 Newton Terrace G3 7PJ

0141 290 0262

info@muwca.co.uk

muwca.co.uk
---
50 | www.westendermagazine.com

aspirations for the

GOOD LIFE

WORDS Hannah Westwater

Fennel, chive, peppermint and mangetout;

lavender, oregano, borlotti beans,

shallots, perpetual spinach and kale;

rhubarb, gooseberries, tomatoes and

cucumbers, parsnip, garlic and sorrel.

You'll find these and more nestled in the

heart of Finnieston tenements tended to by

members of the G3 Growers committee.

The Back Garden is a community project with

an unusual twist – a former dumping ground

transformed into a serene haven for greenfingered

locals of all abilities, where members

receive 'a share of the produce for a share of

the work'.

Set back from Argyle Street and found

down an unassuming lane off Brechin Street,

the circle of buildings around the Back

Garden provides a remarkably effective shield

from the noise and fumes of nearby traffic.

Instead, members can enjoy respite from the

city in the tranquil space lined with benches,

bunting and colourful flowers planted to

attract wildlife. 'It's good to be outside, get

your hands in the soil, watch things grow and

nurture things,' says committee chairperson

Anny Deery. 'There are so many health and

social benefits.'

The project bloomed in 2011 when the

Partick-based Annexe Communities group

won a grant from the Climate Challenge

Fund. The land, gifted by Glasgow West

Housing Association on a 15-year lease, was

transferred to the G3 Growers committee

a year later. With an annual fee of just £10,
---
www.westendermagazine.com | 51

the garden now has between 30 and 40

members who are asked to spend two hours

per month working in the space.

The Back Garden is run entirely by

volunteers, many of whom also work full-time,

but gardening-focused education is always

o n offe r to t h o s e w h o wa n t to t a ke p a r t .

A small library of relevant literature is

available for members to borrow from,

and external organisations sometimes offer

one-off training on all elements of horticulture

– right down to the difference between

compost and soil.

Community and accessibility are

important values to the people behind the

fruit and vegetable garden, whose mission

statement sets out a plan to promote healthy

bodies and minds. The garden is equipped

with long-handled tools and the raised plant

beds – designed as such after toxins were

found in the soil, left behind from when a car

mechanic service occupied the site – are set

far enough apart to allow wheelchair access.

Further to this, the group has developed

a wealth of resources which provides simple

instructions for all kinds of gardening and

upkeep required – all to ensure the project

continues to welcome new recruits who

needn't worry about their level of experience.

Put simply, you could 'come along, not know

what you're doing and be totally fine' – Anny

emphasises that in the Back Garden, there

are no skill expectations in place and that

usually, members learn by doing.

The committee also puts a big focus

on local engagement, frequently working

with nurseries and primary schools to help

children understand the process their food

goes through from seed to plate. The social

and nutritional benefits are great, repeats

Anny, but the perks extend even beyond

that – a teacher recently remarked that kids

spraying plants with water were developing

their motor skills, too.

Involving the local community's youngest

members kickstarts a chain reaction which

resonates with adults, Anny adds, 'At events

we've had kids doing things like making

coleslaw, and as a result of that the parents

have signed up as members. Then at home,

off the back of having seen and done that, the

children wanted to help chop the vegetables

and get involved in the food preparation

process. There are so many little knock-on

effects like that.'

Ecology is another priority for the

gardeners, who pride themselves on

harvesting all-organic produce using simple

but innovative alternatives to pesticides.

Plastic tubes lined with copper, for example,

act as a harmless repellent to insects which

could damage the crops. The G3 team also

makes their own compost and leave comfrey

to decompose in water for later use as a

natural fertiliser.

One challenge facing the G3 Growers is

the lack of visibility the project has due to

its location – 'some people might think it's

only for the people who live around here, or

that it's an allotment or private garden,' says

Anny. Another is that, as the garden grows,

so too does the demand for manpower and

so they are looking to welcome as many

new members as possible in the coming

months. They are also hoping to recruit a new

treasurer so that they can invest time into

pursuing community funding and developing

the garden into a multi-purpose space.

Moving forward, the Back Garden and its

members hope to encourage more vulnerable

people to get involved, providing a safe and

enjoyable space to socialise and learn new

skills. In the meantime, you'll find them just

off Brechin Street making the most of our

evasive Glasgow summer.

facebook.com/thebackgardeng3
---
52 | www.westendermagazine.com

Health Matters

GP Dr. Pamela Leggate, of Glasgow West Medical Practice,

discusses a sensitive, yet common, complaint – incontinence.

Not a normal part of ageing and not to be tolerated. Pick up

some top tips here, there's no need to put up with it.

It's not something we talk about much

but urinary incontinence is actually more

common than you think and is no laughing

matter! There are two main types – Stress

incontinence (nothing to do with anxiety)

where urine leaks out when you cough,

sneeze or jump on a trampoline (as you do);

and Urge incontinence when you need to go

and you need to go right now or else…

Women are more commonly affected

than men and will often ignore or put up

with the symptoms for years rather than

suffer the embarrassment of admitting they

have a problem. Incontinence can be more

of an issue as you get older but should not

be accepted as a normal part of the aging

process.

Stress incontinence is caused when the

pressure from the full bladder is too great

for the bladder outlet to withstand. It is more

common in women after childbirth, which can

weaken the pelvic floor muscles, but is not

inevitable. Often small amounts of urine will

leak or dribble, sometimes larger amounts

will flood out. In these cases, the first

treatment option is to try to strengthen pelvic

floor muscles with regular exercises.

You can find instructions for pelvic floor

exercises on NHS Choices and there's

even an NHS app called 'Squeezy' which

you can download from the App store

(£2.99, currently only for IOS, but can be

used on an apple watch – who would have

thought it?!).

If you're struggling to get the hang of

the exercises yourself, there are specialist

physiotherapists who can help (ask your

GP for a continence clinic referral) or there
---
www.westendermagazine.com | 53

are various electronic devices (which to be

honest look quite scary – I would recommend

getting some advice from a physio before

spending any money).

As a last resort, surgery can sometimes

be an option – pelvic floor repair will tighten

up pelvic floor muscles and improve any

associated prolapse. Surgery as always has

its risks though so should not be embarked

on lightly.

So what about Urgency? Normally the

bladder will fill up gradually and alert you

to the need to empty it well before it gets

totally full. In Urge incontinence that process

doesn't seem to work properly. In most

cases we don't know why. Sometimes called

irritable or overactive bladder, the bladder

will overreact to filling up partially and tell you

that you need to pee urgently, often resulting

in leakage when you can't get to a toilet in

time. Again, more common in women as you

age but not to be tolerated as a normal part

of growing older. Urge incontinence can be

treated with medication which will calm an

overactive bladder. Treatment is limited by

potential side effects (dry mouth, blurred

vision, confusion), but can be life changing.

Some basics that can

be helpful in all kinds

of urinary issues:

1. Make sure you are emptying

your bladder properly when

you go. If in doubt, stand up,

sit down and pee again (double

micturition). Stale urine lying

in the bladder will increase

inflammation and can cause urine

infections.

2. Reduce caffeine intake.

Caffeine is in coffee, tea and fizzy

drinks. It can cause irritation of

the bladder making you pass

urine more frequently and with

more urgency.

3. Improve fluid intake.

People who are worried about

incontinence will often try not

to drink fluids but, paradoxically,

this can cause more concentrated

urine which will then irritate the

bladder. Drink plenty during the

day but maybe avoid taking large

amounts of fluid later at night.

4. Bladder training. If you feel

the need to pee every hour,

try stretching it out to an hour

and ten minutes with a gradual

increase in the length of time

between visits to the toilet.

5. Avoid constipation. A bunged

up bowel can put pressure on

the bladder and, especially in

children, can be implicated in

urinary problems.

6. If all else fails, wear an

incontinence pad! They can be

bought in most supermarkets,

ordered online, or if you're not in a

rush, ask your nurse of GP to refer

you to the continence clinic.
---
54 | www.westendermagazine.com

Homes & Interiors

bluebellgray

Playful

by Susan

Robertson

Pastels

As we've been lucky this year to bask in a serious dose

of summer sun, flowers are in bloom, barbecues have

been trundled out of retirement, and the leafy green

spaces of the West End have been bustling with activity.

Susan Robertson looks at summery palettes to bring the

season into our homes.
---
www.westendermagazine.com | 55

The summer season is an inspirational one,

there's much beautiful nature to be admired

around us even in our city location. Very often,

nature is the perfect starting point for creative

inspiration, and the journey of colours over the

last few months have led us from an abundance

of marshmallow pink tree blossoms of spring,

to the grassy greens, bright yellows and soft

lilacs of summer.

As always, any look starts with selecting

your perfect palette to create a space that you

find inspiring or restful. Think about holiday

memories, summer picnics and indulgent

ice-cream colours as you pull together your

inspiration for a fresh, summery look in your

home.

Start building up a collection of colours and

ideas into one place, adding cuttings from

magazines, snaps of flowers you see when out

walking the dog, or statement accessories you

see in a local boutique – pull it all together into a

'look' and an 'ambience' and then tailor that to

your individual preferences and spaces.

There are many general colour 'feels' that you

can create within a summery theme. You can go

big and colourful – think sunflowers, Blackpool

rock, beach hut brights. Or you can go down a

softer route of the pastel palette. Within this

itself, there is still a plethora of possibilities in

which direction you take this to create your final

look.

You can choose a pale and subdued approach,

balancing chalky white walls with light sky blues

and pale pistachio and mint ice-cream greens,

balance these with soft white muslins, light

lemon cottons, intricate flowery prints and pale

peachy velvets for a really elegant and airy look.

Or you can go bolder, and layer up different

tones of similar colours, for example a

strawberry milkshake pink wall, layered

with deep dusky rose furniture statements or

fabrics, then use strong accent colours with blue

undertones – vibrant teals, luscious lilacs and

crisp cornflower blues. One of the many appeals

of this palette is how easy it is to harmonise

many tones from across the colour spectrum.

It's also a great excuse to get the brush out and

bring a whole new look together without needing

too much new furniture. A good sanding of a

chunky wooden chest of drawers, then a lick

of one of the stronger paint colours, can make

a huge impact. Obviously you'll be restricted

by your existing furniture and budget – if you

have expensive bespoke units, you will work

to complement what you have already invested

in. But generally, you can really transform your

home by just re-jigging your furniture between

rooms, changing the colour scheme, and then

the only investment you need to make is in a

range of fresh paint, and a bit of time and elbow

grease.

Farrow & Ball
---
56 | www.westendermagazine.com

Homes & Interiors

I recently saw a lovely upcycle job of a chair done

in this pastel palette. It was on a TV programme

so may ring a bell if you also saw it but it was a

simple wooden spindle back chair, with each of

the spindles painted in different pastel colours.

The designer added a great touch to this with a

small band of gold paint around some of the leg

spindles which really tied it together. It's such

a forgiving palette, it will also allow for some

hand-painting in a way that other looks just

wouldn't, and everything from wooden stairs

to brick walls can look fantastic in this pastel

palette.

Once you have the palette and the painting

done, use carefully chosen accessories to add

a final flourish and tie it all together. This is a

great excuse to invest in a statement item, a big,

chunky lamp perhaps with a colourful shade, or

a sumptuous rug. Or find a colourful vase – and

use your imagination about the seasonal flowers

you would choose to fill it, as a good indicator to

further inform your look.

Having had a July wedding myself some years

ago, I chose hydrangeas for the bouquets. I

love the simple boldness of these flowers and

they represent summer to me. I went for cobalt

blue and purple in my colour scheme, but

hydrangeas can be enjoyed across this whole

palette, from sugary pinks to pale mints. Have

a think about the types of summer seasonal

flowers that appeal most to you. Some of my

other seasonal favourites are the wonderful iris

with its vibrant purple and yellow streaks, deep

lilac freesias with their fresh summery scent,

hot pink gerberas, dusky fragrant sweet peas,

or sweet blue cornflowers. This list in itself can

form the basis of a wonderful palette for your

room, and bring it all together with a vase of

your favourites as a final treat to yourself after

all your hard work.

And finally, complement the scent of the

fresh flowers and the grass-cutting outside,

with some room perfumes or scented candles.

The directory page in this edition gives some

great ideas for summery candle scents, but

generally think citrus and verbena, coconut and

cotton, basil and sea salt to transport you to your

favourite summer escape.

bluebellgray
---
www.westendermagazine.com | 57

With over 35 years experience Power-Lite can

offer a wide range of services including

Joiners – Electricians – Plumbers

Painters and Decorators – Plasterers

Quote

'Westender

Magazine' for

10

%

all new work

undertaken

OFF

We can install fully fitted kitchens, bathrooms

including wet rooms, wet floors, electrical test and

inspections, full re-wires, PAT testing and also all

decorative work throughout a property.

T. 0141 954 5151 M. 07836 700 754

W. power-lite.com E. allan@power-lite.com

12 Jordanvale Avenue, Glasgow, G14 OQP

READERS

OFFER!

FREE

Gas Certificate

PAT Test

Legionella

Assessment

Are you a Landlord?

Thinking of Letting?

Changing Agent?

When you quote

Westender

" Problem Solved"

Call or email for a free market appraisal

E: glasgow@zoneletting.com T: 0141-333-0990 W: www.zoneletting.com

SERVING: GLASGOW • EDINBURGH • LONDON
---
58 | www.westendermagazine.com

Reseal Service | Professional Tile Installation | Waterproof Bathrooms

The no.1 Tile Installation and Restoration

Specialist in Central Scotland

We are a fully insured, reliable family run business with over

40 years combined experience. We use the best and most up to date

products and materials and pride ourselves on our attention to detail

and excellent customer reviews.

BEFORE AFTER BEFORE AFTER

Our Reseal Service can restore your tiles by carefully

removing all of your existing grout and sealant using

non-abrasive chemicals and high precision diamond

technology. Specialist chemicals are used to wash

your tiles to remove soap scum, body fat, mould and

mildew. Antimicrobial grouts and sealants are then

professionally applied

Our Reseal service includes;

// Sealant Applications

// Bonded Bath & Shower Seals

// Chemical Sealants

// Re-grouting

// Two-part Sealants

// Waterproof Tanking Systems

FROM ONLY

£150

SUPPLIED

& FITTED

Bonded Bath and Shower

Seals – Our unique and

most popular product.

T / 0141 611 9534 M / 0781 782 8681

E / info@resealscotland.co.uk W / www.resealscotland.co.uk
---
Homes & Interiors

Summer Scentsation

www.westendermagazine.com | 59

Whether it's a lazy Sunday morning with coffee and

newspapers, a day at the beach, or a busy family barbecue

when the sun's out we like to take every opportunity we have

to grab some al fresco quality time. But when the weather's

not on our side how better to bring the sunshine in than

with some summery scented candles?

Sunshine Candle,

£5.99, Liquorice tree

Grapefruit & Neroli Candle,

£12, Spirito

Oudh Geranium,

£30,

CoLab Store

Amber & Bergamot Candle,

£29.99, Cassiopeia

Seaside Mimosa,

£18.99, Papyrus

Cassiopeia, 165 Hyndland Road, 0141 357 7374, cassiopeiaonline.co.uk

CoLab Store, 11-13 Downhill Street, 0141 570 1766, colabstore.co.uk

Liquorice Tree, 431 Great Western Road, 0141 339 0648, liquoricetree.com

Papyrus, 374 Byres Road, 0141 334 6514, papyrusgifts.co.uk

Spirito, 317-319 Crow Road, 0141 337 3307, spiritogifts.com
---
60 | www.westendermagazine.com
---
www.westendermagazine.com | 61

Homes & Interiors

The first impression in any home

space primarily comes from its colour

scheme. The general look is created by

a combination of the use of colour, and

the capturing, reflecting and enhancing

of light, Susan Robertson explains.

Talking

Textures

Farrow & Ball

by Susan Robertson

Texture plays its vital

part right down to the

last detail!

In order to add depth and ambience, you need

to think of texture. This simply refers to the

surface quality of any material so whether

it's smooth or bumpy, or crumbly or jaggy.

Texture is separate to what can be seen, and

is rather what can be felt. But it can also be

perceived differently depending on how it

looks next to things, how close you are, what

the light is like.

So there are various ways to add and

manipulate the look you create using texture.

Start with the colours that you use. How can

you add a sense of depth or tactility to these

rather than flat, one dimensional units of

space? There are a range of lovely paints to

help with this which are either chalky or sandy

or even have a suede or leather 'feel' to them.

You can also go down the 'shiny' route using

reflective or high sheen colours to bounce light

and create ambience.
---
62 | www.westendermagazine.com

Think about the

materials in the rest of

the room

Most recently, there's a growing trend for

the 'ombre' look. This is basically a blended

graduation of colour from light to dark. It looks

great on long hair and is a popular choice

available in salons now. But it's also becoming a

more popular concept in interior design. If you

can imagine a loose watercolour background

landscape, where a pale colour starts at the top

and merges naturally down to a dark finish at

the bottom, this can be a great effect on any wall

and, if you have that artistic flair, it can be really

effectively achieved with painting directly, and it

looks great on a slightly textured wall to give the

feel of a canvas.

You can also use wallpaper to create texture.

My memories of textured wallpaper probably

aren't the best. This harks back to the days of

the woodchip effect which covered our entire

family home when I was a child. Then, when

that was eventually, and painstakingly stripped

off by hand in the days before steam wallpaper

strippers, it was replaced by other textured

wallpaper that had little bobbles and bubbles in

it that were pressed and poked by kids over the

years creating a truly deflated effect. And I also

remember the floral textured options that were

popular then.

Thankfully, products have evolved

significantly since my childhood and there is a

great range to choose from to give a different feel

to the wall and you can add a subtle softness to a

flat wall. You can also make a flat wall look and

feel like a brick wall, or other creative illusions

to enhance and create depth to any room. Large

prints and patterns can also enhance the overall

look and you can find these with mixed finishes

within the same pattern.

Then you need to think about the materials

in the rest of the room. What furniture will

you choose? Will you go for bumpy old wooden

chairs, or smooth plastic? Will you use a cool,

rough stone for your kitchen worktop, or a shiny

polished stainless steel option? Will you use

more metal or wood, natural or synthetic, cold or

warm to the touch?

And another key consideration when thinking

about texture, is the type of effect you want from

the fabrics in the room. How do you want to feel

when you touch the materials of your room, this

is a key consideration when you're planning any

space. A big comfy sofa will create a different

response and feel depending on the fabric it's

covered in. If you can imagine the enveloping

softness and resulting ambience of velvet or cord,

as opposed to the more rigid canvas or linen

fi b r e s .

Then think of layering these to add further

depth and interest. Big scatter cushions work

well in sturdy hessians or thick velvet, then soft,

downy cushions are lovely in light cotton or wool,

topped off perhaps by some faux fur touches to

add an opulent feel. Does it feel cold, or need

softened? Immediately change the ambience

with a cosy throw or a fluffy rug. Will you choose

heavy woollen curtains or opt for smooth roller

blinds? Texture plays its vital part right down

to the last detail. For example the material you

choose for the lampshades, whether you opt for

stripped wooden doors, or go for gloss paint.

Even the artwork on a wall can be flat, shiny

framed prints, lumpy open oil paintings on

canvas, or even hanging tapestries.

All can look visually beautiful, but only with

the complementary value of their texture, do all

elements fully engage in perfecting your room.

The Store Interiors
---
www.westendermagazine.com | 63

The Store Interiors, 26 Munro Place, Anniesland, Glasgow, G13 2UP

0141 950 1333 | www.thestoreinteriors.co.uk

Email: sales@thestoreinteriors.co.uk

TheStore - HIS - Emma.indd 2 07/12/2017 09:48

QUOTE WESTENDER AND RECEIVE 15% DISCOUNT

The Store Interiors, 26 Munro Place, Anniesland, Glasgow, G13 2UP

0141 950 1333 | www.thestoreinteriors.co.uk

Email: sales@thestoreinteriors.co.uk

ROOFING, SLATING, STONEWORK, LEADWORK

0141 404 6242 • GLASGOWSLATERS.CO.UK

TheStore - HIS - Emma.indd 2 07/12/2017 09:48
---
64 | www.westendermagazine.com

Westender Magazine

Interiors & All Trades

Keeping your home working for you. Whatever you need whenever

you need it – find reliable local tradespeople here.

We're your local experts in all

aspects of painting and decorating,

interior, exterior and specialists in

hanging designer wallpapers.

for a Free No Obligation Quote

call Kevin on 07984 880199

or Derek on 07525 202102

or email us at

bespokedecor@yahoo.co.uk

T: 0141 321 1012

2/2 1758 Great Western Road,

Glasgow G13 2TL

Painter & Decorator » Plaster Skimming

Ames Taping & Coving » Period Windows

Hand-painted Kitchens

Call Frank – 07906 395341 / 0141 945 3975

francisscullion@yahoo.co.uk
---
www.westendermagazine.com | 65

Before

Do you have cornice

in need of repair?

After

www.reproplaster.co.uk | Tel: 0141 7761112

Visit our showroom at Period House, 5 Campsie Road, Kirkintilloch, G66 1SL

Experts in the repair of ornamental plasterwork | Comprehensive product range also available

With over 25 years' experience,

we offer a wide range of plumbing,

gas & building services.

➤ Central heating installations

➤ Gas installations & repair work

➤ Landlord gas safety certificates

➤ Plumbing & emergency repair work

➤ Bathroom/kitchen installations & upgrades

➤ Specialists in renovation & building projects

➤ All trades supplied

➤ Gas Safe registered

Quote 'Westender Magazine'

for a 10% discount off new

boiler installations.

0141 301 1180 | 07949 092 475

www.bsmithplumbing.com

info@bsmithplumbing.com
---
66 | Westender www.westendermagazine.com

Magazine Promotion

Legal Matters

Who is my neighbour?

by Donald Reid, chairman at Mitchells Roberton

The Smiths and the Browns live next door

to each other. Their back gardens are

divided by a hedge. One day wee Jason

Brown's ball flies over the hedge and hits the

Smiths' wee dog Prince in the eye. He yelps.

Mrs Smith happens to be relaxing in her

garden in the canopied swing she purchased

last week at B&Q. She is distressed by the

injury to Prince. She confiscates Jason's ball.

That evening Mr Brown appears at the

door and demands Jason's ball back.

The Smiths don't like his tone and refuse.

The volume of dialogue rises. The Smiths see

fit to criticise Jason's general behaviour and

the disciplinary failings of his parents.

The conversation widens (as it does)

to discussion of the hedge. The Smiths

say they have measured and the hedge is

on the wrong line depriving them of a foot

of ground. Mr Brown furiously goes and

fetches a copy of his land certificate and

with stabbing gestures asserts that what he

has title to is his and they should back off.

Unfortunately, while not counter-challenging

the Smiths' parenting skills he does see fit to

question the legitimacy of their parentage.

The conversation ends unhappily.

The next week the Browns go on holiday.

When they return they find the hedge has

gone and a six foot lap fence has been

installed on a line about a foot more to their

side than the hedge had been. The shadow

cast by the fence is greater and the Browns'

garden is as gloomy as the Browns feel by

this turn of events. Another acrimonious

doorstep conversation ends with Mr Brown

promising to 'get my lawyer onto this.'

3. If when the Smiths go on holiday the

Browns see fit to remove or move the fence

they do so at their own peril and not on the

solicitor's advice.

4. The last time the solicitor had a case like

this it went to court. Her clients won the case

but were so out of pocket and stressed by it

that they wished they had never started.

5. If the Browns can't live with it they should

seriously think of moving.

The Browns mulled this over and decided

their solicitor was a spineless wimp. They

phoned and told her this and said they would

go elsewhere. The solicitor said she was

sorry to hear that. She concluded the call

and went next door and high fived with her

colleagues. The Browns looked elsewhere,

and found a lot more wimps.

The moral of this tale? Try not to fall out

with your neighbours. If you must, make sure

it's for a bigger reason than 1/1250.

If Donald can help please

contact him on 0141

552 3422, or email dbr@

mitchells-roberton.co.uk.

The Browns consult their solicitor who listens

to their tale then offers the following advice:

1. This dispute is more about wee Jason and

wee Prince than the fence.

2. The land register title plan scale is 1/1250.

It is not precise enough to resolve a dispute

over a foot of ground.

Mitchells Roberton Solicitors

& Estate Agents

George House

36 North Hanover Street G1 2AD

0141 552 3422

www.mitchells-roberton.co.uk
---
www.westendermagazine.com | 67

The Wee Kitchen Shop

Beautiful Kitchen Interiors

specialising in Shaker kitchens

// Bespoke made to measure cabinetry

// Bespoke paint colours and finishes

// Bespoke wood colour matching

// Bespoke lacquer finishes

// Bespoke veneer panels

SPECIAL OFFER: 30% off Silestone,

Corian & Granite worktops ordered

before 31st Aug '18! Please call ahead

for a FREE consultation appointment

at The Wee Kitchen Shop premises.

The Wee Kitchen Shop

304 Crow Road I Broomhill G11 7HS

t 0141 334 4747

w theweekitchenshop.co.uk

e info@theweekitchenshop.co.uk
---
'hello'

West End

68 | www.westendermagazine.com

Corum. There's nobody better at selling houses.

Contact Corum West End today for a free valuation

of your home.

Contact us on

0141 357 1888

Visit our website

corumproperty.co.uk

Corum West End,

82 Hyndland Road, Glasgow G12 9UT the best sellers