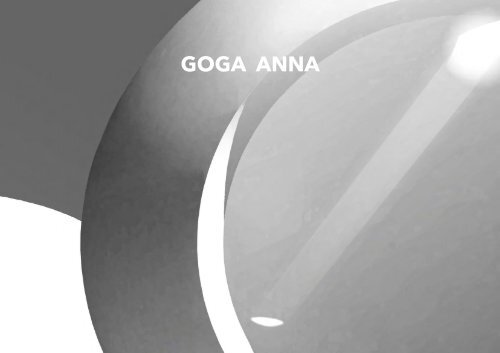 Академическое портфолио. Аня Гога. Магистратура Princeton, США.
Create successful ePaper yourself
Turn your PDF publications into a flip-book with our unique Google optimized e-Paper software.
GOGA ANNA
---
EDUCATION

COMPETITIONS / AWARDS

CV

2014 _ 2016

2010_ 2014

2013

Moscow Architectural Institute(state academy)

Yury Grigoryan's project studio

Specialist degree (M.Arch equivalent)

Moscow Architectural Institute(state academy)

Yury Grigoryan's project studio

Bachelor degree

The Institute for Advanced Architecture of Catalonia –

IAAC

Spain, Barcelona

The Global Summer School workshop

2017

Andrew Martin 2018 (interior design award)

Participant

Zodchestvo 2017 (XXIV international architectural festival)

Winner (the best interior of the year)

Interia Awards 2017 (competition)

Winner (the best public interior of the year)

Archistart 2016

Participant (https://www.archistart.net/portfolio-item/the-powerof-form-pnyx/)

WORK EXPERIENCE

2016

IsArch 7th edition (international architectural competition)

Participant

2016_ 2018

Meganom

Moscow, Russia

architect

Moscow Urban Forum 2016

Future urbanists.

The best students about city projects of the future

GOGA ANNA

| address

Russia, Moscow, 125130,

6 Novopodmoskovny st.

| phone

+7 (916) 638 65 45

| e-mail

goganna@yandex.ru

2017

2015_2016

2014

2013

2014

2013

Yury Grygoryan's studio

teaching assistant

Softculture

lector and tutor

AMG-project

Moscow, Russia

architect

Project Meganom

Moscow, Russia

internship

KB Strelka

Moscow, Russia

internship

RESEARCH

Meganom

Archaeology of the Periphery

Strelka

Industiral zones of Moscow

Open city. Moscow (Yury Grigoryan's studio)

2015

2014

2014

2013_2017

2010_2017

Zodchestvo 2016 (XXIV international architectural festival)

Exhibition

Discussion about the process of education

Gold Medal of Moscow Institute of Architecture (competition)

Finalist

Radisson Blue Hotel competition

Finalist

Zodchestvo 2015 (XXIII international architectural festival)

Winner (competition of student's projects)

IsArch 6th edition (international architectural competition)

Participant

Zodchestvo 2014 (XXII international architectural festival)

Winner (competition of student's projects)

HYP CUP (international architectural competition)

Participant

Annual exhibition of the best students projects of Moscow

Institute of Architecture in 'Union of Architects of Russia'

Exhibitions and awards in Moscow Architectural Institute

during study in architectural design, urban planning, drawing,

painting and sculpture

Software

Handwork skills

SKILLS

ArchiCAD, AutoCAD, Adobe Photoshop, SketchUp,

Adobe

InDesign, Adobe Illustrator (advanced level)

Rhino+VRay, 3DMax, Revit, Grasshopper, Arduino

(basic level)

Lasercutting, 3d-printing, clay, wood, concrete,

gypsum, paraffin models, handdrawing and painting

2008

2017

2016

Furniture design competition

Finalist

PUBLICATIONS

Interior + Design

office project

AD magazine

office project

Archiru

Graduation project

Project Russia

Microrayon 2.0

Collection of scientific works

'Aesthetic-artistic interpretation of the principles of painting in the

residential architecture of ancient and modern China'

| 01
---
OFFICE
---
OFFICE

Architectural office for 'Amg-project' | individual design project

Supervisor of the project's construction: Irina Mavrodieva

CONCEPT: PLANE

The space is divided into two different zones, cabinet and

working zone. However, both spaces merge into each other,

making continious open space. In addition, the space may be

easly divided into two separate zones by moving white wall,

which is located between the spaces.

WORK EXPERIENCE

Planes, white and concrete, are the means for the division

of office's space into several functional zones. These planes

connect floors, walls and ceilings. For instance, white planes

near the windows signalizes horizontal working zone.

| 3

| 2

| 1

| 2

| 3

| 03
---
image made with !MELK and Oksana Bazhina

ZIL PARK
---
ZIL PARK

Professional practice at Meganom

Team project with American team !MELK and Oksana Bazhina

CONCEPT: INTEGRATION

The project is located in Moscow on the territory of the industrial

zone of «ZIL», which is now being rebuilt into residential area.

masterplan

pond

park

WORK EXPERIENCE

The project of park integrates all functions into one pergola,

where multifunctional pavilions, different facilities and

playgrounds are located. Small architectural forms are

integrated into the pergola, making a universal element,

consisting of different zones.

What is more, the structure of the pergola becomes a rigid

system, which plays both esthetic and technological roles.

The axon and plans were developed with American team !MELK and

Oksana Bazhina

walking paths and park

in the territory of ZIL

pavillion

pergola

walking path

pavillions and walking

paths

pavement | gradient

pergola

litter-bin

swing | benches

| 05
---
ZIL PARK

DETAIL DOCUMENTATION | 1500 UNIQUE ELEMENTS OF PERGOLA

all drawings were developed with supervisor Oksana Bazhina

FRAGMENT OF PERGOLA

WORK EXPERIENCE

| 06
---
ZIL PARK

UNDER CONSTRUCTION

WORK EXPERIENCE

| 07
---
Archaeology of the Periphery

RESEACRH

TEAM RESEARCH | 20 STUDENTS OF YURY GRIGORYAN'S STUDIO | MEGANOM

A research project focusing on pedestrian accessibility, the study was developed by

20 students in two stages. The first step was collecting information from various maps,

after that an investigation was conducted to verify and correct the data. As a result, four

categories of territory access were defined.

Closed: 86.72 km - 11%

Limited access: 122.75 km - 15.6%

Tine limit: 89.72 km - 11.4%

Open: 19.45 km - 2.4%

Time limit: 89.72 km - 11.4%

Moscow's periphery can be considered an open space: it is largely available for citizens

in the day time.

PEDESTRIAN AVAILABILITY

current situation

closed territories

limited access

temporary restriction

open territories

territories with no defined borders

| 08
---
THE POWER OF FORM. PNYX
---
THE POWER OF FORM. PNYX

GRADUATION PROJECT | CONCEPT: INTERACTION

PROJECTS

Pnyx in Yasenevo

The project speculates upon the problem of interaction between human

and architectural form, which main purpose is to be interactive and to

create space for action.

Hypothesis

Architectural form is able to influence on human behavior by instigating

a specific action with him. By doing it, the form acts as means of

communication with a person, while human body is the addressee of

form. An example of such type of form is Pnyx – a Greek amphitheater,

which was used for public gatherings. Its main feature was that it

addressed to the scale of human body, thereby provoking a person to

a dialogue with the form. Architecture interacts with human because

of form elements body scale (in this case, steps). This type of form is

intuitive, the person cognizes it through interaction with it.

Public spaces

Public spaces are the most important elements of the society

construction, systems of communication, where people get different

social experiences.

Public space can be seen as the system of elements, which provoke

actions and create a certain environment.

The main aim of the project is the understanding of form as a mechanism

of specific behavior, with the invention of form language, which may be

used to create high-quality public spaces.

Context

Yasenevo is a district with a linear central part, which was planned as a

main public space. Nowadays, it is abandoned area, surrounded by the

people. However, it has all the prerequisites to form high-quality public

space, which only needs to be activated.

Experiment. The immersion of the form

The integral sculptural form, which consists of a set of form elements,

each one provoking a specific activity, is immersed on the boulevard

in Yasenevo. Overall, the immersed form activates the whole site and

creates a new space for socialization.

Project

The sculptural form of the boulevard is divided into 3 main zones:

1| shopping and entertainment zone

2| cultural and educational zone

3| park

All zones are connected by the central way.

Each zone indicates the type of form elements, which organize specific

activities in these zones.

amphitheatre

playground |interactive form

plan

| 10
---
GSPublisherEngine 0.1.100.100

THE POWER OF FORM. PNYX

FORM ELEMENTS_MAIN ELEMENT

PROJECTS

pnyx | amphitheatre

plan

| 11
---
GSPublisherEngine 0.1.100.100

GSPublisherEngine 0.1.100.100

GSPublisherEngine 0.1.100.100

450

GSPublisherEngine 0.1.100.100

200

450

THE POWER OF FORM. PNYX

FORM ELEMENTS

PROJECTS

acoustic room

covered plaza

tube

hills

facade

7800 4500

6 000

facade

6 500

800

facade

plan

1200

450

1200

1000

1000

1000

facade

plan

2000

plan

plan

| 12
---
THE POWER OF FORM. PNYX

PLASTIC MODELS | ELEMENTS

PROJECTS

| 13
---
CIRCLE THEATER
---
CIRCLE THEATER

CONCEPT: THEATER-SQUARE

PROJECTS

The theater, which is located on the plaza, is the

completion of the square due to the circle shape,

organically fitting the square and forming a unique

space.

The building consists of two disks (roofs), rotated to each

other relatively. One of those disks is raised above the

ground and turned, thus, creating a concert hall on an

open air (amphitheater). Therefore, the square becomes

the scene for an open concert hall on roof. Another roofdisk

is a recreation space.

The theater gradually deepens underground, sinking by

fluent ramps. The building has four levels. The first one is

public, which works with the city space. Below is located

theater lobby and buffet. One of the levels connects

directly to the subway station, from where it is possible

to enter the theater and see an inner theater life through

rising on the escalator. Finally, the technical rooms are

located on the lowest level.

Overall, the building of the concert hall becomes an

idiomatic screw, which is penetrating the plaza space

and connecting city to the theater.

deepening the building underground

open air concert hall

system of concert hall

| 15
---
CIRCLE THEATER

PROJECTS

facade

section

| 16
---
THE MUSEUM OF ARCHITECTURE
---
THE MUSEUM OF ARCHITECTUREE

PROJECTS

CONCEPT: SPACES

Architecture is perceived only in space,

therefore, the museum of architecture is the

museum of spaces. In the project, there is a

collection of basic spaces, and their shapes

are revealed by small openings in forms,

through which light passes underground,

where all these forms are located.

cubic space

dome space

pyramidal space

cylindrical space

crossed space

spherical space

space - pantheon

forms

centric space

conical space

vertical space

open space

bionic space

horizontal space

broken space

| 17
---
THE MUSEUM OF ARCHITECTUREE

PROJECTS

| 18
---
THE MUSEUM OF ARCHITECTUREE

GUPSYM MODEL

PROJECTS

| 19
---
SCHOOL
---
SCHOOL

CONCEPT: MOVEMENT

PROJECTS

School is a space for communication for students of different

ages, thus, the main idea of this project is to make links between

differrent zones in school, which provides a possibility to

communicate. It is made by ramps, connecting three levels, while

movement becomes the means to meet and communicate.

high school

links

junior school

the organization of

movement in space

open space

ramps

classrooms

| 21
---
SCHOOL

PROJECTS

section

ground floor plan

second floor plan

| 22
---
DISTRICT
---
DISTRICT

DISTRICT ON THE FORMER FACTORY 'SERP I MOLOT'

PROJECTS

CONCEPT: MAGNETS

The project is located in Moscow on the territory of the former factory

«Serp and Molot».

The project spequlates upon the vacuum spaces in the district,

which create the system of magnets, becoming an instrument for

constructing a local community. All the vacuum spaces in the distict

are divided into three different types of permeability according to

their location near public or residential blocks:

- public (squares),

- semi-private (space bettween residential blocks),

- private (closed courtyard).

In addition, a change of the hight of buildings diversifies the urban

fabrick and creates vacuum spaces not only in the plan, but also

vertically.

gypsum model

gupsym model

schemes

kindergarten

schools

office

cultural

center

axon blocks

buildings functions transport

| 24
---
DISTRICT | RESIDENTIAL BUILDING

DETAIL

PROJECTS

view from the boulevard

facade detail

section

typical floor plan

| 25
---
MICRORAYON 2.0
---
MICRORAYON 2.0

TEAM PROJECT | 16 STUDENTS

PROJECTS

Is it possible to create natural urban environment artificially, using the instruments of

architecture?

How to provide extremely high density with excessive multifunctionality, but not to

lose humanity?

IDEA

Selection, combination theory.

The idea of the MICRORAYON2.0 is a creation of a new urban module, which will be

capable to become an alternative to the standard residential district of the Moscow

periphery. This typology will solve the problems of intensive growth and sprawl of

the city as well as necessity of high density.

Process.

The MICRORAYON2.0 have 16 authors.

Only because of it, the creation of «planned spontaneity» becomes possible as well as

natural urban environment within one complex. Difficulties of process and interaction

of large number of architects in one project led to idea of creation the regulations as

a simple set of rules in a game.

This set of regulations allows each of authors to design the individual project, but

obliges them to consider the general restrictions and to develop communication

with «neighbors» for the integration his unit into the complex.

Regulations.

At the beginning of the project we took a simple form corresponding to the site

shape (400m x 80m) and limited it by the height of 150m (according to the norms of

usual residential districts). This height is the biggest bound, thus, it helps to make the

required density. The spot of the building is corrected with taking into account all the

norms of transport system. Then the basic block was divided into 16 similar parts for

16 authors.

MICRORAYON 2.0.

It is a compressed version of a typical district into one building, hybrid. The size of the

building allows to transfer it to the category of «Bigness» (as Rem Koolhaas described

it in 1993).

adding

public

functions

shopping

office

hotel

apartments

housing

social facilities

communications

/transport

Electronic magazine, which was made by me, with an analysis of the changes and

stages of the project:

www.tumblr.com/search/Микрорайон

regulations

division into 16 parts

parts

cross links

main street through all

parts

the images were

developed with Stas

Kozin and Ekaterina

inner street

indent for insolation three shared public floors function

| 27
---
MICRORAYON 2.0

team model | cardboard

PROJECTS

| 28
---
MICRORAYON 2.0

PROJECTS

facade

plan

| 29
---
MICRORAYON 2.0 | 6TH PEAK

INDIVIDUAL PROJECT | 6TH BLOCK

PROJECTS

CONCEPT: LIGHT

My block is the 6th one, which became the main focus of the whole building after several

disruptions of the regulations. First of all, I made my block higher than the other ones, then, I

rotated it, providiing more light to the nearest blocks. Thus, the tower became the focus of the

building by emphasising it among the others. Moreover, I excluded the second block, making

an open square to the park.

concept of the 6th block step 1 | regulations step 2 | incline step 3 | the park

step 4 | square

window

light provision because of the

block drop

scenarios

view from the tower lift

the tower lift to the observation deck

the observation deck

the amphitheatre

| 30
---
MICRORAYON 2.0 | 6TH PEAK

PROJECTS

plans

facade

section

| 31
---
ACADEMIC DRAWING

| 32