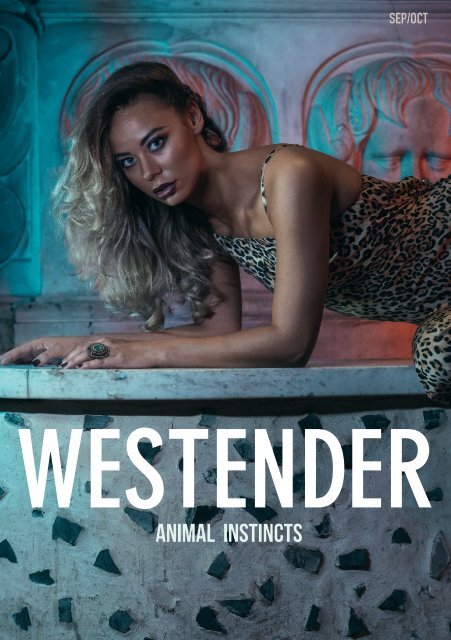 WebSepOct2018
Westender Magazine Glasgow's West End Lifestyle magazine
Westender Magazine Glasgow's West End Lifestyle magazine
SHOW MORE
SHOW LESS
Create successful ePaper yourself
Turn your PDF publications into a flip-book with our unique Google optimized e-Paper software.
ANIMAL instincts

www.westendermagazine.com

SEP/OCT

| 1
---
2 | www.westendermagazine.com
---
www.westendermagazine.com | 3

Contents

Regulars

4 Editor's Letter

23 Mum's Notebook

24 Community feature:

The Movement Park

Fashion, beauty & health

8 Animal prints go wild

28 WIN! At Rainbow

Room International

Going out

16 West End Live

with Greg Kane

19 Top Things

Art & culture

30 Meet the artist:

Helen Flockhart

34 Writers Reveal

meets Lin Anderson

38 Cover to Cover

Food & drink

40 Sweet Liberty

43 Restaurant review:

Honu

45 Bar review: Brel

46 Award winning food

& drink entrepreneurs

Westender living

54 Very vintage

59 Purple palettes

61 Oversized industrial
---
4 | www.westendermagazine.com

Editor's

Letter

H

oliday, camping trips, open water

swimming, cycle rides, hill walking

– summer, you've been a blast.

What to do though, now the skies are

darkening and the weather turns towards

interminable rain (hopefully that's just the last

few days and by time this edition comes out

we'll be enjoying an Indian summer – yup).

Panic not Westenders, there's loads! Greg

Kane gives us a round up of the best gigs in

the west on Page 16, while Tracy Mukherjee

finds everything from chilli cook offs to

riverside galas on offer this autumn (Page 19)

– we will not be bored.

This edition also sees us head along to

Arta in the Merchant City for our Sep/Oct

fashion shoot. I used to hang out in Arta in

my younger days when my city centre job

meant it was just a pop round the corner

– I'd almost forgotten what a quirky space

it is. And it's huge. How did I miss the

restaurant upstairs and the multitude of

separate function rooms in the cellar with the

old cheese presses (it used to be the city's

cheese market) – there's even a nightclub

down there. Youth and cocktails. There's a lot

I've done and completely forgotten. Perfect

excuse to do it all over again then… Check

out our take on animal prints from Page 8.

Above: Suzanne Martin, Westender editor.

Below: On location in Arta in the Merchant

City on the Animal Instinct shoot with model

Neesha Graham.

As the changing weather inevitably

draws us back inside it can be a great time

to reassess our living spaces for the new

season. Huge fashion trends straight from

the catwalk also influence our interiors

finds Susan Robertson, with oversized knits

reinterpreted into textured soft furnishings

and oversized furniture pieces. Read more on

Page 62.

Wall art shouldn't be overlooked either

and there are two great opportunities coming

up to view the creative talents of two of

our finest artists. The West End's own Avril

Paton, will be discussing her latest work

The Four Graces, at Kelvingrove Art Gallery

and Museum on the 18th of September

(see Page 20 for more details), while Nicola

Maule invites us to view the colourful world

of Glasgow based artist Helen Flockhart on

Page 30.

Personally I subscribe to the old maxim:

there's no such thing as bad weather – only

the wrong clothes. Hoping to see you around

the West End this autumn, or up a Munro

somewhere.

Suzanne Martin
---
www.westendermagazine.com | 5

ADVERTISE YOUR BUSINESS IN WESTENDER

Book advertising space in the Festive 2018

Westender by Friday 28th September.

OUT IN WEST END LOCATIONS FROM MONDAY 22ND OCTOBER

// 10 Years in the West End

// Glasgow's brilliant FREE bi-monthly magazine

// Great editorial features: fashion, dining out, health & beauty,

what's on, local authors & artists, interiors & more

// Massive potential business audience

// 12,000 copies per edition

// Handy handbag size

// FREE to pick up around the West End

// Online presence with digital magazine

westendermagazine.com

For more info or to advertise

email: suzanne@westendermagazine.com

for a media flyer, or call: 07905 897238
---
6 | www.westendermagazine.com

EDITOR

SUZANNE MARTIN

PHOTOGRAPHER

GREGOR REID

CONTRIBUTING WRITERS

EMILY DONOHO,

MICHELE GORDON,

GREG KANE, NICOLA MAULE,

TRACY MUKHERJEE,

ROBERTO PARRUCCI,

LORAINE PATRICK, CLAIRE PORTER,

SUSAN ROBERTSON, BRIAN TOAL,

LIBERTY VITTERT,

HANNAH WESTWATER

HAIR & MUA

TERRI CRAIG

STYLIST

JACKI CLARK

WESTENDERMAGAZINE.COM

INFO@WESTENDERMAGAZINE.COM

07905 897238

WESTENDER MAGAZINE IS ON

FACEBOOK, TWITTER

& INSTAGRAM

Publisher: Westender Magazine

Whilst every care has been taken to ensure that the data in this publication is accurate, neither the publisher nor its editorial

contributors can accept, and hereby disclaim, any liability to any party to loss or damage caused by errors or omissions

resulting from negligence, accident or any other cause.

Westender Magazine does not officially endorse any advertising material included within this publication.

No part of this publication may be reproduced, stored in any retrieval system, or transmitted in any form – electronic,

mechanical, photocopying, recording or otherwise – without prior permission of the publisher.
---
www.westendermagazine.com | 7

BAR.

Our Spanish Hacienda style bar encapsulates a true Mediterranean essence,

serving traditional sangria and contemporary cocktails with a twist. Drop by on a

Saturday and you'll see a spectacle like no other at 11pm, a tradition from Palma,

Mallorca… no spoilers though, it has to be seen to be believed!

RESTAURANT.

Here at Arta we love the Spanish culture of eating together with friends, sharing

various dishes and our ever evolving tapas menu reflects this ethos. Our restaurant

space creates an upbeat, relaxed environment that transports you to warmer

climates.

CLUB.

Our late night space plays host to fabulous live musicians and resident DJs every

week, Friday's and Saturday's from 11pm until 3am.

EVENTS.

Formerly Glasgow's Cheese Market, Arta is the perfect space for any event with

three floors ranging from our authentic Spanish private dining room to exclusive

venue hire.

Our events coordinators are on hand to create bespoke packages for every

occasion.

62 Albion Street, Merchant City G1 1PA I 0845 166 6018 I arta.co.uk
---
86 | www.westendermagazine.com

ALL THE

ANIMALS

COME OUT AT NIGHT

Images Gregor Reid

Stylist jacki clarke
---
www.westendermagazine.com | 97
---
10 | www.westendermagazine.com

8 | www.westendermagazine.com

dress, biba @ Frasers

necklace, Jasmine

SHoes, daniel Footwear

bag, topshop
---
jacket, frasers. dress, solo. shoes, new look

jewellery, nancy smillie. bag, liquorice tree

www.westendermagazine.com | 911
---
12 10 | www.westendermagazine.com

dress, frasers. shoes, asos. bag, topshop. necklace, jasmine. ring, nancy smillie

opposite page - dungarees, shoes, topshop

necklace, cassieopia. ring, nancy smillie
---
www.westendermagazine.com | 13 11
---
14 | www.westendermagazine.com

12 | www.westendermagazine.com

shorts, blouse, topshop

shoes, asos

location arta

model neesha graham

MUA terri craig, terricraig.co.uk

stylist jacki clark, jackiclark-stylist.co.uk

photography gregor reid, gregorreidphotography.com

top, frasers

shoes, new look

necklace, cassieopia
---
www.westendermagazine.com | 13 15
---
16 | www.westendermagazine.com

LIVE

September

Colin Macleod

Sunday 2nd September 7pm

SWG3, swg3.tv

Colin Macleod is a singer songwriter

from the Isle Of Lewis. He signed

a recording contract with industry

behemoth BMG a couple of years

ago and recorded his latest album

Bloodlines with music royalty

Ethan Johns (Kings Of Leon, Ray

LaMontagne, Laura Marling) in

charge of production at non other

than Peter Gabriel's iconic recording

studio, Real World… sounds like all

the planets have aligned for oor

Colin, but can he capitalised on all

this good fortune? Time will tell,

but his songs are heartfelt, he has a

endearing voice, looks good (James

MacAvoy doppelgänger) and plays

well. Just a wee bit of X-Factor is

missing, it'll come though I'm sure.

Choice Tracks:

Colin Macleod 'Kicks In'

Earl Slick

Monday 3rd September 8pm

Òran Mór, oran-mor.co.uk

Earl Slick is a 66 year old American

guitarist. Throughout his career he

has played with a multitude of iconic

artists including David Bowie, John

Lennon and Robert Smith (The Cure).

Now this guy doesn't do modesty.

His BBC4 'Rock 'n' Roll Guns For

Hire: The Story Of The Sideman'

documentary is compulsive viewing

(in part, due to the 'ticket' Slick has

on himself), but if you want to see the

trials and tribulations of a jobbing

musician of 40 years laid bare,

then you should watch it. He must

be good at what he does if all these

huge stars look to him for guitar

accompaniment.

Even though he's pushing 70, there's

no shrinking violet here. Earl Slick

is a full on, in your face rock God of

a guitarist… did I mention he doesn't

do modesty. A night of Rock'n'Roll

yarns straight from the horse's

mouth.

Choice track:

David Bowie 'Golden Years'

Hot Dub Time Machine

Friday 7th September 10pm

SWG3, swg3.tv

Hot Dub Time Machine is the World's

First Time Travelling DJ, a global

festival smash-hit and the Best

Party Ever!

It's only six years ago that

Australian DJ Tom Loud (aka Hot

Dub Time Machine) was playing his

musical roundup of the decades to

around 300 folk a gig… nowadays

it's over 7,000 people a night that

flock to see him all over the world.

Don't be fooled by the use of 'Dub'

in the title though, there'll be no

Lee 'Scratch' Perry played here,

but everything from Johnny Cash's

Jackson through Eminem's My Name

Is to Peking Duk's High, all wrapped

up in your stereotypical high energy,

jump around a lot, live DJ spectacle.

But crowds lap it up and in this

horribly polarised world in which

we all now live, it's nice to see

everyone come together, jump around

and just get on. Thank you Hot Dub

Time Machine, you might just be the

answer to our prayers.

Choice Track: Hot Dub Time Machine

hotdubtimemachine.com/mixes
---
www.westendermagazine.com | 17

by Greg Kane

October

Yola Carter

Wednesday 3rd October 8pm

Cottiers Theatre, cottiers.com

If you look at images of Yola Carter

you expect deep soul funk to come

bursting out of your laptop speakers

when you press play, but that just

doesn't happen. What does come out

is pretty straight ahead Americana

Country, but fronted by a proper Shaka

Khan-esque soul diva. It works… The

music drifts towards The Band and

Little Feet when it wanders away from

Old Time Country, but that's no bad

thing to these ears. Born and bred

in Bristol, UK she has been on the

radar down there for a few years now,

already having a guest appearance

with Bristol's finest, Massive Attack

under her belt.

Choice track:

Yola Carter 'It Ain't Easier'

Dawn Landes

Monday 15th October 7pm

SWG3, swg3.tv

Dawn Landes is an American singersongwriter

and musician from

Louisville Kentucky. Her guitar

lead music bridges the worlds of

Indie Rock, Alt Country and Folk.

Interestingly she is also a time

served sound engineer (a traditionally

male dominated profession) which

she still enjoys doing when not out

performing and was married to Alt

Country Icon Josh Ritter. Even though

she has released four studio albums

over the last ten years it can still

be quite confusing when listening

to her back catalogue… one minute

it's all beautifully sultry, dark and

atmospheric, next it's all Stetsons

and foot stomping. Takes you by

surprise, but I kind of like it.

Choice Track: Dawn Landes

'Try To Make A Fire Burn Again'

Helena Deland

Monday 22nd October 7pm

SWG3, swg3.tv

Helena Deland is from Montreal,

Québec. She writes melodic pop songs

with an extraordinary understanding

of space and sound. Her music has

such a calming effect, you feel

yourself drifting off into a world

of soft pleasantry, a world where

everything is running in 1/2 time and

everyone is kind and welcoming to

each other. It's a nice place to find

yourself in. She's releasing a series

of four track EPs which I guess will

eventually form a collection of songs

known formerly as an 'album'… What

are these kids like and their new

fangled ways!

She's out on tour all over Europe until

the end of the year.

Choice track: Helena Deland

'There Are A Thousand'
---
18 | www.westendermagazine.com
---
www.westendermagazine.com | 19

Top Things To Do

in the West End

by Tracy Mukherjee

Top for Terrific Tex-Mex

One of the most popular events in the West End

calendar, Lupe Pintos Chili Cook Off returns

on Saturday the 29th of September. Taking

part in the annual chilli fest are 10 of the west's

best bar restaurants. Old favourites such as

Stravaigin and Left Bank return to challenge new

kids on the block Bananamoon and defending

champions, Crossing the Rubicon. The tagline

for this year's festival of heat is Border Town

Jive, referring to the unique mixture of music,

cuisine and culture which exists along the Texas/

Mexican border. Each venue will of course be

vying for the coveted prize of best chilli in the

west and the contest is always 'hotly' fought.

With the judges (all 600 of you) making their

way from venue to venue, the array of sombreros

and false moustaches always bring a wry smile

to a September afternoon.

Lupe Pintos Annual Chili Cook Off

Sat 29th Sept, various venues

wflupepintos.com

Top for Breakout Music

If you are not fortunate enough to get tickets to

the Chilli Cook Off, you might want to consider

an equally fabulous festival on the 29th of

September. Tenement TV's annual Tenement

Trail, is an incredible day of music centred

around 10 venues in the G2 postcode. There is

12 hours of live music, that's over 50 artists,

from break out acts to the bigger names, with

a real drive to promote our excellent Scottish

talent. This year's headliners are The Cribs.

What makes the festival so unusual is that music

lovers go from venue to venue, with one ticket

covering the whole event. What a great way to

connect with live, independent music.

Tenement TV's Annual Tenement Trail

Sat 29th Sept, G2 various venues

wftenementtv.com

Top for Exploring the City

Doors Open Days is the largest free festival in

Scotland giving people access to the heritage

held within architecturally and historically

significant buildings. The Glasgow Doors Open

Days Festival returns for its annual celebration

this September. The event allows participants

to have a look inside some of Glasgow's most

prestigious buildings. Walk inside and hear the

fascinating stories these buildings can tell. With

talks, exhibitions and guided walks, this event

leads to a better appreciation of the fantastic

architecture and heritage on our door step.

Doors Open Days Festival

10–16th Sept various venues

wfglasgowdoorsopendays.org.uk

Top for Exploring the Clyde

Following a great inaugural event last year,

the Clydebuilt Festival returns to the Clyde

in September. The Castle to Crane race will

be on the Saturday of the two day festival.

The race is the biggest open water rowing race

to be held in Scotland. Competitors will set off

from Dumbarton Castle on a 13 mile course to

the Finnieston Crane. It's a thrilling sight as the

rowers make their way along the iconic Clyde

route. As well as the race, last year's event

saw taster sailing sessions, some amazing

sea and street food for the land lubbers and

superb entertainment for young and old alike.

Let's hope this year's festival can reach even

higher heights. Go along and experience the

maritime heritage of the Clyde.

Clydebuilt Festival, Riverside Museum

Sat 15th–Sun 16th Sept

wfclydebuiltfestival.com
---
20 | www.westendermagazine.com

Top Things To Do

in the West End

Top for Film

You can't beat a film on a chilly autumn day and

this season is shaping up to be a fine one for

kids. For our adolescents who study all aspects

of cinema, Glasgow Youth Film Festival kicks off

from 14-16th September. This event is scheduled

by young people. With hands on mentors all

year round, the group put together a whole

range of events, workshops and film screenings.

As always, details are tightly guarded until mid

August, however the opening gala will be Anna

and the Apocalypse! This home grown zombie

musical has a Q&A with cast and crew following

the screening. Given it's a zombie movie, the

Q&A may turn out to be a gruesome affair…

Glasgow Youth Film Festival

14th-16th Sept, GFT wfglasgowfilm.org

Top for Ghosties & Goulies

On the subject of zombies (sentences you never

thought you would write) Halloween is right

around the corner – and here in our very own

Cresswell Lane The Root of Magic has opened.

This family run magic shop feels extra mystical…

and that's just walking over the threshold. With

magical animals adorning the enchanted trees

and some ethereal decor to get the kids excited,

the team have done a lovely job.

With an apothecary for lotions and potions,

your little sorcerer's apprentice can have a

go at designing a concoction too. The store

runs workshops from their onsite classroom

on potion-making and science shenanigans.

Each class is conducted by a fully trained

witch or wizard who will have the cauldrons

bubbling in no time. Sessions run for 90 minutes.

Afterwards, why not peruse the many handmade

wands and magical gifts, which include tons of

official Harry Potter merchandise. Who needs

Diagon Alley, when we have Cresswell Lane?

The Root of Magic, Unit 14 Cresswell Lane

wftherootofmagic.com

Top for a Tipple

As the days get colder, it's easy to laze the day

away on the sofa. But with the promise of a dram

(or 3) to look forward to, why not consider a

trip to the Clydeside Distillery? This brand new

single malt scotch whisky distillery sits on the

Queens Dock. The Pump House is the site of the

distillery and of the tour. It's a great opportunity

to learn about the origins and production of the

amber nectar. At the end of the tour there will be

the chance to sample three malts from around

our great nation and the opportunity to buy your

favourite at the on-site specialist shop. With a

gorgeous cafe serving locally sourced, seasonal

produce, that lazy day on the sofa will seem a lot

less enticing.

Clydeside Distillery Tours

The Pump House, 100 Stobcross Road

wftheclydeside.com

Top for Art

Avril Paton is one of our most notabe and

recognisable artists. There cannot be many

a Glasgow home which isn't adorned by her

astonishing depictions of Glasgow tenement life.

So what a treat for the city that Paton's latest

creation, The Four Graces is to be 'gracing' the

walls of Kelvingrove this autumn. Capturing

'a moment in time' outside the museum, this

stunning watercolour, as in so many of her

pieces, conveys caught moments in people's

lives: joy, sadness, love, stillness. What's even

more thrilling is that the artist herself will be

giving a talk on Tuesday 18th of September in

front of her latest artwork. A great chance to

hear just how one captures our West End lives

and immortalises them on canvas. How lucky we

are to live in our Windows in the West.

The Four Graces, on loan from Avril

Paton until 22nd Oct, with Avril

Paton presentation Tues 18th Sept,

Kelvingrove Art Gallery and Museum

wfglasgowlife.org.uk/news
---
www.westendermagazine.com | 21

Party time at SPiRiTO!

Pom Pom garland £12

Festoon lights £70

Cake candles £5

* cards * gifts * decorations *

317 - 319 Crow Road, G11 7BU 0141 337 330 www.spiritogifts.com

GY COMPUTING

Microsoft Specialist

Evenings and Weekends

Home Visits

Competitive Rates

Fully Insured

No Call Out Charges

20%

off computer repairs when

you quote 'Westender18'

Check out my reviews on

Gregor Young | 07398 715157

hello@gycomputing.co.uk

www.gycomputing.co.uk
---
22 | www.westendermagazine.com

'Learning Through Play'

Places available.

To book your visit call Maureen on 0141 357 0231

www.derbystreetnursery.co.uk

maureen@derbystreetnursery.co.uk

1 Parkgrove Terrace, Glasgow G3 7SD

PI ATES

*Flexi-Class passes available * One-to-ones

* Relaxing *Suitable for Beginners & Advanced

Great for Runners, Cyclists, Golfers, Desk Workers..

*Post Natal * Botanic Gardens, Partick & Hyndland

www.pilatesglasgow.com 0787 647 3381

kerrystewart07@hotmail.com

ADVERTISE

FOR AS LITTLE AS

£75

email: suzanne@westendermagazine.com

for a media flyer, or call: 07905 897238

westendermagazine.com

Wee

FOR 3 – 8 YEAR OLDS

Hansel

& Gretel

atgtickets.com/glasgow *

*Booking Fee

1 – 3 NOV 2018
---
www.westendermagazine.com | 23

Endmum's

West

notebook

by Michele Gordon thelanguagehub.co.uk

Yes, it's that time of the year again,

the summer holidays are finished,

the rush to have everything you need

for going back to school ended and, with it,

thoughts on which after school activities to

book.

It can be costly booking activities for your

children but I do feel many of these clubs are

great learning and socialising opportunities

for children. They also support working

parents who often have little time to entertain

their children in a similar manner.

Our family is no different. This year will see

a big change for us as Ruby is moving on to

secondary school. Different school hours,

different requirements and, I am guessing,

some different interests with regard to

outside school activities.

Leon will be going back to football,

taekwondo and swimming (Kelvindale Otters),

easy. Ruby on the other hand, well, she wants

to do everything! Aerial yoga (ourworldyoga.

com), Hip Hop dancing (theg12studio.co.uk),

taekwondo (caledoniantkd.com), drama

(wearehaloarts.com) possibly swimming,

guides (stjohnsrenfieldchurch.org.uk) and not

to forget, the recently discovered youth club

for P7s+ at St. John's Renfield Church.

You see, the list seems endless. Her new

school has lots of school clubs on offer, and

they 'are all so interesting, mum'. I'm sure

they are – but how to fit all this into some sort

of weekly routine? But I suppose, I shouldn't

complain, I'd rather there was a choice of

different things than having little or no access

to activities at all.

Having said this, there are some types

of activities I would be keen for Ruby and

Leon to try but I cannot find in the West End.

I recently discovered various groups that

run really interesting sounding activities.

However, as my day only has 24 hours,

travelling longer distances is not really an

option. But maybe you can?

One of the things I found is 'Artsy Classes'

(artsyclasses.co.uk). Sadly, they are based

in Coatbridge and Motherwell but they teach

basic art skills to children; their programme

sounds great. However, you can always

check out the workshops run by The Glasgow

Menagerie (theglasgowmenagerie.com) here

in Partick.

I also like the sound of the Scottish Ballet

sessions for 16 year olds+ (scottishballet.

co.uk) on the south side; it is never too

late to start as their absolute beginners

class suggests. Or to pique their interest

at a younger age, Scottish Ballet are also

holding two new performances of Hansel &

Gretel specifically for families with children

from 3 to 8-years-old on the 1st to 3rd of

November. These specially adapted hourlong

performance of Wee Hansel & Gretel is

the perfect way for young children to discover

the magic of ballet (atgtickets.com/glasgow).

Or how about Diane Mitchell's music

school (dianemitchellmusicschool.com)

based in Paisley and Barrhead? There are of

course many private music tutors in the West

End but I do like the idea of children learning

together in a group.

And if none of the above strikes a cord

maybe learning a new language or receiving

additional input for a language your young

person is already learning might just do

the trick. Where can you do this? At The

Language Hub of course! Pop in anytime and

check out our new shop and Cafe at 19 Keith

Street, G11 6QQ which opened in August.

We believe we offer something for everyone.

Ganz bestimmt!
---
24 | www.westendermagazine.com

Image I Gregor Reid

KEEP ON MOVIN'

WORDS Hannah Westwater

Glasgow has hosted its fair share

of sport extravaganzas, from the 2014

Commonwealth Games to this

summer's European Championships.

On each occasion, between the fireworks

displays and gazebo-lined pop-up venues,

there is talk of how these sporting legacies

will benefit Glasgow in years to come.

One example of how this came to fruition

can be found at Movement Park, a South

Street charity which fuses sport, community

and equality of opportunity.

Teaching fundamental movement skills is

at the core of the charity's mission. Offering

a carefully curated range of activities for a

flat rate of £20 per month, the team behind

the centre encourages families to bring

their children to as many different sessions

as they like. With a programme spanning

across judo, parkour, skateboarding, dance,

yoga and more, the ethos at the heart of the

charity's work is that its value is in the sum of

the activities' parts – physical literacy is their

focus, with a view to building their own legacy

of a healthy, active community.

'The average drop-off rate in sport

is usually between ages 10 and 12, and

that's generally because kids don't think

they're good at things,' says Movement

Park convenor Stephen Somerville, who

co-founded the centre with two fellow judo

players. 'When we come to the sport-specific

stuff they think oh, I can't do that properly.

So we try to build the confidence which will

hopefully make them more motivated to

participate on a longer term.'

Stephen explains that despite the vast

array of activities on offer, each is selected

with all-round competency in mind. 'It's not

about parkour or judo – it's about them all
---
www.westendermagazine.com | 25

coming together and creating a safe place for

kids to feel like they can try. It's building for

the future.'

With an understanding of how a

disadvantaged background can affect ones

relationship with – and access to – good

quality sports training, the charity not only

keeps its prices low but makes itself as

accessible to the surrounding community

as possible. 'Sometimes a governing body

can't dig far enough into the social issues at

play, whereas charities like us can go a wee

bit deeper,' says Stephen. The team works

closely with local primary schools, providing

PE lessons and encouraging free play as a

form of learning.

Movement Park is also an inclusion hub,

having adapted to the needs of children

with disabilities. There are currently 13

visually impaired children enrolled in the

judo club, but the charity's accommodations

for them go well beyond the walls of the

converted warehouse in which it's based.

Stephen explains, 'We put a big focus on

independence training – we look at where the

kids stay and how to get them here. So we

have a buddy system, meaning someone will

go and meet them at Central Station, bring

them to Movement Park and then take them

back.

He adds, 'What you see when you work

with kids with visual impairment is that they

think they're independent – but only when

they get here. This means that when they

leave school, they drop out of their activities.

We're trying to prevent that. Being on the mat

is only a small part of the programme.'

The centre also offers an art room and a

Lego room, which Stephen points out have

proven particularly valuable when engaging

children with autism. Movement Park 'comes

at the kids from all angles', promoting

creative thinking and imaginative play as part

of a child's overall wellbeing.

That element of mental wellbeing was also

taken into account when the charity turned

their focus to urban sports like parkour and

skateboarding. 'There's something very

interesting about them,' the charity convenor

notes. 'In traditional sports, you're either

winning or losing. You deem yourself good or

bad depending on how you do against your

opponent.

'In urban sports, you can take part and

you can stand at the side with all the gear on

and be part of the gang. It has ties to music

and art, and you can be a part of it without

sacrificing yourself on every turn. It's more

of a show rather than a competition. Urban

sport is a lot more culture-based – at the

heart of it, you're just hanging about with

your pals.'

Moving forward, the charity hopes to

attract volunteers and sponsors who share

their core values – as well as increasing

their register of 140 members, with another

hundred attending on a pay-as-you-go

basis. The real proof will be in years to come,

however, when the charity hopes to see an

uptick in healthy habits being passed on

through families who otherwise may not have

had the opportunity to learn the necessary

skills.

'I'll say it again – we're all about building

confidence and competence,' Stephen

concludes. 'Movement Park is a one-stop

shop for making movement matter.'

movementpark.org.uk

Image I Gregor Reid

Image I Brodie Reid
---
26 | Westender www.westendermagazine.com

Magazine Promotion

Images I Gregor Reid

Health – History – Heritage

Arlington Baths Club

Begin your fitness regime at the modern

grand-old-gent that is the Arlington

Baths Club, in the Woodlands area of

the West End.

The club, which is the oldest members

club in Europe originating in 1871, underwent

three extensions in its early years and a

further refurbishment in 1996 courtesy of

the Heritage Lottery Fund and was recently

awarded 'A' listing status, is known as

a sanctuary in the heart of the city and

welcomes its flourishing membership to

exercise and relax in classical surroundings.

'Over the past couple of years we have

refurbished many member areas of the club',

says Andrew McGilp General Manager.

'The lounge has been completely modernised

and the Cool Room refurbished. We made

a major investment in the Turkish Rooms

refurbishing both to a very high standard

and introducing a more comfortable feel to

promote a real sense of relaxation.

'We also installed new state of the art,

WIFI enabled, cardio vascular equipment

in the gymnasium as well as upgrading the

floors in both the CV Gym and Weights Gym.

'The Reading Room has been completely

overhauled with a new floor and painted

walls. In addition we have undertaken works

in the pool tank and circulation pipes, pool

filter and pumps; modernised some of the

member showers, and undergone a complete

refurbishment of the family changing

accommodation. A fresh touch of paint has

also been added to a number of areas.

'All in all these works have enhanced

the club experience for our members,' says

Andrew, 'and we are particularly keen to

continue with a programme of improvement

which will reflect our Victorian heritage.'

The club has evolved practical and

inimitable customs over the last 147 years

to suit members and a unique building.

There are many different ways to enjoy the
---
Westender www.westendermagazine.com Magazine Promotion | 27

facilities and plenty for members to do; with

the 21 metre, 7 lane swimming pool and over

pool trapeze hoops and bars, freestanding

Victorian baths, original and unique Turkish

room, poolside and first floor sauna boxes

and steam room.

Alongside staff member James Findlay,

the club's YMCA accredited gym instructor

on-site and available for personal training

sessions, there is pool lifeguard Anna

Burakowska who offers one to one swimming

lessons; Vicky Smythe who offers massage,

shiatsu and reiki services; Rosina Bonsu

who offers a range of Yoga classes and

workshops; Tai Chi classes for beginners with

Alan Skirving and Pilates classes with Jackie

Anderson and Lily Pilates.

In addition, the Scottish Outdoor Club

hold Scotland's weekly Skinny Swim, every

Sunday evening which offers mixed naturist

use of the pool, Turkish suite, steam room,

sauna and relaxation areas.

Regular family swimming sessions are

held in the pool with group and individual

swimming lessons and stroke improvement

lessons available from the William Young

Swim School, on a Wednesday morning,

Friday late afternoon and Saturday morning.

With many current members enjoying five,

six or seven decades of membership, the

Arlington seems to be a life-long passion, and

with the drive for continuous improvement it's

easy to see why this West End institution is

as popular now as it was in 1871.

arlingtonbaths.co.uk

To mark its

involvement

in the Glasgow

Doors Open Day

Festival the

Arlington Baths Club

will offer a Special

Deal to all new members, who join

during September, of no joining fee

PLUS 12 months for the price of 10 for

the first years membership… costing a

little more than £10 per week.

For more information please email

Andrew at info@arlingtonbaths.co.uk

quoting 'Westender Offer'.
---
28 | Westender www.westendermagazine.com

Magazine Promotion

RRI

W

by John Parker

ell it's been a really fantastic

past few months for us at Rainbow

Room International. In June and July

we were delighted to be invited back to the

second year of TRNSMT festival to do the

hair backstage for the celebrities and had a

fantastic time doing so.

We styled many great band members,

including members from Fatherson, Wolf

Alice, The Magic Gang, Gang of Youths,

The Temperance Movement, Alabama 3 and

La Fontaines to name a few.

We did a lot of braiding and also a lot

of short, choppy cuts, graduated cuts and

fades. However, many of the artists simply

opted for a tidy up on their original cut with

some styling, where we used the fantastic

Schwarzkopf Professional Products,

Osis+ Session Label Salt Spray and Osis+

Whipped Wax.

follow – Rainbow Room GWR

Rainbow Room International

607 Great Western Road G12 8HX

0141 337 3370

rainbowroominternational.com

WIN! Rainbow Room International

are offering one lucky reader a hair

makeover in their Great Western Rd

salon. For your chance to win go to

westendermagazine.com and click

on competitions by the 31st Oct'18.
---
Westender www.westendermagazine.com Magazine Promotion | 29

take a break at Gleneagles

Combine the best of both worlds with

a luxury lodge escape at Glenmor

Lodges set in the glorious 850 acre

estate of The Gleneagles Hotel.

With their own Glenmor Clubhouse,

including the Tryst cafe-bar, dedicated

5-star-concierge service, plus full use of

the health and spa facilities, restaurants,

including the two Michelin-starred Andrew

Fairlie restaurant at The Gleneagles Hotel,

there is no downside to these spacious two,

three and four bedroom homes from home.

Relaxed and cosy to reflect their Highland

surroundings and beautifully appointed with

cosy reading nooks, luxurious kitchens and

indulgent bathrooms – nothing has been

overlooked, especially the gorgeous views

from the spacious terraces. There are even

two mountain bikes with every lodge to take

advantage of all that Highland countryside.

With a wealth of country pursuits to try,

including archery and horse riding, to more

leisurely time spent in the spa, the Glenmor

on-site concierge can arrange your bespoke

itinerary, making restaurant reservations or

organising your own chef to cook for you

in your lodge – everything is taken care

of so you and your family and friends can

simply relax. And every generation is taken

care of with The Little Glen and the Den for

youngsters to hang out in. Perfect.

Luxury Glenmor Lodge breaks start from

£1,635 for a 2 bed home.

The Gleneagles Hotel, Auchterarder PH3

01764 694321

gleneagles.com/glenmor
---
30 | www.westendermagazine.com

Visions of Mary

by Helen Flockhart

WORDS NICOLA MAULE MAIN IMAGE GREGOR REID

There are times that I am so spellbound

by a painting that only when the critical

mind jumps to my attention does the

awareness of that moment shock me.

Standing in the studio of Glasgow based

artist Helen Flockhart, pictures laid out

around the room, I am reminded of just how

powerful the impact of art can be in evoking

such a raw, deeply personal response.

The space is functional, creeping

postcards of images and inspiration papering

one wall, a window offering natural light,

a palette of oils in perfect cones of colour

on a small table and a quiet that clears the

way for minimal distraction. Paintings for

an upcoming exhibition are placed for my

viewing but given it's a working studio and

that Flockhart often works on more than one

painting at a time, not unusual. Time is also

pressing – she opens her solo show Linger

Awhile in Arusha Gallery, Edinburgh mid-

September before it tours to Linlithgow Burgh

Halls. The significance of which is noted

considering this new body of work is firmly

rooted on the life of Mary Stuart (Mary Queen

of Scots) – born in the town at Linlithgow

Palace in 1542.

Crooked Rib is the painting that holds

my gaze yet as it moves from one picture to

the next the cohesion and collective power

of these works is sustaining. With such an

awareness of the impact of my response I

am intrigued by the process and inspiration

for the collection, drawn to the thread linking

one woman in history to another as an artist

centuries later and a viewer – how an image

can evoke such a projection.

'It was an article on Mary's mother, Mary

of Guise that first pricked my interest a few

years ago and I visited Linlithgow Palace last
---
www.westendermagazine.com | 31

summer, which had a real presence – from

there I began reading books which sparked a

lot of ideas for paintings,' Flockhart tells me.

A figure of legend, Mary Stuart has since

become a narrative of Hollywood – one of

twisted myths, romance and stereotypes.

Flockhart was studious in her research,

delving deep into the written words of those

who show dedicated efforts in researching

her life, yet observant to the limits of the

stories that weave through the national

conscience. 'Legend has interwoven over

time – people seem to adopt a standpoint

and then research to back up their

standpoint,' she adds.

In this collection the feminine strikes

forth – theatre, history and beauty all

pass through the image with the artist

harnessing key moments in Mary's life and

transcending these details with a personal

and compassionate response.

Each painting is a reflection - quotes

such as the widely known 'en ma fin gît mon

commencement / in my end is my beginning'

embroidered by Mary during her long

Crooked Rib

© Helen Flockhart

incarceration in England is painted onto her

dress in Lachrymose Window. The symbol of

The Mermaid and the Hare – a placard that

was exhibited in Edinburgh (1) denouncing

Mary as a tainted lustful siren and the Earl

of Bothwell, whose coat of arms includes

the hare, as a player in the murder of Lord

Darnley is also shown in the fabric of the

dress.

The painting captures the dominance

of Mary as a solitary figure with a sense of

stillness sweeping over the picture – Mary's

hands resting on her lap, her gaze straight

and steady. Scottish ferns, regarded in Gaelic

culture to have protective powers (2) look

static, frozen almost as they fill the world

beyond the window frame. She is held tight

in a world where time itself is unforgiving and

constant yet the red of her lips charge the

energy of the feminine and Mary's position

during that period in her life shows one of

resilience, presence and danger.

Every one of Flockhart's pictures is rich

in colour, dense in texture and filled with

symbolism. O Elizabeth is a portrait of the

Lachrymose Window

© Helen Flockhart
---
32 | www.westendermagazine.com

The Mermaid and the Hare

© Helen Flockhart

O Elizabeth © Helen Flockhart

English queen Elizabeth I, seen holding a

jar in her hand – the captured butterfly a

symbol of her power over her prisoner, Mary.

The background to the portrait of Mary of

Guise Do Not Touch Me Or I Will Prick is

swathed in layer upon layer of intricately

painted flowers while lush green foliage

enfolds a number of portraits – the intrigue

of what might reveal itself through the leaves

as the tiger did for Henri Rousseau (d.1910)

holds my thoughts.

I can't help but notice that Flockhart

herself has long red hair and albeit Mary

Stuart was of course renowned for her red

locks I do question her own identity creeping

into these paintings and find it interesting to

see the shift in the way she has portrayed her

figures over the years. In a 1988 self-portrait

the person is small in stature – a large head

with a smaller body. Over time there has been

a definite move towards a lengthening of the

body and in these works in particular I think

of the stylised female in the Art Deco period

of the 1920's and reminded of a sculpture by

Eric Gill (d.1940) titled The East Wind

– the angular proportions of the face

specifically. This is an artist with a clear

knowledge of history, from observation of

these works I also see 17th century Dutch

influences through the use of perspective in

The Mermaid and the Hare and the detail and

precision of draughtsmanship applied in the

arches.

Flockhart is a highly skilled painter – her

new paintings are original, enigmatic and

provocative. They feel hugely significant and

relevant, timely of the present while magically

capturing the deep significance of the stories

regaled from the past. The thread of history

runs deep, the line of influence alive and

enduring. She has the unique ability to keep

the viewers look within the frame where

they too are suspended between a feeling

of safety, held tight within the richness and

detail of the painted surface with an almost

disturbed fascination. Flockhart's voice is

clear and distinctive and what a force as a

painter – one of Scotland's greats.

(1) apollo-magazine.com/mary-queen-scots

(2) nrscotland.gov.uk/research/archivistsgarden/index-by-plant-name/hard-fern

Flockhart attended The Glasgow School

of Art, graduating in 1984 with a first-class

degree in painting with works held in many

British and International collections.

13 September to 7 October

– Arusha Gallery, Edinburgh

12 October to 20 January 2019

– Linlithgow Burgh Halls
---
www.westendermagazine.com | 33

Book before

"The best Christmas for generations"

30th

September

and

save 10%

Christmas and New Year may come

only once a year but boy do we make

them one to remember with Scotland's

largest house party here at Crieff Hydro.

And as 2018 is our 150th birthday year –

we've got double the celebration!

What's included:

• Three to five nights accommodation

• Endless entertainment

• Free childcare for 2 -12 year olds

• FREE leisure pool, gym and cinema

3 Night

Christmas Package

Only £513

per person

3 Night

New Year Package

Only £810

per person

Self-catering

breaks

From £64

per person, per night

Book now crieffhydro.com/festive | 01764 655 555

Terms: Based on two adults sharing standard double accommodation, arriving on 24 or 30 December 2018 for three nights.

Self-catering breaks are a minimum of 5 nights. Hotel packages include all meals. Subject to availability, see website for full details.
---
34 | www.westendermagazine.com

Writer's Reveal

meets Lin Anderson

WORDS LORAINE PATRICK
---
There aren't many things Lin Anderson

doesn't know about dead bodies.

She created tartan noir heroine, forensic

scientist Rhona Macleod whose cases

now run to 13 books, and is cofounder of

Bloody Scotland, the Crime Writing Festival

which takes place in Stirling this September.

The author lets Loraine Patrick into the

secrets of writing a successful book series

and discusses why crime writing has put

Scotland on the modern literary map.

You are on the list for the 2018 McIIvanney

Crime Book of the Year for Follow The

Dead your 12th book in the Rhona

Macleod series. How does it feel to be

nominated?

Named after the late, great Willie McIlvanney

who inspired so many of us to write Scottish

crime fiction, the McIlvanney prize is dear to

my heart. It's therefore a great honour to be

long-listed among such an array of talent,

established and new.

This book has been particularly well

received, described as an outstanding

thriller with shades of the Wicker Man and

a touch of Agatha Christie. One critic said

the pace is beautifully judged with plenty

of twists and turns. Can you give our

readers a flavour of what to expect?

Hogmanay, in a blizzard on top of

Cairngorm... what could possibly go wrong?

My home village is Carrbridge in Cairngorm

National Park. A couple of Christmases

ago safely tucked up in front of the fire,

with a blizzard raging outside, I imagined

the opening of Follow the Dead. Consulting

with Willie Anderson, leader of Cairngorm

Mountain Rescue, I learned of a plane that

had come down on a frozen Loch A'an near

the Shelter Stone refuge. The plane was from

Norway, and the idea of a joint investigation

between Police Scotland and Stavanger

police was born.

For those who haven't encountered your

books featuring forensic scientist Rhona

Macleod how would you describe her?

Rhona was inspired by a former maths pupil

of mine at Grantown Grammar School,

who comes from Carrbridge. She studied

forensic science at Strathclyde University

and now works in London. My father was a

DI in Greenock when I was a teenager, and

www.westendermagazine.com | 35

his constant worry was that he would arrive

at a scene of crime and it might involve one

of his three daughters. That provided the

premise of Book 1, Driftnet, only I made the

protagonist a woman and a forensic scientist

instead of a male detective. Rhona arrives

to find a teenager who looks so like her she

thinks he might be the son she gave up for

adoption 17 years before. I don't describe

her physically in the books. I like the fact

that readers forge their own image of her.

You learn about her by what she does in

difficult circumstances. I would say one

thing though. She doesn't openly reveal

her feelings. That's where her sidekick and

forensic assistant comes in. Chrissy says

exactly what she's thinking, and through her

you learn more about Rhona.

Did you expect right at the beginning

there would be so much scope for the

character and so many books could come

from her?

No. I saw the dramatic premise of Driftnet

where she searches for the killer and her

own son in tandem, being a one off. However

I loved the characters and the world of

forensics, as did my readers, so I wanted to

explore both through more stories.

You have actually just published the next

instalment, book number 13 called Sins of

The Dead. What do you think the secret to

creating a long running series is?

Willie McIlvanney once said of Laidlaw that

he was a man who just happened to be a

detective. Rhona is a woman, who happens

to be a forensic scientist. Any crime series

is never about the crime, but always about

the character. Readers come back because

they want to be with those characters again

and again. These characters are on the

front line and the world they have to deal

with is far removed from our own. We live

vicariously through them. In Sins of the Dead,

Rhona must face a forensically aware killer,

who targets her through her knowledge.

A personal and professional nightmare.

How long does it take you to write a book?

It takes about nine months to research and

write a book. I have a very visual image of

an opening which I write down. That rarely

changes. I have no idea the who or the why.

That's for Rhona to find out. I investigate in
---
36 | www.westendermagazine.com

tandem with her, so I have no idea what will

happen next. It's an exciting way to write, but

can get a bit fraught as we near the end, and

I've yet to discover the whole truth.

Rhona must be a huge part of your

life – you did the forensic science

course at Glasgow University when

you quit teaching to become a writer.

How much of you is in Rhona?

The Diploma course in Forensic Medical

Science at Glasgow University (my alma

mater) was fantastic. I still use my notes

from it and of course the contacts I met

there. Listening to the real professionals was

a privilege. I still draw on their expertise,

particularly forensically, as I want the books

to be as authentic as possible without being

a textbook.

As for myself and Rhona. Well. She's

much braver than me, although there are

a few traits we share in common. I'm not a

keen flyer, having been involved in a very

scary incident when I lived in a remote part of

Nigeria and the light plane I was in lost power

in both its engines. Rhona also has a touch of

vertigo as do I.

Rhona is from the West End. What is it

about the area that appeals to writers?

I decided to place Rhona's lab in the

University, looking out over Kelvingrove

Art Gallery and the park. At that time she

probably should have been in Pitt Street,

but hey there was no view there and it's shut

down now anyway. Professor John Clark

who ran the diploma course said her lab was

actually in the Principal's study at Glasgow!

I lived in Partick for many years, and love

the park and the whole buzz of the place.

Although Rhona's flat is modelled on a

friend's flat in Edinburgh near the King's

Theatre with a back view on a convent

garden, in reality it's in Park Circus because

I've always wanted to live there.

Aside from writing you are the co-creator

of Bloody Scotland, the annual crime

writing festival held in Stirling. This year it

runs from 21-23 September. Tell us what is

happening behind the scenes.

Bloody Scotland is a bit like a crime novel.

It takes around nine months in the planning,

and our aim is to inform, inspire, entertain,

and surprise our audiences so they're never

quite sure what will happen next. It's the

best fun ever and very Scottish in its quirky

uniqueness. We love that our readers and our

writers mingle together and that you have the

opportunity to see the wealth of talent both

homegrown and international. Scottish crime

writing is our other national export.

Alexander McCall Smith was on hand

to help launch the festival this year.

I believe you are neighbours – are you

good friends?

As well as being neighbours, Sandy and

I both lived and worked in Africa. When I

interviewed him at the launch we talked about

our shared love of baobab trees, eating flying

ants (they taste like butter) and the joy and

wonder of Africa's music and people. It was

a delight for us that he was able to open the

festival this year. His busy schedule means

that he's usually in the States in September,

so we finally worked out a way to have him

with us.

The Festival also celebrates the life and

times of Muriel Spark with a Crimes

and Misdemeanours event. What

Competition!

We have two signed copies

of Follow The Dead

to give away. Visit

westendermagazine.com

and click on competitions

by the 31st of October 2018.

Follow the

Dead

£2

OFF

*

RRP £7.99

*Exclusive offer for WESTENDER readers

at Waterstones 351-355 Byres Road

branch only, by 31st October 2018.
---
www.westendermagazine.com | 37

impact do you think she has had on the

contemporary writing scene?

We felt it was very important that we

celebrate Muriel Spark. She has been a

powerful influence on many Scottish writers,

including Ian Rankin who was writing a thesis

on Muriel when he began work on Rebus.

It's also significant to note that in the recent

Scottish Novel World Cup run by the Scottish

Book Trust the two finalists were Ian with

Knots & Crosses and Muriel Spark with The

Prime of Miss Jean Brodie – and Muriel won!

A couple of my favourite events are the

annual Scotland v England football match

and a performance by the Fun Loving

Crime Writers – a group of crime writing

musicians comprising of Christopher

Brookmyre, Val McDermid, Doug Johnson

and Mark Billingham. It is nice to see

such good relationships develop between

writers. Is that an important part of what

the Festival is about?

Definitely. You can't stop those crime writers

from showing off. On stage or the football

pitch. It's in their blood ! And, let's face it

they're very talented. Also the crime writing

fraternity are very supportive of one another,

and we champion new writers at Bloody

Scotland, both through our Pitch Perfect

event and our Spotlighters.

Irvine Welsh closes this year's Bloody

Scotland – perhaps a slightly new

direction for the Festival?

Crime writing is a very broad church and

looking at our programme this year you'll find

even more variety. We're featuring 14 different

languages in the last Bloody Scotland before

Brexit. And let's face it there's plenty of

murder and mayhem in Irvine's books. We're

delighted that this year he will be in Europe

just when we need him.

Finally Lin we have two copies of your

book to give away – for those who don't

win a copy why should Westenders buy a

copy?

Well, if they weren't intrigued by my earlier

pitch for Follow the Dead, Sins of the Dead

came out on 9th August and takes place

entirely in the West End. Beware what you

wish for!

bloodyscotland.com
---
38 | www.westendermagazine.com

1

BY BRIAN TOAL

WESTENDER's

COVER TO COVER

R.J. Mitchell worked as a beat cop in Glasgow's 'D'

Division for 12 years before deciding to concentrate

on writing full time. Clearly, his time on the force

has furnished him with a plethora of anecdotes and

stories which serve as stimuli for his crime novels.

The Shadow

of Fear

by RJ Mitchell

The Shadow of Fear is his fifth

foray into crime thrillers and it's

certainly a page-turner. The first

chapter had me hooked and

appalled at the same time as the

horrible events inside Barlinnie's

'C' block are revealed in all their

gory glory. The introduction of

the main character, Ludovic Fear,

is brutal but gives the reader a

keen sense of his capabilities

and skill set as he challenges the

ruthless brutality of jungle law in

'The Big Hoose'.

Fear finds himself pulled

inexorably into the vortex that is

Scotland's criminal underworld,

where his skills as an ex-SAS

operative are invaluable as a

means of dealing with nasty stains

which need to be rubbed out. Fear

is clinical and proves his worth

with every task, but with every

task he becomes more and more

mired in the tangled web of The

Cyclops, the criminal kingpin of

Central Scotland.

The build-up to the heist –

which is the main reason for

Fear's recruitment – is full of pace,

twists and turns and the reader

genuinely has no idea how it will

turn out. Added into the mix is

the sultry chanteuse, Charlie,

who also happens to be the beautiful daughter of MacPherson,

a.k.a. The Cyclops. Of course, Fear falls head over heels in love

with her because his life wasn't complicated enough, what

with trying to rebuild his shattered reputation following his

incarceration, trying to maintain a tenuous relationship with his

ten-year-old son and pull off the heist of the century!

If it's action and pace you want, this is right up your street.

The chapters are short, adding to the pace, the characters are

complex but painted vividly, the setting is familiar to a Scottish

reader and the storyline genuinely absorbing.

I became really frustrated with the preponderance of basic

spelling and grammar mistakes, as the novel clearly hasn't been

edited very well – a cursory glance would have caught many

of these errors. However, don't let that put you off. It's a great

diversion from real life and may introduce you to a new crime

writer to rival McDermid or Mina.
---
www.westendermagazine.com | 39

The Hidden

Ways

by Alastair Moffat

2

As a keen walker, I found this

book fascinating as it opens

up a whole world of hidden or

forgotten walks throughout

the Scottish countryside which

you won't find in your standard

tourist guides.

Alistair Moffat is an awardwinning

writer, historian, STV

bigwig and Fringe Festival

director, so when it comes to

Scotland's culture and history

there are fewer writers who

can speak with such authority.

The book is split into

ten chapters, each one

dealing with a 'hidden road'.

The Romans feature in a few

chapters, from their use of

roads such as Dere Street

to get into the heart of the

Scottish borders, or their use

of coastal entrepôts such as

Earlsferry and Berwick upon

Tweed to transfer troops

quickly up the coast for incisive

raids further inland.

One of the most intriguing

chapters deals with a series

of defensive structures

from Stonehaven into the

Grampians, which were

designed to stop a putative

German invasion during WWII,

as the threat of an invasion

from newly conquered Norway

was taken extremely seriously.

Perhaps the most beautiful

chapter is the envoi entitled

'The Snow Road', where Moffat

is back home near Kelso and

observes the way in which a

path is momentarily revealed

when the snow accumulates

in a certain way, a hidden

road which he'd been around

all his life but never noticed.

How often do we fail to see

what's right in front of us?

Kirsty Logan is a prize-winning

writer from Glasgow and in

her latest work of fiction she

has created a magical island

world full of stories of selkies,

mermaids and people who turn

to stone when it's their time

to go.

However, this isn't a

fairytale or a fantasy in the

traditional sense, as there are

events depicted which are

all too 'real', although 'real' is

a relative term. Heartbreak,

love, loss and tragedy are all

interwoven with elements of

the fantastical to make this a

truly enchanting story.

The Ross family move to

the island to renovate an

old, crumbling guest house.

The father was a boxer and

the mother a ballet dancer,

and throughout the novel are

references to these two worlds

– worlds which collide and

complement each other in a

strange but beautiful way.

The children (Islay, Mara

and Barra) all suffer in their

own ways, but there is always

enough glimpses of potential

happiness to give the reader

hope. The chapters alternate

between the present and

the past, with the latter

illuminating the former.

The climax is moving and

fitting and was an emotional

end to a novel which moved

me from the start.

'Gloaming' is the Scottish

word for that time between

day and night, and with this

motif running throughout

the novel, Logan helps us to

appreciate that beginnings

and endings are not nearly as

important as what we do in

between.

The Gloaming

by Kirsty Logan

3
---
40 | www.westendermagazine.com

Guilty Pleasures from

Westender's American

in Glasgow

Image I Gregor Reid
---
www.westendermagazine.com | 41

Scottish berry cobbler

by Liberty Vittert

K

Shopping List

For the filling:

250g of EACH blueberries,

raspberries, blackberries

100g granulated sugar

1 tbs corn flour

2 tsp lemon zest

2 tbs lemon juice

For the crumble:

96g plain flour

150g granulated sugar

110g brown sugar

45g oats

2 tsp cinnamon

1 tsp nutmeg

½ tsp cloves

½ tsp salt

115g unsalted butter

For serving:

vanilla ice cream

L

Summer is over, and what a summer we

had. It was actually sunny enough that I am

looking forward to fall jackets, ankle boots,

and of course, fresh Scottish berry cobbler.

Some of the sweetest fruit is found in early

fall. Stick those puppies in the oven with a

hot bubbly spiced crumble, top with some

Colpi ice cream and babycakes, I promise,

you will be the most beloved person in the

neighborhood.

This dish takes 10 minutes, and that is when

I got the man of the house to do it (when he

makes toast, he calls that cooking). My favorite

thing about this dish, besides its deliciousness

of course, is the fact that you can bake it, cover

it with cling film, pop it in the fridge

for up to a week and stick it back

in the oven about 20 minutes

before you want to serve it!

Method

1. Preheat the oven to 175C. Grease

a large pie pan or 8 ramekins (for

individual servings).

2. In a medium bowl gently mix together

all the ingredients for the filling.

Set aside.

3. In an electric mixer with the beater

attachment (or using a pastry cutter),

mix all the ingredients for the crumble

until it reaches a sandy texture.

4. Place the filling in baking dish(es) and

liberally apply the crumble on top.

5. Bake for 45 minutes.

6. Serve immediately with vanilla ice

cream.

PAPYRUS

SPECIAL

OFFER

20%

off

Le Creuset

Petite Casserole

RRP £19

in Papyrus

Cookshop

*Exclusive offer for

WESTENDER readers

at Papyrus,

374 Byres Road
---
42 | www.westendermagazine.com

THERE ARE SO MANY

WAYS TO LOVE

JOIN // HOST // SHOP

For more information:

www.stelladot.co.uk/lorainepatrick

lorainepatrick1@me.com
---
@

Honu

www.westendermagazine.com | 43

Image I Gregor Reid

Reviewed by

Roberto Parrucci

Walk west from the looming shadow of

the Partick train bridge on Dumbarton

Road, there's a pleasant surprise to

be found for the aspiring Thornwood foodie.

Restaurants and cafes with a strong sense

of identity and an original idea of food are

making their way, finding the area open and

responsive to their new and exciting ideas.

Honu is one such place, an establishment

full of striking surprises that could make you

seriously consider shifting your nightlife that

bit more west.

The place boasts an atmosphere new to

these parts, bright and well-appointed, a

long line of small tables and quaint wooden

benches welcome you, all that timber

creating a warm, cosy feeling. 'The wave'

wallpaper in light blue, and the adjacent

window-mirrors give the real sense that the

Pacific Ocean is not so very far away at all.

Honu's concept is a delicate taste of Pan

Asian/Pacific Rim cuisine with influences

from Japan to Korea, from US to Canada.

What brings everything together though

is the combination of delicious food and a

remarkable selection of homemade cocktails

as a welcome counterpart to your meal

– Martini house special being a personal

favourite.

The food is a real kick to the taste buds,

with ample portions and well-seasoned

produce – the presentation colourful and

captivating to the eye.

A starter of Korean chicken bites to share

are served with sweet and sticky Gochujang

sauce and sesame. The chicken was

perfectly breaded, golden and crispy on the

outside, tender and juicy on the inside.

As a main course, we opted for two filling

options and an unconventional surprise.

The Poke bowl with rice, teriyaki,

vegetables and tempura king prawns

is a pleasure for the body and the soul.

The different ingredients of this plate stand

on their own but the mix of colours and

the composition of the plate evokes an

immediate sense of happiness.

Thai Kheo curry, a fusion of Thai spices,

coconut milk, pepper, kaffir lime, crispy

shallot, spring onion, steamed rice and

chicken is just as delicious as it might be and

a perfect balance of spicy and sweet and

sour.

What definitely got our attention, however,

was the sweet chix waffle. It comes served

with fried chicken, hazelnut ice cream (yes,

ice cream!), and maple syrup accompanied

with skinny fries. Just the kind of oddity that

you think will never work and then literally

bursts with remarkable flavours for a give-ita-try

foodie.

With a growing number of options in the

burgeoning Thornwood area, Honu is an

exciting and friendly addition offering high

quality handmade cocktails and exciting

innovative food. What really keeps an area

vibrant is its willingness to accept worthwhile

change without whitewashing its past and

the people who really 'make Glasgow', well

Glasgow.

Honu

562 Dumbarton Road G11 6RH

0141 334 9000

honuglasgow.co.uk
---
44 | www.westendermagazine.com

gregorreidphotography.com

PORTRAITS CORPORATE

FASHION
---
@

brel

www.westendermagazine.com | 45

Reviewed by

Emily Donoho

When you think of Ashton Lane

you can't help but think of Brel,

the iconic Belgian themed gastropub

that's been a staple of the West End.

Inside it has narrow wooden alcoves and

hidden corners, the atmosphere of age and

distinction, with winding stairs leading to

a private function room, but what makes it

unique is its capacious beer garden.

It was refurbished in spring of 2017, with

tiered seating on the grassy hill and a fiftyseat

outdoor dining area. So long as you get

there before outdoor licensing laws force

drinkers inside at 10pm, you can enjoy your

beverage of choice on the hill. I made use

of one of the new benches at the top of the

hill, as nice a place as any for a relaxed pint.

Expect it to be busy on the first sunny days

of the spring, although it was only moderately

busy on a sunny Wednesday this summer.

Brel has weekly events bringing people to

the pub, from fondue nights to raclette nights

(both involve cheese), and you can book it

for a fire pit or a barbeque. They have an

extensive dinner and lunch menu, and if you

get there before 6pm, you can have mussels

and chips for only £6. I didn't make it before

6pm this week, but I will.

Their drinks menu will delight any beer

aficionado, especially if Belgian beers are

your thing. No surprise, given it's a Belgian

pub. There are 66 beers, including local

Scottish ales and many rare ones from

Belgium, the US, Germany, and elsewhere.

Image I Gregor Reid

On tap, they have an international

collection as well, which includes Leffe

and Affligem from Belgium, as well as

St. Mungo's, Joker IPA, Maltsmiths, Amstel,

Birra Moretti, Guinness, and Strongbow.

They have a reasonable range of whiskies,

which you'd expect to see at most pubs in

Scotland, a few gins, and a decent collection

of wines. There is something for everyone.

The real downside? It's expensive, even

for the West End. The Leffe on draught was

£7 for a pint. The local ales were cheaper,

but still priced high, with the Joker, for

instance, at £4.90. The menu shows the

bottled beers roughly within this range as

well. That said, the food prices were average

for quality pub food, so it is really only the

drinks that cost more than you might expect.

But if you want a bowl of mussels, the

best beer garden in the West End, or you

fancy experimenting with a Belgian beer,

it's worth the extra pound or two. Brel is at

37-43 Ashton Lane and is open from 12pm

to 12am Monday to Thursday and Sunday,

and open from 12pm to 1am Friday and

Saturday.

Brel

37-43 Ashton Lane G12 8SJ

0141 342 4966

brelbar.com
---
46 | www.westendermagazine.com

Award Winning

foodies

WORDS CLAIRE PORTER

Glasgow's West End has an ever-growing food scene, with innovative

bakers, brewers and chefs trying new and interesting things to

please discerning Glasgow diners. Three businesses in particular are

leading the way for food and drink in the area, collecting an array of

awards along the way. Claire Porter chats to them and finds out their

perfect recipe for success.

If you had walked down Argyle Street in

January 2017, you would most likely not be

familiar with the name Six by Nico, or if

you had visited Hilton Glasgow just a couple

of months ago you would probably have

never heard of the Tea Lounge by Dilmah.

And if I had asked you in 2015 if you had

visited the Butterscotch Bakery on Hyndland

Road, I suspect the answer would have been

'not yet'.

In less than three years, these three

businesses have come onto the scene and

made a lasting impression on the foodies

of Glasgow. None more so than Chef Nico

Simeone of Six by Nico. Born in Glasgow, to

Italian parents, Nico was raised in a family

of Mediterranean food lovers. His earliest

memories are of his mother's Italian cooking,

helping her prepare large family meals in

the kitchen. His impressive career has seen

him work at Michelin starred Number One

at Balmoral, where he was awarded Young

Scottish Seafood Chef of the Year award,

aged just 20!

Going out on his own in the summer of

2015, Nico opened 111 by Nico in Kelvinside.

Nico's philosophy was to create a unique

fine-dining experience for his guests, whilst

also launching an apprenticeship programme

for young people. This unique programme

offers young people that have faced

enormous challenges in life the opportunity to

share Nico's passion for cooking, giving them

the drive and the tools needed to become top

chefs themselves.

With his first venture becoming a roaring

success, it was time for Nico to embark on

his next project, Six by Nico a name you will

no doubt now be very familiar with. But if

you're not, the concept behind the restaurant

is an evolving menu focusing on particular

types of international cuisine. Think of it as a

series of fine dining pop-up restaurants that

change every six weeks.

Their latest menu titled 'Holy Guacamole'

is a tribute to modern Mexico with its

contemporary and refined take on Mexican

food. Speaking on the menu, Chef Nico said,

'I think our Mexico themed tasting menu

gives guests the opportunity to try different

colours, textures and flavours that they may

not have discovered before. Mexican food

is fantastic with a lot of flair, colours and we

aim to offer a diverse and delicious range of

dishes that bring the culture and history of

the country all together in one bite.'

It is vibrant menus and flavours just

like this that keeps the Finneston hot spot

booked out a month in advance and their

experimental efforts haven't gone unnoticed

in the culinary world either. Nico recently

won 'Innovative Chef of the Year' at the 2018

Scottish Food Awards, an amazing accolade

for the chef and his team who have built the

business and its glowing reputation at an

accelerated speed over just a few years.
---
www.westendermagazine.com | 47
---
Jun/Jul 2016

Free

Aug/Sep 2016

Free

www.westendermagazine.com | 1

www.westendermagazine.com | 1

48 | www.westendermagazine.com

Image I Gregor Reid

Image I Gregor Reid

ADVERTISE WITH US

// Glasgow's best FREE bi-monthly mag

// Great editorial features: fashion, dining out,

health & beauty, what's on, local authors

& artists, interiors & more

// Massive potential business audience

// 12,000 copies per edition

For more info or to advertise

call: suzanne@westendermagazine.com

for a media flyer, or call 07905 897238

westendermagazine.com
---
www.westendermagazine.com | 49

Image I Gregor Reid

The next upcoming thematic menu, titled

'Cooking the 70s' promises to transport

diners through the decade of disco with

each dish. So if you want to try some far-out

delights including old classics such as prawn

cocktail or even a contemporary take on

Spam be sure to secure your spot soon.

Another West End entrepreneur that

knows a thing or two about building a

business from the ground up is Rachel

Nelson, Director of The Butterscotch Bakery.

Growing her business from a dream and a

deep passion for baking, the team's sweet

treats have become a West End favourite.

If you haven't visited the bakery on

Hyndland Road yet to give you a better

idea what to expect, their beautiful cakey

creations would make any Great British Bake-

Off contestant green with envy. Visitors to the

bakery also have the option to sit in and enjoy

a selection of drinks along with their cake and

take in the fittingly kitsch decor, the perfect

setting for afternoon tea.

The bakers of Butterscotch Bakery

have picked up several awards in the past

few years but most recently won multiple

awards at the Scottish Bakers Awards 2018

including National Gold for their Jammy

Dodger and the Best Biscuit in Scotland

for their scrumptious shortbread. When

speaking about the award, Rachel said, 'The

Butterscotch Bakery has been in business for

less than three years and each year we have

improved our success rate at their prestigious

awards. To win the Best Biscuit in Scotland

with our shortbread is a great reward for the

efforts of the staff and everyone associated

with Butterscotch'.

With a focus on using only high quality,

free-range, local, fair-trade ingredients it's

no surprise that their cakes and biscuits

received the industry seal of approval. But it's

not just the fantastic flavours that make the

bakery's customers come back time and time

again; it's the imagination and creativity that

goes into the cake designs. The team behind

Butterscotch pride themselves upon being

able to take every customer brief and turn it

into a cake form; their speciality is Scottish

themes with a portfolio including Highland

Coos, Bagpipes and Scotty Dogs.

Unlike the previous two businesses, the

Tea Lounge by Dilmah is a real newbie to the

Glasgow food and drink scene, opening its

doors in June 2018. The beautiful lounge in

Hilton Glasgow offers an elegant experience

with a wide range of fine hand-picked teas,

cocktails and mocktails, all paired with
---
50 | www.westendermagazine.com

delicious sandwiches, tasty fresh scones and

a selection of cakes you won't be able to take

your eyes (or hands) off.

Glasgow has been chosen to join

Sri Lanka, Dubai, Jakarta and others around

the world in hosting one of Dilmha's luxury

lounges. Interestingly, the opening also

represents a homecoming for Sri Lankan tea.

The tea industry in Sri Lanka was founded by

pioneering Scot, James Taylor who is often

viewed as the 'father' of Ceylon tea as he

first established tea plantations in Sri Lanka

in 1852.

Merrill J. Fernando, the Founder of Dilmah

(one of the three largest tea brands in the

world) has an unmistakable devotion to his

product and with the tea lounge he hopes to

bring a truly unique and artisanal experience

to the city. Dilmah tea is handpicked, made

in the traditional style, packed fresh to retain

richer flavour, purity and natural goodness.

The company itself belongs to tea farmers,

who care for their workers, their children and

customers equally, in their endeavour to bring

relief to workers in Sri Lanka.

Along with the companies ethical values

Fernando also brings with him an impressive

reputation that includes the Global

Businessman Award at the Ada Derana

Sri Lankan of the Year Awards. On the

opening of the tea lounge, Fernando said,

'The relationship between Sri Lanka,

Scotland and tea is more than 150 years

old and we are very proud to have the

opportunity to bring our countries closer

together.'

These may be three very different

businesses but what links them is their love

for what they do and their drive to bring a

unique dining experience to the people of

Glasgow. Awards are great it's true, but it's

baked in passion that will keep us coming

back for more.

sixbynico.co.uk

thebutterscotchbakery.co.uk

Tea Lounge by Dilmah at The Hilton

Glasgow, 1 William Street G3 8HT
---
www.westendermagazine.com | 51

Garden office, guest room, art/music studio or

teenage space, the list of uses for our Garden

Rooms goes on. Designed and built in Glasgow,

www.outsideingardenrooms.co.uk

0141 370 6102 / info@outsideingardenrooms.co.uk

our highly-insulated Rooms are fully-finished

and don't need planning permission. Outside or

in, they're the perfect addition to your home.

outsideingardenrooms

outsideingardenrooms
---
52 | Westender www.westendermagazine.com

Magazine Promotion

Legal Matters

Don't bank on it!

by Donald Reid, chairman at Mitchells Roberton

There are lots of small businesses in the

West End. They need working capital

and bank support to operate

successfully.

Banks, as we all know, are happy to lend

money to anyone who can show they don't

need it. For the rest of us they want the shirt

off our backs.

Last week I was asked to provide

independent advice to the director of a

small company running a shop. The shop

had traded well for some years and was

increasing its bank facility to fund expansion.

But the Bank wasn't happy just to lend

to the company. It required the trader to

provide her personal guarantee as well.

Now the whole point of having a limited

company is to protect yourself from personal

exposure in the event of the company failing

and going into liquidation.

Conscientious traders, which my client

is, work very hard to prevent that happening

but sometimes trading conditions can

deteriorate overnight. Say like when the big

banks all collapse at once. It is therefore

prudent management to limit liability.

What this Bank was doing was demanding

of this careful trader that she abandon her

limited liability so far as the Bank's lending

was concerned, and undertake to go into

her own pocket to pay off the Bank if the

company should default.

My job was to advise her as to the risks

she was taking in giving the guarantee.

We met to discuss it. I said to her that a

guarantee is a bottomless pit: did she want

to jump down it? She told me the bank

had assured her this was very unlikely to

happen but their internal procedures require

them to insist on a guarantee. I asked if she

could afford to pay up on the guarantee

if things did go wrong despite all her hard

work and careful management. She said she

wasn't sure, but felt she had no choice as

the intended expansion of her business is

essential to its ongoing success.

In discussion with the Bank I was able

to get a cap on the maximum she would be

obliged to pay up if the worst happened.

This was still a frightening figure but better

than no limit at all. I warned her that no matter

how pleasant and re-assuring the Bank might

be when setting a facility up, they will be

utterly heartless when it comes to enforcing

a default.

If Donald can help

please contact him

on 0141 552 3422,

or email dbr@mitchells-roberton.co.uk.

Mitchells Roberton Solicitors

& Estate Agents

George House

36 North Hanover Street G1 2AD

0141 552 3422

www.mitchells-roberton.co.uk
---
Westender www.westendermagazine.com Magazine Promotion | 53

Accountancy

Matters

by Bruce Wilson & Simon Murrison

How to survive in a

post GDPR world

Businesses are reeling from the GDPR

panic that spread like wildfire last May.

Overnight businesses around the world

blocked sites, shut down activity, and flooded

inboxes with mixed messages: 'please stay';

'don't go'.

Most businesses misunderstood

GDPR which was about improving overall

management, storage and usage of data

not simply about e-marketing and customer

databases.

Tinged with regret business leaders

believe they may have over reacted and

are feeling the pinch now lucrative revenue

streams are shut off.

You may have had a similar experience

and are unsure how to re-engage customers

and improve overall business strategy. To

run a resilient and successful business you

should review the company strategy every six

months not dust it off every five years.

Regular reviews enable you to forecast,

plan and adapt at a manageable pace.

You remain confident you are staying on track

to meet the organisation's five year plan.

Even more importantly you won't be making

last minute decisions.

How can a business expert help?

Seeking expert advice from a business

strategist is a cost effective way of accessing

specialist knowledge to help you understand

your business better and make informed

strategic decisions.

With a solid business strategy you'll

effectively manage risk, boost growth,

and run a resilient, agile business. What's

stopping you?

Get in touch today for expert business and

tax advice.

Murrison & Wilson, CA is a full service

accountancy firm specialising in

business and tax planning for private

individuals, self-employed and small

to medium sized businesses.

With a free consultation, fixed and

competitive fees why not get in

touch on 0141 290 0262 or email

info@muwca.co.uk.

Murrison & Wilson Chartered Accountants

10 Newton Terrace G3 7PJ

0141 290 0262

info@muwca.co.uk

muwca.co.uk
---
54 | www.westendermagazine.com

Homes & Interiors

Up-Shop

by Susan

Robertson

Very Vintage

Buying vintage for our homes has gone through various

seasons as a trend. It's been everywhere then over

and out again, but it feels like now – there's a balance

available that brings a creative freedom and wide

range of options, and Susan Robertson looks at how we

harness that to bring the old together with the new in

our West End homes.
---
www.westendermagazine.com | 55

There is often a blurring of lines in what is

described as vintage, and what is antique but in

general, vintage items often loosely represent an

era, at least 20 years old – so yes – that's actually

the 1980s now! Antiques however need to be 100

years old to merit the term. But the swathes of

programmes and articles on the subjects over

the years have really helped to familiarise us

with the terms and bring a confidence to using

mixtures of old and new in our homes.

There's a softness and an approachability that

comes from solid, older items in our homes,

maybe it depends on your age but for me, there's

a real appeal about a piece with a story to tell

and a statement to make, and I think most

people now find the idea of flatpack furniture

a little bit depressing. Everyone has their own

preferences but you can buy some great, quality

pieces that are beautifully crafted and sourced

from artisans all over the world now, in the

time it would take me to battle with a flatpack

instruction manual.

You can go for a genuine antique and source

something that really stands up in its own right

to make a statement in your room without doing

anything to it. Or – you can source a new item

that fits the bill well. Alternatively – you can

find something you like and try your hand at

adapting it a bit yourself. Add a bit of creative

flair to something that you find in a charity shop

for example, or revisit some of your existing bits

and bobs and see if anything can be given a new

lease of life.

For a while the concept of upcycling became a

bit confused as a dodgy DIY trend that everyone

thought they could do, regardless of skillset

– so often the idea conjured up images of rickety

dressing tables that had been poorly sponged

by hand in chalky white paint. Thankfully this

is no longer the case and there is an array of

information available to help with your own

projects, or you can really get the best of both

worlds simply by identifying the best designers

and stockists working in the area.

So we're lucky to have some great experts

and inspiring shops right here on our doorstep

– a favourite browse of mine since my days living

in Partick is UP, on Dumbarton Road. Owner

Stephen Higgins can turn any old bric-a-brac

into cutting edge design statements so if you're

thinking of something a little bit different, nip

in here first. There's an eye-popping range of

impeccably upcycled furniture, homeware

touches and vintage quirky bits that you can

choose from, or if you're on the hunt for a project

– get some great design inspiration from what

he's already done and some expert tips on your

own creative ideas. He even stocks the paints for

you to try your hand yourself.

The Store Interiors
---
56 | www.westendermagazine.com

Homes & Interiors

I asked Stephen for some tips. He said:

'Look for the fun pieces. Focus on just adding

a single piece of colour or quirky item to any

room. It's important that you don't overdo it,

or it can look contrived. Concentrate on one

standout piece to really bring your character

into your room.'

Stephen also suggests, 'Look at things in a

slightly different way considering how they can

possibly be adapted. For example, could the legs

be changed to create a different look, or could

you add legs to raise the height and change

the function? Could a splash of paint hide any

defects and tie the piece into the room's colour?'

And my favourite piece of advice from

Stephen, 'Forget about what rooms you would

normally find pieces in – there are no rules –

change it up.'

Whatever you do, try to be realistic about

your skills and available time. You may end

up botching an item that you've previously

loved by just being a bit over-confident about

it – or using the wrong materials. I spent ages

sourcing a perfect shaped old writing bureau

then spoilt it a bit by impatiently not preparing

it properly and, with hindsight, I should have

used different paint. So, if you decide to change

an existing piece yourself or add a creative

touch – double-check you're doing it right and

you have the time, space, and tools you need,

and plan your approach carefully and enjoy it.

Otherwise – commission Stephen to do it for

you so you get the best of both worlds – a one-off

design statement tailored to your own space and

character.

We often get constrained by conforming to

what things were originally built for, by trying

too hard to 'match' or 'scheme' either with

colours or styles and we find ourselves caught

into the ways that previous trends created their

looks or effects and this takes away from the fun

and creativity of creating something new so,

keep your eye on what you think looks good, and

what works for you practically in your home,

rather than expected 'norms' and that's when

you'll really make something unique.

Alternatively – have a good rummage about

the West End, there are great new places

opening up every day, and it's worth your while

to step off your usual routes and have a wander

around other corners. I recently dropped into

CoLab on Dowanhill Street. It stocks carefully

chosen lifestyle brands in a contemporary

environment, and you can sit down for

coffee while you're in there. You'll often find

something unique and edgy here, and at the

time of writing, they had upcycled, industrial

cubes featuring reclaimed film posters which

could be used as stools or side tables, and cool

industrial mirrors made from upcycled oil

drums.

CoLab Store

CoLab Store, 11-13 Dowanhill St

0141 570 1766

The Store, 26 Munro Place

0141 950 1333

Up-shop.uk, 557a Dumbarton Rd

0141 357 2579
---
www.westendermagazine.com | 57

READERS

OFFER!

FREE

Gas Certificate

PAT Test

Legionella

Assessment

Are you a Landlord?

Thinking of Letting?

Changing Agent?

When you quote

Westender

" Problem Solved"

Call or email for a free market appraisal

E: glasgow@zoneletting.com T: 0141-333-0990 W: www.zoneletting.com

SERVING: GLASGOW • EDINBURGH • LONDON
---
58 | www.westendermagazine.com

Reseal Service | Professional Tile Installation | Waterproof Bathrooms

The no.1 Tile Installation and Restoration

Specialist in Central Scotland

We are a fully insured, reliable family run business with over

40 years combined experience. We use the best and most up to date

products and materials and pride ourselves on our attention to detail

and excellent customer reviews.

BEFORE AFTER BEFORE AFTER

Our Reseal Service can restore your tiles by carefully

removing all of your existing grout and sealant using

non-abrasive chemicals and high precision diamond

technology. Specialist chemicals are used to wash

your tiles to remove soap scum, body fat, mould and

mildew. Antimicrobial grouts and sealants are then

professionally applied

Our Reseal service includes;

// Sealant Applications

// Bonded Bath & Shower Seals

// Chemical Sealants

// Re-grouting

// Two-part Sealants

// Waterproof Tanking Systems

FROM ONLY

£150

SUPPLIED

& FITTED

Bonded Bath and Shower

Seals – Our unique and

most popular product.

T / 0141 611 9534 M / 0781 782 8681

E / info@resealscotland.co.uk W / www.resealscotland.co.uk
---
Homes & Interiors

Purple Palettes

www.westendermagazine.com | 59

With a new season, comes a new palette for our homes and wardrobes,

and as we move away from the fresh citrussy colours of summer, the

trend colour of prominence is deep purple. Think dark plums and

burgundy tones, and deep navy blues with warm undertones. Just a

few touches around your home, can give a whole new depth and help

to ease us into the cooler months.

Blamire Tapas Dish,

£8.99, Cassiopeia

Birthstone Ball,

£11.99, Liquorice Tree

My Happy Soap,

£8.50,

CoLab Store

Elie Pacific Cushion,

£62, Bluebellgray

Effie Desk Lamp,

£32.95, Nancy Smillie

Bluebellgray, 162 Hyndland Road, 0808 164 1030, bluebellgray.com

Cassiopeia, 165 Hyndland Road, 0141 357 7374, cassiopeiaonline.co.uk

CoLab Store, 11-13 Downhill Street, 0141 570 1766, colabstore.co.uk

Liquorice Tree, 431 Great Western Road, 0141 339 0648, liquoricetree.com

Nancy Smillie, 53 Cresswell Street, 0141 334 4240, nancysmillieshop.com
---
60 | www.westendermagazine.com
---
www.westendermagazine.com | 61

Homes & Interiors

Well no-one can complain that we

didn't see some sun this year, and as we

move into a new cooler season, Susan

Robertson looks at how we bring this

transition into our homes.

Farrow & Ball

Oversized

Industrial

CoLab Store

by Susan Robertson

An oversized clock looks

great as a statement on

the wall!

One of the key trends this year is for

everything oversized. Catwalks are being

strutted in baggy jumpers and long soft jersey

dresses, and our homes always tend to reflect

the styles being worn.

I remember the first time I saw a video on

social media of someone knitting a huge

blanket with mammoth stitches working up

their arms. I thought it was a joke at first, then

quite simply wonderful – and it's now added

to my list of things that look quite cool to do

but I'll likely never attempt. With these viral

videos however, a trend was born. And now we

have these brilliant chunky big knits adding

comfort to our autumn evenings.

What often works well in a room, is contrast.

Not only of colour, but of texture so, taking

these warm soft knits as a starting point, we

can develop a theme around them – they work

remarkably well against cool, hard surfaces

and look brilliant against an industrial feel

room. Think of natural brick or concrete

walls, or opt for matt black, deepest navy or

cool palest grey paint as a backdrop and then

layer in the different elements from there. The

furniture should be big and oversized too.
---
62 | www.westendermagazine.com

Keep to a couple of key items and make them

the largest the space can take, without making

it impractical. Think bold size choice, in a way

that still allows loads of space, but let a few

items breathe and 'own' the room. Select them

carefully to contrast with the walls in dusky

burnished metals and chunky dark wood.

Add soft leather seats and dark metal stools.

Once you have the palette and the core

furniture pieces, that's the framework from

which you can then create – and this is where

the additional flourishes really start to come

into their own to pull the room together.

Add texture and softness with the knits in

throws and cushions in pale creams and deep

blues. Break up large, cold concrete or dark

polished floors with soft chunky rag rugs and

faux fur. Use large floor cushions in sturdy

denims and linens to complement huge sofas

and armchairs you can disappear into. Just a

few confident touches of the chunky softness is

lovely against the roughness of the industrial

look.

Add to that some additional big features to

add interest and depth. An oversized clock

looks great as a statement on the wall – go for

an antique station clock or a huge mirror is also

great as this bounces the light and alters the

atmosphere of the room. Choose a big metal

mirror frame with no airs and graces and let it

dominate a section of the room. Choose bright

abstract art that can be allowed to roam freely

over a whole wall section.

A huge modern sculpture or a cheeky neon

sign can take over a full corner and create a

talking point, and a dark metal pendant light

or vintage chrome spotlight floor lamp finishes

it all off well.

Make sure that you have the space to do

this and keep it balanced. It should be bold

and oversized but still kept purposeful and

deliberate – think loft living and minimal,

adding the large touches in a way that makes a

confident statement but doesn't make you feel

like a borrower sitting diminutively at your

own dining table!

Then lastly – add some huge candle sticks

to add extra natural light sources, pewter

and metal look great. If there's an option for it

– a wood burner is a great option with this look,

or a solid fireplace and grate. Add finishing

touches in glass, metal and concrete. Pale grey

concrete plant holders with simple green plants

look great on surfaces, complemented by mixed

hanging glass terrariums or huge smoked glass

vase bowls with big white lilies finish off the

theme really nicely. Then once you've pulled

it all together, it's the perfect room to melt

into – enjoying the different textures and the

calming simplicity of this timeless look as you

adjust to the new season in your comfortable

home.

The Store Interiors
---
www.westendermagazine.com | 63

The Store Interiors, 26 Munro Place, Anniesland, Glasgow, G13 2UP

0141 950 1333 | www.thestoreinteriors.co.uk

Email: sales@thestoreinteriors.co.uk

TheStore - HIS - Emma.indd 2 07/12/2017 09:48

QUOTE WESTENDER AND RECEIVE 15% DISCOUNT

The Store Interiors, 26 Munro Place, Anniesland, Glasgow, G13 2UP

0141 950 1333 | www.thestoreinteriors.co.uk

Email: sales@thestoreinteriors.co.uk

ROOFING, SLATING, STONEWORK, LEADWORK

0141 404 6242 • GLASGOWSLATERS.CO.UK

TheStore - HIS - Emma.indd 2 07/12/2017 09:48
---
64 | www.westendermagazine.com

Westender Magazine

Interiors & All Trades

Keeping your home working for you. Whatever you need whenever

you need it – find reliable local tradespeople here.

We're your local experts in all

aspects of painting and decorating,

interior, exterior and specialists in

hanging designer wallpapers.

for a Free No Obligation Quote

call Kevin on 07984 880199

or Derek on 07525 202102

or email us at

bespokedecor@yahoo.co.uk

T: 0141 321 1012

2/2 1758 Great Western Road,

Glasgow G13 2TL

Painter & Decorator » Plaster Skimming

Ames Taping & Coving » Period Windows

Hand-painted Kitchens

Call Frank – 07906 395341 / 0141 945 3975

francisscullion@yahoo.co.uk
---
www.westendermagazine.com | 65

Before

Do you have cornice

in need of repair?

After

www.reproplaster.co.uk | Tel: 0141 7761112

Visit our showroom at Period House, 5 Campsie Road, Kirkintilloch, G66 1SL

Experts in the repair of ornamental plasterwork | Comprehensive product range also available

With over 25 years' experience,

we offer a wide range of plumbing,

gas & building services.

➤ Central heating installations

➤ Gas installations & repair work

➤ Landlord gas safety certificates

➤ Plumbing & emergency repair work

➤ Bathroom/kitchen installations & upgrades

➤ Specialists in renovation & building projects

➤ All trades supplied

➤ Gas Safe registered

Quote 'Westender Magazine'

for a 10% discount off new

boiler installations.

0141 301 1180 | 07949 092 475

www.bsmithplumbing.com

info@bsmithplumbing.com
---
66 | www.westendermagazine.com

The Wee Kitchen Shop

Beautiful Kitchen Interiors

specialising in Shaker kitchens

// Bespoke made to measure cabinetry

// Bespoke paint colours and finishes

// Bespoke wood colour matching

// Bespoke lacquer finishes

// Bespoke veneer panels

SPECIAL OFFER: 30% off Silestone,

Corian & Granite worktops ordered

before 31st Oct '18! Please call ahead

for a FREE consultation appointment

at The Wee Kitchen Shop premises.

The Wee Kitchen Shop

304 Crow Road I Broomhill G11 7HS

t 0141 334 4747

w theweekitchenshop.co.uk

e info@theweekitchenshop.co.uk
---
www.westendermagazine.com | 67

..... at the end of the garden

Enjoy more time outdoors with

an exciting garden lighting scheme

Bespoke Design Service

Professional Installation

Security Lighting

Patio Heating

Book your free design consultation today

www.lightmygarden.co.uk

0141 237 5626
---
68 | www.westendermagazine.com

'