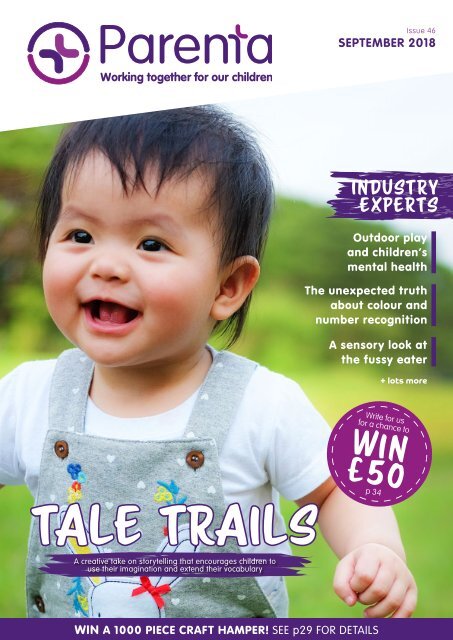 Magazine September 2018
In this month's magazine, we've brought you some top tips from Tamsin Grimmer to breathe life into story walks. We've also featured an article from Helen Garnett which may make you think twice about the method you use to teach numbers and colours to your children!
In this month's magazine, we've brought you some top tips from Tamsin Grimmer to breathe life into story walks. We've also featured an article from Helen Garnett which may make you think twice about the method you use to teach numbers and colours to your children!
SHOW MORE
SHOW LESS
You also want an ePaper? Increase the reach of your titles
YUMPU automatically turns print PDFs into web optimized ePapers that Google loves.
Issue 46

SEPTEMBER 2018

INDUSTRY

EXPERTS

Outdoor play

and children's

mental health

The unexpected truth

about colour and

number recognition

A sensory look at

the fussy eater

+ lots more

Write for us

for a chance to

WIN

£50

p 34

TALE TRAILS

A creative take on storytelling that encourages children to

use their imagination and extend their vocabulary

WIN A 1000 PIECE CRAFT HAMPER! SEE p29 FOR DETAILS
---
hello

WELCOME TO OUR FAMILY

Hello and welcome to the September edition of the Parenta magazine!

It seems the honeymoon period for the 30 hours has come to an end for parents, as the NDNA have

received reports from settings that parents are increasingly unwilling to pay additional charges to access

the flagship scheme. One year on from its introduction, settings still have a lot of work to do to ensure

that parents understand that the 30 hours are 'funded' rather than 'free' as advertised by the Government.

Read more about this on page 5.

On a lighter note, in this month's magazine, we've brought you some top tips from Tamsin Grimmer to breathe life into

story walks. We've also featured an article from Helen Garnett which may make you think twice about the method you use to

teach numbers and colours to your children!

How would you like to be in with a chance to win an incredible 1000-piece craft hamper for your setting? We're running a

spooktacular Halloween-themed competition for you to bag this one-of-a-kind prize – full details on how you can enter are on

page 29.

Talking of winners, congratulations to Joanna Grace whose article on messy play received the highest number of views for July.

She received a £50 voucher as her prize! If you'd like to share your thoughts with us on a topic relevant to Early Years, we'd love

to feature your article in the next edition of the magazine.

This month we've also created a sensory bin for you to try, themed on the popular children's book "We're Going on a Bear

Hunt" on page 12. Why not have a go at making this and tag @TheParentaGroup on social media to show us your sensory

masterpiece?

SEPTEMBER 2018 ISSUE 46

IN THIS EDITION

REGULARS

12 How to create a "We're Going on a Bear Hunt"

sensory bin

14 The Adventures of Rocket Rabbit & Sidekick

Squirrel Part 2 – The Badger's Trap

22 What our customers say

28 Spotlight on... Daniel Spencer

34 Write for us for a chance to win £50

NEWS

4 Children's charity warns of shortage of 11,000

early years teachers

5 Parents increasingly unwilling to pay extra

charges to access 30-hour scheme

6 Parenta Trust news

8 Nottingham nursery completely transformed

under new ownership

ADVICE

13 World Heart Day 2018: The importance of a

heart-healthy lifestyle

Activities to mark the changing seasons 32

Nursery transformed under new ownership 8

Best wishes,

Allan

TALE TRAILS

Tamsin Grimmer

shares a creative take

on storytelling that

encourages children to

use their imagination

and extend their

vocabulary 10

HEALTHY

It's World Heart Day

on 29th September.

We look at top tips

to keep your heart

healthy along with

ideas to try out in

your setting 13

FUSSY EATERS

36

Joanna Grace takes a sensory look

at fussy eaters and shares her advice

on breaking the challenge down into

its tiniest parts

18 Très bien fait! Promoting bilingualism in the Early

Years

26 EYFS activity ideas to try today

32 How to mark the changing of the seasons

during the autumnal equinox

38 World Car Free Day – Will you be doing your bit?

INDUSTRY EXPERTS

9 The importance of outdoor play for children's

mental health

10 We're going on a bear hunt…literally!

20 The unexpected truth about teaching colour and

number recognition

24 Empowering children to embrace failure

30 Bronfenbrenner: children's learning in a wider

context

36 A sensory look at the fussy eater

Win a 1000 piece craft hamper! 29

Helen Garnett explores whether there is a better way

to teach colour and number recognition to children 20
---
Children's charity warns of shortage

of 11,000 early years teachers

Parents increasingly unwilling to pay

extra charges to access 30-hour scheme

Analysis by the charity Save the Children has revealed that there is an acute shortage of early

years teachers in PVI settings in England.

Nurseries and childminders have stated that parents are questioning charges for extras and are

now more likely to say they want the advertised 30 'free' hours.

The figures obtained from a Freedom

of Information request sent to the

Department for Education revealed that

325,000 two-, three- and four-yearolds

in funded places in PVI settings

in England have no access to qualified

early years teachers or someone with

Qualified Teacher Status.

The Freedom of Information request

asked for:

• the number and proportion of

childcare settings in the private,

voluntary and independent sector

who employ an Early Years Teacher

(EYT), Early Years Professional (EYP)

or someone with Qualified Teacher

Status (QTS), and;

• the number of children accessing

funded hours who go to a setting

with an EYT or equivalent.

The charity used the information

obtained to work out the number of PVI

providers who do not employ an early

years teacher or equivalent and the

number of children in funded places who

do not have access to one.

The charity's analysis found that 10,731

settings out of 21,041 do not have staff

with qualified teacher status, early

years teacher status, or early years

professional status.

Save the Children's analysis of the data

also showed wide regional variations,

finding that the East Midlands had the

lowest percentage of pre-school children

with access to graduate teachers. Inner

London, however, showed as one of the

top-performing regions, alongside the

North East.

Save the Children director of UK Poverty,

Steven McIntosh, said: "Children who

start behind, stay behind. But highquality

childcare, led by graduate early

years teachers, can ensure children are

ready for school. So instead of lowering

ambitions for childcare quality, the

Government should keep its promise to

address the crisis in training, recruiting

and retaining these underpaid and

undervalued teachers. All of our little

ones should have access to nursery care

led by an early years teacher. Without

action, we'll be letting down our next

generation."

Save the Children's findings come in the

wake of the Government's decision to

abandon proposals to grow the early

years graduate workforce in poorer

areas and to change the rules to allow

those with Early Years Teacher Status

(EYTS) or Early Years Professional Status

(EYPS) to lead classes in maintained

settings.

Last month, an open letter penned to

children and families minister Nadhim

Zahawi from 12 leading early years

figures stated that they were 'alarmed'

at the Government's decision to drop its

commitment to grow the graduate early

years workforce, calling for action to

reverse this decision.

Nadhim Zahawi said of the charity's

analysis: "Save the Children's claim is

misleading, university study is just one

route into the early years workforce.

There are over 250,000 dedicated

professionals in the private or voluntary

early years workforce, with many coming

from apprenticeship or on the job

training routes.

"Most recently the secretary of state

announced a £20 million fund to provide

training and professional development

for early years staff in disadvantaged

areas to increase their ability to support

children's early speech and language

development."

According to the National Day Nurseries

Association (NDNA), there have been

reports that some settings in deprived

areas have experienced parents who

can't or won't pay for meals, and who are

refusing to send their children in with a

packed lunch.

In some cases, parents have moved their

children from one setting to another if it

means not having to pay for extras.

Spokesperson for the Champagne

Nurseries on Lemonade Funding campaign

group and manager of Playsteps Day

Nursery in Swindon, Jo Morris-Golds, said:

"As we go into the second year of full

roll-out, CNLF is hearing from providers

that more parents are refusing to pay

[for extras] as they say it is free. We are

coming out of the honeymoon period.

"For our nursery, the vast majority of

parents are happy to pay, but we are

getting some parents who are dictating

when they want their funded hours, which

goes against our model of delivery. We

can only be flexible to a point.

"I don't blame parents at all, as the

offer has been advertised as being free

nationally and locally.

"This has acted as a reminder that

educating parents about the 30 hours is

an ongoing process. I didn't realise how

much work it would be."

The 30-hour childcare scheme for working

parents of 3- and 4-year-olds was rolled

out in September last year. Under the

previous 15-hour scheme, nurseries could

make up the shortfall in funded hours by

charging parents more for additional hours.

Andrea North, a childminder based in

Derbyshire, said: "Parents are increasingly

finding loopholes so they can take up

their 30 hours place without having to pay

anything. As a result, I lost one child to a

nursery in July and am set to lose another

in December – both of them have been

with me since they were babies."

Purnima Tanuku, chief executive of

the NDNA, said, "Our recent research

shows charging parents for extras is

now commonplace, with only a quarter

of nurseries not charging for meals and

extras.

"This is largely because the whole scheme

is underfunded – delivery costs have gone

up while funding has stagnated. This

year, 87 per cent of nurseries say funding

doesn't cover their costs.

"While we haven't been aware of nurseries

experiencing widespread problems with

asking parents to pay for meals and

extras, nurseries have been put in a very

difficult position by Government. Most

providers can only make this work by

charging parents for meals and extras.

"Ministers must acknowledge that there

is a problem and either increase funding

so parental charges are no longer crucial

or allow nurseries to make mandatory

charges.

"Either way, the Government must stop

marketing 30 hours as 'free' – they are

not free for either the parents or nurseries

and never have been."

Parents must not be required to pay

additional fees as a condition of taking

up the 30 funded hours, a Department

for Education spokesperson said. Where

parents purchase additional hours

of childcare or pay for extras such as

consumables or other activities, it is a

private matter between them and the

childcare provider.

4 Parenta.com September 2018 5
---
NEWS

MAKE A DIFFERENCE

sponsor a child...

For as little as 56p per day, you can change a child's life.

Becoming a sponsor can truly change lives! It gives children the opportunity

to reach their full potential, receiving opportunities they may otherwise

miss out on. Sponsorship brings real hope to the children who need

it most, helping them feel loved and safe in the knowledge that

someone truly cares.

You'll be able to see firsthand the difference you're making with regular

updates, letters and drawings from your sponsored boy or girl.

Each sponsored child benefits from a pre-school education,

a school uniform, a daily hot meal, school supplies and the

knowledge that someone really cares.

CHANGE A LIFE TODAY

Walking for Dan

On 5th July, Brookfield Infant and Junior School in Larkfield, Kent held a special Ugandan Day. This

included a sponsored walk around the school field and collecting water, bread, rice and recycled

school equipment to illustrate how children in Uganda have to walk miles in order to gather food

or access a basic education.

parentatrust.com

The day was called "Walking for Dan"

and was held in memory of former

Parenta head of marketing and trustee

of Parenta Trust Dan Carlton, who sadly

passed away in December 2016. His

mother Rowena taught at the school

for over 26 years and the teachers and

pupils wanted to continue the legacy of

Dan's fantastic fundraising. They raised

£2000 on the day!

These vital funds will be put towards

the build of the charity's sixth preschool

in Uganda. Each pre-school can

accommodate between 140-250 children

and is designed to ensure they get the

best possible start in life - one that every

child deserves.

Over the period of a decade, Parenta

Trust has pledged to build 250 schools

for children living in disadvantaged

areas of the world.

We're excited to announce that we're holding

two charity balls this year – one in Maidstone

and the other in Bath.

2018

SEPTEMBER

22

Mercure Great Danes Hotel,

Maidstone

Parenta Trust invites you to our

third black-tie fundraising event

in our hometown of Maidstone. Join us for a

sparkling evening with food, drink, dancing

and of course, a charity raffle brimming with

prizes. Tickets are already selling fast!

OCTOBER

2018

20

SAVE THE DATE FOR PARENTA

TRUST'S CHARITY BALLS!

Hilton Bath City, Bath

This year, we're excited to

announce that Parenta Trust will

also host a charity ball in Bath for

the very first time. Dust off your best dinner

jacket or gown to join us for a special evening

raising money for a great cause! All proceeds

will help us fund the build of our next school.

Don't miss out! Get your tickets here:

www.parentatrust.com/store

6 Parenta.com

www.parentatrust.com
---
Nottingham nursery completely

transformed under new ownership

The importance of outdoor play for

children's mental health

A new nursery opened last month next door to the Queen's Medical Centre in Nottingham, taking

the place of a setting which was previously rated as "Requires improvement" by Ofsted.

Children in modern day society are exposed to stressful environments, pressurised tests from the

early age of 6 and a vast range of new and exciting technologies; it is no surprise that negative

statistics about children's mental health are increasing year on year.

The outdoors is where children can fully

be themselves. With fewer restrictions,

there is something about the outdoors

that is exciting and exhilarating for

them and creates a form of escapism.

This feeling of freedom in open space

brings with it a sense of happiness and

well-being that is hard to beat.

Healthier and happier minds

Whether it's watching television or

playing with their latest gadget,

children are spending less time

outdoors than ever before.

The setting, formerly called Young Ones

Day Nursery, was bought by paediatric

nurse and former health visitor Liz

Hudson. The new owner is in no way

affiliated with the old nursery.

Liz completely refurbished the nursery,

including revamping the garden area.

The setting now has spaces for up to

50 children in different rooms, including

a baby room (Cygnets), toddler room

(Swans) and a pre-school room (Wise

Owls). It cares for children from 6 weeks

right up to 5 years old.

The outdoor space has a mud kitchen,

covered play area and a woodland area

complete with wooden climbing frame.

The setting currently employs 5

members of staff, including nursery

manager Rachel Allsopp.

Although Liz has prior experience

working with children as a nurse, this

is the first time she has ever bought a

nursery and made a go of running a

childcare business from scratch.

The refurbished setting - now called

Tiny Robins Day Nursery – was officially

opened on the 18th June.

Setting owner Liz said: "We are very

proud of our new nursery and welcome

all potential parents and carers to come

and have a viewing of the nursery. The

feedback we have had is amazing and

we look forward to meeting more new

families. Our ethos is to nurture each

child to their full potential in a caring and

supportive environment."

Nursery manager Rachel said: "I'm

so surprised by the nursery, I saw

the setting before Liz started the

transformation and cannot believe

what an amazing environment

she has created. The nursery is so

welcoming and really feels like a family

environment. When parents view the

nursery they give incredible feedback,

some are even booking in advance for

next year."

Find out more at

http://www.tinyrobinsdaynursery.co.uk

Without regular exposure outside,

children are struggling to keep

engaged during school especially

when they are expected to absorb so

much information for regular tests and

assessments.

Spending time walking, running,

jumping, climbing or simply connecting

with nature outside will bring endless

benefits to children's overall well-being.

A study by Open University's

OPENspace Research Centre found that

outdoor play increases life expectancy,

improves well-being and reduces the

symptoms of mental health problems.

Further findings from the study included

higher concentration levels and an

improvement in children's ability to

function during school.

Vitamin D levels

The outdoors provides natural sunlight,

helping children produce Vitamin D

which releases serotonin into the body.

Due to the fact that Vitamin D is not

found in many foods, children need

sunlight exposure to give themselves

a greater chance of responding to

negative emotions and self-destructive

behaviour.

With demanding routines, school and

homework, children are always learning

new information that they are expected

to absorb daily.

Allowing children to play freely outdoors

will remove them from any stressful

environment and give their minds a

break from their hectic routines.

Using this approach will result in

children feeling balanced, refreshed

and ready to learn rather than

drained, unhappy and fed up from an

overloading of information.

Why sleep is important

Sleep directly impacts a child's mental

health as they need to give their brains

a rest to recover and process all the

information they have learned during

the day.

Outdoor play improves a child's sleep

as physical activity releases endorphins

and helps produce melatonin which

makes children feel sleepy. Sleepdeprived

children are often less active

and irritable which impacts their mood

and mental wellbeing.

During a recent study within the UK, it

was discovered that just five minutes

of physical activity in a natural outdoor

environment can rapidly improve a

child's self-esteem, mental health and

wellbeing… it's time for children to

embrace the outdoors.

8 Parenta.com September 2018 9

This article has been written by Pentagon Play who design and install outdoor learning environments for schools across the UK.
---
WE'RE GOING

ON A BEAR

HUNT

... LITERALLY!

We're going on a bear hunt…literally!

We all enjoy reading lovely books like The Gruffalo or Rosie's Walk with our young children, but

a great way to really get the children engrossed is to dramatise these stories by actually walking

with the mouse through the wood or strolling with Rosie around the farmyard.

We could call this approach story

walks or tale trails! Drama and

creatively enacting tales are old forms

of storytelling which have engaged

both adults and children alike over the

ages. Children have the opportunity to

be creative and use their imagination,

extend their vocabulary and develop

their social skills whilst re-enacting

a familiar story. Telling stories on

the move is also a lot of fun, children

become totally engrossed and it can

happen inside or outside, whatever the

weather!

Depending on the age and stage of

development of the children in your care,

you may want to prepare the props for

the story walk in advance. However,

you can have a lot of fun setting up the

story props with the children too. For

example, when I was childminding, we

had been reading We're Going on a Bear

Hunt by Michael Rosen and I suggested

we went on our very own bear hunt. We

talked through the different terrain that

the children in the story visit and thought

about how we could recreate the story

for ourselves. On this occasion, we stuck

to the order and specifics of the book as

a frame but the more familiar children

become with this method of storytelling,

the more creative you can all become;

inventing your own additions to stories

or even making up your own.

The children decided that we would

swish and swash through the grass

outside (which was probably taller

than it should have been, having not

been cut recently) to begin our bear

hunt. We then thought about what we

could use as the river – we didn't have

a paddling pool or real stream nearby,

but I remembered that I had a blue

blanket and showed it to the children.

Thankfully, they thought it would make

a perfect river! They then decided to

pour some water on the patch of muddy

grass under the swing to make the

squelchy mud and found that we could

'stumble trip' under the apple tree for

the dark forest. Our snowstorm was a

white sheet pegged on the washing line

and the dark cave was a small play tent.

Unbeknown to the children, I had hidden

a large teddy bear in the tent. So we set

off on our bear hunt together, visiting the

various places in the story, and when

we started tiptoeing into the cave, the

children all shrieked with joy when they

discovered our very own bear! We then

had to run back through all the places

we'd visited and run into the house…

we had a large throw on the sofa which

was perfect for us to hide under as we

escaped from the bear, exhausted but

exhilarated from our adventure!

You can dramatise any story with a few

basic props in hand, although some

stories perfectly lend themselves to this

sort of story walk, for example:

• We're Going on a Bear Hunt by

Michael Rosen

• Rosie's Walk by Pat Hutchins

• The Gruffalo by Julia Donaldson

• Whatever next? by Jill Murphy

• Emma Jane's Aeroplane by Katie

Haworth & Daniel Rieley

• Captain Duck by Jez Alborough

• Up, Up, Up by Susan Reed

• Walking through the Jungle by Julie

Lacome

Traditional tales like The Three Little

Pigs or Goldilocks and the Three Bears

are also great stories to act out with

young children. This type of storytelling

is not static - where children act out a

scene on a stage - but active, where

children physically move from scene to

scene through the setting. The addition

of movement encourages

attention and listening

skills to keep the

children engaged

but also supports

their physical

development.

Story walks are simple

and really good fun

– so grab your

wellies and go

on a bear

hunt

today!

Tamsin Grimmer

Tamsin Grimmer is an

experienced early years

consultant and trainer and

parent who is passionate

about young children's

learning and development.

She believes that all children

deserve practitioners who

are inspiring, dynamic,

reflective and committed to

improving on their current

best. Tamsin particularly

enjoys planning and

delivering training and

supporting early years

practitioners and teachers to

improve outcomes for young

children.

Tamsin has written two

books - Observing and

Developing Schematic

Behaviour in Young Children

and School Readiness

and the Characteristics of

Effective Learning.

Website:

tamsingrimmer.co.uk

Facebook:

facebook.com/earlyyears.

consultancy.5

Twitter:

@tamsingrimmer

Email:

info@tamsingrimmer.co.uk

10 Parenta.com September 2018 11
---
How to create How a to "We're create aGoing on a Bear Hunt"

sensory "We're bin Going on a Bear Hunt"

1

2

sensory bin

This is a great sensory bin based on the popular children's

story by Michael Rosen.

To start, take a cardboard box and cut away the top

and one side, giving a nice open area to play with.

Paint the interior of the box white to use as a base.

YOU WILL NEED:

►►

A box to hold all the items

►►

Grass - shredded green paper

►►

River - dyed orzo pasta

►►

Mud - playdough

►►

Forest - paper trees

►►

Snowstorm - cotton wool

►►

Cave - cardboard

►►

Pond - hair gel and more blue

orzo pasta in a sandwich bag

► ► A teddy bear

►►

Scissors

►►

Glue stick

►►

Paintbrush

►►

Sellotape

World Heart Day 2018: The

importance of a hearthealthy

lifestyle

World Heart Day is celebrated on the 29th September each year.

The day focuses on what measures can be taken to prevent

cardiovascular disease (CVD), which kills 17.5 million people every year

– approximately a third of all deaths globally. By 2030, this figure is

expected to rise to 23 million.

3

"Bear cave!" - Fold a

piece of cardboard to make

a shelter and secure to

the base of the box using

sellotape.

Snow - Simply add chunks of

cotton wool to the box.

4

Now you can add the following onto the white base:

Mud - Roll out brown

playdough, flatten this and lay

it across the bottom of the box.

Finally, settle the bear proudly into his home.

Tip: You can use a variety of age-appropriate

sensory materials, adding whatever you think

would encourage children to play and explore.

You can use alternatives to what has been used

here, maybe even using real water with food

colouring - it's entirely up to you!

Trees - Cut out the trees on

green paper and use the glue

stick to glue around the edges.

You could also use broccoli to

represent the trees.

River - For the river, dye orzo pasta blue. You could use watereddown

paint for this, but food colouring would work just as well. Take

half a kitchen roll tube and fill this with the blue flowing orzo river.

Grass - Take green sheets of

paper and used a shredder to

create grass. Sprinkle this around

different areas of the box.

Pond - Take a sandwich bag, fill

this with clear hair gel, add some

leftover blue orzo pasta, mix this

all together and seal in the bag.

Add this to the base of the box.

Don't forget to share your bear hunt sensory bins with us!

Tag @TheParentaGroup in your Facebook / Instagram

posts - we look forward to seeing your take on this

wonderful sensory craft.

'Cardiovascular disease' is

a term which describes all

diseases relating to the heart

and circulation. It includes

everything from conditions

that are diagnosed at birth to

conditions developed later in life

such as coronary heart disease,

heart failure, and stroke.

The World Heart Day initiative

was founded in 2000 by the

World Heart Federation as a

platform for raising awareness

of CVD. The day seeks to

promote ways to keep hearts

healthy such as exercising

regularly, eating and drinking

well, and stopping heartdamaging

habits such as

smoking.

The World Heart Federation

wants everyone to make a

heart promise this September

– a promise to look after your

heart and those of the people

you care about. There are a

number of ways you can do

this, from making improvements

to your diet to taking part in

regular physical activity.

Want to get involved with promoting

awareness of heart health for World Heart

Day 2018? Find out more and download

the free resources available from

www.world-heart-federation.

org/world-heart-day

TOP TIPS TO KEEP YOUR HEART HEALTHY

Try to eat 5 portions of fruit and

vegetables each day (fresh, tinned or

frozen all count towards this)

Choose unsweetened beverages and

water instead of sugary drinks

Limit the consumption of processed and

pre-packaged food which can be high in

fat, salt and sugar

Walk and cycle short distances rather

than taking the car

Aim to do 30 minutes of moderate activity,

5 times per week – walking, housework

and dancing all count

Take the stairs instead of using a lift or

escalator

Track your progress using a pedometer or

exercise app on your phone

INITIATIVES YOU CAN TAKE WITHIN YOUR SETTING

Teach the children about how their heart

works. Help them locate where the heart

is in their bodies, then explain what it

does and how to keep hearts healthy

Let children listen to their hearts through

a stethoscope before and after an

exercise activity to hear how different

they sound

Look at the different foods which help

hearts stay strong such as spinach,

tomatoes, blueberries, strawberries,

broccoli and fish like tuna

Hold a fundraising day to raise money

for a relevant charity such as the British

Heart Foundation. This will help fund

important research to help treat heart

and circulatory diseases in the future

Today in the UK..

• 545 people

will go into

hospital due to

a heart attack

• 180 people

will die from a

heart attack

• 12 babies will

be diagnosed

with a heart

defect

September 2018 13
---
The Adventures of

Rocket Rabbit &

Sidekick Squirrel part 2 -

The Badger's Trap

"Is it possible that there

are others like

us?" Rocket Rabbit

asked, unsure if

she wanted to know

the answer. If there were

naughty animals running

loose who were as clever

as them – it would be a

disaster!

Previously on Rocket Rabbit & Sidekick Squirrel….

Following their many school visits, our heroes returned

to their hideout - possibly hoping for a little rest. Instead,

they got a call and took a mission – to stop a baddy!

Rocket Rabbit got dressed into her suit and found all

of the things she needed for this important mission.

She has a belt with all kinds of gadgets in it. All sorts

of useful things, designed and built by her best friend

Sidekick Squirrel.

There was a special tool that could open any lock and

even one that held a parachute – in case they ever

needed to jump from somewhere up high.

There was a special remote control for controlling the

Super-Car and the Super-Jet from far away. And there

was even a special tool for keeping track of where all

the special tools are!

The two superheroes were soon dressed in their

superhero costumes and were in the Super-Jet ready to

head out on their mission. Sidekick had taken some time

to gather all the various computers and tablets she may

need whilst on the flight.

Although she still did not know where they were

heading…or why!

Rocket Rabbit helped Sidekick Squirrel to steer the Jet

down the runway …out of the hideout … through the

secret door …and into the air.

Once they were flying at a nice steady height, Rocket

pressed a button so that the Jet was flying itself, as if by

magic.

"Where are we going?" Sidekick Squirrel asked.

"Ah," said Rocket Rabbit, twitching her long ears. "We

are going to stop a baddy who is trying to steal some

jewels!"

Sidekick didn't look very excited at all by that news.

Stopping a baddy stealing jewels was something they

did every day!

"It's a big one." Rocket said, quickly. "One of the biggest

in years and the really exciting bit is that the police do

not know who the baddy is. People who saw it said that

it is a creature. Not a human!"

That got Sidekick's attention. Apart from the two of

them, no other animals could talk or dress up or

think about stealing things. This was going to a very

interesting mission.

Sidekick Squirrel put on her thinking

face, with her left paw rubbing her chin. It was

something that she had not thought about before.

Rocket Rabbit was not used to seeing her friend like

this. She waited patiently to the side, leaning on one of

the Jet's walls, munching on a carrot, as it took them

smoothly towards where they were going.

After a while, Sidekick Squirrel looked up and nodded.

"Yes…There could be others like us."

The Jet sounded an alarm right at that moment. The two

heroes jumped back in their seats. Sidekick took hold

of one of the Jet's control levers, Rocket grabbed the

second.

"We are about to find out if there are others." Rocket

shouted over the noise of the wheels coming out of the

bottom of the Jet.

"Let's land over there!" she pointed to a small field next

to a huge jewellery shop.

Once they landed, the two hero animals leapt from

under the Jet's huge window, which slid completely into

the main bit of the spacecraft. They left it open, in case

they needed a quick escape.

No-one else could fly the Jet, so it was safe.

a broken tap and litter blew about the

street from a knocked over bin.

They quickly saw the front of the shop – It was a

complete mess with rubbish everywhere!

Rocket Rabbit took control. She held her finger to her

lips, instructing Sidekick to keep quiet. Then she pointed

left. Sidekick positioned herself to the left of the messy

shop, listening for any sounds inside.

Rocket crept round to the other side, crouched down,

crawling with her ears down.

When she was on the right of the shop, her ears shot up

trying to listen hard for any noises. But she couldn't hear

anything.

Suddenly, a thunderous crash!

Someone or something was inside the shop!

Both heroes jumped out of their hiding places, ready for

a fight.

Rocket Rabbit and Sidekick Squirrel were creeping slowly

and carefully towards the shop. There were all kinds

of alarms going off and in the street ahead of them,

several cars were upside down, water sprayed from

'This is what heroes do' thought Sidekick to herself. 'Run

towards the loud noise instead of running away like a

normal person!'

14 Parenta.com September 2018 15
---
They entered the main room of the shop and saw the baddy. A giant badger!

Nearly as tall as a person. She was simply stood in the middle of the room. Like

she was waiting for something.

NEW AND IMPROVED

"Finally!" The badger shouted. "I've been waiting for you two to get here."

EYFS Software

Rocket grabbed the big bag of jewels from The Badger's paws, before she even

saw it coming.

The Badger did not even seem to care.

Before the heroes realised what was happening, The Badger had pressed a button

and used a magic jetpack to fly out of the shop.

She escaped…just.

As her jetpack steered her out of the completely messy shop and away from our

superheroes, they could just about hear her saying…"You'd better watch out you

two, my boss wants to see you!"

Richard Dodd

Richard has been writing for

as long as he can remember.

English was a subject he

enjoyed in school as it just

made sense to him. He loved

to read and requested his

own bedroom so that he could

have a bookcase! His favourite

childhood authors included

Enid Blyton, R. L. Stine, M. D.

Spenser, and Charles Dickens.

Characters, stories and even

words he has taken in through

all of those books have stayed

with Richard for two decades.

He firmly believes that books

are integral in a person's

upbringing and that those

experiences will stay with them

throughout their lives.

He can recall parts of those

books in their entirety, from

the tone of voice described by

the author to certain scenes

from The Famous Five or Secret

Seven. Richard loves fiction

and the idea of escaping and

therefore creating an escape

for a reader is the very reason

he writes.

Richard has written four books,

three in the Fluffy the Magic

Penguin series and a standalone

book called 'The Secret

Passageway'.

contact@parenta.com

Improve safeguarding with stateof-the-art

photo tagging and

blurring

0800 002 9242

Plan activities which can be

converted into observations,

saving you time

BOOK A

FREE DEMO

parenta.com/fsdemo

Record CoEL and Leuven Scales as

part of observations

Facebook:

www.facebook.com/

richarddodd.author/

Email:

Richard.dodd@upburypress.

co.uk

Website:

www.upburypress.co.uk

PART 3!

16 Parenta.com Make sure you read the October edition of the Parenta magazine for part 3!

If you missed the first installment you can read it in our August magazine - visit parenta.com/magazine

We'd love to hear yours and your children's feedback on the story so far - please email us marketing@parenta.com

View key information at a glance

for all of your children

Analyse the progress of different

groups of children at the same time

with cohort tracking

Save hours by using personalised

templates for observations

SIGN UP AT CHILDCARE EXPO TO RECEIVE 25% OFF *

*Terms and conditions apply, see our website for details

Come and view a DEMO of the

new and improved Footsteps on

STAND D25
---
Très bien fait!

Promoting bilingualism

in the Early Years

Here in the UK, we enjoy a melting pot of different cultures and

languages. No doubt you'll have children in your setting who are

growing up in homes where English is not the first language. In

fact, it has been reported that over 1 in 5 primary school children

use English as an additional language. For these children, their

initial exposure to English may come from their experiences

within a childcare setting.

The diverse range of languages used

today in the UK is astounding. This can

lie partly in the fact that immigrants

from Europe and further afield have

successfully settled in the UK and made

a new life for themselves. The most

widely spoken immigrant language is

Polish, with 546,000 speakers. This is

followed by Punjabi, Urdu, Bengali and

Gujarati.

Being able to speak more than one

language has many educational, social

and economic benefits. It can open up

doors for children, especially in a job

market where international companies

are looking to hire bilingual candidates.

It may surprise you to learn that bilingual

employees can earn between 5%-20%

more per hour than their monolingual

counterparts.

Crucially, though, maintaining fluency in

a child's native language provides them

with a link to their family's own culture

and heritage.

Research suggests that 54% of people

in Europe are bilingual. However, it is

widely known that Britons have a poor

track record when it comes to their

reputation for being monoglots (only

able to speak one language). And,

whilst English is the most widely spoken

language in the EU, there's no better

way to strike up a rapport with people

from other cultures then attempting to

speak the local language.

Acquiring and speaking multiple

languages for children in the Early Years

is relatively easy compared to adulthood.

Whilst there seems to be a lot of debate

as to the 'peak window' for learning a

second language, there seems to be

some consensus that the earlier a child

learns a second language, the more

quickly they'll attain native-like language

proficiency. So, whilst children are laying

down the foundation for communication

in infancy, what better time to introduce

them to another language?

The results of a quick Google search

reveal that there are lots of franchises

such as La Jolie Ronde, providing

language learning support for 0-

12-year-olds. The typical format of this

learning combines a weekly lesson with

a fluent speaker as well as storytelling,

songs and games in the target

language.

As a setting, you may be able to afford

to run a weekly class like this or offer it

under the provision that parents pay an

additional fee. But in what ways can you

encourage bilingualism at your setting?

Follow our tips below:

• Introduce songs, nursery rhymes

and games in other languages to

the children

• Invite parents of a child whose first

language isn't English to come into

the setting and talk about their

culture and traditions, perhaps even

introducing a few simple words in

their home language to the children

• Display words in different languages

around the setting

• Identify and learn some key phrases

in the child's first language such as

needing the toilet or being thirsty.

Ask the parents to check your

pronunciation of these phrases

• Share songs in multiple languages.

An example of this is singing a good

morning song with a verse in every

language in the setting. Parents can

help with this by sending home the

verse in English and asking them to

translate it into their home language

• Choose books in different

languages

• When a new vacancy arises,

consider employing bilingual

childcare practitioners

• Widen the learning opportunities

for children by labelling parts

of a flower (for example) in two

languages, with the help of a

bilingual child

Exposing all children (whether or not

they're monolingual) to a range of

languages is important, so that they

can appreciate linguistic diversity and

differences in culture from an early age.

Practitioners can model positive

attitudes towards language learning

by making the effort to speak to a child

whose first language isn't English in

their native tongue and by embracing

parents' help with aspects such as

word pronunciation. Taking this further,

there are plenty of opportunities to

help monolingual children learn a

second language by including foreign

languages as a normal part of your

setting's routine and activities, using

some of the ideas above.

If young children see the value of

bilingualism from an early age, they're

more likely to want to pursue the love

of learning a language and become

interested in finding out about people

from different cultures. This is of vital

importance in preventing them from

adopting an attitude of segregation or

separation to those who they encounter

or perceive as markedly 'different' in the

future.

Did you know?

Every year on the 26th

September, the European Day of

Languages is held. Organised by the

European Union and the Council of Europe, it

aims to celebrate both the cultural and linguistic

diversity within Europe and to encourage and

promote language learning. There are 24

official EU languages and around 60

minority languages!
---
The unexpected

truth about

teaching colour

and number

recognition

Have we got it wrong?

A small group of pre-schoolers are playing

at the sand table. Some exciting props have

been added, along with a dozen or so brightlycoloured

diggers, tractors and trailers. The

children are engaged and happy, and the

practitioner is modelling talking about colours,

numbers and position.

"Look, your blue tractor is going up the hill!"

"You've got two tractors!"

This is certainly how I

have presented colours

and numbers in my own

practice. But it seems

that I may well have been

misinformed. According to a

recent study, such traditional

intentional colour and

number recognition teaching

is more likely to confuse

children than help them. And,

considering that pretty well all

practitioners present colours

and numbers in this way, it

may be a very good thing to

explore this a little further.

The obstacles of English

grammar

English colours are

particularly difficult to learn.

Our rules of grammar put the

colour firmly before the noun,

"I've got a red balloon." When

we name colours like this,

they resemble proper nouns:

Red Balloon, a bit like Peter

Smith.

Likewise, with numbers,

English grammar places

the number word before

the object: "We've got

three biscuits." This socalled

prenominal naming

of numbers or colours is

the confusing part. We are

drawing a child's attention

to the object while asking

them to recognise the colour

or number at the same time.

As a result, their attention

becomes divided, and the

number or colour word can

get lost.

An unexpected result

A study i a few years back

considered how young

children learn colour words.

They conducted a series of

tests on two-year-olds to see

if they could correctly identify

colours in a three-colour

line-up.

There was an unexpected

result. Almost all of these

two-year-olds could not pick

out the right colours. Their

parents were astonished!

Surely their child would pass

the test with flying colours,

if you'll pardon the pun.

But of course, the contextfree

testing environment

totally stumped the children.

While they were more than

capable of producing colour

words in familiar contexts

like "Yellow banana!", they

simply could not reliably use

colour words in unfamiliar

contexts.

This testing of colour

recognition was followed up

with postnominal training to

one group of children (saying

the colour after the noun)

and prenominal training

(saying the colour before

the noun) to another group.

It was discovered that the

postnominal group improved

significantly, learning colour

words rapidly. The other

group showed no signs of

learning.

This is an eye-opener.

The children's colour

recognition was significantly

strengthened when adults

modelled putting the colour

name after the noun: "I've

got a balloon that is red."

The same principle applies

to number recognition

Another study ii tested

number recognition in

children aged between

30 and 40 months. Half

the children were given

prenominally phrased

questions (number before

the object) and the other

half postnominally (number

after the object).

The group with the

postnominally phrased

questions did significantly

better. Following on from

this piece of research, the

two groups were given some

prenominal or postnominal

'training' time (hearing

the number words either

before or after some familiar

objects). Once again, the

postnominal 'training' group

significantly improved. The

other group did not.

Testing the hypothesis in

our settings

How about we investigate

this in our own settings?

Within highly appealing and

familiar contexts, let's talk

postnominally with children

about numbers and colours

(number/colour after the

object). For English-speaking

children, we use colour

words prenominally about

70% of the time. Presumably

the same applies for

number words. Imagine the

difference we can make by

changing our approach.

Haul out the tuff box and

fill it with different coloured

wooden blocks. Create an

irresistible world of diggers,

tractors and lorries with sand

play. Put lots of ocean small

world into the water tray,

delivered with a whole load

of greenery that looks like

seaweed.

And then, enjoy the number

and colour chitchat you can

share with the children.

You may occasionally find

yourself talking a bit like

Yoda from Star Wars, but

your efforts will not be in

vain.

"Your blocks, you have 3!"

"Let's find the tractor that is

blue."

Can something so simple

make such a difference? Go

ahead and find out!

Helen Garnett

Helen Garnett is a mother

of 4, and a committed and

experienced Early Years

consultant. She co-founded

a pre-school in 2005

and cares passionately

about young children and

connection. As a result,

she has written a book,

'Developing Empathy in

the Early Years: a guide for

practitioners'. She has also

co-written an Early Years

curriculum and assessment

tool, at present being

implemented in India. Helen

is also on the Think Equal

team, a global initiative led

by Leslee Udwin, developing

empathy in pre-schools and

schools across the world.

i

Michael Ramscar, Kirsten Thorpe and

Katie Denny (2007) Surprise in the learning

of colour words

ii

Michael Ramscar, Melody Dye et al (2011)

The Enigma of Number: Why children find

the meanings of even small number words

hard to learn and how we can help them

do better

20 Parenta.com September 2018 21
---
What our customers say

WHAT OUR CUSTOMERS SAY

RECRUITMENT

SOFTWARE SUPPORT

Rosie is always so customer-focused

and always makes everything better,

when my user error has made it go

wrong. Thank you.

- Debbie, D-Dee's Day Nursery

JUNE 2018

CAREERS ADVICE

Really useful to inspire students and

motivate them to consider [a] career

in childcare.

- Orla Gallagher, Wanstead High School

MAY 2018

Rebecca was amazing at helping me to find an

apprenticeship and was so nice and helpful and I

am truly grateful for the service.

- Mollie Rose

JULY 2018

SOFTWARE SUPPORT

I usually speak to Amy & Ellie and

they are absolutely amazing. So helpful,

professional, polite & patient. A big thanks

to them both.

- Diane, Tiddlers Day Nursery Ltd

JULY 2018

CAREERS ADVICE

Parenta attended our recent annual

Careers Fair. Amelia was professional and

interacted well with all our students. Many students

requested further information on apprenticeships and

we will continue to work with Parenta especially between

September 2018 and February 2019 when our Year 11 students

will be choosing and finalising their post-16 plans. We will ask

Parenta to attend next year's fair. Thank you, your support

of our students is much appreciated.

- Heulwen Davies, St Bernard's High School

MAY 2018

TRAINING

I am feeling confident that with continual support

from Angela that I will succeed in completing my

course. I know I can contact her and she will help

me with anything I need.

- Paula Stoyles, Growing Places

JULY 2018

22 Parenta.com September 2018 23
---
Empowering children to

embrace failure

We all want children to succeed in life and it is human instinct to want to protect them from pain

and to stop them from repeating the same mistakes that we made in our younger years. We have

all failed at some point and it is never pleasant. However, failure is a part of success and it is

important that we teach our children how to use failure as an opportunity to grow, rather than it

being something they should avoid.

Praising a child only when

they 'win' or using phrases

such as 'Failure isn't an

option' or 'Coming second

is the same as coming

last' often stems from

well-intentioned people

(usually who have quite a

competitive nature) who

want to mould a child with

a positive and winning

mentality. The problem with

this is that these phrases

and actions teach children

that failure isn't acceptable,

which in turn, actually

achieves the exact opposite

and programmes their brain

to play it safe.

Every successful person

has failed

People never reach their

brilliance without stepping

out of their comfort zone

and stretching themselves.

However, in order to do

this, it involves being in

unfamiliar situations and

therefore increases the risk

of failure. Every successful

person in the world failed

multiple times before they

perfected their craft and

had their breakthrough

moment. By telling children

that failure isn't an option,

we are simply teaching

them that they must be

perfect at all times. Not

only is this completely

unrealistic, but it also gives

them a warped idea of what

success actually looks like.

Belief systems are created

95% of what we do is

completely subconscious.

Throughout childhood

what we see, hear and

feel on a repeated basis

creates belief systems that

then become an internal

blueprint. One of the roles

of our subconscious mind is

to keep us safe. But by 'safe'

We need to teach

children that

failure is a part

of success, that it

is an opportunity

to learn and

grow and a

positive stepping

stone towards

their goals

this means keeping us in

line with our internal beliefs

(even if these beliefs don't

result in happiness). If a

child is repeatedly told that

failure is not an option, their

subconscious mind (95% of

their mind) will do whatever

it takes in later life to keep

them in alignment with that

belief. It will see failure as

'danger' and will result in a

person who avoids it at all

costs or at, the very least,

deals with it badly when it

happens.

Here are some examples

of how a belief that 'failure

isn't an option' could affect

someone. They might:

►►

Always stay in their

comfort zone to avoid

being in unfamiliar

territory and getting it

wrong

►►

Become so much of a

perfectionist that they

procrastinate and spend

too long messing about

rather than just getting

their projects seen by

the right people

►►

Suffer from anxiety when

things do go wrong and

have all of the wind

knocked out of them

Our subconscious mind is

very literal, so it is important

that we programme it with

beliefs that are conducive

to success and happiness.

Although people's intentions

usually stem from the 'right

place', it is important as

practitioners and parents to

listen to the literal message

that our words are giving

children and what that

means if there is a higher

power keeping them in

alignment with it.

Failure is a stepping

stone to success

Everybody fails. It's how

we deal with failure that

determines the outcome. We

need to teach children that

failure is a part of success,

that it is an opportunity

to learn and grow and a

positive stepping stone

towards their goals. We

also need to praise effort,

motivation and tenacity,

rather than focusing solely

on the outcome. By doing

all of these things, we will

instil the belief that 'failure

is okay' and we will also

encourage the qualities

needed to truly succeed.

If the subconscious mind

is programmed to see

failure in a positive way, it

will be more likely to allow

someone to take risks

and to step out of their

comfort zone, which is 100%

necessary for anyone to

reach their true potential.

It won't take away the

disappointment that comes

with failure, but it will give

children balance around the

inevitable pitfalls on their

journey to success and a

growth mindset that will

support them to spread their

wings rather than play it

safe. It will also give them

the freedom to explore their

own limitations and to pick

themselves up every time

they fall, knowing that they

have become one step

closer to achieving their own

breakthrough moment.

Programme their mind for

success

One of my favourite quotes

from P.T. Barnum in the film

The Greatest Showman

is 'Comfort, the enemy of

success'. It really is! Let's

programme our children

with belief systems that

allow them to have the

confidence to step out of

their comfort zone and to

become the best version of

themselves that they can be.

Stacey Kelly

Stacey Kelly is a former

teacher, a parent to 2

beautiful babies and the

founder of Early Years Story

Box, which is a subscription

website providing children's

storybooks and early years

resources. She is passionate

about building children's

imagination, creativity and

self-belief and about creating

awareness of the impact

that the Early Years have

on a child's future. Stacey

loves her role as a writer,

illustrator and public speaker

and believes in the power of

personal development. She is

also on a mission to empower

children to live a life full of

happiness and fulfillment,

which is why she launched

the #ThankYouOaky Gratitude

Movement.

Sign up to Stacey's Premium

Membership here and use the

code PARENTA20 to get 20%

off or contact Stacey for an

online demo.

Email:

stacey@earlyyearsstorybox.com

Facebook:

facebook.com/

earlyyearsstorybox

Twitter:

twitter.com/eystorybox

Instagram:

instagram.com/

earlyyearsstorybox

LinkedIn:

linkedin.com/in/stacey-kellya84534b2/

24 Parenta.com September 2018 25
---
EYFS activity ideas

to try today

All of the following activities are suitable for

children aged 22 months – 60 months.

Communication and Language

Physical Development

Personal, Social and Emotional Development

Literacy

Mathematics

Understanding the World

FIND THE MISSING

NUMBER

MAKE SHADOW SHAPES

TOGETHER

Expressive Arts and Design

INSTRUCTIONS:

1. Find a picture book or story which is popular with

the children, then start collecting items you think

represent different aspects of the story. You could use

soft toys or puppets to represent certain characters

2. Seat the children around you, either on the floor or

around a table

3. Ask the children to guess what story might be in the

sack – you could pull out a familiar soft toy character

which will help them guess. Even if it's obvious, you

don't need to confirm to children which story it is

straightaway

4. Let the children take it in turns to feel in the sack and

pull an item out

'GUESS THE STORY' SACK

Story sacks are a great way to engage children, particularly those who may struggle with literacy or

who share books with reluctance. The puppets and props in your story sack will help bring stories to life

and children will love the element of surprise involved in guessing what's in the sack.

YOU'LL NEED:

• A storybook

• A soft sack

• Props or puppets to represent the story

AREAS OF THE EYFS:

Understanding

Reading

Speaking

The world

30 - 45

minutes

Instructions:

5. Explore the item in detail and ask the children what it

looks like, smells like and feels like

6. Ask the children to match the item from the sack to

a particular passage of the story or help them flip

through the pages to try and find it

7. Revisit the story and run through the role that the

item plays in it. Ask the children if they can find

other examples of the same thing within the room, if

they've seen it before and what they think its purpose

is

8. You could end the session by retelling the story, using

the props from the story sack to bring it to life

15 - 30

minutes

This missing number game is fun for

children and can be adapted depending

on the age/skill level of the group. Children

can reinforce their knowledge of numbers and

practice counting. It's also a great activity to

help children develop their fine motor skills, by

opening and closing the peg.

YOU'LL NEED:

• A Sharpie pen

• Craft or lolly sticks

• Wooden clothes pegs

AREAS OF THE EYFS:

Moving & handling

Numbers

INSTRUCTIONS:

1. Write the numbers 1-10 along the length of a stick,

leaving a gap for one of the missing numbers each

time

2. Write the numbers 1-10 along each of the clothes

pegs so that the part that normally attaches to

clothes is showing on the outside

3. Mix the pegs and sticks up a little, so it's not

obvious which ones are matching

4. See whether the children can attach the right peg

to the right gap for each stick

5. You could also try missing out 2 numbers on some

sticks instead of 1, to make it more challenging for

the children

15 - 30

minutes

Children have a fascination with

shadows but don't often get the chance

to explore why they appear and how they can be

changed. This is a great activity to help children

explore dark and light, as well as learn new

vocabulary like shadow, light, dark and shape. If you

don't have a dark corner of your setting, you can

create a DIY fort using blankets covering a dining room

table or chairs.

YOU'LL NEED:

• A dark corner or makeshift fort

• Torches

• Music

AREAS OF THE EYFS:

Listening and attention

Self-confidence

Exploring and using

media and materials

Speaking

Technology

The world

INSTRUCTIONS:

1. Find a dark corner of your setting or make your

own DIY fort using blankets and chairs

2. Take a small group of children at a time and hand

them torches

3. Let them experiment with darkness and light by

turning the torches on and off

4. Show the children how to make shapes in the

torchlight

5. You could also play music whilst the activity takes

place and see how the children make their shapes

move to the beat of the music

26 Parenta.com September 2018 27
---
Spotlight on...

Daniel Spencer

Every month, we put the spotlight

on a member of the Parenta team.

This time around, it's our new

administration manager. Daniel plays a key part in

heading up our admin team which currently comprises

5 members. The team processes learner data to comply

with our contractual requirements as well as assisting the

business by providing timely administrative support.

How has your role changed

since you started at Parenta in

2012?

I started at Parenta as an admin

apprentice before gaining a

permanent job a few months

later in the admin team. I then

worked my way up to being the

team leader for the admin team

and I have recently started in

my role as admin manager. It

is a very different role to being

an apprentice, as I now get to

work on the procedures the team

follow and help to make the

team run more efficiently and

effectively. I also support them

with the knowledge I have gained

over the years.

How has the company invested

in equipping you with the

qualifications and training

you need to succeed in your

career?

During my time at Parenta, I

have completed 3 different

apprenticeship courses - gaining

my Level 2 NVQs in Business

Admin & Team Leading as well as

my Level 3 NVQ in Management.

Each has given me knowledge

that I use in my job role on a daily

basis, especially the team leading

& management courses which

really helped to develop my skills.

Helping people to

solve a problem

is always very

rewarding for me,

personally

What do you find most

rewarding about what you do?

I really enjoy being able to

support the team and help

them to grow and achieve their

goals. Helping people to solve a

problem is always very rewarding

for me, personally.

You took a career break for 1

year – what made you decide

to come back to the Parenta

family in April?

I had been at Parenta for almost

5 years when I decided to leave

as I felt it was time for a bit of a

change and to experience some

new environments, as I'd never

worked anywhere else doing

admin. The opportunity to return

to working with a lot of great

people and to continue growing

my skill set was too good to pass

up and it has been absolutely

lovely to come back!

In the coming months, what

do you hope to achieve in

your new role leading the

administration team?

First and foremost, I will be

supporting the team as much

as I can because they are an

awesome team of hard-working

people! I have a lot of ideas

in my mind to help move the

administration team along in

terms of streamlining some

procedures and I want to work

with the team to come up with

ways of making us more efficient

as we continue to grow. It should

hopefully be a very exciting time

ahead!

What do you enjoy doing in

your spare time?

I'm a gamer and a geek at heart,

so you can often find me either

on my PS4 or watching superhero

films! Aside from that, I enjoy

cooking, reading and walking my

dog, Mika.

win a craft hamper in our

spooktacular halloween

competition!

Enter our Halloween competition with the chance to win a hamper crammed with

1000 craft items!

To enter, download the Halloween craft templates from our website, available here and

get ready to create ghoulish decorations for your setting.

Once you've completed your ghastly crafts, send a photo of these displayed in your setting

to marketing@parenta.com by Friday 2nd November 2018.

We'll upload this photo to our website and social media pages for a national vote – the one

with the most votes will win our incredible prize!

Happy Halloween crafting and good luck!

28 Parenta.com September 2018 29
---
Bronfenbrenner: children's

learning in a wider context

Children are now growing up in a world that is globally interconnected and increasingly shaped by

technology and social media. This increase in digital technology and social media means that the

social nature of learning for many children is now very different to how it was in previous decades.

One theory that helps us understand and explain how this increasingly complicated world impacts

on children's learning and their development is the Ecological Systems Model, now known as

the Bioecological Model offered by Uri Bronfenbrenner. Bronfenbrenner (1917-2005) was born in

Moscow in 1917 and at six years of age moved to the USA with his family where he later became

a co-founder of the hugely important Head Start programme in the USA, which sought to support

disadvantaged pre-school children.

Bronfenbrenner's theory has placed a

much greater emphasis on how wider

economic, political and cultural factors

impact upon children's learning and their

development. Here, we might reflect on

how different governments in the UK

have influenced and shaped the direction

of schools and early years provision.

Bronfenbrenner also emphasised how

the unique biology of each child not

only plays a significant part in their

development but importantly, on their

learning. His ideas can perhaps be best

understood as the relationship between

each child's unique biology and the

environments in which they grow up. An

example would be where brothers and

sisters born into the same family, who

attend the same playgroup and same

school and who have the same wider

family networks will experience all of

these in different ways.

Figure 1 Bronfenbrenner's ecological model of

individual development

Bronfenbrenner suggested that

children's development and learning

can be understood and explained by

thinking in terms of a number of the

layers that encompass children as they

grow and develop, with the closest

layer to the child being the Microsystem

(Figure 1) – these are often thought of as

being like a Russian Doll.

The Microsystem refers to

those most immediate

contacts in the child's

life. Examples

would be the

child's family,

their nursery or

playgroup, their

neighbours

and their local

community.

Bronfenbrenner

Microsystem: This refers to a child's immediate environment, for example, their

family, playgroup, neighbourhood, and peer group

Meosystem: This refers to the connections children make between their immediate

environments, for example, their home and their playgroup

Exosystem: This refers to the external settings in the child's environment that impact

indirectly on their development, for example, their father and mother's workplaces

Macrosystem: This refers to the child's wider cultural context, for example, the

economy and changes in government

Chronosystem: The patterns of events and transitions in the child's life

MICROSYSTEM

stressed how a two-way process or

what he referred to as 'bi-directional

influences' within the Microsystem

can have quite powerful influences on

young children (see example). What he

is suggesting here is that whilst young

children are influenced by the actions

of others they also, in turn, directly and

indirectly influence the actions of

others with whom they

come into contact

with.

M E O S Y S T E M

M A C R O S Y S T E M

E X O S Y S T E M

C H R O N O S Y S T E M

Example: Bi-directional influences

An infant is lying in her pram and for

no obvious reason makes a loud and

delightful cooing noise. Her mother,

who is in the next room, hears the noise

and runs in and picks her infant up in

her arms; the infant then receives lots

of hugs and attention from her mother.

Whilst the infant initiated this interaction

by making the noise, it is the mother who

has responded. In this way, the infant

has influenced and directed her mother's

behaviour.

Bronfenbrenner would interpret this

pattern of behaviour between the infant

and her mother as being bi-directional.

Such bi-directional influences, he

believed, are very strong and can set up

patterns of behaviours in adults as well

as children.

The Meosystem relates, for example,

to those connections that are formed

between parents and staff in their

child's nursery. Parents will often talk

with staff about things such as their

child's sleeping patterns and what

they like doing at home. Likewise, staff

will share with parents examples of

activities where their child has gained

success and so on. Children also start to

make simple comparisons between the

experiences they have in their nursery

and those they have at home. They also

begin to make comparisons between the

friends they are making at nursery and

friends in their own local community, as

well as their siblings. The Exosystem is

to do with those wider social systems

in which children grow up, for example,

the commitments their parents have

to their jobs and their parents' level of

income, all of which will have a direct

and/or indirect impact on children. An

example is where recent increases in

early years provision brought about

by successive governments over

the last decades have given

parents much greater choice

about early years provision.

The Macrosystem refers to the

child's wider cultural context,

for example, the economy

and changes in government,

children's cultures and the

values of the communities

and wider society in

which they live, the

legal structures that

have been put in

place by successive

governments and so on. Here, one can

think of how austerity over the past

ten or so years have influenced the

lives of many children who have found

themselves living in families with much

lower incomes than previously and the

impact this might have had on their

lives. Bronfenbrenner identified a further

layer, the Chronosystem in which he

attempted to explain how time relates to

the environments in which children grow

and develop.

Summary

Bronfenbrenner's theory has much to

offer early years practitioners; it provides

a much wider focus on those vast and

often unseen environmental influences

that impact indirectly on the lives of

children. Though Bronfenbrenner's

theory has been criticised on the

grounds that it does not pay sufficient

attention to the individual development

of children it, nevertheless, offers a

very useful means of thinking about

how wider and often unseen aspects of

society in which children grow up impact

on their development and learning.

For further information on how an

understanding of Bronfenbrenner's

ideas and those of other theorists can

support practice in the early years,

see my latest book: MacBlain, S.F.

(2018) Learning Theories for Early Years

Practice. London: Sage.

Sean MacBlain

Dr Sean MacBlain is a

distinguished author whose

most recent publication

is: MacBlain (Sage, 2018)

Learning Theories for

Early Years Practice. Other

publications include:

MacBlain (Sage, 2014)

How Children Learn; Gray

and MacBlain (Sage,

2015) Learning Theories in

Childhood, now going into

its 3 rd edition; MacBlain,

Long and Dunn, (Sage,

2015) Dyslexia, Literacy and

Inclusion: Child-centred

Perspectives; MacBlain,

Dunn and Luke (Sage, 2017)

Contemporary Childhood;

Sean's publications are used

by students, academics and

practitioners worldwide.

He is currently a senior

academic at Plymouth

Marjon University where

he teaches on a range of

undergraduate programmes

and supervises students at

Masters and Doctoral level.

Sean worked previously as a

Senior Lecturer in Education

and Developmental

Psychology at Stranmillis

University College, Queens

University Belfast and for

over twenty years as an

educational psychologist

in private practice. Sean

lives with his wife Angela in

Somerset, England.

30 Parenta.com September 2018 31
---
How to mark the changing of the

seasons during the autumnal equinox

September 23rd is the autumnal equinox when there are equal hours of daylight and darkness.

Equinox literally means "equal night". It's the time when we notice the change in the astronomical

seasons from summer to autumn; harvests are gathered in, days become shorter, birds migrate

south and many animals begin a period of gathering food for the leaner months ahead.

It's interesting to note that the northern

and southern hemispheres celebrate

equinoxes and solstices as opposites.

When the UK is celebrating autumnal

equinox in September, our friends in

Australia are welcoming the return of

spring in their vernal equinox.

Wherever you are in the world,

equinoxes and solstices have been

marked for millennia by different cultures

and religions. The autumnal equinox is

also associated strongly with apples as

the symbol of life and immortality and

it's the time to celebrate reaping what

you have sown.

Whichever culture you are from, the

autumnal equinox is a time of harvests,

celebrations and giving thanks for the

abundance of nature. So here are 10

easy-to-implement ideas to help you

mark this important time in your own

setting.

1

2

3

4

Make a sun and moon mobile

Since the equinox marks a time of equal daylight and darkness, have fun making

a mobile which has an equal amount of suns and moons on it. You can also

add the earth, stars or even some galaxies or planets as a reminder of the

astrological basis of the equinox.

Go outside and investigate the changes in the leaves

The trees are wonderful in September and it's a perfect opportunity to get out

into nature at a local park or in your own outside space. You can have great fun

exploring the natural elements, kicking through leaves, looking at their different

shapes and colours or even try a spot of leaf rubbing.

Make a giant tree picture

This is a seasonal way to decorate your space as well as being creative. You can

either use a branch, secure it in a plant pot and then decorate it with 'leaves' that

the children make, or create a giant tree mural. Use handprints for the 'leaves'

and remember to use autumnal colours such as reds, oranges, yellows and

browns. You could also add images of fruit to represent the harvest by cutting

apples in half and making apple prints.

Create a piece of wild art

Collect some leaves, twigs, acorns and conkers, or whatever you can find in your

local park or garden space and use them to create some autumnal pictures. You

can use the theme of autumn to create a tree or landscape image, or why not

create a picture of a woodland fairy of elf? You can also leave the art in situ for

others to enjoy but take a camera to record the pictures for your space too.

5

6

7

8

9

10

Celebrate with a harvest festival

Communities across the northern hemisphere give thanks for their harvests

in September. You could ask parents to donate one small item and then make

hampers to give to local people in need, as a way of saying 'thank you' for the

abundance you have, as well as giving something back to your community.

Have an equinox-themed dressing-up day

Everyone loves dressing-up. Encourage your pre-schoolers to dress up as

something associated with the equinox on the day itself. Ideas include:

¥ ¥ Sun

¥ ¥ Moon

¥ ¥ Apple Trees

¥ ¥ Green Man

¥ ¥ Scarecrow

¥ ¥ Autumn Elves or Fairies

An alternative is to make headdresses, masks or banners and have a

procession around your space.

Sing songs about the changes in the seasons

How about singing a version of "London Bridge" using the words "All the leaves

are falling down" or something similar? You could create some physical actions to

accompany the words too and invent some new verses such as "Raking leaves is

so much fun" or "Pick the apples one by one".

Plant some spring bulbs

Whilst the autumn equinox marks the end of summer, it also represents the

circle of life – summer dies and winter sets in, but in spring, life will start

again. Autumn is the perfect time to plant spring bulbs that will grow in

the new year, heralding the start of the next growing season.

Play a simple counting game based on

'equals'

Set up areas of the room that represent daylight and night

time. Ask the children to dance to music and when it stops,

they must run to either 'day' or 'night' but there must be the

same number of children on each side. If you have an odd number,

ask one child to stop the music each turn.

Build a 'bug hotel'

Autumn is when many animals and insects begin their

hibernation processes, storing food or finding a winter

home. With natural habitats in decline, you could help

our insect friends by creating your own bug hotel. Use

sticks, twigs, straw and hollow bamboo canes so that

hibernating bees and other insects can find

shelter in winter months.

Plant some spring bulbs

Create a piece of wild art

Sing songs about the changes

in the seasons

Build a 'bug hotel'

32 Parenta.com September 2018 33
---
Write for us for a chance to win £50

We're always on the lookout for new authors to contribute insightful

articles for our monthly magazine.

If you've got a topic you'd like to write

about, why not send an article to us and be

in with a chance of winning? Each month,

we'll be giving away £50 to our "Guest

Author of the Month".

Here are the details:

••

Choose a topic that is relevant to early

years childcare

••

Submit an article of between 600-900

words to marketing@parenta.com

••

If we choose to feature your article in our

magazine, you'll be eligible to win £50

••

The winner will be picked based on

having the highest number of views for

their article during that month

This competition is open to both new and

existing authors, for any articles submitted to

feature in our Parenta magazine for 2018. The

lucky winner will be notified via email and we'll

also include an announcement in the following

month's edition of the magazine.

Got any questions or want to run a topic by us?

For more details email marketing@parenta.com

JULY'S WINNER

Joanna Grace

Inclusion specialist and founder of The Sensory

Projects, Joanna Grace, was July's winner of our

guest author competition. Here she is at Cornwall's

Eden Project with her voucher and a copy of the

Parenta magazine. Congratulations Joanna!

Advertise your

business here in

our next issue

Email marketing@parenta.com for details

Get our magazine earlier!

Sign up to our mailing list to get a digital version of our monthly magazine sent to your

inbox before the print copies are posted.

34 Parenta.com

Sign up here
---
A sensory look at the fussy eater

Children who experience their sensory world differently are at increased risk of eating in a restricted

way. Due to the fact that eating is so very important for survival, these children are unlikely to

experience the sensory challenges associated with eating in a 'no pressure' environment. Parents

need them to eat, we need them to eat, every one of us is interested in them eating a rich and varied

diet. The pressure is there… but what can we do to support these children?

Celebrate each milestone

The advice given in my

previous blog is a good

route to follow as you begin

to support these children.

Remember that you are

making tiny adjustments

now which will have a big

impact further down the

line. Do not expect magic

wands and do not consider

something which makes

a minute change to be a

failure. Instead, inform

everyone within earshot

(and further, if you have a

megaphone or a helpful

town crier!) as to what

these tiny incremental

steps towards that end

goal look like so that the

child can experience a

community celebrating

their progress rather than

panicking over their lack

of achievement.

Consider this a long-term

project - six months slowly

introducing new tastes is far

more likely to end

up with

a child eating an increased

range of foods than six

months arguing with a child

that they must eat their dinner.

Support the parents of that

child to feel vindicated in

this approach and they are

less likely to face judgement

from family and friends who

mistakenly believe the child

should simply not be allowed

to leave the table until dinner

is finished.

Next, think about the problem

the child is facing from a

sensory point of view. They are

likely to be experiencing some

degree in sensory processing

difficulties (read more about

this in a previous blog). Such

difficulties can mean that

sensations are heightened

or dampened in ways that

make them difficult to tolerate.

Imagine if someone asked

you to eat something that was

as loud as a fire alarm when

you crunched it. Or expected

you to swallow something

with the consistency of a slimy

slug's trail. Imagine someone

telling you that something that

tasted of pure sulphur was

actually fine. Or

asking

you to chew a pincushion full

of pins. What these children

face is very tough!

Now consider just one sensory

modality - let's go with touch

as we were talking about

that in the previous blog. You

have a child who struggles,

for one reason or another, to

process tactile experiences.

Touching things is difficult.

Not only are you asking them

to touch something, but you

are asking them to do it WITH

THEIR MOUTH, not at the end

of a tentatively outstretched

arm, not near to their body,

literally inside their face which

is one of the most intimate

and personal spaces on

our bodies. Now add in the

other modalities: not only

are you asking them to deal

with a smell they struggle

with, you are asking them to

contend with taste and lots of

disgusting squelchy repulsive

sounds. And not only are you

expecting them to do these

things WITH THEIR MOUTH,

you are expecting the child

to do them ALL AT ONCE. To a

child who struggles with the

sensory world, this is torture

and it is torture

meted out on them by the

people they love and trust. It

is no wonder we witness such

high levels of distress when

we sit them down to eat!

What can we do?

Progress is unlikely to be

made at mealtimes. Mealtimes

need to become low stress.

Whatever it is that the child

eats, even if it is only crisps,

can be set out and the meal

enjoyed. We will add the other

foods in at other times.

Break down the sensory

challenges children face into

their separate parts and offer

these in the ways described

in my previous post. So, for

example, you might take

the smell of food as one of

them. Consider what smells

they currently tolerate, or

even enjoy, and create a way

to play with these (not too

many at once - it is easy to

overwhelm with smell). Now

add in a smell closer to the

taste of food. Celebrate the

child's willingness to increase

their smell palate. Be clear to

the adults around them that

this is a step towards better

eating (but, crucially, do not

make it about eating for the

child). Continue the game over

a prolonged period of time

until you are including a rich

array of food smells.

Another sensory modality

challenged by eating is touch.

Think of the different areas

of your body and where you

are more sensitive to touch:

the hands are very sensitive,

the mouth and tongue even

more so. If the child can cope

with touch experiences that

are comparable to food (e.g.

touching a thick fluid with their

hands) then offer an array of

touch experiences for them to

explore in this way and, as the

game becomes established,

introduce foods. When you

start out it is best to make sure

you are not using actual foods

for these games, as they may

alert the child to your ulterior

motive and trigger their

established stress response.

If the child cannot cope with

touches on their fingers and

hands, try another area

of the body – perhaps the

upper arm as this is not so

sensitive, or the feet as these

are less personal. Start from

where ever they are, offer

a repeating predictable

experience and make it fun.

Take the progressive steps

slowly and always take little

ones. Slow and steady wins

the race.

Repetition is key

Isolate and share each

sensory experience associated

with eating whilst repeating

and building these over time.

Once the child is able to cope

with them individually, you

can begin to partner them

together. All the while, you

are moving towards the end

goal of them being able to do

them all at once WITH THEIR

MOUTH. When you begin to

do this breakdown, you gain a

greater awareness of how big

the challenge is that they face.

The best thing

you can do for

these children is to

break the sensory

challenge of eating

down into its tiniest

parts and recognise

and celebrate their

achievements as

they master each

part of the journey

You might think taste needs

to be excluded from this

adventure but you can find

ways to share taste which

mitigate many of the other

challenges. So you might

find you can vary a food they

already accept, e.g. a child

who eats crisps may be willing

to try different flavours. Or

you can offer taste in a very

one-dimensional way, e.g.

blending food so that it is fluid

in the mouth and does not

require chewing and does not

make a noise.

If you want to further boost

your ability to support the

child in this way, you can

learn about how each

sensory system develops. The

experiences we are able to

process in early development

are often more accessible

than those linked to later

development. As you offer the

child the touch experiences,

the smell experiences, the

taste experiences and the

auditory experiences,

you can present these in

developmental order. Doing

this will make it even easier

for the child to come on this

journey with you.

Information about the

development of the senses is

what my Develop Your Sensory

Lexiconary course is all about,

it is also in my book Sensorybeing

for Sensory Beings and

available for free via long

chats with me! If you are

particularly stuck with a child

on this issue, this information

is well worth finding out,

as some of it - particularly

with regards to touch, taste

and smell - can be counterintuitive.

The best thing you can do for

these children is to break the

sensory challenge of eating

down into its tiniest parts and

recognise and celebrate their

achievements as they master

each part of the journey – and

don't forget to get others on

board with your celebrations!

It might also interest readers

to know that I was once a

fussy eater as a child, yet

my dinner tonight contains

all manner of colourful

vegetables including slimy,

slippery substances like

avocado. For a little extra

insight, here's a couple of

recent Facebook posts here –

come and make friends!

Joanna Grace

Joanna Grace is an

international Sensory

Engagement and Inclusion

Specialist, Trainer, Author,

TEDx speaker and Founder

of The Sensory Projects.

Consistently rated as

Outstanding by Ofsted,

Joanna has taught in

mainstream and special

school settings, connecting

with pupils of all ages and

abilities. To inform her work,

Joanna draws on her own

experience from her private

and professional life as well

as taking in all the information

she can from the research

archives. Joanna's private life

includes family members with

disabilities and neurodiverse

conditions and time spent

as a registered foster carer

for children with profound

disabilities.

Joanna's books Sensory

Stories for children and

teens and Sensory-being for

Sensory Beings sell globally.

She has a further five books

due for publication within

the next two years, including

four children's books.

Joanna is a big fan of social

media and is always happy

to connect with people

via Facebook, Twitter and

Linkedin

Website:

thesensoryprojects.co.uk

Find out more about Joanna's 2019 sensory tour

dates and mega early bird tickets here

36 Parenta.com September 2018 37
---
World Car Free Day –

Will you be doing your bit?

www.jobs.parenta.com

World Car Free Day takes place on the 22nd September and seeks to promote alternative forms of

active and sustainable travel, like cycling and walking.

New figures from the

Government's National Travel

Survey have shown that

there's an overall increase in

the number of people using

motor vehicles to travel to a

destination less than two miles

away. Campaigners say this

is having a major effect on

Britain's air pollution levels.

For young children, exposure

to traffic fumes is associated

with stunted lung development,

according to Chris Griffiths,

co-director of the Asthma UK

Centre for Applied Research.

The British Lung Foundation

also warns that children who

breathe high levels of air

pollution over a long period of

time are at risk of developing

asthma, wheezing, coughs or

even more serious infections,

like pneumonia.

Last year, the shocking results

of Greenpeace's investigation

into air pollution hit the

headlines; it found that over

1,000 nurseries in England

were located within 150m of

roads which broke the legal

limits for air pollution.

760 of the 1,015 nurseries cited

in Greenpeace's report were in

London.

During the study, the

environmental campaigning

organisation looked at the EU

legal limit for nitrogen oxide

– the gas released from car

exhausts or during the burning

of substances like diesel and

coal.

It found that some of the most

heavily affected areas of the

country were Birmingham,

Sandwell, Nottingham,

Plymouth, Manchester,

Leicester, Hampshire, Leeds,

Wolverhampton and Salford.

In a bid to help protect schools

and nurseries in the most

polluted parts of London,

Mayor Sadiq Khan recently

announced a new £1m fund to

help reduce the effects of toxic

air on children. As part of this,

detailed air quality audits have

been carried out in 50 schools

in London boroughs, with each

audited school receiving a

£10,000 starter grant to help

cut air pollution.

A further £250,000 will be set

aside to carry out air quality

audits and fit indoor air filters

in 20 of the worst-affected

London nurseries.

So what can your setting do to encourage parents, staff and

families to support World Car Free Day? Here are some ideas:

►►

►►

►►

►►

►►

►►

►►

►►

Send out information to parents in a newsletter detailing your

participation in World Car Free Day and share the activities

you'll be running to raise awareness of air pollution

Get staff and children to log how many miles they've walked

or cycled in the week leading up to World Car Free Day,

giving a certificate or prize to the ones who have totted up

the longest distance

For staff members who must commute lengthy distances to

get to your setting, ask whether they'd consider getting public

transport or participating in a car share as a way to cut down

on air pollution

Ask children to put together posters to display around your

setting which promote active and sustainable methods of

travel

Talk to your children about the impact of air pollution and its

effect on health and the natural environment

Ask parents to turn their car engines off rather than leaving

them idling when parked near your setting

Think about ways you can continue to promote walking

and cycling as alternative forms of transport, perhaps by

extending World Car Free Day so that it's a regular monthly

occurrence

Run a celebration day with a traffic light-themed bake sale,

with proceeds going to a relevant charity such as Asthma UK

Will your setting be supporting World

Car Free Day in a bid to help cut air

pollution levels? What activities have

you got planned? Let us know by sending an

email to marketing@parenta.com

Childcare Apprentice Required:

Kerry Manning Childminder's Maidstone Kent ME14 2HH

Scribbles Pre School Tonbridge Kent TN11 8RL

Farm Work Play Faversham Kent ME13 9EH

Honey's Childminding Manor Park London E12 6HW

Hornsey Road Children's Centre Hornsey London N7 7EN

Cherryli Nursery New Cross London SE4 1QG

Christine Jancso Childminder Ruislip Middlesex HA4 0AP

Kids Will Be Kids Elstree Watford WD6 3JJ

ICan Childminding Greenwich London SE3 9QU

Marylebone Village Nursery Marylebone London W1U 3QY

The Wendy House Day Nursery Royston Hertfordshire SG8 0HW

Pips Nursery Saffron Walden Essex CB11 4XJ

Little Acorns Nursery Brentwood Essex CM13 1SD

The Lighthouse Children's Day Nursery Leamington Spa Warwickshire CV32 5JF

Boxmoor Preschool Crouchfield Hemel Hempstead HP1 1PA

Pury Play Paulerspury Northamptonshire NN12 7NA

Izzies Nursery Portsmouth Hampshire PO2 7HX

Active Care Bracknell Berkshire RG12 1RL

Edith Rose Day Nursery Ascot Berkshire SL5 7NW

Village End Childcare Ascot Berkshire SL5 8DQ

Little Roos Maidenhead Buckinghamshire SL6 0QH

Patchwork Montessori Maidenhead Buckinghamshire SL6 3AR

Little Roos Marlow Buckinghamshire SL7 1JW

Little Lambs Christian Pre-School and Nursery East Grinstead Mid Sussex RH19 2HA

Northover Fruit Tree Nursery Bromley London BR1 5JR

The Woodland Nursery Sidcup Kent DA14 4QT

Cbabiesafe Worthing West Sussex BN11 3RT

38 Parenta.com

Advertise your vacancy on our job board for FREE - get in touch for

September

more info

2018 39

contact@parenta.com
---
NURSERY

WEBSITE DESIGN

Think of it like this – a nursery website is like having your very own

marketing team working on promoting your setting 24 hours a day,

7 days a week, 365 days a year…need we say any more?!

We are childcare specialists

We know the requirements of Ofsted

PROFESSIONAL

SUPPORT

We understand what will get parents to engage with you

FILL PLACES

EASILY

GOOGLE-FRIENDLY

REACH MORE

PARENTS

ADAPTS TO

MOBILE/TABLET

We suggest what information would benefit your website

We regularly check we are providing the best software

We help you improve areas of your website using stats

We can help, whatever your budget or technical knowledge

parenta.com/websites