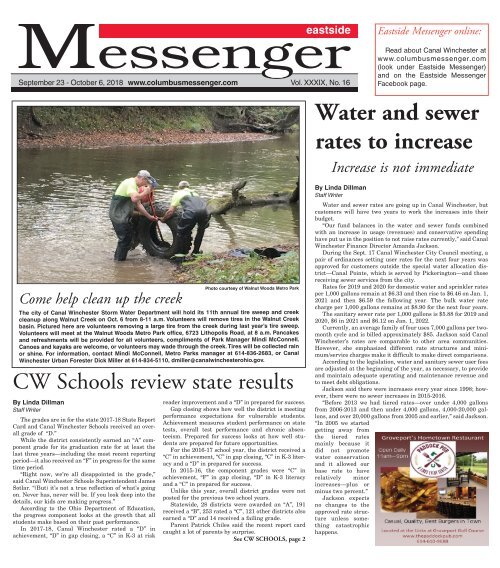 Eastside Messenger - September 23rd, 2018
You also want an ePaper? Increase the reach of your titles
YUMPU automatically turns print PDFs into web optimized ePapers that Google loves.
eastside

September 23 - October 6, 2018 www.columbusmessenger.com Vol. XXXIX, No. 16

Eastside Messenger online:

Read about Canal Winchester at

www.columbusmessenger.com

(look under Eastside Messenger)

and on the Eastside Messenger

Facebook page.

Water and sewer

rates to increase

Increase is not immediate

Come help clean up the creek

Photo courtesy of Walnut Woods Metro Park

The city of Canal Winchester Storm Water Department will hold its 11th annual tire sweep and creek

cleanup along Walnut Creek on Oct. 6 from 8-11 a.m. Volunteers will remove tires in the Walnut Creek

basin. Pictured here are volunteers removing a large tire from the creek during last year's tire sweep.

Volunteers will meet at the Walnut Woods Metro Park office, 6723 Lithopolis Road, at 8 a.m. Pancakes

and refreshments will be provided for all volunteers, compliments of Park Manager Mindi McConnell.

Canoes and kayaks are welcome, or volunteers may wade through the creek. Tires will be collected rain

or shine. For information, contact Mindi McConnell, Metro Parks manager at 614-836-2683, or Canal

Winchester Urban Forester Dick Miller at 614-834-5110, dmiller@canalwinchesterohio.gov.

CW Schools review state results

By Linda Dillman

Staff Writer

The grades are in for the state 2017-18 State Report

Card and Canal Winchester Schools received an overall

grade of "D."

While the district consistently earned an "A" component

grade for its graduation rate for at least the

last three years–including the most recent reporting

period–it also received an "F" in progress for the same

time period.

"Right now, we're all disappointed in the grade,"

said Canal Winchester Schools Superintendent James

Sotlar. "(But) it's not a true reflection of what's going

on. Never has, never will be. If you look deep into the

details, our kids are making progress."

According to the Ohio Department of Education,

the progress component looks at the growth that all

students make based on their past performance.

In 2017-18, Canal Winchester rated a "D" in

achievement, "D" in gap closing, a "C" in K-3 at risk

reader improvement and a "D" in prepared for success.

Gap closing shows how well the district is meeting

performance expectations for vulnerable students.

Achievement measures student performance on state

tests, overall test performance and chronic absenteeism.

Prepared for success looks at how well students

are prepared for future opportunities.

For the 2016-17 school year, the district received a

"C" in achievement, "C" in gap closing, "C" in K-3 literacy

and a "D" in prepared for success.

In 2015-16, the component grades were "C" in

achievement, "F" in gap closing, "D" in K-3 literacy

and a "C" in prepared for success.

Unlike this year, overall district grades were not

posted for the previous two school years.

Statewide, 28 districts were awarded an "A", 191

received a "B", 253 rated a "C", 121 other districts also

earned a "D" and 14 received a failing grade.

Parent Patrick Chiles said the recent report card

caught a lot of parents by surprise.

See CW SCHOOLS, page 2

By Linda Dillman

Staff Writer

Water and sewer rates are going up in Canal Winchester, but

customers will have two years to work the increases into their

budget.

"Our fund balances in the water and sewer funds combined

with an increase in usage (revenues) and conservative spending

have put us in the position to not raise rates currently," said Canal

Winchester Finance Director Amanda Jackson.

During the Sept. 17 Canal Winchester City Council meeting, a

pair of ordinances setting user rates for the next four years was

approved for customers outside the special water allocation district–Canal

Pointe, which is served by Pickerington–and those

receiving sewer services from the city.

Rates for 2019 and 2020 for domestic water and sprinkler rates

per 1,000 gallons remain at $6.33 and then rise to $6.46 on Jan. 1,

2021 and then $6.59 the following year. The bulk water rate

charge per 1,000 gallons remains at $8.90 for the next four years.

The sanitary sewer rate per 1,000 gallons is $5.88 for 2019 and

2020, $6 in 2021 and $6.12 on Jan. 1, 2022.

Currently, an average family of four uses 7,000 gallons per twomonth

cycle and is billed approximately $85. Jackson said Canal

Winchester's rates are comparable to other area communities.

However, she emphasized different rate structures and minimum/service

charges make it difficult to make direct comparisons.

According to the legislation, water and sanitary sewer user fees

are adjusted at the beginning of the year, as necessary, to provide

and maintain adequate operating and maintenance revenue and

to meet debt obligations.

Jackson said there were increases every year since 1998; however,

there were no sewer increases in 2015-2016.

"Before 2013 we had tiered rates–over under 4,000 gallons

from 2006-2013 and then under 4,000 gallons, 4,000-20,000 gallons,

and over 20,000 gallons from 2005 and earlier," said Jackson.

"In 2005 we started

getting away from

the tiered rates

mainly because it

did not promote

water conservation

and it allowed our

base rate to have

relatively minor

increases–plus or

minus two percent."

Jackson expects

no changes to the

approved rate structure

unless something

catastrophic

happens.
---
PAGE 2 - EASTSIDE MESSENGER - September 23, 2018

www.columbusmessenger.com

Working to raise prostate cancer awareness

By Linda Dillman

Staff Writer

A loved one with prostate cancer pushed Canal

Winchester resident Linda Hoetger to work to bring

awareness of the disease by soliciting proclamations and

resolutions around the state.

In June 2009, her husband, Ray, was diagnosed with an

aggressive form of prostate cancer at the age of 56.

"I never knew what prostate cancer was until we heard

those devastating words, which are taboo to say in public,"

said Hoetger. "When we first started on our journey you

never heard men or families talking about prostate cancer.

My plasm ma donatio ons put

money in

my pock et today.

octapharmaplasma. .com

3467 Cleveland Ave.

Columbus

2740 Brice Rd.

Reynoldsburg

I knew we were not alone and there were other families

out there that had this disease. I am grateful that Ray was

one who wanted to share our journey in hopes that we

could also help families on their journey."

Hoetger said she saw proclamations and resolutions for

other cancers, but when she started searching for ones for

prostate cancer awareness in Ohio, she only found a few.

"There needs to be more education about the disease,"

said Hoetger. "One misconception is that it is an 'old man's

disease.' That is not true. I did not consider my husband an

old man at 56. We have friends in their 40's with a diagnosis

of prostate cancer. And have a friend who lost her son

in his 30's who died from the disease. Prostate cancer does

not care about your age or race. It will strike at any

time."

In September 2013, she asked Governor John

Kasich's office for a Resolution for Prostate Cancer

Awareness, but when told there were none, she

asked what she needed to do to change the situation.

A year later, the first resolution was written.

Hoetger continues to have one signed every year.

She pursues the same official recognition with

cities, villages and townships and shares her story

in emails as the wife/caregiver of a prostate cancer

survivor.

"Every time I found an email for an elected official,

I had a letter drafted up and would send it to

all the elected officials —mayors, council members

and trustees," said Hoetger. "The first couple of

years, only a few participated, but now it is growing

more and more with each year."

The couple attends city

council meetings for readings

and proclamations,

such as a recent proclamation

read by Canal

Winchester Mayor Mike

Ebert on Sept. 4.

"We were one of the first

to help you get this going,"

Ebert told Hoetger.

According to Hoetger,

Ohio now has over 200 entities

supporting September

as Prostate Cancer

Awareness Month.

"Not only are the council

members hearing the

proclamation being read,

residents in the audience

New

donor?

Mak ke up to $250*

in as little as 15 days!

83-B

Great Southern Blvd.

Columbus

Must be 18-66 years of age & in good health. Have a valid ID, proof of Social Security

number, & current residence postmarked wihin 30 days. *Total for your first five donations.

Earn money fast when you donate 2x per week. Promotions & fees may vary by location.

CW SCHOOLS

Continued from page 1

"Looking at trends over the last few

years, there's been a steep decline," Chiles

said before commenting on an increasing

reliance on online course materials and

testing. "I caution you against writing off

the grades on the report card."

Sotlar said the State Report Card is a

snapshot of what is happening, but said to

get a true picture of the district, one must

look deeper.

"We are looking at the letter grade,"

said Sotlar, "but you have to look at more

than the letter grade. This is a measuring

tool and we're going to own it."

Mental health services

The Canal Winchester Board of

"One misconception is that it is an 'old man's

disease.' That is not true. I did not consider my

husband an old man at 56. We have friends in their

40's with a diagnosis of prostate cancer."

- Linda Hoetger

are

also hearing this and have come to us after and said,

'Thank you' and know they are not alone," Hoetger said.

"Some have said they are ready to share their journey

now."

Fire chief's story

Madison Township Fire Chief Jeff Fasone said he was

diagnosed with prostate cancer in 2015, close to his 50th

birthday.

"I was devastated, especially after reading about it on

the internet," said Fasone. "There is some pretty scary

stuff out there."

Armed with information from a friend who had gone

through the same situation and options provided by his

surgeon, his prostate was removed on his 50th birthday in

August 2015.

"The surgical team sang 'Happy Birthday' to me as they

were putting me under," said Fasone. "Due to the nature

of my work, I was off for a few months. A less labor intensive

occupation could have returned sooner. There are

three time periods that prostate cancer generally returns

if it is going to, those being two, four and 10 years out. I

have passed the two year mark."

Fasone said a PSA test is a simple blood draw, which he

strongly recommends to any male over 40. According to the

National Cancer Institute, the PSA test measures the level

of prostate specific antigen in the blood. The level is often

elevated in men with prostate cancer.

Expanding the effort

Building on her grassroots efforts, in 2018, Hoetger

started sending emails to county commissioners, House of

Representatives and members of Congress asking for their

support. Many times she received an email back citing the

impact prostate cancer had on the representative or their

families.

"Other families across the nation have asked for my

help in getting proclamations and resolutions in their

states," said Hoetger. "I hope that one day families across

the nation will know the support that has grown for

prostate cancer awareness."

For more information, email info@zerocancer.org or

visit the ZERO Cancer Website. Click on ZERO's Heroes

and scroll down for a video on the Hoetgers.

Education approved a contract with Dr.

Rochelle Dunn to provide student mental

health services at a rate of $50 per hour,

not to exceed $32,000. The position is covered

by IDEA (Individuals with

Disabilities Education Improvement Act)

funding.

Companion action approved the placement

of three Ohio State University and

one Ashland University mental health

interns, at the rate of $10 an hour, in district

buildings for the 2018-19 school year.

The placement is also covered by IDEA.

"Our goal is to remove barriers to

achievement," said Dunn, who is also an

OSU professor.
---
www.columbusmessenger.com

Township fire stations to host

Fire PreventionWeek events

By Linda Dillman

Staff Writer

Fire Prevention Week in Madison Township is

showcasing two stations this year with the week bookended

in activities at Station 182 in Canal Winchester

and Station 183 on Noe-Bixby Road in Columbus.

Fire Safety Month is in October and fire departments

designate the second week of the month as Fire

Prevention Week.

"Fire Prevention Month raises awareness of the

dangers of fire and aids people in preparing for fire

threats," said Madison Township Fire Marshal Scott

Hite.

President Woodrow Wilson designated the first

Fire Prevention Week in 1920. It is the longest honored

public health and safety observance in the United

States.

Locally, the Madison Township Fire Department

has station and truck tours scheduled at both stations,

Decision on chickens

Canal Winchester City Council upheld

a Planning and Zoning Commission recommendation

to deny a variance for Elizabeth

Street property owner David Gilham to

keep three chickens on less than the one

acre city minimum. Gilham previously

filed an appeal to council to overturn the

recommendation, which was denied.

Running Scared 5K

The second annual Canal Winchester

Chamber of Commerce's Running Scared

5K, sponsored by Diley Ridge Medical

Center, will be held Oct. 27 at 10 a.m.

This spooktacular event promotes family

friendly healthy activities including a

5K run/walk, 1 mile run and kids fun run

at Hanners Park, 458 Groveport Road,

Canal Winchester.

Costumes aren't just optional, they're

encouraged. There's even a prize for the

best one. Early Bird Special Registration is

$25 which includes your 2018 CW

Chamber Running Scared 5K T-shirt.

Visit www.canalwinchester.com for

information.

CW trick or treat

Trick or treat will be held in Canal

Winchester on Oct. 31 from 5:30—7:30 p.m.

eastside

Messenger

(Distribution: 12,574)

Rick Palsgrove................................Eastside Editor

eastside@ columbusmessenger.com

Published every other Sunday by

The Columbus Messenger Co.

3500 Sullivant Ave., Columbus, Ohio 43204-1887

(614) 272-5422

around Canal Winchester

in addition to fire extinguisher demonstrations,

bounce house, fire safety gift bags, refreshments,

"Sparky" the fire safety dog, and EMS medical helicopter

tour.

The event is appropriated for all ages.

Activities at Station 182 in Canal Winchester, 6600

Gender Road, also include a youth firefighter combat

challenge, food truck and fire safety house tour. It will

be held on Oct. 7 from 1-3 p.m.

The newest complex, Station 183 at 3228 Noe Bixby

Road, is hosting Fire Prevention Week activities on

Oct. 14 from 1-3 p.m.

According to Hite, the department decided to split

the event between the two stations in order to "showcase

our newly opened fire station to the public and

area residents of the township. The National Fire

Protection Association, along with the Madison

Township Fire Department urges people to stay

informed and aware of current fire threats."

Leaf pick-up

The city of Canal Winchester will begin annual curbside leaf

collection on Oct. 1 and continue through Dec. 14.

To avoid water backup in the event of rain, leaf piles must be

placed behind the curb along the street. Residents are reminded

that leaf piles may contain leaves only, as sticks, grass trimmings

and other yard waste can cause damage to leaf collection equipment.

Regular yard waste will continue to be picked up by Waste

Management during scheduled trash collection.

City crews follow specific routes covering all city streets, as

weather permits, and cannot accept individual leaf pick up

requests.

Madison Township trick or treat

Trick or treat will be held in the unincorporated areas of

Madison Township on Oct. 31 from 5:30-7 p.m.

Winchester

Dental

Call us today to schedule

an appointment.

Winchester Square

Shopping Center

614.834.1834

Ladan Pourmoghadam

D.D.S.

Now offering our

'Smile Plan' to our

non-insured patients

Look Great

Feel Great

Sleep Great

Providing Gentle,

Caring Dentistry

In a Comfortable

Setting.

Accepting New Patients

Most Insurances Accepted

For all your real estate needs call:

Dan Gregor, ABR, CRS, GRI

Off: 614-548-0531 Cell: 614-323-8363

dan@gregorteam.com

Residential Specialist - Condos &

Single Family - Serving Homebuyers

& Homesellers - Free Online Value

Analysis for Homesellers - Search

Online For Homes For Sale

September 23, 2018 - EASTSIDE MESSENGER - PAGE 3

www.PickeringtonCondos.com

www.CentralOhioMLS.com

SEARCHING

for More Qualified Employees?

October 21 st , 2018

Deadline: Monday, October 15 th , 2018 At 2pm

Special employment Section Featuring:

Job Openings

Job Fairs

Full and Part Time Employment

Seasonal Job Opportunities and more

ALL ADS ARE IN FULL COLOR. Contact us by phone or online to discuss special

advertising rates that are available for this section as well as combination rate

discounts for advertising in multiple coverage areas.

Westside • Southwest • Eastside • Southeast • Madison

614-272-5422

Kathy@columbusmessenger.com

Doughenry@columbusmessenger.com
---
PAGE 4 - EASTSIDE MESSENGER - September 23, 2018

School lunch program

Under the Supplemental Nutrition

Assistance Program, students may be eligible

for free or reduced lunch and breakfast.

To find out if your child is eligible, complete

a school meals family application.

You can apply at www.cwschools.org or

pick up an application at the Canal

Winchester Schools Education Center, 100

Washington St., Canal Winchester. USDA

is an equal opportunity provider and

employer.

BIRTHDAY • ENGAGEMENT • WEDDING • ANNIVERSARY

• GRADUATION • RETIREMENT

IN MEMORIUM • ARMED FORCES

Say it with an announcement ad in

the Messenger and spread the word.

You can download the appropriate form from

our Web site or stop by our office

Monday-Thursday, 8:30 a.m.-5 p.m.

Friday, 8:30 a.m.-2 p.m.

SUPPORT

your

Community Paper

Through advertising, community newspapers like the

Messenger have always been FREE papers. In these

tough economic times we are asking you the reader to

help offset the current decline in advertising revenue by

participating in a voluntary payment program*.

To those who have already participated -

We Thank You.

For those who would like to, below is a form

you can mail with your payment.

*This is not a subscription.

.Name:

Address:

City/State/Zip

Columbus Messenger

3500 Sullivant Ave.

614-272-5422

www.columbusmessenger.com

columbus

3500 Sullivant Ave., Columbus, OH 43204

1 year ($9) 2 year ($18)

Eastside Westside Southwest

Southeast

Over the past five or so years, I've had a

love/hate relationship with the prospect of

turning 40.

For me, it seemed like a huge jump to go

from your 30s to your 40s. I remember

when I was young, probably in my 20s,

turning 40 was like hearing about this faroff

land … a place you knew existed, would

eventually get to someday, but couldn't

quite comprehend what that would look or

feel like.

I didn't think of it as a dystopia-like

place, but it wasn't exactly utopia either.

Some people say age is just a number,

but those who go through midlife crises

may disagree.

I used to joke that on my 40th birthday,

it would be just like any other day - nothing

to see here, move along.

Then I got sick - really sick. And there

were a few moments where I began to wonder

whether I would even have the opportunity

to celebrate that 40th milestone, or

have the choice to simply move along.

Earlier this month, I turned 40, and

although what I received was the gift of

back-to-school germs from my oldest, I

spent a lot of time reflecting on what it

meant to me to hit that personal milestone.

To advertise in

the Messenger,

call Doug Henry

at 614-272-

5422.

columns

Reflections on turning 40

Life Moments

Sure, turning 40 typically

comes with even

more gray hairs than I

thought possible. I don't

get up off the floor quite

as fast as I used to, and I

now have to watch what

I eat at night so acid

reflux doesn't keep me

burning the midnight oil.

I'm also a little more

worried about what

health concerns may

start manifesting. It

seems like that list of

health screenings you

Christine

Bryant

should start checking off, one by one, is just

around the corner.

Turning 40, however, comes some pretty

great things also.

Your teen years are known as the awkward

years, but I remember plenty of times

when I felt awkward in my 20s and 30s. I

had a hard time saying no, and I cared

entirely too much about what other people

www.columbusmessenger.com

thought of me.

I admit I still do care what people think

about me, but only certain people - those

who mean something to me.

I've also felt a shift in my priorities. I

feel more at ease now with knowing what

truly matters in life, and though sometimes

I drift off course, I actually have a course

from which to follow that aligns with my

ideals.

You also begin to realize that what you

thought would kill you, or what seemed

like the end of the world in your 20s and

30s, really won't end your life. You'll move

on, and you have enough examples from

your 20s and 30s to prove it.

Lastly, while there are some aspects of

getting older that increases my anxiety, I

feel a little more free to take risks - to follow

unrealized dreams - and let go when

something doesn't work out.

Maybe that's my own little personal

midlife crisis - instead of feeling regret, act

on something before remorse can creep in.

I used to be afraid to turn 40, but I can

say without a doubt, now that I am 40, I'm

so very happy to be here.

Christine Bryant is a Messenger staff writer

and columnist.

Running realization

letters policy

The Eastside Messenger welcomes letters to the editor.

Letters can be of any topic as long as they are not

libelous. Letters that do not have a signature, address, and

telephone number, or are signed with a pseudonym, will

be rejected. PLEASE BE BRIEF AND TO THE

One of the things I've noticed about getting older is

how sudden realizations pop into one's mind.

We go along in life working and doing all the other

things we do to live and maintain ourselves. We often

don't notice our bodies aging. We still think we're the

young people that are floating around in the memories in

our brains.

Then one day this thought bubbled up in my head: I

can't remember the last time I ran as fast as I could.

It's not that I'm inactive. I bicycle a lot, exercise, hike

and so forth. I've even run slowly for short distances when

I had to. I'm in decent shape. But when was the last time

I sprinted? I mean, really pushed my legs to cover ground

quickly. I don't remember. Maybe it's when I finally

called an end to my basketball playing career when my

knees said, "Enough!" some years ago.

Running as fast as one can is common when you're a

kid and in our young adulthood. It's a joyous experience,

almost Walt Whitmanesque in its liberating physical exuberance.

But, as the years progress we somehow find ourselves

in fewer and fewer situations that call for flat out fast

running. (5K race enthusiasts and Senior Olympians

excluded, as I know they still have it in them and that

makes me happy.)

In general, as we grow older and supposedly wiser, we

tend to not take chances with our bodies as hamstrings,

knees, shoulders, feet, and various other bones and tendons

balk at the

idea of unnecessarily

hopping

a fence, jumping

up or down on things, or

sprinting a 100 yard dash.

One of my fellow aging peers -

who, when we were young, could

jump over a picnic table lengthwise,

easily walk along the top bar

of a swing set like a high wire daredevil,

and climb rocks like they

were a ladder - recently mentioned

he contemplated hopping the short

distance from the floor to the first

step of a staircase and wondered if

it was worth the chance of making

his knees complain.

Things like running as fast as we

Editor's Notebook

Rick

Palsgrove

can were once common in our lives and they slip away from

us without our consciously meaning for them to fade.

Distractions of numerous sorts dictate to our attention. We

start caring more about other activities and ideas that are

different from when we were younger. But, as we get older,

it makes one wonder what other common things we are not

noticing as the years roll by.

We change. We adapt. We grow in other ways.

Rick Palsgrove is editor of the Eastside Messenger.

POINT. The Messenger reserves the right to edit or

refuse publication of any letter for any reason. Opinions

expressed in the letters are not necessarily the views of

the Messenger. Mail your letters to: Eastside Messenger,

3500 Sullivant Avenue, Columbus, OH 43204; or email

eastside@columbusmessenger.com.
---
www.columbusmessenger.com

Hip Hop 5K for Hip Dysplasia Awareness

September 23, 2018 - EASTSIDE MESSENGER - PAGE 5

Messenger photos by Rick Palsgrove

Amy Lee of Canal Winchester nears the finish line during the Hip Hop 5K for Hip

Dysplasia Awareness held at Roger Hanners Park and through Canal Winchester on

Sept. 15. Lee won the race with a time of 22:20. When asked if the course offered up

any surprises, Lee said, "Just the heat. It's hot for September."

Runners at the start of the Hip Hop 5K for Hip Dysplasia Awareness. The Hip Hop 5K

Run/Walk was created to aid in promoting awareness and fundraising to assist the

International Hip Dysplasia Institute in finding better and more efficient methods of

diagnosis. As well as some less invasive forms of treatment to hopefully minimize the

severe physical and mental repercussions of hip dysplasia. Hip dysplasia means that

the bones of the hip joint are not aligned properly. It is a painful process where the ball

slips in and out of the socket, which causes the hip to wear out much faster than normal.

Think of a car's tires and how they wear out faster when the car is out of alignment.

Surgery to treat the condition is long, painful, invasive and multiple surgeries are

needed more often than not. For information visit hipdysplasia.org.
---
PAGE 6 - EASTSIDE MESSENGER - September 23, 2018

www.columbusmessenger.com

Madison Township police cruiser involved in crash

By Linda Dillman

Staff Writer

A mid-August vehicle crash sent a

Madison Township police officer to the hospital,

an alleged drunk driver to jail and a

police cruiser to the scrap yard following an

accident on Hamilton Road.

Madison Township Police Chief Gary

York said the officer was driving northbound

on Hamilton Road when he stopped

at a red light near the Giant Eagle supermarket.

Moments later, he was rear-ended.

York estimated the driver, who had no

insurance and was not licensed, was going

more than 30 mph when she crashed into

the officer's vehicle, totaling the cruiser.

"Her blood alcohol level was .226," said

York.

In Ohio, the threshold for blood alcohol

level is .08 and a high-tier level of .17 or

higher results in stiffer penalties and

longer jail time.

During a Sept. 11 trustees' meeting,

York asked the trustees to approve the purchase

of a 2018 Ford 150 Responder vehicle

to replace the 2013 Caprice totaled by the

insurance company, as a result of the accident.

The state bid price for the truck is

$34,951–plus an additional $3,045 for

non-bid items, for a total of $37,996–

including title and fees.

York said he initially budgeted for two

new vehicles this year, but decided to delay

the purchases. Following the accident and

the loss of the 2013 cruiser, he said it was

now necessary to replace the car with the

pursuit-rated truck. In 2013, the cruiser

was purchased and outfitted for more than

$35,000. York said the new cruiser, once

outfitted and with the insurance reimbursement

check, will be cheaper than the

old cruiser was in 2013.

"This would be a patrol vehicle, like the

SUV we currently have, but it would be a

sergeant's vehicle," said York, who said

because of the truck configuration, it could

serve a variety of purposes.

"It's sitting on the lot, ready to go with

options," said York. "Obviously, with a

2019, we would pay more and have to

wait."

The trustees unanimously approved the

request.

Other township news

Blacklick Estates resident Reese

Kenney thanked Fire Chief Jeff Fasone for

his assistance in resolving a decade-long

fire issue.

"I want to give huge kudos to Jeff

Fasone," said Kenney.

Kenney said when Fasone recently

asked her if she had any issues or concerns,

she told him about a fire hydrant that was

removed from her yard about 10 years ago

Photo courtesy of the Madison Township Police

This Madison Township Police cruiser was rear ended in a crash in August.

after it was repeatedly damaged by

motorists.

"I had a fire hydrant in my yard since

the development was built," said Kenney,

"but after the umpteenth time (of car damage);

they decided to take it out. I talked

with Jeff Fasone, and within a week, he

had someone out to look and after that, it

was replaced. I now have a bright red fire

hydrant in my yard and I thank him for

quick action."
---
www.columbusmessenger.com

Active Lifestyles

September 23, 2018 - EASTSIDE MESSENGER - PAGE 7

A bi-monthly feature celebrating our

community's senior citizens

e benefits of growing older

Many people think of growing older in a

negative light.

Although there are some side effects of

aging that one may wish to avoid, people

may find that the benefits of growing older

outweigh the negatives.

Seniors are a rapidly growing segment

of the population. With so many people living

longer, it's time to celebrate the perks

of getting older rather than the drawbacks.

Here are some benefits to growing old.

•Higher self-esteem: The insecurities of

youth give way as one ages, and older people

have less negativity and higher selfesteem.

Qualities like self-control and

altruism can contribute to happiness.

•Financial perks: Seniors are entitled to

discounts on meals, museum entry fees,

movies, and other entertainment if they're

willing to disclose their ages. Discounts are

available through an array of venues if one

speaks up. Seniors also can enjoy travel

perks, with slashed prices on resorts, plane

tickets and more.

•Reasoning and problem-solving skills:

Brain scans reveal that older adults are

more likely to use both hemispheres of

their brains simultaneously something

called bilateralization. This can sharpen

reasoning skills.

•Less stress: As people grow older, they

are able to differentiate their needs from

wants and focus on more important goals.

This can alleviate worry over things that

are beyond one's control. Seniors may realize

how little the opinions of others truly

mean in the larger picture, thereby feeling

less stress about what others think of

them.

Growing older may involve gray hair or

wrinkling skin, but there are many positive

things associated with aging.

6800 Gender Rd.

Canal Winchester, Ohio 43110

(614) 834-6800

www.macintoshcompany.com

Personalized. Uncompromised. Healthercare.

All the comforts of home and more...

If you or your loved one is looking to

combine the Security of care with the

comforts of home, one of Canal

Winchester's spacious assisted living

suites is the perfect option.
---
PAGE 8 - EASTSIDE MESSENGER - September 23, 2018

DAR application workshop

Eight years ago, Dwayne R. Spence Funeral

Home in Canal Winchester had its first annual

Community Shred Day as a way of giving back to

the community that has supported them for nearly

50 years.

Along with document shredding, each year

Dwayne R. Spence Funeral Home partners with

the Canal Winchester Food Pantry who takes food

and monetary donations, the Lions Club who collects

used eyeglasses, the St. Vincent de Paul

Society who accepts clothing and household

items, and TDR LLC who accepts used electronics.

This is truly a community service day.

Community Shred Day has grown each year,

starting out with about 225 vehicles dropping off

recyclable paper and other reusable items in the

first year to nearly 650 vehicles in 2017. Since the

beginning Community Shred Day, Dwayne R.

Spence Funeral Home has been fortunate to have

the continued service of Boy Scouts Troop 256.

The Elizabeth Sherman Reese Chapter,

National Society of the Daughters of the

American Revolution, will hold an application

workshop on Oct. 20 from 1-4 p.m. The

workshop will feature information on completing

all DAR applications and is open to

anyone interested in working on DAR

applications. Bring with you as much information

as possible on your family genealogy

and your patriot ancestors, if known.

RSVP to Elaine Pickrell,

elpickrell@aol.com, or Judy Fleming, 614-

833-1805, by Oct. 14.

Lithopolis Garden Club

Lithopolis Garden Club meets the first

Tuesday each month at 1 p.m. in the

Community Building at Wagnalls

Memorial in Lithopolis. Anyone interested

in gardening is invited.

PAID ADVERTISING

Community Shred Day

The Scouts and their leaders show up in force to

help unload the boxes of paper and documents

from vehicles and place them in the shredding

containers. This makes it very convenient for participants

who do not need to get out of their vehicle

or lift heavy boxes. The Scouts are able to use

their service on Community Shred Day towards

earning the "Pulp and Paper" merit badge.

Dwayne R. Spence Funeral Home is pleased

that the citizens of Canal Winchester choose them

and their shred company, Royal Document

Destruction, to eliminate old and outdated paperwork.

Royal Document Destruction was chosen

to shred documents on-site because of their reputation

and their security measures in dealing with

vulnerable documentation.

Dwayne R. Spence Funeral Home invites the

community to their 9th Annual Community Shred

Day event at the Canal Winchester location on

Saturday Oct. 6 from 9 a.m. -1 p.m.

Active Lifestyles

www.columbusmessenger.com

e Franklin County Office on

Aging's role in fighting hunger

Feeding America has declared

September "Hunger Action Month."

The Franklin County Office on Aging

takes an active role in ensuring that older

adults in Franklin County have access to

the food assistance services they need to

preserve their independence and quality of

life.

Food assistance services are ones that

address the needs of those who are struggling

to either gain access to food or prepare

their meals. Franklin County is a

service rich community that offers a myriad

of services to combat hunger and these

services are a vital resource to older adults

residing within our community. It is a priority

of the Franklin County Office on

Aging, through the Senior Options program,

to provide both the connection to and

funding for food assistance services such as

home delivered meals and nutritional supplements.

In 2017, Franklin County Senior

Options was able to provide approximately

673,000 home delivered meals as well as

•Canal Winchester Senior Center, 22 S.

Trine St.

For information call 837-8276.

senior centers

Informed Aging

almost 275,000 cans

of nutritional supplements

for individuals

over the age of 60

residing in Franklin

County.

Michelle

Missler

In addition to these programs the

Franklin County Office on Aging also operates

an Information and Referral line for

older adults and their caregivers to connect

individuals to the robust food assistance

programs within Franklin County.

If you or someone you know is in need of

access to a food pantry, congregate meal

site or home delivered or supplemental

meal please do not hesitate to call the

Franklin County Office on Aging at 614-

525-6200.

We are here to help connect you with

services to meet your need.

Michelle Missler is director of the Franklin

County Office on Aging.

•Groveport Senior Center, is located at

the recreation center, 7370 Groveport

Road. For information call 836-1000.

Saturday,

October 6,

2018

9:00AM - 1:00PM

Canal

Winchester

8 TH ANNUAL

SPENCE FUNERAL HOME

SHRED DAY &

ELECTRONICS RECYCLING

Saturday, October 6, 2018

9:00AM-1:00PM

Bring your documents for free on site shredding.

Electronics being collected by T.D.R.LLC RECYCLERS

bring anything with a wire, plug or cable

(TVs a charge of $1.00 per screen inch does apply)

DWAYNE R.

SPENCE

FUNERAL HOME

Our Family Helping Your Family

Bring your used

eyeglasses to

donate to the

Lions Club

St. Vincent de

Paul Society will

be collecting

clothing &

household items

Canal Winchester

Food Pantry will

be collecting nonperishable

food

items

Door Prizes

Compliments of

Dwayne R.

Spence Funeral

Home
---
www.columbusmessenger.com

Active Lifestyles

September 23, 2018 - EASTSIDE MESSENGER - PAGE 9

Franklin County Board of Commissioners: Kevin Boyce • Marilyn Brown • John O'Grady

The Franklin County Board of Commissioners and The Franklin County Office on Aging join with the Messenger Newspaper in providing this update on aging issues in Franklin County.

SEPTEMBER IS NATIONAL PREPAREDNESS MONTH

September is National Preparedness Month. National Preparedness Month was

founded after 9/11 to increase preparedness across the United States. The 2018

theme: "Disasters Happen. Prepare Now. Learn How." focuses on planning. We are

reminded to take the opportunity to plan and prepare ourselves and our families for all

hazards and emergencies before they happen. Emergencies can occur anytime and

anywhere without advance notice.

tornados. Make sure to consider the costs associated with disasters and save for an

gas.

In our area power outages are a common occurrence this time of year after a

to last for at least 72 hours. To receive advance warnings of thunderstorms or other

system is designed to notify residents about emergencies and other important

community news in jurisdictions throughout Franklin County.

Know how you will communicate during a disaster. Consider these steps to start

your emergency communication plan:

2. SHARE. Make certain trusted people in your support network know:

Where your emergency supplies are kept.

How to contact you if the power goes out.

contact each other directly.

What medical devices or assistive technology devices that you need to have

with you if there is an evacuation order from local officials.

ventilation.

How to obtain a copy of your plan.

3. PRACTICE. Just like you would a fire drill.

Discuss your needs and/or the needs of a family member; learn about their

assistance or services. Advocate including people with disabilities and others

with access and functional needs into emergency planning in your community.

employer includes the needs of people with disabilities and others with access

and functional needs.

Educate children and adults about why being prepared is important.

www.fcemhs.org. To receive a copy of "Prepare For Emergencies Now: Information for

1. COLLECT.

service providers.
---
PAGE 10 - EASTSIDE MESSENGER - September 23, 2018

Remembering 9-11

www.columbusmessenger.com

Messenger photos by Rick Palsgrove

Madison Township police and firefighters march at the beginning of the 9-11 Memorial

Service held at Motts Military Museum in Groveport on Sept. 11. "Our goal is to never

let anyone forget what happened on Sept. 11, 2001," said Motts Military Museum

Director Warren Motts. The service was held in remembrance of the nearly 3,000 people

who died during the terrorist attacks on the World Trade Center in New York, the

Pentagon in Washington, D.C., and United Flight 93 which crashed in Shanksville, Pa.

Peter "Dan" Burrill (left) and Dan Kockensparger, who were the guest speakers at the

service, place the Memorial Wreath in front of the damaged Ladder Truck 18 from the

Fort Pitt Fire Station from the Fire Department of New York, which was damaged on

Sept. 11, 2001 and is now part of the Motts Military Museum collection. Kockensparger,

who served 33 years with the Upper Arlington Fire Department and who was deployed

to the World Trade Center collapse with Ohio Task Force One, said when he arrived in

New York in 2001 the scene at World Trade Center site was "beyond what the mind

could comprehend. Despite the passing of 17 years, the images remain vivid." Burrill

was a member of the Alaska Disaster Medical Assistance Team 1 that traveled to New

York after the attacks. Burrill described the aftermath of the attacks as an "overwhelming

scene and he recalled treating a tall, strong recovery worker who had received a

deep, four inch gash on his arm. Burrill said the man told him, "You've got five minutes

to sew me up or else bandage me up fast because I'm going back out on the pile to

work." "There are things I'll never forget," said Burrill. "It's important to remember that

bonds are built during traumatic events."

Madison Township Fire Department retired Capt. Steve Arms (right) and firefighter

Jason Loucks ring a bell in tribute to those who fell on Sept. 11, 2001.
---
www.columbusmessenger.com

I want to get this complaint out of the

way before I begin the review for "A Simple

Favor" and it is directed at the studio who

produced this film. To whomever it may

concern, the marketing was pitiful and at

no point should the person in charge be

tasked with promoting a film of this nature

ever again.

It was clear from watching this film that

this person or persons had no idea how to

pitch the concept to an audience. In one

trailer, it was billed as a straight comedy.

In another, a thriller. At no point in time

did it convey the truth of this film and that

is one of ridiculous trash. And I truly mean

that in the best way possible.

"A Simple Favor" is a bizarre, off-thewall

(and rails) dark comedy with bite and

wit. It's one of the most entertaining films

of the year and yet one of the strangest as

well.

It opens with not-so-popular vlogger

Stephanie Smothers (Anna Kendrick)

preparing to make feel better cookies for

those low in spirits. As she's readying the

batter, she launches into why she felt it

was important to make these particular

cookies as she is struggling with the recent

disappearance of her best friend.

Flashing back to the weeks prior, we see

Stephanie, who is generally viewed by her

peers as an uptight, lonely spinster, signing

up for a majority of the festive activities

in her son's elementary classroom. After

hearing pointed comments about her lack

of doing, well, anything else other than

crafts, she tries to strike up a friendship

with the mother of her son's new playmate.

At first, people think she is out of her

depth for wanting to befriend Emily Nelson

entertainment

" A Simple Favor" is an unexpected delight

letter

I want thank everyone who supported

the building of Madison Township Fire

Station 183 on Noe Bixby Road.

The recent ribbon-cutting ceremony for

the new station was a success. The support

and vision of our current trustees Ed

Dildine, John Kershner and John

Pritchard and fiscal officer Laurie

Vermeer, along with past trustees Gary

McDonald and Victor Paini and retired fiscal

officer Barb Adams was crucial.

Thanks to retired Fire Chief Bob Bates and

retired Fire Marshal Rick Stelzer, along

with the Franklin County Prosecutor's

Office and Franklin County Central Ohio

Community Improvement Commission

land bank for their years of diligent work

to get the old apartment complex torn

down. I also want to thank the many state

and county officials that assisted throughout

the entire process.

Thank you to the countless number of

residents and employees who went above

and beyond to assist in the building of

The Reel Deal

(Blake Lively), a rich

and fabulous public

relations manager at a

fashion agency, but

the two soon strike up

a relationship that is

equal parts supportive

and stinging.

As the weeks go

by, we see them growing

closer, and we see

Stephanie begin to

Dedra

Cordle

"A Simple Favor" is a bizarre,

off-the-wall (and rails) dark comedy

with bite and wit. It's one of

the most entertaining films of the

year and yet one of the strangest

as well.

covet Emily's life — her lovely home, her

exciting job, her beautiful husband Sean

(Henry Golding.)

Then one day, Emily asks Stephanie for

a simple favor and is never heard from

again.

Upon receiving confirmation of her

death, Stephanie and Sean begin a romantic

relationship. Shortly thereafter, she

moves into their home and then strange

things start to happen. Emily and Sean's

son Nicky (Ian Ho) begins to talk of seeing

his mother, and then items around the

home mysteriously appear and disappear.

A haunting never crosses Stephanie's

Madison Township Fire Department says thanks

Station 183. I appreciate the many hours

that the levy and design committees committed

to this project, as well as several

individuals. A special thank you goes to the

Bepler family for their "substation room"

next door that allowed the medic crew to

stay in the area and take runs prior to the

opening of the station.

The continued support from the city of

Groveport, city of Canal Winchester and

village of Obetz is important to our department.

I want to extend a special thank you

to all the elected officials from those entities

that attended the ceremony. Thanks

also to our firefighters and the firefighters

from the neighboring departments of

Columbus, Violet and Truro townships who

were also in attendance.

A huge thank you to the residents of

Madison Township for supporting the 2015

fire levy that built, staffed and equipped

this station.

Jeff Fasone

Madison Township Fire Chief

mind, yet sabotage does. 'Is Emily still

alive?' she wonders. And if so, why is she

hiding and trying to frame others for her

death? Or maybe Stephanie is not so innocent

after all.

From start to finish, "A Simple Favor" is

utterly bonkers and it revels in the fact.

There are twists and turns and while most

of those go nowhere, they are essential to

the messy plot.

This film goes all over the place and the

actors are game, particularly Kendrick and

Lively. I've never been a big fan of Lively's

acting, but she is so good in the role of

Emily. She's the kind of morally ambiguous

character I think most actors would love to

PEACE FREE LUTHERAN

Sunday Services 8:00 A.M. & 10:30 A.M.

Sunday School 9:15 A.M.

28 Elm St, Canal Winchester, OH 43110

614-837-6689 • www.peacecw.org

Pastor: Michael Johnson

ALL ARE WELCOME!

Coming in October: Dr. Steve Lombardo,

evangelist and retired paator, will be speaking

at a Deeper Life Conference here on

Oct. 10-13 at 7pm and Oct. 14 at 9:30 am.

Be a Part of Our

Local Worship Guide

eastside

September 23, 2018 - EASTSIDE MESSENGER - PAGE 11

play, though it would be hard to pull off.

She does though, and it's great to watch.

Coming from director Paul Feig, who is

primarily known for comedic films like

"The Heat" and "Spy," "A Simple Favor" is

an unexpected, demented delight that was

given no marketing favor from its studio.

Truthfully, its theme and the general

atmosphere of 'What the heck am I watching?'

won't be for everyone, but for those

looking for an odd and oddly good time, do

yourself a favor and catch this movie.

Grade: B+

Dedra Cordle is a Messenger staff writer

and columnist.

DISCOVERY CITY

CHURCH

Mark Your Calendar!

A brand-new church

for Canal Winchester

and surrounding areas.

Launching Sunday, Oct. 14

10:30am @ Indian Trail Elementary

discoverycitychurch.com

Our upcoming Worship Guide is geared toward celebrating faith and helping

readers connect with religious resources in our community. Make sure these

readers know how you can help with a presence in this very special section

distributed to more than 22,000 households in the Southwest area.

Contact us today to secure your spot in our Worship Guide.

614.272.5422 • kathy@columbusmessenger.com
---
PAGE 12 - EASTSIDE MESSENGER - September 23, 2018

www.columbusmessenger.com

PAGE 12 - EASTSIDE MESSENGER - September 23, 2018

Hydrant flushing

Canal Winchester's Division of Water

opens fire hydrants in the community twice

a year during its fire hydrant flushing

schedule.

Hydrant flushing allows water to flow

through pipes, enhancing water quality by

clearing sediment from mainline pipes.

Flushing verifies proper operation of

hydrants and valves and maintains firefighting

capabilities. Fire hydrant flushing

will be from 8 a.m. to 3:30 p.m., Monday—

Friday, through Oct. 5.

The water department offers tips for

when crews flush hydrants in your area:

•If you see a hydrant being flushed on

your street, avoid running tap water, washing

machines or dishwashers until flushing

in your area is complete.

•If you see hydrant flushing crews

working, drive carefully and treat them

like any other road construction crew.

During or immediately following

hydrant flushing, tap water may appear

discolored. Although a slight discoloration

may last for a few hours, it does not affect

the taste or quality of the water. This discoloration

only affects the appearance of

the water and poses no health threat.

Should you notice discoloration or other

side effects from hydrant flushing, the

water department suggests:

•If you encounter discolored water, shut

your water off and wait several minutes.

After waiting, check the clarity by running

cold water for a few minutes to allow new

water to flow into your pipes. If the water

is still discolored, wait a few minutes and

check again. In some cases, it may be a few

hours before the water is completely clear.

•Avoid washing laundry during scheduled

flushing hours. After hydrants in your

area are flushed, wait until water runs

clear from your tap, then begin with a load

of dark laundry before doing lights or

whites.

•If water pressure or volume seems low,

check faucet screens for trapped particles.

For information about the fire hydrant

flushing program, including when the city

will flush in your area, contact Canal

Winchester's Division of Water at 614-837-

5623.

Drug Drop Box

The Madison Township Police

Department is providing an opiate prescription

"Drug Drop Box" for the community.

This drop box is located in the lobby of

the Madison Township Police Department,

4567 Madison Lane, and will be accessible

to the public during normal office hours

Monday through Friday 8 a.m. to 5 p.m.

Madison Township Police Chief Gary

York said the officers and staff are committed

to serving the community and believe

in helping to fight the opiate epidemic. Any

person can walk-in and dispose of new or

old pills, including prescription medications,

or any other illegal substances and

place them into this box with no questions

asked.

Doll Museum

The Mid-Ohio Historical Museum (aka

Doll Museum), 700 Winchester Pike, Canal

Winchester, is open Wednesday - Saturday

from 11 a.m. to 4:30 p.m.

The museum features more and new

displays this year. Services include doll

appraisals, doll hospital, professional doll

clothing, and docent tours by appointment.

For information visit dollmuseumohio.org

or call 614-837-5573 or email dollmuseum@sbcglobal.net.

Barber Museum

The National Barber Museum in Canal

Winchester is located at 135 Franklin St.

(behind the former CW High School building).

The museum, housed in approximately

5,000 square feet, showcases art, artifacts,

and memorabilia from decades of the barbering

profession — from the early days

when surgeons and barbers served as one

to the present when those seeking a trim.

Regular hours are Friday and Saturday

from 11 a.m. to 4 p.m. or by appointment

(614) 837-8400.

www.columbusmessenger.com

CW Farmers Market

The Canal Winchester Farmers Market

runs Saturdays from 9 a.m. to noon

through Sept. 29 (rain or shine) in historic

downtown Canal Winchester near Stradley

Park, 36 S. High St. For information visit

www.thecwfm.com or contact Karen Stiles

at 614-270-5053.

Women's Self Defense

A Women's Self Defense class for ages

14 and older will be held at the Groveport

Recreation Center, 7370 Groveport Road,

on Oct. 17 and 24 from 6-9 p.m. Groveport

Police officers will lead the class.

Come prepared to learn how to punch,

strike, kick, hold, yell, and more. Cost is

$10 per person.

Register at the Groveport Recreation

Center or call 614-836-1000 to see how to

register online.

CW Library Branch

The Canal Winchester Branch of the

Columbus Metropolitan Library, 115

Franklin St. (located in the rear portion of

the former school at 100 Washington St.),

is open Monday through Thursday from

noon to 7 p.m. and Friday and Saturday

from noon to 6 p.m.

SHOP THE CLASSIFIEDS!!

Only $1 per line

columbus

❏ Check for one additional FREE week.

Telephone: _________________________________________________________

Print Your Name:____________________________________________________

Last

First

Print Your Address:___________________________________________________

Print Your City:__________________________ State:_______ Zip:____________

West ___ Southwest ___ East ___ Southeast ___ Madison___

Columbus Messenger

3500 Sullivant Ave. • Columbus, Ohio 43204

614-272-5422

classified@columbusmessenger.com

$

Not Valid for Garage Sales

Print Your Ad Below…

One word each space. BE SURE YOUR TELEPHONE NUMBER OR ADDRESS is included in your

advertisement. The lessor of 4 words or 22 characters per line. We reserve the right to use abbreviations

when actual space exceeds amount purchased.

1. __________ __________ __________ __________

2. __________ __________ __________ __________

3. __________ __________ __________ __________

4. __________ __________ __________ __________

5. __________ __________ __________ __________

6. __________ __________ __________ __________

❏ Cash

❏ Check

❏ Money Order

❏ VISA ❏ MC

Credit Card

Information

___

__________________________

Credit Card Number

____________

__(___)__

Exp. Date 3 digit code

Minimum Charge $5.00

CLASSIFIED ADS

Deadlines: Southeast and West editions, Wednesdays at 5 p.m., • East, Southwest, Madison editions, Tuesdays at 5 p.m.

All editions by phone, Tuesdays at 5 p.m. • Service Directory, Tuesdays at 5 p.m. • Main Street Mailbox, Tuesdays at 5 p.m.

CEMETERY LOTS

4 Cemetery Plots, Floral

Hills Memory Gardens,

Coonpath Rd., Lancaster

$500 each OBO + small

transfer fee. 614-833-2513

INFORMATION

STOP!

ADVERTISE

In The Messenger

To Get Great Results!

CALL FOR PRICES

272-5422

ASSOCIATION ADS

DIRECTV SELECT

PACKAGE! Over 150

Channels, ONLY $35/

month (for 12 mos.) Order

Now! Get a $100

AT&T Visa Rewards Gift

Card (some restrictions

apply) CALL 1-855-781-

1565

A PLACE FOR MOM

has helped over a million

families find senior living.

Our trusted, local advisors

help find solutions

to your unique needs at

no cost to you. 1-855-

204-5180

ASSOCIATION ADS

Call Empire Today® to

schedule a FREE inhome

estimate on Carpeting

& Flooring. Call

Today! 1-800-508-2824

Business to Business

Have something to sell?

GET 2 FREE WEEKS OF

ADVERTISING

when you purchase 2

weeks in up to 3 Million

homes. Learn more at

macnetonline.com or give

us a call at 800-450-6631.

Earthlink High Speed Internet.

As Low As

$14.95/month (for the

first 3 months.) Reliable

High Speed Fiber Optic

Technology. Stream Videos,

Music and More!

Call Earthlink Today 1-

855-520-7938

IRS TAX DEBTS? 10K+?

Tired of the calls? We

can HELP! $500 free

consultation! We can

STOP the garnishments!

FREE Consultation Call

Today 1-855-823-4189

VIAGRA & CIALIS! 60

pills for $99. 100 pills for

$150 FREE shipping.

Money back guaranteed!

1-800-503-7846

ASSOCIATION ADS

DISH TV $59.99 For 190

Channels. $14.95 High

Speed Internet. Free Installation,

Smart HD DVR

Included. Free Voice Remote.

Some restrictions

apply. Call 1-855-837-

9146

Sleep Apnea Patients - If

you have Medicare coverage,

call Verus Healthcare

to qualify for CPAP

supplies for little or no

cost in minutes. Home

Delivery, Healthy Sleep

Guide and More- FREE!

Our customer care

agents await your call. 1-

844-545-9175

Lung Cancer? And Age

60+? You And Your

Family May Be Entitled

To Significant Cash

Award. Call 866-428-

1639 for Information. No

Risk. No Money Out Of

Pocket.

Dish Network - Satellite

Television Services. Now

Over 190 channels for

ONLY $49.99/mo! HBO-

FREE for one year,

FREE Installation, FREE

Streaming, FREE HD.

Add Internet for $14.95 a

month. 1-800-219-1271

xInformation

SCORE A TOUCHDOWN

SEPTEMBER GIVEAWAY

Place a prepaid classified line ad in our paper

during the month of SEPTEMBER and be registered

to win a $50 Gift Card from

The Columbus Messenger Newspapers.

All ads received by mail, in person, e-mail or phone

will be included in the drawing.

Drawing will be held September 28th, 2018

and the winner will be notified and published

in our October 7th, 2018 issue .

GOOD LUCK

TO EVERYONE!!

Information
---
www.columbusmessenger.com

September 23, 2018 - EASTSIDE MESSENGER - PAGE 13

CLASSIFIED ADS

Deadlines: Southeast and West editions, Wednesdays at 5 p.m., • East, Southwest, Madison editions, Tuesdays at 5 p.m.

All editions by phone, Tuesdays at 5 p.m. • Service Directory, Tuesdays at 5 p.m. • Main Street Mailbox, Tuesdays at 5 p.m.

xEmployment

NOW HIRING CDL DRIVERS

BE YOUR OWN BOSS!

INDEPENDENT

CONTRACTORS

WANTED

If you have a reliable

car and would like to

earn extra money,

then why not deliver?

LOCAL CITY SHUTTLES

Full-time Monday thru Friday

6:00am-4:00pm 4:00pm-2:00am

Minimum 2 years experience.

Slip Seat / Day Cabs. Salary $21.50 - $23.50

Apply online at:

www.mycdlapp.com/ryan

or

Call David or Debbie at:

937-553-5000 x110 or 108,

respectively

ASSOCIATION ADS

IMPORTANT

NOTICE

The following states: CA,

CT, FL, IA, IL, IN, KY,

LA, MD, ME, MI, MN,

NE, NC, NH, OH, OK,

SC, SD, TX, VT and WA

requires seller of certain

business opportunities to

register with each state

before selling. Call to

verify lawful registration

before you buy.

IMAGINE SCHOOLS

NOW HIRING

CERTIFIED TEACHERS

Imagine Primary - 4656 Heaton Rd., Columbus, OH 43229

Imagine Great Western - 310 North Wilson Rd., Columbus, OH 43204

Imagine Groveport - 4485 S. Hamilton Rd., Groveport, OH 43125

Imagine Harrisburg Pike - 680 Harrisburg Pike, Columbus, OH 43223

Imagine Sullivant - 3435 Sullivant Ave., Columbus, OH 43204

Resumes can be sent to:

jennifer.keller@imagineschools.org

ASSOCIATION ADS

BIG TICKET SPECIAL!

Are you selling a property/home,

classic/antique

cars, farm/construction

equipment, etc. We give

you a FREE week when

you place your ad in the

network for Two Weeks.

Call our office at 800-

450-6631 or contact a

representative at this

publication for more details.

This is not intended

for commercial use.

ASSOCIATION ADS

Unable to work due to injury

or illness? Call Bill

Gordon & Assoc., Social

Security Disability Attorneys!

FREE Evaluation.

Local Attorneys Nationwide

1-855-498-6323

[Mail: 2420 N St NW,

Washington DC. Office:

Broward Co. FL (TX/NM

Bar.]

• Deliver 1 or 2 days a week

• Flexible delivery hours

• Work close to home - often

in or near your neighborhood

CONTACT US

1-888-837-4342

www.thebag.com

• Deliver 7 days a week

• Delivery before dawn

• Work close to home - often

in or near your neighborhood

CONTACT US

614-461-8585

www.dispatch.com/delivery

ASSOCIATION ADS

ADVERTISE to 10 Million

Homes across the USA!

Place your ad in over 140

community newspapers,

with circulation totaling

over 10 million homes.

Contact Independent Free

Papers of America IFPA at

danielleburnett-ifpa@

live.com or visit our website

cadnetads.com for

more information.

Medical Guardian - 24/7

Medical Alert Monitoring.

FREE Equipment, Activation

& Shipping. NO Long-

Term Contract. 30-Day

Money Back Guarantee!

Two FREE Months w/

Annual Subscription. CALL

for FREE Brochure 1-855-

666-3269

HEAR AGAIN! Try our

hearing aid for just $75

down and $50 per

month! Call 800-426-

4212 and mention 88272

for a risk free trial! FREE

SHIPPING!

Do you owe more than

$5000 in Tax Debt? Call

Wells & Associates INC.

We solve Tax Problems!

Personal or Business!

IRS, State and Local. 30

years in Business! Call

NOW for a free consultation

at an office near

you. 1-855-725-5414

Employment

NOW HIRING!

Local High Volume Pharmacy

Immediate 2nd shift positions available

for Pharmacy Clerks and Technicians.

Looking for energetic associates

in a fast pace environment.

NEW Starting rate: $10.95 to $13.15 per hour

Shift differential $.50 an hour

Please apply at: jobs.kroger.com

Use Zip Code 43217

Must be 18 years of age & have high school diploma or GED.

Call 614-333-5012 for more details.

NOW HIRING

Heavy Equipment

Operators

OFFERING:

Top Pay, Insurance, 401K,

Paid Holidays &

Paid Vacations

email:

project.hire@yahoo.com
---
PAGE 14 - EASTSIDE MESSENGER - September 23, 2018

www.columbusmessenger.com

xEmployment

Business is Great!

Does Your Current Route Get You Home Daily?

OURS DOES!

Local trucking company looking for Class A Drivers that want to be home

daily. Must have 2 years experience and a clean MRV. We are also hiring

VeteransResulting Resulting

who have military transportation in

in

needing

needing

experience.

8 Class We Offer A The CDL Following: drivers

10 Class by Sept. A CDL 15th. drivers

Does Your Current Route Get You Home Daily?

New Pay Scale OURS - $1000-$1400 DOES! weekly avg

Local trucking company looking for Class A Drivers that want to be home

daily. Must have 2 years experience and a clean MRV. We are also hiring

Veterans who have military transportation experience.

We Offer The Following:

•HomeDaily •PaidVacations •CompetitiveSalaries

•DedicatedRuns •QuarterlyBonus •DirectDeposit

•NoTouchFreight •ExcellentBenefits •PaidWeekly

•PaidHolidays •NewerEquipment

Benefits:

•MedicalInsurance •Vision Insurance •UniformsProvided

•DentalInsurance •LifeInsurance •Short&LongTermDisability

•401(K)RetirementPlanwithMatchingContributions

If you want to work for a company that is focused on employee

satisfaction while also meeting customer expectations, apply today by

calling...

DO YOU LIKE TO DRIVE?

TRISTAR IS NOW HIRING PART-TIME DRIVERS!

NO CDL REQUIRED

Posions are PT, working 20-24 hrs per week

We offer dayme shis, no nights/weekends & have paid

training. Company vehicle provided for use during working

hours. Individuals must be able to pass a background

check, a pre-employment physical/drug screen, have no

DUI's and have less than 4 points on their OH license.

For more informaon, please contact Vanessa at

614-679-7280 or email vfrazier@tristarcolumbus.com

To learn more about Tristar, please visit our website

at www.tristarcolumbus.com

tristar

TRANSPORTATION CO.

oremail:

OH-70072051L

ADVERTISING

ACCOUNT REPRESENTATIVE

The Advertising Department at the

Columbus Messenger Newspapers

is seeking a Salesperson.

No Experience Necessary.

Base salary plus commissions, auto allowance.

Seniors welcome to apply.

Please send your resume to:

Doug Henry, Advertising Manager

Columbus Messenger Newspapers

3500 Sullivant Ave.

Columbus, Ohio 43204

or

e-mail to doughenry@columbusmessenger.com

Local New Construction

Plumbing Contractor

seeking experienced

Rough & Finish Plumbers.

Please visit our website for more information

and to apply on line at:

http://plumbingsolutionscolumbus.com/employment/

or call, 614.235.6007

ASSOCIATION ADS

Start Saving BIG On

Medications! Up To 90%

Savings from 90DAY-

MEDS! Over 3500 Medications

Available! Prescriptions

Req'd. Pharmacy

Checker Approved.

CALL Today for

Your FREE Quote. 844-

776-7620

SW CITY SCHOOLS

SCHOOL BUS DRIVERS

The South-Western City School

District is currently hiring drivers

$16.55/HR

Available positions are for substitute drivers that

can develop into "Regular" positions with

benefits. Interested individuals should submit an

application on our website at swcsd.us. Follow

the employment link. Applicants should have an

excellent driving record and must submit to drug,

alcohol, and background screening. A high

school diploma or equivalent is required. EOE

ASSOCIATION ADS

A PLACE FOR MOM. The

nation's largest senior living

referral service. Contact

our trusted, local experts

today! Our service is

FREE/no obligation. CALL

1-844-722-7993

Reverse Mortgage

Homeowners age 62+

turn your home equity into

tax free cash! Speak

with an expert today and

receive a free booklet.

Call 1-855-549-5687

HughesNet Satellite Internet

- 25 mbps starting at

$49.99 / mo! FAST download

speeds. WiFi built in!

FREE Standard Installation

for lease customers!

Limited Time, Call 1-800-

610-4790.

2018-2019

ASSOCIATION ADS

Wants to purchase minerals

and other oil and gas

interests. Send details to

P.O. Box 13557, Denver,

CO. 80201

Behind on your MORT-

GAGE? Denied a Loan

Modification? Bank

threatening foreclosure?

CALL Homeowner Protection

Services now!

New laws are in effect

that may help. Call Now

1-866-928-5204

Cross Country Moving,

Long distance Moving

Company, out of state

move $799 Long Distance

Movers. Get Free

quote on your Long distance

move 1-800-511-

2181

Employment

ASSOCIATION ADS

READER

ADVISORY

The National Trade Association

we belong to has

purchased the following

classifieds. Determining

the value of their service

or product is advised by

this publication. In order

to avoid misunderstandings,

some advertisers do

not offer "employment"

but rather supply the

readers with manuals, directories

and other materials

designed to help

their clients establish mail

order selling and other

businesses at home. Under

NO circumstance

should you send any

money in advance or give

the client your checking,

license ID or credit card

numbers. Also beware of

ads that claim to guarantee

loans regardless of

credit and note that if a

credit repair company

does business only over

the phone it's illegal to request

any money before

delivering its service. All

funds are based in US

dollars. Toll Free numbers

may or may not

reach Canada. Please

check with the Better

Business Bureau 614-

486-6336 or the Ohio Attorney

General's Consumer

Protection Section

614-466-4986 for more

information on the company

you are seeking to

do business with.

GENERIC VIAGRA and

CIALIS! 100 Pills $99.00

FREE Shipping! 100%

guaranteed. 24/7 CALL

NOW! 888-889-5515

NOW HIRING

Pipe Foreman

Utility Truck Provided

OFFERING:

Top Pay, Insurance, 401K,

Paid Holidays &

Paid Vacations

email:

project.hire@yahoo.com

ASSOCIATION ADS

KILL ROACHES-GUAR-

ANTEED! Harris Roach

Tablets, Sprays, Traps,

Concentrate. Available:

Hardware Stores, Home

Depot, homedepot.com

Stay in your home longer

with an American Standard

Walk-In Bathtub. Receive

up to $1,500 off,

including a free toilet,

and a lifetime warranty

on the tub and installation!

Call us at 1-844-

374-0013

Spectrum Triple Play!

TV, Internet & Voice for

$29.99 ea. 60 MB per

second speed. No contract

or commitment.

More Channels. Faster

Internet. Unlimited Voice.

Call 1-855-652-9304

ASSOCIATION ADS

(WANTED) CARS/

TRUCKS WANTED!!!

All Makes/Models 2002-

2018! Any Condition. Running

or Not. Competitive

Offer! Free Towing! We're

Nationwide! Call Now: 1-

888-368-1016

CARS/TRUCKS WANT-

ED!!! All Makes/Models

2002-2018! Any Condition.

Running or Not. Top $$$

Paid! Free Towing! We're

Nationwide! Call Now: 1-

888-985-1806

Were you an INDUSTRIAL

TRADESMAN (machinist/

boilermaker/pipefitter etc)

and recently diagnosed

with LUNG CANCER? You

may be entitled to a SIG-

NIFICANT CASH AWARD.

Risk free consultation!

877-781-1769
---
www.columbusmessenger.com

xCome & Get It!

COME AND GET IT

Deadlines are Tuesdays by 5 pm.

Call For Publication Schedule 614-272-5422

Need to Get Rid of Something Fast - Advertise It Here For FREE!

FREE Garden Straw for gardens or bedding. Call for appointment for pickup.

Circle S Farms, 9015 London-Groveport Road, Grove City, 43123

Grove City - 614-878-7980

Vintage Steamer Trunk with drawers & pull out hanger rack. Last voyage 1939

DJ - Canal Winchester - 614-560-1293 Leave msg. for return call

Hammond Extra-Voice electric organ with bench

and many song books-does not work.

BA - Grove City - 614-875-8860

FREE Firewood - cut to length - not split

DB - Canal Winchester - 614-833-0731 (Lv msg for return call)

. Come and Get It! is a bi-weekly column that offers readers an opportunity to pass

along surplus building materials, furniture, electronic equipment, crafts, supplies,

appliances, plants or household goods to anybody who will come and get them - as

long as they're FREE. NO PETS! Just send us a brief note describing what you want

to get rid of, along with your name, address and phone number. Nonprofit

organizations are welcome to submit requests for donations of items. Send information

to The Columbus Messenger, Attention: Come and Get It, 3500 Sullivant Ave.,

Columbus, OH43204. Deadline is Tuesdays by 5 pm for following Mondays

publication. Messenger Newspapers is not responsible for any complications that

may occur. Please contact us when items are gone. 272-5422

Come & Get It!

xMisc. for Sale

HELP WANTED

Exp. Welder Wanted

Hiring a Welder with Custom

Exhaust Bending

exp. Potential long term

employment. The hours

are M-F 9-5 & occasional

Saturday's 9-2. Must

have reliable transp.

CUSTOM EXHAUST

BENDING EXPER. IS A

MUST! Please call 614-

506-6010 & leave your

full name and phone

number. You can also

text your resume to this

number.

Misc. for Sale

HELP WANTED

Grove City

Property Mgmt. Co.

needs full/part time

Maintenance Person

Plumbing or Electric

skills helpful.

614-439-3983

Home Health Aides

$13.00/hr. after 90 days

$15.00/hr. Premium Shifts

Must be passionate about

helping the elderly. 1 yr. of

experience working for an

employer in a caregiver

10/14 A&M

role is required.

To apply, please visit

v-angels/galloway/employment

HELP WANTED

Auction Auto Detailers

FRANK'S DETAIL OHIO

50 Immediate Openings

up to $750+ per week

Will Train / FT Benefits/

Weekly Pay

Driver's Lic/Drug Test Req

Apply in person starting

September 26th, online

application or make an

appt.

Located: Manheim Ohio

3905 Jackson Pike

Grove City, OH

Call: 407-877-5212

franksdetailohio.com

EEO/Drug Free Workplace

HELP WANTED

Seeking FT Maintenance

Service Technician in the

Columbus area.

Candidates are responsible

for performing daily

work orders, unit turns and

custodial duties.

Pre-employment screening

includes drug testing,

background check, maintenance

test & judgement

index test. Please contact

John Hardiman at

jhardiman@wodagroup.com

or at 614-804-8157

Auto/Forklift Mechanic

Central Ohio Forklifts has

an immediate need for a

mechanic. We offer competitive

wages, training &

benefits. Reward offered!

$1000 to new hire mechanic

payable after 90

days. Please email

Resume to:

cof4150@gmail.com or fax

to 614-351-5123. Auto mechanics

welcome to apply.

DATED SALES

Trash & Treasure Sale

Fri., Oct. 5th, 9am-6pm

Sat., Oct. 6th, 9am-1pm

Hope UM Church

83 E. Columbus St.,

Canal Winchester

614-837-7548

Food, firniture, clothes

and items for the home

$3.00 Bag Sale Saturday

WANT TO BUY

ANTIQUES

WANTED

Victrolas, Watches,

Clocks, Bookcases

Antiques, Furn.

Jeff 614-262-0676

or 614-783-2629

★★ WANTED ★★

Vintage Watches, Scrap

Gold & Silver. Vintage

Radios; Fada, Zenith,

Emerson & RCA, red,

blue, green colors.

★★ 614-404-9679 ★★

We Buy Junk Cars &

Trucks. Highest Prices

Paid. 614-395-8775

$ Cash At Your Door $

for junk or unwanted cars

(Free Tow). Call

614-444-RIDE (7433)

We Buy Cars & Trucks

$300-$3000.614-308-2626

CASH FOR CARS

614-276-2597

WANTS TO Purchase

minerals and other oil &

gas interests. Send details

to: P.O. Box 13557,

Denver, CO 80201

MISCELLANEOUS

FOR SALE

Truck Tonno Cover for

sale, fits 8' bed - $50.

614-524-1180

VACATION RENTALS

Englewood, Florida

Palm Manor Resort

Within minutes of white

sand Gulf beaches,

world famous Tarpon

fishing, golf courses, restaurants/shopping,

Bush

Gardens. 2 BR 2 BA

condos with all ammenities,

weekly/monthly, visit

www.palmmanor.com

or call 1-800-848-8141

USED VEHICLES

86 Trans Am, one owner

great cond. Must See!

$9000 obo 614-833-2513

September 23, 2018 - EASTSIDE MESSENGER - PAGE 15

xClassified Services

APPLIANCE REPAIR

Washer, Dryer, Stove &

Refrig. Repair 875-7588

BLACKTOP

BLACKTOP SEALING

Driveways & Parking Lots

614-875-6971

SANTIAGO'S

Sealcoating & Services LLC

Quality Materials Used

FULLY INSURED

Driveway Seal ( by broom)

Hot Fill Crack, Asphalt Repair

Call or text for Free Est.

614-649-1200

CARPET CLEANING

Dirt Busters Tile/Floor-Any

3 Rms - $44.95. Pet odor

treatment. 614-805-1084

CLEANING

Cleaning, 20 yrs. exp.

Call Judy 614-946-2443

Holly's Halos

Accepting New Clients

2 Hours - $40-$50

Bonded-Ins. 614-426-3624

CONCRETE

D.J. & DAD KIMMLE

CUSTOM CONCRETE

9-30

All Types E/SE

Free Estimates

All Work Guaranteed

614-206-0158

EDDIE MOORE

CONSTRUCTION

Quality Concrete Work

Lt. Hauling & Room Add.,

Block Work & Excavation

Stamp Patios,

Bsmt. Wall Restoration

36 Yrs Exp - Lic & Ins.

Free Ests. 614-871-3834

AJ's Concrete,

Masonry

Good Work - Fair Prices

Block Foundations

Driveways • Sidewalks

Epoxy/Overlay Floors

Bonded-Ins. • Free Ests.

Now Accepting Credit Cards

614-419-9932

ALL-CITY CUSTOM

CONCRETE

All Types Concrete Work

New or Tear Out-Replace

36 Yrs Exp.

(614) 207-5430

Owner Is On The Job!

ELECTRICAL

HAHN'S ELECTRIC

Affordable, Quality

Work For 31 Yrs.

614-237-3524

Cell 614-517-9699

Licensed • Bonded • Insured

Free Estimates • Lic. # 20240

FIREWOOD

Seasoned Firewood - Call

for pricing. 614-837-5275

10/14 A

9-30 A

GUTTERS

A1 RAINFLOW DRAINS

Downspout drains

repaired or replaced,

gutter cleaning/screens.

FREE ESTIMATE

Cal 614-402-4196

Low Price-Great Service

5 & 6" Seamless gutters,

covers, siding, gutter clng.

Bill 614-306-4541

HAULING

DEAN'S HAULING

614-276-1958

HEATING

HEATING

Complete System Clean & Check

$49.95

Free Carbon

Monoxide Testing

Gas-Oil-Electric Heat/Pumps

All Makes • All Models

43 yrs exp. • Sr. Discount

614-351-9025

614-351-9005

INFORMATION

ONLY

$50.00

For This Ad In Our

East & Southeast

For Info Call

272-5422

HOME

IMPROVEMENTS

SINCE 1973

Phil Bolon Contr.

Windows & Siding

Decks, Kitchens, Baths

Room Additions,

Flooring, Roofing

Bsmt Waterproofing

Deal With Small Non-Pressure Co.

45 Yrs. Exp. - Refs. Avail.

Lic.-Bond-Ins.

10-14

A/M

Free Est. - Financing Avail.

Member BBB Of Cent. OH

O.C.I.E.B. ID #24273

614-419-3977

or 614-863-9912

HOME IMPROVEMENT

Electric-Drywall-Decks

Painting-Flooring-Trim

Licensed-Bonded-Insured

w/refs - 614-774-1472

LG

REMODELING

Interior & Exterior

Full Service Remodeling

• Bathrooms • Kitchens

• Tile • Drywall • Flooring

• Roofing • Siding • Etc.

NO JOB TO SMALL

A+ BBB Rating

A+ Angie's List

Lic. • Bonded • Insured

614-488-8377

www.lgroofingcolumbus@gmail.com

10/14 A

10-14 A&M

HOME

IMPROVEMENTS

C&JHandyman

Services LLC

Minor Plumbing &

Electric

Install Hot Water Tanks,

Dishwashers & Disposals

Also Fencing &

Interior/Exterior Painting

Free Est. ~ 18 Yrs. Exp.

Accepting Visa/MC

614-284-2100

HOME

MAINTENANCE

Roof & Chimney

Maintenance

All types masonry work -

Brick, tuckpointing, cultured

stone, caulking,

chemical cleaning, power

washing, Gutter cleaning.

614-364-6668 lv msg

JOE'S HOME MAINT.

Home Repairs, Roofing,

Siding, Gutters, Soffits,

Misc. Int. Repairs

Int. Painting

Call Joe 614-235-6883

35 Years Exp.

Retired Finishing Carpenter

for all your extra home

repairs. over 40 yrs. exp.

Sonny 614-325-1910

LAWN CARE

LET US MAINTAIN

YOUR LAWN & GARDEN

FOR YOU

Summer, Spring,

Winter or Fall

WE DO IT ALL!!!!

Lawn Cuts, Edging,

Trees & Shrubs, Garden,

Mulching, Hauling,

Garden Pond &

Home Maint.

Free Ests. Low Rates

$20 & Up

Kevin - 614-905-3117

MOVING

A Complete

Moving

Reasonable, Reliable

No Job Too Small

PUCO #150692-HG

Free Estimate

614-878-1179

Aaron Allen Moving

Local Moving Since 1956

Bonded & Insured

614-299-6683, 263-0649

Celebrating 60 yrs in business

PAINTING

A Job Well Done Again

A lic. general contractor.

Some skilled services

incl: painting, stucco,

repair, carpentry, exterior

drainage & home maint.

Call Today! 614-235-1819

PAINTING

Interior and Exterior

Handyman Services

40 yrs. in business

A+ rating BBB

614-599-7299

Classified Services

10-14 A

10/14 A&M

PLUMBING

ALL IN ONE

PLUMBING LLC

"One Call Does It All"

$25 OFF LABOR

With This Ad

A

614-801-1508

All Major Credit Cards Accepted

All About Drains & Plumb.

Will snake any sm drain

$115 + tax. 614-778-2584

POWER WASHING

Home Powerwash from

$99-$199. Also House

Painting. 614-805-1084

ROOFING

Robinson roofing & repairs

30 yrs. exp. Lifetime Cols.

resident. Lic./bonded/Ins.

Reas rates. Member of

BBB. Dennis Robinson

614-330-3087, 732-3100

SEWING MACHINE

REPAIR

REPAIR all makes 24 hr.

service. Clean, oil, adjust

in your home. $39.95 all

work gtd. 614-890-5296

TOP SOIL

Alexander Hauling

Driveways topped w/new

limestone. We also deliver

Topsoil - comtil - sandmulch.

Specializing in

residential. 614-491-5460

Bobcat Services Avail.

TREE SERVICES

TROTT

TREE & LANDSCAPE

Tree Trimming

& Removal

10/14

10/14

A

Also Stump Removal

Free Est. - Fully Ins.

Call 614-235-3791

Cell 614-738-0682

Brewer & Sons Tree Service

• Tree Removal

• Tree Trimming 10-14

A&M

• Stump Grinding

• Bucket Truck Services

Best Prices • Same Day Service

614-878-2568

BURNS TREE SERVICE

Trimming, Removal &

Stump Grinding.

614-584-2164

Joe's Tree & Yard Work

Trim, thin, shape bushes,

hedges, stump grinding,

hauling. 614-598-6247

9/16

E/SE

A&M

Fast Tree Service

Tree Removal,

Stump Grinding

Free With Access,

Pruning, Shaping

Insured, Free Est.

Payment Plans Avail.

614-837-8367

614-863-1522
---
PAGE 16 - EASTSIDE MESSENGER - September 23, 2018

www.columbusmessenger.com