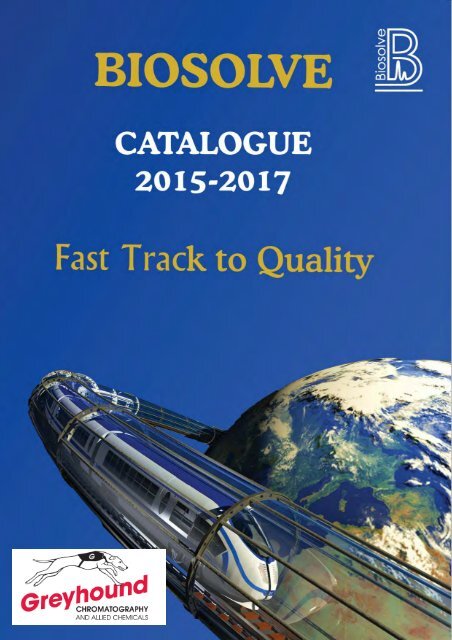 Biosolve Catalogue 2016 Biosolve products are manufactured under strict and detailed operating procedures. The manufacturing plants meet the latest environmental and quality ISO standards, serving as the development, production and distribution centers.

This catalogue contains product details of products from Biosolve. If you have any questions about Biosolve products or wish to discuss the pricing and delivery of products from this manufacturer, or any of the many other Manufacturers we represent, please do not hesitate to contact us either by email Sales@greyhoundchrom.com or rachel@greyhoundchrom.com (Greyhound Chromatography's Sales Manager).

We are proud of our long-standing relationships with our customers and agents. We value our agent network highly and are constantly looking to appoint new agents with the right expertise, in areas where we are not represented. Please email sales@greyhoundchrom.com if you are interested in becoming one of our agents.

Visit https://www.greyhoundchrom.com for a full range of Chromatography consumables, including Certified Reference Standards and Materials, Solvents, Reagents and Laboratory Chemicals.


From the initial acceptance of selected raw material through process control to the final packed product, all steps are accurately documented. This ensures a high quality of production with lot-to-lot reproducibility and complete traceability for all purposes. Thanks to continual research and development, Biosolve offer one of the finest grade Acetonitrile for HPLC & UHPLC available worldwide: The Supra-gradient grade and the highest brand ULC/MS grade. Manufacturing and recommended expiry dates are clearly stated on the label whenever relevant. Thanks to the strict policy of quality control, Biosolve are an approved vendor to large health organizations, leading pharmaceutical companies and for the chemical and electronic industries.
Supplied by:

Greyhound Chromatography and Allied Chemicals

6 Kelvin Park, Birkenhead, Merseyside CH41 1LT

United Kingdom

Tel: +44 (0) 151 649 4000

Fax: +44 (0) 151 649 4001

Email: sales@greyhoundchrom.com

Web: www.greyhoundchrom.com

Scan me to visit

greyhoundchrom.com

Follow us:

Twitter: @greychrom

Facebook: www.facebook.com/GreyhoundChromatography

Google+: www.google.com/+Greyhoundchrom

YouTube: www.youtube.com/GreyhoundChrom

LinkedIn: www.linkedin.com/company/greyhound-chromatography
More magazines by this user