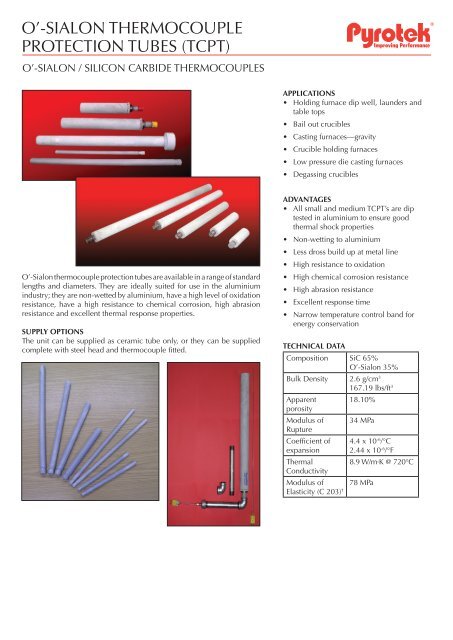 O'-SialOn thermOcOuple prOtectiOn tubeS (tcpt) - Pyrotek
O'-SialOn thermOcOuple prOtectiOn tubeS (tcpt) - Pyrotek
O'-SialOn thermOcOuple prOtectiOn tubeS (tcpt) - Pyrotek
SHOW MORE
SHOW LESS
You also want an ePaper? Increase the reach of your titles
YUMPU automatically turns print PDFs into web optimized ePapers that Google loves.
O'-SialOn thermOcOuple

prOtectiOn tubeS (tcpt)

O'-SialOn / SilicOn carbide thermOcOupleS

O'-Sialon thermocouple protection tubes are available in a range of standard

lengths and diameters. they are ideally suited for use in the aluminium

industry; they are non-wetted by aluminium, have a high level of oxidation

resistance, have a high resistance to chemical corrosion, high abrasion

resistance and excellent thermal response properties.

SUPPLY OPTIONS

the unit can be supplied as ceramic tube only, or they can be supplied

complete with steel head and thermocouple fitted.

APPLICATIONS

• holding furnace dip well, launders and

table tops

• bail out crucibles

• casting furnaces—gravity

• crucible holding furnaces

• low pressure die casting furnaces

• degassing crucibles

ADVANTAGES

• all small and medium tcpt's are dip

tested in aluminium to ensure good

thermal shock properties

• non-wetting to aluminium

• less dross build up at metal line

• high resistance to oxidation

• high chemical corrosion resistance

• high abrasion resistance

• excellent response time

• narrow temperature control band for

energy conservation

TECHNICAL DATA

composition Sic 65%

O'-Sialon 35%

bulk density 2.6 g/cm3 167.19 lbs/ft3 apparent 18.10%

porosity

modulus of 34 mpa

rupture

coefficient of 4.4 x 10

expansion

-6 /°c

2.44 x 10-6 /°F

thermal 8.9 W/m·K @ 720°c

conductivity

modulus of

elasticity (c 203) †

78 mpa

®
---
O'-SIALON THErmOCOUPLE PrOTECTION TUbES (TCPT)

rESPONSE TImE

the response time for four different thermocouple protection tubes is graphed below. the tcpts were placed in a ladle of

liquid aluminium and a solid aluminium ingot was added to the ladle causing the liquid metal temperature to fall. the graph

shows how each tcpt responded.

USE & CLEANING

• before use, ensure the tcpt is dry.

• if possible, preheat to approximately 400°c (750°F).

• continuous max use is 1500°c (2730°F).

• O'-Sialon tcpt's can be damaged by mechanical mishandling. to prevent damage, it is recommended that the tcpt is

removed from the furnace or crucible prior to skimming, stirring or using other tools in the metal bath that may come in

contact with the tcpt. care needs to be taken to avoid bumping or hitting the tcpt.

• if possible, remove the tcpt when filling the crucible or furnace.

• clean the tcpt while still hot (straight from molten metal) using a wooden or calcium silicate tool.

PYrOTEk INC. PAGE 2
---
O'-SIALON THErmOCOUPLE PrOTECTION TUbES (TCPT)

AVAILAbLE SIzES

Small diameter

17 mm Od 9 mm id

SerieS

auckland

part no

length

(mm)

OSitpt001 300

OSitpt002 400

OSitpt003 460

OSitpt004 500

OSitpt005 600

OSitpt006 700

OSitpt007 800

OSitpt008 850

OSitpt009 900

medium diameter

28 mm Od 16 mm id

SerieS

auckland

part no

length

(mm)

OSitpt022 400

OSitpt023 460

OSitpt024 500

OSitpt025 600

OSitpt026 700

OSitpt026-1 750

OSitpt027 800

OSitpt028 850

OSitpt029 900

OSitpt030 1000

OSitpt031-1 1070

OSitpt031 1100

OSitpt032 1200

larGe diameter

45 mm Od 25 mm id

SerieS

auckland

part no

length

(mm)

OSitpt041 300

OSitpt042 450

OSitpt043 600

OSitpt044 750

OSitpt045 900

OSitpt046 1050

OSitpt047 1200

Small Diameter Protection Tube

medium Diameter Protection Tube

Large Diameter Protection Tube

PYrOTEk INC. PAGE 3
---
O'-SIALON THErmOCOUPLE PrOTECTION TUbES (TCPT)

PINNACLE THErmOCOUPLE PrOTECTION TUbES

O'-Sialon (bonded silicon carbide) tcpt

pyrotek's pinnacle thermocouple protection tubes are made from O'-Sialon,

a long-life, non-wetting, temperature-sensitive (bonded silicon carbide)

thermocouple protection tube for foundry and other temperature-sensitive

applications.

the robust properties of the pinnacle thermocouple protection tubes make

it an excellent alternative to competitive tubes in temperature measurement,

maintenance and product life areas.

THrEADED

part id l(mm)

pptp01 152.4 (6")

pptp02 254 (10")

pptp03 304.8 (12")

pptp04 457.2 (18")

pptp05 609.6 (24")

pptp06 762 (30")

pptp07 914.4 (36")

pptp08 1066.8 (42")

pptp09 1219.2 (48")

pptp10 1371.6 (54")

pptp11 1524 (60")

pptp12 1828.8 (72")

part id l(mm)

pptp21 535 (22")

pptp22 152.4 (6")

pptp23 254 (10")

pptp24 304.8 (12")

pptp25 457.2 (18")

pptp26 609.6 (24")

pptp27 762 (30")

pptp28 914.4 (36")

pptp29 1066.8 (42")

pptp30 1219.2 (48")

pptp31 1371.6 (54")

pptp32 1524 (60")

note: the physical and chemical properties listed represent typical, average values obtained in accordance

with accepted test methods and are subject to normal manufacturing variations. they are supplied as a

technical service and are subject to change without notice.

contact Information: www.pyrotek.info/locations

AVAILAbLE SIzES

2" Od x 1/2" or 3/4" pipe in lengths as listed.

lengths available

6, 10, 12, 18, 24, 30, 36, 42, 48, 54, 60, and

72 inch.

cap colors

Green 3/4" npt

red 1/2" npt

Yellow 3/4" bSp

White 1/2" bSp

part id l(mm)

pptp40 535 (22")

pptp41 152.4 (6")

pptp42 254 (10")

pptp43 304.8 (12")

pptp44 457.2 (18")

pptp45 609.6 (24")

pptp46 762 (30")

pptp47 914.4 (36")

pptp48 1066.8 (42")

pptp49 1219.2 (48")

pptp50 1371.6 (54")

pptp51 1524 (60")

pptp52 1828.8 (72")

part id l(mm)

pptp61 152.4 (6")

pptp62 254 (10")

pptp63 304.8 (12")

pptp64 457.2 (18")

pptp65 609.6 (24")

pptp66 762 (30")

pptp67 914.4 (36")

pptp68 1066.8 (42")

pptp69 1219.2 (48")

pptp70 1371.6 (54")

pptp71 1524 (60")

pptp72 1828.8 (72")

pptp73 535 (22")

Product type: 177

commodity code: 06002

Pyrotek Inc. • corPorate offIce • 9503 e. MontgoMery avenue • SPokane valley, Wa 99206, uSa • P: 509-926-6212 • f: 509-927-2408

www.pyrotek.info • email: info@pyrotek.info feB-08-e4-854