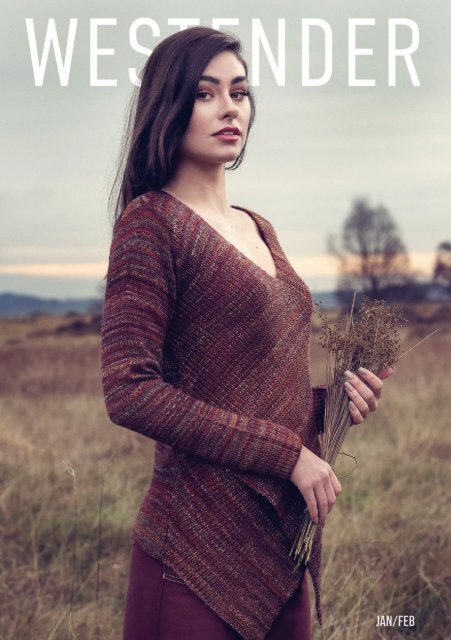 You also want an ePaper? Increase the reach of your titles
YUMPU automatically turns print PDFs into web optimized ePapers that Google loves.
www.westendermagazine.com | 1

JAN/FEB
---
2 | www.westendermagazine.com

N o w o p e n o n H y n d l a n d R o a d

T h e n e w h o m e o f

l u x u r y k i t c h e n s i n G l a s g o w

181 h y n d l a n d r o a d | g l a s g o w | g 1 2 9 h t

0 1 4 1 3 3 9 6 5 8 2

w w w . b a u e n d e s i g n . c o . u k
---
www.westendermagazine.com | 3

Contents

Image I Gregor Reid

Regulars

Contents

4 Editor's Letter

49 Mum's Notebook

28 Community Pages:

6 Sirens Fashion Netball pages

westender

underwear Fashion, beauty shoot & health

13 A Jian London

8 Fashion on the Moor

Christmas

20 WIN! A Month's Pass at

14 West End Live

Sweat! Glasgow!

with Greg Kane

22 Fun Fitness

19 A west end

33 WIN! At Rainbow

Christmas gift guide

Room International

28 Up Front

50 Health Matters

gypsy brewing

30 Restaurant review

31 Shopping WIN! A 3 course meal

with 37 Valentine wine at Rio Gift Cafe Guide &

WIN! A weekend

at The Bruce Arms

Going out

32 Sweet Liberty recipe

34 16 West Author's End Bookgroup

Live

meets with Greg Phil Kane Differ

39 18 Top Jingle Things Belles at

Kennedy + Co

40 Art WIN! & culture A style

makeover at Rainbow

Room

30 Writer's

International

Reveal:

41

Gill

Festive

Sims

Offers

at

34

Esteem

Cover to

Beauty

Cover

42

38 Artist

100 years

Interview:

of

Erskine

Pascale

celebrated

Steenkiste

at The Hunterian

44 Food Health & drink Matters

47

43

Mum's

Restaurant

Notebook

Review:

49

Gather

Top

by

Things

Zique

52

44

Interiors

Sweet Liberty

article:

Christmas

47 Bar Review:

in colour

Roosevelts

55 Country comforts

56 Hygge at home

Westender living

58 Atlas kitchen

makeover 54 The Velvet Touch

66 59 Twist Legal of Matters Tweed with

Mitchells 61 In the Nude Roberton
---
4 | www.westendermagazine.com

Editor's

Letter

Don't write in. We know. Wily, or wiley?

That was the big debate in the office

this morning. Placing the fashion

pages for each edition is a great pleasure of

mine – a fab reminder of a fun and creative

day out on the shoot. However, the sticking

point this edition involved lyrics rather than

images. With reference to Kate Bush's

Wuthering Heights the title to the fashion

pages pays homage to Bush's spelling in the

original song. If it's good enough for Kate…

Our take on mixing tweeds with knits and

thicker fabrics for those cold days ahead

starts on Page 8.

Start off 2019 with a drum roll by booking

yourself in to the biggest world music festival

at Celtic Connections. With numerous West

End venues and a wide choice of musicians

on offer, Greg Kane makes his choice

selection on Page 16.

Just maybe you fancy a new challenge

for the new year? Pick up a new language or

crafting skill listed in our Top Things pages

(Page 18). Last year my family and I learned

Spanish at The Language Hub on Keith Street

in Partick. It was a bonding experience with a

tangible benefit – maybe we can order dinner

in our hosts' language this summer?

Or perhaps you're thinking of fun things to

do this winter that cunningly burn those extra

calories left from the overindulgence that is

December? Then read new Westender writer

Pamela Palongue's fun fitness article on Page

22. Learning circus arts, or starting ballet

class, is open to all ages, body shapes and

genders at these two West End businesses.

If it's fun it's easier to stick with, and how can

learning the trapeze be anything but!

Loraine Patrick is back for the Jan/Feb

edition interviewing local West End author,

Gill Sims. With a successful blog and now

two bestselling books to her name, Sims

explains how it all came about, from an

unconventional start, on Page 30.

This unconventional theme continues

with artist-in-residence Pascale Steenkiste's

interview on Page 40. Why so? Because it's

in Partickhill Bowling Club and Community

Centre. It's a novel way to diversify and invite

local Westenders along to see what classes

they hold in their newly refurbished centre.

2019 you're about to get interesting.

Suzanne Martin
---
www.westendermagazine.com | 5

ADVERTISE YOUR BUSINESS IN WESTENDER

Book advertising space in the Mar/April 2019

Westender by Friday 25th January.

OUT IN WEST END LOCATIONS FROM MONDAY 18TH FEBRUARY.

// 10 Years in the West End

// Glasgow's brilliant FREE bi-monthly magazine

// Great editorial features: fashion, dining out, health & beauty,

what's on, local authors & artists, interiors & more

// Massive potential business audience

// 12,000 copies per edition

// Handy handbag size

// FREE to pick up around the West End

// Online presence with digital magazine

westendermagazine.com

For more info or to advertise

email: suzanne@westendermagazine.com

for a media flyer, or call: 07905 897238
---
6 | www.westendermagazine.com

EDITOR

SUZANNE MARTIN

PHOTOGRAPHER

GREGOR REID

CONTRIBUTING WRITERS

EMILY DONOHO, AMY GLASGOW,

MICHELE GORDON,

GREG KANE, PAMELA LEGGATE,

NICOLA MAULE,

TRACY MUKHERJEE,

PAMELA PALONGUE,

LORAINE PATRICK

SUSAN ROBERTSON, BRIAN TOAL,

LIBERTY VITTERT,

HANNAH WESTWATER

HAIR & MUA

TERRI CRAIG

STYLIST

JACKI CLARK

WESTENDERMAGAZINE.COM

INFO@WESTENDERMAGAZINE.COM

07905 897238

WESTENDER MAGAZINE IS ON

FACEBOOK, TWITTER

& INSTAGRAM

Publisher: Westender Magazine

Whilst every care has been taken to ensure that the data in this publication is accurate, neither the publisher nor its editorial

contributors can accept, and hereby disclaim, any liability to any party to loss or damage caused by errors or omissions

resulting from negligence, accident or any other cause.

Westender Magazine does not officially endorse any advertising material included within this publication.

No part of this publication may be reproduced, stored in any retrieval system, or transmitted in any form – electronic,

mechanical, photocopying, recording or otherwise – without prior permission of the publisher.
---
www.westendermagazine.com | 7

gregorreidphotography.com

PORTRAITS CORPORATE

FASHION
---
86 | www.westendermagazine.com

out on the

wiley

Windy

moors

photography

Gregor Reid

stylist

jacki clark

MAke up

terri craig
---
www.westendermagazine.com | 97
---
10 8 | | www.westendermagazine.com

trousers, jasmine. jumper, fat face. boots, daniel footwear. hat, nancy smilLie. scarf, finnieston@CCW

opposite page - dress, hat & scarf, jasmine
---
www.westendermagazine.com | 11 9
---
12 10 | www.westendermagazine.com

coat, monsoon. skirt, topshop. cardigan, jasmine. boots, office. scarf, finnieston@CCW. ring, house of cashmere
---
jacket & dress jasmine. jumper, finnieston@CCW. bag, house of cashmere

www.westendermagazine.com | 13 11
---
14 12 | www.westendermagazine.com

coat, monsoon. snood, jasmine. boots, office. bangle, house of cashmere

opposite page - top, jasmine. trousers, topshop. boots, daniel footwear
---
www.westendermagazine.com | 13 15

MUA terri craig, terricraig.co.uk

model aimee logan @colours agency

stylist jacki clark, jackiclark-stylist.co.uk

photography gregor reid, gregorreidphotography.com
---
16 | www.westendermagazine.com

LIVE

January

Wolf & Moom

Monday 7th January 7.30pm

The Hug and Pint, thehugandpint.com

Stefany and Dennis are Wolf & Moon,

a nomadic duo who met at a house

party in the Netherlands. Shortly

after meeting they journeyed across

the US on a full tour with only a

small traveling guitar and a Casio

keyboard. The Dutch duo have set

out to conquer the world with their

minimalist electro folk. It's all a

bit Euro crusty new agey, but there's

definitely something here to keep an

eye on. Enjoyed listening to them.

Choice Tracks:

Wolf & Moon 'Getaway'

From the Jam

Friday 11th January 7.30pm

QMU, qmunion.org.uk

A tribute band – but with a difference

– one of its members is tributing

himself here.

Bruce Foxton (The original bassist

with The Jam) leads From The Jam and

he still has all the charisma and

energy of his youth. We often play

Summer festivals with them and they

are just so amazing to watch, drawing

from a seemingly endless pool of

great songs (Paul Weller is a prolific

songwriter) that made The Jam one of

the most popular bands of their time.

This'll be a great Friday night out.

Oh and if you like your Weller a bit

more blue eyed soul'd then The Style

Councillors are playing Oran Mor on

the same night. Weller's ears will be

burnin' that night.

Choice track:

The Jam 'Eton Rifles'

Celtic Connections

17th January to 3rd February

Various venues, celticconnections.com

Here's my pick from the biggest world

music festival on the planet.

19th Jan. – The Como Mamas

– Makintosh Church 7:30pm.

Gospel trio from Mississippi backed

by the Daptone guys. The real deal.

Choice Track: The Como Mamas

'Move Upstairs'

23rd Jan. – CAKE – QMU 7:30pm.

Californian alternative rock band that

epitomised the postmodern, ironydrenched

aesthetic of '90s geek rock.

Choice Track: CAKE 'Sinking Ship'

24th Jan. – Rachel Newton – Mitchell

Theatre 7:30pm. This Scottish harpist

and singer is building on the success

of a SAY Award nomination last year

for her album Here's My Heart Come

Take It by promoting her new 2018

album West.

27th Jan. – Dori Freema – Oran Mor

7:30pm. Female singer/songwriter

from Virginia born into a family

of Bluegrass musicians with

such an amazingly creamy voice.

Her beautifully tender song You Say

is on repeat in my car.

Choice Track: Dori Freeman 'You Say'

31st Jan. – JP Ruggieri – Hug & Pint

7:30pm. JP is a young, uber talented

singer/songwriter from Nashville

and must also be one of the best

guitarists around. He's blessed with

a beautifully soulful voice too. A

must see every time he comes to town.

He's out promoting his new album

'Waiting On You'.
---
www.westendermagazine.com | 17

by Greg Kane

February

The Murder Capital

Thursday 7th January 7pm

SWG3, swg3.tv

Seemingly these guys are Ireland's

best new Rock band but with only one

song made public to date from this

fledgling Dublin five-piece, you could

be forgiven for thinking it's just hype.

But said song More Is Less is a track

that makes an immediate impression

with its punk energy and intense

delivery.

Live, The Murder Capital's energy is

more palpable as the members embody

the twists and turns of their songs

that are indebted to 1980s new wave,

punk and garage. It's all pretty good.

Choice track:

The Murder Capital 'More Is Less'

Post Malone

Sunday 17th February 6.30pm

SSE Hydro, thessehydro.com

Billie Eilish

Thursday 28th February 7pm

SWG3, swg3.tv

Billie Eilish Pirate Baird O'Connell

is an American singer/songwriter

and teenage superstar. Her songs

garner over 20 million streams

every month making her one of the

most popular artists in the world.

Her music is ambient Emo pop with

slow fragmented grooves, usually

with strings and lots of drama. Eilish

was raised in Highland Park, L.A.

by a family of actors and musicians

with Scottish/Irish ancestry and she

co-writes her songs with her 21-yearold

brother Finneas O'Connell.

Her concerts have been described

as genius, bewitching and powerful,

not only because of her talent, but of

the devotion, love and passion of all

the fans in the room. The O'Connell's

are your classic over achieving

all-American family.

Choice track: Billie Eilish

'Ocean Eyes'

My partner's 17-year-old plays Post

Malone a lot. I'm not sure what to make

of it. Sure it's poppy but there's also

an adult contemporary attitude in his

slick productions. Post really knows

what he's doing in a recording studio.

Old garage band indie refs, soul/pop

refs, Reggae refs, EMO refs, even Trap

refs are all in here too – a hotch potch

of music, but a very, very successful

one. At only 22-years-old and judging

by his streaming numbers he has the

world at his feet.

Choice Track: Post Malone

'Better Now'
---
18 | www.westendermagazine.com

Top Things To Do

in the West End

by Tracy Mukherjee

Top for Burns Night

We are somewhat spoilt for Burns supper

shenanigans this New Year. Over in Cottiers, the

national day of the bard will be celebrated with

a lavish three course meal (with dram of course)

followed by full highland dress/black tie ceilidh.

For a truly luxurious Burns Night supper The

Finnieston, as one would expect of this venue,

has put a seafood spin on the traditional haggis

theme. With sumptuous whisky flights and

whisky cocktails to put hairs on your chest, it's a

great choice for real foodies.

Just along Argyle Street in Lebowskis, The

Bard Abides. These guys make an effort every

year to put their own mark on 25th of January.

Previous years have seen Rabbie Burns themed

White Russians and rather special burgers.

This year there are even rumours of a food-free

supper! Of course with the ever present spirit of

The Dude surveying the proceedings, the final

menu is sure to pack a punch.

And finally, for a theatrical take on Burns, Oran

Mor present The Ghosting of Rabbie Burns.

This comic tale gives a supernatural spin on

our Rab. Featuring Burns poems and songs, the

production shows that, in matters of the heart

little has changed in 200 years.

Cottiers Burns Supper and Ceilidh 2019

cottiers.com Friday 25th Jan

The Finnieston

gfthefinniestonbar.com

Lebowskis Glasgow West

lebowskis.co.uk

The Ghosting of Rabbie Burns

Oran Mor, Tuesday 29th January

oran-mor.co.uk/whats-on

Top for Music

How lucky a city are we that in January

each year we are privileged to host Celtic

Connections. A music festival like no other,

Celtic Connections embraces all forms of music.

This year the theme is Passing Traditions

Between Generations and one of the standout

events is Brave in Concert. Bringing Disney's

flame haired Scots' heroine to life will be the BBC

Scottish Symphony Orchestra, in association

with Disney Concerts. This event really will

traverse the generations. Becoming a firm

favourite, the National Whisky Festival will

return to SWG3 for a day likely to, quite literally,

warm your cockles. Staying in the west, our local

venues of Oran Mor, The Hug and Pint and The

Mitchell Theatre return as firm favourites for

performances.

Celtic Connections

Thurs 17th January – Sun 3rd February

celticconnections.com

Top for Film

The 2019 Glasgow Film Festival returns in

February and it's looking like a goody! With

Hollywood classics, anniversary screenings

and highly acclaimed Belgian cinema, there is

bound to be a film to suit the most specific of

tastes. One of the highlights of the festival is

the first official 20th anniversary screening

of 'The Matrix'. The show is being held in the

subterranean caverns of The Arches. This

atmospheric venue, underneath Glasgow

Central, will also be filled with immersive

installations to capture the mood for the

screening and the after show party. With a black

shades (actually black from head to toe) dress

theme, watch out Neo and Trinity.

Staying in the realms of Sci-Fi, this year also

celebrates the 40th anniversary of the original

Alien. This screening will coincide with the

release of a 4K restoration print of the film,

premiering in cinemas on 1st March. Along with

the screening during the film festival, which is

being held in an enormous warehouse, there

will be laser tag adventures, comic books and

themed cocktails.
---
www.westendermagazine.com | 19

Top Things To Do

in the West End

Rounding off the run down of this year's film

festival there will be a retrospective event

entitled The Age of Innocence. The films within

this category are all from American cinema

in 1969. The 10 films are from an age where

censorship laws were being relaxed and a new

cinematic counter-culture was emerging. Among

the classics are Easy Rider, Midnight Cowboy

and the iconic Butch Cassidy and the Sundance

Kid. Amazingly, the films are all FREE to view.

Quite simply a fantastic line up and a great

reason to leave that ever beckoning sofa on a

cold February night.

The Glasgow Film Festival

20th February – 3rd March

Full program to be announced 23rd January

glasgowfilm.org/glasgow-film-festival

Top for New Year Resolutions

I'm going to lose weight, stop drinking, give up

chocolate; the resolution war cry on the 2nd

of January. A much more fun and achievable

resolution? Learn something new. Learning

a language is a great example. The Language

Hub in Partick is a one stop shop for all your

language needs. Teaching all age groups, you

also needn't learn alone. Children can learn a

language through song, rhyme, toys, crafts and

games. Adult classes focus on individual needs

in a small class setting. There are even family

sessions where you can learn alongside your

children. With all levels of language abilities

being catered for – beginners, post beginners,

intermediate – find your language level and go

for it! With German, Spanish, Italian and more to

choose from, there is also an on-site cafe at the

Hub to relax and practise your conversation over

a coffee and some tasty bites. Take some time to

visit the shop too and stock up on some learning

aids to enhance your linguistic knowledge.

Language learning a little too academic? Why

not try some crafts instead? The Landsdowne

House of Stencils offer classes on up-cycling

furniture, distressing, using chalk and crackle

paint techniques. Why not try eco-printing

Scottish leaves? This fabulous craft venue

on Landsdowne Crescent heavily focuses the

materials used on natural flora and fauna or

indeed on recycling old into something grand and

'up-cycled'. Classes are added regularly so keep

your eye on the website.

For needlepoint lovers, Sew Confident teaches

sewing to the absolute novice who has never

threaded a sewing machine right through to the

more advanced skills of lampshade making and

machine doodle. A great way to meet new friends

too, Sew Confident provide all equipment in their

Hidden Lane headquarters.

Lastly in our resolutions run down, Strictly has

sadly come to an end for another year and yet

the joy of watching others dance has left you

with a warm fuzzy feeling. You know what's next.

Try it out for yourself! Dance with Attitude offer

classes for young and old in every form and style

of dance. From Ballroom to Bollywood, Tap to

Tango, there is something for everyone in their

Scotstoun studio. To entice you even more, after

a fun dance class why not drop in for dinner at

the on-site tapas bar La Bodega. This Spanish

owned venue not only serves up fantastic

flavours but has live music and entertainment

throughout the week. With a weekly Salsa club,

live jazz on Sundays and Tango Milongo, you'll be

lighting up the dance floor in no time.

The Language Hub

thelanguagehub.co.uk

Landsdowne House of Stencils

landsdownehouseofstencils.com

Sew Confident

Dance with Attitude

dancewithattitude.net

La Bodega Tapas Bar

labodegaglasgow.com

sewconfident.co.uk
---
heck us out!

20 | www.westendermagazine.com

et a free gym

our, simply

resent this

age at reception

one of our

eam will show

ou around.

REE dedicated

arking for members.

weatglasgow.com

Competition!

kypark, 54 Finnieston Square, Glasgow, G3 8EP

Good things come to those who

Start the year off with a BANG! WIN one

months membership and a personal

fitness mentor at SWEAT! Glasgow!

FREE

MONTHLY

PERSONAL

TRAINING

SESSION

GLASGOW

261 Sweat Glasgow To enter Full simply Page ad follow v3.indd SWEAT! 1 on facebook

10/12/2018 17:14

& Instagram @sweatgyms and email

msglasgow@sweatunion.com to tell us briefly

what your fitness goals for 2019 are.

One lucky winner will be drawn

and win all of this!

• One months full membership

• Personalised 6 weeks training program

including nutritional support and guidance

• Full body measurements and goal

setting

• Weekly PT session and touchbase with

your personal fitness mentor

• FREE access to our world class facilities

for one month

• FREE access to all our SWEAT! classes

Terms and conditions apply. Prize cannot

be used in conjunction with any other offer

or promotion. The winner will be drawn

and notified on or after 1st of March 2019.
---
GOOD THINGS

COME TO THOSE

WHO

4 unique fitness zones all

at one amazing price

www.westendermagazine.com | 21

THE GYM

+

SWEAT! CYCLE

THE MATRIX

+

THE STUDIO

Come and

check us out!

Get a free gym

tour, simply

present this

page at reception

& one of our

team will show

you around.

FREE dedicated

parking for members.

sweatglasgow.com

FREE

MONTHLY

PERSONAL

TRAINING

SESSION

Skypark, 54 Finnieston Square, Glasgow, G3 8EP

GLASGOW
---
22 | www.westendermagazine.com

Adventure calling!

Aerial or en-pointe?

WORDS PAMELA PALONGUE

At the start of every fresh year we promise ourselves the same things, lose

weight, exercise more blah blah… How long does that last? But what if?

What if we challenge ourselves to have fun. Simply that. Would having fun

physically, be the glue needed to building a stronger body whilst learning a

new skill? New Westender writer, Pamela Palongue, heads along to two West

End based classes to find out more.

One of the biggest reasons people give

up an exercise regimen, is that it's

just not fun. It seems there's a reason

they call it a 'work'-out.

But what if there was an activity that

combined fitness with creativity and passion?

What if you actually looked forward to a little

physical exertion in your week? This type of

thinking has led to alternative fitness routines,

that actually have people longing for more.

One great way to get in shape and have

fun while you're doing it, is to practice circus

arts. Fortunately, you won't have to run away

to join the circus to participate. There's a

school in the West End that has instruction in

flying trapeze, aerial hoops, aerial silks and

acrobatics. Aerial Edge offers classes in all

of these disciplines and more for adults of all

skill levels that range in age from uni students

to those in their seventies!

In case you're wondering right about

now…the trapeze is perfectly safe! And it just

happens to be the only full-time, indoor flying

trapeze in the UK.

Students are 'in lines' meaning that they

are in a type of harness and are clipped to

cables with an instructor who ensures that

there are no involuntary falls. Students can

frequently be caught (swinging from one

trapeze bar to be caught by the catcher on

another) from the first class. It all depends

upon individual ability and comfort level. Even

though it's quite safe, the perceived danger

can help to greatly increase confidence

levels, and the physical activity will lead to

greater core strength, flexibility and balance.

For those who prefer to stay a bit closer to

the ground, the aerial hoops and aerial silks

are much lower and can be performed while

just a couple of metres off the floor. Aerial silk

artists were made famous by Cirque du Soleil

where individuals form different spins and

poses while hanging from long pieces of silk

fabric. It's beautiful to watch, and it requires

every muscle to perform.

Aerial Edge also offers floor acrobatics,

flexibility classes, and conditioning classes

where individuals can strengthen the muscles

needed for circus arts – while reaping the

rewards of a finely-toned circus body. Some

individuals train in these classes exclusively,

and do not train on the trapeze or silks. Many

students however, come with the intention

of attending the conditioning classes only,
---
www.westendermagazine.com | 23

Image I Richard Walker
---
24 | www.westendermagazine.com

INTERNATIONAL

Hairstylist & Colourist

Norman McLeod

returns to his home town

after running his own salon

in Hong Kong and Italy.

For a free consultation call

Beti Reilly Salon at 75 Bath Street

Tel. 0141 332 3637 or call Norman

on Mobile 07368 265868.
---
www.westendermagazine.com | 25

Images I lottiephotography

but soon find that with increased confidence

levels, they want to try the different aerial

arts, taking their instruction to the next level.

All the classes are taught by highly

trained instructors, and many degreeeducated

circus instructors and professional

performers, one of whom is a former Cirque

du Soleil coach.

The classes are held in historic Kelvin

Hall, the original site of the 1920s circuses

which came to Glasgow. Many of the

building's features still surround the area

where classes are held, and it lends a

bit of charm and nostalgia to the overall

experience.

Classes are designed to be inclusive,

in a friendly, non-competitive atmosphere.

It's all about doing your best and improving

your own personal skills.

Another fun way to improve your fitness

levels while exploring your creative side is

dance. If you ever attended ballet classes

as a child, or perhaps just stared at a Degas

painting and wondered what it would be like

– the ballet classes at Dance Glasgow may

be for you!

The upstairs studio on Ruthven Lane

has been seasoned with character;

its slightly worn, hardwood floors tell the

tale of thousands of dancers who have left

their mark on them in search of the perfect

pirouette.

The adults who come here for instruction

are both young and mature, serious and

playful. They eagerly line up at the barre in

front of the mirrored wall and practice their

positions, creating beautiful moving pictures.

More than just creating pretty movements

though, they're developing their core and

leg strength, improving their balance, and

gaining confidence. The instructor watches

each student carefully and makes gentle

corrections when needed, which leads

to better form and more amplitude in the

movements – and a better stretch.

The familiar practice piano provides music

throughout the one hour and 15 minutes

lesson, although the songs are popular

recognisable tunes, such as Candle in the

Wind, and the Atomic Kitten song, The Tide
---
26 | www.westendermagazine.com

is High. The instructor, Marion Baird, who

is a dance master, keeps the atmosphere

light-hearted with a joke now and then,

in between giving commands in French.

She explains that learning the commands in

French is important, because some of her

students will return to their hometown after

uni, while others may move to a new area or

country for work. By learning the commands

in French, they can study ballet anywhere

and easily know the universal language of the

movements.

After the barre work is finished, the

barres are removed from the centre of the

room and dancers begin the floor section

of their training. They take the movements

they've practiced on barre and begin to put

them together into small, choreographed

segments.

Dance Glasgow has classes for absolute

beginners who have never danced a step,

and classes for adults who are more

advanced and want to continue to learn

more. The classes are drop-in, and can be

joined at any time so that there's no waiting

for weeks for a class to begin. And I'm

happy to report that several men attend the

classes and find it thoroughly enjoyable.

It also bears mentioning that many adults

also find the belly dance and Zumba classes

a great experience, depending upon your

own personal preference.

So take the 'work' out of your workout,

and start having fun instead!

aerialedge.co.uk

danceglasgow.com

Image I Richard Walker
---
www.westendermagazine.com | 27

Join from

33p

p/day*

RESOLUTIONS

START HERE

students / staff / you

glasgow.ac.uk/sport

*UofG Sport memberships start at 33p a day.
---
28 | www.westendermagazine.com

Sirens for Success

WORDS Hannah Westwater

Mention netball to some and they might

shudder as they're hit with semitraumatic

school PE memories.

But the sport deserves better, with a thriving

netball culture in swing across the UK – and

Glasgow knows women and girls can be

the first to be shut out of professional sport.

That's why the Strathclyde Sirens team was

launched by Netball Scotland in 2016 with

Claire Nelson at the helm as CEO.
---
www.westendermagazine.com | 29

The Sirens women – based in Glasgow

but hailing from New Zealand, Australia

and Jamaica, to name a few – have the

opportunity to come up against the

best players across England and Wales.

It's the only Scottish women's sports team

to have a Sky Sports deal, making regular

appearances on the channel as part of the

Vitality Netball Superleague.

Gail Parata of Scotland's national squad

also coaches the Sirens, and the team sees

support from the Scottish Institute of Sport.

It's also the only professional netball team in

the entirety of Scotland. That means worldclass

strength and conditioning training

and physiotherapy, plus video analysis and

lifestyle support.

The team, based at the £113m Emirates

Arena, consists of ten professional and

semi-professional players plus five training

partners, with a game each weekend. Home

games are plentiful, giving fans the chance to

head along and support the team (and meet

the players post-match in the fan zone).

Young players are supported through the

selections process from district and national

level, and wider outreach efforts are a core

part of the team's operation with engagement

programmes run in collaboration with local

schools. Think masterclasses, coaching

sessions and even Sirens camps. But it's not

just about getting the best players on side

for league games – the team was set up with

the intention of using netball as a vehicle for

greater good.

'Netball's played mainly by women in

Scotland, which gives us a unique platform

for women to challenge gender stereotypes

and succeed competitively,' says Sirens

player and part-time administrator Ella

Gibbons. She adds, 'to be strong, confident

and inspire others.' When she's not playing or

training for netball games with the team, Ella

is studying a Masters degree in Equality and

Human Rights at the University of Glasgow or

volunteering with gender equality groups, like

Women's Aid in the east of the city.

The Sirens For Success programme

targets young girls in the first few years of

high school who are disengaged from sport

and physical activity. Netball is the name of

the game, but it takes a back seat to issues

which could be holding girls back from taking

part, either in sport or other areas of their

life. They help girls tackle issues affecting

their demographic which, if gone unchecked,

could follow them through the rest of

adolescence – body image, confidence,

resilience, plus physical and mental health.

'Women's sport receives less

media coverage, less sponsorship and

endorsement. We're trying to challenge this

with Sirens, reaching new audiences and

trying to inspire the local community,' says

Ella, a self-described advocate for a fairer,

equal society. That being a professional

netballer is now an option for young girls is

exciting, she adds, which she would have

only dreamt of when growing up. 'Being a

Siren for me means pushing the sport to new

levels, to give the next generation of players

even more opportunities for the future than

what I've had. And I've been incredibly lucky!'

The people behind the Sirens hope that

the pressures and setbacks of elite sport

(such as injury, disappointing performances

and non-selection for the team) will help

develop resilience and the ability to overcome

adversity in young women. And it works. Ella

says, 'Playing sport has improved my self

confidence, my ability to approach and talk

to new people, has helped me make many

close friends. Exercising and being active are

generally great ways to look after both your

body and your mind.

'Sirens Netball aim to inspire other women

and girls to be active, to feel confident

with their bodies, and have the confidence

to achieve their goals.' The team is also

partnered with leading children's charity

NSPCC Scotland to help deliver their

groundbreaking campaign Speak Out Stay

Safe, which teaches children what abuse is,

how to identify it in all its forms and helps

develop their confidence in speaking to a

trusted adult who can help.

A sports team with a cause, the Sirens

carry the girls and young women of Glasgow

on their shoulders through every win and

more importantly, every loss.

The first home game of the new season

is Friday 11th January 2019 versus

Team Bath, at the Emirates Arena, with

tickets up for grabs online now. They're

Strathclyde Sirens – are you with them?

sirensnetball.com
---
30 | www.westendermagazine.com

Writer's Reveal

meets Gill Sims

WORDS LORAINE PATRICK

Glasgow based writer Gill Sims is the

best-selling author of Why Mummy

Drinks and Why Mummy Swears,

both Sunday Times bestsellers. The books

are based on her hilarious (if rather sweary)

parenting blog Peter and Jane. The mum of

two was an engineerining consultant before

being approached by HarperCollins to

publish her musings on family life. She now

writes full-time.

Gill thanks for taking time out to catch

up with Westender magazine. I have to

put in a bit of a disclaimer here – I am a

mum of three and your descriptions of

family life have me in stitches. Take us

back to why you started up the Facebook

blog – was it a way of sharing your

experiences with friends or did you think

at the time it could be something much

bigger?
---
www.westendermagazine.com | 31

It just really started as a joke with a friend.

I was a chronic oversharer on Facebook

anyway and friends kept telling me I should

start a blog. Maybe they were just bored with

my long rambling status updates and thought

I should take it somewhere else!

I was always quite sweary and one day a

friend sent me an article, I think it was about

why wome n shouldn't swear, and she said

'You really should do that blog!' I had a bit

of spare time so I threw something together,

mainly to make her laugh. I started the public

Facebook page because friends wanted

to share it, and posting in there saved me

having to change my privacy settings all the

time.

Do you remember your first post? What

was it about?

I think it was about a Mummy who tries very

hard to make everything #soblessed but

who is constantly thwarted by her children

– by their inability to find their shoes, by

their illicit consumption of Haribo leading to

them bouncing off the walls, by the eleventy

billion letters from the school that she can't

keep track of, or she is only handed twenty

minutes before leaving the house that tell

her that her precious moppets are to go into

school today dressed as French mimes, or

spacemen, or trees…

I think I am that mum! But you have

clearly struck a chord with several

thousand of us. There are around 400,000

followers on your Facebook page. When

did you realise the enormity of what you

were doing?

I don't think it really has sunk in yet. It's a bit

mind boggling really! I'm always amazed and

so grateful that so many people do take the

time to read my ramblings.

The most popular post is still the one that first

went viral, about a long day in the summer

holidays when everything goes wrong despite

Mummy's best intentions, but when her

husband comes home from work, because

she hasn't been at her actual paying job that

day, he assumes she must have spent the

day with her feet up enjoying her 'day off'.

When in reality she had spent her 'relaxing

day off' doing endless loads of laundry and

taking kids to the doctors and playdates and

refereeing fights and trying to juggle endless

balls and hadn't actually sat down all day,

and so she did not take such comments well.

I think a lot of other people must have had

similar experiences.

Is everything you write based on true life

experience?

The books are fiction. I'm not Ellen, my

husband isn't Simon and my kids aren't Peter

and Jane, though Judgy Dog in the books

is based very closely on my own Border

Terrier. The blog and some of the situations

in the book are about the general everyday

experiences most of us go through as

parents – lost shoes, aversions to vegetables,

forgetting how to read. Mummy is a

fictionalised mum to, she gets to say out loud

what we are all shouting inside our heads.

Your tongue-in-cheek take on family life is

the polar opposite to the picture-perfect

images we are often fed on social media.

I am sure most commend you for your

honesty but do you ever get any criticism?

I've been really lucky and most people realise

it is hugely exaggerated for comic value.

There is the odd person who doesn't realise it

is meant to be humorous and takes umbrage.

There are others who get that it is supposed

to be funny, but don't think that it is funny,

which is entirely their right to do so, humour

is very subjective.

When you hear about the hideous things

some people get sent, or the threats made

to them, I've really been very lucky and

the criticism is mild in the grand scheme

of things. When everything first took off, it

wouldn't matter how many nice comments

there were, if there was one negative one

that would be what I would focus on. But you

learn to shrug it off and grow a thicker skin.

You have to really.

Your writing is very sweary – would it be

the same without the cursing?

Personally, I am a big fan of swearing!

I was sent a book recently called Swearing Is

Good For You, about the therapeutic effects
---
32 | www.westendermagazine.com

of swearing which I would definitely agree

with. Sometimes 'Oh fudge!' just doesn't

cut it. I think my writing would lose a certain

something without the swearing, though

others disagree. Someone did leave a one

star review on Amazon for Why Mummy

Swears because she felt there was too much

swearing in it. Though I would argue that if

you don't like swearing, the clue is somewhat

in the title, and I'm not entirely sure what she

was expecting from it.

'Daddy' works away a lot and thinks he is

very important. How do you all get along

in real life?

'Daddy', like 'Mummy' is a fictional character,

of course. I don't think Daddy comes across

terribly sympathetically because the books

and the blogs are written from Mummy's

point of view. We see her frustration that

Daddy gets to swan off being Busy and

Important while she holds the fort at home.

If it was written from Daddy and Simon's side,

it would probably look quite different, as they

come home exhausted after a long journey

on top of a hard week, happy to see their wife

and kids only to be greeted with resentment

and a refusal to make a 'nice simple lasagne'

for dinner. In real life, we get along like most

people – we have been married long enough

that we know exactly how to annoy each

other, but at the same time, we probably

wouldn't want to be annoyed by anyone else.

Can you share a little of your background

with us? Are you from Glasgow? What do

you like about the West End?

I've lived in Glasgow since I was 11. Before

that we lived in Kenya and Tanzania. I went

to school in the West End, so it has lots

of happy memories. From hiding from our

teachers in the old Underground Gallery,

using dodgy fake ID to buy vodka and cokes

in Curlers, and trips to the Grosvenor Cinema

long before it was posh and had nice sofas

and sold wine. I love how much is always

going on in the West End and am a great fan

of charity shops, so I love a good mooch

around them.

Your story is very much one of forging a

successful writing career in the social

media age – you were approached by

HarpersCollins to publish your blog.

Both books subsequently went on the

best seller list and you have just published

a Why Mummy Drinks journal. Had you

any notion when you started out that

you would end up becoming an internet

celebrity and a full-time writer?

I'm not sure I would call myself an internet

celebrity. I am a very small fish in an

enormous and ever expanding pond in

internet terms. I think Celeste Barber put it

best when she said that being famous on the

internet is like being rich in Monopoly. I had

no idea at all that any of this would happen,

especially not to write a book published

by HarperCollins, let alone more than one.

I certainly never thought they would end up

on the bestseller lists like they did. When

my editor at HarperCollins called to tell me

Competition!

We have two copies of

Why Mummy Drinks:

The Journal to give away.

Visit westendermagazine.com

and click on competitions

by the 28th of February 2019.

Why Mummy

Drinks

£3

OFF

*

RRP £9.99

*Exclusive offer for WESTENDER readers

at Waterstones 351-355 Byres Road

branch only, by 28th February 2019.
---
Why Mummy Swears was number one on

the Sunday Times Bestsellers list I burst

into very loud, unattractive sobbing. Which

was unfortunate as I hadn't realised I was on

speaker phone with the rest of the office and I

was making snorting noises.

I believe your background is in

engineering – have you left your other job?

I was working for an engineering consultancy

but I'm now writing full-time. There were not

enough hours in the day if my children were

to ever eat anything other than frozen pizza.

So in the interests of them not getting scurvy

something had to give!

What kind of demands are on you now as

a full-time writer?

Mainly managing my time and not wasting

the day on procrastination. The internet is

a great tool but it is also a black hole down

which hours can vanish as you pretend you

are just quickly going to google something

and then find you have spent two hours

watching videos about otters. I do love

videos about otters but I can't really claim it

is a constructive use of my time. So I'm not

very good at the whole structuring my day

thing and tend to end up in a bit of a panic as

deadlines approach – and I'm still watching

otter videos…

RRI

R

Westender www.westendermagazine.com Magazine Competitions | 33

by John Parker

ainbow Room International is now

Scotland's largest salon group and

has an incredible academy and Artistic

Team. From the beginning, owners Alan

and Linda Stewart wanted to create a real

community and that they have certainly done.

We are thrilled to start 2019 at the Great

Western Road Salon with a new Stylist,

Tyler Porter, who has worked his way up

from being an assistant/trainee. Tyler worked

Saturday's at the Academy whilst at school in

fourth year to do his level 1 and is now 18 and

a qualified Stylist.

To celebrate Tyler's new role, we are

offering 100 FREE HAIRCUTS for new

clients with Tyler starting from the end of

February/start of March. All you have to

do to claim your free appointment is call

us at the salon on 0141 337 3370 and

quote 'Westender Magazine Tyler'*

when booking.

*100 Haircuts Terms & Conditions – 100 free appointments

only valid for new clients with stylist Tyler. Appointments will

be offered on a first come first serve basis. Appointments

are subject to availability. Must quote 'Westender Magazine

Tyler' when booking appointment.

What next for you Gill? Do you ever think

you will run out of material as the children

get older? Would you like to tackle any

other kind of writing?

I'd love for there to be some more books,

but all of this has been so unexpected and

amazing, that if this is all there is, then it has

still been an astonishing thing to happen and

I am delighted. A few people have asked if I

have ever considered writing children's books

or young adult books, which I haven't really,

there couldn't be any swearing!

I think whatever I wrote it would still have a

humorous edge as life is short and we might

as well laugh while we can.

follow – Rainbow Room GWR

Alan and Linda Stewart

Rainbow Room International

607 Great Western Road G12 8HX

0141 337 3370

rainbowroominternational.com

WIN! Rainbow Room International

are offering one lucky reader a hair

makeover in their Great Western Rd

salon. For your chance to win go to

westendermagazine.com and click

on competitions by the 28th Feb '19.
---
34 | www.westendermagazine.com

1

The Shadow of

the Black Earl

by Charles E. McGarry

BY BRIAN TOAL

WESTENDER's

COVER TO COVER

Tartan Noir with a twist. Leo Moran is a private

investigator but not the archetypal super-sleuth,

using his genius or his dogged determination to catch

the killer.

He is plagued by brief visions

of violent crimes which come

to him during an unconscious

state. He has been invited to

stay with friends in Biggnarbriggs

Hall in the beautiful environs

of Kirkcudbrightshire,

and whilst there, a young local

girl disappears. Leo tries to help

the police but their scepticism

and his notoriety from a previous

case causes them to spurn his

advances.

Undaunted, he investigates

anyway and gradually begins to

uncover a tale of witchcraft and

satanic rituals going back years.

When he discovers that another

girl disappeared from the same

location on exactly the same day

thirty years before, Leo is more

convinced than ever that there

is a ritualistic element to the

disappearance.

The plotline is rather

complicated and keeps you

guessing right to the end.

It contains loads of intrigue, local

gossip, infidelity, Wiccan rituals

and establishment cover-ups.

I particularly enjoyed the way

in which McGarry interwove

the death of the eighth Baron

of Biggnarbriggs in the 18th

century with the disappearance

in the 70s and the more recent

disappearance. Knowing that all

the narratives will converge is one

thing, but it's still enjoyable finding

out how. The descriptions of the

Galloway countryside are brilliant and very evocative, with the

glorious Biggnarbriggs Hall described in fine detail.

The crime is always at the forefront of the reader's mind,

but it's also enjoyable to read of the sumptuousness of the

food, the stunning countryside and architecture, the flora and

fauna of Galloway, and the range of alcohol being consumed!

The characters are skilfully drawn, avoiding the obvious clichéd

descriptions of rural denizens which other writers rely on. The

close-knit community is also sympathetically depicted, reeling

from the loss of one of their own.

This is my first encounter with Leo Moran, having missed 'The

Ghost of Helen Addison'. However, I shall now seek it out. Moran

is an intriguing character: a heavy drinker, unlucky in love and

a staunch Catholic with a moralising streak. At times he may

get up your nose, just as he gets up the noses of most of the

characters in the novel at one point or another. But that's what a

good detective does. McGarry's first Leo Moran mystery, alluded

to above, was praised by The Herald and The Daily Record, quite

rightly. I consumed this one in two days and I'm not even a major

fan of crime. Tartan Noir lover or not, you'll enjoy this book.
---
www.westendermagazine.com | 35

Killer T

by Robert Muchamore

2

Muchamore will be very

familiar to most teenagers as

his 'Cherub' series is extremely

popular. This latest book deals

with issues which are more

adult in nature – killer viruses,

death, sex, drugs both legal

and illegal, body confidence

and body image – which makes

this a perfect book for those

teenagers who have grown

up with 'Cherub' and are now

young adults.

The setting is Las Vegas

and the plot revolves around

the two heroes, Harry and

Charlie, whose lives become

increasingly entangled through

the machinations of big

business and pharmaceutical

companies ruthlessly exploiting

vulnerabilities and fears in

order to increase their profit

margins. The action begins

with an explosion in Harry's

high school and the science

whizz Charlie gets the blame

as she has been known to

dabble with explosives and

chemicals. However, her evil

sister has set her up and she

has to serve time in prison for

a crime she didn't commit.

There are four sections in

the book and each section

skips ahead years so that

Muchamore can covers

more ground. The strategy

really works because we get

a better understanding of

the long-term impact of the

'modifications' which many

people undergo in order to

feel better about themselves

and to compete physically

and mentally. We also get a

better understanding of how

big corporations play the long

game in order to maximise

their share of the market. It's a

sobering, terrifying book which

all young adults should read.

This is a book I've picked up

and put down in Waterstones

many times because I knew

it would be uncomfortable

reading, and I was right.

Nevertheless, I'm glad I've

now read it, uncomfortable

as it was at times, because

the searing honesty and

McGarvey's unwillingness to

pull any of his punches make

this a polemic which everyone

should read.

The book won the Orwell

prize in 2018 and the judges

commented that it was the

book which Orwell himself

would have wanted to read.

It's 'The Road To Wigan Pier'

for Glasgow and anyone

who cares about poverty in

Glasgow should feel compelled

to read this book.

McGarvey spends the

earlier part of the book

detailing his early life growing

up in Pollok, including the

premature death of his

mother due to alcoholism,

his estrangement from the rest

of his family, and his descent

into a life of alcohol, drugs and

homelessness.

However, this is not

'misery lit', as McGarvey

himself is keen to point out.

It's instructive and illuminating

and demonstrates how easy

it is for a life to spiral out of

control, but all the more so if

it's a life of poverty. For those

on the left looking for an anti-

Tory rant, you'll be not only

disappointed but will be forced

to confront the complacency

and complicity of the left when

it comes to dealing with the

complex issue of poverty.

This book is uncomfortable,

honest and essential reading.

Poverty Safari

by Darren McGarvey

3
---
36 | www.westendermagazine.com
---
www.westendermagazine.com | 37

valentine treats

Shop local this 14th of February and source the best gifts from our

amazing array of independent gift retailers. Here's a few tempting

ideas to get you started!

Dansk Smykkekunst Necklace &

Bracelet from £24.90, Cassiopeia

Valentine Bouquets from £35, approx. £50

as shown, Hyacinth House Floristry

Glossy Lips Notebook by Nuuna of Germany

£27.50, CoLab Store

Rose & Champagne Diffuser

£32, Spirito

Harris Tweed Hip Flask and Cuff Links

£29.99, Cassiopeia

West End Suppliers

Cassiopeia, 165 Hyndland Road

0141 357 7374 cassiopeiaonline.co.uk

CoLab Store, 11-13 Dowanhill Street,

0141 570 1766 colabstore.co.uk

Hyacinth House Floristry, 950A Crow Rd

0141 571 3517 hyacinthhousefloristry.com

Spirito Gifts, 317-319 Crow Road

0141 337 3307 spiritogifts.com
---
38 | www.westendermagazine.com

Artist-In-Residence

Pascale Steenkiste

WORDS NICOLA MAULE MAIN IMAGE GREGOR REID
---
www.westendermagazine.com | 39

An Energetic Day at the Studio

©Pascale Steenkiste

Standing in the light filled clubroom of

Partickhill Bowling and Community Club,

the sandstone tenements of Crown

Mansions on North Gardner Street

overlooking the pristinely cut grass, I think of

a bygone age – when the dress code for lawn

activities such as tennis was white 'slacks' for

the gentlemen and ankle length skirts for the

ladies. Indeed the clubhouse and grounds

developed in 1905 were also originally home

to a couple of tennis courts, now the row

of windows along the length of the building

offers pristine viewing of the deep green lawn

that proudly facilitates bowling as its primary

sporting pursuit.

While admiring the open space beyond

the glass a bride and groom sweep past

the gates towards the top of Gardner Street

for photographs. 'That happens quite a

lot,' I am informed by Margaret Renwick,

a member of the club and it serves to remind

me not only of how iconic this particular

street is but also that this part of Glasgow

with its grid patterned arrangement of roads

and rising tenements, against the autumn

colours displayed in the trees and light of

that moment makes for a pretty and romantic

scene.

The purpose of my visit is to meet with

painter Pascale Steenkiste who has taken

up the position of artist-in-residence -

something that is perhaps very unique in

the wider workings of a bowling club but

according to community convener Michael

Hough, a natural progression from previous

activities and relevant in their wider ambition

to encourage the community to use and

engage with the club facilities. 'The idea

of involving the club in art started with a

collaboration with Hyndland Secondary

School Art Department, which resulted in

the display of over 20 drawings and painting

by S2 pupils all depicting various aspects

of bowling in a local setting. Soon after that

we had the idea that others might also like to

display their work,' he tells me.

Steenkiste was born in Ostend, Belgium

but moved to Glasgow in 1986 to work as

an au pair for two young children before

marrying and raising her own family in the
---
40 | www.westendermagazine.com

Maelstrom ©Pascale Steenkiste

city's West End. She attended art classes

at The Glasgow School of Art and became

fascinated with texture, colour and through

the workings of imagination uses both

elements to create energetic pictures – not

only through her physical working of the paint

on the canvas and the layers of thick impasto

often evident but there is a dynamism in the

colours applied.

'It is always tortuous covering the blank

canvas, so I begin with a colour. That first

covering never reveals the work, it is all about

making space to allow the emerging feelings

and emotion that will not arrive until the

second, third or even fourth layering of that

original work. It seems that first work always

is about removing the 'noises' inside me,

of finding a way to quieten the voice –

the critic, the judgement, the superficial.

The work itself only emerges to me through

layers of complexity in colour, and texture,

seeking a space to reveal the authentic

"voice" within,' she explains.

Art that is abstract in form is by its very

nature a journey between the artist and

the medium in which they are working –

only reaching a point of completion by the

artists own determination – the process in

between and the resulting piece generally

independent from any visual references to

the world beyond. Steenkiste knows the

point of completion to be when she has 'an

overwhelming sense of peace,' although

admits to questioning that final brushstroke in

the light of a new day.

The titles of the work also reveal some

of those initial 'noises' – An Energetic Day

At The Studio expresses the vigour of the

finished piece – a mixture of warm, earthy

colours merging and rising with cooler tones

of blue, purple and ice white. Interestingly

there is a definite progression and movement

within the picture towards a settling –

lightness moves up the canvas, which I

see again in Maelstrom and this parallel

between a whirling unease and turbulent

energy of uncertainty and disruption eases

off through a purer white tone, in ascendance

from the chaos below. Steenkiste's latest

work including, Summer 2018 moves away

from one of sharpness to a softening,

both in colour and texture – still remaining

abstract but slightly looser in its effect. It's

this, together with more of this new body of

work that was exhibited in the clubhouse in

October of last year – a two person show

alongside fellow artist, Jackie Henderson.

Traditionally it would be that the artist-inresidence

is taken away from their 'normal'

working environment to experience a different

space for reflection and engagement.

It seems that with further exhibitions planned

and a series of continuing art classes

facilitated by Steenkiste within the clubhouse,

the role of the resident artist is playing out

very well in this setting. A positive move in

attempting to engage the wider community

in the practice of artistic endeavor while also

introducing them to an environment that may

spark an interest in the pursuit of playing the

sport to which the club was intended.

pascalesteenkisteart.com

partickhillbowls.co.uk

Summer 2018

©Pascale

Steenkiste
---
www.westendermagazine.com | 41

Poachers Hut

— a cosy, private, luxurious Shepherds Hut

in its own field on the edge of the Trossachs.

If you enjoy beautiful countryside, quietness, big skies,

starry moonlit nights and wildlife – you'll love it here.

Fully equipped to the highest standards inside with double

bed, kitchen, ensuite shower room and cosy wood burner,

outside there is a private south facing patio with table,

chairs, Kadai fire pit/BBQ and your own hot tub! Several

wonderful country pubs and hotels close by for delicious

food and drinks. Perfect for a weekend or midweek break

and an hour's drive from the West End.

We look forward to welcoming you.

Photographs, information, reviews, enquiries, book:

www.airbnb.co.uk/rooms/30150425

Life

Matters

Studio

www.pilatesglasgow.com

www.glasgow-hyndland-physiotherapy.co.uk

* Fully Certified Pilates teacher

* Weight loss * Relaxtion

*One-to-ones * Physiotherapy

* Personal Plans * Back Care

* 360 assesments

0787 647 3381 / 07745 413150

Hyndland Physiotherapy Clinic, 170 Hyndland Road, G12 9HZ
---
42 | www.westendermagazine.com

CRAFT BEERS & ALES

WINE & CHAMPAGNE

SHERRY, MADEIRA & PORT

FINE WINE

WHISKY, BOURBON, GIN

VODKA, RUM, TEQUILA

CIGARS & BRANDY

21 Clarence Drive, Glasgow G12 9QN

0141 334 4312

thegoodspiritscoclarencedrive

@GoodSpiritsCoCD

goodspiritsclarencedrive

clarencedrive@thegoodspiritsco.com

www.thegoodspiritsco.com

Hyndland

Train Station

GY COMPUTING

Microsoft Specialist

Evenings and Weekends

Home Visits

Competitive Rates

Fully Insured

No Call Out Charges

20%

off computer repairs when

you quote 'Westender18'

Check out my reviews on

Gregor Young | 07398 715157

hello@gycomputing.co.uk

www.gycomputing.co.uk

THERE ARE SO MANY

WAYS TO LOVE

JOIN // HOST // SHOP

For more information:

www.stelladot.co.uk/lorainepatrick

lorainepatrick1@me.com
---
@ Gather

by Zique

Reviewed by Amy Glasgow

The Partick food scene has come on

leaps and bounds in recent years, but

there are some spaces that have

become an institution. One of those places is

CafeZique, straddling that fuzzy border with

Hyndland and known for providing one of the

best brunches in the west end. So, when it

was announced that they were turning their

deli next door into an upscale restaurant, it

was bound to cause a stir.

And cause a stir it did. When Gather

by Zique first opened earlier this year the

positive reviews flooded in, so when I made

my way there one dreary Friday evening, my

hopes were high.

The interior is immediately inviting, with

soft grey tones, plush cushions and cosy

window seats. The staff were welcoming and

attentive, quickly showing us to our seats and

explaining their modern European menu.

The food at Gather is designed to be

shared, as the name suggests, the ethos

of the restaurant is about creating a space

where friends, family or colleagues can

'gather' to enjoy each others company while

dining on a range of seasonal dishes.

Guided by the staff, we decided to start

with a platter of canapés, following this with

four small plates between two. The menus

change regularly, but expect offerings

like crispy pigs head with potato terrine,

langoustine broth with razor clams, burrata

with grilled plums and venison ravioli with

Jerusalem artichoke puree and chicken jus.

Highlights included butternut squash and

almond cappelletti ('little hat' shaped stuffed

pasta), with cider and apple brown butter and

parmesan. It was beautifully nutty and heavy

with the distinct flavour of parmesan.

www.westendermagazine.com | 43

One thing I did notice though was that

every dish we ordered came adorned with

crispy sage leaves, which is not exactly a

problem, but it did become a tad repetitive.

Every dish we tried was delicately plated

and it was abundantly clear that this was an

autumn/winter menu, filled with seasonal

produce and rich, warming flavours. The real

magic came though with our final course.

Based on recommendations from our

knowledgeable server, we ordered the

chocolate fondant tart with peanut butter ice

cream and the doughnuts with coffee cream

and chocolate sauce for dessert and they

were by far the stand out dishes of the night.

To put a chocolate fondant inside a

buttery tart case is surely a stroke of genius,

and no small feat considering how perfectly

gooey the centre of this dessert hybrid was.

The doughnuts too were beautifully soft on

the outside and coated in cinnamon sugar.

Dipped in the accompanying chocolate sauce

and coffee cream, they were nothing short of

heavenly.

Despite the growing competition in the

promising Partick area, Gather by Zique is

surely here to stay. An ever-changing menu

means you'll never eat the same meal twice

(although I'd happily eat that chocolate tart

all over again) and the relaxed, low-key

atmosphere is a recipe for a lasting legacy.

Gather by Zique

70-72 Hyndland Street G11 5PT

0141 339 2000

gatherbyzique.com

Image I Brodie Reid
---
44 | www.westendermagazine.com

Image I Gregor Reid

Guilty Pleasures from

Westender's American

Guilty in Glasgow

Pleasures from Westender's American in Glasgow
---
y Liberty Vittert

K

Shopping List

www.westendermagazine.com | 45

morning glory

muffins

Ooooooooft. That has been a lot of eatin'. Parties,

holidays, more holidays, booze, more booze.

My body is ready for a bit of a break. But I'm

a picky eater and I like what I like, so all that

green juice and chia seed palaver is not for me.

But I do need to stop eating cake for breakfast,

lunch, and dinner. But I like cake. This is a serious

conundrum. But no fear! Momma Vittert is here!

My mother makes these muffins all the time and

they are THE BEST. They taste like cake but have

carrots in them. For real. So if you want to fit into

your pants, but still want to eat cake, these babies

are for you. Packed full of oats, spices, carrots,

and nuts, they are your five-a-day

all rolled into one delicious muffin.

Just maybe skip the butter that I

usually spread all over them…

SPIRITO

SPECIAL

OFFER

200 g plain flour

75g rolled oats

200g brown sugar

2 tsp baking soda

3 tsp cinnamon

½ tsp nutmeg

½ tsp ginger

pinch of salt

180g carrots,

peeled and grated

80g shredded coconut

35 g chopped pecans

50g walnuts, chopped

3 eg gs

50g cream cheese

100mL vegetable oil

80g apple sauce

2 tsp vanilla bean

L

Method

1. Preheat the oven to 175C Fan and line

a 12 cup muffin tin.

2. In a large bowl mix flour, sugar,

baking soda, salt and spices.

3. Stir in the carrots, coconut, and nuts.

4. In a medium bowl, beat together eggs,

cream cheese, vegetable oil, apple sauce,

and vanilla. Add to the flour mixture

and stir until combined.

5. Pour batter into the muffin tin and

bake for 25 minutes.

6. Best eaten warm with a tab of butter!

£30

Slate Serving

Tray with

Copper Handles

RRP £36

*Exclusive offer for

WESTENDER readers

at Spirito,

317-319 Crow Road
---
46 | www.westendermagazine.com

CELEBRATING

50 YEARS

IN GLASGOW'S

WESTEND

Fillet Steak dining for 2 with a glass / bottle

of house wine. £29 / £32 per couple.

When booking

at www.thesquareglasgow.com

or call: 0141 337 6988 Quote WESTENDER

Valid until end February 2019.

Book in advance. Max table size 10.

Broomhill Shopping Centre

Broomhill Drive, 2–26 Norby Road

Glasgow G11 7BN

www.broomhillshoppingcentre.com

BROOMHILL LAUNDRETTE

& DRY CLEANERS

FREE PARKING
---
www.westendermagazine.com | 47

@

Roosevelts

bar & kitchen

Reviewed by

Emily Donoho

Roosevelts Bar & Kitchen is a new

Woodlands gastropub on Park Road,

occupying the space that used to be

Tribeca. It opened in October, and it's pretty

much the same sort of place Tribeca was – a

New York City themed bar and restaurant

offering a mix of Scottish and American style

food and drink.

You can eat hot dogs or black pudding

and haggis. It has a light, modern ambience,

with the bar in the middle of the restaurant

and a few sections of bare stone wall

showing, perhaps as a nod towards the

famous Bitter End of Greenwich Village.

The walls are covered in New York City

paraphernalia, artsy photos of NYC streets

and yellow taxi cabs, shelves with little

sculptures and toys, and the occasional

license plate. Roosevelts has named dishes

after presidents, like The Clinton, The Lincoln,

or The McKinley, or presidential scandals,

like, The Watergate, or The Lewinsky

(please, can they name a burger after Paul

Manafort?). The place feels a little like a

cross between a cocktail bar and an IHOP, a

24-hour American diner chain known for its

pancakes.

Roosevelts does in fact sell fat, fluffy

pancakes, and while this isn't a food review,

I have to say that the pancakes are decent,

American style ones. They got that right.

While having alcohol with pancakes is a bit

strange, they have burgers, hot dogs, and

salads as well, for more traditional ways to

accompany your drink. Or it would be great

for brunch.

If you like cocktails, Roosevelts is the bar

for you. They have an extensive selection,

and the bar staff seem to know what they

are doing. I tried a margarita, and I was

happy with it, but I'm the first to admit I am

not a cocktail connoisseur. They also have

an extensive range of American bourbons

and wine. However, their beer selection was

limited.

On tap, they had Pabst Blue Ribbon,

an American lager that I would not describe

as good, and they had bottles from several

breweries, including the Brooklyn Brewery

and Bru Dog. While I'm happy to drink Bru

Dog, I would have liked a greater choice.

Every state in the US (and very much New

York) is full of fantastic microbrews, and

it would be brilliant to see some of them

appearing in American-themed bars in

the UK.

Roosevelts Bar & Kitchen

144 Park Road G4 9HB

0141 339 9124

rooseveltsbarandkitchen.co.uk

Image I Brodie Reid
---
48 | www.westendermagazine.com

'Learning Through Play'

Places available.

To book your visit call Maureen on 0141 357 0231

www.derbystreetnursery.co.uk

maureen@derbystreetnursery.co.uk

1 Parkgrove Terrace, Glasgow G3 7SD

ADVERTISE

FOR AS LITTLE AS

£75

email: suzanne@westendermagazine.com

for a media flyer, or call: 07905 897238

westendermagazine.com
---
www.westendermagazine.com | 49

Endmum's

West

notebook

by Michele Gordon thelanguagehub.co.uk

Another year has passed, almost in a

flash. Time to think about the new

year. I don't know about you, but I

have never been one for making New Year's

resolutions. There are always the obvious

ones like living more healthily, giving up bad

habits or taking on new challenges. However,

I always thought that you should make

changes right away and not wait if you really

feel like a change.

This is probably why I have never really

made any, or is it? I know a few people who

make resolutions every year, some stick with

them and some give up on them along the

way, sometimes sooner than later. Personally,

I have tried to make some but never quite

succeeded. Each year, I merely wait until

December to see if my current state of affairs

needs any adjustments which never really

seems to be the case.

Maybe I deliberately don't look for any in

case they seem impossible to achieve? Why

head for a massive disappointment. There is

also the aspect of admitting to yourself that

some things really should change.

And why do we feel the need to make

changes? Why is it we want to improve what

we have or who we are? Apparently, the

tradition dates all the way back to 153 B.C.

and is by no means a modern invention. This

would explain why New Year's resolutions are

on so many minds every year.

January is named after Janus, a mythical

god of early Rome. As you know, Janus

had two faces — one looking forward and

one looking backward, looking at the past

and the future at the same time. The 31st

of December became a symbolic time for

Romans to make resolutions for the new

year and forgive enemies for troubles in the

past. The Romans would give gifts and make

promises, believing Janus would see this and

bless them in the year ahead.

It is easy to see that the start of a new year

feels like the start of something new, thinking

about all the possibilities and changes you

could and should make. Improving lifestyles,

changing habits and striving to do better for

yourself and others. I guess it is a bit like a 12

months plan of where you want to be at the

end of those 12 months. And once you have

achieved your goals you can possibly make

new resolutions for another year.

With regard to children, I dare say this is

what parents and families do rather naturally

all the time anyway. We want to try our best

for our children, be better at parenting,

improve their opportunities and hope they

forgive us all the things we got wrong. These

are nice resolutions to have. And who would

have thought? I seemingly HAVE been

making New Year's resolutions for the last

12 years all along! They just so happen more

subconsciously, at various times and are not

necessarily only made in January.

And the more conscious ones? I do

have them too. My resolutions last year,

however, were made in March when deciding

we wanted to move The Hub into bigger

premises for example and in October when

deciding to open a new café two doors up

from it two months later. Achieving both

in such a short time is great and…very

tiring. So, I thought I'd go for it and make a

conscious New Year's resolution for 2019:

work less and free up more time for doing,

well, absolutely NOTHING. At least every so

often. It will be a hard battle to stick to this

resolution and if I fail, well, there is always

next year or somewhere in between. Guten

start ins neue Jahr!
---
50 | www.westendermagazine.com

Health Matters

GP Dr. Pamela Leggate, of Glasgow West Medical Practice,

looks at heart health in young people. Normally associated

with ageing, heart problems can be devastating for the

young and raise all sorts of important questions.

'The trouble is we think we have time,'

Buddha may have said…

As doctors, we are always encouraging

people to improve their lifestyles – eat less

fat, do more exercise, drink less alcohol,

don't smoke. All very true, for our future

health we should do all these things.

My problem is, I've never quite got to the age

where I feel old. I always think, tomorrow I'm

going on that diet; tomorrow I'm going to get

fitter. Plenty time to sort myself out.

So it's quite scary when someone who

seems relatively fit, reasonably healthy and

younger than I am has a heart attack. Heart

disease is commonest in older people.

In men the average age for a heart attack

is 66 and in women it's 70. Often there are

lifestyle factors, but in younger people there

may not be anything obvious. You can be

doing all the right things and genetics can let

you down. So how can we prevent this type

of premature heart disease?

Well, if you have a strong family history

of heart disease, ask about cholesterol

and blood pressure checks. If we can pick

up on these risk factors early on we can

improve them with lifestyle changes and/or

medication. It goes without saying that you

should never even contemplate smoking!

Sticking to a low fat diet and exercising that

bit more could make all the difference.

On the positive side, recovery can be

quicker in a younger, fitter person. Surgery

(bypass or stenting) might be an option.

There is often a chance to change lifestyle

early on and live a long and healthy life.

There are, however, all sorts of questions a

younger person might have after suffering

any serious cardiac event. Why me? What did

I do wrong? There is often a lot of associated
---
www.westendermagazine.com | 51

guilt and anxiety, as well as questions about

what to do next, which might not be so

relevant for an older person. When can I

go back to work? When can I drive again?

What if I get chest pains? Can I ever have sex

again?!

With modern treatments and preventative

medicines, all these things are possible!

When you return to work will very much

depend on the type of work you do. Discuss

with your employer or with occupational

health. DVLA rules state you can return to

driving a week after successful treatment of

a heart attack. Further chest pains should of

course ring alarm bells and urgent medical

attention should be sought. Sex is fine

whenever you feel ready.

What is even more scary is when children

are affected by heart disease. Don't panic,

childhood heart disease is rare, but there

are some conditions that babies can be born

with that affect the heart valves and/or blood

vessels. Sometimes an abnormality will be

picked up in the womb when the mum has

a scan, sometimes a problem will be picked

up when the baby is born, if they are unwell,

failing to thrive or

struggling to

breathe. In

many cases

where the problem is mild, it may not be

noticed till teenage years or adulthood. Most

congenital heart disease can be treated with

medication or surgery. Mild cases may need

no treatment at all.

And what about the footballers I hear you

ask? No? Well occasionally we hear about

a super fit individual, usually a footballer in

my experience, who collapses on the playing

field and needs a defibrillator to get going

again. This is usually due to Cardiomyopathy.

Basically the heart muscle is thickened and

doesn't function as well. It is an inherited

condition which rarely causes serious heart

rhythm abnormalities during exercise.

Most people with cardiomyopathy can

lead a normal active life but you might be

advised not to take part in competitive sport.

In high risk individuals a small automatic

defibrillator can be implanted to 'reboot'

the heart if the affected person collapses.

As there is a definite genetic component,

family members should be tested.

So, although heart disease mostly affects

older people, there are some conditions that

can affect younger people like myself (ahem).

Healthy diet starts

tomorrow!
---
52 | Westender www.westendermagazine.com

Magazine Promotion

Legal Matters

I'm so sorry

Words from Donald Reid, chairman at Mitchells Roberton:

If Donald can help please email him at –

dbr@mitchells-roberton.co.uk, or call 0141 552 3422.

Some years back I had a wee shunt in

my car. I was turning left into Byres

Road. I looked right and saw it was clear,

turned left and went into the rear of the car in

front of me thinking it had moved on when it

hadn't. Just a tap but a visible scrape on both

bumpers.

The other driver emerged and as I got out

of my own car I was thinking that insurers

always tell you never to admit liability on the

spot as it could spoil your insurance claim.

'I'm very sorry,' I said. 'My fault entirely.' She

smiled, looked at the bumpers and said:

'Och it's nothing, just forget it.'

Being the outstanding lawyer that I am,

I insisted we exchange addresses and phone

numbers and said I would call her later that

day just to check that after thinking about it

she didn't want to take it further. So I called

her, apologised again, she assured me she

had no wish to pursue the matter and we

parted with friendly banter. I sent her some

roses.

Now suppose I hadn't apologised.

Suppose, stony faced, I had said we would

need to exchange particulars and call our

insurers. I expect she would have chewed

me up for carelessness, maybe called the

police to the scene, got her insurers involved,

sent her car to the Mayfair Rip-off Repair

Company, trashed my no-claims discount,

and generally fried me. I took a risk in saying

sorry, but it paid off.

Well here's some legal advice that might

interest you. It's the Apologies (Scotland)

Act 2016. It says that if you apologise that

can't be used against you later if court

proceedings are started. It's the first piece

of legislation I've come across in a long time

which actually encourages people to be nice

to each other. Try it.

It might surprise you to know that

solicitors sometimes make mistakes. If it's

a serious enough thing a complaint can

be taken to the Scottish Legal Complaints

Commission. I have spoken with senior

officials of the SLCC. They say that in a lot of

cases all the client was wanting was for the

solicitors to admit their error and apologise,

but they never did. If only they'd said sorry,

the client would have been satisfied and

might even have been happy enough to stay

with the same solicitor.

But instead of an apology they got

the brush off, leading to the whole thing

escalating, a formal complaint being pursued,

months of hassle as the SLCC deal with the

matter, and general misery. So the advice I

give to my fellow lawyers has to be to think

about apologising if it is right to do so.

It can't hurt and it might even heal. Speaking

for myself of course I am perfect. I just don't

make mistakes.

Mitchells Roberton Solicitors

& Estate Agents

George House

36 North Hanover Street G1 2AD

0141 552 3422

www.mitchells-roberton.co.uk
---
Accountancy

Matters

by Bruce Wilson & Simon Murrison

Westender www.westendermagazine.com Magazine Promotion | 53

2019 is the beginning of the end

of the tax return as we know it

From April 2019 VAT registered businesses

turning over more than £85,000 pa will

be required to submit their first quarterly

return using software and keep their records

digitally. This leaves very little time to make

changes to accounting processes.

Surprisingly not everyone is digital

ready.

Make it your new year's resolution to get

your financial affairs in order. With the right

digital software you can resolve to fulfil your

financial promise to HMRC and keep your

business on track all year round.

How will quarterly tax returns work in

practice?

Instead of filling in your quarterly totals using

HMRC's online portal your software must

talk to HMRC systems and upload your

quar terly records to HMRC automatically.

The accuracy of your submission still

depends on you inputting all information

correctly. The advantage gained by updating

quarterly is you effectively manage cash flow

throughout the year and accurately calculate

your next VAT bill.

Will quarterly tax returns affect SMEs

and the self-employed?

Quarterly VAT reporting is phase one. Over

time HMRC will roll out Making Tax Digital

to all taxes (currently scheduled for April

2020). Companies, certain landlords and the

self-employed will be required to submit tax

returns quarterly.

Here are 7 reasons to go digital now:

• Smoother transition, less stressful

• Automation saves time

• Increase accuracy, no mistakes

• Manage cash flow all year round

• Know tax bill in advance

• Avoid HMRC penalties

• More time reduces fees

Murrison & Wilson, CA is a full service

accountancy firm specialising in

business and tax planning. Get in

touch for a free consultation plus

fixed and competitive fees.

Murrison & Wilson Chartered Accountants

10 Newton Terrace G3 7PJ

0141 290 0262

info@muwca.co.uk

muwca.co.uk
---
54 | www.westendermagazine.com

Homes & Interiors

Farrow & Ball

by Susan

Robertson

the

Velvet Touch

A very current interior trend just now is using velvet

across various complementary themes. The sumptuous

fabric has become one of the most sought-after textiles

of the season and has the power to change the ambience

of any room with just a touch.
---
www.westendermagazine.com | 55

Velvet has really had a revival recently.

My memories of the fabric are normally in dusty

maroon or burgundy, often in the form of an old

tasselled armchair or dark, heavy curtains, and

somehow tinged with a smell of pipe tobacco, but

now it's so much more. The colours and prints

available make it a great choice for adding a

touch of luxury to any part of your home, and the

wonderful sift texture adds a depth and a warmth

to any look.

In particular, you will see velvet used in bed

heads, indented with soft covered buttons. This

looks lovely in a pale warm grey, coupled with

dark, floral printed wallpaper and crisp white

linen. Top it off with a couple of contrasting,

small print cushions, and a silky throw to make

a simple bedroom into a sumptuous boudoir.

Or bring that into your living room in the

form of a muted soft, cosy velvet sofa. Punctuate

this with some bright contrasting cushions to

create a comfortable and inviting warmth that

impresses, as well as envelopes its guests.

This is the key area we see lots of velvet

just now as it works really well for sofas and

armchairs. It has an approachability to it,

and that wonderful tactility that just makes you

want to kick off the shoes and snuggle in. At the

same time – it has an elegance and a glamour

that can create a truly stunning effect. These

statement sofas look amazing in deep, dark tones

and beautiful in inky navy or rich teal. Not only

are these super-soft to lounge on, but they add

a striking touch of wow factor to the simplest of

rooms. This effect works really well as a contrast

against natural woods and crisp whites.

Alternatively – there are some fabulous bold

tones available too. You can access all the colours

of the rainbow in furniture now. I recently saw

a lovely combination of rosy pink velvet, with

sage green wood – this was quite unusual and,

accessorised with creamy marble side tables and

light, floral prints created a lovely fresh look.

Firm colour favourites for me though are

rusty vibrant orange, and bright bottle green.

Use these as bold statement pieces in a minimal

room. Add a touch of metallic sheen to pull out

small features, like using warm copper lamp

details in accessories throughout the room.

Pick this out in a lamp, or a candle holder for

example, and this just sets off the luxury of the

velvet beautifully.

This velvet look is so versatile and impactful,

it's really prevalent in several key trends this

season. Its luscious statement quality means that

you can merge it boldly into various seasonal

trends. One of these is an 'Under the Sea' theme.

This circles around scalloped shapes which work

particularly well in velvet furniture, again bed

heads and chairs in particular. Then, reflecting

this wavy, sea theme are the curves of shiny
---
56 | www.westendermagazine.com

Homes & Interiors

scales and shells which can be brought through

subtly in fabrics and prints on cushions and

curtains. Scalloped tub chairs in blues and

turquoises work beautifully as a starting point

to hang the entire theme together and have a

classic touch of 'art deco' to them.

This looks lovely accessorised with little

golden seashells and mixtures of blues and

greens, or pale rose and warm coppers. Look

out for the new fan-shaped tiles available to

use in bathrooms or halls for a real mermaid

touch. Think about the pearlescent radiance of

the inside of a seashell, and pull that into the

accents of your room, to add a touch of mermaid

shimmer to your living room.

Another look of the season reflects this

through a theme of 'stars and constellations'.

Touches of gold, suggestions of planetary

activity in your accessories come together to

complement your white backdrop, and subtle

starry symbols bring a sense of fun and interest

into your fabrics.

All of these have a sense of a common theme

running through them of bold, art deco

influences, velvet statements and shiny accents.

You can have great fun picking and choosing

bits from all of these looks to create an opulent

retreat, or focus on a starry or a seashell theme

and make sure everything travels together

down this route.

Nancy Smillie

Farrow & Ball
---
www.westendermagazine.com | 57

The Store Interiors, 26 Munro Place, Anniesland, Glasgow, G13 2UP

0141 950 1333 | www.thestoreinteriors.co.uk

Email: sales@thestoreinteriors.co.uk

READERS

OFFER!

FREE

Gas Certificate

PAT Test

Legionella

Assessment

Are you a Landlord?

Thinking of Letting?

Changing Agent?

TheStore - HIS - Emma.indd 2 07/12/2017 09:48

When you quote

Westender

The Store Interiors, 26 Munro Place, Anniesland, Glasgow, G13 2UP

0141 950 1333 | www.thestoreinteriors.co.uk

Email: sales@thestoreinteriors.co.uk

" Problem Solved"

Call or email for a free market appraisal

TheStore - HIS - Emma.indd 2 07/12/2017 09:48

E: glasgow@zoneletting.com T: 0141-333-0990 W: www.zoneletting.com

SERVING: GLASGOW • EDINBURGH • LONDON
---
58 | www.westendermagazine.com

Reseal Service | Professional Tile Installation | Waterproof Bathrooms

The no.1 Tile Installation and Restoration

Specialist in Central Scotland

We are a fully insured, reliable family run business with over

40 years combined experience. We use the best and most up to date

products and materials and pride ourselves on our attention to detail

and excellent customer reviews.

BEFORE AFTER BEFORE AFTER

Our Reseal Service can restore your tiles by carefully

removing all of your existing grout and sealant using

non-abrasive chemicals and high precision diamond

technology. Specialist chemicals are used to wash

your tiles to remove soap scum, body fat, mould and

mildew. Antimicrobial grouts and sealants are then

professionally applied

Our Reseal service includes;

// Sealant Applications

// Bonded Bath & Shower Seals

// Chemical Sealants

// Re-grouting

// Two-part Sealants

// Waterproof Tanking Systems

FROM ONLY

£150

SUPPLIED

& FITTED

Bonded Bath and Shower

Seals – Our unique and

most popular product.

T / 0141 611 9534 M / 0781 782 8681

E / info@resealscotland.co.uk W / www.resealscotland.co.uk
---
Homes & Interiors

www.westendermagazine.com | 59

Twist of Tweed

In the colder months, it's natural to warm towards thicker fabrics,

and in Scotland – heavy tartans and dense tweeds are part of our

heritage and there are many ways to marry this with modern style, and

intersperse them into our homes and handbags.

Thistle Cushion,

£75, Cassiopeia

Stag Head Doorstop,

£15,

The Store Interiors

Harris Tweed Chair,

£235 each, The Store Interiors

Tweed Footstool,

£178, Nancy Smillie

Harris Tweed Notebook,

£16.99, Spirito

Cassiopeia, 165 Hyndland Road, 0141 357 7374, cassiopeiaonline.co.uk

Nancy Smillie, 53 Cresswell Street, 0141 334 4240, nancysmillieshop.com

Spirito, 317-319 Crow Road, 0141 337 3307, spiritogifts.com

The Store Interiors, 26 Munro Place, 0141 950 1333, thestoreinteriors.co.uk
---
60 | www.westendermagazine.com

Looking for a Garden Room but can't find one that quite fits

your space? We build from scratch in Glasgow, problem solved!

Garden office, extra bedroom, art/music studio

or teenage space, just a sample of the uses for

our highly-insulated and fully-finished Rooms.

They don't require planning permission so are a

fantastic alternative to an extension. Call us to

arrange a free, no obligation quote & site visit.

www.outsideingardenrooms.co.uk T 0141 370 6102
---
www.westendermagazine.com | 61

Homes & Interiors

Seasonal trends in the home, like those

on the catwalk, touch on all aspects of

the time of year and the societal psyche

finds Susan Robertson.

In the

Farrow

& Ball

by Susan Robertson

Mirrors are another

great option, pick

frameless battered

mirrors from charity

shops and make a shape

on the wall with them!

If we're feeling bold and daring, this will

show through in our sense of style in our

homes, lifestyles and our wardrobe.

The same also goes if we feel in need of a rest,

a bit of a detox perhaps. That's why often, we

can have totally different trends ongoing at

the same time, reflecting different elements of

ourselves and the season we're in.

At the same time as the bold and vivacious

velvets and golds are welcome in our homes,

there is also room for the complete opposite,

the blank canvas of rooms, the nude palette.

This look is like a breath of fresh air to those

easily worn our by the chaos of the Christmas

season, and – depending on your home, it can

always be a good option to always have just a

touch of this, at least in one room, or a hall or

entrance area, as a respite from the busyness

of life.

The nude palette is exactly what it says,

think of nakedness as colours and textiles,

layered and draped in an appealing manner
---
62 | www.westendermagazine.com

and there you have the starting point.

The colours should not be cold, they should

have warm undertones of milky white, peachy

cream and creamy grey. This creates a sense of

calm that is also cosy, and makes a wonderful

look for a bedroom retreat or a soothing

bathroom.

The way that you move from bland to

beautiful in this type of look, is to think in

layers, zones and textures. Use a few varying

tones of creams and warm greys on different

walls for example as a starting point. In

alcoves, and behind shelves – add extra interest

and depth with some patterned wallpaper,

go for something that is still very understated

in colour but just adds an interest to the eye

in a space. This means that the design of the

wallpaper, serves to add extra texture, without

detracting from the sense of understated calm

that you are creating.

Another option for wallcoverings, if you

choose an accent of any type, along with your

layers of nude, consider an old faded map.

Something that just has the faintest sense of

what it used to be, merged with that lovely

pale tea-stained edging and this looks great in

behind a shelf or in a desk alcove or under the

stairs. Make sure it's of somewhere relevant

and dear to your family, it's your home after all.

Create pieces of art, simply by layering

painted shapes on the wall and hanging some

appealing objects, use kitchen gadgets or old

wooden tools to create an interest for the eye

that's a little bit different.

Mirrors are another great option, pick

frameless battered mirrors from charity shops

and make a shape on the wall with them. It

adds depth, space and light to any room, and

looks great in this context.

Then start to think about the tactile elements

of the room. Use rugged materials as near to

their natural state as possible, such as pale

wooden furniture or chunky light concrete

structured tables. Think carefully about the

textiles that you choose. Go for natural hessians

and warm linens in your fabrics, you can even

top off with a light touch of fake fur in a pale

warm grey or milky white.

Layer these up on natural wooden floors

to create a room with depth and warmth. If

you're using this in a bedroom, it's lovely with

soft washed cotton bedding in pale mocha or

warm grey, which I love with just a small touch

of denim or pale blue as a token accent colour.

Heavy knitted cushions and chunky pillar

candles top this off beautifully, balanced by

the odd touch of green plant or woody flower

arrangement.

To add extra interest and depth to such a

natural palette, it works really well to think in

zones, or areas that can be marked out slightly

differently. One thing I love to see in a room is

books. I'm not entirely sure of the root of this

appeal for me personally but I feel they denote

a sense of available time, of enrichment, and

escapism, so when they are on show, these

auras infiltrate the room. They also add an

element of colour, and of interest – talking and

browsing points for idle chit chat and breaking

up the room a bit. So I like to have the shelves

on show. And, there's also no real need for

the shelves. Old well-loved paperbacks look

great piled up in rows along a wall, or in little

stacks neatly placed up the stairs. Or – as we

have them – piled up in a geometric structure

on a lovely battered little trolley that well has

outlived its usefulness but not its prettiness or

quirkiness.

So there's a lot you can do with very little,

and clever layers of warm beiges and creams,

topped off with some careful thought around

texture and accessories, means that you can

create a creamy calm haven that's still warm,

cosy and inviting.

Farrow & Ball
---
www.westendermagazine.com | 63
---
64 | www.westendermagazine.com

Westender Magazine

Interiors & All Trades

Keeping your home working for you. Whatever you need whenever

you need it – find reliable local tradespeople here.

We're your local experts in all

aspects of painting and decorating,

interior, exterior and specialists in

hanging designer wallpapers.

for a Free No Obligation Quote

call Kevin on 07984 880199

or Derek on 07525 202102

or email us at

bespokedecor@yahoo.co.uk

T: 0141 321 1012

2/2 1758 Great Western Road,

Glasgow G13 2TL

Painter & Decorator » Plaster Skimming

Ames Taping & Coving » Period Windows

Hand-painted Kitchens

Call Frank – 07906 395341 / 0141 945 3975

francisscullion@yahoo.co.uk
---
www.westendermagazine.com | 65

www.reproplaster.co.uk l Tel: 0141 7761112

Visit our showroom at Period House, 5 Campsie Rd, Kirkintilloch, G66 1SL

Use discount code: "Homes "Westender & Interiors 10%" 10%"

Scotland's leading manufacturer and installer of cornice and ornamental plasterwork.

Experts in the repair of all ornamental plasterwork | Comprehensive product range available

With over 25 years' experience,

we offer a wide range of plumbing,

gas & building services.

➤ Central heating installations

➤ Gas installations & repair work

➤ Landlord gas safety certificates

➤ Plumbing & emergency repair work

➤ Bathroom/kitchen installations & upgrades

➤ Specialists in renovation & building projects

➤ All trades supplied

➤ Gas Safe registered

Quote 'Westender Magazine'

for a 10% discount off new

boiler installations.

0141 301 1180 | 07949 092 475

www.bsmithplumbing.com

info@bsmithplumbing.com
---
66 | www.westendermagazine.com

The Wee Kitchen Shop

Specialising In Beautiful Shaker Kitchens

Every once in a while a new kitchen client

comes along with a restrictive space and

specific requirements – within these

limited parameters Greg at The Wee Kitchen

Shop truly comes into his own.

'The client wanted freestanding styled

cabinetry,' says Greg. 'With many door

openings and windows in their traditional

West End kitchen each piece had to be

made-to-measure.' While these restrictions

may have daunted others, awkward spaces

fire Greg's imagination as he looks at how

homeowners use their space and how he can

optimise all the usable storage.

'It is a process,' admits Greg. 'After a

few visits the client and I honed the different

zones and the detailing that would go into

each. The client chose painted solid ash

Shaker doors in shades of Calluna and

Brassica. The storage drawers leading to

the boiler door have been manufactured

to a depth of 500mm to free access to this

cupboard. We had Shaker doors made to

replace the existing louvre doors concealing

the boiler to complement the other cabinets.

Now everything is in exactly the right place

with individual detailing and bespoke touches

– such as the 20mm painted glass sink top

painted in Pelt.'

With slide out soft close storage for

spices on one side of the hob and another

for oils and vinegars on the other, this is a no

compromise kitchen that inspires cooking

creativity with everything you need to rustle

up a tasty meal at your finger tips.

This is definitely not an off the peg kitchen.

This is a bespoke space to inspire cooking

confidence, and a sense of joy, in thoughtful

details created just for the homeowner.

Special Offer 1!

Order a handless Gloss or Matt Kitchen

during January or February 2019 and

qualify for 80% off your Glacier White

CORIAN worktops.

Special Offer 2!

30% off Silestone, Corian & Granite

worktops ordered before the end of

February 2019. Please call ahead for a

FREE consultation appointment at

The Wee Kitchen Shop.

The WEE Kitchen Shop

304 Crow Road, Broomhill G11 7HS

0141 334 4747

www.theweekitchenshop.co.uk

info@theweekitchenshop.co.uk

Images I Gregor Reid
---
Westender www.westendermagazine.com Magazine Promotion | 67
---
68 | www.westendermagazine.com