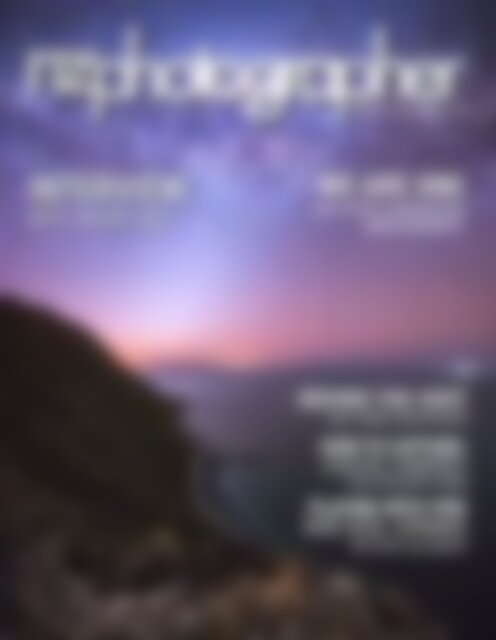 NZPhotographer Issue 11, Sept 2018
Whether you're an enthusiastic weekend snapper or a beginner who wants to learn more about photography, New Zealand Photographer is the fun and informative e-magazine for all Kiwi camera owners. You can always read the latest issue for free or subscribe to the magazine and get unlimited access to all back issues. Find out more: www.nzphotographer.nz
Whether you're an enthusiastic weekend snapper or a beginner who wants to learn more about photography, New Zealand Photographer is the fun and informative e-magazine for all Kiwi camera owners. You can always read the latest issue for free or subscribe to the magazine and get unlimited access to all back issues. Find out more: www.nzphotographer.nz
SHOW MORE
SHOW LESS
You also want an ePaper? Increase the reach of your titles
YUMPU automatically turns print PDFs into web optimized ePapers that Google loves.
ISSUE 11, September 2018

INTERVIEW

WITH MARK GEE

WE ARE ONE

NZP PHOTO COMPETITION

ANNOUNCEMENT

BEHIND THE SHOT

WITH MIKE MACKINVEN

HOW TO CAPTURE:

COASTAL SUNRISES

WITH RICHARD YOUNG

PLAYING WITH FIRE

WIRE WOOL SPINNING

WITH RAY SALISBURY

September 2018

1
---
WELCOME TO ISSUE 11 OF

NZ PHOTOGRAPHER MAGAZINE

HELLO EVERYONE,

You'll be seeing starts in this

issue as we look up at the

night sky for inspiration!

We have interviewed worldrenowned

photographer

Mark Gee, he of Full Moon

Silhouette fame. Local legend

Ray Salisbury has been playing

with fire and walks us through

wire wool spinning step-bystep,

and then, in Behind

The Shot we head back to

that famous NZ location to

learn how Mike of Mack

Photography captured the

Milky Way over the Wanaka

Tree. Leaving the stars behind

and looking out to sea,

Richard reminds us to always look behind when shooting coastal

sunrises and sunsets and Brendon Gilchrist recounts his shipwreck

adventure.

This issue is also full of opportunity for you to get involved and win

some outstanding prizes... We have teamed up with Wellington

Botanical Garden as they celebrate 150 years with an exciting

competition that runs for a year. Plus, NZP celebrates its 1 year

relaunch next month and to celebrate, we're running a special

competition that covers 4 categories with 4 prizes to be won, judged

by local and international judges. Turn to page 35 to meet the

judges and learn all about it.

Emily Goodwin

Editor NZ Photographer

REGULAR CONTRIBUTORS

Brendon Gilchrist

Brendon is the man behind ESB

Photography. He treks from sea to

mountain, and back again, capturing

the uniqueness of New Zealand's

unforgiving landscape.

Richard Young

Richard is an award-winning

landscape and wildlife photographer

who teaches photography workshops

and runs photography tours. He is the

founder of New Zealand Photography

Workshops.

General Info:

NZPhotographer Issue 11

September 2018

Cover Photo

by Mark Gee

www.theartofnight.com

Night On The Ridge

Publisher:

Excio Group

Website:

www.excio.io/nzphotographer

Group Director:

Ana Lyubich

ana@excio.io

Editor:

Emily Goodwin

Graphic Design:

Maksim Topyrkin

Advertising Enquiries:

Phone 04 889 29 25

or Email hello@excio.io

nzphotographer nzp_magazine nzp@excio.io

© 2018 NZPhotographer Magazine

All rights reserved. Reproduction of any material appearing in this magazine in

any form is forbidden without prior consent of the publisher.

Disclaimer:

Opinions of contributing authors do not necessarily reflect the

opinion of the magazine.

2 NZPhotographer September 2018 3
---
CONTENTS

6

INTERVIEW

WITH MARK GEE

17

6

16

INTERVIEW WITH MARK GEE

OF THE ART OF NIGHT

HOW TO CAPTURE: COASTAL SUNRISES & SUNSETS

with Richard Young

17 SHIPWRECKED

by Brendon Gilchrist

20

22

30

34

37

WELLINGTON BOTANICAL

GARDEN COMPETITION

PLAYING WITH FIRE

WIRE WOOL SPINNING TUTORIAL

by Ray Salisbury

BEHIND THE SHOT

with Mike MacKinven

WE ARE ONE COMPETITION

BEST READERS' SUBMISSIONS

THIS MONTH

22

SHIPWRECKED

THE DIFFERENCE MAKER

16

MARK

100 SENSOR

HOW TO CAPTURE: COASTAL

SUNRISES AND SUNSETS

Playing with Fire

WIRE WOOL SPINNING

TUTORIAL

The search for uncompromising photography and videography performance is over. The

Nikon D850 sets remarkable standards of quality with an impressive 45.7 effective megapixels.

Capture the most awe-inspiring images and produce phenomenal 8K UHD time-lapse movies.

Create epic film masterpieces in full-frame 4K UHD with NIKKOR wide-angle lenses, or prolong

exquisite moments with its 120p/100p Full HD slow-motion recording.

Purchase from an Authorised Nikon New Zealand Retailer to receive an Extended Two Year Local Warranty.

www.Nikon.co.nz

September 2018

5
---
Interview with

Mark Gee of

The Art of Night

CAMPING UNDER THE STARS

F2.8, 30s, ISO3200

HI MARK, WOULD YOU CARE TO INTRODUCE

YOURSELF TO OUR READERS?

I'm Mark Gee (Gee pronounced as the letter G) and these

days I class myself as a photographer and filmmaker.

I'm currently based in Wellington, but New Zealand

isn't my country of origin. I was born and grew up

on the east coast of Australia. I found my love of

photography aged about 14. My uncle dabbled in

photography and took me to an auction to buy my

first camera, which was a Canon film camera. I did

photography as a subject at school and even had my

own darkroom set up at home.

After leaving school, I studied graphic design and

worked at various places, from an architectural office

to a magazine publisher and even a signwriting shop.

I became interested in 3D animation and set my sights

on a career in the film and television industry. I landed

my first job in the industry working on a television series

and also TV commercials and within a few years, I got

the opportunity to come to New Zealand to work on

Lord of the Rings at Weta Digital.

This was certainly the start of something special, and

15 years on, New Zealand is now home. Coming to

New Zealand inspired me to explore my photography

more, which now is a big part of my life.

6 NZPhotographer

I run a few workshops throughout the year. They range

from The Art of Night Wellington meet up which around

1000 people attended last year, to multi-day workshops

for up to 10 people. I also do workshops overseas

including the now legendary PhotoPills Camp on the

island of Menorca in Spain. Most of the workshops focus

on astrophotography, but I also do some workshops

with other photographers which are multi-disciplined.

HOW DID YOU GET INTO

ASTROPHOTOGRAPHY SPECIFICALLY?

It wasn't until I came to Wellington in 2003 and went

and visited Castlepoint for the first time. It was one of

those perfectly crisp and clear winter nights, I went

outside to put the rubbish out and looked up. I had

never seen so many stars in my life, and it was the first

time I had ever seen the Milky Way with my own eyes.

I ran back inside, grabbed my camera and tripod,

and with no real knowledge of how to take a photo

of the night sky, I pointed the camera up and took

a shot. The photo itself was really disappointing, as

I could see more stars with my own eyes than what

was in the photo itself! But that was the night when my

passion for astrophotography was ignited and things

have only improved from there!

GALACTIC FLOW

F4, 30s, ISO6400
---
VALLEY OF STARS

F2.8, 30s, ISO6400
---
HEAVENS ABOVE PALLISER

F2.8, 30s, ISO6400

YOU'VE WON TOO MANY PHOTOGRAPHY

AWARDS AND COMPETITIONS FOR US TO

NAME… WHICH HAS BEEN YOUR PROUDEST

ACHIEVEMENT?

My proudest achievement would have to be

Astronomy Photographer of the Year in 2013. Not

only did I win the People and Space and the Earth

and Space categories, but I also won the Astronomy

Photographer of the Year overall. And within the

10 year history of the awards, that has never been

done again. I never expected anything like that, so

you can imagine my excitement when I did find out

I had won! My only regret was I didn't go to London

for the awards, but I was well represented there by

my sister.

WHAT EQUIPMENT ARE YOU SHOOTING

WITH?

I've just recently switched from Canon to Nikon and

am really loving the new gear. I'm currently shooting

with a Nikon D850 and my favorite astro lens is the

Nikon 14-24mm f/2.8

TELL US MORE ABOUT YOUR CAREER IN THE

FILM INDUSTRY…

I've been working in the visual effects side of the film

industry for over 20 years now, and for 15 of those

years, I've been at Weta Digital in Wellington. My

current role is a Visual Effects Supervisor, so I work

with the artists and other supervisors to deliver the

director's vision for the film. It can be demanding

work, but also very rewarding once you get to see

the final product on the big screen.

WHERE'S YOUR FAVOURITE SPOT IN NZ?

I've got a few favourite spots, especially on the

South Island where the skies are dark and the

landscape spectacular. But I would have to say

the one place for me would have to be Cape

Palliser in the Wairarapa. It is the first real dark sky

location I shot at, and I love going there and finding

new interesting compositions. The Cape Palliser

Lighthouse is always great to shoot against the night

sky too.

GUIDING LIGHT TO THE STARS

F4, 30s, ISO6400

UNIVERSAL SCALE

F4, 30s, ISO6400
---
WANUI NIGHTS

F2.8, 25s, ISO6400
---
UNIVERSAL BONDING

F3.2, 30s, ISO3200

WHAT TIPS CAN YOU SHARE WITH OUR

READERS FOR SHOOTING ASTRO?

Always plan your astrophotography shots well

in advance and do the location scouting in the

daytime. Use planning apps so you know exactly

where the Milky Way will be in the sky at the planned

location - I personally use an app called Photopills

which is like the swiss army knife of astrophotography

planning.

When you do get to your location at night, make sure

you allow yourself plenty of time to set up and frame

the shot. I usually arrive at least an hour before I plan

to start shooting.

Focusing is one of the hardest things to get right in

astrophotography. I use the live view function on my

camera and then find the brightest star in the night

sky and try to get it towards the centre of your LCD

screen. Once you've done that, make sure you are in

manual focus. Magnify your live view screen as large

as it goes (usually 10x) and rotate your focus ring until

the star looks sharp. Take a photo and then zoom in

on the image to check the sharpness. Hopefully your

stars will be in focus and you are now good to go.

WHAT'S NEXT FOR YOU?

I'm starting to work on a few personal projects which

I've been wanting to do for a long time, so I'm

cutting down on the workshops, public speaking and

travelling so I can get back to doing my own thing. I

enjoy doing all of those other things but want to get

back to where it all started for me, and just go out

and shoot for myself for the time being.

WHERE CAN WE FIND YOU ONLINE?

www.instagram.com/theartofnight

www.facebook.com/theartofnight

www.theartofnight.com

DO YOU HAVE A SINGLE FAVOURITE IMAGE?

My favourite changes all the time, but my all time

sentimental favorite would be the one I shot of my son

and I looking up at the Milky Way in Kaikoura three

years ago. I called the image Universal Bonding. It was

taken on the last night of a week long road trip my

son and I did on the South Island – We try to go on an

annual road trip each year to explore new locations

and photo opportunities. I'd been trying for over a

year to get him to pose and stand still with me long

enough for the 30 second exposure, and on this night

he finally did. It was the perfect moment for the end

of an amazing trip.

TELL US ABOUT THE FAMOUS FULL MOON

SILHOUETTES...

I always like to try and come up with fresh ideas and

the Full Moon Silhouettes (which you can see here)

was one of those. It took me a year to capture the

moonrise as I had envisaged it, but it was all worth the

many frustrating failed attempts.

14 NZPhotographer

The night I finally pulled it off was a perfect evening

with not one breath of wind, which doesn't happen

often in Wellington! I was in a park 2.1km away from

the people on the Mount Victoria Lookout and I didn't

know if I had lined up the shot correctly, but as I hit the

record button on my camera and the moon began

to rise, everything fell into place better than I ever

expected.

At that point, I knew I had captured something cool,

but I had no idea of the impact it would eventually

have on people... until it went viral. That was totally

unexpected and quite overwhelming, I was getting

hundreds of emails a day from people all over the

world sharing their experience of watching the

moonrise as well as media interview requests and

even academics offering their expert opinions.

That video gave me lots of opportunities - It got my

name out there and my astrophotography noticed.

I had the opportunity to travel and run workshops

around the world, as well as doing various media and

public speaking engagements, and of course, my

TedX talk which was an amazing experience on its

own!

MOON SILHOUETTES

F9, 1/125s, ISO400

September 2018

15
---
HOW TO CAPTURE: COASTAL SUNRISES AND SUNSETS

Coastal photography tips with Richard Young

SHIPWRECKED

by Brendon Gilchrist

Sunrise, Abel Tasman National Park

FIND A SUBJECT:

Coastal shots are often largely made up of sky

and water, but they also need a focal point to

help draw in the eye of the viewer. This could be

some foreground detail like a rock in the sea or a

landscape feature such as a distant headland. Make

sure the subject fills your shot so you don't leave the

viewer lost and looking around for it.

LOOK AROUND YOU:

As the sun slips over the horizon, it casts a beautiful

golden light across the beach. Whilst everyone else

is busy looking at the sun and shooting that scene,

take a moment to look around, the scene behind you

might be gorgeous too.

CAPTURE THE WAVES:

Waves present a great opportunity to add a creative

element. Experiment with different shutter speeds to

either freeze or capture the movement of the waves.

To freeze the waves and capture them as they break,

use a fast shutter speed, ideally faster than 1/500sec.

To blur the waves and capture their movement, use

an exposure of 1 second or longer.

ADD SOME SKY:

F8, 30s, ISO 100, 24mm

One advantage of being on the beach at sunset or

sunrise is that the horizon out to sea gives you a lot of

sky. If you have interesting clouds, use a wide-angle

lens and place your horizon lower in the photograph

to capture more of the sky.

CAPTURE SOME OF THE COUNTRY'S BEST COASTAL LANDSCAPES ON A 4-DAY GOLDEN BAY PHOTO

TOUR: 27TH - 30TH SEPTEMBER WITH NEW ZEALAND PHOTOGRAPHY WORKSHOPS

I

always felt like I wanted to shoot a shipwreck.

But with no shipwrecks nearby I pushed it to the

back of my mind. A few months later one of

the world's oldest schooner's beached itself not far

from Christchurch.

It is hard to describe what I felt when I was scrolling

through my Facebook feed and saw that the MV

Tuhoe had beached itself near the head of the

Waimakariri River. I could not believe that it had

happened!

This 97 foot double masted auxiliary schooner,

constructed of triple skin kauri, was built in

Auckland in 1919 by George Nicol. Her Maori name

meaning 'the children of the mist'.

I saw this as an opportunity not just for

photography, but to document the resting place of

a piece of history but I only had 1 night in which to

do it.

After a day of work followed by a basketball

commitment at night, I drove to the nearest car

park and walked the 40 min along the beach in the

dark. It felt like forever, as if the beach would never

end. Was I walking through portals and coming

back to the same piece of driftwood? Maybe I

was? Off in the distance, I could see a shape but

it was still far away. I keep walking, enjoying the

sound of the crashing waves, hoping I would not

step on a sleeping seal.

The further I walked the more the shape resembled

a boat – I felt a sense of relief, I was nearly there. It

was around 10.30pm by this time and I didn't know

when the moon was going to rise and also had

no idea that it was a full moon at this point – Not

conditions I would have chosen to shoot in if given

a different option.

As I continued walking I could see the glow getting

stronger on the horizon and thought "oh no, you

got to be kidding. I have only a few minutes before

the moon rises." If you have never sat and watched

the moon rise you won't realise how fast it moves. I

quickly put my camera bag down, looked at what I

had to work with and got my camera out and onto

the tripod as fast as possible. It's these moments

when you need be creative in an instance – I

needed to capture the emotions of this boat as fast

as possible.

I managed to get 3 great compositions before the

moon got too high and bright. The reflections in

the sand and the moon rising to the side, this its last

night alive... I was privileged to stand there alone,

shivering cold, capturing the moment.

I set up my time lapse after I had taken the stills

and stepped aside to let the camera do all the

work. Over the next hour and a half, I watched the

moon rising and the stars rotating. These moments

of waiting, of being cold, of being entirely alone,

are also some of the most inspiring. I was witnessing

the last night that this boat got to see on this earth,

September 2018

17
---
sailing no more, just resting upon the land where

it was once built. Being alone and in awe in these

times is challenging but rewarding, the solitude is

great but company, someone to share the moment

with, is better. I believe everything has beauty even

if many do not see it. If you look past the tragedy

that has happened you will see something new. It

may even help you as a photographer to capture

something that has an ending and will never be

seen again.

After my time lapse had finished I took a quick selfie

beside the boat then, after packing up, struggling

to put my gear in my bag as I was shivering so

much, I headed off into the darkness, back along

the beach on the 4km walk back to the carpark. It

was well after midnight and I had work at 7am but

my thoughts were this; I have photos that no one

else has. I have captured something I wanted to

shoot. I enjoyed my day. There is not much more I

could have asked for.

The next day I saw photos of The Tuhoe being

pulled apart with a digger. There was nothing that

could be done to save the boat as it was too far

up the beach and there was no way to pull it back

into the ocean, the stern having twisted from every

wave and tidal change but it was so sad to see

something so rich in history being destroyed.

3 TIPS FOR SHOOTING A TRAGEDY

• Respect the moment for what it is.

• If you know the history of the subject you are

shooting, this will help you to capture the emotions.

• Don't question 'should I go out with the camera?'

Do it as soon as you can because time is of the

essense – The opportunity could be gone before

you know it.

18 NZPhotographer September 2018 19
---
Celebrating 150 Years of

Wellington Botanical Garden

On 3rd September the formal establishment of the Wellington Botanic Garden

turns 150 years old and NZP readers are invited to participate in the special photo

competition that runs through the year.

David Sole, the Manager of Wellington Garden tells us more about the history of

the garden and the photo competition.

FRESH SHOOTS

PHOTO COMPETITION

ENTER

Wellington Botanic Garden is fondly regarded as 'our

garden' by the residents of Wellington and enjoyed

every year by tens of thousands of visitors to the city.

The origins of the garden, and its inclusion on the

Wellington Town Belt, dates from the planning for the

city in the period 1839-44 but the formal process for the

establishment of the garden did not begin until 1868.

The legacy of Sir James Hector, the botanic garden's

first director, is today revisited as we establish

education programmes in the newly developed

Discovery Garden Te Kaapuia O Te Waouku.

We are returning to science and beginning to

carefully reconsider the role of our collections in

supporting education, science, and conservation –

how we contribute to the local regional, national,

and international roles of botanic gardens in plant

conservation in the face of climate change and

the alarming worldwide loss of plant species due to

human activity.

The garden still continues to be a place of refuge

and respite from the pressures of the city and ever

increasing social pressures of urban intensification.

People can find calm and tranquility and immerse

themselves in a landscape that is safe, soothing, and

satisfying.

It is a place where individuals and families and friends

can come together and enjoy the flowers, the events,

and the diversity of seasons; where they can enjoy the

wondrousness of plants and their contribution to our world.

The 'Fresh Shoots' photo competition will provide

inspiring opportunities for amateur and pro

photographers to capture the garden, its people, the

wildlife, its dramatic landscape and, fundamentally,

the beauty of the plants.

With four separate competitions taking place over

the year, photographers are encouraged to capture

seasonal aspects of life at the gardens. A panel

of expert judges will select the winners from four

categories; People, Nature, Events, and Creative with

both senior and junior (photographers ages 14-18

years) winners.

We look forward to seeing your photos!

We're inviting photographers to highlight all the wonderful things that make the Wellington

Botanic Garden much more than a garden, while encouraging photographers to focus on

the garden season by season.

For prizes and full Terms & Conditions see: www.excio.io/freshshoots

The competition is split into four quarterly competitions based on each of the four seasons:

Spring Summer Autumn Winter

1 September -

14 December 2018

15 December -

22 March 2019

CATEGORIES

23 March -

21 June 2019

22 June -

20 September 2019

NATURE PEOPLE CREATIVE EVENTS

PARTNERS

20 NZPhotographer

September 2018

21
---
Playing with Fire

WIRE WOOL SPINNING TUTORIAL

22 NZPhotographer

LET THERE BE LIGHT

Repeating the geometric shapes at Lake Rotoiti to create my own

'spin' on light painting.

by Ray Salisbury

The literal definition of the Greek words photos

and graphos mean to 'paint with light'. So, by

definition, if you practice photography, you are

light painting; you are producing art.

But how do you stand out from the proverbial crowd

when every man and his DSLR is saturating social

media with stunning images? One answer is to shoot

at night time. Under the cover of darkness, you can

put a different 'spin' on your shots!

In this tutorial, I will show you how to spin wire wool to

create arty, abstract photos that exude that elusive 'wow

factor'.

WHAT YOU'LL NEED:

• A DSLR Camera with Manual Mode, and preferably,

low-noise capability. However, many compact cameras

will be suitable, providing they have manual focus and

a long enough shutter speed.

• A Cable Release or remote timing device so that you

don't accidentally bump the camera. Use the humble

self-timer as a 'poor man's shutter release.'

• Fire Extinguisher

• Safety Goggles

• Gloves

• Head-Torch with fresh batteries. Carrying a spare torch

is a wise precaution!

• BBQ Firelighter or cigarette lighter. A 9 volt battery will

also work.

• Fine Grade Steel Wool. The steel wool comes in

several grades. The 'super fine' grade, labeled '0000,'

burns fast. The 'very fine' grade '00' gives off more

sparks, and burns longer, for about 25 seconds.

• Spinning Device. A 25cm egg whisk can be purchased

from a Two Dollar shop for $2.50. Get the steel

version, not the plastic! Attach the kitchen whisk to a

length of chain, a skipping rope, or a dog lead about

one metre long, using a carabiner or similar bolt.

• A Trusty Assistant for both practical and safety

reasons.

• Warm Clothing & Snacks especially if you're set up in a

remote location.

PLANNING YOUR SHOT:

1. Location. Find a suitable plot of ground, devoid

of vegetation, vehicles or flammable material. Think

concrete… netball courts, train tunnels, or under a bridge.

Spinning steel wool will bounce off the walls of a closedin

space, such as a tunnel, sending random sparks flying.

While this is a neat effect, your surroundings should be

damp, so that stray sparks don't get you in trouble - Err on

the side of caution. Alternatively, a calm pool of water will

reflect the spinning orb of light. Sparks may bounce off the

water – another cool effect. In this situation, gumboots are

a godsend!

2. Timing. If you fail to plan, you're planning to fail. Just like

comedy, timing is critical. Set up during the daylight, so you

can scout for a decent composition. It's best to set up your

camera on a stable tripod well before dusk, and pre-focus

on your subject before auto-focusing becomes impossible.

The ideal time to shoot is during the Blue Hour – more

specifically, half an hour after sundown, when the

sky darkens to a deep blue – perfect for a contrasting

backdrop. Indeed, blue is the complimentary colour of the

burning orange orb you will be spinning.

My rule of thumb is to start the shoot 20 minutes after

sunset so that you can make several attempts during

this 10-minute 'window'. If you shoot after twilight, the

background elements of the scene will disappear into

darkness and the resulting photograph will lose context.

3. Composition. Spinning wire wool creates a circle of fire.

Ask yourself, 'how can this geometric shape relate to the

surrounding landscape?' Also ask yourself: 'Do I want to

appear in the photograph?' If not, wear black clothing,

gloves and a balaclava.

September 2018

23
---
For my iconic image shot at Lake Rotoiti, I made a long

exposure of the stars circling the Southern Celestial Pole,

then mimicked these concentric circles by spinning the

wire wool.

4. Camera Settings. Once you have a composition planned,

lock down the camera on a sturdy tripod. Hang a small LED

light from it to make it visible. Focus on where the firespinner

will stand, then switch to manual focus on the lens

barrel. A wide-angle lens is preferable.

Set the camera's Mode Dial to Manual, with a shutter

speed between 20 and 30 seconds. Apertures can vary

from f/2 to f/11. Set the ISO. between 50 and 800. Any

higher and digital noise may become an issue. For colour

temperature, choose a 'Daylight' setting, or drop the Kelvin

temperature down to about 3500K.

WIRE WOOL SPINNING TECHNIQUE:

• Pull apart a wire-wool pad length-wise to break up

the density and allow oxygen inside. Unravelling

the wool, then spinning it speeds up the chemical

reaction.

• Insert a wool pad into the whisk, ensuring it won't

fall out.

• When igniting the wire wool, a BBQ butane lighter

is preferable for a continuous flame, whereas a

cigarette lighter is fiddly and hard to operate with

cold hands.

• The wire wool will not burst into flames, only

simmer. Once the wire wool has caught alight,

spin the whisk in consistent circles. Then get the

photographer to begin the long exposure.

• Keep your arm straight to create a perfect circle.

Consistency is the key. Try not to move your body, or

you will appear as a blur.

Note: If you are the photographer, wait for your assistant

to light the wire wool and begin spinning it in a circle,

then fire the shutter. Both of you should switch off your

headlamps, so they don't interfere with the photo. To

mitigate light leaking into the viewfinder, hang a baseball

cap over the top of the camera.

Being an experimental art-form, be prepared for

lots of trial and error, especially the latter. As Ansel

Adams remarked, "Landscape Photography is the

supreme test of the photographer, and often the

supreme disappointment." This is a challenging genre

of photography with many inherent difficulties to

overcome, but the rewards are there for the patient

photographer.

My shots on the following pages are sure to inspire you to

get out there and give it a try. If you need more help, tips,

and inspiration, there are tons of tutorials on Youtube.

There are numerous variations of this technique that you

can try too, from orbs to spheres to halos to a vortex.

RAY SALISBURY is a seasoned landscape

photographer and art teacher based in Nelson. He

sells his photos to magazines, calendars and image

libraries. He also shares his knowledge through his free

e-Books and affordable online courses allowing you to

learn photography at your own pace through a series

of video training modules that have been filmed in NZ.

www.hotpixels.co.nz

SPINNING WOOL

24 NZPhotographer

Repetition of geometric shapes through use of reflections.

September 2018

25
---
SPIRAL AT SPOONERS

Moving towards the camera while spinning steel

wool creates a vortex.

26 NZPhotographer

September 2018

27
---
SPOONERS WIRE WOOL SPIN

Playing with Fire inside the retired train tunnel at Spooners, half an

hour from Nelson.

28 NZPhotographer

September 2018

29
---
Behind The Shot

with Mike MacKinven

30 NZPhotographer

September 2018

31
---
CAN YOU GIVE US A LITTLE BACKGROUND ON

YOURSELF AND YOUR PHOTOGRAPHY?

I am Mike MacKinven of Mack Photography and

Design Ltd. I am an Advertising Art Director, Designer,

and Retoucher. My photography journey started

in 2012 in Auckland – I'd always wanted to learn

photography but never really got to the point of

purchasing a camera until my beautiful wife bought

me a Canon 600D for my 28 th birthday. As most

enthusiasts know, it's all downhill from there…

I was mostly interested in cityscapes, until one

night I noticed stars appearing in my photos. From

there I researched Astrophotography and made

it my mission to master that genre. I'm not quite

a pro photographer, more a semi-pro amateur

photographer once removed kind of thing, but now

hold workshops teaching other photographers about

the night sky and how to capture it.

TELL US ABOUT THIS SHOT...

32 images went into creating this shot. I hadn't

planned on shooting at this famous location but after

a bit of encouragement from a few people I thought

'Ok, let's do this'. However just going out and shooting

it wasn't going to work, a fair amount of planning was

required as the Milky Way was going to be above

the treeline looking back from the Wanaka Tree. This

meant I'd need to get wet to capture our Galaxy

above that tree!

So I ended up wading out into the chilly lake to get

the optimum composition, waist deep in leaky waders

from midnight until 01:40am with the temperature

hovering at about 1º, it being the middle of Winter.

After a while, my body temp warmed up the trapped

water but I had to be super careful as the stones on

the ground were very slippery, and the waders don't

have grippy soles for these kinds of situations! My

biggest concern was keeping the dew heater battery

and camera dry but I managed to successfully

capture 2 x 240º panoramas, a series of tilt-shift style

images, and some timelapses.

My tripod is actually kitted out with a nifty beer holder

so, being in the South Island, it seemed rude not to

have a bottle of Speights ready, especially as my wife

was asleep on the shore in a green sleeping bag,

looking rather like a slug in my images!

WHAT WERE YOU SHOOTING WITH?

I was using my Canon EOS 6D and the trusty Samyang

24mm ƒ1.4 lens. I still use this setup today as it's just

so good but now being sponsored by Samyang Lens

Global, I use this lens and the XP 14mm ƒ2.4 lens

combo, a killer setup with two cameras.

WHAT WAS YOUR POST-PROCESSING

PROCEDURE FOR THIS IMAGE?

I generally keep this as simple as I can. I do basic edits

in LR (White balance, sharpness, lens profiles etc) then

I export the files ready for stitching in either Hugin or

Autopano Giga. Photoshop and Lightroom aren't

suited to multi-row panoramas where you need the

freedom to adjust composition, horizon angles and

projection settings. Once the panorama is stitched,

I fine tune it in Photoshop (fixing stitching areas if

any) and then global contrast is added (Brightness/

Contrast or Curves) and masked to mostly sit in the

sky. Once I'm happy with how it looks I'll import the

panorama to LR so it's added to the catalog, crop it,

and then export it as a final file.

WHAT ELSE SHOULD WE KNOW ABOUT THIS

IMAGE?

With most of my astro shots I strive to get away from

light pollution, however, to shoot this tree you cannot

get away from it, so I embraced it! Most of the lighting

is pretty antique, well, a few billion years old but still

shining bright! Other than natural starlight and the

light pollution from nearby towns, no other lighting

was used. I still get people confusing the floodlights as

sunset light!

WHERE CAN WE FIND YOU ONLINE?

www.instagram.com/mack_photography_nz

www.facebook.com/mackphotographynz

www.mackphotography.co.nz

www.zodimap.nz

32 NZPhotographer

September 2018

33
---
MEET THE JUDGES

One Community, One Magazine, and One Year Old!

Join us in celebrating our 1 year anniversary of the re-launched NZPhotographer

magazine by participating in our biggest competition yet!

Judged by local and international photographers, competition is now open for entries. For

prizes, judges and full Terms & Conditions see: www.excio.io/one

BLAIR QUAX is an experienced

business owner, photographer,

videographer and photographic

educator based in Waiheke. He has

successfully worked in digital imaging

for close to two decades and has won

multiple awards for his work.

SERGE RAMELLI is an international

landscape and urban photographer.

He runs photography workshops

around the world and has a YouTube

channel of over 515,000 subscribers

where he shares his photography

and post-processing tutorials.

ENTER NOW

LANDSCAPE &

NATURE

DOCUMENTARY

STREET

PHOTOGRAPHY

CREATIVE

Win a Benro FH100

M2 Filter Holder Kit

& Hard Grad Filter

Win a DSLR Video

for Photographers

course bundle

Win an Everyday

Sling 10L Charcoal

Bag

Win the Complete

Photography

Training course

SPONSORED BY

PARTNERS

RICHARD YOUNG is a professional

landscape, nature and wildlife

photographer based in Wellington.

He has been guiding groups of

photographers around New Zealand

since 2010 and founded New Zealand

Photography Workshops in 2013.

DARIUS (DARE) STEVENS is an LA

based creative whose passion for

photography launched a successful

career in film. He recently completed

editorial, VFX, directorial and

production work for Netflix, Sony & MTV

in addition to his first feature.

Photographs used in the top banner: Roxanne Crawford, Peter Kurdulija, Kane Hartill, Peter Maiden, Marina de Wit, Todd Henry, Yasen

Georgiev, Glenda Rees, Alex Moore, Kelly Gladwin, Michael Sutton, Lance McCaughan.

34 NZPhotographer

September 2018

35
---
PORTFOLIO

BEST READERS' SUBMISSIONS THIS MONTH

PUBLISHING PLATFORM MADE FOR PHOTOGRAPHERS, ARTISTS, AND

VISUAL CREATORS

Don't let your photos get lost on a timeline or newsfeed.

Experience the benefits of belonging to an exclusive network of

artists, visionaries, and organisations.

Say goodbye to recurring exposure fees.

Communicate your photos in a way you never could before.

Discover your audience's taste and preferences with insights and

key points.

LEARN MORE

36 NZPhotographer September 2018 37
---
OUR TOWN

F16, 1/200s, ISO200

WELLINGTON HARBOUR

I went out on a cold day looking for our whale, Matariki. Hung about out

on the end of the wharf but no luck from there. Took this hand held from

then end of the old OPT wharf. 2 or 3 photos merged into pano.

Ann Kilpatrick

38 NZPhotographer

September 2018

39
---
MOTURIKI SUNRISE

F8, 6s, ISO50

LEISURE ISLAND, MOUNT MAUNGANUI

A cold winter's morning. Went out hoping for

a sunrise and wow did I get one!

Annemarie Clinton

40 NZPhotographer

September 2018

41
---
WAVE ART

F8, 1/500s, ISO400

MOUNT MAUNGANUI

I went out early to catch a sunrise which ended up rather

disappointing. Walking back to my car I couldn't help but

notice the perfect waves lit by the rising sun.

Annemarie Clinton

42 NZPhotographer

September 2018

43
---
COMBLEUX CANAL

F11, 1/160s, ISO100

COMBLEUX, FRANCE

This is the canal in Combleux, France. It meets the river

Loire at Combleux. Shot taken late afternoon.

Carole Garside

44 NZPhotographer

September 2018

45
---
POHUTUKAWA

F20, 1/1250s, ISO320

COROMANDEL

The iconic pohutukawa.

Carole Garside

46 NZPhotographer

September 2018

47
---
48 NZPhotographer

SMOKY MOUNTAINS STREAM

F8, 30s, ISO100

TENNESSEE, USA

Fall in the Smoky Mountains is always special because of

the bright and saturated colours.

Chick Piper

September 2018

49
---
YOSEMITE VALLEY VIEW

F4.5, 25s, ISO200

CALIFORNIA, USA

Winter in Yosemite, the place rocks!

Chick Piper

50 NZPhotographer

September 2018

51
---
FIRE IN THE SKY

F9, 1/41s, ISO200

PARAPARAUMU BEACH

Best sunset ever over Kapiti Island - my 4th night of

waiting for something this grand, and I wasn't disappointed.

Karen Moffatt McLeod

GANNET

F5.6, 1/250s, ISO160

Close up of a Gannet nesting.

Colin Prince

52 NZPhotographer

September 2018

53
---
LAKE DUNSTAN

F3.5, 1/1000s

ROAD FROM CROMWELL TO TARRAS

Driving along from Cromwell, I liked the effect of

the river terrace across the other side of the lake.

Dominic Stove

54 NZPhotographer

September 2018

55
---
MOODY MILFORD

F4, 1/3200s, ISO640

Early evening - Last boat back from the nature cruise.

Dominic Stove

56 NZPhotographer

September 2018

57
---
MELBOURNE CATHEDRAL

Dwayne Woolliams

MUSEUM OF ISLAMIC ART

F10, 1/500s, ISO200

DOHA, QATTAR

We visited the museum with our family in July -

a wonderful location and really interesting architecture.

Emily Willis

58 NZPhotographer

September 2018

59
---
AFRICAN HOOPOE

F10, 1/160s, ISO800

KRUGER NATIONAL PARK

An African Hoopoe eating a millipede.

Gary Reid

60 NZPhotographer

September 2018

61
---
SQUACCO HERON

F10, 1/160s, ISO800

KRUGER NATIONAL PARK

Hunting for food on the river bank.

Gary Reid

62 NZPhotographer

September 2018

63
---
FOGGY MORNINGS

F6.1, 1/125s, ISO400

LOBURN, NORTH CANTERBURY

We live near a swamp, and under inversion conditions, really thick

fog forms over the swamp. The fog allows shooting into the sunrise,

silhouetting the plants and birds, with some really vibrant monolithic

colours.

George van Hout

64 NZPhotographer

September 2018

65
---
STAR WALK

F2.8, 120s, ISO1600

LAKE HAYES, QUEENSTOWN

This photo shows my love for shooting the

milky way and the sense of calm I get while

alone at night with my camera.

Gareth Davies

SEA THAT KIWI

F2, 25s, ISO2500

WAIKUKU BEACH, CANTERBURY

My astro adventures this time took me to Waikuku Beach, just north

of Christchurch. I was driving there though some thick fog and

cloud, just hoping that when I got to the beach it wouldn't be foggy

or cloudy. I got out of my car, walked over the sand dunes and a

perfectly still, cloudless, fogless sky awaited me.

George van Hout

66 NZPhotographer

September 2018

67
---
FIRST LIGHT

F5.6, 1/250s, ISO500

FEATHERSTON, ROTOTAWAI

Summer 2017-18, 6:00 am, Hind allows me close

enough to get her first fawn's, first suckle!

Greg Arnold

68 NZPhotographer

September 2018

69
---
DON'T FENCE ME IN

F5.9, 1/180, ISO200

RUAHINE ROAD, MANAWATU SCENIC ROUTE

A colourful remote farm shed, deteriorating yet sitting proudly

in its summit position protected by an iconic farm fence.

John Kelly

70 NZPhotographer

September 2018

71
---
SWAN IN BLACK

F16, 1/128, ISO200

MOTUOAPA LAKE TAUPO

I often stop at Motuoapa when travelling between Wellington &

Whitianga for a break, eating some lunch and taking a few photos.

I love this image in particular as it gives the sense of movement with

the feathering of the water as the swam glides. A little post work in

Lightroom for the monochrome.

Karen Moffatt McLeod

72 NZPhotographer

September 2018

73
---
KAIMANAWA MUSTER 2018

F6.3, 1/1600S, ISO1250

WAIOURU MILITARY BASE - MUSTER YARDS

A newly mustered Kaimanawa horse from this years

June Muster waiting to go to its new home.

Kimber Brown

74 NZPhotographer

September 2018

75
---
76 NZPhotographer

FLOWING WATERS

F13, 30S, ISO100

RUAPUKE BEACH

The mountain waters flow towards the

ocean becoming one as they meet.

Matt Jenkins

September 2018

77
---
RUAPUKE BY BIRD

F13, 30S, ISO100

RUAPUKE BEACH

The higher you get the different

your perspective is.

Matt Jenkins

78 NZPhotographer

September 2018

79
---
SUNSET AT THE THREE SISTERS

F13, 1.6S, ISO50

TONGAPORUTU

Ensuring I went out in a receding tide, I still had to wade through hip

high water to get to the beach for sunset. The slight inconvenience

was worth it as I captured this image as sunset lit up the tree sisters

and a peak through to Mt Taranaki.

Peter Ambrose

DEAD DRUNK

F5.6, 1/160S, ISO200

GOSFORD, NSW AUSTRALIA

A staged model shoot captured at Central

Coast Leagues Camera Club.

Murray Lowe

80 NZPhotographer

September 2018

81
---
SUNRISE NORTH FORRESTERS

F14, 10S, ISO320

FORRESTERS BEACH, CENTRAL COAST, NSW, AUSTRALIA

A cloudy sunrise captured at Nth. Forresters Beach with very little wind

and a very low swell gently washing on to the beach.

Murray Lowe

82 NZPhotographer

September 2018

83
---
BLOWING IN THE WIND

F1.8, 1/800S, ISO100

WEERT, THE NETHERLANDS

A shot I took of a dandelion using artificial wind

(blowing!) to capture the seeds flying.

Nick van de Water

84 NZPhotographer

September 2018

85
---
LITTLE BROTHER IS WATCHING YOU

F2.8, 1/200S, ISO400

OLPE, GERMANY

First week with a new sibling, cautious eye on the

lovely big sister. A very sweet moment of my niece

Jette and my nephew Paul.

Nina Gastreich

86 NZPhotographer

September 2018

87
---
POUTO'S NEW RIVER

F11, 1/400S, ISO500

POUTO PENISULA, KAIPARA, NORTHLAND

This new river was created by recent flooding

of lakes behind the sand dunes, it was

not there a month ago.

Noel Herman

88 NZPhotographer

September 2018

89
---
SUMMIT SUNRISE

TONGARIRO ALPINE CROSSING

An early morning ascent of Tongariro from last December. We left at 2.30am and

walked under the moonlight to reach Tongariro's summit for the sunrise. As the thin

clouds cleared, the sun's rays crept over the horizon.

Olga Macagon

90 NZPhotographer

September 2018

91
---
FIRST DUSTING

F14, 1/80S

WHAKAPAPA, MOUNT RUAPEHU

The dramatic rocky face over the other side of the learners

ski slope with new snow and cloud moving in.

Paul Robertson

92 NZPhotographer

September 2018

93
---
WET TREASURE

F14, 1/80S

PALMERSTON NORTH

Macro shot of a small wet toadstool on my front lawn.

Paul Robertson

94 NZPhotographer

September 2018

95
---
WINTER IN CENTRAL OTAGO

F11, 1/160S, ISO100

WEDDERBURN, NEW ZEALAND

Peter Kurdulija

96 NZPhotographer

September 2018

97
---
GREY SKY

F11, 1/400S, ISO400

ISLAND BAY, WELLINGTON

A view over the south coast of Wellington to the Remutakas on a still

overcast day. The photo hopefully captured the mood of the morning and

to some extent was enhanced by the band of low cloud at the harbour

entrance. Lovely view to have when sitting on the deck with a cup of coffee.

Peter Maiden

98 NZPhotographer

September 2018

99
---
PULTENEY BRIDGE, BATH

F16, 2.5S, ISO400

BATH, ENGLAND

Pulteney Bridge crosses the River Avon in Bath, England. It was completed

in 1774 and connected the city with the land of the Pulteney family.

Prashant Joshi

100 NZPhotographer

September 2018 101
---
ROMAN BATHS

F8, 1/13S, ISO800

BATH, ENGLAND

The Roman Baths complex is a site of historical interest in the English city

of Bath. The house is a well-preserved Roman site for public bathing. The

Roman Baths themselves are below the modern street level.

Prashant Joshi

102 NZPhotographer

September 2018 103
---
MAGNOLIA STELLATA

F4.5, 1/30S, ISO200

At home capturing Jenny's flower arrangement.

Steve Harper

WHISKY BUSINESS

F8, 1/4S, ISO100

WHISKY FALLS, LAKE ROTOITI

After a damp tramp circumnavigating the melancholic

shores of Lake Rotoiti, I was rewarded with a waterfall

to myself. A bit of gardening was in order, before I

scrambled up slippery rocks to attain this vantage. The

day was so dark that my ND filters stayed in the kit bag.

Ray Salisbury

104 NZPhotographer

September 2018 105
---
CUPHEA IGNEA

F4, 1/60S

Rhiannon Voice

106 NZPhotographer

September 2018 107
---
COMMON WASP

F10, 1/160S, ISO200

I love to go out looking for insects at night during the

summer months. Once spotted they usually get their

portrait taken and most oblige!

Sandra Van Der Lubbe

108 NZPhotographer

September 2018109
---
MAGNOLIA STELLATA

F6.3, 1/400S, ISO500

WHISKY FALLS, LAKE ROTOITI

Star Fish on the rocks.

Sea Stars

110 NZPhotographer

September 2018 111
---
FOLLOW THE RIVER

F6.3, 1/400S, ISO500

MT COOK

A little photo op of Mt Cook on the return leg from Hooker

Lake required a boulder hop in the Tasman River.

Susan Blick

112 NZPhotographer

September 2018 113
---
MT COOK AND MORE!

F5.6, 1/320S, ISO100

The Hooker Lake with the odd iceberg, the Hooker

Glacier and the majestic Mt Cook - perfect, except

for the 100km winds!

Susan Blick

114 NZPhotographer

September 2018 115
---
"COLOUR IS

DESCRIPTIVE.

BLACK AND WHITE

IS INTERPRETIVE."

116 NZPhotographer

ELLIOTT ERWITT