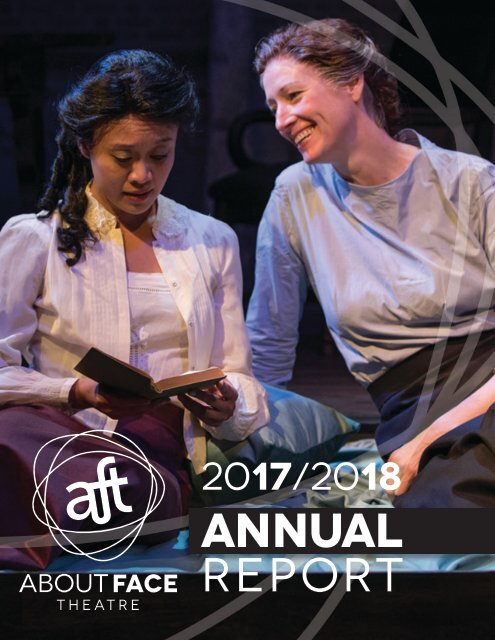 2018 AFT Annual Report
About Face Theatre's 2018 Annual Report
About Face Theatre's 2018 Annual Report
SHOW MORE
SHOW LESS
You also want an ePaper? Increase the reach of your titles
YUMPU automatically turns print PDFs into web optimized ePapers that Google loves.
2017/2018

Annual

Report
---
Mission

To create exceptional, innovative, and

adventurous theatre and educational

programming that advances the

national dialogue on sexual and

gender identity, and challenges and

entertains audiences in Chicago and

beyond.

Vision

To be a nationally recognized, intergenerational,

and community-focused LGBTQIA arts

organization by creating theatre that fosters

awareness, understanding, and celebration of all

forms of sexual and gender expression.

AFT Staff

Megan Carney

Artistic Director

Alana Parvey Zalas

Managing Director

Dylan Toropov

Director of INdividual Giving & Special Events

Benjamin Sprunger

Director of INstitutional Giving

Mia Vivens

Associate Director of Outreach AND Engagement

Donny Accosta

Associate Director Of About Face Youth Theatre

Will Rogers

Marketing Coordinator

Amy Sheahan

Education Associate

David Rosenberg

Public Relations
---
A Message from

Artistic

Director

Megan

Carney

Thank you for a phenomenal 22nd year!

In our 2017-18 season we demonstrated many ways to harness the innovative tools of making

theatre and creating space for brave dialogue.

Though I have a long history with About Face Theatre, this marks my first year as the Artistic

Director and I am thrilled to be leading this organization and cultivating our role as a vital cultural

asset in Chicago and a unique producing environment in which artistic collaborators, community

stakeholders, board, and staff can thrive.

I stepped into my position while our first show of the year was already in rehearsal and it's

been a tremendous season. This year was notable for the ways that we expanded our circle of

collaborators, championed new voices, and embraced education at the core of the organization.

From our mainstage productions highlighting nuanced stories of queer lives and histories, to our

new work series featuring queer women's voices, to our touring show in Chicago Public Schools,

we are strongly delivering on our mission to advance dialogue about gender and sexual identity.

Together we are well positioned to forge new territory as an organization, build strong

partnerships, and create dynamic theatre. I know from my own experience that About Face

Theatre offers the chance to participate in something bigger and more lasting than the run of a

play. AFT offers shared creative experiences that go right to the heart, ripe with meaning, inviting

us to imagine, and then create, a better world.

Thank you for being a part of it and making this work possible.

Sincerely,

Megan Carney

Artistic Director
---
A Message from

Board

PresideT

Becky

Huinker

This year marked the completion of the leadership transition—onboarding Megan Carney as the new

Artistic Director, to immediate positive impacts. The transition was a very demanding time for our

board, and began eight months before Megan even started. We provided leadership and direction for

the company while we also contemplated what we needed from the next leader. We took time and

invested in outside guidance to facilitate meaningful involvement from all stakeholders—youth, artists,

staff and board. We analyzed the company, clarified and agreed on our values, goals and desired

leadership attributes. A core team represented by each group cast a wide net and put talented

candidates through a rigorous process. We believe the investment paid off and helped draw Megan

back to the company. She articulated a fresh and clear vision, and after nearly a year at the helm, she

has demonstrated that our goals are achievable.

Some board members extended their service to see the hiring process through, and a core group

remained to usher in the new era. We added four new members, all of whom have immediately

embraced leadership, including two youth member representatives. We also welcomed two graduate

student board fellows, who helped with a significant governance project.

The boardroom has a renewed sense of energy and passion as Megan has stepped into the center.

During her first year, the board has shifted its energies to help improve the health and balance of the

organization, and to collaborate with Megan to attract support and resources. We focused on financial

sustainability and enhancing all governance protocols so each member has a clear understanding

of their role, and immediately participates in ways meaningful to them and AFT. We adopted new

policies, revised recruitment and onboarding protocols, adopted new job descriptions for artist and

youth members, and developed a comprehensive Board Member Agreement.

With the transition search and onboarding process finally behind us, we are excited to build upon the

foundation and momentum created in 2018 to help AFT achieve its goals.

Sincerely,

Becky Huinker

About Face Theatre, Board President
---
About face

board & Artists*

Board of directors

executive board

Becky Huinker

Board President

Aaron Kacel

ViCe President

Derek Blin

treasurer

Ophelia A. Harkness

Secretary

Rob Abernathy

Erik Burns

Maxwell Koziol

Kyla Norton

Jimbo Pestano

Anthony Priore

Charles Rhee

Geoff D. Robinson

Anthony Ruth

Heather Vickery

Artistic Associates

Patrick Andrews

William Boles

Scott Bradley

Precious Davis

Philip Dawkins

Scott Duff

Scott Ferguson

John Francisco

Keira Fromm

Sarah Gubbins

David Hyman

Bob Kuhn

Elizabeth Ledo

Kelli Simpkins

Arturo Soria

Benjamin Sprunger

Daniel Stermer

Paul Oakley Stovall

Mieka van DerPloeg

Alex Weisman

Board Fellows (ex officio)

Stephanie Jensen

Pavlina Plasilova

Honorary Board

Rob Abernathy

Jim Andrews

Pat Ewert

Ted Grady

William W. Greaves

Chris Landgraff

Michael Leppen

Dwight A. McBride

William J. Michel

Mary Morten

Mike Sullivan

Denis Weil

Youth Task Force

Via Haman

Ophelia A. Harkness

Sharon Pasia

Jimbo Pestano

Artistic Associates

Emeriti

Amy Beck

Alexandra Billings

Joel Butler

Megan Carney

Brad Cawley

Geoffrey M. Curley

Jane C. Cho

Shelley Echerd

Mitchell Fain

Steve Futterman

Brian Goodman

Zavier Hairston

Kyle Hall

Ted Hoerl

Eric Hoff

Jessica Hudson

Patricia Kane

SK Kerastas

Julia Fabris McBride

James McKay

Amy Matheny

Jacob Padron

Andre Pluess

Rebecca Rugg

Tanya Saracho
---
2017/18 programming

Mainstage shows

Significant Other

by Joshua Harmon

Directed by AFT Artistic Associate

Keira Fromm

A co-Production with Theater Wit

JEFF RECOMMENDED

"A Stellar cast"

–Chris Jones, CHICAGO TRIBUNE

"There's not a misstep or misplayed

moment in the whole glorious

production"

–Jack Helbig, CHICAGO READER

SPACE: Theater Wit

ATTENDANCE: 2,317

Jordan Berman is a single gay man in New York

City. Mr. Right is nowhere on his horizons. As

he's nearing his 30s, his close group of girlfriends

begin getting married en masse. What happens

when you feel like life is leaving you behind but

you're still expected to be at the forefront cheering

on your friends on their perfect wedding day?

Significant Other is a bittersweet comedy about

friendship, single-hood and hoping you're not the

one choking on car exhaust as the "Just Married"

sign disappears from view.

Time Is On OUr Side

by R. Eric Thomas

Directed by AFT Artistic Director

Megan Carney

"Gear-shifting between campy hippopping

and grounded history-telling is

no small task and director Megan Carney's

cast of Maggie Scrantom, Rashaad Hall,

Esteban Andres Cruz and Riley Mondragon

meet the challenge with grace."

–Aaron Hunt, Newcity Stage

SPACE: Theater Wit

ATTENDANCE: 1,123

Besties Annie and Curtis struggle to produce their

queer history podcast until the discovery of a secret

family journal launches their high stakes adventure

to unravel mysteries of the early LGBTQ rights

movement. Hopping from the Underground Railroad

to Rosa Parks to Celebrity Jeopardy, this hilarious and

moving story of friendship, family, and love redefines

how personal the political can get.
---
Bull IN a China Shop

by Bryna Turner

Directed by AFT Artistic Associate

Keira Fromm

JEFF RECOMMENDED

"A perfect kickoff to Gay Pride Month, this

is an entertaining, educational

and motivational play"

–Karen Topham, Chicago On Stage

SPACE: Theater Wit

ATTENDANCE: 1,340

Determined to teach the women of Mount Holyoke

College that there is more to life than marriage, Mary

Woolley takes her role as President very seriously.

However, her partner, Jeannette Marks, is more

interested in igniting a revolution that extends

beyond the hallowed halls of the university. This fast

paced feminist comedy is a chronicle of bravery,

romance, and the reinvention of women's education

during the suffrage movement. Class is in session!

Scary Stories To Save

yoUr Life

Written and performed by The About

Face Youth Theatre

Directed by Associate Director of AFYT

Donny Acosta

"Sometimes funny and sometimes

genuinely scary, these alternately

expressionistic and surreal nightmare

scenarios express the performers'

emotional responses to current events in a

surprisingly potent way without resorting

to message-y preaching."

–Albert Williams, Chicago Reader

SPACE: The Center on Halsrted

ATTENDANCE: 343

In a world of disappearing protections and increased

violence against LGBTQ+ youth across the country,

AFYT is serving up a collection of real life stories of

survival, resistance, and victory against the dark side.
---
2017/18 Artistic programming

additional programming

:

BABES

ON

STAGE

Since 2013, AFT's OUT FRONT series has presented workshops and readings

of new work exploring LGBTQIA themes.

For our 22nd season, in recognition of the under representation of women's

voices in theatre, we present BABES ON STAGE, a showcase of new work by

emerging LGBTQIA women-identified playwrights.

In the summer of 2017, we put out a national call for new plays by queer

women writers and received 85 plays from around the country. Reading the

plays and getting to start conversations with so many writers has already

been a phenomenal success. We hope to have ongoing relationships with

these writers and to find ways to continue to support them and their work

going forward.

In order to select plays for this year's OutFront series, AJ Schwartz, Curator,

and Cari Meixner, Artistic Intern, recruited a team of 12 readers and divided

up the scripts. Through a rigorous process of reading and discussion, the

team narrowed it down to four plays, three received public readings in 2018.

These three plays were selected for their success in furthering the dialogue

on gender and sexuality, pushing the boundaries of dramatic structure and

form, and centering women/femmes in their storytelling. They are each

exceptional for also creating opportunities for us to meet new actors and

directors through this process.
---
BABES ON STAGE

Readings

#SISTERNEIGHBORS

Written by

Hannah li-Epstein

Directed by

Anna Sung-En Medill

Set in a six unit building in Chicago, #sisterneighbors follows the interconnected lives of a rambunctious

and devoted chosen family of queer folks as the news sinks in that their home has been

sold and they will all have to move. The play splits the audience during the first act and reunites

them for the second creating an immersive and unpredictable experience of the story.

Break

Written by

Gemma Cooper-Novack

Directed by

Chika Ike

The triangle of lesbian relationships at the center of Break reveal a complex entanglement of love,

desire and mental illness. With quick dialogue and a structure that moves backward in time, this

story, rooted in hope, explores the impacts of bipolar disorder on intimacy, trust, and long-term

relationships.

Tiny thin woman inside

Written by

Courtney Meaker

Directed by

Elizabeth Swanson

Tiny Thin Woman Inside is nestled in a vibrant surreal world of competitive dieting, The Biggest

Loser, and our unending obsession with weight loss. Given contradictory messages around sexuality,

obesity, food, sugar, fat, and health, how do we manage to live in our queer bodies?

Total Attendance:

122
---
2017/18 Education

& Outreach

About Face Theatre's Education Department includes 3 main programs:

About Face Youth Theatre, AFT's Outreach Tour, and Youth Task Force.

AFYT By The Numbers

16 - Number of youth participants in 2017-

2018

16 - Average age of participants

50% of participants that identify as POC

31% of participants that identify as

transgender/gender non-conforming

31% of participants that are current

high school students

31% of participants that are current

college students

About Face Youth Theatre (AFYT) is an affirming and inclusive theatre and activism

program.

Through workshops with special guests, a rigorous rehearsal process and public performances

of an original play, LGBTQ+ youth and their allies ages 13-24 explore and expand their

understanding of personal identities, current events, history, and leadership styles.

AFYT Testimonials

"AFYT has helped me find the importance of sharing my narrative as a queer person of color."

"I felt like an 'okayish' actor before but after working with Donny, Mia, and other ensemble members

who are highly skilled, AFYT has made me really realize how much I can push myself to

make myself better."
---
AFT's Outreach Tour provides performances and workshops to schools and organizations

as an entertaining, compelling, and necessary approach to starting dialogue about bullying,

diversity, and intersecting identities.

Our standard format includes a performance followed by a talk-back; however we do offer

more in-depth break-out discussion sessions or hands-on storytelling workshops with the

audience following the performance.

AFT'S OUTREACH By The Numbers

24 - Number of performances in FY18

10 - Number of schools visited

8 - Organizations & Parks

4,155 Number of students, teachers, and

community members in FY18

The Youth Task Force (YTF) is AFT's youth leadership committee, comprised of 4 ensemble

members who are committed to the group's work. YTF leads the AFYT ensemble by selecting

show topics/themes, facilitating workshop activities, organizing social excursions, and taking

leadership roles during the show and throughout the company.

2018 Youth TASK FORCE

- Via Haman

- Ophelia A.

Harkness

- Sharon Pasia

- Jimbo Pestano

This year, YTF members:

- Joined the board!

- Took leadership roles such as dance captain, makeup and costume artist, and props design for

Scary Stories.

- Led exercises and mentored fellow ensemble members.

- Led discussions after Scary Stories.
---
April 2018 Wonka Ball at

Saturday Night Live:

The Experience

ATTENDEES: 350 FUNDS RAISED: $85,000
---
2017/18 financials

Statement of Activities

* for fiscal year ending August 31, 2018. Pre-audit results.

Revenue

FY18*

Earned Revenue

Ticket Sales & Memberships $ 65,570.11

Education Income $ 14,025.00

Rentals & Other $ 65,711.56

Contributed Revenue

Government $ 34,170.00

Foundations $ 209,964.74

Corporate Sponsorships $ 20,897.03

Individuals - Board $ 58,837.77

Individuals - Other $ 137,497.26

Special Events $ 83,986.04

In-Kind $ 4,330.32

Total Revenue $ 685,989.83

Expenses

Production & Performance $ 210,952.01

Other Expenses

Personnel $ 315,205.20

Marketing $ 35,978.29

Operations $ 59,365.47

Facilities $ 55,683.59

Business $ 14,924.57

Total Expenses $ 692,109.13

Net Income ($ 6,119.30)
---
2017/18 donors

About Face Theatre relies on individual, corporate, foundation and government contributions from our community

to support our mission to create exceptional and innovative theatre. Without this support, we would not be able to

develop exciting new work in collaboration with the finest emerging and established artists in the nation, nor would

we be able to provide exceptional educational programming to LGBTQI youth and their allies. Below is a list of our

supporters who donated from September 1, 2017 through August 31, 2018. We work diligently to keep our donor

lists accurate and up-to-date. Please bring any unintentional errors, additions, or corrections to the attention of

Dylan Toropov at dylan@aboutfacetheatre.org

individual

Supporters

$20,000+

Michael Leppen

$10,000-$19,999

Erik Burns and Benjamin Sprunger

Becky Huinker

$5,000 - $9,999

Rob Abernathy and Peter Vamvakas

Carmelo Barbaro and Alexander

Boni-Sanz

Derek Blin

Michal Eskayo and The Weinsteins

Gary Gephart

Aaron Kacel

Maxwell Koziol

Bill Michel and Mark Botelho

Anthony Priore

Charles Rhee

Geoff Robinson and Emily Bergstrom

$1,000 - $4,999

Anonymous

Geoffrey A. Anderson

Jim Andrews and Rich Cohrs

Jim Bennett and Terry Van Der Hoek

Philip Burgess and Jim Nutter

Ryan Burns and Justin Kesselring

Megan Carney

Victoria and Edmund Carney

Debra Chinnapillai

Judge Tom Chiola (Retired)

Kenneth Creech

Christopher Dionesotes and Sam

Portaro

Pat Ewert and Susan Blake

Julia Fabris McBride

Greta Ferkel

Brent Fisher and Jim Rinnert

Dr. Wayne Franklin

Ted Grady

Michael Halberstam and Jack Segal

Jason Held and John Sanders

John Kander

Elizabeth A. Kimball

Anna Larsen

David Maier and Matt McGrane

Daniel and Anita Mauro

Dr. Dwight McBride

Robert McCamant

John Morse and Wesley Broquard

Timothy O'Keefe

Edward Potocek

Anthony Ruth

Paul Semper and Eric Medina

The Shapiro Grynsztejn Family Fund

of the Jewish Community

Foundation

Stephen Lowell Swanberg

Heather Vickery and Bernadette

Smith

$500 - $999

Anonymous

Michael J. Alexa

Cheryl Lynn Bruce and Kerry

Marshall

Kathleen and Evan Caliento

Greg Cameron and Greg Thomson

- In Honor of Tony Priore

Bill Chamberlain and Howard

Heyman

Victor L. Corder

Darwin Corrin

Eileen Dordek and Chris Landgraff

Toby Eveland and Brian Johnson

Em Hall

Kierstin Hays

Drew and Anne Kent

Kris Knaak

Hal Kugeler and Ed Flood

Zachary LaMaster

Ken Luskin

Gary Metzner

Tony Miner

Steve Monaghan

Chris Parkinson

Mark Pellegrino

Clark Pellett and Robert Kohl

Robert Riesman and Rachel Kaplan

Chris Schmidt and Diego Rocha

Roche Schulfer and Mary Beth Fisher

Debra Shore

Thomas Sinkovic

Mike Sullivan and Mark Robertson

Richard Sypniewski

Willa Taylor

Paul Winberg and Bruce Czuchna

Douglas Wright

Alana Zalas

$100 - $499

Anonymous (x17)

Daniel Acosta and Robert Book

Ann Kilkelly

Jon and Geoff Altizer-Bieger

Susan and James Annable

Sonia Arroyave and Nina Fernandez

Rev. David P. Aslesen

Rebecca and Wade Bacon

Chris Baer and Matt Greenberg

Peggy Bagley and Rabbi Douglas

Goldhamer

Peter Baranowski

John K. Barry and Daniel Otto

Amy Beck

Bill Bergfalk and Roland Hansen

Roger Bialcik

Anna E. Blackburn

Galen V. Bodenhausen

Pandora and Mark Brewer

Frances Felske and Graham

Bridgeman

James Brott

Dan Brownell

Robert Brunner

Timothy Brynda and Ed Collins

Alexandra Buck

Helen Mara Burns

Sarah Burns

Zena Burns

Edson N. Burton, Jr.

Rosa M. Cabrera

John Callen

Sean Campbell

Shanta Cardiel

Paul Cary

Julie A. Chiron

Randall Chism

David Ciepluch

Ruth Clark and Loraine Edwalds

Stefanie Clark
---
Dana Cohen

Ben and Frances Collins-Sussman

Jayne Colwill

Art Cunningham

William Dalbec

John Dally and Todd Young

Anthony D'Amato and Jim LoBianco

Jeff Daniel

Larry Dark

Steve Davis and Eddie Rothermel

Philip E. Dawkins and Bryan Bosque

John D'Emilo

Aaron Denk

Patricia Detrie

Peter Diamond

Dan Dornbrook

Natalie and Patrick Dumstorff

Kenneth East and Timothy Thurlow

Dr. James Embrescia

Edward Fajardo

Janet Ferguson

Laura Fisher and Donald Copper

Susan Frances

Jackie and Dan Frett

Don Frey

Francesca Gaiba

John Gallagher and Tod Tappert

Helen and Mario Gambescia

Nicholas Giampietro

James A. Glazier and James

Ferguson

Michael Glick and Joseph Wickliff

Steven Glickman

Ethel and Bill Gofen

Kevin Gregory and Alex Perez

Joe Griffith

Ann-Louise Haak

William C. Haddad

Travis Hahler

Kelly Hallberg

Brian Elmore and Jeffrey Hamm

Kathryn Hanley

Roland Hansen and William Bergfalk

Christopher Harnack

Steve Haught and Bob Stoner

Roderick Hawkins

Jordan Heinz

Kip Helverson

Patricia Hendricks

Linda Heying

Fred Hill

Greg Hinz

Steve Scott and Theodor Hoerl

Tommy Holl

Dr. Stephen Holley

Peggy and Bill Horan

Casey J. Horton

Amy Hutchison

Nick Hutson

James Huttenhower

Lynne Inman

Marina Jankovic

Jim Jensen

Dinesh Goburdhun and Bridget

Jones

Patricia Kane Gaule and Kim Osgood

Michael Camp

Mark Karambelas

Charles L. Katzenmeyer

Julia Kelly

Jack L Kiburz

Chase Kimball

Kristy Kirschner and Raymond Curry

Stephen Klabish

Tom Klein and David Gitomer

Ronald Klimek

Jean Klingenstein

Joe Koecher and Scott Takacs

Tamara Koury

Maria Kronfeld

Rob Lindley

Mike Liska

Dr. Paul Lisnek

Eric W. Lofdahl

Chris Lonn

Lynn Macal

Patricia Martin and R. Bruce DeMent

Amy Matheny

Carl May

Ann and Lynn McBurney-Soderlund

Kevin McGirr

John McLees

Andreas Melinat

Paul Mennen and Jeff Kessler

Tim Micsko

Jack Milam

Colleen Miloni

Stan Mims

Georgette Mitrovic

Herb Moore

Kevin Mork

Ann Morris and Vada V. Woods

Mary Morten

Jacob Mueller

Travis Myers and Sam Allen

Meagan Newman

John Newton

David Niemeyer

Larry Olson

Fred Orelove and Irene Carney

Chad Osborn

Bethany Pagels-Minor

Maria Palermo

Joan Parker

Marianne Parkhill

Marla & Dick Parvey

Joan Patrick

Kristin Patton

Michael Pauken

Jonathan Pearl

Anna Pettersson

Tom Pickett

Pamela Plotkin

Patrick Priore

Jerry Proffit

William Pry

Donald H. Ratner and Bruce Gober

Ellen Jordan Reidy

Frankie Reynolds

William Rivas

Steve and Donna Robinson

Catharine Romano

Adam Rossier

Ryderworks LLC

Tim Salm and Paul Peroutka

Victor Salvo

Norman Sandfield

William Curtis Schade

Heather Schmucker and Lisa

Freeman

Quenten Schumacher

Robert Schwartz

John N. Schwartz and Jim Mosley

Scott Schroeder

Jeff B. Sedoff

Kathryn Seifert

F. Sheppard Shanley

Timothy Sherck

Peggy Shinner and Ann Tyler

Helaine Shlasko - In Honor of Ariana

Silvan-Grau

RJ Silva

Mike Silvaggi

Jon Silvan - In Honor of Ariana

Silvan-Grau

Norm Sloan

Jeremy & Stephanie Smith

Dasha Snyder

Cindy Sobel

Rick Stoneham

Brad Suster and Tom Hernandez

Andrew Szegedy-Maszak and

Elizabeth Bobrick

Ruthann Szente-Carve Systems

Lauren Taslitz

Barbara and Randy Thomas

Ron Thomas

Dylan Toropov - Dedicated to the

Staff, Artists and Supporters of

About Face Theatre

Jena Valdetero

Ray Vas

Roland and Christina Veit

D. Gray Vogelmann

Alexia Ward

Liz Weber

Joan Wells

Patti Wetzel

Ann Whitney - Dedicated to The

Cast, Crew and Creative Team of
---
Significant Other

Ellen Wiggins and Kathleen Powers

James Wiltshire Jr.

Raymond Wohl

Brian Woodworth

Greg Woulf

$1 - $99

Anonymous (x80)

Jonathan Abarbanel

Susie Alexander

- In Memory of Ben Alexander

Brittany Alsot

Al and Roseanne Andrews

Austin Baides

Helen Balasny

Parke Ballantine

Dawn Barcus

Matthew Barnes

Jennifer Barron

Brianna Benner

Steve Benner and Keith Worley

Dave Bentlin

Pam Blair

Cristen Bolan

Christine Bowman

Sarah Goeden and Malachy Boyle

M. Brigid Browne

Jeffrey Bucher and Chuck Whitmer

Tricia Bulaclac - In Memory of Ron

Weaver

David G Byrne

Lauren Caisman

Jerold Caldwell

Cory Calmes

Megan Camacho

Philip Carabello

Sheila Carney

Kim and Joe Cartwright

Cornelio Casaclang - In Memory of

Ron Weaver

Daniel Coil

Elizabeth Collins

Noreen Costelloe

James Cracchiolo

M. Pat Cummings

Katie Cunin

Lauren Czajkowski - In Memory of

Ron Weaver

Shane Davis

Andrea Densham

Joseph Dombrowski

Dennis Donofrio

James A. Downey

Thomas Drexler

Kelly Duke

Halfpipe Stinkybuns-Campbell-

Dunphy

Carlos A. Echeverria-Estrada

Alan Eddington

Heather Egland

Matthew Fennell

Brenikki Floyd

Dan Fontaine

Kenneth Frank

Pat Freeman

Judy Friedman

Niki Gee

Jared Gellar

Marc and Joy Gerber

Norden Gilbert and Ben Thomas

Elana Goldenberg

Tanara Golston

David Graham

Beth Gratzer

William Greaves

Jeff Green

Susan Greenberg

Pat Guizzetti

Shelby Hagstrom

Sheila and Mike Harvey

Alex Hernandez

Mark Hirtzer II

Melissa Hoffman

Lisa Honaman

Michael Horvich

Melissa Hubbert

Michael Hyatt

David M. Isaacson

Shawnesse Jackson

Nathan Jenks

Kenneth Jones and Robert Saqueton

Tammy Joyce

Dave Jupp

Aaron Kaczmarek

Henson Keys

Elizabeth and Richard Kincanon

Kirby Epley

Andrew Krugly

Panu Lansiri

Chad Larsen

Michael Lemon

Samuel Levine

Tonia Lorenz

- In Memory of Ron Weaver

Molly Malone

John Matthews

Michael McAdams

Kathleen Engman

Ronald S. McClure

David McMillan

Rex Babiera and Geoffrey Meyer

Alyson Miller

Andrew Miller

Kevin Millsap

Loretta Waslo

Kenneth and Christine Moe

Sammi and Byron Moe

Thomas Moss

Erika Napoletano

Cathy Geldmacher Nathan

Helene Newberg

Robert Newhart

Courtnay O'Connell

John Olson

Nicole Oppenheim

Andrea Opperman

Karen Lee Osborne

Michael A. Oxman

John Peery

Hayden Penn

John Perkins

Laura Perkins

David Pezen

George Dante Pineda

Vincent Poggi

Wendy Pollack

Matthew Prescott

Nick Rabkin and Cynthia Weiss

Jose Rene Sandoval Ramos

Daniel Reinglass

Elizabeth Ress

Adele Ribolow

John Risko

Peggy Roeder

Michelle Roman

Avi Roque

Ellen Rupert

Imani Rupert

Charissa Sauter

James Scalzitti

Mintie Scanland

Ed Scheer

James Schiff

Nerea Schoonhoven

Kat and Johnny Bartos

Jeffrey Shade

Andrew Shedden

Nilsa Shepsle

Judith Silvan

Ariana Silvan-Grau

Ryan Stanfield

Leslie Starsoneck

Kerry Strahm

Christina Sullivan

John Thompson

Jennifer Thornton

- In Memory of Ron Weaver

Richard Tobiason

Mary Toropov

Becky Traisman

- In Memory of Ron Weaver

Joshua Turnbull

Jean-Pierre Vidrine

Moises Villada

David Gray Vogelman

Dawn Walter

Kent Ware

Wilbert O. Watkins

Biz Wells and Jessica Carson
---
Richard Wester

Gregory Wiercinski

Nathan Wonder

Linda Wurster

Bobby Xydis

George Zahrobsky

Deanna Zalas and Michael Marrs

Cary A. Zartman

Corporate,

Foundation &

Government

Supporters

16th Street Theater

312 Chicago

A Red Orchid Theatre

Abbvie Foundation

AC Hotel Marriott Chicago

Ace Bounce

The ACT Group

Actors' Equity Foundation, Inc.

AIDS Foundation of Chicago

Aloha Poke Co

Amazon Smile

American Blues Theater

Andersonville Cryotherapy and

Athletic Recovery Center

Andies Restaurant

Angels in America on Broadway

Ann Sather Restaurant

The Annoyance

Apollo Chorus of Chicago

Arclight Cinemas

Arlington International Racecourse

Arts Work Fund For Organizational

Development

Athenaeum

The Bagel

Bark Bark Club

Barrel of Monkeys

Be Yoga Andersonville

Benny's Chop House

Best Western - Hawthorne Terrace

Big & Little's

Black Ensemble Theatre

Blue Man Group

Blue Plate Catering

BLVDier

Bobtail Ice Cream Company

BOI Magazine

The Book Cellar

Booth One

Brazillian Bowl Grill

Broadway Cellars

Brookfield Zoo

Cadella Medical Spa and Wellness

Center

Cafe Ba-Ba-Reeba

Cafe Selmarie

Carol's Cookies

Cause Strategy Partners

Center on Halsted

CH Distillery

Cheesecake Factory

Chicago A Capella

Chicago Bears

Chicago Botanic Garden

Chicago Bulls

Chicago Children's Theatre

Chicago Community Trust

Chicago Cubs

Chicago Department of Cultural

Affairs & Special Events

Chicago Diner

Chicago Gay Men's Chorus

Chicago Magic Lounge

Chicago Mosaic School

Chicago Opera Theatre

Chicago Park District

Chicago Shakespeare Theater

Chicago Sinfonietta

Chicago Symphony Orchestra

Chicago Tap Theatre

Chicago White Sox

Chicago's First Lady Crusies

The Chopping Block

CircuitMOM Productions

City Lit Theater Company

City Winery Chicago

Club Lucky

Coalfire Pizza

The ComedySportz Theatre

Cookies by Design

Court Theatre

Crossroads Fund

Davis Theater

The Dearborn

Demera

Devereaux

Dinkel's Bakery

Do-Rite Donuts

Dover Foundation

Drew's on Halsted

Driehaus Museum

DS Tequila

Early to Bed

East Bank Club

Edge of Sweetness Bakery

Edgewater Chamber of Commerce

Edgewater Fitness

Elizabeth Collins Fine Art

Ema/Lettuce Entertain You

Epic Burger

Escape Artistry

The Factory Theater

Fastsigns

Fat Cat

Few Spirits

Field Museum of Natural History

Fireside Pub, Inc.

First Floor Theater

Fitness Formula Clubs

Fleming's Steak House

Float Sixty

Foursided

Frank Lloyd Wright Preservation Trust

Frost Chicago

Garrett Popcorn

Gaylord and Dorothy Donnelley

Foundation

Gene Siskel Film Center

The Gift Theatre Company

GiveSmart

Glassworks Coffee

Goodman Theatre

GRAB Magazine

Grand Lux Cafe

Hamilton Chicago

Handlebar

Hannah's Bretzel

Havas Worldwide Chicago, Inc.

Haven Theater

Hazel

Hell in a Handbag Productions

Heron PR Agency

The House Theatre of Chicago

House of Blues

Human Rights Campaign

Hutch

IBM

Illinois Arts Council

Illinois Humanities Council

Indie Cafe

Insomnia Cookies

Intercontinental Chicago

Intuit: The center for Intuitive and

Outsider Art

The iO Theater

IVme Wellness + Performance

Center

J&L Catering

Jackalope Theatre Company

JAM Productions

Jayson Home

Jeni's

Jerry's

Joe Koecher Fine Art

Joffrey Ballet

John R. Halligan Charitable Fund

Jonathan Logan Family Foundation

Joseph Ahn Fine Art

Journeyman Distillery

Klein's Bakery and Café

Kokandy Productions

Konak Pizza and Grill
---
Koval Distillery

Kubo Chicago

Kuma's Corner

La Colombe Coffee Roasters

Lady Gregory's Pub

Landmark Century Centre Cinema

Lang House

Laugh Factory

Laura Lynne Fine Art

League Of Chicago Theatres

Lifeline Theatre

Lillstreet Art Center

Little Beans Cafe

Live Nation

London House

Lou Malnati's

Lovers Lane

Lucky Strike Chicago

Lux Cantorum (LCC)

Lyfe Kitchen

Lynfred Winery

Lyric Opera of Chicago

MacArthur Fund for Arts & Culture at

Prince

Map Room

Mariano's

Mark Brown Photography

Mark Toland Mind Reader

The Marriott Theatre

Marty's Martini Bar

McMaster-Carr Supply Company

Mercury Theater

MillerCoors

Milwaukee Chamber Theatre

Milwaukee Repertory Theater

Mitchell Channon Design

Mon Ami Gabi

Morton Arboretum

Motorola Foundation

Museum of Broadcast

Communications

Museum of Contemporary Art

Music Box Theatre

Music of the Baroque

Music Theater Works

My Private Chef

Nancy Krause Floral Designs &

Garden Antiques

Naomi Unverzagt Fine Art

National Museum of Mexican Art

The Neo-Futurists

Network For Good

North Halsted Area Merchants

Association

Northlight Theatre

Oceanique

Octavio Cantina & Kitchen

Old Town School of Folk Music

Pastoral

Paul M. Angell Family Foundation

Peckish Pig

Pepsico Foundation

PHlour Bakery & Café

Pilates Chicago, Inc.

Piven Theatre Workshop

Pivot Arts

Pizzeria Aroma

Polk Bros. Foundation

Polo Cafe

Porchlight Music Theatre

Pride Films and Plays

PRP Wine International

The Radler

Range

Raven Theatre Company

Redtwist Theatre

Rembrandt Chamber Players

Remy Bumppo Theatre Company

Rivendell Theatre Ensemble

Robert Jeffrey Hair Studio

Roy's Furniture

Sacred Art

SafeHouse Chicago

Salon Echo

Schubas/Tied House

Second City

The Service Club of Chicago

Shariana Images

Shattered Globe Theatre

Shedd Aquarium

Shubert Foundation

Sideshow Theatre Company

Sidetrack

Silk Road Rising

Skydeck Chicago

Skylight Music Theatre

Social Venture Partners Chicago, Inc.

SoFo Tap

Soul Cycle

Split-Rail

Stan's Donuts

Steep Theatre Company

Stella Barra Pizzeria

Steppenwolf Theatre Company

STK Chicago

Storytown

Strawdog Theatre Company

Studio Us

Sunda

Swirlz Cupcakes

Sybaris

T-Mobile

Taylor's Tacos

Tejas Yoga

That Little Mexican Cafe

Theater Wit

Theatre at the Center

Theatre Communications Group

Theo Ubique Cabaret

Thousand Waves Martial Arts and

Self Defense Center

TimeLine Theatre Company

Trattoria DOC

Uncommon Ground

Unicreamer

United Airlines

United Way of Metropolitan Chicago

UnitedHealth Group

Uptown Underground

Vanille Patisserie

Velvet Fox Productions

Venicci

Vero Design + Build

Vickery & Co.

Victory Gardens Theater

Vincent

Walter E. Smithe

WCPT-FM

WGN-TV

Wick's Park Bar & Grill

Wilde Bar & Restaurant

Windy City Performing Arts/Gay

Chorus and Windy City Treble Quire

Windy City Playhouse

Women and Children First Chicago

Wonderful Giving

Writers' Theatre

Yoga Now Chicago

Zanies
---
www.aboutfacetheatre.org