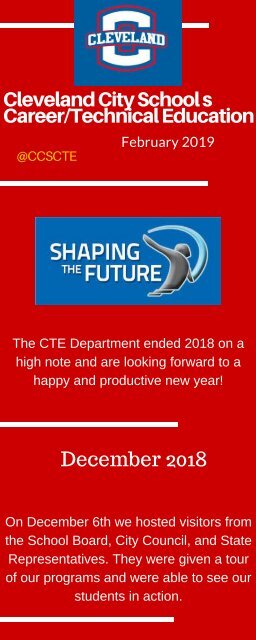 Do you know the secret to free website traffic?
Use this trick to increase the number of new potential customers.
City School s

Cleveland

Education

Career/Technical

February 2019

@CCSCTE

The CTE Department ended 2018 on a

high note and are looking forward to a

happy and productive new year!

December 2018

On December 6th we hosted visitors from

the School Board, City Council, and State

Representatives. They were given a tour

of our programs and were able to see our

students in action.
---
Engineering

Academy

The Mechatronics classes at CHS helped fulfill

the Christmas wish of a young boy with

different abilities. The students brainstormed to

determine how to customize a Wild Thing to fit

his special needs. They added a remote

control, supportive chair, lighting, bluetooth

speakers, and a dinosaur theme. A special

switch was also installed to give him the ability

to control it himself. This will give him a sense

of independence and the chance to play and

interact more with his friends.
---
Cosmetology

Academy

CHS Cosmetology competed against

Bradley High School in a fantasy styling

competition which included hair, makeup,

nails, and costume styling. The students

came up with original characters based

on the theme "Candyland". CHS won 1st,

2nd, 3rd and Audience Choice awards.

All money collected was donated to the

American Cancer Society.
---
Business

Academy/FBLA

Fall Semester Business students earned

dual credit at Cleveland State

Community College in Computer

Applications.
---
January - February

2019

Automotive

Academy

Automotive students explored postsecondary

opportunities with the National

Guard. They brought 2 Humvees for the

students to check out
---
Aviation

Academy

Avaition, Automotive, Engineering and

JROTC students had an opportunity to

hear from Astronaut Hoot Gibson, who

commanded 4 missions in space and was

copilot for another.

Several

Aviation stayed

to ask

questions and

get additional

innforamtion.

Patty Thomas, CTE Supervisor of Alcoa

Schools visited the Avaiation Academy

and tries out the Redbird Flight

Simulator.
---
Business

Academy/FBLA

The Raider Trader is going strong this

semester! Students are learning how to

operate a business.

Cosmetology

Academy

Advanced Cosmetology students practice

on manikin heads and each other.
---
Criminal Justice

Academy

Criminal Justice students

learn about the different areas

of law enforcement and the

different uniforms and

equipment each requires.

Criminal Justice 3 students

review evidence that has

been collected.

Culinary Arts

Academy

Students make

chocolate

truffles

Student practices to

improve skills for

SkillsUSA competiton
---
Digital Media

Academy/CHS

Live

CHS Live welcomes a

new daily live show crew

CHS Live recorded

and interview between

Dr. Dyer and Dawn

Robinson, Board Chair

for an rezoning

community meeting.

CHS Live

broadcasts

basketball games

from the Raider

Arena
---
Engineering

Academy

Engineering students

used the plasma cutter

to create a sign for

eXposure Baseball

Students work

toward Siemens

Level 1 Certification

Paul

Zurek@Zurek_STEM

loves the PLTW lab

set-up.

Robotics Team

members work to

complete robot for

First Robotics

Competition in

March.
---
Health Science

Academy

A&P students learn

anatomical terms by

labeling themselves.

Studying sutures, ligaments,

and tendons in pigs' feet.

Biomedical students

create games to teach

Ross students about

the cardiovascular

system

EMS students practice

proper use of backboards

and body mechanics.

Health Science

students make

commercials about

Healthcare facilities

Sports Medicine students

recreate the knee ligaments

with clay.
---
CMS CTE

Business/

Communications

RaiderTV's new crews. Working hard,

being creative, and filming great morning

shows.

7th grade Business Communications

professionally present Technology and Business

careers.
---
Engineering

CMS Engineering

students learn to design,

measure and frame.

Students use Legos to learn about simple

machines, distance, and building.
---
Medical Science

7th grade students are eager to learn about

Medical Science.

Students study the brain.

Medical Science students are excited to learn

about Scurvy Pirates.