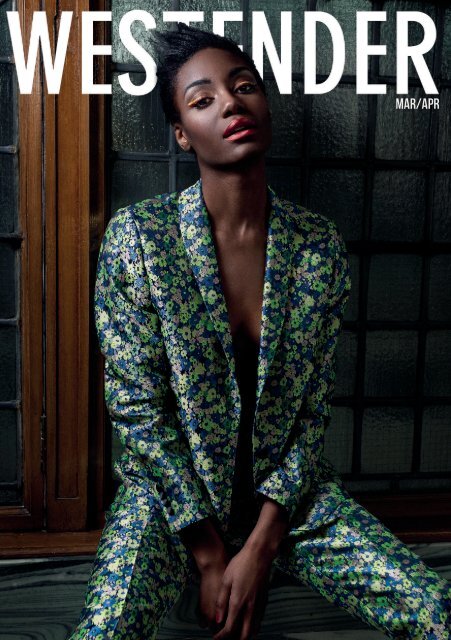 You also want an ePaper? Increase the reach of your titles
YUMPU automatically turns print PDFs into web optimized ePapers that Google loves.
www.westendermagazine.com | 1

MAR/APR
---
2 | www.westendermagazine.com

MAKE A

FREE WILL

We are delighted to offer everyone aged 55*

and over a FREE WILL in aid of Marie Curie.

Home visits available on request.

Our Offices

730 Dumbarton Road, Glasgow, G11 6RD

105 Cadzow St, Hamilton ML3 6HG

130 Saltmarket, Glasgow G1 5LB

scullionlaw.com info@scullionlaw.com | 0141 374 2121

*T&Cs Scotland only. Offer valid from now until end of May. Only one person needs to be over 55 to qualify.
---
www.westendermagazine.com | 3

Contents

Image I Gregor Reid

Contents

6 Fashion pages

westender

Regulars

underwear shoot

13 4 Editor's A Jian London Letter

Christmas

31 The West End

14 Mum's West Notebook End Live

with Greg Kane

19 Fashion, A west beauty end & health

Christmas gift guide

8 Suited and Booted

28 Up Front

Fashion

gypsy brewing

21 WIN! At Rainbow Room

30 Restaurant review

International

31 WIN! A 3 course meal

with wine at Rio Cafe &

WIN! Shopping A weekend

at 29 The Mother's Bruce Day Arms

32 Gift Sweet GuideLiberty recipe

34 Author's Bookgroup

meets Phil Differ

Going out

39 Jingle Belles at

Kennedy 16 West End + CoLive

40 with WIN! Greg A Kane style

makeover 19 Top Things at Rainbow

Room International

41 Art Festive & culture Offers

at Esteem Beauty

42

22 Writer's

100 years

Reveal:

of

Erskine

with Gary

celebrated

Sutherland

at

26

The

Cover

Hunterian

to Cover

44 Health Matters

47 Food Mum's & drink Notebook

49

35 Restaurant

Top Things

Review:

52

Rossini

Interiors

West

article:

End

Christmas

37 Bar Review:

in colour

Munro's

55 Country comforts

56 Hygge at home

Westender living

58 Atlas kitchen

makeover 40 Smart Spaces

66 45 Spring Legal Matters Forward with

Mitchells 46 Art Deco Roberton Decadence
---
4 | www.westendermagazine.com

Editor's

Letter

By the time this edition hits the West

End's leafy streets I'll have returned from

my first ever ski holiday to the Cairngorm

Mountain ski resort, and be looking forward

to another season camping in the Trossachs

and up the west coast (fave place last year

was Portban overlooking Islay and Jura

– heaven).

We joined the Glasgow Ski & Snowboard

Centre at Bellahouston (ski-glasgow.co.uk)

last year to take lessons and a nicer bunch

of people it would be hard to meet. Every

instructor, without exception, has been

excellent (and patient!). Why now? Well I've

waited long enough, I reckon. I had always

fancied skiing and as I hit my mid-forties

reckoned if it wasn't now it may be never.

My youngest and I have been learning

together and that has made the whole

experience extra special.

Read my blog about our stay in

Nethy Bridge online sometime this

February, I'll put a post out on social media

when it's uploaded – so keep up-to-date

by joining us on Facebook, Twitter or

Instagram, or keep checking our website at

westendermagazine.com.

This edition is packed with gigs to book

(West End Live P.16), things to do (Top Things

P. 19) and books to read (Cover To Cover

P.26) – you will not be bored this spring!

We have a fantastic interview with author

Gary Sutherland on P.22. If you are looking

for a great read as well as inspiration to get

out and about as the weather improves, he's

your man. Ever fancied walking the West

Highland Way? Enter our competition for

a copy of Gary's new travelogue Walk This

Way and laugh your way to the start point in

Milngavie.

The spring holidays are also racing

towards us so Michele Gordon of The

Language Hub has compiled a list of her top

West End classes and events to keep the kids

entertained this April. There's loads on from

Dippy the Diplodocus' visit to Kelvingrove,

exciting outdoor activities with West End

Adventure, to outdoor games in our parks run

by Glasgow Life. Head over to P.31 and start

planning your West End fun.

Suzanne Martin
---
www.westendermagazine.com | 5

ADVERTISE YOUR BUSINESS IN WESTENDER

Book advertising space in the May/June 2019

Westender by Friday 29th March.

OUT IN WEST END LOCATIONS FROM TUESDAY 23RD APRIL.

// 10 Years in the West End

// Glasgow's brilliant FREE bi-monthly magazine

// Great editorial features: fashion, dining out, health & beauty,

what's on, local authors & artists, interiors & more

// Massive potential business audience

// 10,000 copies per edition

// Handy handbag size

// FREE to pick up around the West End

// Online presence with digital magazine

westendermagazine.com

For more info or to advertise

email: suzanne@westendermagazine.com

for a media flyer, or call: 07905 897238
---
6 | www.westendermagazine.com

EDITOR

SUZANNE MARTIN

PHOTOGRAPHER

GREGOR REID

CONTRIBUTING WRITERS

EMILY DONOHO, AMY GLASGOW,

MICHELE GORDON,

GREG KANE, TRACY MUKHERJEE,

LORAINE PATRICK,

SUSAN ROBERTSON, BRIAN TOAL

HAIR & MUA

TERRI CRAIG

STYLIST

JACKI CLARK

WESTENDERMAGAZINE.COM

INFO@WESTENDERMAGAZINE.COM

07905 897238

WESTENDER MAGAZINE IS ON

FACEBOOK, TWITTER

& INSTAGRAM

Publisher: Westender Magazine

Whilst every care has been taken to ensure that the data in this publication is accurate, neither the publisher nor its editorial

contributors can accept, and hereby disclaim, any liability to any party to loss or damage caused by errors or omissions

resulting from negligence, accident or any other cause.

Westender Magazine does not officially endorse any advertising material included within this publication.

No part of this publication may be reproduced, stored in any retrieval system, or transmitted in any form – electronic,

mechanical, photocopying, recording or otherwise – without prior permission of the publisher.
---
www.westendermagazine.com | 7

Garden Rooms for year round use, designed and built in Glasgow

that can be tailored specifically to your space or budget!

Garden office, extra bedroom, art/music studio

or teenage space, just a sample of the uses for

our highly-insulated and fully-finished Rooms.

They don't require planning permission so are a

fantastic alternative to an extension. Call 0141

370 6102 to arrange a free quote and site visit.

www.outsideingardenrooms.co.uk

outsideingardenrooms

North Hill Gardens

Beautifying Scottish gardens for more than 10 years

garden design

& maintenance
---
68 | www.westendermagazine.com
---
www.westendermagazine.com | 79

Sharp

dressed

womanmake photography

up

Gregor Reid

stylist

jacki clark

terri craig
---
10 8 | | www.westendermagazine.com

suit, next. Shoes, schuh. necklace, next. glasses, iolla

opposite page - suit, asos. bralette, bonbon at the scottish design exchange. shoes, schuh. necklace, cassiopeia
---
www.westendermagazine.com | 11 9
---
12 10 | www.westendermagazine.com

suit, cos. top, cos. necklace, cassiopeia
---
suit, asos. shirt, cos. boots, daniel footwear. bag, liquorice tree

www.westendermagazine.com | | 13 11
---
12 14 | www.westendermagazine.com

suit, topshop. shirt, next. necklace, cassiopeia

opposite page - suit, river island. shirt, cos. tie, next. boots, office

location the mitchell library

MUA terri craig, terricraig.co.uk

model lili johnson @ colours agency

stylist jacki clark, jackiclark-stylist.co.uk

photography gregor reid, gregorreidphotography.com
---
www.westendermagazine.com | 13 15
---
16 | www.westendermagazine.com

LIVE

March

Kathryn Joseph

Friday 1st March 7.30pm

Glasgow University Debating Chamber

When you stream Kathryn Joseph's

music it comes across poised,

thoughtful, beautiful. Go see her live

and all that is there, but there's also

a power and confidence that really

sucks you in and bowls you over.

Watching her you begin to believe that

she really can right all the wrongs

and offer you all the best life choice

guidance you'll ever need. I find her

totally beguiling watching her sit

at that piano singing those songs.

And I'm not alone, her music has been

celebrated by The SAYAWARD folk (She

won the prestigious Scottish Album

Of The Year Award in 2015). A national

treasure of Scotland she is.

Choice Tracks:

Kathryn Joseph 'We Have Been Loved

by Our Mothers'

Mashrou' Leila

Sunday 10th March 7pm

Òran Mór, oran-mor.co.uk

Mashrou' Leila are one of the most

notable indie pop bands to come out

of the Middle East, to be specific from

Beirut in Lebanon. Now if ever an

indie band had a reason to grind an

axe it would be these guys. To my ears

their music is beautifully arranged

electro Euro pop augmented with the

signature sound of razor sharp Arabic

violin. Frequently compared to Arcade

Fire, Radiohead, Arctic Monkeys they

follow in the footsteps of legendary

Arabic singer Fairuz in bringing

their unique sound to the rest of

the world. Shout out goes to their

flamboyant frontman Hamed Sinno who

is so compelling to watch – hints of

Freddy Mercury.

Choice track:

Mashrou' Leila 'Are you Still Certain'

Joanne Shaw Taylor

Wednesday 27th March 7.30pm

SWG3, swg3.tv

Low slung Gibson Les Paul, check…

Long blonde hair, check… Black ripped

skinny jeans, check… Monster rock

chops on that there guitar, check…

Rock God poses, check… but wait,

this isn't some testosterone filled,

sexually ambivalent hair metal

dude, this is Joanne Shaw Taylor. An

English born blues guitarist who can

trade with the best of them. All these

Bluesmen feeling sorry for themselves

clutching their guitars for comfort

need not look any further than Joanne

Shaw Taylor for salvation. Compelling

to watch.

Choice track: Joanne Shaw Taylor

'Break My heart Anyway'
---
www.westendermagazine.com | 17

by Greg Kane

April

Shawn Mendes

Saturday 6th April 6pm

SSE Hydro, thessehydro.com

Shawn Mendes is the epitome of

millennial success. This is a teenager

who, aged 14, gained millions of fans

over the course of only a few months

after he started posting short videos

of himself covering songs. A familiar

strategy for achieving global success

nowadays. Today at the ripe old age of

19-years-old and already on his third

album for Island Records he's now

gone all funky and grown up. I suspect

there'll be a Hydro full of screaming

girls – and father's and boyfriend's

pained faces. Notwithstanding he's

quite good tho.

Choice track:

Shawn Mendes 'Particular Taste'

Hauschka

Tueday 9th April 7pm

Mackintosh Church

Prepared piano music anyone?

A technique that involves inserting

objects between a piano's strings

and hammers to expand its sonic and

operative possibilities… Anyone?

Ok then, but I'm a piano player and I

love this building up just off Maryhill

Road, so it's kinda ticking my boxes.

Volker Bertelmann, also known as

Hauschka, is an Academy Awardnominated

composer, pianist and

experimental musician whose music

lends itself to movie soundtracks and

he subsequently has a very impressive

entry in IMDb to back it up.

Very beautiful music in a very

beautiful place.

Choice Track: Hauschka 'Curious'

Jody Watley

Wednesday 17th April 7pm

Òran Mór, oran-mor.co.uk

Jody Watley is the Godchild of soul

legend Jackie Wilson, she married

Prince's bassist André Cymone, sang

all those Shalamar hits back in the

80s and was one of the stars of the

New Jack Swing scene in the late 80s,

early 90s. Listening to her music on

Spotify takes you back to the synth

funk days of old… All Di'd guitars,

deep bass lines, Kawai drum machines,

big plate and gated reverbs. I loved it

all… still do if truth be told.

She still sounds and looks great.

A night of 80s funk ahead of you.

Choice track: Jody Watley with

Shalamar 'Night To Remember'
---
18 | www.westendermagazine.com

J O R D A N H I L L BOWLING CL U B

SINCE 1899

• Jordanhill Bowling Club (JBC) at the

heart of the community since 1899

• Enjoy an outdoor sport in a beautiful

location

• Membership open to all aged 8-108

and all abilities

• Play as a hobby or in club, district or

national competitions

• All equipment and coaching provided

free to new bowlers. (Casual clothes

and modern club polo shirts is the

normal now)

• Be part of a team, meet new friends

and play a sport invented in Scotland

• Huge discounts on memberships for

new members

To be part of JBC or just have a look around contact John on 07946661226

or just walk in and visit us. You could be our future club champion.

Looking forward to meeting you.

@jordanhillbowlingclub
---
www.westendermagazine.com | 19

Top Things To Do

in the West End

by Tracy Mukherjee

Top for Dynamic Dinosaurs

We seem to have a special relationship here

in the West End with the prehistoric era.

Not so long ago, the Botanics were overrun with

terrifying triceratops and vicious velociraptors.

This spring it's the turn of both Kelvingrove

Museum and Kelvin Hall to play host to these

gigantic beasts. First, step back to the crazy

cretaceous period and visit Trix the T. Rex at

Kelvin Hall from April till July. This 66 million

year old dinosaur was initially discovered in

Montana but these days is resident in the

Netherlands. Trix is the only Tyrannosaurus

Rex touring in the world so don't miss this

opportunity to visit Kelvin Hall during her

visit and find out more about the life of this

fascinating creature.

Dippy on Tour sees the Natural History Museum

of London's most famous inhabitant leaving

home for the first time since 1905. Dippy the

Diplodocus was one of the largest animal that

ever lived. Living 150 million years ago, he is now

on a natural history adventure across the UK.

Here in Glasgow, he will be helping residents

of our city to experience the wonders of nature

right here on our doorstep. With numerous

events running throughout Dippy's visit, visitors

will have a chance to see how prehistoric animals

are linked to what we see around us now. The

RSPB will show how there are Dinosaurs In Your

Back Garden, looking at the connection between

birds now and those extinct. In March, dinosaur

experts discuss if dinosaurs could live now in

Dinosaurs Back To Life.

All these amazing events will be leading up to

Dippy's Nature Discovery Day at the end of

April. The day coincides with Glasgow's Nature

Challenge 2019, where visitors in and around

the city will be asked to race against the clock to

record as many different species of wildlife as

they can (look out for Bioblitz in the Botanics on

16th March). Incredible events for young and old

alike, it's a perfect time of year to be embracing

and celebrating the nature around us.

T. Rex in Town, 18th April –

31st July, Glasgow Kelvin Hall

kelvinhall.org.uk/trex

Dippy On Tour 22nd January – 6th May

Kelvingrove Art Galleries and Museum

glasgowlife.org.uk/event/1/dippy-ontour-a-natural-history-adventure

Top for a Top Read

Glasgow's annual book festival Aye Write!

returns to the magnificent Mitchell Library in

March. The festival, which has become a firm

favourite in our cultural calendar, celebrates

the best of local, national and international

literature. Audiences gather to hear new writers,

emerging talent or famed international authors

discuss their works in the hallowed halls of one

of Europe's largest public libraries. With events

also taking place at the Royal Concert Hall, the

subjects under discussion cover every genre of

literature and media.

The list of authors and speakers is extensive.

Big name authors such as Val McDermid and

Alexander Smith McCall are in attendance along

with well known names from broadcasting like

Simon Mayo and Louise Minchin. Workshops are

aplenty covering every type of writing: give it a

go in creative writing, children's books, poetry,

writing for radio/television drama; the list goes

on and on. There are also talks from the world

of food and travel literature, historic writers and

discussion on some of the most iconic books

ever written. Wee Write! makes a welcome return

too with the family day on Saturday 2nd March.

As award-winning authors and illustrators

encourage younger readers to develop their love

of books, we can but hope this fantastic festival

runs for many, many more years to come.

Aye Write! 14th-31st March

ayewrite.com
---
20 | www.westendermagazine.com

Top Things To Do

in the West End

by Tracy Mukherjee

Top for Comedy

Can you believe it's a year since the last

Glasgow International Comedy Festival? The

annual March Giggle Gala returns across the

city bringing Glaswegians the best from the

international comedy circuit. Now Europe's

largest comedy festival, stars will be attending

from the UK and beyond. Venues in the west

include Oran Mor, The Stand, Websters and

the Tall Ship, but there are an abundance of

shows dotted around a myriad of establishments

nearby. Comedians to watch out for include

the fabulously dry Rich Hall at the Garage on

Sauchiehall Steet, Scotland's very own Craig Hill

at Oran Mor and the hilarious Mark Nelson (he

of the politically savvy daughter) at the Stand.

Darren Connell, of Scot Squad fame also treads

the boards of the Stand in his Abandon All Hope

show. We've yet to see if his alter ego Boaby will

make an appearance with Officer Karen!

Glasgow International Comedy Festival,

14th -31st March, various venues

glasgowcomedyfestival.com

Top for Theatre

Oran Mor's now iconic A Play, A Pie and A

Pint has hit its 15th anniversary and will have

produced no less than 500 plays; quite an

achievement given the lunchtime theatre slot.

To recognise this landmark achievement, some

of the favourite productions from over the years

are making a return to the theatre. Plays by Liz

Lochhead, Dave Anderson and Morag Fullerton

are all on the Spring Season list, as well as new

works by less well known, yet no less talented

playwrights. Famous icons making a welcome

appearance include Chic Murray, Elvis, Jocky

Wilson and Humphrey Bogart… in dramatic form,

of course. The latter returns for the 500th play,

Casablanca – The Lunchtime Cut. This play

was voted for by the Oran Mor audience as the

favourite to have an anniversary encore.

Looking down this list of dramas, musicals

and comedies in this celebratory season, rest

assured a lunchtime theatre date is on the cards

this spring.

A Play, A Pie and A Pint Celebration

Season, Oran Mor, Byres Road

oran-mor.co.uk

Top for Top Art

We all have our favourite forms, genres, pieces

of art and over the years these pages have

signposted some utterly incredible local galleries

and some true national heroes e.g. Rennie

MacIntosh. I'm safe in saying that I haven't

made previous reference to this chap who's got

a few pieces being shown down at Kelvingrove.

His name? LEONARDO DA VINCI!!!

Twelve of the most intricate drawings by da

Vinci will be on show at Kelvingrove up until

May in the showcase Leonardo da Vinci: A Life

in Drawing. Lent to Kelvingrove Art Gallery

and Museum by Her Majesty The Queen from

the Royal Collection, the museum is the only

Scottish venue to exhibit these pieces. Across

the UK, 144 drawings in total are going on show

in a national celebration to mark 500 years

since the artist died. The drawings range from

anatomy to mechanical design, portraiture; even

weather sketches. With a number of da Vinci's

own explanatory notes, this is an incredible

opportunity for visitors to get an insight in to the

mind of arguably the world's greatest ever artist.

Kelvingrove is already home to one of the finest

collection of European art, so this is the cherry

on the cake. But my, what a glorious cherry it is…

Leonardo da Vinci:A Life in Drawing,

Kelvingrove Art Gallery and Museum,

February - May 2019

glasgowlife.org.uk/news/leonardoda-vinci-a-life-in-drawing-coming-tokelvingrove-in-2019
---
RRI

M

Westender www.westendermagazine.com Magazine Competitions | 21

by Roxy McMullin

y journey from 2018-2019 was

incredible. When I started with

Rainbow Room International I was

shy and had no confidence. Last year I

started my level 2 training and completed

this in December. I did a few models every

week to progress through training quickly

and I was very determined. I worked on a

lot in a short time frame, which has allowed

me to move onto my level 3 training and do

more advanced work on clients. Once I have

finished this I will be a fully qualified stylist.

Rainbow Room International have given

me so much help throughout the process

and working in the Great Western Road

salon and the Academy has really increased

my confidence, as everyone has been so

supportive. I am always looking for models

each week for training to complete different

cuts, colours and other hair services.

If anyone is interested in being a model,

please contact the Rainbow Room

International Academy on 0141 221 0400

for further information and ask to be

booked in with myself, Roxy.

follow – Rainbow Room GWR

Alan and Linda Stewart

Rainbow Room International

607 Great Western Road G12 8HX

0141 337 3370

rainbowroominternational.com

WIN! Rainbow Room International

are offering one lucky reader a hair

makeover in their Great Western Rd

salon. For your chance to win go to

westendermagazine.com and click

on competitions by the 30th Apr '19.
---
22 | www.westendermagazine.com

Writer's Reveal

meets Gary Sutherland

WORDS LORAINE PATRICK

Even with the weather getting better and

the first signs of spring around, the

challenge Gary Sutherland set himself in

Walk This Way brings out the blisters in me.

Trekking 240 miles along three of Scotland's

iconic walks is quite a challenge. No rest

breaks, walking 20 miles a day, on his own…

does not immediately sound like a recipe for

fun. Nevertheless, Gary's travelogue Walk

This Way is an amusing and light-hearted

account of the landscapes he sees and

people he meets with little made of his weary,

sore feet.

Gary – thanks for taking time to catch

up with Westender Magazine – the first

question has to be why?! Why do these

three walks in a row?
---
www.westendermagazine.com | 23

I never viewed walking as an activity I'd

enjoy. I love cycling and running and living in

Glasgow I've seen 'The Walkers' with their

colossal backpacks getting ready to tackle

the West Highland Way. I always thought

it wasn't for me. Having spent years living

on the doorstep of Scotland's most famous

long-distance trail and doing a good job

of ignoring it, I finally decided I needed a

new challenge and wanted to test myself at

something that was completely alien to me.

I tend to bite off more than I can chew and

am nothing if not ambitious. I found out that

the Great Glen Way starts where the West

Highland Way finishes so I thought: 'Why

not just carry on?'. I then realised that I

could add the Speyside Way to the mix and

make it a hat-trick of iconic walks. And that

I could walk from Glasgow, where I live, to

the Moray coast where I grew up. There was

also the lure that perhaps no one had done

this sequence of walks before. My mind was

made up. I just needed to get my hands on

some walking gear…

What were the highlights?

The highlights of my trek were crossing

Rannoch Moor, climbing the Devil's Staircase

near Glencoe, walking towards Ben Nevis

on the final day of the West Highland Way.

The standout moment of the Great Glen Way

was reaching Loch Ness. I couldn't believe I'd

got there on foot from the edge of Glasgow!

Wandering through Malt Whisky Country on

the Speyside Way was both a blessing and a

danger. Beautiful scenery but a fair number of

distilleries and some inviting pubs. Reaching

the shore of the Moray Firth on the final day

of my 240-mile march across Scotland was

the absolute highlight. I felt a mixture of

elation, exhaustion and relief.

Did you have a favourite walk?

My favourite of the three was without doubt

the West Highland Way. It's world famous

for a reason. The epic mountain scenery,

the wild moors, plus there's a lot of

camaraderie among the walkers on what has

become a well-trodden path. But not one

that's overly busy, at least not in springtime

when I set off on my solo journey.

How would you compare and contrast the

three walks?

The West Highland Way was the most visually

stunning of the three walks but also the most

difficult. I found the Loch Lomond section,

along the boulder-strewn wooded shore,

far more awkward than I had anticipated.

There's also a steep climb out of Kinlochleven

towards the end that fairly tests the legs.

A good deal of the Great Glen Way is on the

towpath of the Caledonian Canal, which was

easier on the feet. You could cycle much

of the Great Glen Way – and people do.

The Speyside Way is the shortest of the

three walks (66 miles, compared to 75 for the

Great Glen Way and 96 for the West Highland

Way) and the terrain is easier. It's mostly

forest walks, old railway lines and wandering

across farmland with occasional glimpses of

the River Spey. But passing through lovely

villages like Aberlour and later reaching the

sea makes it worth it.

You were brought up in Hopeman but you

now live in Glasgow. Did the final walk –

the Speyside Way – feel like a long walk

home?

Trekking through Speyside did feel like a

homecoming and that was the intention,

the ultimate reward for my efforts. When I

reached Grantown-on-Spey, I knew I was

nearing the end of my long journey. From the

slopes of Ben Aigan, above Fochabers, I saw

the Moray Firth and that gave me a muchneeded

shot of adrenalin for the closing

miles. My family – including my granny, my

mam, my wife and kids – were there to greet

me at Spey Bay, where the river flows into the

sea, and that was a very special moment.

What was the biggest concern for you

setting out on the journey?

I guess the distance involved was the main

thing. In total, the walk was almost 240

miles and I was determined to hike the three

long-distance trails consecutively over 12

days, with no rest days. So that's 20 miles

per day. I felt fit (through my regular cycling

and running) and I packed light, just a small

backpack. I had booked a combination of

B&Bs and hostels. No way was I carting

along a tent! A big concern was getting

blisters. No matter how fit I was, blisters

could be a source of real pain. But I received

some great advice in an outdoors shop in

Glasgow, where I bought good walking shoes

and proper walking socks – indeed a 'sock
---
24 | www.westendermagazine.com

system' of thin liner socks beneath thicker

woollen socks – and would you believe it,

I didn't suffer a single blister during the entire

trip!

You say you are not a keen walker – what

were you scared of?

My two main fears were heights and the

prospect of extended periods of isolation.

I had a wobble on Conic Hill on my first day,

looking down on Loch Lomond. It's not even

that high a hill, but I do suffer from vertigo.

I later froze half-way up the Devil's Staircase,

gazing back at Glencoe. My legs completely

locked. Luckily, I had company and a fellow

walker talked me over the Devil's Staircase.

In terms of isolation, I was worried in advance

about perhaps having to cross Rannoch Moor

on my own. Which is how it turned out…

in torrential rain and high winds. Halfway

across the moor, I decided to make a run for

it. Legging it across the moor – this bleak,

inhospitable place – I burst out laughing at

the ridiculousness and exhilaration of it all.

I do think the biggest challenge of all – more

than the distance – was deciding to do this

cross-country trek on my own. I'm a bit of a

scaredy-cat and did struggle with extended

periods in dark forests. I have a vivid

imagination! I kept seeing things through

the trees. Imagination is great for a writer,

but not so much when you're trekking in the

middle of nowhere, miles from civilisation

and haven't talked to anyone all day.

The Great Glen Way and Speyside Way

were considerably quieter than the West

Highland Way.

your own, you'll bump into people during the

day or swap stories with fellow walkers over

a pint in the evening. Near Bridge of Orchy,

I met a bloke from Glasgow who was moving

gingerly on account of two really bad blisters.

I really sympathised with him but he turned

o u t to b e a m a c h i n e – h e j u s t ke p t g o i n g .

We met up in Fort William at the end of

the West Highland Way and toasted our

achievement with a dram. There was a real

international cast on the West Highland

Way, which shows how famous the trail

is. I bumped into Americans, Germans,

Zimbabweans and an unfeasible number of

Belgians. The Belgians are mad for the West

Highland Way. Who knew?!

This is not the first travelogue you have

written – you cycled round Scotland with

your brother – what do you enjoy about

this genre of writing?

The beauty of travelogues is that they

combine body and mind. You do the

challenge, the journey – whether it be cycling

around Scotland, walking across Scotland,

golfing Scotland's islands, all of which I've

done – and gain a real sense of achievement.

Then you sit down and tackle the next

mountain – of writing a book. I've seen a

great deal of Scotland now through my

book adventures and met lots of fascinating

characters. I never tire of the country I

call home. There's so much to see and

experience.

What were the walkers you did meet like?

There's a real spirit of camaraderie on the

West Highland Way. Even if you're walking on

Competition!

We have two signed copies of

Walk This Way to give away.

Visit westendermagazine.com

and click on competitions

by the 30th of April 2019.

Walk

This Way

£2

OFF

*

RRP £8.99

*Exclusive offer for WESTENDER readers

at Waterstones 351-355 Byres Road

branch only, by 30th April 2019.
---
www.westendermagazine.com | 25

You are a supporter of libraries and a

frequent visitor to the libraries in the West

End, why?

Most of my writing is done at home but

sometimes I'll venture out for a change of

scene, often to the Mitchell Library and

sometimes Hillhead Library. I love libraries

and as well as finding them to be good

places to write, I also make a point of taking

books out on loan so that I'm supporting

libraries. They're special places and should

be cherished.

You have a background as a sports

journalist and also taught English abroad,

but you have always been drawn to settle

around the West End of Glasgow, why?

I grew up in the fishing village of Hopeman

on the Moray coast, went to the University

of Aberdeen where I gained an English

Literature degree, then moved to Glasgow.

My first flat was in Kelvinbridge. I now live in

Bearsden with my family but I'm often in the

West End. I enjoy cycling into the West End,

along the towpath of the Forth & Clyde Canal

to the locks at Maryhill, then following the

River Kelvin down to Kelvinbridge. My wife

and I enjoy taking the kids to Kelvingrove

Park. The West End has nice coffee shops,

pubs, curry houses and I also enjoy going to

gigs at venues like SWG3 in Finnieston.

How would you sum up this book and why

should Westenders get hold of a copy?

Walk This Way is a tale of courage,

endurance, cataclysmic quagmires, ludicrous

ledges, feral goats and a baffling number of

Belgians. The book is intended to inspire and

raise some smiles along the way. Westenders

are only a few miles from the start point of my

journey in Milngavie. I'd encourage people

to experience the West Highland Way. And if

you get to Fort William and aren't completely

shattered, keep going!

Gary Sutherland appears at Glasgow's

Aye Write Festival on Sunday 31st March.

For tickets visit ayewrite.com.

Complementary Medicine Centre

Est. 1986

Ruth Chappell Brian Fleming

ACUPUNCTURE HOMEOPATHY

HYPNOTHERAPY

PSYCHOTHERAPY REFLEXOLOGY

Complementary Medicine Centre

11a Park Circus, Glasgow G3 6AX

Call 0141 332 4924 Mobile 07801536530

www.complementarymedicinecentre.com

www.hypnotherapist-glasgow.co.uk
---
26 | www.westendermagazine.com

1

The Language

of Kindness

by Christie Watson

BY BRIAN TOAL

WESTENDER's

COVER TO COVER

Christie Watson was a nurse for twenty years and

is now the patron of the Royal College of Nursing

Foundation. This is a truly astonishing book which

made me laugh, cry and reflect in equal measure.

Watson takes us on a journey

through her nursing career,

encompassing years in A+E,

midwifery, PICU, oncology and

several other specialities. In each

chapter there is a clear focus on

a type of patient, but the thread

which glistens throughout the

whole book is the element of

kindness.

The author is frank and

unashamedly depicts her terror

and revulsion at times with what

she had to contend with as a

student nurse. What I found

particularly humbling was the

candour with which she conveys

humans in various states of illness,

dying and despair. There are no

pulled punches here and she is

ever keen to remind us of the

stark differences between the

role of a nurse and the role of

a doctor.

Often the doctors arrive in a

whirlwind, diagnose or operate,

then leave. The nurses have

done all the preparatory work to

ensure that the child will sit still

long enough to have a needle

inserted into their bones, or that

the hysterical mother remains calm

long enough for the doctors and

patient to remain calm. The nurses

also occupy roles far beyond the

criteria stipulated in the nursing

manual: singing songs to children,

comforting grieving relatives

and innumerable other acts of

kindness.

The mundane, everyday roles of washing, toileting, wiping,

brushing, changing, feeding and watering are all part and

parcel of the nurse's day, but at any moment a call can send

them scrambling to someone in arrest. This constant lurch from

calmness and mundanity to adrenaline and drama is clearly

exhausting and takes a heavy emotional toll on the nurse.

There is a very touching section where Watson deals with

the death of her father. This will be difficult to read for those

who have lost a loved one to cancer, but it helps the reader to

understand that nurses have personal lives with their own joys

and sorrows too, although these have to be left behind at the

start of a shift.

Watson also makes some pretty unequivocal statements

about the dearth of funding for nurses and the clear staffing crisis

in the NHS. The story of her daughter using sellotape to repair her

shoes illustrates this better than any facts or figures. I read the

Waterstones edition, which has an interesting afterword. This is

an important book for us all to read as we are all affected, or will

be affected, by the issues Watson raises. We all need kindness.
---
www.westendermagazine.com | 27

The End We

Start From

by Megan Hunter

2

This is a book which was

recommended to me recently

and I'm eternally grateful to

its advocate as it's one of

the best books I've read in

a long time. The paperback

version came out in 2018, so

it's still fairly recent. It's a

post-apocalyptic novel set in

Britain and follows a family

struggling to survive in extreme

conditions. Like many novels

of this genre, we are never

really told what caused the

catastrophe and the action

begins in the days following

the breakdown of society.

We follow a young couple

and their baby as they try

to navigate their way away

from London north to the safe

haven of Scotland (hurrah!).

Inevitably, the British stiff

upper lip gets them so far and

society seems to be coping

in a way, at first. However,

circumstances dictate that

the husband leaves to seek

supplies but doesn't return,

leaving mother and child to

continue the trek alone.

For fans of Cormac

McCarthy's The Road, you will

recognise the sparse writing

style, the nameless characters,

the minimalist prose and the

pace and drive helped by the

brevity of the paragraphs and

chapters. I consumed this in

one sitting. The End We Start

From offers a bleak portrayal

of how easily society can break

down and how close we all

are to our basest instincts.

Nevertheless, there is hope

at the end, and that hope is

where we start from.

They take from the rich to give

to the poor.' This is the slogan

of 'Payback', a team of teens

determined to right the wrongs

of an unjust society by ripping

off those who rip off the poor

and distributing their takings

to those who most need it.

It's an intriguing concept

and an entertaining 21st

Century twist on the Robin

Hood legend. We have the

usual suspects: the tough guy,

Gedge; Rendall, the narrator

of the novel; Coke, the tall,

brooding one; Kallie, the expert

climber; and finally, there is

Ferg, the tech expert. All in all,

there's a character for every

teen to relate to.

The novel races along with

short chapters, most of which

deal with a separate crime.

The end of the summer is

approaching and one assumes

that the group will disband

when they head off to uni, but

fate has other ideas in store

for them. Gedge has something

to hide and endangers the

whole group, Rendall attracts

the attention of the police and

the whole drama climaxes in

a stunning train journey north

with bad guys and police all on

the trail of the gang.

A breathless chase across

the moors of the Scottish

borders culminates in a very

exciting denouement. This is a

highly entertaining teen novel

which may also serve to make

young readers more aware of

social justice and inequality in

our society.

Payback

by M.A. Griffin

3
---
28 | www.westendermagazine.com

GY COMPUTING

Microsoft Specialist

Evenings and Weekends

Home Visits

Competitive Rates

Fully Insured

No Call Out Charges

20%

off computer repairs when

you quote 'Westender18'

Check out my reviews on

Gregor Young | 07398 715157

hello@gycomputing.co.uk

www.gycomputing.co.uk
---
www.westendermagazine.com | 29

For You Mum…

Stuck for gift giving ideas this Mothering Sunday? Let us help!*

*Mother's Day falls on Sunday 31st March in 2019 – you have been warned, no excuses!

Bath Salt & Lip Balm Gift Set

£10, Spirito

Good Golly Miss Molly

Bespoke Occasion Hat, £270

The Shop of Interest

Blunt Metro Compact Umbrella

£54.99, CoLab Store

Earl of East – Greenhouse Candle

£20, Hoos

Dansk Sun Drop Earrings

£29.90, Cassiopeia

West End Suppliers

Cassiopeia, 165 Hyndland Road

0141 357 7374 cassiopeiaonline.co.uk

CoLab Store, 11-13 Downahill Street

0141 570 1766 colabstore.co.uk

Hoos, 715 Great Western Road

07788 480 421 hoosglasgow.co.uk

Spirito, 317-319 Crow Road

0141 337 3307 spiritogifts.com

The Shop of Interest, 1058 Argyle Street

0141 221 7316 theshopofinterest.co.uk
---
30 | www.westendermagazine.com
---
www.westendermagazine.com | 31

The West End

mum's notebook

by Michele Gordon thelanguagehub.co.uk

Some of you already know how much I

look forward to spring every year. Days

become longer, there are fewer cold

days and hopefully no repeat of the Beast

from the East!

March starts off with the Aye Write

Festival which runs from the 14th to 31st

March at the Mitchell Library (ayewrite.com).

The festival has been an annual occurrence

since 2007 and celebrates the best in

national, international and local writing

bringing national and local speakers to

Glasgow's iconic library and allowing

audiences to enjoy appearances from big

name writers and emerging talent alike. Do

look out for the Wee Write! part of the festival

as it will run during the first week in March.

The special family weekend is scheduled for

the 2nd and 3rd March.

I am very pleased to say that The Hub will

be part of the Wee Write! school programme

this year. This means council nurseries and

primary schools can book slots with The

Hub at their local library where we will read

a book to the children chosen by the nursery

or school in a foreign language also chosen

by them. We are very much looking forward

travelling all over Glasgow and meeting many

new children. Sadly, Partick Library, our

very own local library, will not be one of the

venues as it remains closed for most of 2019

for refurbishment. However keep libraries in

mind when you are looking for bug book and

other children's sessions: Hillhead, Whiteinch

and the Mitchell libraries will be your nearest

ones.

March also sees the return of the

annual Glasgow Comedy Festival

(glasgowcomedyfestival.com). There are

some venues based in the West End like

The Stand and The Oran Mor, for children's

comedy it is the Mask and Puppet Centre

in Kelvindale. They will be hosting several

shows as part of the festival which should

be fun for primary school aged children.

Although Ruby and Leon are getting slightly

too old for most of the shows, I do like to take

them whenever I can for support. The centre

is continuously raising funds to refurbish and

rebuild a new theatre and community centre.

It recently extended its services in hosting

an after-school group for the local area

(maskandpuppet.co.uk).

And then the schools close on the 29th

and we are sliding into April and two weeks of

school holidays. This year, the Easter holiday

weekend actually falls outwith the Easter

school holidays too. So, what will we do? I am

pretty sure Ruby and Leon will want to attend

their usual kids camp at Scotstoun Leisure

Centre, they have basically been looking

forward to it since the last one in October.

These kids clubs are run by Glasgow Life and

run at most leisure centres across the city; for

the West End, check out Maryhill, Scotstoun

and Kelvinhall leisure centres. They are very
---
32 | www.westendermagazine.com

'Learning Through Play'

Places available.

To book your visit call Maureen on 0141 357 0231

www.derbystreetnursery.co.uk

maureen@derbystreetnursery.co.uk

1 Parkgrove Terrace, Glasgow G3 7SD

PI ATES

*Flexi-Class passes available * One-to-ones

* Relaxing *Suitable for Beginners & Advanced

Great for Runners, Cyclists, Golfers, Desk Workers..

*Post Natal * Botanic Gardens, Partick & Hyndland

www.pilatesglasgow.com 0787 647 3381

kerrystewart07@hotmail.com
---
www.westendermagazine.com | 33

reasonably priced and offer a variety of

activities to suit all.

But just in case the kids have a sudden

change of heart, I want to be prepared and

have other suitable and fun filled options at

hand. One activity on our list for definite is

West End Adventure (westendadventure.

co.uk). This is a fairly new community interest

company – same legal set up as The Hub

– based in the West End which is all about

the outdoors and was founded in 2017. This

not-for-profit organisation offers a wide range

of land and water-based activities including

problem solving, kayaking, rock climbing,

canoeing, abseiling, archery, and bushcraft.

The list of activities looks very adventurous,

and it is a great camp according to one of

Ruby's friends who attended one of the

holiday weeks last year. It's nice to know that

you do not have to travel far to allow your kids

outdoor adventures in the middle of our city.

Their Easter holiday camps will run from the

1st of April at £35 per day or £175 per week.

And if you feel envious, do not despair,

they also offer plenty of similar activities

for adults, whether you need something for

team building or for a special occasion with a

group of friends.

An absolute must this year will be, of

course, a visit to the Kelvingrove Art Gallery

to see Dippy! The Natural History Museum's

iconic Diplodocus dinosaur skeleton is

currently visiting Glasgow as part of a road

trip across the UK. Dippy has ventured out

of London for the first time since 1905 and

has been at the gallery since the 22nd of

January. He will stay until the 6th of May so

make sure not to miss him. If you do go and

visit, maybe time it with one of the RSPB

Scotland sessions as part of the Kelvingrove

Art Gallery and Museum timetable ad make

a day of it. These activities usually run on

Saturdays and Sundays from 1-4pm and

fees are donation based only and will fully go

toward the costs of the sessions. Children

learn about local nature and animals living in

Kelvingrove Park (whatsonglasgow.co.uk/

event/005324-the-rspb-at-kelvingrove).

I like how you can make a whole day

of being in and around the art gallery. If

the weather is good, we try to get over to

the bowling greens for a game of bowls.

It's great how you can just walk in and play

on the greens if there is space. Or maybe you

prefer tennis? However, the courts for this

have to be booked in advance as they are

popular and the slots are limited to a certain

period of time.

During school holidays, at least in

summer, it is also one of the places to go to

for the outdoor play activities organised by

Glasgow Life. They set up stations, obstacle

courses and bring all sorts of different

games, balls and toys for everyone to use

and enjoy; all for free too I may add.

One other lovely afternoon out is a trip to

the Clydeside Distillery at the former site of

the Tall Ship. Tim Morrison, whose ancestors

laid the foundations for Morrison Bowmore

Distillers, fulfilled his ambitions of reviving

distilling in Glasgow, helping to restore the

dock his great-grandfather had built and set

up the distillery in 2017. We recently booked

a guided tour and Ruby and Leon really

enjoyed it. They learned a lot about what

Glasgow used to look like from old photos

in the exhibition part. We had a Spanish tour

guide who knew everything there is to know

about making whisky and accommodated

the kids with non-alcoholic drinks while

all the adults tasted some of Scotland's

finest. There is also a café for light lunches

and coffee and cakes and if you require a

special gift for someone check out their shop

with a great selection of Scottish whiskies

(theclydeside.com).

You can always combine this visit with a

walk over to the Riverside Museum or the Tall

Ship. They also put on holiday activities for

children of different ages.

And if none of this really takes your fancy,

or you have tried all of them before the

holidays are over, you can always come to

The Language Hub or take a break in our new

Café Hub two doors along from our learning

h u b o n Ke i t h S t r e e t (19 & 7 Ke i t h S t r e e t).

We will be running weekday activities

between the 1st-12th of April for children and

adults alike, not all of them involve language

learning so make sure to check out our

website in March for more details.

Also check out a fairly new

facebook page (facebook.com/

GlasgowWestEndMumsandDads) which

recommends and discusses topics of interest

to parents in the West End, you might find

some further helpful tips on things to do

during the holidays. This leaves me to wish

you all 'Frohe Ostern und viele bunte Eier'

and see you soon.
---
34 | www.westendermagazine.com

CRAFT BEERS & ALES

WINE & CHAMPAGNE

SHERRY, MADEIRA & PORT

FINE WINE

WHISKY, BOURBON, GIN

VODKA, RUM, TEQUILA

CIGARS & BRANDY

21 Clarence Drive, Glasgow G12 9QN

0141 334 4312

thegoodspiritscoclarencedrive

@GoodSpiritsCoCD

goodspiritsclarencedrive

clarencedrive@thegoodspiritsco.com

www.thegoodspiritsco.com

Hyndland

Train Station
---
www.westendermagazine.com | 35

@

Rossini

Reviewed by Amy Glasgow

Is there anything more satisfying than a

hearty Italian? In recent years there has

been somewhat of a revolution when it

comes to Italian dining. In what can only be

a positive move, more and more traditional

eateries are appearing, focusing on seasonal

ingredients and dishes that truly represent

the vast Italian cuisine.

Don't get me wrong, there is nothing

wrong with a bowl of carbonara or a

magherita pizza, but it's nice to see

authentic, Italian-run businesses like La

Lanterna, Eusebi Deli and Celino's sharing

success in the West End.

A relatively new restaurant that fits this

bill is Rossini, owned by Maurizio and Ester

Rossini. Their first venture, the award winning

North Star café, was and is a huge success

but head chef and owner Maurizio opened

Rossini in order to bring the traditional dishes

of his home region, Apulia, to the streets of

Glasgow, along with their knowledgeable and

ever-friendly service.

We started our meal with an appetiser

of arancini, for who can resist the call of

smoked mozzarella and n'duja, which was

the clear standout of the three flavours on

offer. The other two, one filled with meat ragu

and the other with saffron and peas, were

somewhat forgettable, though the exterior

was beautifully crisp and golden brown.

I was similarly intrigued by the Panzerotto,

which translates as 'the belly of the dough'.

It is, essentially, a calzone. Filled with a

molten tomato sauce and mozzarella and

deep-fried, this Puglian street food is quite

indulgent for antipasti and worth your time,

but in future I would pass on the fried squid

and king prawns, which didn't have the

freshness I craved.

The selection of pasta dishes on the

menu is representative of Maurizio's home

of Puglia, with a number of unusual options

never before seen in Glasgow. The menu is

a breath of fresh air, with just two 'classic'

Italian dishes on the menu, one of which is

lasagne and not to be scoffed at. This is not

the kind of lasagne you make at home with a

jar of Dolmio, but a rich, meaty and authentic

alternative.

Don't overlook the array of more unique

dishes though, especially when the pasta

is freshly made in-house. I opted for the

paccheri (meaning 'slaps'); large tubular

pasta served with smoked mozzarella, cherry

tomatoes and crispy pigs cheek. The pasta

was perfectly al dente and sat in a delicious,

warming sauce, but the pigs cheek was not

'crispy' by any stretch of imagination, though

it was soft, it was not distinguishable from

pancetta.

Despite having quite a sweet tooth,

I would unfortunately have to suggest giving

desserts a miss at Rossini's, whose specialty

is very much savoury. The ones we had

(pistachio and saffron panna cotta and a dark

chocolate and almond cake) were both fairly

unremarkable, although given the generous

portion sizes and reasonable price tag,

you may be too full to order one!

Rossini

39-41 Hyndland Street G11 5QF

0141 337 3135

rossiniwestend.com

Image I Brodie Reid
---
36 | www.westendermagazine.com
---
www.westendermagazine.com | 37

@

Image I Brodie Reid

munro's

Reviewed by

Emily Donoho

My trip to Munro's for this edition's

bar review has given me a taste for

artisan Scottish gin. As we looked

over the drinks list in the pub, I noticed that

they had more than a dozen gins from all

over Scotland. As the gin thing seems to be

taking off, I decided to try one from Aviemore.

Gin, it turns out, has come a long way since

I was an undergrad buying cheap and nasty

gin to mix with whatever we had to hand.

This one was excellent.

For other liquor enthusiasts, Munro's

has a fair selection of Scottish single malts,

blends, and bourbons, a wide range of rums,

and plenty of liqueurs and shots. And the

beer selection is excellent as well, a range

of European beers like Weithenstephan,

Birra Moretti, Staropromen, and Lagunitas,

to Scottish beers such as Schiehallion,

Tennent's, St Mungo's, and two guest cask

ales, which were Kelburn Dark Moor, from

Glasgow, and Coorie Doon, from the Late

Night Hype brewery in Clydebank. As I'd

never come across the Clydebank brewery

before, I tried that one. I'm always a fan

of pubs who sell beer from small, local

microbreweries.

Munro's is a welcoming pub, with lovely

wooden signage and huge windows looking

out onto Great Western Road, letting in

natural light and patrons can watch people

and traffic on the busy road outside. Inside, it

feels warm and cozy in spite of being a large,

relatively spacious bar. The interior is divided

into several rooms, some with re-upholstered

sofas and booths, exposed brickwork for a

rustic feel, and in the middle, near the bar,

sits a table made out of a giant recycled

cable drum. Other evidence of 'upcycling'

includes rugs hanging on the walls, alongside

other items from junk shops. It's also dog

friendly.

The pub, formerly the Captain's Rest,

takes its name from Munro's Motors,

a car dealer occupying that corner of Great

Western Road in the 1960s. But it also

has allusions to the munros, Scotland's

mountains over 3000ft, with photos of the

mountains in the pub and portraits of Hugh

Munro, the first British mountaineer who

claimed he climbed all of them.

For a quiet pint or a G&T or a meal (they

also serve excellent food), Munro's is an ideal

pub. It's located at 185 Great Western Road

and opens from 11am to 12am seven days

per week.

Munro's

185 Great Western Road G4 9EB

0141 332 0972

munrosglasgow.com
---
38 | Westender www.westendermagazine.com

Magazine Promotion

Legal Matters

The other

man's grass

Words from Donald Reid, chairman at Mitchells Roberton:

If Donald can help please email him at –

dbr@mitchells-roberton.co.uk, or call 0141 552 3422.

We like the West End. That's why we

live here. Pleasant streets,

community buzz, eateries and

boozers galore, lots of fancy wee shops,

trendiness on tap whenever a self-respecting

boulevardier requires it.

There's a downside of course. Space

is limited. Houses and flats are crowded

together and on top of each other. You can

hear your neighbour's Smeg dishwasher.

Parking is a problem. If you get a space at

your door you don't ever want to move your

car again.

Sometimes you think how nice it would

be to live in the country. A house on its own

down a grassy track. Gentle sheep bleating

soothingly. Fresh water drawn from a rushing

stream. Strolls in the evening along to your

neighbour's smallholding. City madness

forgotten.

Oh foolish one. Peel back the layers and

you'll find the country is a lawyer's paradise.

That grassy track belongs to a nearby farmer

and he says you've no right to use it. The

small-holder bangs your door at 6am to tell

you her llamas have escaped because you

haven't maintained your boundary fence.

And anyway, your boundary fence is in the

wrong place and you've stolen eight square

feet of her 20 acres.

The nice lady on the other side has

unhelpfully gone and died and her son has

turned up to tell you that your septic tank

is discharging into his burn and if you don't

install a new one somewhere else (cost

£20,000) he'll block the pipe and report you

to SEPA. You don't even know what SEPA is.

Your water supply turns yellow and you dread

to think what might be happening upstream.

Then a group of ramblers appear in your

front garden and say they are deploying an

ancient right of way which they uncovered in

recent research. You suggest that if they went

down that other way they would reach the

same place more easily. Not the point, they

say: public rights must be protected.

You think wistfully of the Kelvinside neds

throwing innocent wee beer cans into your

lightwell. Off you go to your lawyer with a

shopping list of points for advice. She tells

you it's part of country living. Weren't you

warned? The bill she sends you feels very

urban.

So count your blessings, townies.

You don't need to escape. You already have.

Mitchells Roberton Solicitors

& Estate Agents

George House

36 North Hanover Street G1 2AD

0141 552 3422

www.mitchells-roberton.co.uk
---
Westender www.westendermagazine.com Magazine Promotion | 39

Accountancy

Matters

by Bruce Wilson & Simon Murrison

HMRC is tracking your digital footprint

What is a digital footprint?

A digital footprint is the mark left every

time a financial transaction is made – a visa

payment, a car purchase, even a post on

social media. Data from digital footprints is

gathered, monitored and analysed by HMRC.

Therefore, revealing where you are, what

you do and what you spend your money on

allowing HMRC to assess who is paying the

right amount of tax and catch tax cheats.

HMRC digital footprint tracker:

'Connect'

Tracking digital footprints is a huge leap

forward for HMRC as it no longer relies solely

on information from tax payers.

HMRC draws on the electronic information

via its super computer, 'Connect', designed

to identify those paying too little tax.

HMRC is refining processes, learning

more, increasing accuracy and building an

accurate picture of UK tax payers. HMRC is

spotting more tax anomalies and tightening

the net around tax cheats.

HMRC had quick wins found in the

most unexpected places. For example tax

cheats were caught spending thousands of

undeclared income on lavish family weddings

posted on Facebook.

9 digital footprint examples

1. Visa and Mastercard transactions

2. Land Registry records

3. DVLA

4. UK and overseas bank accounts

5. Internal tax documents

6. Earnings

7. Online marketplaces

8. Social media

9. Web browsing and email records

Tracking digital footprints will grow even more

important with HMRC's quarterly returns

under Making Tax Digital. We have the tools

to help you easily track your finances and

keep the tax man happy.

Murrison & Wilson, CA is a full service

accountancy firm specialising in

business and tax planning. Get in

touch for a free consultation plus

fixed and competitive fees.

Murrison & Wilson Chartered Accountants

10 Newton Terrace G3 7PJ

0141 290 0262

info@muwca.co.uk

muwca.co.uk
---
40 | www.westendermagazine.com

Homes & Interiors

Loud + Clear

by Susan

Robertson

Smart Spaces

Our homes are where we spend much of our

down-time, and increasingly our work time, so we

should make sure our surroundings reflect and enrich

us as much as possible. In this age of fast-paced

technological advancement, we have many options at

our fingertips to make our lives easier, and to integrate

our work and hobbies into our homes.
---
www.westendermagazine.com | 41

As technology has evolved so quickly, we often

find ourselves surrounded by a growing mass of

wires and speakers. So before you scrabble about

for a new set of batteries for one of your umpteen

remote controls, Susan Robertson has asked some

local experts how technology and design can work

hand in hand to create the best tech experience and

environment in our homes.

Allan Boyd, Managing Director of Loud and

Clear said, 'Music and movies are a big part of

many of our lives, but the technology we use

regularly, is often an afterthought in our design

processes. We firmly believe that the better the

technology looks and sounds in the comfort

of our home – the more you can enjoy it. With

advances in technology this no longer requires

a great big pile of black boxes in the corner and

some grand monolithic speakers. Equipment

can be hidden away and controlled seamlessly

with an easy-to-use app. Speakers can be hidden

in walls or in ceilings or can become statement

interior pieces in custom fabrics or exotic wood

finishes. Music and movies can be streamed

online from services like Spotify and Netflix so

there's no more need for teetering piles of CDs

cluttering up our space.'

So, perhaps it's time to clear out the old

DVDs, CDs, wires and aerials and have a fresh

look at how we can make our homes, lives and

technology work more effectively together.

Allan explained. 'Many of our clients don't

fully appreciate what is possible from their

film and music collection and that we really

can create "the band playing in the room"

experience without comprising their living

space. Within the Finnieston showrooms

there are three music/cinema rooms laid out

and furnished as a domestic living room. In

this relaxed environment we can let clients

experience systems until they find their

optimum level.'

Allan and his team also offer a range of

complimentary interior design services

including smart wiring, lighting design and

control, acoustic room treatment and heating

control. So you can really create a bespoke smart

home that is tailored precisely to your individual

needs and the design of your home. He has

recently collaborated with interior designer, Lisa

Trainer of Red Door Interiors.

Lisa said, 'The development of technology in

a digital world has surged its way in to how we

live our lives in every way. Evolving, adapting

and being informed of these changes is crucial

to architects and interior designers in the whole

process of a design from initial concepts to

planning and specifying lighting, heating, air

conditioning, blinds and curtains, audio visual,

TV, computers and security all combine to

present high performance multi-room use and

design possibilities.
---
42 | www.westendermagazine.com

Homes & Interiors

Both Allan and Lisa stress that involving the

experts as soon as possible in any new project is

key to its success.

Lisa feels 'The onus is on the designer to

be creative and visual from the start and to

replace standard functional items like light

switches, radiators and sockets with an invisible

"behind the scenes" network of power and

programming. This must all be considered at

the very start of a project with the specialists

involved in coordinating and engineering the

electrics and other controls.'

She continued, 'Planning connected multiuse

spaces that can accommodate working,

socialising and relaxing are all factors in the

architectural and design process and should be

a collaboration of specialists working together

to create spaces for the future, that still feel like

home.'

So, as the options presented by technology

advancements become greater and more

accessible, there is some more thought required

to make the best use of what's available to us,

and to integrate it seamlessly into a clever

design to create a functional and beautiful

environment.

As Lisa explains, 'Increasing environmental

considerations as well as the ever-changing

advancements in this technology-led way of life

have only added to the need for designers to be

more creative and holistic in their approach

to design. I believe this can be achieved by

Red Door Interiors

careful consideration of a living space, its

uses, functions, flexibility and lifestyle of the

client. The combination and integration of

custom-made luxury textiles, wallpapers, craft

made furniture and other lifestyle products

in contrast to the functionality of the tech is

the perfect harmony for me as a designer in

achieving a well-balanced space.'

We may often overlook the technology aspect

in any upgrade or redesign of our homes, but

it's a great opportunity to revisit our needs and

wants for how our homes can function best

for our needs, as well as looking and feeling

the way that we want. We're fortunate to have

exceptional expertise on our doorsteps to walk

us through the process.

Loud + Clear | 520 St Vincent Street

0141 221 0221 | loud-clear.co.uk

Red Door Interiors | 100 Beith Street

07803 138 557 | reddoorinteriors.co.uk

What are the key considerations when

choosing a tailored approach to sound and

vision within the home?

Think about what you want to get from any

system. Is it ultimate performance for a

movie night, an amazing sounding hi-fi to

play your records on and/or integrated smart

lighting and heating control to enhance your

living space?

How can people decide what level of equipment

they need?

Make sure you experience before you buy,

get professional advice from the outset, and

spend some time in planning.

What's the best way to integrate new technology

into traditional buildings?

Choose your timing, systems typically need

an element of cabling so best to consider

when a room is about to be decorated, or

you're moving, developing or extending.
---
www.westendermagazine.com | 43
---
44 | www.westendermagazine.com

The Store Interiors, 26 Munro Place, Anniesland, Glasgow, G13 2UP

0141 950 1333 | www.thestoreinteriors.co.uk

Email: sales@thestoreinteriors.co.uk

READERS

OFFER!

FREE

Gas Certificate

PAT Test

Legionella

Assessment

TheStore - HIS - Emma.indd 2 07/12/2017 09:48

When you quote

Westender

Are you a Landlord?

Thinking of Letting?

Changing Agent?

The Store Interiors, 26 Munro Place, Anniesland, Glasgow, G13 2UP

0141 950 1333 | www.thestoreinteriors.co.uk

Email: sales@thestoreinteriors.co.uk

" Problem Solved"

Call or email for a free market appraisal

TheStore - HIS - Emma.indd 2 07/12/2017 09:48

E: glasgow@zoneletting.com T: 0141-333-0990 W: www.zoneletting.com

SERVING: GLASGOW • EDINBURGH • LONDON
---
Homes & Interiors

Spring Forward

www.westendermagazine.com | 45

It's one of those little sayings that stick in the mind but no-one knows

where it came from – 'spring forward, fall back' reminds us that we're

in the new season where the clocks are changing again and the days are

now lengthening. This little saying helps to make sure we put the clock

an hour forward and not back and adjust our bed-times accordingly.

This range of clocks give us some lovely options to be found locally for

keeping time, whether that be for getting up in the morning, or for

adding an elegant touch to your living room wall.

Wall Clock from

House Doctor,

£82.50, CoLab Store

Thomas Kent Mantel Clock,

£26, Spirito

Mint Covent Garden

Alarm Clock,

£25.95, Nancy Smillie

Nickel Art Deco Style Clock,

£215, The Store Interiors

Edinburgh Wall Clock,

£115, The Store Interiors

CoLab Store, 11-13 Dowanhill Street Hyndland Road, 0141 570 1766, colabstore.co.uk

Nancy Smillie, 53 Cresswell Street, 0141 334 4240, nancysmillieshop.com

Spirito, 317-319 Crow Road, 0141 337 3307, spiritogifts.com

The Store Interiors, 26 Munro Place, 0141 950 1333, thestoreinteriors.co.uk
---
46 | www.westendermagazine.com

Homes & Interiors

ART DECO

decadence

by Susan Robertson

There's a great comfort in revisiting styles of

past eras, they combine throwback memories

and associations with days or generations

gone by, and offer the opportunity to learn

what works and what

doesn't from styles

tried and tested.

The Store Interiors

Few movements have impacted more on the

world of design than Art Deco. The bold and

glamorous international style of the 1920s

and 30s touched on all elements of fashion,

architecture, interior, fine art and even car

design. The style is easily recognised by its

strong use of geometry and symmetry, sleek

lines and distinctive motifs and fonts.

The origins of the movement can be traced

back to France at the turn of the century,

when the French government sponsored

a trade exhibit to reclaim the country's

position at the cutting edge of fine art and

design, and the term Art Deco is generally

accepted to come from the exhibit's title:

'Exposition Internationale des Arts Decoratifs

et Industriels Modernes'.
---
www.westendermagazine.com | 47

It draws from various influences during

the modernism era, and Fauvism, Cubism

and Bauhaus styles are amongst the themes

that played an important role. The move was

a transition to more minimal, geometric,

clean lines, with sharp angles and bold curves.

It epitomises the 'roaring twenties', a time of

technological and commercial advancement,

and often highlights graphics representing

speed, trains, travel and discovery with

Egyptian and Mayan motifs often featuring in

designs.

The style was globally successful, and has

had several resurgences since, in the 60s and

the 80s in particular, and it has never really

gone out of style, but it's enjoying another fresh

comeback today.

You'll be aware of some of the influences on

some of our Glasgow architecture – notably in

the Beresford Building on Sauchiehall Street,

Kelvin Court on Great Western Road, and the

wonderful old Odeon cinema building on

Renfield Street. The style is bold and striking

in architecture representing great elegance

and opulence, and it looks great in many forms

inside our homes too.

Whether you add the odd touch here and

there, or you go full steam ahead on a Deco

redecoration, it's easy to add that 'flapper's

flair' to your home.

I personally love the ambience of the style,

as a great fan of Agatha Christie when I was

growing up, I associate the era with escaping

into stories of Hercule Poirot's shiny home

with minimal fuss and black and white shiny

tiles. Think velvet upright armless chairs,

shiny floors and thick rugs, golden accessories,

marble and glass furniture with sharp lines

juxtaposed with bold curves and colours.

The full authentic look is beautiful to look

at but has its limitations in liveability and

comfort, particularly unrealistic is the merging

of marble or glass furniture, with boisterous

kids. So, depending on your lifestyle and home,

it's a style that you can infuse with modern life

as much, or as little as you like. The style has a

timeless feel to it and the graphic advertising

posters look great as small touches in frames on

the wall. Gold metal bar trolleys epitomise the

era and the solid marble look can be effectively

brought into through accessories such as

lamps or sculptures. The bold black and white

colourings are indicative for floors and walls,

but you can soften the look into warm pallettes

of pinks and golds balanced with shiny polished

warm, wooden floors and soft fabrics.

There's also a great range of furniture and

accessories available that effectively mix

modern design with touches of the art deco

glamour, so you could find a new item of

modern furniture with gold metal feet for

example to give a sense of the opulence of the

era, without needing to conform exactly to the

authenticity of the time. You can have great fun

selecting key themes or pulling out features

that you like best in the style and merging them

with the realistic needs of your family and

lifestyle to either create a full-blown art deco

interior or simply a tasteful nod to the style and

movement that you want to portray.

And don't be afraid to mix and match.

As long as you think carefully about the look

and feel that you want to create, there's no

reason why you can't have a few touches of

different styles merged with the needs of a

modern home. Make sure that it's not a mishmash

mess, but that you select a few items that

complement each other and balance them

together in a room. For example, the art deco

style closely followed art nouveau and there

were likely homes at the time that had touches

of both. All of these styles and movements pull

in influences from various artists and designers

of their time, feel confident to do the same in

your home.

Both items

The Store Interiors
---
48 | www.westendermagazine.com

Westender Magazine

Interiors & All Trades

Keeping your home working for you. Whatever you need whenever

you need it – find reliable local tradespeople here.

Alexander Ryan

PAINTER AND DECORATOR

telephone: 07841 235 727

email: zander79@live.com

INTERIOR & EXTERIOR

ADVERTISE

FOR AS LITTLE AS

£75

email: suzanne@westendermagazine.com

for a media flyer, or call: 07905 897238

westendermagazine.com

Painter & Decorator » Plaster Skimming

Ames Taping & Coving » Period Windows

Hand-painted Kitchens

Call Frank – 07906 395341 / 0141 945 3975

francisscullion@yahoo.co.uk
---
www.westendermagazine.com | 49

www.reproplaster.co.uk l Tel: 0141 7761112

Visit our showroom at Period House, 5 Campsie Rd, Kirkintilloch, G66 1SL

Use discount code: "Homes "Westender & Interiors 10%" 10%"

Scotland's leading manufacturer and installer of cornice and ornamental plasterwork.

Experts in the repair of all ornamental plasterwork | Comprehensive product range available

SJI a

premium

electrical

company

Operating in Glasgow and the wider

area, SJI Electrical are NICEIC approved

domestic and commercial electrical

installation and testing engineers for

over 25 years.

We pride ourselves on our high quality

work, positive attitude and being a

company you can rely on to complete

any electrical task at hand, to a very

high standard.

07494 115502

nicky@sjielectrical.com

www.sjielectrical.co.uk
---
50 | Westender www.westendermagazine.com

Magazine Promotion

The Wee Kitchen Shop

Specialising In Beautiful Shaker Kitchens

When Vishal and Claire moved into

their home in 2013 the kitchen was

very small and at the opposite end

of the house from the living spaces. With a

very young family the Bearsden couple were

looking for a more sociable layout that could

grow with them. A large open plan kitchen,

dining and living extension – breaking out

through large glass doors to the garden –

was the answer.

When it came to hunting down their

perfect kitchen Vishal and Claire had

visited many showrooms before friends

recommended Greg at The Wee Kitchen

Shop. 'Greg spent more time with us,'

explains Vishal. 'We both felt he offered a

more personal service and a lot of guidance

– especially when it came to going bolder

with the paint colour. Claire knew she

wanted a Shaker kitchen but it was Greg who

encouraged us towards bespoke painted

Hague Blue cabinetry against the cool Glacier

White Corian worktops.'

Vishal is now a convert to the easy clean

joys of a sleek induction hob. 'It's so safe for

little hands. As it works with magnets it only

heats where the pan touches. I never thought

I'd move away from gas but it heats things

up in no time.' However as the belfast sink is

fitted with a 3 in 1 boiling water tap, heating

things really isn't an issue in this kitchen.

The cabinetry is finished off with antique

brass cup and knob handles, the warm metal

also picked up in the three pendants over the

breakfast bar. These are suspended from the

ceiling extraction which perfectly mirrors the

work island below. The practical and beautiful

communal family space is functioning as

Vishal and Claire dreamed, as a family hub

for cooking, relaxing, chatting – and dancing!

Special Offer!

30% off Silestone, Corian & Granite

worktops ordered before the end of

April 2019. Please call ahead for a

FREE consultation appointment at

The Wee Kitchen Shop.

The WEE Kitchen Shop

304 Crow Road, Broomhill G11 7HS

0141 334 4747

www.theweekitchenshop.co.uk

info@theweekitchenshop.co.uk

Image I Gregor Reid
---
www.westendermagazine.com | 51

Reseal Service | Professional Tile Installation | Waterproof Bathrooms

The no.1 Tile Installation and Restoration

Specialist in Central Scotland

We are a fully insured, reliable family run business with over

40 years combined experience. We use the best and most up to date

products and materials and pride ourselves on our attention to detail

and excellent customer reviews.

BEFORE AFTER BEFORE AFTER

Our Reseal Service can restore your tiles by carefully

removing all of your existing grout and sealant using

non-abrasive chemicals and high precision diamond

technology. Specialist chemicals are used to wash

your tiles to remove soap scum, body fat, mould and

mildew. Antimicrobial grouts and sealants are then

professionally applied

Our Reseal service includes;

// Sealant Applications

// Bonded Bath & Shower Seals

// Chemical Sealants

// Re-grouting

// Two-part Sealants

// Waterproof Tanking Systems

FROM ONLY

£150

SUPPLIED

& FITTED

Bonded Bath and Shower

Seals – Our unique and

most popular product.

T / 0141 611 9534 M / 0781 782 8681

E / info@resealscotland.co.uk W / www.resealscotland.co.uk
---
52 | www.westendermagazine.com