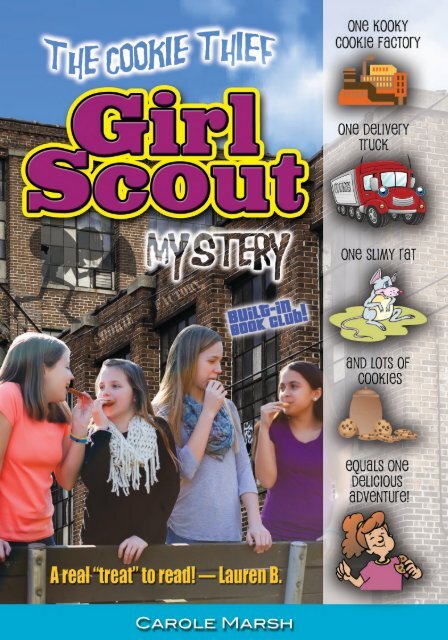 The Cookie Thief Girl Scout Mystery
One kooky cookie factory! One delivery truck! One slimy rat! And lots of cookies! Equals one delicious adventure! It's Girl Scout cookie sale time for Avery, Ella and their friends Kate and Annie. The girls even get a chance to tour a new bakery where cookie are made! But when the girls see a mysterious mix-up at the cookie factory... and notice some of their cookie boxes are missing... and get caught in a dark delivery truck... a mystery really starts cooking! Who is the cookie thief, anyway? And why?? Tag along with foursome as they try to make sense of this tasty cookie case! This mystery incorporates history, geography, culture and more! Fun activities, and SAT words are in each book. The cookie thief Girl Scout Mystery also includes a built-in book club that includes Talk About It, Bring It To Life, a Scavenger Hunt and a SAT Glossary.
One kooky cookie factory! One delivery truck! One slimy rat! And lots of cookies! Equals one delicious adventure! It's Girl Scout cookie sale time for Avery, Ella and their friends Kate and Annie. The girls even get a chance to tour a new bakery where cookie are made! But when the girls see a mysterious mix-up at the cookie factory... and notice some of their cookie boxes are missing... and get caught in a dark delivery truck... a mystery really starts cooking! Who is the cookie thief, anyway? And why?? Tag along with foursome as they try to make sense of this tasty cookie case!

This mystery incorporates history, geography, culture and more! Fun activities, and SAT words are in each book. The cookie thief Girl Scout Mystery also includes a built-in book club that includes Talk About It, Bring It To Life, a Scavenger Hunt and a SAT Glossary.
SHOW MORE
SHOW LESS
Create successful ePaper yourself
Turn your PDF publications into a flip-book with our unique Google optimized e-Paper software.
The Cookie

Thief

Girl

Scout

Mystery

by Carole Marsh

3
---
First Edition ©2016 Carole Marsh/Gallopade International/Peachtree City, GA

Ebook edition ©2016

All rights reserved.

Manufactured in Peachtree City, GA

Carole Marsh Mysteries and its skull colophon are the property of Carole Marsh and

Gallopade International.

Published by Gallopade International/Carole Marsh Books. Printed in the United States

of America.

Managing Editor: Janice Baker

Assistant Editor: Whitney Akin

Cover Design: John Hanson

Content Design: John Hanson

Gallopade is proud to be a member and supporter of these educational

organizations and associations:

American Booksellers Association

American Library Association

International Reading Association

National Association for Gifted Children

The National School Supply and Equipment Association

The National Council for the Social Studies

Museum Store Association

Association of Partners for Public Lands

Association of Booksellers for Children

Association for the Study of African American Life and History

National Alliance of Black School Educators

This book is a complete work of fiction. All events are fictionalized, and although the names

of real people are used, their characterization in this book is fiction. All attractions, product

names, or other works mentioned in this book are trademarks of their respective owners and

the names and images used in this book are strictly for editorial purposes; no commercial

claims to their use is claimed by the author or publisher.

Without limiting the rights under copyright reserved above, no part of this publication may be

reproduced, stored in or introduced into a retrieval system, or transmitted, in any form or by

any means (electronic, mechanical, photocopying, recording or otherwise), without the prior

written permission of both the copyright owner and the above publisher of this book.

The scanning, uploading, and distribution of this book via the Internet or via any other means

without the permission of the publisher is illegal and punishable by law. Please purchase

only authorized electronic editions and do not participate in or encourage electronic piracy of

copyrightable materials. Your support of the author's rights is appreciated.

4
---
Dear Readers,

Who doesn't love Girl Scout

Cookies? The familiar annual

sight of smiling, cheerful Girl

Scouts selling cookies to raise

money for good causes always

warms my heart. And I never

hesitate to fill my pantry (and

freezer) with boxes and boxes to feed Papa's

sweet tooth. (And I just may sneak a cookie or

two for myself!)

In this book, the third in our Girl Scout Mystery

series, you'll ride along with a great group of Girl

Scouts as they sell, sell, sell…and have fun, fun, fun!

But besides having fun and raising money, Girl

Scouts learn many valuable life lessons and business

skills while selling those tasty cookies. Things like

setting goals, planning, managing money, working

with people, and making good decisions are precious

"know-how" you will use for the rest of your lives!

My advice? Grab a glass of milk and a handful

of Girl Scout Cookies, and dig into The Cookie Thief

Girl Scout Mystery! It's truly a "sweet treat"!

Carole Marsh

5
---
6
---
Table of Contents

1 Lookie, Lookie, We've Got Cookies!...........................9

2 Auntie Manure...........................................................15

3 Sweet Treat................................................................23

4 Botched Batch............................................................31

5 Selling Strategies.......................................................37

6 Rat Race.....................................................................45

7 Cookie Thief .............................................................53

8 Lots of Loot................................................................57

9 Shortbread Suspects..................................................65

10 Cookie (Selling) Monster...........................................69

11 Suspicious Accomplice...............................................77

12 Clues, Not Cookies....................................................81

13 Restless Run-in...........................................................89

14 Obvious Obsession.....................................................93

15 Cookie Count Conundrum.........................................99

16 Serious Strategy.......................................................107

17 Suspect Surprise!.....................................................111

18 Ring of Thieves........................................................115

19 Chocolate-y-Chippy Mystery....................................121

20 Sleepover Strategy...................................................127

21 Set Up to Sell...........................................................131

22 Bursting with Badges .............................................135

About the Author.....................................................143

Talk About It!...........................................................144

Bring It to Life!........................................................146

Scavenger Hunt........................................................148

SAT Glossary...........................................................149

Excerpt from: Columbia Lastname..........................151

7
---
8
---
1

Lookie, Lookie,

We've Got Cookies!

"This makes me so mad! I can't get this

cookie to fit over my head," Ella grumbled.

She hopped around her bedroom, trying to

force a cardboard cutout of a caramel cookie

over her head and shoulders.

"I think you're supposed to step into it,"

Ella's friend Annie suggested. Her dark, silky

brown hair was weaved into a loose braid tied

with a green ribbon. The ribbon glittered with

multicolored sprinkled cookies printed all over

it. The colors popped against her olive skin.

Annie wore an empty shortbread cookie box

over her waist held up with red suspenders.

9
---
"Well, you could have told me that before

I got my shoulders stuck!" Ella complained.

She yanked the cookie cutout off her head

and stepped into the hole in the middle, easily

pulling it up to her waist. "There! A cookie

skirt!"

Ella and Annie twirled around to admire

their outfits in Ella's full-length mirror. Along

with the "cookie skirt," Ella wore polkadotted

socks pulled up to her knees, her Girl

Scout vest, and the same cookie-print ribbon

in her long, straight blond hair as Annie had.

Annie wore cutouts of different types of Girl

Scout Cookies pinned to her shirt. Both girls

grabbed noisemakers made out of empty milk

bottles filled with beans.

"I think we're ready!" Ella exclaimed. She

was proud of their creative outfit ideas!

"Whoa! You two are really taking this

parade thing seriously." Ella's older sister

Avery burst into Ella's room without knocking,

again. Her blonde hair flew into the air as she

bounced onto Ella's bed.

10
---
Ella felt her cheeks turn red. "We're

dressed for the cookie rally! I thought you

and Kate were dressing up too!"

"Usually only the Brownies dress in silly

outfits," Avery replied. She and her friend

Kate eyed each other and laughed.

Ella considered wriggling out of her

"cookie skirt." She didn't want to look like

a silly, naive Brownie. She glanced back into

the mirror and changed her mind. "I think we

look cute," she declared.

"It's almost time!" Annie's excited

announcement interrupted Ella's thoughts.

"The rally starts in ten minutes." Annie

grabbed Ella's hand with a squeal and pulled

her out of the bedroom.

The girls headed downstairs to a living

room full of other Girl Scouts. Ella and Avery

had volunteered their house as the meeting

place for their cookie parade. They lived two

blocks from the community center where

a giant cookie rally party was set up. Their

troop planned to host a mini parade from Ella

and Avery's house to the community center

11
---
to mark the kick-off of cookie-selling season.

Mimi and Papa, the girls' grandparents,

had offered to chaperone the parade. They

were visiting from their home in South

Carolina. Mimi wrote children's mystery

books for a living and always had a flair for the

dramatic. She had spent all day decorating

the community center with other volunteers.

Ella couldn't wait to see what it looked like.

"OK, Girl Scouts, let's line up!" called

Mrs. Graham, Ella and Avery's troop leader.

She waved her hands over her head to direct

the girls to the front door. "We will proceed

youngest to oldest, so Brownies first."

Ella and Annie scrambled to the front

of the line with the other Brownies, their

noisemakers poised high in the air. The older

scouts filed in behind them, including Avery

and Kate. While she wasn't as excited as her

little sister was, Avery couldn't hide the smile

that spread across her face. Cookie-selling

season was her favorite part about being a

Girl Scout!

12
---
"Let's go!" Mrs. Graham opened the

door and stepped out in an animated march.

She led the girls along the sidewalk toward

the community center. Several chaperones,

including Mimi and Papa, walked on either

side of the Girl Scouts to make sure they

were safe.

Ella and Annie shook their noisemakers as

hard as they could above their heads. One

of the Junior Scouts yelled, "Lookie, lookie,

we've got cookies!" The others echoed the

cheer over and over as they marched down the

sidewalk. Several drivers passing by honked

their horns in support. Others leaned out

their windows and waved to the girls.

Papa grinned and tipped his black

cowboy hat in reply. "Just moving these

little cowpokes along to their cookie party,"

he called to the drivers. Mimi laughed.

"Remember, it's not about you, Papa," she

said. "It's all about the cookies!"

Ella was breathless with excitement when

the girls arrived at the community center.

13
---
"That was so much fun!" Annie squealed.

"We should have parades more often!"

"And it's not over yet," Ella added. "We

still get to go to the cookie rally. I can't wait

to see what Mimi did with the decorations.

Believe me, it'll be good!"

Annie and Ella grinned as Mrs. Graham

pulled open the double doors of the community

center. "Welcome to our 10th annual Girl

Scout Cookie Rally!" she announced.

14
---
2

Auntie Manure

Ella sucked in a deep breath as the doors

opened. The community center had several

small rooms situated around one massive

gymnasium used for community sports,

parties, and political events. But Ella had

never seen the gym like this before. Colorful

banners for each ranking of Girl Scouts draped

the walls of the gym. Ella quickly found the

brown Brownie banner and gathered under

it with the other Brownies. Avery and Kate

headed toward the green Junior banner.

Twinkling multicolored lights hung from the

ceiling, adding a warm feeling to the normally

plain gym. A Girl Scout logo made of banner

paper was taped to the wall in the middle of

the other banners.

15
---
A long table in the center of the gym held

a huge spread of food. Ella's eyes feasted

on saucy meatballs, pigs in a blanket, crispy

chicken nuggets, vegetable trays, a colorful

fruit platter, and plates of every kind of Girl

Scout Cookie.

"That's a lot of cookies!" Ella whispered

to Annie.

Smaller tables dotted the outer walls of

the gym. Each was decorated with a different

cookie-related theme.

"Welcome Girl Scouts, families, and

friends!" Mrs. Graham stood under the Girl

Scout banners with a microphone. "We are

so excited for a new season of cookie selling!

This Cookie Rally is our way of kicking off this

exciting season and letting the community

know that the Girl Scout Cookies are FINALLY

HERE!" Mrs. Graham said the last words in

a high-pitched sing-song voice, and the crowd

in the gym cheered.

"Please enjoy some great food," Mrs.

Graham added. "We invite our Girl Scouts to

visit all of our cookie-selling stations set up

16
---
around the room. Each table has a special

ribbon you can pin to your vest to show you

completed your cookie-selling prep courses.

Remember, you're never too old to review

the best ways to sell our delicious Girl Scout

Cookies!" Mrs. Graham looked at Avery and

Kate's group with a smile.

"OK, now, go have fun!" Mrs. Graham

excitedly applauded and the rest of the gym

joined her.

"Where should we go first?" Annie asked.

She grabbed Ella's hand and they scanned the

room together.

"THERE!" Ella exclaimed. She pointed to

a table in the corner decorated with a bright

red tablecloth dotted with glitter and sparkly

red balloons. "That has got to be the table

Mimi decorated!"

As the girls neared the table, they spotted

a sign above it that said, "Cookie Selling

Safety Tips." Mimi stood behind the table in

a red sequin top with a shiny gemstone cookie

pinned just below her right shoulder.

17
---
"Mimi! Your table looks great," Ella said.

"Thank you, sweetie." Mimi leaned down

and gave Ella a big kiss on the cheek, leaving

behind a bright red lipstick mark. Ella quickly

wiped her cheek with her sleeve.

"My table is all about cookie-selling

safety," Mimi explained. "I picked this theme

because it's so important to me that my little

angels are safe!"

"Are these safety rules like you should

look both ways before crossing the street?"

asked Annie.

"Sure, that could be one," Mimi said,

"but there are others too. There are some

really important ones like always wear your

Girl Scout uniform when selling cookies so

that people know who you are. Another rule

is always have a buddy when selling cookies.

You never do it alone."

Annie and Ella looped elbows and grinned

up at Mimi.

"Good, I see you've already found a buddy,"

Mimi said. "Here's a handout that lists some

18
---
of our most important rules." Mimi handed

the girls a brochure with safety tips.

"It says here to partner with adults, too,"

Ella read.

"That's right! That's why I volunteered to

chaperone," Mimi announced with a smile.

"I get to go with you when you sell cookies

door-to-door."

Ella wasn't sure if she was excited or

disappointed. She loved being with Mimi, but

she was looking forward to being a grown-up,

independent Girl Scout.

"Don't worry, I'll let you do all the work,"

Mimi said. She winked at Ella. "Here, take

the brochure with you and review the safety

rules before you start selling. And here are

your ribbons!" Mimi handed both girls a gold

button with a sparkly red ribbon attached.

The button read "SAFETY RULES." Annie

and Ella proudly pinned the button to their

vests and headed to the next table.

An hour later, Annie and Ella had ribbons

all over their vests and a handful of handouts.

They had visited tables featuring how to

19
---
handle money, how to market their cookie

selling, how to set cookie-selling goals, and

how to use the digital cookie app.

Ella stared down at a handout that looked

like a game board. Each step of the cookieselling

process was mapped out on the sheet,

from goal setting to how to use your cookie

money. The steps in between included

holding a meeting with family and friends,

finding good cookie-selling spots, and tracking

your progress.

I hope I can do this, Ella thought.

"Man, this is a lot more work than I thought,"

Annie commented.

Ella nodded, "It's almost like running

a business!"

"That's the whole point," Avery chimed

in. She and Kate had visited tables and added

ribbons to their vests as well. "Cookie selling

is about a lot more than just having fun. And

it sure is a LOT of fun!"

"Yeah, one day I want to be an

entrepreneur," Kate said. She firmly nodded

her brunette head.

20
---
"An auntie manure? What is that?" Annie

asked, scrunching her nose in disgust.

"An entre-pre-neur," Kate said slowly.

"It's someone who starts their own business.

Cookie selling has taught me some important

lessons to help with that, like how to handle

money and market a product."

Ella still felt uneasy about the job before her.

"Don't worry, my little sis, I'll be here to

help you," Avery said. "We'll follow the five

steps to success and you just might get a

Cookie Activity Pin by the time we're done."

She winked at Ella.

Most of the time Ella thought she just

embarrassed her older sister, but once in a

while Avery surprised her. Ella felt a sense of

relief knowing Avery would be there to help

her with her first cookie-selling season.

"You guys haven't been to the best table

yet," Kate said. She pointed toward a table

covered with towers of colorful boxes. A sign

above it said, "Cookie Tasting Station."

21
---
As they headed toward the mountain of

fresh Girl Scout Cookies, Mrs. Graham's

voice bellowed over the microphone again.

"I have a special announcement for all my

favorite Girl Scouts!" she declared. "Sweet

Treat Bakery is opening up a brand new cookie

plant near our town. They are the newest

baker selected to bake and package Girl Scout

Cookies. This special honor is only given to

three bakeries in the entire United States!"

Some of Girl Scouts began to applaud.

"Oh, that's not even the best news!"

Mrs. Graham said. She was breathless with

excitement. "A representative from the

bakery just informed me that our troop has

been chosen for an exclusive, behind-thescenes

tour to see how our favorite cookies

are made!"

The entire gym broke out in applause.

Ella and Annie grabbed hands and jumped up

and down.

Avery giggled at her little sister and said,

"You're such a Brownie, Ella." But deep down,

Avery was excited, too.

22
---
3

Sweet Treat

The Sweet Treat Bakery was only an hour's

drive away. The girls met to drive there in a

caravan of minivans and SUVs. Mimi offered to

drive her two-door red Cadillac, but she could

only take two girls. Avery and Ella convinced

her to take the family minivan instead. "Hey,

Mimi, we can call it the 'Mimi-van' after you,"

Ella had suggested. Mimi wasn't crazy about

minivans, but she liked that idea!

Mimi, Mrs. Graham, Avery, Kate, Annie,

and Ella all piled in to the newly named "Mimivan."

The vehicle buzzed with excitement.

"I can't believe they picked our troop!"

Avery said. "I can't wait to see how the

cookies are made!"

23
---
"Do you think they'll let us mix a batch?"

Annie almost squealed as she asked the

question.

"I don't think so," Mrs. Graham replied.

"Every Girl Scout Cookie bakery has strict

health and safety codes. The recipes are

closely followed so every cookie is a delicious

treat. People love their Girl Scout Cookies,

so it's important to make them exactly the

same every time."

"Oh," Annie said, slightly disappointed.

"But you'll get to watch a batch being

mixed, I'm sure," Mrs. Graham continued.

"And the representative told me the tour

comes with a complimentary cookie sample

at the end."

"Oooh, I'm going to choose chocolate

mint!" Ella declared.

As Mimi drove down the four-lane

highway, the buildings outside vanished in

the distance. The cityscape turned into open

fields with barbed wire fencing and black and

brown cows.

24
---
"This place is really in the boonies!"

Mimi commented.

To pass the time, Ella pulled out the

worksheet she'd gotten the other night at the

cookie-selling rally. "I guess I need to start

thinking about my cookie-selling strategy,"

she said.

"Speaking of strategy, do you guys have

any idea of what project we could do for our

Bronze Award?" Ella asked, changing the

subject. "I really want to earn it this year!"

"I may have an idea," Annie said. "You

know my little sister has to be in a wheelchair.

I was wondering if we could do something to

help her and other handicapped people."

"That's a great idea, Annie," Kate said.

"What were you thinking?"

"Well, she loves to look at the lake from

the park," Annie replied. "You know that

gazebo up on the hill?"

"I do," Avery said. "That's my favorite

place to go when we visit the park. The view

is so peaceful and beautiful."

25
---
"I know!" Annie said. "But it makes me

sad because my sister can't enjoy it. There's

no wheelchair ramp into the gazebo. I was

thinking maybe we could use the money from

our cookie sales to build a ramp."

"That's a wonderful idea!" Mrs. Graham

said. "I couldn't help but hear what you

suggested, Annie, and I can't think of a

better way for our troop to give back to the

community!"

"Really?" Annie said.

"Absolutely," Mrs. Graham declared. "I

would encourage you to share the idea with

the troop. Explain the idea, how you will

complete the project, and what problem it

will solve in the community. Then we can

take a vote to see if the other girls would like

to pursue a wheelchair ramp as the Bronze

Award project."

"That would be awesome, Annie!" Ella said.

"Look!" Avery pointed out the window to a

sign that read, "Sweet Treat Bakery" in bright

pink and green letters.

26
---
"We're here, girls!" Mimi announced.

They drove toward a reddish brick building

surrounded by a massive parking lot and green

fields on all sides. A few long, skinny windows

flanked the front entrance. On the side of the

building, white delivery trucks with pink and

green logos were backed up to tall square

openings where workers loaded pallets of

cookie boxes into them.

The caravan of cars parked in the expansive

front parking lot. Mrs. Graham organized the

Girl Scouts into lines and led them toward the

front entrance.

A tall, thin man with jet black hair and a

big smile held the door open for the visitors.

"Welcome to Sweet Treat Bakery!" he

announced. "We are honored to have your

troop visit our bakery. I am Mr. Turner."

"Thank you, Mr. Turner." Mrs. Graham

stretched out her arm to shake his hand. "We

are all so excited to tour your factory."

"Wonderful!" Mr. Turner led the girls

into a large lobby and through a double door

27
---
marked, "Authorized Personnel Only." "We'll

start our tour in the bakery," he added.

"I feel like I'm going behind the scenes on

a movie!" Ella whispered to Annie.

The girls entered a huge, white room

with a maze of machines. Immense metal

pots rotated, mixing dry ingredients. Other

pots with claw-like mixers blended wet

ingredients. Tray after tray of cookies rode

on a long conveyor belt into ovens. Workers

in white coats and hair nets worked diligently

at stations around the bakery.

Ella paused to take it all in. She'd helped

Mimi bake cookies before, but this was

nothing like that. This was the biggest bakery

and the most cookies she'd ever seen! The

room hummed and clicked with the sound of

gleaming silver machines.

Just as she was about to follow Mr. Turner

deeper into the bakery, something caught

Ella's eye. A woman in a white coat and

hair net held a plastic bag over a pot of wet

ingredients. Little black morsels poured

28
---
into the mixture, but the side of the pot said

SHORTBREAD in big block letters. Ella

nudged Annie with her elbow.

"Either someone changed the original Girl

Scout Cookie recipe, or that lady just made a

BIG mistake," Ella whispered.

"You're right," Annie said. "It looks like

she's going to ruin those shortbread cookies!"

29
---
30
---
4

Botched Batch

Ella and Annie could hardly focus on the

rest of the bakery tour. They half-listened as

Mr. Turner told them how the dry ingredients

like flour, sugar, and salt mix together in a big

metal pot. Then the dry ingredients were

added to the wet ingredients like butter, milk,

and flavorings. Mr. Turner explained how each

cookie had its own unique baking process.

"Each recipe is carefully followed to give

our customers their favorite cookies," Mr.

Turner said. "All of our ingredients are fresh

and of the highest quality."

"Did you hear that?" Annie whispered

to Ella. "He said, 'Each recipe is carefully

followed.'"

31
---
"Yes," Ella said. "I think we should say

something to him."

"I don't want to get that lady in trouble,

though," Annie said.

"Me neither," Ella answered. "But people

just can't get wrong Girl Scout Cookies!"

"Maybe they created a new flavor and it's a

secret," Annie suggested. "We don't know for

sure that she made a mistake."

Mr. Turner led the group toward the

packaging process where cardboard boxes

adorned with pictures of Girl Scouts were

stacked into larger cardboard boxes to be

shipped across the southeastern United States.

"Maybe you're right," Ella decided.

She turned her attention back to Mr.

Turner when suddenly, a loud alarm sounded

across the bakery. RING! RING! RING! The

clicking and buzzing sounds of the machines

came to an abrupt stop. The employees

stopped what they were doing. Except for the

high-pitched whirring of the alarm, the bakery

was silent. Muffled voices sounded over Mr.

Turner's walkie-talkie.

32
---
"Say that again?" Mr. Turner said into the

speaker.

"We have a botched batch." Annie and Ella

could hear the voice on the walkie-talkie loud

and clear.

Mr. Turner asked the girls to wait and

walked a few steps away so Annie and Ella

could only hear his side of the conversation.

He spoke urgently into the walkie-talkie.

"How many?"

"How did they get out of the bakery?"

"Are we sure the truck has already left?"

"We have to get them back here. We can't

risk customers getting a botched batch."

"I understand."

Mr. Turner cleared his throat and returned

to his visitors. "I'm very sorry, girls, but I'm

going to have to cut our tour short. Please

proceed back to the entrance to get your

complimentary sample."

Mrs. Graham ushered the troop back

through the double doors to the lobby.

33
---
"That sounded pretty serious," Avery said.

"I wonder what happened."

"We saw it!" Annie gushed.

"What?!" Kate exclaimed. "What did

you see?"

"A lady added chocolate morsels to a

batch of shortbread cookies," Ella explained.

"I knew it had to be a mishap when I saw

SHORTBREAD written on the side of the pot

she was using."

"Hmmm, chocolate shortbread doesn't

sound too bad," Kate said.

"That's not the point," Avery said. She

looked concerned. "Girl Scout Cookies are a

tradition. The first Girl Scout sugar cookies

were made in 1922! You can't just change a

recipe. If someone gets shortbread cookies

with chocolate chips, it's not a real Girl

Scout Cookie."

"Do you think she did it on purpose?"

Annie asked.

Ella looked at Annie and shrugged her

shoulders. "I don't know!" she replied.

34
---
Her thoughts were interrupted when a

bakery worker burst through the double doors

with silver trays of Girl Scout Cookies.

"We have five flavors to choose from…"

The worker said. Her blonde hair was still

visible under her pink hair net. "They are

chocolate mint, shortbread, caramel coconut,

chocolate peanut butter, and lemon. When

you get your cookie boxes to sell, look closely

at the code on the bottom near the bar code.

That tells you which factory baked that batch.

Our bakery code is SWTTRT123. If you see

that on the bottom of your boxes you know

they were made here!" The perky worker

handed out cookies to each of the Girl Scouts.

As the girls piled back into the minivan

and settled in for the drive home, Ella's mind

couldn't help but go back to the lady in the

factory.

Would they find all the cookies? Would the

lady get in trouble?

But one thought nagged at the back of

her mind.

Did she ruin the batch on purpose?

35