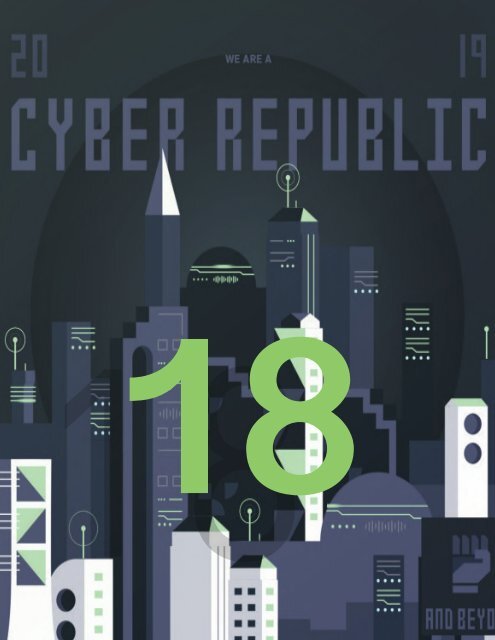 Cyber Republic Weekly Update 18
Supernode pools are brewing and community members eagerly anticipate a community Supernode script. There's a brand new suggestion that's creating a lot of buzz, and in this issue we've finally decided to formally introduce ourselves to our readers. There's a lot of fantastic content in this Update, including an exclusive in-depth look at Elastos' partner, Titan, a translated interview with Kevin Zhang and Anypeer, updates from the Philippines community, and an interview with a community member from Down Under.
Supernode pools are brewing and community members eagerly anticipate a community Supernode script. There's a brand new suggestion that's creating a lot of buzz, and in this issue we've finally decided to formally introduce ourselves to our readers. There's a lot of fantastic content in this Update, including an exclusive in-depth look at Elastos' partner, Titan, a translated interview with Kevin Zhang and Anypeer, updates from the Philippines community, and an interview with a community member from Down Under.
SHOW MORE
SHOW LESS
Create successful ePaper yourself
Turn your PDF publications into a flip-book with our unique Google optimized e-Paper software.
18

//1
---
CYBER REPUBLIC Weekly Update/Issue 18

...By the early 1980s, several

different protocols competed...

...The dark horse contender was

the Internet, defined only by a

self-governing community

dependent on volunteers.

The Internet community was

nimble--able to develop in

months what took the OSI

committee-based process

years--but it scared off some

potential adopters because

nobody seemed "in charge."

From the Computer History Museum

in Mountain View, CA

Supernode pools are brewing and

community members eagerly anticipate a

community Supernode script.There's a

brand new suggestion that's creating a lot

of buzz, and in this issue we've finally

decided to formally introduce ourselves

to our readers.There's a lot of fantastic

content in this Update, including an

exclusive in-depth look at Elastos' partner,

Titan, a translated interview with Kevin

Zhang and Anypeer, updates from the

Philippines community, and an interview

with a community member from Down

Under.

First and foremost, we are continuing our

coverage of Supernode Candidates. We

have a whopping 8 new Supernode

Candidates in this piece. Several Elastos

Ecosystem partners have come forward to

share their Supernode candidacy. We know

the community will enjoy some of their

unique (and frankly, entertaining) Supernode

structures.

Also related to Supernodes, several pools

have been discussing the need for a

Community open source script that can

divvy up rewards amongst team members

and voters. Peter Strauss of Hyper.IM and the

recently funded Hyper Connect project had

created a post on the Cyber Republic Forum

to determine if community members needed

this script.

https://forum.cyberrepublic.org/t/voterreward-payout-script-for-dpos-nodes/753/8

There was overwhelming exuberance and he

has obliged to create it. Peter Strauss and

Elastos' very own, KP, have been diligently

working on this script. Please follow Peter

and KP's progress on their Github page.

//2
---
For collecting statistics about

supernode and votes/voters:

For handling the payout of supernode

rewards to voters:

https://github.com/cyberrepublic/supernode-statistics

https://github.com/cyberrepublic/supernode-payout

As you have seen this past month, the

top two suggestions have successfully

been funded on the Cyber Republic.

Elastos Orchard is the third most liked,

and it looks to be one of the next

projects to turn into a proposal which

could lead to future funding.

There's another suggestion that has

been creating some excitement. It was

posted on March 21st and in 24 hours it

has shot up to fifth place.The name of

the suggestion is called the,"How to

read Blockchain Code" Video Series.The

objective is to properly educate

community members through a video

series in order to help them become

more knowledgeable investors.The

suggestion states that crypto education

is great PR for Elastos and CR as well,

and these videos could be a part of a

potential marketing campaign to bring

in more community members.

The video series, however, will be

hosted on Udemy which is a for-profit

video education platform. The

suggestion states that the videos will

not be for free, but it makes no mention

of where the profits will go.

videos. In other words, the CR would prepay

for 100 members to sign up to this

particular video creator's lessons who may

or may not be given by someone qualified

and experienced enough to create these

videos. Though they state testimonials

could come from the 100 CR members to

fuel a marketing campaign that could

spread to the rest of the cryptocurrency

community, who benefits from the

testimonials--the content creator?

We highly recommend that community

members ask the hard questions and read

suggestions critically. If you are interested

in this suggestion or would like to learn

more about it, please see their suggestion

here:

https://www.cyberrepublic.org/suggestion/

5c944c58c174e60094ce5552

Finally, the CR News and Social Media team

really enjoys the work done to keep the

community informed about everything

Elastos and CR. We put in an accumulated

80 hours or more every week toward each

Weekly Update and we've received around

1,000 reads per recent issue. By "putting a

face to the name", we hope the community

with bond with our team a bit better. All

our hard work and dedication is done for

the community and we hope that you

enjoy learning about us.

-By Jeremy G.

What is mentioned is that the money

invested by the CR will go to paying for

100 CR members to gain access to the

//3
---
CYBER REPUBLIC Weekly Update/Issue 18

Meet the Team

Kenneth K.is a near full-time world traveler with a diverse

background--a professional in many fields such as

writing, medicine, photography, dance and athletics. He

became involved with blockchain in 2016.

He founded the CR News and Social Media team along

with KP, and he has been blessed with a committed team

that matches his own ambitious vision. He hopes to lead

this fast-growing team into becoming the most

professional source of news and information on the new

internet, believing that by giving the Cyber Republic a

strong voice,the team can drastically increase the power

and reach of the Elastos ecosystem. Article by article,

video by video, building a knowledgeable and passionate

community is key to the Cyber Republic's success.

Kenneth K. Team Lead and

Senior Editor

Kiran Pachhai (KP), was born in Nepal and moved to the

United States at the age of 14. He graduated with a

Bachelor's degree in Computer Science from the

University of Colorado at Boulder in 2014. He has

worked in industries from telecommunications to

cyber security and now, blockchain. Kiran is the bridge

between the CR News and Social Media team and the

Elastos Foundation and Cyber Republic Committee.

He is most involved with the CR News team as a

technical advisor and project manager who reports

directly to the Secretariat of the Cyber Republic.

//4

He strongly believes in the potential of CR News and

Social Media team because, just over the last couple of

months, the team has expanded quickly from the CR

Weekly Update Team to the CR News and Social Media

team and has helped the vision of Elastos and Cyber

Republic spread further than ever before. He believes

the team could very well be one of the most important

community-led organizations as it could grow even

further, not only focusing on the Elastos project, but

also the entire ecosystem with thousands of potential

KP, Project Manager and

Technical Advisor

dapps and projects built on

Elastos. By increasing

community awareness and

support, it will help the CR

grow organically.
---
Alex Shipp has been active in the crypto-space as an investor,

writer, and strategist since 2017. Presently, Alex is a contributor to

both Cyber Republic and the Elastos Foundation as a writer and

editor and provides revision services for the CR News team. As a

strong believer in decentralized system architecture and

individual asset ownership, Alex is convinced that development of

the Elastos ecosystem and the propagation of its community

stand at the forefront of preserving individual liberties in the

digital age.

Alex Shipp, Editor

Jeremy G. was born and raised in

Connecticut, U.S.A. He went to

school at the University of

Massachusetts. His hobbies are

playing basketball, writing, and

being with friends and family.

Jeremy G., Senior Writer

He is a senior writer for the CR

News team with a focus on projects

building on Elastos. He's excited to

help the team become the onestop

shop for all Cyber Republic

related topics and news. He's

humbled to be part of such a

motivated and professional staff

that is tasked with leading the CR's

brand and image into the new

frontier.

Joel, Chinese Community Reporter and Translator

Joel is on the CR News team and is tasked with finding and editing news from the Chinese

community as well as translating materials between English and Chinese. He is passionate about

Elastos' vision, and would like to see it change the very values of human society (yes, the scope

is that grand). The CR Weekly Update is the quickest portal to seeing the CR's activity, and he is

very happy to work with his teammates, always amazed by their talents in delivering high-quality

piece after piece.

He reminds the community that Elastos and the CR cannot succeed without the participation of

its community members, and he encourages everyone go to the CR Forum to contribute to the

latest discussions with their opinions, talents, and skills. Joel can be found on the CR Forum as

"iloveonsen" (so keep calm and take a bath).

//5
---
CYBER REPUBLIC Weekly Update/Issue 18

YY, Writer and Translator

YY's interest in technology brought him to blockchain and cryptocurrencies. He discovered

Elastos during a local meetup hosted by Clarence Liu and Kevin Zhang, and he joined the CR

News team to contribute writing and translation skills to the growing ecosystem.

He is amazed to see how team members from different backgrounds and countries can work

together remotely, seamlessly, and effectively, producing quality weekly reports for the past 18

weeks. He hopes the team will grow stronger in terms of numbers and diversified skill sets in

order to take on more roles for the best interests of CR and Elastos ecosystem.

Amos Thomas was born and raised in Trinidad & Tobago. He migrated to the US at a young age.

He obtained degrees from Springfield Technical Community College and Western New England

University in IT, and with a constant drive to learn about new technologies (especially those so

relevant to every industry) he became involved in cryptocurrency August, 2017.

Amos Thomas, Social Media Strategist

Amos is on the CR Social Media team, utilizing

his platforms and skills to increase awareness,

refine social media workflow, and he is currently

building a website for the CR News team. He sees

the CR News and Social Media team evolving into

a true collective voice of CR Citizens along with

the already massive task of keeping the

community informed of CR activity. As CR News

and Social media is frequently the first

impression for the curious, professionalism and

clear branding of the CR News and Social Media

team is paramount.

MikeDave, Lead Social Media Manager

Mikedave became involved in cryptocurrency

late 2017. He's been an active community

member of Elastos since the beginning and was

honored to be invited to the Anniversary event in

Chiang Mai during the unveiling of the Cyber

Republic. He has served the Cyber Republic as

the CR Admin, and is now part of the CR Social

Media team as the Lead Social Media Manager.

//6

He believes the team will grow quickly as he sees

the team evolving into a full-time news website
---
and voice for the CR community, CR

partners, and Elastos Ecosystem, effectively

encouraging community activity and

contributions.

Faby, German Fish of Social Media

Faby was born in a small town in Germany.She

is a passionate and energetic individual, who

cares deeply and loves to share. She

identifies as a German fish who has to

frequently jump into the ocean, preferably

with a surfboard, whenever a beach is in sight.

Martin, Branding and Graphics

Consultant

Martin is a multidisciplinary designer with

experience in retail clothing management

and freelance graphical communications.

He lives in the English countryside, working

on anything creative and riding mountain

bikes in his downtime. His main focus is

working on design assets for Elastos, so his

involvement with the CR News & Social

Media team is primarily in graphics and

branding consultation.

The Cyber Republic's vision is an interesting

one as it's community-based with no

centralised management. It's bold for an

organisation to run fully community-driven,

but Martin hopes it succeeds and believes

the CR News & Social Media team is very

important in making it happen. The team is

the communication pathway to businesses,

users, developers, and everyone else that

hasn't heard of a new, safer, smarter

internet.

She's been part of the CR since its inception

last August, and she is extremely proud of the

dedicated community that will be

celebrating its 1st anniversary soon! She

truly believes in Elastos' potential to make

the digital world a better and safer place.

With her extensive background, working in

B2C marketing, sales, and product

management in the Tourism industry, she

holds a Masters of Business Science and

Language and Culture from Denmark, and a

Bachelors of Marketing Communications

from Germany. She is applying her skills and

experience to the CR Social Media Team as an

advisor, focusing on spreading the word

about the CR and Elastos' technology in a

less-technical, widely-understood way.

//7
---
CYBER REPUBLIC Weekly Update/Issue 18

//8

Table of Contents

2 Intro

4 Meet the Team

9 TITAN

11 SUPERNODES

20 Summary

21 CR Terminology: DPoS

22 International: Kevin Zhang,AnyPeer,

and Elastos Philippines

30 Community Shout Out

31 Interview: Yuuki

33 Analytics

35 CR Forum Updates

39 Glossary

41 Credits
---
TITAN

By Jeremy G..

Many are infatuated with the technology Elastos has to offer.The community is excited about

the future of the Cyber Republic and its aspirations of becoming an autonomous, borderless

society, run democratically by its citizens.There is more to be excited about, however.The

dApps being built on top of Elastos will form the foundation of the Cyber Republic. One of

these major pillars in the ecosystem is called,"Titan".

As stated in the End of Year Report:

https://news.elastos.org/wp-content/uploads/2019/01/Elastos-EOY-Report-2018.pdf

"The project offers a decentralized storage and transport network designed to support a

wide range of decentralized ecosystems." The CR News team was fortunate enough to speak

with the Titan CEO. He shared the benefits of Titan product and services, its vision for the

future and its challenges, the team and how Titan will interact with the Cyber Republic and

Elastos.

"Titan is a decentralized CDN (Content Distribution Network).A CDN is a group of servers

distributed throughout regions which expedite transfers of assets needed for loading

content on the internet such as images, video, and HTML pages.Titan's CDN gives the same

service as a traditional one however it's only 20-25% the cost.Also, IPFS (InterPlanetary File

System) is one of the leaders in peer-to-peer file storage.Titan's proprietary peer-to-peer

algorithm is 100 times faster than IPFS, and it's compatible with a large number of storage

devices including mobile phones,TV's, routers, and more.Titan will be compatible with

Elastos Hive, which will only enhance storage capabilities of the Elastos network."

There are some challenges in improving the performance of CDN and making sure the user

experience stays the same, if not better, in the process.Titan's CEO further explains,"The

biggest challenge for Titan is how to balance the user experience and cost and between

efficiency and decentralization. As a traditional technology, P2P has been tagged with low

cost but low quality.Titan has a lot of innovation that includes encoding/decoding, distributed

storage, and multiple streaming protocols. With all these innovations,Titan can provide its

customers with same performance as CDN, and with much better fluency." Titan's technology

clearly sets them apart from the other P2P services around the globe and provides them with

a significant competitive advantage, while maintaining decentralization and boasting

discounted rates compared to others in the CDN field.

We are almost on the verge of a 5G network era where there will be even more bandwidth

costs to transfer files and store data.The Titan CEO is well aware of this transformation and

realizes that normal CDN will not be able to keep up. He explains further,"On the cloud side,

data volume is increasing dramatically and on terminal side, access bandwidth will increase

10~100 times in 5G era. I don't think traditional CDN is the best option on both a technical and

economical front.Titan aims to provide a much better solution by using P2P technology to

leverage edge devices everywhere." The edge devices he speaks of are any devices that

provide an entry point into a service provider's core network, such as a router.Titan will

provide the Cyber Republic top notch decentralized file distribution for the future!

//9
---
CYBER REPUBLIC Weekly Update/Issue 18

What's Titan doing right now, and how and when will it incorporate its technology into the

Elastos infrastructure? Titan already has a healthy amount of clients with more on the way.

The CEO explains its current operations along with future prospects,"Titan has released a

commercial version, and several serious customers have deployed our technology. We also

have one potential customer that is testing our technology to support more than 0.6 billion

end-users." Yes, you heard that correctly, a potential 600 million users could be supported

using the Titan technology.

And what about Elastos integration? The commercial version of Titan does not have the

Elastos technology integrated, however in the next version of Titan, Elastos infrastructure

will be implemented.This latest version is set to come out in one month's time.Titan does

have current integration with the Shiju TV Elastos box, a big hit in China with over one

million boxes sold.

Titan's CEO excitedly explains more about the relationship between them and Elastos,"We

plan to work closely with Elastos after next version of Titan is released. I believe Elastos

technology (like DID and Carrier) and community are a good plus for Titan. Elastos can

integrate Titan project and provide an enriched service to Elastos community and

customers." The Titan Network serves both the blockchain and traditional communities.

How about the team? Titan has an experienced core team that comes from some of the

biggest companies in the world such as Alibaba, Huawei, and Intel.The CEO invested in Titan

as an angel investor. He became such a big believer in the technology and the team that he

joined Titan as CEO full-time. He shares his education and work experience,"I graduated

from Tsinghua University in 2000. I'd worked in a big Smart card company as a core

developer of Card Operating System. During that time, I immigrated and implemented

several encryption algorithms. I founded a software service company to provide onsite and

offshore services for big companies. It was then that I went to Tsinghua University to earn

my MBA.After graduation, I founded another company to provide sourcing and

procurement consulting service, which was acquired after 4 years, and I worked as COO for

a big state owned internet company for 2 years. From 2018, I started to invest in blockchain

and I migrated to the Titan team". In the past 18 years, the Titan CEO has accomplished so

many things, and he is eager to do more for Titan--and in turn, the Elastos and Cyber

Republic community.

Ultimately, big companies like Amazon, Facebook, and Netflix rely on CDN's to serve its web

traffic.Titan has game-changing technology that has and will revolutionize file distribution

and storage as we know it. With Elastos and Cyber Republic being partners of Titan, it will

boost the ecosystem by epic proportions.The community of the CR will reap the benefits of

being able to send content peer-to-peer in a quick, easy, and affordable fashion, with all the

security of Elastos blockchain technology.All the building blocks are being formed in order

to create an infrastructure for the new Smart Web.Titan is just one of the crucial ecosystem

partners of Elastos that will bring the CR into the next frontier of the new internet.

//10
---
SUPERNODES

By Jeremy G.

Black Wolf Tyro Lee)) and Twitter (@elastos_news (Just a Fan of Elastos)).Tyro plans to

host the node on the Huawei Cloud.Tyro is still figuring out the rewards for voters.

Regarding his logo, it represents a wolf that is "shouting to the sky of Elastos".Tyro views

this as a sign that we as a community are invincible and successful. Here's an excerpt of

what Tyro says to the community on his website,"I joined the Elastos community since

August 2017, and I've been through so much with this project, I believe in Elastos and I will

Continuously support it. I hope you can vote my Elastos super node "TYROLEE" ,Thanks

for your vote!"

Noderators *New*

Tyro Lee *New*

Tyro Lee, the creator of the Elastos English and Chinese Telegram

groups, will be running his own Supernode.Tyro has been an active

community member from day 1. He's already created a website to

promote his Supernode.

http://www.elastos.today/

He will also be promoting his SN on Wechat (breathinsmog (Little

The great Elastos Telegram moderators have formed a Supernode group for the Elastos

Ecosystem.They will be creating a dedicated website to promote their Supernode and

have plans to create a separate Telegram group as well.The two Supernodes will be

hosted on the cloud. Here is a statement from the group about their plans."We are the

Elastos Noderators! We are a diverse group consisting of Elastos moderators and team

members, and with your help, we plan to run at least one supernode. Our team members

include: Gandhi,T.I., C00mbsie, Pmhee555,Austrader, Murph, Multastoy, and of course KP.

We are spread all around the world in countries such as Finland, South Africa, USA,

Australia, Switzerland, Netherlands, and Indonesia. If you have been active in the

community, you likely know and have interacted with all of us in many instances.As many

of you know, we are some of the biggest Elastos fans out there, and have been extremely

devoted to this community for a long time. We absolutely love interacting with this

amazing community each and every day. Whether it be with problems, concerns, or just

dreaming of a new internet, we are committed to servicing this community in any way

possible. We feel that our strong belief and long term devoutness to the Elastos project,

along with our dedication to the Cyber Republic, is enough to guarantee that we have the

Elastos community's best interests in mind when it comes to running a supernode.The

Noderators will uphold a pledge to run our supernodes with decentralization, fairness,

and the betterment of the Smart-Web in mind. By supporting us, you also support various

initiatives funded by the rewards that will directly benefit the Elastos ecosystem.A more

detailed plan and website will be revealed at a later date. We hope to run one supernode in

Europe/Africa and another supernode in North America."

//11
---
CYBER REPUBLIC Weekly Update/Issue 18

//12

ELA Chat *New*

The team behind the peer-to-peer chat dApp,"ELA Chat" has formed their own Supernode

group. Here is their statement,"The infrastructure of ElaChat was powered by Elastos, and

therefore we would like to have greater contribution to the development of Elastos. We hope

to become one of the 36 nodes and contribute to the long-term development of Elastos.

There are currently 4 members in the team and we want to recruit more members for ElaChat

R&D. ElaChat is an open-source project and everyone can contribute to its development via

GitHub.At present, ElaChat has integrated the DID, Carrier and SPV functions, allow

authorization of necessary information for the use of third-party applications.Third-party

application can be embedded in the ElaChat, just like mini programs of WeChat public

accounts. We want a node to support the projects built on ElaChat ecosystem, provide node

DID service and smart contract service. We are considering to reward the members who have

voted for us and more details will be released in the coming future.There are always obstacles

and hardship in a development of new technology, and Elastos is of no exception.At present,

Elastos has been exploring its own way to realize its own value, and we believe that there will

be more breakthroughs in the near future."

Bitett *New*

Bitett is a Chinese media outlet for blockchain. Here is a written statement by the team,"As

one of the earliest partners of Elastos, Bitett believes in the vision of Elastos and the

community governance model it introduces. In this DPoS node election, we hope to be

elected as one of the 36 active nodes, to contribute ourselves in maintaining the fairness of

network security and consensus mechanisms, as well as steady growth of Elastos in the longrun.

Currently there are 4 major members in Bitett node, including operation and

development. In the later stage of the DPoS node election, we will recruit community

operating members when needed. We have considered rewarding the members who have

voted for us and more details will be released in the coming future.The vision of Elastos has

gradually been recognized by an increasing number of people. If you are a fan of Elastos, and if

you want to contribute to the development of Elastos, join us and vote for us, so that we can

together witness the great moment."

Bit.Game *New*

"BIT.GAME is an important entrance to the blockchain game field for the Elastos.Through

participating in this DPoS election, BIT.GAME hopes that more community members can

recognize the benefits that blockchain games bring to the Elastos ecosystem. If we are

elected, the node rewards will mainly be used to provide various ELA blockchain games with

liquidity through the Higgs network, and the rest is allocated to voting supporters.The

members of the BIT.GAME node are composed of the core teams of BIT.GAME, including: Ding

Wang, Co-founder of BIT.GAME, current CEO of GAEX.com and Co-founder of Higgs Network;

Yundong Sun, Co-founder of BIT.GAME, now CEO of a game distribution platform

(haowanba.com); Sally Gong, Former Business Partner of Ontology (USA), currently cofounder

of Higgs Network.The BIT.GAME node revenue will be distributed by holding the BGX

(ELASTOS) tokens on the Elastos token sidechain. BGX is currently an ERC20 token on

Ethereum, with a total volume of 5 billion. We plan to gradually destroy 500 million ERC20

tokens by June 2019 and issue 500 million new BGX (ELASTOS) tokens on the Elastos token
---
sidechain.These BGXs will serve as credentials for the distribution of node revenue.The

500 million BGX (ELASTOS) will be distributed as follows:

100 million BGX(ELASTOS), held by the BIT.GAME Foundation;

200 million BGX(ELASTOS) for user-held BGX (ERC20) for redemption, the conversion

ratio is 1:1;

200 million BGX(ELASTOS) for voting rewards.

Thanks to the community members for their support of BIT.GAME. In the past year,

GAEX.com, the world's first blockchain game asset-trading platform, has successfully

launched and achieved a steady development with some in-depth cooperation with a

number of excellent blockchain games, which are in turn brought onto the Elastos

ecosystem. I hope that everyone can pay more attention to these game projects, both in

terms of investment potential and game content, as their qualities are of leading position

in the field."

FishChain *New*

"Elastos community should not be unfamiliar with ELAfish, or FishChain, as it is one of the

very first blockchain games that enables ELA mining. Many of the community members

has enjoyed the fun of the game itself and graphics, as well as the appreciation of ELA

when having done successful trades of their assets. In order to join the never-ending

ELAfish mining game, many players of the ELAfish community proposed to participate in

the Elastos DPoS node election and return all the proceeds to enhance ELAfish's

computing power.That said, the reasons for participating in the DPoS election, on the one

hand, stems from the strong demands of ELA community members; on the other hand, it

shows ELAfish's deep recognition to the technological development direction of Elastos."

"Different from other node candidates, ELAfish's lock-in 5000 ELA for DPoS election will be

raised from the ELAfish players. ELAfish will launch 25 gold ELA node fish with ultra high

computing power and high collection value in the game, 200 ELA each as the initial price

for an auction.The user who took the signature node fish will receive the ELAfish Node

Partner Certificate and will be named in the Fishchain Hall of Fame.All proceeds

exceeding the initial price of the auction will be used for the mining pool. If an ELAfish

node decides to quit later, the owner of the virtual asset will receive a return of 200 ELA as

in the beginning of the auction. Once the ELAfish node is elected as an DPoS node, all gains

from the node will be allocated to ELAfish's game pool.

Auction time: March 28, 2019, 11:00

Starting price: 200 ELA

Auction form: auction a fish every 30 minutes. It enters the "seckill" period starting from

the 14th minute. If no one raises the price within 1 minute, the auction will end

immediately; if someone raises the price, the timer will be restored and the previous rule

applies.The auction was forced to end when 30th minute has passed, and the final bidder

will get the fish.

A node fish is a perfect suit with specially-customized and golden gene, which not only has

ultra computing power, but also captures most of the ELA mining pool in the game to

//13
---
CYBER REPUBLIC Weekly Update/Issue 18

produce ELA. Its appearance is designed by artists from Qinghua Academy, which gives it a

high collection value.The benefits of becoming a node partner includes: a certain percentage

of ongoing dividend for ELAfish's independent operations after auction, reproduction, and

transaction.

ELAfish mining pool:

The ELAfish mining pool consists of several parts: the initial pool provided by the Elastos

Foundation (first sponsored by BIT.GAME), 70% of the ELA Genesis Fish auction, 70% if the ELA

Aquarium (mining machine) auction, 70% of ELA fishing fees, 70% of ELA fish breeding fees,

the proceeds of this Node Fish auction (net the initial 200 ELA), and a steady stream of node

rewards after becoming an Elastos DPoS node.

Team:

"Eye worm": Product partner, graduated from Peking University Life Science Academy, the

proposer of the "Pipeline Model" of the General Economics, the major planner of "Bubble

Fish", senior game system and numerical planning.

"Bear Crow":Art Partner, graduated from Lu Xun Academy of Fine Arts and French MJM Art

and Design Institute, the artistic director of "Bubble Fish", good at grasping the aesthetic

sense of game products.

"Butterfly":Technical Partner, obtained Master Degree from the Department of Mathematics,

Peking University, Senior Architect, proficient in blockchain technology and traditional

Internet technology.

Jacky Cheung: Executive Director,"Bubble Fish" Business and Public Relations Officer, years

of experience in gaming product operations.

Light: Director of Operations, responsible for the operation of "Bubble Fish", and many years

of experience in media operations.

Hong16:Art Director, graduated from the Academy of Fine Arts of Tsinghua University, the

creator of "Bubble Fish".

"Whitehead Scholar":Technical Director, Server and Blockchain, with many years of

experience in large-scale online game development and artificial intelligence development.

Jelly: Product Director, chief programmer of client side, with many years of experience in web

mobile game and securities trading software client development."

//14

ioEx *New*

Recently the Elastos ecosystem partner, ioeX, has announced they will be running a

Supernode as a part of the Elastos DPoS Consensus. In the next week the CR Weekly

Newsletter will provide more details about the specifics of the Supernode ioeX will provide.
---
Wefilmchain *New*

Wefilmchain is an ecosystem partner of Elastos who seeks to provide a decentralized media

production and distribution channel for small producers.Their plan is to host the SN via a cloud

service like AWS or GCP per Elastos Supernode specs recommendation.They are still in

discussions about hosting two nodes, one in the U.S.A and one in Canada.The following is a

statement made by the team: "Wefilmchain, a developer within the Elastos Community, intends

to support a supernode with their qualified development team. Rewards will be shareable with

contributors on a regular basis.The team plans on utilizing and contributing toward an open

source solution that the whole community can use so contributors are properly incentivized

and can view data in a simple way. Future enhancements might include rewards for participants

hosting music or video files for the Dapp that we are creating. We value transparency, creativity,

and education. We have strong ties to entertainment and content creation communities and look

forward to educating and reaching out to those groups to spread the word about the Elastos

Ecosystem and the profound value and potential that it holds for ever-growing global market."

Hyper Supernode

The creators of Hyper.IM and Hyper Connect will be running their own supernode. It will be

hosted on AWS cloud servers in Germany.As far as divvying up rewards, the Hyper team looks to

align with the average of other nodes and also,"As CR tasks have been paused, we plan to bring

them back by sharing rewards with contributors and keeping voters updated about

achievements by community members. By sharing rewards with voters as well as to contributors

to the Elastos ecosystem, we hope to grow with the community. The rest will be invested toward

marketing Hyper Messenger." They will market their supernode through a dedicated website and

their various social media outlets.

Peter Strauss of Hyper has also decided to help create a script for all Supernodes in order to

automate the distribution of rewards to voters and team members. Read more about his work

here:

https://forum.cyberrepublic.org/t/voter-reward-payout-script-for-dpos-nodes/753/

Elastos Scandinavia

This group is from the Scandinavian region.A group member has provided a mission statement:

"We are looking to provide Elastos with increased stability, diversity, and speed by operating the

supernode with highly skilled people, physically located in a country with stable infrastructure

with our own servers in Sweden. We have an experienced sysadmin hopefully joining our team

shortly. Elastos Scandinavia plans to hold our cost as low as possible without any loss of quality. In

this way we can stay solvent longer, keeping the SN alive and giving back higher rewards to the

community. First, the reward will go to paying for the cost of running the SN. Next, to prove our

quality, we plan to give most--if not all of our rewards--to the community in the beginning. In this

way, we are giving away our labor until the Elastos community has built up trust and belief in

Elastos Scandinavia as a quality SN."

The team is mainly composed of developers and a member with a background in Electronics,

Embedded Systems, and Measurement/Controlling Systems.They will create their own website,

twitter account, and Telegram channel to market the Supernode.

//15
---
CYBER REPUBLIC Weekly Update/Issue 18

Enter Elastos

Enter Elastos is a supernode group created by dedicated members of the Cyber Republic like

Michael S., Chris Mac, Chinicci, Dexter, Max,Adem, KenNinja, and Jeremy G who are well-known

throughout the community. What started as five members quickly grew into twelve because,

"With a few more heads put together, we found that we could build something really great."

Their mission is to run three Supernodes (SN) with a very fair reward and highly competitive

distribution that's primary purpose is to contribute to the ecosystem in a sustainable way.The

three SN's will be named Callisto, Ganymede, and Titan, after the biggest moons in the Solar

System, and each node would be run in a different continent as the team is composed of

members from several countries: U.S.A., Morocco, New Zealand, England, Germany, and Belgium.

This will ensure diverse distribution of the Supernodes. In terms of developing a script to

streamline the payouts, there are experienced coders and programmers in the pool that will

take care of this code and ensure that it's 100% conducted through smart contracts and scripts.

They are also considering using the open-sourced script by Strauss after its development. Also,

prominent CR member Michael S. has a personal Supernode he's hoping to run from his

hometown in Houston,Texas, and he looks forward to contributing to the DPoS Consensus.

//16

They have a devoted telegram: https://t.me/EnterElastos

DPoS Node Rights Alliance

This ambitious Supernode pool has been covered extensively in previous issues of the CR

Weekly Newsletter.

https://blog.cyberrepublic.org/2019/02/25/weekly-report-february-25-2019/

https://blog.cyberrepublic.org/2019/03/05/weekly-report-march-3-2019/

Their Alliance communicates and plans their strategies in the Wechat group called

"League_of_Elastos".They are recruiting 36 node candidates and others as voters. If any of the

candidates are elected as active nodes, the profit shared among each member will be

significantly increase. There are two types of members in this Alliance: Node Committee

Members (NCMs) and Voting Members (VMs).There are 36 NCMs that will lock up 5,000 to

participate in the Elections. VMs place their votes toward the 36 NCMs. If any NCM is elected,

the profit minus the running costs is distributed to members at a weight of 2 for NCMs and 1 for

VMs.This Alliance is a not for profit organization with the philosophy to benefit token holders

directly and prevent the collusion of whales.Their ultimate goal is to distribute as much profit

as possible to voters.The Alliance looks to be one of the leading Supernodes in the East as a part

of the entire Elastos DPoS Supernode ecosystem.
---
Elastos Italy

A team of 10 Elastos enthusiasts are looking to run a Supernode based out of Italy.The Supernode

will be run by one of the team member's in-house servers.Team member Damiano explains how

the team plans to divvying up rewards to voters:"Our pool has 10 participants, all with different

quotas.Therefore, every decision will be divided according to the percentage of entry. Our

strategy will vary a lot.The focal point will always be to reward voters in the most appropriate way

possible."

The team plans on utilizing an open source solution that the whole community can use when it

becomes available. Damiano is very active on social media as he manages several groups with

around 20k members; he is the admin of Elastos Italia. With his active channels and social outreach,

the team feels very confident that they will promote their supernode effectively.This group

prioritizes transparency and communication with the community and looks to act in the best

interests of the Cyber Republic ecosystem.

The Wild Strawberries Node

This is a diversified group of 15 members who are looking to run three nodes in the U.S.A. Their

other members are from France, Netherlands, the United Kingdom,Australia, and Canada.

The team states,"We intend to set up cloud servers. Our incentives will be at start 60% for voters

and will follow an inflationary model like Elastos. After some growth, we will cut our dpos share to

creating a CR Task Fund."

The team will be creating a website along with various social media outlets to spread the word

about their pool.This is their mission statement:

"The "Wild Strawberries" Nodes have the objective to develop and connect the Elastos Ecosystem

through various means. Like wild strawberries, we intend to grow and develop everywhere,

technical or social, because we consider the two elements necessary for a working elastic &

evolving network. We would like to share our vision of the future for The Cyber Republic. Our vision

is wild, like us. Our vision is the Cyber Republic to receive the fruit of our labor: the wild

strawberries, the most tasty fruit for the largest borderless community. We are ready to make

//17
---
CYBER REPUBLIC Weekly Update/Issue 18

speeches, educate, participate, code, build ideas, help existing businesses and make new ones;

we will give everyone a taste of success with our core values."

Their values in 5 words: Empathy (genuine human interaction), Grit (results come from

mistakes) , Patience (because fast and good don't coexist in perfection), Wild Actions (actions

are better than words), and Fun (life is a game).

//18

TI's ELA News Supernode

The community's very own Telegram administrator "T.I." will be running his own Supernode. It

will be run on a cloud service system like AWS.T.I. is the sole contributor to the ELA News

website and is very passionate about dedicating his time to the community.

T.I. says this about rewards:"ELA News has been run and maintained solely by myself without

any funding. I wish to expand ELA News with more content through funding from the supernode

rewards as I do not have so much time on my hands. However, I hope to distribute rewards

according to market expenses, or perhaps slightly under that to cover running the node and

expanding ELA News at the same time. ELA News has a dedicated readership, and I hope readers

will support my vision".

T.I will be looking for an open source script that all community members can use for

distributing rewards to voters. He will have a dedicated page on ELA News for DPoS, and his

Supernode will be marketed through the ELA News Twitter account.

T.I. has these final words,"I hope for ELA News to be the best resource for the community to be

kept abreast of everything Elastos. Make sure to follow us on our Twitter page :

twitter.com/elanewsnet and continue reading elanews.net. Sincerely,T.I."

DMA's Supernode

Another prominent community member looking to run a Participant Supernode is Brian from

the DMA project. He shares his thought process in hosting a node and what their prerogative

will be for the community:"As the Supernode election is nearing, myself and the team were

thinking about whether or not we needed to participate, and how we would go about doing this.

This is clearly a very important step for the Elastos infrastructure and community, so we

decided to have an internal discussion of the qualifications needed to run an elected

Supernode.

"We feel it is very important to have the technical background or have very strong tech support.

It looks like the hardware requirement isn't too complicated, but the quality of service is very

important to keep the node up and running at a good level. My team members feel they are

more than capable of doing it because they are working on our cloud services anyway, and are

able to quickly monitor and fix problems in a timely manner.This convinced me that maybe we

could, in fact, run one with confidence.

"We don't want to just run the elected node and profit by ourselves. It must be shareable. So the

plan is simple and direct: Share the earnings with all contributors on a regular basis.To make

the sharing completely fair, we can write the script to put the incentive plan in the code, and

have people put their trust in the code, not the human.
---
"We also need to create some tools to let each contributor view the data easily.The incentive

model can be designed based on multiple factors. Since we are the team that built DMA, we

have a very strong technical background to build such a script and run it in a fair way.

Otherwise, we will not only lose the node, but also lose the reputation of one of the important

ecosystem contributors.

"Last but not least, the node service should be expandable. We can put more add-value

services on to the servers behind the node. For example, there might be a personal cloud disk

service, DMA-powered extended business-stub service, etc. It can be continuously working

along the basic node service the team can offer.All these services can be hosted by any

elected node if they want.The earnings can be combined with the basic node service income.

Thus, the earning of running such value-added services will be the additional share to the node

supporters and contributors.

"Of course, the profit share program will be placed in the code.This is the way to bring in more

services around the node and let the ecosystem application grow, letting every supporter

benefit from such economic growth. I'd like share these thoughts with community. I believe

this can also be points for other participants to consider."

The team is reaching out to the community through all relevant social media outlets and is

considering the creation of a website for the group's candidacy. If interested, they invite

community members to join their node. You can reach the team at

supernode@elastosdma.org.

//19
---
CYBER REPUBLIC Weekly Update/Issue 18

Summary

Here is the latest Elastos Weekly Update:

https://news.elastos.org/elastos-weekly-updates-22-march-2019/

We have a new Cyber Republic Documentation site with relevant introductory information

about the Cyber Republic, including the constitution, voting and proposals, and leadership.

Check it out here:

https://www.cyberrepublic.org/docs/#/overview/intro

Project Updates

Cyber Republic Website

Main Project Repo: https://github.com/cyber-republic/CyberRepublic

Git Activity and Updates

Please refer to the timeline described on this article for more info:

https://blog.cyberrepublic.org/2018/12/27/important-cyber-republic-announcement

If you are a developer interested in working with the CR or Elastos, here's a form you can fill

out: https://goo.gl/forms/pvzDYMsVEs10s6U72

Announcement

The CR Weekly Writing team has expanded!

We are now the "CR News and Social Media" team.

If you have any content you'd like to submit to our writing (or social media) team, please email

us at our new contact email:

press@cyberrepublic.org

//20
---
CR Terminology

By Kenneth K.

As there are many terms to such a large project like Elastos and the Cyber Republic, we've

decided to build a growing glossary of terms that can help the less technically acquainted

understand better what the tech means and the impact it could have. This week we're focusing

on DPoS.

Term: Delegated Proof of Stake

"In a Delegated Proof of Stake (DPoS) consensus mechanism, which is a variation of PoS, coin

holders can use their balances to elect a list of nodes to be possibly allowed to add new blocks of

transactions to the blockchain. Coin holders can also vote on changing the network parameter.

While PoS can be likened to winning a lottery, DPoS gives all coin holders more influence and

ownership in the network. Proof of Work (PoW) can be likened to a true democracy, Proof of

Stake (PoS) to an oligarchy, and Delegated Proof of Stake (DPoS) to a democratic republic."

-KP

Elastos is not a strict DPoS; it is a hybrid model that is not only merged-mined with Bitcoin, but its

DPoS consensus mechanism enforces community proposals that may include changes (even like

different consensus mechanisms) such as new sidechains or architectural changes to the main

code. PoW miners who fail to update won't have their blocks signed by the Delegates, which

means that they won't create forks since their blocks are considered invalid.

Layman's definition:

All public blockchains need a way of determining consensus (machine agreement that certain

data--like a funds transfer--is in-fact, real). Delegated Proof of Stake is a method of finding

consensus in which specific machines (delegates) are trusted; therefore, what they verify a true

is also trusted. These machines are voted on by the community, and if they do anything

malicious or fail to do their job well, they can be voted out by the community as well, thus losing

their trusted status as well as some (or all) of their staked 5000 ELA. DPoS is much more energyefficient

and faster than PoW. Since Elastos is a hybrid consensus model using DPoS and mergedmining

and community consensus, it takes the strengths of each and bundles them together into

a blockchain that can't be forked, is highly efficient, and is very safe.

//21
---
CYBER REPUBLIC Weekly Update/Issue 18

International Community

Activities

By Joel

ELA Talk: Meeting with Kevin, CR Preparatory Committee member

https://mp.weixin.qq.com/s/Wndn7Pj_lZd0_e2wh_oZGg

ELA Talk: Elastos community governance and ecosystem development

https://mp.weixin.qq.com/s/0MzZOzOPiNgMuZ-pO9tp9A

A letter to Elastos commuinty regarding the DPoS node election

https://mp.weixin.qq.com/s/vKEdzA6_P9vX_YpYQHtq6A

What are the advantages of IM application on Elastos

https://mp.weixin.qq.com/s/lynrmSp8qlUC-O2GeV0ccg

Facebook sees crisis, Elastos sees hope

https://www.7234.cn/elastoss/88810?from=groupmessage

AnyPeer was recently made open source and has seen significant progress.They frequently

provide updates on the CR Forum. We have interviewed their representative this week to learn

more.

1. Can you briefly introduce your team? What are their specialties and roles?

We have four members in our team: one for graphics design, one programmer, one responsible

for project management, and I myself works on both coding and project management.As we

are all working part-time on AnyPeer, we usually brainstorm and discuss progress evenings

after work.

2. We've seen several progress updates in the CR Forum. Can you explain them in more detail?

We made the basic version of the code public in Feb 2019 (https://github.com/anyxxx/AnyPeer),

and we welcome anyone to test it out and fork it. In this version, one can send texts, emojis,

pictures, videos, and ELA (via testnet).

We spend our downtime integrating group chat functions into the App, and we are now testing

and optimizing the user experience. In the last version, for the sake of UX optimization, we've

//22
---
included some extra data (to confirm receipt of messages) after sending messages, which

has led to improper communications with other apps based on the same Elastos Carrier. We

plan to release an optimized version that solves this issue in the coming week. In short, the

updates include group chat and compatibility with other chat apps.

3. Besides chat apps, do you have any other projects in development?

Besides the basic chat functions, we are considering integrating the Red Packet function into

AnyPeer. We also want to make some built-in games, depending on the technical difficulties.

4.As developers, do you encounter any difficulties when building dapps? What future

Elastos updates would you like to see that would help with the development process?

Regarding the Carrier and SPV functions, there haven't been many obstacles as the codes in

the libraries for testing or demo can showcase the basic functions, and we found them as

good references. We are eager to see the release of offline messaging functions (Elastos

Hive) that better the user experience.

5. How do see the coming DPoS election? Will your team compete for a node?

Hmm… We will mostly likely vote only.

6. Is there anything you want to say to the community?

Every member of Elastos should contribute so that we can make better and faster progress.

We invite the community to try AnyPeer when the next version is released and give

comments and suggestions so that we can make improvements.

//23
---
CYBER REPUBLIC Weekly Update/Issue 18

Elastos Talk: Meetup with CR Interim

Council Member Kevin Zhang

By Rachel Critelli

//24

On March 1st, Kevin Zhang was the guest on "Elastos Talk" to present his thoughts

on CR.The sharing of this week is performed in questions and answers. Here is

the transcript of what Kevin shared.

1. Would you please briefly introduce the future business model of Elastos?

As a public chain, Elastos is much like a database or an infrastructure. Its business model

depends mostly on the DApps running on it.As a public chain, we can run a variety of

games, business applications, communication tools, etc. Once Elastos becomes a platform

that supports DApps, ELA will be used to pay the service provider, and then ELA will have a

circulation value.

2. What is the daily work of the CR preparatory committee? What progress has been

made?

I am honored to be a member of the CR preparatory Committee. Since last August, we

have been preparing for the CR election which is going to happen in August this year,

including the establishment of the entire CR charter and the current daily work.

Our daily work includes the weekly meetings among the three committee members and

the general secretary Rebecca. In the weekly meetings, we select the highest-rated

suggestions that we think are valuable from the CR website.Then we will have an in-depth

discussion and vote on this suggestion. If the suggestion gets two or more votes, it is

approved.After a transition period of 72 hours, the proposal will be implemented.

Let's take an example of a proposal that we have passed. I proposed a project named React

Native Funding. It is actually a technology platform for community developers and it was

suggested by the community last year.There are many application developers using this

platform and they might also develop applications for Elastos. Now they need funds to

continue development of this platform. Because Elastos will not provide any funds for the

community in the future, the suggestion regarding this project was submitted to the CR.

This suggestion ranks the highest amongst all suggestions in the community, so I made the

proposal. I explained to the other two members why we need this project. I convinced

them and they signed it.Then the suggestion became a formal proposal. If there is no

objection, this project will become officially established.

For the next step, the team leader must propose a budget. If the budget is approved, they

will build a team to develop it.
---
3. How will CR promote community and ecological development after CR officially goes

alive?

What I mentioned above is an example how CR promotes community and ecological

development.The decentralized organization, the CR, will have all the power.This is very

different from traditional companies or organizations where the power is controlled by the

top-level people. Members of the CR Council will be democratically elected with DPoS

Consensus in August this year.The elected members perform their duties as stated and will

listen to the opinions of the community regarding what the community agrees on or opposes.

The power of the CR is given to Council members elected by the community, but they can

also be impeached. If a member does not do his/her duty, then they can be impeached

(through a mobile app).Then, other members who represent the best interests of community

will be elected.This is the basics of how the CR works.

Simply speaking, CR Council is like the US congress. Its mission is to determine a direction

that represents the community's interests and that the community agrees on. CR Council

must make several decisions, such as whether to participate in various ecological

constructions, whether to support a project, whether to cooperate or stop cooperation on a

project, and so on.After the EF (Elastos Foundation) tokens are used up for development, the

EF will gloriously withdraw from the stage and community development is carried out by the

CR council which will be the highest, and only, authority in the future.

4. What strength does Elastos have over other blockchain projects?

The technology of Elastos main chain is a relatively mature technology that combines PoW

and DPoS to provide a platform more easily adopted for most developers. But I want to say

more than just the main chain, because Elastos is not just a blockchain project. In fact, Elastos

can be considered a platform for the Smart Web and the public chain should be regarded as a

database that cannot be tampered with.The traditional Internet has some components, such

as communication protocols, security, and execution nodes. Comparatively, Elastos is a

relatively-complete Smart Web infrastructure including a public blockchain, peer-to-peer

communication network Carrier, Runtime, and a variety of operating environments,

development kits, and Elastos Hive, DMA, etc.All these components form the ecosystem,

together.

It is not appropriate to create the dapps directly on the blockchain. Elastos makes the most of

decentralized trust which is the strength of the blockchain, but massive amounts of

calculations cannot be performed effectively on the blockchain itself. Instead of trying to

make all kinds of applications run on-chain, Elastos is committed to building a safe,

trustworthy, and decentralized computing environment. On the first layer, we provide a

decentralized trust that is fundamentally credible and unchangeable. So how then do we run

the calculations?

Our infrastructure has a second layer [sidechains] including P2P networks and computing

nodes.

The various apps on the second layer are actually responsible for calculations.The dapps can

be run perfectly by combining the computing power from the second layer with the trust and

decentralization of the first layer.Therefore, I firmly believe that a large number of apps

should not be run on the main chain.This is not realistic and will not meet expectations.

//25
---
CYBER REPUBLIC Weekly Update/Issue 18

5.Are proposals voted by the CR Council or community members?

We adopted a DPoS consensus model, but proposals are voted on by council members who are

elected by the community.All information is managed with code to avoid human tampering or

dictatorship. Information such as voting and impeachment for Council members are coded

and written onto the blockchain. If a person is elected, his private key gains access to CR funds.

If he/she does not perform his/her duties and obligations, the community can impeach him/her.

As long as the number of impeachment votes exceeds a set standard, then the Council

Member's signature will automatically lose the right to spend CR funds.

6. What special projects does Elastos have compared to other blockchain projects?

Actually, projects will be built on our ecosystem partners [sidechains]. Elastos will not have a

lot of applications directly on its infrastructure. We are building the infrastructure such as DID

chain, identity verification, DMA decentralized market, basic services, communication

networks, etc. We will support developers to build various commercial apps on our

infrastructure.

As a public blockchain, we need to make these infrastructures very user-friendly. Software

developers can have several choices such as Ethereum, NEO, or Elastos. If our infrastructure is

convenient for developers, then we will attract more developers to use Elastos infrastructure.

Please keep your eye on the CR website. People post new suggestions on CR every day. Read

the comments of the members on these suggestions. In this way you can understand whether

opinions are consistent with your own thoughts. Every token holder is an important member

of the community, and your voice can affect the development of the entire community. If your

voice is adopted by the CR Council, it will affect the development of Elastos which I believe

relies on the joint efforts of everyone.

7. What are the CR and Elastos Foundation responsible for, respectively?

The CR and Foundation are two completely separate entities.The foundation's mission is to

make the Elastos product, and CR's work is to organize the community. We have so many

members in our community and we must have a democratic mechanism to determine the

direction of where Elastos is going. Many important decisions are from the CR.The CR's

decision is from the CR Council members who are elected by the members of the CR.

//26
---
Elastos Philippines

by Krisha Anne Amada

LVCC 2nd ICT Week Celebration 2019

https://free.facebook.com/events/543484206061769

Elastos Philippines participated in the La Verdad Community College 2nd ICT Week that ran from

February 14th to the 16th with the theme, "Computing professionals of tomorrow; promoting

social good and spreading positivity to our society."

LVCC is a private non-stock, non-sectarian educational institute in Apalit, Pampanga, the

southernmost town in the province adjacent to the booming Bulacan province, and nearest

Pampanga town to Metro Manila. It is among the largest campuses in the area and is affiliated

with a Christian group that operates broadcast stations known for excellence in broadcast

communications.

Attending the event were Senior High School students under the STEM track (Science,

Technology, Engineering, Mathematics) and College students taking ICT subjects. Featured were

//27
---
CYBER REPUBLIC Weekly Update/Issue 18

tech industry speakers, a student hackathon, computing workshops, and quiz bees on ICT

subjects.

Mr.Alex Timbol was invited to speak by Mr. Romack Natividad, LVCC ICT department head due

to his postings in the Pamapanga Startup FB group.

To accomodate Elastos alongside the designated blockchain technology speaker, Mr.Timbol

prepared a talk on Techpreneurships, startups, and SMEs. His talk was sponsored by Elastos

and Raemily's Food Service of the Amadas, based in Pampanga.This ensured that Elastos' logo

was placed on slides and banners at the venue throughout the event.

//28
---
Other speakers included:

Mr.Theo Salvado on Web Vulnerabilities and Hidden Wordpress Features.

Mr. Jospeh Perdon on BizTalk.

Mr. Kennedy Rodriguez on Computer Networking.

Mr.Jeffret Cabrer on Android Development Backend Architecture.

Mr. Rolando Cruz on different views about Web Security.

Mr.Alex Timbol on Techpreneursip, with lessons on SMEs and Startups.

Mr. Julius Fresco of NEM Philippines on blockchain.

Mr. Nelson Ibunma on social applications of blockchain, and the GST token project.

I had lunch with NEM and the school's ICT instructors to discuss future partnerships

with LVCC and the possibility of participating in future events, including seminars and

talks.

LVCC is strategic for the Southern Pampanga and Northern Bulacan area because of

its large conference facilities and complementary leadership position in

Communications, SMEs, and Agri-technology vis-a-vis the outward facing (export

oriented) Metro Clark ICT council which encompasses Clark Freeport and Angeles

City.

//29
---
CYBER REPUBLIC Weekly Update/Issue 18

Community

Shout Out!

Nice to see Chico's positive presence in the community!

//30
---
Interview: Yuuki

By Jeremy G.

Would you mind telling the community a

bit about yourself?

I'm originally from Tokyo, Japan. I came to

Australia with my family at a young age and

have been living in Brisbane ever since. I did

most of my studies in Brisbane. I'm currently

working for the Residential Tenancies

Authority which is a state government body.

I'm also working on a business outside those

hours to promote technology that can

create value for businesses and government

and, ultimately, consumers.All the

technologies we are working with are

produced by Japanese companies. So,

basically, I do the groundwork for overseas

tech companies via marketing, business dev,

and pilot programs.

With your business connections in these

industries, do you plan on pushing Elastos

technology for adoption in their current

business infrastructures? Do you have any

insight on connecting businesses with

Elastos and the Cyber Republic?

Yes, I definitely plan on doing this. I have an

ongoing relationship with companies

specifically in electronics. I'm also working

with an REIT company as I want to make way

into that industry as well. I've seen projects

that use blockchain solutions for real estate

investments, so perhaps that could be

interesting. I'm yet to make any moves,

however. I hope to get a bit of guidance on

this and I'm watching to see how things

progress from Alpha to Beta.

How did you first learn about blockchain,

and how did you run across Elastos and the

Cyber Republic? What role do you play in

the Cyber Republic right now, and what

roles do you hope to fill?

I first learned about blockchain mid to late

2016 when I was doing some research for my

business. I started off with the notion that

blockchain is good and cryptos are bad. I

believe the first time I heard about it was in

Deloitte paper that covered briefs on

technologies with a lot of potential. One of

the technologies we are promoting is an

indoor farming tech and I saw blockchain's

application in the supply chain. Less than a

year later, a friend of mine was trading

cryptos and I started to look into it deeper. I

first came across Elastos via Youtube. I was a

fan of NEO when I first got into

cryptocurrencies and this interest in NEO

led me to Youtubers such as Chico Crypto

and Blockchain Brad.They both covered

Elastos which drove me to look into the

project further.This led me to the Cyber

Republic and Elastos was the first project I

really got excited about. I wanted to join.

I was part of the Marketing CRcle and I

organized monthly Meetups in my city and

participated in other Meetups to promote

Elastos. I have stopped the monthly Meetups

now due to the restructuring, but I plan to

resume them ASAP now that Suggestions

are open. I also participate in blockchain and

crypto conventions in my local region. I'm in

the midst of writing my first article on

Elastos which I hope I can finish by early

April. I plan to continue doing tasks for the

CR. My aim though is to get more involved in

the Business Development side as that is

what I enjoy the most, and I think I've picked

up some skills and experience that I can use

for the project.

//31
---
CYBER REPUBLIC Weekly Update/Issue 18

Can you speak of your contributions for

Elastos and the CR in the past?

I have done a couple of meetups in Brisbane

starting from November, 2018. I did a

presentation at the Sunshine Coast again for a

local Hackathon community in January, 2019. I

met the organiser at the Crypto Coast

convention, and I will be attending their next

hackathon which is next month.

Apart from that, I have been reaching out to

participants at BTC meetups in my area as I

see this as a good bridge for our community.

I'm also part of crypto Facebook groups along

with AusTrader (Aaron) to put in a few msgs

here and there on Elastos.

What do you like to do for fun? Any hobbies

or activities that you like to engage in with

friends and family?

I like to play soccer and futsal. I enjoy going

to the beach and I try to go camping

whenever possible at a place called

Stradbroke Island (2nd largest sand island in

the world - Queenslanders are lucky in that

we have the world's 3 largest sand islands off

our coast). Learning about economics has

become a hobby of mine recently, and I also

enjoy chilling with friends and listening to

music. I used to play the drums frequently. I

occasionally still play but music is something

I'm very passionate about.

I have been catching up with two devs who

have shown interest in Elastos. One is working

on a harvesting technology for vineyards, and

he is looking at Elastos' possibilities though

nothing concrete has been promised.The

other put his hand up late last year but due to

the recent state of the CR, it was turned down

until things are clearer.

What future meetups do you have planned?

And how do you plan on engaging the

Australian community even more?

I plan to do a Meetup in May even if I don't get

reimbursed, but that may be the only Meetup

I organise out of pocket until I can get funding.

I plan to attend more Meetups by other

groups - mainly hackathons and BTC and ETH

community Meetups. I will be attending a BTC

meetup next Thursday to make more

connections. I'm also part of some Australian

business networks. One network spans across

the following states and one country:

Queensland, New South Wales, Victoria and

South Australia with New Zealand being a

recent addition. I am an alumni of one of their

series. I plan to spread Elastos via this

network. I may write an article on Elastos

quarterly, depending on how things go.

//32
---
CR Website Analytics: Mar 17 - Mar 23

//33
---
CYBER REPUBLIC Weekly Update/Issue 18

CR Forum Analytics:

Mar 17 - Mar 24

//34
---
CR Forum Highlights

By YY

For those who are too busy to visit our CR forum regularly,

we've summarized some of the popular topics for this week:

Weekly CR Update Team

Our CR News and Social Media team has been expanding steadily and they are currently

seeking a Chinese Social Media team member who can be very active about promoting the

CR (not the same as Elastos, though there is crossover) across various Chinese community

based social channels such as Weibo and Wechat. If you are interested in this role, please

reach out to KenNinja via Telegram at @kenpole or visit the following topic in CR forum:

https://forum.cyberrepublic.org/t/weekly-cr-update-team/162/3

Put the Elastos block browser on top

As you may be aware, Elastos mainent was launched in December 2017 with the genesis

block mined on 1 January 2018. You can view the blocks mined by Elastos team and BTC.com

mining pool at https://blockchain.elastos.org. One of the CR forum community members

known as "1114" has created a topic to suggest that the Elastos block explorer website be

put on top of the Elastos official website.This will make it easier for users to locate and

access the official blockchain explorer. If you find this suggestion is important to you as well,

please like this topic to show your support:

https://forum.cyberrepublic.org/t/put-the-elastos-block-browser-on-top/852

Assumption of Elastos Eco-Fund Scheme

William Zhang (aka "summer98") has created an interesting topic this week with regards to

an ecological fund which could further enrich Elastos ecosystem. Some of the criteria

mentioned by William for such a fund includes participation of CR in professional

investment funds as a limited partner (or other forms) in the capacity of financial investor,

reasonable returns on investment, rights and obligations between agreed parties, and unit

of valuation for income settlement. If you are interested in this topic or have other

comments to add on, please visit the following link:

https://forum.cyberrepublic.org/t/assumption-of-elastos-eco-fund-scheme/850

//35
---
CYBER REPUBLIC Weekly Update/Issue 18

Elastos Needs Top-Level Design on Both Technical and Economic Models

One of the CR Chinese community member "Hero J" has created a topic with the aim to

raise his concerns about Elastos technical development and its inflationary economic

models. He agrees with the idea proposed by Sunny Feng Han that Elastos wallet should be

used as an ecological entrance for development rather than several dApps created by

different teams with different objectives, which may lead to confusion among community

members. In this respect, he proposes that the Elephant wallet should be further enhanced

and integrated with other important functions such as messaging, voting, and even the

forum to consolidate Elastos' technical capabilities.

Hero has came up with an idea of deflationary mechanism to protect the value of ELA

token from investors' perspective in the long run. If you would like to find out more about

the above discussions, please read the entire topic by visiting the following link:

https://forum.cyberrepublic.org/t/topic/883

Blockchain-Powered Internet of Things

There is another Chinese community member known as "Rivers Kong" who started a topic

discussing the problems faced by current business enterprises that are implementing

Internet of Things transformations but are yet to turn their investments into substantial

returns. Some of the issues faced by enterprises at this stage are the lack of persuasive

business use-cases, security issues, limited analytical capabilities, and uncertain IoT

standards and protocols.The aim of this topic is to encourage community members to

share their knowledge, ideas, or experience in IoT field. If you are interested in this topic,

please feel free to leave your comment at the following link:

https://forum.cyberrepublic.org/t/chinese-english-blockchain-powered-internet-ofthings/843

//36
---
Topic highlights

Check out these hot topics to see if there is anything that you can

contribute to, or simply express your thoughts to help make the

forum a truly vibrant community.

Top New Topics

"Moments with KP" Excerpt from our March 11 Weekly Update

"Suggestion Highlight - Elastos Orchard" excerpt from our March 11 Weekly Update

Blockchain Powered Internet of Things

https://forum.cyberrepublic.org/t/moments-with-kp-excerpt-from-our-march-11-weeklyupdate/845

https://forum.cyberrepublic.org/t/suggestion-highlight-elastos-orchard-excerpt-from-ourmarch-11-weekly-update/846

https://forum.cyberrepublic.org/t/chinese-english-blockchain-powered-internet-ofthings/843/2

Put the Elastos block browser on top

https://forum.cyberrepublic.org/t/put-the-elastos-block-browser-on-top/852/3

Assumption of Elastos Eco-fund Scheme

https://forum.cyberrepublic.org/t/assumption-of-elastos-eco-fund-scheme/850/5

Elastos Needs Top-Level Design on Both Technical and Economic Models

https://forum.cyberrepublic.org/t/topic/883/3

//37
---
CYBER REPUBLIC Weekly Update/Issue 18

Most Active Topics (in terms of number of views and replies)

Hyper.im – Peer-to-Peer Instant Messenger

https://forum.cyberrepublic.org/t/hyper-im-peer-to-peer-instant-messenger/289

Marketing & awareness of Elastos & The Cyber Republic

Bi-weekly livestream with Rong Chen

https://forum.cyberrepublic.org/t/bi-weekly-livestream-with-rong-chen/107/7

Supernode Pool Recruitment and Q & A

https://forum.cyberrepublic.org/t/supernode-pool-recruitment-and-q-a/648/25

Hyber.im – Beta now available

https://forum.cyberrepublic.org/t/hyper-im-beta-now-available/348/15

\

dApp idea thread

https://forum.cyberrepublic.org/t/dapp-idea-thread/342/12

Voter Reward Payout Script for DPoS Nodes

https://forum.cyberrepublic.org/t/marketing-awareness-of-elastos-the-cyberrepublic/102/8

https://forum.cyberrepublic.org/t/voter-reward-payout-script-for-dposnodes/753/13

//38
---
Glossary

A growing list of Terms and their definitions

Elastos Hive Cluster:

a decentralized File Storage Service that based on IPFS cluster. For more information:

https://blog.cyberrepublic.org/2019/02/19/weekly-report-february-18-2019/

Elastos React Native:

a Javascript framework for developing dapps, similar to Trinity's Ionic framework, but native

to Android and iOS. For more information:

https://blog.cyberrepublic.org/2019/02/05/weekly-report-february-4-2019/

Elastos Sidechain:

a scaling solution that utilizes parallel blockchains to the main chain in order decrease

transaction congestion on the main chain.

https://news.elastos.org/spotlight-series-2-elastos-sidechains-and-scalability/

Elastos Runtime:

the environment that code can run on, like an encyclopedia or a library about a new world in

which digital assets are run under the blockchain.

https://news.elastos.org/spotlight-series-1-elastos-runtime-aka-trinity-aka-elastos-browser/

Elastos Private Net:

a private developer environment for local testing of apps on the Elastos Blockchain and

Sidechains.

https://blog.cyberrepublic.org/2019/03/11/weekly-report-march-11-2019/

DPoS: Delegate Proof of Stake is a method of finding blockchain consensus in which specific

machines (delegates) are trusted and given the power to verify transactions. These delegates

are voted in by the community.

//39
---
CYBER REPUBLIC Weekly Update/Issue 18

Feel free to give us comments with concerns, questions, and suggestions (or

praises), for the Cyber Republic.

Press@cyberrepublic.org

JOIN US ON

Telegram- https://t.me/elastosgroup

Reddit- https://www.reddit.com/r/CyberRepublic/

GitHub- https://github.com/cyber-republic

Youtube- https://www.youtube.com/channel/UCjHthS-zJr0axZF5Iw8En-w

Discord- https://discordapp.com/invite/UG9j6kh

Instagram- https://www.instagram.com/cyberrepublic/

Twitter- https://twitter.com/cyber__republic

LinkedIn- https://www.linkedin.com/company/cyber-republic/

Facebook- https://www.facebook.com/ElastosCyberRepublic

Medium- https://medium.com/@CyberRepublic

//40
---
Credits:

Writers:

Kenneth K

Jeremy G

Joel

YY

Krisha A.Amada

Rachel Critelli

Social Media:

Mike Dave

Amos Thomas

Faby

Design:

Kenneth K

Team Lead:

Kenneth K

Admin:

KP

Funding:

Cyber Republic

Editors:

Kenneth K

Alex

//41