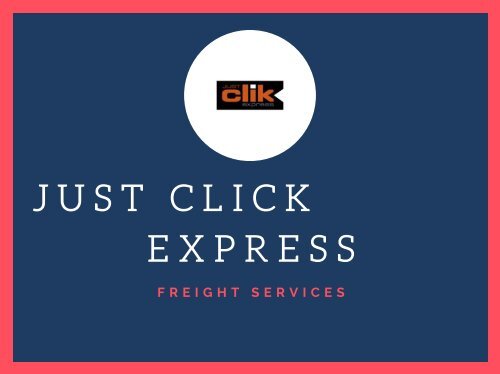 Freight services Companies in Melbourne
Are you looking for a freight companies in Melbourne for excellent and seamless freight services? Just Clik Express can be your freight partner when it comes to expanding your export-import business.
J U S T C L I C K

E X P R E S S

F R E I G H T S E R V I C E S
---
I N T R O D U C T I O N

Who we are

Our Story

Our Mission

Our Vision

What we do

Transportation

Freight Sevices

Online Booking

Where we are

Australia
---
S E R V I C E S

T R A N S P O R T A T I O N

Just Clik Express assures a safe and secure

movement of dangerous goods, in every state

of Australia.

F R E I G H T S E R V I C E S

One of the fastest freight companies in Melbourne.

We provide freight services in many areas.

O N L I N E B O O K I N G

You can book our services.
---
C O N T A C T N O

1300 644 397

J U S T C L I K

E X P R E S S

E M A I L

nathan@justclikexpress.com.au

W E B S I T E

https://www.justclikexpress.com.au/
More magazines by this user