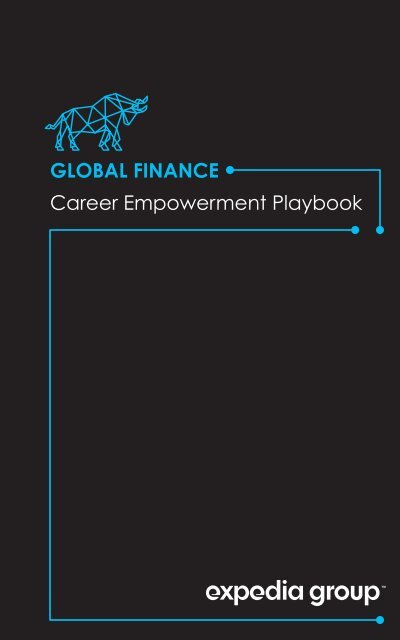 Career Empowerment Playbook
You also want an ePaper? Increase the reach of your titles
YUMPU automatically turns print PDFs into web optimized ePapers that Google loves.
GLOBAL FINANCE

Career Empowerment Playbook

TM
---
CAREER EMPOWERMENT

You are smart, talented, and driven — a vital part of

a high-performing team that makes Expedia Group

a powerhouse. We are only as strong as the sum of

our parts, and we want you to feel empowered to

continue your career journey with Expedia Group.

"The best way

to predict the

future is to

create it."

— Abraham Lincoln

This Career Empowerment Playbook was designed

for you. Think of it as a tool on your self-guided career

adventure at Expedia Group — a way to focus your

energy and help you identify your own path. We hope

it will inspire you to challenge yourself in new ways; and

no matter what you're working on, help you feel a little

more part of a larger community that is Global Finance.
---
TABLE OF CONTENTS

CHAPTER 1: Building Your Empowerment Plan 1

It Starts with Mindset......................................................3

Using the Career Empowerment Tools........................4

Elements of Finance Leadership..................................5

Shades of Development...............................................6

Financial and Operation Steward............................7

Excellent Communicator..........................................9

Innovative Thinker....................................................11

High Impact and Influence.....................................13

Courageously Curious.............................................15

Identifying Opportunities.............................................17

Track, Reflect and Reassess........................................19

CHAPTER 4: Resources 39

Guiding Principles.........................................................40

Who is Global Finance?..............................................41

Where is Global Finance?...........................................43

Career Resources and Inspirations............................45

CHAPTER 2: Making a People Plan 21

Everyone Can Have a Dream Team.........................23

Are You Ready for a Mentor.......................................24

Asking Someone to be your Mentor..........................25

Give Yourself a Coffee Quota....................................26

How Does a Coffee Quota Work...............................27

CHAPTER 3: Maximizing Current Opportunities 28

Maximize Your Role......................................................29

Become a Person Who Craves Feedback...............31

Start Giving Thoughtful Feedback.............................32

Conversations with you Manager..............................33

Maximize Time with your Manager............................34

On the Job Learning....................................................35

Expedia Group Promotions.........................................37
---
CHAPTER 1:

Building Your

Empowerment Plan

"Dreams are

extremely

important.

You can't do

it unless you

imagine it."

— George Lucas

1 2
---
IT STARTS WITH MINDSET

This is your career, your journey and your life. Don't

shortchange yourself by taking the path of least

resistance or the next logical step. Make your career an

adventure by taking these first initial steps:

• Be curious. Global Finance is a vast arm of the business.

It is very likely there is still a lot for you to learn

and plenty of opportunities to consider.

• Be prepared to invest time. An inspired career

requires a lot of work and intention. A good manager

will show you support, but you will be doing

the heavy lifting with self-development, networkbuilding,

and creative thinking.

• Be courageous. This model may help you identify

the walls of your comfort zone, but ultimately you

will have to find the courage to push them.

• Be open. There are no silver bullets. Some of this

content might resonate with you and some might

not. Like you, this material is a work in progress, so

please share your feedback and ideas.

• Enjoy the process!

USING THE CAREER EMPOWERMENT TOOLS

1. Design your vision for the future in a Career

Empowerment Workshop using the Career

Empowerment Workbook (separate packet).

2. Use the Career Empowerment tools to identify your

focal points for the next 6-12 months.

a. The Elements of Finance Leadership (Page 6)

help you to understand which Finance-specific

traits to develop.

b. The Shades of Development (Pages 7 – 17)

elaborate on what each of these look like at

various phases of development.

c. The Self-Assessment Tool (separate handout)

helps you track where you are on the spectrum

of development. There is also space for you to

collect an external opinion from a manager,

mentor, or trusted colleague. Have this available

as you read through the Playbook.

d. Use this Playbook for inspiration, suggestions,

and supplemental information to help with your

career adventure.

3. Pull it all together in an Action Plan in the Career

Empowerment Workshop using the Career

Empowerment Workbook.

4. Track, reflect, and reassess (Page 20).

3 4
---
ELEMENTS OF FINANCE LEADERSHIP

The Elements of Finance Leadership wheel represents

the key traits and attributes that, in conjunction with

Expedia Group Guiding Principles (Page 41), make a

great Finance leader.

Courageously

Curious

High Impact

& Influence

Innovative

Thinker

Financial &

Operational

Steward

Excellent

Communicator

SHADES OF DEVELOPMENT

The following pages break down the Elements of

Finance Leadership. Each element is aligned to a

development spectrum – learning, applying, teaching,

and mastering. These spectrums are represented by

different shades of color.

Along with the Self-Assessment Tool, the Shades of

Development are intended to help you identify areas

of strength and opportunity. Do not expect to be fully

developed in every competency. We all have areas of

focus or potential continued development. That is part

of what makes lives and careers unique.

Place the letter "X" on each element in the Self-

Assessment Tool to track where you are today in each

element. There is a dotted-line through the center of

each so that you can ask your manager, mentor, or

trusted colleague to help assess where you might be.

Differences of opinion may be revealing and help

identify areas where you may want to focus, especially

if you are able to seek a variety of perspectives. At the

very least, these deltas inspire fruitful discussion, so have

your notebooks ready.

5 6
---
SHADES OF DEVELOPMENT

FINANCIAL AND OPERATION STEWARD

You seek to discover what already works well at

Expedia Group and what best practices look like. Meet

deadlines and strive to produce high quality work.

Make connections between your work and the bigger

picture so you can thoroughly understand your piece in

the equation.

You maintain effectiveness while adding efficiencies.

Always look for opportunities to streamline and improve

systems. Collaborate within your team, but also bring

together less obvious connections. You demonstrate

high quality work and think holistically about business

decisions.

You hire and lead teams that are highly capable and

results-driven. You share your learnings with the team,

but also other teams cross-functionally. You can evaluate

and make decisions that translate to balanced

risks. Foresee challenges and build mitigation plans. You

are an expert in your field.

You are a constant force forward and a trusted business

guide. Your financial analysis mastery is unparalleled.

You have a complete end-to-end vantage of

value drivers and know how to allocate resources to

increase value. You are a champion for developing

and maintaining systems and processes that are efficient

and effective.

Learn

Apply

Teach

Master

7 8
---
SHADES OF DEVELOPMENT

EXCELLENT COMMUNICATOR

Dare to ask the stupid question. Actively seek feedback.

Take ownership of your mistakes. Communicate

well across any medium. Seek opportunities to become

a better communicator. You are an active participant

in everything you do. Your listening skills are a strength,

as you champion "One Team, Group First."

Share complex ideas and concepts in a consumable

way. Present and influence. Dare to edit your boss'

work. Share your mistakes and learnings so that other

people don't make the same mistakes. Collaborate

with a variety of people.

Learn

Apply

There is no "this is beyond my pay grade" mentality. Set

clear and high-quality standards and take responsibility

for your team. Work well with anyone and resolve

conflicts with minimal noise. Adapt messages and

complexity to the appropriate audience. Have executive

presence and persuade key stakeholders.

You can influence, tell stories and communicate the

complex in simple terms. Demonstrate a unique blend

of humility and will. Communicate an inspired vision

that captures attention. Cultivate a culture that encourages

direct conversation and admitting mistakes.

Teach

Master

9 10
---
SHADES OF DEVELOPMENT

INNOVATIVE THINKER

Seek inspiration and role models. Be flexible and learn

to welcome change. Build a diverse and eclectic

network.

Learn

Propose creative ideas and take safe risks. Challenge

your comfort zone. Ask yourself: what's another way

to think about this challenge? Be comfortable with the

uncomfortable. Constantly be learning new things.

Apply

Encourage blue-sky thinking and out-of-the-box ideas.

Provide inspirations for your team that may not be

obvious. Allow for, and even encourage, wild ideas, but

balance that by teaching to vet an idea quickly.

Teach

You always challenge the status quo. Test new ideas

in high velocity methods. Target areas with platform

impacts and strive to make positive change. Cultivate

a culture that rewards safe risks and creative problem

solving.

Master

11 12
---
SHADES OF DEVELOPMENT

HIGH IMPACT AND INFLUENCE

Soak up as much as you can. Attend every Expedia

Group and Global Finance Town Hall. Listen to Earnings

Reports. Read about the company in media. Meet

people from other brands and departments.

Learn

Have a firm grasp on what you do, what your brand

does, and what Expedia Group offers in relation to

competitors. Whenever you meet someone new, ask

questions until you understand their piece in the larger

puzzle.

Apply

Allow others to have enough ownership to stretch their

abilities. Make sure that anyone on your team could

speak confidently to the vision and plan. Help others

make connections outside of silos.

Teach

You are a holistic business stakeholder with influence

across Expedia Group.

Master

13 14
---
SHADES OF DEVELOPMENT

COURAGEOUSLY CURIOUS

Try new things. Ask thoughtful questions. Try to

understand where others are coming from and seek

to understand 'the why.' Request feedback.

Learn

Seek less obvious connections. Exercise vulnerability and

empathy. Know and acknowledge your weaknesses.

Celebrate the process as much as the outcome.

Acknowledge the thoughts and feelings of others.

Give thoughtful and constructive feedback.

Apply

Demonstrate humility and humanity. Seek to fully

understand the people you interact with at work and

how to inspire them to do their best. Find ways to

expose yourself and others to new concepts.

Teach

Your strong bias to action drives high velocity learnings

and continuous improvement. Build a culture of diversity,

risk-taking, vulnerability, trust, humility, and honesty.

Lead by example. Empower others to be honest in

mistakes and shortcomings by creating a safe, growthoriented

space.

Master

15 16
---
IDENTIFYING OPPORTUNITIES

The overlap between your career vision and Expedia

Group opportunities is a sweet spot. Focusing here will

act as a force multiplier for making your vision a reality.

Your Vision

Opportunities

Expedia Group

Business Needs

"If your dreams

don't scare you,

they aren't big

enough"

— Ellen Johnson Sirleaf

Stuck?

• Look to OKRs to learn what other teams are doing.

• Invite someone to coffee. Tell them what skills you

are trying to develop and ask them to help brainstorm

ideas that would also benefit the business.

• This is an excellent topic for a 1:1 with your manager.

17

18
---
TRACK, REFLECT AND REASSESS

Block a few hours each quarter to reflect and reassess.

Review your vision, track objectives, evaluate progress,

and plan your next quarter. Once you have a good

sense of this, discuss it with your manager and anyone

else who may want to partner on or support your

ambitions.

Find a peaceful place, grab a notebook, and ask

yourself:

• Where am I compared to the plan?

• What have I learned?

• Does this still feel like the right vision?

19

20
---
"You are the average

of the five people

you spend the most

time with."

— Jim Rohn

CHAPTER 2:

MAKING A

PEOPLE PLAN

21 22
---
EVERYONE CAN HAVE A DREAM TEAM

Do not underestimate the influence of the people

around you. Their habits, ambitions, energy, and

outlook will directly impact yours. Surround yourself with

people who you want to be like and you can learn

from.

Ask yourself:

• Who will hold me accountable?

• Who can I partner with?

• Who will I call when I want to give up?

• Who can I learn from?

• Who do I not know yet, but need to know?

Now, contact them.

ARE YOU READY FOR A MENTOR

People often ask how to find a mentor. Initial effort

to build intention around what you want in a mentor

relationship can make a significant difference in the

likelihood of attracting the right mentor and the experience

for both of you.

• What do you want to gain from having a mentor? It

can be overwhelming to mentor someone without a

clear objective. Give real thought to why you need

a mentor. Common mentorship benefits include:

• Fresh or unique perspectives

• Support on a specific goal

• Feedback on ideas

• Who do you admire and why? Don't look for one

perfect person; think of traits or attributes that you

admire.

• Have you done the ground work? Don't get a mentor

to teach you something new. Learn as much as

you can by volunteering, reading, discussing with

peers, listening to podcasts, informational interviews,

etc. Then, once you have specific areas you're

working on, you're ready for a mentor.

23 24
---
ASKING SOMEONE TO BE YOUR MENTOR

• Lead with flattery. "I have always admired your

approach to . I leave our meetings

inspired."

• Be specific about what you are working on. "I'm

working on trying

to gain as much experience as possible

and I'm reading as much as I can get my hands

on, but I'm hoping you will be able to provide me

with periodic guidance and suggestions when I get

stuck."

• Suggest a cadence and make it convenient for

them. "I'd like to meet with you for an hour each

month for the next six months. Is there a location

and time that work best? I want to make it as easy

as possible for you and the coffee is my treat."

MAKE IT A GREAT EXPERIENCE

GIVE YOURSELF A COFFEE QUOTA

Being curious about new people can change your

life. Intimidating as it may seem, the easiest and most

universal way to do this is to invite someone new to

. Why?

• You will gain better understanding of the business.

• You can more quickly make connections that can

save you days, weeks, months or even years of

effort.

• You will become more valuable to your team and in

your current role.

• You might gain perspective on what roles, traits, or

skills you want to build.

• You will probably even have fun.

• Always send a brief agenda before your meetings

with topics you'd like to cover.

• Always send a thank you note. Let them know

they're making positive impact.

• Always show up early and be respectful of their time

by adhering to the end time you suggested.

25 26
---
HOW DOES A COFFEE QUOTA WORK

1. Determine a reasonable amount of coffees to have

based on your bandwidth. Sometimes that's one per

month, and sometimes it's one per week. You will

know best. Make it a number and write it down like

any other goal.

2. Brainstorm! What kind of people do you want to

meet and what would you like to learn?

3. Ask. For some this might be an intimidating step;

consider it your act of bravery for the day. It will get

easier.

4. Come prepared with questions. Some universal

questions that tend to lead to good conversation:

• What are you working on?

CHAPTER 3:

MAXIMIZING CURRENT

OPPORTUNITIES

• What are you passionate about?

• What are your biggest challenges?

• What are you trying to learn more about?

5. If they mention something you're curious about —

follow that. Ask their favorite books/podcasts/

articles on the subject. Ask who else you should

talk to.

6. Send a quick thank you email. Share an insight you

gained from them and thank them for their time.

27

28
---
MAXIMIZE YOUR ROLE

No matter who you are, no matter what you do, there

is always something more to learn. It is important to look

ahead, but do not forget to look around you. Have

you really made the most of the opportunities in your

current role?

• Ask yourself: If I was really committed to making

the most of this role, this stage of my life, and this

company, what would I do or how would I act

differently?

• Keep an ongoing list of potential projects, improvements,

or curiosities. Even if you do not have the

bandwidth now, you will have a good list to choose

from for the slower cycles.

• Meeting new people is one of the best ways to stay

engaged, learn something new, and feel connected.

Challenge yourself to ask someone new to

coffee every week.

"We all need

people who

will give us

feedback.

That is how

we improve."

— Bill Gates

29

30
---
BECOME A PERSON WHO CRAVES FEEDBACK

One of the most powerful ways to improve is to get

feedback. Think of anything that you do well now. If

you are like most people, you were not born with that

skill, but you got better by making mistakes, getting

ideas/advice/coaching when you were stuck, and

continuing to practice. Make it clear to the people

around you that you want to keep learning, growing,

and improving. Let them know that they can support

you by helping you to see opportunities to improve.

HOW TO ASK FOR FEEDBACK:

• Solution generating: "I'm trying to improve my

abilities. Do you have ideas for how I might

go about that?/Where I might practice that?/Who I

might look to as a role model for that?"

• Broad: "From what you've seen working closely with

me, what skill or trait could I improve that would

have the most significant impacts on the quality of

my work?"

• Specific: "I'm working on my abilities. Could

you do me a favor and watch for things I could do

better in our meeting next week?"

START GIVING THOUGHTFUL FEEDBACK

The best style for giving feedback is the style that resonates

for the recipient. Are they direct? Do they need a

little padding? Do they want feedback at certain times,

but not at others? The best way to find out is to ask.

Remember, not all feedback is constructive. A healthy

feedback relationship acknowledges what they are

doing well as well as what they can do better.

TYPES OF FEEDBACK:

• Broad: "I've been thinking a lot about the importance

of feedback and it occurred to me that I

don't know your style very well. How/when do you

like to receive feedback?"

• Specific: "Is there anything that you are particularly

trying to improve that I should focus my feedback

on?"

• Realtime: "Are you open to feedback right now?"

Timing matters and sometimes people aren't in the

right headspace for feedback. If someone isn't

open to feedback in the moment, they will almost

always circle back and ask for the feedback later.

31 32
---
CONVERSATIONS WITH YOU MANAGER

Checking in with your manager on a regular basis is an

important step on the path to career empowerment.

Remember your unique career path is yours to drive,

but help your manager know how to support your

ambitions and develop skills.

Make sure you:

1. Plan ahead. Spend time thinking about what your

vision is for your career before your manager asks

you. It is much easier to answer "What do you want

to do next?" if you've given it some thought. A wish

list or a personal professional development plan

gives you something to work towards.

2. Schedule time. Don't try to cram a career or development

discussion into your regular 1:1 meetings.

Set aside additional time at the end of a meeting,

or set up a separate time for this discussion. Make

sure they know that it is on the agenda.

3. Share your thoughts. It's important to be transparent

with your manager about what you want. If you

have particular areas of interest or passions you'd

like to investigate, let them know and work out ways

to help develop your skills in these areas.

4. Be accountable. Make sure you and your manager

have a plan or timeline for regular check ins.

MAXIMIZE TIME WITH YOUR MANAGER

Being a people manager is challenging, but almost

everyone genuinely wants to be good at it – give your

manager the benefit of the doubt and recognize that

they are not mind readers. Even if time with your manager

is limited, there are ways to maximize that time,

maintain a healthy relationship, and give each other

support.

1. Prepare

Ask yourself: What outcomes do I need/want from

this meeting? Ex: Inform, get feedback, ask for

support, etc.

2. Send an agenda

Prioritizing the most important materials at the top

and least at the bottom. This helps your manager

know exactly what you plan to cover, helps you

stay on track, and is a great foundation for a recap

follow-up email. Let your manager add to the list if

they have anything.

3. Send a recap

The recap should be succinct but cover what was

discussed, decisions made (if any), and next steps.

4. Check in

Is this format/cadence/approach working for you?

Be honest about what works or does not work for

you. Relationships, organizations, and lives are

constantly in flux; communication makes it easier

to adapt.

33 34
---
ON THE JOB LEARNING

Making a lateral move to expand upon skills or knowledge

considerably improves your marketability, and

can expose you to new and exciting areas of opportunity.

We believe our people can bring wisdom from

other departments that will make a business stronger.

Have you considered taking roles outside of the obvious

career path? 70% of learning happens by doing. Be

open to new skills and new roles that will expand your

area of expertise. Here are some ideas:

1. Short-term development assignments, such as:

a. Covering a leave of absence

b. Guest Auditor Program

c. Earnings Tiger Team

2. Contributing to an Expedia Group project that's different

to your day job. Examples in Global Finance

include:

a. Career Empowerment Tiger Team

b. Communications and Collaborations Committee

c. Awards Nominations Committee

d. Wildcard: Make your own opportunity!

"Life begins at

the end of your

comfort zone"

— Neale Donald Walsch

3. Volunteering in the Community:

a. Get involved and make a positive contribution

to one of the many different programs Expedia

Group supports, or find your own.

4. Relocate:

a. One of the coolest perks of working for a global

company is travel!

35 36
---
EXPEDIA GROUP PROMOTIONS

When it comes to promotions, three key areas need to

be in alignment: readiness, business need, and budget.

Readiness: The skillset, capabilities, and leadership

skills exemplified by an employee matching needs of

the role.

• How to find it: Learn what is needed for the desired

roles and which areas you should be focusing on

developing.

Business need: A scope of work that warrants a

higher level.

Promotion

Business

Need

• How to find it: Often the best way to find business

need is to explore posted job openings. New

positions are not created unless scope has been

significantly expanded.

Budget: Resources available

• As members of the Global Finance team, we know

how budget influences plenty of business decisions,

and it is no different here.

Readiness

Budget

37

38
---
GUIDING PRINCIPLES

1. Put Yourself in the Shoes of our

Customers and Partners.

2. One Team, Group First.

3. Have a Bias to Action.

4. Relentlessly Strive for Better.

5. Think Big and Small.

CHAPTER 4:

RESOURCES

6. Be Data Driven and Business

Judgment Led.

7. Simplify.

8. Be Open and Honest.

9. Be Humble.

10. Be Positive. Assume Positive Intent.

39

40
---
TM

WHO IS GLOBAL FINANCE?

Brands:

Visit BaseCamp to find Global Finance

Resources:

• The Exchange Blog

• Global Finance Homepage

Teams:

basecamp

Tax

Accounting

Corporate

Finance

Investor

Relations

Audit

lodging partner services

Real estate

eCP

41 42
---
WHERE IS GLOBAL FINANCE?

Distribution of Finance Employees*

1 – 9 Employees

10 – 39 Employees

40 – 99 Employees

100 + Employees

*Represented regionally, circle placement does not represent physical office

locations.

43 44
---
CAREER RESOURCES AND INSPIRATIONS

BOOKS:

Career/Life Planning:

• Designing Your Life: How to Build a Well-Lived, Joyful

Life — Bill Burnett and Dave Evans

• What Color is Your Parachute — Richard Nelson

Bolles

• Great at Work: How Top Performers Do Less, Work

Better, and Achieve More — Morten T. Hansen

• The Art of Happiness At Work — His Holiness the

Dalai Lama and Howard C. Cutler, M.D.

• How Full is Your Bucket: Positive Strategies for Work

and Life — Tom Rath and Donald O. Clifton, Ph.D.

Happiness:

• Flow: The Psychology of Optimal Experience —

Mihaly Csikszentmihalyi

• The How of Happiness, A New Approach to Getting

the Life You Want — Sonja Lyubomirsky

• The Book of JOY — Lasting Happiness in a Changing

World – His Holiness the Dalai Lama and Archbishop

Desmond Tutu

Powerful Habits:

• The Seven Habits of Highly Effective People —

Stephen Covey

• The Power of Habit: Why We Do What We Do in Life

and Business — Charles Duhigg

• Tools of Titans — Tim Ferris

Mindset:

• Mindset: The Psychology of Success — Carol S.

Dweck

• Grit: The Power and Passion of Perseverance —

Angela Duckworth

People:

• Never Eat Alone — Keith Ferrazzi

• Thanks for the Feedback: The Science and Art of

Receiving Feedback Well — Douglas Stone and

Sheila Heen

• 5 Dysfunctions of a Team (A Leadership Fable) —

Patrick Lencioni

INSPIRING TED TALKS:

• Your Body May Shape Who You Are — Amy Cuddy

• The Power of Passion and Perseverance —

Angela Lee Duckworth

• What I Learned from 100 Days of Rejection — Jia

Jiang

• Why We Do What We Do — Tony Robbins

• Start With Why — Simon Sineck

• Everyday Leadership — Drew Dudley

• The Puzzle of Motivation — Daniel Pink

• The Power of Vulnerability — Brene Brown

• What Makes a Good Life? Lessons From the Longest

Study on Happiness — Robert Waldinger

• The Surprising Habits of Original Thinkers — Adam

Grant

45 46