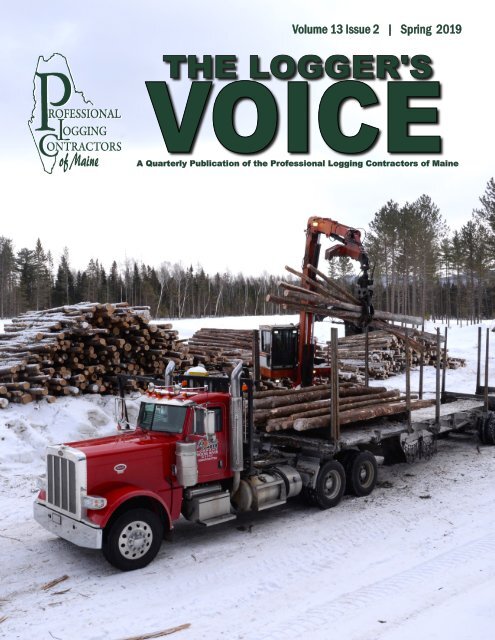 PLC Loggers Voice Spring 2019
Create successful ePaper yourself
Turn your PDF publications into a flip-book with our unique Google optimized e-Paper software.
Volume 13 Issue 2 | Spring 2019

A Quarterly Publication of the Professional Logging Contractors of Maine
---
Board of Directors

Cover: Jackman Lumber truck loading at a landing in Moose

River in March. Story, p.10.

Jim Nicols, President

Tony Madden, 1 st Vice President

Chuck Ames, 2 nd Vice President

Will Cole, Secretary

Andy Irish, Treasurer

Scott Madden, Past President

Aaron Adams

Kurt Babineau

Donald Cole

A quarterly publication of:

The Professional Logging

Contractors of Maine

William Cole

Tom Cushman

Brent Day

Wes Dube

Steve Hanington

Duane Jordan

Robert Linkletter

Andrew Madden

Ron Ridley

10

110 Sewall St., P.O. Box 1036

Augusta, ME 04332

Phone: 207.688.8195

www.maineloggers.com

Member Showcase

Jackman Lumber

Wayne Tripp

Gary Voisine

PLC Staff

Executive Director

Dana Doran ▪ executivedirector@maineloggers.com

Membership Services Coordinator

Jessica Clark ▪ jessica@maineloggers.com

Safety and Training Coordinator

Donald Burr ▪ safety@maineloggers.com

The Logger's Voice

Editor and Designer

Jon Humphrey Communications and Photography

▪ jehumphreycommunications@gmail.com

Advertising

Jessica Clark ▪ jessica@maineloggers.com

Email news, notices, and correspondence

▪ jehumphreycommunications@gmail.com

22

Supporting Member Spotlight

Milton CAT

Also Inside

4 Calendar and Updates

6 President's Report

7 New Members

8 Executive Director's Report

14 Wage and Employment Study

16 Annual Meeting

18 Trucking

25 MLOP

26 Safety

34 PLC News Briefs

36 ALC Updates

39 Master Logger

40 Congressional Updates

This newsletter is printed on FLO Gloss Digital Text paper

produced in Maine and donated by Sappi North America.
---
Event

Calendar

*Oxford Casino, Oxford

NEW LOCATION!

Cross Insurance Center, Bangor

H.O. Bouchard/Comstock, Hampden

4 Professional Logging Contractors of Maine Loggers Serving Loggers Since 1995
---
Updates

Do you have news to

share?

The PLC is always seeking

news from our Members that

showcases our industry's

professionalism, generosity, and

ingenuity.

Send ideas to

jonathan@maineloggers.com

The Logger's Voice ▪ Spring 2019

5
---
From the President

By Jim Nicols

Hello everyone,

As I write this, winter is winding down and spring is coming fast. I hope

everyone had a productive and safe winter season. We sure had enough snow in

most parts of the state.

For those of you that weren't able to attend, we had a great turnout for our

legislative breakfast in late March. We had approximately 100 legislators and PLC

members attend. Legislators got a chance to listen to some of our needs and

concerns and ask questions of the members. A lot of the discussion that morning

centered around labor, energy and road postings.

There is a lot going on in Augusta right now and Dana is doing a great job

representing PLC in the Capital. If you do not receive PLC's weekly updates

through email, call Jess at the office and she will get you on the email list.

I know Donald Burr is working hard on putting the next MLOP training class

together. It is slated to start this summer in Stratton in late June, the first time it has

been in western Maine. We should have a full class, as I believe we have had more

than triple the applicants for this year's class. However, PLC members and their

employees get preferential treatment when making recommendations for applicants

so if you have someone in mind that you would like to send, please let Donald know

as soon as possible.

The dates are now out for the PLC's annual spring safety trainings. If you

haven't signed up yet, make sure to do so as classes are filling up fast. Last year we

had over 800 people attend these trainings. We are also doing fleet trainings for

truck drivers at various locations throughout the state.

Lastly the PLC annual meeting is fast approaching on April 26th. I hope you

will all take the time to attend and support PLC. It is an informative and fun day and

evening with a chance to see people you may not have seen throughout the year.

Scott Hanington will once again be the auctioneer for the Log A Load for Kids

auction for the Children's Miracle Network. We want to try and top last year's

numbers.

Hope to see you all there and have a good spring.

Thank You

Jimmy

6 Professional Logging Contractors of Maine Loggers Serving Loggers Since 1995
---
Welcome New Members….…….

Contractor Members

Clayton Pelletier Logging Inc. of Rumford,

ME joined the PLC as a new Contractor

Member in March 2019. The company has a

professional staff of one. For more information

contact Clayton at 446-2724 of

email claypel@yahoo.com.

LAS Logging of Hampden, ME joined the

PLC as a new Contractor Member in March

2019. The company has a professional staff of

two. For more information call Alphonse at

(207) 862-4614 or email spencer313@tds.net.

Supporting Members

Fabian Oil of Oakland, ME joined the PLC as a

new Preferred Supporting Member in January

2019. The company is a locally owned and

operated marketer of petroleum products and

has proudly served its many customers for over

30 years. It is a full service company offering all

types of heating and motor fuels and maintains a

full-scale service department for oil, propane

and natural gas. For more information call Ted

Fabian at 465-2000, email

tfabian@fabianoil.com or visit

www.fabianoil.com.

Groundtek Inc. of Fort Kent, ME joined the

PLC as a new Forest Contractor Member in

March 2019. The company has a professional

staff of four. For more information contact

Bruce at (207) 834-5047 or

email GROUNDTEK541@YAHOO.COM.

Pelletier Manufacturing Inc. of

Millinocket, ME joined the PLC as a new Forest

Contractor in March 2019. The company has a

professional staff of 17. For more information

contact Jeff at (207) 723-6500 or

email pelletiermfg@myfairpoint.net.

B. Pelletier Logging Inc. of St. Francis, ME

joined the PLC as a new Affiliated Contractor in

March 2019. The company has a professional

staff of two. For more information contact

Buddy at (207) 316-2831or

email bpelletierlogging@gmail.com.

The Winter 2019 Edition of The Logger's Voice

incorrectly identified PLC Supporting Member

Soleno as a Vermont-based company. Soleno is

based in Canada. We regret the error.

ND Paper, a wholly-owned subsidiary of Nine

Dragons Paper (Holdings) Limited, the largest

containerboard producer in Asia, joined the PLC

as a new Preferred Supporting Member in

March 2019. ND Paper is an environmentallyfriendly

company that manufactures various

types of high-quality pulp, paper and paperbased

packaging materials. Its mills in Rumford,

Maine and Biron, Wisconsin are integrated

paper & pulp facilities, and its mill in Fairmont,

West Virginia is one of only three in the world

that produces air-dried, recycled pulp. The

company is working to restart a currently-idled

pulp mill in Old Town, Maine, with expected

commissioning in the summer of 2019. ND

Paper has 1,100 dedicated employees, who

together produce more than 1.1 million metric

tons of paper annually. ND Paper is

headquartered in Oakbrook Terrace, Ill. For

more information contact Randy Chicoine

at 207) 754-8752 or email

mailto:randy.chicoine@us.ndpaper.com.

Not a member but interested in

joining the PLC?

Contact Jessica at (207) 688-8195 or

email jessica@maineloggers.com

The Logger's Voice ▪ Spring 2019

7
---
From the Executive

Director

As this article goes to print, the snow

is melting quickly, the road postings are up

across the state and many winter time

operations are grinding to a halt. While mud

season can be a time of frustration for our

membership as cash flow slows down and the

attention turns to maintenance and catching

up on paperwork, it is also a time to recharge

the batteries after the big winter push before

summer rolls around and wood is moving

again.

Spring is also a time to reflect upon

the industry, all that is good, and all that is

bad as well as the opportunities and

challenges. As I talk to our members and get

the lay of the land out there, I have a sense

the challenges are mounting and even though

markets have opened up, there is less and less

optimism about the future.

Back in December, based upon the

instincts of the PLC Board and the input of

the membership, the PLC conducted a survey

of its members to determine what the

employment needs were at that point in time.

We were hearing that it was getting harder

and harder to find help, that the markets were

wide open, and they could harvest wood

without hesitation, but the workforce could

not fill the need. Rumors were rampant that

mill yards were nearly empty week after

week and there were not enough operators,

truck drivers or mechanics to do the work.

The survey we did was striking as we heard

Future

By Dana Doran

back from a majority of our membership and

the numbers do not lie. As of January, just

among the PLC membership, there were

between 750-1,000 job openings and no real

idea how to fill them. This was surprising in

that we knew there were needs, but not at this

size and scale.

At the same time, we also heard from

the membership that competition for labor

was fierce and members were not only having

a challenging time hiring new employees, but

they were losing employees at a rapid pace

because of the opportunity to earn more

money with better benefits and fewer hours

outside of the industry. Some members even

reported that they were losing employees to

local mills that they delivered wood to. This

is a recipe for disaster at exactly the wrong

time as the state has been marketing itself as

having a glut of softwood pulp and biomass

which has motivated new investment in the

state, but now there are real questions about

who is going to do the work. If the contractor

workforce was not really there, could all of

these new investments actually come to

fruition? Would investment continue to occur

if logging and trucking capacity was in

question?

Following the collection of survey

data and the general idea that contractors

could not fulfill the demands they had

presently, not to mention the additional work

they had on the horizon as a result of mill

8 Professional Logging Contractors of Maine Loggers Serving Loggers Since 1995
---
Nicols Brothers Inc. logging operations underway in Winthrop in March.

expansions, the PLC Board decided it was

time to get a third party assessment of the

labor and wage picture both now and the

future. How do we stack up against other

industries and is the company by company

picture the same on a larger scale?

In February, the PLC reached out to

the Maine Center for Business and Economic

Research at the University of Southern Maine

and asked Dr. Ryan Wallace and his team to

compare logging and trucking against other

similar industries and determine what we are

really up against with respect to wages and

benefits. Is it nearly impossible to hire new

employees or replace old ones if the pool of

people with similar skills are not willing to

work in logging and heavy duty trucking? If

the sense of freedom and autonomy which has

always driven employees to this business,

along with the enjoyment of the outdoors, is

not enough to attract them anymore if the

wages and benefits are not competitive? Is the

labor shortage real and is it attributable to low

wages and long hours and the fact that

contractors can't afford to pay their

employees more money and still remain

profitable?

What we found was quite astounding

and now we have the data to back it up.

Put simply, Maine is facing a

shortage of loggers and log truckers that will

grow and could hinder the growth of the

forest products industry in the state if wage

growth does not occur. Wages for logging

equipment operators and log truckers in

Maine are lower than those for comparable

jobs in competing industries in the state, and

this combined with a tight labor market and

looming retirement for large numbers of

loggers is not a positive sign.

This analysis simply confirms and

reinforces what many in this industry have

known for a long time. The root of Maine's

vital forest products economy - the logging

industry - must be able to offer higher wages

to compete for existing workers and attract

new ones at a time when they are desperately

needed to support a resurgent forest products

industry.

The heart of the problem is profit

margins for logging contractors have

dwindled as costs of doing business have

risen, limiting the ability of contractors to

raise pay for workers. With low

unemployment and strong competition for

skilled operators of heavy machinery and

trucks, logging contractors are struggling

simply to keep the workers they have, let

alone attract new ones.

As I mentioned previously, we know

from surveying our own membership, that the

industry is already unable to fill an estimated

750 to 1,000 jobs today. Add to that the

projected loss of upwards of 200 workers per

year over the next 10 years due to retirements,

coupled with the need for more loggers and

truckers to meet rising demand for wood from

expansions that have been announced by mills

in the state recently and you begin to see the

extent of this problem.

In addition to Maine expansions

already announced by mill owners including

Verso, Sappi, Nine Dragons, and Pleasant

River Lumber, the FOR/Maine (Forest

Opportunity Roadmap), a broad coalition that

the PLC is working with to diversify the

Doran Continued Page 13

The Logger's Voice ▪ Spring 2019 9
---
J

ACKMAN - Russ Griffin was one year old when his

family moved from Levant to the Jackman area, and

he has lived in this Maine border region ever since,

working in the woods from his early teenage years

through decades of major change in the logging industry

and the state.

His father, Reginald, and grandfather came to the

area in the late 1960s when the industry was booming,

trucking with wheelers for several years before getting into

logging themselves in the 1970s. In 1976 his father was

one of the partners who started Moose River Lumber

company.

"So my father went from trucking to logging to

sawmilling," Russ laughed, "That's the woods business."

Reginald got out of the sawmill business in 1981,

going back to logging, and founding Jackman Lumber.

"That's about when I got into it," Russ said. "I

started officially when I was about 15, but from 12 years

old that was all I've done my whole life. The name

Jackman Lumber came from when we had thoughts that he

Jackman Lumber Co. truck loading in Moose River in early March.

10 Professional Logging Contractors of Maine Loggers Serving Loggers Since 1995
---
Jackman Lumber

was gonna build his own sawmills again, but it never

happened and it stayed logging and trucking."

It still is today.

Back in the 1980s when Russ started full time with

the company, Jackman Lumber was running traditional

hand crews and cable skidders in the woods. The first step

in the move to mechanized logging came when the

company added stroke delimbers so the crews could fell the

trees but leave the limbing portion of the work to the

delimbers on the landings. Over time feller bunchers and

grapple skidders were added to make the company fully

mechanized.

"We only cut softwood in the 80s, and then in the

early 90s we worked with ProPac to build the first

hardwood delimbers, we had the prototype and we worked

with them on building that and it went on to be a pretty

successful thing and they're still making them today," Russ

said. "So I figure we pioneered the hardwood delimbing

with stroke delimbers, but now I've converted to a cut to

length system, we've been cut to length for almost 10

years. We've moved more to smaller wood, and I think it

works better with the smaller wood."

The size of the company has changed a lot

over the years. At its peak in the late 1990s the company

had about 50 employees. There were six feller buncher

crews and more than 20 trucks. Like most logging

contractors in Maine, Jackman Lumber met big challenges

in the next two decades with market changes, rising costs,

and closing mills, and in response the company downsized

repeatedly.

Today Jackman Lumber has gone as small as it

can, down to a five-man crew. The crew includes two truck

drivers, himself running a processor, one man in the

garage, and his long-time feller buncher and forwarder

operator and mechanic, Ed Griffin - no relation, "he keeps

our stuff running," Russ said. Jackman Lumber has three

trucks; a Peterbilt, a Western Star, and an International.

The company does its own low bedding and also hauls for

Jackman Lumber Continued Page 12

The Logger's Voice ▪ Spring 2019 11
---
Jackman Lumber Continued from Page 11

other companies in the area. In the woods, Jackman

Lumber operates a CAT 511 processor, A John Deere 753

feller buncher, and a CAT 564 forwarder. It also has an

excavator, dump truck, and three log cranes. The company

once had two chippers, but the chip market has largely

disappeared. The company also

used to travel to more distant jobs,

but these days works primarily

within an hour of Jackman.

"I have a saying, I'll work

from here to tidewater," Russ said.

"I've worked quite a bit in

Frankfort, Winterport, Levant,

I've cut quite a bit on some of our

family land in Levant, and I own a

lot in Frankfort and Liberty, so

I've traveled around quite a bit."

For the past five years,

Jackman Lumber has worked

about half the time on

Weyerhauser lands and the other

half on private lots. Their primary

markets for wood are the Moose

River Lumber mill which is less

than a mile from their shop, and

the Sappi Somerset Mill in

Skowhegan, 75 miles down Route

201.

Reginald Griffin died in 2014

after a long and respected career in the

woods, but Russ's mother Linda

remains involved with Jackman

Lumber to this day, overseeing the

books and remaining a part owner of

the company.

Linda Griffin built Jackman

Lumber with her husband and both

were leaders in Maine's forest products

industry over the years. Linda is a Past

President of the Maine Forest Products

Council. Russ said that over time the

Griffins came to feel that loggers

needed their own organization to better

meet their needs and fight for their interests, and so when

the Professional Logging Contractors of Maine (PLC) came

along and begin to fill that role, Jackman Lumber joined

the PLC. The company is also Master Logger certified.

"I think it's become a very good thing," Russ said,

noting the PLC's advocacy for loggers in Augusta, its focus

on safety and professionalism, and its work to inform and

educate the public on the logging industry. "I've been

pretty happy with the organization."

Speaking out for the industry is something Russ is

known for. He has a small but devoted following on

Facebook for his regular "Stump Report" where he offers

blunt commentary on many issues of importance to loggers

Top, Jackman Lumber processor in action.

Bottom, Linda and Russ Griffin.

and other small businesses in Maine's forest economy.

With some of the viewers including lawmakers in Augusta,

it is not unheard of for an issue or viewpoint Russ shares to

make its way into legislative discussions.

One of the most

important issues to Russ is

preservation of the longstanding

tradition in Maine of keeping

forests open to hunting and

fishing and other recreation by

maintaining their status as

working woodlands - a viewpoint

shared and championed by the

PLC.

"The biggest concern I

have is the evaporating land base.

I think over time as loggers we

kind of did our own thing and we

didn't say much and now I'm

seeing the movement of the

environmental groups buying up

the land bases we depend on and

I've become very vocal about it,"

Russ said. "We're not going to

have a land base to operate on

anymore if we don't try to combat

this somehow and discourage

landowners from selling to

environmental groups that are basically

locking up land forever. Its dealing a

blow to the people of Maine that don't

really deserve it."

For Jackman Lumber, logging

is what pays the bills but Russ has long

enjoyed the trucking side of the

business and sees growth potential for

his company there given the strong

demand for trucking, so he is already

hauling for other companies and hopes

to do more in the future.

"I'm determined to make my

trucking successful," Russ said. "I think

there's some future in it because there's

a need."

While recent years have been rough ones in

Maine's logging industry, Russ said he is encouraged by

mills beginning to make a comeback in the state after years

of closings. Overall logging capacity has shrunk as logging

contractors shut down in response to reduced markets, and

now he believes that as demand rises those contractors who

are still standing will be well positioned to capitalize on

that demand.

"Anyone that's still standing today is a tough son

of a gun," Russ said. "I do still really enjoy it other than the

winters are starting to be really painful - that's age I guess,

but I'm gonna stick with what I know to the end."

12 Professional Logging Contractors of Maine Loggers Serving Loggers Since 1995
---
Doran Continued from Page 9 16

state's wood products businesses, attract capital investments,

and develop greater economic prosperity for communities

impacted by recent mill closures has announced an action

plan to grow Maine's forest economy from the current $8.5

billion (annual) to $12 billion by 2025. This growth would

position the state to compete in and take advantage of

substantial global market opportunities with much of the

projected 40 percent growth coming from new markets for

the state. Such growth would also require a significant

expansion of the logging and log trucking workforce in

Maine.

Key findings of the employment availability and

wage study include:

· Although capital expenses in the logging industry

have risen across the board, rates for wood harvesting and

trucking have not.

· Recently announced expansions increasing demand

for wood will require an additional 100 jobs in the logging

industry in the immediate future. In addition, occupation

projections suggest upwards of 200 workers per year will need to

be replaced over the next 8-10 years due to an aging logger

workforce.

· Business critical occupations in the logging

industry, including equipment operators and truck drivers

which comprise 2 out of every 3 jobs, currently earn relative

wages well below comparable occupations in other industries,

making it difficult to recruit and attract workers. Logging

equipment operators ranked lowest for wages out of 19

comparable skilled occupations surveyed, while logging truck

drivers ranked second to last for wages out of 14 heavy truck

driving sectors.

· The average earnings for all employment in

Maine's logging industry have increased by 5% since 2010,

an average increase of just over $2,100 per worker compared

to an average increase of $5,500 in comparative industries,

such as construction, wood manufacturing, and pulp and

paper manufacturing.

· Over 400 workers in the industry are at retirement

age (65+), while an additional 850 workers will be reaching

retirement age within the next 10 years. Attracting younger

generations of workers will be critical in replacing the retiring

workforce.

All of this data and the findings of this report brings

me back to a discussion point I mentioned in my last article in

January and one that needs to be revisited. Contractors own

and operate businesses with the intent to earn a return; they

are not in business to subsidize the financial returns of their

customers. During a time of high prices for lumber markets

and increasing pulp demand, far too many contractors in

Maine are running on borrowed time. Despite some price

creep and increased demand for wood, a majority of

contractors are still reporting much lower profit margins. And

when it comes to cost savings in the supply chain, loggers

have nothing left to give. Any business that does not earn a

return, closes down. It's that simple.

Back in January, I was reading the blog of a

management company who will remain nameless. In that

article, the author discussed a recent timber sale negotiation

that they conducted with a landowner. The management

company took great pride in the fact that they competed

against a logger to earn the sale and boasted that they could

provide more value to the landowner as a service provider,

could hire a logger to work for them and at the end of the day

would provide a greater financial return to the landowner than

if they contracted directly with the logger. Furthermore, the

logger really wasn't trustworthy, and it was absolutely

necessary for the landowner to have an intermediary involved

as a result of this trust. Wow!! Not only was I angered to hear

this kind of double talk, but I found this to be exactly what is

wrong with the system that contractors operate in today.

Can you imagine what backlash the logger would

feel if they publicly scrutinized a management company this

way?

I guess all is fair in competitive business, but is this

really the kind of environment we want the landowner

community to be subjected to? Further, this is also exactly

why contractors can barely afford to stay in business. We

have a system in place that encourages the control,

manipulation and degradation of the logger at the logger's

expense. No wonder loggers cannot hire good people and pay

them a living wage when those who exert control use profit as

a four-letter word and try to use scare tactics against them.

To use an analogy, do architects use these same

tactics when working with property owners? Do they scare

the property owner and tell them they cannot trust their

building contractor? Do engineers use these tactics in similar

circumstances when competing against plumbers and HVAC

professionals? I have a feeling it is a violation of their license

and their professional code of ethics. So, if this is the case in

those professions, shouldn't it be the same in this business?

I bring up this example because I'm hearing stories

like this more and more as the competition for wood

increases. Loggers can compete with anyone, but the playing

field should be equalized and there should be a better level of

respect at this point in time because there isn't, "just another

logger out there that can take the job."

We hear all the time that this is a supposed to be a

three-legged stool and the chain is only as strong as its

weakest link. Well, the stool is broken and if it's going to

stand, it has to stand on its own. If one leg is going to push

the other one down or continues to try to make one leg

stronger than the other, the stool will ultimately fall.

As you start to unwind this spring and look at your

business, please take a look at the study we just released and

see how it compares to your business. If the data is similar

and you don't see things changing, don't hesitate to refer to

this in your discussions moving forward. In the end, loggers

are the root of the industry and must speak with one voice.

Now might be the time to use it.

The Logger's Voice ▪ Spring 2019

13
---
Maine Logger and Log Trucker Employment Availability and

Wage Analysis Report Released

AUGUSTA - Maine is facing a shortage of loggers

and log truckers that will grow and could hinder the growth

of the $8.5 billion forest products industry in the state if

wage growth does not occur, an occupational analysis

released in March concludes.

The employment availability and wage analysis

prepared by the Maine Center for Business and Economic

Research at the University of Southern Maine found wages

for logging equipment operators and log truckers in Maine

are lower than those for comparable jobs in competing

industries in the state, and this combined with a tight labor

market and looming retirement for large numbers of loggers

is concerning for Maine's forest economy.

in Maine, that the industry is already unable to fill an

estimated 750 to 1,000 jobs today," Doran said. "Add to that

the projected loss of upwards of 200 workers per year over

the next 10 years due to retirements, coupled with the need

for more loggers and truckers to meet rising demand for

wood from expansions that have been announced by mills in

the state recently and you begin to see the extent of this

problem."

In addition to Maine expansions already announced

by mill owners including Verso, Sappi, Nine Dragons, and

Pleasant River Lumber, the FOR/Maine (Forest Opportunity

Roadmap), a broad coalition working to diversify the state's

wood products businesses, attract capital investments, and

"profit margins for logging contractors have

dwindled as costs of doing business have

risen, limiting the ability of contractors to

raise pay for workers"

"This analysis simply confirms and reinforces what

many in the industry have known for a long time," Dana

Doran, Executive Director of the Professional Logging

Contractors of Maine (PLC), which commissioned and

partnered with the Center on the study, said. "The root of

Maine's vital forest products economy - the logging industry

- must be able to offer higher wages to compete for existing

workers and attract new ones at a time when they are

desperately needed to support a resurgent forest products

industry."

The heart of the problem is profit margins for

logging contractors have dwindled as costs of doing

business have risen, limiting the ability of contractors to

raise pay for workers. With low unemployment and strong

competition for skilled operators of heavy machinery and

trucks, logging contractors are struggling simply to keep the

workers they have, let alone attract new ones, Doran said.

"We know from surveying our own membership,

which cuts approximately 75 percent of all wood harvested

develop greater economic prosperity for communities

impacted by recent mill closures has announced an action

plan to grow Maine's forest economy from the current $8.5

billion (annual) to $12 billion by 2025. This growth would

position the state to compete in and take advantage of

substantial global market opportunities with much of the

projected 40 percent growth coming from new markets for

the state. Such growth would also require a significant

expansion of the logging and log trucking workforce in

Maine, Doran noted.

▪ The Executive Summary of the study is available at:

http://maineloggers.com/new/wp-content/uploads/2019/03/

Professional-Logging-Contractors-of-Maine-Occupational-

Wage-Analysis_final-1.pdf

▪ The Full Report is available here: http://

maineloggers.com/new/wp-content/uploads/2019/03/

Professional-Logging-Contractors-of-Maine-Occupational-

Wage-Analysis-Data-Appendix-FINAL.pdf

14 Professional Logging Contractors of Maine Loggers Serving Loggers Since 1995
---
Legislative Breakfast

A great success!

The PLC's Annual Legislative Breakfast

was a great success March 14th, drawing

a crowd of more than 100 to the

Governor's Hill Mansion in Augusta to

hear directly from our Members about

the challenges in Maine's logging

industry and the importance of the

Legislature to our efforts to sustain and

improve that industry.

Thanks to the many lawmakers who

attended, including Senate President

Troy Jackson of Allagash and Speaker of

the House Sara Gideon of Freeport.

Thanks also to our PLC Board Members

who did such a great job standing up to

speak about issues that were highlighted

during the event including worker

shortages and the need for higher wages

for logging operators and log truckers.

The Logger's Voice ▪ Spring 2019 15
---
The PLC of Maine 24th Annual

Meeting

April 26, 2019 - Oxford Casino & Event Center, Oxford, ME

An Invitation,

Please join us for our 24th

Annual Meeting to learn and network

with other professional loggers as we

look toward the future.

24TH

ANNUAL

MEETING

Highlights

-Nine Dragons

-Commissioner of Agriculture,

Conservation & Forestry

-Legislative Leadership

-Children's Miracle Network Children

-Log A Load Auction

-PLC Annual Awards

The Morning Session is only for PLC Contractor

Members. During this time, we will: Conduct a

general membership meeting, hold Board elections

and review our legislative agenda. Acadia Insurance

will let us know how the dividend program

performed in 2018, hear from the new

Commissioner of the Department of Agriculture,

Conservation and Forestry and Nine Dragons to learn

about their expansion plans in Rumford and Old

Town.

During our Luncheon, which is open to all PLC

Contractor Members, Supporting Members and

invited guests, we will hear from the President of the

Senate , Troy Jackson and Speaker of the House, Sara

Gideon about policies to ensure profitability for

Maine Loggers.

We reconvene at 4:00 pm for our social hour and

time to preview the Log A Load Auction items, open

to all PLC Contractor Members, Supporting

Members and invited guests.

To help the Children's Miracle Network raise

money, our Log A Load Auction will be kicked

off by a Miracle Network Children.

Can we exceed the $46,000 we raised in 2018?

Dinner will include a welcome and remarks from

PLC President, Jim Nicols and remarks from

Congressman Jared Golden, 2nd District (Invited).

The Master Logger Certificate Ceremony will

follow and the night will conclude with the PLC's

annual awards presentation.

Dinner Guests — Join us for a buffet dinner and the honor

of meeting a couple of the many children helped by the

Children's Miracle Network (CMN), Hazel and Edgar are

wonderful children who would like to share their story!

Meet the amazing people that our fundraising is impacting

and feel the difference that we are making!

In 2018 the PLC of Maine raised over $122,000 to

support local Maine children!

Creating Real Miracles by Raising Funds for Local Hospitals

Since 1983, Children's Miracle Network (CMN) Hospitals

have raised more than $5 billion for 170 children's

hospitals across the United States and Canada. The PLC of

Maine and Eastern Maine Healthcare Systems (EMHS)

Foundation have raised over $1,129,000 since 1996 for

children in Maine. These donations have gone to support

research and training, purchase equipment, and pay for

uncompensated care, all in support of the mission to save

and improve the lives of as many children as possible. Some

are battling cancer, some are suffering from a traumatic

injury, and others require constant care because they were

born too early, or with a genetic disease.

14 Professional Logging April Contractors 26, 2019 - Oxford of Maine Casino & Event Center, Loggers Oxford, Serving ME Loggers Since 1995
---
Meeting Agenda:

24TH

ANNUAL

MEETING

REGISTER NOW!

WE NEED AUCTION ITEMS FOR LOG A LOAD!

Morning Session

PLC Contractor Members Only

7:30 AM Registration

(Coffee & Continental Breakfast)

8:00 AM Full Board and General Membership Meeting,

Board Elections, Legislative Update and Acadia

Dividend Program Update.

10:00 AM Amanda Beal, Commissioner of Agriculture,

Conservation and Forestry

Director of the Maine Forest Service

11:00 AM Randy Chicoine, Mill Manager, Nine Dragons

- expansion plans in Rumford and Old

Town

Afternoon Session

PLC Contractor Members, Supporting Members

& Invited Guests

12:00 PM Lunch Buffet

Children's Miracle Network Auction

Would you like to donate an item or cash?

Contact Jessica at jessica@maineloggers.com

12:30 PM Luncheon Speakers:

2019 Maine Legislature – Policies to

Ensure Profitability for Maine Loggers.

- President of the Senate, Troy Jackson

- Speaker of the House, Sara Gideon

2:00-4:00 PM Afternoon Break

Evening session

PLC Contractor Members, Supporting Members, Invited Guests

4:00 PM Social Hour—Auction Items Preview

5:00 PM Children's Miracle Network Children & Log A Load for Kids—Special Guest Auctioneer—Scott Hanington

6:00 PM Dinner Buffet

6:45 PM PLC President's Welcome & Congressman Jared Golden, 2nd District (Invited)

7:00 PM Presentation of Master Logger Supporter Award & Presentation of Certificates to 2018 Cohort of Certified

Master Logger Companies

7:30 PM Awards Presentation: PLC Logger of the Year, Acadia Insurance Safety Award, PLC Impact Award,

PLC Community Service Award, Supporting Member Award & PLC President's Award

The Logger's Voice ▪ Spring 2019 15 17
---
Photos

Top: Groundtek Inc.

low-bedding

equipment.

OWNERS: Bruce and Meagan Plourde

YEAR FOUNDED: April 2009

ADDRESS: South Perley Brook Road, Fort Kent, Maine.

Below: Bruce

Plourde.

Opposite: Groundtek

Inc. Western Star.

PHONE NUMBER: (207) 316-3006

EMPLOYEES: 6

TRUCKS: 2 Western Star 4900 heavy haul trucks, 1 Western

Star 4900 dump truck, 1 International 9370 eagle dump truck

AREA OF OPERATION: Aroostook County

SERVICES PROVIDED: Construction, excavation, concrete

work, sewer systems, retainer walls, heavy equipment

transportation up to 55 tons, on and off road hauling

PLC FOREST CONTRACTOR SINCE: January 2019

18 Professional Logging Contractors of Maine Loggers Serving Loggers Since 1995
---
WHY DID THE COMPANY JOIN PLC: "PLC is a wonderful group with a voice. They work for the

people and give us the opportunity to be heard at different levels of the state. They provide great

trainings and accommodate all areas of the forest industry."

WHAT ARE THE BIGGEST ISSUES THE COMPANY WOULD LIKE PLC TO WORK ON:

"Currently PLC is assisting us with the process of lowbed transportation permitting, rules and

regulations."

Trucking section Continued Page 20

The Logger's Voice ▪ Spring 2019 19
---
Trucking Industry News...

FMCSA Updates SMS Website...

FMCSA has updated the CSA SMS Website with

the February 22, 2019 results.

Motor carriers participating in FMCSA's Crash

Preventability Demonstration Program will continue to

see the Agency's final determinations on SMS for crashes

reviewed as part of the program. Logged-in carriers and

enforcement users with crashes determined to be Not

Preventable as part of the program can view measures and

percentiles calculated with and without those crashes.

View the site here: https://maineloggers.us10.listmanage.com/track/click?

u=50356bc32e7c1ced15b258bf6&id=7bae694128&e=114d

18f9f8

FMCSA Launches Drug and Alcohol Clearinghouse

Website...

FMCSA has launched a new website with

information about the Commercial Driver's License Drug

and Alcohol Clearinghouse. Visit https://

clearinghouse.fmcsa.dot.gov to learn more about how

CDL drivers and their employers will be required to use the

Clearinghouse beginning January 6, 2020. You will be able

to sign up for email updates.

Canadian Revenue Agency Notice of Fuel Charge

and Registration Requirements...

A new fuel charge, administered by the Canada

Revenue Agency (CRA), was introduced as part of the

Greenhouse Gas Pollution Pricing Act.

The fuel charge is expected to be effective April 1,

2019 for the provinces of Manitoba, New Brunswick,

Ontario and Saskatchewan and July 1, 2019 for the

territories of Nunavut and Yukon.

The attached informational bulletin, provided by

the CRA, details the fuel charge plan. IFTA, Inc. is

forwarding this bulletin to provide jurisdictions with

20 Professional Logging Contractors of Maine Loggers Serving Loggers Since 1995
---
information to assist their carriers. It will also be posted on

the IFTA Inc. website.

The registration materials are available at:

https://www.canada.ca/en/revenue-agency/services/tax/

excise-taxes-duties-levies/fuel-charge.html

Unified Carrier Registration Online Service…

This service allows Maine based individuals and

companies that operate commercial motor vehicles in

interstate or international commerce to register their

business and pay the annual UCR fee based on the size of

their fleet. Brokers, freight forwarders, and leasing

companies are also required to register and pay a fee equal

to the lowest fee tier. Companies providing both motor

carrier services as well as broker, freight forwarder or

leasing services are required to pay the fee level set at the

motor carrier level.

Roadside enforcement period will begin April 1,

2019. You can access the payment portal at Maine

BMV here: https://maineloggers.us10.list-manage.com/

track/click?

u=50356bc32e7c1ced15b258bf6&id=d4a06e1c92&e=114d

18f9f8

Open Seats for Class A CDL Program…

Eastern Maine Community College's January 14th

CDL class was postponed and the college is seeking to add

a few more participants, like you! Class will run from noon

to 6 p.m. for the first few weeks. Driving and range times

will be scheduled during class to accommodate your

schedule.

The next classes are scheduled to start:

June 3.

Learn more at: https://www.emcc.edu/workforcedevelopment/non-credit-classes/commercial-drivers-license

-cdl-training-center/

The Logger's Voice ▪ Spring 2019 21
---
PLC Supporting Member Spotlight

B

REWER - There are few companies as deeply

embedded in Maine's logging industry today as

Milton CAT.

Milton CAT heavy equipment can be

found working in Maine forests from Fort Kent to Kittery,

and the state's loggers have been reliable and solid

customers for the company for decades. Now, though the

company is changing some of its approach to the forest

equipment market, its commitment to the Maine logging

industry remains as strong as ever.

"For us, Maine is a big piece of the pie," Peter

Collins, Forest Industry Manager for Milton CAT said

recently during a discussion at the company's Brewer

location, the distribution center for all forestry parts for

Milton CAT. "Maine is historically about half the

opportunity in terms of forestry machine sales for the

entire territory."

Those equipment sales are critical to the

company, and so is the Maine logging industry, Collins

said.

From its start in a dirt floor garage in Concord,

New Hampshire, Milton CAT has grown to 12 locations,

spanning a six-state territory. Two of those locations are in

Maine; Brewer and Scarborough.

Milton CAT has over 1,000 employees, many with

twenty, thirty or even forty years of service at the

company, and it's widely recognized by Caterpillar as

being one of its top performing dealerships worldwide.

Milton CAT still runs on the same philosophy that

made the company successful in its early years. The

company's growth and reputation have been a result of

experience, continuity of purpose, empowering employees,

and a longstanding partnership with Caterpillar.

A privately-held company, Milton CAT is owned

by the Milton family. Dealer principal and Chief Executive

Officer Chris Milton, is the third-generation Milton to be

at the helm of a Caterpillar dealership. Chris Milton's

father, Jack, learned the ropes under his father, Milt

Milton, at former Massachusetts CAT dealership Perkins-

Milton. In 1960, Jack Milton and partner Bill Jordan

founded Jordan-Milton Machinery and represented

Caterpillar equipment and engines in New Hampshire and

Vermont, expanding into Maine with the acquisition of

Arnold Machinery Company in 1982. In 1991, Jordan-

Milton acquired Southworth Machinery and the company

name became Southworth-Milton. That name was changed

to Milton CAT shortly after the company expanded its

territory into western New York with the acquisition of

bordering CAT dealership Syracuse Supply Company in

2004.

Today, the company's products and technology

can be found in logging camps and nuclear facilities; dairy

farms, U.S. Army Defense installations, hospitals, lobster

boats and underground salt mines; solid waste landfills,

data centers, paving projects and ferries; commuter rail

trains, quarries, school buses and on job sites of all sizes.

22 Professional Logging Contractors of Maine Loggers Serving Loggers Since 1995
---
Peter Collins has been with the company for 36

years and his long-time customers include many founding

members of the Professional Logging Contractors of Maine

(PLC). He has worked with multiple generations of many

well-known Maine logging families.

Milton CAT's relationship with the PLC began

long before the organization offered Supporting

Memberships (Milton CAT is an Enhanced Supporting

Member). The company has been a strong supporter of

PLC's Log A Load for

Maine Kids annual

fund raising efforts

and other initiatives

over the years.

Among the

most noteworthy of

Milton CAT's more

recent contributions to

the PLC's efforts has

been the company's support for the Mechanized Logging

Operation Program (MLOP), launched three years ago to

provide entry level training for mechanized logging

operators. The program was created thanks to a partnership

between three Maine community colleges, the PLC, and

industry partners including Milton CAT and Nortrax.

The program gives students a broad overview of

the most common mechanical systems found in modern

timber harvesting equipment, an understanding of the

variables of timber growth, tree species, and markets, and a

strong emphasis on safety. It also includes hands-on

training in mechanized logging equipment, and Milton

CAT has provided half the equipment for the training

program since its start. On the Milton CAT website, a

video promoting MLOP is prominently displayed in the

forestry section.

Like most companies involved in Maine's logging

industry, Milton CAT realizes there is a skilled worker

shortage in the state's forest economy, particularly for

mechanized logging operators and truck drivers, Collins

said.

"I think the training program is a good thing as we

try to deal with the situation, and I think Milton CAT has

put some money and

some emphasis on that

because you've got to

try and do something

about it," Collins said.

Milton CAT

has served Maine

loggers through major

changes and challenges

in the industry, and is committed to maintaining the health

of that industry.

In August 2018 Caterpillar Inc. announced a major

change for the industry itself - Caterpillar had entered into

a preliminary agreement with Weiler, Inc. to sell its

forestry product business, which includes Wheel Skidders,

Track Feller Bunchers, Wheel Feller Bunchers and

Knuckleboom Loaders. As part of the sale, Weiler is taking

ownership of the Caterpillar manufacturing plant in

LaGrange, Georgia, the training center in Auburn,

Alabama and the parts distribution center in Smithfield,

North Carolina.

For Milton CAT the announcement is bringing

change, but not drastic change. Milton CAT already had a

long-standing relationship with Weiler in the paving

Milton CAT has been a strong supporter of the

Mechanized Logging Operations Program since it

began three years ago. Opposite: Graduates of the

most recent class pose with a grapple skidder donated

by Milton CAT for their use in the summer of 2018.

Milton CAT Continued Page 24

Alex Labonville, Sales Manager

Cell: 207-233-4801

www.labonville.com

Ask about special PLC of

Maine member only discounts!

The Logger's Voice ▪ Spring 2019 23
---
Milton CAT Continued from Page 23

business, and Weiler will be manufacturing track feller

bunchers, skidders, rubber tired feller bunchers, and

knuckle booms. The machines to mount delimbers on will

still be manufactured by CAT.

Milton CAT will remain the source for sales, parts

and service on CAT forestry products as well as Weiler

forestry products and will remain the source for parts and

service on Prentice product as part of the deal as well.

This spring Milton CAT is continuing to sell

Milton CAT forestry equipment but it is anticipated that

Weiler product will be available this year. Milton CAT is

also selling Logset forwarders and processors, so the

product lineup for the company is diversifying, but

customers so far seem comfortable with the changes,

Collins said.

For Milton CAT the relationship with the PLC and

with Maine's loggers is a natural one that is mutually

beneficial, and that is not going to change, Collins said.

"The membership needs to know how important

their business is to our business, it's not just an

afterthought, Collins said. "Long term we're committed to

this and we've got a lot of different products that we're

working with now and Milton CAT's still going to be in

the forestry business, we're not going anywhere."

Photos, top: MLOP students with CAT delimber in 2017.

Bottom: A CAT log loader in action.

24 Professional Logging Contractors of Maine Loggers Serving Loggers Since 1995
---
Mechanized Logging Operations Program Recruiting

Students for Summer 2019

STRATTON - Recruiting is now underway for

students in the Mechanized Logging Operations Program

(MLOP), which is beginning its next class June 24 in the

woods of Western Maine.

Students enrolled in the post-secondary training

program will spend weeks harvesting timber using

sophisticated state-of-the-art machines like those they will

encounter in the logging industry. The hands-on experience

students gain operating equipment is

something unavailable anywhere else

in Maine and neighboring states.

This summer's class will be

the third since the program launched in

2017. Graduation for the class will be

held on Sept. 19.

"I would encourage any

individual with an interest in a goodpaying,

exciting career in the Maine

woods to take a look at the MLOP

program," Dana Doran, Executive Director of the

Professional Logging Contractors of Maine (PLC), said.

"There is literally no better or more efficient way to gain the

experience and knowledge you need to become an

equipment operator in the logging industry."

The Mechanized Logging Operations Program was

created thanks to a partnership between three Maine

community colleges, the PLC, and industry partners

including Milton CAT and Nortrax.

The program gives students a broad overview of the

most common mechanical systems found in modern timber

harvesting equipment, and an understanding of the variables

of timber growth, tree species, and markets. It also includes

a strong emphasis on safety.

Students who are accepted into

the program pay no tuition, but are

responsible for transportation, housing,

and food costs. Personal Protective

Equipment (PPE) is provided by the

program.

A 2014 study by the PLC

found the average annual salary for

workers employed by logging firms in

Maine was $42,795. Mechanized

logging operators are among the

highest paid members of the logging workforce.

Anyone with an interest in the program should

contact Leah Buck at Northern Maine Community College

at 207-768-2768. Information and application instructions

may be found online at https://www.nmcc.edu/industrycustomized-training/mechanized-forest-operations/

The Logger's Voice ▪ Spring 2019 25
---
SAFETY

STARTS

WITH ME

2019 Safety Training

Presented by:

SAFETY

STARTS

WITH ME

PLC's Safety Committee is committed to offering tools to help keep our members safe! The goal of this FREE, for PLC

Contractor members and Maine Master Loggers, training is to provide practical, hands-on instruction to improve

individual & company safety. Still time to register for remaining classes! Go to http://maineloggers.com/safety/

2019 Logger Safety Training: 7:30 AM—3:30 PM

Safety training is designed for all company employees and employees may attend one or both spring trainings.

Topics: STOP The Bleed | Hydraulic Hazards | Road & Job Site Communication

Accident Review - Report, Not Repeat | Falling Safely - I've Fallen & I can get up! | Driving Simulator

Training locations:

1S. Friday, April 5 th Denmark— John Khiel III Logging & Chipping, Inc.

2S. Thursday, April 11 th Rumford—Nicols Bros.

3S. Friday, April 12 th Waltham — Elliott Jordan & Son, Inc.

4S. Friday, April 19 th Passadumkeag — Madden Timberlands, Inc.

5S. Friday , May 3rd Stratton—Pepin Lumber

6S. Thursday, May 9 th Millinocket— Gerald Pelletier, Inc.

7S. Monday, May 13 th Lincoln — Treeline, Inc.

8S. Wednesday, May 22 nd Fort Kent—TNT Road Company, Inc.

9S. Friday, May 31 st Jackman—E.J. Carrier

2019 Fleet Training: 7:30 AM—3:30 PM

Fleet Training is specifically designed for drivers, mechanics and loader operators. Employees may attend one or

both spring trainings.

Topics: Legal Liability—You said what?

Troop-K: Practical Pre-Trip

| Not your Daddy's Diesel

Ditch Diving & Digging Out | Trailer Tech. & Techniques | Driving Simulator

Training locations:

10F. Thursday, April 4 th Denmark— John Khiel III Logging & Chipping, Inc.

11F. Thursday, April 18 th Milford—Randall Madden Trucking

12F. Thursday, May 2 nd Stratton—Pepin Lumber

13F. Tuesday, May 21 st Fort Kent— TNT Road Company, Inc.

NEW FOR 2019 – During Fleet Trainings there are optional, alternative training classes:

• CPR & First Aid certification— $35 a person (Company options available—see registration)

• Maine Driving Dynamics Course—3 point credit on driving record - $10 a person

26 Professional Logging Contractors of Maine Loggers Serving Loggers Since 1995
---
The PLC would like to thank sponsors of the 2019 Safety

Trainings

Presenting Sponsor

Presenting & Prize Sponsor

Fleet Lunch Sponsor

Lunch Sponsor

Fleet Lunch Sponsor

Break Sponsor

Breakfast Sponsor

Break Sponsor

Knowledge Check & Prize Sponsor

Safety Prize Sponsor

Safety Prize Sponsor

Safety Prize Sponsor

There is still time to register for

Safety and Fleet trainings! Visit

http://maineloggers.com/safety/

to learn more!

The Logger's Voice ▪ Spring 2019 27
---
Wearing the right

Safety Sunglasses

By Donald Burr

PLC Safety & Training Coordinator

Today we are going to talk safety sunglasses. One

of the standards that I apply to writing articles is can the

everyday logger use this information to be safer and spend

less money? In today's topic I think the answer is yes.

Buying the right safety sunglasses you get

protection and you don't have to spend a lot to get it. The

average price for safety sunglasses is well under $20.00 (I

saw some that meet the ANSI standard for $1.50 each), but

you can spend hundreds if you want but you don't get any

better protection by spending the big money. Picking the

right sunglasses is one of the most important things you

should consider first before starting your day, every day.

We are entering into longer days with brighter sun with

snow & water bouncing the light around us into our eyes.

You need to protect your eyes from the harmful UV rays.

There are three different types of UV rays that we

need to protect from: UVA, UVB and UVC, and it is

important that your sunglasses protect you from UVA & B

and here's why.

UVA rays affect the inner eye and can cause eye

damage. These rays have a longer wavelength and can

easily pass through glass.

UVB rays also affect the inner and outer eye and

most people have felt the effects of snow blindness and this

is caused by UVB rays.

The last is UVC, the good news here is that this is

blocked by the earth's upper atmosphere so we don't have

to worry about this type.

All UV light is cut down by the earth's

atmosphere. This is not important to you unless you work

in high altitudes areas or you're a pilot, then you need to

take extra precautions. The pilots wear those cool

sunglasses not just for looks, they are functional too.

Now whether or not you know the names of these

rays or care it is important that you take steps to avoid

exposure to these rays with sun glasses. Look for the

amount of UV protection. Make sure it reads 99 - 100%.

With UV protection settle for nothing less, and you

shouldn't because full protection does not have to cost a lot

of money.

Get sunglasses that wrap around your face because

light can come in from the sides also and with your eyes

dilated because you are looking through dark glasses you

are letting in more harmful light from the sides. This goes

for sunglasses that don't have uv protection or have poor

protection also.

Sunglasses should take out most of the visible light

(75% - 90%). This refers to how dark they are and if you

look in a mirror and can see your eyes they are not dark

enough.

Make sure you get glasses that have good quality

lenses. Take them off and look through them an arm length

away and notice if the image stays consistent when moving

over a straight line like a corner of a door or wall. If the

straight line wobbles any these sunglasses are not good

quality.

Here are some special options that you can

consider:

Polarized: Cuts down the glare. Fishermen, river

guides and skiers like these because of the high glare

environment that they are operating in. Be aware that these

will sometimes change your perception of color. A long

time ago we sent a coworker to bring a group of people to

the blue bus. He was wearing polarized sun glasses and the

blue bus turned green. The funny thing was that it did not

change the color of the other buses in line that happened to

be green. So he looked and he looked and came back and

said that there were no blue buses only green. I told him to

take off his sunglasses and then tell us what he found.

Bingo!

Mirrored sunglasses: This is more than just a look.

They are popular in high glare environments and with law

enforcement and they tend to be good at filtering UV rays

but not always. The one caution about these is that you can

sunburn your nose and cheeks easily and then that leads to

skin issues so remember to wear sun screen and reapply

often.

Impact resistant: Look for Z87 stamped on the

frame somewhere. This is a reference to the ANSI high

velocity impact resistant standard. Don't buy safety

sunglasses without it.

I will leave you with this: put on your safety

sunglasses and Hum a few bars of ZZ Top's classic song

"Cheap Sun Glasses"

28 Professional Logging Contractors of Maine Loggers Serving Loggers Since 1995
---
Ted Clark, CLCS, Loss Control Consultant, Acadia Insurance

Year after year, falls continue to be one of the

leading causes of death and serious injury in the workplace.

Did you know that many of these falls actually occur on the

same level or from a relatively low surface? In fact, recent

studies show that one of the leading sources of falls is

actually from ladders. Luckily, many of these falls are

preventable with only minor changes in your approach. In

this safety meeting we will discuss a few points that will help

reduce your exposure to falls when utilizing a step ladder. In

addition to the following points, it is important to also refer

to manufacturer requirements.

1. Proper ladder selection: Ladder selection is the first of

several critical steps to working safely at height.

A. Many people don't realize that step ladders

are designed only to be worked off and are

not designed for accessing higher or lower

levels.

B. The ladder also needs to be tall enough to do

the job. Most step ladder manufacturers

clearly state that the ladder is not designed

for the user to stand on the top or the second

-to-top rungs. If you need to step on the top

two rungs, your ladder should be replaced

with a longer ladder.

C. Is the ladder rated for the user's weight?

Unless it is a heavy duty step ladder, it may

not be rated for more than someone

weighing 200 pounds. Verify the weight

load limits of the ladder by referring to the

stickers on the ladder's rails.

2. Ladder inspection: One of the most critical but often

overlooked steps is to thoroughly inspect your ladder

before each use.

A. Steps: Steps should be intact, with no dents,

clean, and free of oil and grease. The

manufacturer generally prohibits

modification or repair of the steps.

B. Rails: Rails should be in good condition, with

fiberglass in good shape without divots or

dents. Aluminum should be free of dents

and cracks. Pay special attention to the areas

where the steps are mounted to the rails.

Look closely for cracks in the fiberglass.

The manufacturer labels should be legible

and, therefore, should be protected from

damage when the ladder is new.

C. Feet: Feet should have the manufacturer

mounted slip free pads in place. The pads

should be clear of debris, oil, and grease.

D. Spreaders: These are critical to the stability

of the ladder and proper setup. Therefore,

they must both be on the ladder and must be

intact without any bends or dents.

Quarterly Safety Meeting: Ladders

3. Ladder Setup:

A. Inspect the ground prior to setting up the

ladder. Look for uneven surfaces that will

cause the ladder to rock while working on it.

Look for slippery substances such as oil and

grease and avoid setting the ladder up in

those areas.

B. Avoid setting up in front of closed doors. If

you must leave the door closed, clearly label

it and/or lock it, to avoid someone coming

through and knocking your ladder over.

C. The ladder should NEVER be leaned against

a wall or machine and climbed.

Manufacturers require that the ladder, in

order to work properly, be opened

completely. Not completely opening and

locking the step ladder can result in the

ladder toppling over.

4. Step Ladder Use:

A. When climbing and descending the ladder,

three points of contact is critical. Don't

carry tools or equipment in your hands.

Generally, you can set your tools on the

ladder prior to climbing or, on taller ladders,

you may need to pull tools up once you are

in place.

B. Always climb, descend and work facing the

ladder. Never stand back-to on the ladder.

C. While working off the ladder, it is critical to

stay balanced. A good rule of thumb is to

keep your belt buckle between the rails of

the ladder at all times. Leaning too far will

cause the ladder to tip over.

D. Step ladders are not designed for the user to

stand on the top two rungs. Standing on the

top two rungs puts the ladder off balance

and the user at risk of a fall.

The above recommendations were generated based

on some of the most frequently observed step ladder misuses.

It is critical to refer back to the manufacturer

recommendations when selecting and working with a step

ladder. This will help assure that the ladder is used within the

design parameters.

*(ASK FOR ANY QUESTIONS)*

Acadia is pleased to share this material for the benefit of its

customers. Please note, however, that nothing herein should be

construed as either legal advice or the provision of professional consulting

services. This material is for informational purposes only, and while

reasonable care has been utilized in compiling this information, no

warranty or representation is made as to accuracy or completeness.

*Meeting sign-in sheet on the back! Cut along dotted line to left to detach this section. 29
---
*This sign-in sheet is intended to be used with the quarterly Safety Training Topic on

page 29. Refer to the cutline on page 29 when removing it from the magazine.

30 Professional Logging Contractors of Maine Loggers Serving Loggers Since 1995
---
Listen Up: Protecting your hearing on the Job

Can you answer "YES" to one or more of the

following?

▪After a day of work, does it sound like people are

talking to you through a pillow or under water?

▪Do your ears ever feel "full" or "stopped up" after

working near a loud noise?

▪Do they hurt at the end of a work day?

▪Are family members or roommates hollering at you to

turn down the TV?

▪Is your spouse or significant other often accusing you

of not listening?

If you identify with any of the first four questions,

you may be suffering from hearing loss. If you answered

"yes" to question 5, that could be hearing related. You

may also be having relationship troubles, and that's a

whole other ball of wax (pun intended). One way to find

out is to have your hearing checked at the free logger

health exams being offered this spring through the Maine

Logger Health and Safety Study (see schedule at the end

Hearing Continued Page 32

The Logger's Voice ▪ Spring 2019 31
---
of this article for dates and locations).

Hearing loss is permanent. Of the roughly 36

million American adults suffering from hearing loss, 10

million can be attributed to noise-induced hearing loss—for

short, NIHL. A one-time exposure to a loud sound - like a

valve bursting on a hydraulic air pump - can cause NIHL.

Also, repeated exposure at certain sound levels over an

extended period of time can cause NIHL.

NIHL doesn't just hurt your ability to hear, it can add stress

to a relationship (see question 5) and recently was found to

contribute to the early onset of dementia.

It's complicated. NIHL doesn't just make

everything seem quieter – it actually changes how you are

able to hear sound frequencies. The sound of speech, for

instance, is made up of a complex mixture of sound

frequencies. With NIHL, a person's inability to hear

different frequencies can make another person's words

sound muffled or mushy and harder to understand.

Background noise only make it worse. Often, people with

NIHL think everyone else is mumbling (when it is really

their own hearing that is not working properly). And, sadly,

wearing a hearing aid and turning up the volume can't fix

that.

Tuning Out. Losing the ability to hear certain

sound frequencies can also make something we all love -

music - no longer enjoyable. Music can sound distorted,

tinny, muddled, or "harsh."

Sound damage to a person's hearing can also cause

tinnitus (ringing or a range of other noises in your ears or

head). That's a double whammy because, with tinnitus, you

not only have trouble hearing what you want to hear, but

you're also hearing something you don't want to hear. If

you're curious what it's like to have tinnitus, you can listen

to some examples at www.hear-it.org/impressions-ofhearing-loss-and-Tinnitus.

(In short, it's irritating.)

Can You Hear Me Now? Though you can't

restore your hearing once it's lost, you can save what

hearing you have if you wear the right hearing protection.

If you haven't had a hearing screening before, the 10-

minute screening can provide you a baseline measurement

of your hearing levels. This gives you a marker by which

you can measure if there are changes over time.

The exam is the first step. Next is to sit down with

an occupational hearing specialist to review your results,

the type of work you do and the type of exposures you

work with—both in terms of noise levels and duration of

exposures. The occupational hearing specialists conducting

32 Professional Logging Contractors of Maine Loggers Serving Loggers Since 1995
---
exams for the

Maine Logger

Health & Safety

Study are

CAOHC

certified and can

provide

guidance on

task-specific

personal

protective equipment (PPE) with the most appropriate noise

reduction ratings for your work based on your individual

test results.

The study is a project of the Northeast Center for

Occupational Health and Safety in Agriculture, Forestry

and Fishing. If you are a Maine logger interested in

participating in the study, you can earn up to $250 in LL

Bean gift certificates and will be entered into a drawing to

win one of seven $250 Visa gift cards. You can learn more

on Facebook @MaineLoggerHealthandSafetyStudy or by

calling 800-343-7527.

Decibel level exposures for common logging jobs:

Forestry/Logging Noise Sources

dB Level

Skidder 72-102

Cutter 76-96

Loader 78-108

Bulldozer 84-112

Chainsaw 76-120

Source: www.noisebuster.net/forestry.html

Free health exams, which include a hearing screening, are available to

Maine loggers at the following dates and locations at right. All but the

Logger's Expo dates will be held at PLC Safety Trainings (see page 26

for detailed locations and times). Maine loggers receive a $25 gift card

for participating. To schedule an appointment, call 800-343-7527 or

email NEClogging@bassett.org

Date Location

4/11/19 Rumford

4/12/19 Waltham

5/17/19 Loggers' Expo, Bangor

5/18/19 Loggers' Expo, Bangor

5/22/19 Fort Kent

The Logger's Voice ▪ Spring 2019 33
---
PLC News Briefs...

The PLC traveled to Washington D.C. in

early April for the American Logger's

Council's Annual Spring Fly-In. Our

members met with our Maine lawmakers

and with agencies important to our

industry. Thanks to our Congressional

delegation for taking the time to meet with

us, and a special thank you to PLC Board

Members Andy Irish and Chuck Ames,

seen here with Maine Sen. Angus King,

for representing our interests in the

Capitol!

34 Professional Logging Contractors of Maine Loggers Serving Loggers Since 1995
---
UMaine Forest Operations Winter Camp 2019

students visited PLC Members and Master

Loggers John Khiel & Sons Logging and

Chipping and Richard Wing & Son Logging

and Chipping in January to see active harvest

operations in Hallowell and Gray. Thanks to

both contractors for sharing their time and

expertise with the students, and thanks to

UMaine for the opportunity. Great day in the

woods with the students!

The Logger's Voice ▪ Spring 2019 35
---
On April 4-6, 2019, members and guests of the

American Loggers Council (ALC) will once again travel to

Washington, DC in hopes of making a difference for the

timber and log trucking industry. Our issues remain

basically the same as they have for the past several years,

but one thing has changed since November that should give

us all a little encouragement as we visit the Hill.

In November, the United States replaced 100 U.S.

House of Representative members as well as 10 U.S.

Senators. To our knowledge, not any of them has the first

minute of experience in the logging business and it is

highly doubtful that any of the incoming members have

ever hauled a load of logs.

While we do not anticipate seeing a lot of

significant legislation being passed in the next several

months due to the highly partisan politics that are still in

play in Washington, we do see this as an opportunity to be

the first organization to address the new members on what

the issues and concerns are for the logging community, as

well as work with the administration to effect change in the

industry. It is up to us to educate them on what professional

timber harvesting is, and the how and why of the process.

If we don't continue to do it, somebody else will, and that

is not something that any of us would like to see happen.

ALC President Chris Potts has already stated that

we will continue to work on truck weight and Commercial

Safety Administration (CSA) issues. He has also indicated

a desire to continue to pursue the Future Logging Careers

Act that would give the 16 and seventeen year old sons and

daughters the opportunity to legally work in their parent's

logging business.

With a new Chief of the US Forest Service, and the

authorities that have managed to pass through Congress

over the past couple of years, we hope to further engage

that agency to assist in their modernization efforts to both

expedite and implement all of the authorities now given to

them by Congress to increase the pace and scale of forest

restoration efforts that include timber harvesting.

By the time this editorial goes to press, there should also be

a new Secretary of Interior who we should also seek out

and familiarize with our issues.

Energy will still be a priority in order to help

develop new markets that we all need for our smaller

diameter wood, as will deregulation and lessening of the

tax burdens that all of our businesses face.

We asked and you responded favorably in looking

at logging as a part of agriculture, and we intend to

continue to follow up on that as well.

Even with the change in leadership in the House,

there is still hope that those who are elected will once again

follow the wishes of their constituents and lay partisan

politics aside. The "Swamp," as President Trump has

called it, has been draining, but there are still those that

As We See It February 2019

"It's Time to Educate "

By Danny Dructor

hold on to the idea that party politics should take priority

over policy issues.

November 2020 is not that far away, and you

should be paying close attention to what your

representatives in Washington are doing to deserve your

vote again. Meanwhile, let's continue to educate those

that have been elected to serve, so that the excuse of "I

don't know" cannot be used when questioning them about a

vote.

Danny Dructor is the Executive Vice President for the

American Loggers Council with offices near Hemphill,

Texas.

The American Loggers Council is a 501 (c)(6) not for profit

trade organization representing professional timber

harvesters in 33 states across the United States. If you

would like to learn more about the ALC, please visit their

web site at www.amloggers.com, or contact their office at

409-625-0206.

We Support Maine Loggers

36 Professional Logging Contractors of Maine Loggers Serving Loggers Since 1995
---
As We See It March 2019

"We the People"

"We the People of the United States, in

Order to form a more perfect Union, establish

Justice, ensure domestic Tranquility, provide for

the common defence, promote the general Welfare,

and secure the Blessings of Liberty to ourselves

and our Posterity, do ordain and establish this

Constitution for the United States of America."

Perhaps the most powerful and meaningful 52

words ever put together, the Constitution of the United

States of America is the supreme law of the United States.

Empowered with the sovereign authority of the people by

the framers and the consent of the legislatures of the states,

it is the source of all government powers, and also provides

important limitations on the government that protect the

fundamental rights of United States citizens.

So why, as United States citizens, do we continue

to blame the government for things that we can change that

are within our power and authority granted in the

Constitution of the United States of America? It is time that

we accepted responsibility, accountability and ownership of

what has become the partisan bickering in Washington, DC

and quit complaining, blaming and making excuses for our

failure to elect representatives that still value the wants and

needs of the citizens of the United States that put them into

office.

The mismanagement of our federal lands is a good

example. Last year, while lives and property were being

lost in Paradise, California, our "representatives" in

Washington, DC spent their time bickering over language in

the 2018 Farm bill that would have helped expedite the

treatment of overgrown national forests, which could help

reduce the number of catastrophic wildfires. The politicians

spent more time debating the cause of the problems than

considering real solutions to this crisis.

The blame game continued as usual as one party

did not want to make it appear that the other party might

actually be right when they called for active forest

management to reduce forest fuels. If this is the new

"norm" in Washington, then it is high time that "We the

People" took back the sovereign power that is vested to us

and fire those whose political interests take precedence over

the needs of the people.

This also goes for the use of our federal interstate

highway system to haul existing state legal loads along the

safest route to the mills. We should not allow the federal

government- or any federal agency- to hold states hostage

by holding back highway funds if they do not comply with

federal mandates. We the People should hold those same

agencies accountable. We should call for the replacement

of personnel as lives are lost due to regulations that only

serve to force haulers onto secondary roads where they're

much more likely to be involved in an accident.

Members of the American Loggers Council will

once again return to Washington, DC on April 4-6 to

educate the 100+ new representatives on the Hill. We will

give them the truth about our industry and the "who, where,

why and how" of what we do to promote healthy,

sustainable forests. Our strength is in our numbers and the

contacts and relationships that we build during our visits.

We need to tell our story before someone else tries to tell it

for us. You are the expert in your field- no one else- and

only you can convey the message that members of Congress

need to hear. We ask that you please consider joining our

ranks this year and help us, yes, We the People, chart the

future and destiny of this profession that we call logging.

The Logger's Voice ▪ Spring 2019 37
---
Since the Spring of 1997, the American Loggers

Council has walked the halls of Congress seeking to

allow the industry's trucks the ability to haul state legal

weight tolerances on the Federal Interstate Highway

System in order to have available a safer route to the mills

where those routes are available.

In the 22 years that we have made that request,

not one member of Congress has told us that it was a bad

idea, with the majority stating that it just makes sense.

Over the course of 22 years, there have been many

individual exemptions to allow those tolerances on

sections of the Interstate, but it hasn't come without us

pressuring Congress to do the right thing. In Maine, case

studies illustrated the safety benefits of this exemption.

Here's an excerpt of a 2010 report from H.O. Bouchard, a

large logging and trucking firm, which helped lead to a

permanent exemption for their weight tolerances that

allows 100,000 pounds on a large portion of I-95.

H.O. Bouchard - Brian Bouchard, President of

this large logging firm, decided to record some

quantitative data. The company loaded two trucks to

99,800 pounds and measured their performance on two

routes: the conventional state-road route that connects

Hampden and Houlton—a distance of about 120

miles—and the newly accessible Interstate route. The

driver recorded that, over the local-road route, the truck

passed 86 pedestrian crosswalks, 30 street lights, 9

school crossings, 4 hospitals, 4 railroad crossings, and

644 oncoming vehicles. The truck using the Interstate

passed zero of each. The truck confined to local roads

shifted gears 192 times and applied brakes 68 times. The

truck using the Interstate shifted 3 times and applied

brakes only once. Apart from a 10-gallon reduction in

fuel and corresponding reduction in emissions, says

Bouchard, "the avoidance of risk and driver fatigue is

huge."

As most members of Congress have stated, "It

just makes sense." Isn't it time that members introduced

language that allows our trucks to travel on those routes

that are safer for the general public and our drivers as

well?

As we've reported in the past, our efforts have

been stymied by the railroad industry and Washington DC

lobbyists, who are resistant to any policy changes that

might invite competition. However, the policies we are

seeking would only pertain to products being hauled in

short distances, in this case from the forest to the mill and

typically within a 150 air mile radius. We are not seeking

exemptions for long-haul, nor to promote competition to

the railroads. This is about safety, not profits.

We will once again be in Washington this spring

making visits to the Hill, seeking the cooperation of our

legislators to introduce legislation that just makes sense

As We See It April 2019

"Safe Routes Save Lives "

By Danny Dructor

and saves lives and reduces risk in the process. We ask

that you please make us aware with examples as to where

this just makes sense in order to reduce risk and save

lives.

If you have a story that helps illustrate why this

solution would result in a safer transportation system,

please contact me at americanlogger@aol.com.

PO Box 337, Milo, ME 04463

943-7415

info@lumbrahardwoodsinc.com

38 Professional Logging Contractors of Maine Loggers Serving Loggers Since 1995
---
Northeast Master Logger Certification Expansion Effort

AUGUSTA, ME – The Northeast Master

Logger Certification Program has launched an effort

to expand the ranks of Master Loggers in the region

through promotion and outreach efforts including in

states where numbers of Master Loggers are

currently low.

The effort is happening at the same time as an

American Loggers Council (ALC) push to reinvigorate

and expand the Master Logger brand nationally.

Northeast Master Logger Certification is using

targeted mailings to potential Master Loggers and

organizations representing loggers or whose

membership includes large numbers of loggers to

spread awareness of the program and its

benefits.

The organization is also reaching out to key

people and organizations in the Northeast to promote

the program.

Advertising in key publications including

logging magazines and newsletters reaching large

numbers of landowners or loggers is underway to

promote the Master Logger brand and encourage

more loggers to seek certification and more

landowners to choose Master Loggers for harvests.

The program is also stepping up visibility at

events for loggers and landowners as well as media

releases to increase awareness.

Expansion efforts are being aided by an L.L.

Bean grant to support Master Logger outreach and

communications efforts to Pennsylvania,

Massachusetts, and New York.

L.L. Bean's support is based on fostering the

kind of responsible timber harvesting and forest

management in the Northeast that will encourage

landowners to keep their lands undeveloped and

open to the public.

There are currently 110 Master Loggers

in the Northeast.

If you know of any logger who may be

interested in certification, please have them contact:

Ted Wright, Executive Director of the Northeast

Master Logger Certification Program at 207-532-8721

or executivedirector@tcnef.org.

A Higher Standard

You know your company holds itself to a higher standard of timber harvesting

Prove you are a cut above with Master Logger Certification

masterloggercertification.com

The Logger's Voice ▪ Winter Spring 2018 2019

29 39
---
Congressional Delegation Updates

The Timber

Innovation Act and Community

Wood Energy Program: Two

Provisions That Will Help

Strengthen Our Forest

Products Industry

'Maine's forest-based

economy is an integral part of our

state's heritage and has helped to

form the bedrock of many rural

communities. The Farm Bill that was

Sen. Susan Collins

signed into law late last year includes

key provisions I championed to

strengthen this vital industry here in our state and

throughout the nation.

The Farm Bill incorporates provisions of

the Timber Innovation Act I co-sponsored that establishes a

performance-driven research and development, education,

and technical assistance program for advancing mass timber

building construction in the United States. Mass timber,

which consists of timber products engineered for use in the

construction of large buildings, is a safe, innovative,

effective, and environmentally sound material that is

currently being used in structures all over the world to great

success. Supporting the use of this material in the United

States will help meet sustainability goals, reduce

construction time, and benefit rural economies across the

country.

The Farm Bill and Maine Forest Products

You wouldn't think it by watching the arguments

on cable TV all the time, but sometimes bipartisan results

are accomplished in Congress. That kind of compromise is

the product of a lot of hard work and consensus-building.

We were fortunate to see this cooperation with the 2018

Farm Bill, which passed the Senate in December by a vote

of 87-13 and was signed by the President. And though it

may be called the 'Farm' Bill, this comprehensive

legislation will have an important impact not only on

Maine farmers, but on rural Maine people from all walks of

life – and particularly on those in the forest products

industry.

As we work across all levels of government and

with private enterprise in Maine to strengthen the rural

economy, common themes have arisen – innovation and

opportunity. How can we protect our state's traditional

industries, and also ensure that future generations of

Mainers can make a living in the woods? As a friend of

mine in Maine says, "There is no single bullet, but there is

often silver buckshot." I am proud to say that provisions

we secured in the Farm Bill are part of this buckshot.

Building off the Timber Innovation Act, legislation

I sponsored along with Senator Collins, the Farm Bill

includes language that will accelerate the research and

Maine is in the midst of reorienting its forest

products industry following the downturn of traditional pulp

and paper production in our state, and it is encouraging that

the Farm Bill establishes a competitive grant program to

support innovative wood products research and development

at institutions of higher learning. In awarding this research

and development funding, priority will be given to proposals

that include the use or retrofitting of existing sawmill

facilities with higher-than-average unemployment rates,

which could be helpful to states such as Maine that are still

recovering from the job losses associated with the closure of

traditional mills.

The Farm Bill also includes legislation I cosponsored

to expand the Community Wood Energy program

at the U.S. Department of Agriculture to better support

investments in energy systems and facilities that use lowvalue

wood. This authorized $25 million per year to support

a grant program for community wood energy systems that

help reduce our dependence on oil, offset the costs of forest

management, and create jobs in rural forest-dependent

communities. In addition to reauthorizing the Community

Wood Energy program, my provision provides support for

initiatives to help manufacturing plants and mills produce

innovative wood products, such as mass timber or wood

products from nanotechnology.

Throughout Maine's history, our forest products

industry has helped drive local economies and sustain rural

communities. As the economy evolves, I am committed to

working with your industry to meet the challenges and

opportunities of the 21st Century.

development of cross laminated

timber (CLT) and other engineered

wood for use in construction

projects. CLT, which can be used

in place of steel in buildings up to

twelve stories high, is an exciting

new opportunity for Maine's forest

products economy. Already, the

Mass Timber Commercialization

Center at the University of Maine

is helping our state lead the way in

CLT innovation. The Farm Bill

also includes a provision to require Sen. Angus King

federal agencies to accept more

methods of sustainably harvested wood, ensuring fairness

and increased opportunity in federal purchasing of forest

products. With these provisions in place, we can work to

grow jobs in our state, and lay the groundwork for young

men and women to succeed right here in Maine

communities.

There is always more to do for our state's forest

products industry – and I'm here to listen – so please be in

touch. Together we can build off the important work

secured in the Farm Bill, strengthen the Maine economy,

and support hardworking men and women throughout our

state.

40 Professional Logging Contractors of Maine Loggers Serving Loggers Since 1995
---
The 116th Congress has

been off to a running start since

the last edition of the Logger's

Voice. I'm honored to once again

represent Maine's first district and

advocate for our state's unique

needs and resources in the U.S.

House. We are in the midst of a

busy hearing season covering

issues that we address every

year—like the budget—to those

that have not received much

Rep. Chellie Pingree

attention in several years—like

the impact of extreme weather on

our communities.

In this Congress, I will continue to serve on the

House Appropriations Committee—and several

subcommittees which are directly connected to our state's

logging industry. In February, I was appointed Vice Chair

of the Interior and Environmental subcommittee, which has

oversight of the U.S. Forest Service and the Environmental

Protection Agency (EPA). And I'm once again excited to

serve on the Agriculture subcommittee which has

jurisdiction over agencies ranging from the Animal and

This is my first update for

The Logger's Voice, so I'll take

the opportunity to introduce

myself. I'm Jared Golden, your

congressman representing the

people of Maine's Second

District.

I was born and raised in

Leeds, Maine, and I have a real

appreciation for the significance

of forest products in our state.

Some farmers in Leeds ran

logging operations in the winter

Rep. Jared Golden months, and growing up I was

never too far from the sawmill in

Livermore Falls that is now PalletOne.

In Maine, the forest products industry helps drive

our economy. Generations of loggers who call our state

home are part of Maine's history and identity. I know the

forest products industry faces challenges: workforce

shortages, crumbling infrastructure, unfair trade policies,

and more. I'm committed to standing up for Maine's

heritage industries and working with them to confront these

challenges.

That's why one of the first bills I introduced was

bipartisan legislation with Senator King to encourage

young loggers to learn the ropes of the industry. The Future

Logging Careers Act allows 16 & 17-year-olds in our great

state to work on family logging operations. Under parental

supervision, young loggers can carry on and contribute to

their family's business.

Plant Health Inspection Service (APHIS) to USDA's Rural

Development.

I've also been reappointed to the House

Agriculture Committee. As a long-time farmer, agriculture

is my passion. That's why I'm so proud to be back on a

committee that has an integral role in creating national

food and farming policy. I'll also serve on the House

Agriculture Committee's Conservation and Forestry

subcommittee.

In the coming weeks, Secretary of Agriculture

Perdue, the Deputy Assistant Secretary of Interior, and the

Director of the Forest Service will all appear before my

committee and I will be raising your concerns regarding

Maine's forest economy, industry and its current and

upcoming needs. Whether it is a question about what the

Department of Interior is doing to address invasive species

or how the Forest Service can help address the shortage of

loggers and log truckers in Maine, I look forward to asking

the questions and getting the answers that we need.

As always, please reach out to my office at any

time to make your voice heard with issues that you would

like to see us address in Congress. I am eager to hear from

you and hopefully see you out and about in Maine.

Our bill will better prepare Maine's young people

for good-paying careers in logging, help sustain rural

Maine family businesses, and boost the economy in our

state's rural communities. Maine's timber industry hires

over 7,000 people and contributes more than $850 million

to the state's economy. I'll do everything in my power to

grow those numbers and support loggers in our state.

This bill is just the start. I am looking forward to

working closely with the forest products industry. Going

forward, you'll find me all over our state meeting with

loggers, their families, and many others in our heritage

industries. These conversations drive the work I do in

Congress. What I hear from Maine people will help me

find solutions that invest in our infrastructure, work with

Maine's colleges and universities to support innovation in

logging and forest products, and find new ways to add

value to forestry products right here in Maine.

I'd like to hear from you. Call my nearest office to

share your thoughts or set up a meeting:

Lewiston: (207) 241-6767

Caribou: (207) 492-6009

Bangor: (207) 249-7400

Washington: (202) 225-6306

It's an honor to represent Maine's Second District

in Congress. I look forward to working with

you.

The Logger's Voice ▪ Spring 2019

41
---
34 Professional Logging Contractors of Maine Loggers Serving Loggers Since 1995
---
The Logger's Voice ▪ Winter 2018 31
---
Professional Logging

Contractors of Maine

110 Sewall St.

P.O. Box 1036

Augusta, ME 04332