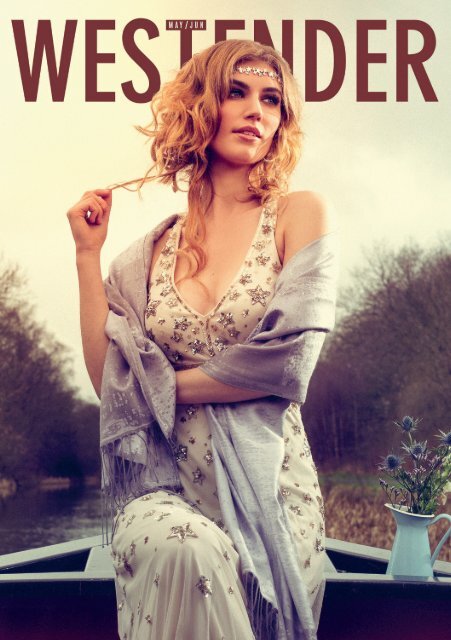 WebMayJun2019
high quality lifestyle magazine for the west end of Glasgow
high quality lifestyle magazine for the west end of Glasgow
SHOW MORE
SHOW LESS
Create successful ePaper yourself
Turn your PDF publications into a flip-book with our unique Google optimized e-Paper software.
may/jun

www.westendermagazine.com | 1
---
2 | www.westendermagazine.com

MAKE A

FREE WILL

We are delighted to offer everyone aged 55*

and over a FREE WILL in aid of Marie Curie.

Home visits available on request.

Our Offices

730 Dumbarton Road, Glasgow, G11 6RD

105 Cadzow St, Hamilton ML3 6HG

130 Saltmarket, Glasgow G1 5LB

scullionlaw.com info@scullionlaw.com | 0141 374 2121

*T&Cs Scotland only. Offer valid from now until end of May. Only one person needs to be over 55 to qualify.
---
www.westendermagazine.com | 3

Contents

Regulars

Contents

4 Editor's Letter

38 Community Pages:

6 Army Fashion Cadet pages Troop A

westender

41 Mum's Notebook

underwear shoot

13 A Jian London

Fashion, beauty & health

Christmas

14 8 Shipshape West End Fashion Live

with 31 WIN! Greg At Kane Rainbow Room

19 International

A west end

Christmas 50 Health Matters gift guide

28 Up Front

gypsy Shopping brewing

30 Restaurant review

31 27 WIN! Father's A 3 Day course Gift meal Guide

with wine at Rio Cafe &

WIN! Going A out weekend

at The Bruce Arms

16 West End Live

32 Sweet Liberty recipe

with Greg Kane

34 Author's Bookgroup

18 Spirit of Glasgow

meets Phil Differ

29 Top Things

39 Jingle Belles at

Kennedy + Co

Art & culture

40 WIN! A style

makeover at Rainbow

32 Artist Interview:

Room International

Nichol Wheatley

41 Festive Offers

42 Cover to Cover

at Esteem Beauty

42 100 years of

Erskine Food & drink celebrated

at 44 The Sweet Hunterian Liberty

44 47 Bar Health Review: Matters Lock 27

47 49 Mum's Restaurant Notebook Review:

49 Public Top House Thingsby Nico

52 Interiors article:

Christmas in colour

Westender living

55 Country comforts

56 52 Renovations Hygge home In Mind

58 56 Atlas WIN! Free kitchen tickets to

makeover The Ideal Home Show

66 59 Put Legal Your Matters Feet Up with

Mitchells 61 Local Design Roberton Icon

top & Bangles, Nancy smillie. Trousers, monsoon. Necklace, next
---
4 | www.westendermagazine.com

Editor's

Letter

Iliterally cannot believe how 2019 is

ripping along and we're heading into late

spring already. Don't get me wrong I'm

not complaining, I'm planning camping trips

with my boys, festival visits with friends

and getting excited for the next Bard in the

Botanic plays being released. I love you

summer!

Get your gig guide dates fixed with Greg

Kane's picks on Page 16, and festivals

scouted with Tracy Mukherjee on Page 29.

There's nothing like date nights in the diary to

ease the pain of the working day.

Our foodie writer, Amy Glasgow (true

fact!), turns to drink for her first three page

spread for Westender. Discovering what

makes Glasgow's West End a mecca for

small scale, and larger, distilleries – why not

try a distillery tour to sample a local artisanal

product produced on our doorstep (Page 18).

There's a chance to meet artist Nichol

Wheatley, the man behind the Tam O' Shanter

series on the walls of Òran Mór, on Page 32.

12 years in the discussion with Òran Mór

owner Colin Beattie these vast canvases have

found a permanent home on the walls of the

downstairs bar for all to enjoy.

With book reviews (Page 42) to while away

the upcoming May Bank Holidays, Father's

Day (Page 27) and new and refurbished food

and drink venues to be sampled there's a lot

covered in this edition of Westender – where

will we find the time to fit it all in? My advice,

plan. Cycle along the Forth & Clyde canal and

have a drink at Lock 27 (Page 47) enroute to

a fab sharing meal at Public House by Nico

(Page 49). Pop into Waterstone's at the top of

Byres Road for some top reads for Father's

Day before heading home. Sounds like a fab

plan to me!

Now me, I'm off to plan our annual

camping trip to Cobleland – a Camping in

the Forest site near Aberfoyle. Then I'll know

summer has offically started – unfortunately

with midges attached. This year I may even

be fit enough for a cycle all the way round

Loch Katrine to Stronlochar. Here's hoping.

With routes direct from the campsite into

Aberfoyle and beyond to Loch Ard we're

spoilt for choice anyway. And I have our

cycling trips all round the West End to thank

wfor helping me back to fitness to set me on

my way.

Suzanne Martin
---
Westender www.westendermagazine.com Magazine Promotion | 5

Full service family-run law firm

comes to Hyndland Road

Cannons Law Practice LLP arrives in

Hyndland on 23rd April. Previously

located in the Charing Cross area,

the firm is expanding and moving to 158

Hyndland Road this Spring.

Cannons is a family run law firm, with a 50

year heritage. Nicola Cannon and her father,

Frank, are at the helm of an expanding team

of lawyers, qualified legal professionals and

support staff.

Cannons offer a personal service to a

loyal client base of individuals, business

owners and commercial operators of every

size. Cannons prides itself on being small

and friendly, yet offering specialist legal

advice across a wide variety of practice areas

including: corporate law; commercial and

residential property; litigation and contractual

disputes; personal injury; employment law;

licensing; family law; and private client. This

breadth of service sets Cannons apart from

most other firms of similar size in the West of

Scotland.

Frank Cannon also offers a unique service.

Having been a pilot for over 50 years, and

having owned and managed an airline,

Frank is one of Scotland's very few aviation

lawyers. He has acted for people injured in

aviation accidents, represented pilots and

crew at Fatal Accident Inquiries and advised

the travelling public on their

aviation rights.

Cannons are also pleased

to announce the arrival of new

Senior Associate, Jane Whyte,

a private client specialist,

formerly of Harper Macleod LLP. Jane

will be heading up the firm's new Wealth

Protection department providing tailored

private client services such as Will-writing,

Estate Planning, Powers of Attorney and

Trust Administration.

If you need some legal advice,

or would simply like an informal chat

about your legal affairs, you can

reach a member of the dedicated

legal team by calling 0141 204 5115 or

by emailing office@cannonslaw.com.

Cannons Law Practice

158 Hyndland Road G12 9HZ

0141 204 5115

www.cannonslaw.com
---
6 | www.westendermagazine.com

EDITOR

SUZANNE MARTIN

PHOTOGRAPHER

GREGOR REID

CONTRIBUTING WRITERS

EMILY DONOHO, AMY GLASGOW,

MICHELE GORDON,

GREG KANE, PAMELA LEGGATE,

NICOLA MAULE,

TRACY MUKHERJEE,

SUSAN ROBERTSON, BRIAN TOAL,

LIBERTY VITTERT,

HANNAH WESTWATER

HAIR & MUA

TERRI CRAIG

STYLIST

JACKI CLARK

WESTENDERMAGAZINE.COM

INFO@WESTENDERMAGAZINE.COM

07905 897238

WESTENDER MAGAZINE IS ON

FACEBOOK, TWITTER

& INSTAGRAM

Publisher: Westender Magazine

Whilst every care has been taken to ensure that the data in this publication is accurate, neither the publisher nor its editorial

contributors can accept, and hereby disclaim, any liability to any party to loss or damage caused by errors or omissions

resulting from negligence, accident or any other cause.

Westender Magazine does not officially endorse any advertising material included within this publication.

No part of this publication may be reproduced, stored in any retrieval system, or transmitted in any form – electronic,

mechanical, photocopying, recording or otherwise – without prior permission of the publisher.
---
www.westendermagazine.com | 7

ADVERTISE YOUR BUSINESS IN WESTENDER

Book advertising space in the Jul/Aug 2019

Westender by Friday 31st May.

OUT IN WEST END LOCATIONS FROM MONDAY 24TH JUNE.

// 10 Years in the West End

// Glasgow's brilliant FREE bi-monthly magazine

// Great editorial features: fashion, dining out, health & beauty,

what's on, local authors & artists, interiors & more

// Massive potential business audience

// 10,000 copies per edition

// Handy handbag size

// FREE to pick up around the West End

// Online presence with digital magazine

westendermagazine.com

For more info or to advertise

email: suzanne@westendermagazine.com

for a media flyer, or call: 07905 897238
---
84 | www.westendermagazine.com

MESSING

ABOUT IN

BOATS

photography gregor reid

stylist jacki clark

mua terri craig
---
www.westendermagazine.com | 95
---
10 6 | | www.westendermagazine.com

top, french connection. shorts, topshop. trainers, schuh. necklaces & rings nancy smilLie

blue ring, next. bracelet, shop of interest

opposite page - jumpsuit, topshop
---
www.westendermagazine.com | 11 7
---
12 8 | | www.westendermagazine.com

top, topshop. trousers, cos. boots, daniel footwear

scarf, bracelet & hat, nancy smiLlie. necklace, cassieopia
---
www.westendermagazine.com | 13 9

top, french connection. skirt, topshop. Bangles, topshop. hat, cassieopia. necklace, pink poodle
---
14 10 | www.westendermagazine.com

photography gregor reid, gregorreidphotography.com

stylist jacki clark, jackiclark-stylist.co.uk

model issy johnston @coloursagency.com

MUA terri craig, terricraig.co.uk

SKirt, topshop. top, french connection. belt, next

necklace, nancy smillie. watch, shop of interest

opposite page - dress, monsoon. star necklace/head piece, pink poodle

narrowboat courtesy of ABCBoathire.com
---
www.westendermagazine.com | | 15 11
---
16 | www.westendermagazine.com

LIVE

May

Kojaque

Thursday 2nd May 7.30pm

SWG3 Poetry Club, swg3.tv

23-year-old Irish rapper Kojaque

mixes sampling and jazz beats with

dynamic, poetic lyrics showcasing

life as a modern Dubliner. He's also

an established film-maker and visual

artist who brings his multi-media

smarts to all his live performances.

I'd never heard an Irish accent deliver

HipHop/R'n'B before, but Kojaque

really makes it work. The Irish lilt

that storytelling muckers really rely

on lends itself so convincingly to this

music genre. He's very good at it too.

'Who loves ya baby?'… Sorry, I just

had to. 'Saperstein!' STOP! 'Crocker!'.

ENOUGH!

Choice Tracks:

Kojaque 'Bubby's Cream'

Stag And Dagger Festival

Sunday 5th May

Various venues

This is one of my favourite festivals.

You buy your wrist band for £25 and

that grants you unlimited access

to various venues scattered around

the Charing Cross area of Glasgow

hosting over 50 'up and coming' acts

in one day. Previous years' highlights

have included The Staves, Royal

Blood, Tobias Jesso Jr. and Ed Sheeran

even… as well as many, many more

who've either scaled the dizzying

heights to pop stardom or wasted most

of their parents' money on completely

unrealistic ambitions.

It's just great fun walking around

discovering bands you've never heard

of and people watching all the new

music freaks… oh and the toilet

facilities are far superior to any

'festival in a field' offerings this

summer!

See website for listings:

facebook.com/StagAndDaggerGlasgow

Choice tracks:

Dream Wife 'Hey Heartbreaker'

Pip Blom 'Daddy Issues'

RF 19

Sat 25th – Sun 26th May

Riverside Museum

Another festival, but this time one

that is completely dedicated to the

wonders of electronic music hosted

in and around the iconic, European

museum of the year 2013, Zaha Hadid

designed Glasgow Riverside Museum.

Now in its' 7th year this two day

festival attracts well over 10,000

EDM lovers from all around the globe

and features over 50 scene-leading,

cutting-edge, underground artists

and DJs and this year's 'must see'

surely will be the wonderful composer

Jon Hopkins performing on the Sunday

night. I'm really looking forward to

this years' Riverside Festival as I've

been delving into the world of synths

and electronica for the past 12 months

preparing for a new project. If this is

your bag then I also encourage you to

check out the podcasts 'Why We Bleep'

and 'Data Cult Audio' for a flavour

of what to expect. Hopefully see you

there.

See website for listings:

riversidefestivalglasgow.com

Choice track: Caribou 'Bees'

Jon Hopkins 'Everything Connected'
---
www.westendermagazine.com | 17

by Greg Kane

June

Billie Marten

Thursday 6th June 7pm

SWG3 Poetry Club, swg3.tv

Billie Marten is a 19 year old singer/

songwriter from North Yorkshire. This

delicate little English Rose looks far

too young and innocent to be messing

around in the cut throat world of

music. But her voice has just about the

perfect balance of vulnerability and

skill: her tuning is near pitch perfect,

she's a nice guitarist and has a clutch

of good tunes which put together

should give her a fighting chance.

But there are unfortunately some

minuses. Her visuals' water obsession,

– especially the one where she's lying

in a bath eating pink grapefruits.

And pseudonyms have always irked me,

Billie Marten is not her real name,

it's Sophie Tweddle.

Anyhow, comparisons to Kate Bush and

Laura Marling are accurate.

Choice track:

Billie Marten 'Live'

Doves

Saturday 8th June 6pm

Galvanisers Yard, swg3.tv

Brothers Jez and Andy Williams,

joined by friend Jimi Goodwin make up

the band Doves who had their moment

in the sun back in the 'Madforit' early

noughties. I remember them being

synonymous with the indie singer/

songwriter Badly Drawn Boy as they

acted as his backing band during

his early successes (most notably

writing the music for the 2002 film

'About A Boy'). But I also remember

being coaxed onto the dancefloor in

the early 90s by a brilliant latin

groove dance track from the act Sub

Sub called 'Ain't No Love (Ain't No

Use)'. Wouldn't seem to be connected…

but Sub Sub and Doves are one and the

same, but 10 years apart. At the end

of 2018 the band members announced a

series of gigs for 2019 and a tentative

plan to explore new music together.

Hurrah.

Choice Track: Doves

'There Goes The Fear'

Glasgow International Jazz Festival

Weds 19th June – Sun 23rd June

Various venues

Now in its' 33rd year the Glasgow

International Jazz Festival plays

host to the world's finest Jazziteers

for five days in June at various

venues across the city. With Glasgow's

Royal Conservatoire Of Scotland

consolidating its' place in the 'Top

10 in the World Music Conservatories'

over the last few years, the standard

of jazz musicianship in Glasgow has

never been higher. Being in my 50's I

fondly remember the early, heady days

of our Jazz Fest and some of the best

nights are to be had at the infamous

after show Late Night Jazz Club, which

this year will be held in the Blue

Arrow on Sauchiehall Street each

night from 10pm till late.

My choice gig in the West End is Jazz

duo LUNIR featuring the beautiful

Becky Sikasa on vocals, keys, guitar

and looping at The Hug & Pint on

Sunday 23rd June.

See website for all listings:

jazzfest.co.uk

Choice track: LUNIR ' Wadidi'
---
18 | www.westendermagazine.com

Spirit of

Glasgow

WORDS AMY GLASGOW

Whisky and gin and rum… oh my! Westender writer, Amy Glasgow,

investigates the recent rise in tours, tastings and pairings in our now

flourishing craft spirits industry – right here in the West End. Not content with

grinding our own coffee, baking our own bread, and crafting our own beer,

it's now the turn of spirits to experience the full hand-crafting makeover.

It's no secret that in Glasgow we love our

booze, but over the years our tastes have

become more refined, moving away from

bottles of Buckfast and cans of Tennents

to indulge in more premium offerings. First

came the rise of 'craft' beer, with Drygate

Brewery opening in the east end and upmarket

off-licenses like The Good Spirits

Company on Clarence Drive offering their

customers a range of small batch and

independently brewed beers from all over

the UK and rapidly cementing themselves as

Glasgow institutions. More recently, however,

the west end in particular is becoming

Glasgow's centre for the latest trend in the

lucrative alcohol market, craft spirits.

Scotland as a whole is known for its

extensive number of whisky distilleries up

and down the country, from Old Pulteney in

Wick to Auchentoshan in Clydebank. Now

though, The Clydeside Distillery is bringing

whisky back to the heart of Glasgow. Located

on the former site of the Queen's Dock, the

new distillery is built in the old pumphouse,

which controlled the gate to the dock from

which whiskey was exported to the entire

world.

'From the very beginning, we wanted the

influences and history of the surrounding

area to have a huge part of the project,' says

the team. 'Every decision, from the design

and colour scheme to the choice of furniture

and interiors, has been done to reflect the

historical and industrial influences of the

surrounding area.'

A distillery first and foremost, the site is

also a tourist attraction, ranked number three

on TripAdvisor despite only opening its doors

in 2017. With an extremely passionate and

knowledgeable team behind it, the distillery

is a celebration of the history of whisky,

allowing its guests to gain an understanding

of Glasgow's strong connection to the liquid

gold with their interactive experience.

'Glasgow has a long and special

relationship with Scotch whisky and our

visitor experience brings this relationship

to life with the sights and sounds of a fully

operational Queen's Dock from its heyday in

the late 1800s.'

The Clydeside Distillery has received rave

reviews, attracting visitors from around the

globe and offering three distinct tours: the

Clydeside Tour, Chocolate and Whisky Tour

and the Distillery Manager Tour. It might be

a few years before we see their first Lowland

Single Malt Scotch Whisky, but we think it will

be worth the wait.
---
www.westendermagazine.com | 19
---
20 | www.westendermagazine.com

gregorreidphotography.com

PORTRAITS CORPORATE

FASHION
---
www.westendermagazine.com | 21

If whisky isn't your thing though,

that is not a problem, as it's not just

whisky that has been having a

resurgence in Glasgow's West End.

Few can have missed that gin is

having somewhat of resurgence, with

small batch distilleries and independent

companies launching their own ranges of the

botanical beverage. One such example is The

Garden Shed Drinks Company, which was set

up by rugby players Ryan Grant and Ruaridh

Jackson and their wives Kirstin and Maxine.

'Kirstin and Ruaridh were living with us

at the time, having just moved back from

London and Ryan had paid a visit to a local

distillery,' explains Maxine. 'He felt inspired

and came home afterwards saying "I think

we should try and make our own gin". We

thought it was a fun idea and got on board

with it but we had no idea we would end up

here!'

The award winning Garden Shed Gin is

a classic London dry style gin made using a

blend of 13 botanicals including home-grown

blackberries, dandelion root and lavender.

The gin is distilled following the west end

recipe at Eden Mill in St Andrews and is

available in The Good Spirits Co. shop in

Hyndland.

'Obviously gin is in right now, so that

helps, but there are a lot of new brands doing

very interesting and quite experimental things

with their spirits and consumers are buying

less of the big name brands. People always

love finding unknown brands and introducing

them to their friends and family,' says Maxine.

It would certainly explain the influx of

craft and small batch spirits flooding the

shelves of not just speciality shops but local

supermarkets. It seems that consumers are

becoming far more invested in understanding

where a product comes from and what

goes into it. Scotland in general has a good

reputation for its quality spirits, particularly

whisky and gin, and we're also known for

being quite patriotic, so having a growing

number of brands and spirits we can get

behind and be proud of can only be a good

thing.
---
22 | www.westendermagazine.com

CRAFT BEERS & ALES

WINE & CHAMPAGNE

SHERRY, MADEIRA & PORT

FINE WINE

WHISKY, BOURBON, GIN

VODKA, RUM, TEQUILA

CIGARS & BRANDY

21 Clarence Drive, Glasgow G12 9QN

0141 334 4312

thegoodspiritscoclarencedrive

@GoodSpiritsCoCD

goodspiritsclarencedrive

clarencedrive@thegoodspiritsco.com

www.thegoodspiritsco.com

Hyndland

Train Station
---
www.westendermagazine.com | 23

This is certainly the sentiment that Zander

Macgregor, co-founder of Wester Spirit Co.

agrees with, 'The rise of craft spirits has

largely been down to the change in people's

attitudes to the food and drink they consume.

Consumers are looking for a product that

has been produced by a real person with a

genuine story behind the brand.'

Wester Spirit Co. have pioneered

commercial rum distillation in Glasgow,

opening their distillery in November of 2018

with tours beginning in January of 2019. The

Limited Edition Batch 001 bottles are unique

and numbered, sealed with a wax top, to

mark the first time rum is flowing in Glasgow

in over 300 years. The demand for locally

distilled products such as these is clear, with

Wester's first spiced rum quickly selling out.

So what is it about Glasgow's West End that

attracts enterprises such as Wester?

'We chose the West End to locate our

new rum distillery because of the vibrant

creative scene and host of independent bars,

restaurants and cafes surrounding us, there's

a real sense of community. The people of

Glasgow have certainly embraced the "shop

local" culture and that is evident in the

growing number of independent producers in

the city,' says Zander.

It can't be denied that the west end

of Glasgow has some truly incredible

independent producers and there is certainly

a much bigger focus on food made my hands

and not machines, so why would the same

not be true for drinks?

theclydeside.com

thegardensheddrinksco.com

westerspirit.com
---
24 | Westender www.westendermagazine.com

Magazine Promotion

Accountancy

Matters

by Bruce Wilson & Simon Murrison

Launching our new advisory services

At Murrison & Wilson we know what a

business needs today to thrive

tomorrow. We know the secret behind

business success is to work collaboratively

with experts.

One of the biggest challenges is keeping

up with the raft of legislative changes

affecting businesses today.

There's no substitute for solid expert

advice so we have launched Murrison &

Wilson Business Advisory Services:

Funding for SMEs

Financing business is complicated because

of the cluttered market and choice of

loans available with terms changing daily.

Specialists match your business funders that

boost cash flow for sustainable growth.

GDPR Data Support for SMEs

Regular updates and changes from the ICO

means last year's templates and procedures

are outdated. A specialist guarantees your

organisation's processes remain up to date

and compliant.

Pensions & Investments

Everyone's personal financial situation is

uniquely complicated and so is legislation

surrounding Pensions and Investments.

That's why you need a qualified expert to

advise you.

Wills & Power of Attorney

No-one can predict what's round the corner.

Who will take care of one's finances and

personal welfare is a sensitive topic and

complicated to manage. To safeguard your

future – get in touch today.

Murrison & Wilson, CA is a full service

accountancy firm specialising in

business and tax planning. Get in

touch for a free consultation plus

fixed and competitive fees.

Health and Safety Services for SMEs

Health & Safety laws are complicated and

regularly updated. Without an expert you may

find yourself with an expensive lawsuit on

your hands.

Employment Law for SMEs

Employment laws, contracts, disciplinary

hearings can be problematic. Expert

understanding of employment law

helps create a harmonious and efficient

organisation.

Murrison & Wilson Chartered Accountants

10 Newton Terrace G3 7PJ

0141 290 0262

info@muwca.co.uk

muwca.co.uk
---
Westender www.westendermagazine.com Magazine Promotion | 25

Legal Matters

Give me a home, where

the buffalo roam

Words from Donald Reid, chairman at Mitchells Roberton:

In spring, our fancy often turns to thoughts of DIY. I paraphrase

Alfred, Lord Tennyson who clearly never emerged, bleary-eyed,

from the depths of a Scottish winter to find his home severely

needing some TLC. If you don't fancy rolling up your sleeves and tackling it

yourself, the pointers below will help you avoid (and deal with) the cowboys.

Home improvements are an

investment. They can be expensive.

If you're instructing a contractor,

chances are you've never used them before.

Getting a personal recommendation is

often not possible. A contractor might

have a shiny website and score highly on

mycontractoristotallyamazing.com but

how do you know where to turn if things go

wrong and what are your rights? Some basic

planning can help avoid or resolve disputes

later on.

Before works start:

√ Get a written quotation including details

of works, costs, any consents required,

arrangements for payment and dates for start

and completion of works.

√ Know who you are dealing with. Ask for

a business address (websites and business

cards often have only a mobile number). Take

a note of vehicle registrations. Ask for the

contractor's bank details rather than paying

cash. If this scares them off, that should tell

you everything.

√ Do not pay upfront. Withholding payment

until certain stages of work have been

completed gives you bargaining power if

works are unsatisfactory. If in doubt, do not

be pressured into paying your contractor and

tell them you need time to take advice.

During and after works, you may be

entitled to compensation if:

X The contractor has not carried out work

with reasonable care and skill.

X Works are unsatisfactory.

X The contractor has been negligent.

X Goods and materials supplied do not

match the supplier's description or are not of

satisfactory quality or fit for purpose.

X You have incurred additional expense

or suffered inconvenience because of a

contractor's failure to do something such as

complete works within the agreed timescale.

In the event of a dispute:

• Always try to resolve the matter directly

with the contractor.

• If the contractor fails to rectify the

situation, their trade association may be able

to help.

• If those approaches do not

work, a solicitor can help you

obtain a remedy, though the

courts if necessary.

If Paul Neilly can help please

call him on 0141 552 3422,

or email pdwn@mitchells-roberton.co.uk.

Mitchells Roberton Solicitors

& Estate Agents

George House

36 North Hanover Street G1 2AD

0141 552 3422

www.mitchells-roberton.co.uk
---
26 | www.westendermagazine.com
---
www.westendermagazine.com | 27

… to dad, with love

Always a terrifying date in the diary, Father's Day arrives fraught with danger.

For the man who wants 'nothing' is telling fibs. Dads want thoughtful gifts that show

you do know them and can see them as much as that other parent-type-person.

Allay growing panic by shopping local – 'cause our local gift boutiques know us

Westenders best!

Don't forget: Father's Day in 2019 is Sunday 16th June!

Parka and Rolltop Bag both by Rains

£95 & £99 respectively, Hoos

100 Movies Scratch Bucket List

Poster, £13.99, Liquorice Tree

Vinyl Notebook by Melodies

£15, The Shop of Interest

Triumph & Disaster Field Kit Roll Out

Leather Wash Bag, £110, CoLab Store

West End Suppliers

CoLab Store, 11-13 Downahill Street

0141 570 1766 colabstore.co.uk

Hoos, 715 Great Western Road

07788 480421 hoosglasgow.co.uk

Liquorice Tree, 431 Great Western Road

0141 339 0648 liquoricetree.com

Flight Ready Kit

£16, Spirito

The Shop of Interest, 1058 Argyle Street

0141 221 7316 theshopofinterest.co.uk

Spirito, 317-319 Crow Road

0141 337 3307 spiritogifts.com
---
28 | www.westendermagazine.com

HOMEWARE + LIFESTYLE

BEAM LIGHT, MUUTO, £175

SHOP ONLINE | HOOSGLASGOW.CO.UK

715 GREAT WESTERN ROAD, GLASGOW, G12 8QX | 07788 480 421

Boutique Gallery and Gift Shop

Original Art • Prints • Unique Gifts

and Homeware

Hub – Fashion Illustration Classes

& Maker's Workshops

Opening Times:

Tuesday – Saturday: 10AM – 5PM

Sunday: 12 noon – 4PM

Closed Mondays

1058 Argyle Street, Finnieston, Glasgow, G3 8LY

Tel: 07899 001 130 / 0141 221 7316

hello@theshopofinterest.co.uk

www.theshopofinterest.co.uk
---
www.westendermagazine.com | 29

Top Things To Do

in the West End

by Tracy Mukherjee

Late spring/early summer, a truly glorious time

of the year. A time to reflect on how fortunate

we are to be Westenders with our myriad of

festivals, fairs and frolics. Let's look forward to

long summer nights in our favourite corner of

Glasgow.

Top for THE Festival

It seems almost impossible that 365 days

have passed since the last West End Festival

monopolised every inch of our social life.

But thankfully it's here again! The largest

cultural event in Glasgow kicks off on Friday

31st May for a month long run of art, music,

theatre and cultural events.

Top picks for street parties include Mansfield

Park Gala Day, Wilton Street Garden Fete,

Willow Bank Bowling Club Summer Fete and

Queen Margaret Drive Gala Day.

For music, The University of Scotland

Symphony Orchestra kicks off the festival with

a programme including Stravinsky and Dvorak.

Songbird sees Ellyn Oliver singing the works of

the great Eva Cassidy, whilst Samba Ya Bamba

and Friends bring Brazil to Kelvingrove Art

Galleries. Also look out for Da Capo Alba Guitar

and Mandolin Orchestra performing a stunning

concert at Cottiers.

Stand out events include Vinicombe Street Silent

Disco. Kelvingrove hosts both the Midsummer

Solstice Fire Show and the family Open-Air

Ceilidh. For more family fun visit The Magic

Circus at the Scottish Mask and Puppet Centre.

To ferry you from one event to the next, look out

for the free Vintage Bus Service on 30th June.

Take a ride in a restored vintage bus, navigating

a circular route from the Riverside Museum via

Byres Road and Anniesland. Hop on and hop

off at your favourite stop – Botanic Gardens,

Broomhill – it's free throughout the day, so enjoy!

The West End Festival, various venues,

Fri 31st May – Sun 30th June

For full programme details visit –

w: westendfestival.co.uk

Glasgow Vintage Vehicle Trust (GVVT)

at the WEF, Sun 30th June, for route

details and information on the GVVT visit:

w: gvvt.org/events

Top for Toe Tapping

With some top notch nights out coming up,

time to brush up on your dance moves and take

to the floor. The Roaring 20s Party, By Order

of The Peaky Blinders flaps onto the dance

floor of SWG3 this June. A night of prohibition

paraphernalia, entertainment and music, tickets

to this event will be hotter than a gangster's

moll. Of course 1920s dress is a must, especially

for some selfies with themed cocktails.

Entertainment on the night includes a flutter

on the horses plus casino (strictly for laughs

of course), clairvoyant capers with magicians,

palm, tarot readers and beautiful burlesque.

It's quite a list and that's without mentioning

music, dance and the champagne reception.

Heading up to University Avenue, the Big Band

Dance Night takes us back to the dance halls of

the 1940s for a night of saxxy sophistication.

Whether it's Lindy Hop, Jive or Foxtrot (or

indeed just dad dancing) the spirit of dance

leaders such as Glen Miller or Duke Ellington

won't be far away. Featuring the 14 piece big

band Jon Ritchie and That Swing Sensation,

even if you are blessed with two left feet, what it

is to sit back, close your eyes and listen to some

truly spine tingling music from a golden age.

The Roaring 20s Party, By Order of Peaky

Blinders, SWG3 Studio, Sat 1st June

w: swg3.tv/events

Big Band Dance Night, Glasgow

University Union, Sat 23rd June

w/ Jon Ritchie and That Swing Sensation

and search events
---
30 | www.westendermagazine.com

Top Things To Do

in the West End

by Tracy Mukherjee

Top for Top Art

Making a welcome return to Kelvingrove this

May, the Glasgow Contemporary Art Fair

(GCAF) will be setting up its temporary gallery

in the Marquee at Kelvingrove Museum and Art

Galleries. This stand out art event was a great

success last year with artists from every genre.

A chance to purchase original and contemporary

art lies ahead, with emerging local and national

painters displaying their creations. Some work

has even been created especially for the GCAF.

The preview event on the Friday is a chance to

get a sneak peak of what's on offer before the

show opens to the public on Saturday the 18th

May. There will be a glass of bubbly and a chance

to mingle with the artist and gallery owners.

Tickets for the main event will allow visitors

to come and go as they please, a chance for a

welcome coffee as you contemplate that £50 vs

£30,000 artwork!

Glasgow Contemporary Art Fair

The Marquee at Kelvingrove, preview

evening Fri 17th May, 18th – 19th May

w: gcaf.co.uk

Top for Up and Coming

Artists

I really enjoyed art at high school but with a

father as an engineer, that career choice was

certainly never going to take flight. But how

nice it would be to revisit art, drawing in a

comfortable, relaxed environment all these

years later. Enter The Shop of Interest. This

delightfully bijou boutique on Argyle Street has

long been a favourite to admire and buy visionary

artwork, breathtaking designs and elegant

handmade jewellery. Now, with new owner Diana

Kiernander at the helm, the little boutique is

about to play host to untutored life drawing

classes… with a difference. For six fortnightly

sessions, participants will be drawing fashion

illustrations. Table-top easels will be provided

and if you don't have your own sketchpads or

materials to bring along these can be bought

on the night. Diana will curate the classes, with

the chance to create your own interpretation of

the fantastic fashion on show. Classes are £7

each and £7 to reserve your space, bookable in

advance.

Pencil at the ready… enjoy.

Life Drawing Classes at The Shop

of Interest, 1058 Argyle St, G3 8LY

Mon 29th Apr - Mon 22nd Jul

For bookings/enquiries,

e: hello@theshopofinterest.co.uk

t: 07899 001130

Top for Soul Sustenance

Finally for this issue we are ending slightly

further afield with the RSPB event Bluebells

and Birdsong. This May, why not head out to

Loch Lomond's bonny banks for a morning walk

through bluebell filled woods, enjoying late

spring birdsong. The event will take you on a

walk along bluebell scented trails and out to the

RSPB reserve. There you can keep an eye out

for our feathered friends who have made their

way back from Africa for their summer vacation

in Scotland… words I never thought I'd write!

A most perfect start to an early summer's day…

Bluebells and Birdsong, RSPB Loch Lomond,

High Wards Farm, Gartocharn G83 8SB

Sat 18th May,

w: rspb.org.uk/reserves-and-events/

Other Dates for your Diary

• Glasgow Mela Kelvingrove Park,

Sun 23rd June

• Mens 10K Run, Riverside Museum to

George Square , Sun 16th June

• Festival of Wine, Trades Hall,

Sat 29th June
---
Westender www.westendermagazine.com Magazine Competitions | 31

SUBLIME GIFTS

AT

RRI

I

by John Parker

t's May and at Rainbow Room International

this marks our 40th anniversary! A fantastic

achievement for the brand that started with

12 salons in and around Glasgow.

As we come into summer, it's all about

pastel hair colour and razor cutting! Think

pretty shades of pink, corals and blues –

great ways to update your look and really

stand out this summer time! These hues

can also be incorporated into one to create

a gorgeous rainbow or watercolour effect.

Razor cutting will also be super on trend,

allowing us to create seriously stylish cuts,

giving hair lots of light texture and soft

tapering for a contemporary finish. Give us

a call to book your summer transformation

today or take advantage of our new standby

appointments from £19 depending on the

time of day and availability of our stylists.

We are also soon to be re-launching our

'Share The Secret' offer, so keep an eye out

for this! This is where all clients receive a £20

discount for themselves and their friend for

introducing that friend to the salon.

317-319 CROW ROAD G11 7BU

0141 337 3307

SPIRITOGIFTS.COM

WIN! Rainbow Room International

are offering one lucky reader a hair

makeover in their Great Western Rd

salon. For your chance to win go to

westendermagazine.com and click

on competitions by the 30th Jun '19.

Rainbow Room International

607 Great Western Road G12 8HX

0141 337 3370

rainbowroominternational.com
---
32 | www.westendermagazine.com

Òran Mór hosts artist

Nichol Wheatley

WORDS NICOLA MAULE MAIN IMAGE GREGOR REID

Imet with Nichol Wheatley a matter of days

after the opening to his latest exhibition,

'Tam O' Shanter' – he was sitting in the

quiet of Òran Mór, gently welcoming the

warmth of friends dropping in to share their

congratulations. It was a chance for the

paintings to once again fill the space over and

above all else and I imagine further still from

the two years previous, working in his studio

to bring each painting to completion.

This, Wheatley's 4th solo exhibition

presents a series of 10 major works offering a

pictorial journey of a poem, written over 200

years ago by the great bard Robert Burns.

Its very name and narrative continuing to

echo through the gates of history, retaining

its enduring relevance not only within our

own cultural and literary landscape but as

reminder of the unwavering human condition.

Wheatley leads us into the narrative with

a painting of Tam in the bustling market town

square, before he moves into the folds of the

warmth and familiarity of his local inn, and its

equally acquainted characters. Tam of course

makes way for home – leaving as witching

hour keen approaches but first Wheatley

contemplates a key shift in the poem – a

direct reference to the only part Burns wrote

in English.

'But pleasures are like poppies spread,

You seize the flower, it's bloom is shed;

Or like the snow falls in the river,

A moment white – then melts for ever;'

It's a particularly reflective moment,

a human tale of the foolish Tam fallen foul

to the short-term fix of the beer glass as his
---
www.westendermagazine.com | 33

wife and responsibilities await him. Wheatley

moves focus to the outdoors, figures small

in the landscape, a gentle movement of the

grass, the slow pace of the river, the form

of a reclining female in the clouds watching

over – mother earth perhaps sympathetic

to the innate opportunity for 'good' that is

also within the bounds of our humanness.

A wonderful scene that's as much an

allegorical reminder of the fragility of life

against the power and might of the natural

elements as it is for Tam as we contemplate

the sober reality of fleeting pleasures ending,

as they of course do.

There is beauty to be found in all

Wheatley's paintings and they captivate

not just by their physical size and presence

but for his artistic skill, technical brilliance

and innate attention to detail. A cloud of

thistledown is finely depicted in the lower left

of the painting – so delicately worked and

recognisable within the childhood memories

of many Scottish children, as well as

Wheatley. 'I remember catching thistledown

as a kid and when you blew it free, a fairy was

to grant you a wish.' So lifelike in its rendering

that he recounts how his father thought it was

'stuck on' to the painting.

The pictures continue to journey through

Burns epic poem, the play of drama

intensifying. There is a reverence found in

the deep azure blue of the night sky, boldly

powerful above the solitary Tam riding on the

back of his horse Meg – man versus world in

the impending moments before high drama

unfolds on the path before them at Alloway

Kirk. Wonderful attention to detail is again

found in the characters making their way

through the blades of grass in the graveyard

towards the golden glow of light ahead and

what is to be a scene behold of merriment

and one of terror for the drunken Tam.

Evocative flames of light, dancing beings

– the night unfolds with darkness holding

power, a reality where truth and imagination

blend, a thinning of the veil between the

creatures of the unseen and the world of

humans. Two spectacular paintings reflect

Tams visions within the Kirk before we see

him escape with Meg through the land and

over Brig o' Doon.

The landscape plays a significant part

in Wheatley's narrative. On my second visit

there is more to see – the hordes of hell

chasing Tam over the bridge, the clouds,

which I found so captivating early in the

series remain so, almost developing and

reflecting their own shift in intensity within the

pictures as the story unfolds. Yet, Wheatley

was for many years reluctant to call himself

an artist. Art School disappointed in so

far as the training did not satisfy or go far

enough for him to feel expert enough. 'I had

hoped to be taught as a painter,' he tells

me. So began a rather more unconventional

journey, where the working world of industry

But Pleasures Are Like Poppies Spread ©Nichol Wheatley
---
34 | www.westendermagazine.com

When Out The Hellish Legion Sallied ©Nichol Wheatley

presented opportunity to colour the mind, a

fertile ground for learning – chef, blacksmith,

barman, bouncer, building site labourer, each

offered an eye for study and a possibility for

the hands on practical.

All the while Wheatley continued to draw, and

it was just 7 years after leaving Art School

that he founded a commercial art company –

Perfect Circle. A name that rose from an act

of the Florentine painter and draughtsman

Giotto (b.1266) who was reputed to have

drawn a perfect circle of red paint in one

brushstroke at the request of the Pope, as

a measure of his skill. For Perfect Circle,

a small team of artists were challenged to

problem solve, project manage people, space

and materials and budgets – a wonderful nod

to the Renaissance studio.

The client list grew quickly, from set

designs for film and television to private

and public commissions. The Blue Nile's

Paul Buchanan was in fact one of the wellwishers

who stopped by the day we met,

and Wheatley briefly told me about their

collaboration for Kelvingrove Station, a piece

that he is extremely proud of. 'Translating

ideas through two different skill sets was

exciting and is a fantastic challenge,' he

recounts, 'yet we knew with absolute

confidence that it would work.'

It was also interesting to learn that

Wheatley's 'Tam O Shanter' was first

discussed with Òran Mór's owner Colin

Beattie some 12 years previous. At the

time he was working with Alasdair Gray on

the ceiling of the building and it took some

years for the commission to bear fruit.

On visiting the exhibition, Gray I have

no doubt was impressed by his friend's

achievement although Wheatley did recount,

with a smile that he thought there were,

'things that could be improved.'

Now complete, it will share the same

space each January in celebration of the birth

of Robert Burns, at eye level under the might

of Gray's mural 'Universe', as yet unfinished

but equally sublime in it beauty and his iconic

painting 'Fleck', before returning to their more

permanent home on the walls of the bar on

the ground level.

From the lofts to the rather unique setting

of the bar downstairs, connecting the story

to a contemporary audience sees the journey

of this series of paintings endure in a space

where people gather, eat, drink, sit among

friends and observe in solitude – a brilliant

allegory and a perfect place for Wheatley's

magnificent paintings to call home.

nicholwheatley.co.uk

oran-mor.co.uk
---
www.westendermagazine.com | 35

Westender half pg landscape_2019.indd 2 12/03/2019 10:53

Complementary Medicine Centre

Est. 1986

Ruth Chappell Brian Fleming

ACUPUNCTURE HOMEOPATHY

HYPNOTHERAPY

PSYCHOTHERAPY REFLEXOLOGY

Complementary Medicine Centre

11a Park Circus, Glasgow G3 6AX

Call 0141 332 4924 Mobile 07801536530

www.complementarymedicinecentre.com

www.hypnotherapist-glasgow.co.uk
---
36 | www.westendermagazine.com

'Learning Through Play'

Places available.

To book your visit call Maureen on 0141 357 0231

www.derbystreetnursery.co.uk

maureen@derbystreetnursery.co.uk

1 Parkgrove Terrace, Glasgow G3 7SD

Looking for

A CHARMING CHILDREN'S BOOK?

Pickles in Paris, A True Story is a Mom's Choice ©

award-winning story for kids of all ages who love

dogs and dream of the City of Light!

Written by Glasgow Westender, L.A. Riccio,

this beautifully illustrated book is one you will

cherish. You'll learn some French words

along the way, too.

To order a copy for someone special in your life,

visit www.etsy.com/shop/ASquaredPublishers.

Ships from UK.

ADVERTISE

FOR AS LITTLE AS

£80

email: suzanne@westendermagazine.com

for a media flyer, or call: 07905 897238

westendermagazine.com
---
Westender www.westendermagazine.com Magazine Promotion | 37

Image I Gregor Reid

eat, play, sleep(?), repeat

Helping babies (and parents) sleep: Sleepy Lambs sleep specialist

When Jennifer Pritchard's infant however, there is lots we can do to help

was struggling with sleep the whole newborns struggling with sleep.

household was up all night. 'For 16 'I don't believe in "cry it out", my focus is

years I've worked in the emergency services. on emotional wellness and sleep science.

I was used to working shifts and not having There is always a cause to the challenges

enough sleep – until my little one arrived,' the little one is having – finding that cause

laughs Jennifer. 'That's when I really found is the key. The cause could be habitual,

out what no sleep felt like!'

emotional, developmental, environmental to

After consulting the usual parenting name a few – find the cause, find the solution.

books and rejecting their often harsh advice, It's my job to give the parents the tools and

Jennifer came across Mary Foster founder knowledge they need based on their needs

of Sleepy Lambs Sleep Consulting. 'After and parenting style.'

speaking with Mary and feeling the difference With Full Support and Group Support

in my own house with everyone sleeping, options available with Jennifer, head online

I knew it was the business for me. I wanted for more information, FAQs and guidance.

to help families get the sleep they needed,'

says Jennifer. 'I studied for several months Call Jennifer on 07717 873223

to become a Certified Sleepy Lambs Sleep to organise a first FREE consult,

Consultant and my studies included working or email jennifer@sleepylambs.com

with a few families who were having sleep

issues and helping them achieve better sleep.

I'm always looking to learn and am currently

enrolled in a more in-depth course focused Sleepy Lambs

on reflux.'

Sleep Consulting

So who can benefit from the Sleepy

Lambs system? 'Parents! I mainly work with

babies and toddlers. Sleep training is not

the first step and often isn't needed. Training

is not recommended until four months old,

jenniferpritchard.sleepylambs.com

jennifer@sleepylambs.com

07717 873223
---
38 | www.westendermagazine.com

A FORCE

for good

with young people

Everyone has heard of the army cadets;

you'd be hard pressed to find someone

who didn't grow up with classmates

attending training nights and competitions,

sometimes mysterious to outsiders beyond

the involvement of uniforms and drills.

The Army Cadet Force can be traced back

as far as 1859, and the current West End

location has been in use since the 70s. But if

you or your children have never been involved

– how much do you really know about the

Ministry of Defence-sponsored youth group?

What you'd find on offer, it turns out,

is a focus on fun, friendship, adventure and

confidence. Right at the heart of Broomhill,

A Troop meets at their Crow Road premises

twice a week to practise an impressive

range of sports, skills and community tasks.

'We challenge them to learn more, do more

and try more,' says Sergeant Major instructor

Joyce Quin. 'We inspire them to aim high and

WORDS

Hannah

Westwater

give them the skills, values and behaviours

to go further in life, no matter what they aim

to do.'

Think athletics, first aid training, archery,

radio communication, canoeing, navigation,

skiing, parachuting, table tennis, caving,

volleyball and much more – West End

teenagers can access all of these for the

cost of £10 towards their uniforms and £2

per training session (which happen twice a

week). A Troop in the West End welcomes

many disadvantaged young people each

week, so it's a priority to keep fees low. Other

specialist activities such as music and rock

climbing are made available through centres

across the UK, with cadets transported in

minibuses by volunteer drivers and tuition

offered by instructors for free.

The cadets also attend a two-week camp

each summer. A spot near Portsmouth was

this year's destination, with participants
---
www.westendermagazine.com | 39

paying £90 for a fortnight of transport, food,

accommodation, competitions, a day at a

theme park and a formal dinner night.

Military and drill knowledge are prominent

facets of the training, too, and those involved

are proud of the discipline, integrity and

selflessness it encourages in the cadets,

but they're keen to emphasise that this is no

army recruitment scheme.

'Most young people today follow their

own path and are quite headstrong when it

comes to making life decisions,' Joyce adds.

'For anyone interested in the Armed Forces,

then clearly the cadets will give them useful

skills and help them decide whether a military

life is really for them.

'However, statistics over the years show

that the vast majority of our youngsters take

a different route and end up succeeding

in all sorts of other careers. Captain Alec

Stirling MBE has led A Troop for over 27

years. Nearly 1,000 young people have

passed through our doors in his time, and he

estimates that less than 2% have gone into

military service.'

The cadets are all about building

resilience on both an individual and a

community level. Joyce says they aim to

'foster confidence, self-reliance, initiative,

loyalty and a sense of service to other

people'; the opportunity to cultivate a

network of friends outside school is a big

plus for those who attend, with the current

troop drawn from nine different high schools

in the area (ages 12-17 years). 'Joining the

cadets was the best thing I've ever done. No

one realises just how good it is until they give

it a chance,' one youngster testifies.

There are opportunities to gain vocational

qualifications through cadet training too,

instructors ensuring they help prepare

kids for the future in whichever ways

they can. Cadets can pick up a BTEC1 in

Teamwork, Personal Skills and Citizenship;

a Young Leaders Award; a BTEC2 in Music

for Practical Performance; an award in

Leadership and Management and a Duke of

Edinburgh's Award in bronze, silver or gold.

Joyce says, 'Celebrating success is one of

the things we do best, and everyone finds

something that they're good at.'

The idea of military and drill training

might seem a daunting prospect to those

interested in getting involved, but they should

be reassured that the cadet force wouldn't

see the success it does if there wasn't a solid

culture of support ingrained in what they do.

'A Troop is like a family to all of us. We spend

so much of our time together that we know

each other really well, know our young people

really well, and devote most of our free time

to cadet activities,' Joyce says.

'The reward is seeing the delight in the

young people's faces when they finally

succeed at something they've strived for.

Be it their first 'basic' badge, a medal for

sporting achievement, or a promotion to

Cadet Sergeant – everyone finds their niche

in our family and they embark on adult life as

confident young people bursting with A Troop

Attitude.'

For more information visit –

armycadets.com – local enquiries should

head for the Glasgow & Lanarkshire

Battalion pages.
---
40 | www.westendermagazine.com

NEWYOU

Denise Gibson Personal Trainer

Does a muscle bound, commercial gym

fill you with dread but you're not sure

where to start your fitness journey?

I've been there, which is why I became a

personal trainer. It's all about getting to

know you and understanding what you want

to achieve. Working together wherever you

feel comfortable, my role is to help you get

results.

‣ Personalised Fitness Programme

‣ Improved Nutrition

‣ Weight Loss & Fat Burn

‣ Pre and Post Natal Exercise

Contact me for a free no obligation consultation,

quote Westender for an introductory rate.

T 07906 504 407

E denise.gibson@tiscali.co.uk

NewYou.PersonalTrainingGlasgow

ADVERTISE WITH US

// Glasgow's best FREE bi-monthly mag

// Great editorial features: fashion, dining out,

health & beauty, what's on, local authors

& artists, interiors & more

// Massive potential business audience

// 10,000 copies per edition

For more info or to advertise

call: suzanne@westendermagazine.com

for a media flyer, or call 07905 897238

westendermagazine.com

PI ATES

*Flexi-Class passes available * One-to-ones

* Relaxing *Suitable for Beginners & Advanced

Great for Runners, Cyclists, Golfers, Desk Workers..

*Post Natal * Botanic Gardens, Partick & Hyndland

www.pilatesglasgow.com 0787 647 3381

kerrystewart07@hotmail.com

Vintage Drapery

Handmade gifts and cards

Fabric and haberdashery

Vintage Clothing

77 Hyndland Street Glasgow G11 5PS

Tel 07864 221 361
---
www.westendermagazine.com | 41

Endmum's

West

notebook

by Michele Gordon thelanguagehub.co.uk

Is it just me or has spring no real ambitions

to materialise at all this year? Whatever the

weather the days have started to become

longer and the urge to be outside stronger

with every day.

Luckily, there are a few Bank Holiday

weekends and the summer school holidays

to look forward to. Plenty of time to indulge

in outdoor activities if you are into such

things like hiking, walking, climbing, camping

or, like me, doing very little for a change.

I much prefer sitting outside with a nice cup

of coffee, good friends and a catch up.

The kids sometimes prefer this too: they

also feel the need to unwind from time to

time. Their daily routines can be quite hectic

and filled with all sorts of activities. To do

nothing here and there appeals to them.

Having said this, not as often as it appeals

to me!

You always need a backup plan.

So, what things can you have up your sleeves

this spring to entertain your dear children?

If you haven't yet been to see it, then the

first Bank Holiday weekend will be your last

chance: Dippy, the dinosaur, will be at the

Kelvingrove Art Gallery and Museum until

6th May. And if that is not sufficient, pop

over to the Kelvin Hall to see the 'T.Rex in

Town' exhibition (18th April to 31st July).

Trix, the T-Rex is a 66-million-year-old fossil

found in the USA in 2013. The dinosaur is the

only original skeleton of a T. Rex currently

touring anywhere in the world and one of

the three most complete skeletons in the

world. Glasgow is the only UK stop on Trix's

European tour. At £39.50 for a family ticket it

is not the cheapest of activities but I dare say

a very exciting one.

Or maybe arts and crafts are more your

child's thing? Then check out the Kelvin

Hall again. They hold regular arts and crafts

workshops for kids. On Saturday 4th May the

theme is Star Wars!

If you have very young children you

should try the Riverside Museum for its Wee

Adventurer Movers session on the 6th May.

From 10.15-11.15am and again at 11.30-

12.30pm kids can engage in stories, games

and songs around the theme of transport.

The sessions are free which is an additional

bonus.

The next Bank Holiday weekend at the

end of May will now be fast approaching.

As Glasgow schools are closed on the

Friday as well as the Monday, many families

choose to go away for a few days. But if you

decide to stay at home, you will find plenty

of things to do. Start the long weekend with

a stroll through the Botanics and head for

the book fair inside the Hopkirk building;

you are bound to find a bargain. If you prefer

handmade arts and crafts, then take a walk

to Hillhead Library on the same day and visit

the Byres Road Makers Market between 11-

4pm. The Farmers' Market at Mansfield Park

in Partick will also be on the 25th between

10am and 2pm.

If you make it there do pop into our Café

Hub for some refreshments and a chat,

we will be open throughout both holiday

weekends. Great coffee, lovely cakes and

yummy food awaits! Then you can take a

rest on the Sunday and take your children

once more to the Kelvin Hall on the 27th to

the Finders Seekers session. These are new

monthly Monday sessions where children can

explore the museums' store, discover some

amazing objects and get creative; between

11-11.45am each time.

What ever you chose to do, enjoy and

have a good time. Bis bald und viel Spass!
---
42 | www.westendermagazine.com

1

BY BRIAN TOAL

WESTENDER's

COVER TO COVER

Noel Fitzpatrick will be well known to most of

us through the incredibly popular television

programmes 'The Bionic Vet' and 'The Supervet',

but few of us will know the incredible journey which

took him from his father's farm in rural Ireland to

becoming one of the most famous vets in the world.

The Supervet

by Noel Fitzpatrick

This candid, heartfelt account

of his dreams, struggles and

challenges he faced will leave you

impressed by his achievements,

whilst posing many questions

about how we treat animals and

the future of veterinary medicine.

The account of his early life

growing up on a farm in Ballyfin

is moving, as we hear how he

and his siblings had to help out

with the most arduous, mundane,

backbreaking jobs from a young

age. His father wasn't present

for his birth as Noel's arrival

coincided with cows needing to be

dehorned, but such was the life of

a struggling farmer that animals

always had to come first.

There is a touching episode

which describes how Noel

ventured out in the middle of the

night to help with lambing and was

devastated by his failure to keep

the lamb alive. This was one of his

earliest motivations to alleviate

animal suffering and to learn as

much as he could about veterinary

medicine to avoid such heart

wrenching loss in the future.

We learn of his early creation of

'Vetman', an imaginary figure who

would swoop to the rescue when

an animal was in need. We are

told of the merciless bullying endured at secondary school, being

a country bumpkin in a school of snobby urbanites. Nevertheless,

these experiences all shaped him into the driven, determined

young man who got the grades required to go to vet school.

The latter half of the book conveys very succinctly the

arduous process of becoming a vet – the long hours of study,

the placements where you were expected to do much of the

donkey work (I know), and the chance encounters and networking

which ultimately led to him being able to open his first referral

practice in a hut in a field. This practice grew and grew and finally

morphed into the huge, sprawling complex in Eashing in Surrey

where he can now deal with almost any ailment an animal could

develop.

A fair amount of words are expended on criticising 'the system'

and how reluctant bankers and venture capitalists are to take

risks with no guaranteed return on their investment. These are

clearly bugbears of his and he has the right to air his grievances,

being such an influential person in the world of veterinary

medicine. But the overall sentiment in the book is one of love for

animals.
---
www.westendermagazine.com | 43

If Only They

Didn't Speak

English

by Jon Sopel

2

Jon Sopel is an experienced

BBC correspondent and has

most recently been assigned

to cover all matters American,

beginning his sojourn in the

Obama administration.

When the most recent

presidential campaign began,

Sopel was in the perfect

position to document what at

times seemed like the most

outlandish and incredible

journey to the White House

ever witnessed. Sopel does

not hold back on his criticism

of Trump, and nor would we

expect him to. However, as

a BBC correspondent bound

by the 'impartiality' of the

BBC, we are given the facts

and allowed to make up our

own minds, although there

is little room for ambiguity

in the statements and

machinations leading to

Trump's inauguration, or in the

decisions and reversals he has

made since occupying the Oval

O ffi c e .

What I particularly enjoyed

about Sopel's approach was

the amount of context he

provides. In every chapter we

are given Trump's attitudes

and policies towards a range

of issues such as race, God,

guns, truth and government.

However, Sopel provides a lot

of background for the British

reader in order to frame

American attitudes in general

towards this diverse range of

topics, as well as providing

historical explanations for

America's often radically

different stance compared to

ours.

The title alludes to the fact

that it would be far easier to

criticise Trump's administration

if they were from a more

exotic part of the world, rather

than our partner in a 'special

relationship'.

Fans of Kate Atkinson will love

her latest novel as it contains

all the hallmarks of her writing

for which she has become

so renowned: the shifts in

time, the seemingly quotidian

characters who turn out to

harbour dark secrets, the vivid

reanimation of London during

WW2 and the razor-sharp

dialogue.

'Transcription' follows

the 'adventures' of Juliet

Armstrong, or the lack thereof.

Having been spotted and

interviewed for 'the service'

(MI5), she quickly realises that

most of her time will be spent

transcribing conversations

between fifth-columnists which

have been secretly recorded.

However, these seemingly

endless periods of boredom

are suddenly interspersed

with moments of real danger,

espionage and derring-do.

Following the end of the

war, Juliet finds employment

in the BBC and is somewhat

bemused to find that this

service is much like the other

service, often with the same

personnel. If she thought that

her days of intrigue were over,

she was sorely mistaken.

There are still plenty of

twists and turns ahead for her.

As always with Atkinson, one

of the most enjoyable aspects

of her fiction is the ability to

view the past through the

distance of a new situation,

whilst the next minute being

transported back into that

past and having the benefit of

viewing events with hindsight.

It's a technique which worked

very well in 'A God In Ruins' and

'Life After Life', and it works

well again in 'Transcription'.

This book provided a highly

enjoyable couple of days.

Transcription

by Kate Atkinson

3
---
44 | www.westendermagazine.com

Image I Gregor Reid

Guilty Pleasures from Westender's American in Glasgow
---
y Liberty Vittert

K

www.westendermagazine.com | 45

small fruity

lemon tarts

It's spring, it's spring, it's spring! In normal parts

of the world, it already was spring, but in Glasgow,

my fingers, toes, arms, legs, every body part I

can think of are crossed in anticipation of a warm

sunny day. Will it happen? One can only hope…

But, in the meantime, I can at least have the

taste of spring with these small individual zesty

lemon tarts. Bringing in the flavours of summer

with a zesty lemon brightness and fresh berries

galore, this dessert will please anyone. Whether

it is a Father's Day extravaganza or simply a

beautiful(ish) spring evening at home, these fruity

lemon tarts will please even the pickiest of palates.

Shopping List

For the filling:

2 eggs + 2 egg yolks

165g caster sugar

3 tbs lemon zest

100mL freshly squeezed

lemon juice

(about 3 lemons)

3 tbs whipping cream

130g butter,

cut into small pieces

½ tsp vanilla bean

pinch of salt

For the pastry:

260g plain flour

135g icing sugar

180g cold butter,

cut into small pieces

For décor:

fresh seasonal berries

L

Method

1. To make the lemon filling, in a

heatproof bowl whisk the eggs and sugar

very well (about 2 minutes). Whisk in

the lemon zest, lemon juice and heavy

cream.

2. Over a saucepan of very lightly

boiling water (the bowl should just touch

the water), whisk the mixture for about

8 minutes until it coats the back of a

spoon fully.

3. Remove the mixture from the heat

and strain into a new bowl. Slowly add

the pieces of butter, vanilla, and a pinch

of salt, whisking until the mixture is

room temperature (you can use an

electric mixer). Refrigerate.

4. To make the pastry dough combine

all the ingredients in a food processor.

Roll out the dough and place in small

individual tart tins. Bake for 25 minutes

at 160C fan.

5. Once the tart shells are completely

cool, pour in the filling and again,

refrigerate for at least 6 hours.

6. Decorate with fresh berries and eat

with friends and family!

PAPYRUS

SPECIAL

OFFER

£8

Set of 4

Paul Hollywood

Tart Tins

RRP £13.50

in Papyrus

Cookshop

*Exclusive offer for

WESTENDER readers

at Papyrus,

374 Byres Road
---
46 | www.westendermagazine.com

abc boat hire

HoLiDaYs & ShOrT BrEaKs

Call today: 0330 333 0590

www.abcboathire.com

Second holiday with

ABC Boats this

year....had a great

time again.

Nov 2018 on

Green Sandpiper,

Falkirk

Book your canal

boat holiday today

from Falkirk and

experience the

beautiful Forth &

Clyde and Union

Canals.

ABC BOAT HIRE

360

ViRtUaL

ToUrS

RATED 4.5
---
www.westendermagazine.com | 47

@

Lock 27

Reviewed by

Emily Donoho

Lock 27 reopened in December under new

ownership, and I decided to pay it a visit,

on my bike, of course, as it sits on the

canal in Anniesland with a beer garden

overlooking the water.

In March, it was too chilly for the beer

garden, but I'm sure people will make use of

it in the summer. In its previous incarnation,

the pub was gloomy inside, with a lot of tatty,

dark green upholstery, but the new – and

definitely improved – Lock 27 is bright and

roomy. They have moved the bar from the

centre of the pub to the back and made it

more or less one big room, with a few more

tables on a raised stage and a corner around

one side. The colour scheme is neutral and

contemporary, emphasising space and light.

It's set up as more of a restaurant than a

pub, although it has a few bar stools in the

middle and a bench off to one side for those

fancying just a drink.

It doesn't sell cask ales but has an

extensive range of beer on tap including

Twisted Thistle, Guinness, Tennents,

Belhaven Best, Coors Lite, Craft Pilsner,

Birra Moretti, and Amstel, as well as two

Strongbows for cider fans. They also have

more than ten varieties of gin. I tried one

in a G-and-T, which they jazzed up with

raspberries and blueberries in the bottom

of the glass. I hadn't had that before, but it

added zesty flavours to the drink. The pub

has plenty of wine, mixers for cocktails, and

at least ten different malt whiskies. There's

pretty much a drink for everyone.

The food is tasty and affordable. This isn't

a food review, but I will say that they do an

excellent fajita.

It has two big TV screens, so probably

gets busy during major rugby or football

games, but if you want to watch sports,

it's an airy, open space to do so. They also

do a pub quiz on Tuesdays. The pub is dog

friendly, which is sensible given its location.

The only real quibble I have is that it could

be more bike-friendly. They provide a small,

low-security bike rack, which only lets you

secure one wheel. If you want a D-lock on the

bike's frame, you have to wrestle awkwardly

with it around the canal railings while trying

to not drop the lock in the canal. As spring

approaches and more people cycle the canal,

a big bike rack like the ones around the

university and City Centre would definitely be

an asset.

Lock 27

1100 Crow Road G13 1JT

0141 954 1144

lock27glasgow.co.uk
---
48 | www.westendermagazine.com

J O R D A N H I L L BOWLING CL U B

SINCE 1899

• Jordanhill Bowling Club (JBC) at the

heart of the community since 1899

• Enjoy an outdoor sport in a beautiful

location

• Membership open to all aged 8-108

and all abilities

• Play as a hobby or in club, district or

national competitions

• All equipment and coaching provided

free to new bowlers. (Casual clothes

and modern club polo shirts is the

normal now)

• Be part of a team, meet new friends

and play a sport invented in Scotland

• Huge discounts on memberships for

new members

To be part of JBC or just have a look around contact John on 07946661226

or just walk in and visit us. You could be our future club champion.

Looking forward to meeting you.

@jordanhillbowlingclub
---
www.westendermagazine.com | 49

@

Public

House by Nico

Reviewed by Amy Glasgow @theglasgowdiet

There has been a distinct rise in the

number of restaurants offering 'small

plates' in recent years. Think of the

likes of Ox and Finch, Alchemilla, Gather by

Zique and Five March, all following the same

premise of sharing style plates rather than a

standard 'a la carte' offering. It may not be

to everyone's liking, but the ability to sample

numerous dishes is something that appeals

to a fervent diner like myself.

Public House by Nico conforms to this

same format, with a selection of small plates,

snacks and sides to chose from, all of them

intended to be a reinvention of classic gastro

pub food.

This latest venture from Nico Simeone is

intended to capture the charm of the Great

British Pub, complete with Chesterfield

seating and reclaimed wooden fixtures.

The space has an inviting and homely feel to

it, although it looks far more upscale than any

Scottish pub I've been to and, unless you're

dining, you're unlikely to find space to come

in and have a quiet pint.

The menu offers a selection of plates

using seasonal ingredients, with dishes like

beer battered haddock, chicken kiev and pie

of the day all providing a casual nod to the

average pub menu, if only in name – certainly

not in appearance.

Every dish on the menu is presented with

that signature Nico flair, whether it's the

smoked ham hough sandwich brought to the

table enveloped in a cloche filled with wood

smoke or the effortless simplicity of perfectly

shaped gnocchi with seasonal wild garlic,

spring peas and house made ricotta.

For two people, it is recommended you

order two or three dishes per person, all of

which are priced at a reasonable £7 each,

apart from one or two that require a small

supplement of £3. We opted for five dishes

and a side of large, delightfully crisp onion

rings. The highlight was, surprisingly, the

humble pie of the day. Todays' offering was

chicken and black pudding, topped with

perfectly crisp puff pastry and a filling that

packed a punch.

The mussels with curry, lemongrass,

lime and coriander were equally flavourful,

served in a warming, perfectly spiced sauce,

although I recommend ordering a side of

their sourdough to mop up that mesmerizing

orange liquid.

Each dish we ordered was beautifully

balanced, from the crisp crunch of duck skin

against soft red onion slaw to the sweet,

smoky barbecue pulled pork sat on top of a

beef patty and chorizo jam. Despite ordering

slightly less than the recommended amount,

we left feeling satiated and well looked

after. This is pub food on another level, with

attentive service and a not-unreasonable

price tag. In my eyes, this is Nico's most

successful venture yet.

Public House by Nico

333 Great Western Road G4 9HS

0141 339 3701

publichousebynico.co.uk
---
50 | www.westendermagazine.com

Health Matters

GP Dr. Pamela Leggate, of Glasgow West Medical Practice,

talks us through the symptoms of the menopause and how

to weigh up the pros and cons of Hormone Replacement

Therapy and other remedies

Oh my god! It has finally hit me. I am

middle aged… It all started a few

months back when the meeting room

at the practice was feeling unfashionably hot.

A problem with the heating no doubt… we'll

just open a window. Nope said the practice

nurse, I can tell by the way you're wiping the

sweat from your brow. It's your age! My age?

Seriously? I don't feel old… Anyway the long

and the sort of it is she was right. Menopause

has struck.

So what does it actually mean? What can

I do about it? Wasn't there some bad press

about this sort of thing a while back? The

short answer is HRT (Hormone Replacement

Therapy) which has worked well for me but

might not be for everybody. For the longer

answer, read on…

Menopause is a retrospective diagnosis

which actually refers to the last menstrual

period. It's the time leading up to this event

and for an unspecified amount of time

after it that seems to cause all the trouble.

Symptoms vary but can include hot flushes,

night sweats, irritability, anxiety, 'ditheriness'.

It's all down to a drop in hormone levels as

your ovaries start to struggle. Oestrogen

comes out in fits and starts until your ovaries

finally give up the ghost. Hormonal chaos

ensues.

For some women, it's no big deal. I think

if I didn't have to sit in the meeting room with

the dodgy heating, but could sit by the pool

sipping a chilled cocktail, I might have been

fine. Some get no symptoms whatsoever.

Others have horrendous sweats, resulting in

sheet and PJ changes in the middle of the

night.

If you do want to go down the route of

taking medication, HRT is definitely the most
---
www.westendermagazine.com | 51

effective treatment for most symptoms.

It's oestrogen from the ovaries that you're

lacking, so taking oestrogen tablets makes

you feel better. Result! However (isn't there

always a however?), taking oestrogen alone

was found to cause problems – thickening

of the lining of the womb, polyps, bleeding

and even cancer of the womb. The answer, to

protect the womb, is to add a progesterone

type hormone for at least some of the month,

but progesterone is the stuff that rises in your

body before a period, so some people feels

irritable and 'premenstrual' when they take it.

Women who have had a hysterectomy

in the past don't need to worry about their

womb, so they can take oestrogen only.

This also applies if you have a Mirena coil

(intrauterine system), making HRT more

straightforward and lower in side effects.

There are lots of different combined

preparations available though so if you do get

side effects with one, try a different brand.

But wasn't there a downside? Yes.

The main concern is breast cancer. Because,

in taking HRT, you are exposing your body

to hormones for longer than nature intended,

you are slightly more likely to develop breast

cancer when on it for five years or more past

the natural age of the menopause (51, 52). So

if you go through a premature menopause at

say 36, you are not at any increased risk at all

until the age of 56ish. That doesn't guarantee

you won't get breast cancer. It just means

you are no more likely than anyone else of the

same age.

For everyone, as with anything else, you

need to carefully weigh up the pros and

cons. Someone with a strong family history

of breast cancer might be a bit wary of

increasing their risk even by a small amount.

HRT does have beneficial effects on bone

density though (preventing bone thinning)

so if you have a strong family history of

osteoporosis this might sway you to try it.

The other thing to mention is

contraception. It wouldn't be the first time

someone has missed a few periods, decided

they were menopausal and were horrified

to find out they were pregnant at 50! Your

ovaries are determined wee things and

struggle to produce eggs until they can go

on no longer. Occasionally they succeed

and a 'change of life baby' is the result. So

you do need to continue to take adequate

contraception until around age 54. Talk to

your doctor about what is suitable for older

(NB: not OLD just 'in your prime') women.

If you can't (or decide not to) take HRT

for whatever reason there are a few nonhormonal

alternatives. Things like Sage, Red

Clover, Black Cohosh and some other herbal

stuff might help and some women swear

by them. Magnets in your pants? Not sure

about the science behind that but I can't

imagine it could do any harm! Some beta

blocker medications can help with flushes

and antidepressants (Prozac or Venlafaxine)

can help with flushes as well as anxiety/mood

disturbances.

For a balanced, sensible and informative

review of HRT and the menopause look up:

nice.org.uk/guidance/ng23. It's quite a

detailed paper but if you're struggling to

make up your mind, all the info is there.

Right, I'm off for a cocktail by the pool.
---
52 | www.westendermagazine.com

Homes & Interiors

WD Harley Glasgow

by Susan

Robertson

Renovations

Coming into the drier spell of the year, it's a time that

we often consider a refresh in our homes, perhaps

thinking about those jobs to be done that have niggled

all through winter, maybe you want to find a way to

connect your interior to your outside environment,

or perhaps you have decided it's time for a complete

overhaul of your home.
---
www.westendermagazine.com | 53

in mind

Whatever it is, it's important to start with a

clear vision, get the right experts on board and

create a plan for the best results.

If you have no expertise in the area, the

potential of making any big changes can seem

daunting. The idea of form filling, planning

permission, work schedules, juggling budgets,

managing ideas can just seem too vast, so I

spoke to Mark Butler of WD Harley for some

pointers. WD Harley are multi-disciplinary

project consultants working in Glasgow and the

Loch Lomond and National Park who can help

with project management, design development,

planning and building warrant applications and

contract administration.

Mark gave me a really useful outline of the

process to follow that will help anyone thinking

of making changes or renovations to their

property. Firstly, define a brief. Mark explained,

'By writing a "project brief" before you contact

any designers you can come to agreement about

the most important parts of the project to you

and agree key spatial and aesthetic outcomes.

The project brief can then be developed and

amended as the project progresses but you

will always have this to guide you and others

through.'

Once you have your vision clear in your mind

and an outline of how you want to pursue it,

then you need to think about how you take it

forward. Mark advises, 'If the project is small

you may only need a single designer (architect

or interior designer) but in more complex

construction projects you may need to employ

other designers such as structural engineers,

and involving a builder at an early stage can also

be a helpful way ensuring a smooth transition

from the design stage of the project through to

the construction stage.'

It's then vital to consider who manages all

of this. The role of project manager is key and

this decision can be the make-or-break of any

project. Think very seriously and honestly

about your skills and limitations here – can

you really juggle the multiple trades required

or do you need to hand this over to an expert?

It will depend on the scale of the project. Mark

said, 'In most larger construction projects,

alongside designers and builders there will be

an individual employed as a "project manager".

This individual is often vital to the success of

the project and although it is possible to employ

somebody to fulfil this role, in most renovations

this role is carried out by you.'

The next area to consider is planning and

building warrants. You may have an architect

or designer to help you with this, but make

sure you are on top of it at an early stage –

no-one wants to have to rip apart wonderful

constructions because of a gap in paperwork

and ticked boxes. So make sure that you are

clear what permissions are required in the first

place. Mark's advice here is, 'Although internal
---
54 | www.westendermagazine.com

Homes & Interiors

alterations do not usually require planning

consent, in the West End many properties are

located in conservation areas or listed buildings

and do require consent from the local authority

planning department. If the project will involve

structural alterations or the installation of new

sanitary fixtures you will also need building

warrant consent from the local authority

before you can start works. Developing good

relationships with designers and builders early

on, will help guide you through these processes.'

Then, you're good to go. Mark advises, 'Once

you have obtained necessary consents for the

projects you can start works and it is important

that you or the project manager continue to pay

close attention to the progress of the works and

continue to communicate regularly with the

builder and designers. If you obtained building

warrant consent for the project the local

authority will need to inspect the works after

they are finished before issuing a completion

certificate which you will need in the event that

the property is sold.'

Ensure that you have picked your experts

wisely. Whatever size of project you go for,

much of the traditional architecture and

tenements of the West End have their own

special requirements to think of. The windows,

plasterwork, woodwork and tiling all have years

of craftsmanship to be considered and you

need to be careful to select the right builder,

tradesman or artisan.

An example particularly relevant for the

tenement buildings is the elegant plasterwork

many of us have in our homes. I asked a

local expert for some advice in his area of

expertise. David Fountain of Reproplaster

told me, 'Renovations of traditional properties

can at times present themselves with specific

challenges. Sometimes refurbishments require

very simple adjustments to ornate cornices,

for example the addition of a pipe chase, or

reinstating half an ornate ceiling. Owners often

worry that it can never be repaired but when the

work is done you'd never know it was ever any

different.'

David expanded, 'As well as repairs, there

is very often the scenario where ceilings have

been lost in full, and it's the reinstatement of

traditional looking features which are required,

but not necessarily match the existing. You

may have acquired a property where they were

already lost and its not even known what was

there before or what it looked like. This is where

our product list and expert knowledge comes in

and we can help to guide through the process of

making the right choice for your home.'

With thanks to:

wdhglasgow.com

reproplaster.co.uk

All work completed by Reproduction Plaster Company

After

Before

During
---
www.westendermagazine.com | 55

www.reproplaster.co.uk l Tel: 0141 7761112

Visit our showroom at Period House, 5 Campsie Rd, Kirkintilloch, G66 1SL

Use discount code: code: "Homes "Westender & Interiors 10%"

Scotland's leading manufacturer and installer of cornice and ornamental plasterwork.

Experts in the repair of all ornamental plasterwork | Comprehensive product range available

TRADITIONAL SASH

WINDOW REPAIR &

RESTORATION

over 20 years experience

in Glasgow's West End

draught proofing & noise

reduction

GLASGOW

from a single cord to a

full restoration

Contact us for advice or free survey on:

0141 390 9441 | 07980 648 089

info@wesglasgow.co.uk

www.wesglasgow.co.uk

Architectural Services

Listed Building Consents | Planning Applications

Conservation Area Consents | Building Warrants

www.wdhglasgow.com

office@wdharley.com | 07957 782 981

West End Services is a trading name of WES Glasgow Ltd Registered in Scotland SC468249
---
56 | www.westendermagazine.com

FREE TICKETS

FOR EVERY READER TO

THE IDEAL HOME SHOW SCOTLAND

The Ideal Home Show Scotland returns

to the SEC Glasgow from 24-27 May

to showcase the latest trends in interiors,

renovation, DIY, gardens and lifestyle.

To celebrate we are offering free tickets

for every reader to the biggest and best event

of its kind in Scotland.

This year's line-up of celebrity

ambassadors includes I'm a Celeb star and

DIY SOS presenter Nick Knowles, joining

Scots favourite John Amabile as well as

Kunle Barker and David Domoney on the

Super Theatre stage. Top chef Rosemary

Shrager will also be on hand to talk all things

food and drink at the Festival Stage.

Highlights of the four-day event include

the Expert Advice Hub where visitors can

book 1-to-1 sessions with specialists in

renovation, design and finance, the Erskine

show garden and charity plant market, the

champagne bar sponsored by Hydropool

and the Ideal Super Theatre with talks and

demonstrations from special guests.

With more than 400 exhibitors expected

to fill the halls at the SEC over the bank

holiday weekend there will be something for

everyone, including the Eat and Drink Festival

which makes a welcome return to showcase

the best of Scottish food and drink with

tasters and masterclasses.

To claim your free ticket, visit –

idealhomeshowscotland.co.uk and enter

the exclusive code WM19 at the checkout

to get free tickets.

Painter & Decorator » Plaster Skimming

Ames Taping & Coving » Period Windows

Hand-painted Kitchens

Call Frank – 07906 395341 / 0141 945 3975

francisscullion@yahoo.co.uk

Terms and conditions: Maximum 2 tickets to

the Ideal Home Show Scotland and Eat & Drink

festival per household. Giveaway is open to all

adults over the age of 18. Offer ends 24/05/2019.

Valid on print at home tickets only. This giveaway

has no cash alternative, is non-refundable and

non-exchangeable. Travel is not included. Ideal

Home Show Scotland/Eat & Drink festival reserves

the right to refuse entry without explanation.
---
www.westendermagazine.com | 57

Contemporary

Garden Rooms

designed and

built in Glasgow

that can be

tailored to your

space or budget!

Garden office, guest

bedroom, studio or

teenage space, just a

sample of the uses for

our highly-insulated

and fully-finished

rooms, perfect for

year round use.

Call 0141 370 6102 to

arrange a free quote

and site visit.

www.outsideingardenrooms.co.uk

North Hill Gardens

Beautifying Scottish gardens for more than 10 years

garden design

& maintenance
---
58 | www.westendermagazine.com

The Store Interiors, 26 Munro Place, Anniesland, Glasgow, G13 2UP

0141 950 1333 | www.thestoreinteriors.co.uk

Email: sales@thestoreinteriors.co.uk

TheStore - HIS - Emma.indd 2 07/12/2017 09:48
---
Homes & Interiors

Put Your Feet Up

www.westendermagazine.com | 59

Our busy days are often spent juggling family, work and social

engagements, checking emails and keeping everything ticking over.

But how often do we actually stop, take the weight off our feet and

indulge in a bit of me-time? Here are a few ideas for some items

you can add to your home to help you indulge in a precious moment

to yourself.

Baa Stool,

£207, Spirito

Cath Waters Mug,

£15, Cassiopeia

Large Book Light,

£64.95, Nancy Smillie

Bronte Cushion,

£45, The Store Interiors

Lavender & Geranium Tall Pillar

Jar Candle, £12.50, Shearer Candles

Cassiopeia, 165B Hyndland Road, 0141 357 7374, cassiopeiaonline.co.uk

Nancy Smillie, 53 Cresswell Street, 0141 334 4240, nancysmillieshop.com

Shearer Candles, 388 Byres Road, 0141 357 1707, shearer-candles.com

Spirito, 317-319 Crow Road, 0141 337 3307, spiritogifts.com

The Store Interiors, 26 Munro Place, 0141 950 1333, thestoreinteriors.co.uk
---
60 | www.westendermagazine.com

Reseal Service | Professional Tile Installation | Waterproof Bathrooms

The no.1 Tile Installation and Restoration

Specialist in Central Scotland

We are a fully insured, reliable family run business with over

40 years combined experience. We use the best and most up to date

products and materials and pride ourselves on our attention to detail

and excellent customer reviews.

BEFORE AFTER BEFORE AFTER

Our Reseal Service can restore your tiles by carefully

removing all of your existing grout and sealant using

non-abrasive chemicals and high precision diamond

technology. Specialist chemicals are used to wash

your tiles to remove soap scum, body fat, mould and

mildew. Antimicrobial grouts and sealants are then

professionally applied

Our Reseal service includes;

// Sealant Applications

// Bonded Bath & Shower Seals

// Chemical Sealants

// Re-grouting

// Two-part Sealants

// Waterproof Tanking Systems

FROM ONLY

£150

SUPPLIED

& FITTED

Bonded Bath and Shower

Seals – Our unique and

most popular product.

T / 0141 611 9534 M / 0781 782 8681

E / info@resealscotland.co.uk W / www.resealscotland.co.uk
---
www.westendermagazine.com | 61

Homes & Interiors

by Susan Robertson

Local Design

Icon

Charles Rennie Mackintosh is a name familiar to

most, particularly in Glasgow. A design pioneer

that shaped a creative movement and created an

iconic style of unique and lasting impact is one of

Glasgow's local heroes.

His renowned building at the Glasgow School

of Art has been at the forefront of news and

conversation recently due to the two tragic fires that

have devastated the building and the surrounding

area. It still remains to be seen what will rise

from the ashes, but Charles Rennie Mackintosh's

influence can still be felt widely across the city, as

well as through international design history.
---
62 | www.westendermagazine.com

Mackintosh was born in Glasgow in 1868 and

became an award-winning architect who also

experimented with furniture design, metal crafts

and watercolour painting. He travelled extensively

and his style drew from eclectic and innovative

influences which won him acclaim, but – as is often

the case with true innovators – his home city only

really appreciated him after his passing.

A new statue unveiled recently brings

Mackintosh's creative eye to life as he gazes across

the West End from his elevated position on one of his

famous chairs now situated on St Vincent Street in

Anderston. It was designed to mark

the culmination of events celebrating the 150th

anniversary of the designer's birth, created by

renowned sculptor Andy Scott and unveiled by

First Minister, Nicola Sturgeon who said, 'This

magnificent new Charles Rennie Mackintosh statue

is a fantastic addition to Glasgow and recognises the

incredible legacy of one of Scotland's most iconic

architects, designers and artists. It is a privilege

to officially unveil Andy Scott's installation, which

now stands in pride of place in Anderston – an area

transformed through the 10-year regeneration

project.'

Mackintosh and three of his university

contemporaries (one of which later became his wife

-Margaret Macdonald) made up the creative group

known as "The Four" and they were responsible

for creating distinctive art and graphics that

became known as The Glasgow Style. Mackintosh

became the most renowned of the group, and his

style is very distinctive. He uses strong contrasts

between dark and light, with bold lines and squares

alongside elegant circles, most notably the famous

Glasgow Rose design that has become immediately

recognisable as his.

The distinctiveness of his style makes it easy to

bring an identifiable touch of it into your own home.

You can consider a strong theme throughout a new

look, with soft cream carpets, dark wood panelled

walls, and twisted metallic lighting. Add some

statement furniture with high backed wooden chairs

and you can complement with contemporary sofas

or bedding. Touches of soft blush pink and vibrant

green immediately give a nod to the Mackintosh

style legacy.

Kelvingrove Art Gallery & Museum Gift Shop

Alternatively, you could choose a bathroom or a

hall to bring the minimalism that he loved into full

fruition, going for crisp white wood throughout,

and displaying some of his beautiful watercolours

on the wall, or pull out features inspired by his style

through a bold mirror or lamp. You can create a

sense of his style in fabric, creating your own designs

online is a great way to do this. Develop a repeating

pattern alluding to your favourite element, for

example his Glasgow Rose, or alluding to the long,

thin rectangular shapes he used in windows and

chairs and create some full length curtains with your

fabric. This is a great way to honour his design legacy

in your home, at the same time as marrying this with

a contemporary colour scheme and furnishings.

We're lucky to live in the city that his admirers

travel to visit, so we have inspiration on our

doorstep. His work and ideas can be viewed across

the city from The House for an Art Lover, to his last

major commission in Glasgow of the Scotland Street

School Museum. The famous Willow Tea rooms

have also been recently renovated so a cuppa on a

shopping trip can give some fresh design inspiration

for adding a Mackintosh twist to your home. They

also have a gift shop so this is a great place for some

little touches to give a nod to the creative legacy in

your own modern home.

shop.glasgowlife.org.uk

spiritogifts.com

Spirito Gifts
---
www.westendermagazine.com | 63
---
64 Westender | www.westendermagazine.com

Magazine – Interiors & All Trades

Professional, Reliant

and Efficient Rubbish

Clearing Service

Full House Clearances

Garage Clearances

Office Clearances

Loft Clearances

WE CAN DO IT ALL!

No job too big or too small

- single items taken.

90% of what we collect is recycled.

Same day service available for your

rubbish removal.

CALL US NOW: 07850 881 623

joejunk.co.uk

Slimline

Property Services

Renovate

Build

Install

Maintain

All trades contractor

0750 878 5667

slimlineproperty

www.slimlineproperty.co.uk

Partick Duck Club Toilets

Garage Door, Electric Gates

& Security Door Entry Systems

repair and install

Call: 07985 371 405

www.rendor.co.uk | info@rendor.co.uk
---
www.westendermagazine.com | 65

QUOTE WESTENDER AND

RECEIVE A 15% DISCOUNT

COPPER ROOF RELACMENT FOR GLASGOW ACADEMY

ROOFING, SLATING, STONEWORK, LEADWORK

0141 404 6242 • GLASGOWSLATERS.CO.UK

raising standards in property preservation

ASSOCIATION

Have you noticed damp,

woodworm or rot in your

property?

Rated 'Excellent' with

over 1000 reviews

We can provide advice and specialist solutions for:

Rising & Penetrating Damp

Dry & Wet Rot

Basement & Structural Waterproofing

Rising Damp

Woodworm

Wall Tie Repair & Replacement

Structural Repairs

Energy Saving Treatments

Woodworm

Wall Tie Failure

0141 319 4974 www.petercox.com

Condensation & Mould

Call now for a

NO OBLIGATION

survey and get these

problems sorted

today!
---
66 | Westender www.westendermagazine.com

Magazine Promotion

Cup 'o' Tea Cabinetry

Beautiful pieces of furniture fitted to their

purpose – this was the inspiration behind the

Cup 'o' Tea cabinetry. I originally designed

and custom-made these pieces to house

everything required for our mid-morning and

mid-afternoon tea and coffee break rituals.

With open shelves to display individuality

in our crockery and tea pot choices,

to cupboards for storing away the array of

teas, coffees and sugars below – everything in

one place for that cup 'o' tea moment.

I noticed a TV chef had the interior of his

glass fronted cabinets painted black, this had

a dramatic effect. The Shaker doors seemed

to frame what they homed and I incorporated

this design detail into my cabinetry. Carefully

chosen pieces now have their place and allow

a bit of personality to surface. It is these wee

details that say 'this is our kitchen'.

Gregory Bowers

The Wee Kitchen Shop Glasgow

304 Crow Road, Broomhill G11 7HS

info@theweekitchenshop.co.uk I 0141 334 4747
---
Do more with

www.westendermagazine.com | 67

2 FOR £99

glasses

Find us on Byres Road (opposite Waitrose)

Call 0141 357 7312

or visit visionexpress.com

Brands may vary between stores. See in-store for details.
---
68 | www.westendermagazine.com