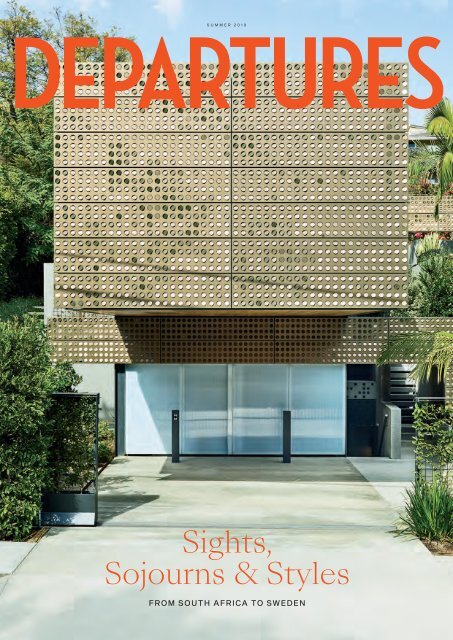 Departures Middle East Summer 2019
You also want an ePaper? Increase the reach of your titles
YUMPU automatically turns print PDFs into web optimized ePapers that Google loves.
SUMMER 2019

Sights,

Sojourns & Styles

FROM SOUTH AFRICA TO SWEDEN
---
TIME, A HERMÈS OBJECT.

Arceau L'heure de la lune

Time flies to the moon
---
Haute Joaillerie, place Vendôme since 1906

The Dubai Mall - Mall of the Emirates - The Galleria Al Maryah Island 800-VAN-CLEEF (800-826-25333)

Riyadh: Centria Mall +966 11461 5055 - Kingdom Tower +966 11 211 1317 - Jeddah: Al Tahlia +966 12 284 1481

www.vancleefarpels.com
---
Perlée Collection

Rose gold, yellow gold

and diamond rings and bracelets.
---
jaresortshotels.com

/Manafaru

@JAManafaru_Maldives
---
Some experiences

LEAVE YOU RICHER

Cast away all stress and crinkle your toes in the sands of a tropical island haven where

the Real You can rejuvenate. Discover Maldives culture with a cooking class, traditional

massage or local village encounter. Or simply hide away in secluded luxury on an

uninhabited island.

Explore the layers of island life. Soar above the scenery by seaplane and make landfall

on a pristine beach. Step underground for a decadent tasting experience amidst lava

stone and dive under water to meet colourful sea life. Swim, spa, play and indulge as

you muse over the magic of JA Manafaru.

For bookings and more information, please visit jaresortshotels.com or call +960 6500 456

or email reservations.manafaru@jaresorts.com
---
lia

www.adler.ch
---
12 DEPARTURES SUMMER 2019

Features

66

Outside the Box

Known for his bold, complex

designs, Pritzker Prize-winning

architect Thom Mayne finally

builds a home for himself.

By Ted Loos

Photographs by

Spencer Lowell

72

It's Always Sunny

in San Miguel

A longtime mecca for creative

spirits from around the world,

Mexico's most charming

colonial town is still as

relevant as ever.

By Maura Egan

Photographs by Lindsay

Lauckner Gundlock

80

Grand Hotel

In the Scottish Highlands,

art-world visionaries Iwan and

Manuela Wirth have applied

their Midas touch to

a revitalised hotel.

By Alix Browne

Photographs by Simon Watson

84

Savouring the Season

Off Sweden's southeastern

coast, the ethereal, rugged

charms of Gotland are

impossible to resist.

By Adam Sachs

Photographs by Felix Odell

p 84

A view of the Parroquia

de San Miguel Arcángel

from the Rosewood hotel

in San Miguel de Allende

LINDSAY LAUCKNER GUNDLOCK
---
14 DEPARTURES SUMMER 2019

p 28 Inside the

lavish Casa Macorís

in Santo Domingo

Departments

p 24

Ceramic vases by

Marrakech-based Belgian

designer LRNCE

Travel

21

Johannesburg Reframed

Celebrating the long-heralded revival

of Maboneng, the South African

metropolis's now-vibrant arts district.

24

Shop the Casbah

A fresh raft of designers and artisans

are imbuing Marrakech with a new

modernist spirit.

28

The Dominican Republic

Dresses Up

Brimming with a fresh wave of creative

energy, Santo Domingo may be the

Caribbean's hottest capital of cool.

36

Restoration Period

The London hotel scene reaches new

heights with a recent cache of new and

new-look hostelries.

On the Cover

PHOTOGRAPH BY

SPENCER LOWELL

Style

16 From the Editor / 19 Departures Digital

41

Heavenly Creatures

Dutch artist Ruth van Beek's colourful

collages perfectly complement the

jewels of the season.

44

Yours, Truly

Customisation programmes let you

have a hand in creating your most

coveted pieces.

48

The Colour Connoisseur's

Guide

Experts reveal where to go to adorn

your home in a chorus of colours.

50

Pop Goes the Easel

After half a century at the vanguard of

Italian design, Gaetano Pesce's savantlike

sense of colour still shines through.

52

Doing It Right

Eco-conscious and sustainable

fashion pieces that make the world

a better place.

Culture

56

Mexico Modern

An ambitious US furniture marque

takes inspiration from midcentury

Mexican icons to stunning effect.

p 52

Fashion with a

heart: belt bag

by ethically

conscious

brand Cuyana,

cuyana.com

Keep in touch We welcome your comments and recommendations, which we may edit for clarity

and space. Contact us at letters@departures-international.com. The key All prices are in British

pounds, euros or American dollars unless otherwise specified. Hotel is a member of Fine Hotels

& Resorts ˜ Establishment is either cash only or does not accept American Express cards. Online

extras at departures-international.com

Follow us @DeparturesInt

CLOCKWISE FROM TOP LEFT: © LRNCE, © CASAS DEL XVI, © CUYANA
---
CALIBER RM 07-01

LIMITED EDITION JADE
---
From the Editor

"

The Spanish-language version

of departures-international.com

will be your on-trend

and constantly updated hub

"

16 DEPARTURES

IT IS ALWAYS A THRILL to reveal

something new and exciting that we have

conjured up – and so, concurrent with the

debut of this edition of the magazine, it

also gives me great pleasure to announce

the launch of the Spanish-language

version of our companion website,

departures-international.com/es.

This has been a labour of love for

our team – a bespoke portal where the

three pillars of our English-language

site (Travel, Food and Life & Style) are

now curated expressly for our Spanishspeaking

audience. Whether it is a

guide to Mexico City's art scene or an

update from the wilds of Uruguay, the

Spanish-language version of departuresinternational.com

will be your on-trend

and constantly updated hub for the latest

openings, reviews and insider tips across

the Spanish-speaking world.

To herald its arrival, we have a few

relevant and topical complementary

articles in this summer edition of

our print magazine. We travel to

the charming Mexican town of

San Miguel de Allende – where a host

of long-awaited hotel openings are

bolstering an evergreen charm that has

been luring artists for nearly a century –

and to Santo Domingo, where a recent

wave of creative and entrepreneural

efforts that have transformed it into

arguably the coolest capital in the

Caribbean. We also profile a pair of

creatives reviving midcentury Mexican

furnishings with exceptional aplomb.

We invite you to bookmark departuresinternational.com

and hope that you'll

return to it for our uncompromising

editorial integrity and up-to-the-minute

timeliness over and over again.
---
GROUP PUBLISHER/EDITOR IN CHIEF

Christian Schwalbach

INTERNATIONAL EDITORIAL DIRECTOR

Thomas Midulla

ASSOCIATE GROUP PUBLISHER

Michael Klotz

INTERNATIONAL EXECUTIVE EDITOR Farhad Heydari

DIRECTOR OF PHOTOGRAPHY Martin Kreuzer

ART DIRECTOR Anne Plamann

MANAGING EDITOR Claudia Roelke

INTERNATIONAL STYLE EDITOR Elisa Vallata

ASSOCIATE EDITORS Brian Noone (Europe)

Alain Puchaud (France)

Paul Hicks (Asia)

Isabel Areso, Mónica Barrio (Latin America)

Deepali Nandwani (India)

Mitsuyo Matsumoto (Japan)

MANAGING EDITORS Delia˜Demma (Italy)

Franziska Seng (Germany, Austria)

SENIOR EDITORS INTERNATIONAL Perz Wong (Hong Kong)

Jesús Pacheco Vela (Mexico)

STAFF WRITER John Mcnamara

GRAPHIC DESIGN Anja Eichinger

PHOTO EDITOR Teresa Lemme

SEPARATION Jennifer Wiesner

CHIEF SUB-EDITOR Vicki Reeve

EDITOR-AT-LARGE, FASHION Avril Groom

PROPERTY EDITOR Peter Swain

YACHTING EDITOR Cornelia Marioglou

PROJECT EDITOR JAPAN Hiroko Kamogawa

FASHION CORRESPONDENT, PARIS Katrin Sillem

DEPARTURES MAGAZINE ONLINE Matt Willis, Tom Burson

CONTRIBUTING WRITERS Alix Browne, Maura Egan, Jacqueline Gifford,

Joe Harper, Ben Ryder Howe, Ted Loos, Erin

Riley, Adam Sachs, Pilar Viladas

CONTRIBUTING PHOTOGRAPHERS Jordan Andrew Carter, Federico Ciamei, David

AND ILLUSTRATORS de Vleeschauwer, Jon Ervin, Lindsay Lauckner

Gundlock, Spencer Lowell, Felix Odell, Stefan

Ruiz, Richie TalboySimon Watson

JOURNAL INTERNATIONAL EXPERIENCE – HEAD OFFICE

Hanns-Seidel-Platz 5, D – 81737 Munich (Germany), +49 89 642 797 0

SR VICE PRESIDENT OF OPERATIONS Petra Prinzing

COMMERCIAL DIRECTOR Christoph Gerth

DIRECTOR OF DIGITAL & STRATEGIC PARTNERSHIPS Laura Tivey

DIRECTOR INTERNATIONAL SALES – DIGITAL Jessica Loose

DIRECTOR OF PRODUCTION & AD COORDINATION Albert Keller

ACCOUNT MANAGER – DIGITAL PARTNERSHIPS Erica Breck Tavella

DIRECTOR OF MARKETING Jennifer Floyd

MARKETING ASSISTANT Uchenna Ezenwa

DIGITAL CAMPAIGN MANAGER Marie-Laure van Thielen

SALES COORDINATION Jana Linde, Andrea Brothers

CREATIVE CAMPAIGN MANAGER Paula Urquiola

ADVERTISING COORDINATION Diana Veit, Kristina Yanushko, Giuseppe Coco, Virginia Heine

INTERNATIONAL ADVERTISING SALES OFFICES

MIDDLE EAST

Mamta Pillai, mamta@sasmedia.net; +97 15035 62723

EUROPE

UK Katherine Galligan, katherine@metropolist.co.uk, +44 20 7887 6146

Vishal Raghuvanshi, vishal@metropolist.co.uk, +44 20 7887 6147

BENELUX Rita Saegerman, rita.saegerman@adinternational.be; +32 475 94 55 71

FRANCE

Charlotte de Monbrison, cdemonbrison@mybubblecom.com,

+33 6 8226 0460

GERMANY Sabine Bretfeld, sabine.bretfeld@reitervs.de, +49 69 40 58 64 0

ITALY Paolo Cassano, paolo.cassano@kmedianet.com, +39 02 29 06 10 94

SPAIN David Castelló, david.castello@kmedianet.es, +34 91 702 3484

SWITZERLAND & Neil Sartori, neil.sartori@mediainterlink.com, +41 22 331 00 00

SCANDINAVIA

ASIA

CHINA

Maggie Li, maggie.li@cesanamedia.cn, +86 10 6952 1122 (Beijing)

INDIA 'Rachna Gulati, rachna.gulati@publicitas.com, +91 11 2373 0869,

Indu Joshi, indu.joshi@publicitas.com, +91 22 6137 7200

JAPAN Kazuhiko Tanaka, kazujt@bunkoh.com, +81 3 3584 6420

KOREA Jo Young Sang, ysjo@biscom.co.kr, +82 2 739 7840

TAIWAN Janet Chen, janet@procomintl.com.tw, +886 2 2767 7390

THAILAND Janya Limmanee, janya.l@jpp-thailand.com, +66 2051 4694

18 DEPARTURES

EDITORIAL OFFICES

Journal International Experience,

Hanns-Seidel-Platz 5, 81737 Munich,

Germany; +49 89 642 797-0

Hong Kong Grebstad Hicks Communications,

Lynn Grebstad, 704 The Broadway,

54–62 Lockhart Road, Wanchai, Hong Kong;

+852 2810 0532. Bilbao Aretrad, Isabel Areso,

Jata 12, 48993 Getxo, Vizcaya, Spain;

+3 94 4912261. Tokyo Moji Company,

Nishiyama BLD 3F, 1-1-19 Nezu, Bunkyo-Ku,

Tokyo, 113-0031, Japan; +81 3 5834 8562

Paris Nostromo, 23 rue du Cherche-Midi,

75006 Paris, France

Copyright © 2019 by Journal

International Experience/Meredith.

All rights reserved. American Express

Magazines are published by Journal

International Experience for Europe in

the UK, Germany, Austria, Switzerland,

France, Italy, Spain, Sweden,

Netherlands, Croatia, Finland, in Latin

America/Mexico, in the Middle East

and in Asia Pacific: Japan, Hong Kong,

Singapore, Malaysia, Taiwan, India,

Indonesia, Philippines, Australia and

New Zealand.

DEPARTURES MAGAZINE

Distributed quarterly by American Express

Services Europe Ltd and edited and published

by Journal International Experience GmbH,

in each case by permission of Meredith,

New York, NY, USA

JOURNAL INTERNATIONAL EXPERIENCE

GMBH

Hanns-Seidel-Platz 5, 81737 Munich, Germany

+49 89 64 27 97 0

jiexperience.com

AMERICAN EXPRESS SERVICES EUROPE LTD.

Belgrave House, 76 Buckingham Palace Road,

London SW1W 9AX, England

MEREDITH

805 Third Avenue

New York, NY 10022,

USA

Reproduction of editorial content including text, photographs, or illustrations in whole

or in part without express written permission is strictly prohibited. American Express

and the publisher, Journal International Experience, assume no responsibility for errors

and omissions appearing within. Journal International Experience regrets that no

responsibility can be accepted for unsolicited manuscripts, photographs, or artwork,

which will be returned only if a stamped, addressed envelope is enclosed. Prices are

checked during the production process of the magazine and are correct at time of going

to press. However, due to currency fluctuations, prices should be considered to be

approximate only. Issue price: £7 / t10

Printed in Dubai by Emirates Printing Press

THE AMERICAS

MEXICO Pablo Glogovsky, pablo@advmediagroup.com, +52 55 5202 6412

USA Kathryn Banino Bano, katy.bano@departures.com; +1 212 522 1749

FLORIDA Jill Stone, jstone@bluegroupmedia.com; +1 305 648 3338

& THE CARIBBEAN

AUSTRALIA, NEW ZEALAND, HONG KONG & SINGAPORE

Charlton D'Silva, charlton.dsilva@pubintl.com.au, +61 2 9252 3476

Rowena O'Halloran, rowena.ohalloran@pubintl.com.au, +61 2 8298 9319 (Australia & New Zealand)

Catherine Ha, catherine.ha@pubintl.com.hk, + 852 2214 8815 (Hong Kong)

Hemant Sonney, hemant.sonney@pubintl.com.hk, + 852 2214 8900 (Hong Kong)

Peggy Thay, peggy.thay@pubintl.sg' +65 966 44 662 (Singapore)

YACHTING

Emanuele de Mari, info@admarex.com, +39 010 595 47 49

DEPARTURES US

EDITOR-IN-CHIEF

SENIOR VICE PRESIDENT, NEWS, LUXURY, STYLE

MEREDITH

CHAIRMAN & CEO

CHIEF CONTENT OFFICER

MEREDITH PARTNERSHIPS, LICENSING & SYNDICATION

syndication@meredith.com

BUSINESS AFFAIRS DIRECTOR

DIRECTOR, LICENSING OPERATIONS

EDITORIAL DIRECTOR

Jeffries Blackerby

Meredith Long

Steve Lacy

Alan Murray

Tom Rowland

Richard Schexnider

Jack Livings

EXECUTIVE DIRECTOR, CONTENT MANAGEMENT Paul Ordoñez

DEPARTURES MAGAZINE IS PUBLISHED EXCLUSIVELY FOR AMERICAN EXPRESS PLATINUM CARD © MEMBERS

WWW.DEPARTURES-INTERNATIONAL.COM
---
CLOCKWISE FROM TOP LEFT: ISABELLA MATHEUS, CHRISTIAN HORAN, ALBERTO NOVELLI, © KANDIMA, ISTOCK

Digital

departures-international.com + @departuresint

Global Pursuits

From the hottest new restaurants to buzzworthy hotel

openings and can't-miss cultural events, our companion

website, departures-international.com, has got you covered.

Online now: where to sup and sleep in Melbourne; a

delicious journey across Mexico City's latest culinary hot

spot; art-world happenings from Stockholm to São Paulo;

your ultimate guide to staying in the Maldives.

Vintage Ventures

Timeless – and timely – classiccar

itineraries that take you

across the rolling hills of

Lombardy, the majestic Swiss

Alps and the bucolic environs

of West Sussex.

Follow Us

Our Twitter, Instagram and

Facebook feeds (all:

@departuresint) are filled with the

latest news on hot-ticket openings,

amazing interiors and au courant

style and fashion trends. Plus,

keep up with where our editors

are travelling and what they're

planning next. Be sure to share

your discoveries by tagging us

in your posts.

SUMMER 2019 DEPARTURES

19
---
TRAVEL

Painter and impresario

Jonathan Freemantle in

the gallery space at

MK & Artist

Johannesburg Reframed The South African city's

central arts district, Maboneng, is shining a light

on the creativity of the country as a whole.

by Ben Ryder Howe. Photographs by David De Vleeschauwer

CULTURE TRIP DEPARTURES

21
---
DEPARTURES TRAVEL CULTURE TRIP

22

From left: Ponte City tower in downtown Johannesburg is now a popular movie

backdrop; a Maboneng habitué; bottom: street art in Maboneng

URBAN BLIGHT DOESN'T have any

beneficiaries – except skateboarders

and graffiti artists. Bheki Dube

grew up a skateboarding kid in

Johannesburg in the 2000s, as the

sprawling city, one of the largest

and richest in Africa, underwent

a staggering free fall into anarchy,

violence and population flight.

"The city was a blank canvas,"

said Dube, who at the time lived in

downtown Johannesburg, where

hijacked skyscrapers, abandoned

hotels and artist-run squatter

colonies proliferated while South

Africa chaotically transitioned

from apartheid rule. "You could go

anywhere you wanted, if you were

brave enough."

Today, while still facing significant

social challenges, Johannesburg has

given birth to one of the most robust

arts scenes in Africa, owing greatly to

the near-apocalypse of its inner core.

The centre of the decade-long revival

is Maboneng, a now-thriving district

of galleries, restaurants and shops

that is drawing an international crowd

looking to experience the country's

contemporary culture. "Maboneng is

where Brooklyn hip meets authentic

Africa," Mark Lakin, cofounder of

Epic Road, a bespoke travel company

specialising in Africa, told me. "It's an

example of a rising black middle class

amid grassroots arts and innovation."

Roughly ten square blocks,

Maboneng comprises an old industrial

area next to a pothole-filled road

leading directly to Johannesburg's

legendary gold mines. Its name, a

Sesotho word meaning "place of

light", says more about the aspirations

of its inhabitants than the actual

setting: highway overpasses and

hulking warehouses loom over the

cafes along Fox Street, the principal

thoroughfare.

"It was a ghost street when I arrived

in 2009," said Marcus Neustetter,

codirector of the Trinity Session,

which produces public art. "Over a

quick period we saw a change." It

started with the opening of Arts on

Main, a complex of brick industrial

buildings converted into art spaces

and shops. William Kentridge, one
---
of South Africa's most famous artists,

held a show there in 2009 and soon

opened a nearby studio. The studios

of Magnum photographer Mikhael

Subotzky and conceptual artist Kim

Lieberman are now there too.

Franchises and other massmarket

encroachments have been

kept out of Maboneng, and the tolls

of delinquency and age have been

sedulously maintained, conjuring the

grit of 1980s Tribeca. Painter Jonathan

Freemantle, co-developer of the

Cosmopolitan, a gallery and shopping

venue in a Victorian landmark that

once housed a brothel for miners,

describes the Maboneng vibe as

"just enough chaos". Freemantle has

turned the Cosmopolitan into "an

active creative space" centred on

music, culture and nightlife, with a

sculpture garden by Patrick Watson,

one of South Africa's most celebrated

landscape designers, amid the peeling

paint and crumbling walls of derelict

apartment buildings.

Across the street from the garden,

I met Mlungisi Kongisa, a soft-spoken

39-year-old printmaker. I hadn't

come to Johannesburg to buy art, and

Kongisa, whose inviting gallery, MK

& Artist, is filled with original prints

by the likes of Kentridge and David

Koloane, the elder statesman of South

African painters, wasn't going to hardsell

me. I had my eye on an etching by

Cameroonian surrealist Joël Mpah

Dooh, but the day was ending and I

needed to think it over.

Maboneng after dark is not for

everyone. Visitors are advised to seek

the guidance of a local like Dube,

who founded and operates Curiocity,

a provider of accommodation and

private tours of public art and other

landmarks. Dube likes to say that two

HOTELS

Fine Hotels & Resorts

properties include the

Houghton Hotel

( the​houghton.com) and

Four Seasons Hotel The

Westcliff, Johannesburg

( fourseasons.com).

Johannesburg Handbook

GUIDES

Dlala Nje (dlalanje.

org) leads tours of lessvisited

areas, like Ponte

City tower, which was

hijacked by gangs in the

1990s and today is used

as a performance space.

Curiocity (curiocity.africa)

provides private tours

of landmarks and public

art exhibits.

A sculpture by Amalie von Maltitz in the garden of the Cosmopolitan

decades ago, a visit by an international

celebrity such as Ava DuVernay or

Oprah Winfrey – both of whom

recently made well-publicised stops at

the studio of painter Nelson Makamo

– would have been inconceivable. But

you still have to know where to go.

The next day I returned to MK &

Artist. Since Maboneng is only ten

years old and built on something as

mercurial as art, there is an anxiety

about its existence, as if it could vanish

at any moment or be turned into a

kind of cultural zoo. After deciding

to buy the etching, I had lunch at

Canteen, a cafe in Arts on Main that

serves elevated versions of South

RESTAURANTS

Few restaurants pay

attention to the aromatics

of fine dining as closely as

Grei, a new addition to the

ultra-exclusive, 53-suite

Saxon Hotel (saxon.

co.za). Canteen ( fb.com/

canteenmaboneng) offers

hearty fare and a welcoming

courtyard.

African dishes, such as biltong and

springbok carpaccio, in a courtyard

shaded by olive trees. It was barely

afternoon, but a party was underway

on the roof, where legs dangled off

a fire escape and a DJ played the

Mankunku Quartet. Below, families

with strollers dined on peri-peri

chicken livers, and outside, a Tesla

tried to wend its way through a street

fair with merchants selling a variety

of goods, from medicinal plants to

seemingly ubiquitous T-shirts saying

iwasshotinjoburg. Someone was

adding a new mural to the layers of

graffiti on the walls of Fox Street. It

was just enough chaos.

GALLERIES

MK & Artist (+27 71 411

7788), a collaborative studio,

sells etchings, linocuts,

woodcuts, monotypes

and other prints. The

David Krut Workshop

(davidkrutprojects.com),

one of the original tenants

of Arts on Main, has a

bookstore as well as a

gallery space.

DEPARTURES

23
---
DEPARTURES TRAVEL MARKET WATCH

24

Shop the Casbah

Be yond Berber rugs and baskets:

these design, craft and fashion

stores are defining Marrakech's

new modernist aesthetic.

Riad Jardin Secret

The city has no shortage of

stylish riads, but this six-room

hotel, tucked behind an unmarked

doorway in the Bab Doukkala

area, stands apart for its playful

atmosphere and carefully curated

boutique. Created by Parisian

fashion couple Cyrielle Astaing

and Julien Phomveha, the 20thcentury

home is all detailed

mosaic tiling, lattice woodwork

and splashy textiles. This textured

aesthetic extends to their shop,

where they carry high-design

versions of traditional crafts like

kilim pillows and tadelakt clay pots.

riad​jardinsecret.com

The Moroccans

Seed oil derived from the prickly

pear cactus, oud-infused argan oil

and black soap made from crushed

olives are among the organic

products at this spot, next to the

Jardin Majorelle on Rue Yves Saint

Laurent. The store, which supplies

Riad Jardin Secret and Aman

A light installation by

artist Francis

Upritchard hangs in

El Fenn Boutique

Resorts, stocks its beauty line

along with home accessories and

jewellery from regional designers,

including Scandi-Moroccan fashion

brand Bougroug, which mixes

Norwegian minimalism with local

craftsmanship. themoroccans.ma

El Fenn Boutique

The interiors of the hotel El Fenn are

an Instagrammer's dream, and its restaurant/

shop allows visitors to replicate the look.

Items found throughout the hotel – including

the handwoven kilim throws on the daybeds

– are for sale alongside clothing, jewellery

and accessories sourced from the region.

The kitsch-free store offers only the most

exquisite Moroccan crafts: quality caftans,

colourful bread baskets, geometric Fez

pottery. El Fenn's co-owner, Vanessa

Branson (sister of Richard and founder of

the Marrakech Biennale), also adorns the

walls with rotating works from international

artists. el-fenn.com

LRNCE

Belgian designer Laurence

Leenaert's line of modern textiles,

ceramics and clothing is a

welcome change from the city's

usual wares. Her studio, in an

industrial area in the city's

northwest, carries rugs, pitchers,

kimonos, sandals and more – all

with a sense of whimsy that calls

to mind Picasso's ceramics, Miró's

line drawings, and local tribal

patterns. Handcrafted in North

Africa, the pieces recently launched

at Maison et Objet Paris, and will

soon be available in a new

medina outpost. lrnce.com

LRNCE's Ruwa carpets are hand-knotted

in the Atlas Mountains; left: limited-edition

Qalb vases from LRNCE

CLOCKWISE FROM TOP: KASIA GATKOWSKA; © LRNCE (2)
---
DEPARTURES TRAVEL MARKET WATCH

26

Riad Yima

Pop Art photographer and

designer Hassan Hajjaj

runs this vibrant gallery/

shop/cafe – awash in

colour and packed with

eclectic goods –

in a refurbished home in

the medina. Everything

inside is for sale, including

babouche slippers,

upcycled Coca-Cola-crate

benches and Hajjaj's own

street portraits of

Moroccan fashionistas

(he's known as the Andy

Warhol of Marrakech).

Despite the

overstimulating decor, it's

still less frantic than

walking through the

souks. riad​yima.com

La Famille

Offering some of the

best views in the city

(and a welcome

respite from the souks

and sun), this leafy

rooftop restaurant

specialises in vegetarian

dishes like aubergineand-mint

hummus,

grilled-fennel tagliatelle

and homemade cakes.

A boutique selling

crafts, homewares and

jewellery recently

opened at the stylish

spot. Also for sale are

the intricate ceramics

and glassware used in

the restaurant.

+212 5243 85295

Lalla

As one of the most

in-demand personal

shoppers in Marrakech,

with clients that include

Sarah Jessica Parker and

Gwyneth Paltrow, Laetitia

Trouillet can skillfully

navigate the city's souks.

Her itinerary may include

her own space, Lalla,

which is filled with

handbags, home

accessories and vintage

wares in styles you won't

see elsewhere. For

souvenirs, check out

the pouches fashioned

from vintage Moroccan

fabric and handmade

accessories for the hair.

lalla.fr

Marrakshi Life

The pieces at fashion photographer Randall Bachner's clothing store are handwoven and

tailored in the adjacent atelier, where artisans use traditional Moroccan techniques to create

decidedly contemporary yet relaxed looks. The intentionally oversized tailoring on everything

from soft blazers to boxy jumpsuits means everything is unisex. This season, the five- year-old

brand introduced a patchwork of recycled pieces as part of its commitment to zero waste.

marrakshi​life.com

Max & Jan

This airy, whitewashed

space has everything from

sleek leather bags to bold

jewellery, but regulars go

for the contemporary

clothing by Belgian

owners Maximilian Scharl

and Jan Pauwels. It's a

combination of urban

streetwear and traditional

Moroccan elegance:

colourful prints on

billowing harem trousers,

flowy tunics, jumpsuits

made with interesting

fabrics. The recently

opened rooftop

restaurant, which serves

updated local staples,

overlooks the bustling

medina. maxand​jan.com

From top:

photographer

Hassan Hajjaj's

tearoom-cum-shop

Riad Yima; the

industrial interior of

Max & Jan

FROM TOP: HASSAN HAJJAJ; MARC VAN VAEK
---
Eric - Life Saver

Courchevel • Baden-Baden • Paris • Vence - Côte d'Azur • St Barths • Cap d'Antibes • Antigua - West Indies • London • São Paulo
---
28 DEPARTURES TRAVEL DISPATCH

Casa Macorís, one of the

colonial houses to rent

at Casas del XVI, a hotel

in Santo Domingo

The Dominican Republic Dresses Up

Santo Domingo's most stylish and creative power

players are turning the historic Zona Colonial

into a new Caribbean hot spot. by Jacqueline Gifford

ON A STIFLINGLY HOT September

afternoon in the Dominican Republic

– humidity hovering at, oh, 99.9

percent – I found myself on my way

to get a pair of espadrilles in Santo

Domingo's Zona Colonial.

Ricardo Fernandez, the Spanishborn

owner of La Alpargatería

(laalpargateria​.com.do), a company

selling handcrafted shoes, was

walking me from his first boutique,

set on the tiny Calle Salome Ureña,

to his newer atelier on the wider Calle

Las Mercedes. The original is a lowkey

affair, with a few rows for display

and a courtyard out back where thick

vines cover decaying stone walls.

Think part Brooklyn, part New

Orleans, with a dash of downtown LA.

The atelier, however, is a more

polished shop in an early-20thcentury

building, its façade painted

an electric blue. There, you can

pick from among the endless fabric

swatches – cheerful florals, bold

stripes and plaids – and walk out with

a pair of espadrilles for under $50.

There are many boutiques like La

Alpargatería in this utterly charming,

centuries-old part of Santo Domingo

© CASAS DEL XVI
---
30

DEPARTURES TRAVEL DISPATCH

– which is having a bit of a moment.

Government money is sprucing up

the streets. Artists are settling here.

Interiors guru Carlos Mota, a world

traveller who has put down roots

in the Dominican Republic, bought

an apartment in the Zona two years

ago and recently decorated the new

branch of Mesón de Bari (302 Calle

Hostos), a cafe beloved by well-heeled

locals. He calls the town "a hidden

treasure, an undiscovered Cartagena.

You walk around and you find layers."

I've been covering the Caribbean

for years, yet Santo Domingo – the

capital of the Dominican Republic

and home to some 2.6 million people

– was entirely new to me. Which is

somewhat of a surprise, given that

it's a four-hour flight from New York

and the oldest European city in the

Americas, established in 1496 by

Bartholomeo Columbus (yes, brother

of Christopher).

"Most people don't think of

visiting Caribbean cities, but from

Santo Domingo's

Zona Colonial

dates back to

the 16th century

a style standpoint, Santo Domingo

is brimming with boutiques," said

Andria Mitsakos, founder of lifestyle

brand Wanderlista, who produces

furniture here. Like Mota, Mitsakos

is an inveterate traveller. She recently

gave up her Manhattan apartment to

live a more nomadic lifestyle, renting

in Athens and the Zona, where she'll

spend weeks at a time designing rattan

From left: Mamey Galería shows

contemporary Dominican artists; variations

on the espadrille at La Alpargatería

furniture and scouting crafts. "The

architecture is inspiring," she told me.

Hundreds of 16th-century Spanish

colonial buildings still stand here,

now reimagined as contemporary

shops, galleries, even hotels.

Interior designer Patricia Reid,

longtime Zona resident and friend of

the late Oscar de la Renta, has seen

this area go in and out of fashion.

(Most business still takes place in the

modern city centre.) "One hundred

years ago, this was the 'in' place to

live," explained Reid, who designed

Julio Iglesias's homes in Punta Cana

and Marbella, Spain. "It's coming

back. I don't want it to be a museum. I

want it to be a living city."

Reid is a master at mixing found

objects from Bali and Morocco

with mahogany furniture made in

the Dominican Republic and then

layering in her own paintings and

drawings of nature. You can get a feel

for her eclectic, colourful work at

Casas del XVI (casas​delxvi.net), which

consists of six colonial-era mansions

in the Zona with features like open-air

courtyards and pools. In the coming

years, more houses – which, with their

brick archways, terracotta floors and

wood-beamed ceilings, can take up

to a year to renovate – will be added,

so that the hotel will feel like a sort of

mini village. The star attraction right

CLOCKWISE FROM TOP: VICTOR STONEM; © LA ALPARGATERÍA; VICTOR STONEM
---
32 DEPARTURES TRAVEL DISPATCH

From top: pineapple-shaped planters and vases made by

Ysabela Molini under her Casa Alfarera brand; a new outpost

of Mesón de Bari, a cafe serving traditional Dominican food

that was designed by decorator Carlos Mota

now is the two-bedroom, exclusive-use

Casa del Diseñador, a former home of

de la Renta (other houses can be rented

by the room).

One morning, over cups of rich,

tar-thick Dominican coffee at the

Casa Macorís, one of the houses in

the Casas del XVI collection, I chatted

with Amelia Vicini, whose family is

responsible for the project as well as

numerous other properties in the Zona.

Beside economic investment, she

credited the area's resurgence to the

young diaspora moving back: people

like Carolina Contreras, an influencer

and founder of Miss Rizos, a blog

and salon that encourages women to

embrace their curls.

With her statement glasses and

natural hair, Parsons-educated Natalia

Ortega, who grew up in Santo Domingo

and returned after college, may be the

most emblematic of this new creative

set. She works with Dominican and

Haitian artists to weave beautiful

straw hats for her line Los Tejedores

(los​tejedores​.com), started with her

boyfriend, Ricardo Ariel Toribio.

Ortega now moves between studios,

meeting clients in person and selling

her pieces online.

Santo Domingo is nothing if not

social: after speaking with one artist,

they'd connect me to another, and

so on. Through Mota, I met fashion

''The Zona Colonial

is a hidden treasure, an

undiscovered Cartagena.

You walk around

and you find layers"

designer Oriett Domenech (oriett​

domenech.com), who has dressed Kylie

Jenner. At her atelier in the city centre, I

fell hard for one of her hand-cut, bodyhugging

shift dresses – made entirely

out of cork. And through Domenech's

husband, investor Miguel Angel

Gonzalez, I ran into Vanessa Gaviria,

whose SBG restaurant group owns the

Mediterranean-influenced La Cassina

(fb​.com/​la​cassina​santo​domingo).

Power-lunching may be a thing of the

past in New York, but it's alive and

well at this low-lit, formal spot in the

neighbourhood of Evaristo Morales.

But this current wave of artists

is mainly based in the Zona. There,

you'll find Ysabela Molini, creator of

Casa Alfarera (casaalfarera.com) and

a brilliant ceramist who sources all

her clay on the island (no easy feat)

and makes massive pineapple-shaped

urns as well as delicate sconces,

plates and vases. And Alejandro

Ruiz and Eddy Guzmán, the owner

and curator, respectively, of Mamey

Galería (mamey.co), which combines

a cafe, bookshop and cinema with

two galleries showcasing historical

and contemporary works by

Dominican artists.

At times, I felt like the Zona was

one big roving street party. When

the heat had subsided, I set out

early on a Friday evening, passing

through the Parque Colón, to see the

soaring Cathedral of Our Lady of the

Annunciation, which dates back to

1512. Children were chasing balloons;

men gathered to play dominoes. After

dinner, I circled back to the Parque,

now alive with music.

FROM TOP: KARLA READ; HAROLD LAMBERTUS
---
STAY EXQUISITE IN MAURITIUS

Experience The St. Regis Mauritius Resort with its colonial residential design, emphasizing the "paradise found" sensation

and the focus on escape and relaxation. The St. Regis Mauritius Resort exudes a feeling of time-honoured luxury, with the

Le Morne Mountain providing a fitting backdrop to the resort.

Beyond Expectation, every guest will enjoy the personalised services from the St. Regis Butlers. Lives of privilege demand the

most personalised expressions of luxury and attention and nothing addresses this more assuredly than the St. Regis Butler

Service.

AN ULTIMATE LUXURY EXPERIENCE AT THE ST. REGIS VILLA

In this piece of paradise, The St. Regis legacy of luxury and refinement blends with understated elegance and bespoke

attention to deliver sheer moments of bliss. The most seductive private beach villa on the island, The St. Regis Villa is so

much more than an ideal tropical getaway. It is a home away from home. Everything is possible at Mauritius' largest and

most private villa address. Experience the elegance & ease of St. Regis signature traditions, where impeccable service meets

effortless luxury.

Surround yourself with flawless beauty; luxuriate in your private pool with panoramic views of the ocean, while only steps to

the beach. The St. Regis Villa captures the ideal island sanctuary in the natural splendor of Mauritius.

The St. Regis Mauritius Resort

Le Morne Peninsula, Mauritius t. +230 403 9000 www.stregismauritius.com
---
Enjoy a complimentary night.

Soak up more sun, savour the spa, dine at an award-winning restaurant or see more sights in a longed-for

destination with a complimentary night from Mandarin Oriental Hotel Group.

Stay from 6 June to 2 September, 2019 and receive a complimentary third, fourth or fifth night when

you book at any of the participating Mandarin Oriental hotels from 1 June to 28 August, 2019 and pay

with an American Express® Card in the Platinum® Cardmember's name.

As a Platinum Cardmember, you will also enjoy Fine Hotels & Resorts 1 benefits including:

Mandarin Oriental Jumeira, Dubai

OUT

IN

Room upgrade 2 at

time of check-in,

when available.

Guaranteed 4pm

late checkout

Noon check in,

when available.

A unique

amenity 4 valued

at US$100

Daily breakfast

for two

In-room Wi-Fi 3

For more information or to make a booking, contact Platinum Service: (+973) 17 557788 (Middle East) and

800 1999 5555 or (+966) 11 407 1999 (K/SA)

1

Available for Platinum Charge Cardmembers only, and excludes Platinum Credit Cardmembers who are not also Platinum Charge Cardmembers.

2

Certain room categories are not applicable for room upgrade or special offer. 3 Complimentary in-room Wi-Fi is not available in all locations.

See Terms and Conditions for details. 4 Special amenity varies by property, call your Platinum Travel service for details.
---
Hotels offering a complimentary

third night with two paid nights

Mandarin Oriental, Hong Kong

The Landmark Mandarin Oriental, Hong Kong

Mandarin Oriental, Macau

Mandarin Oriental, Miami

Mandarin Oriental, Milan

Mandarin Oriental, Munich

Mandarin Oriental, New York

Mandarin Oriental, Prague

Mandarin Oriental Pudong, Shanghai

Mandarin Oriental, Taipei

Mandarin Oriental, Washington DC

Hotels offering a complimentary

fourth night with three paid nights

Mandarin Oriental, Barcelona

Mandarin Oriental Wangfujing, Beijing

Mandarin Oriental, Boston

Mandarin Oriental, Canouan

Mandarin Oriental Jumeira, Dubai

Mandarin Oriental, Geneva

Mandarin Oriental, Jakarta

Mandarin Oriental, Marrakech

Mandarin Oriental, Paris

Mandarin Oriental, Sanya

Mandarin Oriental, Singapore

Mandarin Oriental, Tokyo

Hotels offering a complimentary fifth night with four paid nights

Mandarin Oriental, Lago di Como

Mandarin Oriental, New York

Mandarin Oriental, Paris

Mandarin Oriental, Macau

Terms and Conditions

1) Special offers valid only for new Fine Hotels & Resorts bookings through The Platinum Travel service from 1 June to 28 August 2019 (inclusive) for hotel

stays from 6 June and completed by 2 September 2019 (inclusive). A minimum consecutive paid stay is required to receive special offer. Payment must be

made in full with an American Express® Card in the Platinum Cardmember name. Complimentary night offer is non-transferable and non-cashable.

Category restrictions and other restrictions apply to the special offer. Cardmember must travel on itinerary booked to be eligible for special offer and

Fine Hotels & Resorts benefits described. Noon check-in and room upgrade are based on availability and are provided at time of check-in. Certain room

categories are not eligible for room upgrade or special offer. Breakfast amenity varies by property, but will be, at a minimum, a continental breakfast.

Complimentary Wi-Fi is provided in room, with the exception of select properties where in-room Wi-Fi is included as part of a mandatory daily resort fee or

is not available. In this instance, complimentary Wi-Fi will be provided in a common space on property. In the case where a Property includes cost of Wi-Fi in

a mandatory resort fee, the Cardmember will receive a daily credit from the Property in the standard amount that the Property charges for Wi-Fi. The credit

will be issued on the Cardmember final statement upon check-out. Benefit restrictions vary by Fine Hotels & Resorts property and cannot be redeemed

for cash, and may not be combined with other offers unless indicated. Advance reservations are recommended for services such as spa, dining or golf

in order to take advantage of the Fine Hotels & Resorts Special amenity during your stay. Benefits are only applied at checkout and expire at checkout.

Limit of one benefit package per room, per stay. Three room limit per Platinum Cardmember per stay. Back-to-back stays within a 24-hour period at the

same property are considered as one stay. Participating Fine Hotels & Resorts properties and benefits are subject to change. Cancellation policy varies by

property; Contact The Platinum Travel service for details. Offer cannot be used in conjunction with any other promotions, offers or privileges.

2) Fulfilment of the offer is the sole responsibility of Mandarin Oriental Hotel Group. The promoter of this offer is Mandarin Oriental Hotel Group, 8th Floor One

Island East, Taikoo Place, 18 Westlands Road, Quarry Bay, Hong Kong, Telephone +852 2895 9288.

3) Cardmember must stay a minimum of two, three or four consecutive paid nights to receive the complimentary night. Minimum length of stay varies by

property and complimentary night will be credited upon check-out.

4) Offer is subject to availability and below blackout dates apply: Mandarin Oriental, Barcelona: 14, 19, 22 and 26 June, 13 and 20 July, 2019; Mandarin

Oriental, Boston: 25 June, 17 July, 30 August, 2 September, 2019; Mandarin Oriental, Geneva: 28 July, 1, 5, 9, 13 and 17 August, 2019; Mandarin Oriental,

Hong Kong: 28 May, 25 June and 27 Aug, 2019; The Landmark Mandarin Oriental, Hong Kong: 11, 12, 26 and 27 June, 20 and 21 August, 2019; Mandarin

Oriental, Macau: 7 – 9 June, 2019; Mandarin Oriental, Milan: 12 and 15 June, 13 and 16 July, 29 August, 1 September, 2019; Mandarin Oriental, Munich:

6 June, 2019; Mandarin Oriental, New York: 12, 18 and 25 June, 10 and 17 July, 2019; Mandarin Oriental, Paris: 6, 10, 14, 18, 22, 26 and 30 June, 4 July,

30 August, 2019; Mandarin Oriental, Sanya: 6 – 8 June, 2019; Mandarin Singapore: 9 August, 2019; Mandarin Oriental, Tokyo: 27 July, 2019; Mandarin

Oriental, Washington DC: 11, 18 and 20 June, 17 July, 2019.

5) Should any dispute arise, the decision of American Express International, Inc. and the participating merchants shall be final.
---
36 DEPARTURES TRAVEL CHECKING IN

Restoration Period

The ever-expanding London hotel

scene has added a sparkling lineup of

new and newly redone properties all

across the city. by Ben Ryder Howe

"THE HISTRIONIC ART is the London art par excellence,"

travel writer Jan Morris once wrote. The city is a non-stop

spectacle of pageantry and performance, where, according

to Morris, "the greasepaint is always on". Nowhere is this

currently more evident than in the sheer multitude and

ambition of new and reborn London hotels.

Take, for example, one of these properties, The Stratford

(manhattan​loft​gardens.com) at Manhattan Loft Gardens, a

42-storey, double-cantilevered tower. Harry Handelsman,

the 69-year-old developer behind the project, wants to shift

the city's centre of gravity towards Stratford, a previously

grim part of London best known as the site of the 2012

Summer Olympics. It's a tall order, but Handelsman,

who with André Balazs brought the high life to sleepy

Marylebone with the Chiltern Firehouse, is confident that

Manhattan Loft Gardens will serve as a beacon to the young

and chic. It's certainly big enough: designed by Skidmore,

Owings & Merrill, the team behind the Burj Khalifa and

One World Trade Center, the 146-room obelisk (there are

also 248 rental lofts) hovers on the eastern flank of the

metropolis, far enough to be only dimly visible from the

city centre, a radical statement of confidence in the power

of the city to limitlessly expand.

While Manhattan Loft Gardens aims to dazzle

with spectacle and size, the Belmond Cadogan Hotel

Left: a junior suite at

the impeccably restored

Belmond Cadogan Hotel

in Chelsea; below: the

terrace of the Mandarin

Oriental Hyde Park's

Royal Suite

( belmond.com) seeks to impress

with stateliness and exclusivity.

Situated on a Chelsea corner readymade

for a foggy, gaslit scene from

a Henry James book jacket, the 54-

room Queen Anne–style town house

has been operating as a hotel under

various owners since 1887 (it was

the scene of Oscar Wilde's arrest for

indecency in 1895) and now becomes

Belmond's first London property.

Belmond likes its hotels to feel as if

they have been in place forever, which

the Cadogan certainly. The pièce de

résistance is Cadogan Place Gardens, a

proper English garden (members-only

but open to hotel guests) shaded by

mulberry and plane trees and featuring

a pair of macadam tennis courts.

FROM TOP: © BELMOND CADOGAN HOTEL; © MANDARIN ORIENTAL HYDE PARK, LONDON
---
LAKE LUCERNE

LUXURY HIDEAWAYS

Lucerne – Lake Lucerne Region

The Lake Lucerne Region has all you need for your exclusive holidays or your business event.

Six first class Luxury Hideaway hotels offer a unique blend of naturalness, hospitality,

exclusivity and privacy. Enjoy unforgettable excursions to the regions easily accessible mountains

and on the Lake of Lucerne. Discover more at www.luzern.com/LLLH

Luzern Tourismus | Tourist Information | Zentralstrasse 5 | CH-6002 Lucerne

Tel. +41 (0)41 227 17 17 | luzern@luzern.com | www.luzern.com
---
DEPARTURES TRAVEL CHECKING IN

38

The former Camden Town Hall

Annexe, in King's Cross, a Brutalist

slab that once housed a radical leftist

city council, is aesthetically the

antithesis of a Chelsea town house but

in its way just as pure an expression

of London's character. Three years

ago, the run-down hulk, on the verge

of demolition, was acquired by the

Standard. As a construction manager

showing me the rooms said, "Nothing

should be boring in a Standard," which

would be almost impossible inside the

aquarium-like, 266-room property,

with its convex windows and bulbous

concrete façade. Almost everything in

the Standard, London (standard​hotels.

com) had to be specifically designed

for the undulating, curvilinear space.

There are inspired touches such as

the additional matte-black floors

planted fez-like atop the original

beige structure, an external elevator

that conjures a vertically ascending

miniature red London bus, and an

inventive adaptation of the hotel's

windowless central rooms, which

have been geared towards DJs and

other nocturnal types.

The Standard is a hotel to gawk

at, but for sheer number of camerapointing

tourists blocking sidewalks,

it's hard to beat the Mandarin Oriental

Hyde Park, London ( mandarin​

oriental.com), an opulent landmark in

London's glitziest shopping district.

A fire last summer briefly derailed

the most extensive renovations in the

building's 130-year history, leaving

only its public spaces open (including

Dinner by Heston Blumenthal, the

Michelin two-star restaurant). The

hotel fully reopened this spring

and features all-new guest rooms and suites, as well

as two penthouses ornamented with chandeliers and

other lighting referencing the British crown jewels. (The

penthouses also come fortified with bulletproof windows

and sleeping quarters for bodyguards.)

For pure glamour, the Connaught ( the-connaught.

co​.uk) is a hotel so opulent you might want to arrive in a

tuxedo (or, as a guest standing next to me at check-in did,

a bathrobe). Charles de Gaulle's favourite hotel in London

(he installed himself on the first floor during the Blitz),

the Connaught recently added the Mews, a town house

offering high-touch hotel service in a private residence.

Furnished with artwork from the Gagosian Gallery (Louise

Bourgeois, Marc Newson) as well as a grand piano, the

Mews stands just a block away from the Connaught, to

which it connects via a private corridor. You will likely be

tempted, however, to come and go through the Mews's

carriage house entrance on Adams Row. Fulfill your fantasy

by wearing one of the Burberry trenches in the closet or

dipping into a Moynat leather jewellery trunk filled with

vintage treasures. After all, as Morris wrote, echoing the

city's most famous scribe, "London is a stage!"

Clockwise from top

left: a membersonly

garden, open to

Belmond Cadogan

Hotel's guests, that

includes a pair of

macadam tennis

courts; one of 146

rooms within the

Stratford; the Mews,

a private town

house addition at

the Connaught,

features art from

Gagosian Gallery

CLOCKWISE FROM TOP LEFT: © BELMOND CADOGAN HOTEL; ED REEVE; © THE CONNAUGHT
---
Smile all

the stay

in the

Maldives.

1,200 white-sand coral islands that stretch over 800 kilometers. 99% water. 8 hours of sunshine

per day. The Maldives satisfies every beach fantasy. Always has. And it just got exciting.

LUX* North Malé Atoll, defies all norms and stereotypes. The brand new resort is playful

and sophisticated, contemporary and exciting. It is unlike anything you have seen before.

MAURITIUS • RÉUNION • MALDIVES • CHINA • TURKEY • VIETNAM • U.A.E • ITALY • FRANCE
---
Stay longer and save!

Spas, top restaurants and wonderful sights are all at your fingertips,

and Corinthia Budapest is giving you the perfect excuse to extend your trip

when you book two nights or more.

RATES FROM € 109

CORINTHIA HOTEL BUDAPEST | ERZSÉBET KÖRÚT 43-49, 1073 BUDAPEST, HUNGARY | CORINTHIA.COM/BUDAPEST
---
JEWELLERY PHOTOGRAPHS BY JON ERVIN

Graff ruby and

diamond earrings,

graff.com

STYLE

Heavenly Creatures Precious stones of all hefts

and hues light up Dutch artist Ruth van Beek's

colourful collages.

OBJECTS OF DESIRE DEPARTURES

41
---
DEPARTURES STYLE OBJECTS OF DESIRE

Left: Van Cleef & Arpels

white and red gold, ruby,

sapphire and diamond

earrings, vancleef​

arpels.com; above: Chopard

rose gold, pink sapphire and

ruby earrings, chopard.com
---
Tiffany & Co platinum

and pink ​sapphire

earrings from the 2019

Four Seasons of Tiffany

collection, tiffany.com

DEPARTURES

43
---
DEPARTURES STYLE PERSONALISATION

44

Yours, Truly From designer denim to status trainers,

made-to-order programmes let you have a hand in

customising your most coveted pieces. by Hayley Phelan.

Photographs by Richie Talboy. Styled by Jenny Hartman

1

3

1 John Hardy custom

gold necklace with

opals, diamonds,

sapphires, topaz and

mother-of-pearl

AFTER 80 YEARS of making understated

handbags, leather-goods brand Valextra –

known for eschewing logos and branding –

has launched #NoLogoMyLogo, a bespoke

programme that invites customers to design

their very own handbag. After clients choose

the shape, size and colour, and then submit

their initials, a team of graphic designers

creates a one-of-a-kind pattern based on

those specifications.

"Typically logos are about the brand," said

Sara Ferrero, CEO of Valextra. "But that's not

what we're about. This is a celebration of the

customer and their own unique personal taste,

rather than a celebration of us as a company."

High-end fashion has long been about

having the right designer bag or the "It"

shoe, but these days true luxury is about

making something yours and displaying

your individual aesthetic. Louis Vuitton

recently launched a line of menswear that

allows clients to put their mark (monograms,

patches) on everything from trainers to jean

jackets. Meanwhile, Brunello Cucinelli

debuted a made-to-measure suiting

programme this past autumn, and Gucci has

2

2 Valextra leather-andonyx

"NoLogoMyLogo"

monogram bag; Brioni

made-to-measure

wool coat

3. Brunello Cucinelli

made-to-measure wool

suit; Prada made-tomeasure

shirt;

Valentino men's trainer

with monogram patch
---
SPECIAL PROMOTION

THE MULIA, MULIA RESORT & VILLAS -

NUSA DUA, BALI

Discover a world of luxury at one of the

world's best beachfront resorts

Escape to The Mulia, a luxury beachfront getaway,

evoking a relaxed yet polished sensibility with its

expansive elegant suites, exclusive lounge and the

signature Oasis Pool. Immerse yourself in luxury

while relaxing in a jacuzzi in the privacy of your

own balcony.

With superbly designed rooms and suites,

Mulia Resort speaks of style and luxury at every turn.

Complemented by ample facilities and amenities –

including four swimming pools, a dedicated fitness

centre and international culinary presentations in its

nine signature restaurants – Mulia Resort is the ultimate

destination for all travellers alike.

Promising a private sanctuary, Mulia Villas is

a haven for those seeking comfort in luxury and

solitude. With personal 24-hour butler service, a private

swimming pool and a lush tropical garden area

surrounding ample outdoor living space, expect to

experience a getaway fit for royalty. Rejuvenate at the

award-winning Mulia Spa offering head-to-toe

treatments, dedicated wellness suites, hydrotonic pools

and Asia Pacific's first ice room.

THE MULIA, MULIA RESORT & VILLAS • Jl. Raya Nusa Dua Selatan, Kawasan Sawangan • Nusa Dua 80363 • Bali

Tel: +62 361 3017777 or Toll Free: 0800-1-1 MULIA (68542) • themulia.com
---
DEPARTURES STYLE PERSONALISATION

46

6

4 Marco Bicego adjustable

yellow-gold necklace;

Blazé Milano made-toorder

silk blazer

5 Louis Vuitton men's

"Now Yours" customisable

denim jacket

6 Pomellato adjustable

white-diamond bracelet,

linked to adjustable

rose-gold bracelet with

adjustable slim rose-gold

bracelet

7 Lanvin made-to-measure

wool suit and shirt; Cartier

steel Santos de Cartier

watch with interchangeable

straps

7

4 5

recently expanded its unisex DIY programme

to include cardigans with varsity-style

letters. At Tiffany & Co, customers can have

everything from monograms to handwritten

doodles engraved on a wide array of

products as part of its Make It My Tiffany

personalisation programme.

"You could say it's evidence of our

increasingly individualistic society," said

Fflur Roberts, head of global luxury goods

at research firm Euromonitor. "Customers

want to make their own statement."

Take insider-favourite women's suiting

label Blazé Milano. While the company now

sells ready-made blazers, its made-to-order

programme, which allows clients to pick

from 14 different button types, six linings,

and countless colours and fabrics, remains

the cornerstone of its business. Allowing

individuals to partake in the crafting of

something doesn't just result in a beautiful

item – it can also provide an opportunity

for self-reflection. "I think being part of that

process can be quite a profound experience

for people," said Beth Bugdaycay, cofounder

of Foundrae, a cult jewellery label known

for its medallion-shaped charms and cigarband

rings. With a new customisation

programme, her clients can select from

various symbols and gemstones to create a

talisman that commemorates a meaningful

moment in their lives. That it happens

to come with bragging rights about one's

creative genius is merely a bonus.

SET STYLING BY MARGARET MACMILLAN JONES. GROOMING BY MIGUEL LLEDO AT ARTLIST NY USING CLARINS.

MODEL: MELCHOR MERCADO AT NEW YORK MODELS. CASTING BY ERIN SIMON
---
SPECIAL PROMOTION

VAKKARU MALDIVES

Ultimate romantic getaway in a timeless sanctuary

Set on a secluded island within the Unesco

Biosphere Reserve of Baa Atoll, just a

scenic 30-minutes seaplane flight from Male

International Airport, Vakkaru Maldives is an

unforgettable paradise designed for travellers

seeking an intimate getaway in one of the most

desirable island destinations on the planet.

An extensive selection of 125 beach and overwater

villas and suites feature rustic Maldivian

charms, intelligent connectivity and private

beachfronts or overwater terraces. Indulgent

dining choices from across the world are offered

at six gastro venues, comprising the perfect

environment to relax and unwind.

Engaging experiences await at Splash,

the resort's water-sports, excursion and dive

centre. There are also extensive kid's facilities,

floodlit tennis and badminton courts and a

24/7 over-water gym which offers personaltraining

and yoga sessions. The over-water

Merana Spa, meanwhile, features 12 treatment

rooms, a salon, boutique and wellness area

complete with its own lounging space, sauna

and steam rooms, Jacuzzi and plunge pool.

Let the timeless allure of the Maldives

welcome you in as you discover the warmth

and affection of its people in this idyllic

island retreat.

VAKKARU MALDIVES • Baa Atoll, Republic of Maldives • Tel: +960 660 7000 • Fax: +960 660 7777

reservations@vakkarumaldives.com • vakkarumaldives.com
---
48 DEPARTURES STYLE BRIGHT IDEAS

The Colour Connoisseur's Guide

The experts weigh in on where to find everything

from ombré glass furniture to red bath fixtures to

give your home a new kaleidoscopic look.

by Joe Harper. Illustrations by Jordan Andrew Carter

ACCENT FURNITURE

Decorator Amy Lau loves works by the

Latvian-born, Amsterdam-based furniture

designer Germans Ermičs. "His furniture adds

an interesting, bespoke touch that makes a

room so distinctive and memorable," she says.

One of her favourite pieces is his 2017 Ombré

Glass Chair, a boxy seat that fades from one

colour to the next across just four planes

of glass – a medium he uses for most of his

designs, which include tables, consoles and

shelving. "Alchemy of colour is the cornerstone

of his work," says Lau. germansermics.com

HARDWARE

Fashion designer Lisa Perry

also has a talent for decorating

interiors, as is evident in her

new book Lisa Perry: Fashion,

Homes, Design (Assouline).

To create bold spaces akin to

her 1960s-inspired clothing,

Perry says she adds pops

of colour to all-white rooms.

One way to achieve this is

with doorknobs, and Perry

suggests Bonnemazou Cambus,

a French brand that brings

unexpected shapes to handles

in bright hues. "Hardware is

not always a place where

creativity can shine, but their

pieces make a statement,

and the colour choices

are electric," says Perry.

bonnemazou-cambus.fr

UPHOLSTERY

Danielle Fennoy of Revamp

Interior Design in New

York doesn't like how most

upholstered furniture only

comes in understated shades

like beige or grey, so to make

her pieces unique, she often

reupholsters everything.

She prefers Romo's Black

Edition Herbaria Collection

(romo​.com) for its organic

patterns in bright colours;

Maharam (maharam​.com) for

a retro look, typified by the

Millerstripe wool by Alexander

Girard, which was designed in

1973; and Dedar (dedar.com)

for the unexpected. "Dedar's

colours are richer, deeper and

more complex than those I've

seen elsewhere," says Fennoy.

ART

"Gary Petersen's Constructivist paintings are

transfixing," says famed decorator Jamie Drake.

He discovered Petersen at the New York gallery

McKenzie Fine Art, which represents a roster

of abstract artists who aren't shy about using

colour. "His pieces have a rhythm of overlapping

geometries that is upbeat and energetic. They

create a true focal point, with a Jazz Age spirit,"

says Drake. mckenziefineart.com
---
MURALS

Designer Richard

McGeehan often

commissions

Brooklyn artist Matt

Austin, whose work

ranges from detailed

landscapes to abstract

geometries; they take

about two weeks

to execute. "Go to him

for the unexpected

and the amazing,"

McGeehan says.

mattaustinstudio​.com

TEXTILES

Fawn Galli's first book, Magical

Rooms (Rizzoli), is a study

in opulent colour. She found

inspiration for the spaces

featured in the book from her

travels to places like Oaxaca,

Mexico, where she sources

textiles from Los Baúles de Juana

Cata (+52 951 501 0552), which

works with local artisans who

use natural dyes. When in Tokyo,

she likes Morita (morita-antiques.

com), which sells woodblockprinted

furoshiki wrapping cloths

and embroidered sashiko fabric.

"It's one of my favourite places

for vintage kimonos and wall

hangings," says Galli.

BATH FIXTURES

Rather than sticking to traditional

finishes like nickel and brass,

designer Nicole Fuller suggests

adding whimsy by choosing

from the colourful selection

of faucets and handles from

Fantini. The Italian brand's Nice

Collection features translucent

acrylic knobs with bases offered

in six different hues. For an

even brighter look, the rounded

spouts and cross handles of

the I Balocchi series can be

finished in a fire-engine red.

fantiniusa.com

WALLPAPER

Celerie Kemble, of the family-run Kemble Interiors,

says wallpaper easily brings colour to a room. "My go-to

is Schumacher," says Kemble, whose own collection

for the brand includes lively motifs like the striped

Creeping Fern. "I love adding their Romeo marbleised

paper to bookcases. It's both wild and scholarly at the

same time." fschumacher.com

CARPETS

"We can easily forget the luxury

of a beautiful carpet under bare

feet," says designer and hotelier

Kit Kemp. She often collaborates

with Christopher Farr to make pieces

like Egg & Dart – a geometric

jute-and-wool rug featuring blue,

orange, green, yellow and red

dots throughout – which she used

inside the Meadow suite at her

Crosby Street Hotel in New York.

christopherfarr​.com

TILES

Mission Tile West, which has

showrooms throughout the Los

Angeles area, offers machinecut

tiles that are painted by hand.

Designer Peter Dunham, who chose

the brand's eight-by-15-centimetre

offerings in the Tahiti colour for a

1905 house in Santa Monica, says

he likes the automation aspect

for providing tight grout lines, but

the hand-painted element for its

dazzling hues. missiontilewest.com

LIGHTING

"I love colourful

lampshades, and Bhon

Bhon makes the most

beautiful ones," says

New York designer

Miles Redd. Based in

Queens, Bhon Bhon

handcrafts custom

shades using everything

from painted linens

to pierced leather.

Its pieces have been

featured in the homes of

Gloria Vanderbilt, Sting

and Madonna, to name

a few. Redd suggests

trying a pink shade:

"It will glow like a glass

of brandy held up to

firelight." bhonbhon.com

DEPARTURES

49
---
DEPARTURES STYLE VISUAL STIMULATION

50

Pop Goes

More than 50 years into his career, the radical nonno of

Italian design is still using colour to defy convention.

by Karin Nelson. Photographs by Stefan Ruiz

Above: designer Gaetano

Pesce in his Brooklyn studio

with his Up chair for B&B

Italia; right: Pesce recently

reproduced his 1984 Pratt

Chair in new colours for the

gallery Salon 94 Design,

salon94design.com

the Easel

WHEN GAETANO PESCE was nine,

he punched his teacher for being

stupid. Improper as the act was,

it was also fortuitous. He was

expelled and then enrolled in the

only other school in Padua, Italy, an

all-girls institution. "I was the only

boy, and I learnt a lot about how to

think and act," says the architect and

designer. Two decades later, in 1969,

he produced his now iconic Up chair

for B&B Italia, a bulbous seat shaped

like an ancient fertility goddess. With

its spherical ottoman attached like a

ball and chain, the chair symbolised

the oppression of women by men.

It was the first industrial-design

object to express such a political

point of view – and 50 years on, it's as

relevant as ever.

But then Pesce, who turns 80 in

November, has always been a designer

for our times. His work, which runs

the gamut from bouncy resin vases

to an office building covered with

flowerpots, is fluid, imperfect, wildly

innovative and, most markedly,

colourful. "Colour is vital. When I

CHAIR: COURTESY GAETANO PESCE/SALON 94 DESIGN
---
LAMP: COURTESY GAETANO PESCE/SALON 94 DESIGN

Pesce's one-of-a-kind 2018 Medusa table

(right) and 2016 resin-and-steel Rug lamp

(above) for Salon 94 Design

started using it, my colleagues were

dressed like priests, which I never

understood," says Pesce, referring

to a time when both the culture and

aesthetics of design took their lead

more from staid architecture than

from art. Even when his pieces are

laden with social commentary, they

are joyful. Which is why, along with

Kaws, Jeffrey Deitch and Laure

Heriard Dubreuil, who installed a

cabinet he designed – shaped like

a smiley face and painted candyfloss

pink – in her New York fashion

boutique The Webster, his biggest

fans are children. "Art is not drama,"

says Pesce, seated in his bendy 357

Feltri chair for Cassina, which Raf

Simons reupholstered with American

quilts for last year's Design Miami.

"Art is life, and in a moment when

our world is a little depressing, it's

important to make something positive

and pleasurable."

To celebrate the Up chair's

anniversary, Pesce staged an 8m

version of it in Milan's Piazza del

Duomo this April as part of the city's

Design Week. And earlier this year,

he presented new and old works at

Galerie Nathalie Obadia in Brussels.

Pesce, who's been based in New York

since 1980, still goes to his Brooklyn

studio every day. He's busy creating

new pieces and playing around

with innovative materials, such

as a translucent resin he recently

used to recast his 1984 Pratt chairs,

making them even more vivid. In the

autumn, he'll show new work at the

Manhattan gallery Salon 94 Design,

and, as part of the city's Performa 19

Biennial, he will present a resin rug,

pieces of which viewers can carve

out and take home. "Art is done for

others to enjoy."

Right: Pesce in his

studio working

on La Perdita della

Manualità (The

Loss of Dexterity),

a deflated hand

sculpture about the

decline of handwork

DEPARTURES

51
---
52 DEPARTURES STYLE WORLDLY GOODS

Doing It Right

Ethically made, eco-conscious,

exquisite: covetable accessories and

apparel from around the world that

tick all the right boxes. by Elisa Vallata

1 Carolina K Nina reversible bikini top

in recycled nylon, carolinak.com

2 Eleven Six Sadie crochet top in

Peruvian pima cotton, crafted by

Peruvian artisans, eleven-six.co

3 Riley Studio modular anorak in

water-resistant cotton, certified by

the Better Cotton Initiative, riley.studio

4 Mayamiko Dalisto maxi wrap

dress in responsibly sourced cotton,

mayamiko.com

5 Mandkhai suit trousers made from

sustainable Mongolian cashmere and

merino wool, mandkhai.com

6 Pour Les Femmes cotton boyfriend

nightshirt; the brand partners with

Action Kivu, a non-profit promoting

the training and education of

Congolese women and children,

plfdreams.com

2

1

3

5

6

4

COURTESY OF THE VENDORS
---
N E V E R J U S T S T A Y .

S T A Y I N S P I R E D .

Enjoy summer break with finest Balinese hospitality. Indulge in our exceptional

restaurants, spa, and many more with 50 USD daily credit for minimum of two night stay

Jalan Pratama 168, Tanjung Benoa, Bali 80363 Indonesia.

For reservations call +62 361 778 788 or email Reservations@ConradBali.com or visit ConradBali.com

ASIA EUROPE AFRICA MIDDLE EAST AMERICAS

CONRADHOTELS.COM

#STAYINSPIRED
---
1

54 DEPARTURES STYLE WORLDLY GOODS

8

2

9

3

4

10

7

4

5

6

1 Neubau Eyewear

Dani glasses in naturalPX

with superlight

polycarbonate lenses,

neubau-eyewear.com

2 Okapi 18kt gold-plated

springbok-horn clip made

by a community project in

South Africa, okapi.com

3 Lilian Von Trapp double-

tie necklace in recycled

yellow and rose gold,

lilianvontrapp.com

4 Mountain & Moon gold-

plated Christine earring set

with pink chalcedony; part

of the brand's sales are

reinvested into projects

supporting women in India,

mountainandmoon.com.au

5 Baume Custom

Timepiece 41mm

Retrograde made with

recyclable materials,

baumewatches.com

6 Alama Iture bracelet,

hand-beaded by a Maasai

woman in Tanzania,

alama-project.com

7 Sydney Brown slides

with raffia upper and corkcovered,

recycled-fibre

insole, sydney-brown.com

8 Sep Jordan Koutubia

cushion in graphite cotton

and linen, handmade

by refugees in Jordan,

sepjordan.com

9 Lidia May leather Diana

satchel, hand-embroidered

in Bangladesh, for a project

empowering women in

urban Dhaka, lidiamay.com

10 Vikapu Bomba

handwoven tote made

from grasses of the

Tanzanian highlands,

vikapubomba.com

11 Wazi Shoes Sandpiper

sandals, ethically made in

Tanzania, wazishoes.com

11

COURTESY OF THE VENDORS

VISIT DEPARTURES-INTERNATIONAL.COM FOR MORE MUST-HAVE ETHICAL FASHION FINDS
---
Where your dreams come true

Hurawalhi...

Discover the moment where luxury threads lightly. Sublime accommodation,

generous all-inclusive service, spa indulgences, marvelous coral reefs and lagoons.

Serenity, excitement, comfort, adventure, romance and thrill. Uniqueness in every corner

crowned with the Jewel; the world's largest Undersea Restaurant '5.8'.

Let your mind with wonder and your heart with romance.

Hurawalhi, embrace in the experience.

The luxury of time

Moments of Magnificence

Kudadoo Private island, to impress even the most discerning traveler.

Anything, Anytime, Anywhere...

Astounding natural beauty and effortless adventures.

Present in the moment... To just be! Kudadoo -

Winner of the World's Best New Luxury Hotel for 2018.

Your Moment Forever!
---
56 DEPARTURES CULTURE GREAT SOURCES

Mexico Modern

A burgeoning furniture brand

is reviving a host of near-forgotten

midcentury maestros. by Pilar Viladas

WHEN AMANDA and Sebastian Reant began their furniture

company, Luteca, in Dobbs Ferry, New York, in 2015, they

were at the forefront of a revival of interest in modernist

and contemporary Mexican architecture and design.

Amanda, who is British, and Sebastian, who is French,

each had careers in management and marketing (she in

the home furnishings world, he in the entertainment and

digital fields), but they shared a passion for design, and a

2014 trip to Mexico was a revelation.

While the design world grows increasingly familiar with

the storied midcentury icons from northern Europe, the

Reants discovered an untapped Mexican reservoir that

was fresh and exciting. "We think Mexican design has

something universal," Sebastian says; it encompasses "pre-

Columbian culture, Spanish colonial culture and 20th-

Inside the

Mexico City

showroom

century modernism." This eclectic

mix has made the style popular with

big-name interior designers like

Martyn Lawrence Bullard, Shawn

Henderson, and Commune Design,

the LA firm that used Luteca's San

Miguelito counter stools in recent

projects.

Luteca's first collection focused on

furniture by Pedro Ramírez Vázquez,

the architect who codesigned

Mexico City's National Museum

of Anthropology and its Museum

of Modern Art, among other noted

structures of the 1960s. In 2017,

Luteca reissued pieces by Michael van

Beuren, the American-born, Bauhauseducated

designer who moved to

Mexico in 1936. These include the

Alacrán chaise, designed with Klaus

Grabe, which was a winner in MoMA's

Organic Design in Home Furnishings

competition in 1941, and the Woven

PIA RIVEROLA
---
FROM TOP: ARCHIVES OF AMERICAN ART, SMITHSONIAN INSTITUTION, ESTHER MCCOY PAPERS; © LUTECA; PIA RIVEROLA

Credenza, a 1940 design in wood with

palm-cord doors.

Luteca's roster of contemporary

collaborators includes Jorge Arturo

Ibarra (who is also the company's

design director), Sami Hayek, the

French-Mexican Studio Martes and

the duo of Rodrigo Berrondo and

Pablo Igartúa. In one way or another,

they all draw on Mexico's 20thcentury

design history or its native

materials to produce furniture that

evokes tradition in a new way.

For its latest release, Luteca

returned to the 20th century, with

two pieces by Clara Porset, another

key figure in Mexico's modernist

history: a sculptural wood-and-glass

coffee table that Amanda calls "so

modern it could have been designed

yesterday" and Porset's take on the

classic Mexican butaque chair, with

its sinuously curved wood frame.

"Porset offered us an opportunity to

highlight a female designer who was

doing amazing things in the mid-

20th century that are still admired

today," she says.

Born in Cuba in 1895 and educated

in both the US and France, Porset

fled Cuba for Mexico as a political

exile in 1935. She was soon working

with prominent architects like

Luis Barragán and Mario Pani on

everything from high-end residences

and restaurants to housing projects,

and her design for a steel-tube chair

was included in the catalogue of

MoMA's International Competition

for Low-Cost Furniture Design in

1950. Her interiors and furniture were

known for integrating her modernist

education with a genuine interest in

Mexican traditions. Porset owed the

latter in part to her travels throughout

the country with her husband, Xavier

Guerrero, a well-known muralist

and activist. But as humanistic as

her approach was, Porset's aesthetic

had no room for frills; as she said in

a 1931 lecture, "We are in a position

to perceive and appreciate an austere

beauty stripped of all ornament."

Porset's brief return to Cuba after

the 1959 revolution to work with

the Castro regime alienated many

of her peers. But in her later years

in Mexico, Porset resumed her long

career teaching industrial design at

the National Autonomous University

of Mexico (UNAM); her work was

recognised in Mexican museum

exhibitions, and she received various

awards before her death in 1981.

Porset was not the only 20thcentury

designer who was fascinated

by the butaque; it was also interpreted

by William Spratling, who is best

known for his work in silver, and

by van Beuren, whose own, more

reductive version is also now being

made by Luteca. Porset, however,

was keen on maximising the chair's

ergonomic potential, as well as

respecting its vernacular roots. Later

this year, Luteca will introduce

another well-known Porset design,

the Totonaca chair, inspired by a

sculpture dating to the fifth or sixth

century BC. Luteca worked with

UNAM, which houses the designer's

archive, to develop the technical

drawings for all these pieces.

Another Mexico-based project,

Luteca's Txt.ure line, was developed

by Regina Pozo in collaboration with

the last remaining group of native

artisans still weaving tule (a marsh

plant similar to a cattail) – a craft that

dates back to the Mayans. Together,

they're working on a series of seating.

Luteca produces its furniture in

the US but has added a factory in

Mexico to meet the demand for

From top: designer

Clara Porset (right);

a Porset coffee table

by Luteca

projects there, like Jon Brent Design's

Four Seasons Resort Los Cabos and

Cherem Arquitectos' 1 Hotel Cabo.

Last year Luteca opened a showroom

in Mexico City.

And now the company has just

opened its first US showroom, in

New York City, giving it an outlet to

broadcast its message to even greater

numbers of designers. "We're trying

to reach a global audience," Amanda

says. "But Mexican design is still

influenced by local cultures and

traditions. It's very personal."

DEPARTURES

57
---
LUXE ESCAPES

Endless white-sand beaches as far as the eye can see, crystal-clear

turquiose waters and intriguing cultural and dining experiences: these

far-flung tropical hideaways promise the adventure of a lifetime
---
SPECIAL ADVERTISING SECTION

Soneva Fushi

The original Soneva.

Hidden among dense

foliage withiin the Baa

Atoll UNESCO Biosphere

Reserve in the Maldives

SONEVA FUSHI is the 'No News, No Shoes'

blueprint for all desert island barefoot luxury

hideaways. The resort's pure connection

to nature inspires the imagination with 61

spacious one to nine bedroom beachfront

villas, all built with sustainable materials.

Dramatic indoor living areas and tropical

open living spaces, picturesque terraces,

scenic decks, tranquil walkways, and your

very own Mr/Ms Friday who will attend to

your every need define the very essence of

'intelligent luxury.'

Watch movies under the stars at Cinema

Paradiso, create unique pieces of art at

the Soneva Art & Glass Studio, or spend

evenings star gazing from The Observatory.

Dreamy escapes, island adventures, and

divine gourmet creations, cater to all guests,

including the little ones who can live their

island dream at The Den.

KUNFUNADOO ISLAND,

BAA ATOLL, MALDIVES

FOR MORE INFORMATION OR TO MAKE A BOOKING, PLEASE CONTACT YOUR PLATINUM TRAVEL SERVICE
---
SPECIAL ADVERTISING SECTION

Six Senses

Kaplankaya

Breathtaking natural

beauty on the Aegean

coastline of Turkey

LOCATED ACROSS THE BAY FROM

Bodrum, the vision for Six Senses

Kaplankaya is to offer a pioneering approach

to wellness while preserving the natural

surroundings steeped in history and culture.

Seamlessly bridging old and new, the resort

combines contemporary architecture and

high tech comforts for its 141 guestrooms,

villas and residences, offering a view across

the turquoise waters of the Aegean Sea.

Turkish hospitality begins with the arrival

experience whether by speedboat, by

helicopter or by driving up through hills

flanked with ancient olive trees.

The approach to food – Eat With Six

Senses – helps guests eat more healthily

by sourcing local products from the

resort's organic garden, region's olive

trees, local fish market and nearby villages.

Mediterranean and Aegean-inspired cuisine

is the overarching theme at the three dining

venues of the resort.

Offering a truly integrative approach to

optimal wellness, Six Senses Spa in

Kaplankaya is an expansive 10,000-square

meters. The spa is rich with an impressive

array of signature treatments spread over

two floors.

Adventure-seekers can choose from a

diverse range of sports and activities on site

and on the water. Further afield, there are

cultural excursions and private boat and

helicopter tours.

BOZBUK MAHALLESI, MERKEZ

SOKAK, NO: 198, MILAS, MUGLA, TURKEY

SIXSENSES.COM

FOR RESERVATIONS CONTACT US AT +90 252 511 00 51 OR RESERVATIONS-KAPLANKAYA@SIXSENSES.COM
---
SPECIAL ADVERTISING SECTION

Shangri-La's

Villingili

Resort & Spa

A tropical gem beyond the equator.

Your sanctuary beyond paradise

VILLINGILI ISLAND, a stunning jewel in

the heart of the Indian Ocean. A natural

beach-soaked paradise rising out of the

azure waters, and the largest dedicated

resort island in the Maldives. Perfect yearround

temperatures and expansive flawless

coastline, every corner of the island hides

new escapades to discover. A slice of heaven,

a true Shangri-La.

Relax in style at one of our private villas

perched on the emerald green jungle, or

strung along the turquoise shoreline. The

island is over 2.5 km long and spreading

across 54 hectares, allowing for multiple

activities, dining destinations, and for each

one to enjoy its own piece of paradise in

utmost privacy.

Its expansive footprint ensures that there

is more to enjoy, from cycling through the

jungle to a round of golf at the only course

in the Maldives, a once in a lifetime 'lunch

on the equator' aboard our luxury yacht

Horizon, or a thrilling ocean adventure where

you can spot dolphins frolicking around and

majestic Manta rays swimming along.

Refresh mind and body with our daily

fitness programmes or book a wellness

retreat to explore the art of reflexology, yoga

and Ayurveda practice. There is no end to the

adventures that await you.

VILLINGILI ISLAND, ADDU ATOLL

MALDIVES

FOR MORE INFORMATION OR TO MAKE A BOOKING, PLEASE CONTACT YOUR PLATINUM TRAVEL SERVICE
---
SPECIAL ADVERTISING SECTION

Four Seasons

Mahé

Discover Seychelles'

best kept secret

A TROPICAL AMPHITHEATRE of treetop

villas circling the idyllic white smile of Mahé's

Petite Anse bay. Descend down lushly

forested paths to the secluded powdersand

beach or rise to the dramatic heights

of the contemporary spa, cantilevered off

the hillside with views that stretch forever.

The villa interiors are inspired by rustic

Seychellois and French colonial style.

Simple, whitewashed timber slat walls

allow our carefully curated collection of

objets d'art to sing. The verandah, day bed

pavilion, and infinity plunge pool set off

unencumbered views of tropical greenery,

the white sand enclosed in the bay, and the

azure waters of the Indian Ocean. With only

67 villas and suites raised on stilts amongst

mango, jackfruit and cinnamon trees on

a 180-hectare site nestled in the natural

amphitheatre of Petite Anse, the resort is

a haven of untouched nature and peaceful

isolation. Journey to wellness at the hilltop

spa where yoga and invigorating treatments

await. Relaxation next to the white powder

sands and azure waters is taken to the next

level by a beach service tailored to make

your time in the warm Seychelles climate

as comfortable as possible, while recreation

activities bring fun and adventure to those

looking to try something new. However

paradise might look for you, we guarantee

you'll find it here.

SEYCHELLES MAHÈ - PETITE

ANSE, BAKE LAZARE, PO

BOX 1397, VICTORIA, MAHÈ,

SEYCHELLES

FOR MORE INFORMATION OR TO MAKE A BOOKING, PLEASE CONTACT YOUR PLATINUM TRAVEL SERVICE
---
SPECIAL ADVERTISING SECTION

One&Only

Reethi Rah

A place where turquoise

clear waters meet

cloudless azure skies

ONE&ONLY REETHI RAH is a truly rare

place where joy comes alive – a lush haven

brimming with energy, imagination and

glamour set amid the vivid turquoise waters

of the Indian Ocean. Surrounded by the

crystal blue waters, this ultra-luxury all-villa

resort in the Maldives offers an unrivalled

level of style, choice and personalised

exploration. As one of the most spacious

islands, offering unrivalled privacy and

exclusivity. Our beach and water villas are

designed in a unique way to ensure each

villa occupies its own generous secluded

area – enabling you to revel in your own,

undisturbed piece of paradise. Choose from

seven mesmerising culinary experiences

during your stay – all designed by experts in

their field to take you on a delectable journey

of discovery. We provide tailored, actionpacked

programmes for all ages ensuring

each and every guest is excited engaged

and exhilarated. We partner with the best

in health, beauty and fitness industry to

deliver unique experiences to enrich your

wellbeing in ways like never been before.

With discreet, warm & wonderfully unstuffy

service, exquisite experiences to discover

and unforgettable parties, One&Only Reethi

Rah is a place that celebrates life to create

magically unscripted stories for the world's

most discerning guests.

NORTH MALÉ ATOLL,

REPUBLIC OF MALDIVES

ONEANDONLYREETHIRAH.COM

FOR MORE INFORMATION OR TO MAKE A BOOKING, PLEASE CONTACT YOUR PLATINUM TRAVEL SERVICE
---
SPECIAL ADVERTISING SECTION

The St. Regis

Abu Dhabi

Abu Dhabi's finest urban resort

located at the vibrant heart of the

UAE capital with a 200 metre stretch

of pristine beach, overlooking the

turquoise waters of the Arabian Gulf

at the best address in the city

LIVE EXQUISITE at The St. Regis Abu

Dhabi which merges authentic Arabian

hospitality with more than a hundred years

of bespoke St. Regis tradition, located at the

captivating Address of Nation Towers on the

Abu Dhabi Corniche.

Situated between the 33rd and 49th floors,

each of the hotel's 228 guestrooms and 55

suites enchant with the finest materials and

magnificent views of the Arabian Gulf and the

UAE capital while offering the signature St.

Regis Butler service to all guests. The hotel

is home to the world's highest suspended

suite, situated 220 metres above sea level,

the Abu Dhabi Suite adjoins the two Nation

Towers and occupies a spacious 1120 square

metres with a captivating 360 degree views

of the city.

The hotel is home to The Nation Riviera

Beach Club with 200 metre beach and

spacious swimming pool, a children's club,

one of the UAE's largest spas and nine

distinctive restaurants and lounges cater to all

tastes. Culinary masterpieces, from the award

winning italian restaurant Villa Toscana to the

exclusive Helipad Sunset Supper experience.

Located at the heart of the Abu Dhabi

Corniche this hotel is known as the finest

address in the city guests treated to service

beyond expectation.

THE ST. REGIS ABU DHABI

NATION TOWERS, CORNICHE

ABU DHABI, UNITED ARAB EMIRATES

STREGISABUDHABI.COM

FOR MORE INFORMATION OR TO MAKE A BOOKING, PLEASE CONTACT YOUR PLATINUM TRAVEL SERVICE
---
SPECIAL ADVERTISING SECTION

W Koh Samui

Explore nine miles of tropical

island paradise, where

private-pool villas, a tropical

beach and iconic restaurants

electrify the night

LOCATED ONLY 15 MINUTES away from

Koh Samui international airport and

between Maenam and Bo Phut beaches,

W Koh Samui luxury resort has the finest

pristine beach location in Thailand,

with convenient access to the island's

lifestyle streets, entertainment districts

and local attractions.

Surrounded by verdant foliage, each of

74 villas boasts a private outdoor pool

and infinite island views. Inside, premiere

technology meets signature W pillow top

beds, Bliss Spa amenities and Whatever/

Whenever® service. Ultra chic and cuttingedge

design awaits, just as the stunning sea

views of Koh Samui's northern coast.

Start the day with a workout at FIT,

dip at WET or up your game at an outdoor

tennis court – SWING, before unwinding with

a local therapy at AWAY Spa. Dine at the

hotel's contemporary Japanese restaurant,

Namu, or the all-day dining restaurant, The

Kitchen Table.

Make yourself at home with a 24/7

access to the hotel's Sweest Spot providing

complimentary soft drinks and premium

ice creams.

W KOH SAMUI

4/1 MOO 1, MAENAM, KOH SAMUI

SURATTHANI, THAILAND

WKOHSAMUI.COM

FOR RESERVATIONS CONTACT RESERVATIONS.WKOHSAMUI@WHOTELS.COM OR +66 77 915 999
---
O

U

T

S

I

D

E

T

E

B

X

H

O

The award-winning architect

Thom Mayne – known for his daringly

complex buildings around the world –

ÿ nally designs one for himself.

by Ted Loos. Photographs by Spencer Lowell.

Styled by Michael Reynolds

66
---
Thom Mayne clad his Los Angeles

home in an aluminium screen

that adds to the camouflage look

67
---
Cheviot Hills, in west

Los Angeles, looks

like so many old

neighbourhoods in

the city: perfectly

manicured lawns,

wide pavements, and

comfortable uppermiddle-class

houses

68

in a wide array of architectural styles, including Tudor

Revival, Mediterranean Revival and modern Craftsman.

But then there's Thom Mayne's house – a modernist box

of metal and glass surrounded by greenery and fronted

by a pool, largely invisible from the street. It's the most

personal expression to date from the iconoclastic architect,

who built the house for himself and his wife of 37 years,

Blythe Alison-Mayne.

Mayne, a tall and gangly 75-year-old, is almost

incapable of doing unprovocative work. He won

architecture's highest honour, the Pritzker Prize, in 2005,

and his LA-based firm, Morphosis, is known for designing

thoughtfully muscular buildings like Manhattan's 41

Cooper Square, which houses Cooper Union's humanities

and engineering schools and has a sloping, riven metal

façade, and the Bloomberg Center at Cornell Tech, on

New York City's Roosevelt Island, which is topped by

a dramatic canopy full of solar panels. His upcoming

projects span the globe, from a research building in Seoul

to the US embassy in Beirut.

"Most people who see our work don't think domestic

architecture," says Mayne. "Building a home puts you in

a completely different mindset: from the macro level to

intimate detail." Case in point: his living room cantilevers

over the pool and has a partially see-through floor that

reveals the water below. The glass walls fronting the pool

open completely, so guests can dive right in from the

living room. "And people do," says Alison-Mayne, who

was a financial manager at her husband's firm for years.

The house is Mayne's first domestic project in a quartercentury,

and was completed in late 2017 on a site that used

to hold the home of the sci-fi writer Ray Bradbury. Mayne

says the house was explicitly influenced by the Case Study

Houses (1945-66), modern icons with the California vibe
---
In the living room, Mayne

displays mixed-media art he's

completed over the past seven

years. The floor lamp is from

Artemide; opposite: Mayne with

his wife, Blythe Alison-Mayne

69
---
"It goes back to the

way we live: constant

communication,"

Alison-Mayne says.

"There's no man

cave, no place where

people go to escape"

70

of spare lines and indoor-outdoor living, but this

wasn't going to be an academic exercise. "When we

started, we said, 'This is not Thom Mayne. This is not

Morphosis. This is our house,' " the architect says.

Partly clad in metal with large, semi-perforated

circle shapes – imagine hole-punched hanging chads

– the home is one complex puzzle. The main house is

only 130 square metres above ground, but an adjacent

guest one adds another 74. It feels bigger perhaps

because the houses' parts overlap and bleed into each

other – the architectural equivalent of a jazz musician

on a riff. While the design stresses privacy in some

ways, there are a lot of open elements that aren't

conventional. Mayne wanted to prove something, too.

"Thinking of the group I'm compared with, the Coop

Himmelb(l)aus, the Frank Gehrys, the Zaha Hadids"

– he means the Big Architectural Statement types – "I

wanted to instead make architecture secondary to the

landscape. It should just about disappear." He adds,

"It's the thing I'm most happy about. It proves I can do

something softer."

Softer, maybe, but not safe. "Everything's off by a

degree and a half," says Mayne, standing in the mainfloor

hallway and gesturing at the slightly-off angle of

the white walls. "It gives you a dynamism." Luckily,

Morphosis had a shop to fabricate all the custom parts.

The living room has a skinny vertical section cut out of

one wall, facing the entrance, the better to see who's

coming to the door, says Alison-Mayne with a smile.

The main staircase has a portion that seems impassable

to all but tiny children, since another volume juts into

its space; you have to walk around that volume, but as

you do, you discover two new vistas: up to the left, an

office, and up to the right, the loftlike master bedroom.

Perhaps the most striking feature is the dining area's

faceted ceiling, made of intricately fitted panels, which

curves up to form the back of the headboard in the master

bedroom, whose half-walls overlook the first floor. It's

a twist on the old modern architecture adage, "Form

follows function."

Instead of building up, Mayne dug down –

construction crews excavated some 450 truckloads

of dirt. But he only built on one-fifth of the allowable
---
The stairway to the master bedroom; Alison-Mayne's office includes a desk chair from Fritz Hansen and a stool from Design Within Reach;

opposite, from above: The property features a 17m-long pool with chaises longues from Royal Botania; Mayne capped a structural steel

beam with Douglas fir to blend with the surroundings

volume. By starting low, he was able to play with levels (the

house has eight elevation points) and insulate from prying

eyes. The perimeter hedge includes what Mayne calls "a

007 moment": the driveway gate is part of the green wall,

so a portion moves aside when it opens. Thanks to the

design, the normally private couple can spend a lot of time

outside. Mayne wanted to emphasise that the outdoor

entertaining space was part of the house, so he extended

a beam out from the structure and then down towards

the far side of the pool, but there's a gap midway before

continuing to the ground. "That's a language I've been

working with my whole career," says Mayne. "Fragments,

the unfinished, works in progress."

That kind of unconventional, disruptive thinking has

marked his CV since founding Morphosis in 1972. Mayne

spent much of his early career as an uncompromising,

largely academic architect – he was a founding faculty

member at the LA architecture school SCI-Arc – and

his firm faced many lean years. But in the 1990s, with

projects like the brilliantly fragmented Diamond Ranch

High School in 2000, his work started to get noticed,

and today Morphosis is one of the most sought-after

architecture shops.

But it was the small, 1930s bungalow in Santa Monica

where the Maynes raised their two sons – not his previous

signature projects – that inspired the size and feel of this

hideaway. Their former home was famously quirky: the

shower, for example, was in the middle of the living room.

The stall was opaque, but "it was challenging to figure out

privacy," says Alison-Mayne.

And when their adult sons, now both well over six feet

tall, came to visit, it became clear that the family had long

outgrown the house. "One of my sons said to me, 'You know

you're married to an architect, right?' " Hence the new house

and its "hotel wing", a completely separate space with two

bedrooms, a bathroom, and a small living room. No guest is

encouraged to stay too long, by design: "The closets are so

small you can't move in," she adds.

But guests can certainly feel at home in this very openplan

living space. "It goes back to the way we live: constant

communication," Alison-Mayne says. "There's no man cave,

no place where people go to escape." She does, however, like

to retreat to her bedroom-bathroom area that opens to the

outdoors. The bed looks across the tops of palm trees to the

shower. Next to the tub is a curved bench that Mayne sits on

to chat with her when she has her nightly bath. The angles

all ensure that the couple can't be seen from the street or

elsewhere in the house.

Because he is a perfectionist, Mayne is still "struggling

with everything that's wrong" with the house, he says with

a sheepish smile. He knows Chez Mayne is tailored for

his family, but it's also on-brand for Morphosis. "As the

world gets thinner and simpler," he says, "I'm interested in

architecture's role in countering that."

71
---
72 DEPARTURES

A view of the Parroquia de San

Miguel Arcángel from the grounds

of the Rosewood hotel; opposite:

the shop Evoke the Spirit
---
It's Always Sunny in

SAN MIGUEL

Some residents call it an energy vortex – others credit the light and architecture.

There's just something about San Miguel de Allende that continues to draw creative

visionaries from around the world to Mexico's most enchanting colonial town.

by Maura Egan | Photographs by Lindsay Lauckner Gundlock
---
ou need to go behind the

closed doors, peek inside

the courtyards in San Miguel

de Allende," said Bertha

González Nieves, a highpowered

Mexican business

Y

woman. "Here, everything

goes back deep." González

was sitting in the courtyard

of the cavernous Casa

Dragones, once the 18th-century stables of Los Dragones,

an elite cavalry that helped lead Mexico to independence.

Although González shuttles between Mexico City and

Manhattan, she calls San Miguel de Allende the spiritual

home of the brand.

"There's an energy here – this is where the revolution

started," González said. "It's also the centre of the

country. And the light! It's the reason why artists and

photographers fall in love with this place." A picturesque

hill town about 250 kilometres northwest of Mexico

City, San Miguel de Allende started luring international

visitors in the 1930s, when 27-year-old Chicago painter

Stirling Dickinson came through and was immediately

enchanted. He would go on to establish the El Centro

Cultural Ignacio Ramírez (also known as Bellas Artes) in a

former convent and recruit hundreds

of young American veterans to study

there under the GI Bill. (González

advised me to explore the buildings'

cloisters to see an unfinished but

dramatic mural by David Alfaro

Siqueiros, a contemporary of Diego

Rivera, who taught many of the

GIs.) In the postwar years, artists

and retirees alike were drawn to the

city; today nearly 10 percent of the

population is from the US.

It's been referred to as the Florence

of Mexico, and you can see why. The

main square is unexpectedly European:

the Parroquia de San Miguel Arcángel, a

giant pink sandstone cathedral with neo-

Gothic spires, is one of many churches

in town. There are manicured parks

with sculpted laurel trees and fountains,

and the most treacherous cobblestoned

streets you'll ever navigate. And as with

its Italian counterpart, those streets

are thronged by an endless procession

of tourists.

74 DEPARTURES

Left: the entrance of Casa

Dragones; opposite: the

pool at L'Ôtel at Dôce 18

Concept House
---
"This is where the revolution started,"

González said. "It's also the centre of

the country. And the light! It's the

reason why artists and photographers

fall in love with this place"

All kinds of tourists: athleisureclad

seniors basking in the year-round

perfect weather; college students

taking pottery and weaving workshops

at venerable cultural institutions like

Bellas Artes and the Instituto Allende;

and Mexican wedding parties from

Monterrey and Guadalajara posing

for family photos in the stately Parque

Benito Juárez.

"I never really had a desire to

visit, because I had heard it was full

of tourists," said Laura Kirar, an

artist and designer who moved

from Brooklyn to Yucatán in 2017

to restore an old hacienda with

her husband, Richard Frazier. She

started visiting San Miguel for

business and to escape Yucatán's

summer heat and was soon

enthralled.

"The creative community here

is strong, and it isn't just painters

and musicians," Kirar told me.

She works with Mexican artisans

across the region to make her sisaland-henequen

woven bags and

copper objects, which she sells at

Dôce 18 Concept House, a stylish

retail complex in the historic centre. "The entrepreneurial

spirit seems to be thriving here," she said. "It's a place of

connectors and doers."

For the most part, the Americans and Europeans

who've settled in San Miguel aren't just snowbirds

here for the weather. Whether it's designers and

decorators working with regional craftsmen to make

their wares, hiring local chefs to cook in restaurants

serving new riffs on traditional Mexican cuisine, or

volunteering (there are nearly 100 charities in the area),

the expats who've settled in the area tend to be actively

engaged with the community. On Halloween night,

DEPARTURES

75
---
76 DEPARTURES
---
Right: chef Donnie Masterton at

The Restaurant; below: a beef rib

taco at Jacinto 1930; opposite:

a guest room at Hotel Amparo

I watched the older American expat couples (who seemed

as excited for the holiday as the Mexican children) hand

out treats to swarms of kids.

"You have to remember that San Miguel's expat

community originated from that first group of

people who came down here to study the arts,"

said Jeffry Weisman, who bought a place here

in 2011 with his husband and business partner, Andrew

Fisher. The San Francisco-based designers, known for their

opulent interiors, had always loved Mexico but assumed

they would buy near the beach. "But then my sister came

down here for a bridge tournament and told us we'd fall

in love with it," recalled Weisman. Once they discovered

a former tannery for sale, they traded in their Sonoma

Valley ranch for San Miguel de Allende. The façade of their

property looks simple enough, but after you pass through

the wooden doors, it's an architectural extravaganza.

They've added stone terraces, statement chandeliers and

hulking stone fireplaces. All of the rooms look out onto

a lush garden that leads to a pool with a guest casita and

100-year-old jacaranda trees, which were what clinched it

for Weisman. But it was also the weather. "It's 75 and clear

most of the year," he said. "I love the old-world scale too.

None of the buildings are taller than two storeys, and it's

still cobblestoned streets."

It's proven to be an ideal place to work. With so

many family factories and craftsmen in the region, the

designers can produce many of their pieces there. Fisher,

who is also a painter and sculptor, has a loftlike studio

in town and spends nearly all his time in San Miguel.

The pair recently finished work on Casa Blanca 7, an

intimate new hotel just off the main plaza, where they added

SAN MIGUEL ESSENTIALS

Hotels

The town's classic hotels include BELMOND CASA

DE SIERRA NEVADA ( belmond​.com) spread out

across six historic mansions, with a hidden pool and

a cooking school; and ROSEWOOD SAN MIGUEL DE

ALLENDE ( rosewood​hotels.com), which includes

67 rooms done in classical hacienda style, three pools

and a popular rooftop lounge. There is also a slew

of newer boutique properties, such as HOTEL CASA

BLANCA 7 (casablanca7.com), a renovated 300-yearold

residence with Fatima 7, Donnie Masterton's

Mediterranean-inspired restaurant; HOTEL AMPARO

(hotelamparo.com), which features five eclectic guest

rooms as well as a coffee joint; and L'ÔTEL AT DÔCE

18 CONCEPT HOUSE (l-otelgroup.com), a ten-room

boutique hotel with a rooftop pool.

Restaurants

EL PEGASO ( Corregidora 6) serves hearty dishes

like chiles en nogada stuffed with meat and

raisins and a fragrant chicken soup. JACINTO 1930

(jacinto1930.mx) serves modern Mexican dishes ; try

LA PARADA ( laparadasma.com) for delicious ceviche.

Donnie Masterton's THE RESTAURANT (therestaurant

sanmiguel.com) offers fresh global comfort food.

Shops

DÔCE 18 CONCEPT HOUSE (doce-18.com) sells

wares from all over Mexico. For hand-dyed textiles

and pottery, check out EVOKE THE SPIRIT (evoke

thespirit.com). FÁBRICA LA AURORA (fabrica​la​

aurora.com) is a former factory filled with galleries

and shops, including gems like Cantadora, for antiques,

and Galería Noyola Fernández. Head to TAO STUDIO

GALLERY (taostudio.net) for high-end furnishings

by Mexican artisans.

DEPARTURES

77
---
"There's a true community

that is actively engaged

with the local culture"

78 DEPARTURES

Moroccan

flourishes to a

classic colonial

design.

"It's pennies

on the dollar

to make things

here," said

Taylor Goodall, a Houston-based lawyer and the coowner

with his wife Mariana of Hotel Amparo, which

opened this January. Though they shipped in midcentury

pieces from abroad, they've furnished much of the fiveroom

guesthouse with textiles from Oaxaca, handcarved

poster beds and papier-mâché objects. It's an enviable

mix, and I found myself wanting to know the provenance

of every piece. "We want guests to feel like they're staying

at their coolest friend's house," said Goodall, who plans

to open a shop in the lobby to sell commissioned pieces

from local artisans.

There is a lot of creative cross-pollination going on in

San Miguel de Allende. Dôce 18 Concept House houses

a floral studio, a clothing boutique, a ceramics kiosk, a

macaroon stall, several galleries amd a small independent

hotel. One afternoon González took me to visit.

The complex was busy with international visitors but

also young couples from Mexico City who'd come for the

weekend. After a coffee, we headed next door to the very

popular Jacinto 1930 restaurant, where enjoyed oystermushroom

tacos.

For more casual fare, Dôce 18 has a food hall in the back

of the building where Donnie Masterton, an LA native,

has opened a taco stand as well as a grass-fed-burger

joint. In 2008, Masterton, San Miguel's de facto culinary

ambassador, came to the city and opened what would

become a hugely popular outpost of haute cuisine called

The Restaurant. He had moved down to Mexico a few

years before to take a break from kitchens, having cooked

professionally since he was 15. He fell in love with San

Miguel de Allende and realised there was an opportunity

to open a restaurant focused on local ingredients. He's

been deeply involved in the town's burgeoning farm-totable

movement and is building a small eco-ranch just

outside town to grow produce and raise livestock, which

will supply his restaurants. "From a business perspective,

there are fewer hoops to jump through than in the States,"

Masterton told me. "It's way more

fun to do it down here." He has just

opened Fatima 7, a Middle Eastern

restaurant in Casa Blanca 7, the

boutique hotel that Weisman and

Fisher designed.

On Thursdays The Restaurant

holds burger night, a tradition that

started during the recession and still

brings in the crowds. However, on

most evenings the place serves as a

local social hub. The night I stopped

by, I met a DJ from Dallas, a Pilates

instructor from San Francisco, and

a reunion group for one of the two

San Miguel Burning Man camps, and

I even bumped into Kirar again. I

asked all of them why San Miguel was

so popular. A few in the Burning Man

group told me about the town having

an energy vortex or an "acupressure

point". Kirar admitted she didn't

want to sound all woo-woo, but she

agreed. "There is something special

here that makes me breathe deeper

and smile wider."
---
A showroom in the Tao

Studio Gallery; opposite,

from top: a cobblestoned

street; a musician walks

past the Church of

Immaculate Conception in

the historic centre

DEPARTURES

79
---
GRAND HOTEL

By taking over the beloved Fife Arms, art-world power players

Iwan and Manuela Wirth have added another gem to their cultural empire

and given a jolt of energy to the Scottish Highlands.

by ALIX BROWNE | Photographs by SIMON WATSON

80
---
LAST NOVEMBER, just a few weeks before The Fife Arms,

a Victorian-era hotel in the Scottish Highlands, officially

opened its doors, Iwan and Manuela Wirth invited the

village of Braemar in for a preview. The Wirths, avid art

collectors and the Swiss power couple behind the Hauser

& Wirth gallery empire, purchased The Fife Arms in

2014, and the extensive renovation they undertook had

for the past few years deprived Braemar of its very centre

of gravity.

That night, however, the Wirths took a small but

raucous step toward making it up to everyone: a trio

of local bagpipe troops in full Scottish regalia marched

through the village streets and faced off ceremoniously

at the hotel's front door. Inside, the many hearths were

stoked and the tables laid with trays of oysters, cured meats

and smoked fish. The village choir performed on The

Fife's grand stairway, opening its set with a rendition of

"California Dreamin'", while a ceilidh brought gentlemen

in kilts and young girls in miniskirts to the dance floor

with classic folk numbers like "Dashing White Sergeant"

and "Strip the Willow". The hotel lounge, reborn as the

Flying Stag, was awash in the good cheer of people who

have at long last been reunited in the place they love,

only to discover that this place is far better than they

remembered it to be. The evening, which coincided with

Saint Andrew's Day, one of Scotland's biggest holidays,

culminated in a display of fireworks.

"The Fife was always a place for parties, but it's never

seen a party quite like that!" exclaimed Alison MacIntosh,

whose husband had played the grand piano in the reception

room, accompanied for a bit by her daughter on the

oboe. MacIntosh had stopped by the hotel to drop off a

handwritten note of thanks. "My sister had her wedding

reception here. I celebrated my twenty-first

birthday here," she continued. "It was the most

important building in the village, and we could

see it was going down – it was shabby, it was

cheap. I am so happy to see it brought back to

life."

Opposite page: At long

last Scottish locals have

been reunited with

their beloved gathering

spot, only to discover

it is far better than

they remembered

The Fife Arms was built in the mid-19th century as a

first-class hotel, to capitalise on the newfound popularity

the Highlands experienced after über-tastemakers Queen

Victoria and her husband, Prince Albert, made nearby

Balmoral Castle their holiday home in 1852. Situated

within the Cairngorms, Britain's largest national park,

the area is known for its spectacular fishing, stag and

grouse-hunting, hiking, and the Braemar Gathering, a

venerable competition in which all manner of heavy

items, including a 6m-long, 60kg tree trunk known as

the Braemar caber, are tossed, thrown or put. Held on the

first Saturday in September, the Gathering is faithfully

attended by Queen Elizabeth every year from precisely 3

pm to 4 pm.

"Everyone has a romantic relationship with Scotland,"

said Iwan Wirth, an enthusiastic fly fisherman who has

been coming to Scotland for decades. "But the Swiss love it

because it looks like our Alpine valleys – Engadine without

the motorways, the hydro plants, the development. It's sort

of Switzerland before the First World War." Eventually

the romance of camping out in traditional fishing lodges

(cramped, stinky) on their visits wore thin, and the Wirths

began looking for a place to call their own, big enough to

accommodate their four grown children, assorted dogs,

works of art, and the many contemporary artists who

compose not only the Hauser & Wirth gallery roster but

also their close circle of friends. Before long they found

themselves the owners of such a house – as well as a 90-

room hotel that had seen much better days.

"It was crying for help," Iwan recalled, contrasting

The Fife's stately presence in a culturally rich, picturepostcard

village setting against its unsightly modern

additions, its warrens of sad, carved-up spaces, its

leaky roof and its demotion from a storied, first-rate

establishment to a cheap stopover catering to the lower

end of the bus-tourism industry. "Manuela and I take

these long hikes every day whenever we are here, and that

is when we basically discuss everything from the children

to personal issues and the business," he said. One day, the

couple trekked up to the Braemar weather station, and by

the time they returned home, they had made a decision.

The Wirths like to say that they know nothing about

running a hotel, and that in purchasing The Fife they

were motivated by instinct, enthusiasm and no small

amount of ignorance, but the couple had in fact already

made successful forays into the hospitality business. They

have established themselves in the traditional

art-world capitals (Zurich, London, New

York), and in 2014 they opened Hauser &

Wirth Somerset on an 18th-century farm in

the English countryside, incorporating a

guesthouse, a restaurant and an arts centre

81
---
into their robust cultural programme. They followed it up

two years later with Hauser & Wirth Los Angeles, which

boasts more than 9,000 square metres of exhibition

space, and Manuela, a bustling, art-filled restaurant. This

past December, they opened their latest outpost, in St

Moritz. "Art is at the heart of everything we do – not just

the work but the process, the thinking," said Iwan, who

added that Hauser & Wirth aims to reimagine the gallerygoing

experience as an opportunity to build community.

"With Somerset we created a new model. The Kunsthalle

Zurich has 9,000 visitors a year. Somerset has that in

three weekends."

The artists who had been guests at the Wirths' house

in Scotland were among the first to sign on for this latest

venture, and they created site-specific projects while The

Fife was still under renovation. These were not, Iwan

noted, commissions per se. "We invited them all for

the Gathering and then sorted out who does what," he

explained. The walls of The Fife's Clunie Dining Room

were hand-painted by Argentine artist Guillermo Kuitca

(the installation took him three months, which he spent

toiling alone through the winter, with little daylight and

no heat); the Chinese artist Zhang Enli took on the ceiling

in the Drawing Room, painting a massive watercolour

inspired by ancient Scottish quartz; and after some

consideration Bharti Kher, who splits her time between

India and the UK, decided to take on the spa. "It doesn't

even need a gallery here," Iwan said. "The art is embedded

in everything."

While there is no dedicated exhibition space on the

grounds, art is indeed the fabric of The Fife, and one

could be forgiven for failing to notice the Picasso in the

drawing room, the Lucian Freud in the reception, or the

Gerhard Richter in the dining room, integrated as they

are with the hotel's sumptuous Victorian interiors. The

decor of The Fife Arms is so spot-on that if Manuela,

whose regular tartan-inflected wardrobe complements her

tousled, flame-coloured locks, had told me that she has

Scottish ancestry and that the carved wooden chairs and

fringed upholstery all came from the attic of her family

estate, I would have been more than inclined to believe

her. While much of the contemporary art does in fact come

from the Wirths' personal collection, The Fife's period

furnishings and artworks, including a drawing of a stag

by Queen Victoria herself, were meticulously sourced by

designer Russell Sage and his team, who, under the Wirths'

direction, saw to it that every single detail

had a story to tell. When the hotel's manager

extraordinaire, Federica Bertolini, inquired

about how I had slept, I learnt that the

mattresses were from Glencraft, a company

that has made them for four generations

of the royal family. The Fife has its own

proprietary tartan and tweed, used for its

bespoke staff uniforms as well as the custom

Opposite, clockwise from

top left: the main hall

lobby; the Victoriana

suites, such as the Prince

Albert, are named for

noble visitors to the

region; hunting trophies

decorate The Fife Arms'

Brae Wing corridor; the

bathroom in the

King Edward VII suite

interiors of its fleet of Land Rovers, and it even has its own

registered coat of arms, featuring an image of a flying stag.

Its motto: "To the Summit".

Post-renovation, The Fife boasts only 46 guest rooms,

each unique, ranging from Royal Suites named for

noble visitors to the region (I was assigned the Duke of

Fife) to more modestly sized but exquisitely appointed

accommodations inspired by the works of Scottish poets

and scientists. One of the Wirths' favourites is the David

Douglas room, named for the Scottish botanist who

brought the Douglas fir to Britain from North America

in the 1820s. "This room was a problem," Iwan admitted.

"The windows are small and they are on the courtyard, but

Russell got his hands on it, and now you feel as though you

are in a forest." Engraved in the headboard are the words of

the Edinburgh-based artist and poet Alec Finlay: "To learn

about the pine, hold the cone in your hand."

"What's the difference between a hotel and a place you

love and want to stay in and never leave?" Iwan asked,

knowing that we only have to look around us to find the

answer. The Fife Arms is a genuinely enchanting place,

but, he continued, "It's only magic if you don't know the

trick. And we reveal a little bit of the trick – the enormous

challenge of the restoration here – so people understand. We

want to encourage them to pay attention to architecture and

to history and heritage, encourage them to look after it."

Then again, magic just might have something to do

with it. As we walked through the hotel the day after

the welcoming party, we encountered an unexpected

visitor. She introduced herself as Maggi Burk and told the

Wirths that she had been summoned there that morning

(apparently, though, no one had called her). As she dangled

a large, tear-shaped bloodstone from her hand, she

informed the Wirths that The Fife sits on a crossing of ley

lines, mythical and invisible paths of energy. Churches,

cathedrals and ancient monuments tend to be situated

along them, which some believe accounts for the exaltation

they often stir up. "In the past people were more in touch

with the energy of a place, more sensitive to the context,"

Burk said. "So they knew more intuitively where to build

things."

The Wirths looked at each other in disbelief. "We also

have a ley-line crossing at our property in Somerset,"

Manuela replied. "It's quite remarkable," Iwan said. And

yet you get the sense that no matter where they find

themselves – in Los Angeles, or Somerset, or, yes, here in

Braemar – the Wirths ultimately create their

own magic. "I am a very grounded person,"

Iwan insisted. "Ley lines go back to the

Druids, but it's an alternative science, not a

proven science." In that regard, I ventured,

it sounds quite a lot like something I know

he and Manuela believe in without a doubt.

"Yes," Iwan concurred. "It sounds like art."

thefifearms.com

83
---
Savouring

the Season

Wild strawberries and cardamom buns,

weathered windmills and rocky beaches –

the rugged yet sophisticated

island of Gotland is an ode to the joys

of Swedish summer.

by Adam Sachs. Photographs by Felix Odell

84
---
A fishing village

on Fårö, an island

just off Gotland

85
---
86 DEPARTURES

Maurice told me to go to Rute

Stenugnsbageri, a summer-only

bakery at the far northern end of

Gotland, where the Baltic island is

simultaneously rocky and lush and mostly just empty.

Pulling off the two-lane main road, I followed

the even narrower route past dairy farms and open

fields until I found it: an old stone blacksmith's

shed retrofitted with a wood-fired bread oven and

surrounded by happy Swedes at picnic tables

kibitzing over their fika, the national coffeesnack

ritual cherished by all. Free-range Swedish

children frolicked in an orderly manner through

a stone maze. The air itself was intoxicating:

fragrant waves of cardamom and saffron,

butter, cinnamon and rye. Someone was ably

pulling shots on an outdoor espresso machine.

A young boy followed his mother towards a glassroofed

pavilion with open doors and comfortable

chairs and a large stone hearth.

Kardemummabullar are beloved Swedish sweet

buns that can often taste more of cardboard than

cardamom. These, however, were pungent, gooey

and perfect. Just about everything was perfect. At

night, the bakers tossed pizzas with dough made

from local grains in the same stone oven. I'd happily

have taken all my meals there and stayed until the

extended night of winter descended and chased the

summer Swedes back to the mainland, taking the

good pastries with them.

It was all sort of too dreamy to be believed. Not

credible in the sense that remote islands of rusticity

do not typically harbour chill outposts of casually

impeccable style and good espresso. And where

the bakeries are photoshoot-ready, something of

the dreamy, untamed charm of the place has too

often been spoilt in the process. In this way, Gotland

defies the maths of the holiday isle. It's a gentle,

soul-becalming place of pretty somewhereness and
---
From far left: a guest

room at Fabriken

Furillen hotel; a

peaceful view of the

Baltic; ceramics at

the Skulpturfabriken

shop; grilled quail

at Krakas Krog

lazy summer-haze nowhereness. It really does defy

expectations, if not belief. Except that, having been on

the island for some time, and having thus acclimatised

to the ways that Gotland dependably dazzles, and

how it regularly leaves you gesticulating into the wind

through the window of your rented Volvo wagon as

it sails past a flock of uninterested shaggy sheep or a

wild pony loitering by the edge of some impossibly

sparkly beach, while ordering your children in the

back seat to "Look at how beautiful this all is!" – in

this way we'd been conditioned to believe.

By the time we met Maurice Dekkers – parttime

Gotlander, journalist, filmmaker, crusading

chocolatier (more on that later) and friend of a friend

– my kids were inured to the spectacle of my shouting

compliments at sheep. This is why we'd come: to pilot

the Volvo in circles around the island – at roughly 160

kilometres long by 50 across at its widest, the island

is Sweden's biggest, but not so big that you can't get

around it in a long day's drive; to swim in the bracing

Baltic; to inhale the loveliness of its wild-lavenderscented

air; to admire the sedge-thatched stone houses

and ailing old windmills; and to mangle the musical

names of the sleepy hamlets as we passed their striking

church spires – the farm towns of Fröjel and Sproge,

Hemse, När, Boge, and the moonscape of Furillen, an

island in the far north. In Holmhällar, we had the wide

sand beach nearly to ourselves. South of Västergarn, we

parked on a patch of grass by the coastal highway and

took our shoes off by the shallow water's edge. Wading

in, we jumped from rock to rock, which had been

scattered like stepping stones under a domed blue sky,

empty but for streaks of cotton-candyish cirrus clouds.

"It's difficult to explain the feeling of this place

exactly," Maurice said when we'd met on the deck

at Ljugarns Strandcafé & Restaurang. Still wet from

an ocean dip, we were trying to put our fingers on

something emotionally self-evident: it's nice here. But

describing precisely how it was nice was hard. "There

is something about the way the light is hitting the sea

and changing constantly," Maurice observed. "There is

DEPARTURES

87
---
88
---
a feeling that you are not part any more of the rest of

the world." I liked that.

At the next table, a pair of Italian truffle dogs

nuzzled their lunching owners. "Gotland truffles are

very good, you know," Maurice said, mentioning a

friend in the neighbourhood, Ragnar Olofsson, who

hunted the elusive delicacy professionally. These

lagotti romagnoli seemed to have acclimatised to

island life. Grey and curly, they looked like small,

dozing sheep.

"I love Amsterdam," Maurice said of the city where

he lives and works as a filmmaker and the founder of

Tony's Chocolonely, a chocolate producer committed

to excising slavery from a traditionally troubled and

exploitative business. "But when I arrive here I feel

everything. When I am here the rest of the world

doesn't exist any more."

We met through the Danish chef René Redzepi.

Maurice had made a documentary, Ants on a Shrimp,

about Redzepi's restaurant, Noma. Now he and his

wife, filmmaker and producing partner Benthe Forrer,

are focusing their entrepreneurial and story telling

energies on building something in Gotland with an eye

to protecting what's special there. In addition to a house

in Ljugarn, the couple recently bought a house in Fårö,

a satellite island just off the northeastern tip of Gotland,

that they plan to renovate, and another in Visby.

V

isby is Gotland's main town. It has a

well-preserved, walled medieval fortress

– and from the 1100s to the 1300s it was

a seat of Hanseatic League trading power. It's now

home to an annual medieval festival and what passes

for the seasonal tourist crush. In Visby, you'll find the

ramparts and museums with their Stone Age relics,

crowded ice-cream shops and cobblestoned alleys

lined with tiny, colourful wooden houses. But for all

of pretty Visby's Unesco-protected appeal, the real

wonders of Gotland were to be found in its quieter

places, where signs of humans and their doings were

fewer and farther between.

It's hard to do nothing. The world conspires to

restore diligence. Thoughts, texts, stray bits of news

from the world outside interrupt, unbidden. We're selftrained

as travellers to hurry up and check things off

Gotland

Guide

STAY

Fabriken Furillen

(furillen.com; open

from July through

mid August) is a

former limestone

factory turned

design-hotel oasis.

Stelor ( stelor.se)

features several

stylish rooms in an

1820s farmhouse.

EAT

Bakfickan

(bakfickanvisby.se)

is a cosy spot for

seafood like smoked

shrimp and fish soup.

Krakas Krog (krakas.

se) offers modern

Swedish cuisine in a

gorgeous country

setting. Lergrav Fisk

& Café (lergrav.com)

is a classic fish

smokehouse with

baskets of shrimp

and smoked eel. Lilla

Bjers (lillabjers.se) is

a lovely farmhouse

restaurant. Ljugarns

Strandcafé &

Restaurang (strand​

cafe.se) serves up

seafood and

mini-golf in a

beachside setting.

At Rot (restauran​g

rot.se), chef Luqaz

Ottosson prepares

remarkable farm-totable

feasts inside a

From top: Akantus, a shop in Visby;

onions fresh from the garden

glass-blowing

studio. Rute

Stenugnsbageri

(rute​stenugnsbageri.

se) is the Swedish

bakery of your

dreams.

SHOP

Akantus (akantus

visby.se) has a nice

mix of antiques and

crafts in Visby.

Formverket

(formverket.se) is a

design boutique

from local Barbro

Tryberg Boberg.

Scarlett Gallery X

Gotland (thescarlett​

gallery.com) is a

pop-up founded by a

group of English and

Swedish creatives.

Skulpturfabriken

(skulpturfabriken.se),

a concrete factory

and shop selling

tableware, has been

around since 1995.

DEPARTURES

89
---
Here was Bergman's pure distillation of the elements

he'd been seeking: "We found a stony shore facing

infinity." Later, he reported of the pine trees he'd come

to know: "They sort of become friends. I've become

very good friends with the rabbits as well."

I'd been there only a week but I felt, at least, on

speaking terms with the trees and the shore and

the rock formations, and I would have liked to have

gotto know the aloof sheep and those freshly baked

cardamom buns better.

90 DEPARTURES

A pastoral scene on Gotland

our lists even if what a place really asks for, to know it

best, is simply to be quietly within it.

Fårö is such a place – rugged, windswept and wild.

In 1960, the great Swedish director Ingmar Bergman

arrived in Fårö, more or less by chance, to scout a

scene he'd hoped to shoot elsewhere. Smitten, he

stayed. In thrall to the landscape, the people, the

solitude of an island twice removed from the rest of

the nation, he made Fårö his permanent home.

After crossing the Fårö strait – eight minutes by car

ferry – you drive north towards the Bergman Center,

a museum and cultural centre that opened in 2013. An

oversized board with chesspieces on the lawn awaits

impromptu reenactments of the game between Death

and Max von Sydow's medieval knight in The Seventh

Seal. In the lobby, there's an oddly affecting triptych of

photographs showing the auteur buying a newspaper

from a local kiosk. On this tiny island, the photos

attest, is a citizen, dignified but normal in all ways,

performing an utterly pedestrian act. Bergman lived

among the locals as a neighbour and friend.

"I spent an entire winter on Fårö just with my

dachshund," Bergman once told an interviewer. "It's

almost uncanny how nature can be engulfing, how you

become friends with the trees on the seashore."

The beauty is stark and all-encompassing. The

treeless, alvar-covered limestone leads to haunting

sea stacks at the beach at Langhammars. Dark,

woolly sheep graze meadows that are marked by

low, crumbling stone walls. The swimming beach at

Sudersand, with its wide tracts of velvety sand and

cheesy little waterside yoga offerings and thatchedroof

snack shacks, has an end-of-the-world vibe.

Gotland's flag, flapping proudly on poles everywhere,

shows a magnificently horned ram with a yellow cross

against an endless field of bright Swedish blue. The

blues on enchanted Fårö feel moodier. A melancholic,

sometimes eerie calm and beauty pervades the place.

W

ildflowers crowd the roads in Gotland.

Near Fröjel, I turned off the highway at an

old barn that houses the Scarlett Gallery,

a pop-up. Anthony Hill, an English photographer

and one of the gallery's founders, had been coming

to Gotland for a while with his Swedish wife when

the idea came to him to open a spot for the summer.

He showed us prints by Swedish illustrators like

Annelie Carlström and a cardboard sculpture by the

Montreal artist Laurence Vallières. Next door, we

met Barbro Tryberg Boberg, who's lived on the island

for several decades and has written a small, handy,

illustrated guidebook. She also designed a picture

book on the movie houses of Gotland. For an island,

it has a surprising number of cinemas, including some

in barns. One of Boberg's designs is a tea towel with

a cheerful pattern of ships and buoys interspersed

with a maritime weather report transcribed from

the radio. "They announce the maritime report

four times every day on the radio in this monotone

way," she said. "To me, it's like poetry, these words."

The poetry of the tides. A book on small-town

cinemas in a language I don't speak. Pretty pictures in

an empty barn. I felt myself settling into the slow, sunbaked

pace of the place.

On our last night on the island, we had dinner at

Krakas Krog, an elegant little restaurant in the village of

Kräklingbo. The young chef, Joel Aronsson, I'd met years

ago at Fäviken in central Sweden and again, weirdly,

when he'd come to cook with the chef Magnus Nilsson

at my house in Brooklyn. It was both nice and strange

to see a familiar face so far from home. Joel's cooking is

worth travelling for: whole roasted cauliflower with a

sauce made of butter and a seaweed that tastes distinctly

of truffles. Last winter, while the restaurant was closed,

he found the truffle-scented seaweed in the cold waters

off the Lofoten Islands in Norway.

Sometime between the lamb's liver with grilled

beets and the dessert of local yogurt topped with twin

granitas made of blue Gotlandic dewberry and green

meadowsweet, my son had had enough. Wrapped in

a wool blanket, he fell asleep in a hammock. But the

sun itself, mellow and honeyed, wasn't quite ready to

give up yet on another blessedly uneventful Swedish

summer day.
---
LUXURY

ADVISORY

BOARD

JOIN THE

LUXURY

ADVISORY

BOARD

The LUXURY ADVISORY BOARD is an anonymous online survey panel, made up

of your fellow DEPARTURES readers all of whom are passionate about sharing

their thoughts and opinions. This priceless information allows us to gain valuable

insights into the latest lifestyle trends and Platinum member preferences.

To find out more about becoming

a Board member log on to:

www.lab-departures.com