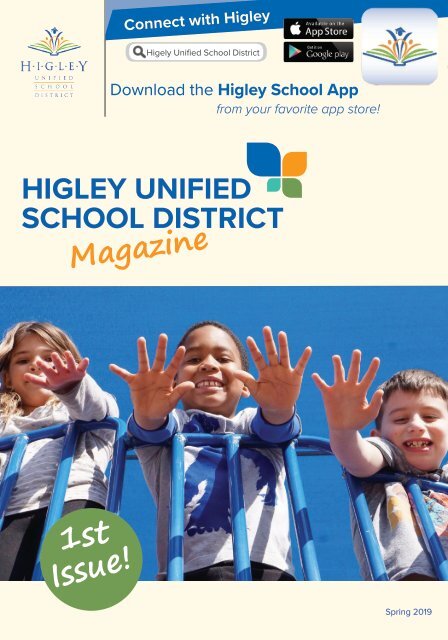 Higley Unified School District Magazine
Do you know the secret to free website traffic?
Use this trick to increase the number of new potential customers.
Connect with Higley

Higely Unified School District

Download the Higley School App

from your favorite app store!

HIGLEY UNIFIED

SCHOOL DISTRICT

Magazine

1st

Issue!

Spring 2019
---
WE ARE HIGLEY

1

Dear Higley community:

We have launched our new Higley publication as part of our communication

plan to better inform the entire Higley community about celebrations

and happenings throughout the District. In this edition, we've included

information about the arts, academics, and Community Education. We've

also included updated financial data for the 18-19 school year.

Higley is competing at a national and international level in academics,

athletics and the arts. Our students have post-secondary opportunities

to go anywhere in the world for university, college and career experiences.

Next year, both high schools will offer the AP Capstone diploma

program. The program allows students to learn and participate in college-level

research while preparing for the future.

Dr. Mike Thomason

Superintendent

We will soon celebrate the Class of 2019. To the more than 800 graduates

from Higley and Williams Field High Schools, congratulations!

Our students have earned more than $35 million in scholarship offers.

They've been accepted to the honors colleges at all our state universities,

as well as Cornell University, the Air Force Academy, University of

Nebraska, BYU, Colorado School of Mines, Regis University and many

more. We are very proud of all our graduating seniors.

Finally, I want to thank the outstanding Higley community for

supporting our schools.

Proud Partner of the Higley Unified School District

Past Contributions:

Ken Vandehei Student Scholarships: $215,000

Gail Stapleton Mini-Grants: $10,000+

Teacher of the Year Sponsor: $4,000+

Higley Achievement Foundation drives innovative education and instructional

leadership through scholarships and grants to support the students, staff and

programs of Higley Unified School District.

The foundation:

•Provides scholarships and grants to enhance academic achievement and success;

•Builds and fosters relationships with communities served by Higley;

•Supports special projects that enhance the quality of educational programs;

•Provides recognition of Higley staff, students, or members of the community for

outstanding service or contributions to Higley;

•Provides support and partnership with Higley parent and student organizations.

To learn more about the foundation, contact HAF at : hafinfo@higleyachieves.org
---
GROW

2

Higley district boasts most

winter guard teams in Arizona

By Quintin Bingham

In a large, open room, dance students at Cooley Middle School face a

wall of mirrors as they independently wave and swirl large flags in arcs

and figure eights. The group continues to practice as Pam Edgar, the

instructor, pulls out a large binder full of photos— looks up and smiles

— then points to a group of starry-eyed performers on the cover: "My

seniors this year. This is when they were in eighth grade."

Edgar doubles as the color guard instructor for both of the Cooley

winter guard teams and both of the Williams Field High School teams,

all Gilbert campuses in Higley Unified School District. She also instructs

three of five elementary guard teams in the district, which make up

three of the eight elementary guard teams registered in all of Arizona.

The development of Higley's youth teams has resulted in Higley accumulating

the most youth indoor performing arts teams in Arizona. In a

practice largely unique to the Higley Unified School District, students

are introduced to the "sport of the arts" at a young age— as early as the

fifth grade.

Natalie Guajardo, eighth grader at Cooley Middle School, is one such

student. She started performing in district color guard teams her fifth-

-grade year when she joined Gateway Pointe Elementary Color Guard.

24 Total Teams

5

2

4

7

Elementary Color Guards

Middle School Guards

3

Middle School Percussion

Marching Winds

High School Guards

High School Percussion

1

2

Elementary Trash Can Bands

Guajardo said she was nervous when she joined guard because she

was afraid to "drop the flag on my head." Four years later, Guajardo

tosses quads with a wooden rifle for Cooley Colorguard Black.

Continued on Pg. 7
---
1

LEARN

3

Congratulations Class of 2019

Williams Field High School Higley High School

458 Graduates 431

T o p 1 %

Lia Dovris, 4.9

Dylan P. Franzen, 4.93

Jennifer Newcomb, 4.8

Jacob W. Good, 4.93

Andrew Bell, 4.76

Carter M. Garrett, 4.9

Payne Moses, 4.7

Caleb J. Gooch, 4.9

Samuel Johnson, 4.68

A

Arizona A-F Accountability

System, 2017-18

B

Bridges Elementary

Chaparral Elementary

Cortinal Elementary

Gateway Pointe Elementary

Higley Traditional Academy

Power Ranch Elementary

San Tan Elementary

Higley High

Williams Field High

Centennial Elementary

Coronado Elementary

Cooley Middle

Sossaman Middle

% of class with 4.0 or higher GPA (weighted)

18.78% 28.97%

Ethan Morgan

Student Spotlight

As an eighth-grade student at

Sossaman this year, Ethan took

the SAT test in December. He

received the highest score in

Higley – a 1540 out of a possible

1600. Way to go, Ethan!

*Based on data released by

the Arizona Department of

Education

Kindergarten Registration

– It's not too late!

If your child will be 5 years of age

by August 31, he/she qualifies for

kindergarten. Campuses are now

taking registration packets for the

2019/2020 school year. During the

summer, elementary packets may be

dropped off at the District Office.

Information can be found online at

www.husd.org/kru
---
Total Higley Teachers

656

43%

of our Teachers have

Master's Degrees

We Love Our Teachers!

Years of Experience

- Less than 3 years: 155 24%

- 4 to 9 years: 226 34%

- 10 years or more: 275 42%

Back to School

4

Back to School – Classes begin July 22

Higley High Kingdom Days

July 9 1-6 p.m. Seniors and Juniors

July 10 1-6 p.m. Sophomores and Freshmen

July 15 8-12 p.m. Make-up day for all grades

Now

Williams Field Black Hawk Days

Enrolling!

July 11 1-6 p.m. Seniors and Juniors husd.org/

July 12 1-6 p.m. Sophomores and Freshmen enrollment

July 15 8-12 p.m. Make-up day for all grades

Middle School Open House

July 17th 4-7 p.m., Middle School Open House

Meet the Teacher

July 18, 5:30-6:30 p.m., all elementary schools

Curriculum Nights

July 29, Cooley Early Childhood Development Center

July 30, Sossaman Early Childhood Development Center

July 30 High Schools

July 31 Middle Schools

August 1 Elementary Schools
---
LEAD

Higley Spotlights

Board of Excellence

5

The Arizona School Boards Association

named the Higley Unified School District

Governing Board one of three finalists for the

2018 Lou Ella Kleinz Excellence in Governance

Award. It is the highest honor that can be

bestowed upon a full board in Arizona and

recognizes the group of volunteer adults who

provide the most outstanding leadership for

that year.

S i g n i n g D a y

W e l l n e s s W e e k

Higley Unified School District students continue

to make strides in academics and athletics, with

more than 30 student-athletes from Higley and

Williams Field High Schools signing letters of intent

to play sports at colleges and universities across

the United States.

E l e m e n t a r y O r c h e s t r a

Stop, breathe and exhale. Students, teachers and

staff took pause before finals to practice mindfullness

during Wellness Week. Activities included

the likes of yoga, meditation, chalk art and dance.

A whole year of giving back also means taking a

moment for yourself.

G i v i n g B a c k

More Higley elementary students are discovering

music with the addition of elementary orchestra

to the school day. Prior to this year, the option was

only available before school. Now, more than 200

students districtwide are participating, double previous

enrollment.

From collecting food for local food banks to toy

drives for children of local heroes, students and

staff across Higley gave of their time and talents

organizing dozens of service projects this year. Several

schools adopted families during the holiday

season, as well. Williams Field Black Hawks rallied

for their second "Wish Week," collecting more than

$25,000 for Make A Wish, the most ever by an

Arizona school.
---
6

2019 Teacher of the Year

John Burke

Sossaman Middle School

Honorees

Amy Gossard, Bridges Elementary

Charisma Masa, Centennial Elementary

Marie Semodio, Chaparral Elementary

Wanting Wang, Coronado Elementary

Tanya Waddell, Cortina Elementary

Angelina Alameda, Gateway Pointe Elementary

Kimberly Sirbaugh, Higley Traditional Academy

Kimberley Farrell, Power Ranch Elementary

Brittany Trevino, San Tan Elementary

Mandy Gamboa, Cooley Middle School

Jani Rima, Higley High School

Tara Andrade, Williams Field High School

Rosemary Gonzalez, Preschools

Higley Unified School District held its 11th annual Teachers of the Year

celebration in April, recognizing the 14 honorees from Higley campuses.

The event culminated with Sossaman Middle School applied technology

and robotics teacher John Burke named as the 2019 Teacher of the Year.
---
7

Continued from pg. 2

Winter Guard Arizona 2019 championships had 147

teams registered for competition across all categories.

In the elementary percussion section, or

"trash-can band" section, seven out of eight teams

were from the Higley Unified School District. In the

scholastic elementary division, there were eight

elementary color guard teams -- five from Higley.

The district also produced the state's first marching

winds group, North Side Winds. In total, the Higley

district had a staggering total of 24 teams, which

means more than 15 percent of registered WGAZ

teams were Higley.

Chesley Sharp, Higley High School band director,

said that the challenge and the social bonding that

comes with being on a competitive team keeps

students coming back, in spite of the large time

commitment.

"The kids are finding a niche that they enjoy. It

gives them a creative outlet," Sharp said. "Even

though it is a pretty big team and a pretty big-time

commitment, it gives them something competitive

to do in music."

Williams Field High School band director Bob Edgar,

Pam's husband, helped launch the district's winds

team, North Side Winds, and several of the district's

trash-can bands.

"With the foundation really solid at the entry level,

and the continuity all the way through the grade

levels up to the high school, we are seeing it in our

numbers, in the bands as they continue to grow,"

Bob Edgar said. "The quality keeps getting better."

Erigitta Tifft was the percussion section leader at

Higley High School this year and taught the Sossaman

Middle School percussion ensemble. During

Higley High School's 2018 marching season, Tifft

marched with freshmen she taught just months

prior.

"Just seeing them grow from the summer between

eighth grade and freshman year, it's crazy to see

how much they have grown— and through this year

as well— as musicians and as people."

WGAZ 2019 Champions

Cooley Percussion Ensemble

Scholastic Concert Junior Division

Cooley Purple

Scholastic Junior High Division

Cooley Black

Scholastic Junior High A Division

Higley Silver

Scholastic Regional A Mirage Division
---
COMMUNITY EDUCATION

8

1614

963

521

Higley Unified School District's Community Education

Department operates Kids Club, a before and after-school

program on all preschool and elementary school campuses.

In addition, Community Education organizes enrichment

and sports opportunities for students throughout the year

including school break camps, the Higley Youth Sports

League and vendor-offered programs. These opportunities

extend learning for students, encourages growth of relationships

and builds leadership at all ages.

"I love working at Kids Club because I can help the

kids gain social skills and I get to watch them grow

as individuals."

-Mary Burke, Higley High junior, Kids Club student

worker.

Through the many offerings, as well as building and site

rentals, Community Education's revenue enhances schools

throughout the district. The department employs more than

100 at various times during the year.
---
YOUR DOLLARS AT WORK

9

Overview

Spending by operational area

FY18 Auditor General Classroom Sitefund Report

Higley Unified School District greatly appreciates the

community support it receives. Volunteers, partnerships

and taxpayer approval of bond and override initiatives

are all essential to student learning and creating school

communities that address the wide variety of learning

needs in our community.

Each year the Auditor General uses district financial

information to issue a spending report. The graphic

to the right shows the FY18 report released in March

2019. Closer look at the information found the district's

administration costs percentage should be 10.1, which

is a decrease from the previous year. The information

provided to the Auditor General included an insurance

pre-payment of $2.5 million that was coded to administration,

rather than all areas. With the change, the classroom

percentage would increase from the AG's report

to 59.6 percent.

Overall, the Arizona Auditor General listed the district's

overall financial stress as low, with no overspending and

compliant on financial and internal controls.

2013 Bond Expenditures

New School Construction

$18.9 million

Land $2.3 million

Transportation $3.9 million

Technology $11.5 million

Source: Arizona Auditor General Arizona School

District Spending FY18

Bonds and Our Schools

Bond and override approvals fill gaps created by

state budget shortfalls that create challenges for

schools to provide the education the community

desires for its students. Higley is thankful for

support from voters and will strive to use taxpayer

money efficiently and effectively in delivering

programs and services to students.

Higley Unified School District currently (FY19)

operates under a 15 percent M&O override approved

by voters in 2015. This provides the district a

budget 15 percent over the state Revenue Control

Limit for a set amount of time. Per state statute,

the override is fully in place for five years: FY17

(2016/17 school year), FY18 (2017/2018), FY19

(2018/19), FY20 (2019/2020) & FY21 (2020/21). At

that time, without voter-approved continuation,

the override funds will reduce by 1/3 a year for

two years until it is eliminated.

*As of March 2019

New Buildings $4.1 million

Maintenance and

Improvements $14.95

.million

In 2013, voters approved a $70 million bond measure.

To date, the district has spent $55.65 million

of those funds.

Learn More: www.husd.org/yourdollars
---
Gateway Pointe Elementary School

A+

Higley Unified School District's Gateway Pointe Elementary

School in Gilbert is one of 52 schools that received the coveted

A+ School of Excellence award in 2019 from the Arizona

Educational Foundation (AEF).

"I am so proud of the work our teachers do, the commitment

of our students and the support of our families," said Principal

Dr. Tim Fountain. "Together we have shown that our

students are capable of sustained growth and achievement

in a school that nurtures not only academic development,

but social and emotional health as well. We are grateful to

the Arizona Education Foundation for this recognition and for

creating the framework to help us assess how we can

continue to grow in the future."

AEF has identified and honored exemplary pre-kindergarten through

12th grade public schools in Arizona since 1983.

Applicant schools are evaluated in the areas of student focus and support, school

culture, active teaching and learning, curriculum, leadership, community and parent

involvement, and assessment data.

10

Gateway Pointe earns Arizona Educational

Foundation's A+ School of Excellence Award
---
Higley Unified School District

2935 S. Recker Road

Gilbert, AZ 85295

NONPROFIT ORG.

U.S. POSTAGE

PAID

PHOENIX AZ

PERMIT NO. 5514

Postal Customer

"*****ECRWSS*****"

The Higley Magazine is produced by the Public Relations Department.

Want to Advertise? Email public.relations@husd.org