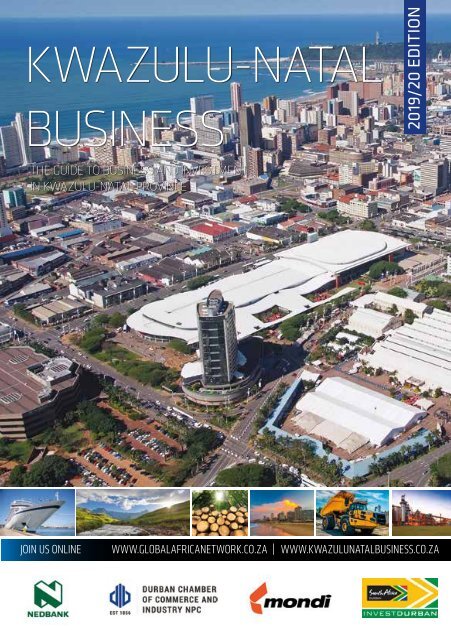 KwaZulu-Natal Business 2019-20 edition
A unique business and investment guide to KwaZulu-Natal Province in South Africa. The 2019/20 edition of KwaZulu-Natal Business is the 11th issue of this highly successful publication that, since its launch in 2008, has established itself as the premier business and investment guide for the KwaZulu-Natal Province. In addition to the regular articles providing insight into each of the key economic sectors of the province, there is a special feature on the surge in investment in new tourism projects, from casino expansions to the building of a dedicated cruise-liner terminal. Another special feature surveys other large investments in a wide variety of sectors, showing the diversity and strength of the provincial economy. For monthly updates about the region, subscribe at https://www.globalafricanetwork.com/subscribe/ or visit our portal at https://www.globalafricanetwork.com/category/regions/kwazulu-natal/
A unique business and investment guide to KwaZulu-Natal Province in South Africa. The 2019/20 edition of KwaZulu-Natal Business is the 11th issue of this highly successful publication that, since its launch in 2008, has established itself as the premier business and investment guide for the KwaZulu-Natal Province.
In addition to the regular articles providing insight into each of the key economic sectors of the province, there is a special feature on the surge in investment in new tourism projects, from casino expansions to the building of a dedicated cruise-liner terminal. Another special feature surveys other large investments in a wide variety of sectors, showing the diversity and strength of the provincial economy.
For monthly updates about the region, subscribe at https://www.globalafricanetwork.com/subscribe/ or visit our portal at https://www.globalafricanetwork.com/category/regions/kwazulu-natal/
SHOW MORE
SHOW LESS
Create successful ePaper yourself
Turn your PDF publications into a flip-book with our unique Google optimized e-Paper software.
KWAZULU-NATAL

BUSINESS

2019/20 EDITION

THE GUIDE TO BUSINESS AND INVESTMENT

IN KWAZULU-NATAL PROVINCE

JOIN US ONLINE WWW.GLOBALAFRICANETWORK.CO.ZA | WWW.KWAZULUNATALBUSINESS.CO.ZA
---
New team boosts

Durban's prospects

A lifestyle of business and pleasure together,

Durban has the perfect mix for investors.

Team Durban has a new and dynamic team to

drive investment into the city. In September

2018, eThekwini Mayor Zandile Gumede inducted

the new members of Team Durban.

The team will provide strategic Foreign Direct

Investment (FDI) advice to the city leadership and the

new Invest Durban Unit on business and investment

promotion matters.

Mayor Gumede thanked the newly nominated

members of the team for agreeing to help accelerate

investment growth while looking to improve the

business environment of the city region.

The Deputy City Manager of Economic Development

and Planning Phillip Sithole will provide liaison and administrative

support to Team Durban. Sithole will also

provide progress reports to council on the functioning

and outputs of Team Durban. Members of the Team

Durban Advisory Forum from the Municipality comprise

eThekwini Mayor Zandile Gumede, who will serve as the

Chairperson of the Forum, Chairperson of the Economic

Development and Planning Committee Sipho Kaunda,

and City Manager Sipho Nzuza.

The external members are representatives of some

the biggest business in the city as well as representatives

from civil society, including youth and academia.

They are: Suben Moodley, Senior Vice President for

Corporate Affairs Toyota South Africa; Mike Deighton,

Managing Director Tongaat Hulett Developments;

Themba Ngcobo, Founder and Director Exel Petroleum;

Musa Makhunga, Managing Director of HR Matters and

President of the Durban Chamber of Commerce and

Industry; Sandile Zungu, Corporate Director Zungu

Investments Company Limited (ZICO); Steven Saad, Chief

Executive of Aspen Pharmacare; Mlungisi Ntombela,

General Manager eThekwini Disability Sport Forum;

Faisal Mkhize, KZN Provincial Managing Executive of

Absa; Zanamuhla Khanyile, Department of Correctional

Services; Samukelisiwe Nzimande, Managing Director

K2M Financial Services; Howard Arrand, Provincial Head

FNB; Manto Madlala, acting CEO Premier Soccer League;

Thulisa Ndlela Chair of Ayigobi Investments.

The non-executive members have been appointed

to serve on Team Durban for a period of three years

effective from 1 July 2018 to 30 June 2021.
---
Their service will be on a voluntary basis but the

municipality will cover their travel and accommodation

expenses where required and in accordance with travel

policy.

At the function to introduce the new team, Russell

Curtis, Head of Department, Invest Durban said, "Team

Durban marks the further sophistication of the city."

He explained that the goal of Team Durban was to

improve partnerships and strengthen relationships

between different sectors in society. This forum he

said was a significant step change for Durban and in

line with global best practice.

INVEST IN DURBAN

Durban's investment agency has a refreshed brand

name of "Invest Durban". A partnership between the

Metro City Council and the private business sector,

Invest Durban offers a free investor advisory service

plus key promotion, facilitation, aftercare services

between all investment stakeholders.

Invest Durban was recommended by the Durban

City Council and organised private business as the

"First Stop Shop" to stimulate economic growth and

new investment in the Durban metropolis.

Main Purpose

To facilitate sustainable investment in Durban for

the benefit of all through the:

• expansion, retention and aftercare of existing

foreign corporate business

• proactive investment promotion and marketing

of Durban Metro

• proactive connection to, and marketing of the

city's large investment projects

• attraction of prospective new foreign investors

Invest Durban works closely with the Department

of Trade and Industry including Invest SA, Trade and

Investment KZN (TIKZN), the Durban Chamber of

Commerce and Industry, the KZN Growth Coalition,

and State-Owned-Enterprises such as Dube

TradePort, the DBSA, IDC, Eskom and others. Key

partners include the largest banks, audit and advisory

firms, plus sector-based organised business bodies

working in concert to promote investment in Durban.

Physical address: Invest Durban,

eThekwini Municipality

11th Floor, 41 Margaret Mncadi Avenue

Durban 4001, South Africa

Tel: +27 31 311 4227

Email: invest@durban.gov.za

Website: www.invest.durban
---
EST 1856

DURBAN CHAMBER

OF COMMERCE AND

INDUSTRY NPC

LET'S PUT YOUR

BUSINESS ON THE MAP

#DurbanMustRise
---
WHO WE ARE AND WHAT

WE ARE ABOUT

The Durban Chamber of Commerce and Industry was established in 1856 and is

the oldest and largest metropolitan chamber in Africa. As a business-based and

member-focused organisation, we work to protect and promote the interests of

the eThekwini business community.

VISION

In Business for a Better World

To be recognised as a world-class business chamber and a united voice of

business in the eThekwini Municipal area and beyond.

MISSION

To contribute towards creating a conducive economic and business environment in

the eThekwini Municipal area and beyond, as well as providing services specifically

relevant to small and large businesses operating in the region.

AN ORGANISATION OF GROWTH

#DURBANMUSTRISE - the Durban Chamber official hashtag - signifies working

towards achieving joint goals to move local businesses forward. The Durban Chamber

represents leading multi-nationals; large corporates; small, medium and micro-sized

enterprises (SMMEs); and start-ups in promoting inclusive and sustainable economic

growth and development in eThekwini and beyond.

ADVOCATING AND

INFLUENCING POLICY

DECISIONS THAT AFFECT THE

INTERESTS OF BUSINESS

LABOUR LAW

TAXATION

BUSINESS REGULATIONS

BUSINESS RESEARCH

MARKET ANALYSIS

OFFERING BUSINESS

SUPPORT SERVICES

AND ADVICE

CERTIFICATE OF ORIGIN

ITC CHECKS

NETWORKING OPPORTUNITIES

COMPANY REGISTRATION

WORKSHOPS AND SEMINARS

BUSINESS CONSULTATION

PROVIDING BUSINESS

INFORMATION RELEVANT

TO BUSINESS

INDUSTRY SPECIFIC ECONOMIC

DATA

DURBAN CHAMBER ONLINE

NEWSLETTER

AFRICA DISPUTE RESOLUTION

(ADR)

POLICY FOCUS WEEKLY UPDATE

Chamber Square, Lion Match

Office Park, 892 Umgeni Rd

Durban, 4001

www.durbanchamber.co.za +27 31 335 1000
---
CONTENTS

Introduction

CONTENTS

KwaZulu-Natal Business 2019/20 Edition

Foreword8

KwaZulu-Natal's unique guide to business and investment.

Special features

Regional overview of KwaZulu-Natal 10

The oceans economy holds great promise in KwaZulu-Natal.

Investors are showing confidence in the

KwaZulu-Natal economy 14

Private and public entities are expanding operations and creating

new opportunities.

Massive investments in tourism are paying off 18

New direct international flights, upgraded facilities and new

hotels all point to growing confidence in the tourism sector.

Economic sectors

Agriculture30

New crops are adding to the export basket.

Sugar31

KwaZulu-Natal leads in sugar production.

Forestry and paper 34

Diversification is a growing trend.

Mining42

Second smelter to be activated at Isithebe foundry.

Engineering43

Construction is booming north of Durban.

Oil and gas 44

Italian company Eni has offshore prospecting rights.

Construction and property 48

Infrastructure and multi-use developments are forging ahead.

KWAZULU-NATAL BUSINESS 2019/20

4
---
• We boast of producing graduates who have gone on to occupy key positions

both in public and private sectors

• We undertake research relevant to local communities

• We have the best Science Centre in Africa

2019 Graduation Period: 13 – 17 May 2019

University Chancellor: Proud Alumnus, his Honourable Deputy

Chief Justice, Judge Raymond Zondo

www.unizulu.ac.za
---
CONTENTS

Water49

South Africa's first mobile desalination plant has been installed.

Manufacturing50

The Blue and Green economies hold potential for KZN

manufacturers.

Automotive 52

Mahindra bakkies are being assembled at the Dube TradePort.

ICT54

Port Shepstone has a new incubator.

Education and training 55

University research is linked to development issues.

Banking and financial services 56

New banks are changing the face of the sector.

Development finance and SMME support 57

Support is available for entrepreneurs.

Government

KwaZulu-Natal Provincial Government 59

A guide to KwaZulu-Natal's provincial government

departments.

KwaZulu-Natal Local Government 60

A guide to KwaZulu-Natal's metropolitan, district and local

municipalities.

References

Sector contents 28

Index64

KWAZULU-NATAL BUSINESS 2019/20

6
---
DURBAN ICC

INJECTS

MILLIONS INTO

THE LOCAL

ECONOMY

The Durban International Convention Centre (DURBAN

ICC) has over the past 21 years facilitated socio-economic

transformation and contributed billions of rands into South

Africa's Gross Domestic Product (GDP).

As a pioneer in the South African events sector,

the DURBAN ICC continues to excel in driving local

economic growth, having contributed over R4.7 billion

to the country's GDP last year while creating inspiring

convention, exhibition and entertainment experiences for

its guests.

The vast majority of this impact was felt in KwaZulu-Natal,

where R4.6 billion was added to our Gross Geographic

Product. The DURBAN ICC remains committed to

broadening the economic impact of the events and

tourism sector through contributing to inclusive economic

growth as well as social development. As such, over

9 000 jobs were created as a result of the DURBAN ICC's

activities over the past financial year.

In order to ensure that that the centre maintains its status

as a world-class facility, in the past year, the company

invested significantly in a number of key projects to

enhance the guest experience and provide a safe and

secure venue for our visitors.

Opened in 1997 by the first democratic President of

South Africa, Dr Nelson Mandela, the DURBAN ICC is the

country's very first international convention centre and has

played a pioneering role in attracting high-profile events

to the country.

Delegates visiting the Centre can look forward to superb

standards of culinary excellence and hospitality. As part

of the DURBAN ICC's gourmet evolution over the past 21

years in the industry, they are completely reinventing their

culinary offering in order to showcase some of Durban's

authentic African Cuisines. Furthermore a wide range of

new innovative packages have been designed to meet the

unique needs of each target market, at the best possible

rates.

The five-star graded centre has also received a number of

accolades among them being ranked in the world's Top 17

Convention Centres which is an outstanding achievement

in the global meetings industry. The Centre was the only

centre in Africa to have made the list despite several other

entries from the continent.

This accolade serves to affirm the DURBAN ICC's position

as Africa's leading convention centre - a reputation they

work hard to uphold every day.

The DURBAN ICC prides itself on being a leading

venue for meetings, business events, conferences and

exhibitions on the African continent. However, this is not

their own opinion, but rather the overwhelming feedback

received from their clients who have voted it in the top

1% of Convention Centres worldwide, as well as "Africa's

Leading Meetings and Convention Centre" no fewer than

17times!

The DURBAN ICC is one of the most flexible and versatile

venues in the world. The Centre's main convention area

of 11,600m 2 can be opened up to form one enormous

venue or subdivided using operable walls into 22 separate

convention halls of various sizes.

As a venue that takes pride in the fact that we are a worldclass

convention, exhibition and entertainment centre, our

primary goal is to enhance our guests' experience.

21

YEARS OF

CHANGING

LIVES

1997-2018

+27 (0)31 360 l 000

114 sales@icc.co.za

® www.icc.co.za

DURBAN ICC

INTERNATIONAL CONVENTION CENTRE

INKOSIALBERTLUTHULIICCCOMP'LEX

SOUTHAFRICA

9 45 Bram Fischer Road

Durban, 4001

P.O. Box 155

Durban, 4001

South Africa
---
CREDITS

KwaZulu-Natal

Business

A unique business and investment guide.

CREDITS

Publisher: Chris Whales

Publishing director: Robert Arendse

Editor: John Young

Online editor: Christoff Scholtz

The 2019/20 edition of KwaZulu-Natal Business is the 11th issue

of this highly successful publication that, since its launch

in 2008, has established itself as the premier business and

investment guide for the KwaZulu-Natal Province.

In addition to the regular articles providing insight into each of the

key economic sectors of the province, there is a special feature on the

surge in investment in new tourism projects, from casino expansions to

the building of a dedicated cruise-liner terminal. Another special feature

surveys other large investments in a wide variety of sectors, showing

the diversity and strength of the provincial economy.

To complement the extensive local, national and international

distribution of the print edition, the full content can also be viewed

online at www.kwazulunatalbusiness.co.za. Updated information on

KwaZulu-Natal is also available through our monthly e-newsletter,

which you can subscribe to online at www.gan.co.za, in addition to our

complementary business-to-business titles that cover all nine provinces

as well as our flagship South African Business title.

Chris Whales

Publisher, Global Africa Network Media

Email: chris@gan.co.za

Art director: Brent Meder

Design: Tyra Martin

Production: Lizel Olivier

Ad sales: Gavin van der Merwe,

Sam Oliver,Gabriel Venter, Jeremy

Petersen, Shiko Diala, Vanessa

Wallace, Reginald Motsoahae and

Sandile Koni.

Managing director: Clive During

Administration & accounts:

Charlene Steynberg and

Natalie Koopman

Distribution & circulation

manager: Edward MacDonald

Printing: FA Print

DISTRIBUTION

KwaZulu-Natal Business is distributed internationally on

outgoing and incoming trade missions; to foreign offices

in South Africa's main trading partners; at top national and

international events; through the offices of foreign representatives

in South Africa; as well as nationally and regionally

via chambers of commerce, tourism offices, trade and

investment agencies, provincial government departments,

municipalities, airport lounges and companies.

COPYRIGHT | KwaZulu-Natal Business is an independent publication

published by Global Africa Network Media (Pty) Ltd. Full copyright to

the publication vests with Global Africa Network Media (Pty) Ltd. No part

of the publication may be reproduced in any form without the written

permission of Global Africa Network Media (Pty) Ltd.

PHOTO CREDITS | Pictures supplied by: ABC, Avon Peaking Power, Bell

Equipment, Dube TradePort, Durban ICC, EBH, iStock, JG Afrika, Tongaat

Hulett Development, Tsogo Sun, Viking Ocean Cruises/Philip Wilson.

PUBLISHED BY

Global Africa Network Media (Pty) Ltd

Company Registration No: 2004/004982/07

Directors: Clive During, Chris Whales

Physical address: 28 Main Road, Rondebosch 7700

Postal address: PO Box 292, Newlands 7701

Tel: +27 21 657 6200 | Fax: +27 21 674 6943

Email: info@gan.co.za | Website: www.gan.co.za

ISSN 1993-0127

DISCLAIMER | While the publisher, Global Africa Network Media (Pty)

Ltd, has used all reasonable efforts to ensure that the information contained

in KwaZulu-Natal Business is accurate and up-to-date, the publishers

make no representations as to the accuracy, quality, timeliness, or

completeness of the information. Global Africa Network will not accept

responsibility for any loss or damage suffered as a result of the use of or

any reliance placed on such information.

KWAZULU-NATALBUSINESS 2019/20

8
---
UNPACK YOUR POTENTIAL

WITH KEMTEK

For more than 30 years, Kemtek Imaging Systems has been providing quality-driven

advanced technologies in the commercial print, industrial print, 3D print/additive

manufacturing, auto identification, bar coding and labelling sectors.

As such, we are proud to be the sole distributor in Southern Africa for many of the leading

internationally-renowned brands in those sectors in which we operate, such as HP Indigo,

Komori, Flint, Fujifilm, Argox, CipherLab, Datalogic and Brother.

And, with a focus always on providing highly skilled services and post-sales support, we're

ensuring our customers are maximising their potential for growth and profit - day in, day out!

NATIONAL: 0861 KEMTEK • JHB: +27 (0)11 624 8000 • PTA: +27 (0)12 804 1410

• DBN: +27 (0)31 700 9363 • CPT: +27 (0)21 521 9600 • PE: +27 (0)41 364 3690

WWW.KEMTEK.CO.ZA

J25589
---
SPECIAL FEATURE

A REGIONAL OVERVIEW OF

KWAZULU-NATAL

The oceans economy holds great promise in KwaZulu-Natal.

By John Young

Two of the most important ports in South

Africa are at the heart of KwaZulu-Natal's

central position in the nation's transport

and logistics network. As the secondbiggest

contributor (16%) to national gross

domestic product (GDP) after Gauteng and a

major manufacturer and exporter of goods, the

KwaZulu-Natal province lends itself to potential

investments in many spheres.

A new national focus on trying to develop

the country's maritime potential is playing to

KwaZulu-Natal's strengths.

KwaZulu-Natal province has a long coastline

that stretches from Port Edward in the south to the

Kosi Bay Nature Reserve in the north. The province's

contact with the sea has brought obvious benefits:

fishing, fine beaches enjoyed by millions of tourists,

and two great ports – the Port of Durban and Richards

Bay. These ports export vast quantities of minerals

(mostly through Richards Bay) and manufactured

goods (Durban) and serve as an important conduit

for imports of all sorts. The Richards Bay Coal Terminal

exports coal while the Port of Durban is the busiest

port in Africa.

However, planners want to increase the

economic benefits that the ocean can bring. An

Oceans Economy Review Workshop has come up

with a range of subsectors that can help grow

the provincial economy and invite foreign direct

investment:

• marine transport and manufacturing

• offshore oil and gas exploration

• aquaculture

• marine protection and ocean governance

• small harbours

• coastal and marine tourism.

Strategies to grow the Oceans Economy dovetail

with plans to boost the capacity of the ports at

Durban and Richards Bay and to explore for gas and

oil in the Indian Ocean.

Ship-building and ship repairs is an existing

industry, but it is currently not very big. If oil rigs

were to start visiting the KZN coastline on a regular

basis, this industry will grow exponentially.

The Oceans Economy is one of the focus areas

that has been chosen by national government to

be part of Operation Phakisa, a focused, goal-driven

KWAZULU-NATAL BUSINESS 2019/20

10
---
SPECIAL FEATURE

attempt to jump-start a specific economic sector.

Overall, Phakisa intends creating a million jobs by

2033 and injecting R177-billion into national GDP.

The decision to build a cruise-ship terminal at the

Port of Durban is a good example of the kind of decision

that dovetails with the vision for an Oceans Economy.

Another big potential growth area in KwaZulu-

Natal is energy. Several licences have been granted

for off-shore exploration and the hope exists that

something will be found – the vast gas fields off the

coast of Mozambique are close.

The King Shaka International Airport (with its own

trade port and industrial development zone called

the Dube TradePort) is another of the province's

logistics key points, which has the potential to boost

the regional economy in several sectors, particularly

agricultural export and tourism.

The province's other zone is the Richards Bay

Industrial Development Zone (RBIDZ). In recent

years, investments into the RBIDZ have included:

a titanium plant (R4.5-billion); a biomass plant (R2-

billion); a pipe manufacturing plant (R300-million);

paint manufacturing (R16-million); and logistics

services (R20-million).

In the base-metals and metal-products sectors,

giant companies such as BHP Billiton, Hulamin,

Arcelor Mittal and Assmang have a big presence in

the province. Steel, iron and aluminium account for

nearly a third of exports followed by metal products.

The third sector making a big contribution is the

automotive and automotive components sector, with

about 18%. Chemicals is the other major export driver.

Toyota and Bell Equipment play a vital role

in the automotive sector while the Engen Oil

Refinery, paper and packaging group Mondi and

dissolving pulp manufacturer Sappi are among other

strategically important entities in the provincial

economy. Sappi's export of dissolving pulp makes

it a world leader in its field.

Although the forestry and paper sector and

the sugar sector are grounded in the agricultural

sector, the leading companies' processing plants and

downstream beneficiation also make them major

components of the manufacturing sector and big

contributors to the province's export basket.

In addition, Tongaat-Hulett is a major property

company and Illovo is a continental leader in

sugar production.

Tourism

Tourism plays a vital role in the economy of the

region, with the conference and events sector

supported by excellent facilities. The jewel in the

crown is the huge Albert Luthuli International

11 KWAZULU-NATAL BUSINESS 2019/20
---
SPECIAL FEATURE

Convention Centre Complex which hosts the annual

Tourism Indaba.

The province's excellent climate lends itself

to every kind of outdoor pursuit and its excellent

beaches are always popular. Big sports events are

regularly hosted in KwaZulu-Natal which has become

something of a home to mass participation events

such as the Comrades Marathon and Dusi Canoe race.

The province has excellent game and nature reserves.

Isimangaliso Wetland Park is a World Heritage Site

and helps to fund 80 small businesses associated

with its business as a tourist site.

New international direct flights have been

announced by King Shaka International Airport,

including a direct flight to London with British Airways.

Geography

The mixed topography of the province allows

for varied agriculture, animal husbandry and

horticulture. The lowland area along the Indian

Ocean coastline is made up of subtropical

thickets and Afromontane Forest. High humidity

is experienced, especially in the far north and this

is a summer rainfall area. The centrally located

Midlands is on a grassland plateau among rolling

hills. Temperatures generally get colder in the far

west and northern reaches of the province.

The mountainous area in the west – the

Drakensberg – comprises solid walls of basalt and

is the source of the region's many strongly running

rivers. Regular and heavy winter snowfalls support

tourist enterprises. The Lubombo mountains in the

north are granite formations that run in parallel.

Plans for Durban

Six years ago, the eThekwini Municipality adopted a

densification strategy which entails careful planning

along three main urban corridors which connect to

the city centre. Land-use management along these

corridors will encourage diverse investments while

at the same time introducing an Integrated Rapid

Public Transport Network (IRPTN).

An Inner City Local Area Plan (LAP) for Durban

has been developed that aims to make the inner city

of Durban "Africa's leading, most vibrant, liveable,

walkable City Centre".

Developed for the Strategic Planning unit of the

eThekwini Municipality by a Joint Venture called

IPPU, the LAP is based on four main principles:

• The connected city: tackling the legacy of

the disconnected city of apartheid, the plan

promotes the integration of different modes of

transport (bus, taxi, pedestrian, rail, etc).

• The walkable city: the aim is for residents to be

five minutes' walk from public transport, shops,

schools and healthcare facilities. A good variety

of residential accommodation is key.

• Land use intensity: the plan proposes that

land use approvals be more flexible, allowing

for more variety and greater density. The plan

cites an example of art gallery at street level,

with offices above and accommodation on

top. If more people live in an area, then shops

become more viable and it is easier to provide

bulk services.

• Starting with small projects and finding ways of

championing the development of the inner city.

KWAZULU-NATAL BUSINESS 2019/20

12
---
SPECIAL FEATURE

The IPPU Joint Venture comprises Iliso, TPI, PMSA,

UrbanEcon including Cox Architecture, Urban

Solutions, Urban Earth, Jo Lees and Joe Kitching.

The Point Waterfront Development is a major

project that is in the process of transforming what

was an under-utilised and somewhat rundown part

of the city into a vibrant, multi-use precinct.

Some projections put the total potential investment

value of the project at R40-billion and the number of

permanent jobs to be created at 6 750. It is an ambitious

plan that links the city's beach promenade and the

harbour. It offers a property use mix of office space,

retail shops, residential dwellings and leisure options.

The 55ha site has already seen significant investment. A

cruise terminal in the harbour backing on to the Point

has been approved.

Other major projects in the inner city include:

• The Warwick Junction transport interchange

which has received road upgrades but could be

an even greater enabler of trade.

• The Centrum Government Precinct which will

formalise the relationship between buildings

such as the International Convention Centre and

a related hotel, the library, council chambers and

the redevelopment of Gugu Dlamini Park.

Regions

KwaZulu-Natal has 11 district municipalities, the

most of any province in South Africa. In economic

terms, the province offers diverse opportunities.

Southern region

This area is the province's most populous. The city

of Durban has experienced booms in sectors such

as automotive, ICT, film and call centres. Major

investments are taking place at the Port of Durban and

there is a possibility that the old airport south of the

city becomes another port, if the money can be found

to dig it up and let the sea in. Durban's conference

facilities are well utilised, but many opportunities still

exist in chemicals and industrial chemicals, food and

beverages, infrastructure development and tourism.

Further south, plans are in place to upgrade Margate's

airport and Port Shepstone's beachfront.

Western region

Also known as the Midlands, this is a fertile agricultural

region, producing sugar cane, fruit, animal products,

forestry and dairy products. Pietermaritzburg is the

provincial capital and home to a major aluminium

producer along with several manufacturing concerns,

including textiles, furniture, leather goods and food.

The city has good transport links along the N3 national

highway, excellent schools and a lively arts scene. The

Midlands Meander is a popular tourist destination.

Eastern region

Although most of this area is very rural, Richards Bay is

one of the country's industrial hotspots because of its

coal terminal and port and aluminium smelters. The

Richards Bay Industrial Development Zone (RBIDZ) is

a major economic node in itself: the 62-hectare first

phase is almost fully subscribed with the investment

value of the two phases (some having already been

secured for phase two) at R6.8-billion. Mining is an

important sector in this region. The other major urban

centre is Empangeni which has several educational

institutions. The newly completed King Shaka

International Airport is kick-starting massive new

investment in the area. The ilembe District Municipality

is particularly active in seeking out new investors.

Northern region

The economic powerhouse is Newcastle in the

north-west: coal-mining, steel processing and

manufacturing are major activities. Some old coal

mines are being reopened by new coal companies

to cater for the country's power stations' demand for

the fuel. Game farms, trout fishing and hiking are part

of an attractive package for tourists, and Zululand is

a popular destination for cultural experiences. The

whole region is rich in Anglo-Boer War history.

13

KWAZULU-NATAL BUSINESS 2019/20
---
SPECIAL FEATURE

Investors are showing

confidence in KZN

Private and public entities are expanding operations and

creating new opportunities.

Harbour expansions, a new film studio, infrastructure spending

by major cities and the state and several city-sized property

developments – these are some of the big investments into

the KwaZulu-Natal economy currently underway.

The scale and variety of these investments illustrate the size and

diversity of the regional economy which ranges from mining, steel

and chemical manufacturing to automotive works, agri-processing

and clothing and textiles. Recent investments in the expanding

tourism sector are covered in a separate article.

The New Development Bank, a BRICS initiative, has approved a

loan of $200-million in support of the reconstruction of the Durban

Container Terminal berth. This will allow Transnet to expand the

capacity of the port and to cater for bigger vessels. At Richards Bay,

Transnet has committed to investment of R7.5-billion to 2023. Money

has been allocated to improving the coal rail line, expanding the

rail yard and the port itself. There will be 45 projects in all.

The Richards Bay Industrial Development Zone (RBIDZ)

is attracting investment as a node of development as it offers

attractive incentives and support for investors. Sectors being

targeted include agri-processing, ICT and telecommunications,

manufacturing (proximity to aluminium works opens possibility

for the manufacture of discs, pistons and beverage cans), logistics

and renewable energy. RBIDZ

has been named as the site for

2 000MW liquefied natural gas

(LNG) plant in terms of national

government's gas-to-power plan.

RBIDZ is also the site of a new

biomass plant.

Film-maker Anant Singh has

plans to transform the old Natal

Command site at North Beach

into eThekwini Film City. He

owns most of the land and the

municipality is in favour of the

project. Singh told City Press that

the projected cost of the project

is R7.5-billion.

Two of the province's biggest

companies, Sappi and Mondi, are

diversified global operators and

they have both recently made

major investment commitments.

Responding to President

Cyril Ramaphosa's appeal for

investments to drive the South

African economy in 2018, Sappi

committed to R7-billion and

Mondi to R8-billion. Sappi spent

R4.3-billion on increasing its

capacity in dissolving pulp in the

six years to 2018 and will spend

R2.7-billion on its Saiccor plant in

KwaZulu-Natal. Mondi noted that

its exports from KwaZulu-Natal

annually earned about R4-billion.

A new plant to make washing

machines has created 75 jobs at

the Durban plant of white goods

manufacturer Defy. The R121-million

KWAZULU-NATAL BUSINESS 2019/20

14
---
SPECIAL FEATURE

investment is part of a R1.2-billion investment programme which Arçelik

Global, the Turkish company, has been following since it bought Defy

in 2011. The company has another plant in KwaZulu-Natal in Ezakheni

(near Ladysmith) and in East London in the Eastern Cape.

In 2018 the eThekwini Metropolitan Municipality decided

to apply for a R1-billion load for capital projects. The city's

integrated development plan will include expenditure on water

and sanitation infrastructure, roads and electrification projects.

Infrastructure throughout the province will attract more than

R200-billion to 2025 according to information supplied by the

KZN Construction Expo.

Major developments north of the city of Durban continue

to transform the economy and the landscape. The King Shaka

International Airport and the associated Dube TradePort has made

a big impact, as has the conversion by sugar giant Tongaat Hulett

of its land holdings into property developments.

Dube TradePort is a 3 000-hectare development that

encompasses the airport and is ideally situated for any logistics

business due to its proximity to Africa's busiest cargo port (at

Durban) and 140km from the deepest natural harbour in the

southern hemisphere where the Port of Richards Bay and the

Richards Bay Industrial Development Zone are located.

Dube TradePort is a Special Economic Zone which has:

• Dube Cargo Terminal.

• Dube Tradezone: Suitable for warehousing, manufacturing,

assembling, cargo distribution, etc.

• Dube City: 12 hectares of office, retail and hospitality space.

• Dube Agrizone: intended to support growing, packaging and

distribution high-value perishables and horticultural products.

• Dube iConnect: the precinct's dedicated IT and telecommunications

provider and the only locally-hosted cloud service in the province.

Industrial parks

The Provincial Government of KwaZulu-Natal intends establishing

one industrial park within each of the province's 10 district

municipalities, focussing on existing strengths. These industryfocused

hubs will attract new investments and help existing

businesses through economies of scale and by improving access

to markets and supply chains.

There is one metropolitan municipality in KwaZulu-Natal.

Construction on the industrial park in the eThekwini Metropolitan

Municipality, an automobile supplier park, is expected to begin

in 2019.

In most of the other areas, land has been secured and feasibility

studies have been completed. The design of the parks and the

provision of infrastructure is

currently underway and some

tenants have been identified.

The Department of Economic

Development, Tourism and

Environmental Affairs is the

implementing agency on behalf

of the Provincial Government.

By way of example, the

iLembe District Municipality

will be the focus of investment

in renewable energy. The N2

is the main arterial running

through the district, giving

excellent access to both

Durban and Richards Bay. The

Dolphin Coast is a major node

for tourism. With the King Shaka

International Aiport (KSIA) and

the Dube TradePort lying just

south of the iLembe District in

the eThekwini Municipality, a

partnership has been created

between the two municipalities

and the provincial government

to develop a renewable energy

technology innovation hub.

Enterprise iLembe (Pty) Ltd

drives investment into the area.

At Ndwedwe 26 biodigesters

produce gas for cooking as

part of the Working for Energy

programme of the South African

National Energy Development

Institute (SANEDI).

The Small Harbours and State

Coastal Property unit of the

National Department of Public

Works wants to see coastal

properties revitalised. Initiatives

are under discussion for Port

Edward (new harbour, fish

processing, fishing and leisure),

Hibberdene (waterfront and a

Music City) and Port Shepstone

(boat building and repairs and

a new economic zone).

KWAZULU-NATAL BUSINESS 2019/20

16
---
Making a real impact

As Black Umbrellas, we are passionate about the socio-economic impact we make to

our clients and partners. We believe that every rand invested by our partners/donors

must yield a positive result and tangible impact. The SMEs we support continue to

make significant positive strides to the outlook of this country.

Our model is aimed at supporting emerging and existing 100% black-owned businesses through a threeyear

incubation programme so that they are able to emerge as independent, viable businesses.

KwaZulu-Natal power milestones collectively achieved by our SME clients

Turnover Net Profit Jobs Created Salaries Paid Net Asset Value

R530 435 388 R65 202 494 1704 R134 118 299 R211 091 877

The success of our programme and SMEs has been recognised by entities such as Zululand Chamber of

Commerce and Industry (ZCCI) and Business Women's Association (BWA). Here a number of our clients

have scooped prestigious awards such as the BWA Zululand Emerging Entrepreneur of the year (2016/

2017), ZCCI Emerging Business of the year (2017), ZCCI Micro Business of the year (2017) as well as the

People's Choice Award at Black Umbrellas' National Enterprise Development Awards (2018).

Contact us today to become an ESD partner as a mentor, donor or advisor:

Tel: 035 901 8760 | Email: Tebogo@blackumbrellas.org | Website: www.blackumbrellas.org
---
Massive investments in

tourism are paying off

New direct international flights, upgraded facilities and new hotels

all point to growing confidence in the tourism sector.

Major investments are being made into

getting tourists to KwaZulu-Natal

and new hotels are being built to

accommodate the increased number

of visitors. Durban's casino has had a major refit

and the Durban International Convention Centre

(pictured) is constantly upgrading its facilities to

cope with demand.

In terms of the vital transportation of

tourists into the province, the most significant

developments are:

• The decision to go ahead with the construction

of a dedicated cruise-liner terminal in the Port

of Durban.

• The announcement in 2018 of a new direct British

Airways (BA) flight between Heathrow Airport

in London and King Shaka International Airport

(KSIA).

• Africa's longest suspension bridge has

dramatically reduced travel times between

tourist hotspots in northern KwaZulu-Natal

and neighbouring country Mozambique. The

Maputo-Catembe bridge forms part of a new

road from Maputo to Kosi Bay which was officially

opened in November 2018.

KwaZulu-Natal offers astonishing variety for the

visitor. Awesome natural beauty extends from the

beaches all along the coastline to the iSimangaliso

(Greater St Lucia) Wetland Park and the spectacular

mountainous scenery of the Ukhahlamba-

Drakensberg Park. The history of the Zulu kingdom

includes a number of battlefield sites outlining famous

clashes with the British Empire such as Isandlwana.

Mahatma Gandhi lived in the province and the site

of Nelson Mandela's arrest is commemorated. Big

sporting events such as the Dusi Canoe Marathon, the

Durban July Handicap and the Comrades Marathon

attract thousands of participants and supporters

every year.

In KwaZulu-Natal, the combined contribution of

retail and tourism to GDP is 14%. Many thousands

of visitors to KwaZulu-Natal arrive by road, and

the statistics show that the Mooi River toll plaza

bringing visitors from Gauteng Province is a vital

portal.

Improving access

In 2018 Transnet National Ports Authority (TNPA)

and the KwaZulu Cruise Terminal (KCT) signed an

agreement for the construction of a cruise-ship

terminal in the Port of Durban that will be completed

by late 2020.

KCT, a joint venture between MSA Cruises SA

and Africa Armada Consortium, will spend R175-

million on the financing' construction' maintenance

and operation of a cruise terminal for a 25-year

concession period.

KWAZULU-NATAL BUSINESS 2019/20

18
---
SPECIAL FEATURE

The number of cruise-ship passengers attracted to

Durban grew from 42 000 in 2004/05 to 157 000 in

2010/11 and the new terminal is expected to radically

improve these numbers. The number of annual

passengers is expected to grow from the current

200 000 to more than 700 000 by 2040. South Africa

attracts 0.5% of the world's cruise-ship market which

comprises about 15.4-million passengers annually.

Durban's hosting of 60 ships per annum will rise to

150 or more.

The decision by BA to introduce a direct

London flight is a major boost for KwaZulu-Natal's

main airport. Although Qatar Airways, Emirates

Airlines and Turkish Airlines provide direct flights

to their own hubs (Doha, Dubai and Istanbul), a

direct link with London will be very attractive to

tourists and to importers and exporters. KSIA is

within the Dube TradePort and cargo volumes

have been increasing steadily every year.

The opening of the ambitious Maputo-Catembe

bridge has opened up a number of possibilities

for tour operators in northern KwaZulu-Natal.

With access to Mozambique no longer involving

a tortuous process of driving through Swaziland,

the chances of tourists wanting to combine a

visit to the parks in South Africa with a visit to

Mozambique's vibrant capital are much higher. It is

possible that the bridge itself will become a tourist

attraction. The improved roads connecting Kosi Bay

to Maputo will also mean increased trade, with the

Richards Bay Industrial Development Zone only

about 250km further south from Kosi Bay.

New and improved

Tsogo Sun has spent R1.6-billion on refurbishing its

Suncoast complex on Durban's Golden Mile. Suncoast

Casino Hotels & Entertainment covers a huge area

and offers a wide variety of entertainment options.

The recent upgrade included the addition

of seven new restaurants, new retail outlets, a

new theatre and an event venue, and increased

space at the casino. More underground parking

was created and the whole complex was given

a fresh look.

MEETINGS AND EVENTS

Facts about the Inkosi Albert Luthuli ICC

Complex

• The ICC can seat 5 000 delegates

• Raked seating for 1 800 can be lifted to

the ceiling to clear floor space

• 10 000 delegates can be accommodated

when combined with the Durban

Exhibition Centre (DEC)

• The ICC offers 70 000 square metres of

column-free space

• 23 meeting rooms and undercover

parking for 1 200 cars

• Three courtyards, one central kitchen

and 12 satellite kitchens

• Albert Luthuli was president of the

African National Congress and received

the Nobel Peace Prize in 1960

Tsogo Sun has four other hotels on the Golden Mile

and more than 100 hotels and 14 casino and entertainment

destinations in South Africa, Africa and the

Seychelles. Tsogo Sun runs 14 hotels in KwaZulu-

Natal, five of which are Garden Courts. Six hotels are

in Durban with a further four in nearby Umhlanga,

where one of the group's most luxurious hotels, the

89-room Beverly Hills, is located.

A new "mega-hotel" has been created by Tsogo

Sun, with the amalgamation of the Southern Sun

North Beach and Southern Sun Elangeni hotels.

A key reason for Durban's high ranking in the

meetings, incentives, conferencing and exhibitions

sector (MICE) is the Durban International

Convention Centre (Durban ICC). Located within

the Albert Inkosi ICC Complex in downtown

Durban, the venue will spend R27.3-million in 2019

on capital projects.

The Durban ICC is one of the most flexible

and versatile venues in the world. The main

convention area of 11 600m² can be opened up

to form one large venue or subdivided into 22

separate convention halls of various sizes. The

refurbishment of seats in Hall 1, which can seat up

to 1 680 delegates, will cost R6-million.

19

KWAZULU-NATAL BUSINESS 2019/20
---
SPECIAL FEATURE

the hotel and the shopping mall sections of the

planned complex are going ahead.

A 207-room Hilton Garden Inn will be operating

at Umhlanga Arch by 2020. Hilton Durban

acquired a new owner in 2018 when Bin Otaiba

Hotels bought it, together with four hotels in

Johannesburg, Port Elizabeth and Cape Town.

Hotels

More than 20 000 delegates will use the Durban

ICC in 2019. In the 2017/18 financial year, the venue

hosted 450 events, contributed R4.7-billion to

South Africa's Gross Domestic Product and created

9 474 jobs.

Durban's hosting of the Tourism Indaba

further supports the idea that the province is a

major conference destination. More than 7 000

delegates are annually attracted to exhibit South

Africa's assets to international tour operators. The

city has secured the Tourism Indaba until 2022.

The range of topics covered by recent

conferences held in KwaZulu-Natal is wide and

includes the World News Media Congress, the

Pan-African Health Tourism Congress, the National

Association of Automotive Components and

Allied Manufactures (NAACAM) Show and the

Durban Maritime Summit.

Premier Hotels & Resorts will spend about

R420-million on two new hotels at Umhlanga.

Currently under construction, the hotel complex

is located alongside the Gateway Theatre of

Shopping next to Umhlanga Ridge. The four-star

Premier Hotel will have 130 rooms while the threestar

Splendid Inn by Premier will be equipped with

64 bedrooms. The group has hotels and resorts

in six provinces.

A new Radisson Blu Hotel will open in Umhlanga

Rocks as part of the ambitious R3-billion Oceans

Umhlanga development. Some construction work

has been halted because of problems experienced

by construction companies, but it seems that

Research by Tourism KwaZulu-Natal shows that the

coastal province consistently has the best hotel

occupancies in the country.

Protea Hotels has 18 properties in the province,

with seven in Durban including the Protea Hotel

Edward. The upgrading of the Point area between

the beach and the Port of Durban has resulted

in major investments. The Docklands Hotel at

the Durban Waterfront is a four-star Signature

development that cost about R100-million to

develop.

The Royal Hotel in the heart of Durban is

one of eight Three Cities Group hotels in the

province. The Golden Horse Casino Hotel is a

Three Cities property, and the Group administers

the International Hotel School in Westville that

is also home to the Christine Martin School of

Food and Wine.

IFA Hotels & Resorts runs several luxury

properties including the Zimbali Coastal Resort

and Zimbali Lakes Resort. Signature Life Hotels

has 13 properties and Gooderson Leisure has a

varied portfolio.

Sibaya Casino and Entertainment Kingdom,

a Sun International property, is north of Durban

between Umdloti and Umhlanga. The casinos

in Newcastle (Century City), Empangeni (Tusk

Umfolozi Casino) and Pietermaritzburg (Golden

Horse Casino) are run by Century Casinos

Newcastle, Peermont Global and Akani Msunduzi

Management respectively.

Airbnb is a fast-growing option in South Africa.

The Airbnb visitors to South Africa in 2016 engaged

in R2.4-billion worth of economic activity. Durban

had the largest increase in Airbnb bookings from

the previous year.

KWAZULU-NATAL BUSINESS 2019/20

20
---
SPECIAL FEATURE

Regions

Several of KwaZulu-Natal's regions are investing in

tourism projects.

Harry Gwala

Dramatic mountain landscapes and a plentiful

supply of water help make this district perfectly

suited to tourism. The main towns are Kokstad

and Ixopo. The Drakensberg Mountains define

the district's western boundary. The Harry Gwala

Development Agency believes that niche sectors

such as avi-tourism (birding), rail tourism and mission

tourism hold great potential.

Umkhanyakude

The Isimangaliso Wetland Park extends 220km

along the northern reaches of the province, to the

border with Mozambique, and offers unrivalled

birding, game viewing, deep-sea fishing, turtle

tours, kayaking and whale-watching. It is a World

Heritage Site and, together with the HluhluweuMfolozi

Game Reserve, forms the core of the

tourism and conservation offering in the province.

With agriculture the other dominant economic

activity in the area, any new investment would have

to be ecologically sensitive. A new entertainment

complex at Hlungweni Peninsula within the Tembe

Tribal Authority, 30km north of Sodwana Bay, is

being contemplated.

Uthukela

Larger towns include Estcourt, Colenso and

Ladysmith. Predominantly rural, the district

encompasses two of the greatest natural assets

in the province in the Thukela River and a part of

ANNUAL SPORTING EVENTS AND EXHIBITIONS

January. Dusi Canoe Marathon,

Pietermaritzburg to Durban.

February. Midmar Mile, Midmar Dam.

April. Durban International Boat and

Leisure Show, Durban.

May. Tourism Indaba, Durban. Comrades

Marathon, Pietermaritzburg to Durban.

June. Mr Price Pro international surfing

contest, Ballito.

July. The Durban July, Greyville.

August. Durban International Film

Festival, Durban.

September. Dolphin Coast Ultra, North

Coast. KZN Music Imbizo, Durban.

October. Zululand Expo. Richards Bay.

Berg and Bush bicycle race, Drakensberg.

the Drakensberg mountain range, which attracts

hundreds of thousands of visitors. A cableway

system in the Drakensberg (near Bergville) with

entertainment and accommodation facilities has

been mooted.

Zululand

Zululand is a popular destination for cultural

experiences and the area is rich in Zulu history

and Anglo-Boer War history. Vryheid and Ulundi

are the main towns. A possible development of a

heritage site at Nongoma has been suggested to

serve as a catalyst for other sites to offer traditional

Zulu experiences, including arts and crafts, agriprocessing,

traditional medicines and cosmetics

and leveraging the profusion of aloe plants in the

district.

21

KWAZULU-NATAL BUSINESS 2019/20
---
INTERVIEW

Enterprise iLembe

Nathi Nkomzwayo, CEO of Enterprise iLembe, reveals how this

east coast region is packed with opportunity, from agriculture

and manufacturing to tourism, commerce and services.

Nathi Nkomzwayo,

Chief Executive Officer

BIOGRAPHY

Nathi has more than 18 years'

experience in the manufacturing

industry, 10 of those at senior

management and executive

level. With a degree in

engineering and an MBA, his

career highlights include the

successful implementation of

a R400-million project for a

large smelter and the design

and execution of a range of

programmes from skills transfer

to asset care strategies. As a

board and executive committee

member, Nathi has experience

in company policy formulation,

corporate governance and

relationship management.

What is Enterprise iLembe?

We are the Economic Development Agency of the iLembe District

Municipality and our mandate is to drive economic development as

well as to promote trade and investment in the region. We do this

through the development of the economic development strategy

that guides economic activities and programmes. The philosophy that

drives Enterprise iLembe is built on promoting a participatory process

where local people work together to stimulate local commercial activity,

resulting in a resilient and sustainable economy.

With our partners such as Trade and Investment KZN and the iLembe

Chamber we aim to position the district as the investment destination.

Programmes include biannual business confidence reports and an

overall business outlook.

Where do you operate?

The iLembe District is made up four local municipalities, KwaDukuza,

Maphumulo, Mandeni and Ndwedwe. They are different in terms

of their economic outlook and their developmental needs with the

coastline on one end and agricultural space on the other. Our strategy

needs to zoom in on the development needs of the individual local

municipal areas while ensuring broader alignment and integration. We

need to be conscious of the unequal business environment.

How does Enterprise iLembe identify and develop projects?

In most cases we are guided by our strategic geographic location and

economic sectors that are most viable in our region. These sectors are

Agriculture, Manufacturing, Tourism, Oceans economy, Renewable

energy as well as Commerce and Services. Being strategically located

between the two major South African harbours in Durban and Richards

Bay, iLembe District is the highest-priority development corridor in

the province. The close proximity to the King Shaka International

Airport and the Dube TradePort also connects the district directly to

international markets.

We have established a Business Incubator Facility. The objective

is to provide assistance for SMMEs. Working in the partnership with

Invotech and Africa Ignite, the project assists with access to technical

and business-related skills. It is the one-stop shop for all business

information and facilitating access to funding for SMMEs. Enterprise

iLembe has also finalised a Broadband Masterplan.

KWAZULU-NATAL BUSINESS 2019/20

22
---
INTERVIEW

How has tourism contributed

to economic development

and job creation?

The past year saw a record of

over 800 000 tourists visiting

the iLembe District, contributing

over R3-billion to the economy of

the region. Attractions such as

the Ballito Junction Mall remain

key drivers.

The mall attracted 12-million

visitors during its first year of

operation. There are many

other tourist offerings besides

shopping. These includes the

beaches, cultural, history and

adventure tourism.

How do you work with investors?

We continuously engage with potential investors through various

platforms and sign MOUs that lead to direct investment across all sectors

with key focus on job creation, skills development and the overall

contribution to the economy. More recent investments are focused in

the renewable and green energy sector. The investment opportunities

are outlined in the iLembe investor prospectus for the region.

As Enterprise iLembe, we believe that collaboration and partnerships

with key stakeholders is key. It is to this end that we work closely

with partners such as Trade & Investment KZN, Tourism KwaZulu-Natal,

local municipalities as well as private-sector partners.

Other partners such as Dube TradePort and the Isithebe Industrial

Estate have also created immense opportunities for growth and stimulation

of economic initiatives. Our focus is to work with potential investors

to facilitate and ensure that their investment in the iLembe District is

not only seamless and smooth, but also sustainable in the long term.

CONTACT INFO

Tel: 032 946 1256

Email: info@enterpriseilembe.co.za

Website: www.enterpriseilembe.co.za

Facebook: Enterprise iLembe | NORTHCOASTKZN

Twitter: EnterpriseiL

How does the flagship

National Schools Nutrition

Programme benefit farmers

and learners?

As per our mandate, Enterprise

iLembe procures vegetables

from farmers to supply to

schools for the National Schools

Nutrition Programme (NSNP).

Currently approximately 63%

of the 180 tons required for the

programme are procured from local

farmers. A total of 119 farmers

supply fresh produce to the 406

schools in the district.

This has been achieved

through the setting up of agrihubs

in Mandeni, Maphumulo

and Ndwedwe. This is a key

programme for Enterprise

iLembe as it talks directly to

the empowerment of local

communities. Agriculture has

been proven to be one of

the most sustainable sectors

provided there is a market for

SMMEs to supply their fresh

produce, and the NSNP creates

that market space.

23

KWAZULU-NATAL BUSINESS 2019/20
---
ADVERTORIAL

ADVERTORIAL

Nedbank's new brand promise focuses on client

engagement Nedbank's that new will brand create a promise better understanding

across focuses clients' on personal client engagement and business banking thatneeds

will create a better understanding

Siphamandla Ndhlovu, Provincial General Manager in KwaZulu-

Natal, Kevin explains de Beer, how Nedbank Nedbank Provincial works General with communities Manager in the to deliver

banking Free State solutions. and Northern Cape, explains how Nedbank

works with communities to deliver banking solutions.

Our expertise will help clients navigate

challenges and meet their goals

Nedbank continues to build on its clientcentred

strategy aimed at delivering

distinctive experiences and channels

of choice for businesses and clients in

KwaZulu-Natal. This has seen the bank

simplify and enhance its product offering

in line with its value-banking philosophy

based on simplicity, transparency and

affordability. Innovation and technological

advancements, as well as training and

development of staff, have been key pillars

in achieving the bank's objectives.

Since 2012 Nedbank has launched several first-tomarket

innovations, such as the award-winning

Nedbank App Suite, the home loans online

digital channel and Market Edge, as well as New

Image outlets concept in communities locally and

nationally. "Working with communities is entrenched

in our values through community development, skills

development, education and job creation, as well as

environmental conservation. These play a vital role in

building a sustainable economy and vibrant society.

We believe our fast-growing presence in communities

goes a long way towards enabling greater financial

inclusion while contributing towards economic

growth," concludes Ndhlovu.

Nedbank also leverages its strong market positioning

with businesses and the public sector, encouraging

them to bank their employees through its employee

banking offering. This forms part of Nedbank's

Banking and Beyond philosophy, which is aimed

at supporting business owners to make informed

decisions that will enable them to grow and take their

businesses to the next level.

This is a unique service for clients, with financial

fitness training a key aspect of the offering. Our

wide range of products and services include the

Nedbank Ke Yona Plus transactional account, which

comprises funeral cover, a personal loan facility, the

JustSave Account and the Send-iMali money transfer

solution, enabling clients to transact, borrow, save

and take out cover.

To encourage the youth to save and build their

financial fitness from an early age the Nedbank 4me

offering enables the youth to transact and save with

the benefit of earning preferential interest. Nedbank

4me comprises a full transactional banking account

with no monthly fees, free initial transactions and

thereafter reduced pay-as-you-use pricing, free

eNotes and self-service banking.

This wide range of offerings from Nedbank makes

banking more accessible to all.

Nedbank has also invested in innovative alternative

distribution outlets through its strategic partnership

with Boxer stores. These partnerships, which span

over 15 years, enable communities to get access to

financial services every day of the week, even Sundays

and public holidays.

Should you be interested in learning more about how

Nedbank can assist you grow your wealth and see money

differently, for more information call Siphamandla

Ndhlovu on +27 83 637 8552 or visit

www.nedbank.co.za.
---
ADVERTORIAL

ADVERTORIAL

Making Nedbank's it easier new to brand do business promise with Nedbank

Business focuses Banking on client engagement that

Siphamandla Ndhlovu, KwaZulu-Natal Provincial Business Banking

will create a better understanding

Manager, explains how Nedbank can help business owners see money

differently. Kevin de Beer, Nedbank Provincial General Manager in the

Free State and Northern Cape, explains how Nedbank

works with communities to deliver banking helps solutions. with continuity in case there is a change of

relationship from a Business Manager point of view.

Our approach is to understand the client's business

holistically and from that understanding, design tailormade

banking solutions to suit the business needs

of the client. Our "Wholeview Banking" approach

enables us to understand the client's cash receipts and

payment cycle, their global trade transactions, foreign

exchange hedging transactions and transactional

banking needs which include cash handling. From this

information, we are able to provide banking, payment

and funding solutions that meet the client's needs. We

are therefore seen as a trusted partner by the business

we serve as our banking solutions match the client's

needs and means.

"At Nedbank Business Banking we

believe that you need a financial

partner who not only understands your

circumstances and aspirations, but also

provides you with relevant solutions

and a banking experience that is hasslefree.

This allows you to concentrate on

what's most important to you – running

your business," says Ndhlovu.

At the core of our Business Banking offering in

KwaZulu-Natal is a relationship-based model. We

believe in building a relationship with our client

which helps elevate trust which becomes the solid

foundation on which our banking decisions are made.

A Business Manager is the key entry point into the

bank. The Business Manager is supported by a Client

Service team who ensure delivery of the facilities

the client is afforded. The Client Service team also

becomes a repository of client information where

the client history and track record are held. This

Our banking offering covers a broad range of financial

and advisory services to small and medium businesses

in all sectors of the economy including Agriculture.

We pride ourselves in our ability to make quick credit

decisions as our Credit teams are located in the

markets that we serve as opposed to being at a central

location that is removed from the local market.

Furthermore, based on the relationship foundation

and our understanding of the client's needs, we are

able to extend our offering to the business owner

in their personal capacity, their family and staff. In

doing this, we answer Nedbank's call to use our

financial expertise to do good for individuals, families,

businesses and communities within which we operate.

Should you be interested in taking your business to its

next level and improving staff engagement, and for more

information about Nedbank's specialised service offering

please call Siphamandla Ndhlovu on +27 83 637 8552

or visit www.nedbank.co.za.
---
ADVERTORIAL

ADVERTORIAL

Nedbank's new brand promise

focuses Expertise on in small client business engagement aimed at that stimulating

will growth create a better understanding

Kevin de Beer, Nedbank Provincial General Manager in the

Nedbank's Melanie Reddy, Provincial Retail Relationship Banking Manager,

Free

explains

State

how

and

Nedbank

Northern

is committed

Cape, explains

to partnering

how Nedbank

with small businesses

works for growth. with communities to deliver banking solutions.

For example, the Small Business Friday initiative, in

association with the National Small Business Chamber,

seeks to encourage everyone in South Africa to rally

behind and support small businesses. The initiative

calls on everyone to make a conscious decision to

vote for small businesses through their hearts, feet

and wallets; not only on Small Business Friday which is

one particular Friday in a year, but every day.

"Small businesses are the mainstay of the

economy. Nedbank has, over the years,

instituted various interventions aimed at

giving support to the small-business sector.

Over and above our small-business services

solutions, we provide small-business

owners with support that goes beyond

banking, freeing up their time to truly focus

on running their businesses," says Reddy.

Nedbank has built a solid reputation as a bank for

small businesses through initiatives such as Small

Business Friday, free small-business seminars and

the SimplyBiz.co.za platform – all geared to support

the small- and medium-sized enterprises sector.

Our offering expands to the Professional Banking

segment of the market. In Professional Banking we

realise that time is of the essence in your professions

and hence we offer you a dedicated banker with a

strong support team to take care of the needs of you,

your business and your household.

SimplyBiz.co.za is a free-to-join value networking

portal designed especially for small businesses. The

online portal helps small businesses improve their

business administration skills, keep up with the latest

trends, network with other small businesses and

share ideas.

Should you wish to tap into our small business expertise

to help your business goals, why not get in touch with

Nedbank's Small Business Services. Call Melanie Reddy

on +27 31 364 2045 or send an email to

Melanier@nedbank.co.za.
---
ADVERTORIAL

ADVERTORIAL

Nedbank's new brand promise

Making focuses banking on client accessible engagement to all that

will create a better understanding

At Nedbank we believe in delivering a choice of distinctive clientcentred

Kevin de banking Beer, Nedbank experiences Provincial that create General deep, enduring Manager relationships

in the

with Free our State clients, and Northern says Sean John, Cape, Provincial explains Sales how Nedbank Manager, KwaZulu-

Natal works Branch with communities Networks. to deliver banking solutions.

Our distribution presence in KZN sees us with 85

traditional branches, 32 kiosks in Boxer stores and 33

New Image branches. Nedbank has embarked on a

distribution strategy to convert all our branches to

New Image outlets. We have also increased our ATM

distribution to 630 and Intelligent Depositors to 90 in

the province for your convenience.

To make banking convenient we have eight Sundaytrading

branches in key centres in the province.

Nedbank's client-centred approach has seen the bank

intensify its efforts in delivering a distinctive client

experience through innovation.

Our clients are engaged by skilled, enabled

and productive staff who, through

meaningful conversations, ensure we

deliver to our clients' needs and aspirations.

As a bank for all, Nedbank realises that, if

it wants to make banking more accessible

to all in South Africa, it has to start working

with the communities in which it operates.

"Since 2012 Nedbank has launched several firstto-market

innovations, such as the award-winning

Nedbank App Suite, the home loans online digital

channel and Market Edge, as well as New Image

branch outlets," adds John.

For more information on our offerings please contact

Sean John at SeanJ@nedbank.co.za,

+27 31 364 1933.

As such the bank's strong relations with government,

organised business and communities remain a key focus

in growing its client base.

Our presence in the KZN community goes a long way in

allowing for greater financial inclusion while contributing

to social upliftment and economic development.

Nedbank Ltd Reg No 1951/000009/06. Authorised financial

services and registered credit provider (NCRCP16).
---
KEY SECTORS

Overviews of the main economic

sectors of KwaZulu-Natal

Agriculture​ 30

Sugar​ 31

Forestry and paper​ 34

Mining 42

Engineering ​ 43

Oil and gas​ 44

Construction and property​ 48

Water​ 49

Manufacturing​ 50

Automotive​ 52

Information and communication

technology 54

Education and training​ 55

Banking and financial services​ 56

Development finance and SMME

support​ 57
---
OVERVIEW

Agriculture

New crops are adding to the export basket.

The award of Toyota SA/Agri SA Young Farmer of the Year for

2017 went to a Richmond farmer who is one of only four

farmers in the province cultivating golden kiwifruit. There

are only 16 farmers in all of South Africa doing what Ross

Lowe does, but he believes that the particular strain of kiwifruit he has

chosen is the best in terms of taste and yield. Typically for the modern

KwaZulu-Natal farmer, he also intends to increase his export volumes.

So-called superfoods have potential to grow the agricultural

sector via greatly increased exports: these include avocados,

pecans and dates. The province's Premier has mentioned

possibilities in macadamia nuts (already a thriving sector in other

parts of the country) and in new areas such as cannabis and the

farming of rabbits. The opening of a R99-million cold-storage

facility at the Dube TradePort in 2017 has given farmers and

exporters additional flexibility, allowing them to store chilled and

frozen perishable goods.

Eighteen percent of KwaZulu-Natal's 6.5-million hectares of

agricultural land is arable, and the balance is suitable for the rearing

of livestock. The province's forests occur mostly in the southern and

northern edges of the province.

In 2018, a summit was held at which consultation took place

towards the creation of an Agricultural Development Masterplan

for the province. The resulting plan includes priorities such as the

expansion of irrigable land, improving market access for producers

and adding value to agricultural products before they reach local

and international markets.

The Agribusiness Development Agency (ADA) works with

Department of Agriculture and Rural Development (DARD) to

stimulate agribusiness that covers the entire value chain and

promotes development in all areas. The coastal areas lend themselves

to sugar production and fruit growing, with subtropical fruits doing

particularly well in the north. KwaZulu-Natal produces 7% of South

Africa's citrus fruit.

ONLINE RESOURCES

Fresh Produce Exporters Forum: www.fpef.co.za

KwaZulu-Natal Agricultural Union: www.kwanalu.co.za

KwaZulu-Natal Department of Agriculture and Rural

Development: www.kzndard.gov.za

SECTOR INSIGHT

Increased agricultural freight

volumes are expected at the

Dube TradePort.

Beef originates mainly in the

Highveld and Midlands areas, with

dairy production being undertaken

in the Midlands and south. The

province produces 18% of South

Africa's milk.

KwaZulu-Natal's subsistence

farmers hold 1.5-million cattle,

which represents 55% of the

provincial beef herd, and their

goat herds account for 74%

of the province's stock. The

Midlands is also home to some

of the country's finest racehorse

stud farms. The area around

Camperdown is one of the

country's most important areas

for pig farming.

Enterprise iLembe, the

development arm of the iLembe

District Municipality, is looking

for investors to further develop

an agri-processing hub near the

King Shaka International Airport

and Dube TradePort.

KWAZULU-NATAL BUSINESS 2019/20

30
---
Sugar

OVERVIEW

KwaZulu-Natal leads in sugar production.

SECTOR INSIGHT

Times are tough in the sugar

industry.

For the first time in nearly a decade, some commercial sugar

farmers in the Pongola area have returned to planting cotton as

a rotational crop. This is according to the 2018 annual report of

the KwaZulu-Natal Agricultural Union. Diversification is a good

thing, but this move perhaps also points to the downward trend in

overall sugar production.

KwaZulu-Natal is South Africa's biggest sugar producer. Most

of South Africa's 14 sugar mills are in KwaZulu-Natal, as are the

headquarters of the biggest companies.

The South Africa Cane Growers' Association (SACGA) described

the 2017/18 season as "one of the toughest in the history of the

South African sugar industry". Although more land was cultivated

(after the drought) and revenue was up, the price of sugar was so

low that some growers were said to be at risk of business failure.

Fourteen sugar mills crushed a total crop of 17 388 177 tons of

cane to produce 1 994 607 tons of sugar during the 2017/18 crushing

season. The cane crop was 2 313 567 tons larger than the 2016/17

crop of 15 074 610 tons.

About 40% of local production is exported. The SACGA represents

about 24 000 growers who produce about 20-million tons of cane.

A new industry structure, allowing for multiple grower associations,

has been agreed to by the SACGA, the Department of Trade and Industry

ONLINE RESOURCES

South African Cane Growers' Association:

www.sacanegrowers.co.za

South African Sugar Association: www.sasa.org.za

South African Sugar Technologists Association: www.sasta.co.za

Sugar Milling Research Institute: www.smri.org

(dti) and the relevant parliamentary

portfolio committee.

Neither of the Big Two companies

relies exclusively on South

African sugar earnings: Tongaat

Hulett has a big property portfolio

and Illovo draws most of its

profit from operations elsewhere

in Africa.

Tongaat Hullet Sugar has

agreed to a R52-million sugarcane-growing

project which will

see co-operatives and contract

farmers plant cane on 3 000ha at

Felixton, Maidstone and Darnall.

Illovo and Tongaat Hulett are

the major operators of sugar mills.

Other millers are Gledhow, ULC,

Umfolozi and Tsb (which has a

further two mills in Mpumalanga).

Illovo has four mills, three sugarcane

estates, four sugar factories,

a refinery and three downstream

operations that make products

such as furfural, furfuryl alcohol,

ethyl alcohol and lactulose.

The four mills run by Tongaat

Hulett are located on the North

Coast while the central refinery

is in Durban and the animal feed

plant, Voermol, is near Tongaat.

The Sugar Terminal at Maydon

Wharf, Durban, serves 11 mills

and can store more than half-amillion

tons of sugar. It also has a

molasses mixing plant.

31

KWAZULU-NATAL BUSINESS 2019/20
---
FOCUS

Stimulating the agri

sector in KwaZulu-Natal

The new CEO of the Agribusiness Development Agency,

Zenzele Ndlela, is upbeat about the ADA's new mandate.

Africa has been identified as a sleeping

economic giant in terms of its resource

potential. Agriculture has the potential to

transform the African continent provided

all the African countries can work together towards

providing support to farmers.

This is according to the newly appointed CEO,

Zenzele Ndlela, of the Agribusiness Development

Agency (ADA). "We all need to put our heads together

and stimulate this sector in order to eradicate the

twin problems of poverty and food crisis," he says.

ADA is a public entity that was established as a

"one-stop-shop" to assist entrant black commercial

farmers who had acquired land through the Land

Reform Programme. However, the entity has taken

on a new strategic direction and aligned its services

with those of the Department of Agriculture and

Rural Development (DARD). "We seek to promote,

establish, facilitate and support the growth of blackowned

and managed agricultural enterprises along

agricultural value chains in KwaZulu-Natal through

partnerships with individuals, communities, the

private sector and other public sector institutions in

order to achieve a transformed agribusiness sector,"

Ndlela says.

"There was a need to have a separate entity that

would accelerate the provision of a comprehensive

support package to black commercial farmers" says

Ndlela. ADA has positioned itself to resuscitate as

well as develop commercial agriculture and has

been able to increase the value of farms owned

by black commercial farmers, reduce the number

of farms being repossessed as well as deal with the

declining local economies of rural towns that relied

on commercial agriculture.

Ndlela notes, "It must be noted that we have

reviewed our mandate and shifted our strategic

focus to the entire value chain in agri-business.

Our interventions have changed the agricultural

landscape in the province. Providing funding to

beneficiaries improved their agribusinesses and

welfare and enabled them to gain access to markets

through capacity building programmes.

"The positive attitude and optimism among our

beneficiaries towards farming is linked to the newly

gained confidence in their skills (farming techniques,

marketing, value addition, etc.) which they received

from ADA," says Ndlela. "We have turned around

ailing farms including dairies, piggeries, grain

farms, vegetable farms and livestock farms from

zero production levels to where they are able to

consistently supply the market."

The ADA has trained 1 726 individuals and

created and/or sustained a total of 2 250 jobs during

the construction of physical infrastructure, planting

and harvesting seasons, all within the Enterprise and

Value Chain Development Programme.

KWAZULU-NATAL BUSINESS 2019/20

32
---
1. VISION

"A diverse, deracialised, prosperous, and sustainable agribusiness sector in KwaZulu-Natal."

2. MISSION

The ADA strives to promote, establish, facilitate and support the growth of black owned and managed agricultural enterprises along

agricultural value chains in KwaZulu-Natal through partnerships with individuals, communities, private sector and other public sector

institutions in order to achieve a transformed agribusiness sector in the province.

3. OUR VALUES

Organisational values define the key principles and associated behaviours that are required by employees when executing the strategy and

functions of the organisation and state what the beneficiaries and stakeholders can expect from the organisation. The values of the ADA are:

• Integrity: We commit ourselves to ensuring that our purpose, practices and values are ethically sound, at all times

• Accountability: We take accountability for all our actions in dealing with our Clients and Stakeholders and are mindful of possible

consequences emanating from our decisions

• Excellence: We commit to providing quality services and products to all our clients at all times consistent with the spirit of Batho-Pele

• Innovation: We commit to strive for continuous improvements through innovation and promoting a learning organisational culture

4. FOCUS ON OPERATION

In keeping with the outcome of the alignment process between DARD and ADA, the Agency will concentrate on the following:

• agribusiness development and in particular on agro-processing

• on high impact and complex projects that will assist in unlocking public and private resources, as well as assistance in turning

around declining industries

• look at niche and new products that support import substitution and exports

5. OUR PRODUCTS AND SERVICE OFFERINGS

We have developed products and services according to four broad areas in supporting agribusiness development:

Knowledge and Information Services – these include design and dissemination of agribusiness models, agribusiness training modules

and business leadership development;

Financial Resources Mobilisation – these include targeted development finance and investments;

Agribusiness Facilitation Services – these include connecting agribusiness entrepreneurs to information, technological

innovations and markets;

Agribusiness Market Infrastructure Services – these include agribusiness capacity and systems development; as well as

investments in infrastructure.
---
OVERVIEW

Forestry and paper

Diversification is a growing trend.

Big forestry and paper companies have been preparing

themselves for change for many years now. The computer

age and digitalisation presented complicated challenges

to paper manufacturers and companies. In response, Sappi

and Mondi, global leaders in paper and packaging with strong roots

in KwaZulu-Natal, have embraced diversification.

Sappi has a strong emphasis on dissolving wood pulp and Mondi

reports growing demand in its packaging divisions. Although Mondi

closed one machine at its Durban plant in 2018, it will continue to

make uncoated fine paper for the domestic market at the plant.

Recent upgrades to Mondi's woodyard at Richards Bay have made a

big impact on efficiencies. The addition of an unbleached kraftliner

product has expanded the company's range. Three investments

in eastern Europe will see the company's saleable pulp and paper

production go up by about 9% overall.

Sappi makes paper at two mills in South Africa: the mill at Tugela

makes 185 000 tons of speciality paper per annum. A big focus for

the company is dissolving wood pulp, made at one site in America

and two in South Africa.

Dissolving wood pulp is sold as a raw material to converters

around the world who produce from it a range of products such

as textiles, cellophane wrap and pharmaceuticals.

SECTOR INSIGHT

TWK is the latest agricultural

company to list on a stock

exchange.

The giant Sappi Saiccor mill 50km

south of Durban is the world's biggest

manufacturer of dissolving

wood pulp. The mill's capacity is

800 000 tons, which makes it the

biggest of its kind in the world.

Sappi is actively looking into the

new fields of bio-materials and

bio-energy.

Both company's investments

in the province are outlined in a

special feature elsewhere in this

publication.

National production figures

in the forestry sector declined

KWAZULU-NATAL BUSINESS 2019/20

34
---
manufacturing, auto identification, bar coding and labelling sectors.

As such, we are proud to be the sole distributor in Southern Africa for many of the leading

internationally-renowned brands in those sectors in which we operate, such as HP Indigo,

Komori, Flint, Fujifilm, Argox, CipherLab, Datalogic and Brother.

Kemtek pursues

continual growth

Kemtek keeps abreast of industry developments and potential

new markets while offering the best solutions to customers.

FOCUS

And, with a focus always on providing highly skilled services and post-sales support, we're

ensuring our customers are maximising their potential for growth and profit - day in, day out!

NATIONAL: 0861 KEMTEK • JHB: +27 (0)11 624 8000 • PTA: +27 (0)12 804 1410

• DBN: +27 (0)31 700 9363 • CPT: +27 (0)21 521 9600 • PE: +27 (0)41 364 3690

WWW.KEMTEK.CO.ZA

J25589

J25589_Kemtek_Propak_Advert_FA.indd 1 2019/02/14 16:12

Targeted industry events and product demonstrations are proving highly popular with Kemtek

customers and prospective customers alike.

Long-established in the lithographic,

flexographic, digital and large-format

printing and packaging arenas, Kemtek has

evolved over time into a multi-pronged

organisation, entrusted with channel responsibility

by many of the world's leading brands in the

barcoding and labelling sectors through widespread

professional resellers, plus 3D printing, through its

joint venture partner Rapid 3D.

Aligning with internationally-acclaimed brands is

one aspect of Kemtek's continued success, coupled

with expert sales and service support, and an agile

and specialised national distribution network,

annually achieving some 15 000 deliveries.

This fast-growing enterprise also represents

specialist additive manufacturing equipment and

materials providers in multiple sectors including

aerospace, automotive, manufacturing, medical,

dental and jewellery, with brands such as EOS,

Envisiontec, MCor and Zortrax.

Building on core strengths

Creating value on a sustainable basis is Kemtek's

marketing approach that's based on a detailed

understanding of markets and the needs of the

end user. These needs are then married to the

technologies provided by Kemtek's principal

brands. Providing a winning edge for all Kemtek's

customers means delivering the most advanced

technological equipment and service, backed by a

total commitment to service excellence.

With digital printing firmly growing in Southern

Africa, Kemtek and partner, HP Indigo, have recently

expanded their labels and packaging portfolio

with technology solutions to drive printing and

converting toward more flexible, productive and

profitable digital printing.

Taking digital finishing to the next level is the

ability to integrate the Indigo 6900 with an HP

Indigo GEM digital embellishment unit – a onepass

label printing and embellishment system for

spot, tactile, foil, holograms, mini textures and

lamination.

In the packaging sector, Kemtek's alliance with

Flint Flexographic products goes from strength to

strength. Flint has extended the range with nyloflex

FTF-UV plates, designed for high-resistance to UVbased

inks, and nyloflex FTP for paper packaging

applications such as multiwall sacks and liquid

dairy cartons. Another important development

between Kemtek and Flint Group is a distribution

agreement that allows Kemtek to supply the full

range of ThermoflexX laser imaging systems in

South Africa.

For more information, visit www.kemtek.co.za.

35

KWAZULU-NATAL BUSINESS 2019/20
---
OVERVIEW

in 2017 for the third year in a row. Forestry SA reports that

tonnage sales were nearly 2% down on the previous year, at

15-million tons. Wattle showed the largest decrease while

pulpwood was the only category to increase, but by less

than 2%. The National Department of Agriculture, Forestry

and Fisheries reports that South Africa has a shortage of

sawn timber and anticipates further shortages in the future.

Despite this overall trend in the national forestry picture,

TWK has announced that it wants to buy 11 000 hectares of

forest land to support its wood chip sales (especially to China

and Japan) and timber exports. TWK is an agricultural company

that grew out of the Transvaal Wattlegrowers Cooperative and

which became the latest such company to be listed when it

joined the ZAR X in 2017.

The KwaZulu-Natal provincial government's strategy of creating

Industrial Economic Hubs (IEHs) includes the development

and expansion of wood processing in the Harry Gwala District

Municipality. This is in the wooded south-western part of the

province and includes the towns of Kokstad, Harding, Ixopo and

Underberg.

Nampak produces crêpe paper at Verulam and Rafalo produces

tissue paper. SA Paper Mills is another paper producer.

Mpact's upgrade of its Felixton mill has increased capacity

and improved efficiency. The project cost R765-million and

takes overall production up to 215 000 tons and a lightweight

containerboard option has been included in the product lines.

This is in response to market demand for lighter packaging.

Mpact has plastics and paper operations, with the paper

section divided into three divisions: paper manufacturing,

corrugated and converted paper products and recycling.

The Merensky Group operates one softwood sawmill and a

panel-processing plant in Kokstad that is geared to manufacture

according to customers' needs in any sector. Export is done

through the Port of Durban.

NCT Forestry Co-op Limited is a key timber-marketing entity

with more than 2 000 members and three wood-chipping mills.

ONLINE RESOURCES

Forestry South Africa: www.forestry.co.za

KwaZulu-Natal Department of Agriculture and Rural

Development: www.kzndard.gov.za

South African Institute of Forestry: www.saif.org.za

Technical Association of the Pulp and Paper Industry of South

Africa: www.tappsa.co.za

R&B Timber Group has three

pole treatment plants and is

headquartered in Harding.

Flaxton Timbers operates

out of Ixopo and Natal Forest

Products is in Richmond.

Timber

Timber plantations are

found in five parts of the

province: northern KwaZulu-

Natal, Midlands, southern

KwaZulu-Natal, Zululand and

Maputaland. Close to half-amillion

hectares – 38.5% of the

land in South Africa devoted to

forestry – is allocated to timber

plantations. Of this area, 70%

is devoted to hardwoods and

the balance to pine, the only

softwood grown in large

quantities in South Africa.

The percentage of privately

owned forest land is 93.4%.

Merensky has plantations in the

Dargle forest while Sappi and

Mondi have holdings across

the province, and in other parts

of South Africa.

Management of the 251

000 hectares of the plantation

forest that Mondi has under

management is done in line

with sustainable forest management

principles and the

company is engaged in a partnership

with the WWF to get

different types of water users

to work together in improving

how water is used. Mondi has

reduced its own consumption

of fresh water by 12% in comparison

to its use in 2015.

KWAZULU-NATAL BUSINESS 2019/20

36
---
PROFILE

Sustainable growth

Mondi is a global leader with a culture that delivers

sustainable growth.

Mondi is a global leader in packaging and

paper, delighting its customers and

consumers with innovative and sustainable

packaging and paper solutions.

Mondi is fully integrated across the packaging

and paper value chain – from managing forests and

producing pulp, paper and plastic films, to developing

and manufacturing effective industrial and consumer

packaging solutions. Sustainability is embedded in

everything Mondi does.

In 2018, Mondi had revenues of €7.48-billion and

underlying EBITDA of €1.76-billion.

Mondi globally is leading the response of the

packaging and paper industry in developing

sustainable solutions to address key environmental

and social challenges. The group is taking a sciencebased

approach and working with partners across

the value chain to develop innovative sustainable

solutions that are fit for a circular economy. By taking

a holistic view, Mondi believes it can meet the needs

of each customer, their products and the planet to

contribute to a better world.

Peter Oswald, Mondi Group CEO, commented:

"As a global packaging and paper group, it is

essential for our business, as well as the planet,

to drive innovation and change throughout the

value chain. We don't see sustainability as a trend,

it's a requirement. Mondi's unique offering of highperformance

paper, plastic and hybrid solutions

means that we can find the most sustainable fit for

each application."

Mondi South Africa

Our South African business sustainably manages

some 250 000 hectares of plantation forests and

manufactures and sells pulp, virgin containerboard

and uncoated fine paper products. We have around

1 500 employees working in our forestry operations

and two mills located in Richards Bay and Merebank,

Durban.

Strategic advantages

Our focus is on leveraging our strong domestic market

position and the global competitiveness of our

Richards Bay mill. With a history spanning more than

50 years, we understand the value of being efficient,

cost-competitive and customer-focused.

Our passion for performance will always be central

to the way we run our business and is demonstrated

through a continuous focus on quality, productivity

and efficiency. The fundamental principle behind

operational excellence at Mondi is the desire to do

more with less.

We invest in and manage our business to ensure

that our manufacturing operations maintain their

cost advantage, that our forestry operations are

managed sustainably for a secure timber supply,

that we support our customers' success and invest in

the development of our people and communities.

37 KWAZULU-NATAL BUSINESS 2019/20
---
FOCUS

Developing innovative solutions

for a circular economy

Mondi is committed to best practice in forestry

management and production.

Mondi South Africa is at the forefront of sustainable

business practices. "It's exciting to be playing a

lead role in Mondi's sustainability story. There are

so many areas we are proud of but three stand

out for me. From the work we are doing to reduce our water

impact, to managing water catchment areas and wetlands

through our work with partners, to using significantly less

water in our operations. Second is the progress we have

made in becoming a diverse and inclusive workplace, where

people can grow to their full potential and contribute to our

success. And then of course our globally competitive operations

that produce high-quality, fully-recyclable products

from sustainably sourced fibre," explains Viv McMenamin,

CEO Mondi South Africa.

Sustainable fibre

The sustainable management of our forestry operations is

key in managing our overall environmental impact, helping

to protect ecosystems, and developing

resilient landscapes.

Wood is one of the primary raw materials

and our staff work hard to provide the

best assurance for our stakeholders that

the wood and fibre we use comes from

responsible sources.

Plantation forests in South Africa are

managed in a way that secures their longterm

biological integrity, social value and

productivity.

Maintaining FSC certification of forests

is also an important part of our management

approach. It assures compliance with globally

recognised standards for sustainable forest

management.

Water as a constrained resource

Given the critical importance of water to business,

to local communities and to other stakeholders,

we strive to manage water use wisely

and efficiently – especially in water-stressed

regions. We are committed to reducing the

specific contact water consumption of our

pulp and paper mills by 5% by 2020, against

a 2015 baseline.

Drought conditions in South Africa

remain a concern and we continue to look

for opportunities to improve water security

in the areas where we operate. The focus

is on reducing water consumption, in

particular at the Richards Bay mill.

KWAZULU-NATAL BUSINESS 2019/20

38
---
Biodiversity and ecosystems

FOCUS

WWF-Mondi Water Stewardship

Programme

Mondi promotes a landscape approach to freshwater

stewardship. The focus of the long-standing WWF-

Mondi Water Stewardship Programme (previously

the WWF-Mondi Wetlands Programme) has grown

from managing and rehabilitating wetlands with

different groups of land-users (including Mondi)

to catalysing water stewardship at the landscape

scale, including ensuring collaboration and action by

different land-users in the uMngeni and Mvoti River

catchments, both of which are strategically important

water-supply areas for KZN's economic hubs.

In 2014, following many years of collaboration,

Mondi Group and WWF launched a global

partnership to promote responsible forestry and a

sustainable pulp and packaging sector.

In 2017, this global partnership was extended for

another three years and the WWF-Mondi Wetlands

Programme was renamed the WWF-Mondi Water

Stewardship Partnership, reflecting its broadening

focus on catchment-based water stewardship. Water

stewardship assessments were conducted for the

Richards Bay mill and plantations in South Africa. This was

measured against the international Alliance for Water

Stewardship Standard, a globally-applicable framework

for major water users to understand their water use

and impacts. The outcomes are now being used to

investigate meaningful, cost-effective improvements to

management systems to meet the core requirements

and to advance some of the requirements.

In 2018, Mondi joined the WWF Climate Saver's

Programme, WWF's global platform to engage

businesses and industries on climate and energy.

Responsible forest management involves increasing

the long-term productivity and preserving ecosystem

values in rural landscapes and protecting

high conservation value areas such as wetlands.

Degradation of ecosystems and loss of habitats

and species has a significant negative effect on the

ecosystems that both communities and business

rely on. We are committed to protecting biodiversity

and ecosystem services in our forestry operations.

Maintaining an effective network of highconservation

value areas and valuable habitats,

and on imitating natural dynamics for key types of

ecosystems where possible, is another focus.

Eco-efficient products

The investment to expand our product range by

producing unbleached kraftliner in addition to

white-top kraftliner at the Richards Bay mill has

been welcomed by customers. Baywhite, Baycel

and Baykraft products are certified for food

packaging (ISEGA) and Mondi has adopted Good

Manufacturing Practice (externally certified).

39 KWAZULU-NATAL BUSINESS 2019/20
---
FOCUS

Inspiring Mondi people for

long-term success

Leading the way in transformation and enterprise development.

has over 30 contractors as enrolled small businesses,

with a focus on growing skills, management capability

and improving their operational know-how.

We are able to maintain a steady supply of highquality

fibre from a network of small forest enterprises

with on average 87 000 tonnes of the timber supplied

to our Richards Bay mill coming from these suppliers.

Mondi's significant activities in a number

of key areas reflect a strong commitment

to transformation and B-BBEE. This

is confirmed by Mondi's Level One

contributor status under the under the Forestry

Sector Broad Based Economic Empowerment codes,

as verified by an independent assessment.

Enterprise development

Mondi Zimele, established in 2007, is our small

business development organisation. Its initial focus

was on accelerating black economic empowerment

in the forestry value chain. In 2012 the focus

expanded to incorporate support for communitybased

small businesses around Mondi's operations.

This was enabled through the establishment of the

Mondi Zimele Jobs Fund, an enterprise development

initiative co-funded by the Jobs Fund.

Since 2012, Mondi Zimele has provided

approximately R100-million in loan funding to assist

over 200 local businesses in the creation of more than

2 800 jobs. Mondi Zimele has also been instrumental in

the establishment of several land claimant community

contractors where we continue to emphasise

productivity improvement, business administration

and compliance as the key to success for these SMEs.

The Mondi Zimele and Department of Trade and

Industry (dti) Forestry Contractor Incubator Programme

Land claims

An innovative sale and leaseback model has

been developed with a successful mechanism for

settling claims with and supporting land-claimant

communities. Following a successful land-claims

process, communities have ownership of the land

and associated rental revenues but also receive

assistance to develop sustainable forestry enterprises

and forestry-related skills. In this way communities

immediately derive a rental income from their land

but also develop the know-how to potentially farm

timber for themselves into the future. Approaching

land reform in this developmental and inclusive way

means we are able to retain a sustainable source of

wood supply into the future.

Skills and people development

KWAZULU-NATAL BUSINESS 2019/20

40
---
FOCUS

R8-BILLION INVESTMENT OVER FIVE YEARS

At the President's Investment Summit in

2018, Viv McMenamin, CEO Mondi South

Africa, announced, "We focus on investing

in our world-class assets to maintain our

cost advantage. Over the next five years we

will be investing a total of around R8-billion

in our South African operations, which

includes ongoing investment in our forestry

assets and the modernisation of our pulp,

containerboard and paper assets, subject to

approval by the Mondi boards."

the recently expanded Ligbron E-learning system is

now operational in a further three rural schools. Each

e-learning classroom has an e-Boxx with a SMART

interactive whiteboard, a digital camera, sound system

and alarm system. This technology facilitates the weekly

live streaming of mathematics and science lessons that

are shared by using video conferencing and desktop

sharing. During live streaming, the image of the teachers/

learners from linked schools is visible on the SMART

board. The SMART boards display the presentation and

any student and teacher can write on the SMART board

and ask questions from their own school.

Mondi believes strongly that by working in

partnerships with government, communities and NGOs

we will be able to find sustainable land reform solutions.

We believe that being part of the solution to global

challenges will secure the long-term success of our

business and the wellbeing of our communities and

other stakeholders.

www.mondigroup.com

We invest significantly in skills and leadership development,

offering talented individuals interesting careers as part of

a global group. We are particularly proud of the progress

women are making in Mondi South Africa, holding

positions such as CFO, Procurement Director, Head of

Mondi Zimele and as artisans, foresters, safety managers,

nursery manager and in the fields of engineering, finance,

human resources and more.

Community development

Our well-established approach is focused on investing

in communities living on our land or near operations.

A leading community development initiative is

the Mkondo Development Project (Piet Retief), a

pioneering public-private partnership focused on

improving the living conditions of people in isolated

villages on forestry land, and to find sustainable

solutions to alleviate poverty and offering security

of tenure. The pilot Jabulani Agri-village has been

completed and eight other Agri-villages are in progress.

The commitment to education is widespread and

PART OF THE SOLUTION

Viv McMenamin, CEO Mondi South Africa, adds:

"Our South African business continues to be

a strong contributor to Mondi's success story.

From our sustainably managed forests, to our

world-class pulp and containerboard operation

in Richards Bay, to being the number one office

paper producer in South Africa. We believe in the

value of being part of the solution to global and

local sustainability challenges and I am proud

of the work we are doing in partnership with

our communities, government and other key

stakeholders. This gives me great confidence in

the future of Mondi South Africa!"

41

KWAZULU-NATAL BUSINESS 2019/20
---
OVERVIEW

Mining

Second smelter to be activated at Isithebe foundry.

SECTOR INSIGHT

Most of South Africa's export

coal passes through the

Richards Bay Coal Terminal.

Finnish company Metso will spend about R53-million on building

a second furnace at its Isithebe foundry in the iLembe District

Municipality. This is in response to increased demand for large

crusher wear parts. The KwaZulu-Natal foundry is one of five

foundries the company runs on four continents.

The renovated foundry will be able to manufacture wear parts for

the Nordberg® MP2500 cone crusher as well as for Metso and third-party

primary gyratory wear parts. The first products from the new furnace

are scheduled for May 2019.

RBM mines the minerals sands of the northern KwaZulu-Natal coast

and operates out of Richards Bay. The main products of the RBM mine are

zircon, rutile, titania slag, titanium dioxide feedstock and high-purity iron.

Tata Steel KZN's high-carbon ferrochrome plant at Richards Bay

went into business rescue and then liquidation before being bought

by Luxembourg-based Traxys Africa in the middle of 2016, after a court

ruled in its favour. Traxys has chrome mines Mpumalanga and Limpopo

provinces. Tata Steel did not have its own mines.

The KZN Sands mineral sands operation comprises a central

processing complex in Empangeni and the Fairbreeze Mine. Expenditure

over several years (which started in 2016) is expected to rise to R5-billion

as it expands. Tronox, which is listed on the New York Stock Exchange,

is the major shareholder in KZN Sands.

The development of a new titanium dioxide pigment plant was

announced in 2017 by Nyanza Light Metals and its technology partner,

ONLINE RESOURCES

Geological Sciences, University of KZN: www.geology.ukzn.ac.za

Minerals Council South Africa: www.mineralscouncil.org.za

National Department of Mineral Resources: www.dmr.gov.za

Avertana of New Zealand. The use of

stockpiled waste slag (from mines in

Mpumalanga) sets this R4.5-billion

project apart. Other products

will include gypsum, aluminium

sulphate and magnesium sulphate.

Production was scheduled to begin

in 2019.

The Hillside aluminium smelter

at Richards Bay run by South Africa

Aluminium is now a 100% South32

asset. Most of the product (highquality

primary aluminium ingot)

is exported but some liquid metal

form is sent to Isizinda Aluminium

which supplies Hulamin, a

company that has had a rolling

mill in Pietermaritzburg since

1949. Hulamin is the only major

aluminium rolling operator in the

region and it makes rolled products

and extrusions.

Other processing facilities in

the province include the steel

plant owned by Arcelor Mittal in

Newcastle and Safa Steel's metalcoating

factory in Cato Manor.

Some of the coalfields of the

province have been revived.

Petmin's Somkhele Anthracite Mine,

north of Richards Bay, has one of

the biggest reserves of open-pit

anthracite in South Africa, with

measured and indicated reserves

of more than 51-million tons across

its four areas.

KWAZULU-NATAL BUSINESS 2019/20

42
---
Engineering

OVERVIEW

Construction is booming north of Durban.

SECTOR INSIGHT

Marine engineering is a

provincial strength.

Property company Tongaat Hulett Developments won Visionary

Client of the Year at an engineering awards event in 2017, a

recognition of how much construction is underway north of

Durban on land that used to be covered in sugar cane.

The South African construction sector is experiencing tough times,

with more than one company going into business rescue in 2018,

which could explain why the annual Cesa Aon Engineering Excellence

Awards acknowledged the developer of eight large projects covering

commercial, industrial, retail and residential.

The other mega-project that has created a lot of work for engineers

has been the multi-year Western Aqueduct project to bring fresh water

to greater Durban.

The Western Aqueduct Joint Venture comprising three companies,

Knight Piésold Consulting, Naidu Consulting and Royal Haskoning DHV,

acted as agents for eThekwini Water and Sanitation. Stefanutti Stocks

Pipelines played a big role, and there were opportunities for excellence

and innovations in areas such as break-pressure tanks which were

designed by Royal Haskoning DHV and built by ICON Construction.

Marine repair and engineering form a significant sector in the

province, with established companies such as EBH South Africa offering

comprehensive services at the ports of Durban and Richards Bay

(pictured). Both ports are expanding (Durban is building a cruise liner

terminal, for example) and will continue to attract engineers.

ONLINE RESOURCES

Consulting Engineers South Africa: www.cesa.co.za

Engineering Council of South Africa: www.ecsa.co.za

South African Forum of Civil Engineering Contractors:

www.safcec.org.za

Southern African Institute for Industrial Engineering:

www.saiie.co.za

Dormac, which is headquartered

in the Bayhead area of the Port of

Durban, is best known for its marine

engineering but it offers specialised

services to the sugar industry and

provides machinery for industrial

giants like Toyota and Defy.

All of the province's biggest

industries require sophisticated

engineering skills: aluminium

smelters in Richards Bay and steel

works in Newcastle, Richards Bay

and Cato Ridge. There are also

chemicals and plastics production

plants, and large automotive works.

The Transnet Engineering (TE)

plant in the Port of Durban houses

six business units and has 3 555

employees. The Coach unit upgrades

coaches and the Auxiliary

business is the main supplier of

rail wagon tarpaulins to Transnet

Freight Rail. The Port Equipment

Maintenance unit and units specialising

in wheels and locomotive

overhaul are other entities. There

are a further six depots located

around the province.

The School of Engineering at the

University of KwaZulu-Natal offers a

variety of degree options, ranging

from undergraduate qualifications

to doctorates. The School offers

eight areas of specialisation

including Bioresources, Electronic

and Computer Engineering, and

Land Surveying.

43

KWAZULU-NATAL BUSINESS 2019/20
---
OVERVIEW

Oil and gas

Italian company Eni has offshore

prospecting rights.

Eni, one of the world's biggest energy companies, has an

agreement with Sasol Petroleum International to explore for

hydrocarbons off the coast of KwaZulu-Natal. The permit

was granted in 2013 but moves to start operations in 2018

attracted the attention of concerned environmentalists. Eni, which

has headquarters in Rome and operates in 71 countries, has several

projects off the coasts of Mozambique and Kenya.

The regulator and promoter of oil and gas exploration in South

Africa, Petroleum Agency South Africa, has awarded coalbedmethane-gas

exploration rights in KwaZulu-Natal to NT Energy

Africa, which has a partnership with the Central Energy Fund. These

awards are for onshore exploration. The Petroleum Agency SA is an

agency of the National Department of Energy.

If a private partner can be found, a liquid natural gas (LNG) plant

will produce 2 000MW on a site in Richards Bay. This forms part of

national government's allocation of 3 126MW to natural gas in its

medium-term energy policy to 2030.

The National Department of Energy (DoE) decided in 2016

that one of the first two gas-to-power plants to be constructed

under the Independent Power Producer Procurement Programme

would be allocated to Richards Bay. This has the potential to

turn the Richards Bay Industrial Development Zone (RBIDZ) into

an energy hub. The fact that neighbouring Mozambique has

significant offshore deposits is a factor in this ambition. To produce

its allocation of 2 000MW, the plant would have to use a million

tons a year of liquid natural gas (LNG).

ONLINE RESOURCES

National Energy Regulator of South Africa: www.nersa.org.za

Petroleum Agency SA: www.petroleumagencysa.com

South African National Energy Association: www.sanea.org.za

South African Petroleum Industry Association: www.sapia.co.za

SECTOR INSIGHT

A liquid natural gas plant is

planned for Richards Bay.

A new unit within the National

Department of Trade and Industry

(dti) is focussed on importing LNG,

particularly from Mozambique and

Botswana. Local demand for LNG is

expected to increase to more than

10-million tons per annum.

Getting fuel to the province

of Gauteng is the key mission of

the new multi-purpose pipeline

(NMPP) which started delivering

fluids in 2012. Refined products

such as jet fuel, sulphur diesel

and both kinds of octane petrol

are carried. The infrastructure of

Transnet Pipelines is said to reduce

the number of fuel tankers on

South African roads by about 60%.

KwaZulu-Natal is home to two

major oil refineries and is the first

link in the pipeline chain that links

Gauteng province, the industrial

heartland of South Africa, with

vital fuels. The Port of Durban

handles 80% of South Africa's fuel

imports. KwaZulu-Natal is thus a

key player in the country's oil and

gas industry.

KWAZULU-NATAL BUSINESS 2019/20

44
---
OVERVIEW

Construction and property

Infrastructure and multi-use developments are forging ahead.

SECTOR INSIGHT

Development on the N3 is

underway.

Job losses and business rescues were recurring themes in

the South African construction sector in 2017 and 2018. The

announcement in late 2018 that work on the R4.3-billion Oceans

Umhlanga project had been halted confirmed that KwaZulu-

Natal was not immune to these trends, but indications were that work

on the residential, hotel and retail mall development will resume in 2019.

A number of other large projects in the province are bucking the

national trend. According to the organisers of the KZN Construction

Expo, which was held in February 2019, infrastructure will attract more

than R200-billion over seven years and R35-billion will be spent over

15 years at the Port Waterfront development.

The King Shaka International Airport and associated Dube TradePort

are also attracting property investments. Two new industrial parks are

being developed: Cornubia is part of a larger project near Umhlanga

and Clairwood in Durban South will offer more than 300 000m² of

A-grade industrial space.

Tongaat Hulett has for several years been rolling out a series of

developments on land it owns north of Durban, but in 2018 it launched

the nTshongweni Urban Development on either side of the busy N3

highway west of the city. Land use will be housing, light industry and

logistics with a private developer, Fundamentum Asset Management,

committed to building a shopping mall in the central business district.

The website of Tongaat Hulett Developments (THD) lists 16

completed projects, including La Lucia Ridge and the Zimbali Coastal

ONLINE RESOURCES

Construction Industry Development Board: www.cidb.org.za

Master Builders Association KwaZulu-Natal:

www.mba-kzn.co.za

SA Estate Agency Affairs Board: www.eaab.org.za

SA Institute of Valuers: www.saiv.org.za

Resort. Some current projects are

massive in scale. Cornubia covers

1 300 hectares about 7km from

the airport and encompasses

industrial, commercial, residential

sections.

The Sibaya Casino and

Entertainment World is located

within the Sibaya Coastal Precinct

which THD is building as seven

distinct nodes along 1 000 hectares

of coast. Bridge City (pictured) is one

of the most ambitious projects:

a joint venture between the

eThekwini Municipality and Tongaat

Hulett, it is a presidential project that

combines industrial, commercial,

retail and residential opportunities

located between Pinetown and

Umhlanga Ridge.

KwaZulu-Natal has a number of

brick companies and four cement

factories. Three of these are run by

NPC-Cimpor (at Simuma, Durban

and Newcastle), and the company

has a further six sites for concrete

and two for aggregate. Lafarge has

a large depot and cement clinkergrinding

operation in Richards Bay,

six aggregate quarries and eight

Readymix plants around the province.

The Supreme Award for

Excellence in Construction

(Master Builders KwaZulu-Natal)

was awarded in 2018 to WBHO

Construction for the Absa Regional

Office KwaZulu-Natal.

KWAZULU-NATAL BUSINESS 2019/20

48
---
Water

OVERVIEW

South Africa's first mobile desalination plant has been installed.

SECTOR INSIGHT

Durban wastewater is to get

new technology.

Richards Bay has installed a 10-container desalination plant

next to the municipal water treatment plant at Alkanstrand.

The first mobile sea water purification unit in South Africa, it

comprises 10 containers and is located adjacent to the water

treatment plant at Alkantstrand. It can deliver 10 megalitres of drinking

water. However, the high cost of electricity means that the unit is used

sparingly. Solar energy is being investigated as a possible alternative.

In 2018 JG Afrika delivered a R72-million desalination plant (pictured)

to South32's Hillside aluminium smelter in the same town.

New technology has been installed at the Verulam Wastewater

Treatment Works of the eThekwini Municipality. Murray & Roberts Water

and its European technology partner, Organica Water, has installed

an environmentally-friendly system that uses 30% less energy and

produces 30% less sludge.

The area north of the Durban central business district is one of the

fastest-growing urban areas in South Africa, with a number of large

office and accommodation projects going ahead simultaneously. This

is a welcome development for the economy, but the new buildings

also create pressure on infrastructure.

The multi-year, R250-million Northern Aqueduct Augmentation

project was initiated in 2014 and the fifth phase of the project has

recently begun. This will provide water for Durban North, Umhlanga,

Newlands, KwaMashu, Phoenix and Cornubia.

ONLINE RESOURCES

Mhlathuze Water: www.mhlathuze.co.za

National Department of Water and Sanitation: www.dwa.gov.za

Umgeni Water: www.umgeni.co.za

Water Research Commission: www.wrc.org.za

One of the many challenges faced

by the South African water sector

is a shortage of engineers. A study

jointly commissioned by the Water

Research Commission and the

South African Local Government

Association (SALGA) found that the

country's four-in-a-million ratio of

engineers is a long way from the

required 50-per-million.

Umgeni Water currently supplies

more than 400m³ of potable water

to its six large municipal customers:

eThekwini Metropolitan Municipality,

iLembe District Municipality, Sisonke

District Municipality, Umgungundlovu

District Municipality, Ugu District

Municipality and Msunduzi Local

Municipality. The company has five

dams, 10 waterworks, five watertreatment

plants and two wastewater

works.

Large parts of the northern part of

the province are served by Mhlathuze

Water. The utility has assets valued at

more than R3-billion and its area of

supply covers 37 000m².

Nedbank is putting R9-million

over five years into clearing alien

vegetation in the country's watercatchment

areas, including in

KwaZulu-Natal. The Nedbank

sponsorship of the WWF's Water

Balance Programme has seen water

flowing more freely in the Umgeni

catchment area.

49 KWAZULU-NATAL BUSINESS 2019/20
---
OVERVIEW

Manufacturing

The Blue and Green economies hold potential for KZN manufacturers.

SECTOR INSIGHT

ArcelorMittal SA turned a

profit for the first time since

2010.

• Africa Bespoke Apparel has

opened in Verulam.

The manufacturing sector contributes 17.7% to the provincial

Gross Domestic Product (GDP) of KwaZulu-Natal. The

strongest export sectors are base metals (32% including

aluminium), mineral products such as ores, vehicles and

chemical products.

New opportunities in the Blue economy (ship-building and

maintenance, oil rig repair and servicing) and the Green economy (solar

panel manufacture, solar, biogas and wind energy plant construction,

management and maintenance, heating and cooling devices) are set

to grow in KwaZulu-Natal with the allocation of geographical hubs to

support these sectors, and the introduction of policies and incentives

designed to make them competitive.

The Richards Bay Industrial Development Zone has been identified as

an area that can attract investment in both of these sectors while the Port

of Durban already has a strong boat-building and maintenance sector.

The nine-tug contract put out by Transnet National Ports Authority

(TNPA) is worth R1.4-billion and was won by Durban-based Southern

African Shipyards in Durban. Most of the tugs have been built and sent

to ports around the country.

iLembe District Municipality is intended as the renewable energy

hub of the province, with renewable energy components manufacturing

as a key subsector.

The first beneficiary of national government's black industrialist

support programme was revealed in January 2019 when Africa Bespoke

Apparel launched its R81-million factory (pictured) in Verulam. Various

interventions in the textile, footwear and clothing sector have helped

to revive the industry.

The footwear sector in particular is showing good recovery after

taking a battering from Chinese imports. The purchase of 39% of

Eddels Shoes by management and

staff has paid off, with 385 staff

employed in making 2 700 leather

shoes every day. Two international

safety footwear firms operate out

of Pinetown: Bata Industrial and

Beier. The latter company has joined

forces with three other South African

safety footwear manufacturers to

form the BBF Safety Group.

Shanghai, with which

KwaZulu-Natal has signed a

memorandum of understanding,

has agreed to run an exchange

programme focussing on

clothing and textiles.

Canvas and Tent Manufacturing

(Pty) Ltd has more than 400

employees in Ladysmith. There

are 219 clothing companies in the

province (Coface). Ninian & Lester

has about 1 500 employees.

Carpet manufacturers Belgotex

Floorcoverings and Ulster Carpets

have facilities in Pietermaritzburg

and Durban respectively. Home

appliance manufacturer Defy, which

is part of the Turkish group Arçelik,

employs about 2 600 people. Böhler

Uddeholm in Pinetown produces

tooling materials and welding

consumables.

KWAZULU-NATAL BUSINESS 2019/20

50
---
OVERVIEW

Chemical assets

Two large oil refineries and a sophisticated sugar milling and refining

industry underpin provincial chemical manufacturing. The chemicals

and petrochemicals subsector makes up 17% of the manufacturing

output of KwaZulu-Natal, with industrial chemicals accounting for

nearly a third. Steel and aluminium are other heavy manufacturing

products. The automotive industry is covered in a separate article.

Newcastle is a chemical manufacturing hub. The big steel works

of ArcelorMittal SA produce by-products such as ammonium sulphate,

and large companies such as Karbochem, Bayer, African Amines and

SA Calcium Carbide also operate in the area. ArcelorMittal SA turned a

profit in 2018 for the first time since 2010, based on increased demand

from other parts of Africa.

To take advantage of the existing strengths of cities and districts

in the province, a network of Industrial Economic Hubs (IEHs) is being

developed in KwaZulu-Natal. Leading the process is the Department

of Economic Development, Tourism & Environmental Affairs (DEDTEA).

A Halaal Manufacturing Park is being considered by DEDTEA,

finance institution Ithala, the South African National Halaal Authority

and business leaders.

Hulamin is a leader in aluminium finished products. The company

makes rolled products at Edendale, Pietermaritzburg and Camps Drift

while its Pietermaritzburg facility for making extrusions is one of the

three in the country.

The group headquarters of Africa's biggest pharmaceutical

manufacturer, Aspen, are in La Lucia Ridge. German chemicals group

Lanxess has built a carbon dioxide concentration unit at its existing

plant in Newcastle. The company makes tanning raw materials at

Merebank in Durban and rubber chemicals in Isithebe north of Durban.

AECI has a big presence in the province under the Chemical Services

ONLINE RESOURCES

Aluminium Federation of South Africa: www.afsa.org.za

Chemical and Allied Industries' Association: www.caia.co.za

Enterprise iLembe: www.enterpriseilembe.org.za

Manufacturing Circle: www. manufacturingcircle.co.za

Plastics SA: www.plasticsinfo.co.za

banner. Chemical Initiatives runs

an elemental-nutrient sulphur

plant in Umbogintwini. SA Paper

Chemicals operates a big plant

at Isithebe. Protea Chemicals,

has a large manufacturing plant

at Mobeni.

Sappi Saiccor's Umkomaas

plant is the biggest producer

of specialised cellulose in the

world with production edging

upwards every year towards

full capacity of 800 000 tons

per annum. Illovo Sugar

manufactures downstream

products such as furfural (used

in lubrication oil), furfuryl

alcohol, diacetyl (a flavouring

in margarine) and ethyl alcohol.

Kynoch makes fertilizer at

plants in Durban and Richards

Bay. Foskor's acid division

manufactures sulphuric acid,

phosphoric acid and granular

fertilizer in Richards Bay.

ChemSpec makes paint at

Canelands.

KwaZulu-Natal produces

nearly a third of South Africa's

plastic requirements. Nampak

has several packaging facilities

in the province and MPact's

Pinetown facility specialises

in FMCG containers. Macbean

Beier Plastics and PCI also

operate out of Pinetown.

Packaging and paper

group Mondi's Richards Bay

mill and its paper plant at

Merebank are among the

province's most significant

manufacturing sites.

51 KWAZULU-NATAL BUSINESS 2019/20
---
CREDIT BELL EQUIPMENT

OVERVIEW

Quality throughout

Automotive

Mahindra bakkies are being assembled at the Dube TradePort.

In 2018 AIH Logistics started assembling Mahindra and Bolero

SECTOR INSIGHT

bakkies With an from annual kits capacity imported of 60 000 from units India per year on a and site their at position the Dube as a globally respected extra heavy

TradePort. duty truck The design 5 000m² and manufacturing plant is owned company, by Automotive KAMAZ relies Investment on strong strategic • The partnerships Bag Ladies with have a

Holdings premium (AIH), original which component formed manufacturers AIH Logistics to specifically ensure quality, to deal and with the ongoing success new home of their on vehicles. the site of

the Mahindra contract.

a tow bar manufacturer.

The air-suspended seats and cabs create industry-leading comfort that drives productivity, safety and

The ensures intention driver satisfaction. is to make 2 500 bakkies per year, with an option

to expand production to 4 000 and to increase sales of bakkies in

the South Well matched African engines market. and The drivetrains company bolster sold performance 4 650 bakkies and in the 2018, ability to Richards deliver results Bay while facility stronger of heavyequipment

manufacturer Bell

about

fabricated

half of its

structures

vehicle

promote

sales in

durability.

South Africa.

Brink Towing Systems is not just supporting a local SMME, it Equipment, upwards of 11 000

is hosting one in its Pietermaritzburg factory. Brink has recently people are employed. Both

increased annual capacity to 100 000 units which will mean more companies are market leaders.

work

Industry

for The Bag Ladies, who

leading

produce protective

components

bags for the tow Bell is in the process of

bars. The Bag Ladies previously repaired clothing and did some bag transferring production of its

making, but with their own premises within the Brink facility (and current truck range to its factory

advice on business management and the purchase of industrialstrength

sewing machines), they can now set their sights higher. in size to accommodate the

in Germany, which will double

Brink's largest customer is the Ford Ranger.

growing demand for trucks in

The Mathe Group's tyre recycling plant at Hammarsdale has Europe and America. The shift

quickly increased capacity to 150 000 used truck tyres per year and will not affect employment

Over 2 million engines built Inter-wheel and inter-axle Durable ZF gearboxes deal with Air-conditioned ergonomic

intends prove going strength past and reliability. 200 000 differential soon. A lock quarter for increased of the harsh rubber environments. crumb levels cabs at with the air-suspended Richards seats Bay

product goes to Van Dyck Floors.

traction.

Other applications include modified site

for

because

operator comfort.

Bell will start

bitumen and as a component of artificial grass.

assembling Kamaz heavy-duty

www.bellequipment.com l 3

Toyota South Africa and Bell Equipment are manufacturing giants. trucks in 2019 for the African

Between the Toyota plant at Prospecton south of Durban and the market. Kamaz (pictured), a

KWAZULU-NATAL BUSINESS 2019/20

52
---
OVERVIEW

Russian brand that has won 14 Dakar rallies, is known for its reliability

in tough conditions. Bell's intention is to increase the percentage

of local components over time.

Bell is best known for its heavy equipment which is primarily

used in the mining and construction sectors. The listed company

reported a 6% rise in revenue for the six months to June 2018, an

amount of R3.7-billion.

Toyota recently invested a further R6.1-billion into its already

very large plant at Prospecton. The company regularly sells about

a quarter of the vehicles sold in South Africa, and accounts for

the same proportion of export volumes. The Corolla car, the Hilux

bakkie and the Fortuner SUV are manufactured at the plant.

Powerstar, a Chinese state-owned brand, assembles trucks

in Pietermaritzburg on a site formerly used by Super Group.

The companies that make Powerstar in Asia are the China North

Vehicle Corporation (Norinco Motors) and BEIBEN, who produce

about 60 000 heavy-duty commercial duty vehicles every year

at their plant in Inner Mongolia.

Automotive components

KwaZulu-Natal has a substantial and varied automotive components

sector which includes large manufacturers such as Apollo Tyres and

GUD Filters. Thirty-nine companies are currently members of the

Durban Automotive Cluster which is funded by the municipality.

Together, these firms have about 17 000 employees.

In line with the policy of developing Industrial Economic Hubs,

the Durban Automotive Supplier Park is being built at Illovo, south

of Durban and near to the Toyota plant. The Dube TradePort

Corporation will manage the project, which covers 1 013ha. Other

partners are the eThekwini Municipality, Toyota and the provincial

government. The aim is to attract car assembly and component

manufacturing companies.

Trade and Investment KwaZulu-Natal (TIKZN) estimates that

the province's component automotive manufacturers enjoy a

combined turnover approaching R10-billion.

ONLINE RESOURCES

Automotive Industry Development Centre: www.aidc.co.za

Africa (NAAMSA): www.naamsa.co.za

Durban Automotive Cluster: www.dbnautocluster.org.za

Manufacturers (NAACAM): www.naacam.co.za

National Association of Automotive Component and Allied

National Association of Automobile Manufacturers of South

Keeping MAN and Toyota supplied

is the R300-million operation,

Duys Engineering Group.

This diverse group of companies

includes in its business plan the

supply of truck bodies and truck

components and has production

plants at New Germany

(Pinetown) and Richards Bay,

from where it services the mining

industry. Toyota Boshoku

manufactures seats and does

the interior trim on contract for

Toyota.

International company GUD

Filters has a big presence in

the province. Headquartered in

Prospecton, where more than

1 500 people work at one of

its factories, the company has

another plant in Pietermaritzburg

and a distribution centre in

Pinetown that concentrates on

exports.

Indian-owned Apollo Tyres SA

makes Dunlop products at two

large factories in the province:

truck tyres are made in Durban

where 840 workers are employed

and a passenger car tyre plant in

Ladysmith (1160 employees). The

Durban factory devotes 40% of

production to supplying the truck

and earthmoving market. Both

plants make about 25 000 tons of

tyres with half of the passenger

tyres being exported.

The Behr Group (airconditioning

and cooling systems)

has a factory and its headquarters

in Durban. Ramsay Engineering

supplies cross-car beams for BMW

and Ford. Funding was received

from the Industrial Development

Corporation (IDC) to buy new

tool-making technology to make

this possible.

53

KWAZULU-NATAL BUSINESS 2019/20
---
OVERVIEW

ICT

Port Shepstone has a new incubator.

SECTOR INSIGHT

Dube iConnect is an accredited

service provider.

A

SmartXchange SMME Incubator has been launched in Port

Shepstone on the South Coast. The concept of ICT has been

expanded to include media and electronics, so the hub is

called an MICTe Incubator.

The province's SmartXchange is an example of a successful publicprivate

partnership that supports businesses in the information

technology and communications sector. Incubation strategies for startups

and skills development (including links to educational institutions)

are important parts of the organisation's brief. After the successful

launch of the first such incubator outside Durban in the Ray Nkonyeni

Local Municipality, there are now plans to establish three more, at

Newcastle, Richards Bay and Pietermaritzburg.

Spending on information and communications technology (ICT)

has been steadily increasing in the private and public sectors in recent

years in KwaZulu-Natal.

The eThekwini Metropolitan Municipality, which administers

Durban, has actively been promoting ICT since the launch of its

MetroConnect programme in 2008. A key component of the strategy

has been the sale at hugely discounted rates of spare capacity on the

municipal fibre network.

The Dube TradePort (pictured) has spent more than R100-million on

ICT infrastructure that includes two data centres. Dube iConnect has

a licence from the Independent Communications Authority of South

Africa to be a service provider. An advanced metro Ethernet network

connects businesses within the precinct and surrounding areas with

one another and with the world.

ONLINE RESOURCES

Dube TradePort: www.dubetradeport.co.za

Information Technology Association of South Africa:

www.ita.org.za

SmartExchange: www.smartxchange.co.za

South African Vanguard of Technology: www.savant.co.za

KwaZulu-Natal has an established

skills base in microprocessors and

radio-based systems and a strong

manufacturing base.

Some companies within the

domestic sector specialise in supporting

specific systems. In the case of

Pinetown-based RN Software, support

is provided for Syspro, an enterprise

resource software (ERP) system most

commonly applied to manufacturing

and logistics to enhance performance

and control costs.

South African Vanguard

of Technology (Savant) is a

Department of Trade and Industry

(dti) programme. It is the marketing

and awareness programme for the

South African ICT and electronics

sector. The aim is to develop South

African exports and to attract foreign

investment.

The State Information Technology

Agency (SITA) is a state-owned

enterprise that provides ICT services

to government and leads projects

in the sector.

Sentech is the state agency that

provides broadband infrastructure

and signals for the country's

broadcasters. Internet connectivity

is provided to government

departments, municipalities and

other institutions through a VSAT

service.

KWAZULU-NATAL BUSINESS 2019/20

54
---
Education and training

University research is linked to development issues.

OVERVIEW

The reputation of the University of KwaZulu-Natal (UKZN) as a

leading research institution was enhanced in 2018 with the

opening of a Chemistry Postgraduate Research Facility at the

School of Chemistry and Physics in Pietermaritzburg.

The university aims to align its research programme with important

areas of development such as food security, health, liveable cities and

climate change. The R30-million facility was funded mainly by the

National Department of Higher Education and Training (DHET). UKZN

also hosts the National Research Foundation.

There are two universities and two universities of technology in

KwaZulu-Natal, and the national distance university, the University of

South Africa (Unisa), has a presence in five locations. USB Executive

Development offers business courses for executives.

The Durban University of Technology (DUT) has six faculties

operating in seven campuses in Durban and in the Midlands. DUT is

well known for its outstanding graphic-design school and offers one

of only two chiropractic programmes in South Africa.

The University of Zululand offers diploma and degree courses on

two campuses at Empangeni and Richards Bay.

The unbundling from the successful Curro group of a separate

tertiary entity which listed on the JSE as Stadio Holdings is a good

indicator of the growth of the private sector in education. Stadio

currently has three institutions: Southern Business School, AFDA (the

School for the Creative Economy) and the Embury Institute for Higher

Education which has recently opened a campus in Musgrave, Durban.

There are six Curro schools in KwaZulu-Natal.

Advtech, the other big private company, has 27 tertiary campuses

nationally, in addition to its 78 schools operating under a variety of

labels. Advtech operates 10 educational sites in KwaZulu-Natal.

The Provincial Government of KwaZulu-Natal, through the national

Expanded Public Works Programme (EPWP) and other job creation

programmes has committed to providing training to marginalised

ONLINE RESOURCES

Independent Schools Association of Southern Africa:

www.isasa.org

KwaZulu-Natal Department of Education:

www.kzneducation.gov.za

National Research Foundation: www.nrf.ac.za

SECTOR INSIGHT

Training is part of the Expanded

Public Works Programme.

communities to help people

become more employable. In

2018, more than 41 000 full-time

equivalent jobs and 166 000 work

opportunities were offered, and

this is set to increase.

Technical and Vocational

Education and Training (TVET)

Colleges are tasked with bridging

the skills gap. TVET colleges are

concentrating on 13 trade areas,

including bricklayers, millwrights,

boilermakers and riggers. KwaZulu-

Natal has nine such colleges with

a total enrolment of about 80 000.

R16.5-billion has been allocated

by national government to skills

development and infrastructure

over the medium term.

Coastal KZN TVET College gives

students practical experience

through facilities such as the

Nongalo Industrial Park, where

school furniture is repaired, and

burglar bars and computer tables

are made. The college has several

sites on the South Coast and caters

for 15 400 students.

Majuba TVET College focuses

on engineering as the coal and

steel industries are prominent in

Newcastle. The Mnambithi TVET

College is located in the Battlefields

Route tourism area and offers

National Diploma courses in tourism,

among other qualifications.

55

KWAZULU-NATAL BUSINESS 2019/20
---
OVERVIEW

Banking and financial services

New banks are changing the face of the sector.

When Capitec was granted a banking licence in 1999, it was

a rare event. Since 2017, a number of new entrants have

started to change the face of South African banking.

Tyme, or Take Your Money Everywhere, was granted

a licence in 2017.

Other prospective new banks are state-related enterprises: Ithala,

Postbank and a Human Settlements Development Bank. The Ithala

Development Finance Corporation has functioned for many years in

the province as the provider of funds for small enterprises, especially

in areas where infrastructure is poor and access to traditional banking

services is not good. The provincial government, which runs Ithala,

wants to launch it as a bank.

Three state entities are merging to create the new Human

Settlements Development Bank: the National Housing Finance

Corporation, the Housing Loan Fund and the National Urban

Reconstruction and Housing Agency.

The focus will be on financing housing for poorer households and

for large state-funded housing projects. Part of the drive is to integrate

cities better and to combat the legacy of the spatial divide that apartheid

left behind. Private sector investment will be sought.

The Chartered Institute of Government Finance, Audit and Risk Officers

ONLINE RESOURCES

Association for Savings and Investment South Africa:

www.asisa.org.za

Chartered Institute of Government Finance, Audit and Risk

Officers: www.cigfaro.co.za

Financial Sector Conduct Authority: www.fsca.co.za

Insurance Institute of South Africa (KwaZulu-Natal):

www.iikzn.co.za

South African Institute for Chartered Accountants:

www.saica.co.za

SECTOR INSIGHT

Cigfaro's annual conference is

in Durban in 2019.

(Cigfaro) advises institutions, trains

its members in public finance

and promotes the interests of

professionals in the public sector.

It also develops and assesses

qualifications and advises tertiary

institutions on the requirements for

course. Cigfaro also runs Public Sector

Audit and Risk training sessions and

the national conference will be held

in Durban in October 2019.

The South African Institute for

Chartered Accountants International

will provide training in KwaZulu-

Natal (Umhlanga) in financial

reporting standards for SMMEs

while the the Insurance Institute of

KwaZulu-Natal (IISA) holds regular

education workshops. One such

meeting, a legislative workshop, is

jointly hosted by IISA, the Financial

Sector Conduct Authority and the

South African Institute for Chartered

Accountants. The institute's

mentorship programme is run in

association with the Musifunde

Training Centre.

KWAZULU-NATAL BUSINESS 2019/20

56
---
Development finance and

SMME support

OVERVIEW

Support is available for entrepreneurs.

A

small business can become a substantial business quite

quickly with the right support. Programmes such as the Black

Umbrellas offer different levels of support, from early advice

about business plans through office support to mentoring.

Civtech Engineers, a Richards Bay consultancy, has grown its

revenue and staffing levels as a result of being on the full incubation

programme of Black Umbrellas.

Agriculture is the focus of a wide-ranging initiative in the Ulundi

district. A grouping called ULUMA has been formed which aims to help

farmers, SMMEs and co-operatives to benefit in a holistic way from the

produce they farm. The Zululand District Farmers Association, several

other NGOs and Standard Bank are working together with the likes of

Mangosuthu University of Technology (MUT) and the Innovation and

Technology Business Incubator (Invotech) to expose farmers to new

issues and techniques.

Operation Vula is a provincial government initiative to ensure

that co-operatives and small businesses get a leg-up into the formal

economy through state-led infrastructure programmes that assist

them, and through procurement policies that favour them.

The Coastal KZN TVET College has been training members of cooperatives

and people working in small, medium and micro-enterprises

(SMMEs) in the skills that will help them do well in business.

The Small Enterprise Development Agency (Seda) is active in

supporting entrepreneurs. Seda gives non-financial support through

training, assistance with filling in forms, marketing and creating

business plans.

In KwaZulu-Natal, Seda runs 12 Incubators which either help new

businesses get started or with the rehabilitation of existing enterprises.

ONLINE RESOURCES

KwaZulu-Natal Department of Economic Development and

Tourism: www.kznedtea.gov.za

National Department of Small Business Development:

www.dsbd.gov.za

Small Enterprise Development Agency: www.seda.co.za

Small Enterprise Finance Agency: www.sefa.org.za

SECTOR INSIGHT

The Coastal KZN TVET College

offers business skills training.

Three models are used: Technology

Demonstration Centres (demonstration

and training); Technology

Incubators (where the focus is rehabilitation);

and Hybrid Centres,

which combine elements of the

other two models. The KwaZulu-

Natal incubators include ICT and

construction (three centres each),

furniture and hi-tech (two each),

chemicals and essential oils.

The IDC provides finance across

a range of sectors from agriculture

to tourism. It has holdings in several

companies with a presence in

KwaZulu-Natal: 42.6% in Hans

Merensky (Pty) Ltd, a plantation

and timber mill operator; 100%

in Prilla 2000, a cotton-milling

operation; and 85% in Foskor,

which has a phosphoric acid plant

in Richards Bay.

All of the major banks have

SMME offerings. Nedbank has an

enterprise-development product

that supports businesses with a

turnover up to R35-million with at

least 25% black ownership.

Toyota South Africa Motors is

funding the newly created Toyota

Empowerment Trust (TET) to the

tune of R42-million.

57 KWAZULU-NATAL BUSINESS 2019/20
---
INTERVIEW

Selfmed Medical Scheme

Christo Becker, the Principal Officer at Selfmed Medical Scheme,

outlines the advantages of a self-administered scheme.

Christo Becker

BIOGRAPHY

Christo started his 21-year

career in healthcare as a

paramedic in Fire and Disaster

Management Services. In 2001

he completed an MBA with the

intention of moving his career

towards hospital management.

He has worked as hospital

manager in several private

facilities. His passion for people

and strategy has ensured that the

hospitals he has managed have

grown rapidly while focusing

on sustainability. With selfmotivation

and a commitment to

continual improvement, Christo

implements positive changemanagement.

How did Selfmed begin and how has it evolved?

The Scheme initially formed part of the Sanlam Life Insurance stable, created

in 1965 and formally registered in 1972. This makes Selfmed one of the most

experienced medical aid schemes in the industry. At Selfmed we have a handson

approach, and this resulted in our taking control of our own Client Services

Centre, or Excellence Centre in 2006. We thereafter progressed to taking over

the full administration function in 2010; also recently bringing our Managed

Healthcare inhouse.

What is your market?

Historically membership comprised individuals and their families. The introduction

of the Selfnet options in 2015 and 2016 allowed us to reach a younger

audience. This was also the opportunity to branch out into corporate marketing,

offering membership to blue-collar employees. We have seen great success in

this area.

Is there flexibility for clients?

The scheme currently has five products: Selfmed 80%, Med Elite, Selfsure, Med

XXI, and Selfnet and Selfnet Essential. Each product is designed specifically for

a life stage, as the needs of a member changes. As the person advances in life

and starts a family they will move towards the Med XXI or Selfsure options, for

example, which have a wider range of benefits relevant to a young family.

How is Selfmed handling ever-rising costs?

The biggest challenge facing the healthcare industry is the significant rise in

healthcare costs, with healthcare inflation exceeding general inflation. This

compels us to proactively introduce mechanisms to manage these costs. Selfmed

is applying machine learning to the claims database to draw a more accurate

picture of a member's specific needs. The information can then be used to

engage members on an individual basis – if we can intervene early it is to the

benefit of all parties.

How does Selfmed Medical Scheme differentiate from its

competitors?

In a traditional medical aid/administrator environment all administered functions

rest with an administrator. As such, a medical aid would be fully dependent on

its outsourced administrator to inform it of any issues relating to its members.

Being fully self-administered allows Selfmed to take total ownership of all its

member interactions and address any administrative problems or complaints

immediately. We do not have an electronic routing system; you speak to an

individual. This personalised hands-on approach is fundamental to our model

of building a credible member experience.

KWAZULU-NATAL BUSINESS 2019/20

58
---
KwaZulu-Natal Provincial

Government

LISTING

A guide to KwaZulu-Natal's provincial government departments. All addresses are located

in Pietermaritzburg (code 3201) unless stated otherwise. Visit www.kznonline.gov.za.

Office of the Premier

Premier: Sihle Zikalala

5th Floor, Telkom Building, 300 Langalibalele Street

Tel: +27 33 341 3300

Fax: +27 33 331 7368

Agriculture and Rural Development

MEC: Bongiwe Nomusa Sithole-Moloi

Cedara College, Cedara Road

Tel: +27 33 335 9100

Fax: +27 33 343 8255

Website: www.kzndard.gov.za

Arts and Culture

MEC: Hlengiwe Goodness Slindile Mavimbela

222 Jabu Ndlovu Street

Tel: +27 33 264 3400

Fax: +27 33 394 2237

Website: www.kzndac.gov.za

Community Safety and Liaison

MEC: Thomas Mxolisi Kaunda

179 Jabu Ndlovu Street

Tel: + 27 33 341 9300

Fax: + 27 33 342 6345

Website: www.kzncomsafety.gov.za

Cooperative Governance and Traditional

Affairs

MEC: Sipho Hlomuka

330 Langalibalele Street

Tel: +27 33 395 2831

Fax: +27 33 345 6432

Website: www.kzncogta.gov.za

Economic Development, Tourism and

Land Affairs

MEC: Nomsa Dube-Ncube

270 Jabu Ndlovu Street

Tel: +27 33 264 2500 | Fax: +27 331 310 5416

Website: www.kzndedt.gov.za

Education

MEC: Kwazikwenkosi Innocent Mshengu

Anton Lembede Building, 247 Burger Street

Tel: +27 33 846 5000 | Fax: +27 33 355 1293

Website: www.kzneducation.gov.za

Health

MEC: Nomagugu Simelane-Zulu

1st Floor, 330 Langalibalele Street

Tel: +27 33 395 2111

Website: www.kznhealth.gov.za

Human Settlements and Public Works

MEC: Neliswa Peggy Nkonyeni

203 Church Street

Tel: +27 33 392 6400 | Fax: +27 33 392 6490

Website: www.kznworks.gov.za

Provincial Treasury

MEC for Finance: Ravigasen Ranganathan Pillay

Treasury House, 145 Chief Albert Luthuli Street,

Tel: +27 33 897 4200 | Fax: +27 33 342 2486

Website: www.kzntreasury.gov.za

Sport and Recreation

MEC: Hlengiwe Goodness Slindile Mavimbela

135 Pietermaritz Street

Tel: +27 33 897 9400

Website: www.kzn.dsr.gov.za

Social Development

MEC: Nonhlanhla Mildred Khoza

208 Hoosen Haffejee Street

Tel: +27 33 264 5402

Fax: +27 33 341 9610

Website: www.kzndsd.gov.za

Transport

MEC: Thomas Mxolisi Kaunda

172 Burger Street

Tel: + 27 33 355 8600

Fax: + 27 33 355 8092

Web: www.kzntransport.gov.za
---
LISTING

KwaZulu-Natal Local Government

A guide to KwaZulu-Natal's municipalities.

ETHEKWINI METROPOLITAN MUNICIPALITY

263 Dr Pixley ka Seme Street, Durban 4001

Tel: +27 31 311 1111 | Fax: +27 31 311 2170

Website: www.durban.gov.za

AMAJUBA DISTRICT MUNICIPALITY

Unit B9356, Ithala Building, Section 1, Main Street, Madadeni Township,

Newcastle 2940

Tel: +27 34 329 7200 | Fax: +27 34 314 3785

Website: www.amajuba.gov.za

Dannhauser Municipality

Tel: +27 34 621 2666 | Fax: +27 34 621 3114

Website: www.dannhauser.gov.za

eMadlangeni (Utrecht) Municipality

Tel: +27 34 331 3041 | Fax: +27 34 331 4312

Website: www.emadlangeni.gov.za

Newcastle Municipality

Tel: +27 34 328 7600 | Fax: +27 34 312 1570

Website: www.newcastle.gov.za

HARRY GWALA DISTRICT MUNICIPALITY

40 Main Street, Ixopo 3276

Tel: +27 39 834 8700

Fax: +27 39 834 1701

Website: www.harrygwaladm.gov.za

Dr Dlamini Zuma Municipality

Tel: + 27 39 833 1038 | Fax: + 27 39 833 1179

Website: www.ndz.gov.za

Greater Kokstad Municipality

Tel: +27 39 797 6600 | Fax: +27 39 727 5501

Website: www.kokstad.gov.za

uBuhlebezwe Municipality

Tel: +27 39 834 7700 | Fax: +27 39 834 1168

Website: www.ubuhlebezwe.gov.za

uMzimkhulu Municipality

Tel: +27 39 259 5000 | Fax: +27 39 259 0427

Website: www.umzimkhululm.gov.za

ILEMBE DISTRICT MUNICIPALITY

59/61 Mahatma Gandhi St, KwaDukuza 4450

Tel: +27 32 437 9300 | Fax: +27 32 437 9587

Website: www.ilembe.gov.za

KwaDukuza Municipality

Tel: +27 32 437 5000

Fax: +27 32 437 5098

Website: www.kwadukuza.gov.za

Mandeni Municipality

Tel: +27 32 456 8200

Fax: +27 32 456 2504

Website: www.mandeni.gov.za

Maphumulo Municipality

Tel: +27 32 481 4500

Fax: +27 32 481 2053

Website: www.maphumuloonline.gov.za

Ndwedwe Municipality

Tel: +27 32 532 5000

Fax: +27 32 532 5031/2

Website: www.ndwedwe.gov.za

KING CETSHWAYO DISTRICT MUNICIPALITY

King Cetshwayo House, Kruger Rand Rd, Richards Bay 3900

Tel: +27 35 799 2500

Fax: +27 35 789 1641

Website: www.kingcetshwayo.gov.za

City of uMhlathuze Municipality

Tel: +27 35 907 5000 | Fax: +27 35 907 5444

Website: www.umhlathuze.gov.za

KWAZULU-NATAL BUSINESS 2019/20

60
---
LISTING

Mthonjaneni Municipality

Tel: +27 35 450 2082 | Fax: +27 35 450 3224

Website: www.mthonjaneni.org.za

Nkandla Municipality

Tel: +27 35 833 2000 | Fax: +27 35 833 0920

Website: www.nkandla.org.za

uMfolozi Municipality

Tel: +27 35 580 1421 | Fax: +27 35 580 1141

Website: www.umfolozi.gov.za

uMlalazi Municipality

Tel: +27 35 473 3300 | Fax: +27 35 474 4733

Website: www.umlalazi.gov.za

UGU DISTRICT MUNICIPALITY

28 Connor Street, Port Shepstone 4240

Tel: +27 39 688 5700 | Fax: +27 39 682 1720

Website: www.ugu.gov.za

Ray Nkonyeni Municipality

Tel: +27 39 688 2000 | Fax: + 27 39 682 0327

Web: www.rnm.gov.za

Umdoni Municipality

Tel: +27 39 978 4313 | Fax: +27 39 976 2020

Website: www.umdoni.gov.za

uMuziwabantu Municipality

Tel: +27 39 433 3500 | Fax: +27 39 433 1208

Website: www.umuziwabantu.gov.za

Umzumbe Municipality

Tel: +27 39 972 0005 | Fax: +27 39 972 0099

Website: www.umzumbe.gov.za

UMGUNGUNDLOVU DISTRICT

MUNICIPALITY

242 Langalibalele Street, Pietermaritzburg 3201

Tel: +27 33 897 6700

Fax: +27 33 342 5502

Website: www.umdm.gov.za

Impendle Muncipality

Tel: +27 33 996 6000 | Fax: +27 33 996 0852

Website: www.impendle.gov.za

Mkhambathini Municipality

Tel: +27 31 785 9300 | Fax: +27 31 785 2121

Website: www.mkhambathini.gov.za

Mpofana Municipality

Tel: +27 33 263 1221 | Fax: +27 33 263 1127

Website: www.mpofana.gov.za

Msunduzi Municipality

Tel: +27 33 392 3000 | Fax: +27 33 345 2397

Website: www.msunduzi.gov.za

Richmond Municipality

Tel: +27 33 212 2155 | Fax: +27 33 212 2102

Website: www.richmond.gov.za

uMngeni Municipality

Tel: +27 33 239 9200

Fax: +27 33 330 4183

Website: www.umngeni.gov.za

uMshwathi Municipality

Tel: +27 33 816 6800

Fax: +27 33 502 0286

Website: www.umshwathi.gov.za

61

KWAZULU-NATAL BUSINESS 2019/20
---
LISTING

UMKHANYAKUDE DISTRICT MUNICIPALITY

Stand 13433, Kingfisher Road, Mkuze 3965

Tel: +27 35 573 8600 | Fax: +27 35 573 1094

Website: www.ukdm.gov.za

Big 5 Hlabisa Municipality

Tel: +27 35 838 8500 | Fax: +27 35 838 1015

Jozini Municipality

Tel: +27 35 572 1292 | Fax: +27 35 572 1266

Website: www.jozini.gov.za

Mtubatuba Municipality

Tel: +27 35 550 0069 | Fax: +27 35 550 0060

Website: www.mtubatuba.org.za

uMhlabuyalingana Municipality

Tel: +27 35 592 0680 | Fax: +27 35 592 0672

Website: www.umhlabuyalingana.gov.za

UMZINYATHI DISTRICT MUNICIPALITY

Princess Magogo Bld, 39 Victoria St, Dundee 3000

Tel: +27 34 219 8000 | Fax: +27 34 219 1940

Website: www.umzinyathi.gov.za

Endumeni Municipality

Tel: +27 34 212 2121 | Fax: +27 34 212 3856

Website: www.endumeni.gov.za

Msinga Municipality

Tel: +27 33 493 0761 | Fax: +27 33 493 0766

Website: www.msinga.org.za

Nquthu Municipality

Tel: +27 34 271 6100 | Fax: +27 34 271 6111

Website: www.nquthu.gov.za

uMvoti Municipality

Tel: +27 33 413 9100 | Fax: +27 33 417 1393

Website: www.umvoti.gov.za

UTHUKELA DISTRICT MUNICIPALITY

33 Forbes Street, Ladysmith 3370

Tel: +27 36 638 5100 / 2400 | Fax: +27 36 637 5608 / 635 5501

Website: www.uthukela.gov.za

Alfred Duma Municipality

Tel: +27 36 637 2231 | Fax: +27 36 631 1400

Website: www.alfredduma.gov.za

Inkosi Langalibalele Municipality

Tel: +27 36 353 0693/0681/0691 | Fax: +27 36 353 6661

Website: www.umtshezi.co.za

Okhahlamba Municipality

Tel: +27 36 448 8000 | Fax: +27 36 448 1986

Website: www.okhahlamba.org.za

ZULULAND DISTRICT MUNICIPALITY

B400 Gagane Street, Ulundi 3838

Tel: +27 35 874 5500

Fax: +27 35 874 5589

Website: www.zululand.org.za

Abaqulusi Municipality

Tel: +27 34 982 2133 | Fax: +27 34 980 9637

Website: www.abaqulusi.gov.za

eDumbe Municipality

Tel: +27 34 995 1650 | Fax: +27 34 995 1192

Website: www.edumbe.gov.za

Nongoma Municipality

Tel: +27 35 831 7500 | Fax: +27 35 831 3152

Website: www.nongoma.org.za

Ulundi Municipality

Tel: +27 35 874 5100 | Fax: +27 35 870 1164

Website: www.ulundi.gov.za

uPhongolo Municipality

Tel: +27 34 413 1223

Fax: +27 34 413 1706

Website: www.uphongoloonline.gov.za

KWAZULU-NATAL BUSINESS 2019/20

62
---
SAVE THE DATE

FUTURE EVENTS

East london icc

AUDIT&RISK

INDABA

10-12

april

2019

PUBLIC SECTOR

FINANCE GRAP

SEMINAR

8-9 JULY 2019

EKURHULENI

7-9 OCTOBER 2019

CIGFARO

ANNUAL

CONFERENCE

dURBAN icc
---
INDEX

INDEX

Agribusiness Development Agency​ (ADA)..............................................................................32

Black Umbrellas..................................................................................................................................17

Chartered Institute of Finance Audit and Risk Officers (CIGFARO)​..................................63

Durban Chamber of Commerce​ and Industry.......................................................................... 2

Durban International Convention Centre (Durban ICC) ​....................................................... 7

Enterprise iLembe​.............................................................................................................................22

Invest Durban.................................................................................................................................. ​IFC

Kemtek Imaging Systems​.......................................................................................................... 9, 35

Mondi​ Group South Africa...................................................................................................... 37-41

Nedbank​........................................................................................................................................ 24-27

Petroleum Agency SA......................................................................................................................​15

RN Software....................................................................................................................................... ​IBC

Selfmed​......................................................................................................................................58, OBC

Transnet Pipelines​...................................................................................................................... 45-47

University of Zululand ​...................................................................................................................... 5

KWAZULU-NATAL BUSINESS 2019/20

64
---
LEVEL1 B-BBEE

CONTRIBUTOR

RN Software is the largest SYSPRO value-added

reseller in KwaZulu-Natal with offi ces in Durban and

Sandton with the vision of becoming the largest

reseller nationally.

We assess and determine corrective action in the IT

sector supplying ERP services to government agencies

and mid to large-sized businesses.

We specialize in industry-specifi c consulting, IT

services, ERP business process implementation,

infrastructure and full development centre.

We have completed in excess of 130 installed sites.

We specialize in niche software and mobile

application development to provide an end-to-end

business digitalization that integrates fully with

SYSPRO ERP system.

We programme current business reporting into

business intelligence and graphical dashboards

integrated into the ERP. We provide analytical business

insights and sequential upgrades to SYSPRO version 8.

Industry and target market, specialising in

manufacturing and distribution: automotive

parts and accessories, industrial machinery

and equipment, metal fabrication, electronic

manufacture, plastic and rubber manufacturing,

food and beverage manufacture and distribution,

and packaging manufacturing.

SERVICE

OFFERINGS

SERVICE OFFERINGS

• Business process modelling

• Gap analysis

• System integration

• Project management

• Operating procedure manuals

• Classroom-style training

• Call centre

• SYSPRO version 8 upgrades

• Programming with the use

of SYSPRO API

• Barcode scan solution

• Mobile services

• Web interface trading

CONTACT US

Durban:

15 Paradise Place I Cowies Hill I Pinetown

Sandton:

42 Tenth Avenue I Rivonia I Sandton

+27 (31) 702 6087 | info@rnsoftware.co.za | mnayagar@rnsoftware.co.za

www.rnsoftware.co.za
---
Plan for the

unplanned.

Get medical

aid cover.

Meet Joe.

His smart phone is insured.

His body? Not so much.

Don't be like Joe.

Get cover that matters.

Get medical aid.

!

SMS "SAmed" to 45738 today!