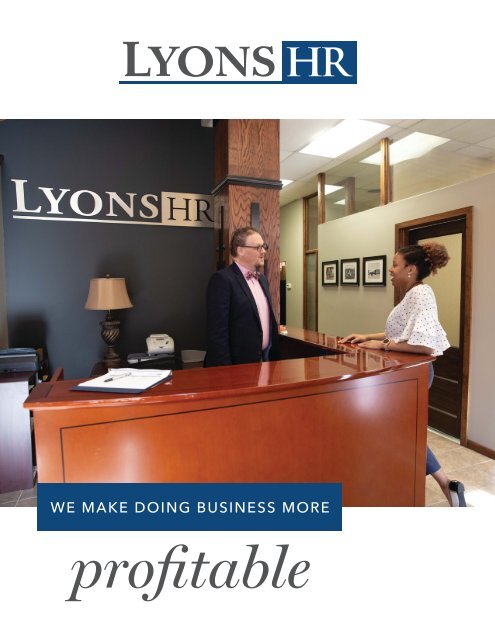 Create successful ePaper yourself
Turn your PDF publications into a flip-book with our unique Google optimized e-Paper software.
WE MAKE DOING BUSINESS MORE

profitable
---
What is a PEO?

A professional employer organization (PEO) provides necessary HR

functions for small to midsize businesses without the resources or

bandwidth to manage them on their own. It can act as an extension

of businesses, providing training for supervisors, helping to develop

policies, managing payroll, benefits, HR, tax administration and

offering regulatory compliance assistance.

A PEO functions like an off-site HR department for your organization.

It can provide written materials like handbooks and job descriptions, assist

with training staff, assess job candidates, help with employee disciplinary

matters and consult on nearly any employment-related issue.

LYONSHR.COM
---
Why use a PEO?

Business growth makes human resources more complex and time-consuming.

Without expert assistance, companies can find themselves spending more time on HR

administration than they do on revenue-driving activities.

Per an independent study conducted by McBassi and Associates*,

small businesses that use a PEO:

• GROW 7 TO 9 PERCENT FASTER

• HAVE 10 TO 14 PERCENT LOWER EMPLOYEE TURNOVER

• ARE 50 PERCENT LESS LIKELY TO GO OUT OF BUSINESS

The economies of scale provided by a PEO give companies access to

benefits and resources they would be unable to afford on their own.

* Professional Employer Organizations: Fueling Small Business Growth | McBassi & Company | 2013

LYONSHR.COM
---
What can Lyons HR do for you?

1 REDUCE EMPLOYMENT RISKS

Businesses face multiple risks including workers' compensation claims, employee

litigation and employee misclassification.

Excessive or mismanaged claims and lawsuits can result in lost time and money, and

lowered employee morale.

Lyons HR helps keep you compliant with employment laws and regulations,

reducing your financial risks and protecting your assets.

2 ELIMINATE WASTED TIME

Spend too much time and energy on administrative tasks like payroll processing, benefits

administration and safety programs, and you'll lose focus.

It's frustrating to know time spent on these details distracts you from revenue-generating

and growth activities.

Lyons HR takes over many time-consuming administrative functions, so you

can concentrate on running your business and protecting your bottom line.

LYONSHR.COM
---
What can Lyons HR do for you?

3 CONTROL EMPLOYMENT EXPENSES

Costs such as workers' compensation insurance, unemployment insurance, payroll

processing and group health insurance can really cut into your profitability.

Lack of expertise in managing these areas can result in fines, penalties and litigation as

well as rising rates and needlessly excessive costs.

Our expertise and buying power can reduce your employment

costs, while providing access to a variety of employee programs

typically only available to larger businesses.

4 PROVIDE BETTER BENEFITS

Attracting and retaining the best people often comes down to the benefits you offer.

Keeping your people happy can help prevent talent shortages and turnover headaches.

In your business, the monthly cost of a comprehensive, ACA-compliant benefits program

can be enough to put you out of business.

Because of our buying power, Lyons HR can often provide

better benefits at lower costs than you can negotiate on your own.

LYONSHR.COM
---
Why you can't afford to go it alone

HR has become increasingly complex… and expensive.

Most companies don't have the means or expertise to anticipate the

many HR issues that can arise.

LYONS HR IS EQUIPPED FOR THE CHALLENGES YOU MAY FACE

AND CAN ASSIST IN:

• Establishing policies and procedures that prevent incidents from occurring.

• Developing risk-management resources.

• Offering scalable and affordable payroll and benefits.

• Improving recruiting and retention by offering better services and support to employees.

• Ensuring your company remains in compliance with every changing HR regulation.

• Freeing your organization to focus on growth and profitability.

• Providing management training and support to improve hiring, performance management and

retention of key employees.

The proactive, professional HR management offered by Lyons HR

can have a significant impact on business performance… and let

you get a better night's sleep.

LYONSHR.COM
---
Why choose

Lyons HR?

WE PROVIDE HR SERVICES THE WAY YOU WANT THEM DELIVERED.

Lyons HR offers extremely flexible services, so you get the exact support

your company needs.

YOU GET THE IDEAL MIX OF EXPERTISE AND PERSONAL ATTENTION.

We have the in-house expertise our clients need to address their toughest

"people-related" issues and expenses, yet we're small enough that EVERY

customer truly matters to us.

BOTTOM-LINE IMPACT.

We help companies drive performance, control HR and staffing costs,

increase profitability and mitigate employment liabilities through a more

disciplined and strategic approach to workforce management.

• Large enough to have deep resources, yet small enough to deliver

personal service.

• In-house expertise in organizational planning, risk management,

compliance, recruiting, talent assessment, retention and performance

management.

• Offer consulting services to provide a more intelligent and comprehensive

approach to address safety, compliance and other staffing challenges.

LYONSHR.COM
---
Who is Lyons HR?

We are a a professional employer organization, founded in 1995 in

Florence, Alabama, and have since grown to eight offices.

Our mission is to improve the lives of our customers, employees and coworkers

by implementing smarter HR, staffing and workforce management

services.

At Lyons HR, we provide services that help small to midsize companies better

manage the cost and risk of doing business.

Lyons HR has a Professional Placement division, offering expertise in talent

acquisition. This service enables companies to find better talent and hire faster.

Our PEO is one of the few ESAC-Accredited and IRS-Certified Professional

Employer Organizations in the Southeast.

Lyons HR services make companies more profitable.

LYONSHR.COM
---
Lyons HR Services

Human Resources Services

Human Resources Consultations & Recommendations

Performance, Management & Employee Training

Position Descriptions

Employee Handbooks

State Unemployment Claims & Representation

Labor Law Compliance Assistance

HR Policies, Procedures and Forms

Risk Management Services

Workers' Compensation Coverage or Procurement

Eliminate Workers' Compensation Audit & Premium

Custom Safety Plan & Trainings

OSHA Reporting & Assistance

Effective Claims Management

Accident / Fraud Investigation

Employment Practices Liability Insurance

Worksite Liability Assessments

Employee Benefits Services

ACA Compliance and Reporting

Benefits Plan Negotiation, Open Enrollment & Administration

Medical, Dental & Vision Benefits

Supplemental & Voluntary Benefits

Section 125 Benefits including Voluntary and Employer Paid Life

Insurance and Disability Options

Flexible Spending Accounts (FSA): Medical FSA, Dependent Child FSA,

and Limited Purpose FSA

Lyons HR 401(k) Retirement Plan

Premium Reconciliation & Payment

COBRA, HIPAA & ERISA Compliance Assistance

Tax, Payroll and Administration Services

Complete Payroll Processing

Direct Deposit, Checks, Cash Cards

FICA, FUTA, SUTA Payment & Filings

Time & Attendance Interface

New Hire Reporting

Payroll Tax Compliance

Processing Tax Liens & Garnishments

HRIS & Employee File Maintenance and Storage

Employment & Wage Verifications

LYONSHR.COM
---
WE HELP TO MAKE YOUR COMPANY MORE EFFICIENT, COMPLIANT…AND PROFITABLE.

LYONS HR CORPORATE HEADQUARTERS

201 S. Court Street, Suite 700

Florence, AL 35630

P: 256-767-5900

F: 256-767-7798

corporatecommunications@lyonshr.com

www.LyonsHR.com

GADSDEN OPERATIONS CENTER

112 Court Street

Gadsden, AL 35901

P: 256-546-9493

F: 256-456-2128

gadsdenpeo@lyonshr.com

BIRMINGHAM SERVICE CENTER

22 Inverness Center Pkwy.

Suite 135

Birmingham, AL 35242

P: 205-995-0000

F: 205-995-9999

birminghampeo@lyonshr.com

KNOXVILLE SERVICE CENTER

424 Ebenezer Road

Knoxville, TN 37923

P: 865-200-8528

F: 865-247-7528

knoxvillepeo@lyonshr.com

CHARLOTTE SERVICE CENTER

2015 Ayrsley Town Boulevard

Suite #202

Charlotte, NC 28273

P: 888-212-3687

F: 888-508-7011

charlottepeo@lyonshr.com

COLLEGE STATION

SERVICE CENTER

3206 Longmire Drive

Suite A18

College Station, Texas 77845

P: 888-212-3687 x232

texaspeo@lyonshr.com

NASHVILLE SERVICE CENTER

320 Seven Springs Way

Suite #250

Brentwood, TN 37027

P: 615-377-3900

F: 615-371-8608

nashvillepeo@lyonshr.com

ATLANTA SERVICE CENTER

3440 Blue Springs Road

Suite #503

Kennesaw, GA 30144

P: 770-265-0681

F: 866-615-2215

atlantapeo@lyonshr.com

WE'RE ON