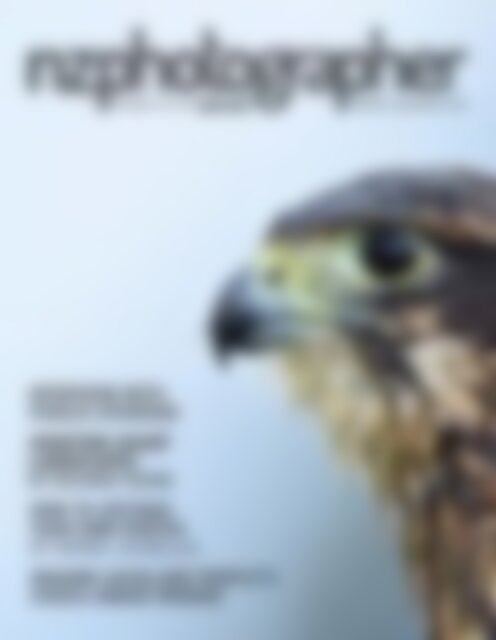 NZPhotographer Issue 23, September 2019
Whether you're an enthusiastic weekend snapper or a beginner who wants to learn more about photography, New Zealand Photographer is the fun and informative e-magazine for all Kiwi camera owners. You can always read the latest issue for free or subscribe to the magazine and get unlimited access to all back issues. Find out more: www.nzphotographer.nz
Whether you're an enthusiastic weekend snapper or a beginner who wants to learn more about photography, New Zealand Photographer is the fun and informative e-magazine for all Kiwi camera owners. You can always read the latest issue for free or subscribe to the magazine and get unlimited access to all back issues. Find out more: www.nzphotographer.nz
SHOW MORE
SHOW LESS
You also want an ePaper? Increase the reach of your titles
YUMPU automatically turns print PDFs into web optimized ePapers that Google loves.
Brought to you by

ISSUE 23, September 2019

INTERVIEW WITH

FAIRLIE ATKINSON

SHOOTING SHARP

LANDSCAPES

BY RICHARD YOUNG

HOW TO CRITIQUE

YOUR OWN PHOTOS

BY SAMUEL OGUNLAJA

IMAGINE AUCKLAND PEOPLE'S

CHOICE AWARD WINNER

September 2019

1
---
WELCOME TO ISSUE 23 OF

NZ PHOTOGRAPHER MAGAZINE

HELLO EVERYONE,

This edition of NZP puts the focus

on learning, experimenting, and

growing as a photographer whilst

also introducing the topic of why

and how photography should

be encouraged in the younger

generation.

In our interview, photography

teacher Fairlie Atkinson takes us

under her wing to share her bird

photography and also explains

her teaching methods and the

importance of the Arts in education.

We also get to see what some of

her photography students at Kapiti

College have been working on and

how photography is showing up in

their everyday lives.

From young adults to young kids,

Ana shares her thoughts and tips on

introducing photography to kids at a

young age, as soon as they're able

to hold a phone or camera. She

explains how photography can help

children improve their concentration

whilst also developing a skill that is often overlooked; the art of seeing.

Don't have kids or maybe they've already flown the nest? Don't worry, we have

plenty of articles to teach and inspire your photographic journey too! Richard's

article gives in-depth detail on shooting sharp landscapes and, instead of an

Expert Critique session this month, Sam is going to teach you how to critique your

own photos – A vital step that must be completed before sending your images out

into the big wide world to be critiqued by others.

Last but never least, we've greatly enjoyed looking through your own

experimentations in readers' submissions learning how you've been pushing out of

your own comfort zones with long exposures, double exposures, and more.

Emily Goodwin

Editor NZ Photographer

General Info:

NZPhotographer Issue 23

September 2019

Cover Photo

Falcon Profile taken at Wingspan

National Bird of Prey Centre

by Fairlie Atkinson

Publisher:

Excio Group

Website:

www.excio.io/nzphotographer

Group Director:

Ana Lyubich

Editor:

Emily Goodwin

Graphic Design:

Maksim Topyrkin

Advertising Enquiries:

Email hello@excio.io

2 NZPhotographer
---
REGULAR CONTRIBUTORS

Brendon Gilchrist

Brendon is the man

behind ESB Photography.

He is an avid tramper

who treks from sea to

mountain, and back

again, capturing the

uniqueness of New

Zealand's unforgiving

landscape.

Ana Lyubich

Co-founder of Excio, Ana's

photography journey

started many years ago

with one of the first Kodak

film cameras. She loves

exploring the unseen

macro world and capturing

genuine people's emotions.

Richard Young

Richard is an awardwinning

landscape and

wildlife photographer who

teaches photography

workshops and runs

photography tours. He

is the founder of New

Zealand Photography

Workshops.

nzphotographer nzp_magazine nzp@excio.io

© 2019 NZPhotographer Magazine

All rights reserved. Reproduction of any material appearing in this magazine in

any form is forbidden without prior consent of the publisher.

Disclaimer:

Opinions of contributing authors do not necessarily reflect the

opinion of the magazine.

September 2019

3
---
CONTENTS

IMAGINE AUCKLAND PEOPLE'S CHOICE

AWARD WINNER: TINA MACRAE

6

INTERVIEW

WITH FAIRLIE ATKINSON

6

8

12

22

BEHIND THE SHOT

with Kelly Vivian

INTERVIEW WITH FAIRLIE ATKINSON

THE UP AND COMING TALENT

FROM KAPITI COLLEGE

30 #WOMENINPHOTOGRAPHY

GETTING TO KNOW CHARLOTTE E JOHNSON

38

42

48

55

IMAGINE AUCKLAND PEOPLE'S CHOICE

AWARD WINNER: TINA MACRAE

THE ROUTEBURN TRACK

by Brendon Gilchrist

ENCOURAGING OUR CHILDREN TO BECOME

PHOTOGRAPHERS FROM A YOUNG AGE

by Ana Lyubich

SHOOTING SHARP LANDSCAPES

by Richard Young

HOW TO CRITIQUE YOUR OWN PHOTOS

by Samuel Ogunlaja

12

SHOOTING SHARP LANDSCAPES

BY RICHARD YOUNG

8

BEHIND THE SHOT

WITH KELLY VIVIAN

48
---
Imagine Auckland People's Choice

Award Winner: Tina Macrae

MURIWAI GOLD

F10, 1/125s, ISO125

HI TINA, TELL US ABOUT YOU…

I have been very fortunate to live in the

beautiful Whitianga on the Coromandel

Peninsula for the last 22years with my partner

Mark and our two gorgeous boys (or I should

say young men) plus two cats, and Badger

our Lab/foxy cross rescue dog. I'm passionate

about native plants and gardening, food,

travel, and photography.

WHAT'S YOUR CONNECTION WITH

AUCKLAND?

I was raised in West Auckland and lived in Te

Atatu South. I attended the local school's,

finishing my education at Rutherford High so

west coast beaches were my local stomping

ground.
---
HOW AND WHEN DID YOU GET STARTED

WITH PHOTOGRAPHY?

My Grandfather and Aunty have always been

avid photographers and my Mum was always

taking family snaps but it was my art teacher

(Gary Shuker at Rutherford High) who taught

me the fundamentals of photography like

form, composition, lighting, and developing

black and white film.

Later on, when I had a family of my own,

I was always taking family snaps but started

stretching my skills by taking landscape and

macro shots.

Wanting to improve and learn, I joined a local

camera group called Focus Photography in

2016 which then merged with the Whitianga

Camera Club in 2018. We have some amazing

accomplished photographers within the club

who are happy and willing to share their

time and knowledge with monthly workshops

covering topics includiing astro, portraits, and

long exposure.

HOW DO YOU PUSH YOURSELF TO

IMPROVE AND TRY NEW THINGS?

With the monthly challenges from the

Whitianga Camera Club, I have been pushed

outside of my comfort zone, exploring new

techniques and styles of photography. Who

knew that I would enjoy astrophotography

and wandering around at 4am trying to take

photos of the Eta Aquarids meteor shower

back in May (and yes did manage to capture

a couple)!

WHAT CAMERA DO YOU HAVE?

Currently, I'm shooting with a Canon

Powershot G3 x which is a bridge style

camera. While it does have some restrictions,

at the moment it suits me fine as it's ideal for

travelling – I don't have to worry about having

the right lens with me (it has an incredible long

range zoom) and it's able to perform most

tasks a DSLR can.

DO YOU HAVE A FAVOURITE GENRE OR

PREFER A CERTAIN STYLE?

As yet I don't have a preferred genre as such

but I do tend to take more landscape and

nature photographs. However, I am interested

in developing my skills in street photography.

TELL US ABOUT THE DAY YOU TOOK THIS

WINNING SHOT…

We were fortunate enough to be staying

at the family bach at Muriwai which is

a quintessential kiwi bach from the 60's.

I decided to hit the beach for a long walk

with my camera on a stunning June afternoon

as the tide was dropping. My idea was to

work on capturing people on the beach in a

more abstract way. The light was incredibly

beautiful. As I was leaving the beach

I climbed the sand dunes behind the surf

club watchtower to capture the sunset and

silhouette of the tower and was rewarded

with a glorious golden sunset where the sky,

sea, and sand were ablaze. It wasn't really a

planned shot but one I thought summarized

Auckland's west coast.

ARE YOU HAPPY WITH THE PHOTO? IS

THERE ANYTHING YOU WOULD HAVE

LIKED TO HAVE DONE DIFFERENTLY?

I like the effect and colour of the image as it

was on the day but I should have used a filter

so the sun wasn't as glaring but alas, I didn't

have them with me.

HOW DID IT FEEL FINDING OUT THAT

YOUR PHOTO HAD WON THE PEOPLE'S

CHOICE AWARD?

To be honest I was surprised but totally thrilled

at the same time as there were some amazing

images in the competition.

HAS WINNING PEOPLE'S CHOICE

GIVEN YOU A SENSE OF NEW FOUND

CONFIDENCE?

Actually, it really has. I guess I have always

been my own worst enemy with self doubt but

this is my second win of the year as I also had

a photo shortlisted in the still life category of

the Sigma amateur photographer of the year

competition.

DO YOU HAVE ANY TIPS OR ADVICE FOR

FELLOW PHOTOGRAPHERS WHO MAY

BE HESITANT ABOUT SUBMITTING THEIR

WORK TO COMPETITIONS?

Don't stop learning and keep trying and

experimenting with different genres, ideas, and

techniques. For those just starting out, get off

Auto mode and start using Manual – Have fun!

WHERE CAN WE FIND YOU ONLINE?

Nowhere yet as my photography has just been

for me up until this point but who knows what

the future may hold!

September 2019

7
---
Behind The Shot

with Kelly Vivian

8 NZPhotographer
---
O'HARE AIRPORT

F5.6, 1/1200s, 18mm

September 2019 9
---
KELLY, PLEASE INTRODUCE YOURSELF TO US...

I live on Auckland's North Shore with my 17 year old

son, Sebastian. I have a 19 year long history working

within the hospitality and customer service industries

and began my amateur photography journey in 2015

when I bought my first DSLR, a Nikon D3300.

I primarily bought a camera to take shots of my son

on the basketball court and ended up doing multiple

contracts for Basketball NZ after they saw some of

my shots. I then diversified and began taking shots of

almost everything I could to practice and get better

at other styles of photography.

Landscapes, wildlife, travel and long exposure

photography are my favourites now. I still take sports

photography shots, but they aren't so much my focus

anymore.

WHAT ARE YOU SHOOTING WITH?

My current weapon of choice is the Nikon D500. I love

the functionality and speed of the body, it's not too

heavy when shooting handheld and I find it produces

such high-quality RAW images.

I have three lenses, the first is a Tokina AT-X Pro,

11-16mm, f/2.8 which I love for landscapes and, with

my Hoya 10 stop ND filter and remote shutter control,

long exposures. Then I have my Nikkor FS kit set lenses,

18-55mm & 70-200mm which are great multi use lenses

and finally my Tamron SP 70-300mm, f/4-5.6 which I use

for wildlife photography.

I use an extreme pro 256GB SanDisk memory card

because of the super-fast processing, a Godox

speedlight flash and a Joby Gorillapod as my tripod

but am looking to get a larger tripod as a more stable

base for my long exposures. I shoot exclusively in

manual mode, but rarely do I take the ISO off auto, I

just adjust the f stop and shutter speed.

TELL US ABOUT YOUR O'HARE AIRPORT

PHOTO...

My son and I were travelling to North Carolina for him

to trial for a college basketball team and we had to

go from LAX to O'Hare then onto Greensboro in NC.

This photo was taken during our stopover in O'Hare

Airport in Chicago.

Upon leaving the plane, we needed to move from

one terminal to another and to get to the second

terminal, we needed to go down a large steep

staircase and along the travelator shown in the

image.

The lights along the roof changed colour and I was

mesmerised by the sight. It was spectacular, and I

couldn't help myself but to get my camera out of my

hand luggage and take a couple of shots.

I opted to go down the most central lane heading

the right way and take the shot, so the lines of the

10 NZPhotographer

handrails were as centred as possible. I had to avoid

people coming up behind me and didn't want to

get in the way, so it was a super quick few shots fired,

hoping that I'd got the shot.

WHAT WAS HAPPENING BEHIND THE CAMERA?

My son was super tired and less than impressed

that I was holding him up from getting his breakfast

because I was 'taking more photos' haha.

ARE YOU HAPPY WITH THE PHOTO, WHAT DO

YOU LIKE/DISLIKE ABOUT IT?

I always liked this image, especially as it was taken on

the fly, with no real planning or time to perfect it. The

fact that the passengers in the photo are somewhat

blurry initially annoyed me, but now I feel they tell

a story of how rushed people can be at one of the

largest airports in the United States and how they

don't take the time to stop and look around in such a

busy place.

I like to take photos free of people so I tried to take

this with the least amount of people in the frame,

but in retrospect, I quite like the silhouettes of weary

travellers in the image and I think it adds to the

aesthetic of the image as a whole.

I don't know if there is anything I could have done

better, maybe got a different angle of the space

from off the travelator with a more stable non-moving

spot, but it just wasn't going to happen with a hungry

teenager hounding me haha.

WHAT DID YOU LEARN FROM TAKING THIS

PHOTO?

The main thing I learned from taking this image is to

take chances, take opportunities to get the shot,

regardless of what is happening around you, what

people may think of you or where you are. The most

challenging shot can often be the most rewarding.

WHERE CAN WE FIND YOU ONLINE?

www.instagram.com/kells1photography

www.facebook.com/kells1photography

albums.excio.io/profile/KellsPhotography

BEHIND THE SHOT IS PROUDLY

SUPPORTED BY
---
FRESH SHOOTS

PHOTO COMPETITION

We're inviting photographers to highlight all the wonderful things that make the Wellington

Botanic Garden much more than a garden, while encouraging photographers to focus on

the garden season by season.

For prizes and full Terms & Conditions see: www.excio.io/freshshoots

The last season of the competition is now open:

Winter

22 June - 20 September 2019

CATEGORIES

NATURE

PEOPLE &

EVENTS

CREATIVE

PARTNERS

September 2019

11
---
Interview with

Fairlie Atkinson

HI FAIRLIE, ALTHOUGH READERS WILL KNOW

YOU FROM OUR BLOG INTERVIEW, WHY DON'T

YOU GIVE US A RECAP?!

I live in Kapiti and teach Photography and Design at

Kapiti College. My partner Peter and I have four children

(2 each) and we also have two exchange students

living with us long term while they study at Kapiti College.

Our life is pretty busy as we are doing up our home. That

being said it is perfect for our large eclectic family.

Since I teach photography, I am immersed in it all day

with my students, time for my own photography during

the school term is rare so I tend to do my own creative

work on the weekends if it is a project I can involve my

kids in, and during school holidays.

My own photography passion is creating bird portraiture

as a way of fundraising for local wildlife reserves and

I donate my images of native New Zealand birds to

wildlife and conservation organisations to use in their

advertising and marketing to avoid them having to use

their budgets to pay for this service.

Aside from photography I love horse riding and teach

horse riding after school one day a week. I enjoy

reading crime novels, visiting nature reserves, bush

walks, and travelling to new places. I love foreign food,

learning languages and last but not least spending time

with my eclectic family.

TELL US MORE ABOUT HELPING CHARITIES

WITH YOUR PHOTOGRAPHY, WHAT HAVE

YOU DONE MOST RECENTLY?

Most recently I was in Turangi and captured

images of whio in the wild that I have donated to

an organisation called Whio Forever. They partner

with DoC to protect the whio, and photos of whio

in their natural habitat are a wonderful indicator

of their success. They can use my photos (if they

wish) to showcase this success on social media

or anywhere that might raise their profile. I also

donate my images to Staglands and Nga Manu

whenever I visit, and I have a series of images taken

at Nga Manu, when I sell prints of these I donate a

percentage to the Reserve. They do incredible work

rehabilitating our native birds and I believe it is only

fair to give back to the community that supports my

photography.

HOW AND WHEN DID YOU DECIDE TO

BECOME A PHOTOGRAPHY TEACHER?

I have spent most of my career teaching at universities

in Asia and the Middle East. My children were born

in the Middle East but I wanted to raise them in New

Zealand. Therefore, I returned to high school teaching

in New Zealand in 2015 where I taught English and

Technology.

I had been given a DSLR camera that same year

and started playing with it so by the time I moved to

Kapiti in 2017 I had decided photography was what

I wanted to teach. I enrolled in a level 5 diploma of

photography with the Southern Institute of Technology

and realised very quickly that I wanted to teach

a creative subject that students took as an option

rather than a core subject that students had to take.

I was lucky that Tony Kane, the principal had faith

that I could do this and I am in a supportive working

environment. The Visual Arts teaching community

is incredibly caring and share many resources and

support new teachers to the subject very well.

HOW DO YOU APPROACH THE TEACHING OF

PHOTOGRAPHY?

My approach is two-fold. First, I believe students need

to experiment. The first thing I do for new students is

to run a camera boot camp which is two weeks long.

Each day we focus on something different like shutter

speed or aperture etc. I give them challenges related

to this, like take a photo that shows someone jumping

in the air, with no blur.

12 NZPhotographer
---
September 2019 13
---
I also do things like getting them to build their own

lightbox from white cardboard and photographing

a cicada shell placed in the centre. In order to

photograph the cicada well, they need to use their

camera on manual. Once they have the camera

basics right and know how to manipulate studio

lighting, I encourage as much experimentation as

possible. My catchphrase is "go play!" What I mean

by this is go and play with the settings, lighting, subject

matter, location. Experiment and see what evolves.

Secondly, I believe 'creative conversation' is essential

(either one on one with me or peer feedback) to the

creative process for a student operating within the

confines of NCEA. Asking the hard questions such as

'how much time did you devote to this? How does this

image relate to your theme or the images around it?

Who is your artist model? Where are you going with

this and what's next?' gets students to look with a

critical eye at their images.

However, I very much believe that students need

to follow their own creative journey so I tend to give

them very loose themes like 'Turangawaewae',

which they can interpret very literally or in an abstract

manner. Many students create a photographic series

based on their identity, or something they identify with.

And because I am careful to work within their interests

they tend to be more engaged in the process.

WHAT'S YOUR FAVOURITE THING TO TEACH IN

THE CLASSROOM?

The first couple of lessons in Photoshop! Students

think they can magically transform a terrible photo

in Photoshop but they find out very quickly that this

isn't the case at all. They also discover that a well shot

image just needs some tweaking in Photoshop to look

absolutely fantastic. Once they have mastered the

tools, I love to see them getting creative and trying

things like surrealism and pop art using their own

photos. Some of their creations are weird, wonderful,

and bizarre, but all of them are a creative journey.

WHAT'S THE BEST PART OF BEING A

PHOTOGRAPHY TEACHER? AND THE WORST?!

The very best thing about this job is the immense

satisfaction that comes when a student's work is

recognised or exhibited. To know that I was a small

part of that creative journey is very satisfying and to

have others appreciate the innovation and creativity

of the teenage mind is wonderful. I also derive a great

deal of personal inspiration from my students and from

the creative conversations we have. They push me

to get out of my comfort zone as a photographer. A

direct result of this is that I have started dabbling in

some surrealist photography of my own which you

can see on the next page. My picture of the baby

ruru was taken at Wingspan and then I went online

and found a copyright free image of an eye and

one of a steampunk style clock face. I then blended,

painted, coloured, and smudged until I got an image

I was happy with. It was my first attempt at surrealism

and I still like it.

The worst thing is that photography is underfunded,

underappreciated, and undervalued in every high

school. Therefore, we struggle to find funds for

equipment and resources. It is also a subject that is not

viewed as particularly academically rigorous by many

in the community. This perception is completely false,

and students have to work extremely hard to pass,

and standards are very high. This is an issue for many

optional subjects and subjects in the Arts and not just

photography.

WHAT CHALLENGES DO YOUR STUDENTS FACE

AND HOW DO YOU/THEY OVERCOME THEM?

The biggest challenge is coming up with an idea that

will run across 2–3 NCEA boards. That's anywhere

between 40–60 photos that connect to each other,

are based on various artist models, that fit into a

theme, and that can provide enough variety to keep

the marker interested.

Students often say, "but Miss I don't have any ideas."

That's where the Internet, this magazine, Excio,

Instagram, Pinterest, and the library come in! I ask

students to explore photography by other people

based on themes of interest to them. Once I know

what they are interested in and what creative style

they like I can recommend photographers that can

be used as artist models so that students can learn

from established practitioners. They can then develop

their own interpretation of that style and work towards

developing their own approach to their photography.

Artist models are established practitioners in their

field of art, whether that be painting, sculpture,

photography etc. Our students are required to

reference more than one artist and their style or

techniques somewhere in their work. For example, if

a student wants to shoot a photographic series and

incorporate type into it they might use Barbara Kruger

as an artist model and shoot their images in black and

white and use red and black type. The images and

message will be unique to them but will be influenced

by the artist model's style.

WHAT ARE YOUR THOUGHTS ON

PHOTOGRAPHY (AND THE ARTS AS A WHOLE)

IN THE SCHOOL CURRICULUM?

They are absolutely necessary. Not every kid can

read and write well, and not every kid is musical,

mathematical, or sporty. Not every child likes science.

So what's left? We as a society need to nurture

creative pursuits. They inspire others, and push us to try

new things. When a student leaves school, employers

are increasingly looking for adaptable, creative, and

conscientious people. The Arts does a very good job

of preparing our young people to think creatively and

solve problems with the tools in front of them. If the

Arts are removed from a curriculum, so is creativity in

its purest form.
---
September 2019 15
---
16 NZPhotographer
---
September 2019 17
---
18 NZPhotographer
---
HOW DO YOU EDUCATE YOURSELF SO YOU

CAN BETTER HELP YOUR STUDENTS?

I look a lot at student work and talk to them about their

interests. I then go online and see what other artists and

photographers may have done in that field and how

they have done it. I spend a lot of time on online forums,

watching tutorials, or exploring different genres in order

to better help my students. Essentially, I am constantly

learning alongside them.

I find it pointless to teach the same thing to everyone.

Last year a student said she loved the work of Prue

Stent and Masie Cousins so I went online and explored

their work and their techniques with that student. We

experimented making coloured cornflour paste, and

Googled the ingredients for a milk bath so she could do

a shoot at home. We bought glitter, and slime and found

out how hard it is to clean it up after you have taken

photos with it and that the glitter keeps reappearing

weeks, even months later. It's about learning, and

experimenting together. This year when a student asked

me about those two photographers, I was ready with

answers!

When you train to be a teacher, or train within your

subject matter, it doesn't mean you now know

everything. You can learn as much from your students as

they can learn from you if you choose to.

TELL US HOW YOUR SCHOOL HAS TEAMED UP

WITH EXCIO TO SHOWCASE STUDENTS' WORK…

It started with me leaving a comment on one of the

NZPhotographer Magazine posts on Facebook that

asked what we, as a community, wanted to see

in the magazine. I was tired of seeing all the posts

of landscapes and what I felt was the same style

of photography again and again posted by the

photographic community. I felt that it excluded the

creativity and talent of our younger generation.

I use this magazine as a teaching tool, and I wanted

to see the magazine evolve and attract a younger

generation of reader – I think this is definitely happening

lately, which is awesome. Ana and I began talking

about my feature on the Excio blog and I asked her

if we could have an Excio account for the school as

the photography the students do is fantastic, and a

bit different from what we normally see showcased in

photography magazines and in social media.

She was immediately supportive and when she came

to talk to our students she was so inspirational. She

essentially voiced the message that I have been trying to

get across to our students about photography telling the

students that photography does not have to be about

the 'likes', the 'followers' and the 'influencers', but it can

be about doing good and communicating a message

for change or just sharing a beautiful moment. I feel very

grateful to have had someone like Ana in my classroom

living those words with her work with Excio and NZP as

an example of how a photographic community can be

based on something other than the pursuit of fame and

money.

At the moment we have around 8 students on Excio with

1–3 photos per student, but are in the process of adding

more. What we are trying to do is showcase a variety of

images from our students so users of the app can see

how varied our students' talents and interests are. I have

put together a student team to help me administer the

school collections so we can showcase as many as

120 photos at a time. It's very exciting for us, and gives

students the motivation to strive hard to be innovative

and creative because, in the end, it is those images that

have the most impact and those are the ones we want

to show. Photography as a subject is only growing at

Kapiti College, and with our partnership with Excio it will

only attract more students keen to be appreciated for

the innovators and artists that they are.

HOW DO YOU THINK PHOTOGRAPHY BENEFITS

KIDS AS A WHOLE?

Photography has something for kids who think and see

things differently. Maybe they can't draw or play a

musical instrument but are still creative. Imagine a world

without creative people, without photography, art and

music, it would be a very grey world. Children paint, sing,

and dance before they read, write, and calculate. It's

their way of communicating, and essentially that is what

art is in its purest form; a vehicle for personal expression.

Photography facilitates creativity, personal expression,

communication, and changes the way kids look at the

world. Once you begin to be able to communicate a

message with an image, you start seeing the potential for

photos, and for communication everywhere. Remember,

we are a society made of kids whose first instinct is to

imagine, create and explore. Why can't we continue this

into adulthood?

September 2019

19
---
20 NZPhotographer
---
WHAT ADVICE DO YOU GIVE YOUR STUDENTS

WHO WANT TO MAKE A CAREER OUT OF

PHOTOGRAPHY?

If this is your dream then go for it. If it's the only thing they

want to do then why not? Photographers are employed

by the Armed Forces, the police, hospitals, regional

councils, real-estate firms, government departments and

by publishing groups.

Many students talk to me about their fear of financial

insecurity that comes with choosing a job in the Arts. This

is indeed valid, as photography has become very much

a contract business. I think there are ways and means of

making money from doing what you love though, without

money being the primary objective.

WHAT ARE YOUR THOUGHTS ON GETTING A

FORMAL EDUCATION IN PHOTOGRAPHY VERSUS

TEACHING YOURSELF WHEN THE AIM IS TO MAKE

PHOTOGRAPHY INTO A CAREER?

I taught myself everything from Youtube, the Internet and

by just playing with my camera. I think a formal education

will help you if your employer is one that requires it and

that's the direction you want to go in but honestly, what

I gained from a formal education in photography is the

qualification, not the skills themselves.

Saying that, not everyone learns the same way and many

people like the structure of lessons and being told what

to try and in what direction to move before they try the

practical skills out. I prefer to learn by doing. I see in my

classroom kids who want me to actively show them every

tool and how it works in Photoshop and other kids who just

want to dive in and click everything and see how it works.

To be honest, the kids who dive in seem to learn the tools

more quickly because they are not afraid of making a

mistake but that's not to say that one approach is better

than the other.

WHAT ADVICE WOULD YOU GIVE OUR READERS

FOR CHOOSING A PHOTOGRAPHY COURSE?

Consider what purpose it will serve. If you need a

qualification for a job then by all means go and get it.

Remember, at its core, photography is a practical art form

so make sure you choose a course where there is room to

practice and hone your practical skills, and not just write,

or reflect on, or critique work.

Critique is valuable, but courses seem to want to add a

fair amount of peer critique in them to make them feel

more 'academic.' I, myself, found little value in mandatory

critique. Voluntary, on the other hand, has a great deal of

value and leads to a more authentic learning experience.

I actually love the photo critique section in the magazine

and on the blog but what we have to keep in mind is that

one person's idea of a good photo is not someone else's.

ANY WORDS OF WISDOM TO LEAVE US WITH?

Learning is a lifelong pursuit. Art is personal and art

critique is subjective. In a nutshell, do what you love, keep

learning, and trying new things. Go and play with your

camera as often as you can!

WHERE CAN WE FIND YOU ONLINE?

albums.excio.io/profile/Fairlie Atkinson

facebook.com/kapitiphotography

September 2019

21
---
The Up and Coming Talent from Kapiti College

We've heard Fairlie talk about teaching, now let's switch sides and hear about

the creative/photographic journey that some of her students are on as we see the

projects they've completed.

aesthetic. My style of photography is quirky, girly

aesthetics. I love both trying to communicate a

message through photography in a creative way,

and also just experimenting with random meaningless

ideas. I find photography a way to express my

creativity and art, using props and settings to create

an image no one else will have seen.

CAN YOU CHOOSE A FAVOURITE PHOTO OR

PROJECT?

These photos are a series of four demonstrating a

progressing heart. The first photo is just a sparkler by

itself, the second a 1/4 heart, the third a 3/4 heart,

and the fourth a full heart. I created these images by

using sparklers to draw a heart shape. I adjusted the

settings manually to a low shutter speed, the lowest

for the full heart as it took the longest to draw, and a

short shutter speed for the still sparkler. The low shutter

speed meant that I could draw the heart shape with

the sparkler and the camera would capture the light

trail, and dismiss the wire stick of the sparkler so that a

heart outline was created with sparks flying off it. I also

put a piece of pink cellophane over one studio light,

and a blue piece to cover the other, this created an

ombre background.

NAME: MIETTA

AGE: 17

TELL US ABOUT YOUR JOURNEY WITH

PHOTOGRAPHY SO FAR…

I have always had a passion for taking aesthetic

images, and an appreciation for beauty – Trying to

capture the good in things or bring out the beauty.

I have always loved taking photos however had never

used a proper camera before, only using my phone.

So this year is the first year I have actually taken

photos on a DSLR. I struggled at the beginning to

figure out how to adjust and manipulate the settings

however, for every photo shoot I did, I played around

with the manual settings a lot until I got it right.

WHAT'S YOUR PHOTOGRAPHIC STYLE?

I just love experimenting with props and camera

settings to create images that hold a beautiful

WHAT CHALLENGES YOU MOST IN CLASS?

HOW DO YOU/DID YOU OVERCOME THAT?

I sometimes struggle to come up with ideas, or plan

a series of shoots. I usually overcome this by finding

inspiration from Pinterest, or just coming up with a

simple idea. I then experiment a lot, so the basic idea

expands and more ideas come flowing until I finally

get the photo or idea I want. My best photos are the

ones where I had no plan or a very rough plan, the

photo created purely from experimentation. That is

what I find fun in photography: experimenting heaps

to get my creativity flowing.

HOW DO YOU FEEL ABOUT YOUR

PHOTOGRAPHY BEING CHOSEN TO FEATURE

ON THE KAPITI COLLEGE EXCIO ACCOUNT?

When I heard that, I was really excited and proud! To

be honest, when I first started the subject at school,

I didn't think I would be good at photography, I was

kind of just messing around with some ideas and never

really thought they would go anywhere.
---
September 2019 23
---
NAME: CHARLISE SEFO

AGE: 16

WHY DID YOU CHOOSE TO STUDY

PHOTOGRAPHY?

I've been interested in taking photos since I was

younger. My cousin is a photographer and has

travelled to Switzerland, his photos were a big

inspiration for my love of photography and an

introduction to quality photography. Watching the

process of him taking the photos always looked like

the hardest part but seeing the final outcome was

always inspiring to me. My favourite thing about his

photography was how he would always perfectly

match the colours together, perfectly balancing the

photo. This pushed me to study photography.

WHY/HOW IS PHOTOGRAPHY IMPORTANT TO

YOU?

Photography is a way of expressing myself. A photo

means a thousand words and tells a story or journey.

It's important to me because it's my own way of

writing a story, without the words.

CAN YOU CHOOSE A FAVOURITE PHOTO? TELL

US ABOUT IT…

My favourite photo is what I call "Dream State". The

flower is a symbol of love with the blur on the side to

hint that it's a dream. With the blue overall, the neon

colours pop more which allows specific things, the

important hints, to be seen. I let the viewer wonder

what it means. Is it a dream? Or a distant memory of

what once was? That's why it's my favourite image,

the wonder of the story behind it, is it an untold story or

fearful dream?

WHAT CHALLENGES YOU MOST IN CLASS?

HOW DO YOU/DID YOU OVERCOME THAT?

Having to use artist models can be very restrictive. My

ideas are inspired by images that may not necessarily

be done by famous photographers while the NCEA

says we have to use them. I overcome this by looking
---
up a certain image or photographer and putting

my own twist on it. I used Jochim Froese as one of

my artist models on my first NCEA level 2 board and

changed a few things to fit my aesthetic and the

energy of my board.

DO YOU HAVE PLANS TO PURSUE

PHOTOGRAPHY AS A CAREER OPTION?

I didn't think that photography could be a career

option for me till I was recognised – I have realized

now that it could hopefully be a career path for me

one day. It's something I really enjoy and something

I love to do. I love to show people what I see through

my photos. To capture quality moments with friends

and family.

HOW DO YOU FEEL ABOUT YOUR

PHOTOGRAPHY BEING CHOSEN TO FEATURE

ON THE KAPITI COLLEGE EXCIO ACCOUNT?

When I first heard I was being featured I was over the

moon excited and told all my family and friends. It's a

massive honour and has made me more focused and

given me the drive to try harder, to experiment more

with the lights and the camera to create awesome

and unique photos.
---
NAME: LUCAS REID

AGE: 18

WHY DID YOU CHOOSE TO STUDY

PHOTOGRAPHY?

I wanted to do a fun and creative subject. I didn't

want to choose a subject where you are restricted

to exams and study – I wanted to do something

more relaxed and be creative in a fun classroom

atmosphere. I enjoyed the class in year 12 so I ended

up taking a double line of it in year 13.

WHY/HOW IS PHOTOGRAPHY IMPORTANT TO

YOU?

To be honest, photography is not part of my career

plan, but it is part of my creative outlet. Life is busy

with work and school, and there is not much time to

just take time to enjoy creating something – This is my

space to do that.

CAN YOU CHOOSE A FAVOURITE PHOTO?

The reason I have chosen this photo as my favourite

is because it shows all the elements from my level 3

NCEA board. It shows all the bright colours and all the

objects in one photo as well as a clear photo of my

model. I started my board by creating photo art in

the style of Emily Blincoe but I used everyday NZ food

like hundreds and thousands biscuits and Liquorice

Allsorts. I then introduced my model, who I have

dressed as a colourful, yet grungy drag queen. He

is shown with these other elements to try and make

an extraordinary picture out of an ordinary boy and

ordinary objects.

WHAT CHALLENGES YOU MOST IN CLASS?

HOW ARE YOU OVERCOMING THAT?

The challenges I face are following the NCQA rules

for the external photography boards as well as being
---
creative and having my own ideas. Because I need

to pass the boards I need to follow the rules that

NZQA have put out for me, and this can sometimes

restrict how creative I can be with my photos. For

example, I would quite like to do photos in my own

style, or in the style of influencers on social media but

I have to use artist models that NZQA and the teacher

approves.

HOW DO YOU FEEL ABOUT YOUR

PHOTOGRAPHY BEING CHOSEN TO FEATURE

ON THE KAPITI COLLEGE EXCIO ACCOUNT?

I'm amazed! It feels great to know that my photos will

be featured on the Excio account, my teacher has

more faith in my work than I do!

September 2019

27
---
Want your photography

to have impact?

Join Excio today for global reach

and showcase your message.

We're different from magazines and social media.

Take a look

www.excio.io

28 NZPhotographer
---
excio.io

#photographyforgood

September 2019

29
---
#WomenInPhotography

Getting To Know Charlotte E Johnson

ASCENSION: MICROSCOPE CAPTURE

OF A PINE CONE SECTION

30 NZPhotographer
---
DO YOU HAVE A CERTAIN STYLE OR A

PREFERRED GENRE?

I adore fine art portraiture – this is the area I'm

working towards with my own work. Our modern

world is filled with amazing photos but the ones that

make me stop scrolling are the ones that engage

me and make me feel something. It's the same

feeling you might get when you view a beautiful

painting in an art gallery or come across an image

that makes you think 'wow'.

CHARLOTTE, LET US KNOW WHERE YOU'RE

FROM AND WHAT YOU DO!

I'm a photographer and microscopist for the

University of Auckland. I spend my working hours

taking photos (either on a camera or through a

microscope) and editing them in Photoshop – it's a

pretty great job. I moved here from the UK almost

2 years ago where I did my Ph.D and subsequent

postdoc researching cancer biology. Quite a jump

in career and geographical location!

HOW AND WHEN DID YOU GET INTERESTED

IN PHOTOGRAPHY?

I bought my first DSLR (a Sony a200) about 8 years

ago. After about a year of casually playing around

with it, I wanted to do more but I had no idea

how to take it off auto mode so I took an evening

course in photography for beginners. That sparked

my interest which led to a second and a third

course, plus an obsession with film photography.

I was greatly inspired by the classic abstract works

of photographers like Minor White and Edward

Weston. At the time I couldn't understand my

classmates' interest in taking photos of people –

now portraiture is my favourite genre!

WHAT ARE YOU SHOOTING WITH?

For my digital work, a Sony A7Riii with a selection of

Sony or Zeiss prime lenses and a Minolta Dynax7 for

35mm and Hasselblad 500C for medium format film.

TELL US MORE ABOUT THE CREATIVE

PROCESS BEHIND YOUR 'PAINTERLY

PORTRAITS'…

I want to create art which is beautiful to me, that

has depth and feeling. I sometimes start off with

a prop or accessory and the idea builds around

that, or other times I take inspiration from artwork or

techniques I've seen elsewhere and want to put my

own spin on. I'm very lucky to have several creative

contacts who share my passion and am often

asked to take part in their projects.

For my painterly style portraits, my keyword is usually

'soft'; soft lighting, soft hands, soft textures. I will

often make a Pinterest board which helps keep me

on track leading up to and during the photoshoot

as I tend to get carried away in the moment.

For me, the real magic happens during the postprocessing

stage, for which I use Photoshop.

I employ several techniques to most of my images

which I've picked up from workshops, but every

image is uniquely processed – I almost feel each

one pulling me towards a certain look.

DO YOU HAVE A FAVOURITE IMAGE?

My favourite image is the one I'm going to take

tomorrow!

But if I must choose, one of my favourite images is

my Curious Kea. Taken on a trip to Wellington not

long after we moved to New Zealand, it was the

closest I'd ever been to a kea – I'd only brought my

35mm prime lens so didn't have much choice.

I was cautious about putting the camera (and

my fingers) so close to the bird as I'd heard

about their penchant for ripping things to bits but

I approached slowly and calmly, speaking to the

kea in a soft voice so as not to scare it. As you can

see from the image on the next page, it was dimly

lit so my shutter speed was quite slow. As you can

see from the image on the next page, it came out

so sharp as I was hand-holding. When I look at this

photo, I see the curiosity and intelligence of the

kea and I am very happy to have captured this

intimate moment.

September 2019

31
---
CURIOUS KEA

F5, 1/1000s, ISO1000

32 NZPhotographer
---
September 2019 33
---
ELLE

Collaboration with makeup

artist HollyB and model Elle

Alexeenco

F2.8, 1/125s, ISO250

34 NZPhotographer
---
VOODOO QUEEN

Collaboration with designer/

stylist The Baroness Creates

and model Suzan Tibane

F4, 1/125s, ISO100

September 2019

35
---
WHAT CHALLENGES HAVE YOU OVERCOME

IN PHOTOGRAPHY AND HOW DID YOU DO

THAT?

I came from an amateur background with a foundation

study in photography and jumped straight into a fulltime

photography job where I was asked to take photos

of anything and everything at publication quality using

unfamiliar equipment. I didn't sign up for a 365 project but

I most certainly did take photos every single day, learning

the equipment and techniques as I went.

I used online workshops and YouTube tutorials,

joined the Photographic Society of New Zealand

and went to my first photography convention,

joined a local camera club where I received image

critique, and practised, practised, practised.

A lot of my work involves taking portraits but I had

no experience in portraiture, so I put up a sign on

a notice board asking for students to model for

me in exchange for photos. Often they had never

modelled before and we learnt together from the

experience.

HOW DO YOU PUSH YOURSELF TO IMPROVE

AND WHAT DO YOU DO TO GET OUT OF A

CREATIVE SLUMP?

When I first started taking photos, I was of the firm

belief that post-processing was not necessary if you

got everything right in camera – I even thought it

was cheating!

I was introduced to editing during my photography

evening courses. The idea of using a complicated

software scared me but I was intrigued by the

creative possibilities, so I took an online course

thinking nothing much would come from it. Some

years on, I am now an Adobe certified expert in

Photoshop. My happy place is sat at my desktop

with a cuppa, listening to music and editing

images.

HOW HAVE YOU BENEFITED FROM BEING

PART OF LESLEY WHYTE'S WOMEN IN

PHOTOGRAPHY, WHY IS BEING PART OF AN

ALL-FEMALE GROUP IMPORTANT TO YOU?

There is an under representation of women in

photography, especially at a professional level.

Lesley is doing her part to encourage women

photographers and it's important to me to be able

to support that by being a member of her group. It

also offers many opportunities, including attending

talks by female photographers who you would be

unlikely to otherwise meet. For instance, I attended

a recent talk by Marina de Wit who I had previously

read about in a British photography magazine and

had been inspired by her work – I had no idea she

was living in Auckland! I'm so pleased to have had

the chance to connect with her.

WHAT DO YOU THINK THE ADVANTAGES ARE

OF BEING A FEMALE PHOTOGRAPHER?

I think it's easier to approach female models and

connect with them plus female models can feel

more at ease during a shoot.

ANYTHING ELSE YOU'D LIKE TO ADD?

I'm open to collaboration and am always on the

lookout to challenge myself. I am available for

Photoshop tutoring/workshops too.

WHERE CAN WE FIND YOU ONLINE?

albums.excio.io/profile/cejphoto

www.instagram.com/cej.photo

www.facebook.com/cej.pp

PROUDLY BROUGHT TO YOU BY:

I don't get in creative slumps but I do get very

downhearted when my images don't do well in

competitions. I'm so grateful to the people I have

in my life who help remind me that if what I'm

creating makes me happy, then that's really all that

matters.

36 NZPhotographer
---
September 2019

YURI

Collaboration with makeup

artist Kaith Fainsan and

model Yuri Chetty

F4, 1/200s, ISO100

37
---
The Routeburn Track

by Brendon Gilchrist

EARLAND FALLS

F9, 1/160s, ISO100

38 NZPhotographer
---
Come on a written journey with me as

I venture onto the Routeburn, one of the

greatest walks in New Zealand covering

32km of tramping track from Glenorchy to The

Divide or vise versa.

This is a walk that many people do during the

official season which runs from from 29th October

to 30th April. Last year a total of 6,606 Kiwi's and

8,536 international visitors walked the Routeburn

Track. Myself and my Dad can't be included in

those figures though as we're walking it in the off

season, a time when the track is walked by very

few.

DAY 1 – FROM THE DIVIDE TO LAKE

MACKENZIE HUT

Driving up to The Divide which is where the track

begins, there was a lot of snow banked up at the

side of the road which seemed to get deeper the

further we drove but the road itself was thankfully

clear.

Arriving at The Divide around 9.30am we got kitted

up with our boots, hats, and gloves and headed off

into the bush.

The track started slowly, winding uphill towards Key

Summit turn off but this was a detour that we didn't

take as the clouds were low and the view wouldn't

have been very good so we continued on the main

Routeburn track, making it to Lake Howden Hut

after about an hour 20 minutes. Considering the

track was covered in snow, we were doing well.

As we carried on there were many streams and

bridges to cross, some with icicles hanging by the

water.

I should have stopped and taken some photos of

these icicles when I saw them but I didn't and I am

a little gutted because on the return trip they were

gone.

At approximately 1,000 metres above sea level,

the snow was deep in patches which was tough

going. We could hear the 174 metre high Earland

Falls before we could see them but when our eyes

did catch up with our ears it was a spectacular

sight with snow and ice hanging on to the sides and

water pouring over the top. Standing at the base

we could see large chunks of snow falling off the

side of the waterfall – I took a few photos but was

wary of hanging around too long incase something

bigger fell down!

I thought that once we reached this point,

roughly half way with no long hard climbs ahead,

just a consistent altitude until we reached Lake

Mackenzie, that the going would get easier.

My thoughts were a little bit wrong! Over this

next section, we made good time crossing a few

avalanche paths (one of which was signposted

400 meters long) but it was not easy and the snow

never stopped, it was as if it snowed more the

further we went in! It was around 4pm now with

a little bit of daylight left and I had a great idea

to go ahead of Dad and light a fire to warm the

hut up, but now there was no dry firewood. I tried

anyway but failed and although we had some

success later, we spent two nights in a hut that was

warmer outside then it was inside, how is that even

possible?!

Given the amount of snow we had walked through,

there was no way we were going to even attempt

to go up the Harris Saddle as it was bound to be

neck-deep! So our plans for the next day were to

relax and hope the weather would clear for a little

bit.

Night fell and we had nothing else to do but sleep

by the fire in hope that it would be slightly warmer

here than in the bunk bedroom.

DAY 2 – IN AND AROUND THE HUT

The next morning we collected what wood we

could find, it wasn't much, but it had to do – a lot of

the good stuff was buried under the snow.

I went for a walk to the campsite which is 10

minutes from Lake Mackenzie Hut hoping that the

view of the mountain with the frozen lake below

(the shot I came for which is just 2 minutes from

the hut) would be visible but the mountain was still

hidden by clouds.

It would have been such a stunning shot but this is

the way of photography, it's not always a success

but you go and try anyway as you never know

when you might get a lucky break.

At sunset I headed out with my camera and

tripod again but there were no colours at all, a

very blue evening. I managed to get a few good

compositions of the lake and the mountain but not

that stunner I'd been hoping for.

Our last night in the hut was an interesting one, the

rain poured down and the ice on the roof came

crashing down, waking us up now and then.

DAY 3 – FROM LAKE MACKENZIE VIA LAKE

HOWDEN BACK TO THE DIVIDE

Morning came and we had to pack up and clean

the hut. I was hoping the rain would stop by the

time we were ready to walk out but no, it poured all

day long.

I put on my over pants and my rain jacket and I was

ready. I didn't think about the 12km we had to walk

but just stepped out of the hut and started walking.

The only good thing with the rain was that a lot

of the snow had melted so the track was mostly

visible.

September 2019

39
---
We arrived at Lake Howden hut

looking like drowned rats. We stepped

inside for a rest, put on some dry

clothes and warmed up a bit before

walking the last hour back to the car

knowing that the hardest part was

over.

The rain continued to fall on the last

stretch back to the car. We turned

the engine on so as to have the

heater going and got changed inside,

shedding more soaking clothes. It

was a good feeling getting the heavy

pack off my back and into some

normal (dry!) clothes again.

On the drive out, looking forward to a

warm drink and a nice hot meal, we

saw people again, the first in 48 hours.

The further away we drove from The

Divide the less it rained until our arrival

back in Te Anau where it was mostly

dry!

LOOKING BACK

Despite the weather this trip was

beautiful in every way – time in the

bush is some of the best time ever

spent and I enjoyed good company,

refreshing views, fresh clean pure

drinking water and came back with a

few hundred photos to go through.

I will be back again soon, the summer

tramping season is almost upon us

and I have some cool plans of places

to visit!

3 TIPS FOR WINTER

PHOTOGRAPHY

• At night in the huts, keep all your

camera batteries in your sleeping bag

with you so as to keep them warm.

They can lose power even when not

in use.

• Chemical heat packs can be great

for Astrophotography when moisture

can become a problem on your lens.

Wrap the heat pack/s around your

lens and it will keep it warm for hours.

• If the weather is not as great as

what you had hoped for, know

that there are always other options.

Telephoto lenses can give you a very

moody mountainscape and a part

of a tree and a mountain top can

look just as dramatic as the entire

landscape.

40 NZPhotographer
---
FROZEN MACKENZIE

F8, 1/25s, ISO1600

September 2019

41
---
Encouraging Our Children To Become

Photographers From a Young Age

by Ana Lyubich

"Children see magic because they look for it."

Christopher Moore

42 NZPhotographer
---
September 2019 43
---
How young should you be when you pick up your

first camera and become a photographer?

Although old dogs can most definitely learn new

tricks, the answer is, the younger the better!

In this article, I'm going to talk about involving young

kids in photography. I believe that children need to

start taking photos as early as possible, as soon as they

are able to hold a phone or a small camera without

dropping it repeatedly. Here's why…

DEVELOPING THE ART OF SEEING

One of the most important parts of a child's

development is their imagination. Reading and

playing helps them to develop their creative

thinking and broadens their horizons immensely

but photography goes further, teaching "the art of

seeing" which can often be overlooked.

It is not so much about developing creativity, it is about

'seeing beyond seeing'. Everything around us can be

seen from a different angle if we try hard enough but

believe me, the angle that children see the world at is

completely different from how we see it as adults.

Since kids are much closer to the ground (both in

height but also because they tend to spend more

time on the ground playing), they see a lot of things

that we, as adults, just don't tend to notice.

It's vitally important to support this 'special sight' in

children, motivating them to find and capture the

moments or things that are important to them. If ignored

or dismissed, the natural way of paying attention to

different things will very soon disappear in the big

grownup world of noise, busyness, and daily routines.

Supporting the ability to see things that other people

don't notice will go a long way in helping your kids

grow up to be confident and creative individuals in

the future. From stopping to appreciate the bright

Taken on a Samsung Galaxy A10

by a 12 year old photographer

blue sky to noticing the contrasts, colours, shapes, patterns, interesting views, places, and tiny details –

all of these seemingly small things are actually a huge

gift.

Taken on a Canon Powershot

by a 9 year old photographer.

44 NZPhotographer

IMPROVING FOCUS AND CONCENTRATION

Giving a camera to your kids is not only great for

improving their concentration and focus but also

boosts their mental well being. It is no secret that

photography is associated with meditation and

mindfulness as are many other art forms.

As an adult, you yourself know that photography

motivates you to go outside and explore the real

world beyond tablets and computers. While taking a

photograph, be it on your phone or with a DSLR, you

might find yourself in a state of meditation even if it

wasn't intentional and lasted a few minutes. Being

able to focus and concentrate on something with

the end goal in mind of achieving (or capturing)

something interesting, meaningful, and beautiful

can help our kids perform better throughout school,

college, university, and throughout their adult life.
---
September 2019 45
---
Aside from focus and concentration, photography

non-intrusively allows children to learn a lot about

other disciplines. Photographing flowers? They will

inevitably learn about the different plants, their

blooming and growing behavior and the insects and

wildlife that surround those flowers. Photographing

animals and pets? They will soon become a pro in

knowing how they behave and how to take the best

shot.

DEVELOPING SELF-EXPRESSION

Last but not least, photography help kids express

themselves in ways they can't do otherwise. Notice

how the camera becomes the window into their

minds and souls and consequently helps you connect

more closely with them throughout their life.

If I were involved in developing the modules for

schools and educational institutions I would make

photography mandatory from the very first year

because no matter what language your kids speak,

how many friends they have, whether they're part

of a large or small family, or if they have any health

or developmental issues, capturing objects and

moments around them will help showcase their inner

world. It can connect them with others, kick start

a passion for creative writing (if they are asked to

write a short paragraph to go with their photo) and

most importantly it helps them share their journey so

they know they are not alone; being seen, heard,

understood, and appreciated.

HOW TO INTRODUCE PHOTOGRAPHY TO

YOUR KIDS

Make it Enjoyable and Exciting

First of all, your child must find photography to be an

enjoyable and exciting exercise – Don't push them

into taking photos! The best way to start is to let them

use your camera or your phone (with one swipe most

smartphones now allow the use of the camera without

unlocking the phone itself) and just see what they do.

It doesn't matter what they photograph, what matters

at the very first stage is the process itself. At the very

early stage they will probably start with self-exploration

and will take photos of themselves, hands, feet, smiles,

cheeky eyes, then they will switch to taking photos

of family members and friends. From there they are

likely to progress to capturing their bedroom, toys, and

other surroundings. From the inner world to the outer

world this process is very important, there's no need to

guide it.

SET CHALLENGES

Once your child's interest in photography has gone

beyond the initial capturing process, give them some

easy but exciting challenges in the way of a game

e. g. "Let's find 10 red/orange/blue etc things in the

back yard and photograph them!" Grab your phone

or camera and join in the game yourself!

When they show you what they have captured,

you will gradually get an idea of what it is they like

to photograph – small details? the bigger picture?

flowers? nature? pets? people? This is the point where

you can start helping them develop their own style.

When they are not in the mood to pick up a camera

on their own, ask them to take a photo of something

to help you out. Find an excuse and say "Sweetie,

I can't come and look right now as I'm very busy, can

you please take a photo of it and show me? We can

also show it to Daddy/Nana etc when he/she comes

home too as they'd like to see it I'm sure."

Reward Them

Of course, all efforts must also be rewarded and all

achievements made to feel important to help them

keep their motivation and excitement alive – Don't

allow disappointments to get in the way.

Depending on how excited your kid is about running

around with a camera, find some of their best shots

and print them even if it is a batch of small 5'x7'

photos (many online services offer these for free if you

are subscribed to their mailing list). You can then hang

these photos on the fridge just as you do with their

precious masterpieces created in art class.

A few things to keep in mind…

Having your kids running around with a camera (and

we don't necessarily mean literally running!) doesn't

mean the only career path they can look forward to

is becoming a professional photographer. Not at all.

However, photography allows them to keep an open

mind and sooner rather than later they (and you too)

will realise that what they see is so much more than

what other people around them see! So don't be

afraid that your plan of seeing your child become

a lawyer, doctor, or accountant in the future will be

ruined if you introduce them to photography – it will

only make them more creative in their career.

You don't need to start your kids off with a big or

expensive camera, a small point and shoot can cost

about $100-$150 nowadays and is a great starting

point. However, if a point and shoot is "not enough"

and stopping your kids from taking full creative control

in capturing the world as they see it, don't put off

getting them a second hand DSLR just because you

think that DSLR's aren't play things meant for children –

You might be in the process of nurturing the next Ansel

Adams!

46 NZPhotographer
---
September 2019 47
---
y Richar

Shooting Shar

The importance of proper shooting techniq

MT NGAURUHOE

F11, 1/20s, ISO 100

48 NZPhotographer
---
p Landscapes

ues to capture sharp landscapes images.

d Young

September 2019

49
---
SUMMIT OF MT NGAURUHOE

F8, 1/30s, ISO 100

How important is sharpness? Well, that

depends on the end-use of your image.

If you are only ever going to display your

image at a maximum size of 1200 pixels on

Instagram, Facebook or a website, I would say not

very. If however, you intend to make large scale

prints of an image, sharpness can make or break

the end quality of that print.

As a landscape photographer that often

produces prints as large as 1.2 meters wide,

sharpness in my original files is paramount for

me. I would not consider myself a "pixel peeper"

though and I am not interested in spending all my

time testing the latest sharpness lens at a different

setting (there are websites to use for that!).

Where having the right equipment for the job and

some knowledge of its limitations are important,

I feel that equipment is not the main reason

that people don't get sharp shots. The one thing

I consistently see when teaching on workshops is

bad shooting techniques, and I would say this is

the biggest reason for ending up with soft images.

Let's consider some of the things that can lead to

a soft image and how to minimise these.

EQUIPMENT QUALITY & KNOWLEDGE

I see people blaming the quality of their shots on

the quality of their equipment all the time. Though

gear can make a difference, I feel that this is not

the main reason people don't get sharp images.

If used correctly any camera setup can capture a

reasonably sharp image.

Camera – I think we have all been sold on the

"megapixel dream" by camera (& phone)

manufacturers. My current phone even has a 40MP

sensor in it! In reality, this whole megapixel race has

become a joke, as the files from my 40MP phone

would never withstand the enlargement needed to

print to the size that I do from my "real" camera due

to other factors like the quality of these pixels and the

optics in front of them.

For my landscape photography, I shoot with a

Nikon D850. One of the reasons I use this camera

is its resolution of 45MP which helps me to make

large scale prints of my images. However, most

photographers do not print to this scale, if they even

print their work at all, so do not require this sort of

file size. Anything over 14MP produces an image of

about the quality of traditional 35mm film. So for most

photographers, if left uncropped this would be more

50 NZPhotographer
---
SUNSET OVER MT NGAURUHOE

F11, 1/6s, ISO 64

than enough for everything they would ever use it for,

including A3+ prints. The number of megapixels your

camera has, only impacts sharpness if you intend to

make huge prints of your photographs.

Lens – I think lens quality is a more important factor

to consider when it comes to image sharpness. A

camera body only records light; it is the lens that

controls the quality (sharpness) of this light and

focuses it onto the sensor. There is no point owning

a camera with a 45MP sensor and using a cheap

lens that is only capable of 12MP sharpness, and

some low-quality lenses would not even be capable

of rendering this sharpness. Even the very best fullframe

lenses available today are still not capable of

resolving 45MP in terms of sharpness, but some do a

much better job than others.

The DXOMARK website is an excellent resource for

lens tests and saves the work of testing them yourself.

Coming back to my earlier point about the 40MP

phone and why this is a bit of a joke, I doubt the tiny

optics on its lens would be able to resolve much of this

resolution sharply.

Sharpest Aperture / Diffraction – All lenses have a

sweet spot, and you need to test your lens or use a

website like DXOMARK to find out this information.

This will differ from lens to lens. As a go to for most

full-frame camera lenses, your sharpest aperture

will be around f8, with f11 only having very minimal

diffraction. With each aperture narrower than this

(e. g. f16, f22) you will lose noticeable sharpness in your

image due to diffraction.

CORRECT FOCUSING TECHNIQUES

Focusing in the right place and obtaining enough

depth of field to get both your foreground and

background in sharp focus is critical for most

landscape images. A slightly out of focus image

on your camera will be extremely noticeable when

viewed at 1:1 zoom later on your computer and even

more in a large scale print.

AF Point – People tend to rely on their camera's Auto

AF point selection mode. While using AF is not a

problem we need to take control of the AF system

and where it focuses; by using the Auto AF point

selection, the camera would focus on the closest

subject it can find, and this would likely leave the

background out of focus. By manually selecting our

AF point, we can still utilise the AF system but decide

where we wish the camera to focus within the image

to obtain the best depth of field.

September 2019

51
---
EVENING LIGHT ON MT RUAPEHU

F11, 30s, ISO 64

Hyperfocal Distance – If we were to focus on the

closest subject in the landscape (e. g. the rock at our

feet), then the background (e. g. the distant mountain

peaks) would be out of focus. Likewise, if we were to

focus on the distant mountain peaks, the rocks in the

foreground would be out of focus. Therefore we need

to focus on a midpoint within the landscape to obtain

focus throughout; this point is called the hyperfocal

distance. Hyperfocal distance is a complicated

subject, as it depends on many factors. A good rule

of thumb is to focus at a third of the way through the

landscape.

Depth of Field – Depth of field extends in both

directions from our focus point, but not in equal

amounts. It is also dependent on lots of factors such

as our choice of lens focal length and distance to our

closest subject, but we also need to select the correct

aperture to obtain enough depth of field. When

shooting landscape photographs, this will generally

lead us to use a narrow aperture (e. g. from f11 to f22)

to get everything in sharp focus, but we also need

to be mindful of diffraction when using these narrow

apertures.

CAMERA MOVEMENT

Tripod – When shooting landscapes, you often end

up using longer shutter speeds, which require the use

of a tripod. Tripods also have the added benefit of

allowing us to slow down to master the composition,

along with your focus and depth of field. A sturdy

tripod is a must for landscape photography, all too

often I see people with a lightweight flimsy tripod

which cannot hold the weight of the camera on a fine

day, let alone when shooting outside in the elements

like a strong wind!

Cable Release – There is little point using a tripod then

wobbling the camera by pressing the shutter button,

which happens on even the sturdiest of tripods. So

make sure you use a cable release to allow you to

take your hands away from the camera, preventing

you from shaking it when you press the shutter button.

Mirror Lock-Up – On high-end full-frame DSLRs the

vibrations caused by the mirror slap can be enough

to cause a slight blur to your image. To prevent

this, shoot with the "mirror up" feature. Likewise, the

movement of the mechanical shutter curtain on DSLR

and Mirrorless cameras can also cause vibration.

Some cameras now feature an "electronic first curtain

shutter" to also eliminate this.

Vibration Reduction – A lot of lenses or camera bodies

feature a "Vibration Reduction" system (also called

Image Stabilisation, Optical Stabilizer, Vibration

Compensation), which is designed to reduce vibration

for handheld shooting. Vibration Reduction should

be turned off when on a tripod as it leads to softer

images due to the movement of the lens elements or

the camera sensor.

RICHARD YOUNG IS A FULL-TIME LANDSCAPE PHOTOGRAPHER BASED IN WELLINGTON AND

TEACHES ON WORKSHOPS THROUGHOUT NEW ZEALAND WITH NEW ZEALAND PHOTOGRAPHY

WORKSHOPS
---
Discover a

deeper black

THE NEW EPSON SURECOLOR SC-P800 A2+

• Unprecedented black density for superior black & white and deeper colour

• Greater productivity with high-capacity cartridges (80mls)

• Optional roll support for panoramic prints – up to 1.1m in length

• Professional control – downloadable Epson Print Layout Software

• Multimedia support

• High Speed – Produce an A3+ print in only 147 seconds

• WiFi Direct and Ethernet connectivity

• Large colour 2.7 inch touch screen

Learn more,

visit www.epson.co.nz/P800

Photo© Darran Leal www.worldphotoadventures.com.au
---
How To Critique Your Own Photos

by Samuel Ogunlaja
---
I'm a Conceptual Portrait and Commercial

Photographer with a passion for art and

everything beautiful. I started photography

in 2011 and experimented in various genres of

photography before finding my niche.

Alongside some other reviewers, you'll have

seen my name on the Expert Critique columns

here in the magazine as well as on the Excio

blog photo critiques – Perhaps I've critiqued

one of your photos?

I want to take the time to give you some

guidance and remind you of the importance of

being able to critique your own photos. All of

the tips below are based on my own personal

experience and are what I use when critiquing

my own work, as well as photos from the Excio

and NZP community, I hope you will find it

useful.

THE FIRST PERSON TO CRITIQUE YOUR

WORK AS A PHOTOGRAPHER SHOULD BE

YOU.

Always remember this. It is vitally important

that you have reviewed and know the exact

narrative of your work before allowing another

person to step in and offer their thoughts

because when you allow another artist to

critique your work first, you run the risk of

devaluing it.

To properly critique your own work, you must

first cultivate the right attitude.

BE UNFORGIVING

Remove every trace of emotion you have

about your photograph. Remember that the

people who will be seeing your work will not see

the stress, effort, time, and trouble it cost you to

create the photo and will not be judging you

from an emotional standpoint. Thus, you have

to be firm and unforgiving about this process

to ensure your judgment is based on deductive

points and not on emotions.

BE OBJECTIVE

You must stick to the exact reason of why you

took the photo in the first place. It is highly

possible that despite the effort you put into

the process of taking the photo, the end result

is not how you envisioned it. You have to be

able to admit to yourself when the result didn't

work out quite right or fit your objective so that

you can try to plan better for the next time;

highlight errors and learn from them. Don't try

to console yourself by saying you have a great

photo, 'a second best' or a 'happy accident' if

it does not fit your original objective.

DELETE THE PHOTOS THAT DIDN'T WORK

Delete the photos that didn't turn out great no

matter how much time and effort you invested

in getting them. Keeping poor quality shots is

a phase you must outgrow. It is probable that

while trying to get that perfect photo, you took

several photos in the process; this leaves you to

choose the best from a large number of similar

photos. You have to be bold enough to delete

all the photos that didn't work out. The reason

is so that you don't become bias and lose

the objective by considering too many similar

options.

Now that you have cultivated the right attitude,

let us dive into the things to look out for when

doing a personal photo critique.

THE REASON FOR THE PHOTO

You can also call this "The Why of the Photo".

Ask yourself Why did I take this photo? Am I

expressing the things conceived before

creating the photo? Is there any major element

driving the message?

I realize there are some photographers who

capture random moments and tend not to see

themselves as story teller but in opposition to

that, I say "every photographer is a narrator".

There is always something that interests

the photographer in a scene that spurs the

shutter release; a memory you want to keep

or a fascinating story you want others to

see. The message of the photo determines

every other thing you see in and about the

photo and answers the questions of What is

the best angle? What artistic element should

be prominent in the photo? How much post

production work should be done? and more.

The message, the 'why' should be the driving

force for decision making in the whole process

of capturing and showcasing an image and

should take most of the photographer's

attention.

TECHNICAL JUDGMENT

This term encompasses everything that has to

do with the technicality of creating an image

and includes exposure (lightning), composition,

visual weight, depth of field, distance (focal

length), the angle, stability, and so on. Let's talk

about a few of these things in more detail…

September 2019

55
---
EXPOSURE

This has to be in accordance with the message of the

photo; it should compliment your imagination and

intention for the shoot. Ask yourself Did I adopt the best

exposure or lighting for this photo? Does the lighting or

exposure compliment the context of this photo?

For example, in the image below, the idea of the photo

shoot was to lay emphasis on the model's skin and

body structure so I needed to use a moderately harsh

light to create specular highlights on the model's dark

skin.

apportioning enough space to the main elements in

the picture, it is about allowing the viewer to capture

the most important element in the picture at a glance.

This can be done through the use of colour, (using a

particular colour for that element to ensure it catches

attention), focusing, lightning etc. It can also be

achieved by intensifying the artistic element that drives

the message for example, the texture.

An example of visual weight misappropriation is an

image that has the subject in front while putting the

complementary element at the back but adjusting

the focus so that that the element in the background

is sharper than the main subject. The element that

catches the most attention in the picture has the most

visual weight so make sure you know where the visual

weight is, and should be, if there's a difference.

COMPOSITION

This has to do with how the elements in the photo are

arranged in order of importance or in sequence. There

could be as many as 5 elements or more. Ask yourself

the questions; Did I properly arrange the elements?

Did I make the most important element conspicuous?

For example, in a photo that has elements that look

similar on both sides, using a symmetry composition

(so that when split into two halves the elements on

both sides are similar) can be very accurate like in the

picture below.

VISUAL WEIGHT

Another thing that falls under technical judgment is the

visual weight of the photo which is often overlooked

and underrated. Visual weight is about more than

SHARPNESS AND DEPTH OF FIELD

It is important to review if you have used the right depth

of field for the image. For instance, in a landscape

photo where there are mountains and several other

natural elements, if the photo is taken so that just a few

elements are sharp versus having every element sharp

by using a wide depth of field, it would defeat the

purpose of that particular photo. On the other hand,

newborn photography essentially requires shallow

depth of field to be used so as to express the tender

nature of the subject.

56 NZPhotographer
---
September 2019 57
---
ARTISTIC JUDGMENT

What element of art is used to drive the message

in the picture? There are basically 7 elements: line,

shape, form, colour, space, texture and value. To stick

to the objective of this article, I will not go too deep

discussing these elements since art is so subjective but

we can discuss a little.

Each of the elements is unique in its own way and is

used to drive different kinds of messages. The more

of these elements you are able to incorporate, the

better your photo will be. However, not every good

picture has all of these elements in it, sometimes you

just need one dominant element.

LINES

The use of lines (leading lines) is important when you

take a picture with your subject in the far distance. An

example of using lines is a trail or road leading towards

your subject. You could take the picture from where you

are standing tracing the line until its end point to help

the viewer follow the line towards the main subject whilst

helping them see everything around that same subject.

SHAPES

Shapes work well with a two-dimensional and/or

enclosed area. If the picture you are taking is more shape

oriented you might want to incorporate a number of

shapes into the picture to portray the message well. Or

you may even introduce shapes into the picture just to

make your work more artistic. For example, in the picture

on the previous page, the model was asked to pose

in a certain way that expresses various shapes just to

incorporate that element in the work.

FORM

This has to do with the shape of a particular object

along its volume or perceived volume. It's about

creating an image from a perspective where you can

give the viewer a sense of size. For instance, a picture

of a building taken from the front allows people to

see the rectangular shape but it can also be taken

from a 45% side angle to give a 3D overview with the

viewer able to see the front and side to get a sense of

volume to show it isn't just a flat building.

COLOUR

Another popular element is the use of striking colours

to drive home your message. However, in instances

where the scene is overflowing with many colours,

such as at a carnival, you have to concentrate on

a particular colour scheme to get the right result.

For example, at a carnival, you can effectively use

complementary colours from a scheme to single out

your focus.

SPACE

This deals with how you are able to incorporate

space so that the elements are not choked up. More

often than not, a picture may not incorporate this

element as it depends on the subject and the scene

being shot. For instance, thinking of a carnival, space

might not be that evident owing to the nature of

the activities. However, the more you are able to

incorporate space, the better your picture looks,

especially when you need to single out a particular

activity in the midst of all that is going on.

TEXTURE

This helps in creating a perception of how something

feels or looks. For instance, a picture of a table with a

rough surface and one with a smooth surface will give

you different feelings. One might give the sense of

luxury and the other of durability.

VALUE

This is the degree of lightness or darkness in a

particular image. It deals with the relationship

between highlights and shadows. Value helps to

express a form or create an illusion of it in a picture.

For example, if you take a photo of a white ball

against a white background; if the picture is overly

exposed, we may not be able to differentiate the ball

and the background but if the photo is moderately

exposed, there will be some level of shadow

(darkness) in the picture which will help to differentiate

between the ball and the background.

NARRATIVE JUDGMENT

After considering all the points above so that you are

able to interpret your photo well yourself, you need to

consider if the layman (the person viewing your work)

will be able to recognise and see the same things.

This determines how much post production work is

necessary.

Consider how much post production work the

photo needs. Ask yourself if the exposure should

be increased or reduced? Are there distractions to

remove? Does it need to cropping?

It is important to note that post production is usually

one of the last things to consider and saying "I will

fix things in Photoshop" is the statement of a poor

photographer. Know that you are a photographer

before you are an editor and post production is used

to enhance a photo, not recreate it.

CONCLUSION

After you have considered all of these points

individually you can put your picture out into the

world for others to critique and give feedback on.

Remember that no one can narrate your work as best

as you can and you need to gain the confidence

and ability to defend your work regardless of people's

opinion. Their feedback should only strive to make you

a better photographer because at the end of it the

day, everything is art.
---
THE GALLERY IS PROUDLY SUPPORTED BY

PORTFOLIO

BEST READERS' SUBMISSIONS THIS MONTH

September 2019

59
---
DEVOTION

F6.3, 1/500s, ISO320

ASSAM, INDIA

The devotion of Indian Sadhus at

Kamkya Temple in Gwahati.

Amol Nakve

60 NZPhotographer
---
September 2019 61
---
62 NZPhotographer
---
LIGHTHOUSE

F22, 1/60s, ISO64, 29mm

I went exploring from the Wairarapa, visiting Castlepoint and

Riversdale Beach for the first time. The walk up to the lighthouse was

comfortable and easy and the view from the top was worth it.

Ann Kilpatrick

September 2019

63
---
64 NZPhotographer
---
CASTLEPOINT VIEW

F8, 1/250s, ISO64

A nice long weekend in the Wairarapa provided

the opportunity to visit some new places and I got this

Castlepoint pano landscape - a few photos stitched together.

Ann Kilpatrick

September 2019

65
---
FREE-WHEELIN'

F8, 1/3s, ISO100

I had an idea for a photo that showed these toys in action, but I had to figure out how to

capture it. After trying many different ways which weren't successful, I tried taking two

photos, one sharp and one panning the camera while the photo was being taken. I then

merged parts of both of these photos to create the image that I was imagining. This was

definitely the result of experimenting and learning!

Tanya Rowe

66 NZPhotographer
---
September 2019 67
---
68 NZPhotographer
---
CAMELS AT CABLE BAY

F8, 1/200s, ISO400, 32mm

BROOME, AUSTRALIA

We had been 4 wheel driving in the outback around the Broome area. On our return back

to Broome we drove down on to the beach to watch the sunset over the sea along with

100's of other vehicles and two trains of camels. I had to run alongside and catch up in

order to capture the sun behind the train with the long shadows.

Carole Garside

September 2019

69
---
70 NZPhotographer
---
PAPAMOA DAWN

F13, 1/6s, ISO800

Papamoa in the Bay of Plenty is my local beach.

Forever changing, it's always a lucky dip as to what

one will find. This shot was a learning in how far I could

push the ISO instead of the go to graduated filter.

Graham Jones

September 2019

71
---
72 NZPhotographer
---
SYDNEY VIVID LIGHT FESTIVAL

F5, 0.6s, ISO1250

The Vivid Light Festival in Sydney was way out of my comfort

zone due to shooting at night. This was a learning on ISO settings

and how far I could push my Nikon D750.

Graham Jones

September 2019

73
---
74 NZPhotographer
---
WHIRITOA DAWN

A mid-winter journey to Whiritoa on the Coromandel. The thoughts

behind the composition were to capture the feeling of desolation

and tranquillity which were with me just prior to the sunrise.

Graham Jones

September 2019

75
---
76 NZPhotographer
---
FOREST OF TREES

I had seen a few double exposure images but I had not tried this technique myself, until

now. My previous camera didn't have a double exposure setting but my current one

does, so I played around for a day or two and here is the result!

Jan Abernethy

September 2019 77
---
78 NZPhotographer
---
MAGIC AT THE LAKE

I took my crystal ball to the lake to see if I

could create a double exposure with it. I

could, this is one of my favourites!

Jan Abernethy

September 2019 79
---
80 NZPhotographer
---
WINTER TREES

This is one of my first double exposures of

a silver birch tree against a corrugated

fence. I like the abstract form and colours.

Jan Abernethy

September 2019 81
---
82 NZPhotographer
---
THE TOPAZ RING

F25, 1/500s, ISO51200

I was experimenting for my digital photography course

for the subject of product photography, and chose this

piece of jewellery as my subject. I placed it in a black

box on top of a mirror board and lit it with a small study

lamp. In Photoshop, I upped the contrast and the black

in the image and was left with this.

Kelly Vivian

September 2019

83
---
84 NZPhotographer
---
THE DOGS SILHOUETTE

F14, 1/1600s, ISO200, 30mm

I was out on Auckland's Karekare Beach with my little Maltese dog,

Pebbles taking photos of the beach. Late on in the shoot, I was lying

on the sand to get the sunset when Pebbles kept getting in my shot so

I took some images of her back-lit by the sunset. I didn't realise what I

had captured until I was downloading the images when I got home.

Kelly Vivian

September 2019 85
---
DAWN OVER THE BAY

F8, 6s, ISO 200

ORIENTAL BAY, WELLINGTON

I've been trying to build my skill of long exposure photography since a workshop I did last year.

On this occasion I wanted to try and combine the sunrise with the city lights, the light trails from

the cars were a bonus! There were showers as I was setting up my tripod and I had to shield the

camera to protect it from the strong wind, but the fast moving clouds and choppy seas were

perfect for a long exposure shot and I was rewarded for the early start.

Laura Pascall

86 NZPhotographer
---
September 2019 87
---
88 NZPhotographer
---
SOUTHERLY STORM

F16, 25s, ISO100

ISLAND BAY, WELLINGTON

I've been trying to build my skills with long exposures. A strong southerly

wind had got up while I was out for a walk with my camera but it created

good movement in the clouds and sea for me to practice. I set up the

tripod and took some shots with my ND filter on, the wind whipping the

sand up around me. This was the last shot I got before I had to abandon

the beach due to the rain setting in.

Laura Pascall

September 2019

89
---
90 NZPhotographer
---
HANDBAG HEAVEN

F8, 1/200s, ISO400, 32mm

A stall at St Georges Market in Belfast. The

choice was huge, the colors and designs

oustanding, and I can't resist a photo.

Mark Davey

September 2019

91
---
BENMORE SUNSET

F11, 1/125s, ISO200

After spending several weeks closely watching weather websites, I finally saw my chance

to capture a sunset at Lake Benmore. I haven't seen so many photos of this lake and despite

only living an hour away I had never tried to photograph it myself. I arrived a couple of hours

before sunset to figure out a composition from the lookout point, I was set up for a wide angle

shot overlooking the lake but as the sun started to set I noticed a more intimate shot further in

the distance.

Matthew Davey

92 NZPhotographer
---
ONE LIGHT

F5.6, 1/6s, ISO3200, 55mm

I generally focus on landscape photos

but I've been wanting to develop

my skills with urban/architecture

photography too. I was out for sunrise

on a cold winter morning and as I was

walking to location I noticed this building

and the one light that was different - It

seemed a good opportunity to try some

different shots out.

Laura Pascall

September 2019

93
---
94 NZPhotographer
---
FINAL PITCH

F8, 1/800s, ISO125

A view from my belay stance 30 metres away from the top of Mount

Brewster (2,515m) in Mt Aspiring National Park. My climbing buddy Piotr,

now safe on top, savoured his achievement before building an anchor

to belay me up to join him. With this perspective I wanted to convey the

feeling of being up high. The image is actually 3 stitched. Being very

limited to my seated spot I used 3 portrait shots to catch myself as well

as the scene ahead. My camera was a Lumix TZ220 - very compact -

far better for mountaineering than a DSLR if you want to actually take

any pictures in exposed situations like this.

Peter Laurenson

September 2019

95
---
96 NZPhotographer
---
TROUBLED WATERS

F8, 1/40s, ISO100

Dawn view south east to Mt Taranaki, across the icy wind churned surface of the Pouakai Track tarn, New

Zealand. This tarn is normally shot when the weather is very calm and the mountain is a mirror image

reflected in it. But the tarn itself has something to offer as well I think. These days it has become difficult to

enjoy the seclusion I did on this morning. International tourism has well and truly found this place, changing it

from what those visiting are looking for. This image is a stitch of 3 landscape shots, taken on my Nikon D750,

Camera Raw, spot meter, manual settings.

Peter Laurenson

September 2019

97
---
98 NZPhotographer
---
SHADOWS AND LIGHT

F8, 1/160s, ISO125

A dawn view of the top 600 metres of Mt Taranaki, taken from the southern rim of Fantham's

Peak. Syme Hut sits to the left of the summit cone, which has projected a shadow out to the

far left. Mounts Tongariro, Ngauruhoe and Ruapehu are silhouetted on the right skyline. It

was my fifth trip up this route and the best light so far. This image is a stitch of 8 portrait shots

taken on my Lumix TZ 220, shot in Camera Raw, spot meter, manual settings.

Peter Laurensony

September 2019

99
---
100 NZPhotographer
---
MOODY SUNSET

F7, 1/30s, ISO450

BUFFALO BEACH, WHITIANGA

The clouds out East often look quite moody as the sun sets in

the West so I experimented with zooming in on the 'moodier'

clouds. The resulting image accentuated the mood of the

clouds with the last of the days sun shining on the houses

on the ridge top adding another dimension.

Peter Maiden

September 2019101
---
102 NZPhotographer
---
CAPE GOOSEBERRIES

F7, 3.1s, ISO200

Experimenting with high key and over exposure, I

photographed this inside on white paper with window light

using a macro lens with 2.33/100 exposure bias. I further

increased the exposure in Lightroom using +1.10 with

blacks increased to 100 and subtle texture added.

Shona Jaray

September 2019103
---
"KNOW THE RULES

WELL, SO YOU

CAN BREAK THEM

EFFECTIVELY."

DALAI LAMA XIV

104 NZPhotographer