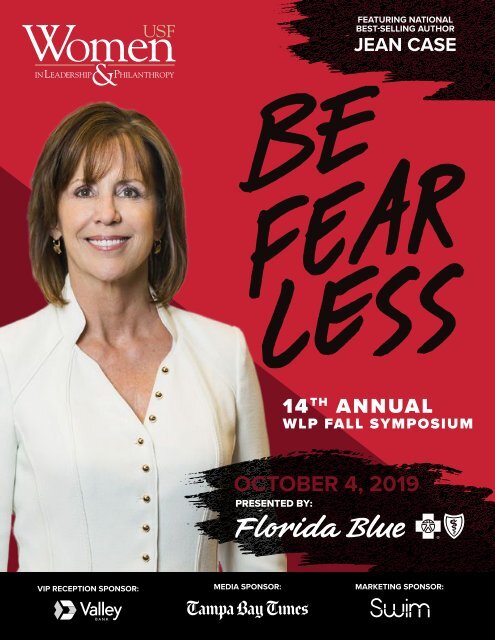 14th Annual WLP Fall Symposium Program
You also want an ePaper? Increase the reach of your titles
YUMPU automatically turns print PDFs into web optimized ePapers that Google loves.
FEATURING NATIONAL

BEST-SELLING AUTHOR

JEAN CASE

OCTOBER 4, 2019

VIP RECEPTION SPONSOR: MEDIA SPONSOR: MARKETING SPONSOR:
---
PAGE 2

ABOUT WOMEN IN LEADERSHIP & PHILANTROPY

Dear Members, Partners, and Friends,

Founded in 2005 by a small group of individuals and Tampa Bay

area foundations and corporations, USF Women in Leadership

& Philanthropy (WLP) advanced a collective vision to create the

first women's philanthropic organization in the Tampa Bay region

focused on developing the intellectual and leadership potential

of women through the promotion of mentorship, philanthropy,

community engagement and scholarly excellence. 14 years later,

WLP – now numbering more than 350 individual and 24 corporate

members strong – has helped stimulate numerous transformational

gifts to benefit USF; has directly raised well over $6 million to

support our mission; and has invested more than $1.5 million in

grants, scholarships, and programmatic funding to assist female

students, faculty members, and women in the Tampa Bay region.

These achievements are a clear sign that USF WLP is a trailblazer

in advancing women's leadership and philanthropy in our

communities and is fulfilling the vision of our founding members.

Since our founding, WLP has awarded more than $1 million in

scholarships, has devoted countless mentoring hours to over

800 students, and has provided transformational grants to 35

female faculty members through the Dr. Kathleen Moore Faculty

Excellence Award program. WLP presents a wide variety of

educational and leadership development programs annually at

all three USF campuses and in the surrounding communities, and

has formed formal mentoring partnerships with numerous campus

colleges, units, and other entities.

In 2016, in partnership with Valley Bank, WLP formed the WISE

(Women Who Ignite Student Engagement) Advisory Council.

Together with the WLP Mentoring and Program Committees and

with the WLP/WISE Advisory Council, we developed and launched

USF's first student-led women's leadership symposium in spring

2017. Modeled after the "big" WLP Fall Symposium you are

experiencing today, successful WISE Student Symposiums have

been held annually, and we are planning for the 4th Annual WISE

Student Symposium in March 2020.

Data points are impressive, but student voices best express

the true impact of WLP. As one scholar recently shared:

"When I told my family about this gift, we started to jump

for joy because of the financial relief this scholarship would

provide. This scholarship from WLP has given me the rare

gift of time – time to engage in actively pursuing my studies,

and time (and opportunity) to grow and develop through

participating in WLP's amazing mentoring and leadership

development programming. I appreciate the generosity of

the members of WLP and the impact they are having on my

life, and I know that I will not hesitate to give in the future."

The continued success of WLP is the result of the collective

generosity of all of our members, who lend their time, talent,

and treasure to make WLP the impactful organization that it

has become. We thank our Founding, Lifetime, Corporate,

and Individual members for their engagement and continued

leadership and support.

To learn more about how

you can make a difference

visit USF.EDU/WLP.

LAGRETTA LENKER, '92

Chair, USF Women in Leadership & Philanthropy

INSTAGRA FACEBOOK TWITTER @USF_WLP #USFWLP • 14 TH

ANNUAL WLP FALL SYMPOSIUM
---
PAGE 3

SPECIAL SPECIAL THANKS TO OUR OUR

2019 SYMPOSIUM SPONSORS

2019 SYMPOSIUM SPONSORS

PRESENTED BY

VIP RECEPTION SPONSOR MARKETING SPONSOR MEDIA SPONSOR

NETWORKING

BREAKFAST SPONSOR

STUDENT

RECEPTION SPONSOR

George and Jane Morgan

CONCURRENT SESSIONS SPONSORS

BENEFACTOR SPONSORS

USF WOMEN IN LEADERSHIP & PHILANTHROPY • USF.EDU/WLP
---
PAGE 4

SCHEDULE AT A GLANCE

SESSIONS

8:00 - 8:45 A.M.

Networking Breakfast

GALLERIA

9:00 - 10:00 A.M.

Let Urgency Conquer Fear

PALMA CEIA

Make a Big Bet

UNIVERSITY CLUB

Crash and Learn

ESPLANADE

10:30 - 11:30 A.M.

Fearless Leadership

PALMA CEIA

Be Bold, Take Risks

UNIVERSITY CLUB

Fearless Philanthropy

ESPLANADE

12:00 - 1:30 P.M.

Luncheon with Jean Case

BAYSHORE BALLROOM

1:45 - 2:30 P.M.

VIP Reception (Invitation Only)

PALMA CEIA

2:45 - 3:30

Student Reception

ESPLANADE

INSTAGRA FACEBOOK TWITTER @USF_WLP #USFWLP • 14 TH

ANNUAL WLP FALL SYMPOSIUM
---
II

ESPLANADE

IV

EXIT

EXIT

CONVENTION

REGISTRATION DESK

V

CORRIDOR

VI

I

I

VII

I

Freight Elevator

to Street

GALLERIA B

II

BAYSHORE BALLROOM

IV

III

ADMINI STRATION OFFICES

SERVICE

PALMA CEIA BALLROOM

GALLERIA A

Networking Breakfast

SERVICE

SERVICE

YBOR

II

III

CHANNELSIDE 2

ESPLANADE FOYER

ESPLANADE SUITE

III

IV

EXIT

SERVICE SERVICE

I

HYDE

PARK CHANNELSIDE 1

ATRIUM

III

II

PAGE 5

GARRISON

Bayshore Ballroom

Esplanade

Galleria

Palma Ceia

University Club*

Networking Breakfast

To the

University Club

Escalator to 1st Floor

211 Restaurant &

Guest Registration

*The University Club is located across the walkway in One Tampa City Center on the 38 th floor

USF WOMEN IN LEADERSHIP & PHILANTHROPY • USF.EDU/WLP
---
PAGE 6

J

ean Case, the Chairman of the National Geographic Society and CEO of the

Case Foundation, is a philanthropist, investor and internet and impact investing

pioneer who advocates for the importance of embracing a more fearless

approach to innovate and bring about transformational breakthroughs. Her career in the

private sector spanned nearly two decades before co-founding the Case Foundation

in 1997.

A passionate believer in all things digital and the amazing potential of technology to change

the world for the better, Jean has been profiled in a wide number of publications including the

New York Times, CNN and CNBC for her work as a leader in the impact investing movement

and focuses her efforts and those of the organizations she leads around many of the same

entrepreneurial approaches she cultivated through her extensive private sector career. Under

her leadership, the Case Foundation has been recognized for its innovative efforts to address

significant social challenges, harnessing the best impulses of entrepreneurship, innovation,

technology and collaboration to drive exponential impact. Out of this work, the Case Foundation

has identified five principles that individuals and organizations can take to Be Fearless

and bring about transformational change, and Jean has spoken at hundreds of convenings

inspiring leaders worldwide to incorporate the principles into their work. Jean is author of

the best-selling book, Be Fearless: 5 Principles for a Life of Breakthroughs and Purpose,

on the five Be Fearless principles with stories of those who embody the principles.

Before starting the Case Foundation, Jean was a senior executive at America Online, Inc.

where she directed the marketing and branding that helped establish AOL as a household

utility. Before joining AOL, she held strategic marketing positions at GE's Information Services

Division and at The Source, the nation's first online service.

In addition, Jean currently serves as the Chairman of the Board of National Geographic

Partners and on the boards of Accelerate Brain Cancer Cure (ABC2) and the White House

Historical Association. She also sits on the advisory boards of the Brain Trust Accelerator

Fund, the Stanford Center on Philanthropy and Civil Society, Georgetown University's

Beeck Center for Social Impact & Innovation, and the George W. Bush Presidential Library

Center's Women's Initiative Policy Advisory Council.

Jean was an advisor to the U.S. National Advisory Board to the Social Impact Investing Task

Force established by the G8 and served in two appointed roles leading strategic public-private

efforts, including the President's Council on Service and Civic Participation, to which she was

appointed as Chair by President George W. Bush.

National Best-selling Author

She was elected to the American Academy of Arts and Sciences in 2016 and has received

honorary degrees from Indiana University and George Mason University.

Finally, Jean and her husband Steve joined The Giving Pledge and publicly reaffirmed their

commitment to give away the majority of their wealth to fund worthy charitable causes.

MEET OUR TEAM USF WOMEN IN LEADERSHIP & PHILANTHROPY

Jessica Brasseur '17

Staff Assistant

Kate Evans

Assistant Director

India Witte

Executive Director

Danielle Cohen-L'Altrella '15

Advancement Administrator

Katherine Lesser '16

Student Assistant

Those interested in learning more about membership in WLP should contact our team

at (813) 974-1810 or via email at wlp@usf.edu.

INSTAGRA FACEBOOK TWITTER @USF_WLP #USFWLP • 14 TH

ANNUAL WLP FALL SYMPOSIUM
---
PAGE 7

2019 LUNCHEON PROGRAM

11:30 A.M.

Luncheon Seating Begins

12:00 P.M.

Welcome

LAGRETTA LENKER, PHD '92

WLP Chair

Introductory Comments

STEVEN C. CURRALL, PHD

USF President

WLP Community Leadership Award

LINDA SIMMONS '75

WLP Lifetime Achievement Award

DORETHA EDGECOMB '73

WLP Impact

INDIA WITTE

WLP Executive Director

Personal Testimony

KARLENE WILLIAMS

WLP Scholar

Speaker Introduction

SHAWN TROTTER-MITCHELL

Vice President of Network Strategy

and Operations, Florida Blue

12:45 - 1:30 P.M.

Keynote Speaker

JEAN CASE

"Be Fearless"

Concluding Comments

INDIA WITTE

WLP Executive Director

USF WOMEN IN LEADERSHIP & PHILANTHROPY • USF.EDU/WLP
---
PAGE 8

W L P S C H O L A R S P O T L I G H T

During the 2019-2020 academic year, almost 9,000 students in the USF System applied for scholarships through the

Women in Leadership & Philanthropy scholarship program, and WLP was pleased to provide a record 200 awards to

talented young women throughout the USF System. We invite you to meet a few of these outstanding young scholars.

VALERIA

PEREIRA-MARTINEZ

WLP/Florida Blue Leadership

in Healthcare Scholarship

GRETCHEN

STEWART

Carolyn A. O'Steen

Memorial Scholarship

NAYA

SAYEGH

New American Scholarship

for Women of Excellence

A medical student in the Morsani

College of Medicine's CORE program,

Valeria is a first-generation college

student. She graduated from USF

with dual degrees in public health

and chemistry, with an emphasis in

Biochemistry. As an undergraduate

at USF, Valeria dedicated a great

deal of her free time volunteering for

the BRIDGE Clinic, a student-run free

medical clinic, and working as a tutor

for USF's Center for Migrant Education.

Through these positions, Valeria found

her passion for serving underserved

populations. Her goal is to continue to

serve people throughout her medical

career by supporting clinics that focus

on aiding those with the greatest

needs. She also plans to be involved

in research and academic medicine

throughout her career. In her free

time, Valeria enjoys drawing, painting,

reading, and dancing.

A Doctoral student majoring in

exceptional student education

with a specialization in educational

neuroscience and qualitative research,

Gretchen is passionate about the

workings of the brain. She is interested

in developing innovative programming

in schools for students with unique

learning profiles, such as autism and

other neurologically based conditions.

Her research focus and dissertation

area explores the intersection of brain

science, education and cognition.

Gretchen's interest in this area was

ignited when she became mom to two

boys with autism. Prior to being a parent,

Gretchen was a special education

teacher, school administrator, and

special education state compliance

specialist. Outside of her busy

schedule as a full-time homeschooling

mom and full-time doctoral student at

USF, Gretchen competes in triathlons

and owns a photography business

capturing the first days of life of

newborn babies. Gretchen's goal after

graduation is to open an innovative

neurodevelopmental and teaching

training school in the Tampa area.

A senior biomedical sciences major

with an emphasis in psychology, Naya

transferred to USF from St. Petersburg

College and plans to pursue a career

in dentistry upon graduation. Thanks

to WLP, Naya is one step closer to that

goal. Born and raised in Syria, where

she obtained her elementary and

middle school education, Naya moved

to the United States in 2012 with her

family of five. For the past six years,

she was inspired by the goal of higher

education and made it her mission to

attend college and make her parents

proud, while feeling proud of herself

as well.

INSTAGRA FACEBOOK TWITTER @USF_WLP #USFWLP • 14 TH

ANNUAL WLP FALL SYMPOSIUM
---
PAGE 9

NICOLE

DONLEY

WLP/Citi Women in Technology

Endowed Scholarship

JHULIANNA

VIVAR

WLP Endowed

Scholarship

SOFIA

MORINELLI

WLP First Generation

Scholarship

A sophomore with a concurrent major

in Business Analytics and Information

Systems and Global Business in the

Muma College of Business, Nicole

currently owns her own business as a

web developer and content manager.

She has created eight Wordpress

websites and is currently working on

her ninth. Next semester Nicole will

be studying abroad in Florence, Italy

focusing on international studies in

business. After graduation she hopes

to work at Citi as a business analyst and

later go on to have her own business

once again. Entrepreneurship, hard

work, and balance are very important

to Nicole. In addition to her studies

and managing her own company,

Nicole is a member of Gamma Phi

Beta Panhellenic sorority, a number of

intramural sports, and Catholic Bulls.

A medical student in the USF Morsani

College of Medicine, Jhulianna graduated

from USF as a King O'Neal Scholar (a

perfect GPA) in 2017 with degrees in

biomedical sciences and psychology, and

is now a student in the Morsani College of

Medicine. As an undergraduate, Jhulianna

was an USF Ambassador, vice president

of the Multicultural Greek Council, and

president of Omega Phi Beta. She also

had the honor of receiving a Golden Bull

Award in 2017. During her gap year she

worked as a clinical research coordinator

for the Multiple Sclerosis Division at USF

Neurology. As a member of the busiest

clinical research unit per clinical volume

and revenue in the USF Morsani College

of Medicine, she assisted in the everyday

operations of running over 25 clinical

trials and served as lead coordinator of

seven trials. Jhulianna is excited to enter

medical school and continue to give back

to her community. She plans on becoming

involved with the BRIDGE Clinic at USF

and focus her scholarly concentrations

addressing health disparities. Her goal

is to be able to provide assistance to

underserved groups as a physician and

work to mend the gap in healthcare

quality between different populations.

Sofia is a junior majoring in biomedical

sciences with a minor in public health.

As the daughter of two immigrants,

Sofia always felt the responsibility to

make her parents proud since they

gave up everything to give her a

better life. Sofia's primary goal is to

become an obstetrician/gynecologist.

She decided to pursue a career in

the medical field at an early age, and

has since been preparing for medical

school by obtaining certifications

such as CPR, First Aid, and EKG

(electrocardiogram); serving as a

summer camp nurse and as president

of her high school medical class.

During the summers, Sofia volunteers

at her local hospital and shadows

doctors there. After earning a degree

from USF, Sofia plans to attend

medical school and join Doctors

Without Borders in order to help those

around the world who cannot afford or

don't have access to medical care. In

her free time, Sofia enjoys discovering

restaurants that serve new food trends

and volunteering in the children

ministry at her church.

USF WOMEN IN LEADERSHIP & PHILANTHROPY • USF.EDU/WLP
---
PAGE 10

2019-2020 WLP SCHOLARS

WLP/Ann McKeel Ross

Scholarship in Visual Arts

Libbi Ponce

WLP/Anne Marie Campbell

Scholarship

Elizabeth Yuravich

WLP/Bank of America East Tampa

Scholarship

Tiana Hill

Jasmine Trejo

WLP/Berkman Family First

Generation Scholarship

Ella Bojanic

Brianna Salinas

WLP/Berkman Family Scholarship

Lillie Harris

WLP/Betty Castor Scholarship for

Global Initiatives

Lidija Crnkic

Carine Kambou

WLP/Bob & Liana Fernandez Fox

Endowed Scholarship

Breanna Ciccone

WLP/Carolyn A. O'Steen Memorial

Scholarship

Gretchen Stewart

WLP/Carolyn House Stewart

Endowed Scholarship

Chloe Watkins

WLP/Citi Women in Technology

Endowed Scholarship

Nicole Donley

WLP/CREW Tampa Bay

Scholarship

Sereen Abuemaish

WLP/Deborah Eaves Endowed

Scholarship

Laura Cadenas Sainz

Karissa Hamilton

WLP/Donald & Ruth Anderson

Memorial Scholarship

Kailey Taylor

WLP/Dorothy L. Morgan Endowed

Scholarship in Marine Science

Natalie Sawaya

WLP/Dorothy Warren Burke

Endowed Scholarship

Xenia Sailors

WLP/Dr. Susan MacManus

Undergraduate Research

Scholarship

Dragana Mitric

WLP/Elicia Renee Byrd Endowed

Service Scholarship

Natasha Ram

WLP/Elsie A. Moore Memorial

Scholarship

Taylor Lambert

Jacquelyn Redrup

Mariana Suarez

WLP/Esther Schneid Memorial

Scholarship

Cassidy Hinson

Indira Ranaweera

WLP/Florida Blue Leadership in

Healthcare Scholarship

Valeria Pereira Martinez

WLP/Geraldine Twine Endowed

Scholarship

Ollicia Anderson

WLP/Jeff and Penny Vinik

Endowed Scholarship

Kamila Khasanova

WLP/Jessica Stands with Girls

Endowed Scholarship

Anne Bauer

WLP/Judith Bryan Darsey

Scholarship

Beatrice Buck

WLP/Linda Blume Award

Jocelin Dapheline

Sarah Ford

WLP/Martha Hodge Memorial

Scholarship

Julia Sadoyan

WLP/Nancy Schneid Scholarship

Haley Prudhom

WLP/National Mah Jongg League

Foundation, Inc. Scholarship

Mikayla Hinson

Bianca Velez-Lugo

Brianna Waldrep

WLP/New American Scholarship

for Women of Excellence

Naya Sayegh

WLP/Ouyang Yu Memorial

Scholarship

Whitney Fung

WLP/Pam Iorio Leadership

Scholarship

Cheyenne Robinson

WLP/Philip & Ellen Asherman

Scholarship

Alexandra Chacon

Alexis Esparza

Annalise Giordano

Kaleigh Marquis

Christina Pham

Hannah Pierle

Tia Wilson

WLP/Ruth Earle & Yuko Yongue

First Generation Scholarship

Daniela Farias

Keanna Haynes

WLP/Sharon Greenbaum

Endowed Scholarship

Jessi Broom

WLP/Susan & Richard Leisner

Endowed Scholarship

Lucia Carrero

WLP/Tampa Palms Women's Club

Scholarship

Samantha Stevens

WLP/Triad Foundation & Academy

Prep Center of Tampa Scholarship

Sheriean Carroll

WLP/USF Sarasota-Manatee

Scholarship

Amanda Driscoll

WLP/USF St. Petersburg Endowed

Scholarship

Summer Devlin

WLP/Valerie D. Riddle, MD

Endowed Scholarship

Oliwia Przychodzka

WLP/Valley Bank

Endowed Scholarship

Monica Olender

FACEBOOK TWITTER ##USFWLP • 13 TH ANNUAL WLP FALL SYMPOSIUM
---
PAGE 11

WLP/Vincent Zecchino, MD/Dream Givers

USA Scholarship

Kaitlyn Montes

WLP/Virginia Gregory Endowment in

Entrepreneurship

Yenny Aguila

WLP/Waller-Witte Endowed Scholarship

Odette Rosales

WLP/Wilma Fowler Endowed Scholarship

Rebekka Huneke

WLP/WISE "Students for Students"

Scholarship

Karlene Williams

Women in Leadership & Philanthropy Endowed Scholarship

Ashley Abbondandolo

Jessica Nguyen

Gentry Allen

Jessica Nida

Aleah Ataman

Ana Mary Novo Contreras

Maria Becht

Gabrielle Piloto

Joannie Bewa

Elizabeth Seymour

Dominika Borakiewicz

Jessica Suarez

Frea'Drika Curry

Jhulianna Vivar

Hala Daou

Leenor Dikel

Alexis Garcia

Sara Hostelley

Onyx Imeh

Wainella Isaacs

Sabrina Khalil

WLP First Generation Scholarship

Medjine Abellard

Stephanie Cortes

Arijbatul Abid

Cassandra Degaetano

Marisela Acevedo

Kendal Destin

Ashley Adkins

Tiahana Douglas

Linda Alvarenga

La'Nice Dunbar

Malorie Anglin

Megan Dutan

Maritza Armengol

Shamara Ebanks

Jenny Aslan

Jennifer Fumero

Amanda Atkinson

Sara Gifford

Kiara Avila

Ariana Gil

Maryeli Baez

Susana Gonzalez

Nicole Balbuena

Brianna Greene

Angel Ball

Ariana Guadiamos

Taylor Bell

Rachel Hendel

Madison Belloise

Kayla Heredia

Alexis Belmont

Camryn Honeycutt

Charelaine Betancourt Vega Sophia Hymes

Kayley Boone

Ciara Jackson

Alyssa Brodnax

Melissa James

Niatikqua Brooks

Yvayela Jeudy

A'Yonna Bryan

Shakyra Jones

Kelsey Buell

Urja Kaushik

Jakeema Byrd

Ebony Kelly

Trisha Carman

Taina Laloi

Bryanna Cheney

Destany Legerme

Christina Cherilus

Sydney Leizear-Lanman

Skylar Clements

Romy Lisse

Sara Cooke

Marissa Lloyd-Gage

Sabrina Madrid

Alejandra Maldonado

Emily Martinez

Kathia Matute

Brittany McDaniel

Alyssa McDermott

Alexa McFarland

Nancy Mendez

Sofia Morinelli

Carolina Neyra

Nguyen Nguyen

Vy Hoang Nguyen

Gina Ni

Dragana Nikic

Toneshea Noel

Nevada Norris

Krystal Ordonez

Marilluly Peraza

Stephanie Petit-Charles

Caroline Pierre-Louis

Leyna Pinero

Netzy Preciado

Karin Claire Prins

Alterria Pyles

Jelina Ramos Perez

Alyssa Rees

Esmeralda Reyes

Shelby Rider

Daisha Rigby

Arlene Roberts

Lliliam Rodriguez

Omarianna Rountree

Stacy Saint Paul

Angelica San Juan

Jessica Sands

Monica Santana

Alisa Smith

Brielle Sterlace

Sophia Swearengin

Nia Thomas

Channel Thompson

Janessa Toledo

Akwile Ujagbor

Erika Valdespino

Daniela Vergaray

Leah Vidal

Melissa Villegas

Nicole Viverito

Katelyn Williams

Mykala Williams

Madison Wilson

Kaitlyn Youmans

Makenzie Young

Stephanie Zamudio

Demi Zeper

USF WOMEN IN LEADERSHIP & PHILANTHROPY • USF.EDU/WLP
---
PAGE 12

DR. KATHLEEN M. MOORE FACULTY EXCELLENCE AWARD PROGRAM

2019 RECIPIENT AWARD SPOTLIGHT

DR. DIANA M. HECHAVARRIA

USF Tampa Faculty Excellence Award

Dr. Diana M. Hechavarria is an Associate Professor of entrepreneurship at the University of

South Florida's Muma College of Business. She teaches social and global entrepreneurship,

strategic and technical entrepreneurship and business planning. Her work is published

in journals such as Entrepreneurship Theory & Practice, Journal of Business Ethics, Small

Business Economics, International Journal of Entrepreneurial Behavior & Research, and a

number of international journals. At the broadest level, her research focuses on understanding

the phenomenon of nascent entrepreneurship. This theme links all of her work regardless of its

disciplinary base or approach. As an economic sociologist, she approaches the majority of her

research in entrepreneurship from the viewpoint that venturing is a contextualized economic

and social process. She also investigates strategic processes and aspects of organizational

behavior linked to new firm emergence. Her goal is to offer practical insights for people actually

engaging in the process of venturing, as well as providing evidence for, or against, prominent

theories used in the management domain. She holds a PhD in business administration from

the University of Cincinnati, a master's in liberal studies from Florida International University

and a bachelor's in sociology from University of Florida.

DR. JILL MCCRACKEN

USF St. Petersburg Faculty Award

Dr. Jill McCracken is an Associate Professor of Rhetoric and Gender & Sexuality Studies at

the University of South Florida St. Petersburg and Co-Founder / Co-Director of Sex Workers

Outreach Program (SWOP) Behind Bars, an organization that provides direct support for

incarcerated sex workers and victims of trafficking in US prisons and jails and connects them

to the sex worker rights movement. Having worked with sex workers and victims of trafficking

for over fourteen years, her primary areas of research focus on sex work and trafficking in the

sex industry, women and incarceration, and the impact of sexuality education on marginalized

communities. She recently completed a Fulbright Specialist Project in collaboration with the

New Zealand Prostitutes' Collective to investigate the presence of violence and trafficking in

the sex industry in a country where prostitution is decriminalized. She has conducted trainings

for Substance Abuse and Mental Health Services Administration (SAMHSA)-supported

organizations, public defenders, human trafficking coalitions, and non-profit organizations. Her

work has been recognized through many awards and honors including the USF Outstanding

Faculty Award, a prior Women in Leadership and Philanthropy Faculty Research Award, and

Chancellor's Awards for Excellence in Teaching and Service.

DR. SUNITA LODWIG

USF Sarasota-Manatee Faculty Award

Dr. Sunita Lodwig is an Information Technology (IT) Faculty member in the College of Business

at the University of South Florida Sarasota-Manatee where she has been for the last fourteen

years. Over this period, Dr. Lodwig and her colleagues have worked to develop a baccalaureate

IT Program with a strong Cybersecurity slant from the ground up. Additionally, Dr. Lodwig has

been instrumental in developing relationships with local industry and businesses to support an

internship capstone program. Her technical background covers a wide range – from defining

strategy, technical marketing, project/product management, globalization issues, to cuttingedge

software architecture, requirements, design, development and delivery. Throughout her

career Dr. Lodwig has been active proponent of women's advancement in technology and

has organized and participated in several STEM-related activities. Dr. Lodwig was a finalist

for the 2011 Tampa Bay Business Woman of the Year award in the Education category. She is

also a recipient of the 2013 Florida Achievement Award from the Florida Commission on the

Status of Women. Dr. Lodwig's spring 2016 sabbatical was devoted to developing technology

and computer education programs for high school students and teachers in Tanzania. For

two years in a row, the graduating classes of fall 2017 and fall 2018, chose Dr. Lodwig for the

Outstanding Professor award. Dr. Lodwig holds a PhD in Theoretical Physics from the Indian

Institute of technology, Delhi.

INSTAGRA FACEBOOK TWITTER @USF_WLP #USFWLP • 14 TH

ANNUAL WLP FALL SYMPOSIUM
---
PAGE 13

Dr. Dinorah Martinez Tyson is an Assistant Professor in the College of Public Health and holds

a courtesy appointment in the Department of Anthropology. As an applied anthropologist,

her work focuses on understanding the culture, context, and circumstances surrounding

behavior and disease that are crucial to intervention research and provide empirical rationale

for the adaptation of interventions so that they not only improve symptoms but also engage

communities, and respond to local needs and realities. For example, she worked to adapt

a self-administered stress management program for Latina women with breast cancer titled

"Cómo tratar el estrés durante la quimioterapia," and to adapt a colorectal cancer screening

educational program for Latinos. She has also conducted epidemiological and cross-cultural

studies to examine the heterogeneity of the Latino/Hispanic population. Dr. Martinez Tyson's

scholarship builds on the tenets of community-engaged research. Dr. Martinez Tyson's work

has appeared in the journals Journal of Immigrant and Minority Health, Cancer, Ethnicity and

Health, Journal of Cancer Education, CA: A Cancer Journal for Clinicians, Health Promotion

Practice, and Social Science and Medicine. She is also the co-founder of Latinos Unidos por

Un Nuevo Amanecer, Inc. a non-profit organization that provides support to Latinos diagnosed

with cancer. She facilitated a monthly support group for Latinas diagnosed with cancer for

over 10 years and co-coordinates Campamento Alegria, a 3-Day integrative educational and

supportive program for Latina cancer survivors.

DR. DINORAH MARTINEZ

Valerie D. Riddle, MD Award in Health

Dr. Wendy Rote is an Assistant Professor of Psychology at the University of South Florida St.

Petersburg. She received her BA in psychology from Whitman College in 2007 and her MA

and PhD in developmental psychology from the University of Rochester in 2012 and 2014.

Dr. Rote's research examines parental socialization behaviors, particularly guilt induction and

overparenting, and how parents must adjust and realign their parenting strategies as children

become more autonomous during adolescence and young adulthood. She specifically

focuses on how parents' and teens' perceptions of these parenting behaviors differ, especially

as children age, and factors influencing these divergent perceptions. The ultimate aim of Dr.

Rote's research is to better tailor parenting advice and family therapies to specific situations

by incorporating knowledge about contextual differences and individual features of family

members. Dr. Rote has published numerous articles on her research and gives presentations

in the local community on ways to improve parent-adolescent relationships and parenting

practices. She currently lives in Seminole, FL with her husband and mother and stays busy

raising two young children of her own.

DR. WENDY ROTE

USF Junior Faculty Award

Dr. Leia K. Cain is an instructor in the Educational Measurement and Research Program within

the Department of Educational and Psychological Studies. She obtained her undergraduate

degree from East Carolina University and her MEd and PhD from the University of South

Carolina. Leia's research focuses on issues of equity for marginalized populations and on

researcher identity development. These areas often overlap, as reflexive practices teach us

that our own identities, as researchers, affect the decisions that we make during the research

process. Leia is currently in her second year as co-chair of the Presidential Advisory Committee

for Issues of Sexual Orientation and Gender Identity (CISOGI) and of the College of Education's

Diversity Committee. In addition to these commitments, Leia has developed tailored curricula

for local businesses and national corporations concerning how to treat LGBTQ+ employees

and address issues of equity and climate in the workplace for LGBTQ+ populations. Further,

she has been invited to speak for the National Diversity Council at two of their events in recent

years. She has disseminated her work through local, national, and international conferences,

and has published in multiple peer-reviewed journals.

DR. LEIA K. CAIN

USF Instructor Award

USF WOMEN IN LEADERSHIP & PHILANTHROPY • USF.EDU/WLP
---
PAGE 14

2019 WOMEN IN LEADERSHIP & PHILANTHROPY

COMMUNITY LEADERSHIP AWARD

LINDA

SIMMONS '75

Linda Simmons is a successful businesswoman and philanthropist — with a hand in building the University of South Florida's Tampa campus enjoyed

by so many today.

Simmons serves as the President and CEO of R.R. Simmons Construction Corporation, which specializes in design, engineering and construction

management services for corporate clients ranging from Volkswagen of America and Coca-Cola to the Tampa Port Authority and her alma mater, USF.

The firm is responsible for the Lee Roy Selmon Athletics Center, several athletics facilities and a wing of the Gibbons Alumni Center, cementing their

legacy on campus.

Though she was born outside of the state, Simmons' father moved the family to his native Florida when she was just six months old and Simmons grew

up in the Tampa Bay area, attending schools in Hillsborough County. Then, when she was just 15, her father suddenly passed away.

In the years that followed, Simmons' mother put herself through college at USF while raising three children, earning her undergraduate degree in 1971,

the same year Simmons graduated high school. In the following years, they attended USF together — without the benefit of financial aid — and in 1975,

Simmons graduated with a Bachelor of Arts in psychology.

Linda began her career in finance, graduating from the American Bankers Association Stonier School of Banking and blazing a trail as a female leader

in the Tampa Bay banking industry before joining her husband, Randy Simmons, in the family construction business.

Under Simmons' leadership, the company has received a number of accolades for its projects, including numerous NAIOP Best of the Best Awards,

Tilt-Up Concrete Association Awards and Design/Build Institute of America awards. The U.S. company's headquarters building earned the Green

Building Council's LEED Silver Certification (2010),

Simmons relationship with USF came full circle when she was invited to become a member of the USF Alumni Association Board. She went on to

help found and chair USF's Women in Leadership and Philanthropy, serve as a member and chair of the USF Foundation board of directors and join

the board of the Gus A. Stavros Center. Simmons was honored with the USF Alumni Association's Donald A. Gifford Service Award in 2011, which

recognizes individuals who have provided unparalleled volunteer leadership and service to the university.

The Simmons have generously given to USF to advance athletics as Iron Bull members, have supported Women in Leadership & Philanthropy

programming, the Stavros Center and the USF Research Foundation, but the bulk of their efforts have focused on scholarships. Remembering her

mother's struggle to finish school, they established the Carolyn A. O'Steen Memorial Scholarship in WLP, which benefits single parents, in memory of

her mother, as well as the Linda and Randy Simmons Endowed Athletic Scholarship that provides full scholarships to one female and one male athlete

annually.

Outside of USF, Simmons has used her skill for rethinking organizational structure and service delivery on a number of nonprofit boards, including

the United Way, the American Heart Association, the Community Foundation of Tampa Bay, Friends of Boca Grande Community Center, IWF Florida

Suncoast, Grow Financial, Associated General Contractors, Brandon Chamber of Commerce, Leadership Brandon, and others. Linda's professional

achievements, her tremendous service to the University of South Florida, and her significant community leadership contributions make her a fitting

recipient of the 2019 WLP Community Leadership Award.

PAST RECIPIENTS

Liz Kennedy '80 (2018), Debbie Sembler (2017), Elaine Shimberg (2016), Hon. Pam Iorio '01 (2015), Elizabeth Fowler (2014),

Barbara Sparks-McGlinchy '78, '83, '91 (2013), Susan W. Leisner (2012), Dr. Mona Jain '84 (2010), Carol D. Morsani (2008),

Pamela S. Muma (co-awarded in 2008), Dr. Kay Glasser (2007). (Not Awarded in 2011 and 2009).

INSTAGRA FACEBOOK TWITTER @USF_WLP #USFWLP • 14 TH

ANNUAL WLP FALL SYMPOSIUM
---
PAGE 15

2019 WOMEN IN LEADERSHIP & PHILANTHROPY

LIFETIME ACHIEVEMENT AWARD

DORETHA

EDGECOMB '73

Doretha Edgecomb has enjoyed a remarkable 52-year career in education — as a teacher and administrator in Hillsborough County Public Schools, a

trainer with Educational Testing Service, and a longtime member of the Hillsborough County school board.

The segregated school system Tampa-native Edgecomb experienced as a child was much different than the one she would later serve, but her

childhood experiences fueled her lifelong passion to provide equity, access and the opportunity for excellence for all students. After graduating from

the original Middleton High School, which was the first high school for African Americans in Hillsborough County, Edgecomb attended Talladega

College in Alabama, taking part in civil rights marches in the small Southern town. The idea that if she wanted to see change, she had to be part of that

change would inform the rest of her career and her significant lifetime of leadership and service.

After college, Edgecomb returned to Tampa to serve as a junior high school teacher in Hillsborough County Public Schools, married her high school

sweetheart and began a family. In 1976, she experienced personal tragedy when her beloved husband, the Hon. George Edgecomb, passed away

from leukemia at the age of 33. George Edgecomb was Hillsborough County's first African-American prosecutor and county court judge. The county

courthouse downtown now bears his name. Their daughter, Allison, followed in her mother's footsteps in the field of public education, now serving as

the middle school supervisor for Hillsborough County Public Schools.

Edgecomb persevered, continuing in her profession while earning a Masters of Arts in reading education and receiving certification in educational

leadership from the University of South Florida. Her career as an educator encompassed numerous positions, including reading teacher, learning

specialist, Title I parent involvement coordinator, reading supervisor and elementary school principal. In 1996, after retiring from the Hillsborough

County School District, she joined Educational Testing Service, serving as a trainer, program developer and technical assistance advisor for schools,

school districts and state departments of education in Florida, Puerto Rico and the U.S. Virgin Islands, and also taught in the College of Education at

the University of South Florida.

After her retirement, Edgecomb's commitment to public education did not wane. In 2004, she was elected to the District 5 seat on the Hillsborough

County School Board and served three terms (2004–2016), and was elected vice chair of the board in 2010 and chair in 2011. She was one of seven

members responsible for making policy decisions and overseeing a total budget of $2.9 billion for the eighth largest school district in the nation and

the county's largest employer with 25,000 employees.

Today, Edgecomb remains extremely active in the community. Honoring the memory of her husband, Doretha has helped the H. Lee Moffitt Cancer

Center launch the George Edgecomb Society, a cancer outreach initiative focusing on the African-American community. She also remains actively

involved in numerous professional, civic, social and community organizations, including Delta Sigma Theta Sorority, Inc., the Athena Society, which

she led as president in 2017-2018, board member of the Hillsborough Education Foundation and the Plant Museum, and as a member of the advisory

committee of NOPE, Inc.

Over the years, Edgecomb has humbly accepted several awards for her service to the community. In 2010 she was named both the Educator of the

Year by the Tampa Bay Professional Chapter of Kappa Delta Pi, the international honor society of educators, and also received the Citizen of the

Year Award presented by the MuMu Chapter and the Pi Iota Chapter of Omega Psi Phi Fraternity Inc. She was honored with the Tampa Metropolitan

Area YMCA Community Impact Award and the Girls Scouts of West Central Florida's Women of Distinction Award in 2017, and in the summer of 2019,

Edgecomb received USF's highest non-academic award, the Distinguished Citizen Award.

USF Women in Leadership & Philanthropy is honored to recognize the depth and breadth of Doretha Edgecomb's lifetime of impactful achievement

and service by naming her the 2019 USF Women in Leadership & Philanthropy Lifetime Achievement Award winner.

PAST RECIPIENTS

2018 Dr. Liana Fernandez-Fox '80, '98

2017 Ann McKeel Ross '79

2016 Hon. Betty Castor

Hon. Jan Platt* 2015

Lee Leavengood '73 2014

Louise Lykes Ferguson* 2013

*Deceased

USF WOMEN IN LEADERSHIP & PHILANTHROPY • USF.EDU/WLP
---
PAGE 16

W O M E N I N L E A D E R S H I P & P H I L A N T H R O P Y C O M M I T T E E S T R U C T U R E

WLP Executive Committee

Provides guidance in the planning and execution of WLP initiatives, and serves as advocates and spokespeople on behalf of the membership.

Members are either officers, committee chairs, or at-large regional institution representatives.

Lagretta Lenker, PhD '92, Chair

Carolyn House Stewart, Esq. '74,

Immediate Past Chair

Carol Morsani, Honorary Chair

Moira Burke, MD, Vice Chair

India Witte, Executive Director

Lauren Hartmann '15

Stephanie Haas '03

Cynthia Keenan

Maja Lacevic '09

Claire Lessinger

Chris Reyes '93

Barbara Sparks-McGlinchy '78, '83, '91

Anne Strozier, PhD

Anila Jain, MD '79, '81

USF Sarasota-Manatee Representative

Valerie Riddle, MD '84, '89

USF Health Representative

Debbie N. Sembler

USF St. Petersburg Representative

WLP Awards Committee

Collaborates with WLP staff on advertising and selecting recipients for WLP Awards (Faculty Excellence, Community Leadership, etc.) and

identifying and nominating WLP members, WLP scholars, and other key USF partners for community awards programs.

Anne Strozier, PhD, Chair

Kate Evans, Staff Liaison

Marquita Armstead

Kathy Bradley-Klug

Wendy Brill

Betty Castor

Robin DeLaVergne '74

Ruth Duncan Bell '88

Yvonne Fry

Olivia Hodges, EdD

Anila Jain, MD '79, '81

Giti Javidi, PhD '96

Jamie Jenkins

Patricia Kruk, PhD

Lagretta Lenker, PhD '92

Karla Mastracchio, PhD '03

Melissa Mora '02

Stephanie Morge '06

Kathleen Moore, PhD '90

Devin O'Connell

Julie Perrelli

Rebecca Puig, PhD '08, '10, '15

Alicia Rossiter, DNP '96, '15

Audrey Schreier

Amanda Stevens

Natalie Thomas '95

Janae Thomas '18

Hannah Veitkus '16

India Witte

Laura Woodard '89

WLP Membership Committee

Develops and implements strategies for recruiting new Lifetime, Annual and Corporate members to WLP and supports the operations,

programming, and activities that promote member engagement, participation and retention. The committee also assists in the planning,

development, and implementation of external communications and marketing of the program.

Stephanie Haas '03, Chair

Kate Evans, Staff Liaison

Danielle Cohen-L'Altrella '15, Staff Liaison

Jessica Muroff '01, '02

Kelly Addington

Connie Bladon

Wendy Brill

Jennifer Carpenter

Julie Gillespie '82

Liz Kicak '05

Lyda T. Lindell, MD

Stephanie Morge '06

Rebecca Puig, PhD '08, '10, '15

Amy Rettig

Natalie Thomas '95

Hannah Vetikus '16

India Witte

WLP Mentoring Committee

Serves as the conduit to connect students and WLP members in partnership with the USF Center for Leadership and Civic Engagement,

Honors College, Transitional Advisory Center, Veteran's Services, USF Athletics, and other system-wide partners, and work internally on the

coordination of a WLP Mentoring Program for our scholars

Barbara Sparks-McGlinchy '78, '83, '91 '93,

Co-Chair

Chris Reyes '93, Co-Chair

Kate Evans, Staff Liaison

Kelly Addington

Annina Donaldson

Roberta Burford

Jennifer Carpenter

Vickie Chachere

Kristin Cunningham '97

Karen Dee

Patricia Emmanuel, MD

Jessica Fugate

Yvonne Fry

Sandy Goodman, MD

Cindy Haley '07, '14

Olivia Hodges, EdD

Justine Hofmann

Cindy Kane '76

Erin Jackson

Giti Javidi, PhD '96

Virginia Kalil '83

Liz Kicak '05

Claire Lessinger

Grace Maseda

Valerie McDevitt

Kathleen Moore, PhD '90

Stephanie Morge '06

Juliann Nichols

Nastassia O'Connor '11

Betty Otter Nickerson '76

Julie Perrelli

Carole Philipson

Jyoti Rao

Valerie Riddle, MD '84, '99

Rachel Scalzo, PhD

Dawn Schocken, PhD '83, '85

Brigitte Shaw

Patricia Soltis

Jeanne Travers

Christine Turner

Jeffrie van Loveren

Hannah Veitkus '16

Christina Wisz

India Witte

Liz Wooten-Reschke

INSTAGRA FACEBOOK TWITTER @USF_WLP #USFWLP • 14 TH

ANNUAL WLP FALL SYMPOSIUM
---
PAGE 17

WISE Advisory Committee

A sub-group of the Mentoring Committee, this body provides guidance to our WISE (Women who Ignite Student Engagement)

Advisory Council and oversight of the planning and promotion of the WLP WISE Student Symposium, held in the spring of each year.

Lauren Hartmann '15, Chair

Kate Evans, Staff Liaison

Trimeka Benjamin

Roberta Burford

Kristin Cunningham '97

Sheau-Lei Ellison

Sandy Goodman, MD

Shelby Harris '16

Giti Javidi, PhD '96

Virginia Kalil '93

Liz Kicak '05

Claire Lessinger

Esther Marshall

Grace Maseda

Betty Otter Nickerson '76

Carole Philipson

Chris Reyes '93

Valerie Riddle, MD '84, '89

Lindsey Rodriguez, PhD

Dae Sheridan, PhD '94, '97

Patricia Soltis

Barbara Sparks-McGlinchy '78, '83, '91

Jessica Thompson '05, '07

Carrie Zeisse

WLP WISE Advisory Council

A select group of students, chosen through a highly competitive application process, charged with planning and implementing the

annul WLP/WISE Student Symposium and advising WLP on the important issues related to student engagement and student success.

Marlesha Bell

Joannie Bewa, MD

Neto Coulibaly

Augustine Haile

Shana Indawala

Wainella Isaacs

Alyssa Jessen

Holly Lippman

Natasha Ram

Jessica Rodriguez

Elizabeth Seymour

Xigrid Soto

Shari Zamani

WLP Program Committee

Guides the planning and promotion of the WLP Fall Symposium and other signature annual events, including securing sponsorships

and encouraging attendance and member participation.

Maja Lacevic '09, Chair

Kate Evans, Staff Liaison

Lindsey Crawford

Lynn Cristina '98

Diane Egner

Liana Fernandez Fox, PhD '80, '98

Michelle Hamilton '04

Shelby Harris '16

Dee Garcia '62

Fadwa Hilili '13

Danyell Jones

Cindy Kane '76

Cynthia Keenan

Karla Mastracchio, PhD '03

Nevena Pehar '12

Abby Ritter '15

Special Thanks: Vickie Chachere, Symposium Communications & Media Relations Coordinator

Natalie Roberts

Audrey Schreier '13

Debbie Sembler

Dawn Shields

Janae Thomas '18

India Witte

Cynthia Keenan, Chair

Chris Reyes '93, Co-Chair

WLP Scholarship Committee

Works with WLP Staff in the selection process for WLP scholarship recipients, assists with donor stewardship, and develops and

implements engagement strategies for WLP scholars, WLP Members, and WLP Scholar alumna.

Cynthia Keenan, Chair

Danielle Cohen-L'Altrella '15, Staff Liaison

Moira Burke, MD

Joena Bartolini Mitchell

Ann Marie Campbell '96

Kristin Cunningham '97

Sheau-Lei Ellison

Dee Garcia '62

Julie Gillespie '82

Justine Hofmann

Carolyn House Stewart, Esq. '74

Anila Jain, MD '79, '81

Jamie Jenkins '98

Cindy Kane '76

Kathy Koszuta

Rita Lowman

Kathleen Moore, PhD '90

Maggie McCleland

Judy Mitchell

Melissa Mora '02

Julie Perrelli

Carole Philipson

Valerie Riddle, MD '84, '89

Audrey Schreier '13

Brigitte Shaw '83

Natalie Thomas '95

Janae Thomas '18

Jessica Thompson '05, '07

Jeanne Travers

Hannah Veitkus '16

Julie Ward '05

India Witte

USF WOMEN IN LEADERSHIP & PHILANTHROPY • USF.EDU/WLP
---
PAGE 18

T A B L E S P O N S O R S

West Florida

COLLEGE OF EDUCATION

GUS A. STAVROS CENTER FOR FREE

ENTERPRISE AND ECONOMIC EDUCATION

USF WOMEN IN LEADERSHIP & PHILANTHROPY

Anne Marie Campbell

Cindy Kane

Family & Friends of Doretha Edgecomb

George and Jane Morgan

Keli Mondello

Liana Fernandez Fox

Nancy Schneid

Sharon Greenbaum

Suzette Berkman

USF Town & Gown

USF World

INSTAGRA FACEBOOK TWITTER @USF_WLP #USFWLP • 14 TH

ANNUAL WLP FALL SYMPOSIUM
---
PAGE 19

W L P M E M B E R S H I P

FOUNDING MEMBERS

Bank of America

Dore Beach, EdD '70, '72

Suzette Berkman '73, '78

Sharon Blanchard

Linda Blume '73

Hon. Betty Castor

Cornelia Corbett

Martha Couch

Florida Medical Clinic

Foundation of Caring, Inc.

Keri Gawrych '87

Judy Genshaft, PhD

Leona Genshaft**

Nancy Howe

Anila Jain, MD '79, '81

Mona Jain, MD, PhD '84

Muffy Longacre

Ann McKeel Ross '79

Kathleen Moore, PhD '90

Carol Morsani

Pamela Muma

Michele Norris '77, '79

Vivien Oliva

Pallavi Patel, MD

Regions Financial Corporation

Nancy Scneid '77, '79

Elaine Shimberg

Linda Simmons '73, '75

Anne Strozier, PhD

USF Town & Gown

Erika Wallace

Vincent Zecchino**

CORPORATE MEMBERS

LIFETIME MEMBERS

Jane Applegate, PhD

Ellen and Philip Asherman, '75, '76

Rebecca Bast

Hannah Benton '11

Moira J. Burke, MD

Renée Byrd '86

Anne Marie Campbell '96

Grisselle Centeno, PhD*

Ellen Daley, PhD '00*

Linda D'Aquila

Leslie Dellas

January Dennison

Paula Eaves

Elizabeth Fowler

Liana Fernandez Fox, PhD '80, '98

Jamie Goldenberg, PhD*

Sharon Greenbaum

Virginia Gregory '93

Linda Hartley '89

Carolyn House Stewart '74

Hon. Pam Iorio '01

Cindy Kane '76

*Past recipient of the WLP Faculty Award

**Deceased

Patricia Kruk, PhD*

Susan Leisner

Donna Lindsey '79

Anne McKeel Ross '76

Susan McManus, PhD*

Jody McBrien, PhD*

Jane Morgan

Jessica Muroff '01, '02

National Mah Jongg League

Foundation Inc.

Chris Reyes '93

Valerie Riddle, MD '84, '89

Barbara Twine-Thomas '73

Ruth Unger**

Penny Vinik

Valley Bank

Linda Whiteford, PhD*

India Witte

Naomi Yavneh Klos, PhD*

Marion Yongue '91

USF WOMEN IN LEADERSHIP & PHILANTHROPY • USF.EDU/WLP
---
PAGE 20

WLP ANNUAL MEMBERS

Mildred Acevedo-Duncan, PhD

Kelly Addington

Denise Akers

Jo-Ann G. Alessandrini

Lisa Altman

Rafaela Amador Fink, '04

Marquita Renee Armstead

Sarah Artz

Jacalin Ascough

Ellen and Phil Asherman, '76

Candace Barber

Cécile Bare

Deborah M. Barnes

Michelle Barry

Rebecca Bast

Paige Beles

Trimeka Benjamin

Suzette Berkman '73, '78

Mardi Bessolo

Kathleen Betancourt '67

Kathy Black, PhD*

Susan Blackburn

Connie Bladon

Sharon Blanchard

Ivonne Blank

Linda Blume '73

Kathy Bradley-Klug, PhD

Karen Bremer

Susan Brennan

Angela Brewer '82, '84

Wendy Brill

Karen Buesing

Roberta Burford

Moira Burke, M.D.

Renée Byrd '86

Leia Cain, PhD*

Stacy Carlson, PhD '92

Jennifer Carpenter

Heide Castaneda, PhD*

Grisselle Centeno, PhD*

Vickie Chachere

Colleen Chapell

Dara M. Chenevert

Tiffany Chenneville, PhD '92, '96, '00*

Kyoung Cho, DMA*

David Christian

Braulio Colon

Tiffany Colucci

Cynthia Congelio

Lily Conrad

Cornelia Corbett

Amy Corcell

Marty Couch

Lindsey Crawford

Lynn Cristina '98

Jessica Cross '12, '14

Laura Crouch '94

Kristin C. Cunningham '97

Ellen Daley, PhD '00*

Karen Dalton '07

Janet H. Davis

Kimberlee B. DeBosier

Karen Dee

Robin DeLaVergne '74

Leslie Dellas

January Dennison

Jackie Dixon, PhD

Annina Donaldson

Renee M. Dubault

Kathleen M. Dumala

Holly Duncan

Ruth Duncan Bell '88

Paula Eaves

Diane Egner

Ashley Ehrman '08

Alissa A. Ellison

Sheau-Lei H. Ellison

Patricia Emmanuel, MD

Abbe Ensminger

Catherine Evans

Irene G. M. Ferguson

Mary J. Figg '78

Gina Folk

Margaret M. Fowler

Elizabeth Fowler

Elizabeth Frazier

Yvonne Fry

Jessica Fugate

Dolores (Dee) Garcia '82

Keri Gawrych '87

Judy Genshaft, PhD

Arty Giallourakis

Cami Gibertini

Julie Gillespie '82

Stephanie Goforth '82

Jamie Goldenberg, PhD*

Sandra Goodman, MD

Sharon Greenbaum

Virginia Gregory '93

Melanie Griffin

Pati A. Gross '76

Arlynn D. Haarer

Stephanie R. Haas '02

Carol Hague '88

Cindy Haley '07, '14

Emily Haly, MD

Michelle Hamilton '04

Sandra G. Hanna '82

Shelby Harris '16

Linda Hartley '89

Lauren Hartmann '15

Laura Haubner

Diana Maria Hechavarria, PhD*

Patti S. Helton, PhD

Fadwa Hilili '13

Kimberly Hill '09, '18

Olivia Hodges, EdD

Justine Hofmann

Stephanie Holmquist Johnson, PhD '81, '05, '14

Elizabeth Hordge-Freeman, PhD*

Carolyn House Stewart '74

Sally Houston, MD

Nancy Howe

Barbara Izzi

Erin G. Jackson

Molly James

Giti Javidi, PhD*

Jamie Jenkins '98

Virginia L. Kalil '93

Sarah Kay

Cynthia Keenan

Elizabeth Kennedy '80

Lauren Key

Elizabeth Kicak*

Tammy E. King, DPT

Lora Kosten, PhD

Kathy Koszuta

Elizabeth H. Krystyn

Maja Lacevic '09

Rhea Law '77

Lea LeVines

INSTAGRA FACEBOOK TWITTER @USF_WLP #USFWLP • 14 TH

ANNUAL WLP FALL SYMPOSIUM
---
PAGE 21

Lee Leavengood '73

Blossom Leibowitz

Lagretta Lenker, PhD '92

Claire Lessinger

Helen D. Levine, PhD

Lyda Tymiak Lindell, MD

Donna Lindsey '79

Valerie Lipscomb, PhD*

Judy Lisi

Nancy L. Lockwood

Sunita Lodwig, PhD*

Carol Long '83

Muffy Longacre

Donna Longhouse '84

Rita Lowman

Rachel Albritton Lunsford '94

Catherine Lynch, MD '90

Doreen MacAulay, PhD*

Susan A. MacManus, PhD*

Christina Majeed

Linda Marcelli

Stephanie Marhefka, PhD*

William J. Mariotti '15

Esther Marshall

Merritt Martin-Lindstrom '04

Shari Martinez

Dinorah Martinez Tyson, PhD*

Grace Maseda '14

Andrea Masterson

Karla Mastracchio, PhD '03

Susan Maurer

Jody McBrien, PhD*

Kristen N. McCall

Maggie McCleland

Suzanne McCormick

Jill McCracken, PhD*

Valerie McDevitt

Shelley McDuff '08, '12

Sally McKee

Jane Messina, MD

Quinn Kathryn Miller

Elizabeth Miller, PhD*

Holly Miller

Rhonda Mims

Kelli Mitchell '95

Christina F. Mitchell

Judy Mitchell

Joel Momberg

Debbie Momberg '78

Keli Mondello

Melissa A. Mora '02

Taryn Morgan

Jane Morgan

Stephanie C. Morge '06

Pamela S. Muma

Hon. Sandra Murman

Jessica Muroff '01, '02

Jennifer L. Murphy

Mindy Murphy

Julie Nail

Ashley Nall, '06

Natasha Nascimento

Lyris Newman '72, '77

Fawn Ngo, PhD*

Juliann L. Nichols

Michele Norris '77, '79

Devin O'Connell

Nastassia O'Connor

Shayla O'Keeffe '16

Vivien Oliva

Sally B. Olsson '73

Sue Orr '77

Betty Otter-Nickerson '76

Amanda Page-Zwierko '09

Sara Palmer

Penny Parks

Pallavi Patel, MD

Nevena Pehar '12

Julie Perrelli

Susan M. Perry, PhD

Donna Petersen, ScD

Carole Philipson

Karen G. Pittman '84

Anne Pollack

Pat Porter

Carole Post

Angela Pottinger

Rebecca Puig, PhD '08, '10, '15

Joann Farrell Quinn, PhD '74

Jyoti Kalyanpur Rao

Deborah W. Read

Elizabeth Reedy-Foley

Amy Rettig

Sarah A. Ribeiro, EdD '96

Victoria L. Rich, PhD

Nancy Ridenour

Abby Ritter '15

Natalie A. Roberts

Louise D. Roberts-Dahm, PhD '09

Lindsey Rodriguez, PhD*

Judith Rosenkranz

Alicia Gill Rossiter, DNP '96, '15*

Wendy Rote, PhD*

Morgan Rucker Holmes

E. Howard Rutherford

Deborah A. Saltiel

Mary Julianne Scales

Rachel A. Scalzo, PhD

Meredith Scerba

Nancy Schneid '77, '79

Sandra Schneider-Wright, PhD

Dawn Schocken, PhD '83, '85

Audrey Schreier '13

Kathleen A. Scovel

Lynn A. Scully

Debbie Sembler

Julianne Serovich, PhD

Ann Shaler

Brigitte Shaw '83

Dae Sheridan, PhD '94, '97

Dawn Shields

Lisa Simington

Bemetra Simmons

Linda Simmons '73, '75

Debra Sinclair, PhD '84

Melissa Sloan, PhD*

Rebecca J. Smith

Patricia Soltis

Marlene Spalten

Barbara Sparks-McGlinchy '78, '83, '91

Sandra G. Sroka

Amanda Stevens

Allison Stinson

Joann Strobbe

Stephanie Suarez '11

Joanne Sullivan

Eileen Sweeney

Sheryl S. Teague

Cindy Terrano

Liz Theofilos

Janae Thomas

Sylvia Thomas, PhD*

Natalie Thomas '95

Jessica Thompson '05, '07

Karen Tillman-Gosselin

Holly Tomlin

Jeanne Travers*

Bettina S. Tucker

Christine Turner, APR

Barbara Twine-Thomas '73

Yvonne Ulmer '80

David Unger

Cathy Unruh

Victoria J. Vail '69

Cheryl A. Vamos, PhD*

Jeffrie van Loveren

Hannah Veitkus

Lisa Velesko

Cindy Visot, EdD '00

Erika Wallace

Kati Wanek-Forsythe

Julie Ward '05

Sarah O. Watkins

Kathryn Weedman Arthur, PhD*

Martha B. Wells

Ivana Djokovic Wendling '09

Kathy Werner

Tracy West

Debbie White

Linda Whiteford, PhD*

Kathryn A. Wilson

Marian Winters

Christina Wisz

Laura Woodard '89

Liz Wooten-Reschke

Jessica Worley

Naomi Yavneh Klos, PhD*

Carrie Zeisse

* Recipient of the WLP Faculty Award

USF WOMEN IN LEADERSHIP & PHILANTHROPY • USF.EDU/WLP
---
PAGE 22

CONCURRENT SESSIONS

9:00 - 10:00 AM (PICK ONE)

LET URGENCY CONQUER FEAR

Palma Ceia

SPONSORED BY:

It's natural to want to study a problem from all angles, but getting caught up

in questions like "What if we're wrong?" and "What if there is a better way?"

can leave you paralyzed with fear and indecision. This panel will provide expert

advice on how to keep your focus on action, rather than letting your progress

be bogged down with overthinking and overanalyzing every conceivable pitfall.

Lisette Campos

Corporate Communications Executive

MODERATOR

Lissette Campos is a seven-time Emmy award winning journalist and the recipient of the prestigious "Silver Circle" Award from

the National Academy of Television Arts & Sciences - Suncoast Region. Her 30+ year career includes undercover reporting from

Russia and Cuba, and anchoring from New York City on the first anniversary of the 9/11 terror attacks. An avid storyteller, Lissette

has leveraged her journalism career to serve in leadership roles at the Disney Company, USF Health, and WFTS TV. Tampa

Bay area viewers know her best as the face of "Positively Tampa Bay", which she produced and hosted on ABC Action News.

Her spotlight on local non-profits helped generate volunteers, donations and brand awareness for countless charities from

2008 - 2019. Lissette is also known for her work creating the nationally recognized "Taking Action Against Domestic Violence"

campaign. The company-wide initiative, 2008 - 2018, earned national, regional and state recognition - winning 5 Emmy awards,

the National Association of Broadcasters "Service to Community in Television Award", 22 state journalism awards, and the

Florida Coalition Against Domestic Violence "Key to Hope Award". Lissette and her husband have two daughters Sophia and

Audrey. Both are USF Bulls! (Class of 2019 and Class of 2026!)

MARQUITA ARMSTEAD Senior Associate Director of Athletics / Senior Woman Administrator, USF Athletics

Marquita Armstead joined USF Athletics in March of 2016 as Associate Athletic Director for Compliance,

before being elevated to Senior Associate Director of Athletics / Senior Woman Administrator in August

2017.

Armstead is responsible for the oversight of academic services, admissions, athletics council, drug

testing, financial aid, housing, sports medicine, strength and conditioning, student-athlete enhancement,

student rights and responsibilities and Title IX. Additionally, she is the sport supervisor for softball, men's

soccer, women's tennis, and the secondary sport administrator for football. She has also been serving

as the secondary sport administrator for men's basketball since April 2018. Marquita is a member of

USF Women in Leadership and Philanthropy and the Tampa Bay Chapter of WISE (Women in Sports and

Events).

Armstead is a graduate of Mississippi State, where she earned a bachelor's degree in English in and a

master's of sports administration. In 2013, she received a Master's of Business Administration from the

University of Tennessee at Chattanooga. Armstead is a 2012 NCAA Leadership Institute graduate.

She is happily married to Demetric Armstead. The couple have one son, Braylon.

INSTAGRA FACEBOOK TWITTER @USF_WLP #USFWLP • 14 TH

ANNUAL WLP FALL SYMPOSIUM
---
PAGE 23

TRACY PHILLIPS CEO, TNSTYLE, LLC

Tracy Phillips' fashion career started at Saks Fifth Avenue in Palm Beach where she merchandised

designer collections, worked with elite clientele, and had the honor of working with several renowned

designers. It was not long before Tracy set her sights on launching a fashion line of her own.

In 2009, while in her 20's, Tracy considered herself blessed to have the opportunity to launch the

TRACY NEGOSHIAN (TN) brand. TN is a multi-line, multi-season clothing label that is trendy, using high

quality material, and most importantly affordable to today's fashion-conscious woman. Tracy believes

the right clothing can make you not only look good, but feel confident.

Over the years, Tracy's team built great relationships with fabulous retailers nationwide. These specialty

boutiques helped launch the TN brand into the marketplace fast and fiercely. In addition to a growing

retail business, TN opened two Florida flagship stores, one located in the heart of Naples on 5th Avenue,

and the second in Sarasota's popular St. Armand's Circle.

Today, a decade after launching, the TN brand is thriving and infusing color and confidence into women's

wardrobes nationwide!

LAUREN WEINER, PHD CEO, WWC, LLC

Lauren G. Weiner is WWC's Chief Executive Officer. WWC was recently awarded the largest contract to

a women-owned business in the history of the US Special Operations Command (USSOCOM), making

WWC one of the largest government contracting firms in the Tampa Bay region. Lauren has significant

experience in government management, both as a federal employee and a government contractor.

Lauren worked at the Office of Management and Budget (OMB) in the Executive Office of the President.

Under two different Presidential administrations, she oversaw policy development, implementation and

performance assessment for multiple Federal agencies. Lauren was Co-Founder of In Gear Career, now

part of the US Chamber of Commerce Foundation's Hiring our Heroes program, as well as a co-founder

of the Homefront Rising program which trains military spouses for roles in politics, policy and advocacy.

Lauren has a Ph.D. in Research Psychology from Dartmouth College, and a B.A. from the University of

Michigan in Ann Arbor. Lauren currently serves on the Board of Directors for St. Joseph/Baptist BayCare

Hospital System, the Commanders Board of Advisors for the Air Force 927th Reserve Wing, and the

Board of Directors for Congregation Beth Am in Tampa.

USF WOMEN IN LEADERSHIP & PHILANTHROPY • USF.EDU/WLP
---
PAGE 24

CONCURRENT SESSIONS

9:00 - 10:00 AM (PICK ONE)

MAKE A BIG BET

University Club

Every history-making transformation has occurred when people have decided to

go for revolutionary change rather than cautious, incremental progress. Coming

from the high-impact, high-profile fields of energy, local government, community

engagement and healthcare, this panel is a collection of accomplished women

who have rolled the dice on ambitious goals and won big.

SPONSORED BY:

Keri Eisenbeis

Vice President of Government and Community Relations, BayCare

MODERATOR

Keri Eisenbeis is the vice president of Government and Community Relations at BayCare Health System, a leading not-for-profit

organization comprised of 15 hospitals and hundreds of other locations. Since joining BayCare in 2009, she has helped elevate

BayCare's role in the community through advocacy and targeted health improvement efforts.

Eisenbeis previously served as the director of government relations, ambulatory care and advocacy at St. Joseph's Children's

Hospital, where she helped implement the hospital's legislative agendas and served as an advocate for children's health care in

Tallahassee and Washington, DC.

Before joining BayCare, Eisenbeis served as the deputy director for Congresswoman Kathy Castor and as a senior adviser for

the United States Agency for International Development, a special assistant for the Office of Management and Budget and a

researcher for the Brookings Institution.

Eisenbeis holds a bachelor's degree in international relations from Emory University and a master of law from the School of Law

at Washington University in St. Louis. She completed post-graduate international relations studies at University of St. Andrews in

Scotland, where she was a Robert T. Jones Scholar. A member of WLP, Keri also serves on several boards, including the Tampa

YMCA Governance Board, the Homeless Leadership Board of Pinellas, the Athena Society, and the Family Healthcare Foundation.

JONI JAMES Chief Impact Officer, Foundation for a Healthy St. Petersburg

Joni James joined the Foundation for a Healthy St. Petersburg nearly two years ago and as its Chief Impact

Officer is charged with ensuring that all Foundation activities, resources and initiatives are deployed for

maximum impact on the Foundation's mission of population health and health equity. In recent months,

that has meant overseeing the construction and operationalization of a new Center for Health Equity

in South St. Petersburg. The Center's goal is to promote multi-sector collaboration to address systemic

hurdles that contribute to disproportionate health outcomes.

This is the third professional role Joni has held since moving to Tampa Bay more than a dozen years

ago. After 26 years as a newspaper journalist, including serving as deputy editor of editorials for the

Tampa Bay Times, Joni left journalism in 2015. During the next three years she served as CEO of the St.

Petersburg Downtown Partnership, a private business-membership group that serves as project manager

for a diversity of public-interest projects. She has a bachelor's degree from Wake Forest University and a

master's degree from the University of Florida. She is a 2017 graduate of Leadership Florida.

INSTAGRA FACEBOOK TWITTER @USF_WLP #USFWLP • 14 TH

ANNUAL WLP FALL SYMPOSIUM
---
PAGE 25

KANIKA TOMALIN, PHD Deputy Mayor for St. Petersburg

Dr. Kanika Tomalin is a thought leader, policy-maker, community ambassador, and health advocate who

serves as St. Petersburg's Deputy Mayor. A fifth-generation resident of St. Petersburg, she is the first

African-American, female Deputy Mayor and the youngest city administrator in St. Petersburg's history.

As St. Pete's Chief Administrator, she led a community-wide effort to establish a vision for the city that

guides the policies, plans and actions of Mayor Rick Kriseman's administration. Her signature initiative,

Healthy St. Pete, launched in 2014 to make community health a priority. The initiative impacts the lives

of thousands of Sunshine City residents by creating access to healthy food options, implementing free

fitness zones in city parks and in adding resources to make healthy living easier.

Dr. Tomalin previously served as the regional vice president of external affairs for the Bayfront Health

Network and director of strategy for Health Management Associates' Florida 23-hospital Group. She

has also worked as a marketeer and journalist for the then St. Petersburg Times. She has two children,

Kai and Nia.

Dr. Tomalin earned a B.S. in broadcast journalism from Florida Agricultural & Mechanical University, an

MBA from the University of Miami and a Doctorate in law and policy from Northeastern University.

MELISSA SEIXAS '96 Vice President, Florida Government & Community Relations, Duke Energy Corporation

Melissa Seixas is vice-president of government and community relations for Duke Energy Florida.

She directs the company's efforts to strengthen relationships with municipal, community and civic

organizations, as well as business leaders throughout the company's 35 county service area.

Melissa is a veteran of customer service and operations at Duke Energy. She joined Florida Power in

1986, starting in distributing engineering where she learned the operational side of the electric industry.

This experience has served as a foundation for Melissa's 33-year career as she moved into roles with

increasing responsibilities.

Melissa has a strong tradition of supporting her community. She has served as a board member for many

non-profit and business organizations including Clearwater Marine Aquarium and Pinellas County Urban

League. She is currently the Chairwoman of the Board for the St. Petersburg Downtown Partnership.

She recently served as an appointee to the University of South Florida Consolidation Taskforce.

Melissa holds a bachelor's degree in American history from Eckerd College and a master's degree

in American history from the University of South Florida. Her executive training includes a Corporate

Social Responsibility (CSR) certification from Johns Hopkins University, and programs with the Edison

Electric Institute and Georgetown University's McDonough School of Business.

USF WOMEN IN LEADERSHIP & PHILANTHROPY • USF.EDU/WLP
---
PAGE 26

CONCURRENT SESSIONS

9:00 - 10:00 AM (PICK ONE)

CRASH AND LEARN

Esplanade

Great achievers view failure as a necessary part of advancing toward success. If

you're trying new things, the outcome is - by definition – going to be uncertain.

When failure happens, great innovators find meaning in the setback, apply

the lessons learned, and share those lessons with others. Hear from a panel

of four women on their own hard-learned lessons in the fields of philanthropy,

community engagement and entrepreneurship.

SPONSORED BY:

Kari Goetz '12

Vice President of External Relations, The Florida Aquarium

MODERATOR

Kari Goetz has built a career out of making Tampa awesome! Kari is the Vice President of External Relations for The Florida

Aquarium where she gets to protect and restore the Blue Planet through entertainment and education. Previously director

of marketing for Tampa International Airport, she managed historic growth and route expansion. Kari has been an audience

development professional for the Straz Center, and she is still a performer and director with Stageworks Theatre and Jobsite

Theater. A Second City Hollywood founder, Kari uses her love of improvisation comedy to build workshops and MBA programs for

students and business leaders at USF and Wayne State University. She is an (almost) Florida native, and proud to be a member of

the Athena Society, board member for the University of Florida Eric Friedham Tourism Institute, Stageworks Theatre, Tony Jannus

Distinguished Aviation Society, the advisory board of Visit Tampa Bay, the community advisory board of USF Graphic Studio and

is a long-time resident and enthusiast of Seminole Heights. She lives in a funky bungalow with her groovy husband, her righteous

son, and many animals.

LAURA CROUCH '94 Vice President of State and Community Relations and Economic Development, TECO

Laura Crouch joined TECO in 1993 and has more than two decades of experience working with

governmental agencies in a broad range of departments, including Environmental, Regulatory, Resource

Planning and Business Strategy. Most recently, she spent five years as director of Community Relations,

Local Government and Economic Development for Tampa Electric and Peoples Gas.

Crouch received a Bachelor of Science in chemical engineering from the University of South Florida.

She serves on the Florida Chamber Foundation Board, the Greater Tampa Chamber of Commerce

Executive Committee of the board, Tampa Downtown Partnership's Executive Committee of the board,

Visit Tampa Bay Advisory Board, Westshore Alliance Executive Committee of the board, Leadership

Tampa '15 Alumnae, Leadership Florida Cornerstone Class XXXVII and other economic development

and community organizations.

INSTAGRA FACEBOOK TWITTER @USF_WLP #USFWLP • 14 TH

ANNUAL WLP FALL SYMPOSIUM
---
PAGE 27

KERRIANN GREENHALGH, PHD '04, '08 CEO, KeriCure

Dr. Kerriann Greenhalgh is a wife, mom, chemist, entrepreneur, and the inventor behind KeriCure's

advanced skin and wound care technology. Dr. Greenhalgh founded KeriCure in 2011, a Tampa based

biotechnology company globally distributed products for people, animals, and medical professionals,

that has helped more than 125,000 people worldwide prevent infections and heal naturally. Dr.

Greenhalgh received her Bachelor's in Biochemistry and PhD in Organic chemistry from USF (Go Bulls!).

She was an initial member of MiMedx Group as head of R&D and NPD, where she successfully submitted

the company's first FDA. Her experiences working at the FDA, Homeland Security, US Army Medical

Research Center, and for industry leaders including Battelle and Constellation, have given her valuable

insights on how to successfully develop and launch critical need products. She has contributed to the

invention of multiple technologies, from lifesaving medical devices to bioweapons detection systems.

She has been an invited reviewer for NIH grant review panels, scientific journals, and is a published

author and contributor to many medical and scientific journals. Dr. Greenhalgh has over half a dozen

patents, including many for the KeriCure technology and has dedicated her life to bringing safe, natural,

and effective skin and wound care products to the world.

JOANNE SULLIVAN Director of Community Relations, USF Health Development and Alumni Relations

Joanne Sullivan's career in fund-raising and development in Tampa spans thirty years and includes key

leadership positions at the University of Tampa, Florida Hospital Tampa Foundation, Academy at the

Lakes, the Tampa Museum of Art and Berkeley Preparatory School. She currently serves the University

of South Florida as USF Health Director of Community Relations.

Ms. Sullivan is a graduate of Florida State University and is on the regional and state boards of

Easterseals Florida and also serves on the Easterseals National Board of Directors where she chairs

the Marketing and Development Committee. She is a member of Leadership Tampa Bay's Class of 2010

and Leadership Tampa's Class of 1991. In addition, Joanne is a member of Red Cross Angels serving

the American Red Cross Florida's West Coast Region & Tampa Bay Chapter. She is a member of the

Suncoast Chapter of the Association for Fundraising Professionals, where she is a past president and is

a sustaining member of the Junior League of Tampa. She is a member of USF's Women in Leadership

& Philanthropy.

The Tampa Bay Business Journal named Joanne a finalist for the 2012 Business Woman of the Year in

the Tampa Bay region. In 2015, Joanne was selected by her fundraising peers in the Tampa Bay area as

the recipient of the Lloyd Horton Lifetime Achievement Award.

USF WOMEN IN LEADERSHIP & PHILANTHROPY • USF.EDU/WLP
---
PAGE 28

CONCURRENT SESSIONS

10:30 - 11:30 AM (PICK ONE)

FEARESS LEADERSHIP

Palma Ceia

We all know that gender shouldn't be a factor in whether or not a person can be

a great leader. Fearless leadership means developing your competencies and

collaborating with others to reach the end goal. At BayCare, women leaders are

blazing trails within the organization, in the community and through volunteer

leadership partnerships, such as St. Petersburg College.

SPONSORED BY:

Yvonne Fry

CEO, Fryed Egg Productions

MODERATOR

Yvonne Fry, a native Floridian, grew up in Plant City as part of an agricultural family. After graduating from the University of

Southern Mississippi, she returned home to pursue a career in public relations and marketing.

Nearly two decades ago, Yvonne became a small business owner with the launch of her first company. She is now the owner of Fryed

Egg Productions, a branding, marketing, film, and event management firm, and Lines of Communication, a telecommunications

consulting firm.

Recent past Chair of both the Hillsborough Commission on the Status of Women and the Florida Commission on the Status

of Women, Fry has been involved in a wide range of civic causes. These include being a previous Chair of the Greater Plant

City Chamber of Commerce Board, as well as the current Secretary and Treasurer of the Executive Committee of the Plant

City Economic Development Corporation, and also serving on the advisory board of The Spring Tampa Bay, the Junior League

Community Advisory Board, Plant City Main Street Board, and the BayCare Health System Board of Trustees. Yvonne is also the

President of Tampa Tiger Bay and the Chair of the Plant City Board of Adjustment, and is an active member of USF Women in

Leadership and Philanthropy and the Athena Society.

KIMBERLY GUY Senior Vice President and Market Leader for Hillsborough and South East Pasco Counties,

BayCare Health System

Kimberly Guy is the Senior Vice President and Market Leader for Hillsborough and South East Pasco

counties for BayCare Health System. The market encompasses seven hospitals, a total of 1,209 beds

and includes a children's hospital, women's hospital, behavioral health center and level 2 trauma center.

Additionally, she is the President of St. Joseph's Hospital in Tampa, FL.

Kimberly currently serves as Chair on the Board at Concordia of Tampa, a Continuing Care Retirement

Community, and also serves on the Boards of the Tampa Bay American Heart Association Metro and the

Greater Tampa Chamber of Commerce. Kimberly received her Master's in Health Administration from Duke

University and started her career at Rex Healthcare in Raleigh, NC.

INSTAGRA FACEBOOK TWITTER @USF_WLP #USFWLP • 14 TH

ANNUAL WLP FALL SYMPOSIUM
---
PAGE 29

GAIL RYDER Vice President, BayCare Health System

Gail Ryder joined the BayCare Health team in July of 2011. She is responsible for the continuum of services

across the five counties of Tampa Bay for BayCare Behavioral Health. The program includes acute inpatient,

residential, detox, rehabilitation and outpatient services.

Unique to this service is the behavioral health integration with primary care, a novel coaching and navigation

initiative for patients with mental illness, and a broad array of EAP services; targeted to distinct employer types

such as schools, colleges and churches.

The Behavioral Health division is also responsible for the management of the mental health benefit of the

systems self – insured health plan.

Gail was the 2014 National Association of Psychiatric Health Systems (NAPHS) board chair.

In 2013, Gail was responsible for the establishment of the Neuroscience Service Line at BayCare. This service

line encompasses neurology and neurosurgery. Current efforts include work in stroke and memory care.

She spent the previous 14 years at New York Presbyterian Hospital in New York, responsible for psychiatry,

neurology and neurosurgery. She has devoted 35 year of her career to caring for the mentally ill.

TONJUA WILLIAMS, PHD '96 President, St. Petersburg College

Enhancing students' access, success and the quality of their experiences are the most treasured values of Dr.

Tonjua Williams who became the seventh president of St. Petersburg College in 2017.

Nationally recognized as an expert in transforming departments and institutions through student development

and strategic planning, she has received numerous awards and recognitions throughout her 31-year career as

a leader in post-secondary education. Most recently she won the National Institute for Staff and Organizational

Development's leadership award and was named one of the top 25 women in higher education by Diverse

Issues in Higher Education.

Under her leadership, St. Petersburg College was named sixth best among public and private colleges in Florida,

according to U.S. News and World Report's 2020 study. That same study ranked SPC at number 17 among the

top 84 public schools in the southern region, which is comprised of 12 states.

As a tactical leader of the Education Ecosystem movement in the Tampa Bay Area, Dr. Williams has created a

pathway for educators, businesses, government and community agencies to work closer together than ever

before. That movement has strengthened the alignment between schools, created pathways for working adults

to advance their careers, and improved the economic mobility of our residents and the growth of our region.

USF WOMEN IN LEADERSHIP & PHILANTHROPY • USF.EDU/WLP
---
PAGE 30

CONCURRENT SESSIONS

10:30 - 11:30 AM (PICK ONE)

BE BOLD, TAKE RISKS

University Club

Risk taking is not a blind leap off a cliff but a lengthy process of trial and error that doesn't

end with the launch of a product or the start of a movement. Learn how to take smart,

calculated and still ambitious steps when it comes to experimenting with new ideas and

plans. The expert advice from this panel comes from a group of accomplished women

working in innovation, healthcare, finance and law where risk-taking is an inherent part

of the territory.

SPONSORED BY:

Linda Olson

Founder, President and CEO, Tampa Bay Wave

MODERATOR

Linda Olson is the CEO and founder of Tampa Bay Wave, a 501c3 nonprofit that has supported nearly 300 tech startups since 2013 with an

accelerator program, coworking, and other services. Collectively, these startups have raised over $200 million and created over 1,600 jobs. With

extensive mentor and investor networks, Wave's accelerator is the only Florida-based accelerator accepted into GAN, the global accelerator

network.

Linda has been a founder or management team member of several tech startups since 1999, including venture capital funded companies. Prior to

that, Linda managed ERP implementation projects for Fortune 500 companies with Arthur Andersen.

Linda is an original member of Startup America Partnership and is currently a member of Startup Champions Network. Linda serves as an

Honorary Commander at MacDill Air Force Base and on the advisory boards at the Straz Center, Centre for Women, and Visit Tampa Bay. In 2019,

Linda was selected to the U.S. delegation to the Global Entrepreneurship Congress in Bahrain.

Linda has an MBA from Columbia University, plus a Masters in Accounting and BS degrees from Florida State University. She is also a Tampa Bay

native and a mother to two future female entrepreneurs in Tampa Bay.

THERESA BECKIE, PHD Associate Dean and Professor, USF College of Nursing; Professor, USF College of Medicine

Cardiology; Associate Dean, PhD Program, USF College of Nursing

Dr. Theresa Beckie is a professor and Associate Dean of the PhD Program in the College of Nursing and professor in

the College of Medicine, Division of Cardiovascular Sciences at the University of South Florida. Dr. Beckie received her

master and doctoral degree at the University of Alberta in Edmonton, Alberta, Canada.

Dr. Beckie's program of research has substantially contributed to the breadth and depth of the science for improving

health behaviors and health outcomes of women with cardiovascular disease. With National Institutes of Health

funding, she was the first to develop a motivationally tailored cardiac rehabilitation program specifically for women.

The international reputation of her work to understand the environmental and genetic risks for women, their unique

physiological and psychosocial risks, and gender-specific barriers to disease self-management, led to contributions to

numerous American Heart Association scientific statements including guidelines for preventing cardiovascular disease

in women, acute myocardial infarction in women, and performance measures for delivering cardiac rehabilitation.

Her current research seeks to improve access to healthcare at a lower cost for improved health outcomes of women with

heart disease. Dr. Beckie is translating her face-to-face cardiac rehabilitation program for women to a mobile platform

using wearable sensors and a smartphone. The program, HerBeat, could revolutionize the delivery of behavior change

interventions personalized to women's lives.

INSTAGRA FACEBOOK TWITTER @USF_WLP #USFWLP • 14 TH

ANNUAL WLP FALL SYMPOSIUM
---
PAGE 31

SUSAN BLACKBURN President and Chief Operating Officer, Freedom Bank

Susan Blackburn is a Tampa Bay banking executive with over 40 years in the financial services industry.

Prior to joining Freedom Bank, her positions include Regional Executive for Sabadell United Bank,

Market President for Synovus Bank; and Senior Vice President, Retail Sales Division Executive for

Bank of America. Susan Blackburn's community leadership roles include the Executive Committee

and Advisory Board for the Salvation Army, Past Chair & current Board Member of the CEO Council

of Tampa Bay, Board Member of the Pinellas County Economic Development Council and member of

the St. Petersburg Area Chamber of Commerce and USF Women in Leadership and Philanthropy. Ms.

Blackburn is a past recipient of the Tampa Bay Business Journal's "Business Woman of the Year" in the

Financial Services Sector.

LYDA LINDELL, MD Anti-Aging Medicine Specialist

Dr. Lyda Tymiak Lindell is interested in improving health and preventing disease through education and

precision medicine. She is Board certified in Anti-Aging and Regenerative Medicine from the American

Academy of Anti-Aging Medicine (A4M).

Dr. Lindell received her Bachelor of Arts Degree from Boston University in 1972 and M.D. from Albert

Einstein College of Medicine in 1976. She completed an internship in Internal Medicine and Residency

in Ophthalmology at the University of South Florida Morsani College of Medicine followed by Board

Certification in Ophthalmology. She completed a Fellowship in Functional and Metabolic Medicine from

A4M and USF Medical School in 2017. Dr. Lindell founded Gulfcoast Eye Care in 1980 specializing in

cataract and implant surgery, and opened Timeless MD Spa in 2003 specializing in non-surgical facial

rejuvenation. She was certified in Cenegenics Age Management Medicine in 2005, and retired from the

practice of Ophthalmology in 2010.

Past teaching appointments include Associate Professor of Ophthalmology at USF Morsani College of

Medicine, National Education Faculty for Allergan and faculty for Syneron Laser Workshops, and. serves

on the Board of Trustees of the Community Foundation of Tampa Bay and the Dean's Advisory Board of

USF College of Arts and Sciences. She is a member of USF Women in Leadership and Philanthropy and

Philanthropic Women of St Joseph's Hospital, and her professional memberships include the American

Academy of Anti-Aging Medicine, The Ukrainian Medical Association, the Society of International

Business Fellows (SIBF) and the Economic Club of Tampa.

Dr. Lindell resides in Tampa with her husband Carl Lindell, and has 2 children and 5 grandchildren. Her

hobbies include biking, tennis, art, golf, travel and photography both under and above water.

USF WOMEN IN LEADERSHIP & PHILANTHROPY • USF.EDU/WLP
---
PAGE 32

CONCURRENT SESSIONS

10:30 - 11:30 AM (PICK ONE)

FEARLESS PHILANTHROPY

Esplanade

A popular adage for the cycle of philanthropy holds that "first you learn, then you

earn, and then you return…" but rarely is it that simple. Join Lea LeVines from

BNY Mellon Wealth Management to hear from three women with very unique

stories about how they have leveraged their time, talent and treasure to create

change in our communities through their "fearless" approach to philanthropy.

SPONSORED BY:

Lea Levines

Senior Director, BNY Mellon Wealth Management

MODERATOR

Lea LeVines is a senior wealth director with BNY Mellon Wealth Management. Her primary responsibilities include business

development and client service.

Lea joined the firm in January 2008. She has more than 25 years of experience in the wealth management, financial planning and

investment arenas. Lea received her bachelor's degree in business administration with a concentration in international finance

and marketing, from the University of Miami, Coral Gables, Florida. She is a Certified Financial Planner.

MICHELLE HAMILTON '04 Corporate Social Responsibility Manager, Florida Blue

Michelle Hamilton joined Florida Blue in 2010. As the Corporate Social Responsibility Manager for

Florida Blue's West Region, Michelle is responsible for leading the local philanthropic strategy in a 14

county region. She also oversees sponsorships and grants supported by Florida Blue and the Florida

Blue Foundation. Additionally, Michelle leads Florida Blue's volunteer efforts and annual employee

giving campaigns in Florida Blue's West Region offices.

Michelle holds a Bachelor of Arts degree in Communication from the University of South Florida. She

has also earned a 215 insurance license (Life, Health and Annuities). Michelle recently completed the

Tampa General Hospital White Coat Internship where she had the unique opportunity to shadow a TGH

physician and experience a real day in the life of a physician.

Michelle has a great commitment to the community and has been active in several organizations such as

The University of South Florida's Women in Leadership and Philanthropy, Tampa Connection's Class of

2019 and The Junior League of Tampa. In January, Michelle joined the board of directors for the Nonprofit

Leadership Center of Tampa Bay.

Michelle currently resides in Tampa, Florida with her husband Tracy, four year old son Ari and their

Australian Shepard, Sydney.

INSTAGRA FACEBOOK TWITTER @USF_WLP #USFWLP • 14 TH

ANNUAL WLP FALL SYMPOSIUM
---
PAGE 33

JANE MORGAN Community Leader and Philanthropist

WLP member Jane E. Morgan has been a devoted USF donor for nearly two decades. She, along with

her husband, USF alumnus, George Morgan, have supported numerous USF academic and athletic

programs over the years, including annual and planned donations, utilizing a number of giving methods.

Before retirement, Ms. Morgan's career as a lodging industry consultant provided many volunteer

board and other service opportunities to give mostly of her "time and talent" to several charitable

organizations. It wasn't until their early retirement years that the child-free Morgan's began to actively

hone the nature and focus of their financial support for their respective alma maters.

Over the years the scope of their giving has been shaped and expanded by the close relationships they

have enjoyed with various university Deans and development officers, and has always been guided by

their team of trusted financial advisors.

Ms. Morgan is an active member of USF WLP, and also serves her alma mater, the Florida State University,

in many capacities, including as an impactful donor and mentor in the Dedman School of Hospitality

and the FSU/Asolo Conservatory, as a founding member of Women for FSU, and through nine years of

service as a board member with the Florida State University Foundation Board of Trustees. She helped

create that body's Donor Stewardship Committee and served as its inaugural Chair.

MONICA WOODEN Cofounder and Former CEO, MercuryGate International

Monica B. Wooden is the cofounder and ex-CEO of MercuryGate International, a company providing

transportation management solutions in supply chain management. Clients have improved productivity

and operational efficiency through MercuryGate International's efforts to improve transportation

processes, increase client satisfaction and reduce costs.

Prior to cofounding MercuryGate, Wooden served as an executive at IBM, supervising its Florida

consulting practice and creating new business ventures in transportation and distribution worldwide. It

was there she realized the need to automate transportation processes, inspiring the start of MercuryGate.

She and her company are founding members of the Muma College of Business' Center for Supply

Chain Management & Sustainability. Since 2015, MercuryGate has donated transportation management

software licenses for classroom use, supported faculty with industry insight as they began to envision

the center and was a key player in launching the inaugural statewide Florida Supply Chain Summit.

Most importantly, helping expand the center's business network to ensure more engagement between

companies and students for employment after graduation. In April 2019, USF's Muma College of

Business announced the receipt of a $5 million gift from Wooden to benefit this program, which was

named in her honor.

Wooden, is a member of the Committee of 200, comprised of women representing companies with

more than $1.2 trillion in combined revenue. She was recognized in Forbes and Southeast Women in

Business and in 2013, received the Ernst & Young Entrepreneur of the Year award for the Southeast

region.

Though Wooden earned a bachelor's degree from Ithaca College in New York and a master's degree

from the University of Georgia, both of her children are USF Bulls.

USF WOMEN IN LEADERSHIP & PHILANTHROPY • USF.EDU/WLP
---
PAGE 34

BECOME A PART OF WLP

The USF Women in Leadership & Philanthropy (WLP) program

is focused on engaging and educating its members in support

of women and women's initiatives throughout throughout USF

and in our communities.

WLP was formed in 2005 with the leadership of USF President

Judy Genshaft, longtime USF supporter Carol Morsani, and

Tampa Bay's leading philanthropists, business professionals

and entrepreneurs to support a common purpose: promoting

the educational and research endeavors of women throughout

the university. Leveraging the power of our individual and

collective talents and resources, members work together

to affect real and lasting change in the lives of students and

faculty, and enrich the intellectual and societal fabric of our

region. As a member of WLP, members have the opportunity to

create bonds with students, faculty and one another and, in the

process, help develop the next generation of women leaders.

Annual members ($1,000 per year and $500 per year for those

35 and younger) and corporate members ($5,000 per year)

support WLP programmatic offerings and outreach initiatives

and help grow the principal of the WLP Endowed, WLP/USF St.

Petersburg and WLP/USF Sarasota-Manatee scholarship funds.

Members contributing at the endowment level ($25,000 or

above) join our list of lifetime members.

We invite you to join with other WLP members, all leaders

and philanthropists in their own right, who are committed to

enhancing opportunities for women. Your unique passion and

experience are certain to improve our ability to fulfill our mission

and to contribute to our local, national and global communities.

Together, we can strengthen opportunities for women and in

doing so, make the Tampa Bay region a better place to live and

work.

To make your gift online, visit http://bit.ly/joinWLP

CORPORATE MEMBERSHIP - $5,000

Benefits:

• Membership in USF President's Council giving society

• WLP individual membership for up to 2 representatives

• Mentoring opportunities

• Special University updates

• Opportunity for representative to be featured as a panelist or

speaker at a WLP event

• Invitation to exclusive WLP events

• Preferred opportunity to co-sponsor WLP events

• Recognition on WLP website with link to corporate website

• Recognition from podium at WLP events and in WLP

Publications

• One corporate table of ten (10) at the annual WLP Fall

Symposium

• Recognition in the WLP Annual Report

For information regarding the WLP Corporate Member program,

contact Kate Evans at carodi@usf.edu or (813) 974-6996.

University of South Florida Foundation, Inc.

4202 E. Fowler Ave., ALC100, Tampa, FL 33620-5455

813-974-4070 • wlp@usf.edu • usf.edu\wlp

Thank you for your generous support!

INSTAGRA FACEBOOK TWITTER @USF_WLP #USFWLP • 14 TH

ANNUAL WLP FALL SYMPOSIUM
---
PAGE 35

WHAT WILL YOUR LASTING LEGACY BE?

Whether you give to honor those who paved the way before you or to empower the next generation of women leaders,

your deferred gift – large or small – makes a real difference in the lives of women throughout the entire USF System.

By naming USF Women in Leadership and Philanthropy in your trust or will, you are planting a seed for future change

and ensuring the continued success of WLP, and the impact of the program for generations to come.

CINDY

KANE, '76

Consultant, GW Group LLC

(Retired)

JANE

APPLEGATE, PHD

Dean, USF College of Education

(Retired)

SUSAN

MACMANUS, PHD

USF Distinguished University

Professor Emerita

I'm eternally grateful to WLP for providing

me the vehicle to give back to USF. After

attending a WLP Symposium, I learned of

the opportunities for students and ways for

me to be actively involved. Needless to say,

my interaction with the students has been a

life changer. I absolutely love meeting the

freshman students the first time they attend

a WLP function and then watch them grow

each year.

My parents were able to financially support

my college education and the WLP

scholarships assist students who are not

as fortunate as I was while attending USF.

As a lifelong learner, an education is one of

the most important gifts you can give to a

person and an education can never be taken

away. My parents instilled the importance

of philanthropy and helping others and I'm

fortunate to be able to continue their legacy.

My husband, Mark and I are so happy to

be able to endow a deferred gift to WLP,

providing future unrestricted operating

funds to ensure the program's continuation.

Our gift is an investment for future

generations. For women who want to BE

the kind of woman that makes other women

want to up their game.

Why have I established an award for

promising scholars?

As a former professor and dean of the

College of Education I have had the

privilege of meeting and mentoring many

excellent doctoral students who aspired to

careers in academic life. My students would

ask me about my career path and how I

was able to handle all of the challenges

and responsibilities that come from being

both an academic and a woman. It always

seems harder for women. Three of my best

students were a woman who began her

studies after twenty five years of raising a

family and teaching in a middle school; a

second student's husband left her in the

middle of her program; a third completed

her studies with a mountain of debt, three

children and a husband providing for the

family on a schoolteacher's salary. Over

the course of my career I witnessed many

promising students get to the stage of

independent research and drop out, unable

to support themselves through this final

process.

My legacy gift, the Dr. Jane Applegate

Promising Scholar Award is intended to

ease the burden for just such students, and

empower them to complete their studies

through dissertation.

"Since you get more joy out of giving joy

to others, you should put a good deal of

thought into the happiness that you are able

to give." Eleanor Roosevelt.

"Giving frees us from the familiar territory of

our own needs by opening our mind to the

unexplained worlds occupied by the needs

of others." Barbara Bush

The words of these beloved first ladies

express my philosophy of giving. Many of

you know of my love for politics and the joys

of teaching USF students Florida Politics for

30 years, each thanks to help along the way.

I learned the joys of giving first-hand from

my grandmother Grace who taught me to

share with the less fortunate, my mother

Elizabeth who did without new clothes so I

and two siblings could go college after our

orange grove froze, my high school teacher

Elizabeth Bradley who made government

come to life, Dr. Daisy Parker Flory who

inspired my love of Florida politics, and the

unknown women whose gifts to a University

of Michigan scholarship allowed me to finish

the last semester of my master's program

when, again, our orange crop froze.

My wish is that others who have been so

blessed in life will give to the many young

women who need a helping hand to reach

their dreams.

USF WOMEN IN LEADERSHIP & PHILANTHROPY • USF.EDU/WLP
---
PAGE 36

N O T E S

INSTAGRA FACEBOOK TWITTER @USF_WLP #USFWLP • 14 TH

ANNUAL WLP FALL SYMPOSIUM
---
PAGE 37

N O T E S

USF WOMEN IN LEADERSHIP & PHILANTHROPY • USF.EDU/WLP
---
PAGE 38

N O T E S

INSTAGRA FACEBOOK TWITTER @USF_WLP #USFWLP • 14 TH

ANNUAL WLP FALL SYMPOSIUM
---
PAGE 39

N O T E S

USF WOMEN IN LEADERSHIP & PHILANTHROPY • USF.EDU/WLP
---
KEYNOTE LUNCHEON SEATING CHART

1 2 3 4 5 6 7 8 9 1 0 1 1 1 2 1 3 1 4

1 5 1 6 1 7 1 8 1 9 2 0 2 1 2 2 2 3 2 4 2 5 2 6 2 7 2 8

2 9 30 31 32 33 34 35 36 37 38 39 4 0 4 1 4 2

4 3 4 4 4 5 4 6 4 7 4 8 4 9 5 0 5 1 5 2 5 3 5 4 5 5 5 6

5 7 5 8 5 9 60 61 62 63 64 65 66 67 68 69 70

71 72 73 74 75 76 77 78 79 8 0 8 1 8 2 8 3 8 4

8 5

8 6

8 7

8 8 8 9 90 91 92 93 94 95

96

97

98

99

1 0 0

B r e a k f a s t B r e a k f a s t

B r e a k f a s t

B r e a k f a s t