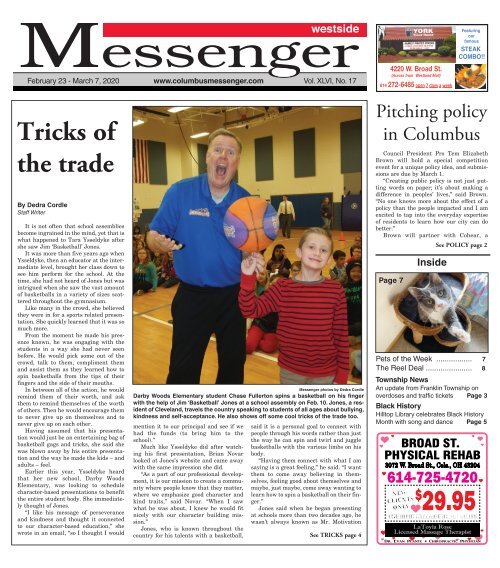 Westside Messenger - February 23rd, 2020
You also want an ePaper? Increase the reach of your titles
YUMPU automatically turns print PDFs into web optimized ePapers that Google loves.
westside

February 23 - March 7, 2020 www.columbusmessenger.com Vol. XLVI, No. 17

4220 W. Broad St.

(Across from Westland Mall)

614 272-6485 open 7 days a week

Featuring

our

famous

STEAK

COMBO!!

Tricks of

the trade

By Dedra Cordle

Staff Writer

It is not often that school assemblies

become ingrained in the mind, yet that is

what happened to Tara Ysseldyke after

she saw Jim 'Basketball' Jones.

It was more than five years ago when

Ysseldyke, then an educator at the intermediate

level, brought her class down to

see him perform for the school. At the

time, she had not heard of Jones but was

intrigued when she saw the vast amount

of basketballs in a variety of sizes scattered

throughout the gymnasium.

Like many in the crowd, she believed

they were in for a sports related presentation.

She quickly learned that it was so

much more.

From the moment he made his presence

known, he was engaging with the

students in a way she had never seen

before. He would pick some out of the

crowd, talk to them, compliment them

and assist them as they learned how to

spin basketballs from the tips of their

fingers and the side of their mouths.

In between all of the action, he would

remind them of their worth, and ask

them to remind themselves of the worth

of others. Then he would encourage them

to never give up on themselves and to

never give up on each other.

Having assumed that his presentation

would just be an entertaining bag of

basketball gags and tricks, she said she

was blown away by his entire presentation

and the way he made the kids — and

adults — feel.

Earlier this year, Ysseldyke heard

that her new school, Darby Woods

Elementary, was looking to schedule

character-based presentations to benefit

the entire student body. She immediately

thought of Jones.

"I like his message of perseverance

and kindness and thought it connected

to our character-based education," she

wrote in an email, "so I thought I would

Messenger photos by Dedra Cordle

Darby Woods Elementary student Chase Fullerton spins a basketball on his finger

with the help of Jim 'Basketball' Jones at a school assembly on Feb. 10. Jones, a resident

of Cleveland, travels the country speaking to students of all ages about bullying,

kindness and self-acceptance. He also shows off some cool tricks of the trade too.

mention it to our principal and see if we

had the funds (to bring him to the

school)."

Much like Ysseldyke did after watching

his first presentation, Brian Novar

looked at Jones's website and came away

with the same impression she did.

"As a part of our professional development,

it is our mission to create a community

where people know that they matter,

where we emphasize good character and

kind traits," said Novar. "When I saw

what he was about, I knew he would fit

nicely with our character building mission."

Jones, who is known throughout the

country for his talents with a basketball,

said it is a personal goal to connect with

people through his words rather than just

the way he can spin and twirl and juggle

basketballs with the various limbs on his

body.

"Having them connect with what I am

saying is a great feeling," he said. "I want

them to come away believing in themselves,

feeling good about themselves and

maybe, just maybe, come away wanting to

learn how to spin a basketball on their finger."

Jones said when he began presenting

at schools more than two decades ago, he

wasn't always known as Mr. Motivation

See TRICKS page 4

Pitching policy

in Columbus

Council President Pro Tem Elizabeth

Brown will hold a special competition

event for a unique policy idea, and submissions

are due by March 1.

"Creating public policy is not just putting

words on paper; it's about making a

difference in peoples' lives," said Brown.

"No one knows more about the effect of a

policy than the people impacted and I am

excited to tap into the everyday expertise

of residents to learn how our city can do

better."

Brown will partner with Cohear, a

See POLICY page 2

Page 7

Inside

Pets of the Week ................. 7

The Reel Deal ...................... 8

Township News

An update from Franklin Township on

overdoses and traffic tickets Page 3

Black History

Hilltop Library celebrates Black History

Month with song and dance Page 5

BROAD ST.

PHYSICAL REHAB

3072 W. Broad St., Cols., OH 43204

614-725-4720

$

29.95

ONE HOUR MASSAGE (Reg. $60.00)

NEW

CLIENTS

ONLY

LaToyia Rose

Licensed Massage Therapist

Dr. Evan Plante • Chiropractic Physician
---
PAGE 2 - WESTSIDE MESSENGER - February 23, 2020

Indoor duathlon event

The Prairie Township Community

Center is hosting the 2020 indoor duathlon

on Sunday March 22. This event consists of

a 15-minute walk/run, 25-minute indoor

cycle, and finishes with a 20-minute

22nd Annual

"Best Fish Dinner in Town!"

Baked Cod and Fried Perch

ST. MARGARET OF CORTONA CHURCH

Fridays in Lent: Feb. 28th - April 3rd, 4:30 - 7:30 PM

Fried Ocean Perch or Baked Cod with choice of two sides:

• Baked Potato • Sweet Potato • Macaroni & Cheese

• French Fries • Cole Slaw • Applesauce

Includes Roll & butter, Homemade Dessert & Free Coffee

ADULTS: $11.00 • SENIORS $10.50;

CHILDREN (10 & UNDER) $5.00 (Free under 3)

Xtra Large Fish Platter - $16.00. Special Family pricing

1600 N. Hague Ave. INFO: 614-279-1690

walk/run. There will be three waves with

eight spots each with the first wave starting

at 7:30 a.m. The cost for this event is

$30 until March 21 and $35 if you sign up

on race day. Space is limited so reserve a

spot. All participants with receive a finishers

medal. To sign up, visit www.prairietownship.org,

call 614-907-7990 or sign up

at the community center in person.

Fish fry

The St. Cecilia Knights of Columbus will

be hosting its annual fish fries starting

POLICY

Continued from page 1

Cincinnati-based community engagement

and strategy company, to host the city's

CHOCTAW LAKE

CRAFT BAZAAR

Sat., February 29 th

9:00 am - 3:00 pm

Choctaw Lake Lodge

2875 Oneida Dr.

London

STOP IN FOR

LUNCH!

community events

Friday Feb. 28 and will be held each Friday

through April 3 at St. Cecilia Catholic

Church, 434 Norton Road. The hours of

operation will be 5 to 7:30 p.m. and the cost

is $10 for adults, $9 for seniors and $4.50

for children.

Free meal at Hoge Memorial

There will be a free hot meal served at

Hoge Memorial Presbyterian Church, 2930

W. Broad St., from 5 to 6 p.m. every

Saturday.

For more information, contact the

first Policy Pitch Night, a civic competition

for residents who have a policy idea to solve

a problem, improve quality of life, or to

make city government work better for all.

Columbus residents of any age can submit

a policy pitch for the competition by

March 1 and can seek help from Cohear to

hone their concept into a policy submission.

Once the submission window has closed,

a group of grassroots leaders and community

members will then score the submissions

and determine the top five finalists, who

will have five to seven minutes to present

their policy idea at an event on March 31.

The audience will cast votes to select the

www.columbusmessenger.com

church at 276-5433 or visit www.hogepresby.org.

Breakfast to benefit

Special Olympics

The Westgate Masonic Lodge #623 is

preparing breakfasts once a month to benefit

the Special Olympics. The public is

invited to have breakfast the second

Saturday of each month. Adults pay $6,

children age 3 and above pay $3 while children

under 3 eat free. Serving is from 9

a.m. to noon.

final winner. After the community selects

the winning policy, Brown will champion

the issue at City Hall.

Policy Pitch Night originated in

Cincinnati two years ago when Cincinnati

City Council Member P.G. Sittenfeld partnered

with Cohear, pledging to bring the

winning policy to City Hall. The annual

event has been a resounding success in

Cincinnati, and the Cohear team is proud

to bring this opportunity to the Columbus

community for the first time.

Residents must submit their policy

ideas at cohear.typeform.com/to/FdAv6D

by 10 p.m. on Sunday, March 1.

FREE "For Sale

by Owner" seminar!

Reserve your spot today!

Saturday, February, 29, 2020

from 10 a.m. to 1 p.m.

Columbus Metropolitan Library Franklinton

1061 W. Town Street

Columbus, Ohio 43222

R.S.V.P. your name, # of people,

and your email address to:

anthony.marcino@kingthompson.com

or call (614) 330-2520

ANTHONY MARCINO

Realtor ®

operated by a subsidary

of NRT LLC

4535 W. Dublin-Granville Rd.

Dublin, OH 43017

anthonymarcino@cbintouch.com

C: 614-330-2520
---
www.columbusmessenger.com

By Amanda Ensinger

Staff Writer

The drug epidemic continues to afflict

the westside and Franklin Township has

seen the impact firsthand as a rash of overdoses

have been reported. At a recent board

meeting, officials discussed the ongoing

problem.

"There has been a dramatic spike in

overdoses since the beginning of the

month," said Franklin Township Assistant

Police Chief David Ratliff. "There must

have been a bad batch because we have had

multiple overdoses in the same day."

According to trustee Aryeh Alex, the situation

is so bad right now that the

Franklin County Coroner's Office and prosecutor's

office have released statements

cautioning drug users that there are fatal

doses of heroin and cocaine spiked with

fentanyl on the streets right now in an

attempt to caution users.

According to the coroner's office, 10 people

died of fatal overdoses in Columbus

neighborhoods in the westside, south side

and Linden area within 24 hours recently.

Other crime issues were also discussed

at the meeting, including an update on

criminal activity for 2019. In 2019, township

police took 7,194 dispatch runs, drove

more than 62,000 miles, wrote 1,197 citations

and took 294 accident reports.

"We also wrote 8,378 camera citations,"

Ratliff said. "Meaning this was the amount

of people we cited for speeding in the township

via our new traffic camera system."

The new traffic camera system cites

drivers for going 10 miles per hour or more

over the speed limit. One police officer

operates the handheld camera during

school hours and monitors for speeders.

"Each speeding ticket is priced at a flat

$100 fee," said Franklin Township Police

Chief Byron Smith. "This is significantly

lower than the average speeding ticket in

Ohio, which starts at about $140 and goes

up with an increase in speed."

The township has raised several hundred

thousand on the citations in 2019. Out

of those funds, 59 percent went to the

police department for school safety, 2 percent

went to the community scholarship

fund, 2 percent went to community engagement

and the remaining funds went to the

general fund and road department.

As a result of the new ticketing system,

the township has used those funds to

award three $1,000 scholarships to local

graduating seniors. The township also

donated $1,000 to the Ohio Youth

Development for the Havenwood

Afterschool Youth Scholarship Program

and gave $200 to Franklin Heights High

School's Special Olympics Fund.

In other news, the township is considering

partnering with the county and city to

create a tiny homes community.

"They have done these in Denver and

they have been very successful," said John

Fleshman, township trustee. "If we could

find a large piece of land and figure out

sewer and water hookup, it could be a very

successful project. We also would be the

first community in

Ohio to offer this."

February 23, 2020 - WESTSIDE MESSENGER - PAGE 3

Government Focus

Overdoses and speeding tickets discussed in Franklin Twp.

For the project to

start, the township

would have to find a

property that has at

least 15 lots.

"If we could find

a property of this

size, the tax revenue

this could generate

would be very beneficial

to the township,"

Fleshman said. "It would be a great

investment in the community."

DENTAL Insurance

Physicians Mutual Insurance Company

A less expensive way to help get the dental care you deserve

If you're over 50, you can get coverage for about

$1 a day*

Keep your own dentist! You can go to any dentist

you want

NO annual or lifetime cap on the cash benefits

you can receive

FREE Information Kit

1-877-308-2834

www.dental50plus.com/cadnet

No wait for preventive care and no deductibles –

you could get a checkup tomorrow

Coverage for over 350 procedures including

cleanings, exams, fillings, crowns…even dentures

*Individual plan. Product not available in MN, MT, NH, NM, RI, VT, WA. Acceptance guaranteed for one insurance policy/certificate of this type. Contact us for complete details

about this insurance solicitation. This specific offer is not available in CO, NY; call 1-800-969-4781 or respond for similar offer. Certificate C250A (ID: C250E; PA: C250Q);

Insurance Policy P150 (GA: P150GA; NY: P150NY; OK: P150OK; TN: P150TN)

6096E-0917 MB17-NM008Ec

Frank's Fish and Seafood Market

LENT SPECIALS AND MUCH, MUCH MORE!

•Cod Fillets

•Haddock Fillets

•Flounder Fillets

•Faroe Island Salmon

•Atlantic Salmon

•Halibut Fillets

WE ACCEPT

•Swordfish Steaks

All Major Credit Cards

•Orange Roughy

EBT Cards (SNAP)

•Ocean Perch Fillets

•Assorted Wine. All State Minium Price
---
PAGE 4 - WESTSIDE MESSENGER - February 23, 2020

TRICKS

Continued from page 1

with a Basketball.

"I didn't think anyone would be interested

in anything I had to say," he said.

It was a belief that had been entrenched

in his mind since elementary school.

When Jones was a kindergartener, he

had trouble understanding letters and

words.

"They just didn't make any sense to me

whatsoever," Jones said. "I tried with all of

my might to make it make sense, but it

wasn't coming to me."

After a series of tests, Jones was diagnosed

with dyslexia and put into a special

education program to build his skills at his

learning level. As a student in the program,

it made him an easy target.

"At first it wasn't so bad but our school

was set up in numerical order," said Jones.

"The first graders were at the front of the

school, the third in the middle section and

the fifth at the end. As I grew, and my

classmates grew, they went further in the

back and I stayed in the front.

"It wasn't easy, listening to what they

would say to me or about those in the special

education program, but I tried not to

let it get in my heart."

He said he considers himself fortunate

that he was placed into the special education

program even though it made him an

"easy person for others to pick on."

"I think when you grow up with challenges,

it makes you a little grittier and it

gives you a stronger work ethic because

things do not come easily to you," he said.

Though he struggled at school, he persevered

and went on to graduate with a

degree in finance at Bowling Green State

University and then a master's at Ohio

State University.

Jones said when he tells people that tidbit,

they always wonder what he is doing

travelling the country performing at

schools while showcasing his skills with a

basketball (or three or four and all of various

sizes).

"It surprises them," he said. "It surprises

me too sometimes but I do not want to be

doing anything else."

He said what he loves about his work is

that when he goes into a new school, he

always learns a new story and makes a

new connection.

For instance, when he performed at

Darby Woods on Feb. 10, there was a student

who was not paying attention to his

performance. Though Jones said he wasn't

offended in the slightest, he could tell other

kids were getting agitated by their actions.

So he asked the child politely to sit, gave

them a pencil, told them how awesome

they are and then later had them come up

to help him perform one of the more complex

basketball skills acts.

"(This child) gave me the biggest smile

and talked to me afterwards," he said. "I

was later told that it was something they

rarely do."

Jones said he knows all about not judging

people by their appearance, or even

judging them by a bad moment or day.

"We all have them and we all make mistakes,"

he said. "No one is perfect and that

is completely OK.

"You never know what someone is going

through so that is why you always want to

show kindness to them."

He said that while he does not share

most of his story with the kids —"too boring,"

he joked — he does slip in lessons he

has learned along the way while dazzling

them with spinning basketballs that fly

through the air.

"When I started doing this as my career,

I knew I wasn't going to change the world,"

he said. "But I knew I wanted to change a

part of their world by being kind and

reminding them that they are enough."

www.columbusmessenger.com

Savannah Rivers was pulled out of the audience to assist in an act that saw Jones pour

water in her mouth while spinning the basketball. The towel was used as a precaution.

NEW LOCATION!

Westpointe Plaza Shopping Center

5388 Westpointe Plaza Drive, Hilliard

Saturday, Feb. 29th 8am - 4pm

UP TO

75% OFF!

Shop our stores all week for savings!

2.24 - 2.29

Bake Sale Hotline: 614.776.1500 ext 61400. Supplies are limited.

All sales final. No gift cards, savings passes, coupons, or discounts.
---
www.columbusmessenger.com February 23, 2020 - WESTSIDE MESSENGER - PAGE 5

Westgate Neighbor's Association to offer scholarship to local student

Applications are now being accepted for

the 2020 Westgate Neighborhood

Scholarship.

This scholarship is open to any graduating

high school senior who is a resident of

Westgate in Columbus (Westgate boundaries

for the purposes of this scholarship

are defined as West Broad Street to

Sullivant and Hague to Demorest) and has

applied to attend a college, university,

Messenger photo by Ris Twigg

Learning through art and dance

During February, Columbus Metropolitan Libraries across the city are hosting a

series of events to celebrate Black History Month. On Feb. 11, the Hilltop Branch

invited patrons of all ages to join Babaaritah Clark, a West African song and dance

performer, to learn about African history and culture through the art of song and

dance. Clark is pictured here teaching kids at the Hilltop Library a song called

"Funga Alafia," which means "welcome, blessings" in Nigeria. After teaching the

song, Clark taught around 15 kids the dance that goes along with the song.

trade school, technical vocational training

or other post-secondary education program

in the 2020-2021 academic year.

The scholarship is also open to full-time

students currently attending a college, university,

trade school, technical vocational

training or other post-secondary education

program in the 2020-2021 academic year.

However, their parents or legal guardians

must be current residents of Westgate.

All applications must be postmarked by

March 20. For more information, visit

westgateneighbors.org.

Mark Pi's Feast

of the Dragon

Restaurant

Asian & American Style Buffet

New Location Grand Opening

Lunch $5.88

Dinner $6.88

ALL-DAY BUFFET DEAL

(614) 272-0210

New Location 3670 Soldano Blvd., Columbus, OH 43228

(former home town buffet location)

4840 West Broad – Columbus

614-870-0111

www.AmsColumbus.com

10% off one item*

*Not valid for insurance transactions or with any other offers or discounts.
---
PAGE 6 - WESTSIDE MESSENGER - February 23, 2020

Historical Performance

In Education

www.columbusmessenger.com

Messenger photo by Ris Twigg

To celebrate President's Day, the

Hilltop Historical Society hosted a

Ulysses S. Grant reenactment for the

community at Crossroads United

Methodist Church on Feb. 16. Dave

Dobos, president of the society, said

the organization tries to provide programs

that promote not only the history

of Hilltop, but of Ohio as well.

Ulysses S. Grant, the 18th president of

the United States, was portrayed by

Doug Ebert. Ebert took listeners back

in time, detailing the President Grant's

life from as early as his childhood

years growing up in Point Pleasant,

Ohio.

CONCORDIA

LUTHERAN CHURCH

225 Schoolhouse Lane

Columbus, OH 43228

614-878-7800

Pastor David Kane

concordiacolumbus@gmail.com

Parkview United

Methodist Church

344 S. Algonquin

Columbus OH 43204

614-274-8431

pvumc1@att.net

Sunday School - 9:15am

Worship - 10:15am

Wednesday Bible Study - 6:30pm

westside

WEST BROAD

CHURCH OF CHRIST

3361 W. Broad St.

9:30 AM Sunday Bible Study

10:30 AM Worship Service

3:30 PM Worship Service

7:30 PM Wednesday Bible Study

www.westbroadchurch.com

WESTGATE

BAPTIST CHURCH

4234 Clime Road North, Columbus, OH 43228

614-279-6395

9:30 AM Sunday School

10:45 AM Worship Services

6:30 PM Sunday Evening

7:00 PM Wednesday Bible Study

FOOD GIVEAWAY

Every 4th Sunday of Month 3-5 PM

Be a Part of Our Local Worship Guide

Our Worship Guide is geared toward celebrating faith and helping readers connect

with religious resources in our community. Make sure these readers know how you can

help with a presence in this very special section distributed to more than

25,000 households in the Westside area.

Contact us today to secure your spot in our Worship Guide.

614.272.5422 • kathy@columbusmessenger.com

Photo courtesy of South-Western City Schools District

Six schools in the South-Western City Schools District earned the Momentum Award

from the state of Ohio. The schools were recognized at a recent school board meeting.

Schools gaining momentum

By Dedra Cordle

Staff Writer

It is difficult to achieve straight A's on

any report card, let alone one whose standards

are determined by the state department

of education, yet six schools in the

South-Western City district managed to

accomplish that feat in the 2018/19 school

year.

On Feb. 11, Buckeye Woods Elementary

was recognized at the board of education

meeting along with Franklin Woods,

Galloway Ridge, Holt Crossing, Park

Street and Hayes Intermediate Schools for

being named the recipients of the state's

Momentum Awards.

The criteria set for the award, said Brad

Faust, the district's assistant superintendent

of curriculum, is to have earned

straight A's in all value-added measures on

the state report card. In addition to that

standard, they also have to have at least

two value-added subgroups of students,

which include gifted, lowest 20 percent in

achievement, and students with disabilities.

To meet the criteria is an arduous task,

said district officials, and these schools

were able to meet those standards by

exceeding expectations in student growth.

Among the recipients of the Momentum

Awards were three schools that had previously

been recognized and three who were

recognized for the first time.

Since the state board of education began

recognizing schools with Momentum

Awards, Holt Crossing has amassed four,

all of them consecutively. They are one of

just 69 schools in the state to earn the

award for three or more years.

Principal Tyler Winner said the recognition

is not something the school takes for

granted.

"We are always pushing ourselves and

always striving to be better," he said. "We

hold this award in high regard."

He said one of the greatest factors in

achieving student growth is the dedication

the staff has to enrich the educational

experience of its students.

"We truly have a staff that loves their

kids."

Buckeye Woods and Galloway Ridge

received their second Momentum Award.

Angie Chandler, a literacy coach at

Buckeye Woods, said the consistency of the

staff that is always working toward greater

student achievement has been a boon to

the school as has the push toward creating

an inclusive environment.

"We expect 100 percent kindness in

action each day," she said.

Brittany Budimirovic, the principal at

Galloway Ridge, said the implementation

of programs such as pizza with a principal

and the showcasing of student talent and

achievement have all contributed to a more

positive and engaging experience for students

and staff.

Franklin Woods, Park Street and Hayes

Intermediate all received Momentum

Awards for the first time.

Park Street Assistant Principal J.D.

Johnson said they have fostered an environment

where it is acceptable to make

mistakes.

"We have a growth mindset in our classroom

and with the staff that it is OK to

make mistakes," he said.

The lesson, he added, is that while mistakes

are normal, you have to keep pushing

on with the desire to learn and to grow

as a student, teacher and individual.

At Hayes Intermediate, Principal

Michael Nesler said intervention teams

are one of the largest contributors to

exceeding student growth while Franklin

Woods Principal Andy Stotz said it was the

commitment to invest in more rigorous

curriculum that pushed the school toward

greater student achievement. He also

noted the implementation of social and

emotional programs for staff and students

that have been an immense benefit to the

school.

In addition to these contributing factors,

each school representative said it was

the district's enactment of programs such

as I-Ready, a diagnostic tool that offers

real-time assessment to teachers regarding

a students' strengths and weaknesses in

reading and mathematics, and the encouragement

of participation in Teachers

College that have propelled them to exceed

expectations in student growth.
---
www.columbusmessenger.com

Linus is a 3-monthold

lab mix. This pup

is full of energy, playful

and learning new

things every day.

He'll be a larger dog

when fully grown and

is currently in foster

care. Linus is

neutered, vaccinated

and microchipped.

He is up for adoption through Colony Cats

and Dogs.

FYI: www.colonycats.org

Maddy was rescued

from a hoarding situation

but she still has

so much to offer after

all the challenges.

Maddy is very affectionate

toward

humans. Don't be

tricked by her small

size, as an mature

adult cat, she is

house trained and does not require a lot of

play time. She respects her humans' personal

space when they are busy, but loves attention.

She is not a fan of other cats, but can live

with a calm, friendly dog or be the only

spoiled pet in the household.

FYI: www.colonycats.org

Bruiser is a 5-yearold

large mixed

breed. He's a naturally

playful, curious,

and trusting canine.

He enjoys daily walks

and would love a job

to fulfill his time. After

his job is done, he'll

curl up with his people

in the evenings.

Bruiser is a real people pleaser and would

love to find his forever home. Adopt him from

the Franklin County Dog Shelter.

FYI: 614-525-3647 or www.franklincountydogs.com

Violet is a bit of a

wallflower. She is a

shy yet charming girl

searching for patient

owner with relaxed

lifestyle. Violet would

do best with someone

who could provide

gentle guidance

to help her come out

of her shell. She is

sure to blossom with the right person. Adopt

Violet from the county shelter.

FYI: 614-525-3647 or www.franklincountydogs.com

Free meal at Lamb of God

The Church of the Lamb of God will host

a free community meal from 11 a.m. to 2

community events

February 23, 2020 - WESTSIDE MESSENGER - PAGE 7

p.m. the fourth Saturday of each month at

272 Fernhill Ave. in Columbus. For additional

information, call 614-706-4945.
---
PAGE 8 - WESTSIDE MESSENGER - February 23, 2020

www.columbusmessenger.com

"Fantasy Island" is a tedious slog to get through

In "Fantasy Island," a magical power source is able to

turn back the hands of time to give its characters the

opportunity to choose a different path. And it is such a

shame that the source is not real as I would very much like

to recover the hours spent watching this garbage.

"Fantasy Island" is one of the dumbest movies I have

ever seen and I will not do it a courtesy by including "in

136 East Innis Ave. - Open Sunday 1- 4

Property Qualifies for 5/3 Banks Down Payment Assistance

up to $5,000 with No Pay Back Required!

Off High Street south of Greenlawn Ave., just before Reeb Ave.

Refurbished 1 1/2 story. Move in condition. 2 bedrooms and full bath

up. 1/2 bath, large living room, dining room, kitchen/laundry room

down. Nothing Down "VA.

Larry E. Alban

Realtor

(614) 274-2002 (614) 202-1705

In Entertainment

The Reel Deal - By Dedra Cordle

quite some time" at the end of that statement. It is just one

of the dumbest movies I have ever seen. Full stop.

From the moment it opens with a woman running

through the jungle in high heels to the unveiling of the

deepest and darkest desires of the main characters to it

unsurprising and nonsensical end, this film is a tedious

slog to get through. While there are brief sputters of interesting

things happening, such as contest winner

Melanie (Lucy Hale) getting to exact revenge on

what she believes is a holographic form of a childhood

tormentor, it is just as quickly squashed by

things like dialogue and acting and pacing issues.

The latter is a big problem in this film, especially

because the story relies on the fulfillment fantasies

of five characters and the concept of being careful

with what you wish for.

While pacing was an issue, it was not the primary

issue I had with this film. That would be the

lack of knowing what it wanted to be and just

throwing things around to see if it would make

sense. I am not one to say that a film must choose

one genre but "Fantasy Island" tries it hand at several

and fails at them all. It tries to create a supernatural

atmosphere but it dies with the reanimated

bodies that pile up. It reaches for the psychological

thriller but is neither psychologically compelling

nor thrilling. When it bombs at those genres, it

goes for horror and is horrible. Then it tries to turn

itself into a campy comedy and just sputters out like a

small fire in a torrential rain.

The attempt at the latter was particularly egregious as

that is a personal favorite. It is hard to pull off camp but

what helps is a cast that is in on the joke, even if the overall

film is not that great. The cast in this film, which

includes Maggie Q, Michael Pena, Ryan Hansen and

Austin Stowell, do not seem to be in on any joke, though

Hansen tries when paired up with Jimmy O. Yang. (The

two play brothers wanting to live the high life.) Instead, it

feels as if they do not know what is going on or how they

came to be involved with the film. I suspect it had more to

do with the island location and the paycheck rather than

an affinity for the script.

With a terribly told story, shoddy pacing and not-sogreat

acting, "Fantasy Island" will not fulfill any fantasies

you have about watching a good movie, or even being

entertained by a bad one: It's just this weird hodge-podge

of rough draft ideas with a very low enjoyment factor. If, by

some chance, you had wanted to see this movie, do yourself

a favor and speak with your wallet and consult with your

free time beforehand; listen to it and agree with it as they

tell you to spend it on something else, anything else. After

all, there is no magical power source granting us the

opportunity to choose a different path. Grade: F

Dedra Cordle is a Messenger staff writer and columnist.

CLASSIFIED ADS

Deadlines: Southeast and West editions, Wednesdays at 5 p.m., • East, Southwest, Madison editions, Tuesdays at 5 p.m.

All editions by phone, Tuesdays at 5 p.m. • Service Directory, Tuesdays at 5 p.m.

xEmployment

JOB

EXPLOSION!!

S TA F F I N G Your Partner at Work

30 Over Immediate

Warehouse Openings Available

Pick/Pack to Forklift,

Variety of Shifts

Temp to Hire

UP TO $14/HOUR

Apply Today at Trillium

Located at 4998 West Broad St., Suite 100

Columbus, Ohio

614-351-3100

BE YOUR OWN BOSS!

INDEPENDENT

CONTRACTORS

WANTED

If you have a reliable

car and would like to

earn extra money,

then why not deliver?

• Deliver 1 or 2 days a week

• Flexible delivery hours

• Work close to home - often

in or near your neighborhood

CONTACT US

1-888-837-4342

www.thebag.com

• Deliver 7 days a week

• Delivery before dawn

• Work close to home - often

in or near your neighborhood

CONTACT US

614-461-8585

www.dispatch.com/delivery

55 or over?

Actively Seeking Employment?

"Earn While You Learn"

The AARP Foundation SCSEP may be the first step toward your next job.

If you are 55 plus, unemployed, and meet income guidelines, AARP

Foundation may be able to assist you with your job search.

We offer paid training in non-profit and public agencies for an average of

18 hours/wk. to serve as a bridge to employment outside the program.

Additional paid skills training may be available, plus interview coaching,

resume review, and more. All SCSEP services are free

to eligible job seekers.

For more information or to make an appointment, please contact our

Columbus (West) and Madison County office at (614) 258-7295;

our Central Ohio (East) office at (614) 322-0600;

or our Delaware County office at (740) 833-2366

Employment
---
www.columbusmessenger.com

February 23, 2020 - WESTSIDE MESSENGER - PAGE 9

CLASSIFIED ADS

Deadlines: Southeast and West editions, Wednesdays at 5 p.m., • East, Southwest, Madison editions, Tuesdays at 5 p.m.

All editions by phone, Tuesdays at 5 p.m. • Service Directory, Tuesdays at 5 p.m.

xEmployment

SCHOOL/DISTRICT

OFFICE SECRETARY

The South-Western City School District announces a competitive

exam for SECRETARY. Nature of work and qualifications include high

school diploma or equivalent with one year of experience or

equivalent combination of training and experience; ability to type on

the computer at a minimum of 45 (net) words per minute; and ability

to keep clerical and financial records.

This is an advanced clerical and general office position in an

elementary, intermediate, middle, high school or district office.

Works 9 to 12 months per year, 8 hours per day. Starting salary is

$17.52 - $18.71 per hour.

A SWCSD-Grove City Civil Service application must

be obtained, filled out and returned to 3805 Marlane

Dr., Grove City, OH 8:15 AM - 4:45 PM weekdays from

February 24th through March 6th. A competitive

written exam will be given on Saturday, March 14th,

2020 at 8:30 AM.

Full Benefits - Retirement - Good working conditions.

EOE

WANTED

GRILL & KITCHEN

You Can Work 29+ Hrs. Based on

Your Availability & Performance

Immediate Full/Part-time Openings

We Offer:

• Weekly Pay

• Paid Training

• No Tip Sharing

• Paid Vacation

• Employee Meal Discount

• Position/Salary Advancement Plan

• Discount Purchase Plan

Apply online at crackerbarrel.com/careers for

Grove City Location 614-871-1444

BETTY'S

Elderly Care

Has Openings for

Weekend Caregiver

Working With the Elderly

Transportation, Some Experience

& References Required. Drug Test.

Call: 614-777-5850

INFORMATION

Got the Winter Blahs?

Call Marilyn Weaver

For An Appt.

For a New Haircut/Style

614-277-1921

Indulgence Hair Salon

3387 McDowell Rd.

Grove City

ASSOCIATION ADS

Cross Country Moving,

Long distance Moving

Company, out of state

move $799 Long Distance

Movers. Get Free

quote on your Long distance

move 1-844-452-

1706

ASSOCIATION ADS

** STOP STRUGGLING

ON THE STAIRS** Give

your life a lift with an

ACORN STAIRLIFT! Call

now for $250 OFF your

stairlift purchase and

FREE DVD & brochure!

1-866-471-1334

Become a Published Author.

We want to Read

Your Book! Dorrance

Publishing-Trusted by

Authors Since 1920.

Book manuscript submissions

currently being

reviewed. Comprehensive

Services: Consultation,

Production, Promotion

and Distribution. Call

for Your Free Author's

Guide 1-877-626-2213

Employment

ASSOCIATION ADS

Attention all Homeowners

in jeopardy of Foreclosure?

We can help stop

your home from foreclosure.

The Foreclosure

Defense helpline can help

you save your home. The

Call is absolutely free.

1-855-516-6641

Stay in your home longer

with an American Standard

Walk-In Bathtub. Receive

up to $1,500 off,

including a free toilet,

and a lifetime warranty

on the tub and installation!

Call us at 1-855-

481-3969 or visit www.

walkintubquote.com/national

CARS/TRUCKS WANT-

ED!!! All Makes/Models

2002-2018! Any Condition.

Running or Not. Top $$$

Paid! Free Towing! We're

Nationwide! Call Now: 1-

888-985-1806

WANTED

SW CITY SCHOOLS

SCHOOL BUS DRIVERS

The South-Western City School

District is currently hiring drivers

$16.55/HR

Available positions are for substitute

drivers that can develop into "Regular"

positions with benefits. Interested

individuals should submit an application

on our website at swcsd.us. Follow the

employment link. Applicants should have

an excellent driving record and must

submit to drug, alcohol, and background

screening. A high school diploma or

equivalent is required.

EOE
---
PAGE 10 - WESTSIDE MESSENGER - February 23, 2020

xAuctions

xCraft Shows/Bazaars

www.columbusmessenger.com

xFocus on Rentals

AUCTION

Sat., March 28, 2020 @ 9:00 AM

Secur-it Personal Storage

435 Georgesville Rd.

Columbus, OH 43228 • 614-276-4352

*Must have valid Picture ID present*

Terms of sale will be cash and credit card only. The sale is of abandoned & liquidated

units. Some of the items include: Bikes, kids bed, furniture, antiques, Bar, lawn mowers,

tons of tools, stereo equip., washers & dryers, & misc. items.

1) Katheryn A. Zachariah, 758 Demorest Rd., Columbus, OH 43204

2) Scott A. Jones, 2137 Gaylord Pl., Columbus, OH 43232

3) Peggy R. Eckenrode, 1865 Tanis Dr., Grove City, OH 43123

4) Justiniano M. Almendarez, 693 Gali Ct., Columbus, OH 43228

5) Karen D. Nutt, 879 E. Mound St., Apt. B, Columbus, OH 43205

6) Carole B. Bocook, 4039 Sullivant Ave., Columbus, OH 43228

7) William A. Coleman, 200 S. Oakley Ave., Columbus, OH 43204

8) George Sullivan, Jr., 1149 Woodbrook Circle W., Apt. C, Columbus, OH 43223

9) Melissa G. Myers, 3916 Briggs Rd., Columbus, OH 43228

10) Melissa L. Day, 2741 St. Patricks Rd., Columbus, OH 43204

11) Colby J. Taylor, 3488 Countryview Dr., Canal Winchester, OH 43110

12) Jeray D. McBride, 1317 Woodbrook Ln., Apt. 2, Columbus, OH 43223

13) Muriel J. Casper, 723 Countrybrook Dr. W., Columbus, OH 43228

14) Robert H. Lloyd, 2729 Ridge Ave., Columbus, OH 43204

15) Stephen G. Anderson Jr., 2186 Tupsfield Rd., Columbus, OH 43229

16) Nada B. Drobny, 712 Demorest Rd., Columbus, OH 43204

17) Arnold W. Smith, 2755 Vanderberg Ave., Columbus, OH 43204

18) Anthony H. Six, II, 3695 Hollowcrest Ave., Columbus, OH 43223

19) Atif H. Musa, 1690 W. Mound St., Columbus, OH 43223

Auctions

xPublic Notice

PRAIRIE TOWNSHIP

BOARD OF ZONING APPEALS

PUBLIC HEARING NOTIFICATION

March 10, 2020 at 7:00 P.M., at the

Prairie Township Hall, 23 Maple Dr.

Conditional Use Application No. 189-CU-20 – 164 Lawrence

Avenue, Columbus, Ohio 43228. To grant a Conditional Use

from the provisions of Section 568 Specific Conditional Use

Criteria #38 Accessory Apartment (Granny Flat); to allow the

homeowner to add on to existing home for the purpose of

an Accessory Apartment in an R-6 Zoning District.

Public Notice

ASSOCIATION ADS

Wants to purchase minerals

and other oil and gas

interests. Send details to

P.O. Box 13557, Denver,

CO. 80201

HughesNet Satellite Internet

- 25mbps starting

at $49.99/mo! Get More

Data FREE Off-Peak Data.

FAST Download

speeds. WiFi built in!

FREE Standard Installation

for lease customers!

Limited Time, Call 1-855-

973-9254

ASSOCIATION ADS

HEAR AGAIN! Try our

hearing aid for just $75

down and $50 per

month! Call 800-426-

4212 and mention 88272

for a risk free trial! FREE

SHIPPING!

DISH Network $59.99 For

190 Channels. Add High

Speed Internet for ONLY

$19.95/month. Call Today

for $100 Gift Card! Best

Value & Technology.

FREE installation. Call 1-

855-837-9146

ASSOCIATION ADS

VIAGRA & CIALIS! 60

pills for $99. 100 pills for

$150 FREE shipping.

Money back guaranteed!

1-844-596-4376

SELL YOUR ANTIQUE

OR CLASSIC CAR.

Advertise with us. You

choose where you want

to advertise. 800-450-

6631 visit macnetonline.

com for details.

Get NFL Sunday Ticket

FREE w/ DIRECTV

Choice-All Included Package.

$59.99/month for 12

months. 185 Channels

PLUS Thousands of

Shows / Movies On Demand.

FREE Genie HD

DVR Upgrade. Call 1-855-

781-1565 or satellitedeal

now.com/cadnet

Fair, Festival or Event

coming up? Need to

reach a larger audience

to attend. Advertise with

us, Community Papers

who reach the audience

you need. Give us a call

at 800-450-6631

Call Empire Today® to

schedule a FREE inhome

estimate on Carpeting

& Flooring. Call

Today! 1-855-404-2366

Applying for Social Security

Disability or Appealing a

Denied Claim? Call Bill

Gordon & Assoc., Social

Security Disability Attorneys,

1-855-498-6323!

FREE Consultations. Local

Attorneys Nationwide

[Mail: 2420 N St. NW,

Washington DC. Office:

Broward Co. FL (TX/NM

Bar.)]

Craft Shows/Bazaars

ASSOCIATION ADS

Earthlink High Speed Internet.

As low as $14.95/

month (for the first 3

months.) Reliable High

Speed Fiber Optic Technology.

Stream Videos,

Music and More! Call

Earthlink Today 1-855-

520-7938

GENERIC VIAGRA and

CIALIS! 100 Pills $99.00

FREE Shipping! 100%

guaranteed. 24/7 CALL

NOW! 888-889-5515

READER

ADVISORY

The National Trade Association

we belong to has

purchased the following

classifieds. Determining

the value of their service

or product is advised by

this publication. In order

to avoid misunderstandings,

some advertisers do

not offer "employment"

but rather supply the

readers with manuals, directories

and other materials

designed to help

their clients establish mail

order selling and other

businesses at home. Under

NO circumstance

should you send any

money in advance or give

the client your checking,

license ID or credit card

numbers. Also beware of

ads that claim to guarantee

loans regardless of

credit and note that if a

credit repair company

does business only over

the phone it's illegal to request

any money before

delivering its service. All

funds are based in US

dollars. Toll Free numbers

may or may not

reach Canada. Please

check with the Better

Business Bureau 614-

486-6336 or the Ohio Attorney

General's Consumer

Protection Section

614-466-4986 for more

information on the company

you are seeking to

do business with.

ASSOCIATION ADS

DENTAL INSURANCE

from Physicians Mutual

Insurance Company.

NOT just a discount

plan, REAL coverage for

(350) procedures. Call 1-

877-308-2834 for details.

www.dental50plus.com/

cadnet 6118-0219

IMPORTANT

NOTICE

The following states: CA,

CT, FL, IA, IL, IN, KY,

LA, MD, ME, MI, MN,

NE, NC, NH, OH, OK,

SC, SD, TX, VT and WA

requires seller of certain

business opportunities to

register with each state

before selling. Call to

verify lawful registration

before you buy.

DISH TV $59.99 FOR 190

Channels + $14.95 High

Speed Internet. Free Installation,

Smart HD DVR

Included, Free Voice Remote.

Some restrictions

apply. Call 1-855-270-

5098

SELLING A FARM OR

HOUSE? Advertise it

here and neighboring

publications. We can

help you. Contact MACnet

MEDIA @ 800-450-

6631 or visit our site at

MACnetOnline. com

Portable Oxygen Concentrator

May Be Covered by

Medicare! Reclaim independence

and mobility

with the compact design

and long-lasting battery of

Inogen One.

Free information kit! Call

888-609-2189

Elminate gutter cleaning

forever! LeafFilter, the

most advanced debrisblocking

gutter protection.

Schedule a FREE

LeafFilter estimate today.

15% off and 0%

financing for those who

qualify, PLUS Senior &

Military Discounts. Call

1-855-402-0373

ASSOCIATION ADS

[WANTED] CARS/

TRUCKS WANTED!!!

All Makes/Models 2002-

2018! Any Condition. Running

or Not. Competitive

Offer! Free Towing! We

are Nationwide! Call Now:

1-888-368-1016

INSURANCE

Annuity 10% Bonus

7.5% Int.614-805-1084

CHILD CARE

OFFERED

Depend. Quality Child care

in loving hm. Exp. Mom, n-

smkr, hot meals, sncks,

playroom, fncd yd. Reas.

rates. Laurie at 853-2472

ADULT CARE

SENIOR HOME CARE

by ANGELS

We send you the Best

Home Caregivers for hygiene,

meals, light housework.

Up to 24 hr. care. Caregivers

are experienced in elder care.

Very reasonable rates.

"We do things your way."

614-80-Angel

(614-802-6435)

Call or text for info.

www.v-angels.com

HELP WANTED

HOBBY LOBBY

Now Hiring

Flexible Hours

Apply within the store at

4219 Buckeye Parkway

Grove City

DATED SALES

SMM CHURCH BOOK

AND MEDIA SALE

473 Roys Ave.

February 29, 5-7pm

March 1, 8am-1pm

3/15 A&M

WEDGEWOOD

VILLAGE

2 BR APT. - $499 MONTH!

Call 614-272-2800 or visit us

at 777 Wedgedwood Dr.

TTY/TDD 711

EQUAL HOUSING OPPORTUNITIES

FREE CABLE/WIFI

WEST-LINCOLN VILLAGE S.

1 BD FLATS FROM $515 - $545

1 BD FLATS W/BALCONY FROM $605

2 BD FLATS W/BALCONY FROM $685

2 BD FLATS W/FULL BSMT FROM $815

CARPET, APPLIANCES, A/C, GAS, HEAT,

IN HOUSE LAUNDRY OR WASHER/DRYER HOOKUPS

SECURITY CAMERAS & LIGHTING

MOVE-IN SPECIAL IF QUALIFIED

TUES.-FRI. NOON-6PM, SAT. 10AM-4PM

(614) 870-7717

NO PETS

HAVE TO RENT

THAT APARTMENT

BEFORE THE FLOWERS BLOOM?

Advertise

CALL KATHY

The Columbus Messenger

272-5422

Rentals

WANT TO BUY

We Buy Junk Cars &

Trucks. Highest Prices

Paid. 614-395-8775

ANTIQUES

WANTED

Victrolas, Watches,

Clocks, Bookcases

Antiques, Furn.

Jeff 614-262-0676

or 614-783-2629

WANTS TO Purchase

minerals and other oil &

gas interests. Send details

to: P.O. Box 13557,

Denver, CO 80201

We Buy Cars & Trucks

$300-$3000.614-308-2626

MISCELLANEOUS

FOR SALE

Call - Avon Products

Avon Hours: M-F, 8am-

11pm; Sat. 10am-6pm.

606-932-9778, 614-226-

8812, 614-276-3406

614-561-1878

MISCELLANEOUS

FOR SALE

Large Selection of

Chandeliers to

choose from.

All in working condition.

Going Out of Business!!

614-271-2469

RENTALS

Property

Management

We are always available!

40 yrs. exp in

Certified Property Mgmt.

Reas. Fees. Call Now!

614-783-7464

Clean 2 BR, 1 BA 1/2 double

Westmoor Ave. W/D

hook-up. Background

check / good rental history

req'd. Avail. 4/1. $560/mo.

plus dep. 614-495-4901.

Leave msg if no answer

Eakin-1 Br Apt, crpt, appls.

No Pets 614-560-3050

1/3/4 BR homes-fncd yd

bsmt. $500-$900

614-530-8097
---
www.columbusmessenger.com

xAdult Care

February 12, 2020 - WESTSIDE MESSENGER - PAGE 11

xClassified Services

Welcome

Adult Care

xMisc. for Sale

Misc. for Sale

xInformation

MARCH GIVEAWAY

Place a prepaid classified line ad in our paper

during the month of MARCH and be registered

to win a $50 Gift Card from

The Columbus Messenger

Newspapers.

All ads received by mail, in person,

e-mail or phone will be included in the drawing.

Drawing will be held April 1st, 2020

and the winner will be notified and published

in our April 5th issue .

GOOD LUCK TO

EVERYONE!!!!

Carolyn's

Cottage

Private Assisted Living

3036 Woodgrove Dr.

Grove City, OH

Michelle Preston - Owner

614-991-0652

614-376-9761

VACATION RENTALS

Englewood, Florida

Palm Manor Resort

Within minutes of white

sand Gulf beaches,

world famous Tarpon

fishing, golf courses, restaurants/shopping,

Bush

Gardens. 2 BR 2 BA

condos with all ammenities,

weekly/monthly, visit

www.palmmanor.com

or call 1-800-848-8141

USED VEHICLES

2010 PT CRUISER

(Couture Edition)

Silver/black, red leather

seats, PW, PD, PL.

Heated seats, sun roof,

fog lights. Well maintained,

reliable, 77,000 miles.

$5,700. 614-862-0959

APPLIANCE REPAIR

Washer, Dryer, Stove &

Refrig. Repair 875-7588

AUTO SERVICE

Don't Get Stuck

in the Cold!

WINTERIZE NOW!

MIDLAND AUTO

for all your

Auto Service Needs!

614-278-9458/778-3864

A Rating-BBB - 46 yrs.

American & Foreign Cars

BASEMENT

REMODELING

BASEMENT

REMODELING

Framing, Drywall Hanging,

Drywall Finishing, Doors,

Trim, Ceilings, Cabinets,

3-15 A

Shelves.

Call Now For Est.

614-202-9152

Epoxy Floor, Concrete

Staining, Waterproofing

Basement and Beams.

Call Todd 614-597-8652

CARPET CLEANING

DIRT BUSTERS

Any 5 areas $75. Home

Specializing in Pet Owners

614-805-1084

CLEANING

Holly's Halos

Accepting New Clients

Under $100

Bonded-Ins. 614-426-3624

CONCRETE

AJ's Concrete,

Masonry

Good Work - Fair Prices

Block Foundations

Driveways • Sidewalks

Epoxy/Overlay Floors

Bonded-Ins. • Free Ests.

Now Accepting Credit Cards

614-419-9932

EDDIE MOORE

CONSTRUCTION

Quality Concrete Work

Lt. Hauling & Room Add.,

Block Work & Excavation

Stamp Patios,

Bsmt. Wall Restoration

35 Yrs Exp - Lic & Ins.

Free Ests. 614-871-3834

INFORMATION

ONLY

$50.00

For This Ad In Our

West & Southwest

For Info Call

272-5422

3/1 A

FENCING

EAZY FENCE

Chain Link - Wood

No Job Too Big or Small

All Repairs ~ Free Est.

Insured. 614-670-2292

GUTTERS

Bates & Sons

GUTTER CLEANING

5 ★ Google Reviews

614-586-3417

Low Price-Great Service

5 & 6" Seamless gutters,

covers, siding, gutter clng.

Bill 614-306-4541

HAULING

DUMPSTER RENTAL

7 days a week $200

includes dump fees.

Hauling of all materials

Danny, 614-774-2336

DEAN'S HAULING

614-276-1958

HEATING

HEATING

Complete System Clean & Check

$49.95

Free Carbon

Monoxide Testing

Gas-Oil-Electric Heat/Pumps

All Makes • All Models

43 yrs exp. • Sr. Discount

614-351-9025

HOME

IMPROVEMENTS

Quality is our #1 Priority

HELMS' CONTRACTING

Call For FREE ESTIMATES

New Kitchens & Baths

New Replacement Windows

Basement Remodels

Room Additions • Roofs

More than 25 Years Experience

Licensed • Insured • Bonded

Bill Helms 614-296-0850

or 614-801-1801 3-1

W/SW

KLAUSMAN HOME

IMPROVEMENT

Siding-Windows-

Doors-Roofing-Soffit-

Fascia-Gutters-Trim

Earn FREE Seamless

Gutters with Siding Over

1000 Sq. Ft.

FREE Shutters with

Soffit & Trim

EPA Certified

Member of BBB

Financing Available

Over 20 yrs exp. • Free Est.

Licensed-Bonded-Insured

Owner & Operator

James 614-419-7500

3/1 A

3-1 A

HOME

IMPROVEMENTS

SLAGLE

HOME REMODELING

Baths, Kitchen,

Room Additions,

Plumbing and Electrical.

All your Handyman needs

No Job too Big or Small

Over 30 Yrs. Exp. Lic.-Bond-Ins.

Jerry

614-332-3320

SINCE 1973

Phil Bolon Contr.

Windows & Siding

Decks, Kitchens, Baths

Room Additions,

Flooring, Roofing

Bsmt Waterproofing

Deal With Small Non-Pressure Co.

47 Yrs. Exp. - Refs. Avail.

Lic.-Bond-Ins.

Free Est. - Financing Avail.

Member BBB Of Cent. OH

O.C.I.E.B. ID #24273

614-419-3977

or 614-863-9912

C&JHandyman

Services LLC

Minor Plumbing &

Electric

Install Hot Water Tanks,

Dishwashers & Disposals

Also Fencing &

Interior/Exterior Painting

Free Est. ~ 18 Yrs. Exp.

614-284-2100

HOME

MAINTENANCE

Finishing Carpenter for all

your extra home repairs or

Honey-do-list. over 40 yrs.

exp. Sonny 614-325-1910

HOME

REMODELING

Professional Drywall

Finishing Services

"We Do It All"

From New Builds to Remodels

Repair & Patch Work

Call Now For Est.

614-202-9152

LAWN CARE

LET US MAINTAIN

YOUR LAWN & GARDEN

FOR YOU

Summer, Spring,

Winter or Fall

WE DO IT ALL!!!!

Lawn Cuts, Edging,

Trees & Shrubs, Garden,

Mulching, Hauling,

Garden Pond &

Home Maint.

Free Ests. Low Rates

$20 & Up

Kevin - 614-905-3117

ROOFING

MASONRY

#1 in CENTRAL OHIO

GILBERTS

Masonry/Restoration Co.

614-946-8871

Lic.-Bonded-Insured

32 yrs in Business

•Brick •Block •Stone

•Cultured Stone • Stucco

•Concrete •Tuck Pointing

•Chimney Work

•Glass Block Windows

•Basement Waterproofing

Free Estimates

MOVING

Aaron Allen Moving

Local Moving Since 1956

Bonded & Insured

614-299-6683, 263-0649

Celebrating 60 yrs in business

PAINTING

A Job Well Done Again

A lic. General Contractor

Some Skilled Services

Incl: Painting • Stucco,

Repair•Carpentry•Exterior

Drainage & Home Maint.

Call Today! 614-235-1819

Painter Over 30 Yrs Exp.

Free Est. Reas Rates

Daniel 614-226-4221

Painting - Int./Ext.

Gutters Clnd. Free Est.

26 Yrs Exp. Call Dave

614-270-2369 God Bless

PEST CONTROL

Fryes All Natural Pest

Control. Bedbug, Roach

Specialist. Wholehouse

Heat Treatments As Low

As $350. 614-563-4785

PLASTERING

DRYW

YWALL &

PLASTER

3/15

A&M

REPAIR

Textured Ceilings

614-551-6963

Residential/Commercial

BIA

Plaster & Stucco

NEW AND

REPAIR

Established 1917

Geo. F. Neff & Co.

274-5629

Classified Services

3-1

A/M

3-8 SW/W

3-1 A

3-15 A

ROOFING

PLUMBING

All About Drains & Plumb.

Will snake any sm drain

$125 + tax. 614-778-2584

ALL IN ONE

PLUMBING LLC

"One Call Does It All"

$25 OFF LABOR

3/15

With This Ad

A

614-801-1508

All Major Credit Cards Accepted

BELLA

PLUMBING

"Plumbing & Drain Professional

That You Can Count On"

24 Hrs., 7 Days/Week

No Overtime Charges

24 Yrs. Exp. in Plumbing &

Drain Cleaning Field

Call For A Free Phone Estimate

$100.00 For Any Small Drain

614-622-4482

30% OFF with AD

POWER WASHING

Bates & Sons

Soft Wash & Powerwash

5 ★ Google Reviews

614-586-3417

ROOFING

Robinson roofing & repairs

30 yrs. exp. Lifetime Cols.

resident. Lic./bonded/Ins.

Reas rates. Member of

BBB. Dennis Robinson

614-330-3087, 732-3100

SEWING MACHINE

REPAIR

REPAIR all makes 24 hr.

service. Clean, oil, adjust

in your home. $39.95 all

work gtd. 614-890-5296

SNOW REMOVAL

SNOW REMOVAL

Onyx Landscaping

LLC.com

We have all your snow

removal needs. Many

options/services-treatment

before a snow, plowing,

sidewalks, driveways, salt

applications & more.

We match quotes!

614-407-5214

TREE SERVICES

BURNS TREE SERVICE

Trimming, Removal &

Stump Grinding.

614-584-2164

12/11 A/M
---
PAGE 12 - WESTSIDE MESSENGER - February 23, 2020

www.columbusmessenger.com

Cycling can have positive impacts on both the mind and body

As warm temperatures return, many

people renew their interest in spending

time outdoors. Spring and summer are

peak times of year to enjoy the great outdoors.

A popular activity in spring, summer

and fall, cycling benefits the mind and body

in various ways.

•Mind. One of the more common mental

health benefits of exercise is that working

up a sweat can help alleviate physical and

mental stress. Reducing stress is important

for overall health and can reduce a

person's risk of developing certain illnesses.

Cycling is a great way to get outdoors,

meet people and see the scenery. Getting

outside to exercise also can reduce anxiety

and depression.

•Body. The Victoria State Department

Better Health Channel says that cycling

for health and fitness is a good idea. Riding

a bicycle is a low-impact form of exercise

for people of all ages. Cycling can be fun

and doesn't require expensive equipment.

Cycling generally causes less strain on

joints and other areas of the body because

it is low-impact. However, cycling provides

enough resistance to be an effective muscle

workout.

People who want to improve their cardiovascular

health and manage their

weight can turn to cycling to achieve their

goals. Cycling raises one's metabolic rate to

help the body burn fat when combined with

a healthy diet. Cycling Weekly says cycling

burns between 400 and 1,000 calories an

hour, depending on the intensity of a ride

and the rider's weight. Individuals can

modify the distance and intensity of a

cycling workout to suit their fitness goals.

Disease risk and adverse health outcomes

can be reduced by hopping on a bike.

A study conducted by researchers at the

University of Glasgow examined more than

260,000 individuals over the course of five

years. The study found that cycling to work

can cut a rider's risk of developing heart

PAID ADVERTISING

Jumping for fitness and fun

Jump your way to fitness and fun with Big

Bounce in Grove City. Big Bounce offers a Kid's

Night Out every Friday and has an open gym for

those who just want to do their own thing.

Tired of running on the treadmill or doing the

same old workout routine? Join the Fit Jump class

and burn up to a thousand calories while participating

in bootcamp style training on the trampolines.

Did you know that rebounding on a trampoline

affects every organ and is directly related to

the efficiency of the lymphatic and immune system?

Not only will you burn a ton of calories, you

are releasing toxins from the body.

Big Bounce also offers dodgeball, group

events, parties and more.

Gymnastics is one of the most rewarding

physical activities that a child can experience. It

boosts self esteem, confidence, physical fitness

and life skills.

Fliptastic! Gymnastics, in the Hilliard area,

offers gymnastics and tumbling in their 12,000

plus square foot facility. Their certified instructors

teach both recreational and competitive gymnastics

in a safe and structured environment. The

gym offers a diverse curriculum to accommodate

all levels of interest and abilities.

The facility has three separate gym areas for

age appropriate instruction for pre-school through

high school age gymnastics. The recreational

gymnastics program provided by Fliptastic!

Owned and operated by former Ohio State

cheerleader Trisha Rich, certified personal trainer,

former fitness competitor, and competitive

gymnast. Rich has a true passion for the sport of

gymnastics and cheerleading. Through her

knowledge, technique and skill, she has developed

trampoline classes to improve your skill

level and help achieve your fitness goals.

Whether you want to jump for fun, fitness, or for

your sport, Big Bounce has it all.

Big Bounce is located at 1645 Gateway Circle

in Grove City. For more information, contact Big

Bounce at 614-957-5382 or www.bigbouncegrovecity.com.

PAID ADVERTISING

Gain confidence with

Fliptastic! Gymnastics

Gymnastics is designed to develop skills and

coordination while providing a fun and positive

gymnastics experience. In addition to their recreation

program, they also offer competitive teams.

Their competitive Xcel Team program is currently

ranked as one of the top five Xcel programs in

the state of Ohio.

If you are considering gymnastics instruction

for your child, contact Fliptastic! Gymnastics,

located at 2330 International St., Columbus. For

more information, call 614-529-8828 or visit

www.fliptastic.com.

Remember.... confidence built at a young age

lasts a lifetime.

disease or cancer in half.

Those eager to get started on cycling are

encouraged to begin slowly, especially if it

has been awhile since they last exercised.

It's also important to find the right-sized

bicycle to reduce strain and injury. A fullservice

bike shop can help bike shoppers

find one that is the right height and frame

BIG BOUNCE

1645 Gateway Circle, Grove City, OH 43123

(614) 957-5382

Birthday Partys

Kids Night

Classes Available

Dodgeball

www.bigbouncegrovecity.com

BOGO Half Off

a Jump or a Class

size for the rider's body. The height of the

handlebars and the seat also can be adjusted

for comfort.

Always consult with a physician prior to

exercise to ensure that the regimen is safe.

Those with prior injuries or health problems

should be doubly careful, though

cycling is generally safe for beginners.