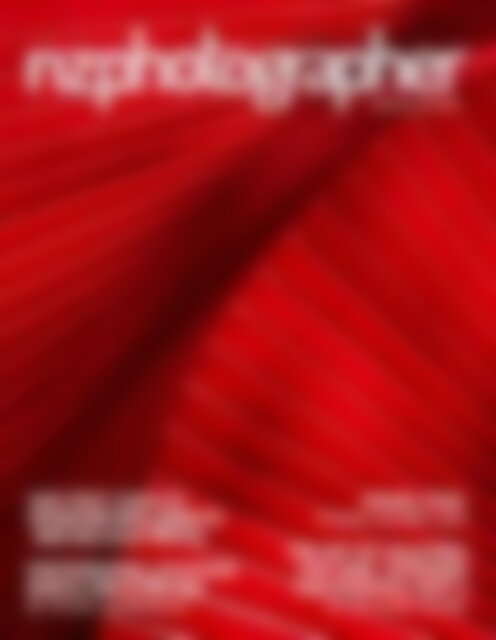 NZPhotographer Issue 30, April 2020
Whether you're an enthusiastic weekend snapper or a beginner who wants to learn more about photography, New Zealand Photographer is the fun and informative e-magazine for all Kiwi camera owners. You can always read the latest issue for free or subscribe to the magazine and get unlimited access to all back issues. Find out more: www.nzphotographer.nz
Whether you're an enthusiastic weekend snapper or a beginner who wants to learn more about photography, New Zealand Photographer is the fun and informative e-magazine for all Kiwi camera owners. You can always read the latest issue for free or subscribe to the magazine and get unlimited access to all back issues. Find out more: www.nzphotographer.nz
SHOW MORE
SHOW LESS
Create successful ePaper yourself
Turn your PDF publications into a flip-book with our unique Google optimized e-Paper software.
ISSUE 30, April 2020

OUR FIRST COUPLES

INTERVIEW WITH ANNETTE

AND MALCOLM WHYTE

PHOTOGRAPHIC LOCATIONS

WORTH SWEATING FOR

BY PETER LAURENSON

RISING STAR:

ETHAN CALDER CASS

THE TOP NZ LOCATIONS

FOR LONG EXPOSURE

PHOTOGRAPHY PART 2

BY RICHARD YOUNG

April 2020 1
---
WELCOME TO ISSUE 30 OF

NZ PHOTOGRAPHER MAGAZINE

HELLO EVERYONE,

What crazy times we find ourselves in

right now with much of the world on

lockdown due to Covid19. We hope

you're able to find some inspiration

and indeed peace within these pages

as you leave the doom and gloom of

the hourly news behind and put your

focus back onto photography and the

beauty of New Zealand.

You may not be able to get outdoors to

any epic locations right at this moment

but Brendon, Peter, and Richard ensure

you'll be raring to go once lockdown

is lifted – Use this time to plan your

future photographic adventures and

daydream about where you'll go alternatively, use the second part of

Richard's Top 10 NZ Photo Locations to look back on your own images

and come up with your own list of places you love whether at home or

around the world.

We also have our first couples interview with Malcolm and Annette

Whyte, and introduce a new feature, Rising Star which shines the

spotlight on New Zealand's talented young photographers. We continue

with our new 4x4 feature which showcases the work of NZP subscribers

and talk iPhone photography with Dionne Solly, get inspired with Ana

as she outlines all the events ongoing at Excio, and learn about the 24

Hour Challenge as we go Behind The Shot with Gail Orgias. To wrap

things up until next month, we end with your best red photos in readers'

submissions – perhaps you'll feel inspired to hunt around your home for

some red objects to photograph once you've finished flicking or clicking

through these pages!

OUR CONTRIBUTORS

Brendon Gilchrist

Brendon is the man behind

ESB Photography. He is an

avid tramper who treks

from sea to mountain, and

back again, capturing the

uniqueness of New Zealand's

unforgiving landscape.

Emily Goodwin

Editor NZ Photographer

NZPhotographer Issue 30

April 2020

Cover Photo

Sculpture Red,

Ann Kilpatrick

Publisher:

Foto Lifestyle Ltd

Website:

nzphotographer.nz

Graphic Design:

Maksim Topyrkin

Advertising Enquiries:

Email

hello@nzphotographer.nz

FOLLOW US

Richard Young

Richard is an award-winning

landscape and wildlife

photographer who teaches

photography workshops and

runs photography tours. He is

the founder of New Zealand

Photography Workshops.

© 2020 NZPhotographer Magazine

All rights reserved. Reproduction of any material appearing in this magazine in any form is forbidden without prior

consent of the publisher.

Disclaimer:

Opinions of contributing authors do not necessarily reflect the opinion of the magazine.

2

NZPhotographer
---
CONTENTS

4

8

12

18

27

28

38

56

58

62

BEHIND THE SHOT

with Gail Orgias

PHOTOGRAPHIC LOCATIONS WORTH SWEATING

FOR: MOUNT RUAPEHU SUMMIT PLATEAU

by Peter Laurenson

GETTING TO KNOW ANNETTE & MALCOLM WHYTE

THE TOP NZ LOCATIONS FOR LONG EXPOSURE

PHOTOGRAPHY - PART 2

by Richard Young

INSIGHTS FROM

@EXCIO PHOTO COMMUNITY

EXCIO TOP 10

MINI 4 SHOT PORTFOLIO

HOW TO GET THE BEST OUT OF YOUR IPHONE

by Dionne Solly

RISING STAR: ETHAN CALDER CASS

JORDALE ROCK

by Brendon Gilchrist

66 PORTFOLIO

BEST READERS' SUBMISSIONS THIS MONTH

LOCATIONS WORTH

SWEATING FOR

BY PETER LAURENSON

INTERVIEW WITH MALCOLM

AND ANNETTE WHYTE

JORDALE ROCK

BY BRENDON GILCHRIST

8

12

62

MEMBERSHIP

FREE 12$ MONTH 120$ YEAR

• Online issue

• High res PDF download

• Access to all back issues

• Competition entry

($15 per entry)

• Readers gallery ($5 per entry)

• 4x4 gallery submission

• A chance to be featured

in interviews, cover photo,

behind the shot and articles

• Online issue

• High res PDF download

• Access to all back issues

• Competition entry

(1st entry free)

• Readers gallery (1 free entry

per month)

• 4x4 gallery submission

• A chance to be featured

in interviews, cover photo,

behind the shot and articles

• Online issue

• High res PDF download

• Access to all back issues

• Competition entry

(1st entry free)

• Readers gallery (1 free entry

per month)

• 4x4 gallery submission

• A chance to be featured

in interviews, cover photo,

behind the shot and articles

SUBSCRIBE
---
WHITE LADY

F2, 1/60s, 23mm

Behind the Shot with Gail Orgias

GAIL, TELL US ABOUT YOU AND YOUR

JOURNEY WITH PHOTOGRAPHY...

Photography has always been an interest of

mine, beginning with a film camera when I was a

'happy snapper' taking photos of a young family

and holidays.

I have a background in teaching, interior design,

and urban planning and have done some

voluntary work along the way. A move from

Taupo to Auckland a few years ago, with a view

to live there permanently, was an incentive to

get into photography again and I joined the

local Taupo camera club which was the start

of a renewed interest. A street photography

workshop in Melbourne was also the beginning

of a new direction. Since then I have been

fortunate to take part in street photography

workshops in Sydney with Vineet Vohra and in

Paris with Valerie Jardin, both well respected

teachers/photographers.

Now back in Auckland, I continue to take

photographs. I am a member of PSNZ

(Photographic Society New Zealand) and

PhotoForum both of which encourage and

educate photographers in all aspects of

photography.

Though I enjoy other photography genres, it is

street/documentary photography and people

that most interest me. I love to travel but most

of my work is about capturing my own urban

(Auckland) environment where there is no

shortage of visual material.

4

NZPhotographer
---
WHAT ARE YOU SHOOTING WITH?

For this shot I was using the small Fuji X100T with

23mm fixed lens, it's an unobtrusive camera, ideal

for street photography. I also have a Fuji XT2 and

usually use a 35mm or 16mm prime lens.

Street photography is difficult in that you never

know what to expect. You are always anticipating

that special moment and it has to be captured

quickly so for this reason, I shoot on Aperture priority

mode, letting the camera select the shutter speed

so that I can concentrate on the subject.

TELL US ABOUT THIS PHOTO...

I remember this (photo) well as it was taken at

12.35am – at the beginning of the 24 hour project.

It was taken in downtown Queen Street, Auckland,

outside the iconic 'White Lady' pie cart, something

of an institution, which has been run by the same

family since 1948, and is a well- known gathering

place and food provider for late-nighters.

The 24 hour project is an annual global street

style project with an aim to 'connect emerging

photographers, aspiring photojournalists, and visual

storytellers from every city of the world to document

humanity and make a difference by raising

awareness about global issues and empowering

NGO's.'

Photographers take one photograph per hour in

their city, at the same time, throughout the world,

during 24 hours and share via Instagram. In 2019,

there were 4,880 photographers who took part in

826 cities of 100 countries and I was one of them.

Through the 24 hour website, I was able to contact

3 other photographers in Auckland who were

taking up the challenge. We met in the central city

at midnight, before each going our separate ways.

Before the start of the evening, I had made a list of

potentially interesting areas and Queen Street was

one of them. At first, I simply observed the scene –

there were a number of people about and so it was

necessary to look for the best vantage point, light

etc. I took a few initial shots and no one seemed to

be aware or take notice of my presence.

This couple, relatively isolated and in conversation,

caught my eye. They were oblivious to their

surroundings and my camera. It is ideal to isolate

your subject wherever possible so I was pleased to

get this natural shot of the young couple (backlit

by the pie cart), the position allowing for enough of

the background to give context.

The first part of the 'night shift' was definitely the

hardest as this was the time when I felt the most

tired. It was good to know the 'support crew'

were there (the other 2 Auckland photographers

who were taking part) plus I did have company

throughout the early hours for some transport to

various locations but it was mostly coffee and

the challenge to complete that was sufficient

motivation to keep me going through the 24 hours,

along with always having something interesting to

photograph.

HOW DO YOU THINK THE 24 HOUR PROJECT

FOLLOWS THE #PHOTOGRAPHYFORGOOD

PHILOSOPHY?

As part of the 24 hour project there is a sense of

a worldwide photography community who use

their skills in a positive way and, although you may

not interact with all of your subjects, there is the

opportunity to talk about the project and charity

with people which helps to raise awareness.

WHAT ELSE SHOULD WE KNOW ABOUT YOUR

PHOTOGRAPHY?

My photography has definitely changed since 2016

when I exchanged my DSLR setup for a lightweight

mirrorless system. The lighter setup means I am

never reluctant to take a camera out with me all

day - I take more shots and have more fun.

As well as general street photography,

photographing protests is another interest of mine.

You can see my images from the Ihumatao land

occupation on FujiLove.com

DO YOU HAVE ANY WORDS OF WISDOM TO

LEAVE US WITH?

The best camera is always the one you have with

you - not my words but I think they are true!

WHERE CAN WE FIND YOU ONLINE?

www.gailorgiasphotography.com

albums.excio.io/profile/pixelmix

BEHIND THE SHOT IS PROUDLY

SUPPORTED BY

April 2020 5
---
NOW

April 2020 offer - only $80/year or

$8/month for your first 12 months.

JUST $80

SUBSCRIPTION BENEFITS:

High res PDF download

Access to all back issues

Competition entry (1st entry free)

Readers gallery (1 free entry per month)

4x4 gallery submission

A chance to be featured in interviews, cover photo,

behind the shot and articles

6

SUBSCRIBE NOW

NZPhotographer
---
Subscribe

today

and

download all back

issues.

www.nzphotographer.nz

www.nzphotographer.nz

April 2020 7
---
Photographic Locations Worth Sweating For:

Mount Ruapehu Summit Plateau

by Peter Laurenson

In my first article of this series (issue 28) I described

a dawn/dusk photo session achieved by climbing

to Syme Hut on Fantham's Peak, Mount Taranaki.

Being New Plymouth born, that mountain holds a

special significance for me, but we live in an amazing

land and there are plenty of other fabulous spots that

are seemingly designed for photographers – if you're

prepared to put in the effort.

At 2,797m Tahurangi is Ruapehu's highest point as well

as the highest point in the North Island. As the closest

ski area to our biggest urban population centre,

lots of people visit Mount Ruapehu every year – for

skiing, about 450,000 people a year, that's without

the trampers and general sightseers. What the vast

majority of visitors don't see though is the Summit

Plateau, the surprisingly expansive, relatively flat area

contained within this volcano's crater rim.

To reach the Summit Plateau there are several quite

straight forward options. Year round your feet can

take you there from the Turoa and Whakapapa ski

area carparks. Whakapapa also operates a tourist

chair lift that gets you above 2,000m before you even

have to start climbing. From the eastern side of the

mountain, when the road is in condition, you can

drive to 1,700m at Tukino village and walk from there.

In winter those same options exist, but Turoa also offers

a sightseers' lift pass that takes you to 2,300m, from

8

NZPhotographer
---
A view from the crater rim at 2,750m, looking

north across the Summit Plateau. Tahurangi,

the main summit of Ruapehu, is right

there the most direct route to the crater rim, just north

of the main summit, is by climbing up a snow face.

In winter skiers, sightseers, and climbers can all quite

easily plug or skin their way up to the Summit Plateau

on a day trip, if they come prepared with the right

gear to handle the cold and ice underfoot. As on any

alpine terrain, they must be aware of the weather

conditions and avalanche risk too – remember that

poor weather on the Summit Plateau is a killer – at

such times, stay away!

Usually the chair lifts open from around 9am‐4pm

but for photographers that's no good for magic

hour shooting. Sure, you can enjoy and capture the

beauty of the rising or setting sun colouring the slopes

of the mountain from a distance, but being inside the

crater, high on the Summit Plateau, takes things to

another level altogether – literally, aesthetically and

experientially.

Camping up on the Summit Plateau is easier said

than done. Firstly, you need calm and clear weather

– If it's cloudy your photography will likely be

underwhelming and, if it's windy, trying to keep your

tent anchored to the surface is a near impossible

challenge. There's another factor to be aware of if

you've never camped on snow before. Snow is not

like ground – it's freezing cold, often soft, and it melts.

Without insulation your bum will soon go numb sitting

on it and your clothes and sleeping bag won't be

enough to keep you warm all night long. Therefore a

good ground mat is essential. Anchoring your tent to

the surface is not straight forward either as there are

no rocks available in winter and, depending on the

condition of the snow, it can be difficult to peg your

tent down – much longer items such as ski poles and

ice axes come in handy. Also remember that water to

drink and for cooking must be melted, and there are

no toilets.

For these reasons I don't think the selfie horde will

ever experience Plateau Camp. If you're a keen

landscape photographer though, overcoming these

challenges will reward you many times over when

the dawn and dusk symphonies of sunlight and snow

unfold and chances are, you'll be the only one in the

audience.

April 2020 9
---
A dawn view east from 2,650m

on Summit Plateau, Ruapehu.

A stitch of 3 landscape shots

F5.6, 1/60s, ISO200, 27mm

At dawn looking east across

Pyramid Peak, Summit Plateau

F11, 1/160s, ISO 200, 72mm

10

NZPhotographer
---
NZ Landscapes

PHOTO COMPETITION

WWW.NZPHOTOGRAPHER.NZ/COMPETITION

Show us the best view of New Zealand through your lens!

Judged by New Zealand award-winning photographers, the competition is now open for

entries. For prizes, judges, and full Terms & Conditions see:

www.nzphotographer.nz/competition

1st PLACE

Samyang 14mm F2.8 lens,

valued at $1,399 RRP.

Nikon/Sony/Canon mount.

1st, 2nd and 3rd PLACES

24" x 17" Epson Signature Worthy print of your photo

ENTER NOW

PARTNERS

PHOTO COMMUNITY

April 2020 11
---
Our First Couples Interview

Getting to Know Annette & Malcolm

Whyte of Glassography

HI GUYS, WHY DON'T YOU INTRODUCE

YOURSELVES TO US!

We met at Rangiora High School after Malcolm

moved up from South Otago in year 10. Now in

our late thirties, we have been together ever

since and have two teenage children.

After dairy farming for 13 years, we both left

the industry to work in different areas of the

rural sector and bought a house in Ashburton.

Malcolm works as a truck driver for a local

fertiliser spreading company and I, Annette,

work for a rural farming store. We suddenly

found ourselves with our weekends free to

indulge in our passion for photography which

has led to us creating a part time enterprise

called Glassography.

DID YOU ALREADY HAVE AN INTEREST IN

PHOTOGRAPHY OR WAS THIS A BRAND

NEW HOBBY?

M: I got into photography while I was dairy

farming around 13 years ago as a way to

record how rapidly the kids were growing up,

family holidays, and for Annette's scrapbooking

addiction. It only became more serious

after Annette picked up a camera. We both

joined the Ashburton Photographic Society

to challenge ourselves, to learn from more

advanced members, and to get constructive

criticism from the external judges to help us

grow.

A: I started photography in 2018 when I got

a Canon 1500d for Mother's Day. I chose a

camera as my gift as a way for me to join in

Malcolm's hobby, for something for us to do

together, but mostly as a way to join in so

I wasn't so bored as he pottered around the

countryside taking photos!

Photography has actually turned into a family

affair now – since I upgraded to a Canon 80d,

our daughter has picked up my old 1500d and

joined the Ashburton Photographic Society with

us, she is determined to give us a run for our

money in competitions!

WHAT DOES YOUR STYLE OF

PHOTOGRAPHY LOOK LIKE?

Our photo styles are diverse and vary but most

weekends find us driving around Mid Canterbury

looking for new locations and animals to

photograph as we both dabble in landscapes

and flowers. Malcolm leans towards macro and

farm style photography whilst I love to capture

birds and other animals plus motorsports. I'm

currently learning macro photography but

we're both constantly looking to learn new

genres to improve in.

WHAT DO YOU EACH SHOOT WITH?

A: As mentioned, I currently use a Canon 80d

and have 4 lenses; a Tamron 150–600mm f5.-6.3,

a Tamron 90mm 2.8 macro, a Sigma 17–50mm

2.8, and a Sigma 17mm 2.8 fisheye.

M: I also have a Canon 80d, my lenses including

the Canon 50mm 1.4, Canon 100mm 2.8 Macro,

and the Tamron 70–200mm 2.8 G2. We got the

same camera brand so that even though we

have our 'own' lenses, it's not uncommon for us

to swap and share as the occasion arises.

12

NZPhotographer
---
SO WHEN AND HOW WAS GLASSOGRAPHY

BORN?

Glassography was born earlier this year when

we went searching for a cleaner, more unique

looking way of displaying some of our images

that would really make them pop besides

getting them displayed on canvas or in a frame.

We found a company that helped us to print

our images onto 5mm reinforced glass, which

gave us the timeless, high quality finish we were

searching for.

After having a few of our favourite images done

this way, we thought that it would be a good

option for other people, whether photographers

with clients or individuals with a favourite photo,

to display their images this way. Glassography is

a part time enterprise at the moment which we

focus on in the evenings after work, and most

weekends when we are not out taking photos.

We love seeing how creative other people are

and want to share how spectacular the images

which hold a special place in their heart can

look on glass.

HOW DO YOU SPLIT UP THE DIFFERENT

ROLES THAT A PHOTOGRAPHY BUSINESS

REQUIRES?

We decide as a couple which locations to visit

depending on the time of year and what we are

trying to capture. In terms of promoting ourselves

and day-to-day tasks, Malcolm takes care of

Instagram and I handle Facebook and emails.

We share liaising with the printing company

over orders, deliveries, and any queries in the

evenings when we are both home as this is the

most productive time for us together without

interfering in our day jobs.

We also decide together which images get used

in the business and on social media – often we

will have similar shots, but from different angles

and/or aspects, and since we process our own

images separately, it comes down to which one

makes the biggest impact on us. You can see an

example of this from our supercar line up shots

(below) taken on a recent trip to the Mike Pero

Skope Classic 2020. We were walking the pit area

looking for interesting photojournalism images for

an upcoming Ashburton Photographic Society

internal competition. Both images were taken

without the others knowledge as we walked past

the display line up. After reviewing and editing

our own keeper images from the day, it was

decided that Annette's photo (top) would be

used as it had better composition, resulting in a

more pleasing image.

AS A COUPLE, HOW DO YOU WORK

THROUGH ANY PHOTOGRAPHY/BUSINESS

ISSUES OR DISPUTES THAT COME UP?

Being together for 22 years, married for 15, has

taught us a lot about each other and the art of

conflict resolution. If we have any creative or

business issues come up between us, they are

solved around the table, usually with a cuppa

and some chocolate, but it is a rare thing for

us not to be on the same wavelength after this

many years together.

April 2020 13
---
DAVID BROWN

Malcolm Whyte

F3.2, 1/1600s, ISO100

ROYAL SPOONBILLS

Annette Whyte

F6.3, 1/400s, ISO1600

14

NZPhotographer
---
TWIZEL SUNRISE

Annette Whyte

F3.5, 25s, ISO 100

NOSE PICKER

Malcolm Whyte

F6.3, 1/640s, ISO800

April 2020 15
---
KINGFISHER

Annette Whyte

F8, 1/800s, ISO800

WHAT DO YOU STRUGGLE WITH THE MOST IN

PHOTOGRAPHY?

A: Patience. I struggle with patience. From waiting

for that perfect shot and not rushing it, to adjusting

settings on my camera to ensure I capture

that perfect moment. Until I learn a particular

technique to perfect the shot I am after, it can be

very frustrating and I will go back again and again

if I can until I achieve the desired effect. Luckily

Malcolm is a very patient teacher and a good

chauffeur.

M: From time to time I still struggle with creative

flow. I can be in a perfect location, with perfect

settings, but struggle to find the motivation to take

photos. In times like these, I will generally not take

out my camera, but instead help Annette if she

needs it, or just enjoy the scenery without pushing

the shutter. The technical side of photography,

while sometimes difficult, can be learned either

from others, or online, but the motivational ebb

can sometimes be harder to overcome.

DO YOU EACH HAVE A FAVOURITE

IMAGE?

A: My favourite image so far is definitely my Kingfisher

on a branch. It was a culmination of many weekends

worth of travel to Brooklands Wetlands trying to get

that perfect balance of light, background, and

sharpness of image using the Tamron 150–600mm at

600mm. Kingfishers hold a special place in my heart as

they were the favourite bird of a close friend of mine,

and since he died, I seem to see them just about

everywhere we go.

M: My favourite image is one I took at Mike Pero

Motorsport Park in Ruapuna Christchurch earlier this

year. I have started to dabble in Photojournalism,

especially in black and white images that tell a story

you might not normally see, or not think of in the

traditional sense. To me, the image of a helmet sitting

on the rear wing, ready for the driver to slip on just

before the race tells the backstory of the preparation

that goes into getting the cars on the track for a 10

minute or so race.

16

NZPhotographer
---
ANNETTE, YOU'RE PASSIONATE ABOUT

CAPTURING BIRDS, WHAT ARE YOUR TOP TIPS

FOR BIRD PHOTOGRAPHY?

Be in the moment. I will usually always have my largest

lens at the ready with a fast shutter speed. I shoot in

shutter priority mode, usually as close to 1/1000 th as

I can, with as low ISO as I can get away with, and let

the camera choose the other settings. If I don't have

my 150–600mm with me, then I don't look for birds!

If I miss the shot, I'm gutted – I study the birds I see and

find out a bit more about their nesting and feeding

habits, and return regularly until I get that shot I'm

after. Birds are amazing and can be very challenging

to photograph, but I love the challenge of a moving

object – You're never going to get the same shot

twice.

WHAT DOES #PHOTOGRAPHYFORGOOD

MEAN TO YOU?

#PhotographyForGood means, to us, making sure we

can capture the amazing image we see in front of us

and display them in such a way that we can project

the same joy we felt at the time of taking those shots

to someone who may need that little spark of joy in

their day.

WHAT ARE YOUR PLANS FOR THE FUTURE?

We are looking to continually grow our business within

New Zealand, hoping to establish a reputation for high

quality glass images, before offering the same services

overseas.

WHERE CAN WE FIND YOU ONLINE?

www.instagram.com/m.a.whyte.photography

www.facebook.com/M&AWhytePhotography

albums.excio.io/profile/glassography

READY TO RACE

Malcolm Whyte

F3.2, 1/160s, ISO100
---
The Top NZ Locations for Long

Exposure Photography - Part 2

by Richard Young

In part two of this feature, we share another 5 of Richard Young's favourite

locations for long exposure photography in New Zealand.

18

NZPhotographer
---
April 2020 19
---
CATHEDRAL COVE

CATHEDRAL COVE, COROMANDEL PENINSULA

F11, 8 minutes, ISO64

One of my top coastal landscapes on the North Island is Cathedral Cove, an

awe-inspiring location to photograph. It is one of the most popular sites of the

Coromandel Peninsula and therefore frequented by hordes of tourists during

a hot summer day, just like the iconic archway of Durdle Door in England, but

an early sunrise can offer the chance to get the beach mostly to yourself.

Standing under the gigantic stone archway which shelters the white sandy

bay in an air of cathedral-like majesty, you look out onto a crystal clear

ocean, dramatic cliffs, and pohutukawa trees. Capturing the near-fantasy

framing of the large pinnacle rock known as 'Te Hoho' or Sail Rock through

the archway with a long exposure creates an extremely compelling and

iconic New Zealand photograph.

20

NZPhotographer
---
TAWHAI FALLS

TAWHAI FALLS, TONGARIRO NATIONAL PARK

F11, 4s, ISO64

Pouring over the lip of an ancient lava flow amongst native forest, these

13-metre high falls are a stunning and easily-reachable location in the

extensive Tongariro National Park. This beautiful waterfall stands below the

volcanoes of Mt Ruapehu, Mt Tongariro, and Mt Ngauruhoe. It is a landscape

created by many volcanic eruptions, containing myriad waterfalls - some as

high as 50 metres.

Tawhai Falls was the filming location of Gollum's pool - where Faramir and his

archers watch Gollum fish - making it a highlight for Lord of the Rings fans!

I have probably shot this waterfall more than any other in New Zealand, due

to the amount of time I spend in the park. Like any waterfall, it requires a

combination of conditions to get the perfect shot; I find the best conditions

are found on an overcast afternoon, when the light penetrating through the

forest is controlled for an even exposure.

April 2020 21
---
AORAKI/MT COOK NATIONAL PARK

TASMAN LAKE, MT COOK

F11, 10s, ISO64

Aoraki/Mt Cook National Park is a mecca for New Zealand landscape

photographers, offering great opportunities to build your landscape portfolio.

The peak of Aoraki/Mt Cook is the highest mountain in New Zealand,

calculated to be 3,724 metres high.

Options for photography and views of Mt Cook are limitless in the park.

Many are accessible only by arduous hikes and climbs onto the surrounding

mountainsides but if you are not a climber, never fear! Mt Cook can be shot

from various locations on the valley floor to produce jaw-dropping images.

One of my top spots for shooting an epic sunrise is the Tasman Glacier Lake,

with icebergs floating atop its deep waters.

22

NZPhotographer
---
WHARARIKI BEACH

WHARARIKI BEACH, GOLDEN BAY

F11, 8s, ISO100

My favourite South Island beach and home to some of the most spectacular

coastline in Aotearoa, Wharariki offers endless vistas with wind-sculpted

sand dunes, beautiful rocky outcrops, and the Archway Islands - two giant

monoliths rising out of the ocean at high tide. Due to its remote location on

the top northwest corner of the South Island, it is off the beaten track of the

main tourist route.

Although this area is known for dramatic weather, I captured my most

treasured photograph here on what I thought would be a disappointing

sunset, with completely cloudless skies. The shoot was saved by the find of

a very calm tidal pool: in its reflection, I was able to capture the perfect

symmetry of the islands.

April 2020 23
---
LAKE MATHESON

LAKE MATHERSON, WEST COAST

F11, 30s, ISO64

A gem of New Zealand's west coast, Lake Matheson sits within beautiful

native forest at the foot of the snow-capped Southern Alps. Attracting

photographers from all over the world, the lake's view is one of the staple

images of any New Zealand landscape photography portfolio.

It is still one of my favourite views in New Zealand when conditions are

optimal which can be hard to find, given that it is in one of the wettest

parts of the country. I love visiting on a clear winter's morning for the best

chance to capture the perfect reflection, with the added element of some

morning mist. By shooting the lake with a long exposure, you can smooth

out its surface to capture the glorious mirrored reflections of Mt Cook and Mt

Tasman.

JOIN RICHARD YOUNG ON A PHOTOGRAPHY TOUR WITH NEW ZEALAND PHOTOGRAPHY

WORKSHOPS AND CAPTURE SOME OF THESE ICONIC LOCATIONS ALONG WITH SOME OTHER

HIDDEN GEMS. FIND OUT MORE AT WWW.PHOTOGRAPHYWORKSHOPS.CO.NZ
---
VERSA TILITY MEETS AGILITY

C A P T U R E T O M O R R O W

From fast-moving action to rich 4K HDR video, the new Nikon D780 helps your vision take flight. Its unique combination of

innovations including an algorithm adapted from the flagship D5. Meanwhile, live view shooting brings all the advantages of

hybrid AF using focal-plane phase-detection AF technology, including eye-detection AF and wide 273-point coverage. Combined

with shutter speeds from 1/8000 s to 900 s, and advanced video and time-lapse features, the D780 embodies true versatility.

2 4 .5 MP | I S O 1 00-51200 | 51-point AF | 273-point hybrid AF | 4K UHD, HDR (HLG) vi d e o

April 2020 25
---
PHOTO COMMUNITY

APRIL 2020

You're invited!

Join our online live

photography chats,

challenges, expert critique

sessions and more.

26

NZPhotographer

www.excio.io/events
---
INSIGHTS FROM

@excio photo community

The theme of our Top 10

photos uploaded to Excio

by our members this month

is "Focus on the Positive".

On the day this issue is published,

New Zealand will be on day 7 of

the national 4-week lockdown

due to coronavirus. With the world

turning upside down, there is a

lot of uncertainty and anxiety in

the air which is boosted by all the

negative news thanks to TV, radio,

social media, and even some

publishers, the photojournalists

using moody, dark photographs

when they are simply not

necessary.

Now more than ever, the

Excio photo community has

proven to be the source

of #PhotographyForGood

where people can enjoy the

photographs created and shared

by our members. We can't stress

enough how proud we are of our

members who continue uploading

and sharing their work because in

times like this, every photo has the

power to cheer up thousands of

people around the world.

For that exact purpose we have

created a free WhatsApp group

that you are welcome to join –

Each day we post an inspirational,

bright and cheerful, or interesting

photo from our members

collections so that you receive a

daily dose of positivity and can

also pass that spark of happiness

on to others in your circle whether

family, friends, or colleagues. Of

course, you can also download

the free to browse Excio app

where you can literally have

unlimited inspiration with hundreds

of photos and photographic

stories to browse.

If you are reading this right now,

we bet you love photography! It

means you are one of the lucky

ones who will never be bored

during self-isolation since there

are so many photography related

events and projects that we can

do while staying at home. Read

our ideas and tips here.

We are fortunate that Excio has

always been an online community

so we have been able to act

quickly as the world around

us has turned upside down.

We have recently launched a

selection of online activities to

help our members stay active,

stay together while being is selfisolation,

and even get rewarded

by participating in creative

challenges. For the next 4 weeks

we will be sending Excio members

a weekly dose of ideas, online

events, and challenges but you

can also stay up to date on

everything that's happening at

Excio via our Blog.

We hope you enjoy the top 10

photographs you see on the next

pages and get inspired to grab

your camera and try a few shots

yourself. The photos remind us that

there is so much more in the world

than this virus that is currently

getting constant coverage -

wonderful wildlife, scenes from

nature, and, of course, wonderful

human beings all still exist so

stay kind, stay home, and ramp

up your efforts to encourage

#PhotographyForGood as we're

all in this together.

Ana Lyubich

Co-founder of Excio,

Ana's photography

journey started many

years ago with one of the

first Kodak film cameras.

She loves exploring the

unseen macro world

and capturing people's

genuine emotions.

@excionz

www.excio.io

27 April 2020
---
28

Excio Top 10

LINDA CUTCHE

TUI

"Be as a bird perched on a frail branch that she feels

bending beneath her, still she sings away all the same,

knowing she has wings." – Victor Hugo
---
GRAHAM JONES

BUMBLE BEE HEAVEN

"The Sunflowers are blooming and the Bumble Bee's arrive

- an annual event in our backyard. With a tripod, macro

lens and shutter release... What more could one ask for!"

29 April 2020
---
30

DAMON MARSHALL

MR FROGGINTGTON

"Raised from a tadpole, Mr Froggington was a well-kept pet of ours for

some time. The frog was eventually released into the wild."

VICKI FINLAY

DRAGONFLY

"What do you do when you go birding and a dragonfly lands on a leaf near by and you don't

have a macro lens? Use what you have! My trusty 100-400mm still worked a treat and got

me close in to an otherwise unsuspecting dragonfly from quite a distance away."
---
FAIRLIE ATKINSON

ROSES ARE RED

"Zoom burst of a glass with a red rose and paint in it."

KAREN CROZIER

UNDER MY UMBRELLA

"I love colour so was pleased when I found this

beautiful colourful umbrella and a willing model. I took

this at Papamoa Beach look down Mount Maunganui."

31 April 2020
---
32

LEE WADDELL

PURE JOY

"This is my son, playing in the rain with a hosepipe in hand. What more could a

kid want. I took this image because of the pure joy my son had on his face and

the way the light captured every drop of water."
---
ROY CHERNOHORSKY

KAURI POINT

"Reflected sunset in a little bay by Kauri point

heading towards Tauranga."

33 April 2020
---
34

LIA PRIEMUS

TRIBAL WOMEN

"I know these tribal women, Sindori and Noori, well. They live in tents near the camel settlement of town in

Rajasthan, India and are very street wise, no nonsense. Their lives are anything but soft in this community

of women bringing up children without a father but they still manage to retain a sense of humour."
---
PAMELA JOHNSTONE

SIDE VISION

"Taken at the Estuary in South New Brighton Christchurch, these were the colourful reflections of the last sunset before our

New Zealand Level Four Covid-19 lockdown. I believe that while we cannot go about our normal everyday tasks at the moment,

it is still very important for our mental health to take a break from all the sad images around the world and not watch the

news 24/7.Yes, by all means keep informed however, allow yourself and your mind to rest we are all in this globally together."

35 April 2020
---
Mini 4 Shot Portfolio

Our 4x4 feature showcases 4 mini portfolio's of both

professional and up and coming New Zealand

photographers. The 4 images are linked in some way,

allowing you to get an understanding of what each

photographer is most passionate about capturing.

For a change to get your own 4x4 feature in a future

issue of the magazine, become a subscriber of the

magazine here.

ANN KILPATRICK

Impact Wellington

DON MCLEOD

Emberá Indians Of Panama

KIM FREE

Portraits of Conservation

TANYA ROWE

Birding Moments
---
ANN KILPATRICK

38

NZPhotographer
---
Photography is a creative outlet for me -

a catalyst to explore new places, meet

new friends, and find different ways of

working with my camera. I have been

photographing the activity around my life for

as long as I can remember but have recently

stepped up my photography game by

attending a variety of different courses

that have been invaluable for me.

@Annk_photography

IMPACT WELLINGTON

These photos are from a number I shot from 2016 to

2019 which were exhibited at Photospace Gallery.

My objective was to document some of the impact

of the 2016 Kaikoura earthquake on Wellington, New

Zealand.

At the time of the earthquake I was working in

Thorndon, Wellington. Immediately after the

earthquake, we had to move out of our building for

about a month. Several buildings around Thorndon,

and the nearby wharf area, were either carefully

dismantled, or simply demolished and bulldozed

away. As the face of Wellington changed, I

observed and photographed the disappearance

of the buildings. They are no more. These are my

record of a time, and buildings, now passed.

April 2020 39
---
DON MCLEOD

42

NZPhotographer
---
Photography is a medium for expression of life in

all its facets. From learning the art with a Rollei

medium format to a Nikon D700, one is never short of

opportunities to tell a story. My greatest interest has

been photographing people, and looking for that

special photo to portray the inner soul of the person. I

always love the challenge of photographing children,

with their sense of freedom and fun.

www.snugharbour.co.nz

EMBERÁ INDIANS OF PANAMA

A few years ago I seized the opportunity to visit an Emberá Indian village on the banks of a river

in Panama. This visit was like going back in time because the village offered a unique glimpse

at a preserved way of life of the indigenous people of Panama and Colombia with music and

dance, traditional clothing, and indigenous foods all part of the immersive experience.

The Emberá are historically a riverine people, building their houses on stilts along the banks of

rivers where they are organized into a small community with a communal house at its centre.

The craft of constructing dugout canoes (hampá) was historically a very significant skill for

Emberá men, at times serving as a rite of passage or prerequisite for marriage according to oral

history.

Although most Emberá people now live in villages, towns, or urban centres, many established

Emberá communities still found along riverbanks have resisted modernization and still keep

their own government and family structures, however, they do rely a lot on tourism to sell their

homemade products.

April 2020 43
---
KIM FREE
---
I'm a Canterbury/ West Coast, based photographer.

My passion is shooting nature. For me, photography is a

meditative experience - I am fully in the moment when

shooting. I hope my photos will cause an emotional

response in the viewer and that I can show them the

beauty in our world, the landscapes and the animals.

I am extremely passionate about wildlife conservation

and support as many causes as I can.

@kimfreephotography

PORTRAITS OF CONSERVATION

These four images were all taken at Orana Wildlife Park in

Christchurch. I work closely with Orana to capture images of

their beautiful animals that show how truly amazing they are.

So many of these incredible beings are critically endangered

in the wild and I believe good wildlife parks and their breeding

programs are the ark of our time. Orana want images that

show their animals enjoying their surroundings and that will

help to promote them as ambassadors of their species,

hopefully raising awareness of the effects of climate change,

deforestation, and poaching and giving an opportunity for

education around these things.

I seek to capture bright, vibrant images that really showcase

these animals living happy stimulating lives and I love to show

people the details they may otherwise miss, like their eyes, the

textures and patterns of their fur or coats, and their colours.

Sometimes looking from a distance people will not see these

things.

We are so privileged to share the planet with these animals

and if I can make one person, through my photos, care

enough to help ensure the survival of these species for

decades to come, then a life goal for me is complete.
---
TANYA ROWE
---
I have been keen on photography since a

young age but I started taking photography

more seriously as a hobby about 10 years

ago. To make the most of my interest, I spent

a year in Dunedin completing a Certificate

in Digital Photography in 2016. Since then I

have become more capable, particularly

with using my camera in manual mode. I

am especially interested in photographing

nature in all its diversity.

tanyarowenz.wixsite.com/photography

BIRDING MOMENTS

I get so much enjoyment out of photographing

animals. Specifically, I find myself spending a lot

of time watching and photographing birds. This

series represents some of the great variety of

birds we have in New Zealand.

The White-Fronted Tern photo was taken in

Tauranga, where a large group of terns were

nesting on the edge of a busy bridge. The Wood

Pigeon photo was taken at Zealandia, a fenced

ecosanctuary in Wellington. The Fantail photo

was taken at my house. Initially the lighting

wasn't great but the clouds parted just in time.

The Australasian Crested Grebe photo was taken

in Queenstown. It is one of my most memorable

bird watching moments as it was the first Grebe I

had ever seen.
---
Capturing The Beauty Of The

World With A Phone

How To Get The Best Out Of Your iPhone Camera

By Dionne Solly

MALDIVES SUNSET

What's the best camera for photography? The one

you have available!

I found this to be oh-so-true shortly after completing

an online Diploma in Photography when my old

bridge digital camera stopped working.

Did I let this equipment failure stop my photography

journey in its tracks? No! I had noticed that I

seemed to be taking more and more photos on

my iPhone X as I always had it on me. It was just

so easy when out for a run or bike ride to snap a

quick pic. And the photos seemed to come out

pretty good too! I did a bit of searching online and

found an iPhone photography course, this helped

me to get the most out of my iPhone camera and

taught me a lot of tips and tricks. As I was still fairly

new to photography at this time, I found the phone

camera was excellent for practising composition

techniques as I didn't have to think too much

about what the camera was doing and could put

more effort into the scenes/images I was shooting.

There are people I follow on Instagram who take

insanely amazing images with their iPhone and

others who use editing apps to make images that

are more like works of art than photos. I guess that's

part of the appeal of mobile photography - most

people already have a phone with a camera so

can start taking photos straight away, no need for

54

NZPhotographer
---
ulky/expensive equipment and certainly no need

for an extra bag to carry it around in!

iPhone photography lends itself really well to many

different photography genres including portraiture,

street, food but for me it's lansdscapes, macro, and

travel photography that are my passion.

I love being outdoors and the art of being able

to capture the beautiful things I see in nature has

always been the draw card for me. I really enjoy

shooting landscapes and anything to do with water

(the sea, lakes, rain) plus, getting up early and

watching the world wake up as the sunrises, really

fills my cup! Macro is also fascinating as you get to

see, up close, a whole other world - I can sit in the

garden for hours while bees and insects are hard at

work, happily snapping photos from their world but

enough about me, let me share some tips and tricks

for making the most of your iPhone camera.

10 TIPS ON GETTING THE BEST OUT OF YOUR

IPHONE CAMERA:

1. Turn on your iPhone camera grid. This will help

with composition (especially rule of thirds) and

will help keep your horizon line straight when

shooting landscapes.

2. Always set the focus yourself, rather than relying

on the phone to guess correctly. Simply tap the

screen on whatever part of the scene you would

like the focus to be set on. A yellow box will

appear which means the focus is set.

3. You can also set exposure yourself by swiping up

or down on the sun icon next to the yellow focus

box.

4. Change up the angle you are shooting from.

With your iPhone being so small and light you

can really get creative with the angles you

are shooting from. Getting low is my favourite,

especially when shooting water scenes... getting

as close to the water as possible results in great

reflection photos!

5. Make sure you clean the lens on your iPhone!

It might sound like a given, but even a small

smudge where its been in your pocket or bag

can result in a blurry photo.

6. Use portrait mode for great blurred backgrounds

in your photos.

7. Use burst mode to take action photos. Just hold

your finger down on the home button.

8. Never miss a shot by quickly opening the camera

app from the locked screen. Tap the screen to

wake it up (or press the home button on older

iPhone models) then swipe left - the camera app

will slide onto the screen.

BASKET OF DREAMS,

QUEENSTOWN

BUBBLES, HANMER SPRINGS

GLOW, LAKE WANAKA
---
9. Use the volume buttons on your headphones

to take a picture. This is really good for street

photography or in situations when you want

people to act naturally. Simply frame your

shot and with your headphones plugged into

your phone click on either one of the volume

buttons.

10. Headphone volume buttons can also act as

a remote shutter release – perfect if you have

your phone on a tripod and you want to avoid

camera shake in low light conditions.

If you have an Android phone, or something else,

use these tips as the inspiration to learn how to take

control over your make and model, though the

steps won't be the same, you can still take control

and make your phone work how you want it to!

TAKING PHONE PHOTOGRAPHY FURTHER:

I've found editing on my iPhone or iPad really

easy. Apart from the editing software already

available on the iPhone, the number one app I use

is Snapseed. It's free and easy to use with a huge

range of editing tools meaning you can quickly

and easily improve colour, exposure, sharpness,

cropping and straightening. It also has different

filters, a healing tool, and you can add a vignette,

lens blur and more.

Camera + is another free app I use which is great

for macro photography with Retouch, Superimpose

and LensLight other free apps that are great for

adding fun elements to your images.

For older iPhone models there are special macro,

wide angle, and fish eye lenses that you can buy

and attach to your iPhone to take your creativity

further though these add-ons not so relevant for the

newer models that already have multiple lenses.

IS A DSLR EVEN NEEDED?

For me, the answer is yes but for some people it

might be no. The more photography I did with my

iPhone, the more I started to realise the limitations. I

love long exposure, wildlife and Astro photography

and my iPhone just didn't cut it in these genres

so I bought a Nikon D5600 last year along with a

few extra lenses. I still get my iPhone out to take a

few snaps occasionally and really appreciate the

time I've spent taking photos with it so if you're

holding your passion for photography back due

to lack of funds for a fancy camera, or indeed

interested in trying out photography as a new

hobby, I encourage you to use your phone camera

as a stepping stone into the enchanting world of

photography to see how far it can take you.

START OF THE DAY

VITAMIN SEA

www.instagram.com/dionne.solly

56

NZPhotographer

BUSY BEE
---
Deliver

a larger

impact.

BONUS

Epson Signature

Worthy Sample

Pack**

EPSON PHOTO RANGE – FOR PHOTOGRAPHERS WHO WANT MORE

· Unparalleled print quality: Print at resolutions up to

5760x1440 dpi using advanced Epson all-pigment ink

· Outstanding productivity: Print at high speed with

cost-effective high-capacity ink cartridges up to 200 ml

· Exceptional media support: Print on the widest range of

fine art media including roll based stocks, and thick board*

· Superior control: Print with maximum precision via an advanced

driver, special Black & White Mode, and an optional SpectroProofer*

· Simpler operation: Epson Print Layout Software for rapid production

of a vwide range of outputs for various display requirements

· Lower maintenance: Stable permanent print heads covered by a

comprehensive warranty with optional on-site service extendable up to 5 years

SC-P600 A3+

SC-P5070 A2+

SC-P800 A2+

Learn more, visit www.epson.co.nz

*SureColor P5070 only

**Valid with purchase of SC-P600, SC-P800 from Epson or selected resellers.

April 2020 57
---
STREET VIEW REFLECTIONS

F5.6, 1/500s, ISO1000

Rising Star: Ethan Calder Cass

Ethan Calder Cass is a rising athletics star

(in the top 10 in NZ for sprints) and a gifted

photographer. He is currently in year 13

at Kapiti College and has an interest in street

photography and sports photography. His purpose

is to catch evocative images reflecting the

emotion at the time of the event.

ETHAN, WHEN DID YOU FIRST PICK UP A

CAMERA?

When I was around 4 years old I was given a

toy camera, I would spend hours going around

thinking I was taking photos but in reality not

taking them. Eventually, I was given an old point

and shoot camera and that's when I began

58

NZPhotographer
---
taking 'real' photos. Out of this grew a

passion for photography which I've had ever

since, making it a pretty easy choice to take

photography as a subject in school.

F4.5, 1/2000s, ISO1000

HOW HAS YOUR PHOTOGRAPHY

PROGRESSED IN TERMS OF CREATIVITY?

I wouldn't say I've always had a creative

streak with my images. Looking back on older

images I took, I can safely say they were very

technical and very accurate to genre. As I've

grown older, I've tried to explore more in

different ways. I've had an urge to steer away

from the 'same old same old' and to try and

create something different whenever I can.

Last year I explored a bit of surrealism and this

year I am starting to look at the more abstract

nature of photography.

HOW DOES PHOTOGRAPHY HELP YOU

EXPRESS YOURSELF?

I started out by saying that photography

doesn't really help me to express myself, but

my teacher pointed out that I am quite a

reserved person and that my passion and my

interest in the world around me is expressed in

my photos. I have always done photography

for the sheer pleasure of challenging myself,

rather than trying to express myself, but

I guess as I've grown I've started to develop

more of my own style rather than copying

others. In this way I guess photography is

indeed helping me to express myself in a way

that I am not really conscious of.

F4.5, 1/2000s, ISO1000

TELL US MORE ABOUT YOUR PASSION

FOR SPORTS PHOTOGRAPHY AND

STREET PHOTOGRAPHY – WHY THESE

GENRES?

My passion for sports photography has just

come naturally. From a young age I've been

heavily involved in a range of sports. I just

love the atmosphere and emotion that comes

with sport. From my own personal ups and

downs within sport I just know there are some

moving and deep images to capture and

that has probably created my passion for it.

My interest in street photography probably

came from spending a lot of time in

Wellington… spending the weekends in

the city I would find myself taking a lot of

architecture or street images. Going online

I would always see those types of images

and think 'wow, those are really amazing'

and then trying to replicate them myself in

Wellington.

April 2020 59
---
WHAT IS YOUR BIGGEST STRUGGLE WITH

PHOTOGRAPHY AND HOW ARE YOU

OVERCOMING THAT?

I'd have to say my biggest struggle has been

motivating myself to go out and shoot. A lot of my

time is spent at college and training for athletics along

with other sports. Both of these coupled with working

a part time job means I'm short on time but mainly

energy to go out to shoot. Sometimes I'll drag myself

out to go and shoot but I'll end up not being happy

with anything or struggle to see anything worthwhile

shooting. Although I'm finding the more often I go out

I'll see something and then an idea will click and I'll

be away. I think it's like anything in terms of the more

you do it, the better you get at it and the more your

passion develops for it.

WHAT ARE YOUR PLANS FOR THE FUTURE AND

HOW DO YOU SEE PHOTOGRAPHY PLAYING A

PART IN THAT?

I don't really know my plans for the future but

definitely photography will be some part of it,

whatever I may end up doing. It has ended up being

such a part of my being now that I can't imagine not

doing photography in some form.

WHERE CAN WE SEE YOUR WORK ONLINE?

www.flickr.com/photos/187421693@N05

PAIN OF DEFEAT SERIES

F5.6, 1/400s, ISO1250
---
4 Day Portfolio & Processing Masterclass

Based in Wellington, our Portfolio & Processing Masterclass guides you through the process of creating a

photography portfolio showcasing your unique style and vision. This workshop is designed as a portfoliobuilder:

we will cover advanced processing techniques in both Lightroom and Photoshop, as well as working

through the printing process. By the end of this Masterclass, you will have completed a handmade fine-art

portfolio containing ten of your best prints. Professional photographers Richard Young and Ken Wright will be

your tutors, giving both group and one-on-one support.

1 Day Fine-Art Printing Workshop

Wellington 4 Day Masterclass 11-14 June and 27-30 August 2020

Join us for a one day fine-art printing workshop and learn how set up print files, using a colour managed

workflow to turn them into professional grade prints. Our workshop has been designed to simplify the printing

process, you will come away with the knowledge to print your own prints at home or to be sent to a lab.

Auckland

1 Day Workshop

22nd March 2020

7th June 2020

22nd Nove 2020

Wellington

1 Day Workshop

5th April 2020

31st May 2020

1st Nove 2020

Christchurch

1 Day Workshop

23rd May 2020

20th Sept 2020

www.photographyworkshops.co.nz

info@photographyworkshops.co.nz

April 2020 61

021 0845 7322
---
Jordale Rock

by Brendon Gilchrist

JORDALE ROCKS

F8, 1/4s, IS064

62

NZPhotographer
---
With the events of recent weeks, I could not think what

to write and wondered if I should take a break. But then

I thought my words might help people in this testing time

so here I am, doing my best to put some motivation into

a situation of uncertainty.

A few years ago during a very bad rainstorm at home,

I headed over to the rugged West Coast beach of

Motukiekiei and Jordale Rock to get away from the wet

weather that we were having and start the year with

something new and refreshing – I needed to capture a

shot to inspire me through the year. The West Coast is just

stunning, a place where I find a lot of peace, yet many

people miss this highlight as they travel from Greymouth

up to Punakaiki.

Traveling with a friend and making stops enroute, we were

in no hurry to reach Motukiekiei, enjoying the drive and the

serenity of the scenes that unfolded in front of us as the rain

slowly eased showing us clearer skies ahead.

We stopped in at the Historic Brunner Mine Historic Reserve

for a look around and to learn what happened in the 1896

mining disaster that killed 65 miners making it the worst

mining disaster in New Zealand history. It was amazing to

learn about the heroes who lived during this time and I was

in some way sad but also inspired by the heroic actions of

these wonderful people. You see, people from other mines

put down tools to come and rescue the miners trapped

at Brunner Mine. The shaft of the mine was airless but the

rescuers were relentless in finding their friends, family, and

the community of the West Coast miners, the rescuers

themselves suffocating on the after damp gas and often

having to be rescued by other rescuers but insisting they

return to the mine to look for survivors after they came

around again. I find this determinedness amazing, almost a

little shocking considering the recent Pike River Mine disaster

in which no one was allowed in even though rescuers were

willing.

Cultural activity over, our next stop was at Jordale Rock to

check out possible compositions and see what the water

was like - I find this useful to do so that I can understand how

often the waves come and go and how strong they are.

Since I usually end up in the water to get the best shot I can,

it's a good safety measure too.

After 30 minutes of watching the waves, I was happy. I saw

the image that I wanted to capture so we headed back

to the car and drove along to Punakaiki, taking a walk

around the Pancake Rocks followed by a bit of window

shopping before driving to Bullock Creek Road (where

Cave Creek Track starts) to check out the place we were

planning to camp - it looked peaceful with not many

people or cars so, feeling satisfied that we had a place to

rest our heads that night, we made the 40minute journey

back to Jordale Rock with an hour to spare for sunset.

I headed down to the beach with my tripod and camera

bag and set up my camera, putting the filters on, ready

and waiting for something to happen. As the sun got

lower it was not long until there was an explosion of

orange and red colours in the sky - I was not expecting

that as it was looking like nothing was going happen. I

was the only one on the beach, the tide was perfect and

of course, I was in the water. The best image I captured

MOTU

F16, 4s, ISO64
---
almost washed me off my feet and you can almost see

the wave that would have swamped my camera had

I not of lifted it out of the water a split second after I

heard the shutter click whilst trying to stay stable on my

feet at the same time.

When I checked the back of the camera I was so

happy with the image I'd caught - it was unreal looking

like clouds with a candle while the sky was on fire. I

thought that I couldn't get a better shot than that so I

headed back up to go to the car.

I was wrong in thinking it couldn't get better! I turned

around and lo and behold, the sky was almost bloodred

with the reds reflecting in parts of the water so I had

to take a few more frames. I set up a long exposure, a

little longer than my other frames, so that I could blur

more of the water whilst capturing the rocks in the far

distance of Motukiekie and the somewhat popular

starfish colony. I was rapped that it was the 1st January

and I had 2 images that I still consider the best sunsets

that I have captured on the South Island West Coast.

I only took a few frames from this spot as I knew the

show was almost over plus it was getting late and we

still needed to drive 40 minutes back to our campsite

and pitch the tent.

Tucked up in my sleeping bag later that night around

11pm, thinking that the incredible moments of the

day were over, I heard More Pork, a native owl, Kiwi

Screeching. This, the sunset and the owl, together with

the singing Tui's Bellbirds, Fantails, and Robins that woke

me the next morning before sunrise make me relive

this trip to this day. It still amazes me how everything

went to plan and how even though back home in

Christchurch there was some bad flooding, I had

experienced one of the most amazing overnight trips of

my photography career.

I hope that in all this uncertainty this story of one of

my photography trips can help you through and even

bring back memories of the amazing trips you have

been on, helping you to reminisce on special moments

that have happened in your life. After all, you don't

have to leave your house to go on a trip, photos last a

lifetime and the stories you share can go that one step

further so let me leave you with this question - What

stories can you tell from your photos? Why don't you

write them now, sharing them on your Facebook page

or blog so that others can all take a trip down memory

lane with you?

www.instagram.com/esbphotography_

www.facebook.com/ESB23Photography

www.esbphotography.co.nz

New to photography? Looking to improve your knowledge of

the essentials and take your photography to the next step?

Check out our upcoming Nikon NZ School events

in partnership with New Zealand Photography Workshops

Learn more at

www.mynikonlife.co.nz/school
---
BACKYARD

BEAUTY

READERS' SUBMISSIONS

Submit your photos by 15 April

for a chance to be featured in the

next issue of NZPhotographer.

Submit at www.nzphotographer.nz
---
PORTFOLIO

BEST READERS' SUBMISSIONS THIS MONTH

SCULPTURE RED

F22, 1/13s, ISO100, 165mm

If we are in Sydney at the right time we go to the Sculpture by the Sea exhibition. It

is usually very interesting and shows the work of many artists. The works are placed

around a coastal walk that finishes/starts at Bondi. It is always crowded and hot, but

well worth the walk. I think this work (photo shows only a part of the sculpture) may

have been done by Chen Wenling but I am not certain.

Ann Kilpatrick

66

NZPhotographer
---
REMEMBRANCE WALL

F2.7, 1/35s

I went to visit the Australian War Memorial with a Canadian colleague while we

were working together in Canberra. This wall resonated with ANZAC connections.

Taken on my Samsung Phone.

Ann Kilpatrick
---
RED PEPPERCORNS

F5.6, 1/20s, ISO100, 28mm

I wanted to create a photo that was full of red! I chose to photograph some red

peppercorns with only a few in focus. I put them in and around a mortar pestle to

be able to create some depth in the photo.

Tanya Rowe
---
RED BEDFORD

F8, 1/250s, ISO200

Lovingly restored to its former glory, this red Bedford van (c.1950's) sits proudly on

display at Hobsonville Point.

Gail Orgias
---
OLD BEGINNINGS

This was a old deserted iron house taken in the South African Drakensberg. To

someone it would appear abandoned and old, to others it would be a home and a

new beginning.

Lee Waddell
---
PURE GEM

This image of a crystal was taken at Auckland's Crystal mountain mine museum. It

was pretty difficult to photograph the crystals as most of them were behind glass.

The crystals are all well lit as they are in a underground museum, so I had no need

to use a flash. (The flash would have bounced off the glass anyway)

Lee Waddell
---
ENDO AWARENESS PHOTOSHOOT

Endometriosis is a common inflammatory disease estimated to affect 176 million girls and women

worldwide (120,000 in NZ) in their reproductive years. This means that roughly 1 in 10 women in New

Zealand suffer from Endometriosis, but it definitely doesn't get the attention it deserves and many

of them suffer in silence. Join courageous women like Melodie in raising Awareness and support for

those who suffer in silence.

Photographer/ Retoucher: Anupama S. Wijesundara

Model: Melodie

Makeup & Hair: Alyssa houston

Anupama S. Wijesundara
---
ARE YOU WORRIED NOW?

Red rage, and a knife that's handy - Someone help!

Kate Dockerty
---
MONK AND NOVICES AT THIKSEY MONASTERY

LADAKH, HIGH HIMALAYAS

At Thiksey the main temples are on top of the hill while monks' quarters crowd down

the lower slope. Within the community monastery, the central courtyard plays a key

role. Here novices are relaxing following an early puga ceremony in their wonderful

bright red robes.

Peter Sheppard
---
LOCALS AT KARSHA MOUNTAINSIDE

ZANSKAR, HIGH HIMALAYAS

Zanskar is known as the most remote inhabited place on earth. Here a Buddhist

community has survived generations in extreme conditions at high altitude and

barren mountainscape. I caught this shot of a couple of Zanskarpa on the Karsha

mountainside on their way to one of the annual festivals.

Peter Sheppard
---
RED CARPET FOR BJORN

The fallen pohutakawa flowers made a red carpet for Bjorn. Bjorn and his

black coat really looked the part. Photo taken while walking through Central

Park in Wellington.

Peter Maiden
---
LADY IN RED

Double exposure in camera with red scarf and woman.

Kate Dockerty
---
EXPERIMENTATION

Playing with masks and paint and just enjoying the experimentation.

Pia Thompson
---
LOVE IS SAD

Sometimes it turns us upside down and inside out, and sometimes it makes us cry.

But love is love.

Sophie Pitt
---
CAUGHT

Caught in the spotlight and guilty. Red is for shame, red is for guilty, red is for caught

red handed.

Charlise Sefo
---
SLOW BURN

We often have emotions simmering behind our eyes. The colour red here is an

outward reflection of the slow burn that anger is when it is internalized.

Charlise Sefo
---
"WHEN YOU

FOCUS ON THE

GOOD, THE

GOOD GETS

BETTER."

ABRAHAM HICKS

82

NZPhotographer