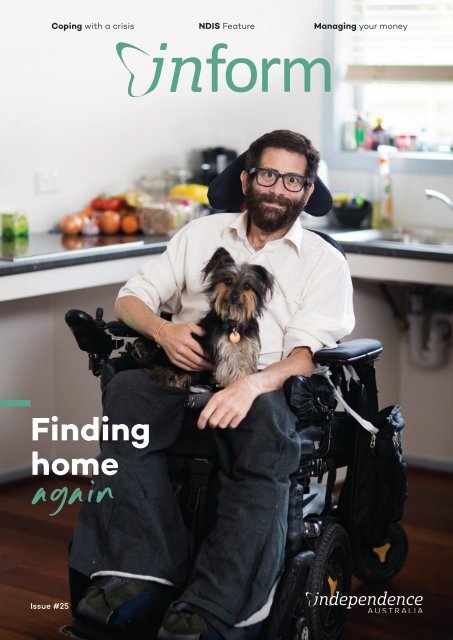 Inform issue 25 – Winter 2018
In this issue of Inform we focus on new beginnings and changes. We follow the story of Joel who following a traumatic accident, had to start from scratch in his career.
In this issue of Inform we focus on new beginnings and changes. We follow the story of Joel who following a traumatic accident, had to start from scratch in his career.
SHOW MORE
SHOW LESS
You also want an ePaper? Increase the reach of your titles
YUMPU automatically turns print PDFs into web optimized ePapers that Google loves.
Coping with a crisis NDIS Feature Managing your money

Finding

home

again

Issue #25
---
Inform is

Independence

Australia's crossdisability

magazine.

We encourage readers to

submit suitable content

for consideration by

Independence Australia. All

correspondence of this nature

should be directed to:

inform@iagroup.org.au

While every effort has been

made to ensure the accuracy

of the information in this

publication, Independence

Australia assumes no

responsibility for errors

or omissions of any

consequences of reliance in

this publication. The opinions

expressed in this publication

do not necessarily represent

the views of Independence

Australia. Medical information

included is not intended to be

a substitute for professional

advice.

Your NDIS journey

of care starts here

The National Disability Insurance Scheme (NDIS)

is a new way to provide support for Australians

with a disability, their families and carers.

CORE

SUPPORTS

Daily activities: In-home

& in the community.

Consumables &

continence products.

CAPACITY

BUILDING

Therapy, skills

development &

co-ordination

of support.

CAPITAL &

ASSISTIVE

TECHNOLOGY

Household aids &

mobility equipment.

As a leading service provider, our dedicated team of co-ordinators are here to

support your journey to the NDIS. We've got you covered with a wide range of

products, equipment, services and supports for your NDIS package, all from our

one organisation.

ABN 80 973 805 243

Building 1, 9 Ashley Street

West Footscray VIC 3012

inform@iagroup.org.au

www.independenceaustralia.com

2

independenceaus

independenceaus

STEP 1.

Preparing

your plan.

STEP 2.

Developing

your plan.

STEP 3.

Getting your

plan approved

by the NDIA.

STEP 4.

Choosing your

providers and

implementing

your plan.

Visit independenceaustralia.com/ndis

to learn more about the NDIS

and how it affects you.

STEP 5.

Reviewing

your plan.
---
Welcome

Issue #25

contents

new

beginnings

This issue of Inform is all about celebrating new

beginnings and changes, as we in the Inform team

have our own new beginning to celebrate. In May 2018

we were given the fantastic news that our magazine

was selected as part of the NDIS's Information,

Linkages and Capacity Building (ILC) framework. This

is a great recognition of the work we are doing in the

space, and we're very excited to share this with you.

Over the coming months you will see many changes

to Inform, so keep your eyes peeled and watch this

space.

In this issue we follow the story of Joel who, following a

traumatic accident, had to start from scratch with his career. His

story of determination shows us that you are never too old to

find your passion again, and that the sky is the limit when you

put your mind to it. In this issue you will also find the first in our

series of NDIS features and, as many regions take their first

steps into the scheme, we are asking you the question: are you

NDIS ready?

7

8

12

14

23

Staying free from Urinary Tract

Infections

Feature article: Finding Home

Again

NDIS feature: How to pick a

provider

NDIS feature: Are you NDIS

ready?

Healthy eating on a budget

8

Over the coming issues we will be working to de-mystify the

scheme, and provide you with the information you need to

navigate it effectively. We look forward to sharing this with you,

and please get in touch with us if you have an NDIS myth you

would like busted in future issues.

The Inform team is committed to bringing you quality,

informative content wherever you are in Australia, so we

encourage you to get in touch with us if you have a story of

independence to share. You can reach the team at

inform@iagroup.org.au.

Alison Crowe

Managing Editor: Alison Crowe

Deputy Editor: Rachel Tyler Jones

Design: Mark Lovatt

Cover Story Photography:

Meredith O'Shea

Special Thanks: NDIA, TAC, Dietitians

Association of Australia

3
---
Nov- Dec 2018

What's

On

November

Movember

14 World Diabetes Day

12-18 National Psychology

Week

December

3 International Day of Persons

with Disabilities

10 Human Rights Day

12 International Universal Health

Coverage Day

26 National Leftovers Day

4
---
Out and about

Accessibility

Weekend

The 14th Accessibility

Weekend is over and what

a resounding success the

2018 event was!

Independence Australia was

lucky enough to have Australian

wheelchair rugby legends

Nazim Erdem and Josh Hose

champion the annual event,

which saw Victoria's favourite

tourist attractions open their

doors for free to wheelchair

users and their carers on 8 and

9 September.

ArtVo, Sovereign Hill, Eureka

Skydeck, LEGOLAND and the

Arthurs Seat Eagle were just

some of the 40 accessible

regional and metro venues that

participated this year.

The event, which signifies

the importance of access and

inclusion for people living with

a physical disability, took place

as part of Spinal Cord Injury

Awareness Week.

This was especially significant

for the two Paralympians in

attendance, who coach and

mentor people with spinal

cord injuries on their journey

to return to their communities

independently. They noted

the personal importance of

accessibility in living a fulfilling,

inclusive life.

Erdem became a quadriplegic

after diving off a pier into

shallow water at the age of

20. He went on to win two

gold and two silver medals at

five Paralympics from 2000

to 2016. Hose, an incomplete

quadriplegic, won gold medals

at the 2012 London and 2016

Rio Paralympics. He was a

passenger in a car that rolled

down a 20-foot embankment,

during which he sustained a

spinal cord injury.

Independence Australia Chief

Executive Officer Peter Turner

said Accessibility Weekend links

with the organisation's objective

to support people living with

a disability or personal need

to regain and retain their

independence.

"Accessibility Weekend is an

invaluable opportunity for

Victorians living with a disability,

their families and carers to

enjoy the inclusive access each

participating venue has to offer,"

Mr Turner said.

Independence Australia

also teamed up with Global

Ballooning Australia to offer one

lucky Accessibility Weekend

guest and their carer the

chance to win an accessible

ride in Global Ballooning

Australia's Easy Access Basket

across the Yarra Valley.

This year, Roy Davie impressed

us with his innovation to

improve accessibility for

wheelchair users and nabbed

the prize with his entry: "I'd like

to see fully automated ramps on

public transport at every door

that are deployed when doors

open and retract when doors

close."

5
---
Featured Product

TENA

FOR MEN

to help with prostate

enlargement

Enlargement of the prostate is

a normal part of ageing for men.

The prostate gland surrounds

the top part of the urethra and

enlargement narrows the urethra

and puts pressure on the base of

the bladder. This can affect the

passing of urine and can cause

a variety of symptoms, including

urinary incontinence for some men.

Some will have enlargement with no

symptoms and others will have symptoms

requiring intervention. One in seven men

will be diagnosed with prostate cancer

by the age of 85. It is more common in

older men, with 63% of cases diagnosed

in men over 65 years of age (1) .

Surgery is usually only considered

for incontinence after non-invasive

treatments have failed and the condition

is interfering with the individual's quality

of life. It is a big decision for anyone

as there can be complications, such

as infection, bleeding and damage to

surrounding tissue and nerves, so it is

usually considered as a last resort option.

The following are non- invasive strategies

to help address enlarged prostate

symptoms:

• loss of weight can reduce pressure on

the pelvic floor and bladder

• avoidance of caffeinated drinks

(alcohol, fizzy drinks, coffee, tea) that

can irritate the bladder and increase

urinary frequency

• reduction or cessation of smoking as it

can also irritate the bladder (2)

• pelvic floor muscle exercises can

support the bladder and urethra to

improve urinary control (referral to a

specialist men's health physiotherapist

if needed) (3)

• bladder retraining can improve

bladder capacity (4)

• Use of a discreet pad for dribbles or

incontinence so that one can feel dry,

maintain dignity and feel confident in

social situations

If all these measures have not improved

symptoms, surgical options may need

to be explored. Of course if the prostate

is cancerous, an individual may require

surgery or radiation therapy as immediate

treatment, but this will be determined by

the Urologist.

TENA has an excellent range of products

specially designed for men. They come

in a range of sizes, levels of absorbency

and with a discreet design.

Free samples can be ordered via TENA

website: www.tena.com.au

1.https://www.cancer.org.au

2.https://www.tena.com.au/men/causes-of-urinary-incontinence/being-a-smoker/

3.https://www.tena.com.au/men/incontinence-treatments/pelvic-floor-exercises-for-men

4.https://www.tena.com.au/women/incontinence-treatments/bladder-retraining/

6
---
Your Health

Your health

Staying free

from Urinary

Tract Infections

A urinary tract infection (UTI) is a relatively common

but unpleasant problem that affects the bladder and/

or kidneys. Symptoms may include; changes in bladder

habits, burning pain with urination, back or tummy

pain, urinary urgency, incontinence, a high fever and

even delirium if left untreated.

Not all infections are easy to detect, and some people may

feel only mildly unwell or have unexplained changes to their

bladder habits. Carers of people who cannot communicate

clearly often report that the only outward indication of a UTI is

strong smelling urine or a change in mood or behaviour.

Fact: women and the elderly have a slightly higher risk of UTI

Most urinary infections are caused by a bacteria that has made

its way into the bladder via the urethra or via continence aids

such as a catheter. This requires direct contact between the

entrance to the bladder and the bacteria. Bad smells and

public toilet seats are not to blame for UTIs, because they do

not make contact with the entrance to the bladder.

UTIs are more

likely caused by:

1.

Poor wiping techniques after

toileting. It is important to wipe from

front to back, particularly after a

bowel action. Bacteria that belong

in the bowel can cause problems

if they get into the urethra and

bladder.

2.

Bacteria on your hands or other

surfaces making contact with the

urethra or continence aids. Make

sure you know the correct clean

techniques for using catheters and

use single-use catheters where

possible. Care workers should wash

their hands well and wear gloves for

intimate care.

3.

Broken, wet and fragile skin, which

is more susceptible to infection.

Good skin care and appropriate

use of continence aids can ensure

skin is healthy and more resistant to

infection. Powders and harsh soaps

should not be used on intimate

areas.

4.

Poor fluid intake. A good flow

of urine can wash away any stray

bacteria that may be in or near the

urethra, therefore preventing an

infection. Drinking about 1500ml of

fluid a day ensures a good amount

of urine.

5.

Not emptying your bladder fully.

If you hover instead of sitting

properly on the toilet, some urine

stays inside the bladder which

encourages stray bacteria to

multiply rather than being flushed

out. Other causes of incomplete

emptying include constipation and

prostate enlargement.

7
---
8
---
Feature

Finding

home again

Photography: Meredith O'Shea

Home for Joel has always been a place where he could hear

the birds singing and see the trees growing outside his window.

Growing up an active man, Joel was not known for sitting still or

for keeping quiet for long – he much preferred being on the go,

and making connections with people as he went. In his youth he

travelled all over Victoria; working in kitchens, building sites and

in supported living residences – anything that allowed him the

opportunity to travel, make friends and keep busy. With the birth

of his two young daughters Joel's life seemed complete, as if the

world was at his feet.

9
---
Feature

Physically he was at home, but

mentally Joel was far away

Then a fateful mistake 12 years ago turned his life

on its head. While visiting the northern suburbs of

Melbourne to see a friend, Joel made the splitsecond

decision to step out onto the road from

behind a tram, without realising that there was

oncoming traffic on the other side. A fast-moving

car collided with Joel, sending him flying onto the

road and severing his spinal cord in the process.

Following the accident Joel was left a paraplegic

and unable to walk. After a relatively quick rehab

journey where he was taught how to take care

of himself again, he returned home to myriad of

house modifications and changes to ensure that

he could simply get in the front door. On the face

of it, with these changes made and the duties

of caring for his young daughters returning, it

seemed life had resumed its fast pace in Joel's

household, and that 'normality' would soon set in

again.

For Joel, however, it felt as if time was standing

still. So used to being on the go all the time, his

life felt disrupted and directionless. Physically

he was at home, but mentally Joel was far away.

Joel recalls that early on he would spend his

days sitting in his wheelchair staring out the front

window, wondering what on earth was going to

happen with his life now.

Joel felt lost. He could no longer work in his

much-loved active roles, and he was struggling

to deal with the impact of what had happened

to him. Just as Joel was beginning to lose

all motivation, a close friend made a simple

suggestion to him: "Well you talk all the time, why

don't you do that for a job? I know a place."

Thanks to this friend, Joel was linked up with

a high school educational program aimed at

educating young people about risk-taking and

Above: Joel sharing his experience with a group of students.

consequences. The role saw Joel visiting high

schools and speaking to the students about his

experience with his injury, and what he would

do differently if he could turn back time. It only

took a few presentations for Joel to feel as if he

had found his place in the world again. He loved

the way he felt after visiting a school – he felt he

could change lives and make a difference, simply

by sharing his story.

Fast forward a few years and Joel is a completely

different man – he is motivated, active and

settled. No longer spending his days staring out a

window, he has found a new lease on life and he

attributes that to finding his passion in educating

young people. Looking forward, Joel hopes that

by sharing his story he can motivate others to

tackle their own personal challenges, and not let

one thing define who they are.

By finding his new passion, Joel has found his

way home again. And he couldn't be happier.

10
---
Featured Product

Spring

into better

skin care

Skin becomes thinner and

more fragile as we age and is

less capable of withstanding

mechanical pressure, which

leads to an increased risk of skin

injury. 1

Of particular concern with ageing skin are

skin tears. Chronic wounds such as leg

and pressure ulcers that are associated

with elderly patients present a major

burden, both in terms of cost and in terms

of the time taken to treat them.

Apart from the pain and distress, skin

tears are also costly to treat – the

estimated mean cost is $488.95 per

wound 3 . But moisturising with QV Skin

Lotion, twice-daily is proven to prevent

skin tears, reducing their incidence by

up to 51% 4 . Free of any irritants, QV Skin

Lotion has been designed to alleviate

skin dryness.

Using a pH skin balanced, non–soap

gentle cleanser such as QV Gentle

Wash, also offers additional moisturising

benefits, especially when used in

combination with QV Skin Lotion.

Australian made and owned by Ego

Pharmaceuticals, QV is a leading skin

care brand trusted by generations to

cleanse, moisturise and soothe dry,

sensitive skin.

For more information visit: www.egopharm.com

References: 1. Dyer JM, Miller RA. Chronic skin fragility of aging: current concepts in the pathogenesis, recognition, and management of

dermatoporosis. J Clin Aesthet Dermatol. 2018 Jan;11(1):13-18. Epub 2018 Jan 1. 2.(PDF) Principles of Skin Care in the Elderly. Surber, Christian

& Brandt, S & Cozzio, A & Kottner, Jan. (2015). Principles of Skin Care in the Elderly. Giornale italiano di dermatologia e venereologia : organo

ufficiale, Societa italiana di dermatologia e sifilografia. 150. https://www.researchgate.net/publication/281637016_Principles_of_Skin_Care_

in_the_Elderly 3. Vu T, Harris A, Duncan G, Sussman G. Cost effectiveness of multidisciplinary wound care in nursing homes: a pseudorandomized

pragmatic cluster trial. Fam Pract 2007; 2 4: 372–379.4. Finch K. Skin tear prevention in patients over 65 years of age in a

hospital setting. PodiumPresentation. 10th Australian Wound Management Association Conference, May 7–10 2014, Brisbane, Australia.

11
---
How to pick an

NDIS provider

12
---
NDIS Feature

For new National Disability Insurance Scheme (NDIS)

participants, the task of picking a supports provider can often be daunting.

There are so many providers across the country, and they all seem to offer

you the world. So how can you feel sure that your decision is the right one

for you?

Firstly, make sure that you are familiar with your

NDIS plan. Your plan will ultimately determine

what supports you can access, so it is important

for you to understand what you are funded to

receive. Take the time to go over your plan with

someone you trust, and make a note of any

questions you might have as you go. Once you

have done this you can get in touch with your

Support Coordinator or Local Area Coordination

(LAC) service with these questions. These

services exist to help you navigate the NDIS, and

they will provide you with support as you need it.

Once you are familiar with your plan, you can

then start focusing on your goals and how you

would like a provider to help you to achieve them.

For example, you may have the goal of living

independently, and would like a lot of assistance

in achieving this. Or you may have the goal of

getting back to work, and want little assistance in

achieving this – it is entirely up to you.

Research potential providers – there are a lot

out there! Whether you want one provider to do

everything, or several different providers to do a

number of different things, research is important

when choosing the right fit for you. There are

many ways you can research providers; you

can do this with assistance from your Support

Coordinator or LAC, by using the Provider Finder

on your NDIS portal, by using a comparison

website or doing an online search yourself, or by

consulting with your peers on their experiences.

All forms of research are valid and can help you to

make the best choice for you.

do you feel supported?

do you feel like you can

trust them? do you feel

confident ?

While researching, we recommend that you

develop a 'shortlist' of providers that you can

contact before making a final decision. Get in

touch with your shortlist and question further

their capacity to help you reach your goals. Ask

them anything you want to know. When you are

talking to them pay attention to how you're feeling

during the conversation: do you feel supported?

Do you feel like you can trust them? Do you feel

confident? You want to find a provider that makes

you feel and say yes to all three!

It is important to remember in this process that

you are a customer, and it is up to you make the

best choice for yourself. While there are supports

like LAC's and Support Coordinators along the

way, they can only provide options for you to

choose from, they cannot make the best decision

for you – only you can do that. If you treat the

process like shopping for any other important

purchase, and take the time to consider what you

need, you will be well-equipped to make the best

decision for yourself.

13
---
NDIS Feature

Are you

NDIS

ready?

With the NDIS rollout continuing across

the country there is no shortage of

questions and queries about the scheme.

There are also many people who are

accessing supports and funding for

the very first time who may not be

feeling entirely confident in their ability

to effectively navigate the scheme.

Additionally, myths and misconceptions

about how the scheme works are

everywhere; and can at times leave you

wondering what is true or false!

Over the next few issues of Inform we will be

focussing on the NDIS in a series of articles,

from myth-busting features to helpful how to's.

To start, we share our top tips for NDIS planning

success.

1. Be prepared

The old saying goes that failing to plan is

planning to fail, and this holds true when it

comes to your NDIS planning. Remember that

the NDIS doesn't know you and your needs, so

the more information you can provide them with

the better. No detail is too small or insignificant,

and everything will help the planner to develop

a plan that best supports you as an individual.

If you are able to, spend some time before your

planning meeting gathering letters from your

doctors, occupational therapists, psychologists

or other specialists that talk about your disability,

your support needs and your goals. These

letters will be particularly important if you want

certain services covered in your plan, as they

will show the NDIS your need for them.

In addition, bring with you any photos you think

might help the planner to better understand you.

Do you need house modifications done? If so,

take photos of what needs changing and bring

them along – this can help the planner visually

see what you need.

2. Be ready to share

Often when we meet with new people for the

first time, we like to look on the positive side of

things and present a nice picture of our lives

to them. While this works with ordinary social

interactions, your NDIS planning meeting is not

the time to put on a brave face. The NDIS is here

to help you with everything in your life; including

the good, the bad and the ugly aspects of it,

so make sure you are honest with yourself and

honest with your planner.

Before your planning meeting take the time to

think about your good days and your bad days,

and think hard about what you need on those

bad days. Don't be afraid to talk about things

that aren't comfortable or pleasant – the planner

is there to help you, not judge you or the things

you say. Pretending that things are better than

they are, or that problems "aren't so bad" could

mean your plan misses key areas where you

need assistance.

3. Think big – the sky is the limit

The NDIS is all about helping you to achieve

your goals. At its heart, the NDIS is designed

to help you as an individual live your best life

with the supports you need. And in order to live

your best life, you need to think and plan for big

things.

Take some time before your first planning

meeting to think about your life. What makes

you happy? What frustrates you? What makes

life difficult? What would you like to continue?

What would you like to stop? What would you

like to change? It is these thoughts that will help

you plan your goals for your NDIS plan and

your plan should be full of all the things that are

important to you.

14
---
Featured Product

Finding

the right

continence

product

for you

Choosing the correct continence

product (aid) can be confusing.

Let's look at the three most

important things to consider when

deciding.

Style

Various styles suit different levels of

mobility. Using the incorrect style may

hinder your daily activity and worst of all

cause leakage. There are many styles of

continence products ranging from pullups

to pad and pants and some with tabs

(known as slips). If you are less mobile or

care for a person who has limited mobility

a slip like MoliCare Premium Slip may be

the most suitable style to use.

If you are more active and are more

mobile you'll probably want to wear a

pull-up pant that looks and feels like

normal underwear, like the MoliCare

Premium Mobile range.

Size

When wearing a product that sits around

the waist, it is important to have the

correct waist measurement to ensure you

do not get leakage and that the pad is

comfortable. Measure your waist at the

widest part between the actual waist and

the hip. Use the guide on product packs

to match your requirements. If you fall

between sizes go for the smaller fit to

ensure that you have a contoured fit and

to reduce the chance of leakage.

Absorbency

Incontinence can range from a few drops

to a complete emptying of the bladder.

Match your pad absorbency to give you

the level of protection you need. A larger

or thicker pad does not always mean

extra absorbency. Do not fall into the trap

of increasing size to hold more urine.

Instead go up an absorbency or drop

level – this is indicated on the packaging.

The MoliCare Premium range has a

variety of styles and absorbencies to

protect you in your various activities,

whether its day-to-day wear, exercising,

added overnight protection or travelling

on a long journey.

MoliCare Premium are all skin friendly,

discreet and give you continence with

confidence. Get MoliCare on the NDIS:

contact Independence Australia on 1300

032 774 or ndis@independenceaustralia.

com to find out how.

15
---
Your Health

What can psychology offer in

Chronic Pain

Management?

Anyone who suffers from persistent

pain knows how much it can severely

impact health and well-being.

Although it may seem strange to

think so, psychology has come a

long way in helping people manage

persistent pain. Psychological

factors such as mood, beliefs about

pain and coping style have been

found to play an important role in an

individual's adjustment to persistent

pain. In many cases, people respond

well to psychological interventions,

particularly those that target

pain self-efficacy (PSE) and pain

catastrophising (PC).

PSE reflects the confidence people have

in performing activities while experiencing

prolonged pain. It relates to feelings of control

a person has over their pain symptoms and

self-management. Interventions that increase

understanding and a sense of control over pain

have been shown to improve PSE. PC relates

to a person's unhelpful thinking styles and

exaggerated negative concepts around the

experience of pain. In addition to causing distress,

high levels of PC have been linked to disability

and depression in chronic pain sufferers. Here

at Independence Australia our psychologists

are trained in a number of techniques that can

help increase pain self-efficacy and reduce pain

catastrophising.

16
---
Your Health

Cognitive Behavioural Therapy for

Chronic Pain

Cognitive behavioural therapy (CBT) for chronic

pain utilises similar techniques that are used

in any CBT intervention, however, the focus

is on the psychosocial factors that influence a

person's pain. Therefore, the first goal is to help

people alter their perceptions of their pain. The

task of the therapist in this instance is to help

people see their pain as something that they can

learn to manage, rather than something that is

overwhelming to them.

The second goal of CBT is to provide selfregulatory

and stress management skills. Selfregulatory

skills include relaxation training, guided

imagery and distraction techniques which are all

designed to help reduce the client's autonomic

negative response to the pain. This helps the

person reduce anxiety around their pain by

physically altering their unhelpful physiological

responses. In addition, stress-management skills

involve teaching the client how to communicate,

problem solve, time-manage and plan to ensure

they can adequately manage their work and

everyday activities, despite their debilitating pain.

Acceptance and Commitment Therapy for

Chronic Pain

In contrast to CBT, which involves cognitive

restructuring and challenging thoughts,

Acceptance and Commitment Therapy (ACT)

emphasises observing thoughts and feelings

as they are, without trying to change them. ACT

stresses that even when a person is experiencing

chronic pain, it is the struggle with pain (e.g. the

client's pain catastrophising) that causes suffering.

For this reason it is fundamentally important that

the person continues to behave in ways that

are consistent with their valued goals and life

directions despite their experience of pain. Within

the ACT framework, pain is seen as an inevitable,

and in some cases necessary part of living

that can be accepted. The extent of a person's

suffering is directly related to the extent to which

the person believes and acts on their pain-related

thoughts. The aim of ACT therapy is to help the

client develop greater flexibility in the presence

of thoughts, feelings and behaviours associated

with pain. Mindfulness is a key element in ACT

therapy for chronic pain. By practicing mindfulness

strategies, the client can learn to be the observer

Chronic pain can become

debilitating, demotivating

and tiresome for those

affected.

of the pain, rather than an active participator. This

observer perspective is also helpful in maintaining

neutral thoughts when unhelpful thoughts and

feelings arise.

Chronic pain can become debilitating,

demotivating and tiresome for those affected.

It can wear people down. In the ACT model,

value illness is a condition where a person puts

valued activities on hold in order to reduce

pain symptoms. Over time, this can affect the

person's relationships, social activities, work

satisfaction, and general meaning of life. This

severely compromises a person's self-efficacy.

ACT incorporates exercises that help a person

identify their values, and identify how near or far

they are living in accordance with those values.

The therapy helps the client specifically identify

which values are compromised by their activities

to avoid or manage pain. It helps them devise

strategies for managing pain, whilst maintaining

their values, and thus increasing PSE.

In recognition of the prevalence of chronic pain in

the disability community and the significant impact

on people's lives, Independence Australia offers

both individual and group options for Chronic Pain

Management. If you would like to learn more, or

would like to speak with one of our psychologists

please contact IA Psychology and Counseling on

9418 0474.

Arthur Stabolidis

Provisional psychologist

Glossary:

PSE = Pain Self-Efficacy

PC = Pain Catastrophising

CBT = Cognitive Behavioural Therapy

ACT = Acceptance and Commitment Therapy

17
---
Your Health

Coping

with a

crisis

Home should be a safe space,

so when a crisis situation arises

in the home, it can be especially

distressing. Knowing where you can

get help during a crisis can make

the difference between keeping your

head above water and drowning in

the problem.

Family violence

Family violence can happen to anybody,

regardless of age or gender. If you are

experiencing a family violence crisis, there are

ways to cope with the difficulties that arise.

Family violence comes in the form of threatening

and violent behaviour that controls or coerces

someone else within the family. Violence can

be physical or verbal or a combination of

both. Children can be victims of abuse just by

witnessing violence between adults, so it can

happen at any age. If you or someone you know

has suffered or is suffering from a suspected

family violence crisis, there are a number of

supports that are available to turn to for advice.

A few are listed below:

• whiteribbon.org.au/find-help/domesticviolence-hotlines

• dvcs.org.au

• safesteps.org.au

A crisis is a time of intense difficulty of danger, or

a time when an important decision needs to be

made. A crisis can take many forms, but in the

home specifically, issues such as family violence,

a health crisis or a housing problem are among

the most common. There are a wide range of

services and organisations across Australia that

are there for when you are in a crisis situation.

18
---
Your Health

Health crisis

Whether you live alone or with others, a health

crisis can be very overwhelming. Often, decisions

need to be made quickly and support needs to

be put in place immediately. Finding the right

support can be challenging but there are many

options available. If you are in immediate danger,

always call 000 or go to your local hospital. This

option applies for both a physical and mental

health crisis.

There are mental health triage lines you can

call in a mental health crisis and you can always

present at your local emergency department if

you require help. There are also helplines such

as Lifeline that you can ring for advice or just

someone to talk to. If you are experiencing a

health crisis, don't be afraid to reach out and ask

for help. Here are some of the helplines you can

call in a health-related crisis:

• Lifeline (24-hour crisis counselling): 13 11 14

• Nurse on Call: 1300 606 024

• Suicide Line: 1300 651 251

• Victorian Poisons Information Centre: 13 11 26

Housing crisis

Facing homelessness or having issues with your

housing situation can be hugely stressful, but

there are supports in place if you are having a

housing crisis. You may have lost your job or have

become too sick to work and therefore cannot

pay the mortgage or rent, which could result in

the prospect of becoming homeless. Your rental

property may not be in a livable state and causing

you health problems, both of which can result in

a housing crisis. There are crisis centres across

Australia that can assist you in preventing or

solving your housing crisis. The national number

to call if you need help is 1800 825 955.

Having a crisis in your home environment can be

extremely stressful but there are supports in place

that can help you. The key message is to always

reach out for help when you need it, because

there are people who can and will help you to

manage your crisis and, importantly, minimise

stress.

The key message is to always

reach out for help when you

need it, because there

are people who can

and will help you to

manage your crisis

19
---
Your Health

Fabulous

foods to

fight cold

and flu

Brazil Nuts

Selenium

These days cold and flu season kicks

off at the start of winter and hangs

around like an unwanted guest well

into spring. But getting sick is not a

given. Boosting your diet with nutritious

comfort foods can do wonders for your

immune system. This is particularly

important for the elderly and anyone

with a compromised immune system,

because colds and flu can lead to other

health complications.

20

Flax Seeds

Healthy oils

Broccolini

Vitamin E

Foods to focus on

Eating a balanced diet will provide your body with

the essential vitamins and minerals it needs to

function at its best, including helping the immune

system to fight germs that cause colds and flu.

Focusing on foods of all colours (green, yellow,

orange, red and purple) is the best way to

ensure your body gets all the micronutrients your

immune system needs. In particular, you should

ensure your diet includes plenty of the following

nutrients, to improve your immunity:

• Vitamin C — capsicum (all colours), broccoli,

sprouts, tomatoes, blackcurrants, kiwi fruit,

berries and citrus fruit (oranges, lemons,

grapefruit and limes)

• Vitamin E — broccoli, Brussels sprouts and

almonds

• Selenium — brazil nuts, meat and poultry

• Zinc — fish, oysters, seafood, beef, lamb, rolled

oats, baked beans and pumpkin seeds

• Protein — red meat, poultry, fish and eggs

• Healthy oils — salmon, tuna, flaxseeds and

walnuts

Capsicum

Vitamin C
---
Your Health

Eggs

Protein

Fish

Zinc

Boost your breakfast

When it comes to your daily nutrition, breakfast is

a great opportunity to start the day on a positive

note. A bowl of warm porridge, made with whole

rolled oats, and topped with berries and walnuts

can give you comfort as well as a boost to the

immune system.

Lavish lunches

For a healthy winter lunch that will raise your

immunity and keep colds and flu at bay, why not

indulge in some grainy toast or a muffin, topped

with baked beans and an egg? If you're looking

for something more substantial, a slow-cooked

meal made with beef and winter vegetables will

definitely hit the spot.

Super soups

One of the best ways to super-charge your

nutritional intake is by eating warming, nourishing

soups that make the most of seasonable

vegetables. The best options are those that use

stock as the base, contain lots of vegetables and

include some protein. Don't forget that adding

legumes and beans is a tasty and affordable way

to bulk up the nutrition.

You know the old adage that chicken soup is

great for treating colds? Research suggests that

may be true. A study found that chicken soup

may contain a number of substances, including an

anti-inflammatory mechanism, that could ease the

symptoms of upper respiratory tract infections.

What else can you do?

While eating well over the colder months is no

guarantee that you'll dodge all the germs, making

nutritious food a priority over winter can reduce

the likelihood and severity of colds. If you're stuck

for ideas, there are hundreds of healthy winter

recipes available for free online.

Other tips to avoid colds and flu this season

include:

• Washing your hands thoroughly — before and

after eating, and especially after coughing and

sneezing

• Avoiding large crowds and other sick people

• Disinfecting surfaces frequently as these can

harbour viruses

• Exercising regularly, where appropriate

• Getting plenty of rest as this improves your

immune system

• Avoiding stress, as this weakens your immune

system

• Taking a good-quality vitamin and mineral

supplement to fill any nutritional gaps.

Please note: The information supplied is general in

nature. Please consult your medical practitioner for

individual advice.

21
---
Money Matters

Budgeting:

Managing Your Money

It can be hard knowing

where to start when it

comes to creating your own

budget. We have so many

outgoings that it can be

difficult to track exactly

where all of our money

goes. Setting up a budget

for the first time can often

be quite overwhelming, and

can be stressful to stick

to in the initial months of

using it, but the benefits

are well worth it.

You may ask, why have a

budget? Put simply, a budget

is an effective way to monitor

your incomings and outgoings.

You can set up a weekly or even

monthly budget depending

on your needs. There are lots

of online tools you can use to

help you create a budget and, if

you have a smart phone, there

are even apps that allow you

to track your spending as you

shop. If you don't have access

to a computer or a smart phone,

you can simply visit your local

bank and they can sit down

with you and help you plan your

finances – it's not as scary as it

sounds!

Having a plan for your money

can help you visualise your

goals and ambitions in life and

22

plan how to go about achieving

them. There is a wealth of

motivation that can be found in

reaching your target goal when

saving (no pun intended). So,

to answer the question of why

have a budget: budgets can put

your mind at ease, and when

you can start to use your money

in a smart way, you can start

saving. You might even surprise

yourself at how much you spend

without realising it!

Once you have your budget

in progress, you can then start

looking at other beneficial

financial options such as the

type of bank account you have.

It's always a good idea to go

to your bank and discuss the

type of account that is best for

you. There are specific savings

accounts with higher interest

rates if saving is something you

are wanting to do, and there are

also accounts with no overdraft

fees or bank charges if you are

on a lower income. There is an

account to suit everyone; you

just need to find your fit and

this can be done by making an

appointment with your bank of

choice.

Everybody has outgoings that

they need to budget for, and a

big chunk of outgoings is made

up of bills. Having a budget

shows you what funding you

have to allocate to each of your

bills. Bill management can be

hard at first, especially if you

have a lot of them, but once

you're able to visualise the

funds you have to put towards

each bill, it becomes a lot more

manageable.

When designing your budget,

it's important to set realistic

goals. There can be a huge

risk of disappointment if you

overestimate how much you

are going to save over a period

of time, or if you cannot afford

something you really want.

This is why it's important to set

a realistic budget. If you make

small achievable financial goals

and stick to your budget, you

can experience success.

We all know money is stressful,

especially when we feel it's not

under control. Creating a budget

for yourself will give you back

your control and will empower

you to achieve your goals.

The Australian Government's

MoneySmart website has a range of

accessible budgeting tools to help

you get started. You can find these at

www.moneysmart.gov.au/managingyour-money/budgeting
---
Your Health

Healthy

eating

on a budget

With the price of food rising,

eating healthily while trying

to stick to a budget can be

challenging. But with a little

planning and some useful

tips, buying and preparing

delicious healthy food on a

budget is not as hard as it

may seem!

Before you hit the supermarket sit down and write a shopping

list. This will help you to avoid buying items you don't need.

Check out the recipes from Smart Eating – many are both

delicious and cheap. Remember you can always cook more

than you need and freeze the rest for another meal.

Is healthy food more expensive?

If you've ever thought that eating healthy is more expensive,

then you're not alone! Take a closer look at the foods you buy

– sometimes processed foods are actually more expensive.

Shop for fresh foods where possible, or in the case of fruit and

vegetables, see if frozen and canned varieties are cheaper.

This will help lower your grocery bill and help to keep your

trolley full of healthy foods.

Check out the price differences below:

Potatoes

A serve of potato is one

medium potato – or 150g:

Potatoes per 150g

= 50c

Frozen chips per 150g

= 70c

Potato chips per 150g

= $3.75

Breakfast products

A serve of cereal is 1/4

cup of muesli, 2/3 cup

of breakfast flakes or 1/2

cup cooked porridge – or

roughly 30g:

Rolled oats per 30g

= 15c

Corn flakes per 30g

= 60c

muesli/cereal bar per 30g

= $1.50

Chicken

A serve of chicken is 100g

(raw):

Frozen whole chicken per

100g = 60c

Raw whole chicken per

100g = 66c

BBQ chicken per 100g

= 80c

Pre-made chicken kebabs

per 100g = $1.70

Snacks

Apple per 100g

= 0.60c

Packet of sultanas per 40g

= 0.50c

Fruit bar/strap 50g

= $0.95

Chocolate bar per 50g

= $2.15

You can buy twice the

amount of apples for the

same or less money as

other snacks!

This article is republished with permission from the Dietitians Association of Australia

If you're after more nutrition information, the Dietitians Association of Australia website provides a range of Smart

Eating Fast Facts on all things nutrition. For personalised nutrition advice, find an Accredited Practising Dietitian, who

can assist you in reaching your health and nutrition goals.

23
---
Your Health

Let 's talk about

Cyberbullying

Bullying is not acceptable

in the real world, but these

days bullies have a new

forum: the internet. Bullying

that takes place over

the internet is known as

cyberbullying, and it can

lead to depression and

anxiety in the real world.

Cyberbullying can take many

forms. It can include:

• Sending or sharing hurtful

messages or emails

• Humiliating someone

by posting or sharing

embarrassing videos or

images

• Spreading rumours or lies

online

• Setting up fake online profiles

to hurt someone

• Excluding others online

• Repeated harassment and

threatening messages,

which is also known as

cyberstalking

Cyberbullying can be as hurtful

as physical or verbal bullying

because it is public, it can

spread quickly, removing it can

be difficult and the bully can be

anonymous.

Anyone can be the victim

of cyberbullying. It's not just

for children and teenagers,

although young people are at

higher risk, both because they

tend to spend more time online,

and because they are less likely

to speak up and tell someone

about the bullying. One in four

students in Australia reports that

they have been bullied, so if you

are experiencing cyberbullying

you are not alone.

If you suspect that you, or

someone you care about, are

the victim of online bullying,

what should you do?

First, take a deep breath and

remember: it is not your fault.

You are not alone in this, and

there is help available. There are

some practical steps you can

take to access help. You can:

• Tell the bully that what they're

doing is not okay

• Take screenshots of the

bullying as evidence

• Block the bully on social

media

• Report abusive posts to the

social media platform

If the posts are not taken down,

or the bullying continues,

you can report cyberbullying

to the Office of the eSafety

Commissioner. This is where

having screenshots for evidence

will come in handy. Children

and adults will need to report

through different forms,

because the legalities around

cyberbullying are different for

minors and adults, but anyone

who has experienced ongoing

cyberbullying can make a report.

The final practical step you can

take is to look after yourself.

Tell people around you what is

going on, so they can support

you. Commiserating with a friend

can lighten the load, even if

they can't do anything to fix your

situation. Switch off from social

media for a while, and take

time to do the things you enjoy.

Don't let cyberbullying isolate

you – that's how the bullies

win. Instead, gather your team

around you and remember that

"haters gonna hate".

To find out more or to report a case

of cyberbullying, visit

www.eSafety.gov.au

24
---
Featured Product

Ugo Fix

Gentle

(catheter clip)

Pioneering gentle

catheter fixation

As specialists in urology, we've

spent a lot of time listening to

clinicians and individuals living with

a catheter, allowing us to develop

a range of products that offer

performance, precision and comfort

whilst instilling that all-important

confidence.

At Optimum Medical we understand

that purpose-designed fixation devices

are key in the fight against trauma and

infection caused by natural tension to the

catheter. We also know how delicate skin

can be, this is why we have created a

truly gentle catheter clip.

Introducing the Ugo Fix Gentle

The Ugo Fix Gentle (catheter clip)

provides safe and effective positioning

of two-way indwelling urinary catheters

at the bifurcation of the catheter. Fixing in

place comfortably, it allows you to move

around freely and safely, with reduced

pulling and rubbing on the bladder neck

and urethra.

Why choose the Ugo Fix Gentle over

other catheter clips?

The Gel Pad - The Ugo Fix Gentle

(catheter clip) was created to provide

a gentle yet secure fixation for all

catheter materials, without the need

for preparation. To achieve this it

features a re-adhesive soft silicone gel

pad, ensuring painless removal and

repositioning - leaving no sticky residue

behind! It's also breathable, showerproof,

and transparent, allowing easy inspection

of the skin underneath. The gel pad can

be worn for up to 7 days of comfortable

fixation.

The Clip - The Ugo Fix Gentle (catheter

clip) also features a silicone bonded

revolving clip to hold the catheter in

place, away from your skin, preventing

trauma and improving comfort. This

allows the catheter to move naturally

with your body to reducing tension. With

it's easy to open catch and raised arrow

to indicate the direction of catheter

insertion, the Ugo Fix Gentle is easy to

negotiate for users of most abilities.

Key Strengths

• Gentle re-adhesive pad with soft

silicone technology

• No skin preparation required before

application

• No sticky residue upon removal

• Easy to apply, remove and reposition,

even over the same skin area

• Holds tubing away from skin to

prevent discomfort

• Revolving clip allows natural

movement of the catheter and leg

• Easy-open catch with positive sensory

click

• Internal silicone bonding to effectively

grip the catheter

We have created detailed patient

user guides, which are all available

on www.optimummedical.co.uk to

ensure correct fitting and removal. For

additional support or to order, visit store.

independenceaustralia.com

25
---
Innovations

Trial giving independence to

Victorians injured in crashes

A trial of new technology

to help Victorians who

have been seriously injured

in road accidents to live

independently is underway

as part of a partnership

between the Transport

Accident Commission (TAC)

and Deakin University.

TAC's Head of Independence,

Liz Cairns, recently visited

the home of trial participant

Josh Taylor to see how the

technology, developed by the

university's Applied Artificial

Intelligence Institute, is

being trialled to improve the

independence and quality of life

of TAC clients. Mr Taylor, who

sustained a severe traumatic

brain injury in a two-car collision

in 2005 when he was 19, is one

of four TAC clients taking part in

the trial.

Using small sensors installed

throughout a home, the

technology, known as Sofihub,

monitors a person's presence

to develop an understanding

of their daily routine. The

technology can detect

anomalies that negatively impact

the resident's health and then

prompt them if they forget

normal daily activities, such as

taking their medication.

The technology can identify if

something goes wrong in the

home and help detect falls. In

these cases, if a resident fails

to respond to Sofihub prompts,

carers or medical professionals

will be automatically alerted.

The trial is being supported

by Monash University through

the input of an occupational

therapist who works with TAC

clients to ensure the technology

is customised to their needs.

Ms Cairns said about 5000

Victorians are seriously injured

on Victorian roads each year

and about 90 of those are

affected by quadriplegia or

severe acquired brain injury.

"The trial of the Sofihub sensor

and audio technology is a part

of the TAC's commitment to

continually look at innovative

ways to increase the

independence of Victorians

who are seriously injured on our

roads.

"This trial has the potential to

significantly increase the ability

of TAC clients to have a greater

level of autonomy in their dayto-day

living, and provide them

with a better quality of life.

"If successful, this technology

has the ability to be rolled out

across the state to benefit

thousands of Victorians," she

said.

Sofihub is also being trialled

in the aged care sector in

Geelong, to help people remain

in their homes as they age.

However, this is the first time it

has been trialled by people who

have a disability.

Depending on the outcome

of the $60,000 six-month trial,

Sofihub may be adopted by

other TAC clients.

26
---
your

NDIS Support

We've got you covered with a wide

range of services and supports for

your NDIS package, all from our one

organisation.

Daily activities in-home

& in the community

We provide assistance with:

• Self care / personal support

• High intensity self care assistance

• Domestic assistance

• Household activities & meal

preparation

• One on one support for children

• Community access, social inclusion

• Transport

• Specialise in complex programs

Therapy & skills

development

We provide:

Services to assist with enhancing

capacity building and achievement of

goals through:

• Psychology and counselling

• Therapy assistance (exercise)

• Support connection

• Co-ordination of supports

• Specialist support co-ordination

• Individual skills development and

training

independenceaustralia.com/ndis

service.enquiry@iagroup.org.au

1300 032 774
---
Independence Australia is a:

NDIS approved provider

TAC service provider

DHHS service provider

Our services include:

In-home care

Accommodation

Psychology and counselling

Case management

Support Coordination

Information

Post polio support

Health care products and equipment

1300 704 456

service.enquiry@iagroup.org.au

www.independenceaustralia.com.au

independenceaust

@independenceaus