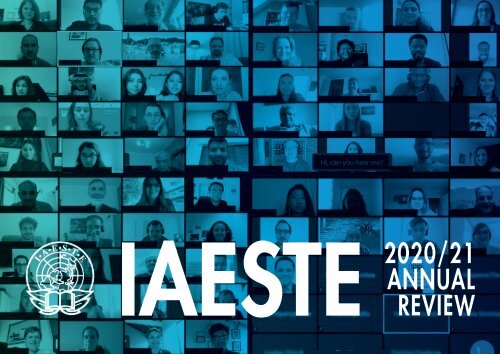 IAESTE Annual Review 2020/21
A review of the last year of IAESTE international activities.
A review of the last year of IAESTE international activities.
SHOW MORE
SHOW LESS
You also want an ePaper? Increase the reach of your titles
YUMPU automatically turns print PDFs into web optimized ePapers that Google loves.
IAESTE

2020/21

ANNUAL

REVIEW
---
The International Association for the Exchange of Students for Technical

Experience

IAESTE is an independent non-governmental organisation (NGO), with

87 Members and Co-operating Institutions in operational relations with

UNESCO. The IAESTE name and logo are the registered properties of

IAESTE, the International Association for the Exchange of Students for

Technical Experience.

Founded in 1948 on the initiative of James Newby (1893–1978).

Established in 2005 as a registered, non-profit making Association.

Published by IAESTE A.s.b.l. 2020. All rights reserved.

Edited by: Olga Legacka, Bruce Wicks

Layout and Design: Justyna Kiljan-Walerzak

Proof Reading: Bruce Wicks, Olga Legacka

IAESTE A.s.b.l. is very grateful to all IAESTE photographers for sharing

pictures for this publication.

Research and Development Icon by dDara from

the Noun Project

Office Icon by Maria Kislitsina from

the Noun Project

Workers Icon by Kokota from the Noun Project

Biology Icon by Turkkub from the Noun Project

Hard Hat Icon by Mello from the Noun Project

Biotechnology Icon by Surangkana Jomjunyong from

the Noun Project

Tree Icon by Eric Bird from the Noun Project

Skills & Online icons by Eucalyp from

the Noun Project

CSR icon by Becris from the Noun Projectt

Engineering icon by Nithinan Tatah from

the Noun Project

Team icon by Symbolon from the Noun Project

Business Development Icon by Tuong Tam from

the Noun Project

Marcus Orlovsky was our keynote speaker and guest during the IAESTE Annual Conference 2020 in Tatranska Lomnica, Slovakia.

His inspiring speech set the tone for the whole conference.

Distributed for circulation to all Members and Co-operating Institutions.

Copies are available from IAESTE National Secretariats in Member

countries, from IAESTE Co-operating Institutions or from the IAESTE Board:

board@iaeste.org

iaeste.org
---
Contents

Welcome from the President & Head of Operations 2

We are IAESTE 4

IAESTE Exchange in Numbers 6

IAESTE Worldwide 8

IAESTE Anniversaries 10

IAESTE International

Thank You to Prof. Bernard Baeyens 12

James Newby Medal 13

The IAESTE Annual Conference 14

IAESTE JUMP 2019 17

The WHY of IAESTE Remote Internships 18

AFRICA

Atiode Solar Systems. A progressive decade with IAESTE 21

CARPE DIEM – My TanzanianExperience 22

Improving through IAESTE 24

AMERICAS

Remote Contemporary Medical Research 27

IAESTE Interns Leading in Innovation 29

5 Years of IAESTE at Queen's 31

My Experience with IAESTE Japan 32

IAESTE: A real life-changing experience 34

ASIA PACIFIC

An Australian Adventure 38

The Asia-Pacific IAESTE Forum 39

Conquering the virtual world with IAESTE 40

Experiencing Iranian hospitality 42

Experience India with IAESTE 44

Oman, you beauty! 46

Working in the greatest innovative machine shops and laboratories 48

My memorable internship in Jordan 50

Connecting the world with IAESTE 51

Alumnus about IAESTE internship in the Philippines 52

EUROPE

Internship at Rosim As, Norway 2020 55

Remote Internships 2020 57

Remote workshop, real experience 59

Once Upon a Time in IAESTE 60

Erasmus+ Application with IAESTE Tunisia and IAESTE Iceland 62

Restructuring the committee 63

Many "first-times" for a lifetime: Practical work experience, snow and hiking 64

Not Just Pretty Packaging 66

Civil Engineering Endeavours 70

The IAESTE committee of Stockholm Sweden, year 1987 72

IAESTE Friendship to Last for over 40 Years 74

Unforgettable Experiences 76

An IAESTE Trip to Franco's Spain, 1960 77

IAESTE Organisation

Who is Who: IAESTE Organisation 82

IAESTE Exchange Why & How 84

Career Partners 86

1
---
Dear Friends,

2020 will be remembered by the whole world as the year when nothing

in our old routines, life experience or planning for the future had any

foundation in experiences from the past.

The Coronavirus, since its spread over the globe, is not only dominating

news and social media, but has had a direct impact on our daily lives

and has become the main topic in any conversation.

The global IAESTE family was initially hit by the same impact as other

organisations that are highly dependent on the mobility of people.

Retrospectively, I can say that because of the developments we have

made in the past years, for some of the limitations the pandemic

brought, answers and solutions were able to be found faster than we

might have expected initially.

Anyone working for IAESTE will remember the year 2020 as the one

where we were unable to send the usual number of interns, especially

over the summer period and meant a very small exchange, compared

to the past years. But what I would like to share, with a certain pride,

to anyone outside of IAESTE, is the number of almost 700 successful

exchanges. In the year of the pandemic, this is a fantastic achievement

and everyone might wonder how we managed to achieve this.

There are several factors which led to this success – without doubt,

IAESTE would not be where it is without the passion, dedication and

motivation of everyone involved in our mission:

• The students to whom we provide the experience of their lifetime

and who, despite the pandemic, have maintained an interest in

obtaining this experience.

• The employers and universities who are in many cases long-term

partners and share our aims and keep the partnerships alive, even

in economically difficult times.

• All our committees, staff members and volunteers who are tireless in

working and contributing to our exchange programme.

One major achievement in the past year was the introduction of a pilot

project for a new product in our exchange portfolio. For the first time ever,

IAESTE is now offering students remote internships. This development

was surely triggered and sped up because of the pandemic, but was

already, for several years, in our pool of ideas. Naturally, any new

product comes with lessons to be learned and things to be improved.

Looking at the positive feedback we have received so far from the

almost 100 students and more than 25 committees taking part, we are

very confident that remote internships will play an important role in the

future of IAESTE, not to replace the traditional exchange, but to act as an

additional option for those students who could not, for various reasons,

take part in our classic internships.

Please let me thank everyone who contributed this year in one way or

another to the IAESTE programme. Without you, we would not be able

to reach all our very ambitious goals and we trust that together, we can

overcome this pandemic and look into the future.

This future will still be very fragile in the first months of 2021, following

what the scientists tell us in relation to vaccinations, herd immunity and

the final victory over the pandemic.

But as fragile as this beginning might be, equally as bright will be the

summer, when we hopefully will be able to welcome again the large

cohorts of interns around the globe and all be part of the miracle of

providing the experience of a lifetime for students.

Thomas Faltner

President

IAESTE A.s.b.l.

Welcome

From the

President

Thomas Faltner,

President

2
---
Dear Friends,

Welcome

From the

Head of

Operations

Olga Legacka,

Head of Operations

2020 has been a difficult year for all of us. It has most certainly had

a massive impact on our organisation, members, volunteers, partners

and friends alike; we remain thankful for your continued collaboration

and for all the work you do to support our mission, our interns and

our programmes.

Within IAESTE, we are determined to come out of this situation stronger.

Thanks to our values: commitment, trust, friendship, diversity and

growth, we have managed to prove our resilience in these uncertain

times. We are very proud of the 700 students who experienced

internships abroad in 2020 and grateful to all the employers, staff and

volunteers who made it possible.

When the whole world switched to working from home, we introduced

the international remote internship programme. COVID-19 has pushed

all of us to focus more on distance learning programmes, e-learning,

virtual mobility and remote internships, but this a natural path, as

the development of IT tools democratises access to international

experience. We see remote internships as an opportunity to be more

inclusive and include marginal, disadvantaged or under-represented

groups, enabling them to gain international experience.

For the last twelve months, we have been very active in promoting

international understanding via our social media channels and

website. We co-organised the UNESCO forum on global citizenship

and were actively involved in international associations and networks

such as Leonet and the EAIE (European Association for International

Education).

What will the future look like? It's hard to predict, but I am sure we

will continue our efforts to provide talented interns to employers,

offer outstanding intercultural experiences to students, create a

professional cooperation environment for our members, and provide

the international friendship circle for all individuals associated with

IAESTE. We will look for the opportunities, not the obstacles.

We will open 2021 with the very first hybrid IAESTE Annual

Conference. This event is open to employers, universities, volunteers,

and external guests and will gather over 500 participants from all

over the world.

This Annual Review is full of great stories about how we continue

changing the lives of students around the world.

Enjoy reading!

Olga Legacka

Head of Operations

IAESTE A.s.b.l.

3
---
Our Mission

• To operate a high quality practical training exchange programme

between members in order to enhance technical and professional

development

• To promote international understanding, co-operation and trust

amongst students, academic institutions, employers and the wider

community

• To operate irrespective of race, colour, gender, culture, religious or

political beliefs, disability, sexual orientation, gender identity or

expression

• To promote non-discriminatory practices

We are

IAESTE

Asil, IAESTE Intern from Palestine, spent her internship in Germany researching

cancer with different cell lines.

What We Do

The International Association for the Exchange of Students for Technical

Experience, Association sans but lucratif (non-profit association), commonly

known as IAESTE A.s.b.l. is an association of national committees

representing academic, industrial and student interests. We serve around

4000 students, 3000 employers and 1000 academic institutions through

career focused professional internships abroad, social and intercultural

reception programmes, international networking and other career and

employer branding activities in 87 countries and on each continent.

Our Aims

• To provide students in higher education with technical experience

relevant to their studies

• To offer employers well-qualified and motivated trainees

• To be a source of cultural enrichment for trainees and their host

communities

Our Values

In IAESTE we are committed to fostering international understanding and

impacting on the development of young people through international

exchange. Our core values of friendship, trust, respect, professionalism,

development and intercultural cooperation serve as a foundation for our

strong organisational culture and as the principles that guide all our work

and daily activities.

4
---
Our History

The Association was founded in January 1948 at Imperial College,

London, on the initiative of the Imperial College Vacation Work Committee.

National Organisations from ten European countries attended this meeting

and became Members, and Mr James Newby was elected General

Secretary. The geographical coverage soon spread to most of Europe

and beyond, as new countries were granted membership. The Association

became a registered body according to Luxembourg law at its General

Conference 2005 in Cartagena de Indias, Colombia.

Each year the Annual Conference brings together the representatives of

these bodies to decide on issues of general policy and, with the IAESTE

cooperating Institutions, to carry out the exchange of offers for training.

We have 87 members and co-operating institutions and are present on

each continent. Each national office is responsible for the administration

of the exchange in its own country. Sometimes IAESTE national offices

are run by students and academics together, which makes us a unique

organisation working across generations.

Our International Relations

The Association is an independent, non-political and non-governmental

body, in consultative partnership with the United Nations Educational,

Scientific and Cultural Organisation (UNESCO) and maintains consultative

relationships with the UN Economic and Social Council (ECOSOC), the

United Nations Industrial Development Organisation (UNIDO) and the

International Labour Office (ILO).

Our Structure & Network

The Association is a confederation of National Committees representing

academics, industry and student spheres of interest. Each National

Committee is responsible for the administration of the exchange in its

own country. Membership is given after the establishment of a National

Committee in accordance with IAESTE Statutes and By-laws, together with

a responsible permanent Secretariat. For countries without a National

Committee, it is possible to participate in the exchange as a cooperating

institution.

IAESTE Czech Republic team promoting IAESTE values: commitment, trust,

friendship, diversity and growth.

5
---
IAESTE Exchange 2019 in numbers

367,466

Students since 1948

3153

Students in 2019

1948-2019 (99%) 2019 (1%)

Sending Regions

367 466 students

have gained work

experience abroad

with IAESTE since

1948 and 3153 of

them in 2019.

Europe

52%

Sending Regions

Asia Pacific Americas Africa

30%

13% 3%

Destination Regions

Top General Disciplines 2019 Sending (number Regions of students)

Mechanical

Engineering

Engineering,

Other

Computer and

Information

Sciences

Architecture

Electrical and

Electronics...

Chemistry,

Material

Sciene, and...

Civil

Engineering,

Geology, and...

Biological and

Biomedical

Sciences

Agriculture

and Food

Science

Business,

Management,

and...

Europe

52%

60

93

Asia Pacific Americas Africa

30%

198

255

242

242

279

313

305

13% 3%

Destination 187 Regions

0 100 200 300 400

IAESTE stays focused Europe on STEM and Asia Applied Pacific Arts fields Americas of study. Africa

The most popular fields of study are: Mechanical Engineering, IT &

Computer Science, 53% Architecture, Electrical 31% Engineering

11%

and Chemistry,

Chemical Engineering& Material Science.

Destination Countries

4%

Europe

52%

Asia Pacific Americas Africa

30% 13% 3%

Europe

53%

Asia Pacific

31% 11%

Europe continues to be the most popular destination and also most students Destination travelling Countries the world are coming from the old continent.

We are very happy Destination to see the Regions growth in the Asia Pacific region. The open international exchange is clearly illustrated by the fact that in 2019 each country

exchanged on average with 14 other countries.

Americas

Africa

4%

Germany

Poland

India

9% 8% 6%

5% Brazil 5% Austria
---
Study Level of Interns

PhD 1%

Masters 35%

Bachelor 64%

Profile of Interns

Categories of Offers

Field Work 7%

R&D Projects 57%

Office Work 36%

54%

Male

Average

46%

Female

19 23.2 35

Most interns are undergraduate students (bachelor's degree) – 64%.

Graduate students (master's degree) represent 35% of the interns'

population. Also, PhD students benefit from IAESTE exchange

programme.

50%

40%

30%

20%

10%

0%

Duration of Internships 2017–2019

44%

32%

15%

8%

1%

2017 2018 2019

---
8
---
IAESTE

Worldwide

Countries in IAESTE

83 network

300+

3000+

Local Committees

Volunteers

Europe

• Austria

• Belarus

• Belgium

• Bosnia and Herzegovina

• Croatia

• Cyprus

• Czech Republic

• Denmark

• France

• Germany

• Greece

• Hungary

• Iceland

• Luxemburg

• Malta

• Netherlands

• North Macedonia

• Norway

• Poland

• Portugal

• Romania

• Russia

• Serbia

• Slovakia

• Slovenia

• Spain

• Sweden

• Switzerland

• Ukraine

• United Kingdom

Asia Pacific

• Afghanistan

• Australia

• Bangladesh

• China including Hong Kong

SAR and Macao SAR

• DPR Korea

• India

• Indonesia

• Iran

• Iraq

• Israel

• Japan

• Jordan

• Kazakhstan

• Lebanon

• Mongolia

• Nepal

• Oman

• Pakistan

• Palestine

• Philippines

• Qatar

• Republic of Korea

• Saudi Arabia

• Sri Lanka

• Syria

• Tajikistan

• Thailand

• Turkey

• United Arab Emirates

• Uzbekistan

• Vietnam

• Yemen

• Gambia

• Ghana

• Egypt

• Kenya

• Nigeria

• South Africa

• Tanzania

• Tunisia

• Argentina

• Bolivia

• Brazil

• Canada

• Chile

• Colombia

• Ecuador

• Jamaica

• Mexico

• Nicaragua

• Panama

• Peru

• USA

Africa

Americas

9
---
70 years

30 years

IAESTE Germany

students sent 47372, received 71986

IAESTE Pakistan

students sent 219, received 148

65 years

IAESTE United States

students sent 7501, received 11487

25 years

IAESTE Colombia

students sent 885, received 830

IAESTE Turkey

students sent 14149, received 9133

IAESTE Kazakhstan

students sent 641, received 518

IAESTE

55 years

IAESTE Czech Republic

students sent 7017, received 6092

20 years

IAESTE Belarus

students sent 298, received 293

Anniversaries

IAESTE Slovakia

students sent 973, received 942

IAESTE Bosnia and Herzegovina

students sent 681, received 574

50 years

40 years

35 years

IAESTE Syria

students sent 1939, received 1559

IAESTE Ghana

students sent 1285, received 948

IAESTE Cyprus

students sent 774, received 810

5 years

IAESTE China

students sent 355, received 163

IAESTE Sri Lanka, UM

students sent 136, received 125

IAESTE United Arab Emirates

students sent 268, received 364

The IAESTE network has been

growing since 1948. We are

very proud of our long-term

relationships and would like to

congratulate our members and

cooperating institutions on their

anniversary and we wish them

many more successful years!

IAESTE Mexico

students sent 1587, received 1209

IAESTE DPR Korea, PUST

students sent 0, received 1

10
---
IAESTE

International
---
Prof. Bernard Baeyens, Colombia finished his six year term (2014 – 2020) as IAESTE President. During this time,

20 574 students have experienced IAESTE internships that most probably changed their lives and professional

careers forever. Thank you, Bernard, for your incredible passion, commitment and keeping the IAESTE family

together. We wish you all the best and welcome to the IAESTE Alumni Club!
---
Members awarded three individuals with

the IAESTE James Newby Medal in 2020:

Mary Mallon (UK), Anders Fredén (Sweden)

and Seyed Reza Goldansaz (Iran). All three

medalists are outstanding role models of

presenting IAESTE values: commitment, trust,

diversity, growth and friendship in their daily

work.

Anders Fredén, IAESTE Sweden

The medal itself is a copy of the original silver

medal presented to IAESTE by Mr James

Newby, our associations' founder.

Mary Mallon, IAESTE UK

Seyed Reza Goldansaz, IAESTE Iran

13
---
The IAESTE

Annual

Conference

AC 2020 – what a week

As is tradition, our community meets every January to exchange offers,

accept new policies or strategies, but most importantly, to celebrate the

fact this organisation has thrived for another year. We get to meet our

friends from each corner of the world and gather people believing in

the same cause, people thinking international exchange is essential,

and we can change people's perspectives just by being ourselves and

welcoming other cultures.

With all of this in mind, IAESTE Slovakia proudly took the organisation of

the Annual Conference under their wings. It decided to bring everyone

into the heart of our beautiful High Tatra mountains. We tried to do

things little differently by choosing the venue a bit further away from

the nearest airport, away from civilisation. Our priority was to create

an atmosphere resembling home because you might have heard about

the term IAESTE family and for us, it is a statement, and we wanted

to honour it and our friends, too. Our second priority was to show

how much heart there is in our organisation and thirdly, we wanted to

present our culture, our customs, delicious food and hospitability.

Back in the day, IAESTE Czechoslovakia had been one of the founding

countries who hopped on the train with Mr James Newby, and 73 years

later, we still manage to find people engaged. We are entirely volunteerrun,

and we have our primary home at the Slovak Technical University.

Annual Conference 2020 took

place in Tatranska Lomnica,

Slovakia

In 2020, we are standing on the shoulders of giants coming before

us, creating an environment where everybody feels included and

may explore their interests. Thanks to all the support given to us, we

have managed to create a week to remember, and nights never to be

forgotten.

I welcome you to join me in revisiting the week of 24th – 30th January

2020.

The week started like any other by welcoming delegates from 85

countries. During the opening plenary, we heard that our organisation

is essential; we need to act by being more agile; we need to care about

our quality and increase the quantity. Then we were moved by voices of

young Slovak singers singing traditional songs in assembly.

Sightseeing trip and moment of relax during hard working week.

The next day we had filled the room and the entire hotel with

the energy when we were doing the thing we know the best

– exchanging internships. The drive I see every year during

exchange sessions is reassuring me that this organisation has a

long future ahead of it.

Lubica Komarova, National Secretary

IAESTE Slovakia

15
---
During the General Conference, we gave the floor to the countries

to talk about their problems and colloquialisms to listen and to help

possibly. We approved the Strategy 2025 and promised ourselves we

would be engaged and passionate. We elected new leaders to guide

us. What a week!

On a lighter note, we tried to show delegates the best there is about

our culture; via food, a cultural programme and via people engaged in

creating it. All of the performing musicians were locally hired and were

representing a different area of Slovak culture. We hope you all enjoyed

the beautiful nature or skiing during the city tours.

Thank you for revisiting with me. As I write this in June 2020, we

live in the strangest world. We cannot tell if all of our values will stay

encapsulated after the pandemic. We do not know how this pandemic

will affect our industry and finally, how will it affect us. As I said during

my opening speech at the conference, this organisation is about

those kids from underprivileged environments who need us the most.

Companies who will thrive on international cooperation. Universities

who need the potential and our volunteers. It is about every life we

touch with international experience, and I sincerely hope this cannot be

stopped by divided nations, uprisings of violence, nor the worldwide

pandemic.

Slovakia has never experienced such a diversity of people before

in one place at the same time. The Annual Conference showed our

broader audience that friendship means more than cultural differences,

that having a common goal is connecting people from as many as 85

countries, wholly stripped from judgement.

International Evening: tasting safran tee served by our friends from Afghanistan.

I would like to thank our main organiser, Peter Gabas, for actively being

the one every one of us could rely on, for always having answers and

drive and honestly, leading by example how a person in IAESTE should

behave.

Secondly, a big thank you goes to our volunteers and helpers for being

able to accommodate all our needs, we appreciate what you have done

and the sacrifices you made.

Thirdly, I would like to thank IAESTE Poland and IAESTE Czech Republic

for being there in our corner when we needed them and for helping us

with picking up the participants at the airports and actively volunteering

Exchanging internships and discussing cooperation: the most busy place at the AC.

with us during the conference. This genuine effort was, and still is, very

inspiring.

Finally, thank you IAESTE a.s.b.l. for allowing us to host 73rd IAESTE

Annual Conference. It was our honour, it was our pleasure, and we

hope you all had so much fun and felt as well-connected to your friends

and colleagues as we did during this week and for a long time after.

We think we accomplished our goal of creating a warm space for you

so that you could reconnect with your friends and find the energy for

co-creating this space with your IAESTE family.

16
---
IAESTE

JUMP

2019

Turkey

Çiler Öztunca

Students enjoying JUMP

JUMP (Join Us to Motivate People) 2019 was organised in Fethiye,

Turkey between 19-23 September 2019. 77 participants from 15

IAESTE member countries JOINED US!

IAESTE Turkey hosted this event organised by volunteer students

of Turkish Local Committees. Among the subjects discussed at the

workshops during this event were, collecting internships from

employers, Local Committees structures, marketing, etc. The main

purpose of this event is the motivation and education of newly

participated LCs, whose volunteer students from different countries

learn about how IAESTE is structured under National and Local

Committees. Experienced students discuss the various aspects of

IAESTE work in the workshops, thus the students going back to their

countries start to implement this cooperative work principle with their

own LCs.

IAESTE Turkey Volunteers celebrating JUMP success

JUMP is a totally student related event, giving the students enough

space to express themselves together with their peers and guide

them in a way that could motivate students. One of IAESTE's main

purposes is to recognise cultural diversities and include them in

IAESTE's internship process. JUMP has been realising this aim since

its introduction as an international student event apart from National

Committees which are more focused on the administrative exchange

process. Expanding the international network among the students,

sharing knowledge, as well as increasing the students' cooperation

and motivation are key factors that contribute to IAESTE exchange

process.

17
---
The home office isn't a just benefit anymore. Being able to work remotely

becomes the new reality. Tomorrow, changes we have introduced to

our working life, in order to fight against the pandemic and its economic

consequences, will still be there and the home working environment,

including remote working, will be much more prevalent than we could have

possibly thought at the beginning of the year 2020. Looking into the future we

have added Remote Internships this year to IAESTE portfolio. One hundred

students experienced this opportunity between March and October 2020.

International remote work creates a future workforce

Millions of dollars have been allocated by many countries to fight

COVID-19 and develop a vaccine. There have been many international

teams of scientists working with the same mission. Would they be able

to cooperate, sharing research and developments without being able to

work remotely on a global scale? Certainly not. This example shows

the importance of being able to work remotely across borders. It isn't

something you learn while studying, you need a real international remote

working experience. It all comes together with IAESTE Remote Internships.

because they can't afford to travel abroad or because of their countries

geopolitical situation and visa restrictions. IAESTE Remote Internships give

them a chance to form international friendships and gain valuable work

experience. IAESTE Remote Internships are an additional way, alongside

IAESTE's world-known internship exchange programme, to connect even

more students and employers and build bridges between cultures by using

the latest technologies.

At the heart of IAESTE Remote Internships lies quality

Each internship is created and defined in such a way as to ensure

providing students with valuable work experience. We guide both students

and employers on how to work remotely on an international basis. As

always, we care about each trainee and provide social and intercultural

experience online and at home. The challenge we are faced with is the

legal environment that isn't prepared yet for international remote interns

and international remuneration standards. Our goal is to carve a path

which allows compensating for the work done by students while working

remotely.

THE WHY

of IAESTE

REMOTE

INTERNSHIPS

Olga Legacka, Head of

Operations, IAESTE A.s.b.l.

Remote Internships build bridges across countries

According to IntenetWorldStats, close to 60% of the world's population

uses the internet. This creates new opportunities for students who are

not able to participate in a traditional exchange internship programme

IAESTE Remote Interns presenting outcomes

of their work to the international team

18
---
Siddarth from India, about his four weeks remote

internship at the College of Aviation Technology,

Bangladesh

WORK

I was given the task of designing a settlement on Mars with ten thousand

people. The work consisted of analysing the feasibility, finding means

to produce all the physiological requirements and resources and mainly

design the settlement itself. I used AutoCAD for floor plans and Solidworks

to generate prototypes of some of the habitats and functioning parts

around them. This will benefit me greatly when I'm writing research papers

in the future.

DISCOVER

I learnt to be flexible and work effectively and this will definitely be

advantageous for future opportunities. I taught myself how to go about your

day and schedule your tasks efficiently to complete all the work that's been

assigned. Most importantly, I think I've grasped more information in the fields

of space exploration.

EXPERIENCE

In spite of attending a remote internship, I gained a lot of insights into the

structure and organisation of a research paper, how to build a professional

relationship with the employers and develop my skills in design. Interactions

with fellow remote interns helped broaden my network and gain knowledge

in my field of interest.

Siddharth, India performed his internship remotely.

19
---
AFRICA
---
Atiode

Solar

Systems

A progressive decade

with IAESTE

IAESTE Nigeria

Atiode Solar Systems has been an integral partner of IAESTE Nigeria

since its inception. We are a proudly Nigerian engineering company

that is involved in the designs, installations and supplies of various solar

energy solution systems. In the last decade, we have received more than

a dozen amazing interns and young engineering professionals from

several countries, who are given the chance to gain quality hands-on

experience with our technical and service engineers, the interns equally

contributed immensely to the development of our solar power solutions,

bringing in fresh ideas, and wide-ranging perspective to the workplace,

which confirmed our beliefs in IAESTE. We will continue to provide robust

opportunities to interns from all spheres as it adds value to the company.

Atiode Solar Systems Team, NigeriaSwitzerland at Ansaldo Energia

The IAESTE Board recently bestowed on us, the 10-year Employer Merit

Award at the 73rd IAESTE Annual Conference, for our decade-long

support and contribution to the exchange programme. We sincerely

extend our profound gratitude to the IAESTE Organisation, and to the team

of enthusiastic members and volunteers who are continuously driving this

association. Thank you IAESTE for the opportunity and recognition. – Fred

Atiomo, CEO, Atiode Solar Systems Limited

Otabor Ahanor, NS IAESTE

Nigeria presenting IAESTE employer

award to Atiode Solar Systems

21
---
CARPE DIEM –

My Tanzanian

Experience

Standing outside the TML cancer care home with a parent and child

Mindfulness is a common everyday word that I sometimes feel loses

its impact or meaning. It means maintaining moment-to-moment

awareness of our thoughts, feelings, bodily sensations, and the

surrounding environment. It allows a person to be truly present in

that second and to appreciate it for what it is without worrying about

what happened yesterday or feeling nervous about what's around

the corner tomorrow. The unique thing about travel is that it shifts us

into a mindful state, allowing us to appreciate and celebrate every

day through diverse cultures and traditions.

Playing games with some of the local kids

During the months of July and August 2019, I had the privilege

of travelling to Dar es Salaam in Tanzania to complete an 8-week

medical attachment in Muhimbili National Hospital. Here I was

assigned to the general surgical ward where I shadowed and

learned from doctors on site. Being the largest tertiary medical unit

in Tanzania, the hospital got a wide cross-section of the Tanzanian

population. Meeting and treating patients in the first few days

during my time there meant that I quickly became accustomed to the

Tanzanian way of life.

Denis O Dwyer,

Northern Ireland

22
---
Me and the two other IAESTE students from Poland and Slovakia

(Jakub and Tomas) on a beach in Zanzibar

One of the first things that struck me from very early on was the time

each person afforded one another saying hello and asking them

how they were. In the western world, we are so quick to get to the

point, demanding what we want. I knew the pace of the country was

going to be somewhat slower than what I used to but I never knew

that this would be beneficial to me and my personal development. By

learning a few common ways of greeting people in the local Swahili

dialect and taking the time to ask a person how they truly were, it

meant that I was able to forge bonds and relationships that otherwise

would not have been possible.

Before travelling, I was put in contact with an amazing Irish lady

who set up the first paediatric oncology department in Tanzania. She

has lived and worked in the country since 2007 and meeting her

was a revelation. Not only did she run the department, but she also

founded a charity on the hospital grounds which houses and feeds

parents and children during their time receiving treatment. I used to

visit this cancer care home daily to play with forever smiling children.

Seeing these gorgeous kids suffering from conditions unbeknown to

them put everything into perspective for me. It allowed me to realise

what was truly important in life and how lucky I really was.

I want to take this opportunity to kindly thank IAESTE Northern Ireland

and in particular the wonderful project manager Mary Mallon for her

support and direction in setting up my international exchange. None

of this would have been possible without her kindness and 24/7

assistance throughout my placement. I also want to thank Dr Derek

Brazil, senior lecturer at Queens University Belfast for signposting

and facilitating the IAESTE link with the university.

With the events that have unfolded across the globe in 2020, I have

gained an even greater appreciation for my time in Tanzania. Not

because I am longing for another travel experience, but because the

country equipped me with the ability to live in the moment and take

each day as it comes. Carpe Diem – Seize the day.

23
---
Last summer I had the opportunity to attend an IAESTE internship in

Nigeria. Through coincidence, my internship was at two different

universities. Those were in the Faculty of Architecture at the University

of Benin and at Covenant University located in the city of Ota.

Unexpectedly, the experience differed completely since Nigeria is

huge and extremely diverse.

I spent the first weeks of my Internship in Benin City which is truly an

intriguing place. The cultural presence of the Benin empire can still

be felt; its art is completely unique to Africa and stunningly beautiful.

Unfortunately due to protests at the campus, electricity and running

water were lacking. Of course, it was uncomfortable but enduring it,

made me, as a man coming from Europe, personally stronger. I learnt

a lot about Benin art and architecture.

In the second half of my internship, I was assigned to work in the

social housing department at Covenant University. This private

University gathers the best minds in west Africa. I learned a lot

about sustainability in African architecture. In the social housing

department, I wrote a paper on the history of social housing which

was of good use since the concept of social housing is still unused

in the region.

Jakub's trip to Nigeria broaden his horizons.

Thanks to IAESTE Nigeria we went on organised trips. Those would

be hardly possible without our coordinator. I would like to thank

him for keeping us safe and showing us all those beautiful sites and

places.

Improving

through

IAESTE

Experience in Nigeria

Jakub Voříšek, Slovakia

24
---
Nigeria is a place full of hard-working people. Gaining a new cultural perspective helped Jakub to see outside the box better. Thanks to IAESTE Nigeria students went on organised trips.

Visiting Lagos was the best experience I had in the country. There is

a certain energy in the city which is hard to describe. It is a place full

of hustlers, hard-working people, that hail from all over Nigeria that

try to make it big. Its Afrobeat music, great food, fast life, enormous

population but also great inequality makes this metropolis totally

unique. As the locals say: Lagos is the place to be.

The lively and unique visual art of Nigeria has been of great benefit

to my architectural practice. Knowing about African architecture,

which is sadly underappreciated, broadened my global view

greatly. I applied its style in my i interior design project. The proposal

has been a great success at my faculty because its unknown design

brought in a fresh breath of air. Gaining a new cultural perspective

helped me to see outside the box better.

Arriving back to my home country I was inspired to join IAESTE

Bratislava. By being active in our LC I received membership and then

I applied for the presidency for which I have been elected.

I have to say that the overall experience IAESTE offers is fantastic for

ambitious students. I look forward to future endeavours.

IAESTE truly changed my life.

25
---
AMERICAS
---
This summer I was planning to travel to Tanzania with IAESTE to work

in a hospital and gain experience of different specialities in medicine.

Unfortunately, due to COVID-19 this had to be cancelled.

Remote

Contemporary

Medical

Research

Baylor College of Medicine, USA

Ellen Dunlop, Northern Ireland

When the opportunity to be involved in a remote internship with Baylor

College of Medicine (Texas, USA) arose I was eager to get involved as this

would be a good way to fill the spare time I had now found myself with,

as well as gaining academic knowledge from the staff and researchers

at this institution. I applied and enrolled in the SMART programme which

is run by Baylor College of Medicine annually on campus, but this year it

was run remotely due to the restrictions.

I was initially sceptical about completing a remote internship as I thought

it would be difficult to learn through this format, however I was pleasantly

surprised. All of the speakers are passionate about their research and

make their lectures very interesting and easy to follow and learn from.

Aside from the interesting lectures, the remote internship has provided

a way to give my day structure which was lacking due to the university

being closed and my part-time job temporarily coming to an end during

the lockdown restrictions.

The research seminar series included daily lectures during the months of

June and July on a huge range of interesting topics relevant to studying

medicine. The research faculty gave lectures on stem cell biology, cell

and gene therapies for cancer, the human microbiome and tumour microenvironment.

Additionally, there were research faculty provided lectures

on the coronavirus pandemic and the process of vaccine development,

which were of particular interest during these times.

The programme also provided professional development workshops once

a week. These were useful for developing skills for academic writing, CV

development and interviews.

Each one of the lectures was really engaging and it allowed me to get

an insight into contemporary research relevant to medicine and provided

new avenues for me to direct my own reading.

When travel was possible!

The remote internship was hosted using an online platform through which

we were able to see the speaker and their slides and participate in

discussion with the speaker during their talk which was really useful.

I would recommend this internship to other students studying medicine

such as myself or those studying other biological sciences - especially

those with an interest in research as it could provide some inspiration to

further future work.

27
---
IAESTE Interns

Leading in

Innovation

Keenan Toure, USA

Tabea Gallusser

IAESTE interns Sean and Florian,

wearing the prototype helmets with Dr

Cai

Sean and Florian at the firefighter training centre in Denver

for the NIST Haptic Challenge

Dr Yang Cai has been welcoming IAESTE participants into his lab at

Carnegie Mellon University (CMU) for the past decade. Dr Cai is director

of the university's Visual Intelligence Studio, delivering cutting edge

research on machine intelligence, the interactive visualisation of big data,

biomorphic algorithms, and medical imaging systems.

He is also a fervent advocate for global collaboration and international

exchange. In the past year, he has hosted two IAESTE interns: Florian

Alber of Italy and Sean Hackett of Northern Ireland.

At the Visual Intelligence Studio, they have been working directly on a

new type of interface that could serve as a safer communication tool for

firefighters. This collaboration recently helped CMU win the National Institute

of Standards and Technology Haptic Interfaces for Public Safety Challenge.

Using Science to Keep Firefighters Safe

The IAESTE interns travelled to Denver, Colorado for live demos in a firefighting

training facility to understand how firefighters navigate unfamiliar

paths through burning buildings. Being at the training facility helped

Florian and Sean support Dr Cai to develop technology that successfully

improves firefighter's safety and efficiency in the most challenging and

hazardous environments.

The team named their prototype the "Haptic Helmet." The helmet

communicates directions to a firefighter through a buzz sent to different

sides of their head, indicating where and how to move. According to Dr

Cai, the winning factor of this prototype was its simple design and low

cost. Florian added that that the judges appreciated the intuitiveness of

the design and Sean believed that their prototype made it easy to explain

the commands to firefighters.

This win, however, represented much more than a successful design. It's a

testament to what happens when talent from around the world joins hands

to find solutions.

Developing International Talent through the IAESTE

Programme

Dr Cai has been working with IAESTE interns for the past 10 years,

bringing in interns from around the world to work on various projects. He

commented that the talent often comes from European technical universities:

"These universities have great reputation and training and their graduates

help us build diverse teams that can be productive and deliver the work

we want. IAESTE participants have a brilliant work ethic. They have great

communications skills, and that is monumental when it comes to writing

and editing research papers for conferences."

IAESTE interns don't just add value to research papers. They work at the lab

like other members, contribute to software development, build hardware

systems, and make the lab more innovative. It was this innovation that

Florian and Sean brought to the Visual Intelligence Studio that helped Dr

Cai win the NIST Haptic Interface for Public Safety Challenge.

29
---
International Exchange: Learning Beyond the Textbook

Dr Cai worked in business before joining academia, which makes him

a great mentor for IAESTE interns. He believes that engineers should be

presented with real-life challenges from the beginning of their careers.

He wants to create a nurturing environment where they have the

independence to find their own solutions, but also the confidence to reach

out if they need help: "We encourage engineers to find simple solutions

that work in the real world. Although I give them instructions to guide and

get them started, I also encourage them to use their own knowledge and

experiment, because in the real world there is no textbook that tells you

what to do and engineers have to work on a lot of problem-solving".

Dr Cai believes that IAESTE interns are well equipped to work in such an

environment and to confront the challenging times we are faced with: "The

interns are very professional and well acquainted with our standards and

work. They learn quickly and deliver well."

Florian, who hails from northern Italy, compared the adjustment period to

that of any new role and job. "It was a change of scenery and culture, but

work-wise, I just felt like being in a new workplace. I have worked in Europe

before and my experience there helped me adjust to the workplace here."

A Year of Learning and New Experiences

The exchange year marks a year of learning, discovery and new

experiences. Florian pointed out that labs in the United States have a

range of externally sponsored projects, which provide opportunities

to experiment, practice, and learn. Sean, who has a background in

electrical engineering, understands the immense learning opportunities:

"The experience of interacting with real-life firefighters and working

independently on solutions has been incredibly rewarding for me."

But the year has been more than professional growth and learning; it

has given Sean and Florian an opportunity to witness American culture,

to interact with people from diverse backgrounds, and enjoy distinctly

American adventures and sports.

Although still in the United States working with Dr Cai, they look forward

to going back home to share their diverse experience with another part

of the world.

Sean and Florian explore the Grand Canyon

30
---
5 Years of

IAESTE at

Queen's

Kingston, Canada

IAESTE Queen's members Emily and Stephen marketing at a club fair

on campus in September 2019

IAESTE Queen's giving a tour of campus to IAESTE Austria during a twinning

back in September 2018

Dominique Charland, Canada

As we approach the 2020-2021 academic year, and the fifth consecutive

year of IAESTE Queen's as a student-led Local Committee, it is a great

opportunity to look back upon the success we have had so far.

In 2016, the Queen's LC was reinstated as a fully student-run club through

student government by our president Jenna. Since then the club has gone

through multiple Presidencies with Jenna, Alex and Stephen all taking a

turn as the leads. Past LC highlights include twinning with IAESTE Austria

in September 2018, the conference in Glasgow in March 2019 which

three of our members attended and 2020's virtual annual conference.

Each of these events has helped us to connect with local committees from

around the world, hear inspirational stories and learn how to improve

our skills in marketing, job raising and team-bonding. We wanted to say

thank you for all the tips and tricks we have borrowed along the way.

Our goal as we enter our fifth year is to increase our presence on campus

so we may better contribute to IAESTE's network. As we enter a virtual

Fall 2020 semester, our club is as committed to development, regardless

of the anticipated challenges, as we have been since day one.

We hope to continue our growth and commitment to IAESTE's mission to

create international understanding, cooperation and trust among students.

As the new President, I want to extend an enormous thank you to our past

volunteers, our ever supporting national committee and our current club

members. Here's to the next five years!

31
---
I went to Japan in the summer of 2019 for an internship through the

MITACS-JSPS summer research programme. I thought it would be a good

opportunity to reach out to local IAESTE members while I was there, so I

contacted a member of the TLSC (Tokyo Local Student Committee) through

Instagram. At the time, I was an executive member at a club promoting

IAESTE at my university and I had done an internship with IAESTE in

Austria during the summer of 2017. I was aware of IAESTE alumni groups

for backpacking and international events, so I did not think it uncommon

to get in contact with other members.

Based on my past experiences, I expected the response to be friendly and

hospitable, and I was not disappointed. After giving more information

about myself and explaining what I was doing in Japan, I was invited

to a Facebook page where events were being planned for IAESTE

trainees. I was excited because I would have an opportunity to meet local

students, which would not have been so easy if I were not a member of

IAESTE. I browsed through the planned events and immediately noticed

plenty of amazing activities such as hiking Mt. Fuji, touring Kamakura,

Dinner party in Tokyo

and sightseeing in Odaiba. I took note of the thoughtful itineraries that

were prepared for these trips, which I would later find to be a welcome

Japanese custom.

My Experience

with IAESTE

Japan

Summer reception & hospitality

Edward DeWit, Canada

32
---
Day trip to Odaiba. Edward went to Japan on his own, but with his previous IAESTE experience he was looking to meet IAESTE friends and spend time together

with them. He was more than welcomed in the group.

Hiking up Mt. Fuji

The first event I joined was a dinner party where we would prepare

Japanese and foreign dishes. I was a bit concerned about joining the

activities since I was not participating in an exchange through IAESTE

that year. However, that concern was gone after a few minutes at the

party where I was greeted with a warm welcome and kind-hearted

curiosity. We separated into six groups, bought food from the grocery

store, and cooked it on the top floor of a cooperative building in a

room with individual cooking stations. There were about the same

number of Japanese students as there were trainees. By the time that

the food was ready, we had already gotten to know each other and

were looking forward to making more memories together throughout

the remainder of the summer.

33
---
IAESTE: A real

life-changing

experience

São Paulo, Brazil

Andressa Leonilia Gomes, Bachelor of Science in Technology with an emphasis

in Chemistry, Universidade Federal do ABC – Santo André – SP

Andressa Gomes: I was brought up in a shantytown in São Paulo,

where a teenager has few options in life. Usually, the path is a criminal

life for males or pregnancy for females. However, there is always a

second option and I took it.

In 2017, before I started to be a volunteer at IAESTE, my mom was

diagnosed with cancer. It was a tough time for me and IAESTE was

a refuge and a family. When I had the news about my mom's death,

I was on a trip as a volunteer with more than 16 foreign interns from

IAESTE.

Even though I was in a difficult time, I kept up with my dreams and

overcame my fears. IAESTE has an important role for me and thousands

of other students like me, facing internal problems and allowing us to

see a light at the end of the tunnel.

In 2019 I was accepted for an internship in Sweden and I worked in

the product development department, where I helped to create new

products and improved on others. My experience was incredible and

the employees knew me as a hardworking girl. Now, I am living in

Sweden and working in the development engineers department as

a summer job at the same company. My next step planned through

IAESTE is an internship in the Czech Republic.

Andressa Gomes,

Maitê Koselitz and Victor Silva

IAESTE Brazil team, who stays behind

all these great stories, celebrating Xmas.

34
---
Maitê Koselitz: In 2016 I became an IAESTE member. I lived in São

Paulo, Brazil, the city where I had lived all my life. Also, I always say

that it was in my hometown where my internship started because I met

many foreign students.

As an IAESTE member, I went to the airport to pick up exchange

students and helped them on arrival at bus terminals. I have done

city tours and some trips with exchange students and other members.

Mellet was one of those exchange students that I picked up at the

airport as usual and he later became my boyfriend.

Maitê di Tomaso Koselitz, Environmental and urban engineering,

Universidade Federal do ABC – Santo André – SP

2016 and 2017 were amazing years for me. I was at the end of my

college, I was working and all the free time I had, I spent it with IAESTE

exchange students and we had a lot of fun. I met amazing people,

made friends from different countries, and became fluent in English.

In 2018 I did my IAESTE internship at a research institute in Berlin

(Bundesanstalt für Materialforschung und -prüfung - BAM) and I was

invited to IAESTE's Annual Conference as a speaker.

Since 2018, Mellet and I have been members of IAESTE LC Kiel

(Germany). Last year we got married and we are happy. IAESTE

changed our lives and without it, we would not be Mr. and Mrs. di

Tomaso Koselitz.

35
---
Victor Silva: During a summer course in 2018 at the University

of Hong Kong, I met a Brazilian woman, and she introduced me

to IAESTE. When I applied for a position at IAESTE, many people

advised that it was a risky decision, considering that I would have a

promising future in Brazil because I was an intern at the Santander

bank, but I was sure about my decision.

I applied for the offer in a company dedicated to Industrial Engineering

in Bilbao, Spain. When I had the interview with my future boss, he

asked me, at the end of our conversation, if I had any questions and I

said "I would like to know when will I get the result from the application

process?" and then he answered, "in 5 minutes". After that, I checked

my email, and he was congratulating me for being chosen.

When I moved to Spain, I found out it was a vibrant country with a

unique culture. My team at the company received me very well and

when I became familiar with them, I showed some of the Brazilian and

São Paulo culture. I love this cultural exchange! I work in an 80-year-old

family company called GHI Smart Furnaces. My team is International

Business Development, supporting commercial and technical engineers

in the sales cycle, trade marketing, and customer travel. After a year

of being an intern, the company I have been working for decided to

hire me. That is something that would not have been possible without

IAESTE. I want to finish my text with an "Eskerrik asko" which means

'thank you very much' in Euskera, the official language of the Basque

Country.

Victor Maciel Gonçalves Da Silva, Industrial Engineering,

Mackenzie Sao Paulo – SP

36
---
ASIA PACIFIC
---
An Australian

Adventure

IAESTE Ireland Intern Story

Gemma, scuba diving in Australia

I was an intern in a specialist chemical company in Melbourne, Australia.

It was an incredible experience to transition from studying to working in

an innovative company with a highly skilled hands-on team. I got involved

in a range of projects from retrosynthesis to R&D and was trained in

analytical techniques that will be invaluable for entering the industry.

It was incredible to be based in Melbourne, the local IAESTE committee

was great and organised so many trips and events. There were other

interns from Europe based in other companies and we would meet up

to go exploring on the weekends, such as surfing at Torquay or hiking in

the Grampians.

Gemma, with other IAESTE interns in Australia

My internship definitely made me more independent and confident. I

explored the East Coast, getting to scuba dive in the Great Barrier Reef

and celebrating New Year's Eve in Sydney. I also travelled to New

Zealand, Thailand and Vietnam and met so many incredible people from

all over the world. My traineeship is one of the best things I have done

and would highly recommend it to anyone.

Gemma Mc Namara, Ireland

38
---
The Asia-Pacific

IAESTE Forum

APIF 2019, Qatar

Dr. Ghazi Al-Rawas, Oman

Meeting with the Qatar University leadership, APIF 2019.

The Asia-Pacific IAESTE Forum (APIF) aims to strengthen ties and discuss

common issues among the members of APIF. Other specific objectives

of this gathering are to overcome the challenges of student exchange in

the APIF region, promote and increase student exchange between APIF

countries, enhance the core values and principles of IAESTE, improve

communication among APIF members, discuss strategic plans to develop

the future of the APIF, and thus a good preparation for the Annual

Conference.

In 2019, Qatar University hosted the ninth APIF meeting in the period

5-6 October 2019, Qatar. Seventeen delegates from Asian countries

and the Middle East participated, including: Qatar, Kuwait, Oman, Iran,

Iraq, Jordan, Palestine, Turkey, Bangladesh, India, Pakistan, Afghanistan,

Sri Lanka, Philippines, Indonesia, and Thailand, and in addition,

representatives from the IAESTE board. Aside from the meeting, delegates

met with officials from Qatar University during these two days to learn

about the cultural and touristic attractions of Qatar through some visits to

the most important landmarks of bountiful Doha.

APIF 2019, Qatar.

39
---
Conquering the

virtual world

with IAESTE

Ishaan Pahwa & Advait Gangoli,

IAESTE India CI SMU

IAESTE Members amidst the snow-clad

mountains of Zuluk, North Sikkim, India
---
Burhan Reshi, a trainee working on his Data Science Training remotely with

Interns from IAESTE Saudi Arabia

How did it all start?

It had only been a few days when we returned from our IAESTE Members

trip to the lush white mountains of Northern Sikkim to mark the beginning

of a new session. As time passed, the 18th of March, 2020 came around

and this day started to take a new shape for us at IAESTE India CI SMU.

One thing led to another and we were all on our way to different cities

across India. Everyone was determined to have an experience of a

lifetime during the summers of 2020 but those plans had to be put on

hold due to things taking a life-changing turn, globally.

Council Member, Eashana Hasan, attending a regular council meeting,

remotely.

How did things start to take a new shape?

Within a few days, everyone became adamant to utilise this time to the

fullest. Plans were in place to work with members, virtually, to prepare

their documents for IAESTE Applications, and to provide benefits and

guidance for the "CV Boosting Programme". Council Meetings took a new

turn and the background was our room's wall instead of IAESTE Colours

at the Office. IAESTE Members were interested as usual but instead of the

regular functioning providing technical guidance, course counselling and

support in terms of pursuing personal projects and binge-watching were

now a daily routine.

Did the virtual conquering pay off?

Attending the "Connect Forum of Strategy 2025" gave way to new

energy and I started volunteering to develop the database of IAESTE

Photos. With ongoing circulation and generation of Remote internships,

not only did we see an increase in applications for remote and traditional

internships but also saw new employers wanting to generate internships

through us. Even social media pages had a reach of over 2000 within

a day. When others were getting used to the virtual world, interns from

IAESTE India CI SMU were already working on virtual internships, which

led to a drastic increase in the membership applications without even

conducting a membership drive.

Tough times bought certain difficulties, yet with new initiatives, immense

positivity and this new venture of IAESTE Remote Internships, we conquered

them. For one reason or another, we will all remember this experience.

41
---
Experiencing

Iranian

hospitality

Internship at the University of

Tehran

Tabea Gallusser, Switzerland

42
---
"Being in a country with laws you are not familiar with and with words

you cannot read, you depend on kind and patient local friends."

Shortly after arriving in Iran, I fell in love with the Iranian people, their

colourful cities, art all over their new and old buildings and their diverse

landscapes. I got an insight into the lives of many Iranians whom I am

lucky to now call friends. I experienced the proud Persians to be caring

and very curious about you and why you came to their country, what you

think about Iran.

At the biology lab, I got the task to do some research on the distribution

and the associated biota of mangrove forests in the Persian Gulf. At the

lab, we all got together in the daily lunchroom to share our meals. No

one would leave the table before everyone had finished their plate. My

caring co-workers fed me with wonderful traditional snacks and black tea.

Others taught me Farsi, the Iranian language and how to behave in public

or showed me what to see in Iran.

The thing that challenged me most was the Hijab. The dress code you

had to follow in the Islamic Republic of Iran. Cover (most) of your hair

and neck with a scarf, giving you one more item to match with an

outfit. Arms and legs should be covered loosely, which I managed by

bringing oversized clothes. No worries, as a foreigner, small violations

are tolerated. Nevertheless, on my last day, a girl ran behind me. Truly

worried, she told me my manteaux would not cover my buttock, everyone

could see my jeans! Namely, women need to cover the buttocks twice. I

was amused by her caring about my safety. I got my manteaux into the

right position and went on.

All local IAESTE members were so helpful. Being in a country with laws

you are not familiar with and with words you cannot read, you depend

on kind and patient local friends. We often gathered at a café after work,

where trainees asked them to read the menu to explore more delicious

Iranian dishes, to solve problems, or to practise some Farsi. I got closer to

peoples' lives as an IAESTE trainee compared to an ordinary tourist. I am

thankful for all the precious experiences I had during my internship and

the people I met that widened my horizons once more.

The impressive Borujerdi House

43
---
Experience

India with

IAESTE

Unraveling the IAESTE Magical

Experience

Kartik Sumrani, India

44
---
Discovering picturesque locations and ancient temples of India.

IAESTE, as an organisation, always has much more to offer than what we

can give in return, and I, Kartik Sumrani (SRO, IAESTE India, LC MUJ),

feel the same very strongly. My time as the Summer Reception Officer

(SRO) has been overwhelmingly enriching and memorable. It has made

me realise my potential, helped me grow as a person, and become more

dynamic in approach. A summer with interns from different countries,

cultures, and traditions can surely change how you comprehend the world

around you. Making friends from around the globe, uncovering their

customs and traditions, and simultaneously making them experience and

discover our rich heritage and culture is something only IAESTE can offer.

By organising trips to various places like Pushkar, Jaipur, Delhi, and

Agra, we shared the moments of the excitement of visiting new sites, an

opportunity to learn a bit more about India, and getting mesmerised by

the startling views of forts, temples and palaces. In 'The Jaipur Weekend,'

we, along with interns, explored India's Pink City. The majestic buildings,

glorious forts, and palaces, and a cultural evening showcasing vibrant

Rajasthani folk dance and music left everyone happy.

The best part of Summer Reception was 'The Himalayan Challenge',

IAESTE India LC MUJ's first flagship event. It was the most stunning seven

days for all of us, an event open to all IAESTE Local Committees throughout

India, wherein we met the most incredible people from other LCs. We

had the chance to socialise and mingle with the various cultural and

linguistic backgrounds they come from. Every fortuitous person who took

the challenge had loads of activities to go through, such as Yoga Sessions,

Bollywood Nights, Rappelling, Treasure Hunt, Trekking, Ziplining, and

Interns exploring the great city of Ajmer, an oasis wrapped in green hills

with a rich and vibrant history

last but the most significant of all, the beautiful bonfires under the starry

nights among the mountains. The Himalayan Challenge had definitely

been a challenge when it came to organising and executing it, but it was

undeniably the most successful and remarkable event.

I have made a lot of unforgettable memories during my time as the

Summer Reception Officer. We've now turned into a small family, and I'll

always cherish the summertime I spent with those wondrous interns. I will

always be grateful to IAESTE India, LC MUJ for giving me this wonderful

opportunity.

45
---
Oman, you

beauty!

In June 2018, I was fortunate to have an opportunity to be an intern at

Petroleum Development Oman (PDO) in Muscat, Oman for an IAESTE

internship in mechanical engineering. For 2 months I was working at

Oman's major oil exploration and production company. But, soon I was

thanking my stars for so much more that I was able to experience.

The time I had spent in Oman was not only memorable because of the

technical experience I was able to acquire but it allowed me to engage

in a cultural experience like never before. I was able to build strong

friendships with individuals from around 19 countries. From camping at

the turtle beach at Sur to camping in an actual desert, just before visiting

the coast of Barka to hitch-hiking taxis, those two months had everything

to experience for a first-time traveller like myself. The historical sites like the

Grand Mosque, Nizwa Fort, Nakhal Fort and even the palace of Sultan

Qaboos, which I was able to visit were nothing short of breathtaking.

This is me channelling my inner Joker.

Rohit Philip Alexander, India

46
---
I was able to learn a lot in terms of my experience at Petroleum

Development Oman (PDO), I was capable to accept challenges which

I was not aware that I had it in me to tackle.

I was able to learn a lot in terms of my experience at PDO, I was capable

to accept challenges which I was not aware that I had it in me to tackle.

My heartfelt thanks to the team at PDO for imbibing me with lessons

that you can only learn through intuition and not just through notes in

classrooms.

From the sunset I'd get to watch from our accommodation with my friends

to the walks I'd take to the local souq near Al Khoudh with them, if there

was a chance to try and relive those two months, I'd do it in a heartbeat.

The time I spent in Oman was something which I will cherish and it was

a life-changing experience. I was in the company of friends from different

parts of the world, it didn't matter the colour of our skin or the kind of faith

we believed in, we enjoyed the company we got to share (not to forget

the Kunafa all of us would love to eat by ourselves if we got the chance...)

To Mr Moadh and the team of IAESTE Oman, thank you isn't enough for

taking care of us back in Muscat, the team really showed us the beauty

that Oman has and the cultural diversity that the country is known for.

Lastly, I would like to thank the team from LC Karunya for their guidance

and for providing me with an opportunity of a lifetime and their constant

support.

IAESTE really allowed me to WORK. EXPERIENCE. DISCOVER.

The impressive Borujerdi House.

47
---
Me with the view of Bastei Bridge of Saxon Switzerland, Saxony, Germany.

Designing process of the gripper unit.

Working in

the greatest

innovative

machine

shops and

laboratories

Going for an internship in one of the most industrialized countries was

the wisest decision I have made so far. I was an intern at TU Dresden in

Germany, in the heart of Saxony from September to November of 2019.

Following the motto of IAESTE – Work. Experience. Discover. I got a

chance to work in the greatest innovative machine shops and laboratories

under the supervision of experts and scientists in my field. As every

junior engineer I want to research and develop new technologies. At the

Institute of Lightweight Engineering and Polymer Technology (ILK) of TU

Dresden, I was able to do so. I was a member of the project related

to the development of a gripper unit for adaptive and automatic fabric

positioning in a textile preforming process under the supervision of Dipl.-

Ing. Eckart Kunze.

My tasks included working on the design, assembly and testing of a

binder application system for efficient preparation of complex fibre

From Tajikistan to Germany

Subkhiddin Mukhidinov,

Tajikistan

48
---
Testing powder flow in laboratory. At Brazilian dinner with trainee's and volunteers. My dreams of going hiking to the Alps and attending Oktoberfest came true.

preforms, conception and design of the individual modules of the binder

application system using CAD and investigation of the application of the

binder under variation of process parameters. I spent the first half of my

internship in front of the computer designing the equipment and the other

half in the laboratories testing motors and meshes.

Thanks to IAESTE, I had a chance to experience living abroad which

initially caused me a cultural shock and then with the help of local

volunteers and other trainees I embraced what I saw in Germany.

Enjoying weekly cultural evenings and occasional night-outs were part of

trainees' life which decorated our stay there.

Moreover, my dreams of going hiking to the Alps and attending

Oktoberfest came true when we traveled to Munich with other trainees

and volunteers of the local committee in October. Another fascinating

aspect of living in Europe was finding yourself a weekend bathing in

Budapest, the next weekend walking in Ringstrasse in Vienna, or doing

something else somewhere else.

All in all, I am immensely grateful to IAESTE that induced me to broaden

your horizon, experience different cultures and meet many-many

interesting people and I would address every youngster frankly and

admonish them to try this life-changing experience.

49
---
An enthralling journey in Petra, one of the seven wonders of the world.

I am Harsha, a mechanical engineering student from India and I did my

internship in Jordan, through IAESTE.

I was one of the trainees working under a team of highly dedicated

engineers at the University of Jordan. I was involved in two projects during

my internship. My mentor guided me through the various aspects of the

project, as well as giving me precious knowledge of professionalism and

work ethics. The reason I chose Jordan for my internship was because of

the country's culture. Jordan is an amalgamation of all the Arab countries.

Being the youngest intern, I got a chance to learn from the experiences

of the other interns. I stayed and worked in Amman, capital of Jordan

where I got the chance to interact with 40+ interns coming from different

The mesmerising skyline of Amman visible from Amman Citadel.

backgrounds and cultures making it a vibrant experience. I was enthralled

by noticing the profound culture of Amman and I could relate it so much

to my own culture. Mount Nebo, the Roman theatre and Amman

Citadel were fascinating too. A trip to the Dead Sea left me completely

flabbergasted as I was standing in 15 ft water. I also got the chance to

visit Petra, which is one of the seven wonders of the world. Finally, I should

say I was completely bedazzled to visit Aqaba, a city situated on the Gulf

of the Red Sea, the Red Sea's turquoise water was scintillating.

From getting the first salary of my life to playing games with other interns

I enjoyed every bit. This will be a special internship for me.

Thank you so much IAESTE JORDAN and IAESTE MUJ for this opportunity.

My

memorable

internship

in Jordan

Harsha Pandey, India

50
---
Connecting

the world

with IAESTE

Celebrating the International Cultural Evening organised by IAESTE LC MUJ

Cross Culinary Food event by LC MUJ

Oneness

Dr Santosh Patil, India

IAESTE Exchange has been one of the greatest platforms for me to interact

with talented international students. I have guided 3 students till now, they

were: Joseph from Germany, Felipe from Brazil and Bassam from Oman.

The students were enthusiastic and keen on learning things technically.

They also wanted to explore Indian culture, heritage, and food. It gave

me immense exposure to their ability to grasp the technicalities and the

approach they use for performing various tasks. Joseph and Fellipe were

fast learners and performed scrupulously in modelling and analysis of

Mechanical components, while Bassam was good at comprehending and

showed his eagerness to learn.

I would like to interact and continue working and proposing new projects

to the incoming foreign students and encourage the IAESTE exchange

programme. Also, special thanks to the IAESTE LC MUJ and wish them all

the very best in their future endeavours.

51
---
I did a three-month internship in the Philippines in 1979 when doing my

master's in civil engineering at ETH in Zurich. I heard about IAESTE from

a friend of mine who just returned from an internship in Scandinavia. I

immediately applied myself, choosing the Philippines as destination. I felt

very much attracted by this exotic 7000 island state.

It turned out to be a great experience, leaving a lasting impression for

the rest of my life. In the Philippines I had the opportunity to work with

the National Irrigation Administration (NIA) on two interesting projects.

First not far from Manila with the Laguna de Bay irrigation project

located in Pila. At the very beginning I joined a group of engineers

doing the surveying for a new road. We had to take measurements in

the rice paddies. It was just before the rice got planted. So, the fields

were covered with water and we sunk knee deep into the mud. I was

concerned about snakes but otherwise liked doing real work with the local

people of the country. The rest of the time I worked in the office drafting for

the new road. In between I joined engineers supervising other works, like

building new irrigation canals or pump stations. In Pila I have had a great

host family. Accommodation was basic but comfortable and safe. They

introduced me to local food, brought me to school events and thought me

how to cut and eat fresh coconuts.

Celebrating the International Cultural Evening organised by IAESTE LC MUJ

My second assignment was at the Magat River Multi-Purpose Project in

northern Philippines. A huge world bank financed dam for electricity,

irrigation and flood control. There I lived on the camp in houses built for

site management and foreign experts. The construction site was huge,

and every few days I was assigned to another engineer: Tunnelling,

IAESTE

alumnus on his

internship in the

Philippines

Throwback to 1979

Ueli Brunner, Switzerland

52
---
excavation, drilling and blasting, concrete and aggregate production,

steelworks. I could not do any real work there but was shown and

explained everything. Living on the construction camp far away from

everything I felt sometimes isolated. Living with a local family was

certainly much more enjoyable.

After a total of three months with NIA I spent another two months travelling

the Philippines as backpacker. By now I was very much localized already

and felt most comfortable travelling with local buses and ferries, eating

local food, and staying in local accommodation without running water

and certainly without air conditioning.

When after six months I had to return back to Switzerland to finish my studies

at ETH, I was certain to return to the Philippines for good someday. A dream

that finally never materialized for family reasons. But the foundation was led

for an international career. After some years working as Civil Engineer, I did

an MBA at INSEAD in France and changed to management. I got married

and we got sent on expatriate assignment for a Swiss Multinational to Tokyo

(with my wife and newborn first son), Singapore (there my second son was

born) and Belgium. We returned to Switzerland for the schooling of our

children, but I continued travelling worldwide for business. I have returned

to the Philippines several times for business and for vacation. My friend who

originally introduced me to IAESTE got married to a Filipina and is now

retired in the Philippines. I still keep contact with him, and to some members

of my Philippine families too.

I strongly recommend doing an internship in a foreign country. But be

prepared that you fall in love with another country and culture, and

that your hearth might be torn apart for the rest of your live between

two home countries.

IAESTE internship was a solid foundation for an international career and many

travels.

53
---
EUROPE
---
Internship

at Rosim As,

Norway 2020

Oslo, Norway

Sandi Grobin, Slovenia

I will write a few words about the company to get a better idea of what

the work is about. Rosim AS is a technological company that has its focus

on measurements within the wastewater management. They have 200

flowmeters all over Norway and Sweden. The company installs these

meters, maintains them, and operates them for the municipalities. They

also have 150 rain gauges that measure the rainfall, which is used by the

Meteorological Institute, among others. All the measured data is being sent

via GPS to their online platform.

My position as a trainee is a service engineer. The tasks for which I am

responsible for are installation, operating, and maintaining the flow

sensors and the rain gauges. This includes the preparation of the necessary

equipment and calibrating the sensors once they are installed. I also help

with the production of products that are part of the measuring equipment.

Because my work includes a lot of fieldwork the work hasn't really changed

during COVID-19 time. The company is also very small with a small number

of employees and we all work with each other daily.

Even though before the lockdown in Norway I was working only for two

weeks I don't see any changes in work. Of course, we follow all the security

measurements which we already had to follow before because of working

with wastewaters.

My position as a trainee is a service engineer and my work didn't change

much because of COVID-19 restrictions.

55
---
Remote

Internships

2020

Northern Ireland – USA

Mary Mallon, Northern Ireland

Caroline remote working

Many students are in lockdown this summer due to Covid-19 with

international travel restricted, but one student from Queen's University

Belfast decided to use her time gaining international skills and experience

through the British Council's IAESTE programme.

For one student, Caroline Campbell, from Queen's University Belfast, being

accepted to undertake an IAESTE placement at Baylor College of Medicine,

in Texas, USA was like a dream come true. In the final year of her degree

in Biomedical Science, Caroline was extremely excited at the prospect of

joining the Baylor College of Medicine for the summer. Caroline says, "I

saw it as an amazing way to kickstart my career in science – a once in a

lifetime opportunity!"

So, when COVID-19 meant travel was not possible, and IAESTE USA and

Baylor College of Medicine offered an alternative to Caroline – a remote

internship, she jumped at the chance. One of the things that Caroline was

impressed with was the clear structure and how organised the Baylor

Remote Virtual SMART programme was. Caroline's project involved virtual

scientific research into breast cancer, led by her supervisor Dr Jeffery Rosen,

himself an IAESTE Alumni. Caroline had 1-1 weekly e-meetings with Dr

Rosen and participated in synchronous online research discussion groups

with Dr Rosen and students from across the USA. Caroline remarked that

prior to the internship she had never spoken with anyone from the USA.

Caroline says, "Working virtually with Dr Rosen and fellow students from

across the USA, has nurtured my love of science and exposed me to the

latest research techniques and breast cancer breakthroughs. At the end of

each week, we met online to discuss the results of that week's lab work and

Caroline's home working setup

57
---
talk about the direction of the lab work for the weeks ahead." An aspect

that Caroline wishes had been possible was being trained in the use of the

high-tech equipment currently being used in the Baylor laboratories, but

then she says that laboratory work would not have been possible here at

home either this summer.

One thing Caroline was not expecting this summer was to virtually rub

shoulders with directors of the Advanced Technology Core Seminar

programme. Caroline feels she has really benefitted from the daily seminar

part of the programme. She says, "I have heard from a range of academics

who have shared their personal stories of how they got into science and

their path to becoming faculty members at Baylor. I found this particularly

inspiring as I will be graduating during this summer and these positive

stories have given me a real boost." In addition, Caroline has been able to

expand her knowledge in a whole range of areas through the Advanced

Technology Core seminars which are presented daily by the directors

who described and discussed emerging and leading-edge technologies

and their applications in biomedical research. Each week focused on a

different speciality, from Neuroscience to Genetics; Immunovirology to

Infectious Diseases. During these daily interactive synchronous sessions,

the participants were encouraged to ask questions and use the platform to

network with leading academics and students.

In the current climate, employers are pivoting their employment models,

and the remote internship has enabled Caroline to be immersed in this

Zoom become for many of us the meeting place. Caroline while discussing

with other interns and supervisors.

new online way of working. The skills she has mastered will undoubtedly

be sought by employers and help her CV stand out from the crowd,

increasing her employability. But you know it's not all about science,

weekly professional development workshops aimed at developing skills

in a range of areas were an aspect of the programme which Caroline

feels she has really benefitted from. Caroline says, "It is interesting to get

an insight into the American perspective on professional development. I

can see myself making use of the tips I have picked up, on things like

informational interviews, developing a professional web presence, which I

can see is especially important as a graduate of the summer of COVID-19,

as well as a graduate of the summer of 2020!

Jonathan Stewart, Director of the British Council Northern Ireland

recognises that challenges have been overcome, "It is fantastic to see how

the prestigious IAESTE programme has adapted so quickly in the current

circumstances to still provide quality opportunities for our university students

to gain an international experience. The Remote Internships help to provide

NI students with new technical skills while also experiencing a different

culture and ways of working from a US employer."

Online Silver linings – through the generosity of IAESTE USA and Baylor

College of Medicine, an additional seven students from Queen's University

Belfast were offered places on their SMART Seminar series. One of the

beneficiaries Tze Chang (Justin) Ng writes, "I am really enjoying myself

with the remote internship at Baylor. Their webinars, whether it be science

or self-development, have been very insightful and interesting."

So, no bags to pack, no visas to get, no flights to book – but another

memorable summer thanks to IAESTE – going global virtually in the summer

of 2020!"

58
---
Remote

workshop, real

experience

Strawberry moments during the

pandemic

Mateusz Syrycki, Poland

Students with printed masks in the hospital

The last few months were very difficult for IAESTE Poland not only as an

organisation but also as human beings. The new ways of communication

and remote working or for some of us, quarantine, changed our daily

routine. But the situation hasn't changed our love of IAESTE and the

communities that we have built.

Workshops

In Poland, apart from the exchange programme, we are trying to spread

the IAESTE mission in every possible way. So, we couldn't forfeit our

other important project, IAESTE Caseweek. Right after we realised that we

couldn't organise the workshops in the usual way, our team contacted the

companies and we continued to organise the workshops with companies

that were happy to do them remotely.

Online Conferences – Hold my coffee…

During the pandemic, we were supposed to hold our annual conference

where we share knowledge with new members. But even when the sun

is shining, government regulations are government regulations, so it was

impossible to handle the conference in the usual way, so we started

planning and a few weeks later, we provided our Local Committee

members with the knowledge necessary to work remotely, with the help

of our most experienced members and alumni.

Remote workshops are a great occasion to learn new things at home

Sometimes heroes don't wear capes

Before last year's Annual Conference, one of our interns, Noel, had

the opportunity to work full-time at the West Pomeranian University of

Technology in Szczecin. Offers like these are not very common, so it was

kind of a surprise, but due to a lot of pending work, we quickly forgot

about Noel and came back to our regular tasks. But Noel didn't let us

forget for long, because right after the start of the COVID-19 Pandemic,

in cooperation with the research team they started to print face shields for

doctors and nurses in local hospitals.

Upcoming challenges

I need to proudly say that IAESTE Poland stood up strong and firmly

during the pandemic, but the biggest challenges are still ahead of us. We

will need to work twice as hard to source internships in order to commit

fully to fulfilling the IAESTE strategy 2025.

59
---
Once Upon

a Time in

IAESTE

IAESTE tales over the years

Bojan Ristovski, IAESTE Macedonia
---
An online meeting with our Alumni

During our long experience in IAESTE Macedonia, we've had some

amazing success stories, which are spoken of even to this day.

Most of them are about some great projects with companies and

universities, but also stories from students who went on fascinating

internships and experienced the mysteries of the world, to students

who came to Macedonia with no expectations, but now wouldn't

trade their memories of their stay for the world. But this particular

success story is a quite recent one, and it's even more memorable

because it was during the Covid-19 pandemic.

It all started as an idea, as a way to try and keep in touch with our

IAESTE community and involve our new members in activities. The

idea was to get in touch with alumni and get them to share some of

their wonderful stories and moments with IAESTE. From an idea, it

turned into an event, which we decided to call "Once Upon A Time

In IAESTE", and it quickly gained attention. The way this event was

organised was online of course, and we had around 3 or 4 alumni

who started telling their "folktales" of their IAESTE times, starting

from way back in 1992 and their struggles in the beginning, to more

recent periods.

After the success of the first event, apart from new members being

engaged in this project, the event caught the attention of some of

our other older members, as well as more alumni who wanted to

share some stories and catch up with their old friends from IAESTE.

In these events, we found out about pretty much the history of IAESTE

Macedonia, from how it was formed, to our first attendance at the

General Conference and the way everything snowballed into what

we are today.

We also had a few laughs about the experience of the Summer

Reception Officers from the past and their ups and downs during those

summers, but of course, all of these stories had a happy ending. The

most anticipated event was the one where alumni talked about their

experience of their overseas internships, and it didn't disappoint. We

heard about stories from places that are far away from us and their

cultures were just fascinating. Everyone was captivated by the stories

our alumni told and overall their experience was really amazing, but

also comedic for our attention not to drift away.

This has to be one of my favourite IAESTE success stories, because for

a brief moment it made us forget about the global situation we are in

right now, and brought us closer together.

61
---
We keep fingers crossed for the Erasmus+ grant application submitted by Hungary, Iceland and Tunisia.

Erasmus+

Application

with IAESTE

Tunisia and

IAESTE Iceland

Almost a year ago we started to think about opportunities and submitting an

Erasmus+ application was one of them. Slowly but surely, we gathered the

necessary information and during the Annual Conference in Slovakia, we

discussed it with representatives from IAESTE Tunisia and IAESTE Iceland,

formed our group and started the project-planning.

During the next couple of months, we had several meetings where we

discussed the main topics, shared our ideas about the national programmes

and agreed on the timeline of our joint work. Through various informal

indoor (workshops, discussions, brainstorming sessions, solution-making,

quiz) and outdoor (trips, exploration, social ventures) activities the aim of

the project is to get to know each other, the cultural and social background

of the other committees and to see how they are doing the IAESTE-related

work. With this, we would like to raise awareness for open-minded and

respectful attitudes, where we accept our differences and use them for the

benefit of the group.

We planned the project with 25 participants (9 from Hungary, 6 from

Iceland and 10 from Tunisia) who are university students between the age

of 20-25. The application was officially handed in on the 7th of May, and

at this moment we are still waiting for the response from judges.

Working in partnership

Gábor Balatincz, Hungary

62
---
Restructuring

the committee

Grenoble, France

Romain Pasdeloup, France

IAESTE Summer Weekend in the south of France

IAESTE France, Grenoble Alpes committee was founded at the end of

2017. In February 2020, the organisation changed to make the committee

more dynamic. The team decided to be more flexible by following an "agile

model". Several projects were launched: the committee updated its website

(https://www.iaeste-france.fr/en/), increased its influence on social

networks and developed new marketing materials. The aim is to increase

the committee's visibility among students, employers, and universities. Thus,

new partnerships are being developed with French institutions.

IAESTE France Grenoble Alpes is working with Edith Bretin, an alumnus

who was an exchange coordinator for IAESTE France from 1998 to 2003.

Then, Edith remained active in IAESTE as an International Helper, then

as Ombudsperson. Today, Edith has joined the French Committee as an

advisor. Thus, the Grenoble Alpes Committee met at the end of June in a

cottage, in the South of France, for a typical IAESTE Summer Weekend.

Planned activities for the future include hikes, workshops and cohesion

activities. The team is getting ready for the new exchange year, the energy

is there. The committee hopes to open a second LC by the end of 2021.

Committee volunteers (Romain, Léa, Océane, Thomas, Maxime, Sarah,

Edith, Pierre)

63
---
Many "first-times"

for a lifetime:

Practical work

experience,

snow and hiking

in Switzerland

Internship at Paul Scherrer

Institute (PSI), Switzerland

Aditya Burla, India
---
To begin with, I had dreamed of doing an internship abroad since

the first year of my bachelor's degree. After doing a lot of research

about overseas internships, I came to know about IAESTE. Instantly,

I registered with my local committee at Manipal, India. That decision

was probably the best decision I took in my life so far.

I applied to a series of internships in various European countries

such as Spain, Germany, Poland and Switzerland. Unfortunately, all

of them were rejected as I had no prior technical experience. This

taught me that my resume doesn't have enough weight. Hence, I

started to develop my resume by doing project works and attending

technical workshops and conferences.

Finally, I obtained an offer at Paul Scherrer Institute (PSI) in

Switzerland, to work in the Surface Science lab on Ultra High

Vacuum System. Being a Metallurgical and Materials Engineering

student, I always had a very high interest on surfaces and interfaces.

My internship at PSI was the first time I had left India and was the first

time I took a flight. It was overwhelming. I had done a lot of research

on various things in Switzerland before my arrival which helped me a

lot for the smooth transition from India. The accommodation provided

in the guest house was very good, with all the required facilities.

My roommate was a very friendly guy from Northern Ireland. We

used to have a lot of fun watching the Champions League football

together. I cooked my meals everyday which brought out my cooking

skills, and many of my colleagues and friends appreciated it a lot.

What an amazing view – hiking is definitively on the bucket-list for everyone

coming to Switzerland

The internship helped me a great deal personally, as it gave me

the confidence to know that I can successfully live in a completely

different environment. I am proud of myself for living on my own for

three months in a different country and making lots of new friends

across the world.

The internship gave me a new perception towards research. My

colleagues, Mehdi Heydari and Markus Kropf assisted me in every

possible way to understand and work independently on the multichamber

ultra-high vacuum system.

The Multi-Chamber Ultra High Vacuum System at PSI Aditya was working with

during his internship

My project guide, Dr. Thomas Jung was always present for me to

clear any of my questions regarding surface science and my project

report. They were all very happy to help. As Dr. Thomas Jung is also

a Professor at the University of Basel, I was fortunate to meet his

research group working over there. During the little time spent with

them, they made everything very comfortable for me. One thing that

I learnt from my colleagues at PSI and University of Basel is the way

research should be directed. My entire perception towards research

had changed after working with them. The major difference between

65
---
working in India and working in Switzerland is the availability of

sophisticated equipment and advanced machinery which I can

operate and get hands-on experience.

Culturally, I would say India and Switzerland are similar in terms

of people of various ethnicities and usage of different languages.

During one of the IAESTE weekends (Cheese & Choc Weekend) I

had the opportunity to visit the Cailler Chocolate Factory at Broc

and a traditional Swiss cheese factory in Gruyeres. The visit brought

me closer to the Swiss culture and it was also the first time I had the

Cheese Fondue.

My favourite weekend was the Zermatt weekend. I was so excited

to be there as it was my first experience with snow. Though the hikes

were very difficult (six hours) the views from the top were worth it.

Having a bite of Toblerone while enjoying the view of the mighty

Matterhorn was simply astounding. During my stay for three months

in Switzerland I had been on around six hikes. For a person who had

never been hiking, this is definitely a big thing.

I must say that Swiss people and other friends from IAESTE have been

very lovely and supportive to me throughout my internship. IAESTE

helped me in every aspect of my internship. E.g. At the beginning

I had a problem with the insurance company. I was worried and I

had approached the IAESTE team for help. Though this might not be

a huge issue, being a person from a different part of the world, this

meant a lot of mental stress for me. IAESTE Switzerland acted timely

and resolved the problem within a few days.

I will definitely suggest anyone to try out IAESTE internships as they

are paid, and the team provides great support during the internship.

My experience was simply excellent.

To conclude I would like to say to all the students, you should try to

get an IAESTE internship - you never know what experience awaits

you. So, come to IAESTE to work, to experience and to discover.

Switzerland and India are different in many ways. One can travel

from St. Gallen to Geneva in 4 hours (i.e. almost from the eastern to

the western part of Switzerland) whereas during this drive in India,

I would only reach the next major city, being still in the same state

(yes, India is very huge compared to Switzerland). I am very much

used to the bustling cities with a lot of vehicles and people. However,

when I arrived at PSI it was very silent and calm. I really like the

pollution free and peaceful life at the guesthouse. It was a bit of a

Experience for a lifetime: first time inside the Glacier Palace and the feeling

of snow

struggle during the initial days to adjust to the timings as we have

the same daytime throughout the year. Experiencing longer days and

having dinner before sunset was a new experience. After reaching

India the things that I missed the most are the amazing views of

Switzerland and the calmness that I experienced in the Guest house.

66
---
Not Just Pretty

Packaging

Members of IAESTE NI showcasing the beauty of Belfast from Cave Hill to our trainees

Dungannon, N.Ireland

IAESTE Northern Ireland

Greiner Packaging is a relative newcomer to the IAESTE family in

Northern Ireland, serving as the sole Greiner site within both the UK

and island of Ireland, its site located in the town of Dungannon serves

as a key player within both the British and Irish dairy industries.

Chances are if you take a stroll down any supermarket in the country

you will find many of their products on their shelves.

To this day Greiner remains a family-owned company, which has been

one of the key components to its success over the years, operating

in over 34 countries, ranging from Austria to Thailand. Greiner has

sites at 140 locations, with over 10,700 employees worldwide. Not

only an expert in the packaging sector, but Greiner also has divisions

called Greiner Foam, Greiner Bio-one (biotechnology, diagnostic

and pharmaceutical industries) and Greiner extrusion, which all

contribute to its 1.6 Billion annual revenue.

In September 2018, shortly after returning from a 12-week IAESTE

internship at Wanhua Chemical Group in Yantai China, Paddy Martin,

a former LC president of the NI IAESTE Local Committee returned

home to begin a 12-month placement at Greiner Dungannon, which

he had secured via video call while still in China. When asked about

his experiences Paddy told us:

"I've always felt that new experiences and venturing outside your

comfort zone are the only way to develop new skills and for me,

IAESTE gave me the opportunity and nudge I needed. IAESTE

promised paid, international work experience, but, I gained so much

more than I ever expected, from learning more about the who I was

as a person and what motivates me, to what I want from a future

career. I wouldn't be surprised if having IAESTE on my CV was what

gave me the edge when applying to Greiner. While completing my

67
---
year at Greiner, I also served as an active local committee member

and actively encouraged Greiner to see what all the fuss was about

when it came to IAESTE and sure enough in August 2019, Vanessa

Mathew was the successful candidate to be employed as Engineering

placement student at Greiner through the IAESTE exchange.

Naturally, I felt that Greiner and IAESTE were perfect for each other,

both have strong values and a real drive to make a positive impact

in what can sometimes seem a very bleak world. Even as I write this,

IAESTE has been helping many NI students find work offers for the

year ahead after many companies were forced to retract placement

offers for NI students. In the same vein, Greiner has been donating

much welcomed and needed supplies to both key workers and areas

of Northern Ireland most affected by the coronavirus pandemic.

Where some people might only see a plastic packaging company,

to me Greiner is so much more, they have not only invested in me,

helping me gain new skills and experience, but they have also ticked

almost all of my wish list when it comes to a future career. . . . . well,

I guess thinking I could jump from intern to CEO right away was a

bit unrealistic.

On a more serious note, it is hugely satisfying and fulfilling to know

that I work supporting those who are helping to reduce plastic

pollution through the creation of more and more innovative and

sustainably made packaging. In the last year alone, Greiner has led

the way in helping its customers switch from packaging made from

polystyrene to alternatives made from polypropylene or PET as part

of efforts for companies to become more sustainable. When Greiner

offered me the opportunity to remain employed around my studies in

their New Product Development Department I jumped at the chance.

Vanessa enjoying one of Northern Ireland many natural beauty spots at White

Rocks beach Portrush

68
---
I can honestly say I never thought it possible to get so excited by a

plastic pot but to see a novel concept taken from an idea to finished

product in a matter of months is really what engineering is all about."

During the summer of 2019, Vanessa Mathew had completed her

very first IAESTE internship with Queen's University Belfast in machine

learning. She fell in love with Northern Ireland's people, culture and

nature, deciding to take a leap of faith and applied for another

IAESTE internship and this time it was with Greiner Packaging,

Dungannon. When asked about her experience in Greiner, Vanessa

told us:

"It was definitely a new and great experience of adapting to the

work ethics and culture within a Northern Ireland company. People

are friendly and ready to help as well as the depth and experience

that individuals had in respect to their roles just goes to show that

they not only talk the talk but also walk the walk. The company is

also invested in their employees and this shows through continuous

improvement and management training, excellent apprenticeships

programme, as well as an open line of communication between

employees and upper management, to name a few. Greiner is keen

on uplifting its employees to be key innovators and problem solvers

and for me, that has been one of the most important lessons learnt

Greiner Packaging is a family-owned company, which has been one of the

key components to its success over the years. It operates in over 34 countries,

ranging from Austria to Thailand. Greiner has sites at 140 locations, with over

10,700 employees worldwide.

here. Every day brings a different challenge, and this keeps me

motivated to try to think out of the box."

IAESTE NI would like to take this opportunity to thank all of our

partner companies and institutions like Greiner, with whom we hope

that through connections such as Vanessa and Paddy we create the

foundations for a deep and long-lasting friendship with the company.

The local committee showing off one of the many outdoor activities available in

NI during our annual retreat

Keep your eyes peeled, IAESTE NI has continued to grow from

strength-to-strength over subsequent years, we are deeply committed

to providing only the best for our partner companies and institutions,

our outgoing interns from Northern Ireland and indeed all of our

incoming students from further afield.

69
---
Civil

Engineering

Endeavours

Austria and Korea

Workshop Seminar Fun in Gmunden, Austria

My Professor and Mentor During My Time in South Korea

My name is Kyle Johnston and I come from Belfast, Northern Ireland.

Recently I was awarded a Master of Engineering in Civil Engineering

with First Class Honours from Ulster University located in Belfast.

However, I believe this achievement would not have been possible

had I not embarked on two successful IAESTE Internships abroad in

Vienna, Austria and Daejeon, South Korea. Each of these internships

provided me with an insight into work life in two unique parts of

the world and provided me with the work ethic which is required to

succeed and university.

During my time in Vienna I worked at the Technical University of

Vienna where I took up a student research role. This role included

research into topics such as how streetscapes and pedestrianisation

has shaped the city of Vienna from the 1850s to present and barriers

to how Austrian public transport can be adapted and modified to be

more user friendly to those with limitations. As a Civil Engineer who

is particularly interested in the Highways and Transportation sector,

this internship was perfect for me and I learned a lot during my three

month stay. Fortunately, it wasn't all work work work during my time

Kyle Johnston, Northern Ireland

Souvenir Shopping in Seoul

70
---
in Vienna as I was lucky enough to embark on a work-related trip to

Gmunden (a town in upper Austria) – the views were spectacular,

and it was great to socialise with my new work colleagues outside

of the office.

Thankfully, my IAESTE journey did not stop there in Austria and the

following summer I was given the opportunity to travel to Daejeon,

South Korea. During this internship, I was introduced to a seismic

data processing laboratory and tasked with processing seismic data

to create high-quality subsurface images. Although these tasks were

closely linked with Petroleum Engineering, I had recently completed

my bachelor's in civil engineering and was up for the challenge of

a new discipline. I worked hard and learnt a lot during my time in

South Korea.

The whole experience in South Korea was unforgettable. From the

kind gentleman from IAESTE Korea who made me feel comfortable

after 30 hours of travelling from Dublin, to my mentor and professor

who provided me with all immediate amenities – I will never forget

their kindness. Having never visited Asia before, working and

living in South Korea is something a boy from Belfast doesn't get

the opportunity to do so often so I decided to make the most of

the experience. My accommodation was on-campus, although very

basic it provided me with everything that I could have wanted with

many amazing food restaurants within a 15 minutes bus ride. On

my internship, I met a lot of other amazing interns and friends from

across the globe, including Russia, India, the Philippines, Malta and

Greece. A special mention Karl (Malta) and Stelios (Greece), who

undoubtedly made the whole South Korean a lot more fun as we

visited many places on weekends including Seoul, Busan and Jeju

Island.

Kyle together with Karl (Malta) and Stelios (Greece), who made the whole

South Korean a lot more fun for him.

I would like to take this opportunity to thank IAESTE and Mary Mallon

of the British Council whose patience and excellent guidance has

allowed many students from Ulster University and Queens University

Belfast to embark life-changing opportunities. Personally, these

experiences have helped develop my passion for Engineering and

achieve my full potential at University.

71
---
The IAESTE

committee of

Stockholm

Sweden year

1987

Still cooking!

Cecilia

Soup to start with - Nina, Kjell, Katalin

and Stefan in the year 2002
---
Back in the Summer of the year 1987, we were a group of students from

the Royal Institute of Technology (KTH) who organised the welcome for

engineering students coming to Stockholm in Sweden. The students came

for jobs and internships which were provided and shared through IAESTE.

We ensured that there were lots of activities in order to meet both local

and foreign IAESTE students, find new friends and experience the best of

Stockholm. We organised weekend trips for sailing in the archipelago,

canoeing on some smaller lakes and weekends focusing on tourism in

Stockholm. To the Stockholm weekends, we also invited the IAESTE students

based in Oslo, Helsinki and Copenhagen. We organised weekly evenings

to drink beer and several parties. One big party was the Swedish traditional

midSummer's eve party in the Royal Institute of Technology's summer lodge

located in the archipelago. For the party, we expected that about 80

persons would come and we were very surprised, but happy when 130

showed up. One student even brought his mother!

We in the committee continued to support IAESTE and some of us were in

the last years of the 1980:s able to travel and work abroad through IAESTE

or other organisations.

Main course – Cecilia, Katalin, Helena and Nina in the year 1994 Dessert – Tommie, Inger, Anders, Cecilia, Kjell and Nina in the year 2017

• Inger was two months in Vienna in Austria and worked at ÖMV, an

oil refinery site.

• Stefan was two months in Czechoslovakia and worked at the University

in Ostrava.

• Nina was two months at Clarkson University, New York state, US and

worked with research in colloidal chemistry.

• Cecilia was four months in Brazil and worked at the university in

Campinas (UniCamp) with environmental research. She also helped

out at the IAESTE exchange conference held in Sao Paulo 1990.

As a team, we had a lot of fun and in the early 1990:s when we all had

finished our studies, we decided to continue to meet on a regular basis. We

decided to cook gourmet dinners together and since then - for more than

30 years - we have met every two to three months to cook. Many menus

have been inspired by our visits abroad. The only rule is that it must be a

three-course dinner with dishes we have never cooked before.

...and yes, our cooking skills have improved several levels since we started!

Best wishes from

The IAESTE Committee of Stockholm 1987

Nina, Inger, Katalin, Helena, Stefan and Cecilia

73
---
IAESTE

Friendship to

Last for

over 40 Years

IAESTE family: mother, son and dad who have been on IAESTE internships.

Was Mario inspired by his parents, who met during IAESTE internship?

An IAESTE family!

When we invited our alumni from many years past to share their

IAESTE stories, we weren't quite expecting to learn of something

so life-changing, and cross-generational. In 1979, Spanish student,

Virginia Cortés Tarancón travelled to Germany for her internship,

not knowing that she would meet her future husband, also an

IAESTE intern from Italy!, and even more impressive, that some 40

years later, her son, Mario Musicò Cortés would also become an

IAESTE intern. We certainly haven't heard of such an IAESTE related

family before!

Mario has done IAESTE internships in Poland, 2017, Turkey 2019

and lastly at Electrolux, Italy, in 2019. In fact, he has just been

permanently employed by Electrolux after a successful year

interning for them. Let's hope that one day, Mario has children and

then too can undertake an IAESTE internship!

I thought that I could learn German in the same way as I learnt English:

1-year of autonomous studying + 1 month of local practice. And at

the same time, I could have some hands-on practice in the laboratory

at the prestigious Institüt für KernTechnik in Western Berlin (before the

Wall was removed and Germany reunified). I had just finished my

4th year of 6-year industrial engineering studies at ETSIIM (Industrial

Engineering School of Polytechnic University of Madrid) and I was

in charge of IAESTE at that School for the third year… But nothing

happened as expected. It was the summer of 1979.

I arrived late to the student residence and it was Saturday, so the

person at the reception left just after giving me the key for my room.

In August, the residence was almost empty with no German students,

but other students stayed, from Mali, Turkey, Bolivia, Egypt, … I was

unable to find the toilets for girls, till a Japanese guy explained

that the only bathroom was common for men and women and then

I discovered that showers had no doors or curtains…! The guy from

Virginia Cortés Tarancón

74
---
Bolivia was leaving and he gave me his cutlery and some good

advice and in the supermarket I met a Spanish-looking guy that

happened to be Italian. There were very few women at the student

residence, basically a Yugoslavian and myself. During my stage,

I never spoke German, not even at work, where everybody managed

communication in English.

It was a very interesting month, because I could work with very new

electronic equipment and because Berlin was really interesting at that

time. It was the time when the Brandenburg could only be seen from

500 meters away standing over a platform, when civilians could

only reach Eastern Berlin through the subway after an exhaustive

checking (Checkpoint Charlie was used only for special military/

espionage reasons), when the only expansive activity for Berliners

was swimming at the near Wannsee lake (everything else was more

than 300 kms away in Western Germany because a huge fence

surrounded the city and the access corridor). Berlin was full of foreign

students because they were strongly welcomed and even invited, the

reason being that German students felt that the city experience was

very distressing because of isolation and only those Germans who

were pacifists were studying at Berlin University (they were relieved

from military duties if studying in Berlin). It was the time when you

could go out every night to a different place in Berlin with the Subway

or S-train and so did I with friends and the very special Italian friend.

We promised to come back to Berlin in 2000 if we were together by

then, but that was 21 years ahead …

We could not meet again as we planned later that year in September,

because I was heading to Montecarlo-Monaco and he went to Munich

(Germany) because in Italian is called "Monaco". We could not meet

the next Christmas in Padua where he was studying, because he was

in the hospital. But we finally met some days in the summer of 1980

when I was on the way to Athens for a second IAESTE internship

and stopped at Bologna train station (curiously, just 1 hour before

the terrorist attack that killed more than 85 people). We met again

during Easter 1981 near Milan where he was then working, and

then he invited me to visit his parents in Sicily. We married in August

that same year, less than one month after I finished graduation. We

came back several times to Berlin, especially in 2000, but the ALDI

supermarket where we met was not there anymore…

Article was written in the summer of 2020 by Virginia (Mario's mum), with the

IAESTE Italian 'friend' recovering from near-death Covid-19 experience.

After 40 years exactly, that is, in the summer 2019, that 'friendship'

that started thanks to IAESTE is still alive and our son finished the

same Industrial Engineering bachelor's in the same University as

me and he has revived the IAESTE delegation in our faculty, also

doing stages in Warsaw, then Istanbul and now in Italy as part of

the Electrolux's Global Engineering Program that has just recently

launched with IAESTE as worldwide collaboration.

Virginia Cortés Tarancón.

75
---
Unforgettable

Experiences

Friends for life

Research into depositing nanoparticles on carbon fibre reinforced polymers at

EMPA

The year I spent in Switzerland was the best in my life yet. Working as an

intern in EMPA, my research focused on depositing nanoparticles on carbon

fibre reinforced polymers in order to make a stronger material. Drawing

from my background as a Chemistry student, as well as exploring the

field of materials science made this internship challenging and rewarding.

Knowing that the materials I've researched could be used in the future,

in structures ranging from aeroplanes to wind turbines brought tangible

relevance to the work I did.

IAESTE in Switzerland has the trademark Swiss quality, it is exceptionally

strong and well-organised. The weekends organised throughout the year

took full advantage of the gorgeous backdrops and scenic cities present

Gorgeous backdrops and scenic cities

in Switzerland. Furthermore, these trips proved to be great bonding

experiences with the other interns spread throughout the country, with LC

Zurich, in particular, having weekly meetups to keep in touch on a regular

basis.

I have made friends for life and had experiences I will never forget doing

my internship. I will forever be in debt to IAESTE for giving this chance and

I hope to give back in the future by playing a role in the Northern Irish LC

back home.

Anwin Robin, UK

76
---
An IAESTE Trip

to Franco's

Spain, 1960

Dick Weekes, UK

Long long trail.

Towards the end of my second year in the Metallurgy Department of the

University College, Swansea I needed summer work in the Metals industry

and through IAESTE I was pleased to be accepted for a position in the

Steelworks of Patricio Echeverria in Legazpia, northern Spain.

I was the owner of a well-proven 1933 Morris Minor so settled on that as

my transport. My sleeping arrangements for the journey were also taken

care of by temporarily removing the passenger seat, a sleeping platform

then placed my head in the back of the car and my feet cosily under

the dashboard. An impressive array of documents had to be gathered,

customs papers, an international driving licence, insurance green card

and a bail bond as one was likely to be locked up if involved in an

accident in Spain. More comforting were emergency traveller's cheques

provided by the RAC and denominated in Swiss Francs.

I was wise to leave home that summer. I was in trouble in University

having spent too much time on the Student Rag Week charity fundraising

activities and the resulting, fortunately temporary, exclusion had caused

frostiness at home. Happily, three months later my family was pleased to

see my safe return.

My adventure really started at Dover and it was a thrill to be ushered

onto the ferry. I have crossed the Channel many times since then but

that first view of Calais Town Hall coming up out of the sea remains a

special memory. I rattled out of Calais in good style, negotiating my first

anti-clockwise roundabout and I put a good few miles under my wheels

before camping for the first night, finding time to write a postcard home

from 'Somewhere in France'.

Thinking my inexperience in French city driving would get me into trouble I

skirted Paris to the west and arriving at Le Mans I drove down the famous

San Sebastian sign.

Mulsanne Straight, reliving at a distinctly slower pace the exploits of

the heroes in the 24 hour races. Then on to Tours where an 'Interdit aux

Forains' sign at a campsite bothered me for a while until I worked out that,

despite the appearance of my vehicle, I would not be expelled for being

a Gypsy. On then, following the route of many early motoring pioneers,

the road from Paris to Bordeaux.

I had allowed a week to get from Calais to Spain and was well ahead

of schedule so diverted through the thickly forested Landes country to

Arcachon on the coast. There, I treated myself to lunch in a bistro but a sign

'free bottle of wine with every meal' necessitated a long walk afterwards.

Ending up in Biarritz I put up at the Camping Chambre d'Amour, very

inappropriately named as far as I and my sleeping arrangements were

concerned! A day or so later on, I went again, enjoying the brilliance of

the southern sun at St Jean de Luz and finally reaching the frontier at Irun.

Here the police and customs officers seemed to me to be very relaxed,

despite their bristling revolvers, and let me into Spain with little formality.

Then, via San Sebastian to my destination in the hills, the industrial town

of Legazpia.

My lodgings were in a local bar, the Toki Alai, Good Place in Basque

and my hosts were a pleasant couple, helped by their three daughters.

Fortunately, the eldest daughter Maria Angeles, spoke a little French as

I had gone to Spain speaking no Spanish but thinking that I would not

be far over the border with France and that French would be understood.

Very wrong! The isolation of Spain brought about by Franco since 1938

was almost complete. In fact, there was a rueful local saying 'Africa begins

at the Pyrenees' and later when I unwisely produced a travel booklet my

friends were indignant to see a map in it which cut off the whole Iberian

peninsula. 'There you are, Africa begins at the Pyrenees!'

77
---
The works had an interesting background. It had been founded by one

man, a blacksmith, Patricio Echeverria, early in the 20th century and by

his hard work and entrepreneurial drive it had grown into a full-blown

steelworks making raw steel in arc furnaces and turning out an impressive

range of alloys for tool making on-site and supply elsewhere as semifinished

products. Don Patricio, the founder had retired but his son, Don

Jose, had been to Sheffield University in the 1920s and was well disposed

towards Britain, doubtless accounting for the IAESTE connection.

My colleagues at the Steelworks metallurgical laboratory were very

welcoming and I was soon involved in breaking tensile test pieces and

learning to count very rapidly in Spanish. A tour of the works showed

intense activity with many cranes transporting bundles of steel but I was

warned not to go to the Works unaccompanied, 'Muy peligroso', very

dangerous. This was brought home to me when the laboratory had to

test chain slings, not made by Echeverria, which snapped at well below

the American proof test standards and the wisdom of the Muy Peligroso

advice was emphasised.

The Bar Toki Alai served as a staff canteen with a good local menu,

washed down by glasses of local red wine at a peseta a glass, about

a penny ha'penny in old money. I found this wine horrid and I took to

ordering a bottle of beer at about four pesetas. I soon found though that

I was offending etiquette on two counts, firstly four pesetas was considered

wildly extravagant and secondly, the bottle should be decanted into three

or four glasses and shared with one's friends.

Colleagues would also gather at the Toki Alai in the evenings and

my English lessons became popular. My star pupil, Ignacio, found his

vocabulary unexpectedly increased through a study of table cutlery and

mispronunciation of 'Fork' which, when explained, set him laughing

helplessly with that Spanish laugh from the back of the throat which denotes

appreciation of something a bit rude. Ignacio also involved me in more

linguistic embarrassment by taking me home to meet his wife who greeted

me formally with many 'Mucho Gustos'. My phrasebook studies deserted

me, such formality was unknown in the Toki Alai and an instant row broke

out between man and wife which I learned later was on the lines of 'What

are you teaching this boy in that steelworks, he's got no manners at all!'

It was still the custom for the young people of the town to promenade in

groups segregated by gender up and down the pavements on opposite

sides of the road on fine evenings. Any departure from this was seen as a

commitment so when I was seen speaking more than once to a French girl

I was cornered in the Toki Alai by Maria Angeles, the eldest daughter who

hissed at me in Spanish 'Do you have a fiance in England' No, I replied.

'Well, do you have a fiance in Legazpia' No, again. 'What about Elena?'

Toki Alai with workmates.

Oops, the end of a beautiful friendship!

Every local village held its own fiesta and my friends would enlist me

and my car as transport. Another outing took us to a Txistulari festival.

The Txistul is an instrument similar to an English eighteenth-century fife

and drum. This had previously been banned by Franco as a symbol of

Basque unity but was just beginning to be permitted again and here,

my friends said, was an unmissable event, providing I would drive them

there. The din of perhaps a hundred of these instruments in a sports hall

was unbelievable, however, my friends enjoyed the Basque atmosphere,

perhaps more than the music. This trip resulted though in a visit from the

town taxi proprietor who complained that I was pinching his business. The

fact that my Morris was already becoming a museum piece didn't matter,

in his eyes, I was a wealthy young sprig who could well afford to use the

town's taxi service!

The annual works shutdown coincided with my visit so other plans were

required but first I had to approach the works cashier for money. Pocket

money was promised under the IAESTE scheme but so far nothing had

materialised. 'I am the English student and I need money' I said. He

looked a little surprised but handed over twenty or thirty pounds worth

of pesetas. This wasn't bad as it would be four or five hundred pounds at

present values. I knew by then that the Spanish country roads would be

hard on the Morris but I wanted to get to the Mediterranean so headed

back into France and crossed the neck of the peninsula, ending up in

Collioure, a fishing village not far from the Spanish border.

Collioure had long been a refuge for artists, not least Picasso who had

left, probably now priceless, cartoons as gifts to local bars. Before long

Echeverria advert.

I met two present-day artists, Robert and Andre. Robert had arrived

conventionally in Collioure by rail but Andre was spending the summer

travelling from Belgium by donkey and cart and meeting, so he said,

many lonely housewives on his travels. Tragically in Collioure, his donkey

had eaten metaldehyde fuel tablets and died. He was stranded there,

living in a hut in an orchard, his cart parked forlornly with its shafts in

the air and his donkey represented by a large heap of earth over its

grave; a new donkey was required as Andre planned to continue his

journey to Gibraltar. Funds were urgently needed, Andre and Robert had

a profitable sideline dashing off paintings of Collioure and selling them to

holidaymakers. My artistic talents being non-existent, I was enlisted to sell

newspapers, I can still hear myself croaking 'Le Midi Libre' on my rounds.

Sadly I had to leave before Andre did but I am sure his charm got him into

many more adventures before the summer ended.

78
---
Legazpia – Fiesta time. Collioure, Me with Christine, Robert, Andre. Biarritz with car.

On my return journey to Legazpia I wanted to see some of the towns

of the Pyrenean foothills. I left Collioure early and rolled into Perpignan

where I met an unfriendly Gendarme who blew his whistle at me and

accused me of passing a red light, eyeing my car suspiciously. 'Papers'

he demanded. He thumbed through my passport. 'Hm, twenty years

old, when you are twenty years old you must be very careful. Now clear

off!' Which I did, grateful for his paternal advice. My route took in the

hill towns of Quillan and Puivert, here roadside signs consoled me with

'Encore un effort'. On to Foix and out of the hills to Pau. The back to

Biarritz, San Sebastian and Legazpia.

Another month went by and soon it was time to leave. I loaded my car

up and as I said farewell one of the Toki Alai daughters asked 'When will

you return to Legazpia?'. I said 'Otro ano', another year, but she thought

I said 'Ocho anos', eight years. She repeated 'Ocho anos' in amazement

and I drove down the street for the last time thinking 'Eight years, where

will I be by then'. 1968 seemed impossibly

distant, in fact, my future was predictable in a way, a steady job, nice wife,

two little children, difficult to imagine though in 1960 at twenty years old.

I travelled back via Paris, putting up in the Camping Bois de Boulogne

and ventured up to the centre in the car, negotiating the Arc de Triomphe,

scary 60 years ago and surely much worse now. I arrived home to a more

welcoming atmosphere and sat down to one of my Mother's ample teas.

My 11-year-old brother came in and plonked himself down at the table,

ignoring me and finally, my Mother said brightly 'Richard's home'. My

brother looked up from his tea. 'Where's he been' was all he said.

Collioure today (Wikipedia).

Legazpia Echeverria steelworks.

My brother might have been unimpressed by my trip but in fact, it was a

most valuable experience, made possible by IAESTE. I matured a little, resat

my second-year exams and completed my degree. Nearly forty years of

interesting jobs in the South Wales steel industry followed, mostly technical

and managerial in works environments which, I came to realise, suited

me better than gleaming laboratories. In retirement, I help restore steam

locomotives at my local heritage railway and still have my faithful 1933

Morris. All in all, at 80 I am having an interesting life towards which my

Spanish experience made a significant contribution, Thank you, IAESTE!

79
---
IAESTE

Organisation
---
IAESTE Organisation

General Conference

The General Conference possesses full power to take formal decisions for

the fulfilment of the Aims and approves the budget and regulations of the

Association. It is comprised of one delegate from each Full Member country

and it elects the President, the Board, meeting every year in January. The

General Conference also admits new Members of the Association.

Board

The Board implements the Association's policy and decisions approved

by the General Conference, initiates activities supporting the Association's

policy in general and provides strategic direction to the Association. The

Board is composed of five members. It is composed of the President and

four members. The Board elects from the four members one as Secretary

and one as Treasurer.

• President:elected by the Members to convene and chair the board

meeting. The President represents the Association at the international

level.

• Secretary:responsible at the higher directive level for the international

administration of the Association, and acts as the active conduit for

communication and custodian of the proceedings of the Association.

• Treasurer:responsible for the finances of the Association.

National Committee

National Committees represent the Member countries and are composed

of persons representing academic, industrial and student interests.

National Committees are responsible for administration of the IAESTE

exchange programme.

Local Committee

Local Committees represents the national committee throughout the country.

Usually they are located at universities and are run by volunteers.

Support Team

The Support Team is a team of people working for IAESTE on an

international level with the target to implement (under the supervision of

the Board) the strategic direction provided by the General Conference.

The team is led by the Head of Operations.This includes carrying out

day-to-day business, fostering knowledge sharing between members of

the association and creating fundraising opportunities for IAESTE A.s.b.l.

Besides these general tasks all team members have their own area of

responsibility, where they focus on developing new concepts for the further

development of our association.

ITS: Internet Technology Services Team

The IAESTE Internet Technology Services Team, ITS, provides IT services

for IAESTE. Anything surrounding the Exchange Platform, IAESTE internet

domains and emails is the responsibility of the ITS.

Ombudsperson

The function of the Ombudsperson is to be an impartial mediator between

a student or group of students who feel they have been disadvantaged by

a person or Organisation representing IAESTE.

82
---
IAESTE Organisation

Who is

Who:

IAESTE Organisation

IAESTE Board & Support Team (from the left), Mark Feichtinger, Valentina

Carrasco Rosales, Bruce Wicks, Kristýna Šimková,Thomas Faltner, Olga

Legacka, Marcin Jaworski, prof. Karunakar Kottegar, Kushagra Sharma.

Board Members

Thomas Faltner, IAESTE President, IAESTE Austria

Dr. Karunakar Kotegar, Board Member and Secretary, IAESTE India

Kristýna Šimková, Board Member and Treasurer, IAESTE Czech Republic

Marcin Jaworski, Board Member, IAESTE Poland

Mark Feichtinger, Board Member, IAESTE Austria

Representatives of the Board to the UN and its Agencies

DPI/UN – New York – Dr. Pulat Pulatov, Mr. Thomas Faltner

ECOSOC – New York – Dr. Pulat Pulatov, Mr. Thomas Faltner

UNIDO – Vienna – Mr. Thomas Faltner, Mr. Mark Feichtinger

World Bank – Washington – Mr. Thomas Faltner

OECD – Paris – Mr. Thomas Faltner

European Union – Mr. Thomas Faltner, Mr. Mark Feichtinger

UNESCO – Paris – Mrs. Olga Legacka

UN in Geneva – Mrs. Kristýna Šimková

Ombudsperson

Elsa van der Kooi

Internal Auditors

Dan Ewert, IAESTE USA

Anders Fredén, IAESTE Sweden

Support Team

Bruce Wicks, Marketing, Fundraising & Relations Manager

Kushagra Sharma, IT Manager

Olga Legacka, Head of Operations

Valentina Carrasco Rosales, Exchange Quality Manager

83
---
Good reasons to host IAESTE trainees

Broaden your horizons. IAESTE trainees bring an international

dimension to the workplace as well as fresh ideas and different,

often innovative perspectives. IAESTE trainees are ideally placed

to carry on short-term projects and to help to develop new business

opportunities overseas.

Strengthen the intercultural competencies of your team. Your

employees will gain intercultural communication skills, be more

eager to use foreign languages and become more open to others

Expand your business outreach. Hosting a foreign trainee is

an excellent opportunity to learn about foreign markets and the

technological expertise of other countries. IAESTE is a great way

to build contacts and cultural links, as well as ambassadors for

your company. You will become part of the international, 3000+

community of IAESTE employers.

Contribute to society by supporting the IAESTE mission to

promote international understanding. Hosting foreign trainees

can contribute to your social responsibility strategy (CSR). You are

supporting foreign youth by creating an opportunity for them to

gain valuable work experience, and also you create a chance for

your local student to go abroad in exchange.

Why to

receive

international

trainees

Highly skilled trainees with STEAM educational backgrounds.

We offer access to a huge pool of Science, Engineering and

Applied Arts students and recent graduates in over 87 countries

and 1000+ universities.

Hassle-free recruitment procedure. Students are carefully

selected by the IAESTE staff in the sending country, verified by the

receiving IAESTE committee and presented to you as candidates

in the third step. Once a student is accepted, IAESTE will provide

the necessary expertise in navigating necessary visa/work

authorisation and support/arrange accommodation as well as

take care of the social integration in your country.

84
---
We are IAESTE

How to

receive

international

trainees

Contact the IAESTE

committee in your country

You accept the

student

IAESTE exchange programme is

• Business oriented: IAESTE trainees are ideally placed to carry out

short-term projects and to help develop new business opportunities

overseas.

• Intercultural experience: IAESTE students bring an international

dimension to the workplace as well as fresh ideas and different, often

innovative perspectives. Your employees can and will develop people

management and intercultural communication skills.

• Impact on the society & young generation: by offering an IAESTE

placement to a foreign student, you also give a student in your own

country an opportunity to go abroad and acquire knowledge of other

cultures and levels of technology.

Employer led and hassle-free process - who does what?

Employer

• Employer stipulates criteria such as: subject area; specialisation; level

of study; technical experience, language requirements and duration.

• Employer provides a plan for the traineeship and supervision during

the traineeship

Submit an offer of

training

Visa/work permits are

arranged by the IAESTE

office in your country

The offer is exchanged

with another country

Accommodation and social

reception arranged by

IAESTE in your country

• Employers are expected to pay students a wage sufficient to cover

their cost of living during the actual training periods. Students must

be insured against accidents and illness and they also pay their own

travel costs.

• Evaluation of the training at the end of the placement. (Employer's

IAESTE

feedback report).

• Students are selected according to employers' requirements through a

stringent, 3-tier selection process from a pool of over 1000 universities

worldwide

IAESTE foreign committee selects

and nominates the best student

according to your criteria

Training and intercultural

experience

• IAESTE in your country will handle all the paperwork entailed in the

exchange procedures such as:

– Work permit, visa and tax card if required

– Trainee's accommodation

– Valid insurance covering the period of their placement

– Travel arrangements

– Reception on arrival and an organised programme of

eventsduring the traineeship itself

– Keep the employer informed of ongoing matters

• Letting IAESTE take care of the details will leave you hassle-free to

get the most out of the traineeship, while your intern will be socially

integrated in your country.

Student's nomination

is presented to you

Employer report form

completed

85
---
Our partners:

Electrolux: Electrolux shapes living for the better by reinventing taste,

care and wellbeing experiences, making life more enjoyable and

sustainable for millions of people.

IAESTE works with Electrolux to provide them with interns for their Global

Engineer Programme. We provide a central contact point and liaise with

our member countries to provide only the best students. We then support

the students through the application process and through their internship.

It is a relatively new partnership but we are delighted that three IAESTE

trainees will be joining the Electrolux programme this year.

Mondi: Mondi is an international packaging and paper Group,

employing 26,000 people in production facilities across 31 countries.

In 2013, Mondi had revenues of €6.5 billion and a return on capital

employed (ROCE) of 15.3%.

Mondi have been supporting IAESTE for many years, both internationally

and on a national level. We help them to promote their vacancies, using

our pool of talented members to help find the right applicants. We also

promote the Mondi brand through our website and social media.

Carrer

Partners

electrolux.com

mondigroup.com

Partnering with IAESTE means reaching the right people

for your business

Companies play an essential role in the IAESTE programme by providing internship opportunities to foreign students. We also partner with companies to

help them in other areas through our Career Partners programme.

Because of our vast network of students and alumni, we can provide access to targeted groups of young people and professionals. We also only partner

with companies whose product or service complements our existing services to students or alumni.

Some of the areas in which we work with partners include:

Global recruitment – Helping to find the right people for permanent jobs

Global Internship programmes – Acting as a hub and single point of contact for companies that wish to find interns for their offices in different countries

Product promotion – Promoting relevant products, services and opportunities to our large network via our monthly newsletters, social media and events

Reaching the right people nationally, or globally, can be a difficult task. Partnering with IAESTE means accessing switched-on, skilled, motivated,

experienced people from all over the world.

If you're interested in partnering with us, drop us an email to info@iaeste.org

86
---
Supporting our mission has never been easier

Since its inception in 1948, IAESTE has been

a non-profit organisation with the sole aim of

helping young people around the world develop

their skills, experience and making the world a

better place.

Compared to similar organisations, IAESTE

operates on a much smaller budget, preferring

to focus our energies on providing affordable

opportunities to as many students as we can.

Cost should not be a prohibitive factor for people

thinking of doing an IAESTE internship and we

are proud that each and every internship through

IAESTE is paid.

Supporting that mission has never been easier.

Whether you are an alumnus of IAESTE, a member,

company or just someone who shares our values,

you can contribute to our development fund and

every penny we receive is spent supporting the

development of new and existing IAESTE member

countries, enabling them to get up and running, or

increase their exchange, bringing more chances

of an internship to the young people of the world.

You can donate to the development fund via this

link: https://iaeste.org/donations

We are grateful for any contribution, no matter

how big or small, and will always let you know

where your money has gone and the difference it

has made to the association.
---
IAESTE Employers &

Academic Institutions

2019/2020

Each year at our Annual Conference we give eligible IAESTE employers an award for long service and

quality of collaboration with national committees. We value and appreciate our employers and these

awards are just a small way of saying thank you for their continued contribution to IAESTE. Without them

there wouldn't be an IAESTE exchange programme!
---
FEops

Employer award for 5 years of cooperation

FEops' mission is to create unique,

predictive, personalised computational

modelling and simulation solutions

for structural heart interventions that

empower medical device manufacturers

to bring superior products faster to the

market and enable physicians to improve

clinical outcomes. They have received at

least 1 IAESTE trainee every year since

2015, and are always very welcoming

to international students.

Septentrio

Employer award for 10 years of

cooperation

Septentrio, designs, manufactures and sells

highly accurate GPS/GNSS receivers,

for demanding applications requiring

accuracies in the decimeter or centimetre

range, even under difficult conditions. In

their 10 years of cooperation with IAESTE

Belgium, they have received over 30

trainees from 3 continents.

Thank You IAESTE Employers &

Educational Institutions!
---
IAESTE Worldwide

Members and Co-operating Institutions

Full Members:

Argentina Comité Argentino del IAESTE, Ministry of Science, Technology

and Productive Innovation (1961)*

Australia IAESTE Australia (1996)*

Austria IAESTE Austria (1949)*

Belarus IAESTE Belarus, Ministry of Education of the Republic of Belarus

(2000)

Belgium IAESTE Belgium Vzw (1948)**

Bosnia and Herzegovina IAESTE Bosnia & Herzegovina (2000)

Brazil IAESTE Brazil, Abipe (1982)*

Canada IAESTE Canada (1953)*

Colombia IAESTE Colombia, Universidad de Ibagué (1995)*

Croatia IAESTE Croatia, Hrvatska Udruga Za Medunarodnu Razmjenu

Studenata Prirodnih I Tehnickih Znanosti (1993)*

Cyprus IAESTE Cyprus, Cyprus University of Technology (1980)*

Czech Republic IAESTE Czech Republic (1965)*

Denmark IAESTE Denmark, Polyteknisk Forening (1948)**

Deutsches Komitee der IAESTE (1950)*

Ecuador IAESTE Ecuador, Universidad San Francisco de Quito (1999)

Egypt IAESTE Egypt, Faculty of Engineering, Cairo University (1961)*

Germany IAESTE Germany, Deutscher Akademischer Austauschdienst (1950)*

Ghana IAESTE Ghana, Kwame Nkrumah University of Science and

Technology (1970)*

Greece IAESTE Greece, National Technical University of Athens (1958)*

Hungary IAESTE Hungary, Magyar Mérnökhallgatók Egyesülete (1983)*

India IAESTE India (2001)

Iran IAESTE Iran, University of Tehran (2002)

Israel Israel IAESTE Committee, Technion (1951)*

Japan IAESTE Japan (1964)*

Jordan IAESTE Jordan, The University of Jordan (1978)*

Kazakhstan IAESTE Kazakhstan (1995)*

Lebanon IAESTE Lebanon (1966)*

Malta IAESTE Malta (1984)*

Mexico IAESTE Mexico, Amipp, A.c. (1985)*

Mongolia IAESTE Mongolia (2001)

North Macedonia IAESTE Macedonia (1994)*

Norway IAESTE Norway (1948)**

Oman IAESTE Oman, Sultan Qaboos University (2001)

Pakistan IAESTE Pakistan, National University of Sciences &

Technology (1990)*

Panama IAESTE Panama,Technological University of Panama (2004)

Philippines POEC Consultancy International Inc. (2007)

Poland IAESTE Poland, Stowarzyszenie IAESTE Polska (1959)*

Portugal IAESTE Portugal, Instituto Superior Técnico (1954)*

Republic of Korea Global Association of Training and Exchange (2007)

Romania IAESTE Romania, Asociatia IAESTE Romania (1998)

Russia IAESTE Russia, Moscow Student Center (1991)*

Serbia IAESTE Srbija (1952)*

Slovakia IAESTE Slovakia (1965)*

Slovenia IAESTE Slovenia (1993)*

Spain IAESTE Spain, Comité Español Para Intercambio de Estudiantes

Técnicos IAESTE España (1951)*

Sweden IAESTE Sweden, Chalmers University of Technology (1948)**

Switzerland IAESTE Switzerland (1948)**

Syria IAESTE Syria, Ministry of Higher Education (1965)*

Tajikistan IAESTE Tajikistan (1992)*

Tanzania The Open University (2007)

Thailand IAESTE Thailand, King Mongkut's Institute of Technology,

(1978)*

Tunisia IAESTE Tunisia (1959)*

Turkey IAESTE Türkiye, Istanbul Technical University (1955)*

United Arab Emirates IAESTE UAE, Arab Emirates University

of Sharjah (2000)

United Kingdom IAESTE UK, British Council (1948)**

U.S.A. IAESTE United States, Cultural Vistas Inc. (1950)*

Uzbekistan IAESTE Uzbekistan, Technical Centre Simuz (1997)*

** Founding Member of IAESTE Ad Hoc (1948) and IAESTE A.s.b.l. (2005)

* Founding Member of IAESTE A..s.b.l. (2005)

The International Association for the Exchange of Students for Technical Experience A.s.b.l

51, Rue Albert Ier, L-1117 Luxembourg, registration number F1180

www.iaeste.org e-mail: board@iaeste.org

Associate Members:

Bangladesh IAESTE Bangladesh, Bangladesh College of Aviation (2013)

China, Including Hong Kong SAR and Macao SAR

Council For International Training and Development (2000)

The Hong Kong Polytechnic University (1997)

University of Macau (2004)

Nepal Civil Initiative Nepal (2013)

Netherlands IAESTE Netherlands (2011)

Nigeria University of Benin (2007)

Peru Universidad De Piura (2001)

Qatar Qatar University (2011)

Co-operating Institutions:

Afghanistan SESO (2019)

Afghanistan The Kabul University, Engineering Faculty (2016)

Bolivia Fundacion IAESTE Bolivia – Pasantias Internacionales (2013)

Chile Temuco Univerciudad (2014)

D.P.R. Korea Pyongyang University of Science & Technology, PUST (2015)

France IAESTE Grenoble France (2018)

Gambia Microtech Institute of Multimedia & Technology (2009)

Iceland IAESTE Iceland (2018)

Indonesia Universitas Atma Jaya Yogyakarta (2017)

Iraq The University of Anbar (2017)

Jamaica Jamaica JOYST Youth Exchange International Ltd. (2006)

Kenya Dedan Kimathi University of Technology (2013)

Kenya Egerton University (2020)

Kenya Jomo Kenyatta University of Agriculture and Technology (2004)

Kenya Murang'a University (2019)

Luxembourg Find a Job Sarl (2019)

Nicaragua Universidad Tecnológica La Salle (2015)

Palestine An–Najah National University Nablus (2009)

Saudi Arabia The Taibah University (2015)

South Africa Global Ties South Africa (2018)

Sri Lanka University of Moratuwa (2000)

Ukraine, IAESTE LC Ivano-Frankivsk (2019)

Vietnam Thai Nguyen University (2006)

Yemen, Hadhramout Foundation (2020)

Yemen, Hadhramout University (2018)