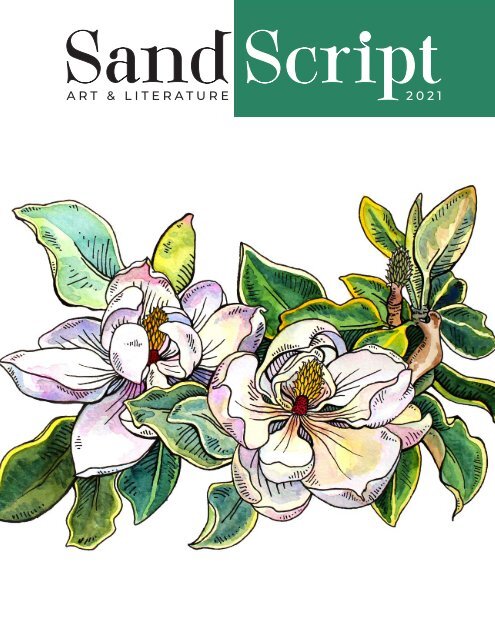 SandScript 2021
Art & Literature Magazine
Art & Literature Magazine
SHOW MORE
SHOW LESS
You also want an ePaper? Increase the reach of your titles
YUMPU automatically turns print PDFs into web optimized ePapers that Google loves.
Sand Script

ART & LITERATURE 2021

1
---
Ashley Carmichael

Magnolia Blooms

Painting, Watercolor

ARTIST'S NOTE ON

THE COVER

This piece is very special to me because

it represents my home. My mother has an

old magnolia tree in her backyard and we

used to sit under it and drink iced tea. One

day I grabbed my sketchbook and started

drawing the beautiful spring flowers. I hope

that when you look this painting, you can

feel the warm energy of the sunreflecting

off the leaves. It reminds me of time spent

chatting with my family and the joyful

feeling of a nice day.

2
---
ABOUT SANDSCRIPT

The SandScript staff wants to offer our

condolences to everyone at Pima

Community College for the losses and

challenges that you have endured during

the global pandemic. We are honored to

present this assemblage of Pima students'

creative work as a reminder that our

hearts and minds are still flexible and

vibrant, and that together we will build the

next version of the world.

SandScript is the art and literary magazine

of Pima Community College, Tucson, AZ

and is published annually at the end of

the spring semester. All works of prose,

poetry, and visual art that appear in

SandScript are created by students

attending Pima Community College.

Students interested in participating on the

editorial staff of SandScript take Literary

Magazine Workshop (WRT 162) in the

spring semester and apply for the various

roles on the staff. This course is limited to

twelve students. A student design editor is

hired for the design work. Student editors,

all of whom have interests in writing or art,

learn through engaging in the editorial

process with their peers.

SandScript received the first place award

in the national contest for collegiate

magazines held by the Community

College Humanities Association in

2015, 2016, 2017, 2018, and 2019.

(The Community College Humanities

Association canceled the literary

magazine competition for 2020.)

In 2021, the SandScript staff faced all

new challenges. In an entirely virtual

environment, we had to get the word out

to potential submitters without classroom

visits, campus posters, and word-of-mouth.

Added to these limitations was the deep

distress of a student body entering the

second year of a pandemic. Regardless,

we got the work done, and additionally,

we are proud to announce a new digital

archive of previous SandScript editions in a

Pima LibGuide.

For the second time in the history of

SandScript Art and Literary Journal, our

magazine was forced into the digital

sphere by pandemic realities. Under

tremendous pressure, SandScript's 2021

student staff has exhibited integrity,

determination, humor, and generous care

for the artistic submissions of their peers.

As our work neared completion, it was

clear that every one of us, and frankly,

almost everyone we know, is exhausted

on a cellular level, but we are inspired and

enlightened by the writing and art we are

presenting here. We hope that it will offer

some necessary hope for you, too.

—Faculty Advisor, Frankie Rollins

3
---
Rick Spriggs

Alive

Ceramic 8"H x 8"L x 6"W

4
---
EDITORIAL BOARD

Editor-in-Chief & Managing Editor

Raiden Lopez

Assistant Editor & Visual Art Editor

Stephany Rocha

Assistant Editor

Jesse Shinn

Social Media Manager, Director of Achives & Poetry Editor

Maria Servellon

Industry Outreach Coordinator & Prose Editor

Madison Copic

Prose Editor

Iris Hill

Poetry Editor

Ocean Washington

Visual Art Editor

Mariah Gastelum

Graphic Design Editor

Cynthia Drumond

Faculty Advisor

Frankie Rollins

Consider supporting student artists by making a donation to SandScript.

For information about making a donation to SandScript, please send us an email at

sandscript@pima.edu.

All donations will go towards student awards and are not used for production or printing.

Donations can be tax-deductible.

5
---
Reed Coffey

Symphoricarpos

Painting, Oil on Canvas 24"x36"

6
---
SPECIAL THANKS

Lee Lambert, Chancellor

Dr. Dolores Durán-Cerda, Provost and Executive Vice-Chancellor

David Dore, President of Campuses and Executive Vice-Chancellor

Kenneth Chavez, Dean of Communications Division

Pima Community College Foundation

Pima Community College Board of Governors:

Catherine Ripley, Demion Clinco, Maria D. Garcia, Dr. Meredith Hay, Luis L. Gonzalez

Maggie Golston, West Campus Department Head

Dina L. Doolen, Marketing and Communications

Paul Schwalbach, Director, Marketing & Communications

Angela Moreno, Communications at Downtown Campus

Rachel Araiza, Human Resources Specialist

Zulma Tapia, Pima Community College Foundation

Pima Post Josh Manis, Business Manager,

Michelle Mire, Advanced Program Manager, Access and Disability Resources

ASL Interpreters and CART for the Zoom Release Party

Pima Community College Faculty and Staff

We are on social media!

Please like, follow, and share.

pccsandscript

7
---
EDITOR'S

LETTER

We are extremely proud to share this

year's SandScript 2021 Art and Literary

Magazine with everyone. I am honored

to have been the editor-in-chief and

to work with such an amazing group of

people. Each person brought their own

wisdom, talent, personality, and passion

in breathing life into this publication. It has

been my absolute pleasure to be a part of

this journey with each of them.

2021 is year two of the Coronavirus

(COVID-19) pandemic, so everyone is

still living with challenges and life-altering

events we had never faced before.

Our staff is no different, we have had to

overcome social isolation from friends

and loved ones, illnesses, and deaths. We

have gone through hardships that really

tested our resilience like custody battles,

losing our homes, and having to start all

over in new jobs after losing previous ones.

Living during the COVID-19 pandemic

8
---
has taught me that life is precious and

can change drastically in an instant. Do

not take your loved ones for granted and

cherish the time spent, because there was

a time that we were forced to be closed

off from everyone. I lost my grandfather

during the second year of the pandemic

(2021), but I was blessed to have seen him

one last time, not everyone was as lucky

to get to say goodbye to loved ones.

Some of these afflictions may have

seemed impossible in the moment but

human beings are more malleable than

even we give ourselves credit for. From

that perseverance we created something

beautiful and transcendent despite

the misfortunes of the world today. The

SandScript team had a vision for what

we could bestow on the world as a part

of history and with brilliant skill and eye

for detail, our design editor, Cynthia

Drumond, made that vision come true.

Thank you to all our artists and authors for

entrusting us with your work, you are all

extremely talented and brave to share

your creativity with the world. As a single

mother raising a young son, I know how

difficult it is to be a student in these times.

We congratulate everyone who finished

this semester, it is an incredible feat.

I hope you all stay well and that you take

time to enjoy those you care about most,

because tomorrow is not always promised.

—Editor-in-Chief, Raiden Lopez

9
---
CONTENTS

About SandScript 3

Artist's Note On The Cover 2

Award Winners 14

Editor's Letter 8-9

Editorial Board 5

Meet Our Artists 174-185

Meet Our Team 186-191

Special Thanks 7

Visual Art

Abigale Robles Sunflowers 21

Abigale Robles A Friday Night Downtown 124

Abigale Robles Masks in COVID-19 132

Abigale Robles A Snake in Chaos 169

Ashley Carmichael Magnolia Blooms 2

Ashley Carmichael Spring Flowers 30-31

Ashley Carmichael The Quiet Observer 32

Ashley Carmichael Desert Blooms 54-55

Avery Goldberg Coming up Pink Poppies 44

Avery Goldberg A Shamble of a Band 87

Brianna Stevens Garden Spirit 131

Clarissa Holguin Whimsical Waves 96

Claudia Nazario Selena 104

Claudia Nazario Franny 112

Cynthia Drumond It is Me 29

Dani Gailbraith-Ritchie Beating.Still 74

Dani Gailbraith-Ritchie Chula Chapala 90-91

Dani Gailbraith-Ritchie Tepalo 103

Danielle Bond V Day A series: 6 120

David Parsons George Floyd- SAY HIS NAME 66

Desert Ehrhart Portrait 135

Desiree Garcia Raven's Skull 152

George Key Esperanza 172

Grace Johnson Red Eastern Screech Owl 116

Grace Johnson Taurus 127

10
---
Javier Dosamantes For She Had Eyes 143

Jennifer Prybylla Time 56

Kimberly Calles Solitude 115

Kimberly Calles Metamorphosis 51

Kimberly Griffen No Parking 80

Luisa Espinoza Las Dos Fernandas 52

Luisa Espinoza Los Tiempos Se Van Volando 77

Luisa Espinoza Tentacle Tessellation 100

Micheal Christopherson You Can't Hide Forever 99

Miyeon Kim It's Addicted Me 62-63

Miyeon Kim Survival 170

Monica Nelson My Dads Favorite Teapot 147

Mya Palacios Emotional Growth 139

Nathan Coffey Columbia 88

Nathan Coffey Cactus Car 15

Nathan Coffey Huddle 49

Portia Cooper Rocket 59

Portia Cooper Rodent 160

Rebecca Farris Inner Feelings 39

Reed Coffey Symphoricarpos 6

Rhea Stanley Scorned 151

Rhea Stanley Tonight 163

Rick Spriggs Alive 4

Rick Spriggs Life 16-17

Rick Spriggs Red Top 155

Sarah Bryg Light Travels From A Dead Star 72-73

Shelby Quiroz And... Doubt 41

Sivanes Ananda Dutch Windmill at Golden Gate Park 84

Sofia Fetsis Falling Magic 164

Thomas Webster Trichocereus 107

Thurwin Lane John and Rena 65

Thurwin Lane Saving The Heart 140

Ulises Ramos F.E.L.T. 95

Ulises Ramos Dejen Al Musico Dormir 119

Weston Lane Scaredy Cat 20

11
---
Weston Lane Dotted Cat 128

Weston Lane Feminine Masculinity 159

Yanna Aiken Am I Worth Love 148

Yanna Aiken Am I Worth Life 156

Zevi Bloomfield The Virus 23

Zevi Bloomfield Siren 83

Prose

Chretien Martinez Stygian 67

Courtney Armstrong Fading into the Watercolor 28-35

Courtney Armstrong I Closed My Eyes 38-48

Josie Lugo Adder's Binds 16-25

Mora Hedayati Mommy Comes Back 62-65

Nadia Celaya-Alcala Mexican American without the American 53-55

Raymond Butler The Little Wind 70-79

Poetry

A.Z. Martinez The Song to Come 86

Alexa Lewis Who's Counting 57

Arial Autumn 27 58

Carol Korhonen Missing Already 60-61

Chacara Thomas Good and Evil 89

Christopher Valenzuela Documented Thoughts 90-92

Christopher Valenzuela Smoke Signals 97

Courtney Armstrong I Smashed a Fishbowl 101

Courtney Armstrong Hope 105

Courtney Armstrong Drunken Lunacy 98

Courtney Armstrong Oh, Antigua 102

Desert Ehrhart She Was Near 165

Diego Tobin Something Playing in …Reality Is a Flower 106-109

Elena Acuna The Mesquites Keep ...Know Your Sins 162

Elena Acuna Siren Call 171

Esmeralda Garcia It's A Dream 113

George Key Look Too See 114

Iris Hill Anaerobic 81

12
---
Jazmin Garcia Two Daises 85

Jazmin Garcia The Blue Carpet and the Cherry Pie 82

Jazmin Garcia Waves 94

Kentaro Herder Water 136-137

Kentaro Herder Strange Weather 117

Luke Cottrell Carousel 118

Luke Eriksson Overkill 122-123

Luke Eriksson More Than Anything 121

M.J. Copic Strength 129

M.J. Copic A Return 125

M.J. Copic Dragons Can Be Killed 126

Mara Durán Time Blurred/Tiempo Difuminado 130

Mark Anthony Ferguson Ripped and Scattered 161

Mauricia Manuel A Body of ... Principles: We the People 68-69

Mauricia Manuel Quarantined 133

Mauricia Manuel Repudiation 134

Michele Worthington Ice Cannot Be Unnmelted 141

Michele Worthington Unshrouded 138

Raiden Lopez Where I Am From 142-143

Salina Riggs-Molina Enrobe Yourself In Velvet 173

Salina Riggs-Molina Groundhog Day 144-145

Salina Riggs-Molina When No One's Looking 146

Salina Riggs-Molina Options 168

Samantha Barrera The Book of Life 166-167

Sierra Vigil Falling Stars 149

Sierra Vigil A Love Letter From the Sea to the Olive Tree 50

Sierra Vigil A Love Letter From the Olive Tree to the Sea 36-37

Solace Bergman Prettier If You Smiled 150

T. Gullett Lemons and Oranges 110-111

T. Gullett A Consideration of Love and Teeth 26-27

Travis Cooper CA Conrad's Squirrel 153

Veronica Martinez Pleads to the Virgin Mary 154

Yareli Sanchez Dying 157

Zoe Galmarini Dreamers 158

13
---
AWARD WINNERS

Visual Art

First Place

Second Place

Third Place

The Quiet Observer

Ashley Carmichael

Time

Jennifer Prybylla

Tentacle Tessellation

Luisa Espinoza

Prose

First Place

Second Place

Third Place

Fading Into the Watercolor

Courtney Armstrong

Stygian

Chretien Martinez

Mommy Comes Back

Mora Hedayati

Poetry

First Place

Second Place

Third Place

Water

Kentaro Herder

Unshrouded

Michele Worthington

Options

Salina Molina

—Awards funded by Pima Foundation

14
---
Nathan Coffey

Cactus Car

Photograph

15
---
ADDER'S BINDS

Josie Lugo

Fiction

The pain on her wings returns as

Adder's mother finishes tightening the

metal binds to keep her wings bound. This

time her mother uses two binds—since

Adder broke the last one in only a week.

Mother stands back to admire her work

and asks Adder to try and move them to

make sure that they are secure this time.

Sirens have overly sensitive wings in order

to detect changes in wind currents, but

while bound she can only move them

up and down slightly, and any chance

of extending them past her shoulder is

impossible.

"Good." Her mother claps her hands

as if she's proud with her work. "Now, this

time, let's try not to break the binds Adder.

Regardless of what you may think, I don't

have an endless amount and they are

expensive. But if you would simply let me

cut them off like mine you wouldn't have

to endure this anymore. I know it can't be

comfortable for you."

Adder gives her mother a noncommittal

groan and leaves her to put

away the extra bindings and tightening

tools. Just looking at the metal binds sends

a shiver down her spine, so she gives her

mother space to hide them back under

her bed. Having two binds instead of one

is worse than she could imagine. Adder's

wings are sensitive enough to detect

16

even the slightest of currents in the wind

and the metal rubbing against them as

she walks, or even breathes, makes her

back feel as if it's on fire. Over time, she

had gotten used to one band—not that it

ever became comfortable—but it wasn't

as excruciating as this new banding, set

just below the original one, both rubbing

against the sensitive feathers of her

wings.

Even though she would like to,

Adder doesn't blame her mother for the

bindings. Well, she doesn't only blame her.

Eons ago, Sirens made up the brute force

of the King's armies and since then they

Rick Spriggs

Life

Ceramic 4"Hx7"L
---
have been given a merciless reputation

for killing. Stories after stories of the torture

and destruction caused by her ancestors

has made beings of all shapes and sizes

fear them in groups. Her mother long

ago cut off her own wings—a horrible

procedure that has left her back scarred

and destroyed—to appease the nearby

villagers, but she has never understood

why Adder hasn't done the same.

The wind is quiet today, like it knows

not to tempt her. Once a year, for the

last twenty-two years, Adder's mother

removes the binds and allows her to fly

free. Not around the house, or in the

village, in case someone was to see. But

that one day, she wakes up before the

sun shows her face on the horizon, and

travels four nights to reach the Valaryian

Mountains, and stares up at the highest

snow-covered peak from the ground

before flying to touch it. The mountains

are in a constant whirl of snowstorms—

usually more than one on a single peak—

and it takes all the strength of her wings

to fight the black clouds holding cold,

wind, and sleet. Each trip from the ground

to the peak takes a couple minutes and

by midday, Adder finds herself jumping

off the highest points and enjoying the

free-fall until she thrusts her wings out and

glides on a breeze that was only created

from her fall against the side of the rocks.

Then, after a beautiful day of freedom,

Adder is forced to return home and allow

her mother to bind her wings until the next

year.

She hasn't visited the mountains yet

for her twenty-third year, but with two

binds, she might be inclined to visit soon

for a break from the searing pain. Maybe

this time she will stay there. Maybe this

time, her mother's guilt won't convince

her to lower herself back to the ground

and allow her to be bound again.

Maybe—but she doubts it.

Coming out of the house, Mother

hands Adder the basket of vegetables

and goods she plans to sell at the market.

"What does that look on your face mean,

Adder?"

"I was thinking I'll take my trip to

Valaryian soon."

Her mother raises an eyebrow, lips

pursed, but doesn't say anything else for

17
---
the rest of the walk. It's a warm summer

morning and without Adder's wings being

free to provide her with shade, she sweats

instantly as they make the three mile walk

to the inner village market.

Already, the market is crowded

with probably near two hundred beasts

already shopping. Decorations splay on

top of temporary stands and along lights

that straddle the walkways. It takes the

whisper of a nearby lycanthrope scolding

her daughter for Adder to notice the

excessive decorations and creatures

crowding the path. Green and gold

thrown everywhere as if those are the only

two colors that exist. The King's colors.

Wolves, sabers, and fae of all different

ages crowd the paths to the little stands,

bustling about as if they are at risk of the

sun lowering in the next few moments and

the market closing.

The impending closure is not the

cause of the solar cycle, but for an arriving

guest to the village. The King himself will be

stopping by—that's what the lycanthrope

mother growled to her daughter who tried

to change back to her human form. All

beasts must maintain the form they were

born in—if they have multiple forms—for

the King. Any other form would be a

threat, like hiding in the shadows, instead

of exposing their true self. How the King

would know—Adder wasn't sure—but she

was willing to risk the words that fell from

her lips next:

"Mom, do you think you should

unbind my wings?"

"Of course not." Her mother stopped

walking and stared at Adder as if she

has slapped her in the face and then

demanded she breathe underwater. The

look of annoyance on her mother's face is

one Adder is familiar with.

"But look how the lycanthropes and

pixies and sabers wander around in their

born-flesh. The binds are not a natural part

of my form."

"Don't be so ridiculous. Would you

have me strip naked since that was the

form I was born in?"

The look on Adder's face must have

been answer enough because her mother

simply exhaled sharply through her nose,

tipped her chin up towards the sky, and

walked away knowing that Adder would

follow. And she did.

When they finally came upon the

empty stand that was left alone for them,

her mother went quickly to work, taking

out every item and elegantly displaying

them for everyone to see. Time seemed

to continue on slowly as words that Adder

would never dare say out loud whipped

and whirled in her mind, begging for

release. It was a useless effort to think that

she could so easily convince her mother

to let her wings go free but she couldn't

deny that she did indeed have some

hope or the words would never have

made it to her mother's ear.

Plenty of marketgoers came by to

gently examine the layout and enquire

about prices. Some walk away with

her mother's goods and others simply

keep their sneers at her high prices to

themselves. Adder's job of maintaining

guard of the stand is easily accomplished

simply with her presence. As the only

two Sirens in the village, Adder and her

mother are constantly encountering

18
---
lycanthrope, fae, as well as other shapeshifting

beasts that all sneer that her kind

is no longer revered as warriors but market

attendees.

As more and more villagers fill in the

marketplace, and the sun hits the apex

of the sky, her mother dismisses Adder

for a break. The real reason is because

Adder will scare off potential buyers as

more swarm the stand, but at least her

mother has the decency to lie and tell

her that she should go see about getting

something nice for the house. Just the few

hours she spent at the market this morning

will spread word of mouth and protect

her mother's work from thieving hands.

A couple of silver pieces are shoved into

her hand and then she is off, wandering

around as if she doesn't know the exact

location of the supplier she has in mind.

The only bright side of being feared

in her village is the wide berth everyone

gives her as she walks—effectively

protecting her wings from unnecessary

friction of bumping into other creatures.

A quick flutter of her wings and

Adder stops walking. There's a shift in the

air that she can't identify—something

not too distant from a warning call that

has her wings moving on instinct without

her permission. She lifts her head to look

around, forcing several others to almost

walk into her, and mumble apologies.

Not listening, she feels another tug at

her wings, the pain of the binds scraping

against them, but there's nothing. No new

threat.

She can feel it pulling on her like she

is being tugged on the end of a rope;

something deep inside her body that

she can't identify as either pain or joy.

Vaguely, she is aware that eyes have

started watching her as she frantically

looks for the source calling to her. In her

bones, in her veins, she can feel the call as

if her own soul was receiving the summons

and her wings are frantically trying to

greet it.

Around her an obnoxious loud sound

ripples from every direction. An explosion?

No—clapping. Shouts and cheers and

something in the air with colors of gold

and green and again her wings try to

spread and she can't control the whimper

that escapes her lips. Adder drops to her

knees, ignoring the miniscule pain that

shoots through her thighs to her hips, as all

her focus is drawn to the metal scraping

against each feather of her wings.

"Look up." It's a voice, old and

young, strong and soft, beautiful and

shaky that she's never heard before.

"Look over there. Find him. Find the mirror

of your soul."

She does.

The King is nearby—kneeling beside

a mossy troll—a crown of black adamant

atop his head like it weighs nothing. But

that's not what catches Adder's attention.

It's his back that keeps her eyes from

looking away and momentarily dulls her

pain. His wings. Solid white just like her

own, tucked in gently, but free to spread

of his own will.

The scream that leaves her lips

sounds distant even to Adder's own ears.

She covers her ears, trying to hide from

the sound only to realize that it's coming

from her. From her own throat as her wings

struggle uselessly against the bindings.

19
---
Weston Lane

Scaredy Cat

Drawing, Color Pencil 10"x13"

Behind her she can hear her name

being called from a feminine voice, but

the sound only makes her wings more

frantic, wanting to escape before the

familiar voice can appear with its tools

to keep them in place. She throws all

her muscles into the force of breaking

the binds, but the searing pain turns the

edges of her vision black and she's quickly

gasping, trying to pull air into her lungs.

A figure in green appears in front of her,

yelling something, but she can't focus on

making out the words. All of her attention

is being pulled to her wings and then

someone touches them.

And the world stops.

White wings that don't belong to

her are splayed out, stretching wide, and

she can feel the need inside of her to

match—to copy those wings. In the back

of her mind, a primal part of her existence

is telling her to match up her wings to his

and claim him as her mirror: her mate. The

figure comes into focus only a couple of

inches from her face and she takes in the

dark halo around his head, the tanned

skin of someone who spends his time

under the sun, the beautiful green fabric

of his coat, dipping in a low cut to expose

his bare chest.

"Get. Them. Off," her mirror says, not

to her, but someone behind her she can't

see.

Despite the tears, her eyes are

locked on his, and she can see the fury

behind them. His hands are cupping her

cheeks and wiping away at the droplets

that escape her eyes and his fingers are

nothing but gentle as he holds her and

tells whoever is behind her to cut the binds

off.

She stops screaming, trying to catch

her breath through her silent sobs, and

hide herself from the looks she knows she

must be receiving. Her mirror mate simply

holds her face in his hands and stares

relentlessly in her eyes. Then the pain

finally subsides. The burning feeling against

her wings breaks away in one spot and

then another. Both wings fly open with a

force that would kill anyone who might be

too close as they copy the male in front of

her.

Her mating ritual complete and the

male in front of her claimed as hers.

Finally, she can breathe with ease.

Air returns to her lungs and her tears dry

on her face. The hands holding her don't

20
---
let go but continue to rub small circles

over her cheekbones, trying to soothe her.

She reaches out a finger and touches the

white feathers in front of her. The male

sucks in his breath but doesn't tell her to

stop, so she continues, running her finger

over his muscles that let him fly. When

he gently flexes the muscles in his left

wing, she feels her right wing mirror him,

matching his movements.

"Adder," she says. Her voice is hoarse

but it's the only thing she can think to say

right now. "My name is Adder."

His lips tug upwards on the side as he

says, "Lorcan."

"Thank you, Lorcan."

"Anything for my mirror mate."

***

Almost two years have come and

gone between Lorcan and Adder since

the mating bond had been discovered

in Adder's home village marketplace.

Lorcan and Adder spend their mornings

together, flying to near impossible heights

and banking around trees and homes in

the nearby city. Young children come out

in the streets in the morning and scream

with laughter as the King and his mirror

mate fly by with enough speed for the

wind to knock them on the ground.

This morning, a rare winter morning

with the sun melting the snow that had

fallen from a previous night, finds Adder

waking up alone in the bed. A note on the

small table has her name on it written in

the elegant handwriting she recognizes as

Lorcan's. She quickly sits up, and pushing

through her yawn and groggy eyes, plucks

the note up to read it:

Abigale Robles

Sunflowers

Drawing, Bristol Paper and Micron Pens

My dearest Adder. Despite my

complaints, Lord Breham has demanded

my presence early this morning. I'm sorry

to cancel our flight but I will make it up to

you tomorrow. I will sneak away to see you

as soon as I can.

Adder smiles at the words and

places the letter in the drawer with the

other notes of cancellation, tallying the

missed flights up to eleven since their

time together. Normally she finds herself

going to an early breakfast on days when

Lorcan can't join her, but her flights this

past week had left frost on the tips of her

wings and today is too beautiful to pass

up. She quickly gets ready and opens the

door to their balcony at the highest level

of the palace and jumps off.

21
---
There is little wind today which forces

Adder to use more strength for creating

currents, but she doesn't mind. Any

chance she gets to fly overfills her heart

with joy to the point where she wonders

if this much happiness can kill her. Lorcan

prefers to fly around the palace and

the neighboring city, but Adder prefers

the mountains. They aren't as tall or as

demanding as the Valaryian Mountains,

and they rarely see any snow, but it's

better than the straight path Lorcan

desires.

Up and up she flies until she lands on

a cliff overlooking her home. Four large

stone pillars make up the edge of the

palace grounds, and anywhere within

the grey stone she is free to roam. Several

miles south, in the opposite direction of

the nearby mountains, is a small city that

Lorcan enjoys flying through. Between the

two locations lays a dense forest but going

either direction east or west of the palace

greets any traveler with jagged rocks

four times as large and hundreds of times

heavier than they appear.

The small part of Adder that once

existed that missed her mother has now

disappeared completely since being

allowed to fly so freely with Lorcan. Each

flap is a reminder of the binds that once

controlled and limited her.

Leaning backwards, she lets her

body fall, tucking her wings in tight to

increase her speed. Even after all this

time her stomach still tightens at the free

fall until she thrusts her wings outward,

leveling off and forgetting all her painful

memories.

Joy.

Joy is what coats her skin and keeps

her smile permanently placed on her

lips.

She flies longer than usual today, the

good weather pushing her to fly higher

with no clouds as her limit. Maneuvering

around trees that are naked from the sun

melting the snow filled nights, Adder holds

herself in place and watches the city

awaken. She sits on the highest cliff she

can find and curls her wings around herself

simply because she can.

When her stomach finally grumbles

loud enough to bother her, she returns to

the balcony. Lorcan is there, his meeting

with the Lord over, sitting on the bed with

his head tucked into his hands.

"Lorcan, what's wrong?" Adder lands

soundlessly, her words the only sound of

her approach as she hurries to Lorcan's

side.

His head snaps up as he quickly

meets her halfway, his hands touching

her face, her arms, her stomach, as his

eyes scan over her body and wings. After

deciding she has no injuries, he lets out a

breath and says, "Where have you been,

Adder?"

Lorcan's fingers curl around her chin,

forcing her attention on him. There's an

emotion swirling in his eyes she's never

seen before so she speaks slowly, not

knowing why she feels nervous. "I went

out flying. I'm sorry I stayed out later than

usual, but the day is lovely and…"

"I flew around the entire village

and palace. Twice. Where were you,

Adder?"

"I went to the mountains." Heat

floods her cheeks, but his grip on her chin

22
---
doesn't allow her to look anywhere but

directly at him.

He drops her face like the contact

suddenly burns him. The seconds seem to

stretch into minutes as she waits for him to

say something. Anything.

"Why?" Lorcan asks, his voice harsh

and unlike anything Adder has heard from

him before.

She opens her mouth to explain, but

he cuts her off saying, "And I don't want to

hear that it is a lovely day. I want to know

why you risked your life to fly around some

damned mountains. The wind current that

high is difficult to fly against and you could

have tired yourself out and fallen without

anyone knowing where the hell you were.

Or you could have been slammed into

one of the ledges and broken your wings,

is that what you want?"

A small gasp escapes her lips as

Adder tries and fails to come up with an

explanation to soothe him. She tries to

push away any retort of him not thinking

she's strong or fast enough because she

knows that his worry won't allow for those

reasons to mean anything. Lorcan knows

her stories about her trips to Valaryian and

even when they fly together, she is always

faster, flying higher than even he dares.

"I'm sorry I worried you. Please don't

bind me, I couldn't take it," Adder pleads.

Zevi Bloomfield

The Virus

Painting, Acrylic 24"x16"

23
---
Unable to maintain eye contact because

of her growing guilt at being caught,

Adder looks down at her feet, and tries to

blink back the frustrated tears. She wants

to demand why he's acting this way when

she's obviously safe now, but she bites her

tongue, not wanting to risk an argument.

Inhaling sharply through his nose,

Lorcan says, "I was worried about you

Adder. You can't pull a disappearing

act like this. I figured after being here

for a couple of years you would finally

understand what you mean to me. I can't

lose you."

Not having any words, she hugs

him—her mirror mate and king—and

whispers into his neck that she is sorry and

won't fly to the mountains alone again. He

embraces her back, taking in her scent,

and murmuring how he loves her and only

wants to keep her safe.

For two years, she kept that

promise.

For two years she kept by the King's

side in flights and never took flight by

herself. She even stopped flying off past

the clouds when she was with him so that

her mate wouldn't worry. They continued

to fly in the mornings but after a while,

every path seemed to have been flown.

Those who lived in the village continued to

wave as they flew by, but no one shrieked

anymore or laughed at the speed in

which Adder passed. Their morning flights

continue but only last a few minutes

now.

As Lorcan and Adder sit for breakfast,

her appetite much smaller than it had

been those first four years due to flying

less now, Lorcan carefully clears his throat,

grabbing her attention. "Adder, my love,

I know you said last night that you didn't

want to speak of the topic anymore, but

I'm afraid I have to bring it up again. I can

see how lonely you get when I am forced

to entertain Lords all day and I think

having someone to take care of will be

good for you. For us."

The piece of fruit Adder had just

swallowed gets caught in her throat,

forcing her to cough repeatedly and

take a drink of her water. Once her initial

reaction settles, her jaw involuntarily

tightens as the memory of their

conversation last night runs through her

mind. It isn't the first time Lorcan has

brought up wanting children, although it

was the first time he claimed it would be

for her benefit. Over the last two years

she has continuously told him no, that all

she wants is to live her life with Lorcan,

but lately the topic has been brought up

again and again.

A child.

Children.

As if they should have more than

one.

Could she truly do it? There's no

doubt that she loves Lorcan. All the love

Adder can spare in her heart has gone to

him. But she also knows that she has been

bound to this palace in the same manner

her mother used to bind her wings and the

thought of limiting the flight of her child

breaks her heart.

"I told you Lorcan, I'm not interested

in being a mother," Adder says as calmly

as she can before returning her attention

to her food.

"Adder, do you think I don't notice

24
---
you wasting away? You're bored and

what you need is something to occupy

your time. You've tried knitting and sewing

and dancing and even kitchen duty but

nothing has held your attention longer

than a few months."

This time, Adder has to bite the inside

of her cheek until she tastes blood to keep

back her retort. She wants to roll her eyes

and tell him that of course he doesn't see

the problem because he caused it. She is

in a nice, comfy, and safe palace, what

more could she ask for. What more could

she possibly long for, he wants to know.

But that is her best kept secret. For

two years she has kept herself inside

the palace and away from windows

with winds that seem to call her name.

Because she knows. She knows that

two years ago she chose Lorcan over

her wings and every day her resolve to

choose him again seems to be fading

away. The more he doesn't catch on to

her unhappiness the more she begins to

resent him. Adder wants to scream from

above the clouds and demand how

he could notice her suffering and not

guess why. While it slowly eats away at

her, Adder keeps her thoughts to herself,

knowing that if she forces Lorcan to

choose between herself and her freedom,

he'd chose her. And that would surely kill

her.

"Just consider it. I think a child will

be good for us Adder, and I'm not giving

up trying to convince you." Lorcan gets

up from the table, and after a quick kiss

goodbye, he leaves to begin his daily

meetings.

The rest of the food on Adder's

plate goes untouched after Lorcan's

declaration and immediate dismissal.

All the energy feels sucked from Adder

as if her bones have gained weight and

her muscles can no longer support her.

Instead of trying to find some way to pass

the time, she simply returns to her room

and sits on the edge of her bed.

How could she let it get this bad?

For most of her life she had allowed her

mother to bind her wings and then she

allowed Lorcan to limit her, all for Adder's

perceived safety. She had loved her

mom. And she loves her mirror mate. But

neither has ever tried to answer the call of

the wind like Adder loves to, so how could

she expect them to understand?

A cold breeze slams into her room,

swinging her balcony doors open and

carrying silent words into her bedroom.

She recognizes the voice from that day

at the market four years ago, the one

that brought Lorcan into her life. A voice

with no age, nor species, but somehow

trustworthy.

So, when it tells her to fly away, she

doesn't hesitate.

25
---
A CONSIDERATION OF LOVE

AND TEETH

T. Gullett

Consider the sharp smell of pine,

and the soft give of mud underneath your feet.

Consider the sound of bark dragged against a denim jacket,

and how the creek soaks into the hem of your jeans.

Consider your heart in your ears,

pounding away in your throat with something

so heavy you could choke around it,

you've always known love would choke you.

You knew it would hit you like a stone, Danny Vance,

you've always bitten off more that you can chew.

Always wanted that overwhelming love that dragged you

underneath the waves, the downpour,

down into the hollows and the creek.

You always wanted the love with teeth,

something with bite, weight to it.

Your heart between their jaws, their jagged teeth,

the kind of thing to make you shake and howl,

fulfill the craving in your teeth.

26
---
So here it is now, the hounds of love

descending from the trees.

Lunging and leaping and gnawing and catching,

swallowing up the man you once were,

leaving something new behind.

You knew, Danny Vance,

knew as well as your own name, own hands,

that you wanted this. Wanted this transformation,

rebirth, what have you, whatever fit right, made

your skin finally fit better than a cheap Halloween mask.

You knew the second the moon changed,

the first time you saw his grin, heard his laugh,

that your heart would fit nice between his teeth.

It'd look good there, better than wrapped around your

mother's finger or locked away to be forgotten.

So you stay in place for once, why not?

Find the right clearing, the right place, and sink into it,

into him, into the arm around your waist and

the gentle hand in yours. The smell of pine lingers

on his jacket, a solid line of warmth against your back.

27
---
FADING INTO THE

WATERCOLOR

Courtney Armstrong

Fiction

A small square of paper floated

in his eye, what looked like a miniature

postage stamp hovering in the white void

of sclera where nothing is ever supposed

to be. LSD. He put it there to get a better,

faster high, he said. As if ingesting the

hallucinogenic drug were not enough, the

course of travel from mouth to stomach

too far, too diluted. He feared he couldn't

escape the pain soon enough. The fear.

Of someday being just like his mother.

Or worse, his father. He always asked

me, which was less forgivable — to be

beaten by someone crazy or by someone

perfectly sane?

***

I remember the first time I saw

him. We were in the fourth grade, I was

nine. Benjamin was tall for his age, a

bundle of twigs always wrapped much

too tightly in a twine of dirty clothes that

were much too small, mismatched socks,

toes poking out the front of his shoes.

Everyone knew that his family didn't have

money. Not because his father worked

at the mines in San Manuel. Not because

there were eight children. But because

poverty sometimes oozes out of a person's

essence like the milk in a sickly eye, thick,

oily, so horrible that you can't not see it, so

mesmerizing that you can't look away. I

knew this because it was the same thing I

saw in every mirror I'd ever looked into.

But on this day, Benjamin was not in

clothes, but rather, naked, all except for a

diaper. An infant-sized, disposable diaper

whose adhesive tabs had failed to meet

at the sides, where crude duct tape had

been torn off into lashings of long strips

and placed on top as if it were a logical

solution. He sat on a buff of sunburnt,

umber grass where it met the curb of the

street, his pink skin beetling over the top

of the plastic waistband, not fat, but rolls

of pure flesh that had nowhere else to go.

A handwritten sign was attached to his

chest, again fastened with that horrible

grey of tape. Upon it, there were four little

words scrawled roughly in red ink.

I AM A BABY.

It was how Benjamin's father chose

to discipline him for wetting the bed.

Beneath the damp down of his

straw-colored lashes, the little no-see-ems

swirling at the corner of his mouth, the

sweat pulling at his platinum curls, I saw

something I had never seen before. It

was something so foreign that I couldn't

28
---
Cynthia Drumond

It is Me

Painting, Watercolor

29
---
even call it by name. Something that the

mothers in the neighborhood whispered

about at the bus stop. What the fathers

watched from the corner of their eyes

while mowing the lawns. Nobody looked

at it straight on. No one addressed it. And

I didn't even know it was a thing. Child

abuse.

I lived across the street from

Benjamin, and I watched, hiding myself

behind the vinyl vertical blinds of my

empty living room. I always felt like the

outcast at school, living in a subsidized

apartment, my mother long-gone, my

father never home. I prayed often that I

was adopted, that my real parents would

show up and rescue me. From my life. But

looking at Benjamin, the ratcheting grip of

the diaper that squeezed and licked his

purple limbs, the shame that flogged his

posture, I knew that what I had was a life

of absolute privilege.

The titian sun set, its russet blood

spread along the splash of the Arizona sky

where it met the horizon, what seemed

like the edge of the world, that long streak

of sapphire ink where I thought everything

stopped, like the outline of a boundary on

a map. I wanted to run to it and jump off,

to be covered in the watercolor, to drift

into the stipple of a calm that I thought

could only be brought by oblivion. I

looked out the glass and knew that if

anyone could relate, it was Benjamin.

***

The next year, he showed up to

school wearing a dress. This time, it was

a punishment from his mother. For what,

I still don't know. I was eating my lunch

in the bathroom, alone, hiding from the

30

other kids when I snuck out to drink from

the water fountain. I heard a sound from

the boys' room.

I looked over and saw Benjamin

hiding behind the half-open door, the

weight of its industrial size heavier than

he could handle. The door slipped every

second or two, whispering peesh, peesh,

as the rubber strip at its base swept the

ground, and I pictured his undernourished

arms on the other side struggling to keep

himself hidden.

"Jenny, right?"

I nodded.

He opened the door a bit wider

and waved for me to go inside. I looked

behind me to the empty corridor. I had
---
31

Ashley Carmichael

Spring Flowers

Painting, Watercolor and Ink 12"x18"

never been inside a boys' bathroom.

I tried not to laugh when I saw

those funny little urinals. I had only seen

them in the movies before. Benjamin

locked the deadbolt behind me and that

was when I turned around and saw him in

the dress. A frilly, pink, baby doll dress, the

bodice too narrow to contain the expanse

of his torso, pearls of buttons unable to

join, his chest exposed in an upside-down

triangle of flush skin. He didn't look me in

the eye.

"Can we swap clothes?" he asked

the floor.

I looked down at my corduroys

and t-shirt. The pants would be too short

for him, but Benjamin had worn far worsefitting

clothes before. He finally looked me

in the eye. I saw in them that unnamed

rawness, desperation, torturous grief that

stained him. I knew I had no choice but to

wear his clothes and let him wear mine. It

was as if I were lending him my own skin,

even if only for just a few hours.

***

In return, it was as if Benjamin gave

me everything of himself. And with his

friendship came a perennial light. The

white lips of the school's walls were no

longer the only things to speak to me,

being ignored no longer my only solace.

For, when one is different from the pack,

singularity is torture — on my own, I was

vulnerable. But with Benjamin as an ally,

we became not just two misfits, but a

possible threat. Never again was I the

target in dodgeball. People stopped

tripping me in the hallways. I wasn't worth

the effort, and that I could handle. I was

used to that at home.

We met at the abandoned

treehouse every chance we got. I had

more chances than he, and often sat

waiting in the silence of the wood, alone.

I loved the sound of the wind whipping

past its shell, the whispers of breath that

snuck through the mismatched slats far

better than the dead air that lingered

between me and other people, that

starched, stagnant void when I was with

my father, one that told me, shouted to

me, that I was meaningless.

Benjamin brought us a broken

broom one day, the handle splintered, but

the flax of the straw still mostly together.

He told me that his father broke it against

his back. Because he had left a wet towel
---
Ashley Carmichael

The Quiet Observer

Painting, Watercolor and Ink 18"x24"

32
---
on the floor.

We swept at the dirt leading up to

the treehouse. We lined a pathway with

river rock and ate kumquats, spongey skin

and all. It was a paradise of imagination.

Of freedom. But at the end of every day,

the sun draped down into folds, while stiff

cuffs of darkness called for Benjamin to

go home. Each time he walked off into

the black expanse of night, I feared it was

the last time I would see him. I knew it

would be the last I would see of him, as is,

for each time he returned, so did a new

set of bruises and wales, puffy scratches,

cigarette burns, a gimping arm, a limping

leg, bandages hanging onto screaming

skin. I don't think that one single part of

Benjamin's body had escaped some sort

of pain. Injustice. And his mind certainly

hadn't escaped, either.

***

It was a year or more before

Benjamin told me about his mother. The

woman who birthed him was, at times,

someone younger than he. At other

times, someone of a different gender.

Someone who got into trouble with him.

Someone who punished him. He called

it "multiple personality disorder." I didn't

understand it. When he talked about

her, it was as if she were a child, innocent

and ineffectual as a colorless sash that lay

slack on the floor. But the stories he told

gave horrible life to that piece of fabric,

turning it into a belt, a noose, a sword,

something capable of slaughtering much

more than just one's spirit.

"And she has a new game," he told

me.

"Oh." I knew his mother had a few

personalities that were close to his age.

But I had a feeling this wasn't a good

game. "What kind?"

"She makes me sit in a chair. She

lights matches and flicks them at me. If I

don't flinch, I win."

"What happens if you lose, Benji?"

"I always lose."

***

Out of the eight children, Benjamin

was the second-oldest, his older sister

institutionalized before he was out of

diapers. From that day, he was at the

top of the line, silently entrusted with the

role of scapegoat. For some reason, as

long as Benjamin took the abuse, the

others were spared. With it came an

entire identity. Benjamin was a literal,

human shield for the younger siblings. His

pain was their salvation. And as he grew

into a teenager, the spankings turned to

punches, the paddling to pummeling. But

as long as the younger ones were safe, he

told himself he could take it.

I only heard Benjamin refer to

his mother by name. Not Mom. Never

Mother. Only Velma. The same went for

his father. Not Dad. Never Father. Only

Jerry. But the words for his father were

tattooed with a venom, a guttural sound

that I originally thought was fear. But I

learned it was a visceral, primal hatred.

Because what his mother did to him,

Benjamin almost denied, defended. What

his father did, an otherwise normal, sane

man, were things that Benjamin could

never understand, horrors that he certainly

could never forgive.

***

I can't remember when the

33
---
McAllisters moved onto the block. A nice,

unsuspecting couple with a baby. They

hadn't heard the gossip about what went

on inside Benjamin's house. And when the

cherubic, blonde woman at the grocery

store offered to babysit their sweet little

Finn, they thanked the heavens for

sending them an angel.

That angel was Benjamin's

mother.

***

I spent more and more time at

the treehouse by myself, my teenage

body developing among the raw

bark, often sleeping nights there rather

than be strapped by the loneliness of

my own home. Benjamin showed up

sometimes, late after I'd fallen asleep,

smelling like Boone's Farm and Newport

cigarettes. Then the other drugs crept

in, pleating a haze over his eyes, a film

over his existence. Jittery paranoia from

cocaine. Swinging from the boughs of

the treehouse after taking multiple hits of

acid. Fits of rage followed by fists of tears

when he was sober. It was as if he could

no longer just be.

***

A baby bird tapped at the

window while I slept. A Gambel's quail,

a Mourning dove, perhaps a Common

starling. Whatever it was, it drummed the

glass in feathery beats to the rhythm of

"Little pig, little pig, let me in."

I woke and saw not a trio of birds,

but Benjamin, on the outside of the

encasement, his eyes wet with sleep,

crescents of tears at the corners of his eyes

like hands folded in prayer. It couldn't

have been any later than six am, the sun's

shadow a half-cocked rifle leaning in the

corner of the yard.

I crept past my father's bedroom

and saw the empty bed. The plate of

dinner I'd made him on the kitchen

counter, uneaten. I went to the front door

and called Benjamin inside. He didn't

come. I called again. I went outside and

turned the corner. Benjamin was covered

in blood.

I rushed to him and as I got just

before him, he fell to the ground. I put my

arms under his and got him to his feet. He

yelled in pain as I touched his arm.

"He broke it."

"Who broke it, Benji? Your dad?"

"He was wearing steel-toed boots."

His right forearm was already swollen,

discolored and bent, an arrowhead

without a shaft. He tried to hold it with his

left hand, to keep it stable, like someone

trying to keep from spilling the contents of

a cup, from trying not to make a mess.

We walked inside. I had never let

him in there before. He looked around,

at the Playboy centerfolds scotch-taped

to the walls, the cracked, plastic patio

chairs that bit and smacked my bottom

every time I thought I was about to get

comfortable. The dirt everywhere.

I hurried him into my room. It

was where I pretended that things were

normal. Where I dreamt of another world.

One pink silk scarf, the only thing I had of

my mother's, of my mother, hung over the

top of the lamp sitting on a cardboard

box, my baby blanket folded neatly on

the floor where I slept.

"He told me I'm a liar," Benjamin

said.

34
---
"Your father? About what?"

"He said she didn't do it."

"Do what? Where did all of the

blood come from, Benji?"

"I don't know."

"Benji, you have to know." I lifted

his shirt to look for the source of blood.

There were so many wounds, slices and

scars, thick, pink, angry lines betraying the

secrets of Benjamin's life. But there was

nothing new. Fear paddled my insides.

"Benji, did you hurt someone?"

"No, but she did."

"Who, Benji? Your mom?"

"Velma. She killed the baby."

I didn't understand. I knew his

youngest sister was five. There were no

babies left.

"What baby?"

"Baby Finn. He kept crying and

crying. So she put him in the hamper to

make him stop. Or so that she didn't have

to hear him anymore."

I took a breath. But there was not

a drop of air left in all the world to draw

from.

***

Benjamin always asked me, which

was less forgivable — to be beaten by

someone crazy or by someone perfectly

sane?

I could never comprehend that.

How was either forgivable? How was

one better? But to Benjamin, it was a

rhetorical question. He had already

charged, sentenced and convicted

the guilty — his father. No matter what

Benjamin's mother did to him, she was not

responsible. His father, on the other hand,

was a monster with a brain and a will, able

to spoon out punishments far worse than

anything physical — incessant, calculated

beatings that butchered Benjamin's

being.

His mother had charged,

sentenced and convicted herself. After

realizing what she had done to baby

Finn that day, she locked herself in the

bathroom. Benjamin broke in the door,

only to find his mother lifeless, lying in a

demise of razors to wrists.

***

I see him on the streets at times,

a resident to the concrete and abyss,

homeless and incoherent, often talking

to the silhouette of himself, an erasure of

existence that everyone else walks right

by. For all the years Benjamin endured

horrid, severe scrutiny and attention as a

child, he was paid back with invisibility in

adulthood.

"Hi Benji," I stop him and try to

remind him who I am, of our friendship,

but his eyes are always void of any

recognition of me. Of us. Of him.

"You have to do the laundry," he

says to me the first time I see him. He

says it again, the second time, the third. I

wonder if maybe he does recognize me.

If I remind him of that day we switched

clothes. Or the day he told me of baby

Finn.

I give him some money and offer a

hug. He always accepts the former, never

the latter. I wave good-bye and turn

away from my friend, that young boy who

had no fault in life except to be born, who

suffered far too much, whose then only

choice was to fade into the watercolor of

oblivion.

35
---
A LOVE LETTER FROM THE

OLIVE TREE TO THE SEA

Sierra Vigil

We live literally a world apart.

My roots will never touch your salty lips,

for if they should

I would shrivel up and surely die.

This fact makes it all the more romantic to me

so, I

turn to face the wind

and

sigh.

The wind,

she tickles me sweet, loves me tender,

leaves me breathless all the while,

but she is not you, that much is true.

My dear

Though, she can make me smile.

Me and the wind

we have been made

for each other since

The beginning

of

time.

36
---
She caresses my branches

and scatters my blooms

dries my wet tears

all my forms she assumes

too.

But even on the breeziest of days

I swear i can see your face

and still daydream of your playful waves.

Because how I do yearn

for your waves to turn

and find their way to me.

For I stand alone

on this hill I call my home

admiring you from out of my reach.

While you roam free

in Your wild beauty

the loneliest olive tree and his perfect fantasy

called the sea.

37
---
I CLOSED MY EYES

Courtney Armstrong

Fiction

I stood

at the side of my mother's bed while she slept

not only staring at her naked body

but at the man who lay on top of her

I imagined how incredibly uncomfortable this must have been for her

squeezed flat against the sheet under the weight of the man's bovine white skin

her face hidden somewhere underneath the furrows of his neck

I wondered how she could possibly breathe

I wondered who the man was

I stood

within the breath of her bedroom

like a mere patron in a gallery

the backdrop of her art painted on the large wall behind me

only she would color a rainbow with neutrals

splendor reduced to mushroom and taupe

its curves undulated

sighs and whimpers and spankings

I waited

for someone to wake

I waited

for someone to see me

I watched

38
---
Rebecca Farris

Inner Feelings

Digital Media

39
---
the heaving of the sleeping man's torso as he breathed

something more like a cough a sputter a struggle

anxiety tapped my shoulder

each time he exhaled

his weight crushed my mother

I could swear I heard the splintering of a bone

I gripped

the paw of the stuffed bunny I was holding

and rubbed my forefinger among the velvet puffs of pad

I stood

I waited

I watched

a bit of the cotton sheet

was crammed in the cleft of the man's ass

I had to think that my mother was as disgusted by him as I was

I hoped that her lying underneath him

silent

was not in pleasure but in contempt

I feared it was because she had no other option

the smell of alcohol cocked hard in the air

an overlapping of dried sweat and heat

buckling beneath its weight

his weight

salt

bitter onions

mildew

I tried to squeeze shut my nostrils with just the sheer force of my mind

I tried to shut my eyes

I tried I tried I tried

40
---
Shelby Quiroz

And... Doubt

Blue Rollerball Pen on Paper 9"x12"

41
---
***

After the divorce, my mother and

I moved into an apartment. I had my

very own room at the top of the stairs.

My place. It even had a lock on the

door. Inside my room was an over-sized

closet. That had a lock on the door. It

was large enough for my small table and

chairs. Each seat held one of my friends.

The kitten with paws of satin. The puppy

with paws of velour. And of course, the

rabbit with paws of velvet. Which left

one free chair, the only place I was ever

guaranteed to have a seat saved for

me.

"Tennyson," my mother called from

downstairs. I barely heard it, the walls of

my closet a protector, the words only able

to travel up through the air conditioning

vents.

I put down the book I was reading

and got up from the table.

"Tennyson! Come down here

now!"

I unlocked the closet door.

Unlocked the bedroom door.

At the top of the stairs, I turned

backwards, got on my stomach and slid,

feet first, the rubbing of carpet on my

belly, fuzzy, filtered friction over the entire

front of my body. Pain. That felt so very

good.

"Yes, mother?" I went into her

bedroom. It was empty.

"Come in here. Now." She was

in the adjoining bathroom. I turned,

walked over to the archway and stopped.

Quickly. Directly inside the door was a

small space with the toilet straight ahead.

My mother was bent over the bowl, her

backside facing me, scrubbing furiously.

She wore only a top, one not nearly long

enough to cover the unclothed bottom

half of her body. I turned and left the

bathroom so that I was standing outside

the door.

"What is it, mother?"

I stood.

"Get in here."

I waited.

I did not want to go back in there.

I wondered why she couldn't talk to me

from inside. Or put some clothes on. Or

not be bent over.

I took two steps to the edge of the

doorframe and hovered just outside. I

peeked in to see if she had changed

position, but still, she hunched over,

legs spread wide apart, scrubbing and

scrubbing and scrubbing. I stepped back

outside and cleared my throat, throwing

its sound in her direction, hoping that she

thought I was inside the room with her.

"Get in here."

I went in.

I closed my eyes.

I stood.

I waited.

"Did you clean your room?" she

asked, her voice bounding from the

depths of the porcelain.

"Yes, mom."

"Yes, mother," she corrected me.

"Yes, mother."

"Did you clean your bathroom?"

"Yes, mother."

"Did you eat?"

"Yes, mother."

"Do your dishes?"

"Yes, mother?"

42
---
"Were you reading, again?"

I paused. I wanted to lie.

"Yes, mother."

"Oh, come on, Tennyson. Go

outside. It's too nice of a day to have

your nose in a book."

"But I don't know anyone here,

yet."

"I don't know anyone here, yet,

mother."

"Yes, mother."

"Go knock on doors and try to find

a friend. Now."

I was six years old.

"Yes, mother."

The apartment complex was

vast, an exhaustive expanse of somber

sidewalks and mansard roofs. I held my

breath every time I raised my fist to a

door. Doors and doors and doors. Never

knowing what was behind them. Who

was behind them.

"Do you have any children my age

I can play with?" I asked.

A few of the adults looked stunned.

Most were annoyed, waving me off with

the back of a hand. I was hot, tired, and

still alone, so very lonely. I decided to try

one last apartment.

A girl my age opened the door

and I held my breath. Her beauty was

peculiar. Exotic, I thought they called

it. Her hair was black tinsel, a decorative

frame of pixie around the whitest skin,

pure as puffs of fresh cotton. Her eyes

were not simply oval-shaped, but rather

crescents of eggs that had been flattened

by the ballast of her creamy lids and thick

black lashes.

I had seen her before at school,

sitting on the edge of the playground,

alone, separated by not only pillows of

air but a palpable line of demarcation

— she was a foreigner. Her inability to

speak English was apparent not only in her

speech, but in her body language. The

way she looked at the ground. The way

she wore shiny patent leather shoes and

dresses when the rest of us wore Izods and

deck shoes. Looking back, I see the irony,

walking around in leather and rubber,

as if in protection. But not her. She

didn't know the dangers of living in this

neighborhood. In my world.

We sat on the floor of her bedroom,

both of us flush with the excitement of our

new friendship.

"Kyoto," she said as she pointed to

her chest.

"Kyoto," I repeated.

She shook her head.

She said her name again, but I

didn't notice any difference from the way

I said it.

I tried again and this time when

she shook her head, she smiled. Her teeth

were so very white, the pink rose of her lips

blossomed as she stressed the area of her

name that I mispronounced.

"Kyoto."

I got it. The k and y were said

as if they were one, their own special

consonant, not a blend of two.

She walked over to her dresser

and grabbed a small, pink book with a

colorful cat on the front. Hello Kitty. The

Japanese character that was so popular

in the late 70s. The doll I had asked Santa

for Christmas. The character in the book

I'd asked for my birthday. The feline on

43
---
Avery Goldberg

Coming up Pink Poppies

Digital Painting

the lunchbox I'd asked for the new school year.

The gifts I'd never received.

Kyoto brought the book to me on the

floor, and we read through it together. I was

mesmerized. The thick pages were cool and

slippery, and I rushed to touch them. My fingers

brushed Kyoto's several times in my haste, until

she finally let me do all of the turning.

A woman's voice called from another

room. Kyoto left and I sat there with the book,

the weight of its pages pressed down on my lap.

I stroked the cherry red of the cat's bow. I had

an urge like I'd never had before.

I wanted this book.

I needed it.

I pulled up my shirt and tucked the book

into the waistband of my shorts.

***

44
---
It was a house of contradictions

plaques and degrees

rows of shiny metal squares that housed yellowed paper

Harvard Stanford

and an empty garage whose cars had been repossessed

a bartop

made from discarded bottle caps

remnants of the hours upon hours upon hours of drinking

lined up like dots of candy glazed in a sheen of glue

an over-sized dictionary on a large wooden stand

pages filled with red checkmarks

from the times my father forced me

to look up a word I mispronounced

where I stood and pretended to lecture

where I stood and pretended people listened

supple leather

lamps with tassels

and in the bathroom cartoons copied from the Sunday funnies

drawn in stiff sticky black acrylic

entire comic strips that looked down at you while you sat on the toilet

people

whose names I didn't know

people

who were there for days or weeks or months

or only hours

and then nothing

I shuffled down the hallways bunny in hand

nothing more than decoration

like the paint on the wall

a guest

a visitor

nothing

nothing made sense

and yet it was all I knew

come here little thing he said to me

it was the naked man with the sheet stuck in his ass

45
---
I'd been told

he was now my father

I sat right next to him

I didn't know how much closer I could possibly be

he patted

his leg the meaty thigh that peeked out from his corduroy shorts

I didn't like the way the material felt against my bare leg

his skin

nubs and sand and spiny hair

he tried to smile

it was always an effort just that

it was no smile I had ever seen before

one I would never forget

his handlebar mustache wrinkled and waved

fingering me to come

closer

he smelled

say hello to Mr. Bill he said

Bill was his name

and its name

oh nooooo it's Mr. Bill he said

he drawled and dragged the vowel

elongated it

his eyes widened

and his mouth formed an open hole

he thought he was being funny

I laughed the first time I saw the Mr. Bill skit on Saturday Night Live

and now this man sitting beside me

the man living inside my house and my life and my mind and my mother

thought it was a way for us to bond

Mr. Bill

the clay figurine manipulated by a hand

tortured

the malleable creature that had bad things happen to it

over and over and over and

over

***

46
---
Another divorce. Something called an annulment. Another move. Another

apartment. Back to the same complex as before, though, and even closer to Kyoto this

time.

Not all of our furniture had arrived yet and I lay on just a mattress with my mother,

the full morning sun flashing across my closed eyes, urging me to wake for the day. That

and the sound of humming from my mother's vibrator.

I closed my eyes, hoping to fall back asleep. I shifted my weight, to alert her. To

stop her.

I pressed my ear into the bed. To mute the buzzing. To block the thoughts. The

pillows hadn't even arrived, yet. But the vibrator had.

I lay.

I waited.

I fondled the pages of the Hello Kitty book inside my pajama pocket. I carried it

with me no matter where I went, the cover no longer pristine, its pages bent and mounted

by dirt. I dreamt of living between the pages, erect in its world, any world other than my

own. The sharp edges of paper tickled my fingertips as I flicked them into rhythm, a silent

feathering of the pages that went Prrrup, Prrrup, against my skin.

Finally, silence. Finally, I was dismissed.

I walked to Kyoto's. I was eager to be in the warmth of her home. The kitchen that

always bubbled with pots of food. Faces that were always happy to see me. No words

were ever exchanged, just many nods and smiles. But it was acceptance, the only kind I

had.

I pulled my fist up and knocked on the door. A man opened it. I had never seen

him before.

"Kyoto?" I asked.

He looked down at me and nodded, caressing his hand along the air between us,

coaxing me in. The look in his eyes scared me. I wanted to turn and leave. Immediately.

But I needed to see Kyoto. When I was with her, I could pretend I was like her. Happy.

Simple. Normal. I thrust my hand into my pocket to touch the cover of the book.

Kyoto came from around the corner.

Today she didn't look happy. It seemed like I had interrupted something. Like she

didn't want me there.

Today she wasn't simple. She was wearing lipstick, the color of fire and candied

apples, shocking against the innocence of her snow white skin.

Today nothing about her was normal. She was wearing very short shorts. A lace

halter top that showed the white of her stomach.

She kept pulling at the hem of the short shorts. But they didn't move.

47
---
She motioned me inside and nodded her head at the man.

"Father," she explained to me in stilted English. I had only met her mother all the

times I'd been there before.

He grunted at me, and through the parting of his lips, I smelled a foulness.

She grabbed me by the hand and walked me back to her bedroom. I tried not to

look back over my shoulder at him. I tried. I tried. I tried.

The warmth of her room was what I had missed. She closed the door behind us.

I stood.

I looked at the door knob, wishing for a lock.

I wanted a lock.

I needed a lock.

I waited.

The doorknob began to turn.

Her father came into the room.

he looked at Kyoto

I noticed the lipstick on her teeth

the strap of her top falling down her shoulder

he looked at me

he smiled

I knew that smile

it was one I had seen before

one I would never forget

I stood

I waited

I closed my eyes

over and over and over and

over

again

48
---
Nathan Coffey

Huddle

Photograph

49
---
A LOVE LETTER FROM THE SEA

TO THE OLIVE TREE

Sierra Vigil

I am the salty sea

rough and tempest too,

and you are an olive tree

in strong arms you hold the baby doves' coo.

I'll lap and I'll rap at the soft earth that cradles your roots

my gentle knock

a friendly knock

a lover's game of pursuit,

and you will wave your branches in the same breath,

I'll see their shadow on the horizon

when the ball falls and the sky turns red.

I can feel your being

though we are apart;

but it's not something that needs to be seenthe

gentle waves inside our hearts.

So here we are

counting stars

among other pointless things

and I love just being with you -

thank God we're in the same galaxy.

50
---
Kimberly Calles

Metamorphosis

Drawing, Pen and Pencil 14"x17"

51
---
Luisa Espinoza

Las Dos Fernandas

Painting, Acrylic on Bristol 11"x14"

52
---
MEXICAN AMERICAN

WITHOUT THE

AMERICAN

Nadia Celaya-Alcala

Non-fiction

Spanish was my first language. Coming

from two Mexican immigrant parents, it

was all I knew. It was all I needed to know. I

spoke Spanish because I am Mexican and

I loved it because I felt connected to my

parents and culture. However, that love

for being Mexican turned into a confusion

of who I am and who I was supposed to

be, being Mexican, but being born in the

United States.

I began speaking English when I was

around 4 years old. I began preschool and

I had to learn or drown. Like many children

learning a new language, it came easily.

Soon, it became all I spoke. Spanish faded

into the background of my mother's orders

and my father's conversations with my

Nana and Tata, who were also Mexican

immigrants.

Like the fading of my mother

tongue, my heritage began to fade into

the background at school, and school

being where I spent most of my time, it

affected me. One day, I was celebrating

the 4th of July and the next Dia de La

Independencia de Mexico. My culture

felt like it was on the back burner, but I

felt it had to be okay. I lived in the U.S. I

knew I was Mexican. I could love Mexico

and be grateful to live in this amazing

country. However, in the coming years I

would soon learn this "amazing" country

was against me for something I could not

control.

Though I embraced the American

life, it was never enough. My brown hair,

skin, and eyes set me apart from those

in my predominantly white school. I was

ridiculed from a young age for having

full eyebrows and hair on my arm. I soon

began to realize that this country was not

as amazing as I thought it was. I did not

feel welcome.

My first eye-opening experience with

racism was when I was merely 9 years old,

while shopping at ROSS in the perfume

section. The cart was in the aisle of sorts

and my mom was bent over looking at

the perfume selections. She was speaking

to my sisters and me in Spanish. My sister

and I heard a woman rudely say, "Excuse

me." As she continued to repeat herself

more loudly and aggressively each time,

my sister and I got my mother's attention,

as it was loud in the store and my mother

could not hear the woman. As we

signaled to my mother, the woman lets

53
---
out one more, "EXCUSE ME!" in a rude

condescending voice. My family and

I moved out of her way looking at her

like the crazy woman she was. She and

her blonde, white children finally passed

by us. As these movements occurred,

we hear this woman yell one last phrase

directed at my mother, "Ugh, wetback!"

as her children, specifically the oldest one

appearing about 14 years of age, began

laughing and pointing at my family and

me. We were shocked because though

we were young children, we knew the

gravity and intentions behind that word.

My mother raised her voice at her telling

her to shut her uneducated mouth up.

I felt lost on how a person could be so

cruel.

As I grew older, I realized more and

more that the U.S. was not the country I

had presumed it to be. It was full of hate,

racism, and bigotry against my people

and me. I did not want to be a part of

that society. Though throughout my

whole life I hated being called Mexican

American as opposed to Mexican, after

these experiences of racism, I began to

emphasize this hatred to be classified as

"American" even more. I was not and

did not want to be an American. I did not

want to be a part of a country that did

not even want me.

I realized where I belonged. I began

to love my culture more than ever

54
---
efore. I felt home speaking Spanish and

surrounded by those who understood me.

I did not enjoy the celebration of America

like I once did. I appreciated my parents'

sacrifices for me to live in a country with

more opportunities, but that was the

extent of my love for America. How could I

love a country that hated me?

As a child, I jumped from school

to school, most being private schools

populated by white wealthy families. The

experiences at these schools made it that

much more special when I found where

I felt I belonged, being able to compare

this feeling of community to the opposite

feeling I had felt throughout my time in

private school.

In October of 6th grade, I moved to

the first public school I had ever attended,

Rivera Elementary School. It was filled with

Mexican Spanish speaking people. It felt

loving, nurturing, and it felt like family. Here

was when I felt most utterly and uniquely…

ME.

Though the journey of appreciation

and acceptance of myself and my culture

has been filled with difficult experiences,

I could not be prouder of my culture. I

learned that being born in the U.S. did not

have make me American, nor did I have

to fit into society's idea of how Mexican I

could really be if I was not born there. My

family is Mexican, my culture is Mexican,

and so am I!

Ashley Carmichael

Desert Blooms

Painting, Watercolor and Ink 18"x24"

55
---
Jennifer Prybylla

Time

Painting, Oil on Canvas 16"x 20"

56
---
WHO'S COUNTING?

Alexa Lewis

Statistics show one in three women will have become victims of sexual violence at some

point in their lifetime.

I think of how unlucky I must be to have been sexually victimized three separate times

before the age of twenty-one.

I think about how unfortunate it is to have a friend group of six

And out of us six,

four of us were victims of sexual assault/abuse before we were even eighteen years old.

I was only thirteen the first time,

And nineteen the second time.

Twenty the third time,

And how scary to think that I cannot guarantee it will be the last time.

The numbers just don't add up,

And it's only visible if you're counting.

57
---
27

Arial Autumn

Twice before and now again

we find ourselves at beginning's end.

Wars are lost as we have grown,

and humanity is unwittingly dethroned.

Wolves and vampires wait in darkness,

in realms unknown and deepest slumber.

The worlds gone quiet and now we awake,

anew and free with a world to take.

Our cold forests and empty cities,

in hallowed dusks and quiet mornings.

Born to love, lust, and hunt

we preserve what humanity has lost.

Mankind is not on top anymore.

The food chains corrected,

and nature rejoices.

58
---
Portia Cooper

Rocket

India Ink on Bristol Paper

59
---
MISSING ALREADY

Carol Korhonen

Those under 21s living at my house

(there are three of them)

have determined and decreed

the proper place for damp towels is

on the bathroom or their bedroom floor

wadded strategically to insure

maximum mildew growth.

Those under 21s living at my house

(there are three of them)

all go to school close by.

The two girls go to U of A

four blocks away, but they drive

or are chauffeured by me.

The 14-year-old boy, a high school freshman,

always needs a ride.

Those under 21s living at my house

(there are three of them)

all dearly love our two big dogs

who shed black and white fur

in copious amounts,

but they never walk the dogs

and never bathe them, or

(god forbid)

clean up the dog run.

60
---
Those under 21s living at my house

(there are three of them)

Don't like to vacuum up the dog hair

Except 14-year-old Josiah.

Jo - "I vacuumed almost the whole house,"

me - "Wonderful, good job,"

Jo - "I just kept going 'til the vacuum sort of stopped working,"

me - "Ah."

Those under 21s living at my house

(there are three of them)

all love my husband who is forever willing

to help them out, give them money,

complaining bitterly to me later, in private.

Now he complains, "Why didn't he change the bag?"

as he helps me try to reassemble the vacuum cleaner,

its innards choked with dust . . . and dog hair.

Those under 21s living at my house

(there are three of them)

are all very busy with classes, band, clubs,

and choir plus part time jobs.

They're hardly ever here.

And when they're not here,

I miss them.

61
---
MOMMY COMES

BACK

Mora Hedayati

Non-fiction

Yesterday as I sat eating my lunch,

my four-year-old daughter began bringing

me her stuffed animals one-by-one

to "drop them off" at school. I sighed,

resolved to dive, once again, into playing

"mommy comes back." The game has

gotten more elaborate over the years

--this particular version involved her roleplaying

several different parents as she

dropped them off with the teacher (me)

and then came back to pick them up,

one by one. Each time, the joy and relief

of seeing her kid again after a long day at

school was still so real it was palpable.

We have been playing "mommy

comes back" in some form or another

since my daughter was 14 months old and

I began dropping her off at the YMCA

daycare for an hour or so each day as I

went to exercise. Every parent knows the

slight panic and heartbreak of dropping

their child off with strangers for the first

time, whether that child is six weeks old

and the mother has no choice but to go

back to work, or 3 years old and they're

heading to daycare to be cared for by

someone outside of the family for the first

time. For me, who had the privilege to

choose to stay home with my baby for the

first years of her life, it was a much needed

62

Miyeon Kim

It's Addicted Me

Black Ink on Canvas 21"x26"
---
eak for my mental and physical health.

And though worth it, it was always really

difficult to hand my screaming toddler off

to the very patient and loving caregivers

in the "bumblebees" room at the Y.

Even now, after a couple of solid

years of preschool under her belt, my

daughter's trembling lip and brave tears

at drop-off mess with my emotions in a

way that nothing else does. I say, "Have

so much fun today sweetie! I'll be back!

I love you," and sometimes I have to

hold back my own tears depending on

my mental state of the day. I think about

how for almost 3 years, we have been

talking about, singing about, role-playing

and processing this transition away from

mom. I think about singing "Grownups

Come Back," one of the jingles on "Daniel

Tiger's Neighborhood" (a children's

show written by child psychologists who

know the psychological toll saying "bye"

to the grownups in their lives takes on

kids) hundreds of times before putting

my daughter to bed. I think about my

chubby little toddler handing me a stuffed

bunny and then waddling out of the

room, pausing for a moment, and then

waddling back to joyfully pick up her

bunny, roleplaying the "mommy comes

back" scene before she even had all of

the words. I think of the cherished noodle

video, that we adored and laughed

at, and look back to watch often and

fondly, which shows my barely two-yearold

daughter sitting in her high-chair and

reciting a whole story about daycare

dropoff with her noodles. I think about my

baby girl who has taken years to process,

63
---
and who is still processing through play,

the most difficult part of her day. I think

about all the patience and love and time

that has gone into assuring my daughter

that grownups. always. come. back.

And then I think about the children at

the border.

I think about how those ripping the

screaming children from their pleading

parents are not kind ladies in the

"bumblebees" room. They are men and

women who have been able to warp their

minds into believing that these children

are not human in the way "our" children

are. They are trained military personnel,

not child psychologists. They are people

who have been able to fathom a level

of cruelty beyond what anyone wants

to see, and what we in fact often try to

avoid, because it is too painful to know

that this is happening under our watch.

This country was founded on

ripping children from their parents (see

Washington Post's America's Cruel

History of Separating Children from Their

Parents). It is something we have always

done and continue to do. We separate

families when we incarcerate parents at

a rate at least five times higher than any

other country. Over 5 million American

children have been affected by parental

incarceration, with black and brown

families being affected most severely. We

separate black and brown babies from

their mothers when these mothers die

in childbirth or from pregnancy-related

causes at a rate 2.5 times higher than

white women. We shackle imprisoned

women to hospital beds while giving

birth, without informing their families,

and then make them turn the babies

over less than a week after birth to be

taken back to prison. This separation of

families is something our current state of

politics still emboldens many people to

do, and encourages the greater masses

to be too numb to care about. To this

day, at least 600 parents of children

who were separated under the previous

administration's "zero tolerance" policy

have still not been found, and we are

faced with the horrifying reality that

they may never be reunited. "Grown

Ups Come Back" won't be true for all

children, and this will have lasting effects

for generations, as it has for generations

before us.

My daughter was born by c-section

one week before the 2016 election.

The first thing I remember is her squeaky

cry and her dimpled chin. I remember

laughing so hard (and wincing in pain

because the laughing hurt my incision)

with my husband as she bobbed her tiny

face against my breast like a little blind

kitten looking for milk. She was so fragile.

As we start moving through her fourth

year, I'm amazed at how much she's

grown, the interesting questions she asks,

and most of all, her brilliant imagination.

But her tininess still amazes me too, and

her dependency. She's still a little kitten

learning her place in the world. She still

depends on me and her dad for her food,

her shelter, her physical and emotional

comfort. I can hardly imagine her being

64
---
Thurwin Lane

John and Rena

Painting, Acrylic on Bristol Paper 8.5"x14"

forced from my arms by an unknown

militiaman. But I think this is what we all

have to do-- to use our imaginations to

understand--just like my daughter has

done for years. Because it is not just in our

imaginations; it is real. Sadly this nightmare

is not new, and it is not over just because

there are new people in power.

At the end of the noodle video my

daughter dictates for the mommy noodle:

"I was out exercisin' -- now I picked you

up!!!" and her chubby cheeks form a

huge grin. Then she imitates a noodle hug

before saying proudly, "The end….of my

noodles." I want to live in a world where all

stories have happy endings like this one.

To donate to Arizona Justice for Our

Neighbors, a local Tucson organization

helping provide legal services to

immigrants, please visit azjfon.org

Sources:

https://www.prisonpolicy.org/global/2018.

html

https://www.cdc.gov/media/

releases/2019/p0905-racial-ethnicdisparities-pregnancy-deaths.html

https://www.theguardian.com/usnews/2020/jan/24/shackled-pregnantwomen-prisoners-birth

https://www.aecf.org/resources/a-sharedsentence/

65
---
David Parsons

George Floyd- SAY HIS NAME

Digital Media 81/2"x11"

66
---
STYGIAN

Chretien Martinez

Non-fiction

The damage that has been done

to the minds of young black men may be

irreversible. We stand as these beasts of

burden, told that we may carry our weight

freely, but is it truly freedom that has been

given to us? Too often we meet men who

wish to block our paths, spit in our faces,

dishevel our spirits, and drive us to an

everlasting anguish - a White Death.

Our color, black. It is synonymous

with evil; the black plague, the black

devil, the black expanse of space - airless,

breathless, a backdrop for the glorious

white stars which grab the eye's wonder

and the mind's affection. We are but the

void - nothing, vacuous. Our minds do not

contemplate, nor do they ponder upon

philosophies, or meanings, or emotion.

What is the gloaming without its gloom?

We drag our knuckles not from

stupidity, but from the overbearing eye

of he who has placed such heavy weight

on our shoulders. Could those veiled eyes

beam gossamer then, and touch my

rejected flesh?

This existence isn't pure. This life we

live is not one of lascivious reverie. Our

very hearts have been ripped from our

chests and compared to those who deem

themselves of the highest form - what

conclusions did they draw? They drew

the ones which allowed them to treat us

as ogres - not human enough to respect,

but close enough to fill with disease. Do

I even value myself? For the Son of the

Father now has blonde hair and blue eyes

for that mythical Aryan to kiss his feet and

feel emboldened. For this image does

the intellectual racist serenade his flock

with scientific riddles, filled with the jargon

of imperial justification - oh, if they only

knew how much we could love them, our

brothers! If only they knew how strongly

we yearn for an eternal embrace.

67
---
A BODY OF FUNDAMENTAL PRINCIPLES:

WE THE PEOPLE

Mauricia Manuel

Part 1

"We the people, living between litter filled oceans,

Selected citizens born on land

but floating on an endless stream of judgment."

I worry about the clothes I put on, too much thigh, too much chest?

Too much sunless skin, covered in moles and birthmark, nothing like the rest.

"We are practicing to be perfect, entirely without fault,

Satisfying all requirements of being a standard American with all obstacles included,

while the world conspires against generations of imposed poverty."

I search for the big yellow clearance sign for clothes, for food, no tag goes unturned.

Always skimming through coupons, hand me downs and day-old dinners without concern.

"We have become crabs trapped in a barrel,

yanking on each other, in fear of someone making it out first.

Programmed to believe that there can only be one winner."

I thank the creator for scratcher wins, close calls, and found pocket dollars.

For making it home at night, through parking lots, around every corner without a hollar.

"We the people. Are expected to be more than we are in flesh, in mind.

Encouraged to be tranquil during a period of violent efforts. Told that we are liberated

While still enslaved by screens and job demands, leaving our families without us."

I have been trapped in a loveless marriage, before the rivers dried up, while roads were paved

Been screwed over by broken treaties and gentrification, following too quickly to be saved.

"We, whose soles beat the concrete. We are not in union, but we still create a connective

rhythm."

68
---
Part 2

We the People of the United States, in Order to form a more perfect Union, establish Justice,

insure domestic Tranquility, provide for the common defense, promote the general Welfare, and

secure the Blessings of Liberty to ourselves and our Posterity, do ordain and establish this

Constitution for the United States of America.

Part 3

We the people, that have broken and rebuilt this land under death and dreams

People of an accepted ignorance proclaim a fresh start to create more,

A perfect union, hidden under generations of repressed change.

In thought of our future children, saving them from all forms of hatred. We

establish justice for protection and not for power, one that will not crumble under greed.

Justice for the silent mouths and twisted bodies of past and current wars, deserving of

a domestic tranquility. A stillness to the current flow of madness that digs graves and regrets.

Peace is our common defense to an unsavory foundation, to grow in essence and in intelligence.

General welfare is for those bedless and hungry. We strive to be compassionate and courteous,

Blessings without debit. The Liberty, the power to choose another day, another path.

Our children are free to be. We are the change, the justice, the serenity in this world.

We the people embody these morals for the growth of a harmonious county.

69
---
THE LITTLE WIND

Raymond Butler

Creative Non-fiction

I'm tired of running to stay fit. I still

run, not because I want to, but because

I have to; I don't have a choice. I was

diagnosed with hypertension when I

was 25 years old and I've had to take

medication just to control it. My doctor

said this condition recognizes no class of

people and that exercise is better than

any medicine he could give me. I have

been running ever since. I run because

hypertension runs in the male side my

family. I feel like I race hypertension every

day and I run to save my life.

I am Navajo, a survivor, and running

is an important part of my culture. I remind

myself that running is a reverent prayer

spoken with one's body. It is a spiritual

exercise as well as a physical one. When

man and woman were created, the

gods discussed who would take care of

their creation. The Little Wind spoke up

and claimed this as an honor. The Little

Wind blew into the man and woman so

now each of us breathe and if we hold

our hand near our mouth, we can feel

the Little Wind as we exhale. We can see

the Little Wind's tracks on our finger tips'

whorls and arches. With every breath,

I am reminded of the Little Wind, more

so when I run. That is how my father and

grandfather taught me.

This afternoon, I change into a t-shirt

and shorts, to once again shoulder the

burden of my genetics. The entire time

I hear my complacency's seductive

voice in my head, and I see myself on a

comfortable recliner, nibbling on a light

snack, and sipping an iced beverage. I

add a pair of socks and shoes. Before I

change my mind, I walk to the front yard

for my stretches. I can feel my pride swell

from overcoming complacency. My

grandfather's image floats across my mind

and I see him nodding. My grandfather's

teaching is that I am what I choose to be,

but only with my own effort. My father,

echoing my grandfather, told me that

I could be and do anything I wished if I

was willing to work for it. I touch my toes

to stretch and warm up the back of my

legs, feeling the tightness ease away. I feel

the muscles in my lower back resisting the

stretch but gradually giving way. I grab

my instep and stretch my thighs, creating

the familiar sensation of almost pain but

not. I push against the wall of my house to

awaken my calves. I jog in place followed

by some jumping jacks and my heart

rate climbs. It takes me about 15 minutes

to limber up and now a five mile run is in

70
---
order, as usual.

I can hear complacency purring

sweet nothings in my head. "You know

it doesn't have to be such a long run.

You've already exercised for 15 minutes

and that's better than most people get."

"If you listen to that, you'll end up

being a can of Crisco with legs." My pride

strokes my self-image. My masculinity

barks like an alpha. I ponder when I let a

part of myself become so militant.

I begin my run toward the west. I

know my grandfather always required

that I run toward the east before the

sun rose to greet Dawn Boy and Dawn

Girl as I ran. White Body comes from the

east and we hail White Body by shouting

as we start our run. White Body showed

patience and understanding when he

explained to The People how to cleanse

their bodies in preparation for prayer.

White Body translated the Holy People's

speech so The People could understand.

I pray for forgiveness for starting my run so

late in the day and going in the opposite

direction. I shout, trying to keep within my

grandfather's teaching and I talk myself

into believing that since my neighbors

live east of me, the holy people will

understand.

The sky is cloudy and the

temperature is very nice, hovering

between 70 F and 75 F in the afternoon.

I run in loose dirt and sparse high desert

vegetation. I see only one saltbush. They

are few and far between, although

they used to proliferate along my route.

I run past sand sagebrush, also fewer in

number, but it is a hardy plant that has

some spiritual qualities. Its smoke carries

one's prayers and its ashes can act as a

form of protection. It is also a medicinal

plant when used appropriately. There is an

occasional plant called Mormon tea, with

its green, straw-like foliage, which makes

a tea that tastes similar to orange pekoe. I

see Navajo tea with its yellow flowers and

remember sipping it while my dad would

drink his morning coffee. Navajo tea is

quite similar to Oolong tea; the color and

flavor are the same. I remember adding

honey to my tea and sitting like my father,

sipping my tea whenever he sipped his

coffee. I pass yucca, displaying its wide,

knife-like bladed leaves, which makes a

great soap if you know how to use it. My

grandparents taught me about these

plants so I notice them.

Melancholy swells within me at the

scarcity of vegetation, yet it is a very nice

afternoon for a run. My complacency

places an image of a warm blanket and

a nice fire in my mind offering up comfort

while it softly breathes, "That hot tea

sounds heavenly. It isn't like you follow

your belly through a door."

My knuckle dragging masculinity

chuckles at the notion. "I can hear you

71
---
laughing, you know," I tell myself. My

pride, my masculinity, my complacency,

and my self-image begin arguing, posting

images of me across my mind's eye. I tell

myself to ignore them, even though they

are me.

This area where I am running is an

array of sand dunes and the dunes will

become bigger in the future if the winds

continue as they have been. The drought

has caused the deterioration of plant life

and I think about what used to be. The air

I'm breathing is a dry echo to the lack of

precipitation.

The sand grabs my shoe and forces

me to expend more effort with each step.

I imagine it sucking me into the beauty of

these dunes. The gentle slopes roll along

but at their own pace. I note that they

are multi-faceted. Parts are covered in

ripples and other parts are so smooth I feel

like reaching out to touch them. Particles

of sand reflect the sunlight and seem to

twinkle while other parts gleam a steady

reflection of the sun. The dunes curve,

sculpted by the winds, and casts shadows

in the sunlight that highlight the sparkles,

winking with my every step. It is almost

like gazing at the night sky with its stars

twinkling, but in full daylight. I marvel at

the artistry around me. Whenever Mother

Earth, Father Sky, The Sun Bearer, and The

Little Wind combine their work, creating

such astounding visions, I am reminded

72
---
Sarah Bryg

Light Travels From A Dead Star

Drawing, Pen and Ink 10"x14"

that I run with beauty all around me. The

Little Wind whirls, picking up sand and

carrying it in a column, as it continues

to sculpt the sands. The Little Wind has

decided to run with me.

It isn't long before I am breathing

hard, my core temperature rises, and

I begin to sweat. My body, a bipedal

mobile canteen, provides moisture to the

thirsty desert. It wicks away my sweat,

leaving me feeling cooler. I feel the

fatigue in my lower leg muscles and my

hip muscles start to strain. I push myself

since I know I will get to the end of the

sands soon.

I struggle up the face of one dune

and peek down at my feet half buried in

sand with each step. I see another facet

of these dunes. Each step causes the

sand to flow downhill, carrying me down

with it. I have to step faster, to continue

my upward climb, further straining my

muscles.

"You know, you'll get the same

work out if you walk these dunes," says

my common sense. "Walking? You can

double time or you can double chin," says

my knuckle dragger side. An image of

rippled abs flow across my mind but it only

reminds me of the ripples in the dunes.

The undulations of the terrain, like

tan waves frozen in place, sap my will to

soldier on, but fortunately I can see the

edge of the dunes. It's not endless. It only

73
---
Dani Gailbraith-Ritchie

Beating.Still

Ink on paper, 4"x4"

feels that way. I'm a mile from home; just

one mile.

"Was it really worth it?" I hear in

my mind. Gulping air, I'm not sure which

part of me had spoken. An image of my

grandfather riding his horse at dawn pops

to my mind. I remember him waking me

at dawn to make me run. He would follow

me on horseback to make sure I didn't

stop. I became adept at running and

forced his horse to work for its oats. I hear

parts of me chuckling and I join them.

Together we remember that time I saw

grandpa's horse covered in sweat after

my run. My grandpa smiles and nods to

me as he began wiping down his horse.

These fond memories move to the front of

my mind and I smile to myself, although it

wasn't fun at the time.

Now I'm on hard packed clay

and running is easier. I can get into the

groove and allow my body to run as it was

designed; for long distance two-legged

travel. My arms, my legs, my breath, and

my heart are now in rhythm. I feel peace

and tranquility ease into place. I am in

harmony and I can run as far as I can

see.

My ancestors walked from place to

place, traveling great distances. Running

grew in importance to honor the Holy

People and to maintain communication

between far-flung communities. I imagine

myself to be one of these runners.

74
---
To my right is a tall cottonwood

tree, majestic among the low desert

vegetation. It started in a small wash

where it received what little runoff was

available. I salute this solitary denizen of

the desert as I run by. To my left is a stand

of tamarisk trees, native to Africa and the

Middle East, crowding together against a

water retention dike. These trees bloom a

delicate pink, almost tan, flower against

its dark green foliage, almost like the

ground, an Army pink hue, migrated into

the trees. I see birds flitting about among

the branches, their song adding to my

heartbeat and foot falls. The pond is dry

like the surrounding beige landscape. The

pond basin is cracked dirt forming odd

shapes as it dried and curled up after

baking in the sun. I see the mesa still a

mile away, a strange dark outcropping

in the tan of the desert. My legs are twin

pendulums swinging back and forth as the

miles tick by.

The Little Wind moves its hand

across my face. The azure of Father Sky

is overhead extending from horizon to

horizon of Mother Earth. I exist between

their embrace. I begin to understand why

Mother Earth bedecks herself in turquoise

and warm colors. I try to ignore the Sun

Bearer glaring down at me; he who is

the father of the Hero Twins. I move on,

knowing I run with the Holy People.

I reach the base of the mesa where

I intend to run to the top and then some.

I lean forward into the upward slope. My

toes bear the brunt of my weight. I notice

bits of igneous rock and realize the mesa

top is one big slab of the stuff. I wonder

how this could be since every other hill is

the sandstone the southwest is known for.

My mind wanders as I labor up the slope.

It's not a good thing to lose myself in

thought as the danger of a slip and injury

rises as I climb higher.

I feel the effort of running uphill first in

my thighs, and then my big muscles begin

to feel the burn. The mental struggle to

stay motivated becomes as real as the

struggle of my muscles. I step on bits of

igneous rock, pebble sized, along this trail.

Larger pieces are more treacherous so I

avoid them. I watch the ground in front

of me but the slope is steep and I could

reach out and touch the ground.

Complacency nuzzles my ear.

"You're running as fast as you could walk

this. It's better to just walk uphill."

"Quit now and the hill wins, right, fat

boy?" My pride and self-image combine

forces.

My brain cries for more oxygen, but

my lungs blanch at the extra effort. I peek

up and see I'm halfway to the top. From

the depths of my memory I recall The

Dichotomy, one of Zeno's paradoxes. It

is a theory of infinite halfway points. No

matter how close you get, there is always

75
---
a half way point and you never arrive. I

wonder if this is what hypoxia feels like.

"Since you're always halfway, you'll

never reach the top. It makes more

sense to turn around and go down."

Complacency is making sense. I hear a

cacophony of objections from other parts

of me.

Images from the objectors vie for

attention until my eyes sting from the

sweat that flows freely off my forehead.

Almost to the top, I decide I'll walk when

I reach the top. I can sense the smugness

of my pride and self-image. All that's

missing is their ability to chest bump. As I

think it, they do it in my mind.

I reach the crest and see

thunderstorm clouds headed my way.

I walk to recover and consider my

options: go home or continue. The

storm is still a ways off so I keep walking;

I can always turn around if the storm

gets too close. I look back at my route.

Walking backwards, I can see, in the

distance, Castle Rock, a massive block of

sandstone. Its four parapets make it easily

distinguishable from the other sandstone

ridges. Slide Rock is near the castle but I'm

too far to see it. Other mesas are clearly

visible miles away, all formed by a slab of

igneous rock and looking very similar to

the one I walk upon.

I turn and see Dook'o'oosliid, the

sacred western mountain of the Navajo,

a hundred miles to the southwest. The air

is clear and I can see the tree line near

the peak. Closer, I see a dark line across

the desert. I recall that this is a fault line

where igneous rock and lava rock rise

to the surface. This fault line is aligned

with the mesa I stand on and I question

whether I am on a volcano. I see Shadow

Mountain further west; a monumental pile

of volcanic cinders forming a dark mound

against the tans and greens. I look the

other way, to the north, and see a dark

peak far in the distance. This peak is very

much like a volcanic peak and I realize

the fault line extends for many miles.

The sacred mountain's name could be

translated as fire-belted mountain, which

seems to fit with the fault line and other

hints of a volcano which has been hidden

in the past.

The top of the mesa where I walk is

flat and barren except for sparse, shin-high

vegetation. The air is somehow different

and it is refreshing. I see an air navigation

building near the center of the mesa and

jog closer to it. I can see that it's fenced

in and the gate is locked. I walk around

the entire building looking for an opening

but there is no passage through the fence.

There's a brick enclosure a short distance

from the building. I move to the enclosure

wall and jump up to peek into it. There is

something blue behind the wall. I grab

the top of the brick wall and hoist myself

76
---
Luisa Espinoza

Los Tiempos Se Van Volando

Painting, Acrylic on Bristol 11"x14"

77
---
up, and see a blue propane tank hidden

inside the brick fence. Looking down on

the tank, I wonder if there is a propane

device inside the air navigation building.

There is a bright flash of light and

a crash of thunder, so close it vibrates

through my body. It startles me back into

the moment. The storm I was supposed to

watch has snuck up on me. The hair on

my arm and my head reach skyward. The

wind whips dust into my eyes and the sky

dumps rain on me.

I scamper to the lee side of the

brick enclosure where I cringe, partially

protected from the wind and rain. The

clouds seem close enough to touch, and

lightning plays among them. I imagine

myself struck and my epitaph: Here lies

what used to be a dumb human male.

The thunder is so loud it reverberates

through the brick wall and seems to

rattle my brain. The ravenous Thunderbird

craves the flesh of a buffoon, namely me. I

look up and see lightning running its fingers

through the whirling clouds. In stark terror,

my mind ponders how Monster Slayer, one

of the Hero Twins, could do battle with

the Thunderbird, while my body tries to

disappear.

I crouch down as low as I can

get, hugging my knees in a vertical

fetal position, and imagine myself an

imbecilic electrical conductor. I imagine

the Thunderbird screeches and lightning

flashes across the sky. Each wing flap

creates a roar that shakes me to my core.

I understand why my ancestors believed

in the Thunderbird because I feel tiny

and insignificant, not even a toy to the

Brobdingnagian Thunderbird. I don't have

the courage to stand up in defiance of

the Thunderbird. My primitive mind tells me

to freeze or run; my cognitive mind asks

where that word came from.

Indecision sits with me and simply

waits while I cower in my poor shelter.

My choices are to stay and get struck by

lightning or run for my life and get struck

by lightning.

"Since you're going to get struck

anyway, flip the bird the bird. Be a

man." My pride has more courage

than common sense, I chide myself. My

cognitive side, trying to be helpful, says

I'm having a fight or flight response. I can't

fight so it is hide from the storm or run.

I bolt from my cover; my feet barely

feel the ground, which is now mud and

rock. All I have to do to survive is outrun

lightning. No problem. The mesa edge

stretches farther away. I marvel at how

my muscles are no longer fatigued. I

imagine myself a live lightning rod as I

pound through the rain; my legs no longer

pendulums but twin pistons driving my

flight. With every step, a life time passes,

each heart beat takes an eternity to lubdub.

I run in defiance, for I will not simply

78
---
wait for my end. The Thunderbird will have

to work for this meal.

Maybe I got lucky, I'll never know,

but I'm at the edge and I begin the

descent. I resolve to curb my curiosity

and to stay alert to my surroundings. It

is strange how my curiosity nudged me

out of harmony and I didn't even realize

it. That is until the Big Wind brought the

Thunderbird and the male rain. Now, I

run pell-mell down the trail I struggled

up a short time ago. I can see clearly

the treacherous rocks and I adroitly

avoid stepping on them. I glimpse how

a mountain goat does it, but only for a

moment. I reach the bottom, and at the

base of the mesa, the Thunderbird seems

far away. The Big Wind doesn't trouble

to follow me as the male rain bashes the

mesa top. The hair on my arms and head

have relaxed and returned to normal. I

notice I am gulping air and my legs are

quivering. I begin a slow wobble toward

home.

I'm soaked and my clothes cling to

my body. I notice the breeze and realize

the Little Wind is with me again. "I never

left you," it whispers. I am emboldened by

that but at the same time I'm chagrined

that I was caught with my pants down.

My legs, once pendulums turned pistons,

are simply the things that keep me from

falling. I am back by the cottonwood tree

before my legs recover.

I run on; the way my ancestors have

for generations. This seems to be a natural

part of who I am. Taught to me by my

fathers before me, encouraged by my

mothers, I am a part of my people and

I exist among the Holy People. I, once

again, notice the beauty all around me. A

deeper thought occurs to me. We all walk

in beauty, whether we see it or not.

With my clothes still damp and

clinging to me, I continue toward home,

grateful to still be alive, running with a

greater appreciation for life, a deeper

understanding of my ancestors, and a

new perspective of who I am. I am a more

humble man, still needing to run, but now

it is not such a great burden. The Holy

People have reminded me that running is

truly a celebration of life and I recognize

that they are a part of me. I run to live. I

run to honor the Little Wind.

79
---
Kimberly Griffen

No Parking

Photograph

80
---
ANAEROBIC

Iris Hill

I will come over and repot your plants

delicately around the edges

eventually under your roots.

My knuckles will bleed into the new soil

And I will recoil

into the

runoff.

This is the closest I'll ever get to flourishing,

like a coffee plant in Arizona.

I will grow and bloom,

But I can never provide you with what you want.

81
---
THE BLUE CARPET

AND THE CHERRY PIE

Jazmin Garcia

The cozy cozy room

paintings on the wall

black and white photos

that familiar blue carpet

gone.

A vibrant blue

existing in the shadow of maggots

numerous and thriving

the blue had ceased to live,

but no one knows when.

Death's foul room

feeding off sorrow

stealing the blue off the carpet

damaging everything

except -

-the cherry pie in the kitchen

untouched, undisturbed, eternal

so picturesque

even if touched by death's breath

unchanging, even as the blue decayed.

A glimmer of hope

or dark reminder

so, it joined the blue carpet

similar fates

never to be seen again.

82
---
Zevi Bloomfield

Siren

Graphite With Colored Pencil and Collage 16"x16"

83
---
Sivanes Ananda

Dutch Windmill at Golden Gate Park

Painting, Oil on Canvas 20"X16"

84
---
TWO DAISIES

Jazmin Garcia

Two daisies in a field

growing together

almost identical

away from the rest.

Always together

rain or sunshine

wind or drought

side by side.

The lonely daisy

Outstretched its leaves

Looking for a friend again

Until her arms ached

A pesky weed sprouted

too close to one daisy,

it grew and took hold

pulling them apart.

Now the rain drowned

the sun dried

the wind bent

and the drought parched.

One in the clutches of weeds

the other stood alone

a single daisy in the field

away from the rest.

The single daisy

tired, alone, beat

withered alone

away from the rest.

85
---
THE SONG TO COME

A.Z. Martinez

Sweet land of "liberty";

My country, 'tis of thee––

America;

Land of the Free

I raise up my glass––

toast, and drink

To thee

Raise a glass(!) to (freedom)

Something they can

never(?)

take away

(we pray)

Land of the Pilgrim's pride

Land where (my) fathers died:

We sing from day to day;

With each added weep

Another joins the fray––

For?

A somber, bitter tale

Told in vitriol and gore

From sea to shining shore

Revolution

Cry the masses

Their drunken delusions rein––

they bring us to; again down they swing

Hear the call:

Raise a glass to freedom

Something

you will never see (again)

O' say does that star-spangled banner

… yet wave?

86
---
Avery Goldberg

A Shamble of a Band

Digital Painting

87
---
Nathan Coffey

Columbia

Photograph

88
---
GOOD AND EVIL

Chacara Thomas

A response to The Judment Day by Aaron Douglas

They've told false tales to tarnish my character

Stripped me of my livelihood

Drained me of my sanity

I don't blame them

I blame their parents

And their parents

Matter of fact, I blame Cain

For allowing hatred, envy, and jealousy to run through his flesh

Causing a domino effect for generations to come

Hearts are truly made of stone

They may laugh or celebrate the pain they've caused

They may even get away with their evil doings here on this earth

For their justice system isn't for all mankind

Specifically my kind

Still I must warn them

It will come a time

their power will fade-away

Sound the alarm!

Here lies a judge with all powers

Fair and true

I shall drop to my knees and rejoice

Judgement is here to swipe the nations

Dividing the evil from good

For their time is long over due

Work Cited

Douglas, Aaron. The Judgement Day. 1939, National Gallery of Art, Washington, DC.

https://www.nga.gov/collection/art-object-page.166490.html

89
---
DOCUMENTED

THOUGHTS

Christopher Valenzuela

Who am I

to call myself Chicano

when for so long I thought

Mexican

was a dirty word

when I thought that el barrio

was a place you escaped from

like a prisoner

those people who

had shackles on them

that looked like flannels

with one button

and when I thought that chunti

meant ugly

Who am I

to look in the mirror

and whisper softly

te amo

te quiero

90
---
to speak in the same tongue

as people who seem to never waver

in their pride

for la raza

to ask La Virgen de Guadalupe

if she can hear my prayers

when I stumble

through ñ and rr

because I never took the same time

learning Spanish

as I did English

learning how to write poetry

craft story

understanding the ladders that make up

grammar

Who am I

to wear nothing but band tees

and get embarrassed

when banda starts to play on the radio

hoping none of my friends

might see me

at my tio's house

celebrating life

with my family

Who am I

Dani Gailbraith-Ritchie

Chula Chapala

Painting, Acrylic on Canvas 14"x14"

91
---
I am raped by white culture

and grow up thinking

that I am La Malinche

not the mother

who helped birth our people

but the traitor

who thinks her own culture

not worthy

of being studied

made to feel like it is my own fault

I take French lessons because Spanish

reminds me of summers

in Nogales

and how small I felt

inside my father's big house

on top of a hill

with a thousand stairs to reach it

from up there I am reminded

that I belong to

the other side

of the border

I am white (passing)

until I exist

in white spaces

then

I am other

beaner

brown

ese

I am called wetback

because so many who look like me

float across a river

searching for the dreams

that white men sold them

for pesos by the hour

and while their backs are wet

with water

that brings life

the men here have hands

that are soaked

in blood

blood of the past

blood of the present

blood of the future

the same border that is only

200 years old

and cuts deep into the histories

of ancestors that I don't know of

because it is like an open wound

festering and bleeding

over soils that are not even tended

by the hands that claimed it

as their own

For my ancestors

this is the promised land

Aztlán

but all we are given are

broken promises

from conquistadors

that say we are

illegal

alien

on land that they claim

to have discovered

92
---
No trespassing

they tell us

trespassers will be shot

(and raped, and maimed, and beaten,

and dehumanized)

Who am I

to question the systems

that shaped me

and gave me these gifts

of anxiety

and depression

and self-hatred

to break cycles

when I keep thinking that progress

is linear

to not remember that

internalized

is another word for buried

and the unearthing

of trauma

that I inherited

feels destructive

because I am

used to seeing myself as the serpent

but maybe I am the eagle too

93
---
WAVES

Jazmin Garcia

I was standing on the beach

toes buried in the toasty sand

smelling the salty air as the clouds chased the sun.

You shouted my name under skies of peach and cherry

as the waves were crashing.

A love song drifted from the pier,

I looked up while the breeze hugged me lightly

you took me by the hand

and led me to the water's icy lullaby

as the waves were crashing

I stepped into the foaming sea

and I froze as the water slowly became obscured.

Darkness was approaching and I felt hesitant,

but you said stay with me

as the waves were crashing.

I saw the fading seafoam green

reflecting with brilliance in your eyes.

The chorus of the seagulls filled my head

never letting go while we lost our balance

as the waves were crashing.

You and I were standing under the moonlight.

The water and the delicate wind grew chilly,

it was euphoria: just you, me, and the sea,

you whispered it will be alright

as the waves were crashing

94
---
Ulises Ramos

F.E.L.T.

Digital Drawing 12"x12"

95
---
Clarissa Holguin

Whimsical Waves

Painting, Acrylic on Canvas 8"x10"

96
---
SMOKE SIGNALS

Christopher Valenzuela

I don't need to fly into the Sun

to catch myself on fire

because falling from so high

is easy

when you've practiced a thousand times

I don't need to light a match

to scritch that scratch

as my own flame strikes hot

only to be tossed aside

when they're all used up

You see I am good

all on my own

at burning myself

from both ends

hoping that I can meet

somewhere in the middle

But I have to wonder

if you'd be able to see

the stress inside my signals

as I burn

on my own

little island

out at sea

97
---
DRUNKEN LUNACY

Courtney Armstrong

I envied the dead who lay in release

pillows of silence beneath satin skin

But mostly, I wanted death's sweat and sweet

quiet to kiss my own black poisoned lips

To drink the pink of my stalled heartbeat

stroke me with fumbles of glass fingertips

Was it a mirage of serenity

where bloodshed struggles sleep without chagrin

If it were delusion I would not plead

show me the moon bit by obsidian

Sated thirst with hunger to end life's lease

drowned by puce liquor of rue's sedative

Please give me paradise in a syringe

one last smack of hope for lunatic fringe

98
---
Micheal Christopherson

You Can't Hide Forever

Visual Art

99
---
Luisa Espinoza

Tentacle Tessellation

Drawing, Graphite on Bristol 11"x11"

100
---
I SMASHED A FISHBOWL

Courtney Armstrong

against the soft of my head

we fish do not swim

here, dry and empty

gasping, nitrite poisoning

steel nautical chain

void of lust — your pet —

you laugh while I worm and ache

for the phantom limb

of you, our past love

covered in mandarin shell

now my flayed skin rains

cold luminescence

please, please, for once just see me

scales and gills and fin

I pick at the shards

but I can never fish out

all the bits of shame

101
---
OH, ANTIGUA

Courtney Armstrong

The air smelled like lemons. The scent so powerful it was as if strips and spools of yellow

rind twirled in the clouds above. Lemongrass. The natives had to burn it or else it would

devastate the landscape, the way absinthe swirls into an oily stain on artisan glass. Puffs

of smoke dotted the mountainside all the way down to Monserrat. Leaves the size and

shape of elephant ears fell from the dome of dense trees and lay on the ground, discarded

trophies lucky enough to be missed by the spreading fires, only to be scooped up by

happy tourists and smuggled into Chanel backpacks when the guides weren't looking.

Black pineapple, the gold of Antigua, cut up into the smallest of cubes before the long

hike back down to the bottom. Sticky juice stippled their chins, smoke stung their eyes, and

they looked up at the sky as it squeezed citrus rain upon the mountain for the very first time.

The air is quilted with smoke. It burns our eyes and stains our clothes, two-ply anger

that penetrates our souls. Stupid lemongrass. Brought in by tourists who sneered at our

handsome terrain, unable to see the bronze rivers of cursive that flowed through the sand.

So now we must burn our land, scorch our hands and singe the hair on our arms to keep

the grass from smothering it, from suffocating us. The old trees discard their leaves, futile

and furious effort to hide the soil before the enraged blades devour more. And the tourists

scoop up that fallen foliage to take back to their homes, trophies that they don't deserve.

They guttle our fruit and smack their lips. They do not notice the beauty, the spirit, the

music of our Antigua. And they certainly do not notice the rain that falls from our very souls.

102
---
Dani Gailbraith-Ritchie

Tepalo

Pyrography on Wood 12"x12"

103
---
Claudia Nazario

Selena

Painting, Oil on Canvas Board 11"x14"

104
---
HOPE

Courtney Armstrong

Damp, cherry-blonde curls clung to her forehead

while her unquestioning freckled fingers plucked the puzzle

pieces

her busy thoughts pacified by the sound of the sleepy raw

wood

that plinked and tinked upon return to their splintered slots

the smell of mold and pinecones repulsive and delightful

dead and yet, somehow alive

she loved the weight of the timbered pieces

the way the acrylic oozed into motley outlines

of green brawny zeal and robust brawn —

the cowboy, the fireman, the doctor and the astronaut —

rosy destinies painted pointedly on the blocks

that promised eternal rainbows of freedom

the women on the puzzle —

the nurse, the ballerina, the mother —

were allowed only simple short hyphens of coal

dashes of smiles that disguised

muzzled mouths and straitjacketed souls

harnessed angels in weathered, tawny leather of doubt

she scooped up the ballerina by the buttery, yellow knob

crudely jammed into its pink satin abdomen

she willed away its corseted pain

and chucked it across the room

and at the same time released herself

because all such beautiful things deserve to be free

105
---
SOMETHING PLAYING IN THE BACKGROUND

ON THE BALCONY, LOOKING AT THE

MOUNTAINS…REALITY IS A FLOWER

Diego Tobin

Standing there bobbing your head

all your organs in a suitcase- skin a big disguise

somewhere that internal voice

in hysterics, is suddenly vacating

the soul's bordelloit

says drunken things to you, things like this:

You're sitting in the water, half-dead

acting cruel in a cruel body

taking breaks in between to maintain stamina, the flowers slouch in the vase

and the voice continues like God:

Are these drive-by television ads? Can you hear the radio loud enough? Talking over the

radio- are you in tune?

Are you thinking of a clean getaway?

Are the years hidden in your pockets, weighing you down?

106
---
Thomas Webster

Trichocereus

Archival Digital Print on Canson Baryta 13"x20"

107
---
Is your mother bitter?

Have you ended up like father?

Have the roses swallowed you up, when you look too close? Have the creeps and the

shudders torn your pages in two? Has your internal voice coughed up something black?

In other words,

the cloth swaddling the world

becomes undone.

And regarding history and fleshmy

thought bubble

now in a plume of gun smoke, as somewhere in the distance, below

shouts

A woman in the street to her sister, in the desert air

something is playing in the background, while I sit on the balcony watching the mountains.

Suddenly, the voice

whispers of unease in the world opium den,

while everyone in the room begins to jeer

mid-laughter the clock strikes 12

the room can hear everything

and the revisit is cut short, by some suited, cruel-looking men.

The pulsing yesterdayand

yesterday's decor, yellowed from fire in the sky

sitting outside while metropolitan muzak joins the sobbing trafficmy

true love's voice disappears down the roadbecomes

the horizon

and its vacuum eyes.

and its vacuum eyes.

108
---
Sometimes, the voice grabs ahold of another

outstretched hand

and there's a blossoming Goddess

with her wilted facewho

says sweet nothings about your own history, unrefined.

Sweet nothings and

its petals of reality that have escaped you

SOMETHING PLAYING IN THE BACKGROUND on the balcony, looking at the mountains,

Growing, outstretched

Overgrown,

Reality is a flower...

...Are the stars a perpetual audience?

Do they look at you kindly from their banisters?

Does this poem

sound like a

rose hitting the stage floor?

109
---
LEMONS AND ORANGES

T. Gullett

Hello darling, how are you?

I've been busy, if you couldn't tell

by the ink in the table grooves and the

acrylic on my shirt and the graphite on

my hands staining the curve of my palms.

I've been trying to keep myself focused,

busy while you're away, and I just-

Well to speak plainly, my love,

I feel half-faint from the fixatives, and

half-drunk on paint water and the sight of your face.

I keep trying to work on my lessons,

the poster for that theater, the landscape for

that exhibit, the open-form for that show, but

I keep returning to the curl of your smile,

the dip of your shoulders and the slope of your back.

The camera might wash you out, leach all the color,

but I see the color of your tie in my paint,

your eyes in the bottom of my morning cup,

your hair in the graphite I lay on the page.

No classical muse, maybe, but mine anyways.

Yes, I'm using your mug right now,

Lemons because I'm so bitter.

But, my love, you sweeten just like them

with a bit of sugar and care, a tender touch,

and, honey, it's far lonelier without you.

110
---
It may be warmer here, but that means

no place for my sweaters, the scarf you bought

me in '99, no excuse to slide my hand into your

coat pocket, your grumble about the chill even as

you'd kiss them warm when we got back.

Yes, alright, sue me, I'm nostalgic for our city,

where I ran as a young man and where we got all

tangled up together. Nostalgic for the cold and the cat

on the fire escape and the horrible coffee in the cafeteria

of that place you worked and still work at, but most of all-

I just miss you, plain and simple. Miss your cologne

on my jacket and dinner on your breaks, the taste of honey

custard on your mouth. I miss your shirts next to mine, and

the sound of your laugh underneath the yellowed lights.

Is our Greek place still open? I've been dreaming about it.

They haven't extended my contract yet, no, but there's been

murmurs. I think I'll try to come back for the summer though,

work on my plans while draped over you. No, you won't be a

distraction, well, not much, of one, but… It's all about balance,

and I think we're good at that by now, aren't we?

If you want to visit instead, I found another Greek place. Their

custard doesn't taste the same, too sweet, but maybe you'd

balance it out, my bitter darling. You could steal your mug back,

even, if you really wanted to, and give mine back. Oranges are

a dime-a-dozen here, so it wouldn't be that out of place.

111
---
Claudia Nazario

Franny

Painting, Oil on Canvas 16"x20"

112
---
IT'S A DREAM

Esmeralda Garcia

TThose brown eyes you wish you could stare into

The unique pools of honey, a different type of hue

It's a dream

The soft skin you wish to touch

Person whom you love so very much

It's a dream

The slightest smirk will make you blush

Your heart and mind, it feels like a rush

It's a dream

Cheek being so softly caressed

Absence of this feeling distressed

It's a dream

Walking hand in hand

Toes in the sand

It's a dream

Avoiding to look into the eyes

It's time to say your goodbyes

It's a dream.

113
---
LOOK TOO SEE

George Key

When we open one eye, we clearly see

cousins in search for another church. They

hope to have tickets on the gray dog north.

Perhaps a shower, new clothes, a bar of soap?

When we open one eye, we clearly see

signs mark failed crossings of lower life

of silhouetted fleeing families snuffed,

by those drunken sailors who plead no sight.

When we open one eye, we clearly see

flags marking blue barrels of Christian deeds

quite carefully placed with love beneath a tree

moisten the lips of survivors that flee.

When we open one eye, we clearly see

brothers and sister's bleed. They, them there, those people

delight in our pain, be it by whip or chain.

All pain be done burnt, strung up, and tree hung.

When we open one eye, we clearly see

Orangutan Towers sitting high looking down

upon those running from death yet to be free

self-proclaimed elector, insurrectionary.

When we open our eyes, we clearly see

the bigot's motto spewing Langston's words.

there is no we, they, us, nor team, rather,

me, mine, my fallaciously inflated self.

114
---
Kimberly Calles

Solitude

Digital Photograph 8"x10"

115
---
Grace Johnson

Red Eastern Screech Owl

Traditionally Illustrated, Changed to Digital 8"x10" - 8"x91/2"

116
---
STRANGE WEATHER

Kentaro Herder

for every bird chirping,

there is a brown boy crying

for Coca-Cola

for milk.

if bright brown had to be one name,

I would call it monsoon

where and when a wet dog

turns into mud.

a black shirt drowns in explosion,

bleach is used to tie dye,

a grandfather is still

in war, sun rays abort on beaches.

a jet soars above,

one rock tumbles down a canyon side,

a grandma turns the faucet

of a church sink.

a sheep is hung, and a throat is slit

blood drips into Tupperware,

there is strange weather

in my lungs.

117
---
CAROUSEL

Luke Cottrell

Carousel winding and troubled children

whine for Mama and Dada.

Carousel winding and exhausted parents

say "you'll understand when you're older."

Carousel winding and jaded teenagers

dream of independence at eighteen

Carousel winding and struggling people

sell their energy and time to keep alive.

Carousel winding and retired wrinkles

form where the grind wore its grooves.

Carousel winding and senile patients

are left to make sense of the traces of memory.

Carousel winding and struggling people

pay another fee to bury their dead.

Carousel winding although

it's running out of oil.

Carousel winding and the cynical ones

shake their fists at the clinking gears.

Carousel winding and nobody knows

what they would do if the carousel stopped.

118
---
Ulises Ramos

Dejen Al Musico Dormir

Digital Drawing 6"x 9"

119
---
Danielle Bond

V Day a Series: 6

Photograph 8"x10"

120
---
MORE THAN ANYTHING

Luke Eriksson

You and me

naked in a double bed with a plush blanket

and there is a small dog there licking our faces.

We might be on shrooms or molly, but it is an equally intimate experience, sober -

and it is peaking.

The experience

and the dog is barking at us because it does not really know what sex looks like

and we both come and lie back down -

and pass a joint or a cigarette or a nothing between us as you rest your head on my chest

and tell me you can hear my heartbeat,

and every part of my body is holding you -

and we are both still except for the gentle movement of fingertips on skin.

If you let me

I would be whatever you wanted me to -

your gay best friend

your dominator,

the recipient of your redirected self-hatred (you are not the first) -

your shoulder to cry on -

the crying person who makes your shoulder feel needed,

the bearer of your most fucked-up secrets.

The only thing I really just can't be for you

is someone who has moved on,

and someone who does not see your face in every new person I meet.

121
---
OVERKILL

Luke Eriksson

Content Warning: Queerphobia, Addiction

They let you up and shove you back down again maybe a dozen times.

The football helmet does not protect your nine-year-old head from the hard ground.

That ugly, ugly word

being chanted with a laugh (with a sick, sadistic fucking laugh)

The world is bad, you think to yourself – It must be

Either you are fundamentally bad or the world is, and you refuse to accept the former

when you're only nine.

You come to discover that the world was built by and for people unlike yourself and that

you would do well to say no to it.

Participate along with billions of other outcasts in the grand, grand refusal of all that this

world deems good and holy.

It is really a beautiful freedom.

The free fall into the void provides a more thrilling rush than any rollercoaster or

horror flick.

Who is to say if it is wrong that tonight you will ride the train -

The hard drugs and alcohol train of course

right up until the edge of the cliff

looking down into the void

Death, sublime oblivion, nirvana, escape at all costs

Your intellect does not protect your seventeen-year-old head from the excruciating

122
---
hangover -

As you have countless times before, last night you came so close to never seeing another

tomorrow -

not that you even really wanted to see tomorrow all that much,

you think and rationalize and tell your family members circled around you during the

intervention.

That they don't, they couldn't understand. They might as well be villains for trying to

change you

Leave and drink

The voice says, and you oblige -

you keep obliging until the worse possible outcome, the unthinkable loss of the single

human being you loved the most -

and through the burning hell of that most intolerable depression you abandon

everything in search of a new way of being.

You scream "God help me" in the manner of a man falling off the Golden Gate

Bridge.

Now you are twenty and in rehab and six months sober and, even without sex or drugs,

happy -

and you wonder what all that kicking and screaming, and self-destruction was really for,

and that now that you have finally crossed over and seen the other side of pain.

What message could I possibly have given that scared, angry little boy?

You aren't as alone as you think you are

don't give up or lose hope,

the strength to love yourself has always been within you.

Trite and cliché I know – probably so much so that he would not listen,

but it is okay,

because I am listening now.

123
---
Abigale Robles

A Friday Night Downtown

Drawing, Bristol Paper and Micron Pens

124
---
A RETURN

M.J. Copic

Set out on the open road

Clear blue skies above

Flat desert dirt below

The occasional saguaro

Standing tall and proud

Or not

Fluffy white clouds gather

The words OSTRICH FARM

In bold letters by the road

The Peak rising high

Breaking up the skyline

Tearing it apart

Miles and miles pass in a blur

With nothing to do but

Turn up the radio

And look for dust devils

More cars now, too many

Fast fast fast and we blow

Past the casino, the outlets

Pass by my old high school and

The parks I spent tipsy nights at

Keep going, further still

Merge here, right by the big

Shamrock Farms and ugly

Bridge, the mismatched one,

And finally whip past the roller

Coaster park by the freeway

Turn left, fly by the old liquor

Store that my mom bought

Beer from underage, past her parent's

Pink house and just one more

Right turn and everything is finally

Orange trees

125
---
DRAGONS CAN BE

KILLED

M.J. Copic

Do not stray, my child,

This house, it is not safe.

Floorboards creak and shift

And shudder as you pace.

These dark walls are so thin

And, my child, I do not know

What kinds of toothy monsters

May be listening from below.

Shadows creep, so hungry,

Crawling all around the floor

Please, my child, leave me

And run, run, for the door.

If you will not leave me here

Then we must stand and fight.

Chin up, my child, have some faith

Tomorrow we see the light.

126
---
Grace Johnson

Taurus

Traditionally Illustrated, Changed to Digital 8"x10"- 8"x 91/2"

127
---
Weston Lane

Dotted Cat

Graphite Drawing 91/2"x111/2"

128
---
STRENGTH

M.J. Copic

Follow bloody footprints

Ignore the whispered warnings

March up to the lion's cage

And aid them in their mourning

The lion keepers smile wide

Teeth sharper than their charges

As they point to all the joy they bring

They don't mention how this started

Look into the lion's eyes

And see the lies writ plain

These creatures are not happy here

The cages are their pain

Their keepers are not keepers kind

Nor help the way they claim

They rule with fear and iron fists

In their attempts to tame

So push the cage doors open wide

And throw away the key

Run with the lions, don't look back

Finally you are free

129
---
TIME BLURRED/

TIEMPO

DIFUMINADO

Mara Durán

Dreams

that

fade

and

give

shape

a

small

illusions

painted

of

colors

Sueños

que

desvanecen

y

dan

forma

a

pequeñas

ilusiones

pintadas

de

colores

130
---
Brianna Stevens

Garden Spirit

Illustration, Digital, Photoshop 8"x11"

131
---
Abigale Robles

Masks in COVID-19

Drawing, Bristol Paper and Micron Pens

132
---
QUARANTINED

Mauricia Manuel

Confined to this house

concealed inside,

missing rain and shine,

whether employed or a child.

Attempting abnormal rituals of sanitizer spritz,

rubber hands, and hidden smiles

expressionless eyes exposed.

Crow's feet are rare, but warmly welcomed

knowing we are all still reaching out.

Confined to this draining mindset

cornered by fear,

what-ifs and false facts,

eliminating playgrounds from molding minds.

Stuck on exhausted screens

poor connection, virtually distant chats,

searching for new hobbies to counteract the deterioration

in order to defeat covid confusion.

133
---
REPUDIATION

Mauricia Manuel

How do I present myself to the world, to my family?

Show who I am when I've barely had enough time to figure it out.

I've been up against the ropes, bound by sealed lips for too long,

shushed and dismissed when my views are too different.

I become a know-it-all when showing passion for facts, "too eager to show off."

But keeping quiet implies "I'm too good to fit in."

Sometimes I hold my tongue,

but my temper tends to slip passed gritted teeth.

I'll kick and curse only to still go unheard,

labeled less of a lady by the ears my venom reached.

Always encouraged by pinched finger tips sliding across lips

silencing my opinions, my plea to be me.

I can smile politely and wait my turn to speak, maybe go unnoticed

or I can be the child my mother forged from observation.

Loud and demanding of attention,

hated by all, but standing with strength.

Cutting others with the sharpness of her tongue,

rolling eyes and snapping fingers until she feels she's won.

Believing such a hard shell is always necessary loses your courtesy,

the softness gone from your face and mind, becoming an obtuse persona.

I'm only wanting to speak how I feel, say what I want, to be who I am,

without being accused of being my mother's daughter.

134
---
Desert Ehrhart

Portrait

Painting, Oil on Canvas

135
---
WATER

Kentaro Herder

your mother carried you through new moon

and full moon

creating craters

here you are out of your mother's

cratered womb

your mother birthed you

along a stream

creating a river

here you are raging and choking in your mother's

quivering rain

your mother shed tears six generations

deep, you seven

creating pain

soiled tears

here you are drinking recycled rain from your mother's

136
---
your mother suffered the loss of

blood, fed by the river

creating a sea

thick blood

here you are drowning in a flood of your mother's

your mother drank from the nearby pond,

birthed by the Earth

creating you

black oil

here you are bathing in

your mother buried by the Earth,

now shallow with no ocean

here you are,

no sea,

no pond,

no tears

creating,

nothing.

137
---
UNSHROUDED

Michele Worthington

They brought their dogs

as they were told

and all of their belongings, worn

or folded into small bundles,

set upon the station platform

waiting in sepia.

The command to separate shouted

and punctuated by bayonets

pushed the last ones down the tracks

bare and shorn of history

vacant, baskets and blankets left untaken.

Abandoned,

the pack tried to follow

loping faster as the wheels gained speed until

the train was no longer in sight

just puffs of white

and a mechanical scent

of loss

in the desert.

Howls faded into the air

echoes of when

they had fellowed with them over the Bering

and down into the continent

incanting Athabaskan, panting

sheltering together under bellowing clouds

pulling pole sleds covered with cook pots

and cloth dolls and ghost-borne stories

helping hunt the giant sloths and mastodon.

And now the only remnant

of the Pleistocene

is the shadow of the condor

sweeping the periphery

of the hollow west.

138
---
Mya Palacios

Emotional Growth

Color Pencil and Acrylic 13"x16"

139
---
Thurwin Lane

Saving The Heart

Conte Sticks on Steel Gray Tone Paper 191/2"x201/2"

140
---
ICE CANNOT BE

UNMELTED

Michele Worthington

At first, we tinkered

and diverted the flow

of the Tigris

to irrigate rice

Just rearrange the stones

and it is undone

back to the beginning

But slight footprints in mud

can be traced, millennia later

and microbial stowaways

in bilges of ships

can undo the drift

of tectonic plates

in a day and a night

A small campfire

compared to a volcano

is inconsequential

but the conversation around it

builds temples to goddesses

and eventually

a hydroelectric dam

across the Nile

Digging for coal by shovel

has no earthquake Richter

and diatoms ignited

are measured in magnitudes

of parts per million

but inevitably

the heat exceeds

in Fahrenheit degrees

what can be weighted

One mammal alone

from the cut forest

is not missed by the tigress

but its tiny internal biome

finds a preordained

eternal home

all around the globe

Our disaster is not so bad

compared to that asteroid

but history cannot be undrowned

and nothing can be put back

by moving stones

141
---
WHERE I AM FROM

Raiden Lopez

I am from José & Hollyanna,

Virginia & Donald,

Adalberto & Ana.

From the great mountain ranges and Ranches of Cucurpe Mexico and Barcelona Spain.

I am from decedents of Mexican royalty and Spaniard Warriors

From writers,

singers,

musicians,

artists

and architects.

I am from those who envisioned more from their life than those of their parents.

From horseback riders,

cattle herders,

river swimmers,

and dancers in the rain.

I am from sitting around the fire every night,

telling stories,

making music lovers.

From women who believed hard work goes into every marriage and there is no such thing

as divorce.

I am from women who work all day and still came home to take care of their family.

From mothers who taught their daughters and sons it is alright to love a partner but also to

love yourself.

142
---
Javier Dosamantes

For She Had Eyes

Graphite and Digital 81/2"x11"

I am from strong, valiant men and women who protected their country.

From men who respect their women and treat them like queens because they are

cherished above all others.

I am from Gentlemen and Ladies who wanted their values passed on.

These values have shaped my life and

from the spirit I inherited from those before me

I created my own rhythm I dance to.

143
---
GROUNDHOG DAY

Salina Molina

On the day I found my first gray hair

Three and a half legs on a coyote

Wandered through my parking lot

In search of a restful place to lay

My face cringed with the uneven saunter

My heart broke at the pack animal's loneliness

My soul wept for the anxious smile on its face

A dying coyote, always my February omen

On the day I found my first gray hair

Two pieces of first quarter moon

Hung in the air from a bright red string

Like a Raytheon-branded stress ball

Glowing fluorescent neon and needlessly

Forcing me back into a Spencer's Gifts

So I can pay my formal respects

To versions of myself that never came to be

On the day I found my first gray hair

Sixteen-year-old me ditched class

In the body of a twenty-six-year-old

And felt like an asshole about it, but still

Insisted on grabbing anxiety's hand, excuses' leg

So I could run far, far away into an abyss with them

Where we swapped recipes and clicked pens

Sitting in a semicircle to feel less alone

144
---
On the day I found my first gray hair

A queer friendly show about bondage

Freed me ten episodes in, self-imposed

Restraints lifted by appreciative laughter

Now vacant to use as anchors to dream reality

A reality where the feeling of being seen by myself

Is a given rather than an earned privilege

And I never wake up from the dream

On the day I found my first gray hair

One strand of silk began to glow from the top of my head

I learned to treasure the Easter grass I was sprouting

My mind's pores revealed to me a diamond tether

I discovered a piece of rainbow tinsel growing

Out of my skull, so bright, so shiny, so youthful,

So vibrant, my mirror's new best friend, wisdom

Fostered by trauma and funneled through a follicle

145
---
WHEN NO ONE'S LOOKING

Salina Molina

Were you the excited dog in the car next to me,

body happily contorted to maximize the wind on your face

as you barked frantically at all the other cars around you

on a highway so far away, you'd never be able to envision it?

For all I know,

You go for car rides down strange highways everyday

and lick yourself when no one's looking,

but only if your owner's car has come to a complete stop.

Were you the baby being pushed in the stroller,

skin red and feet excitedly kicking at the morning sun

like you just couldn't wait to get at life and all it has

in store for you, on a Main avenue that looks like any other?

For all I know,

you'll grow up to be happy, successful, and well-adjusted,

your baby feet kicking until the day you die

and filling in all the gaps to make your life whole.

Were you the old man in that window today,

staring, bored, from an unhappy building

trim: red but faded like the Golden Gate Bridge

on a corner near a bus stop 2,000 miles away?

For all I know,

you've lived there since the late seventies

and only stay because of the carpet in the living room:

it's brighter than the rest of the apartment

glowing with the memory of your children's first steps

and the idea of losing that small piece of magic

that life so graciously blessed you with

once upon a time, is absolutely unfathomable to you.

146
---
Monica Nelson

My Dads Favorite Teapot

Stippling 8"x16"

147
---
Yanna Aiken

Am I Worth Love

Colored Pencil

148
---
FALLING STARS

Sierra Vigil

To: Earth

The crickets sing their melody

stars dive into the sea

simple beauty shrouded in sheer mystery,

divine.

Interstellar pilgrimage to earth

a race to see who can kiss her first.

"We have travelled lifetimes

(just to hold you)

and to lay upon your rocky face

Weathered with reverent age

We have fallen intensely

for your craters."

Deeper than the ocean

Eternal love unbroken

atmospheric kisses

Set

them

ablaze

"Unpack all our clutter

as we explode

right under

your watchful bright eye,

the prettiest yellow gaze.

We are torn asunder

as we explode with wonder

everything we dreamed of

no more floating restless days"

Yours truly,

Falling Stars

149
---
PRETTIER IF YOU SMILED

Solace Bergman

A response to to Lucille Clifton's homage to my hips.

these teeth are crooked teeth,

they are chipped perfection,

partitioning tongue and cheek.

they do not stand

in straight lines at attention.

these teeth are sovereign teeth,

they refuse to be bound by metal bars.

they lean and jut like teenage hips

cradled by loving lips. these teeth will

cut through kisses like a knife.

these teeth are biting teeth,

I have known them to

chew a man up and

spit him out like gristle on a steak!

150
---
Rhea Stanley

Scorned

Oil Painting, 16"x20"

151
---
Desiree Garcia

Raven's Skull

Drawing Paper, Ink, Ballpoint Pen, Spray Paint, Wax 28"x 34"

152
---
CA CONRAD'S SQUIRREL

Travis Cooper

I accidentally kicked a wooden squirrel.

Shmoo said the squirrel cursed me

so I burned it in the firepit,

its chirpy face smiled at me as it blackened.

That night I dreamt of the burnt squirrel,

it took my giant nut—

the one I was saving to pay rent.

It darted to the top of my bookcase

and spoke in a high-pitched helium voice,

"You can have your nut, if you sign the Devil's book"

Nuts are so expensive these days.

I woke up hungry

Shmoo made blueberry pancakes

She asked where her heirloom squirrel was

I said I didn't know.

153
---
PLEADS TO THE VIRGIN MARY

Veronica Martinez

I slam my tender wrists onto the cold tile, hoping for the chipped ceramic to

stab through my palms, for crimson to stream down the powder blue counter onto

the floor of the empty bathroom, pooling around my bare feet as I stare wide-eyed

into the reflection of a stranger. The purple marks under my jaw scream and echo

through my conscience and my mother's voice rattles my eardrums. Hail Mary, full of

grace, the Lord is with thee…His chapped lips hungry against my thin neck have left

a consequence for my actions, the lust churning at the bottom of my stomach now

replaced with guilt. He doesn't love me. He never will. My lips merely an outlet for his

desire, my body merely an object for his disposal. Blessed art thou among women,

and blessed is the fruit of thy womb, Jesus… I pray over the water rushing out of the

rusted faucet. Faith and rigidity ingrained onto my shoulders. Religion, a sharp pain

piercing my side at the thought of his hand gripping my hip and his bottom lip on my

collar bone. Holy Mary, Mother of God, Pray for us sinners. Now, and at the hour of

our death…I pray that my body will still be a temple. I pray that God will never tell

them. I pray for forgiveness. Amen.

154
---
Rick Spriggs

Red Top

Ceramic 11"H x9"D

155
---
Yanna Aiken

Am I Worth Life

Colored Pencil

156
---
DYING

Yareli Sanchez

How am I drowning when breathing air?

Trying to breathe

trying to think

something so simple seems so impossible now.

What comes first

breathing to think or to think to breathe?

Something so simple seems so impossible now.

What is there for me to do when I am counting my last breath?

Countless questions

where are my answers?

Trying to breathe, trying to think

think...breathe...think

breathe...think...breathe

think

breathe

...

157
---
DREAMERS

Zoe Galmarini

We are dreamers.

We want things we can't have and

people who do not care.

We say things to get us by,

but never stay long enough to hear.

158
---
Weston Lane

Feminine Masculinity

Digital Painting 8"x10"

159
---
Portia Cooper

Rodent

India Ink, Fineliner Pen, and White Pen on Bristol Paper, 41/2"x3"

160
---
RIPPED AND SCATTERED

Mark Anthony Ferguson

When your soulmate leaves you,

it's like leaving the dentist after having your wisdom teeth removed.

You wake up feeling nothing and no senses seem to work properly.

You feel nothing for quite a while until the pain hits you like a wall.

And when it hits, you find the pain is merciless.

You take old memories like meds to try to soothe yourself,

only to find out that meds don't work on pain like this.

When your soulmate leaves you,

It's like leaving the dentist after having your wisdom teeth removed,

A part of you has been ripped out.

When your soulmate leaves you,

It's like you lose all your leaves, like the trees in autumn after a long, fruitful summer.

Each moment of investment flutters to the ground.

They are raked up, played with, then disposed of.

When winter hits, you try to hide in your new clothes; frozen, stripped, colorless.

Your skeleton feels like a pile of ridiculous sticks in snow,

With the potential to become a snowman, but no such thing is made.

When your soulmate leaves you,

It's like you lose all your leaves like the trees in autumn after a long, fruitful summer.

Little bits of you lie scattered on the ground.

When your soulmate leaves you,

You feel numb and empty.

Your memories haunt you, perhaps forever.

The worst is when your soulmate tells you they love you while en route to another person's heart.

You gave all your love like an addict who spent all they have on coke.

You feel lower than the dirt, no, like you're frozen in outer space,

When your soulmate marries someone else.

When your soulmate leaves you,

You wish the best for whoever they are with.

A part of you is ripped out and scattered on the ground.

161
---
THE MESQUITES KEEP YOUR

SECRETS, BUT THE SAGUAROS

KNOW YOUR SINS

Elena Acuna

The desert is unforgiving

Abuelita leaves out clay bowls to collect rainwater

Lets the javelinas and the coyotes drink it all up

Watches the sky paint the red clay dark

I try to tell her that she has done her part

She can rest now

"The desert is unforgiving," she tells me

"Los mezquites guardan tus secretos pero los saguaros conocen tus

pecados, Mija."

I want to tell her what I've done

Ask her if she thinks the prickly pears will still bloom for me in the springtime

Welcome me with open palms

How many secrets will those mesquites really keep

When you are caught beneath the moon

Does she tell the coyotes

will I hear it in their howls

The desert is unforgiving

I want to ask her if she thinks it will find a woman worth forgiving in me.

162
---
Rhea Stanley

Tonight

Charcoal 14"x17"

163
---
Sofia Fetsis

Falling Magic

Photograph 8"x10"

164
---
SHE WAS NEAR

Desert Ehrhart

She was near.

I could tell as the air was thickened and moist

and electric, stimulating my senses.

I was once caught on the wrong side, at the wrong time,

wandering the wrong arroyo,

taken down, washed away in a flood

with the rest of the unsuspecting debris.

When she came in, the sky was fierce and pouring, lightning cracking.

The streets already flooding.

With the long drawn out heat of summer,

thoroughly penetrating, beat into everything,

heavy, pressing me further

into the depths of my mattress, sheets strewn far from me.

I was ready for the release.

And as quickly as her presence and the floods poured in,

the sky became clear

and the sun again upon me.

My only memory of her found through the following weeks

in the lush growth and bloom of the desert.

Monsoon season.

165
---
THE BOOK OF LIFE

Samantha Barrera

There comes a time within one's life, when you start to reminisce.

Was every hope that came before this moment all for this?

At what point do we reach the chapter when we finally come of age,

where life, it finally all makes sense; where can we find that page?

We spend our childhood years, dreaming of the very day,

that we step into our adult self; oh, how we wish our youth away.

Yet when we peel away the layers of growth and wisdom gained,

it seems within every one of us, our core remains the same.

There long yearns an inner child seeking happiness and love.

Now tell me, in which chapter of life can I find such things thereof?

Although it's hard to stop and pause in the continuity of life's book,

I encourage you to find the time to take another look.

166
---
Does love pour from the pursuit of the ultimate career?

Or is happiness defined by the quest of an academic frontier?

Are we fulfilled by our relationships built with family and flames?

Or can these be met with times of friction, turbulence, and strain?

The truth is, life is fragile, and no single source alone,

can be cited to reference all the joy that we long for in our bones.

Life is constant and it is ruthless, we cannot predict the times of plight,

but we can take charge of how the story unfolds, with the words we choose to write.

For you are not a character in someone else's fiction.

Let your wildest dreams unfold; there is no limit or restriction.

Don't let life turn the page and simply wait for come what may.

Put pen to paper and write your story, for your future starts today.

167
---
OPTIONS

Salina Molina

a. Order a fresh limbic system

new on Amazon for $229.50

in a shrink-wrapped,

temperature-controlled box

with all the manuals

and step-by-step instructions

to install it yourself,

or used for $137.74 plus $14.99 shipping

if you're feeling lucky.

b. Sever all the synapses

that allow information

to zig-zag around your brain

with something heavy and final

like a small pick-axe or some bleach

so the neurons that torture you

each and every day

can feel just as stranded and helpless

as you do at their eternal movements.

c. Immerse yourself in the static of art and music,

poetry and film, hot tea and

blankets that were knit with love,

and enrich your broken life

with neglect, with too many dabs

with gallons of wine, until your brain

is so numb to itself

that you only have to confront

the absolute disarray of your amygdala

in dreams.

168
---
Abigale Robles

A Snake in Chaos

Drawing, Bristol Paper and Micron Pens

169
---
Miyeon Kim

Survival

Acrylic, 13"x17"

170
---
SIREN CALL

Elena Acuna

She ducks in from the cold

Red clinging to her cheeks like it's never known

Roses

Or blood

Or fire

You assume everyone in the room feels the way you do

Captivated

Awestruck

You wonder what her voice sounds like

The kind that draws fishermen from their vessels to the bottom of the sea

The way her eyes scan the room

How softly she rests her chin against her palm

She is washing over you and it's easy to imagine the way it feels to drown at the hands

Of a woman like this

She goes as quickly as she came

Takes all of the air out of the room with her as she does

If I existed the way she did

Swallowed up the room as I walked into it

Would it be enough?

A man choosing between a savior and a siren is never wise enough to stay ashore

171
---
George Key

Esperanza

Photograph

172
---
ENROBE YOURSELF IN

VELVET

Salina Molina

Surround your mirrors with candles

of various sizes and shapes

and light them as you pass by

so the height of each flame

can illuminate a different part of yourself

you no longer wish to see.

Cloak your eyes in a haze of smoke:

incense, cigarettes, old journal pages,

and good old-fashioned weed by-products,

to further obscure the image you have of yourself

and worsen that astigmatism

that you've been cultivating

to keep your vision good and blurry.

Foil your nails with gold leaf

and pretend that your muse

is worthy of being your muse

instead of just someone

you've known for years now

who's only slightly better

at being a person than you are.

Live under a set of standards

revolving around distraction,

"self-soothing," deep denial,

more distraction, making it to

enrobing yourself in crisp green velvet.

Visually stunning

and aesthetically compelling,

cheap to the touch

enough to make you dislike your face

when you look in a mirror.

173
---
MEET OUR ARTISTS

Visual Art

Abigale Robles – My name is Abigale

Robles. I was born and raised in Southern

California. I have been in Tucson for 3

years now and I absolutely love it here. I

am currently a Business major at Pima. Last

semester I took ART100 with Mr. Marquis.

He helped me find my artistic style and

progress in my artistic abilities. Art has

always been an outlet for me. My family is

filled with amazing Artists. It took a lot for

me to submit my drawings and was out of

my comfort zone. I am so happy I decided

to submit and that I am of the chosen

Artists to be featured in the SandScript.

Ashley Carmichael – Tucson based artist

Ashley Carmichael creates intricate ink

and watercolor art inspired by nature. Her

work focuses on the tranquility of being

in the natural world and the cyclical

stories of growth and decay. Ashley

obtained a Minor in Fine Art from Indiana

University and has participated in shows

by the Southern Arizona Watercolor

Guild. She now works out of her home

studio in eastern Tucson. Instagram: @

ashleycarmichaelart

Avery Goldberg – Attends Pima

Community College

Brianna Stevens – Hello, My name is

Brianna Stevens, also known as Bebe Tea

on social media. After recently graduating

from GCU, I'm currently going to Pima to

continue my character design studies. The

piece "Garden Spirit" was created using

mood boards and my love for the Asian

culture. I wanted to express my interest in

the mythical and fantasy elements. The

main goal was to convey serenity and

calmness. Creating this piece was very

interesting and different for me. This was

my second piece using Photoshop for just

drawing purposes.

Clarissa Holguin – My name is Clarissa, I

love the desert, animals, art and music. I

love bright colors, detail and representing

my Mexican culture with my art. I focus on

making pieces that make me feel happy

or send a message. Overall, I try to enjoy

the journey I took to get to the art piece.

Claudia Nazario – Claudia Nazario is a

California native that took up painting

as a creative and stress-free outlet to

balance her doctoral research and

teaching responsibilities at the University

of Arizona. Very quickly she realized art

was more than a hobby and storytelling

medium. Now, Claudia seeks a way to

marry her academic interests with her art.

174
---
Cynthia Drumond – Drawing and painting

were my favorites hobbies when I was

young. Life brought me discoveries, new

interests and sent me on different paths.

When I went back to college to pursue

a new career as a Graphic Designer,

Art resurfaced, challenging my world

perception. I can not say I am an artist but

a curious explorer!

Dani Galbraith-Ritchie (She/Her) –

Galbraith-Ritchie is a self-taught artist,

goldsmith and small business owner with

a passion for the natural world. Galbraith-

Ritchie is pursuing her Associate Degree

in Business Administration from PCC. She

has further goals to attend Eller College of

Management in pursuance of a Bachelor

of Science in Business Administration with

a double major in Business Management

and Marketing. Galbraith-Ritchie is a

Mexican-Canadian immigrant, raised in

Sedona, Arizona but has lived in Tucson for

almost 10 years.

David Parsons – Attends Pima Community

College

Desert Ehrhart (1) – Desert Ehrhart has had

a deep interest in visual art their entire

life. Their adult work, spanning many

mediums, has been deeply influenced

and embedded in their love of ecology

and plant medicine. In more recent years

this love of artistic expression has taken

them to exploring poetry and other forms

or writing. Currently Desert is weaving their

passions together, working as an herbalist,

a tattoo artist and on a path towards

becoming an acupuncturist. (1) Also on

Poetry

Desiree Gracia – Desiree Gracia was

born and raised in Tucson, her creative

works are influenced by her interest in

psychology and life experiences. She

enjoys experimenting with different

mediums but mostly works with ink or

pencil.

Danielle Bond – Danni B is a Tucson based

photographer who specializes in creative

portraits. Being a young artist herself, she

strives to uplift other artists and push young

adults to pursue their creative passions.

You can learn more about Danni B and

other pieces of her work on Instagram @

dannib_photography.

George Key (2) – Key's image, Esperanza,

(Hope), reflects upon tragedies survived

and God's daily bread gift of appreciated

beauty. This consecutive fourth year

of being chosen for publication in the

Sandscript was an honor received in

both poetry and photography. The

challenges of the pandemic, due to a

175
---
Spring 2020 lengthy battle, were answered

with his composition and delivery of the

Keynote address to the graduating class

(YouTube,2020), several degrees and

certificates in Social Services/ Social Work,

and necessary completion of intercultural

perspective in the Fall 2020 Semester. (2)

Also on Poetry

Grace Johnson – My name is Grace M

Johnson and I am a mostly self taught

artist, with a few classes along the way!

I've been drawing for as long as I can

remember and being an artist has

become a part of me forever. My art

style usually consists of highly detailed

pieces of mostly birds, dragons, and

robots that I have named Mechnicians.

My artwork tends to exaggerate a bit

too, with very vibrant colors and out of

proportion proportions! I hope you enjoy

the art pieces that I have made with

immeasurable care!

Javier Dosamantes – Javier Dosamantes

is a creative born in Tucson and raised in

Cananea, Sonora, Mexico. As an adult, he

returned to Tucson for school, and now it is

his second home.

Jennifer Prybylla – Attends Pima

Community College

Kimberly Calles – Kimberly Calles is an

art major student at Pima Community

College. Currently studying to get

an Associates degree in Fine Arts

concentration in photography. Her

work consists of mixed media such as

photography, painting, and drawing.

Kimberly Griffin – Kimberly Griffin is a

native Arizonan. She has always been

told that she has a unique way of

looking at the world. Photo was taken

while in photography class at Pima.

Experimentation and happy accidents

result in art pieces like this one. She hopes

that one day, she can make a living

stumbling around in the art world.

Luisa Espinoza – Attends Pima Community

College

Micheal Christopherson – Greetings! I'm

Micheal Christopherson, I'm a student at

Pima Community College and my major

is fine arts. My works consist of a mix of

cartoons, digital edits, and horror. I have

not explored the horror genre in my art

until the start of 2021, and the results have

been outstanding. I am always working

to make artwork that stands out and

makes an impression. If you're interested

in following more off my work, I post my art

on my Instagram "MikeR0b0." I also make

176
---
video content on my YouTube, named

"MikeR0b0."

Miyeon Kim – I got an art award in middle

school and stopped painting after high

school in South Korea. Six years later, I

came to the United States and went to

college in Texas for a few months, but

I had to stop. I started to go to college

again after 10 years at Pima Community

College. It is meaningful to receive an art

award at this college. I'm so glad I didn't

give up on my dream. This is a great start

to my dream as an artist. I draw myself in

"Addicted". My friend took a photo of me

using a cellphone on the couch while I'm

laying down. I never used a cell phone this

much before. I admit that I am addicted

to smartphones.

Monica Nelson – Monica Nelson is a

retired educator with over 44 years of

service. She has enrolled in several art

classes at PCC over the past two years

as a "life-long" learner Art has become

a whole new experience for her and has

been especially important during the

pandemic!

This piece " Emotional Growth" is mostly

colored pencil except I used paint for the

somewhat abstract background.

Nathan Coffey – Nathan Coffey is a

hobbyist photographer living in Tucson, AZ.

He is pursuing digital game development

at Pima with a focus on programming.

Portia Cooper (She/Her) – Portia is a dualenrollment

student studying computer

science and mathematics. She works in

many art mediums, but prefers pen and

ink. Her work is often inspired by folktales

and myths.

Rebecca Farris – Rebecca is an aspiring

graphic artist. Her dream is to one day

make a career out of publishing graphic

novels, and is going to school for her

art degree. She was born in Arizona but

moved to Colorado at the age of 10 with

her family. After some family loss, she

returned to Arizona and moved to Tucson

to finish college.

Reed Coffey – Attends Pima Community

College

Mya Palacios – Hello everyone! I go by

Myabella. Art has always been a big part

of my life and I have my mom to thank for

that. She taught me how to be creative.

Rhea Stanley – I started at pima in 2018

with no drawing under my belt. This May,

I've got my associates in fine arts and a

passion for drawing. I've lived in Tucson

177
---
my whole life and have a family full of

artists that inspire me every day. I'm

transferring to the University of Arizona this

fall to pursue Studio Art. I'm excited to see

where art can take me.

Rick Spriggs – Rick Spriggs has been doing

art for most of his life. Recently his focus

is making 3D art. Ceramics comprises the

bulk of his current artworks.

Sarah Bryg – Attends Pima Community

College

Shelby Quiroz – Attends Pima Community

College

Sivanes Ananda – I am a Tucson based

artist, avid gardener and enjoy nature and

travel. In my art, I use a variety of media,

oil being my preferred medium. Most of

my paintings are based on photos taken

during my travels and inspired by the

natural beauty and amazing architecture

of places I visited.

Sofia Fetsis – Sofia Fetsis has grown up

in Arizona her whole life, as one of six

siblings. She competitively played tennis

and volleyball throughout high school,

winning several state titles in tennis. In

her free time she enjoys hiking, playing

beach volleyball, working out, cooking,

and artistic pursuits such as sketching and

photography. She loves the warm weather

and sunshine in Tucson, but enjoys cloudy,

rainy days when they come. Sofia will

be joining the nursing program at The

University of Arizona this fall to start her

junior year, and looks forward to pursuing

a career as a NICU nurse.

Thomas Webster – I retired from the

practice of anesthesiology in 2007.

Enrolled at Pima Community College and

received my Associates of Arts Degree

in 2010. Since then I have worked as a

volunteer in the Digital Photography lab at

PCC and taking continuing courses at the

college.

Thurwin Lane – Born on August 1, 1992

at Phoenix Memorial Hospital, Jeanita

Johnson gave birth to her fourth child,

Thurwin Tisbahe Lane. Thurwin has early

memories of living in Phoenix, but he was

raised mostly on the Navajo Reservation

with his seven other siblings. Living on the

reservation made Thurwin strong, allowing

him to excel while serving in the United

States Army as an airborne infantryman.

Growing up on a reservation and serving

in the armed forces left wounds on

Thurwin's mental health enticing him to

pursue a profession in art. With art Thurwin

was able to understand the experienced

178
---
trauma aiding him in becoming a good

person for his wife and son. Art created by

Thurwin can be tied to being raised on a

reservation, military service, and his family.

Zevi Bloomfield – Hopes to major in

psychology and become an art therapist

Prose

Ulises Ramos – Ulises I as a young artist

from Mexican descent, I don't only

represent my cultural background but also

a long tradition of printmaking. That is my

goal in life, to preserve and develop such

a traditional method important for me and

the art world.

Weston Lane – Weston Lane is a proud

Native American student who is pursuing a

Visual Art degree and Film Arts / Animation

degree. He makes digital art, traditional

art, and short 2d animations. He aims

to evoke deep feelings within his work.

He loves to make art and will continue

to do so. His goal is to take part in the

production of an animated project (e.g.,

music video, advertisement, or movie/tv).

Yanna Aiken – Hello, I am a 19 year

old that has been doing art since I can

remember, and seeing it progress and

my art forming it into something, not only

something other people are proud of, but

I am proud of it just the same. So I thank

you dearly for the support through the life

I have lived so far, and the life I will live in

the future.

Chretien Martinez – Attends Pima

Community College

Courtney Armstrong (3) – Courtney Hayes

Armstrong is the recipient of the Fall

2021 Margaret Sterling Award for poetry

at the University of Arizona, where she

is completing her bachelor's degree in

English and Creative Writing. Her poetry

and fiction were published in the 2020

edition of SandScript. She was a finalist in

this year's 2021 Tucson Festival of Books

Literary Awards Competition for fiction,

poetry, and creative nonfiction. Her love

for writing comes second only to her love

for her two sons, Hayes and Blaze. (3) Also

on Poetry

Josie Lugo (She/Her) – At 21 years old, Josie

has poured all her courage and trust into

a single goal: create stories about strong

females and prove that they are powerful,

beautiful, and capable of anything and

everything. This story was her first to be

published but she firmly believes that it will

not be her last. As time goes on, she hopes

you will continue to come across her

name and enjoy her work."

179
---
Mora Hedayati – Mora is a mom, a doula,

and an artist. She is currently taking

courses at Pima Community College to

fulfill her eventual goal of becoming a

nurse midwife. She hopes to continue

expressing her thoughts in writing and

would love to write/illustrate a children's

book one day.

Nadia Celaya-Alcalá – My name is Nadia

Celaya-Alcalá. I am 15 years old and am

currently studying general education at

Pima. I plan to transfer to The University

of Arizona in the fall to study Dance and

Political Science. Some of my favorite

pastimes are dancing, cooking, and

writing.

Raymond Butler – A Navajo from Arizona

who grew up on the reservation. Retired

from a law enforcement career. Began

taking classes at PCC.

Poetry

A.Z. Martinez – Martinez is a young tutor

with aspirations of professional writing.

Creatively oriented, with a drive for

creativity and telling stories.

Alexa Lewis – Attends Pima Community

College

Arial Autumn – Writing is only one of Arial

Autumn's many creative pursuits. She also

enjoys painting Gundam Models, film and

photography, and sword play. She is a

world traveler who published her first book

of poetry in 2015. She is currently attending

Pima Community College, while living in

Arizona with her partner and daughter

. She considers all of her poetry a single

anthology, thus she titles her poems with

numbers.

Carol Korhonen – Carol Spitler Korhonen

came to Tucson from Michigan in 1978

after one too many encounters with icy

highways. After ten years of teaching

school and twenty years of practicing law,

she retired and tried her hand at writing.

Some kindly writer friends suggested she

could use some help and suggested a

class at Pima and she has been taking

writing classes ever since. Carol thanks

her husband, children and grandchildren

for their unwavering support and

encouragement.

Chacara Thomas – Chacara Thomas was

born in Milwaukee, WI, in 1996. Growing

up, she developed a love for music,

which transformed into a passion for

creative writing, music production, and

performing arts. As a hip-hop/performing

artist, Chacara uses her voice and lyrics to

180
---
uplift communities, peers, and even herself

at times. She has been a part of several

benefit shows, raising funds for important

causes in her hometown Milwaukee.

She is proud to have performed in Black

Renaissance here in Tucson, AZ, 2019,

contributing to the small community of

local African American creators.

Christopher Valenzuela (They/Them) – is

a Tucson born writer and poet. Their

work focuses on their relationship with

substance abuse and understanding/

deconstructing their intersecting identities

as a non-binary, Chicanx, queer artist.

Diogo Tobin – Attends Pima Community

College

Spring 2020 lengthy battle, were answered

with his composition and delivery of the

Keynote address to the graduating class

(YouTube,2020), several degrees and

certificates in Social Services/ Social Work,

and necessary completion of intercultural

perspective in the Fall 2020 Semester.

Iris Hill (They/Them) – Iris Hill is currently an

English major at Pima Community College.

They plan to transfer to the University

of Arizona to continue their education

in hopes of becoming a middle school

English teacher. They are currently working

on their first book of poetry aimed to be

released come Leo season. They currently

reside in Tucson, Arizona with their partner

and cat, Gaston.

Elena Acuna – Attends Pima Community

College

Esmeralda Garcia – Attends Pima

Community College

George Key – Key's image, Esperanza,

(Hope), reflects upon tragedies survived

and God's daily bread gift of appreciated

beauty. This consecutive fourth year

of being chosen for publication in the

Sandscript was an honor received in

both poetry and photography. The

challenges of the pandemic, due to a

Jazmin Garcia – I was born in Tucson and

moved to California when I was 11 years

old. After 10 years of hardship, I moved

back to Tucson. The 3 poems were all

inspired by important events in my life;

falling in love, growing up and naturally

parting ways with my sister, and losing a

loved one. I speak English and Spanish

and come from Mexican descent. I

like art, reading, writing, and watching

movies.

Kentaro Herder (He/Him) – Language was

a barrier between my grandmother and

181
---
me. She and I would sit with a pen and

paper. I'd write the ABC's while she drew

spirals and asked what design should

be on her next rug. We'd communicate

with nods. This is how I met poetry. I grew

up in Kayenta, Arizona on the Navajo

Nation. I am honored to present my love

for language to you. I am thankful for

the SandScript staff and for the amazing

professors that tug on my words like little

me tugging the frays of my grandma's

rugs.

Luke Cottrell – Luke Cottrell is a singersongwriter

and visual artist from

Oceanside, CA. He moved to Tucson, AZ

in 2019. Find his music by searching Luke

Cottrell on Spotify, iTunes, YouTube, Apple

Music, etc. Instagram: lukecottrell

Luke Eriksson – Luke Eriksson is a writer

from Lexington Massachusetts, a student

at both New York University and Pima

Community College, and currently lives

in Tucson, Arizona. He enjoys writing

about topics such as longing, addiction/

sobriety, and the passage of time. He can

be reached by email at eriksson.Luke.b@

gmail.com, on instagram at Luke_Eriksson,

or on twitter at ErikssonLuke.

M. J. Copic – M. J. Copic is a writer of

speculative fiction living in Tucson, Arizona.

This is her first publication.

Mara Durán – A wife and a mother is the

one who ensures dreams take their shape.

A psychotherapist by profession. Master in

Brief Therapy, lecturer, workshop leader,

inspirational speaker, passionate learner,

and lifelong lover of letters and literature.

As she writes, she finds worlds that do not

have the words to be described. These

are metaphors, stories, and poems that

encourage us to self-reflect. She seeks to

break down barriers that impede growth

and promote emotional strength in human

beings. She is a collector of memories.

She bathes in doses of reality that splashes

with fantasy while she navigates the

uncertainty provoked by verses, endless

verses, one and a hundred, that awaken

dreams.

Mark Anthony Ferguson – Attends Pima

Community College

Mauricia Manuel – Mauricia Manuel is

a mother of four and has been working

towards her goal of becoming an author.

She is a member of the Tohono O'odham

Nation. Her love for words and history

inspires her writing and hopes for it to be a

positive influence within the community.

182
---
Michele Worthington – Attends Pima

Community College

Raiden Lopez – Raiden is a proud single

mom, a writer, a singer, an editor, and an

honors student at PCC until she transfers

to the U of A fall of 2022, who is working

towards being a book editor and publicist

as her chosen career. "I want to help

others bring their stories to life and be

the absolute best they could possibly be.

That is why I always dreamed of being an

editor, my dream is already coming true

and I'm loving every minute of it."

Salina Riggs-Molina (She/Her) – Salina is a

native Tucsonan, a self-proclaimed data

nerd, and a nonprofit professional. Poetry

is her voice, her vice, and her means

of creative expression. She'll never truly

understand the complexities of being,

but she loves the process of trying to

understand.

Samantha Barrera – Samantha Barrera

is a British-born and raised mother of

two. Samantha came to America under

troubled circumstances, but she has not

let adversity stop her from achieving her

dreams. Presently, Samantha is pursuing

her Forensic Psychology degree at Pima

Community College and is eager to

become accepted at James E. Rogers

College of Law thereafter. Samantha

appreciates that we live in a world where

it is easy to lose sight of our purpose

and sense of happiness. Thus, she wrote

The Book of Life to inspire others to take

control of their life, and to encourage

those who are facing their own adversity

or hardship to never cease their efforts in

overcoming.

Sierra Vigil – Attends Pima Community

College

Solace Bergman – Attends Pima

Community College

T. Gullett (He/Him) – T. Gullett is a writer,

artist, and trans creator interested

in sharing stories of queer happiness

combined with genre fiction. Through

his written work, he explores his own

experiences of identity and yearning. He's

not 100% sure where his time at Pima will

take him, but he's excited for the journey.

He would like to thank his friends and

family who have supported his creative

endeavors, as well as the teachers who

have played a part in him getting here.

This is his first time being published.

Travis Cooper (He/Him) – Travis is a preengineering

student who has lived in

Tucson all his life. He writes poetry and

183
---
short stories that include paranormal and

macabre elements.

Veronica Martinez – Veronica Martinez

is a 20 year old from Tucson that has

been writing fiction stories since she was

a child, but did not begin to write poetry

until taking an introductory poetry writing

course at Pima Community College in

the Fall of 2020. Since then, Veronica has

found interest and inspiration to write

poetry from daily life and the historical

events that young people are currently

living through. Veronica is now studying

Creative Writing at the University of

Arizona and plans to continue to write

poetry throughout her life, along with

writing horror and fantasy fiction.

Zoe is a Pima 2021 graduate on her way

towards a career in graphic design.

However, you can always find her with a

pen in her hand and a poem on her mind.

Yareli Sanchez – The percentage of

young Americans experiencing certain

types of mental health disorders has

risen significantly over the past decade.

Yareli Sanchez (24), focuses her writing on

depression and anxiety. Yareli wrote Dying

to let the reader know a brief description

of what a person goes through when

having an anxiety attack. Sandscript

published another piece of hers and you

can read it in the 2020 magazine.

Zoë Galmarini – With a strong passion for

the arts and an eye for all things creative,

184
---
185
---
MEET OUR TEAM

Editor-in-Chief & Managing Editor

Assistant Editor & Visual Art Editor

Raiden Lopez (She/Her) is an English

Literature major at Pima College, with

plans to pursue Creative Writing at the

University of Arizona to become a book

editor. She is a proud single mother to

an amazing son, who enjoys all types of

music and loves to sing. Reading and

writing are her passions and hopes to do

them happily for the rest of her life.

Stephany Rocha (She/Her) is a Liberal

Arts major at Pima Community College

who plans to study journalism and minor

in marketing and p.r. at the University

of Arizona. She plans to use her degree

to become a media editor or book

editor. Writing is her passion and loves

to read a great book to de-stress. When

she is not writing or reading, she can be

found at work, petting her two dogs or

embroidering a new shirt!

186
---
Assistant Editor

Social Media Manager, Director of

Achives & Poetry Editor

Jesse Shinn (He/Him) can be found

working on his novel, spending time

with his cats, or playing with his friends

online. He's a liberal arts major with his

sights on an English degree to aid him

in venturing into the world of literary

publishing.

Maria Servellon (They/Them) is pursuing

an Associates in Science and is planning

on transferring to a four-year university

to pursue their studies in Cell and

Developmental Biology. Maria considers

themselves a patron of the arts, and

firmly believes that art speaks for those

who cannot. In their spare time, Maria

does cancer research, watches entire

seasons of animated TV shows, and

orders Thai food through DoorDash.

187
---
Industry Outreach Coordinator & Prose

Editor

Prose Editor

Madison Copic (She/Her) is an English

major at Pima who plans to study

Creative Writing at the University of

Arizona in the fall of 2021. Writing is

her passion, and she particularly loves

fantasy and horror. When she's not

editing, writing, or reading, you can find

her roller skating at the park, playing

Dungeons and Dragons, or pampering

her cat.

Iris Gonzalez-Hill (They/Them) is currently

an English major at Pima Community

College. They plan to transfer to the

University of Arizona to continue their

education in hopes of becoming a

middle school English teacher. They are

currently working on their first book of

poetry aimed to be released come Leo

season. They currently reside in Tucson,

Arizona with their partner and cat,

Gaston.

188
---
Poetry Editor

Visual Art Editor

Ocean Washington is a young father,

a 3.9-4.0 GPA student, an aspiring

ethnographer regarding human

behavior, a BMX'er, and lover of people

interaction. Ocean's core competency

revolves around storytelling. His goal

is to enter the film industry after he

completes a contract with one of the

United States academies for military

officers.

Mariah Gastelum (She/Her) is a student

at Pima Community College who is

currently finishing an Associates in

English with plans to transfer to the

University of Arizona and major in

creative writing. "I was really glad to

be apart of the SandScript team and

to have a magazine this year, things

have been out of the norm with this

pandemic. Covid-19 has taught me

how fast it can take a persons life and

how distance gives us more reasons to

love harder."

189
---
Graphic Design Editor

Faculty Advisor

Cynthia Drumond is a business

administrator, and she is pursuing a

second career as a graphic designer.

During the college years, she worked

as a volunteer managing social

media content, did an internship, and

freelanced developing brand identities,

marketing strategies, and websites.

She won six student awards given by

AAF - American Advertising Federation

in categories such as logo design,

rebranding, poster design, and video

advertising campaign.

Frankie Rollins relishes the alchemy

of working with the intelligent, artistic,

and progressive students in English

and Honors at Pima Community

College. Along with teaching, Frankie

is fiercely devoted to writing and

publishing her own prose, publishing

a flash fiction novella, The Grief

Manuscript (Finishing Line Press, May

2020), releasing a collaborative

video, The Grief Manuscript Video

on Youtube (https://www.youtube.

com/watch?v=j71Y4cEnaqQ) and a

collection of short fiction, The Sin Eater &

Other Stories (Queen's Ferry Press, 2013).

190
---
191