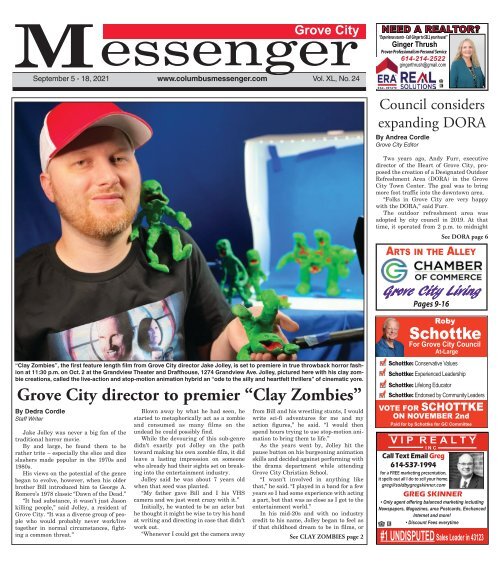 Grove City Messenger - September 5th, 2021
You also want an ePaper? Increase the reach of your titles
YUMPU automatically turns print PDFs into web optimized ePapers that Google loves.
Messenger

Grove City

September 5 - 18, 2021 www.columbusmessenger.com Vol. XL, No. 24

NEED A REALTOR?

REALTOR?

Ginger Thrush

Call Proven Professionalism-Personal Ginger Thrush Service

614-214-2522

"Experience counts - Call Ginger to SELL your house!"

gingerthrush@gmail.com

Council considers

expanding DORA

By Andrea Cordle

Grove City Editor

Two years ago, Andy Furr, executive

director of the Heart of Grove City, proposed

the creation of a Designated Outdoor

Refreshment Area (DORA) in the Grove

City Town Center. The goal was to bring

more foot traffic into the downtown area.

"Folks in Grove City are very happy

with the DORA," said Furr.

The outdoor refreshment area was

adopted by city council in 2019. At that

time, it operated from 2 p.m. to midnight

See DORA page 6

ARTS IN THE ALLEY

Grove City Living

Pages 9-16

"Clay Zombies", the first feature length film from Grove City director Jake Jolley, is set to premiere in true throwback horror fashion

at 11:30 p.m. on Oct. 2 at the Grandview Theater and Drafthouse, 1274 Grandview Ave. Jolley, pictured here with his clay zombie

creations, called the live-action and stop-motion animation hybrid an "ode to the silly and heartfelt thrillers" of cinematic yore.

Grove City director to premier "Clay Zombies"

By Dedra Cordle

Staff Writer

Jake Jolley was never a big fan of the

traditional horror movie.

By and large, he found them to be

rather trite — especially the slice and dice

slashers made popular in the 1970s and

1980s.

His views on the potential of the genre

began to evolve, however, when his older

brother Bill introduced him to George A.

Romero's 1978 classic "Dawn of the Dead."

"It had substance, it wasn't just Jason

killing people," said Jolley, a resident of

Grove City. "It was a diverse group of people

who would probably never work/live

together in normal circumstances, fighting

a common threat."

Blown away by what he had seen, he

started to metaphorically act as a zombie

and consumed as many films on the

undead he could possibly find.

While the devouring of this sub-genre

didn't exactly put Jolley on the path

toward making his own zombie film, it did

leave a lasting impression on someone

who already had their sights set on breaking

into the entertainment industry.

Jolley said he was about 7 years old

when that seed was planted.

"My father gave Bill and I his VHS

camera and we just went crazy with it."

Initially, he wanted to be an actor but

he thought it might be wise to try his hand

at writing and directing in case that didn't

work out.

"Whenever I could get the camera away

from Bill and his wrestling stunts, I would

write sci-fi adventures for me and my

action figures," he said. "I would then

spend hours trying to use stop-motion animation

to bring them to life."

As the years went by, Jolley hit the

pause button on his burgeoning animation

skills and decided against performing with

the drama department while attending

Grove City Christian School.

"I wasn't involved in anything like

that," he said. "I played in a band for a few

years so I had some experience with acting

a part, but that was as close as I got to the

entertainment world."

In his mid-20s and with no industry

credit to his name, Jolley began to feel as

if that childhood dream to be in films, or

See CLAY ZOMBIES page 2

Roby

Schottke

For Grove City Council

At-Large

Schottke: Conservative Values

Schottke: Experienced Leadership

Schottke: Lifelong Educator

Schottke: Endorsed by Community Leaders

VOTE FOR SCHOTTKE

ON NOVEMBER 2nd

Paid for by Schottke for GC Committee

V I P R E A L T Y

I N C

Call Text Email Greg

614-537-1994

for a FREE marketing presentation,

it spells out all I do to sell your home.

greg@soldbygregskinner.com

GREG SKINNER

COMMERCIAL, INDUSTRIAL, HIGH QUALITY RESIDENTIAL

• Only agent offering balanced marketing including

Newspapers, Magazines, area Postcards, Enchanced

Internet and more!

• Discount Fees everytime

#1 UNDISPUTED Sales Leader in 43123
---
PAGE 2 - GROVE CITY MESSENGER - September 5, 2021

Serving Your Community

Malek &

ATTORNEYS AT LAW Malek

Proudly Announcing

Adding New Attorneys

To Serve You!

WORKERS'

COMPENSATION

PERSONAL INJURY

WRONGFUL DEATH

SLIP & FALL INJURY

DOG BITE INJURY

Since 1972

Douglas, Ed, Jim

and Kip Malek

"Hablamos Español"

FREE Initial Consultation

www.maleklawfirm.com

614-444-7440

1227 S. High St., Columbus, OH 43206

CLAY ZOMBIES

Continued from page 1

even write and direct his own, was slipping

away.

"I had so many ideas of what could work

as a movie but I was buying into that

strange societal pressure that said if something

hadn't happened by a certain age, it

was never going to happen," he said.

Wanting to cheer his son up, Jolley's

father told him of a newspaper announcement

seeking extras for Aaron Garrett's

locally shot film, "False Flag." He traveled

to London where it was being filmed, "had

a total blast" as a member of the cast and

rekindled his desire to create something

original.

After his wife Ashley gave him a crash

course on the latest technology for budding

filmmakers, Jolley had a premise for a

zombie film in mind. Upon consulting a

makeup artist to determine the cost of

such an undertaking, he had to modify

those plans.

"It was, let's say, not cost effective for

my budget," Jolley said.

Determined to see it through, Jolley

thought back to his childhood fondness for

Ray Harryhausen films and produced a

short feature with live-action actors acting

alongside stop-motion creatures.

In 2016, Jolley's "Claymation Zombies"

hit the festival circuit: the low-budget

"campy zombie apocalypse horror featuring

green clay monsters" received a warm

reception from the audience.

"I think it was because they were tired

of all the serious films," he joked.

With a successful short film under his

belt, he was told to "move on" from that

universe by fellow creators, that it would

be "too much work" to make the transition

into a full-length feature.

But Jolley wasn't ready to leave the

zombies behind.

At first, Jolley expanded the verse, creating

an origin story web series for Dr.

Clayton Molder, the man who may have

accidentally brought forth a clay zombie

apocalypse. In late 2019, he officially

began the feature length transformation.

Those plans hit a snag with COVID-19.

"It gave me time to re-imagine the

whole thing," he said.

While drafting additional plot points

and points-of-view, Ashley asked him if he

could have one actor in the film, who would

he want it to be.

He said that answer was easy: Diane

Franklin.

"She is one of my favorite actresses,"

said Jolley. "I loved her in "Better Off

Dead" and "Bill and Ted's Excellent

Adventure."

Knowing that actors were having a hard

time getting work due to COVID-19

restrictions, he sent her a message via

Facebook and asked if she would be interested

in taking a small part. Much to his

surprise, she was.

"I couldn't believe it," he said. "I still

can't believe it."

He said though he never got to meet her

— she filmed near her home and sent in the

www.columbusmessenger.com

footage — her willingness to be a part of "Clay Zombies" meant the

world to him.

"Really, I'm grateful to anyone who was willing to help bring a

dream of mine to life."

While the pandemic did create a few logistical nightmares for

the locally shot production, Jolley said the cast and crew managed

to put something together that will be fun for everyone — regardless

of their general feelings for zombie movies.

"It has puns, guns, and gratuitous clay zombie violence," he

said.

But that is not all there is to "Clay Zombies," he said.

"It goes back to that thread of found friendship, of people coming

together to help others."

In the case of this film, strangers come together to get the word

out about the clay zombie virus, team up to rescue an abducted

dog (played by Jolley's late "sweet girl" Sandy), and fight to stop

an apparent human baddie from creating more ravenous green

monsters.

"There's a lot going on but I swear it is good and that it makes

sense," Jolley said. "Well, as much as a film about clay zombies

can be good and make sense."

"Clay Zombies" will premiere on Oct. 2 at 11:30 p.m. at the

Grandview Theater and Drafthouse, 1247 Grandview Ave.

Tickets can be purchased by searching for "Clay Zombies" at

Eventbrite.com or via direct link through the "Clay Zombies"

Facebook or Instagram page. The film is also slated to be available

via Amazon Prime or Tubi in late October. It stars Jake

Jolley, Bill Jolley, Diane Franklin, David Ogrodowski, Gabe Kirk,

Jazzy Jackson, Beth Metcalf, Katherine Elizabeth and Sandy the

pit bull.
---
www.columbusmessenger.com

September 5, 2021 - GROVE CITY MESSENGER - PAGE 3

Welcome to 2683 Glendale Road

Welcome to 2683 Glendale located on a mature tree lined street close to shopping, schools, medical as well as the Grove

City Town Center. Virtually everything has been redone and custom remodeled. Finishes like you would see in half million

dollar properties can be yours at a fraction of the price. The entire first floor on this one is real wood oak flooring. Captivating

Chefs dream kitchen with exquisite soft close cabinets with pull outs, granite tops and a complete Stainless Appliance Package.

Stunning Baths both offer granite tops, custom bath/shower surrounds as well as impeccable tile work. Partially finished lower

level. Rear yard is fenced. Yes, this one is as nice as the pictures, see it before it is gone!

$229,900 MLS #221034133

Evan &

Greg

SKINNER

UNDISPUTED #1 IN 43123

614-537-1994 sales@soldbyskinner.com

COMMERCIAL, INDUSTRIAL, HIGH QUALITY RESIDENTIAL
---
PAGE 4 - GROVE CITY MESSENGER - September 5, 2021

In Education

By Dedra Cordle

Staff Writer

The South-Western City Schools District has a fleet of

more than 200 buses. All are housed as its transportation

lot located off Southwest Boulevard in Grove City.

When school is in session, this lot is a hub of activity.

Not only are buses coming in and out of the depot multiple

times a day to take students to school and back home, but

so too are the vehicles of the employees as they start or end

their scheduled shift.

When school is not in session, however, this lot is still a

hub of activity though much of it happens outside of the

scope of the naked eye.

As the heavy buses sit on the lot and as the summer sun

beats down on the ground, miniscule fissures start to grow

underneath the asphalt, slowly expanding until they make

their way to the surface. When they do, action has to be

taken to stop their destructive process before they start to

pose a problem for the fleet and employee vehicles.

Recently, these cracks have become a problem. In May,

the board of education approved a resolution that paved

the way for $400,000 worth of repairs to be made at the

transportation lot. These improvements took place over

the course of the summer but district officials say there is

more work to be done.

On Aug. 23, Mark Meadows, the district's supervisor of

property services, presented the board of education with

an overview of the construction project. He said it was so

expansive that it had to be broken down into three phases

which will take place throughout 2023.

Phase one was completed before the start of the 2021-22

school year, he said. The scope of this phase included the

removal of the current asphalt and the installation of a

"roller-compacted concrete" to extend its lifespan so it better

holds the weight of the buses.

"This should service us for years to come," Meadows

said.

Additional phase one improvements include the extension

of car parking to allow for safer bus turning radius

and the inclusion of additional parking areas for

both cars and smaller buses.

According to Sandra Nekoloff, the district's

executive director of communications, phases two

and three will entail additional asphalt replacements

and resurfacing repairs. She said these

additional phases still need to go out for bid so she

does not have an estimate as to how much money

the entire project will cost.

Meadows said additional, albeit smaller, projects

were undertaken this summer throughout the

www.columbusmessenger.com

Construction projects discussed in school district

Prepare for unexpected

power outages with a

Generac home standby

generator

REQUEST A FREE QUOTE!

844-334-8353

FREE

7-Year Extended Warranty*

A $695 Value!

Limited Time Offer - Call for Details

district as well.

"Summers are always busy in the facilities and property

services department, and this summer has proved to be no

different," he said.

According to Meadows, asphalt repairs were also done

at Buckeye Woods and Darby Woods Elementary, behind

the recreation center at Westland High School, and at the

district's service center.

He said asphalt improvements are also slated to be

done at the district's maintenance yard.

"This is an effort to get the district on track for a much

more regular (sealing and striping) routine."

Other summer improvements include exterior painting

of the Bostic Center and Darby Woods; playground renovations

at Finland, Harmon and Stiles elementary; dugout

improvements at Westland; gate partition repairs at

Westland and Grove City high school; and HVAC improvements

at the preschool.

Meadows also said a scoreboard was ordered for the

boys baseball and girls softball teams at Westland. They

are slated to be delivered in the fall.

In other meeting news, Carl Metzger, the assistant

superintendent of personnel, gave a staffing update to the

board. According to Metzger, the district has 2,773 certificated

and classified employees. Of that number, 1,748 are

certificated employees (1,644 teachers, 104 administrators)

and 1,025 are classified.

He also added that the district is looking for bus drivers,

substitute bus drivers, custodians, teacher's aides,

and substitute teachers. He said to visit their website at

www.swcsd.us for more information on how to apply.

Special Financing Available

Subject to Credit Approval

*To qualify, consumers must request a quote, purchase,

install and activate the generator with a participating dealer.

Call for a full list of terms and conditions.

YEAR-ROUND

CLOG-FREE GUARANTEE

Pam Brown

614-975-9462

A FREE ESTIMATE

15 10 5

YOUR ENTIRE

PURCHASE *

1-855-995-2490

% % %

OFF + OFF + OFF

SENIOR & MILITARY

DISCOUNTS

TO THE FIRST

50 CALLERS! **

| Promo Number: 285

Thinking about

selling your home?

Call An Experienced Realtor!

42 Years of "Service with a Smile"

GREAT SELLING MARKET!

3656 Broadway Grove City, OH 43123

614.871.1000

www.era.com

Messenger photo by Dedra Cordle

Parents protest SWCS mask policy

More than 50 parents and children attended the South-Western City Schools Board of Education meeting

on Aug. 23 to protest the recent decision to require students in pre-kindergarten to sixth grade to wear

facial coverings at the start of the 2021-22 school year. Attendees said they felt the district was "giving into

fear" from the media and public health officials over COVID-19 data and wanted their children to have the

option to wear a mask if they so choose. Shown here, protesters hold up signs after the meeting where the

board gave Superintendent Dr. Bill Wise discretion on when to lift the mask requirement for preschool, elementary,

and intermediate school students.
---
www.columbusmessenger.com

Art exhibit features watercolors

Grove City Council's Art Concern presents

an exhibit "Recollection," by Diana

Linik on display and for purchase through

Sept. 10 at City Hall, 4035 Broadway, in

Grove City. The exhibit features a collection

of mixed media, watercolors and oil

paintings.

Linik, an international fine artist, was

born and raised in Buenos Aires,

Argentina. She moved to New York City to

further her studies and exhibited in the

U.S. and Seville, Spain. She also received

invitations to display her artwork at COSI

and Battelle. Art can be purchased by contacting

Art Concern curator Lucila Linik at

614-357-3593.

The exhibit is open to the public weekdays,

8:30 a.m. to 4:30 p.m., or by calling

Clerk of Council Tami Kelly, 614-277-3065

for an appointment, or exhibits can be

viewed virtually on the city website at

bit.ly/gcArtConcern.

The Grove City Art Concern was founded

in 1991 and is sponsored by Grove City

Council. The Art Concern was created for

the express purpose of promoting arts and

culture in the Grove City community.

Pick-Up &

Delivery

C.M.T

MOWER REPAIRS

Authorized Dealers for BOBCAT Mowers

6446 HARRISBURG PIKE, ORIENT, OH 43146

614-875-5830

www.cmtmowerrepairs.com

"We have the lowest price in town!"

GENERAL MAINTENANCE SERVICES

Push Mowers $49.95 • Riding Tractors $159.95

Zero Turn Mower $159.95

Parts are additional on all units

PICK-UP & DELIVERY AVAILABLE $60.00

CHECK OUT THESE GREAT DEALS!!

• ZT 2000-42... $ 4,200.00

• ZT 2000-48... $ 4,400.00

• ZT 2000-52... $ 4,700.00

• ZT 3500-61... $ 7,900.00

ZT 6000-61........... $ 10,200

ZT 6100-61........... $ 10,600

ZT 7000-72........... $ 13,300

0% Interest

Financing up to

48 months (if qualified)

September 5, 2021 - GROVE CITY MESSENGER - PAGE 5

The Garden Bar

OHIO STATE

2O21 FOOTBALL SCHEDULE

SEPT 2 at Minnesota

SEPT 11 vs. Oregon

SEPT 18 vs. Tulsa

SEPT 25 vs. Akron

OCT 2 at Rutgers

OCT 9 vs. Maryland

SAVE THIS

OCT 23 at Indiana

OCT 30 vs. Penn State

NOV 6 at Nebraska

NOV 13 vs. Purdue

NOV 20 vs. Michigan State

NOV 27 at Michigan

SCHEDULE

3989 Broadway, Grove City, OH 43123
---
PAGE 6 - GROVE CITY MESSENGER - September 5, 2021

Jackson Township

offers bulk trash drop-off

The Jackson Township Bulk Trash

Drop-off for all Jackson Township, city of

Grove City and village of Urbancrest residents

will be open weekdays from 8 a.m. to

4 p.m. through Sept. 24 at the Jackson

Township Administration Building, 3756

Hoover Road. Residents must check in at

the Jackson Township Administration

office prior to unloading.

Accepted items include: residential bulk

trash, tires (limit of four) and scrap metal.

The following items are not accepted: batteries,

motors, light bulbs, hazardous

BIG BOUNCE

1645 Gateway Circle, Grove City, OH 43123

(614) 957-5382

Birthday Partys - Kids Night

Classes Available - Dodgeball

Kids Night Out on Fridays

Fun Night Out on Saturdays

www.bigbouncegrovecity.com

BOGO Half Off

a Jump or a Class

waste (chemicals, oils, paints), TVs and

monitors. Throughout the year, residents

can drop off electronics or e-waste at the

Jackson Township Administration

Building, 3756 Hoover Road, weekdays, 8

a.m. to 4 p.m., except holidays.

The list of accepted items includes: computer

components, laptops, tablets and

iPads/PDAs, cell phones, wireless routers,

cable modems, chargers and cables, VCRs,

Dish and Direct TV receivers stereos and

speakers. Monitors and TVs are not accepted.

For additional information, call the

Jackson Township offices at 614-875-2742.

Come DANCE with us!

RDC Dance Center

3048 Southwest Blvd., Grove City

(614) 875-1044

We hope to see

you in classes!

TAP * JAZZ * BALLET * HIPHOP

LYRICAL * TUMBLING

Ages 3 and up

WE ARE EXCITED TO MEET

YOU AND YOUR CHILD!

(614) 875-1044

email > wendi@rdcdance.com

website > www.rdcdance.com

news and notes

Internet Purchase

Exchange Zones

The city of Grove City's Division of

Police in cooperation with Jackson

Township established two Internet

Purchase Exchange Zones in response to

safety concerns during person-to-person

exchanges of sales arranged online. The

zones are located at City Hall, 4035

Broadway, and the Jackson Township

Administration Building, 3756 Hoover

Road.

Exchange zones are identified by signage

next to designated parking spaces at

each location with video surveillance 24

hours a day, seven days a week. Residents

can conduct transactions knowing their

interactions are recorded. In cases of emergency,

site users should dial 911 for assistance.

For more information, contact the Grove

City Division of Police at 614-277-1710.

Blood drives in Grove City

The American Red Cross will host several

blood drives in Grove City. The events

will be held:

•Sept. 11 from 9 a.m. to 2 p.m. at the

DORA

Continued from page 1

Thursday through Saturday. In 2020,

council voted to expand the DORA in days

of operation from Monday through

Saturday. Now, council will decide if the

DORA should expand its boundaries.

According to city legislation, the DORA

is approximately 15 acres in size. It

includes areas north of Cleveland Avenue,

east of Arbutus Avenue, south of Civic

Place and west behind City Hall. On Sept.

7, council will vote on a proposal to expand

the refreshment area to the city-owned lot

next to the old library site on Park Street

and to the southeast corner of Civic Place

and Broadway.

According to Furr, more community

events are moving off Broadway, along

Park Street and this expansion would

allow patrons to bring their beverage to the

properties where more events are taking

place. He said the expansion south on

Broadway would allow several businesses

to take part in the DORA, including MOJO

on Broadway and Mr. Southern Flava.

"It would increase access for these

folks," said Furr.

The DORA is essentially a waiver of

Grove City's open container law for a designated

area. It allows patrons (age 21 and

older) to buy an alcoholic beverage, from an

established permit holder, and take that

drink outside in the marked areas. The

beverages are poured into an identifiable

plastic cup. People can sit outside and

drink or they can browse the area.

"We have seen an uptick of use of the

DORA, especially on Friday nights and for

events," said Furr. "It's a very relaxed

www.columbusmessenger.com

Grove City Church of the Nazarene, 4750

Hoover Road

•Sept. 16 from 1 to 7 p.m. at Vineyard

Christian Fellowship, 3005 Holt Road

•Sept. 21 from 1 to 7 p.m. at the Grove

City YMCA, 3600 Discovery Drive

To schedule an appointment, call 1-800-

448-3543 or visit www.redcrossblood.org.

Screenings at Evans

Amity Care Home Health Services provides

a nurse at the E.L. Evans Senior

Center in Grove City to do free diabetic

screening and blood pressure testing every

first and third Wednesday of the month

from 11 a.m. to 1 p.m. For more information,

call Amity Care Home Health at 334-

6800.

Wellness services for seniors

LifeCare Alliance provides a nurse at

Grove City Church of the Nazarene in

Grove City weekly to provide free foot care

and other wellness services for seniors. To

schedule an appointment or for more information,

call the wellness office at 614-437-

2878.

vibe."

Furr said he expected this to boost business

for those establishments that sold

food and alcohol but said retail shop owners

have also reported an increase in foot

traffic.

"It's been great to see," he said.

Many communities in central Ohio have

created designated outdoor refreshment

areas recently. Some communities have

even reached out to the Heart of Grove City

for tips.

According to Furr, Grove City is the

only community in central Ohio to offer its

DORA six days a week, year-round.

When the idea was first proposed in

Grove City, some were worried about safety

or patrons becoming unruly from drinking

too much.

According to Grove City Division of

Police Chief Richard Butsko, there has not

been many problems thus far.

"The division of police has not experienced

any notable, frequent, or ongoing

problems stemming from the DORA.

Additionally, we have no safety concerns

with expansion of the boundaries," said

Butsko.

The DORA does not operate on

Sundays, nor does it operate during the

annual alumni event, Boo on Broadway, or

the Christmas Celebration.

Grove City Council meets at 7 p.m. at

City Hall. The next meeting was moved to

Tuesday, Sept. 7 due to Labor Day.

For more information on the DORA,

visit grovecityohio.gov.
---
www.columbusmessenger.com

Police welcome new canine

By Andrea Cordle

Grove City Editor

A new canine officer has joined the

ranks within the Grove City Division of

Police.

Rakka, a 2-year-old Dutch shepherd,

comes to Grove City from Holland, where

he was trained as a dual-purpose canine

officer. He will spend the next six weeks

training with his new partner, Officer

Jared Nelson, at Storm Dog K-9 Training

in Sunbury, Ohio.

Grove City Division of Police Chief

Richard Butsko said he is confident Nelson

will be a terrific canine handler.

"Officer Nelson has had a tremendous

performance on the job," said Butsko. "He

is hard-working and motivated."

According to Lt. Eric Scott, support services

bureau commander, Nelson volunteered

to handle Rakka.

"He has the right home circumstances,"

said Scott.

Not only will Nelson and Rakka work

together, but they will also live together.

After the initial training period, the pair

will have ongoing training sessions several

times per month.

Rakka joins the police force after the

death of Max, an 8-year-old Belgian

Malinois who had been with the department

since 2015.

"We closed the canine program for a few

The City Beat

months to pay our respects to Max," said

Butsko. "It is time to resume the program."

Max died unexpectedly in early June

during an emergency surgery to remove a

cancerous growth.

Max's handler, Officer Brian Kitko, has

put his support behind Nelson as the division's

latest canine handler.

Rakka will assist in narcotics detection,

article tracking, and building searches. He

will also track fleeing suspects or missing

people.

"Canines cannot do a lot of the tasks regular

officers do, but they have very special

capabilities," said Butsko. "They are very

good at maintaining order."

The police chief said canine officers do

very well at security, crowd control, and

controlling unruly people. He said some

suspects have no problem confronting a

group of armed police officers, but they are

unwilling to challenge a police dog.

Another aspect of their job is public relations.

Max became somewhat of a celebrity in

Grove City. He and his handler participated

in community events, marched in local

parades, and spent time educating the public

about safety issues.

Scott said they also expect Rakka to

have a big impact with community relations.

"He is an overly friendly dog," said Scott.

"If all goes well in his training, the community

should see him out at community

events."

Rakka is scheduled to graduate his

training course Sept. 17. He should be performing

regular duties for the city of Grove

City at the end of the month.

September 5, 2021 - GROVE CITY MESSENGER - PAGE 7

Photos courtesy of the Grove City Division of Police

On Aug. 30, the Grove City Division of Police introduced its newest officer, Rakka. The

2-year-old canine will partner with Officer Jared Nelson.

"He will be a great addition," said

Butsko. "We are looking forward to getting

him in service."

It cost the city $15,500 for Rakka and

his initial training. It costs about $3,300

annually to maintain a canine officer.

Moses-Mouser Eye Care

Dr. Joshua Morris is an Optometrist who grew

up in Bellville, Ohio. He completed his undergraduate

degree at the University of Akron, where

he graduated magna cum laude with honors.

Dr. Morris attended The Ohio State University

College of Optometry and graduated cum laude

with honors to receive his Doctor of Optometry Degree in May 2019. After

completing his studies, he was awarded the "Primary Vision Care Clinical

Excellence Award", in 2019.

Dr. Morris is a member of the American Optometric Association, the Ohio

Optometric Association, and The Ohio State Alumni Association. He is

excited to practice full scope optometry, diagnosing and treating a variety

of ocular disorders and diseases in patients of all ages, but has a special

interest in contact lenses and ocular disease.

On a personal note, Dr. Morris and his wife Tess, enjoy spending time with

their family, friends, and their Bernese Mountain dog Maverick, cheering

on The Ohio State Buckeyes, trying new foods, and exploring Columbus

breweries.

Q: What are floaters and what causes them?

A: Floaters are small dark shapes that move across your vision. They can appear

as dots, threads, squiggly lines, or even like cobwebs. Most floaters are caused

by normal changes in the eye. As you age, small strands of vitreous (gel-like fluid

that fills your eye) can clump together and cast a shadow on your retina (the

light-sensitive tissue at the back of the eye). Those shadows appear as floaters

that drift across your vision. You may notice floaters more when you look at a

bright background, like a computer screen or a blue sky.

Q: How often should someone with new

floaters get an eye exam?

A: Someone experiencing new floaters, a large increase in the number of floaters,

or flashing lights should see an eye care professional immediately. Sometimes

floaters have a more serious cause, including: infection, injury, inflammation,

bleeding, retinal tear or retinal detachment.

Someone with a few stable floaters should see an eye care professional at least

once a year for a comprehensive dilated eye exam.

Schedule your comprehensive eye exam

today with Dr. Morris

1600 Gateway Circle, Grove City, OH 43123 614-963-3820
---
PAGE 8 - GROVE CITY MESSENGER - September 5, 2021

By Linda Dillman

Staff Writer

The Borror Observatory in the former

Hoover Y-Park on Rohr Road was once a

mecca for local stargazers who looked to

the skies through the lens of a homemade

10-inch reflecting telescope.

Built out of concrete blocks in 1961, with

a 14-foot dome donated by Columbus

Astronomical Society (CAS) member

Charles Worch, the observatory was a

memorial to Ed Borror, who passed away

in 1960 and whose financial contributions

made the park possible.

According to Charles Legg–who spent

many hours as a teenager volunteering at

the observatory and served as its de facto

director–not long after it was built, the

observatory fell into disuse until Legg was

approached by a member of the YMCA who

told him about the situation.

"When I was16, I volunteered at COSI

doing planetarium lectures and was a

member of the CAS," said Legg, 73. "I met

Jim Wagner, who worked at the Southside

YMCA. He told me about the situation with

the observatory. He expressed concern that

no one was using the observatory for its

intended purpose–to provide public open

houses and its use by amateur

astronomers. I was fairly ambitious back

then at 16, so I expressed an interest in visiting

the observatory, checking the condition

of the telescope and building, and seeing

what I could do to help."

Legg visited the site and found the

building dirty, with spider webs everywhere,

but the telescope was covered and

in good condition. Wagner met with Legg's

parents, who agreed their son could help

correct the situation, although his mother

had reservations about her son having a

key to the observatory.

"In the end, it all worked out, and there

was never a problem," said Legg.

"However, my dad had to take me to the

observatory and pick me up until I received

my drivers' license. Since I was still an

active member of the CAS, it was not too

much trouble stirring up interest, primarily

with the younger members; the 13-17-

year-olds."

According to Legg, the observatory

became a focal point for younger members

of the CAS.

"In some ways, members of the CAS ran

its operation through me, but there was

never an official connection to the CAS, we

were just all members of the CAS," said

Legg. "By that time, we had formed the

Junior Astronomers of Columbus. It was a

rebellious time in the 1960s. Over time, I

believe we disbanded and just were once

again members of the CAS. We would meet

on Saturday afternoons when we would

clean up the building and kill the wasps

who loved to build homes in the dome. They

did not like the vibrations when we rotated

the dome."

Work parties on occasion addressed

issues such as painting old wooden chairs

in the room below the telescope and the

weathering dome, which also needed a new

coat of silver paint donated by a local store.

Legg worked out a deal with a company to

donate a gas heater for the wintertime and

the Southside Y to supply the propane.

The youths were also creative in obtaining

items such as a blackboard, bookcase,

and a table through donations.

"Some Saturday nights, 25 to 50 people

might show up, especially when something

astronomical was in the news, such as a

comet or a meteor shower," said Legg.

"Other members and I were on local TV

shows. It was primarily to promote the

observatory and get people to visit. We

were on frequently for a show that followed

Flippo on Channel 10. We seemed to have

better attendance for a few weeks after

doing the publicity. Scout groups were also

frequent visitors. Some scouts were interested

in getting their astronomy merit

badges."

Mini-lectures on astronomical subjects

were often presented before taking visitors

up to the telescope and CAS members

www.columbusmessenger.com

The Borror Observatory had visitors looking to the sky

Bring in this Ad

and your first Beer, Cider, Wine,

Seltzer and a few select Bourbons is

only $ 4

4057 Broadway, Grove City, OH 43123

(Corner of Broadway and Grove City Rd.)

(614) 954-2337

Hours: Sun.-Thursday 1pm-11pm

Friday-Saturday 1pm-1am

would set up their own telescopes around

the observatory for the public to view

objects.

"With the observatory telescope, you

could see the rings of Saturn, the moons of

Jupiter and its Great Red Spot, the crescent

shape of Venus, the white polar cap of

Mars contrasted with the red surface. All

these were visible at one time or another

during a year," Legg said. "Most visitors

were just amazed at what they could see

when looking into the eyepiece of a telescope.

They would ask, 'Is that real, or is it

a photograph?' We would then put our

hand in from of the telescope, and the

object would disappear."

Another favorite viewing destination

was the moon. Legg said everyone sees the

moon in the night sky all the time, but

until you look at it through a high-powered

telescope, you have not seen the moon.

The theft of the observatory's original

homemade telescope was discovered early

one Saturday evening. Security was always

a problem since the site was out in the

country and rather isolated even though a

caretaker lived nearby.

"We found broken windows several

times, but there were not many valuable

items kept there because of the problem,

other than the telescope," said Legg, who

continued to be in charge of the observatory

until 1968, when he graduated from

high school.

A new, smaller, yet more powerful commercial

reflecting telescope replaced the

one stolen, but it, too, was taken after a few

years. Legg believes after the second telescope

disappeared, activities stopped at the

observatory, but is unsure since he was

attending college and no longer involved

with the observatory.

Legg said he had always been a lifelong

learner, and much of that learning started

when he was at the YMCA Observatory

and the COSI Planetarium. The observatory

was special to him because it allowed

him to indulge in all of his passions at one

time.

"I learned from fellow amateur

astronomers," said Legg. "I was doing what

I enjoyed and educated children and older

adults every time we had an open house.

As a side benefit, I made many friends,

young and old. My strength is an extensive

technical understanding; my passion is

learning, doing, and teaching."

Photo courtesy of Charles Legg

This is a rear of the Borror Observatory in the former Hoover Y-Park on Rohr Road back

in the days when it was operational.
---
www.columbusmessenger.com September 5, 2021- SOUTHWEST MESSENGER - PAGE 9

Grove City Area Chamber of Commerce

To create a positive environment for the development and success of business

Arts in the

Alley: Back to

Our Roots

The Grove City Area Chamber of Commerce is proud to announce

and welcome back an in-person celebration of Arts in the

Alley Festival and Community Parade.

This year's 42nd event will kick-off with an extra evening, Friday,

Sept. 17 from 5-9 p.m. and continue through Sunday, Sept. 19.

Arts in the Alley is also going back to its roots in location as well,

returning to a formerly used location just off Broadway at Park and

First streets. This area will once again be filled with artisan vendors,

art displays, food concessions, local entertainment, Kids Fun

Street, and a vocal competition with their second annual "The Voice

of Grove City."

Friday from 5-9 p.m. will have vendors open for business and the

opening "live" round of The Voice of Grove City on the Heartland

Stage. This should make for an exciting and entertaining night out

in the Town Center.

Saturday's festivities begin with the Community Parade, in partnership

with the Grove City Girls Club, at 9:30 a.m. The parade

will follow the traditional route departing Southwest Boulevard,

traveling south on Broadway to Columbus Street.

On Sunday the festivities will wrap up, but not before art show

awards are announced, and The Voice of Grove City top three finalists

and official winner are chosen. (Please see separate articles regarding

art shows and the Voice of Grove City for more details.)

Throughout the weekend, the Chamber encourages festival goers

to make time for Town Center area businesses. Some businesses

may offer weekend-exclusive specials, some still under development

or even a surprise. Check with individual businesses to see if they

have special plans or even extended hours for Arts in the Alley

weekend.

The Chamber is grateful to have Heartland Bank return as the

presenting sponsor for the weekend. Sponsors as of press time include:

Mount Carmel Grove City (Kid's Fun Street), OhioHealth

(Entertainment), Sanderson Automotive Service (Voice of Grove

City Awards & Finalist Showcase), The Goddard School (Youth Art

Show), Byers Chevrolet (Photography Show), Kemba Financial

Credit Union (Craft Show), Eldorado Scioto Downs, Shawan Marquis,

Broadway Fireplace & Decor, Hirth Norris & Garrison, L&V

Bookkeeping, McDonald's, Wilcox-The Residences at Browns Farm,

Creative Mobile Interiors, Shepherd Insurance, The Antry Isaacs

Team at Saxton Real Estate, Direct Auto Insurance, Franklin

County Banking Center, Tru By Hilton, Precision Jewelers, GC Fat

Quarters Quilt Guild, Grove City United Methodist Quilters.

There is still time to join the list as a sponsor for those interested.

Call the Chamber office at (614) 875-9762 for information.

To learn more about Arts in the Alley, from attending, to entering

a show or sponsoring, visit: https://www.gcchamber.org/arts/ For

information about the Voice of Grove City competition, visit:

www.voiceofgrovecity.com

Entertainment and games for children will be featured at Arts is the Alley.
---
PAGE 10 - SOUTHWEST MESSENGER - September 5, 2021

ATTORNEY AT LAW

General Practice

Personal Injury Domestic

Probate Wills

Power of Attorney

Healthcare Documents

FREE CONSULT & PARKING

614-875-7233 Fax: 929-474-9475

1665 London-Groveport Rd., Grove City

www.jeffreypcompton.com

Email: jcompton@jeffreypcompton.com

Grove City Living

www.columbusmessenger.com

Family Owned and Operated Since 1963

For Pizza Perfection

"Old world cooking with

new world service"

4011 Front Street

Grove City, Ohio 43123

875-2700

www.zamarellispizzapalace.com

Tues.-Wed.-Thurs_______4:00 to 12:00

Fri. -Sat._______________4:00 to 1:00

Sunday_______________4:30 to 10:30

CATERING

AVAILABLE

Quick Repsonse Code

Artisan vendors will participate in the annual Arts in the Alley.

Arts in the Alley

artisan vendors

Prior to the start of the 42nd annual Arts

in the Alley Festival and Community Parade

on Friday, Sept. 17, Beulah Park will

dedicate a new sculpture as a gift to the City

of Grove City celebrating the spirit and history

of Beulah Park, Ohio's first thoroughbred

racetrack and premier event center

that stood in Grove City from 1923—2014 as

a pivotal landmark.

Named "And They're Off," the sculpture

depicts and holds the excitement of the beginning

of a horse race as it would've been

Get ready to shop 'til you drop at the

42nd annual Arts in the Alley Festival and

Community Parade. Artisan vendors are

back and eager to see you!

While vendors were able to participate in

2020's Arts in the Alley: Home Edition by

registering to sell online, the return to inperson

browsing will be most welcomed. Artisans

will also, in many cases, demonstrate

how they create a certain piece or may be actively

creating during the festival. It's a

unique time to purchase unique, handcrafted

items, and meet the artisan (or artisans)

who did the creating.

Even though it's only September, the holiday

gifting season always sneaks up on us.

Festival goers are reminded that unique

artwork makes great gifts.

Not ready to purchase on the spot? Don't

forget to take a business card or other information

from the artisans you'd like to connect

with later. Many artisans have online

presences and would love to engage with

you on social media; be sure to see how you

can follow along and watch their pieces

come to life the other 362 days of the year.

Need more information about this year's

Arts in the Alley festivities? Visit

https://www.gcchamber.org/arts/ for all of

the latest updates.

Sculpture dedication at Beulah Park

at the previous Beulah Park track. Rich in

history and tradition of Grove City, the

sculpture will be formally presented to the

citizens of Grove City. This beautiful sculpture

was custom designed and created by

Craig W. Murdick and has been three years

in the making.

The public is invited to attend the dedication

ceremony and view "And They're Off"

in person on Friday, Sept. 17 at 4 p.m. at

Beulah Park, 3811 Southwest Boulevard,

Grove City.
---
www.columbusmessenger.com Grove City Living September 5, 2021 - SOUTHWEST MESSENGER - PAGE 11

Showcasing vocal talent in

Voice of Grove City competition

After a year off, like many summer competitions

and events, The Voice of Grove

City is back and ready to crown a new winner.

Inspired by other well-known singing

competitions, The Voice of Grove City gives

Ohio musicians the opportunity to display

their vocal talents to the community. In

2019, over two dozen local talents answered

the call-out and in the end Cameron

Mitchell was victorious. Mitchell was able to

be part of several local performances, continue

to grow as a performer, and is returning

this year as part of the judging panel.

In addition, the judging panel includes a

variety of locals who boast an even wider variety

of musical backgrounds and industry

experiences. Additional judges include:

Hawc Griffin, Rhonda Shappert, Joshua Lee

Powell Jr., Tracy Sullivan, Kelly Letner,

Dylan Daniels, Jeremy Johnson, Cierra Lee

(voice coach) and Blake Soles (MC). Full

judge bios can viewed at: www.voiceofgrovecity.com

This year, the competition starts with

video submissions online that are viewed by

the judges. They will select the top 20 who

will perform on the Heartland Stage on Friday,

Sept. 17 during the kick-off of the 42nd

annual Arts in the Alley. Each night the

judges will narrow the winners until there

are the top three finalists. On Sunday, a

winner will be chosen. Each day, the Heartland

Stage will be filled with local talent all

soaking up the experience and vying for the

top prize.

The top prize is $2,500 and ample recognition

and potential future performance opportunities.

Second and third place finishers

will also receive prizes.

The goal of the competition is not just to

entertain, though it will, but to allow local

performers a chance to share their talents

and perhaps open doors to advance their

musical aspirations.

To enter the competition, contestants

must fill out an online form at www.voiceofgrovecity.com

along with the $25 entry fee.

Participants must be at least age 13. Entry

videos are already being posted and the

community is invited to check them out as

a preview of the exciting and talented performances

in store.

The Grove City Area Chamber of Commerce

extends its thanks and gratitude to

Heartland Bank and Sanderson Automotive

for their partnership and sponsorship of this

year's Voice of Grove City competition.

Arts in the Alley

shows and awards

While the 'show did go on' last year in the

Arts in the Alley: Home Edition, this year

the festival and its shows are returning to

their in-person format for locals and visitors

to enjoy.

As with previous years, there are five

shows (craft, fine art, photography, quilt,

and youth art) and two specialty awards

(The Grove City Easel Award and the Helena

McComb Award). To find specific details

of each show visit the GCACC website

at www.gcchamber.org/arts

All shows have entry forms that include

the rules and requirements that can also be

found on the website.

Photography

For the Professionals level they include

two categories, Open and Commercial.

Commercial/Family & Friends Category:

these can be weddings, senior pictures, class

pictures, family portraits, group pictures,

etc.

Open Category: these can include Sports,

Landscapes, Sunsets, Flowers, Seascapes,

etc.

GCACC's definition of a professional is:

a) someone's main paid occupation;

b) someone who has received payment

for photography work such as senior portraits,

weddings, sports;

c) if you have a business card soliciting

photography services.

There is also an Amateur category and a

Mobile Phone category that are both open to

subject matter.

Submissions will be judged and awarded

in 1st, 2nd and 3rd place, along with our favorite,

The People's Choice award, with

prizes up to $100 for the first place prize.

Fine Art

Note: some of the fine art pieces may be

for sale, they will be marked accordingly to

let viewers know.

Each piece is entered into one of the following

categories: 2-D Category; 2-D

PAPER/FRAGILE ART shall be framed,

glazed (glass, acrylite, plexi...) and wired for

secure hanging. No bare glass edges or sawtooth

hangers are permitted. 2-D

DURABLE ART shall be framed, wired for

secure hanging, or have otherwise finished

edges (i.e., canvasses may be "gallerywrapped").

3-D Category: Three-Dimensional Art-

See SHOWS & AWARDS page 14

The Cho oice for Com mpassionate,

Cutting g-Edge Care

At Zangmeiste er Cancer Center, we col llaborate with our

colleagues in radiation therapy , surgery

, genetics, pathology

and

clinical researc ch to ensure each patien nt has a comprehensive,

multidisciplinar ry plan of care. Support from our pharmacists,

social workers , nurse navigators, dietit ians and financial

counselors min nimize the impact of cancer cer on daily life.

A DIVISION OF AM MERICAN ONCOLOGY PAR TNER RS, P.A.

We del liver the most adv vanced and innova ative treatments fo ocused on each patient for

the best possible expe erience — becaus e each patient' 's cancer journey is unique.

(614) 383-6000 | ZangCenter.

com
---
PAGE 12 - SOUTHWEST MESSENGER - September 5, 2021

Arts in the Alley Parade

Once again, the Arts in the Alley Community

Parade, brought to you in partnership

with the Grove City Girls Club, will

step off to begin Saturday's festivities.

The parade will begin at 9:30 a.m. and

follow the traditional route in which it begins

at Southwest Boulevard. From there,

it will travel south on Broadway, and then

make its way onto Columbus Street in the

Grove City Town Center.

Many community favorites are expected

to make their return to the parade after a

hiatus in 2020. Bands, local organizations,

and even businesses can be expected to participate.

In the past the parade has included

homemade floats, vintage vehicles, and even

horses.

Parade entries will compete for several

awards, such as a People's Choice Award or

for best neighborhood theme.

While entries made after Sept. 6 will be

considered late, groups who hurry can still

be accommodated.

Visit https://www.gcchamber.org/arts/ to

view the form or call the Chamber office at

(614) 875-9762 for information.

The Grove City Chamber of Commerce

wishes to thank the Grove City Girls Club

for their continued partnership and efforts

to make the Community Parade possible.

Grove City Living

www.columbusmessenger.com

The Grove City High School Marching Band is a highlight of the parade.

The Grove City Girls Club.

Europe's Rivers and Castles

August 23-30, 2022 - 8 Days

Cruise four Rivers - Danube, Main, Rhine and Moselle

CRUISE FROM: NUREMBERG TO LUXEMBOURG

From the meandering Main River to the UNESCO-designated Upper Middle Rhine Valley with its multitude of castles dotting its shores to the vineyard-clad hills of the

Moselle, enjoy Europe at its most picturesque. Let the storybook villages—Bernkastel, Cochem and Wertheim—captivate you; and Rothenburg, located on the Romantic

Road enchant you. Marvel at the world's largest ceiling fresco in the Würzburg Residenz, a UNESCO World Heritage Site; and the beautiful Chagall windows while in Mainz.

Savor the many flavors of Germany with a chance to sample the world-famous wines of the Rheingau, the hearty smoked beer of Bamberg and Rüdesheim's famed

coffee or a gondola ride to Niederwald Monument. All along the way, gain an intimate understanding of the history and culture of the places you visit.

French Balcony: $4,308 pp (airfare not included) Daily excursions, wi-fi, beer & wine with lunch/dinner and more included

Deposit: $400 pp AMA Waterways promotion ends September 30, 2021

Bonus RCW Vacations Offer: 1-$500 Southwest Air Gift Card & Prepaid Gratuities for two. Booking a French Balcony or higher.

If someday you have always wanted to cruise the rivers of Europe, here is your opportunity.

I will take care of all the details including flights, transfers, insurance, pre-post hotels and more while you look forward to an amazing journey.

Next year will be different!

Also: If you are looking at all-inclusive resorts in Mexico, Dominican Republic, Jamaica, or any

of the other Caribbean islands, I have some excellent resorts to select from.

Randy Wegener - RCW Vacations - Affliliated w/Cruises & Tours Unlimited

Email: randy.connie@rcwvacations.com

www.rcwvacations.com

Cell: 614-569-1557

• Locally Owned and Operated • Veteran

AMA Certo
---
Grove City Living

www.columbusmessenger.com September 5, 2021 - SOUTHWEST MESSENGER - PAGE 13

Grove City Mayor Richard "Ike" Stage.

Parade onlookers at a previous Arts in the Alley Parade.
---
PAGE 14- SOUTHWEST MESSENGER - September 5, 2021

SHOWS AND AWARDS

Grove City Living

Continued from page 11

work that is multi-dimensional and can be

displayed on a table or the floor. When a display

stand is included, it shall be considered

integral to the presentation of the piece.

When no stand is included, the piece shall

be neutrally displayed by the Exhibit Personnel.

Restrictions on hanging dimensional artwork

may apply due to size or manageability

of the piece.

AWARDS - PROFESSIONAL FIRST

PLACE PROFESSIONAL: from either the

2-D or 3-D Category: $300. 2-D CATEGORY

3-D CATEGORY 2nd place $150. 2nd place

$150. 3rd place $50. 3rd place $50.

AWARDS - AMATEUR FIRST PLACE

AMATEUR: from either the 2-D or 3-D Category:

$150. 2-D CATEGORY 3-D CATE-

GORY 2nd place $75. 2nd place $75. 3rd

place $25. 3rd place $25.

PEOPLE'S CHOICE: One $100 will be

awarded in either 2-D or 3-D Fine Art category.

Ballots will be collected from the viewing

public until 2 p.m. Sunday. Winner will

be announced at Sunday's Award & Recognition

Ceremony, 3 p.m., on the Heartland

Stage, on east Park Street (old Grove City

Library site).

Crafts

Each piece can be entered into only one

category. The categories are: Needle Art - 3

Classes: Class 1 - Includes Knitting, Crochet,

Weaving, Fashion / Fabric

Class 2 - Includes Cross Stitch, Needlepoint,

Embroidery, Ribbon Embroidery Decorating:

Includes Floral, Home Décor, Seasonal

Painting: Includes China, Ceramics,

Tole Wood — Small: Includes Hand Carved

Originals, Wall Hangings, Accessories, Bird

Houses Wood — Large: Clocks, Furniture,

Chests All Other Crafts: Includes Clay,

Dolls, Jewelry / Beading, Paper Craft,

Leather, Stained Glass Category for each

entry will be determined by the Show Chair

at the time of registration.

Entries made from kits cannot be accepted

for judging. These items can be registered

for display purposes only.

Show Awards: Best of Show: $100. People's

Choice: $50 cash award. 1st place: $50

cash award and ribbon. 2nd place: $25 cash

award and ribbon. 3rd place: Ribbon

Quilts

Sizes for all entries are determined by

the perimeter measurement of the quilt.

There will be help to measure at registration.

The Quilt Show Committee reserves

the right to determine quilt class and/or

combine classes if too few entries are received.

•Duet quilt — top made by one or more

people and quilted by another person.

•Solo Hand quilted — top and quilting

done by one person (Pieced or Applique or

Embroidered).

•Solo Machine quilted — top and quilting

done by one person.

•Solo Machine mixed techniques (appliqué,

embroidery, whole cloth, etc.) top

and quilting done by one o Small ○ Large

(small award sponsored by Grove City Fat

Quarters Quilt Guild).

•1st Time Entry in any Quilt Show

(Sponsored by Grove City Fat Quarters

Quilt Guild) Small items — garments,

purses, totes, table runners, pillows etc.

Youth up to age 18.

•Show Awards: People's Choice Award

$50. Judge's Best of Show Award $50.

(Sponsored by Grove City Fat Quarters

Quilt Guild). 1st place Ribbon and $25. 2nd

Place Ribbon and $10. 3rd place Ribbon

Honorable Mention Ribbon. 1st and 2nd

place winners will be recognized on the

Heartland Stage Sunday at 3 p.m.

Youth Art

Only three entries of any two-dimensional

work, three-dimensional work or photography

will be accepted per student.

All artwork and photography needs to be

matted on construction paper or mat board

and ready to hang. Any entry not meeting

these standards may not be accepted.

Grad divisions are as follows: Primary is

K-Grade 2, Intermediate is Grades 3-5, Middle

School is Grades 6-8 and High School is

Grades 9-12. Ribbons and cash prizes will

be awarded.

Each year the GCACC awards two specialty

awards to local artist, The Helena Mc-

Comb award and The Grove City Easel

Awards.

www.columbusmessenger.com

The 18th annual

Helena McComb Award

The McComb Family is proud to again

sponsor an award in memory of one of our

festival's founders, Helena McComb. This

award is in addition to any other award.

One entry featuring flowers will be nominated

from each of the five shows and a

$500 award will be presented to the final

winner on Sunday at 3 p.m. on the Heartland

Stage. The winner of this award is selected

by the McComb Family.

The Grove City Easel Award

This annual award is presented for a

piece depicting Grove City. The winning

artist will receive $2,000, and the winning

piece will join the City's art collection. There

is also a People's Choice category with a

$500 prize value.

Thanks

The Chamber wishes to thank the following

sponsors: The Goddard School (Youth

Art Show), Byers Chevrolet (Photography

Show), Kemba Financial Credit Union

(Craft Show). There is still time to become

a sponsor, those interested should visit

https://www.gcchamber.org/arts/ or call the

Chamber office at: (614) 875-9762.

See photos on

page 16

We're looking for Production Team Members to

join our Columbus, OH team!

$21.50 Hourly rate

$5,000 Starting Bonus for Qualified Candidates

Apply online: ardentmillscareers.com

ARDENT MILLS IS AN EQUAL OPPORTUNITY EMPLOYER
---
Grove City Living

www.columbusmessenger.com September 5, 2021 - SOUTHWEST MESSENGER - PAGE 15
---
PAGE 16 - SOUTHWEST MESSENGER - September 5, 2021

Grove City Living

www.columbusmessenger.com

The quilt display is always popular at Arts in the Alley.

Visitors to Arts in the Alley browse the art works.

Get out in front of

the 2021 Election

START ADVERTISING NOW

Community Advertiser Get The VOTES You NEED!

Dates to Advertise before the Election:

9/19 • 10/3

10/17—Ad with Free Story • 10/31—Ad with Free Story

BEST BUY FOR YOUR

ADVERTISING DOLLARS

Our papers reach over 81,000 households!

200 Word Story

With Your Ad

A past award winner.

Call or Email Doug Henry

Phone: (614) 272-5422

Email: doughenry@columbusmessenger.com
---
www.columbusmessenger.com September 5, 2021 - GROVE CITY MESSENGER - PAGE 17

Breaking ground

The Franklin County Land Bank (COCIC) held a ground

breaking ceremony in the village of Urbancrest on Aug. 18 to

announce the first Central Ohio Community Land Trust project in

Franklin County, outside of the city of Columbus. This development

in the village of Urbancrest will see the construction of eight

affordable, community land trust homes that will be sold to low to

moderate income residents.

"Tackling the issue of affordable housing is a priority for our

village as we try to preserve our community and reduce homeownership

barriers. This type of partnership with our local government

agencies and the private entities reflects our community

values and vision for the village of Urbancrest", said the Mayor of

Urbancrest, Joseph Barnes, Sr.

The Central Ohio Community Land Trust was launched by

COCIC, the Franklin County Land Bank in early 2019. In April

2020, the Franklin County board of commissioners adopted a resolution

authorizing an agreement with the Central Ohio

Community Land Trust to conduct affordable housing development

activities on behalf of the Franklin County Board of

Commissioners with a commitment of $2.3 million.

"The board of commissioners prioritizes the development of

affordable housing to challenge housing disinvestment and racial

inequity and it keeps striving to build more equitable communities

in Franklin County" said Franklin County commissioner,

Erica Crawley.

The construction phase will begin this fall with homes completed

in early 2022.

"Thanks to a strong collaborative effort, we are witnessing

more push for investment from our local governments, as well as

private donors on this very important issue of closing the affordability

and racial homeownership gaps throughout Franklin

County, said, COCIC President and CEO, Curtiss Williams, Sr.

Photo courtesy of Tyler Lowry

Urbancrest Mayor Joseph Barnes Sr., Franklin County Commissioner Erica Crawley, COCIC President Curtiss

Williams, Penny Winkle with the Montrose Foundation, and Franklin County Economic Development and

Planning Director James Schimmer break ground on community land trust homes that will be built in the village

or Urbancrest for low to moderate income residents.

Are you or a loved one approaching

Medicare Decisions

Soon?

M ed icare Annual Enroll

ment Period

Oct. 15

th

Dec. 7

• I hear on TV about dental, vision, hearing benefits are offered.

Are they available to me?

• Help you understand how your plan and benefits work!

• Do I qualify for Low Income Subsidy (LIS) to reduce my Rx copays?

You may apply anytime during the year, I can help.

Call me t today... $0 Consultation n $0 Fee

Call me t

Consultatio

$0 Fee

Terr Terri ri

Curcio Curcio 6614-460-0601

460 060

01

Terri

Curcio

614-460-0601

0601

Resident

of Ohio, a representative that i

an 800#! I can mail

you

Local repre your esentative, choice of carrier(s) I can mail

information you your preferre or we can ed carrier(s) meet via Zoom informca

all. ation And, to review. I can enroll

Also, a

I can enrol client l a without client without a face-to-fac a face meeting to face meetin or sched ngdule or schedule a personal a mee one-on-one eting if you meeting prefer. if

you prefer.

OHIO IN. #43449 Available year round to answer questions, or

to help resolve an

issue. NO FEE

Offering different types of plans with top-rated carriers. I will work for you to find the

plan that

Review

fits your

different

needs

types

and

of lifestyle, Medicare

while

plans

offe

with

ring top-rated

the lowest

carriers.

copays.

I work for you to

find the

plan that fits your needs and lifestyle,

while offering low

copays.

OHIO IN. #43449

Do I qualify for

Low Income Subsidy (LIS) to reduce my Rx copays?

Turning 65 and new to Medicare

Or over 65 and

still working

needing answers.

Grove City Chamber Member

th
---
PAGE 18 - GROVE CITY MESSENGER - September 5, 2021

www.columbusmessenger.com

Get out in front of

the 2021 Election

START ADVERTISING NOW

Community Advertiser Get The VOTES You NEED!

Dates to Advertise before the Election:

9/19 • 10/3

10/17—Ad with Free Story • 10/31—Ad with Free Story

BEST BUY FOR YOUR

ADVERTISING DOLLARS

Our papers reach over 81,000 households!

200 Word Story

With Your Ad

Call or Email Doug Henry

Phone: (614) 272-5422

Email: doughenry@columbusmessenger.com

Donation helps rescue efforts

A surplus Polaris Ranger Utility Terrain Vehicle was donated to the Pleasant

Township Fire Department by Metro Parks. The vehicle came from Battelle Darby

Creek Metro Park. The township will use the vehicle to access remote areas, like

trails, bike paths, and public hunting areas. "This vehicle should serve us for a long

time," said Fire Chief Brian Taylor. Pictured above is Taylor (left) with Geoff Hamilton,

park manager for Battelle Darby Creek Metro Park.

Pictorial

Past

Pictured here is a scene

from Beulah Park. On the

left holding the reins on

the race horse is Donn

Rowe and Dr. Armond A.B.

White, veterinarian at the

racetrack from 1923 to

1973. In this picture Dr.

White is treating the thoroughbred.

On display in

the Grove City Visitor

Center and Museum are

many of the instruments

used by Dr. White along

with many other artifacts

and pictures from days

long ago at Beulah Park.

The photos and information

in the Pictorial Past

are provided by Don Ivers,

curator of the Grove City

Welcome Center and

Museum. The museum is

now open Tuesday

through Friday from 10

a.m. to 4 p.m.,Tuesday

until 8 p.m., and Saturday

from 9 a.m. to 12 p.m.
---
www.columbusmessenger.com September 5, 2021 - GROVE CITY MESSENGER - PAGE 19

Opinion Page

This Browns fan has been let down too many times

I've been thinking about a conversation

I overheard recently that left me feeling

unsettled — so much so that I decided to

step out of my Reel Deal comfort zone to

share what had occurred. While there was

nothing unfriendly or threatening about

this exchange, I was so overwhelmed with

pity for these individuals for what I

assumed was their naïve enthusiasm

regarding the topic at hand.

What follows is the conversation in

question, relayed to the best of my ability. I

ask you, dear reader, whether I am being

unfair to these people and those of a likemind.

Individual A, who will henceforth be

referred to as delusional person one (DPO),

glances at a hat being worn by another and

offers a compliment.

"Hey man," said DPO, "That's a great

hat you're wearing."

"Thanks," said Individual B, who will

henceforth be known as delusional person

two (DPT). "I've been a fan of the Cleveland

Browns my entire life."

"Me too," said DPO. "It's so exciting that

they made the playoffs this year and finally

won a game."

"More so because it was against the

(Pittsburgh) Steelers," said DPT.

"It feels like a new era," said DPO.

"What do you think of their chances next

season? I think if we get all our guys back,

we can make it to the Super Bowl."

"I think so too," said DPT. "I think we're

gonna win the whole thing. We're gonna be

unstoppable."

My immediate reaction to this conversation

was that they were joking. After all, I

too love chanting "Super Bowl" when this

team does something that vaguely resembles

competency. With slowly dawning horror,

however, I realized they were being

serious. Against my better judgement, I

closed my gaping maw but offered a silent

Semis should be restricted

I am responding to the article about why

it was decided that detouring traffic

around the neighborhoods of Grove City is

just not feasible anymore. I totally agree

but what really needs to happen in downtown

Grove City is semi trucks need not to

be allowed to come through the downtown

unless it is shown that they have a delivery

in the area of Broadway between Columbus

Street and Kingston Avenue.

You cannot even sit out at any of the

venues on Broadway to have a meal or

drink without having to pause your conversation

every few minutes from all the loud

trucks and intense wind blowing off their

trailers and then smelling the diesel hanging

in the air. This problem has only gotten

10 times worse as Grove City has continued

on its explosion of new homes and

letter to the editor

prayer for their wayward minds.

"To whatever is out there, please guide

these poor souls," I said. "For at their age,

they really ought to know better."

As the weeks wore on, I kept coming

back to this conversation, especially as the

chorus of high expectations for the 2021

Browns spilled out the mouths of professional

sports analysts. I began to question

my skepticism, wondering whether I was

being too harsh on the admittedly

improved Brownies. Upon reflection, I realized

I may be acting unfairly toward my

beloved team but I just cannot give them

my whole and hopeful heart — not yet at

least, for they have crushed it many times

before.

I was indoctrinated into the Browns fandom

at birth. Part of it was due to my

father, a rabid fan, and another part was

due to the lulling effect the orange painted

walls of our living room had on my psyche.

It was oddly soothing though I wasn't sad

to have painted over it in the future.

I was very young when the Browns were

in their competitive 80s era, but I do

remember how their losses (especially "The

Drive" and "The Fumble") impacted my

father. He was absolutely crushed and

though I may have been too young to

understand what all was going on, I knew

that he was hurting and thus I was too.

Wanting him to be happy, I cheered on

the Browns and cursed the teams they battled.

Then I would turn coat and root on

those teams, but only if their win would

improve the Browns' standings. This went

on until The Betrayal, which was a dark

time for fans throughout the country.

I don't want to rehash their revival era,

mostly because it is sad and depressing.

But I will say it gave me some great opportunities

to laugh, especially when one of

our many quarterbacks became trapped

under a giant American flag.

increased traffic.

Area businesses and business leaders

say they want the foot traffic and visitors to

establishments a mere 10 feet from where

these semis are often speeding past, but I

for one have often decided to look elsewhere

for a Happy Hour or stroll in a quieter

area, sometimes outside of my own

city.

We can and should do something about

this problem. Have signs that route all

trucks to I- 270 like they do for Walmart

warehouse trucks and have signage that

indicates truck traffic only for mandatory

deliveries in the marked areas.

We have totally lost our hometown feel

in our downtown outdoor areas.

Jim Bucher

Grove City

Having given up expectations for this

team a long time ago, I did not have much

optimism for the reign of General Manager

Andrew Berry and Head Coach Kevin

Stefanski though it felt like adults were

finally in the room. But then something

bizarre started to happen — they overcame

challenges (in an odd turn, most not selfimposed)

and started to win.

When they made the playoffs for the

first time since 2002, it was a pleasant surprise

— even more so when they thrashed

the Steelers in the Wild Card game and

made Ben Roethlisberger cry. They gave us

hope in the second round against a tough

opponent in the Kansas City Chiefs but

ultimately came up short.

With the entire coaching staff returning,

the entire starting offensive returning, and

a "re-vamped" defense led by Myles

Garrett, Denzel Ward and veteran newcomers

Jadeveon Clowney and John

Johnson III, it is no wonder why fans and

pundits alike are abuzz with positive chatter

as the start of the 2021 season

approaches. Though I want to hold hands

and join in on this peculiar sensation, I

can't — I just can't.

For me, there is a cloud of strangeness

that always hangs

over the Browns

(case in point,

promising rookie

linebacker Jeremiah

Owusu-

Koramoah dropped

a weight on his head and can't put on a helmet

because of his stitches) and I cannot in

good faith believe in good things to come. I

hope that good things happen; I begrudge

none of you who can believe, but I do so

wish you could keep it to yourself. You may

have overcome the past, but what you are

saying is scary and unfamiliar and we have

enough of that in the non-sporting world

already.

(The Cleveland Browns begin the 2021

season at Kansas City on Sept. 12 at 4:25

p.m. They have not won a season opener

since 2004.)

Dedra Cordle is a Messenger staff writer

and columnist.

CLASSIFIED ADS

Deadlines: Groveport and West editions, Wednesdays at 5 p.m., • South/Canal Winchester, Grove City, Madison editions, Tuesdays at 5 p.m.

All editions by phone, Tuesdays at 5 p.m. • Service Directory, Tuesdays at 5 p.m.

INFORMATION

I'VE MOVED!

Come See Me At

My New Location!

Call Marilyn Weaver

For An Appt.

For a New Haircut/Color

614-348-6670

Relax Wellness

3663 Broadway

Grove City

Have Something

To Sell?

Need To Rent

That Property?

Try The

Messenger!

For Info On Placing

An Ad Call

614-272-5422

The Reel Deal

Dedra Cordle

xDated Sales

The Ladies Auxiliary of Amvets Post 1928

WILL BE HOLDING A YARD SALE

Saturday, September 11 th & 12 th — 10am to 5pm

(Rain Date: September 18 th & 19 th )

Household items, clean linens, small furniture, toys, etc.

Amvets Post 1928

3780 W. Broad St., Columbus, OH 43228

Dated Sales
---
PAGE 20 - GROVE CITY MESSENGER - September 5, 2021

www.columbusmessenger.com

CLASSIFIED ADS

Deadlines: Groveport and West editions, Wednesdays at 5 p.m., • South/Canal Winchester, Grove City, Madison editions, Tuesdays at 5 p.m.

All editions by phone, Tuesdays at 5 p.m. • Service Directory, Tuesdays at 5 p.m.

xEmployment

OPEN INTERVIEWS

ON WEDNESDAYS 10AM-1PM

UP TO $ 19.00/HR + NO MANDATORY OT

$

2000 SIGN ON BONUS + INCENTIVE OPPORTUNITIES

1568 Georgesville Rd. Columbus 43228

APPLY PRIOR @ JOBS.MSCDIRECT.COM

Applicants must sucessfully pass a background check and drug screen.

Equal Opportunity Employer: Minority, female, veteran, individuals with disabilities, sexual orientation/gender identity.

WANTED

• Retail Sales • Back-Up Cooks

• Dishwashers • Servers • Grill

• Host/Hostess

You Can Work 29+ Hrs. Based on

Your Availability & Performance

Immediate Full/Part-time Openings

We Offer:

• Weekly Pay

• Paid Training

• No Tip Sharing

• Paid Vacation

• Employee Meal Discount

• Position/Salary Advancement Plan

• Discount Purchase Plan

Apply online at crackerbarrel.com/careers for

Grove City Location 614-871-1444

ASSOCIATION ADS

Update your home with

beautiful new blinds &

shades. Free in-home

estimates make it

convenient to shop from

home. Professional

installation. Top quality -

Made in the USA. Free

consultation: 877-212-

7578. Ask about our

specials!

VIAGRA and CIALIS

USERS! 50 Generic pills

SPECIAL $99.00 FREE

Shipping! 100% guaranteed.

24/7 CALL NOW!

888-445-5928 Hablamos

Espanol

Long Distance moving.

Call for a free quote from

America's Most Trusted

Interstate Movers. Let us

take the stress out of

moving! Speak to a

relocation specialist! Call:

888-721-2194

Internet &WIFI Starts at

$49 Call us Today to Get

Started. Find High-Speed

Internet with Fiber Optic

Technology No Credit

Check, No SSN Required.

Call us Today 866-396-

0515

ASSOCIATION ADS

The bathroom of your

dreams for as little as

$149/month! BCI Bath &

Shower. Many options

available. Quality

materials & professional

installation. Senior &

Military Diiscounts

Available. Limited Time

Offer - FREE virtual inhome

consultation now

and SAVE 15%! Call

Today! 1-877-540-2780

NEED IRS RELIEF

$10K-$125K+ Get Fresh

Start or Forgiveness.

Call 1-844-431-4716

Monday through Friday

Employment

SCHOOL/DISTRICT

OFFICE SECRETARY

The South-Western City School District announces a

competitive exam for SECRETARY. Nature of work and

qualifications include high school diploma or equivalent with one year of

experience or equivalent combination of training and experience; ability

to type on the computer at a minimum of 45 (net) words per minute; and

ability to keep clerical and financial records.

This is an advanced clerical and general office position in an

elementary, intermediate, middle, high school or district office. Works 9

to 12 months per year, 8 hours per day. Starting salary is $17.96 -

$19.18 per hour.

Applicants are required to request a SWCSD-Grove City

Civil Service application by emailing kim-snyder@swcsd.us

starting August 18, 2021. The fully completed application

must be returned via fax, email or postal mail by September

3, 2021. A competitive written exam will be given on

Saturday, September 18, 2021 at 9:15 a.m.

Full Benefits - Retirement - Good working conditions.

EOE

ASSOCIATION ADS

Replace your roof with the

best lookng and longest

lasting material! Steel

from Erie Metal Roofs!

Three styles and multiple

colors available.

Guaranteed to last a

lifetime! Limited Time

Offer - $500 Discount +

Additional 10% off install

(for military, health

workers & 1st responders)

Call Erie Metal Roofs: 1-

855-338-4807

7am-5pm PST VIAGRA & CIALIS! 60

Become a Published pills for $99. 100 pills for

Author. We want to Read $150 FREE shipping.

Your Book! Dorrance Money back guaranteed!

Publishing Trusted by 1-844-596-4376

Authors Since 1920 Book

manuscript submissions

currently being reviewed.

Comprehensive Services:

Consultation, Production,

Promotion and Distribution.

Call for Your Free Author's

Guide 1-866-482-1576 or

visit http://dorranceinfo.

com/macnet

DENTAL INSURANCE

from Physicians Mutual

Insurance Company.

Coverage for 350 plus

procedures. Real dental

insurance - NOT just a

discount plan. Do not wait!

Call now! Get your FREE

Dental Information Kit with

all the details! 1-877-553-

1891

www.dental50plus.com/

macnet#6258

Donate Your Car To

Veterans Today! Help and

Support our Veterans.

Fast - FREE pick up.

100% tax deductible. Call

1-800-245-0398

Protect your home w/home

security monitored by

ADT. Starting at $27.99/

mo. Get free equipment

bundle including keypad,

motion sensor, wireless

door & windows sensors.

833-719-1073

HOME BREAK-INS take

less than 60 SECONDS.

Don't wait! Protect your

family, your home, your

assets NOW for as little as

70¢ a day! Call 866-409-

0308

RECEPTIONIST NEEDED

For Busy Physicians Ofice

Located in

Grove City/Marlane Dr.

FULL TIME POSITION

M-F 7:30am-4:00pm

Benefits include, medical, life, LTD,

holidays & 3 weeks vacation/yr, 401K

Send resume to:

swilliams@mosesmousereye.com

or call 614-274-2020

for more information

Apply at 3389 Sullivant Ave.
---
www.columbusmessenger.com

September 5, 2021 - GROVE CITY MESSENGER - PAGE 21

xEmployment

EARN EXTRA

$$$ $$$

MONEY

The Advertising Department at the

Columbus Messenger Newspapers

is seeking a Salesperson.

No Experience Necessary.

Base salary plus commissions, auto allowance.

Seniors welcome to apply.

Please send your resume or call:

Doug Henry, Advertising Manager

Columbus Messenger Newspapers

3500 Sullivant Ave.

Columbus, Ohio 43204

614-272-5422

or

e-mail to doughenry@columbusmessenger.com

ASSOCIATION ADS

Looking for auto insurance?

Find great deals

on the right auto insurance

to suit your needs.

Call today for a free

quote! 866-924-2397

ATTENTION DIABETICS!

Save money on diabetic

supplies! Convenient

home shipping for

monitors, test strips,

insulin pumps, catheters &

more! To learn more, call

now! 877-810-0063

Never pay for covered

home repairs again!

Complete Care Home

Warranty covers all major

systems & appliances. 30-

day risk free. $200.00 off

+ 2 free months! 1-866-

395-2490

ASSOCIATION ADS

DISH TV $64.99 FOR 190

Channels + $14.95 High

Speed Internet. Free Installation,

Smart HD DVR

Included, Free Voice Remote.

Some restrictions

apply. Promo expires

1/21/22. 1-855-270-5098

Donate your car to kids!

Fast free pickup running

or not - 24 hour response.

Maximum tax

donation. Help find missing

kids! 877-831-1448

Donate your car to kids.

Your donation helps fund

the search for missing

children. Accepting trucks,

motorcycles & RV's too!

Fast free pickup - running

or not - 24 hr response -

maximum tax donation -

Call 888-515-3813

ASSOCIATION ADS

Wesley Financial Group,

LLC Timeshare Cancellation

Experts Over

$50,000,000 in timeshare

debt & fees cancelled in

2019. Get free

informational package &

learn how to get rid of

your timeshare! Free

consultations. Over 450

positive reviews. 888-965-

0363

HughesNet - Finally, superfast

internet no matter

where you live. 25 Mbps

just $59.99/mo! Unlimited

Data is Here. Stream

Video. Bundle TV &

Internet. Free Installation.

Call 866-499-0141

ATTENTION SENIORS:

The average funeral cost

is $9000+ Don't leave

your family to pay your

debts. State Approved,

Final Expense Life

Insurance Plans are now

avaiilable as low as $25 a

month. Hurry and call

before enrollment ends. 1-

877-761-1796. M-F 9am-

6pm EST

Don't let the stairs limit

your mobility! Discover

the ideal solution for

anyone who struggles on

the stairs, is concerned

about a fall or wants to

regain access to their

entire home. Call

AmeriGlide today! 1-844-

317-5246

ASSOCIATION ADS

AMERICAN & FOREIGN

CLASSIC CARS AND

MOTORCYCLES

WANTED. $$PAYING

CA$H$$ Corvettes,

Mustangs, Jaguars, Austin

Healeys, Broncos,

Blazers, Ram Chargers,

AMX, and Triumphs

KRMiller1965@yahoo.com

717-577-8206

Stroke & Cardiovascular

disease are leading

causes of death according

the AHA. Screenings can

provide peace of mind or

early detection! Call Life

Line Screening to

schedule a screening.

Special offer 5 screenings

for $149.. 1-833-549-4540

Thinking about installing

a new shower? American

Standard makes it

easy. FREE design consulation.

Enjoy your

shower again! Call 1-

833-769-0995 today to

see how you can save

$1,000 on installation, or

visit www.newshowerdeal.com/mac

Best satellite TV with 2

year price guarantee!

$59.99/mo with 190

channels and 3 months

free premium, movie

channels! Free next day

installation! Call 844-842-

4469

Attention Active Duty &

Military Veterans! Begin a

new career & earn a

Degree at CTI! Online

Computer & Medical

training available for

Veterans & Families! To

learn more, cal 888-449-

1713.

Employment

Southeast Healthcare is seeking the following positions:

MAT & SUD Program Manager to oversee multiple MAT and SUD programs and provide program development

and a unifying clinical vision. LISW/LPCC required.

Treatment Team Leader to lead a team of case managers providing support to adults with mental health and

substance use disorders in a community setting. LISW/LPCC required.

FQHC Therapist to provide behavioral health services to adults receiving primary care through our Federally

Qualified Health Center. LISW/LPCC & EMDR expertise preferred.

Primary Care Practice Manager to manage and coordinate functions of our FQHC healthcare clinic at

numerous sites, including participating in revenue cycle functions and quality and service initiatives. Must have

skill set that includes primary healthcare knowledge and experience, knowledge of infection control, practice

workflow, registration, scheduling, and quality improvement.

Project Director to head a transformational initiative, providing oversight and leadership to our new Certified

Community Behavioral Health Clinic. Responsibilities include start-up, implementation, and on-going

operational oversight, with direct supervision of the project. Prior supervisory experience required. Experience

and knowledge in behavioral health and primary care is strongly preferred. LPCC/LISW or MSN/RN required.

Assessment Specialist to provide clinical/assessment and referral services to individuals receiving services at

Southeast Healthcare. Master's degree and LSW/LPC required.

Registered Nurse Lead to utilize and share your experience in care management with BH population. OH RN

license required.

Psychologist to provide clinical services to primary care patients targeting chronic health conditions and

behavioral and lifestyle changes. Position requires experience with the SPMI and SUD populations. Active Ohio

Psychology license required.

RN/Nursing Supervisor to provide leadership, nursing direction, and support to the nursing staff. Will

supervise Central Pharmacy Nurses. Other Agency nurses remain under the direct supervision of their team or

program leader. Must be licensed as a Registered Nurse in the State of Ohio with at least 5 years, Psychiatric

nursing experience. Must have at least 2 years of previous supervisor Experience.

We only hire non-smokers.

We offer many great benefits, including health, dental, vision, 401(k), mileage reimbursement, education

Reimbursement, generous paid time off, and a SIGN-ON BONUS!

For a full list of opportunities, go to https://southeasthc.org/employment

To complete an application, go to http://southeastinc.appone.com
---
PAGE 22 - GROVE CITY MESSENGER - September 5, 2021

www.columbusmessenger.com

xAdult Care xFocus on Rentals xPublic Notices

CARE • COMFORT • COMPASSION

BETTY'S ELDERLY CARE

Has An Opening For

A New Patient

Private Room • Reasonable Rates

References • Hot Meals

& Much More To Make

Patient Feel Comfortable.

Call Betty for more info. 614-777-5850

Windsong is committed to providing

high quality, loving care, and affordable

home care services to our clients. With our

assistance, clients can lead

dignified and independent lives in the

comfort of their own home.

Individual needs are carefully assessed,

understood, and met through the selective

assignment of quality, trustworthy and

compassionate service-oriented personnel.

Give us a call today for a free in-home

assessment or visit our website at

www.windsongseniorcare.com

614-820-5000

614-991-0652 614-376-9761

Welcome

Carolyn's Cottage

Private Assisted Living

3036 Woodgrove Dr., Grove City, OH

2 Resident Openings

Available

Adult Care

ASSOCIATION ADS

Attention oxygen therapy

users! Inogen One G4 is

capable of full 24/7 oxygen

delivery. Only 2.8

pounds. Free info kit.

Call 877-929-9587

DISH TV $64.99 190

Channels + $14.95 high

speed internet. FREE installation,

Smart HD DVR

included. Free Voice Remote.

Some Restrictions

apply. Promo Expires

1/21/22. 1-833-872-2545

!!OLD GUITARS WANT-

ED!! GIBSON, FENDER,

MARTIN, Etc. 1930's to

1980's. TOP DOLLAR

PAID. CALL TOLL FREE

1-866-433-8277

AT&T Internet. Starting

at $40/month w/12-mo

agmt. 1 TB of data/mo.

Ask how to bundle &

SAVE! Geo & svc restrictions

apply. 1-888-796-

8850

HughesNet Satellite Internet

- Finally, no hard

data limits! Call today for

speeds up to 25mbps as

low as $59.99/mo! $75

gift card, terms apply. 1-

844-863-4478

Train online to do medical

billing! Become a

Medical Office Professional

at CTI! Get trained

and certified to work in

months! 888-572-6790.

(M-F 8-6 ET)

The Generac PWRcell, a

solar plus battery storage

system. SAVE money,

reduce your reliance on

the grid, prepare for power

outages and power

your home. Full installation

services available. $0

Down Financing Option.

Request a FREE, no obligation,

quote today. Call

1-855-900-2894

WEDGEWOOD

VILLAGE

1, 2 and 3 BR Apts.

Rent Based on Income.

Call 614-272-2800 or visit us

at 777 Wedgewood Dr.

TTY/TDD 711

EQUAL HOUSING OPPORTUNITIES

xInformation

The Columbus Test Clinic

extends an invitation to you

to be tested

FREE of any charge.

Your intelligence and aptitude have everything

to do with your income, your future,

your personal relationships and your life.

Such tests would ordinarily cost you $50.

They are offered to you FREE OF CHARGE

if you call (614) 221-5024 to schedule or

come to the Scientology Testing Center at

1266 Dublin Road Columbus, OH 43215

Information

ASSOCIATION ADS

Attention: If you or aloved

one worked around the

pesticide Roundup

(glyphosate) for at least 2

years and has been diagnosed

with non-Hodgkin's

lymphoma, you may be

entitled to compensation.

855-341-5793

Want Faster & Affordable

Internet? Get internet

service today with

Earthlink. Best internet &

WiFi Plans. Call us Today

to Get Started. Ask

about our specials! 866-

396-0515

HEARING AIDS!!

Buyone/get one FREE!

Nearly invisible, fully rechargeable

IN-EAR

NANO hearing aids

priced thousands less

than competitors! 45-day

trial! Call1-877-436-0234

HEARING AIDS!! Bogo

free! High-quality rechargeable

Nano hearing

aids priced 90% less

than competitors. Nearly

invisible! 45-day money

back guarantee! 833-

669-5806

Rentals

ASSOCIATION ADS

Wants to purchase minerals

and other oil and gas

interests. Send details to

P.O. Box 13557, Denver,

CO. 80201

The Generac PWRcell

solar plus battery storage

system. Save money,

reduce reliance on

grid, prepare for outages

& power your home. Full

installation services. $0

down financing option.

Request free no obligation

quote. Call 1-855-

270-3785

Pest Control

Find Pest Control Experts

Near You! Don't let

pests overtake your

home. Protect your loved

ones! Call to find great

deals on Pest Control

Services - 833-872-0012

Eliminate gutter cleaning

forever! LeafFilter, the

most advanced debrisblocking

gutter protection.

Schedule a FREE LeafFilter

estimate today. 15% off

Entire Purchase. 10% Senior

& Military Discounts.

Call 1-855-791-1626

ASSOCIATION ADS

Directv Now. No Satellite.

$40/mo 65 Channels.

Stream news, live

events, sports & on demand

titles. No contract/

commitment. 1-866-825-

6523

SELL YOUR ANTIQUE

OR CLASSIC CAR.

Advertise with us. You

choose where you want

to advertise. 800-450-

6631 visit macnetonline.

com for details.

BATH & SHOWER UP-

DATES in as little as

ONE DAY! Affordable

prices - No payments for

18 months! Lifetime warranty

& professional installs.

Senior & Military

Discounts available. Call

855-761-1725

GENERAC Standby

Generators provide

backup power during

power outages, so your

home & family stay safe &

comfortable. Prepare now.

FREE 7-yr extended

warranty $695 value!

Request a free quote

today. Call for terms &

conditions. 1-844-334-

8353

READY TO BUY, SELL

OR RENT YOUR

VACATION HOME OR

HUNTING CAMP?

Advertise it here and in

neighboring publications.

We can help you. Contact

MACnet MEDIA @

800-450-6631 or visit our

site at MACnetOnline.

com

READER

ADVISORY

The National Trade Association

we belong to has

purchased the following

classifieds. Determining

the value of their service

or product is advised by

this publication. In order

to avoid misunderstandings,

some advertisers do

not offer "employment"

but rather supply the

readers with manuals, directories

and other materials

designed to help

their clients establish mail

order selling and other

businesses at home. Under

NO circumstance

should you send any

money in advance or give

the client your checking,

license ID or credit card

numbers. Also beware of

ads that claim to guarantee

loans regardless of

credit and note that if a

credit repair company

does business only over

the phone it's illegal to request

any money before

delivering its service. All

funds are based in US

dollars. Toll Free numbers

may or may not

reach Canada. Please

check with the Better

Business Bureau 614-

486-6336 or the Ohio Attorney

General's Consumer

Protection Section

614-466-4986 for more

information on the company

you are seeking to

do business with.

LEGAL NOTICE

The Grove City Police Department has recovered

numerous bicycles, tools, electronic equipment, clothing

and monies over the course of several months.

The bicycles are of various types and models, as are

the tools and electronic equipment. All properties are

held in a secured police facility at all times. If you

believe you have claim to any of the property and have

proof of ownership for the property, you may call the

Grove City Police Department Property Room at

614-277-1757. A review and release of any and all

property is by appointment only. All items not claimed

will be sold at public auction, turned over to the Law

Enforcement Fund, or destroyed according to Ohio

Law.

CHARITABLE DONATION

Qualified organizations may be eligible to receive

bicycles as charitable donations from the City of

Grove City. Qualified organizations must have a valid

ruling or determination letter recognizing the taxexempt

status of the organization, pursuant to Internal

Revenue Code Section 501(c)(3) or (c)(19).

Representatives may call the Grove City Police

Department Property Room at 614-277-1757 to

inquire about the donation process.

The Urbancrest Community

Improvement Corporation (UCIC)

is holding a Public Meeting on

September 8 & October 6, 2021 at 6:00 pm

This meeting will be held at

Union Baptist Church

3452 First Ave., Urbancrest 43123

Email info@urbancrestcic.org

for more information.

Public Notices

ASSOCIATION ADS

DENTAL INSURANCE-

Physicians Mutual Insurance

Company. Covers

350 procedures. Real

insurance - not a discount

plan. Get your free

dental Info kit! 1-888-

623-3036 . www.dental50plus.com/58

#6258

Elminate gutter cleaning

forever! LeafFilter, the most

advanced debris-blocking

protection. Schedule

Free LeafFilter Estimate

today. 15% off Entire

Purchase. 10% Senior &

Military Discounts. Call 1-

855-995-2490

IMPORTANT

NOTICE

The following states: CA,

CT, FL, IA, IL, IN, KY,

LA, MD, ME, MI, MN,

NE, NC, NH, OH, OK,

SC, SD, TX, VT and WA

requires seller of certain

business opportunities to

register with each state

before selling. Call to

verify lawful registration

before you buy.

ASSOCIATION AD

Life Alert. One press of a

button sends help fast

24/7! At home and on

the go. Mobile Pendant

with GPS. Free first aid

kit (with subscription).

877-537-8817 Free brochure

GENERAC Standby Generators

provide backup

power during utility power

outages, so your home

and family stay safe and

comfortable. Prepare

now. Free 7-year extended

warranty ($695 value!).

Request a free

quote today! Call for additional

terms and conditions.

1-855-465-7624

New authors wanted!

Page Publishing will help

self-publish your book.

Free author submission

kit! Limited offer! 866-

951-7214

CHILD CARE

OFFERED

Depend. Quality Child care

in loving hm. Exp. Mom, n-

smkr, hot meals, sncks,

playroom, fncd yd. Reas.

rates. Laurie at 853-2472
---
www.columbusmessenger.com

t

xCome & Get It!

September 5, 2021 - GROVE CITY MESSENGER - PAGE 23

xClassified Services

COME AND GET IT

Deadlines are Tuesdays by 5 pm.

Call For Publication Schedule 614-272-5422

Need to Get Rid of Something Fast - Advertise It Here For FREE!

FREE Garden Straw for gardens or bedding. Call for appointment for pickup.

Circle S Farms, 9015 London-Groveport Road, Grove City, 43123

Grove City - 614-878-7980

Pick-up Load of Rocks, small to none larger than a bowling ball; 30-35 Birds and

Blooms Magazines from the last 3-4 yeers, like new condition; Kimball Baby

Grand Piano with bench, needs tuning, may need other work, mahoghany wood.

NA - Grove City - 614-875-8860

Sauder Computer Desk with hutch and chair. Lots of storage, light wood tone,

good condition. Partially assembled.

JG - Columbus - 614-279-9753

. Come and Get It! is a bi-weekly column that offers readers an opportunity to pass

along surplus building materials, furniture, electronic equipment, crafts, supplies,

appliances, plants or household goods to anybody who will come and get them - as

long as they're FREE. NO PETS! Just send us a brief note describing what you want to

get rid of, along with your name, address and phone number. Nonprofit organizations

are welcome to submit requests for donations of items.

Send information to The Columbus Messenger, Attention: Come and Get It, 3500

Sullivant Ave., Columbus, OH43204. Deadline is Tuesdays by 5 pm for following

Mondays publication. Messenger Newspapers is not responsible for any

complications that may occur. Please contact us when items are gone. 272-5422

Come & Get It!

xInformation

Dianetics is a proven and

workable method of

returning self-determination

and freeing you from

depression.

by L. Ron Hubbard

Start the adverture - of you - $25

Call (614)401-0664 Or come to

1266 Dublin Road, Columbus,Ohio

Information

HELP WANTED

OFFICE needs an organized

fulltime person who can

multitask in our shop office.

Assist customers, phone,

purchasing, billing, etc.

QuickBooks exp. a plus.

Send resume with pay history

to: cewa@att.net or fax to

614-294-3731 or mail to:

Columbus Electrical Works

1854 S. High St.,

Columbus, OH 43207

614-294-4651

NOW HIRING

Commercial

Janitorial

All Shifts

Full and Parttime

Call or Text Now

614-804-1256

7.4 W/SW/M

MOTORCYCLE

HONDA 2002 VT 600 M/C

$2,000. 614-406-3021

DATED SALE

Garage Sale

Fri-Sat, Sept 10-11,9am-?

Rain date following weekend

1272 Hathersage Pl

Laurel Green of Norton Rd

Housewares, Fiestaware, lawn

mower & weedeater, Frig,

womens/mens clothes & misc.

PETS

HOMING PIGEONS

$5.00 ea. 614-662-8655

MISCELLANEOUS

FOR SALE

Large 3-part Handicap

Ramp. 614-279-8325

WANT TO BUY

BUYING VINYL RECORDS.

LPs and 45s - 1950-80s

Rock, Pop, Jazz, Soul.

614-831-0383

CASH PAID for Ohio

State and old sports

items, records, postcards,

old photos, jewelry & more

614-477-5590

We Buy Cars & Trucks

$300-$3000.614-308-2626

We Buy Junk Cars &

Trucks. Highest Prices

Paid. 614-395-8775

WANTS TO Purchase

minerals and other oil &

gas interests. Send details

to: P.O. Box 13557,

Denver, CO 80201

WE BUY JUNK CARS

Call anytime 614-774-6797

ANTIQUES

WANTED

Victrolas, Watches,

Clocks, Bookcases

Antiques, Furn.

Jeff 614-262-0676

or 614-783-2629

RENTALS

Condo for Rent - 3BR,

Carport. No Pets - $1050.

614-557-8883

VACATION RENTALS

Englewood, Florida

Palm Manor Resort

Within minutes of white

sand Gulf beaches,

world famous Tarpon

fishing, golf courses, restaurants/shopping,

Bush

Gardens. 2 BR 2 BA

condos with all ammenities,

weekly/monthly, visit

www.palmmanor.com

or call 1-800-848-8141

AIR CONDITIONING

AIR CONDITIONING

Complete System

Clean & Check

$49.95

BLACKTOP

SANTIAGO'S

Sealcoating & Services LLC

Quality Materials Used

SUMMER IS HERE!

Driveway Seal & Repair!

Top Seal Cracks!

Residential & Commercial

Mulching, Edging & Clean-ups

"Ask for whatever you need."

BBB Accredited-Fully Insured

Call or text for Free Est.

614-649-1200

CONCRETE

9/26 A

Free Electronic Leak Testing

All Makes • All Models

45 Yrs. Exp. • Senior Discount

614-351-9025

BLACKTOP SEALING

Driveways & Parking Lots

614-875-6971

AGM OHIO

ROOFING &

SEALCOATING

Free Estimates

Cell 614-512-1699

CARPET CLEANING

GALLION

CUSTOM CONCRETE LLC

Specializing in Custom Colors &

Custom Designs of Concrete.

Including Remove & Replace

43 yrs exp & Free Est.

Licensed & Insured

Reputation Built

On Quality

Ronnie

614-875-8364

See Us On Facebook

www.gallioncustom

concrete.com

EDDIE MOORE

CONSTRUCTION

Quality Concrete Work

Lt. Hauling & Room Add.,

Block Work & Excavation

Stamp Patios,

Bsmt. Wall Restoration

35 Yrs Exp - Lic & Ins.

Free Ests. 614-871-3834

AJ's Concrete,

Masonry

Good Work - Fair Prices

Block Foundations

Driveways • Sidewalks

Epoxy/Overlay Floors

9/12

A/M

CARPET CLEANING

Any 5 areas ONLY $75

Home Powerwash- $99-$200

614-805-1084

Specializing in Pet Odors

Bonded-Ins. • Free Ests.

614-419-9932

9/26 W/SW

9/26 A

CONCRETE

Buckeye City

Concrete & Excavating

* Concrete * Foundations

* Waterlines * Drains

*Catch Basins

614-749-2167

buckeyecityconcreteand

excavating@yahoo.com

www.hastingsnsons.com

Driveways & Extensions

Patio & Walkways,

Porches & Steps,

Garage/Basement Floors

Hot Tub/Shed Pads,

Stamped/colored concrete

Sealing of new &

existing concrete.

FREE ESTIMATES

Contact Adam

614-756-1754

hastingsandsons.

columbus@gmail.com

FENCING

EAZY FENCE

Chain Link - Wood

No Job Too Big or Small

All Repairs ~ Free Est.

Insured. 614-670-2292

FLOORING

• Tile • Hardwood

• Laminate • Vinyl

9/12

614-806-6050

SW

Sales • Installation • Free Est.

GUTTERS

Bates & Sons

GUTTER CLEANING

5 ★ Google Reviews

614-586-3417

HAULING

DEAN'S HAULING

614-276-1958

HOME

IMPROVEMENTS

KLAUSMAN HOME

IMPROVEMENT

Siding-Windows-

Doors-Roofing-Soffit-

Fascia-Gutters-Trim

Earn FREE Seamless

Gutters with Siding Over

1000 Sq. Ft.

FREE Shutters with

Soffit & Trim

EPA Certified

Member of BBB

Financing Available

Over 20 yrs exp. • Free Est.

Licensed-Bonded-Insured

Owner & Operator

James 614-419-7500

C&JHandyman

Services LLC

Minor Plumbing

& Electric

Install Hot Water Tanks,

Dishwashers & Disposals

Also Fencing &

Interior/Exterior Painting

Free Est. ~ 18 Yrs. Exp.

CDC/EPA Approved Guidelines

614-284-2100

9/26 A/M

9/12 A

7/18 A

HOME

IMPROVEMENTS

SINCE 1973

Phil Bolon Contr.

Windows & Siding

Decks, Kitchens, Baths

Room Additions,

Flooring, Roofing

Bsmt Waterproofing

Deal With Small Non-Pressure Co.

47 Yrs. Exp. - Refs. Avail.

Lic.-Bond-Ins.

Free Est. - Financing Avail.

Member BBB Of Cent. OH

O.C.I.E.B. ID #24273

614-419-3977

or 614-863-9912

SLAGLE

HOME REMODELING

Baths, Kitchen,

Plumbing and Electrical.

All your Handyman needs

No Job too Big or Small

Over 30 Yrs. Exp. Lic.-Bond-Ins.

Jerry

614-332-3320

HOME

REMODELING

Handyman Remodeling

Over 35 yrs exp.

Larry 614-376-7006

LAWN CARE

The Lawn Barber

Cut, Trim, Blow away

Hedge Trimming, Edging

Garden Tilling

614-935-1466

LET US MAINTAIN

YOUR LAWN & GARDEN

FOR YOU

Summer, Spring,

Winter or Fall

WE DO IT ALL!!!!

Lawn Cuts, Edging,

Trees & Shrubs, Garden,

Mulching, Hauling,

Garden Pond &

Home Maint.

Free Ests. Low Rates

$20 & Up

Kevin - 614-905-3117

MOVING

Aaron Allen

Moving

Local Moving since 1956

Bonded and Insured

614-299-6683

614-263-0649

Celebrating

over 60 yrs

in business

Classified Services

9/26

A/M

Handyman - outdoor &

indoor. Reasonable Rates

614-634-2244

9/26

SW/W

HOME

MAINTENANCE

NEED HOME REPAIRS?

We do it all! Fences, decks,

home repairs, more Just ask!

220-465-2602-local #

9/26 A&M

PEST

CONTROL

TERMITE &

PEST CONTROL

614-367-9000

TORCO®

TERMINATES

TERMITES

Locally Owned & Operated. Any Pest. Anytime.

$

50 00 OFF Service

Expires September July 11, 2021 30, 2021

Free Termite Inspection

PAINTING

A Job Well Done Again

A lic. General Contractor

Some Skilled Services

Incl: Painting • Stucco,

Repair•Carpentry•Exterior

Drainage & Home Maint.

Call Today! 614-235-1819

PLUMBING

All About Drains & Plumb.

Will snake any sm drain

$145. 614-778-2584

CHRIS'

PLUMBING

"Plumbing & Drain Professional

That You Can Count On"

24 Hrs., 7 Days/Week

No Overtime Charges

24 Yrs. Exp. in Plumbing &

Drain Cleaning Field

Call For A Free Phone Estimate

$100.00 For Any Small Drain

614-622-4482

30% OFF with AD

ALL IN ONE

PLUMBING LLC

"One Call Does It All"

$25 OFF LABOR

9/12

With This Ad

A

614-801-1508

All Major Credit Cards Accepted

POWERWASHING

MRS. POWERWASH

Any house wash $149+tax

Single deck $69+tax

2 Tier deck $99+tax

Best Wash in Town

Over 45,000 washes

Ashley 614-771-3892

Bates & Sons

Soft Wash & Powerwash

5 ★ Google Reviews

614-586-3417

MDB POWERWASH

We Specialize In Decks.

Clean, stain, reseal,

revitalize any deck.

Quality work at fair prices.

Guarantee All Work 3 Yrs.

25 Yrs Exp. Free Est.

614-327-9425

9/12 A

9/26 A&M

8/1 A

PEST

CONTROL

INFORMATION

ONLY

$50.00

For This Ad In Our

West & Grove City

For Info Call

272-5422

PLASTERING

DRYW

YWALL &

PLASTER

REPAIR

Textured Ceilings

614-551-6963

Residential/Commercial

BIA

ROOFING

Robinson roofing & repairs

30 yrs. exp. Lifetime Cols.

resident. Lic./bonded/Ins.

Reas rates. Member of

BBB. Dennis Robinson

614-330-3087, 732-3100

TREE SERVICES

9/12

A&M

SEWING MACHINE

REPAIR

REPAIR all makes 24 hr.

service. Clean, oil, adjust

in your home. $49.95 all

work gtd. 614-890-5296

Kevin's s Stump

Grinding & More e LLC

Veteran Owned & Insured

Stump, Roots,

Bush Removal

Handyman Services

Provided:

Plumbing & Fixture Repair

Tile Backsplash & more

Kevin Burke

614-325-2649

BURNS TREE SERVICE

Trimming, Removal &

Stump Grinding.

614-584-2164

Brewer & Sons Tree Service

• Tree Removal

• Tree Trimming 9/26

A&M

• Stump Grinding

• Bucket Truck Services

Best Prices • Same Day Service

614-878-2568

2-22 A&M
---
PAGE 24 - GROVE CITY MESSENGER - September 5, 2021

Pets of the week

www.columbusmessenger.com

These furry friends are available

for adoption at local

rescues and shelters

Blondie is currently

available for adoption.

This 7-year-old

lovely lady had some

dental issues that

may have been causing

her distress.

Those issues have

been addressed at

the shelter. She has

lived with cats and prefers women. If you have

a quiet home and are looking for a companion

that may take some time to trust you and her

new surroundings, meet with Blondie. She is

worth your love and is up for adoption at the

Franklin County Dog Shelter.

FYI: franklincountydogs.com

Blue Jay was wandering

the streets in

Ironton, Ohio before

someone rescued

him. He is a sweet

boy who loves people

and loves attention.

He doesn't

understand personal

space and likes to run fast. If you're looking for

a cuddle buddy, contact Colony Cats about

adopting Blue Jay.

FYI: colonycats.org

Han Solo is a funny

boy. When he was in

a foster home, he

took a liking to socks.

He would steal all his

foster mom's socks

and collect them. In

addition to his fondness

for socks, Han

Solo is a super affectionate guy. He is about 5

years old and eager to find a loving forever

family. Adopt him from Colony Cats.

FYI: colonycats.org

Willow is a very

sweet and loving girl.

This 5-month-old kitten

is very affectionate.

She loves belly

rubs and ear scratches.

Willow gets along

well with children and

other cats. She would

make a lovely addition

to any home. Adopt Willow from Friends

for Life Animal Haven.

FYI: fflah.org

Looking for a small,

friendly church experience? Try

First Presbyterian Church

of Grove City

4227 Broadway, Grove City

Worship Service 10:00 a.m.

In-Person and live Facebook

www.fpcgc.org

EMMANUEL LUTHERAN

CHURCH

80 E. Markison Ave., Columbus, OH 43207

elclife.org

SUNDAY WORSHIP SERVICE

8:30 am & 11:00 am

BIBLE CLASS

Adult and Youth (K-5)

9:45 am

*11:00 service includes a radio broadcast

in our parking lot on FM 87.9

Be a Part of Our Local Worship Guide

Our Worship Guide is geared toward celebrating faith and helping reader connect with religious

resources in our community. Make sure these readers know how you can help with a presence in

this very special section distributed to more than 22,000 households in the Southwest area.

Contact us today to secure your spot in our Worship Guide.

614.272.5422 • kathy@columbusmessenger.com