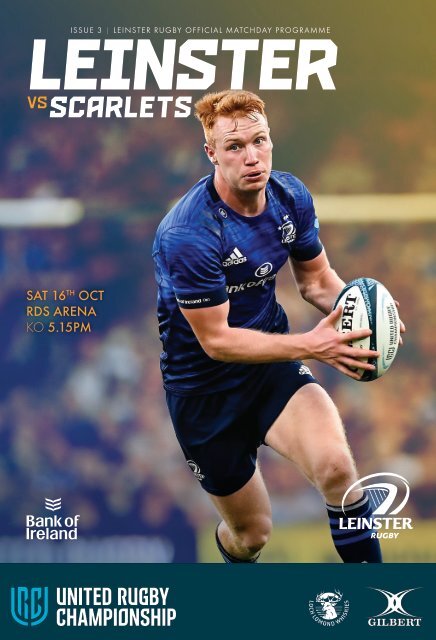 Leinster vs Scarlets
Leinster | Official Matchday Programme of Leinster Rugby | Issue 03 Leinster vs Scarlets | United Rugby Championship Saturday 16 October | KO 17:15 | RDS Arena
Leinster | Official Matchday Programme of Leinster Rugby | Issue 03
Leinster vs Scarlets | United Rugby Championship
Saturday 16 October | KO 17:15 | RDS Arena
SHOW MORE
SHOW LESS
Create successful ePaper yourself
Turn your PDF publications into a flip-book with our unique Google optimized e-Paper software.
ISSUE 3 | LEINSTER RUGBY OFFICIAL MATCHDAY PROGRAMME

LEINSTER

VS

scarlets

SAT 16 TH OCT

RDS ARENA

KO 5.15PM
---
Newstead Building A,

UCD,

Belfield,

Dublin 4

#LEIVSCA

The Line up

Telephone:

012693224

Fax:

012693142

E-mail:

information@leinsterrugby.ie

www.leinsterrugby.ie

6

24

EXECUTIVE MANAGEMENT

President: John Walsh

Chief Executive: Michael Dawson

Honorary Secretary: Stuart Bayley

Honorary Treasurer: Michael McGrail

RUGBY MANAGEMENT

Head Coach: Leo Cullen

Senior Coach: Stuart Lancaster

Head of Rugby Operations:

Guy Easterby

Assistant Coach: Robin McBryde

Backs Coach: Felipe Contepomi

Kicking Coach: Emmet Farrell

Contact Skills Coach: Denis Leamy

14

PROGRAMME CREDITS

Editorial Team: Marcus Ó Buachalla

& Ryan Corry

Advertising: Gary Nolan

Design: Julian Tredinnick,

Ignition Sports Media

Photography: Sportsfile

Chief Steward: Sword Security

Ambulance: St. John's Ambulance

Medilink

Event Control & Safety Services:

Eamonn O'Boyle & Associates

62

86

STAY

CONNECTED

& KEEP

UP-TO-DATE

www.leinsterrugby.ie | 3
---
PRESIDENT, LEINSTER RUGBY 2020/22

john walsh welcome

We extend a warm welcome to

rugby fans joining us for tonight's

game at the RDS Arena for our

fourth round fixture in the United

Rugby Championship against

Welsh visitors Scarlets.

On behalf of Leinster Rugby we welcome

the Scarlets management team of the

legendary wizard Phil Bennett (President),

Simon Muderack (Chairperson), Dwayne

Peel (Coach), club captain Jonathan

Davies and his team. They are the

proud representatives of the counties

of Pembrokeshire, Carmarthenshire,

Caerdigion and Llanelli and a region that

is steeped in the history of Welsh Rugby

and their scarlet red jersey has been

associated with the side since 1884.

Notable Irish international players Tadhg

Beirne and brothers Simon and Guy

Easterby have also played for Scarlets.

Many of our Leinster clubs have long

established touring links with the Welsh

clubs from the region and I take the

opportunity to extend a warm croeso to

their clubs and members.

This season marks the 31st edition of the

Energia All-Ireland League which was

introduced belatedly by comparison to

the other home unions by the IRFU for the

1990/91 season. To date the premier

title of the league has been won by 10

individual clubs headed by Shannon with

nine victories. The competition has been

dominated by Munster clubs who have

19 wins accumulated while the Leinster

based clubs have nine wins headed by

Lansdowne (three), Clontarf (two), St

Mary's College (two) and Old Belvedere

(one).

The Ulster clubs of Ballymena and

Dungannon have each recorded a win

while a Connacht based club has yet to

record a win. With 50 clubs competing

in the five divisions, 10 clubs in each

division, the league has proved to be

a very competitive competition with

promotion and relegation very much up

for decision right up to the final round of

the fixture list. Leinster are represented by

18 clubs, Munster with 15, Ulster with 12

and finally Connacht with five clubs.

The Bank of Ireland Leinster League

provides a pathway to the All-Ireland

League competition and this season we

have 39 clubs playing in five divisions,

eight clubs in Divisions 1 to 4 while seven

teams are in Division 5. Like the Energia

All-Ireland League the Leinster League is

a competition that provides our players

and supporters with the passion and

enjoyment that is so much associated

with our game. Thank you to all those

individuals and companies that have so

generously supported our Leinster clubs

during the pandemic period, it is much

appreciated by Leinster Rugby.

Developing the Energia Women's All-

Ireland League is another key project

for the IRFU. The Irish Women's Rugby

Football Union was only affiliated to the

IRFU in 2001 and fully integrated into

the IRFU in 2008 with the Women's All-

Ireland League established in 2009. The

Women's Interprovincial Championship

competition was also introduced in 2011

by the IRFU with Leinster and Munster

sharing five victories each in the 10

competitions staged to date.

This season's Energia Women's All-

Ireland League will consist of 10 clubs

playing in the top division. These include

five clubs from Leinster (Blackrock, Old

Belvedere, Railway Union, Suttonians

and Wicklow) two clubs from Munster

(Ballincollig and UL Bohemians), two

clubs from Ulster (Cooke and Malone)

and Galwegians from Connacht.

The IRFU Annual Report for the 2018/19

Season indicated that there were 1,340

women actively playing rugby with

2,500 girls playing and a further 550

girls playing in the third level colleges

and universities.

In Leinster we have made considerable

progress in developing the game with

36 Leinster clubs fielding in the Bank of

Ireland Women's Leinster League and

a total of 44 Leinster clubs now fielding

over 70 teams at girls level. The five

Leinster Women's Rugby Development

Officers that are serving our province

have worked with our clubs to promote

the women's and girls game and to

ensure that the facilities provided by

our clubs are in place to advance their

participation and I wish to acknowledge

the outstanding work that they have

undertaken on behalf of Leinster Rugby.

I would urge all of our clubs in Leinster

to become involved in the development

of the game for girls and women as it

will ensure that your club is a club with a

future as a community and inclusive club.

Club rugby in Leinster is the bedrock

on which we can continue to develop

our sport and I would urge all rugby

supporters to get involved in supporting

your local clubs for the future of Leinster

Rugby.

On behalf of Leinster Rugby, I wish all

involved a happy, healthy and enjoyable

season.

'Keep the faith' as 'the future belongs

to those who believe in their dreams'

(Eleanor Roosevelt)

JOHN WALSH

President Leinster Rugby 2020/22

www.leinsterrugby.ie | 5
---
Leo Cullen

head Coach Welcome

It's great to be straight back at the RDS

Arena after soaking up the atmosphere of last

weekend's game here against Zebre Parma.

It had been such a long time since

we played in front of so many

spectators here – there are still

some restrictions in place, of

course, but to have a crowd of

over 10,000 people gives such

a lift to everyone involved with

the team. I believe we are sold

out today (in terms of numbers

allowed) so again a huge thanks

to everyone for being here and

supporting us.

We will need your backing today

against a Scarlets team that is no doubt

hurting from defeat last week at home to

Munster. And of course, Scarlets have a

few familiar faces in their coaching ranks

who know us well!

On that note, a very warm welcome

to Dwayne Peel and his team, and in

particular Hugh Hogan who came

through the system here at Leinster.

People often talk about the player

pathway in Leinster Rugby but Hugh has

come through the coaching pathway

to take up his current role as Defence

Coach. We wish Hugh every success…

just not today!

It was fantastic for everyone to see Adam

Byrne back out on the RDS pitch last

weekend. Adam has had such a tough

run with injuries, which are an unfortunate

part of the business we're in, but he has

shown an incredibly positive mindset to

get back to where he is. We were all

thrilled for him that he got in for a couple

of tries to cap off his return.

Speaking of the RDS, a big thanks to

everyone who had the stadium looking

so well, especially groundsman Richard

Doyle.

We are also very appreciative of all the

work the OLSC put in to turn the ground

blue for us.

This group of volunteers do great work

on behalf of all supporters and I would

like to wish their new President, Bebhinn

Dunne, the best of luck in her new role.

A tough act to follow after a great two

seasons under Laura Lysaght's leadership

but no doubt one that Bebhinn is looking

forward to.

The OLSC's efforts on match day make

such a difference and that sea of blue

is without doubt the final piece of the

jigsaw that we have missed over the last

18 months.

I would also like to formally acknowledge

on these pages the sudden loss of Hazel

Browne who passed away during the offseason.

Hazel was a valuable member of

the OLSC Committee and I know she is

missed hugely. I saw it was her birthday

during the week and those 'firsts' bring

back home the loss even more.

Hazel's family and friends are very much

in all our thoughts this week.

Elsewhere, it has been hugely

encouraging to see domestic and schools

rugby come back so strongly in recent

weeks. Granted, it's slightly strange

seeing Junior Cup rugby at this time

of year but the very best of luck to this

year's finalists. They have had to do it the

hard way!

Thank you to Bank of Ireland for your

support of the Junior Cup and all the

domestic rugby programme in Leinster

Rugby. As we begin to take those first

steps towards a full season of games, that

support at a grassroots level is vital for

the club.

A word also to our other sponsors and

partners for their continued support and I

hope to be in a position to meet with you

all in the coming months at a game. As

supporters, anything that you can do to

support these companies is appreciated.

We must all come out of this pandemic

together and they are a vital part of the

Leinster Rugby family.

On the Energia All-Ireland League front,

each week I get sent footage from all

the games where Leinster Academy and

some Senior players have been in action,

and it's fantastic to see the contribution of

coaches, referees, volunteers, supporters

and others all around the province and

further afield. We wish all AIL teams

success on and off the field for the rest of

the season.

Next week, we travel to Glasgow to

finish this short five-game 'block' in

the United Rugby Championship but

when we return after the November

international window, we have a hugely

exciting and challenging block of games

to look forward to.

We're going to need all the support we

can get and I hope to see you at some

point along the way. The first game of

the next block will hopefully be in front

of a full house – at long last – when

we take on Ulster for the first of the

season's interpros.

Get your tickets ordered early!

Many thanks once again

for being here this evening

and for cheering the

team on.

Enjoy the game,

Leo

6 | www.leinsterrugby.ie
---
The OLSC's efforts on

match day make such a

difference and that sea of

blue is without doubt the

final piece of the jigsaw

that we have missed over

the last 18 months.

www.leinsterrugby.ie | 7
---
Joann

Hosey

PROVINCIAL DIRECTOR

BANK OF IRELAND DUBLIN

You're all very welcome back to the RDS Arena

for this evening's game against Scarlets.

It is a huge credit to Leo Cullen,

his coaches and the playing

squad that they arrive at this

juncture with a 100 per cent

record after making a strong

start to the United Rugby

Championship.

Those early season games may not

define the season, but they help to build

crucial competitive momentum, and it is

very encouraging to see Leinster racking

up the early-season wins against the

Bulls, Dragons and last weekend against

Zebre.

The win over Zebre saw Dan Leavy back

from injury and starting a game again in

the RDS, while Jordan Larmour started

the same game and also scored a try.

Added to that was Rob Russell making

his RDS debut and of course the long

awaited return of Adam Byrne on the

wing – it was an occasion to savour for a

number of reasons.

For Adam, scoring two tries on his first

game back after so long out was brilliant

to see and having a number of his family

and friends in attendance made it all

the more special. Family and friends are

what make these games and occasions

so special. Having them at matches

again creates a wonderful atmosphere

that we greatly missed during the

pandemic.

It was also heartening to see over

10,000 supporters at the game and

hopefully we will continue to see even

bigger crowds rumbling through the

turnstiles every week as people get more

and more comfortable with the new

normal that we are all living in.

Congratulations to the two teams

contesting the Bank of Ireland Leinster

Rugby Schools Junior Cup final this week.

Ahead of the final next Friday, I want

to wish both the Newbridge College

and Blackrock College squads the

very best of luck - I'm sure there will be

some thrilling rugby on show. Following

another delay, it has been wonderful to

see the recent action in Energia Park and

it certainly whets the appetite for both the

club and schools rugby action that lies

ahead over the course of the season.

For now though all eyes are on Scarlets,

who will be looking to bounce back

from a loss to Munster last weekend. No

doubt a rapturous home crowd in the

RDS will be in fine voice this evening,

willing the Leinster team on as they look

to keep their winning start to the season

going.

JH

Enjoy the game,

www.leinsterrugby.ie | 9
---
THE ULTIMATE

URC EXPERIENCE

JOIN FOR FREE

Personalised team

experience

Exclusive offers

& competitions

Premium opinion

articles & analysis

Match highlights &

exclusive video content

WWW.UNITEDRUGBY.COM/MYURC
---
16 TEAMS,

2 HEMISPHERES,

1 LEAGUE
---
Available Now

gilbertrugby.com

The oval trim design is a registered trademark of Gilbert Rugby.
---
Did you

know?

• Leinster have lost just one of

their last seven United Rugby

Championship matches: 12-15

away to Glasgow in the Rainbow

Cup on 4 June.

• The Leinstermen's most

recent defeat at the RDS Arena

was when Munster were the

visitors in the Rainbow Cup in

April.

• Leinster have lost only

once to a Welsh region since

September 2018: 19-24 at home

to Ospreys in the PRO14 on 19

March.

• Scarlets have won just one

of their last five United

Rugby Championship matches

(excluding unplayed games):

36-13 at home to the Lions in

Round 2.

• Scarlets most recent away

win was 27-25 on a visit to

Edinburgh in the PRO14 at the

end of February.

• The Scarlets only three

victories over Irish provinces

since they lowered Munster's

colours in March 2019, were all

against Connacht.

• Leinster have lost just once

to Scarlets since the 2018

semi-final at the RDS Arena:

21-23 at Parc y Scarlets in the

PRO14 in September 2018.

• Scarlets have won just

twice in fifteen previous

visits to the RDS Arena in all

competitions.

COMPARISON

Overall URC head-to-head record:

Played 35, Leinster won 21, Scarlets won 12 with 2 matches drawn.

Last 3 URC results

25 Sep - Bulls (H) W 31-3 25 Sep - Edinburgh (A) L 22-26

3 Oct - Dragons (A) W 7-6 1 Oct - Lions (H) W 36-13

9 Oct - Zebre (H) W 43-7 10 Oct - Munster (H) L 13-43

URC 2021/22

Shield IR: 3rd - W3 D0 L0 - 14pts Shield WA: 4th - W1 D0 L2 - 6pts

WWW (14pts)

URC form

LWL (6pts)

Top try scorer

2 - Adam Byrne 2 - Steff Evans, Tom Rogers, Johnny

McNicholl

Top points scorer

17 - Johnny Sexton 26 - Sam Costelow

Date Venue L S Leinster scorers Scarlets scorers

Sat 17 Feb 18 RDS Arena 20 13 James Lowe(2T) Ciaran Frawley(C/P) Luke

McGrath(T)

Sat 26 May

18

Aviva Stadium (F) 40 32 James Lowe(T) Jack Conan(T) Joey

Carbery(C) Sean Cronin(T) Jordan

Larmour(T) Johnny Sexton(2C/3P) Devin

Toner(T)

Sat 8 Sep 18 Parc y Scarlets 21 23 James Lowe(T) Ross Byrne(3C) Rhys

Ruddock(T) Fergus McFadden(T)

Fri 25 Jan 19 RDS Arena 22 17 James Lowe(T) Ciaran Frawley(2C/P) Barry

Daly(T) Rory O'Loughlin(T)

Sat 30 Jan 21 Parc y Scarlets 52 25 Harry Byrne(6C/P) Max O'Reilly(T)

James Tracy(T) David Hawkshaw(T) Cian

Kelleher(T) Dan Leavy(T) Luke McGrath(T)

Penalty Try(T)

Johnny McNicholl(T) Dan Jones(C/2P)

Fri 9 Mar 18 Parc y Scarlets 10 10 Ross

Byrne(C/P) Ed Byrne(T) Paul Asquith(T) Dan

Jones(C/P)

Johnny McNicholl(3T) Dan Jones(C) Leigh

Halfpenny(2C/2P) Werner Kruger(T)

Gareth Davies(T) Ken Owens(T) Leigh

Halfpenny(2C/3P)

Kieran Hardy(2T) Dan Jones(2C/P)

Angus O'Brien(T/C) Will Homer(T) Sam

Costelow(C/2P) Dane Blacker(T)

www.leinsterrugby.ie | 13
---
14 | www.leinsterrugby.ie

F
---
Ciarán

rawley

the big interview

With a second

RDS Arena game

in as many weeks

to look forward

to, Leinster

Rugby back

Ciarán Frawley

is excited for

the possibilities

that lie ahead.

But as he looks

back on a

tumultuous 18

months, he can't

help but feel that

he was one of the

lucky ones.

www.leinsterrugby.ie | 15
---
"It's been brilliant the last few

weeks getting back and in front

of fans. I missed the Quins game

in the Aviva but since then it's

been home or away, fans in the

stadium and it's been class.

"But the reality is that we've been lucky.

OK, the stadiums have been empty but

we've been able to play. I look around

the clubs and the schools game and the

impact there and it's been massive. Boys

and girls and more senior players not

able to go out and play the game that

they love.

"Those communities are the foundation

of rugby in Leinster and it's been

really, really tough for them."

Like most of the players plying their

trade for Leinster Rugby in the United

Rugby Championship, Frawley started

out in a club, Skerries RFC to be exact.

His journey continued to Skerries

Community College where he played in

the Bank of Ireland Vinnie Murray Cup

and his development continued back with

Skerries RFC before the Leinster Rugby

and Irish Rugby age grade sides and

eventually the Academy came calling.

But his roots are firmly based in the north

Dublin seaside town.

"You can see how much it means to them

all to be back. I'd have a lot of mates

still playing, playing senior rugby and

I'd have an eye on their games regularly

and try to get to the games.

"But they've had nothing for well over

a year, which was very frustrating so

it's been brilliant to see them back there

the last few weeks. Training and playing

games.

"They had a great 18-17 win on the

road at the weekend against Bruff in the

AIL. The celebrations after it just looked

incredible! I was delighted for them. I just

know they missed it so much. We thought

we had it hard but at least we could play,

but these lads couldn't even do that and

even the training was all on their own for

so long.

"It's brilliant to see them back. It's great

for the game to see those young lads

back and involved because that's what

keeps all our clubs going."

He loved and still loves Skerries.

16 | www.leinsterrugby.ie
---
And he rattles off the names of lads that

he used to play with that are still involved.

"I loved playing with Skerries and I've

said it before I want to get back to

Skerries when this is all done with Leinster

and hopefully play there again. It was

the best of both worlds. It was serious

enough about the rugby but then great

craic as well.

"A lot of my mates are still playing.

Rory Woods, Conn Marrey who was a

hooker in my time but he's playing in the

back row now, Tom Mulvany is a serious

player, Lorcan Jones in the centre, it's just

great that there are so many of them still

there and pulling on the jersey.

"Another fella, Robert McKey, is no

longer with the squad but it's gas his

younger brother Oisín is now with the

team. It's mad because I remember going

to see Oisín's games with Robert when

we were younger and you could see that

he had a bit about him.

"He's a brilliant up and coming winger.

I remember him growing up he was a bit

like myself, playing a load of different

sports, but he has turned the focus to

rugby now and he's doing really well.

I remember chatting to my folks

before the game and you could just

tell the excitement in their faces

and their voices. They'd have been

there for the game all things going

well but obviously with Covid that

wasn't possible.

"And now here he is playing and scoring

in the AIL with Skerries so yeah we'll see

how he goes but it's great to see him and

all the lads back out there and playing."

The Bruff win and mention of Oisín

McKey is timely as the IRFU match report

is all about McKey's impact in that same

game.

'Skerries overturned a nine-point deficit

to win a real rollercoaster of a game

at Bruff. The Goats prevailed 18-17

thanks to a late Oisin McKey try and the

decisive penalty from Paul O'Loghlen.

'Winger McKey was involved in the

build-up to Skerries' opening score,

gobbling up Eoghan Carron's chip kick,

stepping inside a defender and sending

captain Kevin McGrath over to the right

of the posts.'

His reference to the McKey brothers and

watching the 'younger brother Oisín'

a few years ago also brings us back to

his own journey and the fact that, in the

blink of an eye, he has gone from Leinster

Rugby novice to five years a professional.

The Australian-born centre turns 24 in

December so he is far from veteran status

just yet but he has been building his

playing CV and getting more and more

game day exposure from Leo Cullen.

There has also been talk of where best to

play him. Out-half. Centre. And there has

even been whispers of possible call-ups

by Andy Farrell.

www.leinsterrugby.ie | 17
---
BearingPoint delivers business and technology

solutions that support our clients to grow and

succeed in today's digital economy.

Our Services

Consulting

Customer Experience Design

Digital Transformation

New Ways of Working

Operational Excellence

Finance, Regulatory and

Compliance

Technology

Strategy and Architecture

Agile Software Development

Data, Analytics and AI

Business Applications

Solutions

Emissions Calculator

Digital Platforms

Business Services

Contact us today to learn more

01 418 1111

www.bearingpoint.com

ireland@bearingpoint.com

@BearingPoint_IE
---
So back to the playing CV.

His debut was in February 2018 off the bench

against today's opposition, Scarlets, and a

start against the Southern Kings wasn't far

behind.

Since then he has kept adding experience and

minutes and while a few niggly injuries have

hampered his progress he is also realistic and

more than happy with his trajectory.

"It's been good. For me, it's not like I just

landed into PRO14 games or European

games and started, I had to be patient and I

had to earn those opportunities.

"It started with being a sub for B&I Cup

games, then I started in the B&I Cup. Then

from there it was off the bench in the PRO14,

then a start against the Kings.

"All the time building the level of exposure and

experience. Of course you want more and you

want to kick-on but there is also the realisation

that the steps are there for a reason.

"Hopefully when the chances come your way,

you can take them."

And the chances did come.

Three PRO14 appearances in his first season.

Then 11 caps in the 2018/19 season. And

then to the 2019/20 season and his European

debut against Northampton Saints and two

conversions to his name for good measure.

Covid-19 put a sudden halt to everyone's

plans that season.

But then to 2020/21 and the final step on the

Leinster Rugby ladder and a real coming of

age moment for all players.

The European start.

This was no ordinary Heineken Champions

Cup fare either with qualification maybe

secure already.

This was Round 1 and away in France to

Montpellier. A tough litmus test for the most

experienced of professionals.

It couldn't have gone much better for him

though.

He played well in the 12 jersey and scored

Leinster's second try on the way to a 14-35

win in the Altrad Stadium.

Good times. But missing those that make them

great times.

www.leinsterrugby.ie | 19
---
"I remember chatting to my folks before

the game and you could just tell the

excitement in their faces and their voices.

They'd have been there for the game

all things going well but obviously with

Covid that wasn't possible.

"But I was straight onto the phone to them

after the game to share in the moment.

Where would any of us be without our

folks and I wanted to just chat to them

straight after."

You just know that mum, Siobhán, and

dad, Tony would have been bursting with

pride on that call. Younger sister Alanna

not far behind.

Thankfully that has all changed now

and for the game in the RDS Arena last

weekend against Zebre Parma, Frawley

was able to share the joy of being back

at the Ballsbridge venue with close family

and friends.

"You have to be hugely resilient in this

game at times and it tests you and we

were all so happy for Adam that he

could celebrate that moment with his

family.

"We all could. We missed it definitely."

It will be a similar situation this week

for Frawley and the search for tickets

as family and friends join the rest of

the Leinster faithful at the RDS Arena

for the visit of the Scarlets.

Their result last weekend against

Munster caught everyone by

surprise. Not the fact that

Munster won, but more

the manner and the

margin of the win.

But of course with supporters being back

comes the added pressure of the search

for tickets!

"Yeah I hadn't missed that bit of it! Ah no,

it was great. In the end I think I managed

to sort out 12 tickets for people and it

was brilliant.

"We have all missed having those people

around us and you see what a day it

was for Adam (Byrne) and the images of

him after the game with his mum and his

mates in the stand.

20 | www.leinsterrugby.ie
---
This is our

last home game

of this block,

then we head

away to Glasgow

and then the

next block sees

us into the

interpros and

hopefully a full

RDS for those

games and then

into Europe.

Frawley is expecting a reaction come

5.15pm in the RDS.

"You could see it and hear it from the

players after the game talking to media.

They were at a loss to understand what

went wrong. Going in to the game,

with their Lions back, people thought it

would be a close game and with them

being at home you could understand the

perception that people had of Scarlets as

favourites.

"As we know well, Munster are a very

tough team to play and to beat, but any

time you lose a game, you look for that

reaction and I'm sure that Scarlets will

look for that reaction this week.

"They would know quite a bit about us

as well given that Hugh Hogan is now

working with them so it's hard to get a

read on the impact that will have on them

or what impact that might have on the

game.

"For us, we just have to bring the focus

right back to ourselves. We stepped up

the performance levels last week against

Zebre and we just need to look to do that

again.

"Scarlets are a team littered with Welsh

and Lions experience. They have won at

club level and at international level but

again, we have that excitement our side

with a few lads coming in this week as

well and looking to kick on.

"They'll be looking for a reaction but we

have plenty to focus our minds too."

This will be Frawley's fourth game in a

row of the new season and while he is

quick to take it each week as it comes,

he also know that there is an opportunity

there for all the players this weekend.

"Absolutely. For me I never look too far

ahead but I'm enjoying my rugby and my

role at the moment.

"This is our last home game of this block,

then we head away to Glasgow and then

the next block sees us into the interpros

and hopefully a full RDS for those games

and then into Europe.

"So over the next month and a half there

are massive games there for us all but our

focus right now as players is to get the

most out of this block of games.

"It's gone well so far but we know too

that Scarlets – and a Scarlets team

wounded after last weekend – are a very

different proposition and we have to stay

focused on them."

Still learning his trade but long enough at

it now to know to stay in the moment and

to enjoy it for what it is.

As we have all learned over the last

18 months, so much can change in an

instance, so we might as well live for the

now.

www.leinsterrugby.ie | 21
---
Action

replay 43 7

LEINSTER

Jimmy O'Brien; Adam Byrne, Jamie

Osborne, Ciarán Frawley (Rob Russell

50), Jordan Larmour; Harry Byrne

(Johnny Sexton 22), Luke McGrath (Nick

McCarthy 55); Ed Byrne (Peter Dooley

50), Seán Cronin (Rónan Kelleher 50),

Michael Ala'alatoa (Cian Healy 50);

Ryan Baird, Devin Toner; Dan Leavy

(Max Deegan 50), Scott Penny (Ross

Molony 70), Rhys Ruddock.

SCORERS:

Tries: Scott Penny, Jordan Larmour,

Adam Byrne (2), Ed Byrne,

Seán Cronin, Rónan Kelleher.

Cons: Johnny Sexton (4).

SATURDAY, 9 OCTOBER

RDS ARENA

UNITED RUGBY CHAMPIONSHIP

ZEBRE

Jacopo Trulla; Pierre Bruno, Erich Cronje,

Enrico Lucchin, Mattia Bellini; Antonio

Rizzi (Giovanna Licata 58), Nicolo

Casilio (Guglielmo Palazzani 65);

Andrea Lovotti (Danilo Fischetti 55),

Oliveiro Fabiani (Massimo Ceciliani

55), Ion Neculai (Matteo Nocera 55);

Nicolae Cristian Stoian (David Sisi 62),

Andrea Zambonin; Jacopo Bianchi

(Paolo Pescetto 48), Luca Andreani

(Tommaso Boni 71), Renato Giammaroli.

SCORERS:

Try: Pierre Bruno.

Con: Paolo Pescetto.

22 | www.leinsterrugby.ie
---
We started

with good intent.

It was the same

in the second

half but maybe a

little disjointed

after that with

all of the substitutions

from

both teams.

Leo Cullen

I feel

great. It

meant a lot

to be back

out there

with the

lads. It felt

like it was

my first cap

again.

Adam Byrne makes a tryscoring

return following a

22-month injury lay-off

www.leinsterrugby.ie | 23
---
Women's Beginners

Rugby at

Monkstown FC

Monkstown

FC was

formed in

1883 and

is one of

the oldest

clubs in

Irish rugby.

Originally

located in

Monkstown,

as the name

suggests,

it moved to

Sandymount

in 1901

acquiring

the Sydney

Parade

grounds from

the Earl of

Pembroke.

24 | www.leinsterrugby.ie

A club known widely for its tough

and uncompromising players on

the pitch and its comradery and

hospitality off the pitch. It boasts

a charming clubhouse in the

heart of Dublin 4 and what some

consider as possibly the best

natural grass pitches of all sports

clubs.

While March 2020 is widely accepted

as a significant date in relation to the

pandemic it was also when the spark of

developing women's rugby in Monkstown

FC burst into flame.

The inaugural season got off to a great

start with 25 women learning core rugby

skills and taking their fitness to a new

level. Sadly, however, Covid intervened
---
and Monkstown's season, like

those of all clubs, stuttered to

an abrupt halt.

The flame continued to flicker

as Monkstown remobilised

for the 2021/22 season,

but a number of players had

moved out of the area and

a fresh recruitment drive was

undertaken. Now back to a

full complement of 25 female

members training each week

with a clear desire to double

that number over the coming

months.

The support and

encouragement received

throughout the club and the

local Sandymount community

has been uplifting. The

diversity of the group is

fantastic comprising those

trying rugby for the first time,

some experienced players

and everything in between.

The women's squad has

developed a wonderfully

positive culture and is rooted

in the local community with

many mothers of Monkstown's

mini players partaking demonstrating the

multi-generational aspect of this familyorientated

club.

The whole club are committed to the

growth of women's rugby and are

fortunate to have a hugely experienced

coaching team dedicated to the success

and development of the women's game.

Training is every Tuesday night and

sessions last for 90 minutes. Sessions

comprise a mix of strength and

conditioning (S&C), skills development

and match scenarios where the skills

are put into practice. Throughout the

emphasis is on 'Fitness and Fun' and the

sessions are clearly enjoyable.

Monkstown recognise that they are on a

journey and have the clear ambition to

expand female participation in all rugbyrelated

activities.

The club's focus is on getting women of

all ages involved with minis, youths and

adults across Tag, Tip, Sevens and XVs.

Age is not a barrier and everyone is

welcome to join in.

For further information contact:

MonkstownWomensRugby@gmail.com

If you are

interested in

taking up rugby

or you would like

to follow our

updates, check out

our social media

channels:

Leinster Women's Rugby

LeinsterWomensRugby

@LeinsterWomen

womenspro@leinsterrugby.ie

www.leinsterrugby.ie | 25
---
SHOP THE 2021/22 LEINSTER RUGBY RANGE NOW,

EXCLUSIVELY AT LIFE STYLE SPORTS

www.leinsterrugby.ie | 27
---
leo

the lion's

kids

corner

IN A BLUR!

Can you name this

leinster player?

spot the difference!

Can you find all six?

ANAGRAMS

Can you un-jumble the names of these players?

RESIN

CANON

RADICAL

ONES

how did you do?

IN A BLUR?

JORDAN LARMOUR

ANAGRAMS

SEAN CRONIN

CAELAN DORIS

ZOOMED IN!

PETER DOOLEY

zoomed in!

WHo is this leinster

player having an

extreme close-up?

28 | www.leinsterrugby.ie
---
AJ Products provides unique

solutions for office,

warehouse and

environment

www.ajproducts.ie
---
AZTO

with

JAMES LOWE

A – Action: If you could be a

superhero, which would you be?

Batman

B – Boyhood: Who was your favourite

sporting idol growing up?

Jeff Wilson

C – Childhood: What is your favourite

childhood memory?

Christmas time at the beach!

D – Dish: What's your go-to pre-match

meal?

Spaghetti Bolognese and Carbonara

E – Education: What was your

favourite subject in school?

Math

F – Film buff: What's your favourite

film?

Stepbrothers

G – Groove: Who is the best dancer in

the squad?

Ed Byrne, its crazy how limber he

can be for such a big man

H – Holiday: What's your favourite

holiday destination?

Kaiteriteri

I – Inside: Who is the worst to sit

beside in the dressing room?

James Ryan

J – Joker: Who is the funniest in the

squad?

Nick McCarthy, he's got a lot of

jokes for a traitor

K – Kick-off: What's your favourite

time of the day to play a match?

3pm

L – Languages: How many languages

can you speak?

Three

M – Music: Your favourite artist and

song right now?

Six60 - Finest Wine

N – Number: Do you have a lucky

number?

No

30 | www.leinsterrugby.ie
---
O – Others: What's your favourite

sport outside of rugby?

Basketball or cricket.

P – Pal: Who is your best mate in the

squad?

I find all of them annoying

Q – Quirky: Who has the most

interesting fashion sense?

Jack Dunne

R – Red Carpet: Who is the most

famous contact in your phone?

Johnny Sexton

S – Superstitions: Do you have any

matchday routines?

No

T – Trim: What's the worst haircut

you've ever had?

I had a blonde fringe and a blonde

rats-tail at the same time

U: Under pressure: Who in the squad

would be the best in a bad situation?

James Tracy

V – Verified: How often do you use

social media?

Every day

W – Worst fear: What are you most

scared of?

Folding the washing

X – X-ray: Have you ever broken any

bones?

Yes

Y – Youth: Where did you grow up?

Nelson, New Zealand

Z – Zoo: What's your favourite

animal?

Elephant

www.leinsterrugby.ie | 31
---
THE SPIRIT OF

UNITED RUGBY

CHAMPIONSHIP.

Enjoy responsibly

DISCOVER THE SPIRIT WITHIN |

#SAVOURTHEMOMENT
---
The Rugby Mums of

Arklow RFC

As Claire

Nicholson

packs her

sports bag

for Arklow's

senior

women's

home fixture

against

New Ross

on Sunday

morning,

items such as

baby bottles,

nappies

and other

essentials

needed for

seven-monthold

twins are

also added.

Today she will be accompanied

to the game with Allie and Ryan,

both snuggly wrapped in their

carriers as Claire closes her front

door and leaves for the 10-minute

drive to The Oval, home to Arklow

RFC.

While a rugby mum was once considered

to be on the side-lines cheering on their

children while grasping a warm coffee

to prevent hypothermia, nowadays she

is more likely to be found at the bottom

of a ruck while the youngsters entertain

themselves close by.

According to Emer Dillon, captain of the

Arklow Ladies team, there are currently

16 mothers playing with Arklow out of

a full squad of 28 players, with children

ranging from Leaving Cert year right

down to the twins mentioned above.

fitness side that attracts many, but once

the players get involved, they soon realise

there is far more than just the competitive

side.

It's a network of support, meeting new

friends and of course the social aspect

that all becomes apparent once they get

involved.

With more families moving into

provisional towns than ever before,

rugby clubs provide opportunities for all

to become involved in the community

whether it is as a player, coach,

manager, referee or in a supporting

volunteering role.

"My only regret is that I did take up

rugby sooner," says Claire as she puts

the twins back into the car and makes her

way home following the game.

Arklow had six babies born to the group

within the last 12 months.

With the growth of women's rugby in

recent years, many of today's players

are late comers to the game. Yes, it is the

Now don't let that become a regret of

yours.

Robert Kelly

PRO – Arklow RFC

Photo by Lauren Messit

www.leinsterrugby.ie | 35
---
leinster

squad

2021/22 season

Vakh Abdaladze #1263

PROP

DOB: 06/02/1996

HEIGHT: 1.88m

WEIGHT: 121kg

Michael Ala'alatoa #1301

prop

DOB: 28/08/1991

HEIGHT: 1.91m

WEIGHT: 127kg

7

CAPS

Ryan Baird #1278

LOCK

DOB: 26/07/1999

HEIGHT: 1.98m

WEIGHT: 103.18kg

5

CAPS

Adam Byrne #1213

WING / FULL BACK

DOB: 10/04/1994

HEIGHT: 1.91m

WEIGHT: 98.18kg

1

CAP

Ed Byrne #1222

6

CAPS

Harry Byrne #1280

1

CAP

Ross Byrne #1236

13

CAPS

Thomas Clarkson

PROP

DOB: 09/09/1993

HEIGHT: 1.8m

WEIGHT: 114.09kg

FLY HALF

DOB: 22/04/1999

HEIGHT: 1.9m

WEIGHT: 95kg

FLY HALF

DOB: 08/04/1995

HEIGHT: 1.9m

WEIGHT: 92kg

PROP

DOB: 22/02/2000

HEIGHT: 1.85m

WEIGHT: 118kg

36 | www.leinsterrugby.ie
---
Jack Conan #1223

20

CAPS

7

CAPS

Will Connors #1264

9

CAPS

Sean Cronin #1202

72

CAPS

Max Deegan #1256

1

CAP

NO. 8

DOB: 29/07/1992

HEIGHT: 1.93m

WEIGHT: 114.09kg

BACK ROW

DOB: 04/04/1996

HEIGHT: 1.96m

WEIGHT: 100kg

HOOKER

DOB: 06/05/1986

HEIGHT: 1.78m

WEIGHT: 103.18kg

NO. 8

DOB: 01/10/1996

HEIGHT: 1.93m

WEIGHT: 110kg

Peter Dooley #1230

Caelan Doris #1268

9

CAPS

Jack Dunne #1276

Ciaran Frawley #1265

PROP

DOB: 04/08/1994

HEIGHT: 1.83m

WEIGHT: 117kg

BACK ROW

DOB: 02/04/1998

HEIGHT: 1.93m

WEIGHT: 107kg

LOCK

DOB: 21/11/1998

HEIGHT: 2.03m

WEIGHT: 120kg

FLY HALF

DOB: 04/12/1997

HEIGHT: 1.91m

WEIGHT: 98kg

Tadhg Furlong #1220

PROP

DOB: 14/11/1992

HEIGHT: 1.83m

WEIGHT: 125kg

49

CAPS

13

CAPS

Jamison Gibson-Park #1247

SCRUM HALF

DOB: 23/02/1992

HEIGHT: 1.75m

WEIGHT: 80kg

10

CAPS

David Hawkshaw #1290

FLY HALF / Centre

DOB: 03/07/1999

HEIGHT: 1.75m )

WEIGHT: 85.91kg

Cian Healy #1142

PROP

DOB: 07/10/1987

HEIGHT: 1.85m

WEIGHT: 116.82kg

109

CAPS

2

CAPS

Robbie Henshaw #1251

52

CAPS

9

CAPS

Dave Kearney #1158

19

CAPS

Hugo Keenan #1253

13

CAPS

Ronan Kelleher #1277

13

CAPS

CENTRE

DOB: 12/06/1993

HEIGHT: 1.9m

WEIGHT: 99.09kg

WING / FULL BACK

DOB: 19/06/1989

HEIGHT: 1.8m

WEIGHT: 90kg

FULL BACK

DOB: 18/06/1996

HEIGHT: 1.85m

WEIGHT: 91.82kg

HOOKER

DOB: 24/01/1998

HEIGHT: 1.83m

WEIGHT: 105kg

www.leinsterrugby.ie | 37
---
Jordan Larmour #1258

30

CAPS

Dan Leavy #1231

11

CAPS

WING

DOB: 10/06/1997

HEIGHT: 1.78m

WEIGHT: 90kg

FLANKER

DOB: 23/05/1994

HEIGHT: 1.91m

WEIGHT: 105.91kg

for full squad profiles

please click here

James Lowe #1262

6

CAPS

Nick McCarthy #1241

Luke McGrath #1206

19

CAPS

Michael Milne #1279

WING / FULL BACK

DOB: 08/07/1992

HEIGHT: 1.88m

WEIGHT: 105kg

SCRUM HALF

DOB: 25/03/1995

HEIGHT: 1.8m

WEIGHT: 84.09kg

SCRUM HALF

DOB: 03/02/1993

HEIGHT: 1.75m

WEIGHT: 84.09kg

PROP

DOB: 05/02/1999

HEIGHT: 1.83m

WEIGHT: 115kg

Jimmy O'Brien #1272

Conor O'Brien #1260

Josh Murphy #1261

Ross Molony #1233

LOCK

DOB: 11/05/1994

HEIGHT: 1.96m

WEIGHT: 113kg

FLANKER

DOB: 17/02/1995

HEIGHT: 1.98m

WEIGHT: 110kg

CENTRE

DOB: 06/02/1996

HEIGHT: 1.91m

WEIGHT: 100kg

CENTRE

DOB: 27/11/1996

HEIGHT: 1.83m

WEIGHT: 88kg

Tommy O'Brien #1283

Rory O'Loughlin #1248

1

CAP

Scott Penny #1271

Andrew Porter #1246

37

CAPS

CENTRE

DOB: 28/05/1998

HEIGHT: 1.83m

WEIGHT: 95kg

CENTRE

DOB: 21/01/1994

HEIGHT: 1.88m

WEIGHT: 94.09kg

FLANKER

DOB: 22/09/1999

HEIGHT: 1.83m

WEIGHT: 104kg

PROP

DOB: 16/01/1996

HEIGHT: 1.83m

WEIGHT: 114.09kg

38 | www.leinsterrugby.ie
---
Garry Ringrose #1237

34

CAPS

Rhys Ruddock #1167

27

CAPS

James Ryan #1259

37

CAPS

Johnny Sexton #1127

99

CAPS

14

CAPS

CENTRE

DOB: 26/01/1995

HEIGHT: 1.85m

WEIGHT: 96kg

BACK ROW

DOB: 13/11/1990

HEIGHT: 1.91m

WEIGHT: 113.18kg

LOCK

DOB: 24/07/1996

HEIGHT: 2.03m

WEIGHT: 115kg

FLY HALF

DOB: 11/07/1985

HEIGHT: 1.88m

WEIGHT: 90kg

Dan Sheehan #1286

HOOKER

DOB: 17/09/1998

HEIGHT: 1.91m

WEIGHT: 110.91kg

Devin Toner #1128

LOCK

DOB: 29/06/1986

HEIGHT: 2.11m

WEIGHT: 127kg

70

CAPS

James Tracy #1211

HOOKER

DOB: 02/04/1991

HEIGHT: 1.83m

WEIGHT: 106kg

6

CAPS

Josh van der Flier #1228

FLANKER

DOB: 25/04/1993

HEIGHT: 1.85m

WEIGHT: 103kg

32

CAPS

Coaching

Staff

2021/22 season

LEO CULLEN

HEAD COACH

STUART LANCASTER

SENIOR COACH

ROBIN MCBRYDE

ASSISTANT COACH

FELIPE CONTEPOMI

BACKS COACH

EMMET FARRELL

KICKING COACH AND

LEAD PERFORMANCE ANALYST

GUY EASTERBY

HEAD OF RUGBY OPERATIONS

DENIS LEAMY

CONTACT SKILLS COACH

www.leinsterrugby.ie | 39
---
Walk-in access

to consultant-led

urgent care.

Visit Laya Health and Wellbeing

Clinic Cherrywood.

You can't plan your day around accidents.

That's why at your local Laya Health and

Wellbeing Clinic in Cherrywood anyone can

access treatment within an hour of arrival,

with or without health insurance.

Get access to best in class walk in urgent

care clinics across Ireland open 10am to

10pm, 365 days a year. Providing treatment

for breaks, burns and sprains with fully

equipped X-ray services.

To find out more visit

layahealthcare.ie/clinics

looking after you always

Urgent care available to all aged 12+ months.

Wellbeing benefits available to laya healthcare members.
---
Your best support every season

Managed IT Services IT Disaster Recovery

Managed IT Security Services Cloud Services

Delivering bespoke IT services from concept, delivery and support

support@lantech.ie

www.lantech.ie

OFFICIAL

IT PARTNER
---
RUGBY

YOU KNOW BETTER

BECAUSE YOU GET

Official Media Partner of Leinster Rugby
---
My Rugby Story

BY NAAS RFC'S CAITRÍONA SHERIDAN

I vividly remember the

match that got me hooked

on rugby. It was the first

test of the 2001 Lions

Tour, and Brian O'Driscoll

was cutting through the

Australian defence to score

the second try of the game.

I was 12 years old.

Fast forward 20 years and I'm

starting my first game for Naas

Rugby Club on the wing.

I had always believed I was far too small

to play. I had joined UCC rugby when

I started college, but sadly suffered a

minor injury that stopped me playing.

Well, being honest, it more scared me off

playing, given my small build.

I still wanted to play and I found tag

rugby during college placement and

decided this was how I could feed my

rugby addiction! Then, when I moved

to London I played tag several times a

week. It was a fantastic way to meet new

people and make great friends.

While in London I had great opportunities

to watch the Ireland men's team play. I

was lucky to get to Stade de France in

2014, to see Ireland win the Six Nations

title and give O'Driscoll a wonderful send

off. In 2015, I attended two of Ireland's

world cup games, against Canada and

Romania. At the Romania game the

volume at which Ireland's Call was sung

was remarkable.

Then in 2017, my dreams came true

when I travelled to New Zealand for the

2017 Lions tour. It was a dream come

true as it was the Lions that had inspired

my passion for the sport and also New

Zealand is possibly the most passionate

rugby nation!

On moving home in late 2017, it was a

delight to be in offices where I was not

the only rugby fan. I kept up the tag,

playing for both work and social teams.

I went to the Ireland Women's Six

Nations game against Scotland in March

2020 to support these inspirational

women with my mam. She and I attend

the interprovincial games each Christmas,

this is our present to each other. After the

game I saw the team come out to interact

with supporters, friends, and family to

celebrate the win. It was a great scene

and I thought maybe I could try this

again!

I started playing tag again in Naas last

summer as lockdown lifted, this was cut

short with the local Kildare lockdown. As

it got into August, I saw that Naas were

starting up training for the next season.

The local lockdown had highlighted that I

had very little of a personal community in

my local area. So, I signed up, and went

to training.

I immediately felt very welcome and

loved being in a team environment again.

I was nervous when it came to the contact

parts of training, but those who hadn't

done contact before were coached and

shown exactly how to make and take a

tackle. Sadly, training was cancelled from

October, but in May we were back with

non-contact training to get us all used to

passing the ball again!

I choose Naas for a couple of reasons;

I knew that they had great coaches and

set up for the women's team. The second

was that a friend from secondary school

plays there, so at least there was one

familiar face!

I now look forward to every Wednesday

evening where I can play the sport

that has brought me so much joy and

opportunity to make new friends. I am

keen to give back to the sport and hope

to get involved as a referee soon.

The real call for me to join my local

club was watching the Ireland Women's

team play in 2020. I can only hope that

they know that we appreciate all their

commitment and dedication to the game.

The importance of seeing role models

play the game cannot be underestimated,

no matter what your age! I encourage

you to get in touch with your local club

and give rugby a try, and if you're local

to Kildare definitely get in touch with

Naas RFC.

www.leinsterrugby.ie | 43
---
Strong roots

delivering fruit

Wexford Wanderers producing success

at underage level as centenary nears

Whisper it quietly and speak in

hushed tones, but something is

happening on Slaneyside.

As Wexford Wanderers kick off their

98th season, there is an air of optimism

around Park Lane that has lifted the spirits

and indeed the ambitions of the club. As

their centenary draws nearer the club has

begun work on a major redevelopment

plan which will develop and enhance

their facilities and secure the long-term

future of the club.

Coupled with the ambitious development

plans, on-field the club has experienced

one of their most successful seasons in

recent years. Over the past decade,

the club has invested, developed and

restructured its coaching and underage

programme, which has recently produced

a bumper crop of representatives at

regional, provincial and Ireland U-20

level.

Wexford Wanderers President Kevin

Byrne spoke with pride at the recent

successes; "It's the hard work and

dedication of many volunteers, coaches

and parents which has been coupled with

a batch of highly driven, talented and

focused young rugby players.

"We are a proud club, like many

throughout the country, we work hard

and strive to be the best we can, so when

Father and son

Nick and Ben

Poppawell

one of our own, a young lad or girl who

has been about the club from minis or

youths does well, gets called into any

representative team, a Leinster squad or

even an Ireland team, it lifts the entire

place, we are all on a high with them, it

drives on the rest of the teams, its gives

them an example to aim for and it fills

us older members with pride. We are a

community, a big family of a club."

Indeed, this year has seen the club send

representatives to every underage level,

from South-East squads to provincial and

Ireland U-20s.

"We have Jack Stafford in Harlequins,

Greg McGrath has signed up for

Connacht, young Josh O'Connor who

played for the Ireland U-20s in the Six

Nations this year has joined him out

west in their academy, then we have Ben

Popplewell, who was also called into the

Ireland U-20 camp for the Six Nations,

he is making waves now in the Leinster

set up where we have Brian Deeny who

played his first senior Leinster match only

a few weeks back and his brother Paul

Deeny who is in the Leinster set up also.

In fact, a few weeks ago there was a

Connacht Eagles v Leinster Development

game and four of our players featured,

two on each side, Greg and Josh for

Connacht and Ben and Paul with Leinster.

I believe that it is just a matter of time

before one of our players will make the

jump to full international, which will be

another proud day of our club."

The club has sent a large number of

underage members to representative

sides in the past few months.

Director of Rugby, Des Dempsey, spoke

of his delight at the numbers making

the step into South-East and Leinster

sides: "We had three of our girls in the

South-East team, Melissa Quirke, Naoise

McManus and Rachel Dempsey, and our

girls and women's section is going from

strength to strength.

"And when we talk of the boys, the club

was delighted when our U18.5 won the

Leinster Premier League in 2020, it was

just a shame that covid restrictions ended

the season early before the team could

make an attempt at the All-Ireland.

"Recently, we had four boys called into

the Leinster U-18 Clubs and Schools

squads. Kaylem Codd, Luke O'Connor

and Grant Palmer were named in the

U-18 Clubs squad after a fantastic season

for the club, with Kaylem and Grant also

Wexford

Southeast Girls

44 | www.leinsterrugby.ie
---
Wexford Youths Interpros

Wexford

Southeast Boys

being key members of the successful

Wexford CBS team last year and in fact

this week we received the fantastic news

that Grant Palmer had been selected as

part of the Ireland U-18 Clubs squad.

"Harry Rogers, who played with us at

underage was called into the Leinster

Schools U-18 squad after a fantastic year

with Kilkenny College. Luke and Grant

played in the interpro series and were

part of the victorious Leinster team. In the

last year, at U-16 level and below we

have another good batch of lads coming

through; Conor Fahy, Daniel Furlong,

Bobby Connolly, Ke Young, Paudie

Doyle, Sam Turner, Rian Ormonde, Sean

Logue, Ronan George, Hugh Roche, Jake

McGuire, Josh Rossiter and Jack Cullen.

They have all been involved at different

levels and we are confident that we

Greg

McGrath

Brian

Deeny

will see them continue to develop in the

coming years."

In recent years, Wexford has experienced

an exponential growth in numbers

attending minis, youths, girls and women's

sessions, with the club now offering girls

teams at U-12, U-14, U-16 and U-18. This

summer the club also started an Inclusive

Rugby programme, offering welcoming

training sessions for a diverse group of

young people with a disability who were

completely new to rugby. This was a

major success and plans are in place to

develop it further.

This rapid and welcome influx of numbers

has resulted in the club facilities operating

at capacity and limiting their ability to

support additional members.

Jack

Stafford

Club Chairman, Tony Connolly outline the

plans to expand on those facilities: "This

is an exciting time for the club with our

centenary approaching and, on the field,

we are going from strength to strength,

we can see the hard work paying off and

its fantastic to see the players getting the

rewards.

"But we need to improve our facilities.

We are operating above capacity; the

increase in membership numbers at

underage level both male and female,

means the club desperately needs to

provide additional dressing rooms and

toilet facilities especially with our growing

numbers of children and women. We

need to ensure we can keep these new

players and our facilities are a key part

of that.

"We have an ambitious plan, we

are looking beyond this centenary

celebration and looking to secure the

long-term future of our club."

By Noel Cullen

Wexford Wanderers RFC PRO

Josh O'Connor

www.leinsterrugby.ie | 45
---
compiled by stuart farmer

media services limited

Leinster Player

Statistics

SQUAD

CAP

NO

DEBUT

2021/22 SEASON FOR LEINSTER LEINSTER CAREER

ALL GAMES URC EPCR ALL GAMES PRO14/URC EPCR

App Try Pts App Try Pts App Try Pts App Try Pts App Try Pts App Try Pts

SINCE LAST TRY

CAPS

VAKH ABDALADZE 1263 2 DEC 17 - - - - - - - - - 0+12 1 5 0+12 1 5 - - - 11 -

MICHAEL ALA'ALATOA 1301 25 SEP 21 3 - - 3 - - - - - 3 - - 3 - - - - - - WS 7

RYAN BAIRD 1278 27 APR 19 1+2 - - 1+2 - - - - - 13+17 6 30 12+13 6 30 1+4 - - 4 IR 5

ADAM BYRNE 1213 29 DEC 12 1 2 10 1 2 10 - - - 50+8 22 110 40+8 16 80 10 6 30 1 IR 1

ED BYRNE 1222 9 FEB 14 1+2 1 5 1+2 1 5 - - - 20+53 11 55 20+42 10 50 0+11 1 5 1 IR 6

HARRY BYRNE 1280 28 SEP 19 1 - - 1 - - - - - 15+10 6 154 15+9 6 149 0+1 - 5 4 IR 1

ROSS BYRNE 1236 4 SEP 15 1+1 1 9 1+1 1 9 - - - 71+35 7 659 59+19 3 480 12+16 4 179 2 IR 13

THOMAS CLARK-

1285 29 AUG 20 - - - - - - - - - 2+8 - - 2+8 - - - - - - -

SON

JACK CONAN 1223 20 FEB 14 - - - - - - - - - 80+25 23 115 59+15 16 80 21+10 7 35 1 IR 20

WILL CONNORS 1264 9 FEB 18 - - - - - - - - - 17+6 2 10 16+6 2 10 1 - - 10 IR 9

TIM CORKERY 1298 12 MAR 21 - - - - - - - - - 0+2 - - 0+2 - - - - - - -

SEAN CRONIN 1202 28 OCT 11 1 1 5 1 1 5 - - - 121+75 43 215 77+54 26 130 43+19 16 80 1 IR 72

MAX DEEGAN 1256 3 DEC 16 1+2 1 5 1+2 1 5 - - - 36+32 19 95 33+24 17 85 3+8 2 10 2 IR 1

PETER DOOLEY 1230 31 OCT 14 0+1 - - 0+1 - - - - - 40+54 5 25 38+48 5 25 2+6 - - 9 -

CAELAN DORIS 1268 28 APR 18 1 - - 1 - - - - - 33+8 5 25 27+6 3 15 6+2 2 10 10 IR 9

JACK DUNNE 1276 16 FEB 19 - - - - - - - - - 2+13 - - 2+13 - - - - - - -

CORMAC FOLEY 1299 24 APR 21 - - - - - - - - - 0+1 - - 0+1 - - - - - - -

CIARAN FRAWLEY 1265 17 FEB 18 2+1 - - 2+1 - - - - - 19+19 4 143 18+15 3 132 1+4 1 11 8 -

TADHG FURLONG 1220 1 NOV 13 - - - - - - - - - 73+41 8 40 42+33 3 15 31+8 5 25 3 IR 49

JAMISON GIBSON-PARK 1247 2 SEP 16 1+1 - - 1+1 - - - - - 50+53 17 85 45+29 14 70 5+24 3 15 7 IR 10

MARCUS HANAN 1295 19 FEB 21 - - - - - - - - - 0+3 - - 0+3 - - - - - - -

DAVID HAWKSHAW 1290 2 NOV 20 - - - - - - - - - 0+8 1 14 0+8 1 14 - - - 4 -

CIAN HEALY 1142 5 MAY 07 0+3 - - 0+3 - - - - - 156+78 27 135 90+51 13 65 64+26 13 65 5 IR 109

ROBBIE HENSHAW 1251 8 OCT 16 - - - - - - - - - 56+1 11 55 25 5 25 31+1 6 30 1 IR 52

DAVE KEARNEY 1158 16 MAY 09 - - - - - - - - - 147+22 51 255 121+15 44 220 25+6 7 35 7 IR 19

HUGO KEENAN 1253 5 NOV 16 2 - - 2 - - - - - 29+3 4 20 24+3 4 20 5 - - 5 IR 13

RONAN KELLEHER 1277 22 FEB 19 0+1 1 5 0+1 1 5 - - - 20+6 10 50 14+4 9 45 6+2 1 5 1 IR 13

JORDAN LARMOUR 1258 2 SEP 17 1 1 5 1 1 5 - - - 53+10 20 100 32+7 15 75 21+3 5 25 1 IR 30

DAN LEAVY 1231 31 OCT 14 1+1 - - 1+1 - - - - - 44+30 17 85 36+20 13 65 8+10 4 20 3 IR 11

46 | www.leinsterrugby.ie
---
SQUAD

CAP

NO

DEBUT

2021/22 SEASON FOR LEINSTER LEINSTER CAREER

ALL GAMES URC EPCR ALL GAMES PRO14/URC EPCR

App Try Pts App Try Pts App Try Pts App Try Pts App Try Pts App Try Pts

SINCE LAST TRY

CAPS

JAMES LOWE 1262 2 DEC 17 1 - - 1 - - - - - 53 34 170 35 25 125 18 9 45 4 IR 6

NICK MCCARTHY 1241 19 DEC 15 0+2 - - 0+2 - - - - - 6+32 4 20 6+26 4 20 0+6 - - 7 -

LUKE MCGRATH 1206 5 MAY 12 2 - - 2 - - - - - 104+49 39 195 71+43 31 155 33+6 8 40 4 IR 19

MICHAEL MILNE 1279 28 SEP 19 - - - - - - - - - 1+15 2 10 1+15 2 10 - - - 14 -

MARTIN MOLONEY 1300 24 APR 21 - - - - - - - - - 0+1 - - 0+1 - - - - - - -

ROSS MOLONY 1233 20 FEB 15 2+1 - - 2+1 - - - - - 66+53 4 20 64+38 4 20 2+15 - - 5 -

JOSH MURPHY 1261 3 NOV 17 - - - - - - - - - 42+7 5 25 41+6 4 20 1+1 1 5 9 -

JAMIE OSBORNE 1294 30 JAN 21 1+1 - - 1+1 - - - - - 3+5 1 5 3+5 1 5 - - - 3 -

CONOR O'BRIEN 1260 3 NOV 17 1 - - 1 - - - - - 17+7 6 30 17+6 6 30 0+1 - - 10 -

JIMMY O'BRIEN 1272 23 NOV 18 1 - - 1 - - - - - 27+9 7 37 25+9 6 32 2 1 5 2 -

SEAN O'BRIEN 1297 12 MAR 21 - - - - - - - - - 0+2 - - 0+2 - - - - - - -

TOMMY O'BRIEN 1283 20 DEC 19 - - - - - - - - - 4+5 3 15 4+5 3 15 - - - 5 -

RORY O'LOUGHLIN 1248 2 SEP 16 2 - - 2 - - - - - 66+23 21 105 59+15 18 90 7+8 3 15 32 IR 1

MAX O'REILLY 1291 2 JAN 21 - - - - - - - - - 6+1 1 5 6+1 1 5 - - - 6 -

SCOTT PENNY 1271 23 NOV 18 1 1 5 1 1 5 - - - 24+6 17 85 24+6 17 85 - - - 1 -

ANDREW PORTER 1246 2 SEP 16 2 1 5 2 1 5 - - - 30+49 12 60 25+30 9 45 5+19 3 15 2 IR 37

GARRY RINGROSE 1237 12 SEP 15 2 - - 2 - - - - - 86+2 27 143 54+1 16 88 32+1 11 55 3 IR 34

RHYS RUDDOCK 1167 6 DEC 09 3 - - 3 - - - - - 146+45 11 55 109+31 9 45 36+12 2 10 7 IR 27

ROB RUSSELL 1302 3 OCT 21 1+1 - - 1+1 - - - - - 1+1 - - 1+1 - - - - - - -

JAMES RYAN 1259 2 SEP 17 2 - - 2 - - - - - 46+6 3 15 24+1 1 5 22+5 2 10 12 IR 37

JOHNNY SEXTON 1127 27 JAN 06 1+1 - 17 1+1 - 17 - - - 149+26 26 1524 88+20 13 850 59+6 12 643 15 IR 99

DAN SHEEHAN 1286 23 OCT 20 2 - - 2 - - - - - 5+10 6 30 5+10 6 30 - - - 7 -

ANDREW SMITH 1292 2 JAN 21 - - - - - - - - - 1+1 - - 1+1 - - - - - - -

ALEX SOROKA 1296 28 FEB 21 - - - - - - - - - 1+1 - - 1+1 - - - - - - -

DEVIN TONER 1128 27 JAN 06 1 - - 1 - - - - - 207+60 4 20 141+42 4 20 63+18 - - 50 IR 70

JAMES TRACY 1211 4 NOV 12 0+2 1 5 0+2 1 5 - - - 57+74 15 75 50+46 14 70 7+28 1 5 2 IR 6

LIAM TURNER 1287 23 OCT 20 - - - - - - - - - 4+2 - - 4+2 - - - - - - -

JOSH VAN DER FLIER 1228 11 OCT 14 2 1 5 2 1 5 - - - 77+23 12 60 47+17 8 40 30+6 4 20 2 IR 32

2021/22 SEASON FOR LEINSTER LEINSTER CAREER

ALL GAMES URC EPCR ALL GAMES PRO14/URC EPCR OVERALL

KICKING

SUCCESS

RATE

C PG DG C PG DG C PG DG C PG DG C PG DG C PG DG ATT Career

%

- - - HARRY BYRNE 0.00% - - - - - - - - - 53 6 52 5 1 1 76 77.63%

ROSS BYRNE 100.00% 2 - - 2 - - - - - 198 75 1 156 50 1 42 25 - 356 76.69%

CIARAN FRAWLEY - - - - - - - - - - 51 7 - 48 7 - 3 - - 72 80.56%

DAVID HAWKSHAW - - - - - - - - - - 3 1 - 3 1 - - - - 6 66.67%

JIMMY O'BRIEN - - - - - - - - - - 1 - - 1 - - - - - 3 33.33%

GARRY RINGROSE - - - - - - - - - - 4 - - 4 - - - - - 6 66.67%

JOHNNY SEXTON 88.89% 7 1 - 7 1 - - - - 241 293 11 127 170 7 107 119 4 669 79.82%

www.leinsterrugby.ie | 47
---
TITLE PARTNER

OFFICAL KIT PARTNER

PREMIUM PARTNERS

PARTNERS & SUPPLIERS

MEDIA PARTNERS

48 | www.leinsterrugby.ie
---
Proudly Supporting

Leinster Rugby

Offices in Dublin, Cork, Limerick and Mullingar

Tel: +353 (0)1 266 6000

Fax: +353 (0)1 266 6620

Web: aon.com/Ireland

Aon Ireland Limited t/a Aon, Aon Risk Solutions, Aon Risk Affinity, Aon Claims Management, The Bar of Ireland Financial

Services and Unity Insurances is a private company limited by shares and is regulated by the Central Bank of Ireland.
---
ig picture

9 October 2021

Seán Cronin on his way to scoring

his side's fifth try despite the tackle

of Pierre Bruno of Zebre during the

United Rugby Championship match

between Leinster and Zebre at the

RDS Arena in Dublin.

50 | www.leinsterrugby.ie
---
Photo by Harry Murphy/Sportsfile

www.leinsterrugby.ie | 51
---
Support from start to finish for all your

home energy efficiency improvements

Grants of up to 40%*

available for eligible work

Loans from as low as 4.9% APR**

Get a quick quote today at

cugreenerhomes.ie

IMAGINE MORE

*Grants of up to 35% from the Sustainable Energy Authority of Ireland for deep retrofit works on homes built pre-2006. In addition, Energia will

provide additional supports of up to 5%. Terms, conditions and eligibility criteria apply.

**Applies to approved retrofit work which results in the home achieving a Building Energy Rating (BER) of A3 or better. A €30,000 home improvement

loan over 10 years at a 4.79% variable interest rate (4.9% APR) has 120 monthly repayments of €315.13. The total amount repayable is €37,815.

Loans are subject to approval. Terms and conditions apply. If you do not meet the repayments on your loan, your account will go into arrears. This

may affect your credit rating which may limit your ability to access credit in the future. Credit Unions in the Republic of Ireland are regulated by

the Central Bank of Ireland.
---
Your

Club

Your

Country!

Leinster Rugby is delighted to be part

of the IRFU Your Club Your Country

annual draw initiative. This successful

scheme allows clubs to raise funds

through this draw, with 100 per cent of

the funds going to the selling clubs and

the prizes (listed below) are all funded

by the IRFU sponsors.

To both the sponsors and the IRFU

we say thank you and it is over to

our clubs to get behind the draw

and sell the tickets.

This IRFU initiative started several years

ago and last year Leinster clubs raised

close to €400,000 which helped with

overcoming the Covid disruption. The

process has gone online so it makes the

transactions very simple, and it's great

to see how clubs have been innovative

in how they promote and sell their tickets

and there are many success stories out

there.

The Leinster Junior Committee formed a

sub-committee chaired by Rory Fanning,

to assist clubs in the promotion of these

sales and assist with any advice clubs

might need. The IRFU have also been

excellent in their help.

To clubs out there in Leinster, please

promote and sell these tickets as it is

funding straight into your club's accounts,

and you will be directly rewarded for the

effort that is put in.

Leinster supporters, go online and support

a club near you! This is a great way to

support grassroots rugby which is part

of the pathway to developing players for

Leinster and Ireland and your support will

be truly appreciated. The club is one of

the foundations of the province and one

that needs all of our support.

Tickets are on sale now and are €10

each. They can be bought online through

the above link and follow the instructions

where you can 'Find Your Club' and

purchase your tickets. The next key date

is Wednesday, 1 December – when the

online platform closes and the draw for

Your Club Your Country will take place

on Friday, 3 December.

PRIZES

1. Follow the Ireland team on their

Summer Tour of New Zealand in

July 2022

Return flights, hotel accommodation,

match tickets and spending allowance for

two persons (Compliments of Vodafone)

2. Win a €5,000 Holiday

Holiday voucher worth up to €5,000

(Compliments of Energia)

3. France v Ireland 2022 Guinness

Six Nations VIP Trip to Paris with

the IRFU Patrons Club

Return flights, hotel accommodation,

match tickets and spending allowance

for two persons (Compliments of Opel

Ireland)

4. England v Ireland 2022

Guinness Six Nations VIP Trip to

Twickenham, London

Return flights, hotel accommodation,

match tickets and spending allowance for

two persons (Compliments of Canterbury)

5. Experience Business Class

Service with Aer Lingus

Transatlantic business class return flights

to East Coast routes with Aer Lingus for

two persons (Compliments of Aer Lingus)

6. 2022 Galway Races VIP

Package

Corporate hospitality at the

Galway races and overnight hotel

accommodation for two persons

(Compliments of Guinness)

7. Aldi Shopping Voucher

Voucher to the value of €2000

(Compliments of Aldi)

8. Druids Glen Hotel & Golf Resort

Voucher

Voucher to the value of €1500

(Compliments of Lucozade Sport Ireland)

9. Elverys Shopping Voucher

Voucher to the value of €1000

(Compliments of Elverys)

10. VIP package to 2022 Guinness

Six Nations matches in Aviva

Stadium

Tickets & hospitality package for two

persons (Compliments of The Hospitality

Partnership)

www.leinsterrugby.ie | 53
---
offical leinster

supporters club

What a return we had to the

RDS Arena last week and we

don't know about you but

we're delighted that we get to

experience it again so soon.

Round 4 is upon us and this

weekend we welcome Scarlets for

what we hope will be a highly

entertaining and fast paced

game of rugby.

Leinster

Scarlets

81 Points Scored 71

12 Tries Scored 8

33 Offloads 33

1,711 Metres Gained 1155

81 Defenders Beaten 32

16 Clean Breaks 14

334 Tackles Made 467

87% Tackle Success 85%

18 Turnovers Won 17

42 Total Tackles Missed 69

48 Turnovers Lost 40

Last weekend, we welcomed

Zebre and on a fantastic October

afternoon in the sun, we ran out

victors on a scoreline of 43-7.

Given we were so strong and

dominant throughout the game,

to fall just short of the 50-point

mark might have been seen as a

little disappointing, however to

come through injury-free after

welcoming back the likes of Dan

Leavy and Adam Byrne, is far

more heartening. Adam certainly

made his mark by getting his name

on the scoresheet twice, and you

could see he was hungry for a third

try also. Not to worry though, the

season is still young.

This weekend, the focus shifts to Scarlets

who are coming into this on a six-day

turnaround as well as having suffered a

heavy and some might say, unexpected,

defeat at home to Munster. Munster

went into the game with just four starting

internationals to Scarlets' 11, however

credit where it's due saw a very dominant

performance from them as they proved

too strong and left Parc Y Scarlets with a

43-13 victory.

Scarlets though are not to be

underestimated even with a one day

shorter turnaround than ourselves, and

there is no doubt that they will quickly

refocus, work on what went wrong last

weekend and look to drastically improve.

Facing a team fresh off the back of an

unexpected defeat given their strength in

the squad on that day is similar to facing

a wounded animal and we need to be

prepared for that.

The crowd last week, just over 10,000,

certainly made itself heard and we know

what this means to both players and

management alike and we thank you for

this. It's been a long and difficult road for

us all over the last 18 months but we're

slowly getting back to where we want to

be and we will get there.

Returning to the RDS was a massive step

in this journey and long may it continue.

To those of you who joined us afterwards

in the Laighin Out, it was lovely to see so

many of the regular faces and we look

forward to welcoming more of you back

after the final whistle today.

Here's to another great evening of rugby!!

C'mon you Boys in Blue.

Yours in Rugby,

OLSC Committee

54 | www.leinsterrugby.ie
---
OFFICIAL

LEINSTER

SUPPORTERS

CLUB

ONLINE SHOP

The Official Leinster Supporters Club are delighted to announce that we have

now launched our online shop. Our range of supporter items include:

° FACEMASK °

° CAR STICKER ° LANYARD °

° PIN

° BLANKET °

° BRACELET °

° BAG FOR LIFE °

° POP SOCKET °

° REFILLABLE HAND SANITISER

KEEP CUP

HIP FLASK

BLUE WIG

LUGGAGE TAG

PENCIL CASE

GIFT CARD

12

county

army

SHOP NOW

OFFICIAL LEINSTER

SUPPORTERS CLUB

#SEA

OF

BLUE
---
OFFICIAL

COACH

SUPPLIER
---
Join our FRIENDS

programme

and help support

seriously injured

rugby players

For more details,

click here

www.leinsterrugby.ie | 57

www.irfucharitabletrust.com
---
GETTING

We check social media

for the latest views

and thoughts across

SOCIAL

the 12 counties

58 | www.leinsterrugby.ie
---
www.leinsterrugby.ie | 59
---
TWENTY-THREE METRO

CLUBS TAKE PART IN

RESET WORKSHOPS

The Leinster

Rugby Metro

area reset

workshops

have concluded

after enjoying

great success

throughout

the last

month.

Metro development staff including

CROs, CCROs and WDOs have

been busy working with coaches

throughout 23 metro clubs to help

prepare them for the new season.

The workshops have been aimed towards

mini and youth coaches and the focus

has been on coaching through the game

and an introduction to tackle.

The idea behind these workshops is to

share ideas, content, forge relationships

with the clubs and have some fun on the

way with the club coaches but ultimately

help the coaches get back into coaching

before the season really kicks off.

Rob Mullen, Leinster Rugby Community

Rugby Officer, said, "Over 600 coaches

amongst the mini and youths sections

across metro have availed of these

workshops and its great to see. After a

very disruptive 18 months, seeing the

amount of coaches back out on the pitch

to share ideas and coach again really is

impressive.

"They are a testament to themselves, the

players and their clubs and long may

the great work continue between Leinster

Rugby and the clubs in the community."

If you require any support throughout the

season, please don't hesitate to contact

your local Club Community Rugby Officer

(CCRO), Community Rugby Officer

(CRO) or Womens Development Officer

(WDO), contact details can be found

here:

60 | www.leinsterrugby.ie
---
Virtual Mascot

Liam

Leahy

Age: 10

School: Willow Park

Interests: Rugby, Gaelic football and hurling

Favourite player: Johnny Sexton

www.leinsterrugby.ie | 61
---
WHERE ARE

THEY NOW?

CHRIS KEANE

THEN: Chris

Keane played

28 times for

Leinster Rugby

between 2007

and 2010.

NOW: He lives

in Skerries

with his wife

Sue Ann and

three children

Sean (11),

Eimear (10)

and Darragh

(7), and works

from his

physiotherapy

clinic.

62 | www.leinsterrugby.ie
---
Chris Keane was a relatively

late bloomer, failing to make

the Belvedere College Senior

Cup team in 1998 or any of the

Leinster Rugby or Ireland age

grade squads before finding

favour to register a nine-year

career as a professional.

The Skerries man even made it back to

Leinster, working for three seasons with

Michael Cheika, long enough to earn

a Magners League medal in 2008 and

Heineken Cup medal in 2009.

"Growing up, I never made a

representative team, couldn't even make

my school team at Belvedere. It's true. I

was a B Team player all the way.

"Kevin O'Malley was first-choice scrumhalf

for the Senior Cup and I was on the

bench. The thing about it was he was a

really good player.

"The way I look at it, I was probably

a better rugby player. But, he had the

confidence of being the man all through

the years. He had a rapport with the lads

and he was a really good player.

"It was frustrating. It really was. At the

time, I felt like I should have been in.

Now, many years later, I can see why

they picked him, why they didn't pick

me."

The move from being a back-up

scrum-half for his school to becoming a

professional player did not happen by

accident.

"I always trained hard all the way

through, worked on my game," says

Chris.

"I would pass against the wall, 100 off

my right hand, 100 off my left. I would

box-kick. I would break down videos of

games, infatuated with players like Joost

van der Westhuizen.

"I had a chip on my shoulder to go

along with that. I was determined to keep

going, even though I wasn't getting any

look in.

"I didn't come close to the Leinster U-20s

when I was playing AIL with Skerries on a

Saturday and U-20s on a Sunday, when

we made it to the JP Fanagan U-20 final

in 2000."

An invitation to double up for Athlone

Institute of Technology and Buccaneers

prompted Chris' move to the midlands

in 2001.

Connacht coach Steph Nel happened

to get wind of the form of the new Buccs

scrum-half in the Connacht Cup final and

liked what he saw in pre-season.

The man from nowhere made a positive

impression to be named ahead of Eoin

Reddan and Jimmy Ferris for the opening

round of the Magners League.

"It came as a bit of a shock to the other

scrum-halfs and to myself when my name

was called out on the Tuesday before

the game.

"It was in the old Cardiff Arms Park. It

lashed rain and we won 6-3. The first

representative match I played at any level

was for Connacht's first team.

"I was shitting myself and I loved it.

I was rooming and playing with Eric

Elwood. I was in awe of him. He was an

unbelievable professional. He set in stone

for me what it meant to be one.

www.leinsterrugby.ie | 63
---
"He was first to training, prepping before

everyone else came, doing extras all the

time, on top of his usual training sessions.

"I often took to doing sessions with John

Fogarty on my day off, like I had done

as a kid, practising my passing, my

box-kicks, the basics, just working on the

elements of my game."

By the end, Chris had made 89

appearances for Connacht over six

seasons in what was the making of him as

a player and a man.

When Cheika made contact in 2007, it

came as a shock to rival that selection

when Nel made him Connacht's starter

in 2001.

"I loved Connacht. I absolutely loved it.

They were the ones that gave me my first

opportunity to be a professional. To this

day, I still feel very loyal to them.

"The chance to move to Leinster was just

too good to pass up, even though I had

never been a part of their plans at any

stage when I was younger."

Chris took a flight to Dublin and met with

Cheika at the Leinster Branch to hear

what the Australian had to say.

"He laid out his expectations. He felt I

could fit in," he says.

"I thought he was a brilliant coach, but

he was very scary. He was intimidating,

in a good way. He got the best out of his

players."

There were no first-choice promises made.

How could there be with a Wallaby at

the club?

"When I looked at Chris Whitaker,

I was in awe of him as a player, his

game management, his passing, how he

commanded respect from the players.

"On the other hand, I would back myself

in terms of having a go when Cheika just

wanted the scrum-half to pass, pass, pass.

It took me a while to adapt to that. There

was more freedom at Connacht to make

a decision."

Gradually, he won the right to sit on the

bench as Whitaker's back-up, playing

11 times in 2007/08, starting three of

them.

In 2008/09, it was the same again, three

starts from 11 caps, including involvement

in the Heineken Cup all the way up to the

semi-final against Munster at Croke Park

when, without any explanation, he was

dropped to travelling reserve.

"Don't get me wrong, I was delighted to

be part of it all. When the final whistle

sounded at Edinburgh, I was over the

moon. I have a Heineken Cup medal

and a Magners League medal. I am very

proud of them.

"It was an amazing experience to play

with Rocky Elsom, Isa Nacewa, Gordon

D'Arcy, Brian O'Driscoll with Luke

Fitzgerald and Rob Kearney coming

through.

"The skill levels of the backs you were

training with were high class. They were

all British and Irish Lions."

He has even rounded out his medal

collection to include All-Ireland League

medals at 1A (2011) and 1B (2010) for

Old Belvedere and promotion from 2B

(2014) for Skerries as well as the All-

Ireland Junior series (2012).

64 | www.leinsterrugby.ie
---
When all was said and done, 31-yearold

Chris decided to walk away from

the game in 2010, despite interest from

Northampton Saints and a couple of

French clubs.

Back then, Chris was settling down with

Sue Ann, his wife, and the first of three

children Sean (now 11) before Eimear

(10) and Darragh (7) came along.

He wasted no time in studying

Physiotherapy at the Royal College of

Surgeons, making his way to the Lourdes

Hospital in Drogheda for four years.

From there, he turned a part-time private

practice in the evening into a full-time

professional life in his very busy clinic

Chris Keane Physio.

He is now back working in the same

building he grew up in as the son of Dr

John Keane with his brother Jack and

sister Sarah, both doctors, taking over the

practice from their father.

"My Dad worked in the front of the house

and we lived in the back of it. My clinic

consists of two rooms and one of them is

my old playroom," he says.

Like the move from Connacht to Leinster,

he has returned home to where he

belonged all along.

www.leinsterrugby.ie | 65
---
Referees

Corner

BY DAN WALLACE

Welcome to another edition of Referees

Corner. It is great to be back in the RDS

again and we look forward to seeing a full

house soon.

Today's referee is Marius van

der Westhuizen from South

Africa, an experienced Super

Rugby and Currie Cup referee.

He will be assisted by USRFR

referee Stuart Gaffikin and

Shane Kierans of the MAR. The

TMO is AJ Jacobs of SARU.

Marius was born in Cape Town, South

Africa. He started refereeing first class

matches in 2011, making his debut in

the 2011 Vodacom Cup match between

the Free State Cheetahs and the Falcons

in Bloemfontein and took charge of 10

matches in the 2011 U-19 and U-21

Provincial Championships.

He became a referee on the IRB Sevens

World Series circuit and was the man in

charge of the 2013 Hong Kong Sevens

final in just his third tournament. He was

also named on the refereeing panel for

the 2013 Rugby World Cup Sevens in

Moscow.

He was named on SANZAR's referee list

for the 2014 Super Rugby season and

was in charge of his first Super Rugby

match when the Lions met the Crusaders

in Johannesburg. He also officiated

at the 2014 Commonwealth Games

in Glasgow. We wish him a warm

welcome today.

Want to get

involved?

Feel free to make contact with the Leinster Rugby Referees

at hayley.whyte@leinsterrugby.ie. If you are interested

in becoming a referee get in contact with us through our

Facebook and Google + pages, our website www.arlb.ie

or through twitter @leinsterreferee.

66 | www.leinsterrugby.ie
---
What about advantage ref?

A familiar cry across rugby

pitches, sofas and commentary

boxes. The advantage Law

allows the game to be more

continuous and have fewer

stoppages.

Sometimes, during a game, an

infringement of the Laws may be

committed where a stoppage in play

would deprive the non-offending team

of an opportunity to score.

Even though the Laws state that the

non-offending team should be awarded

a penalty, free-kick or scrum, they are

given the opportunity to continue with

open play and attempt to score a try.

In this instance, the referee will allow

play to continue rather than penalise the

offence but the referee cannot always

do that.

I was watching a URC game last week.

The commentator, an experienced

rugby spectator, and a former Irish

international, expressed unhappiness

when the referee blew up for a penalty

as one team whipped the ball away. In

this instance the referee was right, the

commentators wrong, as the scrum had

both gone through 90 degrees and the

front row had popped up.

Law 7.3 clearly states:

3. Advantage must not be applied

and the referee must blow the whistle

immediately when:

a] The ball or a player in possession

of the ball, touches the referee and an

advantage is gained by either side.

b] The ball comes out of either end of

the tunnel at a scrum.

c] A scrum is wheeled through more

than 90 degrees.

d] A player in a scrum is lifted or

forced upwards so that the player is no

longer in contact with the ground.

e] A quick throw, free-kick or penalty is

taken incorrectly.

f] The ball is made dead.

g] It would be dangerous to let play

continue.

h] It is suspected that a player is

seriously injured.

Both c and d applied here. It is a

short law but an important one. The

World Rugby Law app is well worth

downloading and is available at

https://www.world.rugby/the-game/

laws/home I often find myself referring

to it while attending games, mainly to

make sure I am right and my mates are

wrong.

Finally, we have some great, live,

in-person area meetings (under current

guidelines) across the province in

Lansdowne, Navan, Enniscorthy,

Newbridge and Tullamore with Sean

Gallagher. This month we focused on

foul play and also took a look at some

examples of the Global Law Trials in

action over the last few weeks. Everyone

is still getting used to them - more at

https://www.world.rugby/the-game/

laws/global-law-trials

We circulated some clips through the

groups during each meeting so group

discussions could take place. It was a

very educational session.

www.leinsterrugby.ie | 67
---
HANGING WITH THE STARS

www.bestmenswear.com

OFF

ENTER THE CODE BELOW

LEIN15

Until October 17th 2021

ONLINE ONLY SHOP NOW

T&Cs Apply
---
LEINSTER WDOS RUN

REGIONAL WORKSHOPS

FOR U-14 GIRLS SQUADS

Coming off the

back of a very

interesting

18 months for

female rugby

the Leinster

Rugby Women's

Development

Officers (WDOs)

are constantly

innovating to

adapt to the

new situations

they are

facing.

After experiencing a huge

uptake in girls rugby during

2020, while we were offering a

non-contact form of the game,

we now have new challenges in

working with these girls to ensure

their continued participation

and enjoyment of the game

as we try to merge back into

playing regularly in competitive

structures.

Player confidence is key and the WDOs

have been running regional workshops

to ensure that the girls have that, as well

as the competence to be able to continue

their rugby development in a safe and

enjoyable manner.

Whilst participation is definitely still on

the rise there are many clubs in their early

stages of female rugby development with

relatively small numbers training in U-8 to

U-16 age groups, and community rugby

is focusing on initiatives to keep them in

the game.

Jennie Bagnall, Lead Women's

Development Officer said, "The U-14 age

group where the girls are coming out of

'mini rugby' and playing on a full pitch

in weekly competitive matches crucially

needs support right now.

"The girls born in 2009 sadly missed

most of the end of their 'minis' phase of

rugby, due to COVID-19. Many clubs

organised tours for this age group which

encourage social interaction and would

go a long way towards keeping them

playing with their friends as they move

into girls age grade rugby.

"Crossing over onto a full pitch rugby

scenario can often be daunting for

these players, and never more so than

this season. All of our staff are working

really hard to try to support clubs and

coaches and provide opportunities for

these players to be developed both in

their confidence and competence on the

field".

www.leinsterrugby.ie | 69
---
One of these opportunities has been the

running of regional 'Match Workshops'

where girls from different clubs have

come together to play non-competitive

rugby. In September, the coaches from

Kilkenny RFC, Enniscorthy RFC, and

Tullow RFC brought their U-14 players

to County Carlow FC to play in the first

Match Preparation Workshop run by

Leinster Rugby.

With over 30 players from the four clubs,

after playing some fun warm up games

and doing some individual 'tackle tech'

for all the girls we were able to introduce

the girls to their first official Branch

Referee, Michael Carbury.

In a new development form of training

match, Michael and the coaches were

able to run a flexible game allowing onpitch

coaching and plenty of stoppages

for the referee to explain to the girls what

was happening and why – Michael

commented that some adults that he

referees don't fully understand the game

and that it was "fantastic to be able to

teach these girls and help them learn and

understand the game better at a young

age".

The South-East workshop was so well

received that we weren't even off the

pitch before coaches and players were

asking when we can get the girls together

to play again, as their small individual

club numbers meant that none of them

had ever had the opportunity to play

13/15-a-side on a full pitch before and

they absolutely loved it!

Ciara Kinch, an experienced coach

and player from Tullow RFC whose own

daughter Roisin plays in this age group

commented, "The session with the Leinster

Development Officers in Carlow was

a great opportunity for all the girls to

brush up on their rugby skills of tackling

and evasion after the long break due to

Covid-19. It didn't matter what club you

came from it was all just about the U-14

girls playing the game and having fun."

Due to the success of this pilot workshop

we decided to extend the initiative into

other regions.

Last Saturday, the North Midlands teams

from Clane RFC and Newbridge RFC

came to MU Barnhall's home ground

in Leixlip to play in a similarly planned

event.

Mark McDonagh, an experienced

Leinster Branch referee, managed the

second part of the session once all the

players were confident and coaches had

signed off on their competence to play

in a full-contact, full-pitch situation, and a

fantastic 15-a-side match ensued.

Jojo Forde, coach of the U-14 girls in MU

Barnhall explained how she felt the girls

gained so much from the workshop.

"I loved to see the integration

throughout all the play and how the

more experienced girls also helped

the inexperienced girls along the way.

The girls really got the benefits of

understanding more about rugby by the

end of the session."

With some of the more established teams

beginning to get back to 'normal' by

playing in regional and Leinster age

grade competitions over the last few

weeks, development initiatives like this are

helping level the playing field and ensure

all girls in all the clubs have maximum

learning and development opportunities

regardless of the size of their squads.

Even for girls who have been playing for

several years this type of non-competitive

event is enjoyable. Ella Keogh has been

playing rugby with Newbridge RFC since

she was seven years old. Even with this

level of experience she said "I really

enjoyed the session. I loved the teamwork

building game and the tackle games that

we played".

Many years ago we used to see clubs

run lots of 'blitz' events like this for smallsided

teams to come together just to get

game time, but as the club situation has

developed we now have a large number

of clubs with squads able to field full

teams and play in competitions.

This is obviously fantastic, but as a

section, Women's rugby needs to keep

running development workshops like this

for clubs who are still trying to attract

young players into the sport and ensure

they all get to experience playing the full

pitch game.

If you are interested in knowing more

about rugby for girls or women, please

contact your local Women's Development

Officer as detailed below:

Jennie Bagnall:

Lead Women's Development Officer –

South East and North Midlands

jennie.bagnall@leinsterrugby.ie

086-3322136

Larissa Muldoon:

Women's Development Officer –

Metropolitan Area (Dublin City Council)

larissa.muldoon@leinsterrugby.ie

083-8271213

Emily McKeown:

Women's Development Officer – Dun

Laoghaire/Rathdown

emily.mckeown@leinsterrugby.ie

085-1610396

Niall Kane:

Women's Development Officer – North

East and Midlands

niall.kane@leinsterrugby.ie

089-4785315

www.leinsterrugby.ie | 71
---
TO MAXIMISE YOUR SPORTS AND EXERCISE

PERFORMANCE THROUGH NUTRITION

Optimum Nutrition and Leinster Rugby have partnered to help share good nutrition tips throughout

the season to help you achieve your performance goals. Here are some simple tips and things to

remember to help maximise your performance and help you recover quickly to come back stronger.

Protein Rich.

Protein provides your muscles with

the building blocks to repair & grow.

Carb-Up.

Carbohydrate foods are king as they

power high intensity play.

Fuel-Up.

Consume the majority of your

carbohydrates around training to

support fuelling and recovery.

Recover.

Quality rest & nutrition between

training sessions is the key to

recovery. Remember to:

Repair with protein,

Refuel with carbohydrate,

Rehydrate with fluid.

Hydrate.

Dehydration can lead to a drop in

exercise intensity & can impact your

decision making. Drink 2-3 litres of

fluid each day to ensure hydration.

Game Day.

To fuel performance on the field,

consume a large carbohydrate rich

meal 2-3 hours before kick-off, i.e.

chicken & pasta, turkey bolognaise

wraps.

Get 20% off all Optimum Nutrition products

using code Leinster20 on optimumnutrition.ie
---
KNOWING WHAT ADVICE TO TAKE

IS ESSENTIAL IN THIS GAME.

beauchamps.ie

OFFICIAL LEGAL ADVISOR

Beauchamps LLP | Riverside Two | Sir John Rogerson's Quay | Dublin 2 | D02 KV60
---
sea of blue

74 | www.leinsterrugby.ie
---
Photos by Sportsfile

www.leinsterrugby.ie | 75
---
COUNTRY

WALES

HOME GROUND

PARC Y SCARLETS

FOUNDED

2003

CHAMPIONS

2 | 2016-2017, 2003-2004

scarlets

Scarlets slumped to a hugely

disappointing 43-13 loss to

Munster at a sun-kissed Parc y

Scarlets in the third round of the

United Rugby Championship.

The home side never got going as

Munster ran in six tries, three in each half,

to a lone effort from Johnny McNicholl.

Afterwards head coach Dwayne

Peel admitted the performance was

way below standards expected of his

squad with the Scarlets needing to dust

themselves down before they head to

Dublin to take on defending champions

Leinster.

Despite having made a number of

changes to their starting line-up, Munster

started the game with real confidence

and took advantage of some early

Scarlets slumber with a try after just three

minutes through No 8 Jack O'Sullivan.

Out-half Ben Healy converted then

added a penalty to push his side 10-0

last time out

Scarlets 13

Munster 43

Parc y Scarlets | Sunday, 10 October

WORDS: SCARLETS.WALES

Scarlets slumped to a hugely disappointing 43-13 loss

to Munster at a sun-kissed Parc y Scarlets in the third

round of the United Rugby Championship.

ahead, a score which sparked the

Scarlets into life.

After a slick backline attack, wing Steff

Evans dived in at the corner, but the score

was chalked off after the TMO spotted

a knock-on in the build-up. Replays also

showed Evans' foot in touch just before

he touched down.

Scarlets did get on the board on

15 minutes through the boot of Sam

Costelow after Munster had infringed at

the breakdown, but it was the visitors who

were celebrating again after centre Liam

Coombes was worked away for his side's

second try. Healy's conversion took the

score out to 17-3.

Back though, came the Scarlets and

a smart piece of opportunism from

Costelow paved the way for the first

home try.

Picking up a bouncing ball, the young

out-half darted through the Munster

defence then delivered a perfectlyweighted

chip into the path of full-back

McNicholl who gathered and dived over

at the posts.

Costelow's conversion and a further

penalty reduced the lead to 17-13, but it

was Munster who were to have the final

say of the half with a looping pass finding

wing Calvin Nash out wide for his side's

third score of the afternoon.

Needing a strong response straight

from the restart, the Scarlets went further

behind when prop Jeremy Loughman

76 | www.leinsterrugby.ie
---
drove over from close range for the

bonus-point score.

Man of the match Chris Cloete, who

bossed the breakdown area, added

another, then Liam Coombes pounced on

a loose ball for Munster's sixth try.

Scarlets had plenty of opportunities to

add to their tally, but couldn't find the

finishing touch in the red zone and it was

Munster who ran out comfortable winners

to continue their unbeaten start to the

URC season.

SCARLETS – Johnny McNicholl; Tom

Rogers, Jonathan Davies, Scott Williams

(Johnny Williams 26), Steffan Evans; Sam

Costtelow (Dan Jones 64), Gareth Davies

(Kieran Hardy 55); Rob Evans (Wyn

Jones 45), Ken Owens (Ryan Elias 45),

Samson Lee (WillGriff John 45); Aaron

Shingler, Lloyd Ashley; Blade Thomson,

Dan Davis (Shaun Evans 45), Sione

Kalamafoni (Tom Price 49).

MUNSTER – Matt Gallagher; Calvin

Nash, Liam Coombes, Dan Goggin,

Shane Daly; Ben Healy (Jack Crowley

64), Neil Cronin (Patrick Patterson

64); Jeremy Loughman (Josh Wycherley

63), Diarmuid Barron (Kevin O'Byrne

63), Stephen Archer (John Ryan 51);

Thomas Ahern (RG Snyman 51), Fineen

Wycherley; Jack O'Donoghue, Chris

Cloete (Alex Kendellen 69), Jack

O'Sullivan.

www.leinsterrugby.ie | 77
---
Welcome Back!

Windsor Motors are excited to welcome supporters

back into the stadium and our showrooms!

We are also proud to continue our partnership

with Leinster Rugby as Official Vehicle Supplier.

Experience

the all-new

Nissan Qashqai,

coming soon

to Windsor

Motors.

Visit windsor.ie for more info.
---
scarlets squad

Head Coach

Dwayne

Peel

Former Welsh international scrum

half Dwayne Peel is in his first

year as head coach of Scarlets.

Capped 76 times for Wales, Peel played

for Scarlets, Sale Sharks and Bristol

throughout his career, joining the Bristol

backroom team upon hanging up the

boots.

After a year there as Backs and Skills

coach, he moved to Ulster Rugby in an

Assistant Coach role where he spent four

years working under Jono Gibbes and

Dan McFarland.

Captain

Jonathan

Davies

Wales centre Jonathan Davies

was named as the club's

captain at the start of the

current campaign, taking on the

responsibility from Ken Owens.

The 33-year-old also led Wales during

the summer in three Tests against

Argentina and Canada.

He first appeared for Scarlets in

2006/07 and has 170 caps either side

of a stint with Clermont Auvergne in

France.

Davies has won four Six Nations titles,

two Grand Slams, while was a touring

Lion in 2013 and 2017.

FORWARDS

DOM BOOTH

HOOKER

RYAN ELIAS

HOOKER

ROB EVANS

PROP

SHAUN EVANS

HOOKER

JOSH HELPS

LOCK

DAFYDD HUGHES

HOOKER

ALEX JEFFRIES

PROP

WILLGRIFF JOHN

PROP

WYN JONES

PROP

MARC JONES

HOOKER

MORGAN JONES

LOCK

SAMSON LEE

PROP

TOMAS LEZANA

FLANKER

SAM LOUSI

LOCK

KEMSLEY MATHIAS

PROP

HARRI O'CONNOR

PROP

KEN OWENS

HOOKER

PHIL PRICE

PROP

TOM PRICE

LOCK

JAC PRICE

LOCK

LEWIS RAWLINS

LOCK

PIETER SCHOLTZ

PROP

JAVAN SEBASTIAN

PROP

STEFF THOMAS

PROP

BACKS

DANE BLACKER

SCRUM-HALF

SAM COSTELOW

FLY-HALF

JONATHAN DAVIES

CENTRE

GARETH DAVIES

SCRUM-HALF

LUKE DAVIES

SCRUM-HALF

LEIGH HALFPENNY

FULLBACK

KIERAN HARDY

SCRUM-HALF

STEFF HUGHES

CENTRE

DAN JONES

FLY-HALF

JOHNNY MCNICHOLL

FULLBACK

TYLER MORGAN

CENTRE

IOAN NICHOLAS

CENTRE

ANGUS O'BRIEN

FLY-HALF

RHYS PATCHELL

FLY-HALF

JOE ROBERTS

CENTRE

TOM ROGERS

FULLBACK

LIAM WILLIAMS

FULLBACK

JOHNNY WILLIAMS

CENTRE

SCOTT WILLIAMS

CENTRE

www.leinsterrugby.ie | 79
---
Stena Line

We're here for the essential journeys.

At Stena Line, we're working hard to protect what matters most,

the safety and wellbeing of our customers, colleagues and our communities.

Thanks to our dedicated teams and reliable ships sailing throughout

the largest route network in Europe, we're ensuring that freight, vital

goods and people get to their destinations.

Together, we will continue to navigate these challenging times.

When the time is right, we look forward to welcoming you back onboard.

stenaline.ie | stenalinefreight.com
---
Club in Focus

DUNDALK

Everything seems just about

right in the world again

now that society is getting

back to the new normal.

The return of supporters to

stadiums and locals flocking to

grounds is just one of the reasons

to celebrate a life we once took

for granted.

Just when Dundalk coach Dave Fearon

and his team were getting used to

winning in Leinster League Division 1A,

Kilkenny took their unbeaten record last

Saturday in a reminder of how things can

change. And fast.

"That 12-10 result has meant Kilkenny

have leapfrogged us. We are joint-third

on points. But, they are ahead on our

head-to-head," adds Dave.

"We were 10-7 up with five minutes to

go and we had them on the ropes. They

came up with a breakout try from about

60 metres. It was nice interplay by them,

in fairness. Kilkenny are very hard to beat

at home so leaving with a losing bonus

point is certainly positive."

Fearon is a Dundalk clubman through

and through, coaching when he finished

playing, all in the hope of taking them

back to the 'Promised Land', the Energia

All-Ireland League.

"I would have thought before the season

started that we would have been most

peoples' favourites to go down, based

on what happened to us in the previous

season we played," he adds.

"We were in good shape, a point behind

leaders Ashbourne just before Christmas

2019 when we went there to play them. If

we had won it, we would have gone top.

Instead, we lost narrowly and, whatever

effect it had on us, our confidence

plummeted and we lost the next six to

drop into the relegation zone.

"In fact, only for Covid, we would

probably have been in a play-off to stay

up. But it turned out those matches were

cancelled. That was about the best thing

to come out of Covid for us."

This season, Adam Doyle passed the

head coach responsibilities onto Dave,

something he was very proud about.

"It's a great privilege to be able to coach

your home club and I intend to give all

I can to repay the committee and this

group of players for their faith."

By Sunday evening, Dave was already

planning the downfall of Suttonians at

Station Road the following week. Life in

this league waits for no one. The pages

turn in a blur.

The top-tier in Leinster League is full of

clubs with aspirations of moving back

up to the All-Ireland League. In 2015,

Dundalk earned promotion for the first

and only time, returning to the Junior

82 | www.leinsterrugby.ie
---
anks after a single season, something

that still rankles with Dave.

"When we were promoted in 2015, it

was all anyone wanted for the previous

20 years. We got a taste of it only to fall

straight back down the following year. It

was a bitter pill to swallow."

It was a wake-up call to all in the club

that it wasn't just good enough to get

there. Dundalk would have to add to their

squad to absorb the jump in standards

should they make it to the AIL again.

"When we have had success in the

past we have lost too many players to

retirement. I don't know if that is just

a Dundalk issue. It takes us so long to

capture that success that, maybe, people

burn out getting to that point," he states.

"We hadn't won the Towns Cup in 24

years and it had been a target for so

many, for so long, that it became the

natural endpoint for them.

"That has been a disappointment, not

being able to hold on to experienced

men and build out the squad underneath

them. You need serious depth in your

playing pool. You need to have a first,

second and third team to compensate

for injuries and other reasons for

unavailability. We didn't have that in

2015 and we paid the price."

As a club, Dundalk has been making

strides in the right direction. The

committee has had an injection of fresh

blood with added vigour and new ideas.

A development plan is in the works with

plans to improve the training pitches,

add additional lighting and upgrade the

clubhouse bar.

"Our club is full of fantastic people, far

too many to mention individually but

our president John McKevitt is a great

believer in promoting from within. It was

under him that Adam Doyle became

the first homegrown coach in almost 20

years."

Dave now follows in his footsteps.

With past players Kieran McCabe,

www.leinsterrugby.ie | 83
---
Chris Scully, Paul Meegan, Shane

O'Reilly, Paddy Sheehy and the vastly

experienced Hendrick Kruger all part of

the coaching ticket the future looks bright

for this trend to continue.

They bounce up off the ground

when they get knocked down and

their energy levels are infectious.

The coaching team looks healthy. What

of the player group? "It is a revamped

squad, a different team. Covid has

prevented us from bringing in overseas

players. We have committed to promoting

from within," he says.

"Like most teams, we have lost a number

of players through the Covid period. The

shift in perspective that people have had

meant that some of our Dublin based

players decided to play locally instead

of making the trip home and some of the

older lads got too used to being retired."

There is a core of experienced players

still there though. In Conor Williams,

Sean Arrowsmith, Robbie Farrell we have

a formidable front row and the arrival of

Stephen McGivern and Simon O'Shea

only bolsters this further.

Enda Murphy adds ballast and

experience in the second row, while

club captain Tiernan Gonnelly leads

by example at No 8. In the backline,

Ultan Murphy and Johnny Williams both

remain from our success in 2015.

84 | www.leinsterrugby.ie
---
"Mostly, we have benefitted from the

promotion of some of the younger

players from the youths system, like

tighthead Darragh Maher, scrum-half

James O'Connell, wing Jack Cassidy,

flanker Ryan McShane, who has put in

the work all through pre-season, to start

at blindside and not look back."

The exuberance of youth brings more

than new blood to the body of the squad.

It also introduces an attitude of energy.

"It is always a thing to behold. They are

mad to train, mad to play matches. They

bounce up off the ground when they get

knocked down and their energy levels

are infectious.

"That has been the most pleasing part

of this season, seeing those lads making

the step up to adult rugby They have all

bought into what we are trying to do.

This will give the club the bones of a

very good team now and long into the

future."

It is the one reason, above all others, that

gives Dave the hope Dundalk can make it

back to the AIL one day.

He aims to be around when it happens.

www.leinsterrugby.ie | 85
---
Martin

Moloney

THE ACADEMY

INTERVIEW

BY RYAN CORRY

On the night of April 24,

2021, Leinster Rugby played

neighbours Munster in a

Guinness PRO14 Rainbow Cup

game at the RDS Arena.

The result went the way

of the southern province

and attention was quickly

turned to an upcoming

European semi-final in

France.

A defeat like that is not a result

to dwell on but for one player, it

was a game that was worth so

much more than the Rainbow Cup

points on offer.

With 10 minutes remaining, Kildare man

Martin Moloney was introduced from the

bench for his first appearance in the blue

of Leinster.

And with that introduction, he became

the 1300th player to play for the

province, a milestone cap that documents

the numbers to have represented the

province since that first day out back at

the Ormeau Ground in 1875.

The Leinster Rugby Branch then held their

first official meeting four years later at 63

Grafton Street and the rest, as they say,

is history.

86 | www.leinsterrugby.ie
---
www.leinsterrugby.ie | 87
---
do.ie

audit

tax

advisory

consulting

BDO's Hospitality

Sector Sentiment Survey

is available now

Hospitality Sector

Sentiment Survey

September 2021

Smart business advisors

For further information contact:

Michael Costello, Managing Partner,

on 01 470 0130 or email mcostello@bdo.ie

Click here to visit bdo.ie

The survey consulted with

almost 1,000 representative

bars and restaurants, drawn

from the membership of the

Licensed Vintners Association,

Restaurants Association

of Ireland and the Vintners

Federation of Ireland.

Download your copy of the

survey here.

Smart business advisors

BDO is authorised by the Institute of Chartered Accountants in Ireland to carry on investment business. BDO, a partnership established under Irish Law, is a

member of BDO International Limited, a UK company limited by guarantee, and forms part of the international BDO network of independent members firms.
---
For Moloney though, this was his start,

the end of one journey and the beginning

of another.

Two years in the Academy, much of

which had been hampered by injury, on

top of the years with Athy RFC, regional

squads and the province's age-grade

teams all geared towards that moment

in April.

"That April night would have followed

on from a seriously frustrating period of

injury, long-term injuries,

short-term injuries, just following each

other so it was a massive honour, firstly,"

Moloney explains.

"On that day was a massive derby

against Munster so, as a result, there

were players with a huge level of

experience playing in that game. To

make my debut in such an experienced

and strong squad, packed with

internationals was a real honour.

"And then to be able to do that with

another Academy player, Cormac

(Foley), was just really special. I met

Cormac in an Irish U-18 camp and then

to come on in the same 10 minutes as

him was special. It was either going

to be myself or Cormac who became

the 1300th. It's funny, definitely wasn't

thinking about it going on, I only found

out after but it's nice to have.

"But then, you couple that with huge

disappointment as well because to lose

like that to Munster is probably one

of the worst losses you could possibly

experience."

That he made his bow the same night as

Foley highlights the gradual levelling of

the playing field between the two key

pathways in Leinster, Youths and Schools.

Moloney's journey was through the

Youths with Foley, a past pupil of St

Gerard's School, coming through what

was once considered the more traditional

route.

"The split of youths and schools is

evening out more every year," Moloney

says.

"And that's as a result of the incredible

work going on in the youth pathway that

I experienced. It was really good. You're

constantly getting exposed to really good

coaches and every time you're playing,

there's eyes on you in the club.

www.leinsterrugby.ie | 89
---
"With the Shane Horgan Cup, the

fact that you get in there so early is a

huge help. I think it's at U-15s is the

first exposure to Leinster training and

the quality of coaching there is so high.

Straight away, it's great and I can see it

with the Athy lads, I know a few of them

coming into that system now as well. You

get to work with Leinster S&Cs on top of

that high-quality coaching.

"And then as well, the effort going

on in the clubs like Athy is incredible.

You can see that now in more clubs. In

Athy, they're running position-specific

bootcamps so every Saturday, they're

working with the nines, working with

second rows on the lineouts, poaching

with the back row, contact skills, it all

seems to be coming up a level and it's

great to see it being put in place."

That exposure to high-level coaching, the

training, the game-time is all so important

for player development, confidence and,

at the core of it all, happiness.

Players want to play games. What

happens when those games are taken

away? In Moloney's case, he outlines

his injury troubles but when you add a

global pandemic to the mix, how do you

stay keen and involved?

"That was a very difficult period when

there was limited game-time. We

would have spoken about it a lot as an

Academy. It would have been Noel

(McNamara) speaking about it then but

the emphasis was on how much there

was that we still could do.

"We designed trainings differently so

that we'd get more match similarities

to replace the fact we weren't playing

games. We reached a balance well in

terms of being ready to play games if we

were called upon but also making sure

that we were getting enough exposure in

the right areas of the game," he adds.

"On the other side of that, I have to say,

something that preps you very well is

that both the Academy and Senior staff

are constantly keeping the injured lads

involved.

"While everyone else is on the pitch,

you'll have an indoor skills session

which is all the injured players from the

Academy and Senior squads who are not

at that pitch level yet, training together.

"Number one, it's keeping morale

high, and number two, it's keeping you

involved. You try to avoid the feelings of

'this opportunity is escaping'. The systems

that are in place for the injured lads, I

think, helps you to avoid those feelings.

They do creep in, of course they do, but

the fact that you then have those systems

in place for the injured players means

that you can stay focused on what you

have to do, and it gives you hope.

"When you're doing skills with top-end

international players who are also

injured, it puts it into perspective that we

all have these issues at different times."

It's like a fresh start for the flanker, in the

last number of weeks he's been part of

the Leinster Development team, featured

against Harlequins in the pre-season

friendly at Aviva Stadium, and then

helped Clontarf FC to a two from two

start in the Energia All-Ireland League.

The highlight of those few weeks was the

chance to have his family seeing him run

out at the Aviva, a symbol of thanks for

the support that was given to him at home

throughout the difficult months.

"It was the first time playing a game there

and it was incredible. The atmosphere

with the crowd there too, it was just

class. My family's first time at a game

post-Covid too so to get them there was

quite special.

90 | www.leinsterrugby.ie
---
"The support I got from them in that

period of injury was massive so to finally

then get to have a nice evening for

them in the Aviva and then a nice night

together after the game was very special,

to hopefully thank them for all their

support during the injury. Family support

is huge."

Closer to the field, he's been seeing

support from all of the coaches and

backroom team within Leinster Rugby

but one well-known flanker in particular

has imparted some of his wisdom during

his two-and-a-bit years working with the

province as an Elite Player Development

Officer and now Contact Skills coach.

"When Denis Leamy came into the

Academy staff, I was obviously delighted

because he's the same position as me.

He's so intelligent in the contact area

which is an area that I'm constantly

looking to get better," he states.

"Denis would have sat down with me a

huge amount in his first two years, and

even still now since he became Contact

Skills coach, just going through clips and

analysing the small details of the contact

area.

"From a broader perspective then, we

looked at my positioning as a six or a

seven, my positioning off set-piece, my

positioning in phase, he's helped me

hugely with that. General game prep too,

It was the first time playing a

game there and it was incredible.

The atmosphere with the crowd

there too, it was just class. My

family's first time at a game post-

Covid too so to get them there was

quite special.

he's helped hugely, he's been very good

for me personally and for the group."

It all adds up. From the injury experience

to the first cap to the additional hands-on

coaching, it would be accurate to say

that there's much more to come from

Moloney.

For now though, he wants to keep striking

the right balance between his Business

and Law studies in UCD and his training,

which previous Academy Manager

McNamara and now Simon Broughton

have both been putting strong emphasis

on.

With his 22nd birthday coming up on

Tuesday, the big wish, he says while

knocking on wood, is to stay healthy and

available this year.

"The balance is going well right now.

Simon has just come into the Academy

Manager role. He's quite keen that we

keep on top of our college work so a lot

of us are working hard to get into our

lectures and be here in the mornings for

training. Everyone is working on that

balance always.

Here's hoping that the coming year is one

injury-free and with a good handle on

that balance.

www.leinsterrugby.ie | 91
---
Leinster Rugby Academy

Year Three 2021/22:

Leinster Rugby Academy

Year two 2021/22:

Second Row

Brian Deeny

DOB: 02/03/2000

HEIGHT: 1.99m WEIGHT: 121kg

HONOURS: Ireland U20 (8 caps)

Did You Know: Brian played youth rugby with Wexford

Wanderers RFC. He got his first Irish cap playing for

Ireland Under-18 Sevens. Brian played midfield for

his school St Peter's College in Gaelic football and

reached the All-Ireland Colleges Final in 2017. He is

currently studying Science in Trinity and lives in Abbey

House B&B, Wexford...if you are looking for a room?!

Instagram: brian_deeny

wing

Niall Comerford

DOB: 06/04/2000

HEIGHT: 1.83m WEIGHT: 86kg

HONOURS: Ireland U20

Did You Know: Niall played both hurling and Gaelic

football with Kilmacud Crokes for 14 years. He also

represented Dublin in Gaelic football in the U17

Leinster Championship. He is currently studying

Commerce in UCD.

Instagram: niall_c123

Cormac Foley #1299

DOB: 24/10/1999

HEIGHT: 1.81m WEIGHT: 88kg

HONOURS: Ireland U20 (9 caps)

& Leinster Rugby (1 cap)

Marcus Hanan #1295

DOB: 03/10/2000

HEIGHT:1.8m WEIGHT:110.91kg

HONOURS: Leinster Rugby (3 caps)

Scrum Half

Did You Know: Started playing rugby with Greystones

RFC when he was nine. Growing up, Cormac did a lot

of show jumping and he is now studying Economics and

Finance in UCD.

Instagram: cormacfoley6

prop

Back Row

Martin Moloney #1300

DOB: 19/10/1999

HEIGHT: 1.88m WEIGHT: 99kg

HONOURS: Ireland U20 (5 caps) &

Leinster Rugby (1 cap)

Did You Know: Martin played hurling for Kildare and

played GAA and basketball for his secondary school,

Knockbeg College, and local GAA club, St Laurence's.

He played his youth rugby with Athy RFC. He is now

studying Business and Law in UCD, He also enjoys

working on the family farm. Instagram: martin_moloney

Second Row

Joe McCarthy

DOB: 26/03/2001

HEIGHT: 1.95m WEIGHT: 119kg

HONOURS: Ireland U20 (3 caps)

Did You Know: Joe started playing rugby with Blackrock

College RFC at the age of six before moving to

Willow Park and then Blackrock College. He was also

on the Blackrock swim team for five years. He's currently

studying Global Business in Trinity College Dublin.

Instagram: joetmmcc

Second Row

Charlie Ryan

DOB: 03/02/1999

HEIGHT: 2.01m WEIGHT: 115kg

HONOURS: Ireland U20 (15 caps)

Did You Know: Charlie played youth rugby at Blackrock

College RFC while also attending the school since

Senior Infants. He captained Ireland to the U20 Grand

Slam in 2019 and again for the U20s World Cup. His

friends call him Chuck! He is currently studying Business

and Legal Studies in UCD.

Instagram: chuck_ryan5

hooker

John McKee

DOB: 15/02/2000

HEIGHT: 1.82m WEIGHT: 105kg

HONOURS: Ireland U20 (12 caps)

Did You Know: John grew up in Belfast going to school

at Campbell College where he won a Senior Cup. He

was involved with Ulster at age grade level until moving

to Dublin after school. He also has multiple medals

from Northern Irish Schools Judo competitions.

Instagram: johnmckee_

Centre

Liam Turner #1287

DOB: 14/07/1999

HEIGHT: 1.73m WEIGHT: 91kg

HONOURS: Ireland U20 (10 caps)

& Leinster Rugby (6 caps)

Did You Know: Liam started to play rugby at the age

of six at Blackrock College RFC. He later joined

Blackrock College and was part of the 2018 Senior Cup

winning team. He was also part of the Ireland U20 team

that went on to win the 2019 Grand Slam. Liam currently

studys BESS in Trinity College. Instagram: liamtn123

Centre / Full Back

Jamie Osborne #1294

DOB: 16/11/2001

HEIGHT:1.93m WEIGHT:96.82kg

HONOURS: Leinster Rugby (8 caps)

92 | www.leinsterrugby.ie
---
Seán O'Brien #1297

Lee Barron

DOB: 31/07/2000

HEIGHT: 1.90m WEIGHT: 103kg

HONOURS: Ireland U20 (3 caps)

& Leinster Rugby (2 caps)

DOB: 15/02/2001

HEIGHT: 1.91m WEIGHT: 108kg

Back Row

Did You Know: Seán started playing rugby at age

six with Greystones RFC where he played up until Under-13.

He then played on the Junior and Senior Cup

teams in Blackrock College. He is currently studying

Economics and Finance in UCD

Instagram: seanobrien456

Hooker

Did You Know: Lee played golf growing up in the

Castle Golf Club and in the end was playing off a

handicap of eight. He has family roots in Carlow but

went to school in Dublin and attended St Michael's College.

As well as rugby with his school, he also played

GAA and even lined out in Croke Park.

Max O'Reilly #1291

Chris Cosgrave

Full Back

DOB: 26/02/2000

HEIGHT: 1.85m WEIGHT: 86kg

HONOURS: Ireland U20 (3 caps) &

Leinster Rugby (7 caps)

Did You Know: Max is currently in his third year of

Business and Management in DIT. His preferred sport

was soccer until about the age of 15, which he had

played at centre midfield with Enniskerry FC for over 10

years and also for Wicklow.

Instagram: max_oreilly

full back

DOB: 24/07/2001

HEIGHT:1.83m WEIGHT:85kg

Did You Know: Chris is a member of UCD RFC, where

he is also an Ad Astra scholar studying Agricultural

Science. His athleticism is best highlighted by his feats

in the field of Athletics with All-Ireland honours to his

name in both the 4x100m relay and the Discus. Before

the UCD and St Michael's College days, he played at

a young age with Old Belvedere RFC.

Andrew Smith #1292

Mark Hernan

DOB: 21/07/2000

HEIGHT: 1.83m WEIGHT: 91kg

HONOURS: Ireland U20 (3 caps) &

Leinster Rugby (2 caps)

DOB: 04/07/2000

HEIGHT: 1.88m WEIGHT: 99kg

Back Three

Did You Know: Andrew is currently studying Quantity

Surveying and Construction Economics in TUD. In

2019, he won the Leinster Schools Senior Cup with St

Michael's College. Andrew also played Gaelic football

with his local club - Clanna Gael Fontenoy GAA Club.

Instagram: andrew.sm1th

Flanker

Did You Know: Mark was coached by Ross Molony,

Josh Murphy, Ross Byrne and Nick McCarthy when in

St. Michael's College. His grandfather Fergus O'Brien

was Lord Mayor of Dublin and his father, Ray, played

for Connacht seniors and Ireland u25s.

Alex Soroka #1296

Temi Lasisi

Back Row

DOB: 19/02/2001

HEIGHT: 1.95m WEIGHT: 104.5kg

HONOURS: Ireland U20 (2 caps)

& Leinster Rugby (2 caps)

Did You Know: Alex's family moved to Ireland from

Ukraine shortly before his birth. He was born in Cork

before moving to Dublin.

Instagram: alex._.soroka

prop

DOB: 09/05/2001

HEIGHT: 1.78m WEIGHT: 115.8kg

Did You Know: The TUD Mechanical Engineering

student originally picked up the oval ball in Enniscorthy

before later moving to Lansdowne FC. Temi rose

through the ranks in the Youths system, his first outing

with the province came at U-18 level against Northampton.

He also describes himself as a 'competent

pianist'.

Ben Murphy

DOB: 23/04/2001

HEIGHT: 1.75m WEIGHT: 80kg

Leinster Rugby (1 cap)

Leinster Rugby Academy

Year one 2021/22:

Scrum half

Did You Know: Ben played all different sports growing

up including football, GAA and golf and won an 800m

gold in the U-14 East Leinsters. He is studying economics

in UCD. Ben's father Richie played for Leinster

Rugby and has coached at all levels of the game and is

the current Ireland U-20s head coach.

Jack Boyle

DOB: 10/03/2002

HEIGHT: 1.85m WEIGHT: 106kg

Rob Russell #1302

DOB: 13/01/1999

HEIGHT: 1.83m WEIGHT: 90kg

Leinster Rugby (2 caps)

Prop

Did You Know: Jack's father, Herbie, and uncles, Colon

and Eric, all represented Old Wesley rugby club for

years. His cousin Stephen Boyle also represented the

Leinster Rugby youths. Jack is currently studying for a

Commerce Degree in UCD.

Full Back / Wing

Did You Know: Rob is currently in his final year of

Business and Management in DIT. He started playing

rugby at the age of five with Wanderers RFC. He also

played football up to minor level with Kilmacud Crokes

and it took priority over rugby until he left school.

www.leinsterrugby.ie | 93
---
Date

KO/

Result

25/09 W31-3 URC VODACOM

BULLS

03/10 W7-6 URC DRAGONS

Opposiotion Venue 15 14 13 12 11 10 9 1 2

Aviva

Stadium

Rodney

Parade

09/10 W43-7 URC ZEBRE RDS Arena J O'BRIEN

16/10 17:15 URC SCARLETS RDS Arena

22/10 19:35 URC GLASGOW Scotstoun

Stadium

27/11 20:00 URC ULSTER RDS Arena

fixtures and

results 2021/22

KEENAN O'LOUGHLIN RINGROSE FRAWLEY LOWE

SEXTON

3C 1P

MCGRATH

PORTER

1T

SHEEHAN

KEENAN RUSSELL RINGROSE C O'BRIEN O'LOUGHLIN R BYRNE GIBSON-PARK PORTER SHEEHAN

A BYRNE

2T

OSBORNE

FRAWLEY

LARMOUR

1T

H BYRNE

MCGRATH

E BYRNE

1T

CRONIN

1T

03/12 19:45 URC CONNACHT RDS Arena

11 Dec 15:15 HCC BATH

17 Dec 20:00 HCC MONTPELLIER

26/12 19:35 URC MUNSTER

01/01 19:35 URC ULSTER

Aviva

Stadium

GGL (Altrad)

Stadium

Thomond

Park

Kingspan

Stadium

07/01 19:35 URC SIGMA LIONS RDS Arena

16 Jan 13:00 HCC MONTPELLIER RDS Arena

22 Jan 13:00 HCC BATH

28/29/30

Jan

18/19/20

Feb

04/05/06

Mar

25/26/27

Mar

01/02/03

Apr

22/23/24

Apr

29/30/01

Apr

20/21/22

May

TBC

URC CARDIFF

RUGBY

Recreation

Ground

Cardiff Arms

Park

TBC URC OSPREYS RDS Arena

TBC

URC BENETTON

tadio

Monigo

TBC URC CONNACHT Sportsground

TBC URC MUNSTER RDS Arena

TBC

TBC

URC CELL C

SHARKS

URC DHL

STORMERS

Jonsson

Kings Park

Green Point

Stagium

TBC URC EDINBURGH RDS Arena

94 | www.leinsterrugby.ie
---
3 4 5 6 7 8 16 17 18 19 20 21 22 23

ALAALATOA MOLONY J RYAN RUDDOCK

VAN DER FLIER

1T

DORIS

TRACY

1T

E BYRNE HEALY BAIRD DEEGAN GIBSON-PARK

R BYRNE

1T 1C

OSBORNE

ALAALATOA MOLONY RYAN RUDDOCK VAN DER FLIER

DEEGAN

1T

TRACY E BYRNE HEALY BAIRD LEAVY N MCCARTHY C FRAWLEY

S PENNY

[UNUSED]

ALAALATOA BAIRD TONER LEAVY

PENNY

1T

RUDDOCK

KELLEHER

1T

DOOLEY HEALY MOLONY DEEGAN N MCCARTHY

SEXTON

4C

RUSSELL

www.leinsterrugby.ie | 95
---
matchday

Squads

Hugo Keenan

Jordan Larmour

Garry Ringrose

Ciarán Frawley

James Lowe

Johnny Sexton [C]

Jamison Gibson-Park

15

14

13

12

11

10

9

FULL BACK

RIGHT WING

OUTSIDE CENTRE

INSIDE CENTRE

LEFT WING

FLY HALF

SCRUM HALF

Ioan Nicholas

Johnny McNicholl

Jonathan Davies [C]

Johnny Williams

Ryan Conbeer

Sam Costelow

Gareth Davies

officials

REFEREE:

MARIUS VAN DER WESTHUIZEN

(SARU, 5TH COMPETITION GAME)

ASSISTANT REFEREES:

STUART GAFFIKIN (IRFU)

SHANE KIERANS (IRFU)

TMO:

PAUL LARTER (SRU)

Andrew Porter

Rónan Kelleher

Tadhg Furlong

Ross Molony

James Ryan

Caelan Doris

Josh van der Flier

Jack Conan

1

2

3

4

5

6

7

8

LOOSE HEAD PROP

HOOKER

TIGHT HEAD PROP

SECOND ROW

SECOND ROW

BLINDSIDE FLANKER

OPENSIDE FLANKER

NUMBER 8

Wyn Jones

Ken Owens

WillGriff John

Lloyd Ashley

Sam Lousi

Aaron Shingler

Tomas Lezana

Blade Thomson

Dan Sheehan

Cian Healy

Michael Ala'alatoa

Ryan Baird

Rhys Ruddock

Luke McGrath

Ross Byrne

Jimmy O'Brien

16

17

18

19

20

21

22

23

REPLACEMENT

REPLACEMENT

REPLACEMENT

REPLACEMENT

REPLACEMENT

REPLACEMENT

REPLACEMENT

REPLACEMENT

Ryan Elias

Rob Evans

Samson Lee

Morgan Jones

Shaun Evans

Kieran Hardy

Dan Jones

Tom Rogers
---
At Sword we know how important the Game is.

We know how important your memories are ....so relax

and enjoy yourself, you're in safe hands.

LEINSTER RUGBY FANS .... Secured by the team at Sword

Dublin: 01-6688220

info@swordsecurity.com

www.swordsecurity.com

Securing Sports Fans around the World.
---
Parting Shot

9 October 2021

Adam Byrne celebrates with his

mother Gillian after their side's

victory in the United Rugby

Championship match between

Leinster and Zebre at RDS Arena

in Dublin.

98 | www.leinsterrugby.ie
---
Photo by Sam Barnes/Sportsfile

www.leinsterrugby.ie | 99