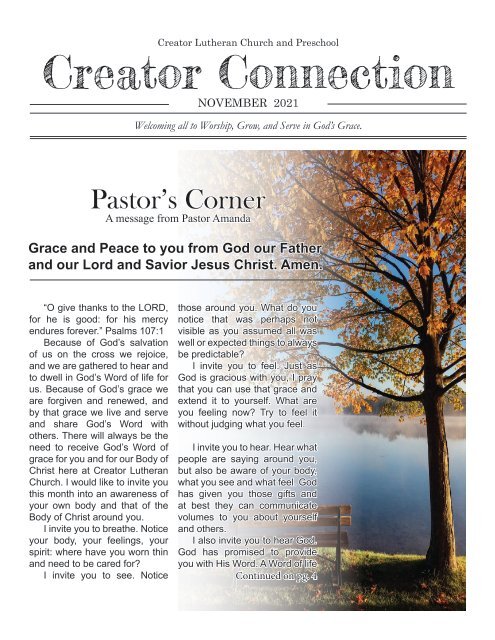 Creator Connection November 2021
The official newsletter of Creator Lutheran Church & Preschool.
The official newsletter of Creator Lutheran Church & Preschool.
SHOW MORE
SHOW LESS
Create successful ePaper yourself
Turn your PDF publications into a flip-book with our unique Google optimized e-Paper software.
Creator Lutheran Church and Preschool

Creator Connection

NOVEMBER 2021

Welcoming all to Worship, Grow, and Serve in God's Grace.

Pastor's Corner

A message from Pastor Amanda

Grace and Peace to you from God our Father

and our Lord and Savior Jesus Christ. Amen.

"O give thanks to the LORD,

for he is good: for his mercy

endures forever." Psalms 107:1

Because of God's salvation

of us on the cross we rejoice,

and we are gathered to hear and

to dwell in God's Word of life for

us. Because of God's grace we

are forgiven and renewed, and

by that grace we live and serve

and share God's Word with

others. There will always be the

need to receive God's Word of

grace for you and for our Body of

Christ here at Creator Lutheran

Church. I would like to invite you

this month into an awareness of

your own body and that of the

Body of Christ around you.

I invite you to breathe. Notice

your body, your feelings, your

spirit: where have you worn thin

and need to be cared for?

I invite you to see. Notice

those around you. What do you

notice that was perhaps not

visible as you assumed all was

well or expected things to always

be predictable?

I invite you to feel. Just as

God is gracious with you, I pray

that you can use that grace and

extend it to yourself. What are

you feeling now? Try to feel it

without judging what you feel.

I invite you to hear. Hear what

people are saying around you,

but also be aware of your body,

what you see and what feel. God

has given you those gifts and

at best they can communicate

volumes to you about yourself

and others.

I also invite you to hear God.

God has promised to provide

you with His Word. A Word of life

Continued on pg. 4
---
Table of Contents

Ministry

Pastor's Corner...............................................

Terri's Two Cents...........................................

Pastor's Corner cont. .....................................

Fellowship

Advent Readings, Advent Rings......................

Church in Society, Apple Cup..........................

Church Council Highlights...............................

Stewardship.......................................................

Music Ministry..................................................

Children, Youth, and Family

1

3

4

5

6

7

8

9

Staff

Pastor:

Amanda Olson de Castillo

pastoramanda@creatorlutheran.net

Children, Youth,

& Family Director: Terri Heckroth

creatorterri@comcast.net

Office Ministry: Donna Reynolds

office@creatorlutheran.net

Communications Coordinator:

Marion Gil

communications@creatorlutheran.

net

Bookkeeper: Marcie Reid

creatorbooks@creatorlutheran.net

One on One.......................................................

High School Bible Study, Children's Book of

the Month, Youth Lock-In Event.......................

Children's Christmas Program..........................

Confirmation Schedule, Thank You..................

Wreath Making Kits..........................................

Preschool News.........................................

News and Education..............................

Birthdays and Reminders.......................

Calendar............................................................

10

11

12

13

14

15

16-21

22

23

Custodian: Leslie Noborikawa

Nursery Attendants: Debbie

Eikland and Cynthia Lowe

Sunday School Coordinator:

Terri Heckroth

creatorterri@comcast.net

Preschool Director:

Andrea DeDominces

Preschool Teachers:

Andrea DeDominces, Ragan Allen

& Cheri Farrer

Baptism Coordinator:

Briana Halaas

Funeral Coordinator:

Janee Theleman

2

Ministry teams and program leaders, please think ahead about what is coming up and

submit information, pictures or stories of impact to office@creatorlutheran.net by the 20th

of each month. Our Office Ministry Coordinator, will collect, format, and get the newsletter

out to the congregation by the first of each month. If you have any further questions,

please feel free to call the office (253) 862-7700.
---
Terri's Two Cents

Like most American

teenagers, I got my driver's

license at the age of 16. I

worked hard to study the written

material and practice driving

with experienced adult teachers

(mostly my mom). Those

responsible adult instructors

made sure that I knew how much

power that car wielded, and that

by driving a car, I was taking

responsibility for all the people

around me, the passengers in

my car and cars all around me.

But another powerful

message that I remember

hearing during those early years

of driving the family car was that

cars are very expensive. My

parents didn't have a lot of extra

money, so we all shared one

family car. My mom repeatedly

told me that if I ever wrecked

the car, my driving privileges

would be revoked. To me, that

sounded like the car was more

important than I was to her. I

honestly believed that if I got into

a car accident, my parents would

no longer love me.

I eventually told my mom how

afraid I was that I would lose her

love if I damaged the car. After

years of feeling that my parent's

love for me was conditional,

my mother finally told me that I

was all wrong. She reassured

me that a parent's love for their

children was stronger than any

car or bank account. She and my

dad would love me NO MATTER

WHAT! ALWAYS!!!

Photo credits: all-free-download.com

"See what great love the Father

has lavished on us, that we

should be called children of God!

And that is what we are!"

—1 John 3: 1

Once I became a parent, I

understood just what my mom

was talking about. I love my

children and grandchildren more

than anything. And there is

nothing in the world they could

ever do to change that.

If we, as human parents,

are capable of that kind of

unconditional love, just imagine

what depth of love God has for

all of us, God's children. God

will ALWAYS love me and you.

ALWAYS! NO MATTER WHAT!

I am so happy to feel that allembracing

love.

3
---
Ministry

Continued from pg. 1

and death, a word of repentance

and forgiveness, a word of law

and gospel promise… a Word

for you.

God has blessed us

abundantly. However, at times

we need the opportunity to

reflect on where our passions,

our abilities, and the needs

of others intersect. When we

do, we will discover a God

given vocation. When we don't

reflect we are often not aware

of how God is or has worked

in our midst. The reality of the

pandemic has brought us many

unexpected experiences and

changes. We are still called to

be in community together as a

Body of Christ; it is one of our

vocations even as the contours

of our world have changed. God

will guide you as well to see,

feel and hear what God is up to

around you and around Creator

Lutheran Church. And through it

all, God brings us rest, comfort,

and a new day of grace.

Loving Redeemer, thank you

for giving us your Word to dwell

in. Bring us rest and renewal

this day, so that we can delight

in the surprises of how we might

serve our neighbor in the days to

come. In Christ's name we pray.

Amen.

Thanks be to God for each

new day of grace.

Pastor Amanda

"O give thanks to the LORD,

for he is good: for his mercy

endures forever."

Psalms 107:1

4
---
Advent

Rings

Sunday, November 28

Come hear about the

season of Advent and

make a family Advent

Ring!

Sunday November 28

at 9:45am

in the multi-purpose

room.

This is an event for

adults and kids of all

ages. We provide the

ring and candles.

Please bring your

cutters and greenery if

you can.

Holly and other

decorating items are

always needed.

Sign up sheet will be

in the narthex. Please

sign up so we know

how much supplies

are needed.

Fellowship

ADVENT READINGS 2021

O COME, O COME EMMANUEL

You are invited to use these readings over Advent to dwell in the

Word of God this season. A word is provided with each text for you

to look for an image, a memory, or a conversation that resonates

with you. Take a picture, say a prayer, write down your thoughts,

share how God is with you this season and in every season.

In Christ, Pastor Amanda

Creator Lutheran Church

Hope find me. Hope find you.

Hope find us.

November 28:

Luke 1:26-35 - Wonder

November 29:

Luke 1:41-42 - Joy

November 30:

Psalm 25:1-5 - Trust

December 1:

Isaiah 9:6-7 - Accomplish

December 2:

2 Corinthians 3:3 - Heart

December 3:

Jeremiah 33:14-16 - Promise

December 4:

Isaiah 61:1 - Give

Joy find me. Joy find you. Joy

find us.

December 5:

Matthew 1:18-23 - With Us

December 6:

Luke 2:7 - Place

December 7:

Psalm 37:7 - Wait

December 8:

Isaiah 52:7-9 - Shout

December 9:

John 16:22 - Joy

December 10:

John 14:8-11 - Revealed

December 11:

1 John 3:1 - Child

Love find me. Love find you.

Love find us.

December 12:

John 1:1-14 - Beginning

December 13:

Galatians 4:4-5 - Fullness

December 14:

Ephesians 4:4-6 - One

December 15:

Psalm 103:13 - Compassion

December 16:

John 3:16 - Gave

December 17:

John 3:17 - Save

December 18:

Zephaniah 3:14-17 - Love

Peace find me. Peace find you.

Peace find us.

December 19:

Luke 2:1-14 - Peace

December 20:

Matthew 5:9 - Blessed

December 21:

2 Thessalonians 3:16 - Way

December 22:

John 14:27 - World

December 23:

Romans 15:13 - Filled

December 24:

Luke 2: 15-20 - Amaze

December 25:

2 Corinthians 1:19-20 - Amen

Emmanuel, God with us.

The good news is that in Jesus, hope, joy, love and peace found

me, found you and found us.

5
---
Fellowship

October was a busy month for Creator

members helping in our community. In

addition to our monthly New Hope Lunch, we

also assembled 50 sack lunches for Peace

Lutheran Church in Tacoma. Team members

also met with Paula Anderson, Director at New

Hope, to understand the continuing impact of

Covid on the homeless. We also visited New

Hope's Mobile Rapid Response Team trailers

which provide showers and laundry services

to locations that serve the homeless.

The Apple Cup food drive will take place

starting October 30th and run through Apple

Cup weekend. Bring your donations and put

them in the box representing your favorite

sports team. For the Christmas holidays we

will be helping five families.

Church

In Society

CIS and the Fellowship ministry teams

will host an Advent Adventure service project

in December. We will be assembling care

packages for the homeless.

Funding distributions for October:

• Bonney Lake Food Bank: $200

• Bonney Lake Backpack Program: $300

• Sumner Food Bank: $200

• Sumner Food Bank: $300

• New Hope: $500

Once again it's time for Creator's annual Apple

Cup food drive. Starting November 1st there will be

two (maybe three) boxes in the narthex. We'll be

collecting non- perishable foods and if you prefer cash

donations for the Bonney Lake/ Sumner food banks.

Pick your side and leave your donation! No matter

which team collects the most, the food banks will be

the true winner. Thank you!

6

APPLE CUP

FOOD DRIVE
---
Fellowship

Church Council Highlights

Following are highlights from our Council meeting held on Tuesday October 21, 2021. These

are not the official meeting minutes, but a brief summary to aid communication. Approved

minutes will be posted on the bulletin board across from the office.

Council Reports:

Finance Committee

Treasurer, Deon Knickerbocker,

Presentation of September

2021 Financial Reports

• Total Income........$24,730.53

• Total cash Bal. Sheet line

1000 .................$162,189.86

• Total Expense.....$30,405.07

• Less Bal. Sheet Total Des.

Funds..................$56,267.89

• Net Income (Loss)

..............................$5674.54

• General Fund Balance

..........................$103,921.97

Benevolence Decision:

• Contributions (P&L Line

4000) ..................$24,545.41

• Local Benevolence (6%)

.............................$ 1,472.72

• Synod (4%)..............$981.82

• Total......................$2,454.54

BUDGET MEETING is coming up. It will be held November

21 between services. If you would like a copy of the budget,

they are available in the office. If you have any questions

please email them or join us at a November 14th Q and A.

THE CHURCH DIRECTORY is nearly done! We are really

excited that the new directory is nearly complete. It has been

a while since the last one was put out. Most of the information

is ready to go, but we still need a few congregants to fill

in some of their information. If you have not updated your

entries, please call the office stop in the narthex and fill out

a form.

THANKSGIVING/THANKSGIVING EVE SPECIAL

OFFERING – Council will be asking people to vote on

what to do with our thanksgiving offering this year. If you

have a suggestion, please reach out to us. We'd love to hear

it.

VOLUNTEERS NEEDED Now that we are getting back to

meeting in person, we have a high need for congregants to

help with services. Ushers, Altar guild, counters, PowerPoint

or Sound. If you think you can help out, we need you to help

serve.

7
---
Fellowship

Thoughts on

A Request of Prayerful Consideration for Stewardship

Can Stewardship bring us

closer to God?

Can Stewardship bring

us closer to God? Could it be

that as we grow closer to God,

stewardship becomes a higher

priority? As Christians it is our

relationship with God that is

foundational to our faith, so

how this influences our choices

regarding stewardship will vary

with each individual. If we are

willing to examine our hearts, be

open to explore or question, this

can be a healthy way to expand

our view on this decision.

Our God, creator of the

universe, sacrificed His son

Jesus on our behalf, for our

salvation, so that we can have a

personal relationship with Him.

He loves us beyond measure

and wants only the best for us.

He walks by our side each day.

He abides in us, He is with us,

He is for us. Knowing these

truths, do we pray about what

to give and how to serve, or do

we make our decisions based

on how much remains in our

bank account at the end of each

month? As we earnestly pray

for a family member or friend

8

in need of healing, do we pray

as diligently about how or what

to give? Each Sunday we are

reminded during the offering that

giving is an act of worship. How

does this or other considerations

influence our giving?

Many a faith story or

testimonial will include how

God has brought them through

a trial, or provided for them

in a significant time of need.

Answered prayer, a clear

awareness of God's guidance

and presence are factors

influencing how a person of faith

gives back, or shows gratitude

for blessings in their life. Others

experience a desire to give back

as a result of growing closer to

God. Has this had any influence

on you?

Despite the reassurances in

scripture that remind us of God's

love and promises, why is it we

often fall prey to fear that we

won't have enough money for

the unexpected need for home

repair, car repair, or some other

expense? Since Covid, there

is no passing of the offering

plate, and some continue to

worship virtually, so how do

we remember to give each

Sunday or at all? Have some

of us gotten out of the routine

of regular giving when the usual

reminders have not been there?

Certainly you are not alone if

this has been your experience

the past several months. Before

those who have their tithes and

offering automatically taken from

their bank account each month

rest on their laurels, is this form

of giving really the answer when

thoughtful prayer is no longer

part of the equation? Maybe

seeking God's guidance through

prayer was part of the process

when setting up the monthly

giving on the website, but what

happens when there is no longer

any thought in the matter month

after month and they are now on

auto pilot? Do we ever strive for

God's approval in our giving?

What really is the preferable

method of giving, and how to

we demonstrate our faith in

God and His provision? Some

would say stewardship is about

gratitude, generosity, along with

faith. What do you say about

stewardship in your life?
---
Fellowship

Music Ministry

FANNY CROSBY, HYMN WRITER EXTRAORDINAIRE

"Blessed Assurance" is one

of those marvelous hymns we

sing that has appeal to all ages.

It turns out that Fanny Crosby,

the writer of the words, was a

remarkable woman, honored

and revered in her own life,

whose many songs are sung

everywhere today.

Born in 1820 in rural New

York, when Fanny was six

weeks old, she caught a cold

and her eyes became inflamed.

The family doctor was away, and

the hot poultices the substitute

recommended to treat her blinded

her. A year later her father died,

so she was raised by a mother

and grandmother who were

staunch Christians. The family

moved to New York City where

more help would be available

for a handicapped child. They

joined the John Street Methodist

Episcopal Church.

Fanny's Mother and

grandmother educated her at

home until she was 15, when

she went to the New York School

for the Blind. She remained as

a student for seven years, then

stayed on at the school as a

faculty member teaching English

and History.

At 23, she went to Washington,

D.C. as an advocate arguing for

support and education for the

blind. She was notable as one

of the first people to lobby for

rights for the handicapped.

A powerful and prolific writer

of hymns, she wrote 8,000 in her

95 years. She wrote so many

hymns, publishers hesitated

to publish them all under her

name, so she used almost 100

pseudonyms. Her hymns are

found in most American hymnals.

Fanny worked by composing

whole poems in her mind, then

dictating them to an assistant.

She kept as many as 12 in her

head at once.

Fanny was married at 38 to

a fellow teacher who was also

blind, and who insisted she keep

her maiden name. They had a

daughter who died when she

was only a baby. Fanny and her

husband were married 44 years.

Last to keep in mind is that

in her day she was one of the

most famous women in America.

She met with dignitaries from

international cultural and

political fields. President Grant

asked that she sing or play at his

funeral. She played "Safe in the

Arms of Jesus."

"Praise Him! Praise Him!

Jesus our blessed Redeemer.

Sing, O Earth his wonderful love

to proclaim!" or "To God be the

glory, great things he hath done!"

"Close to Thee," "I Am Thine, O

Lord," and " Near the Cross,"

these are all wonderful hymns.

"Pass me not, O Gentle

Savior" envisions Jesus passing

down a small lane, and Fanny

asking him not to pass by her

door. This says something quite

poignant about being blind and

yearning for the presence of

Jesus. Here are the words: Thou

the spring of all my comfort, /

more than life to me, /Whom

have I on Earth beside Thee? /

Whom in Heaven but Thee? It

ends with the chorus "Savior,

Savior, hear my humble cry; /

While on others thou art calling,

do not pass me by."

"Rescue the Perishing"

written after the end of the Civil

War, is notable for its tolerance

and compassion. "Rescue the

perishing, care for the dying,

Snatch them in pity from sin and

the grave. Weep o'er the erring

one, Lift up the fallen, Tell them

of Jesus, the mighty to save.

Rescue the perishing, care for

the dying, Jesus is merciful,

Jesus will save."

On her tombstone is written

"Aunt Fanny," and "Blessed

Assurance, Jesus is mine. Oh,

What a foretaste of glory divine."

I like to think a poem written

at her passing by Eliza Hewitt

indicates how very much loved

she was; "Away to the country

of sunshine and song,/ Our

songbird has taken her flight,/

And she who has sung in the

darkness so long/ Now sings in

the beautiful light." AND she's

in the Gospel Hall of Fame!

Think of that next time you sing

"Blessed Assurance.".

Nancy Betz

9
---
Children, Youth, and Family

One on One

NOVEMBER 2021

A monthly interview with one of

our church members to help get

to know each other

Where do you see God in your life?

Where do I see God in my life? If you mean,

when do I acknowledge his presence or

when do I find myself in prayer, then those

times are when I look at the mountain

(one of my favorite views is on the way to

Tehaleh) or look up at the sky. Only God

could create such beauty and space.

Name: Leslie Noborikawa

Profession: Educator (retired)/

Church Custodian

Birthday: December 5th

What is your favorite food?

I love all types of food, but my family would

probably say my favorite is either Mexican

or Thai.

Who is one person who has influenced

your life decisions?

One person who has influenced many

of my life decisions and a wonderful role

model was my mom.

What do you like most about Creator?

What I like most about Creator is gathering

with others to hear the word. Fellowship

and serving.

10

What is the biggest challenge you face?

I've faced a few challenges but currently

I struggle to understand people who put

their own interests ahead of others and

their community. I am a "we" person not an

"I" person. I love working as a team, group,

collective.

How do you relax/recharge?

As strange as this might sound, running

relaxes and recharges me! I know it

sounds exhausting (and it can be), but it

is really invigorating! I run in the beautiful

quiet forest, along rivers, and many trails.

There is always something new to see and

friends to run with. Most runs end with

a stop at a coffee shop or little bistro for

coffee and conversation (two of my favorite

things).

Who is your favorite superhero?

I don't really have a favorite superhero, but

I think Captain Marvel is pretty cool!
---
Children, Youth, and Family

Senior High

Bible Study

Sundays from 6pm-8pm at

Terri Heckroth's house,

students in grades 9-12 gather

for a meal, faith discussions, and

FUN!

For more information,please

contact the church office or Terri

Heckroth.

We will continue to follow all

CDC guidelines to help prevent

the spread of Covid 19.

Confirmation students:

Come to the overnight Lock-In on

Friday, November 12 at 7:00pm

through Saturday, November 13

at 10:00am! Enjoy a fun night of

games, snacks, and a movie.

If you have questions or

concerns, please contact Terri

Heckroth or the church office.

Children's Book of the Month!

Cheri Farrer (Preschool

teacher) highly

recommends the

book " I'm Not Just a

Scribble..." by Diane

Alber for small children.

It is a book about

celebrating uniqueness

and acceptance.

11
---
children's

christmas

program

Children, Youth, and Family

CHRISTMAS IS RIGHT AROUND

THE CORNER. . . AND THAT

MEANS SUNDAY SCHOOL

CHILDREN PRESENTING A

CHRISTMAS PROGRAM TO THE

CONGREGATION. THIS YEAR IS

ANYTHING BUT TRADITIONAL.

SO, THE SUNDAY SCHOOL

FAMILIES OF CREATOR

LUTHERAN CHURCH ARE

PLANNING TO PREPARE AND

PRESENT A VERY NON-

TRADITIONAL, PRE-RECORDED

VIDEO FOR VIEWING DURING THE

CHRISTMAS SEASON. IF YOUR

FAMILY WOULD LIKE TO

PARTICIPATE IN THE

PRODUCTION OF THIS VIDEO,

PLEASE LET TERRI HECKROTH OR

CHERI FARRER KNOW AS SOON

AS POSSIBLE.

12
---
Children, Youth, and Family

Confirmation Schedule

• Wednesday, November 3 - 7:00pm

Confirmation Lesson

• Wednesday, November 10 - 7:00pm

Confirmation Lesson

• Friday, November 12 - 7:00pm

Overnight Lock in

Get ready for FUN, FELLOWSHIP, AND FAITH

FORMATION! Our 2021-2022 Confirmation

program year has begun. If you are entering

grades 6, 7 or 8 (or higher if you have not already

been confirmed), come join this energetic and

fun-loving group. Meetings are on Wednesday

evenings from 7:00 pm-8pm. Friends are

always welcome!

• Through Saturday, Nov 13

10:00am

• Wednesday, November 17 - 7:00pm

Confirmation Lesson

• Wednesday, November 24 - 7:00pm

Thanksgiving Eve Worship—No

Confirmation Class

C R E A T O R L U T H E R A N

Thank

You!

Thank you to all the Confirmation Students,

CYF members, and Parents who worked hard

to provide a wonderfully entertaining

Halloween Carnival! And thank you to all who

provided candy.

13
---
Children, Youth, and Family

C H R I S T M A S W R E A T H

M A K I N G K I T S

C R E A T O R L U T H E R A N C H U R C H & P R E S C H O O L

ORDER YOUR WREATH KIT TODAY!

Instead of a Wreath Making class, the Children,

Youth, and Family team along with the Women's

Bible Study group will be selling wreath making kits

this year.

For $40, you receive a fresh green wreath, five yards

of ribbon, 12 round ornament balls, and some pine

cones. A picture of ribbon choices will be emailed to

you upon receipt of your registration.

An informational video will also be available to help

you construct your beautiful wreath.

Deadline to order is Sunday, November 21, 2021.

Kits will be ready for pick up at the church in early

December.

Proceeds go toward Women's Retreat Scholarship

Fund and Youth Missions.

Please sign up now, so we can order a wreath for you!

Use the link below to order:

https://creatorlutheran.breezechms.com/form/a33b4d

22

14
---
Preschool

Preschool News

NOVEMBER 2021

Dear Parents,

October was a fun month.

We learned about farm life, pond

animals and owls and bats.

We carved pumpkins and then

enjoyed the seeds we toasted.

Our field trip to Thomasson

Farms was a highlight and SO

much fun for the children.

Our November shapes will

be square and cube, the number

will be 3 for the three-year old's

and 4 and 5 for the four/five-year

old's. The color will be brown.

We will also study the letters E,e,

T,t, and C,c. Along with being

thankful for what we have, we

will also be talking about ways

we can help others in need.

Watch for handouts with further

information. Weather will also

be part of our studies.

We hope you have been

enjoying our curriculum. The

older children will be working

on putting some of the letters

we have learned into three

letter words, such as, Mom,

map, man, pan, etc. using the

letters we have studied so

far. The younger children are

learning to recognize the letters

and sounds, and some may

grasp the concept of putting the

sounds together. The children

are also working on writing

their names the "Kindergarten"

way. Kindergarten teachers like

the children to be able to write

their names with the first letter

in uppercase and the rest in

lowercase. Parents can help by

encouraging, but not pushing.

Many preschoolers are just

developing readiness for writing,

so we will help each child as they

develop. It would also be helpful

to have them practice on lines.

Because November is a

short month, we have decided

to consider our Thanksgiving

feast day our in-house field

trip. This year, due to Covid

restrictions, our in-house feast

will be with our enrolled children

and a limited number of guests.

Please bring your child to school

at the regular time and then

return 45 minutes early for the

"feast and celebration" we have

prepared. Please do not expect

too much, because we are using

the term feast very loosely. We

will be having turkey, but not of

the meat/bird variety. We do

promise it will be fun.

We wish you God's Blessing this

fall and want you to know how

thankful we are for your continued

support and encouragement.

If you have any questions or

concerns, please let us know.

Your Teachers,

Andrea (Mrs, D), Cheri (Mrs.

Farrer) and Ragan (Mrs. Allen)

Please mark your calendar

with these important dates.

• (Thursday) November 11th:

Veterans Day Holiday – NO

SCHOOL

• November 22nd:

M-F class Thanksgiving Feast

(last 45 minutes of class)

• November 23rd:

T-Th and T-W-Th classes

Thanksgiving Feast (last 45

minutes of class)

• November 24th:

W-F class Thanksgiving

Feast (last 45 minutes of

class) * NO afternoon class

• November 25th and 26th:

Thanksgiving Vacation –NO

SCHOOL

15
---
News and Education

Adult Education November 2021

Adult Education at Creator

Lutheran is constantly

changing, offering new

classes, discussions, and

insights into God's Word.

The month of November

has some changes that we

would like to highlght to keep

Creator members up to date.

You will find those highlights

below. If you have any

questions please feel free to

contact the church office.

16

• November 7th will be the last Lord's Prayer class.

• November 14th: Bonhoeffer, the Church and the Climate Question. Ron Noborikawa will be leading

a discussion on Bonhoeffer, the Church and the Climate Question. The discussion will be a follow

up conversation based on the PLU lecture held on November 2nd at 7pm. While preferable that

you attend the PLU lecture it is not necessary to attend this discussion.

• PLU'S 2021 ANNUAL LECTURE ON RELIGION. Bonhoeffer, the Church and the Climate Question

with Rev. Dr. James Martin-Schramm '81. Tuesday, November 2, 2021 @ 7:00pm (PDT). The 16th

annual David and Marilyn Knutson Lecture begins with Dietrich Bonhoeffer's provocative 1933

essay on "The Church and the Jewish Question" and draws parallels to climate change. Where

virulent anti-Semitism was the most important issue facing the church in Bonhoeffer's day, Martin-

Schramm argues Bonhoeffer would have grave concerns about the impacts of climate change on

present and future generations. Martin-Schramm explains how Martin Luther's doctrine of the two

kingdoms shaped Bonhoeffer's critique of the church and state in his day regarding "the Jewish

Question" and ponders how Bonhoeffer might challenge the feeble responses of both the state and

the church to the climate crisis. The lecture explores tensions between patriotism and resistance

and considers how God is at work in the world today among all who are striving for climate justice.

Go to Creator's website (www.creatorlutheran.net) for more information. The link to sign up is:

https://www.plu.edu/religion/knutson-lecture-registration/

• November 21: No Adult Education due to Congregational Meeting

• November 28: Intergenerational Advent Activity
---
Congregational Meeting

The Finance Committee

presented the proposed 2022

budget to Council on October

19, 2021. Council approved

the proposed budget, now the

congregation needs to vote!

The proposed budget will

be emailed to members and

there will be hard copies in the

Narthex.

There will be a Q & A session

on November 14, 2021 at 9:45 in

person only. If you are unable to

attend and have questions about

the budget please email office@

creatorlutheran.net and we will

get them answered for you.

Then on November 21, 2021

we will have our congregational

meeting at 9:45 in person AND

via Zoom. This is a very important

meeting as we continue to be the

financial stewards for Creator

Lutheran Church.

Use the information to the

right to join via Zoom.

News and Education

Join Zoom Meeting

https://us02web.zoom.us/j/828

47144512?pwd=bDlwallidW13b

Hd5WStmM1dTa2tOUT09

Meeting ID: 828 4714 4512

Passcode: 732623

Fall Women's Retreat 2021

The Fall Women's Retreat held outside Oct 16th was a blessing to all who attended. We were blessed

with amazing weather and a beautiful setting. It was the "pause" we all needed and Pastor Amanda

introduced us to some great material of Brene Brown's from her book " Gifts of imperfection: Your guide

to a whole hearted life" that was very thought provoking. While Covid disrupted our original plans the

Holy Spirit met us where we were and provided just what we needed!

17
---
News and Education

18
---
News and Education

Daily Devotions

Morning Prayer will continue

throughout the month of January at

9:00am. You are invited to watch

the recordings which are posted or

consider joining us at 9:00am via

zoom. Pastor Amanda turns off the

recording after her reflection on

the reading and we have a time of

discussion and connection with one

another.

Join Zoom Meeting https://zoom.

us/j/633840757

Meeting ID: 633 840 757

One tap mobile

+12532158782,,633840757# US (Tacoma)

All worship services and devotions will be

posted after completion on both YouTube

and the creator website: https://www.

youtube.com/user/CreatorLutheran and

www.creatorlutheran.net

Adult Education

I Love to Tell the Story

Pastor Amanda will be posting a

short video each week diving into

the Bible Narrative and specific

readings for the upcoming Sunday.

The videos will be posted on

Facebook, YouTube and linked

to our website. If you have any

questions or comments about the

bible study please send them to

pastoramanda@creatorlutheran.

net.

19
---
News and Education

Thursday

Morning

Bible Study

Thursday Morning Bible study

is held on Thursdays from 10-

11:30 am. We will be studying

the book of Matthew which

should be very interesting.

Please contact Lisa Wire,Janee

Theleman or the church office

if you'd like to join. We will then

know how many books to order.

Due to the Covid increase it will

once again be held on zoom.

Look forward to having you join

us!

Join Zoom Meeting

https://us02web.zoom.us/j/9668

069876?pwd=MlAvSUcxeFpUa

nlFdWJKekNHemZvUT09

Meeting ID: 966 806 9876

Passcode: 1DMKSi

One tap mobile

+Dial by your location

+1 253 215 8782 US (Tacoma)

Meeting ID: 966 6 9876

Passcode: 419391

20

Creator Men's Club Meeting, Monday, November 1, 2021

The Creator Men's Club will hold it's monthly dinner meeting

at Brank's BBQ Restaurant, 13701 24th St. E., Sumner

on Monday, November 1 at 6 p.m. Members and any other

church members are invited to attend. Besides great food and

conversation, they will be discussing recent work projects and

the Christmas sponsorship of a family.

Men's

Fellowship

During "All things Covid"

the Wednesday night

Men's group has been

using Zoom. The meetings

start at 7:00 PM and get

over by 9:00PM. If you

are interested in joining

the meeting please contact

Scott Perkins with your

email address and he will

send you a link for Zoom.

Scott.perkins@hotmail.

com or 253-230-3416
---
News and Education

Creator Sunday School Is Back!

For families with young children:

This new approach to learning

and exploring God's Kingdom

comes from a desire to

• Equip families to carry out

Christian practices at home

• Combine Christian Education

with Mission and Service

• Incorporate Faith formation

into the Worship Service

• Facilitate multi-generational

discussion and wonderment

about Bible Stories and

God's message for us today.

For these reasons, we would

like to invite ALL to join us in

Creator Family Sunday School.

All ages are welcome! Parents,

Grandparents, and siblings will

eat a light breakfast together,

hear a Bible Story, ponder and

discuss the story, and learn

some new music—all together!

Service projects and crafts will

also be a big part of our time

together.

Although all are invited to

Family Sunday School, Adult

Education will also offer an hour

of Christian Education for Adults.

Children may also attend without

parents as our High School

students will be "Big Buddies".

Adults without children may also

attend as there may be kiddos

who could use an adult mentor.

Join us beginning Sunday,

September 12 from 9:45am-

10:45am!

ADULT BIBLE

STUDY

2nd and 4th

Monday of each month

7pm-8:30pm

at the home of the Heckroths'

All are invited to be a part

of this loving and supportive

community. We meet twice a

month to delve into scripture,

share life stories, and enjoy each

other's company. Call the

office for address.

21
---
Birthdays and Reminders

Remote Worship

Worship will continue to be live-streamed on Facebook Live and

Zoom. To join via Zoom, follow the link below:

https://us02web.zoom.us/j/89375602512?pwd=M3hPK0pIMGIz

Z2M0eEhmTitoM3NQdz09

Meeting ID: 893 7560 2512 Password: 435230

One tap mobile:

+ 12532158782,,89375602512#,,,,0#,,435230# US (Tacoma)

Call in option: Zoom offers the option to call in to listen to the

service. Call into worship while it is open - usually a minimum of

five minutes before 9:30am until 11:00am - +1 253 215 8782 and

enter the meeting number: 89375602512 when prompted. You

will be able to hear the worship service.

CREATOR LUTHERAN NEW GIVING APP

Creator Lutheran is changing our mobile giving app! Vanco,

our eGiving provider, has launched an updated mobile app called

Vanco Mobile to replace GivePlus Mobile. You can download the

Vanco Mobile app for free from the App Store or Google Play.

Download Vanco Mobile by September 30. Vanco will

remove GivePlus Mobile after this date.

If you have questions or need assistance with our new mobile

app, please contact the church office at (253) 862-7700.

Pastoral Emergency Fund

Creator has a fund available to be used at the discretion of Pastor

Amanda to support congregation members and the community

as needed. If you or a member another member of the Creator

Community has a particular financial need at this time, please

reach out to Pastor Amanda for support. We are here for one

another at this time. This fund is also open for additional

donations from the congregation.

Recycle Your

Ink Cartridges

Don't throw away those printer cartridges or used cell phones.

The Youth will recycle them for you. It's good for the

environment and the youth program receives a small concession.

Just deposit old cartridges in the drawer in the narthex.

22

November

Birthdays

01 - Celeste Jessop

02 - Margot Bates

03 - Mackenzie Kintigh

03 - Patrick Mitchell

03 - Cindy Totten

05 - Beverly Brown

12 - Susan Carpenter

12 - Doug Finch

13 - Renate McComb

13 - Payton Parsons

15 - Greg Carter

16 - Dana Lee

17 - Heather Euston

19 - Deborah Anderson

19 - Skyler Bone

20 - Emil Liedtke

21 - Mitch Hollenbeck

22 - Kim Adams

22 - Joan Schroeder

25 - Kyle Winsor

26 - Cheryl Jessop

27 - Vitani Pena

29 - Karen Brown

30 - Kennedy Gillispie
---
NOVEMBER

Sunday Monday Tuesday Wednesday Thursday Friday Saturday

1

6pm Creator

Men's Club

9:00am Morning

Devotions via

Zoom

7pm Confirmation

2 3 4 5 New Hope Lunch 6

9:00am Morning

Devotions via

Zoom

7pm Outside Event:

PLU's 2021 Annual

David & Marilyn

Knutson Lecture

9:00am Morning

Devotions via

Zoom

10am Thursday

Morning Bible Study

7

8:30am Worship

Service

9:30am Lord's

Prayer Class

11:00am Worship

Service

6:00pm High School

Bible Study

Guest Preacher: Bishop

Rick Jaech

8:30am Worship Service

9:45am 2022 Budget Q&A

9:45am Bonhoeffer, Church and

Climate Discussion

11:00am Worship Service

11:00 am Synod Youth Alyve Board

Installation

6:00pm High School Bible Study

14

8

15

7pm Adult Bible

Study

9

6pm Finance

Team Meeting

16 9:00am Morning

Devotions via

Zoom

6pm Church Council

Meeting

10 7pm

Confirmation

7pm Men's Fellowship

17 9:00am Morning

Devotions via

Zoom

7pm Confirmation

7pm Men's Fellowship

11

Office Closed

18 9:00am Morning

Devotions via

Zoom

10:30am Thursday

Morning Bible Study

12

19

7pm Youth Lock

in Event Start

13 10am Youth Lock

in Event End

7:00pm Bunco

Game Night

20

21

8:30am Worship

Service

9:45am Congregational

Meeting

11:00am Worship Service

6:00pm High School

Bible Study

22

7pm Adult Bible

Study

23

9:00am Morning

Devotions via

Zoom

24 9:00am Morning

Devotions via

Zoom

6:30pm CIS Meeting

7pm Men's Fellowship

7pm Thanksgiving Eve

Service

25 Office Closed

9:00am Morning

Devotions via Zoom

26

Office Closed

27

28

8:30am Worship

Service

9:30am Advent Rings

Class

11:00am Worship Service

6:00pm High School

Bible Study

29

30

9:00am Morning

Devotions via

Zoom

23
---
Creator Lutheran

Church and Preschool

Welcoming All to Worship, Grow, and Serve in God's Grace

creatorlutheran.net (253) 862-7700 office@creatorlutheran.net

Office Hours: Mon-Fri 9:00AM - 3:30PM

16702 South Tapps Drive East, Bonney Lake, WA 98391