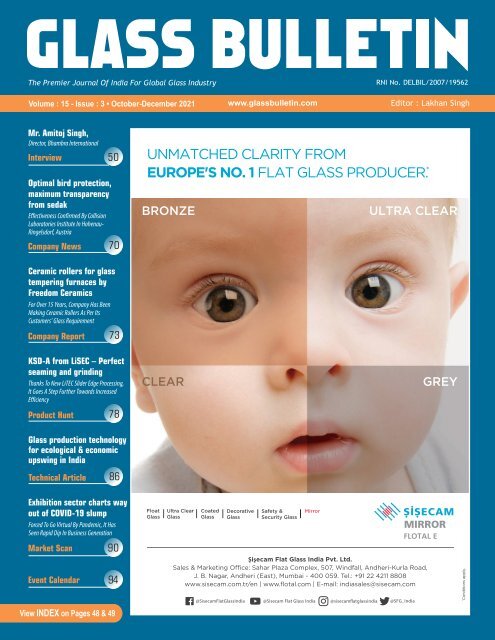 Edition 64 (October-December, 2021)
GLASS BULLETIN is a publishing company, managed by a highly experienced editorial and administrative staff. It has a dedicated and responsible team for providing quality journals and related services to its readers. The company publishes GLASS BULLETIN which is the fastest growing top-notch journal of India for the global glass industry. It is published quarterly and circulated among glass manufacturers, glass processors, glass-machinery & tool manufacturers, art glass processors, glass dealers, architects, builders, aluminium fabricators, interior decorators and the automobile industry across the globe. GLASS BULLETIN is the ideal platform, both in the print and digital media, for worldwide exposition of news, reports, products and exhibitions related to the glass industry. It is a one-stop solution for all queries and needs related to glass–machinery and technology, its innovation, product-procession and marketing in India. By its permanent columns, it enjoys the status of highest readership among all Indian glass journals. GLASS BULLETIN is the media partner for international glass exhibitions in Beijing, Shanghai and Guangzhou in China besides in other parts of the world, including Europe, India and the Middle East. GLASS BULLETIN e-magazine, the first glass-related e-magazine of India, is also available online and on mobile phone, free of cost at http://www.glassbulletin.com
GLASS BULLETIN is a publishing company, managed by a highly experienced editorial and administrative staff. It has a dedicated and responsible team for providing quality journals and related services to its readers. The company publishes GLASS BULLETIN which is the fastest growing top-notch journal of India for the global glass industry. It is published quarterly and circulated among glass manufacturers, glass processors, glass-machinery & tool manufacturers, art glass processors, glass dealers, architects, builders, aluminium fabricators, interior decorators and the automobile industry across the globe.

GLASS BULLETIN is the ideal platform, both in the print and digital media, for worldwide exposition of news, reports, products and exhibitions related to the glass industry. It is a one-stop solution for all queries and needs related to glass–machinery and technology, its innovation, product-procession and marketing in India. By its permanent columns, it enjoys the status of highest readership among all Indian glass journals.

GLASS BULLETIN is the media partner for international glass exhibitions in Beijing, Shanghai and Guangzhou in China besides in other parts of the world, including Europe, India and the Middle East.

GLASS BULLETIN e-magazine, the first glass-related e-magazine of India, is also available online and on mobile phone, free of cost at http://www.glassbulletin.com
SHOW MORE
SHOW LESS
You also want an ePaper? Increase the reach of your titles
YUMPU automatically turns print PDFs into web optimized ePapers that Google loves.
High-Tech

Energy-Saving

Quality Output

Modular Design

CTFs/e – Push the boundaries of excellence

With the CTFs/e-SERIES, top-quality tempered glass is more than a promise.

The full convection principle protects the surface from direct radiation. This

prevents uncontrolled transformation for a perfect degree of isotropy and a

glass quality that reliably meets even the highest standards.

The CTF furnaces enable optimal and uniform heating / cooling for all processible

size, thickness or coating of glass. The closed heat circuit, without the

use of compressed air and the highly effective insulation ensure low energy

demand and low maintenance costs.

• Advanced heating and cooling control for high energy efficiency

• Highest isotropy levels for perfect glass quality

• Modular design ensures best configuration for each requirement

HEGLA-TaiFin • Nokia 37150, Finland • sales@taifin.com

HEGLA Trading & Service GmbH • Chennai 600034, India • naresh.kumar@hegla.in
---
06
---
INTELLIGENT UNIT OF

AUTOMATIC INSULATING GLASS PRODUCTION

Automatic glass

unloading machine

Insulating glass

sealing robot

Automatic cork

pad applicator

Press machine

Spacer attaching section

Flexible spacer applicator

Washing machine

Automatic glass

loading machine

Low-E glass film

removing machine

Automatic Low-E

glass loading machine

Spacer moving machine

Automatic aluminum

Desiccant automatic

spacer bending machine filling machine Automatic butyl

extruder

Two component

sealants extruder

Rotating table

High stability

with continuous

running

Collect raw

material

consumption data

Warm edge

spacer function

is available

Automatic

adjust pressure

accurately

Data transmission &

remove communication

system

Now HANJIANG is moving to industry 4.0, can be connected with MES/ERP system, in order to do production sequentially and update production data to the system easily.

DATA MASTER

Industrial Cloud

Data sharing

Optimize production schedule

Proactive machine maintenance

Improve production output effectively

BEIJING HANJIANG AUTOMATIC GLASS MACHINE EQUIPMENTS CO.,LTD

Add: No.7 Tengren Road, Niulanshan Industrial Zone, Shunyi District, Beijing, P.R.China

Tel: +86-10-89411982 Fax: +86-10-89411980 E-mail: Asia@hjglass.com.cn

Website: www.hjglass.com.cn

India office:

Sales-Ms. Ashley

Email: Asia@hjglass.com.cn

Cell/WhatsApp: +86 139 10174313

Service-Mr.Deepak Dubey

Email: hj.indiasales@gmail.com

hj.indiaservice@gmail.com

Cell/WhatsApp: +91 7007421673

WhatsApp WeChat Website

09
---
Looking to reach

the highest quality

for all types of

laminated glass?

Here are three reasons why Glaston ProL

technology is your best choice:

1. Unmatched yield and output

2. Lowest operating cost – highest profitability

3. Lifetime business growth

How to avoid common mistakes and

succeed in the glass lamination business —

Download THE LAMINATING LINE BUYER'S

GUIDE here www.glastory.net

Machinery, services and solutions designed with the future in mind for

the architectural, automotive, solar and appliance industries.

info@glaston.net | www.glaston.net | www.glastory.net | www.gpd.fi

11
---
SHOWER

ENCLOSURE FITTINGS

Visit Website

Watch Video

Phone : +91-9310012300

Website : www.ozone-india.com

Email : customercare@ozone-india.com

13
---
E IUS

INTERMAC.COM

QUALITY WITHOUT

COMPROMISES.

Genius CT-A TECH cutting tables process

the sheets maintaining high levels of cutting

precision over time and guaranteeing an excellent

return on investment in a short time.

Genius CT-A Tech

DISCOVER THE NEW

GENIUS CT-A TECH IN OUR SHOWROOM!

14
---
15
---
Please visit us at :

2 - 5 December, 2021

Stall No.GC2

Bombay Exhibition Centre, Goregaon (E),

Mumbai, INDIA

One Stop Solution

for all types of Glasses

Available in All Different Sizes.

Supply All Over

Importers of :

Acid Etched Glass

Titanium Glass

Digital Print Glass

Acid Titanium Glass

Colour Mirrors

Decorative Mirror Glass

Ultra Clear Float Glass

Patterned Glass

Ice Pattern Glass

Deep Acid Etched Glass

Silkscreen Printed Glass

Lacquered Glass

Aluminium Mirror

Sliver & Ultra Silver Mirror

Reflective Glass

Glass Pillars

Glass Blocks

Antique Mirrors

Tinted Float Glass

Clear Float Glass

1.5, 1.8 & 2.7 mm Clear Sheet &

Aluminium Float Mirror

BAGRECHA ENTERPRISES LIMITED

Registered Office: Branch Office: Ware House :

850/5, Mettupalayam Road, 3rd Floor,

Opp Flower Market Bus Stop, Coimbatore - 641002.

Mobile : 95140 10000/99948 10000/93448 33682

Email Us : bagreecha@gmail.com

website : www.bagrecha.in

11/386, Chemmanamged,

Near Govt. Hr. Sec. School,

Kanjikode, Kerala - 673021.

No.116, Sholavaram Village,

Ponneri Taluk,

Chennai - 600067.

Mobile : 86088 06393

17
---
PVB SPECIALIST

THE PVB LEADING COMPANY IN INDIA

Automotive PVB

PVB film for automotive Glass has passed

all the International Standards approval

for safety glass

Tech

Moisture Content % 0.25 -0.55

Tensile Strength ≥ 20 (N/mm²)

Haze (%) ≤ 0.6

Shrinkage Rate 60°C/15 min (%) ≤ 3.5

Architecture PVB

PVB Surface is

Smooth

Without Bubble

Without Oil Drop

Without Crease

Tech

Moisture Content % 0.15 -0.50

Tensile Strength ≥ 20 (N/mm²)

Haze (%) ≤ 0.8

Break Elongation % ≥ 200

It has good effection of safety

Prevention of Burglary

Sound Insulation

Ultra Violet to the wind screen & side

window of the car to offer customer's a

comfortable & Safe environment.

Whacking value 3-7

Penetration Resistance Test

Head Model Test | Cold Shock -20°C

Thermal Shock 40°C | Moisture Proof

Whether Protecting people & Property from

mother Nature or forced man-made threats,

Our Interlayers adds post breakage, safety &

security to laminated glass applications.

Shrinkage Rate 60°C/15 min (%) ≤ 3.0

Panel Test 7 ~ 9

Haze (%) ≤ 0.8

FROM THE HOUSE OF

LAKSHMI FLOAT GLASS LTD.

INTERNATIONAL

BUSINESS LEADER IN GLASS

A-2/30-31, W.H.S, DDA Marble

Market Kriti Nagar

New Delhi-110015, INDIA

L-135, Midc, Taloja, Raigarh,

Maharashtra

MUMBAI-410208, INDIA

Aditya Gupta +91-99562-95454

www.lakshmifloat.com

E-mail : sales@blginternational.in

18
---
EVA FILM FOR LAMINATED GLASS

USED IN INTERIOR & EXTERIOR BUILDINGS APPLICATIONS

EVA ROLLS

AVAILABLE SIZES

Thickness (mm)

Width (mm)

Roll/Length (mtr)

EVA Colours

Packing

0.25 / 0.38 / 0.76

1830 / 2000 / 2140 / 2250 / 2440 / 2500

50 / 100 / 150

Clear, Super Transparent, Milky White, Frosted, Dark Red, Dark Green, Olive Green,

Light Green, Yellow, Dark Blue, Mediterranean Blue, Light Blue, Orange, Euro Bronze,

Dark Brown, Black & Light Brown etc.

Vacumised & paper skin packing for minimum of 2 Yrs of shelf life

Brief

Above eva are designed for architectural projects

Owns strong impact resistance

High transparency

Durable weather resistance.

UV block rate function.

Low melt index, makes less overflowing at the edge.

Super transparent clear EVA processing temperature curve graph

FROM THE HOUSE OF LAKSHMI FLOAT GLASS LTD.

INTERNATIONAL

BUSINESS LEADER IN GLASS

A-2/30-31, W.H.S, DDA Marble

Market Kriti Nagar

New Delhi-110015, INDIA

L-135, Midc, Taloja, Raigarh,

Maharashtra

MUMBAI-410208, INDIA

Aditya Gupta +91-99562-95454

www.lakshmifloat.com

E-mail : sales@blginternational.in

19
---
CORNER KEYS

High Purity

Insulating Glass

ALUMINIUM SPACER BARS

STEEL STRAIGHT CONNECTORS

SMOOTH WELDING LINE | SHINING SURFACE

NO CORROSION | NO OXIDATION | NO DEFORMATION

LOGO MARKING AVAILABLE @ Minimum 20 Boxes

GEORGIAN BAR

END CAP/PLUS

FROM THE HOUSE OF LAKSHMI FLOAT GLASS LTD.

INTERNATIONAL

BUSINESS LEADER IN GLASS

A-2/30-31, W.H.S, DDA Marble

Market Kriti Nagar

New Delhi-110015, INDIA

L-135, Midc, Taloja, Raigarh,

Maharashtra

MUMBAI-410208, INDIA

Aditya Gupta +91-99562-95454

www.lakshmifloat.com

E-mail : sales@blginternational.in

20
---
GLASS BLOCKS/BRICKS

CANDI LINIO BRICKS TRUNTUM

ICE FLOWER MOSAIC/MAYA DIAMOND NET

VESTA WAVE BUBBLE OCEAN

READY STOCK AVAILABLE IN ALL DESIGNS

Container load available at all sea ports & dry port in India,

Despatch within 24 - 48 hrs.

FROM THE HOUSE OF LAKSHMI FLOAT GLASS LTD.

INTERNATIONAL

BUSINESS LEADER IN GLASS

A-2/30-31, W.H.S, DDA Marble

Market Kriti Nagar

New Delhi-110015, INDIA

L-135, Midc, Taloja, Raigarh,

Maharashtra

MUMBAI-410208, INDIA

Aditya Gupta +91-99562-95454

www.lakshmifloat.com

E-mail : sales@blginternational.in

21
---
25
---
26
---
31
---
32

14
---
If you are looking for safety, Look for us

www.safexglass.com

Hindustan Glass Works Ltd. is an ISO 9001: 2015, TS 16949 : 2009

HINDUSTAN GLASS WORKS Ltd.

Head Office : A2/30-31 whs Dda Marble Market, Kirti Nagar - 110015,

New Delhi | Contact : Kunal Gupta +91-9794-852213

E-mail : sales@safexhgw.com

Plant address: Hindustan Glass Works Ltd. Prayagraj - 211012

(U.P), India | Contact : A.S Ganguly +91-99562-95451

E-mail : ganguly@safexhgw.com

33
---
34
---
35
---
47
---
Interview

Mr. Amitoj Singh,

Director, Bhambra International

'Want to take Bhambra International

to new heights'

Amitoj Singh Bhambra Speaks To GB About His Plans For Company Set Up

By His Father & Grandfather

Bhambra International is a leading manufacturer, exporter and supplier of a series of wellengineered

glass processing machinery, glass drilling machinery, and glass processing

accessories.

50 Glass Bulletin | October - December, 2021
---
Interview • 2

Tell us about yourself and

what made you to join

Bhambra International?

After high school, I did mechanical

engineering from MDU University,

Rohtak. By the time I was 20, I had

gained some knowledge about this

sector and hence, I joined my father

in his business. Not only is this our

family legacy which runs in my blood,

my father's dedication towards the firm

wooed me in.

– What are the advantages and

challenges that you faced after

joining a business set up by your

grandfather?

The major advantage was that all

the groundwork had been laid by my

father and my grandfather. Initial

struggles were definitely eliminated

like building a clientele, securing

suppliers, employees and establishing

a strong foothold in the marketplace,

but it took hard work, diligence

and entrepreneurial spirit to keep

up. Bhambra International already

had made a promising position for

itself in the market with a capacious

warehouse, advanced research

centre, best quality products, robust

examination facility, and extraordinary

customer satisfaction. One of the

biggest challenges I had to face was to

maintain this hard-earned reputation.

– What kind of new perspective are

you looking for in the Indian glass

machinery industry?

Everyone knows that we are the first

manufacturer of glass machinery in

Indian and in the last five years since I

joined, we have started manufacturing

glass furnace in India itself. In the

future, we have plans to manufacture

all machines in India, and the overall

vision for the entire industry would be

to make in India with better quality,

latest technology and competitive

prices.

– How did you deal with the Covid

situation?

It was definitely the most

unexpected and uncertain of times

with not just financial but mental

challenges for a lot of people. It was

very tough for us too just like everyone

else, but we tried our best to help

those in need, our engineers, labourers

and staff members were in constant

We have supplied more

than 50 tempering

lines, 1,800 glass

polish machines,

1,000 glass beveling

machines and 2,000

drill machines in the

past three decades.

support from us. It was certainly a hard

situation but I hope we all could learn

from this pandemic and be a little

more humble and sensitive towards

each other.

– Bhambra International has a

good name and fame in India.

How is the company doing

internationally?

We have been in this industry for

three generations and have made

an exceptional reputation with our

outstanding products. We have

supplied more than 50 tempering

lines, 1,800 glass polish machines,

1,000 glass beveling machines and

2,000 drill machines in the past three

decades. Our well-engineered products

with competitive prices and high

value added services have helped us

reach beyond the borders. We have

supplied tempering furnace to African

countries, Sri Lanka and Nepal, and

other glass machines to Canada, the

US, Bhutan and Pakistan.

– Tell us about your glass machine

ranges.

We have many ranges like glass

tempering furnace, grinding/polish

machine, beveling machine, washing

machine, drill machine, EVA laminated

machine etc. Our range encompasses

straight line edging machines,

spindle beveling machines, spindle

edge grinding machines, glass sand

blasting machines, glass double edging

machines, shape edging machines,

etc. These products are precisionengineered

using high grade raw

materials and the latest technology.

It is made available in specifications

requested by customers.

– Tell us about your bonding with

your father Mr Balwinder Singh

Bhambra. How were you motivated

by him?

We share not just an exceptional

father-son relation but also a beautiful

friendship. We are very open to each

other and have honest conversations.

He is my role model and my constant

source of inspiration, and we strive

to be the best today because of his

vision and honest commitment

towards everyone part of the Bhambra

International family.

– Our Prime Minister introduced

the concept of 'Make in India'.

How is this slogan relatable in

terms of your business?

Yes, we strongly support this idea

and it is part of our vision. We have

been pushing ourselves to be selfsufficient

and have had a positive

response from our customers too. In

the last four years we have installed

more than 30 tempering processing

units made under our brand Bhambra

International.

– What is your future planning

to serve India as well the

international glass machinery

market?

My future planning is to serve with

more quality products and after-sales

service to maintain our legacy in India

as well as abroad. We follow stringent

quality measures at each production

and processing stage. We have a worldclass

quality inspection cell and a

robust R&D centre. Our quality panel

does not leave a single stone unturned

to ensure the highest standards.

About the company

Incorporated in the year 1980,

Bhambra International has taken a

giant stride in establishing itself as a

noted player in the glass machinery

sector.

Website: www.bhambrainternational.com

Glass Bulletin | October - December, 2021 51
---
Interview

Filtraglass and Climadrago: A successful

partnership

Filtraglass Is An International Market Leader In Water Filtration Systems For

All Types Of Glass Industries

One of the most recent systems installed by Filtraglass was a DG.365 at Climadrago, a

company specialising in treatment of flat glass.

Mr. Juan Felix,

CEO Climadrago

Filtraglass, with more than 15

years of experience in the sector,

specialises in the manufacture

of water filtration systems for all types

of glass industries, covering a wide

sector of the automotive and optics

industries, and the transformation of

flat glass in general.

Throughout its long history, the

company has managed to become an

international market leader, breaking

new ground and exporting its systems

to several different countries. Today, its

water filtration systems can be found

in the Americas, Europe and Asia.

One of the most recent systems

installed by Filtraglass was a DG.365 at

Climadrago, a company with over two

generations of experience in its sector,

specialising in the treatment of flat

glass. Its director, Juan Felix, explained

just how important Filtraglass systems

are to his company and the benefits

they bring.

– Why did you choose Filtraglass

systems over others?

For Climadrago, treating the

water we use for glass is essential,

which is why we conducted a study

on the different systems available

in the market. Although other

comprehensive equipment are

available, we believed that Filtraglass

systems best suited our needs, and

also offered us the most guarantees to

achieve optimal results.

– Why did you decide to buy a

purification machine?

We bought a water filtration

machine to improve the quality of

our products, something that is very

important to us, and also to improve

our efficiency, because having a

filtration system reduces waiting times

and therefore makes daily processes

more efficient.

– Have you experienced an

increase in productivity since

installing the machines?

Definitely. Installing the system has

given us, on the one hand, peace of

mind, knowing that we are doing the

right thing, that the water that comes

into contact with our glass is properly

filtered and free from potentially

damaging impurities. And on the

other hand, the guarantee of obtaining

an optimum level of product quality,

something that is very important for

us, as it means our final customers

are satisfied and we avoid having to

deal with issues at a later date, which

can eat up time.

– How often do you change the

water?

We never change the water

completely. We carry out daily checks

of the water levels in the tank and add

water from time to time to replace

the water that evaporates or is lost

while the machine is in operation,

replenishing more or less according to

52 Glass Bulletin | October - December, 2021
---
FiLTRAGLASS• 2

to four machines: two straight-line

edging machines, a bevelling machine

and a vertical panel saw. Not all

our machines work at the same

time, instead they take over from

one another. For this reason, when

installing the water recycling system,

Filtraglass customised and optimised

it for our specific glass handling

machine set up.

Climadrago is just one of the many

companies in the world that already

rely on Filtraglass systems, enjoying

all their benefits, such as savings in

water consumption, reductions in

production line stoppages, extended

service life for machinery and

components, higher productivity,

less environmental pollution, no

clogging of pipes, reductions in

coolant consumption and, finally, and

very importantly, an improved final

product.

Email: info@filtraglass.com

Website: www.filtraglass.com

how long it is operative. We no longer

face issues related to a lack of water

or overheating, since the water is kept

always at room temperature.

– Did you notice a big change in

water consumption?

At Climadrago, we are aware that

water is our main asset, not only at

a business level but also in terms of

society as a whole. For many years

we were of the belief that it was

unlimited, but we are now coming to

realise that nothing could be further

from the truth. Since we installed the

Filtraglass system we have reduced

our consumption; our DG.365 has

given us significant savings in water

consumption and the most important

thing is that it works with a simple

filtration process, which we appreciate

greatly.

– Which machines do you use

Filtraglass systems for?

At Climadrago, we work with the

DG.365, which we have connected

Glass Bulletin | October - December, 2021 53
---
Interview

LiSEC introduces frame

processing machine

ARL-45F

Guaranteed To Be Filled Correctly; Avoids High

Material Costs & Condensation Complaints

LiSEC places great importance on providing machines with

which the production of high quality insulating glass units

is standard.

The filling heads of the ARL-45F at the highest position,

ideal for filling very large formats

The ARL-45F is another step in

this direction. In the extensive

LiSEC product range, automatic

desiccant filling machines have

been part of the standard range for

many years. The ARL-45F raises

the standard to a new level with the

automatic filling amount check.

In this interview, LiSEC

product manager Ewald

Schadauer will talk more about

the configuration, functions and

special features of this frame

processing machine.

Mr. Ewald Schadauer,

Product Manager Insulating Glass

54 Glass Bulletin | October - December, 2021
---
Interview • 2

System for fill quantity measurement

– How is the ARL-45F configured?

The ARL-45F is supplied with

desiccant via a 200l drum. The

height-adjustable frame clamp and

two movable units are essential

components. These moveable units

contain a desiccant supply tank, a

drilling unit, the desiccant transport

with filling opening and a closing unit.

– How does processing of the frame

work?

The desiccant is conveyed from the

200l drum into the supply tanks. The

operator inserts a corner of the frame

into the clamp and starts the automatic

process by pressing a foot pedal. The

two drills are brought into position

and drill a filling hole on the back of

the profile. The two legs of the spacer

frame are filled with desiccant and the

two drilled holes are sealed with butyl.

Then the clamp releases the frame

again and the operator removes it from

the filling machine.

The ARL-45F drills the filling

openings on the back of the profile

and thus offers the possibility of

filling rectangles and shapes of all

conventional spacer materials. Filling

at the back of the frame guarantees

a stable process, even with delicate

plastic materials. The modern control

system and smooth operation make

working with this machine incredibly

easy.

– What are the special features of

the LiSEC ARL-45F?

The ARL-45F particularly

impresses with the optional automatic

measurement of the amount of

desiccant. With conventional

desiccant filling systems, spacer frames

are filled until no more material flow is

registered and it is therefore assumed

that at least two legs are completely

filled. Even simpler systems only fill

for a preset time without ensuring

that a material flow is occurring at

all. All these simple systems have one

crucial problem in common: if the

material flow comes to a halt due to

a blockage, the spacer frame will not

be sufficiently filled with adsorption

material. The problem here is that the

residual moisture contained in the air

gap cannot be reliably absorbed by the

insufficient amount of desiccant and

the insulating glass units runs the risk

of misting or becoming cloudy from the

inside.

In comparison, the ARL-45F

ensures that there is sufficient

desiccant in the frame. This volumetric

measurement system is based on a

precise filling level detection in the

desiccant supply tanks and guarantees

a precise recording of the adsorption

material filled. Consumption costs

can be further minimised by the

optimisation of consumption in spacer

production or by precise metering of

the desiccant amount that is adapted

to the size of the frame.

– How exactly does this automatic

filling work?

So that the measured values

obtained can be compared with the

calculated amount for the currently

Glass Bulletin | October - December, 2021 55
---
Interview

Framework data acquisition by scanning the data matrix code

filled frame, a data matrix code is

printed on the inside of the frame

profile during the spacer production.

A scanner integrated into the

ARL-45F evaluates the data matrix

code and the correct desiccant filling

quantity can be calculated using

the available frame data such as

dimensions, spacer width and profile

material. If the amount filled is below

the calculated value, the machine

immediately reports a filling error and

prompts the operator to turn and refill

the current frame. This guarantees

that no unit with insufficient desiccant

finds its way into a window. In order

to be able to prove this, all measured

filling quantities are documented in

the "Quality Pass" and stored in a file

for evaluation by other systems.

Standard functions

;;

Automatic drilling of the spacer

frame on the rear side of the

short and long frame leg

;;

Adjustment of the optimum

working height by means of a

pneumatic lifting device

;;

Automatic pumping of the

granulate from a 200 l drum to

the filling devices

;;

Simultaneous filling of two

sides of the spacer frame with

granulate

;;

Sealing the drilled hole with

butyl

Optional functions

;;

Measurement and

documentation of the desiccant

filling quantity

;;

Equipment for processing heatflexible

spacers (Swisspacer,

Multitech, Thermobar, TGI

Precision)

;;

Processing of frames with a max.

size of 3,500 x 1,200 mm

Highlights

;;

Automatic drilling of the spacer

frame on the rear side of the

profile

;;

Measurement of the desiccant

filling quantity: A device is

installed in the two desiccant

tanks, which measures the exact

amount of desiccant filled per

frame leg

;;

Intelligent networking with

the production software: The

required quantity of desiccant

is calculated in advance and

compared with the measured

quantity through a connection to

the IG LineManagement. This

results in direct error detection

during the filling process,

meaning that timely intervention

is possible. Documenting the

process values facilitates the

verification of faultless frame

production to the end customer.

About LiSEC

Headquartered in Seitenstetten/

Amstetten, LiSEC is a globally

operating group offering individual and

complete solutions in the field of flat

glass processing and finishing for 60

years. The service portfolio comprises

machines, automation solutions and

services.

CREATING VISIONS, PROVIDING SOLUTIONS.

–Claudia Guschlbauer

Email: claudia.guschlbauer@lisec.com

Website: www.lisec.com

Display of the current

fill quantities

56 Glass Bulletin | October - December, 2021
---
Event

4th glasspro INDIA to be held in Mumbai

Will Showcase Latest Trends, Innovations In Flat, Processed Glass Products

& Applications

The leading international exhibition for flat glass processing, product and accessories will

be held during March 3-5, 2022.

2020, glasspro India and glasspex India

were strategically planned for the first

quarter i.e. March 2022, providing the

entire industry a platform to network,

engage and explore new business

avenues.

Messe Düsseldorf India in

association with Glass

Bulletin announces the 4th

edition of glasspro INDIA scheduled

from March 3-5, 2022 at the Bombay

Exhibition Centre, Mumbai. The

event will showcase the latest trends

and innovations in flat and processed

glass products and applications. It will

also bring the latest glass processing

solutions, tools, auxiliary products and

services.

The growth in the flat glass industry

is driven by the increased use of

processed and reflective glass, as

Indian customers have become more

aware of the importance of glass in

effectively addressing the concerns of

safety and energy efficiency.

Considering the above imperative

and the government's vision of smart

cities, the opportunities in the flat

glass industry promises an upward

trajectory. To meet the industry's

expectations, glasspro INDIA is an

ideal platform as a one-stop destination

for industry professionals to unveil the

latest technological advancements,

products and applications in the world

of the flat glass industry.

The show is supported by the

Builders Association of India,

Chhattisgarh Glass Association, Noida

Glass Traders Association, Rajkot Glass

Merchant Association, All India Glass

Manufacturers' Federation and The

Madras Glass & Plywood Merchants

Association, encouraging glasspro

INDIA to bring together industry

experts under one roof.

The 2022 edition of glasspro INDIA

focuses on adding new and diverse

product categories, which also include

the door and window segment, with

the participation of more than 100

exhibitors and around 5,000 trade

visitors.

glasspro INDIA 2022 will provide

an opportunity to interact and

network with industry experts and

act as an experiencing centre for new

technology, solutions and products.

Concurrently with glasspro India,

the seventh edition of the biennial

glasspex India, international exhibition

for glass production, processing and

products, and the launch edition of

fenestrationpro India, a show catering

specifically to the door, window and

façade segment, will be held.

As the glass fraternity did not get

any mass business opportunity since

About Messe Düsseldorf India

Messe Düsseldorf India Pvt. Ltd. is

a fully owned subsidiary of Messe

Düsseldorf GmbH which is a global

player both as a trade fair organizer

and as a provider of trade fair related

services for exhibitors and visitors.

Messe Düsseldorf India has been

successfully staging established trade

fairs like In-Store Asia, Medical Fair

India, FAMDENT Shows & Awards,

glasspex INDIA, glasspro India,

pacprocess and food pex Mumbai,

India Essen Welding & Cutting, wire

India, Tube India, METEC India and

ProWine Mumbai. Besides organizing

successful trade fairs in India, the

company is also the exclusive sales

representative of the Messe Düsseldorf

Group for the Indian Market and is

canvassing Indian customers to events

of Messe Düsseldorf Group worldwide.

To know more, please visit:

www.md-india.com

About Glass Bulletin

Glass Bulletin is the fastest-growing

top-notch quarterly journal of India for

the global glass industry. It is the ideal

platform, in print and online, for the

publication of news, reports, products

details and exhibition information

related to the glass industry.

To know more, please visit:

www.glassbulletin.com

Website: www.glassproindia.com

Glass Bulletin | October - December, 2021 57
---
Event

glasstec 2022 – Let's go live

glasstec Is Back Again At Last – Experience The Trade Fair Live And With

All Your Senses

The anticipation for glasstec 2022 is already strong now – as demonstrated by the

comments and contributions from the industry with the motto "back again at last".

58 Glass Bulletin | October - December, 2021
---
glasstec 2022• 2

The new glasstec let's go live

trailer also makes visitors and

exhibitors look forward to the

trade fair.

And that's not all – the coming year

will be a very special one for everyone

working with the fascinating and

versatile material that is glass as 2022

was declared the International Year

of Glass (IYOG 2022) by the General

Assembly of the United Nations.

The significance of this polyvalent

material for society and our life will be

made visible by means of a series of

worldwide events and activities. One

highlight will of course be glasstec

as the world's biggest event for the

glass sector, which will be held at

Düsseldorf Exhibition Centre from 20

to 23 September 2022.

With immediate effect, companies

from the areas of mechanical

engineering, industry and skilled

crafts can register for glasstec 2022

online using the direct link www.

glasstec.de/2330. Enterprises that

took part in 2018 and in glasstec

VIRTUAL can use pre-filled and

editable forms. Stand space allocation

in the halls for exhibitors will start on

December 1, 2021.

Themes trending in 2022

glasstec is a marketplace, trendsetter,

innovation and information platform

for the global glass industry. In

addition to the extensive ranges

exhibited on the themes glass

manufacturing/production

engineering, glass treatment and

finishing as well as numerous glass

products and applications, glasstec

2022 will again offer a unique and

comprehensive line-up of side events

from practice and science.

This programme follows the five

trend themes of the trade fair, which

are seen by experts as essential

and global themes for the future

development of the sector and society

at large.

;;

Climate: innovative solutions

that save the climate

;;

Urbanisation: future-proof

cities with glass

;;

Value: adding value re-thought

;;

Resources: saving use of raw

materials, skilled labour and

energy

;;

Well-being: what glass does for

our lives

glasstec update: Topic of the future

– decarbonisation

As early as November, the first event

will be staged with a view to the

coming glasstec and the central trend

themes. From 25th to 26th November,

the glasstec update "International

glasstec Conference" will focus on the

topic of "carbon neutrality with glass".

The first day will be all about the

industry. Future models for a CO2 and

climate-neutral glass production as

well as technologies and roadmaps to

reach these goals will be introduced

and discussed.

On day two, architects, scientists

and glass producers will reveal the

construction methods, innovations

and products that can help us work

towards a climate-neutral society.

Tickets and the complete programme

will be available at www.glasstec.de

starting in early October.

THE HUB: glass technology live and

Road to glass technology live

At glasstec 2018, the university

network of the four technical

universities Darmstadt, Delft,

Dortmund and Dresden provided

fresh ideas at the special show glass

technology live. The special show

demonstrates the concentrated

innovative power of the industry

and will again be an important part

of glasstec 2022. For a review of the

most exciting and innovative exhibits

at glass technology live 2018, visit

www.glasstec.de/throwback.

In order to increase the

anticipation for the coming glass

technology live even further, a series

of video interviews will be published

this year as well as next year. The

curators responsible for the exhibits

will be visited in their creative

domains. Exclusive insights into their

research will be provided and details

on the plans for the coming glass

technology live will be shared.

Think Tank: glasstec conference

In 2022, the special show will again

be complemented by the glasstec

conference. This umbrella brand

combines topics from theory and

practice and offers cross-sectoral

conferences on themes of relevance

for both today and the future.

Everyday visitors at glasstec 2022 can

learn about current developments

and trends in the sessions on glass

production, processing technology and

products.

Also forming an integral part of the

programme of ancillary events are

the scientific conference "engineered

transparency" and the international

Architecture Congress.

Crafts Center and glasstec challenge

At the Crafts Center, companies will

present the latest glass products, tools

as well as mounting and lifting aids

for glass processing craftsmen. At the

"glasstec challenge" young glaziers

from all over Germany will compete

for the first time to secure their place

as a participant in the WorldSkills

event. At the glass art exhibition "glass

art" international galleries will exhibit

their objects and interpretations of

and with glass.

The START-UP ZONE: Where

youngsters of this industry

introduce themselves

The premiere of the START-UP

ZONE in 2018 received extremely

positive feedback. Fifteen young,

international companies used the

premiere to make contacts, build

networks and meet decision-makers.

This exhibition offering targets

companies that have been on the

market for less than 5 years, have

annual sales or a balance sheet total

of under EUR 5m and employ less

than 20 staff.

– Brigitte Küppers

E-mail: KueppersB@messe-duesseldorf.de,

KraussD@messe-duesseldorf.de

Website: www.glasstec.de

Glass Bulletin | October - December, 2021 59
---
Company News

Compact knowledge: With the fact sheets, sedak, the glass

specialist from Gersthofen, is passing on its technical knowhow.

Picture: sedak

sedak starts fact sheet series

Expert Knowledge In Compact Form

Specialist knowledge about glass directly from the source of new ideas: This is what the

new fact sheets from sedak provide.

The first themes to be

covered are "anisotropies",

"bullet-resistant glass" and

"lamination". Compact and easy to

understand but technically detailed,

the information sheets focus on

specific technical aspects of glass.

With oversized glass panes and

the development of pioneering glass

technologies – especially lamination

and printing techniques – sedak has

become a technology leader in the

industry.

The company has now published

this expert knowledge in fact sheets

for specific areas. This provides

specialists in architecture and civil

engineering with compact, easily

understandable and yet technically

detailed information on glass quality,

production technologies and design

etc.

These are the initial themes:

• Anisotropies explains which

factors of influence cause optical

irregularities to occur and which

possibilities there are to reduce them.

• Bullet-resistant glass provides

an overview of the different bullet

resistance classes and explains which

level of protection can be achieved

with which glass construction.

• Lamination discusses the

determining factors for high-quality

glass laminates and compares different

lamination procedures.

With bird protection and printed

glass, further themes are already being

prepared. The fact sheets are available

free of charge as PDF downloads at

sedak.de.

About the company

Founded in 2007 in Germany,

sedak has used its pioneering spirit

to establish itself as a premium

manufacturer of large-format

insulated and safety glass. sedak has

evolved their glass as a construction

material for all-glass facades and roofs.

sedak

– Jan Birkenfeld

Email: j.birkenfeld@pr-neu.de

Website: www.sedak.com

60 Glass Bulletin | October - December, 2021
---
Company News

Sisecam invests in two Turkish float

glass manufacturing facilities

The Float Lines For Architectural And Automotive Glass Will Meet Rapidly

Rising Demand In The Country

Şişecam's Chairman Dr Ahmet Kırman confirmed the float glass manufacturing

investment during the official lighting of a furnace in Ankara, Turkey.

Şişecam is to invest USD474

million in two float glass

manufacturing facilities. The

glass manufacturer confirmed the

investment during the official opening

of a second furnace at its Ankara,

Turkey, flat glass manufacturing

facility.

Turkish President Recep Tayyip

Erdoğan was in attendance at the

lighting ceremony, alongside a number

of dignitaries, including Sisecam

Chairman Dr Ahmet Kırman.

Dr Kırman confirmed Şişecam will

make two new investments in Turkey

with a total value of more than TL 4

billion (USD474 million) and said:

"In line with our goal of meeting the

rapidly rising glass demand in our

country and creating sustainable value

for all our stakeholders, two new floats

for architectural and automotive glass.

"By establishing a brand new

facility for the line with a daily

capacity of 1,200 tons in the field of

architectural glass, we will realize

one of the five flat glass investments

with the highest capacity in terms of

ongoing investments in the world.

"Our auto glass float line

investment with a daily capacity

of 750 tons will be the symbol of

Şişecam's vision and technological

competencies with its special design

and high capacity.

"We are proud of the fact that we

have been contributing to our country

for 86 years with the investments we

have made, the sectors we support

the growth of and the employment we

provide."

Website: www.sisecam.com

Glass Bulletin | October - December, 2021 61
---
Company News

Kunal Enterprise ties up

with Italy's Cugher Glass

Will Now Provide Glass Screen Printing Solutions

Across India

Kunal Enterprise is a leading complete solution provider in

industrial printing/packaging industry, specifically in the

screen printing genre in India since 2001.

Mr. Kunal Gandhi, Joint MD, and Mr. Ajay Gandhi, Chairman & MD, Kunal Enterprise

Kunal Enterprise serves its

customers all over India with

the best-in-class products and

technology from all across the globe.

The company is renowned for

providing the best automatic (cylinder/

flatbed/roll-to-roll) and semi-automatic

screen printing machines, industrial

dryers, pre-press equipment, screen

printing inks and accessories for

segments such as automotive, textile

and ceramic transfers, membrane

switches, value addition packaging

and point of purchase jobs, plastic

cards and security printing, flexible

electronics, solar and fuel cells, etc.

It has experienced professionals for

after-sales service and managers for

business development and marketing.

For Kunal Enterprise, the mission is

to purvey state-of-the art technology

to the Indian printing industry. It has

a team of people who keep on looking

towards new areas and spend time in

research and development in printing

especially in industrial printing

applications.

Recently, Kunal Enterprise entered

an association with Cugher Glass,

Italy, to provide glass screen printing

solutions across India.

For more than 50 years, Cugher

has been offering a wide range

62 Glass Bulletin | October - December, 2021
---
Kunal Enterprise • 2

of solutions that cover the entire

production process from silk screen

printing, drying, handling and

inspection in segments like automotive,

architectural, home appliance and

solar module. Cugher is the ideal

partner for companies that print on

flat surfaces, it is able to provide highly

customised solutions according to

customer production needs.

Cugher provides complete solutions in

;;

Handling: The high range of

Cugher handling products

allows transportation and

stacking of glasses with any

dimension and shape in all

directions inside production

plant.

;;

Dryers: All Cugher dryers

comply with the highest

energy standards and are

designed as an integral part

of the line, with the possibility

to study and realize different

temperature curves in each

module, to ensure an improved

productivity.

;;

Print: The machine is able

to satisfy specific production

needs and represents the

perfect solution for huge

batches and squared/

rectangular glasses that have to

be printed quickly and precisely.

;;

Vision systems: The system,

typically installed downstream

the washing machine, is able

to scan the whole glass and

detect any defect present on

the raw glass such as scratches,

breakages, air bubbles, chips,

contaminations, water drops,

wet edges.

It is a modular type setup, wherein

a customer can buy the entire line or a

part of the system and integrate it into

the existing setup.

Automotive

The automotive division provides silk

screen printing lines with high level of

automation, precision and repeatability,

for automotive car sets, tempered and

laminated.

Home appliances

Mono and multicolour silk screen

printing on rigid surfaces, flat glass

for special applications, household

electrical appliances, cooktops, flat

screens and photovoltaic cells.

Building and interior design

Tailor-made solutions for silk-screen

printing and handling on float,

tempered, laminated glasses, with civil

and industrial applications that go from

windows and balconies to furnishing

elements and shower enclosures.

Solar glass module

The photovoltaic glass screen printer,

prints the white matrix onto PV glass to

increase power reflection to generate

efficient conversion of solar radiation

into electricity.

Cugher machines have high

productivity up to 1,028 glasses per

hour with repeatability precision 0.08

mm. It has automatic centering system

for extremely asymmetric double

glasses.

All the big glass companies like

Asahi Glass, Saint Gobain, Sisecam, etc

have Cugher screen printing machines

in their plants across the world. In

India, Cugher has its machine in

Asahi. There will be more installations

in the near future as talks are on with

four more prospective customers.

E-mail: kunalgandhi@kunalenterprise.com,

uday@kunalenterprise.com

Website: www.kunalenterprise.com

Glass Bulletin | October - December, 2021 63
---
Company News

"The decision to implement new software is also a question of trust, mutual goals and constructive collaboration," said GKT Managing Director Peter Egg (left), expressing his pleasure about the

successful collaboration with HEGLA-HANIC and the company's managing director, Dr. Jan Schäpers (right).

GKT Group invests in digital future

with new software

Switches To ERP & Production Planning Software From HEGLA-HANIC

For many years, investment in machine pools and automation promised both competitive

and quality advantages, but today software is just as important.

The future of the glass sector is

networked and digital. There are

many reasons for this, including

growing cost pressure, the increasing

proportion of complex products and

the goals of Industry 4.0. As a result,

requirements are continually rising to a

higher level.

New machine generations with

more sensors, high-tech control units

and extensive options are not only a

consequence of this development, they

also contribute to the transformation.

With a significantly higher throughput

and increasingly common system

daisy-chaining, process complexity has

increased to the point that intelligent,

user-friendly and flexible software is

necessary for companies that want to

produce at full potential.

64 Glass Bulletin | October - December, 2021
---
HEGLA-HANIC • 2

The level of digitalisation and automation in Production was significantly raised. Marcel Müller, trainee in flat glass

technologies, is able to instantly track pending orders and processing progress and, in close coordination with the other

departments, can ensure that orders are completed on schedule and with the quality required.

Overarching machine optimisation

and centralised software solution

At the beginning of this year, the

GKT Group from Brakel in Germany

(Eastern Westphalia-Lippe) geared

up for the future by expanding

its production technology and

implementing a new software system.

For even greater flexibility, automation

and further growth, the company

invested in a double edging and drilling

machine, a highly automated float glass

cutting system with a breakout system

and an insulated glass line.

Almost in parallel, the company

switched to an ERP and production

planning software from HEGLA-

Peter Egg is the managing director of the GKT Group in

Brakel in the second generation. The company was founded

in 1978 and employs around 150 people. Its portfolio

includes insulated glass, toughened glass, LSG, inner

mullions for insulated glass and much more for regional and

international customers.

HANIC that drives the machines and

processing lines according to need.

It optimises individual production

steps, automates them in precise

synchronisation with the cycle, and

monitors and transparently maps them.

For the newly implemented ERP

functionality, all processes – such

as order entry, work preparation,

purchasing, warehouse management

and logistics – are centrally pooled and

directly accessible.

Higher complexity, shorter cycles

"Every system has its time," said GKT

Managing Director Peter Egg with

conviction. "We were well positioned,

Dr. Jan Schäpers is the managing director at HEGLA-HANIC

from Bochum, the specialist in software for glass-processing

companies. At GKT, new ERP and PPS software, as well as an

app for shipping support, were recently implemented.

our processes functioned properly and

we probably could have continued to

work with the existing software."

However, our experiences in recent

years showed that the complexity

of incoming orders would continue

to increase, as would customers'

desires for shorter delivery times and

ultimately, the competitive pressure

driving faster and faster cycle times, he

said.

"As a medium-sized provider, we are

appreciated for delivering on schedule,

for our high quality, broad product

spectrum – and for our flexibility,"

reported Egg.

That is why his project requirements

included creating an overarching,

company-wide data structure with

even greater clarity and transparency

in the spirit of integrated corporate

management. Simple visualisation of

KPIs, along with real-time access to

every single order and an overview of

the available capacity on the toughened

glass furnace or the insulated glass line,

were on his shopping list.

The goals of maximum cycle

time optimisation, process support

for automated and semi-automated

workflows and optimal dovetailing were

defined in partnership with HEGLA-

HANIC.

Networked work areas with

integrated processes and data

Since the production processes and

commercial tasks were migrated to the

new system, the individual work areas

are networked even more closely. For

example, all orders are first recorded

in the ERP and then broken down into

their processing steps by the system.

Warehouse inventories are

checked and, if required, a purchase

requisition is generated that can be

digitally exchanged with one or several

suppliers. The PPS takes factors such

as delivery dates, machine capacity,

inventory and material utilisation into

consideration while optimally compiling

orders and then forwards them to the

relevant production stations as a work

order.

"For our production, this means a

high level of automation and daisychaining

the individual processing steps

with short cycle times and a degree of

Glass Bulletin | October - December, 2021 65
---
Company News

HEGLA New Technology developed a tablet app specifically for GKT and its process requirements. It completely digitalises,

documents and simplifies the workflows in picking and shipping. Employee Björn Götz uses it for fast access to comprehensive

information. He can view all the data he requires and react flexibly.

workflow perfection that is impossible

to achieve without the corresponding

software support," explained Dr. Jan

Schäpers, the managing director of

HEGLA-HANIC.

The new software also contributes

other benefits when it comes to

handling complex and precisely

timed workflows, and above all, work

preparation. Production progress can

be tracked and machine capacity can

be viewed at any time, and if priorities

change, a machine malfunctions or an

urgent order comes in, managers can

react immediately.

The existing production plan is

adjustable based on recommended

or free parameters. "In this way, it

is possible to ensure a continuous

production flow even in the face of

unexpected incidents, either manually

or through the user-friendly system,

across all processing stations," added

Schäpers.

Accelerated processes through

centralised data management

"We were able to boost the level

of digitalisation and automation in

Production. The status of production

orders can be viewed at almost any

workstation, which dramatically

accelerates our processes and ensures

that orders are completed on schedule

and with the quality required," said

Peter Egg.

The master and order data are

centrally filed, making them available

error-free to Accounting, Production

and even Logistics. The processes for

recording orders were also simplified.

With the integrated CAD module,

processing has been automated using

saved templates and a customerspecific

free form can be either directly

drawn or imported as a DXF file.

The position of a hole or mullion

can be directly saved in the system

and automatically transferred to the

production system. The software also

has a shipping module that provides

digital added value and direct feedback.

As soon as a unit is sent to shipping,

feedback is sent to the order system,

enabling production progress to be

tracked transparently and at any

time. To provide integrated support to

Shipping, HEGLA New Technology

developed a tablet app specifically for

GKT and its process requirements. It

completely digitalises, documents and

simplifies the workflows in picking and

shipping.

In the new HEGLA-HANIC system,

the next (external) digitalisation step

has already been completed for GKT.

Both customer orders and in-house

orders for purchased parts and services

can be digitally exchanged between the

IT systems.

Re-evaluation of the value chain

"The decision to implement new

software is also a question of trust,

mutual goals and constructive

collaboration," explained Egg. Together,

the companies created a vision and

were able to implement it in a very

short time. The agreed-upon project

duration of only seven months was

comparatively short.

The successful implementation

shows all the more how focused the

analysis and optimisation of processes

and their integration into the software

can be, even in a project with such a

high level of complexity. GKT Managing

Director Peter Egg designed the timing

to support another goal for the wellbeing

of his employees: the project

schedule needed to be as compact as

possible in order to avoid unnecessary

stress for the participants.

About the company

The GKT Group's product portfolio

includes insulated glass, single-pane

safety glass, laminated glass and

mullions for insulated glass in a wide

variety of designs and combinations.

Email: info@hegla-hanic.de

Website: www.hegla-hanic.de

The PPS takes delivery dates, machine capacity and

inventory into consideration while optimally compiling

orders and forwards them to the relevant production

stations as work orders. Here in Cutting, for example, Daniel

Bonsch can access the status of each individual process,

prioritise workflows and monitor progress in real time.

66 Glass Bulletin | October - December, 2021
---
Company News

To consolidate its service and sales network, the HEGLA Group opened a sales and service subsidiary in Poland on October 1,

2021 . Michał Siergiejewicz and Thomas Wellendorf will share responsibility for the new location. They have been active in the

glass industry for years and have extensive networks.

HEGLA strengthens

service, sales network for

Eastern Europe

Opens Subsidiary In Poland For Proximity To

Customers, And To Meet Requirements Of Rapidly

Growing Market

The sales and technology team at the new location will

provide direct support for all projects, enquiries and

service cases in the region and offer fast local assistance

when spare parts are required.

subsidiary is a further

hub in our HEGLA network.

"The

We are establishing it to

position ourselves as a reliable partner

for further growth," said Jochen H

Hesselbach, CEO of the HEGLA

Group.

Added value with an expanded, local

service team

The expanded team in Wrocław

supplements the HEGLA Group's

global sales & service locations. The

group is also setting up a software

centre in the subsidiary that will

provide customers with programming

services for both HEGLA and HEGLA-

HANIC.

"In Michał Siergiejewicz, we are

pleased to have found a managing

director who has many years of

experience in the glass industry and an

outstanding network that stretches well

beyond Poland," emphasised HEGLA

GROUP COO Bernhard Hötger. "Along

with his co-managing director, Thomas

Wellendorf, we are extremely well

positioned for the region in future."

Team with many years of industry

experience

Michał Siergiejewicz (38) has been a

recognised dialogue partner in all areas

of the glass industry since 2011 and is

considered a professional consultant.

Thomas Wellendorf (51) has worked

at the HEGLA Group since 2003. As

head of sales for northern and eastern

Europe and Russia/CIS, he has worked

closely with our customers for many

years.

"Thomas Wellendorf is one of

the colleagues at HEGLA who both

experienced the transformation of

glass processing operations and left

a mark on it with networked and

automated line solutions," added

Hötger.

In future, the new subsidiary will

also bring HEGLA-HANIC, HEGLA

boraident and HEGLA-TaiFin even

closer to customers. The technology

and software team will strengthen the

HEGLA subsidiaries' global presence

and service network.

About the company

The HEGLA Group provides system

solutions for the storage, cutting,

processing, and sorting of flat,

automotive, and functional glass.

–Carsten Koch

Email: carsten.koch@hegla.de

Website: www.hegla.com

Here's to good collaboration, even greater proximity to customers and on-site service: Michał Siergiejewicz

(Managing Director of HEGLA Poland) and Bernhard Hötger (COO of the HEGLA Group)

Glass Bulletin | October - December, 2021 67
---
Company News

LiSEC breaks its order intake record

Company Attributes Success To Its Highly Automated Projects In Poland,

New Zealand, The US & Bosnia

The year 2021 has been successful for LiSEC. This success clearly shows that LiSEC's "all.

in.one:solutions" approach is winning over customers.

For the second time this year, the

company has managed to hit a

monthly order intake volume of

more than 30 million euros.

Order intake at a record level

In February 2021, LiSEC posted a

monthly order intake volume of more

than 30 million euros – for the second

time since the company's founding.

With an order intake of €34.5 million,

the global leader in technology for

innovative individual and complete

solutions in the field of flat glass

processing and finishing was able to

set a new benchmark in August 2021,

celebrating the highest monthly order

intake in the company's history.

This success is mainly attributable

to recent, highly automated projects

carried out by LiSEC in Poland, New

Zealand, the USA and Bosnia, and

thus the trust that customers in these

countries have placed in reliable

LiSEC solutions.

The company managed to hit its

2021 order intake target for machinery

and software by the end of July.

"We are very proud that we have

already hit or exceeded all of our

order intake targets for fiscal year

2021. Firstly, I would like to thank our

customers for the huge amount of

trust they have placed in our solutions

and in ourselves as an all-in-one

solutions provider to the flat glass

processing industry.

"Secondly, I would like to

thank our sales team in Germany

and abroad for their outstanding

performance. Our pioneering role

in product development, which is

years in the making, coupled with

our production expertise in the glass

industry, which is brought to bear in

68 Glass Bulletin | October - December, 2021
---
LiSEC • 2

our sales consultation work, is hugely

appreciated by our customers. We

can be proud of this," says Christian

Krenn, Director of International Sales,

commenting on the impressive order

intake volume.

Oliver Pichler, CFO, is also proud

of this success: "We've managed

to break a few of LiSEC's financial

records already this year. We are

currently heading for a 60% increase

in our order intake volume in 2021. In

addition to the commercial success,

I am particularly pleased that after

2020, the year of the pandemic,

our customers' willingness to invest

has shot up again, and a growing

number of customers are recognizing

the benefits of our innovative

comprehensive system solutions,

such as those we have successfully

implemented in New Zealand and

Austria in recent months, and are

therefore choosing to partner with

LiSEC."

Positive feedback on LiSEC "all-inone

solutions"

High-quality machines, innovative

software and reliable after-sales

service – at LiSEC, customers get

everything from a single source. Our

experts will help you to find the ideal

solutions from the word go. "If we

are to cement our customers' trust

not only in our individual solutions

but also in our all-in-one: solutions

and keep it that way over the long

term, then all of our company's

products, services and segments

must be seamlessly interlinked. To

this end, we have systematically

optimized our internal structures

over the past few years and will

continue to do so," says CEO

Gottfried Brunbauer, emphasising

how important customer orientation

and innovative, integrated

comprehensive solutions are to

LiSEC

LiSEC at Vitrum 2021

LiSEC unveiled new technology brand

LiTEC for the first time. Those who

were unable to attend the trade fair

in person will have the opportunity to

view the new products at the LiSEC

Virtual Campus

About LiSEC

Headquarters in Seitenstetten/

Amstetten, Austria, LiSEC is a globally

operating group offering individual

and complete solutions in flat glass

processing and finishing for 60

years. Its service portfolio comprises

machines, automation solutions and

services.

CREATING VISIONS, PROVIDING SOLUTIONS.

–Claudia Guschlbauer

Email: claudia.guschlbauer@lisec.com

Website: www.lisec.com

Glass Bulletin | October - December, 2021 69
---
Company News

Optimal bird protection, maximum

transparency from sedak

Effectiveness Confirmed By Collision Laboratories Institute In Hohenau-

Ringelsdorf, Austria

sedak has managed to achieve optimal collision protection (efficiency: collisions reduced

to 10 per cent) whilst printing less than two per cent of the glass area.

Maximum transparency, optimal

bird protection – for almost

any glass type and with a

format of up to 3.60 x 20 metres:

Bird-free: The patterns ensure that birds see the glass panes. They are thus protected from collisions. The image printed by

sedak (a registered design) thereby requires less than two percent of the glass area – the lowest value ever achieved.

Photo: Kjersti Joergensen (Kjorgen, Dreamstime), sedak

with the innovative sedak printing

(a registered design) less than two

per cent of the glass area needs to be

printed in order to largely eliminate

bird collisions. The high effectiveness

has been confirmed by the institute

"Collision Laboratories" (Hohenau-

Ringelsdorf, Austria).

70 Glass Bulletin | October - December, 2021
---
sedak • 2

Scientifically confirmed effectiveness: An analysis by "Collision Laboratories

– Biological Station Hohenau-Ringelsdorf" (Austria) shows that both of the sedak patterns provide a high level of bird

protection. The institute is the only one in the whole of Europe that performs this kind of investigation.

Picture: sedak, René Müller

Large-area glazing on buildings –

regardless of how heavily structured it

is – brings with it the risk of not being

seen by birds. Reflections of trees or

particular lighting conditions cause

danger for birds as they have only

limited spatial vision. Therefore, there

are various solutions on the market

designed to reduce bird collisions. The

basis of the idea is to make the glazing

recognizable for birds without having

too much negative effect on the view

through the glass.

Now sedak has managed to achieve

optimal collision protection (efficiency:

collisions reduced to 10 per cent)

whilst printing less than two per cent

of the glass area. The glass processing

company has thereby achieved two

new records: no other bird-protection

glass needs so little printed area for

its protective effect; at the same time

it achieves a higher level of protection

(defined according to norm ONR

1040) than the alternative concepts.

This has been confirmed by a

scientific analysis performed by the

internationally recognized institute

"Collision Laboratories" (Hohenau-

Ringelsdorf/Austria), which specializes

in bird protection.

The scratch and UV-resistant

patterns are put onto the glass using

digital printing. When it is further

processed into laminated panes, the

printing is on the outside (POS1).

Thus insulation and safety glass with

highly effective bird protection can be

created up to a format of 3.60 x 20

metres.

Aesthetically pleasing and variable

through digital printing

Depending on customer requirements,

two variants are available: dots or

squares, arranged in a homogenous

grid. An optically different but equally

effective alternative is offered by

sedak: printing with precious metal

colours.

The printed image and colour tone

have a discreet, elegant and aesthetic

appearance. The printing is thus

also ideally suited to sophisticated

architectural design.

As a specialist for glass in extralarge

formats, the production expertise

is already available at sedak: ceramic

printing up to the maximum size is a

mature technology here.

The trend towards more

transparent architecture with a high

percentage of glass is now realizable

in sophisticated and aesthetic variants

with a particularly high level of

protection for birds.

What protects birds?

Many songbirds do not recognize

glass as an obstacle but see

reflections that fool them into

thinking it is a tree, for example,

or they mistakenly think they can

fly through glazing on corners

of buildings. Light sources or

particular lighting conditions can

also confuse birds. Bird protection

therefore has the aim of making

glass recognizable for birds – whilst

reducing the transparency as little

as possible. The larger the glazed

area (regardless of how strongly

it is structured), the higher the

risk for the birds. In recent years,

new protective concepts have been

developed to avoid bird collisions

or reduce them significantly. The

most effective protection for largeformat

glazing is offered by digital

printing. Previously, however, a

high level of protection required

seven to fifty percent of the glass

to be printed. The sedak solution

provides the current optimum

protection whilst at the same time

having by far the lowest percentage

of printed area.

The effectiveness of glass

against bird collisions is measured

as a percentage; the lower the

value, the better the protection.

The value shows how high the

rate of collisions is in comparison

with conventional glass. The

Vienna Environmental Advocacy

Organization (Wiener Umwelt

Anwaltschaft, WUA) recommends

using highly effective glass with

values of ten percent or less. They

classify glazing with values of

between ten and twenty percent as

conditionally suitable.

About the company

sedak, the glass manufacturer in

Gersthofen, Germany, has developed

into the world's technology and

innovation leader for large insulating

and safety glass. With a 15-year

experience of manufacturing oversize

glass, sedak is regarded as a specialist

in this know-how intensive segment.

sedak

– Tatjana Vinkovic

Email: tatjana.vinkovic@sedak.com,

j.birkenfeld@pr-neu.de

Website: www.sedak.com

Glass Bulletin | October - December, 2021 71
---
Company News

Glaston signs deal worth EUR 5 million

Will Provide Insulating Glass And Heat Treatment Machinery Within Second

Quarter of 2022

Glaston's advanced glass processing technology will allow production of heat treated and

insulated glass units up to a jumbo size of 2.8m by 6m.

Glaston group has signed a

close to EUR 5 contract for

insulating glass and heat

treatment technologies machinery with

a customer in the Americas. The order

is booked in Glaston's received orders

for the third quarter in 2021. The lines

will be delivered within the second

quarter of 2022.

More stringent safety and quality

regulations in commercial building

construction bring new requirements

to the market, and advanced glass

processing technology is needed in

order to meet the stipulations for the

end product. In addition, there is a

growing demand for large glass units

for facades.

To fulfil these needs, the customer

was looking for a solution that can

ensure reliability and high uptime

in their production. They decided

to choose a combination of Glaston

technology that allows them to produce

heat treated and insulated glass units

up to a jumbo size of 2.8 x 6 metres.

Both the Thermoplastic

Spacer (TPS®) Insulating Glass

manufacturing line and the flat glass

tempering line are equipped with the

highest level of automation suitable for

high-end glass processing, maximizing

the throughput.

In addition, the unique Glaston

Vortex Pro convection system of the

tempering line is improving the control

of air placement onto the surface of

the glass which allows the operator to

precisely control the thermal profiles

and ensure the quality of the heating

process and efficiency.

"The ease of use combined with

ensuring the quality of the end

products and efficiency in glass

processing were elements our

customer was looking for. Glaston's

product portfolio met these needs and

provided the level of automation and

machine reliability that was essential

to our customer," says Joe Butler,

Glaston's SVP Sales and Services in

the Americas.

About the company

Glaston is the glass processing

industry's innovative technology

leader supplying equipment, services

and solutions to the architectural,

automotive, solar and appliance

industries.

Email: info@glaston.net

Website: www.glaston.net

72 Glass Bulletin | October - December, 2021
---
Company Report

Ceramic rollers for glass tempering

furnaces by Freedom Ceramics

For Over 15 Years, Company Has Been Making Ceramic Rollers As Per Its

Customers' Glass Requirement

Main products are ceramic roller tables for float glass lines, horizontal tempering

furnaces, ceramic devices for steel and metallurgical industries, and fused silica crucibles.

As we all know, glass has become

an indispensable item in our

lives, work and study. Glass is

being used in buildings, automotive

sector, photovoltaic power generation,

and even in more demanding roles

such as display screens, touch screens,

furniture and home appliances.

Freedom Ceramics SUZHOU

has been producing ceramic rollers

for glass tempering furnaces for

nearly 15 years now. According to

the difference in the production of

glass by customers, the company has

categorised its product portfolio into

architectural glass ceramic rollers,

solar glass ceramic rollers, and

electrical glass ceramic rollers.

The main difference among them

is in the technical parameters of the

finished ceramic rollers such as the

difference in diameter tolerance,

roughness, T.I.R. (tolerance in

rotation), purity and density. The

company makes its ceramic rollers

according to the requirement of its

different categories of customers.

Freedom Ceramics has customers

all over the world. Tempering machine

manufacturers like Glasstech Inc,

Keraglass Industries, SRL, North

Glass, Land Glass, Mountain Glass,

Yuntong Glass, Soutech Glass, and

glass processing and tempering

suppliers such as Pilkington, AGC,

Saint-Gobain, Schott, Fuyao Group,

Xinyi Glass, Taiwan glass are some of

them.

Suzhou Freedom Ceramics Co.,

Ltd. is located in the ancient city

of Suzhou, China. At present, the

company's main products are ceramic

roller tables for float glass lines,

ceramic roller tables for horizontal

tempering furnaces, ceramic devices

for steel and metallurgical industries,

and fused silica crucibles.

Freedom Ceramics has established

and managed a team of experts at

home and abroad with rich work

experience and knowledge of the

ceramic industry, and is committed

to building a world-leading ceramic

technology group. It is committed to

serving customers wholeheartedly,

adhering to the spirit of innovation,

always adhering to the concept

of focusing on customer benefits,

focusing on product quality and aftersales

service.

Email: cxtcwyh@126.com,

freeceram@hotmail.com

Website: www.freeceram.com

Glass Bulletin | October - December, 2021 73
---
Product Hunt

Hanjiang to bring its 'Data Master'

to India

Users Will Get Real-Time Production Data, Machine Working Status On Their

Mobile Devices

It can set machine maintenance time and automatically generate status reports, thereby

helping reduce downtime.

Data Master is a system which

has been developed by

Hanjiang's industrial cloud

department to specially provide big

data of production and "no time-gap"

service to every user of the company's

products.

With Data Master, users can get

their machine status in real-time

directly by a PLC control system, and

the data will be stored in cloud for

display and analysis. Data stored in

the cloud system can be accessed any

time using mobile devices like laptops

or smartphones.

Data Master will update production

data real-time. A very important part

of it is that as per working data of

Power Consumption Summary

Blower on W/M

Water heater

Inverter on Conveyor I

Blower on press

Brush motor

Water pump

Inverter on water pump

Inverter on S/A

Inverter on brush

Inverter on press conveying

Conveyor III

74 Glass Bulletin | October - December, 2021
---
Hanjiang • 2

critical components such as servo

motor, drives and inverters, the

system can set proactive machine

maintenance time and automatically

generate reports. This will help in

reducing downtime.

Hanjiang in India

In the last 10 months, Hanjiang

Indian team has visited more than

20 customers in eight cities, and

completed six machine installations,

and provided online service to more

than 45 customers.

In the next three months, the team

has another four new installations to

work on. Thanks to great teamwork,

all of these have been made possible

despite the pandemic.

Due to heavy installation and

service work lined up, Hanjiang has

hired an experienced engineer for its

India local team, and another in its

China office.

The company has faced several

critical issues related to service in the

Indian market. There was a great deal

of uncertainty due to the pandemic

which proved to be a challenging time

for business.

Many operators don't have the

requisite expertise to handle highautomation

machine, such as Low-E

film removing machine, online gasfilling

IG line, sealing robot, automatic

spacer bending machine, etc and

require extensive service and support.

Availability of spare parts in India

was another issue the company faced.

So when machines break down and

need parts, customers may want

to stop production, which can be a

terrible situation for both customers

and supplier.

Hanjiang has a huge customer

base in India, and without Chinese

engineers visiting the country due

to the ban on international travel

because of COVID-19, the company

struggled to provide on-time service.

But the company has worked

hard to stock up on spare parts in its

Mumbai office. So now, it can easily

manage most of the issues connected

with common parts. As per India's

local market situation, Hanjiang has

selected the top common parts for its

machines in the country.

–Ms. Ashley Quan

Email: Asia@hjglass.com.cn

–Deepak Dubey of the Service team

Email: Hj.indiaservice@gmail.com

Website: www.hjglass.com.cn

Glass Bulletin | October - December, 2021 75
---
Product Hunt

Printing and marking solutions for glass

decorations from Spinks World

Company Supplies Pad & Screen Printing Inks & Their Machines, Along With

Laser Marking Machine

Printing on glass can improve a product's value and use by enhancing its exteriors,

making it more functional and appealing.

Glass is a sustainable and environment-friendly medium to aesthetically

pack a product, use in architecture, furniture, home appliances, medical

devices, labware, mobile phones, and many other specialized applications.

Printing on glass can improve a product's value and use by enhancing its

exteriors, making it more functional, appealing, and beautiful on a wide range of

automotive, interior designing, commercial, and industrial applications.

Inks for automotive glass and household appliances

High temperature glass inks for industries such as automotive, electronic, home

appliances, architecture, furniture, glassware, handicraft, etc. Established in

2002, Japan Belleview has admirable screen-printing inks. It has been exporting

its inks to countries such as Germany,

Russia, UAE, Turkey, Vietnam and

Mexico.

With a cleanroom facility, highquality

manufacturing machines,

a set of testing equipment, and indepth

knowledge of the subject, Japan

Belleview manufactures the highest

quality products for glass printing

applications. Offering a wide variety of

products, Japan Belleview Inks comply

with most industry standards such as

REACH, ROHS, etc.

Spinks World is an exclusive

distributor of Japan Belleview Inks

for high-temperature glass inks.

These special inks pass ball drop tests,

acid resistance, alkali resistance, heat

resistance, and lightfastness tests and

provide excellent surface finish and

smoothness.

1. Japan Belleview also has

a range of functional inks

for defoggers, windshields,

sunroof, antenna, alarm

circuits, etc.

2. Standard international flat

glass resistance tests

3. Mechanical resistance

(accelerometer)

4. Chemical resistance (ASTM

C724-91)

5. Mechanical strength (DIN

18516)

6. Sulphur dioxide (DIN 50018)

UV light (XENO 1200)

7. Inter-mixable, high opacity,

lithium free

8. Holding time: 300 - 400

seconds (glass thickness is 4

mm)

76 Glass Bulletin | October - December, 2021
---
Spinks World • 2

9. Fusing temperature:

6800C-6900C (Not more than

6900C)

10. Chemical resistance: weakly

acid resistance, grade drying

temperature: 1000C-1500C 10

mins

11. Thermal expansion: < 30 x

10-7 K-1

12. Wet film thickness: 10 μm

13. Solvent based, IR drying solid

content: 80 (wt%).

Architectural glass enamels

Decoration of architectural building

glasses is on trend because of

marketing and branding needs. The

customers demand highly decorative

glass surfaces in buildings. Glass gives

architects and specifiers practical and

energy efficient choices in building

design. The enamel series Ink is a

complete blend of intensely opaque

chromatic colours: screen print, roller

coatings, and paints, curtain coatings,

paints, and sprays coating in various

forms of printing on glasses.

Apart from the ink matching and

mixing services, the inks follow all the

international guidelines (compliance).

Spinks World is a producer,

supplier and distributor of lead-free

architectural glass enamel and inks

applied for artistic, creative and

functional applications. The hightemperature

Belleview Spandrel panel

inks and enamels are used in offices,

other industrial spaces, internal

glass separators and are favourites

in architects. These enamels are

applicable and applied on glass

furniture to make it look premium.

Mirror-like effect enamel

Mirror-like effect ink is a newly

developed and created screen

printing ink (toughened temp.

650°C-680°C) that could be tempered.

In the company's lab, these inks are

formulated with years of experiments

and specially developed for attraction,

long-lasting results, and weather

changes. It is made of special resins

and pigments of precious metal. The

metal flashing and the flat surface are

very identical to the electroplating

effect.

Beneficial for adorning electronic

signs, high-end home appliances, and

glass furniture. It might change the

appearance of the glass.

Anti-slippery effect for glass

Composed of quartz frit and additive.

Applicable for glass floors, glass stairs

and glass bridges, etc. This enamel

has very strong chemical resistance,

scratch resistance, wear-resistance

and higher durability. The angle of

anti-slip is 37.6 degrees. Available in

white, black and etch colours.

UV screen printing inks for printing

on glass jar and container

Ruco inks, Germany, started

conventional UV screen printing inks

for glass, hollowware, drinkware and

cosmetic packaging in 2012. RUCO

UV Ink 935 UV is a market leader

in this category. At the same time,

the research team at RUCO also

developed an ink suitable for both

UV and LED. Now the company is

introducing the 937 UV+LED inks.

With the introduction of new series

in 2018, the glass printing business

has taken a dynamic turn. Customers

using very high speed machines

of Kammann, Omso or Fermac

can use the same ink for curing by

conventional UV or LED lamps. Speed

of over 120 glass parts per screen per

minute is easily achieved.

The major advantages of this

ink over conventional inks are:

1. Can cure under both the lamps

UV and LED.

2. LED lamps give great savings

on the energy front, so the

inks become great solutions

for hybrid machines where

multiple colours are printed

and require initial colours to

be cured by LED and finally by

UV metal halide lamps.

3. 937 UV LED is an ultramodern

ink with all current

environmental and chemical

norms followed.

Laser marking machine for glass

(MARKOLASER)

The green MARKOLASER machine is

designed for micro-machining of soft

and hard materials, especially marking

on glass and crystal engraving.

High peak power with excellent

beam quality makes this system

indispensable for these applications.

Email: info@spinksworld.com

Website: www.spinksworld.com

Glass Bulletin | October - December, 2021 77
---
Product Hunt

Edge seam and grinding machine — KSD-A with LiTEC slider technology for special premium edge processing

KSD-A from LiSEC – Perfect seaming and

grinding

Thanks To New LiTEC Slider Edge Processing, It Goes A Step Further

Towards Increased Efficiency

With its new KSD-A vertical edge processing machine, LiSEC pays special attention to the

glass edge.

Depending on the end product

and the follow-up process in

glass finishing, the glass must

have a ground (KMG) or seamed

(KGS) glass edge. The new KSD-A,

with its patent-pending LiTEC slider

processing tool goes a further step

toward increased efficiency, especially

for challenging glass sheets.

The LiTEC slider processing tool

uses a water-guided system to move

the grinding wheel to the glass to be

processed and for adapting to the

glass's distortions. The advantage of

this "floating" processing tool is its

ideal adaptation to the glass edge and

the sheet characteristics, as well as its

ideal cooling.

This allows better grinding and

seaming performance under difficult

conditions. In this interview, LiSEC

product managers Christoph Lueger

and Elias Leichtfried tell more about

the design, functions and special

characteristics of this new combined

edge grinding and seaming machine.

– How is the KSD-A configured?

Lueger: The KSD-A is a vertical

edge grinding and seaming machine

with new LiTEC slider circumferential

processing. The edge processing

machine comes standard with a

processing head and can be optionally

equipped with an additional one to

significantly increase throughput.

With a processing head, seaming

performance takes under 24 seconds,

and on the version with two heads

under 13 seconds are possible for a

glass sheet of 1,000 x 1,000 mm. The

KSD-A processes premium ground

glass edges in more than 30 seconds

with one processing head and less than

30 seconds with two grinding heads.

– How does processing of the glass

edges work?

Leichtfried: While being fed in, the

glass sheet to be processed is measured

on the fly for length and height. The

KSD-A has an optional data connection

for receiving sheet information, for

further reduction of processing time.

A high-speed X-axis with a vacuum

suction unit takes over transport

during edge processing and keeps the

feed going.

The KSD-A optionally does

coarse, medium or fine grinding

in any number of cycles or gives

the glass edge a perfect seam.

Moreover, the KSD-A can also grind

sheets to measure, which shows its

extraordinary flexibility.

– What are the special features of

the LiSEC KSD-A?

Lueger: The advantages of the

KSD-A are its especially compact

design, its simple access and operation,

and its flexibility with difficult glass

proportions in edge processing. The

premium processing though use of

stainless steel in the wet area, and a

78 Glass Bulletin | October - December, 2021
---
LiSEC • 2

Edge processing tool of KSD-A with LiTEC slider technology

Intuitive operation and tool wear display through automatic tool measurement

Separation of wet and dry area to protect the axes. Easy

operator access for tool change from in front.

sophisticated system for separating

the wet and dry area, ensure that

the precision axes are protected from

the grinding water. This reduces

maintenance and its associated costs

and increases machine availability. The

automatic tool measurement especially

saves time and ensures the highest

quality. The operator can change a tool

quickly and easily, because there is

access to the processing head directly

from the operator's work area in front

of the machine.

The KSD-A is available in four

different sizes. The machine comes in

heights of 2,000 mm, 2,500 mm, 3,000

mm and 3,300 mm. The maximum

processing length can be flexibly

extended as needed. Further options,

such as the additional processing head,

custom grinding, a data connection

and grinding water treatment ensure

adaptation to customer need.

– How do the LiTEC slider edge

processing tools work?

Leichtfried: The core of the new

KSD-A is the new processing tools

with LiTEC slider technology. These

are specially guided grinding wheels.

Guiding and delivering the processing

tool with water ensures that, especially

when seaming, the tool adapts to

the breakage quality, evenness and

geometric precision, always ensuring

process-stable, high-quality results.

The extraordinarily effective cooling

of LiTEC slider technology ensures

visually high-quality seaming and

grinding.

Standard functions

;;

Automatic infeed and outfeed of

the glass sheets

;;

Processing of float glass and

laminated glass sheets with a

glass thickness of 3-19 mm

;;

Automatic measurement of

rectangles

;;

Seaming and grinding without

glass removal

;;

Two sets of tools based on

LiTEC slider technology

;;

Simple operating program with

graphical interface

Optional functions

;;

Version with additional

processing head for maximum

throughput

;;

Grinding with glass removal

;;

Data connection to the

production planning system

;;

Version with WRA-1500

grinding water treatment

Highlights

Perfect seaming quality in every

situation

By using LiTEC slider technology,

the seam quality is no longer

dependent on the quality of glass

cutting. Even glass sheets with poorly

cut or broken edges are processed

reliably on the KSD-A.

Fast and reliable

The machine was developed for

use in highly automated lines, based

on decades of experience in vertically

processing glass sheets. The KSD-A

is a universal glass processing tool,

combining the fastest possible cycle

times with the utmost in reliability and

flexibility.

Diverse connection options

The machine's control options

are as diverse as the customers'

requirements. From the manual input

and the automatic measurement of

rectangles, to direct connection to the

production control system, the KSD-A

enables every form of integration in the

production line.

About the company

Headquartered in Seitenstetten/

Amstetten, Austria, LiSEC is a globally

operating group offering individual

and complete solutions in flat glass

processing and finishing for 60

years. Its service portfolio comprises

machines, automation solutions and

services.

CREATING VISIONS, PROVIDING SOLUTIONS.

– Claudia Guschlbauer

Email: claudia.guschlbauer@lisec.com

Website: www.lisec.com

Glass Bulletin | October - December, 2021 79
---
Product Hunt

TAVIC – unique and exclusive

collection of sliding systems

Premium, High-In-Demand Solutions For Luxury Residential, Commercial

Projects By Taiton

The range comprises wardrobe systems, sliding door systems, and swing framed and

frameless door solutions to meet the high-end needs of modern living and work spaces.

Taiton, an emerging and

fast-growing brand in the

architectural hardware segment,

announces the launch of its premium

collection under the brand name,

Tavic. The range is crafted with some

very premium and high-in-demand

solutions for luxury residential and

commercial projects.

Tavic range of products includes

wardrobe sliding systems, wardrobe

soft close hinges & accessories, slim

framed doors, slim frameless doors,

and slim sliding systems in automatic

and manual options. Each of these

offerings is provided as complete

solutions like a slim frameless sliding

system that comes with door hinges,

handles, door locks, euro profiles, slim

size door & frame profiles, and other

80 Glass Bulletin | October - December, 2021
---
Taiton • 2

accessories.

Tavic sliding systems are made

available in a series of options such

as in 02 & 03 door telescopic sliding

system, single door sliding system, and

bi-parting sliding system for glass and

wooden door panels' application. Each

of these is available in manual and

automatic options to meet the varied

needs of the projects. The sliding and

telescopic mechanisms are all quality

tested and certified for their long life

and smooth functionality.

Openness is the new in-thing in

the interior spaces, to meet this need,

Tavic brings slim profiles for frameless

doors and framed door solutions.

The slim size of the profiles enables a

minimalistic look to the area yet these

profiles are sturdy enough to deliver

long-lasting performance. Framed door

profiles are available in black matt and

brush gold finishes whereas profiles for

frameless solutions come in black matt

and AN finishes.

Its wardrobe solutions comprise

wardrobe sliding systems, wardrobe

air hinges, wardrobe hydraulic soft

close hinges, and edge handle profiles

for wardrobe and kitchen furniture

application. The range is specifically

designed for glass door wardrobes.

These are ideal solutions for walk-in

closets in bungalows, villas, and luxury

apartments. Air hinge is a unique

product to this range as they remain

invisible ensuring an awe-inspiring look

to the wardrobe.

The Tavic range also offers style

door hardware, soft close standard

system, and biometric digital locks for

glass doors.

The range is really wonderful and

luxurious with complete solutions for

each application. The range is designed

keeping in mind the application

convenience for glass installers and

fabricators.

E-mail: customercare@taiton.in

Website: www.taiton.in

Glass Bulletin | October - December, 2021 81
---
Technical Article

Glass – display – smartphone: How

inspection solutions ensure quality,

profitability

ISRA VISION Ensures End-To-End Process, Quality Control – From Raw

Material To Final Product

Have you looked at a display today? There is a good chance you'll answer this

question with "yes" – after all, touch screens and displays are all around us, whether on

smartphones, coffee machines, ATMs, in our cars, or at our workplaces.

Technologies for ever thinner

displays and vibrant display

quality, outlandish shapes, and

new applications open up additional

market potential in consumer

electronics and industrial markets. At

the same time, however, they place

increasingly higher requirements on

functionality and optical quality.

To meet these tough standards,

ISRA VISION develops and produces

mature inspection methods that

ensure end-to-end process and quality

control – from raw glass production,

films, and foils, all the way to complete

displays and finished products.

These methods increase efficiency

and profitability in the production

of displays and, ultimately, boost

customer satisfaction.

Touch displays enable the

Defect detection from the raw material

to the finished display

©ISRA VISION AG

convenient and intuitive operation of

devices and machines; plus, they are

robust and easy to clean. As a result,

they are also becoming increasingly

widespread in production plants,

medical technology, and other areas of

industrial applications.

The automotive industry is

currently setting trends in this area

with the introduction of pillar-to-pillar

displays spanning the entire vehicle

width in new vehicle generations.

These present important cockpit

functions and allow all the car's

communication and infotainment

systems to be operated.

In addition, they are perfectly

fitted and often feature curved

shapes and integrated sensors. It

is expected that this trend will also

continue in other applications. This

will require new procedures for

glass processing and finishing, as

well as corresponding inspection

processes during manufacturing.

Such quality inspection is essential

to meet the stringent requirements

in terms of robustness to mechanical

loads, trouble-free functioning and

operability, fit and optical quality.

Quality assurance begins with the

raw material

Whether they employ TFT or OLED

technology, modern displays consist

of many layers made of different

materials that are usually extremely

thin. Optical films, thin-film, and

thin-glass in the actual TFT or OLED

display and the cover glass are joined

together during the production

process, achieving a perfect union of

form and function.

However, even the smallest defects

in one of the layers can compromise

the properties and function of the

display. ISRA VISION is an industry

leader in optical inspection and

defect detection for every single

layer; its solutions identify and reject

defective materials before installation,

minimizing the number of imperfect

end products produced and increasing

the profitability of production.

ISRA VISION's SMASH is a system

for inspecting the surfaces of optical

films. It detects defects, including

minute scratches, marks, and

production residue on film materials

and coatings on web materials. Line

cameras guarantee a high inspection

speed of up to 1,000 meters per

82 Glass Bulletin | October - December, 2021
---
ISRA VISION• 2

Deflectometric surface inspection of the end product

©ISRA VISION AG

second while also enabling the highest

image resolution. At the same time,

customized lighting supports the

reliable detection and intelligent

classification of defects that would be

invisible to the naked eye. In turn,

this allows conclusions to be drawn

regarding causes or defective process

parameters, which can be continuously

monitored and optimized.

Fully automatic inspection of display

glass

Thin display glasses are also subjected

to a fully automatic inspection just

like optical films. ISRA VISION FPM-

Inspect (FLAT PANEL MASTER)

combines tried-and-tested technologies

for optical quality control with precise

materials handling technology for use

in clean rooms. This allows the system

to identify even the tiniest surface,

glass, or edge defects.

In addition, FPM-Inspect monitors

particle contamination on the

substrate, thus enabling conclusions

to be drawn regarding the air quality

in the cleanroom. Here, too, the

inspection system works with mature

software algorithms to improve the

production process and to detect and

eliminate the causes of defects.

When it comes to the 100 per cent

monitoring of evenness, rippling,

and reflection optics even in large

glass surfaces, ISRA VISION P2

(PowerPlate) delivers precise data in

a matter of seconds. Alongside defects

in and on the material, this also allows

the immediate detection of 3D shape

defects, preventing the materials in

question from being processed further.

Perfect union: Quality control before

and after joining

Perfect optical films, thin films, and

display glasses form the basis of

high-quality displays. However, they

only become a fixed unit with optical

characteristics and functionality once

they have been joined together during

production.

In this production step, quality

control is just as important as

inspecting the raw materials: Dimples

on the cover glass and other defects

can occur when adhering the layers,

which cannot be recognized with the

naked eye but compromise the optical

properties and function of the product.

SpecGAGE3D was specially

developed to reliably detect local

unevenness, supporting structures, or

read-throughs before and after joining

the display layers using deflectometry.

To do so, a stripe pattern is projected

onto the display and the reflection

is captured by multiple cameras and

subsequently evaluated. Any detected

defects are then classified immediately.

Curved glasses and displays: A special

challenge

Deflectometry is perfectly suited

for the inspection of curved glasses

and displays, for example for cover

glasses of smartphones. Curved edges

and concave shapes are becoming

increasingly popular here and in the

automotive industry since displays

of the same size require a smaller

installation width. And the shape

allows information to be seen more

easily on the edges. At the same

time, they set even more stringent

requirements in terms of quality

inspection, as the fit and shape must

be exactly right in addition to the

perfect surface and optical quality.

The SpecGAGE3D inspection

system from ISRA VISION enables the

efficient and reliable shape inspection

ISRA VISION Flatpanel Master performing thin glass surface

inspection for displays

©ISRA VISION AG

Glass Bulletin | October - December, 2021 83
---
Technical Article

of curved and flat displays and plastic

optics – such as light guides – by

generating measurement data, which

is superimposed with the target data

of a digital twin in a CAD comparison.

It thus creates a difference-map of

the inspected material that is precise

to the nearest micrometre. The

system uses point comparison, profile

sections, or full-surface evaluation

to check deviations from the target

geometry reliably and efficiently and

then visualize them.

Bending molds are a possible

source of defects in curved and flat

displays. With NetGAGE3D, ISRA

VISION offers precision measurement

technology for this, too, by reliably

identifying defects in the graphite

mold. In doing so, it ensures flawless

quality and thus reduces the likelihood

of defects that could otherwise be

reproduced in thousands of displays

during production.

Reliable and precise: 100 per cent

quality control of the end product

The raw glass and foils are impeccable,

no flaws occurred when adhering the

parts together, and the finished display

is fitted in the end product. Now it

is time to perform a final check to

ensure that the finished product has

a perfect appearance and is free of

errors. This is still often performed

as a manual cosmetic inspection –

with all its disadvantages, such as

subjective judgment, the dependency

of the inspection result on the person

carrying out the test, and the general

limitation of the human ability to

recognize minimal quality deviations.

This final inspection has a great

influence on the profitability of

production: When minimal defects

are screened too strictly, this reduces

profit, while an excessively relaxed

quality inspection leads to complaints

and dissatisfied customers. A fast, fully

automatic, and 100 per cent optical

inspection solution solves this problem.

It is easy to integrate, detects

typical cosmetic defects such as

scratches, bubbles, indentations,

and polishing marks and delivers

objective and reliable results. The

SpecGAGE3D inspection system from

ISRA VISION is also used during the

final control and is ideally suited for

the measurement and inspection of all

transparent and reflective surfaces.

Inspecting flat or curved displays,

as well as 2D / 3D cover glass, glass

back panels of smartphones, and other

glossy housing parts is possible with

the inspection system. This system

immediately decides how to sort goods

based on defined tolerance ranges and

automated defect classification.

Crystal-clear quality thanks to endto-end

process monitoring

Increasingly larger and thinner glasses,

flexible materials, and complex

shapes are posing ever more strict

requirements for the manufacturing

of displays. To meet these stringent

standards and ensure the best possible

quality while also achieving high

productivity and process reliability,

companies need end-to-end processes

and quality control.

It begins with the inspection of

the raw materials and accompanies

the entire production process right

through to the end product. When

defects are detected during this

process, connected inspection

solutions ideally allow them to be

precisely linked to their cause in the

upstream production steps.

This also enables the effects of

process parameter changes on all

further processes to be tracked and

monitored. ISRA VISION offers a

broad portfolio of optical inspection

solutions for every step of display

manufacturing. Thanks to the

inspection data gathered, plant

operators can continuously optimize

their processes and can thus achieve

optimum product quality, production

stability, and, ultimately, profitability. As

a result, they deliver flawless materials

and products – and guarantee high

customer satisfaction. Moreover,

the deployment of fully automatic

inspection systems in production

plants ensures compliance with

current and future quality standards,

as required, for example, in the

automotive industry.

With 100 per cent optical

inspection, you are also guaranteed

to meet even future requirements

regarding the shape, appearance, and

ISRA VISION SMASH surface inspection system for plastic

film material

©ISRA VISION AG

function of displays in production. To

this end, ISRA VISION collaborates

closely with leading manufacturers and

customers' development departments

in all key industries and can call upon

a close-knit network of experts and

engineers in Asia and worldwide.

Whenever new materials,

technologies, and applications

necessitate the further development

of inspection solutions, ISRA

VISION is already working on their

implementation in existing and new

quality assurance systems alongside

their development.

Email: info@isravision.com

Website: www.isravision.com

84 Glass Bulletin | October - December, 2021
---
Technical Article

#AskGlaston Lamination Series #2:

Production made simple

Glass Lamination Is Considered A Complex Process, But What If All That Is A

Thing Of The Past?

Every glass processor's target is to simplify production while ensuring extremely stable

yield and high end product quality.

In this episode of the #AskGlaston

Lamination Series, we wanted

to demonstrate the capability of

a modern glass lamination furnace

featuring advanced convection

technology designed to deliver just

that.

Glass lamination is often considered

a rather complex process. There

are a huge amount of variables that

you need to consider, starting from

sandwich composition, glass coating,

tempering quality, type of interlayer

and more.

But what if we say that all the

complexity of glass lamination is a

thing of the past? A couple of quick

test runs demonstrated in this video

prove it well.

For a demo, the production scenario

included running mixed production,

switching from product to product.

In the first batch, 6+6 mm

mixed production with clear and

Low-E glass sandwiches is launched

simultaneously. All are run with the

same settings, which wouldn't be

possible with any other technology.

Next, without any changeover

time, there is a switch to 5+5 mm

triangle glass production. Again, no

monotonous setting readjustment is

done.

As to the quality for both batches,

the appearance of the end products

is flawless – and this with minimum

operator input.

So how is all this actually

possible?

The greatest thing about convection

technology is that it doesn't care about

the glass coatings. It means the same

heating efficiency for all glass types.

Meanwhile, due to a state-of-theart

and self-adjusting pressing system,

the pressing force is also the same –

regardless of the glass shape or size.

And there is no need to adjust the

settings of the pressing rolls.

Basically, all this allows mixing

very complex batches in one loading.

For the operators, it simplifies glass

lamination extremely. The considerable

part of the operator's input that

would normally be required is made

unnecessary.

In the next episode, we will look

into what is actually possible to achieve

in glass lamination and see how far

the limits can be pushed. We will also

cover some new product releases. So,

see you then.

--------------------------------------------------

https://bit.ly/3pCERPL

--------------------------------------------------

Email: info@glaston.net

Website: www.glaston.net

Glass Bulletin | October - December, 2021 85
---
Technical Article

Producing for the energy transition: The second drawing glass

line at Borosil was set into operation in 2019.

Source: Grenzebach

Glass production technology for

ecological & economic upswing in India

India is pushing the development of renewable energies and wants to strengthen its

economy further with the production of photovoltaic modules.

Grenzebach has been a partner

of the glass industry in India

for decades, has continuously

expanded its network and supports

the solar power boom with innovative

production technology for drawing

glass.

India's economy has provided

strong growth impulses in the last

years. In the long term, experts expect

a growth corridor of between four

and eight percent for the economy.

Almost 1.4 billion people live in

India – the country with the secondlargest

population after China. The

country, which stretches from the

Indian Ocean to the Himalayas, is

increasingly striving for economic

independence from neighbouring

states and has also set ambitious

climate targets.

Images of New Delhi smothered by

smog shall be a thing of the past. Solar

power instead of coal-fired power

is the motto. With its "Incredible

India" campaign, the subcontinent

has been showcasing its diversity for

several years now. The economic and

ecological upswing is being intensively

promoted by the Indian government.

While around 75 per cent of the

solar panels installed in India have

so far been supplied by China, the

domestically produced amount of solar

panels is supposed to rise rapidly.

The Indian government has added

PV modules and battery storages

A look into the Grenzebach chronicle: Maria and Rudolf Grenzebach (left), the company founder couple, and Sonja Grenzebach-

Proeller (second from the right), today the main shareholder of the Grenzebach Group, visiting the experts at the Indian site in

Pune. This archive photo is from 2007.

Source: Grenzebach

86 Glass Bulletin | October - December, 2021
---
Grenzebach• 2

Good cooperation: Pradeep Kheruka, Chairman of the Borosil Group with Jan Lukassek, Senior Sales Manager in the Business Unit

Glass at Grenzebach and Sorab Singhal, DGM Glass Service at Borosil (from left to right) at a meeting on a solar exhibition in 2014.

Source: Grenzebach

for solar power to the list of the

Production-Linked Incentive Scheme

(PLI).

High demand for drawing and float

glass

"At the moment, we are seeing an

increased demand for drawing glass

lines because the patterned glass is

used in PV modules. The production

of float glass will also increase further

in order to supply the automotive

and construction industries with

glass products, for example," says

Jan Lukassek, Senior Sales Manager

in the Business Unit Glass at

Grenzebach.

Since 2005, he has been in regular

contact with Indian partners and

customers, advises them regarding the

design of glass manufacturing plants

and supports the customers with his

expertise through all communication

channels until the start of production

and beyond.

"So far, compared to the country's

population and growing economic

strength, there are relatively few

glass manufacturing plants in India. I

reckon that around 70 per cent of the

current capacity and the now growing

capacity will be used for products for

the Indian market. The rest will be

exported," Lukassek said.

To support producers in India

in setting up and expanding their

production technology, Grenzebach

can rely on decades of experience in

the industry and their presence on

the Indian subcontinent for a quarter

of a century.

Already in 1996, Grenzebach built

the first plant in India

Grenzebach took its first step into

India in 1996 with the installation of

stacking systems at the cold end of

an existing float glass line. In 2006,

10 years later, the company, with its

headquarters in Bavaria, opened its

own subsidiary in Poona, around 90

kilometres from Mumbai. From there,

Grenzebach employees maintain

plants throughout India and also

neighbouring countries.

"The glass industry in India and

in our neighbouring countries has

gained great momentum since the

Grenzebach team started a quarter

of a century ago. Solving day-to-day

issues together with our customers

and also strategically supporting the

companies is a great pleasure," says

Prasanna Hedge, Managing Director

at Grenzebach Machinery (India) Pvt.

Ltd in Poona.

In 2009, the drawing glass

line premiere in India took place

together with Borosil Glass Works

Ltd., in 2019, the second line was

commissioned, and in 2022, two more

drawing glass lines for patterned glass

will be installed for the newly founded

company Borosil Renewables Ltd.

Today, a total of six float glass lines

from Grenzebach are in operation in

India, with a daily capacity of almost

3,800 tons. With the two new plants

at Borosil, four drawing glass lines

will then produce up to 1,000 tons of

patterned glass per day.

Further fine-tuning the technology

for drawing glass production

Improving the quality of air and

thereby the quality of life for the

people living in India, protecting the

environment, making a significant

contribution to the international

efforts for climate protection: In order

to reduce CO2 emissions and drive

the energy transition forwards, the

government is relying in particular on

the power of the sun.

Grenzebach is well prepared for

the additional installation of drawing

glass lines which are specifically

designed for the production of

glass for photovoltaic modules. To

meet the increasing demand for

solar glass, which is currently also

centred in China, Grenzebach

experts comprehensively revised

the portfolio for drawing glass and

added new technologies, a state-ofthe-art

product line. Why drawing

glass? Photovoltaic applications

require ultra-clear glass with high

light transmission, a light-focusing

structure and low light reflection.

Drawing glass, also called patterned

glass, meets these requirements.

Borosil: Dedicated and flexible

during the energy transition

Borosil realised the great demand for

solar modules as early as 2009 and

put the first drawing glass line into

operation with a daily output of 180

tons per day. Another drawing glass

line, commissioned in 2019, generates

additional 240 tons per day.

Borosil continues to expand to meet

the increasing demand for drawing

glass for PV modules as a result of

the international energy transition.

In 2022, another two patterned glass

lines will be installed, each with a

daily output of 275 tons. They will be

located in Bharuch in Gujarat. The

Glass Bulletin | October - December, 2021 87
---
Technical Article

Indian premiere for Grenzebach: A stacking system for float glass was installed at an already existing conveyor technology in 1996.

Source: Grenzebach

port city, with a population of around

170,000, is located in the western of

India at the estuary of the Narmada

River in the Gulf of Khambhat.

Bharuch is a trading town rich in

tradition and history and is mentioned

in the most famous Indian epic, the

Mahabharata.

From history to Borosil's investment

in two state-of-the-art drawing glass

lines. Borosil Renewables Ltd., part

of the international Borosil Group,

doubles its capacity in India for

patterned glass for 5 gigawatts of

photovoltaic modules daily with the

expansion in Bharuch. The company

now meets about 40 per cent of the

demand for drawing glass on the

domestic market. The remainder is

imported from China and Malaysia.

"Investing in green power

technology early on has proven to

be the absolutely right strategy.

We knew that drawing glass for

solar modules would be of great

importance on the Indian market.

We will resolutely continue going

on this path. The investment in

the two additional drawing glass

lines is an important step so

that we can meet the increasing

demand and in addition expand this

strategically important business," says

Ramaswami Velayudhanpillai from the

management of Borosil Renewable

Ltd.

The company is also heavily

exporting. Borosil Renewables exports

about 20 per cent of the produced

patterned glass to the USA and

Europe, in particular to Germany,

Spain, Portugal, Turkey and Russia.

Back to the new site of Borosil in

Bharuch. Borosil places particular

importance on enormous flexibility

in production: Drawing glass for solar

modules has a thickness of 1.6 to 4

millimetres. The formats of the glass

sheets depend on the order but range

within the frame of 1 on 2 metres.

"In the area of photovoltaic, bigger

glass formats are on the rise. Borosil

anticipated that already and the line

is designed to allow maximum gross

widths. This promotes flexibility," says

Jan Lukassek from Grenzebach.

The maximum glass width is

defined by the length of the structure

roller. The two new lines have three

robots each to stack the glass sheets

at the line. Flexibility is also an

important aspect of this: Two single

sheets can be picked simultaneously

(double pick) or individually (single

pick).

The cold end is supplied by

Grenzebach, the annealing lehr by

CNUD EFCO GFT. Following the

motto "from hot to cold", Borosil uses

integrated solutions from a single

source. Grenzebach and CNUD

EFCO GFT have immense application

knowledge with 300 systems installed

worldwide. Both companies have been

innovators in the field of technology

in the industry since the 1990s.

Together, they cover a large part of the

subsections of a glass line and their

customers benefit from their joint

expertise in the hot and cold areas.

Borosil, with its additional

expansion, is one of the drivers of

India's growing importance in the

global energy transition. India has

potential and is likely to become an

important hub for the enormous

international demand for photovoltaic

technology.

Although the Indian economy

was hit by a slump as a result of the

COVID-19 pandemic, and although

India will have to struggle with the

effects of the pandemic for a long

time, the country could become

one of the top three economies in

the world by 2030. The boom in

renewable energies and the boom

in glass production are significantly

contributing to this.

About the company

Grenzebach is a leading automation

solution provider for the global glass,

building material and intralogistics

market.

Email: glasshandling@grenzebach.com

Website: www.grenzebach.com

88 Glass Bulletin | October - December, 2021
---
Market Scan

Uncertainty in Indian glass sector over

historical shortage of clear float

Demand-Supply Gap Soars, Prices Hit All-Time Highs; Processors Wary As

No Solution In Sight

India's glass industry is going through a very difficult time as the country looks to come

out of the shadow of the COVID-19 pandemic.

Amid a number of uncertainties,

the glass industry of India also

faces a historical shortage of flat

glass in the market, especially clear

float glass.

Glass Bulletin conducted a survey

on this current situation of glass

shortage among glass manufacturers,

dealers, glass processors, wholesalers

and retailers to understand what they

think about it and also sought their

feedback and suggestions to overcome

the same.

During the lockdown last year, glass

companies were breaking glass and

recycling it to keep their furnaces

running and also avoid surplus stock

in their warehouses. But after the

lockdown was eased, demand of

glasses in various segments have

increased tremendously.

But since the production capacity

remained unchanged, the gap between

demand and supply widened. This

gap of glass in the market meant

manufacturers were unable to meet

the demand. But it also meant prices

soared to all-time highs.

There has been no new float line set

up in the last two years (after 2019).

And setting up one from scratch takes

at least two years before production

can begin. Hence, while demand will

rise, supply won't, which essentially

means the gap will persist.

Import of glass has fallen

significantly after COVID-19 and

freight has become three to four times

higher than usual. So, even importing

glass makes less sense now as costs

will rise. The Indian government has

imposed anti-dumping on the import

of glass. This means prices are bound

to go higher in case of imports.

The gap has grown to an extent

that big and established processors

are unable to get raw materials. This,

in turn, is preventing new processors

from entering the segment.

New glass processors who were still

willing to come and start processing

units are definitely the most affected.

The situation is more problematic for

new entrants as they find themselves

staring at no supply of raw materials

to keep their units running as glass is

"

As production capacity

has remained unchanged,

gap between demand

and supply has widened,

pushing prices to all-time

highs.

the basic raw material to run a glass

processing unit.

With the demand climbing,

processors find themselves in a

situation where they are unable to

fulfil orders. Many are even refunding

advances received for orders as

they are not able to procure the raw

materials required for it.

Prices of raw materials fluctuating

so rapidly that processors are unsure

how the change in the raw material

cost will affect production cost. As

a result of this, processors are also

reluctant to take orders.

Manufacturers on the other hand

have kept up exports. Many processors

GB spoke to wanted government

intervention to temporarily pause

exports so that domestic market can

recover from the historic shortage of

raw materials.

Several companies were also of the

opinion that manufacturers should

understand the seriousness of the

situation and make efforts to back

domestic processors.

Float companies, however, said

they were giving raw materials to their

customers who have stood by through

difficult times. Local home appliances

manufacturers have approached them

for glass as they are unable to procure

it from China and other countries like

they used to earlier due to high prices.

Float companies also said they

understand the current scenario of

shortage. All such companies GB

spoke to assured that they are more

focused on manufacturing clear float

glass and are also planning capacity

expansion to minimise the shortage.

These companies said they are

increasing prices due to rates of raw

material and fuel being at all-time

highs.

Glass Bulletin | October - December, 2021 89
---
Market Scan

Exhibition sector charts way out of

COVID-19 slump

Forced To Go Virtual By Pandemic, It Has Seen Rapid Dip In Business

Generation

Having suffered a massive setback since the outbreak of the COVID-19 pandemic and

subsequent lockdowns, the exhibition industry has its hopes pinned on 2022.

"

Industry experts believe

that from 2022, things

would start turning for

the glass industry and the

exhibition sector. Domestic

air travel restrictions have

been lifted entirely, and

with a fully vaccinated

adult population, curbs

imposed on international

travel will surely be eased

further.

Restrictions on travel and the

risks involved because of

the coronavirus have forced

meetings and conferences to move

online. The economic cost of the

lockdown has led to budget constraints

which, in turn, resulted in further

reduction in expenditures.

Conferences, seminars and

exhibitions slowly moved to the digital

space, which proved cost-effective

but they never could see the kind of

business these events brought when

held in physical mode.

Physical meetings and face-toface

interactions were what brought

business for companies participating in

exhibitions. Though participation did

not take much of a hit as exhibitions

moved to the virtual space, financial

transactions surely did.

This was partly because of

international travel restrictions and

also for the fact that most decision

makers prefer watching a live demo

with their own eyes before deciding to

invest.

This, coupled with other reasons like

vaccination and restrictions induced by

the pandemic, led to the cancellation of

several major international exhibitions.

The trend was seen in India as well.

Restrictions on international flight

operations, vaccine and quarantine

regulations and COVID-19 protocols

have caused many exhibition

participants and visitors to withdraw

their plans.

However, the crisis is expected

to tide over by the year-end. With

India rapidly vaccinating its adult

population, the restrictions are being

eased gradually. The country expects

to vaccinate 100 per cent of its adult

population by the end of 2021.

So, industry experts believe

that from 2022, things would start

turning for the glass industry and

the exhibition sector. Domestic air

travel restrictions have been lifted

entirely, and with a fully vaccinated

adult population, curbs imposed on

international travel will surely be eased

further.

And that would mean exhibitions

can be held physically like before,

bringing back visitors and participants

from within the country and abroad.

And as the shortage of raw materials

is expected to be over, established

businesses as well as new entrants

would be back to the market, bringing

their business with them. So it does

look bright and shiny for the sector

from the beginning of next year.

The current year saw organizers of

major exhibitions worldwide schedule

and then reschedule. Dates of events

like China Glass, Vitrum, glasspro

India, glasspex India, ZAK Glass

Technology and glasstec Germany were

changed more than once.

90 Glass Bulletin | October - December, 2021
---
Company News

Ozone announces setting up of new

facility in Rajasthan

R&D Centre, Testing Lab On The Cards; Will Make Furniture Hardware, Other

Architectural Products

The leading manufacturer of architectural hardware will set up the new industrial cluster

in the Ghiloth Industrial Region of the state to cater to the domestic and the international

market.

Ozone, a leading brand in

architectural hardware with

high-quality products, has

announced the setting up of its

manufacturing facility in the Ghiloth

Industrial Region, Rajasthan. The

company plans to manufacture under

the government's Atmanirbhar Bharat

initiative and cater to the rising global

demand. The facility laid out over

13 acres will also have a world-class

research and development centre.

The company manufactures

specialised digital door locks, glass

fittings, automatic doors, electronic

safes, demountable partition systems,

and framed shower sliding systems, etc.

While the company has aligned

its production capacity as per the

requirements of the 'Make in India'

campaign, its vision is to 'Make for the

World' to cater to the global demand

and serve across 40 countries. The

company's portfolio has over 5000

products.

Currently, it has four manufacturing

units located at Kala Amb, Himachal

Pradesh for manufacturing digital

safes, railings and glass fittings. The

facilities boast of state-of-the-art

technology imported from the best

brands around the world.

Commenting on the launch of the

Ghiloth facility, Mr Alok Aggarwal,

Managing Director, Ozone Group said:

"Ozone is a trusted name when it

comes to architectural hardware and

security solutions. We have a longstanding

tradition of delivering quality

products that match international

standards and norms. With a rapid

rise in urbanisation and commercial

activities worldwide, the demand

for these solutions in recent years

has grown multi-fold. And it is an

opportune time for Ozone to contribute

to the country's 'Make in India'

campaign. This facility will add to our

growth and help us in meeting the

growth plans."

Recently, the company has launched

a range of digital door locks. It has

been aggressively marketing the range

of digital locks with its Guchcha Singh

Campaign through Above-the-line

Mr. Alok Aggarwal, Managing Director, Ozone Group

(ATL) marketing.

From the Ghiloth facility, the

company will be manufacturing

furniture hardware, door hardware

and other architectural products. The

facility will have an R&D centre and

certified testing lab. The company

also said that it had assigned a CAPEX

outlay of approximately Rs 200 crores

for the next three years.

Glass Bulletin | October - December, 2021 91
---
Product Hunt

High performing Legend Casement &

Legend Sliding systems

Make Way For The Future Of Thermal And Acoustic Insulation From

Deceuninck

Deceuninck, one of the leading producers of uPVC profiles for doors and windows,

designs systems to be more than an attractive portal to the outside world.

One of the features that attract

many towards Deceuninck

uPVC door and window profiles

is thermal insulation. The experience

of living in a comfortable temperature

irrespective of whatever the weather

is outside certainly makes the inner

environment more appealing.

During summers, when you enter

a room with Deceuninck door and

window profiles, you no longer have

to worry about the wrenching heat

or the discomfort it causes. Similarly,

during winters, you'll no longer have

to carry heavy clothes even when you

are inside.

The high-level thermal insulation

performance creates a perfect room

temperature for one to relax or choose

to focus on work without the weather

troubles. Additionally, due to the

thermally insulated door and window

profiles, spending on energy will also

drop, thereby resulting in energy cost

savings.

If you are looking for such

exceptional thermal insulation

performance, then the 80 series

Legend Casement and 149mm Sliding

Frame with 76mm Sash Legend Shiftand-Slide

(sliding) system are perfect

options. They are strong, secure,

long-lasting, thermal, and acoustic

insulated — a complete set of features

that will considerably enhance your

experience of living.

To understand more about what

each of the above two Legend

products can do, let's discuss each

one in detail.

1. Legend Casement: The

Legend system is perfectly designed

with state-of-the-art 6 chambers

technology. The profile comes with

80mm depth which provides excellent

thermal insulation performance

which substantially reduce heating

costs compared to standard windows.

The Legend casement comes with

harmonized design and premium

features that satisfy all the highest

requirements.

The Uf value of the legend

casement system is measured to be

0.92W/m2k. With an 80mm profile

depth, it can accommodate glass

thickness up to 52mm which is the

92 Glass Bulletin | October - December, 2021
---
Deceuninck• 2

Used materials for the calculation

Description Material

Thermal

conductivity

(WmK)

PVC Hart PVC 0.17

Steel Baustahl 50

Sealing material TPE 0.25

Glass 1 Glas 1

Glass 2 Glas 1

Glass 3 Glas 1

Wall Klinker 0.96

Wall plaster

outside

Anhydritmörtel 0.7

Wall plaster inside Dünnbettmörtel 1

Report of isothermal calculation

Limiting conditions

Assumed outside temperature: 45°C

Assumed inside temperature: 23°C

Presented isothermals

45° to 23° in 1° - steps

10° - Isotherm blue; 13° - Isotherm red

Calculated temperatures / factors

Minimal surface temperature Pi: 28.032 °C

Temperature factor fRsi: 0.771

2. Legend Sliding System – The

all new Shift & Slide System: If you

are looking for something more than

an aesthetic door, then this option is

perfectly suited for you. Guaranteed

to perform for years to come, the

Legend Shift-and-Slide system adds a

notch of strength and security to your

doors.

The system has solid hinges with

a multi-point locking system, making

your door a strong barrier for any

burglar. With a 6 chamber design

the Legend Slide system establishes

the perfect balance between energy

efficiency and comfortable living as

it provides excellent thermal and

acoustic insulation. You also get an

easy-to-use locking system made from

an effectively secured lock technology.

Its Uf value is 1.4W/m2k as it

can accommodate glass thickness

up to 52mm, with a noise reduction

measurement of up to 32dB.

The Legend Slide is tested for air

permeability as per BS EN 12207 for

600 pascals and for water tightness as

per BS EN 12208 up to 450 pascals

ie, Class 8A. Its high water and air

tightness makes it ideal for coastal

areas which experience heavy rainfall.

Tamil Nadu, Andhra Pradesh, Orissa

and West Bengal experience cyclones

every year with wind speeds exceeding

180Kms/hr.

Scan now to

visit virtual showroom

ideal choice for Passive Housing. In

this way, the thermal conductivity of

the window, combined with profile

section and glass, creates a superior U

window value of less than 1W/m2k.

Along with high-level thermal

performance, you will also get

excellent noise reduction of upto

49dB. The air permeability of the

system as per BS EN 12207 Class

4, and water tightness as per BS EN

12208 - Class E1350. In addition,

the windows & doors are designed

with reference to wind resistance as

per IS 875 - Part III. Lastly, another

premium aspect of the system are its

aesthetics. The system is available

in white colour along with a variety

of solid and wooden finishes and

is suitable for doors, shop fronts,

inside opening as well as Tilt & Turn

Windows.

Email: info@deceuninck.in

Website: www.deceuninck.in,

www. 123windows.in

Glass Bulletin | October - December, 2021 93
---
96
---
th

The 4 Edition

3 - 5 March 2022

TRENDS AND

INNOVATIONS

IN GLASS

BOOKINGS

IN FULL

SWING

Hall No 2

Bombay Exhibition Center

Mumbai, India

www.glassproindia.com

MESSE DÜSSELDORF INDIA PVT. LTD.

VIVEK BOHRA

GLASS BULLETIN

LAKHAN SINGH

Powered by Concurrent Event Introducing

New Segment

Organised by
---
G L A S S T E C H A S I A 2 0 2 2 &

F E N E S T R A T I O N A S I A 2 0 2 2

The Glass Hub of Southeast Asia

Powered by BAU & BAU China

Be part of the BAU Network!

26

-

28

O C T O B E R

2 0 2 2

MARINA BAY SANDS

CONVENTION CENTRE,

SINGAPORE

>200

Exhibitors

>3,000

Professional

Visitors

~5,000 sqm

Gross Exhibition

Area

Enlarged

Supporting

Program

New Networking

Platforms

Exhibitor Profile:

Glass Production & Manufacturing Technology

Processing & Finishing

Glass Products & Applications

Chemical Building Products

Windows & Doors System

Curtain Walls & Sun Shading

Architectural Glass Profiles

Hardware, Digital Products & IT

> and more....

(65) 9766 7360 adrian.tan@mmiasia.com.sg www.glasstechasia.com.sg

Organised By: MMI Asia Pte Ltd

In Partnership With: Singapore Glass Association

Supported

By:
---
15

R
---
PULSAR Technologies

104, Ajanta, Plot No. 24, Sector 15, Vashi, Navi Mumbai-400703, INDIA

Handphone: +91 81699 40437 website: www.pulsartechno.com Email: s aIes@puIsartechno.com

JF – 3 Surface Stress Meter

The Instrument is applied for measuring surface

Stress of thermally toughened glass, heatstrengthened

lass and annealed glass on the tin side.

* Special edition can work on Borofloat Glass

Edge Stress Meter

Method : Senarmont Compensation

DHRWG – 01 Dual head Roller Wave Gauge

The gauge is designed for measuring roller wave and edge-life (edge

curl) in flat glass according to EN 1863 and EN 12150.

The length of the gauge base is 16" (406mm) with Composite structure of Aluminum

alloy and Delrin ( POM). The handhold curve of Aluminum alloy brings convenience

to operation and POM bottom gives protection to glass surface soft coating.

The main technical parameter of the instrument are as follows :

114
---
PULSAR TECHNOLOGIES leading suppliers of Testing, Sensing & Measuring Instruments for Quality

Control in GLASS PROCESSING INDUSTRY.

Argon Gas Analyzer-

Sparklike

Glass Surface Stress

Measurement Polarimeter

Fully Automated

Haze Meter Light &

Transmittance

UV-Radiation Chamber

Steel Ball

Abrasion Tester

Merlin Lazer Glass Analysis

Kit

Shot bag Humidity Chamber Edge Lift Roller Wave Gauge

PVB Moisture

Measurement

SHGC Window Energy

Meter with UV Full IR

Visible light transmittance

Low E Coating Detector Pneumatic Tyres Impactor Head Form

• Optical distortion online

measurement in flat glass

– online scanner for glass

inspection.

• Glass thickness

measurement – Glass

thickness, PVB thickness,

Air Gap etc. for flat glass,

architectural glass

including the IGU's and

automotive glass.

• Stress Measurement in

glass.

• Dropping Tower.

• Dropping Test Equipment

• Frag Glass Software

• Haze Meter, Deep freezer

• Shore – A Hardness

Tester

• Boiling Kettle

• Standard Projector

• Double Image Test Light

Source

• Baking Test Oven

• Radius Meter.

• Electronic Balance

• Dew point Tester TW-25,

UV Radiation Chamber,

Local Bow and RWG-D

• Proxy test

• Precision scalars

• Variable angle windshield

support

• The resistance furnace

• Moisture Penetration

tester EN-500B

• Sealant aging test meter

UVEC-1

• Spring Loaded Auto

Punch

• Electronic tensile strength

test machine.

PULSAR Technologies

Vashi, Navi Mumbai-400703, INDIA Handphone: +91 81699 40437 / 93235 26797 website: www.pulsartechno.com Email: saIes@puIsartechno.com

115
---
133
---
134
---
135
---
MATT BLACK

PVD ROSE GOLD

PVD GOLD

ANTIQUE BRASS

SSS

KOLF INTERNATIONAL (P) LTD

Patch Fittings in colors | Shower Fittings in colors | Hydraulic System |

Aluminium Profile Handles | Inlay Profiles | Spider Fittings | Barn Door Fittings

For Enquiry : +91 9999031523

136

info@kolfsafex.com
---
glass technology

Added Value Storage

Broad Product Range

Customer-Specific

Greater Flexibility and

Extended Product Range

Increase your flexibility and extend the product range in your glass storage with

Rapidstore. Glass and packages find their optimal place in the movable rack frames.

Benefit from direct access to additional types of products in your gantry or floor

loading system for customer-specific products with faster availability.

• Optimal for custom-tailored extension of your glass storage

• One or more cutting lines have direct access to more types of products

• Ideal for flat halls without craneways

HEGLA • Industriestr. 21 • Beverungen, Germany • info@hegla.de

HEGLA Trading & Service GmbH • Chennai 600034, India • naresh.kumar@hegla.in