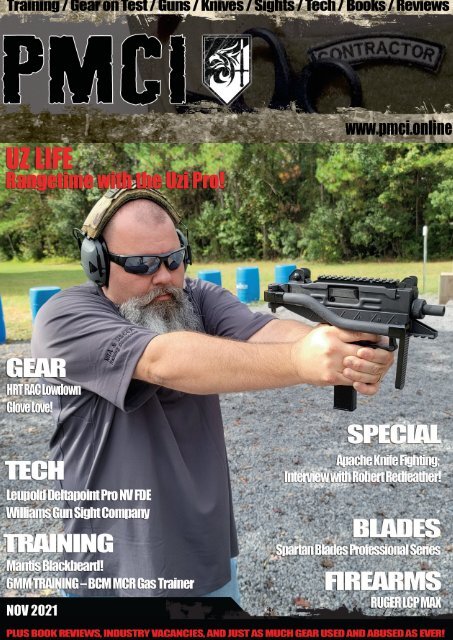 PMCI November 2021
As we approach the end of yet another tough year the team at PMCI are as always looking forward and continue to embrace the armed lifestyle that we all hold so dear! In this issue we look to both the past, with an excellent interview with Robert Redfeather on "Apache Knifefighting" and get on the range with the venerable Uzi, and to the future as we tackle red dot handgun sights and some of the very latest training tools to hit the market. Along with our usual focus-points on "guns n' gear" and some serious attitude, PMCI is ready to evolve further and we're fully prepped to hit the New Year ahead!
As we approach the end of yet another tough year the team at PMCI are as always looking forward and continue to embrace the armed lifestyle that we all hold so dear!
In this issue we look to both the past, with an excellent interview with Robert Redfeather on "Apache Knifefighting" and get on the range with the venerable Uzi, and to the future as we tackle red dot handgun sights and some of the very latest training tools to hit the market.
Along with our usual focus-points on "guns n' gear" and some serious attitude, PMCI is ready to evolve further and we're fully prepped to hit the New Year ahead!
SHOW MORE
SHOW LESS
Create successful ePaper yourself
Turn your PDF publications into a flip-book with our unique Google optimized e-Paper software.
NOV2021

4 SPECIAL REPORT - APACHE KNIFE FIGHTING; AN INTERVIEW WITH ROBERT REDFEATHER!

THROUGHOUT TIME, MASTERY OF THE BLADED WEAPON HAS BEEN THE HALLMARK OF WARRIOR CULTURE;

IN THE UNITED STATES, ONE OF THE PUREST FORMS OF THE KNIFE CULTURE LIES WITHIN NATIVE AMERICAN

LORE, AND TRAMPAS GOT TOGETHER WITH ROBERT REDFEATHER TO LEARN MORE.

10 TRAINING – MANTIS BLACKBEARD! OVER THE PAST TWO YEARS, THE FIREARMS TRAINING INDUSTRY

HAS BEEN HIT PARTICULARLY HARD WITH THE STORAGE AND RISING COST OF AMMUNITION, YET DESPITE

ADVERSITY, FORWARD THINKING MANUFACTURERS AND TRAINERS TURNED TO TRAINING ALTERNATIVES

SUCH AS THE LATEST TECH FROM MANTIS… BLACKBEARD!

16 GEAR ON TEST: "GEAR FOR THE GOOD GUYS" COURTESY OF THE PMCI TEAM

18 GEAR: HRT RAC: IN THE PROFESSIONAL OPERATIONS WORLD, IT IS OFTEN A MISNOMER THAT

HIGH END GEAR WILL MAKE AN OPERATOR BETTER, BUT WHEN IT COMES TO SPEED, MOBILITY, AND

PERFORMANCE THAT ALLOWS THE USER TO DO WHAT THEY ARE TRAINED TO DO RATHER THAN HINDER

THEM, ENTER THE HRT RAC!

24 GEAR: GLOVE LOVE! BILL TAKES A LOOK AT GLOVES HE'S BEEN USING, WHAT HE'S WORN IN THE PAST

AND WHAT HE'S WEARING NOW SO YOU CAN REALLY GET "HANDS ON" IN ANY SITUATION, ESPECIALLY

AS THESE DAYS AS EVEN HE IS USING A SMARTFONE!

28 TECH: LEUPOLD DELTAPOINT! IS THE PISTOL RED DOT A FRIEND OR FOE? THIS IS A QUESTION JIM

OFTEN GETS AS A PROFESSIONAL FIREARMS INSTRUCTOR. TO EXPLORE THE ANSWER, HE TO DIVE INTO

TESTING THE LEUPOLD DELTAPOINT PRO NV FDE

32 BLADE: SPARTAN BLADES PROFESSIONAL SERIES: IN THE UNITED STATES TRAMPAS BELIEVES THAT

LIVING IN THE MOST CULTURALLY DIVERSE COUNTRY IN THE WORLD MEANS THAT SPARTAN BLADES CAN

DRAW ON DESIGN INFLUENCES ACCORDINGLY TO CREATE SOME TRUE MASTERPIECES.

36 FIREARMS: UZI PRO: FEW FIREARMS THROUGHOUT HISTORY ARE MORE RECOGNIZABLE THAN

THE ICONIC UZI! IT'S SHORT, STOCKY APPEARANCE FITTED WITH A SEEMLY ENDLESS STREAM OF 9MM

AMMUNITION VIA 32 ROUND MAGAZINE AND A CYCLIC RATE OF 600 ROUNDS OF MINUTE MADE IT A

HOLLYWOOD ACTION MOVIE DREAM, AND CERTAINLY HAS ENDEARED TO TRAMPAS!

40 TECH: GSL SUPPRESSORS: MANY LONG-TERM SHOOTERS SUFFER FROM PARTIAL HEARING LOSS

FROM WORKING WITH OR IN EXTREME CLOSE PROXIMITY OF FIREARMS. SADLY, MANY OUTSIDE THE

PROFESSIONAL ARMED COMMUNITY DO NOT REALIZE JUST WHAT AN IMPORTANT PART OF OPERATOR

SAFETY A QUALITY SUPPRESSOR CAN REALLY BE, AND THOSE FROM GLS ARE PURE QUALITY!

44 TECH: WILLIAMS GUNSIGHTS: ONE OF THE MOST DISAPPOINTING ITEMS TO ENCOUNTER WHEN

SHOPPING FOR A NEW DEFENSIVE HANDGUN IS TO FIND A GREAT DEAL ON THE PISTOL YOU WANT, BUT

REALIZE, IT COMES WITH LESS THAN STELLAR FACTORY IRON SIGHTS, SO TRAMPAS TAKES TIME TO LOOK AT,

AND ADDRESS, THIS ISSUE WITH WILLIAMS GUN SIGHT COMPANY.

47 BOOK REVIEW: "GUNSHIP ACE: THE WARS OF NEALL ELLIS, GUNSHIP PILOT AND MERCENARY"

49 6MM TRAINING – BCM MCMR GBBR: VEGAFORCECOMPANY PRODUCE SOME FABULOUS "6MM

TRAINING" GAS AR PLATFORMS, AND WORK CLOSELY WITH REAL-WORLD FIREARM MANUFACTURERS TO

ENSURE THAT THEIR RECREATIONS ARE 100% SPOT-ON, SO THIS TIME BILL TURNS HIS ATTENTION TO THEIR

TAKE ON THE BCM MCMR, AN ABSOLUTELY FANTASTIC GAS "TRAINER"!

52 INDUSTRY VACANCIES: LOOKING FOR WORK? JUST CHECK HERE.

Copyright © Calibre Publishing 2021. All rights are reserved. No part of this publication may be reproduced, stored in a retrieval

system or transmitted in any form or by any means electronic, mechanical, photocopying, recording or otherwise without the

express permission of the publisher in writing. The opinion of the writers do not necessarily reflect those of the publisher. The

Editors reserve the right to edit submissions prior to publication.

Thank you for downloading this Edition of PMCI, the FREE digital publication dedicated to PMC Operatives. PMCI is written by

individuals with first-hand knowledge and experience of the subject they write about - and all of whom have an intimate

understanding of what the role entails and the day to day challenges faced by those working in this industry.

PMCI will provide a platform to review and discuss the things to matter to all of us, such personal equipment, training, employment

and lifestylestyle management - and these are also our core fundamentals. We hope you enjoy this Edition of PMCI and if you have

any feedback or comments, or would like to contrubute to future issues, please let us know by email to: editor@pmcimagazine.com

Editor (UK): Bill Thomas

Deputy Ed (USA): Trampas Swanson

Graphic Design: Baz Thakur/

Deadshot Design

Publisher: Nigel Streeter

Cover pic: STG

www.swansontraininggroup.net

PMCI magazine is a digital-only publication

available FREE OF CHARGE via the PMCI

App on a wide range of digital platforms,

including iOS, Android and Windows. For

more information, visit www.pocketmags.

com and search "PMCI".

PMCI can also be read online at:

www.issuu.com, www.magzter.com

and www.readly.com

Calibre Publishing Limited

Wyche Innovation Centre,

Walwyn Road,

Upper Colwall,

Malvern,

Worcestershire,

WR13 6PL

Tel: 01684 878 003

Web: www.pmcimagazine.com

©Calibre Publishing Limited 2021

Letter, idea or question?

Got something to say? A question for our

experts? An article or article idea? Drop us a

line and let us know. Either email the editor

(editor@pmcimagazine.com), write to us at

the Calibre Publishing address above, or talk

to us on Twitter or Facebook.

2
---
T E L L T H E T I M E ,

A L L T H E T I M E .

Tr i t i u m i l l u m i n a t e d w a t c h e s

t h a t s t ay v i s i b l e a l l n i g h t .

E xc l u s i vely av a i l a b l e o n l i n e

W W W. N I T E WATC H E S .C O M
---
SPECIAL / APACHE KNIFE FIGHTING

ROBERT REDFEATHER & APACHE KNIFE FIGHTING

Interview by: Trampas Swanson

Throughout time, mastery of the bladed weapon has been the hallmark of warrior culture. The Japanese Samurai, English Knights

Templar and Nepalese Gurkhas are all excellent examples how brave fighters used the edged weapon to carve their place in history;

in the United States, one of the purest forms of the knife culture lies within Native American lore, and Trampas got together with

Robert Redfeather to learn more!

Of the many tribes originally spread across North

America, the Apache are often regarded as the

most feared warriors of their nation. With famous

warriors such as Geronimo, Cochise and Mangas

Coloradas to their credit, white settlers impinging

on the Native American lands lived in fear with

tales of Apache fighting proficiency. The training,

discipline, and spirit of the Apache warrior in

detail remained virtually unknown for centuries.

Perhaps one of the most highly regarded experts

on the Apache combat is well-known author, actor, producer

and Hall of Fame Grand Master martial artist, Robert Redfeather.

Through books, videos, and seminars, Redfeather has diligently

worked to bring the knowledge and skills of the Apache warrior

to students who have traveled from around the globe to train

with him. As a direct descendant of the Apache, he has spent

a lifetime training, researching, and developing the following

Apache fighting movements into a modernized system for

civilian, law enforcement, elite military, and private military units.

This issue, we have the honor of sitting down with Robert

Redfeather to share with our readers information about the

Apache culture and the modern knife fighting system he created.

PMCI: Robert, welcome to PMCI Magazine and thank you for

taking time out of your busy schedule to spend time with us. It's

a true honor to have experts in our industry drop in each issue

to connect with our readers. Let's start off by discussing, how

does the knife historically play into the Apache spiritually and

the everyday culture?

Redfeather: The knife is an everyday part of the Ndee culture

(Ndee means "the people" in the native tongue). Not having a

knife is like being a tiger with no teeth. Everyone carries one

as an essential tool. From gathering food, making equipment,

cutting rope to self-defense and war. The Warrior Society had

a very difficult, four day knife ceremony to earn the right to

become a member of the society. Some societies had markings

behind their left ear to show their affiliation.

PMCI: As a martial artist, what discipline did you start with and

what point did you get started in knife fight training?

Redfeather: I started Kung Fu at age 5. Over the years I also

studied Chinese Boxing, Judo, High School Wrestling, Boxing,

Wing Chun and many others. The Los Angeles area is a wonderful

place with a huge variety of arts to study! When I was 13, my

grandparents decided it was time to for me to learn the family

traditions of the Ndee culture and the Way of the Blade.

PMCI: What sort of knife is typically used in Apache Knife Fighting?

Redfeather: A sharp one! We usually train with a Ka-Bar USMC

4
---
pmcimagazine.com

6SPECIAL / APACHE KNIFE FIGHTING

knife because I like the design and frequently teach the Marines.

Originally, we used obsidian, bone, or antler. When steel

became available - that's what we used. Many have said it

before, the best knife is the one you have. We train with knives

of various lengths to adapt to distance. I like the handle to have

a slight curve at the back or with a pommel, so the hand doesn't

slip off the back. The grip should be textured and not round. I

prefer a guard, so the hand won't slip off the grip and onto the

blade. For a fixed blade you really don't need anything over 8-9

inches. A pocket knife blade should be about 5 inches (depending

on your local laws), have a textured grip and if possible, a guard

of some type. Having a wave type design for fast opening is

also desirable. A slight curve at the back of the handle is also

desirable. Knives should not be shiny!

PMCI: With so many knife styles being taught by instructors, how

does the Apache Fighting system differ?

Redfeather: We don't stand our ground. We fight like the wind!

Why stay in place? We do not fight as if we were dueling but

as if we are on a battlefield. We don't train for points but more

of a freestyle method. While teaching the use of the knife we

incorporate the Native Culture as well. We want our students to

understand the reality of the knife. It is something to avoid!

PMCI: What role does the fighting knife play into the military, law

enforcement and private military application as well as a civilian

world filled with concealed carry firearms?

Redfeather: The military and law enforcement has always carried

knives both for utility and CQB. Training to access the blade when

out of ammo or when the firearm is grabbed is vital. A knife is no

match for a firearm but a man with a knife can sometimes access

their weapon quicker. There are a variety of knives out there

specifically designed for easy access from a utility belt or vest.

PMCI: Are they any specific exercises you would recommend for

those looking to contour their strength and dexterity for knife training?

Redfeather: We have specific routines that can help develop

reflexes and dexterity. Among those routines we train using a

war post (also called a pell), using different patterns of cuts and

stabs, and starting slow to learn both edge alignment and good

body mechanics. Training in water also teaches control and adds

strength.

PMCI: For those looking to get into knife training, where do you

suggest they start for training?

Redfeather: With us! We have seminars on a regular basis which

you can sign up for in my website, www.apache-knife.com

PMCI: Before we go, could you please let our readers know a
---
pmcimagazine.com

8SPECIAL / APACHE KNIFE FIGHTING

little about your amazing book and how they can find a copy of,

"Fight Like the Wind Apache Knife"?

Redfeather: The book took me over a year to write and put

together with the help of Stace Pitts, Robin Price and Morgan

Ferry. It has 243 pages and includes not only training but Ndee

culture and history. The colour edition is available at Amazon

under the name, Apache Knife - Fight Like The Wind. The black

and white edition is available at Lulu.com under the name Fight

Like The Wind - Apache Knife.

PMCI: I think our readers will really enjoy the knowledge

and history you share about your culture just as I did when I

discovered your book last year. Sir, it's been an honor and a

pleasure working on this interview. Thank you greatly for taking

time from your busy schedule to share with us.

Redfeather: As the founder of Apache Knife Combat it has been

my pleasure to introduce you to this system.

- Robert Redfeather, member of the Chiracahua Apache

Nation.

- 2018 Martial Arts History Museum's Hall of Fame - Apache

Knife One of the Oldest Traditional Native American Arts.

- 2014 World Head of Family Sokeship Council - Grandmaster

for Apache Knife - One of the Oldest Traditional Native American Arts

- 2005 Represented the United States at the 8th Chungju

World Martial Arts Festival in Chungju South Korea. Happy to

represent the USA, the Ndee people and Apache Knife Combat.
---
pmcimagazine.com

MANTIS BLACKBEARD

MANTIS BLACKBEARD

BY: TRAMPAS SWANSON

OVER THE PAST TWO YEARS, THE FIREARMS TRAINING INDUSTRY HAS BEEN HIT PARTICULARLY HARD

WITH THE STORAGE AND RISING COST OF AMMUNITION. AS A CERTIFIED INSTRUCTOR, TRAMPAS HAS

SEEN FIRSTHAND HOW THIS HAS AFFECTED BOTH THE PROFESSIONAL AND CIVILIAN CURRICULUMS.

DESPITE ADVERSITY, FORWARD THINKING MANUFACTURERS AND TRAINERS TURNED TO VIABLE TRAINING

ALTERNATIVES TO CONTINUE SAFELY HELPING OTHERS DEVELOP CORE FUNDAMENTAL SKILLS.

Hours have been shortened, round count

requirements have been adjusted and

even some courses taken off the schedule

altogether. The hard truth is these adjustments

and shortcuts have simply hurt the end users

who need the repetitions and hours toward

the mythological "10,000th hour" of becoming

expertly proficient. Some have shrugged and

simply said "it is what it is", whilst others

like our friends at Mantis, have addressed the

situation head-on with more innovation to aid us.

For example, one common training option for smoothing

out trigger press is what is formerly known as dry fire practice,

now officially rebranded by the National Rifle Association

(NRA) as dry practice. This new verbiage makes sense due

to the lack of actual "fire" taking place. The use of training

devices such as snap caps, SIRT pistols and the Mantis X10

have been extremely helpful with honing these basic skills.

Through private one on one training sessions and fulllength

courses, our Swanson Training Group instructor staff

have regularly used these devices not only in the classroom

but on the range as well to enhance success in true learning

of information retainment. As mentioned in many of our

PMCI Magazine articles, our instructors regularly use Shot

Indicating Resetting Trigger (SIRT) training pistols from

NextLevel Training. These pistols are designed to replicate

various popular models of Glock, SIG and S&W semi auto

handguns which feel and weigh similar to a fully loaded live

fire pistol. For readers not familiar with these devices, these

pistols emit a red or green laser when "fired" and reset the

trigger afterwards for the next shot.

With the success of the SIRT pistols, many shooters have

wanted the same opportunities for training with their AR-15

platform rifles. Over the past year, there has been one device

on the market that is clearly head and shoulders above

any other available options for laser training with the most

popular rifle platform in the country. This issue of PMCI, we

are going to discuss a new trigger resetting drop-in laser unit

called the Mantis Blackbeard and why this may be your best

option for AR-15 training.

FIRST IMPRESSIONS

A few months ago, a sample of the Mantis Blackbeard arrived

at my office for testing and evaluation (T&E). From our work

with the original Mantis X and current Mantis X10 devices, I

came into this review already knowing how innovative and

helpful Mantis products are with any issues that may arise

with our students. From the sales department to customer

service, my past experiences have only been top notch with

Mantis.

10
---
While this may not mean as much to the average consumer, I

have had the displeasure of discovering many great products

in the industry that were produced by companies who made it

difficult to enjoy working together. In turn, this always seems to

cement my desire to continue using their products. Mantis will

quickly make you a loyal customer.

When I unboxed the Mantis Blackbeard, I was impressed

with the carry case that housed the device. As I unzipped the

case, there were two pieces that make up the laser unit well

cushioned inside. The main unit is in the form of a drop-in AR-

15 replacement bolt with the other part being a rechargeable

battery unit shaped like a rifle magazine. As I removed them

both from the case, I retrieved one of my AR-15 rifles from the

gun safe.

Installation consisted of only three steps. First, I cleared the

rifle and then opened the receiver and removed the LIVE FIRE

bolt. Next, I inserted the Blackbeard laser equipped bolt and

closed the receiver back shut. Finally, I inserted the battery unit

into the magazine well as I heard it attempt to electronically

reset the hammer which was already in the ready position with

the safety on. Switching the rifle back to LIVE FIRE mode simply

requires reverse these three steps in the matter of less than a minute.

To test fire the rifle using the Blackbeard device, I pointed

the rifle in a designated safe direction, switched the safety to

FIRE and pressed the trigger. As the green laser emitted from

the barrel of the rifle, I could hear and feel the unit immediately

reset the hammer / trigger in a blink of an eye. With each

additional trigger press, the device "fired" the laser and made

the rifle ready to fire again as fast as I could pull the trigger. With

all the training benefits of using the Mantis Blackbeard we'll

discuss; the reset factor alone is enough to put this product light

years ahead of other AR-15 platform laser training devices.

With my initial test shots, I noticed the laser was slightly skewed

from not being completed concentric with the barrel yet. Inside

the case was a small Allen wrench that allowed me to make

windage and elevation changes via small set screws accessible

on the bolt unit through the ejection port. With just a few quick

adjustments, the laser was aiming true, and I could then adjust

the red dot optic on my rifle to line up together. Since the bulk

of our group's urban rifle training comes within the typical

distances of home defense from across a room to across the

front yard, I sighted the red dot and laser to 10 yards.

Over the next few days as I prepared for an upcoming class,

I used the Blackbeard device to work through my house with

the rifle while shooting electronic interactive targets from Laser

Ammo called the IMTTS system. These small targets were staged

around the house to allow me to practice not only moving to

cover, working angles and scanning for targets but making notes

as I took my available shots to reevaluate what was beyond

my targets as well. Simply amazing CQB / Home Defense rifle

training!

IN THE CLASSROOM

Since the ammunition shortage issues have hit our industry, one

of the most popular courses our team offers is one we call a

Defensive Firearms Simulator Workshop. This course is based

around the Smokeless Range simulator computer program from

Laser Ammo. By using a 9 ft screen, a short throw projector

and short throw camera, our instructors create an indoor firing

range using laser equipped devices such as the SIRT pistol and

Mantis Blackbeard. With multiple programs, students can train

with static targets, moving targets, shoot / no shoot targets and

even video scenarios designed to enhance cognitive decisionmaking

skills as well as basic and advanced fundamentals.

MANTIS BLACKBEARD

pmcimagazine.com
---
pmcimagazine.com

MANTIS BLACKBEARD

Throughout the eight hours of training, the day is divided

into basic and advanced skill building with the students' choice

of laser equipped devices such as SIRT pistols, Laser Ammo

drop in shotgun shells with Mossberg 590 pump shotguns

and the Mantis Blackbeard in our custom "in house" built AR-

15. The last two hours of video scenario-based challenges

with their choice of armament as the instructor can change

the direction of each video based on the response of each

student.

Our students vary in experience from new shooters to

current and former military, contractors, and law enforcement.

Those who come through class the first time may first

start with the SIRT pistols until they learn the training and

technology used then migrate to the AR-15 platform. With

over 80% of our students, they will return to the next

month's scheduled simulator class. With having run the

course primarily with the SIRT pistol, this is when many will

choose to run the entire course with the AR-15. This is when

the Mantis Blackbeard has really shined. The focus on the

returning students is no longer the tech or programs used but

now the sight picture, sight alignment and trigger press.

The top comment from armed professionals who have

used the Mantis Blackbeard during class is always about the

trigger manipulation. With other rifle laser trainers used in

the past, the device was activated using the slack between

the trigger and the lock back caused by the unit not allowing

the hammer to actually trip and travel beyond the trigger

catch. Regardless of specialized triggers used in class on

several rifle triggers from 8lb mil-spec to 3lb RISE ARMAMENT

and Timney drop-in units, all have allowed the shooter to use

the true trigger press and have the unit reset for the next shot.

With the M4/AR-15 rifle specific training programs

offered on the Laser Ammo Smokeless range, I have even

been able to do rifle only private training for individuals and

small groups of professionals outside of our standard classes.

From moving targets to varying sized targets at perceived

"distances" for time and score, the Mantis Blackbeard has

been instrumental in developing needed trigger control

and discipline. Many first time rifle students better prepared

themselves physically and mentally before getting onto a live

fire range by taking our courses and using this device.

ON THE RANGE

When using the Mantis Blackbeard unit on the LIVE FIRE range,

I believe it offers just as many advantages for our students

as it does in the classroom. For first time rifle shooter, the

laser unit can be used to work through any trigger press or

anticipating recoil issues before or during LIVE FIRE drills. With

safety ALWAYS being our first and most important concern, the

Blackbeard unit offers immediate point of aim (POA) / point

of impact (POI) feedback in the safest possible environment

when learning how to move with the AR-15 and work in and

out of firing positions.

12
---
Even for experienced shooters, when movement with a rifle

in introduced, safety concerns naturally heighten.

Dynamic movement involves so many moving parts to

training. Finger off the trigger, safety engaged, eyes down

range, muzzle control, finding cover or designating direction of

travel, heel/toe steps with purpose and no crossing feet.

A lot of things can go wrong and do some quickly when

learning with a loaded rifle.

Traditionally, we used solid plastic rifle shaped inert training

aids called "red guns" made by ASP to teach students how to

safely move before focusing on carrying life fire rifles. By using

the Mantis Blackbeard devices that cost almost to the penny the

exact same price, students can safely work through movement

drills using their own rifles.

A huge benefit comes in students being able to take shots

with immediate laser feedback while working on movement

skills prior to their progression to live fire drills. This builds

shooter confidence faster and helps develop higher levels of

information retention.

FINAL THOUGHTS

By using the Blackbeard unit, the Mantis product line continued

to impress as our staff and students got more time training with

it. This sample unit sent for T&E turned out to be everything

I had been hoping for with rifle training. The full range of

movement and reset of the trigger combined with the ability to

have students develop a real feel for the actual trigger pull of

their rifle set this device miles apart from any similar products

currently on the market today.

While I enjoyed using the easy to see green laser version

of the Blackbeard, I did have to contact Mantis and switch it

out for a red laser version in order to use it in classes with the

Smokeless Range by Laser Ammo. As always, the company

representatives understood the issue and quickly resolved it.

Mantis currently offers the Blackbeard in four options: Red

Laser, Green Laser, Infrared Laser and No Laser depending on

your training goals and needs. I have a feeling the Infrared Laser

version is in our company's near future.

As a former SWAT operator/ Sniper Unit Leader and current

rifle instructor, I learned a long time ago, if you haven't mastered

your rifle's trigger pull, you have NOTHING.

The Mantis Blackbeard is the perfect way to get thousands of

important repetitions. Retailing between US$219 - US$249, this

device offers a relatively low cost out of pocket and

very little wear on your rifle compared to how many

thousands of live fire rounds it would take to match the

same benefits as the Blackbeard. To learn more about

this device and others from Mantis, visit www.MantisX.

com discover the next level in quality rifle training.

MANTIS BLACKBEARD

pmcimagazine.com
---
EDITORS

COMMENT

RINGIN' THE STEELS, RINGIN' THE CHANGES!

Once again I find myself sitting behind a screen in my home

office after another very strange year, and in the words of the

song, "Times, they are a' changin'" and I find myself feeling that

more than ever.

After several years of facing up to "The Big C" (and thankfully

coming out the other side!), I also find that recent events that have

dominated the world have been somewhat lesser for me, as I've

already had to spend a lot of time "down" and on my own.

After major surgery and mid 2017-early 2018 disappearing

during my recovery, followed pretty swiftly by a worldwide

pandemic lockdown, there was one thing that kept me going at

full speed, and that was the love and support given unconditionally

by my family, friends, and my awesome team at PMCI.

Friendship as you grow older is a strange thing in and of itself.

The "friendships" of our school years, and indeed those of early

adulthood, morph into something different, something deeper

as our personal experience-bank grows. As older figures, parents

and mentors, age and take their final journeys, you are left with

those close to you increasingly being of your own peer group, and

younger. Without recognising it, YOU become the older, steadfast

figure in a group, and you start to support and mentor others,

taking joy in seeing them grow and reach their own maturity and

rejoicing in their successes.

And so it is with PMCI. Regular readers may have noticed that

over the past couple of years PMCI has grown, matured and thanks

to you that read it, become successful itself, and those involved

have grown too. When we first kicked off in August 2014 the world

was a very different place, and the magazine reflected this. I was

a very wet behind the ears Editor who lived and breathed "guns

n' gear" who quite literally fell into the role, and Trampas, as

someone who had only recently started writing, fell into it along

with me.

And he has been the most steadfast of friends to me throughout

this journey,rising from writing the occasional article to become

an integral and vital part of what we do, and his recent role as

Deputy Editor reflects this. We have truly helped one another along

the way, and I take great joy in seeing both his family, and his

standing in the shooting/tactical/training communities continue

to thrive.

Now those times are 'a changin' once again, and as we head

towards a new year it's time to let PMCI move forward too; PMCI

will be changing in 2022 to reflect that fact that we have become

an integral part of the move by many to a more informed and

armed lifestyle; although we will ALWAYS work with those that

have honoured us by serving, and look to them for guidance, we

will continue to focus on and champion the ethics, rights and

positive mindset of the civilian shooter.

And to do this it's time for a change at the top! My personal role

within Calibre Publishing continues to evolve, and having taken on

the task of directing the business as a whole into a new era, it's is

rightfully time for Trampas to take his next, very hard-earned step

too, so as of this issue I will be handing the reigns over to him to

move things forward into both a new year and a new iteration of

the magazine as Editor!

I pass the torch with some sadness as PMCI has been a major part

of my life for the last seven years, through good times and bad,

and I will ALWAYS be proud of what Trampas, Baz (our designer),

Nige (MD of Calibre) and I have created, and that our experienced

and committed editorial team will continue to create… I have

every faith that "what happens next" will be astounding, and

even though my direct input will diminish, Trampas knows that

just as he did for me when I was at my lowest, I will have his six

for the next part of this magnificent journey!

For now, I wish you all the very best for Christmas

2021, and I hope that your personal journey in 2022

continues to lead to health, wealth, and happiness. I

look forward to one day ringin' those steels with you

all, but for now, "Wild Bill" out.

EDITORS COMMENT
---
pmcimagazine.com

Gear on Test

Christmas is nearly upon us, so what are YOU looking forward to finding under your family tree (other

than a lightly oiled and beautifully wrapped new AR that is!)? Bill takes a look at a couple of "Winter

Warmers" this me, garments designed for shooters when the temperature on the range starts to fall,

and both would make ideal gifts!

HELIKON WOLFHOUND HOODIE

JACKET

GEAR ON TEST

It's that time of the year again that I start to look at gear

specifically for the coming winter months, and a good

"Range Jacket" is one of the things that I place high on

my list of must haves.

What do I mean by a "Range Jacket"? Pretty much

exactly what the name would suggest, a jacket that can

be kept easily stowed in your Range Bag or pack to throw

on for immediate warmth and comfort when you come

away from some dynamic training with a head of steam up!

The first new jacket I've been looking at closely this year

is the HELIKON WOLFHOUND HOODIE JACKET; made from

lightweight and durable 100% WindPack Nylon shell with

additional Climashield® Apex insulation, the Helikon

Wolfhound Hoodie Jacket features hard-wearing YKK main

zipper with glove-friendly zip pull, chin guard and warm

stand up collar and multiple zipped pockets.

The thinner elasticated VersaStretch fabric in the armpits

area improves air circulation and provides the maximum

comfort of wearing. In addition to that, the left hand loop

panel allows you to attach unit or morale patches while

the elasticated wrists and bottom hem ensure maximum

body warmth. Highly recommended for security and armed

forces personnel, the HELIKON WOLFHOUND HOODIE JACKET

is also a fantastic choice for shooting, camping, trekking,

and other outdoor activities.

FEATURES:

• Lightweight and breathable water repellent jacket

• Extra warmth with Climashield® Apex filling

• Designed for everyday use in urban and outdoor

environments

• Main zipper with glove-friendly zip pull, chin guard and

a wind flap

• High stand up collar with warm, adjustable hood with

an elasticated edge

• Spacious left chest pocket

• Right chest inner pocket for extra storage

• Two zipped hand pockets with fleece lining

• Loop panel on the left bicep for additional patches and

IDs

• Thinner elasticated VersaStretch fabric in the armpits

area improves air circulation and enhances comfort

• Elasticated wrists and bottom hem

• Genuine YKK zippers with glove-friendly zip pulls

• DWR coating (Durable Water Repellent) protect against

wind, light rain or snow

• Shell material: 100% WindPack Nylon

• Filling material: Climashield® Apex insulation (67 g/m2)

The HELIKON WOLFHOUND HOODIE JACKET is a great choice

for something that's easily packable and quick to either

stow or deploy! Available in MALE AND FEMALE sizes,

plain colours or even my favourite PenCott camo the

WOLFHOUND is the ideal thing to have in your pack for

when things turn chilly! Available from good retailers,

mine came courtesy of www.military1st.co.uk!

16
---
SNUGPAK MML6 SMOCK

One of the things with ranges is that you do spend a fair

amount of time in a cold, static position; you might be

attending the safety briefing first thing in the morning

or breaking for lunch, but it's a rarity to find a heated

outdoor range, right? For years many of us have always

had a Snugpak "Softie" jacket in the back of the car for just

such times, for when you want a bit of instant warmth!

Snugpak have really upped the ante though, taking

things to an entirely new level, and one insulated smock

we've had in test for a considerable time is the MML6,

and it's proved its worth on many occasions both at

home and abroad. Developed by Snugpak with input

from professional navigators, mountain leaders, climbing

instructors, meteorological staff, and military personnel,

the Military Mountain Leader Smock has been created

to support the user in a diverse range of operational

environments, especially when exposed to extreme cold

weather.

As a part of Snugpak's "VENTURE" range the MML6 Softie

Smock is the flagship garment. It's a tri-layer smock and

uses both Paratex Micro as a face fabric, and an internal

Softie Premier fill, encapsulated with a Paratex Light lining.

Designed to provide excellent thermal protection against

the cold the MML6 is rated -5C to -10C; it also provides a

high degree of wind protection.

The MML Smock is lighter than normal expedition style

jackets, and uses water resistant YKK zips, making it ideal

when size and weight need to be kept to an absolute

minimum. It is ideally worn with a variety of base layers,

such as the Snugpak 2nd Skinz Coolmax base layer, to

move moisture away from the skin, keeping you dry and

regulating core temperature in extremes of cold.

The quick drying, Paratex Micro 100% nylon material

has a Durable Water Repellent (DWR) finish. Water

repellency can be maintained with a cool tumble dry after

washing and periodic re-treatment with suitable after care

products, such as Nikwax and Grangers. The MML Softie

Smock will keep you dry in a short, light shower, giving

you time to find a safe place to stop and put on more

effective waterproof layers. The MML Softie Smock can

also be worn under waterproof membrane hard shells in

severe weather, still allowing easy access to your essential

equipment.

The MML Softie Smock allows essential equipment

to be carried centrally, with easy access when wearing

a day sack, bergen, plate carriers and webbing systems

and maintains its core functionality with other operational

equipment, such as body armour.

FEATURES:

• Manufactured in the UK

• Large map chest pocket, with internal D-rings

• Large & small external pouches with hook and loop patch

• APALS® soft hook & loop patches - All Purpose Adhesive

Light Strips, one supplied with each jacket

• Exclusive Softie® Premier insulation

• Elasticated Drawcord-adjustable neck & hem -helping

trap warm air and aid insulation

• Soft Armour Panel (SAP) and Hard Armour Plate Carrier

(PC) Compatible 1/4 length water-resistant YKK® zip

• Pack away into the external chest pocket for easy

compact carrying

• Side pockets with Water-resistant YKK® zips

• Deep hand warmer style pockets lined with brushed

polyester for added comfort and warmth

• Soft hook & loop patches on chest pocket flap & both

arms

• External D-ring for LED torches, etc

• Elasticated cuffs with thumb loops

• Windproof, breathable & water repellent

• Rolls into chest pocket

Whilst not exactly cheap at around the UK£180 mark at the

moment the MML6 Softie Smock should be viewed as a

long term investment, especially if you act as an Instructor

or RO; whilst most shooters can easily head back inside

to warm up an Instructor or RO needs to be out on the

range at all times when it's live. The MML6 easily lets you

do this so in our mind is an invaluable addition to your kit

locker, and mine came direct from my friends at www.

snugpak.com!

GEAR ON TEST

pmcimagazine.com
---
pmcimagazine.com

HRT TACTICAL

HRT TACTICAL: RAC CARRIER SYSTEM

BY: TRAMPAS SWANSON

IN THE PROFESSIONAL OPERATIONS WORLD, IT IS OFTEN A MISNOMER THAT HIGH END TOOLS OF THE TRADE

WILL MAKE AN OPERATOR BETTER. ANYONE WHO HAS EVER CARRIED A GUN FOR A LIVING KNOWS THIS IS

SIMPLY NOT TRUE. TOOLS WILL NEVER REPLACE SKILLS. HOWEVER, IT IS A KNOWN FACT THAT QUALITY

TOOLS MAY CAN HELP SAVE SOMEONE'S LIFE, ESPECIALLY WHEN IT COMES TO SPEED, MOBILITY, AND

PERFORMANCE OF THE EQUIPMENT ALLOWING THE USER TO DO WHAT THEY ARE TRAINED TO DO RATHER

THAN HINDER THEM; ENTER THE HRT RAC!

When it comes to tactical gear industry,

there is a wide range of quality and

design from companies all over the

world. Unless your gear is issued to you,

many professionals may be starting at

square one with learning what works

and what doesn't at the rate of a

potentially dangerous learning curve.

Over my twenty-one years of training

and working in and around this field of

work, I have seen great designs that have saved real heroes.

At the same time unfortunately, I have also seen designs

that are more of a liability than an asset to its users.

With items such as tactical vest, the price range can span

from gun show bargain budgets to Capitol Hill Black expense

reports. From my personal experience, I have learned two

essential things about critical gear. The first is that not all

top-quality gear comes with top end prices or the most wellknown

names. Secondly, the best designs have come from

men and women who have been quenched in the fires of

battle or have at the very least come from those who have

worked closely with these real-world experienced people. I

know this because I've unfortunately lived this and fortunately

survived.

As a rookie SWAT operator for a small county Sheriff's

Office, we did not have a huge budget. If memory serves

me correctly, one of our Deputies had a family member who

owned a local embroidery shop who "created" our issued

SWAT vest. This attempt at creating a plate carrier was a sad,

unstructured vest designed to hold the soft IIIA armor issued

to fit under my standard uniform when on patrol. The fit was

more like a bag than a vest, with armor shifting at the worse

possible times such as going hands-on with a suspect or

kneeling to a supported position during a gun fight. Several

18
---
officers even tore their carriers open dumping equipment to the

ground when jumping out of take down vehicles on drug raids.

Simply put, I learned that in order to trust the equipment

you carry, you need to be able to trust the company that makes

it. Fortunately, I discovered such a company while searching for

a new plate carrier online last year. During the global COVID

crisis in which seemed to shut down the year 2020, and talking

to Bill about gear, I came across a company called HRT Tactical.

As I skimmed through their website, the products featured some

very impressive designs at affordable price points. I eagerly

dove down the rabbit hole to learn more about them which

resulted in an email request to test their gear.

Originally founded in 2008, HRT Tactical's mission was to

provide top level training to Law Enforcement, Military and

civilians, these real-world experienced instructors decided to

venture into creating tactical gear from the operators point for

view using only topic notch, durable materials, and components.

To keep gear tough but lightweight, HRT uses 500 Denier

DuPont Teflon coated Condura nylon and reinforced stitching to

prevent from water logging, tearing or rot. With UTW hardware,

UTX buckles and YKK brand zippers, no corners in product

construction are cut when it comes to quality and reliability of

an item someone's life may one day depend upon.

Between the online description of the HRT Tactical gear and

the wealth of information provided from HRT's representative,

Chris Poindexter, I was ready to try their products out while

teaching and training. Chris and I arranged to have the company's

flagship plate carrier called the RAC system with its standard

load out accessories to be sent over for T&E along with Ace Link

Level IV rifle plate armor.

(Editors Note: When shopping for plate carriers, first realistically

look at your actual need for gear and ask some honest questions.

Do you just need to carry magazines and gear?

If that's the case, I urge you to consider a simple chest rig

without armor. It's a lighter, more mobile option without the

cost and bulk of ballistic plates or soft armor. However, if you

need quality functional armor as your first and foremost need

and a way to comfortable carry it, continue reading because this

article will be FULL of great information.)

To better explore a multi-use rig such as the HRT Tactical RAC

system, we will break down the components I chose to test,

beginning with the base RAC plate carrier before moving on to

a detailed review of each of the other parts of such a mission

flexible rig.

RAC PLATE CARRIER

The carrier tested was listed as a "Large" which could house

a 10"x12" plate in the front and rear panels. (For you larger

guys, there is an XL version that fits the 11"x14" plates) The

RAC carrier was accompanied by two UHMWPE (Polyethylene)

and Ceramic (Silicon Carbide) Level III+ Rifle Plates from Ace Link

(US$239). Each plate's contour matched the carrier in featuring

what is known in the industry as a "shooter's cut". This is a

specific design feature which allows the wearer to normally

shoulder a long gun without undue adjustment. The weight of

each plate came in at 4.4 lbs, surprisingly close to what my

issued soft armor weighed back in 1999 – 2000 but with much

better protection than what I had. These plates tuck easily up

inside the front and rear panels of the carrier with a Velcro

covered flap that wraps from the bottom of the plate to hold it

securely into place.

To carry this load across my shoulders, the carrier featured

wide, well cushioned wraps to cover the adjustable Velcro straps

to adjust the rig's ride height. Along each side of the straps were

multiple elastic loops for running a hydration tube from front

to a possible rear mounted Camelbak or comms cables from a

HRT TACTICAL
---
mic to a radio. These thick cushioned straps are instrumental in

preventing heavy loads from causing the load out weight to dig

into end user's shoulders over time.

One of the RAC carrier's shoulder straps also featured a quick

release clip that could be mounted on the left or right strap in

order to allow the wearer to quickly ditch the carrier in a flash.

The ability to exit out of gear can be a critical feature for

many operators. Several veterans have told me tales of vehicles

being hit by IED's and rolling over either on fire or into water; the

inability to egress the vehicle due to being hung up inside from

gear snagging cost many good men and women their lives.

However, if this feature isn't desired by the user, the buckle

can be removed altogether in favor of standard solid straps.

The front of the carrier featured large Velcro panels for

mounting mission specific accessories as we'll mention shortly as

well as name tapes, rank, or unit / agency identification patches.

Across the carrier's face were PALS / Molle compatible loops

for further securing items such as the Maximus placard with its

quick clip system. All the carrier's edges were tightly stitched and

smooth to prevent chaffing or undue wear on gear as it may rub

against the carrier edge.

The back of the plate carrier featured a vital potential lifesaving

heavy duty drag handle for quickly moving injured

personal out of the danger zone. Below the drag handle, there

were well placed panel sections featuring heavy duty dual YKK

zipper mounts along with Velcro for multiple optional mission

specific pouches offered by HRT; more on these later...

Along the inside of the carrier's front and rear panels, there

were raised air flow channels stitched vertically left and right

allow the body to keep cool even in warm climates. For additional

air circulation, HRT Tactical offers optional pontoon spacers that

Velcro inside to create an even larger air channel. If you've ever

worn a tactical vest in any sort of climate, you know that without

good air flow, you could start sweating inside the vest even during

a snowstorm. Trust me, being the meat in an "operator soup" is

never a good feeling!

Retail: US$184.95 - US$239.95

QUICK RELEASE CUMMERBUND

While the standard straps that shipped with the RAC plate carrier

did a decent job holding it snug to the body, I know all too

well from experience, the extreme value of having your sides

ballistically protected. I decided to upgrade the RAC plate carrier's

factory side straps with HRT's Quick Release Cummerbund and

additional Ace Link IIIA soft body.

As mentioned in the name, the potentially lifesaving quick

release RAC buckles are located on both sides of the front of the

cummerbund just behind the Velcro straps that attach to the

front of the plate carrier. With a quick jerk of the 550 cord hooks

hanging on either buckle and the front of the carrier pops open

for a quick egress.

Not only did this upgrade come with quick release buckles on

both sides, but also a wealth of adjustment options in the back.

Depending on what type of clothing you may be running under

your plate carrier from polo shirt to rain gear, the rear bungee

lacing system quickly adjusts to accommodate a wide range of

body sizes and girth changes.

The wide Velcro attachment to the front of the carrier anchors

the cummerbund into a rock-solid position. An additional three

rows of PALS loops for mounting gear such as radios, magazines,

or multi-tools can also come in handy.

Not only does the wider cummerbund sides offer more space

for gear but also provides more side comfort. Unlike thinner

straps, the cummerbund allows for a full range of motion and

won't ride up or cut into your body when twisting into or out of

positions.

The snug inner cummerbund pocket allows for soft armor

such as the Ace Link IIIA soft body armor to be mounted inside.

The fit was perfect only added approximately 2 lbs to the overall

rig. For that small amount of weight, the benefits of having that

level of side protection are truly invaluable.

Retail: US$99.95 - US$109.95

MAXIMUS PLACARD

Perhaps my favorite part of the RAC carrier system is the optional

Maximus Placard attachment. This is a 9.25"x7" placard that clips

onto the carrier front or rear via the Swift Clip buckle attachment

system along with the Velcro mounting surface to prevent any

bouncing or "battle rattle". For avid fans of great designs and

"sexy" tactical usefulness, the Maximus is the shinning star of

the rig.

The Maximus placard allowed me to carry three 30 round

magazines held in place by an elastic looped insert along the

center of the placard close to the body and two 21 round SIG

P320 magazines on either side. Polymer inserts inside the pistol

pouches hold the SIG mags in the ready position for quick access.

These inserts can be quickly removed to fit a small tactical

light, multi tool or other needed items. Different elastic looped

inserts for the rifle magazine area are available on the HRT

Tactical website to substitute Uzi, MP5 and AR-10 / AK platform

magazines for the standard AR-15 magazines.

In addition to the magazine pouches, there are two larger

main pouches with organizational dividers to keep smaller items

secure while remaining at the reach of a finger. The gusseted

access panels prevent the front of the pouches from flopping

open and spilling its contents. Each pouch offers enough room

for chem lights, keys, spare batteries, pens, note pads can with

ease. Inside the left pouch of my Maximus placard, I was able to

HRT TACTICAL
---
pmcimagazine.com

HRT TACTICAL

fit most contents of my standard IFAK including tourniquet,

Israeli bandages, hemostatic "combat" dressing, Band-Aids,

Quick-Clot, alcohol wipes, burn dressing, medical scissors,

Ibuprofen, and gloves. There are Velcro attachment spaces for

your favorite patches located on the front face of each pouch.

This was handy for marking my pouch used for carrying IFAK

contents.

Retail: US$99.95 - US$104.95

SPORRAN HANGER POUCH

For those warriors looking for an additional administrative /

utility / storage, the Sporran Hanger pouch fits just under

the main front pouch of your choice. This two-compartment

pouch measures 5"x5"x1" and offers a great secondary

option for medical supplies as well as mission specific tools,

flex cuffs, gloves, shooting glasses or ear protection. For

me, this was the perfect spot to carry the larger items of

my blow out kit such as chest seals, extra tourniquets, and

extra compression gauze. Like the rest of the HRT RAC system,

the Sporran Hanger does feature PALS loops and hook & loop

Velcro material on the forward face for additional gear or

identification.

Due to the fit of the plate carrier, the Sporran falls just

below the belly button and covers your belt buckle. Prior to

wearing the RAC system with the Sporran attached, I was

concerned that it would be obtrusive when sitting or running

(Honestly, jogging because no one was shooting at me).

After spending the first few weeks testing the complete

load out, I had completely forgotten about those concerns

until sitting down during wrap up to review my notes from

Day One of testing. The Sporran simply did not cause any

negative feedback during testing. As many have found, the

extra storage within arm's reach while not widening the

shooter profile can be an asset for heavy load outs.

Retail: US$59.95

ZIP- ON GENERAL PURPOSE BACK POUCH

The zip-on General Purpose Back Pouch is is a 9.5"x5"x1.5"

pouch that is designed to take up half the rear panel to

handle storing larger items such as a Camelbak bladder,

medical equipment, a gas mask, poncho, or camo netting

for concealment. With HRT's triple retention mounting via

Molle straps, Velcro and zipper attachments, it completes the

trifecta of what I like to call the NCOS or "Not Coming Off

System". The face of the pouch offers a large Velcro panel for

mounting Agency / Unit identification.

Retail: US$54.95 - US$59.95

ZIP-ON DUAL REMOVABLE GP POUCHES

Like the General Purpose Back Pouch, the spacious Dual

Removable General Purpose (GP) Pouches share a single half

panel patch measuring 10"x5"x1.5". It shares the same triple

retention with Molle straps, Velcro and zipper attachment as

its rear mounted mate. Additionally, the face of the pouches

also offers Velcro for mounting for patches and identification

placards.

By combining these accessories will offer a comfortable

way to carry a wide range of valuable equipment that would

take up a lot of room carrying otherwise.

Retail: US$64.95 - US$69.95

22
---
DEBRIEF

Overall, I am very impressed with the HRT Tactical's RAC system.

This highly adaptable platform's ability to switch quickly to meet

mission load out needs turns a simple plate carrier into a tactical

chameleon. Most importantly, the rig as comfortable as long term

distributed unnatural weight added to the body can possibly be.

I wore the complete load out for over eight hours on the range

each time I taught shotgun and rifle courses as well as during

advanced handgun training. The level of fatigue felt with the HRT

Tactical RAC system was far less than with my traditional set ups

from Tactical Tailor and AR500.

As I told the HRT representative, Chris, prior to wrapping up my

field testing, the RAC system felt like a rig that only a seasoned

operator could design. The multipurpose flexibility of this system

and comfort is very well thought out from an end user perspective

and perfectly meets a wide spectrum of what our nation's warriors

would need in the ever-changing battlefield, both foreign and

domestic in the world we currently live in. This rig can easily

convert from door-to-door operations of SWAT to the long-range

patrols of LRRP.

Moving and shooting while standing, kneeling and prone

were unencumbered during live fire exercises. The front panel is

cut to prevent bunching at the chest when shooting a pistol in a

supported two-handed position and allows you to easily shoulder

precision and carbine rifles comfortably without alternating my

mounting position. During a recent shotgun course I taught, the

chest rig did wonderfully while running the shotgun obstacle

course shooting in the pouring rain. The rig did not allow the rain

to soak in and weigh it down.

Even as we explore 6MM (airsoft) training to supplement

ammunition cost and to increase safety in training, the RAC

system has proven itself to be an asset in this venture. The more

an operator can wear his gear and get used to maneuvering with

the added weight and bulk, the stronger and more agile they will

become. The RAC system helps decrease the learning curve with

1.5" depth of most pouches that kept weight close to the body

and not give the end user the feeling of becoming "top heavy"

when leaning forward.

The RAC system was well balanced to allow for easily climbing

ladders and stairs in addition to in and out of vehicles.

For the weekend warrior, this may not be a huge selling point

but for operators in a dynamic environment, this could be vital.

When you take in perspective that my entire HRT RAC system

load weighed less than 25lbs. compared to my standard SWAT load

out twenty years ago with the same if not less gear being over

35lbs., I have been very impressed with the new rig. I continue to

be equally pleased with each HRT product I have used thus far.

For those wondering about color options, HRT products are

offered in Black, Range Green, Coyote Brown, M81 Woodland,

MultiCam, MultiCam Black, MultiCam Arid. Prices per product vary

depending on the color selected. With such top quality and options

available, it's easy to see why HRT gets the PMCI Magazine stamp

approval on their RAC system. We invite you to visit

www.HRTtacticalgear.com to find the RAC combination

that best fits your needs.

HRT TACTICAL

pmcimagazine.com
---
pmcimagazine.com

GLOVES: DIGIT(AL) PROTECTION

DIGIT(AL) PROTECTION

By Bill Thomas

At PMCI we're constantly looking for good kit, not simply gear that's 100% fit for purpose, but

equipment that's going to give you good service and great value for money! This time the Bill takes

a look at gloves he's been using, what he's worn in the past and what he's wearing now so you can

really get "hands on" in any situation, especially as these days even he is using a smartfone!

Gloves are tricky things to get right, aren't they?

How often have you parted with money for a

pair of "tacticool" gloves that offer you entrance

to the "operatorz world" and found that in reality

they are sub-standard, poorly fitting, and frankly

an absolute waste of your hard-earned dollarbucks?

When I first started out gloves were not such a

"thing", and an old pair of British Army black leather "NI Gloves"

from your local surplus store were probably your best bet! When

I moved to the USA in 2006 though my eyes were opened to

the possibilities of what I could use to cover my hands safely as

every tactical store seemed to be offering cool models designed

both for law enforcement and the military.

For a while I was like a fat boy in a donut shop, and every

couple of months I'd pick up another model; online forums

were "de riguer" for the discerning tacticalist at the time and it

seemed to me that someone was ALWAYS posting about gloves!

Of course the dissemination of information about which unit

or "celeb shooter" is using which glove model has accelerated

with the rise of social media, and now new gloves seem to

come along on an almost daily basis (or so it seems to me!). For

me now though my go to gloves are First Tactical LIGHTWEIGHT

PATROL Gloves, Helikon-Tex TACTICAL LIGHT Gloves, or Kinetixx

X-LIGHT LIGHT OPERATIONS Gloves for general range work.

But, with so many glove models out there how the hell do

you decide on the right glove for you, especially when these

days you need a model that will not only work for you on the

range, but also allow you to interact with mobile communication

devices too? What considerations should you take into account?

For me there are three main areas to look at:

• Grip

The most important thing for me is grip. A glove is of no use

to you if it hinders the ability to grip your AEG/GBB or restricts

access to using technology (especially these days!). Because of

24
---
for exceptional durability, contouring, and waterproofing abilities,

but you also want materials that offer some breathability either

through the use of specialist lined interiors which are absorbent

or through breathability features built in to the glove. The matter

of comfort is important since you will be wearing these gloves

all day!

this many users choose to go with "old skool" fingerless gloves,

but not me! Of course grip is related to handling though, and

before you take every shot, you have to have the feeling of contact

with your trigger or it can become a distraction from getting the

shot, and there are now are designs which feature special finger

tips to provide superior grip perfect for using technology, handling

small items, and shooting needs.

• Dexterity

Another thing I look for in tactical gloves is to find an option that

allows not just grip, but also dexterity. Some tactical gloves are

designed to protect your hands from damage by way of padded

knuckles, but if the material over the knuckle is too thick, it will

impede your dexterity. Likewise, if a glove is the wrong size, it

can get in the way of movement. When it comes to finding the

right sizing to ensure ease of movement, remember that phrase,

"fits like a glove" as your guideline; the right fit of a glove should

feel natural.

• Comfort

When it comes to fabrics and technology many gloves still use

leather or "manufactured leather" exteriors or specially bonded

synthetic blends. While certainly has its place in relation to overall

comfort, a better option is to choose one that incorporates both in

expertly designed ways. For instance, gloves should have leather

GLOVES I LOVE!

As is often the case where I live in the UK when you're heading

to the range you want to stay not exactly "covert", but certainly

low key, and digging through my glove draw (yes, I have a glove

draw!) I discovered that my old black lightweight gloves were

well overdue for retirement, so I quickly scurried online to look

for a replacement!

You'll know that we've been working closely with First Tactical

on both sides of "The Big Pond" and it's been our great pleasure

to have seen the brand gain more traction in the "tactical world"

with some great designs, and what have turned out to be

absolutely top-notch, reliable and durable products. Looking at

their tight but well-defined glove line there was a model that

immediately grabbed my attention, the Lightweight Patrol Glove,

which seemed to offer all the qualities I was looking for, and

these have become one of my absolute favourites!

They're a pair of tactical gloves that allow you to act with

maximum speed and precision. The Lightweight Patrol Glove

combines extreme tactility with long-term durability; expert

design serves well without slowing you down, and you'll never

have to worry about a slip of the grip or cumbersome fit with

these awesome little gloves. Whatever the task at hand (if you'll

pardon the pun!), this glove will perform with excellence. The

Lightweight Patrol Gloves benefit from First Tactical's precision

fit. Lightweight snag-proof stretch woven materials allow for a

precise fit and professional appearance. The TOUCHTAC finger

construction offers revolutionary fingertip engineering that gives

you a better fit for even greater efficiency and performance, with

a seamless wrap-around index finger design that is touchscreen

friendly and more sensitive than ever before. Maintenance is also

simplicity itself as the gloves have a washable goatskin palm;

when dirty and grimy from extended training or field use, simply

throw them in the wash, air dry, and wear again!

First Tactical has done a fabulous job with these gloves;

although I initially found the closure a little bulky for such "low

key" gloves I did find the cutaway for my wristwatch a great idea;

I usually wear quite a sizeable dive or compass-watch and the

gloves accommodated this with ease, and caused no irritation by

pushing back the watch strap. After many range sessions there

SNUGPAK
---
pmcimagazine.com

GLOVES: DIGIT(AL) PROTECTION

is virtually no sign of wear; the use of goat skin mixed with the

stretch woven fabric is a winner as I can just toss them in the

wash with my other gear and they come out looking like new;

like other users I've had to throw away gloves after coming out of

the wash, but not so with the Lightweight Patrol Gloves, they just

run and run!.

When I've been doing some more serious, longer-day

rangework, for a while I've been using some great models from

German glove brand Kinetixx, and W+R, the company behind the

Kinetixx brand, have some 90 years of expertise building gloves!

The family business was established way back in 1928 by the

tanner Jakob Weiblen and his brother-in-law, the glove maker

Theodor Rümmelin in Neuhausen an der Erms. W+R then moved

to the neighbouring town of Metzingen in 1936 where the first

glove factory was built. The factory first produced leather driving

and work gloves with the first synthetic-fabric gloves arriving on

the scene later.

Gloves by W+R are characterised by technical innovation and

reliability. As a sought-after supplier to the police and armed

forces, customers all over the world rely on their decades of

experience and their in-house development department, with its

modern laboratory, cutting, stitching and quality control sections.

Kinetixx Tactical gloves have become part of personal protective

equipment (PPE) for some police forces, military units or Special

Forces and are therefore now part of their basic equipment.

The X-LIGHT LIGHT OPERATIONS GLOVE is a pretty no-nonsense

affair and is designed to provide the maximum level of comfort

and breathability. The glove features a U-shaped gusset for better

recoil control, reinforcement patches on the back as well as on

the palm for better grip, and the adjustable rubber hook-andloop

closure allows it to fit the wrist perfectly. The upper material

is 100% Aramid, the palm 60% Polyamide, 38% Polyurethane,

2% Other, whilst the reinforced areas are 60% Polyamide, 38%

Polyurethane, 2% Other. They therefore benefit from Abrasion

resistance (Level 2), Blade cut resistance (Level 1), Tear resistance

(Level 2), and Puncture resistance (Level 1) which overall gives

a very solid glove that is most certainly going to stand up to use

on the airsoft field, and give you good levels of both comfort and

protection!

I've been using this model for a little while now, and as a

pretty bog-standard "Size Large" I will say that the fit is very good

indeed, with little excess fabric and certainly no "bag" in the palm

area when you make a fist; this can cause issues if you're using a

slim pistol grip as the extra fabric acts as an unwelcome buffer to

a solid grip!

The latest addition to the "glove draw" is the Helikon-Tex

ALL ROUND FIT TACTICAL LIGHT GLOVES, and these have very

quickly become a firm favourite too, especially for warm-weather

environments, as they fit me… well, like a glove! As a part of the

ever-expanding Helikon-Tex RANGE LINE these are a lightweight

and extremely durable universal tactical gloves designed for

military and law enforcement professionals, but that work equally

well for an enthusiastic and committed "recreational shooter" like me.

Synthetic leather is used on the inner side to guarantee high

durability and reliable grip while specially designed slits on the

finger joints provide comfort, even during prolonged weapon

manipulation. As I've also (finally!) moved into the modern world

of mobile communications (yes, I now have a smartfone and not

a "burner"!) I also appreciate the fact that the middle finger and

thumb are touchscreen compatible, and a sewn-in Hypalon loop

not only helps with easy on and off but also can be used to hang

the gloves on equipment when my fat fingers need to send a

text! An elastic extended cuff offers maximum confidence and

comfort, while thin, yet durable, construction enhances the ability

to use a phone or tablet, manipulate gear, or access a handgun.

Overall theses three models completely match my

requirements in terms of Grip, Dexterity, and Comfort, and all

are touchscreen compatible should you wish to

use them in conjunction with your phone or other

device; in my opinion they all offer great levels of

performance for a good price, and what more can

a cash-strapped shooter ask for?

26
---
arg.uk.com
---
pmcimagazine.com

LEUPOLD DELTAPOINT PRO NV FDE

ON POINT- THE LEUPOLD DELTAPOINT PRO NV FDE

BY JIM WENZEL

IS THE PISTOL RED DOT A FRIEND OR FOE? THIS IS THE QUESTION JIM OFTEN GETS AS A PROFESSIONAL

FIREARMS INSTRUCTOR. TO EXPLORE THE ANSWER, HE'S GOING TO DIVE INTO TESTING THE LEUPOLD

DELTAPOINT PRO NV FDE FOR THIS ARTICLE. THE RESULTS MAY HELP PROVIDE SOME VALUABLE

FEEDBACK FOR THOSE WHO MAY BE THINKING OF BLINGING OUT THEIR EVERYDAY CARRY (EDC) GUN

Is a pistol optic for you? I asked myself this very same

question several times over the course of the past year.

I'm a bit of an old school shooter, even at basic training

in Parris Island, our qualifications pushed us out to 500

yards with iron sights with our issued rifles. For years

when I heard "optic", I thought long range precision

shooting with a long gun.

Then as I was retiring from Law Enforcement in 2018,

I saw that one of the alphabet agencies was in the process of

transitioning to pistol red dots for their employees. My initial gut

reaction was "Why are we going to a piece of equipment that

can fail" and secondly, "I've seen enough yearly qualifications

where people fail or barely pass a qualification due to not being

able to apply the fundamentals as it is".

I will admit that I was extremely skeptical with this change.

I didn't feel that agencies would put in enough training time

or do so properly. I can recall when they came out with the

new spring for Glocks that had a laser in it. It didn't improve

accuracy as the agency thought it would, nor was it essentially

cost effective as the spring was much weaker than the standard

Glock spring which led to the springs breaking and making the

pistol inoperable. The agency went back to the standard Glock

spring after that.

Now to the present, since retiring, I became a civilian

firearms instructor and during that time I have come across

many new shooters and some experienced shooters that come

to a class and are carrying their concealed carry firearm with a

red dot. It was due to this uptick and trend that I knew in order

to help students that I would have to invest in a red dot, open

my mindset, and get myself trained up.

Contrary to some beliefs, there are some fantastic benefits

to picking up and learning how to utilize a pistol red dot. For

one, we are reducing the amount of focal planes being used.

Traditional iron sight, firearm fundamentals of shooting use

three focal planes. A shooter has to look through their rear sight,

identify the front sight, and then place the sight on target. This

is done with an emphasis on focusing on the front sight and

blurring the target in the distance. An issue with this is that we

won't be able to quickly recognize if a threat is still present.

We are putting a lot of focus into a fine motor skill which is

28
---
elatively non-existent under stress. Hence, why point shooting

is taught for close range engagements, at the very least, if you

point the firearm at the intended threat at close proximity, you

will hit the target. In the defense of life, small tight groupings

from precision shooting is not required, we need to get rounds

on the threat as safely and quickly as possible.

Now that we covered the proper use of iron sights, let's jump

over to the red dot side of things. The pistol red dot reduces the

focal planes down to two, some will say one. I leave that debate

up to each individual. We acquire the red dot through the optic

and place it on the target/threat. We are able to then have a

focus on the intended threat while using the red dot. I'll talk

about this more later in the article.

The main drawback that is common with any tool is the risk

of mechanical failure. Batteries could die, the sight could hit

something and fall off, or the glass could break. Good old Murphy's

Law, "Anything that can go wrong, will go wrong." With this in

mind it is imperative to ensure that you don't disregard and stop

training the basic fundamentals with your iron sights. In which I

also add, implement training where the iron sights have broken

off or aren't operational. If you fail to prepare, you prepare to fail.

POINTS TO PONDER

Searching the pistol optic that is right for you can be a difficult yet

fun task, some things to consider are:

• What is the purpose the optic will be used for (professionalpersonal

EDC, competition etc.)

• How large is the sight? Can you conceal if necessary?

Batteries:

• Where is the compartment, does a battery change mean you

have to re-zero the optic

• How long does the battery last

(Editors Comment: And how easy are the batteries to find, are

they a common size?)

These are just a couple questions that I pondered myself.

After talking with several instructors and subject matter experts

in the field, I decided that I would buy my first pistol optic. I chose

the Leupold Deltapoint Pro NV FDE. What caught my attention

besides Leupold's excellent history were the features that stood

out on such a small sight.

This model supports modern night vision devices with 10

brightness settings, including two that will fine tune the red dot

to match sensitivity of your night vision equipment. Leupold

also added a customizable brightness setting at the top end of

the sight, which makes it easier for you to quickly max out the

intensity of your red dot when environmental conditions are at

their brightest. This allows you to move between the outdoors

and indoor settings without skipping a beat. Some other features

that I really liked were the fact that this versatile sight has an

easy access battery compartment, meaning that you don't have

to re-zero after a battery change!

Just as impressive is the battery life, which ranges from 300 to

1600 hours, depending on the brightness intensity. The coin click

adjustments allow for more precision as well as an incredibly

wide field of view and Leupold's famous crystal clear glass. This

combined with the optic being housed in an aluminum and steel

sheath to ensure that the sight will hold up in even the harshest

conditions.

LEUPOLD DELTAPOINT PRO NV FDE SPECS:

Finish

Flat Dark Earth

Reticle

2.5 MOA Illuminated Red Dot

Battery Type

CR2032

Switch Type

Push Button

LEUPOLD DELTAPOINT PRO NV FDE
---
LEUPOLD DELTAPOINT PRO NV FDE

Weight

2 oz

Elevation Adjustment

1 MOA

Windage Adjustment

1 MOA

Eye Relief Low Mag (in)

Unlimited

Battery Life (hr) Low Intensity 1600

Battery Life (hr) Medium Intensity 1000

Battery Life (hr) High Intensity 300

Number of Illum Settings 10

Total Length

1.8 (in)

MSRP:

$549.99 USD

WORKING THE DELTAPOINT PRO NV FDE:

I had ordered the pistol sight while I was away working on a

private security detail. After being away on assignment for a

few months, I was excited to see the package on the counter

when I got home. The red dot came in the traditional Leupold

box and was packaged nicely. Now that the sight was in hand,

my next task was to decide which pistol to put it on. After a short

deliberation, I landed on my Sig Sauer P320 Scorpion AXG. The

red dot was super easy to mount as it fit seamlessly on the optic

ready slide of the Scorpion.

I then went to a local shop called Recon Rifleworks to see

my friend Will Gironda and let him do what he does best, install

my suppressor height iron sights that I purchased from Night

Fision. I went with their yellow dot to contrast the red dot of the

Deltapoint Pro. Will had me ready to go in less than an hour even

during hours when the shop was busy.

Now that the set-up was complete, it was a no-brainer as

to where I was heading next, onto Bullseye Guns and Indoor

Shooting Range located in the heart of Jacksonville, Florida to

see the manager and friend Bill Biggert. Once I arrived, I hopped

on the range to get this red dot zeroed in. I made my way over

to the private section of the range dubbed, "The Dungeon." This

is where myself and other instructors get to privately put in the

time to work on our skill sets and courses.

Still being relatively new to implementation of the pistol red

dot system into my training, I was pleasantly surprised at how

easy it was for me to find the red dot on the Leupold. I had tried

other sights before that my colleagues had, and it was difficult

to pick it up at first. The Deltapoint Pro didn't disappoint. I was

able to acquire the target quickly and effectively put rounds on

paper where I wanted them. I set up my zeroing targets and

benchrest position. I worked from the 3,5,7,15,20, and 25 yard

lines respectively utilizing five round groups to zero in the red dot.

With the zero acquired, it was time to see what the red dot

hype was all about and as I mentioned earlier, will it be our

friend or foe when it comes to utilizing this tool? What I found

out relatively quickly is that there is a distinct difference between

the traditional iron sights and the red dot system, which is that

while utilizing iron sights, a person's eyes have to perform a

number of complex functions, contrasting those using a red dot

in which uses one function. This is a very important mention to

me, mainly due to not only my background, but our magazine

subscribers as well. I say this because we work in some stressful

environments and have to make rapid decisions.

With the development and understanding that comes with

using a single focal plane sighting system such as the red dot,

one can more effectively keep their eyes on a threat during a

deadly force encounter which can make a large impact on the

outcome of that encounter. It will not only increase your reaction

time due to quicker target acquisition, it allows you to have a

higher degree of focus on the engagement as opposed to the

traditional iron sights.

Let's dig a bit further into this, from our understanding of

human behaviors; we note that humans have a natural tendency

to focus on whatever is threatening us during a fear (fight, flight,

freeze) response. It becomes very difficult for someone to take

their eyes off the threat and put the focus into their pistol sights,

which in relative terms are tiny objects outstretched an arm's

distance from us.

With this being said, part of my evaluation of the Leupold

Deltapoint Pro was to increase my relative stress level (increase

my heart rate) while performing several drills going between

the red dot and traditional iron sights. What I found is that the

red dot allowed me to make faster follow-up shots as I didn't

have to go through the process of aligning my sights after each

shot was fired. I believe this will be an "AHA!" moment for those

transitioning to the red dot from a new to experienced shooter,

as you will see it makes it easier for someone to be able to shoot

with both eyes open. Most shooters, although they try and put

in the training hours, struggle with this. This occurs due to having

to hyper focus on the front sight, the red dot eliminates that and

allows you to acquire the target with both eyes and helps speed

up your scan for additional threats as you now are no longer

fighting one eye blind.

BECOMING FRIENDS WITH THE PISTOL RED DOT,

FINAL THOUGHTS

There is, however, a bit of a learning curve for those of us that

are veteran pistol iron sight shooters. Due to this fact, we will

have developed for the sake of red dot shooting, the bad habit

of looking at the front of the pistol to find the front sight. We

have to change our mindset from being front sight focused to

target focused. This is countered by training and putting in the

repetitions. The wide field of view of the Deltapoint Pro made

30
---
this transition easier for me, I can pick up the red dot quickly and

effectively engage my target.

This will take time and training. Contrary to many new

and experienced shooters' beliefs, adding the red dot does not

instantly make you a better shooter! The red dot only simplifies

two of the seven principles of marksmanship, sight alignment

and sight picture. It does not fix a poor stance, bad grip, or terrible

trigger control. Where the red dot is most beneficial in my opinion

for students and instructors alike, is that one can see what the

dot is doing in relation to your target and your hits on target. For

instance, you can see where the dot is on the target and if you

or the student either anticipates, flinches, or jerks the trigger you

can see where the red dot is in relation to the target, allowing for

quicker corrections.

Another benefit to using a red dot is utilizing it as a dry

practice training tool, I've found that by doing this, I have actually

improved in using my iron sights. During dry practice, I can see

where the dot starts and ends during the prep and fire phase of

my training, this has helped with establishing and maintaining

proper grip, trigger press etc. In essence, the red dot can give

you immediate feedback and allow you to make the proper

adjustments.

Despite rigorous training, the Leupold Deltapoint Pro

maintained its zero throughout the past 8 months of working

with it. Another feature that I really liked about this sight is the

Motion Sensor Technology. This is designed to extend battery

life by automatically deactivating illuminated reticles after five

minutes of inactivity and then will reactivate instantly as soon

as movement is detected. I had no issues with drawing from the

holster and finding the red dot.

Other points of mention; this sight comes with an illuminated

reticle that helps you get on target faster in low-light situations. I

was able to test this during some low-light training at the range.

I really enjoyed how the sight worked seamlessly well with

my pistol mounted light. The set up displayed no issues going

from dark to flashlight and picking up the red dot. I would have

to say that it is most likely due to Leupold's Twilight Max Light

Management Systems which offer a clearer, brighter image with

three main benefits:

• Better Light Transmission - Maximizes more ambient light in

low-light environments.

• Better Glare Management - Reduces more glare through

additional lens coatings and minimizes image washout

caused by stray light.

• Better Contrast & Resolution - Creates a clearer image using

premium edge-to-edge lens prescriptions and HD coatings.

Finally, if you're looking to implement a red dot into your EDC or

training development, I will say that you have a friend when it

comes to this tool. It's a versatile tool as it can be used not only

on duty or for your self-defense needs, but also as a training

tool. When applied properly with your fundamentals, you will see

improvement over time.

I found that after putting in many hours on the red dot, it

has increased my ability to pick up on the front sight. I now use

my iron sights as a failure drill exercise, and if both fail, most

encounters happen up close and this will also enhance your point

shooting abilities. For those of us that are aging, the red dot is

a great option as it makes it easier for those to acquire targets

and their sights, which are now dependent on reading glasses for

example.

I have nothing but positive things to say about this red dot

sight. It performed as expected and held up to some long hours

of training. To date, I have put about 3000 rounds through my Sig

since mounting the Leupold Deltapoint Pro NV FDE. I haven't had

to make any adjustments to it other than the initial zeroing when

I mounted it. Leupold developed the Deltapoint Pro NV FDE for

those that have to rely on their equipment to perform when it

matters most, this company stands by its products and guarantees

them for life, with that alone, it's worth the investment.

From my experience, Leupold continues to be an innovator

and is consistently rated at the top in the industry due to their

passion to create and be experts in their field. They

truly live up to their motto of, "BE RELENTLESS".

As always, stay dangerous, keep training,

hope is not an Ops Plan!

LEUPOLD DELTAPOINT PRO NV FDE
---
pmcimagazine.com

BLADES: SPARTAN

SPARTAN BLADES: PROFESSIONAL SERIES

By Trampas Swanson

Within every great civilization, there has been a pivotal blade design for its era. Whether it's the Roman's

Gladius to the Japanese Tanto, each was created to meet the specific needs of the day. In the United

States during these current times are fortunate to live in the most culturally diverse country in the world

and can draw on design influences accordingly, as Spartan Blades most certainly do to create some true

masterpieces!

ur environment is filled with influences on

Oour daily lives from all around the globe. Our

situational needs can range from extreme

cold to extreme heat survival as well as

hectic urban environments to desolate rural

areas. No matter if it's for professional,

personal or recreational use, humans still

have just as many needs for an edged tool

every single day as any other point in our

history.

If you're like me, being fully dressed and prepared for your

day involves a specific list of every day carry items. These

items, depending on your area of operations typically include

some sort of handgun, your personal effects such as wallet

(ID, credit cards, etc), keys to a vehicle or facility (business,

home, etc), cell phone, tourniquet, Israeli bandage and of

course, the most important tool to mankind ever since the

stone age, a good, quality knife.

Depending on what my day entails, my needs for the

essentials may vary as with the type of knife I may need.

Sadly, despite having so many different designs and sizes

of knives to choose from, there really seems to be only two

levels of quality available. Either blades are cheap and made

from poor-performing steel, or they are high end, expensive

combat-influenced creations either production or

custom made from top-end materials.

32
---
I grew up hunting with my father and grandfather in environments

where your equipment failing could decide your sheer survival.

As I grew older, I served in tactical operations and specialized task

forces within law enforcement containing the same ramifications

for failure.

Given a lifetime of solid, real-world experience, I fully

understand the importance of purchasing quality tools such as

knives. For folks who know wholeheartedly what this means,

the biggest task they face is finding a company that produces

products can trust. For me, this company has been one that builds

"knives with intent" as the Spartan Blades slogan goes.

This company, one we are proud to have worked with

before in PMCI, is located in my birth state of North Carolina and

founded by two retired Special Forces snipers and former Private

Contractors, Mark Carey and Curtis Iovito. Not only do these

gentlemen set an amazing example as outstanding Americans

for their service but continue their service in the form of creating

exceptional fixed blade and folding knives for military, private

military, law enforcement and first responders around the world.

The designs come from not only "in house" creators based on

firsthand experience and user feedback but Spartan Blades also

collaborates with top designers in the industry such as Les George,

Tu Lam and knife legend, William Harsey.

Spartan Blades easily represents the upper end of quality

knives in the industry with numerous awards for their designs

and innovate but unfortunately, these blades are also considered

expensive for the average person's budget. As fate would have

it, Spartan Blades was able to find a way to offer professionals

and civilians alike great blades in a more budget friendly Spartan

Blades Professional Grade series of impressive designs. By

teaming up with an iconic American brand in the knife Industry,

Ka-Bar Knives, Pineland Cutlery was born. In this article, we'll

look at just how this new venture came to be and the outstanding

blades that make up the new Pro Grade also known as their Silver

series.

THE PINELAND CUTLERY FAMILY

To quote Spartan Blades co-founder, Curtis Iovito, "Pineland

Cutlery is named for the fictitious country, 'Pineland' that includes

13 counties in North Carolina, and is the place where the Special

Forces Qualification Course - otherwise known as the "Q Course"

- is conducted. Given Spartan Blades' deep roots in SF, Mark and

I thought this would be a perfect name to use for the new joint

venture between their company and Ka-Bar Knives of Olean, NY."

According to Iovito, it all started in 2016 during a joint knife

venture between Ka-Bar and Spartan Blades to product 400

EK Dagger reproductions. During this time, the two companies

discovered many shared ideals in manufacturing processes and

support of the armed forces. As the project progressed, a true

friendship between the two companies emerged. At one point,

Curtis Iovito passed a humorous remark to Ka-Bar CEO, John Stitt

about the company purchasing a certain small knife manufacturer

in eastern NC. For those familiar with Iovito's impressive intellect

and quick wit combined with a signature steely look in his eyes

that makes you wonder if he's serious or joking at times, one

can only imagine what the climate in the room could have been

with that remark. While it did not lead to Stitt stroking a Ka-

Bar check to purchase Spartan Blades, it did lead to months of

discussions and lawyers to give birth to a new superpower in the

knife industry, Pineland Cutlery.

With the formation of Pineland Cutlery with a DBA as Spartan

Blades, Mark Carey continues to handle the day-to-day operations,

sourcing of materials, logistics, and financial end of the company

while Curtis Iovito is still involved with manufacturing, product

development, and marketing. John Stitt is the CEO of both Ka-Bar

Knives and Pineland Cutlery while overseeing the production of

the Pineland Cutlery Silver Line of knives out of the Ka-Bar factory

in Olean, NY according to their website information.

With the formation of Pineland Cutlery, Spartan Blades now

had the resources and manpower to offer top quality blades

featuring intelligent designs and legendary quality at better

pricing. Spartan Blades state the knives in the Pro (Silver) series

will all feature 1095 Cro-Van steel with full tangs running through

the grips and average a hardness ranging from 56 – 60 HRC. The

handles will all be created from canvas micarta which from my

experience offers a solid purchase on the grip regardless of the

knife being wet or dry. Each knife features a well thought out

locking Kydex sheath that can be mounted using multiple options

and be accessed quickly and easily with either hand.

The initial three knives that make up this new series are all

designed from award winning designer, Curtis Iovito himself and

include the Machai, Damysus, and Alala. Earlier this past summer I

was fortunate to obtain a sample of each of these knives to take a

close look at their design, intended application and performance

in the field over the past few months. Let's check out how each of

these different blades size up!

Machai – Named for daemons (spirits) of battle and combat in

Greek Mythology. This is the largest and visually most impressive

of the three blades. The heavy, 6.625" re-curved blade of this

knife is the obvious outstanding feature of the Machia. It's big, it's

bad and very intimidating at first glance. The smart design with

an overall length of just over 10" and flat ground blade make it

perfect for chopping. With our media group's extensive work in

the realm of Bushcrafting made this knife a "no-brainer" to add

to my camping gear.

Medium to small branches are no match for the Machia. I

enjoyed at the re-curved design works well for limbing up and

sharpening make-shift tent poles and stakes quickly without

BLADES: SPARTAN

pmcimagazine.com
---
pmcimagazine.com

BLADES: SPARTAN

having the bulk of a full-sized Kukri. (The design is also great

for cracking open coconuts poolside when not working in the

field.)

The 3/16" wide spine held up very well to batoning the

blade through firewood when needed as well. Its overall size

made lashing it to my pack a better method of carry than

hanging on my belt to get snagged by branches and vines.

The Kydex locking sheath featured straps with plenty of length

to weave into the Molle loops of my pack to hold the knife

securely onboard.

Despite the constant the wet climate of the Florida forests

and swamps, the black powder coating helped the blade resist

moisture and rust very well despite not being regularly cleaned

after hard use. The listed weight of .668 lbs may not sound

like a lot but when you hold the Machai in your hand, you

don't think about it being just a knife, it feels like a Craftsman

brand tool ready to be put to hard use. Retailing with an MSRP

US$199, this is a solid combination of price and quality in a

proven design that won't let you down when your survival is on

the line. (Editor's Note: For those who are fans of the Spartan

Blades / Ronin Tactics Shinto knife, consider the Machai a

slightly less sexy version for almost half the cost. If you have

wanted a Shinto without the price tag, this may be your best

option!)

Damysus – Named for the fastest of all giants in Greek

mythology.

Of the three blades in the Professional series, the Damysus

best reflects its Ka-Bar combat knife heritage. The hefty Drop

Point 5.5" Flat Ground blade with its thick .1875" spine and

10.75" overall length is a perfect fit for a battle belt or "Go" bag.

Like the Machai, the listed weight of .56 lbs. doesn't seem

like much on paper but when you are using the Damysus to cut

deep into a slab of meat or attempt to quarter a 750 lb. elk in

the field, the balance, handling, and weight will smoothly slice

effortlessly.

Due to the lack of tapered swedge of top of the

34

blade, the drop point offers a much stronger tip

than most knives in this size. I have used the Damysus on several

campsite settings and outdoor cooking set ups to process tinder

and firewood. This blade held up much better than lesser knives

tested in which the same situation cost the tip of many of them.

The flat ground blade makes for a solid camp knife or multi-use

utility knife.

The blade profile strikes me as a heavy-duty version of one

of my favorite William Harsey designs, the Difensa, a flagship

knife from the Spartan Blades Elite Grade line. In my opinion,

the Difensa is one of the best examples of weight, balance,

durability, and fast handling in a fixed blade knife that I have

ever encountered. With the Difensa retailing for $425, I consider

being able to purchase a rugged, hard use version of this knife

in the form of the Damysus for literally half the price with an

MSRP of US$195 is one of the best values in the knife industry.

Like the Machai, the PALS / Molle compatible Kydex sheath

that ships with the Damysus offers the same mounting options

with or without the straps for gear or belt carry. Originally, I

carried this with the standard straps attaching the sheath to my

outer gun belt from Ronin Tactics. After taking a few instructor

courses in St. Augustine, FL, I did not like how low the knife

rode on the belt, so I removed the mounting plate containing

the straps and replaced it with a G-Code high ride Molle

attachment. This set the knife's grip at the same level as my

pistol to establish a master grip on either with the same draw

stroke and effort.

Overall, the multiuse size and profile of this knife is what

many have been wanting for to fit their budget. When I was

a SWAT sniper with a supervisor pay grade, I could not have

afforded a Difensa, but even as a slick sleeve rookie, I would

have scrapped up enough extra cash from working football

game details to have been able to carry a Damysus from

Spartan Blades. For fans of the classic Ka-Bar combat knife,

THIS IS, in many ways, the modern production fighting knife of

the millennia to fit many operators' and civilians' post COVID

apocalypse budgets.
---
Alala – Named for a Greek battle-cry or war cry

Why end the list with the smallest of the three knives you may

ask? Because this is truly a case of saving the best for last in the

fact that I spend every day with this blade. As a writer, hunter,

field tester, instructor, businessman, husband, and father of 2, my

typical day is far from being typical. I may be dropping the kids

off as school, dropping off challenge coin and custom patch orders

off at the post office, hitting the swamp to test survival equipment

or jumping onto the range for private lessons on any random

Monday through Friday. Weekends are spent teaching classrooms

full of students from new shooters to NRA and USCCA instructor

workshops. I legitimately work seven days a week and so does

my Alala from Spartan Blades.

With a simple phone call or change in weather, my day may

change 180 degrees from the game plan and send me in a totally

different direction. I need reliable equipment that can blend into

polite society and not stand out. The Alala does jus this while still

giving me a fast handling, razor sharp blade that I can carry on

my belt with my shirt untucked and pulled over it for quick access

opposite of my concealed firearm if needed.

Retailing with a MSRP US$159, the Alala offers a high quality,

razor sharp 3.75" blade with an overall knife length of 7.88".

The thick 0.1875" spine allows for hard use throughout most any

daily chores. Like its larger series mate, the Alala features a Flat

Ground Drop Point blade that can pierce, slash, and cut deeply for

its size. The 0.294 lb. weight of the Alala feels like I am holding an

expensive 10mm wrench in my hands when using it due to the

familiar contours of the grip and crosshatched checkering of each

knife in the Professional (Silver) series.

I primarily carry the Alala on my left side outside my

waistband on my belt opposite of my concealed carry pistol on

my right for several reasons The first is the ability to access easily

with my nondominated hand in case I ever must fight for my

carry gun. This concern is unfortunately from the experience in law

enforcement of having to fight someone off trying to unholster

my duty weapon while attempting to take them into custody.

Proper placement of a quickly deployable knife on the opposite

side has been proven to make short work of potentially lethal

encounters.

Secondly, I like the balance of having the knife's weight counter

that of the carry gun on the opposite hip. Often, my weak hand

is used to make cuts while my strong hand holds the item being

cut in place. I have used this blade from cutting tags off clothing

to cleaning squirrels and white tail deer. (Yes, I do clean the blade

after meat processing) Formerly, my belt carry option was a SOG

Pillar until the Alala simply outperformed it in all aspects from

construction, application, cutting ability and edge retention.

The Kydex sheath does not offer any mounting straps, only

one designed for a secondary retention should you feel the highly

effective sheath lock isn't enough. Several of my colleagues have

chosen to conceal carry these blades inside the waistband using

a multipurpose UltiClip which clamps down in a vise-like fashion

into your clothing. I personally decided to just mount the sheath to

a Blade-Tech quick release belt mount for easy on / off application.

Thus far, through daily carry, pushing through thick vegetation

moving through the woods hunting and out field-testing gear, the

sheath and mount have held up with. I freely admit, I am not the

type of person that cleans my gear regularly after every outing

but the Black Powder Coat that comes on each of the blades in this

series has held up very well from scratches, rust and discoloration.

FINAL THOUGHTS

Over the past six years, I have gotten to know the founders of

Spartan Blades both through professional opportunities as well as

personal avenues with Curtis' history working with my cousin, PMCI

Magazine's own Shawn Swanson. I can honestly say, these guys

are what America is all about. Mark and Curtis love their country

and have sacrificed the bulk of their adult lives to its service doing

things most folks will never have the courage or guts to do. To

this day, these men proudly pursue living the American dream of

business owners providing top quality products they themselves

would count on with their lives.

In my opinion, the Spartan Blades Professional (Silver) series

does nothing short of delivering on what the company and its

founders stand for. Not everyone can afford a US$450 Canadian

Specials Forces combat knife, nor do they probably have need for

one. However, this new series of professional quality blades at

a more budget friendly price does offer just as many benefits to

the average working man and woman. Moving into 2022, Spartan

Blades has already announced three more blades

to be added to the series with more collaborations

coming from the icon himself, Bill Harsey! So, if

you're looking for top quality and mission ready

products, make www.SpartanBladesUSA.com your

next stop. Train Hard and Continue the Fight my

friends.

BLADES: SPARTAN
---
pmcimagazine.com

FIREARMS - UZI PRO

UZI PRO: THE TRADITION CONTINUES

By Trampas Swanson

Few firearms throughout history are more recognizable as the iconic Uzi! It's short, stocky appearance

fitted with a seemly endless stream of 9mm ammunition via 32 round magazine and a cyclic rate of

600 rounds of minute made it a Hollywood action movie dream, and certainly has endeared to Trampas!

First designed by Major Uziel "Uzi" Gal in the late

1940s, Israel Military Industries (IMI) produced

the Uzi platform from 1950 to 2005. The unique

platform was originally meant to be a family of

Israeli open-bolt, blowback-operated submachine

guns in carbine, pistol (Uzi Mini), and micro Uzi

pistol form. By incorporating a telescoping bolt

design, the overall design allowed the magazine

to be housed in the pistol grip for a shorter weapon

profile. This made the Uzi very popular with elite military and

law enforcement units around the world such as the Israeli

Defense Forces, the German Bundeswehr and even the US

Secret Service. Perhaps one of the most famous images of

the Uzi being deployed into action is that of US Secret Service

agents responding to the shooting of President Ronald Reagan.

As with many original full-auto designs such as the MP5,

Tech 9 or Mac 10, a semi-auto redesigned to fire from a closed

bolt came about to meet civilian sales regulations.

Throughout the 1980's and 1990's, the Uzi platform was

very popular amongst civilian shooters and collectors. Movies

that spotlighted the Uzi such as "Big Trouble in Little China",

"Delta Force" and "Escape from LA" drove viewers to their local

gun shops. Sales totaled over 2 billion dollars in the just the

United States market alone by the end of 2001!

Entering the new millennium, IMI sold its small arms

division (Magen) that manufactured the Uzi line of firearms

in 2005 to the privately owned SK Group and rebranded

the company to Israel Weapon Industries (IWI). In 2010, IWI

released an updated version of the Micro Uzi named the Uzi

Pro. Keeping up with the times, this new model was offered in

a semi-auto pistol with an optional stabilizing brace variant to

go along with the traditional military / Law Enforcement fullauto

variants complete with folding stocks.

FIRST LOOK

As a long-time fan of the Uzi lore, I have owned an original Uzi

carbine short barreled carbine rifle (SBR) since 2012. I decided

last year to take my collection to the next step by obtaining a

sample of the Uzi Pro. Upon unboxing the Uzi Pro, the familiar

subgun heft of a brick with a handle still felt like a classic Uzi

despite polymer being used in the lower section of the gun

36
---
to lighten frame. Weighing 4.5 lbs, the Uzi Pro offers enough

weight via the steel reinforced polymer lower and steel receiver

to absorb recoil but not too bulky to make it unwieldy.

As I went over the gun, I took inventory of several updates to

the original Uzi Micro design. I was very impressed with what I

discovered throughout. The most noticeable was the relocation

of the charging handle from the top to the left side of the

receiver. This was an excellent decision by the manufacturer

to speed up reloads along with a relocation of the magazine

release from the bottom of the grip to a traditional right side

location of most pistols on the market. This keeps the gun in

action more efficiently for right-handed shooters by dropping

magazines with the firing hand thumb and using their support

hand to charge the weapon much like an HK MP5 or FAL.

Replacing the original top-mounted charging hand was a

Picatinny rail for mounting optics such as an RMR or Holosun

red dot. Integrated into the trigger guard was a forward

mounted Picatinny rail for mounting a white light. The addition

of these two rail options really brings the Uzi platform into the

21st century with fast sight acquisition and target illumination.

IWI's redesign added three safety features to the Uzi Pro

as well with a thumb safety, a three-position grip safety, and

a firing pin block. With the super compact size of the Uzi Pro,

these features are a must to prevent any accidently discharges.

Unlike past Uzi models, the Uzi Pro is only offered in 9mm.

Current production comes standard with a threaded barrel

for use with a suppressor to round out the complete battle

package.

The Uzi was shipped with a cumbersome folding rubber

arm brace that simply added bulk to an already heavy pistol.

In my opinion, Uzi Pro wasn't complete until the SBR tax

stamp arrived from the ATF and I was able to legally add a

wire stock from Title II Arms (www.titleiiarms.com). This stock

is reminiscent of the original Uzi Micro design and gives the

Uzi Pro a sharp, professional look. With the simple removal of

the spring-loaded hinge pin, the arm brace detached, and the

modest rubber coated wire stock slipped into place.

UZI PRO SPECS

Caliber:

9mm Parabellum

Action:

Semi-auto

Operating System:

Blow Back

Magazine Type:

IWI, Steel

Magazine Capacity: 20 Round, 25 Round

Barrel Material: Cold hammer forged, CrMoV

Barrel Length:

4.5" Threaded

Overall Length 9.5"

Weight:

3.66 lbs.

Rifling:

1:10 inch twist, Right hand

Sights:

Adjustable Target Sights

MSRP:

US$1,100 - US$1300

FIREARMS - UZI PRO
---
pmcimagazine.com

FIREARMS - UZI PRO

RANGE TIME

While waiting for the tax stamp to arrive, fellow PMCI writer,

Jim Wenzel and I along with our good friend, John Phillips aka

"The King of Kydex" at Survivor Creek Tactical decided to load

up few 20 and 25 round Uzi magazines and start breaking in

the Uzi Pro. Our team headed down Interstate 10 to Baldwin,

Florida to visit Tom Martin at the Baldwin Pistol School. There

we spent the morning shooting, reminiscing about 80's action

movies and comparing the older style Uzi Carbine with the

newer Uzi Pro.

As we cycled through various loads from different

manufacturers, I noticed the few issues we occurred being

failure to feed issues coming from the 147 grain full metal

jacket (FMJ) loads as opposed to the 115 and 124 grain FMJ

loads. Of the five failures to feed issues, four of them were with

Winchester brand ammunition. The best performance observed

came with 115 grain FMJ loads from Federal Ammunition.

I found the arm brace to provide a solid support for firing

but bulky and unbalanced. John and Jim both commented how

easy the brace made being able to get the full adjustable sights

on target and maintain a solid sight picture throughout their

strings of fire. Compared to the original Uzi carbine, the Uzi

Pro felt slightly "snappier" but it also weighed half that of the

carbine as well.

Once the tax stamp arrived and the wire stock from Title II

Arms was installed, I went back to the range and put over 300

rounds down range while spending the morning hanging out

with my buddy Tom. During that time, I shot only Federal 115

grain ammo with zero issues and respectable 4" free hand shot

groups at 10 and 15 yards for such a short 4.5" barrel. The wire

stock proved a better check weld and fit at the shoulder. The Uzi

Pro kept all shots well within the 9" circle of a standard IDPA

style target. Not only did the Title II Arms stock look better than

the arm brace, but it also easily outperformed it as well.

FINAL THOUGHTS

After almost a year of owning

the Uzi Pro, I have come to really

enjoy owning it. With the design

upgrades and addition of the

wire stock, the gun is simply fun

to shoot. The compact size, highcapacity

magazines and simple

design make the Uzi Pro a great

weapon to throw into a backpack

for long road trips or keep in the

bedside table for home defense.

Retailing between US$1100 -

US$1300, the Uzi Pro is the latest

in the historic linage of the brand.

It puts fans of the Uzi platform

into owning one for under the US$2000 starting price tag of

any other Uzi model. For others, there is a common reaction

I often get when I mention I own an Uzi. "Why on earth do

you own an Uzi?". As the NRA states in many of its training

programs, firearms are owned for a wide range of reasons from

home defense, competition, duty requirements, or my personal

favorite, simply exercising my Second Amendment rights aka

"Because I FRIGGIN' want one!" Guns like the Uzi make up the

very fabric of our 2A community for not only our past but our

present and future as well.

If you're interested in exploring the fun of shooting an Uzi

Pro and experiencing a bit of firearm history for

yourself visit www.iwi.us.com. It's the duty of

each of us to help grow and share the knowledge

of firearms with others and explore more about

our industry. As for our team, we hope to see you

all on the range one day!

38
---
pmcimagazine.com

PHOENIX SUPPRESSOR

GSL TECHNOLOGY: PHOENIX SUPPRESSOR

By Trampas Swanson

Ask any tactical operator what the number one drawback of high rate of fire is and one of the top answers will

be hearing damage. Some of my closest friends, and myself included, suffer from partial hearing loss from

working with or in extreme close proximity of firearms. Sadly, many outside the professional armed community

do not realize just what an important part of operator safety a quality suppressor can really be!

While some agency and unit heads

uneducated in suppression devices

may shun the stigma of ATF paperwork

or cost of suppressors, Hollywood has

done its fair share as well of skewing

the understanding of what suppressors

truly are and what they are not. To some

extent, even our own gun industry has

been the culprit due to competition

between suppressor manufacturers and marketing large name

brands with under performing products.

Regardless of the arguments, misinformation and excuses,

the fact remains that quality suppressors can save from hearing

damage. Not only does this benefit the end user over time but

during operations as well. Quality suppressors can allow for better

perception of the battlefield through sound detection. This can

be footsteps, verbal communication and much more that could

change the dynamic of a critical threat incident. It's been proven

time and time again over decades of operations that these tools

save lives!

Ever since my last years in college going into the police

academy, I have been shooting suppressors in my quest to learn

as much as I could from them. Having grown up hunting since the

40
---
age of four, my hearing had already been affected significantly

from the use of large caliber handguns and rifles in conjunction

with regularly shooting shotguns. The bulk of this time on the

range and in the field was carried out without hearing protection.

During my law enforcement career, I was able to work with

suppressors on a broad spectrum from CQB to long range

application. This is when I really began to understand their full

benefits and yes, even drawbacks. Over the past 25 years, I have

seen several different interesting, patented designs. Some were

suppressors that worked well and some that simply weren't worth

the time, money, or tax stamp.

Recently, I discovered a suppressor company that has been

around for over 35 years named GSL Technology. My first question

was how this company had managed to never pop up on my radar

considering all the great reviews I read in the beginning of my

initial research for this article. Even their designs looked familiar

despite the never hearing the company's name. As it turned out,

I knew more than I realized when I decided to review the GSL

Technology Phoenix suppressor designed for the MP5 platform. To

better understand the product being reviewed, we need to first

understand the driving force behind GSL Technology.

WHO IS GSL TECHNOLOGY?

While the name, GSL Technology may be new to many in the

suppressor world, the company bares the initials of its founder,

Greg Latka. To say he has been a fixture in the industry for

well over three decades is an understatement. Perhaps you've

heard of a suppressor company from Boise, Idaho by the name

of Gemtech? That's right, THE Greg Latka, former president of

Gemtech for twenty years. What many may not realize is that

most of the suppressor designs Gemtech is known worldwide

for in the professional contracting, military and law enforcement

circles are the creations of none other than Mr. Latka.

In 2017, the colossal firearm manufacturer, Smith and Wesson

purchased Gemtech and moved its operations to Springfield,

Massachusetts. What most people do not realize is GSL Technology

was pretty much the main driving force behind the success of

Gemtech with its innovative designs and licensed patents since

1985. With moving on from the union with Gemtech, new designs

and some innovative redesigns have now begun to surface directly

from GSL Technology into the market.

Based in Jackson, Michigan, all GSL suppressors are proudly

made in the USA within the 25000 square foot facility featuring

state-of-the-art CNC machines. GSL Technology is a certified ISO

9001 manufacturer, perhaps the highest rating you'll ever find

in the industry. With the top equipment, training, certifications,

knowledge, and superior leadership on hand, it's clear that this

is a company who completely understands what it takes to be

successful in this industry.

RISE OF THE PHOENIX

As a huge fan of the HK MP5 platform, I love using tri-lug

PHOENIX SUPPRESSOR

pmcimagazine.com
---
pmcimagazine.com

PHOENIX SUPPRESSOR

quick detach suppressors. I have probably shot well over three

dozen designs throughout my law enforcement operations and

civilian instructor careers. Two of the earliest suppressors I could

remember using for the platform were 9mm suppressors from

Surefire and Gemtech. The Surefire design was narrow and

elongated compared to the Gemtech model MK9K. While the

Gemtech suppressors may have been bulkier, in my opinion, it

edged out the performance of the Surefire with the training and

duty ammunition we used at the time.

Flash forward to three months ago when I was on the range

talking with a few suppressor dealers about new products on

the market. During our conversation, I was introduced to the GSL

Technology brand. As I mentioned in the opening of this article,

once I discovered just WHO this company was and the man

behind it, I wanted to know firsthand about their products. The

best way would be in offering to do an in-depth review of some

of their products. I reached out to GSL directly and requested to

test out their tri lug Phoenix 9mm suppressor optimized for use

with the HK MP5 platform.

A couple of weeks after putting my T&E request, the Phoenix

suppressor arrived. As I unboxed it from the simple cardboard

container, I recognized the outside design from years past. The

information I had obtained about the Phoenix being revamped

MK9K design with a more modern updated redesign certainly

looked and felt true. It was everything I remembered about the

original suppressor I had enjoyed from years past. However, after

disassembly, the seven-baffle stack as well as inner and exterior

chamber leading off the blast baffles seemed to take the Phoenix

back to one of GSL's original patents. Anyone familiar with the

OSS suppressors and their blast diffusion designs will enjoy GSL's

similar design whose patents predate OSS by a couple of decades.

With an overall 8.75" and 2" in diameter, this isn't a small can.

To compare this physically with something like an Omega K

suppressor would be unfair. What would be the goal? For sleek

lines and tacti-cool looks? If we're looking at real world specs such

as balance, maneuverability of host weapon and performance,

then what does size really matter if these things are relatively

equal with one doing its primary job of sound suppression better?

GSL claims on their website page for this specific high volume,

full auto rated suppressor to have a 40 dB reduction in sound. For

those who are familiar with suppressors, you know that is a HUGE

reduction claim compared to others on the market and by that

fact alone, I could not wait to get on the range to test the Phoenix

as soon as possible.

PHOENIX SPECS

Caliber:

9mm PCCs, 38spc rifles, 357 rifles, and

(300blk-subsonic rounds only)

Sound Reduction: 40 dB

Length: 8.75"

Diameter: 2"

42
---
Weight: 18.2 oz.

Materials: Aluminum/Stainless

Finish:

Hard Coat Anodize

Mount:

Tri-lock design for HK MP5 Tri-lug barrel mount

MSRP: $932

***Additional mounts available for IMI Uzi, SIG MPX, CZ Scorpion,

1/2x28 fixed, 1/2x36, and 5/8x24 fixed thread adaptors.

RANGE TIME

To put the Phoenix through its paces, I packed up my registered

short barrel rifle (SBR) HK SP5K (civilian MP5 variant) and a few

hundred rounds of Federal 115 grain and SIG Sauer 147 grain

full metal jacket (FMJ) ammunition. The rifle and suppressor fit

perfectly in a submachine gun-sized rifle case I had on hand from

US Peacekeeper. After a couple of quick phone calls, I grabbed my

gear and headed out to our host test range, the Baldwin Pistol School.

Upon my arrival, I was met with range owner and retired

law enforcement Detective, Tom Martin as well as retired law

enforcement officer and fellow PMCI writer, Jim Wenzel. With over

40 years of combined law enforcement and firearms training aside

from many more in the civilian world with suppressors, I was

confident the feedback would come from a well experienced and

knowledgeable perspective.

Starting with the supersonic 115 grain Federal FMJ ammunition,

I wanted to see what the Phoenix could do with our standard pistol

training ammunition. As I braced for the traditional first shot "POP"

of most suppressors, it was more of a supersonic "CRACK" that

rang out from the sonic boom of the round traveling down range

rather than normally at the muzzle. Each following shot was just as

manageable without hearing protection as the first, if not better. I

was very pleased to say the least.

The iron sights on the HK SP5K were previously zeroed using

the 115 grain load to establish a baseline for testing. From 10 and

15 yards, the Point of Aim (POA) versus the Point of Impact (POI) of

the test rounds did not differ. This is a very important aspect when

using any suppressor because you must know the zero of your

weapon at all times for accuracy and liability purposes.

When switching to the heavier subsonic SIG Sauer 147 grain

ammunition, the group first impression was simply…WOW! It was

amazingly quiet. Just as impressive was the POA / POI held true.

I felt the perceived recoil and controllability during higher rates

of fire were easier to manage when using the 147 grain ammo

suppressed versus any other combination being unsuppressed.

It should be noted that after roughly 200 rounds, we discussed

the suppressor didn't seem to get as hot as fast as other 9 mm

suppressors we have all had opportunities to shoot. Whether that

has to do with the larger size or the revamped internal design I am

not sure, but for all three of us to mention it, there must have been

something to it.

FINAL THOUGHTS

One of my favorite things about using tri-lug suppressors is how

quickly they can be attached and detached with ease. After

extensively testing the Phoenix suppressor from GSL Technology, I

wouldn't want to shoot my HK SP5K without it now. Other than for

sheer compact storage, I would not consider taking the suppressor

off to shoot at this point. It performed well, balanced the rifle

beautifully and shot spot on with its zero.

As I mentioned earlier, the Phoenix is the largest of the nine

suppressor offerings currently on the market that I know of or have

tested. With its lightweight and balance, its physical dimensions

never came as a factor. If anything, it proved that, with size comes

performance. The GSL Phoenix outperformed all the other 9mm trilug

suppressors I have shot on the market, including vastly popular

offerings from Silencer Co and Dead Air Armament.

I consider the GSL Phoenix one of the suppressor industry's

best kept secrets that professionals talk about only to other

professionals. At least for now. With the driving force behind one of

the mega stars in the suppressor industry now stepping out from

the Gemtech shadows to finally market directly as themselves, it

is only a matter of time before more customers discover who they

are and have always been. The decades of knowledge, innovation,

precision, and attention to detail without cutting corners are

extremely impressive.

Retailing for US$932, the Phoenix offers big performance with

a mid-level price point. You can get bigger names for more and

lesser suppressors for cheaper. If there is a digitally rated quieter

tri-lug suppressor, I highly doubt it would be rated better by much.

Regardless, I can assure you it would not be at the same price

point or value for what you get with GSL Technology.

Simply put, if performance is more important than looking cool

using whatever over-marketed company that is currently in vogue,

I would highly recommend trying the tri lug Phoenix for

yourself and enjoy just how impressive this suppressor

can be.

Visit www.GSLTechnology.com and discover which GSL

suppressor best fits your needs. Until next time, Train

Hard and Continue the Fight my friends!

PHOENIX SUPPRESSOR

pmcimagazine.com
---
pmcimagazine.com

WILLIAMS GLOCK 42/ 43 SIGHTS

By Trampas Swanson

One of the most disappointing items to encounter when shopping for a new defensive handgun is to find a

great deal on the pistol you want, but realize, it comes with less than stellar factory iron sights, so Trampas

takes time to look at, and address, this issue with Williams Gun Sight Company!

WILLIAMS GLOCK 42/ 43 SIGHTS

For those who follow my firearm reviews, its no secret,

I really like the Glock series of pistols. Unfortunately,

I really hate the cheap, plastic factory sights with

the ostentatious "U" shaped outlined rear sight and

golf ball sized white dot front sight. I find it a very

distracting to my focus when shooting as it tends to

make one giant bright white blur when addressing

the target quickly.

Recently, I had the opportunity to purchase a Glock

model 43 9mm pistol with a factory installed Crimson Trace laser

unit. With the pistol originally being a writer's sample sent for

review and the price was hard to say "NO" to once I wrapped on

the article. Unfortunately, despite the great price and features, it

did however arrive with the factory white plastic sights. I quickly

researched my options since the model 42 / 43 were still relatively

new and on a different size platform than other model Glocks. My

good friend told me about a business making top-notch fiber-optic

sights called the Williams Gun Sight Company. After reading up on

the company, I discovered Williams made reliable, defensive and

target model front and rear pistol, rifle and shotgun sights made

from solid aluminum and fiber optics. I immediately ordered a set

of defensive sights with red and green fiber optics to fit the Glock

model 42 / 43.

Within a few days, the new sights arrived from Williams Gun

Sight Company ready for action. Using my MGW Sight-Pro sight

pusher, switching out the factory sights for the new sights was

a breeze. The longest part of the process was simply setting

44
---
pmcimagazine.com

WILLIAMS GLOCK 42/ 43 SIGHTS

up the sight pusher for the right size and position. The sight

pusher used may be the most recent in a history of over a half

dozen sight pushers and twice the investment of all the others

combined but it is certainly the last one I will ever have to buy.

The interchangeable "shoes" that hold the slide safely in place

from damage and heavy duty all steel construction are well worth

the money!

Once installed, these sights were fantastic compared to the

factory offerings. The Glock 43 is a relatively small platform in

relation to a lot of handguns shooters are traditionally used to.

The small slide lends itself normally to small, hard to see sights.

I found the newly installed Williams sights were clear and fast

to acquire when shooting from defensive positions, even in low

light.

I needed very little ambient light to make these sights appear

ready to use.

Prior to using the new sights, I had a concern that the fiberoptic

sights would be so bright, it would distract me from the

target. Fortunately, the sights had the opposite effect. I found the

sights aided my eyes in focusing on the clear green front sight

easier and not get caught up in the tunnel vision of staring at the

target as my main clear focus. The red rear fiber-optics contrasted

starkly to the front sight. The deep "U" cut out in the rear sight

along with the thin profile of the front sight allowed for a great

view of the target while easily keeping "equal height, equal light"

between the two sights. This was excellent in quickly developing

a solid sight alignment and sight picture without confusion of

which sight was which in relation to the target in a split second.

Follow up shots such as quick double taps as well as longer

strings of fire seemed to be seamless compared to the factory

sights. The main reason why would be due to being able to

acquire the Williams brand quicker after breaking each shot and

cycling through the recoil. The snag-free, low profile design of the

sights' height keeps "height over bore axis" as low as possible.

This resulted in point of aim / point of impact being dead on at

the standard defensive training distance of around 21 feet. The

sturdy all aluminum built sights gave me confidence in durability

during rough use in comparison to the original Glock offering.

Retailing with a MSRP of US$49.99, I think the Williams

fiber optic sights are a great value for what you get. My only

suggestion for the Williams Gun Sight Company would be to

make the rear sights with a squared front profile for an easier one

handed tactical reloads in emergency situations such as having

your dominant hand injured. A completely blacked out rear sight

would be nice to see as well.

Many firearms trainers I know often prefer to only have the

front sight stand out when speed shooting. As the pistol used for

testing is often carried at night, I would like to eventually see the

Williams Gun Sight Company offer a Tritium front sight insert as

well. I realize that this variation to the current sights

would come with a hike in price, many shooters

may feel the cost would be well worth it. Overall, as

a direct replacement for the white "U" outline and

dot Glock sights, the Williams sights are a spot on

quick fix that will place you way ahead of the game

for a very low price.

46
---
PMCI

BOOK REVIEW

I'd like to take the time to introduce

you to our model featured left,

a friend of mine named Travis

Partyka, affectionally known as 'Big

Red'. 2-14INF 10th MTN DIV Sniper,

contractor and friend.

Well remembered and sorely missed

27/6/84 - 24/01/21 RIP TP.

Baz, PMCI Team.

GUNSHIP ACE: THE WARS OF

NEALL ELLIS, GUNSHIP PILOT

AND MERCENARY

Al Venter is a specialist military writer and has had 50 books

published, and I've had the great pleasure off reading more than

a few of them, but most especially the ones he has written about

the "small wars" in Africa during the1970's and 80's. His writing

style is detailed yet easy-going, and it's a style that I personally

find enjoyable, especially as the facts he illustrates are often

memorable to say the least!

In "Gunship Ace" he chronicles a former South African Air

Force pilot who saw action throughout the region from the 1970s

on, and Neall Ellis is the best-known mercenary combat aviator

alive! Apart from flying Alouette helicopter gunships in Angola, he

fought in the Balkan war for the Islamic forces, tried to resuscitate

Mobutu's ailing air force during his final days ruling the Congo,

flew Mi-8s for Executive Outcomes, and piloted an Mi-8 fondly

dubbed "Bokkie" for Colonel Tim Spicer in Sierra Leone. Finally,

with a pair of aging Mi-24 Hinds, Ellis ran the Air Wing out of

Aberdeen Barracks in the war against Sankoh's vicious RUF rebels.

As a "civilian contractor," Ellis has also flown helicopter support

missions in Afghanistan, where, he reckons, he had more close

shaves than in his entire previous four decades.

From single-handedly turning the enemy back from the gates

of Freetown to helping rescue eleven British soldiers who'd been

taken hostage, Ellis's many missions earned him a price on his

head, with reports of a million-dollar dead-or-alive reward. This

book describes the full career of this storied aerial warrior, from

the bush and jungles of Africa to the forests of the Balkans and

the merciless mountains of Afghanistan. Along the way the

reader encounters a multiethnic array of enemies ranging from

ideological to cold-blooded to pure evil, as well as examples of

incredible heroism for hire.

And in fact when it comes to Al Venter himself his story is

no less interesting; he started his career with Geneva's Interavia

Group, then owners of International Defence Review, to cover

military developments in the Middle East and Africa. Venter

has been writing on these and related issues such as guerrilla

warfare, insurgency, the Middle East and conflict in general for

half a century.

He was involved with Jane's Information Group for more than

30 years and was a stringer for the BBC, NBC News (New York) as

well as London's Daily Express and Sunday Express. He branched

into television work in the early 1980s and produced more than

100 documentaries, many of which were internationally flighted.

His one-hour film, Africa's Killing Fields (on the Ugandan civil war),

was shown nationwide in the United States on the PBS network.

Publisher: Casemate Publishers; Illustrated edition (19

Jan. 2012)

Language: English

Hardcover: 340 pages

ISBN-10: 1612000703

BOOK REVIEW

pmcimagazine.
---
Helikon-Tex®

SFU NEXT Pants® Mk2

Improved battlefield classics

• Two large hook & loop

closed cargo pockets

on the sides

• Redesigned to fit better

• Reinforcements on seat

and knees

CHECK OUT NEW HELIKON-TEX®SFU NEXT PANTS®MKII

Journey to Perfection
---
THE GUNFIGHTER GOES GAS!

By Bill Thomas

VeagForceCompany produce some fabulous "6MM TRAINING" gas AR platforms, and work closely with real-world

firearm manufacturers to ensure that their recreations are 100% spot-on, so this time Bill turns his attention

to their take on the BCM MCMR, an absolutely fantastic GBBR "trainer"!

C'mon, anyone who knows me, or that reads PMCI

regularly knows that I am just a HUGE VFC fanboy

when it comes to gas training carbines that mimic

the real-deal down to the smallest detail! VFC are

a company that I've got to know very well indeed,

and I've used their high-quality, innovative

creations pretty much from the day they started!

I've got to know Ray at VFC pretty well and speak

to him these days not just as a trusted contact in

a truly global industry, but also as a personal friend, now of some

years standing.

That means that when Ray tells me, with his "work hat" on,

that something amazing is coming, I trust his opinion 100%. Of

course when it comes to VFC GBBRs (Gas Blow Back Rifles) I also

have the experience of many years use of their models on the

range, and those models have all had literally thousands of BBs

through them, so I know just a little about how VFC platforms

perform not only as new, but also as they age. Bottom line is that

VFC is a brand that I 100% trust (although like any brand they've

had their ups and downs), and the fact that I have a really good

friend inside the company means that I get to know about things

in advance and get all excited but have to say "sorry, my lips are

sealed…"

It's been pretty obvious that a new model that I have been

massively excited about is the MCMR (M-LOK Compatible Modular

Rail) created by VFC under their new partnership and licencing

agreement with Bravo Company USA, Inc (BCM), and after thorough

and extensive range-testing this magnificent carbine has proved to

be everything I'd been led to believe it would be, and more!

I absolutely adore a GBBR knowing that it's gone through all

the checks and balances pre-production, thorough torture-testing,

design and re-design, and a carefully controlled manufacturing

process before I part with any cash. I also like a properly licenced

replica as I know then what I'm getting is going to be as close to

the "real deal" as possible, and VFC are past masters at conforming

to all of the aforementioned processes.

I had massively high hopes that the gas version of the MCMR

would be every bit as good as the models, like my SR16, that came

before! I already own a couple of VFC gassers and love them as

both training tools and exact replicas of a firearm that I sadly can't

own legally here in the UK, and in fact that VFC SR16 GBBR is one of

my absolute favourite "trainers" and has already given me a couple

of years of sterling service and much enjoyment; in fact, if pushed,

I would have to admit that until very recently this has been my

favourite carbine amongst MANY that I own, including my .22LRs!

But then just a few months ago came the BCM MCMR; I had

thought that the SR16 would take a long time before it was knocked

off pole position, but then my dear friend Ray messaged me to say

that he was sending me over the gas version of the MCMR… and

ALL bets were off!

6MM TRAINING - VFC BCM MCMR

pmcimagazine.
---
6MM TRAINING - VFC BCM MCMR

BCM MCMR!

BCM is, at least to me, such an important brand to finally see in

licenced 6MM form, and you REALLY need to understand where I'm

coming from to fully appreciate what is on offer from VFC!

BCM started in the garage of a USMC veteran in Wisconsin,

shortly after Operation Iraqi Freedom in 2003. As their website

proudly tells one and all, BCM was founded to support the needs

of Private Security Professionals working in theatres where durable

mil-spec components for their weapon systems were not readily

available. BCM (Bravo Company MFG, Inc.) builds professional

grade weaponry manufactured, reinforced and tested to meet the

unforgiving needs of professional Soldiers, Law Enforcement and

responsible citizens in some of the most high threat environments

in the world, products that are;

"Engineered and built as lifesaving equipment with industryleading

mechanical quality control, BCM lifesaving tools serve US

Military Special Operations Units, Department of Homeland Security,

responsible American citizens and other government agencies at

home and around the world."

Bravo Company are one of the "good guys", and their motto

is the classic "Si Vis Pacem Para Bellum" (If You Wish for Peace;

Prepare for War), and everything they create is with this mindset

in place. No shortcuts, no substitutions, no half measures, and

they say go on to say that "BCM was founded to provide militarystandard

weapons systems to the American Warrior. BCM builds

them to be as unbreakable as the people who use them". Built

using the highest-quality materials and tested to meet the needs of

the most demanding users, BCM equipment increases survivability

in dangerous situations.

Again, you may have noticed in all the reviews I carry out on

replica firearm models that I regularly make use of the words 'Fully

Licenced', and it's something that is very important to me. There

are many 'replicas' out there that may on first glance look like the

original that they are designed to resemble, but in many cases it

is just that, a 'resemblance' rather than a true reproduction. Whilst

this may seem unimportant, in fact it's a vital part of how the

industry works as a whole, both real and replica. Development of

any firearm takes years, and costs many thousands of buckeroos,

and both aftermarket parts and accessories form yet another part of

the process. Trademark infringement is a serious matter, and failing

to work with real world firearms manufacturers could see them

withdrawing their products altogether from the replica market.

VFC have worked in total harmony with BCM under their

"BCMAIR" program, even down to using the original design

specifications of the "real deal" to provide a replica with a completely

authentic look and feel. Each MCMR comes with authentic BCM

markings throughout, on the unique "MOD 1 SOPMOD" stock, the

ergonomic and nicely-stippled "MOD 3" pistol grip, both upper and

lower receivers, on the rail itself, and even on the "MOD 0 - 5.56"

compensator at the sharp end, all of which means that this is a fully

tried, tested and fully licenced replica! The MCMR, as a superlative

high-performance GBBR, just looks fabulous, literally now as real as

it gets!

IT'S ALL ABOUT GUTS

So far so much the same, right? However, it's all about what's inside

the GBBR that makes the difference and really gives it some highquality,

high-performance "guts"!

Overall the fit and finish of the GBB MCMR is superbly,

gorgeously first rate, right down to the sharp and crisp trademarks,

and I'd go so far as saying that it somehow just feels great, to me

at least. Everything about this training replica is utterly righteous,

and just having it in your hands makes you feel that you're holding

something pretty darn special!

So what, to me, makes the VFC replica of the MCMR "real", and the

answer is simple! If you can find a 6MM replica of a specific "AR"

46
---
uild quality and superb components, the MCMR also offers realistic

take-down; by splitting the receivers you can remove the BCG for

cleaning and maintenance, again, just like the real thing.

that is 100% exactly like its real world counterpart, that feels, can be

adjusted, and operates (albeit from gas and BBs in each magazine

rather than bullets and propellant) like a real carbine for the same

price I would love to hear about it!

Overall the VFC MCMR is as close to the real deal as you'll find in

6MM form, and everything is nailed down to look and feel exactly as

it would on the real thing, including the operating system. There are

many steel parts apparent on the MCMR, including the Bolt Catch,

Magazine Release, Selector, Dummy Forward Assist, and Dust Cover.

Also in steel is the Trigger Set which has Firing Pin parts of a totally

new design and a "Non-Cut Lever" steel Hammer Set. VFC tell me

that:

"The new firing pin parts have a deeper installation position to

effectively strengthen (and add) stability, and the improved lower

receiver (a redesign of the internal AR series GBBR lower receiver) is

equipped with positioning holes, so it's not easy to cause installation

deviation or skew things during operation."

The steel components continue into a full-travel CNC Bolt Carrier

Assembly with a stronger steel bolt cam pin to mimic the "bolt

carrier group (BCG)" of the real BCM, and this has some real muscle,

especially when it's married up to the High-Speed (weight increased)

Buffer Unit; VFC have even fitted a steel Buffer Stop to make sure this

added dynamic doesn't cause damage during continued use!

As with VFCs previous gas ARs this replicates exactly the

operation of the real carbine so your drills need to be 100% the

same; for instance the VFC gas magazines (and the MCMR is fully

compatible with VFCs excellent gas V-Mags) only hold 30 BBs so

your reloads need to be slick and lo-drag. In addition to luxurious

DOWNRANGE

I took the MCMR GBBR to my usual 30m woodland range to chrono

and test, and in terms of power I got a consistent 1.33 Joule/379fps

on a .20g RZR BB using VORSK V8 gas , and upping to .30g RZR BBs

the accuracy was amazing at that range; the MCMR benefits from

VFCs "Guide Hop" technology where you can easily adjust the hop

by using a hex wrench to fine tune via a mechanism in the fake gas

block… gone are the days when you needed to split the receiver to

adjust the hop, or to create a "fettling tool" to do it! Measuring out

70m in the woods I secured one of our "training steels" and had

at it prone… suffice to say that the "gong was a'ringin'" with every

carefully placed .30g BB!

I honestly have fallen in love with the MCMR as a training

platform, as everything just seems "right" to me! I love the BCM

licenced furniture from the stock through the ergonomic pistol grip,

and onto the distinctive M-LOK rail; once again I added a foregrip

and a holosight so it feels comfortable for me, and the overall length

(stock fully extended) of 790mm and weight (with mag) of 1958g is

absolutely perfect in my mind for a "trainin' iron"!

I've now managed to get in some serious rangetime with it (not a

chore if I'm honest!) and the added sense of realism that the gas

operation adds to a platform I've already fallen in love with just

adds to the feeling that you've got something more akin to a real

firearm in your hands rather than a 6MM version! There are many

gas rifles and carbines out there now that "simulate" the real thing,

and many of them are very, very expensive beasts; having now shot

the MCMR on a sustained basis I can tell you that it will perform as

well as the best.

I have said this of other VFC GBBR models, but the MCMR is far

from being your average "BB gun" and for this reason I don't believe

you'll be seeing it regularly in the gaming sphere, but to be perfectly

honest the MCMR hasn't been designed and made for the mass

market, it's been created for "those that know", people and players

that want an 6MM carbine that not only looks fabulous, but one

which operates exactly like the "real deal"! For those that don't, like

me, have access to the real thing for training purposes or want to

test themselves to the limit on the range without taking out another

mortgage, then this GBBR is just sublime, and I believe that both VFC

and BCM must be very, VERY pleased with what they've created…

I KNOW that I am, and once again I am excited to see what my

old friends at VegaForceCompany do with the "BCMAIR"

program next!

My sincere thanks go to my good mate Ray at www.

vegaforce.com for helping me to understand "The Way

of the MCMR" just a little more than I did before, and for

sending over the GBBR for evaluation.

6MM TRAINING - VFC BCM MCMR

pmcimagazine.com
---
Advanced Security Protection

http://www.advancedsecurityprotection.com/

AKE Group

http://www.akegroup.com/

Ambrey Risk

http://www.ambreyrisk.com

Antipirates.Org

http://www.antipirates.org/

APPDS

http://www.appds.co.uk/

Aquatic Marine Ltd

http://www.aquaticmarineltd.com

Protect Asia Group

http://www.protectasia.com/

Secopex

http://www.secopex.com/

Aspida

http://www.aspida.org/

Associated Risk Maritime Risk Management

http://www.associated-risks.com

Bancroft Maritime Security Solutions

http://www.maritimesecuritysolutions.co.uk

Bechtel Corporation

http://www.bechtel.com/

Black Pearl

http://www.blackpearlmaritimesecurity.com/

Blackstone Consultancy

http://www.blackstoneconsultancy.com;

Blue Hackle

http://www.bluehackle.com/

Blue Waters Partners Global

http://www.preparedex.com/

BP Global

http://www.bp.com/

Britam Defence

http://www.britamdefence.com/

British Maritime Solutions

http://britishmaritimesolutions.com

BW Offshore

http://www.bwoffshore.com/

Calibre International Security

http://www.calibre-international.com/

Chilport

http://www.chilport.co.uk/

Chiron Resources

http://www.chironresources.com

Clearwater Special Projects

http://www.bodyguarding.co.uk/

Control Risks

http://www.control-risks.com

Decatur Maritime Security

http://www.decaturms.com/

52
---
Drum Cussac

http://www.drum-cussac.com/Index.aspx

Dryad Maritime

http://www.dryadmaritime.com/

Edinburgh International

http://www.edinburghint.com/home/

Elite Maritime Protection Services

http://www.elitemaritimeprotection.com

EOS Risk Management

https://www.eosrisk.com/

Erus Maritime

http://www.erusrisk.com

Espada

http://www.espadaservices.com

Ex Military Recruitment

https://www.exmil.co.uk

Exploration Logistics Group

http://www.frontiermedex.com/

G4S Maritime

http://www.g4s.uk.com

Genesis Security Group

http://genesissecurity.com/

Global Executive Outreach

http://www.geo-ops.com/

Global Risk Security

http://www.globalrisksecurity.

co.uk/

Global Solace

http://www.solaceglobal.com/

Global Strategies Group

http://www.globalgroup.com/

Grail Security

http://www.grail.co.za

Halliburton

http://www.halliburton.com/en-USage

Halogen Security

http://www.halogensecurity.com/

Hart Maritime

http://www.hartsecurity.com

Hill & Associates

http://www.hillassoc.com

HP TerraMarine International

http://www.hpterramarine.com/

Hudson Trident

http://hudsonanalytix.com

ICTS

http://www.icts.co.uk

IMSA Ltd

http://www.imsaltd.com/

International Executive Recruiting

http://www.iernetwork.com

International Maritime Security

http://www.intmarsec.co.uk

International Maritime Security

http://www.intmarsec.co.uk/

International Security Network

http://www.isn.eu.com

ISC Gulf

http://www.iscgulf.com/

ISSG Sea Marshalls

http://www.issg-seamarshals.com/
---
Janusian Risk Advisory Group

http://www.riskadvisory.net/

Kroll

http://www.kroll.com/

Longmoor Group

http://www.longmoor-security.com

Lotus Maritime Security

http://www.lotusmaritime.com

Lotus Projects

http://www.lpyemen.com

Maersk

http://www.maersk.com/pages/default.aspx

Magregor Protection Services

http://macgregorprotectionservices.com

MTResolution

http://www.mtresolution.com/

MUSC

http://www.sps-global.com

Naval Guards

http://www.navalguards.com

Neptune Security

http://www.neptunemaritimesecurity.com/

NNK Group

https://www.nnkcorporation.com

NYA International

http://www.nyainternational.com

Ocean Marshalls

http://www.oceanmarshalls.com

March Security

www.marchsecurity.com

Maritime Risk International

http://www.maritimeriskinternational.com/

Marsec

http://www.marsec.eu.com

MAST

http://www.mast-commercial.com

McRoberts Maritime Security

http://www.mcrobertsmaritime.com/

Merchant Maritime Warfare Centre

http://www.mmwc.org/

Minimal Risk

http://www.minimalrisk.co.uk/

MSS

http://www.mss-uk.com

Ocean Protective Services

http://oceanprotectionservices.com

Oceaneering International

http://www.oceaneering.com/

Olchon

http://www.olchon.co.uk/

Olive Group

http://www.olivegroup.com/

Orchid Security

http://www.orchid-office.com/

Oxberry Risk Strategies

http://www.oxberryrisk.com/maritime_services

Pilgrim Group

http://www.pilgrimsgroup.com

Pilgrim Security

http://www.pilgrimsgroup.com

54
---
Pistris

http://www.pistris.com/Index.html

Protect Asia Group

http://www.protectasia.com/

PVI Ltd

http://www.pviltd.com/

Raven Special Projects Ltd

http://www.ravenspecialprojects.com

Red Cell Security

http://www.redcellsecurity.co.uk

Redfour-MSS

http://www.redfour-group.com

Saladin Security Group

http://www.saladin-security.com/

Saladin Security

http://www.saladin-security.com/

Salama Fikira

http://www.salamafikira.com/

SMS

www.specialistmarineservices.com

Tor International

http://www.torinternational.com/

Trojan Securities International

http://www.trojansecurities.com/

Orchid Security

http://www.orchid-office.com/

Blackstone Consultancy

http://www.blackstoneconsultancy.com/

Pilgrim Group

http://www.pilgrimsgroup.com/

Maritime Risk International

http://www.maritimeriskinternational.com/

International Maritime Security

http://www.intmarsec.co.uk/

Raven Special Projects Ltd

http://www.ravenspecialprojects.com/

Salamanca Risk Management

http://www.salamancarm.com

Sea Marshalls Ltd UK

http://www.seamarshals.com

SEAL

http://www.sealsecurity.com/

Securescot

http://www.securescot.com

Securewest International

http://www.securewest.com/

Security Networking Events

http://snespecialprojects.com/

Security Networking Events

http://snespecialprojects.com/

Securoquest

http://www.securoquest.co.za

Shield Risk Consulting

http://www.shield.eu/services/maritime-security/

Shipguard

http://www.mss-uk.com

SMS

www.specialistmarineservices.com

SPS

http://www.sps-global.com

Tactical Intel

http://www.tacticalintel.com/

Thalassic

http://www.thalassic.co.uk/

Tor International

http://www.torinternational.com/

Torcuss

http://www.torcuss.co.za/

Triskle TSL

http://www.triskelservices.com

Triton Security

http://www.tritoninternationalltd.com

Trojan Securities

http://www.trojansecurities.com

Veritas International

http://www.veritas-international.com/