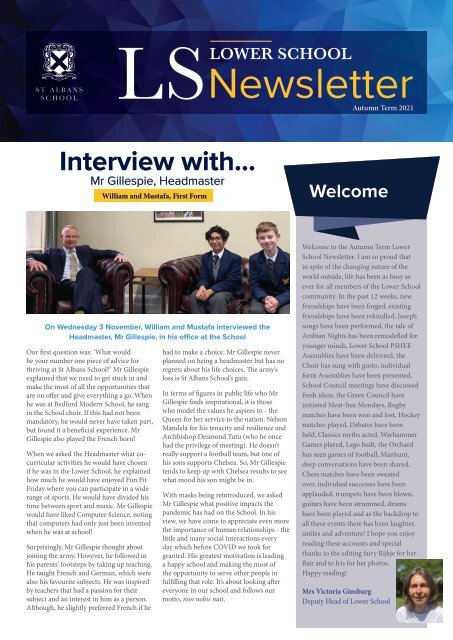 Lower School Newsletter Autumn Term 2021
Create successful ePaper yourself
Turn your PDF publications into a flip-book with our unique Google optimized e-Paper software.
LOWER SCHOOL

Newsletter

Autumn Term 2021

Interview with...

Mr Gillespie, Headmaster

William and Mustafa, First Form

Welcome

On Wednesday 3 November, William and Mustafa interviewed the

Headmaster, Mr Gillespie, in his office at the School

Our first question was: 'What would

be your number one piece of advice for

thriving at St Albans School?' Mr Gillespie

explained that we need to get stuck in and

make the most of all the opportunities that

are on offer and give everything a go. When

he was at Bedford Modern School, he sang

in the School choir. If this had not been

mandatory, he would never have taken part,

but found it a beneficial experience. Mr

Gillespie also played the French horn!

When we asked the Headmaster what cocurricular

activities he would have chosen

if he was in the Lower School, he explained

how much he would have enjoyed Fun Fit

Friday where you can participate in a wide

range of sports. He would have divided his

time between sport and music. Mr Gillespie

would have liked Computer Science, noting

that computers had only just been invented

when he was at school!

Surprisingly, Mr Gillespie thought about

joining the army. However, he followed in

his parents' footsteps by taking up teaching.

He taught French and German, which were

also his favourite subjects. He was inspired

by teachers that had a passion for their

subject and an interest in him as a person.

Although, he slightly preferred French if he

had to make a choice. Mr Gillespie never

planned on being a headmaster but has no

regrets about his life choices. The army's

loss is St Albans School's gain.

In terms of figures in public life who Mr

Gillespie finds inspirational, it is those

who model the values he aspires to - the

Queen for her service to the nation, Nelson

Mandela for his tenacity and resilience and

Archbishop Desmond Tutu (who he once

had the privilege of meeting). He doesn't

really support a football team, but one of

his sons supports Chelsea. So, Mr Gillespie

tends to keep up with Chelsea results to see

what mood his son might be in.

With masks being reintroduced, we asked

Mr Gillespie what positive impacts the

pandemic has had on the School. In his

view, we have come to appreciate even more

the importance of human relationships - the

little and many social interactions every

day which before COVID we took for

granted. His greatest motivation is leading

a happy school and making the most of

the opportunity to serve other people in

fulfilling that role. It's about looking after

everyone in our school and follows our

motto, non nobis nati.

Welcome to the Autumn Term Lower

School Newsletter. I am so proud that

in spite of the changing nature of the

world outside, life has been as busy as

ever for all members of the Lower School

community. In the past 12 weeks, new

friendships have been forged, existing

friendships have been rekindled, Joseph

songs have been performed, the tale of

Arabian Nights has been remodelled for

younger minds, Lower School PSHEE

Assemblies have been delivered, the

Choir has sung with gusto, individual

form Assemblies have been presented,

School Council meetings have discussed

fresh ideas, the Green Council have

initiated Meat-free Mondays, Rugby

matches have been won and lost, Hockey

matches played, Debates have been

held, Classics myths acted, Warhammer

Games played, Lego built, the Orchard

has seen games of football, Manhunt,

deep conversations have been shared,

Chess matches have been sweated

over, individual successes have been

applauded, trumpets have been blown,

guitars have been strummed, drums

have been played and as the backdrop to

all these events there has been laughter,

smiles and adventure! I hope you enjoy

reading these accounts and special

thanks to the editing fairy Rijkje for her

flair and to Iris for her photos.

Happy reading!

Mrs Victoria Ginsburg

Deputy Head of Lower School
---
LS NEWSLETTER AUTUMN TERM 2021

AUTUMN TERM 2021 LS NEWSLETTER

Interview with the

Head of School

Interview with the

Head of Catering

A Day in the Life of...

I had the pleasure of interviewing

the Head of School, Robert Heaney

and asked him some questions

about what it is like being the Head

of School.

Firstly, I asked him about what he

would change in the School; he

responded that he would not like

to change anything but rather to be

able to adapt back to pre-pandemic

social life of students with co-curricular activities and be able

to meet with other years by the time he leaves the School.

The second question I asked him was how he felt, and what

it was like being the Head of School in this first half term. He

responded that it was very stressful starting with all the events

he had to organise and attend but most importantly, about

adapting to the public speaking aspect of the role which shows

that speeches are only part of his role, and how he enjoys

having a more widespread role in the School.

The third question that was asked was what message he wished

to convey to the Lower School and the type of advice he

would give. He responded to this by saying that he hoped that

everyone was settling in, especially after the unpredictability of

last year and for the students to have fun and make memories

with their friends as their time at St Albans School will fly by

and soon, they will find themselves in their final year of school.

The fourth question I asked was if he thought he was a

good Head of School and how he felt that he was doing in

his role. He answered that he can't say whether he is a good

Head of School as it isn't his judgement. But he said that his

communication skills and leadership are his best asset to the

role and advises us to listen to the messages in his speeches.

The final question I asked was why he wanted to be the Head of

School and what drove him to apply. His final answer was that

his brother was the Head of School previously and he always

wanted to be like his brother because he admired him. He also

has a desire to make a good name for himself in the School

throughout his journey. Overall, his message was that his wish

has become his reality and it is possible for anyone to be the

Head of School if they want to be.

Neeam, Second Form

For pupils and teaching staff, we may not consider the work and

planning that goes into one day's worth of food and feeding the

entire school. I was fortunate enough to be able to interview the

Head of Catering, Mr Agnelo Louis, to look at his background in

food and catering and to see how he and his team manage to feed

all of us every single day.

Firstly, I asked him how he got into the catering industry. He

replied, "I started my catering career unknowingly in 2005. I

took a part time job at Costa Coffee to support myself financially

as I studied. I enjoyed what I was doing and decided to pursue

it as a full-time career. Since then, I have worked for Café Nero,

YO! Sushi, JP Morgan, Cancer Research UK, The University of

Law, Computacenter, The University of Bedfordshire and now St

Albans School."

Then I asked him what he enjoyed about his job. He responded,

"Food! A big part of my job revolves around food. I am

constantly looking for new ideas and trying to implement current

food trends into our catering such as plant-based dishes, vegan

and other popular food trends. It's a challenging but enjoyable

experience."

Next, I asked about the planning that goes into one day's

worth of meals for all the pupils and teachers? He said, "We

write our menus months in advance, keeping in mind current

seasonal vegetables to incorporate into the menu. It takes a

week, sometimes a bit more, to order ingredients and have them

delivered to our kitchen. One day's worth of meals takes about a

week, a week of planning and a day of preparing. We cook food

fresh on the day."

I then asked him how the catering staff decide on the menu. He

said, "Our head chef, Gavin, produces the menu and I review it

and make tweaks if necessary. We work to a three-week menu

cycle, which changes every season. We also try to have themed

days at least once a week, like Bonfire night on 5 November."

Finally, I asked him what gave him an interest in food. He replied,

"There are so many different cuisines and so many variations of

those cuisines available these days to try. St Albans street market

is a good example of this. There is so much to explore."

I am grateful to have the answers to these questions and now

understand the amount of work that goes into one day's worth of

food preparation at St Albans School.

Daniyal, Second Form

Bursting with a mixture of emotions, starting

First Form was big for me. New school, new

teachers, new friends and now I even had to

remember where to get off my coach. I knew

no one- it was all new!

It was exciting, but I had lots of worries.

Although, one thing I didn't have to worry about was lockdowns,

bubbles or wearing masks in class. So, I did count us lucky!

Being a First Former can be challenging. My day starts much earlier,

making sure I don't miss my coach. Walking around the School to

get to different lessons is completely new and it is very easy to get

lost. Everyone is kind and helps you find your way. It's a good idea

to leave enough time, as running never ends well!

It wasn't too hard to make friends, we all got to know each other

quite quickly. As a First Former, everyone wants to try out all the

fun clubs. A lot of subjects we learn are new to us and they are fun.

The teachers are very helpful.

Getting a Teacher's Commendation is very exciting and a goal

to work towards. If you get six TC's you get a Headmaster's

Commendation which is great. Homework is substantially more

than at primary school. It does feel a bit overwhelming some days

but 'Learning to Learn' helps us to be more efficient. Lots of tests

which make you strive and feel extremely proud when you ace it.

Finishing off my first half term with a HC was very satisfying.

Ethan, First Form

I arrive at the bus stop at 07:15am and get onto

the big, bright yellow coach, where I talk and

have fun with my friends on the way to school.

We arrive at 8:20am and I make my way to my

form room in the math block. The form tutor

arrives at 8:30am. We then have assembly or

Abbey until 9:15am. After this, our lessons start.

This year, we get to sit in new classrooms, learn

new different, exciting things and even meet new teachers.

At 11:00am we have break. This is a time to have snacks and have fun

with your friends, as well as cool off from the first two lessons. After

this we get back to lessons and then, at 12:10pm, we have lunch. We

exit the refectory at 12:40pm after an amazing lunch and continue

with our lessons. When 1:30pm comes around, we all go to the

Orchard and runabout, playing football, rugby or just chasing each

other in the leaves. This is half an hour of time to get fresh air and

have fun.

Football Club, Tuesday I do Science Club at lunchtime then after

School, I enjoy Chamber Quartet and String Quartet, Wednesday is

Rugby Training, Thursday I go to Swimming Squad and finally on

Friday, I relax in the pool for some Fun Swimming. At 6pm, I finish

my club and make my way back to the unmistakable St Albans

School coaches. At 7pm, we arrive at my stop, and I head back

home.

I arrive home at 7:30pm and have dinner. Then it is time for,

unfortunately, homework. Once I finish with my homework, I

shower and go to bed to charge up for the next day.

Nikolaj, Second Form

MODERN TIMES

At first, I was afraid

But, how could I be brave?

I entered through the gate

Then they gave me a handshake

Still shivering, I walked forward

Thinking of the awkward

Meeting new people

Was I too feeble?

They toured me around

While I frowned

Why was I frowning, I did not know?

As my knowledge began to grow

When my mood changed

It began to rain

But I stayed hopeful

Because I did not want to be moanful

I met a few teachers

Spotting some interesting features

This put a smile on my face

As I began to race

Then I walked out of the School gate with pride In Modern Times

And from then I was a St Albans School pupil

There were tough times last year, with online

learning and getting used to wearing masks

everywhere but that's just School and you have

do what you've been told. Also, the teachers

are fantastic so if you have a problem, go and

ask them.

What does that old phrase say: 'You reap what

you sow'. Meaning that whatever you put in

you will get something out of it. It will work. So have a brilliant

year in the First Form.

After a day full of lessons, I look forward to the club that

I have next. From such a wide selection to choose from,

it's quite hard not to choose one for each day, whether it

be during lunch break or after school. On Monday I have

Rishabh, Second Form
---
LS NEWSLETTER AUTUMN TERM 2021

AUTUMN TERM 2021 LS NEWSLETTER

PSHEE

Interview with Dr Gray, Head of PSHEE

PSHEE is a very important subject that teaches us

the skills and attributes we need to manage our

lives. PSHEE is not simply a subject but something

we learn life lessons from. The subject takes a step

away from the academic side of school and teaches

us about health and safety, and generally prepares

us for the future. Here is my interview with Dr

Gray, the head of PSHEE:

Why did you decide to do PSHEE?

I've always been interested in PSHEE: I used to run lots of

youth groups, I saw the need for young people to understand

drugs, alcohol and relationships.

What is PSHEE about?

I think that PSHEE is about teaching students how to live

their life, not just for now, but in the future, preparing them

for future life. I think PSHEE should be incorporated more

into the School's curriculum.

Why do we learn PSHEE?

Well, I think it helps us build character, it helps us understand

the world around us and ourselves. It also helps us to make

wise choices.

Do you think PSHEE is the most important subject?

I don't think PSHEE is an academic subject, but it teaches us a

different set of skills that will help us in our future careers and

studies, so I think it is very important.

From this, I think that we can tell how important a subject

PSHEE is. It is something that we all can learn from and is

something that will undoubtedly help us in our lives.

The day started with us gathering in the Hall ready to learn

about some new study techniques. A very experienced

lady from a company called Positively You was in charge of

helping us with learning strategies. She introduced herself

and told us that she had been working for Positively You for

Second Form PSHEE Day

20 years. As we got settled, the presenter explained to us how

important it is to revise in the right way otherwise you will get

overwhelmed and that makes for pointless revision.

We were shown several techniques to help us remember

crucial information that can also be fun. We were shown

ways to revise by including the right and left side of the

brain. The right side responds to colour and is responsible for

daydreaming and more creative aspects, the left side responds

to words and helps us to read and write. As I said before, this

can make revision both thorough and exciting. These methods

can help you to remember facts and information for a long

time instead of just for a test.

After break, we learned a bit about goals and targets. The

speaker explained that you need to know what you are

working towards. We were told that it can be far in the future

such as a particular career you want to have or getting a

certain score on your next test. We were told that our goals

need to be specific and have a time limit.

Personally, I found this extremely helpful, and I think in the

future I will be able to incorporate these techniques into my

revision and will start making goal maps, so I have a clear idea

of what I want to achieve.

Daniyal, Second Form

Zaid, Second Form

First Form PSHEE Day

Prizegiving

Alex, Second Form

PSHEE Day for First Formers started very early, a few days

after the students had settled at the School. Cheerfully, the

new Albanians thronged into the assembly room (having

no regular lessons) to begin one of the most fun filled and

informative of days. The students learned everything in fun

activities and sat down in the Hall to listen to presentations by

specific teachers. These presentations depicted what we would

be doing in our new life as Albanians and what would be

expected of us during our time at the School.

Furthermore, we got to participate in fun activities on PSHEE

Day, which helped us learn useful life skills. Ecstatically,

after break and lunch on that day, we poured into the Hall,

eager to absorb the wisdom, as well as anticipating the

exciting activities the teachers had prepared for us. Some

of the activities gave us the opportunity to cook our own

scrumptious dishes. In one of the activities, the students used

bottles and pans to make music. Everyone had the time of

their lives! For me, the most enjoyable part was being allowed

to make the loudest noises we could, on school property and

get away with it, whilst the teachers cheered us on! We had

a ball. Moreover, we also learned about crucial CPR which

could help us to save people in emergencies.

Gratefully, PSHEE Day has helped us fit into the School and

has taught us some core information, as well as skills that

could help us in the future. The day was an informative, fun

day where we made memories that we will remember for a

long time. Whoever thinks that learning isn't fun, well they

haven't been to St Albans School!

Matthew, First Form

The experience of Prizegiving, in the Abbey, was one which

has been a defining feature of this year. For this event, I was

very lucky to be given an opportunity to give a speech about

the importance of School values, which I took with both

hands because an opportunity such as this may not come

around again. Before this event, I hoped that my preparation

would be sufficient, because speeches are not always my

forte, especially without enough practice. Thinking about it

now, I can say that I am quite happy with how the delivery

of my speech turned out although, by the time I arrived at

Prizegiving, it was very nerve-racking for me, especially as

I waited during the Headmaster's speech. Much of what I

thought during that time was about the audience's reception

to my speech that I was about to give, but looking back now,

I think there was not much to worry about, as there was a

full range of students in all years who would go on to give

fantastic speeches after me. Giving the speech, however, was

something I shall not forget because it has helped to better

myself as a pupil – in progressing my public speaking and

giving me more to draw on during future performances. The

experience will continue to be a special one from my time

here, and though in time much of the audience will probably

remember little about me, the event will be something that I

will keep close to me as I continue my journey through the

School.
---
LS NEWSLETTER AUTUMN TERM 2021

AUTUMN TERM 2021 LS NEWSLETTER

Art Club

I enjoy Art Club as it has freedom but also guidance. I have

a passion for nature watching and photography, and Art

Club allows me to incorporate some of my pleasures into the

artwork I do. At Art Club there is a wide variety of media you

can work in, and this makes every session enjoyable. Recently

I have been on a holiday to RSBP Minsmere in Suffolk, which

has made me appreciate how Art can change your view of the

world and can bring you great pleasure. Whilst I was looking

for wildlife to photograph, I saw some incredible creatures

such as the very apparent red deer, the elusive reed dwelling

bittern and a pair of hobbies, who were doing aerial acrobats

Liam, First Form

Chess Club

Chess Club takes

place on a Monday

and Wednesday

lunchtime. The

Monday session is for

the more experienced

and competitive

players, whereas the

Wednesday session

is for players who

want to learn and have fun. You can choose whether to play a

match, or you can ask someone for tips with your strategies.

On average, we are able to play two matches per session so

not only is it a place where you can socialise and meet other

people, it is also a great place to improve your chess abilities

whilst also having fun. Chess Club accepts anyone no matter

what their level of skill is. It has helped me develop strategies

and techniques.

Erind, Second Form

Co-Curricular Clubs

Fun Fit Friday

Fun Fit Friday takes place after school on a Friday. There are a

range of different sports for you to try out such as swimming,

badminton, table tennis and rock climbing. It is an amazing

opportunity to hang out with your friends and relax.

During Swimming, we play underwater games and have

swimming races. Underwater volleyball is particularly fun,

especially when you dive forward to hit the ball. We also

practise diving and perform gigantic jumps. Landing in the

water is very refreshing. It is extremely fun!

It is also a good way to compete with your friends in some

of the sports. Table Tennis is a good activity for this. Some of

the teachers stay late and participate in the sports with us. We

have a great time and it is an amazing and fun experience. I

choose to attend every week, so I never miss out.

Ethan, First Form

The Lower School Hub

The Lower School Hub is a place to relax and have fun away

from the busy school day. Everyone from the Lower School

is welcome to pop in and have fun. There are a variety of

board games that you can play such as Monopoly Deal and

Battleships.

The Hub takes place at lunch time on a Monday. You can pop

along to have a break from the noise and chat of your form

room and instead spend some time quietly playing a game or

designing some Jenga constructions. When you arrive, the

atmosphere is welcoming and unjudgmental. You can talk to

boys from other forms, and as a bonus you can also play your

own music as long as it's not too loud.

I have personally found it a useful tool for making new

friends in the Lower School. I have made friends with a First

Former, as I remember how I felt when I was new and how I

appreciated other boys talking to me and helping me to settle

into a new environment. It is a great place to connect with

people who you wouldn't connect with normally and just have

fun.

Neeam, Second Form

Brass Ensemble

Every Tuesday at 1:30pm, students from the Lower School

who play a brass instrument can go to the Brass Ensemble. It

is run by Mr Bentley, and currently there are four members:

two trumpets, one cornet (me) and a euphonium. We

are keen for anyone who plays a brass instrument and is

interested in playing in an ensemble to join us. We meet up

in the Hall, so if you want to join, email Mr Bentley and then

come along!

We play a large variety of pieces, from slow and peaceful

pieces like the main theme from Titanic to happier pieces like

Super Trouper. They are all very fun to play and are not too

hard either. Everyone is very friendly, and it doesn't matter if

you make mistakes. So come to Lower School Brass Ensemble,

every Tuesday at 1:30pm in the Hall.

Nicholas, Second Form

Drama Club

This club is brilliant because it is just so relaxed. Don't get me

wrong, sometimes it is utterly chaotic, but a lot of the time

it's just joking around and having a laugh. Yes, there's the

parts you don't want to do, like learning a script or getting

an accent right, but if you work hard enough, you really

do get rewarded. Last year, the First Form all watched our

performance from their form rooms, and it was strangely

satisfying to see that people were actually enjoying and

laughing at it when you had put all of that hard work into it.

When I was self-isolating, I felt as if I missed all my clubs,

but in particular this one, and I am grateful to carry on with

it now. This year Mr. Wass and Mrs. Drucker are running the

club and they are doing just as good of a job as any movie

director. You even get a day off school to rehearse and to

film, so it's a win-win! You don't really need to be any good at

Drama, because you will learn and become even better at it.

James, Second Form

Debating Society

Debating Society is a co-curricular club running from 1:15pm

to 1:50pm on a Tuesday in the BLR. This club is a great

opportunity to express your opinions and use many persuasive

skills that could be helpful in other subjects. It can also be a

great time to learn new facts that you never knew before.

Debating Society covers many topics which you might find

interesting. These include; "Who would make a better leader

a man or a woman? Should English be spoken nationally?

Should we deactivate our nuclear weapons or not?" If you are

not sure which side you should vote for, there is always the

choice to abstain. The Society is a great way to teach you how

to present and articulate your words and how to express your

opinions in persuasive ways.

Mustafa, First Form

Orchestra

Orchestra is not only a great activity but it includes the entire

School from First Form to Sixth Form. This means that there

are many different skill levels, which helps you to improve

your playing of an instrument. There are two groups in this

club, string group, (violin, cello and a lot of others) and brass

group (trumpets, saxophones, oboes and many others). On

top of that, there is a percussion group which accompany the

brass and strings sections! I am in the Second Form and play

the trumpet. I have found Orchestra great fun and an amazing

learning experience. So far, we have played quite a few pieces

together. The last half-term was quite hard, due to Covid,

however that didn't stop us from having a great time! All the

older boys are very friendly and kind, helping with anything

you're struggling with, and if you haven't already, you can

find loads of people who play the same instrument as you.

We also play in concerts and events throughout the year, for

other people to come and watch. Overall, Orchestra is a very

exciting, fun learning experience for any instrument that you

play!

Stanley, Second Form

Warhammer Club

I had no knowledge a hobby such as Warhammer existed.

My interest was piqued when Mr Wass exhibited some of the

figures used to replicate fantasy battle scenes. Immediately I

was intrigued.

Warhammer is described as a popular miniature board war

game, often accompanied by an extensive book of rules

that is used during a battle. There are many versions of the

games with different rules, themes, and miniature figures,

all with their own unique play style. It's based on creativity,

strategy, and a vivid imagination. Meticulous precision is

required when painting, moulding, cutting, and assembling

the miniature figures, then placing them in the designated

spots ready for battle to commence! It's enjoyed by adults and

children alike. All over the world there are specialised groups

exclusively for Warhammer enthusiasts.

I really enjoy attending the club every Monday. Everyone has

their own figures and scenery to work on. Sometimes, we

work as a group, cutting out pieces and sanding them. I find

this procedure very therapeutic.

Once completed, the real game begins, and it's time to play.

It can get very competitive with even the teachers joining in!

We once observed a very interesting match between Mr Wass

and Mr Phillips, the latter who became victor! We've even had

completed scenes displayed inside the D&T building for all to

admire!

Ismael, Second Form
---
LS NEWSLETTER

AUTUMN TERM 2021

Football is one of the co-curricular sports that you can play

after school and most people chose football in my year, so I

assumed that it was quite a popular sport. Football is played

on one of the many big football pitches at Woollams. I find

football a very fun and enjoyable sport and it is an exciting

co-curricular activity to try after school with friends. We

play matches every week and we also do some drills, which

everyone finds fun. The teachers for football after school are

very motivated and dedicated to make football entertaining

for everyone who plays. Although this year we sadly could not

play the last two weeks of football, I enjoyed every moment of

it with my friends.

Hockey is a co-curricular club and also a games option. At

the start of every Hockey session, we do stretches and warmup

drills. I have found it quite fun because the teachers are

Pre-season rugby training gave many of the First Form an

opportunity to visit the School site for the first time since the

entrance exam. Every Tuesday and Wednesday morning, we

were able to meet new people and learn how to play Rugby.

The first three weeks were at school, and the final week was at

Woollams. The pitches were amazing!

Within our year group, before we touched a Rugby ball, we

played some classic games to help with our speed and fitness.

These included Ultimate Tag, Stuck in the Mud, Rugby,

Netball and Bulldog. However, without a doubt the Pancake

The swim team has performed phenomenally for the School

this half-term. Although we didn't qualify for the relay

competition, all the swimmers in the team have showed great

signs of improvement. I think that with a bit more training

and preparation, we could become an extremely promising

group. This year so far, every swimmer has given it their all

and everyone is proud of their performance. I hope that in

the coming few galas, we will improve our placing. Thanks to

our coach, Mr Odgers, we have been able to train efficiently

and effectively so that when it comes to competition time, we

perform outstandingly. I think that if I were to pick the most

impressive swimmer this half-term, I couldn't because they

Sports Clubs

Football and Hockey

friendly, and they help us when we struggle. The teachers

give clear demonstrations, and they also explain clearly what

we are going to do. We are very lucky to have Sixth Formers

helping us and by watching them play, we have learnt a lot

of new strategies and skills. They have also taught us tactics

and very useful information to use in real life matches against

other schools. Hockey is played at Woollams. There is a cage

that includes a big pitch with six goals for Hockey on an Astro

Turf pitch; the pitches are very smooth and easily accessible

when dribbling around the hockey field.

I have really enjoyed representing the School in both these

sports and I would recommend them to new boys starting St

Albans School, as a way to make new friends, learn new skills

and feel part of the School community.

Ivan, Second Form

Pre-Season Rugby

Swim Team

game was the best. Pre-Season Rugby Training was brilliant

as an introduction to playing Rugby, and meeting my new

teammates and school friends, which meant I was comfortable

on the first day of school.

William, First Form

I love Rugby because unlike just about every other team sport,

Rugby is about all players having the same opportunity to run

with the ball, pass the ball, and play defence. It's very difficult

to dominate even a game with only one really good player.

This year I wanted to achieve the A-team in Rugby. I am very

enthusiastic about the sport, so when I heard that pre-season

Rugby was on, I took the opportunity to participate. I found

that pre-season was not only balanced training for each stage,

but also a catch-up and the opportunity to see your friends

before the start of the new school year. It also provided the

opportunity to play some friendly fixtures and increased my

familiarity with Rugby and contact.

So far, I have played three matches with the A-team against

Stamford, Bedford Modern and Robert Clack School, and it

has made me love Rugby even more.

Jasper, Second Form

have all performed equally well. I am sure that every single

swimmer on the team has been happy with their performance

so far and will strive to be better in the coming school year.

Although we did not place very high in our first gala, we will

be prepared for the next. With more time and experience, our

team can become a contender in the swimming league.

Samuel, Second Form

Only people who haven't tried the wonderful language of

Latin can ever say this isn't great to learn, fun to write in and

intellectually astounding. I myself have tried this ancient language

and recognized so many different etymologies, or word origins.

The joy of finding out the English word 'venue' comes from 'veno',

meaning 'I walk' is immense – it is incredible to finally know

where words come from. An ambulance might amble up the

street, or you might claim the clamorous people were exclaiming

things. You might say learning a dead language is ridiculous, but

that's Latin for 'laugh'. Even people who don't like Latin can't help

speaking it!

The grammar rules are simple to remember, and people who

know French, Spanish or Italian will find this an excellent way

to practice their skills and Latin is known, thanks to a US study,

known to increase your grade in Maths, English, Science, etc.

Over 60% of words in the English dictionary come from an

Ancient Greek or Latin word - usually Latin.

"I hope that even if you remember not a single word of mine, you

remember those of Seneca, another of those old Romans I met

AUTUMN TERM 2021

Latin Lessons at St Albans School

On Thursday 14 October, the First Form performed Joseph and

the Amazing Technicolor Dreamcoat. The First Form performed

on their own as the Second Form were affected by multiple

positive Covid Tests.

The performance itself went amazingly and everybody involved

had a great time. It was fantastic that the performance went

ahead, as many in the last few years have not due to the

pandemic.

The practice and effort that everyone put into this was

astonishing and definitely something that everyone will

continue to put into future performances.

We did not have long to practice, which meant that it would

be really hard for most people to remember all of the words.

However, there was a solution around this, practise! This is

something that everybody did a lot of and definitely just before

LS NEWSLETTER

when I fled down the Classics corridor, in retreat from career

ladders, in search of ancient wisdom," quoted JK Rowling after

receiving her honorary degree.

As you can see, there is no reason not to love Latin. The teachers

are great, and the language is engrossing - from Latin grossus

meaning large in Latin. We get grocer - someone who sells large

amounts of things - and French gros, meaning large from it. The

word is related to grease.

I end with some Latin

words: ico 'vale' ad omnes

homines qui in futuro

Latinorum amatores

erunt. spero te bene esse.

In other words, bye!

Parth, First Form

First Form Performance of

Joseph and the Amazing Technicolor Dreamcoat

the performance as we went through the whole thing a few

times.

Just before the actual performance we were treated with

sausages and chips and then a film of some of the actors from

various different Joseph performances, singing what we were

about to sing. After this, everyone was really excited and ready

to do their best.

When we went in and took our positions, we didn't realise how

many people were watching us until we heard how loud it was

at the end when they clapped.

It was an amazing experience that would have never happened

if it wasn't for all of the adults involved who organised it.

Daniel, First Form
---
LS NEWSLETTER

AUTUMN TERM 2021

Personal Achievements

Boxing League

I attend a boxing league for

teenagers from the ages of 11

(of a certain height and body

weight) to 15. We compete in

different matches against other

participants. The matches are

four rounds long with each

round consisting of about two

and a half minutes; however

sometimes the rounds can

be even longer than this. The

training is brutal and gets very

tiring however if you are able to persevere with it can help

you to keep fit which will help you to win the matches.

I train with my personal trainer at a gym near where I live.

We do not only do boxing, but we also do cardio work which

helps mid-match because it improves the circulation in the

body. At the end of each round, both participants go to their

designated corners for about a minute where their trainer will

give them tips and encouragement for the next round. Then

we drink some water and wait for the bell that rings to starts

the next round.

Christos, Second Form

Karate Blackbelt

On the 13th of November 2021, I took my blackbelt grading.

It was a three-hour examination on my own, in front of 9 of

the highest senseis in the association, ESKA. ESKA stands

for the English Shotokan Karate Association. Shotokan is

the style of karate that we practise. I had to demonstrate the

basics, which are the fundamentals of karate, kumite, and

sparring, which is a set of controlled fights

and 3 katas, which are a pattern of moves,

purely for demonstration that show control,

timing, and speed. I also had to pass an

exam for which I learnt karate terminology,

in Japanese, and also explanations of

techniques. I then had to talk about my

achievements and my trophies. Thankfully,

I passed so all my hours of teaching,

practising and learning were worth it.

Oliver, Second Form

My Bar Mitzvah

To a Jewish person a Bar

Mitzvah is a huge milestone

that marks the end of

childhood in the religion

and gives the person

independence on their path

of faith. This also means

that after your Bar Mitzvah

you have to fast on certain

Jewish holy days. It is meant

to be a great honour and is

one of the most important

events in a Jewish person's

life. When I was studying for

my Bar Mitzvah, I had to learn how to read Hebrew so that I

could lead a service in this language and sing my piece from

the Torah (the Jewish holy book). It took a lot of practice as I

had to attend a zoom lesson every Monday and Thursday for

the entirety of year seven and practise for thirty minutes on

most days during the School holidays. As it got closer to the

event, though I was invited into the synagogue on Thursdays

to perform on the bimah (a raised platform) what I had been

practising, it was a bit scary but something I knew I had to do

to get the necessary skills to do it on the big day. When the

day finally came, I did my piece almost perfectly in front of

my grandparents, their friends, a few of my uncles, aunties,

a friend, as well as a few members of the congregation.

Afterwards I was able to relax and have a nice lunch with my

family to mark the beginning of my Jewish adulthood.

Sam, Second Form

St Albans School

Abbey Gateway, St Albans, AL3 4HB

www.st-albans.herts.sch.uk