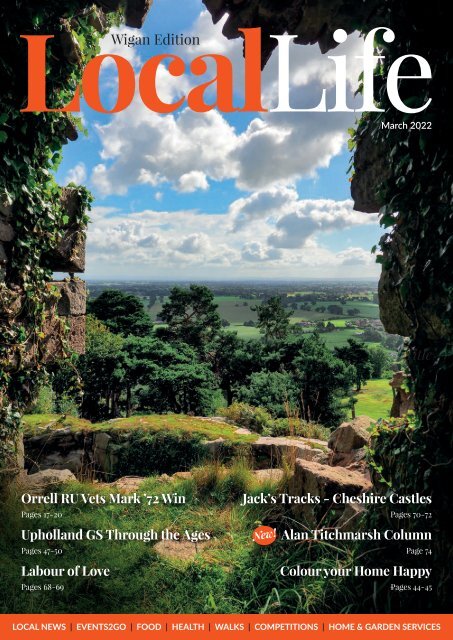 Local Life - Wigan - March 2022
Wigan's FREE local lifestyle magazine.
Wigan's FREE local lifestyle magazine.
SHOW MORE
SHOW LESS
You also want an ePaper? Increase the reach of your titles
YUMPU automatically turns print PDFs into web optimized ePapers that Google loves.
LocalLife

Wigan Edition

March 2022

Title

Orrell RU Vets Mark '72 Win

Pages 17-20

Upholland GS Through the Ages

Pages 47-50

Labour of Love

Pages 68-69

Jack's Tracks - Cheshire Castles

New!

Pages 70-72

Alan Titchmarsh Column

Page 74

Colour your Home Happy

Pages 44-45

LOCAL NEWS | EVENTS2GO | FOOD | HEALTH | WALks | competitions | home & garden SERVICES
---
2

Transform Staircases

EST 1992

Specialists in Staircase

Refurbishments and

Bespoke Made

New Flights

Showroom

126 Frog Lane, Wigan WN6 7DS

www.transformstaircases.co.uk

info@transformstaircases.co.uk

01942 323980 07947 413246
---
3

The

ireplace

Wigan

INC

The Stoveplace

New house? No chimney? No problem!

FIRES | FIREPLACES | MEDIA WALLS | STOVES | GAS | ELECTRIC

Our reputation is your guarantee!

Rated: 5 star on Facebook 4.7 star on Google

Telephone: 01942 583 558

721 Ormskirk Road, Pemberton, Wigan WN5 8AQ

Follow us:

Plenty FREE parking to the rear of the showroom

wiganfiresandfireplaces.co.uk

REGISTER
---
4

I'm far from being a Royal cheerleader, but I have, I

suspect like many readers, an enormous amount of

respect for Her Majesty the Queen.

For someone to pledge, as she did in 1947 to the nations

that make up the Commonwealth, 'that my whole life,

whether it be long or short, shall be devoted to your

service' was a substantial commitment from a 21-yearold,

and remarkably, one that the Queen has adhered to

in the 75 years that have passed since.

Not sure about you, but I don't remember much about

being 21 (apart from the hangover from hell the day

after my birthday), but I'm pretty sure I wouldn't have

had the presence of mind to promise anything of that

magnitude and still be able to uphold that promise 75

years on. Would you?

There's lots going on to celebrate the Queen's Platinum

Jubilee, but if you're planning to host a local celebration

then we'd love to help you publicise it in our next

issue free of charge. Just email details of the event to

editorial@locallife247.co.uk along with your name and

contact number.

See you next time

Chris Pearce, Publisher

chrisp@locallife247.co.uk

Keep in touch with the

LocalLife Team!

LocalLife

Telephone: 01695 627 999

info@locallife247.co.uk

locallifemagazine247@locallifemedia

Local Life 247 Ltd, PO Box 779, Wigan WN1 9UB

Whilst every care has been taken to ensure that the data in this publication is accurate, neither the

publisher or its editorial contributors can accept, and hereby disclaim, any liability to any party to loss

or damage caused by errors or omissions resulting from negligence, accident or other cause. No part of

this publication may be copied or reproduced without the prior written consent of Local Life 247 Ltd.
---
5

This month's highlights

17. Veterans Commemorate Cup Win

Contents

12. Beauty

16 genius beauty hacks.

22. Health

The dangers of ultra-processed foods.

26. Food

Seared lamb fillets with garlic dressing.

28. Baking

Gluten-free chocolate caramel tarts.

44. Colour Your Home 47. Upholland Grammar

52. Home

A facelift for your front door.

56. Tech

Keep taking the tablets.

68. Puzzle Pages

Try these brainteasers for size!

70. Jack's Tracks - Cheshire Castles

74. Greenfingers...

New!

The Alan Titchmarsh column.

75. Home & Garden Services

Find the best local traders for you.

58. Top 5 Cruises

64. Labour of Love

Want to

promote your

business in

LocalLife?

Next Issue - April

Advertising deadline - 9th March

Published - 23rd March

01695 627 999

www.locallife247.co.uk
---
6

Planning a Platinum Party?

There's a double Bank Holiday weekend being held in

June (2-5 June) to commemorate The Queen's Platinum

Jubilee. The country and the Commonwealth will be

celebrating The Queen's 70 years of service.

This event, and the end of those damned restrictions,

give us a great opportunity to party like we never have

before! Street parties have long been associated with

times of national celebrations, and if getting together

with your neighbours at bunting-covered tables laden

with food and drink to chat, laugh, sing, and dance the

day (and night!) away is your idea of fun, then this is an

opportunity surely not to be missed.

Good planning is essential for any party, and the larger

the party, the more planning is needed.

The first thing you'll need to do is ask the council's

permission to close your road (or part of your road), so

that everyone can enjoy the celebrations safely, and it's

best to do this as early as possible.

As long as your road isn't a major transport route it should

be a smooth process.

Wigan residents should download the application form

here; https://www.wigan.gov.uk/Docs/PDF/Resident/

Parking-Roads-Travel/Roads/Street-Party-Application-

Form.pdf

Residents of West Lancashire should download the

application form here; https://www.westlancs.gov.uk/

more/your-community/roads-and-travel/organising-astreet-party.aspx

Both councils recommend that you take insurance cover

for street parties, and if you plan to do so, then you can

expect to pay at least £50, depending on the scale of the

party. They may also ask you to check with other residents

on the street to make sure there are no objections to the

party.

There are a number of organisations including www.

streetparty.org.uk and www.edenprojectcommunities.

com who can provide free packs offering great ideas,

inspiration, and tips to help you get the party started and

can also help you overcome any obstacles.

Party on!

Wigan

&

Rose Bridge

3G Pitches!

Ideal for summer leagues & competitions

Availability during the weekday evenings

Discounts on both pitches from

March to September

For more information or to book, please contact Dean Trust Wigan on:

01942 511987 ext. *7509 or email stuartparry@deantrustwigan.co.uk

Dean Trust Wigan | Greenhey | Orrell | Wigan | WN5 0DQ

www.deantrustwigan.co.uk
---
7

Healthwatch Asks

Every year Healthwatch Wigan and Leigh asks the public

what their top concerns are regarding the improvement

of health and care services, and they are waiting for you

to get in touch.

The Healthwatch team are the independent champion

for people who use health and social care services.

They're here to make sure that the people running health

and care services, put people at the heart of health and

care services.

They would like to know what you think they should

be focusing on over the next 12 months, what your top

three priorities are within health and social care services

and what you feel are the main issues are with those

services.

To get in touch with a member of the Healthwatch Wigan

and Leigh team please call or text 01942 834666, email

info@healthwatchwiganandleigh.co.uk or complete

the short survey at https://www.surveymonkey.co.uk/r/

M93WMWW

Ashton Pantry

Local businesses, together with St Thomas & St Luke's

Church in Ashton are working to reduce the amount of

food going into landfill. The pantry at St Thomas' Church

Hall on Warrington Road is regularly stocked with food

that is near its sell by date but can still be used to feed

bellies, not bins.

The annual membership of the Pantry is £5 with a

minimum donation of £3 per visit and a maximum of 2

visits per week. The pantry is open Tuesday 11am-12pm,

Thursday 3pm-4pm, Saturday 11am-12pm and Sunday

3pm-4pm. Money raised by the initiative, will be used to

build a pantry and kitchen behind the Church Hall. For

more information, please call 01942 727275.

Season Starts

The Orrell YMCA Crown Green Bowling Club opens on

Friday, April 1 for the summer season. The club is open

from 10am-8pm every day up until October and is

located on Winstanley Roadin Orrell behind the YMCA.

New members are always welcome, at a cost of £25 for

the season. For more information about membership,

please contact Brian Atherton on 01695 622138 or

Harold Preston on 01942 519042.

Tell Us Your Story!

Local Life is

always on the

look out for

news stories

from the local

communities we

serve. Are you

raising money

for charity? Are

you a member

of a community

group with

something to

shout about?

LocalLife

Wigan Edition

March 2022

Maybe you've got an unusual talent, or have a

claim to fame? If so, let us know and you could be

appearing in the next edition!

Simply contact us on editorial@locallife247.co.uk

or call us on 01695 627999

Title

Orrell RU Vets Mark '72 Win Jack's Tracks - Cheshire Castles

Pages 17-20

Pages 70-72

Upholland GS Through the Ages

New!

Alan Titchmarsh Column

Pages 47-50

Page 74

Labour of Love

Colour your Home Happy

Pages 68-69

Pages 44-45

LOCAL NEWS | EVENTS2GO | FOOD | HEALTH | WALkS | COmpETiTiONS | HOmE & GArDEN SErViCES
---
8

Clean Air Zone Update

The Clean Air Zone, planned to start in Greater Manchester

on 30th May, has been abruptly delayed after a blizzard

of protests from residents and businesses across Greater

Manchester.

The scheme was put on hold after Boris Johnson branded

the GMCA plan as 'completely unworkable' at Prime

Minister's Questions in the House of Commons and said

that the GMCA 'must find an alternative that doesn't

punish local residents'.

A few days later, a joint communique from Jo Churchill,

Parliamentary Under-Secretary of State at the Department

for Environment, Food and Rural Affairs, Andy Burnham,

Mayor of Greater Manchester and Cllr Andrew Western,

GMCA portfolio lead for clean air included this statement:

"We have agreed to a short time-limited pause. We will

work together to deliver, by the middle of the year, a plan

for clean air for Greater Manchester, one that is fair to the

businesses and residents of the city-region. "

A statement released by #RethinkGM, the 85,000 strong

Facebook group that opposes the Clean Air Zone says

that 'RethinkGM welcomes the mayor's proposals, but

stipulates that any charging scheme is not acceptable,

and using new technology, construction methodologies,

transport window modelling, vehicle movements,

highway design and other methods could be utilised to

meet targets, without financial burdens being imposed

on Greater Manchester citizens.'

#RethinkGM also claims that the 'TfGM, GMCA and

the Mayor's office created the scheme, imposed it on

residents of Greater Manchester and agreed the financial

subsidies.'

The Federation of Small Businesses (FSB) said that while

it was positive news that the concerns of companies

were being listened to, the measures announced were

insufficient and the entire Clean Air Zone needs to be put

on hold for a comprehensive rethink.

The FSB's development manager for Greater Manchester

Robert Downes said: "We are pleased to see business

sentiment is at last being listened to be decision makers

within the GMCA, but what they have proposed amounts

to precious little and doesn't go nearly far enough".

the auction centre

The leading Auctioneers and Valuers

• Modern saleroom at Manor Park, Runcorn

• RICS and NAVA registered auctioneers and specialist consultants

• Probate and Insurance valuation reports undertaken

• Full house clearance service available

• Regional valuations centres around the north-west

St Helens Valuation Days

4th Wednesday of Every Month

St Thomas Church, Peter Street, WA10 2EB

9.30 – 12 noon

Check website for Details

Call 01744 881 477 for more information

Wigan Valuation Days

2nd Tuesday Of Every Month

Purposed Life Church, Greenhough Street, WN1 3SU

12 noon – 2.30pm

Check website for Details

Call 01942 299 057 for more information

9 Berkeley Court, Manor Park, Runcorn, WA7 1TQ

Telephone: 01928 579796 Email: enquiries@theauctioncentre.co.uk

www.theauctioncentre.co.uk
---
9

Visit our showroom to view our fine selection of

fabrics, wall coverings, paint and much more

Home consultations available

Interior Design Services | Bay Windows Specialists

Bespoke Curtains & Blinds | Upholstery Services

Proud stockists of

Millan Interiors | 5/7 Mill Lane | Parbold | WN8 7NW | T: 01257 46 34 77

Opening Hours: Mon, Tues, Weds, Fri 10am-4pm | Thurs 10-1pm

www.millaninteriors.co.uk
---
10

Fun on the Farm

It's ten years since Greenslate Farm in Billinge opened as

a Community Farm, and the members will be celebrating

its 10th anniversary by holding a series of events

throughout the year.

The Farm has a long-standing reputation for staging

vibrant and engaging community events, and members

are promising a return to those type of events now that

Covid restrictions have eased.

The first is a

Family Fun Day,

which is being

held on Sunday

10th April from

10 am to 4 pm.

This will consist

of an artisan

market, an

Easter Egg Hunt

for the children,

live music

throughout the day and many more attractions.

Delicious coffee and cakes, tasty snacks and wholesome

meals will all be available at the Straw Bale Cafe and, of

course, the donkeys and other animals will be welcoming

visitors, just as they do every weekend.

If you are a local person looking to sell your craftwork or

produce at the Family Fun Day, or you're a musician who

could help to entertain the visitors, please contact the

Greenslate Community Farm Community Nurture Team

via patdavies99@icloud.com or bowyer21@hotmail.co.uk

Green Fingers

The social group Ashton Circle has added another string

to its bow after acquiring a little allotment on Bolton

Road. The group hopes to grow fruits, vegetables, flowers

and create habitats for local wildlife.

Group members are currently in the process of clearing

the land but once it is safe and ready, they would love

to welcome members old and new to go help out. To

become a member or get involved with the allotment,

please email becky@community-circles.co.uk

Offering top end High Street & Designer ladies fashions for sale at a fraction of the original cost!

267 The Green, Eccleston, Chorley, PR7 5TF

Tel: 01257 676 254

Open: Tuesday - Saturday, 10am - 4pm

• Receive 50% of the selling

price for your garments.

• New stock daily.

• 1st class service.

• Spring & Summer Stock

Now Arriving.
---
11

Anniversary Concert

The Golborne Ex-Miners will be hosting their 43rd

anniversary concert at St Thomas' Church in Golborne on

Friday, March 18.

The concert takes place in remembrance of the Golborne

Colliery disaster in which an underground explosion led

to the death of ten miners, exactly 43 years to the day on

March 18, 1979.

Joined by the Parkside Colliery male voice choir, this will

be a fitting tribute to those who were killed and those

who survived. The concert will begin at 7.30pm and the

entry fee is £6 per person, payable on the door.

Baby Goods Sale

From cots to buggies and toys to baby clothes, the

Poolstock Pre-Loved Baby Sale will have it all this

Saturday, February 27. The sale will take place at Clifton

Street Community Centre on Poolstock Lane, next to The

Bold Pub. If anyone wants a table, there is still time to

secure yours for a cost of £15 - please contact David on

07487 835489.

Entry is free and the sale will run from 11.30am-1pm.

Refreshments will be available to purchase and there will

be free chicken nuggets and chips for any children who

attend.

St Patrick's Parade

The Brian Boru Club in Ashton are excited to invite you

to their 36th annual St Patrick's Day parade On Sunday,

March 13.

After missing the last two parades due to the pandemic,

club members are determined to make this the biggest

and best parade they've ever had.

Members will be hosting a St Patrick's Mass from 12pm at

the club on Bryn Street, followed by the parade around

the town leaving from Ashton market square at 1pm.

You can enjoy the best craic in town with outstanding

Irish entertainment, including the Liverpool Irish Pip

Band, the Comhaltas musicians, Wet the Tea and Michael

Coyne.

For more information, please contact the club on 01942

7275376 or go online at www.brianboruclub.com
---
12

From make-up tips to haircare advice,

these tips could make your life easier.

When you paint your nails, start from your little finger

1 rather than your thumb. You'll lower the risk of

smudging your freshly painted nails.

2

Matte lipstick is on-trend but very unforgiving. Before

using it, mix a dash of olive oil with half a teaspoon of

brown sugar to treat your lips to a DIY lip scrub.

Clean your make-up brushes regularly with facial

3 cleanser or a mild shampoo. Rinse thoroughly and

leave to air dry.

Don't test foundation on your hand – you won't get

4 a good colour match. Instead, try it on your jawline.

Wrap a small scoop of porridge oats up in a muslin

5 cloth and tie the ends to secure. Drop it in your bath

while the water is running. The oat oils work wonders on

dry skin.

Leave at least a day between shaving/waxing and

6 applying fake tan. Otherwise, you risk causing

irritation and ending up with a patchy tan.

Not keen on heavily fragranced body oils? Switch to

7 pure almond oil. Add a few drops of essential oil if you

want a hint of natural fragrance.

8

Leave your facial cleanser

to soak in for a few minutes

before wiping it off. It'll act as a mini

face pack. This works particularly

well with balm cleansers.

Apply eye cream with your ring

9 finger. It's the weakest so you're

less likely to pull at the skin. Dab

(rather than rub) the cream in.

If you often forget to apply SPF in the cooler

10 months, try swapping your foundation for a

tinted SPF cream.

11

Hair feeling lank or lacklustre? Try switching to a

shampoo that's free from sulphates and silicones.

Sulphates can strip hair of its natural, healthy oils, while

silicones can build up over time and weigh hair down.

12

Put wet hair in multiple plaits before bed for easy

curls the next day. Brush through if you want

looser waves.

Freshly washed hair is

13 harder to style. So if you

have a big night out coming up,

wash your hair the day before.

It'll then hold its style better for

your evening out.

14

Rather than splashing

out on expensive travelsized

products (they can be

more than double the price per

ml), decant your usual products

into small reusable containers.

15

Do you subscribe to Birchbox or a similar

subscription box? Save the products you don't

fancy throughout the year. By Christmas, you'll have a

stack of cracker prizes and stocking fillers. You could

even use them to fill a personalised advent calendar for

a friend.

Skin and hair changes as we age, so what worked

16 for you a few years ago may not be as effective

today. Embrace the chance to try something new!
---
13

Reveal beautiful skin

with Clarins professional

treatments

Book two selected Clarins treatments

in March and receive the candle gift set

WORTH

£25*

* Offer limited to both

treatments booked for

one person

Choose From:

Clarins Skin Expert Facials

Wellness Body Treatments

Ultra-Relaxing Facial

Deep Tissue Massage

Rebalancing Massage

Wide range of gift sets for

Mothering Sunday – now available

Expressions Of Beauty

161-171, Main Street, Billinge, WN5 7PA

01744 894 214

www.expressionsofbeauty.co.uk
---
14

Increase your

Sales in 2022!

Did you know that Local Life

delivers leaflets in the

Wigan & St Helens areas for

businesses & other organisations?

Prices start

from

£27.50

per

1,000

+ VAT

Having a Ball

The Wigan Youth Zone are hosting their annual ball next

Saturday, to bring back some much-needed glitz and

glamour to Wigan's social scene, and to help the charity

raise funds to help them recover from the damage

caused by COVID restrictions.

Join the team and their army of supporters at Kilhey

Court Hotel, on Chorley Road in Standish next Saturday

5th March, 19.00 till late. The ball will be an evening of

celebration and glamour starting with a champagne

reception, followed by a three-course meal.

During the evening there will be entertainment from

young people and opportunities to raise funds for the

WYZ, before everyone takes to the dance floor at the end

of the evening with a live act followed by a DJ.

The cost is £1000 for a table of ten, with tables already

selling fast be sure to get in touch and reserve yours.

To book your table or to discuss other way of supporting

the Wigan Youth Zone, please contact Sharon on 01942

612061 or email Sharon.mclaren@wiganyouthzone.org.

Distribution is

monitored using

GPS

tracking

We can also design and print

your leaflets!

LocalLife

Call us now on 01695 627999

www.locallife247.co.uk
---
15

Beer Festival Returns

To the disappointment of drinkers from miles around,

2021 was the first year for 33 years that the Wigan Beer

Festival didn't run, but the good news is that it's back for

2022!

Drinkers can quench their collective thirsts next weekend

(3rd-5th March) at the festival, which is being held at the

Robin Park Sports Centre in Newtown.

Organisers at Wigan CAMRA are incredibly excited.

Sandy Motteram outlines the selection of drinks available

at the festival, "We have a huge selection of real ale,

craft beer, cider, perry and foreign beers for enjoyment

of festival goers, and our friends from the Wayfarer in

Parbold are joining us to offer a range of gins, prosecco

and rum, so there should be something for everyone.

"You will also discover new food vendors and we've laid

on some incredible entertainment too, including Baron

Otto Von Funcke & The Schunkelers, Annette Fairclough,

Andy Mack and the Easystreet Big Band."

Fellow organiser Brian Gleave added "We wouldn't

be able to run our festival without the support of our

sponsors including Prospect

Brewery, Swinley Plumbing

& Property Services, Real

Crafty, The Swan & Railway

Hotel, Bank Top Brewery,

Blackedge Brewery, Wily

Fox Brewery, Hophurst

Brewery, the H Taphouse and

the Bobbin Micropub."

The sessions will run from 5.30-11pm on Thursday 3rd,

noon until 11pm on Friday 4th, and 11.30am -9.30pm

on Saturday 5th March. For those who prefer to enjoy a

quiet drink, the quieter sessions are on Thursday evening

and Friday afternoon.

Wigan Transport Trust will again be running a free shuttle

bus service from Hallgate and Wigan North Western

railway to the festival using their beautifully restored

heritage buses.

For more information, please visit the website www.

beerfestival.wigancamra.org.uk

Premier Logs

Your Kiln Dried Wood Fuel Specialist

WS315

8
---
16
---
17

Veterans Commemorate

Cup Win

50 years ago, in April 1972, Orrell RU first hit the rugby

spotlight after winning their first-ever Lancashire Cup.

Veterans from the winning team are now organising

an Anniversary Dinner at Houghwood Golf to mark the

occasion.

Chris Pearce sat down with five of the 1972 team; Peter

Bayman, Bill Lyon, Barry Fishwick, Peter Philips and Bernard

Lundy, to get their take on that great day and what life was

like as an Orrell RU player in the 1970's.

Back in the 1970's, rugby union clubs in England only

played friendlies and cup competitions, and so the

re-introduction of the Lancashire Cup in the 1971/72

season, after an 80-year long hiatus, was welcomed by

the Lancashire clubs.

Just a few years earlier, in 1968, Orrell became the first rugby

union club in Lancashire to have floodlights installed, and

this move enabled the First XV to play matches in midweek,

in addition to their weekend games. More matches meant

better a standard of fitness for the First XV and, once news

emerged about the re-introduction of the Lancashire Cup,

Orrell fancied their chances.

According to Barry, Orrell's fitness quest gave them the

edge over their competitors at the time. "Ken Taberner

and Des Seabrook were a great team for Orrell, Ken used

to do the physical stuff and Des was the tactics man, and

along with the floodlight situation, this meant we were

fitter than many of our opponents.

(l-r) Peter Philips, Barry Fishwick, Bill Lyon,

Bernard Lundy and Peter Bayman
---
18

Barry Fishwick, scoring Orrell's second try

"Training took place twice a week, and, in addition,

matches were often played on Wednesdays and

Saturdays.

"The Lancashire Cup final was my 50th match of the

season, that's how many games we used to play."

Bill added, "We all had full time jobs, and then we'd get to

training for 6.30pm and finish at 9.30 at night."

"All except me, I was a student at the time", chipped in

Peter Philips, who travelled back from university to play

in the final.

Strange as it may seem today, when some sportsmen and

women earn hundreds of thousands of pounds a week,

the players of this Orrell team played for the pleasure and

the honour.

To emphasise this point, the players shared a story of

one brave member of the team who approached the

Club Chairman, Eric Smith, after the final to ask if the club

would organise a memento of the final for the players,

suggesting something like a commemorative tankard,

and was summarily dismissed by Eric who allegedly said,

'You might have been one of the 15 who were lucky

enough to be on the pitch, but it was Orrell won the Cup,

not you'.

Club discipline at the time was strict and competition for

places was fierce, stressed Barry, "If you didn't train, you

were dropped – it didn't matter who you were or how

long you'd played for Orrell.

"And Orrell had a good second team, so if you were

dropped, those players would step up and you might lose

your place for good."

Bill highlighted how vital the Lancashire Cup was to

Orrell: "The Lancashire Cup was very important, as the

winners got a place in the following season's National Cup

(renamed in 1976 to the John Player Cup) and it gave us a

chance to play against the big teams of the time, such as

Coventry or Northampton."

Peter added, "None of the big clubs wanted to play Orrell,

we were dismissed as a minor team from 'up North' but if

we won the Lancashire Cup, they would have to play us."

The road to the first Lancashire Cup Final was

straightforward. In fact, Orrell didn't concede a single

point in the Lancashire Cup that year, a great achievement.
---
19

They beat Southport in the first round 23-0, overpowered

the aviation company team Hawker Siddeley 47-0 in

round two. Orrell then scored 40 points without reply

from Ormskirk in the third round and narrowly beat St

Helens' West Park 6-0 in the semi-final, to qualify for the

Lancashire Cup Final against the mighty Liverpool, to be

played at Waterloo's ground in Blundellsands on Sunday

16th April 1972.

Orrell, playing their first Lancashire Cup Final, were the

definite underdogs, as Bill admitted, "Liverpool were the

big names, we (Orrell) were the nobodies."

Liverpool's team had two internationals playing, one was

Fran Cotton, the Wigan lad who went on to represent

England and the British Lions and is the former co-owner

of the clothing firm Cotton Traders.

The day of the final began like any other match day, Barry

confirmed, "We met, as we normally did, at the Colliers

Arms on Moss Road (now demolished), for lunch and a

chat, then we travelled by coach arriving at Waterloo's

ground in Blundellsands about 1.30pm."

One national newspaper put the crowd at 11,000, and

though many of those spectators were from other clubs

rooting for a win for the underdogs, a fair few travelled

from Orrell.

Bill scored the first try and Orrell went into half time 7-0

in front. The second try, scored by Barry, came in the very

closing seconds of the game to wrap up a 16-0 victory

for Orrell.

Orrell's after-game celebrations at Waterloo went on for

so long, that the crowds waiting to welcome the team

back in Orrell had long since retreated into the Orrell

clubhouse by the time the team arrived.

Bernard confirms, "Three old ladies on the corner of Edge

Hall Road waving, that was our welcome when we arrived

back in Orrell."

The Lancashire Cup victory in 1972, and the subsequent

wins in 1973, 1975, 1978, 1981, 1982 and 1983 set the

tone for the glory years, when Orrell played and beat

many top teams in the National/John Player Cup.

The fitness regime established by Ken Taberner at Orrell

also helped the club to succeed at 7's rugby. Over a period

of around 10 years, the squad won 30 major tournaments

all over Britain.

The Lancashire Cup winners of 1972
---
20

The patronising attitude of Rugby's big boys towards

Orrell still persisted though. This was epitomised by a

comment from a committee member at London-based

Harlequins, who complained after a loss at Edge Hall

Road about being 'beaten by a layby off the M6'.

When the Courage League was founded in 1987, the

opening season of a national rugby union league, Orrell

joined Waterloo and Sale as the northern representatives

amongst the upper echelons of Division One. In 1992, only

the width of a goalpost stopped Orrell being crowned

English champions; and that season represented the

highest summit of Orrell's story.

So far.

Despite not being based at Edge Hall Road, Orrell RU

is still a thriving club with three open age teams, nine

junior/kids teams and a girls section. They enjoy the

fantastic facilities at the Drive Medical Arena at St John

Rigby College and have advanced plans to build a

new home with Winstanley Park Cricket Club, next to

Winstanley College. For details visit the club's website;

www.orrellrugbyunion.com

Fingers crossed, the club's time for glory will come again,

and that one day, they will emulate the heroes of 1972.

1972 Lancashire Cup Final

Orrell 16 - Liverpool 0

Orrell Team: T.J. Abbott, P. Phillips, W.Lyon,

S.M. Littler, B. Fishwick, S.M. Lockwood, J. Waring,

J.S. Leigh, D. Jones, W.F. Anderson, M.J. Derman,

D.Seabrook, B. Lundy, M. Beattie, P. Bayman

Orrell's Lancashire Cup Wins

1972 16-0 vs Liverpool

1973 32-7 vs West Park

1975 9-3 vs Manchester

1978 12-3 vs Liverpool

1981 12-6 vs Liverpool

1982 17-12 vs Liverpool

1983 26-3 vs Liverpool

1988 23-6 vs Liverpool St Helens

1989 48-6 vs Broughton Park

1997 27-17 vs Preston Grasshoppers

Edge Hall Road today

The Anniversary Dinner will be held on

Friday 6th May at Houghwood Golf on Crank Road, Billinge.

If you'd like further details about the event or you'd like to book tickets, please call

Bernard Lundy on 07986 825096.
---
21
---
22

The dangers of

ultra-processed

foods

More than half the calories we eat in

the UK now come from ultra-processed

foods. But what does this mean for our

health, and how can we cut back?

Ultra-processed food is everywhere, and it probably

makes up more of your shopping trolley than you'd think.

The term is often used interchangeably with 'processed

food' but they're not the same. So, what exactly are ultraprocessed

foods, how are they affecting our health and

what can we do to cut back?

Generally, most of the food we eat has been processed in

one way or another. Milk is pasteurised to make it safe to

drink, beans are dried and canned to extend their shelf

life, and seeds are pressed to produce oils. However, this

doesn't necessarily make these foods unhealthy. Ultraprocessed

foods, on the other hand, contain ingredients

you wouldn't typically find in your kitchen cupboard.

Chemicals, colourings, sweeteners, preservatives – ultraprocessed

foods are littered with them.

Some of the foods that fall into this category are

unsurprising. Crisps, fizzy drinks, biscuits and ice cream

are all highly processed, but did you know that even

breakfast cereals, white bread and ready meals are too?

It can be hard to detect highly processed foods, which

unfortunately makes us even more likely to add them to

our shopping basket. But what damage does this do to

our bodies?

Created to be convenient, cheap and tasty, ultraprocessed

foods are typically high in sugars, refined

grains, fats and salt. They also have very little nutritional

value and are highly addictive, which explains why they're

so prevalent in our diets. They're hard to resist! Recently,

highly processed foods have also been linked to heart

disease, diabetes, obesity and even some cancers.

As with anything though, moderation is key. There's

nothing wrong with a biscuit dipped in your cup of tea or

a takeaway every now and again. The trick is to eat ultraprocessed

foods as part of a healthy balanced diet. So,

how can we limit the amount of highly processed foods

we consume?

Check your labels

One of the easiest ways to check whether a food product

is highly processed is to read the ingredients list. A label

full of long words you can't pronounce is one sign that a

food is highly processed. You can also check the Nutrition

Information Panel to identify foods with high amounts of

saturated fat, sugar and sodium (salt).
---
23

Find substitutes

There are plenty of substitutes to ultra-processed foods

on the market. Instead of crisps try low-fat popcorn,

which is wholegrain and a good source of fibre. Swap

sugary cereals for unsweetened oatmeal, and replace

white bread with a homemade or granary loaf.

Cook more meals from scratch

When you prepare a meal from scratch, you have more

control over the ingredients you're consuming. You can

also pack in plenty of whole foods, such as vegetables,

beans, legumes and whole grains. Start compiling a list of

quick and easy meal ideas to prepare when you're feeling

lazy. Salads, omelettes and stir-fries require little effort,

and are super tasty too.

Be wary of false advertising

Don't be fooled by phrases like 'fat-free', 'natural', 'no

added sugar' and 'sugar-free'. Foods that are advertised

as healthy often contain artificial ingredients or other

chemical additives, such as artificial sweetener, which

make them significantly more processed – and unhealthy

– than they might first appear. Remember to check the

ingredients list!

Keep healthy

snacks on hand

If you're in a rush, grabbing

a packet of crisps and a

cereal bar on your way

out the door is tempting.

However, keeping your

kitchen stocked with

portable, nutritious

snacks can make it much

easier to make healthy

choices on the go. Fresh fruit, unsalted nuts and hard

boiled eggs are all good examples of simple but tasty

snacks that'll keep you energised throughout the day.

Take it slow

If ultra-processed foods constitute a large portion of your

diet, it's a good idea to reduce your intake of these foods

slowly at first. This is because going cold turkey increases

your likelihood of craving the high-fat, high-sugar foods

your body has become accustomed to. Plus, sometimes

highly processed food is simply more convenient. Start by

trying to enjoy one unprocessed or minimally processed

meal a day, and gradually increase as you see fit.

The Chiropody Clinic

S. Cunliffe & Associates Ltd

Professional Podiatric care for your feet

1 st Floor

Woodside Health Centre

Woodside Road

Haydock

St. Helens

WA11 0NA

01744 416300

For appointments call 01744 416300

Or book online at:

www.tccpodiatry.co.uk

Registered Office : 296 Clipsey Lane, Haydock, St. Helens, Merseyside, WA11 0JQ

Company No : 10655351 (Registered in England & Wales) 7542321604
---
24

Parking Crackdown

A camera car will be used to enforce a Red Route Clearway

to stop parking problems at Fairy Glen in Appley Bridge,

frequently named as one of the UK's most popular spots

for day-trippers.

Lancashire County Council's cabinet are introducing

the clearway to stop parking across the entire width of

the highway, including the pavements and grass verges

at the beauty spot. Fairy Glen has seen huge numbers

of visitors, especially in the past two years, with many

people visiting from outside the area.

County Cllr Edwards said that the red route measure was

designed to "discourage inconsiderate parking, remove

the potential damage that can occur on footways and

verges and keep the route clear of potential visual

obstruction due to parked cars".

Cllr Edwards explained how the council would ensure

that visitors stick to the rules.

"With these red route clearways, we can enforce them

by a camera car, where we have these available. A car

just needs to drive down the road and [penalty charge

notices] will be captured as part of the journey – so

it's much more efficient and something we would be

[looking] to implement further across the network in the

future".

Aside from a lay-by opposite, Fairy Glen has no dedicated

parking and the large numbers of cars parked along

grass verges on the A5209 between Parbold and Appley

Bridge has raised serious safety concerns for visitors for

and other traffic on a busy road.

Head over Heels

If you fancy learning your bridge from your backwards

walkover, then have a look at the adult gymnastic classes

at Wigan & Ashton Gymnastics Club.

The classes are aimed at everyone over the age of

13 and all abilities are welcome, with structured and

unstructured classes available on request.

The classes take place at the gym on Richard Street in

Ince (WN3 4JN) every Thursday between 8.30-9.30pm.

Your first session is free and £5 per session thereafter,

with discounts for block booking. For more information

or to book your space please contact the gym on 01942

568 440.

Always Listening

• Micro-Suction Wax Removal

• FREE Hearing Tests

• Claim your FREE trial of the latest digital

hearing aids – technology that can't be

bought on the high street

• Hearing Aids & Repairs

Rest assured you are in safe hands in our

family owned, state of the art clinic.

Voted Wigan's audiologist of the year

2019, 2020 and 2021

Call now to make an appointment

01942 215 391

Email - info@wiganhearing.co.uk

8-10 Gathurst Road, Orrell, WN5 8QH
---
25
---
26

Seared Lamb Fillet

with Beans and Garlic

Minted Dressing

Serves 4

Prep time: 15 minutes

Marinate: 1 hour or overnight

Cook time: 50 minutes

Succulent beef served with a delicious

rich and tangy garlic and herb sauce

makes a sensational feast. Any leftover

meat can be served cold with salad the

following day.

Ingredients

500g lamb fillet

1 garlic clove, crushed

Grated zest of 1 lemon

1 tsp cumin powder

1 tbsp olive oil plus a little extra for frying

150g green beans or sprouting broccoli,

trimmed

250g mixed green leaves, baby spinach or

rocket leaves

150g cherry tomatoes, halved

½ red onion, finely diced

Dressing

1 bulb of garlic

Drizzle of olive oil

200g Greek yoghurt

Handful of mint leaves

1 tsp honey or maple syrup

2 tbsp balsamic vinegar

Pinch of cumin

½ tsp Dijon mustard

Method

1. For the lamb, mix together the garlic, lemon zest, cumin and olive oil

and rub over the lamb. Leave to marinate in the fridge for at least 1

hour or overnight.

2. For the dressing, place the garlic bulb in a piece of foil and drizzle

over a little oil. Bake in the oven for about 30 minutes. Cool slightly

then squeeze out the garlic pulp into a blender. Add the remaining

ingredients for the dressing and blend together. Season to taste.

3. Preheat the oven to 220C/200C fan/gas mark 7. Sear the lamb in a

frying pan with a little olive oil so that it is brown all over. Place in

the oven and roast for 15-20 minutes. Allow to rest for 5-10 minutes.

Slice thinly.

4. Blanch the beans or broccoli in boiling water until al dente, drain

and refresh under cold water. Pile the green leaves on a platter and

top with the beans, tomatoes and onion. Arrange the lamb on top

and drizzle over the dressing to serve.

Nutritional information per serving: 437kcal, fat 33g (of which saturates 15g), carbohydrates 6.7g

(of which sugars 5.7g), protein 28g, fibre 1.9g.
---
27

Mother's Day

Sunday 27th March 2022

Treat your Mum on Mother's Day here at the

LANCASHIRE

MANOR

3 course

CARvery

£19.95 per adult

£10.95 per child

(10 years and under)

Lancashire Manor Hotel,

Prescott Road, Pimbo,

Wigan, WN8 9QD

01695 567260

Free GLASS

OF FIZZ

for every

Mum

Booking essential!

www.lancashiremanorhotel.com

reception@lancashiremanorhotel.com
---
28

Gluten-Free Chocolate

Caramel Tarts

Makes 8 or 12 tartlets,

or one 20cm tart

Serves 8-12

Ingredients

Pastry

200g gluten-free plain flour

¾ tsp xanthan gum

100g butter, cut into small pieces

1 egg

Caramel filling

150g pitted soft dates, soaked in hot

water for 10 minutes then drained

40g maple syrup

2 tbsp peanut butter or almond nut

butter

3 tbsp coconut oil

2-3 tbsp boiling water to blend

1 tbsp vanilla extract

Chocolate Ganache

50ml double cream or coconut cream

200g dark chocolate chips

If you love Snickers this is the dessert for you! With a gorgeous caramel

centre and topped with chocolate, this is a rich indulgent treat. For smaller

portions, use a pastry cutter and line a 12-hole tart tin in the same way as

if making jam tarts.

Method

1. Preheat the oven to 190C/170C fan/gas mark 5.

2. Make the pastry. Place the flour and xanthan gum with the butter in a

food processor and whiz to form breadcrumbs. Add the egg and a little

water, if needed for the mixture to come together, to form a moist,

slightly damp dough.

3. Roll out the pastry between two sheets of cling film – this will make it

easier to roll out.

4. Line either 8 individual tart tins or a 12-hole tart tin, or one 20cm / 8-inch

fluted tart tin. Ideally use tins with removable bases to make it easier to

remove the tarts when baked.

5. Prick the bases all over with a fork and line with baking paper, then fill

with baking beans and bake for 10 minutes or until the edges are just

browning. Remove the baking beans and paper and bake for a further

5-10 minutes or until golden brown all over. Cool completely before

using. If using a 12-hole tart tin bake them for around 5-10 minutes until

golden.

6. To make the caramel filling, simply place all the ingredients in a food

processor and blend to form a thick paste.

7. Spoon the caramel into the tart cases then chill for 1 hour to firm up.

8. Place the cream and chocolate in a small saucepan and warm gently.

Beat well until the chocolate has melted and you have a thick ganache.

9. Pour the chocolate over the caramel filling and place back in the fridge

for 1 hour to set.

Nutrition per serving (one tartlet of eight): 470kcal, fat 30g (of which saturates 19g), carbohydrates

42g (of which sugars 24g), protein 7.6g, fibre 2g

Nutrition per serving (one tartlet of twelve): 314kcal, fat 20g (of which saturates 13g), carbohydrates

28g (of which sugars 16g), protein 5.1g, fibre 1.3g
---
29
---
30

Mortgage

Fixed term

Ending?

Specialists in:

• Family Law • Personal Injury

• Wills & Probate

Call us today to arrange a

free 30 minute consultation

Rachel Jane Taylor

Solicitor & Director

RJT Solicitors

44 High Street,

Standish,

Wigan,

WN6 0HF

Donna Gamble

Solicitor

01257 228027 / 01942 409154

www.rjtsolicitors.co.uk

This is an opportunity

to find a better

mortgage deal!

Get in touch today.

www.armortgagesuk.com

0345 0099580

YOUR HOME IS AT RISK IF YOU DO NOT KEEP UP REPAYMENTS ON YOUR

MORTGAGE OR ANY OTHER LOAN SECURED ON IT. Alexander Ross Mortgages is

a trading style of WE Financial Services Limited FRN: 480853 which is an appointed

representative of LJ Financial Planning Limited which is authorised and regulated by

the Financial Conduct Authority and is entered on the Financial Services Register.

www.fca.org.uk/register with firm reference number 429142. Registered in England

and Wales. Registered office address: 8 Whitehall Avenue, Appley Bridge, Wigan,

England, WN6 9JU. Company registration number: 06445369.
---
31

Trader Scheme Offer

Every year, over 40,000 residents of Wigan Borough use

the Good Trader Scheme to source good quality local

tradespeople to do maintenance, improvement and

emergency work in their homes and gardens.

The Good Trader Scheme has been run by the Trading

Standards team at Wigan Council for over 15 years. It's

amongst the top ten local authority schemes in the

country, with over 180 local trader members.

For tradespeople, the scheme obviously offers the chance

to gain local work within the Wigan Borough, and you

can also save hundreds of pounds in advertising costs.

Joining the Good Trader Scheme will cost your business

a fraction of cost of joining similar schemes such as

CheckaTrade, Rated People and TrustATrader.

The Good Trader Scheme is offering local traders the

chance to join with no membership fees up to the end of

March 2022. Businesses will just need to pay a one off £40

administration fee to process their application.

If you like the scheme and the benefits it brings your

business, you can renew in April for less than £100 for a

standard membership.

For details please email regulation@wigan.gov.uk. If you

want to join the 40,000 local residents using the Good

Trader Scheme, visit www.goodtraderscheme.com.

LOCAL, FRIENDLY

LEGAL PRACTICE SPECIALISING IN

WILLS & PROBATE

The safety of our clients

and staff is paramount to us

McHale Baker are a unique legal

practice specialising in Wills,

Probate, Asset Protection,

Lasting Powers of Attorney &

Court of Protection work.

We offer offi ce appointments or

home visits to clients in the North

West of England and believe our

approachability removes the barriers

created by the more traditional legal

practices. To arrange a meeting with

one of our understanding specialists,

please call 01257 463672

Karen Baker

Lyndsey McHale

Clear and simple advice

from our specialists

McHale

Baker

Wills, Trusts and Estates Practitioners

Northern Diver Building, East Quarry,

Appley Lane North, Appley Bridge WN6 9AE

www.mchalebaker.co.uk

01257 463672 • admin@mchalebaker.co.uk

Wills • Lasting Powers of Attorney • Probate • Care Home Fee Advice • Trusts • Court of Protection
---
32

Hospice Funding Boost

Local Vocals Community Choir has earmarked Wigan

and Leigh Hospice as their charity of the term. The choir

was founded just twelve months ago by Laura Bennett,

a graduate of LIPA, and has since grown to nearly two

hundred voices across three choirs in Wigan, Rainford

and Leyland.

Research shows that singing in a choir has tremendous

benefits for physical and mental wellbeing and the

opportunity to meet weekly with likeminded people can

help us guard against social isolation.

As well as the weekly rehearsal, Local Vocals have access

to a host of resources online and the chance to engage

in community activities ranging from art sessions to

rambling.

Each term, a charity is chosen by the choir members and

all events are targeted towards raising money for that

charity. In their first year, Local Vocals raised well over

four thousand pounds for Wigan Stars, Derian House and

Northwest Blood Bikes – something they are very proud

of.

This year, they are hoping to increase their fundraising

efforts further and would appreciate the support of

anyone who sees them perform at local events.

If you would like to know more about Local Vocals or

you'd like to support their charity fundraising efforts, visit

their website www.localvocalschoir.com or email office@

localvocalschoir.com.

Rugby Women Wanted

Ashton Bears Rugby League team, based at Low Bank

Road, are recruiting for their brand-new women's openage

team, starting in 2022 or 2023.

You don't need to have any previous playing experience,

just a drive to improve. If you're interested then please

call Mark Webster on 07795 101260

Take a Punt

Local American Football team, Wigan Bandits are

currently recruiting for the 2022 season. No experience is

necessary, but you need to be aged 16-19.

Full kit will be supplied. To start your American Football

journey simply email wiganbanditsyouth@outlook.com

Are you a first-time buyer struggling to get on the

property ladder or looking to get a better deal than

your bank has offered?

If that's a yes, we offer a FREE initial consultation on:

• First-Time Buyer Mortgages/Purchases • Re Mortgages • Buy to Let Mortgages

We have access to some of the most competitive rates on the market

Your home may be repossessed if you don't keep up repayments on your mortgage

We also provide advice on:

• Home Insurance • Income Protection • Life / Critical Illness Insurance

Call Steve on: 01695 666 999

www.mortgagefactoryltd.com

Pop in to see us: 44A Ormskirk Road, Upholland (Next to Fosters Hair)

Email: info@mortgagefactoryltd.com
---
33

NEW

ranges of

ENERGY SAVING

fabrics

Harmony

Your satisfaction is our future

30% o f to celebrate our 30th year!

Blinds | Shutters | Perfect Fit | Remote control blinds

01942 311342

01204 657127
---
34

Shops

QUIZ

1. What name would be used in the UK for what

would be called an op shop in Australia and New

Zealand?

2. The 2018 BBC TV documentary series Flatpack

Empire went behind the scenes of which retailer?

3. A 2021 Christmas TV advert for Tesco was

cleared of causing widespread offence after over

5,000 complaints were made regarding a scene

in which Father Christmas proves he is what?

4. In the film Notting Hill, Hugh Grant's character

owns a shop that sells what?

5. Which well known retailer has a logo that

features a yellow arrow going from the first letter

in its name to the fourth to represent the wide

variety of products it sells?

6. In January 2021, which online retailer bought

the Debenhams brand and website for 55 million

pounds?

7. Specialising in home shopping, the letters in the

name of the company QVC stand for what three

words?

8. In the Harry Potter novels, Ollivanders is a shop

that sells what?

9. Which of the following retailers started life as a

"penny bazaar" in 1884, using the slogan "don't

ask the price, it's a penny"?... a) John Lewis; b)

Marks and Spencer; or c) Sainsbury's?

10. In 2019, who launched an online shop called

Gross Domestic Product, with a disclaimer

saying it "may prove to be a disappointing retail

experience - especially if you're successful in

making a purchase"?

Quiz solutions can be found on page 85 of this magazine

Get into Golf

Deanwood Golf Club will be hosting a free Open Day

starting at 11am on Sunday, March 13, with an aim to

show ladies how golf can help them to achieve their

fitness goals.

The ladies' 'Get into Golf' programme at the Lafford

Lane course was hugely successful in 2021, and the club

welcomed a number of new ladies.

Golf can go a long way to helping you feel good about

yourself. You can master a new skill, and push yourself to

achieve your 10,000 daily steps in beautiful surroundings.

If you're worried about your current skills with a club,

fear not as the club's PGA professional, Sam will teach

you the basics of golf and offers 10-12 lessons for just

£100 if required.

Once you've got the hang of the game, you will be able

to progress at your own pace, right the way through to

full membership. Current ladies will be waiting to help

you, and will share their experiences and passion for the

game.

If you're interested, call the club on 01695 622219 to

register for the Open Day.

Earn extra

cash!

Local Life require distributors

for the following areas;

Hawkley Hall

Fulbeck Ave, Navenby Rd & Whitecroft Rd areas

548 copies £36.99 + leaflet pay

Howden Dr, Ashby Rd & Firbank Rd areas

402 copies £27.14 + leaflet pay

Winstanley

Sandstone Rd, Crowther Dr & Pepperwood Dr areas

390 copies £26.33 + leaflet pay

Longshaw

Longshaw Common & Upholland Rd areas

252 copies £17.01 + leaflet pay

Interested?

Please email your name, address,

contact number and date of birth to

sallyb@locallife247.co.uk
---
35

Designs for Life

STUDIO

BATHROOM & KITCHEN CENTRE

NEW

DISPLAYS

in our large showroom

TOTAL PROJECT MANAGEMENT from START to FINISH

We offer a range of fitted

wardrobes & sliding doors

• Full service from design to fitting

• Over 20 bathroom & kitchen displays

• Wide choice from many famous brands

• Boiler Upgrades and Central Heating installations

• Friendly family run business

• Large showroom with ample free parking

TRADE WELCOME

Open: Monday to Friday 8.30am-5.30pm, Saturday 9am-2pm

Designs for Life

290 Church Road, Haydock, St. Helens WA11 0LF

www.designsforlifestudio.co.uk • T: 01942 274844
---
36

Towards Zero, a nail-biting thriller written by Agatha

Christie and Gerald Verner, is the next production

scheduled at Wigan Little Theatre in Crompton Street.

When a house party gathers at Gull's Point, the seaside

home of Lady Tressilian, Neville Strange finds himself

caught between his wife Audrey, and his new flame Kay.

The play probes the psychology of jealousy before

bringing the story to a pointed ending. Towards Zero

runs from Wednesday 9th to Saturday 19th March.

And arriving in April at the Wigan Little Theatre is Gordon

Steel's comedy, Albert Nobbs.

After a life of hard graft, retirement isn't at all what

On the Stage

Albert Nobbs had expected. Instead of taking things at

a leisurely pace, Albert finds himself bored and nagged

senseless by his wife Connie.

But Albert's world is rocked by the sudden death of

Connie, and he struggles to find a reason to carry on –

until Connie returns as a ghost and sets about organising

a fulfilling retirement for Albert, including setting him up

with her best friend Rose.

Albert Nobbs runs from Wednesday 20th to Saturday

30th April.

To book tickets, visit www.ticketsource.co.uk/wiganlittle-theatre-box-office/

or call in at the Box Office.

Exquisite Glasswork

for your home

~ Splashbacks & Worktops

~ Decorative & Patterned Glass

~ Screens for Showers & Wet Rooms

~ Glass Balustrades

~ Bespoke Mirrors

3 We can create unique design features for your home using

sandblasting, bevelling, glass fusion and other techniques.

3 We Supply & Fit UPVC Windows and Doors for domestic and

commercial customers.

3 You can expect the highest standards of Quality and Service from

our family business – we have over 60 years of experience.

Call us now on 01942 674331 for further details of our work

St George Glass | 1-7 Brideoake Street | Leigh | WN7 2AG | Also in Bolton!

Showroom open 8am-4.30 Mon-Thurs, 8am-3pm Friday

www.stgeorgeglass.co.uk
---
37
---
38

Keeping Good Tenants

Rents in the UK are increasing

at the fastest-ever rate as

tenant competition doubles,

according to a recent survey

from Rightmove.

Average asking rents are

now £924 per calendar

month in the North West,

an increase of 12.5% year on

year, and the average yield in

the region is now 6.6%.

Rightmove predicts that asking rents will rise by 5% in

2022. Therefore, it's not surprising that landlords are

striving to ensure that their rental income is maximised

by keeping hold of good tenants.

As a landlord, some of the reasons tenants move on are

out of your control, while others can be managed. Here

are five of the most common reasons why renters choose

to move on, and how you can possibly prevent that

happening…

Can't Afford the Rent - Tenants may move out because

the rent has become too expensive for them as some

landlords increase their rental price annually. Another

reason could be a change in their own financial situations.

Sometimes it can be advantageous to keep the rent low

and dodge the void period… just make sure the numbers

add up!

Time to Upscale - A marriage, the birth of a child, starting

a home business, relatives coming to live full-time are just

some of the reasons that can force your tenant to search

for a bigger property. There's not much you can do to add

space, but if you have a bigger rental available yourself, it

might be worth mentioning it to them.

Neighbours - As the theme tune goes, everybody needs

good neighbours. But what can you do if the neighbours

are annoying your tenants to the point where they want to

move? This might sound like

something that's out of your

hands, but it is resolvable.

The first thing to do is speak

to the neighbours yourself as

they may not realise they're

doing anything wrong. If

they're renting too, the next

step is to have a discussion

with your fellow landlord.

If all else fails, turn to the

council and seek advice on how to address issues such as

noise and poor levels of hygiene.

Ready to Buy - With some rental prices increasing each

year and interest rates low, many are making the leap to

buy homes whilst they can. This could be due to various

reasons, for example, they can finally afford to join

the property ladder, they are expecting a family or are

relocating.

Poor Maintenance – It is your responsibility as landlord

to keep the structure and exterior of the property well

maintained and in good repair and provide your tenant

with a safe place to live in. Landlords are responsible for:

pest control, damp, gas, water and electricity, leaking

roofs etc. By acting quickly and resolving maintenance

issues as they pop up, you're much more likely to save

money in the long run by keeping a good tenant and

avoiding void periods. If you're too busy or live far away, a

letting agent is a good solution, able to solve problems as

they arise, especially in emergency situations.

Final thoughts:

There are several reasons good tenants can leave, even if

they like the property they are in. Smart landlords will get

out in front of these issues and find ways to keep those

tenants in their property to avoid turnover costs.

For more information about successfully letting

properties in the Wigan area, please give me a call.

Alan Batt is a member of The Royal Institution of Chartered Surveyors (RICS) and has

worked within the Wigan property market for over 40 years.

Alan Batt

For more of Alan's tips, guidance and analysis on the Wigan property market, check out his blog at

www.alanbatt.co.uk
---
Free

Rent Check!

Scan Me!

Place your phone camera over the QR code

above to get a FREE rental valuation of

your property

Wigan Office • 78 Market Street, Wigan WN1 1HX

01942 233 999

www.alanbatt.co.uk
---
40

Old Courts Update

The Old Courts are starting 2022 as they mean to go

and making up for lost time with a packed schedule of

incredible productions.

An Evening without Kate Bush is your first offering on

Tuesday March 1; enter a strange Phenomena and howl

with the hounds of love as acclaimed performer Sarah-

Louise Young explores the music and mythology of one

of the most influential and iconic voices in British music.

Next up is Black is the Colour of my Voice on Wednesday,

March 9 – This production is inspired by the life of Nina

Simone, a successful jazz singer and civil rights activist

seeking redemption after the untimely death of her father.

And rounding up the month at The Old Courts is a

production called Sleepover, which takes place on

Thursday, March 31.

The year is 1990, a time of back combed fringes, Just

Seventeen magazines and White Musk perfume. Go

and join the cast as they discuss all the best things

about being a teenager and leave all your grown-up

responsibilities behind.

To book tickets for any of these productions please go

online at www.theoldcourts.com or call the box office on

0343 208 6015

Be as Warm as Worcester

If you're replacing your boiler, there's really only one choice

#relyonworcester

2 Years

Interest

Free

Credit

Available

Worcester have been awarded a Which Best Buy?

award for the most reliable boiler brand and most

satisfied customers across the entire gas boiler range

Call us today for a free quote

We'll beat any like-for-like quote by £100 - and that's guaranteed!

Your Local Installer Established 1998

Address: 434 Ormskirk Road, Wigan, WN5 9DF

Phone: 01942 221 221

Email: sales@premiergas.com

Website: premiergas.com
---
41
---
42

Out & About

BeWell Wigan have announced a series of new activities

for older adults at Haigh Woodland Park. The 'Out and

About' sessions are designed to include those living with

dementia and their friends and families.

All the sessions are fully accessible for wheelchair and

walking frames and include nature walks, adventure golf,

arts and crafts, boccia and other indoor activities. Each

session costs £3 per person and tea and coffee will be

provided.

The next couple of sessions will take place on Monday,

March 14 and Monday, April 11 between 10.30am –

11.30am. For a full timetable and to book your place

please email activeinclusive@bewellwigan.org

Funding Support

Community groups hoping to launch a project have

an opportunity to get a helping hand through the

crowdfunding scheme run by Wigan Council, who are

ready to match funds of up to £1,000 or 25% of a project.

Anyone launching a project aimed at benefitting the

people of Wigan Borough can take advantage of the

offer by setting out their funding goals on any of the

major crowdfunding platforms, including JustGiving and

GoFundMe. Once a project has been launched, support

can be applied for through the council's website.

If you are looking for advice on how to get the best

results, you can attend one of Wigan Council's bi-monthly

Funding Friday events. The next one is due to be held on

Friday 4th March at Shevington Library between 1pm

and 3.30pm.

Saturday Social

If your child likes to get out into nature and explore their

belongings, then we have the Saturday Social for you! My

Outdoor Classroom will be running a Saturday group at

Greenslate Farm in Billinge for children aged 4-11.

Children will be given the chance to learn forest survival

skills, make new friends, play in the woodlands and wolf

down a few toasted marshmallow treats. The sessions

will take place weekly between 10am-12pm and cost £12

per session or £50 for 5 sessions. For more information

or to book your child's place please go online at www.

myoutdoorclassroom.co.uk

aqua:

Established 2006

bathroom - kitchen

Aqua (NW) Ltd, 16/18, Market Street, Standish, WN6 0HN T: 01257 425 812

E: info@aquabathrooms.co.uk www.aquabathrooms.co.uk
---
43

Pokemon Club

If you've got children between the ages of 5 and 16

then chances are you know your Pikachu's from your

Charizard's. The Pokémon club event in Wigan takes

place between 10am-12pm at the Geek Retreat on

Standishgate and gives Pokémon fans the chance to get

together and chat about all things Pokémon, trade their

cards and generally have a great time!

The event is for under 16s and entry is £5 per child, which

includes a booster of Pokémon cards. New players are

very welcome, and staff will be on hand to help. There is

also an in-store café with a great selection of hot drinks

and good food to keep the parents happy.

For more information, please search for the Geek Retreat

Wigan Facebook page or give them a call on 07722 265736.

Flower Power

Fresh flowers can lighten the dullest of days, so if you

fancy brightening up your days and delving into the

world of flower arranging, then make sure to contact

the Wigan Flower Club. The group meets on the third

Wednesday of each month at the Pemberton Band Room

Now only

£895

*

for a fully

fitted electric

garage door.

WAS £1,354 INCLUDING VAT.

on Enfield Street opposite Lidl, and all are very welcome

to join. Meetings usually include demonstrations of fresh

flowers by qualified demonstrators from the National

Association of Flower Arrangers and the arrangements

are raffled at the end of the evening.

Meetings start at 7.15 pm and for more information on

attending or becoming a member, please call Elizabeth

Scally on 07881 483053 or Jennifer Halliwell on 07808

811490.

Band Returns

Upholland Community Band have resumed their

rehearsal schedule after their forced hiatus due to

restrictions. If you know how to play a woodwind or

brass instrument, then the band would like to hear from

you. The group rehearse every Monday at 7:30pm in the

Parish Room in St. Thomas the Martyr CE Primary school

on Highgate Road.

Band members range in age from 13 to 60+ so,

everyone is welcome. If you are interested and would

like more information, please email the band at

uphollandcommunityband@gmail.com or text 07906

234593.

Garolla garage doors are expertly

made to measure in our own UK

factories, they're strong and solidly

built. The electric Garolla door rolls

up vertically, taking up only 8 inches

inside your garage, maximising

valuable space. Our experienced

installers will fit your new door and

they'll take away the old one too,

so there's no mess.

Give us a call today and we'll come

and measure up FREE of charge.

CALL US TODAY ON:

01942 901 009

MOBILE:

07537 149 128

*Offer valid for openings up to 2.6m wide & including 2 remote controls, 55mm white slats, internal manual override.
---
44

Colour Your

Home Happy

Lift your spirits and freshen up your

space by introducing bold, clear shades

Go for a tropical vibe with a bright and

breezy accent lampshade, featuring

abstract palm trees, a gold lining and

looped fringing.

Ravenala lampshade, £180, mindtheg.com

Use colour in unexpected places – such as on a staircase,

dado rails or skirting boards. This cheering yellow makes

a great contrast to a grey sofa that's adorned with fun

cushions.

Harlow grey L-shaped sofa, £999.99, furniturechoice.co.uk

This cool lamp, in a 'mootard' glaze, would

liven up any desk, table or shelf.

Nellie table lamp, £112, with 35cm

straight empire shade in Heraldic Ikat,

£79, pooky.com

Nothing beats a blanket or throw

as an easy way to introduce fresh

new colour, texture and pattern,

whether over a sofa, chair or bed.

Manhattan reversible super-soft

merino lambswool blanket, from

£150, thefinecottoncompany.com

Replacing some cushions

is one of the easiest ways

to introduce personality

and pops of colour.

Combine plains with bold

patterns for variety and

interest.

Jonathan Adler Milano

Concentric Loops cushion

in emerald/navy, £134,

sweetpeaandwillow.com

Choosing and using bright colours

• Choose shades that are fresh and clear rather

than muted or muddy, and neither too pale nor too

dark. Mid-spectrum brights such as sunny yellow,

fuchsia pink, emerald green and brilliant blue will

make your home sing.

• For this look, keep things simple with a backdrop

of white or a pale neutral, which will allow you to

experiment with adding pops of bold colour here

and there as you wish. Some say it's best to keep

the area that's covered by bold colours to around

a quarter of the room at most, so as to let the eyes

rest and not be overwhelmed.

• Choose two, or maybe three, bold colours and

add them in gradually – an accent sofa or chair,

a cushion or throw, a vase or candlestick, and so

on. Alternatively, make bold colour part of the

architecture by painting or papering a feature wall,

or even sections of woodwork. See how things look

together, and move them around (or even take

them out again) as necessary.

• Lovers of pattern may feel confident enough to

mix pattern-on-pattern with brights; most of us,

however, will prefer to play a little safer and stick to

plain colours plus the occasional minimal pattern.

Simple geometrics look great with this look, and

have a mid-century style that works really well.
---
45

Coloured glass is one of the

prettiest things – and this

delightful vase is very ontrend,

since Pantone's colour

of the year 2022 is Very Peri,

a dynamic violet-blue.

Small cushion vase in

amethyst, £27, dartington.

co.uk

The smallest accessory in

the right combination of

colour and pattern can

make all the difference, and

a distinctive piece such as

this terracotta vase, hand

made in Portugal, is a great

example.

Tangerine Bold pitcher,

£42.99, softstore.co

Bold colour probably won't

work all around the room,

but used on a small

section can create an eyecatching

feature.

Out of the Blue paint

by COAT, £42 per 2.5l,

coatpaints.com

A sofa, chair or – in this case – loveseat can make a good focal point

in a room, especially in a warming, bold colour such as this.

The Rebel 1.5 Snuggler in marmalade velvet, £899, snugsofa.com
---
46

Bespoke Kitchens ~ Bedrooms ~ Studies & Media Units

All at trade prices!

n Free virtual plan and design service

n Media quarter now open in showroom

n Transform your bedroom with our sliding wardrobes

Free

Survey &

Design

01257 255 831

masterofcabinets@gmail.com

Trade

Customers

welcome

Unit 4, Conway Trading Estate, Skull House Lane, Appley Bridge, WN6 9DW

'2 minutes from M6 J27'

CabinetMastersNorthWestLtd

www.cabinetmastersnorthwestltd.com

Showroom Opening Hours: 9am-5pm Mon- Thur, 9am-4pm Fri, 9am-1pm Sat
---
Upholland

Grammar

Through

the Ages

by Nicola Gray

Grammar schools have been a part of our educational history for 500

years; their aim was to provide a quality education, defined by their

pursuit of academic excellence and preparing their pupils for life, not

just for testing.

One shining example of the dedication to schooling was Upholland

Grammar School. Many people believe that the grammar school

operated continually from 1661 in a stone building that still stands on

School Lane in the village. But the road to Upholland's scholarly success

was formed almost sixty years earlier, in 1604, when a rudimentary

version of the school existed in connection with the priory, known

today as St Thomas the Martyr Parish Church.

Little detailed information remains about the original school and the

teaching practices of the day; we do know that pupils would attend

their classes in a number of rooms that were located on top of each

other,in what is now the bell tower of the church, gaining access to

the tower from the now demolished monks' quarters along a small

corridor. Imagination only can conjure up what the classroom working

conditions would have been, with little in the way of heating and the

only source of light being an oil lamp.

Ladders in Bell Tower to upper classroom

Former entrance to the Bell Tower

47

Bell Tower - former lower classroom
---
48

The school records jump to the early 1640s when

headteacher, Adam Martindale was forced to close the

grammar school and cease teaching due to the 'constant

alarms' in the village during the civil war period.

Some years after the wars had ended, in 1661, Upholland

Grammar School, with thanks to the generosity of local

benefactors, re-opened its doors to pupils just a short way

down the lane from its priory birthplace.

Some of the rules by which pupils were expected to

conduct themselves makes for charming reading of a

bygone era. The school day started at 7am from February

1st, till the 1st of October and school departed at 5pm,

with 'the residue of the year we meet at eight and (de)part

at four'. Another rule declared, 'That offences against God

immediately such as are cursing, swearing lying either

within the school or without as also profaning of the

Lords Day by playing or otherwise and such like offences

be duly and truly corrected'.

During the first 200 years of its history, Upholland

Grammar School endured a roller coaster existence and

the perseverance of all those involved to keep the school

open is testament to the importance of and need for

education in the area. The school found itself in decline

and falling pupil numbers pointed to a curriculum that

needed to move with the times.

Fortune favoured the changes made by Reverend John

Braithwaite, who was headmaster from 1782 to 1812. He

changed the name of the school to Up Holland Academy

Plaque for William Berridge in St Thomas Martyr Church

and offered a more modern approach to learning to

attract children from more middle-class families. Many

pupils boarded with him and his family in one of the old

priory buildings.

In the coming years new headmasters tried and failed

to reinstate a more classical curriculum, dominated by

Latin and for many years the school again struggled for

its existence. In 1864, Reverend William Berridge was

appointed headmaster and immediately began to re-

Model of former Priory buildings
---
49

vitalise the upper school. He attracted more grammar

school pupils but life on School Lane was congested

and increasingly unbearable. The problem was partly

solved when the junior pupils moved to a new building

in Church Street in 1875, leaving both floors of the old

grammar school to Mr Berridge and his pupils.

Under William Berridge, Upholland Grammar School made

remarkable progress and in 1878 the school moved to new

premises on the Ox House Heyes Estate – the site of the

present Upholland High School. The existing house, which

became Upholland Grammar School had, since the 1700's

been the home of the Gaskell family of Upholland, and

remnants of the original building can still be seen today in

the high school grounds. The new building was 'admirably

adapted for scholastic purposes' with a charming

Government Inspector commenting that the school's only

'misfortune is the name of Wigan on the address'. William

Berridge left the school in 1890 and his presence was

missed, and the school standards dropped again.

By 1909 the school was under the financial control of the

Lancashire Education committee and questions were

asked about its 'uncertain usefulness'. In fact, governors of

the school were advised to consider its closure. In keeping

with the spirt of the school, they appointed Charles Cox,

who turned out to be a remarkable headmaster, turning

round the fortunes of the school. He introduced many of

the facilities, which were later to become common place

in schools – including a library, debating society, games,

museum, weather station, visits and field work.

The school continued to attract increasing numbers

of students, with records of pupils coming from Orrell,

Billinge, Upholland, Wigan, Rainford, Kirkby, Knowsley

and Bickerstaffe. The Ox House Hayes building was

bursting at the seams. As a solution, Lancashire County

Upholland Grammar School locations

1st

2nd

Orrell Road

ORRELL

Church Street

Orrell

Post

M58

Moor Road

Sefton Road

Tontine

St. James Road

Edge Hall Road

Church Street

1st

St Thomas the Martyr Church Upholland

3rd

Orrell

Station

Winstanley Road

Orrell

Water

Park

2nd

School Lane

Higher

End

Upholland Road

Crank Road

Greenslate

Farm

College

4th

Smethurst Road

3rd

Ox House Heyes Estate – Sandbrook Lane

4th

Winstanley Road
---
50

Council proposed the merger of Upholland Grammar School and Ashton

Grammar School on a new site. The outbreak of the Second World War

put these plans on hold and, as we know they were never revisited.

Just before the outbreak of war, Alfred Maggs became headmaster, and

his first task was to steer the school through the difficult war years. He

also had to contend with an influx of pupils, following the Education

Act in 1944 which stated that all grammar school places should be free

to those pupils who passed the 11+ exam. The Ox House Heyes site had

become unfit for purpose and a parent described the classrooms as

'faintly reminiscent of the dungeons of the Tower of London'.

The local community again stepped in and help for Upholland Grammar

School came in the shape of Squire Bankes from Winstanley Hall. In July

1944 he made 'a most public spirited and munificent gift' of 20 acres of

land on Winstanley Road for a new school.

By the time the new facility had been finished it was September 1953

and Alfred Maggs moved all 461 of his pupils to start the next chapter

in the school's winding history. Brian Ellis was the next headmaster to

take the reins and in true Upholland Grammar School style it continued

to prosper and develop. In 1965 Lancashire Education Committee

unveiled proposals to introduce comprehensive education in the

county, which would mean that Upholland Grammar School could be

changed beyond recognition.

Their fears weren't unfounded as the borough saw itself as being in the

forefront of educational change and the same fate was befalling other

schools in the area; Wigan Grammar School for boys had disappeared

in 1972, becoming Mesnes High School, with Wigan Girls' High School

also closing to become Whitley High School and then a housing estate.

In 1974, following local government reorganisation, the control of

Upholland Grammar School transferred from Lancashire County to

Wigan Metropolitan Borough. On 30 August 1977, Brian Ellis became

the first Principal of a new sixth form college opened in the grammar

school buildings. Upholland Grammar School came to an end and

Winstanley College was born.

Winstanley College has navigated its way successfully through the

education tables and is consistently ranked as one of the best sixth

forms in the country. The Upholland Grammar spirit is embedded in

the ethos of the college and continues to pay tribute to the founding

members who endeavoured to provide a top-class education by the

light of an oil lamp.

Collection of Grammar School student photos

With thanks to David Robinson a former Grammar School Pupil and owner of Mugs61.co.uk

a site for all ex pupils and anyone with an interest in up Holland Grammar School.

If you would like to know more about the school or have any information

you would like to share please go online at www.mugs61.co.uk

or email davidrobinson@mugs61.co.uk
---
51

Could you be

the difference?

Become a foster carer and change the

lives of local children and young people

01942 487200 www.wigan.gov.uk/fostering
---
52

Porto design hinged door set in

a RAL-painted finish in black.

Urban Front: 01494 778 787;

urbanfront.com.

First impressions count, so give some

thought as to how you can transform

your entrance with colour, hardware,

lighting… or even a whole new door.

Front door painted in

Lavender Quartz.

Dulux: 0333 222 7171;

dulux.co.uk/en/products.

It's a welcome to visitors, the first thing that greets you

after a hard day at work, and vital security that keeps

out noise, draughts, intruders and the outside world

in general. But is your front door up to scratch? Taking

a long, hard look may reveal ways in which it, too, can

be improved. Both practically and aesthetically, the

difference can be remarkable.

When choosing a replacement door (if, for example, your

door has warped, rotted or shrunk beyond repair), you

may wish to replicate exactly what was there before – or

it may be possible to update it with something better.

It's important to get it right, as a great front door is an

investment that could even enhance the value of your

home; get it wrong, however, and the reverse could be

the case. Start by researching styles to suit the period

of your property, and consider what material will work

best. Wooden doors are still the most popular, and are

ideal for period houses, while uPVC is usually a cheaper

option that can be complementary for modern homes.

Aluminium, though expensive, combines strength and

stability with a cool, industrial look.

Sometimes it may be appropriate to include some glazing

with your new door – ideal for introducing extra light

into a dark hallway. Consider whether you would prefer

clear, frosted or perhaps even stained glass, depending

on the overall style, how much privacy you require and

whether security is an issue. Double-glazed, laminated

glass is the best option to ensure intruders can't gain

access. Speaking of security, an upgrade to your locks

may also be a good idea – check with your insurers, but a

five-lever mortice is usually best for timber doors, while a

uPVC door should have an anti-snap lock and multipoint

locking system.
---
53

Any door should fit well within its frame, but it may still be

an idea to improve its energy efficiency by adding seals

around the edges, and a brush strip along the bottom. An

internal letterbox flap or brush is also a great idea.

Good lighting is vital for when you're struggling to find

your keys or simply need to see the front path on a dark

evening. It should not be too difficult for an electrician

to swap your existing light for a swanky new one – or

perhaps a pair, one on either side of the door. Again,

you will probably wish to coordinate your lighting with

the architectural style of your property, whether it's

a carriage, lantern or bulkhead model, a decorative

hanging pendant or a sleek and minimal wall washer.

If possible, add a motion sensor and always ensure the

fitting is suitably rated for safe exterior use.

The fastest way to transform an existing timber door is

to give it a fresh coat of paint. What colour? It's a matter

of personal preference, of course, unless limited by a

planning restriction, but it's always a good idea to try to

coordinate the colour with the style of your property and

to take account of local approaches. A garish pink in a

historic terrace where everyone else's door is neutral may

result in some unhappy neighbours! Painting a door also

helps protect it from the weather, so it's important to do

Etch-effect house name

with Edwardian text,

from £45 per m 2 .

Purlfrost Window Film: 020

8992 4024; purlfrost.com.

it properly. Start

by washing it

down with soapy

water, and either

remove or cover

the hardware.

Remove loose or

flaking paint, fill any holes or cracks, and sand down. Use

primer on unpainted wood, or undercoat on previously

painted or uPVC doors – you may need several coats –

then finish with a couple of coats of the final colour, in

tough, exterior gloss.

A lovely finishing touch is a brand new set of hardware

– letter plate, knocker, knob and numbers, which are

available in an array of durable styles. Provided you

measure up correctly, it is surprisingly easy to swap them

over for an instant refresh and smart new look.

Struggling for Storage Space?

Transform your loft into a huge storage space -

all for the cost of a wardrobe!

Basic Package

4 Strong aluminium ladder

4 50 sq ft raised flooring

4 Bright LED light

Only

£307

+VAT

We fit all this;

• Ladders -

Aluminium or Wooden

• Hatches

• Lights

• Boarding

• Insulation

• Velux

All work guaranteed

Call us today for your free survey and quotation

01925 968 061

07895 596 671

Check out our 5 star reviews on

www.in-loftstoragesolutions.co.uk info@in-loftstoragesolutions.co.uk

We cover the

North West Region
---
54

Carpet & Upholstery Cleaning

• traditional service, state of the art results •

• Carpets • Rugs • Fabric & Leather Upholstery

The most thorough clean, or its free!

Call today for a free consultation & no obligation quote

5 star rating with Wigan Trading Standards Good Trader Scheme

Have your carpets cleaned the only thorough way

Shevington based family business
---
55

ASHTON UPHOLSTERY

CUSTOM MADE SUITES DIRECT FROM THE MANUFACTURER

Family run business for over 30 years. Open 7 days.

Home

Consultations

23 designs,

1000's of

fabrics

any spec

Ashton Upholstery, 263 A Bolton Road, Ashton-in-Makerfield, Wigan, WN4 8TG

01942 271268 • ashtonupholstery@outlook.com

Like our page for fantasic special offers www.ashtonupholstery.co.uk

PHONE OR EMAIL FOR FREE BROCHURE
---
56

Keep taking the tablets

The best tablets for everybody and every budget

Tablets are among our very favourite devices.

They're fantastic all-rounders, capable of

turning into glossy magazines or movie screens,

children's games or serious workhorses. And

there's never been a better time to buy one,

whether you want a budget bargain or a highend

tablet for work.

Amazon's Fire HD range offers exceptional value

for money, with models starting at just £49 for

the Fire 7 to £149 for the Fire HD 10. That's less

than half the price of Apple's iPad, and Amazon

offers big discounts on Fire tablets every time

it has a big sales event. You can't access the

Apple or Google app stores but Amazon's own

App Store is very good, and there are models

specifically for children, with features including

tough protective cases and excellent parental

controls, as well as a year's free subscription to

Amazon Kids books, games and TV shows.

The 500lb gorilla of the tablet world is Apple,

whose iPads are arguably the best tablets

around. The pick of the range for most people is

the standard iPad at £319, but if you need more

power the iPad Air (£579) and its smaller sibling

the iPad mini (£479) are better still. And if you

need the ultimate iPad, the iPad Pro starts at

£749 for the 11-inch and £999 for the 12.9-inch.

If you'd rather have a Windows tablet,

Microsoft's Surface Pro (£995) is a real rival to

the iPad Pro, while the more affordable Surface

Go (£369) is an excellent alternative to the iPad

and iPad Air. There are also lots of nice tablets

and 2-in-1 laptop/tablet hybrids from the usual

PC names.

Android tablets don't have a great reputation

– the cheap ones are usually awful – but

Samsung's tablets are up there with Apple in

terms of quality. Our pick is the Galaxy Tab S6

Lite (£298), which is the best value Android

tablet if you want to run apps from the Google

Play store.

Amazon Fire HD 8 Kids

Like the normal Fire HD, don't pay

full price for this kids' tablet: Amazon

discounts them when it has sales.

The Kids edition includes a year's free

subscription to apps, e-books and

TV shows.

£139, Amazon.co.uk

Microsoft Surface Go 3

Prefer Windows to iPadOS?

Microsoft's excellent tablet

running Windows 10/Windows

11 is fast, good-looking and very

flexible.

£369, microsoft.com

Amazon Fire HD 8

An ideal simple tablet for

surfing on the sofa, its's easy

to use, has a good selection of

apps including the big names,

and doesn't cost much.

£89, Amazon.co.uk

Apple iPad

Apple's control of the hardware

and software delivers an

unparalleled user experience,

making them the best tablets

made right now. The basic iPad

is fine for most.

£319, Apple.com

Galaxy tAb S6 Lite

It's not quite up to Apple standards

in terms of software, but the Galaxy

Tab S6 Lite is a good option if you've

already invested in Android apps

or just prefer Google's way of doing

things.

£298, Samsung.com
---
57

DON'T REMOVE...

IMPROVE!

REPLACEMENT KITCHEN DOORS

- MADE TO MEASURE

WHY THROW AWAY YOUR

OLD KITCHEN WHEN IT'S

A PERFECT BASE FOR A

GORDON'S

MAKEOVER?

**NEW DOORS**

**NEW WORKTOPS**

**NEW SINKS**

**MATCHING BOARDS**

• Half the Cost

• Half the Mess

• No Hassle

• No Stress

SALE

VAT FREE!

Ends

Jan 31st

After Gordon's Makeover

COME & VISIT ONE OF OUR NEWLY

REFURBISHED SHOWROOMS

WESTHOUGHTON 01942 814 800 (SATNAV: BL5 3ST)

BURY MARKET 0161 452 3466 (SATNAV: BL9 0BJ)

VISIT OUR WEBSITE FOR OPENING TIMES

www.gordonsmakeovers.co.uk

info@gordonsmakeovers.co.uk
---
58

Top five

Cruise

destinations

Is there anything more idyllic than waking on a cruise ship and

drawing your blinds to reveal an endless expanse of ocean? Add

in cocktails by the pool, daily entertainment and shopping galore,

and you have all the ingredients for the perfect holiday. That's not

even touching on the destinations you stop off at along the way!

From the Greek Islands to Scandinavia's Norwegian fjords, cruises

can take you all over the globe. To give you some inspiration, here

are five of the world's most popular cruise destinations for 2022.
---
59

The Norwegian Fjords

If you're more interested in adventure than sun,

sea and sand, Norway's dramatic fjords are sure to

deliver. These narrow inlets make up the majority

of the country's northern coast and boast some

of Scandinavia's most exceptional scenery.

When Cruising

is the choice,

we have all the

answers…

Exploring from a cruise ship promises to bring

you close to Norway's tumbling waterfalls and

skyscraper cliffs; keep an eye out for rare seabirds

and sperm whales if you're lucky! Most cruises

will also stop at remote fishing villages, where

you can sample some of the freshest, most

delicious seafood.

World Cruises ~ Ocean Cruises

River Cruises

Independent Travel Specialist

Established Cruising Specialists since 1983

Call in now or contact us on

01744 893291

200 Main Street | Billinge | WN5 7PE

www.markentravel.co.uk
---
60

The Greek Islands

With more than 6,000 Greek islands

peppering the Aegean and Ionian

seas, it's no surprise that islandhopping

cruises around Greece are

some of the most popular cruises

around. This is a corner of the world

made for exploring by ship.

Start in Athens and spend your first

couple of days exploring the capital

before embarking on your journey.

Top cruise destinations include

Mykonos with its waterside cocktail

bars and white-sand beaches, Rhodes with its Old Town

and uninterrupted swathes of sand, and Santorini, where

the sunsets are world-renowned. Many cruises will also

take you to the archipelago's lesser known islands too,

Chania and Thessaloniki being good examples.

European Rivers

For bags of culture, river cruising is a great option. Two

popular cruising choices are the Rhine, which flows from

Basel, Switzerland, to Amsterdam, passing primarily

through Germany along the way, or the stretch of the

Danube between Budapest and Passau, Germany, that

runs primarily through Austria.

A cruise here will make you feel like you've walked straight

into one of David Attenborough's documentaries. Sail

past gigantic glaciers, snap photographs of sea lions from

the ship, take a shore excursion to see brown bears and

witness breaching whales; the cruise itineraries around

Alaska's largely untamed landscape are hard to beat. You

can also expect visits to Alaska's state capital of Juneau,

only reachable by air or by water, Glacier Bay National

Park, and Skagway, a compact city saturated with history

from the Gold Rush era.

Cruises along the Rhine and the Danube meander

through a mix of big city culture, small town sleepiness

and a few stretches of genuine rural scenery. On the

Rhine, the big cultural capitals are energetic Amsterdam

and Cologne, with Strasbourg and Basel also included,

whilst on the Danube, you have Budapest and Vienna.

The Caribbean

The Caribbean's wealth of white-sand beaches washed

by turquoise seas make it an incredibly popular cruise

destination for sun-seekers.

Thanks to the islands' close proximity, you could be

snorkelling with turtles in Tobago one day and dancing

to reggae beats in Jamaica the next. Although equally

colourful, each island has its own distinct character,

meaning there's enough to please wildlife lovers, history

enthusiasts, foodies and anyone who just wants to laze

on the beach.

Alaska

Coined 'The Last Frontier', Alaska is the USA's most

sparsely populated state – and its wildest.

Beautifully furnished

Stone Cottage

Holiday Let

– sleeps up to 4

Situated near Sedbergh,

in the Yorkshire Dales,

and also within easy

reach of the Lake District

Children & pets welcome

Call 01942 216 058

www.millthropcottage.co.uk
---
Cover photo © Ian Bonnell Photograpthy

Education spEcial

WoodvalE Walk

61

SPRING

forward

4 Quality magazines

delivered to 39,000

homes

4 Inexpensive leaflet

delivery service

4 Free marketing

advice

4 Free artwork

4 Pay monthly

LocalLife

Wigan North Edition

Help your

business boom –

call us today

LocalLife

Wigan Edition

Forgotten Buildings:

Winstanley Hall

a BrightEr orrEll

sandstonE trail Walk

FREE

october 2018

© David Bancroft Photography

FREE

march 2020

LocalLife

St Helens Edition

Ballooning

in Autumn

LOCAL NEWS | EVENTS2GO | FOOD | HEALTH | WALkS | COmpETiTiONS | HOmE & GArDEN SErViCES

LocalLife

Wigan Edition

Remembering

LocalLife

Wakes Weeks

St Helens Edition

highfiEld cc turns 95

LOCAL NEWS | EVENTS2GO | FOOD | HEALTH | WALkS | COmpETiTiONS | HOmE & GArDEN SErViCES

WIN

a luxury

Spa Day for

Two!

FREE

september 2018

with

LocalLife

salt trail Walk

WIN

tickets

to the Flower

Show

FREE

July 2019

A Giant

Finale

FREE

october 2018

All our magazine

distribution is

monitored using

GPS

tracking

Education spEcial

rEstoring rivington

Duo Celebrate

Bike Success

LOCAL NEWS | EVENTS2GO | FOOD | HEALTH | WALkS | COmpETiTiONS | HOmE & GArDEN SErViCES

hEritagE opEn days

WhEElton moor Walk

a hEalthiEr hEart

Heritage

Open Days

LOCAL NEWS | EVENTS2GO | FOOD | HEALTH | WALkS | COmpETiTiONS | HOmE & GArDEN SErViCES

LOCAL NEWS | EVENTS2GO | FOOD | HEALTH | WALkS | COmpETiTiONS | HOmE & GArDEN SErViCES

Call today to discuss

how we can help you...

01695 627999 | www.locallife247.co.uk
---
62

Short Term Noise

It has certainly been an eventful start to 2022.

"Partygate" has dominated the headlines in the UK along

with the military situation in Ukraine and, of course, we

are still navigating our way through the pandemic as

restrictions begin to be lifted again. The cost of day-to-day

living continues to rise – with energy prices in particular,

increasing significantly. This threat of inflation and the

future path for interest rates as a result, has unsettled the

global stock markets, leading to greater volatility – which

can be quite unsettling when you consider the positive

performance of stock markets over the second half of

2020 and 2021.

The global stock market is down by around 7% and the US

by circa 9% at the time of writing this article. Those growth

companies that performed particularly well through the

pandemic, have been impacted the most. In contrast, the

UK's stock market has performed comparatively better on

the world's stage. The reason for this is largely due to the

type of companies that are listed in the FTSE (e.g. energy

companies, mining stock and banks – which have been

more resilient).

Naturally, because of all these goings-on, investors start

to feel a little unsettled. It is in our nature to want to "fix"

things when they don't appear to be going our way.

But a key ingredient to investment success is patience - not

panicking, not 'fixing', trying not to let the short-term 'noise'

distract you from your objectives and the bigger picture.

There's an old saying: 'Life knocks you down. Get up', and

so often, this is how global markets react as well. They

roll with the punches, and sooner or later they tend to

bounce back from adverse events. The trick is waiting for

the storm to pass.

Beyond the 'Noise'

There are positives too: we have the first indications

of success from our national vaccination programme

and people in England are now able to go about their

business mask-free, if they feel comfortable doing so.

Travel restrictions are easing, making it far easier to

see friends and family and for some maybe even the

thought of a holiday this year (if you can navigate all that

paperwork of course!).

We can all now see that there will be an end to this

pandemic.

Revisiting your financial plan is another way to look

beyond short-term events, to re-focus on your objectives

and look at current events from a wider perspective.

It's worth remembering that money only takes on true

meaning, only achieves its true potential, when we turn

it into financial security for ourselves and our family, or

turn it into enjoyment, by drawing it out and spending it.

This is where we see the financial plan becomes the most

important thing to focus on. As long as that is still linked

to where you want to be, and what you want to do, you

can start looking beyond the short-term and ignoring the

noise. We've built in the lifebelts to ensure you'll still get

from A to B, no matter how turbulent the journey.

If you need any guidance please feel free to

contact us on 01257 423800. The initial meeting

is at our expense and is without any obligation.

David Barton

APFS Cert CII (MP)

Chief Executive Officer

The value of investments can fall as well as rise which could result in investors receiving less than initially

invested. Past performance should not be seen as an indication to future returns.
---
64

Labour of Love

Thirty years ago this month, on Friday 13th March 1992

to be exact, approximately 600 miners reported for their

last shift at the last remaining pits in Wigan Borough –

Bickershaw and Parsonage. The closure of Bickershaw

and Parsonage left just Parkside in Newton-le-Willows as

the last pit standing in the Lancashire Coalfield. Parkside

closed just a year later in 1993.

Careful environmental management, along with Mother

Nature, has hidden the black landscapes, spoil heaps

and other excesses, and nowadays many residents enjoy

the legacy of the Lancashire Coalfield by walking round,

fishing and enjoying a multitude of activities on the

flashes in Wigan and at Pennington.

The largest physical reminder of the Lancashire Coalfield

is in Astley Green, a tiny village off the A580 near Leigh,

which hosts the last surviving headgear and winding

house in Lancashire at the Lancashire Mining Museum.

The museum is on the site of the Astley Green Colliery,

close to the Bridgewater Canal, and was opened in 1908

by Edward and Alfred Pilkington. Astley Green was finally

closed in 1970 by the National Coal Board, who cited

that the pit was uneconomic to operate. The headgear

and winding house, both of which now have scheduled

monument and listed building status, and since 1980, a

group of dedicated volunteers called the Red Rose Steam

Society Limited have run the 15 acre-site.

Currently the site is a work in progress. The winding

house is at the centre of the attraction, with many historic

exhibits and visitors can also browse round the miner's

cottage, the vintage tea-room and ride the narrow-gauge

railway.

Garden and the creation of an underground experience.

Plans also include the opening up of the area between

the site and the canal to facilitate tourism and to link

up with other attractions, such as the historic Worsley

centre, Spinners Mill in Leigh and the new RHS centre at

Bridgewater.

For the hardworking Red Rose volunteers, many of whom

are retirees, developing the Mining Museum site has

become a labour of love. Bidding for pots of money from

various sources to fund restoration and development of

the site has become an ongoing task, but if future plans

come to fruition, the museum will become a fitting tribute

to those miners who worked the Lancashire Coalfield.

The Lancashire Mining Museum is operating on

winter opening times until 31st March and is open

from 1pm-4pm on Saturdays, Sundays, Tuesdays and

Thursdays. For more details, visit the website www.

lancashireminingmuseum.org

Peaky Blinders

Fans of the hit show Peaky Blinders will recognise the

backdrop of the museum site from series 4 – some

dramatic scenes were filmed there. A Set Dresser for

the show, Alan Shaw, came back after filming was

complete to produce an amazing reproduction of a

miner's cottage, which is now used as a feature for

the museum.

The museum also hosts an increasing number of events

such as markets, Santa rides, a community bonfire, all

of which raise the profile of the site and raise funds. You

can check on future events on the Facebook page @

TheRedRoseSteamSocietyLtd1.

The far-reaching vision for the Lancashire Mining

Museum is illustrated in a five-year plan which is available

on their website www.lancashireminingmuseum.org, but

highlights include the creation of an archive and library

centre, an heritage education centre, a Miners Memorial
---
65

image credit: Dave Green
---
66

CMA Accountancy

Tax Planning Opportunities for Individuals & Companies

By Kieran Fitzgerald MAAT

Our previous article covered the Self-Assessment

deadline which has now passed for the 2020/21 tax year

submissions. Although the Government allowed some

room for late submissions, if you are yet to file a return

and require some assistance, contact our team without

any further delay.

As is the way with all matters tax, the focus switches now

to the end of another tax year, the 2021/22 period that

ends on the 5th April 2022. Now is a good time to stop

and take a wider view of the actions required to make

good use of the relevant tax planning opportunities that

may apply to your individual and/or companies' situation.

In a perfect world, you would be making use of relevant

opportunities throughout the course of a year. However,

it is important to stop and take time to reflect and ensure

the correct opportunities are pursued.

Make the most of your ISA allowance

ISAs are free from income tax and capital gains tax.

The overall ISA allowance is currently £20,000 across all

different types of ISA and does not carry over between tax

years. The limits for different ISA types are:

• Stocks & Shares: £20,000 a year

• Junior ISA: £9,000 a year

• Help to Buy ISA: £200 a month (now closed to new

applicants)

• Lifetime ISA: £4,000 per year

Make use of your personal allowances within a couple

If you are married or in a civil partnership, you may be

able to save money by structuring your finances to take

advantage of both spouses' tax allowances. This can be

particularly lucrative whereby one spouse pays tax at a

lower rate than the other.

Review your buy-to-let profit sharing

Further to the tip above, in a circumstance where one

spouse is a basic rate taxpayer and one a higher rate

taxpayer, it makes sense for the lower earner to receive

a greater share of rental profits so as to legally avoid a

higher rate tax charge.

Utilise your annual allowance for pension

contributions

Investments in your pension are free from income tax and

capital gains tax. Each year you can contribute as much

money as you earn, usually up to £40,000 (although this

tapers down to £4,000 for higher earners). Basic rate tax

relief is obtained at source and higher rate tax relief is

obtained via your annual tax returns. You may also be

able to make extra contributions by carrying forward any

unused allowance from the last three tax years.

Plan for the High-Income Child Benefit Charge

This tax charge allows the Government to recover some,

or all, of any Child Benefit claimed where the annual

taxable income or the claimant or the claimant's partner

exceeds £50,000. To keep your taxable income below that

threshold, you could reduce it by exchanging salary in

return for employer pension contributions, or by making

personal pension contributions.

Our expert team of accountants are ready to help with

all aspects of your tax planning needs. Check out our

website at www.cma-accountancy.com for the latest

and greatest tips, and you might want to sign up to our

weekly newsletters whilst you're there!

Kieran Fitzgerald – CMA Accountancy

39 Skull House Lane, Appley Bridge, Wigan, WN6 9DR

01257 255521 info@cma-accountancy.com

www.cma-accountancy.com
---
67

Do you need

help and

guidance with;

Company Accounts?

Auto Enrolment?

Self Assessment?

Cloud-based Software?

Payroll Services?

Making Tax Digital?

AE

SA deadline

VAT

Benefits

SA

FREE

INITIAL

CONSULTATION

Call CMA Accountancy today

www.cma-accountancy.com

info@cma-accountancy.com

Skull House Lane, Appley Bridge. 01257 255521
---
68

Puzzle Pages

CROSSWORD

down

1. Building for housing horses (6)

2. German submarine in World War II (1-4)

3. Frame supporting the body of a car (7)

5. Appear suddenly or unexpectedly (3,2)

6. Windlass used when weighing anchor (7)

7. Soft yellow substance secreted by aural

glands (6)

8. Expert in art, food or drink (11)

14. Blue-flowered trailing plant (7)

15. Brilliant and showy technical skill (7)

16. Group of people assembled to sing (6)

17. Mary ___, women's pentathlon gold medal

winner in the 1972 Olympic Games (6)

19. Lofty nest of a bird of prey (5)

21. Mixture of rain and snow (5)

across

1. Ornamental plaster used to cover walls (6)

4. Native North American tribe (6)

9. Pear-shaped fruit with green skin ripening to black (7)

10. Writing material (5)

11. Asian water lily (5)

12. Volatile liquid used chiefly as a solvent (7)

13. Narrow strip of rubber formed into a loop for holding

objects together (7,4)

18. Book of the New Testament (7)

20. Long, narrow passageway (5)

22. Measuring stick (5)

23. Small guitar with four strings (7)

24. Agitated (6)

25. Insect which rests with forelimbs raised as if in

prayer (6)

Wordwheel

Using only the letters in the Wordwheel, you have ten

minutes to find as many words as possible, none of

which may be plurals, foreign words or proper nouns.

Each word must be of three letters or more, all must

contain the central letter and letters can only be used

once in every word. There is at least one word that uses

all of the letters in the wheel.

I

N

R

E

M

target

Excellent: 50 or more words

Good: 43 words

A

T

Fair: 38 words
---
69

WORDSEARCH

Fishing

ANCHOVY

BARRACUDA

BASS

BREAM

CARP

CATFISH

COD

CUTTLE

DACE

DOLPHIN

EEL

FLOUNDER

FUGU

GUPPY

HAG

HAKE

HERRING

PIKE

PIRANHA

POLLACK

SALMON

SARDINE

SHARK

SKATE

SOLE

TENCH

TROUT

TURBOT

SUDOKU

word LADDER

Change one letter at a time (but not the position

of any letter) to make a new word - and move from

the word at the top of the ladder to the word at the

bottom, using the exact number of rungs provided.

LEAF

WIGGLE WORDS

CLUE: The belief or

hope that the third

attempt at something

will be successful.

Trace a path through all

the letters to find the

word or phrase that fits

the clue.

I T D R

M T H I

E S A C

M R A H

STEM

All the puzzle solutions can be found

on page 85 of this magazine
---
70

Cheshire Castles

by Chris Pearce

Distance: 4½ miles Difficulty: Easy

When choosing Jack's Tracks to feature in Local Life, we

usually opt to choose the Lancashire area, often to the

Trough of Bowland or the West Pennine Moors. However,

Cheshire has its fair share of notable walks too, and it's there

that we turn to this month for the Cheshire Castles walk.

At just over 4½ miles, this walk takes in two very different

castles. Peckforton Castle was built in the 1840's by the

Tollemache family within their 36,000 acres of Cheshire

countryside. It's now best known as a hotel/wedding venue

and features regularly on TV shows such as Cheshire

Housewives.

But we start the walk from the car park at nearby

Beeston Castle (CW6 9TX). Beeston Castle was

built by Ranulf, the 6th Earl of Chester in

the 1220's, and the castle ruins and the

woodland park are now looked after by

English Heritage. Members of English

Heritage can use the car park free,

otherwise the cost is £3.

Leave the main car park opposite the castle entrance, turn

right, and head up the footpath between the castle wall and

the overflow car park. Stay left at first as you enter the pine

woods, and the path eventually drops to Tattenhall Lane,

from where you can see Peckforton Castle in the distance.

Turn left on the road, and after a few yards you'll pass

Tabernacle Cottage; at this point turn right on a footpath.

Follow the footpath into the distance until you come to

a stream. After you cross the wooden bridge, the path

splits. Follow the path denoted by the 'S' marker, which

heads away from the stream through a field towards

Peckforton Castle.

After 200 yards, the path splits again; go right

through the steel gate and head towards the

black and white timber framed houses in

the distance. When you exit the field by

the houses mentioned, turn right down

the single-track lane (Horsley

Lane) for 240 yards.
---
71

Elevation

150m

100m

50m

0.0km 2.0km 4.0km 6.0km 7.5km

Lowest 64m

Highest 173m

Total ascent 139m

For those with the OS Maps app on your desktop,

mobile or tablet, this walk is named: JT-Cheshire-Castles

https://osmaps.ordnancesurvey.co.uk/route/11130280/JT-Cheshire-Castles

Castleside

Farm

Beeston

Castle

Tattenhall Lane

Ettley

Hill

Castlegate Farm

P

Beeston

Crimes Brook

Gregory's

Wood

Peckforton Road

Sandstone Trail

Moathouse Farm

Peckforton Castle

(Hotel)

The

Table Rock

Horsley Lane

Willis's

Wood

River Gowy

Peckforton

Mere

Pennsylvania

Wood

Stanner

Nab

Stone House Lane

Eddisbury Way

Barracks Lane

Hill Lane

Peckforton

Higher

Burwardsley

Waste Hill

Peckforton Hall Lane
---
72

Just past Ivy Cottage, there's an entrance on the left to the

Peckforton Estate. Take this path, again denoted by the 'S',

and after a bit of a climb, the path flattens out and you're

treated to great views over the Cheshire plains. Eventually

you'll arrive at a junction by a black barrier – take the path

that goes straight on.

A little further on, the path forks; take the lower path that

is denoted 'Cheshire East' and head downhill. You'll exit

the woodlands shortly afterwards and head uphill on a

quiet single-track road, which merges into Pennsylvania

Lane. Pass the Pheasant Inn and then turn left at the

crossroads into Fowlers Bench Lane. 40 yards further on

and you'll take a left into Rock Lane.

Rock Lane forks shortly afterwards; take the right fork

and follow this single-track road for over half a mile.

You'll pass a barrier as the road becomes a

path going through woodlands, which

eventually bears left as you reach

a disused railway bridge.

Once you've

passed under

the bridge,

carry on down the cobbled lane heading towards a

barrier. Forty yards on from the barrier, take a left turn by

the yellow salt bin and then, ten yards after the turn, look

up and take the path on the right that's on a higher level.

Follow the path downhill, over the stile and directly through

the next field until you reach a stone stile that takes you

down to Stonehouse Lane. Turn left and follow the road for

¾ mile past the grand entrance to Peckforton Castle until

you reach a T-junction. Bear right onto Peckforton Road

and follow the road for a further 1/3 of a mile into Beeston.

Turn left at the Smithy Cottage into Tattenhall Lane, and

then turn right 100 yards later into Chapel Lane. Follow

the road uphill and round a right-hand bend and you're

back at your starting point.

Please ensure you wear appropriate clothing and footwear

whilst walking. Whilst every care has been taken to ensure

that the walk is accurate, neither the publisher or its editorial

contributors can accept, and hereby disclaim, any liability to

any party to loss or damage caused by errors or omissions

resulting from negligence, accident or other cause.

Diploma Qualified by Diane

Tel: 01695 624 098

Mob: 07442 015 490

Email: OrrellPoochParlour@gmail.com

Facebook: Orrell Pooch Parlour
---
73

New Starts

Forget January, there's no better time for a new beginning than spring…

The Meaningful Money Handbook – Pete Matthew

If you need to get your finances in order (that's most of us then), The Meaningful Money

Handbook could prove invaluable. It'll help you to cut through the confusion, figure out how

to get out of debt, create a personal financial plan and grow your savings. If you're already

starting to wince at the thought of reading a book about finances, rest assured that there's no

jargon or judgement – just plenty of straightforward advice and useful tips.

Atomic Habits – James Clear

All too often, major change feels so daunting that we don't act, or we give up after a few days. Instead,

James Clear recommends making tiny tweaks to your daily routines. Atomic Habits shows the reader

how to break bad habits and start new ones. James Clear sets out, step-by-step, how to make small

improvements that, over time, become life-altering. His advice is backed by psychologists, but as Clear

says, this book is "not an academic research paper; it's an operating manual."

Consumed – Aja Barber

Feel like you shop to fill a void? Uncomfortable with your role in fast fashion? Or do you just want to

learn how to enjoy fashion sustainably and ethically? Whatever your motivation, this book is well worth

a read. Aja Barber shares her story of how she came to understand the systemic injustices in the fashion

industry. You'll learn about the history of the textile industry, the growing issue of fast fashion and,

crucially, what you can do to bring about change.

Survival Skills for Freelancers – Sarah Townsend

At some point, everyone dreams of quitting their job and becoming their own boss. Whether you've

already made the move or you're just thinking of taking the plunge, this book can help you to ride the

roller coaster that is self-employment. It's full of helpful advice, from how to avoid burnout and look

after your mental health to how to tackle imposter syndrome.

Decluttering at the Speed of Life – Dana K. White

Clutter can be overwhelming. The more possessions you have, the more time it usually takes to

organise, tidy and clean your home. Unlike other decluttering books, this one isn't just a 'how to' guide;

it also addresses the emotional challenges that make it difficult to let go of unnecessary possessions.

It's also packed with practical advice and tips. Plus, it's funny.

30 Day Kick Start Plan – Joe Wicks

It's hard to make healthier choices in the depths of winter, but lighter evenings and warmer days are

just around the corner. 30 Day Kick Start Plan can help you eat better, move more and stay motivated.

You'll find 100 recipes to try, along with six workouts and weekly plans to help you stay on track. There's

also advice on everything from sleep and meditation to goal setting. In short, it's far more than just

another healthy-eating cookbook.
---
74

Greenfingers…

the Alan Titchmarsh column

He's a brilliant presenter, accomplished

gardener, talented novelist and all-round

horticultural inspiration. This month,

Alan Titchmarsh talks about how our

gardens can move us to a place of peace.

While gardens mean different things to all of

us, it's when I venture into these tranquil spaces

that I truly get a sense of their calming and healing

power, and I find that hugely enriching. Most gardens

and landscapes naturally come with a real feeling of

gentleness – from the choice of flowers and plants, to

gentle sweeps and curves that guide the eye onwards, to

a softness and subtlety that may be a world away from

some of the physical or emotional struggles we are going

through; and I feel it is this dramatic contrast that really

transports someone back to a place of comfort, even if

just for a little while.

What is also really important for me when I visit gardens

at hospices and hospitals, is the reminder that these

spaces are not just for those who are residents. They also

give hope, clarity, peace and a sense of calm to visiting

families and, most importantly, the people who work

there. Certainly, with everything that has happened

over the past couple of years with Covid, and the

realisation that we need to consider and protect

workers and staff who look after us, I would like

to think those on the frontline can wrestle

back their own sense of contentment

when soaking up the fresh air and beauty

of a garden, where they can move away

from a job that's very hard and

emotionally draining.

I would like to see more attention given to gardens

and outdoor spaces in our health institutions, and in

workspaces in general. They are more important than we

imagine. Simple sweeps of flowers, plants and foliage are

inspiring; the sight of an olive tree can move our minds

to far-off places; and we all know how calming a cascade

of water can be. It's all very peaceful and there's nothing

complicated or frenetic.

Gardens are evolving, living things that are always

changing – in fact they're much like us in that respect!

For me, on those days where I feel everything's a bit

fraught and frantic, and when I just can't get to grips with

anything, I go to sit in the garden or potter about to find

myself, and it really works!

Life is a compromise, and you can't always

be on top of things, but gardens truly

prove to me the healing qualities

that exist within nature, and we're so

fortunate to have them.
---
SMN

Tree and Landscape Management

Tree Felling & Pruning

Site Clearance

Tree Surveys and Reports

Invasive Weed Control

Ground Maintenance

Agricultural & Domestic Fencing

Firewood & Woodchip

Woodland Maintenance

24 Hour Emergency Tree Work

West Lancashire Borough Council

approved contractor

Wigan Council approved contractor

Day: 07970 521 692

Eve: 01942 214 121

www.smntrees.co.uk

steve@smntrees.co.uk

Over 70 Lancashire

Walks

LocalLife

FREE to download at

locallife247.co.uk

GARDEN GATES

£159

fitted

Call

Graham

07801 300 842

01257 425 958

www.ashfieldhomeimprovements.co.uk

QUALIFIED & INSURED

FREE ESTIMATES

TELEPHONE:

01695 623 909

07903 290 878

www.gardenrescue-treeservices.com

•

•

• Gates and railings

• Repairs and restorations

• Ironwork and welding

• Traditional forge work

25 years of expertise

Tel: 01695 721877

Mobile: 07951 764202

The Barn, 286 Ormskirk Road, Upholland

www.treetechsolutions.co.uk

• All tree work

• Hedge cutting

• Grounds maintenance

• Stump grinding

NO JOB TOO SMALL

EMERGENCY CALL OUTS WELCOME

Call Wes for a free quote on

07713 121135 / 01695 363630

BILLINGE BASED

75

Leaflet Distribution

Service

Your leaflets delivered alongside this magazine

to up to 39,000 local homes

Flexible service for all businesses, large and small

Prices from £27.50 per thousand (minimum 4,000 leaflets)

Call or email us for a Leaflet Coverage List

then simply chose the postcode areas

you want to target

Call us on 01695 627999

Email chrisp@locallife247.co.uk

www.locallife247.co.uk

GPS

Tracked

Distribution

DESIGN

& PRINT

services

also available

LocalLife
---
76

Transform Your Garden!

We'll design and create your

new garden from start to finish.

Stylish, low-maintenance

gardens are our specialty.

ARTIFICIAL GRASS SPECIALIST

01942 387044 View our projects on www.turfco.uk 07941 602539

Garden Design &

Quality Landscaping

Established 1994

Quality work & reliability

at competitive prices

Garden makeovers with artificial

grass a speciality

Call today for a

FREE quote

01942 510 986

07710 405 214

Driveways - Paving

Fencing - Turfing

Decking - Artificial Grass

Our aim is to deliver a

creative, personal service

adhering to our customers

requirements and within

budget.

All aspects of garden design

& build - from large projects

to small makeovers

www.pdhomeandgarden.co.uk

07946 751308

01942 206503

• Landscaping

• Driveways & Patios

• Block Paving

• Indian Stone

WE WON'T BE BEATEN ON

QUALITY OR PRICE

UP TO 25% DISCOUNT

Call Al today for a free quote or advice

OFFICE

01942 396 818

MOBILE

07796 494 463

All tree work including

• Shaping & Pruning

• Felling & Topping

• Stump Grinding Service

• Fencing & Decking

• Turfing &

Artificial

Grass

Man

& Digger

for hire
---
77
---
£29 for a fu l day

rural Vi lage

NUrSErY

FUNDED LANgUAgE

A l sta f

We cater for

PLACES & SPortS

paediatric

CHILDrEN

Available for LESSoNS

& first aid

3 months

2/3/4

for

QUALIFIED

- 4 years

year olds pre-schoolers

oPEN

Mon-Fri

8AM-6PM

£37.50

per day

www.cranknursery.co.uk

rated by

oFStED

as

oUtStANDINg

Large NEWLY

outdoor rEFUrBISHED

PLAY ArEA in 2019

78

Need help with your

garden?

I'll do the hard

work for you;

• Friendly and professional

female gardener

• Regular maintenance service

• Weeding, planting and pruning

Contact Hannah on

01257 402 149

07454 393 217

www.artemisgardening.co.uk

Garden

Make-Overs

Before

After

• Landscaping

• Driveways

• Decking

• Design

Call for free estimate

Colin 07958 302 166

Brian 07760 160 988

01695 633173

www.wilson-bros.co.uk

Complete Solution to all

Garden & Tree Services

• Garden maintenance

• One-off clearances

• Treework

• Landscaping

Approved contractor West Lancs BC

Call Iain today for friendly

advice and a free quote

Tel: 01695 632773

Mob: 07724 298193

www.hands-onlandscapes.co.uk

Billinge-based

Felled

Topped

Pruned

Re-Shaped

Stump Grinding

crown reduction

Fencing

Flagging

Turfing

Artificial Grass

Call us today for a free

no obligation quote

07879 024070

01925 271108

01942 387067

crown Thinning

20%

OFF

ALL

autumn

BOOKINGS

Email: fourseasons.treespecialists@gmail.com

Landscapes

Creating the

ideal outdoor

living space

Garden Design

& Construction

All aspects of Paving,

Driveways & Patios

Award Winner

Call Stewart Ashcroft on;

01695 622460

or 07894 217191

email: westdene41@btinternet.com

Winstanley Road, Billinge

• Garden maintenance

• General tidy ups

• Hedge cutting

• Pressure washing

• Fencing

Call - 01942 225711 or

07773 296880

Eton Way, Orrell

Design & Print

Flyers, postcards, brochures

and distribution service.

Call 01695 627 999

LocalLife

Little Acorns Nursery

QUALITY CHILDCARE YOU CAN TRUST!

Open Mon-Fri: 8am ti l 5.30pm term time

We operate a b oking system for the

holidays which saves you money

We deliver 30 hours fr e entitlement

Flexible se sions available

We take children from 2 years old

Ca l Sarah on 01744 86166 for more information or admin@cranknursery.net

Li tle Acorns Nursery is situated in a beautiful woodland

se ting. It is a safe and vibrant place for your child to gain

lots of wonderful educational experiences.

We are big on the great outd ors & being down in the forest

which is g od for your child's health and we l-being

Li tle Acorns Nursery

www.locallife247.co.uk

A l Saints' Primary Sch ol | Finch Lane | A pley Bridge | WN6 9DT

01257 252647

www.li tleacorns-daynursery.com
---
79
---
80

What is the new

Range

Rover

up against?

The new Range Rover has arrived, bringing with it a predictably luxurious take on the SUV recipe. Packed with

technological advancements, the new Range Rover looks set to be the most futuristic to date, while a series of plug-in

hybrid powertrains – alongside traditional petrol and diesel options – means that it's more electrified than ever.

But the Range Rover's job isn't an easy one. There are more rivals for it than ever, so let's dive in and check out what this

latest Range Rover is up against.

BMW X7

The X7 sits at the top of BMW's SUV range, effectively sitting

as a high-riding version of the firm's luxurious 7

Series saloon. It's a hard car to miss, too, with

its ultra-large front kidney grilles giving it

a whole lot of presence out on the road.

It's also got space for seven, so it does

have a focus on practicality, too. With

a huge amount of interior space, it's a

really comfortable choice for longer

journeys.

Bentley Bentayga

The Bentayga has proved to be a real hit

for Bentley, encapsulating the luxury feel

of the firm's saloon and coupe models but

in a high-riding SUV body style. Much like

the new Range Rover, it's available with a

traditional petrol engine but also a plugin

hybrid option, giving zero-emissions

running at lower speeds.

Bentley recently added a more sporty 'S'

version too, kitted out with a powerful

4.0-litre twin-turbocharged V8.v
---
81

Audi Q8

Though we could opt for the popular Q7 in this list, it's the Q8 that stands out in Audi's range of SUVs. Bringing a coupe-like

design, the Q8 looks truly futuristic on the road, with its full-width rear light bar giving the car a really cool appearance at

night.

It's just as futuristic inside, too, with a good range of materials ensuring that the Q8 feels particularly upmarket.

Aston Martin DBX

Aston's first SUV – the DBX – has really

made waves, delivering a sporting driving

experience alongside a level of quality that

you'd expect from the firm. Both comfortable

and involving, the DBX is a car capable of

making a twisty road fun while also taking the

backache out of longer journeys.

It's also got a design in keeping with the rest

of the Aston Martin range, while a 4.0-litre

turbocharged V8 engine means it's got the

performance to match, too.

Mercedes-Benz GLS

The GLS is the largest SUV Mercedes offer and is, in fact, one of the largest

SUVs on sale today. It's fitted with some of the firm's latest technology, too,

including a superb MBUX infotainment operating system, accessed via a pair

of 12.3-inch screens set underneath one single piece of glass to create a full

widescreen effect.

It's also supremely comfortable, while the

option of a range-topping GLS63

adds a performance variant for

those who want it.

Vehicle Repairs ~ Servicing

Diagnostics ~ Air Conditioning

Exhausts ~ Tyres ~ MOT's

Unit 3 – Otterswood Square

Martland Mill Ind. Est.

Wigan WN5 0LF

01942 211 986

07961 135 393

www.jdmechanical.com

info@jdmechanical.com

JD Mechanical Services

For friendly

advice, affordable

rates and over 30

years expertise,

call us today.
---
82

We'll fix your;

Paintwork Scratches

Bumper Scuffs

Alloy Wheel Damage

Minor Dents

No VAT

charged!

Quality repairs with a lifetime guarantee.

Mobile Service – we come to you!

For your free estimate, call Dave on

07970 915 504

c/o JW Gaskell Garages,

Dingle Garage, Dingle Road, Up Holland, WN8 0EN

Car Paintwork Repairs

Services

Repairs

Diagnostics

for all makes & models

MOT Testing Centre

for Class 4

ExperienceReliabilityExpertise

Dingle Garage, Dingle Road, Upholland, WN8 0EN

Telephone: 01695 624 261

www.jwgaskellgarageservices.co.uk

Open: Monday-Friday, 8.30am-5pm & Saturday 8.30am-12.30pm

Call Chris on 01942 215 111 or 07969 357 751

www.cosmeticar.co.uk

Scuffs/scratches mended

Minor dents repaired

Alloy wheel repairs

No Vat charged

We'll beat any quote!

PCP or lease

coming to an

end?

Call me

now and

save

£000's
---
83

Trading Standards has a directory of local traders you

can rely on.

Find the borough's best online at www.wigan.gov.uk/goodtrader

or phone 03454 040506

and ask for Wigan Council's Good Trader Scheme.

Call Paul

Locksmiths

Established 2000

A Registered Insured NCFE Certified Company

Call Paul for a Fast, Reliable, Professional Service

• UPVC & WOODEN DOOR SPECIALIST

• Emergency Door Opening

• UPVC Door Lock Repairs

• UPVC Door Lock Changes

• UPVC Door Lock Upgrades

• Wood Door Lock Changes

• All Work Guaranteed

TELEPHONE

01942 901103

MOBILE

07932 718362

WWW.CALLPAULLOCKSMITH.CO.UK
---
84

Quality Flooring Fitter

required for

these pages

Call 01695 627 999

LocalLife

www.locallife247.co.uk

J&P

MOORCROFT

LTD

Professional Painting

and Decorating

• Domestic & Commercial

Work

• Interior & Exterior work

welcomed

• Old/listed buildings a

speciality

Call us today for a free quotation

Home Service available

Choose from 1000s of paint &

paper samples in the comfort of

our own home

01942 212096

07831 102 511

www.jpmoorcroft.com

GARAGE DOOR

REPAIRS

All garage

doorS

repaired:

Springs, Cables,

Locks, Rollers etc.

Doors of all ages

repaired

01744 894939 / 07891 330214

NO FIX, NO CHARGE!

Strawberry Cottage,

Pimbo Lane, Upholland

WN8 9QL

www.garagedoorandlock.co.uk

Need a new

look for your

home?

Skilled interior and

exterior work undertaken

at reasonable prices!

Chris Smith - Painter and

Decorator

01257 415388

or 07545 065119

Shevington based business

4 Exterior & Interior

Decorating

4 Domestic &

Commercial work

undertaken

4 Competitive rate

Award Winner

Contact Graham now

free estimate provided

01257 426234

07954 139069

graham@topcoatdecoratingservices.co.uk

www.topcoatdecoratingservices.co.uk

HANDS ON

Property Maintenance

& Handyman Services

3 Kitchens & Bathrooms

3 Painting & Decorating

3 Building & Joinery

3 Electrical

3 Paving, Decking

& Fencing

3 Tiling

3 Plumbing

Check out my work at

keith.anderton

Telephone Keith on

07812 110476

• Interior & Exterior Decorating

• Trustworthy & Reliable

• Fully qualified with 15 years

experience

No job too big or too small

Call Gavin for a free estimate on

07870 632 041

gavowen1984@gmail.com

• Quality workmanship

• Interior & exterior

work

• No job too

big or too

small

01942 392398

or 07707 321383

Handy

Andy

Building / Joinery

Plastering / Tiling

Plumbing / Roofing

Flatpack Assembly

Call Handy Andy on

01257 369 685

07899 752 225

tradesbyandy@gmail.com

All

jobs

considered
---
85

Arley Cabinet

Company Ltd

• Kitchens & Bedrooms since 1952 •

We Measure ~ We Make ~ We Fit

Drop into our

showroom or call us

for a free estimate

214a Gidlow Lane, Wigan, WN6 7BN

01942 246 190

www.arleycabinets.com

We repair:

4 Phones & Tablets

4 Laptops & PC's

4 Gaming Consoles

4 Apple Watches

We also build

gaming PC's to all

specifications.

If we

can't fix it,

no one

can!

QUALITY service

FREE estimates

FAST turnaround

Call the Tech Guys on 01744 410554

or email info@techguys360.co.uk

www.techguys360.co.uk

1st Floor, Rainford Parish Council Offices,

Church Rd, Rainford, St. Helens WA11 8HB

Puzzle Solutions

CROSSWORD

WORDWHEEL

Across: 1. Stucco, 4. Apache, 9. Avocado, 10. Paper, 11. Lotus, 12. Naphtha,

13. Elastic band, 18. Hebrews, 20. Aisle, 22. Ruler, 23. Ukulele, 24. Shaken, 25. Mantis.

DOWN: 1. Stable, 2. U-boat, 3. Chassis, 5. Pop up, 6. Capstan, 7. Earwax, 8. Connoisseur,

14. Lobelia, 15. Bravura, 16. Chorus, 17. Peters, 19. Eyrie, 21. Sleet.

aNSWER:

MINARET /

RAIMENT

T I

W N

E

R

WORDSEARCH SUDOKU WIGGLE

WORDS

Third Time's a Charm

WORD

LADDER

Here is one possible

solution (others may exist)

LEAF

leak

leek

seek

seem

STEM

PUB QUIZ

1. Charity shop ("op" is short for

"opportunity")

2. Ikea

3. Vaccinated

4. Books

5. Amazon (the arrow goes from "A"

to "Z")

6. Boohoo

7. Quality, Value and Convenience

8. Magic wands

9. b) Marks and Spencer

10. Banksy
---
£29 for a fu l day

rural Vi lage

NUrSErY

FUNDED LANgUAgE

A l sta f

We cater for

PLACES & SPortS

paediatric

CHILDrEN

Available for LESSoNS

& first aid

3 months

2/3/4

for

QUALIFIED

- 4 years

year olds pre-schoolers

oPEN

Mon-Fri

8AM-6PM

£37.50

per day

www.cranknursery.co.uk

rated by

oFStED

as

oUtStANDINg

Large NEWLY

outdoor rEFUrBISHED

PLAY ArEA in 2019

86

New Name -

Same Fantastic Cleans!

• Carpets - Quick Drying

includes moving furniture for you

• Upholstery - Fabric & Leather

• Hard floors - Tile/Stone/Vinyls

FREE Test clean to see the results

• Curtains - Hassle free

Cleaned where they hang

• Rugs

Collection & delivery service

Call us

today for

a free quote

01942 470 081

www.alliancecleaningsystems.co.uk

Carpet & Upholstery

Cleaning

• traditional service, state of the art results •

• Carpets

• Rugs

• Fabric & Leather

Upholstery

5 star rating with Wigan Trading

Standards Good Trader Scheme

Call today for a free consultation

& no obligation quote

Call - 01257 251221

Mobile - 07908 770808

e: sales@alliancecleaningsystems.co.uk www.manorhousecleaning.co.uk

• Professional Carpet, Rug

& Upholstery Cleaning

• Leather Cleaning & Restoration

• FREE Pre-Inspection Visit & Quotation

T: 01942 409401

M: 07881 816839

helen@carrolls-cleaning.co.uk

Quality Upholsterer

required for

these pages

Call 01695 627 999

LocalLife

www.locallife247.co.uk

External Cleaning

Specialist

• UPVC & Conservatory cleaning

• Pressure Washing for Driveways & Patios

• Roof Cleaning, Sealing & Coating

• Drain Clearing & Cleaning

• Decking Cleaning & Sealing

• Imprinted Concrete Sealing &

Re-Colouring

Billinge-based

We'll get

the job

done!

• Business Telephone

Systems

• Voip & Structured Cabling

• Residential Extensions

• Faults & Gen Enq

Call Darren (British Army Veteran) for a free quote

07931 688 881

www.proclean-ecs.co.uk quote@procleanecs.co.uk

Quality Flooring Fitter

required for

these pages

Call 01695 627 999

LocalLife

www.locallife247.co.uk

Design & Print

Flyers, postcards, brochures

and distribution service.

Call 01695 627 999

LocalLife

Little Acorns Nursery

QUALITY CHILDCARE YOU CAN TRUST!

Open Mon-Fri: 8am ti l 5.30pm term time

We operate a b oking system for the

holidays which saves you money

We deliver 30 hours fr e entitlement

Flexible se sions available

We take children from 2 years old

Ca l Sarah on 01744 86166 for more information or admin@cranknursery.net

Li tle Acorns Nursery is situated in a beautiful woodland

se ting. It is a safe and vibrant place for your child to gain

lots of wonderful educational experiences.

We are big on the great outd ors & being down in the forest

which is g od for your child's health and we l-being

Li tle Acorns Nursery

www.locallife247.co.uk

A l Saints' Primary Sch ol | Finch Lane | A pley Bridge | WN6 9DT

01257 252647

www.li tleacorns-daynursery.com

Tel: 01942 441221

Askus@LJTelecomServices.co.uk

www.LJTelecomServices.com
---
87

Having a Clear Out?

Whatever you're clearing – call us today!

• House & garden

• Garage or Shed

Fast, RELIABLE and

PROFESSIONAL service

northwestwaste

• Office, Warehouse or Shop

• Probate

Our services are;

4 Cheaper than a skip

4 Fully licenced by the

Environmental Agency

4 Completed by smart and

friendly staff

The Meadows, Ruskin Drive, St Helens, WA10 6RP

01744 758 349 / 07557 764 940

Email: transport@northwestwaste.co.uk

www.northwestwaste.co.uk

Man

& a Van

available for

removals

FROM

£85

regular sweep & checks

new homeowner inspections

professional & reliable

01942 387079

book online at mr-soot.com

prices

start from

£45

let us clean your oven so

you don't have to!

• professional oven cleaning

• environmentally friendly

• we repair ovens too!

call Steven on 07393 818 392

www.ovenrescue.co.uk/wigan

Get your oven

looking like new!

We clean ovens, hobs,

microwaves and fans for over

500 regular customers.

Single ovens only £50

We only use non-caustic,

totally safe liquids.

0151 430 0766

0770 256 6393

www.theovencleanersgroup.co.uk

Aspinall's

Chimney Sweep

• Chimney Sweeping

• Chimney Pots & Cowls – supplied & fitted

• Bird Nests removed & Birdguards fitted

• Chimney Stacks re-pointed

• CCTV Chimney Inspections

No Mess Guaranteed!

ContaCT

Patrick

for a free quote

01942 375 076

07449 456 980

www.aspinallschimneys.co.uk

e-mail patrick@aspinallschimneys.co.uk
---
88

Outdoor Adventures

Spring Cleaning Your Home's Exterior

In your home, you'll realise when maintenance jobs need

doing and rooms need cleaning. But particularly during

the winter months, any deterioration to the outside of

your property is likely to go unnoticed until the brighter

spring days.

The Roof

If any part of your roof is north facing, near trees or both,

you are very likely to see a build-up of moss. This is not

only unsightly, it's not good for your roof and the moss is

likely to block your gutters too.

If your roof is at a low level or can be accessed from an

upper window, gently brush the surface to loosen the

build-up. Generally though, unless you happen to own

the specialist equipment to ensure you are safe on a roof,

this really is a job for the professionals.

The Gutters

Some debris in your

gutters will get washed

away and will mulch

down, but more often

it'll just build up. If your

gutters are overflowing

every time it rains, you

are going to need a

long ladder and a pair of thick rubber gloves to clear the

slimy mess.

A professional will have a camera on a pole to see where

the worst spots are and to help them clear out all the

winter debris. Ask about having gutter guards fitted, too

to help prevent future build-ups.

Facias and Soffits

There are two options if your facias and soffits look tatty

and the paint is peeling: repainting is lower cost but it

won't last that long and is fiddly to do; replacement facias

and soffits are made of uPVC and will last for years. It's

well worth considering replacing the guttering at the

same time.

Pathways

The inexpensive way to clean your path is a bucket of

water and a stiff brush. Alternatively, a jet washer is very

thorough and reasonably affordable, although you only

need to use it once or twice a year.

This is a job you can do yourself, but it's blooming

hard work! You will get quite a workout controlling the

pressure washer hose or sweeping a brush.

Windows

This is another one of

those jobs that is hard

work and while it's easy

to access the inside

of your windows, the

upper floor of the

outside is much more

difficult.

Furthermore, a one-off clean is not enough – you are

looking at your windows all the time so you'll notice them

getting dirty again within a month or two. It's better to

have a regular arrangement with a cleaning company

who will usually have a pole system to reach the heights.

They normally use purified water, meaning that the

windows dry sparkling clean.

In Summary

There are many jobs around the home that you are

probably capable of doing yourself to save the pennies.

But these external tasks don't need to be done very

often and a specialist will have the equipment, the safety

training and the insurance to do the job efficiently and

quickly.
---
89

Call Clint for a free no obligation quote

01942 470 089

07834 241 642

www.conservatorycleaningwigan.com

get your

gutters

cleared

Book any service

FREE!

ROOF CLEANING

• Moss Removal & Bio-Treatment

• Softwashing / Low Pressure

POWER WASHING

• Driveways & Patios etc.

CONSERVATORIES

• Exterior & Interior (Cleaning)

UPVC CLEANING

• Windows, Fascias,

Gutters etc.

SPECIAL OFFER - 20% OFF ALL CLEANING PACKAGES

Total Cleaning North West

www.totalcleaningnorthwest.co.uk

Unit 6a,

1 Miry Lane,

Wigan

WN3 4AG

One-stop cleaning jobs for your home and garden

• Clean your dirty Driveway or Patio

• Seal and Protect your Driveway or Patio

• Clear out your blocked gutters with our video SkyVac

• Make your Conservatory sparkle • Render cleaning

• Clean Gutters, Soffits and Fascias

Check out our fantastic 5* reviews on Facebook & Google

Call or text David now for a no obligation quote

£60

FIXED PRICE

GUTTER

CLEARING

ONLY

Your local

family business

01942 530483 • 07771 924 887 • www.totalcleaningnorthwest.co.uk
---
90

A Genuine Family Run

Business With Friendly

& Courteous Staff

Specialists in central heating installation,

boiler replacements and upgrades

• Annual Boiler Servicing

• Landlord & Home Owner Gas

Safety Checks

• Mechanical Power Flushing

• Thermostatic Valves Radiators Fitted

• All-in-One Air Conditioning & Heating

units for Home & Work

Registration No.

88604

WE REPAIR ALL

MAKES OF BOILERS!

Telephone:

01942 504 429

Tel: 01257 421 660

Mob: 07515 505 501

Accredited Installer & Service Partner

Plumbing & Heating

Specialist

Complete Bathrooms

Installation ~ Repairs ~ Service

Central Heating Systems

Boilers & Gas Appliances

General Plumbing

Gas Safety Certificates

Elite

Bathrooms

& Wet Room Installation

John Bailey

01942 495785

or 07721 040620

& 07710 153238

Based in Kenyon Road, Wigan

Call Andy for a free quote on

01942 564 226

07397 391 935

acampbellheatingandgas

597379

• Bathrooms • Wet Rooms

• Wall & Floor Tiling

Please call for a FREE Estimates

07703 448890

01942 208926

We've got you covered

for all aspects of

plumbing and heating

Boilers Gas Heating Plumbing Drainage

Installation • Maintenance • Repairs

626792

Want a new boiler with

ZERO upfront cost?

Pay monthly with servicing and warranty included.

Call us now to find out how!

01942 575730

07565 060530

166 Gidlow Lane • Wigan • WN6 7EA

www.blueflameltd.co.uk

craig@blueflameltd.co.uk

Family run business with 20+ years experience.

Check out our reviews:
---
91

Showroom now open at 19 Preston Road, Standish WN6 0HP

All plumbing services

including services & repairs

BOILER SERVICING

FROM £80

• Bathrooms/Wet Rooms designed

and fitted

• Specialists in Disability

Installations & Conversions

• Emergency Call outs welcome

No Obligation Quotes – Call Mark on

01257 473026

07515 894281

527090

www.gphwigan.co.uk • info@gphwigan.co.uk

Bathroom Installation,

Full Bathrooms &

En-Suites

Plumbing Services

Wall & Floor Tiling

Ceiling Panelling

01942 397173

07803 057940

Douglas Drive, Orrell, Wigan

www.ljplumbingandbathrooms.co.uk

651511

Boiler Installation

Boiler Servicing & Repairs

Boiler Finance Available

Landlords Gas Safety Reports

Experienced, Reliable & Friendly Service

0%

Finance

available

Credit Cards accepted

01942 221 996

07769 203 056

hartheatingwigan@gmail.com

Winstanley-based
---
for

as

92

Kitchens Bathrooms

Floors Walls

Pools & More

16 years experience

We lay all tiles, including marble, limestone,

porcelain, ceramics and mosaic.

Call Dan now to discuss your ideas

and designs.

07980 258 678

Or email huxtilingservices@gmail.com

Huxtilingservices

AGBathrooms.net

Quality bathrooms at

reasonable prices

Complete bathroom

installations from design

to completion.

For free quotes, call Adrian on

07816 394 292

Check out our work on

www.AGBathrooms.net

Quality Removals

required for

these pages

Call 01695 627 999

LocalLife

www.locallife247.co.uk

• Brand New Bathrooms

• Boiler + Central Heating

Installs, Servicing + Repairs

• Extended warranties

available

• 24 Hour Call-out

Freephone:

0300 3030121

Dave: 07769 942218

Matt: 07969 183809

506515

FINANCE

OPTIONS

AVAILABLE

• Domestic + Commercial

New showroom opening soon at:

2a Gathurst Lane, Shevington WN6 8HA

Email: info@orrellheating.co.uk

www.orrellheating.co.uk

Convert your bath to a

Walk-In Shower

AJC

WALK IN SHOWERS

Typical price

£2200

Fully guaranteed

One day installation

No mess - no fuss

Easy to clean & maintain

Call Anthony on

07919 876 825

Workshop address: Bulldog Tools Ind. Est.

Darlington Street East, Wigan WN1 3BT

Microshop address: Hardshaw Centre,

Church Street, St. Helens WA10 1EB

We also fit full bathrooms!

Quality Flooring Fitter

required for

these pages

Call 01695 627 999

LocalLife

www.locallife247.co.uk

Great Value

Bathrooms!

Full Bathrooms

& En-Suites

Showers, Trays & Cubicles

Relocation of Bathroom Suites

25 years bathroom experience

Call Chris now for a free quotation

C L Bathrooms

01942 749085

or 07801 295483

www.clbathrooms.co.uk

Design & Print

Flyers, postcards, brochures

Quality carpets & flooring, expertly fitted at competitive prices

and distribution service.

Luxury Vinyl Tiles (LVT)

Carpets and Rugs

Laminate Flooring

Hard Wood Flooring

www.bespoke-floors.co.uk | bespoke@wjdflooring.co.uk

No.2 The Old Smithy, Church Road,

Rainford WA11 8HD

01744 88 55 14

Bespoke Fl oring is the trading name of WJD Retail

& Online Solutions Ltd – Company Number 1248484

LocalLife

rural Vi lage

NUrSErY

A l staff

paediatric

& first aid

QUALIFIED

oPEN

Mon-Fri

8AM-6PM

FUNDED

PLACES

Available for

2/3/4

year olds

£37.50

per day

LANgUAgE

& SPortS

LESSoNS

pre-schoolers

Large

outdoor

PLAY ArEA

rated by

oFStED

oUtStANDINg

We cater for

CHILDrEN

3 months

- 4 years

NEWLY

rEFUrBISHED

in 2019

Ca l Sarah on 01744 886166 for more information or admin@cranknursery.net

www.cranknursery.co.uk

For more information

Call 01695 627 999

Little Acorns Nursery

QUALITY CHILDCARE YOU CAN TRUST!

Open Mon-Fri: 8am ti l 5.30pm term time

We operate a booking system for the

holidays which saves you money

We deliver 30 hours free entitlement

£29 for a fu l day

Flexible sessions available

We take children from 2 years old

Li tle Acorns Nursery is situated in a beautiful woodland

se ting. It is a safe and vibrant place for your child to gain

lots of wonderful educational experiences.

We are big on the great outdoors & being down in the forest

which is good for your child's health and we l-being

Little Acorns Nursery

A l Saints' Primary School | Finch Lane | Appley Bridge | WN6 9DT

01257 252647

www.li tleacorns-daynursery.com

www.locallife247.co.uk
---
£29 for a fu l day

rural Vi lage

NUrSErY

FUNDED LANgUAgE

A l sta f

We cater for

PLACES & SPortS

paediatric

CHILDrEN

Available for LESSoNS

& first aid

3 months

2/3/4

for

QUALIFIED

- 4 years

year olds pre-schoolers

oPEN

Mon-Fri

8AM-6PM

£37.50

per day

www.cranknursery.co.uk

rated by

oFStED

as

oUtStANDINg

Large NEWLY

outdoor rEFUrBISHED

PLAY ArEA in 2019

93

GDR Driveways

ALL ASPECTS OF PAVING & turfing

4 Block Paving

Clean & Re-seal

4 Indian Stone

service available

4 Flagging

4 Turfing

4 Artificial Grass

• TV Aerials Installed

• TV Wall Mounting

• Telephone Lines

• Setup Service

Ring Paul on

01942 514 532

07709 490 095

Winstanley-based

www.gdrdriveways.com

Call Gareth for a FREE quotation: 01942 217 113 or 07715 177 754

Quality Fencer

required for

these pages

Call 01695 627 999

LocalLife

www.locallife247.co.uk

Aerial & Sky

Services

RX-12 Digital TV Aerials

£80 supplied & fitted

Aerial Multi-room System

at £45 per room

TV Wall Mounting Service

Level 5 in Signal Path & Fault

Diagnostics

Domestic

& Commercial

work welcomed

30+ years

experience

JJ Driveways

Imprinted Concrete

Specialists

Huge range of colours

& patterns

• Resin Driveways

• Block Paving

• Indian Stone

• Flagging

We can also revive

your old drive!

Ask about our sealing

service

Call Joe for a

free quotation on

01942 621 959

07867 697 972

www.jjdriveways.co.uk

Quality Removals

required for

these pages

Call 01695 627 999

LocalLife

www.locallife247.co.uk

01942 257804

01257 277802

07966 488585

Call anytime for a quote or email:

andy@aerialandskyservices.co.uk

TT20778

www.aerialandskyservices.co.uk

Design & Print

Flyers, postcards, brochures

and distribution service.

Call 01695 627 999

LocalLife

Little Acorns Nursery

QUALITY CHILDCARE YOU CAN TRUST!

Open Mon-Fri: 8am ti l 5.30pm term time

We operate a b oking system for the

holidays which saves you money

We deliver 30 hours fr e entitlement

Flexible se sions available

We take children from 2 years old

Ca l Sarah on 01744 86166 for more information or admin@cranknursery.net

Li tle Acorns Nursery is situated in a beautiful woodland

se ting. It is a safe and vibrant place for your child to gain

lots of wonderful educational experiences.

We are big on the great outd ors & being down in the forest

which is g od for your child's health and we l-being

Li tle Acorns Nursery

www.locallife247.co.uk

A l Saints' Primary Sch ol | Finch Lane | A pley Bridge | WN6 9DT

01257 252647

www.li tleacorns-daynursery.com
---
94

DF

Installations,

Upgrades

& Repairs

ALARMS

New systems from £395

12 years experience

CCTV – supplied and fitted

Friendly & reliable service

07506 518 646

www.dfalarms.com

DF Alarms | 58 Chapel St | Pemberton | Wigan

W.Hurst & Son Ltd

ELECTRIC

CONTRACTOR

www.whurstandson.co.uk

• All types of electrical work

• 35+ years experience

• No job too small

• Friendly and reliable

For a free quote

& advice call Jeff

01695 622 191

07850 622 191

J.Dillon

Electrical Services Ltd

Electrician ~ Standish

• All types of electrical work

• 30+ years experience

• Friendly, fast and reliable

• 24 hour call out service

Call: 01257 424918

or 07821 139826

www.jdillonelectrical.co.uk

Alarm installations,

repairs & upgrades

Domestic and commercial

work welcome

Free security assessment provided

Emergency lock openings

Lock changes

No call-out charges

24-hour service

60 mins response

Call 01942 669505

www.uklocksandalarms.co.uk

info@ianwalkerservices.co.uk

A.J.S.

BAILEYS

ELECTRICAL

All electrical work undertaken

Free quotations

• Friendly reliable service

• Mains board upgrades

• Extra sockets to full rewires

• Cctv & Ajax wireless alarm

01942 215 769

07739 709 005

a Installation & Maintenance

a Inspection & Testing

a Nest Pro Installer

a CCTV & Alarms

Tel: 07738 117712

Orrell based

All Electrical Installations,

Maintenance & Repairs

From full re-wires to

outside lighting to socket

replacements

No job too small

24/7 emergency call-out

with no call-out charges

Over 30 years' experience

Call Steve on

07874 352501 or 01744 368055

www.billingeelctrical.co.uk

Jon Wright

Electrical Ltd

All types of

Domestic & Commercial

work undertaken

• Inspection & Tests

• Repairs

• Solar PV

• Alarms

Call now on: 07983 387448

Email: jonwrightelec@live.co.uk

Certificate of excellence winner

2017, 2018 & 2019

JIB Approved Electrician

All domestic electrical work

24/7 call out service

Friendly, reliable &

professional

Call 07557 795 892

www.johnboughey-electrical.com

Parbold/Wigan Areas
---
for

as

Superior

craftmanship at

competitive rates

• Home improvements

• Loft conversions

• Garage conversions

& Extensions

• Staircases

• Windows & Doors

For all aspects of renovations

and maintenance -

no job too small!

For a free quote,

call MT Joinery now.

01257 422317

or 07852 202867

www.mtjoinery.co.uk

• Conservatory repairs

• Locks, handles and hinges

• Replacement glass

• Windows and doors installed

• Replacement conservatory

roofs

Call MARK now on

01942 737 381

0776 315 1720

conservatoryrepairs@gmail.com

www.fixmyconservatory.com

30 Years Experience

Extensions & Refurbishments

Kitchens & Bathrooms

Conservatories & Orangeries

Windows & Doors

Roofs & Fascia Boards

Decking & Balustrading

All aspects of building works

No job too small

Call Peter for a free quotation

Day: 07961 516 677

Eve: 01942 745 428

Cambridge Road, Orrell

Specialists in

Replacement

Double

Glazed Units

Ring with sizes for

a FREE estimate

Open 7 days 8am - 8pm

Established Local Family Company

01942 470 085

0800 328 8573

www.steamywindows.net

Quality Fencer

required for

these pages

Call 01695 627 999

LocalLife

www.locallife247.co.uk

Number One for House

Maintenance!

• UPVC WINDOWS AND

DOORS.

• FASCIAS, SOFFITS AND

GUTTERS.

• GUTTER AND UPVC

CLEANING AND REPAIR

SERVICE.

• MISTED WINDOW AND

DOOR UNITS REPLACED.

• FENCING AND POINTING.

• GENERAL HOUSEHOLD

MAINTENANCE.

No job

too small!

Call Mike Darbyshire on

01942 513 584

07917 352 181

Orrell based

Design & Print

Flyers, postcards, brochures

Quality carpets & flooring, expertly fitted at competitive prices

and distribution service.

Luxury Vinyl Tiles (LVT)

Carpets and Rugs

Laminate Flooring

Hard Wood Flooring

www.bespoke-floors.co.uk | bespoke@wjdflooring.co.uk

No.2 The Old Smithy, Church Road,

Rainford WA11 8HD

01744 88 55 14

Bespoke Fl oring is the trading name of WJD Retail

& Online Solutions Ltd – Company Number 1248484

LocalLife

rural Vi lage

NUrSErY

A l staff

paediatric

& first aid

QUALIFIED

oPEN

Mon-Fri

8AM-6PM

FUNDED

PLACES

Available for

2/3/4

year olds

£37.50

per day

LANgUAgE

& SPortS

LESSoNS

pre-schoolers

Large

outdoor

PLAY ArEA

rated by

oFStED

oUtStANDINg

We cater for

CHILDrEN

3 months

- 4 years

NEWLY

rEFUrBISHED

in 2019

Ca l Sarah on 01744 886166 for more information or admin@cranknursery.net

www.cranknursery.co.uk

For more information

Call 01695 627 999

Little Acorns Nursery

QUALITY CHILDCARE YOU CAN TRUST!

Open Mon-Fri: 8am ti l 5.30pm term time

We operate a booking system for the

holidays which saves you money

We deliver 30 hours free entitlement

£29 for a fu l day

Flexible sessions available

We take children from 2 years old

Li tle Acorns Nursery is situated in a beautiful woodland

se ting. It is a safe and vibrant place for your child to gain

lots of wonderful educational experiences.

We are big on the great outdoors & being down in the forest

which is good for your child's health and we l-being

Little Acorns Nursery

A l Saints' Primary School | Finch Lane | Appley Bridge | WN6 9DT

01257 252647

www.li tleacorns-daynursery.com

95

www.locallife247.co.uk
---
96

PH Profiles

Re-modelling your

home in 2022?

Quality orangeries, conservatories and sunrooms

designed and constructed.

Finest installations of all windows, doors

bi-folds, porches and UPVC Roofline.

Call Paul today

for a free estimate and friendly advice.

01942 204421 | 07841 923230 | www.phprofiles.co.uk

6 consecutive

Certificate of

Excellence awards

Call us now for ALL your roofline requirements!

Facias, soffits, cladding, dry verge and gutters

We specialise in seamless

aluminium gutters.

Clean, stylish and guaranteed

for 25 years!

Call: 07917 352 182 / 07917 352 183

www.orrellroofline.co.uk

Des Pilling

Plastering

• Plastering

• Skimming

• Artexing

Coving & Cornice work

also welcomed

Orrell based – Established 1986

Call Des on

07787 513 235

www.lakelandplastering.co.uk

www.despilling.org.uk
---
K Stone

Building Services

All types of building

work undertaken

• Brickwork

• Pointing

• Garden Walls

• Patios

25 years

experience

• Roof Repairs

• Flagging

• Alterations

• Driveways

01942 495412

07974 496676

Oak Doors

from

£155

Price includes

supply & fit

Orrell

based

All aspects

of joinery

Call Mike for a free quote

01942 590514 • 07988 260621

www.orrelljoinery.co.uk

• Timber cladding

• Bespoke furniture

• All aspects of joinery

• Fabrication / steel work

Contact:

07800 580532

01744 747787

www.funkytimber.co.uk

Unit 17b, Wharton Street,

St Helens, WA9 5AA

First Class

Workmanship

4 All types of re-roofs

4 Strip & re-slate or re-tile

4 Built up felt/flat roofs,

dormers etc.

4 Insurance work undertaken

4 Roofline uPVC

fascias, soffits

& guttering

W.Newman

ROOFING & REPAIRS

01695 627 212

MOBILE: 07774 943 706

52 HALLBRIDGE GARDENS,

UP HOLLAND

Established Over 30 Years

All aspects of

roofing & roofline

NEW ROOFS

REPAIRS

FASCIAS, SOFFITS

& GUTTERS

Dormers and

Garages

Rubber Cover Roofing Specialist

Guaranteed 50 years

Call for free quote

M: 07894 687 384

Est. 1985

Roofing & Roofline

Specialist

• All aspects of

maintenance & repair

• Fascia & soffit

installation

• Guttering and felting

services

Call us now for

a free estimate

01695 633173

Colin: 07958 302 166

Brian: 07760 160 988

www.wilson-bros.co.uk

B.A.

Berry

Building & Roofing

Specialists

• All building work undertaken.

• From a broken tile to a full

re roof.

• Flat roofs renewed and

repaired.

• Extensions, Alterations,

Structural repairs including

Lintels.

Your local fully

qualified tradesman

with 30 years experience

Call us now for a free,

no obligation quote

01695 622 704

07968 652 320

www.baberry.co.uk

97
---
Cover photo © Ian Bonne l Photograpthy

98

Promote

your

business

in

LocalLife

All our magazine

distribution is

monitored using

GPS

tracking

WIGAN NORTH

WIGAN

NEXT Issue

NEXT Issue

Deadline

April 22 9th March

13,249

ABC1 homes

Standish, Shevington, Appley Bridge,

Parbold, Whitley, Newburgh, Beech Hill,

Red Rock, Springfield, Standish Lower Ground,

Wigan Lane

Deadline

May 22 5th April

13,221

ABC1 homes

Orrell, Orrell Post, Upholland, Billinge Higher End,

Winstanley, Highfield, Marus Bridge,

Ashton-in-Makerfield, Bryn, Goose Green,

Kitt Green, Longshaw, Poolstock

LocalLife

LocalLife

© David Bancroft Photography

Wigan Edition

Forgotten Buildings:

Winstanley Hall

a BrightEr orrEll

sandstonE trail Walk

Wigan North Edition

Also available at;

Tesco Extra (Wigan) and Sainsburys (Marus Bridge)

Also available at;

Tesco Extra (Wigan) and Sainsburys (Marus Bridge)

Public

LOCAL NEWS | EVENTS2GO | FOOD | HEALTH | WALkS | COmpETiTiONS | HOmE & GArDEN SErViCES

WIN

a luxury

Spa Day for

Two!

LOCAL NEWS | EVENTS2GO | FOOD | HEALTH | WALkS | COmpETiTiONS | HOmE & GArDEN SErViCES

FREE

september 2019

WIN

tickets

to Martin

Mere

Art Trail

mEmOriES OF CENTrAL pArk

pArbOLD EiGHT WALk

FREE

march 2020

ST HELENS

NEXT Issue

Deadline

May/June 22 11th April

13,147

ABC1 homes

Rainford, Billinge, Garswood, Moss Bank,

Windle, Eccleston, Eccleston Park, Laffak,

Haydock, Haresfinch, Carr Mill, Denton's Green,

Prescot Road, West Park

LocalLife

hEritagE opEn days

WhEElton moor Walk

a hEalthiEr hEart

St Helens Edition

Ballooning

in Autumn

FREE

september 2018

Heritage

Open Days

Also available at;

Tesco Extra (St Helens Linkway)

LOCAL NEWS | EVENTS2GO | FOOD | HEALTH | WALkS | COmpETiTiONS | HOmE & GArDEN SErViCES

want

to book

advertising?

Call us on 01695 627999

for more details or email

sales@locallife247.co.uk
---
99

Come and visit the largest

showroom in the North West

Quality installations of windows,

doors, fascias, soffits and gutters

First for quality

First for service

First for reliability

No contractors

No salesmen

Just a smile and a honest price from a family run business

Transform

your

conservatory

into a home

office

NEW Generation

Rockdoor

now available

SISTER COMPANY OF FOXWELLS BUILDERS

Established since 1999

Call us for a Free Quote

Office Number: 01942 871 777

Victoria Industrial Estate, Victoria Street, Leigh, WN7 5SE

warmlightwindowsltd.co.uk • info@warmlightwindowsltd.co.uk

Representative example: Total cash price £1164, deposit £0, amount borrowed £1164 over 12 months. 12 monthly repayments of £97. Interest

rate 0%. Total repayable £1164. Credit is subject to the lenders T&C. Warmlight Windows, Doors and Conservatories Ltd is authorised and

regulated by the Financial Conduct Authority FRN 7700524. We are a credit broker, not a lender and have a facility with one lender.
---
Tomorrow's Home Improvements Today!

Quality ~ Choice ~ Value

Windows

Bi-Fold Doors

Thermally-efficient conservatory roofs

expertly fitted by accredited installers

©

Orangeries

Don't just lock it,

Rock it!

Conservatories

Manufacturers and installers since 2004

Contact us on 01744 891717 for a no obligation quote

Visit our showroom/factory at; Crows Nest, Ashton Road, Billinge, WN5 7XX (near Windy Arbour crossroads)

www.orrellwindows.co.uk

28544