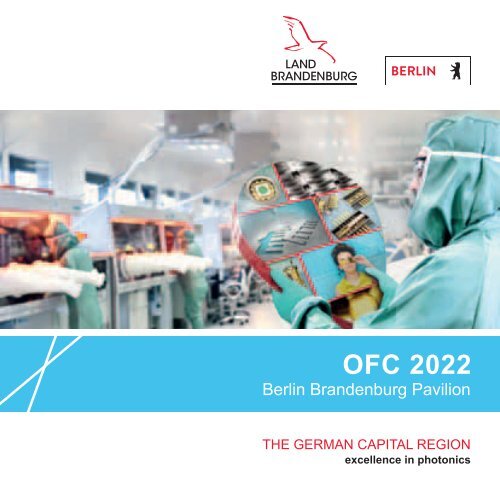 Berlin Brandenburg Pavilion at OFC 2022
You also want an ePaper? Increase the reach of your titles
YUMPU automatically turns print PDFs into web optimized ePapers that Google loves.
OFC 2022

Berlin Brandenburg Pavilion

THE GERMAN CAPITAL REGION

excellence in photonics
---
German Pavilion@OFC 2022

INFORMATION .................................................................... # 4323

Photonics Cluster Berlin - Brandenburg,

c/o Berlin Partner für Wirtschaft und Technologie GmbH

NETWORKING ....................................................................

N

AEMtec GmbH .................................................................... #4432

aiXscale Photonics ............................................................ #4321

BizLink Special Cables Germany GmbH ......................... #4420

Fraunhofer Heinrich Hertz Institute (HHI) ........................ #4331

Fraunhofer IPMS ................................................................ #4424

GD Optical Competence GmbH ....................................... #4321

HOLOEYE Photonics AG .................................................. #4430

IHP Solutions GmbH .......................................................... #4422

Novoptel GmbH ................................................................. #4321

PolyPhotonics Berlin, c/o Fraunhofer HHI ...................... #4329

SHF Communication Technologies AG .......................... #4325

Sicoya GmbH ...................................................................... #4428

VPIphotonics GmbH .......................................................... #4239
---
#4329

#4428

#4331

N

#4432

#4331

#4430

#4325

#4424

N

#4329

#4428

#4323

#4321

#4321

#4422

#4420
---
Photonics Cluster Berlin Brandenburg #4323

Optical Technologies and Microsystems

Technology – Future Key

Technologies

In order to further promote the technological

development of the region

the Cluster Photonics was built. It

provides companies and research

institutions access to resources,

such as knowledge and capital, at

both local and international level in

the fields of:

• Laser Technology

• Lighting Technology

• Optics for Communication and

Sensors

• Optical Analytics

• Biomedical and Ophthalmic

Optics

• Microsystems Technology

The Photonics Cluster in Berlin

and Brandenburg is especially

distinguished by the strong scientific

basis (10 universities and 26 extrauniversity

research institutions)

and the high amount of specialized

small and medium-sized companies

(overall 390 SMEs) with widely

ranged know-how – a perfect

basis for a mutual transfer between

science and industry leading to

national and international cooperation.

Fasanenstr. 85

10623 Berlin, Germany

Stefan Bokelmann

fon: +49 30 46302 352

info@berlin-partner.de

www.optik-bb.de
---
AEMtec GmbH #4432

AEMtec develops, qualifies and

manufactures next level optoelectronic

assemblies in compliance

with highest quality, security and

sustainability standards.

We offers a unique spectrum of

high-end chip-level technologies:

Wafer Back-End Services (UBM,

SBA, Dicing), high speed / high

accuracy Die- and Flip Chip Bonding,

Au and Al Wire Bonding, SMT,

assembly of Optical Components,

X-Ray, Box-Build and 3D integration

James-Franck-Str. 10

12489 Berlin, Germany

Jim Ohneck,

Henning Meyer

fon: +49 30 6392 7300

info@AEMtec.com

www.AEMtec.com
---
aiXscale Photonics #4321

Uniquely enabled by waferscale

precision glass molding technology,

aiXscale Photonics supplies

proprietary ultra-high precision

optical glass interposer solutions for

reliable, low loss and cost-effective

single mode fiber assembly for

transceiver optical subassemblies

and co-packaged optics featuring

beam reshaping, optical isolation,

coarse wavelength division

multiplexing and polarization

management.

Virchow Str. 14

50935 Cologne, Germany

Dr. Florian Merget

fon: +49 179 5293304

info@aixscalephotonics.com

www.aixscalephotonics.com
---
BizLink Special Cables Germany GmbH #4420

We've been bizlinked! Formerly

known as LEONI Business Unit

Telecommunication Systems, we

now present our data center high

speed interconnects as BizLink's

Telecommunication Systems

Business Unit.

Find out more about

- our new copper generation

for 800 G!

- our 400 G copper assemblies

and our silicon photonics AOCs!

Eschstr. 1

26169 Friesoythe, Germany

Birte Wendeln

fon: +49 4491 291 5040

telecom@leoni.com

telecom-networking.

bizlinktech.com
---
Fraunhofer Heinrich Hertz Institute #4331

Fraunhofer HHI a world leader in

the development of mobile and optical

communication networks and

systems, fiber optical sensor systems

as well as the processing and

coding of video signals.

The HHI develops optoelectronic

semiconductor components as well

as integrated optical circuits for data

transmission.

Another focus is on infrared sensor

systems, terahertz spectroscopy

and high-performance semiconductor

lasers for industrial and medical

applications.

A further research focus are highperformance

optical transmission

systems for use in in-house,

access, metropolitan, wide-area and

satellite communication network.

The focus is on increasing the

capacity as well as improving

security and energy efficiency.

Einsteinufer 37

10587 Berlin, Germany

Jörn Falk

fon: +49 30 31002275

joern.falk@hhi.fraunhofer.de

www.hhi.fraunhofer.de
---
Fraunhofer IPMS #4424

The Fraunhofer Institute for

Photonic Microsystems IPMS is

your access to know-how, expertise

and R&D infrastructure for

Silicon Photonics and Photonic

Integrated Circuits, especially

programmable / reconfigurable

devices and functions based on

Liquid Crystal Waveguides on

silicon as well as silicon nitridebased

photonic devices for optical

communication and sensor applications.

We provide customized

device designs for specific applications

and are able to manufacture

low and medium volumes

on 200-mm-wafers. Fraunhofer

IPMS is one of 75 institutes of

the Fraunhofer-Gesellschaft, the

leading organization for applied

research in Europe.

.

Maria-Reiche-Str. 2

01109 Dresden, Germany

fon: +49 351 8823 0

pr@ipms.fraunhofer.de

www.ipms.fraunhofer.de/en.html
---
GD Optical Competence GmbH #4321

GD Optics is a manufacturer of

precision glass optics by molding.

Due to a highly flexible production

process, we are able to provide

both- individual customized

solutions and standard lenses for

many different applications.

Our components are applied in

telecommunication systems, optical

sensors, laser diode collimators,

laser distance measurement, optical

data storage and many others.

In-house optical design, mold

design and mold fabrication enable

us to provide exceptional solutions.

Special molding technology and

state of the art equipment ensure

a cost effective, highly competitive

production.

Herborner Str. 13

35764 Sinn, Germany

Michael Wolz

fon: +49 2772 5744 100

m.wolz@gdoptics.de

www.gdoptics.de
---
HOLOEYE Photonics AG #4430

HOLOEYEs LCOS microdisplay

technology is successfully

implemented in industrial WSS

(Wavelength Selective Switch)

applications.

Besides standard LCOS microdisplay

products, HOLOEYE also

offers electronic design and custom

LC design for amplitude and phase

modulating LCOS microdisplays.

Additionally HOLOEYE Photonics

AG is providing products and

services in the fields of diffractive

optics (DOE) and Spatial Light

Modulators (SLM) for R&D.

Volmerstr. 1

12489 Berlin, Germany

Sven Krueger

fon: +49 30 4036 938 0

contact@holoeye.com

www.holoeye.com
---
IHP Solutions GmbH #4422

IHP provides fabrication services

(MPW and full custom production)

for silicon-based electronic and

monolithic electronic-photonic ICs.

We offer full-custom circuit design

service for electronic and electronic-photonic

ASICs making use of

IHP design IP (digital and analog) to

meet your technical requirements.

PIC technology offers photonic

devices such as waveguides (plus

implantations), a Ge photo-diode

(f3dB >60 GHz) and a 5 layer metal

layer stack.

EPIC technology combines photonic

devices with a high performance

BiCMOS technology. Our technologies

enable highly integrated

electro-optic transceivers solutions

up to 400G.

Im Technologiepark 7

15236 Frankfurt (Oder), Germany

Dr. -Ing. Andrzej Gajda

fon: +49 335 5625 802

fax: +49 335 5625 810

info@ihp-solutions.com

www.ihp-solutions.com
---
Novoptel GmbH #4321

We produce ultrafast optical endless

polarization controllers/demultiplexers

(100 krad/s), also with

phase control and usable for QKD,

polarization scramblers/transformers

(20 Mrad/s), depolarizers

(360 ns, 50 Mrad/s), PMD emulators,

PDL multimeters, polarimeters

(100 MS/s, memory 64 MS), tunable

laser units.

These units and cards are optimized

for small size and low

power consumption. Transmitting

40...1000-Gb/s PDM?

Testing polarization-agile coherent

transponders?

Capturing rare polarization glitches?

Time- and frequency-resolved optical

component characterization

(Mueller/Jones matrix, PDL, PMD,

PER)?

Great. Get this from Novoptel!

Novoptel

Helmerner Weg 2

33100 Paderborn, Germany

Dr.-Ing. Benjamin Koch

Prof. Dr.-Ing. Reinhold Noe

fon: +49 5251 60 2245

fax: +49 5251 60 5827

info@novoptel.com

www.novoptel.com
---
PolyPhotonics Berlin #4329

Fraunhofer HHI – a leading

Research Institute for Mobile and

fixed Communications Networks

and for the Key Applications in the

World.

PolyPhotonics Berlin – A technology

platform for highly functional optical

components with the PolyPhotonics

Berlin technology platform, a new

technology is emerging on the world

market alongside the established

platforms based on semiconductors

or glass, which is superior to the

established solution approaches in

many respects.

The entrepreneurial vision of the

alliance is to take over the world's

leading position in polymer-based

integration technology and, in

addition, to open up and make this

platform available to other technology

platforms, thereby opening up

new fields of application, e.g. in

medical or environmental

technology.

c/o Fraunhofer HHI

Einsteinufer 37

10587 Berlin, Germany

Dr. Crispin Zawadski

fon: +49 30 31002624

info@polyphotonics-berlin.de

www.polyphotonics-berlin.de
---
Sicoya GmbH #4420

Sicoya develops and produces

silicon photonics-based optical

transceiver solutions for 400Gb/s

connections and beyond.

Sicoya's technology is based on a

cointegration process that is

capable of manufacturing both the

analog electronics and the optics

on the same silicon chip.

With this cointegration process, cost

of electronics and power loss by the

on-chip electronics is significantly

reduced, while high-speed performance

is greatly enhanced.

Carl-Scheele-Straße 16

12489 Berlin, Germany

Mirjam Spark

fon: +49 30 6392 6970

Info@sicoya.de

www.sicoya.com
---
SHF Communication Technologies AG #4325

SHF is a leading manufacturer of

T&M equipment for optical

communication R&D. With our core

competence in microwave

electronics, we support our worldwide

research and industry

customers.

We enable R&D on ultra-high speed

optical communication by offering:

--

Bit Error Rate Tester (BERTs)

up to 512 Gbps (up to 128

Gbps serial),

--

Arbitrary Waveform Generators

(AWG) with up to 60 GSa/s,

--

40G & 100G Modulator Driver

Amplifiers,

--

Digital to Analog Converters

(DAC) up to 128 GBaud (e.g.

for 256 Gbps PAM4),

--

Multiplexers and Demultiplexers

up to 128 Gbps,

--

Passive Microwave Components

(e.g. Bias Tees) and

--

Coaxial RF Cables & Adapters

up to 110 GHz.

Wilhelm-von-Siemens Str. 23 D

12277 Berlin, Germany

Frédéric de Lippe

fon: +49 30 772051 0

sales@shf-communication.com

www.shf-communication.com
---
VPIphotonics GmbH #4239

VPIphotonics sets the industry

standard for end-to-end photonic

design automation comprising

design, analysis and optimization

of components, systems and networks.

We provide professional simulation

software supporting requirements

of integrated photonics, optoelectronics

and fiber optics applications,

optical transmission system

and networks, as well as link

engineering and equipment

configuration.

A wide range of interfaces to the

tools used by peers, third-party

software, laboratory equipment, and

existing databases are available.

We enable corporations to manage

intellectual property and reduce

operating expenses by streamlining

processes, from R&D to technical

sales and marketing.

Our solutions support the seamless

information exchange of component

characteristics and system requirements,

as well as engineering rules

and topology configuration within a

team or between corporations.

Carnotstr. 6

10587 Berlin, Germany

Dr. André Richter

fon: +49 30 398058 0

info@VPIphotonics.com

www.VPIphotonics.com
---
The joint presentation of the German Capital Region Berlin-Brandenburg

is hosted by the local economic authority of the state of Berlin

Managed by:

Supported by:

Fasanenstr, 85

10623 Berlin, Germany

Olav Morales Kluge

fon: +49 30 46302 500

info@Berlin-Partner.de

www.Berlin-Partner.de