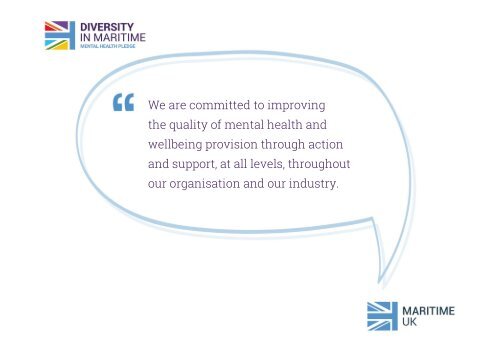 Mental Health in Maritime Pledge Signatories
You also want an ePaper? Increase the reach of your titles
YUMPU automatically turns print PDFs into web optimized ePapers that Google loves.
We are committed to improving

the quality of mental health and

wellbeing provision through action

and support, at all levels, throughout

our organisation and our industry.
---
Our purpose

We recognise that as executives we must be leading advocates for mental health and wellbeing,

both within our organisations and in the maritime community.

We aspire to work together and lead with visible action.

It is time for the maritime sector, through our leaders and our colleagues, to speak up and demonstrate compassion

and understanding to those experiencing mental ill health by engaging in positive action.

Our responsibility

As leaders we are responsible for creating awareness that we all have a state of mental health.

For those struggling with mental wellbeing, this may ultimately result in mental ill health.

This is a growing concern in our society and across our industry.

We all have a state of mental health, and as leaders we have a responsibility to raise awareness of the spectrum from

thriving to struggling and potentially in mental ill health.

To do this we will empower people to thrive at work and be mentally healthy. This will enable people to have the skills,

knowledge, and education to promote wellbeing, protect good mental health through welfare and the environment

and ensure they have access to support when it is needed, thereby fostering a thriving culture of care.
---
Our commitment

We advocate and are committed to making a positive difference through action and support,

not just within our organisations but also across the UK maritime sector and the broader

maritime community. We commit:

To establish working conditions and practices that foster a positive mental health state. We will help anybody

struggling with their mental health and ensure they feel safe in the knowledge they have been heard and not judged.

To dispel the stigma of mental health issues by establishing an open and trusting environment that allows people

to listen and talk. We will provide signposts to help from a range of recognised and trusted sources.

To ensure our workforce have the skills, knowledge, and education to help support individuals whilst

working both on land and at sea.
---
Mental Health in Maritime Pledge Signatories

Roine Ahlquist, Managing Director,

Tufton Asset Management Ltd

Simon Ashton, Principal, South Shields

Marine School

Christian Ayerst, Chief Executive,

Mental Health Support Solutions

Richard Ballantyne, Chief Executive,

British Ports Association

Graham Barnetson, Chief Financial

Officer, Red Funnel

Darrell Bate, Director of Maritime

Training and Development, Marine

Society & Sea Cadets

Richard Booth, General Manager,

Cockfield Knight

xxxxxxxxxxxxxxxxxxxxx

D. Chadburn

Simon Brebner, Chief Executive,

Peter Buchan, Shipping Director,

Ian Buckley, Managing Consultant, Fort

John Burden, Managing Director, Isca

Hugh Callaway, Managing Director,

Miles Carden, CEO, Falmouth Harbour

Captain Derek Chadburn, Honourable

Peterhead Port Authority

Nuclear Transport Solutions & Pacific

Nuclear Transport Board Member

Recruitment

Wellbeing Ltd

Humber Maritime College

Commissioners

Company of Master Mariners

Tom Chant, Chief Executive Officer,

Robert Courts, Maritime Minister,

Louise Croce, Head of HR and Training,

Nick Darrall, Managing Director,

Tom David, Managing Director,

Mark Dickinson, General Secretary,

Commodore David Eagles,

Society of Maritime Industries

Department for Transport

AV Dawson Limited

xxxxxxxxxxxxxxxx

Iconsys

Avantis Inc

Nautilus International

Royal Fleet Auxiliary

Martin Foley, Chief Executive Officer,

Stella Maris

xxxxxxxxxxxxxxxxxxxxxxxx

Kerrie Forster, Chief Executive Officer,

The Workboat Association

xxxxxxxxxxxx

Elizabeth Garcia, Director, Yacht

Search Recruitment

xxxxxxxxxxxxxxxxxx

Richard Garforth, HR and Training

Manager, Bibby Marine Management

xx

Stuart Garrett, Managing Director,

NorthLink Ferries Serco UK & Europe

x

Neil Glendinning, Chief Executive,

Harwich Haven Authority

xxxxxxxxxxxx

Simon Grainge, Chief Executive Officer,

iSWAN xxxxxxxxxxxxx

Rob Hales, Aviation & Maritime

Capability Director, Serco Maritime

Services

Charles Hammond, Chief Executive

Officer, Forth Ports Limited

xxxxxxxxxxxx

Michelle Handforth, Chief Executive

Officer, Aberdeen Harbour Board

xxxxxxxxxxxx

Steven Harrison, Group Managing

Director, Able UK Ltd

xxxxxxxxxxxxxxxxxxxxx

Dr Grahaeme Henderson OBE, Global

Head of Shipping & Maritime, Shell

xxxxxxxxxx

Gary Jeffreys, Managing Director, CMA

CGM UK xxxxxxxxxxxxxxxx

xxxxxxxxxxxx

Brian Johnson, Chief Executive,

Maritime and Coastguard

Agencyxxxxxxx
---
Mental Health in Maritime Pledge Signatories

Herman Jorgensen, Managing Director,

Sarah Kenny, Chief Executive, BMT and

Gwynne Lewis, Chief Executive

Lars Lippuner, Director

Rear Admiral Iain Lower,

Becki Mackay, Global HR Manager

Chris McDade, Vice President Gas

GAC UK

Chair, Maritime UK

IMarEST

Warsash Maritime School

Royal Navy

Cory Brothers Shipping Agency

Operations, Teekay Gas

Tim Morris, Chief Executive,

The UK Major Ports Group

Robin Mortimer, Chief Executive

Officer, Port London Authority and Vice

Chair, Maritime UK

Joe O'Neill, Associate President,

Chief Executive, Belfast Harbour

xxxxxxxxxxxx

Ashley Nicholson, Associate President,

UK Harbour Masters' Association

xxxxxxxxxxxxx

Yvonne Orr, Compliance Director,

Maritime Craft Services (Clyde)

Ltdxxxxxxxxxxx

Matt North, Chief Operating Officer,

Aberdeen Harbour Board

Jon Oakey, Chief Financial Officer,

Aberdeen Harbour Board

Henrik L. Pedersen, Chief Executive

Officer, Associated British Ports xxxx

Dr Iain Percy, Chief Executive Officer,

Artemis Technologies

xxxxxxxxxxxxxxxxx

Lesley Robinson, Chief Executive

Officer, British Marine

xxxxxxxxxxxxxxxxxxxxxxxx

Emma Ross, Co Founder of Seas The

Mind and MHFA England Instructor

xxxx

Alison Rumsey, Chief Human

Resources Officer, Associated British

Ports xxxxxxx

Bob Sanguinetti, Chief Executive Officer,

UK Chamber of Shipping

xxxxxxxxxxxxxxxxxxxxxxxxxxxxxx

Nikki Sayer, Director, Casper

Shipping

xxxxxxxxxxxxxxxxxxxxxxxxxx

Chris Shirling-Rooke, Chief Executive

Officer, Mersey Maritime

Kevin Smith, Founder/Director,

Maritime Digital Hub xxxxxxxxxxxxx

Catherine Spencer, Chief Executive

Officer, Seafarers UK

Richard Steele, Chief Executive, Port

Skills and Safety Ltd

Harry Theochari, Vice Chair,

Maritime London/Senior Consultant,

Mark Todd, Chief Executive, OYT South

xxxx

Cathy Wallwork, Commercial

Director, Virsec Ltd

xxxxxxxxxxxxxxxxxxxxxxxxxxxxxxxxxxx

xxxxxxxxxxxxxxxxxx

xxxxxxxxxxxxxxxxxxxxxxxxxx

Norton Rose Fulbright xxxxxxxxx

xxxxxxxxxxxxxxxxxxxxxxxxxxxxxxxxxxxx

xxxxxxxxxxxxxxxxxxxxxxxxxxx
---
Bill Walworth, Chair, Maritime Skills

Sandra Welch, Chief Executive Officer,

Stuart White, Business Unit Director,

Steve Williams MBE, Operations

Tom Willis, Chief Executive,

Ben Willows, Chief Executive Officer,

Revd Canon Andrew Wright,

Alliance

xxxxxxxxxxxxxxxxxxxxxxxxxxxx

Seafarers Hospital UK

xxxxxxxxxxxxxxxxxx

UK Health & Safety Director, Royal

HaskoningDHV

Director, Portico Shipping xxxxxxxxxx

Shoreham Port

xxxxxxxxxxxxxxxx

UKSA xxxxxxxxxxxxxxxxxxxxxxxxxx

Secretary General, The Mission to

Seafarers

John Wyborn, President,

MYBAxxxxxxxx