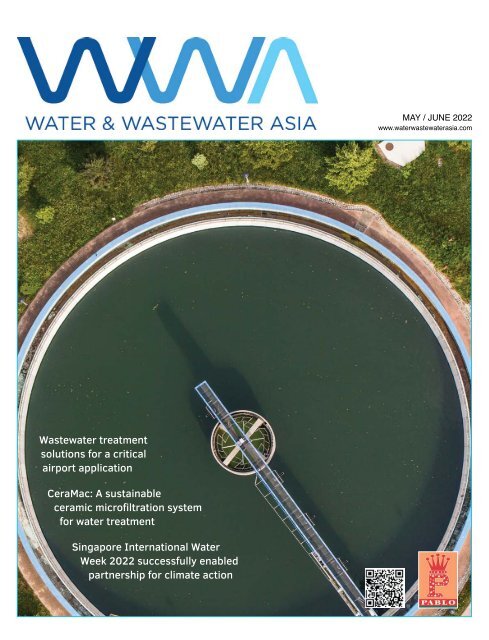 Water & Wastewater Asia May/June 2022
Water & Wastewater Asia is an expert source of industry information, cementing its position as an indispensable tool for trade professionals in the water and wastewater industry. As the most reliable publication in the region, industry experts turn this premium journal for credible journalism and exclusive insight provided by fellow industry professionals. Water & Wastewater Asia incorporates the official newsletter of the Singapore Water Association (SWA).
Water & Wastewater Asia is an expert source of industry information, cementing its position as an indispensable tool for trade professionals in the water and wastewater industry. As the most reliable publication in the region, industry experts turn this premium journal for credible journalism and exclusive insight provided by fellow industry professionals. Water & Wastewater Asia incorporates the official newsletter of the Singapore Water Association (SWA).
SHOW MORE
SHOW LESS
You also want an ePaper? Increase the reach of your titles
YUMPU automatically turns print PDFs into web optimized ePapers that Google loves.
MAY / JUNE 2022

www.waterwastewaterasia.com

Wastewater treatment

solutions for a critical

airport application

CeraMac: A sustainable

ceramic microfiltration system

for water treatment

Singapore International Water

Week 2022 successfully enabled

partnership for climate action
---
Elektra

Connecting you to your chemical

dosing pumps, wherever you are

SekoWeb

Data on demand

• Unlock multiple benefits including

precise digital dosing, process

optimization and cost control

• Make informed decisions swiftly with

quick interpretation and comparison

of data

• Identify faults early and minimize costly

unplanned downtime

• Achieve the delicate balance between

performance and sustainability

• Local and remote access to your

equipment via smartphone

The smart choice for

motor-powered dosing

The Elektra digital dosing pump controller from SEKO allows

you to monitor and manage your dosing equipment 24/7 via

smartphone for a new standard in operational efficiency and

accessibility in water-treatment applications.

www.seko.com

Find out more
---
Water Solutions

Solving global challenges

for purification, separation, conservation & reuse

We offer a broad portfolio of globally recognized,

industry-leading solutions to help you produce, purify and extract

some of the world's most commercially important products.

Industrial Water & Desalination

We help manufacturers produce

the water that advances their

operations, while helping reduce

waste and improve energy

efficiency.

Municipal Water

We offer expertise and advanced

technologies that enable municipal

water-treatment solutions such as

wastewater treatment, drinking-water

production, and trace contaminate

removal.

Life Sciences & Specialty Processing

From complicated separations for

drug development and crop-to-table

processing solutions to enabling

protein-rich diets and innovative

healthcare solutions, our broad range

of Life Science products improve the

quality of life for humans, plants, and

animals in our world.

Residential & Commercial

We offer a range of proven residential

water-treatment options

for clean and safe drinking water,

leading to a better quality of life

and peace-of-mind.

Emerging Innovations

Our novelty solutions include functionalized nanofibers for high capacity

purification in bio and microelectronic industries, as well as lithium-selective

membranes and resins. The smart element integrated within our WAVE

software provides unique solutions for consumers in every industry.

Possibility Flows With Us.

dupontwatersolutions.com

email: dws-enquiry.apac@dupont.com

Copyright © 2021 DuPont. All rights reserved. The DuPont Oval Logo and DuPont are trade marks of E.I. du Pont de Nemours and Company or its affiliates.
---
CONTENTS

05 20

04 Editor's Note

52 SWA Newsletter

63 What's Next?

64 Advertisers' Index

SINGAPORE FOCUS

12 Breakthrough in reverse osmosis

38 One step forward, two steps back

41 Automatic scrapper strainers protect

critical membrane systems

HOTSEAT

44 Water sector must invest in our

planet

46 Tsurumi Avant MQ-Series internal

closed-loop cooling system

CONTENTS

IN CONVERSATION WITH

14 Digital transformation: Reimaging water

processing

16 Empowering the next steps into

digitalising water

IN THE FIELD

20 Brunei makes its water management

smart with LoRaWAN

23 A new water pump station for Calgary

26 Wastewater treatment solution for a

critical airport application

28 Qdos CWT pump addresses pipeline

pressure challenge

30 Researchers collect critical water quality

data on Africa's Okavango Delta

FOCUS

32 CeraMac: A sustainable ceramic

microfiltration system for water

treatment

35 Addressing toxicity of wastewater

influent with Hach EZ7900

48 Preventing boiler corrosion during

shutdown

50 Engineering for turnkey wastewater

treatment plants

ON OUR RADAR

56 SurfCleaner launches wastewater

"skimmer-separator" tackling

floating sludge

57 Bentley Systems adds LCA and

carbon calculations to iTwin platform

58 Pulsar Measurement releases new

portable transit time flow meter

SNEAK PEEK & SHOW REVIEW

59 Achieving energy efficiency in

desalination, water and wastewater

treatment plants

60 Singaproe International Water

Week 2022 successfully enabled

partnerships for climate action

62 Japanese researcher clinches Lee

Kuan Yew Water Prize 2020 for

pioneering solutions in advanced

used water treatment

2 WATER & WASTEWATER ASIA | MAY/JUNE 2022
---
For hydraulic mixing without headaches, choose the reliable Vaughan

Rotamix System. Blend lower operating and maintenance costs with

a more efficient breakdown of solids. Your digesters, sludge storage

tanks, and equalization basins won't know what hit them.

Choose the unmatched reliability of Vaughan. Free sample CFD's

upon request.

888-249-CHOP | ChopperPumps.com

GUARANTEED PERFORMANCE | NO MOVING PARTS IN THE TANK | FOCUSED MIXING
---
FROM THE EDITOR

DRIVING

DIGITALISATION

The ongoing paradigm shift to Industry

4.0 brings forth the critical need for

water utilities and wastewater treatment

plants to integrate digital solutions into

their water network. And in the face

of urbanisation and industrialisation,

digitalising the water network through

automation and data analysis can supply

water service providers with better

insights, thus transforming their plants to

be more resilient and innovative.

Digital transformation was one of the

four megatrends Emerson identified that

will have an impact on the water and

wastewater industry. On page 16 of this

issue, Jonas Berge, senior director at

Emerson Automation Solutions, describes

digital transformation as "new data-driven

ways of working" where plant operators

can have the information about the

condition and performance of the plant

down to individual pieces of equipment

to avoid failure and reduce maintenance

costs. The goal, according to Berge, is

to see energy intensity and unaccounted

losses of the plant down to individual unit

processes so operators can stop leaks

and reduce energy costs.

This issue has also lined-up several case

studies, including KSB's installation of

its Omega pumps in the City of Calgary

and SEKO's installation of its PolyCendos

wastewater treatment solution for an

airport in Europe. To find out more, flip to

pages 23 and 26, respectively.

In the area of sustainability, Sandra

DiMatteo, industry marketing director

of water infrastructure at Bentley

Systems, urges more action to be taken

to meet the sustainability goals set out

by the United Nations, and highlights:

"Water safety and sustainability are

more fragile than we think…We are all

part of the solution and technology will

help us get there faster. Sustainability

means rethinking how we do things and

doing them smarter and with greater

transparency". Continue reading the

article on page 38.

Digitalisation and sustainability were

also largely spoken about at last month's

Singapore International Water Week

(SIWW) 2022. The event, which brought

together international and local players

in the water sector, concluded on a

high note with insights and technology

innovations in mitigating climate change.

Catch a glimpse of the event on page 60.

Digital transformation can inevitably

allow water distribution networks to

deliver safer and cleaner drinking

water and better manage wastewater,

stormwater, and sewage infrastructure,

and the time is now to explore their

opportunities in this digital era.

PABLO SINGAPORE

William Pang • Publisher

williampang@pabloasia.com

Josephine Tan • Senior Editor

josephine@pabloasia.com

Pang YanJun • Business Development Manager

yanjun@pabloasia.com

let's connect!

Goh Meng Yong • Graphic Designer

mengyong@pabloasia.com

Shu Ai Ling • Circulation Manager

circulation@pabloasia.com

PABLO BEIJING

Ellen Gao • General Manager

pablobeijing@163.com

PABLO SHANGHAI

Daisy Wang • Editor

pabloshanghai@163.net

Published by

PABLO PUBLISHING & EXHIBITION PTE LTD

3 Ang Mo Kio Street 62,

#01-23 Link@AMK Singapore 569139

Tel: (65) 6266 5512

E-mail: info@pabloasia.com

Company Registration No: 200001473N

Singapore MICA (P) No: 102/12/2021

REGIONAL OFFICES (CHINA)

PABLO BEIJING

Tel: +86 10 6509 7728

Email: pablobeijing@163.com

PABLO SHANGHAI

Tel: +86 21 5238 9737

Email: pabloshanghai@163.net

@waterwastewaterasia

All rights reserved. Views of writers do not necessarily reflect the views

of the Publisher and the Singapore Water Association. No part of this

publication may be reproduced in any form or by any means, without prior

permission in writing from the Publisher and copyright owner. Whilst every

care is taken to ensure accuracy of the information in this publication, the

Publisher accepts no liability for damages caused by misinterpretation

of information, expressed or implied, within the pages of the magazine.

All advertisements are accepted on the understanding that the Advertiser

is authorised to publish the contents of the advertisements, and in this

respect, the Advertiser shall indemnify the Publisher against all claims or

suits for libel, violation of right of privacy and copyright infringements.

Water & Wastewater Asia is a controlled-circulation bi-monthly magazine.

It is mailed free-of-charge to readers who meet a set of criteria. Paid

subscription is available to those who do not fit our terms of control. Please

refer to subscription form provided in the publication for more details.

Printed by Times Printers Pte Ltd

Water & Wastewater Asia

incorporates the official newsletter

of Singapore Water Association

4 WATER & WASTEWATER ASIA | MAY/JUNE 2022
---
NEWS

TUAS POWER-ST ENGINEERING

CONSORTIUM AND PUB

OPEN SINGAPORE'S FIFTH

DESALINATION PLANT

The consortium of Tuas Power and

ST Engineering, along with PUB,

Singapore's national water agency,

have officially opened Singapore's fifth

desalination plant located on Jurong

Island. Jurong Island Desalination

Plant (JIDP) has a daily capacity of up

to 137,000m 3 .

Constructed under the Design, Build,

Own and Operate (DBOO) model, JIDP

will be operated by TP-STM Water

Resources, the joint venture company

formed by the Tuas Power-ST

Engineering consortium, for 25 years.

Spanning over 3.7 hectares, JIDP

receives seawater from Tuas Power's

Tembusu Multi-Utilities Complex

(TMUC) for processing potable water.

JIDP's co-location with TMUC allows

it to derive synergies in resources

such as sharing of seawater intake and

outfall structures, as well as energy from

in-plant generation facilities. Due to

the co-location, the plant is said to be

5% more energy efficient compared to

conventional desalination plants.

Building a full-fledge desalination plant

on existing infrastructure called for

innovative engineering solutions, from

creating modular systems in different

areas of the desalination process

to the pre-fabrication of equipment

such as the reverse osmosis units. As

such, JIDP is highly automated and

incorporates water treatment equipment

and membrane technologies such as

dissolved air flotation, ultrafiltration and

reverse osmosis.

Ng Joo Hee, chief executive of PUB,

said: "Although seawater desalination is

the most expensive way to produce

water, due to the energy required, it

is nevertheless an essential source

of drinking water for Singapore.

Desalination is immune to the

vagaries of weather and always

available, rain or not.

"The efficiencies that come from

constructing JIDP, our fifth and

newest desalination plant, next to

Tuas Power's existing TMUC make

the energy-take for desalination that

much more palatable. JIDP further

diversifies our water production

portfolio and its coming into

operation enhances Singapore's

water security."

JIDP is equipped

to produce up to

137,000m 3 of potable

water, strengthening

Singapore's water

security

DUPONT'S FILMTEC BAGS 2022 EDISON AWARD

Four of DuPont's technologies have been

recognised with the 2022 Edison Award.

The company received three Gold awards,

including one for the FilmTec dry seawater

reverse osmosis (SWRO) membranes under

the Eco-Innovation category.

DuPont's FilmTec is a dry-stable membrane

technology with a lower environmental

footprint from reduced water usage, shipping

weight and chemical disposal. FilmTec delivers

performance over the operating lifetime and

provides high NaCl and boron rejection to help

meet World Health Organization (WHO) and

other drinking water standards.

Two other DuPont technologies which

bagged the Gold award are the BETATECH

thermal interface materials (TIM) solution

that helps control the heat in EV batteries

and Delrin renewable attributed acetal

homopolymer under the Thermodynamic

and Polymer and Emulsion categories,

respectively. The Forth-Pak spray foam

also clinched a Silver award in the Building

Materials category.

Alex Dembek, chief technology and

sustainability officer at DuPont,

commented: "This acknowledgement,

selected by peers in the business and

science community, exemplifies the spirit

of sustainable innovation at DuPont, and

reminds us of the impact we can achieve

through customer collaboration to bring

cutting-edge technologies to the market."

DuPont clinched four Edison Awards, including three

Gold and a Silver

Named after Thomas Alva Edison, the Edison

Awards have recognised and honoured some of

the most innovative new products, services and

business leaders in the world since 1987.

WATER & WASTEWATER ASIA | MAY/JUNE 2022 5
---
NEWS

agency engages and invests in energy-related

businesses, not only in Thailand but also

abroad.

Hydropower is achieved by converting the gravitational potential or kinetic energy of

a water source to produce power

ANDRITZ AND EGAT PARTNERS IN JOINT

DEVELOPMENT AND MODERNISATION

OF HYDROPOWER BUSINESS

Andritz and the Electricity Generating

Authority of Thailand (EGAT) have signed

a memorandum of understanding (MoU)

to jointly explore and expand business

opportunities for hydropower projects in

Thailand and surrounding countries.

EGAT is a state-owned power utility under

the Ministry of Energy and is dubbed the

"largest" power producer and supplier in

Thailand. Owning and operating about 50

power plants across the country, with a total

installed capacity of about 16,000MW, the

Combining the technology experience of

Andritz and the operational expertise of

EGAT, the partnership comprises expanding

the digitalisation of the latter's hydropower

facilities and developing rehabilitation and

also automation projects in Thailand. In

addition, the agreement focuses on exploring

new, joint business opportunities, including

operation and maintenance services in

Thailand and the surrounding region.

To cope with Thailand's economic growth

and the associated increase in energy

consumption, the government's power

development plan aims to increase the

country's total installed energy capacity from

today's 55,731MW to about 77,210MW by

2037. This goal is to be achieved primarily

through the installation of renewable energy

facilities, with hydropower playing a critical

role not only in generating clean energy but

also in providing grid stability services.

ENERGY RECOVERY WINS SWRO

CONTRACTS IN THE GULF REGION

Energy Recovery has received multiple contract

awards in the Gulf region totalling over US$20

million for its PX Pressure Exchanger energy

recovery devices. The orders are expected

to be fulfilled by Q4 2023 and altogether, the

desalination plants will be able to provide over

one million cubic metres of water each day in

this water-scarce region of the world.

When these projects are completed, they will

produce enough drinking water to fill over 400

Olympic swimming pools per day. Moreover,

Energy Recovery estimated that the PXs

supplied to these plants will prevent more

than 424,000 metric tons of carbon dioxide

emission per year.

In just the past 20 years, the Gulf's population

has increased by 55%, placing strain on the

region's water supply. Countries in the

Gulf region are ranked among the most

water-stressed countries in the world.

Rodney Clemente, senior vice-president

of water at Energy Recovery, said: "Energy

Recovery's reputation for producing

dependable products is one of the main

reasons why customers trust our PX to

perform even under harsh conditions, bringing

down the costs and energy consumption of

what was once an energy-intensive process.

The performance of our technology remains

reliable, repeatable and predictable, allowing

us to contract approximately 12 million cubic

metres of installed capacity across the region."

The company further pointed out its PX has

the potential to reduce energy use in seawater

Energy Recovery's PX

Pressure Exchanger provides

energy recovery for SWRO

desalination systems

reverse osmosis (SWRO) facilities by up to

60%. The PX provides low lifecycle costs

and provides savings to plant operators by

bringing down the cost of clean water.

6 WATER & WASTEWATER ASIA | MAY/JUNE 2022
---
NEWS

MERGER MARKS NEW ERA IN WATER COLLABORATION

As the water sector, governments and

wider society face unprecedented

challenges, the need to embrace

change, innovate and collaborate

has never been more critical.

The merger of two water sector

organisations in the UK aims to l

ead the way.

In April 2022, British Water (BW)

and the Water Industry Forum (WIF)

announced that the merger of the

two organisations was completed.

The merger will increase the range

of services on offer, strengthen

membership support and enhance

the opportunity for challenge-led

thought leadership, which will

provide greater authority and a

stronger voice both nationally and

internationally—elements that are

only growing more essential in the

current economic climate.

Chris Loughlin, chair of British Water,

commented: "By joining forces, we've

created an even stronger organisation

that can deliver ever greater value for

all our members, key stakeholders,

partners and the sector as a whole.

There is a tremendous synergy to be

gained from bringing our respective

strengths together."

The WIF will remain as a not-forprofit

limited company, operating

as a subsidiary of BW. A proposed

operating model and governance

framework have been deployed to

support the activities and priorities

of the merger organisation, and more

importantly to preserve the WIF's

integrity and independence.

"BW and WIF have histories of

achievements, for and on behalf

of their members and the sector,"

he concluded. "We know that by

combining our respective strengths

we can create a new and even

stronger organisation that will deliver

added value for all our members, key

stakeholders and partners, enabling

us to respond most effectively and

efficiently to the challenges and

opportunities ahead of us."

The merger between

WIF and BW aims

to encourage more

collaborations in the

water section

FRESHWATER STREAMS AND RIVERS ARE

GETTING SALTIER AND MORE ALKALINE

ions that are dissolved in water that contribute

to salt pollution."

A study led by the US National Science

Foundation (NSF) grantee researchers at

the University of Maryland revealed how

salinisation from road salt combined with

other pollutants can impact the ecological

balance of freshwater bodies, and can

potentially create conditions that harm

aquatic life and pollute drinking water.

Sujay Kaushal, lead author of the

study, explained: "This is a problem

that's caused by road salt, but also

other sources of salt pollution in our

environment—the fertilisers we put on

crops, the sewerage we put out, the roads

that break down. It's not just sodium

chloride that's increasing, it's all these salt

In addition to coining the term "Freshwater

Salinisation Syndrome", the team created

a five-stage scale to assess salt pollution

damage and a salinisation scorecard to

evaluate water quality and salinisation

risk. The study, published in Limnology

and Oceanography Letters, offers an

understanding of the effect road salt has on

waterway ecology and details risk factors to

the environment and infrastructure.

Road salt affects

water quality and harms

freshwater bodies (Photo

credit: Katja Schulz)

"We developed a five-stage system to identify

and track the unhealthy progression of

salinisation in our rivers in much the same

way we would track an illness or disease like

cancer," Kaushal concluded. "We have to look

at this unhealthy 'Salinisation Syndrome' from

a systems-level perspective if we're going to

develop guidelines for diagnosing harmful

levels and treat the problem."

WATER & WASTEWATER ASIA | MAY/JUNE 2022 7
---
NEWS

SINGAPORE'S HDB PILOTS URBANWATER

HARVESTING SYSTEM IN EXISTING ESTATES

The Housing and Development Board

(HDB), a statutory board under the Ministry

of National Development responsible

for Singapore's public housing, will be

extending the UrbanWater Harvesting

System (UWHS) to existing HDB estates for

the first time through a pilot project.

HDB called for a tender for the installation

of UWHS to harvest rainwater for nonpotable

uses. It is estimated that about 15

UWHSs will be installed, potentially reaping

water savings of about 17,500m 3 per year.

The UWHS is designed to maximise the

volume of rainwater collected by harvesting

stormwater surface runoff from the ground

area surrounding multiple residential

blocks. The stormwater from surface

runoff that is discharged into an estate's

surrounding drainage system will first be

channelled into the UWHS' harvesting and

detention tank.

The system's rainwater harvesting capability

and water detention capacity allow for a

single UWHS to harvest from and dispense

water to as many as 12 residential blocks,

for non-potable uses. Some of these uses

include the washing of common areas and

watering plants in HDB estates, where the

UWHS can save up to 50% of water usage for

these purposes. In addition, the channelling

of stormwater into the UWHS' harvesting

and detention tank can mitigate potential

flood risks in an estate in the event of a

heavy downpour by slowing down the rate

of discharge of stormwater into the drainage

system downstream.

Tan Meng Dui, CEO of HDB, commented:

"With the vast majority of our residents

Schematic of how the UWHS works (Photo credit: HDB)

staying in existing HDB estates, we have

taken a further step to pilot the system in

existing HDB estates. While such brownfield

developments will be more challenging to

implement, compared to building the system

as part of a new HDB development, the

extension of the UWHS to existing estates will

help to level up the sustainability provisions of

our existing estates, and bring the benefits of

green and sustainable living to more residents

and towns."

XYLEM CELEBRATES 5 MILLION

FLYGT PUMPS PRODUCED

Xylem has marked five million Flygt

pumps produced, continuing its efforts

in breakthrough water technology

innovations. The Flygt Concertor

wastewater pumping system with

integrated digital intelligence was

the five millionth pump to roll off the

production line and will serve the UKbased

water utility, Scottish Water.

The Concertor, which delivers energy

savings of up to 70% compared to

a conventional pumping system, is

among the technologies that will

support Scottish Water's commitment

to achieving net-zero emissions by

2040.

commented: "Water utilities are

continuously working to raise the bar

for their communities by increasing

their infrastructure's efficiency,

sustainability and affordability.

For more than a century, we've

collaborated with customers

around the world to advance Flygt

technologies that help address their

biggest water challenges.

"Today's innovations include applying

data analytics and decision intelligence

to optimise water networks. These

high-efficiency technologies also help

utilities dramatically reduce energyrelated

greenhouse gas emissions."

operational and environmental

gains for its customers and their

communities, including Scottish

Water, Heathrow Airport and a

wastewater utility in Michigan.

Xylem's five millionth Flygt pump

rolled off the production line at its

Swedish manufacturing plant, which

is on track to recycle process water

by 2023.

Intelligent pumping technologies

enable water operators to increase

network resilience and sustainability

Hayati Yarkadas, president of

water infrastructure for Xylem,

Xylem's Flygt solutions have been

deployed worldwide, driving

8 WATER & WASTEWATER ASIA | MAY/JUNE 2022
---
NEWS

STRATEGIC EXPANSION OF NX FILTRATION'S

PRESENCE IN THE AMERICAS AND CHINA

To further strengthen its position in the

global water markets, NX Filtration has

expanded its global sales team with

country managers in the Americas and

China.

Hu Shoahua has been named NX

Filtration's country manager for China.

He brings over 25 years of experience

in membranes for water treatment in

industrial and municipal markets and

will be responsible for all commercial

activities in China and leading the

regional sales team.

"Asia, and particularly China, is facing

many water-related challenges around

growing cities and increased industrial

activity. In Northern China, water

shortage, surface water pollution and

hardness are major challenges. In

Eastern and Southern China, industrial

pollution and micropollutants pose

huge challenges for the environment

and drinking water quality," he

said. "NX Filtration's hollow fibre

nanofiltration membranes can address

all such challenges based on its

sustainable and efficient solution."

Also joining NX Filtration is Tony

Fuhrman, who has been appointed

as country manager for the Americas.

Fuhrman has experience in water and

wastewater treatment technology

sectors through his previous roles

as commercial director and area

market director for LG Water

Solutions and various key positions

at Hydranautics and SUEZ. He will

support NX Filtration's commercial

roll-out strategy of its innovative

and sustainable direct nanofiltration

technology for municipal and

industrial applications.

Tony Fuhrman (left)

and Hu Shoahua have

joined NX Filtration as

country manager for the

Americas and China,

respectively

ZWEEC ANALYTICS INKS PARTNERSHIP WITH YANGTZE RIVER AUTHORITY

ZWEEC established a partnership with Yangtze

River Authority to develop and market its ecological

environmental monitoring platform in China

ZWEEC Analytics has sealed a partnership

with the Yangtze River Monitoring and

Scientific Research Centre to jointly develop

and market its water ecological environmental

monitoring platform in China.

and early intervention of water ecological

environments.

This move comes as ZWEEC is building

the next evolution in water technology to

enable the sustainable management of water

resources management in the region.

Qiu Guangsheng, director of the Yangtze River

Authority, said: "We have worked with ZWEEC

for many years and are happy to enter into

a partnership with ZWEEC to advance the

deployment of the ecological environment of

the Yangtze River Basin, that will contribute

towards bilateral trade and investment

between Singapore and China."

for 45% of China's GDP. It is also home to a

third of China's endangered species and 40%

of its rare or endangered plants.

Since the pilot project of ZWEEC's first Fish

Activity Monitoring System (FAMS) in China's

Yangtze Basin Water Environment Monitoring

Centre began under the cooperation between

PUB, Singapore's national water agency

and China's Ministry of Water Resources in

2013, ZWEEC has deployed, installed and

commissioned its technologies—Aquapro and

Algapro—for China's south-to-north water

diversion project in the Yangtze River Basin

to safeguard the water quality and safety of

China's domestic drinking water sources.

Tapping on ZWEEC's advanced analytics,

artificial intelligence (AI) and predictive

modelling capabilities, the project would

develop and deploy water technology

solutions in China worth around some RMB70

million (US$10.9 million) over the next three

years to enable the automatic monitoring

The Yangtze River is one of China's most vital

domestic waterways that accounts for around

40% of the country's freshwater resources.

The Yangtze River basin covers 19 provinces

in China's eastern, western and central

regions, providing a source of water for almost

600 million people and as a region, accounting

Liu Haobing, CEO of ZWEEC China, concluded:

"We are delighted to bring our partnership

with Yangtze River Authority to a new level,

as we actively support China's Belt and Road

initiative and play an active role in China's water

environmental safety, ecological protection and

sustainable urban water management."

WATER & WASTEWATER ASIA | MAY/JUNE 2022 9
---
NEWS

ABB TECHNOLOGY SUPPORTS WATER

SUSTAINABILITY IN VIETNAM

Ho Chi Minh City lost nearly 30%

— more than 150 million cubic

metres — of clean water in a recent

year through leaking and damaged

pipes, at a rate considerably higher

than in many developed cities.

Major sections of water distribution

infrastructure in Ho Chi Minh City

are aged, with some sections built

more than 30 years ago, or even

dating to the colonial era. The

city continues to grow, increasing

pressure on existing infrastructure.

The city's local water utility

Saigon Water Supply Corporation

(SAWACO) has undertaken a

major renovation of the city's

water distribution network and has

adopted ABB Ability Symphony

Plus to support the goal of

reducing water leakage from 30%

to 10% by 2020.

ABB Ability Symphony Plus is an

automation system designed for

the power and water industries.

This control system, which is

part of the ABB Ability portfolio

of digital offerings, adds value by

collecting, analysing and providing

actionable insights on plant and

engineering data in systems,

ultimately lowering project risk,

reducing cost and throughput

times and improving asset

performance and profitability.

Tran Quang Minh, deputy general

director of SAWACO, commented:

"Ho Chi Minh City is making the

transition to digital technology.

A modern water management

system is very important to

customers and businesses to meet

rising demand. ABB Ability is one

of the solutions SAWACO has been

using to help us detect leaks and

monitor and control the network in

real-time."

The renovation includes expansion

of the current network capacity,

integration of more isolated

sections, reduction of water

leakage and real-time control and

monitoring disruptions as part of

the project scope.

ABB Ability Symphony Plus

integrates TaKaDu's network

management solution, supporting

SAWACO monitoring the network

conditions digitally through multiple

data collection points, such as

sensors and meters, and offering

insights to reduce non-revenue

water. SAWACO will then be able

to increase the amount of water

delivered to the city's industries

and eight million residents.

At a first estimate, SAWACO will hit

50 million cubic metres per year of

water savings, equivalent to 20,000

Olympic-sized swimming pools,

while production cost savings

could be higher than US$10 million

a year.

Danilo Moresco, global product

manager, power and water, ABB,

concluded: "This project in Ho Chi

Minh City shows how advanced

automation impacts our daily life.

The smart collection of digital

data from the field offers real-time

insights on the network status,

allowing SAWACO to increase the

quality of its drinking water and

improve living conditions for millions

of people."

ABB Ability

Symphony Plus

SCADA for water

industries is adopted

by SAWACO to

address water

leakage challenges

and support longterm

growth

10 WATER & WASTEWATER ASIA | MAY/JUNE 2022
---
NEWS

BIO-UV WATER TREATMENT FOR FIFA WORLD CUP STADIUM

Bio-UV Group has installed advanced

water treatment systems at Doha's

Al-Bayt Stadium in the city of Al Khor,

Qatar. The 63,000-capacity arena,

which is set to be one of the stadiums

that will be hosting the FIFA World

Cup Qatar 2022, was installed with a

range of advanced UV- and ozonebased

systems to treat the stadium's

changing room pools, ornate water

features and extensive lakes.

Anne Julia, export director for

Bio-UV Group, explained: "Water

treatment and water quality are always

important. But in warmer climates,

particular attention needs to be paid

to disinfection as the multiplication

rate of bacteria, viruses and algae can

be exponentially faster. There is also

a greater potential for exotic diseases

and parasites."

Installed by systems integrator

Watermaster Qatar and commissioned

prior to the FIFA Arab Cup last

December, Bio-UV Group's scope

of supply included triogen

O3 M7-520A and O3 M6-WC50S

ozone generators, along with triogen

CF1000 and CF220 full flow UV water

treatment systems.

Souheil Nasrallah, general manager

of Watermaster Qatar, continued:

"The lakes and rivers in the grounds

of the stadium provide a beautiful,

natural habitat of thousands of

fish, so chemical-free disinfection

and systems allowing the reuse

of treated sewage effluent were

environmentally very important."

While a minimum amount of chlorine

must be added to public pools by

law, the use of UV and ozone as a

secondary source of disinfection

reduces the chlorine demand, thus

saving costs and improving water

quality.

"Oxidation and UV technologies

destroy many contaminants from

the water, attacking the vital DNA

of the bacteria and microorganisms

directly. It is also effective in

dealing with chlorine-resistant

pathogens such as Cryptosporidium

and Giardia," Khalifudeen Shafi,

regional manager of Bio-UV Group

concluded.

Bio-UV Group has

supplied advanced

water treatment

systems to Doha's

Al-Bayt Stadium

EVOQUA WATER TECHNOLOGIES COMPLETES ACQUISITION OF

FRONTIER WATER SYSTEMS

Evoqua Water Technologies has

purchased the remaining equity of

San Diego-based Frontier Water

Systems. The former initially

announced its investment position in

the latter in October 2019.

The business adds to Evoqua's

portfolio of advanced wastewater

treatment technologies, as

Ron Keating, CEO of Evoqua,

commented: "Evoqua and Frontier

have successfully partnered

on numerous projects to help

solve water treatment needs of

our customers. We are pleased

to officially welcome Frontier to

the Evoqua family and we look

forward to continuing to deliver

on our commitment to provide our

customers with advanced water

treatment solutions."

Frontier Water Systems is a supplier

of engineered equipment packages

for high-rate treatment of selenium,

nitrate and metals in water and

wastewater. Waste streams from

processing containing metals and

minerals must be treated to remove

these contaminants prior to discharge.

The company delivers a biological

process that removes these metals in a

modular bioreactor.

WATER & WASTEWATER ASIA | MAY/JUNE 2022 11
---
SINGAPORE FOCUS

BREAKTHROUGH

in reverse osmosis

the National Research Foundation (NRF)

of Singapore and PUB was to develop a

bio-mimetic ultra-permeable membrane

with enhanced performance compared

to existing membranes. Our team took

inspiration from the biomolecules of

cell membranes and succeeded in

developing our hollow-fibre (HF) biomimetic

membrane in 2018.

H2MO's HF bio-mimetic membrane

was made with the use of cellular

biomolecules, without the need for

Aquaporin, and we can alter the

characteristics of the membrane

through modifications of our synthetic

biomolecules. This is what we call BPM

and this platform technology enables us

to make a host of membranes from RO

to nanofiltration and forward osmosis

membranes.

As a specialist in membrane material

sciences, H2MO has developed and

utilised Bio-Programmable Membrane

(BPM) technology to manufacture

reverse osmosis (RO) membranes in

hollow fibre configuration. These BPM-

RO membranes are made by forming

a thin selective layer on a hollow fibre

substrate with a formulation of biomaterials,

giving the BPM membranes

highly selective characteristics and

enhanced water permeability.

The applications BPM-RO membrane

supports include potable water,

ultrapure water, wastewater treatment

and recycling, zero-discharge and

desalination.

H2MO is commercialising the BPM

technology developed by a team

led by Prof Wang Rong at Nanyang

Technological University (NTU) in

conjunction with PUB, Singapore's

national water agency. The company

further worked with the team for

technology scale-up to enable a

new generation of membranes that

can be used to play a key role in the

management of Singapore's critical

water resources. In an interview with

Water & Wastewater Asia, Ong Tze

Guan, founder and CEO at H2MO,

discussed more on this project with

PUB and the transformative role BPM

can bring forth to the wider RO market.

Can you elaborate on the project

with PUB—what are the main

objectives and how will the

installation of BPM-RO support

Singapore's quest for water

security?

Ong Tze Guan: The project funded by

We currently have two pilot systems

operating at PUB's Ulu Pandan

Water Reclamation Plant to verify

its performance under real-time

operations; we have a 14 m 3 /day

system using 4-inch modules and

a 100 m 3 /day system using 8-inch

modules; the 14 m 3 /day pilot has been

in operation for about a year and the

larger 100 m 3 /day system was recently

installed.

The results from the pilot system

revealed a 70-110% higher flux

compared to conventional membranes,

consumes about 40% less energy under

similar operation and showed superior

fouling resistance. Furthermore, there

is a potential to achieve higher water

recovery.

Singapore's water security issues stem

from its limited freshwater resources

and this limitation has driven Singapore

towards water sustainability through

the four National Taps and developing

a circular strategy to make every drop

count.

12 WATER & WASTEWATER ASIA | MAY/JUNE 2022
---
SINGAPORE FOCUS

The pilots showed that the BPM-

RO can play an important part in

Singapore's circular water economy

by keeping water in use for as long

as possible, achieving better water

sustainability, through more efficient

water recovery technology. The BPM-

RO also contributes to enhancing

resilience to climate change through

drastically lower energy consumption

and plays a part in helping Singapore

address increasing water demand,

which is expected to nearly double by

2060.

With BPM-RO production commencing

at the end of 2022, we look forward

to contributing to Singapore's

desalination and wastewater recovery

efforts in the coming years.

Why is the HF configuration

chosen over the spiral-wound (SW)

configuration? Even so, what are

some of the applications driving

the HF membrane market?

Ong: Different membrane

configurations display different

characteristics during use. We chose

the HF membrane configuration over

the SW membrane configuration

because of several advantages.

Firstly, HF configuration can have a

large surface area to volume ratio,

albeit this is dependent on the fibre

diameter. Secondly, HF membranes

can handle feed streams with

higher levels of suspended solids.

Thirdly, the ability to hydraulically

clean the membranes, such as

via air sparging, further enables

the filtration of fouling prone feed

waters. The latter two advantages

also allow the possibility of reducing

the necessity of pre-treatment of

the feed stream and reducing the

frequency of membrane chemical

cleaning.

Given that BPM-RO membrane

systems function at lower pressures

in the treatment of membrane

bioreactor (MBR) effluent at the PUB

pilot, it also contributes to lower

fouling of the membranes. Hence,

the above factors allow our HF

configuration to operate with greater

advantages and lower maintenance

and operating costs.

With membrane fouling and scaling a

common issue with RO systems, how

is H2MO addressing these issues

while also extending the lifecycle of

the membrane?

Ong: The lifecycle of the membrane

is primarily dictated by membrane

fouling and scaling issues and through

the careful selection of a more

advantageous membrane configuration

and an advantageous membrane

surface chemistry.

At our BPM-RO pilot system with

a feed stream from a MBR effluent

from the PUB pilot, we did a test of

halting all chemical cleaning during the

operation of the systems and we found

that there was little trans-membrane

pressure (TMP) change over a period

of six months.

Adding to the fact that BPM-RO

operates at lower pressures, the

combination of factors above

contributes to the potential of a

far longer lifecycle of the BPM-RO

membranes which lowers the frequency

of membrane replacement and further

lowering operating cost.

WATER & WASTEWATER ASIA | MAY/JUNE 2022 13
---
IN CONVERSATION WITH

DIGITAL TRANSFORMATION:

Reimaging water processing

Brings forth innovations while enhancing existing systems.

"Lacroix already provides a water loss

solution; the challenge is accurately finding

the location of the leak to fix it quickly and

efficiently. In the future, the challenge will be

to use artificial intelligence (AI) to anticipate

leaks and perform preventative maintenance

to ensure that leaks do not occur in the first

place."

Sofrel Neo installed in an underground water manhole

Embracing the smart water concept involves

the monitoring, control and command of

water networks. Digitalisation is another key

factor which might bring added value across

this whole process, from the water sensors

to virtualisation solutions such as analytics

and SCADA, Eric Woo, business development

manager, Asia, Lacroix, suggested.

Take SCADA for instance, it has the capability

to remotely control and manage water

networks, thus enabling plant operators to

manage their networks better and optimise

the operation of the devices they deploy.

The SCADA central station thus serves as a

gateway between the devices spread across

the terrain and the operator responsible

for analysing the network. Besides, the

software also collects critical data such as

the service life of technical parts and network

outputs, allowing operators to better plan for

supplementary installations for their network.

Under Lacrox's SCADA offerings include

the Sofrel PCWin2 SCADA Central Station

designed for operating Sofrel networks.

It features the Interface Homme Machine

(IHM) in HTML5, which enables operators to

remain in contact with their installations and

monitor their network via mobile devices or

PCs.

Other PCWin2 functions include a

centralised alarm reporting via SMS and

e-mail; automatic calculations of average

flows, balances, formulas and more;

curve plotting, graphic mimic diagrams;

operating reports in Excel format; and selfconfiguration

based on the parameters of

the devices.

That said, a digitised water network has

its set of vulnerabilities, as Woo told

Water & Wastewater Asia: "Water network

vulnerabilities are plentiful. The main issues

lie in the ageing water infrastructure, which

can lead to a high risk of leaks and nonrevenue

water, and the impact of climate

change, particularly on combined sewer

overflows (CSO) and water pollution.

The solution, he suggested, could include

monitoring the age of infrastructure, analysing

the number of leaks and their locations

and also increasing the density of the leak

detection devices to improve the visibility of

the whole water network.

To support leakage detection and CSO

monitoring, Lacroix developed the Sofrel

DL4W range which consists of LS/LT,

OpenSensor and Neo data loggers specifically

designed for drinking water and wastewater

networks. Watertight, operational for up to 10

years with their high-capacity lithium battery

and fitted with a 2G/4G antenna, the LX data

loggers are compatible with all instruments

used in water networks.

Since its launch, specific features and uses

connected to water management have been

introduced to enhance the Sofrel data logger

offer. They are currently deployed across

isolated sites and, subject to severe conditions

in the field, supply daily data used to monitor

and react to water network performance

levels.

Most often placed in manholes, the Sofrel data

logger is frequently subjected to submersion

phenomena. Equipped with a closure system

and military-style connector, the IoT LX enjoys

reinforced IP68 classification, enabling it to

function even when the manhole is flooded.

14 WATER & WASTEWATER ASIA | MAY/JUNE 2022
---
IN CONVERSATION WITH

Sofrel YDRIX RTU

CYBERSECURITY

In the face of increasing cyberattacks on

water utilities and water treatment plants

in recent years, the American Water Works

Association has identified cybersecurity

as a "mission-critical function" for water

utilities. Lacroix similarly acknowledges

the importance of cybersecurity, as Woo

elaborated: "Smart water solutions can also

combat technological vulnerabilities, such

as remote device management for hardware

updates or cybersecurity.

"Digitalisation offers some protection

but, at the same time, more digitalisation

potentially means more risks. Hence,

cybersecurity is of crucial importance

in our products and we perform regular

independent audits to ensure the security

of all critical data."

Sofrel S4W can be installed in pumping

stations and reservoirs as an inter-site

communication tool between stations

and water tanks as well as between water

tanks and pumping stations. It can also be

deployed in drinking water treatment plants

and wastewater treatment plants for the

management and monitoring of the water

treatment and purification processes.

To facilitate the exploitation of the data

managed by the S4W locally or remotely,

operators may choose between two graphical

consultation interfaces—S4-Display and S4-

View. The former is a colour touch-sensitive

display that can be integrated into the front

panel of the control cabinet. It allows the

visualisation of mimic diagrams, data and

curves on-site. The latter is a Windows-based

software for viewing the data managed by

S4W and allows remote diagnosis of its

equipment.

CLOSER PROXIMITY

Smart environment has become a critical

theme in Asia. Having invested for several

years in Asia and established partnerships in

various countries – from Thailand, Vietnam,

Indonesia, Malaysia, the Philippines,

Cambodia and China – Lacroix opened an

office in Singapore in 2019 and has since

worked on improving and developing its

The Sofrel DL4W family of 4G M2M data loggers

for monitoring and controlling the performance

of water networks

existing partner network while adding new

partners across ASEAN and China.

"By reorganising our partnerships, we can

focus more on the quality and efficiency of

our customer support," he said. "This partner

network means that we are much closer to

our customers and can react much more

quickly, with the help of our strong pre- and

after-sales support teams at the Lacroix

headquarters."

Several new products were released in the

last 12 months, such as the Sofrel Neo, an

NB-IoT/LTE-M data logger, and the Sofrel

YDRIX 2G/3G/4G smart water remote

telemetry unit (RTU). These products, Woo

noted, have been developed with ASEAN

countries in mind and provide efficient and

easy-to-use solutions for water networks.

Designed to meet the needs of water network

operators and localities, Sofrel YDRIX RTU

combines integrated 4G communication,

cybersecurity and process control in a single

product. It can be interfaced with pumps,

valves, sensors and Modbus equipment

present at the hydraulic facilities. As for Sofrel

Neo, it monitors water metering and flows,

registers data, calculates flow rates and

transmits all the data periodically or on event

detection.

Sofrel Neo data logger

With cybersecurity becoming a fundamental

issue, Lacroix offers the Sofrel S4W

telemetry solution that provides a high level

of protection and security for connected

water networks. Based on IP technologies,

S4W integrates communication modems and

relies on specific ready-to-use water features

to monitor the sites, alert operators in case

of anomaly, and manage and automate

technical failures.

WATER & WASTEWATER ASIA | MAY/JUNE 2022 15
---
IN CONVERSATION WITH

EMPOWERING

THE NEXT STEPS

into digitalising water

Infrastructure modernisation, sustainability and

decarbonisation, digital transformation, and autonomous

operations—these are the four megatrends Emerson

identified at the Emerson Exchange Asia-Pacific Virtual

Edition 2021 last December. Jonas Berge, senior director at

Emerson Automation Solutions, shares more with Water &

Wastewater Asia on how the company is empowering the

water industry into the next Industry 4.0 era.

Emerson DeltaV mobile application

How is Emerson supporting

businesses' digital transformation

into the Industry 4.0 era?

Jonas Berge: Digital transformation is

primarily about new data-driven ways

of working; having the information

about the condition and performance

of the plant down to individual pieces

of equipment of all types, to avoid

failure and optimise cleaning to reduce

maintenance and energy costs while

increasing production output.

The goal is to see energy intensity and

unaccounted losses of the plant down

to individual unit processes so plant

operators can stop leaks and reduce

energy costs. For instance, they can

view the process variability of the

plant down to individual loops to tune

to ensure quality and operate closer

to optimal to increase throughput and

reduce operational cost. They can

also see corrosion and erosion in the

plant down to individual pipe sections

so they can avoid loss of containment

to reduce clean-up costs and fines,

and get a picture of the risk profile of

the plant down to individual safety

functions to avoid escalation in

case of an event, thus making the

plant a safer place to work.

Emerson supports digital

transformation by providing the

software and sensors to enable

these new data-driven ways of

working.

In your opinion, how will each

of the four megatrends which

Emerson identified have a

sustained impact in Asia-Pacific,

particularly in the water and

wastewater industry?

Berge: Asia-Pacific will have its

fair share of ageing automation

systems. These systems were

the best of their kind when they

were deployed but now lag behind

modern systems so quality issues

still happen, and incidents occur.

And there are other challenges.

Old automation components are

becoming obsolete, cyberattack

threats are emerging, and

system maintenance costs are

increasing. Plants also struggle

with knowledge retention as

experienced operators retire.

Workers now want to be able

to check the process from

their mobile devices. As part of

infrastructure modernisation,

plants in Asia-Pacific are now

modernising their automation

systems to get support for

integration using the OPC-UA

standard to get data out to other

systems that need it. That is, OPC-

UA enables data integration while

preserving the robustness of the

control system at upgrades.

Other important characteristics

of a modern control system

include more accurate flowmeters

16 WATER & WASTEWATER ASIA | MAY/JUNE 2022
---
IN CONVERSATION WITH

Autonomous operation means "no

routine visits", and this requires not

only automatic process control but

also automatic equipment monitoring

and prediction. Therefore, plants

deploy predictive analytics and add

sensors on equipment on-site for

data collection.

Having participated in last

year's Sustainable Innovation

Forum, what are some of the

key takeaways you have picked

up? More crucially, how will you

describe the role sustainability

plays in today's water sector,

and how can water management

be sustainable for cities and

Emerson offers

a range of water

treatment solutions

such as process

valves, control

transfer pumps

and transmitters

for potable water

applications

and higher performance valves

for tighter control, better alarm

management for improved visibility

and reduced risk, Ethernet interfaces

instead of RS485 to be compatible

with new automation, certified

for cybersecurity, digital twin for

simulation for testing and operator

training, mobile on-the-go access

anywhere, and virtualisation of

servers. And these are just a few of

the changes being made which are

relevant to the water and wastewater

industry.

Water and wastewater plants do

not use hydrocarbons; hence,

sustainability is mostly about

reducing electricity consumption.

For instance, pumps are large

consumers of electricity. As such,

some measures to be taken include

automation to ensure pumps are

not running against closed valves

and those that are not needed at the

moment are not inadvertently left

running. It is also important to monitor

the pumps for deteriorating efficiency

as well as strainers and filters for

plugging. Lastly, monitoring for leaks

is a critical part of water conservation.

Although the water and wastewater

treatment process in most plants

is fully controlled by automation,

there are still lots of manual tasks

such as maintenance and reliability

inspection, loss control, safety

checks and operator rounds to

name a few. Digital transformation

is about automating these tasks.

Plants can deploy a second layer of

automation based on the NAMUR

Open Architecture (NOA). This

starts by sensing every part of the

plant to obtain real-time equipment

data through permanent sensing

with advanced sensors which are

wireless and non-intrusive. This is

the first step in automating manual

tasks. Next, plants deploy analytics

software to predict failure and detect

inefficiency and losses based on the

data from the new sensors.

Rural water and wastewater

plants are located remotely, often

unmanned, increasingly operated

and managed from an integrated

operations (iOps) centre. Since no

one is on-site, reliably predicting

problems in equipment like pumps

in advance is very important.

utilities?

Berge: A vast number of new plants

need to be built for decarbonisation

and the hydrogen economy. And

existing plants must be modified.

Process units like electrolysers,

steam methane reformers (SMR),

carbon capture units, pipeline

injection skid, refuelling stations

and fuel cells all need a lot of

automation. And a lot of this

automation is specialised for

hydrogen because hydrogen has

some specific challenges such as

permeability, embrittlement, ultralow

temperature, ultra-high pressure,

high flammability, invisible flame and

more.

Emerson is well positioned to

help our customers because our

products and solutions address

these challenges. With the right

automation components, operators

may enjoy uninterrupted operation,

low maintenance cost, safety, high

throughput, high purity hydrogen,

hydrogen and natural gas blend

within specification and accurate

billing. We are already helping our

customers around the world with

digital transformation.

WATER & WASTEWATER ASIA | MAY/JUNE 2022 17
---
IN CONVERSATION WITH

Emerson opened its South

East Asia Service Centre last

November. Can you share with

us the reasons behind the

decision of opening this new

service centre, and the growth

opportunities you see in the wider

Asia-Pacific region?

Berge: The original South East Asia

Service Centre and flow calibration

facility has been operating for

several years. The reason for our

expansion is to serve our customers

even better by now supporting even

larger flow meters up to 12 inches.

This means flow meter calibration

with much faster and lower total

cost as flow meters need not be

sent overseas.

This is an ISO 17025-accredited

calibration facility, a standard

accepted in many countries.

What other trends do you see

taking place in the water and

wastewater industry, and how will

you envision the next milestone

in harnessing a more sustainable

planet through advocacy for

water?

Berge: Water conservation is

a huge piece of sustainability.

Decarbonisation is great but we

must not forget water.

1

1 Sedimentation

tank in a

wastewater

treatment plant

2 Water pump

station in a

power plant

Just about all industries use

enormous amounts of water.

Evaporation cooling towers and

the process itself are just two

examples. We need to manage

industrial water responsibly; plants

must prevent overconsumption and

losses. For example, plants run the

water for more cycles in cooling

towers to reduce blowdown and

makeup. This, in turn, means plants

must closely monitor the water

chemistry, fouling and corrosion.

Also remember, the production of

hydrogen through the electrolysis of

water requires very clean water.

Now, engineers can do all this

using readily available Emerson

automation solutions such as energy

management information system

(EMIS) software for water balancing

and leak detection, as well as

detection of water overconsumption.

EMIS software relies on flow

meters for submetering to pinpoint

overconsumption and leaks with finer

granularity. Water quality control

requires liquid analysers for pH,

conductivity, dissolved oxygen, ozone,

chlorine and turbidity so we are all set

to support this.

2

18 WATER & WASTEWATER ASIA | MAY/JUNE 2022
---
IN THE FIELD

BRUNEI MAKES

its water management

smart with LoRaWAN

Anian deploys a LoRaWAN network throughout the Sultanate of Brunei, serving

the country's government, universities and private sector to improve the

management of cities, environment and agriculture, with a focus on smart water

use cases, such as monitoring river water levels, wastewater pumping stations,

water quality and infrastructure. These solutions are deployed using Actility's

ThingPark platform and the application provided by IoThink Solutions.

Anian, a Brunei-based Internet

of Things (IoT) solutions provider

founded in 2019, has taken the lead

in Brunei's domestic market by

providing IoT solutions based on

the LoRa standard. The Sultanate's

Ministry of Development, which

had a roadmap to digitise various

services, commissioned Anian

to develop several use cases

around water, following a request

for proposals, to come up with a

solution that included sensors,

connectivity, and data management

and application dashboards, albeit

with the network operation and IoT

applications as managed services,

with the solution hosted in the

Brunei government's data centre.

The initial need was to monitor

water levels in Brunei's rivers, as

flooding is very frequent and often

unpredictable. It is important to

be warned as soon as possible at

the onset of a flood to prepare the

population and limit the damage.

Other recurring problems in the

country included the management

of wastewater and pumping

stations, which often broke down,

20 WATER & WASTEWATER ASIA | MAY/JUNE 2022
---
IN THE FIELD

– an airport. A nearby canal has

a water level that can go from

zero to overflowing in 20 minutes,

preventing operations on part of this

airport. While waiting for the work to

be done to divert the canal, the IoT

solution provides immediate alerts.

PROTECTION OF SEWAGE

PUMPING STATIONS

A significant portion of Brunei's

population lives near rivers or in

villages on stilts. Wastewater from

the homes is treated and released

into the rivers. When there are

overflows in the pumping stations,

the discharge water pollutes the

rivers, creating a significant odour

A screenshot of the

asset displacement

dashboard

tides and water on parking lots and

highways, as well as the quality of

can be triggered within hours.

The Department of Drainage and

nuisance for the inhabitants, who

complain, after which technicians

are sent to clean and reset the

water and the state of the various

Sewerage under the Ministry of

pump.

infrastructures.

Development undertakes monitoring

of the sewerage distribution network

This system is rather inefficient and

The main challenge Anian faced

and river levels at various locations

has negative financial risks. Pumps

was the difficulty of finding an

in Brunei Muara to help predict

can shut down due to trash and

integrated end-to-end solution

flooding and detect abnormalities in

debris, creating excessive vibration

that includes all the necessary

the sewerage system.

that leads to overheating and

elements, including hardware that

explosion. Until now, monitoring of

must adapt to complex environments

River level monitoring has until now

facilities and equipment has relied

and potentially destructive weather

been primarily based on telemetry

primarily on telemetry and SCADA

conditions. This starts with the

technology or, in cases where this

technology at only a few locations,

sensors – Anian tested various entry-

technology is not deployed or is

in cases where this technology

level sensors with a promise of IP67

inoperable due to breakage or theft,

is not deployed or is inoperable

resistance that proved insufficient.

manual monitoring with significant

due to breakage or theft; or no

Even the gateways required

mobilised manpower.

monitoring at all because of SCADA

protection against storms.

solutions pricing, just on reactive

To create an effective system

maintenance with workforce

However, Anian successfully carried

of preventive alerts on these

sent on-site based on customer

out this mission, in particular through

hydrological events, Anian deploys

complaints.

a partnership with IoThink Solutions

ultrasonic sensors connected via

and Actility, which provided the

LoRaWAN to monitor the water level

The solution implemented by Anian

bricks of the solution and all the

in flood-prone rivers, a solution

allows the monitoring of wastewater

necessary technical support.

combined with rainfall volume

pumping stations, via continuous

FLASH FLOOD DETECTION

monitoring as well as rain gauges

and tipping buckets to measure the

measurement of pump vibrations,

the use of floats and LoRaWAN

Flooding is the top natural hazard in

velocity of water currents.

ultrasonic sensors in wells to alert

Brunei. With a hot and rainy climate,

if the water surface rises within

the country experiences frequent

The flash flooding issue affects for

50cm of the cover, but also with

and intense flooding episodes that

example a critical infrastructure

the detection of workers' presence

WATER & WASTEWATER ASIA | MAY/JUNE 2022 21
---
IN THE FIELD

of intruders or subcontractors, and smoke

and dangerous gas including CO, H2S and

CO2.

for telemetry with a telecom station. The

copper cables used are rather costly and

subject to repeated theft in Brunei.

and deploy for any use case. The solution

is available on a white label and also exists

for mobile devices.

This is predictive maintenance, as it

involves acting upstream in a preventive

manner before customers complain, with

the aim of public satisfaction. The goal of

this project is to deploy IoT sensors for use

cases such as water level in wells and catch

basins, vibration, energy consumption of

pumps and pressure in pipes.

LEAKAGE REDUCTION AND WATER

QUALITY

The Water department under the Ministry of

Development was also looking to monitor

water quality and the various related

infrastructure to avoid many recurring

problems.

Anian has been deploying LoRaWAN

sensors to detect leaks, and monitor

pressure and water quality in pipes that

supplies residents, with sensors placed

directly in the pipes to alert to quality

issues and leaks, as well as in water

towers and pipes. The gateways are

purchased by the Ministry and installed

on the water towers through Actility's

ThingPark Enterprise and a management

contract. A total of 11 gateways are already

installed and 25-30 gateways are planned

in the coming months with a goal of 200

eventually.

One of the major problems with current

solutions is that SCADA sensors require

a large infrastructure with a wired power

supply, a shelter, and also a private network

A screenshot of the asset displacement dashboard

SCALABLE AND MULTI-USE IOT

SOLUTION

All these solutions were made possible

through a collaboration between Anian,

Actility, and IoThink Solutions.

The use of LoRaWAN connectivity is one

of the main keys to success. LoRaWAN

is a widely-used wireless protocol

that allows battery-powered sensors

to communicate with IoT applications

via a long-range, ultra-low data rate

connection, resulting in longer battery life.

Actility provides the LoRaWAN IoT

connectivity management solution

with ThingPark Enterprise, a platform

that helps customers build network

infrastructure by managing LoRaWAN

gateways, adding sensors, monitoring

network operations and controlling

the flow of data to application servers,

enabling the deployment of large-scale

IoT projects in record time.

IoThink Solutions is a software company

specialising in IoT and machine-tomachine

(M2M) platforms. With its suite

of IoT tools, Kheiron IoT Suite, IoThink can

address any IoT project in the following

domains: smart building, smart energy,

smart city, smart industry, and smart

retail. The Kheiron platform is intuitive,

quick to learn and fully interoperable, the

solution's customers can connect any

sensors, use any connectivity and create

Nicholas Guillou, co-founder and CEO at

Anian, explained: "The Kheiron platform is

particularly convenient because it requires

no coding, with a responsive mobile app.

The technical support provided by the

IoThink and Actility teams made the project

a success. The advantage of Actility's

solution is its scalability."

The IoT LoRaWAN network is a medium

that is of strategic interest to the

Government of Brunei as it allows for the

development of broad application areas.

In addition to drainage and sewerage

use cases, here is a list of areas that the

Ministries of Development and Department

of Public Works can work on in the coming

years:

• Monitoring of water networks, such

as pressure, flow, leaks, water quality,

reservoir levels, and pumps.

• Monitoring of tides by the departments

concerned.

• Use cases for intelligent buildings and

energy savings on air quality, security,

water and electricity consumption

measurement, data centre environment,

and parking.

• Bridge and road infrastructure

monitoring such as bridge pier

vibration, crack monitoring, worker

safety, and wind and rain monitoring.

• River water quality, air quality, and

weather information.

Nicolas Jordan, COO at Actility,

concluded: "Once again, IoT, LPWAN and

a collaboration of experts are enabling

the deployment of effective solutions that

aim to improve people's lives, protect

the environment and lower costs. We

are happy to see the progress of such

interesting projects in the Sultanate

of Brunei and to work with Anian and

IoThink Solutions on more and more new

deployments."

22 WATER & WASTEWATER ASIA | MAY/JUNE 2022
---
IN THE FIELD

A NEW WATER

PUMP STATION

for Calgary

To meet the ever-growing demand from Calgarians

for potable water, the City of Calgary embarked on a

C$35 million (US$27.9 million) project to replace the

most critical water pump station in the city.

Canada's energy sector, with much

of the current economy driven by oil

and gas production.

With an expanding population of

over 1.3 million and the continued

diversification of industry and

commerce, the ever-growing

demand from Calgarians for potable

water has to be met. To satisfy both

current and future demands for

safe and reliable drinking water,

the City of Calgary has embarked

on a C$35 million (US$27.9 million)

project to replace the most critical

water pump station in the city.

The existing Shaganappi Pump

Station, originally constructed in

1978, supplies drinking water to

over 200,000 residents of Calgary

and its surrounding communities.

Shaganappi Pump Station is

Calgary's largest pump station and

is a vital component of the city's

water transmission network, which

consists of 41 pump stations and

23 storage reservoirs, connected by

over 4,500km of underground piping.

This large number of pump stations

and reservoirs is required due to the

varying and often rugged topography

of Calgary, which divides the city into

many smaller water pressure zones

based on elevation.

THE PROJECT

The City of Calgary owns and

operates two water treatment plants

– the Bearspaw Water Treatment

Plant and the Glenmore Water

Treatment Plant. These treatment

The requirements for

Shaganappi involved

the supply of three

large RDLO 600-600

pumps rated at

80ML/d and three

smaller Omega 300-

560 pumps rated at

30ML/d

Calgary is one of Canada's fastestgrowing

metropolitan cities and

is the major urban centre for the

southern half of the province of

Alberta. Calgary is located in the

foothills of the Canadian Rocky

Mountains, at the confluence of

the Bow and Elbow Rivers. The

city is, perhaps, best known

internationally for its annual July

rodeo and outdoor show, the

Calgary Stampede. Originally

founded around agriculture,

Calgary is now at the heart of

facilities draw their source water

from the Bow River and the Elbow

River, respectively. Both treatment

plants combined can produce a total

of 950ML of clean drinking water

per day. Treated water is stored onsite

at the treatment plants before

being pumped into the transmission

WATER & WASTEWATER ASIA | MAY/JUNE 2022 23
---
IN THE FIELD

network for distribution throughout

the city.

The Bearspaw plant, located in

the northwest quadrant of the city,

pumps water into three separate

underground feeder mains, the

largest of which is South Feeder,

Calgary's largest and most critical

feeder main. Shaganappi Pump

Station draws water directly from the

South Feeder and then effectively

splits the flow, adds hydraulic energy

via pumping and redirects the water

to both north and south Calgary.

The existing Shaganappi Pump

Station is over 40 years old and

is past its useful life expectancy.

Many of the mechanical and

electrical components within the

existing pump station are now

obsolete, creating operational and

maintenance challenges. Given

the critical nature of this pump

station and the extensive upgrades

that would be required to ensure

efficiency and reliability, the decision

are designed with redundancy to

allow them to continue to operate

in an emergency. The existing

supply pumps and drivers for existing

and new water pump stations.

KSB Canada was the successful

The new Shaganappi

Pump Station has a

design capacity of

220ML/d

was made to replace the existing

Shaganappi Pump Station utilises

proponent in this stringent RFP

pump station with a new pump

natural gas engines to drive backup

process, which saw the contract

station.

pumps in the event of a power

awarded in May 2018. The contract

outage. The new pump station

included the supply of pumps and

The new Shaganappi Pump

will utilise a 944kW natural gas

drivers for the new Shaganappi Pump

Station, which was completed this

generator that will be capable of

Station project, along with other

January, is located approximately

starting and running one or more

projects such as the Palliser Drive

200m west of the existing facility.

pumps in the event of a utility

Pump Station retrofit.

This will allow the city to reuse

outage. The use of natural gas

much of the existing underground

generators in the new pump station

Pasha Barazandeh, regional

infrastructure, including the original

installations offers an efficient,

sales manager for KSB Canada,

piping connection to the 1,950mm

flexible and safe solution that meets

commented: "The Palliser Drive

diameter South Feeder. This location

the city's critical infrastructure

project enabled us to demonstrate

was chosen to reduce construction

requirements.

to the City of Calgary the capabilities

costs, minimise disruption of the

water system and surrounding

THE CHALLENGE FOR KSB

and benefits of our Omega pumps.

For this project, we supplied two

communities, and facilitate a smooth

Establishing a working relationship

electrically-driven pumps and one

transition between the existing and

between KSB Canada and the City

natural gas engine-driven pump to

new facilities.

of Calgary has been advantageous

meet a pumping requirement of up to

to both parties. The city issued

60ML/d. The city was pleased with

Calgary's water pump stations are

a Request for Proposal (RFP) in

this installation and 12 months on it

considered critical infrastructure and

late 2017, in search of a vendor to

continues to run well."

24 WATER & WASTEWATER ASIA | MAY/JUNE 2022
---
IN THE FIELD

While the Palliser Drive Pump

Station project was underway,

details for the new Shaganappi

Pump Station were being finalised

and the pump supply was put

into motion. The requirements for

Shaganappi involved the supply

of three large RDLO 600-600

pumps rated at 80ML/d and three

smaller Omega 300-560 pumps

rated at 30ML/d to give a station

design capacity of 220ML/d. This

allows for a total capacity of over

300ML/d with all six pumps in

operation.

However, such a situation is

not anticipated to happen, as

Barazandeh explained: "For 80%

of the time, only one of each

pump type might be working

at the same time, servicing two

different pressure zones for the

water supply system."

One of the key challenges for

KSB Canada was the size of

the natural gas generator at

Shaganappi Pump Station. "The

configuration of the pumps and

their power requirement had to

be modified to meet and exceed

the duty condition. To meet this

condition, we needed to modify

the pump hydraulics to maximise

efficiency for the most frequent

operating conditions," he said.

"This led to delivering the lowest

lifecycle costs and optimum

operating reliability."

trim diameter to be no more than

98% of the full size and removable

wearing rings on the impeller and

casing. There were also several

specific material requirements to

satisfy national and international

standards relevant to the handling

of potable water.

THE SOLUTION

Supporting many water applications

around the globe, the RDLO and

Omega pumps were identified

as being more than capable of

meeting the customer's specific

demands. KSB's axially split, single

volute casing RDLO and Omega

pumps feature a double-entry radial

impeller and are designed to the

requirement of the water pumping

stations. They transport fluids with

a minimum of low resistance, thus

lowering the energy and lifecycle

costs of the systems in which they

are installed. Computational fluid

dynamics (CFD) optimised hydraulic

systems deliver both the best duty

point and give operating efficiency

levels of above 86%.

The double-entry impeller balances

the axial forces so the load on

the maintenance-free bearings is

minimal. The combination of solid

bearing brackets, a short and

rigid shaft and pre-loaded bearings

ensures low vibration and extended

operating life for the bearings, seals

and coupling. Being axially split

case pumps simplifies maintenance

procedures, enabling ready access

to all parts for a thorough inspection.

The drive may be positioned on both

the left and right of the pump without

additional parts or modifications to

the casing being necessary.

SUMMARY

From the original RFP process

through the construction of the new

facility, KSB Canada has worked with

the City of Calgary, the consultant

engineer Associated Engineering, and

the contractor Graham Infrastructure.

Fast response, technical assistance

and project management were key

contributions from KSB Canada.

"We were faced with a very exacting

RFP issued by the City of Calgary,"

Barazandeh concluded. "We

identified the most appropriate and

proven pump types and customised

them to the city's specifications.

Providing optimum hydraulics to

meet or exceed these requirements,

along with configuring the pumps to

meet the duty conditions, were major

factors in delivering a successful

project."

The City of Calgary

specifications stated that they

required between-bearings,

axially split case centrifugal

pumps. Other specific

requirements included suction

and discharge nozzles provided

with integrally cast flanges to

ANSI/ASME B16.1, the impeller

The configuration of the pumps and their power

requirement had to be modified to meet and

exceed the duty condition. To meet this condition,

we needed to modify the pump hydraulics to

maximise efficiency for the most frequent operating

conditions, this led to delivering the lowest lifecycle

costs and optimum operating reliability."

Pasha Barazandeh

Regional Sales M7 anager for KSB Canada,

WATER & WASTEWATER ASIA | MAY/JUNE 2022 25
---
IN THE FIELD

WASTEWATER

TREATMENT

SOLUTION FOR

a critical airport

application

1

When a utility and services provider was

commissioned to create an environmentallycritical

application for one of the world's

busiest airports, they collaborated with

SEKO for a failsafe solution.

The European airport manages more

than 80 million passengers each

year. Among the logistical challenges

management faced to ensure a safe

and efficient operation is managing the

effect of cold weather on aircraft.

During winter, the presence of snow

and ice disrupts airflow over the wings

and tail of an aircraft, hindering its

ability to create lift and consequently

preventing pilots from taking off.

could contaminate waterways with

glycol, having a devasting effect on

surrounding waterborne wildlife. With

up to 1,000 litres of de-icer required to

clear an Airbus A380 and hundreds of

flights departing daily, the pollution risk

was significant.

With a clear vision for sustainable

growth, the airport has been working

to reduce its environmental impact

for several years. Hence, any

contamination incident would be seen

whereby contaminated particles in

liquid clump together and eventually

sink, allowing them to be separated

and the remaining clean water safely

discharged.

Looking for a solution capable of

managing this complex and demanding

process, SEKO was approached to

supply an automated polymer batching

system that could separate pollutants

and allow treated water to be safely

discharged into a nearby watercourse.

1 PolyCendos from

SEKO

2 A utility and services

provider approached

SEKO to develop an

automated polymer

batching system

3 PolyCendos is

equipped with

three chambers for

dissolving, maturing

and storage which

are interconnected

by syphons, forming

a flow necessary for

the formation of a

high-quality solution

To avoid delay or cancellation of

as a significant setback that results

potentially hundreds of flights and the

in negative publicity and impacts its

Following an extensive assessment

subsequent disruption to travellers, the

public profile.

of the site and application, SEKO

airport invested in de-icing cannons to

recommended its PolyCendos

spray airliners with a heated glycol fluid.

The airport management, therefore,

polymer preparation unit (PPU) that

This process ensured that settled snow

commissioned a utility provider to build

automatically doses up to 200 litres of

and ice melted while preventing further

and operate treatment works adjacent

wastewater per second with flocculant.

build-up once planes were airborne.

A COMMITMENT TO MINIMISING

ENVIRONMENTAL IMPACT

to the site to improve the quality of

wastewater being discharged.

When designing the plant, the

SAFETY, RELIABILITY AND

PERFORMANCE IN ONE

PolyCendos is an all-in-one system

The airport was concerned that

utility company decided to treat the

for the preparation of polymer

wastewater from this process

wastewater via a flocculation process,

solutions, supplied complete with

26 WATER & WASTEWATER ASIA | MAY/JUNE 2022
---
IN THE FIELD

2 3

an IP65-rated electric control panel, dosing

pumps and powder feeder.

The unit has three chambers for

dissolving, maturing and storage which are

interconnected by syphons, forming a flow

necessary for the formation of a high-quality

solution. The chambers include inspection

covers and emptying valves, and are made

in polypropylene homopolymer (PPH) for

chemical resistance and a low-friction

surface.

PolyCendos' comprehensive safety

features include a safety pressure switch

for the automatic water supply system, an

emergency stop for all components and a

separate safety level switch for overflow

levels.

DATA ON DEMAND

SEKO also supplied its Spring pumps

coupled with Elektra digital controllers for

the precise dosing of anti-foam, commonly

required in wastewater processes. Elektra's

"data on demand" technology meant

users could control anti-form dosing

from any location via PC, laptop or smart

HOW POLYCENDOS WORKS

1. Operators tip powdered polymer into

a hopper from 20kg bags, ensuring

compliance with manual handling

regulations. When the level of the

prepared solution falls below the

minimum level, an alarm indicates that

the powder tank must be replenished.

2. The powdered polymer enters the

system via a stainless-steel batching

screw – managed by a precise

speed regulator – and mixes with

water before the resulting solution

drops into tank one below and

the dissolving phase begins. A

customised stainless-steel agitator

slowly and continuously turns the

contents of the tank, ensuring

thorough homogenisation of the

solutions.

device. Because some of the client's site

management operated multiple plants and

were not always present at the airport, being

able to remotely view and adjust dosage was

a benefit.

3. The siphon transfers the solution

to the maturing chamber, where

another slow agitator keeps the

mixture uniform until maturing is

complete.

4. The solution is transferred to a

storage chamber from where it

can be transferred for use. When

this tank is full, the powder dosing

pump automatically stops and the

water inlet is closed, preventing

further solution from being batched.

5. Two motor-driven PS2 Spring series

pumps dose the polymer solution

into the wastewater, with flow-rate

adjustment performed automatically

by an Aktua control unit, which can

be calibrated during operation for

maximum efficiency.

With this comprehensive water-treatment

system in place, airport management could

ensure the quality of its discharged water,

protect local wildlife and enhance its drive

towards sustainable growth.

WATER & WASTEWATER ASIA | MAY/JUNE 2022 27
---
IN THE FIELD

QDOS CWT PUMP

addresses pipeline

pressure challenge

Faced with chlorine degassing issues in its 80m pipe

run, a French water purification plant deploys Qdos

CWT chemical metering pumps to overcome this

issue with an innovative operational concept.

The Villejean water treatment plant

near the City of Rennes in Brittany

faced a structural challenge in

adding sodium hypochlorite to a

drinking water storage reservoir due

to the unusually long length of the

pipeline transporting the chlorine.

Watson-Marlow Fluid Technology

Solutions (WMFTS), a manufacturer

of peristaltic pumps for water

treatment, has worked with most

of the water treatment plants in the

Collectivité Eau du Bassin Rennais,

or Rennes Basin Water Authority, for

several years. The authority manages

the entire local water system from

abstraction to tap, with responsibility

for maintenance, monitoring and

repair of 11 treatment plants.

These assets include a 5,000m 3

drinking water storage reservoir,

which serves around 500,000 people

in the region, distributing an average

of 25,000m 3 of water through the

network each day. This reservoir

is fed by both the Villejean plant

and the Rophémel plants, which

are nearby, and the water requires

chlorination at 0.3mg/litre.

The plant has already employed

several Qdos pumps, each fitted with

a ReNu pumphead optimised for

sodium hypochlorite, sulphuric acid

and hydrogen peroxide applications,

with discharge pressures up to 4 bar.

Photo credit: kobu-agency

The use of Qdos pumps for both

sulphuric acid and hydrogen

peroxide at the plant enabled "fast,

simple and safe maintenance"

compared with the diaphragm

pumps deployed previously, Watson-

Marlow claimed. Furthermore,

replacing ReNu pumpheads

requires no tools, specific training or

maintenance technician intervention,

the company added.

28 WATER & WASTEWATER ASIA | MAY/JUNE 2022
---
IN THE FIELD

However, the discharge pressure for

the 15% sodium hypochlorite dosing

when being added to the storage

reservoir remained a concern and a

priority for improvement.

For structural reasons, the sodium

hypochlorite tank is located inside

the Villejean plant, with chlorine

distributed to various injection points

throughout the facility via pumps at

an adjacent location. However, the

linear pipe run that brings chlorine

to the water storage reservoir is 80m

long and along this length, chlorine

degasses in the pipeline, raising the

discharge pressure beyond 7 bar and

causing pump accuracy issues.

by other technologies to achieve

a constant level of accuracy are

avoided.

The Qdos CWT pump runs at

2 litre/hour on average, with a

4-20mQ input signal. The pump has

already reduced the frequency of

maintenance interventions at the

Villejean plant, which produces 7-11

million cubic metres of drinking water

per year, by 75% since its installation

in December 2020.

Kevin Brard, the operator of the

Villejean water purification plant,

said: "The Qdos CWT pump

easily withstands overpressure

in the long pipe run, as well as

the aggressive nature of chlorine.

As a result, its service life is

significantly longer.

"We were already satisfied with

the performance of Watson-

Marlow's Qdos pumps for metering

of sulphuric acid and hydrogen

peroxide, as well as two Bredel 50

hose pumps for lime slurry. Now,

we have a new Qdos CWT pump

model to feed the blench solution

into our tank already."

WMFTS's Qdos Conveying Wave

Technology (CWT) chemical

metering pump, launched globally

last year, was initially introduced at

Villejean on a trial basis in December

2020. It met the abnormally

high-pressure constraints of the

installation. The Qdos CWT pump

offers the advantages of the

standard peristaltic pump, but with

significantly longer service life.

To achieve the peristaltic pumping

action, the Qdos CWT pump

incorporates an EPDM element

rather than a tube, which acts

against a PEEK track. The element

in contact with the fluid is subject to

very low stress levels, which means

that the Qdos CWT pump offers a

significantly longer service life than a

conventional alternative, even at high

pressure.

In addition, Qdos CWT pumps

allow the dosing of chemicals,

including sodium hypochlorite for

post-chlorination cycles, with high

precision and regularity over the

entire life of the pump. This means

overdosing practices often required

Qdos CWT installed at Villejean water treatment works

WATER & WASTEWATER ASIA | MAY/JUNE 2022 29
---
IN THE FIELD

RESEARCHERS

COLLECT CRITICAL

WATER QUALITY DATA

on Africa's Okavango Delta

The Wild Bird Trust, in partnership with National Geographic, launched a yearslong

project to explore the rivers of the Okavango Delta in Southern Africa and

collect baseline data on virtually every aspect of the environment in this remote

region. The open-access data will be used to assess the health of the river basin

over time and prompt action to protect an area that is the primary water source

for a million people and one of the most biodiverse regions in Africa.

The NGOWP researchers deploy In-Situ's Aqua TROLLs to monitor

water quality in the rivers of the Okavango Delta in Southern Africa

(Photo credit: Wild Bird Trust)

Back from a two-month expedition

in the wilds of the Okavango Delta, in

Southwest Africa, Rainer von Brandis,

research director, and Götz Neef,

research director and collections

manager of the National Geographic

Okavango Wilderness Project (NGOWP)

team, recalled the challenges of

data collection in one of the most

remote and biodiverse regions on the

continent.

Their latest journey along the Okavango

River, from Namibia's northern border

with Angola to the Okavango Delta in

Botswana, was the latest in a series

of trips to explore all the major rivers

that sustain the delta and collect

data on virtually every aspect of the

environment, including water quality,

water discharge, biodiversity and

climate.

Since 2015, a small team of researchers

and regional experts have made more

than a dozen river trips, paddling

thousands of kilometres in dugout

canoes called mekoros and collecting

data critical to understanding

environmental change in the

region. Specific to water quality

data collection, the team required

instrumentation designed for spot

checking along the route and for

continuous water monitoring at several

permanent stations.

SOLUTION

On the river trips, Neef utilised the

Aqua TROLL 600 for spot checking.

Every 10km, he collected data on

dissolved oxygen (DO), pH, oxidationreduction

potential (ORP), temperature

and nitrate, with a separate device

used to measure turbidity.

During the trips, Neef would carry two

Aqua TROLLs, in case he needs a

spare. "Space is limited on the boat, so

it's helpful that they're compact, and

you can measure multiple parameters

with one device," he said. "The Aqua

TROLL is easy to use, robust and

completely submersible."

30 WATER & WASTEWATER ASIA | MAY/JUNE 2022
---
IN THE FIELD

Aqua TROLL 600s are also deployed at

three permanent monitoring stations in the

delta, and plans are underway to install

eight more stations, which will be outfitted

with Aqua TROLLS 500s. "We'll have solar

power at those locations, so we won't need

the battery power the 600 provides," Neef

added.

The continuous monitoring stations

collect and transmit data on DO, pH, ORP,

conductivity and pressure, which when

paired with velocity data, can be used to

determine water discharge.

"It's so important to get this baseline data

because it hasn't been done before," he

continued. "And this is good, credible

data. I've been working with these sorts of

devices for a long time and there used to

At every 10km, the Aqua

TROLL is used to collect

data on DO, pH, ORP,

temperature and nitrate

(Photo credit:

Wild Bird Trust)

be a high level of inaccuracy. But the Aqua

TROLL has performed well in that regard."

RESULTS

Once the additional monitoring stations are in

place, the additional data will help complete

the picture of the region's environmental

health.

In the meantime, back from their latest

excursion, Neef, von Brandis and others will

analyse the fresh data and produce a series of

technical reports and scientific publications.

Then, they will return to the field to do it

again. The project, organised by the Wild Bird

Trust and funded by National Geographic, is

expected to continue for years, in the hope

that the data can be used to support crucial

decisions needed to protect this essential

habitat.

"One of our biggest failures as humans

towards our environment has been the

inability to monitor change in the environment

over time," said von Brandis. "That failure to

monitor change has brought us down and

made us slow to respond. This baseline data

is a starting point for trying to fix that."

SMART WATER NETWORK MANAGEMENT

Optimize resOurces - ensure water quality - reduce cOsts

SOFREL NEO

4G LTE-M/NB-IoT

Data logger

Flow and pressure monitoring

Night flow analysis

Flow rate alerts

Leak detection

CSO monitoring & detection

learn mOre:

SOFREL YDRIX

2G/3G/4G

Connected RTU

Simple to use

Highest level of cybersecurity

Secure communication

Alarms management

learn mOre:

info.sg.environment@lacroix.group

www.lacroix-environment.com

WATER & WASTEWATER ASIA | MAY/JUNE 2022 31
---
FOCUS

CERAMAC:

A sustainable ceramic

microfiltration system for

water treatment

Utilities are seeking sustainable solutions for their water and wastewater

treatment needs. Engineers and solution providers have always looked to costeffective

solutions, but the new focus dives deeper into what is sustainable, with

metrics and goals for achieving a net neutral carbon outcome.

By Reinout Holland And Dr Holly Shorney-Darby

challenges as other filter technologies. Sand

filters, while still the work-horse of surface

water treatment globally, can be compromised

allowing harmful pathogens to pass through.

Filtration with polymeric membranes, while

providing a barrier for pathogens, has had

issues with fibre breaks, lesser ability to

withstand higher backwash pressures for

cleaning, high labour costs and downtime

associated with fibre breakage repairs, loss

of permeability and in many cases, a shorterthan-expected

membrane service life.

CeraMac is an innovative and cost-effective ceramic membrane filtration process designed by PWNT

While sustainability is a goal to set our

well for any society. The goal of producing

sights upon, decisions about water

safe, even palatable, drinking water does

treatment must be also focused on other not change, but sustainability will play an

metrics, such as the ability to meet water increasingly important role in evaluating

quality objectives, reliability and robustness different alternatives for treatment.

in managing challenging feed water.

Drinking water treatment is such a critical Ceramic membranes for filtration have

aspect of public health and community been gaining wider acceptance and usage

prosperity that any solutions must work because they do not succumb to the same

Ceramic membranes do not share the issues

common to polymeric membranes, but

instead, present a challenge for higher initial

capital cost. However, utilities that evaluate

on a lifecycle cost basis, for example, over

20 years, have discovered that the initial

costs of ceramic-based solutions often

become less significant because operational

costs are often on par or are even less with

ceramic membranes. This ties directly into

sustainability in the longer term.

CeraMac is a ceramic membrane

microfiltration system that was developed

by PWNT in the Netherlands to manage the

highly-polluted waters of Lake Ijssel and

32 WATER & WASTEWATER ASIA | MAY/JUNE 2022
---
FOCUS

became commercially available in

2009. Multiple ceramic monolith

modules are housed in a vessel

specially designed for a pressurised

membrane system that is operated

in dead-end mode. A quick view of a

CeraMac system implies durability,

due to the industrial look of the

steel infrastructure that houses the

membranes. A closer examination of

the individual sustainability aspects

reveals a robust and sustainable

solution that is future-proof.

The CeraMac system has been

validated and used at full-scale in

Singapore (180 MLD), the UK (90

MLD), Switzerland (30 MLD) and the

Netherlands (120 MLD).

ENERGY CONSUMPTION

In terms of pore size, the focus is

usually on the log removal credits of

a membrane for pathogens. Typically,

ultrafiltration—approximately 0.04nm

pore size—systems are compared

of Public Health. Ultrafiltration

membranes have the same removal

credits for Cryptosporidium and

Giardia but achieve higher virus log

removals due to the smaller pore size.

The installation at

Choa Chu Kang

Waterworks in

Singapore includes

12 CeraMac vessels,

each with 90

membranes

The CeraMac system is a

to microfiltration—approximately

This extra log removal for viruses

microfiltration system, which

0.1μm pore size—systems for water

comes with higher power consumption

means that the nominal pore size

treatment. The smaller pore size will,

for filtration over the life of the system.

is 0.1μm. Ultrafiltration, and even

certainly, require higher pressure for

For many locations, disinfection is

nanofiltration, ceramic membranes

filtration at equivalent conditions and

required with membrane systems to

are available in the marketplace,

flux.

achieve a multi-barrier approach to

but their smaller pore size requires

treatment, and virus inactivation by

a higher feed pressure for filtration.

CeraMac installations typically operate

disinfection is easy to achieve with

Carbon footprint analysis of any

at transmembrane (TMP) pressures

typical disinfection chemicals like

treatment solution will include

20-50kPa when the pre-treatment is

chlorine.

energy consumption, and PWNT's

suitable for the feed water. Smaller

analysis shows it is the main

pore size membrane systems will

For membranes, the pressure gradient

contributor to the carbon footprint

undoubtedly operate at higher

across the membrane measured as

of technology over its lifecycle.

pressures to achieve an equivalent

TMP becomes an important factor to

flux. The actual filtration layer of the

consider. As an example, polymeric

If an operator has access to

ceramic MF membrane in the CeraMac

ultrafiltration of a 0.04μm pore size

renewable energy, the impact of

is 0.1μm, and the remaining part of the

membrane will have typically a 10kPa

power consumption can become

membrane is the support structure.

higher TMP than a ceramic microfilter,

less than with a non-renewable

This means that the maximum

and this leads to about a 25% increase

energy source, however, over

pressure is necessary for the

of pump energy at equal flux or

the 20-year service life, energy

filtration layer and not the body of the

throughput. This added energy adds

consumption remains the main

membrane, and claims that the depth

up to over a 20-year plant life.

contributor to the system's carbon

of ceramic impacts system pressure

footprint.

are unfounded.

The low TMP operation for a CeraMac

allows also gravity as the main filtration

Energy consumption for a

Also, the microfiltration membrane in

driving force of the feed flow, where

membrane can be viewed in terms

the CeraMac system is credited with a

applicable, such as in locations where

of pore size, operation pressure

4 log Cryptosporidium, 4 log Giardia,

there is already a high head for water

across the membrane, backwash

and 1.0 log virus removal credit,

delivery to the plant. This is already

pressure and feed pressure.

according to the California Department

operating at a full-scale plant in the

WATER & WASTEWATER ASIA | MAY/JUNE 2022 33
---
FOCUS

mountains of Switzerland, where

the feed water head is more than

enough to yield sufficient pressure

for filtration.

In addition to the low TMP

operations of a ceramic

microfiltration (MF) membrane,

backwashing energy use is less

than in other membrane systems.

The CeraMac system utilises no

backwash pumps, but instead

conserves and stores kinetic energy

for backwashing in an air-spring

system. This air-spring system drives

the high-pressure backwash at a low

energy expenditure, which further

contributes to lower overall energy

use for operations.

MATERIALS OF CONSTRUCTION

Materials of the system also must

be factored into the sustainability

of a system. CeraMac systems are

built to match the expected service

life of the CeraMac microfiltration

membranes, which in practice have

already proven to exceed more than

20 years of service life. Ceramic

membranes have a high tolerance

for cleaning chemicals, and this

means a wider pH range or higher

oxidant or temperature exposure.

Due to the high durability of ceramic

materials, they can be backwashed

aggressively, with higher pressure up

to 5 bar.

The CeraMac design philosophy of

having a long service life without frequent

membrane replacements and with lower

overall power consumption has led to

a truly sustainable solution for water

utilities for the sustainable production of

safe, clean drinking water.

Each aspect of the ceramic

membrane requires materials of

the systems to be durable and

strong, and with sustainability

in mind, also long-lasting. Steel

is versatile and meets these

requirements. Plastics are not

and would become brittle over

time, possibly before the end of

the service life of the ceramic

membranes used by PWNT, these

lasting more than 23 years in

continuous operation.

Materials other than the membrane

also must factor into the

sustainability review of a system

and are critical to the durability and

flexibility of use over the system's

service life.

RECYCLABLE

Breaking down a system into

its individual components and

considering the materials, it

becomes clear if these can be

recyclable for beneficial reuse.

Some materials can be "pure"

and some mixed components.

Recycling is a key aspect of

sustainability, with a cradle-tograve

view of the materials. Mixed

or combined materials, such as

glass fibre reinforced plastics, are

problematic in this regard, as the

recycling process works best with

single-component materials.

Looking closely at the operational

details, energy use and the materials

of a filtration technology is necessary

to evaluate sustainability and compare

its merits against alternatives. Due

to its long service life and individual

component construction, the

CeraMac ceramic membrane system

is capable of yielding excellent

finished water quality sustainably.

Meeting these objectives allows

utilities to meet many goals with a

single technology.

Reinout Holland is head of business

development, and Dr Holly-Shorney-Darby is

head of technology application and piloting

at PWNT.

To produce water of

better quality with

lower environmental

impact and

decreased energy

consumption, the

Andijk plant in the

Netherlands deploys

PWNT's suspended

ion exchange (SIX)

and CeraMac

34 WATER & WASTEWATER ASIA | MAY/JUNE 2022
---
FOCUS

Photo credit: Adobe Stock Image

ADDRESSING TOXICITY

of wastewater influent with

Hach EZ7900

Removing obstinate wastewater residues and extra sludge

can be a difficult but necessary treatment process with

considerable economic and environmental benefits.

Influent toxicity represents a major risk to the

treatment efficiency of biological wastewater

treatment plants. Hence, it is critical to

understand that if a hazardous influent

suppresses wastewater biology, it can lead

to permit violations, fines and extended

process upsets. It will also necessitate more

operator hours and change the public's

image of the facility.

Wastewater treatment plant managers are

increasingly being required to accommodate

greater capacity, whilst at the same time

complying with tighter discharge consents.

Consequently, they are under pressure to

optimise processes, lower process risks and

improve the quality of treated effluent.

There is constant pressure to increase

the efficiency of wastewater treatment

plants (WWTP). The efficiency of these

plants is mostly measured by their rate of

biodegradation and removal of nutrients

which can be optimised by controlling the

effect of toxic substances before reaching

the plant. All substances that are detrimental

to the respiration rate of bacteria can lead to

a significant reduction of biodegradation in

WWTP.

Activated sludge used in the treatment plant is

a mixture of different bacteria species which

degrade substrates to grow, mainly based on

the continuous consumption of oxygen. This

process is conventionally named respiration

and has a direct relationship between growth

WATER & WASTEWATER ASIA | MAY/JUNE 2022 35
---
FOCUS

and biodegradation. Experiments

microorganisms. A considerable

show that with advanced respiration

increase in the sugar content of the

technology, online monitoring of

influent, for example, would raise the

toxicity in wastewater treatment plants

organic load but not necessarily harm

is possible.

the bacteria.

A biological wastewater treatment

A sudden rise of alcohols from a

plant with a high rate of organics

production line or cleaning chemicals

and nutrient removal has a high

from a wash-down would dramatically

throughput of wastewater with a high

dimmish the plant's biological

rate of organics and nutrient removal

treatment potential.

under ideal conditions. This is an area

where Hach is well cognizant. The

As such, Hach launched an online

self-cleaning sample preconditioning

monitoring solution that can detect

panels of the EZ7900 toxicity analyser

influent toxicity and send timely

allow for continuous monitoring of

data to operators of biological

toxicity levels at the input. It employs

WWTPs, protecting activated sludge,

real plant sludge so that dynamic

maintaining treatment efficiency and

changes in biomass viability may

minimising plant downtime and failure

be detected quickly, allowing for

to obtain discharge consent.

effective mitigating strategies to be

implemented.

The results of the toxicity analysis are

Input toxicity, on the other hand, might

impact normal plant performance,

used to determine if the influent should

be diverted to an emergency buffer

tank.

from an industrial discharge. It could

EZ Series EZ7900

toxicity analyser

making it critical to monitor this non-

result from a change in manufacturing,

specific metric. The correct balance of

microorganisms will be maintained and

treatment will proceed with maximum

efficiency, if the influent remains

consistent, supplying appropriate

nutrients and at the right proportion of

aeration.

Any abrupt or unexpected changes in

the influent, on the other hand, have

the potential to disrupt the microbial

Online monitoring of influent

toxicity mitigates risk and helps

plant operators stay compliant:

• Improves treatment efficiency

and avoids sudden drop in

performance

• Avoids downtime and plant

failure

• Helps avoid discharge

compliance failure

a cleaning process, a spill or

inadvertent release of dangerous

chemicals at an industrial WWTP.

The Hach EZ7900 toxicity analyser

can provide timely warnings by

continually sampling and measuring

influent toxicity. This allows for

suitable mitigation measures to be

implemented. The instrument's cycle

time is about 10-15 minutes. Hach

balance and impair wastewater

reported that many of its customers

treatment efficiency. A toxic influent

ADVANTAGES OF ONLINE TOXICITY

regularly sample once every hour, 24

can injure microorganisms to the

point that the treatment lane must be

MONITORING

1. Reduction of risk

hours a day, seven days a week. This

ensures that any toxicity issues are

blocked, emptied and regenerated in

Hach has eliminated one of the key

identified at any time of the day or

extreme cases.

risk factors impacting the operation

night.

of biological WWTPs by automating

To predict influent toxicity, total

the monitoring of influent toxicity.

2. Process optimisation

organic carbon (TOC), occasionally

Toxic influents can come from several

Online monitoring aids process

paired with total nitrogen, has been

various places. Toxicity can occur

optimisation by efficiently protecting

utilised in the past. It is crucial to

in a municipal wastewater treatment

plant biomass from toxicity,

remember, however, that not all

facility because of the intentional or

maximising treatment capacity and

influent changes are harmful to

unintentional release of toxic waste

lowering aeration energy and financial

36 WATER & WASTEWATER ASIA | MAY/JUNE 2022
---
FOCUS

costs. Continuous monitoring also

aids in sludge loading optimisation,

nitrification maintenance and sludge

waste with effluent prevention.

Integration of

EZ7900 toxicity

analyser

3. Process insights from plantspecific

measurements

The Hach EZ7900 uses a self-cleaning

sampling-filtration system to gather

sludge that has been sampled from

the treatment facility. With plantspecific

sludge, the data from the

analyser is specific to the biomass

of that treatment plant and dynamic

changes in viability are quickly

observed. Importantly, continual

toxicity monitoring aids in a better

understanding of the biological

processes of the plant. This has

produced insights for many users,

which have been leveraged to improve

process control.

It is not commonplace for plants to

deflect influent when it exceeds 50%

of the dose that would be deadly to the

biomass, as a rule of thumb. Several

EZ7900 users have been able to

examine the impacts of greater dose

rates with the benefits of continuous

toxicity monitoring, and some have

discovered that the action and divert

level can be set as high as 85% for

their plant.

Potential sources of influent

toxicity

• Production dependent

wastewater

• Clean-in-place (CIP) processes

• High salt concentrations

• Toxic waste in the collection

system

• Increased heavy metal

discharges

• Tank truck cleaning station

• Chemical toilet disposal

• Collection's system chemical

root clean

CONTINUOUS MONITORING —

HOW IT WORKS

Prior to analysis, a representative

sample of influent and a homogenous

sample of sludge from the plant's

aeration lanes must be obtained.

The EZ9110/9120 series automatic

sampling and sample preconditioning

devices, which Hach developed with

several years of field experience, make

this possible. These self-cleaning

preconditioning systems employ

pressured air and rinse water, and are

designed for completely automated,

unattended operation.

The EZ7900 toxicity analyser features

an industrial panel PC with controller

software and a 5.7-inch TFT colour

user interface for data visualisation onsite.

Visibility and analysis parameters

can be changed, and data trends

can be seen using the software. It

manages the functioning of up to

eight influent sample streams in a

single analyser, with results conveyed

via distinct outputs such as mA or

Modbus for each stream.

This multichannel capacity lowers the

cost per sample point substantially,

and each channel can have a

conventional 4-20mA signal output

with alarm processing so that

necessary and timely action can

be taken. The filters and analyser

are cleaned automatically, and the

user can specify the calibration and

validation frequency.

Intelligent, automated features help

to improve analytical performance,

reduce downtime and reduce human

intervention. Nonetheless, Hach

offers a variety of Service Agreements

to ensure that plant operators'

systems run smoothly and reliably.

The health of the biomass in a

biological wastewater treatment plant

is critical to the plant's long-term

effectiveness, so being able to detect

chronic and acute influent toxicity

in enough time to adopt appropriate

mitigation measures is critical. Some

toxicity incidents may be overlooked

due to manual sampling, or alarms

may be provided too late.

Artificial biomass is not indicative of

plant circumstances, hence online

approaches that do not employ the

plant's actual biomass to estimate

the oxygen update rate (OUR) of

microbial respiration will be of limited

utility.

The Hach EZ7900 provides the option

for limiting the risk posed by toxic

influents while also giving insights

for process control, improving

performance and avoiding discharge

consent failure by employing the

plant's biomass and automating the

process to enable 24/7 monitoring.

The EZ7900 can play a significant

role in optimisation of the treatment

processes leading to increased

efficiency of the plant operation

because of the relationship between

biodegrading and respiration, toxicity

analysis is a key parameter to control

and protect the WWTP.

WATER & WASTEWATER ASIA | MAY/JUNE 2022 37
---
FOCUS

ONE STEP FORWARD,

two steps back

Organisations worldwide are helping to solve

water scarcity, but more has to be done to meet

the United Nations' sustainability goals.

By Sandra DiMatteo

preventing them from attending school and

obtaining a good education. Since water is

the top priority of the villages, these women

are also prevented from earning the wages

they need to support their families.

INDIA AIMS TO PROVIDE CLEAN

WATER FOR ITS PEOPLE

The Uttar Pradesh State Water and

Sanitation has been improving the state's

water infrastructure with a mission to bring

drinking water to every household. One of

its projects is the Khatan Group of Villages

Water Supply Scheme, awarded to Larsen

& Toubro Construction.

Women in Khatan walk several kilometres daily to fetch water

Around the globe, water scarcity affects In India, the government is also looking for

millions of people each year. From the ways to have clean water available across the

mountainous region of Tibet, where they country, particularly in small rural villages.

need to consider building dams for water To illustrate, the state of Uttar Pradesh has

conservation, to the subtropical area

approximately 1.5 million people living in

of Santa Catarina in Brazil, where they nearly 400 villages, such as the small village

face the worst crisis in nearly 30 years, of Khatan that struggle every day to access

we can see that access to potable water clean water. In these villages, many women

is the most challenging issue the world walk several kilometres each day to fetch

faces.

water—often taking their children along,

The project includes designing and

constructing an intake well to collect water

from the Yamuna River, as well as an

approach bridge that connects to a water

treatment plant, 40 intermediate booster

pumping stations, 121 elevated storage

tanks to distribute the water through a

1,531km pipeline network, and a 2,129km

distribution pipeline network that serves the

community. Larsen & Toubro Construction

needed to provide a complete solution,

from concept to commissioning, that

extends into 10 years of operation and

maintenance for what will be an integrated

smart water system.

There were many engineering challenges,

magnified by a very tight timeline. Within

six months, the team had to generate 890

BIM models for 200 different structures,

38 WATER & WASTEWATER ASIA | MAY/JUNE 2022
---
FOCUS

all considering various soil interactions.

The design of the water supply system

proved to be a significant challenge, so the

team turned to Bentley software to help

determine the best and most economical

design.

Larsen & Toubro used an in-house

electronic document management

system (EDMS) to manage the five

disciplines involved in the drawings. The

documents were uploaded to the EDMS

database for verification by corresponding

section heads. The section heads of the

corresponding disciplines reviewed the

drawings and gave clearance that all of

the requirements were updated. After

clearance, the workflow was automatically

routed for interfacing to the respective

disciplines, then re-routed to the design

division head for final review.

Using OpenFlows WaterGEMS, the

engineering team rapidly designed

the network, putting them ahead of

schedule. With the help of STAAD.Pro,

the team was able to quickly design the

structural foundations for the treatment

facility, elevated storage tanks and other

structures, allowing the design work

to be completed 30% faster than they

would have using manual methods. They

used PLAXIS to secure the safety of the

work area, determining safe excavation

sloping and saving time and money. The

engineering design phase was ahead of

schedule, saving two precious months

due to digitalisation support from Bentley

applications, helping them to deliver the

project 25% faster.

WORKING SMARTER TO IMPROVE

THE HEALTH, EDUCATION AND

LIVELIHOOD OF PEOPLE IN THE

COMMUNITY

Enabling access to water for the community

and completing this project faster will have

enormous value for the local households,

food, culture, health, education, economics

as well as the integrity of the natural

environment. The project will enable

1.5 million people to achieve sustainable

health through quality drinking water. From

improving access to education to enabling

women to earn a wage instead of fetching

water, this social commitment is impacting

the quality of life in this area.

A key consideration in the engineering of

this project was that the treatment facility

had to fit within a very limited area. Larsen

& Toubro were sensitive and considerate in

keeping the sacred grounds of the nearby

temple untouched. Located directly in the

middle of the space to avoid upsetting the

local community, they found innovative

ways to connect pipelines around the

temple grounds. It is a testament to Larsen

& Toubro's values, skills and caring culture

that they prided themselves on this attention

to detail.

The Indian government has long trusted

Larsen & Toubro and their sustainability

practices shine as evidence in their work

for economic, environmental and social

responsibility. As a builder of major

infrastructure projects in India, they are

constantly contributing to the quality of

life of the communities they impact. Their

team fosters continuous growth towards

ESG-related concerns such as climate

stewardship, green initiatives and the

circular economy with a dedication to reuse,

recycle, repair and refurbish as long as

possible.

WATER CONSERVANCY INITIATIVE

REDUCES ENVIRONMENTAL IMPACT

Located in the high-altitude alpine region of

Tibet, the PZ Dam is a hydro complex that

is part of a water conservancy initiative.

It is focused on irrigating 2,600 hectares

downstream and generating power to

help improve both urban and rural water

supply and the regional water ecological

environment. Knowing the importance of

subsurface findings, the survey and design

team faced challenging terrain, extreme

environmental conditions and a short

construction period.

Given the fragile ecological environment and

extreme cold, traditional survey methods

could not accommodate the investigation.

China Water Resources Beifang Investigation,

Design and Research explored digital data

acquisition and 3D modelling of geological

data but found that many software products

could not integrate and maximise data

potential.

Using Bentley's ContextCapture, China

Water found they could more easily process

data for geological visibility. They also

deployed ProjectWise for multidiscipline

WATER & WASTEWATER ASIA | MAY/JUNE 2022 39
---
FOCUS

Sustainable Development Goals (SDGs)

6 established this lofty universal call to

action as part of the 17 sustainability

goals agreed upon by the UN General

Assembly in 2015 to achieve a better and

more sustainable future for all by the year

2030. SDG 6 is to ensure the availability

and sustainable management of water

and sanitation for all. It encompasses

six outcome-oriented targets, including

safe and affordable drinking water and

improving water quality.

Water crisis is a serious threats in India and worldwide

collaboration and to streamline data sharing.

The team digitalised the entire survey

process, including field data acquisition and

transmission, data storage and analysis, 3D

geological modelling, and data simulation and

analysis. The solution saved RMB¥400,000

(US$62,809) in survey costs and over 50% in

survey time, improving data accuracy by over

10% and work efficiency by over 15%.

Establishing a digital twin enhanced project

management by 10% and set an industry

benchmark. By going digital the team saw

their efficiency improve from 40% to 95%

compared to traditional survey methods. Using

a digital twin approach, the construction team

reduced the amount of excavation needed

during construction and the impact on the

environment and provided a successful and

proven plan for similar high-altitude projects

both in China and throughout the world.

A CONTINGENCY PLAN TO ENSURE

SUPPLY IN THE EVENT OF DROUGHT

After a severe water crisis, over 100

municipalities in Brazil declared a state of

emergency and rationing and supply rotation

went into effect. This water crisis triggered the

city of Joinville to develop contingency plans

to maintain the water supply during drought

conditions. Preliminary simulations produced

water shortages, so they sought a more

comprehensive network study.

They used Bentley applications to create a

digital twin and perform hydraulic analysis

of the distribution system, ensuring

water supply while saving R$4.5 million

(US$962,361) as a result of maximising

operational performance and efficiency. It

was technology that enabled this innovative

solution and gave residents peace of mind.

At Bentley, our mission is to provide

innovative software and services for

the enterprises and professionals who

design, build and operate the world's

infrastructure—advancing both the global

economy and the environment for improved

quality of life. Connecting the entire water

cycle, engineering firms trust Bentley

software to accelerate the design and

construction phase, then once in operation,

utilities can optimise the water system

to avoid supply interruptions, ensure

compliance with regulations and mitigate

risks. Partnering for success to digitalise

the water project and asset lifecycle,

Bentley is leading the way to the digital

water future.

ONE STEP FORWARD, TWO STEPS

BACK ON UN'S 2030 SUSTAINABILITY

GOAL FOR WATER

The Larsen & Toubro project demonstrates

the importance of accelerating access

to clean water. The United Nations (UN)

But globally, we need more. We are

making good progress with Bentley and

Larsen & Toubro working together to

accelerate the delivery of water supply

to the communities of India. However,

it is estimated, overall globally, that

by 2025, the number of people that

will live in water-scarce regions due

to growing drought issues caused by

climate change and population growth

will in fact increase, not decrease. In

many places, we will be in a worse

position than we were in 2015 when

the goal was established. More people

will have difficulty accessing a clean,

safe water supply daily. And by 2050,

more than half of the world's population

could be living in water-stressed regions

due to the impact of climate change

and droughts, urbanisation as well as

conflict and war.

Water safety and sustainability are more

fragile than we think. There are no other

alternatives when it comes to water goals

and failure is not an option. We are all

part of the solution and technology will

help us get there faster. Sustainability

means rethinking how we do things and

doing them smarter and with greater

transparency. Collaborating with

stakeholders in a connected digital twin

environment will help us learn from the

past, make better decisions today and

create a better future for all.

Sandra DiMatteo is industry marketing director of

water infrastructure at Bentley Systems.

40 WATER & WASTEWATER ASIA | MAY/JUNE 2022
---
FOCUS

AUTOMATIC SCRAPER

STRAINERS PROTECT

critical membrane systems

Automated scraper strainers pre-filter water and wastewater to protect

fragile membrane systems from damage caused by large, suspended

particles, reducing maintenance and replacement costs.

By Del Williams

Automatic scraper strainers

are motorised and designed to

continually remove suspended

particulates in industrial

process water and wastewater

to the specific size required

down to 0.003 inches

For industrial process facilities,

membrane filtration is a valuable,

commonly used means of filtering

water and wastewater. The challenge

is that membrane systems are

delicate and can be easily damaged

by large particulates in the water. A

pre-filtration step eliminates this risk

by removing oversized suspended

solids to prevent damage, eliminate

unnecessary maintenance, and

reduce the cost of premature

membrane replacement.

Among the pre-filtering options

available, automatic self-cleaning

scraper strainers are increasingly

popular because they are affordable,

require very minimal maintenance

or attention, and can remove solids

down to 75µm. The strainers allow

for continuous, uninterrupted flows

even during blowdown cycles.

When compared to filters that

must be manually cleaned or even

conventional backwash systems,

automatic scraper strainers can save

substantial costs on maintenance and

membrane replacement.

INDUSTRIAL WATER TREATMENT

AND MEMBRANE SYSTEMS

Although various filtration methods

use membranes, the most mature is

pressure-driven membrane filtration,

which relies on a liquid being forced

through a filter membrane with a

large surface area. Depending on

the size and type of the particles

involved, the process could be

categorised as reverse osmosis

(RO), nanofiltration, ultrafiltration or

microfiltration.

In general, RO is used to produce

potable water or deionised water.

Nanofiltration is used in wastewater

treatment as well as by the

petrochemical industry to purify

gas condensates and the chemical

industry for solvent recovery.

Ultrafiltration and microfiltration

are increasingly used in water and

wastewater treatments.

Numerous industries have high

water usage that can require

further treatment of water, including

automotive, aerospace, oil and gas

extraction, refining, textiles, and pulp

and paper mills. Ultrapure water,

which must meet strict limits of

certain constituents in the water such

as suspended and dissolved solids,

dissolved gases, organic carbon

and biological organisms, is utilised

in electronics and pharmaceutical

manufacturing processes.

WATER & WASTEWATER ASIA | MAY/JUNE 2022 41
---
FOCUS

1 2

In industrial applications, water treatment is

also vital to protect downstream equipment

from fouling, scaling, corrosion and other

forms of damage or premature wear due to

contaminants present in the source water. For

these reasons, cooling towers and boiler feed

water are generally pre-treated.

Membrane filtration is also utilised to treat

non-potable water sources such as gray

water and reclaimed and recycled "purple

pipe" water.

Because the membranes are made using

thin, porous sheets of material, failing to

sufficiently pre-filter any large, suspended

particles from the water can cause severe

damage and fouling – leading to premature

replacement and unnecessary maintenance,

according to Robert Presser, vice-president

of Acme Engineering, a North American

manufacturer of industrial self-cleaning

strainers.

"Most membrane filter manufacturers

recommend that all influents be pre-screened

from 100-500µm to maintain membrane filter

efficiency," said Presser, whose company

manufacturers environmental controls

and systems with integrated mechanical,

electrical and electronic capabilities.

He added that automatic scraper strainers

are typically installed before the intake

plenum of membrane filters, after the supply

pumps.

EXTENDING MEMBRANE LIFE

As an alternative to sand filters, centrifugal

separators and basket types strainers,

automatic scraper strainers provide

improved membrane protection while

reducing required maintenance.

Automatic scraper strainers from Acme

Engineering can provide continuous removal

of suspended solids to comprehensively

protect membrane systems. The automatic

units are motorised and designed to

continually remove suspended particulates

in industrial process water and wastewater

to the specific size required down to 0.003

inches.

Conventional manual strainers can become

clogged quickly due to limitations in

straining areas. When that occurs, cleaning

or media replacement is required, which

increases maintenance costs. The other

alternative for fine straining is automated

backwash-style strainers of various designs.

As particle sizes grow larger, however, large

contaminants can clog up the backwash

system or remain in the body of the strainer,

requiring manual removal and interruption of

the process flow.

With the automatic scraper strainer,

cleaning is accomplished by a springloaded

blade and brush system, managed

by a fully automatic control system. Four

scraper brushes rotate at 8rpm, resulting

in a cleaning rate of 32 strokes per

1 Automated scraper strainers pre-filter water and

wastewater to protect fragile membrane systems

from damage caused by large, suspended

particles, reducing maintenance and replacement

costs

2 Automatic self-cleaning scraper strainers are

increasingly popular because they are affordable,

require minimal maintenance or attention, and can

remove solids down to 75µm

minute. The scraper brushes get into the

wedge-wire slots and dislodge resistant

particulates and solids. This approach

enables the scraper strainers to resist

clogging and fouling when faced with

large solids and high solids concentration.

It ensures a complete cleaning and is

effective against even organic matter

"biofouling".

With this type of system, manual

maintenance for cleaning is eliminated.

Blowdown occurs only at the end of the

intermittent scraping cycle when a valve is

opened for a few seconds to remove solids

from the collector area. Liquid loss is below

1% of total flow.

With so much to gain, industrial

plant managers might consider selecting

an automated, self-cleaning system that

is essentially "set-and-forget", where

automatic scraper strainers comprehensively

protect delicate membranes and allow

personnel to focus on other aspects

of the facility.

Del William is a technical writer.

42 WATER & WASTEWATER ASIA | MAY/JUNE 2022
---
LET US DEVELOP,

MARKET AND

MANAGE YOUR

NEXT WEBINAR

Webinar Series Development

• Content development

• Pre and post webinar email marketing

• Be supported by WWA print and digital

advertising

• Graphics and video support

• Hosting

• Hardware & software provision

• Professional moderation

• Turnkey management

• Speaker support

• Documentation support

• Audience interaction

• Feedback gathering & analysis

• Monitoring and reportage

Additional Support

Video content development

• Concept

• Scripting

• Story boarding

• Motion graphics

• Voice overs

• Editing and export into relevant formats

• News and Product video bites

• Product & service videos

• Video ads

• "Live" reportage

• Monitoring and reportage

For more informaon, contact us at

sales@pabloasia.com

Pablo Publishing & Exhibition Pte Ltd | www.waterwastewaterasia.com
---
HOTSEAT

WATER SECTOR MUST

invest in our planet

A scheme from innovation consultancy Isle – called the Trial Reservoir (TR)

– aims to save the equivalent of 30,000 people's worth of carbon emissions

per year by driving water innovation. Dr Joss Burgess, head of the TR project

at Isle, provides a look at the first tranche of trials in this initiative.

An aerial view of

Gambia, where one

of the first Trial

Reservoir projects is

taking place

The climate crisis is one of the biggest

challenges of our time and requires

urgent, global attention. So how can

the water sector respond to these

challenges and act more boldly to

meet these urgent challenges head

on?

The water sector itself is a major

contributor to greenhouse gas

emissions worldwide and it stands to

reason more needs to be done to help

the sector invest in, and accelerate

the adoption of, technologies which

can help the water sector achieve

carbon neutrality.

The sector is also traditionally

very risk-averse, which often

results in the slow uptake of

mitigation technologies. Meanwhile,

innovations undergo trials without

implementation due to diverse

barriers including cost.

This is where Isle's Trial Reservoir

(TR) comes in – by providing

technology companies with access

to trial loan funding. Launched in

November last year, it is evergreen,

as the repaid loans are recycled into

further trials.

A look at the first three trials

demonstrates the scope and aims of

the TR project, whether in developing

nations or the UK.

44 WATER & WASTEWATER ASIA | MAY/JUNE 2022
---
HOTSEAT

GAMBIA

eWater's treatment, supply and

e-wallet billing and metering system

provides customers in Wellingaraba

with potable water 24/7 using solar

power and gravity. It uses pre-payment

SmartTags to enable SmartTaps that

dispense water and deduct credit.

Local technicians maintain the system

and local shops sell credit. Each

SmartTap dispenses 1,000 litres/day

and each litre is said to save 3.03kg

CO2 equivalent to reduced fossil fuel

use.

This trial supplies 500 previously

unserved consumers and eliminates

the use of paraffin and charcoal for

boiling water at home.

SPAIN

iVapps' reusable combined inline

sensors and isolation valves for supply

networks, which are being trialled on

the island of Mallorca, can be repaired,

replaced, upgraded and recalibrated

under full line pressure, avoiding costly

and disruptive shut-offs.

The cartridges self-generate energy

from flow, considerably reducing the

operational carbon footprint compared

to similar systems. Their carbon cost

of fabrication is lower than competing

technologies, and when they eventually

become irreparable, they are

recyclable.

UK

Orege's Seamer, which is being trialled

in Yorkshire, delivers sludge at higher

thicknesses than traditional equipment,

but the sludge is still pumpable and

with the high-quality filtrate.

The volumes of sludge transported

are often reduced by more than

two-thirds, reducing carbon footprint

and expenditure on haulage. Seamer

requires minimal engineering and

construction outlay, lowering the

carbon footprint of construction and

capital expenditure too.

The TR project provides trial funding,

enabling end-users to adopt

technology with minimal financial

risk, while simultaneously guiding

and supporting trials from start to

finish and ensuring best scientific

practice is adopted.

Access to loans depends on a trial

and purchase agreement between

the technology vendor and the

user that describes the trial's key

performance indicators (KPIs) and

critical success factors (CSFs) and

the post-trial purchase if the trial

meets its KPIs. This enables enduser

implementation with minimal

financial risk and forces the cultural

barriers to implementation to be

addressed.

Its objectives are to:

• Accelerate the industry towards

net zero carbon by supporting

over 10 trials per year through to

implementation,

• Deploy £1 million (US$1.2 million)

per year in trials,

• Achieve a success rate of six out

of 10 trials and 70% by amount

invested,

• Reduce pilot-to-implementation

time by 80%, and

• Alleviate 120,000 tonnes of

carbon per year.

The TR is supported by 10

international partners, including

engineering, procurement and

construction (EPC) companies,

investors and utilities. It brings

together end-users, start-ups and

non-profits – helping overcome the

barrier of who pays for trials and

defining the path and processes to

implementation.

The parameters for 'success' are

bespoke to each trial and agreed

upon by the vendor and end-user

before the trial commences. The

trials' CSFs are whatever would

trigger purchase by the user,

including cost, ease of use, reliability

and technical performance.

Before each trial, Isle's team works

with the end-user and vendor to

identify a suitable trial location and

format. Isle undertakes due diligence

of the technology, vendor and user

and administers legal documentation

and loan payments.

Working with end-user and vendors,

they design a robust, credible

trial. At the end of the trial, Isle

disseminates positive news in

collaboration with vendors and enduser

to more than 1,700 industry

professionals in over 100 countries

via Isle's World Water Innovation

Forum, Water Action Platform, and

Utility CEO Forum.

The TR has the potential to globally

increase and accelerate the uptake

of clean technologies. By adopting

this model, the industry can be

catapulted to where it needs to be in

the race against catastrophic climate

change.

The positive impacts could reach far

beyond climate change mitigation

– the TR model of money, plus

technical validation and immediate

implementation could be applied to

other issues, such as water quality.

As this model becomes more

common, it will lead to a seismic shift

in the industry's attitude towards

technology trials, making it more

forward-thinking, responsive and

effective overall.

WATER & WASTEWATER ASIA | MAY/JUNE 2022 45
---
HOTSEAT

TSURUMI AVANT

MQ-SERIES

internal closed-loop

cooling system

Cooling the motor is one of

the most crucial elements

in pumping – it is even more

important in submersible

pumps that operate in dry

conditions or with partially

submerged motors.

Pushing the boundaries

of pumping, the Tsurumi

AVANT MQ-series comes

with an integrated internal

closed-loop cooling system

that allows continuous dry

operation of sewage pumps.

Tsurumi's response to the growing

market demand for fully dry operation

of submersible pumps in applications

like sewage ejector dry-pits or tanks

with extreme water level fluctuations

is its Tsurumi AVANT MQ-series.

Integrated with the internal closedloop

cooling system, the MQ-series

can be utilised in fully submerged

conditions, where periodic nonsubmergence

of the motor can be

expected.

46 WATER & WASTEWATER ASIA | MAY/JUNE 2022
---
HOTSEAT

Tsurumi AVANT MQ-series pumps

are equipped with IE3 efficiency

motors, which can be operated under

continuous S1 duty in dry conditions

when paired with the internal closedloop

cooling system. The MQ-series

pumps in the dry specification are

equipped with double stainlesssteel

jackets, effectively creating two

separate chambers around the motor

body.

Inside these stainless-steel jackets, a

coolant mixture of glycol and water is

circulated in a closed-loop. Through

the inner chamber, the coolant rises

while the heat from the stator and

motor frame is transferred to the

coolant. And from the outer chamber,

the hot coolant flows down below the

oil chamber to exchange heat through

the coolant cover with the pumping

media. A specially designed fibreglass

reinforced plastic axial impeller

ensures continuous recirculation of the

coolant inside the jacket around the

closed loop.

SUBMERSIBLE SEWAGE PUMPS

MQ-series

Discharge Bore: 50 – 600mm

Motor Output: 1.8 – 355 kW

The low viscosity of the mixture and

high heat transfer capacity ensures

quick cooling with minimal energy

required to circulate the coolant. The

coolant maintains its properties in subzero

conditions up to -10ºC, providing

consistent performance in a wide

range of operating conditions.

As the cooling jacket is completely

isolated from the pumping media,

waste material or debris in the

wastewater does not come into direct

contact with the coolant. Even when

pumping heavily fouled liquid, Tsurumi

claimed that there is "zero possibility"

of coolant contamination and any

compromise in cooling efficiency.

With full prevention of ingress of the

solid matter in the cooling jacket,

the cooling efficiency is "insensitive

to impurities" and is consistent for a

longer period ensuring trouble-free

pumping, the company added.

Furthermore, the closed-loop cooling

system runs on a different chamber

independent from the mechanical seal

chamber. This innovation prevents

any form of contamination of the

coolant from the pumping media,

even if the first mechanical seal fails.

And while the pump maintenance has

been scheduled for mechanical seal

inspection, the cooling system can still

operate continuously.

The integrated closed-loop cooling

system can be furnished into all

MQ-series pumps. Therefore,

hydraulics with open channel

impellers, chopper impellers,

vortex impellers, grinder impellers

and high head impellers can

be operated in completely dry

conditions. The flexibility available

to the pump users through the

variations which are customised

to match the site requirements

provides a custom-built touch to

the pumping world.

WATER & WASTEWATER ASIA | MAY/JUNE 2022 47
---
HOTSEAT

PREVENTING BOILER

CORROSION DURING

SHUTDOWN

What's your style?

Seasonal layup is just around the corner for many

industries that rely on boilers for winter heating. But

regardless of the time of the year, proper protection

during boiler shutdown is critical to avoiding

serious corrosion issues that can lead to plugging,

leakage or shortened service life. Cortec's boiler

layup "animals" are designed to address these

issues and improve traditional layup methods that

can be cumbersome at best and non-existent or

dangerous at worst. The only question is which

Cortec boiler layup style to choose.

DRY LAYUP OPTIONS

Dry layup is an option for long-term

soluble packaging and close the

boiler openings. VpCI fills the boiler

drained and cooled. There is no need

for product removal or additional

Boiler Lizard VpCI

powder

corrosion protection – whether for

internals with protective vapours that

flushing at boiler start-up. One Boiler

a seasonal shutdown or a facility

form a corrosion inhibiting layer on

Gecko protects approximately 100

mothballing project. Instead of

the metal surfaces. When it is time to

gallons of enclosed boiler volume.

relying on desiccants or nitrogen

return the boiler to service, the Boiler

purges, which can lose their

Lizard can be left to dissolve in the

Boiler Dragon is designed to meet

effectiveness or threaten worker

makeup water. Boiler Lizard is most

the dry layup protection needs of

safety in the latter case, Cortec

commonly used for mid-size boilers.

the largest boilers. This ready-to-

boiler "animals" for dry layup are

use waterborne multi-metal VpCI is

easy to handle.

Facilities with smaller boilers may

applied by fogging into the drained

choose to adopt the Boiler Gecko.

boiler and steam components.

For instance, Boiler Lizard contains

This ready-to-use VpCI fogging fluid

Cortec claimed this as a "safer

vapour phase corrosion inhibitor

is packaged in an air-powered spray

alternative to nitrogen blankets" and

(VpCI) powder packaged inside

can for a quick and easy layup for

more effective and convenient than

a water-soluble film tubing.

waterside and fireside components

desiccant. Boiler systems preserved

Application is simple – place

where Boiler Lizard is not practical.

with Boiler Dragon can be returned

the Boiler Lizard into the boiler

Boiler Gecko should be sprayed

to service quickly by simply filling the

waterside, slit open the water-

inside the boiler after it has been

boiler with makeup water.

48 WATER & WASTEWATER ASIA | MAY/JUNE 2022
---
HOTSEAT

WET LAYUP OPTIONS

For situations like short-term

boiler layup or boiler redundancy

when the boiler needs to remain

filled, a wet layup option might be

preferred.

Cortec offers the Boiler Iguana as

an option for boilers on standby.

The procedure for protection of

boilers on standby is to apply sulfite

and maintain high pH levels. This

requires frequent testing, which

often falls by the wayside and leads

to corrosion issues after all.

The Boiler Iguana can eliminate

these high-maintenance activities.

The corrosion inhibitor can

be added to the feedwater or

condensate system and pumped

to the boiler. The boiler can either

be shut down for layup or kept on

low fire for standby. Multi-phase

corrosion inhibitors protect metal

below and above the water level.

Start-up is fast because the Boiler

Iguana is compatible with other

water treatment chemicals and

there is no need to drain or refill the

boiler before bringing it back online.

The Boiler Salamander is a

wet-layup option for high-purity

steam boilers. It is effective at

low concentrations in deionised

or reverse osmosis water. The

boiler does not need to be drained

or opened to apply the Boiler

Salamander or to bring the boiler

back online.

WET-DRY LAYUP

The Boiler Turtle can be used for

wet or dry layup and is ideal when

the boiler may need to be brought

back online much quicker than

a dry layup allows. The Boiler

Turtle can be added directly to the

feedwater and condensate system,

pumped to the boiler and left to sit in

the offline system for 24 hours. The

boiler can then be drained for dry

layup or left at a high-water level for

wet layup.

PLAN AHEAD FOR GOOD

START-UP

When performing dry layup with the

Boiler Lizard, users can plan for a

good start-up by using Boiler Egg

as a companion product. Although

applied at the same time, the Boiler

Egg remains dormant until the boiler

is refilled at start-up. This is a critical

time when cold untreated makeup

water rushes into the system and

heightens the risk of oxygen pitting

and subsequent corrosion problems.

The Boiler Egg comes in a pouch

that is readily dissolved upon water

contact, releasing active ingredients

that scavenge oxygen and passivate

metal during the initial filling of the

system.

WHAT'S YOUR STYLE?

Cortec has many options to ensure

boilers are kept in the best possible

condition during a shutdown. The

remaining decision is to choose which

boiler treatment matches the boiler's

size and layup requirements.

WATER & WASTEWATER ASIA | MAY/JUNE 2022 49
---
HOTSEAT

ENGINEERING FOR

TURNKEY WASTEWATER

treatment

plants

Mutag BioChip MBBR carrier media

Combining expertise from

both companies, a strategic

alliance between DMT

and Mutag aims to jointly

implement turnkey wastewater

treatment projects for the

industrial sector worldwide.

The age of "survival of the fittest"

is over – the future will be won by

companies that cooperate with

each other, according to the trend

monitor of the German Future

Institute. International engineering and

consulting company DMT has been

working on this since 1737, enabling

joint progress in complex engineering

assignments across the world.

A new milestone is the recently sealed

strategic cooperation with Mutag,

a German specialist in the field of

biological wastewater treatment, by

signing a cooperation agreement. This

collaboration aims to jointly implement

turnkey wastewater treatment projects

for the industrial sector worldwide.

To this end, both companies offered

individual, customised solutions

that are designed for technologically

demanding applications.

Creating more efficient processes

and saving costs, pooling resources

to position themselves sustainably

in the market for large orders –

corporate cooperation offers several

advantages. Especially when

companies complement each other's

skills, as is the case with DMT and

Mutag.

Responsible for EPC and EPCM in

plant construction was Christian

Heiermann, head of industrial

engineering for DMT, who said:

"Thanks to the cooperation with

Mutag, we can jointly offer turnkey

wastewater treatment plants

worldwide. And that from the initial

planning to turnkey construction

and commissioning." This offer is

particularly relevant for companies in

the steel, chemical and petrochemical,

paper and food industries.

"The treatment of wastewater

consists of several individual steps

in engineering, so it makes sense

to combine the synergies of the two

companies to map all the steps,"

Heiermann continued. While Mutag

specialises mainly in the area of

design and engineering, DMT can

complement its competencies to

implement turnkey projects and plants

for wastewater treatment, as he added:

"We have many years of experience in

process engineering, in the planning

and construction of plants for a wide

range of industries. Mutag brings us

the expertise in the field of wastewater

treatment."

In addition, Mutag contributes its

developments, such as the Mutag

BioChip moving bed biofilm reactor

(MBBR) carrier media, which enables

savings in investment and operating

50 WATER & WASTEWATER ASIA | MAY/JUNE 2022
---
HOTSEAT

DMT seals cooperation with Mutag to jointly implement turnkey wastewater treatment projects for the industrial sector worldwide

costs. Jesper Brix, CEO of

Mutag, explained: "We are

proud of contributing with our

product and proven technology.

Our sustainable vision and

purpose align with the DNA and

foundation of DMT. Therefore,

we see great possibilities in

combining our competencies in

future projects."

Gas processing is another

DMT's strength. For instance,

the company has developed a

process to make the purification

of coke-oven gas more resourceconserving

and energy-friendly,

as Umalan Gogilan, project

manager at DMT, elaborated: "As

soon as ancillary recovery plants

are operated, there is always the

task of treating wastewater. Our

clients have often brought Mutag

on board for this."

Gogilan recalled the first joint

orders and described the

cooperation as a partnership

of equals. "We maintain good

communication with each

other," he said. "Our customers

also benefit from this. To be

able to offer them solutions

from a single source with a

central contact partner in the

future, transparency, trust and

commitment form the foundation

of the high-quality cooperation."

The advantages and synergy

effects of this agile, dynamic

cooperation have since been

recognised by the customers

of both companies who are

already using them. Looking

forward to future joint projects,

Heiermann concluded: "Although

the foundation stone for the

Excellence in flow & level measurement.

DO YOU KNOW & TRUST YOUR

WATER OR CHEMICAL USAGE?

• Easily measure the flow of clean

fluids from the outside of the

pipe.

cooperation was not laid until

November 2021, we are already

working on a feasibility study

for a company in Canada and a

proposal for a major project in

Turkey."

INTRODUCING THE PTFM 6.1

Portable Transit-Time Flow Meter from Pulsar

• Use the PTFM 6.1 on a wide range

of pipe sizes and materials with

the three easily-interchangeable

transducer sizes.

• Ready to go whenever you need

it, for whatever your application

is. Use it for flow studies with

the built-in 12 million point data

logger, or to spot-check flows.

• Contact us for a quote today!

For more details, contact asiapacific@pulsarmeasurement.com.

+60 102 591 331

PULSARMEASUREMENT.COM

WATER & WASTEWATER ASIA | MAY/JUNE 2022 51
---
[Webinar] IFAT 2022 Technology Mission

e-Roadshow

Jointly organised with IFAT, GWP and DWA

24 Feb 2022, Webex

NEWSLETTER

OF THE

SINGAPORE

WATER

ASSOCIATION

BRINGING

A NEW VIBRANCY

TO SINGAPORE'S

GROWING

WATER INDUSTRY

The Singapore Water Association (SWA) will be leading a Technology

Mission in conjunction with IFAT 2022, a trade fair for water, sewage, waste

and raw materials management which will take place from 30 May-3 Jun

2022 in Munich, Germany. This mission will focus on business opportunities

and challenges in Europe in the post-COVID era while gaining insights, R&D

technologies, products, trends and developing potential cross-border

technology and business collaboration with exhibiting companies.

Katharina Schlegel, exhibition director of IFAT, Rebekka Neef, public

relations officer of GWP, and Rüdiger Heidebrecht, head of department

training and international corporation at DWA, shared the latest on the

exhibition and what is expected from the mission.

[Webinar] Nitro

– Shortcut Nitrogen Removal

Jointly organised with Fluence Corporation

3 Mar 2022, Webex

More than 120 participants attended the informative webinar Nitro

– Shortcut Nitrogen Removal co-organised by SWA and Fluence

Corporation. Dr Wendy Tu, business development director for South East

Asia of Fluence Corporation, gave an introductory welcome address while

Gilad Yogev, global MABR product manager for Fluence Corporation,

shared the breakthrough technology with some case references.
---
ESG Differentiators: Sustainability Risks and Opportunities in the Water Sector

16 Nov 2021, Complimentary, Webex

Climate-related risks and the

expected transition to a lowercarbon

economy impact most

economic sectors and industries.

While changes associated with

a transition to a lower-carbon

economy present a significant risk,

they also create opportunities for

organisations focused on climate

change mitigation and adaptation

solutions. Transitioning to a

lower-carbon economy requires a

transformation of business models

and leveraging of innovative

technologies.

Dr Augustine Quek, senior

environmental engineer at ESG,

shared how businesses can manage

sustainability risks for organisational

resilience. More than 80 participants

attended this webinar.

Technical Visit: Sembcorp Tengeh

Floating Solar Farm

Jointly organised with NWSDB, Sri Lanka

24 Mar 2022, Webex

To explore water opportunities in Sri Lanka, SWA hosted the

webinar entitled Access to Safe Drinking Water and Sanitation to

All with the National Water Supply and Drainage Board (NWSDB).

More than 50 attendees learnt how NWSDB covered 40% of its

population with piped drinking water to SLS standards in the past

40 years, plans of doubling this reach to 80% by 2025 and increase

the plant capacity by 2 million cubic meters per day and laying

40,000km of pipes within four years.

[Technical Site Visit] Takeda

Singapore Plant

25 Mar 2022, Singapore Island Country Club

A total of 15 SWA members visited the Takeda Singapore Plant.

The agenda includes a video play of the Takeda Singapore Plant, a

plant tour of Takeda's manufacturing areas, Takeda's zero-carbon

emissions building, a tour of utility rooms and glycol chillers as

well as the wastewater treatment plant.

[PUB Sharing Session] Coastal Protection Department Strategies and Plans

Jointly organised with PUB, 31 Mar 2022, Webex

More than 80 participants attended the quarterly PUB Sharing Zoe

Ong, senior engineer of the coastal protection department at PUB,

gained insightful knowledge on coastal protection strategies and

regulatory framework, lead site-specific engineering studies as well

as the preparations for the implementation of subsequent coastal

protection measures. Ong also shared about the upcoming coastal

protection research programme to support the development

of solutions that are effective, multi-functional, adaptive and

sustainable.
---
SWA Golf @ SIWW 2022

17 Apr 2022, Singapore Island Country Club

In conjunction with the Singapore

International Water Week (SIWW)

2022, the SWA Golf tournament was

held for the fifth time on 17 Apr 2022

at the Singapore Island Country Club.

The SWA Golf 2022 attracted 144

golfers—including foreign government

officials, PUB, regional water utility

leaders, and global and local water

professionals in the water industry—

and was a social gathering while golfing

for business networking. Guests were

treated to a sumptuous fusion lunch

and lucky draws were won. Desmond

Tan, Minister of State, Ministry of Home

Affairs and Ministry of Sustainability

and the Environment was the guest of

honour.

Singapore International Water Week 2022

18-20 Apr 2022, Marina Bay Sands Expo and Convention Centre

After four years, Singapore

International Water Week (SIWW)

returned as an in-person event with

over 15,000 international attendees

descending on the city-state's

shores with 240 exhibitors. A total

of 47 companies exhibited under

the Singapore Pavilion where over

200 B2B meetings took place.

It was a fruitful event where SWA

and Singapore Business Federation

co-hosted the Singapore Business

Forum, which comprises three

main segments—MoU signing

ceremonies, panel discussion

and introduction of 12 Singapore

companies. SWA is honoured to

have established the MoU signing

ceremonies with British Water,

International Water Association,

Nanjing International Water Hub

and IES Academy, the training arm

of The Institution of Engineers

Singapore.

The panel discussion was moderated

by Sean Ong, deputy director of

urban solutions and infrastructure

services, Enterprise Singapore, with

panellists Chew Men Leong of ST

Engineering, Tan Cheng Guan of

Sembcorp Industries, Tan Boon Leng

and Tay Peng Cheng of Water-Waste

Subcommittee, who provided the

audience with a new perspective

in fostering partnerships with

technology.

Some 29 exhibitors presented and

shared more about their products

and capabilities at the Singapore

Pavilion Product Showcase at The

Stage. More than 150 attendees

were present and the opening

remarks were delivered by Chew

Men Leong, president of SWA. The

event was also graced by Michèle

Blom, Dutch Vice Minister for Water

Management, and Margriet Vonno,

Ambassador to the Kingdom of the

Netherlands to Singapore.

To the end of the week of SIWW

2022, SWA co-hosted the second

edition of the Canadian Water Tech

Forum with The High Commission

of Canada in Singapore on Earth

Day. Jean-Dominique Ieraci,

High Commissioner of Canada to

Singapore, delivered his welcome

address followed by presentations

of the Canadian delegates as well

as PUB, Enterprise Singapore,

Sembcorp Industries and Asian

Development Bank in the morning,

and was followed by a business

matchmaking session in the

afternoon. The forum ended with

nice wines on a high note.
---
UPCOMING SWA

ACTIVITIES

43rd Singapore Water Industry Nite

(SWIN)

12 May 2022

Venue: PUB Waterhub Auditorium Level 2 @ SgWA

Sponsors: China Harbour (Singapore) Engineering Company

and UES Holdings

SWA will be hosting the 43rd Singapore Water Industry Nite

(SWIN) after more than two years. Programme highlights

include sharing sessions by China Harbour Engineering Company

(CHEC) and UES Holdings (UESH), updates on SWA activities and

presentations by PUB Singapore and Imagine H2O Asia. The sitdown

dinner with wines will follow at Marina Point, SgWA Level

1 for registrants and guests.

SWA Technology Mission to IFAT 2022

30 May-3 Jun 2022

As part of SWA's continuous effort to enhance its members'

competitiveness through exploring new markets and business

opportunities, SWA will lead a Technology Mission in conjunction

with IFAT 2022 from 30 May-3 Jun 2022. The mission will focus

on a better understanding of post-COVID business opportunities

and challenges in Europe.

Key takeaways for delegates:

• Pre-arranged networking sessions and customised B2B

meetings to seek new areas of cooperation and synergies.

• Meet with key agencies, industry groups, institutes,

municipalities and regional trade associations in Europe.

• Site visits to relevant plants to understand their current and

future infrastructure developments.

• Gain the latest market insights, products and trends and

develop potential cross-border technology and business

collaboration with exhibiting companies.

SWA WELCOMES NEW

MEMBERS

(joined from February to April 2022)

ORDINARY

1. ATL Industries Pte. Ltd.

2. Bosons Consulting Group Pte. Ltd.

3. Pall Filtration Pte. Ltd. (Hach Singapore)

ASSOCIATE

1. JD Waters Pte. Ltd.

2. Innoveng (S) Pte. Ltd.

3. Spencer Ogden Pte. Ltd.

4. Wam Spore BHM Pte. Ltd.

5. Wateroam Pte. Ltd.

INDIVIDUAL

1. George Yuan Gaoqiang

2. Neo Hong Glap

2022 EVENTS CALENDAR

2022 will be bustlingly filled with water shows, technology and business

missions, networking events and webinars. SWA has an exciting and

interesting line-up of water series with PUB, Singapore's national water

agency.

Download the SWA Events Calendar at https://www.swa.org.sg/wp-content/

uploads/2021/10/Events-Calendar-2022.V6.pdf.

To stay connected to the latest updates on SWA, visit https://www.swa.org.

sg, and follow us on LinkedIn or Telegram.

INTERESTED TO JOIN SWA?

SWA welcomes all organisations who are actively involved and interested

in the water and wastewater industry to join the agency as either Ordinary,

Associate or Institutional members.

Sign up at https://www.swa.org.sg/membership/sign-up-online.
---
ON OUR RADAR

SURFCLEANER LAUNCHES

wastewater "skimmer-separator"

tackling floating sludge

Stockholm-based SurfCleaner has

introduced the SCW 6000 skimmer

separator to its portfolio of innovative

solutions. Designed to address the

challenge of managing floating sludge,

the SCW 6000 can collect, separate and

recover 6,000 litres of sludge, grease

and other floating debris, empowering

wastewater treatment plants to reduce

water use, power consumption, manual

work, aeration and use of active carbon

and chemicals.

Accumulating in large volumes, sludge

residue is created as a by-product of

the wastewater treatment processes,

coming in the form of solid, semisolid or

slurry residual material. Floating sludge,

in particular, is costly, time-intensive and

energy-draining to manage, according to

SurfCleaner, with operators traditionally

resorting to manual flushing and pumping

with vast quantities of water. The surfacelevel

sludge rots after about 15 days,

releasing noxious odours.

SurfCleaner presents a fully automated

solution with the SCW 6000, minimising the

labour-intensive process while improving

working conditions and general health and

safety. In addition to sludge collection,

the system also separates the material,

presenting an opportunity for reuse in the

form of biogas or fertiliser, thus contributing

to the circular economy.

Johan Jubner, vice-president of sales at

SurfCleaner, revealed the firm will initially

target the Nordics with Sweden presenting

"major opportunities" alone with circa 2,300

wastewater plants. However, attention will

soon turn global, through SurfCleaner's

extensive distributor networking spanning

the European Union (EU), Middle East and

Americas.

He explained: "The product has been

developed in response to industry demand,

specifically addressing the challenges

presented by floating sludge. It offers

several core benefits, including eliminating

manual work and heavy pumping which

boosts environmental standards and general

working conditions.

"From a commercial standpoint, it

streamlines several operational processes

while slashing water and energy usage.

It further increases the overall supply of

renewable energy through the recycling

of waste. In terms of figures, based on

calculations from current pilot projects,

clients have estimated annual savings

approaching SEK600,000 (US$64,334) per

year."

SurfCleaner has been finalising pilot stage

testing with three separate machines

installed in live working environments across

Sweden. Estimations from one wastewater

operator, based on initial findings revealed

by SurfCleaner, showed the SCW 6000 has

a separation capacity to process around 66

tonnes of liquid sludge per year. This, the

company added, could be converted into

5% dry matter content and further used to

produce biochar or biogas corresponding to

370MWh of renewable energy per annum.

SurfCleaner's vice-president of sales, Johan Jubner

(left), and vice-president of international sales, Stefan

Wall Qvist, with the SCW 6000

"The considerable amount of water used

to treat floating sludge, through traditional

flushing and pumping techniques leads

to major water mixing. This means the

energy contained within the floating sludge

is ultimately lost," Jubner elaborated. "In

addition, floating sludge which is pumped

away is not used as a resource either,

as energy-intensive and costly drainage

and drying would be required. Our pilot

projects have shown that the SCW 6000

can revolutionise this process with the

more efficient collection and separation

of floating sludge for reuse in the circular

economy. The machine also demonstrated a

direct impact on treatment plants' process

parameters, enabling further energy

efficiency."

56 WATER & WASTEWATER ASIA | MAY/JUNE 2022
---
ON OUR RADAR

BENTLEY SYSTEMS ADDS

LCA and carbon calculations

to iTwin platform

Bentley Systems has announced the

availability of integrated workflows for

lifecycle assessment (LCA) and embodied

carbon calculation capabilities in the

Bentley iTwin platform to support the

sustainable development goals (SDGs) of

infrastructure projects. This integration

is a result of Bentley's collaboration with

One Click LCA, a Finnish provider of LCA

and environmental product declaration

software.

The partnership marks a "natural step"

in Bentley's strategy for empowering

its users to achieve SDGs, particularly

in addressing climate action and

decarbonising infrastructure.

Infrastructure digital twin solutions will

be an essential enabler and accelerator

of carbon transparency and disclosure

use cases, and the adoption of digital

twin solutions will help accelerate

the transformation of infrastructure

performance.

impact of an infrastructure project

involves a constant stream of design

changes coming from various engineering

disciplines. By unifying these data streams,

users can quickly create a quantity

takeoff report at the right aggregation

level required for LCA calculations while

reducing the LCA workflow from weeks to

hours."

The One Click LCA integration is

designed to create time savings and

improve accuracy. Users can incorporate

engineering data created by diverse

design tools into a single view using the

Bentley iTwin platform, generate a unified

report of materials and quantities and

share it with One Click LCA via the cloud.

This integration gives users the ability to

analyse environmental footprint, accelerate

environmental reporting, perform project

optioneering and optimise the selection of

materials and products.

Rodrigo Fernandes, director of empowering

sustainable development goals at Bentley

Systems, added: "One Click LCA can actively

contribute by helping our users accelerate their

low-carbon pathways – adopting low-carbon

materials and products, minimising resource

consumption, and optimising structural design

– in every type of infrastructure, not just vertical

infrastructure."

With the ability to integrate LCA workflows

with the Bentley iTwin platform, users will

be empowered with new opportunities for

environmental intelligence around embodied

carbon and environmental footprints of linear

infrastructure projects.

With this integration, Bentley's

infrastructure digital twin solutions

powered by iTwin, and third-party

applications built on the Bentley iTwin

platform can unlock infrastructure LCA

workflows. The Bentley iTwin platform is

an open, scalable, platform-as-a-service

offering, enabling an ecosystem of

developers to create and bring to market

solutions that address infrastructure issues

by leveraging digital twins.

Kaustubh Page, director of product

management of the Bentley iTwin platform,

explained: "Tracking the environmental

Exporting quantities to One Click LCA from an infrastructure digital twin via the Bentley iTwin platform

WATER & WASTEWATER ASIA | MAY/JUNE 2022 57
---
ON OUR RADAR

PULSAR

MEASUREMENT

Pulsar Measurement's

PTFM 6.1 portable

transit time

flow meter

RELEASES NEW

portable transit

time flow meter

Pulsar Measurement has

introduced the PTFM 6.1 portable

transit time flow meter. Designed

for challenging flow applications

in industrial environments,

the PTFM 6.1 unit is a marked

improvement on the PTFM 1.0

model, with enhanced signal

processing hardware and three

interchangeable and non-invasive

transducer sizes optimised for a

wide range of pipe sizes and materials,

and a new rugged IP67 design.

INTUITIVE AND POWERFUL

Setup is relatively simple as it only

requires "a couple of minutes" to

configure the PTFM 6.1 with the

specific application parameters,

Pulsar Measurement claimed. Multiple

transducer sets optimised for a wide

range of pipe sizes and materials,

improved signal processing hardware,

standard factory calibration and

intuitive on-screen diagnostics provide

maximum confidence in the accuracy

and reliability of the measurements.

UP TO THE CHALLENGE

With a rugged IP67 design, enhanced

signal processing, interchangeable

transducers and an intuitive user

interface with a built-in data logger, the

PTFM 6.1 is readily equipped to meet

challenging installation environments

and applications.

READY FOR THE FUTURE

Designed to reduce waste and ready

for the uncertain requirements of the

future, the integrated USB-C port

allows the PTFM 6.1 to expand its input

and output capability without having to

replace the whole meter. Regardless

of the requirements flow measurement

might require in the future, Pulsar

Measurement is confident in meeting

these challenges and supporting

operators in their future equipment

upgrades required.

58 WATER & WASTEWATER ASIA | MAY/JUNE 2022
---
SNEAK PEEK

ACHIEVING ENERGY

EFFICIENCY IN

DESALINATION,

water and wastewater

treatment plants

A webinar that highlights how Danfoss' systems can

work coherently to help operators enhance energy

efficiency in the desalination process in their water

and wastewater plants.

Shortage of freshwater has spurred

innovation to find efficient and climatefriendly

solutions that turn seawater into

fresh, clean water. Reverse osmosis is one

such technology that requires less energy

than other desalination techniques.

Danfoss has attempted to innovate and set

new standards for high-pressure pumps

in making freshwater in a sustainable and

energy-efficient way.

Typically, water and wastewater treatment

processes account for 25-40% of the

municipal electricity consumption from

its energy-intensive processes and

continuous operation cycle. By using AC

drives to control the speed of motors in

pumps, blowers, mixers and dewatering

applications, Danfoss can help reduce

energy consumption and optimise energy

production from wastewater treatment

plants.

As such, Danfoss will be hosting a

webinar titled Achieving Energy Efficiency

in Desalination, Water and Wastewater

Treatment Plants. Speaking at the webinar

are Vijaykumar Subramaniam, regional

sales manager, ASEAN region, and Glenn

Lemoncito, business development manager,

water and wastewater, Asia-Pacific, from

Danfoss. Both Lemoncito and Subramaniam

will highlight the distinctive technology of

Danfoss' drives, high-pressure pumps and

iSave energy-recovery devices and share

how these systems can work coherently in

helping plant operators to enhance energy

efficiency in the desalination and water and

wastewater treatment process.

Water and wastewater

treatment process is

energy-intensive and

requires a continuous

operation cycle

Subramaniam has more than 27 years in the

water and wastewater industry, spending

the majority of his time with OEMs such as

Enersave, Veolia, Nalco, Sigma Water and

many more. For Lemoncito, he has been

with Danfoss for more than a decade and

is a professional with more than 20 years'

experience in variable frequency drive (VFD)

application and knowledge in the water and

wastewater business. With his record in

business development and sales by engaging

with different stakeholders of project sales,

Lemoncito creates differentiation through the

value of a product.

Hosted on Zoom, the webinar will take place

on 31 May 2022. The webinar is open to all,

particularly municipal facility managers, design

engineers, wastewater plant operators, process

engineers and facility owners.

Participants can discover the latest technology

in desalination and wastewater treatment that

Danfoss has to offer and how they can reduce

their desalination costs with Danfoss' four

core technologies. Furthermore, participants

can also find out how they can reduce energy

consumption in their desalination and water

treatment process; achieve an energy-efficient

design of desalination and wastewater

treatment using high-pressure pumps, drives,

energy-recovery devices

and pressure and fluid

control devices; and

optimise, control and

monitor the performance

of the motors of pumps,

blowers and mixers.

Register here

Vijaykumar Subramaniam (left) and Glenn Lemoncito

will be the speakers for Danfoss' Achieving Energy

Efficiency in Desalination, Water and Wastewater

Treatment Plants webinar on 31 May 2022

WATER & WASTEWATER ASIA | MAY/JUNE 2022 59
---
SHOW REVIEW

SINGAPORE INTERNATIONAL

WATER WEEK 2022

successfully enabled

partnerships for climate action

SIWW2022 concluded on a high note, bringing together

the global water community to accelerate climate action

and the co-creation of mitigation and adaptation solutions.

on Climate Change (IPCC) report

urging immediate action to tackle

climate change, the programmes at

SIWW2022 were designed to spur

synergistic exchange and the cocreation

of mitigation and adaption

solutions.

To this end, SIWW2022 paved the

way for a wide range of key initiatives

and public-private partnerships that

would strengthen climate resilience

in Singapore and beyond, push

new sustainability frontiers and

open the door to potential business

opportunities.

These include:

• Official opening of the Jurong Island

Desalination Plant, which marked

another important milestone in

Singapore's journey for water

sustainability and the enhancement

of water security.

• Establishment of RSK Centre of

Grace Fu, Minister

for Sustainability

and the Environment,

Singapore, and

Dr Amy Khor,

Senior Minister of

State, Ministry of

Sustainability and

the Environment,

Ministry of Transport,

Singapore, gracing

the Water Expo at

SIWW2022

Wide-ranging strategic partnerships,

initiatives and memorandum of

understanding (MoU) were announced

at the Singapore International Water

Week (SIWW) 2022, organised by

PUB, Singapore's national water

agency. These announcements are

expected to contribute to the region's

climate resilience, underscoring the

strategic role SIWW plays in facilitating

Held between 17-21 Apr 2022, SIWW

hosted physical attendees comprising

leaders in government, industry and

academia from around the world, who

came together to advance international

collaboration to accelerate climate

action.

Against the backdrop of the 2021

United Nations Climate Change

Excellence for Sustainability, which

will consolidate the services of 130

environment businesses under RSK

to provide solutions for industry and

businesses, meeting the demand

for sustainability services in the

region.

• MoU signing between Enterprise

Singapore and Manila Water, as

well as PUB and Rwanda Water &

Sanitation Corporation to promote

industry collaboration to address the

Conference (COP26) and the

the exchange of best practices,

challenges of climate change.

recent Intergovernmental Panel

test-bedding and deployment of

60 WATER & WASTEWATER ASIA | MAY/JUNE 2022
---
SHOW REVIEW

1 2 3

technologies to enhance water

resilience.

• MoU signings between the

Singapore Water Association (SWA)

and a series of public and private

organisations to foster partnerships

and deepen knowledge exchange.

These include British Water,

International Water Association

(IWA) and International Water Hub

(IWH).

• Supply deals for the upcoming Tuas

Water Reclamation Plant (TWRP)

between Koh Brothers with Meiden

and Xylem to provide ceramic

membrane bioreactor (MBR)

technology and biological aeration

diffuser systems respectively. The

deals are part of the S$200.7 million

contract awarded by PUB for the

TWRP announced previously.

• MoU signings between ZWEEC

Analytics, IONI Water and partners

from China and India totalling about

$75 million to provide access to

safe drinking water in the region

and water ecological environment

monitoring in the Yangtze River

Basin.

The Environment & Water Leaders

Forum (EWLF), a combined SIWW-

CESG (CleanEnviro Summit Singapore)

high-level forum, shone the spotlight

on how cities and organisations can

transform sustainability challenges

into opportunities as the industry

works towards a climate-resilient

future. Speakers included Mariam

bint Mohanned Almheiri, Minister of

Climate Change and Environment,

Ministry of Climate Change and

Environment, UAE; Michèle Blom,

Vice Minister for Water Management,

Ministry of Infrastructure and Water

Management, Netherlands; Els

van Doesburg, Vice Mayor, City of

Antwerp, Belgium; Patrick Blethon,

CEO of Saur Group; Dechen Tsering,

regional director and representative

for Asia and the Pacific, United

Nations Environment Programme;

and Li Guoying, Minister of Water

Resources, Ministry of Water

Resources, People's Republic of

China.

The message from leaders who

spoke during the week is clear—that

urgent action is required to mitigate

and adapt to climate change.

"We don't have decades for

something that is put into a legally

binding instrument to roll down to

society," United Nations Environment

Programme's Tsering said. "These

amazing innovations, technologies

and finance—it's not happening fast

enough and we don't have enough

time."

Saur Group's Blethon, said on a

positive note: "I couldn't imagine

such a meeting 15 years ago talking

about water and environment. This is

a big change we are seeing today in

the world, and especially in the past

five years; everyone is talking and

acting. The world is changing."

The Water Expo at SIWW and

Environment Expo at CESG featured

more than 300 local and international

exhibitors, showcasing the latest

innovations in water and environmental

management, with digital solutions

emerging as capable levers for change.

About 30% of the exhibitors at the

Environment Expo featured digital

solutions, with robotics solutions

commonplace. The Water Expo also

featured a dedicated Digital Pavilion for

the first time. In addition, the Imagine

H2O and Ripple2Wave Pavilions also

provided opportunities for some

27 water start-ups to connect with

investors, partners and buyers to

advance the commercialisation of

existing and new water technologies.

Ryan Yuen, managing director of

Singapore International Water Week,

commented: "SIWW2022 is proud

to have returned as Asia's first largescale

water show since the pandemic,

bringing together the world's brightest

minds to conduct meaningful

conversations and developments

to galvanise the international water

community into accelerating climate

mitigation and adaptation efforts. The

active participation of international

businesses at the Water Expo further

underscores the importance of SIWW

as a platform for the co-creation of

innovative and scalable solutions for

urban water challenges."

The next editions of SIWW and CESG

will return from 16-20 Jun 2024.

1 The contract

between Meiden

Singapore and

Koh Brothers

will see the

former providing

ceramic

membranes for

the upcoming

TWRP

2 RSK Group

launches Centre

for Sustainability

Excellence in

Singapore

3 Professor Kazuo

Yamamoto,

Lee Kuan Yew

Water Prize

2020 laureate,

delivers a

keynote lecture

WATER & WASTEWATER ASIA | MAY/JUNE 2022 61
---
SHOW REVIEW

Prof Yamamoto said: "It is a great privilege

to be bestowed the distinguished Lee

Kuan Yew Water Prize. This award

nurtures the spearheading soul and

innovative outlook needed to inspire future

generations of water leaders to preserve

and continue our objective of benefitting

communities around the world in the areas

of sanitation and water reuse."

(From left to right) Senior Minister Teo Chee Hean, Prize Council Chairman; Professor Kazuo Yamamoto, Lee Kuan

Yew Water Prize 2020 laureate; Halimah Yacob, President of the Republic of Singapore; and Professor Leo Tan,

board member of Temasek Foundation (Photo credit: SIWW2022)

JAPANESE RESEARCHER

CLINCHES LEE KUAN

YEW WATER PRIZE 2020

for pioneering solutions

in advanced used water

treatment

Japanese Professor Kazuo Yamamoto's pioneering

invention of the world's first operationally and

commercially viable submerged membrane

bioreactor benefitted millions worldwide.

When Prof Kazuo Yamamoto first shared

his idea of submerging membranes in used

water to improve the efficiency and quality

of used water treatment in the mid-1980s,

it was met with much scepticism from the

membrane community as it went against

the conventional scientific thinking of the

time.

Not one to concede defeat easily, Prof

Yamamoto held fast to his convictions and

preserved his research to successfully

develop the world's first operationally

viable submerged membrane bioreactor

(MBR) prototype in 1988. For his pioneering

invention that has since benefitted millions

worldwide with enhanced public health and

water security, 67-year-old Prof Yamamoto

was awarded the Lee Kuan Yew Water Prize

2020.

The Lee Kuan Yew Water Prize, sponsored

by Temasek Foundation, awards the winning

recipient with a S$300,000 cash prize, a

certificate and a gold medallion. They were

presented to Prof Yamamoto by Singapore

President Halimah Yacob at an award

ceremony.

Prof Yamamoto is the ninth recipient

of this award. He is currently Emeritus

Professor at the University of Tokyo and

an audit and supervisory board member

of IDEA consultants, an environmental and

infrastructure consultancy firm based in

Tokyo, Japan.

Beyond his invention, Prof Yamamoto

has also advised on national used

water treatment projects around the

world since 2007, such as a lowenergy

demo used water treatment

plant (WWTP) for industrial used water

reuse in Saudi Arabia and Myanmar's

first MBR-based WWTP. In 2011, he

chaired the Sewage Technical Meeting

on Membrane Technology to develop

guidelines for introducing membrane

technology in sewage works.

Today, submerged MBR technology is

recognised as an effective technology

to achieve effluent quality standards

beneficial for water reuse, which also

reduces the environmental impact of

used water discharge. The technology

has paved way for governments and

water solutions providers across the

world to develop higher standards

of public health. It has reduced the

impact of used water discharges to

the environment and enabled savings

on infrastructural costs, facilitated by

shorter outfall pipelines, due to the

effluent suited for potable reuse. It is also

a sustainable treatment option for fastgrowing

communities due to the speed

and ability of it bring retrofitted into

existing plants.

62 WATER & WASTEWATER ASIA | MAY/JUNE 2022
---
WHAT'S NEXT

EVENT CALENDAR

2022 AND 2023

2022

AUGUST

4 – 6 Aug

LankaWater

Colombo, Sri Lanka

SEPTEMBER

8 – 10 Sep

DanangWater

Da Nang, Vietnam

14 – 16 Sep

ThaiWater

Bangkok, Thailand

14 – 16 Sep

Pumps & Valves Asia

Bangkok, Thailand

OCTOBER

20 – 22 Oct

LaoWater

Vientiane, Laos

NOVEMBER

3 – 5 Nov

MyanWater 2022

Yangon, Myanmar

3 – 5 Nov

Pump+Valve Myanmar

Yangon, Myanmar

16 – 18 Nov

CamWater 2022

Phnom Penh, Cambodia

DECEMBER

7 – 9 Dec

Asia Water 2022

Kuala Lumpur, Malaysia

2023

JANUARY

16 – 18 Jan

Water Future Energy Summit

Abu Dhabi, UAE

FEBRUARY

1 – 3 Feb

Inter Aqua

Tokyo, Japan

20 – 22 Feb

World Water

– Tech Innovation Summit

London, UK

*Due to the COVID-19 pandemic which has resulted in

closed borders and travel restrictions, please check the

events' websites for the latest updates and changes.

WATER & WASTEWATER ASIA | MAY/JUNE 2022 63
---
ADVERTISERS' INDEX

INDEX OF ADVERTISERS

ADVERTISER

PAGE

DUPONT 1

GUANGDONG LIANSU TECHNOLOGY INDUSTRIAL CO., LTD 19

HARBIN FIRSTLINE ENVIRONMENT TECHNOLOGY CO., LTD 13

LACROIX SOFREL 31

PULSAR MEASUREMENT 51

PWNT PTE LTD

OBC

SEKO UK LTD

IFC

TSURUMI MANUFACTURING CO., LTD

IBC

VAUGHAN CO., INC 3

WATER & WASTEWATER ASIA HOUSE AD 43, 64

FOLLOW US

@waterwastewaterasia

64 WATER & WASTEWATER ASIA | MAY/JUNE 2022
---
W: www.PWNT.com

W: www.PWNT.com

SIX ®

Suspended Ion Exchange

- A

process

process

wholly

wholly

developed

developed

by

by

PWNT

PWNT -

DOC removal for

better finished

water quality

Full-scale references for

Full-scale references for

SIX® include:

SIX® include:

• Andijk III, The

Andijk III, The

Netherlands (120MLD)

Netherlands (120MLD)

• Mayflower Water

Mayflower Water

Treatment Works,

Treatment Works,

United Kingdom

United Kingdom

(90MLD)

(90MLD)

The advantages of SIX® are:

The advantages of SIX® are:

‣ Efficient removal of organics (60-90%)

Efficient removal of organics (60-90%)

‣ High UV transmission achieved (>90%)

High UV transmission achieved (>90%)

‣ No iron or aluminium based sludge

No iron or aluminium based sludge

‣ Compatibility with a variety of commercially-available

Compatibility resins to achieve with a wide variety range of commercially-available

of required water

resins quality to targets, achieve allowing wide flexibility range of required to meet different water

quality conditions targets, allowing flexibility to meet different

conditions

‣ Very minimal chemical requirement - the only major

Very chemical minimal requirement chemical is requirement salt (sodium chloride) the only major for

chemical regeneration requirement is salt (sodium chloride) for

regeneration

‣ Resin is recycled with low resin attrition and loss, thus

Resin low additional is recycled resin with is low needed resin over attrition time and loss, thus

low additional resin is needed over time

‣ Short resin contact times, implying no risk of resin

Short blinding resin and contact biofouling times, implying no risk of resin

blinding and biofouling

‣ Full-scale resin service life > five years

Full-scale resin service life five years

‣ Other anions, such as sulfate and nitrate, are also

Other removed anions, such as sulfate and nitrate, are also

removed

‣ Possible regeneration with sodium bicarbonate

Possible regeneration with sodium bicarbonate

Contact us today to discover how PWNT can be your

Contact us today to discover how PWNT can be your

partner in advanced, sustainable water treatment.

partner in advanced, sustainable water treatment.

INNOVATION ENGINE

INNOVATION WATER TREATMENT ENGINE

IN WATER TREATMENT

info@PWNT.com

info@PWNT.com

visit

www.PWNT.com

visit

www.PWNT.com

SINGAPORE 1 Kim Seng Promenade, #16-03 Great World City East Tower Singapore 237994 | T: +65 6735 6890

SINGAPORE 1 Kim Seng Promenade, #16-03 Great World City East Tower Singapore 237994 | T: +65 6735 6890

THE NETHERLANDS Rijksweg 501, 1991 AS Velserbroek, The Netherlands | T:+31 23 541 3740

THE NETHERLANDS Rijksweg 501, 1991 AS Velserbroek, The Netherlands | T:+31 23 541 3740