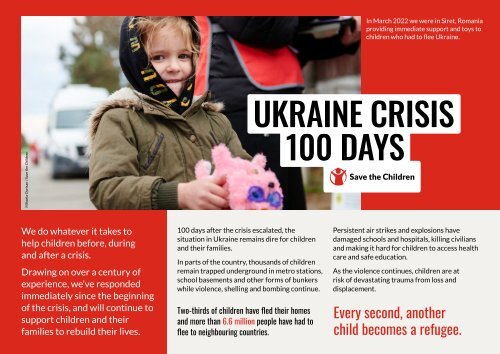 100 days of conflict in Ukraine
A special report for Save the Children supporters detailing how their support is helping children and families from Ukraine.
A special report for Save the Children supporters detailing how their support is helping children and families from Ukraine.
SHOW MORE
SHOW LESS
Create successful ePaper yourself
Turn your PDF publications into a flip-book with our unique Google optimized e-Paper software.
In March 2022 we were in Siret, Romania

providing immediate support and toys to

children who had to flee Ukraine.

Mihaela Oprisan / Save the Children

UKRAINE CRISIS

100 DAYS

We do whatever it takes to

help children before, during

and after a crisis.

Drawing on over a century of

experience, we've responded

immediately since the beginning

of the crisis, and will continue to

support children and their

families to rebuild their lives.

100 days after the crisis escalated, the

situation in Ukraine remains dire for children

and their families.

In parts of the country, thousands of children

remain trapped underground in metro stations,

school basements and other forms of bunkers

while violence, shelling and bombing continue.

Two-thirds of children have fled their homes

and more than 6.6 million people have had to

flee to neighbouring countries.

Persistent air strikes and explosions have

damaged schools and hospitals, killing civilians

and making it hard for children to access health

care and safe education.

As the violence continues, children are at

risk of devastating trauma from loss and

displacement.

Every second, another

child becomes a refugee.
---
HOW YOUR DONATIONS ARE HELPING CHILDREN

With your support, we've been able to reach 210,000

people with life-saving essentials, protection

and assistance.

And we continue to respond quickly to a situation that is constantly changing,

both in Ukraine and in surrounding countries where families are seeking refuge.

We have been calling for an immediate end of hostilities and for children to be

protected, in accordance with international humanitarian law.

We've been operating in Ukraine since 2014. Throughout the 8-year conflict,

we've been delivering essential humanitarian aid to children and their families,

including winter kits, hygiene kits and cash grants so they can meet basic

needs such as food, rent and medicines.

Thanks to your generosity, we will continue

our work as long as it takes to help children

and their families recover and rebuild

their lives.

The Netherlands

UK

Germany

Switzerland

Sweden

Norway

Denmark

Romania

Poland

Ukraine

Finland

Lithuania

OUR RESPONSE IN NUMBERS

210,000 PEOPLE REACHED

INCLUDING 122,000 CHILDREN

GIVING CHILDREN

THE BEST CHANCE

TO SURVIVE

80,000

CHILDREN AND THEIR

FAMILIES HAVE RECEIVED

FOOD, CASH AND

VOUCHERS ASSISTANCE

TO MEET BASIC NEEDS

LIKE MEDICINES

KEEPING

CHILDREN SAFE

CHILDREN AND

THEIR FAMILIES HAVE

RECEIVED WELLBEING,

PSYCHOLOGICAL AND

SAFEGUARDING SUPPORT

PROTECTING

CHILDREN'S

FUTURES

120,000 3,100

CHILDREN HAVE RECEIVED

EDUCATIONAL SUPPORT,

SUCH AS ACCESS TO

ONLINE LEARNING

PROGRAMMES

Spain

Italy

These are the figures available at the time of writing: 23rd May 2022.
---
OUR RESPONSE IN

UKRAINE

UKRAINE

Kramatorsk

Mariupol

Our trained teams in Ukraine are working alongside local

partners and the Ukraine government to provide essential

items and support to families in dire need.

We have reached 106,000 people with life-saving support:

We are working with local

partners to support people

in the most hard-to-reach

areas in the country.

Food, fuel and cash

assistance to meet

people's most urgent

needs

Mental health support to

terrified children and their

families

Blankets, hygiene items,

baby kits, trauma kits with

supplies to treat injuries

and bunker kits with toys

and games to encourage

play and learning

Educational kits and

learning programmes to

help children make up for

lost learning

Medical supplies and

support to health teams

and hospitals

Child protection services

to ensure children and

families remain together

and separated children

are reunited safely with

their caregivers

Dan Stewart / Save the Children Save the Children

Find out more

Find out more

In Kramatorsk, in the

Donetsk region, we

delivered over 9000 litres

of water in just one day.

This is enough for 1300

families for a week.

We are creating reception

centres across eastern

Ukraine to support people

forced to flee Mariupol.

In these centres we

provide families with cash

to meet basic needs like

food and medicines, as well

as much needed

psychological support and

child protection services.
---
OUR REGIONAL

RESPONSE

play

play

play

play

Our teams are assisting children and families fleeing

Ukraine at border crossing points and reception centres

in Romania, Poland and Lithuania. We have reached

104,000 people with life-saving support:

• Providing food, fuel and cash assistance to meet people's

most urgent needs

• Distributing blankets, hygiene items, dignity and baby kits

Providing mental health support to terrified children and

their families

Supporting mothers with baby feeding and pregnant women

with baby arrival kits

Setting up child friendly spaces where children can play

and recover from the traumatic experiences they

have been through

Establishing safe passages to get food and

other essential supplies to the most affected

areas in Ukraine

POLAND

LITHUANIA

Save the Children

Find out more

Kristina* is 14 months old. She travelled with her mother Irina*, 36, and

older sister Katia*, 13, from the city of Dnipro, all across Ukraine, over

the Polish border, to Kraków where they are now staying temporarily.

Kristina's* father stayed behind in Ukraine with her grandmother who

refused to leave her home despite the conflict. They hope to return

home to Ukraine once it is safe to do so.

In the meantime, they are staying at a reception centre where Save the

Children is supporting families and children. Kristina* loves playing in the

child friendly space we have set up inside the reception centre. It is filled

with toys, games and craft supplies. Kristina* especially enjoys drawing

and playing with her favourite cuddly white bear.

• Providing child protection services to ensure

children and families remain together and

separated children are reunited safely with

their caregivers

• Providing information about housing, healthcare,

childcare, education, legal support and other

refugee rights

Kraków

ROMANIA

UKRAINE

Dnipro

We are also providing

families like Kristina's*

with essential items such

as food, hygiene products,

clothes and diapers – as

well as cash support and

school supplies if needed.
---
OUR RESPONSE IN

THE REST OF EUROPE

Daryina*, 4, her

mother and brother

fled their home in

Ukraine when

fighting approached

a nuclear power

station.

We are also working hard to support European hosting

countries to welcome children and families who have

fled Ukraine. These countries include Denmark, Finland,

Germany, Italy, the Netherlands, Norway, Spain, Sweden,

Switzerland and the United Kingdom.

Our response includes:

• Offering emergency shelter and working with local families and

businesses to provide temporary safe housing.

• Setting up child friendly spaces in key places, like migration offices,

so children can relax and play while waiting to be assisted.

• Working with local authorities to promote children's wellbeing

and avoid harm.

• Connecting refugee families to relevant services

and local communities.

• Providing practical information, legal advice

and mental health support to children and

their families.

Sweden

Norway

Finland

Thank you for your support

Your generosity means we can help children make it

through the darkest moments of their lives. Thanks to

your support we've been able to respond quickly and will

continue our work as long as it takes to help children and

their families to rebuild their lives.

Dan Stewart/ Save the Children

• Influencing the European Union

and its member states to create

safe and legal routes across

Europe for people fleeing

the conflict.

UK

The

Netherlands

Germany

Switzerland

Denmark

Romania

Poland

Ukraine

Lithuania

* Names have been changed to protect identities

Spain

Italy