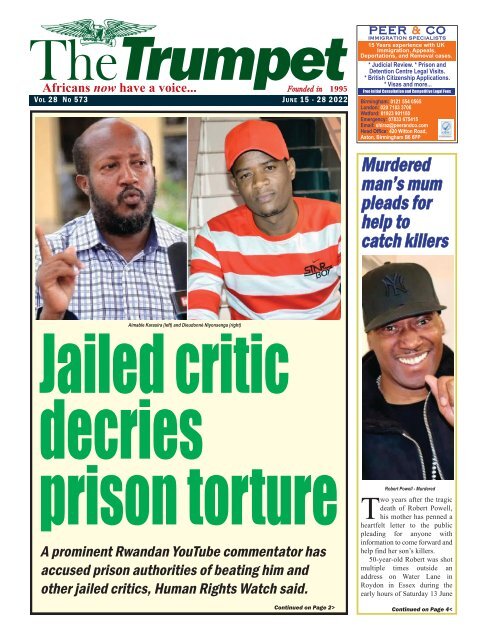 The Trumpet Newspaper Issue 573 (June 15 - 28 2022)
Jailed critic decries prison torture
Jailed critic decries prison torture
SHOW MORE
SHOW LESS
You also want an ePaper? Increase the reach of your titles
YUMPU automatically turns print PDFs into web optimized ePapers that Google loves.
TheTrumpet

Africans now have a voice... Founded in 1995

V O L 28 N O 573 J U N E 15 - 28 2022

PEER & CO

IMMIGRATION SPECIALISTS

15 Years experience with UK

Immigration, Appeals,

Deportations, and Removal cases.

* Judicial Review. * Prison and

Detention Centre Legal Visits.

* British Citizenship Applications.

* Visas and more...

Free Initial Consultation and Competitive Legal Fees

Birmingham: 0121 554 0565

London: 020 7183 3706

Watford: 01923 901150

Emergency: 07833 675415

Email: shiraz@peerandco.com

Head Office: 420 Witton Road,

Aston, Birmingham B6 6PP

Murdered

man's mum

pleads for

help to

catch killers

Aimable Karasira (left) and Dieudonné Niyonsenga (right)

Jailed critic

decries

prison torture

A prominent Rwandan YouTube commentator has

accused prison authorities of beating him and

other jailed critics, Human Rights Watch said.

Continued on Page 2>

Robert Powell - Murdered

Two years after the tragic

death of Robert Powell,

his mother has penned a

heartfelt letter to the public

pleading for anyone with

information to come forward and

help find her son's killers.

50-year-old Robert was shot

multiple times outside an

address on Water Lane in

Roydon in Essex during the

early hours of Saturday 13 June

Continued on Page 4
---
Page2 TheTrumpet JUNE 15 - 28 2022

News

Jailed critic decries prison torture

Continued from Page 1<

In a statement at a court hearing

in Kigali last month, Aimable

Karasira, held in Nyarugenge

prison, also said prison authorities

were intercepting and withholding

privileged communications from his

lawyer.

Ahead of the Commonwealth

Heads of Government Meeting

(CHOGM), scheduled to hold in

Rwanda later this month,

Commonwealth leaders should

urgently call for the government to

immediately and unconditionally

release all those jailed for exercising

their right to freedom of expression.

Commonwealth leaders should

also press the government to open

credible investigations into

allegations of torture and fair trial

rights violations, and to initiate

substantive reforms to tackle abusive

provisions in Rwanda's legal

framework.

"Just a few kilometers away from

the Kigali Convention Center, where

Commonwealth government leaders

will be discussing good governance,

jailed Rwandan journalists and

critics are brutally being reduced to

silence," said Lewis Mudge, Central

Africa Director at Human Rights

Watch. "The victims of abuse will be

abandoned by the Commonwealth if

it fails to speak out about the human

rights situation in Rwanda."

At least 2 journalists, 3

commentators, and 16 opposition

activists are currently behind bars in

Rwanda. Most have been convicted

after politically motivated trials.

Others are currently on trial,

including Karasira. In some cases,

they have been arrested for speaking

out about security force abuses –

including unlawful and arbitrary

detention, torture and extrajudicial

killings – or for criticizing the ruling

Rwandan Patriotic Front (RPF) and

its human rights record. Allegations

that the authorities beat or otherwise

ill-treat political prisoners are

common in Rwanda.

Karasira is a prominent

commentator who has spoken on

YouTube about losing family

members both to Hutu extremists

and to the RPF during and after the

1994 genocide. He was arrested in

May 2021 and charged with

genocide denial and justification,

and divisionism. For several months,

Rwandan authorities had repeatedly

harassed him for posting critical

videos on YouTube speaking about

his family's history and the

genocide. He spoke out about

killings by RPF soldiers in the

aftermath of the genocide.

During a hearing on May 30,

2022, Karasira told the court that

Nyarugenge prison authorities

tortured him, including through

sleep deprivation with constant light

and loud music, and beatings, to

Nyarugenge prison

punish him and get him to attend

court hearings. Karasira and his

lawyer told the court he was being

denied medical treatment for his

diabetes and mental health issues,

and that he was brought to the court

by force but was not fit to participate

LAND FOR SALE

at Isoko

Estates

Nigeria

in the proceedings. He also accused

prison authorities of providing

inadequate and insufficient food, and

denying him access to money sent

by friends or relatives.

"The prison guards brought me

Continued on Page 7<

1) ONE (1) Acre of Land (6 Plots) at OKUSHU in OKO-AFO close to AGBARA

and ATAN to ADO-ODO, off BADAGRY Express way. This is an upcoming

residential developing area.

The electricity supply from the national grid, is through Agbara. Very dry soil,

Not flood plain (NO FLOOD PROBLEMS) PRICE: N1.5 MILLION.

2) 2 Plots of Land for Sale at ERUKU - OKO-AFO; AGBARA AREA, also, ATAN,

and ADO-ODO, through Badagry Express way, and it also benefits from good

transport systems and national grid is through Agbara and ATAN area.

PRICE: N900,000. Nine Hundred Thousand Naira.

All the above properties are recommended for early grab as we are inaundated

with enquiries, therefore, first come, first served.

PLEASE CALL :- +44 (0)7802 575486 - JOE

PEER & CO

IMMIGRATION SPECIALISTS

15 Years experience with UK

Immigration, Appeals,

Deportations, and Removal cases.

* Judicial Review. * Prison and

Detention Centre Legal Visits.

* British Citizenship Applications.

* Visas and more...

Free Initial Consultation and Competitive Legal Fees

Birmingham: 0121 554 0565

London: 020 7183 3706

Watford: 01923 901150

Emergency: 07833 675415

Email: shiraz@peerandco.com

Head Office: 420 Witton Road,

Aston, Birmingham B6 6PP
---
JUNE 15 - 28 2022 TheTrumpet

Page3
---
Page4 TheTrumpet JUNE 15 - 28 2022

TheTrumpet Group

News

Murdered man's mum pleads

for help to catch killers

Field: 07956 385 604

E-mail:

info@the-trumpet.com

Continued from Page 1<

TheTrumpetTeam

PUBLISHER / EDITOR-IN-CHIEF:

'Femi Okutubo

CONTRIBUTORS:

Moji Idowu, Ayo Odumade,

Steve Mulindwa

SPECIAL PROJECTS:

Odafe Atogun

John-Brown Adegunsoye (Abuja)

DESIGN:

Xandydesigns@gmail.com

ATLANTA BUREAU CHIEF:

Uko-Bendi Udo

3695 F Cascade Road #2140 Atlanta,

GA 30331 USA

Tel: +1 404 889 3613

E-mail: uudo1@hotmail.com

BOARD OF CONSULTANTS

CHAIRMAN:

Pastor Kolade Adebayo-Oke

MEMBERS:

Tunde Ajasa-Alashe

Allison Shoyombo, Peter Osuhon

TheTrumpet (ISSN: 1477-3392)

is published in London fortnightly

THINKING

OF

WRITING

A BUSINESS

PLAN?

We can help you develop a

professional business plan

from only £250.

For more information, contact us

at 07402792146 or email us at:

tolu.oyewole@consultant.com

Nana Oppong - Wanted

2020. Sadly, he died in hospital the

following day.

Described as a "loving, caring

and compassionate family man,"

Robert was a father of three and a

grandfather of two.

Despite an extensive

investigation which has seen

officers take 119 statements, seize

661 exhibits, and view more than

Bubble In Christ Music Band

For your Music band with

classic rendition for all

occasions, with traditional,

contemporary African

international and Gospel filled

with professional decent

Presentation.

More Musicians, Singers,

Instrumentalists, handy men,

Music directors band coordinators,

Audio and/or video

technicians, Drivers,

Marketing Personnel are

welcome.

Contact: Olugbenga on

07438 264613

194 hours of CCTV footage, his

family still don't have the answers

they deserve.

On the second anniversary since

his passing, Robert's mother has

penned an open letter to those who

may have information and are yet to

come forward:

"I am appealing and writing this

to anyone with information that may

be helpful in finding my son's

murderers.

"June 14th will mark two years

since the murder of my son Robert

Christopher Powell. I am asking all

those who know something, or think

they know something regarding his

death to come forward and speak to

Essex Police, who are leading the

ongoing investigation into his

murder.

"Many of you knew my son

personally, some of you were his

friends, others may have heard

about him, or heard his name

mentioned in the circle of friends

you hang out with. I do not believe

in my heart that no one knows

nothing, because everyone knows

something, or has heard a rumour

from somebody.

"So many mothers are looking

for reasons behind the death of their

children; I am one of those mothers

who have been left to mourn the loss

of our sons or our daughters

needlessly. The pain is ongoing day

by day for the rest of our lives.

"You wait, expecting a phone

call, hear their favourite song, or

smell their clothing. The worst pain

of all is on their birthday.

"We live in a society where when

a life is taken, everyone is at the

funeral, everyone says they knew the

person and the person's lifestyle is

then discussed by many. Why is it

that during all this conversation, no

one hears nor knows anything about

their death?

"The police know how he died;

we all know how he died. He was

shot several times. The police need

your help in finding these killers out

there who are murdering our

children. My son may have been 50

years of age when he died, but he

was still my child.

CHERUBIM & SERAPHIM MOVEMENT CHURCH

Amazing Grace District -London Branch 2

God's Promises

never fail:

* Before they call I

will answer; while

they are still

speaking I will hear

(Isaiah 65: 24)

Israar Shah - Wanted

WEEKLY DELIVERANCE SERVICE

Deliverance: Every Wednesday

Time: 6.30pm – 7pm (Individual Prayer & Counselling)

Midweek Church Service: 7pm – 9pm

Venue: Orange Room, Albany Theatre, Douglas Way,

London SE8 4AG

Other Service: Sunday Thanks giving 11am – 1.30pm

Temitope Adeyinka - Wanted

Continued on Page 6<

* He will call upon me and I

will answer him: I will be

with him in trouble, I will

deliver him and honour him

(Psalm 91: 15)

For further information, contact - Church Secretary: S/M/I/I (Dr) I Oni-Owoyemi 07788 745231 Or

Church Elders: S/A T Owoyemi 07956 996689 or / M/S/A W Ojomo 07939 836499 or / Apostle T Gbolasere 07484 243990

Email: amazinggracebranch2@gmail.com
---
JUNE 15 - 28 2022 TheTrumpet

Page5
---
Page6 TheTrumpet JUNE 15 - 28 2022

News

Murdered man's mum pleads for help

to catch killers

Continued from Page 4<

"My son was an awesome person

with a smile that still warms my

heart. He was a father of three

children and a grandfather of two.

He was a well-loved son, brother,

nephew, uncle, cousin and friend to

many, and we all love and miss him.

He would call me every week or

every other day, we would

'Facetime' each other and talk

about the family, and the plans we

have for the future. But others

choose to take his dream and future

plans for his family from him.

"I can only pray and plead to the

conscience of anyone who has

information, no matter how small, to

contact Essex Police. It has been

two years now, and we, the family of

Robert Christopher Powell are

asking you to please look into your

hearts and help us find closure.

"I've lost my son to violence, and

I will not be the only mother who

will make an appeal for information

regarding the death of their child."

Senior investigating officer for

the case, Detective Superintendent

Stephen Jennings, of the Kent and

Essex Serious Crime Directorate,

said: "Although it will never bring

Robert back to his family, we will

not stop until those responsible are

found and brought to justice.

"Nobody should have to go through

the pain of losing a child, but to

have to bear that pain while those

involved walk free is unimaginably

cruel.

"A dedicated team of officers and

staff are still carrying out extensive

enquiries to progress our

investigation and we welcome any

new information, no matter how

minor you think it may be.

"It's never too late to make a

difference and help Robert's family,

and it's never too late to do the right

thing and clear your conscience."

Three men: 41-year-old Nana

Oppong from Stratford, 36-year-old

Israar Shah from Brentwood, and

37-year-old Temitope Adeyinka

also from Stratford, are believed to

have all been involved.

Nana Oppong, who is also

known as Enz, is 5ft 6ins tall, of a

proportionate build and has links to

the East London areas. Recent

information suggests that he may

now live abroad.

Israar Shah, who also goes by the

name of Slick, is 6ft 1ins tall, of a

slim build and is known to have

links to East London and Romford.

Temitope Adeyinka, also known

as Limo, is 5ft 8ins and of a medium

build. He has links to areas in East

London, in particular Stratford and

Bow.

Robert Powell - Murdered

Do you have information?

If you have any information

please get in contact with Essex

Police.

You can submit a report online or

call 101.

You can also make a report to

independent charity -

CrimeStoppers, 100% anonymously

by calling 0800 555 111 or by

making a report on their website.

More information about rewards

for information can also be found on

the CrimeStoppers website.

Please reference incident

42/84970/20 when providing any

information to make sure it gets to

the right team as quickly as possible.
---
Politics

JUNE 15 - 28 2022 TheTrumpet Page7

Jailed critic decries prison torture

Continued from Page 2<

here by force," he said in court. "I've

gone for days without sleeping. I

don't know how to explain the

torture I have been subjected to.

Recently on [May] 26, they wanted

us to go on television and say we are

not being tortured but some of us

refused…. [The prison guards]

refused to give me my medication

… they beat us to make us come to

court…. I have vertigo, I am

weak…. They torture us by playing

loud music and never turning off the

lights. It's terrible torture, like in the

movies."

Karasira said that the prison

authorities were inflicting the same

treatment on the YouTube journalist

Dieudonne Niyonsenga – alias

"Cyuma Hassan" – and Christopher

Kayumba, the former editor of The

Chronicles newspaper, who was

arrested in September 2021, shortly

after he established a new political

party, the Rwandese Platform for

Democracy (RPD).

Human Rights Watch spoke with

an independent source present

during the proceedings and reviewed

the court transcripts. Human Rights

Watch also spoke with three sources

who have information about the

prisoners, including two who have

recently seen Karasira and

Aimable Karasira

Niyonsenga and who confirmed the

allegations. One source who saw

Niyonsenga in May said he had fresh

wounds on his arms and legs and

that he had made similar allegations

about his treatment. Human Rights

Watch received information on June

9 that Niyonsenga was seriously

injured in a violent beating on June

2, but was not able to independently

confirm

it.

On January 10, at an earlier hearing,

Niyonsenga told the court that he

was being held in a small dark cell

and treated worse than other

prisoners, and asked for medical

attention and for the court to

investigate his conditions. Both

requests were ignored.

In a video published on her

YouTube channel, Agnès Uwimana

Nkusi, a journalist, reported that

during her visit to the prison on April

29 to see Karasira, he told her he was

not being given sufficient or

adequate food, access to medication,

or money sent by friends and

relatives. When she returned to the

prison to visit Niyonsenga on May

6, she said she was subjected to a

strip and body cavity search by

prison guards and interrogated about

her video, but wasn't able to see him.

Karasira identified prison

officials in court who were allegedly

responsible for abuse, but judges

failed to order a credible and

transparent investigation. This

facilitates impunity for authorities to

Dieudonné Niyonsenga

Continued on Page 11
---
Page8 TheTrumpet JUNE 15 - 28 2022
---
JUNE 15 - 28 2022 TheTrumpet

Page9
---
Page10 TheTrumpet JUNE 15 - 28 2022

News

Renewed appeal to catch killers

Alexander Kareem - Murdered

The family of a man shot dead in

what is believed to be a case of

mistaken identity have spoken of

their heartache as detectives continue to

hunt his killers.

20-year-old Alexander Kareem was

gunned down on Askew Road in

Shepherd's Bush, in the early hours of

Monday, 8 June 2020.

He'd popped into an off-licence and

was on his way to a friend's house on his

e-scooter when he was shot and left for

dead.

Police were called at around 00:40hrs

to reports of man suffering gunshot

injuries. Officers rushed to the scene,

along with the London Ambulance

Service and London's Air Ambulance,

where they found Alexander with

catastrophic injuries.

Sadly, he was pronounced dead at the

scene around 45 minutes later.

Two years on, detectives remain

determined to catch those responsible for

Alexander's ruthless murder and are

asking anyone who knows anything to

come forward.

His devastated family has spoken of

their overwhelming grief and says their

agony is being prolonged as his killers

continue to walk the streets.

Speaking on the anniversary on

8 June, Alex's sister Khafi, said: "Today

marked two years since my brother Alex

was murdered in cold blood on the streets

of London. It feels so wrong to

commemorate this kind of anniversary;

wedding anniversaries, birthdays etc. are

things that should be celebrated and

remembered, not a day of death. But two

years on and still his murderers have not

been found. This is not OKAY.

"It hurts me every day and is not getting

any easier, I just find better ways to

suppress my grief as times goes on, but

every time it arises it is like a dagger to

my chest afresh. It has made me so

sensitive to any news of death, especially

shootings like those in Owo, Ulvalde, and

particularly news of young black boys

dying needlessly. They trigger so much

for me. So I was dreading today. And if I

had it my way I would have buried my

head in the sand and pretended this isn't

my reality.

"I had 3 brothers and now I only have

2. And the people responsible are still

walking the streets. It makes me so, so

angry. If you have any information on

Alex's death, it is not too late to speak

up."

On the night of Alexander's murder,

it is believed the assailants drove past him

on Askew Road in a white Range Rover

and shot him in a case of mistaken

identity. The Range Rover was found

burnt out just 25 minutes later three miles

away on Ascott Avenue.

An investigation by the Met's

Specialist Crime Command has seen

more than 20 officers involved and hours

of CCTV pored over.

They are still keen to hear from

anyone with information or who may

have been in the area at the time.

Detective Chief Inspector Wayne

Jolley, who leads the investigation, said:

"It's now been two years since Alexander

was murdered in cold blood by these

cowards. Nobody deserves what

happened to Alexander and we won't

stop until we catch those responsible.

"Alexander was adored by his family,

who miss him terribly each and every

day, and their grief is made so much

worse by the fact his killers still walk the

streets. My heart goes out to them as they

continue to live with unanswered

questions and without knowing who is

responsible for his death.

"There will be no stone unturned on

this case. We may be two years on, but I

STALLIONS AIR

Ipanema Travel Ltd

AFRICA FLIGHTS

SPECIALISTS

LAGOS fr £477

(2 Bags)

020 7580 5999

07979 861 455

Call AMIT / ALEX

73 WELLS ST, W1T 3QG

All Fares Seasonal

Alexander Kareem - Murdered

ATOL 9179

can assure you that does not mean we

slow down. If anything, we are more

determined than ever to catch the people

responsible and get justice for Alexander

and his family.

"If you're reading this and you know

anything – anything at all – please come

forward. It is not too late to do the right

thing. You may think the information you

hold is small or insignificant – tell us

anyway. It could be the missing piece of

a much bigger puzzle. Alexander did not

deserve this and nor does his family.

Nothing will ever heal the pain of losing

him, but you can help bring them some

small comfort by helping us catch those

responsible.

"For his family's sake, if you know

anything about what happened to

Alexander, please contact us or

CrimeStoppers anonymously. Any

information you give will be treated with

the utmost confidence."

Any witnesses or those with

information, video or images that could

assist police are asked to call 101 ref

CAD 224/08Jun20

CrimeStoppers never ask your name

and they cannot trace your call, your IP

address or the device you use. Fill in their

quick online form or call 0800 555 111.
---
News

JUNE 15 - 28 2022 TheTrumpet Page11

Continued from Page 7<

continue to commit serious rights

violations and risks further pressure

on journalists and commentators to

stay quiet about the abuse, Human

Rights Watch said.

As the Commonwealth meeting

grows near, leaders should urgently

call for credible and independent

investigations into allegations of

abuse against critics and journalists.

"The prison staff tell us they will kill

us after CHOGM," Karasira said.

"I'm not going to hide it from the

courts like others have. All I am

asking for is a minimum of human

rights. Where we are locked up, we

cannot breathe." Other journalists

have told Human Rights Watch that

they have received anonymous

phone calls in which they are told

that after CHOGM, they will suffer

the consequences for their work.

Both Karasira and Niyonsenga

have accused prison authorities of

intercepting

privileged

communications between them and

Jailed critic decries prison torture

their lawyers. Karasira told the court

that prison guards prevented him

from accessing documents to

prepare for trial. "When I meet with

my lawyer, prison agents take

pictures of my documents and refuse

to give me certain documents saying

they are unrelated to my trial,"

Karasira told the judge on May 30.

On February 16, Karasira's

lawyer told the court that prison

guards listened in on his

consultations with his client.

Reading correspondence or listening

in on consultations between Karasira

and his lawyer violates Rwandan

and international legal standards,

which protect all communications

and consultations between lawyers

and their clients within their

professional relationship as

confidential.

Niyonsenga, known as "Cyuma

Hassan", the owner of Ishema TV,

and his driver, Fidèle Komezusenge,

were arrested in April 2020 after

reporting on the impact of the

Covid-19 guidelines on vulnerable

populations, and were accused of

forgery, impersonating journalists,

and hindering public works. Both

were acquitted on March 12, 2021,

after spending almost a year in

detention. The prosecution appealed

the verdict and Niyonsenga was

rearrested on November 11, 2021,

after the High Court in Kigali

reversed his acquittal.

The appeals court found

Niyonsenga guilty of forgery,

impersonation, hindering public

works, and "humiliation of national

authorities and persons in charge of

public service." The last charge,

which was added during the appeal,

is no longer a criminal offence in

Rwanda. It was struck down from

the 2018 Penal Code by the Supreme

Court in 2019. A second appeal's

verdict maintained his seven-year

sentence but overturned his

conviction for humiliation of

national authorities.

Karasira, a Tutsi and former

information communication

technology professor at the

University of Rwanda, has spoken

about losing family members both to

Hutu extremists and to the RPF in

1994 on his YouTube channel called

Ukuri Mbona (The truth I see, in

Kinyarwanda).

Since 2020, Human Rights Watch

has monitored trials in which judicial

authorities pursued politically

motivated prosecutions and

perpetuated a culture of intolerance

of dissent. Many are held in

Nyarugenge prison, Mageragere

sector, in Kigali, where allegations

of ill treatment and torture regularly

emerge.

"Rwanda's partners should

urgently call out the grave human

rights violations against journalists,

commentators and opposition

members," Mudge said. "In turning

their backs on victims, they

undermine their own institution and

their pledged commitment to human

rights."
---
Page12 TheTrumpet JUNE 15 - 28 2022

Earn money as a Trumpet Ambassador

campaign.

Sale of Banner Adverts, 'Highlights' and

Mail-shots our in Email Newsletters.

With rates ranging from £100 to £500 per

insertion, we pay Ambassadors a 15%

Commission.

Sale of Advertising on our Social Media

channels.

With rates ranging between £100 to £200

per channel per post, we pay a 15%

Commission.

Sale of Sponsorship, Advertising,

Exhibition spaces and Tickets for GAB

Awards and Trumpet Connect.

With most products and services ranging

between £100 and £20,000, we pay a 15%

Commission.

Engagement Status

Our freelance Ambassadors run their own

business, work from their own home or

office, and choose the amount of time

they devote to the programme. They work

towards the amount they want to earn.

They choose their legal status in terms of

whether they operate as a Self-Employed

individual or a Limited Company or any

other appropriate status depending on the

country they operate, but we suggest you

take professional advice on this.

Ambassadors are fully responsible for

ensuring their tax affairs and other related

issues fulfil the legal requirements of their

country of operation.

Incentives

From time to time, to incentivise our

Ambassadors, we may run special

promotions, or reward achievements,

milestones and introduction of other

Ambassadors to the programme through

cash or advert credits.

About Us

Trumpet Media Group is an

international media organisation with

various media products, services and

events targeting Africa, Africans and Friends

of Africa in the Diaspora and on the

Continent.

Its first media venture - Trumpet Newspaper

started 23 years ago - in 1995, closely

followed by the founding of the prestigious

Gathering of Africa's Best (GAB) Awards in

1999. There are a number of other niche

products, services and events - with plans to

grow our portfolio over the coming months

and years.

Sales Ambassadors

Our planned future growth has given rise to

the need to take on talented and ambitious

Sales Ambassadors who share our vision of:

promoting the positive image of Africa and

Africans, and are able to sell some (or all) of

our growing number of products and services

on a freelance basis.

Products and Services

We are introducing our portfolio of products,

services, and events below on to the Trumpet

Ambassadors Programme (TAP) in phases.

Print Newspapers: The Trumpet Newspaper

and Trumpet Ghana Newspaper.

Website: www.TrumpetMediaGroup.com

Email Newsletters: Trumpet Newsbreaker,

Trumpet Kenya, Trumpet Nigeria, Trumpet

Sierra Leone, Trumpet Gambia, Trumpet

Ghana

Social Media: Facebook, Twitter, Instagram,

Pinterest, LinkedIn, Google+ and WhatsApp.

Events: GAB Awards and Trumpet Connect.

The Opportunities

Opportunities to earn revenue through

Commissions are currently available by

way of:

Sale of Subscriptions to any (or both) of

our Print Newspapers.

With Annual Subscriptions starting from

£60, we pay a 10% Commission.

Distribution and Sales of bulk copies our

Newspapers.

We pay a 35% Commission - split between

the Ambassador and the Sales Outlet.

(Outlets will usually take between 15%

and 25% depending on its type and your

negotiating skills.)

Ambassadors may choose to sell directly

to their clientele or at events and keep the

entire 35% Commission.

Sale of Advertising Spaces in our Print

Newspapers.

With most Advert Spaces ranging from

£80 to £4500 per edition, we pay a 15%

Commission. You receive a Commission

on all editions in the campaign in line

with the Client's payment - for example, if

an advertiser books and pays for six

editions, you get a Commission on all six

editions.

Sale of Banner Adverts on Website

With Banner Adverts ranging between

£50 and £200 per week, we pay a 15%

Commission for the length of the

Payments

Commission Payments to Ambassadors

are made by the 15th day of the month

following payment of Clients - For

example, Commission on Clients'

payments in January will be paid by 15th

February.

Distribution and Sales of bulk copies of

Newspapers (4.3) are excluded from the

payment arrangement above (7.1).

An Ambassador buys and pays for bulk

copies in advance at a discounted rate

with the TAP Commission deducted upfront.

For example, if an Ambassador

orders bulk copies worth £100 in advance,

the Ambassador only pays us £65

(deducting the 35% Commission upfront).

We operate a No-Returns policy on

Newspaper Sales.

Joining the Programme

It currently costs £100 per annum to join

the Trumpet Ambassadors Programme

(TAP).

Introductory Offer - Join the programme

by 31 August 2018 and accumulate sales

of at least £1000 across any or all of our

products by 30 September 2018; and we

will reward you with 100 TAP Points

worth £100 - which you can spend on any

of our opportunities (4.2) - (4.8).

To join the programme, please request the

Trumpet Ambassadors Programme Form

and via email: info@the-trumpet.com
---
Health

Healthy snacking for children

JUNE 15 - 28 2022

TheTrumpet

Page13

Nutritious snacking can help children

curb hunger throughout the day, as

well as provide energy and

important nutrients. Getting children off to a

good start with healthy snacking is a

behaviour that will stick with them for a

lifetime! Here we share some ideas:

Encouraging Healthy Snacking

By involving children in the preparation

or purchase of healthy snacks, you are

encouraging healthy snacking as well as

independence. The more exposure children

have to healthy foods the better! Have

healthy options readily available such as

ready-to-eat veggie sticks in a box for when

you are out and about, fresh fruit available in

a bowl in the kitchen and wholegrain cereal

and canned fruit in your cupboards.

Timings

Having regular meals at set times, with

two or three snacks per day is ideal. Try not

to allow snacks too close to mealtimes as this

can cause children to fill up. If your child is

not eating well at mealtimes, try looking at

the amount and type of snacks they are

having; they could still be full from their last

snack!

Ideas

Where possible, try to combine snacks

from at least two food groups, for example

vegetables and houmous or fruit and sugar

free yoghurt. Other healthy snack ideas

include wholegrain foods such as bread, toast

and breadsticks. This will provide extra

nutrients and be filling for your little one.

Dividing up packaged snacks

If packaged foods are given to children,

they may need to be divided up and shared.

This is because packaged foods are normally

designed for adults. As a general rule, one

portion is roughly the amount that a child can

fit in the palm of their hand.

We know childhood is a particularly

important period for forming positive

behaviours related to nutrition, so we hope

this article has given you a few ideas.

For more tips on how to stay healthy,

sign up for our weekly healthy tips

at www.heartresearch.org.uk/healthy-tips

To help keep your heart healthy, why not

try out some of our Healthy Heart recipes

from our website:

https://heartresearch.org.uk/heart-researchuk-recipes-2/

Or have a look through our Healthy Heart

cookbook filled with recipes from top chefs,

celebrities and food bloggers:

https://heartresearch.org.uk/heart-researchuk-cookbook/

Written by the Health Promotion and

Education Team at Heart Research UK

Tel: +44 (0) 7956 385 604

We are recruiting:

Independent Sales Consultants

Trumpet Media Group - an

international media

organisation targeting Africa,

Africans and Friends of Africa

in the Diaspora and on the

Continent was founded 24

years ago - in 1995.

Our growth has given rise to the need to engage the services

of self-employed Independent Sales Consultants and

organisations to sell some (or all) of our growing number of

products and services on a Commission-only basis.

The Opportunities

Opportunities to earn revenue through Commissions are

currently available by way of:

· Sale of Subscriptions to our Print Newspapers.

· Distribution and Sales of bulk copies our Newspapers.

· Sale of Advertising Spaces in our Print Newspapers.

· Sale of Banner Adverts on Website.

· Sale of Banner Adverts, 'Highlights' and Mail-shots in Email

Newsletters.

· Sale of Advertising posts on our Social Media channels.

· Sale of Sponsorship, Advertising, Exhibition spaces and

Tickets for GAB Awards and other events.

To apply, please email: info@the-trumpet.com
---
Page14 TheTrumpet JUNE 15 - 28 2022
---
JUNE 15 - 28 2022

TheTrumpet

Page15

"It's an

MICHAEL LAWAL

FOUNDER, SENDIT.MONEY

Meet the founders

defying the odds and

shaping the future.

Watch Black Futures on Barclays UK YouTube
---
Page16 TheTrumpet JUNE 15 - 28 2022

When you think you need A&E,

contact NHS 111 online first

The NHS is encouraging the public to use NHS

111 online to get urgent medical advice

quickly – in addition to existing services –

ahead of what England's top doctor has said will

be a 'winter like no other.'

With more people predicted to suffer from flu

this year and hospitals already treating an

increased number of COVID-19 patients, NHS 111

online offers an alternative way to get immediate

medical advice.

Data from September showed that the NHS

was already experiencing record demand for

emergency services, with ambulances responding

to 76,000 life-threatening incidents and call

handlers taking more than one million 999 calls.

The NHS 111 phone service also saw record

demand, with a call being taken every seven seconds.

It's recommended that if you have an urgent

but not life-threatening medical need, you should

visit NHS 111 online first rather than going

straight to A&E. You can access the service by

visiting the website 111.nhs.uk.

People use the online 111 service for a range

of reasons, including to check their symptoms and

if an injury or illness requires further investigation,

to get information on mental health support

services available, or to seek advice on how to take

a medication.

The service is also able to arrange for you to

be seen at an Urgent Treatment Centre, GP

surgery, pharmacy, emergency dental services

or A&E should you need it.

If you or your loved one have a life-threatening

illness or injury then you should always use 999.

Just think 111 first.

When you think you need A&E,

go to NHS 111 online 111.nhs.uk

or call 111.

TheTrumpet is published in London fortnightly by Trumpet

Field: 07956 385 604 E-mail: info@the-trumpet.com (ISSN: 1477-3392)