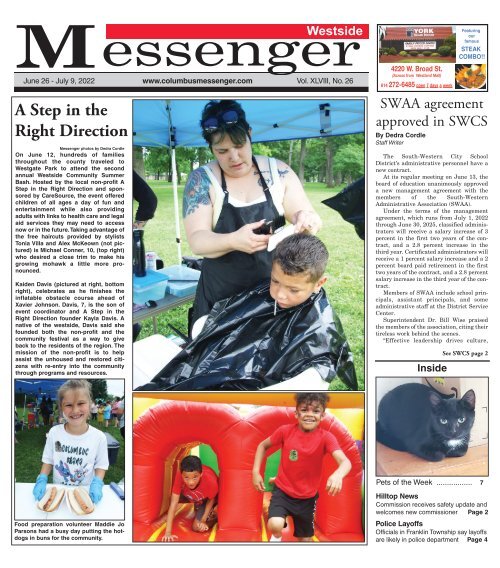 Westside Messenger - June 26th, 2022
Create successful ePaper yourself
Turn your PDF publications into a flip-book with our unique Google optimized e-Paper software.
Messenger

Westside

June 26 - July 9, 2022 www.columbusmessenger.com Vol. XLVIII, No. 26

4220 W. Broad St.

(Across from Westland Mall)

Featuring

our

famous

STEAK

COMBO!!

A Step in the

Right Direction

Messenger photos by Dedra Cordle

On June 12, hundreds of families

throughout the county traveled to

Westgate Park to attend the second

annual Westside Community Summer

Bash. Hosted by the local non-profit A

Step in the Right Direction and sponsored

by CareSource, the event offered

children of all ages a day of fun and

entertainment while also providing

adults with links to health care and legal

aid services they may need to access

now or in the future. Taking advantage of

the free haircuts provided by stylists

Tonia Villa and Alex McKeown (not pictured)

is Michael Conner, 10, (top right)

who desired a close trim to make his

growing mohawk a little more pronounced.

Kaiden Davis (pictured at right, bottom

right), celebrates as he finishes the

inflatable obstacle course ahead of

Xavier Johnson. Davis, 7, is the son of

event coordinator and A Step in the

Right Direction founder Kayla Davis. A

native of the westside, Davis said she

founded both the non-profit and the

community festival as a way to give

back to the residents of the region. The

mission of the non-profit is to help

assist the unhoused and restored citizens

with re-entry into the community

through programs and resources.

614 272-6485 open 7 days a week

SWAA agreement

approved in SWCS

By Dedra Cordle

Staff Writer

The South-Western City School

District's administrative personnel have a

new contract.

At its regular meeting on June 13, the

board of education unanimously approved

a new management agreement with the

members of the South-Western

Administrative Association (SWAA).

Under the terms of the management

agreement, which runs from July 1, 2022

through June 30, 2025, classified administrators

will receive a salary increase of 3

percent in the first two years of the contract,

and a 2.8 percent increase in the

third year. Certificated administrators will

receive a 1 percent salary increase and a 2

percent board paid retirement in the first

two years of the contract, and a 2.8 percent

salary increase in the third year of the contract.

Members of SWAA include school principals,

assistant principals, and some

administrative staff at the District Service

Center.

Superintendent Dr. Bill Wise praised

the members of the association, citing their

tireless work behind the scenes.

"Effective leadership drives culture,

Inside

See SWCS page 2

Pets of the Week ................. 7

Food preparation volunteer Maddie Jo

Parsons had a busy day putting the hotdogs

in buns for the community.

Hilltop News

Commission receives safety update and

welcomes new commissioner Page 2

Police Layoffs

Officials in Franklin Township say layoffs

are likely in police department Page 4
---
PAGE 2 - WESTSIDE MESSENGER - June 26, 2022

By Katelyn Sattler

Staff Writer

Sergeant Fred Brophy of the Columbus Division of

Police gave a safety update to the Greater Hilltop Area

Commission at its June meeting.

He reminded everyone that the new concealed carry law

went into effect on June 13, so a permit is not needed to

carry a concealed firearm in the state of Ohio.

"You will no longer need to have a permit to carry a concealed

firearm in the state of Ohio," said Brophy. "That is

going to dramatically change a lot of things when it comes

to the number of firearms that are going to be out in our

community. We need to make sure that those people who

do possess firearms, if they're doing it legally, are always

keeping it secured and locked up and not being able to be

accessed by persons who should not have them, or be able

to be easily stolen."

Brophy said that a recent homicide on the westside was

committed by a person who had just stolen an unsecured

firearm from a motor vehicle.

"It's an ongoing investigation, so I can't really say too

much more than that. We need to be good, studious owners

of those types of things, if that's where we're going to go."

Brophy also spoke about one of the initiatives for All-

Terrain Vehicle (ATV) enforcement that CPD is performing

in conjunction with the Franklin County Sheriff's

Office and local townships.

On Sullivant Avenue, 14 vehicles were impounded out

of one enforcement crack down, four people were arrested,

two stolen dirt bikes were recovered, one person

was charged with OVI, and one person was in possession

of narcotics.

"This is a project that's going to continue

throughout the rest of the summer at different

points in time. We're not necessarily announcing

too much more ahead of time when they're happening,

but I will give updates as they come," said

Brophy. "We do know that the ATVs and the reckless

operation of dirt bikes on the streets is a significant

concern to our citizens, so we want to try to

address that as best as we can."

Talking about summer initiatives, Brophy

announced that the West Side Safe Streets program

is up and running again.

Safe Streets officers can be reached at

www.columbusmessenger.com

Commissioners hear safety concerns and appoint new member

Summer Jam West

Summer Jam West, the annual community arts and

music festival, is back.

After a two-year hiatus, Westgate Park will once

again be filled with music, art, and community from 11

a.m. to 7 p.m. on Saturday, July 9. This family-friendly

festival is free and open to all.

Bring your family, friends, and neighbors and spend

the day enjoying local bands, artist vendors, professional

chalk artists, food trucks, a kids art zone, and

more.

SWCS

Continued from page 1

WestSideSafeStreets@columbuspolice.org.

In other news, commissioner Aden Mohammed stepped

down from his appointment to the commission, leaving his

seat empty. Chairman Dan Fagan asked for nominations

for the vacant appointed seat for the term that expires in

December of 2023.

Commissioner Leah Brudno nominated Kayla Davis to

the seat. Brudno introduced Davis as the founder and executive

director of a Step in the Right Direction, and also an

employee of Huckleberry House. She is a Hilltop native.

Commissioner Malik Moore nominated Chelsea

Golterman. Moore introduced Golterman as a qualified

candidate who has a whole litany of experience and work

in public service. She is currently a senior legislative aide

to Senator Teresa Fedor.

Commissioner Jennie Keplar nominated Joe Argiro.

Keplar said many know him as past president of the

Highland West Civic Association, a lifelong western

Columbus resident who works as an education researcher

for Central Ohio Technical College.

Each candidate was able to speak about their other

qualifications and why they were interested in the position.

After two rounds of voting, Kayla Davis was elected to

the vacant appointed seat. Since it takes 30 days to process

the election, Davis won't take her seat until after the July

meeting.

Fagan encouraged the candidates who did not get the

seat to run for election at the end of the year, when four

members will be elected.

community events

Check out the festival page on Hilltop Arts

Collective's website for full details at

hilltoparts.org/summer-jam-west.

Westgate community picnic

Westgate Neighbors Association will host a community

picnic for all Westgate residents from 5 to 9 p.m.

July 30 at the Westgate Lodge, 2925 West Broad St.

The association will provide hot dogs and hamburgers.

Residents can sign up to bring a side dish. The picnic

will also feature music and games. For more information,

visit westgateneighbors.org.

which shapes the experiences and opportunities our

students enjoy each day at South-Western City

Schools," he said. "Our administrative team works

tirelessly behind the scenes to account for the needs of

the school community and provide opportunities."

Members of the board shared a similar sentiment.

"We applaud our administrative team members for

their service and commitment to the children of the

district," said board president Cathy Johnson. "The

leadership our administrators provide is a testament

to their skills in working with children and education.

"Expectations and demands continue to increase

and our administrative staff continues to meet the

challenge."

During the meeting, the board also approved a

salary index increase for non-SWAA members. They

include the deputy superintendent, the executive

director of technology, the executive director of communications,

the assistant superintendents of curriculum

and personnel and additional DSC staff.

The new management agreement with the members

of SWAA comes on the heels of recent board approved

contracts with members of its certificated and classified

employees. In April, the board approved a new

three-year collective bargaining agreement with the

Ohio Association of Public School Employees (OAPSE)

Local 211 and in May the board approved a new threeyear

collective bargaining agreement with the South-

Western Education Association (SWEA).

Treasurer Hugh Garside said while the increase in

salaries and benefits were higher than expected in the

five-year financial forecast, the district will be able to

maintain its strong fiscal standing throughout.

"We would not be able to certify these salary

increases if we could not prove that we have the funds

available," he said.

In other news, the board agreed to waive a competitive

bidding process and declare an upgrade to the

HVAC unit at the Bostic Center an urgent necessity.

They awarded a $383,029 contract to Speer

Mechanical to provide the upgrades as "expeditiously

as possible." Garside said he expects the delivery date

of the unit to take at least 40 weeks due to the high

demand of raw materials and continued supply chain

issues.
---
www.columbusmessenger.com

Community Focus

No Kidding in Franklin County

The Franklin County commissioners

voted to accept a $1 million grant from the

U.S. Department of Health and Human

Services to operate a three-year program to

address economic mobility and responsible

parenting with teens and young adults.

The county's Child Support

Enforcement Agency (CSEA) will administer

the grant and provide instruction using

the No Kidding Ohio curriculum to promote

economic mobility, build parenting

and healthy relationship skills, reduce

unplanned pregnancies, and prevent relationship

violence.

"Each of us commissioners has kids and

we know that, even in the best of circumstances,

parenting can be really tough. For

young people who are still figuring themselves

and their relationships out, and who

might not yet have a career or other

resources to fall back on, it's even more difficult,"

said board of commissioners president

Erica Crawley. "And once you've

started a family, it can be even tougher to

get ahead, so with this program, we aim to

help give young people the tools and confidence

they need to thrive."

In addition to material from child support

experts, the program will use a peerto-peer

approach, employing young parents

to augment its lessons with their own firsthand

experience. It will include a social

media and digital marketing campaign to

further the message and reach teens and

young adults with the knowledge, skills,

and resources that will help them achieve

their goals, move up the ladder of economic

mobility, and to be successful, responsible

parents.

"Nobody is born knowing how to be a

good parent, just as nobody is born knowing

how to get ahead in life," said commissioner

John O'Grady. "It takes time and

some help along the way to develop those

skills, but not everyone has a good mentor

who can help with that. With this grant,

we'll be able to connect young people with

support and information so that they can

do the best for their own young families."

Franklin County's teen birth rate is

more than twice the state and national

averages, with 41.6 births per 1,000

women aged 15-19. The grant will fund two

full-time positions in CSEA, which will

partner with several other county and community

agencies to provide a full suite of

wrap-around services to the program participants.

"The transition into adulthood can be a

really tough time for many young people.

They're dealing with the demands of school

or the workforce, and sometimes both, and

they may be responsible for their own

finances for the first time in their lives,"

said commissioner Kevin Boyce. "This is an

important time in our residents' lives and

this grant is an opportunity for the county

to help set them on the right path for success

in the future."

The new program will be stood up over

the course of the next year, with programing

set to begin in the fall of 2023.

June 26, 2022 - WESTSIDE MESSENGER - PAGE 3

around the westside

Lady A and Rick Springfield are this year's

signature acts appearing on the Wendel Concert

Stage at the Ohio University Lancaster Campus as

part of the Lancaster Festival, which takes place

during the last two weeks of July each summer.

Tickets are now on sale for these and other events

taking place during the 10-day celebration of

music, art and community.

The July 30 Grand Finale concert will feature

Lady A, with the Lancaster Festival Orchestra

opening the evening with selections that highlight

the 35th anniversary of the orchestra's creation.

As a Country-radio staple, the trio has amassed

record-breaking success ushering in 10 No. One

Hilltop USA 5K

The Columbus Westside Running Club

is now registering for the Hilltop USA 5K,

which will be held July 2-4. The options

include a standard, in-person walk.run or a

virtual walk/run. The cost to participate is

$30 and benefits veterans on the Hilltop.

Last year, the event raised over $6,000 for

local veterans. For more information on the

Westside Running Club, visit

cwrunclub.com. To register, visit runsignup.com/Race/OH/Columbus/HilltopUS

A5K.

Park cleanup

Friends of Westgate Park will host a

park cleanup event at 8:30 a.m. July 9.

Volunteers can meet at the enclosed shelter

house, located at 3271 Wicklow Road.

Tools and materials are provided.

For more information, visit friendsofwestgatepark.org.

PAID ADVERTISING

Lady A; Rick Springfield

headline Lancaster Festival

hits with more than 18 million album units and 34

million tracks sold and nearly 5 billion digital

streams.

The July 23 concert will feature Rick

Springfield with the Lancaster Festival Orchestra.

The creator of some of the finest power-pop of the

'80s, a Grammy Award-winning singer, songwriter,

and musician who has sold 25 million

albums and scored 17 U.S. Top 40 hits. The

Lancaster Festival Orchestra will open the

evening with Gershwin Favorites with guest

Cuban pianist Aldo Lopez Gavilan.

A full schedule of is available at www.lancasterfestival.org.

TIV

AL

with the

Lancaster

Festival

Or

chestra

July

30

Ingram remembered at Camp Chase

Pictured here is Robert McMillian III who is the great-great-great grandson of Private

John Ingram of Alabama, who is buried at Camp Chase Cemetery. He is with his

mother, Marylou McMillian, the great-great granddaughter of the serviceman who

came to Columbus from Alabama. The pair took part in the 125th service held at

Camp Chase on June 12. Pvt. Ingram was remembered at the ceremony.

Rick Spring

with the

Lancaster Festiva al Orchestra

TICKETS!

July

July 21–30, 2022

23

www.Lancas

sterFestival.org
---
PAGE 4 - WESTSIDE MESSENGER - June 26, 2022

Township Focus

By Amanda Ensinger

Staff Writer

Officials recently held a special meeting to discuss a

strategic plan related to future Prairie Township

Landbank properties.

Prairie Township Administrator James Jewell said

while there was no audience participation during the

discussion, the goal of the meeting was to create a

rough draft outline which will eventually be presented

to the trustees for a decision.

"There are two types of property ownership," Jewell

said. "The Prairie Township Land Bank and land

owned by Prairie Township, which includes the cemeteries,

department buildings, parks and etc."

Jewell said properties that were donated by Larry

Clarke will be put into the trustees' name and that

there is property on Hubbard Road, conservation land

on Broad Street, land by the fire house and 10 acres by

the railroad tracks on Hubbard. He added that the

objective of the strategic planning is to come up with

the right protocol for land use including ownership,

mowing, revenue generating, and best use of the land

for the township.

Officials discussed the need for appraisals on some

of the properties to understand what the fair market

value is. They also discussed possible deed restrictions

on some of the properties related to water flow that

needs to be maintained, issues with potentially selling

some of the properties due to no water and sewer

hookups, and lack of access to some of the properties

due to no roads.

Ideas for how to use the properties were also discussed

including creating a community garden or sand

lot, as well as creating a privacy sound wall and more

www.columbusmessenger.com

Land use discussed in Prairie

green space, such as nature trails. Leaders also discussed

the need for a new cemetery in the township.

"A cemetery is needed, but 20 to 30 acres is needed

for this," said Prairie Township trustee Rod Pritchard.

"A parcel on Murnan Road could be a possibility for the

future. The land is land-locked behind Alton Cemetery

and the Cole Road property."

Jewell said that there also is 12 acres directly

behind the current Alton Cemetery to extend it. The

Western Conservancy Group and local farm could be

for future potential land acquisition for cemetery use.

The trustees agreed that cemetery land must be a

priority. Next steps for the strategic plan will be a

draft of procedure, then the trustees need to evaluate

the property up front. Once this is put together, the

township will have the law director review it for legal

compliance.

After the special meeting, the board discussed the

need for a new air compressor, fill station, and cascade

system from Breathing Air Systems, at a cost of

$42,291.

"We utilize this system to fill the air bottles we wear

on our backs when entering hazardous atmospheres,"

said Prairie Township Fire Chief Allen Scott. "The current

system is more than 32 years old, does not meet

safety standards, and it will soon be unserviceable."

Scott also asked the board to approve the purchase

of four McGrath Advanced Airway devices along with

the associated accessories from Stryker, at a cost not to

exceed $11,000.

"These devices are used to place endotracheal tubes

into the airways of patients who are not breathing,"

Scott said. "These devices will allow our medics to gain

access to difficult pediatric airways, a procedure we

currently do not have. They also do not require the use

of a laptop computer, as our current devices do."

Levy failure means layoffs are likely

By Amanda Ensinger

Staff Writer

A local township is trying to determine how it will

manage the police department after a third attempt at

a levy failed. At a recent Franklin Township meeting,

Fiscal Officer Nick Dunn gave his outlook on the situation.

"The levy fund will potentially run out of money at

the end of October, meaning layoff notices need to go

out no later than July," Dunn said.

Leaders plan on scheduling additional meetings to

discuss the police department, but acknowledge that

whatever decision they make will be hard.

"Some tough decisions are likely coming up," said

Franklin Township trustee John Fleshman.

In May, the township asked voters to approve a 7.3-

mill permanent police levy. This was the third time the

department had asked taxpayers for a levy. In the fall

of 2021, the township asked taxpayers to approve a

7.1-mill timed police levy, which would have replaced

an existing timed levy that is set to expire at the end

of 2022, as well as added 3-mills to the levy.

However, residents rejected the levy.

At the time the levy failed, Franklin Township

Police Chief Byron Smith said the department doesn't

have the funding to the support their current staff.

"Cuts will be imminent to our department unless we

receive another funding source," Smith said. "We can't

operate at our current capacity with the two smaller

levies we have. However, it will be up to the board

when that will occur."

The township has 10 full-time and three part-time

officers.

Residents have repeatedly said they don't support a

permanent levy and would rather have a timed levy to

keep the department and township accountable.

At a recent board meeting, residents voiced concerns

about a recent contract the board agreed to that

gave police officers an 18 percent raise the first year of

the contract.

The department currently has two other permanent

levies it collects from township taxpayers. Those two

levies bring in approximately $700,000 a year for the

department.

With funds now running out in October instead of

December, residents argue careless spending and generous

pay increases to employees can be attributed to

why layoffs may occur earlier than expected.

Despite the feedback, Smith said he wants to once

again ask voters to approve a levy.

"I would support asking voters to approve another

permanent levy," Smith said. "Timed levies put us in a

bad situation where we train people and then they

leave because we don't have consistent funding. Timed

levies are more expensive for taxpayers, so I would

only support a permanent levy."
---
www.columbusmessenger.com June 26, 2022 - WESTSIDE MESSENGER - PAGE 5

In Achievement

Westland grad values

lessons learned in the Navy

A Columbus native is serving with

Fighter Squadron Composite 13 supporting

TOPGUN aviators at the Navy's premier

tactical air warfare training center.

Petty Officer 1st Class Cameron

Edgington is a 2005 Westland High School

graduate.

"Growing up I learned the value of

learning lessons and making the appropriate

changes for growth," said Edgington.

These lessons have helped Edgington

while serving in the Navy. Today, he serves

as a hospital corpsman at Naval Air

Station (NAS) Fallon, Nevada.

Fifty-two years ago, TOPGUN was

introduced with the mission of reducing

casualties of naval aviators sustained during

the Vietnam War. Within a year, this

goal was reached with the United States

having one casualty for every 12 enemy

deaths. Since then, TOPGUN continues to

train the finest naval aviators and has

inspired one blockbuster movie released in

May 1986, with a sequel that was released

in May of this year.

Today's U.S. Naval Aviators possesses

the professionalism, tactical skills, innovative

mindset, and understanding of

advanced technologies to succeed against

adversaries. They are disciplined, critical

thinkers who excel in challenging environments

— like those seen in the movie,

according to U.S. Navy officials.

"I am extremely excited about the

impact this movie will have," said Vice

Adm. Kenneth Whitesell, Commander

Naval Air Forces. "Much like the trend

that followed the original film, I am confident

that "Top Gun: Maverick" will have a

tremendous impact on our Navy recruiting

efforts which will greatly increase the

numbers of brave and talented sailors

among our ranks."

According to Navy officials, TOPGUN is

a prestigious program only open to the top

one percent of naval aviators. Aviators who

attend the course are trained in a variety of

areas including air combat, jet maneuverability,

enemy tactics and more.

Serving in the Navy means Edgington is

part of a world that is taking on new importance

in America's focus on rebuilding military

readiness, strengthening alliances

and reforming business practices in support

of the National Defense Strategy.

With more than 90 percent of all trade

traveling by sea, and 95 percent of the

world's international phone and internet

traffic carried through underwater fiber

optic, Navy officials continue to emphasize

that the prosperity and security of the

United States is directly linked to a strong

and ready Navy.

Edgington and the sailors they serve

with have many opportunities to achieve

accomplishments during their military

service.

"Being selected as Blue Jacket of the

Year in 2012 remains the highlight of my

career," said Edgington. "I worked so hard

that year and pushed myself, and it paid

off."

The future of U.S. aviation depends on

the Navy's ability to achieve their vision for

defeating tomorrow's air threats with the

support of the ground crews and aviators.

As Edgington and other sailors continue

to train and perform missions, they take

pride in serving their nation in the United

States Navy.

"Serving in the Navy gives me a sense of

community before self," said Edgington. "I

am entrusted with ensuring sailors are

mission ready, and that's a responsibility I

take very seriously."

Petty Officer 1st Class Cameron Edgington

Girl Power!

Westside resident Nancy Little

recently competed and placed in

the Organization of Competition

Bodies (OCB) Buckeye Natural held

at the Convention Center. Little

plans to continue her training and

will compete in the Mike Francois

Open and the OCB event in

Cleveland later this summer. Little

is the mother of Naval Electrician

Jacob Little and Marine Sergeant

Jackson Little. Both are graduates

of Westland High School. Little is

honoring her sons through training

as they serve in the military.
---
PAGE 6 - WESTSIDE MESSENGER - June 26, 2022

around the westside

Mugs and Muffins

Westgate Neighbors Association will

brings back Mugs and Muffins. The event

will be held from 8:30 to 10:30 a.m. July 30

in Westgate Park. Coffee and baked goods

are provided but participants are encouraged

to bring your own mug. For more

information, visit westgateneighbors.org.

Free lunch at

CML Hilltop Branch

Columbus Metropolitan Library has

partnered with Children's Hunger Alliance

to provide students 18 and younger with

free lunches and snacks at 17 library locations

from June 6 through Aug. 23. The

WESTGATE UNITED

METHODIST CHURCH

61 S. Powell Ave., Columbus,OH 43204

614-274-4271

Come - Let's Worship Together!

Worship Service 9:00 a.m.

Sunday School 10:00 a.m.

Visit Our Facebook Page for our

Livestream Worship

www.spreaker.com - Kevin Orr Show

or Kevinsreflections.blogspot.com

westgateumc@sbcglobal.net

GLENWOOD UM CHURCH

2833 Valleyview Dr.

(Corner of Valleyview & Hague Ave.)

(614) 274-8469

Pastor Leo A. Cunningham

Join us for In-Person

Sunday Worship at 10:45 a.m. or

Join us for Online Worship at

Glenwood UMC YouTube

http://tinyurl.com/GlenwoodUMC

HOGE MEMORIAL

PRESBYTERIAN CHURCH

2930 W. Broad St., Columbus, Ohio 43204

Sundays at 10:30 a.m.

In Person Worship

Live Streaming Sunday Worship Service

at 10:30 a.m. on Hoge Facebook Page

Worship & Free Meal

Saturdays at 5:00 p.m.

www.hogemempresby.org

Please visit the

Westside Church

of your choice.

List your Worship

Services here.

For info. call 614-272-5422

Be a Part of Our Local Worship Guide

Our upcoming Worship Guide is geared toward celebrating faith and helping readers connect with

religious resources in our community. Make sure these readers know how you can help with a presence in

this very special section distributed to more than 25,000 households in the Westside area.

Contact us today to secure your spot in our Worship Guide.

614.272.5422 • kathy@columbusmessenger.com

Messenger

Westside

lunch at the Hilltop Branch will take place

Monday through Saturday from 12 to 12:30

p.m. For more information, visit columbuslibrary.org.

Free lunch at UHMC

The United Hilltop Methodist Church

will host a free community lunch every

Friday from 11 a.m. to 1 p.m. The church is

located at 99 S. Highland Ave.

Produce giveaway at YMCA

The Hilltop YMCA hosts a fresh produce

giveaway the third Wednesday of each

month from 4 to 6 p.m. at 2879 Valleyview

Drive in Columbus. For more information,

call the YMCA at 614-276-8224.

Cleaning up the community

By Amanda Ensinger

Staff Writer

A Prairie Township trustee has been

looking into creative ways to keep the community

clean.

At a recent board meeting, trustee

Cathy Schmelzer said she has heard concerns

from residents and has been working

on solutions.

"I have asked in the past about getting

some prisoners out in the area to clean it

up," Schmelzer said.

Among the areas in the township that

desperately need cleaned up is the Mix

Avenue area. Residents have reported that

there are needles, pill bottles, and a variety

of other dangerous trash in the area.

Residents also said part of the issue is

vacant houses in the neighborhood where

homeless people are congregating.

"The EPA will not allow us to burn down

a house," said Prairie Township Fire Chief

Allen Scott.

However, residents argued that these

homes could be torn down and the properties

could be rezoned for future development.

They also said it is not safe for the

township to leave these structures up

when they are reportedly falling apart.

"These houses are in bad shape," said

Steve Bailey, township resident.

community events

www.columbusmessenger.com

At the meeting, residents also voiced

concern about residents not following the

new trash regulations and that rats continue

to be a big issue.

"We are out enforcing the new trash regulations,"

Scott said. "We are out in the

field every day."

In March of last year, a new resolution

went into effect that changed the way trash

is collected in the township. The resolution

put more regulations on trash collection,

including requiring trash haulers to be

licensed with the township, show proof of

current and valid general comprehensive

liability/vehicle insurance policy and be

always registered and in compliance with

the requirements of the Franklin County

Board of Health.

While residents can still be pick their

own haulers if the hauler they select is

licensed with the township, they now have

set days their trash is collected.

Trash is picked up on the eastside of the

township on Mondays, the central part of

the township on Tuesdays, and the western

part of the township on Wednesdays.

The reason for the new ordinance was

due to continued rat issues in the township

due to residents having trash out almost

every day of the week. Township officials

hoped by introducing this new resolution,

it would cut off the food supply for the rats.

Breakfast at the Lodge

to benefit Special Olympics

The Westgate Masonic Lodge #623 is

preparing breakfasts once a month to benefit

the Special Olympics. The public is

invited to have breakfast the second

Saturday of each month at 2925 West

Broad St. Adults eat for a donation of $6,

children age 3 and above pay $3. Serving is

from 9 a.m. to noon.

Hilltop History & Heritage

This is a photo of businesses on the Hilltop at the northwest corner of Hague

Avenue and West Broad Street. This intersection was known for years as the

"Center of the Universe" (at least for west Columbus). The businesses shown (right

to left) are James P. Phillip's Restaurant, Charles H. Campbell's Pharmacy, Rausch

Brothers' Hardware, the B and H 5 & 10 Cent Store, and Van's Restaurant. The caption

states "West High and Hilltop boys and girls meet here at Hague Avenue and

Broad Street." The original photo is dated 1945. The corner now features a

Walgreen's, which replaced the buildings in the late 1990s. If you have a photo to

share, contact Stacy Berndsen-Campbell at stacyberndsen12@gmail.com.
---
www.columbusmessenger.com

Pets of the week

June 26, 2022 - WESTSIDE MESSENGER - PAGE 7

These furry friends are available

for adoption at local

rescues and shelters

Champion canine

Photo courtesy of Deborah Franks

Professional Canine Trainer Deborah Franks of Groveport and her canine partner,

Onree, a miniature poodle, won High in Standard at the 2022 CPE (Canine

Performance Events) National Agility event held at the Champions Center in

Springfield, Ohio, held June 3-5. Franks said agility handlers and their canine partners

from all over the United States and Canada came to compete in this national

event. The qualifying period for this event was Jan. 1, 2019 through Dec. 31, 2021. "It

was an extra special win since Onree is also a rescue dog," said Franks. "From a dog

that no one wanted to a National Agility winner."

Calvin and his family

were rescued from

the streets and raised

in a loving foster

home. He is a 3-

month-old cute guy

who is very chatty

and loves to play.

Calvin is neutered,

vaccinated and ready

for his forever home.

He is up for adoption through Colony Cats.

FYI: colonycats.org

Emma is almost 2

years old. Her kittens

have all been adopted.

Now, she is looking

for her turn for a

furever home. She is

not happy in her foster

home because

some of the other

cats chase her. She

needs a home with fewer cats and with someone

who will work with her to gain her trust.

She is a sweet girl and just needs time to

adjust to a new home. She loves Temptations

cat treats. Emma would do best in a quiet

home with older children. She is up for adoption

through Friends for Life Animal Haven.

FYI: fflah.org

Belle is a very sweet

little girl. She is a bit

plump and about 2

years old. All of her

kittens have been

adopted, so now

Belle is looking for

her furever home.

She is a bit shy but

loves to sit in her foster

dad's lap. She

gets along with other

cats. A family with older kids might work out

best for her. Belle is up for adoption through

Friends for Life Animal Haven.

FYI: fflah.org

Cheese is a friendly

cat who would make

a great addition to

any family. He likes to

play and just hang

out. Cheese is very

eager to find a home

of his own. If you are

interested in meeting

Cheese, contact

Colony Cats.

FYI: colonycats.org
---
PAGE 8 - WESTSIDE MESSENGER - June 26, 2022

Teen Ambassador Board

Ohio Attorney General Dave Yost

announced that his office is now accepting

applications for its Teen Ambassador

Board.

The Attorney General's Teen

Ambassador Board consists of upper-level

high school students from public, private,

charter and online schools in Ohio as well

as students who are home-schooled. The

mission of the program is to provide Ohio's

future leaders with an inside look at Ohio

law and government.

"I have had the pleasure of getting to

know some great future leaders through

the Teen Ambassador Board," Yost said.

"We hope this opportunity helps to attract

young people into pursuing careers focused

on protecting and serving Ohioans."

Board members advise the office on

issues relating to teens and collaborate

with their peers to develop solutions to

news and notes

those issues. They serve a one-year term,

during which they participate in activities

throughout the state.

Ohio high school students who will be

juniors or seniors during the 2022-23 academic

year are eligible to apply for the

Teen Ambassador Board.

Applications are due July 1. The application

can be found on the Ohio Attorney

General's

website,

ohioattorneygeneral.gov.

Wellness and foot care

for senior citizens

LifeCare Alliance provides a nurse at

the Prairie Township Community Center

weekly to provide free foot care and other

wellness services. To schedule an appointment

or for more information, contact the

wellness office at 614-437-2878.

Alumni scholarship winners

www.columbusmessenger.com

The West High School Alumni Association announced its 2022 alumni scholarship

recipients. Since 1993, the association has awarded a total of 210 scholarships

totaling $196,000. Pictured here are Alumni Association board member Rick Davis,

Alice Sorrell, Said Barud, Alexandra Pasato, and 2022 Alumni Association president

Vida Williams. The scholarships were awarded May 20 at the awards ceremony held

in the West High School auditorium.

CLASSIFIED ADS

Deadlines: Groveport and West editions, Wednesdays at 5 p.m., • South/Canal Winchester, Grove City, Madison editions, Tuesdays at 5 p.m.

All editions by phone, Tuesdays at 5 p.m. • Service Directory, Tuesdays at 5 p.m.

ASSOCIATION ADS

ASSOCIATION ADS

Eliminate gutter cleaning

forever! LeafFilter, the

most advanced debrisblocking

gutter protection.

Schedule a FREE LeafFilter

estimate today. 15% off

Entire Purchase. 10% Senior

& Military Discounts.

Call 1-855-791-1626

ASSOCIATION ADS

xCome & Get It!

COME AND GET IT!

Need to Get Rid of Something Fast - Advertise It Here For FREE!

Deadlines are Mondays by 5 pm.

Call For Publication Schedule 614-272-5422

FREE Garden Straw for gardens or bedding. Call for appointment for pickup.

Circle S Farms, 9015 London-Groveport Road, Grove City, 43123

Grove City - 614-878-7980

.FREE - Downed Tree, needs cut into sections. Free for anyone that wants it.

CC - Obetz - 614-632-1013

. Come and Get It! is a bi-weekly column that offers readers an opportunity to pass

along surplus building materials, furniture, electronic equipment, crafts, supplies,

appliances, plants or household goods to anybody who will come and get them - as

long as they're FREE. NO PETS! Just send us a brief note describing what you want to

get rid of, along with your name, address and phone number. Nonprofit organizations

are welcome to submit requests for donations of items.

Send information to The Columbus Messenger, Attention: Come and Get It, 3500

Sullivant Ave., Columbus, OH43204. Deadline is Tuesdays by 5 pm for following

Mondays publication. Messenger Newspapers is not responsible for any

complications that may occur. Please contact us when items are gone. 272-5422

INFORMATION

SUMMER'S HERE!

GET A NEW

COOL HAIRSTYLE!

Come See Me At

My New Location!

Call Marilyn Weaver

For An Appt.

For a New Haircut/Color

614-348-6670

Relax Wellness

3663 Broadway, Grove City

Come & Get It!

ASSOCIATION ADS

Update your home with

beautiful new blinds &

shades. Free in-home

estimates make it

convenient to shop from

home. Professional

installation. Top quality -

Made in the USA. Free

consultation: 877-212-

7578. Ask about our

specials!

ASSOCIATION ADS

READY TO BUY, SELL

OR RENT YOUR

VACATION HOME OR

HUNTING CAMP?

Advertise it here and in

neighboring publications.

We can help you. Contact

MACnet MEDIA @

800-450-6631 or visit our

site at MACnetOnline.

com

Become a Published

Author. We want to Read

Your Book! Dorrance

Publishing - Trusted by

Authors Since 1920

Book manuscript submissions

currently being reviewed.

Comprehensive Services:

Consultation, Production,

Promotion and Distribution. Call

for Your Free Author's Guide 1-

866-482-1576 or visit

http://dorranceinfo.com/macnet

DENTAL INSURANCE

from Physicians Mutual

Insurance Company.

Coverage for 350 plus

procedures. Real dental

insurance - NOT just a

discount plan. Do not wait!

Call now! Get your FREE

Dental Information Kit with

all the details! 1-877-553-

1891

www.dental50plus.com/

macnet#6258

!!OLD GUITARS WANT-

ED!! GIBSON, FENDER,

MARTIN, Etc. 1930's to

1980's. TOP DOLLAR

PAID. CALL TOLL FREE

1-866-433-8277

Directv Stream - Carries

the Most Local MLB

Games! CHOICE

Package, $89.99/mo for

12 months. Stream on 20

devices in your home at

once. HBOMax included

for 3 mos (w/CHOICE

Package or higher.) No

annual contract, no hidden

fees! Some restrictions

apply. Call IVS 1-866-629-

6086

Donate Your Car To

Veterans Today! Help and

Support our Veterans.

Fast - FREE pick up.

100% tax deductible. Call

1-800-245-0398

ASSOCIATION ADS

Looking for assisted living,

memory care, or

independent living? A

Place for Mom simplifies

the process of finding

senior living at no cost to

your family. Call 1-844-

428-0445 today!

Safe Step. North

America's #1 Walk-in Tub.

Compreshensive lifetime

warranty. Top-of-the-line

installation and service.

Now featuring our FREE

shower package & $1600

off for a limited time!

Financing available. Call

Safe Step 1-833-356-1954

Stroke & Cardiovascular

disease are leading

causes of death according

the American Heart

Association. Screenings

can provide peace of mind

or early detection! Call

Life Line Screening to

schedule your screening.

Special offer - 5

screenings for $149. 1-

866-518-8391

Aloe Care Health medical

alert system. The most

advanced medical alert

product on the market.

Voice-activated! No wi-fi

needed! Special offer

w/code CARE20 for $20

off Mobile Companion. 1-

855-341-5862

LONG DISTANCE MOVING:

Call Today for a FREE

QUOTE from America's Most

Trusted Interstate Movers.

Let us take the stress out of

moving! Call now to speak to

one of our Quality Relocation

Specialists: 877-541-6320

Wesley Financial Group,

LLC Timeshare Cancellation

Experts Over

$50,000,000 in timeshare

debt & fees cancelled in

2019. Get free

informational package &

learn how to get rid of

your timeshare! Free

consultations. Over 450

positive reviews. 888-965-

0363

The bathroom of your

dreams for as little as

$149/month! BCI Bath &

Shower. Many options

available. Quality

materials & professional

installation. Senior &

Military Discounts

Available. Limited Time

Offer - FREE virtual inhome

consultation now

and SAVE 15%! Call

Today! 1-877-540-2780

Don't let the stairs limit

your mobility! Discover

the ideal solution for

anyone who struggles on

the stairs, is concerned

about a fall or wants to

regain access to their

entire home. Call

AmeriGlide today! 1-844-

317-5246

Protect your home from

pests safely and

affordablly. Pest, rodent,

termite and mosquito

control. Call for a quote or

inspection today 844-394-

9278

Put on your TVEars &

hear TV w/unmatched

clarity. TVEars Originaloriginally

$129.95 - now

w/this special offer only

$59.95 w/code MCB59! 1-

888-805-0840

Looking for assisted living,

memory care, or

independent living? A

Place for Mom simplifies

the process of finding

senior living at no cost to

your family. Call 1-833-

910-1576 today!

BUYING CLASSIC CARS,

TRUCKS, SUVs

**American and Foreign**

Any Condition. Buying

entire car collections.

$$PAYING CA$H$$

Please call 717-577-8206

KRMiller1965@yahoo.com

Become a Published

Author. We want to Read

Your Book! Dorrance

Publishing Trusted Since

1920 Consultation,

Production, Promotion &

Distribution. Call for Free

Author's Guide 1-877-729-

4998 or visit

dorranceinfo.com/ads

Vivint Smart Security.

Professionally installed.

One connected system for

total peace of mind. Free

professional installation!

Four free months of

monitoring! Call to

customize your system. 1-

833-841-0737

WANTED!

MOTORCYCLES!

ANTIQUE AND CLASSIC.

Honda, Kawasaki, Suzuki,

Yamaha, Triumph, BSA

and other foreign models.

$$PAYING CA$H$$

717-577-8206

KRMiller1965@yahoo.com

ASSOCIATION ADS

Safe Step. North

America's #1 Walk-in Tub.

Compreshensive lifetime

warranty. Top-of-the-line

installation and service.

Now featuring our free

shower package & $1600

off - limited time!

Financing available. 1-

855-417-1306

Replace your roof with the

best lookng and longest

lasting material -- Steel

from Erie Metal Roofs!

Three styles and multiple

colors available.

Guaranteed to last a

lifetime! Limited Time

Offer - $500 Discount +

Additional 10% off install

(for military, health

workers & 1st responders)

Call Erie Metal Roofs: 1-

855-338-4807

Paying top cash for men's

sportwatches! Rolex,

Breitling, Omega, Patek

Pillippe, Heuer, Daytona,

GMT, Submariner and

Speedmaster. Call 833-

603-3236

Thinking about installing

a new shower? American

Standard makes it

easy. FREE design consulation.

Enjoy your

shower again! Call 1-

833-769-0995 today to

see how you can save

$1,000 on installation, or

visit www.newshowerdeal.com/mac
---
www.columbusmessenger.com

June 26, 2022 - WESTSIDE MESSENGER - PAGE 9

CLASSIFIED ADS

Deadlines: Groveport and West editions, Wednesdays at 5 p.m., • South/Canal Winchester, Grove City, Madison editions, Tuesdays at 5 p.m.

All editions by phone, Tuesdays at 5 p.m. • Service Directory, Tuesdays at 5 p.m.

xEmployment

A Legacy of Caring

A Legacy of Caring

Now Hiring for the Following Positions:

Caregiver * Nurse

Dietary Assistant * Cook * Dishwasher

Housekeeper * Custodian * Maintenance

Apply Today to Join the Team!

www.heinzerling.org

Parkfield Insulation

is looking for Insulation

installers to join our crews.

We have openings for Cellulose, Fiberglass, and Spray

foam insulation installation.

We offer the top pay for insulation installers starting

at $16 an hour for untrained installers to piece rates

where installers have made over $1800 a week.

If you want to write your own future in the insulation

market please do not hesitate to reach out and see

how you can be a contributor to our success.

We offer full benefits such as Health insurance,

dental, vision, and 401K

614-285-2307

ASSOCIATION ADS

Internet &WIFI Starts at

$49 Call us Today to Get

Started. Find High-Speed

Internet with Fiber Optic

Technology No Credit

Check, No SSN Required.

Call us Today 866-396-

0515

ASSOCIATION ADS

The Generac PWRcell, a

solar plus battery storage

system. SAVE money,

reduce your reliance on

the grid, prepare for power

outages and power

your home. Full installation

services available. $0

Down Financing Option.

Request a FREE, no obligation,

quote today. Call

1-866-783-0292

ASSOCIATION ADS

Hero takes stress out of

managing medications.

Hero sorts & dispenses

meds, sends alerts at

dose times & handles

prescription refill &

delivery for you. Starting

at $24.99/month. No

initiation fee. 90-day riskfree

trial! 1-855-993-3217

HughesNet - Finally, superfast

internet no matter

where you live. 25 Mbps

just $59.99/mo! Unlimited

Data is Here. Stream

Video. Bundle TV &

Internet. Free Installation.

Call 866-499-0141

Aloe Care Health, medical

alert system. The most

advanced medical alert

product on the market.

Voice-activated! No wi-fi

needed! Special offer-call

and mention offer code

CARE20 to get $20 off

Mobile Companion. Call

today-1-877-728-4065

Want Faster & Affordable

Internet? Get internet

service today with

Earthlink. Best internet &

WiFi Plans. Call us Today

to Get Started. Ask

about our specials! 866-

396-0515

ASSOCIATION ADS

AT&T Internet. Starting at

$40/month w/12-mo agmt.

1 TB of data/mo. Ask how

to bundle & SAVE! Geo &

svc restrictions apply. 1-

855-364-3948

Vivint Smart Security.

Professionally installed.

One connected system for

total peace of mind. Free

professional installation!

Four free months of

monitoring! Call to

customize your system. 1-

855-870-2073

DISH TV $64.99 FOR 190

Channels + $14.95 High

Speed Internet. Free Installation,

Smart HD DVR

Included, Free Voice Remote.

Some restrictions

apply. Promo expires

1/21/23. 1-866-479-1516

SELL YOUR ANTIQUE

OR CLASSIC CAR.

Advertise with us. You

choose where you want

to advertise. 800-450-

6631 visit macnetonline.

com for details.

New authors wanted!

Page Publishing will help

self-publish your book.

Free author submission

kit! Limited offer! 866-

951-7214

Employment

4353 Directors Blvd.

Groveport, OH 43125

(614) 836-5790

www.peerlesssaw.com

Production Worker 2nd & 3rd Shift – Entry Level

• Starting $18.15 for 2nd Shift or $18.97 for 3rd Shift (Includes shift premium)

• Medical/Dental/Vision/Profit Sharing/Employee Stock/401(k) with match.

• Employee-Owned w/average tenure over 12 years.

• Opportunity for overtime is available once trained.

• Training will occur on 1st shift

Full Job Description

Peerless Saw is a 100% employee-owned manufacturing company celebrating its 91st

year in business. We are searching for dependable & honest employees to collaborate

with us in our manufacturing facility. We are laser cutting, heat treating, surface grinding,

flattening, and machining steel in our Groveport, Ohio facility. Our primary product line

is circular saw plate used in industrial wood, metal, and plastic cutting industries. We are

currently hiring for positions to operate our surface grinding and deburring equipment

on 2nd and 3rd shift.

Why work with Peerless Saw? Here are a few reasons:

• Profit sharing + employee ownership; your effort makes a difference and increases your

income.

• Small company where you are an integral part of a team, not a number in a large firm.

• Excellent benefit package including medical insurance, dental insurance, 401(k) with

match, profit sharing, employee stock ownership.

• Opportunity to work overtime with time-and-a-half or double-time pay once fully

trained.

• Opportunity to earn more per hour within 2 months after successful completion of

training.

• Stable company with a proven history of success spanning back to 1931.

• Average employee tenure of over 12 years. Learn and grow with us.

Responsibilities

Desired candidate will be someone eager to be effective, dependable, honest,

and willing to do their part to continue our company's success.

• Ability to safely handle, lift, and move steel parts weighing 2 – 30 lbs

• Ability to stand for several hours at a time

• Have a solid grasp of basic math skills

• Ability to read and follow instructions

• Follow all company safety policies
---
PAGE 10 - WESTSIDE MESSENGER - June 26, 2022

www.columbusmessenger.com

xEmployment

WANTED

Host/Hostess • Back-Up Cooks

Grill • Servers • Dishwashers

You Can Work 29+ Hrs. Based on

Your Availability & Performance

Immediate Full/Part-time Openings

We Offer:

• Weekly Pay

• Paid Training

• No Tip Sharing

• Paid Vacation

• Employee Meal Discount

• Position/Salary Advancement Plan

• Discount Purchase Plan

Apply online at crackerbarrel.com/careers for

Hilliard Location 614-878-2027

HIRING WAREHOUSE

UP TO

$19/HR +

UP TO

$3K SIGN-ON

NO WEEKENDS • NO MANDATORY OT

OPEN INTERVIEWS

WEDNESDAY 10AM-1PM

1568 Georgesville Rd. Columbus, OH 43228

JOBS.MSCDIRECT.COM

Applicants must sucessfully pass a background check and drug screen.

Equal Opportunity Employer: Minority, female, veteran, individuals with disabilities, sexual orientation/gender identity.

ASSOCIATION ADS

Attention Viagra users:

Generic 100 mg blue pills

or generic 20 mg yellow

pills. Get 45 plus 5 free

$99 + S/H. Call Today 1-

877-707-5518

IMPORTANT

NOTICE

The following states: CA,

CT, FL, IA, IL, IN, KY,

LA, MD, ME, MI, MN,

NE, NC, NH, OH, OK,

SC, SD, TX, VT and WA

requires seller of certain

business opportunities to

register with each state

before selling. Call to

verify lawful registration

before you buy.

Attention oxygen therapy

users! Inogen One G4 is

capable of full 24/7 oxygen

delivery. Only 2.8

pounds. Free info kit.

Call 877-929-9587

NEED IRS RELIEF

$10K-$125K+ Get Fresh

Start or Forgiveness.

Call 1-844-431-4716

Monday through Friday

7am-5pm PST

Elminate gutter cleaning

forever! LeafFilter, the most

advanced debris-blocking

gutter protection. Schedule

Free LeafFilter Estimate

today. 15% off Entire

Purchase. 10% Senior &

Military Discounts. Call 1-

833-610-1936

Directv Now. No Satellite.

$40/mo 65 Channels.

Stream news, live

events, sports & on demand

titles. No contract/

commitment. 1-866-825-

6523

ASSOCIATION ADS

DISH TV $64.99 for 190

Channels + $14.95 high

speed internet. FREE installation,

Smart HD DVR

included. Free Voice Remote.

Some Restrictions

apply. Promo Expires

1/21/23. 1-866-590-5561

Life Alert. One press of a

button sends help fast

24/7! At home and on

the go. Mobile Pendant

with GPS. Free first aid

kit (with subscription).

877-537-8817 Free brochure

Protect your home w/home

security monitored by

ADT. Starting at $27.99/

mo. Get free equipment

bundle including keypad,

motion sensor, wireless

door & windows sensors.

833-719-1073

Prepare for power outages

today with a GENERAC

home standby generator.

$0 Money Down + Low

Monthly Payment Options.

Request a FREEQuote--

Call now before the next

power outage. 1-855-465-

7624

AT&T Internet. Starting

at $40/month w/12-mo

agmt. 1 TB of data/mo.

Ask how to bundle &

SAVE! Geo & svc restrictions

apply. 1-888-796-

8850

Looking for auto insurance?

Find great deals

on the right auto insurance

to suit your needs.

Call today for a free

quote! 866-924-2397

Employment

ASSOCIATION ADS

VIAGRA and CIALIS

USERS! 50 Generic pills

SPECIAL $99.00. 100%

guaranteed. 24/7 CALL

NOW! 888-445-5928

Hablamos Espanol

Donate your car to kids!

Fast free pickup running

or not - 24 hour response.

Maximum tax

donation. Help find missing

kids! 877-831-1448

READER

ADVISORY

The National Trade Association

we belong to has

purchased the following

classifieds. Determining

the value of their service

or product is advised by

this publication. In order

to avoid misunderstandings,

some advertisers do

not offer "employment"

but rather supply the

readers with manuals, directories

and other materials

designed to help

their clients establish mail

order selling and other

businesses at home. Under

NO circumstance

should you send any

money in advance or give

the client your checking,

license ID or credit card

numbers. Also beware of

ads that claim to guarantee

loans regardless of

credit and note that if a

credit repair company

does business only over

the phone it's illegal to request

any money before

delivering its service. All

funds are based in US

dollars. Toll Free numbers

may or may not

reach Canada. Please

check with the Better

Business Bureau 614-

486-6336 or the Ohio Attorney

General's Consumer

Protection Section

614-466-4986 for more

information on the company

you are seeking to

do business with.

"HELP WANTED"

SIGN

NOT WORKING?

TO ADVER

VERTISE

Call Kathy at

The Columbus Messenger

272-5422

For More Info

ASSOCIATION ADS

BATH & SHOWER UP-

DATES in as little as

ONE DAY! Affordable

prices - No payments for

18 months! Lifetime warranty

& professional installs.

Senior & Military

Discounts available. Call

855-761-1725

Attention: If you or aloved

one worked around the

pesticide Roundup

(glyphosate) for at least 2

years and has been diagnosed

with non-Hodgkin's

lymphoma, you may be

entitled to compensation.

855-341-5793

The Generac PWRcell

solar plus battery storage

system. Save money,

reduce reliance on

grid, prepare for outages

& power your home. Full

installation services. $0

down financing option.

Request free no obligation

quote. Call 1-877-

539-0299

ASSOCIATION ADS

Dental Insurance -

Physicians Mutual Insurance

Comopany. Covers 350

procedures/ Real insurance -

not a discount plan. Get your

free dental info kit! 1-855-

.526-1060 www/dental50

plus.com/ads #6258

Prepare for power

outages today with a

GENERAC home standby

generator. $0 Down + Low

Monthly Pmt. Request a

free Quote. Call before the

next power outage: 1-855-

948-6176

CHILD CARE

OFFERED

Depend. Quality Child care

in loving hm. Exp. Mom, n-

smkr, hot meals, sncks,

playroom, fncd yd. Reas.

rates. Laurie at 853-2472

HELP WANTED

NOW HIRING!

KIDDY GROVE DAY CARE

With SIGN-UP BONUS!

614-402-8937

PT Helper Needed

for Lawn Care Service

3-4 Days a Week

Call 614-935-1466
---
www.columbusmessenger.com

xFocus on Rentals

June 26, 2022 - WESTSIDE MESSENGER - PAGE 11

xClassified Services

WEDGEWOOD

VILLAGE

1, 2 and 3 BR Apts.

Rent Based on Income.

Call 614-272-2800 or visit us

at 777 Wedgewood Dr.

TTY/TDD 711

EQUAL HOUSING OPPORTUNITIES

HAVE EMPTY

APARTMENTS?

RENT THEM BEFORE

SCHOOL STARTS!

Advertise It!

Call Kathy

The Columbus Messenger

614-272-5422

DATED SALE

Bargain Hunters!

Multi-Family Yard/Garage Sale

Second Ave, Urbancrest

beginning at 3718 Second

Ave; block between John

Cooley & Lewis Center Dr.

Sat., July 9th, 8am-3:30pm

Video games, hshld items,

lamps, small appliances,

name brand clothes,

dishes, kitchen items,

home decor, children

items (clothes & toys),

jewelry, collectibles &

much more

WANT TO BUY

WE BUY JUNK CARS

Call anytime 614-774-6797

CASH PAID for Ohio

State and old sports

items, records, postcards,

old photos, jewelry & more

614-477-5590

ANTIQUES

WANTED

Victrolas, Watches,

Clocks, Bookcases

Antiques, Furn.

Jeff 614-262-0676

or 614-783-2629

We Buy Cars & Trucks

$300-$3000.614-308-2626

BUYING VINYL RECORDS.

LPs and 45s - 1950-80s

Rock, Pop, Jazz, Soul.

614-831-0383

We Buy Junk Cars &

Trucks. Highest Prices

Paid. 614-395-8775

Rentals

MISCELLANEOUS

FOR SALE

Electric Wheelchair - If

interested, call 614-928-2352

Vintage Trains for Sale

Lionel & American Flyer.

Engines, misc. cars, track,

structures, parts, etc. Some

HO trains included. Located

Columbus westside near

Casino. All for $800 obo.

614-279-8535

TORO Power Mower,

Craftsman Weed Eater,

run good - $130 obo.

614-357-6204

MISC. FOR SALE

614-465-7763

Antique Office Wood Table -

$100; Walker with comfortable

seat, like new - $49.

RENTALS

Eakin-1 Br Apt, crpt, appls.

No Pets 614-560-3050

WEST HALF DOUBLE

2BR, Rent $850 dep. $850

3BR, Rent $950, dep $950

Realtor 614-226-6767

2 BR HOMES

Bsmt. $1000/mo

614-530-8097

USED VEHICLES

Thunderbird - $1500,

2004 Chevy Cavalier-

$3600. 740-973-3206

AIR CONDITIONING

AIR CONDITIONING

Complete System

Clean & Check

$49.95

BLACKTOP

AGM OHIO

ROOFING &

SEALCOATING

Free Estimates

Cell 614-512-1699

CONCRETE

7/3 A

Free Electronic Leak Testing

All Makes • All Models

46 Yrs. Exp. • Senior Discount

614-351-9025

SANTIAGO'S

Sealcoating & Services LLC

Quality Materials Used

SUMMER IS HERE!

Driveway Seal & Repair!

Top Seal Cracks!

Residential & Commercial

Mulching, Edging & Clean-ups

"Ask for whatever you need."

BBB Accredited-Fully Insured

Call or text for Free Est.

614-649-1200

7/17

A/M

BLACKTOP SEALING

Driveways & Parking Lots

614-875-7588

CITY WIDE

ASPHALT &

CONCRETE

Blacktop & Concrete

Licensed/Bonded

Quality Work

Competitive Prices

7/17

W/gc

Since 1981

Call Craig Lantz

Local Resident

614-374-6217

citywideasphaltand

construction@gmail.com

BBB A+ Accredited Contractor

CARPET CLEANING

CARPET CLEANING

Any 5 areas ONLY $75

Home Powerwash $99-$300

614-805-1084

Specializing in Pet Odors

CITY WIDE

CONCRETE &

ASPHALT

Blacktop & Concrete

Licensed/Bonded

Quality Work

Competitive Prices

7/17

W/gc

Since 1981

Call Craig Lantz

Local Resident

614-374-6217

citywideasphaltand

construction@gmail.com

BBB A+ Accredited Contractor

CONCRETE

GALLION

CUSTOM CONCRETE LLC

Specializing in Custom Colors &

Custom Designs of Concrete.

Including Remove & Replace

44 yrs exp & Free Est.

Licensed & Insured

Reputation Built

On Quality

Ronnie

614-875-8364

See Us On Facebook

www.gallioncustom

concrete.com

EDDIE MOORE

CONSTRUCTION

Quality Concrete Work

Lt. Hauling & Room Add.,

Block Work & Excavation

Stamp Patios,

Bsmt. Wall Restoration

35 Yrs Exp - Lic & Ins.

Free Ests. 614-871-3834

ALL-CITY CUSTOM

CONCRETE

All Types Concrete Work

New or Tear Out-Replace

40 Yrs. Exp.

(614) 207-5430

Owner is On The Job!

AJ's Concrete,

Masonry

Good Work - Fair Prices

Block Foundations

Driveways • Sidewalks

Epoxy/Overlay Floors

Bonded-Ins. • Free Ests.

614-419-9932

www.hastingsnsons.com

Driveways & Extensions

Patio & Walkways,

Porches & Steps,

Garage/Basement Floors

Hot Tub/Shed Pads,

Stamped/colored concrete

Sealing of new &

existing concrete.

FREE ESTIMATES

Contact Adam

614-756-1754

hastingsandsons.

columbus@gmail.com

FENCING

EAZY FENCE

Chain Link - Wood

No Job Too Big or Small

All Repairs ~ Free Est.

Insured. 614-670-2292

GUTTERS

Bates & Sons

GUTTER CLEANING

5 ★ Google Reviews

614-586-3417

HAULING

DEAN'S HAULING

614-276-1958

DUMPSTER RENTAL

4 Days - $275 & Up

No Hazardous Materials

Tires - $10.00 each

Call 614-254-1131

7/3 W/SW

7/3 A

HOME

IMPROVEMENTS

C&JHandyman

Services LLC

Minor Plumbing

& Electric

Install Hot Water Tanks,

Dishwashers & Disposals

Also Fencing &

Interior/Exterior Painting

Free Est. ~ 18 Yrs. Exp.

CDC/EPA Approved Guidelines

614-284-2100

KLAUSMAN HOME

IMPROVEMENT

Siding-Windows-

Doors-Roofing-Soffit-

Fascia-Gutters-Trim

Earn FREE Seamless

Gutters with Siding Over

1000 Sq. Ft.

FREE Shutters with

Soffit & Trim

EPA Certified

Member of BBB

Financing Available

Over 20 yrs exp. • Free Est.

Licensed-Bonded-Insured

Owner & Operator

James 614-419-7500

SLAGLE

HOME REMODELING

Baths, Kitchen,

Plumbing and Electrical.

All your Handyman needs

No Job too Big or Small

Over 30 Yrs. Exp. Lic.-Bond-Ins.

Jerry

614-332-3320

7/17 A

7/17 A

7/3

SW/W

SINCE 1973

Phil Bolon Contr.

Windows & Siding

Decks, Kitchens, Baths

Room Additions,

Flooring, Roofing

Bsmt Waterproofing

Deal With Small Non-Pressure Co.

47 Yrs. Exp. - Refs. Avail.

Lic.-Bond-Ins.

7/3

A/M

Free Est. - Financing Avail.

Member BBB Of Cent. OH

O.C.I.E.B. ID #24273

614-419-3977

or 614-863-9912

HOME

REMODELING

AFFORDABLE SAMSTER

REMODELING

Flooring, Painting

Int. Trim, Roof Repairs

Decks, Concrete, Siding

Windows & More!

1 Yr. Warranty on Work

380-218-7139

Charlies Handyman

Service

Over 40 yrs. exp.

Hot Water Tanks

Door Locks

Kitchen Remodels

Roofmg * Siding

Bathrooms and more!

614-319-6010

blantoncharles894@gmail.com

HOME

REMODELING

MultiCraft Const.

& Handyman Services

All Types Handyman Services:

Decks, Fences

Kitchen/Baths

Window/doors installed

Interior Painting

Drywall Repairs

All Types of Flooring

Call/Text 614-774-2923

multicraftconstruction@gmail.com

HOME

MAINTENANCE

SMALL HOME REPAIRS?

Call Sonny

380-209-3646-local #

LANDSCAPING

ONYX

LANDSCAPING

614-407-5214

www.OnyxLandscapingllc.com

Full Service

Lawn Care

Start with Trust!!

A-1 QUALITY

TREE & LANDSCAPE

Family Owned

Serving Central Ohio

Since 2004

Bed & Yard Maint.

Weeding, Mulching, etc.

Hedge/Shrub Trimming

*Stump Removal

614-596-9504

Insured - Free Est.

LAWN CARE

Lawn Mowing-36 yrs exp.

Weekly cuts $25-up

Good ref. Free est. 10%

Sr. Disc. 614-738-9623

The Lawn Barber

Cut, Trim, Blow away

Hedge Trimming, Edging

614-935-1466

Christian's

Landscaping

Full Service Lawn Care

•Tree/Shrub Trimming

•Mulching •Tree Removal

•Powerwashing

614-282-4443

LET US MAINTAIN

YOUR LAWN & GARDEN

FOR YOU

Summer, Spring,

Winter or Fall

WE DO IT ALL!!!!

Lawn Cuts, Edging,

Trees & Shrubs, Garden,

Mulching, Hauling,

Garden Pond &

Home Maint.

Free Ests. Low Rates

$20 & Up

Kevin - 614-905-3117

Classified Services

7/3 A

7/17 W/GC/M

PEST

CONTROL

TERMITE &

PEST CONTROL

614-367-9000

TORCO®

TERMINATES

TERMITES

Locally Owned & Operated. Any Pest. Anytime.

$

50 00 OFF Service

Free Termite Inspection

MASONRY

R&L

MASONRY

* Stone * Brick

* Block

Masonry Repairs

614-917-8227

MOWER REPAIR

Tremont Mower Repair

Servicing Lawn Mowers,

Weed Eaters & Blowers

Pickup & delivery avail.

614-357-6204

LAWN MOWER DR.

"House Calls Only"

Overall Checkups

Oil Change & Filter,

Spark Plug &

Blades Sharpened

MINOR REPAIR

John

614-395-7909

johnellis0333@sbcglobal.net

PAINTING

Painter Over 30 Yrs. Exp.

Free Est. Reas. Rates

Daniel - 614-226-4221

A Job Well Done Again

A lic. General Contractor

Some Skilled Services

Incl: Painting • Stucco,

Repair•Carpentry•Exterior

Drainage & Home Maint.

Call Today! 614-235-1819

PLASTERING

7/17 A

Plaster & Stucco

NEW AND

REPAIR

Established 1917

Geo. F. Neff & Co.

614-274-5629

DRYW

YWALL &

PLASTER

7/3

A&M

REPAIR

Textured Ceilings

614-551-6963

Residential/Commercial

BIA

7/17 A

PEST

CONTROL

PLASTERING

All About Drains & Plumb.

Will snake any sm drain

$145. 614-778-2584

CHRIS'

PLUMBING

"Plumbing & Drain Professional

That You Can Count On"

24 Hrs., 7 Days/Week

No Overtime Charges

24 Yrs. Exp. in Plumbing &

Drain Cleaning Field

Call For A Free Phone Estimate

$100.00 For Any Small Drain

614-622-4482

30% OFF with AD

POWER WASHING

Bates & Sons

Soft Wash & Powerwash

5 ★ Google Reviews

614-586-3417

MRS. POWERWASH

Any house wash $149+tax

Single deck $69+tax

2 Tier deck $99+tax

Best Wash in Town

Over 45,000 washes

Ashley 614-771-3892

SEWING MACHINE

REPAIR

REPAIR all makes 24 hr.

service. Clean, oil, adjust

in your home. $49.95 all

work gtd. 614-890-5296

TREE SERVICES

BURNS TREE SERVICE

Trimming, Removal &

Stump Grinding.

614-584-2164

Brewer & Sons Tree Service

• Tree Removal

• Tree Trimming 7/17

A&M

• Stump Grinding

• Bucket Truck Services

Best Prices • Same Day Service

614-878-2568

A-1 QUALITY

TREE & LANDSCAPE

Family Owned

Serving Central Ohio

Since 2004

614-596-9504

Insured - Free Est.

7/3 A&M

7/17 A
---
PAGE 12 - WESTSIDE MESSENGER - June 26, 2022

Messenger

Westside

We are the

BEST COMMUNITY NEWSPAPER

on the Westside

Pick-Up

At These

Locations:

Hilltop Library - 511 S. Hague Ave.

United Dairy Farmers - Hague & Sullivant Ave.

BP Gas Station - Hague & Sullivant Ave.

Alex Carry-Out - Binns & Sullivant Ave.

Dollar General - Kingsford & Sullivant

Dollar General - Georgesville & Atlanta

M & S Carry-Out - Georgesville & Atlanta

United Dairy Farmers - Georgesville & Parwick by Freeway

Thorton's Gas Station - Georgesville & Norton Rd.

Shell Gas Station - Georgesville & Norton Rd.

Kroger - Georgesville Square

Turkey Hill - Georgesville & Clime Rd.

United Dairy Farmers - Clime & Demorest Rd.

Walgreens - Clime & Demorest Rd.

Certified Gas Station - Briggs & Demorest Rd.

Kroger - Eakin Rd. & Harrisburg Pike

Speedway Gas Station - Eakin Rd. & Harrisburg Pike

Heartland Bank - Great Western Shopping Center

BP Gas Station - Wilson & Lowell Rd.

Speedway Gas Station - Wilson & Lowell Rd.

Certified Gas Station - Broad St. & Orel

Walgreens - Hague Ave. & Broad St.

Circle K Gas Station - Georgesville & Industrial Rd.

Marathon Gas Station - Georgesville & Industrial Rd.

La Plaza Tapatta - Georgesville & Hollywood Rd.

BP Gas Station - Georgesville Rd. & Broad St.

Westland Library - Lincoln Village Plaza

Giant Eagle - Lincoln Village Plaza

Thorton's Gas Station - 4990 W. Broad St.

Walgreens - Broad St. & Galloway Rd.

Kroger - Broad St. & Galloway Rd.

Aldi Store - Broad St. & Westwood

CVS Pharmacy - Norton & Hall Rd.

United Dairy Farmers - Norton & Hall Rd.

Circle K Gas Station - Norton & Hall Rd.

Dollar General - Norton & Hall Rd.

Marathon Gas Station - Broad St. & Murray Hill Rd.

Speedway Gas Station - Broad St. & Murray Hill Rd.

Dollar Tree - Broad St. & Murray Hill Rd.

Speedway Gas Station - Broad St. 7 Freeway

Sheetz Gas Station - Westland Mall

Speedway Gas Station - Broad St. & Wilson Rd.

Kroger - Consumer Square Shopping Center

Franklin Township Business Office - 2193 Frank Rd.

READ US ONLINE: www.columbusmessenger.com

www.columbusmessenger.com

In Entertainment

"Lightyear" has moments of warmth and humor

When "Toy Story" made its debut in 1995, some critics

and movie snobs brushed it off as "just another

bland animated feature, but this time with unwanted

children's toys at the center." It would eventually go on

to become one of the most critically renowned and publicly

beloved franchises in the history of cinema.

What made the original and its subsequent sequels

so enduring was its terrific ensemble of characters,

each with their own outlandish personalities and hidden

vulnerabilities; its relatable story of growing up

and casting aside "childish" things; and its innate ability

to make you peel over with laugher one minute and

then burst into tears the next.

Although it has been a few years since the latest

film in the series was released and while there are no

current plans to make a fifth "Toy Story," the positive

public sentiment remains strong as do the sales of the

toys found within this franchise.

Because Disney is always looking for ways to milk

some more cash out of their property cows, they have

found a loophole of sorts to make a prequel story (of

sorts) to one of its most popular characters within the

sentient toy franchise.

Enter "Lightyear," a film that has none of the allencompassing

warmth of the franchise on which it is

based but nonetheless still feels like being encompassed

by a nice blanket — albeit one in which tiny dollar

signs copyrighted by Disney are sprinkled throughout.

To clear up some confusion that may be lingering

from the trailer: this film is not about the toy character

Buzz Lightyear (originally voiced by Tim Allen), the

vainglorious astronaut action figure that replaces

Sheriff Woody (originally voiced by Tom Hanks) as

Andy Davis' favorite toy. Instead, this film is about a

film within that film that inspired the creation of the

toy Buzz Lightyear. Basically, it's a "Toy Story-

Inception," but without the awe-inspiring special

effects.

In "Lightyear," the titular character (adequately

voiced by Chris Evans) is a real human Space Ranger

who accidentally maroons an entire star fleet on an

inhospitable planet and spends the next 60 plus years

coming up with a solution to get them back home. Due

to some hyper-speed trickery, he only ages a bit during

his space jaunts but his best friend and commander

Alisha Hawthorne (Uzo Aduba) lives out an entire life.

In the blink of an eye, he is alone on a planet full of

strangers, most not caring about his ultimate goal to

"bring them back home."

The city of Grove City is set to celebrate

Independence Day, Saturday, July 2 with a car show

and concert in the Town Center, followed by a grand

fireworks show at dusk, launched from Murfin

Memorial Fields.

Celebrate Independence Day with family and

friends at 3 p.m., Saturday, July 2 in Town Center

Park, 3359 Park St., with patriotic entertainment featuring

the Central Ohio Brass Band. Bring a lawn

chair or blanket and mingle with friends for a festive

afternoon before the fireworks. The Heart of Grove

City is hosting a car show from 11 a.m. to 4 p.m., east

of Town Center Park.

At 9:45 p.m., the annual community fireworks display

is launched from Murfin Fields.

For the safety of all, parking and spectators are not

Because Buzz Lightyear

would not be Buzz Lightyear

without his missions, he

begrudgingly teams up with a

group of inexperienced Space

Rangers who are in the battle of

their lives against a ruthless

and powerful emperor named

Zurg (voiced by James Brolin). To save his people —

even the ones do not personally care for him — to find a

safe way home, and to defeat the seemingly undefeatable

baddie, Lightyear must confront his past and own

up to some deeply hidden vulnerabilities that remind

him that not everything can (or should) be done alone.

By voicing a character who is the apparent inspiration

behind the iconic astronaut action figure in "Toy

Story," Evans walks a delicate line with his take on

Buzz. Although he draws from Allen's iteration of the

beloved side-kick Space Ranger, he doesn't lean fully

into the original take on the character, playing his

human self as much cooler tempered while still bursting

with bravery, loyalty, and the occasional bout of

selfishness. While that development was a good thing

for this movie, what was not as good was the lack of

depth or attention given to the side characters, especially

the character of Izzy (Keke Palmer) who shares

a connection with Buzz's late friend Alisha. I think had

more detail been fleshed out for her character, the

elder convict Darby (Dale Soules) and the accident

prone Mo (Taika Waititi), this film would have packed

more of an emotional punch, especially when calling

back to the connective tissue that it shares with the

"Toy Story" universe.

Although there are moments of genuine warmth

and humor in "Lightyear," (the mechanical companion

cat voiced by Peter Sohn is a real treasure) the thin

story and sometimes clunky dialogue will not make it

as popular or as enduring as the franchise in which in

falls into, but it does have something sweet to offer for

those looking for a fun escapade "to infinity and

beyond."

Grade: C+

The Reel Deal

Dedra Cordle

Dedra Cordle is a Messenger staff writer and columnist.

Independence Day Celebration

permitted at Murfin Fields, but free parking is available

at Grove City High School, Grove City Church of

the Nazarene, Windsor Park, and Hayes Intermediate

and J.C. Sommer Elementary schools. Blankets, lawn

chairs and most other personal items are permitted.

Due to parking restrictions/limitations, the following

are prohibited: grills, alcohol, personal fireworks

including sparklers, skates, skateboards, flatbed trailers,

recreational vehicles, tents and canopies, and pets

other than service dogs.

For information regarding traffic flow, visit

GroveCityOhio.gov or call 614-277-3050. For weatherrelated

updates, call 614-277-3060 or check Grove

City's Facebook, Twitter and Instagram pages

@GroveCityOhio and @GroveCityParks. Rain date is

Sunday, July 3.