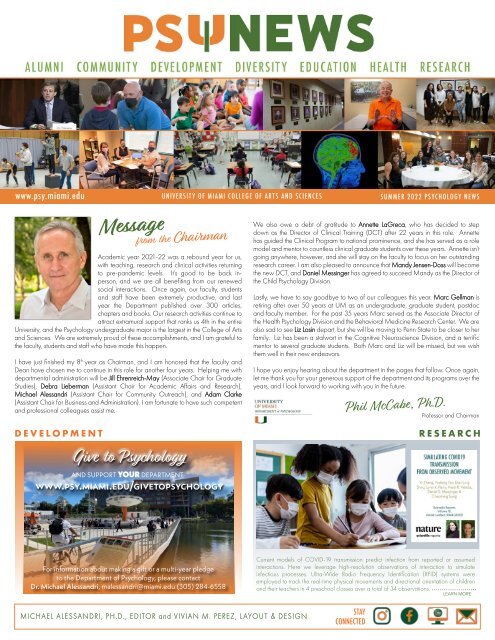 2022 Psychology News - Summer Edition
Create successful ePaper yourself
Turn your PDF publications into a flip-book with our unique Google optimized e-Paper software.
www.psy.miami.edu

Message

UNIVERSITY OF MIAMI COLLEGE OF ARTS AND SCIENCES

from the Chairman

Academic year 2021-22 was a rebound year for us,

with teaching, research and clinical activities returning

to pre-pandemic levels. It's good to be back inperson,

and we are all benefiting from our renewed

social interactions. Once again, our faculty, students

and staff have been extremely productive, and last

year the Department published over 300 articles,

chapters and books. Our research activities continue to

attract extramural support that ranks us 4th in the entire

University, and the Psychology undergraduate major is the largest in the College of Arts

and Sciences. We are extremely proud of these accomplishments, and I am grateful to

the faculty, students and staff who have made this happen.

I have just finished my 8 th year as Chairman, and I am honored that the faculty and

Dean have chosen me to continue in this role for another four years. Helping me with

departmental administration will be Jill Ehrenreich-May (Associate Chair for Graduate

Studies), Debra Lieberman (Assistant Chair for Academic Affairs and Research),

Michael Alessandri (Assistant Chair for Community Outreach), and Adam Clarke

(Assistant Chair for Business and Administration). I am fortunate to have such competent

and professional colleagues assist me.

SUMMER 2022 PSYCHOLOGY NEWS

We also owe a debt of gratitude to Annette LaGreca, who has decided to step

down as the Director of Clinical Training (DCT) after 22 years in this role. Annette

has guided the Clinical Program to national prominence, and she has served as a role

model and mentor to countless clinical graduate students over these years. Annette isn't

going anywhere, however, and she will stay on the faculty to focus on her outstanding

research career. I am also pleased to announce that Mandy Jensen-Doss will become

the new DCT, and Daniel Messinger has agreed to succeed Mandy as the Director of

the Child Psychology Division.

Lastly, we have to say goodbye to two of our colleagues this year. Marc Gellman is

retiring after over 50 years at UM as an undergraduate, graduate student, postdoc

and faculty member. For the past 35 years Marc served as the Associate Director of

the Health Psychology Division and the Behavioral Medicine Research Center. We are

also sad to see Liz Losin depart, but she will be moving to Penn State to be closer to her

family. Liz has been a stalwart in the Cognitive Neuroscience Division, and a terrific

mentor to several graduate students. Both Marc and Liz will be missed, but we wish

them well in their new endeavors.

I hope you enjoy hearing about the department in the pages that follow. Once again,

let me thank you for your generous support of the department and its programs over the

years, and I look forward to working with you in the future.

Phil McCabe, Ph.D.

Professor and Chairman

DEVELOPMENT

Give to Psychology

AND SUPPORT YOUR DEPARTMENT

www.psy.miami.edu/givetopsychology

RESEARCH

For information about making a gift or a multi-year pledge

to the Department of Psychology, please contact

Dr. Michael Alessandri, malessandri@miami.edu (305) 284-6558

Current models of COVID-19 transmission predict infection from reported or assumed

interactions. Here we leverage high-resolution observations of interaction to simulate

infectious processes. Ultra-Wide Radio Frequency Identification (RFID) systems were

employed to track the real-time physical movements and directional orientation of children

and their teachers in 4 preschool classes over a total of 34 observations.

LEARN MORE

MICHAEL ALESSANDRI, PH.D., EDITOR and VIVIAN M. PEREZ, LAYOUT & DESIGN

STAY

CONNECTED
---
Welcome

SIMON HOWARD, PH.D.

DIRECTOR OF THE PSYCHOLOGY OF RACISM, IDENTITY,

DIVERSITY, AND EQUITY (PRIDE) RESEARCH LAB

My first semester at the

U has been a vibe. The

university is beautiful, my

colleagues are supportive,

kind, and inspiring, and the

students, both graduate

and undergraduate, are

a joy to teach. One of

the highlights for me this

Spring was teaching

the Issues of Diversity in

Psychology graduate

course. Being able to

critically engage in topics

that I am intellectually and

personally passionate about with a group of students who were

always engaged, always ready to interrogate not only the field

regarding issues of diversity (e.g., positionality in psychology,

Psychology as a WEIRD science, Intersectionality) but also

themselves as practitioners, researchers and educators, and

always reflecting on ways to address the complex issues we

discussed throughout the course, was great experience. Their

commitment to diversity makes me hopeful about the future of

our field. I hope that I am able to replicate in the future.

On the research side, since arriving to UM, I have been working

on a project that examines the influence of conscious hip-hop

music on Black individuals collective action intentions and

behaviors, a project on implicit associations between race and

God, and slowly building the Psychology of Racism, Identity,

Diversity and Equity (PRIDE) lab. This fall, I look forward to

starting projects examining the relationship between vicarious

experiences of racism and race-based traumatic stress,

welcoming incoming graduate student Michael Crawford

to the lab, and continuing to get to know and build with my

colleagues in and out of the department.

CONSENSUS STUDY

FACULTY HONORS

Congratulations

JILL EHRENREICH-MAY, PH.D.

ON BEING PRESIDENT-ELECT OF ASSOCIATION FOR BEHAVIORAL

AND COGNITIVE THERAPIES (ABCT) - 2021–2022

The Association for Behavioral and Cognitive Therapies is a

multidisciplinary organization committed to the enhancement of health

and well-being by advancing the scientific understanding, assessment,

prevention, and treatment of human problems through the global

application of behavioral, cognitive, and biological evidence-based

principles.

PODCASTS

AUTISM COMMUNITY CELEBRATES

'RARE GEM'

MICHAEL ALESSANDRI

The University of Miami-Nova Southeastern

University Center for Autism and Related

Disabilities honored Dr. Michael Alessandri for 25

years of service.

Dr. Alessandri, Executive Director of UM-CARD

has dedicated his 40-year professional career

to helping people with autism, and to show its

appreciation the South Florida autism community

was honored for his 25 years of service to UM-

NSU CARD at its annual fund-raising event,

Tropical Nights this past December.

Save the Date for this year's

Tropical Nights, December 10 th at

the InterContinental Miami.

Starting in early childhood, children are

capable of learning sophisticated science

and engineering concepts and engage

in disciplinary practices. They are deeply

curious about the world around them and

eager to investigate the many questions they

have about their environment. Educators can

develop learning environments that support

the development and demonstration of

proficiencies in science and engineering,

including making connections across the

contexts of learning, which can help children

see their ideas, interests, and practices as

meaningful not just for school, but also in

their lives. Unfortunately, in many preschool

and elementary schools science gets

relatively little attention compared to English

language arts and mathematics. In addition,

many early childhood and elementary

teachers do not have extensive grounding in

science and engineering content.

A report produced by the Board on Science

Education of the National Academies of Science,

Engineering, and Medicine (NASEM) takes up these

issues and offers research based conclusions and

recommendation on how to address them. Professor

Daryl B. Greenfield was a member of the NASEM

Committee that wrote this consensus volume. The

report is available for download as a free pdf - HERE

IBIS SPEAKS WITH

DRS. ALESSANDRI, GUTIERREZ & MESSINGER
---
UM-PSYCHOLOGY NEWS

The year in review: How Psychology is making news!

THE SPANISH LANGUAGE

MAY HOLD THE KEY TO A

PERPLEXING HEALTH MYSTERY?

Dr. Maria Llabre

LEARN MORE

NCI TO FUND SYLVESTER-LED

STUDY ON HOW EXERCISE

AND NUTRITION MAY

IMPROVE OVARIAN CANCER

OUTCOMES

Dr. Frank J. Penedo

LEARN MORE

MENTAL HEALTH EXPERTS

OFFER INSIGHTS ON HOW

TO OVERCOME ANXIETY

Dr. Jill Ehrenreich-May

RESEARCHERS DEVELOP

MODEL FOR TREATING

HIV/AIDS, DEPRESSION

Dr. Steven Safren

LEARN MORE

LEARN MORE

THE PANDEMIC HAS PLAYED

WITH OUR PERCEPTION OF

TIME

Dr. Aaron Heller

LEADERS DISCUSS HOW TO

STAY ON TRACK AMID A CRISIS

Dr. Amishi Jha

LEARN MORE

LEARN MORE

STUDENT EXAMINES

RESILIENCE WITH A PERSONAL

LENS

Dr. Michael Antoni

LEARN MORE

HOW TO SUPPORT

CHILDREN'S MENTAL HEALTH

DURING THE SCHOOL YEAR

Drs. Rebecca Bulotsky-Shearer.

Amanda Jensen-Doss &

Jill Ehrenreich-May

LEARN MORE

MEET THE EXPERTS BRINGING

MINDFULNESS TO THE

MILITARY

Dr. Amishi Jha

WHY DO WE COLLECT

THINGS?

Dr. Kiara Timpano

LEARN MORE

LEARN MORE

AUTISM FRIENDLY

COMMUNITY

Dr. Michael Alessandri

PEOPLE SPEND HALF OF THEIR

LIVES NOT FOCUSED ON THE

PRESENT, RESEARCH SAYS.

HERE'S HOW TO CHANGE IT

Dr. Amishi Jha

LEARN MORE

LEARN MORE
---
GRADUATE STUDENT NEWS

2022 TRANSITIONS CEREMONY

CELEBRATING A YEAR OF ACCOMPLISHMENTS AND TRANSITIONS

We are so proud of you!

CONGRATULATIONS TO OUR GRADUATE STUDENTS TRANSITIONING TO THEIR NEXT DESTINATIONS!

Amy Ahn, Jhonelle Bailey, Lara Baez, Cody Boland, Elizabeth Casline, Stevie Custode, Morgan Gianola,

Gabe Hatch, Stephanie Hudiburgh, Daisy Lopez, Marcella May, Samantha Mitsven, Silvia Nino,

Liana Preudhomme, Nicole Puccetti, and Satyanand Satyanarayana
---
UM-PSYCHOLOGY NEWS

This year has been a transformational year for the University of Miami Linda Ray Intervention Center as we update the center's

visibility and branding, expand resources, and continue to drive our mission to bring "Brighter tomorrows for Miami's children and

families in need".

As the new Executive Director of the Linda Ray Intervention Center, I am honored to be part of such an amazing team at the forefront

of innovative approaches to early learning through its research-based approach.

Together with Dr. Daniel Messinger the center's Research Director, we are happy to announce that we have been awarded an

Innovation Grant, Toddlers Talk: Let's Take Turns. The proposed pilot would be the first time LENA technology is used to count

conversational turns between an adult and child

in Miami-Dade County that occur within the

home environment.

Our team is committed to ensuring high-quality education which motivates and

empowers children to be lifelong learners. We strive to have all children achieve

their full potential in a nurturing environment.

Through a collaborative approach, the center brings together the power of many

to support children and families.

Thank you to all who support our mission.

With heartfelt gratitude,

Isabel S. Chica

FACULTY TRANSITIONS

The Psychology Department held its first in-person Transitions Ceremony since 2019. This tradition celebrates the accomplishments of our graduate students and faculty.

Muse Award

Faculty Promotions

Farewells

Professor

Professor

Research Assistant Professor

Senior Lecturer
---
UNIVERSITY OF MIAMI DEPARTMENT OF PSYCHOLOGY MISSION

IN ACCORDANCE WITH THE GOALS OF THE UNIVERSITY OF MIAMI, THE MISSION OF THE DEPARTMENT OF PSYCHOLOGY IS TO ACQUIRE,

ADVANCE, AND DISSEMINATE KNOWLEDGE WITHIN THE PSYCHOLOGICAL AND BIOBEHAVIORAL SCIENCES. IN ORDER TO ACHIEVE

THESE GOALS THE DEPARTMENT SEEKS A BALANCE AMONG SEVERAL ACADEMIC ENDEAVORS INCLUDING: TEACHING, RESEARCH AND

SERVICE TO THE COMMUNITY, WHILE BEING MINDFUL OF DIVERSITY, EQUITY AND INCLUSION ISSUES IN ALL OF THESE ACTIVITIES.

www.psy.miami.edu