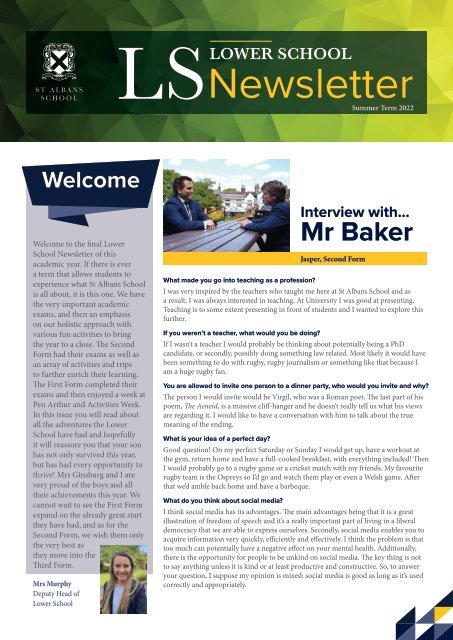 Lower School Newsletter July 2022
You also want an ePaper? Increase the reach of your titles
YUMPU automatically turns print PDFs into web optimized ePapers that Google loves.
LOWER SCHOOL

Newsletter

Summer Term 2022

Welcome

Welcome to the final Lower

School Newsletter of this

academic year. If there is ever

a term that allows students to

experience what St Albans School

is all about, it is this one. We have

the very important academic

exams, and then an emphasis

on our holistic approach with

various fun activities to bring

the year to a close. The Second

Form had their exams as well as

an array of activities and trips

to further enrich their learning.

The First Form completed their

exams and then enjoyed a week at

Pen Arthur and Activities Week.

In this issue you will read about

all the adventures the Lower

School have had and hopefully

it will reassure you that your son

has not only survived this year,

but has had every opportunity to

thrive! Mrs Ginsburg and I are

very proud of the boys and all

their achievements this year. We

cannot wait to see the First Form

expand on the already great start

they have had, and as for the

Second Form, we wish them only

the very best as

they move into the

Third Form.

Mrs Murphy

Deputy Head of

Lower School

What made you go into teaching as a profession?

Interview with...

Mr Baker

I was very inspired by the teachers who taught me here at St Albans School and as

a result, I was always interested in teaching. At University I was good at presenting.

Teaching is to some extent presenting in front of students and I wanted to explore this

further.

If you weren't a teacher, what would you be doing?

If I wasn't a teacher I would probably be thinking about potentially being a PhD

candidate, or secondly, possibly doing something law related. Most likely it would have

been something to do with rugby, rugby journalism or something like that because I

am a huge rugby fan.

You are allowed to invite one person to a dinner party, who would you invite and why?

The person I would invite would be Virgil, who was a Roman poet. The last part of his

poem, The Aeneid, is a massive cliff-hanger and he doesn't really tell us what his views

are regarding it. I would like to have a conversation with him to talk about the true

meaning of the ending.

What is your idea of a perfect day?

Good question! On my perfect Saturday or Sunday I would get up, have a workout at

the gym, return home and have a full-cooked breakfast, with everything included! Then

I would probably go to a rugby game or a cricket match with my friends. My favourite

rugby team is the Ospreys so I'd go and watch them play or even a Welsh game. After

that we'd amble back home and have a barbeque.

What do you think about social media?

Jasper, Second Form

I think social media has its advantages. The main advantages being that it is a great

illustration of freedom of speech and it's a really important part of living in a liberal

democracy that we are able to express ourselves. Secondly, social media enables you to

acquire information very quickly, efficiently and effectively. I think the problem is that

too much can potentially have a negative effect on your mental health. Additionally,

there is the opportunity for people to be unkind on social media. The key thing is not

to say anything unless it is kind or at least productive and constructive. So, to answer

your question, I suppose my opinion is mixed: social media is good as long as it's used

correctly and appropriately.
---
LS NEWSLETTER SUMMER TERM 2022

SUMMER TERM 2022 LS NEWSLETTER

Inter-Form Challenge

On Friday 27 May we took part in the Lower

School Inter-Form Challenge. After being

energised by a tasty barbecue lunch in the

orchard, we made our way to Woollams. The

journey was filled with nervous anticipation of

who would win the coveted title for best class in

each of the First and Second Form.

Everybody was very excited; the changing

rooms were buzzing with energy and chatter.

How would we do in the 6-aside football? Was

our form any good at code breaking amongst

other things? Most importantly, were we as

good at eating doughnuts as we thought? After

what felt like ages, the challenges commenced.

Each class was wearing their special cap or

t-shirt they had designed for the occasion. I

played in the Ultimate Frisbee team and really

enjoyed the constant back-and-forth nature of

it. We were always fighting to keep possession

to score, and after a nail-biting game, we

succeeded!

After a fantastic afternoon of

challenges, the overall winners

were decided in the doughnut

eating competition. The First

Form doughnut eating battle

was close but a last-minute

change of decision put 1.1 in

the lead by the skin of our

teeth. For the First Form 1.1

won and in the second form

2.4 came out victorious.

Alexander, First Form

Pen Arthur

It was an overcast, drizzly morning in St Albans when we boarded the coach

on Sunday 5 June, but it didn't dampen our spirits and enthusiasm for our

long-awaited trip to Pen Arthur. The landscape dramatically changed when

we finally crossed the bridge into Wales, prompting a cheer from everyone on

board. We found our destination nestled deep in Pen Arthur Forest within the

Brecon Beacons. We had fun exploring the grounds and building dens, then

turned in for the night, eager for our first day of activities to arrive.

We had an awesome first day. It was amazing hiking through lush, jungle-like

forest and reaching a giant waterfall, which we stood behind and were sprayed

with water. In the afternoon we went caving, where we crawled through tiny

cracks and waded through fast-flowing streams. There was one – known as

the "washing machine" – which we had to crawl through against the current.

When we emerged, I was dazzled by the sunlight.

Other highlights included canoeing (and capsizing fully clothed!);

water fights in the sea and playing crazy golf at the beach; standing

on the footplate at the Gwili Steam Railway and going to the cinema

(when our castle trip was rained off) to see the new 'Top Gun' film.

We finished our week with a barbecue and hilarious talent show

(Aldwyn's amazing impressions won his team first place). A

huge thank you to all the teachers who came with us for such a

wonderful, memorable trip.

Thomas, First Form
---
LS NEWSLETTER SUMMER TERM 2022

SUMMER TERM 2022 LS NEWSLETTER

Drama Workshop

On Wednesday 22 June, the First and Second

Forms took part in a fantastic Drama workshop

where we were split up in our houses to participate

in three different Drama related activities. On top

of this, we also watched an unusual play to teach us

lots of useful drama techniques whilst having lots

of fun.

In the first lesson, we went deeper into Ancient

Greek theatre where we wore masks if it was a man

playing a woman or if an actor had to be some

sort of monstrous villain. This helped us develop

better body language skills and how to portray a

character's emotions differently.

We then did a lesson on how to apply fake bruises

and blood wounds just by using makeup and what

to use as a substitute so we could apply our own

wounds at home to practice. To apply our blood

wound, we got a lump of playdoh and spread it

out on our arms so we would be able to apply fake

blood. Then, we applied bruising makeup along the

playdoh to make the wound look more realistic.

After that, we cut through the centre of the playdoh

adding fake blood along the crack which was

thickened by putting Weetabix into it. Finally, we

used a bottle of fake blood (which was edible and

tasted like maple syrup) and squeezed it along the

cut to make it look like the blood was dripping off

your hand.

Our final activity, which was my favourite, was

learning how to do basic sword fighting for theatre

using wooden katanas then eventually moving on

to using a blunt steel sword.

I thought that

this was a

brilliant set of

activities and

wanted to thank

the Drama

Department for

setting this up

for us.

Henri, First Form

French Play –

'Mon père ne me

comprend pas'

I recently watched a play in French during Activity

Week. It was about a girl called Hélène who was

celebrating her 16th birthday, but it was not turning

out exactly to plan because different members of her

entourage wanted to celebrate in different ways. Her

father wanted to take her to McDonald's, her brother

bought her a poetry book, and she is also trying to

help her friends with their relationship issues. While

attempting to solve her problems with a magic spell,

she only managed to make the situation worse.

Thankfully all was resolved in the end.

Despite being performed in a different language it

was easy to follow because it made many references

to things that my age group understand, such as

social media. All the cast were very dynamic, and

the plot was engaging and light-hearted. It was great

French entertainment for a Wednesday afternoon.

Un excellent moment!

Oli, First Form
---
LS NEWSLETTER SUMMER TERM 2022

SUMMER TERM 2022 LS NEWSLETTER

Trip to Dover Castle

During Activities Week, we visited Dover Castle in

Kent. Despite the long journey, we were eager to see

what Dover Castle had in store. First, we watched a

fascinating video about how the castle was built and

the history of its owners. We also observed that the

castle had corners. This wasn't the best idea because

if the enemies overwhelmed one corner, it could all

collapse!

Next, our group had a tour around the Keep. It

was fascinating to be in such historic surroundings

and learn how the Keep was utilised. My 'favourite

fact' was that the royals sat upright when they slept

because they feared that the devil would think they

had been placed there for collection if they were

lying flat on a raised floor. After that, we went for a

walk around the castle grounds, getting a sense of

the walls and level of protection. We also went down

into the tunnels, which were pitch black. It was really

cool to see how there used to be secret passageways

for people looking to avoid detection.

Finally, we listened to an actor dressed up as Lady

Beaufort! She was funny and very convincing. We

went to the courtroom and learnt how the legal

system worked – typical punishments were combat,

water or fire.

Overall, it was a jam-packed, adventurous day and I

definitely want to go again!

Review of the French play

Ben, First Form

During Activities Week, I was lucky enough

to watch a French play. It followed the story of

a young girl who was pranked by her friends

telling her she was being cheated on, and being

given a magic wand by her dad which she uses

to wish for her family to be cool. All this leads

to her dad becoming a famous influencer. The

main characters were the girl, the dad, and the

shy brother. Some of my favourite scenes were

the calls on the phone with her grandma as

they were very funny, and I liked the repeating

joke about the grandma's bad Wi-Fi and her

forgetting to turn her sound on. I also liked the

very beginning

scene, where the

girl told us it was

her birthday,

but the brother

kept pretending

to give her a gift but kept snatching it away at

the last second. However, my overall favourite

moment was when the grandma pulled out a

gun. Throughout the play, the actors kept in

role and used actions with their hands to help

us understand what was going on, to make it

more fun and inclusive for everybody.

Hugh, Second Form
---
LS NEWSLETTER SUMMER TERM 2022

SUMMER TERM 2022 LS NEWSLETTER

STEM Workshop

On the last day of Activities Week, Second Form took part

in a Stem Workshop which consisted of three different

sessions. In the first two sessions, we were making things

out of three different sizes of wooden sticks. First, we

were taught how to make a tetrahedron out of six sticks

and four elastic bands. Then we chose our own groups

of five and made our own. With the five tetrahedrons,

we were shown how to put them together with long

sticks, then using medium sticks we were shown how to

strengthen our line of five tetrahedrons so that there were

only triangles to ensure that it was as strong as possible.

When everyone had finished, each group was given four

long sticks and four medium sticks. Using these we had

to come up with a design to support the main structure

like a bridge. In the session before lunch, all the groups

made one part of a Ferris wheel. All the parts were

then attached to a central plastic tube with a massive

wooden stick through it. It was then raised up and spun

by everyone. In the last

session, we watched a

documentary about how

bridges are made safer by

bridges that have broken

before. All of these

activities combined into a

fun day.

Alex, Second Form

Product Design and Marketing Day

We started the day by meeting in the library. Mr Wass and Mr Phillips set us the task of making a portable

gaming console by working for either Xbox or PlayStation which had to rival the Nintendo switch for that

corner of the market. We were divided into different groups of around six people and were put in either the

Xbox or PlayStation team. The groups were further split, some were sent to the DT block to start building their

design, others to the library to plan their design and create a 30-second advertisement via a storyboard.

I was sent to the library first and our group designed a laptop-based console

with a foldable screen and a controller where the keyboard was. The

screen was 14 inches and the bottom bit matched it. It was 8 inches in

height and 12 inches long. It had our logo on the back and we named

it the Xbox X Lite. Next, we went to the D&T Department to make it a

reality. We used a reflective black plastic for the screen and some white

foam to create a portable laptop-like design. We laser-cut the logo and

glued it onto the back.

Afterwards, we presented our product to the other groups and a panel

consisting of Mr Wass, Mr Phillips and some other judges. Although

no verbal feedback was given, we were pleased with the end product.

Unfortunately, we didn't win and instead a product called Xbox Split won.

It was literally a screen which could split into four and fold into a book.

It was great fun and rewarding seeing an idea materialise into a prototype. It

was also thrilling getting a taste of the process that real developers would go

through!

Anaik , Second Form
---
LS NEWSLETTER

SUMMER TERM 2022

PSHEE Day – Public

Speaking and Team Work

During our June PSHEE Day, we enjoyed a talk about public

speaking and how it can be a huge challenge. The visitor also

explained how when he was younger, he had anxiety and

public speaking for him was a way of letting out his emotions

and stress. When you are giving a talk, he said to be honest

with your audience to show them that you are not perfect; in

addition, he explained in depth how personal stories can be a

good way to connect with your audience. All pupils took part

in interactive activities where a pupil stood at the front of the

classroom and told the class a fact about themselves that their

classmates did not already know. This took pupils out of their

comfort zone to face a fear.

A visitor came in from 'Herts young Homeless' to talk to pupils

about how to resolve and deal with arguments. Firstly, she

demonstrated how tone and volume can affect the meaning of

a sentence. We were also informed of 'you and I statements'

which is a way of calming a situation and not shifting all the

blame onto the other person to make them feel bad. Pupils then

engaged in a cooperative activity of how to solve an argument

topic they were given.

Finally, we took part in team-building activities which made us

work cooperatively and not lose concentration throughout. The

first activity was completed with some difficulty but required

all members of a team to work together. The second activity

consisted of building a tower of wooden blocks which required

a good level of communication. To finish, the final activity

required speed and decisive communication.

Seb, Second Form