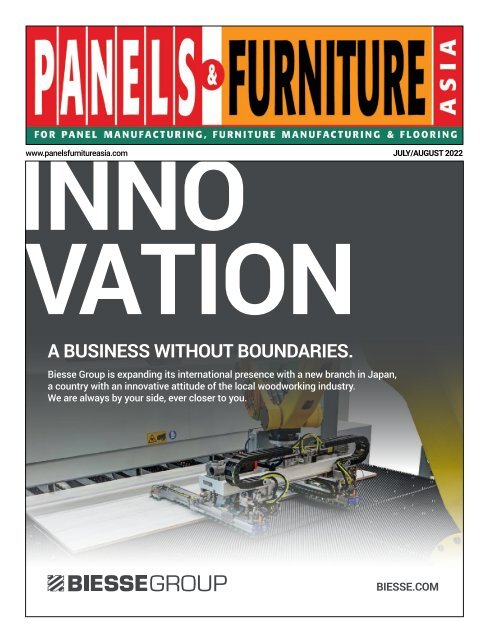 Panels & Furniture Asia July/August 2022
Panels & Furniture Asia (PFA) is a leading regional trade magazine dedicated to the woodbased panel, furniture and flooring processing industry. Published bi-monthly since 2000, PFA delivers authentic journalism to cover the latest news, technology, machinery, projects, products and trade events throughout the sector. With a hardcopy and digital readership comprising manufacturers, designers and specifiers, among others, PFA is the platform of choice for connecting brands across the global woodworking landscape.
Panels & Furniture Asia (PFA) is a leading regional trade magazine dedicated to the woodbased panel, furniture and flooring processing industry. Published bi-monthly since 2000, PFA delivers authentic journalism to cover the latest news, technology, machinery, projects, products and trade events throughout the sector. With a hardcopy and digital readership comprising manufacturers, designers and specifiers, among others, PFA is the platform of choice for connecting brands across the global woodworking landscape.
SHOW MORE
SHOW LESS
You also want an ePaper? Increase the reach of your titles
YUMPU automatically turns print PDFs into web optimized ePapers that Google loves.
INNO

www.panelsfurnitureasia.com

JULY/AUGUST 2022

VATION

A BUSINESS WITHOUT BOUNDARIES.

Biesse Group is expanding its international presence with a new branch in Japan,

a country with an innovative attitude of the local woodworking industry.

We are always by your side, ever closer to you.

BIESSE.COM
---
Born in Canada.

Made in Vietnam.

Xuất xứ từ Canada.

Sản xuất tại Việt Nam.

WESTERN HEMLOCK GỖ ĐỘC CẦN BỜ TÂY

TRY CANADIAN WOOD

HÃY DÙNG THỬ GỖ CANADA

canadianwood.com.vn

+84 (0)274 380 3609

A range of high-quality certified lumber from sustainably

managed forests of British Columbia, Canada.

Các loại gỗ xẻ chất lượng cao được chứng nhận từ nguồn rừng trồng

được quản lý bền vững của tỉnh bang British Columbia, Canada.
---
Y O U R S M A R T P L A N T

PRODUCE SMARTER

Using a holistic approach, CEBRO combines digitalization and advanced

plant engineering with operational excellence and sustainability solutions.

That makes your plant smart.

Watch the video at cebro.dieffenbacher.com to discover

what CEBRO can do for you.

VISIT US AT IWF,

AUGUST 22–26, 2022

HALL C, BOOTH C1500
---
CONTENTS

CONTENTS

PANELS & FURNITURE ASIA (ISSUE 4)

July / August 2022

06

Editor's Note

08

News

Market Report

16

COVID-19, Russia's war on Ukraine, and inflation slow

business, but recovery continues for US hardwoods

18

Four trends strengthening outlook of wooden

furniture market over 2022-2027

Environmental Report

20

Making timber trade in Lower Mekong forests more

sustainable

In Person

22

Binh Duong: A prospering manufacturing centre for

wood products

Product Highlight

24

Addressing quality and processing problems for

coated wooden doors and windows

26

Kitchen & Bath design feature: Improving work

efficiency and design quality

Panel Manufacturing

28

Partnership and innovation between Kastamonu

Entegre and Argos Systems for future solutions

30

Wintersteiger delivers repair system for large panels

32

Non-contact release agent application on multidaylight

presses

Furniture Manufacturing

34

"An advanced economy with a strong tradition":

Biesse Group expands to Japan

36

woodStore 8: Smart storage software for higher

transparency

38

Mass production solution for furniture carcass

Materials

40

American red oak in the new Umm Al Quwain Free

Trade Zone Authority Headquarters

Recycling

42

Artificial neural networks changing wood recycling

Structural Elements

46

Tokyo University of the Arts International Exchange

Centre

42

Columnists

50

Challenges in meeting global GHG emission

reduction standards

Show Preview

52

BIFA Wood Vietnam 2022

64

Malaysian Wood Expo 2022

74

Calendar of Events

75

List of Advertisers

36

22

4 Panels & Furniture Asia | July / August 2022
---
W O O D & W O O D W O R K I N G

20-22 JANUARY 2021

HANOIWOOD 2023

河 内 木 工 机 械 展

NEW DATE:

9-11 FEBRUARY 2023

Venue:

International Centre of

Exhibition (I.C.E.), Hanoi

91 Tran Hung Dao Street, Hoan Kiem

District, Hanoi , Vietnam

QR Code to exhibition

location on Google Map

JOINTLY ORGANISED BY

M A C H I N E R Y

BINH DUONG FURNITURE ASSOCIATION

PANELS & FURNITURE GROUP

VIETNAM TIMBER AND

FOREST PRODUCT ASSOCIATION

T R A D E F A I R

Pablo Shanghai

Contact: Rain Ma

Mobile: (86) 182 1755 3837

Email: 2229204646@qq.com

PLEASE CONTACT:

Pablo Publishing & Exhibition Pte Ltd

3 Ang Mo Kio Street 62 #01-23 Link@AMK

Singapore 569139

Tel: (65) 6266 5512 Mobile: (65) 9621 4283

Email: williampang@pabloasia.com
---
FROM THE EDITOR

Opportunities abound

Opportunities for partnerships, long-term

collaborations and initiatives, and expansion

are plenty as we are adjusting to the reopening

borders and pandemic. It would be remiss

for companies to not seize them when they

come — after all, who knows when the next

crisis will hit? And true enough, the wood and

woodworking industry across the world is

growing exponentially, taking this new normal

in their stride.

We see woodworking machinery

manufacturers like Biesse expanding into

Asia. Daniele Campetella, managing director

of Biesse Group Asia and Biesse China, tells

us why Biesse Group is expanding to Japan,

with plans to establish their premises as

early as Q4 2022 (p.34). Other woodworking

companies like Argos Solutions is partnering

with Kastamonu Entegre to support the latter

in providing inspection systems for melaminefaced

chipboard production (p.28).

With the rising need and importance for remote

working and automation, digital solutions are

also in hot demand now. Coohom, a softwareas-a-service

company that develops design

software systems, recently launched its Kitchen

& Bath feature, a 3D design visualisation

platform to help designers and manufacturers

present their ideas (p.26). The latest

woodStore 8 by HOMAG aims to make the

flow of information and materials in storage

management more transparent, and therefore

more efficient (p.36).

Initiatives to tackle deforestation are also

underway. With forests in the Lower Mekong

region facing threats from overlogging and

land conversion, the Forest Stewardship

Council (FSC) teams up with the United Nations

(UN) to make timber trade more sustainable in

the region (p.20).

Last but not least, in this issue, we are

excited to feature a pool of products, from

computerised numerical control (CNC) centres

and computer-aided design (CAD) / computeraided

manufacturing (CAM) software to

hotmelt adhesives, that various companies will

be featuring in BIFA Wood Vietnam (p.52). But

the preview is only a glimpse — to have a full

taste of what the exhibitors have to offer, we

welcome everyone to join us at Binh Duong,

Vietnam, this coming August.

YAP SHI QUAN | Assistant Editor

PANELS & FURNITURE ASIA

PABLO SINGAPORE

Publisher

William Pang • williampang@pabloasia.com

Senior Editor

Josephine Tan • josephine@pabloasia.com

Assistant Editor

Yap Shi Quan • shiquan@pabloasia.com

Business Development Manager

Pang YanJun • yanjun@pabloasia.com

Graphic Designer

Goh Meng Yong • mengyong@pabloasia.com

Circulation Manager

Shu Ai Ling • circulation@pabloasia.com

PABLO BEIJING

General Manager

Ellen Gao • pablobeijing@163.com

PABLO SHANGHAI

Editor

Kresly Shen • pabloshanghai@163.net

HEAD OFFICE

PABLO PUBLISHING & EXHIBITION PTE LTD

3 Ang Mo Kio Street 62, #01-23, Link@AMK,

Singapore 569139

Tel : +65 6266 5512

Email: info@pabloasia.com

www.panelsfurnitureasia.com

Company Registration No: 200001473N

Singapore MICA (P) No: 105/12/2021

REGIONAL OFFICES (CHINA)

PABLO BEIJING

Tel : +86 10 6509 7728

Email : pablobeijing@163.com

PABLO SHANGHAI

Tel : +86 21 5238 9737 / 36

Email : pabloshanghai@163.net

let's connect!

@panelsfurnitureasia

All rights reserved. Views of writers do not necessarily reflect the views of the

Publisher. No part of this publication may be reproduced in any form or by any

means, without prior permission in writing from the Publisher and copyright

owner. Whilst every care is taken to ensure accuracy of the information in

this publication, the Publisher accepts no liability for damages caused by

misinterpretation of information, expressed or implied, within the pages of

the magazine. All advertisements are accepted on the understanding that the

Advertiser is authorised to publish the contents of the advertisements, and in

this respect, the Advertiser shall indemnify the Publisher against all claims

or suits for libel, violation of right of privacy and copyright infringements.

Panels & Furniture Asia is a controlled-circulation magazine with two issues

a year. It is mailed free-of-charge to readers who meet a set of criteria. Paid

subscription is available to those who do not fit our terms of control. Please

refer to subscription form provided in the publication for more details.

Printed by Times Printers Pte Ltd

Scan to subscribe

to PFA's enewsletter

6 Panels & Furniture Asia | July / August 2022
---
Getting what you need can be complex. We make it feel easy.

Why do so many customers continue do business with us? Because we care. As we've seen,

the hardwoods industry can be difficult. When it is we are a rock-solid source

of service and support. We put in the time, make the extra call, do whatever we can

to solve our customers' problems and meet their needs.

We care, that's why they do business with us.

northwesthardwoods.com
---
NEWS

WEINIG LAUNCHES LARGEST

INVESTMENT PROGRAMME

IN COMPANY'S 117-YEAR

HISTORY

The supervisory board of Weinig group has

approved an investment programme that will

reposition the group and its headquarters in

Tauberbischofsheim, Baden-Württemberg,

Germany. In total, more than €120 million will

be invested over the next five years.

For the site in Voitsberg, Austria, where the

production premises of Weinig's subsidiary

Holz-Her is located, €15m has already been

approved in advance and will be invested in

assembly, production and logistics. The newly

adopted programme focuses on the solid

wood division of the mechanical engineering

company. Around €70m will be invested in the

infrastructure of the Tauberbischofsheim site

alone, which has been around for 117 years.

Weinig has set up a new site concept that will

sustainably modernise production, optimise

delivery capability for customers and improve

the working environment for its employees.

This will include a new logistics centre, a new

manufacturing concept and new production

facilities, as well as new exhibition and

customer training rooms.

The supervisory and management boards

emphasised how the upcoming investments

will position the company for the future.

Thomas Bach, chairman of Weinig's

supervisory board, pointed out that it is

part of the Weinig DNA to see crises as

opportunities, and the COVID-19 pandemic

has provided room for conceptual work:

"We looked for, identified and seized an

opportunity in the crisis. As a result, we

can confidently say today: Weinig is fit for a

successful future."

Gregor Baumbusch, CEO of Weinig, explained

that the wood processing industry is a growth

sector that is getting an additional boost

through sustainability and climate protection.

The demand for machines and solutions that

serve this market is correspondingly high

and will continue to rise. A further €40m

will therefore be invested in expanding the

product portfolio.

Baumbusch stated: "Today, we already

have the broadest product portfolio of

any supplier in the solid wood industry

worldwide. Especially in the rapidly growing

segment of timber construction, we will

be able to offer our customers even better

solutions from a single source, namely

Weinig, in the future."

Georg Hanrath, CTO of Weinig, added that

the future belongs to the triad of sustainable

production, sustainable machines and the

sustainable products manufactured on them.

The workforce of Weinig is reportedly behind

the planned measures and is looking forward

to the improvements the investment will

bring. P

"NEW ECOLOGY": INTERZUM'S NEW THEME FOR THE 2023 EDITION

Interzum will therefore offer its exhibitors and

visitors the platform and community to discuss

these themes and develop solutions together.

Interzum has unveiled its 2023 exhibition theme

– New Ecology – which reflects the growing

awareness of climate change, and how the

furniture and interior design industries need

to address the issues of climate protection and

sustainable action.

interzum @home 2021.

Interzum 2023 will

adopt a digital approach

as well, alongside the

physical format (Image:

interzum)

With sustainability as a growing factor,

themes like conserving resources, smart

materials, renewable energies, re- and

upcycling are already tracing a development

in brand companies seeing their future home

less as an assortment than as an attitude.

Even then, the focus will still be on global

business under changed basic conditions.

Participating companies include Hettich,

Häfele, Blum and Vauth-Sagel through

Schattdecor, Impress, Egger, Finsa, Kastamonu,

Leggett & Platt / Global Systems Group and

Atlanta Attachment to Dürkopp Adler, among

others.

With 190,000m 2 of exhibition space, visitors

will be privy to surfaces, fittings, light and

wood materials, as well as components for the

production of upholstered furniture. interzum

will also take place in a digital format alongside

the physical medium, using interzum @home

and the 365-day platform interzum.com. P

8 Panels & Furniture Asia | July / August 2022
---
NEWS

MEKONG WOOD

ORDERS SIEMPELKAMP

MDF PLANT THAT

PROCESSES ACACIA

Siempelkamp has announced that Mekong Wood MDF Joint Stock

Company, a Vietnamese wood-based panel manufacturer, has placed

an order for a complete medium-density fibreboard (MDF) plant with

Siempelkamp.

The plant will be fed by local raw materials acacia and eucalyptus. At the

heart of the new factory will be a forming and press line with the ContiRoll

in the 8-feet x 47.1m format with the NEO press infeed.

This infeed geometry is designed to process acacia; the extended, flexible

infeed heating plate facilitates deaeration of the mat and prevents

blowouts and steel belt damage, even at high production speeds.

Plant availability, capacity and operational reliability can be increased

with this plant design. Siempelkamp's plants have been able to process

acacia before, despite the material's challenging machining properties.

The plant will be designed for an annual production capacity of over

400,000m³, which will be supplied mainly to the furniture industry. The

thickness range for these boards is focused on 15-17mm, with a possible

spectrum of 3.5-32mm.

"This order is a complement to our commitment to introduce press

concepts for processing the most demanding raw materials successfully to

the market," said Marc Müller, head of commercial sales at Siempelkamp.

"We are pleased to accompany Mekong Wood's entry into board

production, and to follow up our good reputation with another excellent

performance." P

Mekong Wood partners with Siempelkamp for a new MDF plant (Image: Siempelkamp)

Panels & Furniture Asia | July / August 2022 9
---
NEWS

HOMAG SETS UP APAC HOTLINE

FOR REGIONAL SERVICING

CIFF 2021

To better respond to their Asia-Pacific

customers' production needs and issues,

HOMAG has set up the new APAC Hotline

to provide shorter response time by their

specialists in the same time zone.

Previously, HOMAG has a hotline based in

Germany for global service. However, this

meant that Asia-Pacific customers had to

establish an online connection to Germany in

a different time zone for remote diagnostics.

The challenge of different time zone was thus

addressed with the establishment of the APAC

Hotline.

"APAC Hotline is an organisation consisting of

qualified and competent engineer specialists

with many experiences in their respective fields

who are ready to help customers in Asia-Pacific

quickly when they have any problem with their

machines or software via online connection,"

explained Ilham Perdana, project manager of

APAC Hotline.

APAC Hotline consists of engineer specialists

from HOMAG Asia based in Singapore, HOMAG

Australia and HOMAG India, and hence the

operational hours of APAC Hotline stay within

this region. The hotline will receive all questions

surrounding the topics of mechanics, control,

electricity, process engineering on the machine,

and any software issues.

Customers can contact their HOMAG local

representatives first by using email, telephone

or various digital solution applications. After

establishing contact, the HOMAG specialist,

whether from the local team or the APAC

Hotline, will take the customer's request to

work out a solution. The assistance will then be

performed remotely. P

CIFF GUANGZHOU

POSTPONED TO

JULY 2022

The organisers of the China International

Furniture Fair (CIFF) Guangzhou have announced

that the 49th edition of the furniture trade fair is

postponed to July 2022.

The first phase is postponed to 17-20 Jul 2022,

consisting of furniture items related to home

furniture, home décor, and outdoor leisure. The

second phase is postponed to 26-29 Jul 2022,

consisting of items related to office, commercial

and hotel furniture, while concurrently hosting

CIFM/interzum guangzhou.

Despite the postponement, the organisers are

confident that the 49th CIFF will be safe and

orderly for the furnishing industry, and it will

make the most of its advantage in mobilising

venue, exhibition and service resources.

With the theme "Design Trend, Global Trade, Full

Supply Chain", CIFF Guangzhou will adhere to the

promotion of exhibition supply-side reform by

exploring new opportunities and breaking new

ground. P

PEFC APPOINTS

NEW SECRETARY

GENERAL AND CEO

Michael Berger has moved up to the role of

secretary general and CEO of the Programme

for the Endorsement of Forest Certification

(PEFC). He has been with PEFC since 2011

and has over 20 years of experience in

environmental and quality management,

sustainable supply chain development and

management systems.

technical knowledge, we are confident he will

guide PEFC in the next phase of its evolution."

With his background in economics and PhD

in forestry, Berger worked as a management

consultant in different sectors, before serving

as a technical expert for accreditation bodies

and at a sustainability consultancy in Germany.

He was also a lecturer in corporate social

responsibility at the school for Forestry and

Sustainable Resource Management at the

Technical University Munich in Weihenstephan,

Germany.

"We will strengthen our capacity and collaboration

with members and partners to better demonstrate

the positive impact that credible certification has

on forests, people, and local economies. As an

innovative service provider, we will collectively

deliver meaningful impact on our journey towards

a low carbon economy." P

"Michael will be an engaged, responsive, and

dedicated leader for the PEFC alliance," said

Eduardo Rojas Briales, chair of PEFC. "With his

team-oriented, people-centric management

style, his focus on collaboration and

innovation, and his remarkable expertise and

"Demands on forests have never been so high.

The need for timber is increasing, but forests

are also critical climate change mitigation

champions and biodiversity hosts. We need

to meet and exceed society's changing

expectations of forests," Berger commented.

Michael Berger, secretary general and CEO of PEFC

10 Panels & Furniture Asia | July / August 2022
---
NEWS

HENKEL SINGAPORE OPENS

UPGRADED ADHESIVES APPLICATION

ENGINEERING LABORATORY

Henkel Singapore has opened an upgraded

adhesives application engineering laboratory

housed within its Haw Par Technocentre office

in Singapore, to serve as an innovation and

full-service technical hub for customers from the

general manufacturing and maintenance sectors

in Singapore and the South East Asian region.

trainings and webinars. For example, using

the laboratory's holographic smart glasses,

customers can connect with Henkel specialists

across the globe for live discussions, therefore

speeding up customer support. P

Henkel Singapore has upgraded its adhesives

application engineering laboratory for customers

from the general manufacturing and maintenance

sectors in Singapore and the South East Asian

region (Image: Henkel)

"We have a strong market presence in South

East Asia, where our Loctite brand is trusted

by original equipment manufacturers and

the maintenance, repair and overhaul

markets across a wide spectrum of industries.

Singapore's location at the heart of the region

enables us to be closer to our customers," said

Mark Nagel, head of general manufacturing

and maintenance for South East Asia, Henkel

Adhesive Technologies.

Nagel elaborated: "At our adhesives application

engineering laboratory in Singapore, we aim to

create lasting partnerships with our customers.

This underpins our holistic, total solutions

approach from product development and

design to the manufacturing stage. Our focus

is helping customers shorten their R&D time,

materialise their design ideas and speed up their

time to market as well as improve the reliability

and sustainability of their operations.

• 2~3 moveable saw blades

(will be launched in August 2022!)

• Laser scan feeding system equipped,

cutting 5~6 boards per minute

BIFA Wood Vietnam 2022

Binh Duong, Vietnam

8 to 11 August 2022

Booth No.: B2081

"In doing so, we also tap on our local, regional

and global expertise and network to maximise

the impact of our solutions for our customers."

Henkel adhesive specialists work to solve design

challenges, develop new applications and deliver

solutions that enable customers to operate more

efficiently, enhance product performance, reduce

downtime and improve safety.

This includes an Industry 4.0-enabled Loctite

Integrated Dispenser that can be operated

remotely, with the ability to assess solutions

efficacy on simulated customer processes.

According to Henkel, one advantage of

the laboratory is its ability to connect

with customers virtually on equipment

demonstrations, testing, troubleshooting,

Panels & Furniture Asia | July / August 2022 11
---
NEWS

UPTICK IN US HARDWOOD EXPORTS

TO INDIA IN Q1 2022

The American Hardwood Export Council (AHEC)

has released the latest figures for US hardwood

exports to India, reporting that the lumber

exports continued their upward trajectory in Q1

2022, with the total shipped to the market rising

by 20% in volume to 2,262m 3 and by 36% in value

to US$1.58 million, as compared to Q1 2021.

The statistics, which were compiled from the

latest data released by the US Department of

Agriculture (USDA), were announced on the

sidelines during IndiaWood 2022.

According to AHEC, shipments to India during

Q1 were dominated by red oak, white oak and

hickory. The increase in exports in Q1 follows a

new record for exports of US hardwood lumber

to India in 2021. The total volume shipped,

11,109m 3 , was almost triple the previous record

set in 2019, indicating far more than just a post-

COVID recovery.

The biggest increases in value and volume

were seen in hickory, which experienced 99%

and 53% growth respectively, white oak with

160% and 121%, and red oak with 51% and

86%. AHEC's participation in IndiaWood 2022

was a testament to its belief in the Indian

market, which is going through a period of

modernisation.

"American hardwoods are gaining acceptance

in India. The process is slow but sure and many

manufacturers are only using US hardwoods

for the first time now, having been very used

to working with teak, sheesham, mango and

acacia, among other species," said Roderick

Wiles, regional director of AHEC.

"That being said, India is one of a few

significant global markets that remain largely

untapped for American hardwoods. It offers

a substantial market opportunity, and it is

expected that we will see US hardwood exports

to India rise significantly in the coming years, as

they gain wider acceptance."

AHEC's participation in IndiaWood 2022 was

aimed at promoting American hardwoods

across the country's growing number of

constructions, interior design and furniture

projects and reinforcing its market presence in

India.

During the five-day show, AHEC hosted a

pavilion, which served to highlight the variety of

Roderick Wiles, regional director of AHEC speaking at

Wood in Architecture + Design at IndiaWood 2022

American hardwood species while also throwing

a spotlight on the benefits of processes

undertaken to treat American hardwoods.

"There is absolutely no doubt that India is now

waking up to American hardwoods and many

factors are contributing to the rise in demand.

The country's wood furniture industry is thriving

and expanding, with production increasing for

both export and the domestic market," said

Wiles.

"Demand for wood furniture, joinery, doors,

windows, flooring, cladding and other products

is also increasing both in India itself and around

the world, allowing the industry to expand

rapidly and leverage skilled labour and lowercost

manufacturing. At the same time, the

availability of locally sourced hardwoods is in

terminal decline, which bodes well for the future

of American hardwoods in India." P

BIESSE STRENGTHENS PRESENCE IN BRAZIL

Biesse's new

headquarters in

Curitiba, Brazil

(Image: Biesse)

Biesse has planned to open a

new headquarters in Curitiba,

Parana, Brazil, expanding the

company's footprint into the region's

woodworking sector. The new facility

will link Biesse closer to its customers

while allowing the company to

evaluate opportunities for growth in

other countries of South America.

Biesse already has a presence in the

Brazilian market for its solutions in

glass and stone processing since

1987. It has also provided solutions

for the furniture industry with a

network of agents and dealers from its

headquarters in São Paulo, which will

later be integrated with the Curitiba

hub.

The new Curitiba site will have a

showroom of more than 1,300m 2 ,

where customers will be able to join

the Biesse experience and watch

demonstrations of the machinery

designed for processing wood, glass,

stone and advanced materials. They will

have access to a team of specialists to

support them in their decisions, a newly

bolstered assistance service, and training

areas.

To meet, listen and become even closer

to its customers, Biesse will be taking

part in the upcoming Glass South

America trade fair from 29 Jun-2 Jul

2022, and in the ForMobile trade fair

from 5-8 Jul 2022.

Biesse is also focused on other

international expansion strategies,

including the opening of new offices in

Israel and Japan. To read more on the

Japan expansion, flip to page 34. P

12 Panels & Furniture Asia | July / August 2022
---
NEWS

MALAYSIA AND VIETNAM TO

STRENGTHEN ECONOMIC

COOPERATION IN TIMBER TRADE

Vietnam and Malaysian timber industries have

signed a Memorandum of Cooperation (MoC)

to develop the timber trade in both countries.

It aims to strengthen economic cooperation

and create opportunities for Vietnamese and

Malaysian timber manufacturers to promote

their exports and imports.

The signatories of the MoC include the Timber

Exporters' Association of Malaysia (TEAM),

the Malaysian Furniture Council (MFC), the

Vietnam Timber and Forest Product Association

(VIFORES), the Binh Duong Furniture

Association (BIFA), the Handicraft and Wood

Industry Association of Dong Nai (DOWA) and

the Wood Industry Association of Ho Chi Minh

City (HAWA).

Muhtar Suhaili, CEO of Malaysian Timber

Council (MTC), also commented that Malaysia

ai161597024816_EN_PFA_IMEAS_202105.pdf 1 17/03/21 09:37

will commit to further developing the timber

industry sustainably.

Malaysia can benefit from Vietnam's higher

FDI in furniture manufacturing and access

to the EU market through Vietnam's free

trade agreements, commented Muhtar. The

availability of skilled and local manpower will be

advantageous for Vietnam, and the border with

China will provide easier access for furniture

parts and wooden panels.

Chua Song Fong, president of TEAM, remarked

that Vietnam's timber industry has been

growing strongly over the past decade and

TEAM would like to capitalise on this to explore

business opportunities in the country.

Khoo Yeow Chong, president of MFC, likewise

wants to increase its market share in Vietnam,

and the MoC can deepen investment flows for

Malaysia, citing supplying furniture parts to

Vietnam as a good possibility.

According to Vietnam Plus, Malaysia's export

of timber products to Vietnam in 2021 reached

US$38.44 million, while Malaysia spent

$148.25m on importing wooden products from

Vietnam. P

Source: Vietnam Plus

The new EvoL sanding machines from Imeas are the result of more than 50

years of know-how and evolution and offer State-of-the-Art technologies

for sanding of wood-based panels such as MDF and ParticleBoard. EvoL

sanders feature Minimal Costs, Excellent Calibration, High Speed,

Flexibility, Superior Quality, and Full Automation.

C

M

Y

CM

MY

CY

CMY

K

IMEAS S.p.A. via Pacinotti, 36 - 20020 VILLA CORTESE (MI) ITALY | Tel. +39.0331.463011 | Fax +39.0331.432311 | imeas@imeas.it | www.imeas.it

Panels & Furniture Asia | July / August 2022 13
---
NEWS

G7 ENCOURAGES SUSTAINABLE TROPICAL

FORESTRY THROUGH ITTO

The International Tropical Timber Organisation

(ITTO) has announced that the G7 Climate,

Energy and Environment Ministers have agreed

to accelerate the transition to sustainable

supply chains that decouple trade and

agricultural production from deforestation and

forest degradation and promote sustainably

produced wood and wood products, including

through ITTO.

ITTO reports that this is according to a joint

communiqué released by the G7 in Berlin. The

G7, or Group of Seven, is an intergovernmental

political forum consisting of Canada, France,

Germany, Italy, Japan, the UK, and the US.

In the communiqué, the ministers expressed

"deep concern regarding the triple global

crisis of climate change, biodiversity loss and

pollution, recognising that these challenges

are inextricably interlinked and mutually

reinforcing and that they are driven largely by

human activity and by unsustainable patterns

of consumption and production".

Among other things, the ministers are

committed to supporting a transition to supply

chains that are environmentally sustainable,

net-zero-aligned and climate-resilient, to

reduce pollution, decouple agricultural

production from forest loss and land

degradation, and use resources sustainably,

reduce product environmental impact, and

foster a circular economy.

One way the ministers will do this is by

promoting sustainable forest management

and sustainably produced wood and wood

products, such as through ITTO.

They will work with producer countries

and other consumer countries, indigenous

people, the private sector, non-governmental

organisations, academia, international

organisations and local communities "to

explore opportunities to increase the

coherence of approaches".

The ministers also reaffirmed their

commitment to work with other developedcountry

parties to urgently implement the

Climate Finance Delivery Plan: Meeting the

US$100 Billion Goal, and they called on all

countries to scale up efforts to mobilise

finance from all sources to support climate

action.

TEKNOS AWARDED ECOVADIS GOLD MEDAL

FOR SUSTAINABILITY PERFORMANCE

A community forest enterprise in Oaxaca, Mexico.

Sustainable timber supply chains have a role to play

in addressing the triple crisis articulated by the G7

ministers (Image: T. Yanuariadi/ITTO)

Sheam Satkuru, executive director of ITTO,

welcomed the communiqué and expressed

hope that it will encourage the delivery of

more finance for sustainable forestry in

the tropics: "Sustainable tropical forestry

is central to addressing the triple crisis

articulated by the G7 ministers. Forests

are home to a large proportion of global

biodiversity, they capture and store carbon,

and produce wood and other forest products,

which are vital non-polluting materials that

will help power a more circular economy.

Significant financial assistance is needed to

accelerate these efforts.

"ITTO has a proven track record over more than

30 years in implementing sustainable forestry

projects across the tropics, in partnership

with implementing agencies. We are ready to

fully support these laudable aims through the

Climate Finance Delivery Plan, where actions

will speak far louder than words." P

is right. At the same time, this recognition will

also inspire us to aim even higher.

Teknos has been granted the EcoVadis gold

medal for its sustainability performance in

2021, making the company within the top

5% of 90,000 companies that are rated by

EcoVadis across the globe.

EcoVadis is a provider of business

sustainability ratings. Companies are

assessed in four categories: environment,

labour and human rights, ethics, and

sustainable procurement. Teknos performed

in the environmental part with a score of

80/100 and reached a good level also in

labour and human rights and sustainable

procurement.

Sustainability is a cornerstone of Teknos's

strategy, and the company aims to be the

most sustainable coatings solutions provider

in the industry. In the past few years, Teknos

has invested in developing its sustainability

practices. The EcoVadis gold medal confirms

this commitment.

Paula Salastie, CEO and owner of Teknos

Group, said: "We are pleased that our

persistent work in developing our

operations and products to be more

sustainable has been recognised with the

EcoVadis gold medal. To be included in the

top 5% of all companies is a great milestone

for us and proves our strong commitment to

sustainability for our external and internal

stakeholders.

"Being able to improve from bronze to gold

level within just a few years is a significant

step forward and shows us that our direction

"For us being sustainable is more than

emissions. It is also about creating a great place

to work and long-term relationships with all our

stakeholders. This is measured by the pride of

being part of the Teknos family."

Teknos reports that in its sustainability

programme, it will continue to focus on

mitigating climate impact, ensuring the safety

and well-being of its personnel and other

stakeholders, and finding sustainable solutions

to tackle raw material scarcity not only in

procurement but also with lifecycle thinking.

Participation in EcoVadis also allows for

transparency to the whole value chain as it

enables Teknos customers to monitor Teknos's

sustainability performance and manage

sustainability risks. P

14 Panels & Furniture Asia | July / August 2022
---
MARKET REPORT

COVID-19, Russia's

war on Ukraine, and

inflation slow business,

but recovery continues

for US hardwoods

By Judd Johnson, managing

editor, Hardwood Market

Report Publications

COVID-19 and its mutations are still present and

dangerous, but health risks to humans are not

as severe globally as at the beginning and early

stages of the epidemic-turned-pandemic. By

and large, those threats have been downgraded,

and that is an encouraging development of the

COVID-19 crisis.

On the other hand, businesses in all industries

are struggling to attain consistency. Recovery

has been uneven, at best. Labour is a problem

— in part due to COVID-19 but also for other

various reasons. Transportation is certainly

a primary factor contributing to business

disruptions. Interruptions in ocean vessel, rail,

and truck shipments delay order fulfilment of

materials and goods. Equally troubling is when

delayed shipments deliver simultaneously

and in mass with on-time shipments. Such

circumstances overwhelm the handling

capacities of ports, docks, and yards, rendering

them inefficient and even ineffective.

The irony of supply shortages is that the lack of

one thing can push back purchases and cause

supply surpluses of other things. One example

for US hardwoods is that supply shortages of

hardware can cause a cabinet manufacturer

to suspend purchases of lumber and other

necessary components. The lumber supplier is

then left with extra material that is "sold" but

cannot be shipped.

manufacturers cannot assemble wooden pallets

and containers. Therefore, manufacturers do not

need wood parts or lumber required to make

the parts at that specific point. Again, lumber

supply backs up to the seller at a time in the

marketplace when supplies are limited.

There is no question that supply shortages

have been prevalent these past two years. The

strains have fuelled upward price pressure.

The marketplace has demonstrated that higher

prices can be absorbed for a period of time but

not endlessly. Historically, the sharper the price

increases, the faster the price surge reaches its

end.

Figure 1

24,000,000

22,000,000

20,000,000

18,000,000

16,000,000

14,000,000

12,000,000

10,000,000

8,000,000

6,000,000

4,000,000

But limits on price increases are not only

about what the market can bear. Higher prices

incentivise increases in sawmill production.

As that occurs, supplies begin to build, and

they continue to expand until something in the

marketplace or economy brings that process to

an end.

That is the structure of inventory recovery for

US hardwoods. The problem is the variability

in demand and delays in transportation have

postponed both new order placements and

fulfilment of existing orders. As a result, it

is not uncommon for US hardwood lumber

sales operations to be over-committed on

Quarterly Eastern US Hardwood Sawmill Production

(Annualized - Cubic Meters)

©2022 HMR

Average quarterly production

from 2012 through Q1 2020 is

17.9 million cubic meters.

Average quarterly production

from Q2 2020 through Q1 2022

is 14.5 million cubic meters.

Hardwood Market Report (HMR) has received

similar reports of US pallet manufacturers

running short on nails at various times

over these past months. Without nails,

2,000,000

0

2008-1

3

2009-1

3

2010-1

3

2011-1

3

2012-1

3

2013-1

3

2014-1

3

2015-1

3

2016-1

3

2017-1

3

2018-1

3

2019-1

3

2020-1

3

2021-1

3

2022-1

16 Panels & Furniture Asia | July / August 2022
---
MARKET REPORT

certain species, thicknesses, or grade

combinations, while at the same time

being over-supplied on other specific

items.

It is also noteworthy that these

circumstances exist when US hardwood

sawmill production is still well below

average since the end of the Great

Recession (Fig. 1), and the potential for

future demand growth is tremendous.

This is where other forces have come

into play and slowed business. The

economy is the single greatest influence

on demand for consumer goods. Inflation

in the US is running at a 40-year high

and has substantially reduced spending

power. Inflation also weighs on consumer

— and business — sentiment. Sentiment

indices can be barometers of future

spending trends. In the US, consumer

spending accounts for over two-thirds of

the economy.

China's zero-tolerance policy for

mitigating the spread of COVID-19 forced

shutdowns of some of the world's most

populated cities and busiest ocean ports.

Russia's war on Ukraine has complicated

matters all the more by causing global

supply realignment for oil, and it has

closed Ukrainian shipping channels vital

for moving food and other agricultural

products into world markets.

Figure 2

60%

40%

20%

0%

-20%

-40%

-60%

-80%

1999

2000

2001

US Single Family Housing Starts

Percentage Variance From Static Demand

Surplus

2021 single family housing

starts ended 6.4% below

static demand.

Single family housing

starts through Q1 2022 are

2.4% below static demand.

2002

2003

2004

2005

2006

2007

Sources: US Census Bureau and HMR, Graph: HMR

Sources: US Census Bureau and HMR

Figure 3

Thousand Units

2,000

1,800

1,600

1,400

1,200

1,000

800

600

400

200

0

1959

1961

1963

1965

1967

1969

1971

1973

1975

Sources: US Census Bureau, Source: US Graph: Census HMR Bureau

2008

2009

2010

2011

2012

2013

2014

2015

Annual static demand for

new single family

housing in the US is

based at 1.2 million units.

Deficit

2016

2017

US Single-Family Housing

Permits, Starts, and Completions

Starts Completions Permits

1977

1979

1981

1983

1985

1987

1989

1991

1993

1995

1997

1999

2001

2003

2005

2007

2018

2009

2019

2020

Graph: HMR

2011

2013

Graph: HMR

2015

2021

2017

2019

*2022

2021

If not for these challenges that

businesses of every type face, this point

in human history should be one of

the most vibrant of times. Developing

economies have been gaining strength

and providing better living opportunities

for their people. Until recently, mature

economies have posted growth. In

the case of the US, there have been

positive economic effects from two large,

young generations. The outlook is even

brighter as these groups gain in age and

affluence.

So, while the business climate currently

is not experiencing the high level

of energy that it should, underlying

demand is still very strong for

housing, furnishings, fixtures, building

components, and building materials.

Fig. 2 shows there is a housing supply

deficit in the US lingering from the Great

Recession.

Increases in US residential construction

in recent years have been a very slow

start to fulfilling the demand for the

millennial generation (Fig. 3). Not far

behind is Generation Z, which is second

in population size in US history only to

the s. Even more housing, fixtures, and

furnishings will be needed in the not-sodistant

future.

Yes, obstacles within and outside

of the hardwood marketplace are

disrupting commerce. But these

obstacles and others that are sure to

come will eventually be surmounted.

As that happens, businesses will regain

momentum for companies that produce

hardwood goods, and US hardwoods will

be a key component of those companies'

future success. P

Hardwood Market Report (HMR)

is the leading source of pricing

and market information for North

American hardwoods. It has

provided reliable, expert analysis

of pricing and market trends to

hardwood companies throughout

the world since 1922. Sample copies

and subscription services for HMR

and all other HMR publications are

available online at www.hmr.com.

Panels & Furniture Asia | July / August 2022 17
---
MARKET REPORT

Four trends strengthening

outlook of wooden

furniture market over

2022-2027

By Priya Deshmukh,

content writer, Global Market Insights

Image: Chastity Cortijo/Unsplash

The wooden furniture market is

set to grow from its current market

value of more than US$370 billion

to over $550bn, as reported in

the latest study by Global Market

Insights.

The proliferating demand for luxury

furniture, in conjunction with the

increasing consumer expenditure

and rapid urbanisation, has created

an enormous demand for wooden

furniture in recent years. In addition,

the changing consumer lifestyles

and rising disposable incomes

are further driving the adoption

of wooden furnishings. The rising

demand for customisation of home

interiors to enhance aesthetics

is favouring the expansion of the

wooden furniture market.

Apart from these factors, the

introduction of innovative wooden

furniture trends has also enhanced

the industry landscape further.

For instance, in 2020, heritage

office furniture manufacturer

Bisley introduced its latest flexible

furniture collection, which has been

developed to meet the requirements

of the 2020 workplace that have

been created during the pandemic.

STRATEGIC INITIATIVES BY KEY

INDUSTRY PLAYERS

The key manufacturers active in

the wooden furniture industry

are focusing on forming strategic

alliances to develop innovative

solutions and gain a competitive

edge in the market. To illustrate,

18 Panels & Furniture Asia | July / August 2022
---
MARKET REPORT

Image: GMInsights

in 2021, furniture manufacturers

Herman Miller and Knoll entered a

$1.8bn partnership. This strategic move

is aimed at forming a single design

entity and running the retail as well as

e-commerce business together.

MOUNTING ADOPTION IN

RESIDENTIAL SECTOR

The availability of limited storage

space in average-sized homes across

various countries coupled with

the rising popularity of modular

furniture is providing lucrative growth

prospects for the industry. This has

urged industry players to expand

their portfolio of modular furniture.

For instance, in 2021, Chromcraft

introduced McKenzie & Co, a new

division providing modular and fully

upholstered furniture. In addition,

the increased sales of fitted furniture,

especially in the bedroom segment,

is positively influencing the industry

statistics. Reportedly, the residential

segment in the wooden furniture

market is anticipated to register a

notable CAGR of over 5% through

2027.

versatile and informal dining is favouring

the business growth. Besides, the

increasing adoption of other accessories

such as whiskey, wine, and vodka racks

along with the dining furniture is further

propelling the market value.

BURGEONING FURNITURE DEMAND IN

NORTH AMERICA

The rising demand for furniture such

as kitchen furniture cabinets, dining

tables, storage, upholstered and nonupholstered

components is strongly

driving the industry growth in North

America. The consumers are largely

focusing on enhancing the interior

design and aesthetics which is

further impelling the demand for

wooden furniture with different

colours and textures. The market

expansion is further impelled by

the rising product adoption in the

non-residential spaces including

hospitals, schools, colleges,

hotels, and commercial offices.

Considering the increasing consumer

expenditure, the North American

wooden furniture market is expected

to register a robust CAGR of around

5.5% through 2027.

The rising demand for luxurious

wooden furniture driven by the

growing need to enhance aesthetics

and increasing disposable incomes is

opening ample growth opportunities

for the market. In addition, the

emerging wooden furniture trends

with the rising demand for natural

textures and styles are further

supporting the market expansion. P

HEIGHTENED DEMAND FOR DINING

ROOM FURNITURE

Dining room furniture plays a crucial

role in the furniture segment owing

to its essential characteristics and

the significance of food in different

cultures. The growing consumer

demand for counter-height tables,

small case pieces, and dining tables

as a part of fulfilling their need for

Image: Nathan Oakley/Unsplash

Panels & Furniture Asia | July / August 2022 19
---
ENVIRONMENTAL REPORT

Making timber trade in

Lower Mekong forests

more sustainable

By Yap Shi Quan

What does it mean to be a responsible supplier

or buyer? Arguably that means complying with

legal requirements, delivering the promised

quality and ensuring transparent terms and

conditions between stakeholders. But in

this era where the threat of climate change

looms, being responsible now includes being

environmentally conscious — stakeholders

in the forestry industry now need to consider

how timber should be harvested, logged and

delivered sustainably.

However, forests continue to be exploited for

profiteering, with overlogging and conversion

of forest land into other uses plaguing forests

globally. Growing concerns about the plight

of forests spark initiatives on how to better

manage and conserve them, and one of them is

a collaboration between the Forest Stewardship

Council (FSC) and the United Nations (UN).

Named the FSC x UN-REDD Initiative, it is aimed

at halting degradation and deforestation in the

Lower Mekong region.

THE STATE OF LOWER MEKONG FORESTS

According to Ma Lichao, executive director

of FSC China, forests in the Lower Mekong

region face threats from overlogging and land

conversion into agricultural use. Thi Que Anh

Vu, country manager of FSC Vietnam, echoed

similar sentiments, adding that natural forests

in Vietnam have been converted to plantations

and other uses, including but not limited to

rubber plantations.

Studies and reports have confirmed that the

conversion of forests into other land use, as well

as overlogging, are unhealthy for the forests'

lifecycles. This is particularly the case for forests

in the Lower Mekong region, where rubber

plantations are in hot demand. According

to the BBC, converting natural forests into

plantations is said to weaken the soil, water and

biodiversity 1 , thus leading to forest degradation

and deforestation.

The current condition of the forests is in part

due to the trade activities around the region.

For instance, Cambodia and Myanmar export

tropical timber to China, and China imports

sawn timber from rubber plantations in the

Lower Mekong region.

"The Lower Mekong region has been important

in supplying tropical timber to China,"

Ma explained to Panels & Furniture Asia.

"Furthermore, many of the land conversions are

not really about forestry products. For example,

forests are converted into oil palms and for

other agricultural purposes, such as fruits

and rubber — mostly for these commercial

commodities."

Actions have been taken to preserve the forests

and halt the degradation. Vu remarked that

in Vietnam, the government has banned the

harvesting and domestic logging of natural

forests until 2050, although non-timber forest

products can still be harvested. This ban started

as far back as 2012, extending to even FSCcertified

areas in 2016. Furthermore, companies

that are FSC-certified are not allowed to convert

natural forests into plantations after 1994,

whether they are for rubber or acacia species.

The same companies are also required to

conserve at least 10% of the certified forests in

their natural condition.

THE FSC X UN-REDD LOWER MEKONG

INITIATIVE

Even then, overlogging and forest conversion

are still rampant in the Lower Mekong region.

For FSC, its key working principle is conserving

the natural value of the forests. But it is

undeniable that market forces are causing

Lower Mekong forests to be in an unsustainable

condition. Rather than circumventing the

20 Panels & Furniture Asia | July / August 2022
---
ENVIRONMENTAL REPORT

market, FSC decided to tackle it straight on by

encouraging and educating stakeholders in the

supply chain to follow certification values with

the FSC x UN-REDD Lower Mekong Initiative.

In essence, the initiative supports sustainable

forestry in the Lower Mekong region through

improved governance, covering regional

countries like Cambodia, Laos, Vietnam,

Thailand, and Myanmar, with China as a

partner. Currently, it offers its members two

avenues to make their trade more sustainable:

First, with the Sustainable Tropical Timber

Trade Network, FSC will connect certified

suppliers from the Lower Mekong region with

interested buyers. This seeks to increase the

demand for certified timber products through

networking and increased reach. Ma explained

that the FSC is not only engaging with Chinese

brands but also buyers from as far as North

America and the EU to see if they are interested

in the trade network.

Second, the Sustainable Tropical Timber

Information Hub is a database about the FSC

certification and legal requirements for the

importing and exporting of tropical timber

and products. The hub also functions as an

extension of the trade network, where FSC will

publish information about interested suppliers

and buyers in it to develop the value chain.

Furthermore, forest managers who put in

additional effort to manage according to FSC

standards will also be published in the hub,

thus rewarding and promoting stakeholders

who practise sustainable forestry.

Ma elaborated: "The focus of the FSC x UN-

REDD project goes beyond education. We

believe that the trade and market play a very

important role in the state of the forestry use

of land. So, what FSC wants to do is really to

facilitate and encourage trading in certified

materials and products, to bring additional

benefits to people who are on the ground

managing these forests, so they can be more

willing to take a more responsible approach

and apply FSC standards."

(VPA) between EU countries and Vietnam

on EU Forest Law Enforcement, Governance

and Trade (FLEGT) — timber companies are

encouraged to be more sustainable in their

operations, since the VPA/FLEGT advocates

for UN Sustainable Development Goals in

sustainable consumption, production patterns,

and forest management. As such, companies

with FSC certification and adhere to VPA/FLEGT

sustainability requirements would be able

to enjoy higher timber demand in the trade

network with EU countries.

"Companies can provide evidence based

on the FSC system to tell buyers how they

have sourced timber material correctly and

responsibly, thus ensuring responsible trading.

At the same time, FSC also has network

opportunities. This is what we can do to ensure

the stakeholders, from the forest to the buyer,

are in a responsible supply chain," added Vu.

"A REAL CONTRIBUTOR TO THE

CONSERVATION OF FORESTS"

According to Jayco Fung, head of market

development of FSC APAC, with the launch of

the trade network and information hub planned

for November 2022, FSC is now focused on

actively engaging with the demand and supply

sides, aiming to bridge both of them: "2022

is all about active engagement, including

meetings with both public and private sectors,

trade expos, hosting webinars and workshops,

among others."

Vu reiterated: "We are just starting and we

will boost the platform in the next five years,

linking the actors in the supply chain and

educating them in the network. We can also

provide some e-books on the VPA/FLEGT, its

processes and how to link everything to the

programme. This is what I hope the initiative

will develop into — more education, more

linkages in the network, and more information

provided by the FSC."

After the launch, FSC will be building on

the network by deepening partnerships

with industry players through different

collaborations. To sustain the momentum,

FSC will also advance its search capabilities by

expanding the scope to natural rubber, since

Asia supplies 87% of natural rubber globally,

and they see value in incorporating it into the

trade network and information hub.

It is too early to tell whether the initiative

will bear fruit. Even so, Ma believes in

its importance, especially since North

American and European countries have "high

environmental and social requirements for the

tropical timber forest products".

He concluded: "We are hoping that the FSC

certification can be a strong tool for the market,

for European companies to regain preference

in tropical timber products, to join hands with

forest managers in Lower Mekong region and

bring more value to the forest so that they do

not have to convert forests into other purposes.

And I am hoping that the market can gain more

preference in FSC certification so that timbers

from unknown sources can be phased out,

and we can become a real contributor to the

conservation of forests." P

References

1. BBC. Demand for rubber 'threatens forests'.

Vu also explained that Vietnamese companies

recognise FSC as a "high standard" to support

"responsible tracking in forest products".

Furthermore, with the VPA/FLEGT in place

— the Voluntary Partnership Agreement

Forests are converted into agricultural use or rubber plantations

Panels & Furniture Asia | July / August 2022 21
---
IN PERSON

Binh Duong: A prospering

manufacturing centre for

wood products By Yap Shi Quan

The committee of Binh Duong Furniture Association

Vietnam is becoming one of the world's

biggest exporters of wood and wood

products. Especially in recent years with

wooden furniture enjoying a popularity

boom for home furnishing, the country, as

a manufacturing hub of wood products, has

experienced this boom with an uptick in

exports.

"Vietnam's wood and wood product

manufacturing industry has had a

breakthrough growth in export turnover [in

recent years], and has grown at double digits

for many consecutive years," said Nguyen

Liem, who has been recently elected as the

chairman of Binh Duong Furniture Association

(BIFA). "In 2000, the turnover reached US$219

million, and by 2021, it reached $14.8 billion,

60 times more than in 2000."

Contributing to this success is the Vietnamese

province Binh Duong, whose manufacturing

output accounts for nearly 50% of the

total export turnover of the country, with

wooden furniture in the top 10 key exports

of the province, according to Nguyen. "I think

industrial production has prospered," he

commented.

As the representative voice for the wood

processing industry in Binh Duong, BIFA has

worked closely with the Binh Duong provincial

government to implement programmes

to support businesses in trade promotion,

industrial innovation, technology, human

resource training, and creating a foundation for

the local industry's development. And helming

BIFA is Nguyen, who has 30 years of experience

in the wood processing industry with his

company, the Lam Viet Joint Stock Company.

"My own Lam Viet Joint Stock Company has

been operating for 20 years with the business

philosophy of 'always be responsible for

what you do'," said Nguyen. "I apply it to

face all challenges from outside and inside

the business, and now Lam Viet Joint Stock

Company has become a reliable and honest

long-term partner for large furniture importers

and retailers."

THE ROLE OF BIFA

For the local industry to develop sustainably

and effectively, Nguyen, alongside 26

members of the association's executive

committee, developed strategies that will

create a link between the wood industry

business community with government

agencies to address administrative

procedures, answer and support industry

policies, promote the construction of

wood industry zones and clusters, build

protection and supply chains to increase

competitiveness and advise businesses to

reinvent machinery and equipment in stages

to improve productivity.

BIFA also operates the Lean Manufacturing

Club and the Human Resources Club, which

accompany businesses in developing highquality

human resources, thus strengthening

the connection between the association's

members. This year, the association will

establish the Digital Transformation Club to

catch up with global smart and advanced

governance trends.

22 Panels & Furniture Asia | July / August 2022
---
IN PERSON

To improve the local industry's position

internationally, Nguyen explained that BIFA has

been implementing activities to help businesses

understand and properly apply quality

standards from the international market. For

instance, timber enterprises must

comply with the terms signed in the

VPA/FLEGT agreement, particularly the Decree

102/2020/ND-CP, and the Agreements on Control

of Illegal Logging and Trade law with the US, to

meet international trade requirements.

Furthermore, BIFA has actively connected

with trade offices and international business

associations of other countries such as the US,

Germany, Taiwan, Chile and India during the

pandemic to ensure trade opportunities for their

members. It also leveraged digital opportunities,

organising the Vietnam Furniture Fair Online

in 2021, or the VIFFO online market. Topping it

off, BIFA will be co-organising a woodworking

machinery exhibition, BIFA Wood Vietnam,

which will be held from 8-11 Aug 2022 and open

to local and international visitors.

GOING FORWARD

As of 2020, Vietnam ranks second globally in

wood and wood products exports, and in a

recent declaration by Vietnam's Deputy Prime

"Vietnam's wood

and wood product

manufacturing industry

has had a breakthrough

growth in export

turnover [in recent

years], and has grown at

double digits for many

consecutive years."

Nguyen Liem

Chairman of Binh Duong Furniture

Association (BIFA)

Minister Le Van Thanh, the country aims to

reach $20bn and $25bn by 2025 and 2030

respectively.

Nguyen believes that local enterprises will

have to work hard and try a lot to make

great strides to reach the goal. This is in

consideration of the current difficulties

and fluctuations in the world economy,

with nobody able to predict how the

market will fluctuate in the future: "The

wood industry is facing great challenges

such as signs of trade fraud, counterfeiting

of origin, high shipping costs, and broken

supply chain of raw materials and

auxiliary equipment."

Even so, Nguyen remains hopeful. With

the support of the government and

businesses' efforts, the province and

country can reach the wood export sales

set by the government. Working towards

sustainability, efficiency and modernity

with the provincial government to meet

the 2025 and 2030 vision, BIFA will also

establish a specialised industrial cluster,

a wood processing industrial park, and a

supporting industrial cluster that serves the

wood processing industry.

In 2000, Vietnam's export turnover for wood and wood products reached US$219 million,

and by 2021 it reached $14.8 billion

He concluded: "To face these difficulties,

BIFA will actively coordinate with

state management agencies to review

enterprises showing signs of not being

transparent. Step by step, we will also form

specialised wood industry zones or clusters

to solve supply chain disruptions." P

Panels & Furniture Asia | July / August 2022 23
---
PRODUCT HIGHLIGHT

Addressing quality

and processing problems

for coated wooden

doors and windows

Qvesarum, a design manufacturer of windows,

doors, orangeries, bathroom fittings, interior

and exterior furniture, and other carpentry of

interior building details and furnishings, aims

to improve their product quality as well as to

use healthier and environmentally friendly

waterborne coatings. Coating approximately

100 windows, 50 doors, four orangeries, and

20-30 bathroom or furniture items per month

with their former solvent-borne coating system,

they experienced moisture ingress into the

wood, especially at the end-grain, resulting in

cracks and flaking in the paint, poor adhesion,

as well as the inconsistency of colours.

Headquartered in Löberöd, Skåne, Sweden,

Qvesarum produces its products in Indonesia

and exports them to the Scandinavian region.

The company believes in craftsmanship and

professionalism; all products are constructed

with sustainability in mind, and the company

only uses materials that are healthy for both

houses and people. At the request of their

Swedish office, the Teknos South East Asia

team contacted Qvesarum Asia in Jepara,

Centra Java, Indonesia to offer its solutions and

services to help Qvesarum overcome product

quality and performance issues.

STRONGER, BETTER FOR THE ENVIRONMENT

With Qvesarum keen on moving away from

solvent-borne systems, the Teknos waterborne

portfolio of exterior industrial coatings was the

optimal fit. Teknos has now been supplying

exterior products to Qvesarum since 2020,

ranging from AQUAPRIMER 2907 wood

preservative, ANTISTAIN AQUA 2901 primer and

tannin blocker, AQUATOP 2600 as the topcoat

and TEKNOSEAL 4000 end-grain sealer.

Yanuar Yogaswara Maryono, exterior coating

expert and business development manager

for Indonesia, Teknos, explained the

recommended system: "The customer coats

pine, teak and mahogany destined for the

cool, wet climate of northern Europe, so our

solution had to include a preservative to protect

against wood discolouring fungi and meet

European wood durability standard EN599-1.

This is followed by a primer that prevents tannin

bleed and finished with a topcoat that is easy

to process and weather-resistant, that provides

reliable protection against ultraviolet (UV)

radiation, tinted in the RAL or NCS colour shade

according to their customer's demand. Gloss

grades from 15-60 are also possible."

Teknos also offers ready tinted colours made

from its production site and supplies the colours

ready-to-use to Qvesarum Indonesia for direct

application, without the hassle of mixing and

matching the colours themselves. The colour

pigment used in Teknos exterior products is also

designed for exterior use, thus allowing the final

product to perform with good weather resistance

and light fastness.

24 Panels & Furniture Asia | July / August 2022
---
PRODUCT HIGHLIGHT

"Qvesarum and Teknos share

similar values where sustainability is

integrated into our strategy, business

model and our everyday work. I am

glad that our Teknos waterborne

solutions and products can help

Qvesarum in achieving their values

to customers of offering long-term

quality for a more sustainable world,

together we make the world last

longer," said Wanda Smith, managing

director of Teknos Malaysia.

1

In general, compared to other

waterborne exterior products on

the market, Teknos products' drying

process and time are reportedly

suitable for South East Asia's weather

conditions and tropical climate. Also,

the surface drying is faster, allowing

sanding to take place before applying

the next layer, thus achieving a

faster processing time. Each of

these layers takes 2-4 hours to dry

depending on conditions, according

to Teknos, leading to improved lead

times at Qvesarum Indonesia. After

brushing or spraying the first layer,

the remaining coats are sprayed,

resulting in a smooth and even finish.

Furthermore, with Teknos offices

in both Scandinavia and South

East Asia, the product is available

locally, so any small touch-ups to

transit damage can be rectified in

Scandinavia with the same product

that matches the original paintwork

applied in Asia.

2

"Not only has productivity improved

but the finish is now highly durable.

Switching to waterborne coating

solutions is a better choice for the

health and safety of our employees

and customers. It has reduced our

impact on the environment which

along with our other initiatives, such

as, only working with FSC assured

wood, make us a more sustainable

business. With Teknos's expertise,

we are developing our portfolio of

waterborne coated products including

wooden gates and interior wood

for bathrooms too," concluded Emil

Linderberg, CEO of Qvesarum. P

3

Legend

1 Qvesarum faces

moisture ingress

into the wood with

their past solventborne

coating

system

2 Teknos's products

are reportedly

usable for

various climates,

including northern

Europe's cool and

wet climate, and

South East Asia's

tropical climate

3 Teknos offers

ready tinted

colours

Panels & Furniture Asia | July / August 2022 25
---
PRODUCT HIGHLIGHT

Kitchen & Bath

design feature:

Improving work

efficiency and

design quality

Coohom, a developer and provider of digital

design tools for designers, retailers and

manufacturers, has launched the Kitchen &

Bath feature, a 3D design tool that simplifies

operations in complex designs for interior

designers. It features thousands of parametric

models of cabinets, appliances, accessories,

materials and styles, and more, and even has a

smart artificial intelligence (AI) decorator at the

user's service for floor planning.

"Due to the pandemic, people started realising

how important 3D visualisation could be

in affecting consumer awareness. During

lockdowns, people can only shop online,

which accelerates the e-commerce growth,

and kitchens and bathrooms have more

complicated designs than living rooms and

bedrooms," commented Cook Liao, commercial

vice-president of Coohom.

"Coohom is well aware of that, and hence we

developed this powerful tool to help designers

and manufacturers present their best ideas

and products with a lower cost and higher

26 Panels & Furniture Asia | July / August 2022
---
PRODUCT HIGHLIGHT

Kitchen & Bath can generate a full

720 virtual walkthrough by piecing

photo-realistic panoramas together

efficiency. Providing all-in-one and end-toend

solutions has always been Coohom's top

goal, and with our Kitchen & Bath feature,

users will get to experience the best possible

3D interior design process. We will realise

their imaginations."

Similar to the other 3D design tools by

Coohom, the Kitchen & Bath is easy to apply

and cloud-based, which means users can

start designing as long as the Internet is

available, with a rendering speed of up to

16K resolution.

The augmented reality (AR)-like experience

will piece the photo-realistic panoramas

together to generate a full 720 virtual

walkthrough. The Kitchen & Bath tool also

auto-generates construction drawing from

3D designs to 2D drawings with reportedly

no barriers at all, and these designs can be

edited online and exported to various file

formats, such as .dwg, .jpg, and .pdf.

Additionally, Kitchen & Bath has an Industry

4.0 interface, and can directly send design

data to computer-aided manufacturing (CAM)

platforms. Similar to the other Coohom

tools, it supports various CAM programmes,

such as the HomagIX or WoodCAD|CAM,

TopSolid, Cabinet Vision, and more. Lastly,

it increases efficiency by minimising manual

disassembly, back-and-forth communication,

and offline data exchanges. P

Panels & Furniture Asia | July / August 2022 27
---
PANEL MANUFACTURING

Partnership and innovation

between Kastamonu Entegre

and Argos Systems for

future solutions

Argos Solutions, a manufacturer and developer

of surface grading and panel repair systems,

plays a role in supporting Kastamonu Entegre's

site at Gebze, Turkey, in its quality inspection.

Kastamonu Entegre is committed to increasing

its quality level and decreasing costs by

implementing efficient quality systems in every

stage of production.

"Kastamonu Entegre is a company that has

established itself as a major player in their

local as well as global markets. Their focus

on automatic grading systems is an example

of how the Turkish industry has developed

and adjusted to international standards over

the years," said Rune Gotfredsen, area sales

manager for Argos Solutions.

HIGH EXPECTATIONS DEMAND INNOVATIVE

SOLUTIONS

Kastamonu Entegre used automatic grading

systems for their flooring lines before they

decided to install an Argos system for the

production of melamine faced chipboard (MFC).

"For us, the installation of the Argos systems

has been a game changer," said Emre Akkus,

production manager at Kastamonu Entegre,

Gebze, who has seen how the production

processes and quality demands have changed

over the years.

It has been essential for Kastamonu to grade

and control every board, ensuring that they

deliver the quality their customers demand and

expect. The combination of high production

speed, large boards and minimal errors is not an

easy task for the human operator, and the use

of digital inspection systems is now the solution

for an effective and smooth-running production

process.

"Ten years ago there were no embossed-inregister

(EIR) surfaces," said Akkus, referring

to EIR as a method used by manufacturers to

create the appearance of wood grain similar to

real hardwood. "With EIR, whether they are small

batches and larger colour varieties in the panels,

it is impossible for the human eye to detect all

defects. In addition to this, production quantities

increase while cycle time decreases. With high

production capacity, undetected defects have a

major impact. All these factors, combined with

customers' expectations for flawless quality,

make automatic grading systems a trusted and

integrated part of our production lines. Now we

know that all the panels we sell and our export

have the desired quality."

"NO LONGER RELY ON THE HUMAN EYE"

The Argos Automatic Grading System (AGS) is a

computerised device with integrated cameras

and lights. According to Argos, it captures

images at "lightning speeds" and analyses the

board's surface quality live in the production

line.

28 Panels & Furniture Asia | July / August 2022
---
PANEL MANUFACTURING

The AGS solution can control board sizes from

small components to large master panels and

works at production speeds of up to 150m/min.

It generates up to 35-megapixel images to find

small defects on a large surface. A recipe set-up

allows the quality control (QC) management to

tailor the sensitivity of the system and specify

any number of quality standards based on

product, applications, market, or customer.

The system inspects every panel before it either

leaves for the customer or moves up in the

value-adding chain and enables the producer

to maximise the quality without sacrificing

customer satisfaction.

Argos's MFC grading systems also handle

demanding surroundings in the production

facility. In addition to precise grading of the

panels, the system's software provides statistical

data, error reports and relevant information

to the entire production line. The collected

data enables further enhancements for the

production process. When additional systems

are being installed on other sites, the different

production facilities will be able to exchange

information and experiences.

"There are many advantages with the Argos

system. We know that we get the quality we

request. It is no longer possible to rely 100%

on the human eye for MFC grading. With an

automatic grading system, we can adjust the

requirements based on the input we get from

our customers. We are not able to calibrate our

operators in the same way," said Akkus.

A SOLID RELATIONSHIP

Argos felt they had the expertise, knowledge,

and experience to provide Kastamonu Entegre

with the ideal grading system, knowing that

the Turkish company was looking to optimise

their production, and they reached out to offer

cooperation. This resulted in the installation of

an automatic grading system for their melamine

faced medium-density fibreboard (MDF) and

particleboards in Gebze.

"Our first project together with Kastamonu

Entegre in Gebze was a success," said

Gotfredsen. "Kastamonu Entegre has been both

professional, proactive, and very supportive

when it comes to cooperating and finding the

best solutions for the factory and the operators.

MFC grading is a demanding task for the human

eye. It is difficult to detect faults on large boards

and that is one of the reasons why we need to

provide solutions that the operators and the

company can trust."

For Argos, it is the opportunity to develop,

innovate and grow together with their

customers and partners that makes a solid

foundation for success. Previous collaborations

with companies such as Egger, Uniboard and

Pfleiderer have resulted in innovations and

improvements that have benefitted their quality

inspection.

"Our cooperation with Argos has been very

good," said Akkus. "A customer-supplier

relationship such as ours will not work well

without close cooperation, and I believe that we

will continue to develop the system to be better

together. When we suggest improvements,

Argos is always positive to support and discuss

our feedback. Their experiences from quality

grading at some of the world's largest panel

producers have been very valuable for our

production and focus on quality inspection."

INCREASED FLEXIBILITY, RELIABLE RESULTS

Currently, Kastamonu Entegre has one Argos

system in operation, but they have placed

orders for several additional systems. The two

companies have also started a cooperation that

will be a breakthrough for a new segment in the

Argos grading portfolio.

"Both operators and management have

learned that the Argos systems are helping and

improving our products. The system does not

replace our employees, it enables us to use our

resources better. It also enables us to define

the acceptable quality level from management

and not leave this responsibility to different

operators, securing a consistent and reliable

grading that is not dependent on human

variables," said Akkus.

Gotfredsen concluded: "This cooperation is

beneficial for both of us, and we strongly believe

that this will provide Kastamonu Entegre with

increased flexibility, higher performance, and

a better user experience for the operators. The

system we are developing together has so far

delivered above and beyond expectations. We

are confident that this new addition can beat

any competitor in the field." P

1 2

Legend

1 The AGS can capture images at reportedly "lightning speeds" and analyse the board's surface quality live in the production line

2 The AGS Solutions can control board sizes from small components to large master panels

Panels & Furniture Asia | July / August 2022 29
---
PANEL MANUFACTURING

Wintersteiger delivers

repair system for

large panels

Wibeba-Holz, an Austrian

hardwood specialist, has deployed

Wintersteiger's TRC Panel 2000 to

handle furniture panel repairs fully

automatically on both sides and with

large panel dimensions. The new

TRC system can lift weights of up to

150kg, making panel handling easier

while freeing up personnel resources

for other tasks. The system repairs

60,000m 2 per year, primarily oak.

The TRC Panel 2000 was developed

for Wibeba-Holz with a little detour.

Wolfgang Sunk, CEO of Wibeba-Holz,

explained: "When looking for a way to

automate our repair processes, I came

across Wintersteiger. Originally, the

scanner could not scan panel widths

of 1,300mm, so at first, we pursued a

semi-automatic solution. Throughout

our cooperation, Wintersteiger

was able to develop a solution for

these panel dimensions. The new

system is perfectly tailored to our

requirements."

Despite the panel size — with lengths

up to 3m and widths up to 1.25m

— the TRC Panel 2000 is a compact

system. It features a turning unit and

repairs the panels on both sides: After

scanning and repairing the front, the

vacuum gripper turns the panel 180°

to process the back.

REPAIRS WITH TWO INJECTION

HEADS

With the TRC Panel 2000, the repair

process starts with the panel being

scanned. The scanner scans the entire

panel in one sweep. As soon as it is

finished, it sends the data to the two

injection heads and the defects are

repaired in a high-pressure injection

process. Only the volume calculated

by the scanner is filled into the crack or

knothole; the surrounding grains of the

wood are not processed. Once the front

of the panel is completed, the turning

unit turns the panel 180° and the back

undergoes the same process.

To a limited extent, the TRC Panel 2000

can also repair fully penetrating defects

such as knotholes. The repairs can

be made in various material colours.

It is possible to carry out remote

maintenance of the TRC system via the

Internet.

QUICKLY AND PRECISELY

Wintersteiger developed the "Faulty

Spot Eye" defect scanner, especially

for wood surface repairs. In contrast to

conventional scanners, the dimensions

are calculated based on height

differences in a laser triangulation

process. This involves the use of

algorithms and filters developed by the

company.

This specialty makes the scanner unique

because the evaluation is not based on

database comparisons with samples:

All defects are calculated for each panel

from scratch, with the "Faulty Spot Eye"

working quickly and precisely for optimal

The TRC Panel 2000

30 Panels & Furniture Asia | July / August 2022
---
PANEL MANUFACTURING

results. It detects defects from a size of

0.5mm, such as knothole diameter and

cracks width, and the scanner works

at a speed of approximately 680mm/s.

Additionally, the scanner can be used

for quality checks, with a final scan

performed after the repair process.

The interplay between scanner

technology, high-pressure injection,

and temperature regulation of the

filling material for optimal flow

behaviour ensures optimal panel

repairs. Applicable for furniture panels,

solid wood boards, and multilayer

boards, the system can also take care

of the transport and handling of panels

weighing up to 135kg, with a stacked

weight of up to 2,000kg.

1

HIGHER QUALITY, LESS FILLING

MATERIAL

When asked what the main benefits of

the new system were, Sunk answered:

"The accuracy of the scanner, which is

the defect detection, and the quality

of the repairs are both excellent. The

system works around the clock with

unwavering precision, which means the

quality always remains constant. The

TRC system works fully automatically,

and we were able to reshuffle our

work processes. We used to have 2-3

employees assigned to filling."

Besides saving personnel resources,

filling material savings are another

bonus. Sunk estimates that at least

"50% too much filling material was

applied" previously with regards to

material wastage. With the TRC system,

the defect scanner precisely measures

the affected area and calculates the

amount of filling material. This exact

volume is then injected into the defect

at high pressure and high precision.

The high standard of quality is one of the

constants in the success of Wibeba-Holz,

alongside availability and the ability

to deliver. "Customers must be able to

rely on a company long term, and we

prove that every day," concluded Sunk

about his view on the future of the wood

processing industry. P

2

3

Legend

1 (From left) Andreas

Gruber, software

developer at

VAP-Wintersteiger,

and Wolfgang Sunk,

CEO of Wibeba-

Holz, with the TRC

Panel 2000

2 Defects from a size

of 0.5mm, such as

knothole diameter

and crack width,

can be filled in a

material-saving way

3 The scanner scans

the entire panel in

one sweep

Panels & Furniture Asia | July / August 2022 31
---
PANEL MANUFACTURING

Non-contact release

agent application on

multi-daylight presses

For a cleaner working environment and increased board quality,

water and release agents are applied before the press, resulting in

various advantages for panelboard production.

The use of release agents in powder form

is maintenance-intensive and often leads

to dust. The application of water and

release agent offers an alternative which

can increase the quality of production

and speed it up.

Water or water combined with the

release agent will be applied in a precise

and repeatably even manner across the

mat. The water transports the heat from

the press more quickly, deeply and

evenly through the mat and reduces the

press time. Additionally, the agent will

ensure a smooth and fast release from

the forming and the press belt. Even

if there is minor damage to the belts

there will be no sticking, as claimed

by Weko. The application of fluid will

adapt to the machine's speed, and only

the desired amount will be applied to

the mat.

With water, the fibres will be smoother

and more flexible, and it will be easier

to press the fibres homogeneously.

This results in a higher board density

on the top and bottom, and therefore

a higher bending strength with a

release agent.

32 Panels & Furniture Asia | July / August 2022
---
PANEL MANUFACTURING

Weko reported that the results of

their research with German research

facility Buesgen Institute showed

that all variants in which the fibre

mat was moistened before pressing

have higher bending strengths than

the unmoistened references. A high

surface density should therefore

result in high bending strength.

The fluid will be first applied

onto the forming belt before the

forming station and will transfer

the moisture to the mat core. The

second unit with a high regulation

device is usually located behind the

pre-press and applied onto the mat

surface with the height regulation

device.

Spray disks, or rotors, are arranged

side by side in the rotor carrier.

They are supplied with the desired

amount of fluid, and multi-daylight

presses will not pose a problem for

the system. The rapid rotation of

the rotors will produce a uniform

flow of microscopically small

droplets. The individual spray fans

are side by side, thus providing

uniform application.

The Weko-FlowTec fluid supply

unit has an integrated band filter

which replaces itself when it

is clogged and is ideal for 24/7

production with low maintenance

effort. Other benefits of the

system include: an increase

in press speed, higher surface

density, improved surface density,

minimal sanding required, longer

sanding tool lifetime, smoother

surface for easy lacquering, and

is independent of existing water

pressure.

The system can be used on a

range of products for thick, thin,

small and large wood-based

boards. Depending on the type of

board, used material, thickness

and other parameters, Weko's

fluid supply unit can reduce press

time up to 30% and more, thus

increasing productivity and board

quality. P

The Weko-FlowTec

fluid supply unit

uses a water-based

release agent

MASS-SCAN X

Traversing Area Weight

Gauge

High system availability

(robust + low-maintenance system design)

GERMAN TECHNOLOGY

High measuring resolution +

long life time of the X-ray tubes

thanks "MultiEnergy" Technology

No re-calibration required!

WIDE RANGE OF MEASURING SYSTEMS

FOR ENGINEERED WOOD PRODUCTION

www.electronic-wood-systems.com

Panels & Furniture Asia | July / August 2022 33
---
FURNITURE MANUFACTURING

"An advanced economy

with a strong tradition":

Biesse Group expands to Japan

Biesse Group will be establishing a new premise in Osaka,

Japan to strengthen its presence across the country.

Daniele Campetella, managing director of Biesse Group Asia

and Biesse China, tells us more about it. By Yap Shi Quan

Can you share with us the details for the

launch of Biesse Japan?

Daniele Campetella: Biesse Group entered the

Japanese market approximately 25 years ago.

Last year, we established Biesse Japan K. K. to

strengthen our presence in the Japanese market.

It is an incorporated company with a shared

capital of 5 million yen, wholly owned by Biesse

Group Asia.

We are in the middle of securing a premise

in Osaka, Japan, as the permanent office

and showroom. The official launch of

Biesse Japan K. K. is expected to be between

Q4 2022 and Q1 2023, once the office and

showroom in Osaka are ready. There is already

a fully operating sales and service team that

operates across Japan. With the expansion of

Biesse Group's business and network into Japan,

the team will continue to grow to accommodate

the market needs.

What are Biesse's expectations for the launch?

Campetella: Japan is a very important market

to Biesse Group. It is a country with huge

potential that combines an advanced economy

with a strong tradition, not just in wood

processing but in the transformation of other

materials as well.

In this framework, Biesse Group, with over

50 years of global experience in developing

and manufacturing solutions to the service of

an array of industries, can support processes

transformation, provide technology, and

help to increase efficiency, high standards of

productivity and ultimately competitiveness.

Why did Biesse decide to expand into the

Japanese woodworking market?

Campetella: For a company that achieves 80%

of its consolidated turnover abroad, it is natural

for Biesse Group to constantly look around

for new market expansion opportunities and

to strengthen its position. What makes Japan

interesting to Biesse Group lies on the general

evolution and transformation of an important

industry, such as woodworking. We also see

an ongoing shift of mindset and receptiveness

towards new ways of working.

Since Biesse Group stepped into the Japanese

market through valuable partnerships with

various local organisations, the company can

no longer deny the significance of this market,

with the aweing demand for technologies

from the industries. Although the export

trend is not substantial according to the data,

wood product manufacturers have slowly

started to venture overseas to seek export

opportunities. In this respect, Biesse Group can

support the manufacturers in enhancing their

competitiveness in the global market, which

ensures consistent quality, high productivity

and efficiency through advanced technology

and intelligent machines.

In line with the objective mentioned earlier, a

subsidiary was officially founded in Japan in

March 2021 as a response to the industry and

market needs.

"By strengthening our presence in Japan, we aim to have an

even better and unbiased insight into the local market, to

look at it from a new perspective and to understand better

the challenges our partners and customers are facing."

Daniele Campetella

Managing Director

Biesse Group Asia and Biesse China

34 Panels & Furniture Asia | July / August 2022
---
FURNITURE MANUFACTURING

Legend

1 Biesse Group's 25th

anniversary with

Tomoe International

2 Biesse participated in

Mokkiten Japan 2021

1

2

What can Biesse offer to the local industry,

and what do you foresee the Japanese

woodworking industry can take away

from this expansion?

Campetella: Biesse Group is determined

to help companies and manufacturers

increase business growth and boost business

operations by improving manufacturing

efficiency and product quality, in order to

enhance their competitiveness in both local

and international markets.

Being in the market for over two decades

allows us to learn the Japanese way of

thinking about the whole ecosystem.

We saw Japan as a market with a lot

of potentials, where we could propose

improvements to the manufacturing

process. Hence, living in the market closely

will help establish a positive dialogue with

all stakeholders, better adapt to the local

needs and tailor our offer, as we want to

focus on having the flexibility to meet

customer needs and offer better support to

our partners in Japan.

By strengthening our presence in Japan,

we also aim to have an even better and

unbiased insight into the local market,

to look at it from a new perspective and

to understand better the challenges our

partners and customers are facing. With

years of experience in foreign markets,

Biesse Group can offer our Japanese

customers and distributors end-to-end

solutions and services, based on each

company's needs.

Can you describe Biesse's current

performance in Asia compared to the

Western region, and what other plans

does the group have for the region?

Campetella: Generally speaking, the

company passed through the storm quite

well while facing multifaceted challenges

caused by the pandemic in the past two

years. Despite being scattered around the

region, the business was well managed in a

safe and healthy environment according to

local regulations in different countries. This

is all thanks to the team here in Asia, and

2022 is the glimpse of light at the end of the

tunnel.

Compared to the Western countries, the

recovery in Asia is slower. On the other

side of the world, the post-pandemic

came earlier and this has given Western

economies the advantage to pick up sooner

and faster. The support from governments

has also played a strong role in the

economic recovery.

Needless to say, the economy in Asia

is catching up soon, as is our industry.

With the regulations loosened in most

countries, I am confident that the market

will eventually return to normal. As we can

see now, the momentum is gaining pace.

To ensure we have our skin in the game,

we are ever ready to seize all possible

opportunities. Biesse Group will further

strengthen its presence in Asia and continue

to expand the local teams around the

region.

Can you elaborate on how Biesse Group's

partnerships with the local players has

helped the company to grow in Japan? What

are your hopes for these partnerships?

Campetella: Biesse Group in Japan always

has knit collaborations with the local business

community of the industry. In the past 20-over

years, we have worked with various companies

who have directly and indirectly contributed to

our success in Japan today, and we have indeed

developed a solid sales network with many

partners across the country.

Tomoe International is a strong partner of

Biesse Group. We have just marked the 25th

anniversary with Tomoe, and I am happy to

say that the partnership continues to grow

stronger. The establishment of Biesse Japan is

the result of this long-standing partnership and

the good work done together over the years.

Shinx is another company whom Biesse has

built a good relationship with over the years.

The collaboration brought both companies

interesting experiences and positive results in

sales, market expansion, brand reputation and

brand experience. Besides Tomoe and Shinx, the

list of partners whom we truly value goes on.

We will continue to grow our partnership

network as part of our business development

plan. My ambition is to keep strengthening

Biesse Group's business network across the

country. Our goal for Japan is clear, and I am

counting on these partnerships and our team

towards greater success in the coming years.

Having our facilities in Japan will add value to

both Biesse Group and its business partners. P

Panels & Furniture Asia | July / August 2022 35
---
FURNITURE MANUFACTURING

woodStore 8: Smart

storage software for

higher transparency

If the suction cross rail is the

heart of a HOMAG storage system,

then woodStore is the brain. The

intelligence and efficiency of a storage

software is demonstrated by how

transparent the flow of information

and materials it achieves within a

company. In this regard, woodStore 8

by HOMAG sets new standards.

The latest intelligent storage

management system from HOMAG

links the ordering process with order

processing more closely than before,

automatically detects and analyses in

and outgoing movements, manages

materials through to panel off-cuts,

and controls the flow of material under

ongoing self-evaluation.

Such optimal transparency is key

to effective process optimisation.

According to HOMAG, woodStore 8

ensures that users have and can use

this key feature more effectively than

before. In contrast to its predecessor,

it also boasts several features that

improve storage management and

material management. woodStore

8 is easier to use than its preceding

versions and makes more logical use

than mobile solutions and networked

operations.

This includes, for example, the

option to link two adjacent but

physically separated storage systems

and to connect a greater number of

processing machines to each system.

Furthermore, with woodStore 8,

users can now use the storage

return position up to 100% as a

restacking position. This increases

the capacity with random storage

management, especially if the

storage system is equipped with a

few stack positions.

The software links order

management with job processing,

management of materials down to

panel waste, analyses movements,

controls material flow and optimises

material movements. The new

version has adopted many of the

selling points from previous versions

while incorporating several new

features.

36 Panels & Furniture Asia | July / August 2022
---
FURNITURE MANUFACTURING

For example, if the material composition

of a job changes, the software moves

the stored material around: Stacks that

are required are automatically stored

near the machine for quick removal,

thus optimising the storage process.

woodStore Analyzer also shows possible

efficiency improvements in the storage

facility, carrying out analysis per month,

week, day or hour. It is a system for

automatic evaluation of the analyses

recommending courses of action. In

this way, the analyser determines which

board materials have to be disposed

of or relocated based on the frequency

of use. This is an example of how

intelligent existing process data from a

system can be used in a meaningful way.

1

Legend

1 woodStore 8 is the

brain of the storage

system

2 Smart connected

system: complete

integration of

optimisation, saw

and storage into

one cutting-tosize

system with

standard interfaces

that match

3 Integrated decor

selection: Decor

images for a

realistic display

of the panels

available in the

storage

One feature that has been developed by

HOMAG for woodStore 8 is the ability to

operate over Wi-Fi using a smartphone

or tablet. Production duration,

material equipment, job overviews or

information about missing boards can

then be accessed. This allows users

to estimate when additional panels

need to be transported from the block

storage to the storage return position.

The operator can then start the storage

return process directly from the forklift.

Using predefined barcodes, the operator

scans materials, enters the number of

plates to be stored and starts the storage

process — conveniently and quickly

using a mobile terminal.

2

The storage return position can now

be used as a restacking position,

which is useful for companies with

smaller horizontal storage systems.

Capacity also increases compared to

random storage management. Smaller

convenience functions have also been

integrated. For example, the "cover

function" for light-sensitive plates no

longer needs to be started manually.

Instead, it can be started automatically

on a timed basis.

AT A GLANCE

With woodStore 8, HOMAG has

increased the number of processing

machines and storage return positions.

Users can group their machines with a

3

separate production list for each, thus

increasing efficiency. With the extended

linking of multiple storage systems,

users can have an automatic master

data and production list comparison,

cross-system manual offcut storage and

prior removal from storage.

Moreover, HOMAG reported that 100%

of users' storage return positions can

be used as a restack position, and old

plate stocks can be disposed quickly

and easily. Users can manage their

warehouse on the move with woodStore

8, thus simplifying operation with a

better overview and integration of

the camera to support functionally. It

automatically controls the covering

of plates made from light-sensitive

material. P

Panels & Furniture Asia | July / August 2022 37
---
FURNITURE MANUFACTURING

Mass production solution

for furniture carcass

KD cabinet double-width processing with maximum output

Although customised furniture is prevalent

today, finished furniture still arguably

occupies an important place in the furniture

market in many countries. Unlike the batchsize-one

production mode of customised

furniture, the size of one batch for finished

furniture is large, and the processing

method is relatively fixed, which has higher

requirements on the production efficiency and

processing quality. Moreover, it is necessary

to minimise manual intervention, reduce

the waiting time of boards transference

and maximise efficiency to enhance the

competitiveness of enterprises.

During processing, sizing is generally done

by a panel dividing saw, edgebanding by

double-sided edgebanding machine, and

drilling by a multi-row type drilling machine.

Yet the edgebanding and drilling are the main

bottlenecks for efficiency. Nanxing Machinery

has launched a solution taking into account

the quality, efficiency and stability of the

mass production mode of finished furniture,

which doubles the production capacity by

edgebanding and drilling the double-width

panel and splitting it into two at the back-end.

PROCESS OVERVIEW

The panel only needs to be edge-sealed on

three sides since the end of the carcass panel

against the wall need not be edge-sealed.

Therefore, two groups of robots are used

for feeding, corresponding to two tables

for workpiece feeding, two infeed standby

tables, two for base plate stacking, and two

to wait for the base plate to roll out. After

the robot feeds the boards on the conveyor

roller in the long direction, it enters the NB825

edgebander through the splitting device

for the narrow plate to complete the edge

sealing of the two longer sides. Then it turns

90° to the NB826 double-ended edgebander

to complete the edge sealing of the two

shorter sides. The drilling is completed by

the throughfeed multi-row type drilling

workstation NDC742A×2. Then boards turn

90° to be split into two parts along the long

direction. Through plate combing and speed

control, the boards would be out-fed by two

sets of robots, corresponding to two sets

of unloading table and two sets of standby

table to complete the entire process.

The maximum capacity of each robot is

about 10 work cycles per minute. The

maximum speed of the NB825 double-sided

edgebander is 50m/min, and the NB826

double-sided edgebander is 32m/min.

After drilling the four-sided, edge-sealed

double-width plate, the plate is split into

two parts by the halving machine to become

two pieces, thus doubling the efficiency.

Moreover, the whole line is controlled by

the supervisor, which saves the adjustment

time as much as possible during batch

switch. The calculation of the production

capacity of each machine shows that the

design production capacity is about 36-50

workpieces per minute.

ROBOT FEEDING AND BLANKING

Two sets of robots are used for feeding

and blanking. In this line, the maximum

production capacity of each robot is about

10 working cycles per minute, totalling 20

cycles per minute. When the plate width is

narrow, the robot can grab two plate pieces

side by side at a time, and the plate-dividing

device on the conveying table can assemble

the plates into a row. To minimise the

waiting time, each robot is equipped with

one workpiece feeding station and one for

the waiting of workpiece feeding. When the

plates in the current feeding station are used

up, the robot can grab the plates in another

waiting position at once.

In addition, the line is also equipped with

one set of the base plate stacking table, and

one base plate outfeed table to roll out,

which enables the plate to roll out timely and

make up for the next, thus achieving minimal

waiting time and seamless switching. The

robot in the blanking part is the same. The

plate-combing device can assemble a single

row of narrow workpieces side by side,

and the robot can grab two plates at a time

for blanking. Compared to the traditional

gantry-type feeding and blanking machine,

the robot is more intelligent, flexible and

easy to control, and has a lower error rate.

HIGH-SPEED DOUBLE-SIDED

EDGEBANDING

For edgebanding, the line is equipped with

double-ended edgebanders NB825 and

NB826. The long side is first squared and

sealed by NB825 and grooved for the boards'

first and second sides, then being squared

and sealed by NB826 for the third and fourth

sides. The maximum speed of the NB825

double-ended edgebander is 50m/min, and

the NB826 double-sided edgebander with

servo corner rounding is 32m/min. The steel

upper-pressure beam and the heavy-duty

rack with an integrated welding process

ensure the stability and strength of the

equipment under continuous and intensive

production conditions. For squaring, the

38 Panels & Furniture Asia | July / August 2022
---
FURNITURE MANUFACTURING

hogging unit cooperates with the heat-treated

steel track and chain with stop cams, which

supports the particle plate and honeycomb

plate.

To ensure speed, neither of the two machines

is equipped with the end-cutting unit. Only

2-3mm tape overhang are left on the front- and

rear-ends of the panel, and the NB876 servo

controls the corner rounding and trims off the

sidebands hanging from the front- and rearends.

The Beckhoff controller used in the servo

corner rounding makes the response speed

faster and the tracking more accurate, ensuring

both the speed and quality of the result. In

addition, each processing mechanism adopts

servo adjustment and is commanded by the

supervisor, which reduces the waiting time for

machine adjustment during the replacement of

workpiece batches.

DRILLING PART

The drilling workstation is connected by two

sets of NDC742A, which have four drill rows

at the top, seven drill rows at the bottom, and

two horizontal rows. Drilling depth, drilling row

movement and rear positioning are all servo

controlled to ensure speed and precision. There

are two processing modes for the two machines

connected: one is the synchronous processing

mode by the two machines — that is, the two

machines can process two pieces of the same

workpiece simultaneously — and the other is

the two machines cooperating to process one

workpiece.

can increase the plate conveying speed to 110-

120m/min, which matches the speed of the CNC

drilling machine, and it can control the rhythm

of the plate entry when the two machines are

processing two workpieces simultaneously.

The rear of the front-end variable speed table

is equipped with a pressure roller mechanism

to ensure the plate can enter the CNC drill row

smoothly. The variable speed table at the backend

reduces the speed of the plate and better

matches the rear discharge table. This design

not only ensures a smooth transition but also

fully releases the production capacity of the

CNC drilling machine, which is better matched

with the production capacity of the edgebander

at the front end.

The average speed is 20-30 parts per minute

depending on different drilling patterns, with a

maximum speed reaching 30 parts per minute.

Double holes are drilled along this drilling

workstation on the double-width plate, and

production capacity is doubled after splitting

the board into two on the halving device.

1

BISECTION SAW

The efficiency of the line is doubled by

making the bisection saw split the edgesealed

and drilled plate into two, so that

the four-sided sealed plate is cut into the

required two pieces, with the three sides

sealed.

Nanxing Machinery offers a mass

production solution by double-width

processing and splitting into two boards.

The supervision is PC-based with the

machine and the sensing device on the

automatic equipment provides real-time

monitoring and feedback on the plate,

thus enabling the line to be connected,

regulated and commanded through the

master control to improve the adjustment

speed during batch replacement. It doubles

output while ensuring quality and stability,

providing finished furniture manufacturers

with cost-effective solutions for the mass

production of the furniture carcass, and

enhancing their competitive advantage. P

A variable speed table is also added at the

front and rear. The front variable speed table

Legend

1 The NB826 servo corner rounding

2 The NB825

2

Panels & Furniture Asia | July / August 2022 39
---
MATERIALS

American red oak in the new

Umm Al Quwain Free Trade

Zone Authority Headquarters

NIU blends materiality with spatial programming to deliver

a stimulating but visually appealing interior.

the suspended floor-to-ceiling oak

elements add drama and elegance to

the area, but they also serve to create

partitions and divide the space while

maintaining an open-plan concept.

In addition, the louvred oak provides

visual privacy and sound absorption.

The centrepiece is a

3.5m-high element

suggesting an

ancient tree

NIU, a multi-disciplinary boutique

design studio based in Dubai, has

unveiled the interiors of the new Umm

Al Quwain Free Trade Zone Authority

Headquarters. The studio was tasked

with designing a space that has a fresh,

simple, and friendly environment with

as many natural elements as possible

to welcome stakeholders into the three

main floors of the office.

The design phase started in September

2020 and ended in May 2021, in the

middle of the COVID-19 pandemic.

Because of this, the design had to

include specific details for the safety of

guests and employees. The challenge

was to create a stimulating but visually

appealing interior around the already

existing structural columns that could

allow visitors to maintain their social

distancing and comply with flow

guidelines, within the limited space.

The architects considered natureinspired

elements, and so they decided

to use timber slats. Taking advice from

the American Hardwood Export Council

(AHEC), American red oak was used to

create louvres to conceal the structural

columns, but also to provide discreet

lighting and suggest separate areas

while maintaining open sightlines. The

centrepiece is a 3.5m-high element

suggesting an ancient tree.

According to the architects, the existing

floor plan was shaped like a segment

of a ring, which further increased

the design challenge. Not only do

A customised seating area was also

constructed at the base of the tree

trunk and spread about in pebbleshaped

pouffes. In addition, solid and

veneered oak louvres were used to add

interest and dimension to the glass

façades of the closed meeting rooms.

The area is flooded with daylight due

to the floor-to-ceiling, wall-to-wall

windows on the two sides. At the

main entrance, the double height

8m-high ceiling of the main reception

and information desk makes a bold

statement in white Corian.

"In our projects we pay a lot of attention

to the issue of sustainability, for this

reason, we like to consider this material

for its qualitative aspects both from an

aesthetic and technical point of view,"

said Giorgio Palermo, founder of NIU.

"A natural material capable of creating

a visual and tactile relationship with

the users of the space in which it is

used. From the design point of view,

in this specific project, it was used

to create elements of organic shape

to emphasise the very origin of the

material in nature."

Commenting on the decision to use

American red oak, the architects said:

"The particular natural colour and

40 Panels & Furniture Asia | July / August 2022
---
MATERIALS

veins of this species were selected and

incorporated into the project since

the concept design and it remained

a characterising element of the

project, giving it a plus value highly

appreciated by the customer and

above all by the users of the space."

According to AHEC, American red oak

has a distinctive grain, and the wood

is not always red. Generally, the

sapwood of red oak is light brown,

and the heartwood is often pinkish

to reddish brown. American red oaks

have good overall strength properties

relative to weight, and thus its main

uses are for furniture, flooring,

doors, and certain construction

applications.

1

To manage traffic flow and also

comply with COVID-19 guidelines, the

white Carrera marble floor links the

main entrance to the rear door and

elevators. Adding some contrast, a

few of the structural columns were

rendered in ceramic. In addition, NIU

specified a sustainable carpet made

from recycled plastic bottles, which

adds soundproofing and underfoot

comfort to the seating areas.

The earthy ambience stretches to

the mezzanine and first-floor levels

where windows flood the interior

with daylight. In the 50 square metre

conference or multi-function room,

there are a few chairs that replicate the

slat motif, and as part of the natural

ambience, numerous plants are found.

Finally, the walls are painted in shades

of sky-blue and green, giving the space

a natural and calming ambience.

"For this project, the amount of red

oak that was used equals two full 40-

foot containers, which is around 2,300

cubic feet. This means that 69.5 metric

tonnes of CO2 were kept out of the

atmosphere as part of carbon capture

feature, and with a replacement rate

in the US hardwood forest, through

natural regeneration, of just 68

seconds," concluded Roderick Wiles,

regional director at AHEC. P

2

3

Legend

1 Solid and

veneered oak

louvres were

used to add

interest and

dimension to the

glass façades

of the closed

meeting rooms

2 Chairs in multifunction

rooms

that replicate the

slat motif

3 American red

oaks have good

overall strength

properties

relative to weight

and can be used

for construction

purposes

Panels & Furniture Asia | July / August 2022 41
---
RECYCLING

Artificial neural networks

changing wood recycling

With over 15 years of experience

in wood-based solutions and

production, Jose Matas joined

Tomra Recycling as segment

manager in 2021 to advance

the material recycling and

circularity of waste wood for

the panelboard industry. His

international experience with some

of the world's largest wood-based

producers offers insights into

the challenges and future of the

industry.

Artificial intelligence (AI) is arguably

making headline news everywhere,

but what is behind this instrument,

and what implications does it have for

the wood-based panel industry and

recyclers? Specialists in the AI field and

players in the recycling industry are

convinced that machine intelligence

can help solve some of the panelboard

industry's biggest challenges. While AI is

quite the buzzword today, it is nothing

new. It has existed since the 1940s, but

only with the emergence of personal

computers and greater computing

power has it taken on a completely

different meaning. While we might

not know it, we interact with AI daily:

whether searching on Google, using

navigation systems to find the fastest

route to our destination, deploying

robots to carry out mundane tasks, and

more.

42 Panels & Furniture Asia | July / August 2022
---
RECYCLING

SORTING SYSTEMS: AI'S GATEWAY

INTO RECYCLING

Thanks to AI, automated sorting systems

are no stranger to the recycling industry.

Optical sorters employed in recycling

circuits have employed AI algorithms

to sort materials for over 30 years and

are now experiencing another wave of

technological advancement with the

use of deep learning. We are living in a

moment of technological revolution,

where AI-driven solutions become

increasingly powerful and the tool to

improve recycling performance. As for

waste wood recycling, plant operators

often face the challenge of scale. They

need to recover as much recyclable

waste wood as possible and create the

purest material fractions to scale and

meet the market's demand. With deep

learning technology, it is now even

possible to detect and separate wood

category types, such as processed

wood and non-processed wood.

DEEP LEARNING

AI can be defined as any technique

that enables computers to mimic

human intelligence, using logic,

if-then rules, decision trees, and

machine learning. Deep learning is a

subfield of machine learning that can

process large volumes of complex

data, which is beneficial for sorting

applications of heterogenous waste

streams. Unlike machine learning,

deep learning does not require active

feature engineering and can extract

additional characteristics from the

picture, if trained with sufficient data.

Considered a promising approach, it

unites numerous concepts, delivering

future-forward solutions for diverse

sorting tasks:

One of AI's concepts is image

classification, which allows a sorting

machine to categorise what it sees

in a picture, such as medium-density

DEEP DIVE INTO DEEP LEARNING

Deep learning technology works

based on artificial neural networks

that consist of artificial neurons.

Grouped in multiple layers of different

functions, artificial neural networks

learn how to identify and classify

objects. Deep learning can extract

a hierarchy of features from raw

input data and group it into different

categories of data.

To make use of deep learning in

sensor-based sorting, our engineers

train the network by exposing it to

thousands of annotated images.

Once a trained network receives

information about an object scanned

by the sensors, it uses the features

extracted from the annotated images

and connects them to the material,

predicting what the scanned object

can be.

Recent breakthroughs in object

detection are enabled by

convolutional neural networks, a

particular type of artificial neural

network made of varying cascades of

convolutional and pooling layers.

The first layer type, also called the

convolutional layer, extracts distinctive

features from a scanned object. These

features can be edges, textures or any

other abstract object properties.

The second layer type, or the pooling

layer, condenses the image information,

enabling subsequent convolutional

layers to look at the bigger picture and

detect additional features, like the

shape of a whole object.

After all relevant object features

have been extracted by the first- and

second-layer types, the last part of

the neural network, which is the

"fully connected layers", assigns or

classifies the object into a wood

type.

All layers can be combined and

repeated as required to carry out the

respective classification task and

reach the desired result.

Sebastian

Solbach, team

leader, application

development deep

learning at Tomra

Recycling

Panels & Furniture Asia | July / August 2022 43
---
RECYCLING

Deep learning can

extract a hierarchy

of features from

raw input data and

group it into different

categories of data

fibreboard (MDF). Since the object's

position delivers crucial information

for the classification and sorting

decision, methods such as traditional

image processing are applied to

crop out objects before image

classification.

Another concept is object detection.

Knowing that the picture contains a

wood chip is not sufficient for a factbased

and precise sorting decision. The

machine also needs to know where the

material is located on the conveyor belt.

Object detection pinpoints the wood

chip's position on the belt.

Semantic segmentation is another

method that carries out pixel-level

classification and delivers more

detailed information on the object's

position. Since the wood chips are fed

on the conveyor belt in bulk, they can

easily overlap and negatively impact the

classification and sorting decision.

There is another approach called

instance segmentation that demarcates

targeted materials for high precision

sorting. As a result, two overlapping

objects of the same material class can

be detected as individual instances.

A TOOL FOR PARTICLEBOARD

MANUFACTURERS

As noted in our previous articles,

recycling waste wood is a business

opportunity and means to mitigate

the environmental impact of using

primary resources. Once waste

wood is collected, it undergoes

a purification process to remove

unwanted materials, such as stones,

metals, or inert materials using

x-ray sorting technology. The clean

woodchips can then be further sorted

by material type according to the

operator's requirements.

Today, operators have a choice of

various sorting methods ranging in

size, efficiency and initial costs. The

most effective, scalable and flexible

solution combines technologies to

generate the purest wood fractions.

Unlike conventional sorting methods,

the combination of the near-infrared

(NIR) and deep learning technologies

enables ideal performances in sorting

accuracy and purity levels. With

sensors and artificial neural networks,

the sorting system is trained to

distinguish different material types,

such as processed wood and nonprocessed

wood. Since only the

purest non-processed wood fractions

are suitable for the production of

particleboards made of recycled

content, separating wood by type

is a step in modern particleboard

manufacturing and wood recycling

plants.

GREATER FLEXIBILITY

The performance of deep learning

technologies is based on artificial neural

networks. Trained with thousands

of object images that can usually be

found in the waste stream, artificial

neural networks hold a pool of object

information they draw on when

detecting and separating materials.

Based on the annotated data, the

system recognises patterns and

properties of individual wood chips and

connects this information with data

scanned by sensors. Wood chips are

then categorised by material type and

separated according to the customerdefined

sorting task.

Deep learning-based systems offer more

flexibility to the operator, allowing them

to choose the types of materials they

like to target in the sorting process.

For example, MDF and plywood can

be recovered from processed wood.

Operators can take advantage of the

sorting flexibility to recover more types

of recyclable materials and create new

revenue streams.

In conclusion, combining advanced

NIR systems and deep learning gives

particleboard manufacturers and

wood recyclers a competitive edge in

optimising their operation and reducing

the costs of limited and expensive

primary materials. P

44 Panels & Furniture Asia | July / August 2022
---
Photo Credit: LEITZ Toolings

International

Wood & Woodworking

Machinery Expo

20-22

NOV

2022

MALAYSIA INTERNATIONAL TRADE

AND EXHIBITION CENTRE (MITEC)

KUALA LUMPUR, MALAYSIA

Ministry of Plantation Industries

and Commodities (MPIC)

Endorsed by:

Malaysian Timber Industry

Board (MTIB)

Malaysian Wood Industries

Association (MWIA)

Malaysian Panel-Products

Manufacturers' Association

(MPMA)

Malaysian Wood Moulding

& Joinery Council (MWMJC)

Malaysian Furniture

Council (MFC)

The Timber Exporters'

Association of Malaysia

(TEAM)

Association of Malaysian

Bumiputra Timber & Furniture

Entrepreneurs (PEKA)

For enquiry, contact us at:

Pablo Publishing & Exhibition Pte Ltd

+65 6266 5512

williampang@pabloasia.com

American Hardwood

Export Council

FrenchTimber

Thai Timber Association

Softwood Export Council

Malaysian Timber Council

+603 9281 1999

info@malaysianwoodexpo.com.my

Malaysian Timber

Certification Council

(MTCC)

China Timber & Wood Products

Distribution Association

International Wood

Product Association

Guangdong Timber

Industry Association

Hong Kong Kowloon

Timber Merchant

Association

Malaysian Woodworking

Machinery Association (MWMA)

Thai Hevea Wood

Association

The Federation of

Thai Industries
---
STRUCTURAL ELEMENTS

1

Tokyo University of

the Arts International

Exchange Centre

46 Panels & Furniture Asia | July / August 2022
---
STRUCTURAL ELEMENTS

Location:

Tokyo, Japan

Floor area:

1494m 2

NLT/Steel hybrid

portion area:

346m 2

Developer:

Tokyo University of the Arts

Architects:

Maeda Construction

Efforts are spearheaded by Canada

Wood Japan to integrate naillaminated

timber (NLT) technology

into the International Exchange

Centre building at the Tokyo

University of the Arts, in an NLT

demonstration project in Japan

where timber panels are utilised on

the third, fourth and fifth levels.

2

Located in the heart of the Ueno

Campus of Tokyo University of the

Arts, the project is made possible

with the joint effort by the Council

of Forestry Industries, Japan

2×4 Home Builders Association

in obtaining Japan's Ministry of

Land, Infrastructure, Transport and

Tourism (MLIT) quasi-fireproof NLT

floor assembly approvals in 2020.

Supported by funding from the

Alberta government, the project is

meant to showcase the potential

of NLT use in improving building

sustainability, cost-effectiveness

and overall design compatibility

in hybrid steel and wood frame

structures.

3

Legend

1 The in-progress International Exchange

Centre building at the Tokyo University of

the Arts

2 NLT panels were prefabricated in a nearby

factory and flat-packed to the construction

site

3 An NLT panel manufactured from planks of

dimensional SPF lumber

4 Planks are placed on their sides and nailed

to each other to form NLT panels

4

Panels & Furniture Asia | July / August 2022 47
---
STRUCTURAL ELEMENTS

where they were erected in six weeks,

according to Canada Wood.

Once completed, a case study video

report will be prepared to share with the

broader construction industry which will

cover topics such as the construction

advantages of NLT, the effectiveness

of sound and fire performance, and

recommendations on installations.

Japan's building industry will benefit from

lessons learned and key findings that can

help drive wider NLT adoption in Japan's

fast-growing mass timber industry.

Ongoing construction

of the exchange

centre. NLT panels

are used for the third,

fourth and fifth levels

NLT is manufactured from planks of

dimensional lumber, in most cases

spruce-pine-fir (SPF), that are placed

on their sides and nailed to each other

to form panels. One of the key appeals

of NLT for the Japanese construction

market is its economic viability. NLT can

be an attractive alternative to crosslaminated

timber (CLT) with its ease of

fabrication and installation that yield

cost savings in materials and on-site

labour.

The fabrication process also does not

require a dedicated manufacturing

facility. In this project, the panels were

prefabricated in a nearby factory and

flat-packed to the construction site,

The Canada Wood team has been

working with Maeda Construction

since 2019 to realise what is reportedly

the first large-scale application of NLT

construction in Japan. The project is

scheduled to complete in October

2022. P

This article was first published on Canada

Wood's website and is reproduced here with

permission.

48 Panels & Furniture Asia | July / August 2022
---
SUSTAINABILITY

Challenges in meeting

global GHG emission

reduction standards

threatens species and ecosystems. For climate

change mitigation, Malaysia aims to reduce

GHG intensity emissions by 45% by 2030,

compared to the emission levels in 2005. The

most important goal of climate protection is to

reduce energy consumption through increased

energy efficiency while at the same time

reducing non-renewable shares in the energy

mix. The development of strategies to avoid

negative environmental impacts affects all and

therefore must also include the forestry sector.

Inspiring the next "material revolution" by

creating sustainable and high-performance

materials from oil palm waste, Peter Fitch

together with IOI have set up IOI Palm

Wood to commercialise this untapped

potential.

Wood is a renewable product, but to enable

the supply of wood, non-renewable materials

are also necessary, which can have negative

environmental impacts. The provision of wood

is climate-friendly, and its use enables the

substitution of fossil fuels or materials with

higher negative effects on climate change such

as plastics, aluminium, steel, or concrete.

The concept of sustainability in the forestry

sector should consider three dimensions of the

whole forest wood supply chain: economic,

environmental, and social. Avoiding negative

environmental impacts in the manufacturing

process of products and the provision of

services is becoming increasingly important.

In terms of the magnitude of the environmental

impacts on forestry, assessments often focus

on certain aspects, such as biodiversity, water,

soil and air. In the last few decades, there has

been a prevailing discussion about climate

change and the increasingly critical attitude

of consumers in terms of sustainability and

mitigating climate change.

Anthropogenic greenhouse gas (GHG)

emissions tend to lead to an increasing

annual average surface temperature, which

In general, increased usage of wood as a

renewable raw material is seen as part of the

solution to mitigate climate change. However,

it should be considered that non-renewable

resources are used for the harvesting and

supplying of wood to the industry and

consumers, which does not allow the

designation of wood as a 100% CO2-neutral

product. Although studies have shown that the

non-renewable share is low compared to the

carbon storage of wood, holistic analyses of

the total forest supply chain are important to

demonstrate and reduce the non-renewable

resources and thereby the environmental

impacts for the supply of wood and the

provision of wood products.

For analysing the environmental impacts of

products or services, the lifecycle assessment

(LCA) method is a useful and well-known

approach. Following the EN ISO standard

14040 definition, an LCA is the "compilation

and evaluation of the inputs, outputs and

the potential environmental impacts of

a product system throughout its lifecycle

system", assuming that the LCA is able to

identify most of the environmental impacts.

The impact on climate change is one of a

manifold set of possible categories. Although

LCA has its origin in industrial production

systems, they are now also widely used in

the forestry sector (Fig. 1).

50 Panels & Furniture Asia | July / August 2022
---
SUSTAINABILITY

Based Targets initiative (SBTi).

Under this scheme, forests, land and

agriculture have been identified as

contributing nearly 25% of global

annual GHG emissions. Moreover,

forestry production is expected to

double by 2050 to meet the demands

of the world's growing population.

Fig. 1: Elements that

contribute to GHG

emissions

The number of LCA studies for wood

supply has increased in recent years.

However, many of the LCAs dealt with

the supply of fuel wood, and the number

of studies covering the production of

sawlogs, pulpwood, sawn timber and

furniture is still small.

The provision of raw material wood can

be described as climate-friendly. Wood

can replace fossil fuels or, in the case

of material use, materials with a higher

negative impact on climate change.

However, these positive effects apply

only if sustainable forest management

is carried out and the carbon stocks in

biomass, organic layers, and mineral

soils do not decrease significantly

over a longer period of time.

The United Nations and other

environmental non-governmental

organisations (NGOs) are drafting

standards and protocols for the

measurement and definition

of carbon and GHG reduction

benchmarks. One such system which

is gaining prominence is the Science

Under these new standards it is

proposed that there should be zero

tolerance for deforestation, which has

been defined as the loss of natural

forests as a result of: conversion to

agriculture or other non-forest land

use; conversion to a tree plantation;

or severe and sustained degradation.

Changes to natural ecosystems that

meet this definition are considered to

be conversion, regardless of whether

it is legal or not.

If these standards and protocols

are adopted universally it will be

extremely difficult to increase

the volume of sustainable timber

material coming from recognised

and established sources. This is

where the opportunity to develop

new and sustainable sources of

quality raw materials arises, like

palm wood (Fig. 2). P

Fig. 2: Palm wood

can be an alternative

material for wood

products

Panels & Furniture Asia | July / August 2022 51
---
SHOW PREVIEW

BIFA Wood Vietnam 2022

After a two-year hiatus, BIFA Wood

Vietnam 2022, jointly organised by

the Binh Duong Furniture Association

(BIFA) and Panels & Furniture Group

of wood magazines, is back to gather

entrepreneurs, specialists and thought

leaders together in Binh Duong,

Vietnam, to explore the latest trends

and machineries in the wood and

woodworking industry.

to the exhibition," said Nyugen

Liem, chairman of BIFA. "Similar

to international wood industry

exhibitions, this will certainly be a huge

opportunity and a strong lever for the

growth of the industry.

"In the future, with the support from

the Binh Duong provincial government,

and the strong development of wood

businesses today, BIFA Wood Vietnam

2022 promises to be a specialised

exhibtion when expanding its scale."

According to Nguyen, Vietnam's

exports of wood and wood products

in 2021 reached US$14.21 billion, a

17.6% increase compared to 2020, in

Held at the WTC Binh Duong New City

Expo from 8-11 Aug 2022, BIFA Wood

Vietnam 2022 is an internal miniature

market that aims to promote trade

links between domestic and foreign

enterprises. With visitors coming from

as far as Italy, Germany, and Denmark

and from neighbouring countries like

South Korea, Japan, Taiwan, and China,

as well as participating exhibitors

supplying wood materials from the US,

Canada, Europe, Australia and New

Zealand, the exhibition is international

and diverse in its visitor, exhibitor and

product base.

"Here, participating and visiting

businesses will receive the true

values they desire when coming

52 Panels & Furniture Asia | July / August 2022
---
SHOW PREVIEW

which Binh Duong, with more than 1,200

enterprises operating in the wood industry,

is the leading locality.

Binh Duong's value reached $6.12bn,

accounting for 43% of the total export

turnover of the country's wood and wood

products. As such, to suggest Binh Duong

as "Vietnam's furniture capital" is not

far-fetched, and it is also why the province

is the prime location to hold a wood and

woodworking trade exhibition.

"Here, participating and visiting

businesses will receive the true values

they desire when coming to the exhibition,

similar to international wood industry

exhibitions, this will certainly be a huge

opportunity and a strong lever for the

growth of the industry."

Nyugen Liem

Chairman of BIFA

BIFA Wood Vietnam 2022 will be a place of

trade, connecting suppliers with potential

customers, diversifying import and export

markets and businesses looking for new

markets. This takes into account the impacts

of the COVID-19 pandemic, where the

supply chain and face-to-face interactions

are disrupted, which led to the wood

industry making efforts to promote sales

on e-commerce platforms to minimise the

negative impacts to export activities.

Nguyen added: "Meanwhile, many

international buyers have also tended

to trade in the Vietnamese market. The

industry's phenomenal growth has made

Vietnam a formidable competitor, surpassing

China as the world's manufacturing power."

After the success of BIFA Wood 2018, in the

context of adapting to the pandemic, BIFA

Wood Vietnam 2022 is expected to return

stronger and more professional. It aims

to create trading opportunities between

businesses, exchange information and

the latest trends in the market, and create

business cooperation to further deepen the

chain of vertical links in the industry — from

suppliers of raw materials and accessories

to providing machinery and technology

as well as manufacturers and trades

providing opportunities for cooperation and

sustainable development.

During the four-day exhibition, the BIFA

Wood 2022 will also host seminars on

automation technology in the wood industry

and the source of wood materials from the

US and Europe. The event will house a total

of 1,000 booths and is expected to attract

more than 5,000 visitors.

"This is a great trading session for visitors and

exhibitors alike, with opportunities to unlock

the business possibilities in Vietnam and the

South East Asian region," concluded Nguyen.

A GLIMPSE OF EXHIBITING PRODUCTS

Exhibiting companies include Nanxing

Machinery, a manufacturer of computerised

numerical control (CNC) equipment and

edgebanders sold across the world; Cabinet

Vision South East Asia, whose computer-aided

design (CAD) / computer-aided manufacturing

(CAM) software solutions are widely deployed

in the woodworking industry; Jowat, a

developer and supplier of adhesives used

across various industries; and more.

Read on to find out what some of the

exhibiting companies will be featuring for BIFA

Wood Vietnam 2022.

Panels & Furniture Asia | July / August 2022 53
---
V

BIFA WOOD

I E

T N A M

BIFA WOOD

VIETNAM 2022

CNC CENTRES, EDGEBANDERS AND

TABLE SAWS: NANXING MACHINERY

BOOTH NUMBER: B2098

which provides bevel milling with diamond

forming milling cutters. Glue is applied on the

board's edge for smaller glue lines.

Nanxing Machinery is presenting an array of

machinery, from computerised numerical

control (CNC) machining centres to

edgebanders, as briefly described:

The NPC330 is a panel dividing saw with a

3.3m working width that fits most cutting

requirements. The optimising software

enhances the reliability of the machine.

The NCG2812LED presents a multi-functional

CNC nesting machine with automatic loading

and unloading. It features a 9kW automatic

tool changer (ATC) main spindle and one

drilling block, plus a 12-slot ATC to meet

complicated processing.

The NCG2813E is a CNC machining centre

with an entry-level nesting and top processing

solution by four main spindles.

The MJ1132F sliding table saw features a 3.2m

cutting width, sliding table, and a body of longer

service life.

The NB7CG+PUR is an edgebanding machine

with v-belt presser. With a maximum speed of

up to 26m/min, it presents a fast switch between

polyurethane reactive (PUR) and ethyl vinyl

acetate (EVA) glue.

An edgebanding machine for inclined edge, the

NB5X is a solution for handleless cabinet doors,

The NB5J is a compact function edgebander.

The MF50S is a manual edgebanding machine

with high flexibility for the edgebanding of free

shape parts.

With the NCB612D, six-sided drilling, top and

bottom side grooving and routing can be done

in one cycle. It also works together with the

CNC to deliver high flexibility for batch-sizeone

production.

The NCB2806D side drilling machine pairs

up with the CNC nesting machine to finish

side drilling of cabinet cam fittings holes

automatically by scanning the top-hole

position.

MJ1132F

NCG2813E

NB5J

NPC330

MF50S

54 Panels & Furniture Asia | July / August 2022
---
V

BIFA WOOD

I E

T N A M

BIFA WOOD

VIETNAM 2022

CAD/CAM SOFTWARE SOLUTIONS:

CABINET VISION SOUTH EAST ASIA

BOOTH NUMBER: B2007

ALPHACAM

ALPHACAM is a computer-aided design

(CAD)/computer-aided manufacturing

(CAM) software for woodworking, metal

and stone cutting, that aims to enhance

productivity, reliability and flexibility. The

CAM solution for manufacturers delivers

efficient toolpaths and machine-ready

G-code. The modules on the ALPHACAM

include routing, milling, turning with twoto

five-axis machining.

All ALPHACAM modules are built using one

core foundation which includes geometry

creation commands. Import options for .dxf,

.dwg, .iges and other solid model formats

ensure compatibility with other CAD

systems. All modules have user-defined tool

and material libraries controlling machining

parameters such as tool direction,

automatic lead in and lead out, corner cut

options such as straight, roll round or loop,

G41/42 tool compensation, and automatic

calculation of speeds and feeds.

The Automation Manager allows 2D and

3D CAD files along with solid models from

third-party suppliers to be batch processed

— from file preparation right through to

applying toolpaths, with numerical control

(NC) code being generated automatically.

In addition, the file creates a full report

structure, along with part labels and bar

coding.

CABINET VISION

CABINET VISION simplifies workflow for

furniture, woodworking, or case good

manufacturers of all sizes by using a

single, fully-modular software package

that covers design to manufacturing. With

CABINET VISION, only necessary features

are purchased. This allows the user to

accommodate their software usage in

line with their business, making CABINET

VISION scalable and cost-effective.

Enhanced usability simplifies and

eases visualising and performing for

a range of tasks, while responding to

changing design requirements for both

customised pieces and basic elements.

Furthermore, CABINET VISION can

convert designs into the information a

user needs on the factory floor to manage

the manufacturing process. With the

parametric function, users can capitalise

on previous designs by resizing elements

without reprogramming. The result is a

reproduction of designs and the reduction

of both time-consuming processes

and human error. CABINET VISION also

Rendered design with Vortek Spaces

support sales with features that include the

production of reports that help customers

understand and visualise the scope of

services as well as the end product.

VORTEK SPACES

Lastly, Vortek Spaces is a sales tool for

design and professional presentations.

With an interactive and immersive

visualisation platform, customers can

change the material on the floor, bench

top, cabinet doors and take a walk through

their design. Users can also use it as a

marketing tool by uploading the design

walkthrough to YouTube and sharing it

on social media. Design professionals

can use their CAD software to design their

works, and use Vortek Spaces to present —

through the form of live 3D walkthroughs,

images, videos, 360 videos, virtual reality

(VR) and more.

BOOTH NUMBER: B2016

DUST CONTROL EQUIPMENT: LIGNAR ENGINEERING

Lignar Engineering provides dust control equipment and other

pollution control solutions and equipment for the woodworking, fibrecement,

mineral wool, and pulp and paper industries, with a focus in

South East Asia, South Asia, and China. It also develops and provides

products to help its customers achieve their ESG and sustainability

goals by reducing energy consumption, increasing performance, and

providing employees with a safe and clean working environment.

Lignar's dust control systems are energy efficient and electric-saving,

and allow for reportedly 24/7 continuous production capabilities. They

also allow for minimal downtime, and their modularity allows for easy

expansion of capacity. They are durable with low maintenance cost

and effort, and are equipped with fire and spark detection systems for

safety assurances.

Dust control systems by Lignar

Panels & Furniture Asia | July / August 2022 55
---
V

BIFA WOOD

I E

T N A M

BIFA WOOD

VIETNAM 2022

EDGEBANDER AND

DOUBLE-ENDED TENONER:

E-CHAIN MACHINERY

BOOTH NUMBER: B2088

With an array of working units to choose from, covering

cutting, profile moulding, chamfering, sanding, drilling

applications, and experience in material transfer

automation for turnkey automatic lines, E-Chain

Machinery is featuring the fully automatic double-ended

tenoner, model ECT-88NC, which serves to reduce

operator calibration time when switching from one job to

the next.

Fully automatic double-ended tenoner, ECT-88NC

The tenoner features an AC positioning of top-pressure

hold-downs and a movable side of the machine for

the automatic setting of working width and working

thickness; a numerical control (NC) servo positioning of all

working units, including the horizontal and vertical axes,

and of the infeed reference fence for the horizontal axis;

and the HSK 63F tool interface, which has direct-driven

high-frequency motors for the quick-lock or -release

tooling changeover. It also features a user-friendly humanmachine

interface (HMI) which allows for tooling offsets,

and can be upgraded to feature recipe storage or to

upload working parameters of up to 100 sets of tooling.

Edgebander,

ECE-500J

E-Chain Machinery is also exhibiting its automatic and

multi-functional edgebanding machine, model ECE-500J.

Its design is optimal for the production of cabinet door and

drawer.

Leadermac, a Taiwan-based designer and

manufacturer of woodworking machinery, is

displaying its surface pre-working machine

for the edge gluing of wood-based panels, the

LMC723C(2M).

BOOTH NUMBER: B2080

SURFACE PRE-WORKING MACHINE FOR EDGE GLUING:

LEADERMAC MACHINERY

The LMC723C(2M) achieves high productivity and

efficiency with a continuous output. According to

Leadermac, with a working height of 15-75mm,

the machine uses a milling spindle to produce the

high-friction surface, thus ensuring a longer lifetime

and better quality of the edge-glue production. The

top spindle defines the thickness and width first,

before milling the surface with the trimming saw

blade spindle installed within the machine. After the

panels have been edge-glued, they can be used for

producing edge-glued furniture, including tables,

chairs, walls and counters, among others.

LMC723C(2M), the surface pre-working

machine for edge-glue manufacturing

Leadermac is also showcasing a four-sided moulder,

a four-sided moulder with infeed system, and G320B,

an automatic cutter grinder.

Trimming saw blade to mill the wood-panel

surface

The G320B

56 Panels & Furniture Asia | July / August 2022
---
V

BIFA WOOD

I E

T N A M

BIFA WOOD

VIETNAM 2022

Panels & Furniture Asia | July / August 2022 57
---
V

BIFA WOOD

I E

T N A M

BIFA WOOD

VIETNAM 2022

RIP SAW SYSTEMS: KUANG YUNG MACHINERY

BOOTH NUMBER: B2081

Every company faces manpower

issues, regardless of the industry. In

the wood processing scene, not only

do companies need enough workers

to handle timber sawing, the workers

must also be trained to handle

procedures in case of equipment

faultiness.

MRS-340M2 + SKEW SMART

SCANNING MOVABLE SAW

This is where automation and smart,

intelligent sawing equipment comes

in with Kuang Yung's MRS-340M2 +

SKEW smart scanning movable saw.

Compared to traditional single rip

saws, the MRS-340M2 + SKEW delivers

2-3 times higher productivity, and is

able to handle around 180-250 boards

in an hour. This results in a 7-10%

increase in yield.

The MRS-340M2 + SKEW is also able

to join the wood panels directly

after ripping. With minimal risks

of the hazard of board kickback,

operators can use the saw from a safe

position. Furthermore, production

can be optimised with a computer

programme within the saw. The

programme generates production

report, production control and cost

analysis, thus providing optimal

value out of less inventory material

preparation in smart production.

MRS-450M3 + QUICK RIP

The MRS-450M3 + Quick Rip is a heavyduty

type with a wider cutting width

of maximum 450mm. By applying

three moveable saw blades, different

widths of products can be completed in

one cut. At twice the productivity and

weight of the MRS-340M2 + SKEW and

with the same software and auto-skew

system, it delivers high efficiency and

cutting optimisation.

CFS-100

An economical, compact and

easy-to-use option, the

CFS-100 is a

semi-optimising,

automatic cut-off

saw designed for

anterior stage

wood preparation

of fingerjointed

lumber

production.

It offers a productivity load of 2-4

times a traditional manual machine,

according to Kuang Yung.

CFS-200AB

As Kuang Yung's "most cost-effective"

cut-off saw, the CFS-200AB features a

control software with five cutting modes

for fixed lengths, sequential, mark,

waste minimisation, and prioritisation

of optimum value. The cutting of A-

and B-grade material is included, and

remaining material may be reused.

CFS-100

MRS-340M2 + SKEW

MRS-450M3 + Quick Rip

58 Panels & Furniture Asia | July / August 2022
---
V

BIFA WOOD

I E

T N A M

BIFA WOOD

VIETNAM 2022

SPECIALIST IN TIMBER DRYING , WOOD TREATMENT,

MOISTURE MEASUREMENT & HEAT PUMP SYSTEMS

Conventional Dryer, Vacuum Dryer, Heat Pump Dryer & Dehumidifier

CONVENTIONAL TIMBER DRYER VACUUM TIMBER DRYERS SPLIT TYPE HEAT PUMP DRYER DUO-MODE DEHUMIDIFIER WOOD FIRED BOILER

ThermaWood - Making Wood More Durable, Stable and Beautiful

HEAT TREATED PLANT IN VIETNAM HEAT TREATED ASH DECKING

UNTREATED HT TO 200oC

HT BAMBOO

HEAT TREATED ACACIA

Timber Drying Controls & Accessories , Remote Cloud Timber Drying Control

CLOUD

DRY

TX-2000N DRYER CONTROLLER CLOUD TIMBER DRYING CONTROL ALUMINUM MC BOX TEFLON MC CABLES SS304 MC PINS BANANA PLUG

Complete Range of High Quality Timber Dryer Components & Spare Parts

EXTRUDED BI-METAL FINNED TUBE SUPER CLASS H MOTOR REVERSIBLE KD FAN VENT MOTOR MOTORISED VALVES SPRAY VALVE STEAM TRAP

World Famous Wood Moisture Meters and In-Line Moisture Measurement

WAGNER

ORION 910

MERLIN PINLESS

MOISTURE METER

NIGOS MULTI DEPTH

PINLESS METER

DELMHORST

J2000

GANN HT85 HAMMER

ELECTRODE

FINNA PC 2500 IN-LINE MOISTURE

MEASUREMENT SYSTEM

SEE YOU AT BIFA WOOD VIETNAM, 8 -11 Aug.2022 , BOOTH No. B2009

For sales inquiries, please email us - sales@tritherm.com, or visit www.tritherm.com , Tel : +65-68534270

Panels & Furniture Asia | July / August 2022 59
---
V

BIFA WOOD

I E

T N A M

BIFA WOOD

VIETNAM 2022

DOUBLE-ENDED TENONER

AND SANDER: TECHNIK ASSOCIATES

Technik Associates' DET-2000-H8MS doubleended

tenoning and sanding series is equipped

with edge moulding and profile sanding

functions. There are two moulding units for

edge profiling, belt profile sanding units with

vibration for various profiles, and a roller-type

sanding unit with automatic compensation for

sanding edges.

The DET-2000-H8MS combines moulding

and sanding functions with two sides on one

machine, instead of the traditional way of

working where the workpiece needs to be

profiled in one machine first before being

sanded in another. The combination of

moulding and sanding in one machine improves

working efficiency, thus reducing manpower

and processing time.

Technik explains that the panel travels on a

linear guideway to be parallel at x-axis, and

the feed-chain track system, enhanced with

a precision track linkage and mounted with

dust-proof and free lubricated needle bearings,

ensures the panel is parallel at y-axis.

With various trends on click furniture and

Välinge profiling necessitating different

processing requirements, customisation is

BOOTH NUMBER: B2095

arguably the future trend for woodworking.

According to Technik, the company is able

to integrate clients' standalone machines

in their current factory into an automatic

production line. Additionally, it is able to

standardise processes, follow the single-minute

exchange of die (SMED) principle to shorten

the time needed for R&D, electrical design, and

manufacturing, and modularise each spare

part and component to ensure all machines

are consistent with high quality. The purpose

and functions of Technik's machines are able

to extend further accordingly to different

demands.

The machine is suited for processing panels

used for wooden doors and kitchen doors.

CLOUD-BASED TIMBER DRYING SYSTEM: TRITHERM

Cloud Kiln is a data-driven networked and

automated timber drying control technology.

Developed by Waygo and Tritherm, it allows

for centralised kiln controlling and monitoring,

drying data archiving and visualisation, remote

monitoring, data statistics, and reporting via a

cloud service and Telegram.

The cloud-based Sacada Dryer Control (SDC)

system is a plug-and-play system where all

controlled components are prewired and

plugged into the control panel. To modify an

existing dryer, the customer has to replace

the heating control valve, spray valves and

vent actuator with feedback system. The

timber dryer controller and electrical panel

will also have to be changed. The system uses

psychometric temperature measurements to

determine humidity and equilibrium moisture

content (EMC) of the chamber environment.

all drying parameters in the form of plots; 24/7

real-time notifications via Telegram; 60 preset

drying programmes for various timber species

and thicknesses, and reportedly unlimited userdefined

programmes; the option to monitor

power consumption and boiler operation; and

real-time kiln operation and historical drying

data, as available in the cloud service.

Tritherm also provides annual subscription

packages where members can feedback drying

issues. In addition, the system keeps track of all

important drying data and can provide reports

on the typical drying time for a particular wood

DET-2000-H8MS

BOOTH NUMBER: B2009

species, how many cubic metres of timber

had been dried by each kiln, and the power

consumed for drying each batch of timber.

The company plans to set up small

experimental dryers for developing special

fast drying schedules, at a fee for members

only. Should any dryer component be faulty,

the member will be informed quickly without

having to wait for the dryer manufacturer's

engineer to arrive to troubleshoot the problem.

Customers can terminate the subscription

should they decide that the system has not

improved their operations.

With Cloud Kiln,

operators can

control and

monitor multiple

kilns from the

control room

Some of the major benefits of the Cloud Kiln

timber drying control system provides include:

reduction of labour costs as an operator can

control and monitor multiple kilns from the

control room; recording of real-time trends of

Cloud Kiln system in operation

60 Panels & Furniture Asia | July / August 2022
---
V

BIFA WOOD

I E

T N A M

BIFA WOOD

VIETNAM 2022

DISPERSION AND HOTMELT ADHESIVES: JOWAT

BOOTH NUMBER: B2015

Jowacoll

103.18

Jowatherm 280.58

Polyvinyl acetate (PVAc) dispersion

adhesives are classified into four

durability classes, D1-D4, in accordance

with EN 204 based on their resistance to

water. Dispersion adhesives of the latest

generation facilitate efficient bonding

processes with low emissions at the

workplace as well as from the finished

product. Jowat supplies a portfolio with

different adhesives for each durability

class. The company's portfolio provides

products for interiors with relative

humidity of less than 15%, for wet

environments that have high humidity

and short-term exposure to water, as

well as for exteriors exposed to weather

with protection from a suitable surface

coating.

Jowacoll 103.18 is a PVAc adhesive used

for bonding hard and softwood species,

and the flat lamination of wood-based

materials which have to meet high

requirements. The dispersion has been

tested in accordance with EN 204/205 at

the ift Rosenheim in Germany and meets

D3 durability class. Jowacoll 103.18

is characterised by good resistance to

water and heat, and by easy processing.

Jowacoll 103.18 can be applied

manually by hand or using industrial

roller applicators, and has fast drying

and process times. Especially due

to its high initial strength, it is used

in a range of furniture and assembly

bonding applications. It is manufactured

in Malaysia according to German

production standards to ensure short

process and delivery distances.

Jowatherm 280.58 is an edgebanding

hotmelt known for its processing

characteristics and bond strength.

Transparent and crystal-clear in the

melt, it provides colourless and opaque

bond lines suited for dark décors or

combinations of different décor materials.

Jowatherm-Reaktant 607.50 is a

polyurethane reactive (PUR) hotmelt for

edgebanding with good initial strength,

optimal flexibility at low temperatures,

and good resistance to solvents. It has

a pure white version, the 607.51, that

adapts to current modern furniture

designs.

The Jowatherm-Reaktant 609.00 PUR

hotmelt is applied to flat lamination, and

has high green strength for substrates

with high restoring forces. Its long open

time allows flexibility in processing, and

its flexible processing characters and

stringing-free application allows speed

feeds of up to 40m/min.

Lastly, the Jowat 950.00 ureaformaldehyde

(UF) resin is ideal

for standard veneering and flat

lamination of furniture and interior

finishing. Its powder form is not only

low in formaldehyde — and thus

non-fossil, meeting requirements

for CARB P2 – TSCA IV — it is also

convenient for transport and storage.

Jowatherm-Reaktant 607.50

Jowatherm-Reaktant 609.00 Jowat 950.00

Panels & Furniture Asia | July / August 2022 61
---
V

BIFA WOOD

I E

T N A M

BIFA WOOD

VIETNAM 2022

VENEER SPLICER:

INNOVATOR

MACHINERY

Innovator Machinery's splicers use

pressurised and heating mechanical

structures, and thermosetting glue is used to

bond veneer edges with no visible joint lines.

In particular, the longitudinal veneer splicer

with an integrated gluing system, VeneerPlus

G1, removes the pre-gluing process. After the

veneers are fed into VeneerPlus G1 and aligned

by the synchronised infeed rollers, the veneers

are conveyed to the singular gluing unit to glue

the edges, then transported to the heating

section for glue curing. The veneer gluing and

splicing processes are accomplished within a

single machine.

Different from traditional "zig-zag" stitchers,

Innovator's butt-jointed longitudinal veneer

splicers are ideal for processing high-quality

glue-spliced veneer faces. The main advantage

of butt-jointed splicers over "zig-zags" is

to avoid thread marking and the

opening gap of jointing line onto the veneer

surface after veneers are pressed onto the

board.

"Zig-zags" use glue thread to put two veneers

together, but in actuality, the two veneers are

not jointed, just connected by glue thread. This

results in an opening gap after being heated

by the hot press. Additionally, users might still

BOOTH NUMBER: B2082

VeneerPlus G1

see the jointing line after

sanding. For buttjoint

splicer,

the machine

applies glue

on the veneer

edges and sticks them

together without

overlap; as such, there

will be minimal gap and visible

line after pressing onto the board

and sanding.

Further features of the VeneerPlus G1 include:

complying with European safety standards;

has a cooling system for prolonging glue-pot

life; allows easy adjustment and quick access

of the integrated gluing system; has motorised

driven infeed discs instead of traditional rollers

for smoother infeed; and transporting chains

of engineering plastics for reducing heat on

veneers.

BOOTH NUMBER: C1009

Five-axis machining centre

TENONER, MORTISER

AND FIVE-AXIS

MACHINING CENTRE:

NEW MAS WOODWORKING

New MAS Woodworking Machinery & Equipment is a

manufacturer of various kinds of woodworking machinery,

covering 260 acres of land and plants. Since 1994, the company

has produced more than 200,000 units of moulding machines and

saws of various kinds. The company has also established a longterm

collaboration platform with technology universities, working

and researching on issues from field testing of new products to

operator and safety training programmes.

NC double-sided four-spindle tenoner

The team consists of more than 30 technicians and engineers

with experience both in machine design and wood processing,

with over 400 skilled workers and approximately 500 set quality

manufacturing equipment, including 30 advanced numeric

control (NC) metal and sheet metal processing machines like laser

cutting, vertical and horizontal machining center. At BIFA Wood

Vietnam 2022, it is demonstrating a range of equipment, including

a NC double-sided four spindle tenoner, a NC mortising machine,

and a five-axis machining centre.

62 Panels & Furniture Asia | July / August 2022
---
V

BIFA WOOD

I E

T N A M

BIFA WOOD

VIETNAM 2022

WIDE BELT SANDERS: JUN SHIAU MACHINERY

BOOTH NUMBER: B2095

With 40 years of experience under

its belt, Jun Shiau Machinery has

its own brand, Sheng Shing Wide

Belt Sander, that produces a range

of light- and heavy-duty sanders.

Due to the COVID-19 pandemic

over the past two years, furniture

manufacturing companies, which

are labour-intensive in Asia, have

stopped production due to pandemic

prevention policies or infected staff,

bringing up the problem of the

reduction in manpower.

In light of this, Jun Shiau began

thinking about how to solve the

manpower problem that customers

are facing. Therefore, in the past

two years it has promoted its top

and bottom sander BSD + FSD for

constant pass line. According to Jun

Shiau, the bottom sander BSD goes

with the table fixed sander FSD.

Customers can install the conveyor

table in between the sanders and

connect the production line with a

software to reduce the dependence

on manpower, and users can match

the automatic production line

themselves.

SD SERIES

With a wide belt sander for sanding

solid wood, jointed panels, and

calibration, the SD series, which

includes SD3130, offers customers

with a working width standard from

610-1,300mm; widths of 1,580mm

and upwards can be requested.

The two head series offers both

roller types for general sanding.

For sanders with three sanding

heads, the third sanding head is

a combination type in addition to

the roller type, which is capable of

calibration and fine sanding in one

pass. The three head series offers fine

finishing.

300mm or 420mm at the customer's

choice. Ideal for sanding veneers,

medium-density fibreboard (MDF),

parquet, or plywood, the SV series

delivers with high precision sanding

with a dimensional tolerance within

0.1m.

In addition, the SV series features

a pressure plate welded from steel

and plated with hard chrome,

presenting a hardness up to RC 70°.

Maximum stability and smoothness

of panel feeding is enabled through

the incorporation of the pressure

plate with a rubber coated pressure

roller. P

The SD-3130 wide belt sander

The SV-3130 wide belt sander

SV SERIES

The SV series comprises a sanding

head constructed with a contact

drum, with a roller diameter of either

BSD-31300 + FSD-31300

bottom and fixed table sanders

Panels & Furniture Asia | July / August 2022 63
---
SHOW PREVIEW

"Bigger and Better":

Malaysian Wood Expo 2022

MWE 2019

although it continues to face some

challenges.

The US recently imposed a higher

average import duty on softwood

lumber from Canada at 17.9%,

from the previous 8.99%. Canada

is the world's largest softwood

lumber exporter and the main

exporter of plywood to the US.

The steep increase in import duty,

together with the US's ongoing

trade war with China, forces

US importers to source timber

products from other countries

such as Malaysia, Vietnam and

Indonesia amid booming housing

demand in the US.

With a booming wood processing scene,

Malaysia is set to become one of the biggest

players in the global wood-based industry,

and the Malaysian Wood Expo (MWE) is here

to leverage it from 20-22 Nov 2022, at the

Malaysia International Trade and

Exhibition Centre (MITEC) in Kuala Lumpur.

Muhtar Suhaili, CEO of Malaysian Timber

Council (MTC), the co-organiser of MWE,

shares more about Malaysia's timber

industry and the exhibition.

OPPORTUNITIES IN MWE 2022

What are some of the current

trends in the wood and

woodworking industry?

Muhtar Suhaili: The COVID-19

pandemic has forced businesses

to reduce their dependency on

foreign labour and motivated the

industry to embrace automation

and digitalisation. The timber

industry continues to perform

well despite the pandemic and

associated fallout, and the outlook

for the industry is positive this year,

Robust demand from the North

American region is driven by

work-from-home policy and the

US-China trade war. The current

market sentiment for Malaysian

timber in the US is bright,

especially for Meranti and Keruing.

Medium density fibreboard (MDF)

manufacturers are also enjoying

an upcycle in the panelboard

market, supported by the growing

demand from furniture makers in

Malaysia and Indonesia as well

as the increase in export demand

from the Middle East.

At the same time, there is a

growing demand for particleboards

from Japan for the production of

ready-to-assemble furniture sales

growth to e-commerce sellers.

Export of particleboard from

South East Asia to Japan is also

expected to increase due to the

rising costs of European timber,

which forced the Japanese to shift

their import from Europe to South

East Asia.

64 Panels & Furniture Asia | July / August 2022
---
SHOW PREVIEW

In terms of furniture design, what do

Malaysians want and how have their

tastes changed over the years?

Muhtar: High-rise residential properties

such as condominiums and apartments

are becoming more popular, especially

among the younger generation. Limitation

of space also makes homeowners go for

multi-functional space-saving furniture.

The younger generation of ages 25-35 is

more attracted to trends of simplicity and

minimalism. At the same time, this age

group has purchasing willingness.

Speaking of minimalism and simplicity,

Scandinavian design has a big influence

on today's furniture making, instead of

heavy classic Victorian-like furniture.

The increase in wealth income has made

Malaysians develop a taste for modern

luxury design furniture and sustainable

furniture materials. To embrace the digital

era, especially after the pandemic, furniture

manufacturers or traders have started

selling their products online. Furniture

stores are making use of the online

marketplace and e-commerce platform.

How will the Malaysian Wood Expo (MWE)

2022 address the previously mentioned

trends and challenges? What can visitors

look forward to during MWE 2022?

Muhtar: We want the expo to be the

preferred buying-and-selling platform

in South East Asia where international

suppliers and buyers of timbers, timber

products, and woodworking machinery

congregate under one roof. The presence

of decision-makers who are shaping the

industry, prominent manufacturers, and

suppliers from around the globe will create

an ideal platform for partnerships to be

forged and business opportunities to be

seized.

We are anticipating a high number of

international buyers who will boost

business opportunities. MWE 2022 is

endorsed by the Malaysian Wood Industries

Association (MWIA), Timber Exporters'

Association of Malaysia (TEAM), the

Malaysian Panel-Products Manufacturers'

Association (MPMA), Malaysian Wood

Moulding & Joinery Council (MWMJC),

Malaysian Furniture Council (MFC),

Association of Malaysian Bumiputra Timber

& Furniture Entrepreneurs (PEKA) as well

as the Malaysian Timber Industry Board

(MTIB), Malaysian Timber Certification

Council (MTCC), Malaysia External Trade

Development Corporation (MATRADE)

and Malaysian Woodworking Machinery

Association (MWMA). The fair is also

recognised and endorsed by timber-related

associations from countries such as China,

France, Hong Kong, Thailand and the US.

Our infrastructure, geographical location

and business facilities make us a good

timber hub for importing and exporting to

ASEAN countries which have a combined

population of over 622 million and a GDP

of US$3.08 trillion. The GDP of the ASEAN

region has been skyrocketing for a few

years now, reflecting the region's thriving

economy.

MWE 2022 plays an important role in

rebuilding the economy, especially post-

COVID. This will help to address the

struggle of maintaining sales during the

pandemic. Through the Business Matching

Programme, suppliers and importers get to

meet up and discuss potential businesses.

At the same time, this will help to secure

new business sales, and thus contribute

to rebuilding the economy. Businesses

that have lost important clients because

of the pandemic will have another shot at

generating new leads and other potential

clients through the exhibition. There is also

an opportunity for them to attract other

businesses that may want to collaborate.

Last but not least, MTC offers various

financial incentives for local manufacturers,

such as the import of raw materials,

purchase of software systems, acquirement

of new woodworking machineries, and

more. Only in MWE will local industry

players be able to enjoy these incentives.

MALAYSIA'S TIMBER MARKET

Can you rate Malaysia's performance

in terms of wood product exports and

production capacity?

Muhtar: Malaysia is an important player

in the international market for tropical

wood and wood products, and is also

the top 10 exporter of plywood, wooden

frame and wooden furniture globally.

"We want the MWE to be the preferred buyingand-selling

platform in South East Asia where

international suppliers and buyers of timbers,

timber products, and woodworking machinery

congregate under one roof."

Muhtar Suhaili

CEO of MTC

Panels & Furniture Asia | July / August 2022 65
---
SHOW PREVIEW

Over the years, the Malaysian wood-based

industry has become one of the major

revenue contributors to the country's

economic growth, encompassing the export

of sawntimber, veneer, panel products,

mouldings, builders' joinery and carpentry

(BJC) as well as furniture and furniture

components.

Timber is the third largest export contributor

in Malaysia's agri-commodity sector after

palm oil and rubber, with the exports of

timber products recording a 3% growth

from RM22.08 billion in 2020 to RM22.7bn in

2021. Demand for Malaysian timber products

grew as people around the world began

working from home, leading to a rise in

home construction, repairs, and remodelling.

Products such as plywood, sawntimber,

mouldings and BJC contributed to the gains

chalked up by the industry last year.

Malaysia's total timber and timber products

trade from January to March 2022 increased

by 10.1% to RM8.69bn from RM7.89bn in

the same corresponding period in 2021. In

particular, the exports from January to March

increased by 8.2% to RM6.54bn compared

to RM6.04bn in the same period in 2021.

Wooden furniture remained the highest

contributor with RM3.1bn or 47.3% in Q1

2022 exports, followed by plywood with

RM896.5 million or 13.7%, and sawntimber

with exports of RM640.9m or 9.8%.

The top three export destinations for

Malaysia's timber and timber products in

Q1 were the US at 34.8%, Japan at 14.8%,

and China at 9%. The country's exports

of wooden furniture were mainly to the US

at 59.3%, followed by Japan at 5.6% and

Singapore at 4.4%.

The industry is moving progressively

towards producing higher value-added

products, leveraging automation, as well as

investing in the upskilling of its workforce

to boost the country's GDP. For the timber

industry to improve its export ranking, the

industry has to adopt automation and move

towards Industry Revolution (IR) 4.0 to

improve efficiency and productivity.

As the leading timber promotion council, we

encourage the timber industry players to

Ongoing business networking sessions in MWE 2019

focus on creativity and innovation in their

production processes, enabling them to

start venturing into automation and IR 4.0

and moving up the value chain from original

equipment manufacturer (OEM) to original

design manufacturer (ODM) or the original

brand manufacturer (OBM).

In light of the Russia-Ukraine war

affecting timber material supplies,

how exactly can Malaysia become an

alternative supplier?

Muhtar: The Russia-Ukraine war has

heightened uncertainty and unsettled the

commodity markets. Risks include the

escalation of the invasion, further sanctions

of commodities from Russia on top of the

existing financial instability caused by

the US Federation's monetary tightening,

hyperinflation and stagflation, and the

emergence of more deadly COVID-19

variants and disruptions associated with

China's current outbreaks. Furthermore,

the impact of the war on supply chains

worldwide not only created pockets of

demand for timber products not originating

from Russia and Ukraine, but it has also

affected commodity prices, with timber

prices increasing year on year.

While it is still too early to see the impact

of the war and its correlation to Malaysia's

timber products trade, since sanctions

on Russia were only announced and

implemented from late February to March

2022, we can however see potential

increases in demand for primary timber

products from the European and Eastern

Asian regions to fill in the supply vacuum

left by Russia and Ukraine.

As for the available high-quality timber

species offered by Malaysia, the most

common ones are Meranti, Keruing, and

Hevea, also known as rubberwood, Kapur,

Kempas, and Balau. Moving forward, we

would also like to promote the lesser-known

species such as Sepetir and Kembang

Semangkuk, also known as KSK.

In your opinion, how will Malaysia's wood

and woodworking industry evolve in the

next 5-10 years?

Muhtar: The timber industry will continue

its focus on going further into downstream

processing to achieve higher value from

its timber resources. There will be more

interest in emerging markets from ASEAN

member countries that are offering

business opportunities for timber-based

manufacturers.

Timber product manufacturers will also

explore new technological advancements

to enhance their productivity and efficiency

in keeping with the ever-changing taste of

customers and the business environment.

They should also embrace the digital

economy as it will enable timber products

to be sold online.

E-commerce has become vital for local

producers to access customers globally.

Such a trend is inevitable and remains a

long-term solution, not only for the timber

industry but also for other sectors. The

younger generation is also more inclined to

shop online, and we should move fervently

in this direction.

We also need to increase awareness of

the sustainability of the forestry and

timber industry. Malaysia will endeavour

to build its strengths on this aspect with

the collaboration and partnership with key

stakeholders.

Bigger and Better — MWE 2022 is set to

take your business to the next level. Do look

out for details on our programmes which

will be announced soon. See everyone

there! P

66 Panels & Furniture Asia | July / August 2022
---
台 湾 振 萧 砂 光 机

TAIWAN SHENGSHING Wide belt sander

台 湾 長 風 高 速 电 脑 裁 板 机 自 动 直 线 封 边 机

TAIWAN CHAMFOND High Speed Panel Saw Edgebander

台 湾 广 荣 单 片 圆 锯 机 多 片 圆 锯 机

TAIWAN FOMASA KUANG YUNG Rip Saw Machine Multi Rip Saw

電 腦 優 選 鋸 機

Cnc Cross-cut And

Length-sorting System

( 德 國 PAUL )
---
台 湾 龙 德 單 板 木 皮 加 工 設 備

TAIWAN INNOVATOR Other Veneer Processing Equipment

See us at

BIFA WOOD

VIETNAM 2022,

Hall C Booth

C1012 ,C1018

台 湾 森 科

四 面 鉋 木 機 系 列 特 殊 型 四 面 鉋 木 機 系 列

TAIWAN SHENKO Particular 4-side

Moulder, 4 - Side Moulder

郑 太 - ZHENG TAI 数 控 六 面 钻

CNC Multiple Spindle

Oscillation Mortiser Item

长 丰 - CHANGFENG

重 型 双 台 面 移 动 式 加 工 中 心

CNC Machining Center

五 轴 加 工 中 心 CNC

Act Five Axis

Machining Center

德 亨 客 DAHAKA 自 动 双 端 锯 铣 机

Automatic Double

- End Sawing Milling Machine

五 轴 加 工 中 心 CNC

Act Five Axis

Machining Center

長 興 木 工 機 械 有 限 公 司 CÔNG TY TNHH TRƯỜNG HƯNG

地 址 : 越 南 平 阳 省 , 新 淵 市 , 新 福 慶 坊 , 慶 會 區 39/3 號

ĐỊA CHỈ : SỐ 39/3 , KHU PHỐ KHÁNH HỘI , PHƯỜNG TÂN PHƯỚC KHÁNH,

THỊ XÃ TÂN UYÊN , TỈNH BÌNH DƯƠNG, VIỆT NAM

TELL : 0274 3618 639 FAX : 02743 618 638 FONE : 0978 601 299 MR" XIE

EMAIL : truonghungmachinery@gmail.com/ zxquan003@gmail.com
---
EVENTS CALENDAR

Events Calendar 2022–2023

SEPTEMBER, 05 – 08

2022 2023

JULY, 17 – 20

49th CIFF

Guangzhou (Phase 1)

Guangzhou, China

Shanghai International Furniture Machinery

& Woodworking Machinery Fair

Shanghai, China

FMC China 2022

Shanghai, China

SEPTEMBER, 13 – 17

DOMOTEX 2023

Hannover, Germany

JANUARY, 12 – 15

JULY, 26 – 29

49th CIFF Guangzhou (Phase 2)

Guangzhou, China

AUGUST, 08 – 11

BIFA Wood Vietnam 2022

Binh Duong, Vietnam

AUGUST, 18 – 21

Indonesia International

Furniture Expo

Jakarta, Indonesia

AUGUST, 25 – 28

Korea International Furniture & Interior Fair

(KOFURN)

Korea

SEPTEMBER, 05 – 08

Photo: Jason Yuen / Unsplash

Photo: Warren Gold Swain / istockphotos

125th NHLA Annual

Convention & Exhibit Showcase

Ohio, United States

IFMAC & WOODMAC 2022

Jakarta, Indonesia

Xylexpo

Milan, Italy

SEPTEMBER, 21 – 23

SEPTEMBER, 21 – 24

OCTOBER, 12 – 15

OCTOBER, 18 – 21

VietnamWood 2022

Ho Chi Minh, Vietnam

NOVEMBER, 20 – 22

Malaysian Wood Expo 2022

Kuala Lumpur, Malaysia

DECEMBER, 15 – 18

Photo: Robert Conlkin / Unsplash

Photo: Muhammed Faiz Zulkeflee / Unsplash

imm Cologne 2023

Cologne, Germany

Hanoi Wood Vietnam

Hanoi, Vietnam

DelhiWood

New Delhi, India

MARCH, 07 – 09

Dubai WoodShow

Dubai, United Arab Emirates

Wood Taiwan

Taiwan

interzum Cologne

Cologne, Germany

JANUARY, 16 – 21

FEBRUARY, 09 – 11

MARCH, 02 – 05

APRIL, 20 – 23

MAY, 09 – 12

MAY, 15 – 19

LIGNA

Hannover, Germany

JUNE, 26 – 28

Photo: Jonathan Bernard / Unsplash

50th CIFF Shanghai 2022

Shanghai, China

Photo: The Starters Guide / Unsplash

Cairo WoodShow 2022

Cairo, Egypt

Photo: Osama Elsayed / Unsplash

SYLVA WOOD 2023

Shanghai, China

74 Panels & Furniture Asia | July / August 2022
---
INDEX OF

ADVERTISERS

PANELS & FURNITURE ASIA • July / August 2022

COMPANY

PAGE

Baillie Lumber 9

Baumer Inspection GmbH 27

Biesse Malaysia Sdn Bhd

FC

MAT MOISTENING

INNOVATION MAT MOISTENING

AT WORK

INNOVATION AT WORK

BIFA Wood Vietnam 2022

OBC

Dai Phuc Vinh (Fuvico) 68, 69

Dieffenbacher Industriemarketing GmbH 1

Electronic Wood Systems GmbH 33

Top moistening

on mat surface

Top moistening

on mat surface

Forestry Innovation Investment Ltd.

IFC

Hanoi Wood 2023 5

IMEAS spa 13

Kim Thuan Cuong 70, 71

Kuang Yung Machinery Co., Ltd 11

Lensaya Industriya Journal 67

Bottom moistening

on forming belt

Bottom moistening

on forming belt

WEKO-FLUID-APPLICATION-SYSTEM

WEKO-FLUID-APPLICATION-SYSTEM

Long Phat CNC 57

Malaysian Wood Expo 2022 45

Nanxing Machinery Co., Ltd 2, 3

Northwest Hardwoods 7

Technik Associates, Inc

IBC

Teknos (M) Sdn Bhd 15

TOMRA Sorting GmbH 76

Tritherm Technology 59

Truong Hung 72, 73

Weitmann & Konrad GmbH & Co KG 75

Yalian Machinery Co., Ltd 49

IMPROVE YOUR BOARDS QUALITY

IMPROVE YOUR BOARDS QUALITY

YOUR BENEFITS

• Increase your press speed

YOUR BENEFITS

• Higher surface density

• Improved Increase your bending press strength speed

• Less Higher or no surface sanding density

• Longer Improved sanding bending tool strength lifetime

• Smoother Less or no surface sanding for

• Longer easy laquering sanding tool lifetime

• Smoother surface for

easy laquering

Productivity

and Quality

Productivity

and Quality

Scan to download eBook

PFA July/August 2022

www.weko.net

www.weko.net

Panels & Furniture Asia | July / August 2022 75
---
THE BEST GRADE IN WOOD SORTING

GAIN your competitive edge with pure wood A and MDF fractions

EXPLORE

WHAT YOU

Pioneering the use of deep learning technology, AUTOSORT and GAIN

combine the most advanced technologies for recovering wood A,

wood B and MDF from waste wood. Count on TOMRA technology

to deliver profi table results!

CAN GAIN!
---
IN VIETNAM'S

FURNITURE

CLUSTER

www.bifawoodvietnam.com

NEW DATE: 8-11 AUGUST 2022

NEW

VENUE

WTC Binh Duong New City Expo

Lot A19, Hung Vuong Street, Hoa Phu Ward,

Thu Dau Mot City, Binh Duong Province, Vietnam

Google Map

QR code

Exhibition Site

WOOD & WOODWORKING MACHINERY EXHIBITION

Enquiries For International Exhibitors

Pablo Publishing & Exhibition Pte Ltd

3 Ang Mo Kio Street 62

#01-23 Link@AMK,

Singapore 569139

Tel: (65) 6266 5512

Email: williampang@pabloasia.com

info@pabloasia.com

WeChat

Jointly organised by

• BINH DUONG FURNITURE ASSOCIATION (BIFA) • PANELS & FURNITURE Group

BINH DUONG FURNITURE ASSOCIATION

Photo: elena rouame, helena lopes, guzman barquin/unsplash