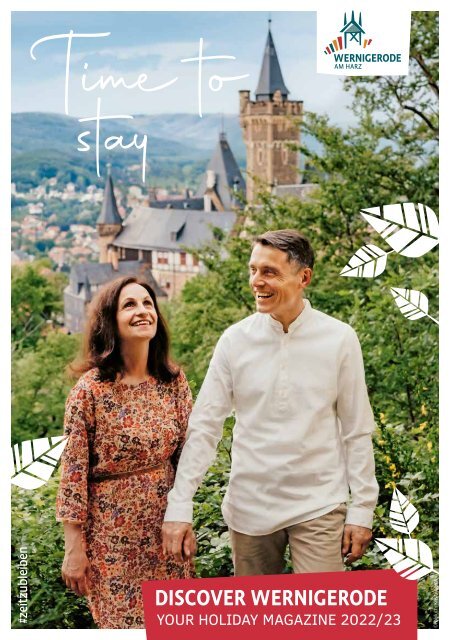 Holiday Magazine 2022 / 23
Time to stay. ForCity Tourers, Family Bonds, Fresh Air Enthusiasts, Film Fans, Pleasure Seekers, Time Travelers, Event Lovers, Inquisitives, Adventurers, Sly Lynxes, Gourmets, Event lovers
Time to stay. ForCity Tourers, Family Bonds, Fresh Air Enthusiasts, Film Fans, Pleasure Seekers, Time Travelers, Event Lovers, Inquisitives, Adventurers, Sly Lynxes, Gourmets, Event lovers
SHOW MORE
SHOW LESS
You also want an ePaper? Increase the reach of your titles
YUMPU automatically turns print PDFs into web optimized ePapers that Google loves.
Time to

stay

#zeitzubleiben

DISCOVER WERNIGERODE

YOUR HOLIDAY MAGAZINE 2022/23

©Polyluchs Kreativagentur
---
1

Zeit zu bleiben

Dear guests,

… FÜR EVENTLIEBHABER

Time is our most precious commodity. How

do we handle it best? Perhaps we should

imagine time as a big, beautiful jug that we

can fill ourselves.

So let's go ahead and collect moments of

happiness, hours of serenity, days full of

contentment, moments of wonder, minutes

of high spirit and images for eternity. Where?

Here! With us! In Wernigerode!

TIME FOR …

@ miajeana

Time to stay

FOR THE BEST

PHOTOSPOTS

#zeitzubleiben

#visitwernigerode

@ renemetzinger_photography

@ eastsidehippie

@ lys.envoyage

Our magazine is in the truest sense of the

word a "script" and will lead you in this part

to the colourful, lively city at the Harz. When

strolling through the winding alleyways,

everyone will certainly find his favourite place.

Whether you prefer exciting city stories

or wonderful nature beauties – Wernigerode

shows variety.

Although it is said, that you should go if it

can't get any better. However, in Wernigerode

there are too many good reasons to stay.

In the here and now. In the Harz

It's time to stay

City Tourers 2

Family Bonds 8

Fresh Air Enthusiasts 14

Film Fans 20

Pleasure Seekers 24

Time Travellers 26

Event Lovers 30

Find more tips and informations

easily!

IT'S THAT SIMPLE

1. START CAMERA

2. PLACE ON QR-CODE

or directly enter the link

wernigerode-tourismus.de

@ anja.uli.fotografie

©Mirko Lehmann

@ klee_anni

@ meine_fotoreise_durch_die_welt

@ harzlie.be

View of Wernigerode Castle
---
Zeit zu bleiben 2

… FÜR STADTGESCHICHTEN

3

Time to stay

… FOR CITY TOURERS

©Polyluchs Kreativagentur

SURROUNDED BY CONTEMPORARY WITNESSES:

KNAGS, GRIMACES AND DRAGON HEADS

Time to stay

Anyone strolling through the streets of Wernigerode

for the first time quickly realises:

"It's beautiful here!" Lovingly restored halftimbered

buildings with features ranging

from late Gothic to Art Nouveau are packed

tightly together in the old town.

What we call romantic flair today, was once,

excitingly enough, an expression of a lack of

financial means: Buildings were only constructed

in the half-timbered style if stone

was not available in sufficient quantities or

was too expensive. And yet our heart can't

be talked out of the charm of the half-timbered

houses and anyone who looks at the

facades alert-eyed, will recognise the dedication

and craftsmanship of the builders.

of the figures display handcrafts, but when it

comes to the interpretation of some others,

even experts are still arguing. From the couple

in intimate embrace to the musicians to

saints, it is all there. The situation is similar

with the masks located above them. What

do you think? Do we see mocking images of

the former councillors or symbols of defense

against evil here? Until all this is clarified with

certainty, it might be best to be pleased with

the much quoted slogan on the entrance to

the town hall:

"One respects it / the other regards it /

the third laughs at it / what does it matter."

©Polyluchs Kreativagentur

… FOR CITY TOURERS

Guided City Tour – Oberpfarrkirchhof

Similarly exciting details also adorn the Wernigerode

Town Hall itself. Its front as a whole

with its distinctive oriel towers is already

beautiful to look at.

But the former "Spelhus" really comes alive at

a second glance: Only then do you discover

the water-spouting dragon heads, the carved

masks or the meaningful Knag figurines.

There are 54 of the latter on the facade. Some

©Norbert Perner

Water-spouting dragon heads
---
Time to stay

4

5

Time to stay

… FOR CITY TOURERS

… FOR CITY TOURERS

1229

Wernigerode received the

town charter and the town

had a fortification.

12

Metres are the measures of the

ceiling of the banqueting hall in the

Wernigerode town hall and it

is not supported by pillars. A bold roof

construction makes it possible.

©Polyluchs Kreativagentur

10

©Polyluchs Kreativagentur

is the house number in the Klint

where the Harz Museum is located.

Here you will find a permanent

exhibition about the half-timbered

constructions in Wernigerode.

1498

the Town Hall was built, originally

as a playhouse for festivities and

celebrations.

5.400

of a total of 8.300 buildings in

the Wernigerode city area

(incl. Hasserode and Nöschenrode)

are half-timbered houses.

1673

the Leaning House in Wernigerode

was built. An analysis carried out as

part of the restoration proved that it

was already built on a sloping, massive

substructure and has thus already

incorporated part of its "lopsidedness"

into the cradle.

ca.

17

hours is the time it took to destroy

300 of the then 560 buildings in the

great fire in 1751.

©Polyluchs Kreativagentur

ON THE TRAIL OF WITCHES AND DEVILS

Even though we may not be experts in mythology and legends ourselves, the Brocken Witch is very well

known to us. But why do the Brocken and the Harz Mountains in general exert such an attraction for devil

stories and scary scenarios? On special guided tours about this subject, all fans of witches will get an answer

to this question.

Meanwhile, 7 volumes of the mystery

series "In the Shadow of the Witches"

have been written and are being read

by an enthusiastic readership far beyond

the Harz region. Whether on special

walking tours, readings or as a theatre

play – fans are fascinated by the author's

stories. On her day tours with the

70-year-old Swiss postal bus, she takes

over the tour guide herself, in order to

authentically convey the topic of "Witches

in the Harz." The tourists are again

and again impressed by how complex the

theme is. Not only the mystical Brocken

plays an important role, but the thread

spins from the Harz to other countries

and cultures. It fascinates people because

they get to know the Harz from a completely

different perspective and they

suddenly have an idea of how it might

have been thousands of years ago.

*

FOR ALL

MYSTERY FANS

KATHRIN R. HOTOWETZ

Tipp: The novels of the successful

author Kathrin Hotowetz are also

available in the Tourist-Info.

First and at the same time detailed explanations

about the phenomenon of witches in

the Harz can be best obtained on a thematic

guided tour of the town. Here guests can learn

about Harz customs and the widespread fear

of witches. Packed in memorable stories,

the costumed guided tour explains exciting

facts about the persecution of witches

throughout Europe. In addition to interesting

facts the audience can look forward to a

good dose of horror and mischief.

Do we still encounter witches and devils

even in everyday life without us noticing it?

With a little imagination the cliffs of the Harz

Mountains, for example, become mythical

creatures, and many a water sprite seems

to rise from the wild rivers. Wonderful Harz

Mountains – there is so much to discover!

Wernigerode also scores on many other thematic

guided city tours with its charm and

the unusual. The colourful and exciting history

of half-timbered houses elicits many an

astonishment from the audience. On the guided

tour "1.000 steps around the Town Hall",

for example, you will learn all kinds of architectural

peculiarities. On the other hand, who

wants to explore enchanted alleyways and

oases of tranquility away from the bustling

market place, would be best advised to join

the "Secret Places" guided tour. For all those,

who want to take a short trip back to the

times of the dark alleys in the Middle Ages, we

recommend the "Night Watchman's Tour". So

you see it pays off to go on a search for clues

with our experts to get to know Wernigerode

even better.

©Polyluchs Kreativagentur

GUIDED TOUR TIPS

*

*

*

*

Bronze sculpture in Marktstrasse

1.000 STEPS AROUND THE

TOWN HALL - DAILY PUBLIC

GUIDED TOUR WITHOUT RESERVATION

THROUGH 6 CENTURIES -

DISCOVER THE OLD TOWN

WITCHES AND DEVILS IN THE HARZ

NIGHT WATCHMAN'S TOUR

GUIDED TOUR OF THE TOWN HALL

*

CULINARY TOUR

©Norbert Perner

54

different Knag figurines decorate

the facade of the Town Hall.

©Polyluchs Kreativagentur

©Polyluchs Kreativagentur

Guided Tour in Oberpfarrkirchhof

ADVICE & BOOKING AT THE

TOURIST INFORMATION

• accommodation

service

• group offers

• holiday packages

• insider tips

• guided city tours

• tour guides

• day programmes

Also online:

wernigerode-tourismus.de/uebernachten
---
Time to stay

… FOR CITY TOURERS

6 7

Time to stay

… FOR CITY TOURERS

For a museum stroll

through the city centre

How about a bit of sightseeing during your leisurely stroll through the city? That is no problem at all.

Numerous museums are practically "on the way" and can be visited "by the way" without much effort

or travel time.

Pisa has its Leaning Tower, and Wernigerode

its Leaning House, which is, with an inclination

of seven degrees, twice as inclined as the

famous Italian landmark. The building, once

a fulling mill, is now a museum and gallery

with numerous exhibitions about photography

and the history of the city.

The next superlative awaits not far away:

Wernigerode's Smallest House. With a door

height of only 1.70 m, most visitors will have

to duck their heads when entering, and even

on the inside you shouldn't expect no loft

like generosity. But the house and its 10 inhabitants

at that time, have a few stories to

tell, which can be experienced on-site.

The Harz Museum is also located in the city

centre. There you will find exciting information

about the town's history. In addition

to exhibits on half-timbered houses, crafts,

minerals, rocks and mining, there are numerous

samples of plants and animals in

the Harz Mountains. Art lovers will also find

special exhibitions by Harz artists.

In the Krellsche Schmiede anno 1678 it gets

artistic. Here the traditional art of blacksmithing

can not only be experienced, but

also tried out for yourself in a course.

Even more ideas for a day full of new knowledge

can be found at:

wernigerode-tourismus.de/sehen/museen/

The Smallest House in Kochstraße

©Polyluchs Kreativagentur

AVIATION MUSEUM

The conversion has succeeded in creating

* a combination of history and the present,

HARZMUSEUM

of historical flair and acoustic comfort. Perhaps

this is also the formula for success of Philharmonic Chamber Orchestra

the concert hall: Openness to the new while Wernigerode

CONTACT:

SMALLEST HOUSE

LEANING HOUSE

* PLACE OF REMEMBRANCE

* ****

THE ART OF

GÜNTER GROHS

GLASSPAINTER

The Liebfrauen concert hall with choir gallery and Sauer organ from 1883.

FROM A VISION TO REALITY

18 to 18 was the result of the vote at the city council meeting of

May 3rd 2018 on the project to convert the Liebfrauen Church into

Krellsche Schmiede anno 1678

a concert hall. This is also where the story of the new home for the

Philharmonic Orchestra would usually end, as such a result means:

rejected. Four years later it is nevertheless opened, and is a musical,

cultural and touristic enrichment for Wernigerode and the whole of

Central Germany.

"The fact that the new concert hall is not like Amistat, musically reminiscent of a modern

called the Harz Philharmonic is solely due to

version of the cult folk duo Simon and

our modesty," said Rainer Schulze, chairman Garfunkel, an a-capella festival or an organ

of the arts and culture association and site concert with film music around the legendary

manager, in his speech at the opening of the

agent 007.

Liebfrauen with a twinkle in his eye. The comparison

A closer look at the half-timber art in the Harz

with its big relative on the Elbe river At the opening of the concert hall in March

Museum

might be a little bold, but the former church the renowned pianist Ragna Schirmer played

is on a par with the "really big ones" as far Bach's Piano Concerto in F Minor together

as acoustics is concerned. The Wernigerode with the Wernigerode Philharmonic Chamber

Orchestra. Further musical highlights of

MUSEUM TIPS

concert hall must not shy away from comparisons

with the Leipzig Gewandhaus.

all genres are likely to follow ...

FIRE BRIGADE MUSEUM

MUSEUM OF DESIGN IN THE GDR

MUSEUM YARD ERNST KOCH

DISTRICT OF SILSTEDT

SCHOOL MUSEUM

DISTRICT OF BENZINGERODE

KRELLSCHE SCHMIEDE

©Harzmuseum ©Krellsche Schmiede

©Polyluchs Kreativagentur

conductor and managing director of the

Philharmonic Orchestra sees an opportunity

for the former church to become a stage for

numerous musical genres: From solo performances,

cross-over projects to chamber

music, recitals or singer-songwriter concerts.

A glance at the current programme reveals –

a start has definitely been made. With artists

AVAILABLE AT THE

TOURIST-INFO

• Tickets for events in the concert hall

• Catalogues for the programme 22/23

CONSISTENCY

Among the most popular professions

for children are firemen or veterinarians.

Günter Grohs, on the other hand, always

wanted to be a glass designer. He knew

since he visited the Halberstadt cathedral.

Many decades and awards later,

his works and his creativity can be admired

in over 150 locations and projects

through-out Germany, including in the

foyer of the Liebfrauen Concert Hall. To

do this window front, reminding us of

music sheets, Günter Grohs, as with all

his works of art, has proceeded like this

– classically with pencil, paper and brush.

What the result really looks like in the

end is always an exciting affair, even for

the native of Wernigerode.

The graduate of the Artistic design course

at Burg Giebichenstein actually starts

from scratch with all his draft: For example,

some ideas are out of the question

from the start because of the destination

point. The process is sometimes driven

by coincidences or supposed mistakes,

which in retrospect turn out to be positive.

Grohs finds inspiration everywhere:

from cracked pavement slabs to patchedup

streets. He can turn anything into

glass art. The process from design to final

installation can take a year - but in return

the glass lasts. Its half-life averages 400 to

one million years …

Works by the glass artist (selection):

• Round window in the Naumburg

cathedral treasure vault

• Glass front in the foyer of the concert

hall Liebfrauen in Wernigerode

• Transept window in Halberstadt Cathedral

CONTACT:

Günter Grohs

guenter-grohs.de
---
©Polyluchs Kreativagentur

Time to stay

… FOR FAMILY BONDS

Play, discover and relax: Wernigerode offers

numerous suggestions for unforgettable

holidays with the whole family.

Pond in the Wildlife Park Christianental
---
10

Time to stay

… FOR FAMILY BONDS

DIRECTION

HELMSTEDT >>

RUTSCHE

KLETTERTURM

11

Time to stay

… FOR FAMILY BONDS

DIRECTION

HALBERSTADT >>

>

©Polyluchs Kreativagentur

Half-timbered house in the Bürgerpark

---
Time to stay

… FOR FAMILY BONDS

12

13

Zeit, zu bleiben

… FÜR FAMILIENBANDEN

Huge fun in miniature size

A VISIT TO THE "LITTLE HARZ"

©Bürger- und Miniaturenpark

©Bürger- und Miniaturenpark

Castle ensemble in the miniature park

How is it possible to travel from the imperial

palace in Goslar past the Quedlinburg Collegiate

Church to Wernigerode Castle in just a

few minutes? Quite simple – during a visit to

the Citizens' and Miniature Park "Little Harz".

Here visitors can see more than 60 of the

most important sights of the Harz region in

miniature format 1:25.

The park, which is similar to a doll's house, is

framed by a lovingly designed landscape scenery

with bonsai trees, mountains, rocks and

streams. You feel a bit like a clumsy giant trying

to pass unobtrusively through a dreamy

dwarf town. This love of detail elicits astonishment

and accompanies visitors at every

turn. Where else do you have the opportunity

to get a bird's eye view of Wernigerode's

market square. The picturesque scenery is

accompanied by the Harz Narrow-Gauge

Railways, which make their way up snorting

to the "Mini-Brocken".

Right next door, the Citizens´ Park is tempting

with its blossoming themed gardens,

play-grounds, picnic areas and the animal

enclosure, to let your soul dangle after this

round tour through the Harz Mountains.

You can do this, for example on the numerous

swinging loungers scattered around the

grounds.

If your children are looking for more action,

they will love the water and mud playground,

the climbing rock or the mini-golf course. In

the 15-hectare landscape park there is definitely

no room for boredom.

CONTACT:

Citizens´ and miniature park Wernigerode

miniaturenpark-wernigerode.de

FUN

DISCOVER

NATURE

Water playground in the Citizens´ park

Halberstadt Cathedral in miniature format

Wooden figures in the Citizens Park

If you can't make it to

all the sights in the

Harz Mountains, this is the

right place to go!

WITH US AT THE

TOURIST-INFO

• Season tickets for the

Citizens' and Miniatures Park

• Flyer with location & event plan

Tourist-Information, Marktplatz 10

©Bürger- und Miniaturenpark

©Bürger- und Miniaturenpark

CAUTION GLASS!

TOUCHING ALLOWED IN THE GLASS MANUFAC-

TORY HARZKRISTALL DERENBURG

The children, who were just romping around

the playground watch the work of the glassblower

with astonished silence. A new vase

is being made right in front of them. Under

the eyes of the visitors the glowing hot ball

is rotated by the glass artists, worked on and

blown with their mouths until the object has

taken on the desired shape.

This ancient technique of glassmaking fascinates

and makes a visit to one of the last active

glassworks in Germany become an experience.

If you want to, you can even blow a Christmas

tree ball or make a drinking glass. Various

workshops invite everyone to try out the art

of traditional handicraft. How this then looks

professionally in the end, can be seen in the

©Harzkristall

2,500 m² shopping world, which invites you to

purchase: From vases to bowls to decorative

objects, souvenirs or lucky charms – there are

plenty of souvenirs to take home.

Apropos souvenirs: the little guests will certainly

not forget the adventure playground in

the outdoor area, as it is one of the most beautiful

in the Harz region. With swing bridges,

ropes, towers and a giant trampoline time

seems to fly here.

The lovingly landscaped outdoor area with

various seating and a stream invites you to

linger. In fine weather, the café's sunny terrace

is a popular place to enjoy a coffee and

cake after a shopping spree.

Factory tours give an insight into the art of glassmaking.

Directly in front of the glass factory: a paradise for children

CONTACT:

Glass manufactory Harzkristall Derenburg

harzkristall.de

*

TRAVEL TIPS

HOLTEMME CYCLE PATH

Who is on his way cycling in fine weather

can cycle comfortably from Wernigerode

along the Holtemme cycle path to the

glass manufactory. The 8 km long route

does not have any inclines and is particularly

attractive due to the charming river

landscape.

©Harzkristall

©Harzkristall
---
Time to stay

… FOR FRESH AIR ENTHUSIASTS

©Polyluchs Kreativagentur

What a marvellous view! Various places

around Wernigerode invite you to

let your soul dangle.

Viewpoint Agnesberg
---
Time to stay

16 17

… FOR FRESH AIR ENTHUSIASTS

A BIRD WALK AROUND

THE HARBURG:

On the 2.3 km long circular trail you can discover native bird species. If you

can't spot them live on site, QR codes can help you to hear the lovely songs

of the birds. A varied nature experience not only for bird lovers!

ROUTE:

• approx. 2.3 km / approx. 100 metres altitude

difference

START/DESTINATION:

• Schanzenhaus

The circular trail starts at the Schanzenhaus

and continues through the Zwölfmorgental.

The name sounds a bit like a fairy tale and

promises encounters with all kinds of natural

beauties such as the meadow foxtail or the

tufted vetch. The trail goes slightly uphill following

the signs to the Harburg. The former medieval

castle towers 435 m above Wernigerode

and offers all hikers a magnificent view.

Along the round tour hikers are accompanied

by a total of 12 information boards about the

local birdlife. These were created in cooperation

with the music artist and biologist Dominik

Eulenberg. What could be more natural than

to combine both skills? And so the panels not

only provide interesting details about the firecrest,

nuthatch & Co., but also provide a feast

for the ears: QR codes can be used to simulate

the bird calls. With a bit of luck and a careful

ear you can also listen to the originals …

From the Harburg the path leads downhill

again along the southern slope. This is less

dense and humid, but rockier and sunnier, and

its vegetation again is an ideal habitat for completely

different bird species.

OPTIONS:

• Detour: to the Kaiserturm, Armeleuteberg

stamp nr. 35 (directly at the inn)

©Harbrug

We in the Harz are in stamp fever! During a

round through the nature we don't count

the kilometres, but the number of stamps

that can be obtained along the way. Distributed

throughout the Harz Mountains, 222

stamp posts of the Harzer Wandernadel

(Harz hiking needle) are waiting for us to

search for them and regularly fuel our addiction

to the outdoors.

This unique project connects the Harz Mountains

across federal state borders and makes

hiking an experience. There are 23 stamp

posts only in the surroundings of Wernigerode.

What do you need? A stamp pass, comfortable

shoes and a good nose.

Probably one holiday won't be enough to

collect all the stamps, because that would

be really exhausting. And there would be no

time for all the other highlights that are waiting

to be discovered.

From the Harburg you enjoy a magnificent view

Addicted to the outdoors

WITH US AT THE TOURIST-INFO

• Harzer Wandernadel maps

& stamp booklets

Our online shop:

shop.wernigerode-tourismus.de

On Outdooractive there are

many hiking routes to be

found!

regio.outdooractive.com/

oar-wernigerode/de/

©Polyluchs Kreativagentur

FISH-FRIENDLY

ON THE GO:

BY BIKE ALONG THE RIVER

A bicycle tour along the Holtemme is relaxing.

No particular slope neither in one

direction nor in the other impede forward

movement. Swimming against the current is

a challenge for the fish, which they have to

face every year to reach the best spawning

grounds.

Precisely this topic is pursued on the 8 km

cycle tour from Wernigerode to Derenburg.

The little river Holtemme is home to the

Harz brown trout. To spawn, they regularly

visit the particularly clear upper course of

the Holtemme. Natural ascent opportunities

such as "Sohlgleite", "Schlitzpass" or "Rauhgerinne"

meanwhile ensure that the fish can

move forward effortlessly.

The cycle path begins at the old town roundabout

in the centre of Wernigerode, then

leads in the direction of the A36 along the Holtemme.

Between Wernigerode and Silstedt

"Rote Mühle" restaurant is a good place to

stop for a refreshing rest. As far as Derenburg

you can stop at a total of 8 information stations

to learn about life on and in the water.

Accompanying this there is a booklet for children

("World of Experience Brook Trout") –

available at the Tourist Information Office.

The tour can be done on your own by bike

or as a hike. Alternatively, guided hikes can

be booked at the Tourist Information Office.

*

TIP

Fish ladder at Seigerhüttenweg

©Polyluchs Kreativagentur

Another way to familiarise yourself with

the biodiversity in the waters of Wernigerode

is offered on the circular hiking

trail "Fischaufstiege in Wernigerode"

(Fish ladders in Wernigerode).

The approx. twelve kilometre long hiking

trail starts at the Graf-Heinrich-bridge

and runs upstream of the Holtemme towards

Hasserode.

*

*

*

*

*

©Polyluchs Kreativagentur

*

Time to stay

… FOR FRESH AIR ENTHUSIASTS

ON THE ROAD

WITH THE BIKE

BIKE HIRE

BAD BIKES

badbikes-online.de

HARZBIKEHAUS

harzbikehaus.de

RADWERK

radwerk-wernigerode.de

Hotel & Restaurant Schanzenhaus

schanzenhaus.de

E-Bike Verleih

ebike-verleih-wernigerode.de

EVENT-TIP

MOUNTAINBIKE-EVENT

ENDUROTHON in Schierke

27.08.2022

endurothon.de

AVAILABLE AT THE

TOURIST-INFO

• Cycling maps with signposted routes

• Maps with suggested routes and trails

for touring bike / mountain bike

Our online shop:

shop.wernigerode-tourismus.de
---
©Michael Lumme

Time to stay

… FOR FRESH AIR ENTHUSIASTS

New encounters:

spiritual tourism

We go on holiday to give our souls peace. To be alone with ourselves.

More and more people are taking time out in monasteries, go on

pilgrimage or book fasting holidays. Combining spirituality and travel

is a "trend".

In search of meaning, we embark on journeys.

We set off on the way, want to leave

the old behind us and encounter something

new. It is precisely from these encounters

we hope to get food for thought, to perhaps

cast off old patterns or at least question

them. Whoever goes on pilgrimage, no longer

does it only for religious motives.

Instead, the focus is on the desire for spiritual

experiences. The aim is to travel holistically -

physically and spiritually. With the "Roma-

HARZ MONASTERY HIKING TRAIL

2

Goslar

STAMP POSTS HARZ MONASTERY HIKING TRAIL

1) Neuwerkkirche

2) Kloster Grauhof

3) Kloster Wöltingerode

4) Kloster Ilsenburg

5) Kloster Drübeck

6) Klosterort Himmelpforte

1

3

Vienenburg

Ilsenburg

4

18

5 Wernigerode

6 7

7) St. Johanniskirche

8) Kloster Michaelstein

9) Bergkirche St. Bartholomäus

10) Kloster Wendhusen

11) Stiftskirche St. Cyriakus

12) Klosterkirche St. Marien

nesque Route", Luther's places of work and

a diverse church and monastery landscape,

Saxony-Anhalt and the Harz Mountains have

a good prerequisite per se for a religious-spiritual

offer that is increasing in demand.

Guests want get to know religiously or historically

significant places not only through the

imparting of information, but also want to

experience these tourist highlights as spaces

of spirituality. The aim is to supplement classic

cultural tourism through increased offers

Along the way there are 15 so called "Engelsbänke" (Angels' benches)

8

9

Blankenburg

Thale

10

11

12

Quedlinburg

©Polyluchs Kreativagentur

for pilgrimage tourism in the future. Already

now events such as the "Harzer Klostersommer"

(Harz Monastery Summer) or the

"Spiritueller Herbst" (Spiritual Autumn) are

dedicated to this current topic.

For those who want to set off to oneself as

"Pilgrimage starters" it is best to join a guided

tour along the Via Romea or try out a stage

along the Harz Monastery Trail, e.g. from

Wernigerode to Blankenburg.

Once seated on the spacious benches, you immediately

feel a bit calmer, somehow grounded.

The inviting rest areas are a distinctive

feature of the Harz Monastery Trail and are

located in selected places with recreational

potential.

In general, the 95 km long hiking trail is well

equipped with numerous opportunities for

inner contemplation and cultural enjoyment.

Pilgrims and hikers can look forward to a variety

of churches and monasteries with fragrant

gardens, Gothic cloisters or charming church

naves.

Between the two World Heritage Sites of

Goslar and Quedlinburg, the route also passes

through Wernigerode. The entire route can be

done in 6 stages of 10 to 20 kilometres each

without major differences in altitude.

You can walk alone or join a guided group with

pilgrim guides: Everything is possible on your

personal quest for recovery of your body, mind

and soul.

So off you go on the path to yourself ...

"From pure collaboration in the

Support Association of the Via

Romea the pilgrimage route

has become a matter close to my

heart. It is a joy to help with the

development of the spiritual offer."

19

Time to stay

… FOR FRESH AIR ENTHUSIASTS

ON THE WAY ON THE VIA ROMEA

At the latest since Hape Kerkeling's book "Ich bin dann mal weg" ("I'll

be off then") the "Jakobsweg" (Way of St. James) is known to almost

everyone. Less known and less frequented, but just as appealing, is the

Via Romea Germanica, a pilgrimage route from Stade near Hamburg to

Rome. If you are on the way along the 2,200 km long route, there is no

getting around the Harz Mountains – A one day's stage leads from Wernigerode

to Elbingerode.

It was Abbot Albert who left a detailed route

description from his journey to Rome in 1236.

Thanks to his records, it is possible for pilgrims

today to follow in his footsteps.

The historic route has since been designated

a European Cultural Route of the Council of

Europe. It leads through Italy, Austria and

Germany. In order to network with each other

the total of 28 German towns and villages,

including Wernigerode, along the route,

the "Romweg Abt Albert von Stade" Support

Association was founded 2009 in Hornburg

and Wernigerode.

The association, of which the Wernigerode

Tourismus GmbH is a founding member, has

set itself the goal, among other things, to

make the route touristically and culturally

attractive. For example, information boards

along the route should offer pilgrims the opportunity

to experience the partly ancient

cultural assets in a new historical context.

JENS FRIEDRICH

EMPLOYEE WERNIGERODE TOURISMUS

GMBH, MEMBER OF THE BOARD OF THE

SUPPORT ASSOCIATION

"ROMWEG ABT ALBERT VON STADE" E. V.

The delightful, varied tour through three

countries has since attracted numerous seekers

of meaning every year. The exact number

is difficult to tell, because hikers usually

do not have to register anywhere. However,

we know from organised international pilgrimages,

that many Norwegians, Danes or

Swedes frequent the route.

How far and how long you're walking is up

to the individual. Some walk the entire route

from Stade to Rome in one go, others do it in

stages of 5-10 days every now and then and

so it takes several years until they actually

arrive in Rome.

55 day stages lead through Germany. If you

walk from Osterwieck to Wernigerode

(22 km) and from there go to Elbingerode

(11 km), you can look forward to a diverse

scenery with picturesque villages, moderate

gradients, lonely forests and numerous places

for spiritual encounters.

Braunschweig

STADE

Schweinfurt

Bozen

1.051

is the total amount of

kilometres that lead

through Germany

Celle

Wernigerode

Hasselfelde

Würzburg

ROM

"Pilgrimage means taking a

deep breathe for the soul."

THOMAS DAHMS

PRESIDENT OF THE EUROPEAN ASSOCIATION

VIA ROMEA GERMANICA,

CHAIRMAN OF THE ASSOCIATION

"ROMWEG ABT ALBERT VON STADE" E. V.

The pilgrim's staff serves as support and strength in both – practical and spiritual terms.

©Wernigerode-Tourismus GmbH
---
Zeit zu bleiben

21

Time to stay

… FOR FILM FANS

AND THE AIR SMELLS

FILM LOCATION

WERNIGERODE (SELECTION)

LIKE HOLLYWOOD

"Volkslichtspiele" is the name of the cinema in Wernigerode and it is

a small historical treasure. With a tradition of over 100 years, it is one

of the oldest cinemas in the region. Watching a film here feels like in

the old days and is very special. No wonder that Wernigerode exerts a

special attraction on cinema fans and filmmakers …

"Raus", ostlicht filmproduktion GmbH

"Frantz", X Filme Creative Pool GmbH

"Böse Wetter"

Radical Movies Production GmbH & Co. KG

"Das kleine Gespenst"

Claussen+Wöbke+Putz

The Monuments Men

Columbia Pictures, Fox 200 Pictures,

Smokehouse Pictures, Studio Babelsberg

Die Schule der Magischen Tiere 2

Kordes & Kordes Film GmbH

©Wöbke, Claussen & Putz Filmproduktion

Time to stay

… FOR FILM FANS

"The Little Ghost" and his Castle Owl Stone, alias Wernigerode Castle

With Helen Mirren's catchphrase "Sexy Anhalt",

everything is actually said: the federal

state is attractive - for the film industry as

well. In recent years, numerous film productions

have taken place in the Harz, including

Goslar, Blankenburg, Thale and Halberstadt.

Wernigerode is also regularly chosen as a

location for film and television productions.

Just last summer the team from "Deutschland

sucht den Superstar" (the german version of

"American Idol") invited to the castings here.

Between the performances of the candidates,

the presenters enjoyed the colourful flair of

the old town as well as one ore more regional

specialities. Not far from the glass casting box

on the market square it was less harmonious:

a murder occurred. Not a real one, of course,

but still a remarkable highlight in Wernigerode's

film history. The crime series "Heiter bis

tödlich – Alles Clara" filmed a murder scene

right in the office of the manager of Wernigerode

Tourismus GmbH, including forensics.

Want more Hollywood? During the shooting

of "The Monuments Men" George Clooney

celebrated his 52 nd birthday in the old town

together with his friends Matt Damon and Bill

©Wernigerode-Tourismus GmbH

Rare guests: Matt Damon and George Clooney

The glass casting box of "DSDS 2022" on the Market Square

©Huong Trute

Murray. Even though no shoot with the star

has taken place here yet at least you can be

served at the same table in the "Orchidea"

restaurant as Clooney did back then.

A little further back, but still kept in mind,

especially for Russian tourists, are the scenes

from "Baron Münchhausen". 1975 some scenes

were shot at the castle for a Russian production

of the cult film, which still has many fans

in its home country. Loyal fans still travel to

Wernigerode today, to visit the former film

set. Also in GDR time Wernigerode Castle was

a popular film location. It was chosen for the

famous final scene of the DEFA production of

"Snow White and Rose Red".

"Heiter bis tödlich - Alles Klara"

ndF - neue deutsche Filmgesellschaft mbH

"The Sound above my hair", Scooter

"Alle Zeit der Welt", Pinguin Film GmbH

"Das Morphus-Geheimnis"

Pro Vobis - Gesellschaft für Film & Fernsehen

"Das Geheimnis im Wald" & "Plötzlich Millionär"

Cinecentrum Berlin Film- & Fernsehprodukt. GmbH

"7 Zwerge - Der Wald ist nicht genug"

Zipfelmützenfilm GmbH & Co. KG

"Geschichte Mitteldeutschlands – Otto von

Bismark", Ottonia Media GmbH

"Polizeiruf 100: Böse Wetter"

Saxonia Media Filmproduktionsgeesllschaft GmbH

"Polizeiruf 110: Lauf oder Stirb"

Saxonia Media Filmproduktionsgeslleschaft GmbH

"Baron Münchhausen", MOSFILM, 1979

"Schneeweißchen und Rosenrot", DEFA, 1978

"Hans Röckle und der Teufel", DEFA, 1974

"Der Teufel vom Mühlenberg", DEFA, 1954

*

*

Volkslichtspiele Wernigerode

EVENT TIP

©Polyluchs Kreativagentur

VOLKSLICHTSPIELE

The cinema in Wernigerode is over 100 years

old. It is family-run with its 3 auditoria and invites

you for fun times with the whole family.

Open daily with current programme:

wernigerode-kino.de

22. – 24.07. OPEN AIR SUMMER CINEMA

Open air cinema in the Schierker Feuerstein

Arena in Schierke

schierker-feuerstein-arena.de
---
Time to stay

22

23

… FOR FILM FANS

… FÜR WISSENSDURSTIGE

THE LITTLE GHOST: MYSTERIOUS

THINGS FROM WERNIGERODE CASTLE

When Anna Thalbach, Uwe Ochsenknecht and Herbert Knaup make

a film together, we can lean back and reach for the popcorn bag:

cinema is in the air. And it is above Wernigerode Castle, which has

often played a leading role already.

Actually, the film was supposed to be a birthday

present for Otfried Preußler on his 90 th

birthday. Unfortunately, the author of the

children's book "The Little Ghost" died prematurely.

Fortunately, he was able to release

the design of the good-natured whirlwind

before, who, in the film, causes mischief at

the Wernigerode Castle with his distinctive

facial expressions.

Especially around midnight, Eulenstein Castle,

alias Wernigerode Castle has been haunted

for many centuries. Doors suddenly open

magically and knight's armour begin to develop

a life of their own. Incidentally, these

were collected for the film from various cities

such as Berlin and Prague. The effort for

such a film shoot is immense. Depending on

the production the castle and the museum

are completely closed. The trams that go up

to the Schlossberg and the restaurants also

had to be included.

During the production of the "Little Ghost"

(little) guests were lucky, however, and were

able to get up close: The old walls remained

open at intervals during the filming: Entire

school classes witnessed certain scenes and

were able to look over the shoulders of the

film technicians. The specially installed fountain

in the castle courtyard, in which the

"Little Ghost" disappears from time to time,

proved to be particularly interesting. Just

like in the old chest in the creaking attic. This

prop is still there today and can be visited

during a special tour.

Does anyone still live there? This question always

fascinates anew. So it is not unusual that

film fanatics, children's book fans or the young

at heart visit the castle several times to experience

the magic of this special film location.

CONTACT:

Schloß Wernigerode ® GmbH

schloss-wernigerode.de

Herbert Knaup as master watchmaker Zifferle

©Wöbke, Claussen & Putz Filmproduktion ©Wöbke, Claussen & Putz Filmproduktion

The little ghost always carries a bunch of 13 keys

with him. With this he can open all the gates and

doors in the castle.

© KORDES & KORDES Film Süd, LEONINE Studios, WEGA Film, Clever Production

There is magic at play

Ida and her magical animal – the fox Rabbat

Margit Auer, bestselling author of the book series "Die Schule der magischen

Tiere" (The school of the magic animals) felt a little enchanted

herself when she visited the filming location for "her" school for the

first time. It could not have been better chosen for the filming of the second

part, because for a film adaptation she had imagined the "Wintersteinschule"

alias Wernigerode castle for her young reading fans exactly

that way. A magical place where one could easily forget that the whole

story is just a film (unfortunately) ...

Guests can look forward to special film tours

with particular insights into the castle.

I wonder if one or two props have been left

behind?

From the location to the screen: The pharmacy kids want to help the ghost.

©Wöbke, Claussen & Putz Filmproduktion

© KORDES & KORDES Film Süd, Fabio Spitzenberg

Rabbat

In order to make it as real and at the same

time as magical as possible, around 120 people

worked daily on set, from actors and the film

team to technicians and catering. The castle

remained completely closed for the filming

for ten days - an immense communicative and

organisational effort in advance, plus several

weeks of assembling and dismantling work. In

the end, the goal is always to leave the castle

behind as if the filming had never taken place.

Shooting on Castle Square (Schloßplatz)

So is there magic involved after all? At least

the castle's immediate neighbours were convinced

of this last summer because a strangely

bright light shone into their bedrooms

in the middle of the night. Responsible for

this was the stadium-bright illumination of

the inner courtyard, because there they worked

not only during the day ...

But one thing can already be revealed: This

time there will be visible traces of the "magical

time" at Wernigerode Castle. What exactly

that is, however, remains a secret until the

release of the film in September.

Coming Soon: That the castle is still in demand

as a backdrop is shown by the current

shooting of the fairytale film "Die Gänse Prinzessin"

(The Goose Princess).

Henrietta
---
Zeit zu bleiben

… FÜR KULINARIK

24 25

Time to stay

… FOR PLEASURE SEEKERS

GINGERBREAD 2.0

Handmade

Passion

"Forget everything you've ever thought about

gingerbread," says the Facebook page of

the Wernigerode Lenchen. What do people

actually think about gingerbread? Actually,

the chocolate-covered Christmas biscuits

bring back memories of childhood, the scent

of pine needles and biscuit tins. But after

about four weeks that's usually over again.

Perhaps this is precisely the reason why

Wernigerode Lenchen are available all year

round: To carry this wonderful time in one's

heart for 365 days. Or at least in the belly.

The Lenchen are made according to a 130-year-old

family recipe from Wernigerode and

come with a modern look. Not round and

the size of a palm, but bite-sized like a praline:

Each bite is juicy, fluffy and, of course,

handmade. Annette Rieger from Wernigerode

came up with the idea together with

her cousin Alexandra Vazquez Bea. For more

than six generations now this one special

gingerbread recipe has been loved and praised

– first by friends and relatives, later even

by hotels and companies. Everyone wanted

to have it and enjoy it all year round.

Now, of course, you can buy the fluffy confectionary

online, in selected shops all over

Germany or you can directly visit the sweet

shop in the centre of Wernigerode. As a souvenir

or to nibble on oneself – (gingerbread)

hearts will beat faster there ...

CAFÉ AM MARKT

Time to stay

Sweet temptations - resistance futile

Who is awarded "Best Café in Saxony-Anhalt"

three times by the gourmet journal "Der

Feinschmecker" must have a lot to offer. And

that is exactly what the owners of the family

business have, which has been in existence

since 1636. From Sachertorte and champagne

tree cake, French apple tart to Harz flake

cream cake, there is everything here to make

cake lovers rave about. The cake showcase

measures 11 metres. With a bit of luck, you

are served by the owner and master of the

confectioners' guild, Michael Wiecker, himself

- when he is not in the process of inventing

a new cake creation.

… FOR PLEASURE SEEKERS

His ancestors already ran a bakery not far

from today's café, where emissaries of the

lord of the castle used to drop by to pick up

freshly baked goods. Michael Wiecker himself

did not actually want to follow in the

footsteps of his ancestors. He saw how hard

his parents worked and how exhausting this

work was, so it was his father who gave him

the idea for the café and finally convinced

him to continue the family tradition.

You can taste the fact that tradition and

craftsmanship are very important here –

everything here is homemade!

All the delicacies can be enjoyed in the cosy

interior or, in fine weather, on the sunny

seats directly on the market sqare.

CONTACT:

Café am Markt

cafe-wiecker.de

©M. Wiecker

CONTACT:

LENCHEN – Der Lebkuchen

lenchen.de

EVENT-TIP

chocolART – The Chocolate Festival

* 27.10. – 31.10.2022

Chocolate makers from all over

Europe seduce with their delicacies

ANNO 1910 WINE BAR

History, vine and very much soul

Anno 1910, after many journeys around the

world the owners of the wine bar in Wernigerode

have found a new harbour for themselves.

The charming boutique hotel with

wine bar combines modernity and warmth.

But what is even more important is its ability

to tell stories. There is a story behind almost

every detail. Every picture or every wine on

offer is a personal experience, a journey, a

discovery, a feeling. The wines are given a life

here and whoever is interested is told.

©Annie Treats GmbH

Exceptional Lebkuchen variations by Wernigerode Lenchen

©Polyluchs Kreativagentur

For those who simply want to enjoy and be

pampered, this is also the right place. A nice

location to switch off with an extremely

inviting and stylish ambience.

CONTACT:

Anno 1910

anno1910-wernigerode.de

©Anno19101
---
Zeit zu bleiben 26

… FÜR VISIONÄRE

Time to stay

… FOR TIME TRAVELLERS

Drought, pests and storms have taken their toll on the

Harz. During various planting campaigns, here with a

Wernigerode elementary school, thousands of trees

have already been planted – many of them by hand.

Decades will pass before the tiny plants grow into

stately trees.

Planting trees for a new Harz
---
Time to stay

28 29

… FOR TIME TRAVELLERS

Everything that makes Wernigerode green

DESTINATION: SUSTAINABILITY

It's a beautiful title – euphonious and promising:

Wernigerode is one of Germany's top 3

most sustainable medium-sized cities. Soon

the city will be certified as a sustainable travel

destination, because sustainability must

not be a short-term trend. The city's commitment

is multi-layered and is accompanied

in an advisory capacity by TourCert, a nonprofit

organisation for certification in tourism.

Thus internal company processes are regularly

put to the test and, with the help of an

improvement programme, optimised step

by step. This includes, among other things,

social aspects, environmental aspects and a

whole range of touristic offers in Wernigerode.

Our partner businesses help us to make Wernigerode even more sustainable. With great ideas

and initiative, they support the idea of sustainable travel in the Harz region.

HOLIDAY COMPLEX "ZUM WILDBACH"

The modern holiday flats in a beautiful location

on the edge of the forest offer holidaymakers

every comfort without losing sight

of the issue of sustainability. The houses are

equipped with energy-saving LED lighting and

all public areas with motion detectors. The

resort is heated by its own combined heat

and power unit, which can also produce

its own electricity. With the packaging-free

products on the breakfast buffet a further

contribution to waste avoidance is made.

Currently, for example, the souvenir articles

are under review and shall be made more

sustainable. Our own reusable cups for hot

drinks, which are handed out in participating

catering establishments, are already in successful

use. Wernigerode also shows particular

commitment in its own project for the reforestation

of the forests. To sensitize guests

to the issues of climate change and forest

dieback, a new reforestation project has been

launched. Guests can receive free information

material sent to their homes in advance. In addition

to the brochures you find a cover letter

and a transfer form for voluntary donations

for reforestation in the envelope – for only 5 €

two trees can be planted. In the autumn of

PARTICIPATION DESIRED - OUR

PARTNER BUSINESSES

BÜRGER- UND MINIATURENPARK

(CITIZEN AND MINIATURE PARK)

As a popular destination for excursions, the

Bürger- und Miniaturenpark also pursues the

goal of sustainability. A photovoltaic system

has already been installed for the park's own

self-sufficient power supply during the summer

months. The grounds are mostly irrigated

from a rainwater cistern and the alternating

planting comes from regional nurseries.

The use of chemical weed killers is avoided,

as is the use of disposable tableware in the

catering for the park's guests. They can also

look forward to regional products.

each year, all employees plant the trees. This

creates a small tourist forest in Wernigerode.

Recently, the topic of sustainability has its

own section on the Wernigerode website.

There, users can find many tips for a sustainable

stay in the city.

Another goal and central element of the certification

is also to build up a partner network

with commercial companies. Only this way

the holistic approach to the issue of sustainability

can be reached and filled with life. With

around 2.5 million day visitors a year, naturebased

and "gentle" tourism is desirable in every

respect.

Das einsHge Polizeigefängnis der Stadt - Ferienwohnungen am Markt heute.

2002-2005 erfolgte hier die Sanierung

Im vorigen Jahr bekam jede Wohnung einen Balkon, was als ein großer Zugewinn von unseren Gästen

FERIENWOHNUNGEN empfunden wird. AM MARKT

Bei der Neugestaltung der Außenanlagen wurden mit heimischen Pflanzen, die auch der Insektenwelt

(HOLIDAY Nahrung bieten, FLATS gearbeitet. ON Das Anbringen THE von Nistkästen MARKET)

ist in Planung.

In Planung ist neben dem Fahrradunterstand auch eine Lademöglichkeit für E-Bikes zu installieren.

As a certified partner of the National Park sustainability

is written in capital letters here and

the idea of ecological management is obeyed

too. The hosts feel particularly connected to

the unique nature of the National Park. They

offer their guests a nature-friendly stay and

support environmentally friendly mobility in

the National Park region through service and

information. During the renovation of the old

half-timbered buildings, as much of the old

substance as possible was preserved or refurbished.

For the redesign of the outdoor facilities

they used native plants which also provide

food for the insect world.

©Polyluchs Kreativagentur ©Polyluchs Kreativagentur

SUSTAINABLE MOBILITY

RAIL/BUS CONNECTIONS

Thanks to its good connections, Wernigerode

is easy to reach by public transport

(train / Flixbus).

HATIX HOLIDAY TICKET

The guest card allows you to use bus transport

in the Harz region free of charge!

USE OF THE EXISTING E-CHARGING

STATIONS IN WERNIGERODE AND

SCHIERKE

CHARGING STATIONS FOR E-BIKES

IN WERNIGERODE

- Entrance to the town centre

(next to Breite Straße 112)

Sightseeing with e-mobility

10 TIPS FOR A SUSTAINABLE

HOLIDAY

1

2

3

4

5

INFORM SUSTAINABLY

SEARCH INFO ONLINE

Much of our information can now also

be accessed digitally via QR code. This

saves a lot of paper.

More tips for a sustainable holiday are available

in our tourist information.

6

7

8

©Biothek

9

BUY SUSTAINABLY

REGIONAL DIVERSITY TO GO

Numerous restaurateurs offer regional cuisine

and do not use disposable packaging

for takeaway food.

REGIONAL PRODUCTS

Regional producers offer their goods at the

weekly market (Tuesdays and Fridays from

8 a.m. to 3 p.m.). Likewise, when shopping,

look for regional production, e.g. products

with the "Typically Harz" brand.

UNPACKED

With your own cloth bag you can shop even

"greener" – whether for souvenirs, at the

weekly Market or in the Zero Waste Shop

"Kleeblatt" in Pfarrstraße 36.

Biothek in the Marktstraße

ALL ORGANIC OR WHAT?

There are also organic supermarkets in the

Wernigerode city centre with a wide range

of food, cosmetics and household goods.

BIOTHEK – Organic shop with bistro

Marktstraße 13, 38855 Wernigerode

biothek-wr.de

NATURATA ORGANIC MARKET

Minslebener Straße 41, 38855 Wernigerode

10

Time to stay

… FOR TIME TRAVELLERS

WATER REFILL STATIONS

Having your own water bottle is almost

a must for a stroll through town. At refill

stations in Wernigerode and Schierke

you can refill your drinking water

free of charge.

- Citizens' Information Office City of

Wernigerode

- Biothek

- Citizens' and miniature park

- Klippenkuckuck

- Town Library/Harz Museum

- Tourist Information Schierke

- Schierker Feuerstein Arena

EXPERIENCE AND

LEARN ABOUT THE

SUSTAINABILTY

Wernigerode and Schierke offer numerous

possibilities to inform oneself and

the children about sustainability and

environmental protection. On the basis

of projects, that have already been implemented

in the form of nature trails,

educational boards and nature centres,

children can gain a lot of knowledge

about environmental protection in the

city and the Harz region.

CITY ECO-PATH

Even a sightseeing tour can be "eco" in

Wernigerode. The 4 km town eco-path

starts at the Town Hall and connects several

ecological sights.

BIRD WALK

see page 16

EXPERIENCE WORLD BROOK TROUT

see page 17

WILDPARK CHRISTIANENTAL

On an area of eight hectares native wild

animals such as the lynx, deer, wild boars,

birds of prey or owls can be observed,

which are rarely to be seen in the

forests. (see page 11)

NATURE EXPERIENCE CENTRE

HOHNEHOF

(see Schierke page 22)

NATURE EDUCATION TRAIL SCHIERKE

On more than 20 signs and boards interesting

information is given about the

nature around Schierke and especially

the forest in the Harz Mountains. The

nature trail starts at the "Heinrich Heine"

bus stop and leads 4.5 km through

the village. The path is well suited for a

walk with the whole family and is also

suitable for prams.
---
Zeit zu bleiben

30 31

Time to stay

… FÜR EVENTLIEBHABER

… FOR EVENT LOVERS

LIVE - MOMENTS FOR ETERNITY

Markets, festivals, open-air events: events are the icing on the cake

of any holiday. They promise variety, joie de vivre, delight and many

wonderful memories that everyone can take home with them.

Time to stay

… FOR EVENT LOVERS

Whether sporting, cultural, mystical or musical - our events in the

Harz Culture and Congress Centre, in the Fürstlichen Marstall in Wernigerode,

in the castle or on the market square provide goosebumps

all year round.

JUNE 2023

©Polyluchs Kreativagentur

The Chocolate Festival attracts thousands of visitors every year

©Polyluchs Kreativagentur

MARCH 2023

26.03.2023

Museum Spring

APRIL 2023

30.04.2023

SchlossWalpurgis

30.04.2023

Walpurgis on Nicolai Square

MAY 2023

01.05.2023

Model-making festival in Bürgerpark

Wernigerode

©Bürger- und Miniaturenpark

27.05. – 28.05.2023 Pfingsten

Central German Pottery Market

16.06. – 18.06.2023

Wernigerode Town Hall Festival

JULY 2023

30.06. – 02.07.2023

Neustadt Wine Days

28.07. – 30.07.2023

24h Trophy - The hiking experience in the

Harz Mountains

AUGUST 2022

06.08. – 07.08.2022

Arts and crafts market

12.08. – 14.08.2022

Old Town Festival Wernigerode

SEPTEMBER 2022

02.09. – 03.09.2022

MDR Harz Open Air in the Bürgerpark

OCTOBER 2022

08.10.2022

44th Harz Mountains Run

27.10. – 31.10.2022

chocolART – The Chocolate Festival

©Wernigerode Tourismus GmbH

NOVEMBER 2022

05.11. – 06.11.2022

Wernigerode Wedding Fair

25.11. – 22.12.2022

Christmas Market

DEZEMBER 2022

25.11. – 22.12.2022

Christmas Market

ab 25.12.2022 – 06.01.2023

Wernigerode Winter Market

ADVICE & BOOKING

AT THE TOURIST INFORMATION

• ticket reservation

• events

• insider tips

wernigerode-tourismus.de/

erleben/veranstaltungen/

We would like to give our guests reliable dates

for their holiday planning. Nevertheless we

have to point out that all events listed here

can only take place if the current infection

rate permits. More detailed, binding information

can be found on our homepage:

wernigerode-tourismus.de

©Wernigerode Tourismus GmbH
---
On to Wernigerode

Thomas Dahms Alexander Pavlenko

It will surely be great in

Wernigerode. You will

see.

SCHIERKE

WERNIGERODE

3 DAYS HARZ EXPERIENCE:

"SCRIPT" FOR YOUR HOLIDAY

Just arrived? So what's the best way to start to get into holiday mood? We have put together a few tips

for a 3-day-short-trip, to get to know the most beautiful sides of Wernigerode and the Harz.

We could go up

to the Brocken

with the Harz

Narrow Gauge

Railways.

Or we discover the National

Park starting in Schierke!

Hiking?

Umpf!

Day 1

Day 3

A FABULOUS CASTLE VISIT

In Berlin you visit the TV Tower and in Paris

the Eiffel Tower to get a first overview of

the city. With us in Wernigerode the castle

offers such a premium view and furthermore

it is a really gorgeous place to get into a holiday

mood. You can sportily go to the top

on foot, romantically on a horse carriage and

comfortably with the Castle Train. During a

guided castle tour you will be initiated into

the secrets of the old walls, or you start a

little hike from here to the Christianental …

Day 2

HIGH UP WITH THE NARROW

GAUGE RAILWAYS

A drive with the traditional steam locomotive

is nearly a must during a visit to the Harz. The

well-natured giants wind up puffing up to the

Brocken. During the drive all travelers get a specific

insight into the Harz nature, because there

is enough time to watch, discover animals and

find photo motives. On arrival at the top you

feel like having entered a new climate zone.

Nonetheless, the scraggy, treeless summit has

its charm and is a worthwhile destination.

Downhill it's easier-so why not stroll back to

valley on one of numerous sign posted hiking

ways …

GUIDED CITY AND

SHOPPING TOUR

For the third day we recommend the the

town centre of Wernigerode. Here you can

combine culture and shopping perfectly in

the smallest space. You best start with a city

tour. This way you don't only get to know

something about the history of the half-timbered

town, but also remember one or the

other corner at which you would like to linger

afterwards. Numerous little, family-owned

shops are along the Breite Straße. But also

in the surrounding small alleyways there are

numerous little shops as well as cafes with

regional products and take care for a relaxed

holiday feeling.

We could also visit the

Wildlife Park

Christianental.

Are there also

shops?

Yeah! Let's go shopping and

visit a cafe near the Townhall.

Fantastic! I have already

googled e few great shops.

Or we visit the

Miniature Park in the

Citizens Park and can

be quite large

altogether.

And then a city

tour, alright?

INDIVIDUAL ADVICE FOR HOLIDAYS ON LOCATION:

Good idea: we start

with a stroll

through the town!

WERNIGERODE

Tourist-Information

Marktplatz 10

wernigerode-tourismus.de

Phone +49 (0) 39 43 - 55 378 35

SCHIERKE

Tourist-Information

Brockenstraße 10

schierke-am-brocken.de

Phone +49 (0) 3 94 55 - 86 80

#zeitzubleiben

zeit-zu-bleiben.info

LEGAL ADVICE

Publisher: Wernigerode Tourismus GmbH

Design: design office GmbH

Status: Juni 2022

Subject to changes and errors
---
#zeitzubleiben

www.wernigerode-tourismus.de

Time to stay

DISCOVER SCHIERKE

YOUR HOLIDAY MAGAZINE 2022/23

©Polyluchs Kreativagentur
---
Dear guests,

@ _raeuberbande_

Time is our most precious commodity. How

do we handle it best? Perhaps we should

imagine time as a big, beautiful jug that we

can fill ourselves.

So let's go ahead and collect moments of

happiness, hours of serenity, days full of

contentment, moments of wonder, minutes

of high spirits and images for eternity.

Where? Here! With us! In Schierke!

TIME FOR ...

Inquisitives 2

@ aaron_siegler

Time to stay

@ foundmypeacehere

@ travels_with_szumeg

Our magazine is in the truest sense of the

word a "script" and will lead you in this part

to the rough beauty of the Harz Mountains.

Whoever wants to discover Schierke as a

popular vacation resort, will enjoy its unique

nature while hiking, climbing, mountain

biking or tobogganing.

Adventurers 8

Sly Lynxes 18

Gourmets 24

Event lovers 26

FOR THE BEST SCHIERKE

PHOTOSPOTS

Although it is said, that you should go if it

can't get any better. However, in Schierke

there are simply too many good reasons to

stay.

In the here and now. In the Harz.

Find more tips and info about

Schierke easily!

IT'S THAT SIMPLE

1. START CAMERA

2. PLACE ON QR-CODE

or directly enter the link

schierke-am-brocken.de

#zeitzubleiben

#visitschierke

It 's time to stay.

@ trailtech_mountainbiking_harz

@ nope9454

©Polyluchs Kreativagentur

Discover the Harz

@ husky.familie

@ aaron_siegler

@ ben_rees_brl
---
Zeit zu bleiben 2

Time to stay

… FOR

INQUISITIVES

… FÜR STADTGESCHICHTEN

Time to stay

… FOR INQUISITIVES

At the foot of the Brocken:

UNIQUE SCHIERKE

With its rushing creek Bode, the fragrant mountain meadows as well

as the breathless silence of the mountain wilderness, Schierke has the

best preconditions for a relaxing stay. When you are here for the first

time you don't really know where to look first. Here a swanky villa,

there a half-timbered architecture and over there a rustic wooden

hut – a look at Schierke's history tells you how all this matches.

Even though Schierke is a district of Wernigerode

since 2009 it is totally different.

The "most beautiful floor in the Harz", as it

is called, Schierke surprises its guests with a

nearly alpine character. It lies 600 m above

sea level surrounded by the protecting Harz

Mountains. This special altitude combined

with a good air quality brought Schierke the

official award "State-approved climatic health

resort". What the jury additionally convinced

for this rating was the excellent touristic infrastructure,

which had grown over decades

and was consistently developed.

Schierke's tradition as a winter sport location

really began in the 70s of the 19 th century,

when Norwegian students brought skiing to

the Harz. It eventually became professional

©Polyluchs Kreativagentur

by the foundation of the Upper Harzer Ski

Club through which organized skiing could

be offered. The numbers of guests increased

and facilities like the Eckerloch ski jump or the

natural ice stadium were built.

At the end of the 19 th century Schierke got

connected to the Brocken railway. So the

town managed to remain attractive also in

snow-free times. More and more tourists

spent their holidays in Schierke and explored

the Harz from there. Together with the travellers

the money came. Swanky villas and grand

hotels arose.

Between 1960 and 1980 a holiday became a

question of confidence. Because of the vicinity

to the then – Federal Republic of Germany

only very few GDR citizens with permits

could spend their holidays there. After the

reunification, Schierkes history was changeable

at first. With the reopening of the Brocken

the tourism gained momentum, took a

tumble in the mid-nineties and went up again

with the 2000s. Today Schierke has regained

its old exclusiveness with the Schierker Feuerstein

Arena, its numerous hotels and holiday

apartments as well as with its versatile leisure

possibilities and elates all those who want

spend an active holiday close to nature.

3

ca. 500

Inhabitants counts the district

of Wernigerode

ca. 8.000

Visitors at Walpurgis 2022

640

meters above sea level directly

in the National park Harz

6.500

meters distance to the Brocken

©Polyluchs Kreativagentur

Witches at the Walpurgis Festival

Schierker Music Summer in the park

©Polyluchs Kreativagentur

The Townhall of Schierke

©Polyluchs Kreativagentur

The Old Pharmacy in Schierke

ADVICE AND BOOKING IN THE TOURIST INFO

• Guided town tours

• Guided hikes/hiking tips

• Accommodations

• Event tips

• Excursions in the region

schierke-am-brocken.de
---
Time to stay

4 5

… FOR INQUISITIVES

Zeit zu bleiben

… FÜR STADTGESCHICHTEN

The tastes of Harz

FAVOURITE PRODUCTS FROM THE REGION

Italy has its Pizza, Austria its Kaiserschmarrn and France its Coq au vin. But how does the Harz taste? Rather

good and authentic as we feel. With the regional brand "Typisch Harz" more than 500 products or services

have obtained a quality seal and thus strengthen the awareness of fine dining in the Harz.

First efforts to establish a regional brand go

back to the beginning of the 90s. Since 2011,

the Harz Tourism Association (HTV) pushes

the idea with a more strategic and comprehensive

concept and can be pleased about

a growing "Harz family". Meanwhile this

includes restaurants, master brewers, charcoal

burners, confectioners, creative craftsmen,

bakers, butchers or fruit farmers.

And all this is to be protected to ensure

that following generations can also enjoy

culinary experience. So the regional brand

shall not only popularize the Harz products

(also nationwide), but also support the traditional

handicraft or secure old production

methods and recipes.

Numerous companies or products with the

label "typical Harz" already exist for centuries.

Since 1749 pyramid cake is baked in Wernigerode

for example, and the art of butchery

and sausage making can be traced back to

the Wernigerode family Leiste until the year

*

*

*

* *

*

REGIONAL-TIPS

HASSERÖDER BREWERY

HALBERSTÄDTER SAUSAGES & COLD MEAT

QUEDLINBURGER MUSTARD

MANUFACTURE

BLANKENBURGER WIESENQUELL

(MINERAL WATERS)

HARZER BAUMKUCHEN

HARZER ROLLER (CHEESE)

Harzer Baumkuchen café

The dough is applied layer by layer

©HarzerBaumkuchen

1760. To be registered in the community

"typical Harz" you have to apply. The products

should originate from the Harz, have

a certain tradition and be produced sustainably.

Generally the principle "quality rather

than quantity" should be followed - consumers

should taste that.

When looking for a typical and authentic

souvenir from the Harz you will quickly

find this label as orientation. The products

are obtainable on the Wernigerode weekly

market and in the tourist info.

SCHIERKER

FEUERSTEIN

Nowadays, when there is still a demand for

products or brands 100 years after their invention,

something special must be connected

with them. Or as in the case of Schierker

Feuerstein it tastes extremely good. The

herb liqueur was invented by the pharmacist

Willy Drube in 1908, who only wanted

to mix something against stomachache for

holidaymakers. This mixture was such a

success that he applied for a patent in 1924.

Since then the recipe for this Harz spirit is

passed on unchanged from generation to

generation. Several million liters are produced

annually and distributed all over the

world.

BROCKENSPLITTER

They are a popular souvenir from the Harz and

are regarded as an East German speciality. The

Brockensplitter, sweet triangles made of hazelnut

brittle coated with fine bitter chocolate,

are also popular nationwide meanwhile. Its

characteristic form shall be an allusion to the

symbol of the Harz. Inventor of the sweet

delight with the original name "Harzer Sahne

Granit Splitter" once was the company Maul's

Kakao und Schokoladenfabrik, which was

founded in Wernigerode in 1921.

Later on the chocolate manufacture Argenta,

also based in Wernigerode, secured the recipe.

Today the confectionary is produced by the

Wernigerode chocolate factory "Wergona".

©Polyluchs Kreativagentur

A piece of Harz tradition

Searching for typical German traditions we

quickly stumble on things like Christmas, carnival

or Oktoberfest. Is there anything which

is "typical Schierke"?

Inextricably linked with the Harz surely are

the traditional Walpurgis celebrations. Also in

Schierke the normally placid spa park mutates

into a witches' caldron. With mystic strains

and eerily wonderful costumes it´s not difficult

to imagine what may have happened in

the Middle Ages.

According to the tradition the witches met

in the night from April 30 th to May 1 st on the

"Blocksberg", the Brocken, to celebrate the

end of winter and the beginning of spring.

According to the saga the witches got the ability

to fly from a special herb ointment. This

obviously had an intoxicant effect, so that the

rub generated a feeling of flying. The production

of such ointment was regarded from the

Middle Ages on as witchcraft - the saga of the

©Brockenbauer

©Brockenbauer

Red Harz mountain cattle

witches and devils arose. And so the feast of

the dark powers is celebrated in the Harz until

today and attracts thousands of visitors.

Another traditional highlight in Schierke is

the cow ball. Here the red Harz mountain

cattle play the leading part. The well tempered

cows, full of character, are an old German

breed of domestic animals, which were

preferred especially by small farmers in low

mountain ranges. Until the 60s these cattle

Again and again a big event: the Walpurgis Festival on April 30 th

were at home in each village in the Harz.

They were regarded as so called triple benefit.

They produced meat and milk and could

also be used for the field work. They were

satisfied with the meager fodder in the Upper

Harz. However, the breed was not suited

as high performance cows - also crossbreeds

could not increase the milk and meat performance.

The Schierke Cow Ball, which is celebrated

here for nearly 30 years, recalls the tradition

of the cattle drive. In former times the cattle

drive heralded spring, nowadays the Cow

Ball is celebrated at the end of summer, on

the last Saturday in September. The Harz-typical

homeland festival with pageant, different

folklore performances and a colourful

entertainment program is a highlight for locals

and guests every year.

The genuine Red Harz Mountain cattle still has

its home here and can of course be looked at

up close on the surrounding mountain meadows.

The animals belong to the Brockenbauer

Thielecke. The bio-farmer is committed

to the breeding and keeping of this cattle

breed which is threatened by extinction. In

his farm shop and steakhouse you can taste

and buy Harz delicacies.

CONTACT:

Brockenbauer Thielecke in Tanne

brockenbauer.de
---
Time to stay

6

©Adobe.Stock

©Harzer_Tourismusverband

… FOR INQUISITIVES

Former border tower

Hiking trails for every fitness level

A LIFELINE: HIKING HISTORY ON

THE GREEN BELT

For decades, East and West Germany were divided by the inner-German

border. The former restricted area has now developed into a natural

paradise. The so-called "Green Belt" is home to numerous rare plant and

animal species and is one of the first and largest all-German nature conservation

projects. Part of the trail also leads through the Harz Mountains,

with Schierke as the starting point to the Brocken.

Probably no one expected that the former

"death strip" would become a nature experience

area someday – after the opening of

the border in 1989.

Meanwhile, the 1.393 km long and 50-200 m

wide strip of land between Travemünde

and the border triangle near Hof is the

largest biotope network in Germany, with

more than 1.200 endangered animal and

plant species.

In the BUND-sponsored project "Experience

Green Belt", three model regions were

selected, including the Harz Mountains, in

which the ecological and historical value

of the area shall be conveyed through "soft

tourism".

Anyone who travels along the Harz Border

Trail – on foot or by bicycle – will not only

discover a unique scenery of the low mountain

range, but also encounter numerous

cultural and historical contemporary witnesses.

If you start your hike in Schierke the way

leads over the old bob run to the Brocken.

Once it was a military area and today with

the Brocken Garden it´s home to not only

numerous plants threatened with extinction,

but is also an important symbol of German

unity.

Numerous information boards mark relevant

points along the entire route: One discovers

border towers, remains of fences or

slabs of the "Gang Way", on which army vehicles

carried supplies of people and material.

Thus, on the 77 km long stage through

the Harz Mountains, you will embark on a

very special search for traces and learn how

Lower Saxony

Braunlage

Hohegeiß

Bad Sachsa

77

kilometer length in the Harz

880

meters height difference

Rhoden

BORDERLINE

OF HARZ

Schierke

Sorge

Saxony-

Anhalt

a former death strip has developed into a

new lifeline with a unique flora and fauna.

The 77 km long route in the Harz Mountains

can be done on your own or as a guided

tour with a ranger of the national park. The

route can be hiked in both directions and

can be divided into several stages.

©R. Ganske

What could be more beautiful than having

a break in a cozy hut after a strenuous hiking

or skiing tour? Exactly that was missing

in Schierke for years on the popular

route from the Großer Winterberg to the

Wurmberg summit.

Although today's cross-country ski trail

house was already built in 2008, it was not

possible to ensure continuous management

over the years. In 2021, Schierke finally

succeeded through cooperation with the

city of Wernigerode and the friends' association

for skiing and nature conservation

in the Harz Mountains e.V. (FVSN) to reopen

the log cabin. For the current operator

and representative of the association,

Rüdiger Ganske, the cozy domicile 906 m

above zero is an affair of the heart.

7

Time to stay

… FOR INQUISITIVES

The ski trail house stands right below the Wurmberg

THE SKI TRAIL HOUSE

"The reopened cross-country

skiing house with its

sport-touristic potential as a

Nordic Active Center of

the DSV shall give a

further, strong impulse."

©Harzer_Tourismusverband

Characteristic concrete slabs mark the Convoy Road

IN OUR TOURIST-INFO

• Maps of the "Harzer Wandernadel"

(Harz Walking Pin) &

stamp books

Further tour suggestions:

schierke-am-brocken.de/

erleben/wanderportal-schierke

©Wernigerode Tourismus GmbH

The Wurmberg with its adventure world

The former director of the tourist board of

Schierke and head of the state ski association

had already been engaged for the crosscountry

skiing house since the beginning of

its construction. For him it is an important

component to make mountain sports and

the Schierke region attractive all year round.

Thus the mountain hut should not only be established

as a popular destination for hikers,

athletes and families, but should also to make

a long-term contribution to environmental

education. Smaller exhibitions, lectures or

round tables are under discussion.

Initially, regular opening hours as well as a

small snack and beverage offer would help to

make the trail house known (again) as a popular

destination for hikers and nature lovers.
---
Zeit zu bleiben 8

… FÜR NATURERLEBNISSE

Time to stay

… FOR ADVENTURERS

©Stefan Miehe

At full speed in any weathers

©Polyluchs Kreativagentur

It is always a special feeling to hear the good

natured wheezing of the Harz steam engine.

Really majestic it is searching its way through

the Harz woods and pulls a meter-high cloud

of steam behind it. Each time it is a reason to

stop and be amazed.

Exactly that is what guests can do at a guided

tour of the workshop. It leads interested

visitors to the centrepiece of the Harzer

Schmalspurbahnen GmbH (Harz Narrow

Gauge Railways Ltd.) – which is a special

steam engine workshop where repair work

on the technical monuments is carried out.

Visits to this new workshop are possible

from autumn 2022 at the earliest and a separate

visitors' gallery is also planned where

you can be very near to the old engines.

In our interview, a steam engine driver told us

about his exciting work in the driver's cab.

©Polyluchs Kreativagentur

A STAFF MEMBER OF THE HARZ

NARROW GAUGE RAILWAYS

What fascinates you in your job as a steam

engine driver and why didn't you become a

regular engine driver?

As a steam engine driver with the Harz

Narrow Gauge Railways it is particularly the

historical technique which fascinates me in

my daily work. That was also the reason why

I became a steam engine driver with the Harz

Narrow Gauge Railways and do not operate a

high-tech train.

How often do you drive the route to the

Brocken in a year? Does one know each

bend?

As locomotive staff we know our total route

by heart. But deployments on the Brocken

route are only part of our work. There are deployment

sites also in Nordhausen and Gernrode.

Daily steam trains also start from there

on the Harzquer- and Selketal railways.

What is the maximum speed of the steam

engine?

The steam locomotives of the HSB can drive

up to 50 kph. But as a rule we drive on most

sectors at a comfortable speed of between

15 and 25 kph because of the topography of

the Harz Mountains.

Do you get in touch with guests and what is

the most popular question?

At the stations we like to get in touch with

guests, who take a curious look from the

platform to our drivers' cab. The most asked

question is "Does the locomotive really run

on genuine coal?"

Do you prefer driving up to the Brocken

with snow or in bright sunshine?

The Brocken is fascinating in any weather and

the work on the steam engine is strenuous in

every season. For example, in winter the radiation

of the firebox warms you up, and in

summer temperatures in the drivers' cab can

go up quickly.

Which skills should a "good" steam engine

driver have?

To become a good steam engine driver you

need time and experience. You should bring

the love for old technology with you and you

should not shy away from dirt and sweaty

work.

From your point of view, why is it an absolute

must do for every visitor?

Meanwhile there are numerous events for

tourists in the Harz. Our steam trains drive

140,4 km daily on 1.000 mm gauge track the

Harzquer, Selketal and Brocken railways. With

that we are unique in Europe. You must have

simply experienced that.

At the railway station in Schierke

The new steam engine workshop in Wernigerode
---
Time to stay

10 11

… FOR ADVENTURERS

Zeit, zu bleiben

… FÜR ERLEBNISHUNGRIGE

SCHIERKER FEUERSTEIN ARENA

Who is in Schierke for the first

time, will be surprised, what futuristic

looking building suddenly

appears on the listed site of the

former natural ice stadium. As

imposing as its architecture are

the impressive leisure facilities,

which make a stay there an allround

successful holiday – looking

through children's eyes and

also from an adult's point of view.

©Schierker Feuerstein Arena

©24h Trophy

Boulder wall for big and small

There are all kinds of amazing things to do inside

the multi-functional arena: it is certainly

not exaggerated when we say that the place

is a play paradise at any time of the year. In

summer it is almost difficult to decide for any

activity at all!

What do we do first? A round of roller skating.

Then test your climbing skills on the boulder

wall. Having the ground under our feet again,

get the feeling of weightlessness on the trampoline.

Or rather mini-golf, slackline, table tennis

or pedal go-karts?

All mini golf fans will be thrilled by the new facility:

Here the ball rolls over, under and through

miniature replicas of Harz sights. in miniature

format. In winter, by the way the imposing

building into an ice arena with ice arena with

skating, curling, ice hockey and ice disco.

©Schierker Feuerstein Arena

After so much movement and action refreshments

are a must. The Bistro is well prepared

for the ravenous appetite.

Miniature golf course

©Wernigerode-Tourismus GmbH

Great fun: bouncy castle and trampoline

*

*

*

*

*

*

*

INSIDER-TIPS

CLIMBING SHOES, ROLLER SKATES, ICE

SKATES OR GLIDING SHOES can be rented in

different sizes

PARKING FACILITIES

In the nearby parking garage a barrier-free

footpath leads directly to the arena.

REGULAR EVENTS

Biathlon-Challenge 09.07.2022

Open-Air-Summer Cinema 22. – 24.07.2022

24 h Trophy 29. – 31.07.2022

Roller skating disco 06.08., 20.08., 29.10.2022

Schierker Summer Run 13.08.2022

German Championships STIHL TIMBER-

SPORTS ® 03. – 04.09.2022

u. a.

WINTER SPORTS OFFERS

curling, ice hockey or ice disco

FAMILY TIPS

BROCKEN-COASTER

Summer and winter toboggan run at the

car park "Am Thälchen"

PLAYGROUND IN THE SPA PARK

HARZ NARROW GAUGE RAILWAYS

From the train station in Schierke up to the

Brocken

HARZER HIKING PIN

Collect stamps and become hiking prince or

princess

Hiking for a few hours at a stretch? No problem! The first kilometers go

by in a flash. After 20 km it starts to pinch here and there. At the latest

after 12 hours afoot the thought of giving up can no longer be denied.

But at the 24 h Trophy it goes on. It now takes place for the seventh

time in the Harz Mountains and is a popular event for all long-term

hiking fans.

Ready for 77 km and 2.120 meters altitude?

Apart from some well-deserved refreshment

breaks, we will hike non-stop including a sunrise

and sunset.

Of course, during this guided event you want

to test your limits, master challenges and prove

mental and physical fitness. What also counts

as a treasure trove of experience is the sense

of lived community, which is unparalleled.

No one is left behind. After the start pairs or

groups of hikers form quickly. Everyone walks

at their own pace and yet all have the same

goal: To arrive, to keep up, somehow.

After the first blisters and muscle cramps, dusk

falls and a tangle of hundreds of headlamps

make their way through the Harz Mountains.

Like excited fireflies cones of light dance up

and down. "Soon it will be done," you can hear

voices constantly encouraging each other.

Only eight hours to go when the witching hour

has struck. Only.

In the morning at the finish all strains are forgotten

and the air is filled with pride. Some

fall happily into each other's arms. Welcomed

by a brass band and cool drinks it feels like a

great triumph against the inner temptation. It

must have got lost somewhere along the way.

It will not come back after this experience in

any case. Some of the participants, on the

other hand, will – they are already looking

forward to next year ...

Who would like to try out their physical condition

first simply selects the likewise offered

6 h-tour "In the shadow of the witches" or the

12 h-tour "Cliff hike around Schierke and the

Brocken".

24 h Trophy 2021 – a milestone reached

HIKING AT THE LIMIT: 24 H ON FOOT

THROUGH THE HARZ MOUNTAINS

The first steps of 24 h are made in Schierke.

AT THE TOURIST-INFO

• further information about the tours

wernigerode-tourismus.de/

erleben/veranstaltungen/

24h-wandertrophy

©Polyluchs Kreativagentur
---
Zeit zu bleiben 12

… FÜR KULINARIK

VISIONÄRE

13

Time to stay

… FOR ADVENTURERS

TWO PIONEERS IN

TERMS OF THRILL

©Harzdrenalin GmbH / Blende2

Also privately, Maik Berke is addicted to everything in the higher pulse

range: Whether parachute, bungee or pendulum jump – he has tried

nearly everything und gladly uses these private adrenalin kicks for

his own projects. With "Harzdrenalin" at the Rappbode Dam he

and his brother have added an attraction to the Harz, which is

unparalleled.

MAIK BERKE

MANAGING DIRECTOR OF

HARZDRENALIN

Was the vision with the longest suspension

bridge an inspiration at the after

work beers according to the motto "One

would have to …"? And where should

one go with such an idea?

I brought the idea with the Mega Zip line

from New Zealand. There it is nearly standard.

The bridge was a "result" after that.

At the time we went to the district administrator

of the Harz District. There we got

the organizational and bureaucratic basic

points, contact persons, etc. Looking back I

would say that many found the project great,

but at the beginning no one has really

believed in the realization.

What were the biggest challenges during

the construction time of the bridge?

I think that a lot of it was pioneer work.

Before, no one had ever done such a thing:

How is the underground in the water? How

deep must it be anchored in the slate rock

and who is skilled to do that? Surely you

would find a few people in the world who

would want to do that, but are they skilled

enough? In the end, we had many specialists

at our side, among others from the fields of

geo mechanics, geology, steel construction,

statics, concrete construction, rope, rope

statics, wind power, etc.

Was there a moment when you doubted the

completion?

There were actually some about the Zip Line.

When no one else has done it so far, you have

to consider many things. Doesn't it sound

crazy when you say that you want to erect

a building which is next to a drinking water

protection area and a listed dam and in addition

leads over a dam area and different acreage?

Where do you start? For the construction

of the Mega Zip Line everything was pioneer

work, which we then could use for the construction

of the bridge.

What are the advantages and disadvantages

of working together with your own brother?

For me personally there are only advantages.

There is only one person with whom I would

do it again and that's my brother.

In a very confined space you offer the most

different attractions. Do you also hear critical

voices sometimes? Is there a contrast between

the thirst of people for adventures and

the original nature experience of the Harz?

Of course I see it critical at some places but

the Rappbode valley has been in "human

hands" for decades. Everything is created artificially:

the valley as well as the reservoir, the

concrete dam or the roads. With our "Harzdrenalin"

we have not destroyed something

original, but have integrated it well in the

existing. Apart from that, we have to carry

out double compensation and recultivation

measures for everything we build there.

What vision do you have for the Harz as a

tourist region?

I would wish further new ideas and not that

the same attraction is simply copied in another

location. Nobody needs a copy of the

copy.

GIGASWING

All brave can look forward to free fall

of 75 m. Under the longest suspension

bridge of its kind you can fill up adrenalin

and have a breathtaking view.

ULTRASHOT

As a human catapult you will be hurled

38 m in the air-unique worldwide, an

once-in-a-lifetime event with a guaranteed

increased heart rate.

SOLITAIR

The new viewing tower can be climbed

over 160 steps or barrier free with the

panorama glass lift: 39 m above the area

with a premium view.

WALLRUNNING

Running down a little hill? No problem!

But run down a vertical wall? In wall running

that's exactly the goal. So put your

safety belt on, lean over the edge and

breathe!

MEGAZIPLINE

Hover with the largest double zip line 120 m

above the chasm and with up to 85 kph

above the dam-this unique experience is

possible here.

TITAN-RT

With a length of 458,5 m, the suspension

bridge with its filigree rope construction

is the longest of its kind in the world. So

get on the catwalk and enjoy!

Contact:

harzdrenalin.de

©Harzdrenalin GmbH / Blende2

Unique and unforgettable: Fly across the Rappbode Dam by the Mega Zip Line
---
Time to stay

… FOR ADVENTURERS

PURE

ADRENALINE

©Polyluchs Kreativagentur

14

ONLY FOR PEOPLE WITH A

GOOD HEAD FOR HEIGHTS

Cliffs are known from the Mediterranean

or perhaps from the Baltic Sea. But here in

the Harz Mountains? Yes! Especially around

Schierke, these striking granite formations

can be found and inspire hiking and climbing

fans alike.

About 300 million years old, these rock spurs

with sonorous names such as "Schnarcherklippe"

inspired Goethe to write poetry during

his Harz journey. So the best thing to

do is to let your imagination run wild and

decide for yourself what the piled up stone

giants remind you of …

CONTACT CLIMBING-GUIDE:

harz-aktiv-klettern.de

CLIMBING TIPS

FOR CLIMBING AND BOULDERING

*

*

FEUERSTEINKLIPPE

MAUSEKLIPPE

ADDITIONALLY, PASSABLE VIA LADDERS / STAIRS

LEISTENKLIPPE (STAMP 15)

OTTOFELSEN (STAMP 27)

15

Time to stay

… FOR ADVENTURERS

*

TRUDENSTEIN (STAMP 17)

AHRENSKLINT (STAMP 13)

On the hunt of the most beautiful places in the Harz Mountains

SCHNARCHERKLIPPEN (STAMP 14)

On the way on four paws,

We can explore the Harz Mountains on foot or by bike, alone or as a group - everything is possible. The blog-

©Maddie unterwegs / Frank Schippers

Highly concentrated, it goes downhill at the

devil of a speed. Roots, stones, narrow paths.

There are trees on the right and on the left.

Close together. Pure adrenaline. These rapid

descents are hard-fought and can be experienced,

for example, on the summiteer tour.

Here you climb both the Brocken and the

Wurmberg and can put your physical condition

to the test.

So probably it doesn't work completely without

effort in the Harz Mountains, but it does

not always have to be over 1.200 meters of

altitude or 100 km a day. There are also tours

that are less strenuous or easier to master

with e-bikes. In the end you are rewarded

everywhere: with magnificent views and incomparable

natural phenomena.

However, it is certain: The dense network of

trails around Schierke makes all cyclists' hearts

beat faster – well signposted tours, 74 in

number, on a total length of 2.300 km. Bike

fans can also visit the Volksbank-Arena, which

covers the entire Harz region.

YOU GET IT IN OUR

TOURIST INFO

• Bike road map with signposted trails

• Maps with route suggestions and

trails for touring and mountain bikes

Our online shop::

shop.wernigerode-tourismus.de

©Mirko Lehmann

Impressive rock formation – Mauseklippe

ger Maddie's most favourite way to travel is with her White Swiss Shepherd. What she finds beautiful in the

Harz Mountains and why Barney is the best companion you can imagine, she told us in an interview.

MADELINE PAGENKEMPER

BLOGGERIN

Do you remember your first tour with your

dog? What did you have the most respect for?

I can still remember my first tour with a dog.

Barney was just 6 months old and we stuck to

the recommended starting distance of 2 km. I

had the most respect for Barney to overstrain.

But that was absolutely unfounded, because he

immediately got into his role and was attentive

to the task.

You two also like being out in the dark in the

Harz Mountains. Barney has already saved

you once from running further into a bog.

What gives you this security with him at your

side?

Hiking in the dark sharpens the senses. Especially

in the summer months, we want to be back

before the heat and often start at midnight

already. One night at the Groin Cliff I had lost

my orientation and I trusted Barney to find

the way between all the bushes and spruces.

Instinctively he took the right path and

brought us to the next bigger path. If I hadn't

had confidence at that point I would have

just sat there and waited. Not later than this

experience I've known that I can blindly trust

this animal in any situation. And with every

little and big adventure outside, our bond has

strengthened.

Why do you find the Harz Mountains perfect

for a trip with your four-legged friend?

The Harz Mountains offer an incredible variety

of experiences for dogs and humans that are

hard to find anywhere else. From ponds to cool

down as in the Upper Harz over real summit

feeling around the Brocken to gentle river landscapes

in the Selke Valley - I have hardly ever

seen such a variety in any other region.

What do you pay attention to when you put

tours together for the two of you?

When planning a tour, I first think about an approximate

distance including a 2 - 3 kilometer

buffer. If it is too warm or simply too wet our

tours will be much shorter. I usually decide out

of my gut which area or place it will finally be.

For inspiration I love the official Harz app from

the Harz Tourism Association and then usually

plan our route myself. I usually avoid highlights

like the Brocken or put them on the night

hours. We both prefer rather quieter areas off

the beaten track.

On your tours through the Harz Mountains, do

you ever stop off and take a break in a restaurant?

How welcome are you there with a dog?

We like to stop for a cool Radler or an ice

cream after a tour. Almost all of the mountain

huts and restaurants in the Harz Mountains

are super dog-friendly. Sitting outside with a

dog is actually nowhere a problem and if you

are not sure whether the four-legged friend is

allowed inside, you kindly ask. So far we have

never been disappointed.

Do you have tips for other dog owners,

what they should pay attention to on an excursion

in the Harz?

I recommend all dog owners and dog vacationers

to visit the highlight spots in the Harz

counter-cyclically: Sunday noon in the holiday

periods with bright sunshine a tour to the

Brocken is a bit inconvenient - at least, if you

want some peace and quiet. In any case, you

should take enough water, a first aid kit and

booties (paw shoes) for the dog. These are the

things I always carry with me - no matter how

short or long the tour is. In my oppinion it is

also important to assess yourself and your dog

properly, not to neglect the altitude and to pay

attention to the weather. Then the little big

adventure is bound to take off.

A strong team: Maddie and her dog Barney

©Maddie unterwegs / Frank Schippers
---
17

Time to stay

… FOR ADVENTURERS

SCHIERKE WINTER SPORTS WEEKS

From igloo parties, curling and snowshoe hikes: Active on the way with a

lot of variety. The Schierke Winter Sports Weeks show once again: winter

sports have a long tradition here.

The toboggan offspring can start.

Starting signal for the bobsleigh run

Already in 1907 Schierke could call a bob run its own. Until the end of the fifties numerous championships

were held on this special natural track. Once it was one of the fastest tracks in Germany, but it also had its

pitfalls: It was only fully functional when the temperatures were constantly below zero. With the opening

of the new all-season track, Schierke is now making itself independent from Jack Frost.

It was a laborious task to apply layer after layer

of a mixture of snow and water on the old bobsleigh

run in order to be able to sled at all. The

fact that an even result could not be achieved

with this manual work is understandable and

so it was said at that time among Harz bobsleigh

specialists: "If you can ride here, you can

do it anywhere". This dependence on the weather

made a year-round continuous training in

Schierke impossible. And the cradle of German

bobsleigh and luge actually is in the Harz Mountains:

In fact, bobsleigh athletes from Schierke

co-founded the German Bobsleigh Association

in Berlin in November 1911, the forerunner of

today's Bobsleigh and Sledding Association for

Germany (BSD).

Some bobsleigh legends also come from the

Harz, such as world champion Toni Eggert,

whose father and grandfather have ridden the

curves of the old Schierke bobsleigh run themselves.

Tatjana Hüfner is another talented luger

from the Harz Mountains. The athlete, who

trains with RC Blankenburg, was invited to do

the official inauguration run in December 2021

and try out the new bobsleigh track. The conclusion

of the Olympic champion and eight-time

World Champion was throughout positive.

With its 300 m length and quite tricky sections,

the new Schierke bobsleigh run now promises

a year-round tobogganing experience. The seven

curves can be ridden on rollers in summer

and on skids in winter. Especially the Harz tobogganing

offspring will enjoy the new track –

long training trips to Bavaria or Thuringia are

no longer necessary and make the sport more

attractive again - for the Harz luge clubs in

Schierke, Ilsenburg and Blankenburg thus a genuine

benefit.

©Polyluchs Kreativagentur

*

*

*

*

*

*

Igloo construction as family fun

WINTER SPORT TIPS

TRAIL INFO

wintersport.harzinfo.de

TOBOGGANING

two small toboggan slopes at the spa park

and parking garage, one bigger slope "the

grandmother toboggan run"

SKATING

Courses in the Schierker Feuerstein Arena,

Skates can be rented. Skating is possible

from November to March.

SNOWSHOEING

A real insider tip and the best way to conquer

all paths even in deep snow, Rental

possible in the village, also guided hikes

EQUIPMENT RENTAL

complete cross-country equipment, sledges,

snowshoes at the "Ski- and sled rental

Riemenschneider" & rental at the "Holiday

Resort Zum Wildbach""

WINTER SPORTS COURSES

guided snowshoe hikes, cross-country

skiing courses, ice skating school

©Polyluchs Kreativagentur

It was the time of the golden twenties when

the perhaps most glorious period of winter

sports began for Schierke. Snow enthusiasts

and tourists were attracted to the "St. Moritz

of the North".

Later on the most modern slalom slope in Europe

at that time, the Eckerloch ski jump, the

natural ice stadium and an excellent infrastructure

attracted thousands of spectators

to major events such as the "Winter Games"

in 1934 or the GDR 1st German Winter Sports

Championships in the small town in the Harz

Mountains. The idea to develop Schierke as

an attractive holiday resort has been pursued

ever since.

In the meantime numerous new highlights

were created in summer and winter. Between

January and February these certainly include

Skating in the Ice Arena

©Schierker Feuerstein Arena

the winter sports weeks, which have secured

their fixed place in the Schierker event calendar.

Guests, excursionists and locals can look

forward to a varied program during this time.

Ideally, activities around the white splendor

are the centre of attention: Igloo building,

guided snowshoe hikes and cross-country

ski courses. The Schierker Feuerstein Arena

invites you to several ice discos or scores with

curling. The torch hike through the nocturnal

Harz has spooky potential, and a very special

experience might be the professional abseiling

at the Schnarcherklippen.

The annual program promises a lot of variety

and is a great opportunity to fill the Schierke

winter sports tradition with life.

Groomed ski trails for cross-country fans

©Polyluchs Kreativagentur

©Polyluchs Kreativagentur

©Polyluchs Kreativagentur

Guests can also look forward to a special highlight.

For special events, like the winter sports

weeks, the bob run opens for visitors. Who

dares?

The bobsleigh run promises toboggan fun.

Conscientious preparation for the downhill run
---
Zeit zu bleiben 18

Time to stay

… FÜR TRADITIONEN

Natural phenomena in lofty heights

19

Time to stay

… FOR SLY LYNXES

… FOR SLY LYNXES

171 days of frost and 176 days of closed snow cover - what could possibly grow there? Quite a lot! We have

counted: 1.600 species of plants from all over the world find their home in the Brocken garden.

The show site for mainly high mountain plants

was once created in 1890 for research purposes

and still elates over 6.000 nature lovers from

near and far away. During a guided tour you

can visit a part of the 4.600 sqm large area and

encounter, for example, the rock columbine

from the Rocky Mountains, the single-flowered

slipper flower from Patagonia or the Tibetan

Aster, which, as the name suggests, is actually

native to the "roof of the world".

Above all, rare, strictly protected and endangered

species can be discovered here such as the

Brocken anemone or as it is called in the vernacular

"devil's beard". This plant, which actually

comes from Asia, flowers in May with delightful

white blossoms and is actually only to be

found on the Brocken. The yellow blooming

Brocken-hawkweed might be less known and

only grows up here, even worldwide.

©Nationalpark Harz

Single-flowered slipper flower

*

TIP

From mid-May to mid-October the

Brocken Garden can be explored twice a

day (11:30 a.m. & 2 p.m.) with the Brocken

gardener free of charge. (Mondays to Fridays,

except on public holidays). Meeting

point is the Brocken Garden stamp box at

the entrance to the weather station.

And although on the 1141 m high forest-free

hilltop, the climate is rough and a nutrientpoor

soil prevails, species of plants which were

more widespread during the last ice age find a

retreat here – for such botanical rarities a climb

is always worthwhile ...

©Nationalpark Harz

In summer guided tours through the Brocken garden are offered.

MULTIMEDIA EXHIBITION AT THE BROCKENHAUS:

MAGICAL MOMENTS 1141 M ABOVE ZERO

©Wernigerode-Tourismus GmbH

It is a mystical place: treeless, scraggy and still full of life

The fact that the climate on the Brocken is

rough, often very stormy and somehow always

foggy everyone has certainly heard of.

But do we actually know why? What makes

this highest peak north of the Alps so special

and which natural phenomena can be discovered

up here, is shown in the new multimedia

exhibition in the Brockenhaus. On three

floors and 170 m², the focus is clearly on the

experience. During a visit you walk through

"real" forest scenery, hear and smell nature

and its inhabitants.

Of course knowledge is also imparted here,

but surprisingly, this happens "incidentally".

It is much more important to the initiators,

that visitors understand the unique flora and

fauna of the Brocken and appreciate them,

because you can only love and protect what

you know. After visiting the exhibition, you

can still enjoy the special atmosphere on the

Brocken in the panorama café with a panoramic

view.

Multimedia exhibition

©M. Gebara

Barrier free in the Brocken House

©M. Gebara
---
20

Zeit Time zu to bleiben stay

… FÜR TRADITIONEN

… FOR SLY LYNXES

RESCUE IN THE WILD

Having a charged mobile with you during a hike and stay where you

are after an emergency call can save lives and facilitates the rescue

after an accident, tells Bernd Wagner, Head of the Mountain Rescue

Wernigerode.

BERND WAGNER

MOUTAIN RESCUE

What are the most common reasons why

you are called to an operation site?

In most cases we are called by hikers who

have sustained injuries to their lower extremities.

Wrist injuries also happen and in

winter leg fractures from skiing. Of course

we can't forget the group of mountain

bikers who often get injuries by falls and

people who contact the coordination centre

because of circulation problems.

How many rescue missions do you have

per month?

That is difficult to generalize. Until May this

year we were called 25 times-only for the

region of Wernigerode. Last year we had a

total of 61 missions. Sometimes we move

out several times a week and then not at all

in the following two weeks.

Have the kind of missions changed in the

last years? Do people maybe get less careful?

Some incidents happen again and again.

A common example is the Brocken: people

still hike to the Brocken and don't have

any clue of the extreme weather situations

up there. Accordingly they are not dressed

properly and hypothermia is the result.

How do you become a mountain rescuer

and what skills should one have?

Best prerequisites to successfully pass an

education as a mountain rescuer are enthusiasm

and a certain portion of curiosity. Besides

that one should like to be out in the

nature, to hike or to climb. The education

itself then takes 2 to 3 years and includes

a summer and winter rescue exam. During

20 21

the education a certain fitness level is required

of course. Then there is also a theoretical

part in which you deal, for example,

with nature protection, knot techniques

and emergency medicine.

How do your people know the area

around the Brocken and Wernigerode so

well? Do you learn that during the education?

One should bring a little sense of orientation

in any case. This is not for everyone, but

it is not difficult to learn. In fact, practice

makes perfect. When a new fellow joins us,

we take him out with us. So he quickly gets

an idea of the terrain, the paths and the

striking points which we approach repeatedly.

Some concepts you have to simply

memorize or learn and so the radius enlarges

with the time.

When you have found the person seeking

help, what happens next?

The range of tasks of the Mountain Rescue

is the saving and rescuing of people from

rough terrain as well as the first aid for patients

until the rescue team arrives. We have

the necessary technique and all-terrain-vehicles.

After the removal of the injured the

transfer to the ambulance takes place. Alternatively,

we can take an emergency physician

to the scene of the accident.

What is the greatest challenge during

your missions?

In any case the uncertainty- what is in store

for us and what can I do to help the person

concerned. Already during the approach

you go through all possible scenarios: what

things do you have to keep ready, will you

need additional staff, how severe is the

injury? All such thoughts go through your

head. But until now-thanks to the good

education of our mountain rescuers-everything

turned out well.

*

*

Around the cliffs good surefootedness is important

HIKING-TIPS

THAT SHOULD NOT MISS WHEN HIKING:

POCKET KNIFE

SUFFICIENT DRINKS AND FOOD

GOOD HIKING SHOES

RAIN GEAR

* HIKING MAPS FOR ORIENTATION

Special vehicles guide the Mountain rescue to the

operation site

CONTACT MOUNTAIN RESCUE HARZ:

German Red Cross-Wernigerode

Standby Wernigerode

Phone +49 (0) 39 43 - 55 34 60

www.bergwacht-wernigerode.de

In urgent emergencies call 112!

Check the current weather

situation!

schierke-am-brocken.de/

sehen/brocken-nationalpark/

©Polyluchs Kreativagentur

©Bergwacht Harz

©Polyluchs Kreativagentur

LIFEHACK

ESTIMATE THE SUNSET

How much time is still left until the sun goes down and

it gets dark? Stretch out your hand so that the upper

edge of the forefinger is directly under the sun and the

small finger touches the horizon. The sun wanders a

finger deeper every quarter of an hour. If it's right above

your forefinger you have an hour left.

263 kph

was the highest measured

wind speed

3,80 m

was the highest measured

snow height

300

days a year it partially

disappears in the fog

The Brocken Plateau in an inversion weather situation-a spectacle of nature
---
22

23

Time to stay

… FOR SLY LYNXES

Wild nature explorers

©Nationalpark Harz

©Nationalpark Harz

DANDELION TRAIL IN THE HARZ NATIONAL PARK

Play fun is provided for on the estate.

WILD STRAWBERRY

Please do not pick in the

national park. Wash before

eating!

*

*

MEETING WITH THE RANGER AT HOHNEHOF

WILD ANIMALS AND THEIR INFLUENCE

ON THE FOREST

ACTION DAYS

Nature-Experience-Center HohneHof

CHILDREN'S GUIDE TIPS

INDIVIDUAL TOURS ON REQUEST

Dates and registration:

nationalpark-harz.de/de/veranstaltungen/

HERB SCHOOL BY THE WAYSIDE

I taste sugary sweet and I am

the best snack for on the way.

HERE YOU CAN FIND ME:

I prefer forest edges to grow

and I like sunny places and

moist, nutritious soils.

BEAR ROOT

SWEET WOODRUFF

I am also called bear dill and I taste good in herb

curd or tomato sauce.

HERE YOU CAN FIND ME:

I prefer to grow in the higher altitudes in meadows.

Jumping around with animals and being able

to hear as well as an owl? It's possible on the

dandelion discovery trail of the Harz National

Park.

The 1.2 km long tour starts in Drei Annen Hohne,

not far from Schierke. It imparts knowledge

about nature in a playful and varied way and

creates experiences that children will still be

talking about in bed at night.

What was the most fun? Walking barefoot on

the pine cones, the animal memory, the water

wheel or the picnic under the 400 year old oak

tree - the decision is difficult, because there are

so many new things to discover on the trail.

At the end of the trail, the HohneHof Nature

Experience center invites you to stop for a

break. There is an adventure playground and a

further exhibition suited for children.

By the way: Exciting guided tours are also offered

for adults and children. Together with rangers,

you can experience nature and the special

features of the national park in a completely

different way.

CONTACT:

HohneHof Nature Experience Center

hohnehof@nationalpark-harz.de

You can recognize me by my white

shining blossoms and I am especially

suitable for punch or syrup.

HERE YOU CAN FIND ME:

I feel comfortable in deciduous

forests with fresh, loose soils.

DANDELION

Especially bees like me and you can even

make your own honey from my blossoms.

HERE YOU CAN FIND ME:

I actually grow everywhere on roadsides, on

meadows and even in wall cracks.

LADY'S MANTLE

My leaves collect water

drops that glitter like

gold. From them tea can

be made, which helps

against diarrhoea.

HERE YOU CAN FIND ME:

I love wet meadows and

brooks.

©Pixabay, © AdobeStock

The Harz Mountains have not really dressed up for their guests.

Everywhere fallen trees lie crisscrossed on top of each other - just as

if a giant had left behind a trail of devastation with his oversized feet.

In some areas there is complete clear-cutting. However, the supposed

disorder has its reason ...

Nature conservation in the Harz National Park

means to let nature be nature. Life in the Brocken

primeval forest follows its own dramaturgy.

If a tree falls down, it remains lying- even

if our symmetry- and order-loving eyes find it

difficult to accept.

And yet the idea is already bearing fruit, because

the Brocken primeval forest is returning

year by year and piece by piece. Therefore, it

needs time, patience and openness for the

one or the other imperfect photography. But

it's worth it: already now, rare animal and

plant species find an almost undisturbed habitat

here. For example, lynx and wildcat (again)

roam through the forests and with a little bit

of luck you can meet a capercaillie or a black

stork.

The so-called dead wood is also a popular

place for numerous insects. Nevertheless,

there are of course areas in the Harz National

Park that are actively reforested. At various

planting or tree donation actions, companies

Guided tours with the rangers

New spruces grow between the deadwood.

as well as private individuals can help to

build up a healthy mixed forest.

If you look around in the Harz, it is clear that

these initiatives are needed, this commitment

and this foresight. And even if in the protected

zone of the National Park the (primeval) forest

is allowed to set its own pace. It needs this

support elsewhere in order to compensate for

the after-effects of the relentless demand for

wood in the times of mining and metallurgy.

A monoculture that is less stress resistant and

therefore more susceptible to pests and climatic

influences, will no longer exist in the Harz

Mountains in the future.

CONTACT:

Brockenhaus

brockenhaus-harz.de

Nature experience center HohneHof

hohnehof@nationalpark-harz.de

National Park House Schierke

Tel. 039455 477

*

*

*

*

TIPS FOR GUIDED TOURS

CHANGING FOREST -

ON THE WAY WITH THE RANGER

WITH THE RANGERS ON

CLIFF HIKE

A WALK AROUND THE BROCKENKUPPE

WITH THE RANGER

THE WAY OF THE WATER -

ON THE WAY WITH THE RANGER

Reservation required:

Tel.: 039455 8640

Further events:

nationalpark-harz.de/de/

veranstaltungen/

Time to stay

… FOR SLY LYNXES

ON UNEVEN PATHS: NATURE CONSER-

VATION IN THE HARZ MOUNTAINS

©Nationalpark Harz

©Mirko Lehmann

ca. 60

Lynxes are currently back in the

Harz Mountains

247

Square kilometer size is

the area of the whole

Harz National Park

over 727.000

new trees were planted in 2021

During the time of

the rut - listen to

nature on your way to

the Brocken...

HIKING ETIQUETTE

• Use only marked hiking trails

• Do not make fire, grill or smoke

(danger of forest fire!)

• Do not dispose of garbage in the forest

• Do not pick any plants, not even berries

or mushrooms (protected area)

• Wild camping is not allowed

• Avoid the forest during storms

• Dogs must be kept on a lead

• Cycling is allowed on almost all

hiking trails

• Horse riding is allowed on marked trails
---
Zeit zu bleiben 24

24 25

Time to stay

… FÜR KULINARIK

… FOR GOURMETS

©Schierke-Harzresort

THE RESTAURANT LUIS

Feast all day long

The breakfast buffet at Luis sounds unbelievably

tasty: daily home-baked rolls, home-made

salads and other regional delicacies, guests of

the Harzresort, but also all other hungry visitors

can look forward to.

While the associated holiday homes and

lodges have specialised on the well-being feeling,

the attached restaurant Luis is responsible

for the culinary pleasures – and that all

day long. You can also dine comfortably at

lunchtime, in the afternoon or in the evening

– if the weather is nice, you can also dine on

the spacious terrace or in the beautiful beer

garden. Hungry hikers will find just as much

on the menu as fitness fans: The selection ranges

from crisp wild herb salad and burgers to

rustic spaetzle with cheese and beef goulash

with dumplings. Would you like a warm apple

strudel with pine honey for dessert? With so

many tasty temptations you almost forget

the hiking … let's move on!

CONTACT:

Restaurant Luis

schierke-harzresort.de/restaurant-luis

Time to stay

… FOR GOURMETS

A NEW SUPERMARKET

FOR SCHIERKE

Good and

cheap shopping

A holiday resort without shopping facilities?

Actually unthinkable and yet Schierke had to

get along without a supermarket for several

years. Now there is finally a store again,

where not only the locals, but also guests

and restaurateurs can stock up on their own

food - in the sense of sustainable tourism.

So even the facade of the building is clad in

wood, and thus blends harmoniously into

the development concept. Inside, of course,

there is everything you would expect from

a supermarket, but above all a large assortment

of regional and typical Harz products.

A small café area offers additional snacks and

drinks and is often used as a meeting point

for exchanging ideas and getting into conversation.

VILLA BODEBLICK

Modern, wild & authentic

Restaurant Luis

©Schierke-Harzresort

©Villa Bodeblick

©Villa Bodeblick

The enthusiasm for the Harz region in the

Villa Bodeblick can already be sensed when

reading the menu: There we find "wild starters"

like "Harz Music" or "Bratkartoffelsuppe"

(fried potato soup). Who likes it more classically,

falls back on the Beef roulade or Duck

Breast with Beluga Lentils.

This pleasant mixture of down-to-earth and

modernity is reflected not only on the plates,

but also in the dining room: A bright inviting

room concept with natural materials such as

wood and granite makes it easy for every visitor

to feel at home here right away.

The motto of the operators "Modern clarity

meets Harz wildness" is noticeable everywhere

– both in the restaurant and in the hotel.

The owners live and breathe their concept

and have created it with great attention to

detail and a large portion of authenticity. The

result is a modern and yet typical Harz place

to feel good and enjoy.

CONTACT:

Villa Bodeblick

villa-bodeblick.de
---
Zeit zu bleiben 26

27

Time to stay

… FÜR EVENTLIEBHABER

… FOR EVENT LOVERS

EVENTFUL SCHIERKE

Jugglers, Vikings, knights and witches - at Walpurgis all hell breaks

loose in Schierke. The otherwise tranquil spa park turns into a

witch's cauldron in the evening of April 30 th . Mystical sounds, spectacular

costumes and an eerily beautiful atmosphere make this event

a "must" during your holidays in the Harz Mountains. We show you

where else it is worth going.

JANUARY / FEBRUARY 2023

JULY 2022/23

28.01. – 18.02.2023

Schierke Winter Sports Weeks

APRIL 2023

29.04. – 30.04.2023

Walpurgis in Schierke

©Wernigerode Tourismus GmbH

©Polyluchs Kreativagentur

04.06. – 03.09.2022

Schierke Music Summer

09.07.2022

Schierke Biathlon Challange

22.07. – 24.07.2022

Open Air Summer Cinema

Schierke Feuerstein Arena

29.07. – 31.07.2022

28.07. – 31.07.2023

24 h Trophy – The hiking experience in the

Harz Mountains

SEPTEMBER 2022

03.09. – 04.09.2022

German Championship

STIHL TIMBERSPORTS ®

04.06. – 03.09.2022

Schierke Music Summer

24.09.2022

Schierker Cow Ball

24.09.2022

Brockenheroes

DEZEMBER 2022

©Wernigerode Tourismus GmbH

Time to stay

©Polyluchs Kreativagentur

JUNE 2022

04.06. – 03.09.2022

Schierke Music Summer

AUGUST 2022

04.06. – 03.09.2022

Schierke Music Summer

06.08.2022

Summer Festival in the Schierke

Feuerstein Arena

13.08.2022

20 th Schierke Summer Run

13.08.2022

spa park festival

27.08.2022

Schierker Endurothon (MTB)

17.12. – 18.12.2022

Schierke cliff glow

ADVICE & BOOKING

• ticket booking

• events

• insider tips

schierke-am-brocken.de/erleben/

veranstaltungen/

©Polyluchs Kreativagentur

… FOR EVENT LOVERS

Schierke Music Summer

©Polyluchs Kreativagentur

©Polyluchs Kreativagentur

We would like to give our guests reliable

dates for their holiday planning. However we

have to point out that all events listed here

can only take place if the current infection

situation permits. More detailed, binding information

can be found on our homepage:

schierke-am-brocken.de