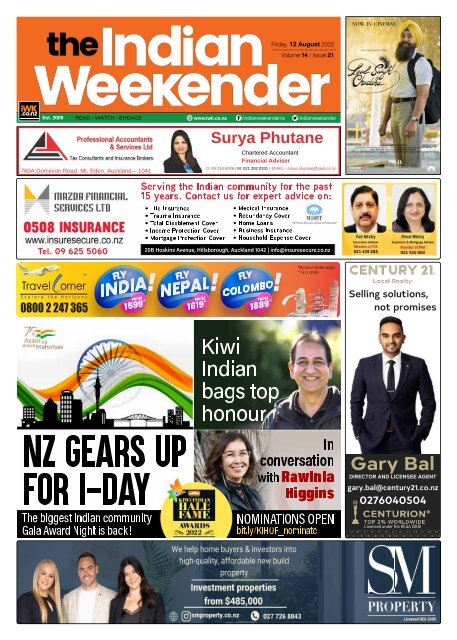 You also want an ePaper? Increase the reach of your titles
YUMPU automatically turns print PDFs into web optimized ePapers that Google loves.
NOW IN CINEMAS

Friday, 12 August 2022

Volume 14 / Issue 21

760A Dominion Road, Mt. Eden, Auckland – 1041

Tel. 09 625 5060

www.iwk.co.nz /indianweekendernz /indianweekender

Serving the Indian community for the past

15 years. Contact us for expert advice on:

• Life Insurance

• Trauma Insurance

• Total Disablement Cover

• Income Protection Cover

• Mortgage Protection Cover

Surya Phutane

Chartered Accountant

Financial Adviser

O: 09 218 6206 | M: 021 202 0331 I EMAIL - surya.phutane@pasl.co.nz

• Medical Insurance

• Redundancy Cover

• Home Loans

• Business Insurance

• Household Expense Cover

20B Hoskins Avenue, Hillsborough, Auckland 1042 | info@insuresecure.co.nz

Selling solutions,

not promises

NZ gears up

for I-Day

The biggest Indian community

Gala Award Night is back !

Kiwi

Indian

bags top

honour

In

conversation

with Rawinia

Higgins

NOMINATIONS OPEN

bit.ly/KIHOF_nominate

Gary Bal

DIRECTOR AND LICENSEE AGENT

gary.bal@century21.co.nz

0276040504

Licensed under the REAA 2008
---
Make winter

a little better

WITH COMPREHENSIVE HEALTH COVER AND A FREE nib BETTER HEALTH BOX

Private health insurance helps protect you

and your family from the unexpected. It can

give you more control over who treats you

and when. Without it, private treatment could

be unaffordable or make a significant impact

on your hard-earned savings and lifestyle.

Our purpose is your better health, when you

sign up to any new nib policy through your

adviser, you'll receive a FREE nib better

health box worth over $100. So wrap up

and get covered this winter.

With the better health box, you'll receive a

curated mix of wellness products, first aid kit,

rapid antigen tests and even more to help you

get through this winter.

Working with:

not

Examples

CMYK & RGB – JPEG, PNG, EPS, PDF

SO TALK TO YOUR ADVISER TODAY FOR ALL THE DETAILS.

One box per policy, terms and conditions apply. Offer only for new applications submitted between 2 May

and 29 July 2022, with a policy commencement date no later than 14 August 2022.
---
Read online www.iwk.co.nz Friday, 12 August, 2022

NEW ZEALAND 3

Celebration of 'unity in diversity' to

mark India I-Day at Gandhi Centre

SANDEEP SINGH

The key Indian diaspora

organisations of

Auckland are urging Kiwi-

Indians to celebrate the spirit

of "unity in diversity" – the key

defining feature of India - and

come together to participate

in the India Independence Day

event on Sunday August 21,

at the iconic Mahatma Gandhi

Centre in central Auckland.

Every year India celebrates

Independence Day on August

15, and several celebratory

events are organised by Indian

diasporic communities all

around the world, including in

New Zealand.

However, this year is special,

as it has been marked with

yearlong "Azaadi ka Amrit

Mahotsav" celebrations globally

to celebrate and commemorate

75 years of independence and

the glorious history of its people,

culture and achievements.

Acknowledging and accepting

the key spirit of "Azadi ka

Amrit Mahotsava," most of the

Indian diaspora organisations

have joined hands together

and decided to be part of

one mega celebration being

organised under the aegis of

Jeet Suchdev

a broad umbrella organisation

– Auckland Indian Diaspora

Organisation.

"Unity in diversity is the key

defining feature of India, and

the people of India have built a

nation together in the last 75

years on this basic foundational

principle where we all celebrate

our respective individual

identities – based on languages,

religion, regions, faiths or belief

system and culture – but we

always come together and

celebrate our unity along with

all our diversities at festivals

of national significance," Jeet

Suchdev, President of Bhartiya

Samaj Charitable Trust said.

"This is a moment we all

Narendra Bhana

should strive to come together

on one common platform to

reinforce our mutually shared

common Indian identity,"

Sachdev added.

Similar sentiments are being

echoed by several other key

community associations,

including NZ Telugu Association,

Telangana Federation of New

Zealand, Auckland Indian

Association, and New Zealand

Indian Central Association.

Pan-India flavour of

celebrations

Anitha Mogilicharla and Suneel

Kuncha, the new President

and the Secretary of the NZ

Telugu Association (NZTA),

said, "India's Independence

Day marks the celebration of

the fearless and gallant acts

of many Indians involved in

the freedom movement to

end the 200 years of British

rule. Despite having significant

regional, linguistic, cultural, and

religious variations across the

country, India stands tall as one

united nation embracing this

diverse nature.

It comes as natural to us

Indians to welcome diversity

wherever we are.

"NZ Telugu Association is

partnering with the wider Indian

community to celebrate this

great day as one big nation.

We would like to reiterate once

again that United we stand

and divided we fall. Jai hind,"

Mogilicharla and Kuncha said.

Kalyan Rao Kasuganti of

Telangana federation of NZ

said, "Our people are extremely

happy and excited about the

75th anniversary of India's

Independence Day.

"This is a time to celebrate

the struggles and triumphs

of our ancestors in the

commonly fought struggle

for independence, and we

pay tribute to them for their

valiant courage and sacrifices.

India is a diverse country with

different languages, religions

and cultures.

"On this day, we unite to

celebrate our nation together

in pride and happiness.

"As a Telangana state

representative in NZ, we are

organising a dance programme

and will celebrate with all of our

communities at the Mahatma

Gandhi centre event on Sunday,

August 21," Mr Kasuganti said.

Narendra Bhana, President

of the New Zealand Indian

Central Association (NZICA),

said, "I am delighted to be

part of the India Independence

Day celebrations to be held at

the Mahatma Gandhi Centre

on Sunday, August 21 2022.

This celebration holds a

special significance for Kiwi-

Indians living in Auckland and

surrounding regions, as all Indian

communities come together

and celebrate India's national

day under one platform.

• Continued on Page 13

üUNLIMITED Remittance Transactions

to India, FREE of Charge.

üBetter Exchange Rate

Call 0800 024 404 Toll Free

Bank üFree Cash of Withdrawal Baroda across (New all ATMs Zealand) Ltd

üRemittance through Internet Banking

üDebit Cards accepted at all EFTPOS

üSeamless and Secure Internet Banking

üAny Bank - Same Day Credit HAPPY INDEPENDENCE DAY

üNRI Banking Facilitation

We also offer Home Loans, Business Loans and Personal Loans on attractive terms

Manukau Auckland Wellington

Safest 726, Great & South Secure Road, Manukau way 114,Dominion of sending Road, Mt Eden, money Auckland to India

manunz@bankofbaroda.com

aucknz@bankofbaroda.com

Same Day Ph: 09 2610018 Credit on attractive Ph.: 09 6321020 exchange rates

wishes everyone

55, Featherston Street, Wellington

wellnz@bankofbaroda.com

Ph.: 04 44710197

Auckland Branch is open on Saturdays from 10:00 a.m. to 2.00 p.m.

AUCKLAND:

Ph: 09 6321020

WELLINGTON:

Ph: 04 4710196

Call 0800 024 404 Toll Free

www.barodanzltd.co.nz

www.barodanzltd.co.nz

Conditions Apply
---
4

NEW ZEALAND

Maori Language Commissioner Prof Rawinia Higgins

Friday, 12 August, 2022

Read online www.iwk.co.nz

Takes one

generation to

lose a language,

three to reclaim

it: Prof Higgins

VENU MENON IN WELLINGTON

Maori was declared an official

language 35 years ago this

month. In an interview with

the Indian Weekender, Maori Language

Commissioner Prof Rawinia Higgins

plots the journey of the language

spoken by the first inhabitants of

Aotearoa. This interview was edited for

clarity and length.

Excerpts:

Q. You've worked in the area of revitalisation

of the Maori language. How

do you assess the progress of this

mission so far and what are the main

obstacles in the way of this progress?

A. When I think about the initiatives

that have led to where we are today, if

we go back 50 years ago to the signing

of the petition [presented to Parliament

in 1972], that was driven largely by the

first generation urban migration of Maori

people and supported by a number of

non-Maori people as well, to gather those

signatures, [it is noteworthy that] they

were the generation who weren't taught

the language, and so they didn't have

access to the language necessarily. And

so that sense of language loss became

an emphasis as part of their university

lives at Auckland University and Te reo

Māori society here at Victoria University.

Those students led the way in

terms of collecting those signatures

for the petition.

And from there we see it becoming

the catalyst of the creation of initiatives

largely from our community. At that

time, a majority of the Maori language

speakers were our elders.

They got in behind the efforts

of Kohanga reo or the preschool

language nest.

And then that led to Kura Kaupapa

Maori and the like. And then, of

course, they also contributed to Maori

broadcasting and the creation of Maori

radio stations, and then eventually we

got Maori television.

So all of these efforts, if we think

about where we've come from, started

from those who didn't have language,

supported primarily by elders who still

had language, and creating a generation

of language speakers.

We see in our stats today that

the language is largely in the hands

of young people.

And I think , as a way to frame

language revitalization, which takes

three generations to restore, one

generation to lose, that we're certainly

on the right trajectory with this new

generation of language speakers taking

up the mantle, who will themselves be

parents soon, if not already creating

generation two.

So, I think the obstacles initially were

probably [on account of it being] a

community-led movement, which has

become institutionalised in terms of

being part of the education system or

the broadcasting system.

And it certainly had some opportunities

to strengthen itself, but we're still

probably a long way off from achieving

normalisation at large or on a large scale.

Q. As the chair of the Maori Language

Commission, do you see political

goodwill [or the lack thereof] in

promoting the Maori language in the

wider community?

A. When we had the opportunity to

change the original legislation from

1987 and 2016, the new provisions in

the Maori Language Act actually outline

the role of the government versus the

role of the community, Maori iwi and

Maori interest groups as well. So there

we use the analogy of the Wharenui

[Maori communal house].

Inside that house, there is a smaller,

narrower part and that's what we call

taha iti o te, the small side of the house.

And that's led by Timata Wai and

their focus is on micro- language

revitalization, the language of the home,

intergenerational language transmission

and creating that new generation. And

the tara nui, or the larger side of the

house, is the crown.

The Maori Language Commission

coordinates and leads the efforts of

government agencies, to try and be a

bit more coordinated with our approach,

but also how that sets better conditions

across our society.

So I think there has been a lot of

political goodwill that led us to the

legislation, by getting support across

the parties, but also the efforts

and the initiatives we do today as a

result of the legislation and the policy

framework that helps navigate what is

the role of the state versus what is the

role of the family.

Q. Is enough being done to integrate

other ethnic communities into mainstream

NZ society, including instilling

an awareness of Maori heritage and

culture in these other ethnicities?

A. One of the things that we tried

to do as part of our efforts at the

Maori Language Commission is to

be more inclusive.

One of the campaigns we ran around

introducing ourselves [to other ethnic

communities] was to try and encourage

other languages to be part of that. So for

Matariki [Maori New Year], we reached

out to a number of ethnic groups for

their equivalent of the word for Matariki.

We also did introductions. So lots

of people have been learning how to

introduce themselves in Te reo Maori.

When we learn to embrace

languages as being more

than a political statement

but as being an integral part

of who we are as a nation,

that gives a bigger uplift to

[people] wanting to learn and

wanting to use the language

in their everyday life.

We're trying to encourage people to

do that in their language as well as in Te

reo Maori and to not have everything in

just Maori and English.

But also to see what it looks like

with Maori and Japanese or Maori and

Yugoslavian, and other languages. One

of the things that people have said

to us is that why is it just English and

why is everything translated back into

English. Why can't it be our language,

our heritage languages?

We have been trying to promote

an awareness of more than just

bilingualism, but also trying to embrace

multilingualism.

We are trying to be inclusive, to

allow people to feel connected to Te

reo Maori by way of being part of the

Maori language movement. And so

we've tried to reach out to as many

people as possible.

Q. Do you foresee a time when the

Maori language will be fully integrated

into mainstream NZ?

A. I think we're starting to see strong

signs of that. There will be some people,

parts of our society, who will say that

there is too much Maori language

already.

There will also be others who say

there's not enough and that we need

to be fully bilingual or multilingual, if we

include sign language into that in terms

of an official language.

I think one of the things we should

celebrate is where we come from. If we

use 50 years ago as a starting point in

terms of the reclamation of language,

that is a different era.

The absence of language in any

form, whether oral or written, was

hard to see then.

There are generations of people in

this country who think it's normal that

the national anthem is in two languages.

People are also using more and more

[Maori] language on television, at

meetings and in schools as part

of the norm.

Therefore, I think we're certainly

heading in the right direction. Will we be

fully bilingual? I hope so.

When we learn to embrace languages

as being more than a political statement

but as being an integral part of who

we are as a nation, that gives a bigger

uplift to [people] wanting to learn and

wanting to use the language in their

everyday life.
---
Read online www.iwk.co.nz Friday, 12 August, 2022

NEW ZEALAND 5

Kiwi Indian receives

prestigious award for

community work

NAVDEEP KAUR MARWAH

Getting an award is

undoubtedly the

best recognition of

one's hard work, dedication

and commitment. And if a

government of your adopted

country bestows the honour,

it becomes even more special.

And that's how Mohinder

Singh Nagra, who has been

honoured with Civic Honours

Awards by the Hastings District

Council Under Health & Welfare

category for community

volunteer service in Hawkes

Bay, is currently feeling.

He is the only person of Indian

origin on the list of awardees this

year. A special event was held

on Tuesday night at Functions

on Hastings at Toitoi -Hawke's

Bay Arts and Events Centre to

recognise 20 individuals who

have selflessly given back to

the community and helped

improve and enrich the lives of

others. The award, presented

annually, recognises the

voluntary service of individuals

or groups/organisations which

has contributed significantly to

the Hastings District.

Sharing his excitement about

winning the award, Nagra, who

dons multiple hats of being an

entrepreneur, restaurateur as

well as Justice of the Peace

despite being a family man,

says, "I am very honoured

to receive this award as it is

extraordinary and a high award

given by the Hastings District

Council to those who help

others within the community.

Being the only Indian this year, I

feel very proud!"

Nagra has been living in NZ for

over three decades and actively

works for the community. He

details his journey in NZ and

says, "I came to NZ in 1989

and resided in Whanganui

and started all community

functions, like Diwali, Vaisakhi

and religious events.

"Then we moved to Hawkes

Bay in 2000 and saw the same

gap between the community

here in Hawkes Bay. Therefore,

we got the community together

and participated in many events.

We won the best Community

Float in the Blossom Parade by

our Indian Community, with lots

of colours.

"The same year we introduced

the first-ever Diwali function in

Hawkes Bay in 2002.

2002 was also the year we

organised a community show of

celebrities to come to Hawkes

bay for their live performance

shows."

Nagra, who is also the owner

of Indian grocery stores under

the name of MP foods, revealed

that despite a lot of Indian

community members here in

Hawkes Bay, there were no

Indian Asian grocery stores,

and that's where his family

got together and began the

grocery store. "This brought

the community together and

made it feel like at home with

all their grocery needs under

one roof," he maintains.

Moving on to Nagra's

community work, he has been

a member of the Hastings Sikh

Society for the past 15 years

continuously. He has been

involved with the Sikh temple

and all other religious and

cultural activities.

Interestingly, he became a

Justices of the Peace (JP) In

2010 and was the first Indian

JP in Hawkes Bay. "Since

becoming a JP, I Have been

helping locals and immigrant

Hastings Mayor Sandra Hazlehurst with

Mohinder Singh Nagar

people for their needs from

certifying their papers to

helping them understand what

things mean and filing important

documents," he says.

Lastly, when asked about

his message to the community

members to help them inspire

to do community work, he says,

"Everyone is busy, but despite

having a busy life, taking out

some time for others will not

hurt, especially for those who

are in need."

CALL NOW

for no obligation

FREE CONSULTATION

0800 66 77 92

Oliver Pereira

Financial Adviser

Mob: 021 66 77 92

Email: oliver.pereira@opminsurance.co.nz

For further information about us, please refer to https://www.opminsurance.co.nz

OPM Insurance Services Limited (FSP117285), trading as OPM Insurance Services Limited

holds a licence issued by the Financial Markets Authority (FMA) to provide financial advice.
---
6

NEW ZEALAND

Friday, 12 August, 2022

Read online www.iwk.co.nz

Special book launch on Indian

PM Narendra Modi in Melbourne

SANDEEP SINGH

A

special

Minister

book launch

event on Indian Prime

Narendra

Modi and his contribution to

governance, development and

service to humanity was held

in Melbourne across Tasman on

Sunday, August 7.

The event witnessed

participation from several

dignitaries around the world,

including India's Minister of State

for External Affairs Meenakshi

Lekhi, High Commissioner of

India to Australia Manpreet

Vohra, Local MP of Australian

Labour Party, Julian Christopher

Hill, Hon Consul of India in New

Zealand Bhav Dhillon, Chief

Patron NID Foundation, among

several key stakeholders from

the global Indian diaspora all

around the world.

The event was organised by

Sarabjot Dhillon and Rupinder

Brar who are successful

members of the Indian Diaspora

in Melbourne.

NID Foundation (New India

Foundation) - an India based

Non-Government Organisation

committed to India's social,

economic, and political

outreach and engagement

with communities, both

domestically and internationally

by generating reform-oriented

intelligence – has been at

the forefront of organising a

global chain of events titled as

"Vishva Sadbhavna – Gesture

of Goodwill" and spread

awareness about the works and

achievements of Indian Prime

Minister Narendra Modi.

Speaking on the occasion

about the philosophy behind the

series of "Vishwa Sadbhavna"

events Mr Sandhu said, "For

us, Vishwa Sadbhavana is a

mission to spread brotherhood,

peace, harmony and Hon'ble

Prime Minister Narendra Modi's

vision and India's philosophy of

Vasudhaiva Kutumbakam."

"For us, Vishwa

Sadbhavana is a

mission to spread

brotherhood,

peace, harmony

and Hon'ble Prime

Minister Narendra

Modi's vision and

India's philosophy

of Vasudhaiva

Kutumbakam."

Representing the Kiwi-Indian

presence, the Hon Consul of

India Bhav Dhillon, who also

emceed the coveted event,

enlightened the guests in

attendance that the series of

global Vishwa Sadbhavna –

Gesture of Goodwill events had

its beginning on April 29 earlier

this year when India's Prime

Minister Mr Modi had opened

his residence for more than

140 members of the Global

Sikh delegates as part of his

efforts to outreach with Sikh

community.

Following that earlier event in

New Delhi, the NID foundation

has taken upon itself to

organise such events across

key centres of the global Indian

diaspora all around the world,

and the Melbourne chapter was

the second such event after an

earlier held event in Chicago, on

the west coast of the United

States of America.

The two books launched in

Australia on occasion were Modi

@20: Dreams Meet Delivery and

Heartfelt: The Legacy of Faith.

The former book delves into

the rise of Narendra Modi in

Indian politics and as the Prime

Minister of the world's largest

country and describes it as a

watershed moment in Indian

politics, whereas the latter book

showcases PM Modi's special

bond with the Sikh community.

Mr Dhillon also revealed from

the stage that a similar special

book launch event is also

planned for NZ and is in the

early stages of planning, and

more details of the event will

be announced in due course.
---
Happy Indian

Independence Day

The ACT Party celebrates

alongside you.

Authorised by David Seymour MP, ACT Party Leader,

Parliament Buildings, Wellington.

act.office@parliament.govt.nz

act.org.nz
---
8

NEW ZEALAND

Friday, 12 August, 2022

Read online www.iwk.co.nz

Period poverty widespread in NZ

VENU MENON

It may come as a surprise to many

that New Zealand is among the list

of countries that are experiencing

period poverty.

Period poverty is defined as the lack of

access to sanitary products, menstrual

hygiene education, toilets, hand washing

facilities and waste management.

Every day, girls and women around

the world miss school or work because

they are unable to manage their periods,

studies indicated.

A recent Otago University study

estimated that 94,788 girls between

the ages of 9 and 18 may not be able

to afford period products in NZ, and may

be staying home during their periods, as

a result.

Shuari Naidoo, a student at Victoria

University in Wellington, as well as the

CEO and founder of Moraka Menstrual

Cups, saw herself as a period activist on

a mission to counteract period poverty

in NZ, by creating affordable and

sustainable period products.

"We should strive towards ending

period poverty in society and making

sure that people have access to period

products, but also improving our

relationship with periods," Naidoo told

the Indian Weekender.

Naidoo said one in five New Zealanders

had experienced period poverty.

The rate was higher for Maori and

Pasifika populations, with 60 per cent of

Maori youth having experienced period

poverty, according to Naidoo.

Naidoo described period poverty as a

Shuari Naidoo

"silent issue" that people didn't want to

be seen to be struggling with.

The problem was not limited to

pockets of society, but occurred across

communities, Naidoo noted.

"It affects Maori, Pasifika, Pakeha,

Asian, immigrant, people from refugee

backgrounds. And it primarily affects

people on middle to lower incomes."

Naidoo believed period poverty was

driven by a combination of factors,

such as income, "meaning one can't

afford the monthly burden of buying

pads and tampons", and also the stigma

associated with periods.

Issues that affect women or subjects

that are pertinent to women were often

THIS MONTH'S SPECIAL

Cookies and Cream Gateau

OFFER VALID : 01/08/2022~31/08/2022

[ $68 NOW $62 ]

www.gateauhouse.co.nz

Call

Now

274 7744

Albany / Botany / Glenfield / Henderson / Mt Eden / Newmarket / Queen St / Stonefields

stigmatised, Naidoo contended.

Naidoo's company is based in NZ

and usually trades with universities,

NGOs and direct-to-consumer markets

in NZ. "But we are definitely looking to

Australia in the near future."

Naidoo started Moraka Menstrual Cups

when she was 16 years old, under the

Young Enterprise Scheme.

She was inspired by her mother who

wanted to start a menstrual cup business

but didn't feel the time was right. Then,

in 2012, she had a conversation about

it with Naidoo. The company came to

fruition in 2019.

We should strive towards

ending period poverty in

society and making sure

that people have access to

period products, but also

improving our relationship

with periods. It affects

Maori, Pasifika, Pakeha,

Asian, immigrant, people

from refugee backgrounds.

And it primarily affects

people on middle to lower

incomes."

How viable is her product as compared

to other period products?

"We try to make our cups as

affordable as possible. The average

menstrual cups cost around $ 30 to $

90, which is unaffordable for people of

middle to lower incomes. Buying pads

and tampons monthly can be a financial

burden for people."

But Naidoo conceded the average

cost of menstrual cups was still high. So,

her strategy was to "get people through

the door" by pricing her product at an

"affordable cost."

Moraka's menstrual cups, that

Naidoo claimed were made from "100

per cent medical grade silicone,"

cost $22 a piece.

That still presented a conundrum

for buyers accustomed to

cost-effective alternatives.

But Naidoo argued menstrual cups

eliminated the cost of buying monthly

pads and tampons and allowed

people to access period products

instead. "You're able to go about your

everyday life without having to pay

for pads and tampons.

"Furthermore, menstrual cups

lasted 10 years. So that's 10

years' worth of period products

in just one cup."

That was a debate for the market to

resolve. Meanwhile, Naidoo remained

firm that "the period equity movement

would only get bigger."

Indian retailers raise

concern on ram-raids,

rising crime

SANDEEP

SINGH

Ne w

Zealand

Indian

B u s i n e s s

Association

(NZIBA) – an

association of

Indian retailers

– has expressed

concerns about the unabated rise in

crime and ram raids along with the

government's perceived "soft on crime

approach."

A general meeting was held by the

members of the association on August 8

in South Auckland to share the concerns

around the safety of retailers, their

staff and customers, where a consensus

emerged that the government was not

doing enough to curb retail crime.

Speaking with the Indian Weekender

Chairperson of NZIBA, Davinder Rahal,

said, "The members present in the

meeting denounced the steps taken

by the government so far which they

feel would not result in any productive

outcome."

"We strongly believe that there is

a serious need for judicial review, with

a focus on how to make laws harsher

for the serious crime perpetrators," Mr

Rahal said.

Jaspreet S. Kandhari, General Secretary

NZ Indian Business Association, said,

"The ethnic businesses in particular,

which become the main target and

victims, have started to feel that

that the government has been largely

lackadaisical in dealing with this issue."

Need to provide more support to victims

of retail-crime

The retailer association also expressed

the view that there was an urgent need

for a more collaborative approach

to delivering post-crime relief to the

victims of retail crime, who are largely

left on their own to deal with the cost of

invasion at their workplaces.

• Continued on Page 9
---
Read online www.iwk.co.nz Friday, 12 August, 2022

NEW ZEALAND 9

Connecting ethnicities

through dance

NAVDEEP KAUR MARWAH

Auckland is all set to

witness a multicultural

dance extravaganza as

the Nepalese Cultural Centre

New Zealand Inc (NCCNZ) is

hosting its sixth multi-ethnic

dance festival.

The free event, which will

take place on September 24'

2022, at Victory Convention

Centre, will witness dances

from 48 ethnic groups from 29

countries of origin. Participants

will perform unique cultural

dances and share glimpses of

their culture.

This year's lineup includes

participants from countries in

the Middle East, Africa, Pacific,

Asia and Europe showcasing

their talent.

Talking about the same,

Kamal Prasad Shrestha,

President, NCCNZ, said, "Our

organisation was established in

2008 to provide and promote

Nepalese culture to the

wider community.

"During the past 14 years,

we have organised many events

that have helped Kiwis learn

about the Nepalese culture

and provided opportunities

to all ethnic groups to

promote their culture.

"We also aim to help

communities in New Zealand

understand each other's culture

and traditions. And that's

the inspiration behind having

an annual multi-ethnic dance

festival, which began in 2016.

The event aims to demonstrate

the multicultural atmosphere of

New Zealand."

On being asked, what is

unique about this year's event,

Shrestha said, "The speciality of

the event is many more ethnic

communities are participating

to showcase their culture.

We will see participation from

Indonesia, Bulgaria and Japan

for the first time.

"We are making all the effort

to make them more effective

by including glimpse films for all

countries of origin and synopsis

of the songs."

Shrestha further revealed

that "Unity in diversity" is

the festival's theme, and the

past five festivals have seen

participation from 56 ethnic

groups from 39 countries of

origin. "New Zealand is the

most ethnically diverse country

in the world. It is therefore

important to maintain its ethnic

diversities and such festivals

are very important," points out

Shrestha. The fifth multi-ethnic

dance festival was organised on

November 25 2020.

There will also be many food

stalls in the venue selling a

variety of cuisine. There will

also be stalls selling artefacts

and souvenirs from various

regions of the world, among

many others.

On a parting note, Shrestha

said, "The simple idea of getting

every ethnic community on a

common platform has grown

leaps and bounds, and I hope

the support we get continues."

What: 6th multi-ethnic dance

festival

Where: Victory Convention

Centre, 98 Beaumont Street,

Freemans Bay East, Auckland

CBD, Auckland 1010

When: September 24, 2022

Entry fee: Free event with

more than 300 free car parks

available.

• Continued from Page 8

"The members were of the

opinion that there is a need to

adopt a long-term strategy and

short-term approach to provide

immediate support and relief

to the victims who are facing

the financial brunt besides

undergoing mental trauma and

living under constant fear on a

daily basis," Mr Rahal said.

The association has decided

to take up a number of steps

in the coming days, which

will include meetings with

the Police authorities and

political members, submitting a

memorandum, and, if required,

holding a peaceful protest or

march to raise the voice and

express displeasure of the

community affected at large.

The meeting was attended by

S. Ajit Singh Randhawa (Advisory

Board member), Roshni Chadha

(President), Navtej Randhawa

(Spokesperson), Jaspreet

Kandhari (Gen Secretary),

Arjit Dubey (Jt Secretary),

Gurpreet Kandola (Treasurer)

and Navjot Chadha (Asst

Treasurer), apart from several

other members. Hardeep Singh

from Christchurch also joined

the meeting virtually to express

his concern and share his ideas

on how to raise the issue

collectively.

Export Quality | Non-Halal | Grass-Fed | Additive Free

100% Southern

Lamb and Beef

From our farms to your family

Familyfood.farm is a group of Southern farming families

who are passionate about providing export quality,

non-halal meat at aordable prices. If you want the best

meat for your family, order online today!

www.familyfood.farm
---
10

NEW ZEALAND

Friday, 12 August, 2022

Read online www.iwk.co.nz

Christchurch small business owners

meet to discuss concerns

MAHESH KUMAR

Dairy stores and other

small company owners

from Christchurch

met on Friday, 5 August, to

address a range of difficulties

and worries that the business

community is facing. Former

Member of Parliament Kanwaljit

Singh Bakshi and the Dairy

and Business Owners group

President, Sunny Kaushal,

travelled from Auckland to

address the meeting.

According to New Zealand

government statistics, there

are approximately 530,000

small businesses in NZ that

constitute 97 percent of all

firms. These businesses account

for 28 percent of employment

and contribute over a quarter

of NZ's GDP. Despite this size,

many of these businesses are

feeling that their concerns are

not being addressed.

It is a widely known fact that

over the last two to three years,

the small business sector in NZ

is struggling and trying to cope

with the onslaught of multiple

challenges.

These challenges include

shortage of staff due to border

closure, lack of demand due to

lockdowns, continued ram raids

and rising criminal incidents

among others.

Saji Thomas and Christchurch's

community leader Natu Rama

organized the meeting. Rama

told Indian Weekender, "I

have been observing the pain

that the small businesses and

dairy owners, in particular, are

going through and on Sunny

Kaushal's request, I called for

the meeting. The idea was to

get together, acknowledge the

common issues and challenges,

and discuss what can be done

collectively to allay the fears

and tackle the challenges they

are facing individually."

Topics discussed during

the meeting included

the government's recent

announcement about outlawing

smoking and eventually ending

tobacco sales. The government

intends to implement

Smokefree Generation, which

will make purchasing tobacco

products illegal for anybody

born on or after January 1,

2009. The proposal calls for

a sharp 95% reduction in the

number of stores that are

permitted to sell tobacco goods

and mandating the sale of low

nicotine products. Dairy owners

fear that prohibiting smoking

will have a negative impact on

their livelihood and cause them

to lose more than 50% of their

turnover.

For business owners, it is

like being between a rock and

a hard place. There is a major

dilemma when it comes to

selling cigarettes in stores,

since they attract robberies

and ram-raids, but they also

contribute significantly to their

revenue. It is possible that

many of them will have to shut

down as a result of losing this

chunk.

Many of those present also

opined that smoking ban will

actually lead to a black market

an already-growing black

market for cigarettes.

It is still a few years

away before smoking ban

repercussions begin to be felt,

however the meeting centered

around the immediate issue

of rising crime. In the recent

years, the nightmare of ramraids

and break-ins has been

experienced by many dairy

businesses in Christchurch just

like other NZ cities. The issue of

police inaction was also raised

and discussed.

Kaushal shared, "The

Government needs to listen to

what retailers are telling them.

The soft on crime approach is

not working. Currently, 97% of

offenders are getting away with

their crimes. Offenders must be

arrested, tried and sentenced."

Talking about the police,

Kaushal said, "We need police

to be more visible in the

community. They must work

closely with businesses, building

relationships and gathering

information on offenders.

"Perhaps we take a cue from

the UK and re-task parking

wardens into Police Community

Support Officers with antisocial

crime prevention rather

than ticketing the shoppers,

delivery drivers and contractors

we need. In Auckland alone,

that would provide an extra

resource of around 160 people

to support the Police.

"For our vulnerable

businesses, Fog Cannons and

Bollards are a good deterrent.

The dairy shop sector bleeds for

the $1.8 billion they collect for

the government off cigarettes

and GST, so around $25 million

would help to provide twothirds

of dairies with bollards

and fog cannon."

Sangeet Mehta, who endured

the horrific experience of

having his dairy ram-raided

three times, revealed the

gruesome ordeal that his young

family had to go through.

Everybody agreed that there

is a need for all business owners

to come together and form a

band to ensure that their voice

reaches the authorities and

policy makers.

THE 2022 LOCAL ELECTIONS

It's almost time

to vote in the

local elections.

Enrol by 12 August to make voting

in the local elections easy.

0800 36 76 56.

vote.nz
---
Read online www.iwk.co.nz Friday, 12 August, 2022 INDEPENDENCE DAY - SPECIAL ISSUE NEW ZEALAND 11

A little piece of India in Wellington

VENU MENON IN WELLINGTON

"We are planting 75 trees to

commemorate 75 years of Indian

Independence. This is a huge

milestone. It's about people being able

to forge their own path, about India

coming out of British rule and into Indian

self-rule," Wellington Mayor Andy Foster

said.Foster was speaking to the Indian

Weekender at an outdoor event held at

a reserve in Newlands on Saturday to

mark 75 years of Indian Independence.

The event was organised by the Indian

High Commission in collaboration with

the Wellington Indian Association (WIA).

Labour Member of Parliament Greg

O'Connor also grabbed a spade and

joined the crowd in planting saplings.

Icy, gale-force winds failed to dampen

the enthusiasm of the crowd with Foster

and O'Connor taking the lead in picking

up shovels and digging pits on the grassy

hillside to embed the saplings.

Talking to the Indian Weekender,

Foster hailed Mahatma Gandhi as one of

"the great men of history who helped

achieve Independence for India in a

peaceful way."

The mayor added that, while each

nation had its own identity which needed

to be celebrated, "we also need to learn

to live together as a family of nations.

"As we have seen, it doesn't happen in

certain parts of the world."

In this context, Foster noted NZ and

India were two democracies that shared

a strong friendship.

"The 100,000 plus people of Indian

origin who call NZ home are proud of

their Indian roots," he pointed out.

Foster hoped the saplings would grow

into a forest and "this area becomes a

little piece of India in Wellington, NZ."

Pitching his voice above the gusting

wind, Indian High Commission Head of

Chancery and acting Charge d'Affairs

Mukesh Ghiya thanked the Park Rangers

for "giving this opportunity to the

Indian High Commission and the Indian

people for celebrating the Azadi Ka

Amrit Mahotsav, by giving 75 plants

for planting on the 75th Anniversary of

Indian Independence."

Ghiya was accompanied on the

occasion by Second Secretary Durga

Dass.The High Commission officials

muddied their hands in the service of

government and country.

"Thanks for giving this

opportunity to the Indian

High Commission and

the Indian people for

celebrating the Azadi Ka

Amrit Mahotsav, by giving

75 plants for planting on the

75th Anniversary of Indian

Independence."

"Planting 75 trees on this occasion is

an important event for the Indian High

Commission and for the Government

of India as well," Dass told the Indian

Weekender. "The harsh weather did not

stop us from going ahead with the tree

planting." Before proceeding to the tree

planting venue, the community members

as well as dignitaries assembled at the

Johnsonville Community Centre where

Wellington Indian Association president

Dipak Bhana welcomed the gathering.

Paramjit Singh, former Wellington

Gurudwara office bearer, opened the

Crowd at tree planting site in Newlands

proceeding with a Sikh prayer. Foster,

O'Connor, Ghiya and a Park Ranger then

addressed the seated audience. WIA

general secretary Tejas Kalidas gave

the vote of thanks. O'Connor, who

has an office in Johnsonville, warned

the assembly that planting trees was

a challenge in the harsh Wellington

weather. He reminded everyone,

however, of an old saying: "No one ever

learned to sail on a still lake."

A very

happy 76 th Indian

Independence Day

to all of our Indian community

across Aotearoa

Left to Right: Hon Priyanca Radhakrishnan (MP for Maungakiekie, Minister for the Community

& Voluntary Sector, Diversity, Inclusion & Ethnic Communities, and Youth), Hon Dr Ayesha Verrall

(Labour List MP, Minister for COVID-19 Response and Seniors, Minister of Research, Science and

Innovation), Marja Lubeck (Labour List MP based in Kaipara ki Mahurangi), Vanushi Walters (MP

for Upper Harbour), Naisi Chen (Labour List MP based in Botany), Ibrahim Omer (Labour List MP),

Dr Gaurav Sharma (MP for Hamilton West), Ingrid Leary (MP for Taieri)

Contact Labour's Ethnic Communities Team:

09 622 2557 | ethnic_communities_labour@parliament.govt.nz

/Labourethnic | labour_ethnic_communities

Authorised by Hon Priyanca Radhakrishnan MP, Parliament Buildings, Wellington.
---
The Azadi Amrit Mahotsav means

elixir of energy of independence;

elixir of inspirations of the warriors

of freedom struggle; elixir of new

ideas and pledges; and elixir

of Aatmanirbharta. Therefore,

this Mahotsav is a festival of

awakening of the nation; festival

of fulfilling the dream of good

governance; and the festival of global

peace and development.

www.hciwellington.gov.in

IndiainNewZealand

72 Pipitea Street, Thorndon

Wellington 6011

IndiainNewZealand

IndiainNZ
---
Read online www.iwk.co.nz Friday, 12 August, 2022 INDEPENDENCE DAY - SPECIAL ISSUE NEW ZEALAND 13

Indian films are much beyond

Bollywood: Shreya Gejji

NAVDEEP KAUR MARWAH

It's a big win for Kiwi-Indian

filmmaker Shreya Gejji, the

producer and screenplay

writer of the short film

Perinayaki. The film has been

judged New Zealand's Best

Short Film at the 11th annual

New Zealand's Best Short Film

competition's jury-awarded

prizes during the NZ International

Film Festival.

The director of the film, Bala Murali

Shingade, also won the Creative New

Zealand Emerging Talent Award,

and Perianayaki actor Jeyagowri

Sivakumaran's performance also earned

a special mention. Perianayaki is a short

film about a recent non-English speaking

Sri Lankan immigrant woman in her

50s who struggles to fit in and build

meaningful relationships with her limited

grasp of English.

Speaking to Indian Weekender from

Melbourne, Australia, where she is

attending the Melbourne Film Festival

with two of her films (Kāinga and

Perianayaki), Shreya could not contain

her excitement.

"It was such an honour for the film to

receive this award because as people

of colour, we all know how hard it is to

represent our stories and stories from our

communities, so this acknowledgement

means a lot. It is also the first film I

have written and

produced so receiving

the Best NZ Short Film award

is just that much more special. "

The 30-year-old, who has been living

in NZ for the past 15 years, says she

feels the win is not only hers and

the director's but also for the wider

Indian community. She feels that it

is encouraging that Indian films are

being recognised beyond Bollywood.

"I want people to realise that there

is much more to Indian cinema and

filmmaking than just Bollywood. It is

great to receive this recognition from

NZIFF but it's really important that

the Indian community supports local

filmmakers like us and comes out to

watch our films in full strength. It signals

to funders that we are here and our

stories matter."

Lastly, she is hopeful that this win

for her film will pave help the next

generation of Indian filmmakers in NZ.

"We stand on the shoulders of giants

- there have been so many filmmakers

before us who paved the way on this

path, and I hope that this win opens the

door a little more for the next generation

of Indian filmmakers in New Zealand,"

she signs off.

• Continued from Page 3

"The cultural programme from almost

all states of India showcases real diversity

and unity in the Indian community in

New Zealand," Bhana concluded.

Open invitation for every Kiwi-Indian

Echoing the sentiments of the need

to demonstrate a mutually shared

sense of unity amongst the diverse

Kiwi-Indian community, Hon Consul of

India Bhav Dhillon said, "I would humbly

request everyone to unite together,

thereby ensuring maximum presence

and collaboration for this momentous

occasion.

"The government of India is sending

a special cultural troupe of Bhangra

performers to showcase different

facets of the rich Indian culture on

the momentous occasion of 75th

anniversary of India's Independence

Day," he added.

"The Auckland Indian diaspora

organisation have taken special care in

including cultural performances from

every state and region of India to

showcase not only the richness of the

Indian culture but also the mutually

shared sense of togetherness as a part

of the great Indian nation."

NAME CHANGE

I, Manak Rai S/O Sh Natha Ram, residing at 2/39 Simkin

Avenue, Saint Johns, Auckland, 1072. I have changed my

name to Manak Rai Jairath, DOB 11/12/1984

Happy 75 th

Indian Independence Day

Dr Gaurav Sharma MP for Hamilton West

gaurav.sharma@parliament.govt.nz

www.gmsharma.info

Follow me on facebook.com/gmsharmanz

Authorised by Dr Gaurav Sharma MP, Parliament Buildings, Wellington
---
QUOTE OF THE WEEK

The Tricolour of India does not contain only three colours in itself, but is a

reflection of the pride of our past, our commitment to the present and our

dreams of the future. After 75 years of independence when we are beginning

the journey of a new India, the Tricolour is once again representing the unity

and consciousness of India." - Narendra Modi

Editorial

Sam Uffindell

saga - Now is

not the time

for Luxon to err

N

ow

is not the time for Chris Luxon to err, or else National Party

might find itself tumbling down the same path of a downward spiral

that it has travelled a number of times in the past couple of years.

Currently, the party had regained some momentum after quite a long

time, including having a genuinely popular Leader who is polling at a record

22 per cent as the preferred prime minister, just below Jacinda Ardern at

30 per cent according to the 1 News/Kantar polls.

All other previous Leaders after the 2017 elections had always trailed at

abysmally low of under-fives even during the heydays of National polling

at high 40's between 2017-2020.

The party, along with its Centre-Right ally ACT Party, is currently polling

at 48 per cent ahead of the Labour-led Left coalition trailing at 42 per

cent and would form a government if elections were held now.

However, this change of fortune can fast revert if Luxon continues to

make avoidable mistakes.

Luxon is already making too many "genuine mistakes" with the latest

being related to the Sam Uffindell saga, where he acknowledged that his

staff was alerted by the fellow MP and National Party's campaign chair for

Tauranga electorate Todd McClay about a red flag on Uffindell's references.

However, the staff had chosen not to keep Luxon informed in real-time on

this important issue.

This has come in the backdrop of other sloppiness from Luxon's staff not

too long ago when a video posted on his social media page implied that

he was visiting Te Puke on that day, whereas in reality, he was holidaying

with his family in Hawaii.

Consequently, Luxon was seen apologising on national radio on the first

day after parliament recess, seemingly suggesting New Zealanders to

ignore the "genuine mistakes" of his staffer.

The speed and uprightness with which Luxon fronts up the media and

takes responsibility for "genuine mistakes" mostly of others have so far

eliminated any potential hit on Party's poll numbers, largely keeping his

brand image as an "outsider" intact.

Yet, he has to realise that any favourable public approval is not a finite

resource and could suddenly erode, often without much warning.

Specially, when episodes like the Uffindell saga rub into the long-running

reputational issue with the National Party's candidate selection process.

The head start that Luxon got, and was not available to his immediate

predecessors, was for his brand image of being an "outsider" – which

largely meant that he would remain outside of National's often detested

political machinery that ends up propping aggressive, alpha male types

with a boisterous outlook toward the rest of the world.

However, if Luxon is seen as someone unwilling to, or incapable of taming

those imperious political forces within the National Party, then he will soon

lose that head start and the poll numbers will begin to tumble.

The rise in the latest poll numbers is largely driven by a real cost-of-living

crisis and New Zealanders' growing sense of gloom over the country's

economic outlook in the near future.

It will be unfortunate for the party if the focus of the voters

returning back to the Party's fold after two long years of exodus

is once again distracted from real issues affecting New Zealanders

to the preparedness of the party to offer a genuine challenge to the

government in next elections.

IN FOCUS : Picture of the week

US President Joe Biden on Wednesday signed into law a bill

which expands the medical benefits for the veterans who

were exposed to toxins from burning pits of trash on military

bases, a step to support veterans and their families.

This week in New Zealand's history

12 August 1816

New Zealand's first mission school opens

The new school stood beside missionary Thomas Kendall's house in the small

Church Missionary Society (Anglican) settlement at Hohi (Oihi) in the Bay of

Islands, which had been founded 18 months earlier.

13 August 2005

Death of David Lange

David Lange was New Zealand's youngest prime minister of the 20th century.

Renowned for his sharp wit and oratory, he led the fourth Labour government

from 1984 until 1989.

14 August 1891

Women's suffrage petitions presented to Parliament

These petitions, signed by 9000 women, contributed to the introduction of a

Female Suffrage Bill in Parliament. This received majority support in the House of

Representatives but was defeated in the Legislative Council.

16 august 1944

CORSO formed

CORSO was set up to support aid efforts in war-torn nations. It became

increasingly involved in the developing world and also spoke out about poverty

in New Zealand.

17 August 1839

New Zealand Company ship Tory arrives

The sailing ship Tory dropped anchor in Queen Charlotte Sound to pick up fresh

water, food and wood before proceeding to Port Nicholson (Wellington Harbour).

18 August 1892

First women's cycling club in Australasia formed

Soon after the development of the modern bicycle, Australasia's first women's

cycling club was formed in Christchurch.

Indian Weekender : Volume 14 Issue 21

Publisher: Kiwi Media Publishing Limited

Editor: Dev Nadkarni | dev@indianweekender.co.nz

Graphic Designer: Yashmin Chand | design@indianweekender.co.nz

Multimedia Specialist: Karan Bhasin | 022 0772 156 | karan@indianweekender.co.nz

Accounts and Admin.: 09-2173623 | accounts@indianweekender.co.nz

Auckland Reporter: Navdeep Kaur Marwah: | 021 952 246 | navdeep@indianweekender.co.nz

Waikato Reporter: Sandeep Singh | 021 952 245 | sandeep@indianweekender.co.nz

Wellington Reporter: Venu Menon | 021 538 356 | venu@indianweekender.co.nz

Christchurch Reporter: Mahesh Kumar | 021 952 218 | mahesh@indianweekender.co.nz

Views expressed in the publication are not necessarily of the publisher and the publisher

is not responsible for advertisers' claims as appearing in the publication

Views expressed in the articles are solely of the authors and do not in any way represent

the views of the team at the Indian Weekender

Kiwi Media Publishing Limited - 133A, Level 1, Onehunga Mall, Onehunga, Auckland.

Printed at Horton Media, Auckland

Copyright ® 2022. Kiwi Media Publishing Limited. All Rights Reserved.

Send your suggestions and feedback to editor@indianweekender.co.nz
---
Read online www.iwk.co.nz Friday, 12 August, 2022

INDEPENDENCE DAY - SPECIAL ISSUE INDIA 15

India's march towards Aatmanirbharta

AMB. (DR.) MOHAN KUMAR

It was in May 2020 that Indian Prime

Minister Modi made a clarion call for a

Bharat that was "Aatmanirbhar".

It is important to clarify what this

meant and what it did not. While a rough

translation of the word is no doubt "selfreliant",

it is nevertheless not the kind of

self-reliance that India arguably believed

and practiced in the early years of its

independence up until the seventies

and eighties. It is easy to state what

it is not. It is certainly not autarchy; it

is certainly not inward-looking; and it

is most certainly not stopping imports

and making every product at home.

It may be more prudent to think of

"Aatmanirbharta" as Self-Reliance 2.0.

In this framework of Self-Reliance 2.0,

the PM clarified that rather than be selfcentred,

India will open up even more to

the world outside, guided by its motto:

Vasudhaiva Kutumbakam, or our earth

is just one family. PM Modi went on to

say that Aatmanirbharta will stand on

five pillars: economy, infrastructure,

technology, demography and demand.

PM explained the raison d'être of

Aatmanirbharta by saying that this

should prepare India for participation in

global supply chains and that this is a

battle India cannot afford to lose.

There is little doubt that the global

pandemic i.e. Covid-19, played a

significant role in India's push for Self-

Reliance 2.0.

Take the simple example of PPE

(Personal Protective Equipment) and

N-95 masks. At the beginning of the

pandemic, India was not making any

India and NZ co-operation

MELISSA LEE

National Party List MP

Spokesperson for

Ethnic Communities

As the Indian diaspora in New

Zealand looks ahead to another

75 years of Indian Independence

and the commemorations that will be

taking place across our nation, I want

to acknowledge everyone from our

Indian communities who have made New

Zealand a wonderful place to live.

Indian New Zealanders are the backbone

of many New Zealand industries. We find

their enterprising spirit at the heart of our

hospitality sector, our business sector

and our growing innovative technology

companies. They form a vital component

of our heritage and their presence is

welcomed in New Zealand. It can be

said the New Zealand Indian population

represents the identity of New Zealand

itself in that the populations come from

a variety of faiths, social backgrounds

and values, they are migrants and they

are intergenerational New Zealanders.

Our New Zealand Indian communities

are growing substantially with nearly

250,000 expected to be calling New

Zealand home by the time of the next

census. The wider Kiwi Asian population

number over 20% of our population.

New Zealand's Asian and Indian identities

may soon be larger than our Maori

Pacific ones. Despite this there are still

many challenges for New Zealand Indian

communities much like for those of

other ethnic backgrounds in our country.

We still see discrimination against New

N-95 masks. Today, India manufactures

at least 200,000 N-95 masks a day,

if not more. Even more impressive is

India's own record of vaccinating its

mammoth population.

In 2020 when Covid emerged, almost

no one believed India could ever fully

vaccinate its population and that such

an exercise would take years and years.

Yet, in July 2022, about 18 months

the first vaccination began, India

completed 2 billion doses of vaccines

for its citizens. The story of how this

was achieved is worthy of a case study

which will cover vital issues such as

public-private partnership, centrestate

cooperation and not to mention

building awareness among citizens and

getting their participation willingly in this

exercise.

Indeed, the WHO and others have

praised India and the best practices

here will be emulated the world over.

Zealanders from migrant backgrounds

regardless of their generational heritage

or their value to our country. More must

be done to combat the scourge of racist

cowardice, disunion and hate that can

rear its ugly head when times get tough.

We must be a country unified through

diversity and not encourage beliefs and

enmities that will grow into division.

The 75th Anniversary of Indian

Independence isn't just a celebration

of Indian identity but also is a

commemoration of our shared ties as

part of the Commonwealth of Nations,

partners on the global stage that

stand up for human rights, democracy

and opportunities for all. The Indian

nation and its international legacy has

both historically and in the modern

age shaped world culture through the

migration of its ideals, its peoples and

its values globally, in 2022 this will

only grow further. In remembering my

own positive visits across the Indian

subcontinent I sincerely hope that many

of you will be able to also reunite with

your friends and families off shore again

very soon. The past two years have

been trying for many in New Zealand and

we are now seeing migration numbers

making it clear people are choosing to

leave New Zealand rather than rebuild

our future together. We must do more

to see New Zealand as the aspirational

country we know and love and that can

only be done under National and through

the efforts of us all to build our country

for the better.

I wish everyone across the New

Zealand Indian Community a very happy

Indian Independence Day and a great

rest of 2022 ahead.

Proving that Self-Reliance 2.0 is not just

for Indians, India also exported a large

number of vaccines and PPE countries all

over the world. The latest statistics from

the MEA website talks of 240 million

(approx) vaccines which have been

delivered to 101 countries, of which

there are developed, developing and

least-developed countries. The story of

India being the pharmacy of the world

is too well known to bear any repetition

here. All of this is real "aatmanirbharta"

at work.

The Cowin platform that India used for

distributing vaccines to its mammoth

population was remarkable. Cowin is

essentially a cloud-based IT solution for

planning, implementing, monitoring and

evaluating Covid vaccination in India. By

July 2021, India decided to make this

open platform available to all countries

for their use. In the Cowin global conclave

organized in July 2021, as many as 142

countries in the world expressed interest

in adopting this platform. Again, this is

Aatmanirbharta at work.

The war in Ukraine has had a profound

impact not just in Europe, but more

importantly for developing and leastdeveloped

countries. Specifically, the

war has impacted food, energy and

commodity prices adversely. Wheat

shortage in particular, is expected to

affect Africa and the Middle-East quite

significantly.

At a time like this, it is comforting to

know that India's position when it comes

to food security for its huge population

is satisfactory.

This is yet another manifestation of

Self-Reliance 2.0. Indeed, not only was

The New Zealand National

Party joins with the people

of India in wishing our

warmest congratulations

on 75 years of national

independence!

If you require any assistance I and my

office are always happy and ready to

provide advice and support.

Please get in touch on 09 520 0538 or at

MPLee@parliament.govt.nz to make an

appointment.

Melissa Lee

National List MP based in Auckland

melissalee.co.nz • mpmelissalee

Authorised by M Lee, Parliament Buildings, Wgtn.

India able to give away food-grains and

lentils to 800 million of its citizens as

part of the Pradhan Mantri Garib Kalyan

Yojana, India was also able to carry out

modest exports of food-grains to low

income countries that needed it. Again,

Aatmanirbharta at work.

Yet another amazing success story of

Aatmanirbharta is the case of Unified

Payments Interface (UPI) which is a

government-backed centralized digital

payment gateway, widely popular in

India. To understand the significance of

UPI, consider this: India accounted for

the largest number of worldwide digital

transactions in 2021 at a whopping 48

billion, a number that is nearly three

times bigger than China's (18 billion)

and is at least six times bigger than the

transactions of US, Canada, UK, France

and Germany combined. Voices in the US

are saying that we must learn from India

which is leapfrogging into the future.

Again, Aatmanirbharta at work.

The above is not to suggest

that everything is rosy. India faces

monumental challenges with regard to

eradication of poverty, job creation and

investment in health/education/skills of

its vast population.

But the lessons are clear: India is sui

generis and it is only an "Indian" model

that will work for India and Indians.

Hence, the capital importance of

Aatmanirbharta. After all, as we have

seen above, 'Aatmanirbhar Bharat' is

not just good for India but also for the

world at large.

[Ambassador (Dr.) Mohan Kumar is a

former Indian Ambassador and a full

time academic now.]
---
16 INDIA

INDEPENDENCE DAY - SPECIAL ISSUE

Friday, 12 August, 2022

Read online www.iwk.co.nz

India's approach to development partnership

AMBASSADOR GURJIT

SINGH

In a globalising world there

was an increasing shift

towards development

partnership. Today, when

globalisation is threatened due

to the pandemic and a new war

in Europe, there is a greater

requirement for development

partnership programmes. India's

approach to development

partnership was rooted in the

experience of India's freedom

movement.

This had solidarity with other

developing countries who were

also shaking off the yoke of

colonialism and thereafter, of

under- development. Despite

initial resource constraints,

India immediately after its

independence in 1947, began

to share its developmental

experience and technical

expertise with other countries.

This began with scholarships

and capacity building

programmes and then spread

to institution building.

India's developmental

partnership

approach

focuses on human resource

development; it shows respect

for partnerships, provides for

diversity, looks at the future and

puts sustainable development

at the centre. India's

development cooperation is

typically unconditional.

In a survey of African

interlocutors 60% said that

they saw the HRD, capacity

building, training and

scholarships as a valuable part

of the Indian partnership, next

only to Indian FDI. Cooperating

with development partners on

an equal basis, and guided by

their development priorities is

India's fundamental approach.

In the landmark address of

Prime Minister Modi to the

Parliament of Uganda in July

2018 he said 'Our development

partnership will be guided by

your priorities. It will be on

terms that will be comfortable

for you, that will liberate your

potential and not constrain

your future. We will build as

much local capacity and create

as many local opportunities as

possible'.

India's model of development

cooperation is organised to

be responsive to requests

from partner countries and

provide technically and

financially feasible solutions.

The main instruments of India's

development partnership

include lines of credit, grant

assistance, small development

projects, technical consultancy,

disaster relief and humanitarian

assistance, as well as capacity

building programmes under the

Indian Technical and Economic

Cooperation (ITEC) programme.

In a recent survey in Africa, the

ITEC had the best recall among

various development efforts.

The establishment of the ITEC

program in 1964 came about

as India understood that newly

independent and emerging

countries faced challenges for

their development. There was

an opportunity to fill such gaps.

The ITEC hence brought India's

own development experience

and growing achievement to

share with other developing

countries.

The ITEC program has 6 core

qualities. These are:

1. Training in India for regular

courses in several areas

within the ITEC courses

2. Provide consultancy services

and conduct feasibility

studies for proposed

projects in partner countries

3. Set up grant-based projects

in partner countries in areas

mutually agreed upon

4. Dispatch experts to partner

countries

5. Study and experience

sharing tours by decision

makers from partner

countries

6. Provision for disaster relief

and humanitarian assistance

Indian partnership directly

supports national development

priorities. India also contributes

to multilateral funds for similar

achievements like the IBSA fund

or the India-UN Development

Partnership Fund. Where loans

are involved or institutions are

built, there is now a greater

emphasis on business plans to

make these projects financially

sustainable.

The main point is that they

should support development

priorities, which internationally

today include the Sustainable

Development

Goals.

Development cooperation

adds value to the development

processes of its partners.

The projects emanating from

the partnership can play an

important role in providing

incentives for profitable

activities, which can have

developmental impact. The

Indian impact investment

movement for implementing

the SDGs through investment

is an example of this. The

development partnership

that India follows creates

new opportunities for other

developing countries using its

own experience, and capability

of its public and private sectors.

Thus, it tries to overcome

the structural impediments

that limit the absorption among

other countries and creates

easily scalable and transferable

models. This criterion is

increasingly important. The

Indian model of cooperative

development partnership seeks

to provide ownership of the

assets and the capacities which

are built through partnership

with India of the host country. It

aims to complement resources

and capacities while respecting

the sovereignty of partners and

their own development plans.

This has led to the Indian

partnership model earning

respect among developing

countries and from international

partners. India's efforts are also

cost effective and spend less

on high fees for consultants

and focus more on delivery.

The creation of a new

Trilateral Development Fund in

India will incrementally channel

diverse funds into supporting

the Indian model of cooperation

in developing countries.

[Ambassador Gurjit Singh is a

retired Indian diplomat and has

been India's Ambassador to

Germany, Indonesia, ASEAN,

Ethiopia and the African Union]

2022
---
The New Zealand National

Party joins with the people

of India in wishing our

warmest congratulations

on 75 years of national

independence!

Christopher Luxon

Leader of the Opposition

Christopher.Luxon@parliament.govt.nz

christopherluxon.national.org.nz

christopherluxon

Melissa Lee

National MP

MPLee@parliament.govt.nz

melissalee.co.nz

mpmelissalee

Authorised by M Lee, Parliament Buildings, Wgtn.
---
18 INDIA

INDEPENDENCE DAY - SPECIAL ISSUE

Tricolour a symbol of

India's unity, integrity

Friday, 12 August, 2022

Read online www.iwk.co.nz

Addressing a Tiranga Rally in

Surat via video conferencing, PM

Modi recalled that in a few days'

time, India is completing 75 years of its

independence.

Prime Minister Narendra Modi on

Wednesday said the Indian national flag

does not contain only three colours in

itself but is a reflection of the pride

of our past, our commitment to the

present and our dreams of the future.

Addressing a Tiranga Rally in Surat via

video conferencing, PM Modi recalled that

in a few days' time, India is completing

75 years of its independence.

The Prime Minister said that all of us are

preparing for this historic Independence

Day as the Tricolour is hoisted in every

corner of India. The Prime Minister

remarked that every corner of Gujarat

is full of enthusiasm, and Surat has only

added to its glory.

"The attention of the whole country is

on Surat today. In a way, a mini India is

being seen in the Tiranga Yatra of Surat.

People from all sections of society are

involved in this together," he said.

PM Modi further said that Surat

has shown the real uniting power of

the Tricolour while adding that even

though Surat has made a mark on the

world because of its business and its

industries, today the Tiranga Yatra will

and diversity: PM Modi

Prime Minister of India, Narendra Modi.

"The Tricolour of India

does not contain only three

colours in itself, but is a

reflection of the pride of our

past, our commitment to the

present and our dreams of

the future."

be the centre of attention for the entire

world. While addressing the gathering,

the Prime Minister acknowledged the

people of Surat who brought alive the

spirit of our freedom struggle in the

Tiranga Yatra.

"There is a clothing seller, shopkeeper,

somebody is a craftsman of looms,

someone is a sewing and embroidery

artisan, another one in transportation,

they are all connected," he said.

He appreciated the efforts of the

entire textile industry of Surat who

turned this into a grand event.

"Our national flag itself has been a

symbol of the country's textile industry,

the country's khadi and our selfreliance,"

said PM Modi.

He said that Surat has always prepared

the basis for a self-reliant India in this

field. The Prime Minister further added

that Gujarat led the freedom struggle

in the form of Bapu and gave heroes

like Iron Man Sardar Patel who laid the

foundation of Ek Bharat Shreshtha

Bharat after independence. The message

emanating from the Bardoli movement

and the Dandi Yatra united the entire

country.

"The Tricolour of India does not

contain only three colours in itself, but

is a reflection of the pride of our past,

our commitment to the present and our

dreams of the future," PM Modi said.

He also mentioned that our Tricolour is

a symbol of India's unity, India's integrity

and India's diversity.

"Our fighters saw the future of the

country in the Tricolour, saw the dreams

of the country, and never let it bow

down by any means. After 75 years of

independence when we are beginning

the journey of a new India, the Tricolour

is once again representing the unity and

consciousness of India," he added.

The Prime Minister expressed

happiness that the Tiranga Yatras being

held across the country are a reflection

of the power and devotion of the Har

Ghar Tiranga Abhiyan.

"From August 13 to 15, the Tricolour

will be hoisted in every house of India.

People from every section of the society,

every caste and creed are spontaneously

joining with only one identity. This is the

identity of the conscientious citizen of

India," he said.

The Prime Minister emphasised

that this is the identity of the child of

Mother India. He expressed immense

satisfaction after men and women,

youths, elders, everybody is playing

their role in supporting the Har Ghar

Tiranga campaign. PM Modi also

expressed happiness that many poor

people, weavers and handloom workers

are also getting additional income due

to the Har Ghar Tiranga campaign. The

Prime Minister concluded his address

by underlining the importance of such

events that give new energy to our

resolves in the Azadi Ka Amrit Mahotsav.

"These campaigns of public participation

will strengthen the foundation of New

India," he added.

Bank of India (New Zealand) Ltd

Bank of India (New Zealand) Ltd

wishes everyone

Services we offer :

1. Opening of Zero balance saving account

2. Free remittance to India with attractive exchange rate

3. Same day credit to any bank in India.

Contact here:

Auckland: 09 9265797

Papatoetoe: 09 2781784

www.bankofindia.co.nz

Head Office:

10 Manukau Road, Epsom, Auckland 1023

Papatoetoe branch:

31 East Tamaki Road, Papatoetoe, Manukau 2025
---
Read online www.iwk.co.nz Friday, 12 August, 2022

INDEPENDENCE DAY - SPECIAL ISSUE WORLD 19

At UN, China puts hold on bid by India,

US to sanction Pakistan terrorist who

plotted Kandahar plane hijacking

While all other 14

members of the United

Nations Security

Council (UNSC) on Wednesday

agreed to impose sanctions

on Abdul Rauf Azhar, a top

commander of Pakistan-based

proscribed terror outfit Jaishe-Mohammad

(JeM), only one

country stood out by coming to

the defence of a terrorist and

placing a hold on the proposal.

India and the United States

wanted Azhar to be designated

as an international terrorist and

be subjected to a global travel

ban and freezing of his assets,

a proposal that would need

to be agreed by all members

in the 15-nation UNSC body

but China, a permanent vetowielding

member of the UN and

a close ally of Pakistan, delayed

the move by putting a hold on

it. Reuters cited a spokesperson

for China's mission to the United

Nations as saying that the delay

was done as China needed

"more time to study the case."

"Placing holds is provided for by

the Committee guidelines, and

there have been quite a number

Five terrorists hijacked the IC-814 plane during its flight from Kathmandu to Delhi on

December 24 1999 that year | Photo Credit: Reuters

of similar holds by Committee

members on listing requests,"

the Chinese spokesperson

was quoted as saying.

Azhar has been under US

Sanctions since 2010 after the

United States accused him of

urging Pakistanis to engage in

militant activities and organize

suicide attacks in India.

He was accused of being

involved in the planning and

execution of numerous terror

attacks, including the 1999

hijacking of an Indian Airlines

aircraft in Afghanistan's

Kandhar, the 2001 attack on

"The United States

values cooperation

with our Security

Council partners to

effectively use this

tool in an apolitical

way to stop terrorists

from exploiting the

global order to do their

misdeeds,"

the Indian Parliament and the

2016 attack on the Indian

air force base in Pathankot.

On Tuesday, India's Permanent

Representative to the United

Nations Ruchira Kamboj, in an

apparent reference to China,

said that the practice of placing

holds and blocks on listing

requests of terrorists without

giving any justification must end.

India's

Permanent

Representative to the United

Nations Ruchira Kamboj made

these remarks during a UNSC

debate on Tuesday on threats to

international peace and security

caused by terrorist acts.

She said, "It is most regrettable

that genuine and evidencebased

listing proposals

pertaining to some of the most

notorious terrorists in the world

are being placed on hold. Double

standards and continuing

politicization have rendered

the credibility of Sanctions

Regime at an all-time low."

China on repeated occasions

has put the listing of Pakistanbased

terrorists under the UNSC

Al-Qaeda and ISIL Sanctions

Committee on hold.

Earlier in June, India

slammed China after it

blocked the proposal to

list terrorist Abdul Rehman

Makki under the Sanctions

Committee, also known as

the UNSC 1267 Committee.

Ambassador Kamboj said

India has suffered from the

menace of terrorism for

decades and has learned

to counter this threat with

resolve and firm determination.

"We hope that the

international community will

stand united in addressing

this threat to humanity with

zero tolerance," she added.

A spokesperson of the US

mission to the United Nations

told Reuters, "The United States

respects other countries' needs

to verify that a sanctions

proposal meets their "domestic

evidentiary threshold to

justify a listing at the UN."

"The United States values

cooperation with our Security

Council partners to effectively

use this tool in an apolitical

way to stop terrorists from

exploiting the global order

to do their misdeeds," the

spokesperson added.
---
20 INDIA

INDEPENDENCE DAY - SPECIAL ISSUE

Friday, 12 August, 2022

Read online www.iwk.co.nz

Explained: History of popular slogans raised

How did the famous slogans first come about, and where have they come from? Inspiring a

Be it 'Jai Hind!' or 'Vande

Mataram!', most of the

popular patriotic slogans

raised today are likely to have

their origins in the movement

for Indian independence.

But how did these calls first

come about, and where have

they come from? Inspiring and

controversial, we explain the

history of slogans that have

endured in India's politics.

1. 'Jai Hind' by Netaji

Subhash Chandra Bose

Bengal's Netaji Subhas

Chandra Bose popularised

'Jai Hind' as a salutation for

soldiers of his Indian National

Army (INA), which fought

alongside Netaji's ally Japan

in the In his 2014 book,

'Lengendotes of Hyderabad',

former civil servant Narendra

Luther said the term was

coined by Zain-ul Abideen

Hasan, the son of a collector

from Hyderabad, who had gone

to Germany to study. There,

he met Bose and eventually

left his studies to join the INA.

His grand-nephew, Anvar Ali

Khan, later wrote that Khan

was tasked by Bose to look for

a military greeting or salutation

for the INA's soldiers, a

slogan which was not caste or

community-specific, given the

all-India basis of the INA.

Luther's book says Hasan

had initially suggested 'Hello',

which was rejected by Bose.

According to Anvar Ali Khan,

the idea for 'Jai Hind' came

to Hasan when he was at the

Konigsbruck camp in Germany.

He overheard two Rajput

soldiers greet each other with

the slogan 'Jai Ramji ki'. That

led to the idea of 'Jai Hindustan

ki' in his mind and it was then

shortened to 'Jai Hind', with the

term meaning 'Long live India'

or a call to lead a fight for India.

2. 'Tum mujhe khoon

do, main tumhe aazadi

doonga' by Netaji

Subhash Chandra Bose

As per the book 'Subhas

Chandra Bose: The

Nationalist and the Commander

– What Netaji Did, What

Netaji Said' edited by Vanitha

Ramchandani, the slogan had

origins in a speech Netaji made

in Myanmar, then called Burma,

on July 4, 1944.

"The British are engaged in a

worldwide struggle and in the

course of this struggle they have

suffered defeat after defeat on

so many fronts. The enemy

having been thus considerably

weakened, our fight for liberty

has become very much easier

than it was five years ago," he

said, encouraging Indians to

utilise the opportunity provided

by the Second World War.

He added, "Such a rare and

God-given opportunity comes

once in a century…through the

help of generous Nippon, it has

become possible for Indians in

East Asia to get arms to build up

a modern army," as support of

East Asian countries like Japan

(called Nippon in Japanese) was

a strategy he believed in.

Underlining his core philosophy

of violence being necessary

to achieve independence, he

said, "Friends! My comrades in

the War of Liberation! Today I

demand of you one thing, above

all. I demand of you blood. It is

blood alone that can avenge the

blood that the enemy has spilt.

It is blood alone that can pay

the price of freedom," ending

the sentiment with "Tum mujhe

khoon do, main tumhe aazadi

doonga" (Give me blood and I

promise you freedom).

3. 'Vande Mataram'

by Bankim Chandra

Chatterji

The term refers to a sense

of respect expressed to the

motherland. In 1870, Bengali

novelist Bankim Chandra

Chattopadhyay wrote a song

which would go on to assume

a national stature, but would

also be seen as communally

divisive by some. Written

in Bengali, the song titled

'Vande Mataram' would not

be introduced into the public

sphere until the publishing of

the novel Anandamath in 1882,

AB International wishes everyone Happy India Independence Day
---
Read online www.iwk.co.nz Friday, 12 August, 2022

INDEPENDENCE DAY - SPECIAL ISSUE INDIA 21

during the Indian independence movement

nd controversial, we explain the history of slogans that have endured in India's politics.

of which the song is a part.

Vande Mataram would soon be

at the forefront of sentiments

expressed during the

freedom movement.

The novel Anandmath, set

in the early 1770s against the

backdrop of the Fakir-Sannyasi

Rebellion against the British in

Bengal, came at a time of the

Bengal agrarian crisis when

the region was hit by three

famines one after another.

Chattopadhyay's novel held the

Muslim Nawab responsible for

the excruciating circumstances,

claiming it was the Nawab

bowing down to The East India

Company that had caused such

a situation.

4. 'Inquilab Zindabad' by

Maulana Hasrat Mohani

'

Inquilab Zindabad' (Long live

the revolution) was first used

by Maulana Hasrat Mohani in

1921. Historian S Irfan Habib,

writing in The Indian Express,

said Mohani (1875-1951)

was born in a town called

Mohan in the Unnao district

of Uttar Pradesh. Hasrat was

his pen name (takhallus) as a

revolutionary Urdu poet, which

also became his identity as a

political leader. Hasrat Mohani

was a labour leader, scholar,

poet and also one of the

founders of the Communist

Party of India in 1925.

Along with Swami Kumaranand

— also involved in the Indian

Communist movement —

Mohani first raised the demand

for complete independence

or 'Poorna Swaraj', at

the Ahmedabad session of

the Congress in 1921. He was

later elected a member of the

Constituent Assembly and was

also a member of the drafting

committee of the Constitution

along with Dr B R Ambedkar.

His stress on Inquilab was

inspired by his urge to fight

against social and economic

inequality, along with

colonialism. Before Mohani

coined this slogan, the Bolshevik

Revolution in Russia made the

idea of revolution symbolic

of the struggle for oppressed

nationalities globally.

It was from the mid-1920s

that this slogan became a war

cry of Bhagat Singh and his

Naujawan Bharat Sabha, as

well as his Hindustan Socialist

Republican Association (HSRA).

5. 'Sarfaroshi ki

Tamanna' by Bismil

Azimabadi

"

Sarfaroshi ki tamanna

ab hamare dil men hai,

dekhna hai zor kitna bazu-eqatil

men hai" (Our hearts are

now longing to die for a good

cause, that we shall see what

strength the arms of killers

possess), are the first two lines

Wishing everyone

Happy Independence Day

of a poem written by Bismil

Azimabadi, a freedom fighter

and poet from Bihar, after the

Jallianwalah Bagh Massacre of

1921 in Amritsar, Punjab. In

the poem, the line 'Sarfaroshi ki

tamanna ab hamare dil men hai'

is repeated, and the two lines

have been used often in Hindi

movies with patriotic themes.

The lines were popularised

by Ram Prasad Bismil, another

revolutionary.

They convey a deep longing

to take on an enemy, a spirit

seen in the way Bismil, an Urdu

poet and revolutionary, was

part of major events that raised

the spirits of fellow freedom

fighters at the time.

He was a part of the Kakori

train robbery, a successful

and ambitious operation in

which a train filled with British

goods and money was robbed

for Indian fighters to purchase

arms.

6. 'Do or Die' by

Mahatma Gandhi

In 1942, with the Second

World War commencing and

the failure of Stafford Cripps

Missions – which only promised

India a 'dominion status'

where it would still have to

bear allegiance to the King

of England – it was realised that

Your no. 1 choice for over 18 years

Your success is our priority

Our commitment is your guarantee

TEAM

MUNISH SETH

021 686 474

the movement for freedom

needed to be intensified.

On August 8, 1942, the All-

India Congress Committee met

in Gowalia Tank Maidan (August

Kranti Maidan) in Bombay.

Gandhi addressed thousands

after the meeting to spell out

the way forward.

He told the people that

he would firmly take his

demands to the Viceroy,

saying, "I am not going to be

satisfied with anything short of

complete freedom.

Maybe he will propose

the abolition of salt tax,

etc. But I will say, 'Nothing

less than freedom'".

He then told the people

what they must do: "Here is a

mantra, a short one, that I give

you. Imprint it on your hearts,

so that in every breath you give

expression to it.

The mantra is: 'Do or Die'.

We shall either free India

or die trying; we shall not

live to see the perpetuation

of our slavery."

2

Barfoot & Thompson

Sales Partnership

Eastern Beaches 2022
---
22 ENTERTAINMENT INDEPENDENCE DAY - SPECIAL ISSUE

The inner conflict that

tears every Delhiite apart

isn't easy to explain.

Regardless of where you live

in this city, it is likely that you

have spent just as much time

in awe of it as you have in

utter disgust. It's almost like a

Stockholm syndrome situation.

You feel like you've been held

hostage by Delhi, but you

can't possibly imagine living

anywhere else.

Because behind every pile

of trash, underneath every

defaced medieval ruin, there is a

story. It is a story of resilience,

of culture, of co-existence. It is

a story of violence, of jealousy,

of betrayal. There is drama in

every square inch of this city.

Which makes you wonder: why

is it that Delhi remains relatively

underrepresented in cinema?

There could be any number of

reasons. Perhaps it is because

not enough people from Delhi

make movies. We certainly

don't have a resident Ray. Cities

like Kolkata and Mumbai have

been immortalised on the big

screen, but the most cinematic

city of them all has been

ignored.In this, the first of a

new series about films and

shows that accurately capture

our cities on screen, we're

going to list the best titles set

in Delhi.

Paatal Lok

Were it not for streaming—

particularly the initial wave

of creative freedom that

the landscape afforded—we

wouldn't have got one of the

most stunningly accurate

depictions of Delhi in the

Prime Video series Paatal Lok.

Jaideep Ahlawat's noir-inspired

narration perfectly captures

not just the social hierarchy

of this city, but gives it an air

of mythic majesty. This is the

sort of city that can kill you,

but it's also the sort of city

that can compel someone to

compose a poem on the horrid

circumstances of your death.

Delhi Crime

From its earliest frames, it

is clear that Netflix's Delhi

Crime has an eye for

authenticity. Inspired by the

harrowing 2012 gang rape of a

medical student, which was, in

many ways, our own 9/11-level

moment of reckoning, Delhi

Crime is a distressing (yet

uplifting) recreation of the case.

I remember being impressed

with its keen attention for

detail, particularly with regard

to real-life locations. But I also

remember being slightly put off

by its reverence for the Delhi

Police. And that, in an abstract

way, is what this city is all

about.

Khosla Ka Ghosla

Perhaps the most skilled

chronicler of contemporary

Delhi working in mainstream

Hindi cinema, director Dibakar

Friday, 12 August, 2022

Banerjee would go on to honour

the city in several films. But

his laugh-out-loud satire of

middle class drudgery, Khosla

Ka Ghosla, remains his finest.

A keen observer of colourful

characters, Banerjee adds

some authentic local flavour

to the film, glimpsed in blinkand-miss

asides about Rajma

Chawal-fuelled indigestion, and

overheard discussions on porn.

Khosla Ka Ghosla also makes a

strong case for how, contrary

to popular belief, Delhiites can

turn to culture when brute

force fails.

Gurgaon

Even the nice people who

actually live in Gurugram are

wary of venturing beyond

certain imaginary borders. Just

like how in Delhi, food delivery

apps and e-commerce giants

forbid their delivery personnel

from entering a handful

of neighbourhoods on the

outskirts of the city. And for

Read online www.iwk.co.nz

Bollywood has been disrespecting New Delhi for decades, but

these films (and shows) capture the capital's wicked wisdom

good reason. Director Shanker

Raman's Gurgaon is a stark

reminder of just how sinister

the peripheries of this city can

be; all you have to do is take

a wrong turn—metaphorically

and literally. It has no patience

for weakness, it preys on the

superstitious, and thrives on

revenge.

Vicky Donor

While most other titles on

this list represent the spirit of

the city, few films have been

able to capture the endearing

obnoxiousness of a very

particular creature—the Delhi

uncle—better than Shoojit

Sircar's Vicky Donor.

Played by Annu Kapoor, Dr

Baldev Chaddha is the kind

of person who addresses

Ayushmann Khurrana's

Vicky as 'my dear', makes a

hilarious hand gesture every

time he says the word 'sperm

(pronounced spuh-rum)', and is

prone to casual discrimination

against 'Bongs'.

We all know at least one

Chaddha uncle.

Happy 75th Indian Independence day

to us

Talk

Hall

about

and

hiring

catering

needs.
---
Read online www.iwk.co.nz Friday, 12 August, 2022

INDEPENDENCE DAY - SPECIAL ISSUE FEATURES 23

Energy Bites

INGREDIENTS

• 1/4cup - walnuts

• 1/4cup - almonds

• 1/4cup - pistachios

• 10 - dates

• 5 - figs

• 1tbsp - chia seeds

• 2tbsp - shredded coconut

METHOD

• Add the walnuts to a food

processor and pulse a few

times until chopped.

• Repeat the process with the

almonds, pistachios and then

transfer them into a bowl

along with cashews. Set

aside.

• Add the dates, figs to a food

processor and process until

well combined.

• Transfer them into a plate.

• Set aside.

• Add chia seeds to the date

mixture and mix well using

your hands (as per your choice

you can make powder of chia

seeds and then add them).

Add all the nuts to the date

mixture and mix until all the

ingredients come together.

• With slightly damp hands,

roll half tablespoon of the

mixture into ball, then roll

each ball in the shredded

coconut.

• Store the energy bites in

an airtight container in the

refrigerator for up to 1 week,

or in the freezer for up to 3

months (Approximately 12

balls you will get).Serve

• TIP; If dates are dry, soak

them in warm water for

30 minutes to soften and

then drain.

DRY FRUIT LADOOS

INGREDIENTS

• 1/3cup - grated coconut

• 1/3cup - cashews

• 1/3cup - almonds

• 1/3cup - pistachios

• 21/2tbsp - edible gum (gond katira)

• 3/4cup - wheat flour (atta)

• 1cup - jaggery (gur)

• 11/2tbsp - water

• 1/2tsp - cardamom powder

• 6tbsp - clarified butter (ghee)

METHOD

• In a heavy base fry pan, over medium flame,

dry roast grated coconut, then, transfer it into

a plate and set aside.

• Add 1 tablespoon of clarified butter in the

same fry pan.

• Roast almonds and cashews over medium

flame until slightly aromatic.

• Add pistachios and fry for another 2 minutes.

• Transfer the nuts into a plate along side

roasted coconut.

• Once the nuts are cool then coarse grind them

along with coconut and set aside for later use.

• In the same frypan add 3 tablespoon of clarified

butter. Add edible gum and roast over medium

flame till they are fluffy and separated.

VARIATION OF ENERGY BITE

INGREDIENTS:

• 100gm - dates, chopped

• 50gm - almonds, sliced

• 50gm - pistachios, sliced

• 50gm - cashews, chopped

• 1tbsp - poppy seeds

• 6 - figs, chopped

• 1tbsp - cardamom powder

• 1tbsp - pumpkin seeds

• 3tbsp - clarified butter

METHOD

• In a fry pan dry roast poppy

seeds and keep aside for

later use.

• In the same pan add 2

tablespoons of clarified

butter over medium flame.

• Add almonds, pistachios and

• cashews, roast them, then

transfer them into a plate.

• In the same pan add 1

tablespoon of clarified butter.

• Transfer puffed edible gum into a plate.

• Again in the same fry pan add 2 tablespoon of

clarified butter.

• Add wheat flour and fry over medium flame

until light brown in colour and aromatic

(approximately for 8 minutes).

• Transfer wheat flour into a plate.

• Add nuts along with coconut to flour and mix

well. Add puffed edible gum and cardamom

powder to the flour mixture and mix everything

well. Set aside. In the same fry pan add jaggery

along with water.

• Melt jaggery over medium flame while stirring

continuously, once the boil comes remove the

pan from the flame.

• Add flour mixture to the jaggery and mix

everything until well combined with the spoon.

• When jaggery cools down a bit, rub some

clarified butter on your hands and then roll half

tablespoon of the mixture into ball. Repeat the

process until the mixture is finished.

• Store dry fruit ladoo's in an airtight container.

TIP: Everything is roasted for long shelf life.

• These ladoo's can be kept for months.

• If using seeds, toast them until they turn

aromatic then add them.

• Gram flour (besan) can be used instead of

wheat flour as per your choice.

• Add dates and figs, roast

them for 2-3 minutes, then

transfer them into a plate.

Add roasted nuts to dates

and figs.

• Add cardamom powder

and pumpkin seeds, mix

everything until well

combined.

• Roll half tablespoon of the

mixture into ball, then roll

each ball in the roasted

poppy seeds. Serve

Bhartiya

Samaj and Roopa

aur Aap Charitable

trust wishes you all

Happy India

Independence Day

Azadi Ka Amrit Mahotsav

Mr Jeet Jeet Suchdev Suchdev QSM JP QSM JP

Bhartiya Samaj

and Roopa aur Aap

Charitable trust

wishes you all

Happy India

Independence Day

a very Happy

Independence Day

Mobile: 0212221020 | Email: | Email: jeet@xtra.co.nz | Address: | Address: 13 May 13 Rd, May Mount Rd, Mount Roskill, Roskill, Auckland Auckland 1041
---
7C E L E B R A T I N G

TH

YEARS

ANNIVERSARY

Celebrate the Free Spirit of India. May this Independence Day

Fill your Life Happiness and Prosperity.

OUR SERVICES

Mann Travel aims to make your travel memorable in every way possible.

Get in touch with us to make the most of your vacation !

24

7

Travel Expert

Support

Safe and Secure

Transactions

Lowest Air Fares

Best Customer

Service Provider

Book Flights

Online

Customer Support

WE'RE

HIRING

APPLY TODAY

Experienced Travel Sales

Consultant Required

Minimum Experience of 1 year in Travel Sales.

Outstanding Customer Service, People Oriented and Management Skills.

Good Geographical Knowledge i.e. City codes, Airport codes etc.

Experience on any of the GDS-Amadeus/Sabre/Galileo/Other will be preferred.

info@manntravel.co.nz

09 973 1940