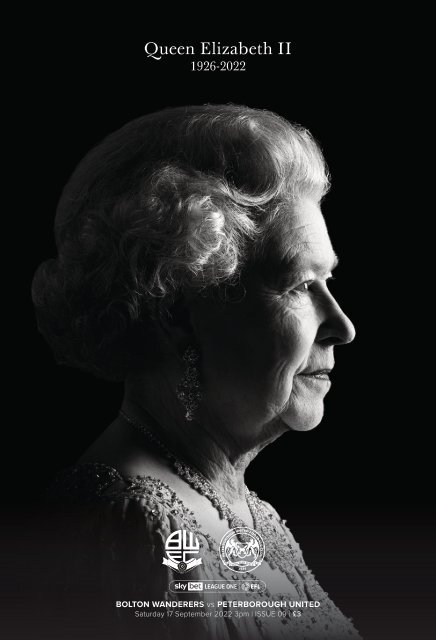 Bolton Wanderers vs Peterborough United
The Wanderer | Official Matchday Programme of Bolton Wanderers | Issue 09 Bolton Wanderers vs Peterborough United | Sky Bet League One Saturday 17th September, 2022 | KO 3pm | University of Bolton Stadium
The Wanderer | Official Matchday Programme of Bolton Wanderers | Issue 09
Bolton Wanderers vs Peterborough United | Sky Bet League One
Saturday 17th September, 2022 | KO 3pm | University of Bolton Stadium
SHOW MORE
SHOW LESS
Create successful ePaper yourself
Turn your PDF publications into a flip-book with our unique Google optimized e-Paper software.
Queen Elizabeth II

1926-2022

BOLTON WANDERERS vs PETERBOROUGH UNITED

Saturday 17 September 2022 3pm | ISSUE 09 | £3
---
DON'T MISS ANOTHER GAME!

L E AV E T H E S E R V I C I N G T O U S
---
IN THIS ISSUE

4

20

12

28 34

BOLTON WANDERERS

FOOTBALL CLUB

University of Bolton Stadium

Burnden Way

Bolton

BL6 6JW

CONTACTS

General Enquiries/Bolton Central

01204 673 673

Promotions Enquiries 01204 673777

Commercial Department 01204 673761

Bolton Stadium Hotel 0844 248 2345

Ticket office 01204 328888

Shop 01204 673650

Website www.bwfc.co.uk

HONOURS

FA Cup Winners 1923, 1926, 1929,

1958 | FA Cup Runners Up 1894, 1904,

1953 | League Cup Runners Up 1995,

2004 | Division One Champions 1997

| Division Two Champions 1909, 1978 |

Division Three Champions 1973 | Sky

Bet League One Runners Up 2017

| Sherpa Van Trophy Winners 1989

| Freight Rover Trophy Runners Up

1986 | FA Charity Shield Winners 1958

| Lancashire Cup Winners 1886, 1891,

1912, 1922, 1925, 1927, 1932, 1934, 1948,

1988, 1990 | Central League Champions

1955, 1995 | FA Premier League Asia

Trophy 2005 | Reserve League North

Champions 2007 | Manchester FA

Senior Cup Winners 1922, 1963, 2015 |

U23 Professional Development League

National Champions 2018

PROGRAMME

Editor: Luke Gallagher Contact: programme@bwfc.co.uk

Contributors: Paul Holliday, Simon Marland, Alison Bell, Phil Mason, Jake Kirkman

and Pete Oliver.

Images: CameraSport, Rex Features, Back Page Images, PA Images and Peter

Simmons.

Produced by Ignition Sports Media

www.ignitionsportsmedia.com • 01685 352 042

Designer: Julian Tredinnick

Awards: Sports Trader League One Programme of the Year 2016/17

© All editorial in this programme is copyright of BWFC and may not be reproduced. The views of the contributors do

not necessarily reflect the views of the club. Information correct at the time of going to press.

Please recycle this programme

when you have finished reading it.

OFFICIALS

Chairman: Sharon Brittan

Director: Michael James

Director: Nick Luckock

Chief Executive Officer: Neil Hart

Manager: Ian Evatt

Assistant Manager: Peter Atherton

First Team Coach: Sam Hird

Technical Performance Director: Chris Markham

Head of Football Administration: Richard Cooper

Academy Manager: Dave Gardiner

HONORARY TITLES

Honorary President/Honorary Director:

Nat Lofthouse OBE (1925-2011)

Honorary President: Eddie Davies (1946-2018)

Honorary Vice President: Simon Marland

www.bwfc.co.uk

The Wanderer | 3
---
FROM THE MANAGER

IAN EVATT

TODAY, THE BOLTON WANDERERS FAMILY WILL GATHER EN MASSE AS

ONE AT THE UNIVERSITY OF BOLTON STADIUM TO PAY OUR RESPECT TO

HER LATE MAJESTY, QUEEN ELIZABETH II.

For the vast majority of us here

today, the Queen, as monarch

of our country, was a constant

presence in our lives and it seems

surreal that she is no longer with

us.

She dedicated her entire life to

serving the people of the United

Kingdom and the Commonwealth

and her passing is a truly sad time

for us all.

Tuesday's game against MK Dons

was the first time we had played

since her death and although there

was an air of poignancy, both sets

of fans played their part in paying

tribute to her memory.

As sovereign for 70 years and

working hard for her people well

into her 90s, it is no surprise that

we are seeing such an outpouring

of love and appreciation for her.

Monday, the day of her funeral,

will be an opportunity for us all to

reflect on her selfless dedication

and to share our thoughts and

prayers with King Charles III, the

Queen Consort and all the Royal

Family.

As a club, we have rearranged our

training schedule to allow our staff

and players the chance to take

part in this important and historical

moment.

Today we welcome Peterborough

United, their manager Grant

McCann, his staff and players,

and all the supporters who have

travelled up for the game.

They have had a good start to the

season and we will need to be

firing on all cylinders if we are to

get something from the contest.

But in front of our home fans, we

have the opportunity to build on

our win against Charlton Athletic

and build up some momentum as

we head towards another busy

phase of the campaign.

Thank you to all those who made

their way down to Milton Keynes

in midweek. I know I keep saying

it but it never fails to amaze me to

see the quality of support we get

on our travels, especially during

these difficult times.

It was a game we controlled from

minute one and we should have

scored more than the two we did,

but we looked solid and I was

pleased with the performance

which will stand us in good stead

going into today's match.

Enjoy the game,

Ian.

4 | The Wanderer 01204 328 888
---
FROM THE

BOARDROOM

IN THE WAKE OF

THE SEPTEMBER

11 TERRORIST

ATTACKS IN

THE UNITED

STATES 21 YEARS

AGO, QUEEN

ELIZABETH II

ADDRESSED

THOSE WHO LOST

LOVED ONES BY

TELLING THEM

THAT 'GRIEF IS

THE PRICE WE

PAY FOR LOVE.'

Following Her Majesty's passing

last week, we, as a nation, grieve

for the Royal Family's and our

nation's loss.

We have all experienced loss in

our lives and Her Majesty's death

will have brought back memories

of our loved ones who are no

longer with us.

The late Queen Elizabeth was

a great woman whose lifelong

commitment to the United Kingdom

and the Commonwealth spanned

generations and was unfaltering.

As Sovereign of the nation she

was also a beloved mother,

grandmother and great

grandmother, and we were

fortunate enough to see glimpses

of that maternal side of her life

alongside the ceremonial duties

she performed throughout her

reign.

She was held in high esteem

throughout the world - not just in

the countries where she was Head

Royal Occasion: Queen

Elizabeth II presenting the

trophy and medals following

the 1953 FA Cup Final.

of State - and was our greatest

ever ambassador.

The tributes and outpouring of

love we have seen are testament

to this.

Her funeral on Monday will be

watched by hundreds of millions of

people across the planet and will

be a poignant occasion.

The thoughts of everybody at

Bolton Wanderers Football Club

will be with the Royal Family as the

Queen is laid to rest.

In the hours after his mother's

passing, King Charles addressed

the nation and told us that he will

serve with 'loyalty,respect and

love."

These are values that we hold

dear and we are certain that under

his guidance the nation will come

together and emerge from these

difficult times.

God Save The King.

Sharon, Michael, Nick and everyone

in the Bolton Wanderers Family.

www.bwfc.co.uk

The Wanderer | 5
---
MATCH ACTION

VS

BOLTON WANDERERS 3

(Bradley 9, Lee 41, Johnston 76)

CHARLTON ATHLETIC 1

(Fraser 4)

SATURDAY 3 SEPTEMBER 2022 | SKY BET LEAGUE ONE | UNIVERSITY OF BOLTON STADIUM

LINE-UPS

Bolton Wanderers: Trafford, Jones, Almeida Santos,

Johnston, Bradley, Iredale, Williams, Thomason

(Morley 90+1), Lee (Dempsey 77), Bakayoko

(Afolayan 72), Charles (Kachunga 90).

Unused Subs: Aimson, John, Sadlier.

Bookings: Iredale, Jones.

Charlton Athletic: Wollacott, Clare, Lavelle,

O'Connell, Clayden, Dobson, Morgan (Blackett-

Taylor 81), Fraser, Rak-Sakyi, Kirk (Leaburn 74),

Stockley.

Unused Subs: MacGillivray, Ness, Chin, McGrandles,

Payne.

Bookings: Lavelle.

Attendance: 19,193 (731 Charlton fans)

Social Media Man of the Match: George Thomason

Wanderers returned to winning ways in Sky Bet League

One with a come-from-behind victory against Charlton

Athletic at the University of Bolton Stadium.

Scott Fraser gave the Addicks an early lead after

converting Jesurun Rak-Sakyi's low cross, but the lead

didn't last for long with Conor Bradley latching onto Jack

Iredale's cross to score at the far post.

Bradley played a part in the second goal with Wanderers

taking the lead before the break. After finding Gethin

Jones initially, he received the low cut-back and helped

it into the path of Kieran Lee who beat Joe Wollacott.

George Johnston put the icing on the cake to confirm

victory with a third goal after Dion Charles' low centre

found the defender at the far post, following alert play

by the forward to latch onto Iredale's quickly-taken freekick.

6 | The Wanderer 01204 328 888
---
MATCH STATS

POSSESSION:

56% 44%

SHOTS:

17 9

SHOTS ON GOAL:

5 5

CORNERS:

5 5

FOULS:

12 9

COMPLETED PASSES:

362 266

www.bwfc.co.uk

The Wanderer | 7
---
HERE'S

A ST AT

I BET

YOU

DIDN'T

KN

W
---
OVER HALF A MILLION

SKY BET CUSTOMERS USE DEPOSIT LIMITS

TO MANAGE THEIR BETTING BUDGET.

THAT'S ENOUGH TO FILL:

6 WEMBLEYS.

201 ALLY PALLYS.

OR 8 CHELTENHAM GOLD CUP DAYS.

(THAT'S A LOT OF TWEED)

ALL GOOD BOOKMAKERS

HAVE DEPOSIT LIMITS.

SO WHOEVER YOU BET WITH,

SET AN APPROPRIATE ONE FOR YOU

AND THEN ENJOY THE SPORT.

DEPOSIT LIMITS

THAT'S BETTING BETTER.
---
For more information on our Business Club please contact

sales@bwfc.co.uk or call 01204 673761

MILLSTONE

INSURANCE SERVICES

w www.notjusttravel.com/gaynor-speakman

e gaynor.speakman@notjusttravel.com

p 07990541465

Find me on Facebook

DRAGONFLY

CROWD HEALTH P ROTECTION

&

INSURANCE

10 | The Wanderer 01204 328 888
---
COMMERCIAL

CORNER

We welcome back all sponsors,

partners, and guests to the

University of Bolton stadium

for this afternoon's historic and

very different fixture against

Peterborough United. The

outpouring of love and support

from the world of football towards

Queen Elizabeth II has been heartwarming,

and it's nice to finally

get an opportunity to show our

respects this afternoon.

Even though the season is now in

full flow, commercially we are still

all systems go with a number of

events and hospitality offerings.

25 YEAR

ANNIVERSARY

DINNER

To mark a quarter of a century of

football at our iconic ground, we

are proud to be hosting a special

anniversary dinner to mark the

milestone.

The three-course dinner in the

Premier Suite at the University

of Bolton Stadium will take place

on Friday, 30 September 2022,

and it will feature a star-studded

line-up of management and former

players who ushered in a new era

for the Whites.

The evening kicks off with a 7pm

arrival, and tickets are priced at

£75 per person or £750 per table

of 10. To book your place, please

contact sales@bwfc.co.uk or ring

01204 673761.

BUSINESS CLUB

Following the success of June's

Fixtures Release Business

Breakfast, the next Wanderers

Business Club event will be a

lunchtime Curry Club with VIP

guest, Ian Evatt. The event will

take place on Friday 14th October

from 12pm – 2pm in the Platinum

Suite at the University of Bolton

Stadium and will be chance

for members of the business

community to network in a relaxed

environment at the home of the

Wanderers.

Guests will enjoy Indian food

provided by local caterers Sushma'

Snacks, followed by an exclusive

Q&A with manager Ian Evatt

and a general club update from

Chief Executive Officer, Neil Hart.

Chairman Sharon Brittan will also

be in attendance.

The seasonal membership

includes access to a variety of

fantastic benefits, exclusive events

and superb match day hospitality

options.

A seasonal membership costs just

£395 per annum and includes:

• x4 Wanderers Business Club

meetings per season.

• Company logo listed on the

Business Club Page on the official

Bolton Wanderers' website.

• Company details and contact

information listed on the

Wanderers Business Club page in

every match day programme.

• x2 tickets in the Lion of Vienna

for a match during the season

(match subject to availability).

• Guest speakers from Bolton

Wanderers at every Business Club

meeting.

• Networking opportunities with

other businesses that share a

passion for the club and the town.

• Opportunities to promote your

business or to speak at future

events.

For information on all things

hospitality, sponsorship and

advertising, please contact the

commercial team on 01204

673761 or sales@bwfc.co.uk, or

visit bwfc.co.uk/corporate/

www.bwfc.co.uk

The Wanderer | 11
---
[ IN OPPOSITION ]

PETERBOROUGH

UNITED

STADIUM:

London Road

Capacity:

15,314

NICKNAME:

The Posh

FOUNDED:

1934

DID YOU KNOW?

Peterborough United are known

throughout the world of football as

'The Posh' and the nickname was

almost certainly inherited from earlier,

unconnected professional clubs in their

home city.

In 1921 the manager of Fletton United was

quoted as saying he was looking for Posh

players to form a Posh team, by Posh

he meant good, and it stuck from that.

[ LAST FIVE SEASONS ]

Before that Fletton United were known

as the Brickies or Claydobbers due to the

brickworks in the area.

Fletton added Peterborough to their name

in 1923, becoming Peterborough & Fletton

United when they joined the Southern

League. In 1932 the club went bankrupt,

and when the current club was formed two

years later and made their Midland League

debut against Gainsborough Trinity on 1st

September 1934, the team was greeted

with cries of 'Up The Posh' from the crowd.​

2021/22: 22nd [R] 2020/21: 2nd [P] 2019/20: 7th 2018/19: 7th 2017/18: 9th

12 | The Wanderer 01204 328 888
---
THE SPINE OF THE TEAM

GOALKEEPER | LUCAS BERGSTRÖM

AGE: 19 | ON LOAN FROM CHELSEA

The 6 feet 9 inch stopper will likely be the tallest in the professional

game, and has arrived at London Road in the summer, on loan from

Premier League Chelsea.

The teenager, who is a youth international for Finland, has been a regular

so far for the Posh this season – in what is his first real taste of senior

football. Moving to Stamford Bridge from his native side TPS in 2018,

Bergström is yet to make a senior appearance for the Londoners, but has

featured in the club's U23s side.

CENTRE BACK | FRANKIE KENT

AGE: 26 | PREVIOUS CLUB: COLCHESTER UNITED

Coming through as part of a talented crop of youngsters at Colchester

United, the central defender made his professional debut for the Essex

club in a May 2014 victory at Walsall before going onto rack up a total of

141 appearances (8 goals).

In June 2019, he secured a move to Peterborough United for an

undisclosed fee after winning Colchester's Player of the Year award, and

he has been a regular in the heart of the defence ever since – with a total

of 130 appearances (4 goals) to date.

CENTRE MIDFIELDER | JACK TAYLOR

AGE: 24 | PREVIOUS CLUB: BARNET

Taylor spent seven years in the academy at Chelsea before coming

through to sign professional terms at Barnet. Making his senior bow for

the Bees in a Football League Trophy defeat to Norwich City's U23s in

October 2016, he would go onto become a star for the North London

club.

The midfielder had a spell on loan with Hampton & Richmond before

racking up 129 appearances (15 goals) for Barnet. In January 2020,

Peterborough United swooped for his signature for an initial fee of

£500,000

STRIKER | JONSON CLARKE-HARRIS

AGE: 28 | PREVIOUS CLUB: BRISTOL ROVERS

An international footballer for Jamaica, Clarke-Harris has 5 goals to date for

Peterborough and during his last season at this level with the Posh (2020/21), he

managed an impressive 31 goals during the league campaign.

Coming through the ranks with Coventry City, he had an initial spell with

Peterborough United and went onto feature for Oldham Athletic and Rotherham

United before a return to Coventry in 2018. His second spell with the Sky Blues was

cut-short following a move to Bristol Rovers and after netting 27 times in 18 months for

the Gas, he signed for Peterborough in August 2020 for £1.2 Million.

To date for the Posh, he has scored 50 goals in 102 appearances.

#1

#6

#8

#9

www.bwfc.co.uk

The Wanderer | 13
---
THE BOSS…

A familiar face at London Road, McCann returned to the club for

his third spell as manager in February, and although he couldn't

keep his side in the Championship, he'll fancy his chances of

an immediate return – especially having guided Hull City to the

League One title in 2020/21 at the first time of asking.

The Belfast-born former midfielder also spent the 2018/19 season in

charge of Doncaster Rovers, and he took the South Yorkshire club

to the League One play-offs, before defeat to Charlton Athletic in

the semi-finals.

Starting out with West Ham United as a player, he made his name at

Cheltenham Town after initially joining on loan in 2000, he remained

until 2007. After spells at Barnsley and Scunthorpe United, he spent

five years as a player at London Road (2010-2015), before finishing

at Linfield.

#28

WILL

BLACKMORE

GOALKEEPER

Age: 20

Previous Club:

N/A (Academy Graduate)

JOSH

KNIGHT

CENTRE BACK

Age: 24

Previous Club:

Leicester City

#5

JOE

TOMLINSON

LEFT BACK

Age: 22

Previous Club:

Eastleigh

#12

NATHAN

THOMPSON

RIGHT BACK/CENTRE BACK

Age: 31

Previous Club:

Portsmouth

#21

GRANT

McCANN

RONNIE

EDWARDS

CENTRE BACK

Age: 19

Previous Club:

Barnet

JOE

WARD

RIGHT WING BACK

Age: 27

Previous Club:

Woking

#4

#23

OPPOSITION IN PROFILE

14 | The Wanderer 01204 328 888
---
#16

#7

#24

HARRISON

BURROWS

LEFT WING BACK/LEFT MIDFIELD

Age: 20

Previous Club:

N/A (Academy Graduate)

JEANDO

FUCHS

CENTRE MIDFIELDER

Age: 24

Previous Club:

Dundee United

BEN

THOMPSON

CENTRE MIDFIELDER

Age: 26

Previous Club:

Gillingham

#22

#10

#11

HECTOR

KYPRIANOU

CENTRE MIDFIELDER

Age: 21

Previous Club:

Leyton Orient

EPHRON

MASON-CLARK

ATTACKING MIDFIELDER

Age: 23

Previous Club:

Barnet

KWAME

POKU

ATTACKING MIDFIELDER

Age: 21

Previous Club:

Colchester United

#26

#17

#14

JOEL

RANDALL

LEFT WINGER/ATTACKING MIDFIELDER

Age: 22

Previous Club:

Exeter City

RICKY-JADE

JONES

ATTACKING MIDFIELDER/STRIKER

Age: 19

Previous Club:

N/A (Academy Graduate)

JACK

MARRIOTT

STRIKER

Age: 27

Previous Club:

Derby County

www.bwfc.co.uk

The Wanderer | 15
---
IN NUMBERS

THE TROPHY CABINET:

FOOTBALL LEAGUE

FOURTH DIVISION

WINNERS:

1960/61, 1973/74.

FOOTBALL LEAGUE

DIVISION THREE PLAY-OFF

WINNERS: 1999/00.

FOOTBALL LEAGUE

TROPHY WINNERS:

2013/14.

MIDLAND LEAGUE

WINNERS: 1939/40,

1955/56, 1956/57,

1957/58, 1958/59,

1959/60.

MOST LEAGUE APPEARANCES:

TOMMY ROBSON

482

ALL-TIME TOP LEAGUE SCORER:

JIM HALL

122

2021/22 SEASON (RESULTS):

2021/22 AVERAGE

ATTENDANCE:

9,401

HIGHEST HOME

ATTENDANCE:

30,096

VS SWANSEA TOWN (20 FEBRUARY

1965 – FA CUP FIFTH ROUND)

9 WINS | 10 DRAWS | 27 DEFEATS

GOALS: 43 SCORED | 87 CONCEDED

BEST FINAL LEAGUE POSITION:

10TH

IN DIVISION ONE (SECOND TIER) – 1992/93

HIGHEST TRANSFER FEE PAID:

£1.5 million

TO BRISTOL CITY FOR MOHAMED EISA IN

JUNE 2019.

LOWEST FINAL LEAGUE POSITION:

19TH

IN THE MIDLANDS LEAGUE (1937/38)

HIGHEST TRANSFER FEE RECEIVED:

£6.21 million

FROM NOTTINGHAM FOREST FOR BRITT

ASSOMBALONGA IN AUGUST 2014.

THIS SEASON'S STATS:

Games: 11 Wins: 5

Goals Scored: 17 Goals Conceded: 12

Biggest win: 4-0 vs Lincoln City (Saturday 20 August 2022)

Biggest defeat: 2-0 vs Plymouth Argyle (Saturday 13 August 2022)

16 | The Wanderer 01204 328 888
---
MARLAND'S

MUSINGS

Luke Staton

FORMER WANDERER TO

RUN 100 MILES.

Ex Wanderers midfielder Luke

Staton is today taking part in

the Robin Hood 100 mile race

in Nottingham to raise funds for

the dreams come true charity

who bring moments of magic and

deliver lasting impact for children

who have it tough.

The Midfielder represented

England at under 16 level before

joining Blackburn Rovers. He

joined the Wanderers in the

summer of 1999 and his only

first team appearance came in a

Worthington Cup Second Round

2-0 success against Gillingham,

in September 1999, at the then

Reebok Stadium. That game was

coincidentally Colin Todd's last

game as manager.

He was a regular in the club's FA

Premier Reserve League side that

season before joining Barry Town

United where he played in the

Champions League qualifiers. He

then represented Merthyr Tydfil,

Gainsborough, Worksop and

Retford United, where he began

as a youngster, before hanging up

his boots.

Now 43 years old, he is a

motivational speaker and coach

and indeed delivered at the

Wanderers Academy pre-covid,

heading a project called inspiring

the next generation and also

manages one of the junior sides

at Retford United. The page for

donations for Luke's mammoth

run is https://donate.raiseitup.

com/100milesnonstoprun

Conor Wilkinson

WANDERERS

MATTERS WITH

CLUB HISTORIAN

SIMON MARLAND…

ROYAL CUP FINALS.

Everyone at Bolton Wanderers

shares the nation's grief at the

passing of our Monarch, Her

Majesty The Queen.

Her Majesty attended our FA Cup

Final in 1953, presenting the Cup

to Blackpool after the famous

Matthews Final whilst it was Prince

Philip who presented the trophy

in 1958 to Nat Lofthouse, after the

2-0 defeat of Manchester United.

LANCASHIRE CUP.

The Wanderers have been drawn

away to Blackpool in this season's

competition last won by the club

in 1990/91.

The last occasion we faced the

Seasiders in the competition was in

October 2013 when we ran out 7-2

winners in monsoon conditions.

Conor Wilkinson, now at Walsall,

chipped in with four goals. Since

then, only Alex Samizadeh has

netted as many in a competitive

first team or reserve fixture, that

coming in a 6-1 defeat of QPR

U23 in September 2016.

www.bwfc.co.uk

The Wanderer | 17
---
The all-new fully electric

Kia Niro EV.

Take the lead. Drive electric.

6.9% APR Representative

Order by 30 th September 2022

Bolton Kia – Europe's No.1 Kia Dealer

79 The Linkway, Middlebrook Retail Park, Horwich, BL6 6JA

01204 664800 l kia.co.uk/bolton

@bolton_kia

/boltonkia

Bolton_Kia

Fuel consumption in mpg (I/100km) for the model shown: Combined not applicable, CO 2

emissions 0 g/km and electric combined range of up to 285 miles, to a city range of 375 miles.

These figures were obtained after the battery had been fully charged. The Niro EV is a battery

electric vehicle requiring mains electricity for charging. MPG figures are official EU test figures for comparative

purposes and may not reflect real driving results. The figures shown here are for limited comparison purposes; electric range and CO 2

are tested using WLTP. Only compare fuel consumption, CO 2 and electric range figures with other cars tested to the same technical

procedures. For more information about WLTP please refer to kia.com/uk. Model shown: Niro EV '4' 64.8 kWh lithium-ion 201bhp 1-speed

auto at £42,490 including the Steel Pack and premium White Pearl paint at £745. Kia Niro EV range available from £36,245 Specification

is subject to change without notice. Offer available on purchase of a new Kia Niro EV in the United Kingdom between 01.07.2022 -

30.09.2022. Retail Sales only. Further charges may be made subject to the condition or mileage of the vehicle. Kia reserves the right to

amend or withdraw offers at any time without prior notice. Finance T&Cs apply. Subject to status. 18s or over. Guarantee may be required.

Kia Finance RH2 9AQ. 7 year / 100,000 mile manufacturer's warranty. For full terms and exclusions visit kia.com/uk/owners

Kia UK Limited trading as Bolton Kia are a broker (not a lender) for the purposes of this financial promotion and can introduce

you to a limited number of carefully selected finance providers and may receive a commission from them for the introduction.
---
Wanderers' team and staff played their

part at Stadium MK as football came

together to pay its respects to Her late

Majesty, Queen Elizabeth II. A minute's

silence will be repeated across the

country again today, including here at

the University of Bolton Stadium.
---
#6 GEORGE

JOHNSTON

20 | The Wanderer 01204 328 888
---
AN OLD HEAD ON YOUNG SHOULDERS,

GEORGE JOHNSTON HAS CERTAINLY COME OF AGE.

Watching the Wanderers'

defender turn in ever-more

measured performances, it's easy

to forget he's yet to reach 100

senior appearances.

Striving to make the breakthrough

initially at Liverpool and then in the

Dutch top-flight with Feyenoord

has made Johnston something of

a slow burner in terms of first-team

football.

Having just turned 24, he also

has plenty of time on his side in

a playing position where physical

maturity and know-how are both

major assets.

But already this season there's

no doubt he's looking ever more

like the finished article even if, as

a relative rookie, Johnston still fits

into the 'young player' category

when it comes to individual awards

for his achievements last term.

The Scotland U21 international

was chosen as Wanderers' Young

Player of the Year in a breakthrough

year as a 'senior' player

– his first with Wanderers.

And, he is also on the shortlist for

the 'Rising Star' prize at the North-

West Football Awards which will be

held in November.

"I was delighted to get the club

award last season. It was the most

games I'd played in a season and I

learned so much," said Johnston.

"It was massive for my

development, playing that many

games. I learned a lot that I wanted

to work on and bring into this

season.

"It's great to get a nomination in

the North-West Awards as well,

alongside some really good

players, but for me it's about

looking forward.

"I think I'm young enough to keep

improving. I'll keep pushing and

keep working on the things I need

to and hopefully I will progress

myself and the club.

"I really want to push on this

season and help this club go as far

as it can."

He has certainly made an

impressive start as one of threeever

presents in Ian Evatt's League

One line-ups, alongside defensive

side-kick Gethin Jones and wingback

Conor Bradley.

Having also played against Salford

City and Aston Villa in the Carabao

Cup and helped Wanderers to a

winning start in the Papa Johns

Trophy, Johnston is the only

member of Evatt's squad to have

played every minute of the season

so far.

His performance in the mid-week

win at MK Dons was one of his

best yet, but the former Wigan

Athletic loanee – who had his first

taste of EFL football with the Latics

before joining Wanderers last

summer – knows that record may

not last forever.

www.bwfc.co.uk

The Wanderer | 21
---
"We've got a really good squad.

There are at least two players in

each position in this squad now,"

Johnston added.

"It's not like the other teams I've

been in where it's a set starting XI.

"Depending on who we're coming

up against and what threats the

opposition have the manager can

pick different teams.

"So, if you're not in the team it's

not personal, it's just the gaffer

trusts the 11 he's putting out to go

and do the job that day. Everyone

understands that."

Evatt's 'horses for courses'

approach is working well as he

juggles his resources to tackle

each individual challenge.

The commanding 2-0 victory at

MK Dons brought the Whites their

first away win of the campaign

and lifted them to fifth place in the

table ahead of this afternoon's

visit of Peterborough United, who

slipped out of the early top-six

placings in mid-week.

And Wanderers will be chasing a

fourth home win, having beaten

Charlton Athletic in equally

impressive fashion last time out

at the UniBol when Johnston's

second goal on home turf

wrapped up a 3-1 success.

"I think I should have a done a lot

better for their goal, so it was a

relief," admitted Johnston after a

rare slip had allowed the Addicks

an early lead.

"I back the team to get me out of

trouble and it was a really good

performance that day.

"It's something that's been kind of

been brewing for a long time, a

performance like that.

"I love scoring. I don't score many

but when I do it's an unbelievable

feeling – especially at home in the

front of the crowd and the roar that

you get. It's just massive.

"This is another tough test today,

but another game we back

ourselves to win.

"Against the top six last year we

didn't win enough games. If we

"I LOVE

SCORING.

I DON'T

SCORE MANY

BUT WHEN

I DO IT'S AN

UNBELIEVABLE

FEELING…

want to be up there this year, they

are the games we want to win.

"They're games we look forward

to, with another big crowd and

good backing again so we'll

go into the game with a lot of

positives, especially after the way

we played on Tuesday night as

well."

Wanderers first ever win at

Stadium MK marked their return to

action after last weekend's fixtures

were postponed as a show of

respect for Queen Elizabeth II.

The passing of Her late Majesty

was marked by a minute's silence

and the playing of the national

anthem in recognition of the

new King at grounds across the

country.

Wanderers will take their turn

today as the University of Bolton

Stadium prepares to fall silent

in tribute before switching the

focus back to the pursuit of more

progress up the table.

"It's been a sad time for the whole

country," said Johnston. "We will

pay our respects and pay them

in the right way and then when

the whistle goes it's down to

business and we'll be looking for

another positive performance and

hopefully the three points."

An old head indeed.

www.bwfc.co.uk

The Wanderer | 23
---
BOLTON WANDERERS

SQUAD PHOTO

2022/23

24 | The Wanderer 01204 328 888
---
Front Row (Left to Right): Dion Charles, George Thomason, Ricardo Almeida Santos, Sam Hird (First Team Coach),

Ian Evatt (Manager), Peter Atherton (Assistant Manager), Matt Gilks (Goalkeeping Coach), Gethin Jones, Conor

Bradley, Kieran Sadlier.

Middle Row (Left to Right): Steve Blakeley (First Team Physio), Lewis Duckmanton (Analyst), Matt Barrass (Head

Physiotherapist), Matt Pelham (Strength & Conditioning Coach), Eoin Toal, Aaron Morley, Jack Iredale, Will

Aimson, MJ Williams, James Trafford, Joel Dixon, Amadou Bakayoko, George Johnston, Jon Dadi Bodvarsson,

Dapo Afolayan, Kieran Lee, Ted Moulden (Head Kitman), Jamie Hesketh (Fitness & Conditioning Coach), Craig

Rowson (Kitman), Catherine Beattie (Physio).

Back Row (Left to Right): Elias Kachunga, Lloyd Isgrove, Declan John, Kyle Dempsey, Josh Sheehan, Owen Beck.

www.bwfc.co.uk

The Wanderer | 25
---
Life just got better

Order your tasty pasties at:

carrspasties.co.uk

01204 387 117
---
22/23

HOME KIT

ON SALE NOW

22/23

AWAY KIT

ON SALE NOW

IN STORE AND ONLINE AT

BWFCDIRECT.CO.UK
---
To support our work through a donation please scan this QR code to go through to our JustGiving page. Thank you for your support.

WANDERERS WOMEN:

A YEAR OF SUCCESS

Bolton Wanderers recently

showcased their partnership with

HerGameToo, a group of female

supporters who are passionate

about eradicating sexism in

football and celebrating the

female fan. Now, the partnership

is entering a new and exciting era

with the re-launch of the Official

Bolton Wanderers Women's Team!

to play against Manchester City

Girls Academy at the City Football

Academy and beat them 4-1.

are U16 and play up two years.

Last year they were U15 but came

League Runners Up and Cup

Runners Up in the U16 League.

We thought this would be a

fantastic opportunity to share with

you all the overwhelming success

of women and girls football here at

Bolton Wanderers, which consists

of 5 junior teams from U12-U18 and

2 open age teams consisting of the

Women's First Team and Reserves.

Our U12 Girls currently play in

Wigan YFL Boys League. They won

the Failsworth Villa Tournament this

summer.

Our U13 Girls will this season be

playing in BBDFL (Bolton and Bury

Boys League). Last season they

came runners up in the league and

won the League Cup, the first allgirls

team to ever win the Wigan's

Boys League Cup. They also won

the Fleetwood Town Tournament,

the Altrincham FC Tournament

and the Lilleshall National Europa

Cup. They were also invited in

Our U14 Girls currently play a year

up in the U15 South Manchester

Girls Football League. Last

season as U13s they came runner

up in the U14 League and won

the U14 League Cup. They also

won tournaments at; Fleetwood

Town, Altrincham FC, Cadishead

FC, Runners Up at the Lilleshall

Nationals, Runners Up in the

Lancashire County Cup held at the

Lancashire FA Headquarters.

Our U15 currently play in the Wigan

YFL Boys League 2nd division.

They were Runners Up in the

Lancashire County Cup also at the

Lancashire FA Headquarters.

Our U18s currently play in the

Greater Manchester Women's U18s

Football League. The whole team

Our reserves have only been

created this season to support our

Women's first team. They have

entered the Lancashire County

Championship League. Last

year as an u16 age group they

came runners up in the Greater

Manchester u18 Football League

and they also won the Lancashire

County Cup. This year they are all

U17 and U18 girls playing Women's

football.

This season our Women's First

Team will play in North West

Regional League Division 1 North.

This is the 6th tier of Women's

Football. Last season they won the

Lancashire County Premiership

(Tier 7 of women's Football) in their

first year since conception. They

were also winners of the Rochdale

FC Tournament.

For further information about Bolton Wanderers in

the Community, please visit www.bwitc.org.uk

28 | The Wanderer 01204 328 888
---
PHIL MASON

ONE CLUB,

ONE COMMUNITY,

ONE TOWN

Club Chaplain & Senior Safeguarding Manager 07885 755 807 and pmason@bwfc.co.uk

DUTY AND SERVICE

EVERYONE AT BOLTON WANDERERS FOOTBALL CLUB IS SHARING

THE NATION'S GRIEF AT THE PASSING OF OUR MONARCH, HER

MAJESTY QUEEN ELIZABETH II AND TODAY WE PAY TRIBUTE TO

HER FOR HER UNFAILING DUTY AND SERVICE TO THE COUNTRY,

THE COMMONWEALTH AND INDEED THE WHOLE WORLD.

It is still very difficult to process

that our Queen is no longer with

us as she has been a constant

throughout our lives and brought

such stability in a fragile and every

changing world.

In a connection with our Club,

it is interesting to note that the

final, which Wanderers lost 4-3 to

Blackpool after Nat Lofthouse had

completed his record of scoring in

every round, was the first football

match attended by The Queen

which was a month before her

coronation in June of that year. We

remember today that from the very

moment she became The Queen

to the very end she showed

incredible duty and service every

day.

As we grieve her loss I feel that

we can all take her tremendous

example into our lives. The words

duty and service stand out in

her life and are based upon her

own Christian faith where she

understood the importance of

following in the footsteps of Jesus

Christ in service to others, and the

ultimate sacrifice for the sake of

others.

Our thoughts and prayers here at

Bolton Wanderers continue to be

with all the Queen's family at this

time of great loss for them and as

we mourn such loss, we also pray

for our new King as he takes up his

great responsibilities at the time he

grieves the loss of his mother.

Much will change in the days

ahead, QC's now become KC's,

our coinage and stamps will

change over time and we shall

have to get used to singing the

National Anthem in a different

way. However I am sure that King

Charles III will himself follow in his

mother's footsteps and duty and

service will be at the core of who

he is and how he reigns.

In this time of reflection and sad

loss we remember the Queen

as a role model for us all in her

dedication, commitment and

dignity; values for us all to aspire to

in our Club, community and town.

The Queen has done her duty and

now is her time of rest. May God

hold her close and bless her family

in the days to come, as we give

thanks to our Queen.

God save the King.

Enjoy the Game,

www.bwfc.co.uk

The Wanderer | 29
---
MEMORABLE MATCHES

SEASON 2022/23 MARKS THE 25TH

ANNIVERSARY OF THE UNIVERSITY OF

BOLTON STADIUM.

Saturday 19th February 2000

FA Cup Quarter Final

Bolton Wanderers 1

Charlton Athletic 0

The Wanderers reached the first

ever FA Cup final to be held at

Wembley and they kept up hopes

of playing in the last at the famous

old stadium with a victory over

First Division Champions elect

Charlton Athletic.

THROUGHOUT THE SEASON CLUB

HISTORIAN SIMON MARLAND WILL LOOK

BACK AT SOME MEMORABLE GAMES.

The Addicks saw their 11 match

unbeaten run come to an end

but Bolton deserved their victory

and a first FA Cup semi-final for

42 years. Having seen off Cardiff

City, Grimsby Town and Cambridge

United in the previous rounds the

winning goal came from Eidur

Gudjohnsen who kept up his

record of having scored in every

round.

The Icelandic striker's goal was

worthy of winning any game, his

stunning shot finding its way into

the top corner of the net just after

the interval, but it was a miracle

that the score remained goalless

at half time. Gudjohnsen almost

registered the quickest goal in

the cup that season when he saw

a blistering shot from the edge

of the area hit the bar with just

22 seconds on the clock. Robbie

Elliott shot inches over the bar from

25 yards before hitting the post

with another effort as the Addick's

defence was dismantled.

Charlton, bidding to reach the last

four in the FA Cup for the first time

since 1947, were a pale shadow

of the side that were taking the

League by storm. The Wanderers

ran them ragged especially during

the first half.

Within a minute of Gudjohnsen

striking what turned out to be the

winner Bolton were reduced to ten

men when Graham Poll showed

Dean Holden a red card after a

fracas with John Robinson. This

gave Charlton some impetus but

it wasn't until the final minutes that

they came close to equalising.

30 | The Wanderer 01204 328 888
---
Jussi Jaaskelainen became the

hero with a fantastic double save,

pushing Mark Kinsella's shot

against the post, the ball falling

to winger John Robinson with

the goal at his mercy, the Finn

somehow managing to get his foot

to his shot. The save brought a

response from the Reebok crowd

as large as that for the goal.

There were now important League

points to be played for with Bolton

lying in 12th place before the visit

to Wembley to face Aston Villa in

the first week of April in the FA Cup

Semi Final.

Team: Jaaskelainen, Holden,

Bergsson, Fish, Whitlow, Johansen,

(Passi), Jensen, Elliott, Johnston,

(Gardner), Gudjohnsen, Taylor

(Ritchie). Subs not used: Banks,

Holdsworth.

Attendance: 20,131

Saturday 8th April 2000

Nationwide League Division One

Bolton Wanderers 4

Walsall 3

Bolton kept up their slim play-off

hopes alive by securing the points

in a seven goal thriller. Two goals

in the opening three minutes

set the tone for a fascinating

encounter and Walsall, battling

against relegation, looked as

though they might nick a point

with a spirited second-half

comeback.

Still smarting from the previous

weekend of losing the FA Cup

semi-final at Wembley the

Wanderers found themselves a

goal down after just 45 seconds

when Paul Hall found the net.

Thankfully, no malaise set in and

goals from Bo Hansen, Michael

Johansen and Jimmy Phillips gave

Bolton a half-time cushion.

Walsall refused to throw in the

towel and hit back in the 55th

minute to make it 3-2 when

future Wanderer Michael Ricketts

bundled the ball over the line from

close range. The visitors continued

to press for an equaliser and had a

couple of glorious chances which

missed the target.

Bolton looked to have secured the

game and the points in the 74th

minute when they restored the two

goal advantage, Hansen grabbing

his second after a scramble in the

area. It didn't go to plan however

as Tom Bennett headed home with

seven minutes remaining to make

it 4-3 and a nervy ending ensued.

Hansen scorned the chance of a

hat-trick which would have made

the game safe in the final minute

of normal time when he shot over

from a Johansen cross.

The result put Bolton in 8th place,

five points behind sixth placed

Huddersfield with five games

remaining.

Team: Jaaskelainen, Bergsson, Fish,

(Warhurst), Whitlow, Elliott, (Phillips),

Johansen, Jensen, Passi, Johnston,

Gudjohnsen, Hansen, (Holdsworth).

Subs not used: Grant, Banks.

Attendance: 11,777

www.bwfc.co.uk

The Wanderer | 31
---
ROE & CO

RESIDENTIAL SALES

HUNTERS

PLANT WELD

HIHO SOLUTIONS

STANMORE

INSURANCE

SERVICE SPORT

ST GEORGES

AGGREGATES

ALBION

LOGISTICAL LTD

PROGRESSIVE SPORTS

CONNECT COMMS

PLATINUM TRAFFIC

MANAGEMENT

ACOLYTE MANAGEMENT

SERVICES

A YEAR OF DATES

JUST JUICE

DM SIGNS

SUITS ME

S&D TAXIS

THE DEBT

ADVICE SERVICE

CONCEPTION

DESIGN ASSOCIATES

BMT ELECTRICS LTD

SAM CHARTER

ALPHA ASSOCIATES

PERSIMMON HOMES

CJ WILLS & LPA

VENTURI

CARDIOLOGY

CLEARTECH

COMMUNICATIONS

KJ FIRE SAFETY LTD

MANCHESTER

MONEY

ASTON HUNT

LEASING

PINNACLE LIFE

R2R PEOPLE

ULTIMATE CUSTOMS

BST BRICKWORK

LIMITED

M&R PLUMBING

AND HEATING LTD
---
MATCH ACTION

VS

MILTON KEYNES DONS 0

BOLTON WANDERERS 2

(Charles pen 31, Jones 60)

TUESDAY 13 SEPTEMBER 2022 | SKY BET LEAGUE ONE | STADIUM MK

LINE-UPS

Milton Keynes Dons: Cumming, Tucker, O'Hora,

Jules, Oyegoke, Harvie, Johnson (McEachran 67),

Devoy, Smith (Burns 75), Grigg (Kayode 66), Dennis.

Unused Subs: Ravizzoli, Lewington, Grant,

Lawrence.

Booking: Tucker.

Bolton Wanderers: Trafford, Jones, Almeida Santos,

Johnston, Bradley, Iredale, Williams, Thomason

(Morley 86), Lee (Dempsey 73), Kachunga (Bakayoko

77), Charles (Sadlier 86).

Unused Subs: Aimson, John, Afolayan.

Booking: Morley.

Attendance: 6,339 (760 Wanderers fans)

Social Media Man of the Match: George Thomason

Wanderers registered their first away win of the season

with a convincing victory against one of last season's

beaten play-off semi-finalists, MK Dons at Stadium MK. It

was the club's first-ever victory at that ground.

On the front foot from the get go, Ian Evatt's men were

given the opportunity to take the lead on the half-hour

mark with referee Chris Pollard pointing to the spot after

Gethin Jones was brought down in the box by Dawson

Devoy. Dion Charles made no mistake in beating Jamie

Cumming from 12 yards.

The scoreline could've been an emphatic one with a

bit more ruthlessness in the final third, but the second

goal came through Jones who scored his first goal since

May 2021. After Elias Kachunga was fouled, Jack Iredale

delivered an excellent free-kick into the box, and the

vice-captain crashed an unstoppable header in off the

underside of the bar.

34 | The Wanderer 01204 328 888
---
MATCH STATS

POSSESSION:

45% 55%

SHOTS:

4 9

SHOTS ON GOAL:

0 4

CORNERS:

3 5

FOULS:

12 14

COMPLETED PASSES:

285 340

www.bwfc.co.uk

The Wanderer | 35
---
1st

1st

IN THE NORTH WEST FOR

TEACHING QUALITY
---
ABOUT THE TRUST

JOIN THE TRUST

NEWS FROM THE

BWFCST

After the events of the last 10 days

we look forward to today's game

and the opportunity to show our

respect for the life of Her Majesty

the Queen.

The format of any events before

today's game are, at the time

of writing, somewhat uncertain.

However, we want to reach

out to one of our affiliate's, BW

Supporters Club Norway (BWSCN),

long-standing members, Glenn

Rana. Glenn was diagnosed with

MND at the age of 44 and is

currently on an epic "bucket list"

trip. His journey around Europe

with his family is ending today at

the UoB where he will present

the BWSCN POTY trophy for last

season to Dapo. Glenn wants

to put the spotlight on MND on

what will be his last trip to see

his beloved Whites. Please give

Glenn and his family a warm BWFC

welcome and we hope to see him

in the FanZone before the game.

Today our featured affiliates are

Bolton Wanderers Supporters

Club London (London Whites) who

have been getting together to

follow Wanderers' fortunes from

the Capital for almost 40 years.

Formed in the early 1980s after

meeting each other at various

London away games, a bunch of

Wanderers fans began to meet

each month, chat about their life

as exiles "down South", and plan

trips from London to Wanderers

matches.

These fans (pictured outside

Burnden) formed an official London

Supporters Club in 1986 and have

been active ever since.

Current London Whites Chairman

Paul Fletcher told us "It is important

to us that we have always

sponsored a young Wanderers

player and this season we are

delighted to be sponsoring Lamine

Toure."

"We are planning some bigger

social nights during this season.

Ian Evatt has promised to come

and meet our members in London

and we've approached Sharon and

other club officials too. If you're a

Wanderers fan based in South East

England then please follow the link

to https://londonwhites.co.uk/ and

get in touch".

London Whites have been affiliated

to the BWFCST since last season.

Contact us on enquiries@bwfcst.

co.uk if you would like more details

about becoming an affiliate.

www.bwfc.co.uk

The Wanderer | 37
---
IS THERE

A BETTER

WAY TO

BUY YOUR

NEXT CAR?

CAZOO

YEAH!

Buy or finance a car online and we'll deliver it to

your door with a 7-Day Money Back Guarantee.
---
For sponsorship, advertising and hospitality please contact our Commercial Team on:

01204 673761 You can also email the team at sales@bwfc.co.uk

2022/23 FIRST TEAM

PLAYER SPONSORSHIP

LLOYD ISGROVE 23

ELIAS KACHUNGA 24

GEORGE THOMASON 25

OWEN BECK 30

LAMINE TOURE 43

EOIN TOAL 18

JAMES TRAFFORD 19

KIERAN LEE 20

CONOR BRADLEY 21

KYLE DEMPSEY 22

JOEL DIXON 12

JACK IREDALE 14

WILL AIMSON 15

AARON MORLEY 16

DAPO AFOLAYAN 17

KIERAN SADLIER 7

JOSH SHEEHAN 8

JÓN DAÐI BÖÐVARSSON 9

DION CHARLES 10

AMADOU BAKAYOKO 11

GETHIN JONES 2

DECLAN JOHN 3

MJ WILLIAMS 4

RICARDO ALMEIDA SANTOS 5

GEORGE JOHNSTON 6

www.bwfc.co.uk

The Wanderer | 39
---
WANDERERS NOTICEBOARD

DARREN THRELFALL

25.12.1970 - 05.08.2022

Darren grew up in Great

Lever, Bolton, youngest of

four children to Des and

June. He had two sisters

Anne & Julie, a brother

Glenn. Also a wife Berni,

son Hayden, daughter

Gabriella & not forgetting

dog Lola. He lived in

Great Leaver until he

moved to Westhoughton

nineteen years ago. Darren went to his first Bolton

match at the age of seven and he went with his

dad in the Great Leaver end at Burden Park. His

love for Bolton never faltered. He played for Bolton

Wanderers junior whites and he was the school goal

keeper (due to his height and ability) at St Williams

RC School. He played all throughout his youth with

his school friends, James, Lee and Cooey (Life long

friends) and went onto watching Bolton Wanderers

with them all. Went to many away matches from

a young age with his friends on the club coach.

Darren has left behind a large collection of old

season tickets in his memory tin.

Our thoughts and prayers are with all Darren's family

at this time of loss.

We welcome

THOMAS BRISBANE

to today's game.

ALAN DEWHURST

March 31 at 1951 22nd August 2022

In memory of our Dad Alan

Dewhurst son of Thomas

Dewhurst and Hilda loved by

Martin, Phil, Pauline a special

love to us all a special person.

As a Special constable at

Burnden Park he loved BWFC He

will be in our hearts forever. Alan

Martin Dewhurst going strong

xxx

Our thoughts and prayers are

with all the family at this time of

loss.

It's the first game

back for Thomas after

receiving treatment

in hospital for

leukaemia.

Great news, Thomas

is now in remission

and looking forward

to the game.

Many Happy Returns

to GEORGE TWIST,

who has turned 75. A

supporter of the club

all his life, George

continues to attend

home and away games

and this season has

sponsored namesake

George Thomason and

is enthused about his

continued development

as a player.

Happy 12th

birthday to

OLLIE

Lots of love

Dad, Aunty

Lou, Harry

and all the

family xx

NARAN, is A life-long

die-hard Bolton Wanderers

supporter

Naran was brought up in

Bolton where he spent the

early part of his life on Alfred

Street - adjacent to Burnden

Park…and this is when his

interest in football began.

His childhood was

peppered with memories

of many matches, and he

has enjoyed the game in

a variety of ways often

following the game on the

radio.

Naran purchased the

programme every week,

he would send our oldest

sister Bhanu to nip out to

buy these on match day.

He would then listen and

followed the game on the

radio.

As a family, to mark the

special occasion of his

60th birthday, all decided it

would be great to make the

journey from London to the

University of Bolton Stadium

to watch a home match

together.

We are all excited to be

attending the game against

Peterborough and will be

cheering the team on for

future matches.

Naran moved to London

in the late 1980's but still

never ventured away from

his much loved Bolton

Wanderers!

40 | The Wanderer 01204 328 888
---
B TEAM AND ACADEMY

WANDERERS' ACADEMY IS DELIGHTED TO HAVE

FABRICE MUAMBA BACK AT THE CLUB AS PART OF

THEIR LOWER AGE GROUP COACHING SET-UP.

Muamba, who made 148

appearances for the Whites

before suffering a cardiac arrest

in an FA Cup quarter-final at

Tottenham Hotspur, is assisting

with the Academy's U15 side on a

part-time basis as he pursues his

coaching qualifications.

The 34-year-old former midfielder,

who played 130 times in the

Premier League for Wanderers

before his career was curtailed in

2012, linked up with the Academy

during the summer.

And Muamba will now work

alongside the Academy staff

at evening sessions to help

coach some of the Wanderers'

youngsters hoping to follow his

footsteps into the professional

game.

It's been a decent start to the

season across the Academy sides

as the B team this week took an

early lead at the top of the Central

League.

Matt Craddock's side has played

more fixtures than anyone else in

the division so far but made it two

wins out of three when they beat

Wrexham's Reserves 3-1.

Connor Stanley led the way with

an unlikely double as the summer

signing scored twice direct from

corners to open his account as a

Wanderers' player.

Midfielder Nelson Khumbeni added

the third as the Whites bounced

back from an opening defeat to

Huddersfield Town in the group

stage of the Central League Cup.

Gez Sithole also scored his first

goal for Wanderers against the

Terriers, but Craddock's men paid

the price for too many missed

chances as they lost 2-1 in the

first of four group games in the

competition.

Meanwhile, the B team have been

drawn against Blackpool in the first

round of the LFA Senior Cup and

as well as their scheduled league

and cup fixtures are set to play a

number of friendlies over the next

few weeks to supplement their

fixture list.

At Youth Team level, the Whites

started their own county cup

campaign with a victory over

Fleetwood Town to extend their

unbeaten start to the season.

Julian Darby's youngsters knocked

the EFL league leaders out of

the Lancashire FA Youth Cup in

mid-week thanks to goals from

Leo Graham and Joel Burgess in

a 2-1 win.

Wanderers have also secured a

win and a draw so far in the Youth

Alliance Cup and were back in

league action this morning with a

home game against neighbours

Preston North End.

www.bwfc.co.uk

The Wanderer | 41
---
Nationwide House

Moss Bank Way

Bolton BL1 8NP

01204 303 303

Asset leasing

for businesses

Telecoms

Business

Asset

Leasing

Copiers &

Printers

Fast, reliable asset

based leasing

solutions.

Plant &

Machinery

Office

Equipment

IT &

Software

If you are buying or

selling assets for your

business or customers

and need a leasing

partner, please call

us for an informal

discussion.

For you or your customers.

Apply direct for business asset leasing at

www.nationwidecapitalfinance.co.uk

Strength through

flexible finance
---
TICKET

INFORMATION

Tranmere Rovers (A)

TUESDAY 20 SEPTEMBER 2022 |

PAPA JOHNS TROPHY

Bolton Wanderers have received

an initial allocation of 792 tickets,

for the trip to Prenton Park on

Tuesday 20th September at

7:00pm.

Tickets are now on sale to Season

Ticket Holders and Official Club

Members.

Non-season ticket holders are

required to become Official Club

Members in order to purchase

match day tickets for this fixture.

Ticket Prices

Adults: £10

Over 65s: £5

Under 23s: £5

Under 18s: £5

Under 12s: £2

Lincoln City (H)

SATURDAY 1 OCTOBER 2022 |

SKY BET LEAGUE ONE

Ticket Prices (Category B)

Adults: From £23

Over 65s and Under 23s: From £18

Under 18s: £13

Under 12s: £8

How to buy? Online at eticketing.

co.uk/bwfc or over the phone on

01204 328 888.

GOLDEN GOAL -

FIRST TIME WIN

FOR JOSEPH

Joseph Roantree of Radcliffe

decided to buy a Golden

Goal ticket for the first time

on Saturday from our seller at

the Club Shop, and we have

no doubt that it was the right

decision as he had the winning

time of 3 minutes and 7 seconds.

Joseph claimed his £500 prize

after the game and was thrilled

at his luck. He went on to tell

us that he would be sharing his

good fortune with two charities he

supports -

£125 goes to the Attic Project,

Bury which is a charitable

foundation dedicated to helping

those in need throughout their

community.

£125 goes to the Kings

Community Church, this will

help them with the costs of food

supplies for the most vulnerable

within their community.

What a truly wonderful gesture

from Joseph and we hope he

spends the rest on something

nice for himself too.

Tickets are back on sale

for today's fixture against

Peteborough United throughout

the lower concourse, outside

the Club Store, Fanzone and

hospitality. Our sellers accept

cash so please remember to

bring your £1 coins.

You could be our next lucky

winner like Joseph.

GOLDLINE IN

ASSOCIATION

WITH THE BWITC

Did you know if you join the

Goldline today not only are you

supporting the BWDA by raising

funds for projects throughout the

Club but you are now helping

the BWITC support projects

throughout our community. For

every £1 you pay to the Goldline

20 pence is donated to the

BWITC.

The mission of the BWITC is

to use the power of Bolton

Wanderers to inspire, support and

deliver positive change. This is

achieved through intervention,

prevention, and targeted

engagement with the creation

of sustainable pathways that

transform lives.

Currently the charity runs 10

programmes and 33 projects in

many different areas of Bolton

and especially in areas of high

deprivation. Over the past year

they have engaged with over

15,000 people impacting lives

daily to deliver positive change.

The BWITC like the BWDA

are passionate about Bolton

Wanderers and raise money

throughout the year to carry on

their work. This now includes

selling match day mascot, birthday

and grassroots football packages.

As a member of Goldline you

can now receive 10% discount on

these packages prices.

So Join today contact goldline@

bwfc.co.uk Help the BWDA and

the BWITC help your Club and

your community!

SPECIAL OCCASION TREATS!

HAPPY 18TH BIRTHDAY LEWIS BIBBY

LOVE FROM DAD, NAN, GRANDAD AND THE FAMILY XXX

www.bwfc.co.uk

The Wanderer | 43
---
FIXTURES & RESULTS

DATE KO/F-A H/A OPPOSITION ATTN STARTING XI

SAT JUL 30 D 1-1 A IPSWICH TOWN 26,688 TRAFFORD JONES ALMEIDA SANTOS JOHNSTON JOHN n MORLEY 1 WILLIAMS

AUGUST

SAT AUG 06 W 3-0 H WYCOMBE WANDERERS 17,416 TRAFFORD BRADLEY JONES ALMEIDA SANTOS JOHNSTON IREDALE MORLEY 1

TUE AUG 09 W 5-1 H SALFORD CITY [C CUP] 6,505 DIXON JONES AIMSON JOHNSTON JOHN LEE WILLIAMS

SAT AUG 13 D 0-0 A PORT VALE 10,277 TRAFFORD JONES ALMEIDA SANTOS n JOHNSTON IREDALE MORLEY WILLIAMS n

TUE AUG 16 W 1-0 H MORECAMBE 17,165 TRAFFORD JONES AIMSON JOHNSTON BRADLEY 1 n MORLEY DEMPSEY

SAT AUG 20 L 0-2 H SHEFFIELD WEDNESDAY 22,023 TRAFFORD JONES ALMEIDA SANTOS JOHNSTON BRADLEY n IREDALE WILLIAMS

TUE AUG 23 L 1-4 H ASTON VILLA [C CUP] 20,064 DIXON n AIMSON ALMEIDA SANTOS JOHNSTON n BRADLEY LEE WILLIAMS

SAT AUG 27 L 0-2 A PLYMOUTH ARGYLE 14,631 TRAFFORD JONES ALMEIDA SANTOS JOHNSTON BRADLEY n MORLEY LEE

TUE AUG 30 W 4-1 H CREWE ALEXANDRA [PJT] 2,115 DIXON AIMSON n TOAL JOHNSON JONES SHEEHAN THOMASON

SEPTEMBER

SAT SEP 03 W 3-1 H CHARLTON ATHLETIC 19,193 TRAFFORD JONES n ALMEIDA SANTOS JOHNSTON 1 BRADLEY 1 THOMASON WILLIAMS

SAT SEP 10 P-P A CHELTENHAM TOWN

TUE SEP 13 W 2-0 A MK DONS 6,339 TRAFFORD JONES 1 ALMEIDA SANTOS JOHNSTON BRADLEY THOMASON WILLIAMS

SAT SEP 17 15:00 H PETERBOROUGH UNITED

TUE SEP 20 19:00 A TRANMERE ROVERS [PJT]

SAT SEP 24 15:00 A PORTSMOUTH

OCTOBER

SAT OCT 01 15:00 H LINCOLN CITY

SAT OCT 08 15:00 A FOREST GREEN ROVERS

SAT OCT 15 15:00 H BARNSLEY

TUE OCT 18 19:00 H LEEDS UNITED U21 [PJT]

SAT OCT 22 15:00 A ACCRINGTON STANLEY

TUE OCT 25 19:45 H BURTON ALBION

SAT OCT 29 15:00 H OXFORD UNITED

NOVEMBER

SAT NOV 12 15:00 A CAMBRIDGE UNITED

SAT NOV 19 15:00 A FLEETWOOD TOWN

DECEMBER

SAT DEC 03 15:00 H BRISTOL ROVERS

SAT DEC 10 15:00 A SHREWSBURY TOWN

SAT DEC 17 15:00 H EXETER CITY

MON DEC 26 15:00 H DERBY COUNTY

THU DEC 29 19:45 A LINCOLN CITY

JANUARY

SUN JAN 01 15:00 A BARNSLEY

SAT JAN 07 15:00 H FOREST GREEN ROVERS

SAT JAN 14 15:00 H PORTSMOUTH

SAT JAN 21 15:00 A DERBY COUNTY

SAT JAN 28 15:00 A CHARLTON ATHLETIC

FEBRUARY

SAT FEB 04 15:00 H CHELTENHAM TOWN

SAT FEB 11 15:00 A PETERBOROUGH UNITED

TUE FEB 14 19:45 H MK DONS

SAT FEB 18 15:00 A WYCOMBE WANDERERS

SAT FEB 25 15:00 H PORT VALE

MARCH

SAT MAR 04 12.30 A MORECAMBE

SAT MAR 11 15:00 H IPSWICH TOWN

FRI MAR 17 19:45 A SHEFFIELD WEDNESDAY

SAT MAR 25 15:00 H PLYMOUTH ARGYLE

APRIL

SAT APR 01 15:00 H ACCRINGTON STANLEY

FRI APR 07 15:00 A EXETER CITY

MON APR 10 15:00 H CAMBRIDGE UNITED

SAT APR 15 15:00 A OXFORD UNITED

TUE APR 18 19:45 A BURTON ALBION

SAT APR 22 15:00 H SHREWSBURY TOWN

SAT APR 29 15:00 H FLEETWOOD TOWN

MAY

SAT MAY 06 15:00 A BRISTOL ROVERS

MATCH

MASCOT

BRUNO

SEDWELL

Favourite Players: Dapo Afolayan,

Dion Charles, Kieran Lee and

Connor Bradley

Hobbies: Football, Golf, Running,

Minecraft and Roblox

A warm welcome today to 21

year-old Wanderers fan Rhyce

Ramsden, from Tonge Moor. An

amputee footballer who plays

for Everton, having recently

transferred from Manchester City

he will represent England at the

World Cup in Istanbul, Turkey later

in the year. The tournament gets

underway on 30th September and

finishes on the 9th October.

Rhyce was one of the stand-out

players during the Euros last year

and is tipped for big things in the

sport.

The England Amputee Football

Association's aim is to provide all

amputees, people with congenital

limb deficiencies and persons with

restricted use of limbs, with the

opportunity to play football locally,

nationally and internationally. So

if you are a cancer survivor, ex or

serving military, or limbless/limb

impaired for any other reason,

everyone is welcome to try this

fantastic sport.

ALL FIXTURES ARE SUBJECT TO CHANGE | *BOLTON WON 5-4 ON PENALTIES | **BOLTON LOST 5-4 ON PENALTIES

44 | The Wanderer 01204 328 888
---
2022/23

FOR ALL THE LATEST

MATCHDAY TICKET

INFORMATION, PLEASE

SCAN THIS QR CODE:

KEY:

GOALSCORER1

FIRST SUB | SECOND SUB | THIRD SUB | FOURTH SUB | FIFTH SUB

† OWN GOAL | YELLOW CARD | RED CARD

ALL FIXTURES ARE SUBJECT TO CHANGE

SUBSTITUES

REFEREE

LEE BRADLEY n CHARLES AFOLAYAN BAKAYOKO 70' BÖDVARSSON 77' KACHUNGA 77' THOMASON 83' SADLIER IREDALE AIMSON S BARROTT

WILLIAMS DEMPSEY 2 BAKAYOKO AFOLAYAN BÖDVARSSON 70' SADLIER 81' KACHUNGA 82' THOMASON 89' JOHN 89' SADLIER, BÖDVARSSON, AIMSON, LEE B TONER

THOMASON n SADLIER 1 BÖDVARSSON 1 KACHUNGA 1 IREDALE 45' BRADLEY 1 75' KHUMBENI 83' AFOLAYAN 1 83' TOURE 88' BAKAYOKO, MORLEY, TRAFFORD, DEMPSEY J BROOKS

DEMPSEY BRADLEY BAKAYOKO AFOLAYAN AIMSON 45' BÖDVARSSON 66' JOHN 79' SADLIER 79' DIXON LEE KACHUNGA R JOYCE

JOHN LEE BÖDVARSSON KACHUNGA BAKAYOKO 73' AFOLAYAN 73' WILLIAMS 82' SADLIER 90+2' DIXON IREDALE KHUMBENI A BACKHOUSE

MORLEY DEMPSEY AFOLAYAN BAKAYOKO CHARLES 62' BÖÐVARSSON 62' KACHUNGA 78' SADLIER n 79' JOHN 79' DIXON, AIMSON, LEE C BREAKSPEAR

JOHN AFOLAYAN KACHUNGA n CHARLES 1 DEMPSEY 68' BAKAYOKO 71' SADLIER 82' JONES, IREDALE, MORLEY, TRAFFORD, THOMASON A. KITCHEN

IREDALE DEMPSEY KACHUNGA CHARLES BAKAYOKO 67' SADLIER 75' AFOLAYAN 75' JOHN WILLIAMS AIMSON THOMASON W. FINNIE

IREDALE SADLIER 1 AFOLAYAN BAKAYOKO 1 BRADLEY HT ALMEIDA SANTOS 60' WILLIAMS 60' CHARLES 60' 2 KACHUNGA 60' MORLEY, BRADLEY, DEMPSEY S. OLDHAM

IREDALE n LEE 1 CHARLES BAKAYOKO AFOLAYAN 72' DEMPSEY 77' KACHUNGA 90' MORLEY 90+1' JOHN SADLIER AIMSON T. REEVES

IREDALE LEE CHARLES 1 KACHUNGA DEMPSEY 73' BAKAYOKO 77' MORLEY n 86' SADLIER 86' JOHN AIMSON AFOLAYAN C. POLLARD

GREATER MANCHESTER POLICE

INITIATIVE TACKLES VIOLENCE

AGAINST WOMEN AND GIRLS

On the last day of July 2022, England's Lionesses made

history with their first major tournament win where they

were crowned the victors of this year's Women's Euro's.

It was a great day for women's football and no doubt

inspired the next generation of Lionesses. With women

taking centre stage and supporting the game in greater

numbers than ever before, the time seemed right to tell

you a bit about a Greater Manchester Police initiative

that has been running throughout the summer. It's called,

as chance would have it, Operation Lioness, and it's

designed to keep women and girls safe when they're out

on a Friday and Saturday night.

It was launched in July this year and has seen officers out

on patrol in every district, every weekend. To date there

have been at least 135 arrests made, 92 stop searches

and over 200 visits to licensed premises (VLP). Many

referrals have also been made to partner agencies for

people whom we believe need help for various reasons,

such as substance misuse.

Increased police visibility and relentlessly pursuing

perpetrators is also just one aspect. Hundreds of VLPs

have been conducted which have helped to raise

awareness of spiking and distribute anti-spiking kits.

Officers have also raised awareness and checked

compliance with the 'Ask for Angela' initiative.

The goal is ultimately to make the night safer and ensure

that everyone has a good night out. If you're out and

about later and you, or someone you know, has come to

harm or is at risk of coming to harm, please report it. You

can do so via GMP's Livechat facility at gmp.police.uk or

call 101. Always dial 999 in an emergency.

If you don't report a crime to us, you can still get help

from the independent charity Victim Support. Any

information you give them will be treated in confidence.

Contact them today on 0808 168 9111 or visit their

website: www.victimsupport.org.uk

www.bwfc.co.uk

The Wanderer | 45
---
FIRST TEAM PLAYER STATISTICS

SKY BET

LEAGUE ONE

CARABAO

CUP

FA

CUP

PAPA JOHN'S

TROPHY

TOTAL FOR

2022/23 DISCIPLINARY

TOTAL BWFC

CAREER

PLAYER D.O.B APPS GOALS APPS GOALS APPS GOALS APPS GOALS TOTAL GOALS YELLOW RED APPS GOALS APPS GOALS

GETHIN JONES 13/10/1995 8 1 1 0 0 0 1 0 10 1 1 0 81 4 182 4

DECLAN JOHN 30/06/1995 2(3) 0 2 0 0 0 0 0 4(3) 0 1 0 72 7 188 10

MJ WILLIAMS 06/11/1995 6(1) 0 2 0 0 0 0(1) 0 8(2) 0 1 0 75 1 190 2

RICARDO ALMEIDA SANTOS 18/06/1995 7 0 1 0 0 0 0(1) 0 8(1) 0 0 1 100 0 266 7

GEORGE JOHNSTON 01/09/1998 8 1 2 0 0 0 1 0 11 1 1 0 59 3 85 4

KIERAN SADLIER 14/09/1994 0(5) 0 1(1) 1 0 0 1 1 2(6) 2 1 0 25 6 249 63

JOSH SHEEHAN 30/03/1995 0 0 0 0 0 0 1 0 1 0 0 0 21 4 230 21

JON DADI BODVARSSON 25/05/1992 1(4) 0 1 1 0 0 0 0 2(4) 1 0 0 27 8 293 50

DION CHARLES 07/10/1995 4(1) 1 1 1 0 0 0(1) 2 5(2) 4 0 0 31 12 269 84

AMADOU BAKAYOKO 01/01/1996 4(4) 0 0(1) 0 0 0 1 1 5(5) 1 0 0 47 14 251 49

JOEL DIXON 09/12/1993 0 0 2 0 0 0 1 0 3 0 1 0 32 0 233 0

JACK IREDALE 02/05/1996 6 0 0(1) 0 0 0 1 0 7(1) 0 1 0 8 0 191 12

WILL AIMSON 03/06/1994 1(1) 0 2 0 0 0 1 0 4(1) 0 1 0 33 1 203 7

AARON MORLEY 27/02/2000 6(2) 2 0 0 0 0 0 0 6(2) 2 0 0 29 3 150 10

DAPO AFOLAYAN 11/09/1997 4(3) 0 1(1) 1 0 0 1 0 6(4) 1 0 0 61 15 156 33

EOIN TOAL 15/02/1999 0 0 0 0 0 0 1 0 1 0 0 0 1 0 141 5

JAMES TRAFFORD 10/10/2002 8 0 0 0 0 0 0 0 8 0 0 0 30 0 43 0

KIERAN LEE 22/06/1988 5 1 2 0 0 0 0 0 7 1 0 0 57 9 418 37

CONOR BRADLEY 09/07/2003 8 2 1(1) 1 0 0 0(1) 0 9(2) 3 4 0 11 3 18 3

KYLE DEMPSEY 17/09/1995 4(2) 2 0(1) 0 0 0 0 0 4(3) 2 0 0 18 2 316 29

LLOYD ISGROVE 12/01/1993 0 0 0 0 0 0 0 0 0 0 0 0 58 3 178 7

ELIAS KACHUNGA 22/04/1992 3(4) 0 2 1 0 0 0(1) 0 5(5) 1 1 0 51 5 297 42

GEORGE THOMASON 12/01/2001 2(2) 0 1 0 0 0 1 0 4(2) 0 0 1 52 2 90 6

OWEN BECK 09/08/2002 0 0 0 0 0 0 0 0 0 0 0 0 0 0 6 0

NELSON KHUMBENI 14/10/2002 0 0 0(1) 0 0 0 0 0 0(1) 0 0 0 1 0 4 0

LAMINE TOURE 24/12/2003 0 0 0(1) 0 0 0 0 0 0(1) 0 0 0 1 0 1 0

CAREER

TOTAL

LEAGUE ONE | AS IT STANDS

HOME

AWAY

P W D L F A W D L F A GD PTS

1 Ipswich 8 2 2 0 8 3 4 0 0 8 1 +12 20

2 Portsmouth 8 3 1 0 9 3 3 1 0 8 3 +11 20

3 Plymouth 8 4 0 0 6 0 2 0 2 8 9 +5 18

4 Sheff Wed 8 2 1 1 9 5 3 0 1 6 2 +8 16

5 Bolton 8 3 0 1 7 3 1 2 1 3 3 +4 14

6 Cambridge U 8 4 0 0 9 4 0 1 3 3 8 0 13

7 Peterborough 8 3 0 1 9 1 1 0 3 5 8 +5 12

8 Shrewsbury 8 1 1 2 3 6 2 2 0 5 2 0 12

9 Exeter 8 3 0 1 8 2 0 2 2 4 6 +4 11

10 Wycombe 8 2 1 1 6 3 1 1 2 5 7 +1 11

11 Barnsley 8 2 1 1 5 4 1 1 2 5 5 +1 11

12 Fleetwood 8 1 3 0 3 2 1 2 1 5 5 +1 11

13 Derby 8 3 0 1 7 5 0 2 2 0 3 -1 11

14 Charlton 8 2 2 0 8 3 0 2 2 4 7 +2 10

15 Oxford 8 2 1 1 5 4 1 0 3 2 4 -1 10

16 Lincoln 8 1 3 0 6 4 1 1 2 2 7 -3 10

17 Port Vale 8 1 2 1 4 4 1 1 2 4 7 -3 9

18 Bristol R 8 1 2 1 5 5 1 0 3 5 8 -3 8

19 Cheltenham 8 1 0 3 5 8 1 2 1 3 3 -3 8

20 Forest Green 8 1 0 3 3 8 1 2 1 4 8 -9 8

21 Accrington 8 0 3 1 6 8 1 1 2 3 4 -3 7

22 MK Dons 8 1 1 2 3 5 1 0 3 4 5 -3 7

23 Morecambe 8 0 2 2 1 8 0 2 2 3 7 -11 4

24 Burton 8 0 0 4 0 9 0 1 3 8 13 -14 1

AROUND THE GROUNDS

ACCRINGTON STANLEY VS

CHELTENHAM TOWN

BOLTON WANDERERS VS

PETERBOROUGH UNITED

BRISTOL ROVERS VS

LINCOLN CITY

CAMBRIDGE UNITED VS

BARNSLEY

DERBY COUNTY VS

WYCOMBE WANDERERS

EXETER CITY VS

BURTON ALBION

FLEETWOOD TOWN VS

CHARLTON ATHLETIC

FOREST GREEN ROVERS VS

MORECAMBE

OXFORD UNITED VS

MILTON KEYNES DONS

PORT VALE VS

SHREWSBURY TOWN

PORTSMOUTH VS

PLYMOUTH ARGYLE

SHEFFIELD WEDNESDAY VS

IPSWICH TOWN

ALL ABOVE MATCHES KICK-OFF AT 3PM.

46 | The Wanderer 01204 328 888
---
Her Majesty, Queen Elizabeth II

(1926 – 2022)